Cantonese and Imperial Cuisine – Wan Chun Ting
Monica Tindall
Housed in Sofitel Damansara Kuala Lumpur, Wan Chun Ting is a grand circular room set with elegant round tables overseen by a magnificent central chandelier. Serving Cantonese and Imperial cuisine, the menu offers extensive fine dining options alongside some tasty dim sum items for lunch. It's a familiar restaurant for us, and today we return to refresh our memories of some of the kitchen's signatures.
Cantonese and Imperial Cuisine – Wan Chun Ting
Dim Sum
Dim Sum makes a great Sunday brunch, and the hours of 10:30 am to 3:30 pm on the final day of the weekend are usually buzzing with diners. A good variety of dumplings, steamed, deep-fried and baked items gift plenty of choices.
One of the most popular orders is Steamed Scallop Dumplings (RM 22). They're filled with a firm and springy stuffing, encased in a silky soft skin. A piece of scallop tops each piece launching the meal with luxury. A splash of XO sauce threads a trace of heat across the palate, making us eager for more.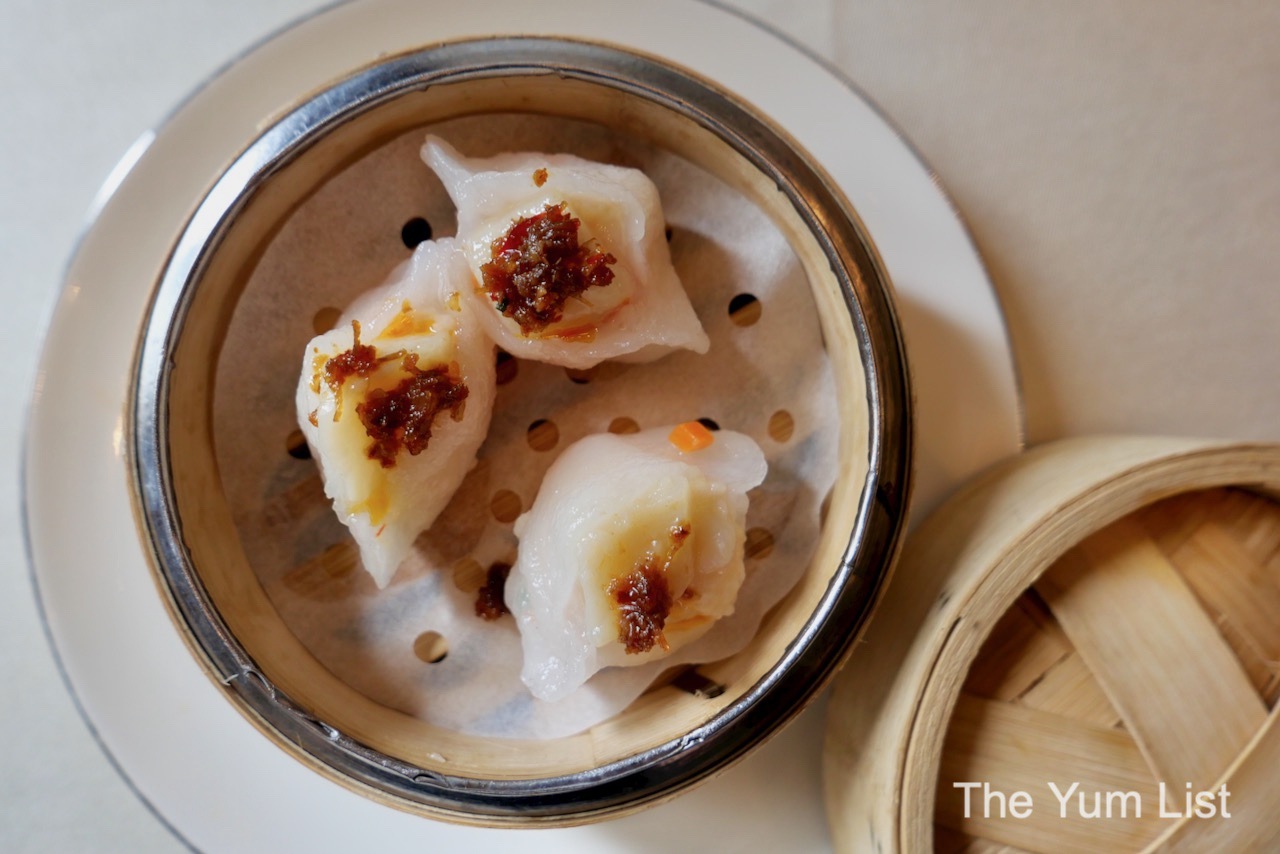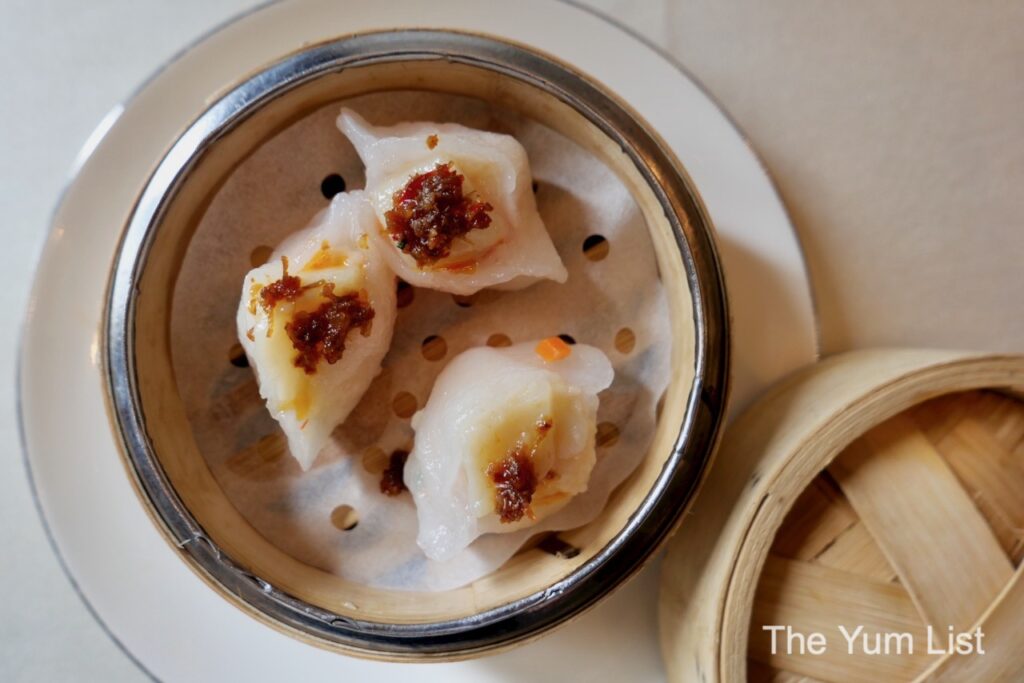 I am a fan of plant-based diets, so I'm happy to see several meat-free options. The Vegetarian Dumplings with King Oyster Mushrooms (RM 16) are swathed in an elegant coat, with mushrooms giving a meaty texture and the finely chopped veg dissipating on the tongue. The Steamed Crispy Vegetarian Rice Rolls (RM 16) show a wonderful play between crunchy and moist with crisp sheets of fried dough mixed in the wet veg middle.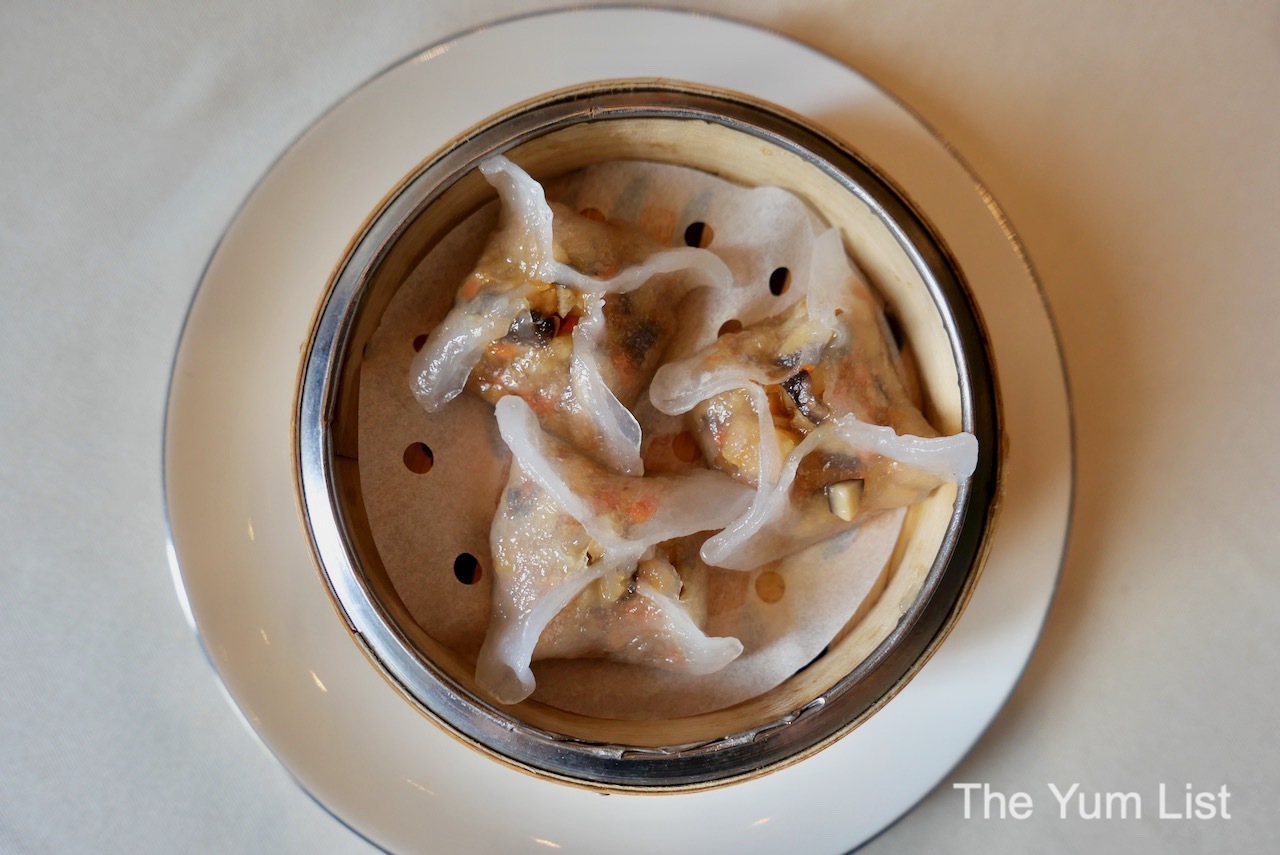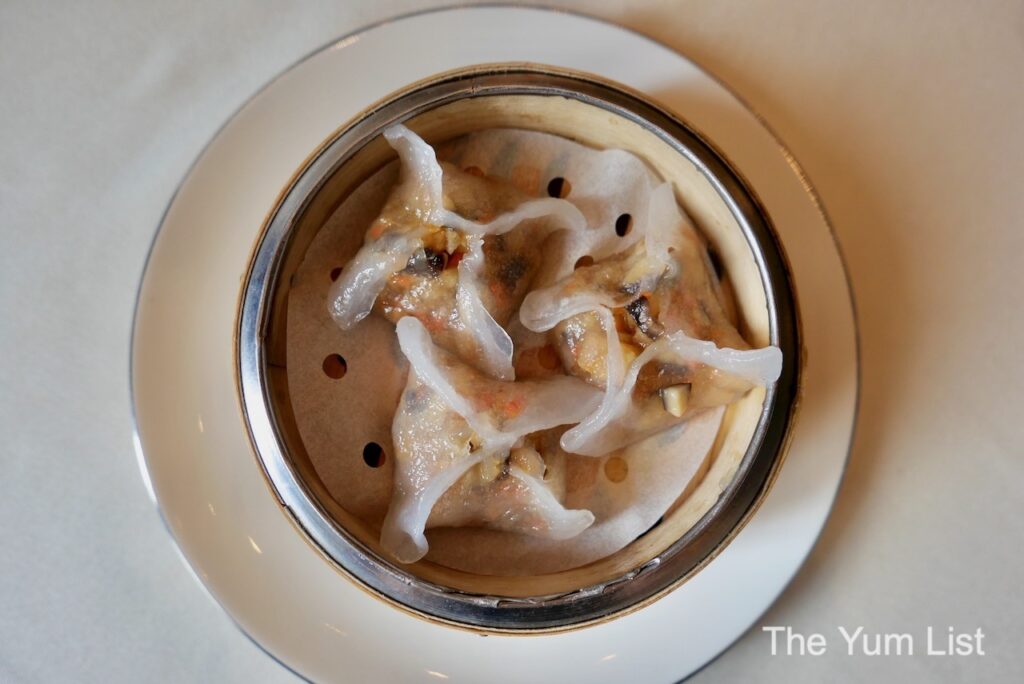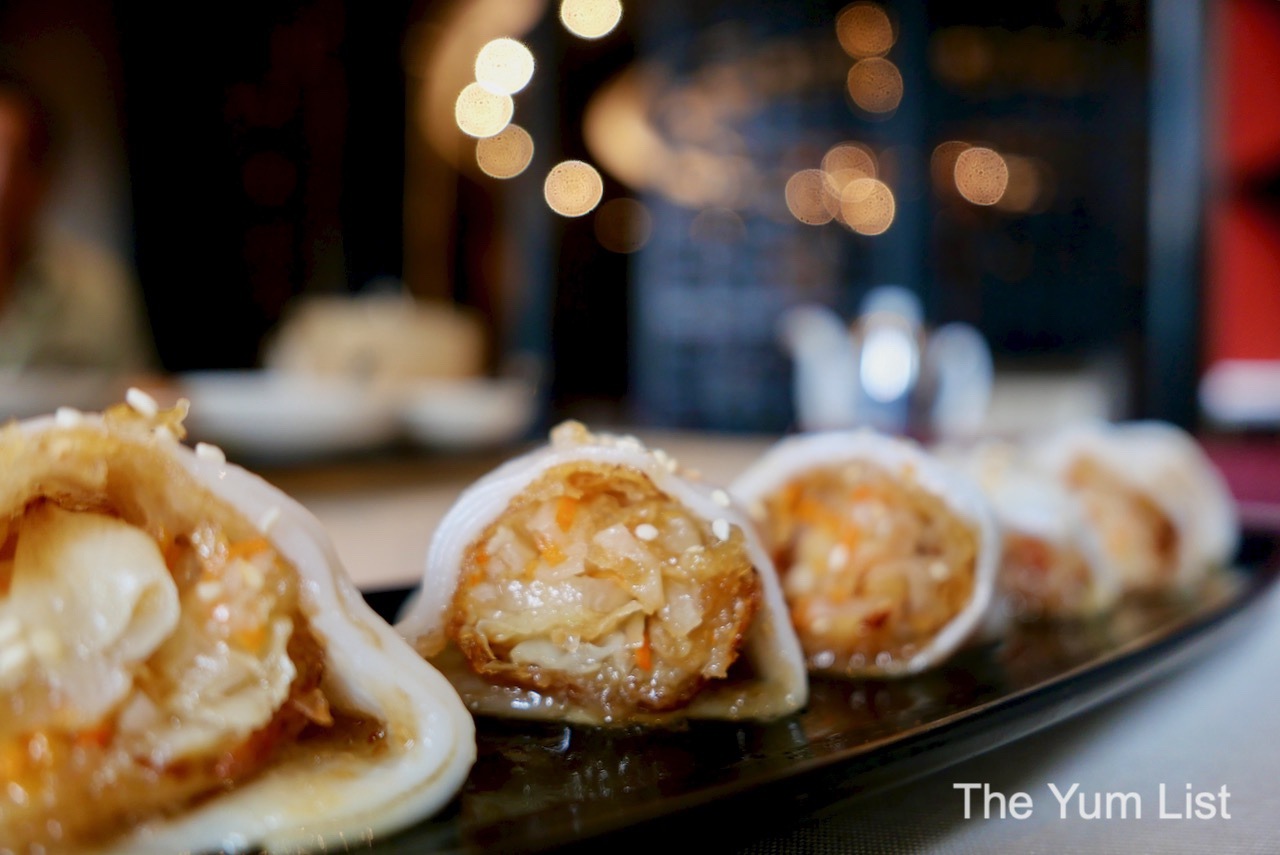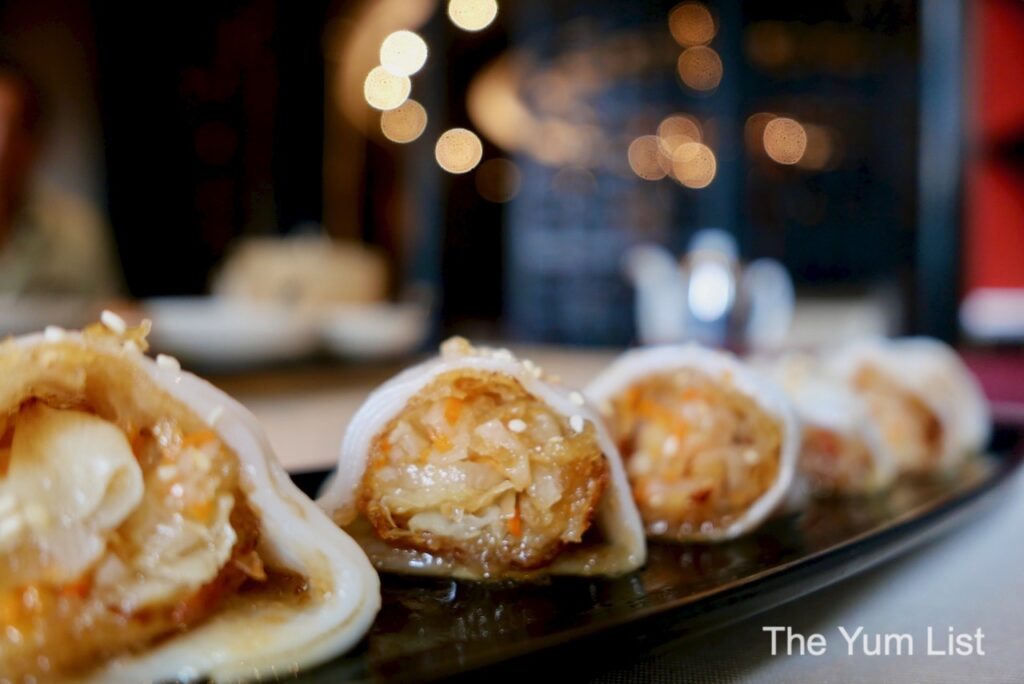 One of our repeat dim sum orders is Pan-fried Radish Cake (RM 17), and here it's presented in a trio of rectangular prisms. The pasty core is enveloped in a paper-thin crispy exterior. The subtle flavours are given oomph with a touch of sambal belacan (chilli and shrimp paste).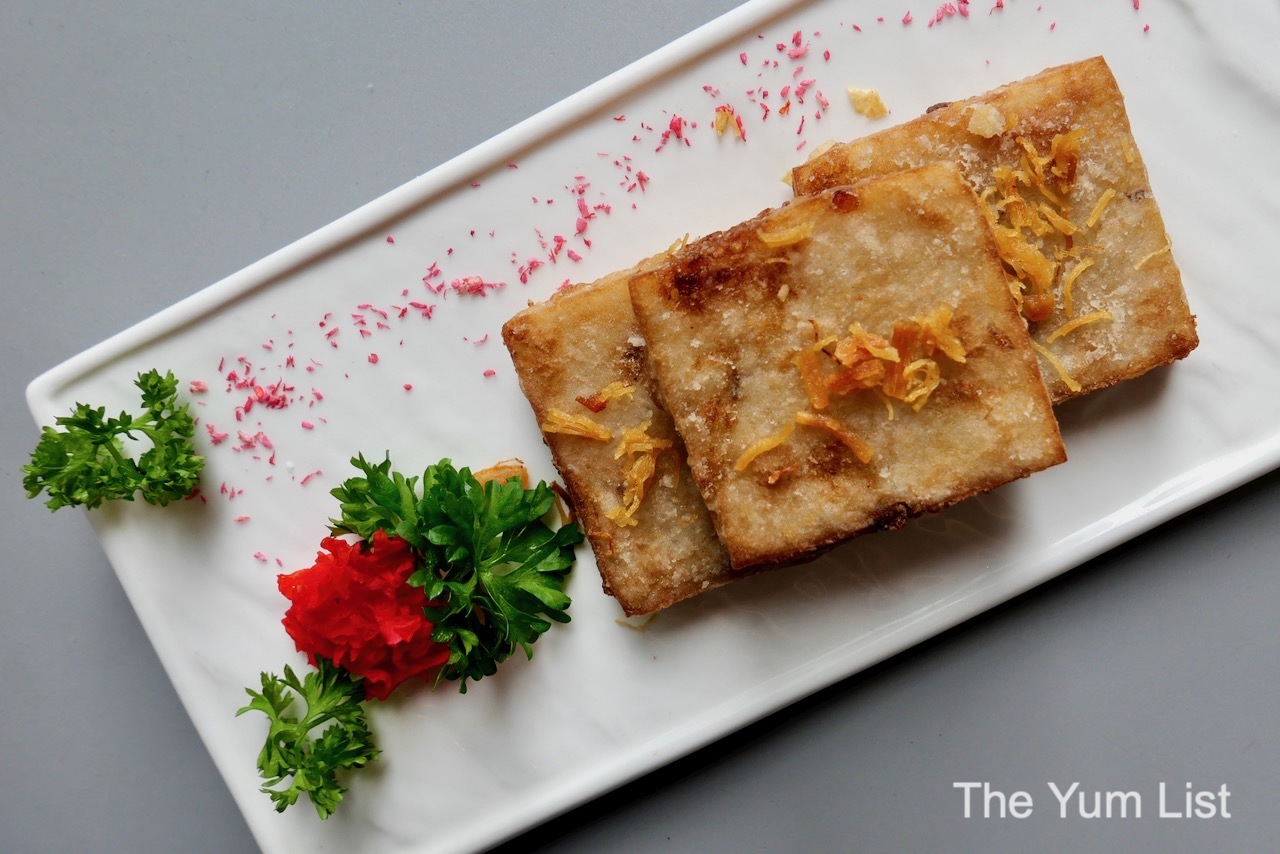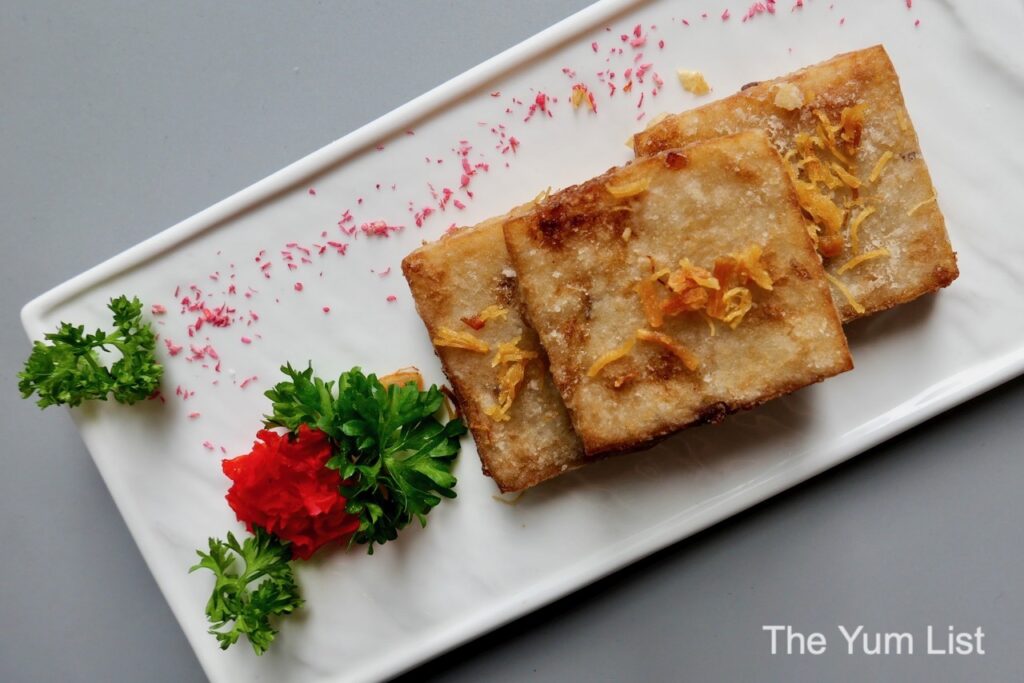 Our last order from the dim sum menu might even be considered dessert if you don't have a sweet tooth. The Baked Purple Sweet Potato Bun (RM 17) is a snow-white mound of light pan-fried dough filled with a gently sweet and vibrantly-hued sweet root filling. Yummy.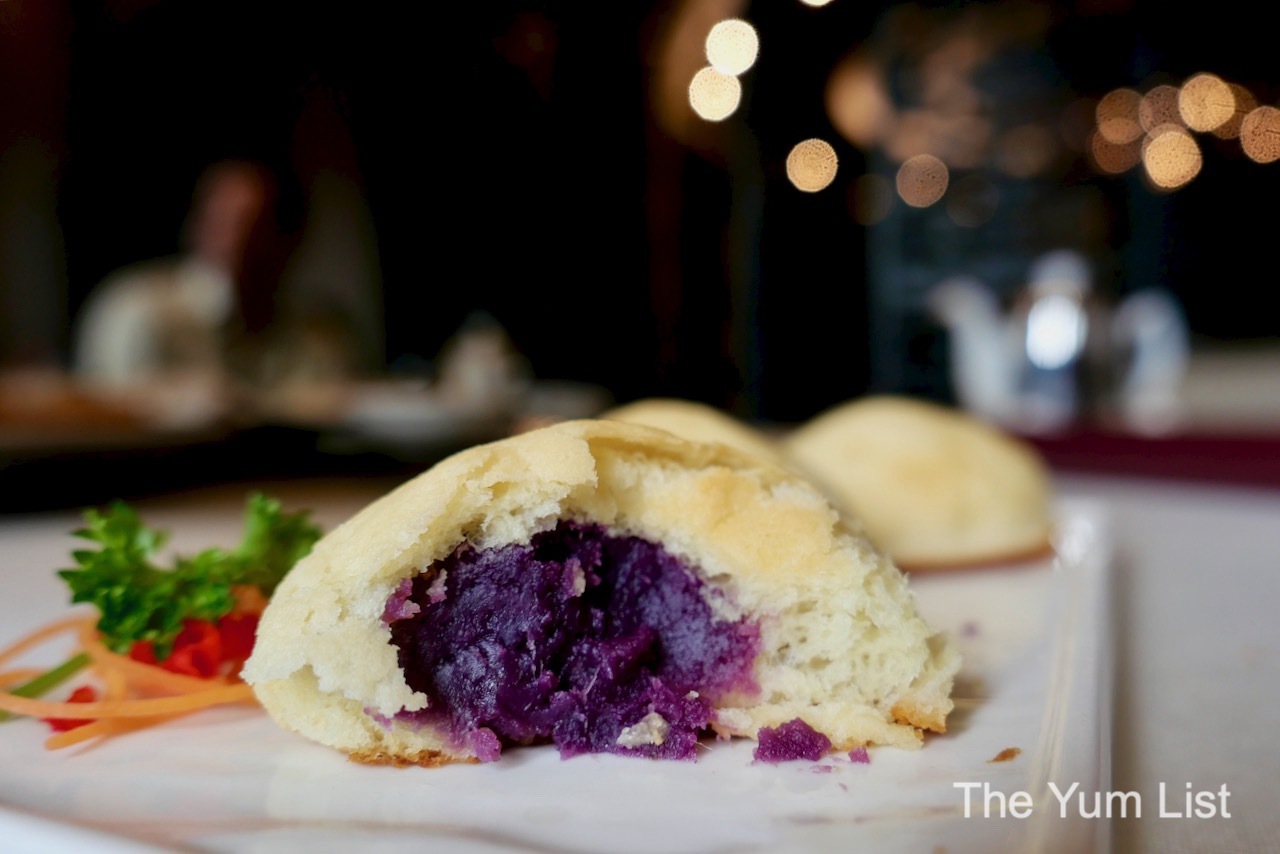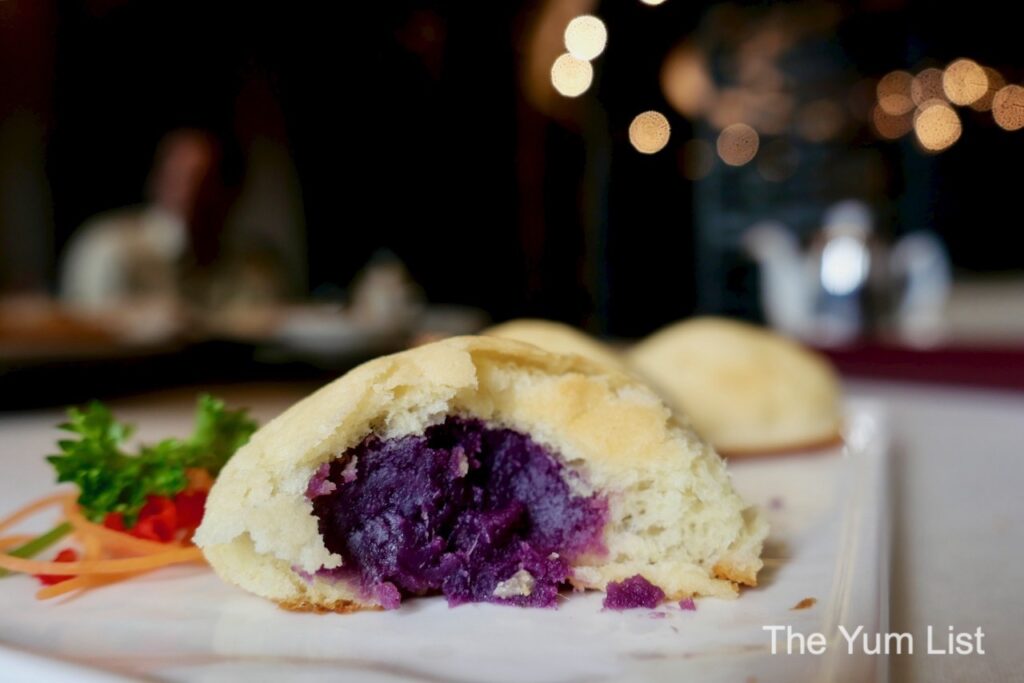 Ala Carte
Dim sum is an excellent option for lunch, and Wan Chun Ting also proposes a sophisticated list of Cantonese and Imperial cuisine for dinner. With a specially designed oven for roasting, Peking Duck (RM 178 whole duck) has been a signature on the menu since opening. The beautiful dark-gold bird is presented on a trolley and sliced in front of guests. The sound of the crisp skin crackles as the knife slices in, and eyes from nearby tables look on with interest. First, the crunchy pieces of skin are wrapped in slender pancakes with spring onions and cucumber. We add a dab of the sweet seafood sauce and manage to fold a pancake away in our mouths at a time, filling the corners with a seesaw of sweet and savoury.
While we're enjoying the pancakes, the chef sautees the remaining meat and bundles it in iceberg lettuce. The meat is rich and fatty, full of flavour, and the crisp leaf spoon is a complementary companion.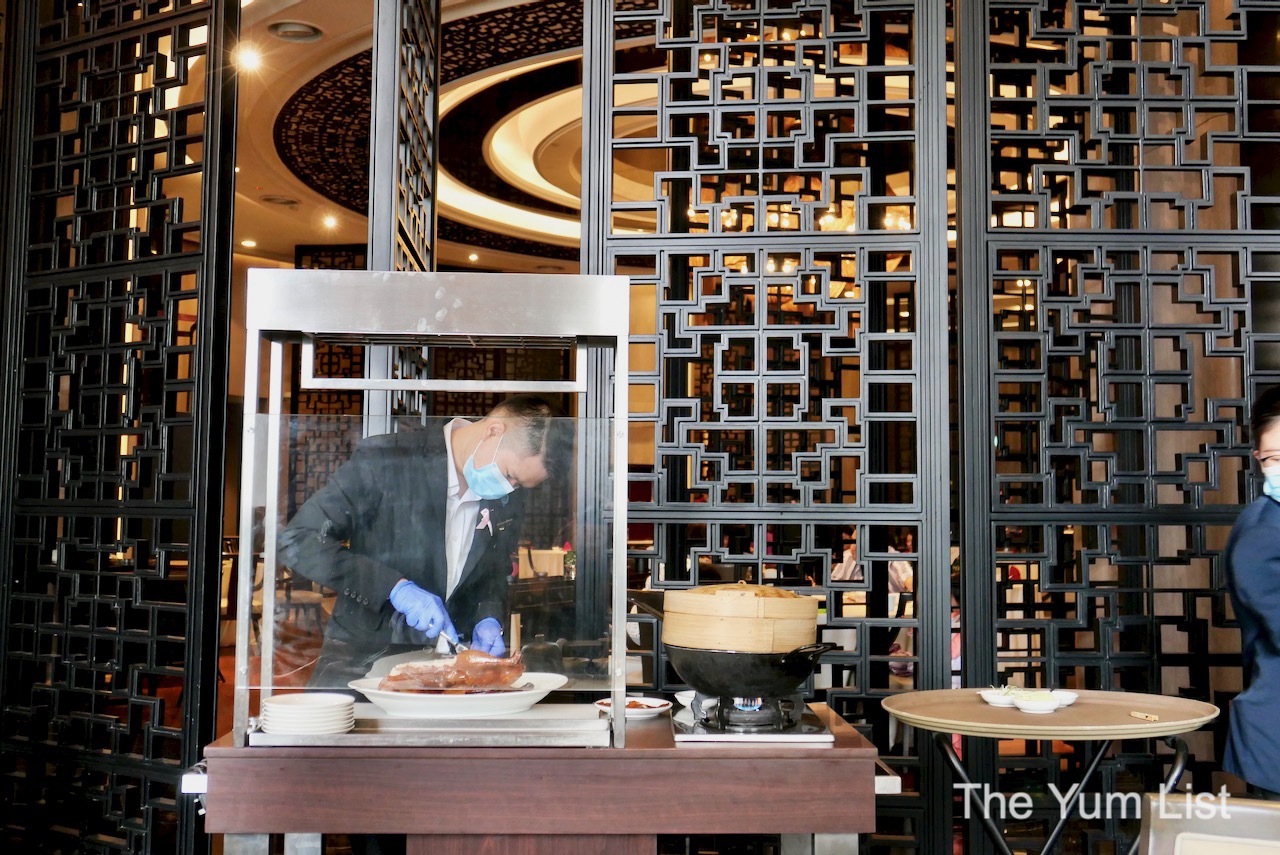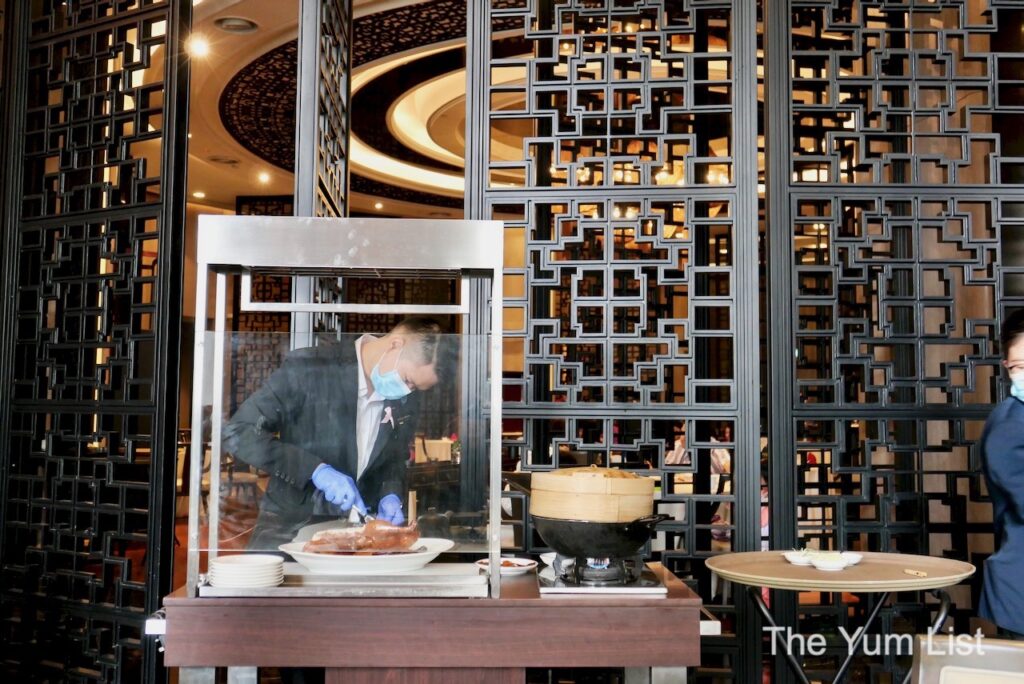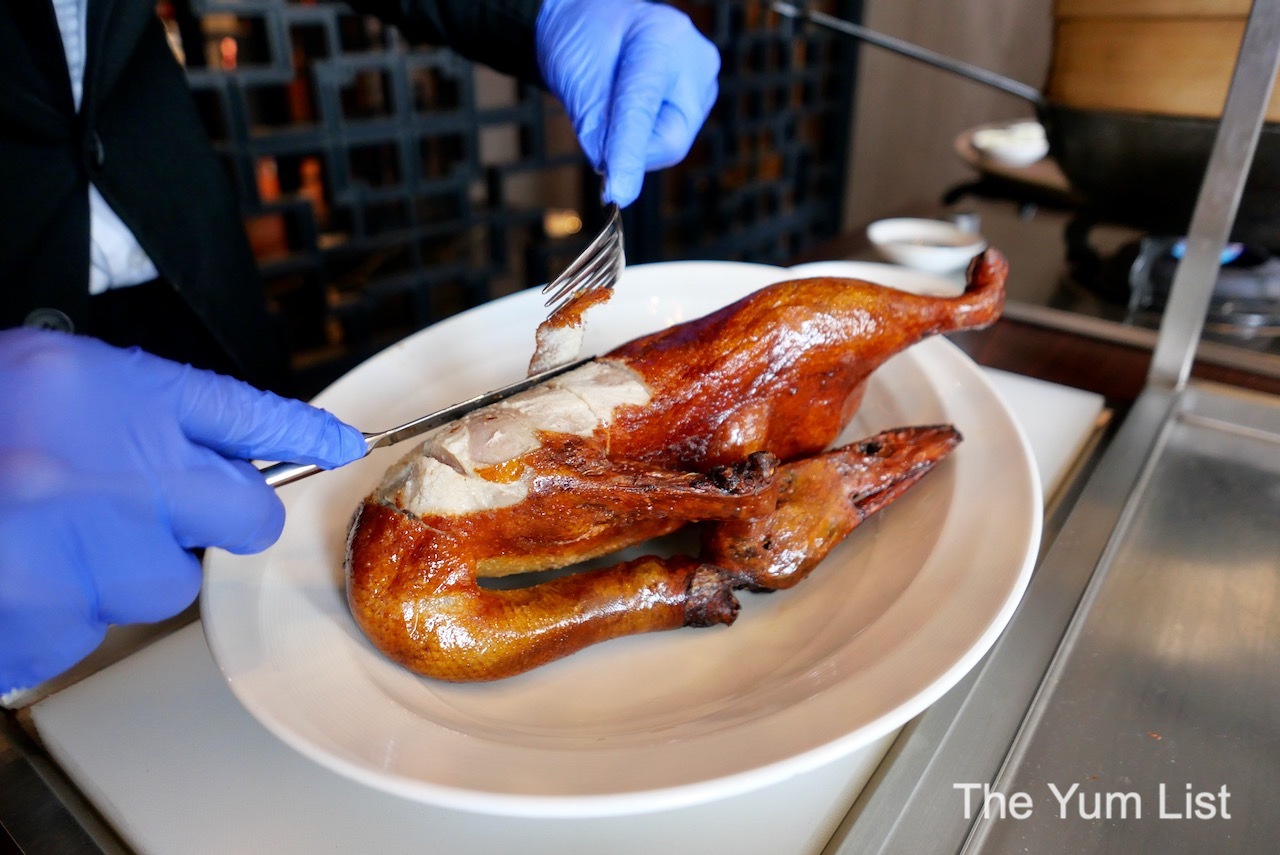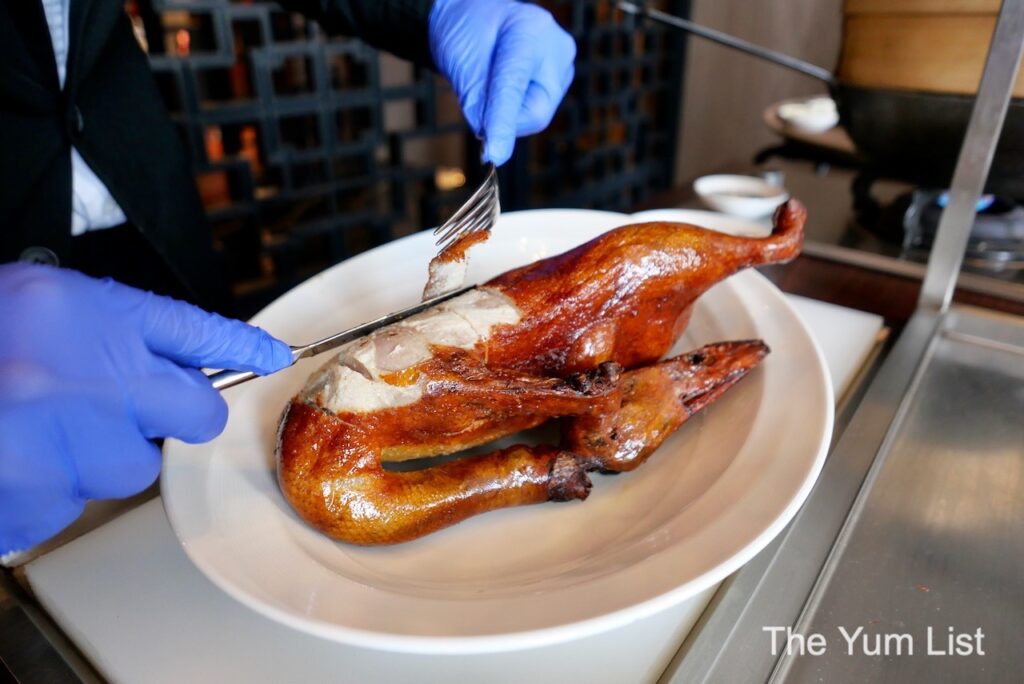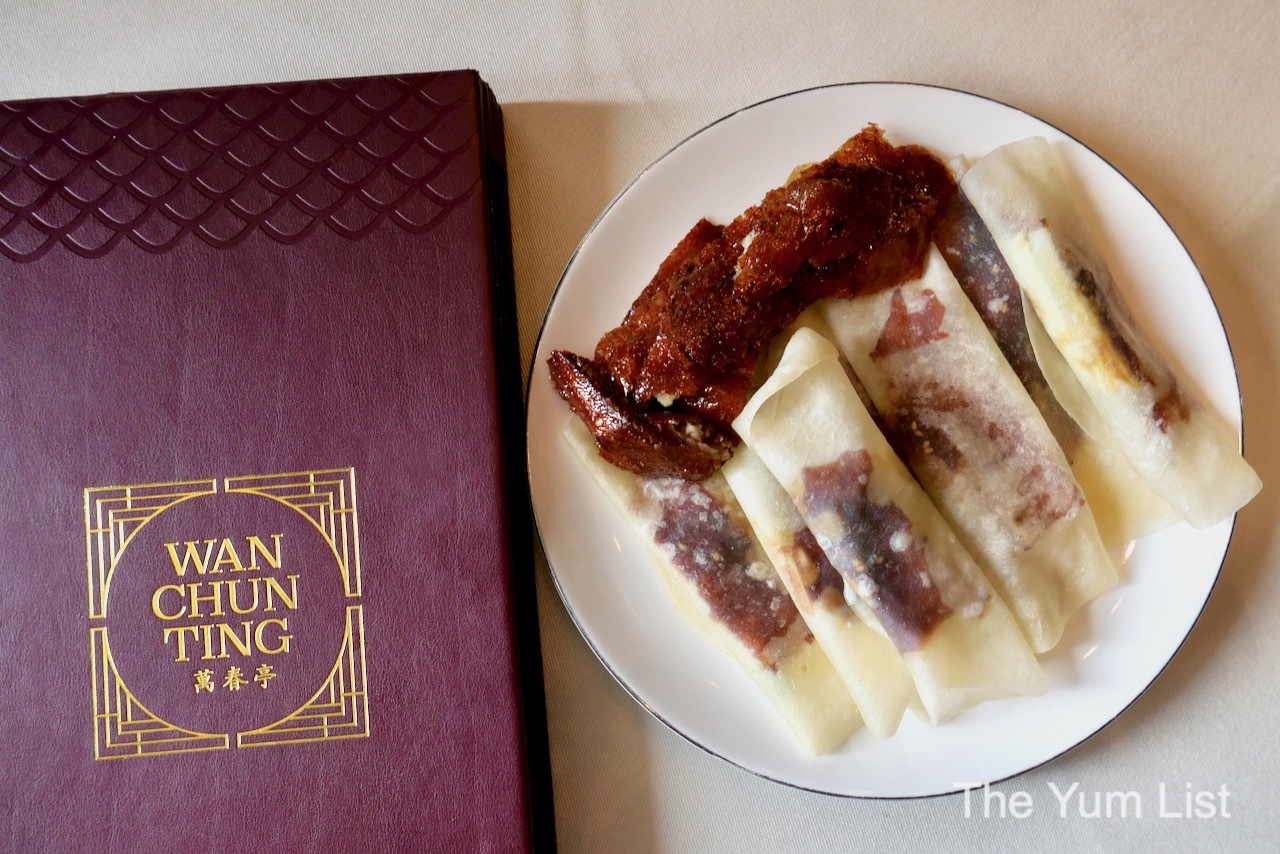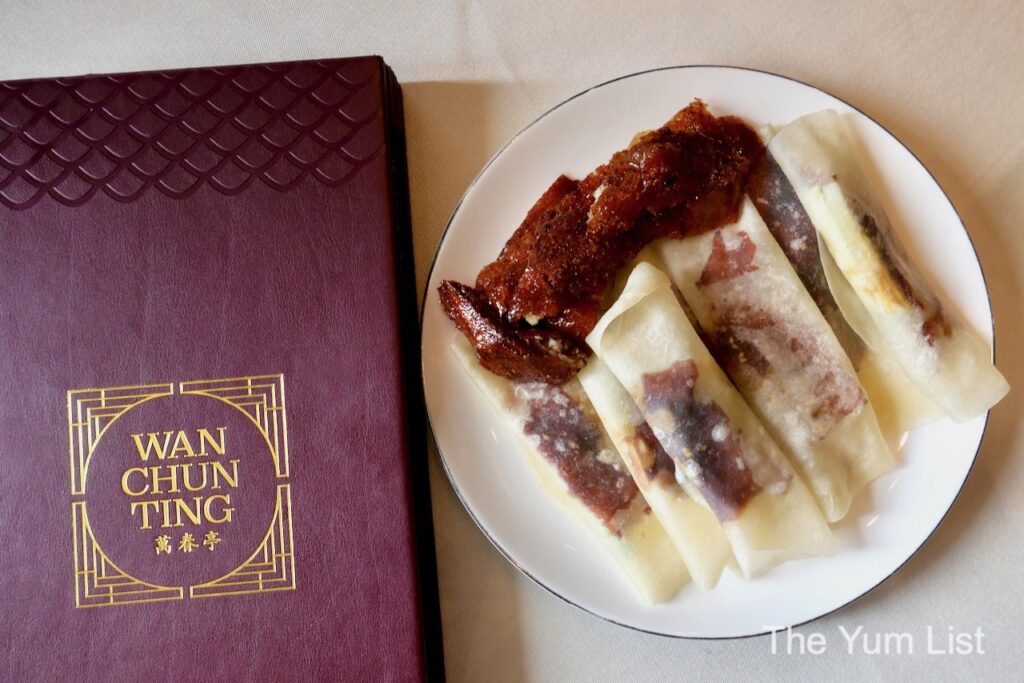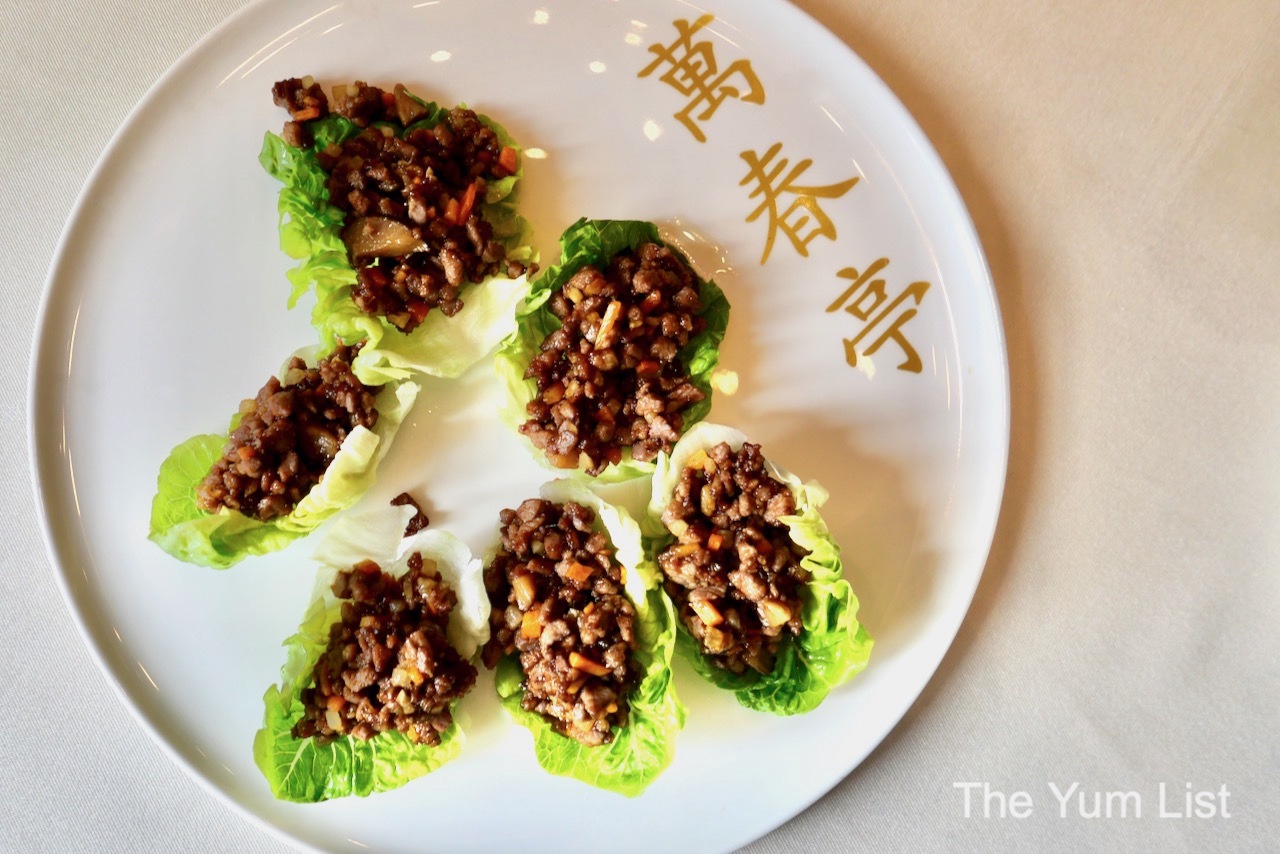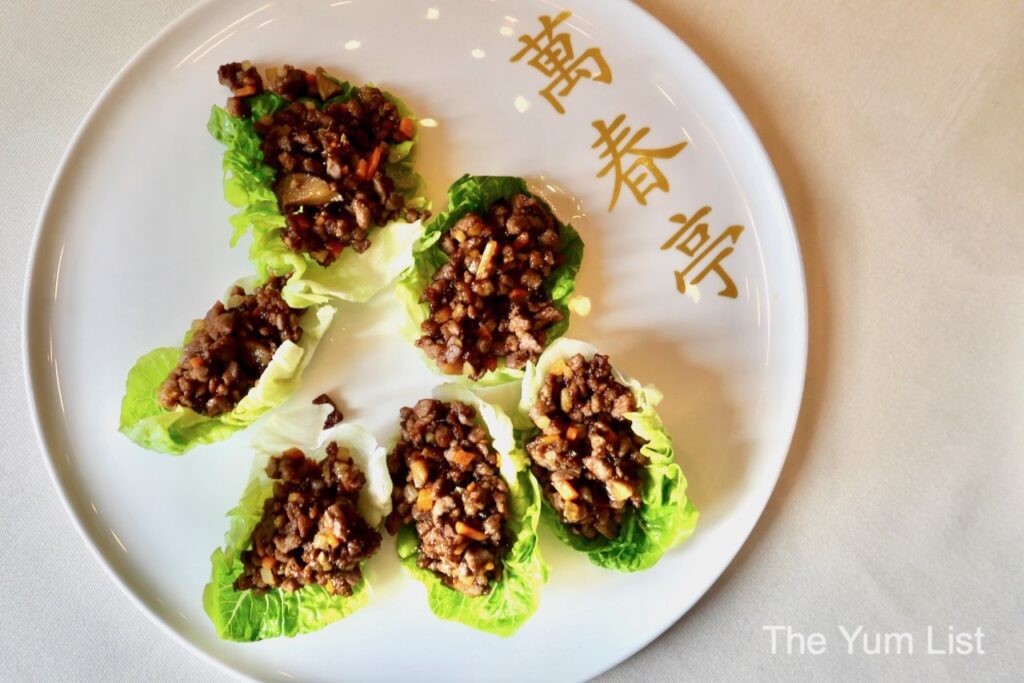 I have to admit that I'd not order Sea Cucumber (RM 45) of my own accord. Generally, I find it rather tasteless, and it must be cooked just right to avoid the texture becoming overly gelatinous. However, chefs at Wan Chun Ting have made it reasonably palatable with a semi-firm texture. The worm-like body absorbs the flavour of the sauce, and the seafood stuffing is rather tasty. The homemade bean curd companion is excellent with a lovely soft consistency.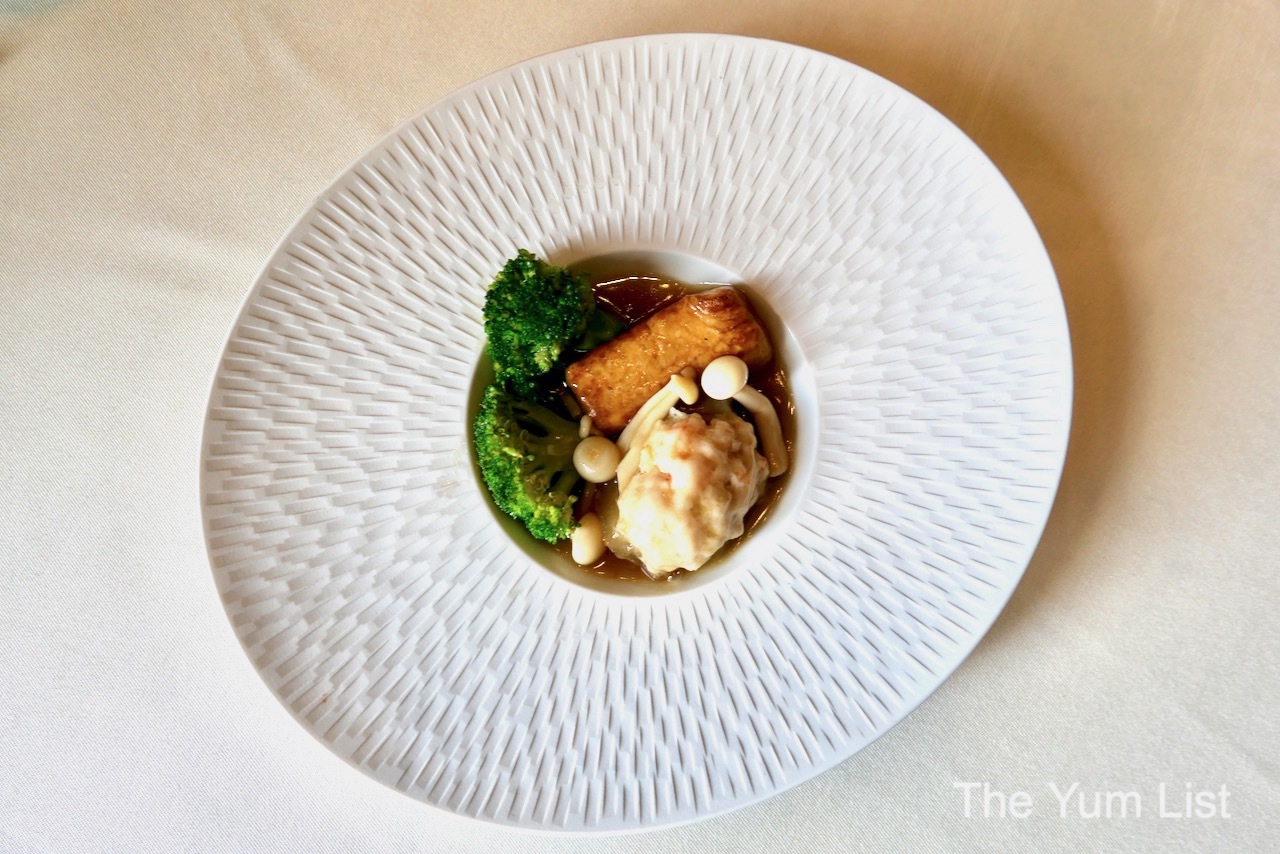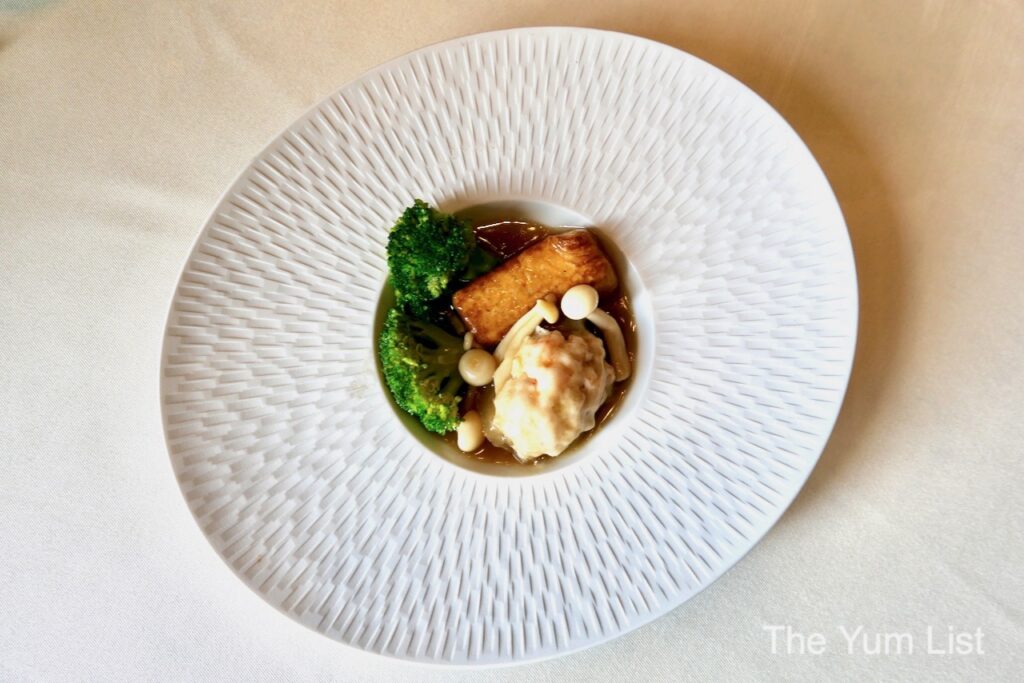 Lastly, from the ala carte selection, Braised Crispy Egg Noodles with Water Prawns (RM 38 per 100 grams) have such a reputation that they are not even listed on the menu. Regulars know this signature is a must-order, and through word of mouth, new guests soon hear about the recipe too. Seasoned with ginger and spring onions, the sauce fills the bowl, soaking into some of the noodles but leaving others untouched, resulting in a change of doneness.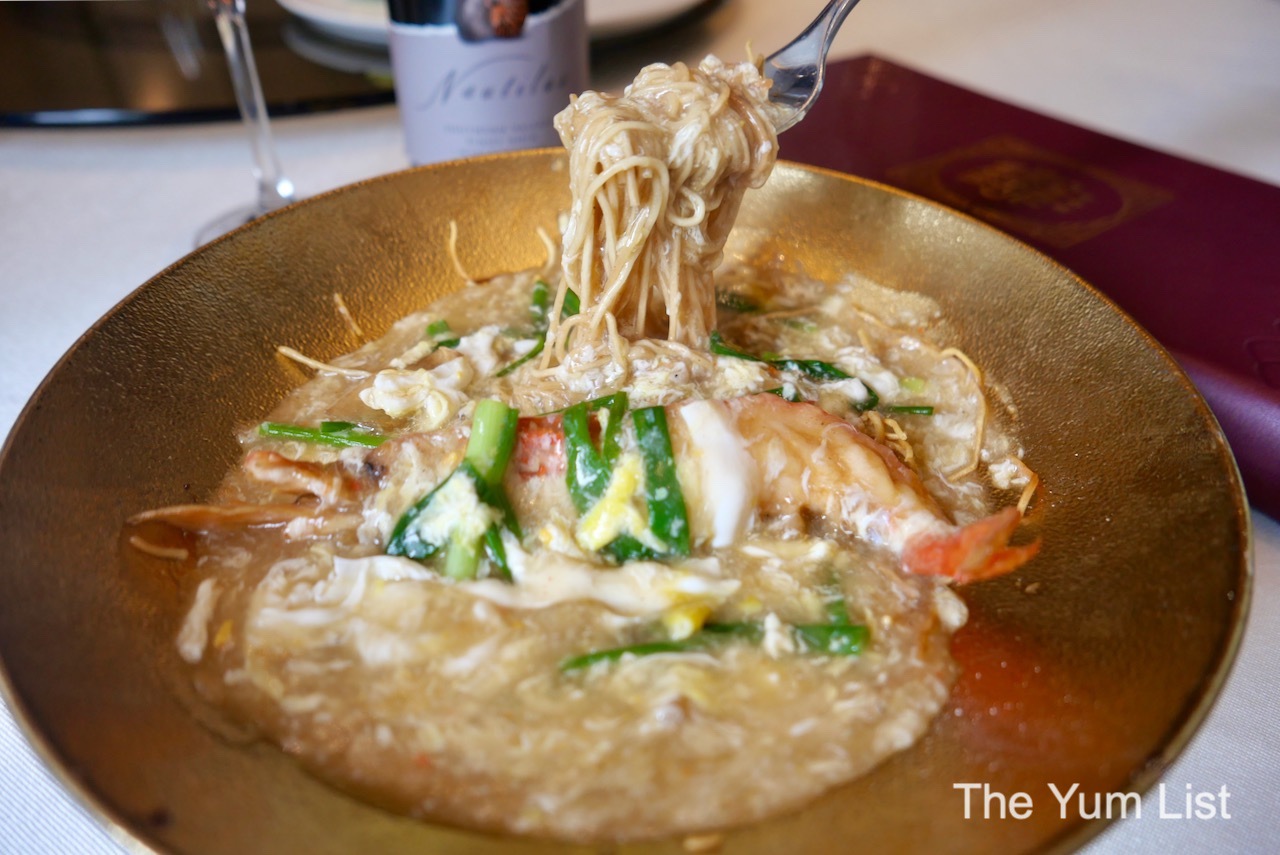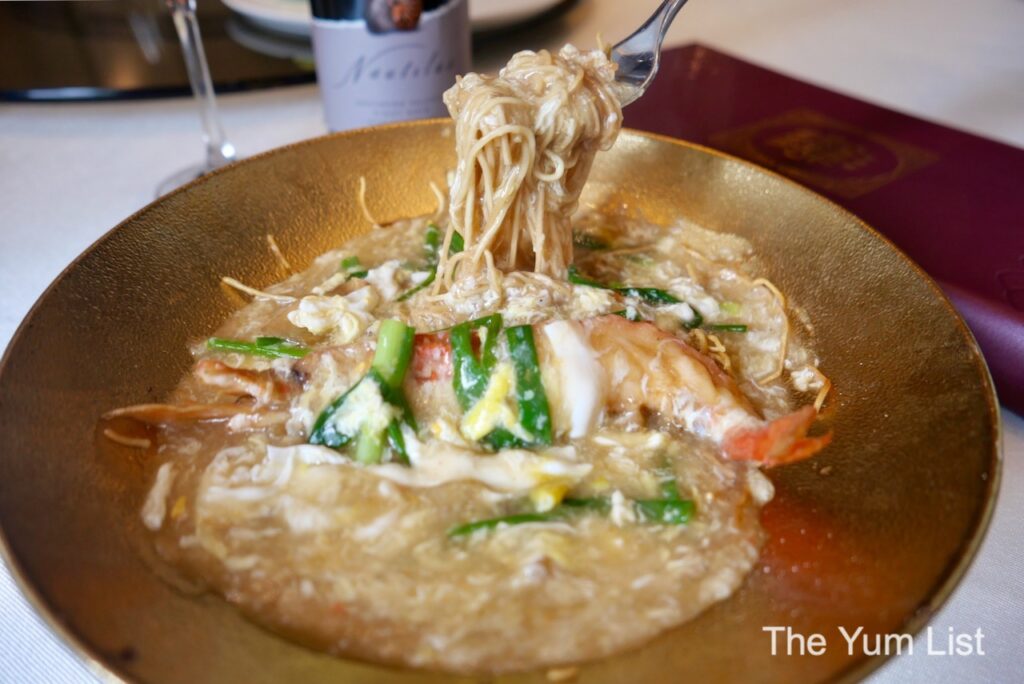 Cantonese and Imperial Cuisine – Dessert
After such a satisfying meal, we only need a light dessert, and the Chilled Mango Puree with Pomelo (RM 21) fits the bill perfectly. The fruity yellow liquid holds pieces of mango and citrus pulp, and the icy cold ball of ice cream makes the profile extra chilled and adds creaminess as it slowly melts.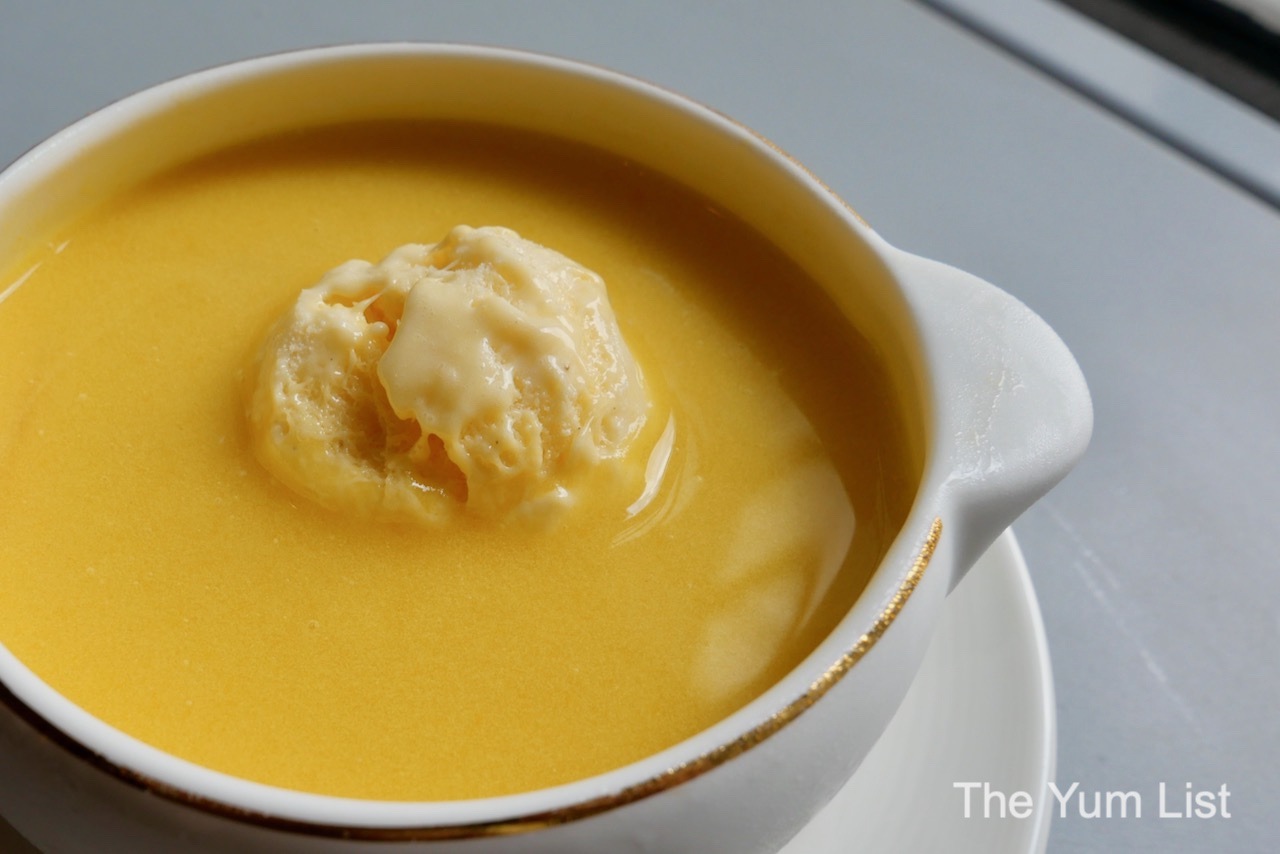 Wine List
While Wan Chun Ting has an excellent selection of tea, being a French hotel, the restaurant's wine list is worth a look also. We take a lovely pinot noir, Nautilus Southern Valley 2014, from Marlborough. Offering typical characteristics of the grape from this region, there's an attractive berry bouquet, medium body, balanced acidity and silky tannins. It's fantastic with the duck. It has enough acidity to slice through the fattiness but enough flavour to hold its own against the bird. It's delicious with food but equally quaffable on its own.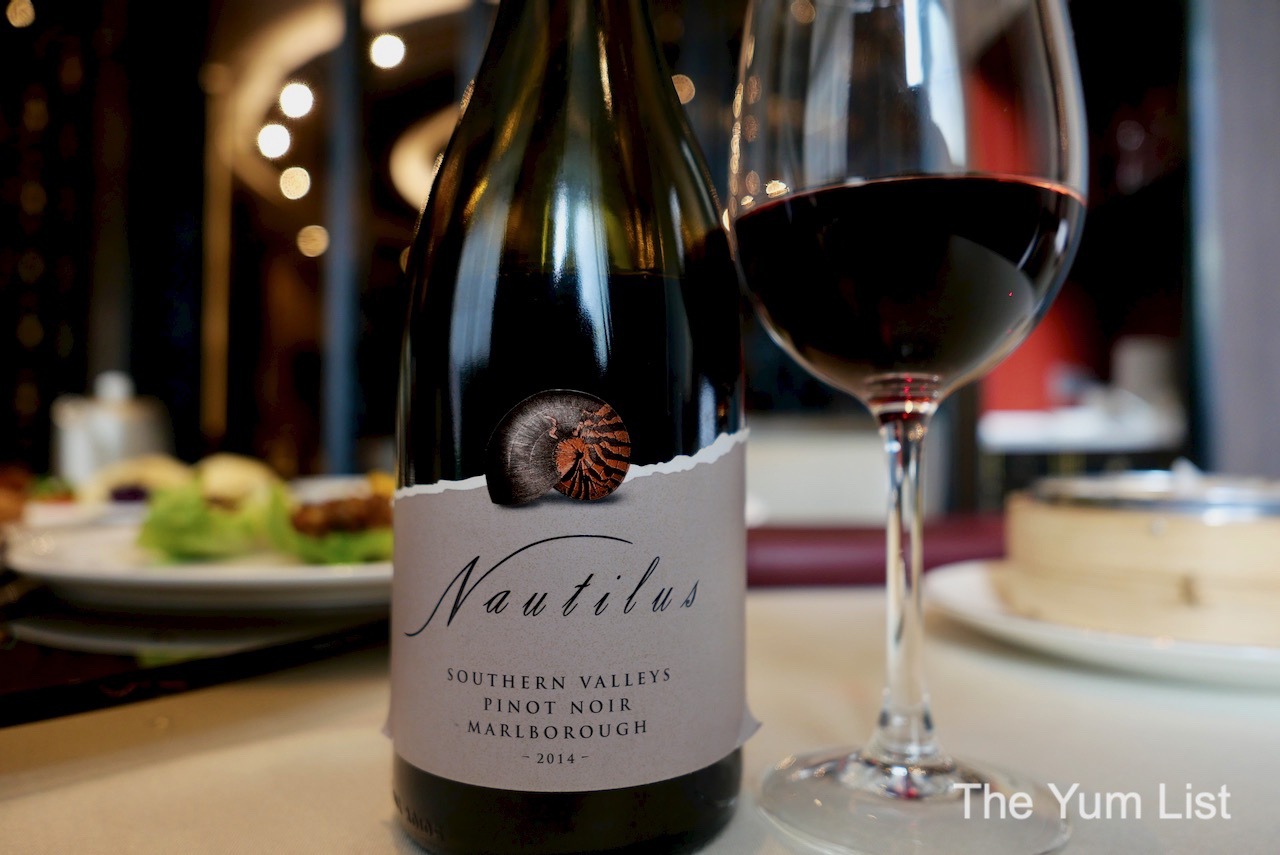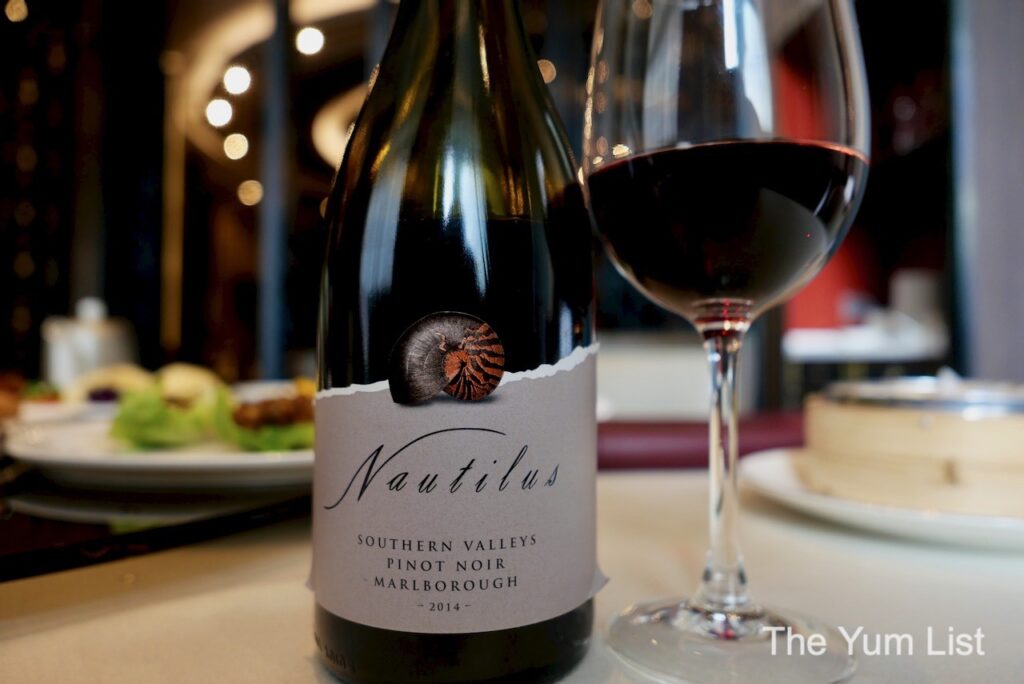 Reasons to try Cantonese and Imperial Cuisine at Wan Chun Ting: stylish setting; must order the roast duck. 
Cantonese and Imperial Cuisine – Wan Chun Ting
Wan Chun Ting
No. 6 Jalan Damanlela, Bukit Damansara
50490 Kuala Lumpur, Malaysia
+603 2720 6688
[email protected]
Wan Chun Ting Operating Hours
Tuesdays to Saturday
Lunch: 12pm – 2.30pm
Dinner: 6pm-10pm
Sunday: 10.30am-3pm
 Stay up-to-date with the latest gourmet and travel recommendations for Malaysia here and here.