The Dark Horse Bar & Grill KL
Words: Monica Tindall
Photos: Rich Callahan
"Be Nice or Leave" – the sign in neon lights pretty much sums up the experience at The Dark Horse Bar & Grill in KL city centre. It goes beyond encompassing a place where everyone feels welcome, and the general spirit is of cheer. It extends to the food menu, a compact list of hearty, satisfying meals where you can be guaranteed that everything that made the list is done well. It goes to the bar that offers a range of beer and cider on tap, just a bit nicer than the usual pub offerings. It also extends to the quality of the décor. It's not your typical sports bar jerseys hanging on walls, but rather classic black and white photos of the stars. Pool tables are professional standards – players will note the difference in the quality. Simply put, if it's not nice, it can clear off.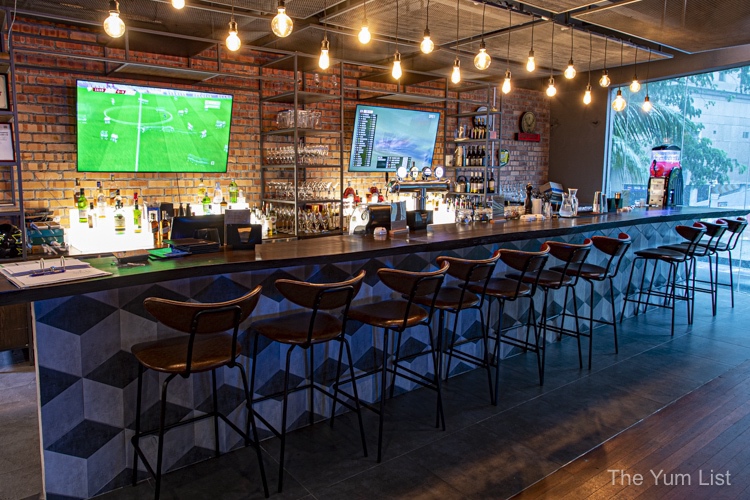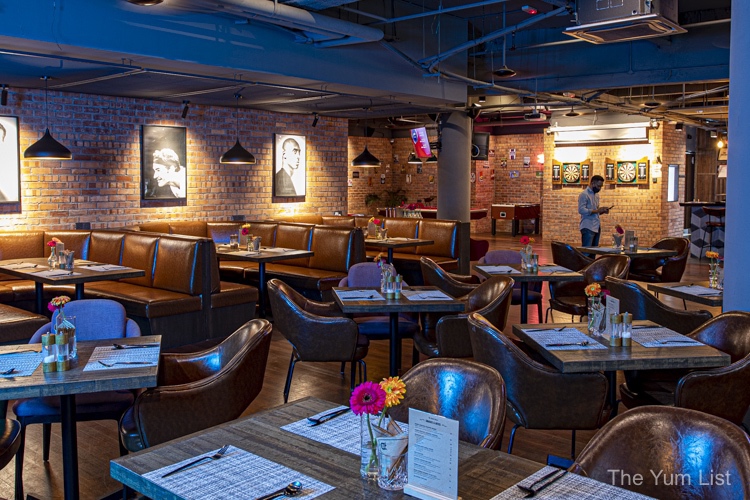 "A Swanky Sports Bar with Great Food"
The Dark Horse is an ample space divided into a casual area containing two pool tables, dart boards and a foosball table. People tend to stand around here with a drink and cue. There's another area that's more for dining with tables and booths. Our favourite perch, though, is outdoors on the balcony overlooking the traffic while appreciating that we're not in it. The latest sports match can be seen from all of the areas on one of seven huge TVs. When not in session, anything from the 60s to the 90s can be heard on a quality sound system, and daily from 6 pm onwards, there is live music. The management actively approves joviality, encouraging anyone to sing along with their favourite songs if the music moves them. Manager Dino advises that it's best to make a reservation for Friday and Saturday evenings as they have been full capacity over the weekends since opening.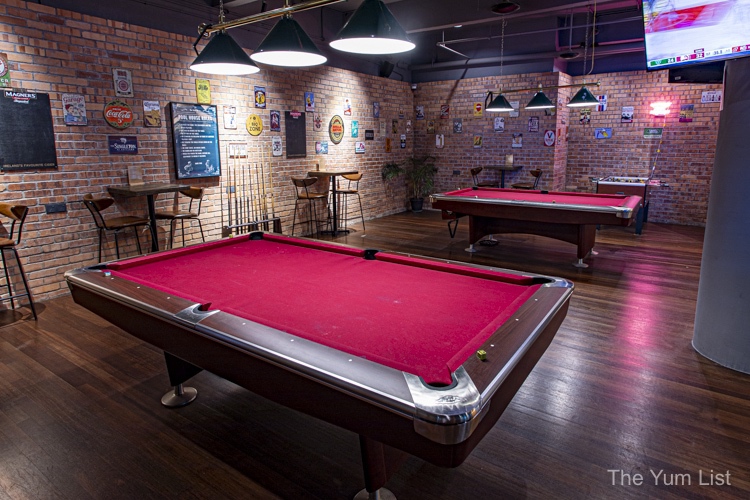 The Dark Horse KL Menu
The menu at The Dark Horse KL is what you might consider good quality pub grub. It's nothing fancy but guaranteed to satiate while being value for money. There's enough variety that the whole family or gang should find something to enjoy.
Snacks
Don't take the word "snacks" lightly when browsing the menu. As with everything offered at The Dark Horse, the theme seems to be Go Big or Go Home. The Soft-shell Shrimp Tacos (RM 18) come in a trio with avocado smash and sour cream. There's something spicy in there that leaves a thread of heat tickling the back of the throat. They could be a meal for one or a great sharing plate.
For sure, I could make the Pulled Beef Brisket Quesadillas (RM 23) my main dish. Toasted until golden brown on the outside, the filling of melted cheese and brisket stretches long and alluringly with every bite. Guacamole and sour cream are provided for additional seasoning.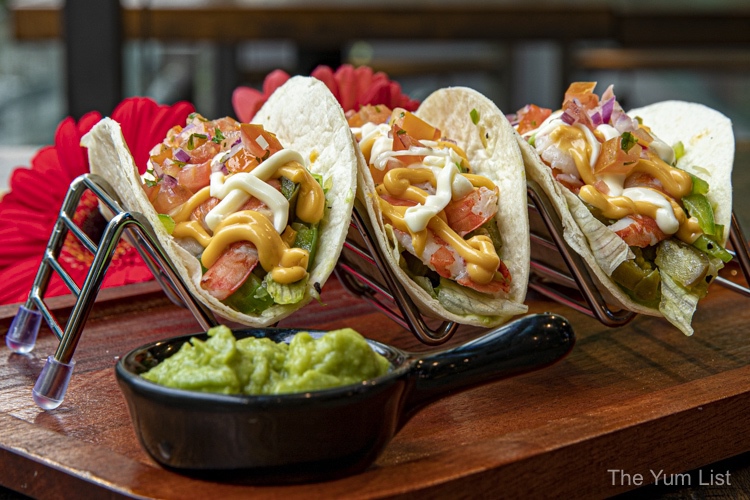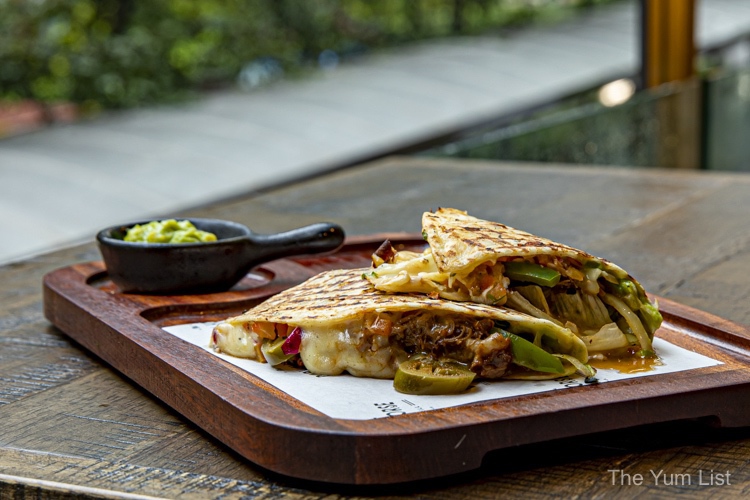 Mains
The mains menu at The Dark Horse is loaded with hearty, guaranteed-to-fill-your-tummy options – even the salads. I don't recommend attempting to tackle the Pear & Blue Cheese Salad (RM 36) on your own. It resembles more a bowl for a family than one. Mixed leaves, sliced pear, mango, avocado, walnuts, and blue cheese are served alone with the pomegranate dressing apart. I especially appreciate this thoughtfulness as I often think salads are overdressed.
Co-owner David says the portioning is a well-thought-out decision. "There's nothing worse than a tiny portion. Don't bring me a starter and sell it to me as the main course. By the time you're done, you should not have space for dessert," he confirms.
The Pulled Beef Brisket Burger (RM 35) comes highly recommended and only a bite in, we can understand why. Slow-cooked pulled beef brisket snuggles between the soft white bun halves and is balanced with lettuce, tomato, gherkin, sweet relish and cheddar cheese. There's just the right amount of everything to make it work together in harmony. It's a highly satisfying choice.
Lemon Garlic Butter Barramundi (RM 35) is one of The Dark Horse's most popular orders. Two decently sized fillets of Asian seabass laze atop a patch of garlic pea sprouts. Lemon garlic butter sauce and tomato caper salsa provide that age-old acidity that complements fish so well.
Another meaty option, BBQ Short Rib (RM 95, 375 gm) is slow-cooked on the bone, maximizing flavour infusion from bone to meat. With such a tasty recipe, all the sides that are needed is a simple garden salad and lattice fries (I think these could make a comeback).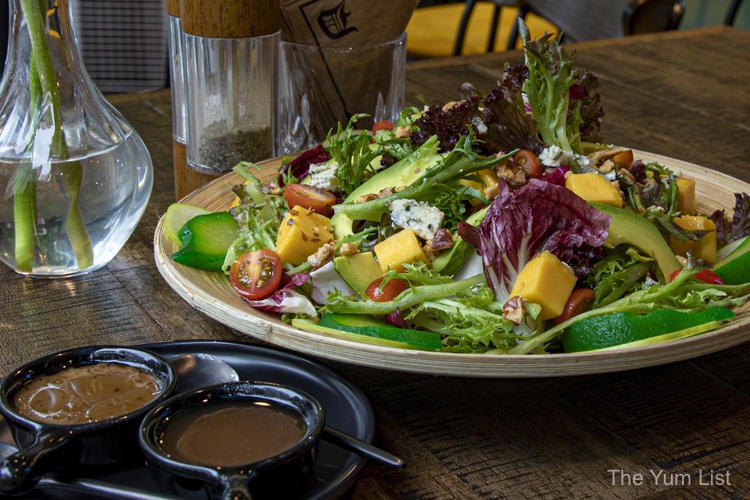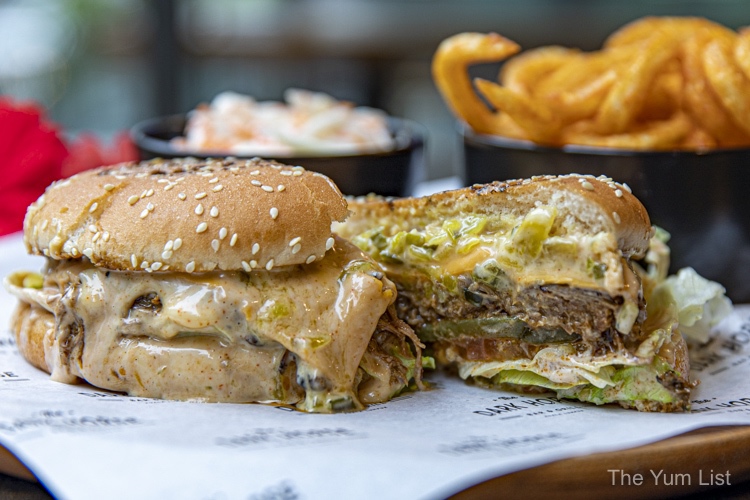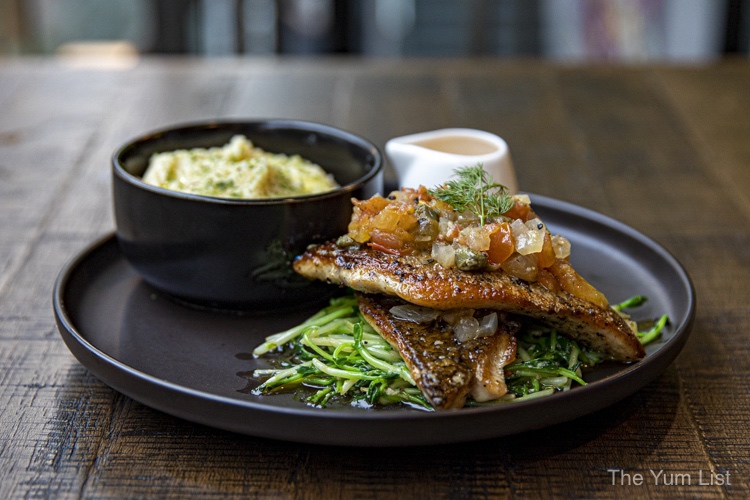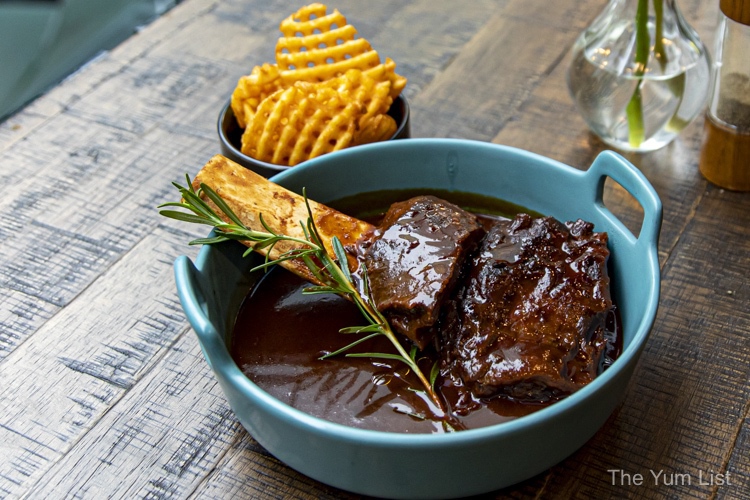 Dessert
As David says, after a meal at The Dark Horse, you really should not need dessert. However, we've all heard of this mysterious pocket that sweet tooths seem to have – storage in a separate compartment apart from the main stomach. As such, we try not one but three sweets.
The Berry Panna Cotta (RM 19) is smooth and thick, covered in a berry compote. Chocolate Lava Cake (RM 20) is a thick dark dome served warm with a scoop of vanilla ice cream on the side. Lastly, the Crème Brulee (RM 18) is simply topped with a berry garnish, a very good replication of the classic recipe.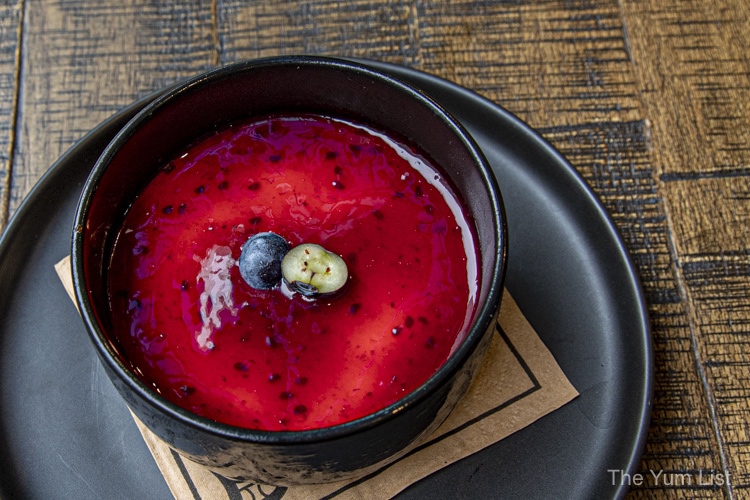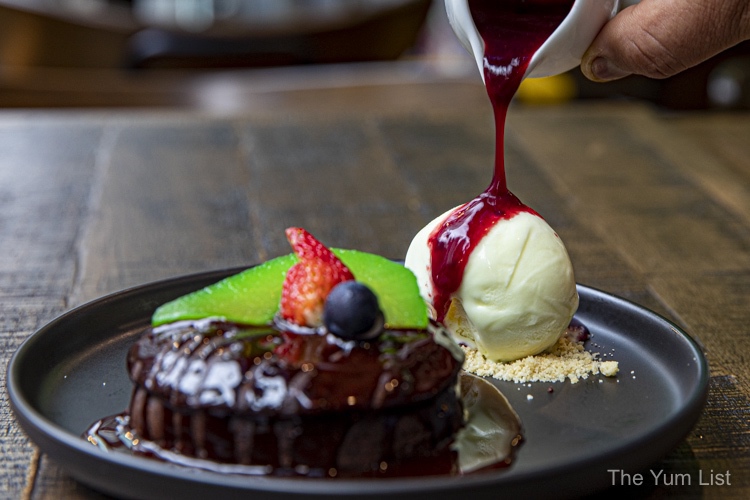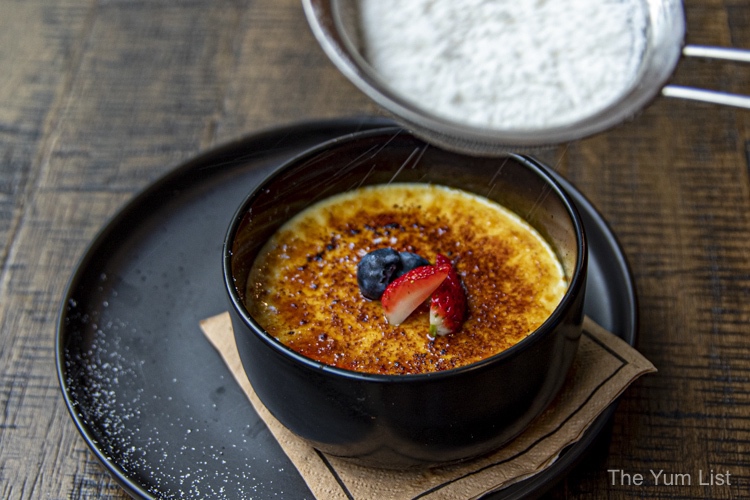 The Dark Horse Drinks Menu
To wash down your meal, The Dark Horse's drinks menu is an easy-to-read one-pager offering a simple range of beer, wine, spirits, soft drinks and cocktails. Of note are ten different Mojito varieties (glass RM 25, jug RM 110). Still, I prefer the classic, and the bar team are happy to make it on my preferred dark rum. Furthermore, their range of draught beers and cider veers away from the standard offerings. Instead, they have Stella Artois, Hoegaarden, Connor's and Blackthorn Cider on tap. Of note, until the end of November, ladies receive free Margaritas Monday to Thursday. December will offer a new promotion, so stay tuned to their social media for updates.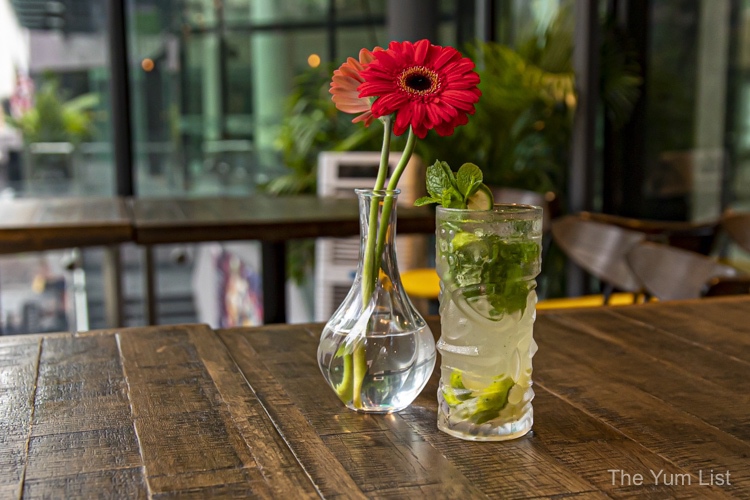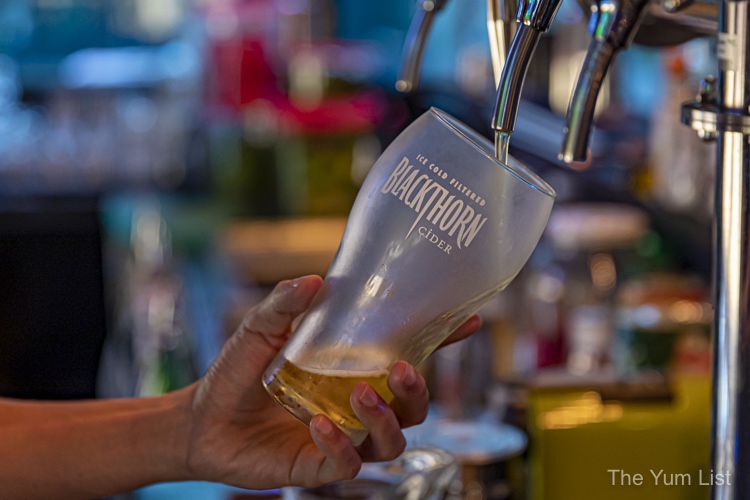 Reasons to visit The Dark Horse Bar & Grill: casual, spacious setting; we like the balcony overlooking the street; generous portions; hearty, satisfying meals; happy, good-natured vibe.
The Dark Horse Bar & Grill
Lot G-05, Life Centre, 20 Jalan Sultan Ismail
50250 Kuala Lumpur, Malaysia
+6 019-333 9269
www.facebook.com/darkhorse.kl
The Dark Horse Bar & Grill Opening Hours
Daily 12 pm – 12 am
Find more restaurants and bars in KL here, and stay up to date with the latest happenings around Malaysia here and here.