Wine Paired Dinner Langkawi, Kayuputi St Regis
Monica Tindall
It's hard to beat sunset Champagne cocktails overlooking the sea as a prelude to a wine-paired dinner in Langkawi. If you're going to treat yourself to the degustation menu at Kayuputi, at The St Regis Langkawi, we highly recommend doing it right – start with sundowners at the bar.
The Pavilion is perfectly positioned to capture the vibrant colours of the close to the day. Its magnificent sail roof, open walls, lounges and nets over the water foster cross ventilation and a relaxed setting to take pleasure in the ever-changing move to dusk.
Bubbly is an obvious choice, but for something a little more imaginative try the bar's signature Kayu Puti Fizz (RM 70). It's an aromatic cocktail of sweet vermouth, Geisha blossom tea, orange flower water and fresh grapefruit topped up with Taittinger Champagne. It would be all too easy to stay… and stay… here but do reserve space and time to wholly enjoy the wine-paired dinner at Kayuputi, JJ's Experience.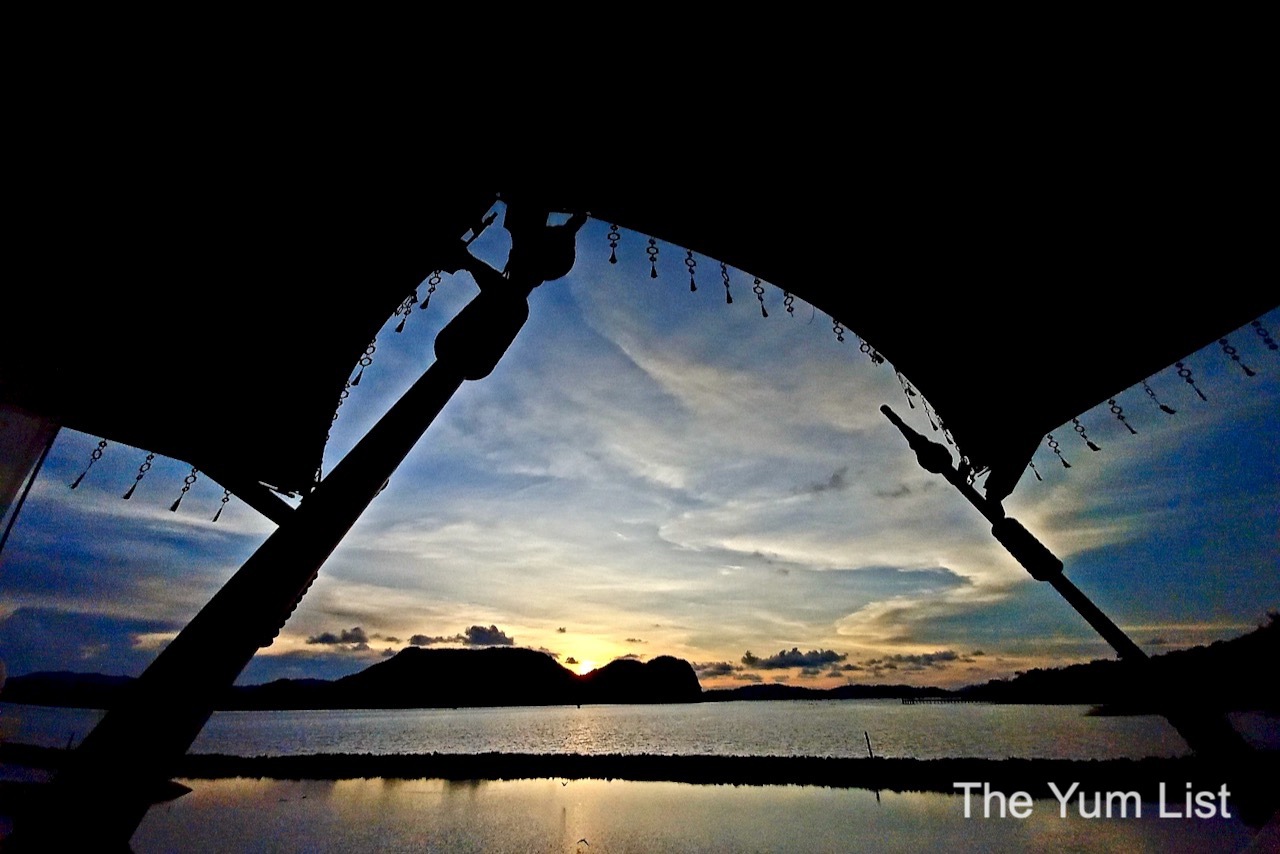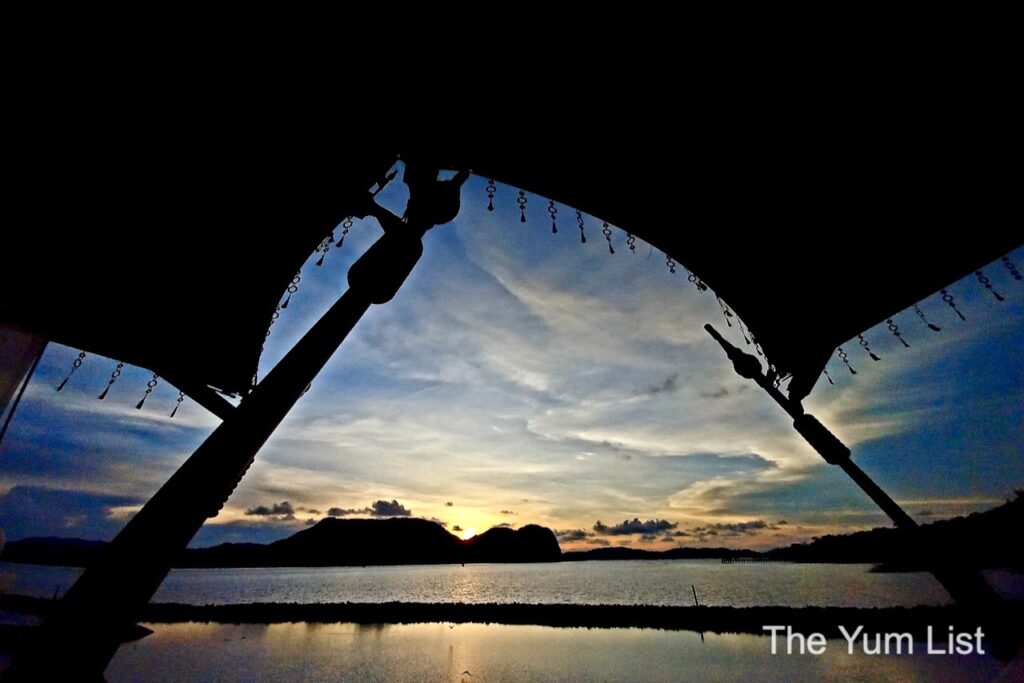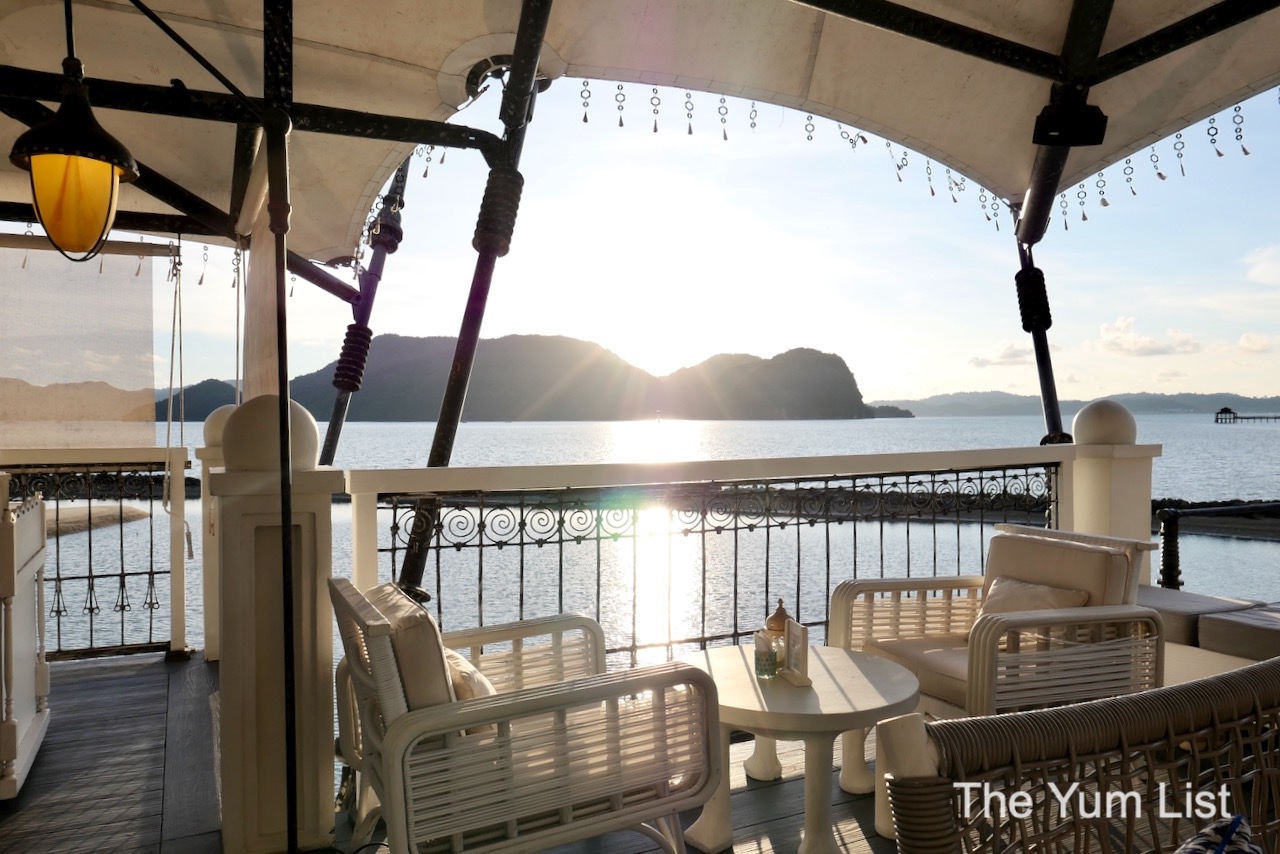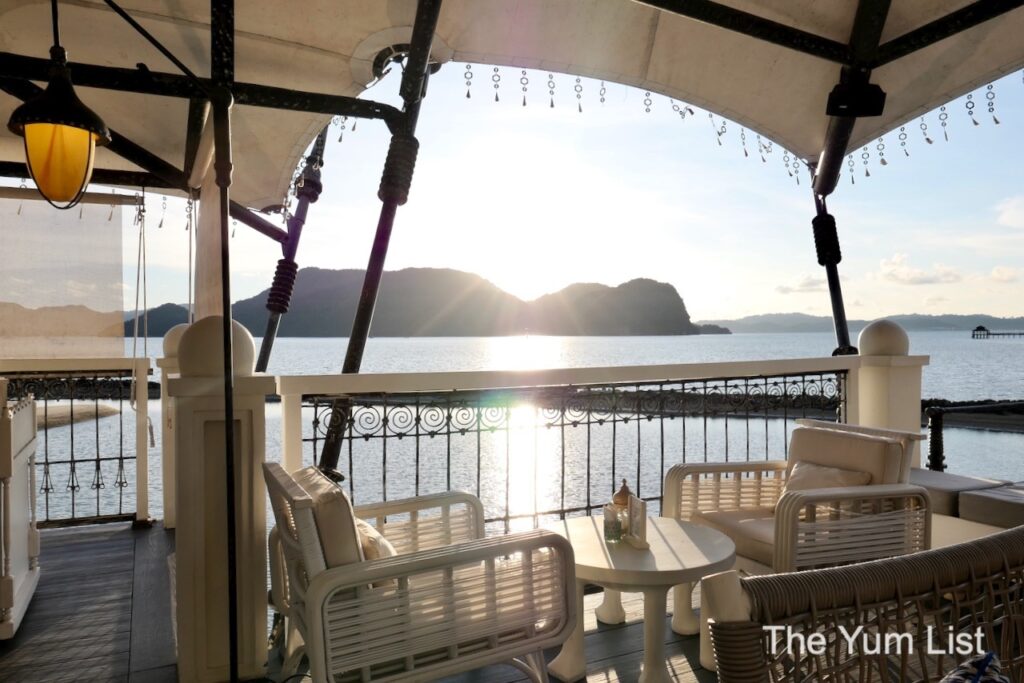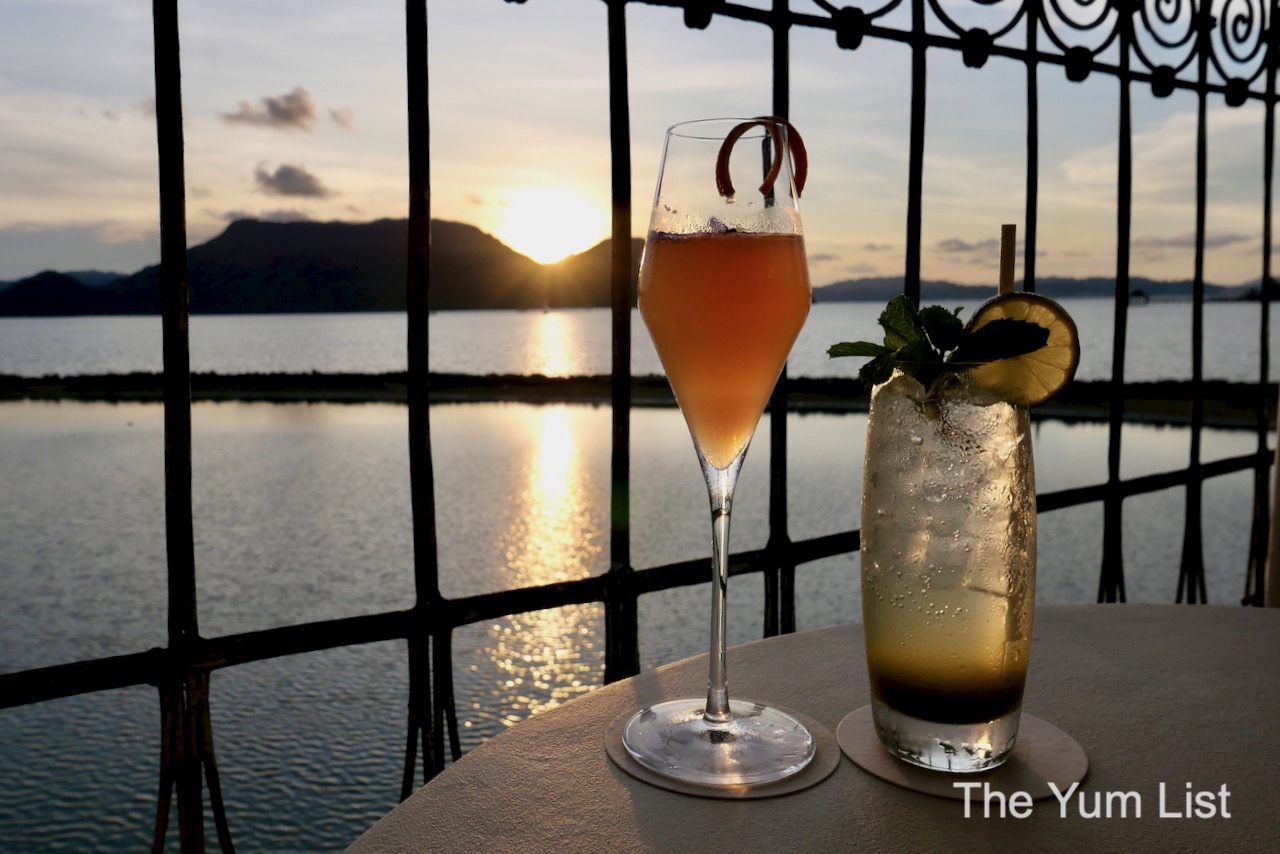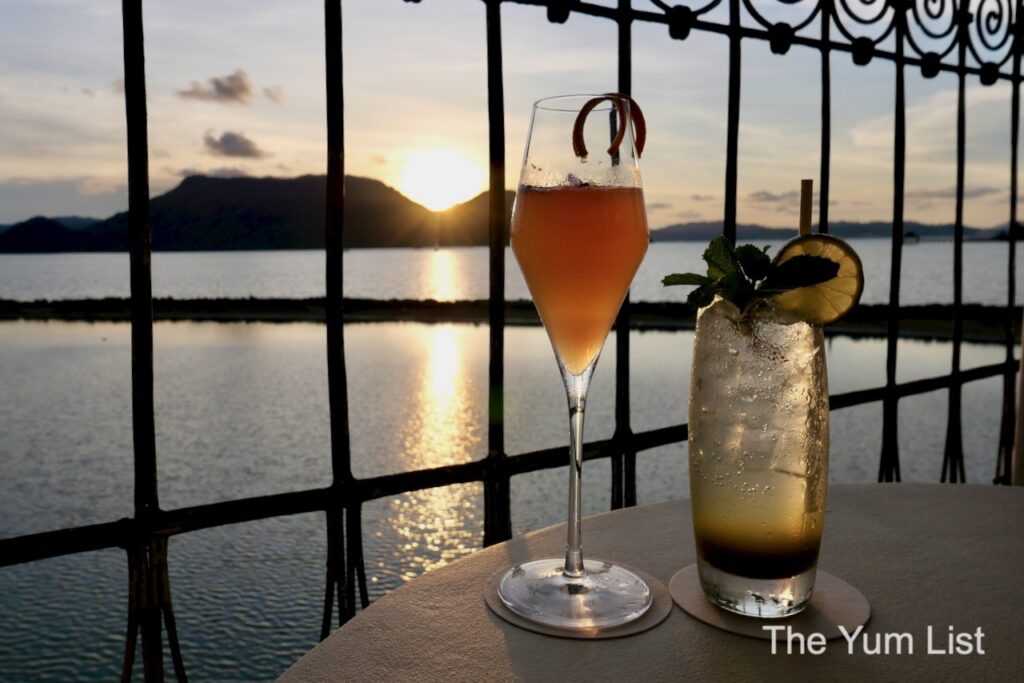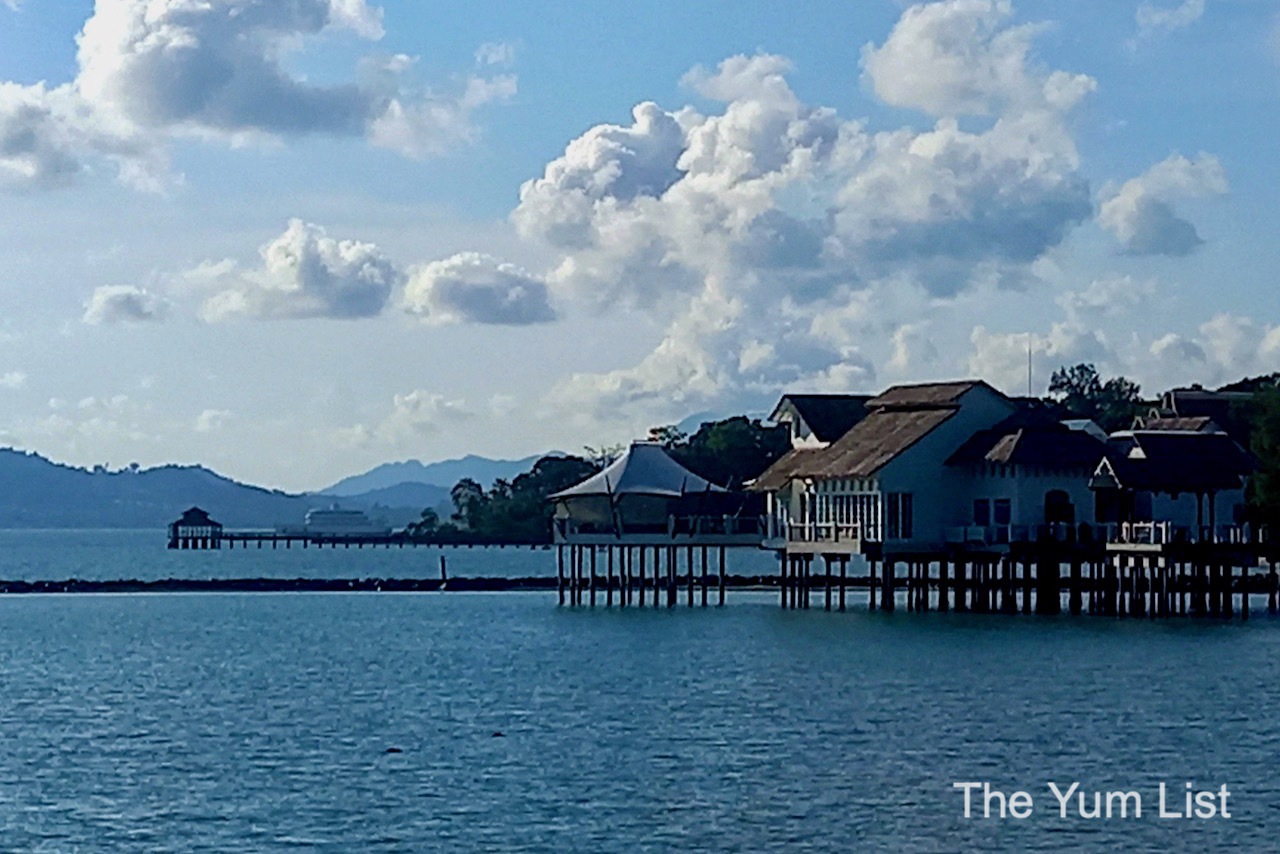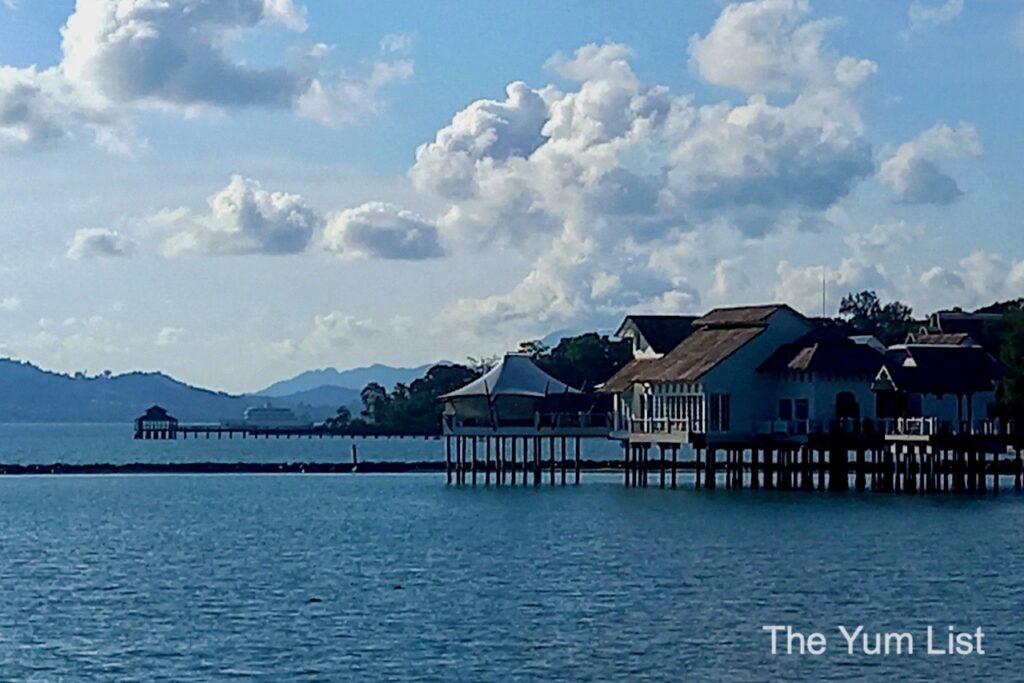 JJ's Experience – Wine Paired Dinner Langkawi
JJ's Experience is a degustation of your choice of four (RM 520) or six courses (RM 620) with the option of wine pairing (RM 860). The menu is dedicated to the founder of The St Regis brand, John Jacob Astor IV, and I'm certain the line-up would please him. As a side, there is also an entirely vegetarian menu named after the matriarch of The St Regis brand Caroline Astor. We congratulate the team on the thoughtful option and hope to return to try that on another occasion.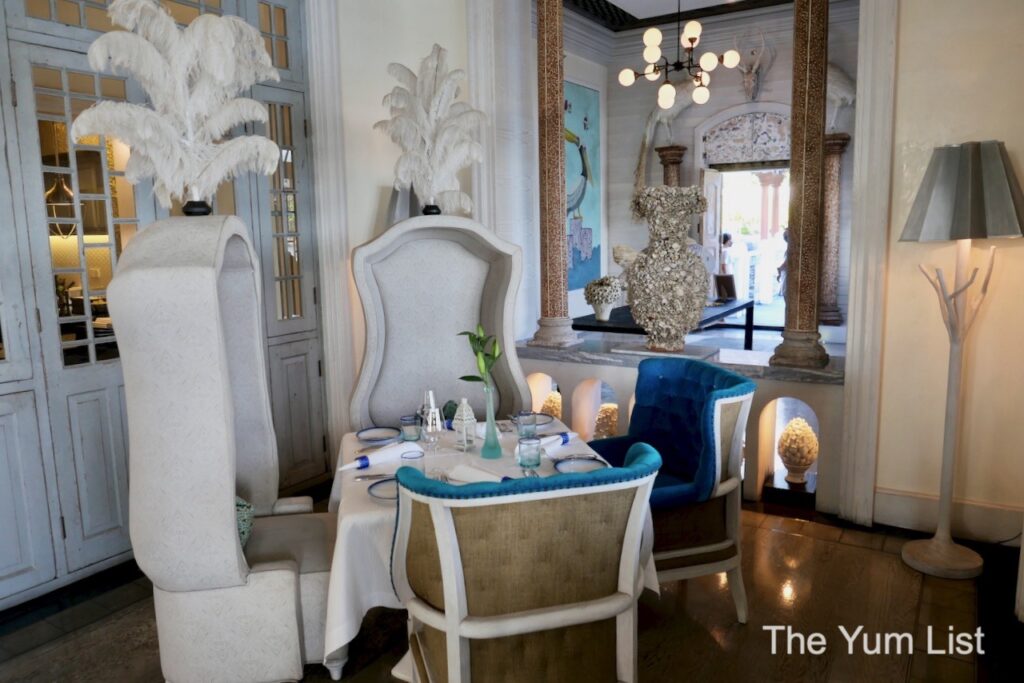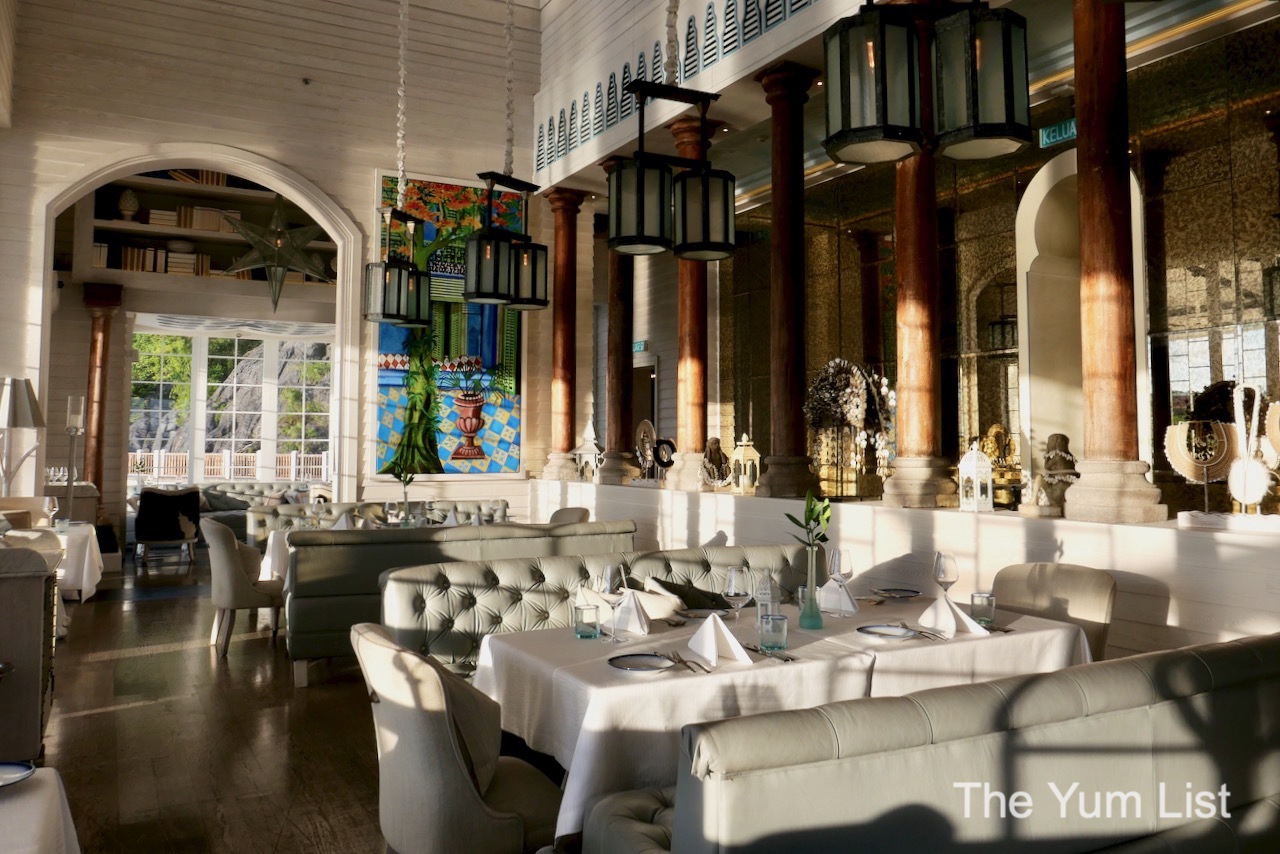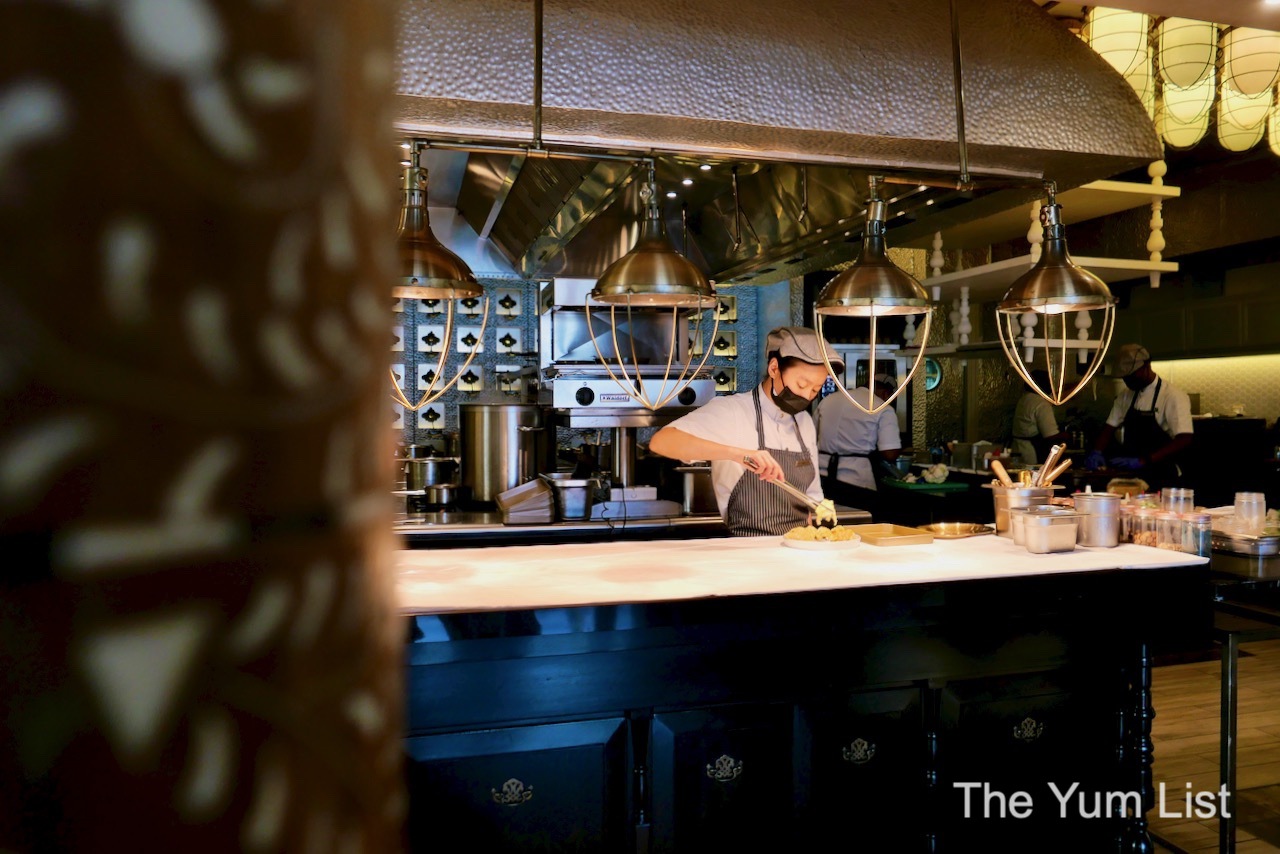 Service has been flawless with our move from The Pavilion to a dining table at Kayaputi. Water, warm for hubby and chilled with lime for me, arrives at our table without delay, as does the bread. Dark-hued hazelnut and cranberry slices are complemented by creamy marmalade butter.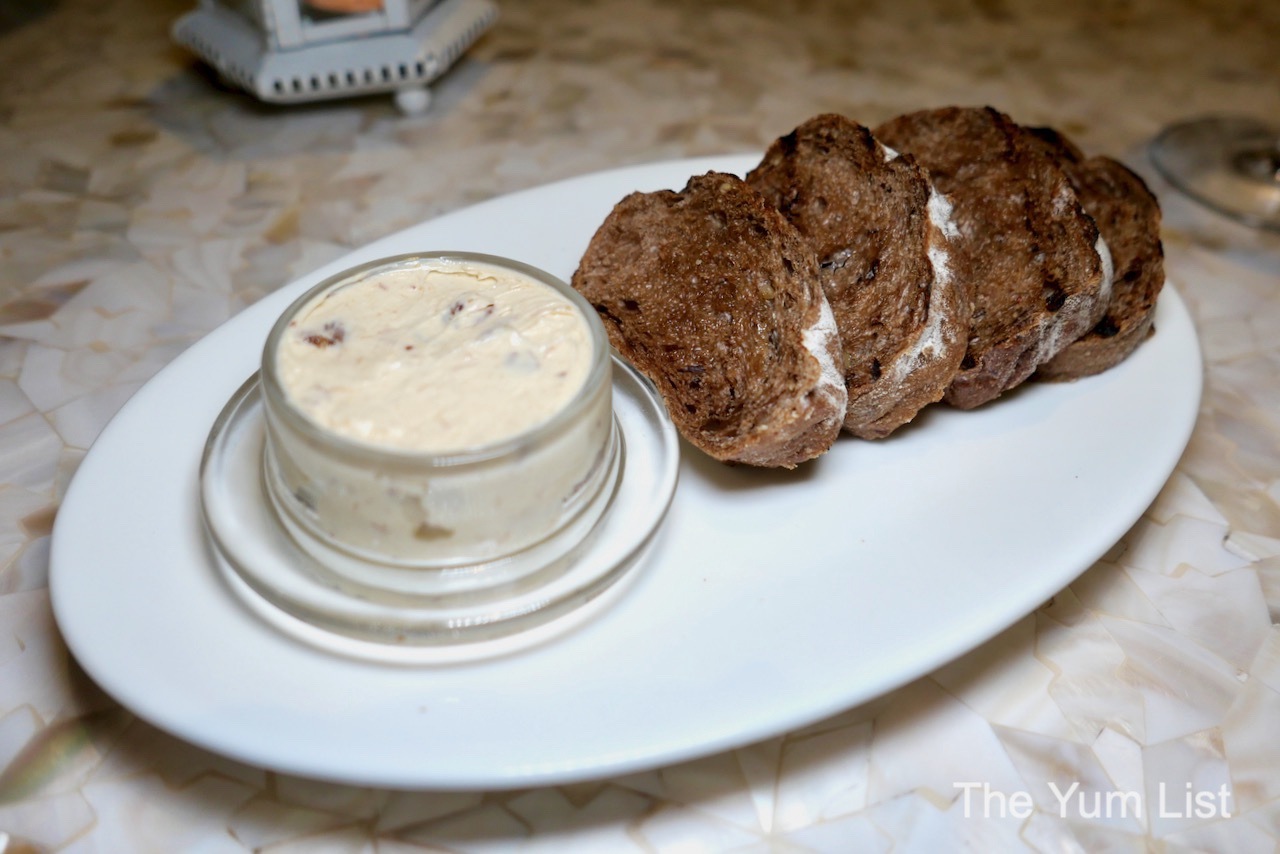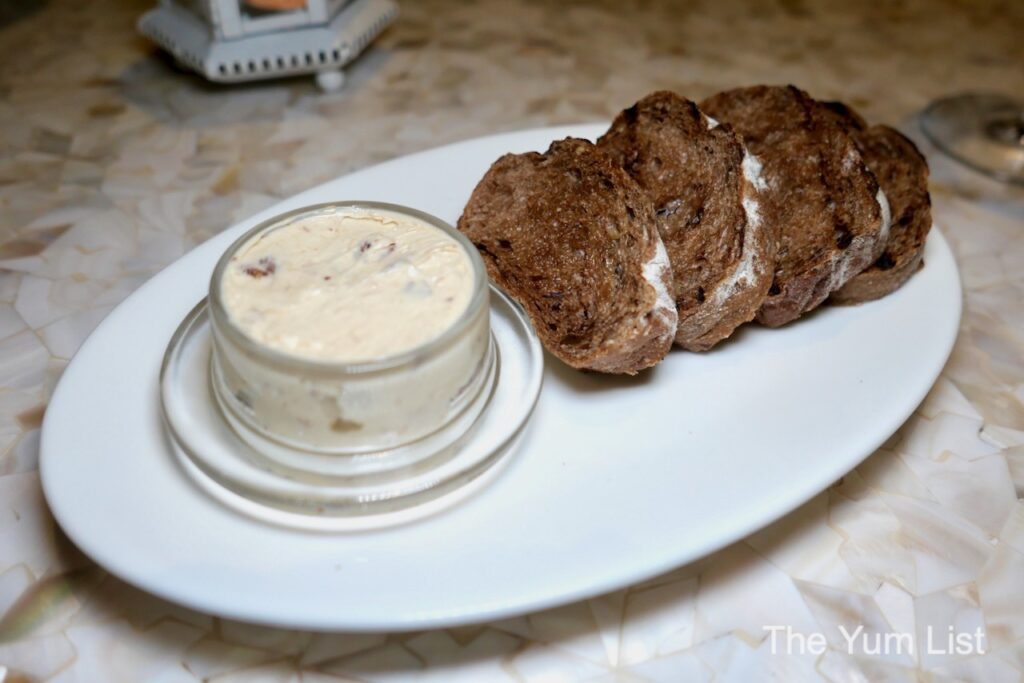 Wine Paired Dinner Langkawi

– Amuse Bouche

Not long after, the meal begins with an amuse-bouche, Texture of Pumpkin. Served in petite espresso cups, parmesan foam sits between pumpkin cubes and a sphere of the orange gourd gently spills in the mouth upon the first spoonful. It's covered by a mildly sweet tuile, providing a well-received crunch.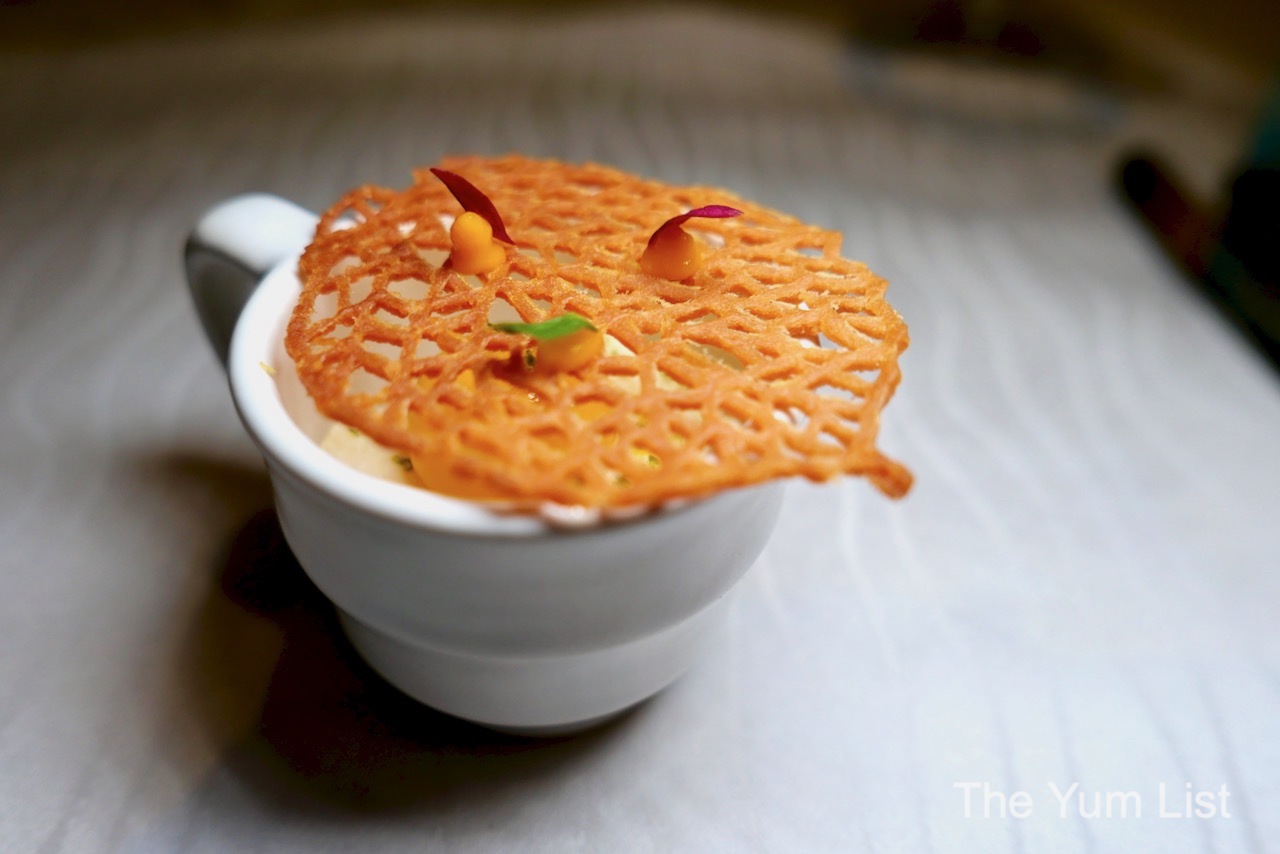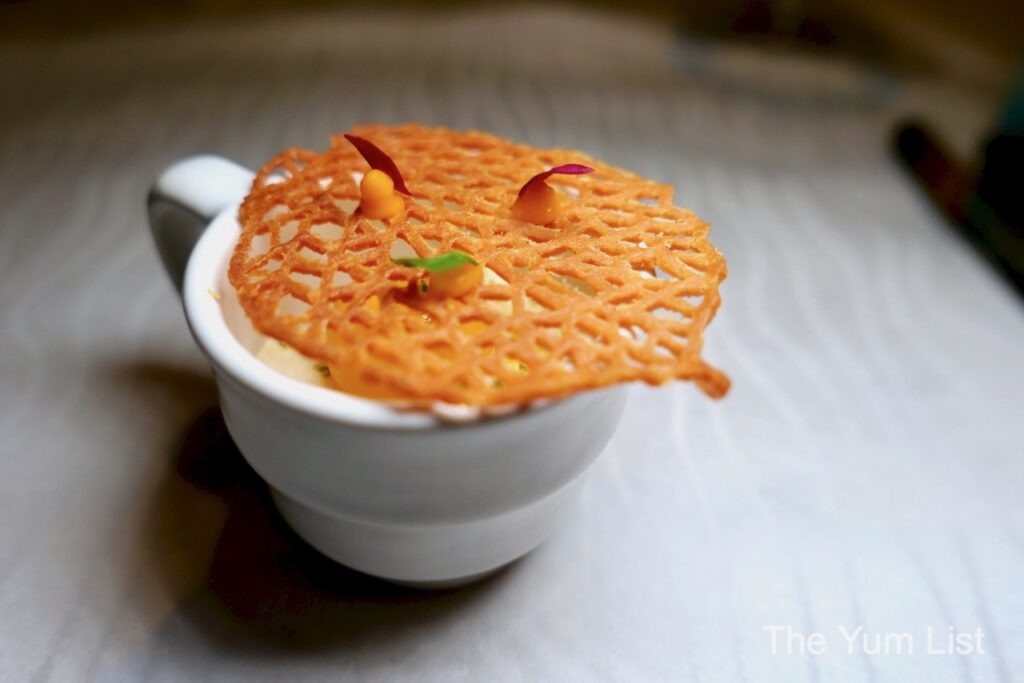 Mudcrab & Heirloom Tomatoes
The first course, Mud Crab & Heirloom Tomatoes, is a pretty composition of shades of red. A warm palate of heirloom toms plated with compressed watermelon is broken in colour with basil seed, spring onion-infused oil and soft, white crab pieces framing it. Upon placement on the table, waitstaff scoop Japanese salted plum granita atop. It slowly melts forming a dressing and chilled brightness to the overall profile.
The wine mate for the first two dishes, Santa Margherita Pinot Grigio 2018 from Veneto, Italy offers an intense bouquet of pear and melon. It's full and flavourful in the mouth and departs with refreshing acidity. It would do well as an aperitif but also pairs nicely with seafood and salad.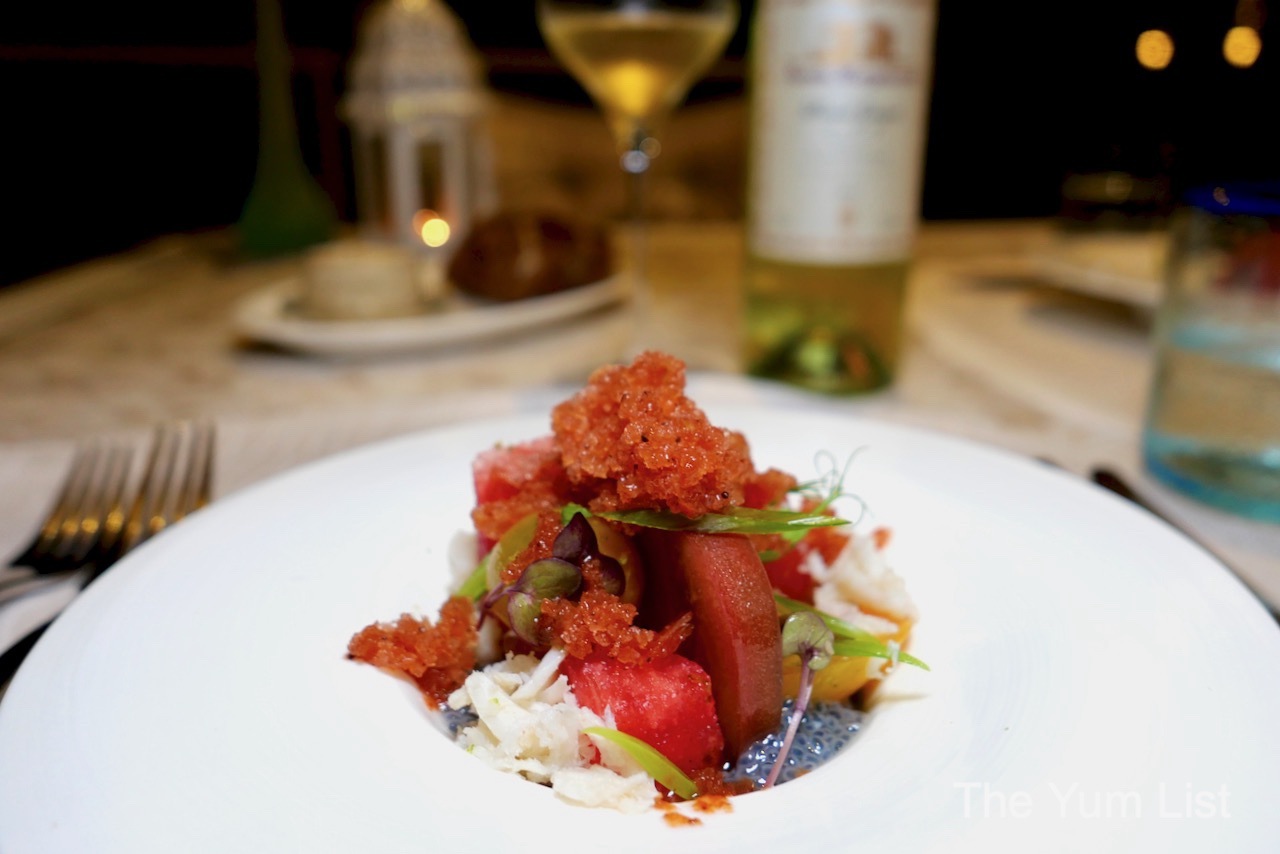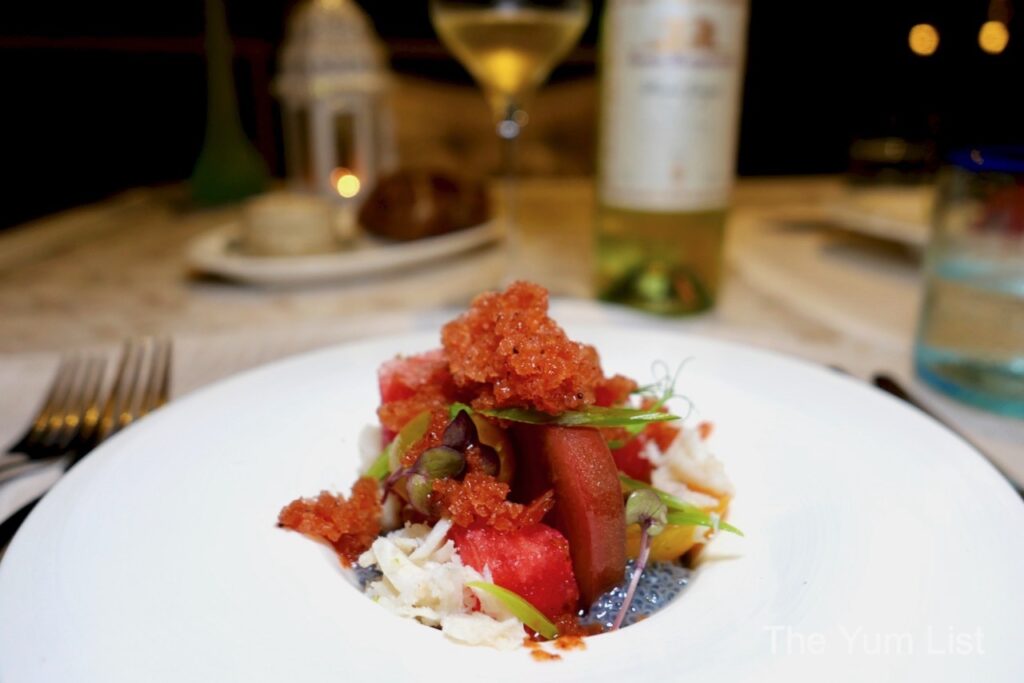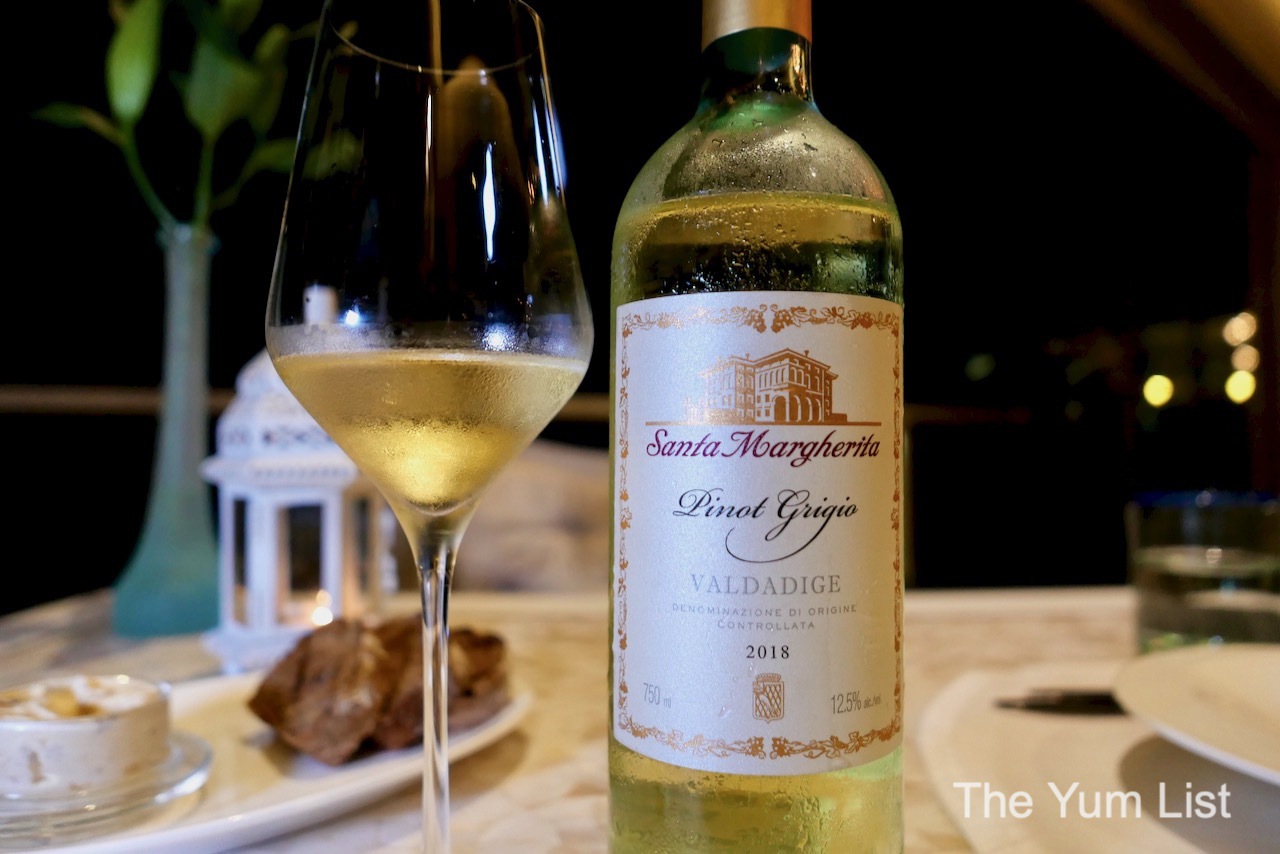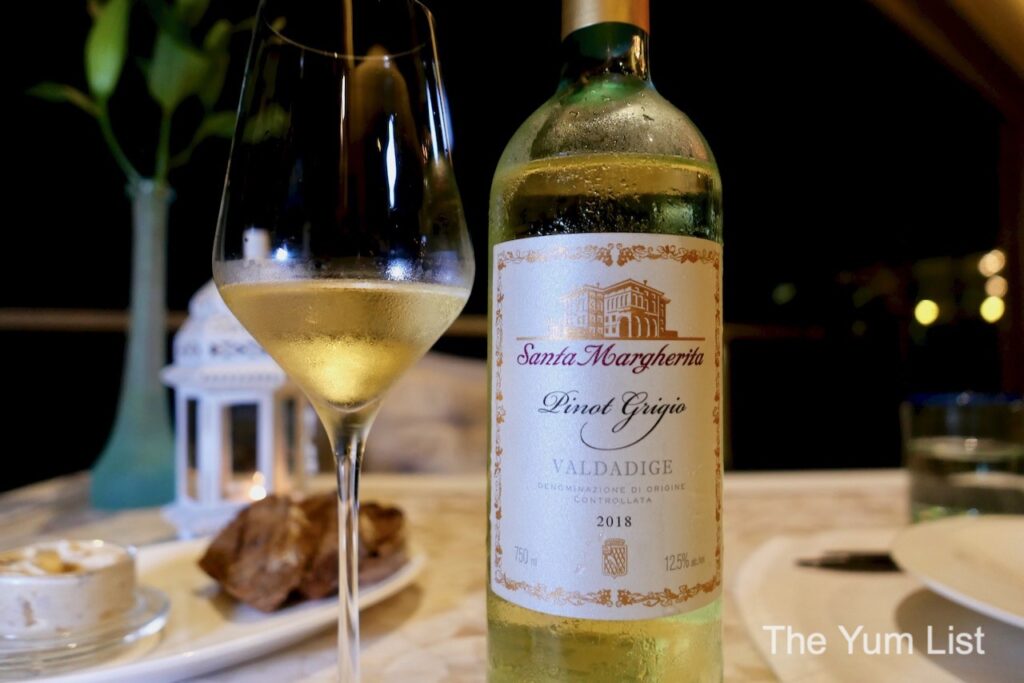 Cognac-infused Creamy Lobster Bisque
The Cognac-infused Creamy Lobster Bisque starts as an artwork on the base of the bowl. Dots of Boston lobster in jelly, toasted walnut pieces, crab cream, mushroom fricassee, fennel and basil cress salad are soon hidden beneath the rich bisque. Cognac and dairy take the ocean edge off the soup. If you are not a fan of a robust seafood-intense bisque, this is an excellent place to start as the taste of the sea is only a faint proposal. The final sips of the wine and its engaging acidity enable a few more spoons of this course, but neither of us can finish the heavy soup.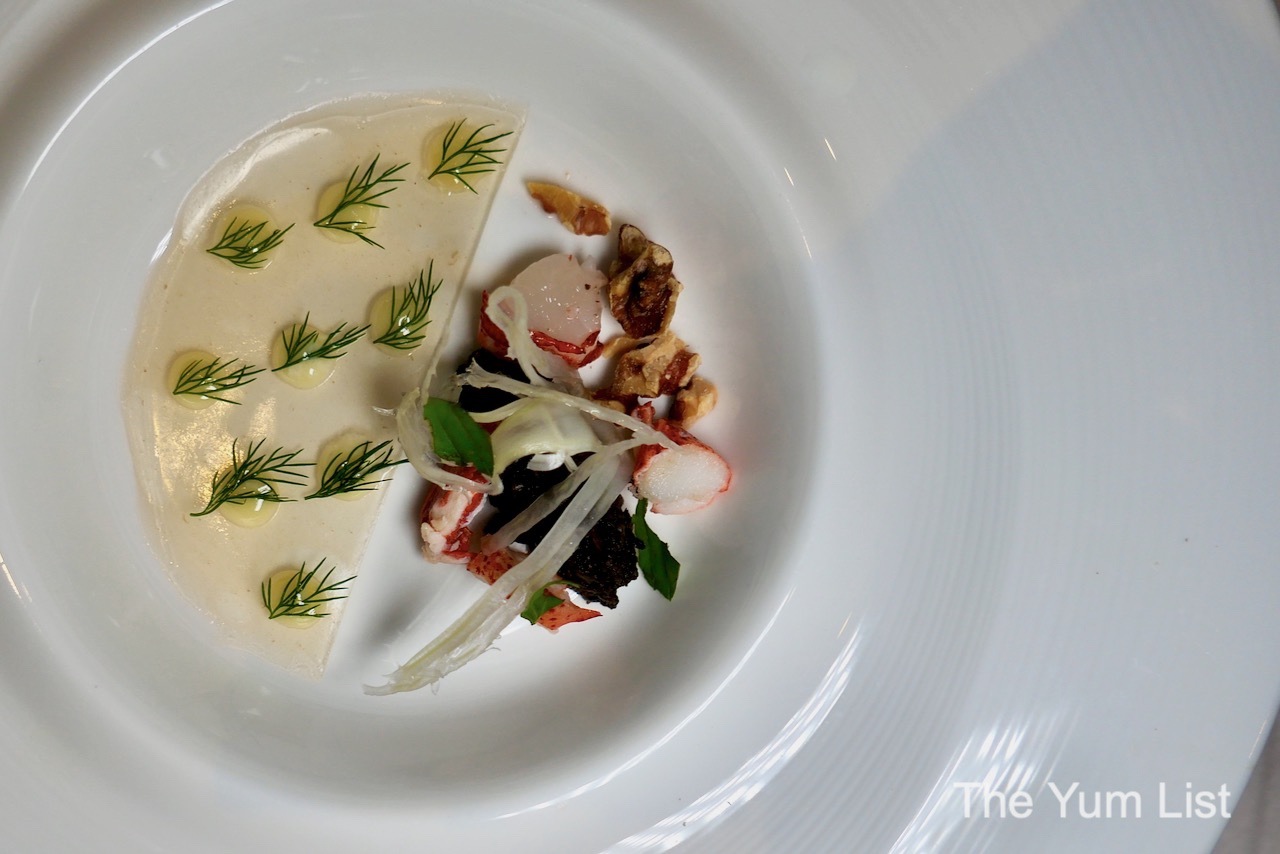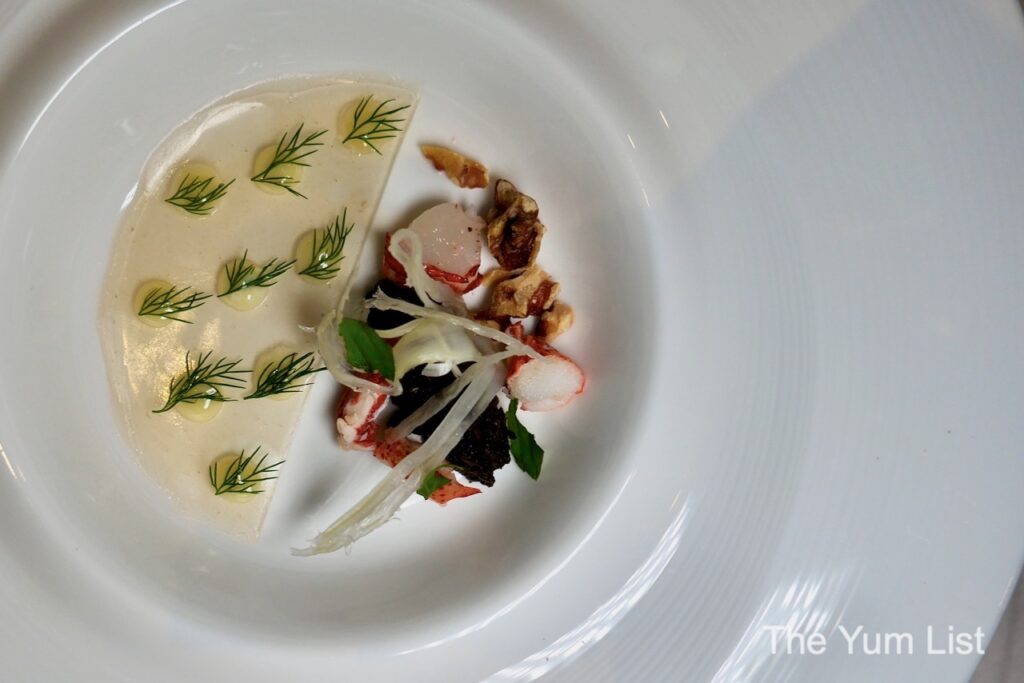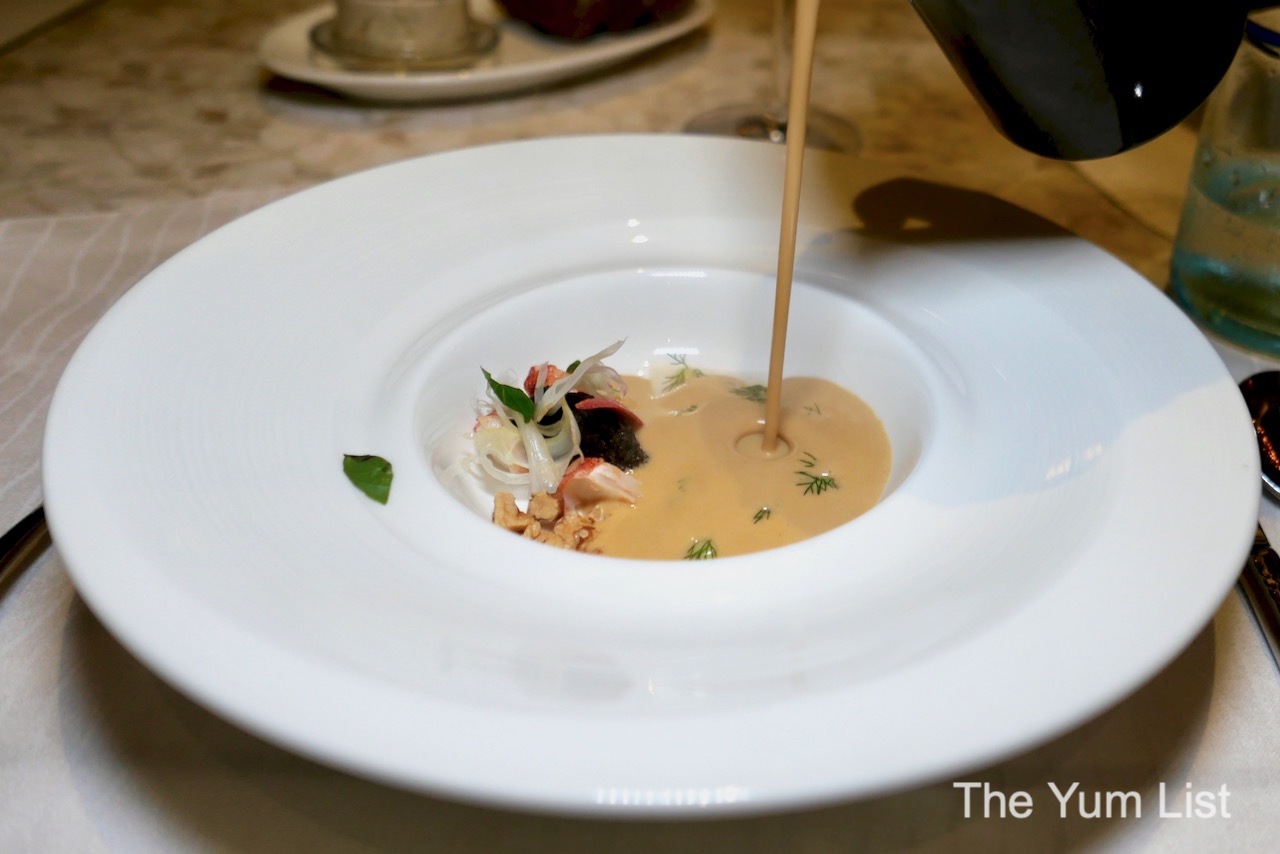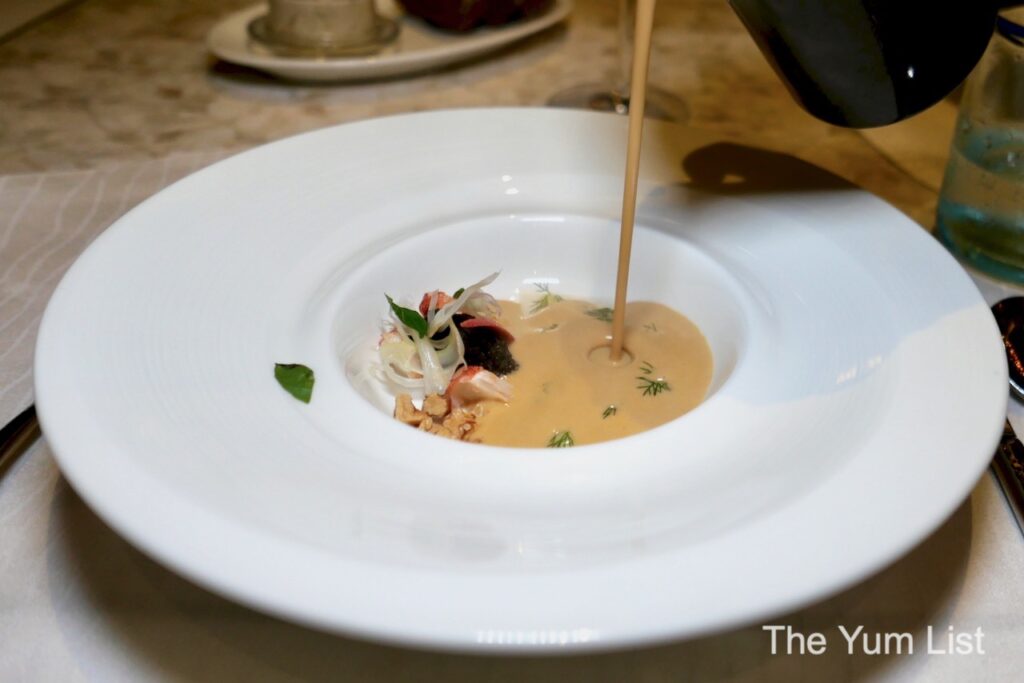 Wine Paired Dinner Langkawi – Vodka Cured King Salmon
The following course of Vodka Cured King Salmon is an interesting mix of levels of moisture. Toasted quinoa is attractive in its dry crunch opposite in polarity to the wet oregano-poached artichoke heart with umami béarnaise. In between, there are juicy bursts of smoked trout roe and the soft-fleshed salmon. A dusting of spirulina powder provides a final nod to the sea and guarantees good health (if you swipe it up along with the fish).
Domaine Seguinot Bordet Chablis 2017 from Burgundy, France is the wine partner. A citrus nose and loads of minerality in the palate enhance the saltiness of the sea. A lingering fresh finish cleanses the palate and provides a bridge to the following sorbet.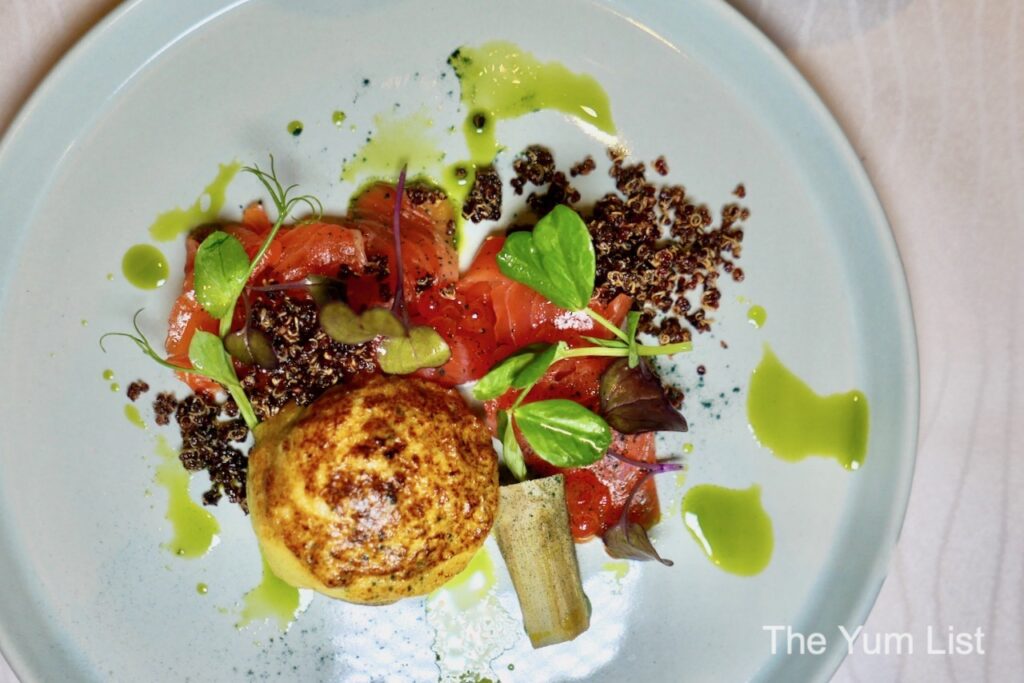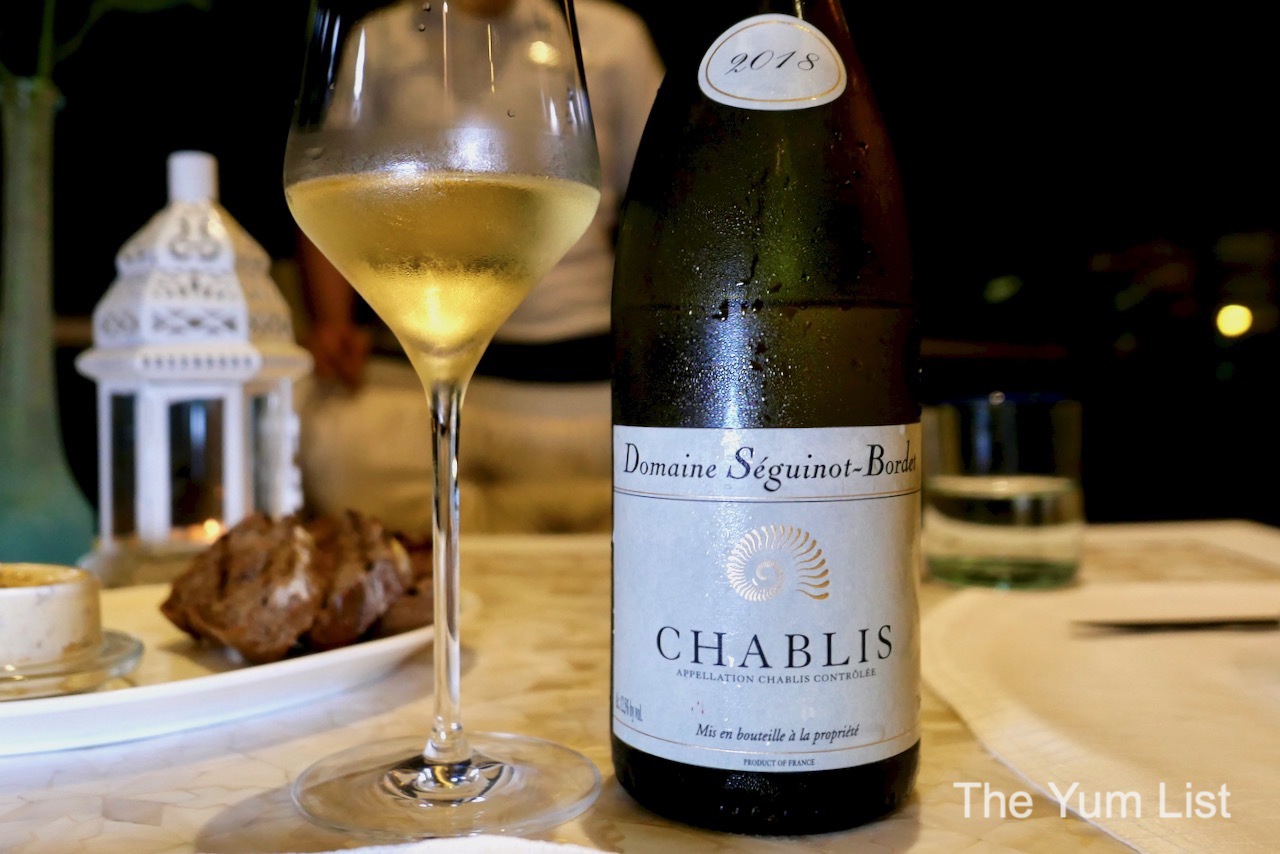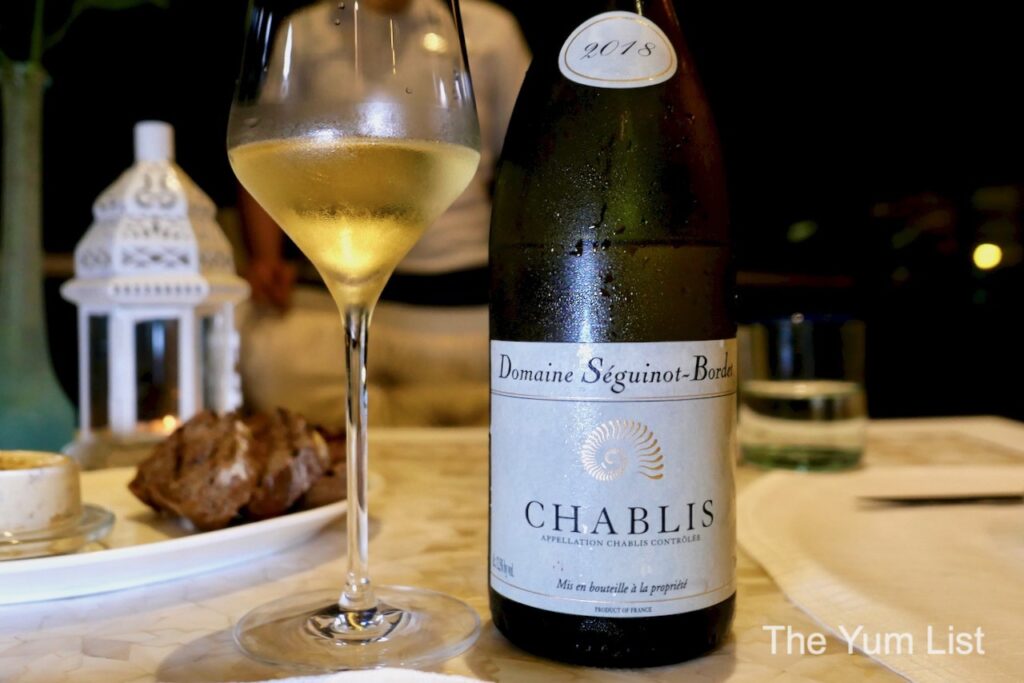 Bloody Mary Sorbet
The Bloody Mary Sorbet before the main is pleasantly refreshing. Could we see the Frozen Bloody Mary take over Frozen Margaritas in popularity?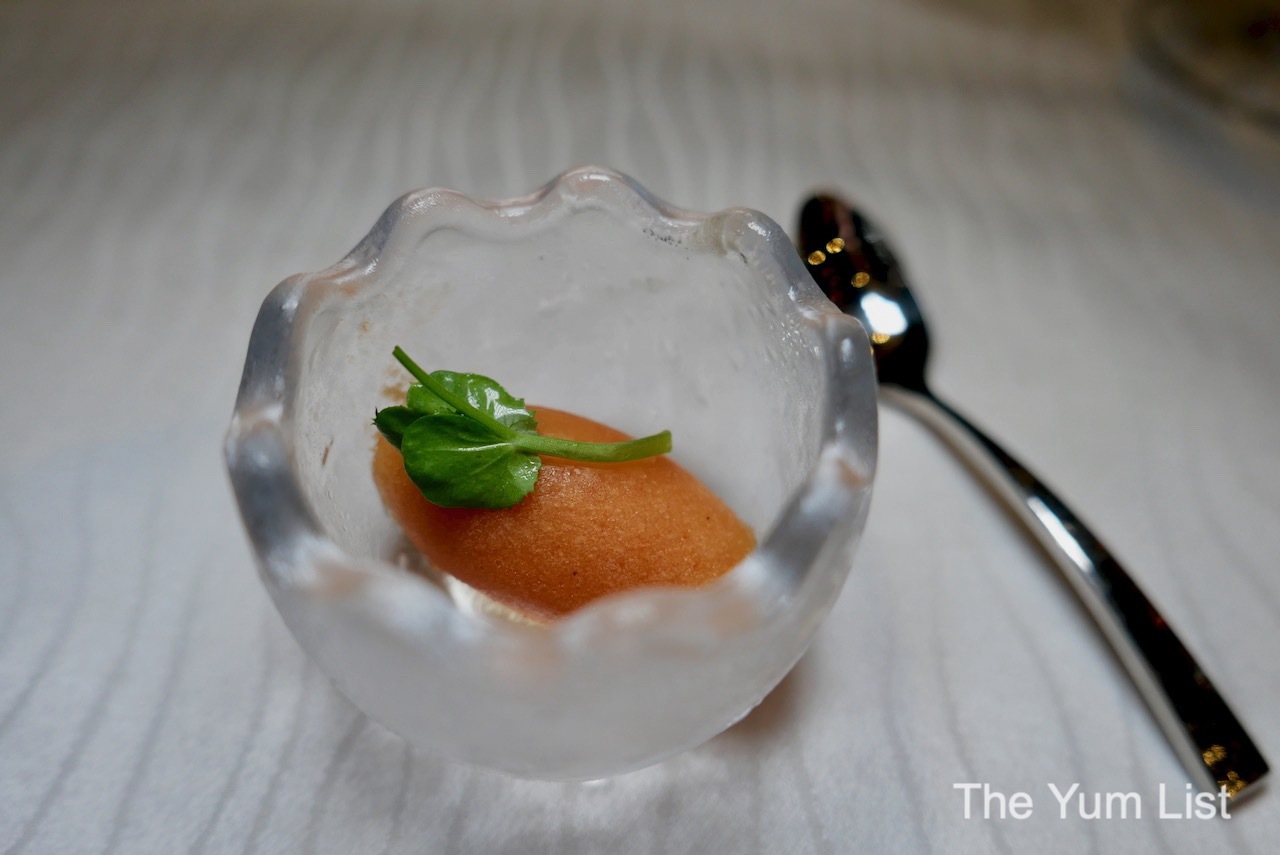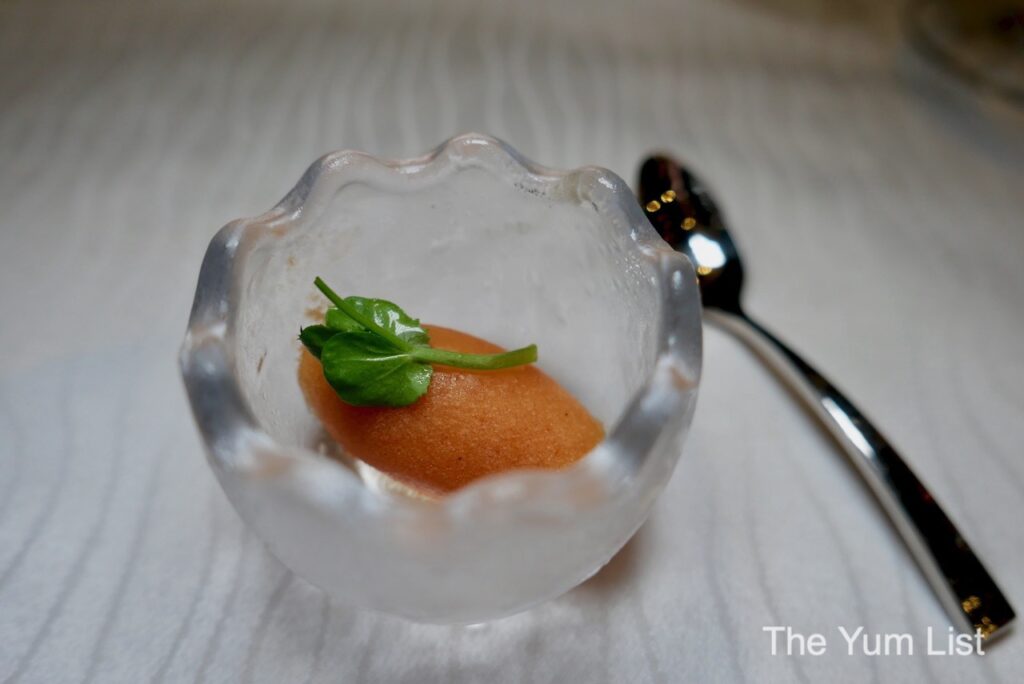 Stanbroke Beef Tenderloin
We're ready for the Stanbroke Beef Tenderloin, having built up gradually with various seafood courses. This cut is from Diamantina Shire in western Queensland, renowned for producing premium Australian beef. You couldn't ask for a more perfectly cooked piece of meat. Marks from the grill cross the top and it's pink in the middle. But the look doesn't even matter. Close your eyes and taste. It's very, very good. Accompaniments of wild mushroom with pink garlic, truffle, cauliflower, purée de pomme, caramelized shallots, mizuna and radish salad are tasty but mere eye-candy alongside the tenderloin. When you have a piece of this meat in your mouth, sides are mere distractions.
We move to the USA for the wine pairing with Beaulieu Vineyard Cabernet Sauvignon 2016 from Napa Valley. Dark fruits and cocoa on the nose carry over to the palate, complementing the succulent steak without flaw. Despite the abundance of fruit in the bouquet, this red has quite an attractive savoury conclusion with structured tannins and bright acidity making it an excellent food partner.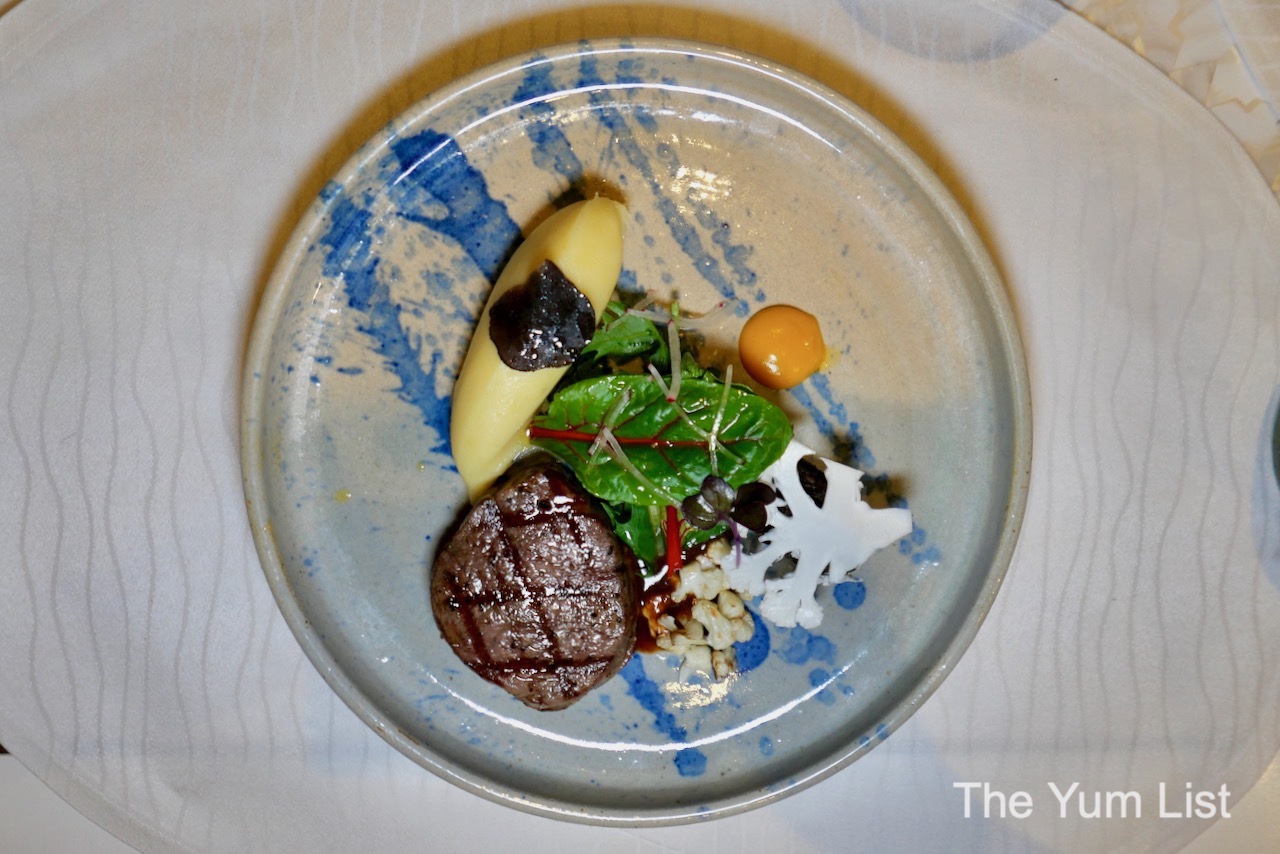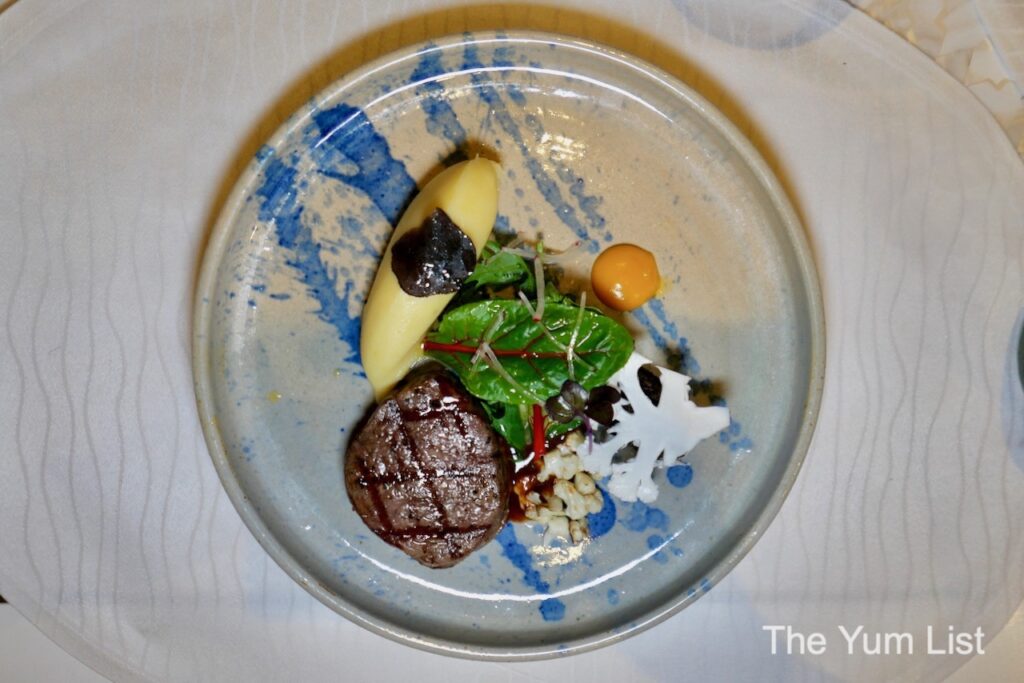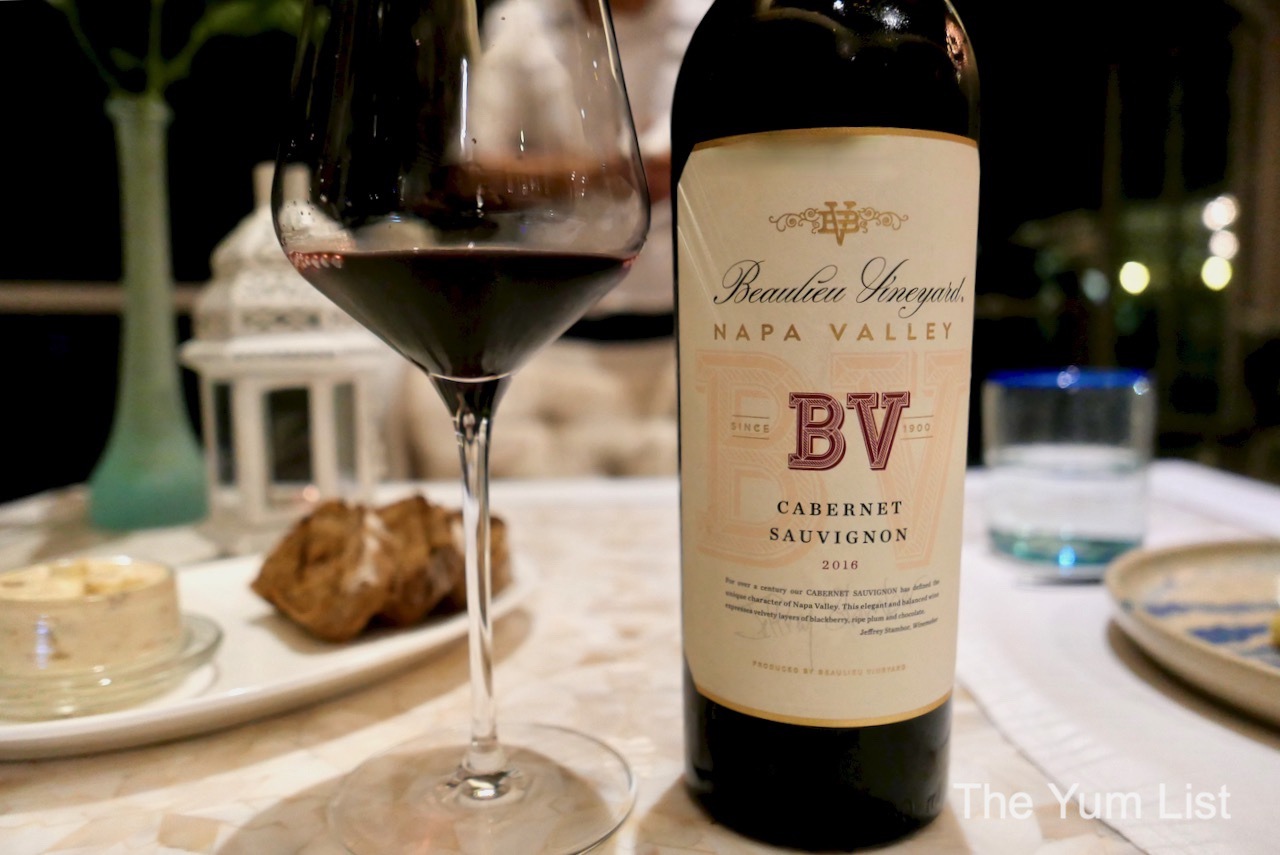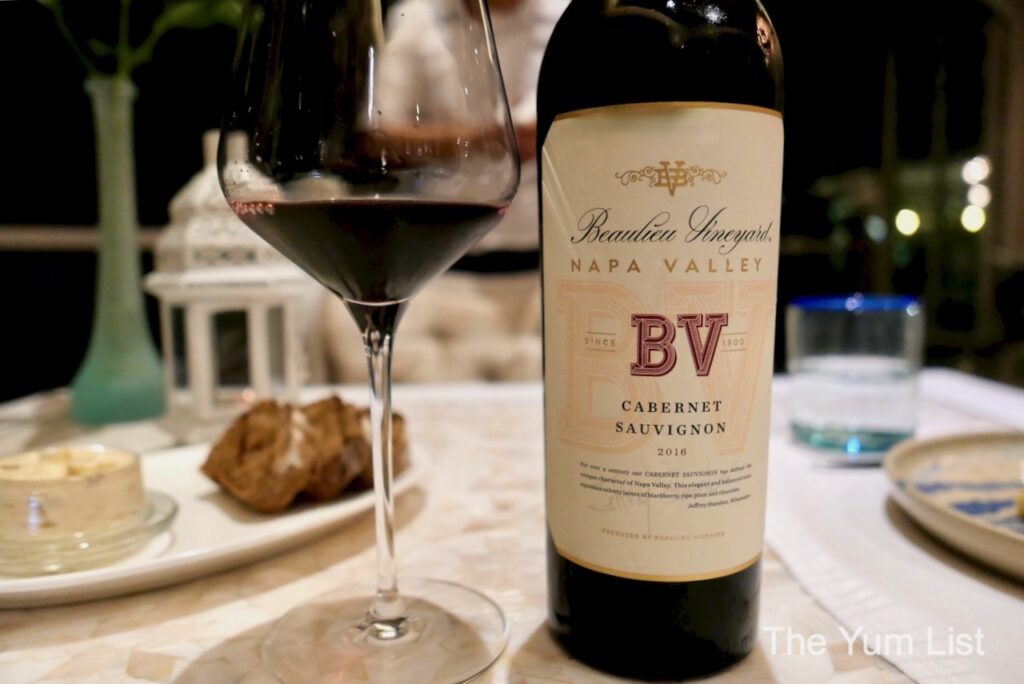 Handcrafted Artisan Cheese Selection
Rounding off the wine paired dinner, diners can choose the handcrafted artisan cheese selection, dessert or both. We take both to partake in the complete JJ's experience. A trolley is wheeled to our table where we marvel at the selection. Sommelier Alexander guides us through the options helping us decide on three. Of note, is a solid selection from Burgundy.
I save a few sips of the Napa Cabernet Sauvignon to try with the cheese, but a glass of Louis Eschenauer, Sauternes from France is also provided as sweet conclusion. It's primarily Semillon with 15% Sauvignon and 5% Muscadelle. Thanks to the "noble' fungus that develops on the grapes when they are fully ripe, additional sugar is produced gifting the wine its characteristic creaminess. A garden of flowers with apricots and honey makes a fragrant nose, which continues onto the palate providing a balance of sweetness and acidity.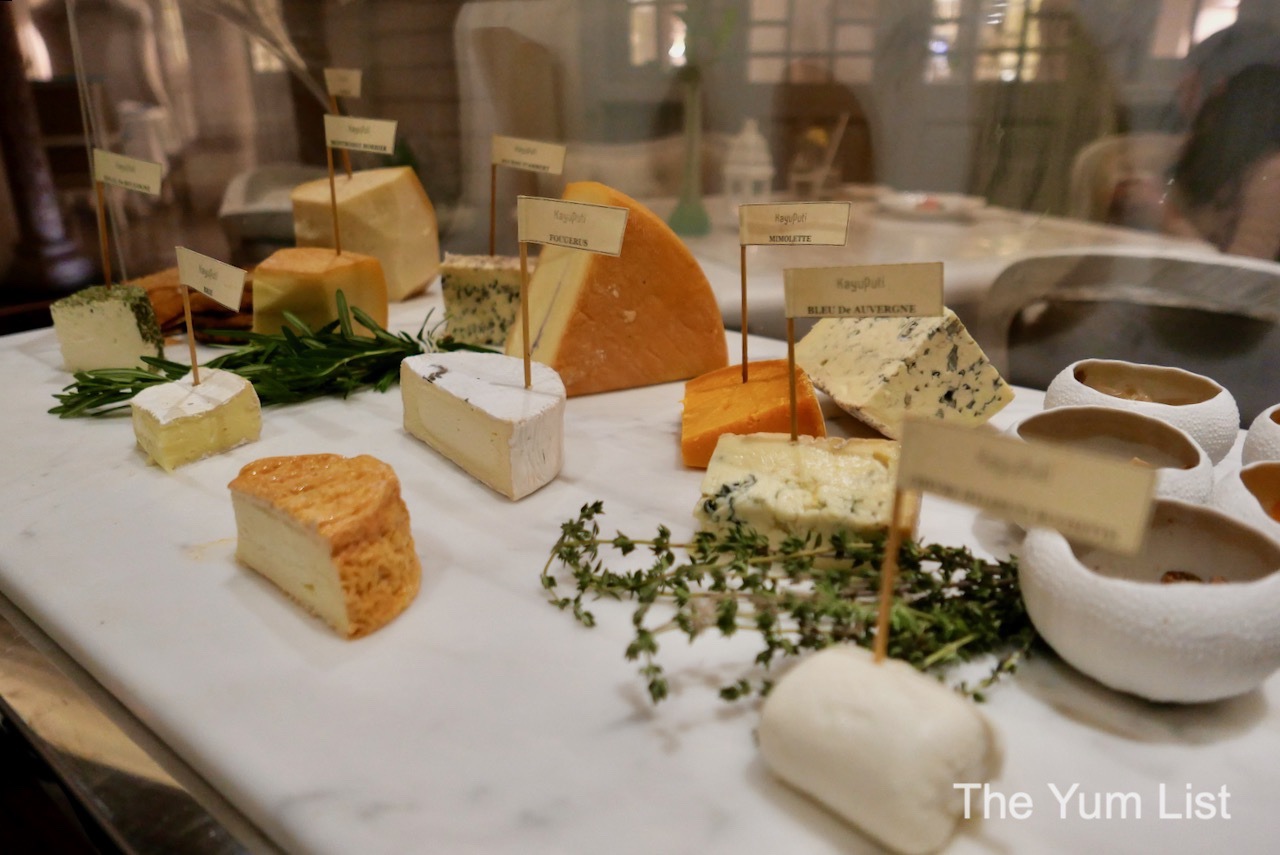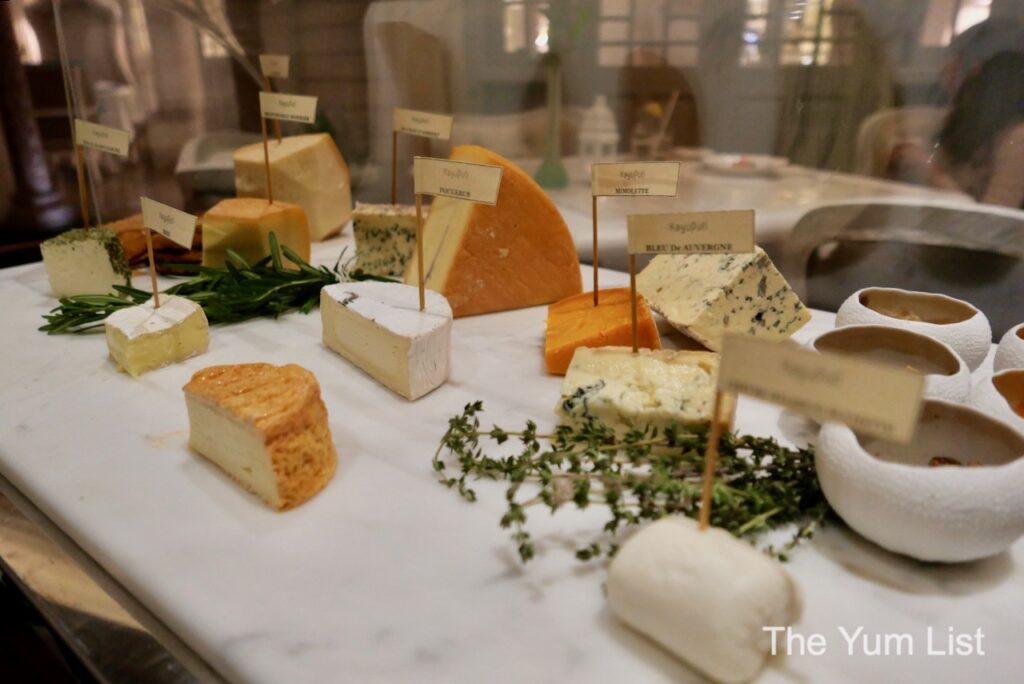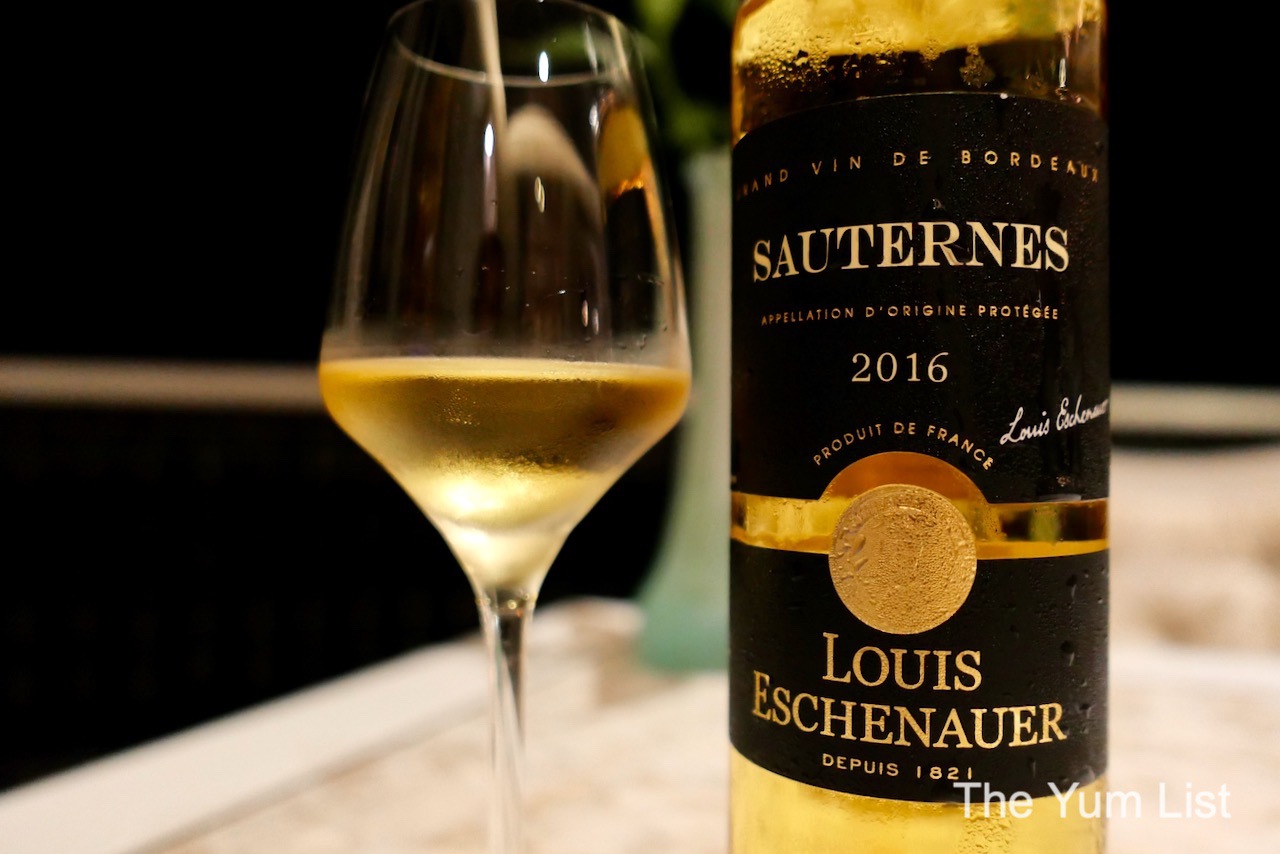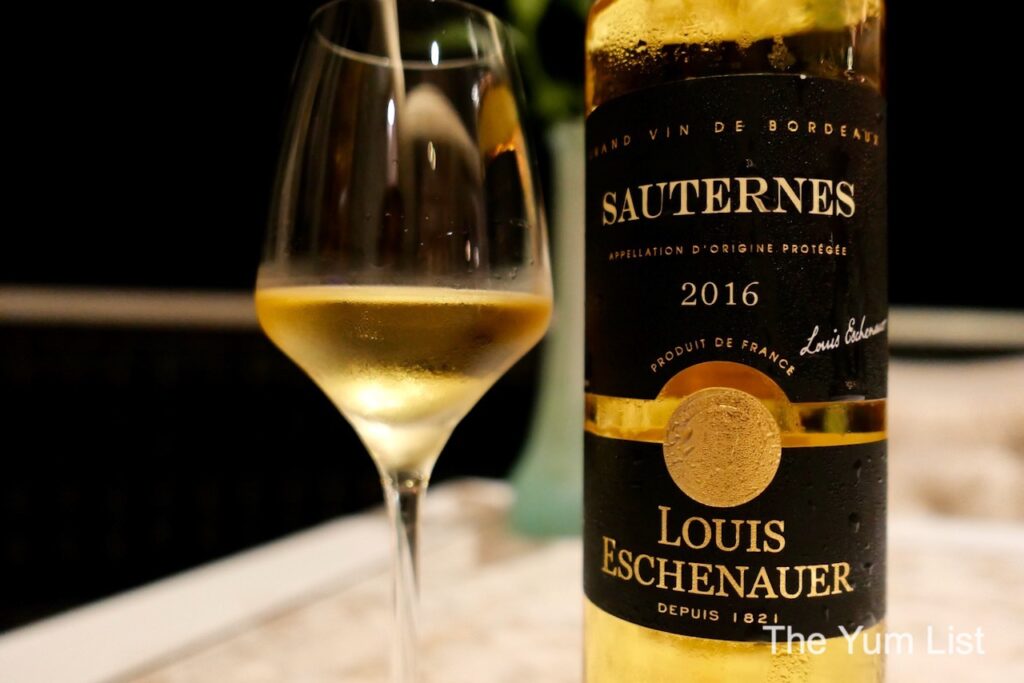 Japanese Inspired Crème Brulee –
Wine Paired Dinner Langkawi
Dessert culminates the wine paired dinner with an elegant Japanese-inspired Crème Brulee with pineapple and strawberry compôte and coconut crumble. We don't have large sweet tooths so request just one dessert to share. It's just as well as chef de cuisine, Mohd Shahfi Bin Jusoh, graces us with his presence at the end of the meal with a beautiful display of petit fours. I won't ruin the surprise of the contents but do plan ahead if your capacity for sugar is as limited as ours. It's a magnificent collection of crafted bites, so save some room!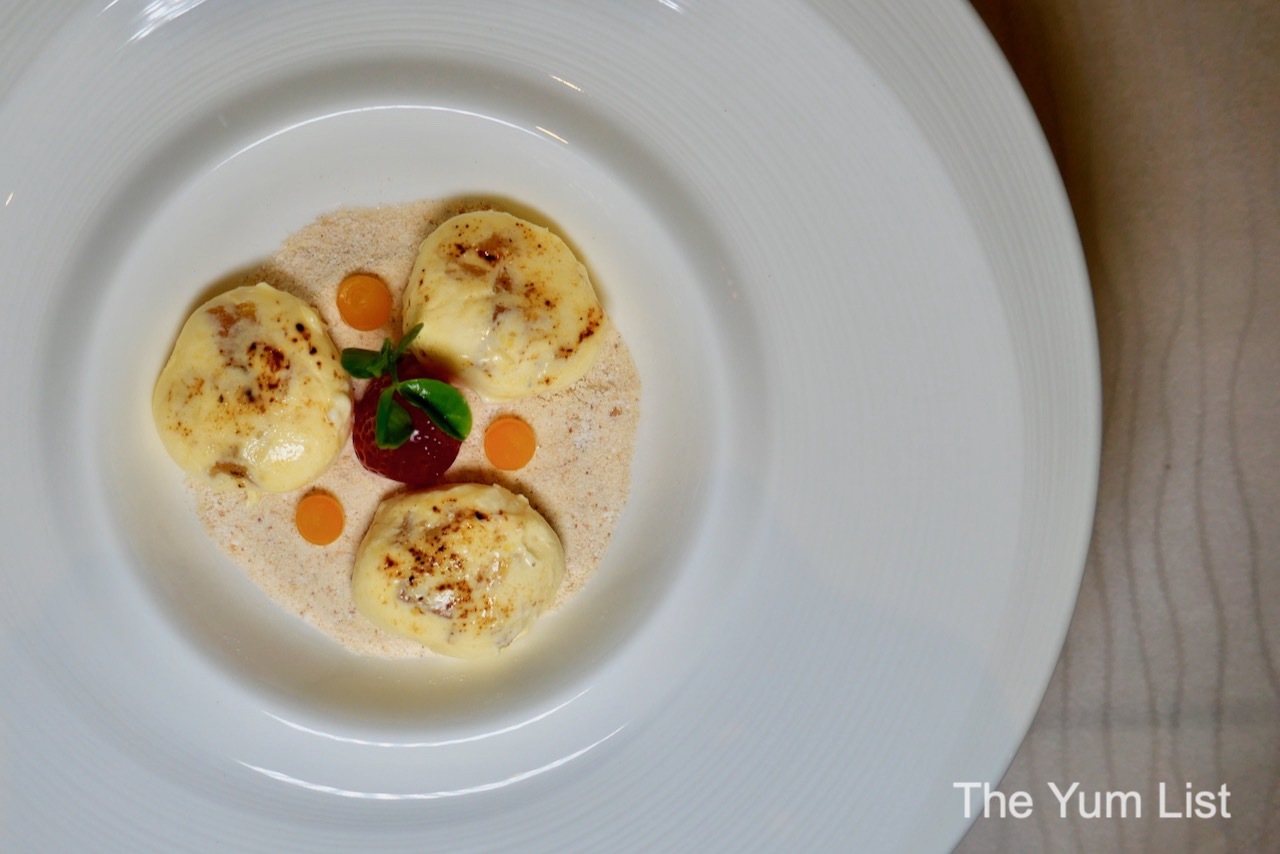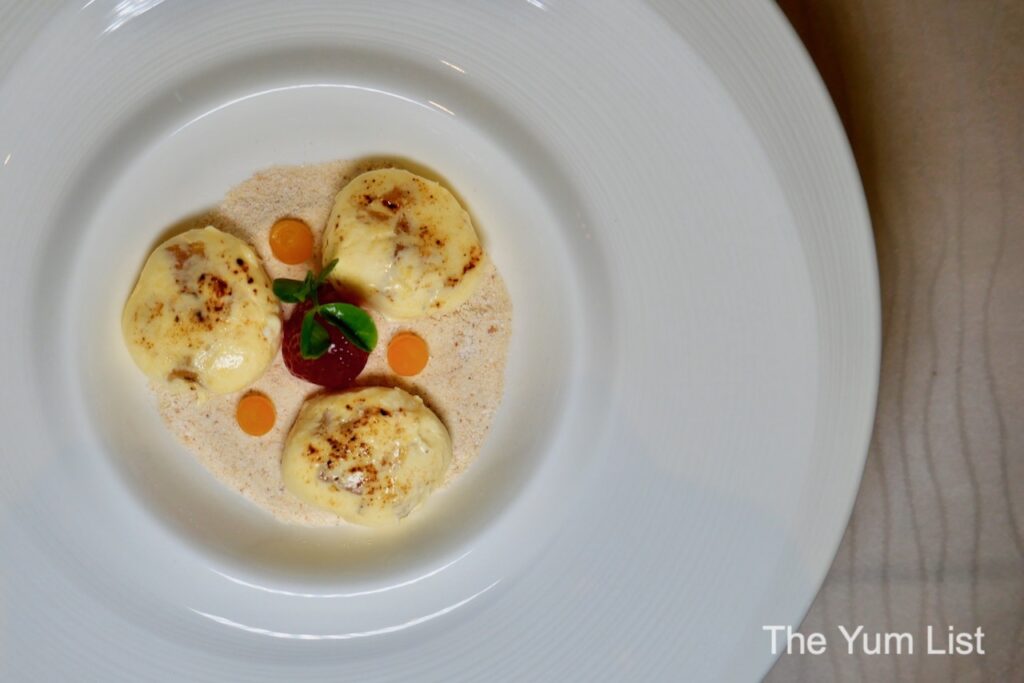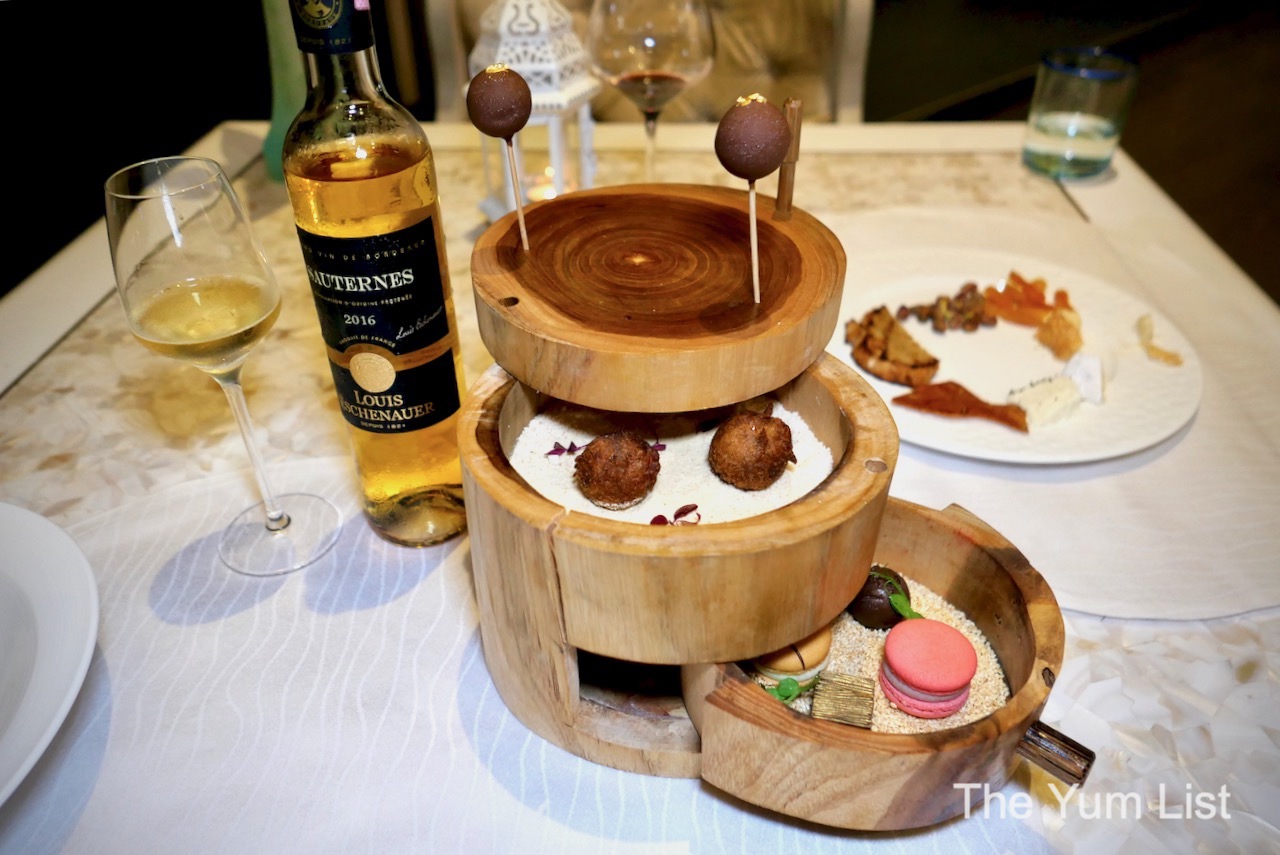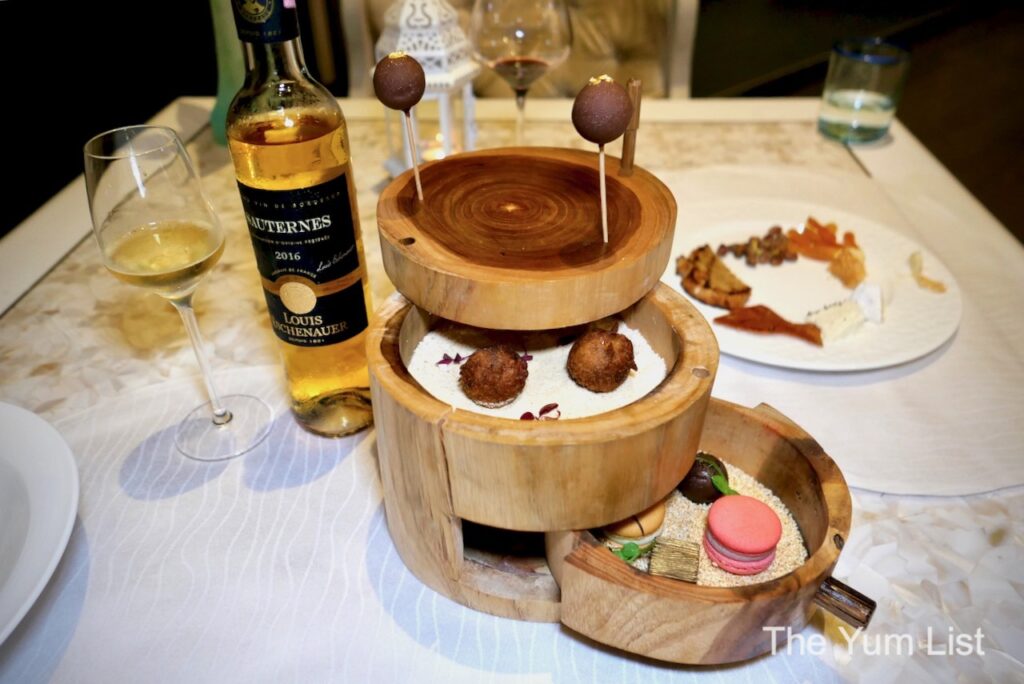 Kayuputi x Nadodi
Diners in Langkawi this week, November 18 & 19, should make note of a special collaboration with Kayuputi's kitchen team and Chef Sricharan Venkatesh from the award-winning Nadodi KL. It is sure to be an exciting experience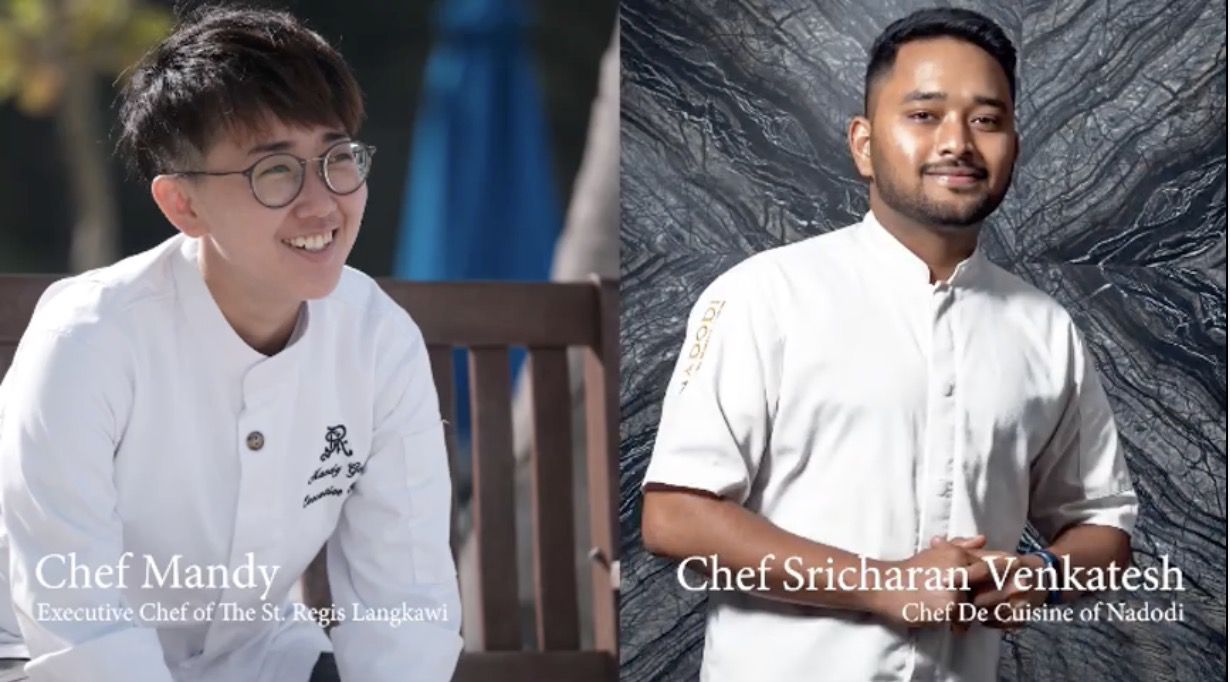 Reasons to try the wine paired dinner menu at Kayuputi, Langkawi: a beautiful setting with great views; well-chosen wine mates; a unique menu guaranteed to surprise the senses.
Kayuputi
The St. Regis Langkawi
Jalan Pantai Beringin, Langkawi
07000 Malaysia
www.stregislangkawi.com
+6 04 960 6666
Find more recommendations for travel to Langkawi here and stay up to date with the latest gourmet happenings in Malaysia here and here.