Beso Rosado Penang
Words: Claire Matheson
Photos: Monica Tindall
Entering Georgetown's Beso Rosado, it becomes clear that this is not your average Penang foodie venture. With an entrance adorned with punk-styled graffiti sprayed over gilt mirrors and glitzy chandeliers, the mood quickly changes from cool and edgy, to something dramatically different, almost sensuous. A celebration of the feminine mystique.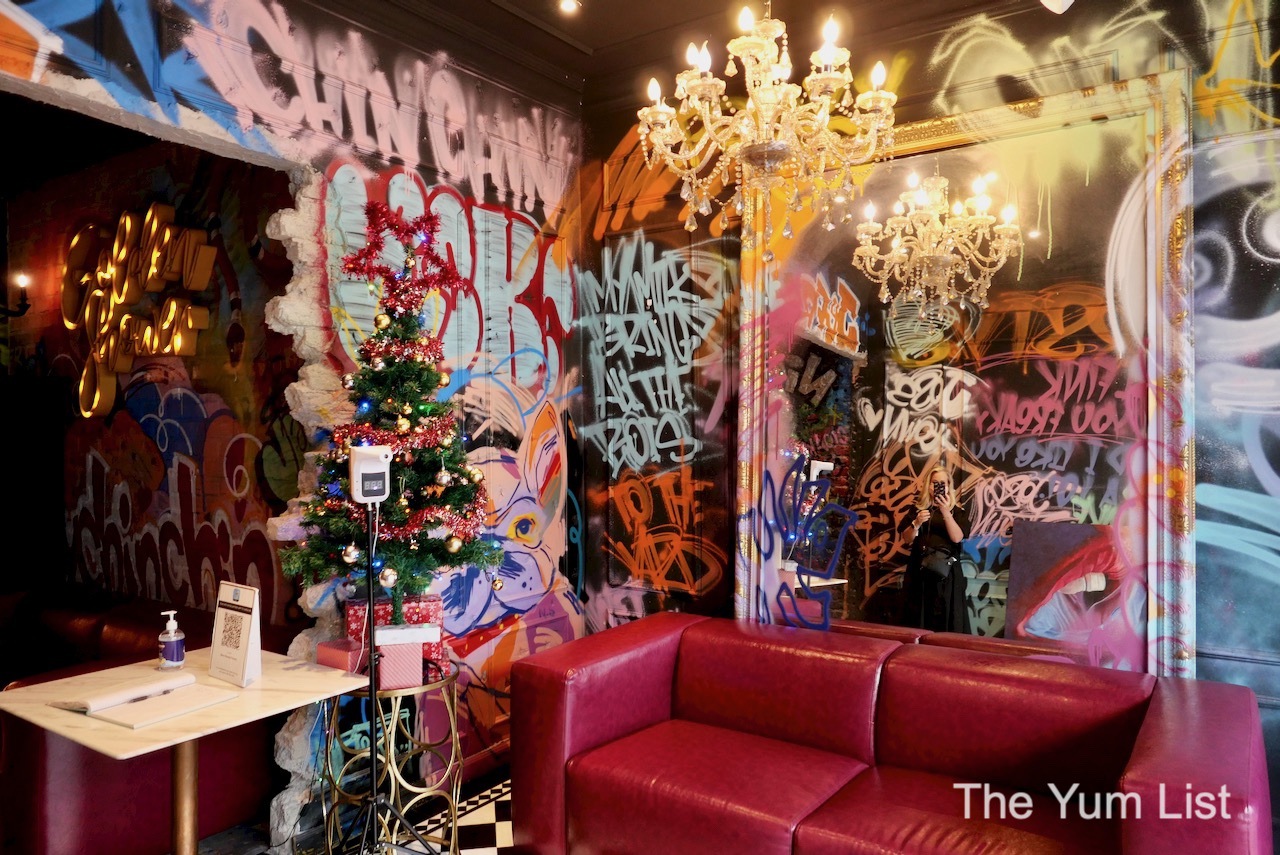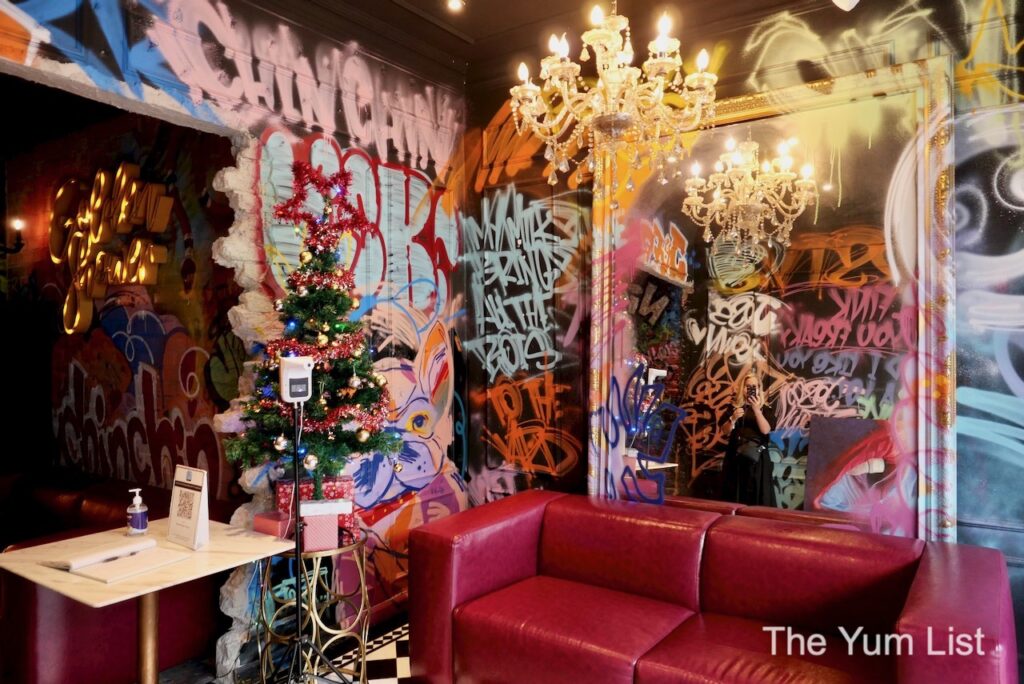 Beso Rosada, Penang
With muted and unadorned pink walls, a long central, quilted bar in deep magenta, and bright pink and blood-red neons, it is certainly a worthy temple for female goddesses. However, worshipping here is reserved solely for the great cocktails and incredible cuisine. Previously, Beso Rosado was known for serving drinks, canapes and other small bites. But repeated requests from guests for more substantial fare has led to the team installing a large cooking hob and grill in the bar running the centre length of the room. Now, Chef Jack Yeap and his team are centre stage, and the best seats in the house are those in full view of the cooking action.
The guests at Beso Rosado are as varied as their menu. People dining next to us wear jean shorts and t-shirts, yet others are glamorously dressed to the nines or don couture streetwear. Everyone looks welcome and at home regardless of their attire. There is a shared vibe of artistic sensibility among the people drawn to Beso Rosado, an undercurrent of their appreciation of beauty. Penang is of course an island where art and food mix readily. It seems Beso Rosado is a crucible for this concoction. It seems only fitting we taste the concoctions on offer.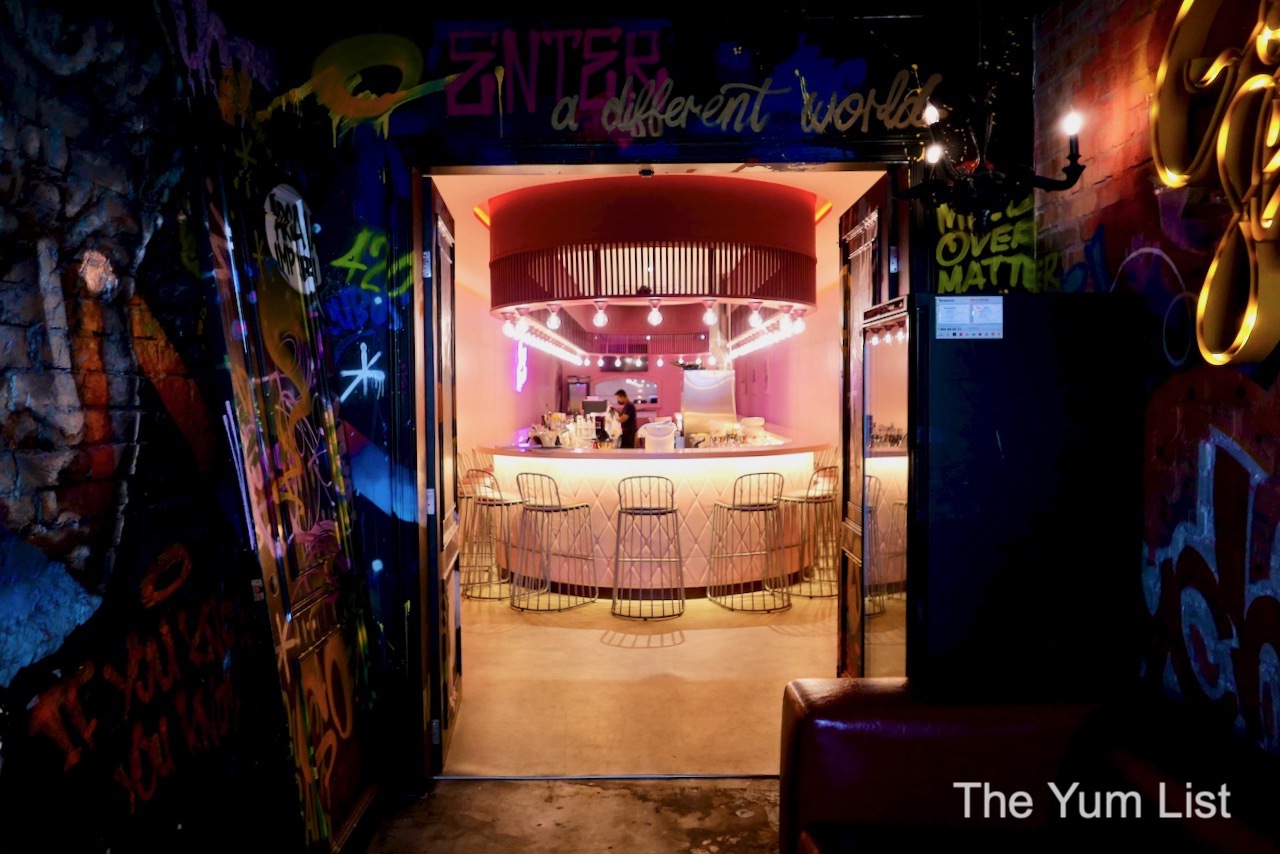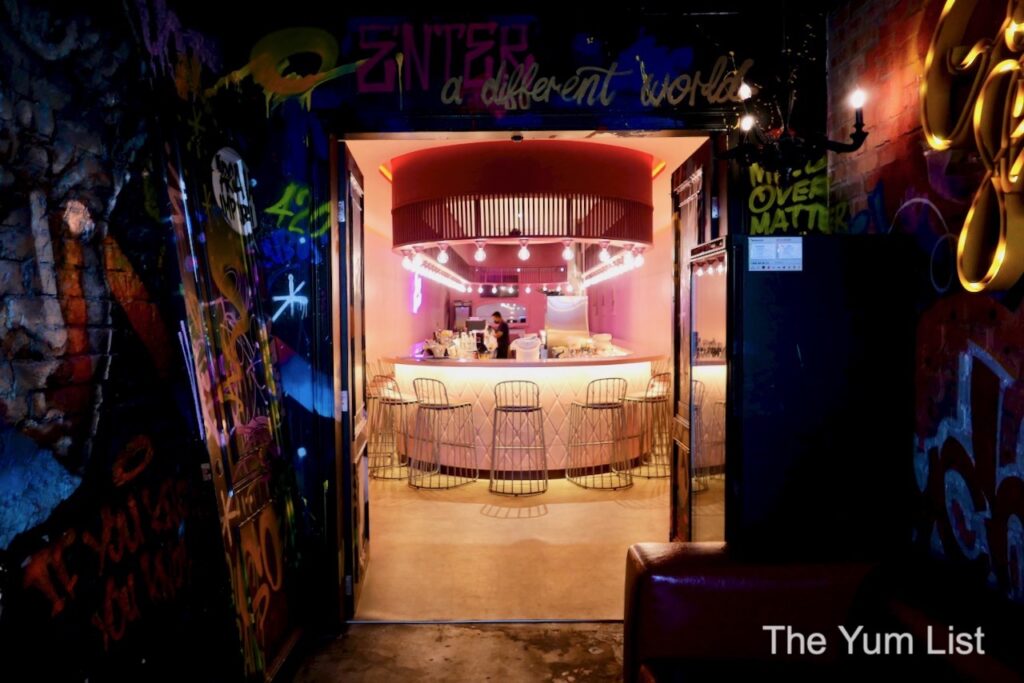 Beso Rosada Drinks Menu
Beso Rosado's Gin Sour (RM34) is made on a base of Gin Mare. A truly iconic Spanish gin, Gin Mare is more savoury than floral, with Mediterranean rosemary, olives and basil notes. It makes for a unique gin sour, topped with simple syrup, lime juice and egg whites. Fluffy with foam, and bright chrysanthemum-yellow in colour, it is a sophisticated, adults-only version of a proper lemonade. Savoury, sweet and sour all at the same time, it is golden in both colour and taste.
Delightfully rosy-hued and refreshing, the Grapefruit Forbidden (RM28) is created from gin combined with grapefruit juice, pink grapefruit syrup and tonic water, garnished with a dehydrated slice of grapefruit and fresh thyme sprig. Its bittersweet tones are the perfect thirst-quencher on a balmy Penang evening.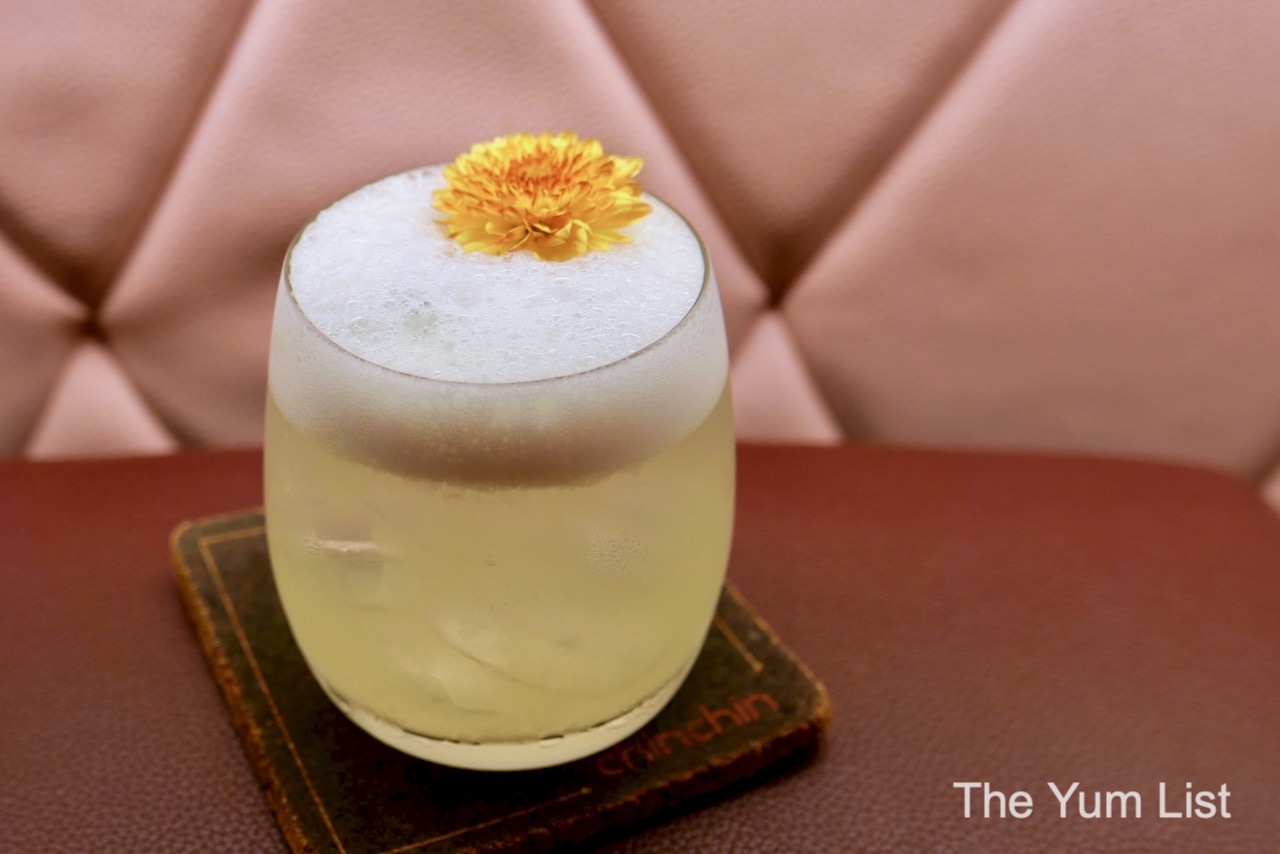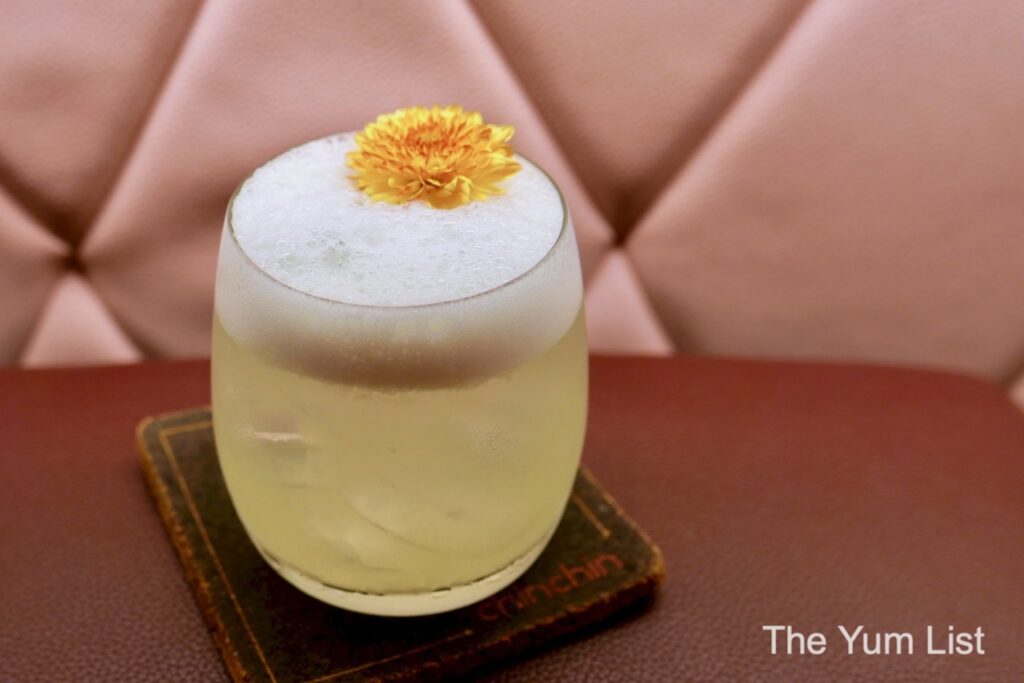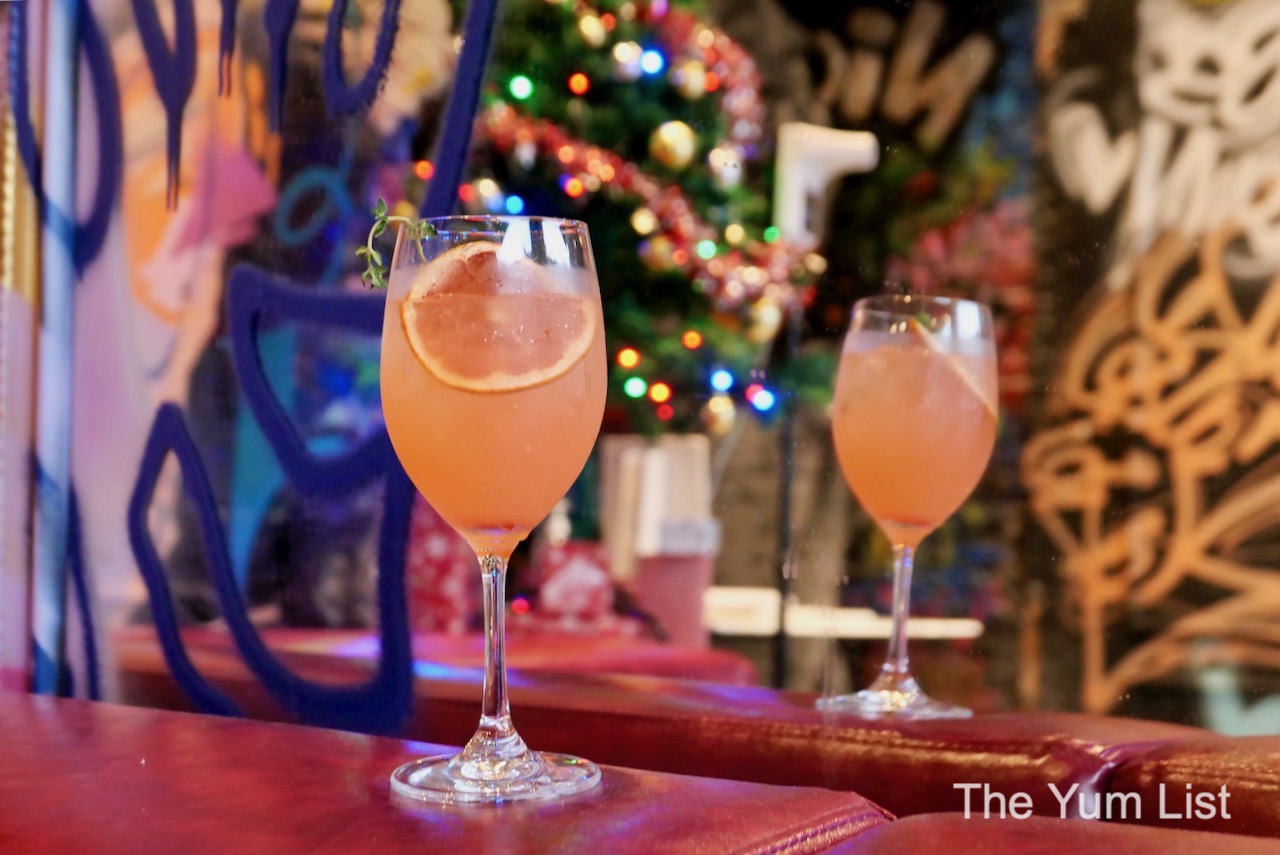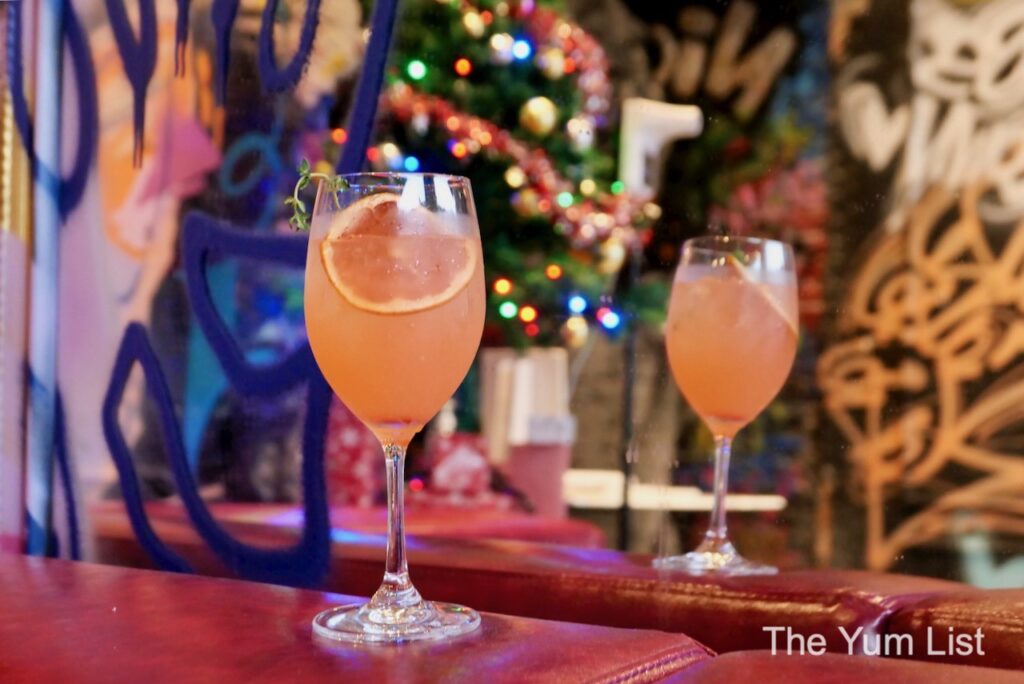 Beso Rosado Menu
Capellini
Long before serving a full menu, Beso Rosado has been a go-to foodie destination for their Capellini pasta. Colloquially known as angel hair pasta, these fine Italian-style noodles have a higher surface area than regular spaghetti, allowing the pasta strands to hold onto more ingredients and flavour. Chef Jack Yeap uses this to advantage with heapings of hand-selected mud crab flesh and bright orange uni (sea urchin), all the way from Hokkaido, Japan (RM88). No need to hunt around the plate to find the mouthfuls of luxurious seafood, they are generously heaped on top, with a surprising amount included in the dish. The combination is briny, umami, and fabulously appetising.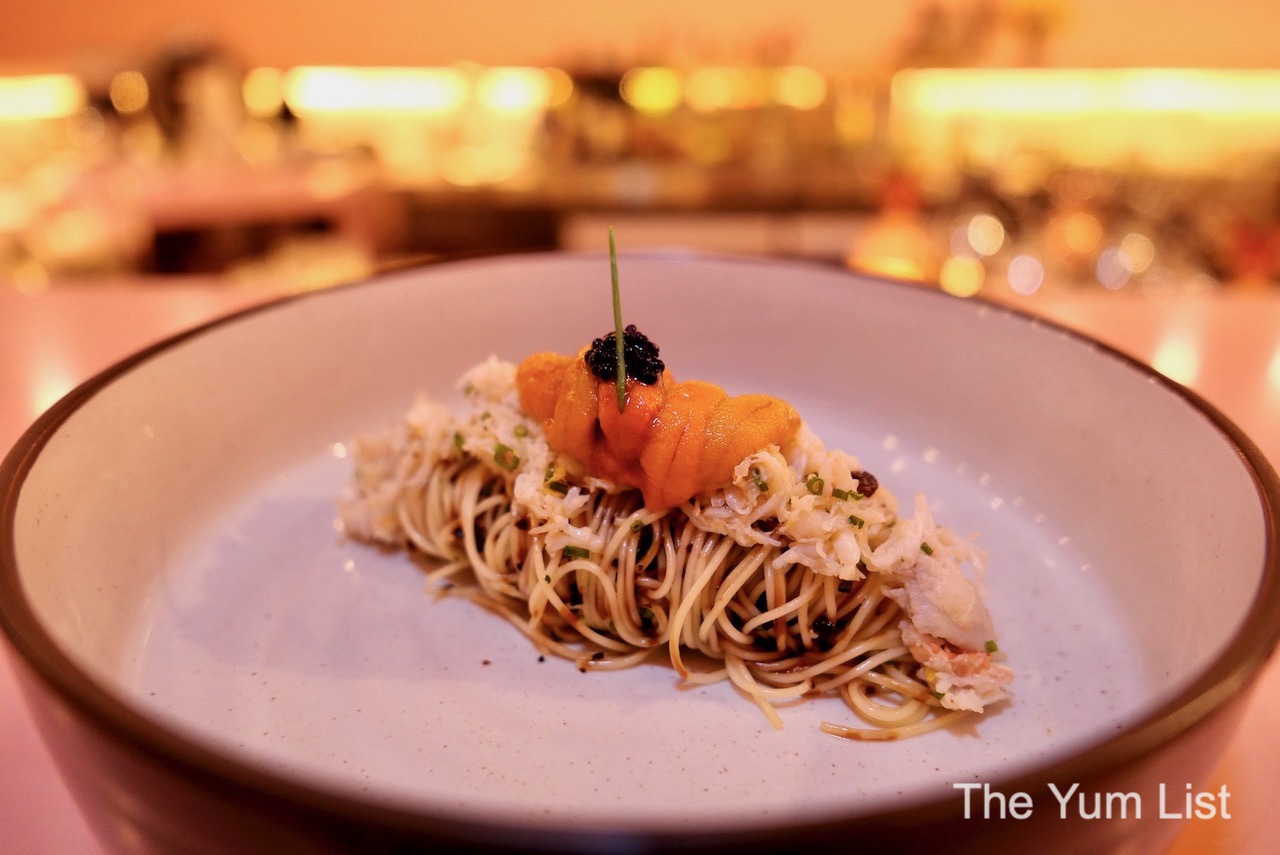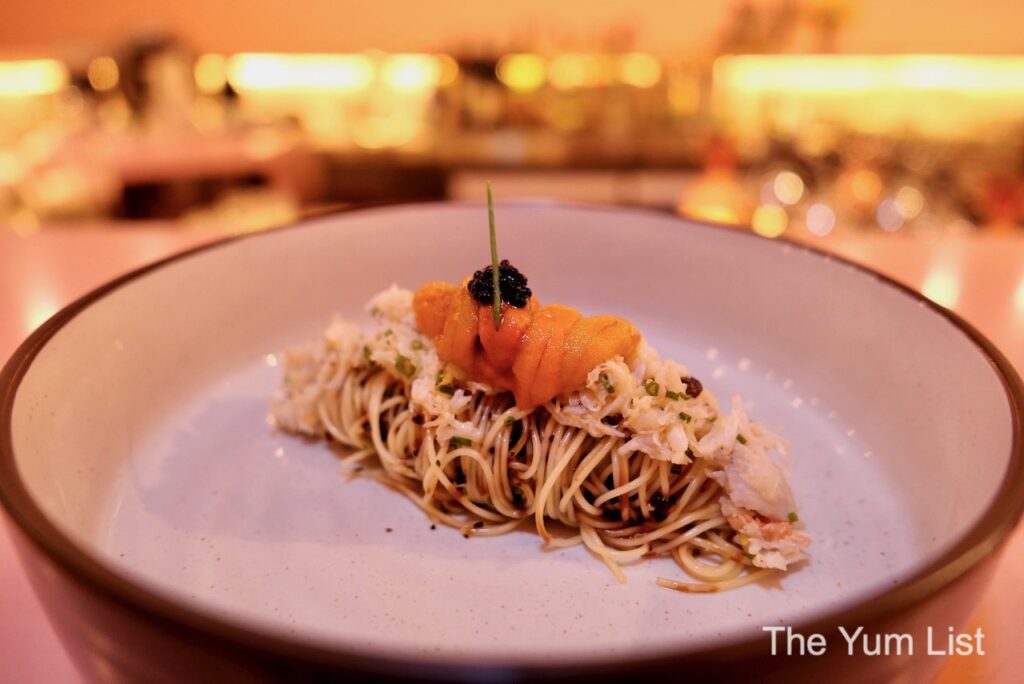 Salad
Our next plate for the evening is my all-time personal favourite salad – Watermelon and Feta Cheese (RM35). Sparking with Mediterranean chic, this salad is a Greek staple and can be found in many other countries bordering the azure waters of the balmy Med. Sweet, sugary crystalline watermelon is countered with the tart creaminess of generous feta cubes and the sharp bite of black olives. Thick cut slices of crunchy cucumber and aromatic mint leaves round out a salad that is both simple, and complex in texture and taste. A true summertime delight, it is joyously curative.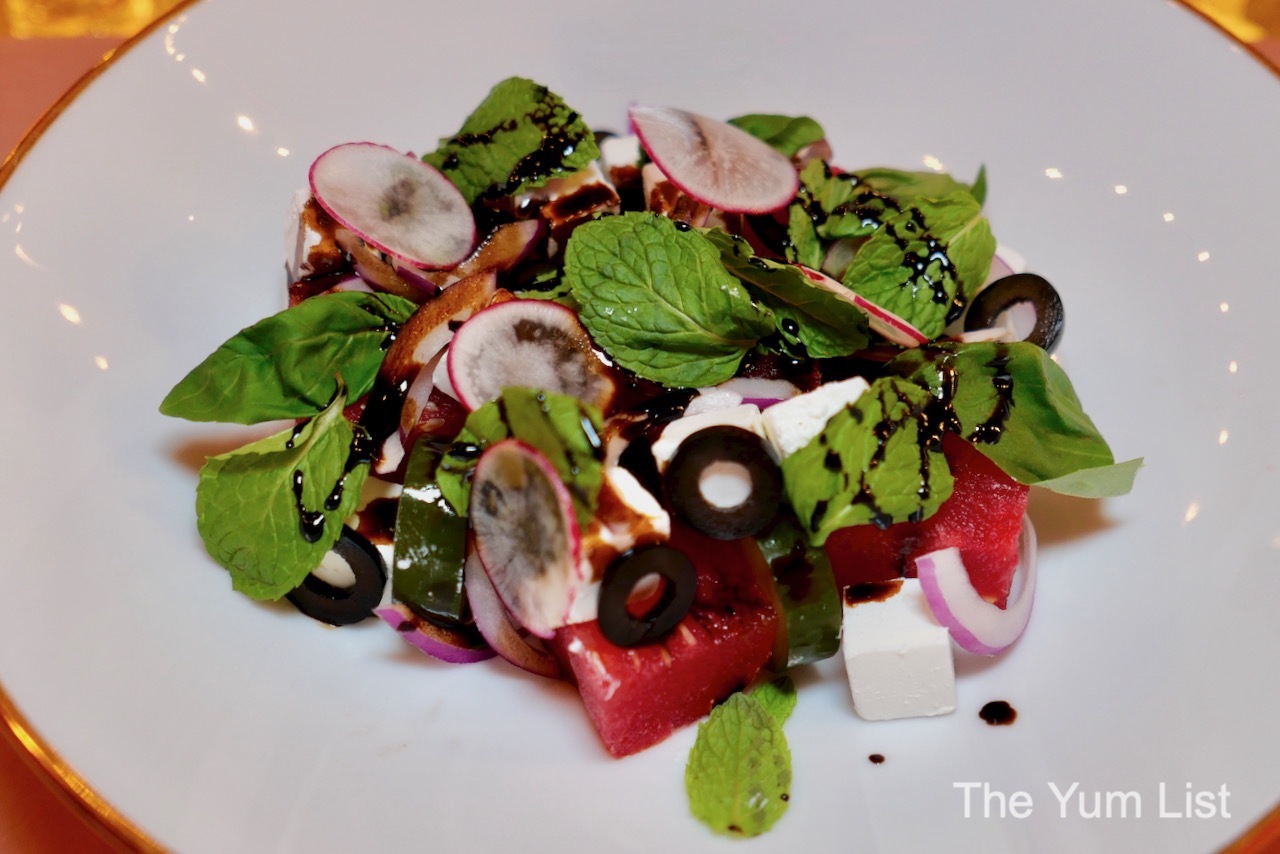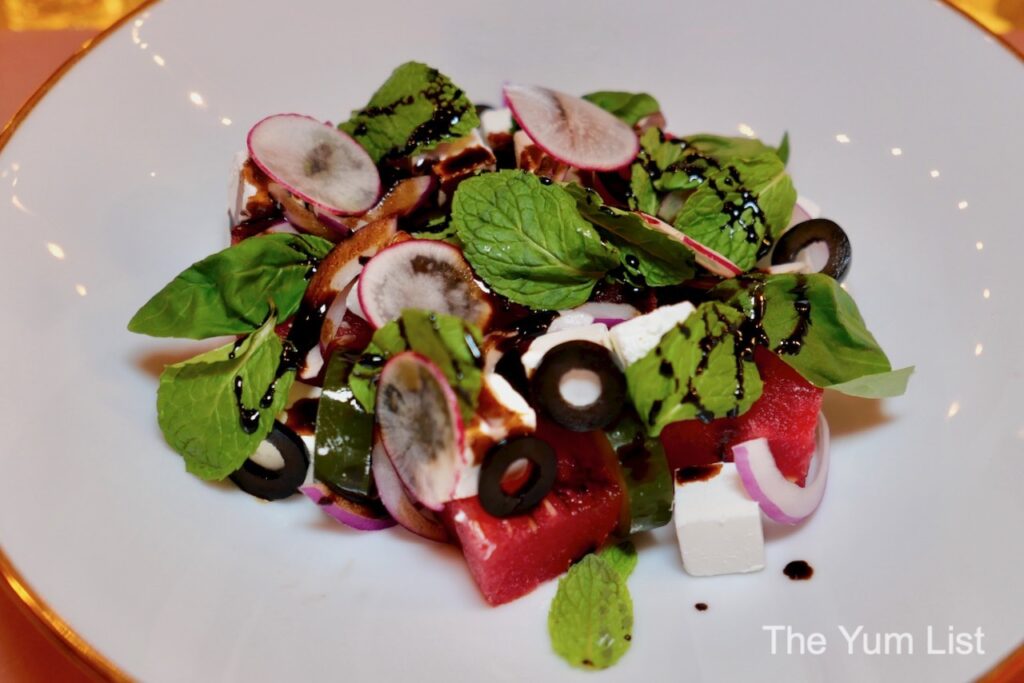 Foie Gras
Chef Jack Yeap's menu is designed to wow, and his combination of Foie Gras and Cempedak is no exception (RM108). Two thick blocks of silken smooth foie gras are sandwiched between pan-fried, buttered toast. The cempedak marmalade is both for those who love the distinct flavour of durian, and also for those who want to try this king of fruits, but who may be overwhelmed by the pungency or lingering aftertaste. This is a more palatable version, with sea salt bringing out the fragrant, tangy sweetness.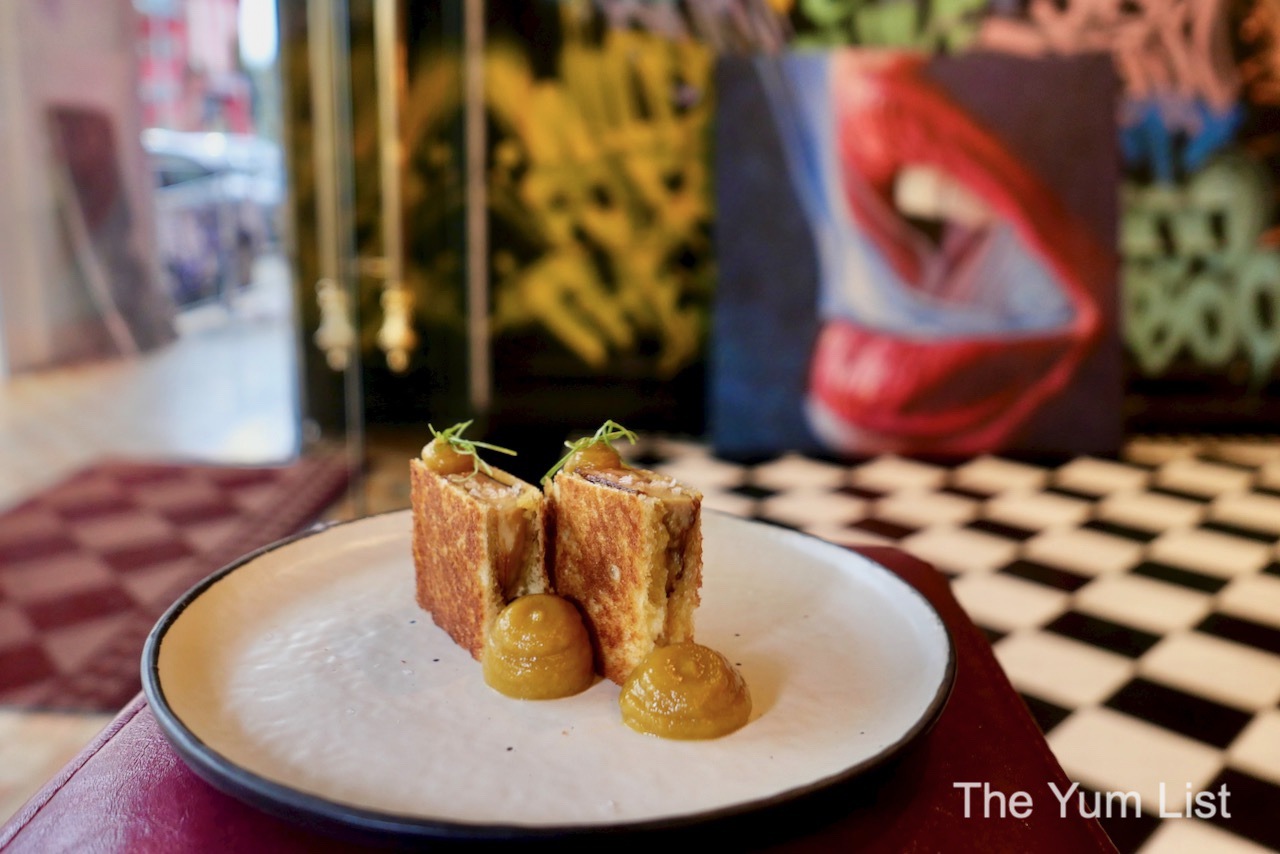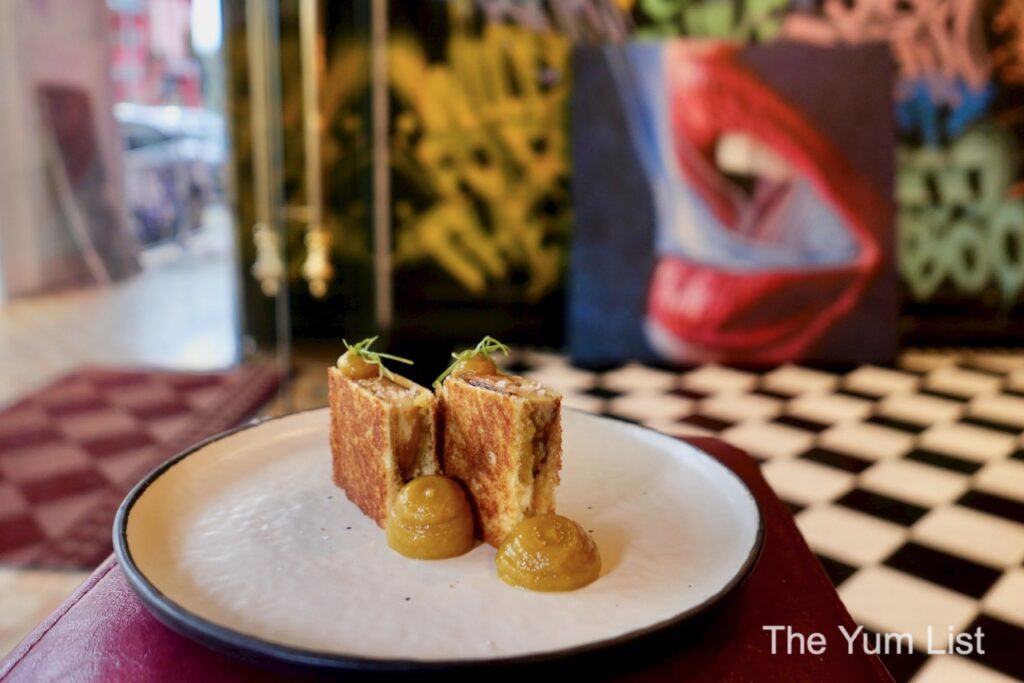 Egg Confit
An off-menu special, Jack prepares us a dish that has cemented his reputation – an Egg Confit with Black Truffle (RM68). For the exorbitant volume of Italian black truffle shavings on top alone, it is worth asking for this secret, distinctive plate. Served in a white sculptural bowl, a low temperature salted egg drips and runs through the bowl when pierced, saucing the ham ragu below. With a foamy potato espuma, the dish is a harmony of texture superimposed on rich, earthy flavours. It is comfort juxtaposed with elegance.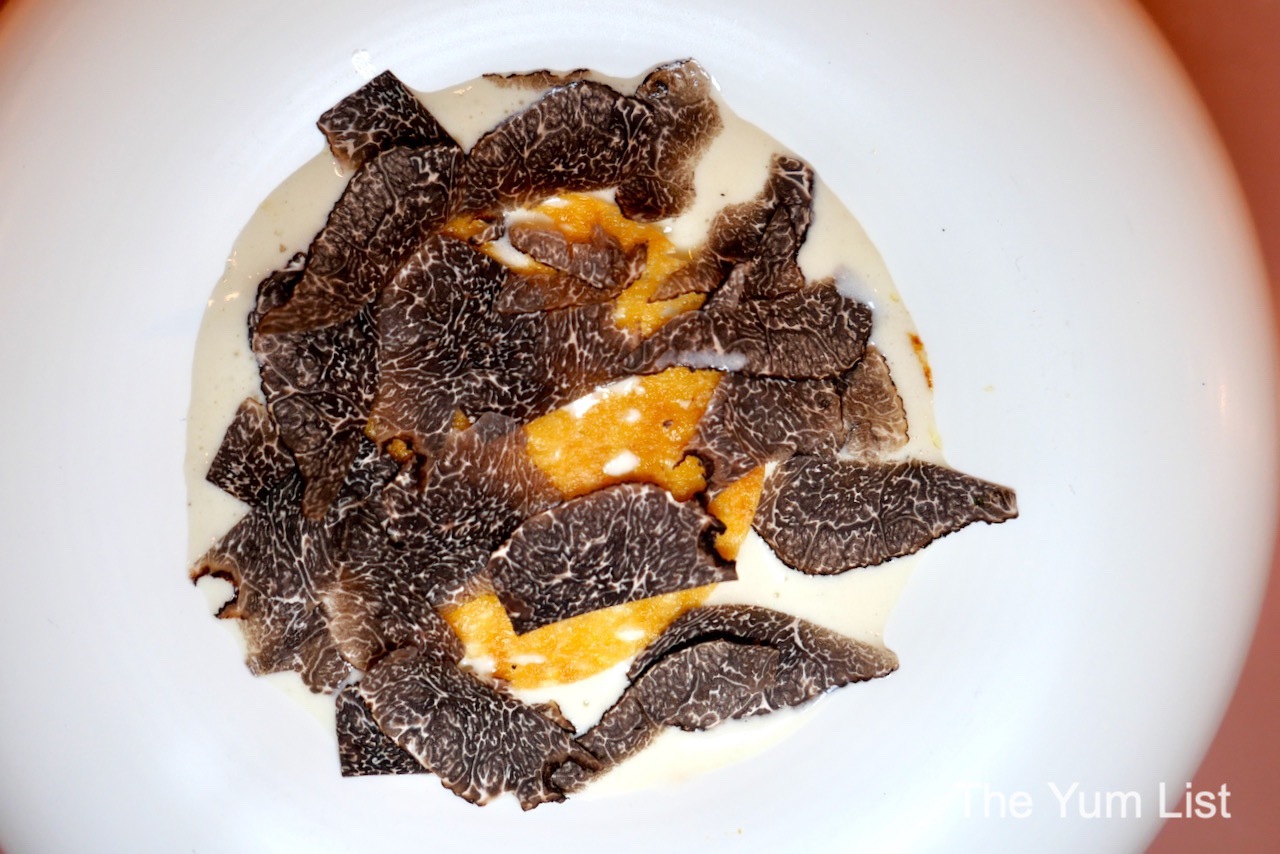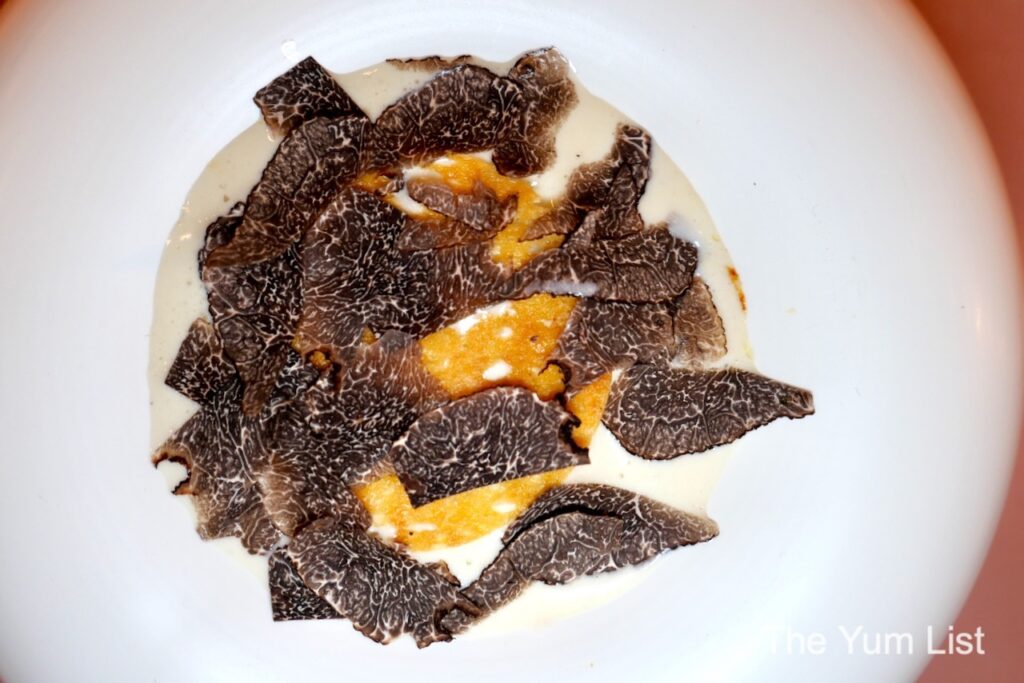 From the Grill
From the grill, the "The Feather Cut" (RM88) is a beautiful Iberico Pork Pluma, thick-cut, and served with a sweet-pea tendril and radish micro salad. But the hero of the plate is not the sumptuous Spanish pork, but Beso Rosado's house-made mojo sauce. Typically made with cilantro, orange juice and zest, garlic, paprika, and jalepênos, this iconic variation is packed with extra green herbs – parsley, mint and a punchy addition of chilli. Deliciously spicy, it is packed with healthy, antioxidant-rich greenery and citrus. It is guaranteed to put a spring in your step.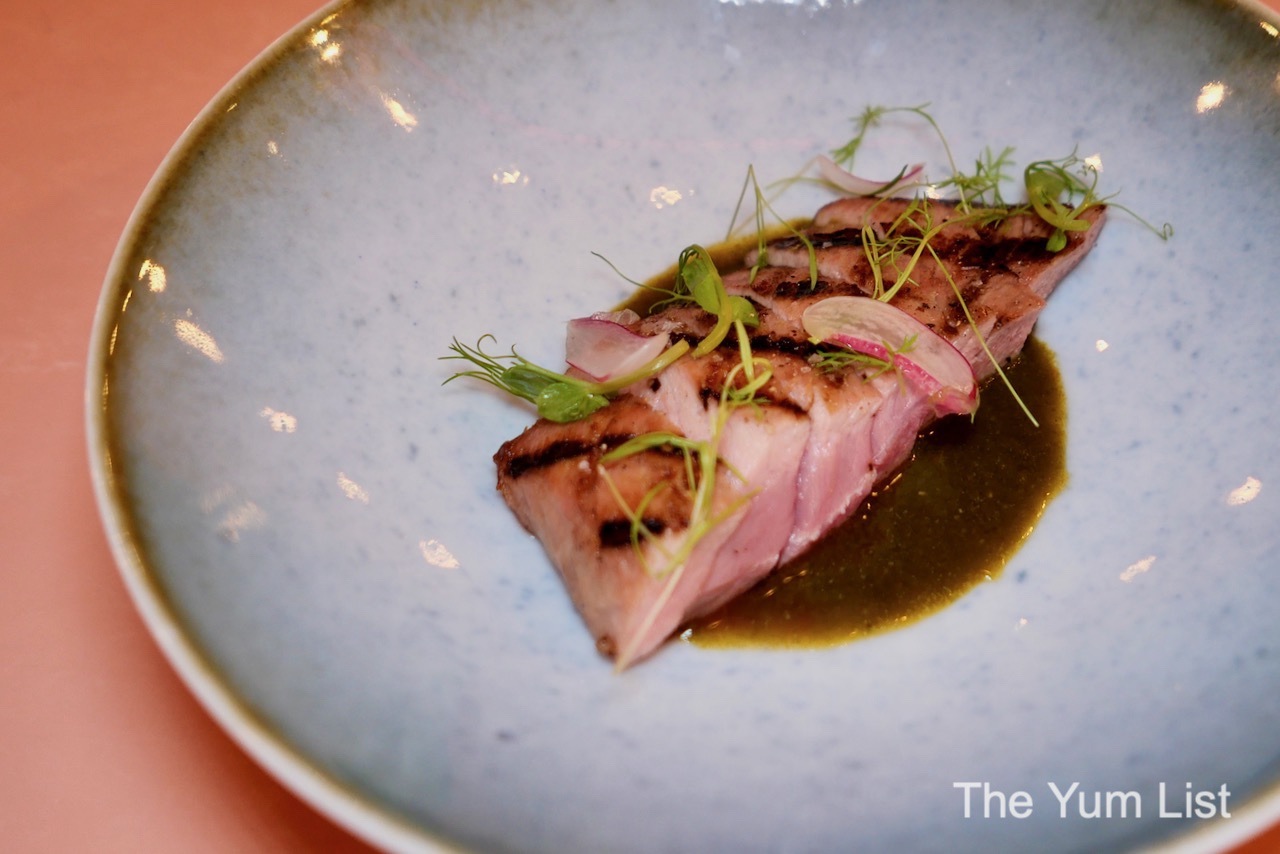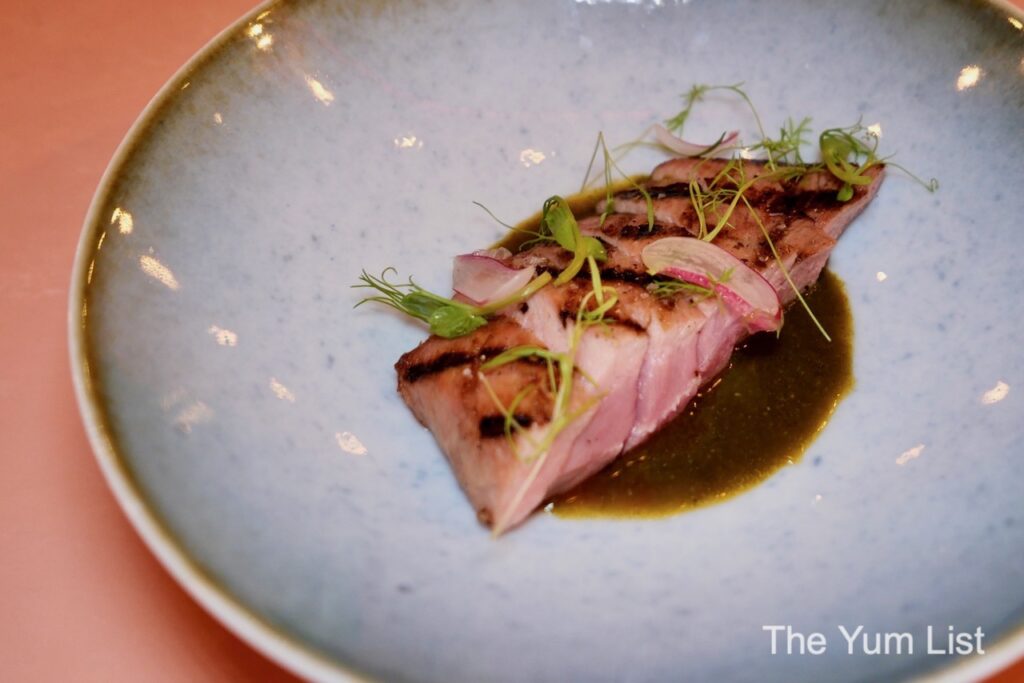 Prawn
With a successful day's catch, the Wild-caught Jumbo Tiger Prawn (price dependent on availability) is on the menu. Fresh, super thick and juicy, it stretches the width of the plate and is nearly an inch and a half in diameter. Chargrilled from the hot plate, it comes with capsicum and sweet corn salsa, playing off the sweetness of the recently caught seafood favourite.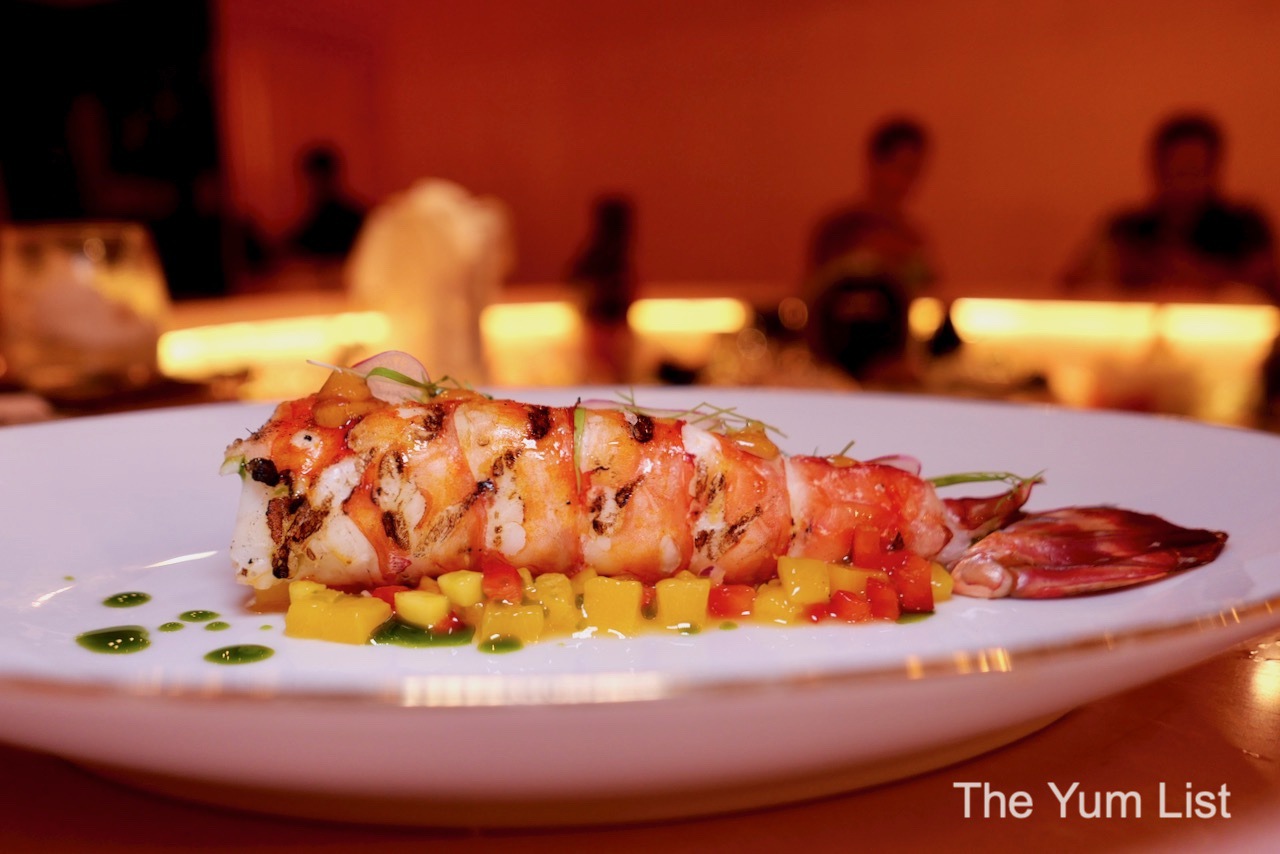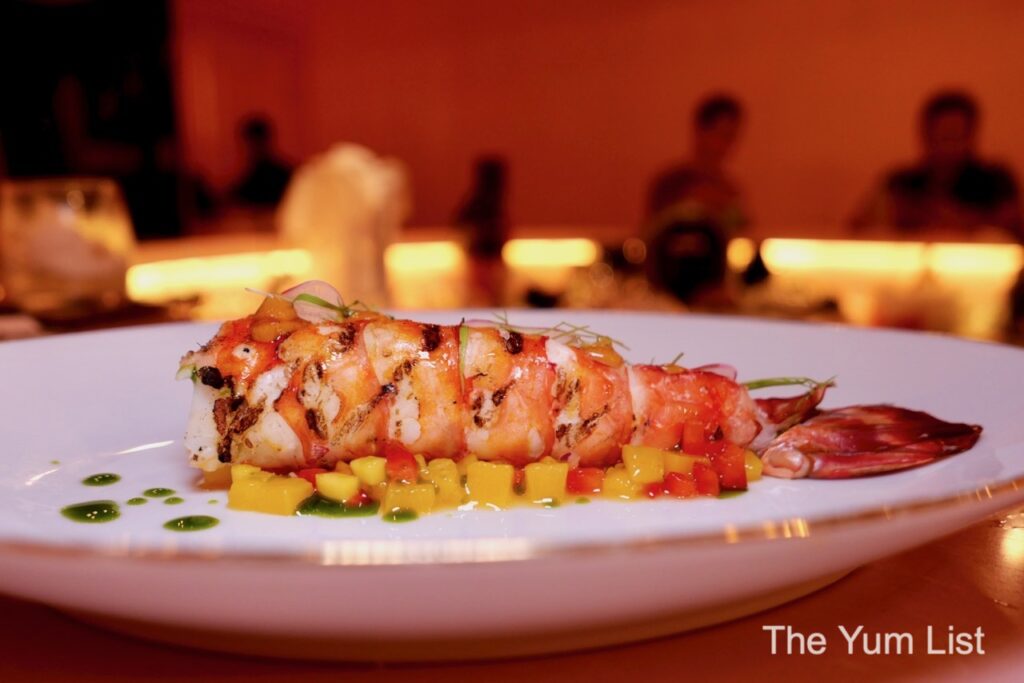 Beso Rosado's Sirloin
The Australian Black Angus MB-5 Sirloin (RM188) tastes how a steak should taste. Cooked medium-rare, with butter and no oil, a light seasoning of salt and pepper, and served with finely chopped chives, the flavour is allowed to speak for itself. Smooth, rich and pure, it dissolves on the tongue – a testament to the quality of the cut of steak.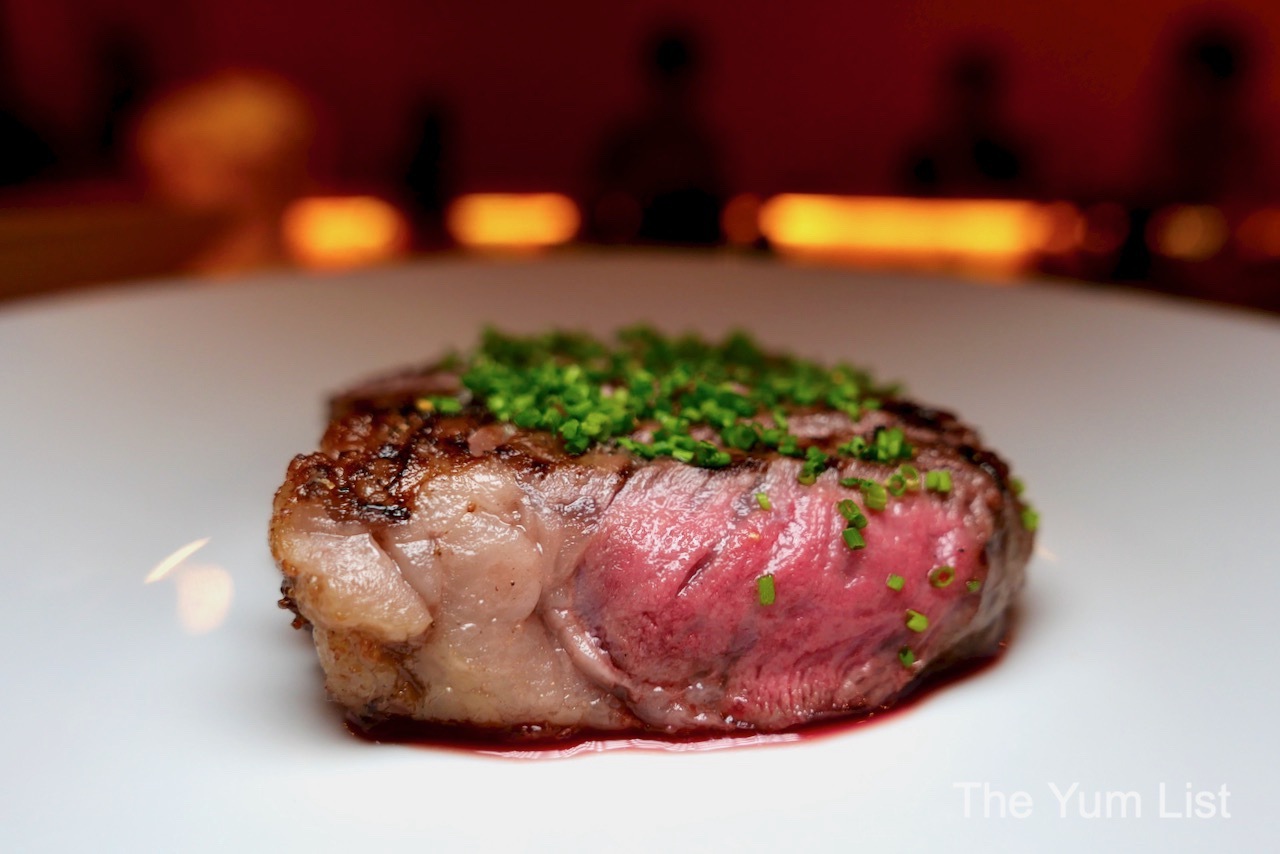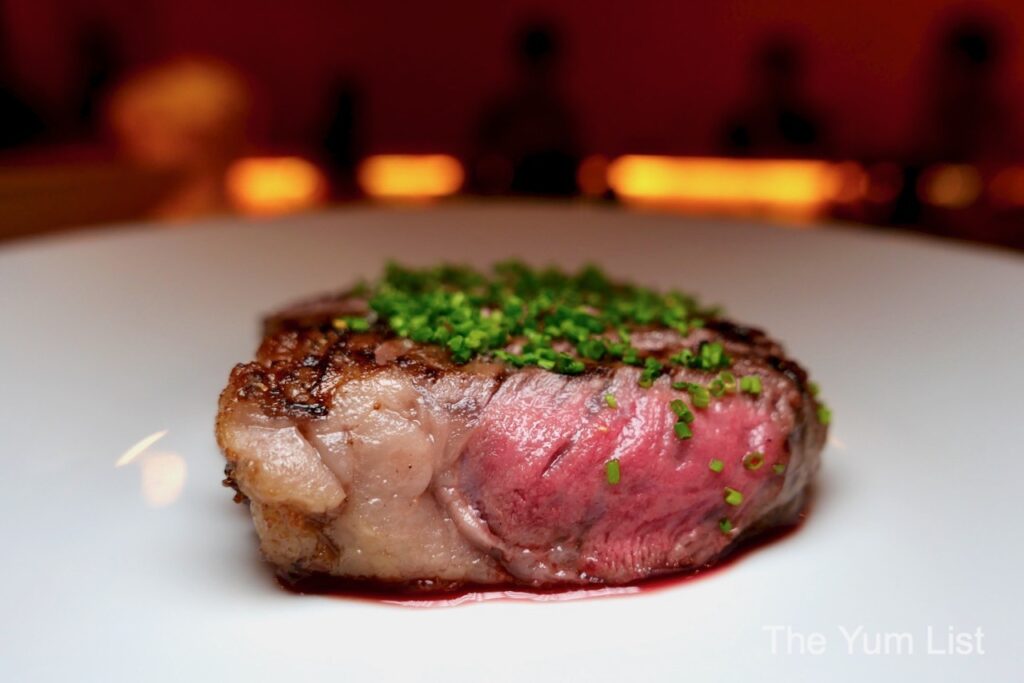 Veggies
Chef Jack Yeap uses the grill for veggie lovers too. Hyper-green Australian broccolini shoots are seared with zucchini, served with ribbons of slow, oven-roasted sweet capsicum. An eggy hollandaise sauce is accented with splashes of lemon juice. But there is something especially delicious about these vegetables. Jack reveals he oils the hot plate with bacon dripping during the grilling process (vegetarians may request a vegetable oil instead). This dish will have even the most ardent carnivores eating their greens with a smile on their face.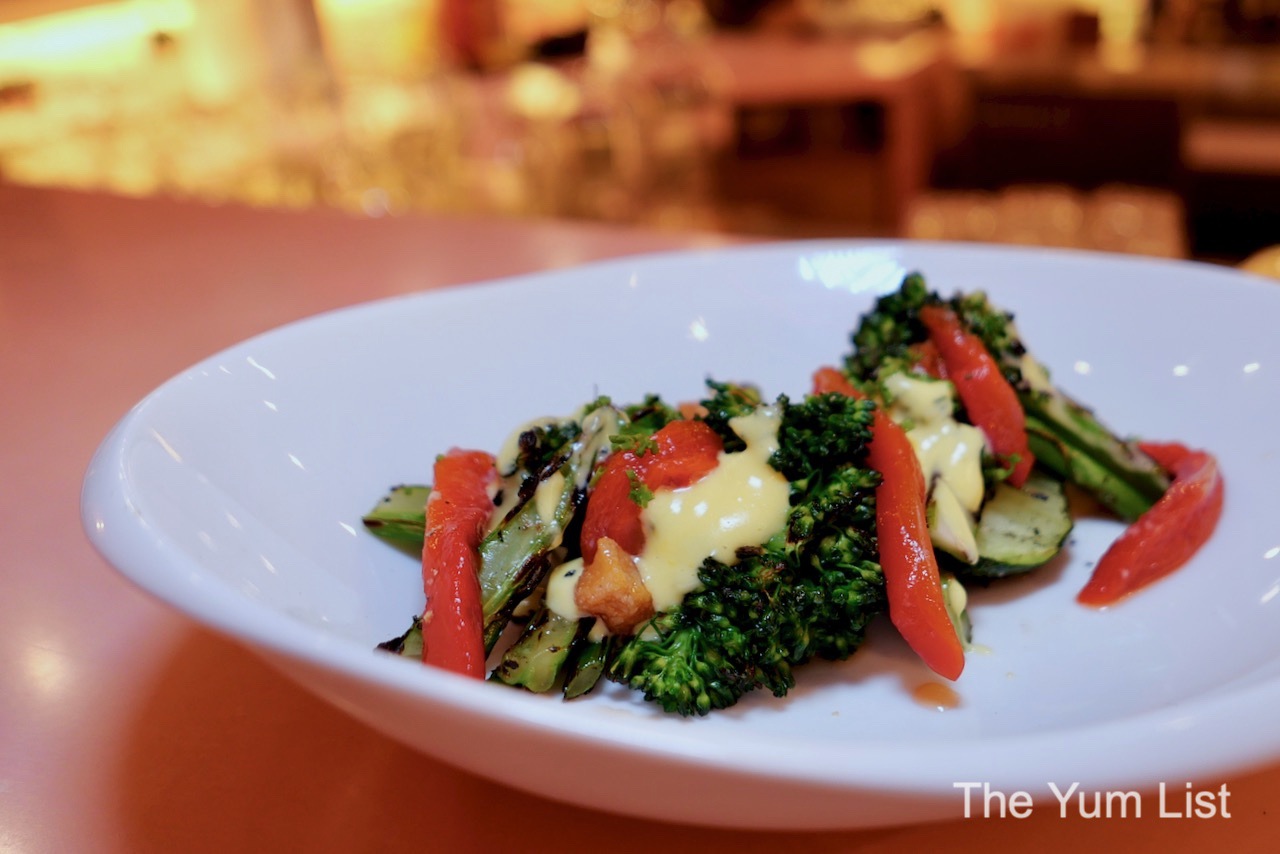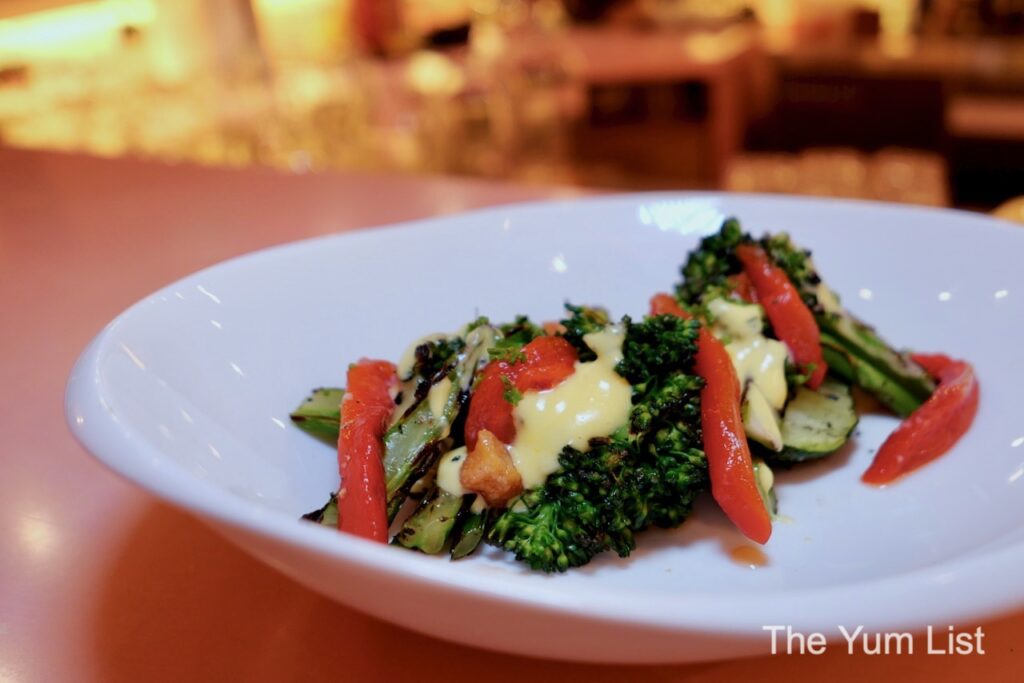 Beso Rosado Desserts
Desserts are not shown on the menu as they change depending on the seasonal availability of fresh, local ingredients. Today there is a number on offer, and we choose Beso Rosado's Snowy Mountains (RM33). The dish centres around a spectacular honey granita with orange confit. The bowl is kept super chilled with smoking dry ice, so the granita can keep its structure, allowing you to eat it at a slower pace and savour every morsel. Topped with vanilla ice cream and candied orange peel, it is further elevated with white chocolate and ginger powder. Citrus, ginger and honey make for a refreshing and delightful end to an incredible meal.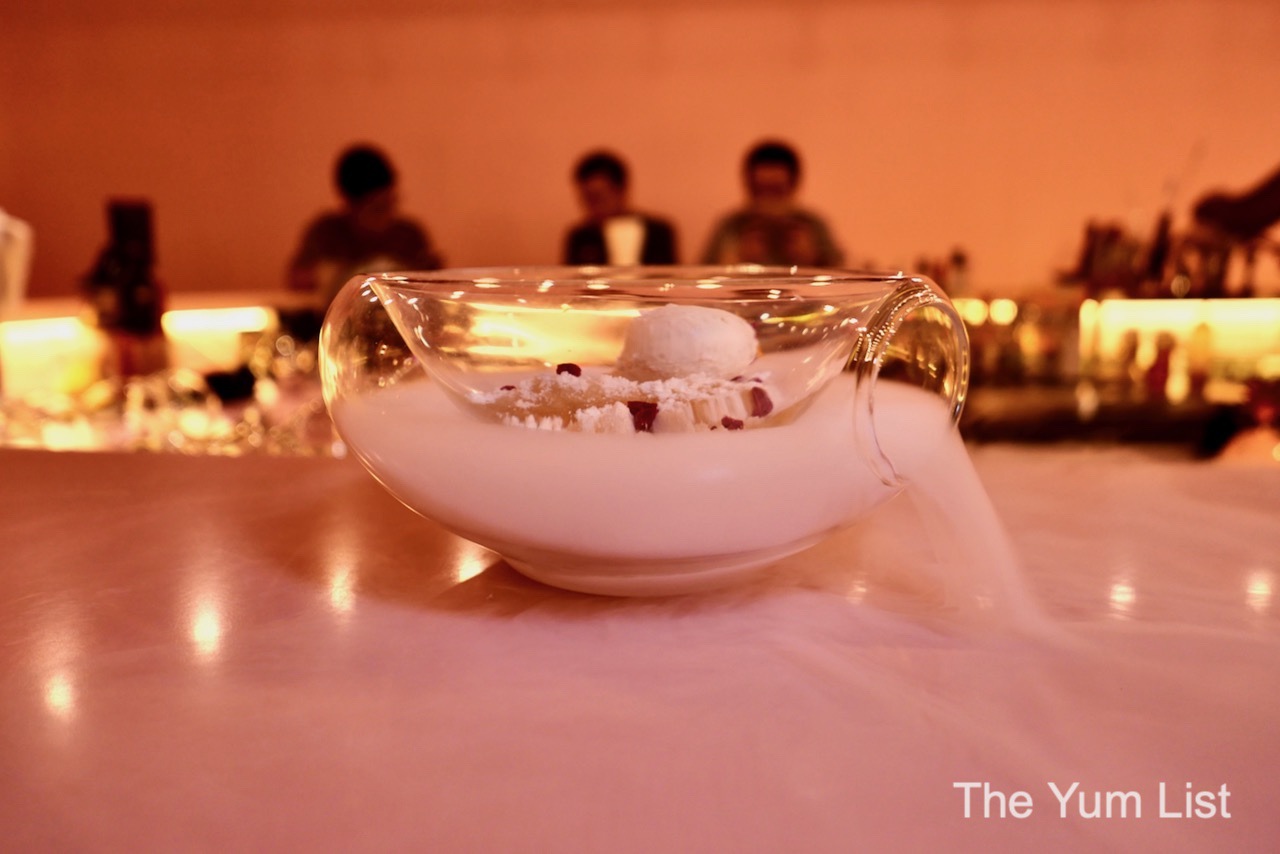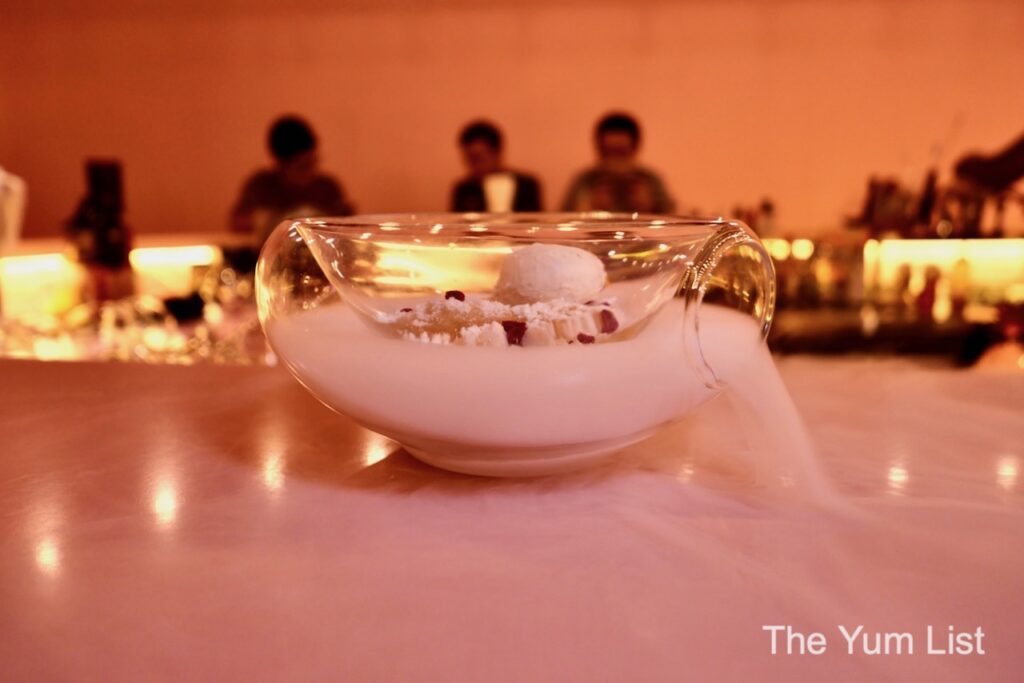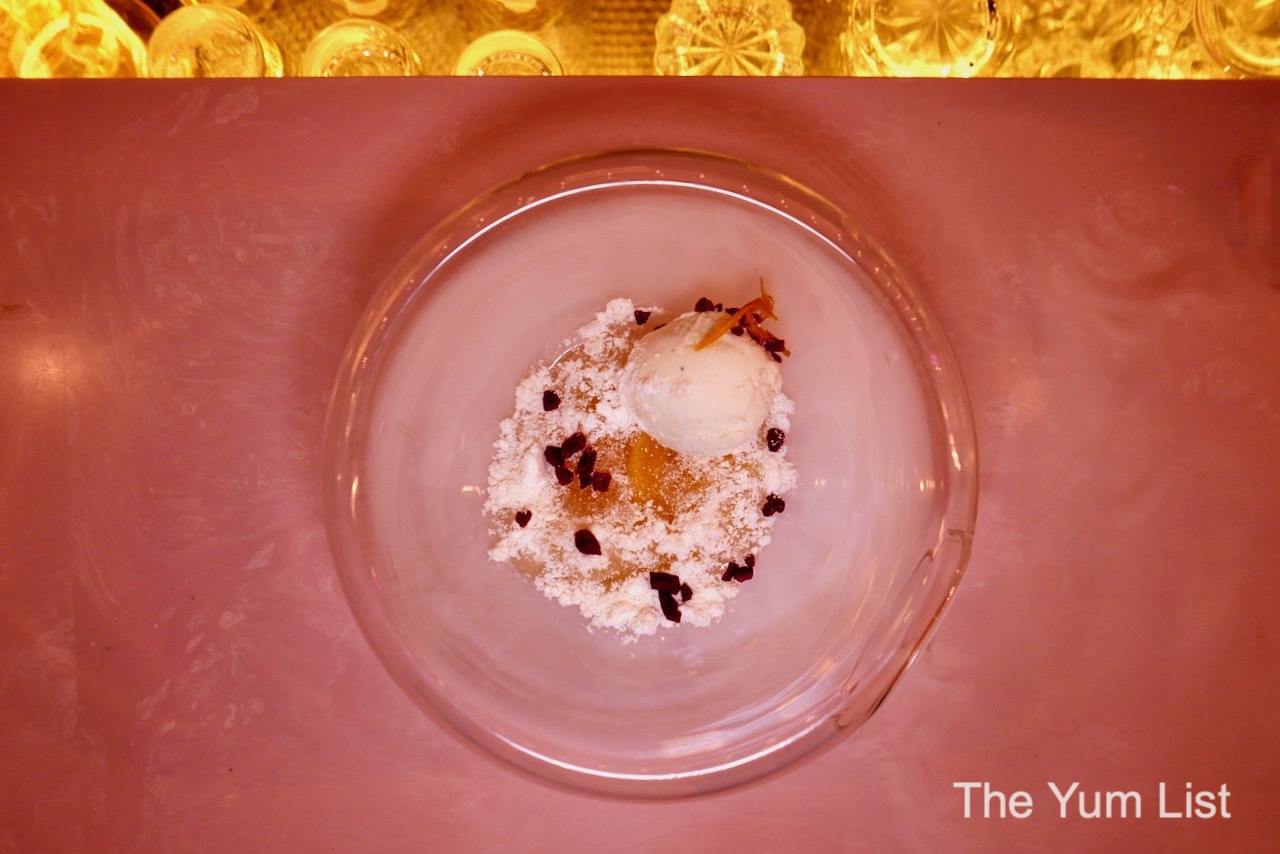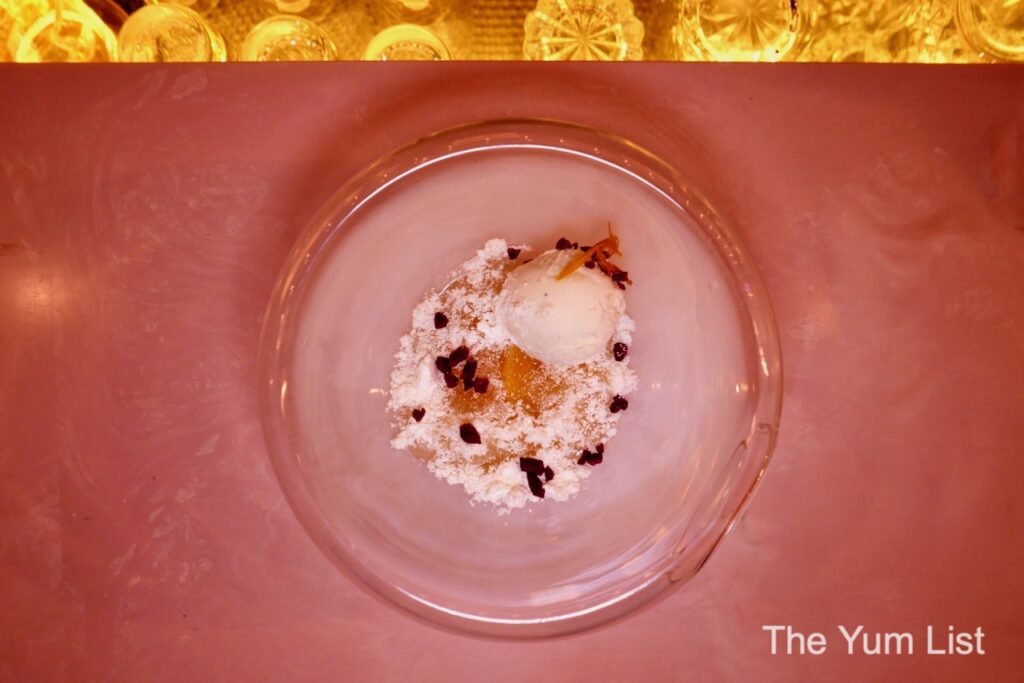 Beso Rosado Review
At Beso Rosado, guests come for the artistic aesthetic, and to watch the spectacle and action of fine dining food preparation. They stay for the outstanding, luxuriant dishes and cocktails. Using exceptionally high-quality ingredients, preparation techniques and methods from around the world, this is contemporary fine dining done well. Whether you are coming for a quick bite with cocktails or a long tasting meal, all are welcome. As long as you are prepared to worship at this temple of gourmet delights.
Reasons to visit Beso Rosado: Our favourite dishes were the Hokkaido Uni & Crab Capellini, the Watermelon and Feta salad, the off-menu Egg Confit with Black Truffles, and the mouthwatering Australian Black Angus MB-5 Sirloin steak. Cocktails at Beso Rosado's are numerous, reasonably priced, and beautifully made with top-shelf spirits and unique twists.
Beso Rosado
86, Lebuh Bishop, 10200 George Town
Pulau Pinang, Malaysia
+604 263 6868
www.facebook.com/BesoRosadoPenang/
Beso Rosado Penang Opening Hours
Tuesday to Sunday: 6 pm-midnight
Find more recommendations for travel to Penang here and stay up to date with the latest gourmet happenings around Malaysia here and here.