CNY Afternoon Tea & Caorunn Gin – Lady Yi's Tea House
Words: Rebecca Cannon
Photos: Rich Callahan
Lady Yi's Tea House is a welcome hideout, up and away from Chinatown traffic in Four Points by Sheraton, Kuala Lumpur. Light streaming in the floor-to-ceiling windows highlights the chocolatey panelling with areas of brightly patterned tiles. This Peranakan themed outlet is serene, with a traditional Chinese teahouse vibe.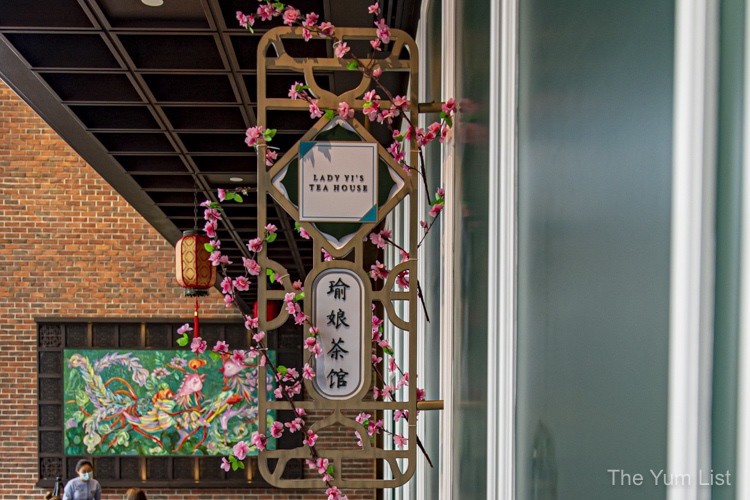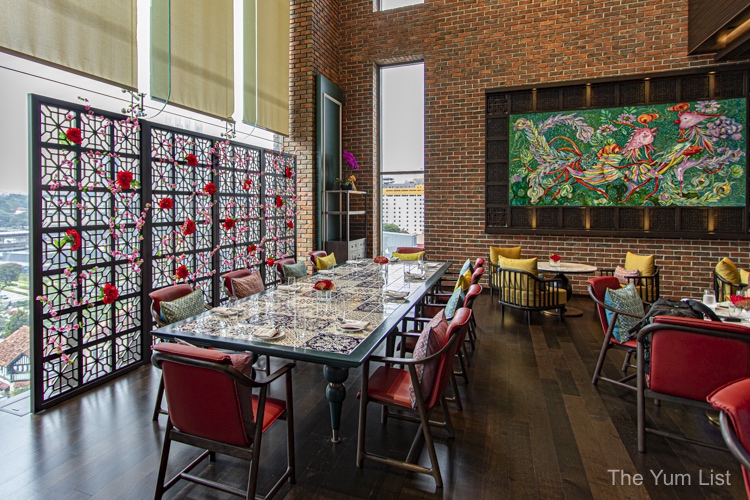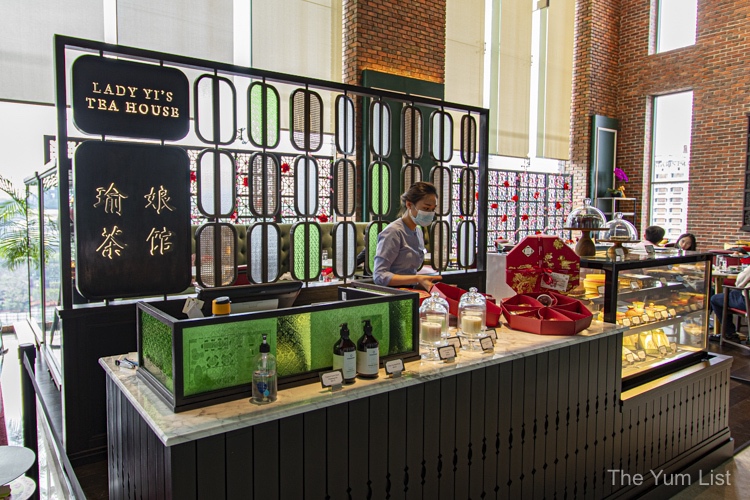 Until February 10 they have a pretty CNY Afternoon Tea set on the menu. And, from February 1 to 15, 2022, you can top up the set with three Caorunn Gin cocktails in honour of Valentine's Day and Chap Goh Meh.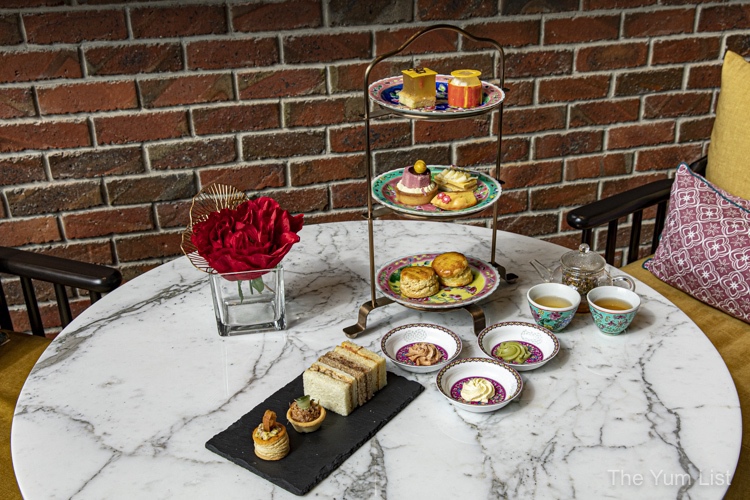 CNY Afternoon Tea at Lady Yi's Tea House
Savoury
On offer in the savoury department of the CNY Afternoon Tea at Lady Yi's Tea House are a variety of three sandwiches; smoked salmon, beef shank and barbeque chicken as well as tea egg, and roasted duck mini pastries.
Make sure you put your napkin on your lap. The sandwiches are neatly cut into triangles without any crust, so you know this is sophisticated. All the sandwiches'sandwiches' meat is delicious and arranged so your teeth never have to try to tear through them or risk taking all the filling with you. Each has a little something with the meat to add moisture to the bread and keep your tongue interested; the beef shank is char kway teow-glazed and the chicken is barbequed with sriracha garlic sauce.
The Tea Egg is Lady Yi's Tea House's version of an egg tart. While the roasted duck is shredded, with a ribbon of cucumber on top. Do not try and savour its goodness by making it two bites, the cucumber slices make it too difficult. Instead, gobble it in one and sit back for several minutes chewing, taking it all in, grinning like the Cheshire Cat as your satisfaction with life reaches new levels.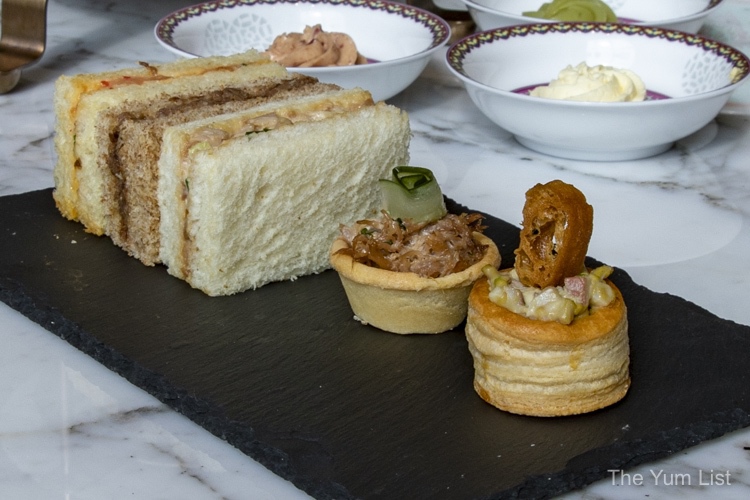 Sweets
The sweets included in CNY Afternoon Tea are Osmanthus, Madeleines, Coconut Sphere, Strawberry Tart, Mondo Mouse, and Nestum & Plain Scones.
No afternoon tea is complete with scones and at Lady Yi's Tea House they come in two different varieties. One is the original scone; light and fluffy and lightly glazed. I want to cuddle it like a soft toy as much as I want to eat it. Continuing the Chinese Straits theme the scones are served with not just the usual options of Devonshire cream, but also kaya jam and red bean butter. I cannot believe I never thought to pair kaya jam with a scone before! Some members of the party wanted to take the leftover kaya home with them, it was that good. Personally, I found the red bean butter to be my favourite, the right mix of sweet yet slightly salty, and it would never drown the scone out, only add the right amount of moisture. The other scone variety, the Nestum scone was mistaken for wholemeal by most of the group. However, it does have a slightly sweeter flavour than you would expect from wholemeal. The spreads went just as perfectly with this scone as they did with the regular, so once again everyone was fighting over the kaya whilst I smuggled the red bean butter out when no one was looking and had a bite or two of Devonshire cream to help combat the homesickness.
After the scones, you'll leave the traditional European afternoon tea behind, so you can decide if you wish to eat them first or last. The Madeleine may seem to be a European add but again Lady Yi's Tea House has put a Strait's twist in there, serving it with mandarin jam on the inside, with a thin coating of icing at the top of the Aphrodite clam shape. It was a great addition making it a light and citrusy bite, not a dessert but the kind you want to get you through a mid-afternoon slump.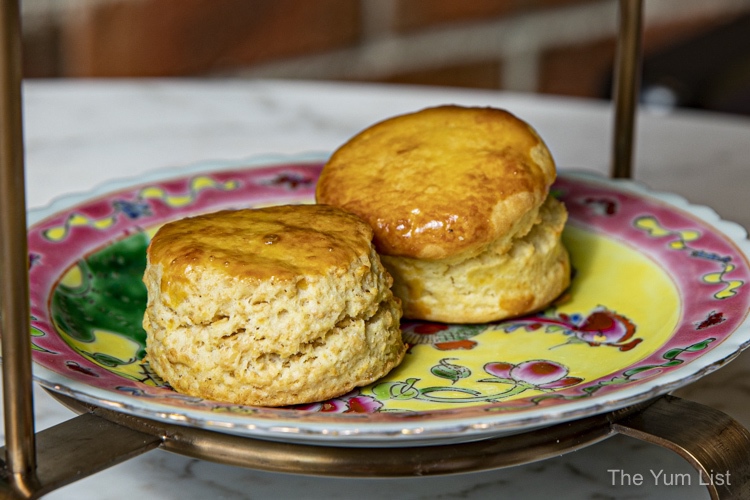 The strawberry tart is neither the kind you find in Malaysian shops nor patisseries. The strawberry is in mousse form and a kick of Borneo pepper gets you at the end. It keeps your taste buds guessing. The Osmanthus, though, is the most intriguing, sitting proudly on the top tier. It'sIt's a clear steamed cake filled with a few goji berries and osmanthus flowers. If you like playing with your food, stare into the Osmanthus and see what shapes you can find!
The Coconut Sphere is coconut jelly wrapped with coloured white chocolate. The white chocolate is the first and last taste you get, so if you're not a fan, simply unwrap it and absorb the coconut instead. This way it feels very light, but sweet, an unusual combination for a dessert. Also worthy of mention for its lightness is the Mango Mousse, consisting of an airy mousse on a cake slice. It was so light it could hardly keep itself up – get out your cake fork for this one.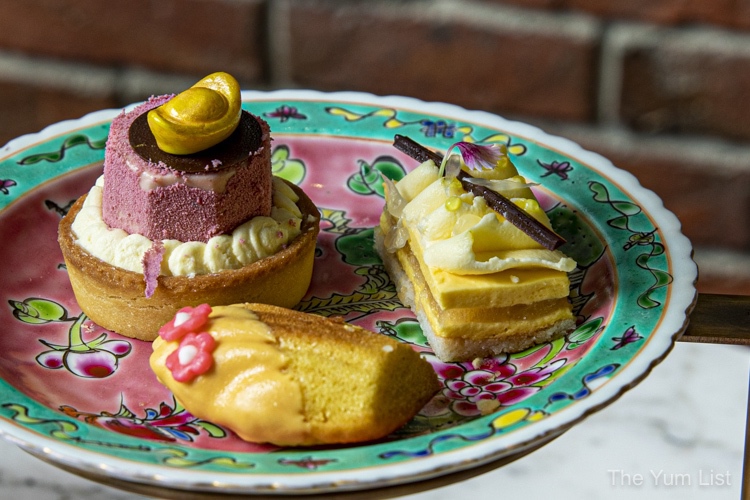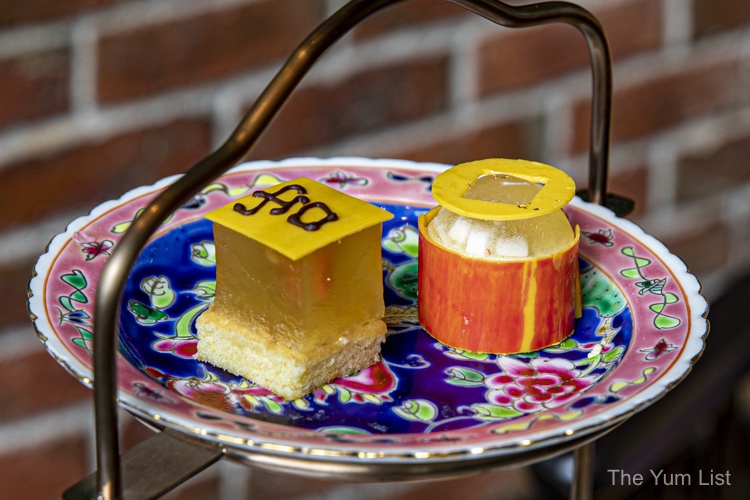 CNY Afternoon Tea at Lady Yi's Tea House
Caorunn Gin Cocktails
For something a little cheekier, guests can add on Caorunn Gin Cocktails. In honour of Valentine's Day and Chap Goh Meh, which fall a day apart this year, Caorunn Gin and Four Points by Sheraton Kuala Lumpur, Chinatown in partnership with GinRumMe, have curated three speciality cocktails to add further inspiration to the CNY Afternoon Tea.
Caorunn G&T Signature Serve (RM48) sees Caorunn Small Batch Gin topped with tonic water and garnished with red apple slices. Named after the rowan berry in Gaelic, Caorunn is a Celtic botanical that makes the Scottish gin unique. Five unique Celtic botanicals are used in the distillation along with six classic botanicals. It's a refreshing tipple with a summery apple scent. This is Mon's fave.
Caorunn Raspberry & Sonic (RM45) adds a splash of colour to the selection with Caorunn Raspberry Gin topped with a mix of tonic and soda water. This highball style drink brings out the sophistication of Perthshire raspberries on top of eleven other botanicals distilled in the world's only working Copper Berry Chamber. The brand calls it an "alternative to fruit salad."
Lastly, you'll need about 20 minutes for the Tea & Gin (RM60) to be ready. It's your choice of tea from the Roleaf selection infused in Caorunn Highland Strength, then served with lemon and sugar. The gin is a powerful 54% ABV with a minty, juniper character that is balanced by herbal notes and a peppery finish.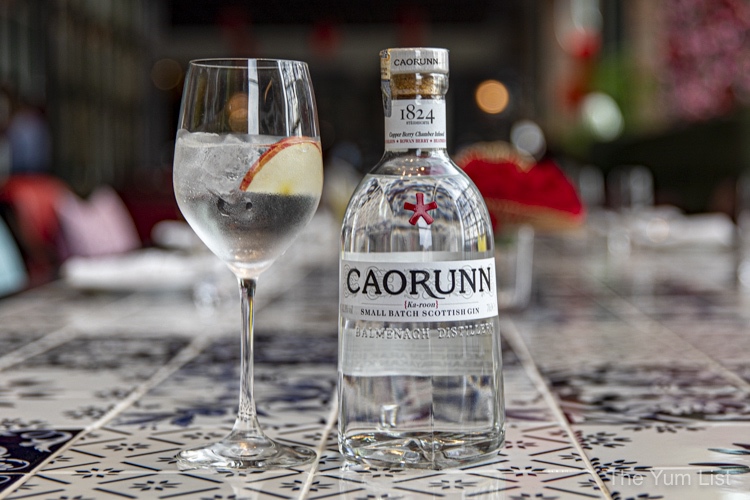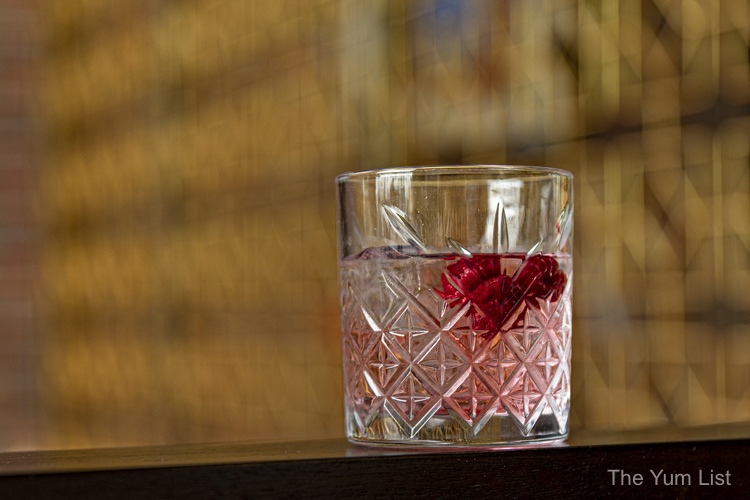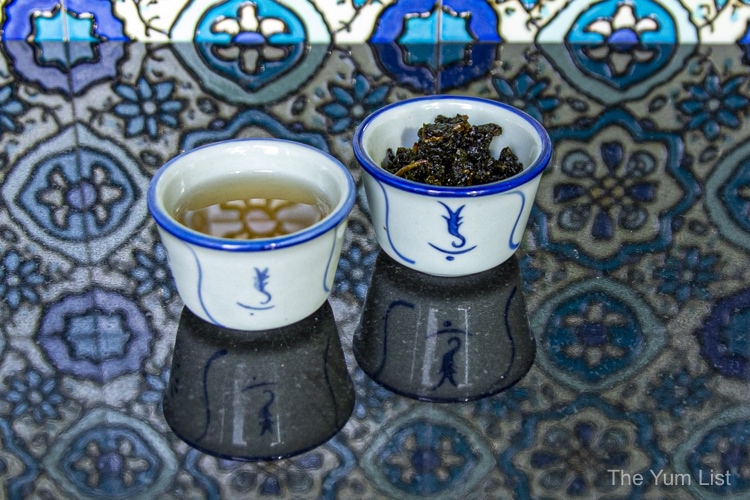 CNY Afternoon Tea & Caorunn Cocktails at Lady Yi's Tea House
Overall, the CNY Afternoon Tea at Lady Yi's Tea House is a lovely and peaceful afternoon out. It'sIt's a perfect balance of western indulgences with local twists for the ex-pat community or a European escape with homely comfort for Malaysians. The three Caorunn gin cocktails are well-crafted and make a cheeky addition to the afternoon.
The CNY Afternoon Tea is priced at RM98+ per set (RM 128+ for takeaway) and is available from January 10 to February 10, 2022 from 2 pm to 6 pm. Add RM90+ (total RM188+) for the Caorunn gin indulgence including three cocktails from Jann KL. The gin add-on is available from February 1 to 15, 2022.
Reasons to visit Lady Yi's Tea House: must try the CNY Afternoon Tea, great for small groups looking for a quiet escape, familiar yet interesting spins on classic afternoon tea recipes, a cheeky Caorunn gin cocktail, the delicious Lady Yi's house-blend of tea.
CNY Afternoon Tea @ Lady Yi's Tea House
Level 7, Four Points by Sheraton, Kuala Lumpur
Jalan Balai Polis, 50000, Kuala Lumpur, Malaysia
+60 32035 7333
[email protected]
Lady Yi's Tea House Opening Hours
Daily 11 am-7 pm
Find more spots for afternoon tea here and stay up to date with the latest culinary happenings around Malaysia here and here.