Chinese New Year 2022
If you're hoping to ring in the Lunar New Year 2022 with the roar of the tiger, local service providers have plenty to offer.
Chinese New Year 2022
Licky Chan – Not Your Basic Lou Sang
To toss things up, the team at Licky Chan took one of our favourite things about Chinese New Year and gave it a Licky twist for 2022! They present "Not Your Basic Lou Sang (RM 88)," a boozy carrot cake delivered in a beautiful box filled with ong!
They created this Lou Sang with not so basic ingredients: carrot cake with whisky soaked raisins, carrot bacon, cinnamon crumble, whisky caramel (Dewar's 12 Years), candied peanuts, white sesame brittle and dried pineapple. There's an option to add on our special CNY ice cream "Turn Down for Huat" with Dewars 12 Whisky, Raisins and Tonka Bean (RM45++), and boy have those raisins soaked up the booze!
For individual immediate orders and pre-orders visit Licky Chan on Beepit. For bulk purchases and discounts on multiple orders send them a message on WhatsApp +6011 2197 3992.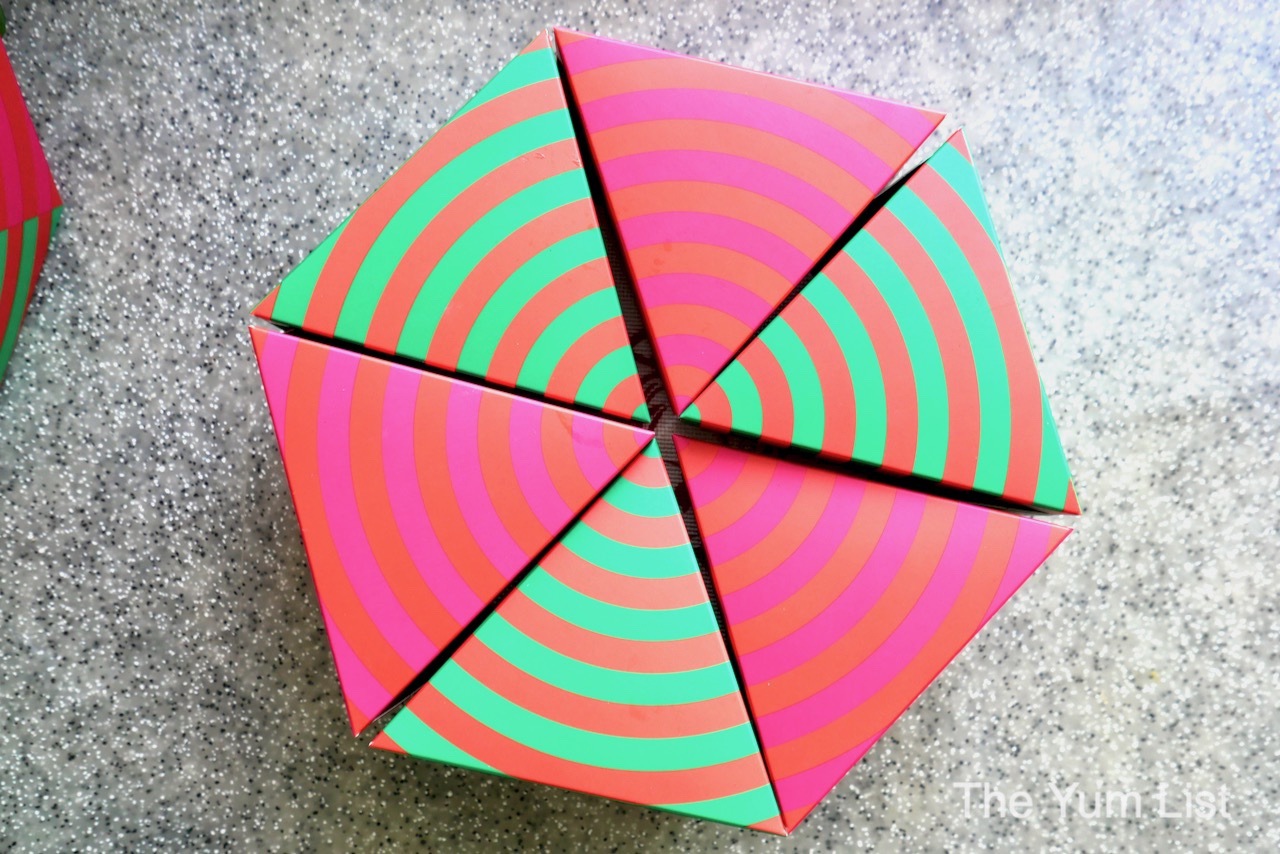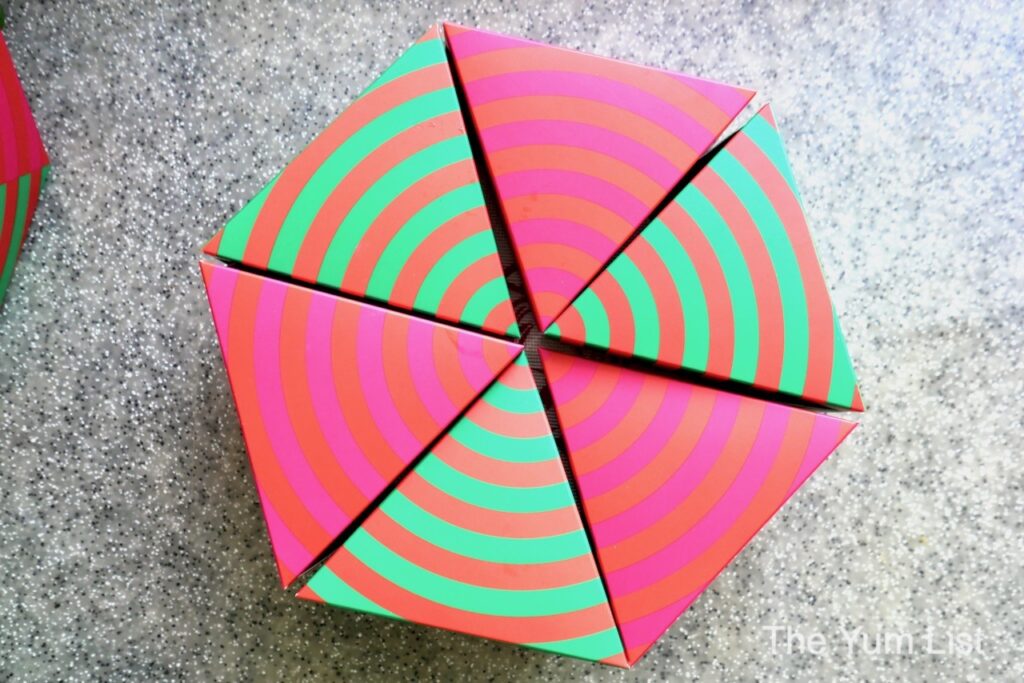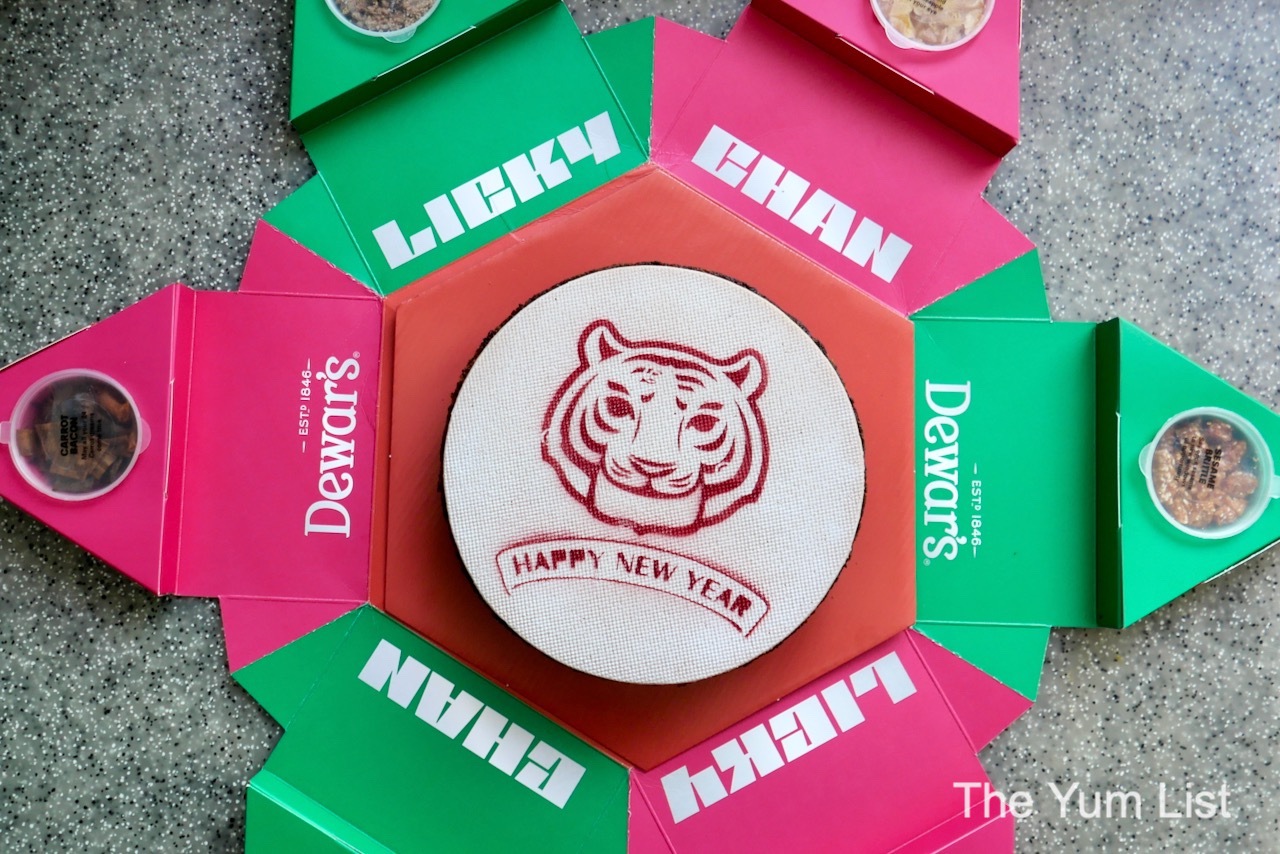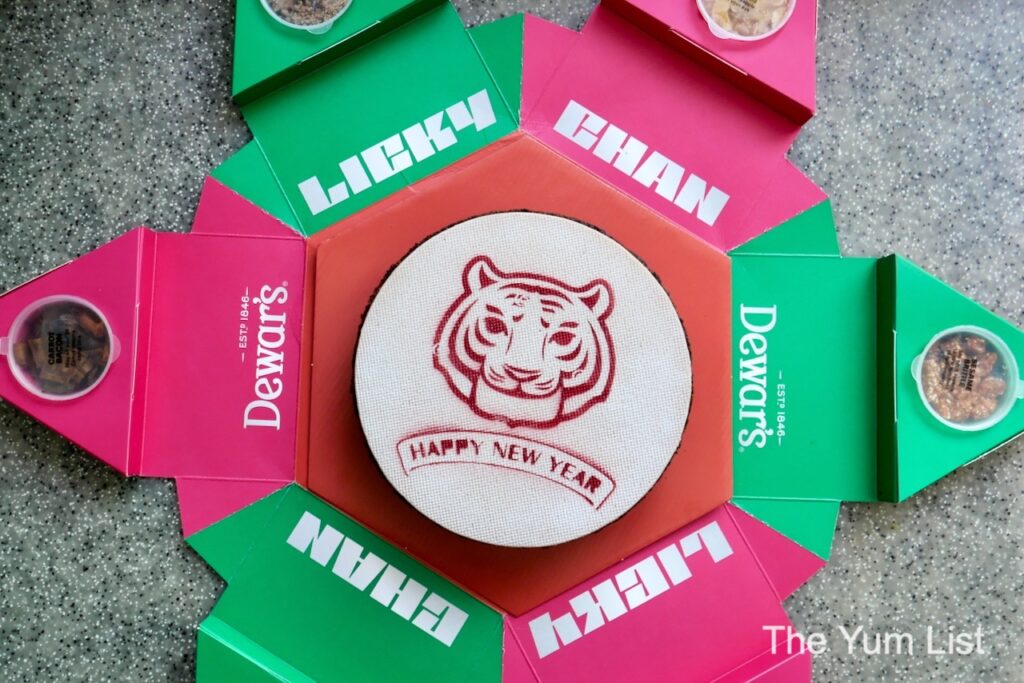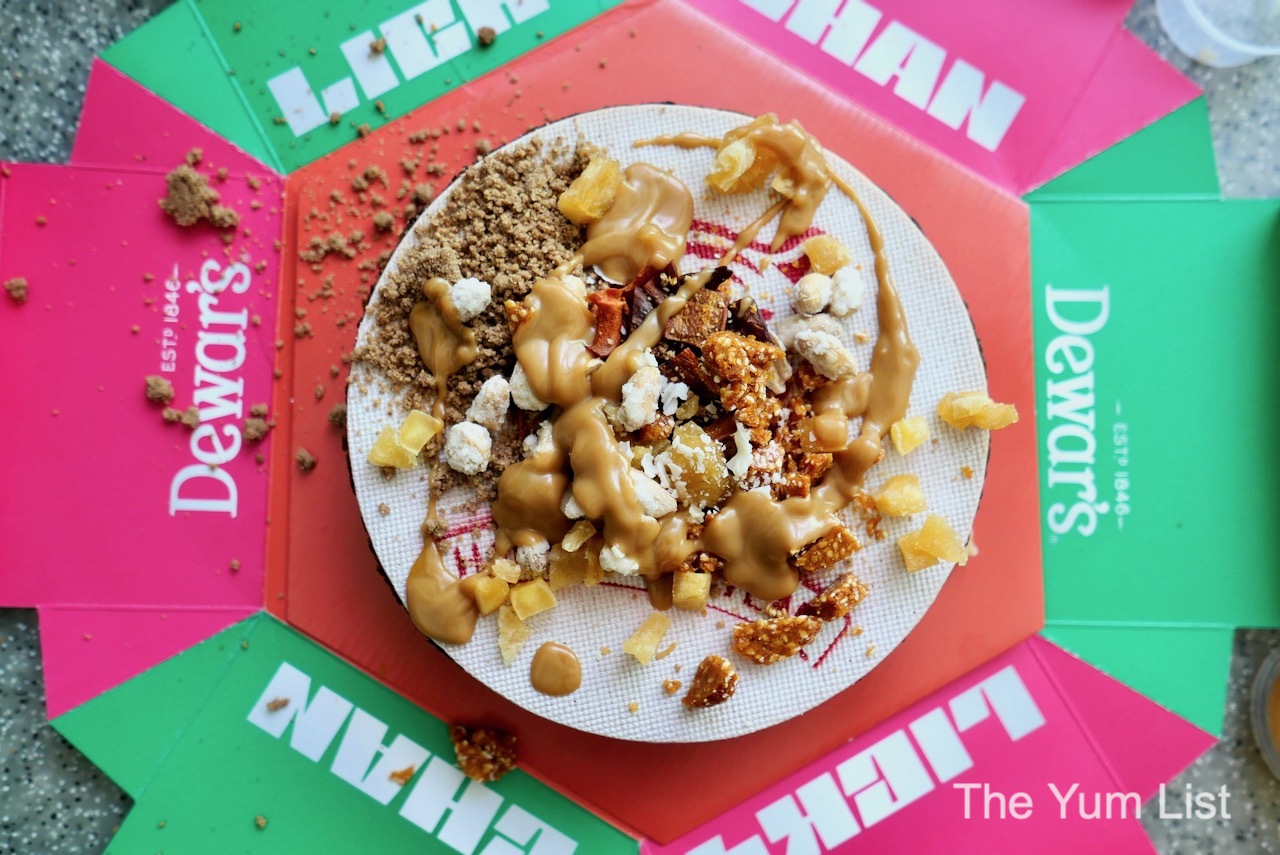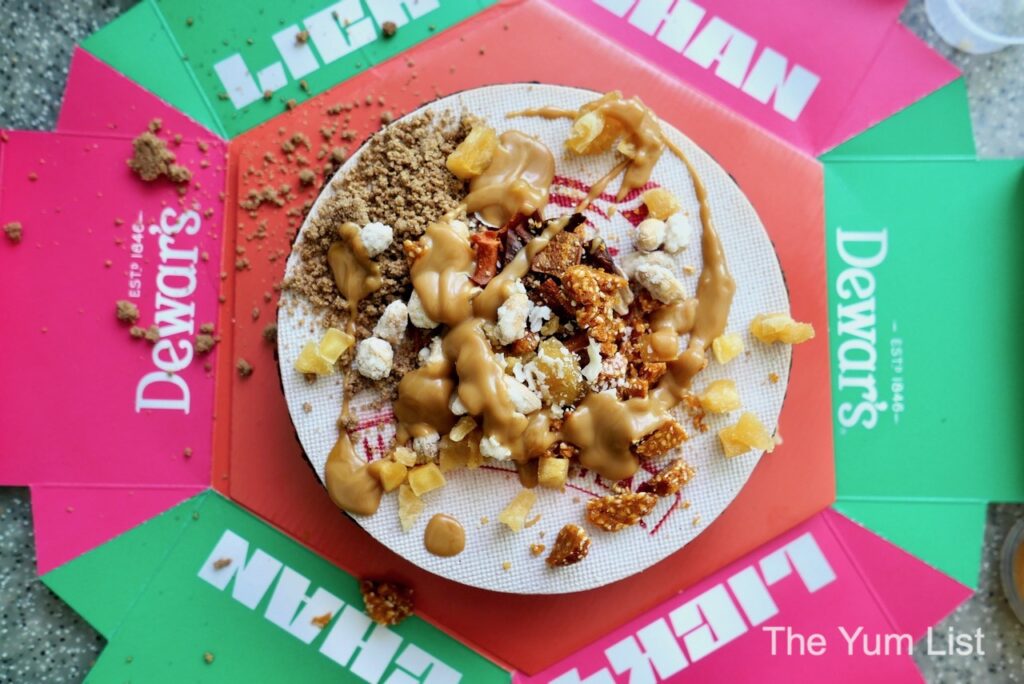 Mumm 'Grand Cordon' Champagne Rosé
What gift is better than Champagne? Pink Champagne! Mumm 'Grand Cordon' Champagne Rosé offers a lovely balance of elegance, minerality, and roundness. Up to 14% pinot noir gifts the pale salmon hue and intense strawberries and cherries are enticing aromas. It's vibrant, dry, hints at summer fruits and departs in a long savoury conclusion. It makes a great aperitif and is also a pleasant partner to yee sang.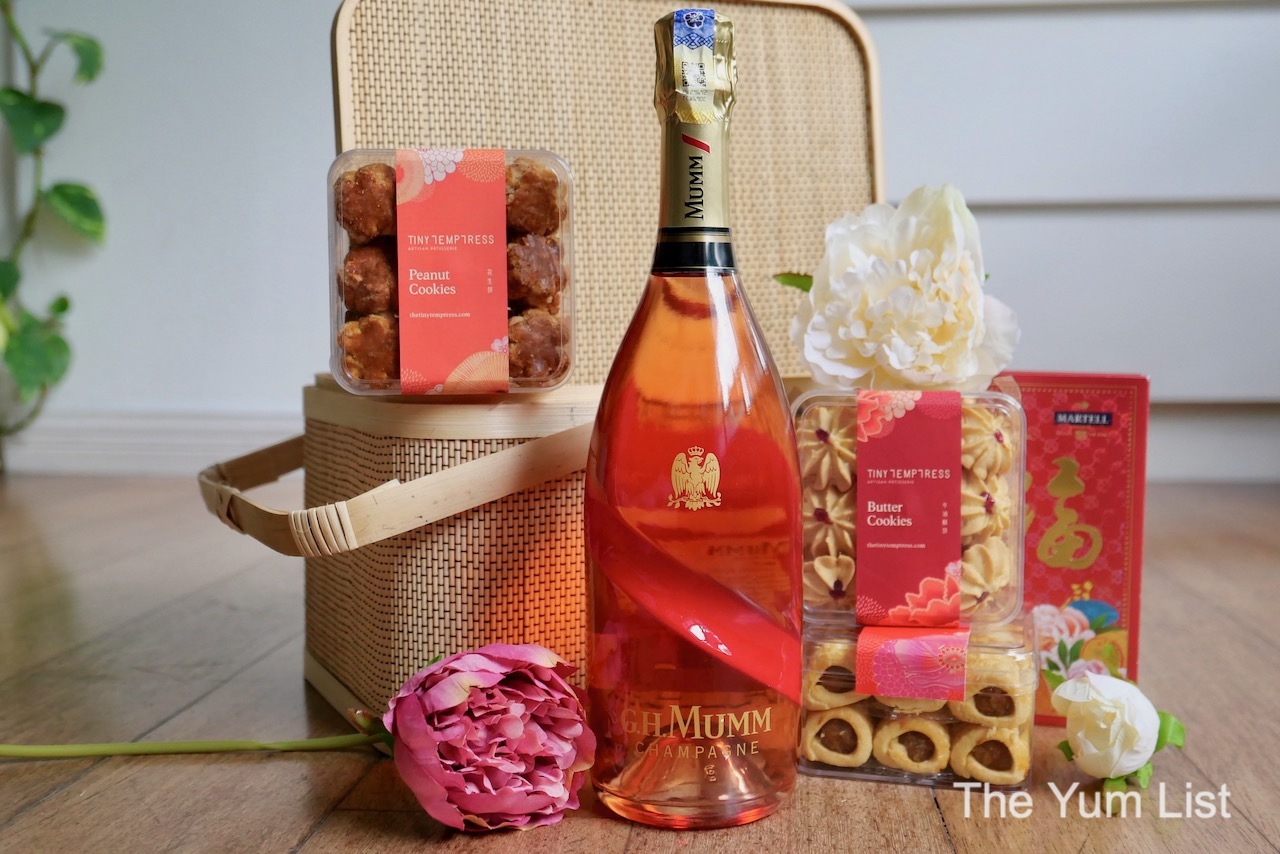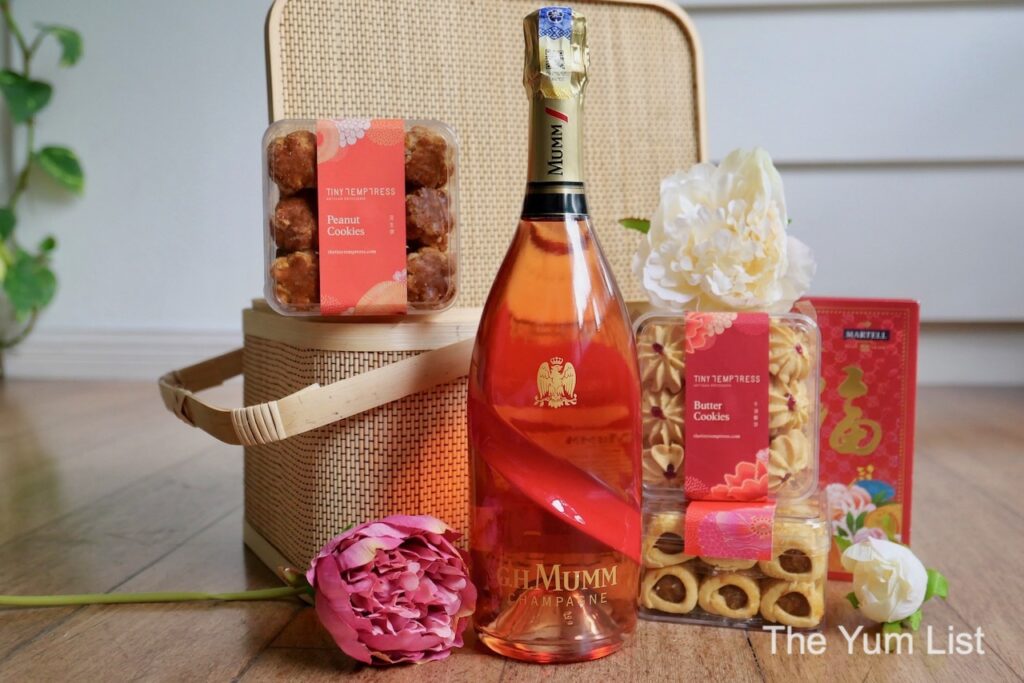 MyPetani Fruit Basket
MyPetani, an online fruit gift shop, presents its CNY 2022 Fruit Basket series. They are perfect for gifts for loved ones, clients, colleagues, and neighbours, and healthy too! Baskets range from RM 89 to RM 189. Pictured here is Basket Z CNY (RM 189) including mandarins, blueberries, grapes, dragonfruit, guava, Korean brown pear, mango, fuji apple and pineapple. All MyPetani Products are vegan-friendly and halal. Order via their website or WhatsApp the team on +6012 898 0801. Delivery Dates: 15th January 2022 – 15th February 2022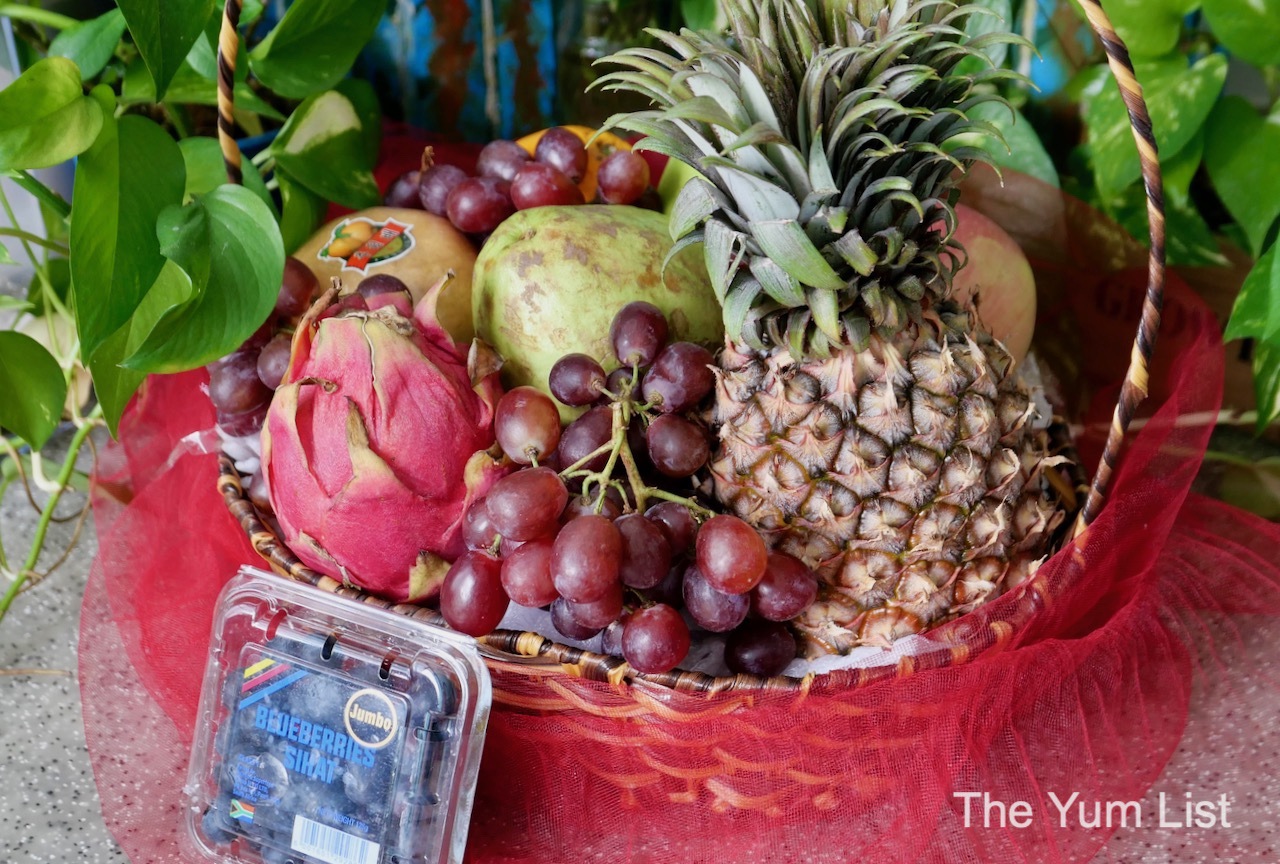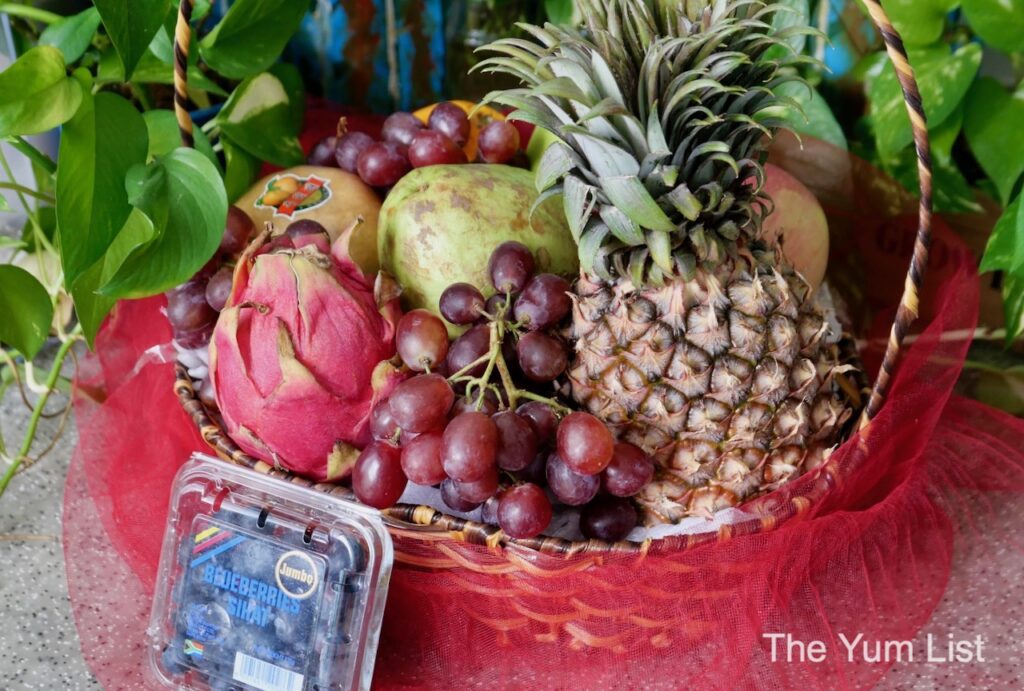 Sunday Bedding – Sustainable Gifting
With Sunday Bedding, you can honour the tradition of buying new clothes and home decor for Chinese New Year and do so sustainably. New beginnings and fresh starts are central to the Chinese New Year celebration. With this in mind, Sunday Bedding has launched bamboo sateen bed linen sets in Pistachio, Vanilla Mist and Summer Peach shades to brighten up your bedroom this Lunar New Year and transform your personal sanctuaries with the promise of new beginnings every day for the rest of the year of the tiger.
Sunday Bedding's eco-friendly fabrics have a high sustainability rating and are ethically cut and sewn by a third-generation, family-owned business in Hong Kong that is also SEDEX-certified.
Sunday bedding is working on shifting all of their bedsheets to bamboo rayon and French linen. Bamboo rayon uses 80% less water than the cultivation of cotton, and French Linen is derived from flax. Every part of the flax plant can be used making it highly versatile. They constantly work towards reducing water and energy consumption, and have managed to reduce chemicals so much in production that their "waste" water is even potable!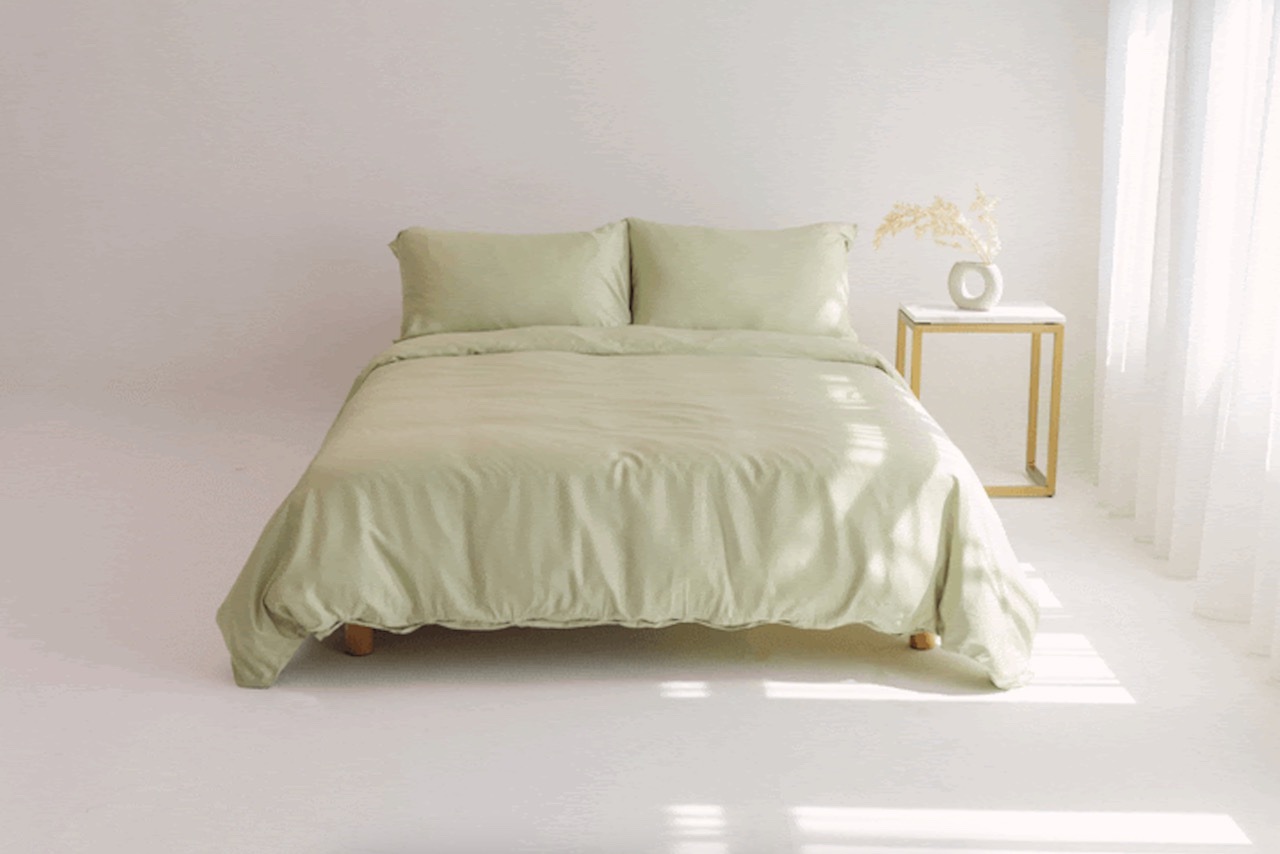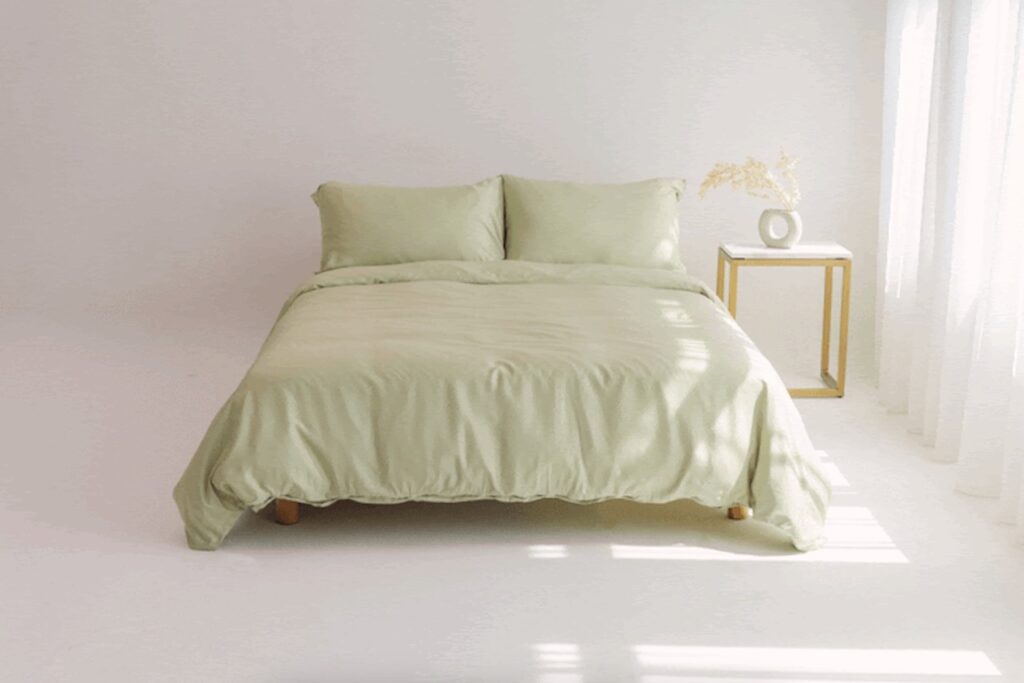 TWG & Godiva – Tea & Chocolate Hampers
Robed in red and gold boxes, and adorned with the majestic tiger, GODIVA's 2022 Limited Edition Lunar New Year chocolate collection aims to deliver a prosperous New Year blessing. The collection introduces a range of Lucky Red Gift Boxes and Gold Fortune Gift Boxes symbolising luck and prosperity. Godiva's Festive Gift Hampers range from RM188 to RM988. Check out their catalogue here.
TWG Tea's has carefully curated a festive collection to welcome a roaring Year of the Tiger. One of the highlights is TWG's Tiger Hill Tea. An iconic symbol of strength, bravery and beauty, the Tiger Hill Tea (RM150) is a majestic blend of black teas and Darjeeling first flush teas from the celebrated Himalayan mountains. A rich and aromatic infusion with fruity undertones, this mélange boasts hints of cocoa and sweet vanilla bean which develop into lingering notes of jungle berries on the palate. It's a rare and exceptional tea for a strong start to the New Year. Find this tea and more of TWG's Chinese New Year 2022 collection here.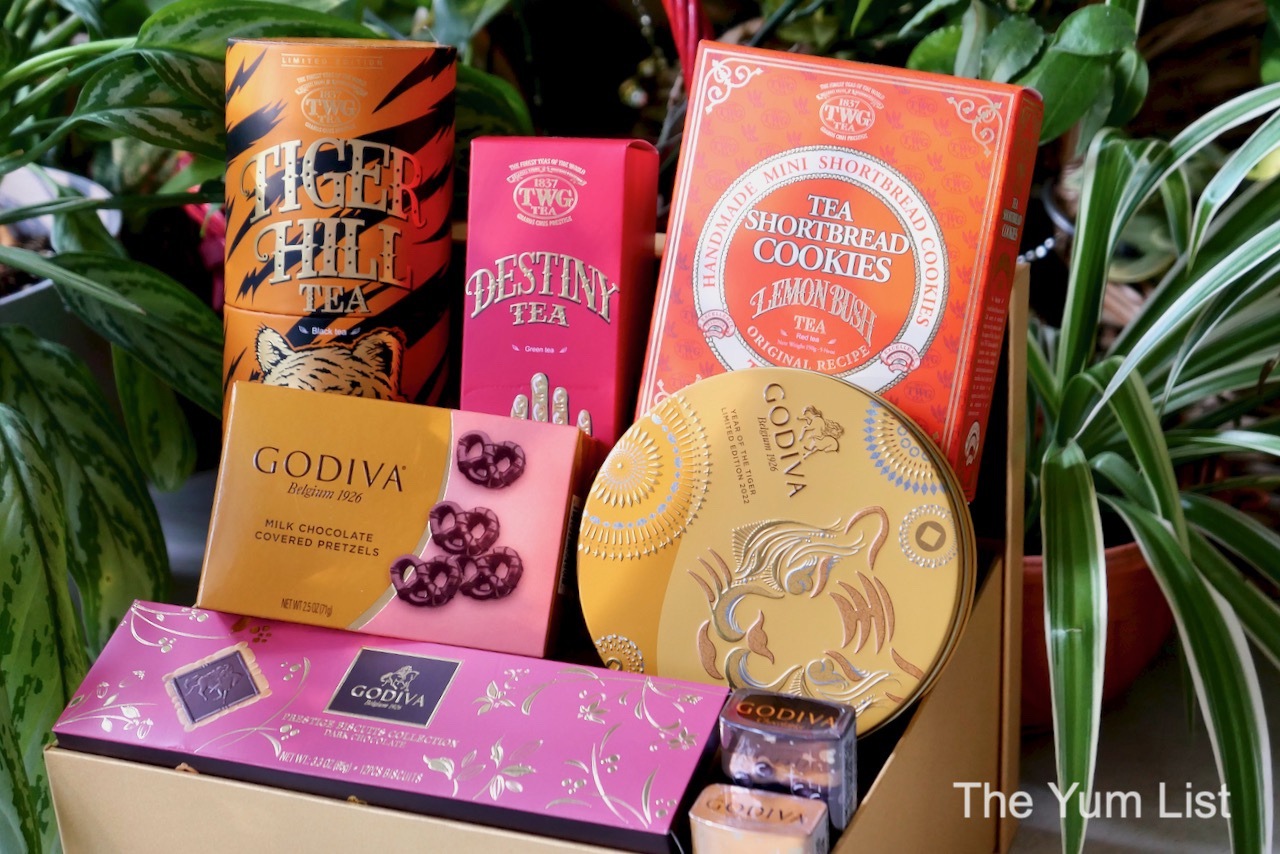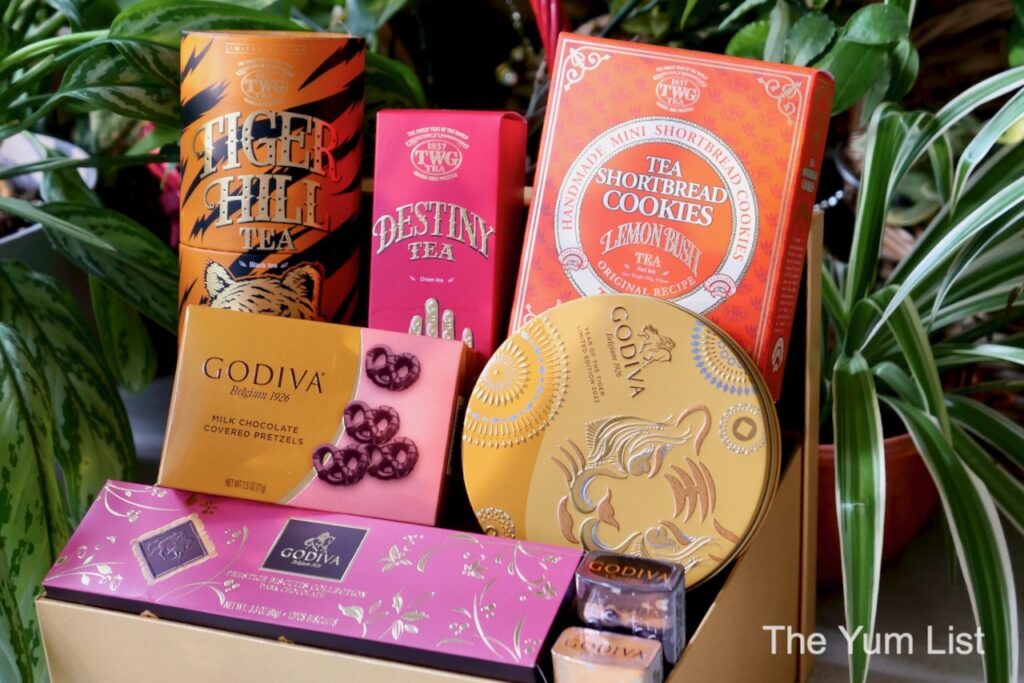 福Fú Hamper by Lady Yi's Tea House
Send wishes of good fortune with 福Fú Hamper by Lady Yi's Tea House (RM168+). Lady Yi's spin on the Tray of Togetherness contains eight sweet blessings. Lady Yi's '11 Treasures' Tea, Bird's Nest BaiJiu and Whisky Cocktail, Pineapple Tarts, Almond Florentine, Osmanthus Victoria Cake, Peanut Candy, 'FÚ' Mandarin & Pandan Chocolate Praline and Roasted Nuts. It's available from 10 January to 10 February for takeaway and delivery. Orders here.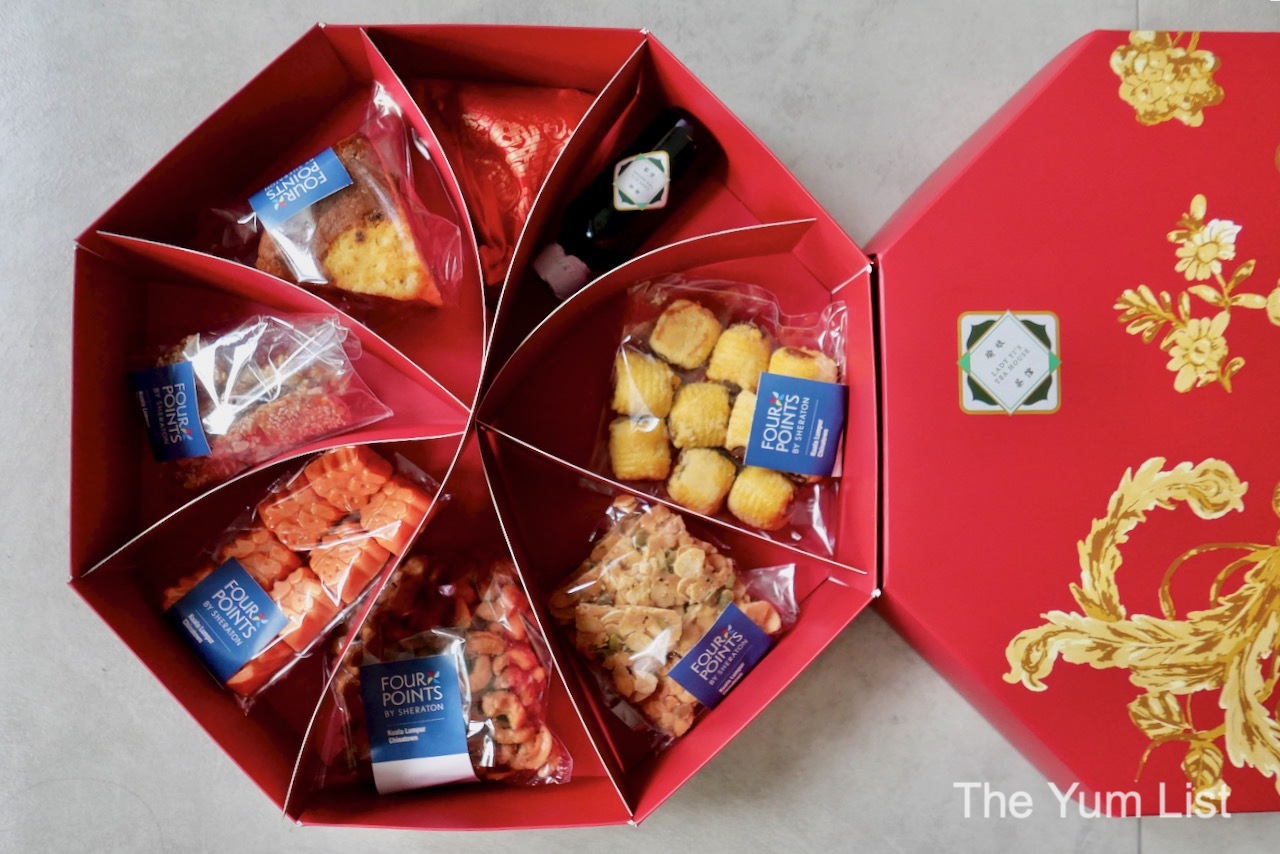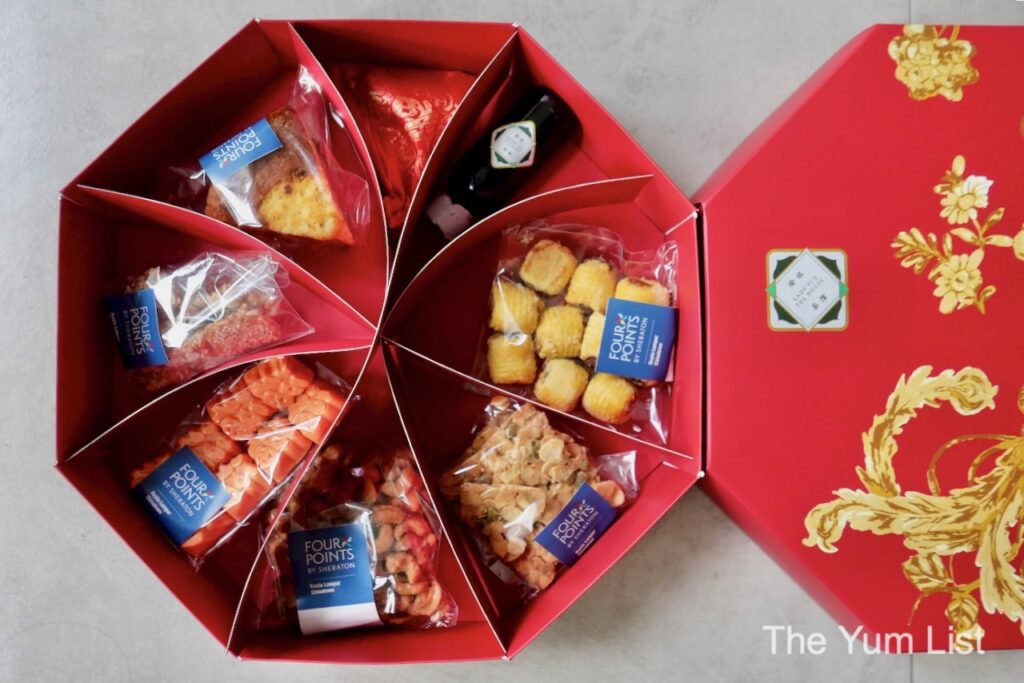 Ăn Viet Yee Sang
Ăn Viet's Crunchy Lotus Seed Yee Sang (large RM 68.80, small RM 28.80) is one of the freshest and favourites we've had this year. It features crunchy Vietnamese lotus seeds, Norwegian salmon Australian carrots, pomegranate seeds, Korean singo pear and handmade pickles. It's vibrant and fresh with no artificial preservatives or additives. The small is available for dine-in, while the large is available for both delivery and dine-in until February 15, 2022.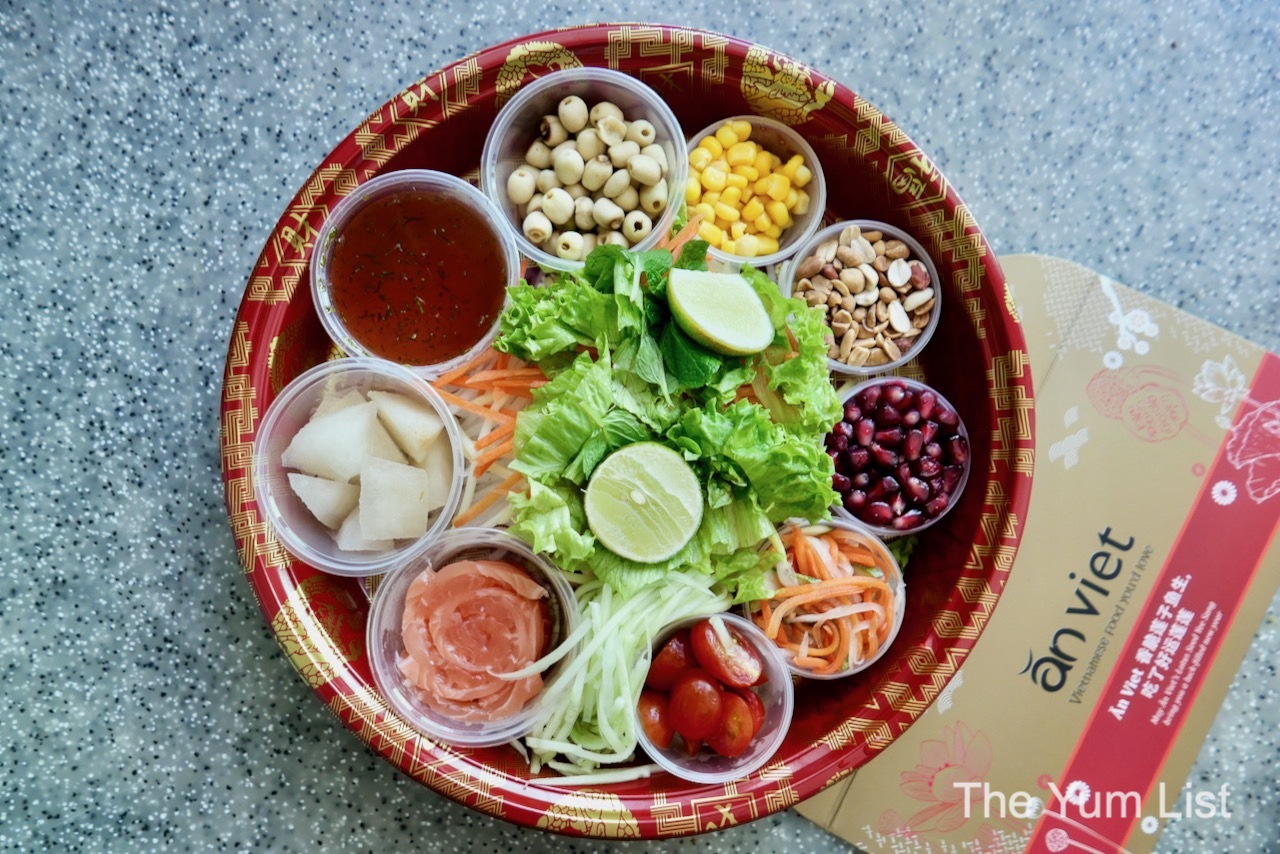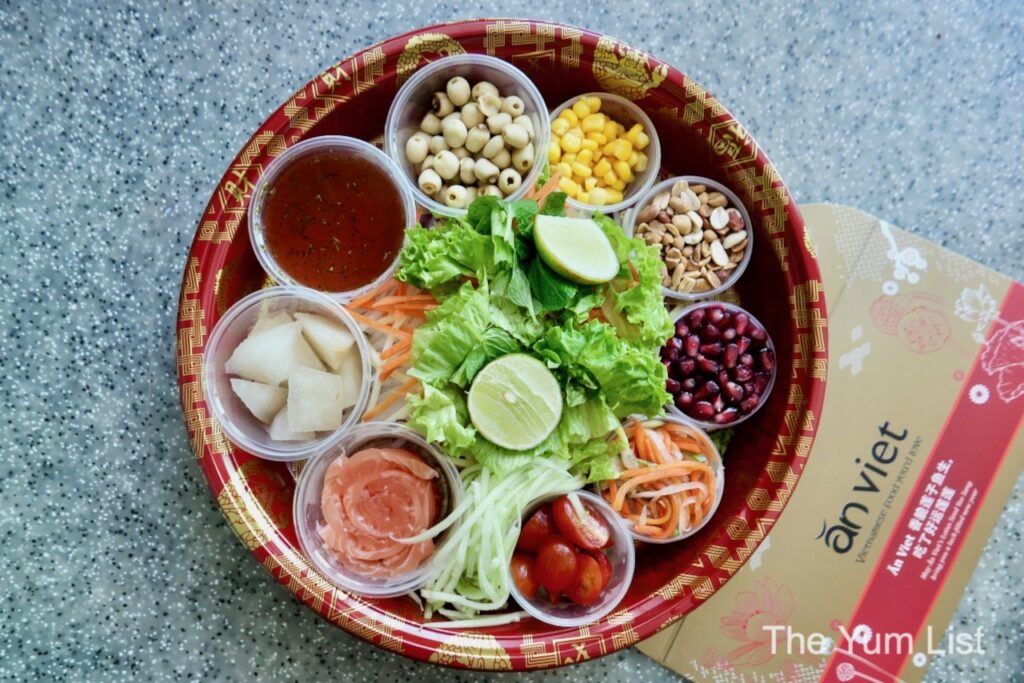 Vegan Yee Sang – La Juiceria
We are always happy to celebrate meat-free choices and are happy that La Juiceria once again steps up to provide plant-based options with their Chinese New Year 2022 Prosperity Yee Sang. The vegetarian version includes strawberries, turnip, carrot, chuka wakame, pomelo, mandarin oranges, cucumber, grape, crackers, chopped peanuts, white sesame seeds, dried apricot, red cabbage, beetroot, cashew nuts, shredded kale, and homemade prosperity plum sauce. Orders here.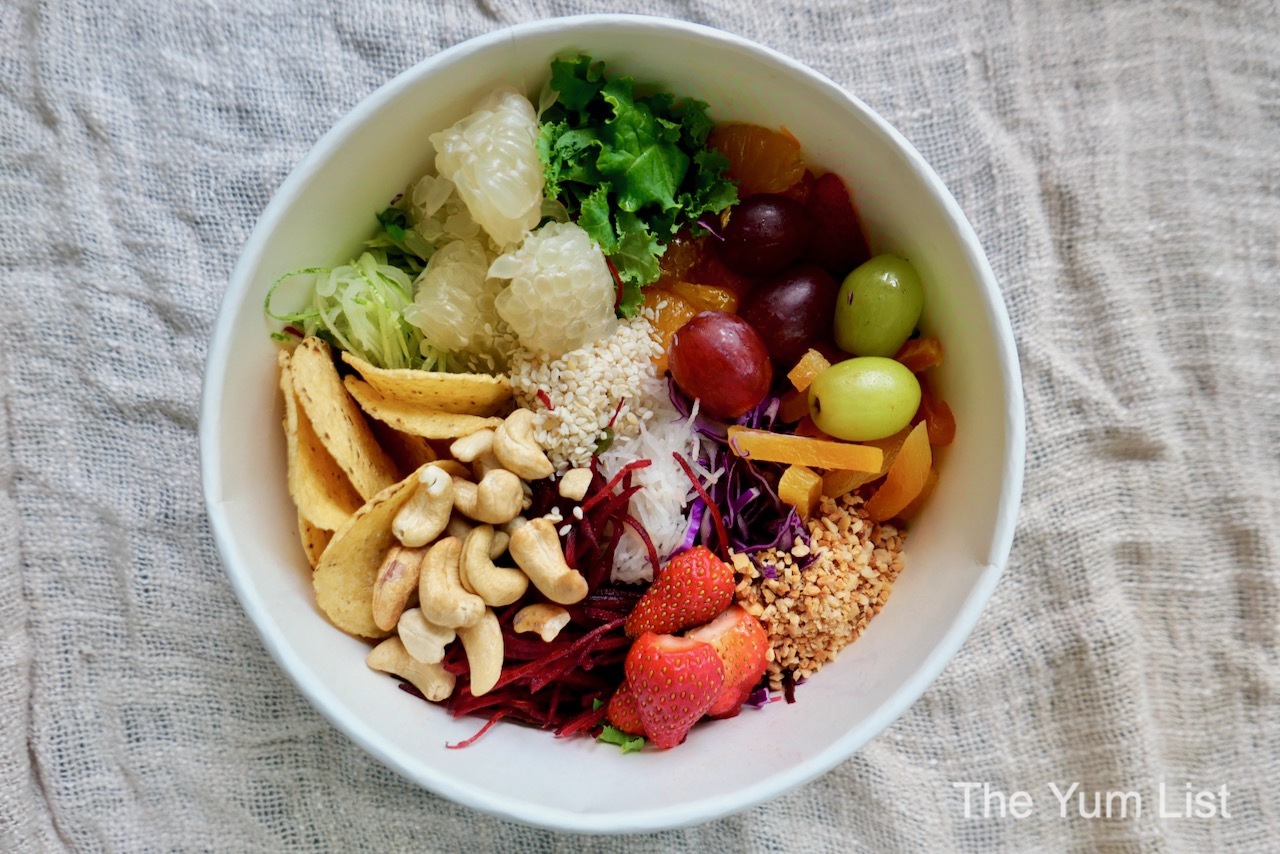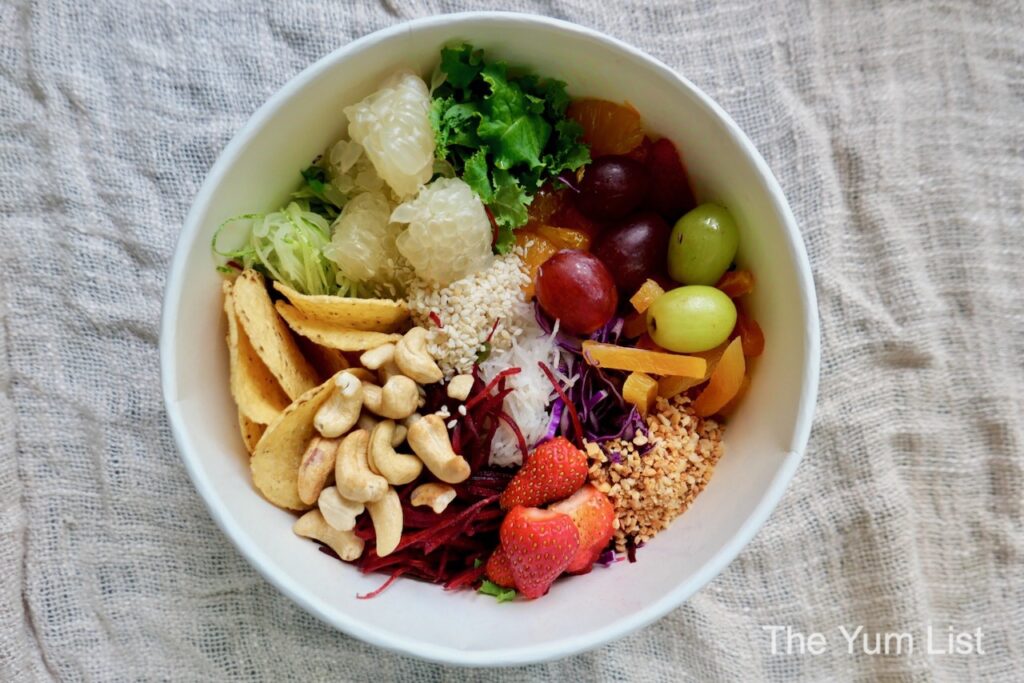 Taste Buddies KL Celebrates Chinese New Year 2022
Taste Buddies, the local maker of cured meats with no nasties, has several gift sets to share the abundance this Year of the Tiger. Hand-selected meats are cleaned, ground, and cured individually. There are no added preservatives, nitrates, sweeteners, gluten or chemical residues, and sausages are held in 100% natural hog casing. (*Scroll to the end for a discount for The Yum List readers.)
Prosperity Chinese New Year Buddies Set (RM 168, 4-6 pax) 1 pack Thai sausages, 1pack smoked bacon, 1 box award-winning Rhymba Hills®️ lemongrass pandan tea, 1 CNYsweet rice cake, 1 sambal chilli sauce, mandarin oranges.
Auspicious Chinese New Year Buddies Set (RM 268, 8-10 pax) 2 packs of Thai sausages, 1 pack smoked bacon, 1 pack of smoked guanciale, 1 box award-winning Rhymba Hills®️ lemongrass pandan tea, 1 CNYsweet rice cake, 1 sambal chilli sauce, pineapple tarts, mandarin oranges.
Mention the quote 'The Yum List' and you get RM 5 rebate on delivery. Place your orders via WhatsApp +6 016 960 1628.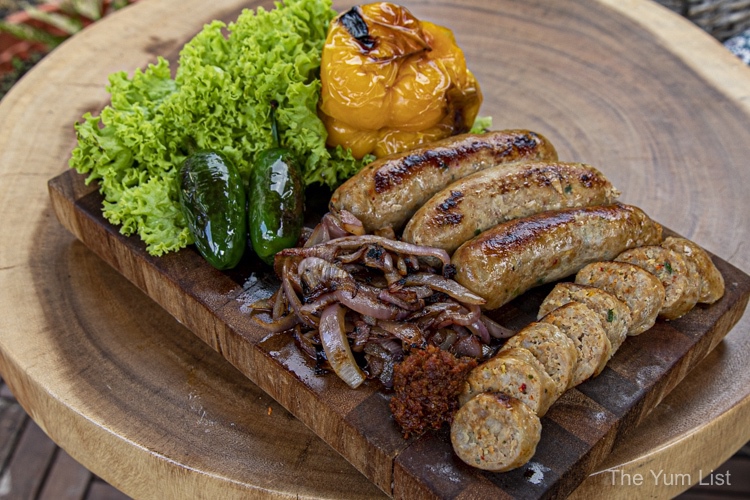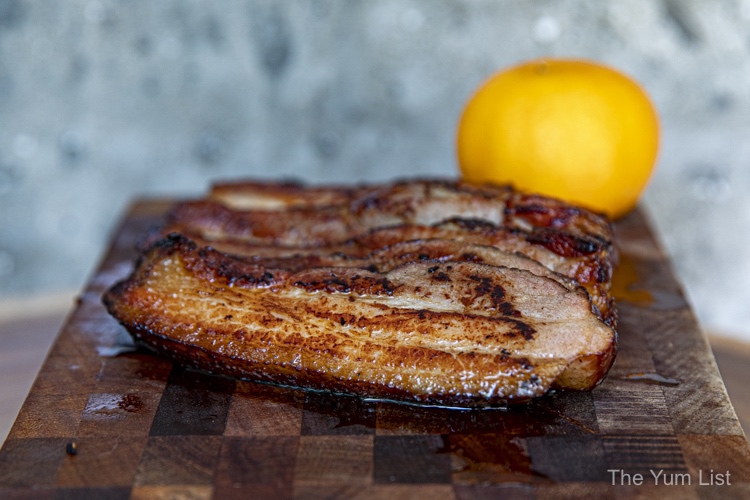 The team at Nobu Kuala Lumpur have curated several special recipes to ring in The Year of the Tiger. Nobu Style Fortune Platters come as both cold and hot choices – Sashimi Fortune Platter (RM 188++) and New Year Nabemono (RM 288++). The yee sang is one of the most delicious we've sampled this year, and the hotpot is full of flavour and abundant in ingredients. Details here.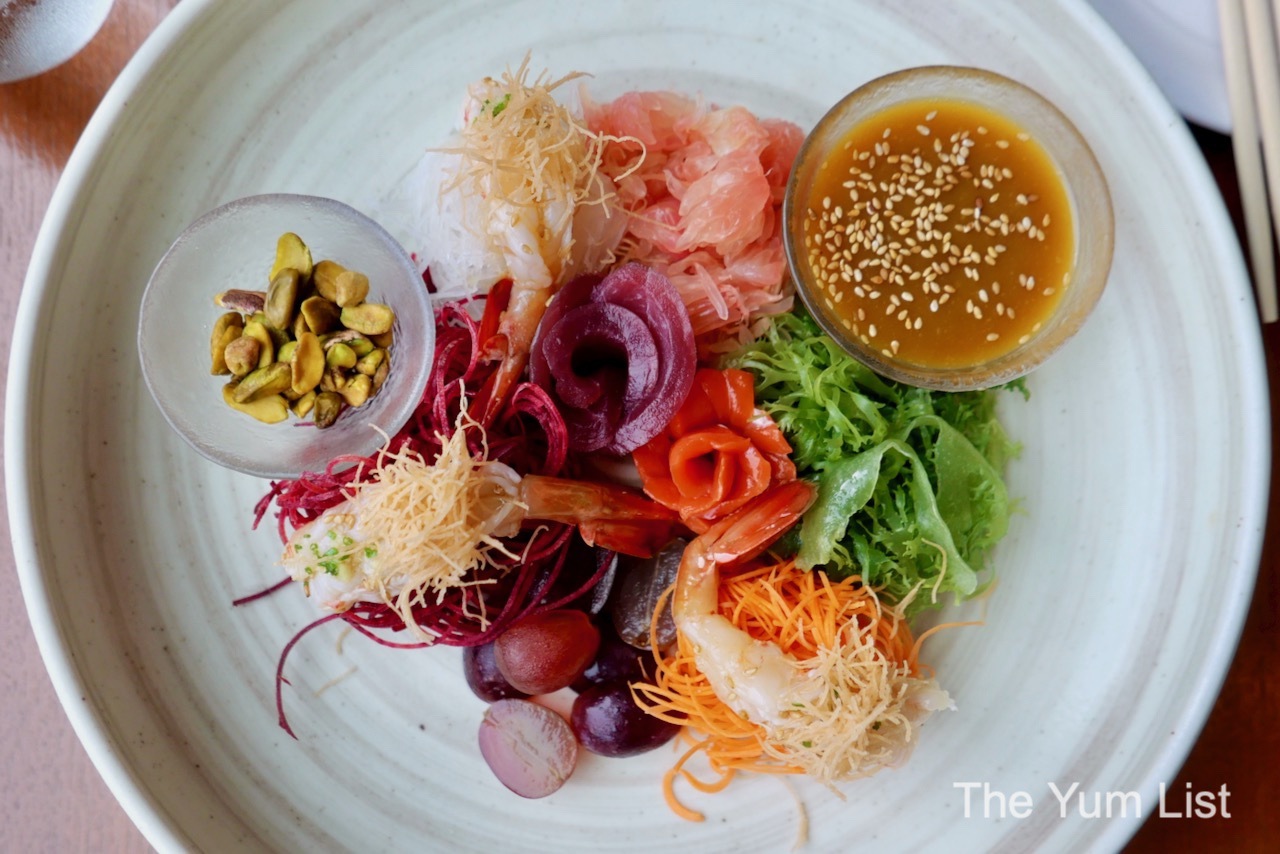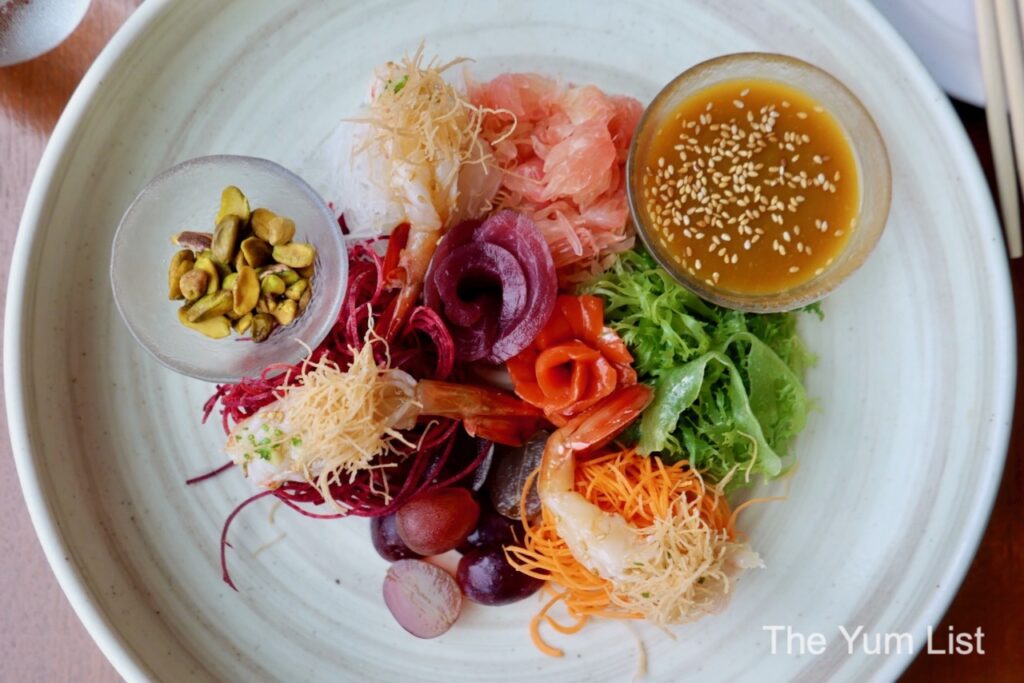 Coinciding with the opening of Lady Yi's in Four Points by Sheraton Kuala Lumpur, they offer a beautiful Chinese New Year afternoon tea. Furthermore, gin lovers can boost the pretty set with three gin cocktails with Caorunn Gin. Details here.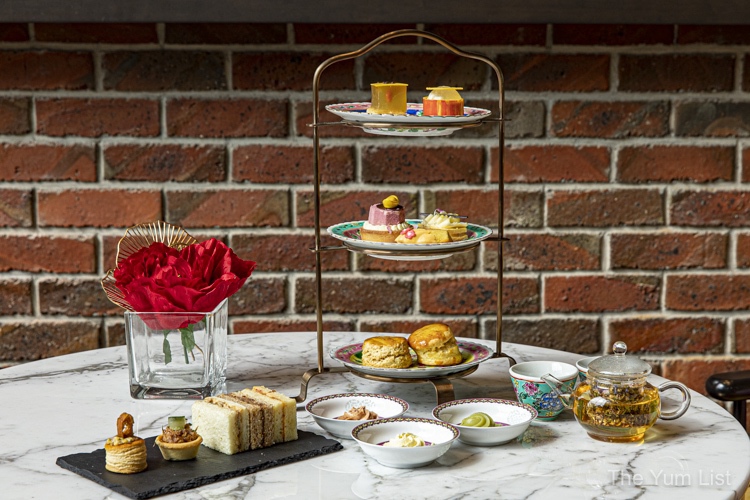 Chinese New Year 2022 Meals in KL
For further choices, here is the assortment I've flyers I've received this year for Chinese New Year meals this 2022.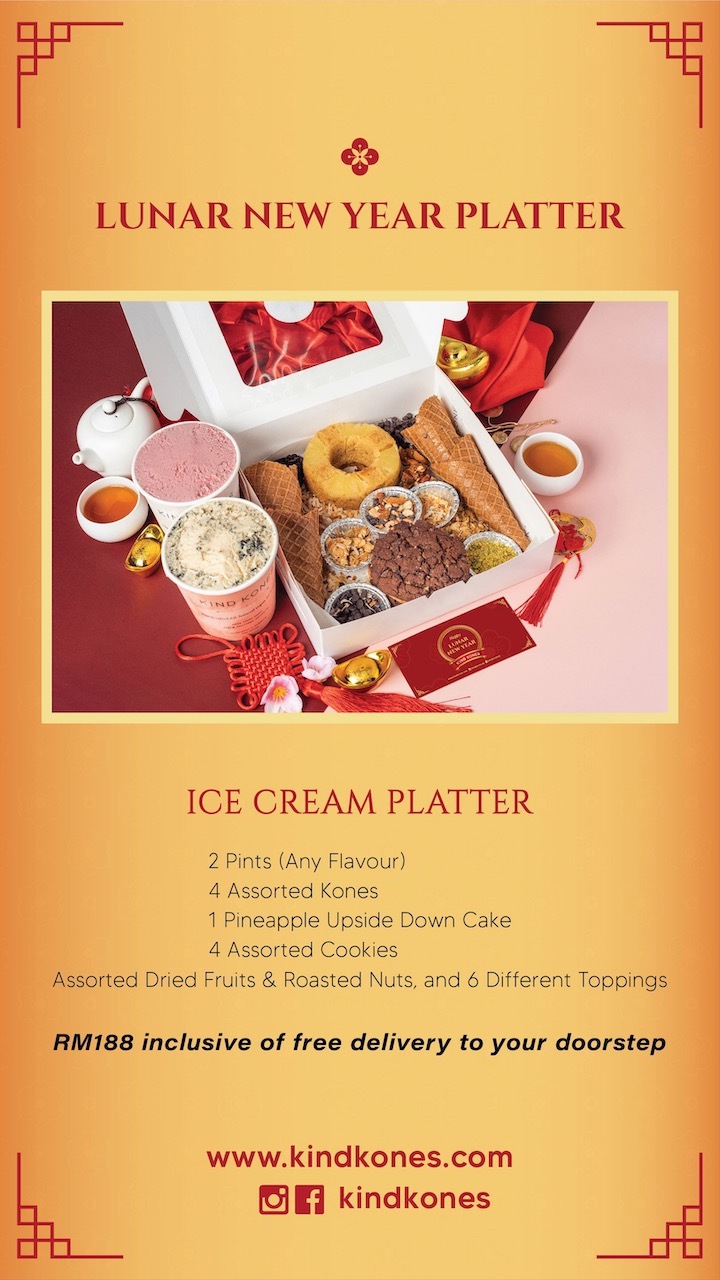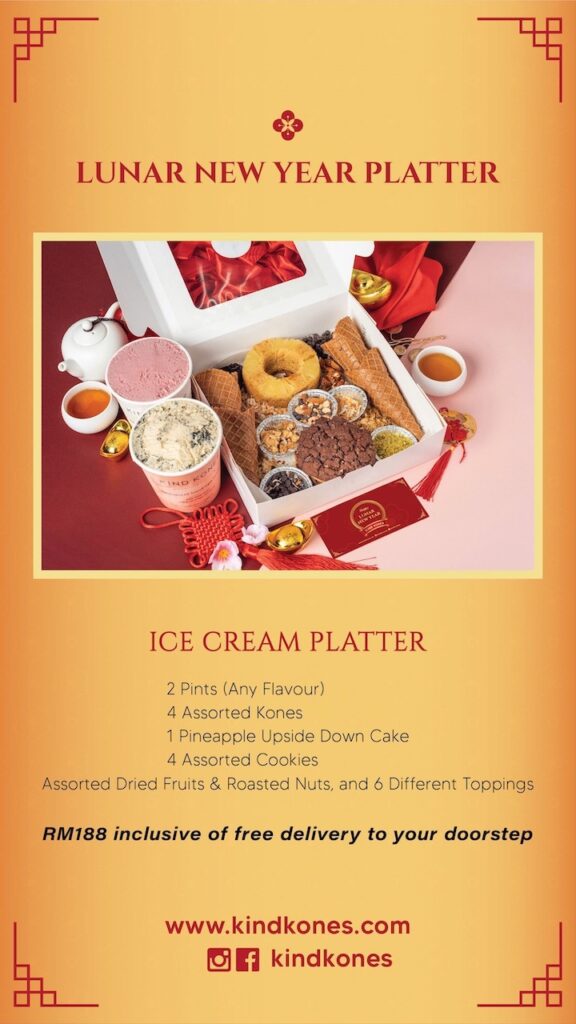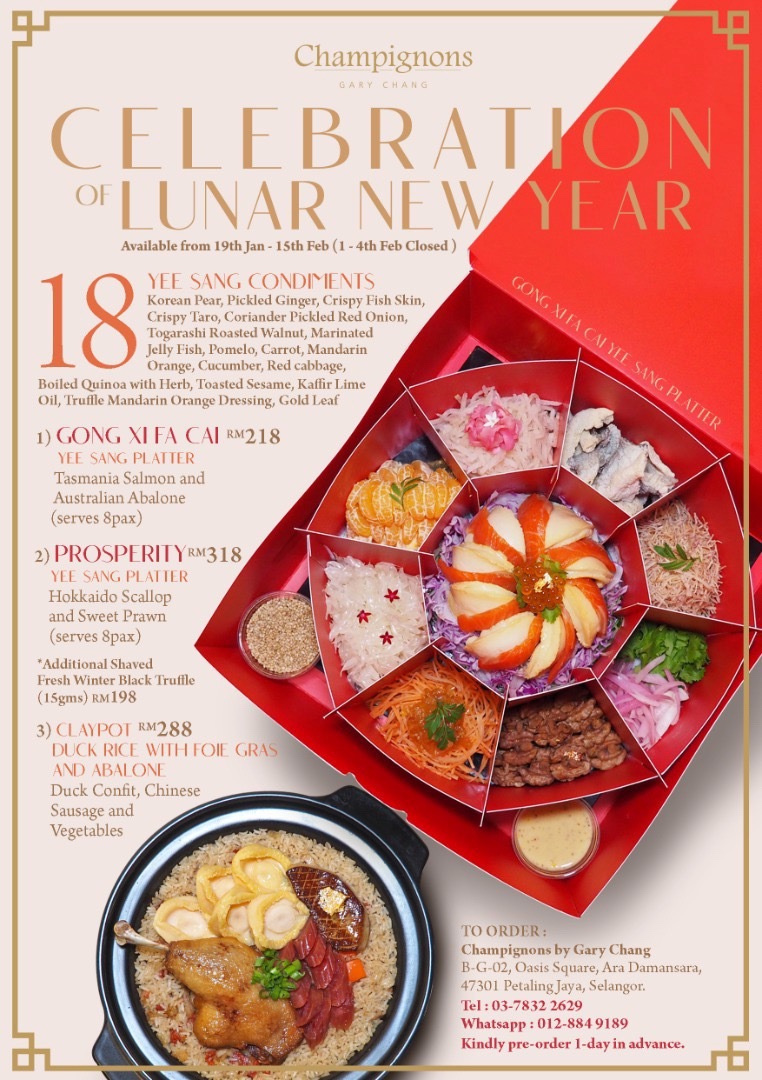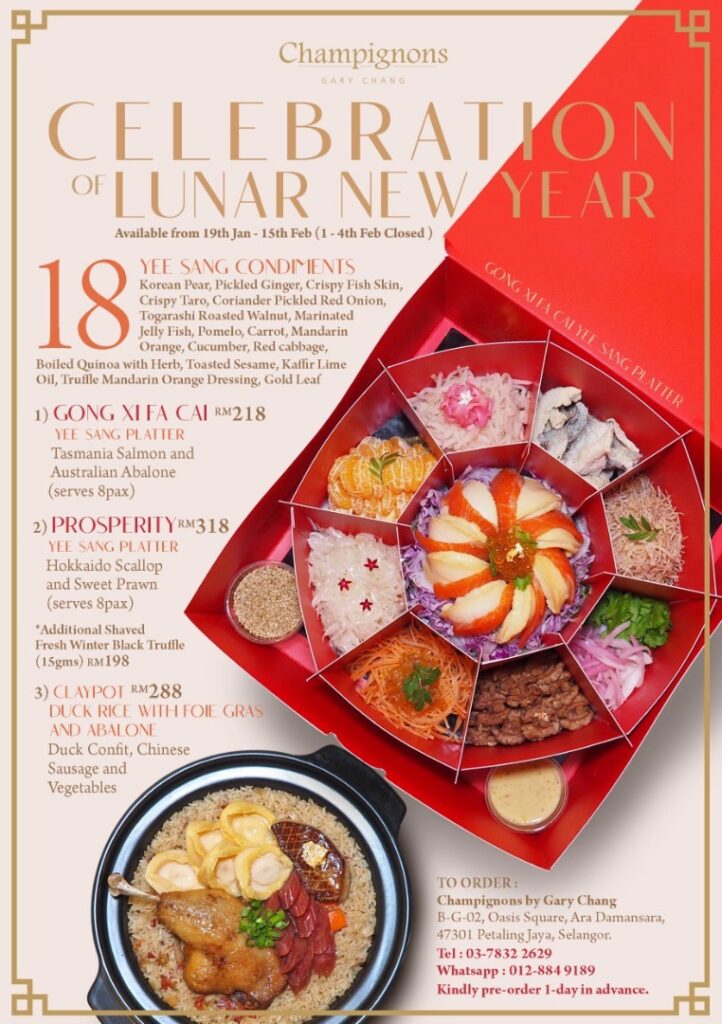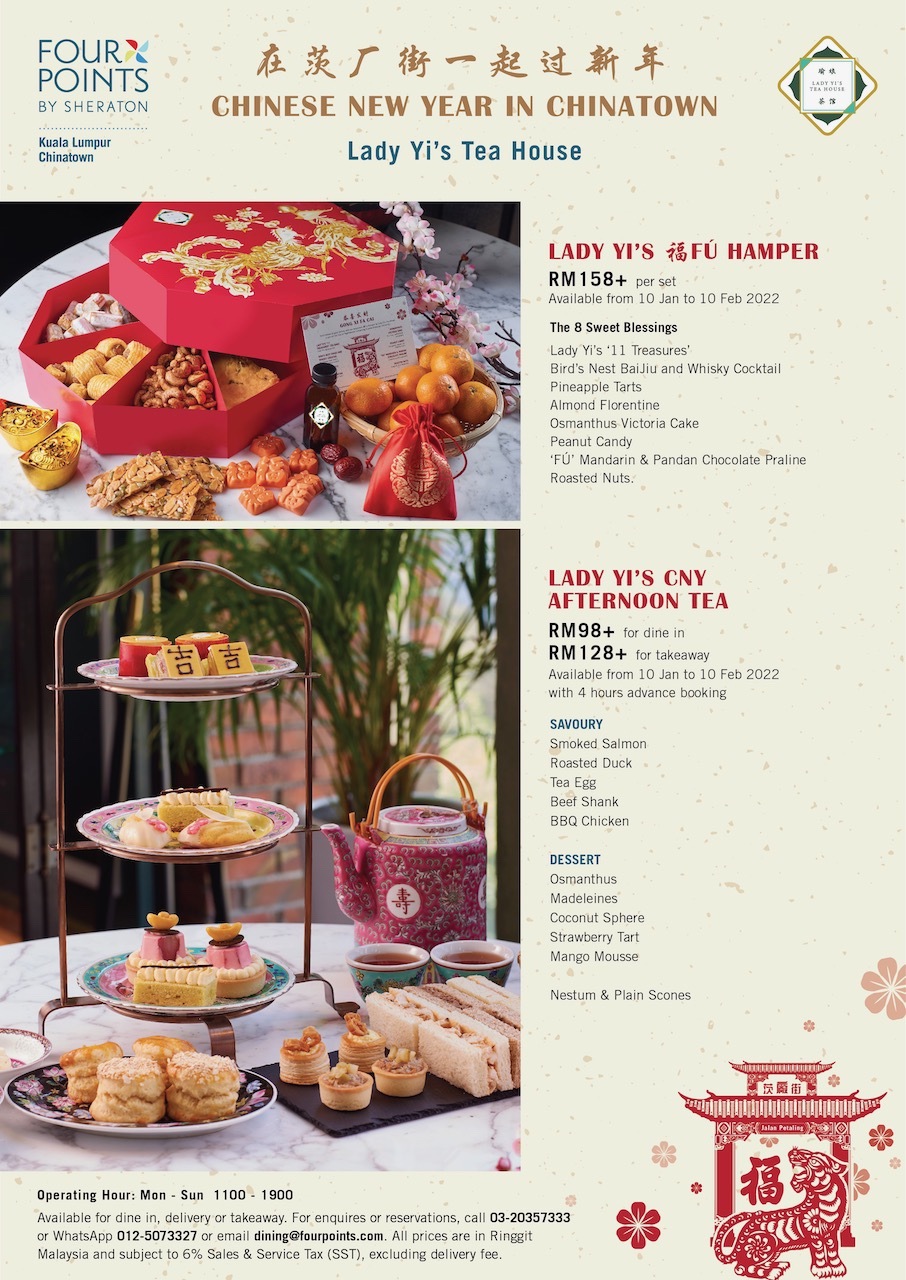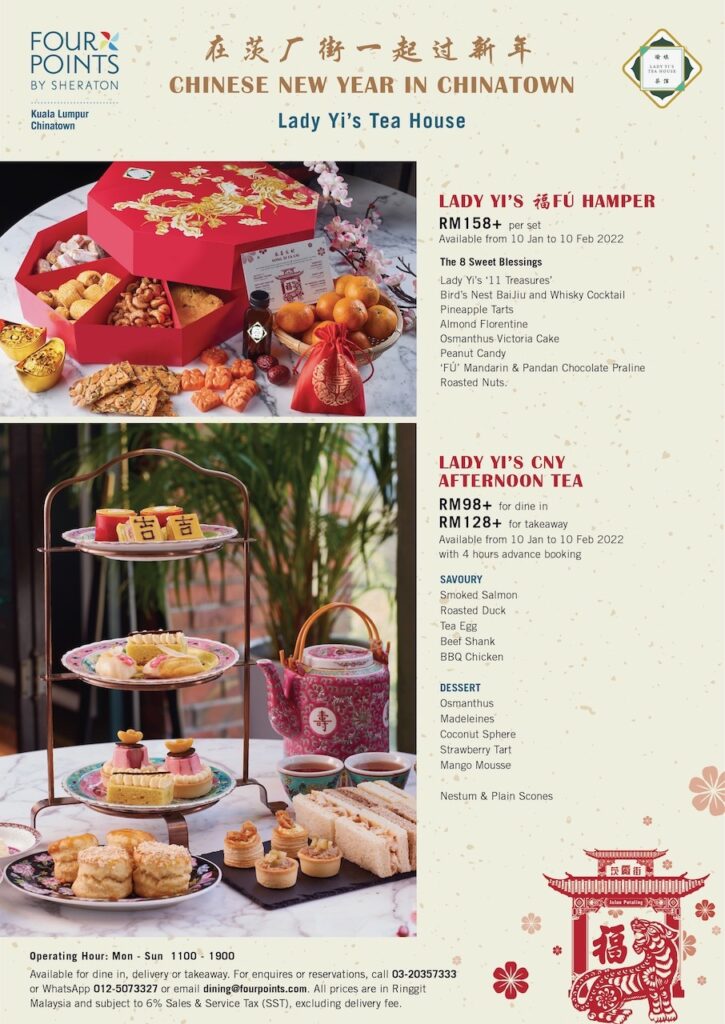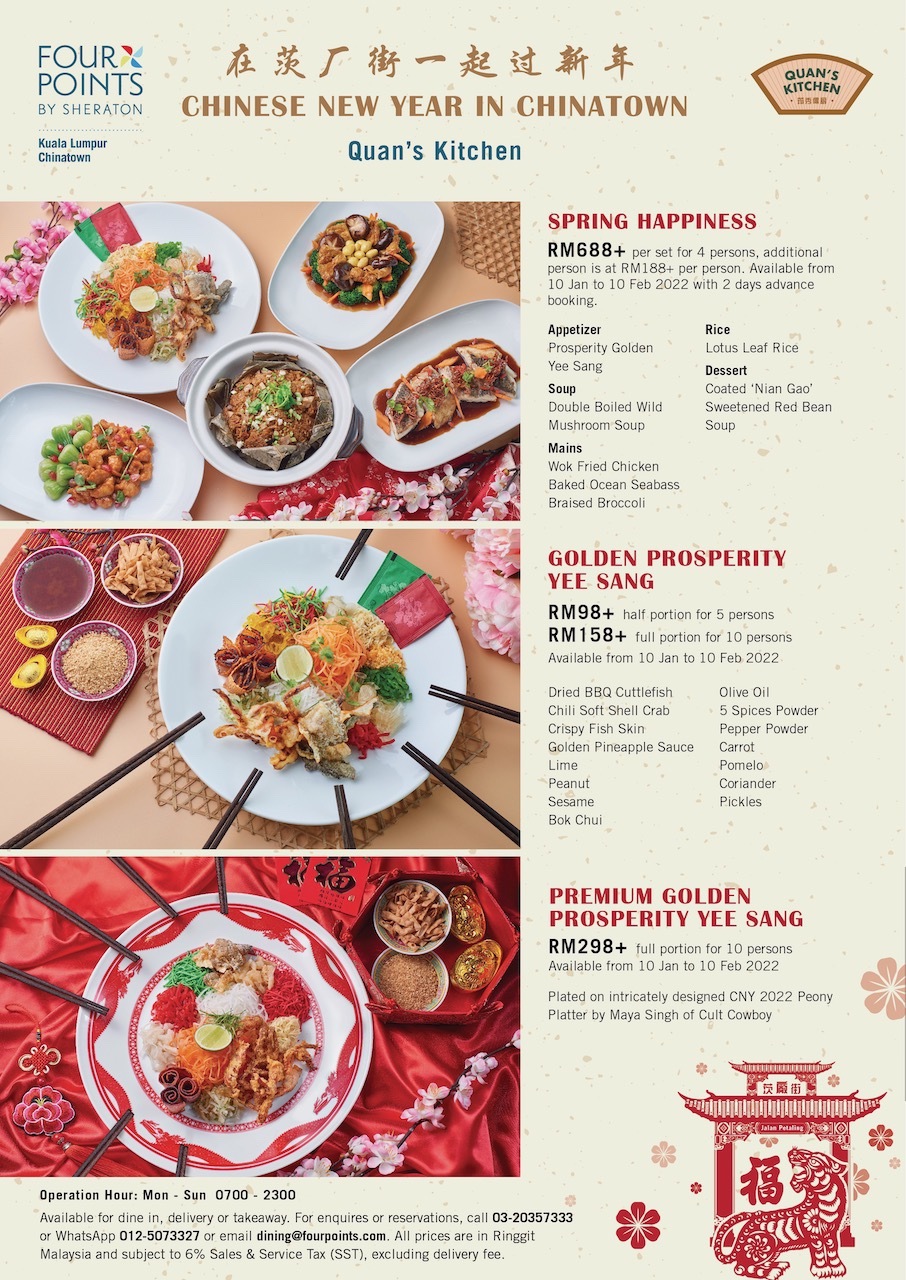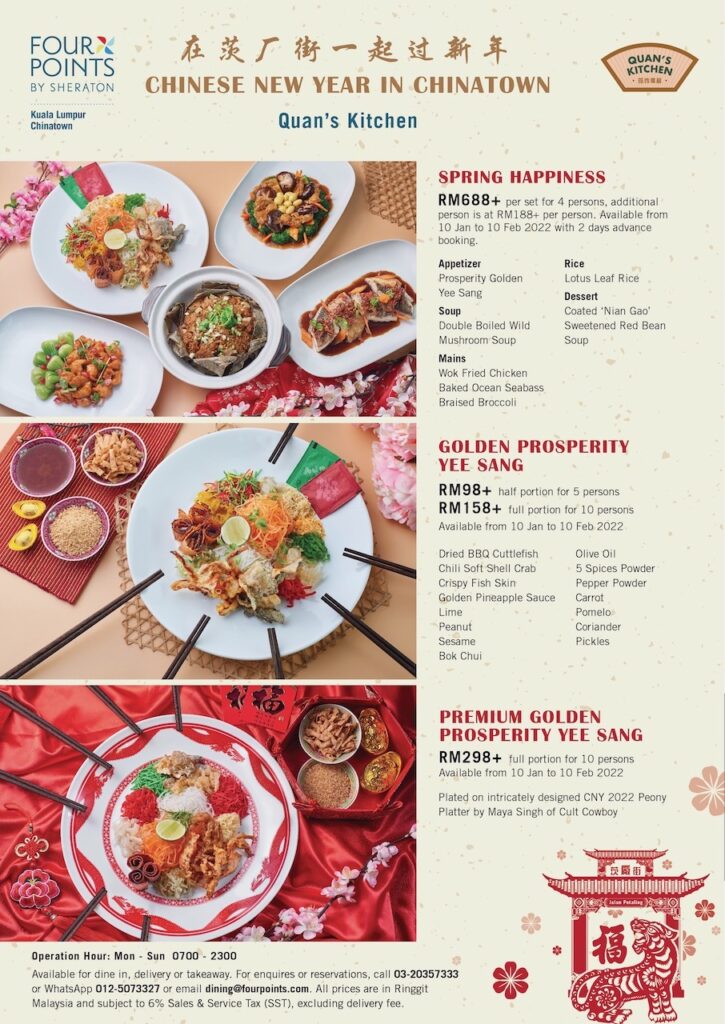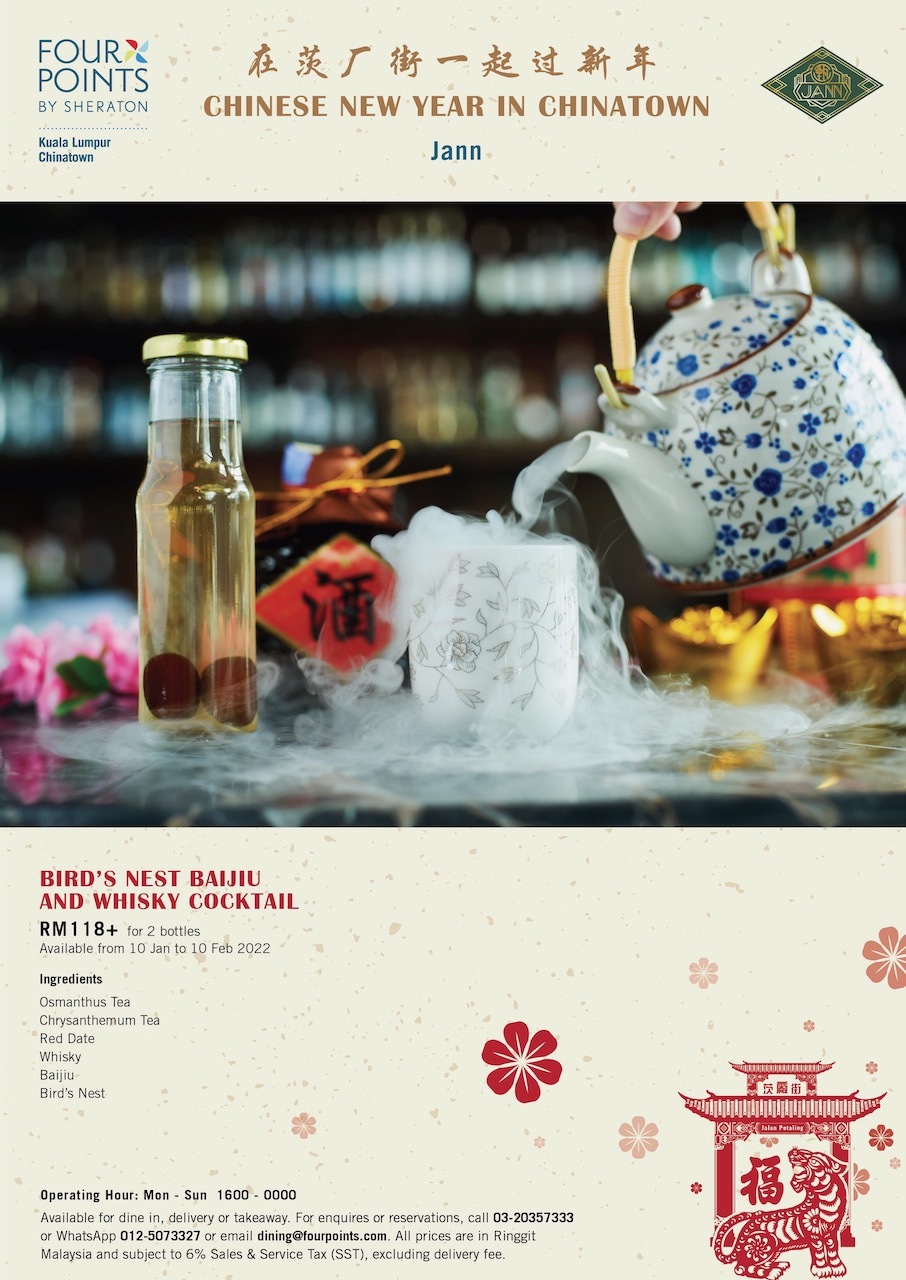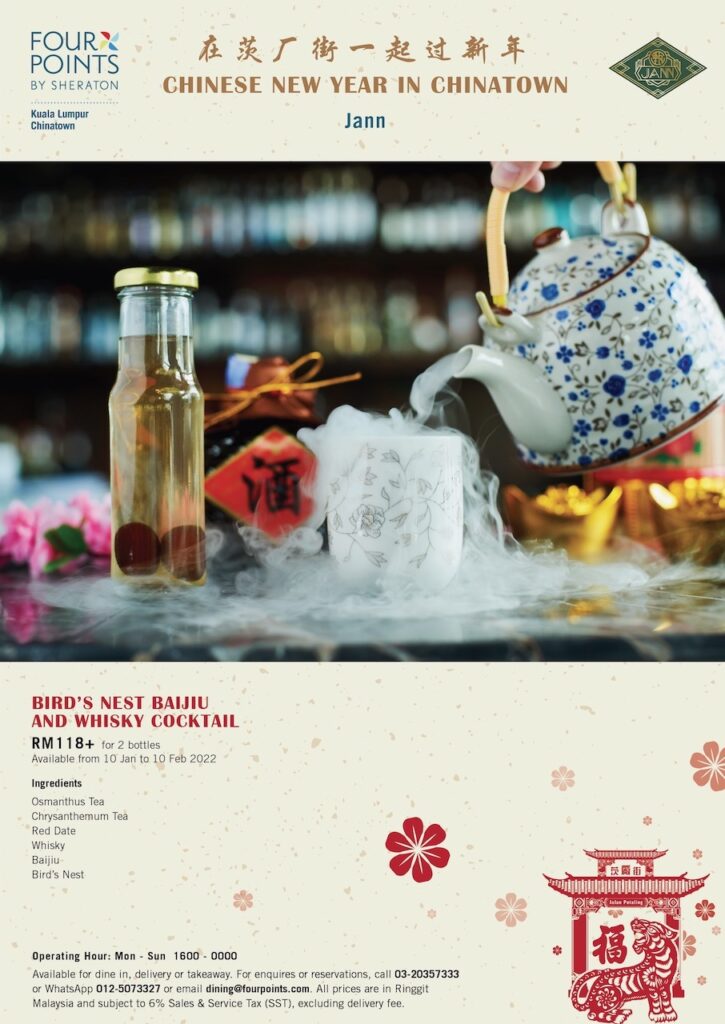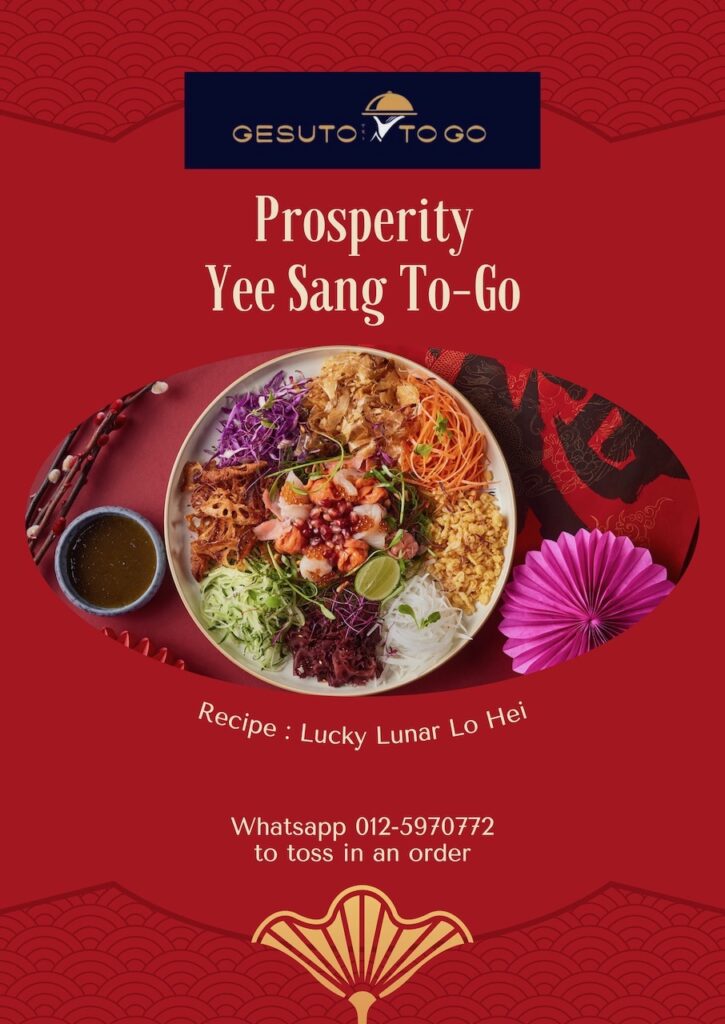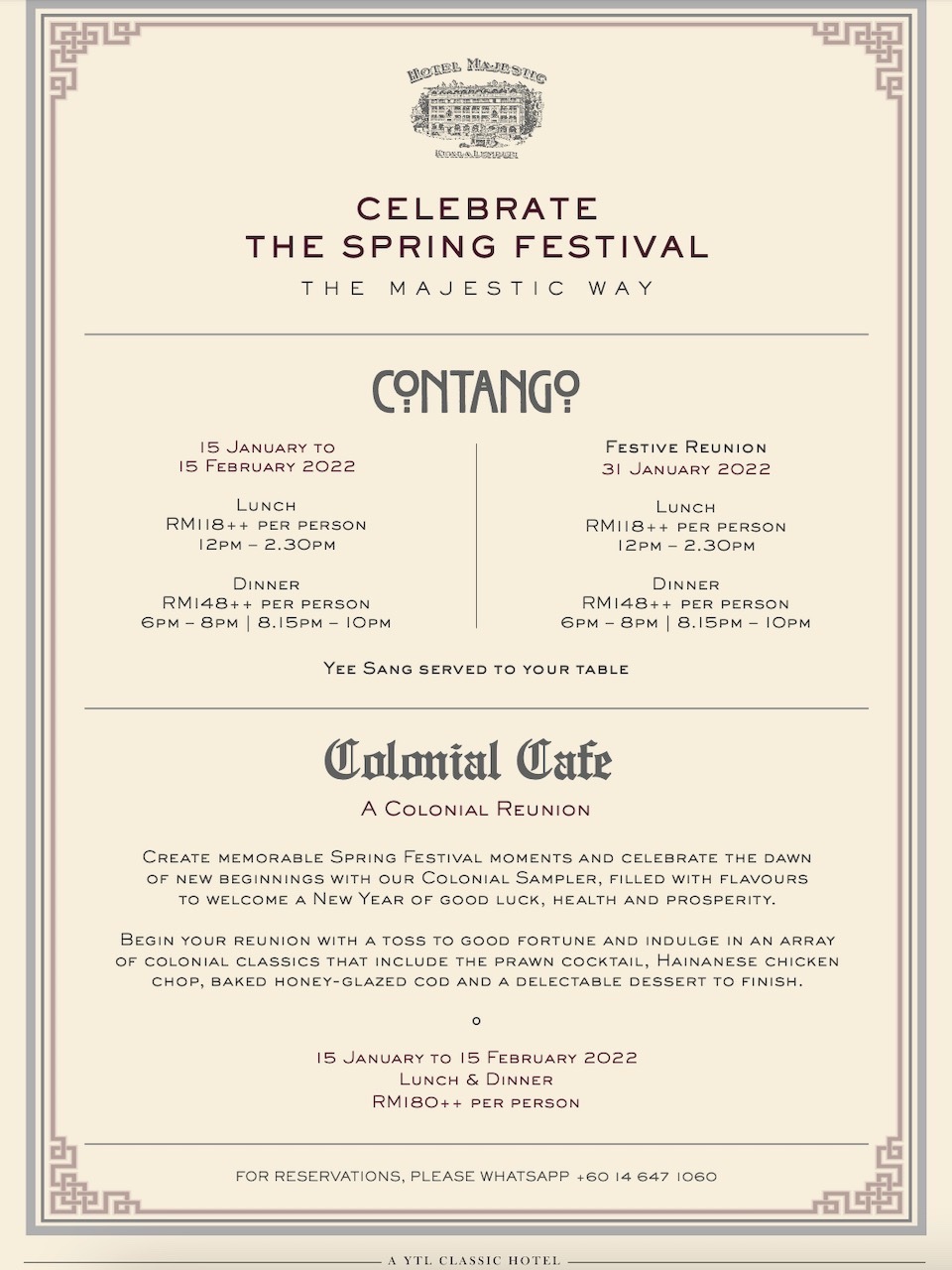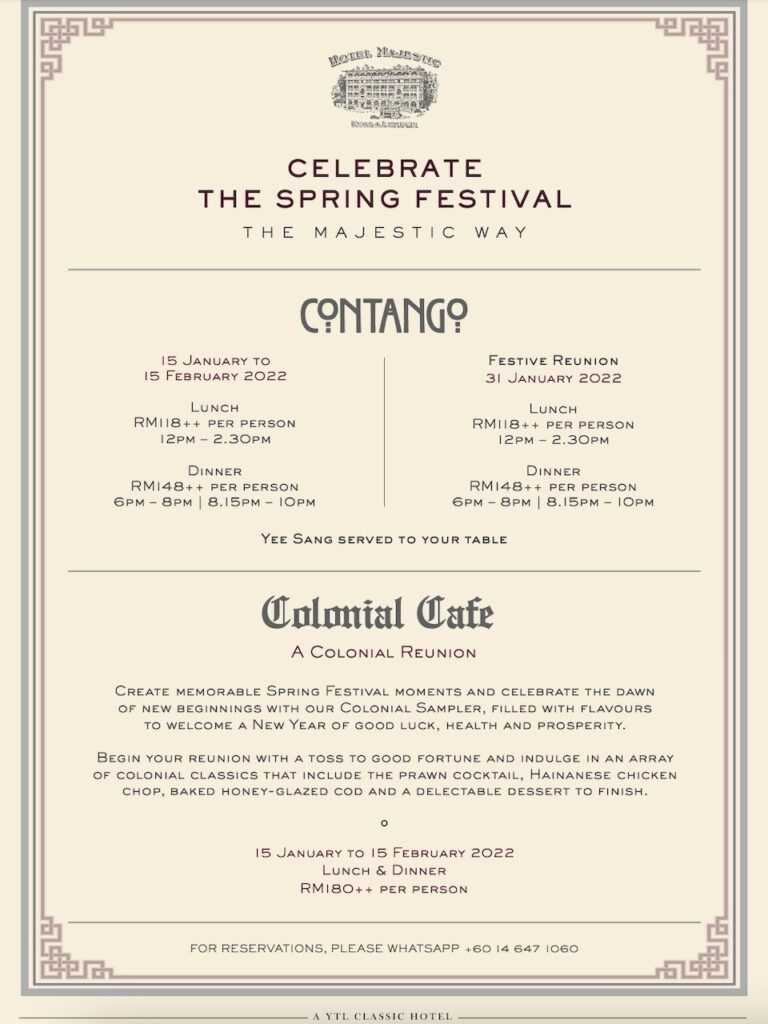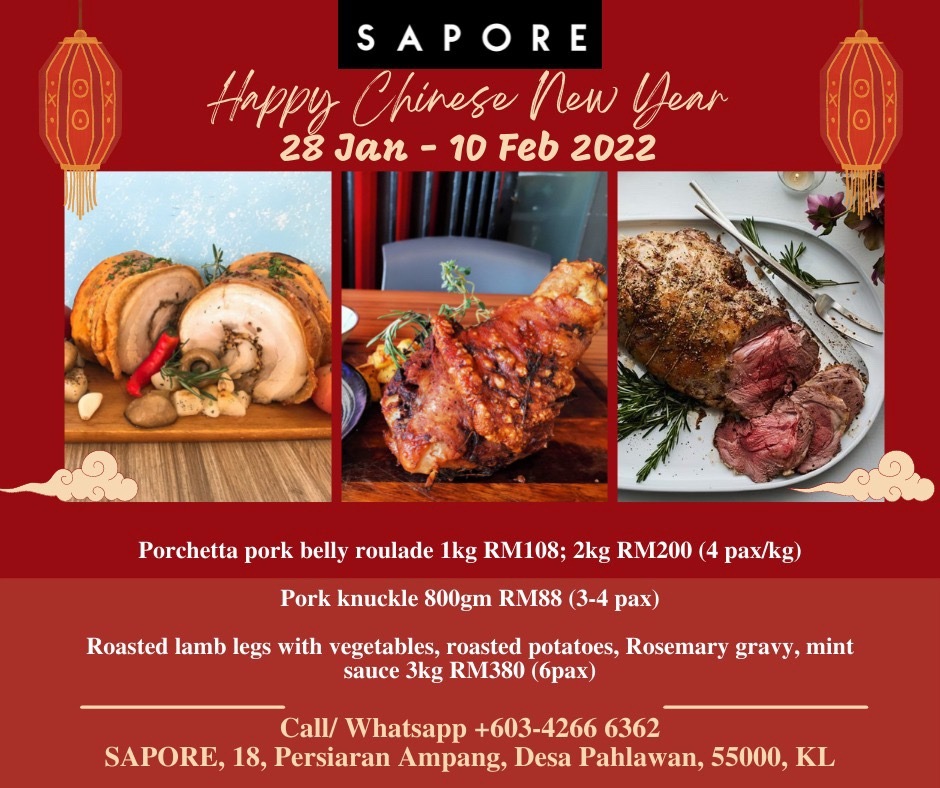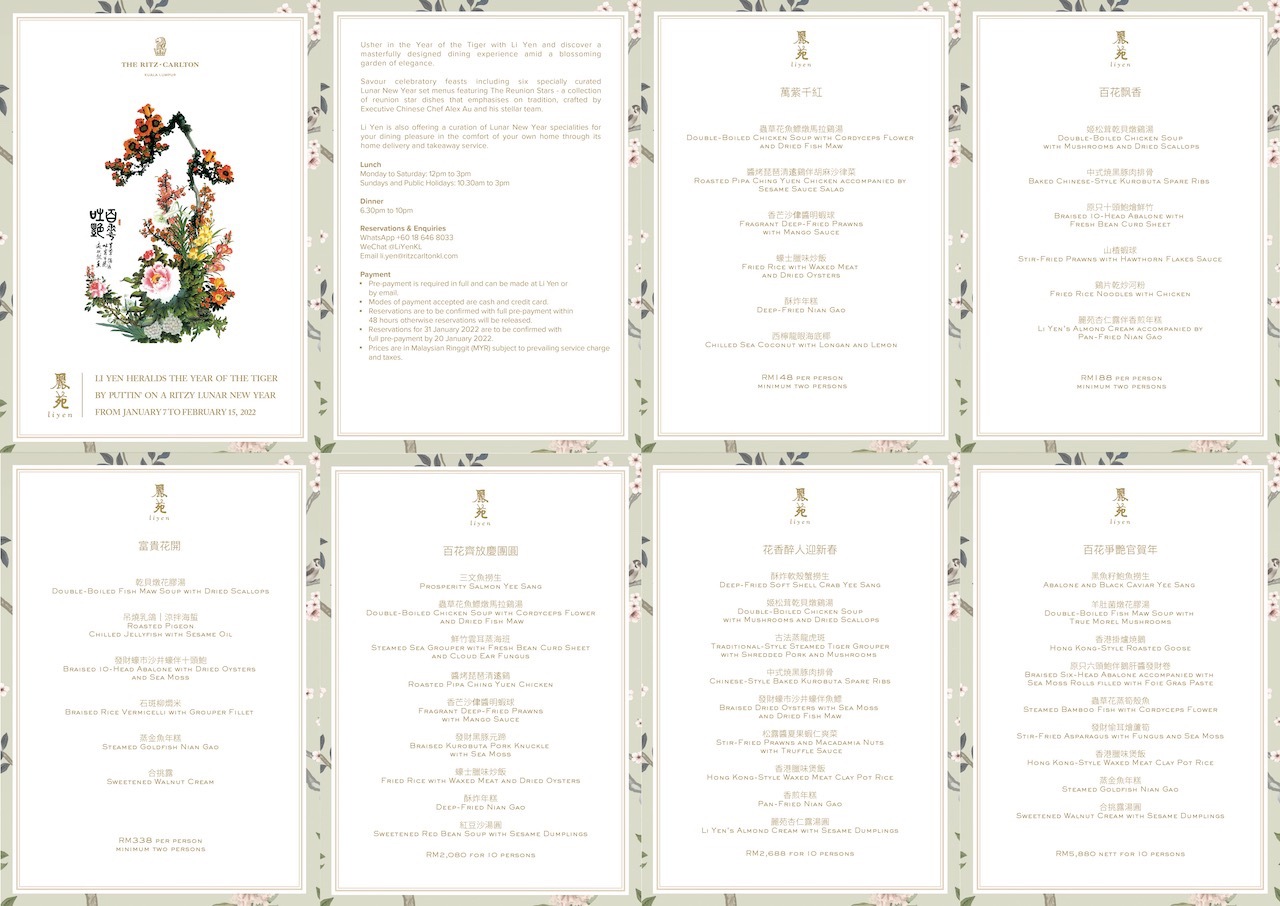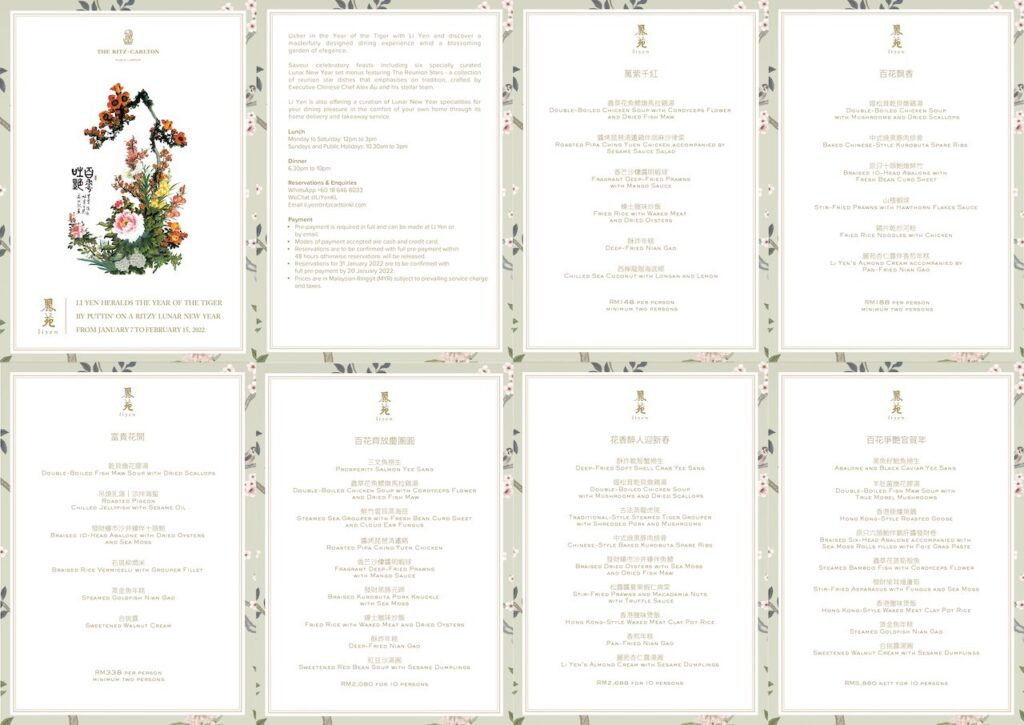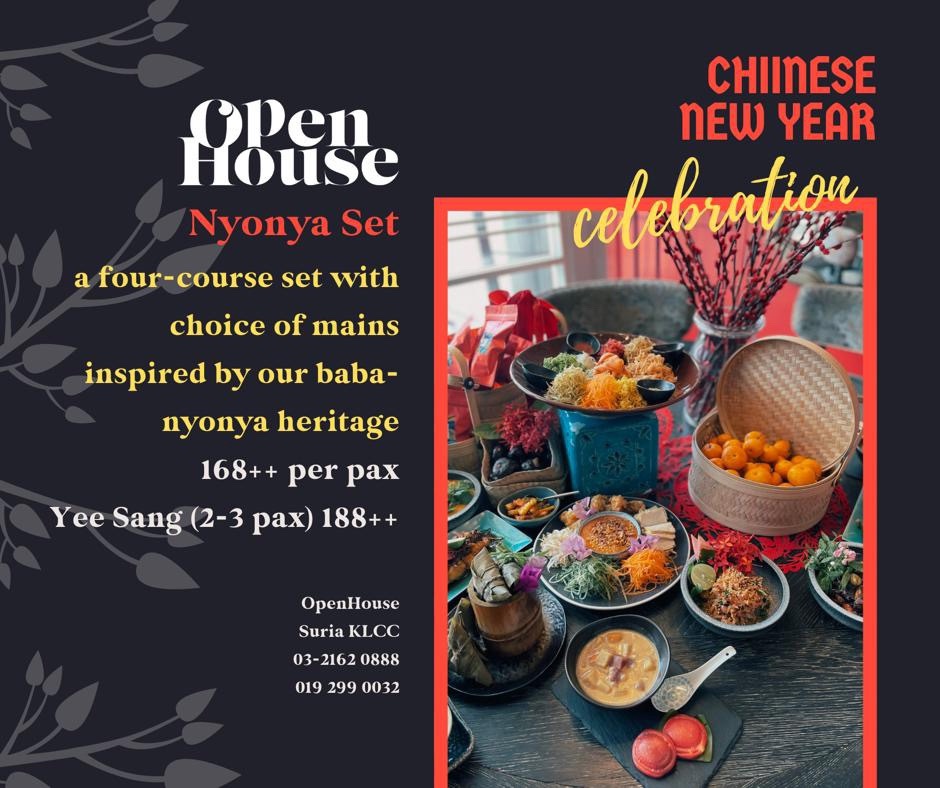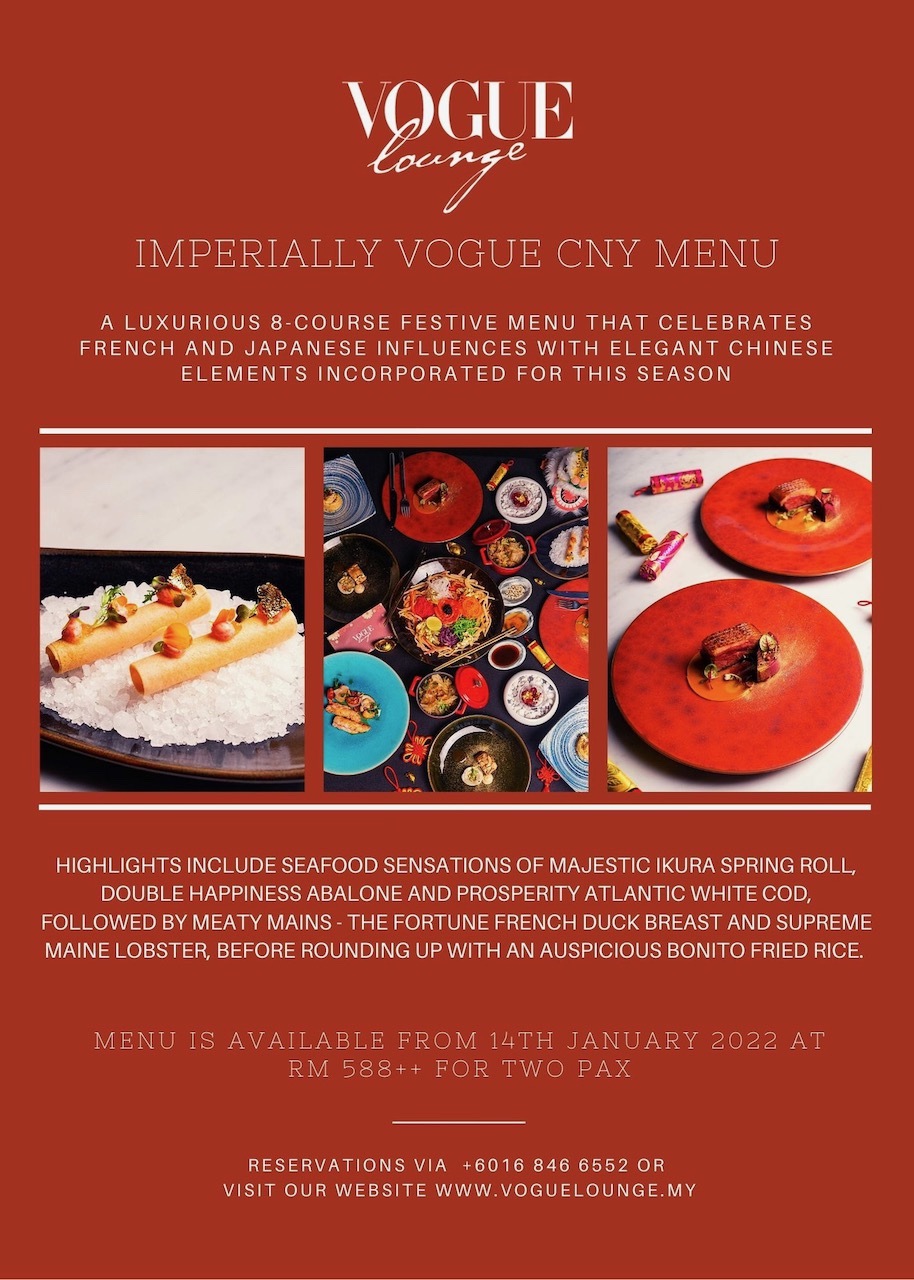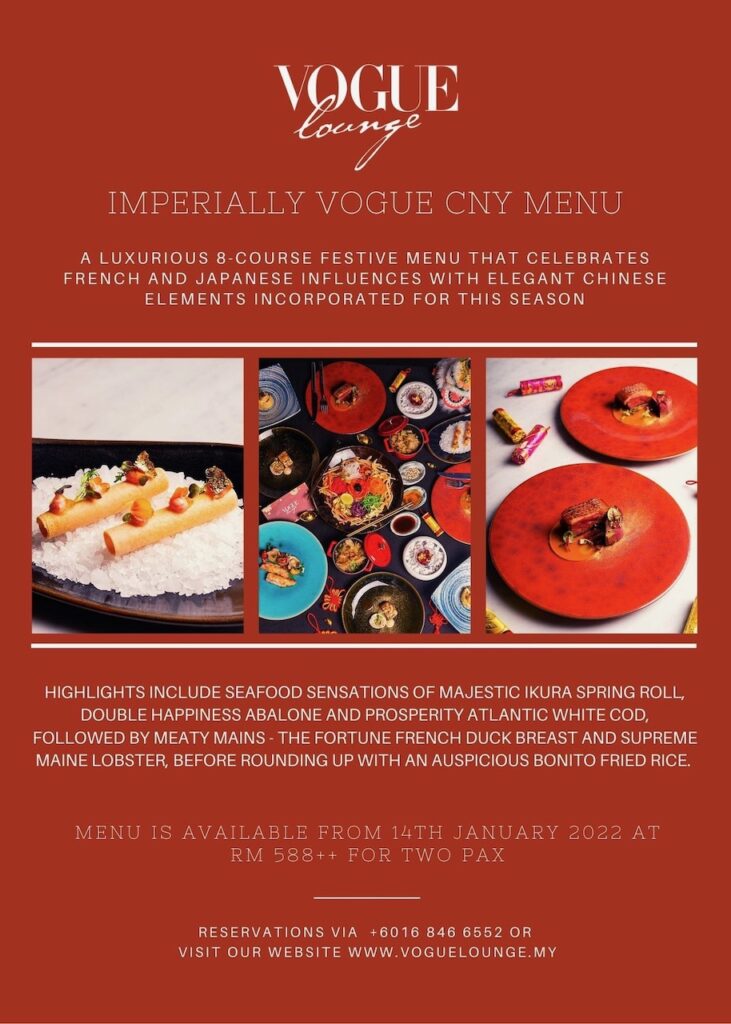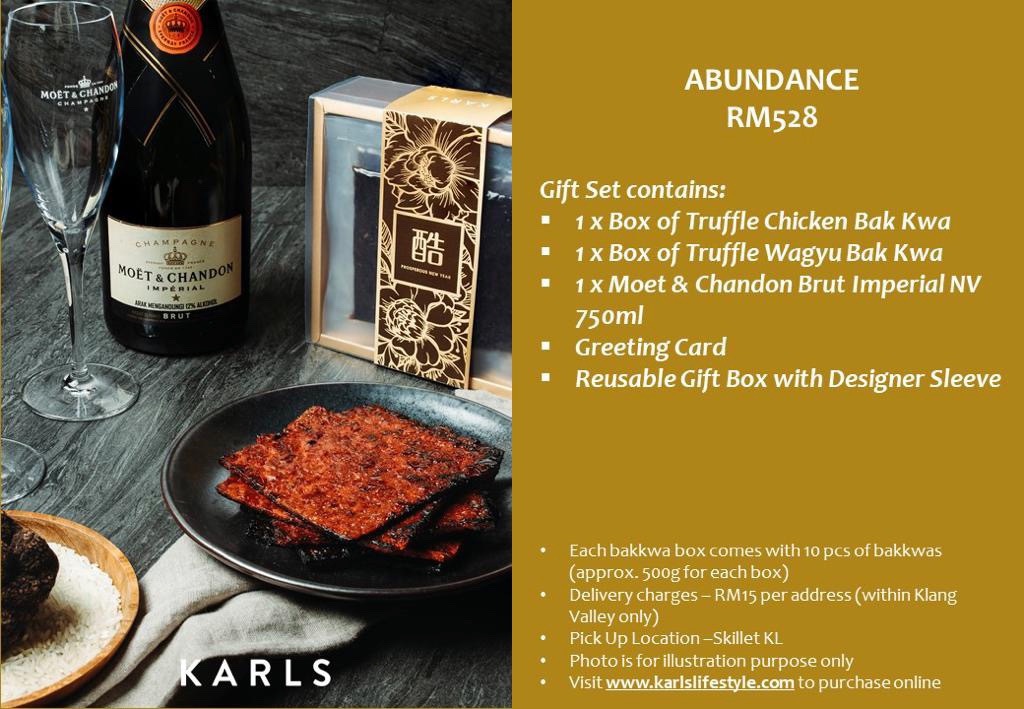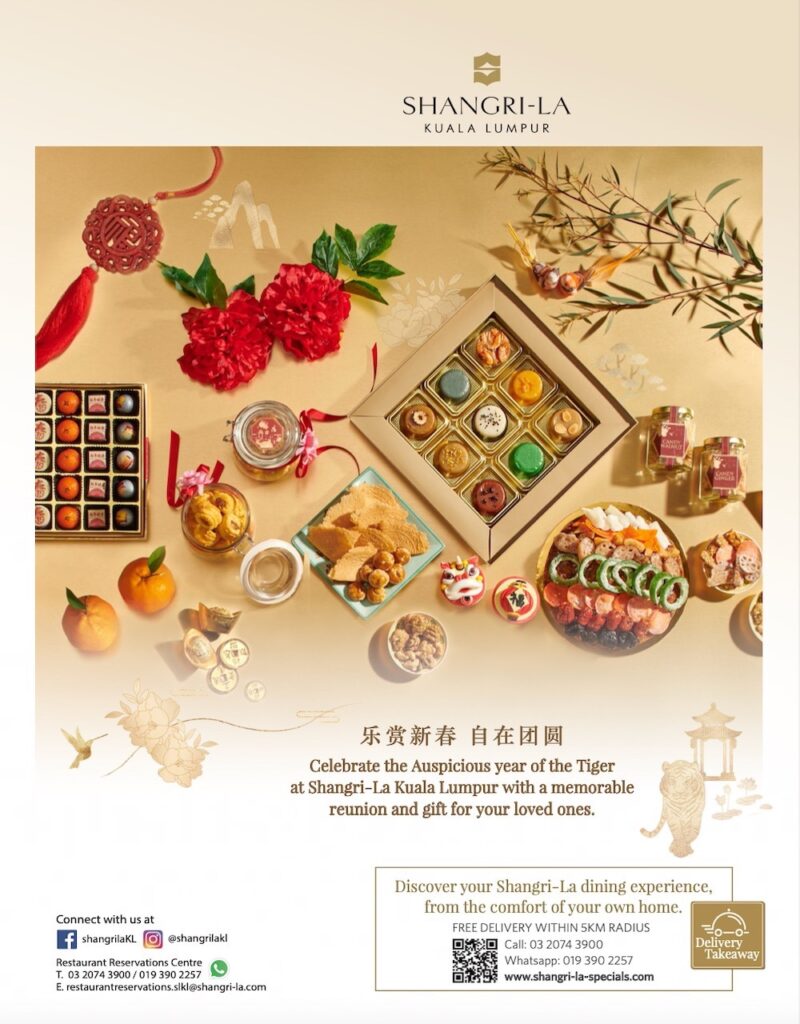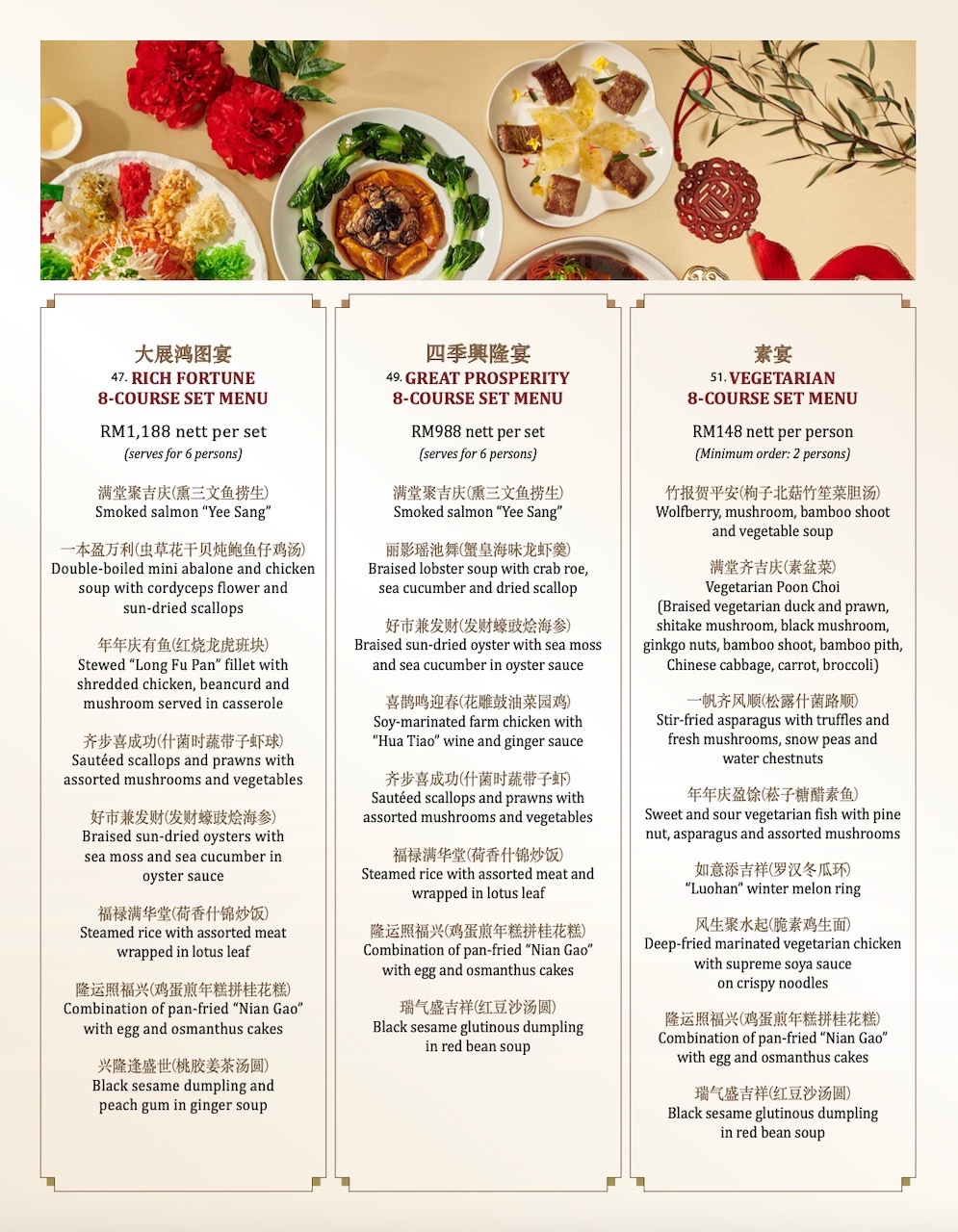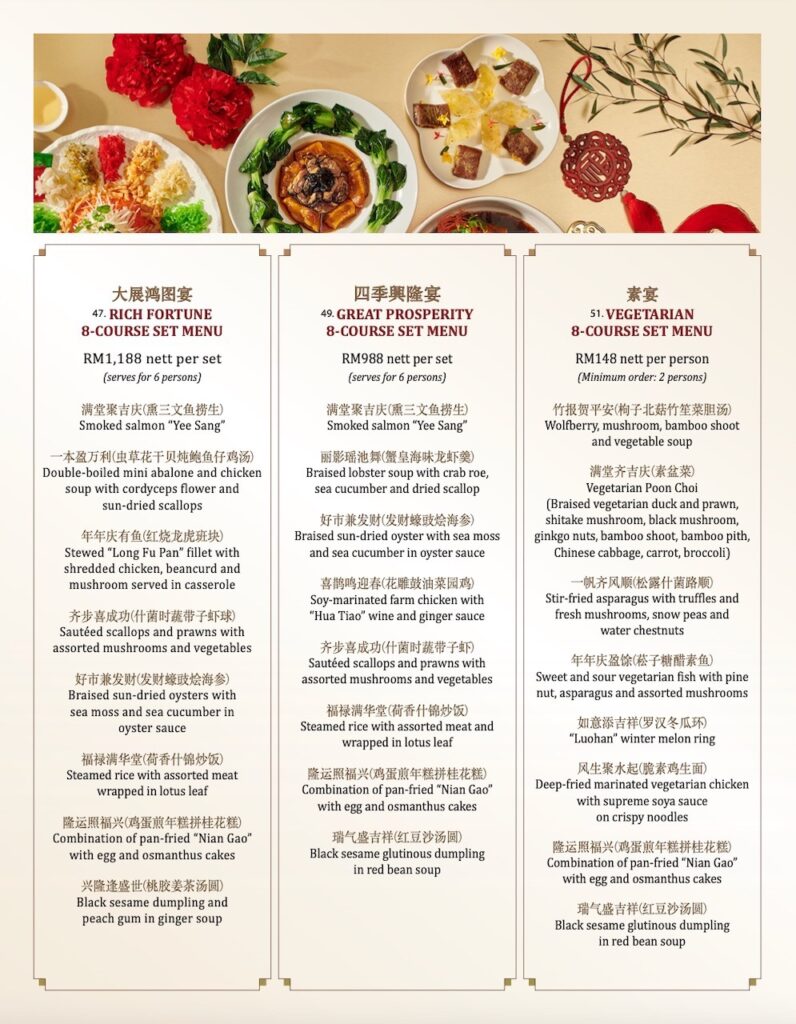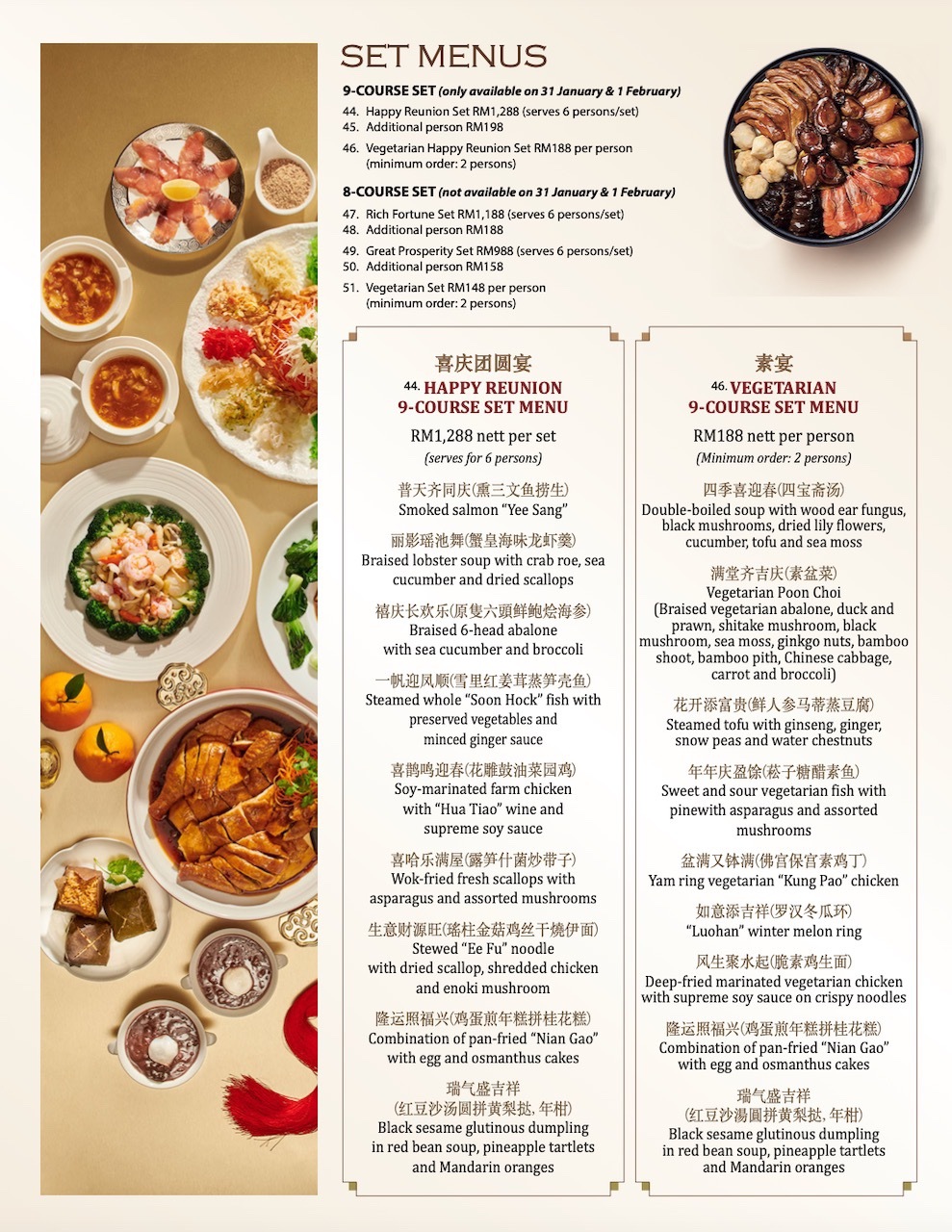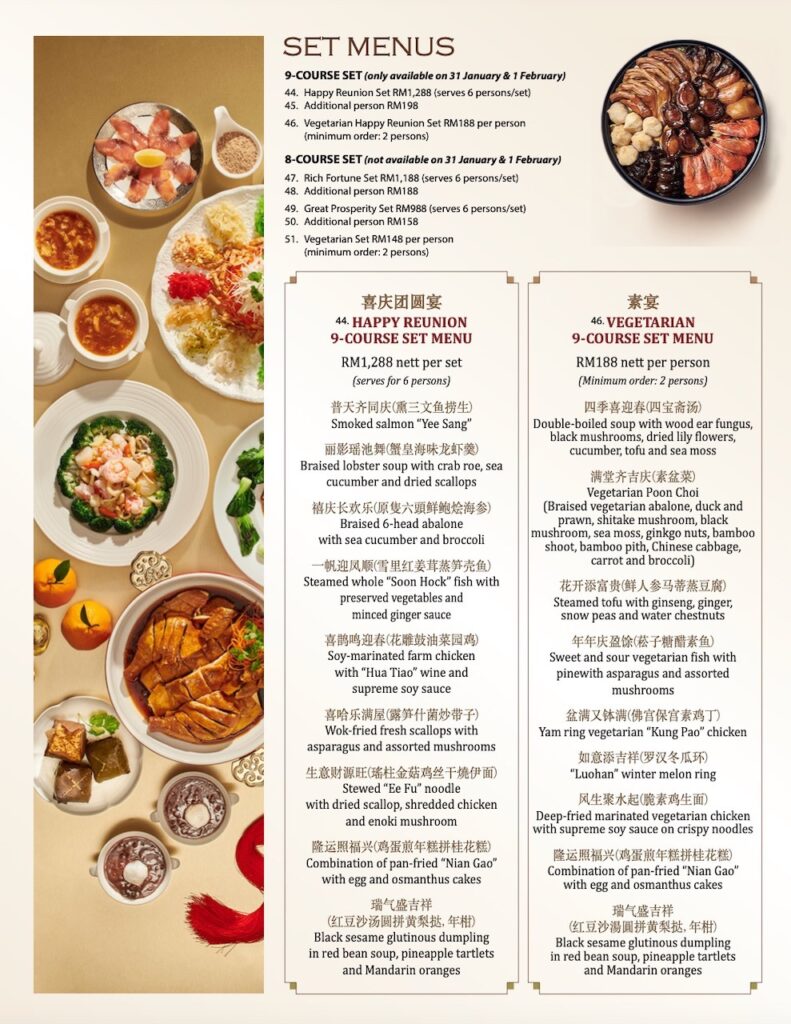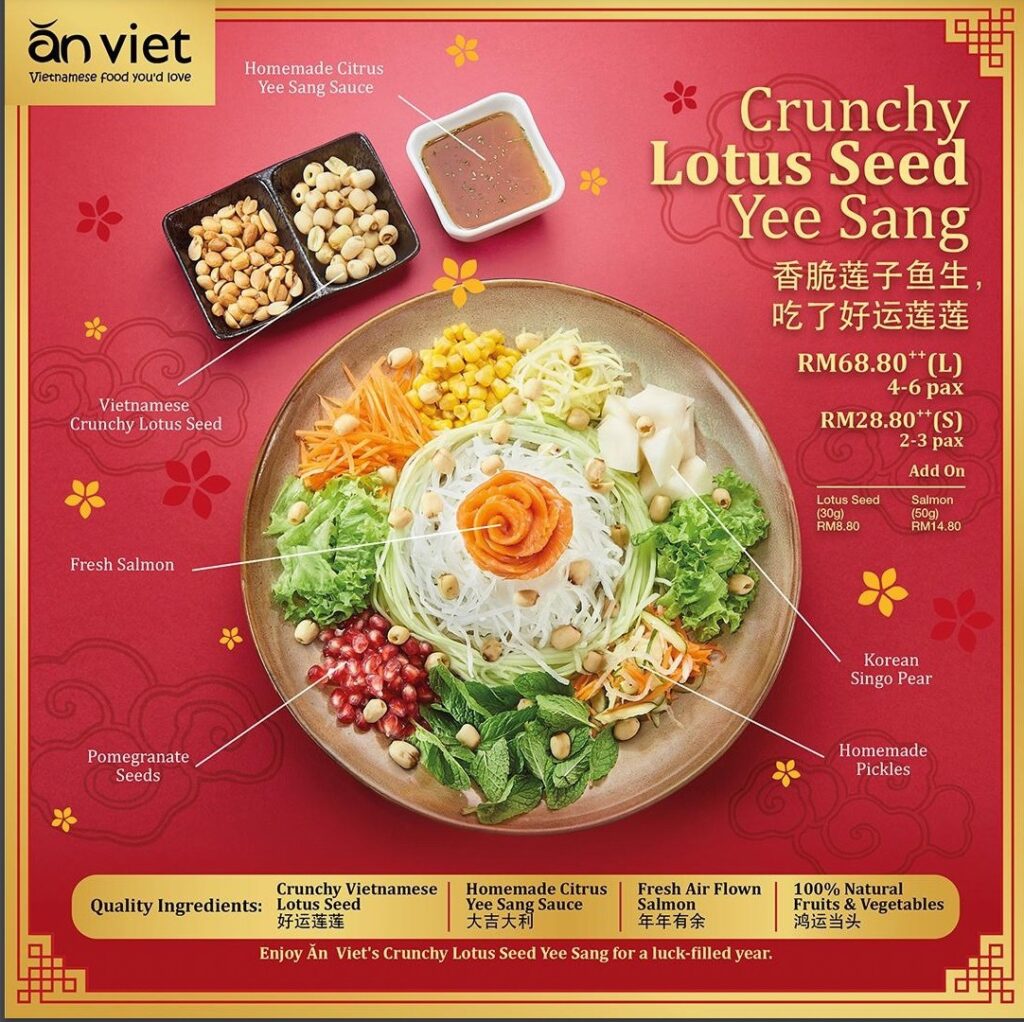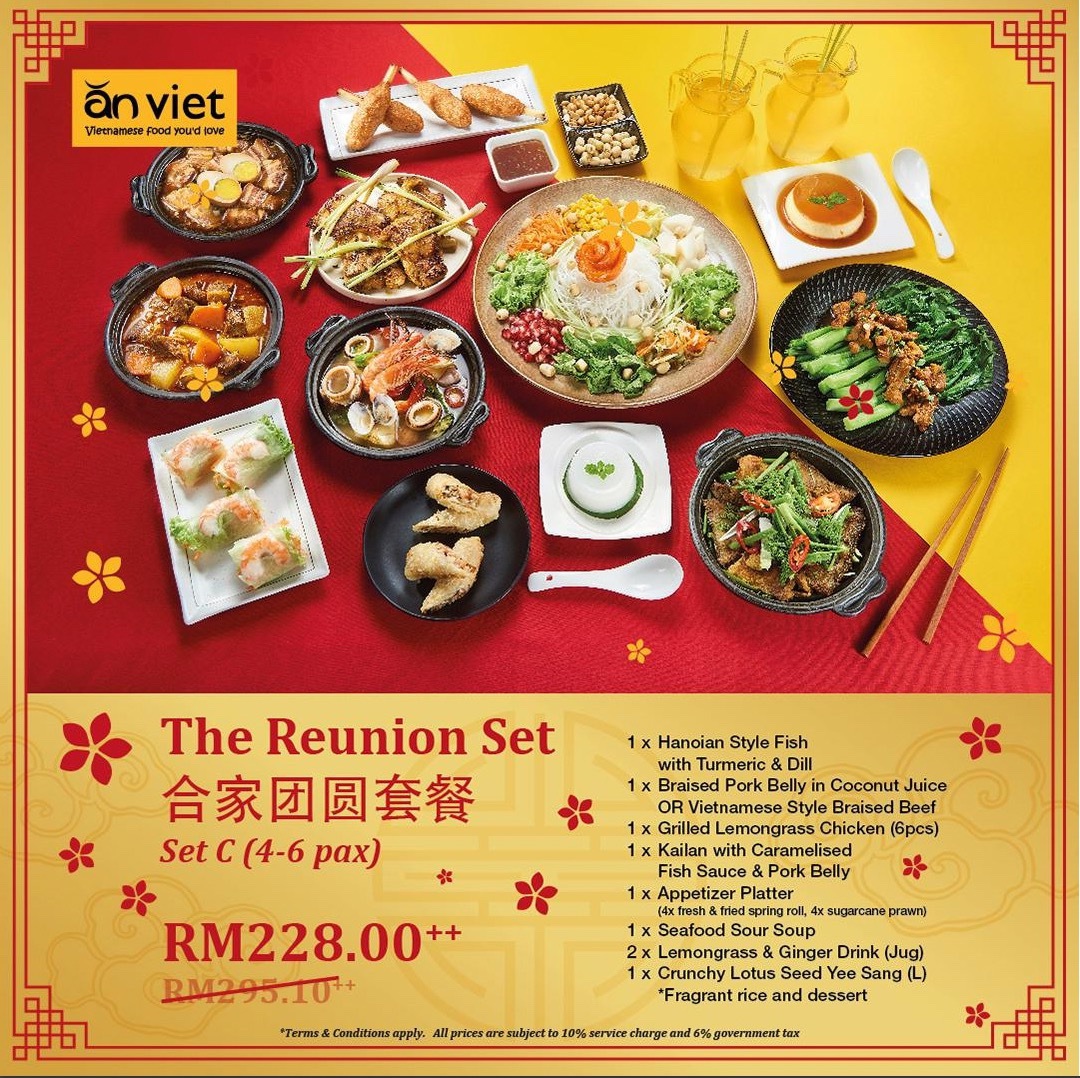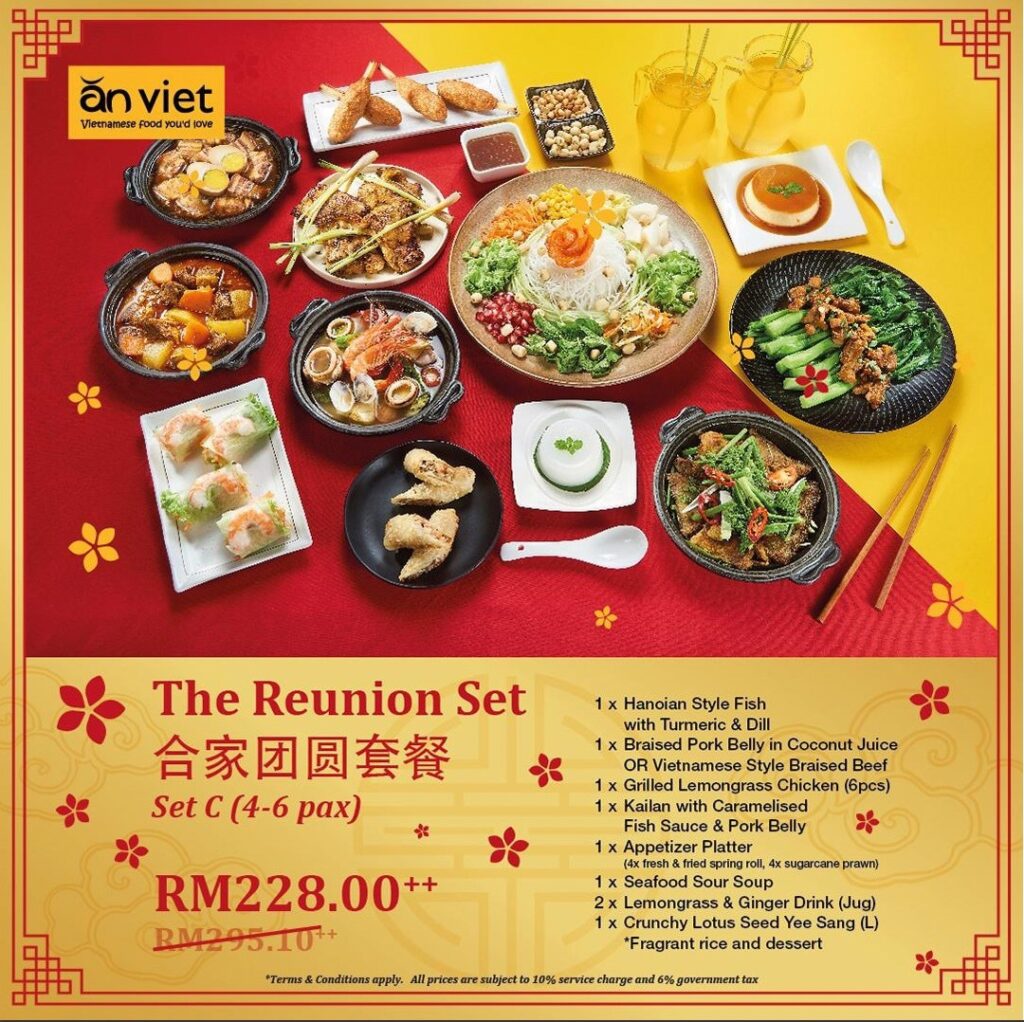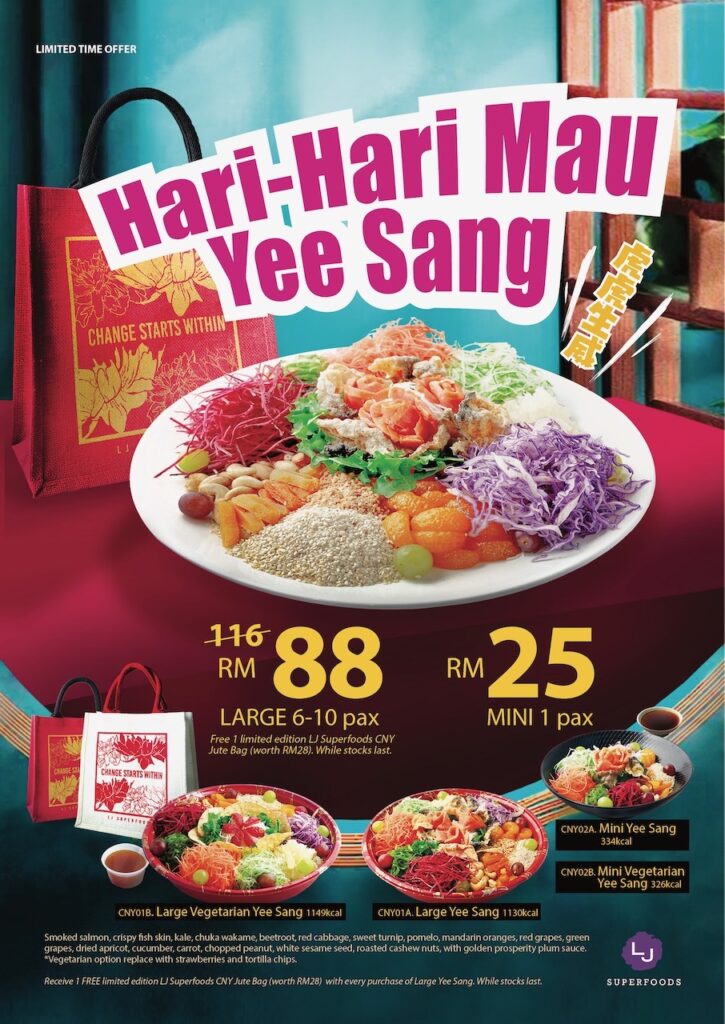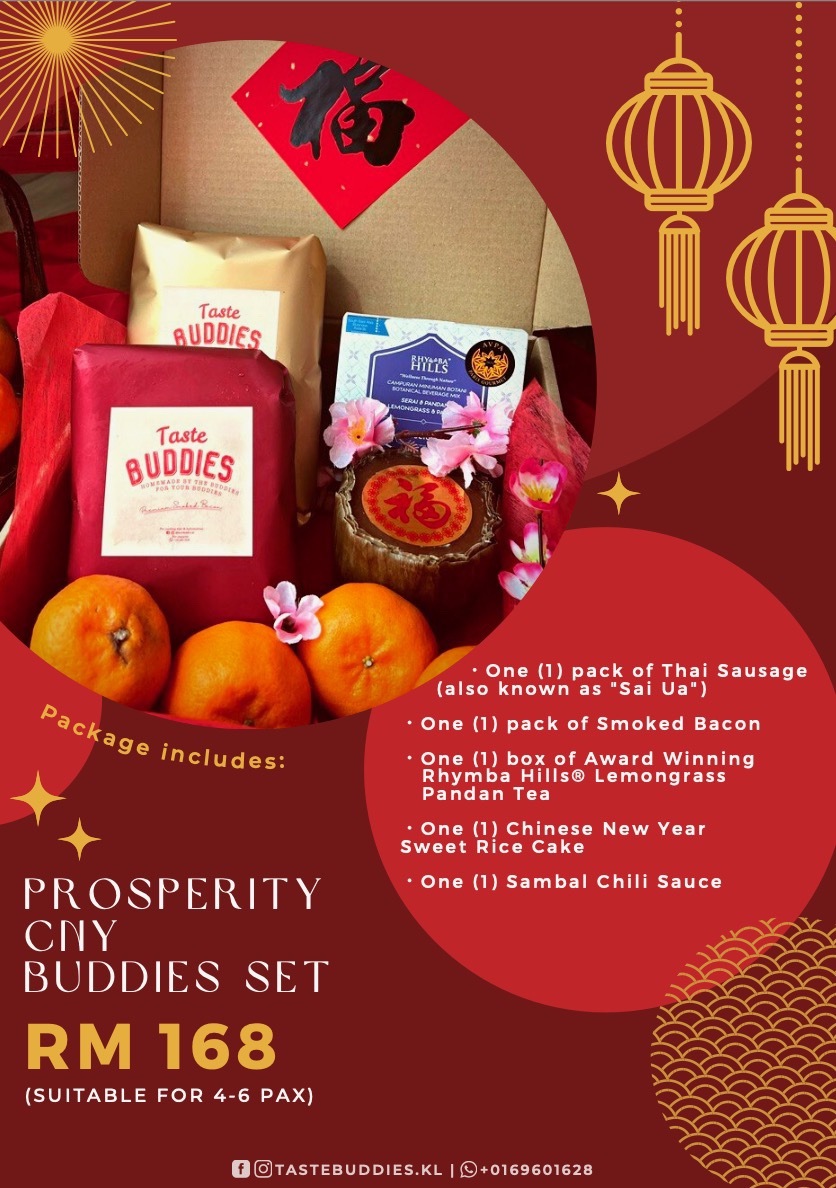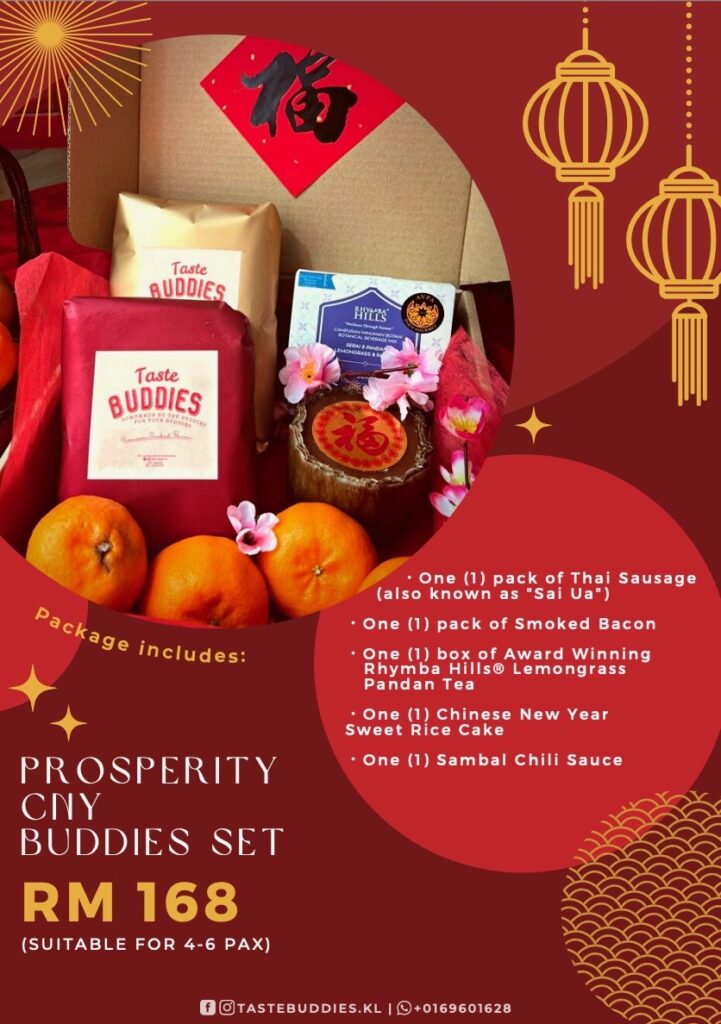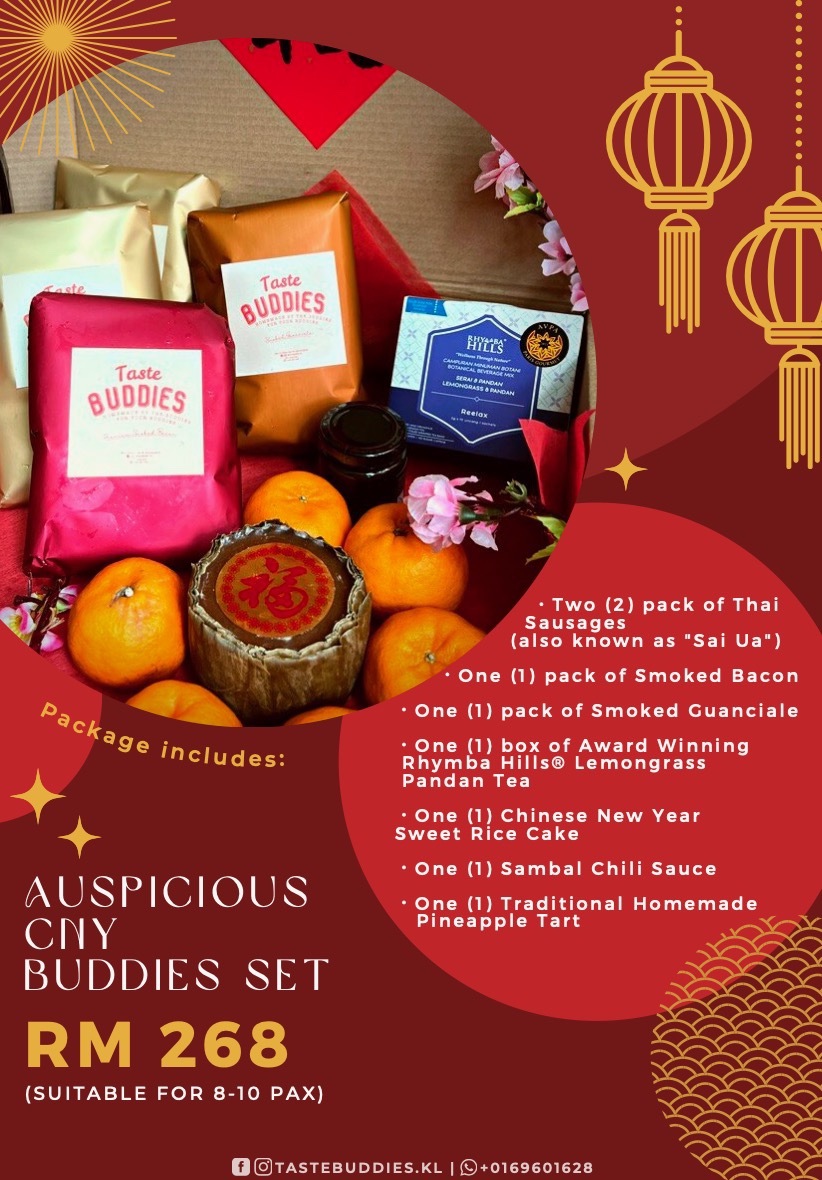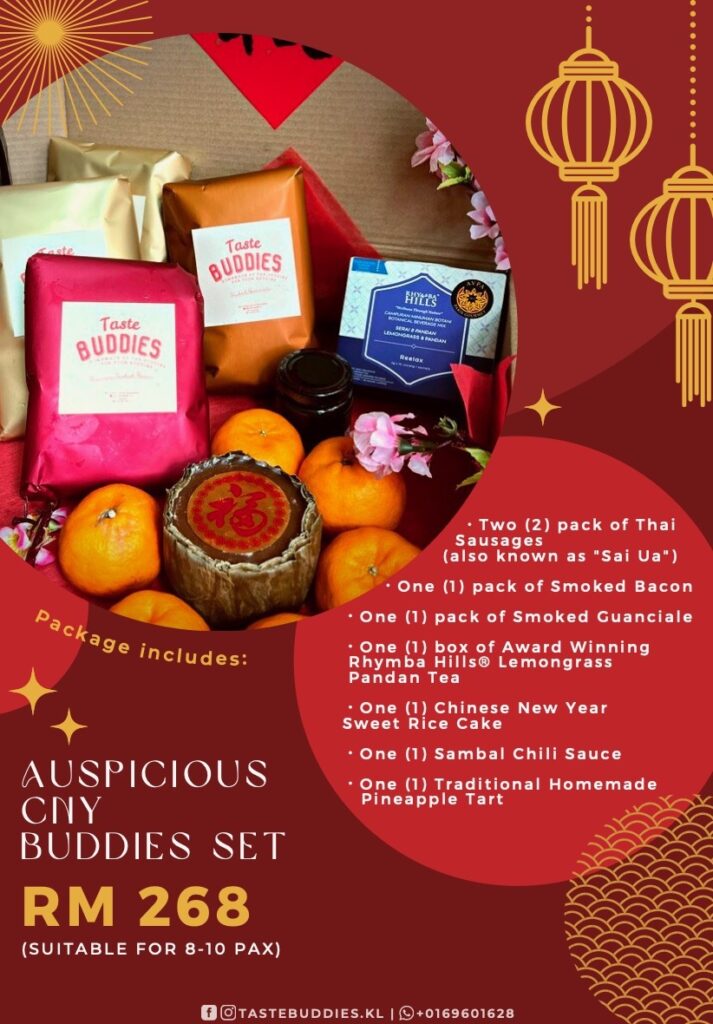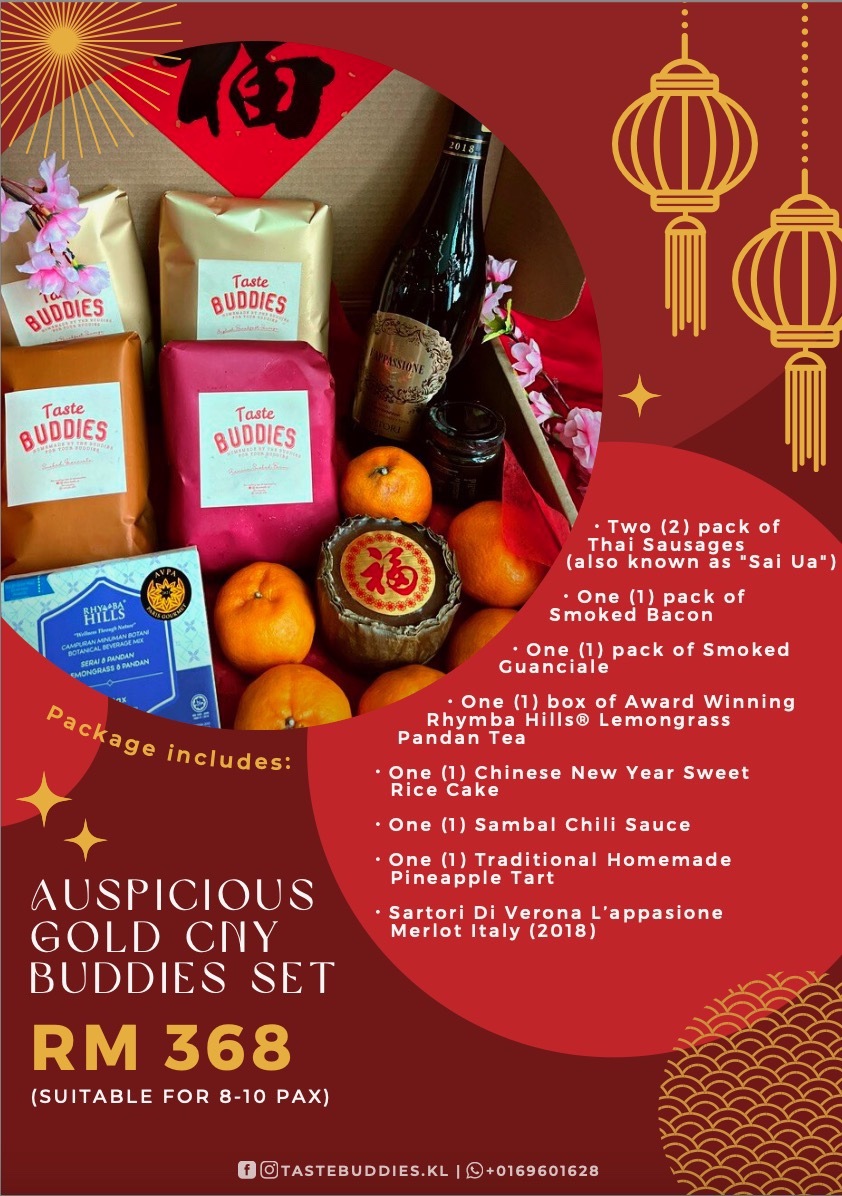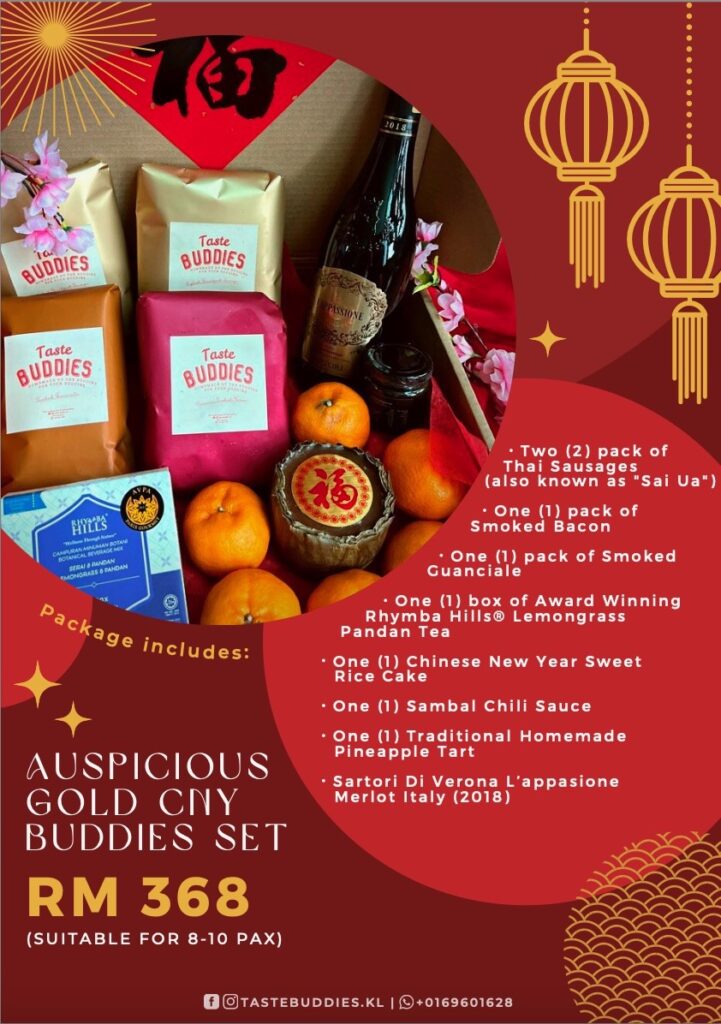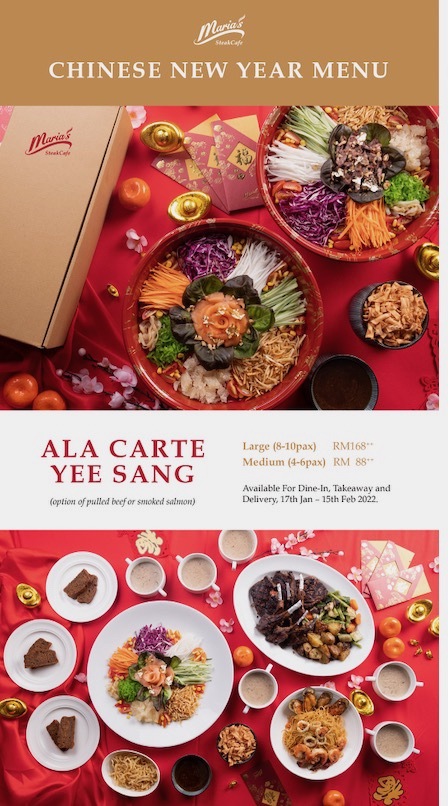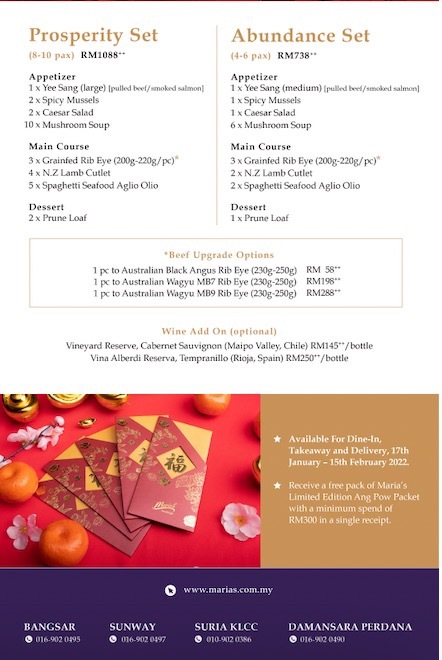 How will you celebrate the Chinese New Year this 2022?
Check out our top picks for every month in Kuala Lumpur here, and stay up to date on KL's vibrant food scene here.