Mandarin Oriental, Kuala Lumpur
Monica Tindall
Boasting a fabulous location, beautiful design, and service with a smile, the Mandarin Oriental, Kuala Lumpur has long held a reputation as one of the most celebrated 5-star hotels in the city. There is much competition due to the pandemic (and with more prestigious properties in the making). Yet, this distinguished brand holds its character and continues to shine even amongst its contenders.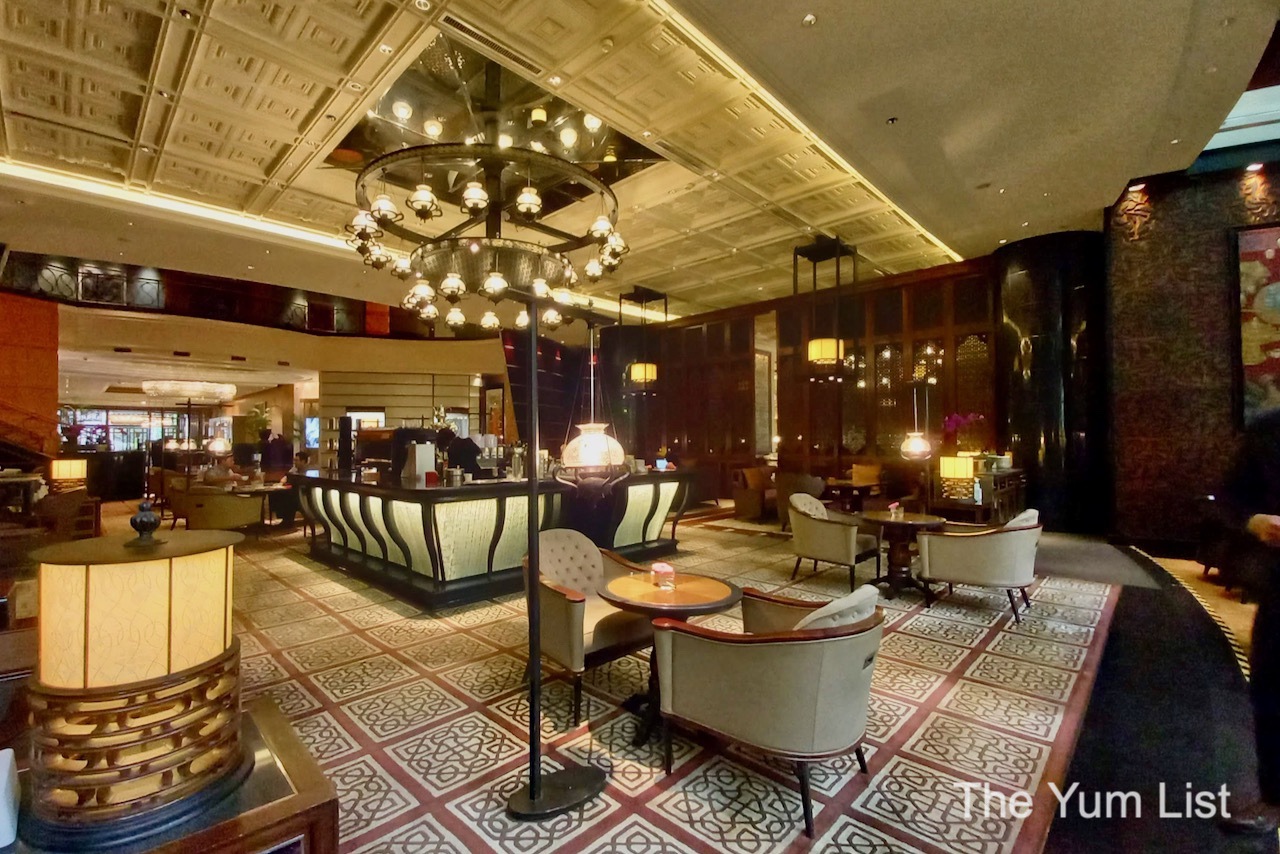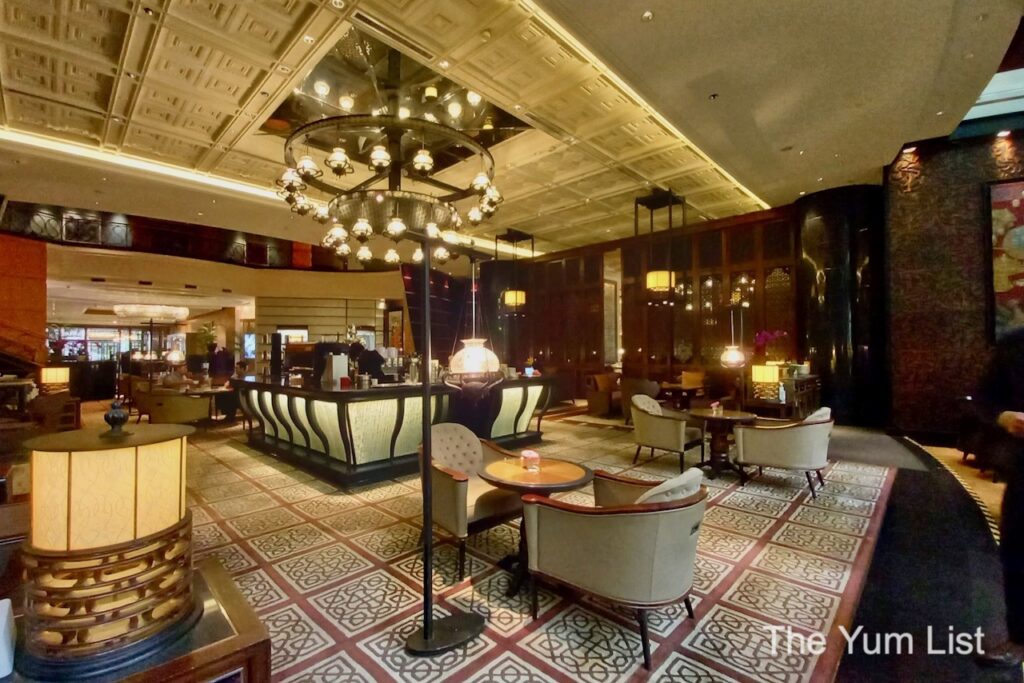 Location
KLCC Park, the Petronas Towers, K.L. Conference Centre, Malaysian Philharmonic and Suria KLCC, are literally on the front, side and back doorsteps of the Mandarin Oriental, Kuala Lumpur. The LRT station and Avenue K are a five-minute stroll away, and an undercover walkway has shoppers in Pavilion (a very nice mall) in 15 minutes. Shopping, nightlife, food, beverage, entertainment and public transport are all moments away on foot. You couldn't ask for a better location.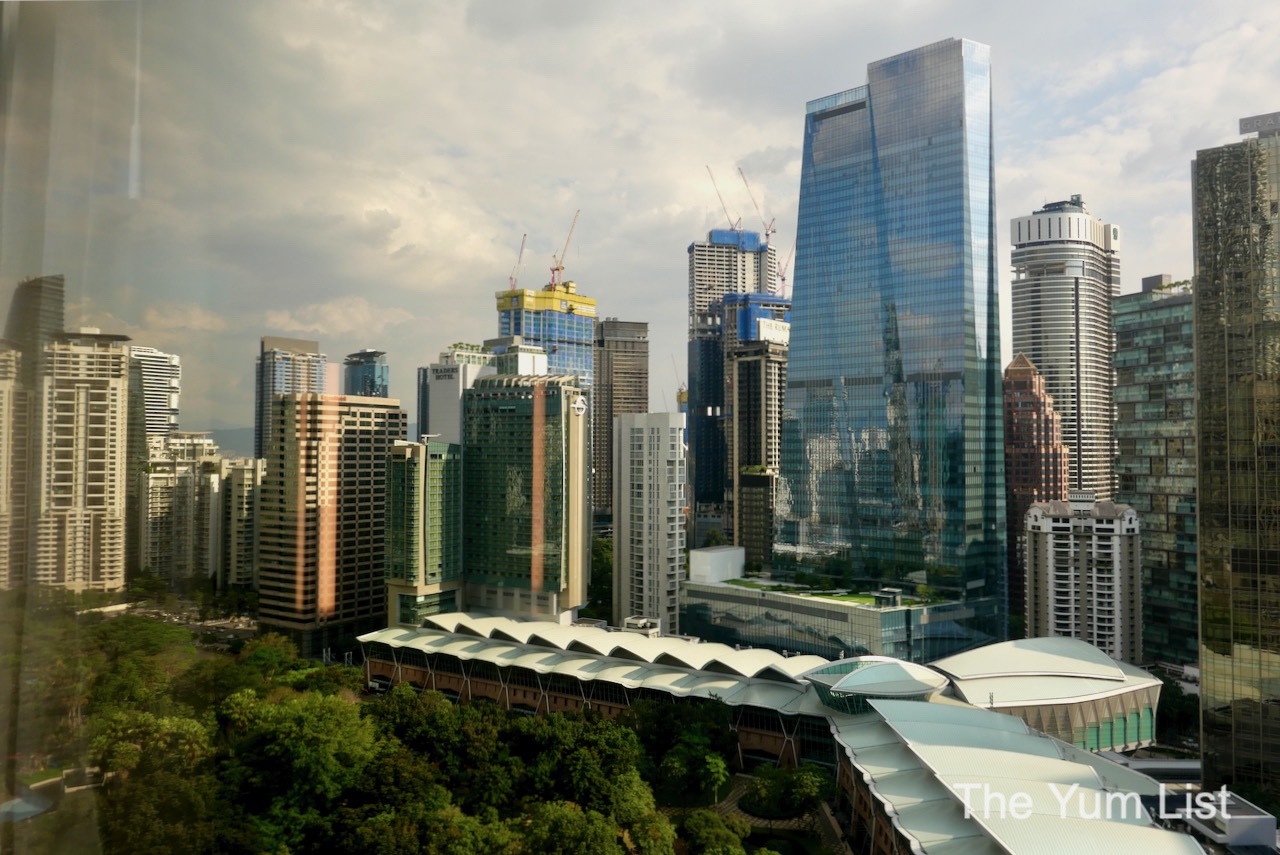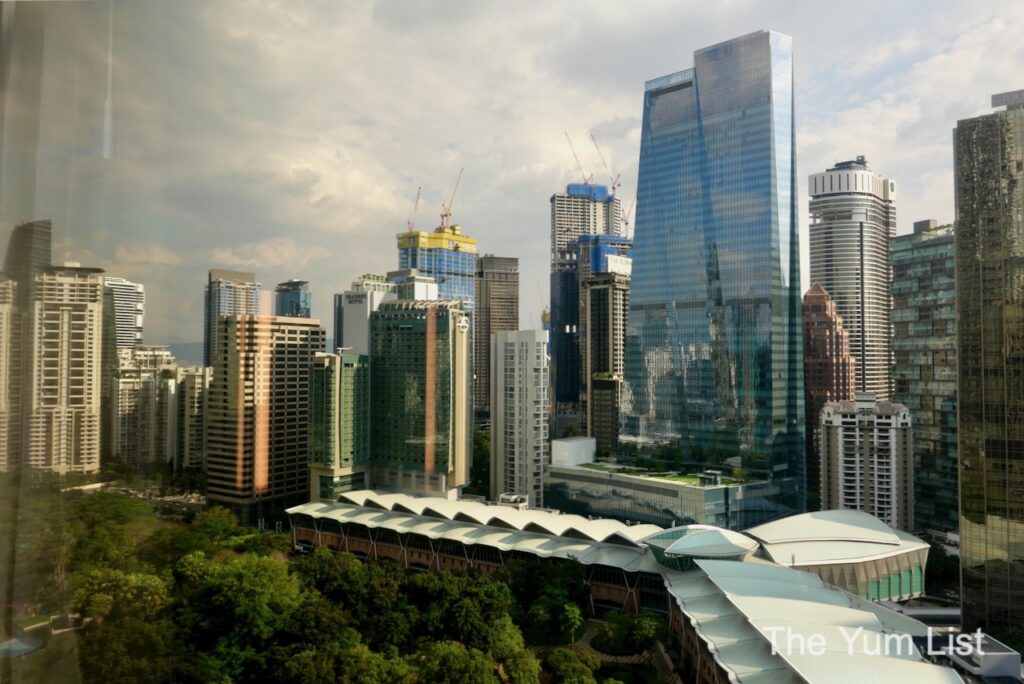 Service
From start to finish, we're humbled by the standard of service. The past two years have not been easy for most, especially those in the hotel industry. Salary cuts, difficulty finding and keeping staff and those still employed expected to take on several roles and additional work are all too common. Yet, you would never know at the Mandarin Oriental, Kuala Lumpur.
Our check-in is on the 24th floor in the Club Lounge. We're welcomed with a beverage of our choice, and our luggage is taken to our room as we settle in. Signing up for the Fans of M.O. program, our room has a gourmet welcome (you can choose from several benefits such as a room upgrade, pressing services and more). My appreciation of Mandarin Oriental's dedication to customer care grows throughout our stay.
Before sunrise, I come across several staff – cleaners and security – both miraculously chirpy for the early hours with warm smiles and morning greetings. Poolside, staff lay out towels and bring around cold water. Spa staff share insider secrets of skincare and where they find the most comfortable masks. Restaurant personnel are ready with meal suggestions, flexible with making adaptations, and engage in light conversation (or not), sensing the desires of each table.
Our experience continues in the Club Lounge. Greeted by name, served with a smile, nothing is a challenge. Egg white only omelette, no oil, no butter, low-fat milk, dressing on the side, sparkling water, lime apart, a cocktail made to order – none of it's a problem. In fact, most responses to our fussy requests are ended with, "… my pleasure." And… indeed, it is a pleasure to be assisted by such thoughtful staff.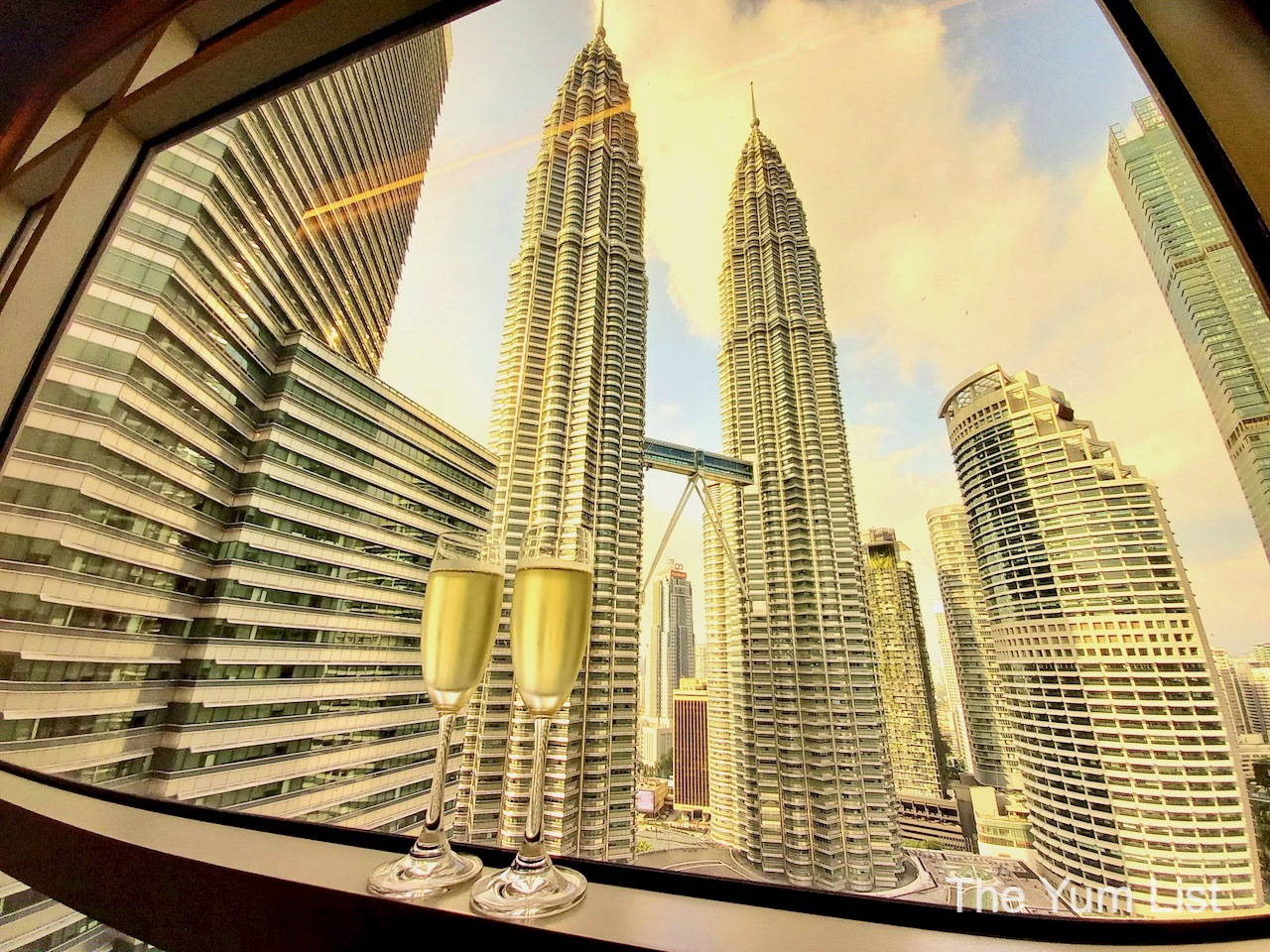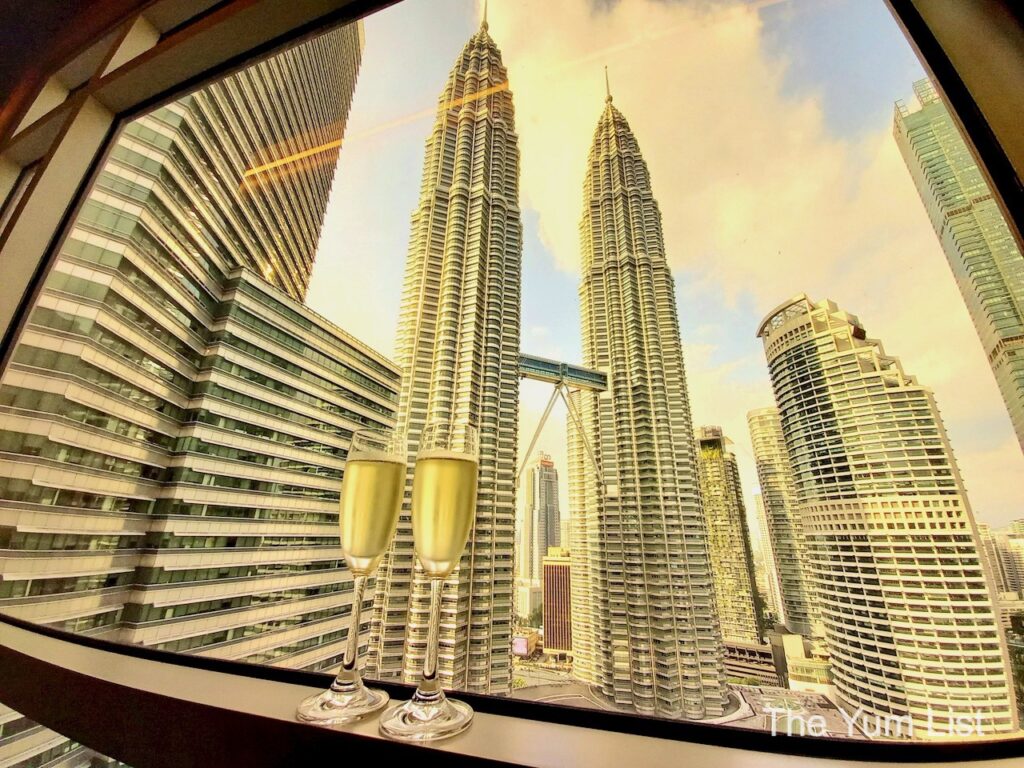 Rooms
Attention to detail continues in the rooms. Ours, the Park Suite, 82 sqm, is a one-bedroom suite with Club access. Floor-to-ceiling windows flourish glorious views of the KLCC park. Upon entering, we already imagine our wake-up, drawing curtains open to reveal the morning sun from above and lush greenery below.
A lounge and dining area is separate from the bedroom and able to be sealed by a dividing door. Late night, hubby is free to watch tele, while early-bird me gets peaceful dreams without disruption. The mini-bar sports an espresso machine and a selection of premium teas. There's a sofa, armchairs and a dining table for four, providing plenty of seating options. The soothing palette of creams and browns with plush carpets and regional artworks groom the room with sophistication and class.
The bedroom is gently lit with warm lamps and, bedcovers match the sea blues found in the carpet. A fully-equipped desk, dressing table and separate closet provide specialized zones for each activity. Individual air-conditioning units allow us to control the temperature in each room and not freeze from a centralized system.
Marble bedecks the bathroom with a separate bath, shower and toilet cubicle, affording privacy or openness as desired. The efficient design fits a lot into the compact space and, glass and mirrors deceive the mind into a feeling of roominess. Luxury bath products in large reusable pumps lend a cared-for approach, and a choice of robes and slippers establish a home away from home vibe. As if this were not enough already, suites also boast a guest powder room.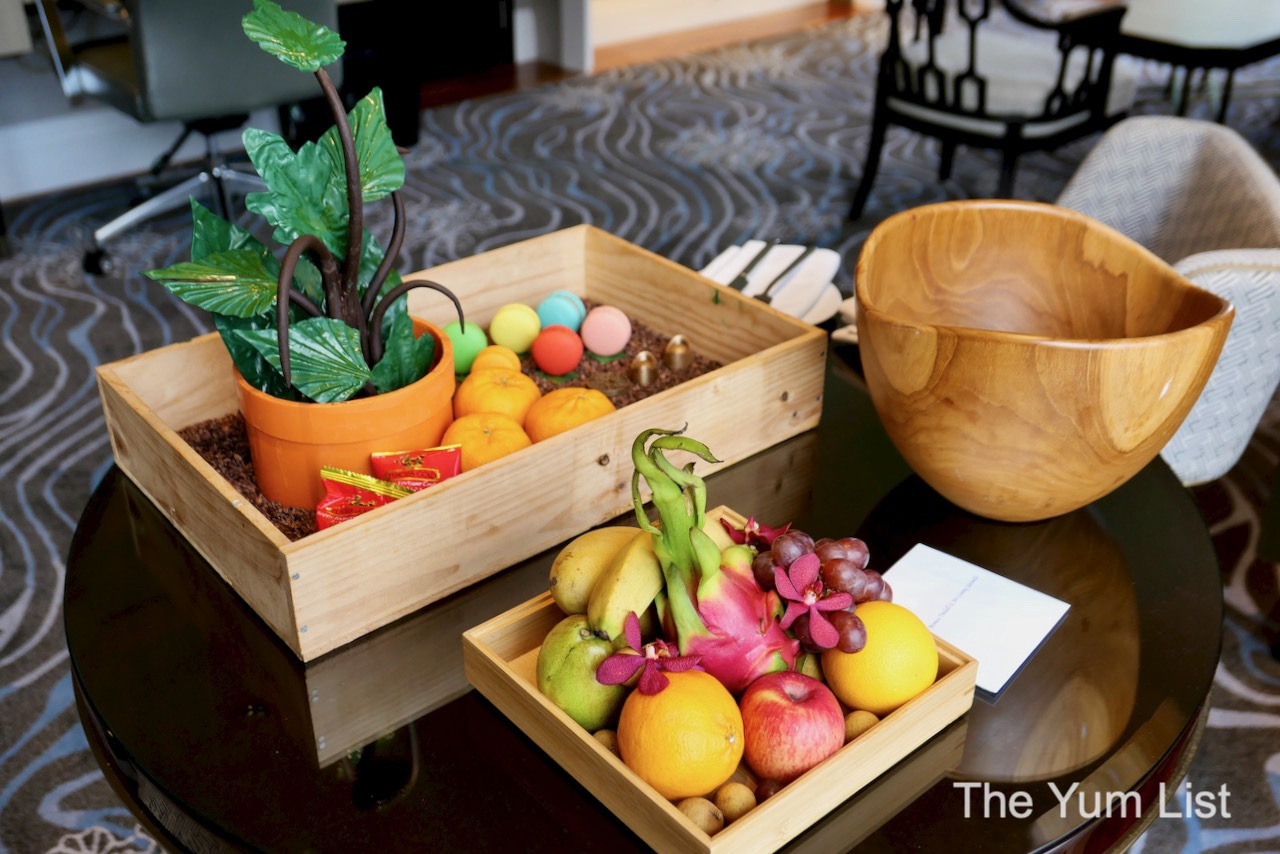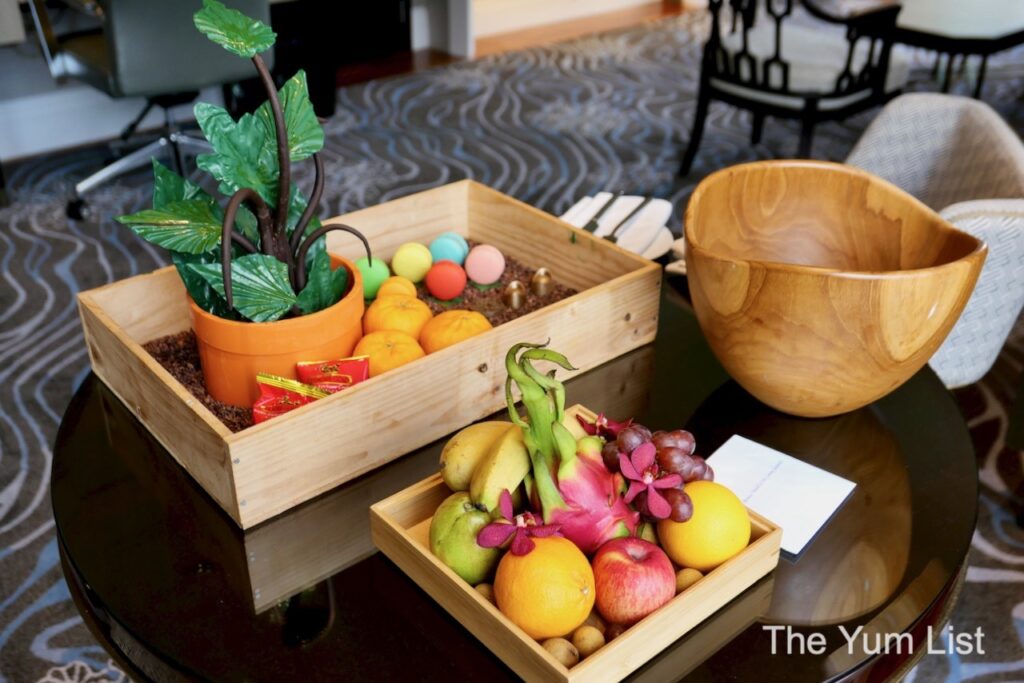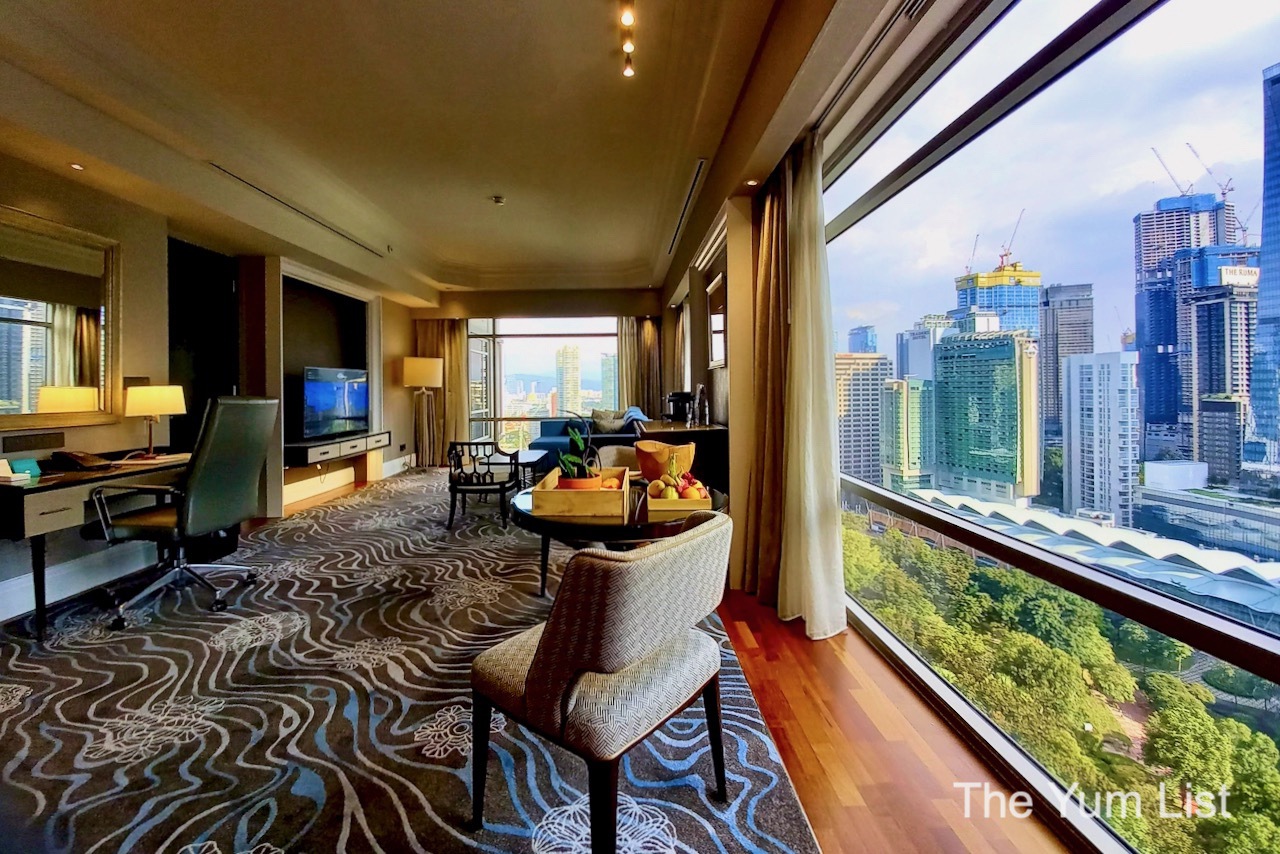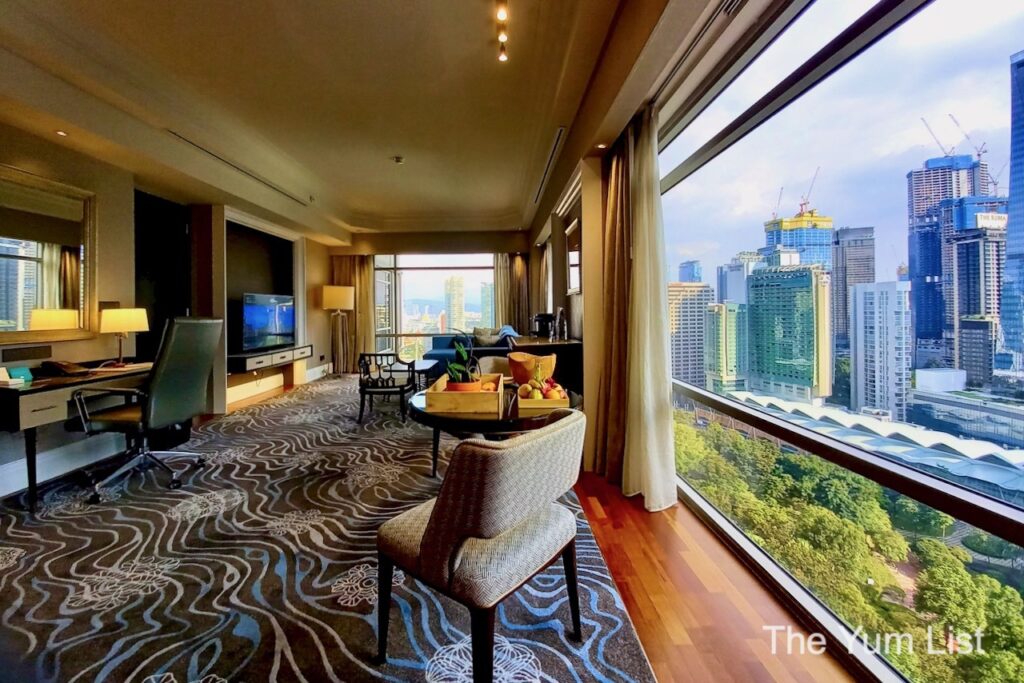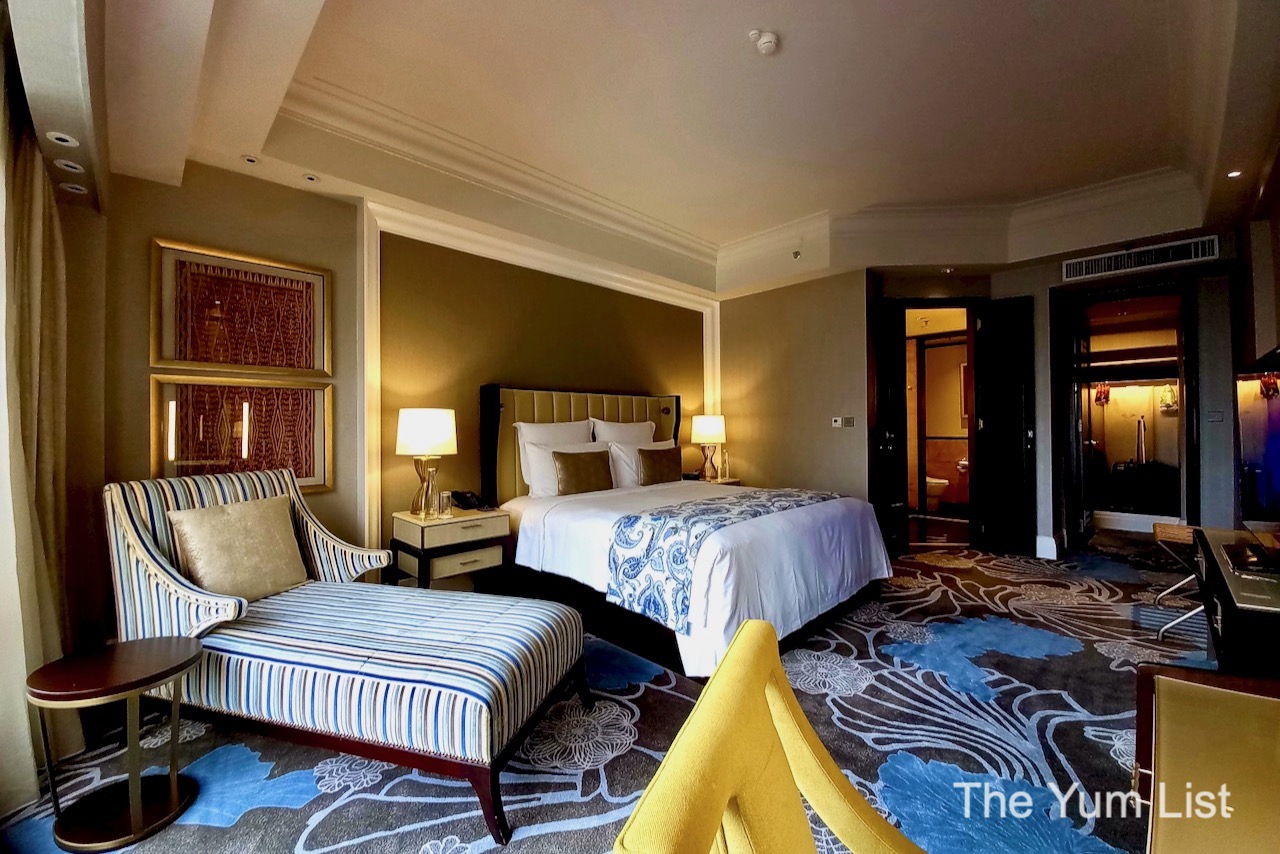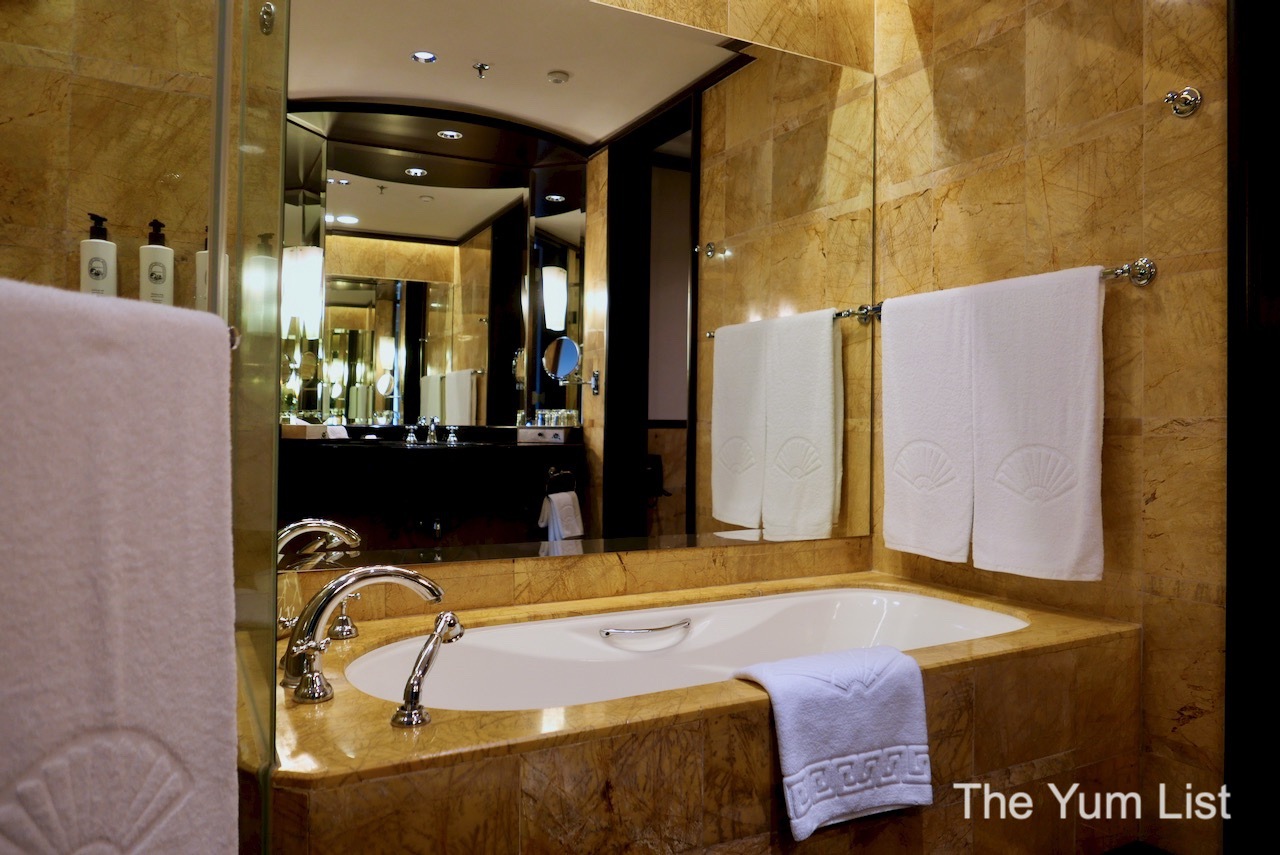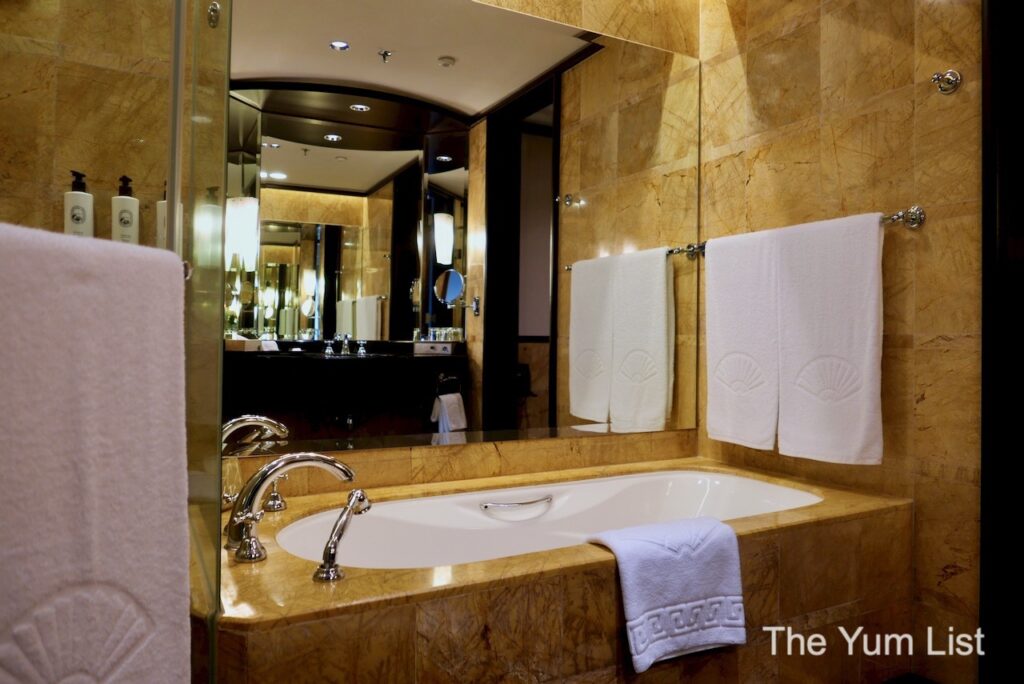 Club Room Benefits
All suites come with Mandarin Oriental Club benefits. The Club is a striking room with giant windows, wood-panelled walls and marble floors. Close-up views of the Petronas Twin Towers might be a distraction or inspiration for some. Breakfast, afternoon tea and evening cocktails are served here. Internet is speedy, and refreshments are served throughout the day, making it a great place to work from.
While the area is expansive, it is sundered by half-walls and intimate alcoves, awarding the club an exclusive, private ambience, despite its size. Receding shelves, regional artworks and racks of books are comforting, homey touches. Plushly covered chairs and lounges provide pleasant places to ensconce oneself for a few hours, but the prized seating is by the windows. One side overlooks the towering high-rises of the ever-evolving city centre, another the lush KLCC park and, the most coveted chairs gaze upon the glimmering Petronas towers.
It doesn't matter what time these architectural triumphs are viewed; they never fail to inspire wonder. Morning hours see the silvery rays of sunrise reflecting on the steel structures. On a clear day, bright cerulean skies contrast the magnificent manmade construction. Sunset sees a golden backdrop, and the evenings are recompensed with a radiating glow from the illuminated duo.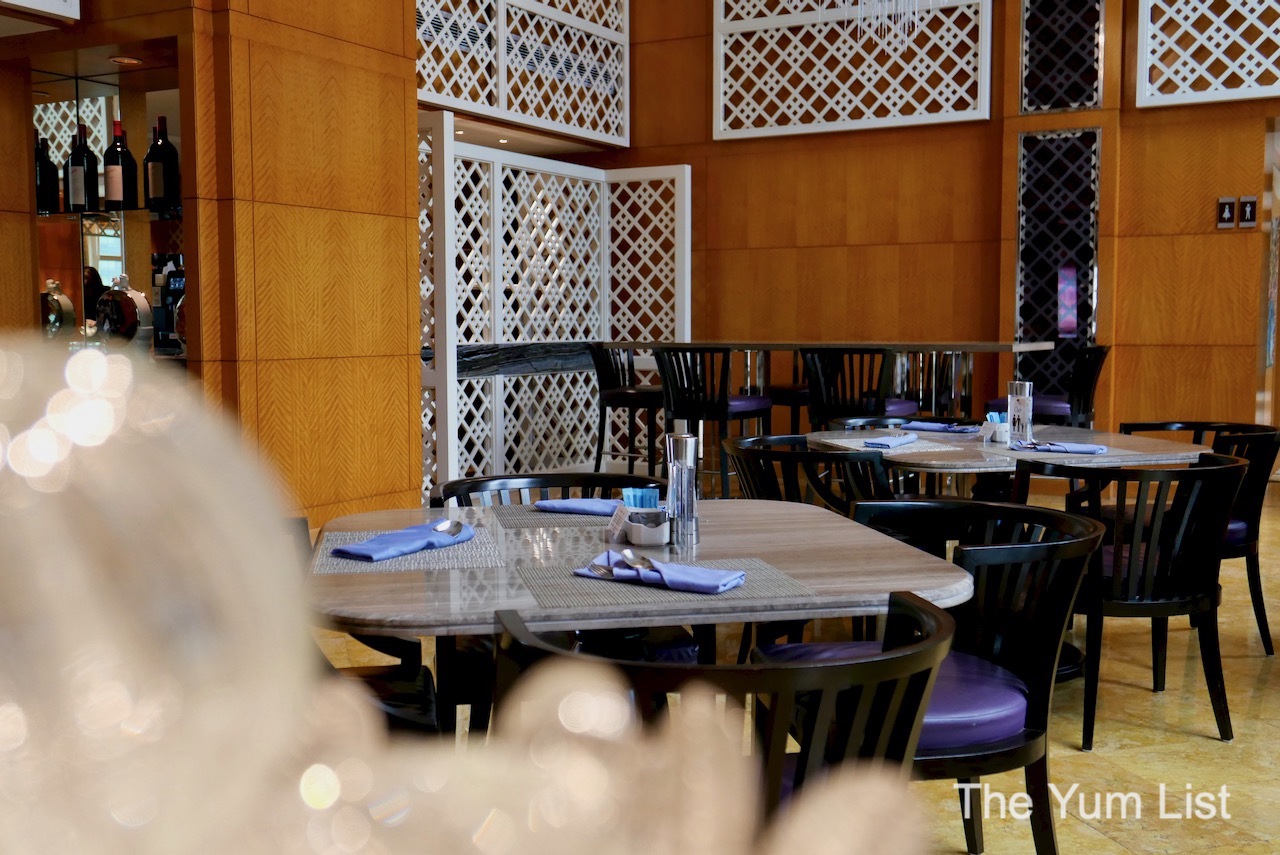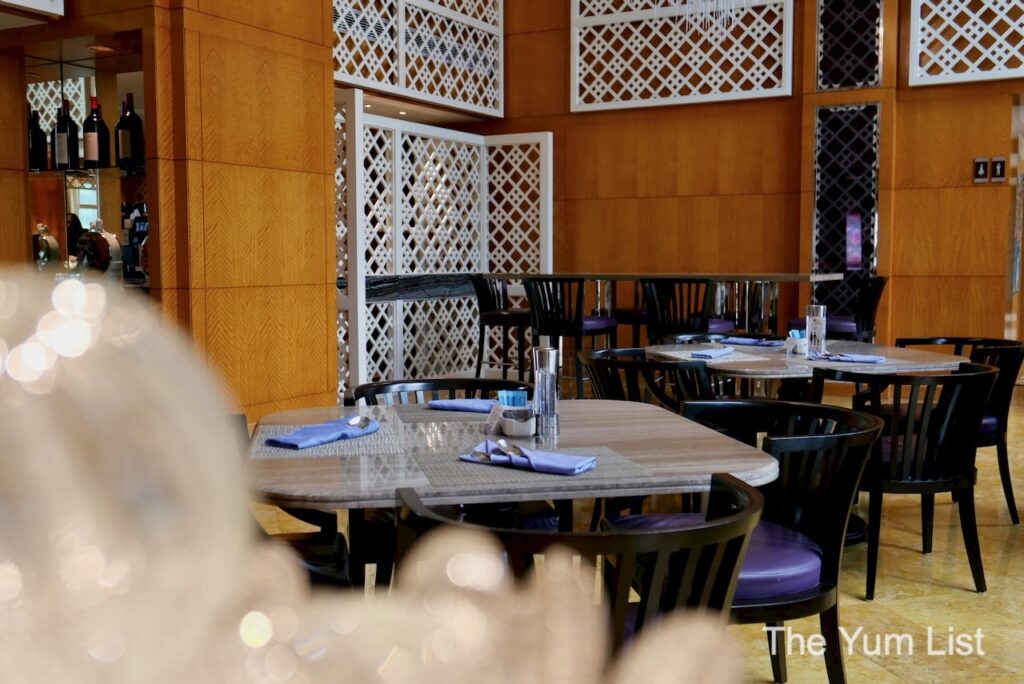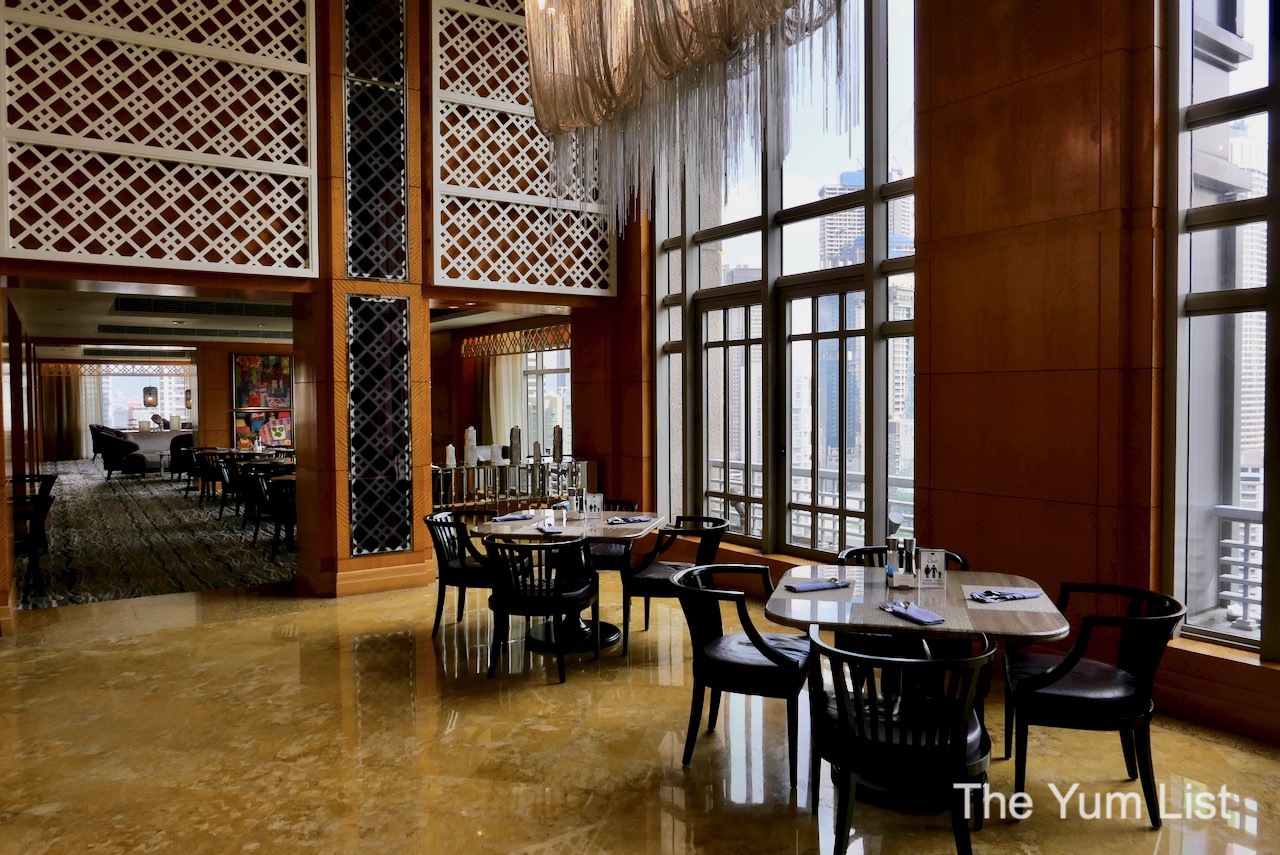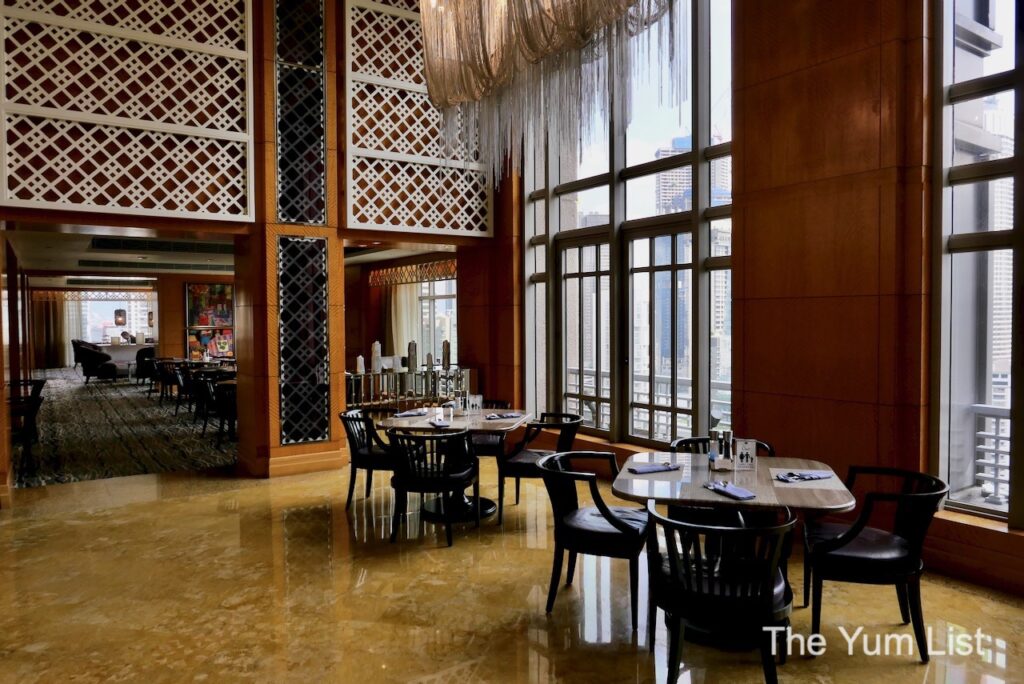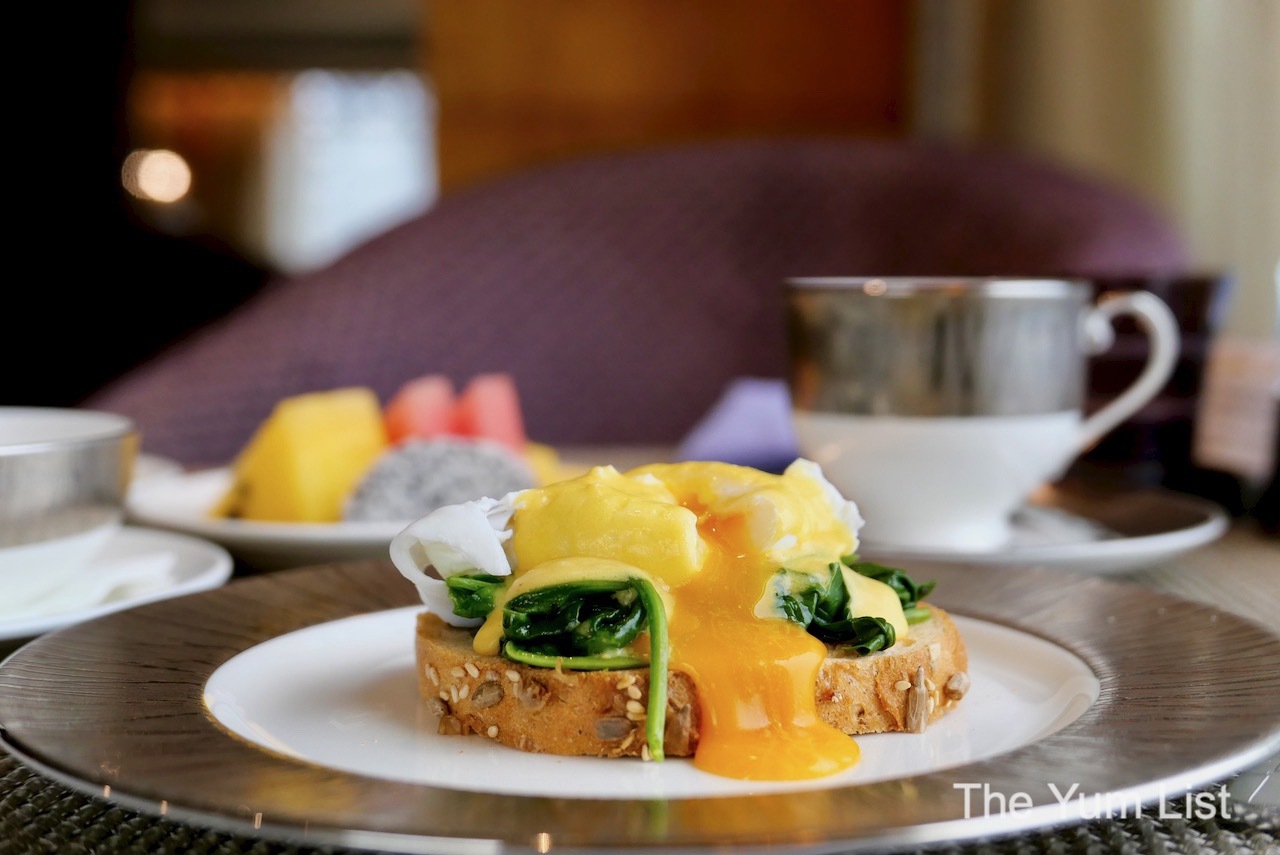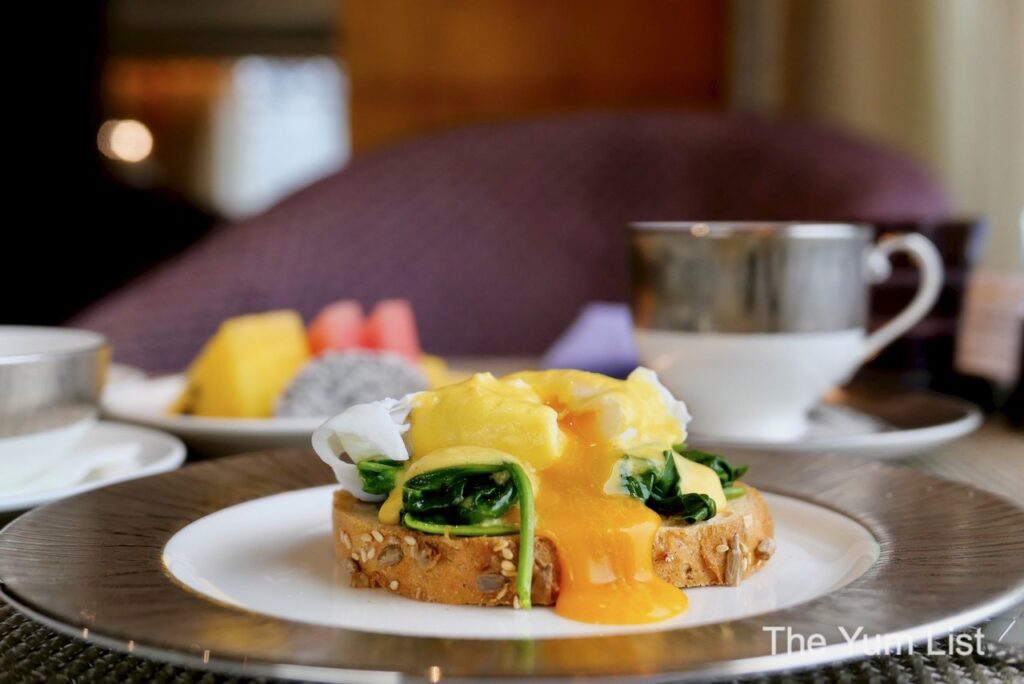 Facilities
A comprehensive range of recreation and entertainment is supplied on the third floor. A well-equipped gymnasium provides an extensive collection of cardio and weight equipment. There's even a personal trainer on hand if you'd like to sign up for a private session.
The free form pool glimmers in the sunlight and moonlight and is a popular rest area throughout the day and evening. Facing the park, the vistas are pleasant, and for those who care to leave their sunbed, the magnificent twin towers look down from one side, and their reflection is captured perfectly in the shiny walls of the Grand Hyatt Kuala Lumpur on the other.
Indoor golf is another attraction. Golfers, beginners to professionals, can perfect their swing in air-conditioned comfort. A simulator presents the top courses in the world and a number of fun options too such as hitting balls through targets in the streets of a city. Moreover, a complete food and beverage menu is at guests' disposal. Champagne and a round of golf? Can do!
Furthermore, tennis courts are available for rent. They are well-kept and seem to get good use over our stay.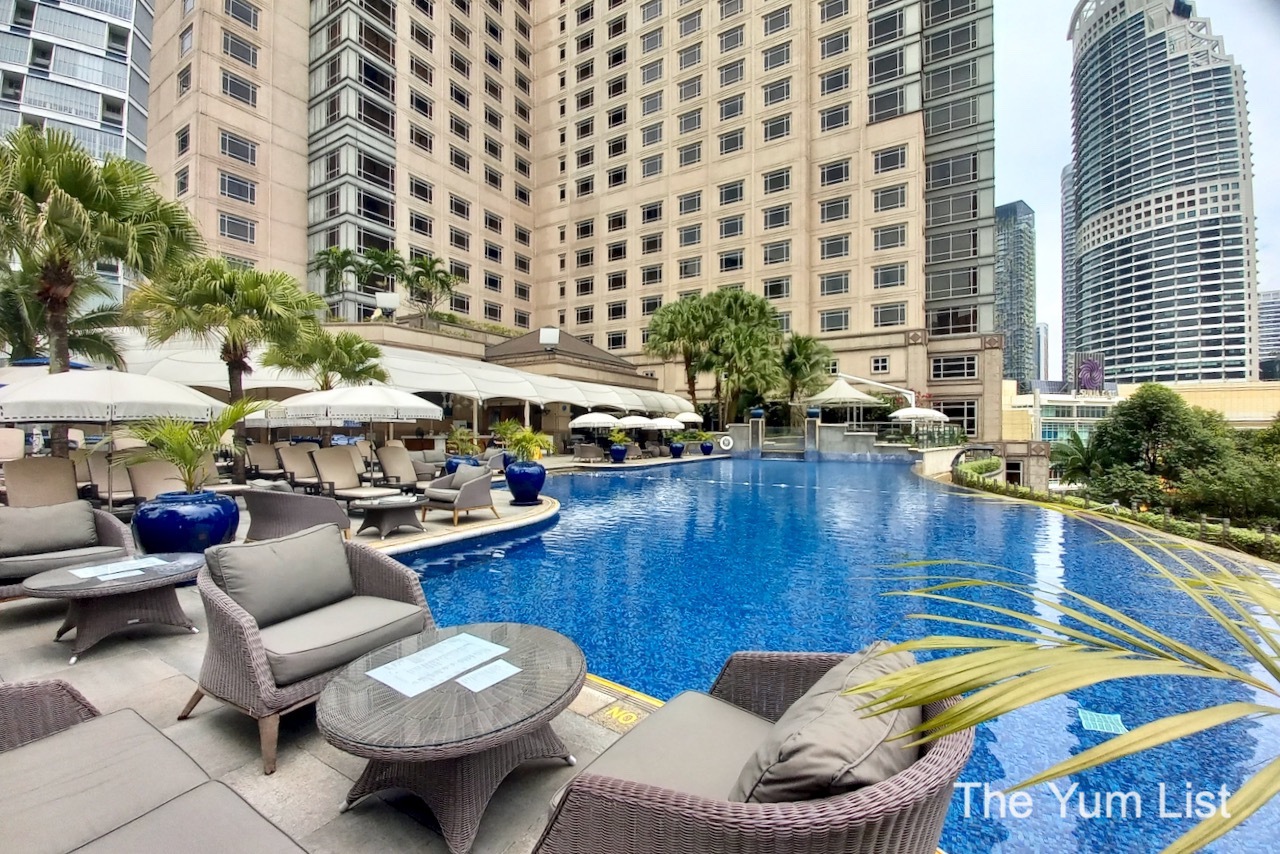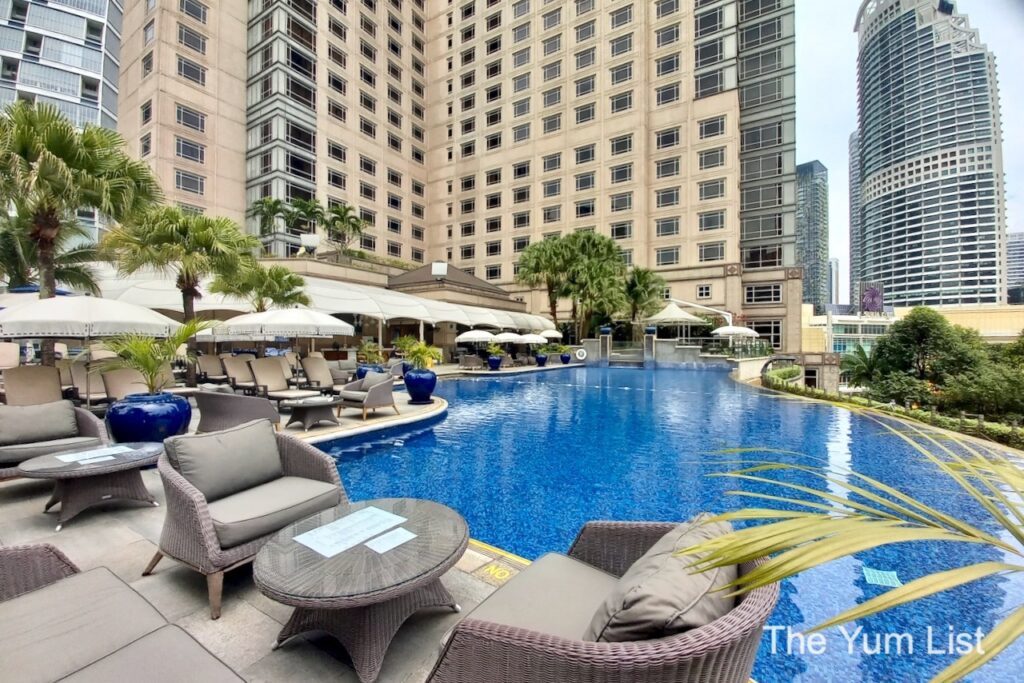 The Spa
After all of that activity, some pampering is deserved, and The Spa is a heavenly retreat. Highly trained therapists exude professionalism, and the quality of the amenities is outstanding. Eight chic treatment rooms are supported by a handful of excellent facilities. Jacuzzi, sauna and a lounge room with magazines, T.V. and water, are all inviting, so do reserve some time for lolling around post or pre-treatment.
We book in for an Orange Essence Massage for Two (90 minutes), which is just the right amount of time, in my opinion. An hour is not enough to feel completely rested and heading close to two hours, I begin to get restless. Our therapists are strong, and their technique is confident and purposeful.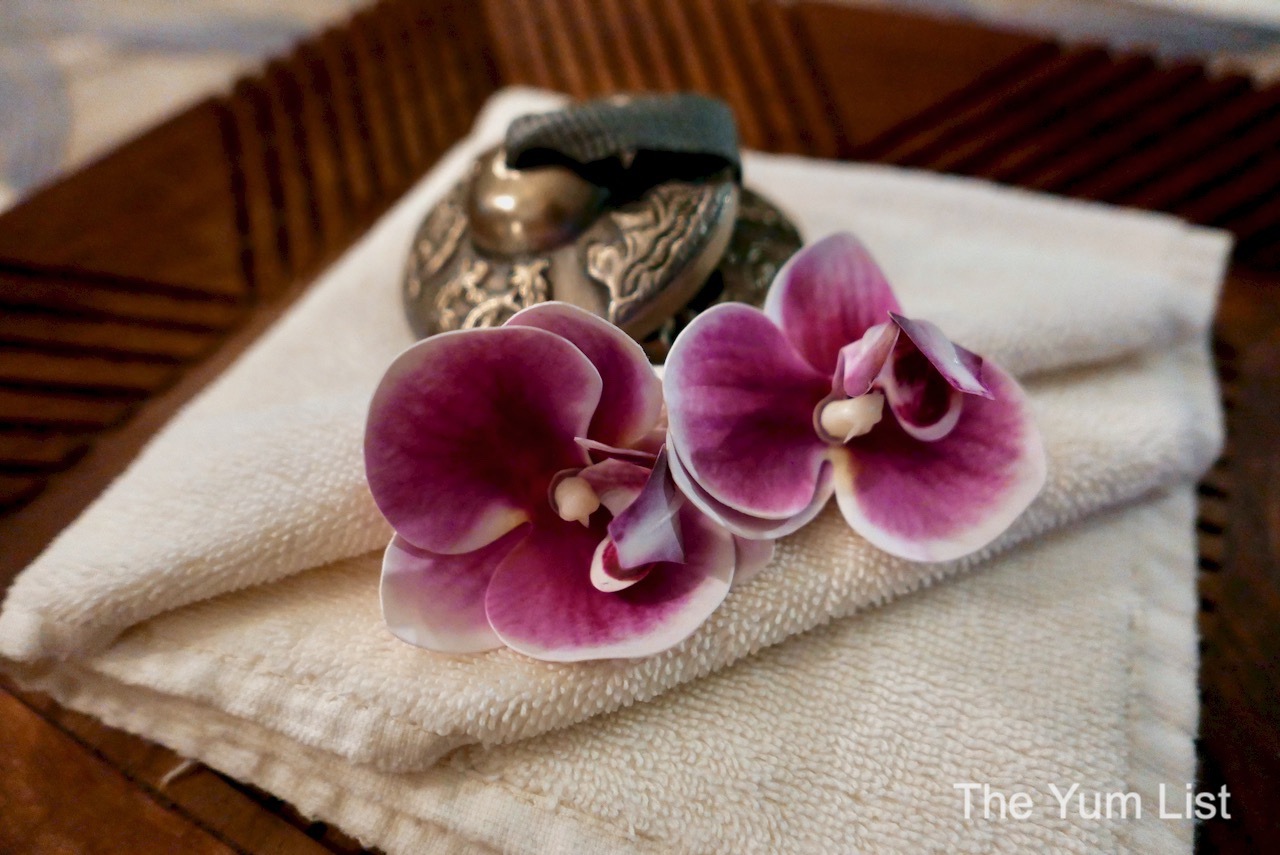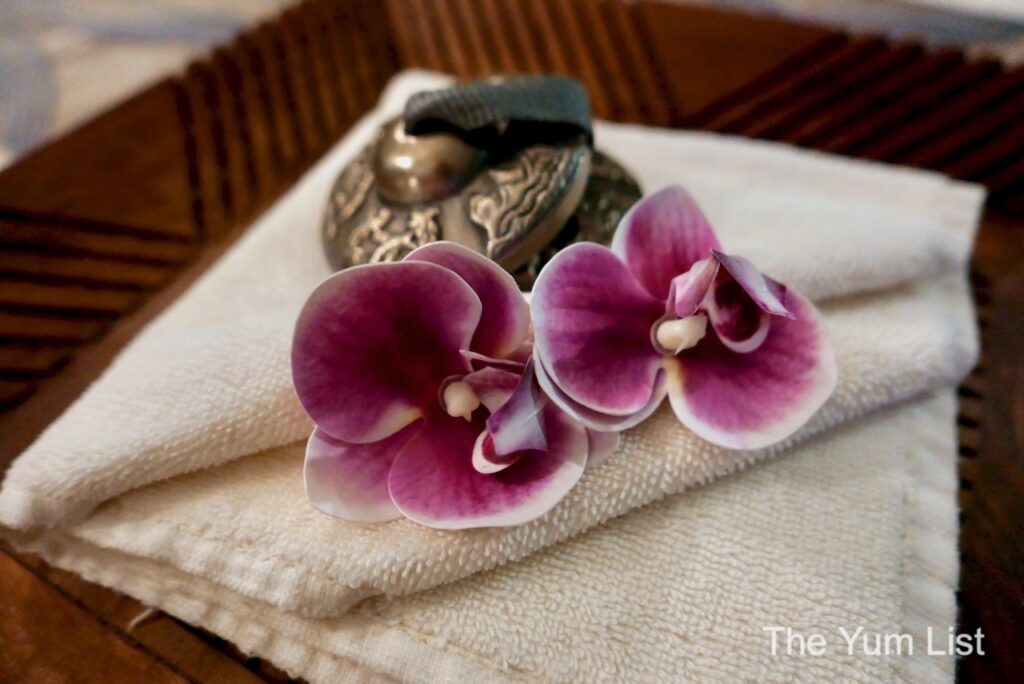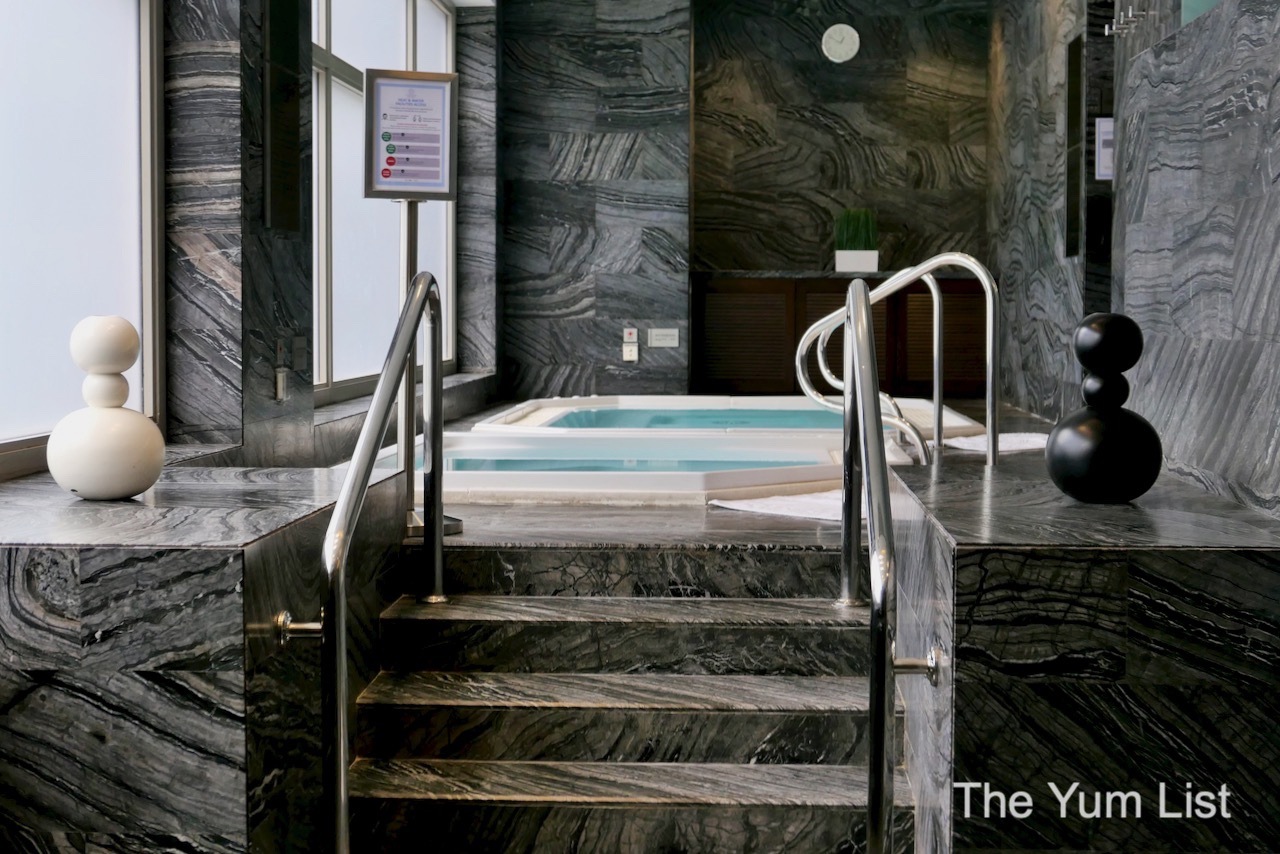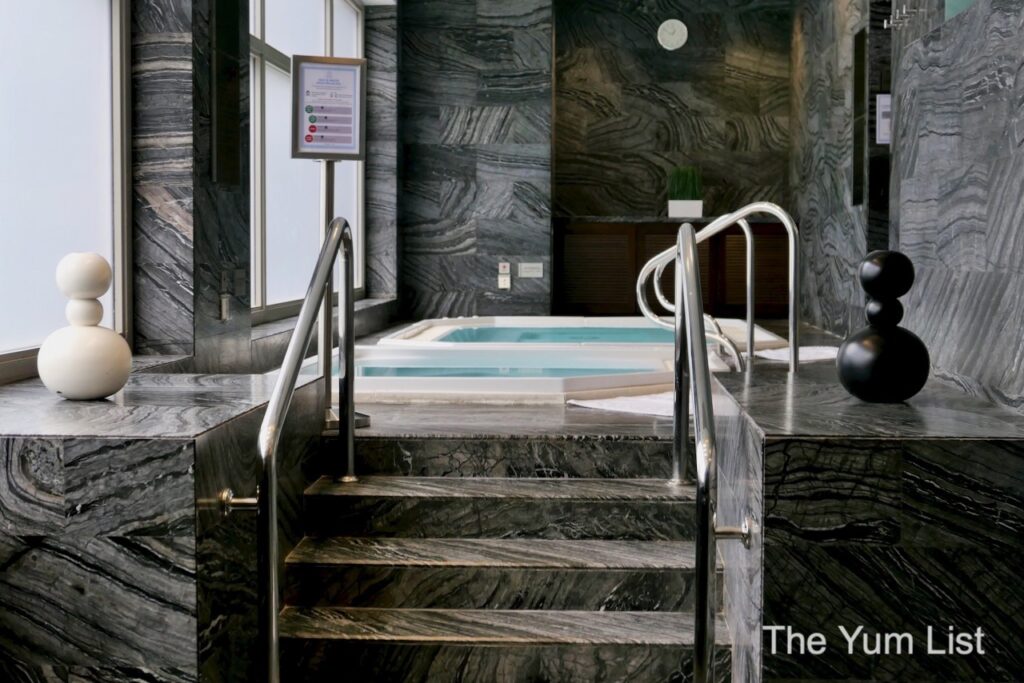 Food and Beverage Highlights – Mandarin Oriental, Kuala Lumpur
No guest need ever go hungry at the Mandarin Oriental, Kuala Lumpur. Choice is an understatement when talking about food and beverage outlets.
The all-day-dining restaurant Mosaic is popular with both hotel guests and outside visitors alike, providing an extensive array of local and international dishes. Mandarin Grill, the fine dining establishment, serves a bounty of classical Italian recipes in a stunning setting. The grandness of Chinese culture is showcased in Lai Po Heen through a stylish dining room and fine Cantonese recipes. Their weekend dim sum brunch is especially successful.
Lounge on the Park is a pleasure to sit in with its dashing design and garden vistas. It's a fashionable location for afternoon tea, but we're particularly fond of their Un-Wine concept. For the two hours before the sun goes down, guests can enjoy a free flow of premium wines (10 to choose from) for a very reasonable RM138+. Lastly, Aqua is cooled by fans and natural cross-ventilation thanks to its poolside open-walled location. Cocktails at sunset or a light lunch by the pool are both on the menu here.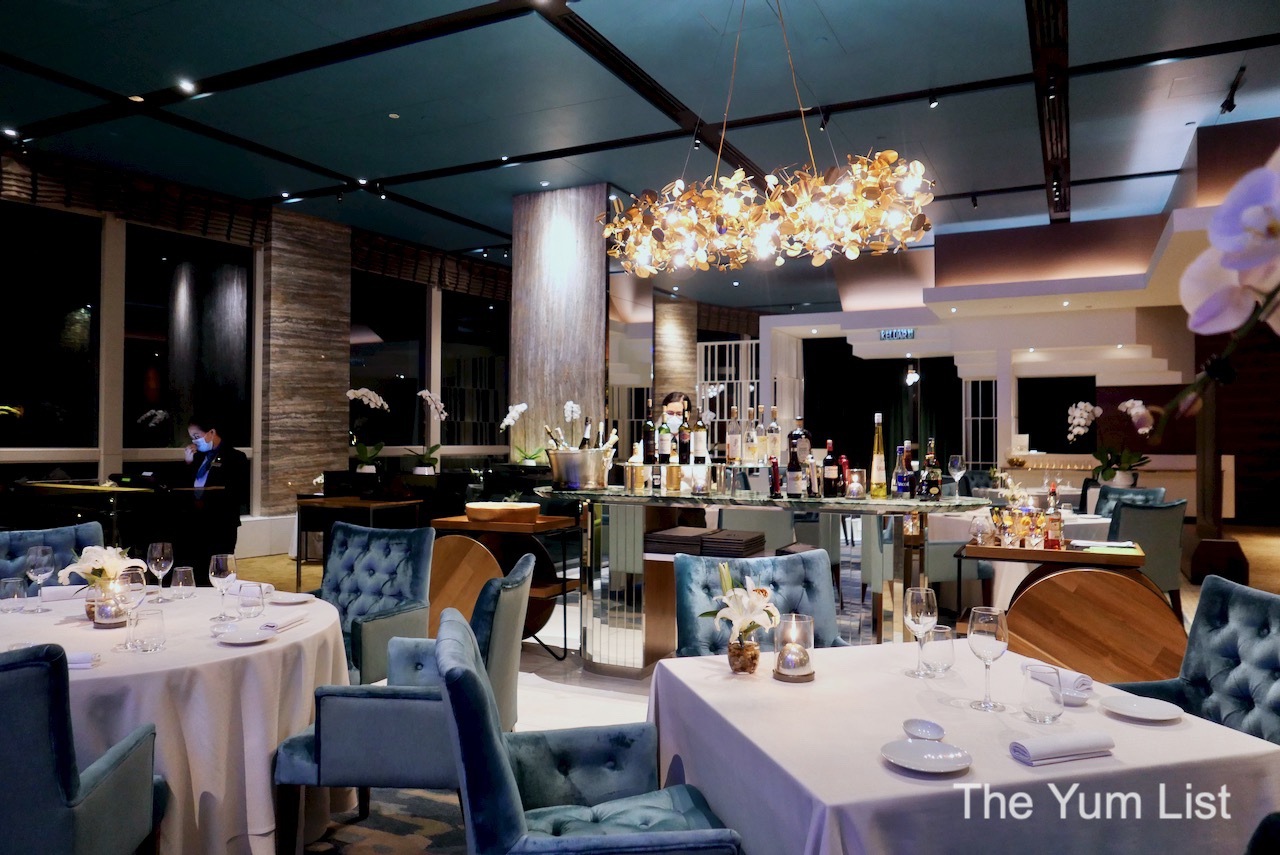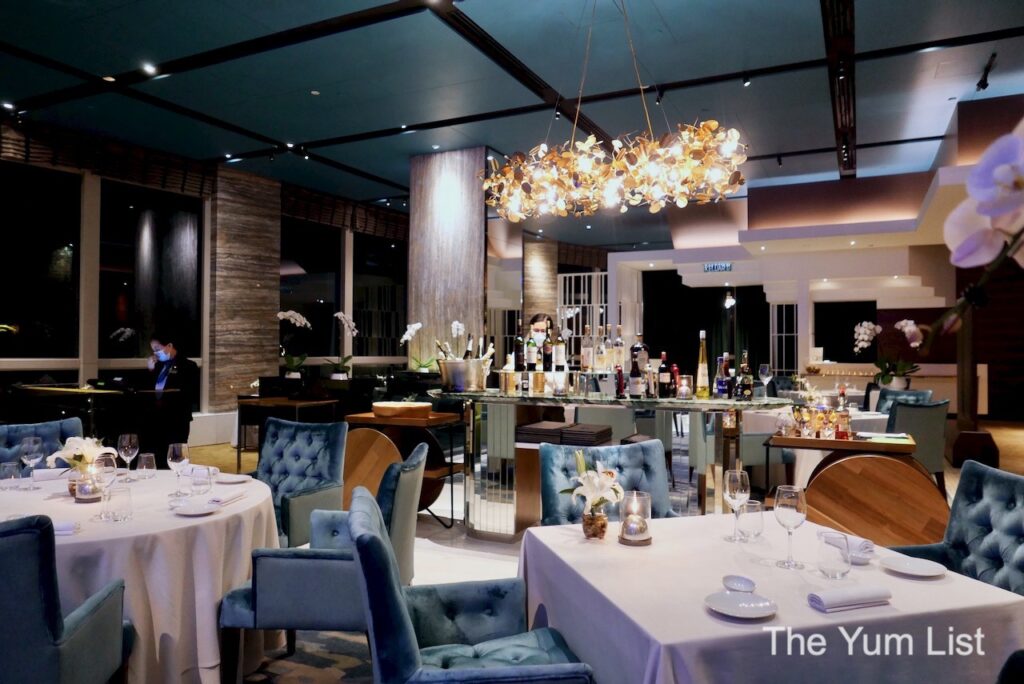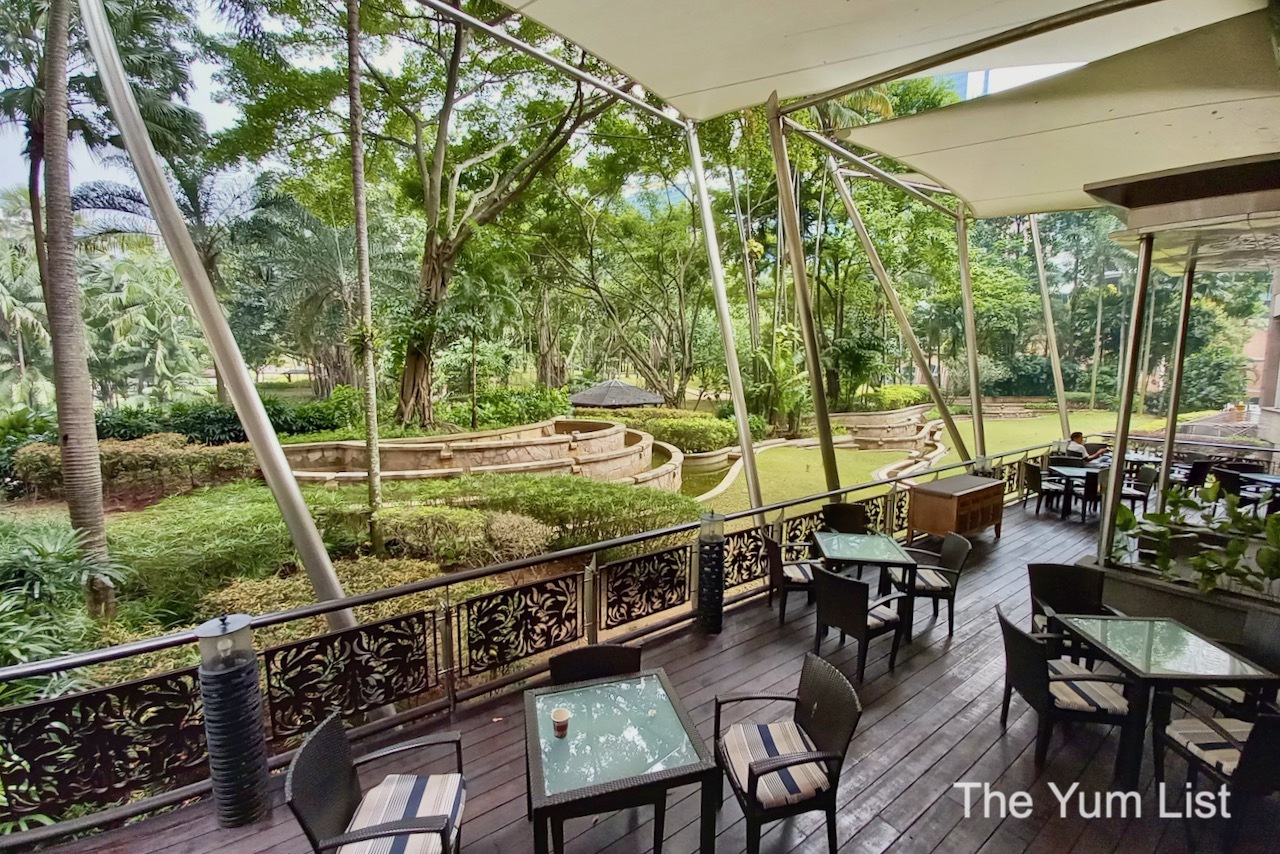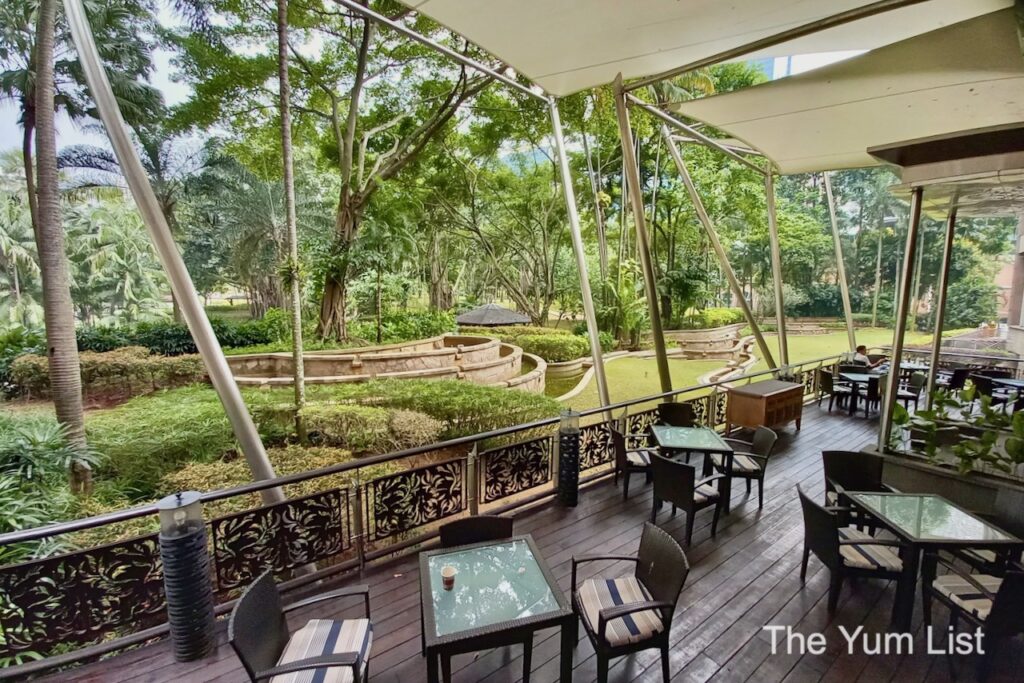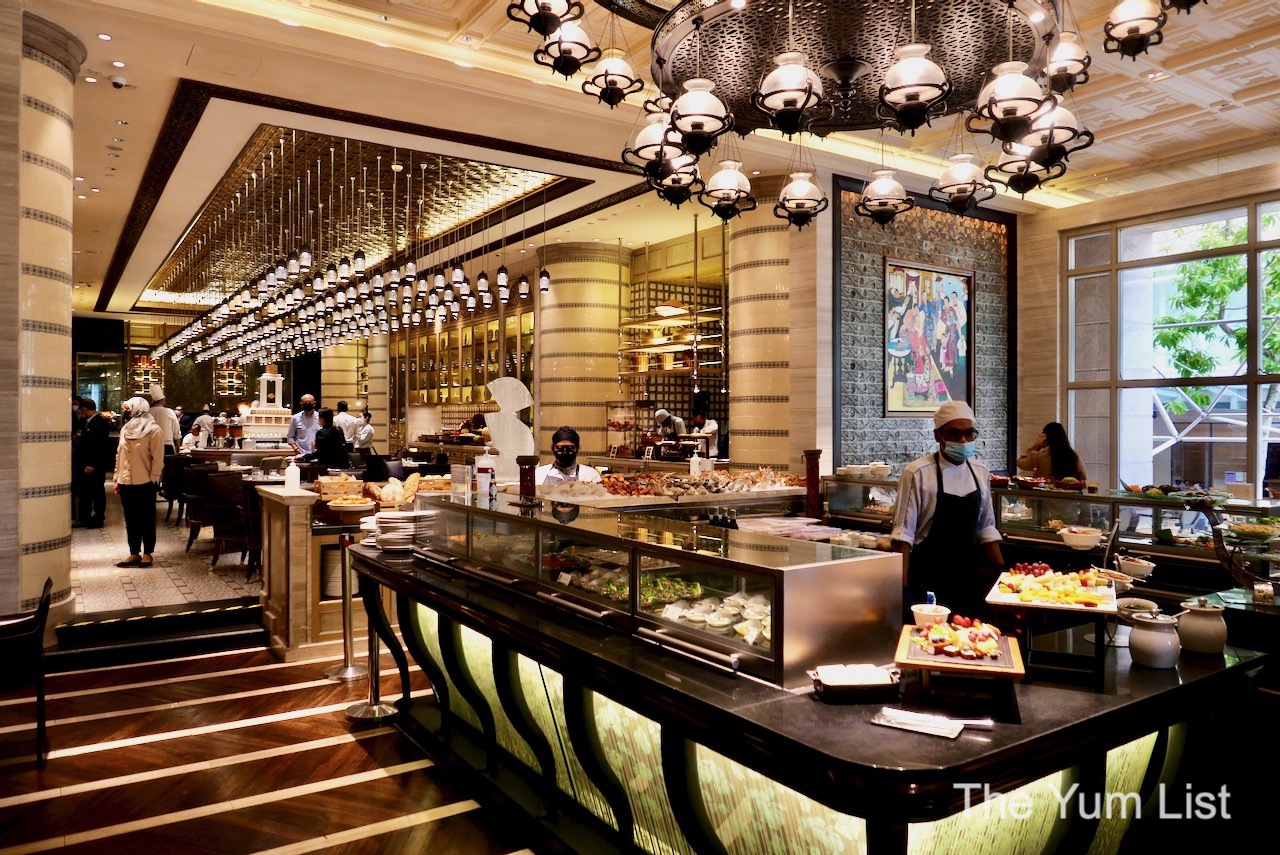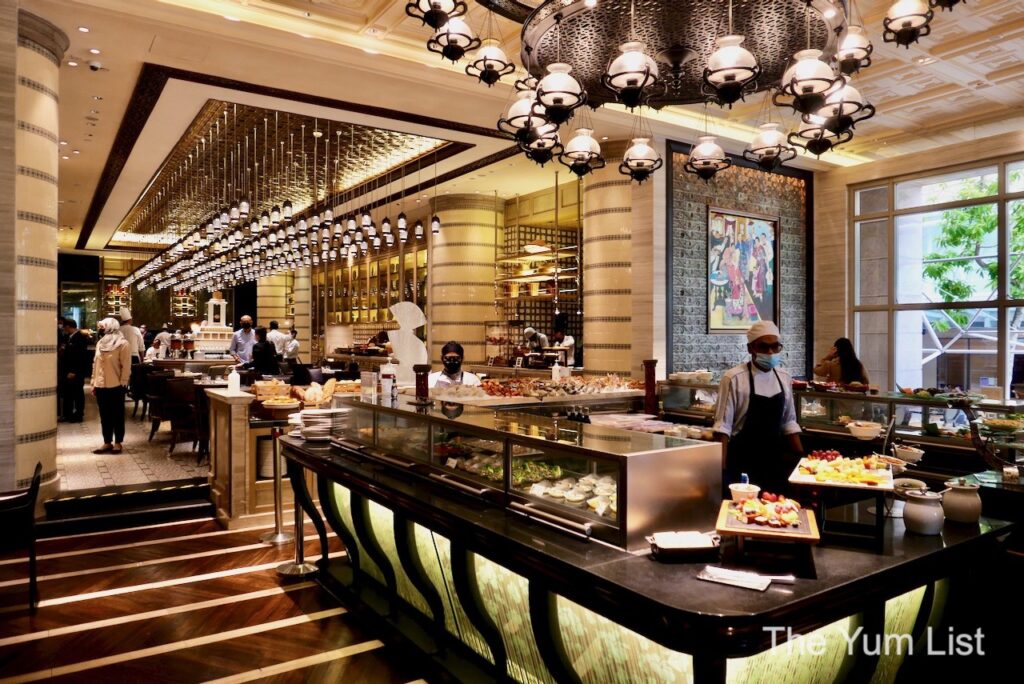 Sustainability – Mandarin Oriental, Kuala Lumpur
As mentioned earlier, bath products are in reusable pumps avoiding thousands of single-use plastic containers. This is a huge step forward and shows dramatic progress over the past decade for the brand in terms of sustainability and care for people and place. My first stay at the hotel about ten years ago saw several thoughtful conversations with the general manager at the time about the sale of shark's fin soup in the Chinese restaurant. I thought the hotel should be taking a bolder stand and banning it altogether while the G.M. thought he had to bow to client demand.
Thankfully, the shark's fin was soon done away with and the hotel made concerted efforts to not only reduce their impact on the environment but to make a positive impact on the community. Currently, around 40% of those in management are female. The hotel has done away with single-use water bottles completely, instead opting for a high-quality filtration system and bottling water in reusable glass bottles. Organic waste is composted, and coffee grounds are used for gardening. Ingredients are sourced locally where possible, and this extends to the spa where scrubs are made from components grown in Malaysia.
Current Deals – Mandarin Oriental, Kuala Lumpur
Mandarin Oriental, Kuala Lumpur has a great deal for 2022, which includes the luxury and comfort of the city's Club rooms, complete with a 90-minute massage at The Spa. Additionally, late check-out up to 4 pm is possible depending on availability, as well as MO Club access for two people and 20% savings on spa treatments. It's valid year-round, based on availability and a minimum two-night stay. Even more benefits are available when you log in to or join Fans of M.O. Rates start at RM880 per room per night.
Reasons to stay at Mandarin Oriental, Kuala Lumpur: excellent location; superb food and beverage outlets; well-kept and comprehensive facilities; club room benefits; professional, thoughtful and friendly staff.
Mandarin Oriental, Kuala Lumpur
Kuala Lumpur City Centre
50088 Kuala Lumpur, Malaysia
+6 03 2380 8888
+6 03 2179 8818
[email protected]
www.mandarinoriental.com
Find more recommendations for hotels in Kuala Lumpur here and stay up-to-date on the latest gourmet and travel happenings around Malaysia here and here.