Fine Dining Penang – Blanc
Words: Alison Christ
Photos: Monica Tindall
Macalister Mansion is a boutique hotel offering some of the finest service I have had in Malaysia. That service extends to their beautiful fine dining restaurant, Blanc, at which we enjoyed a wonderful evening. The Penang hotel is inspired by Sir Norman Macalister; the British Governor of Penang who served from 1808 to 1810. It's a tribute to Penang's rich colonial past while infusing modern-day Malaysian culture both into the setting and Blanc's menu.
The mansion was originally restored in 2012 and is proud to be the first member of Design Hotels in Malaysia. In 2020 (untimely just before covid hit) the hotel underwent another renovation. I won't give away too much about the new design so you can come to see it for yourself, but trust me it's worth a visit and a stay. All the rooms are uniquely individual and very cool. My favourite part of the hotel is the swim-up bar, who doesn't love a swim-up bar?!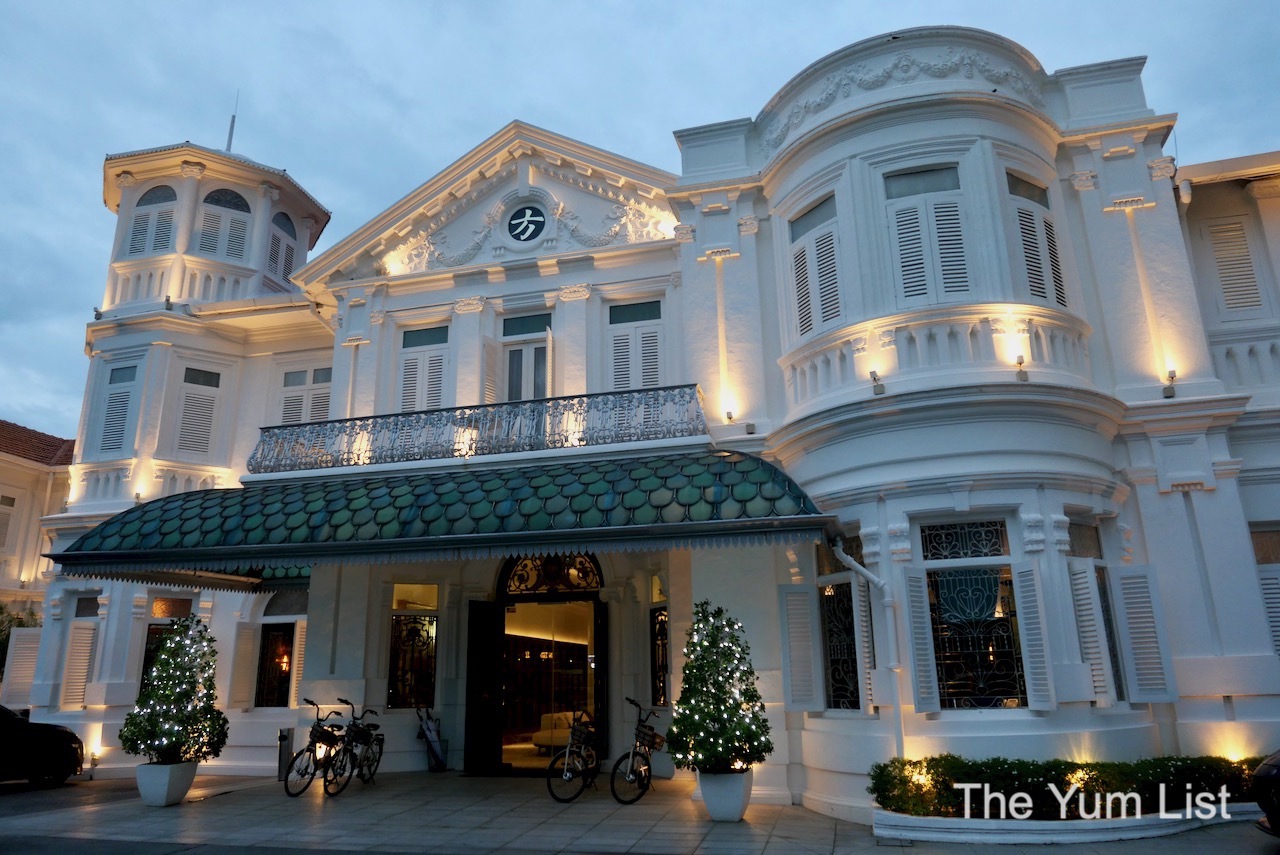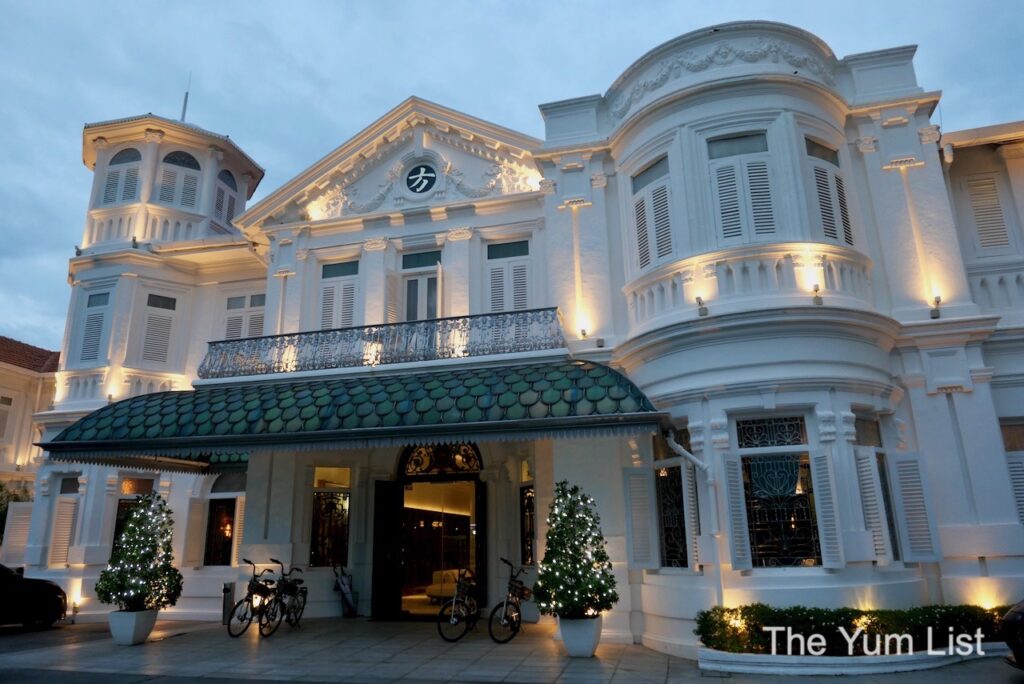 Fine Dining Penang – Blanc at Macalister Mansion
Alright, moving on to why we are here… the Chef's Degustation (or Omakase) menu at Blanc changes from time to time based on seasonal ingredients. The Degustation Menu is priced at RM268+ per person while the Omakase Menu is RM388+ for those who would like to honour the carefree spirit of Omakase and let the chef express his creativity. Hotel guests of Macalister Mansion may enjoy the Degustation Menu at a one-time special price of RM150+ per person throughout the length of stay – reason enough to book a room here.
I'm excited to enjoy the omakase at Macalister mansion. Chef Benny Yeoh, the most recent Chef at the helm has spent time in Singapore and was eager to get back to Penang and let local flavours shine through in a fine dining environment. His focus is on a French-Asian style of cuisine.
Fine Dining Penang
Monica and I arrive at Blanc, the hotel's fine dining restaurant, and Ms Annie Wong, the hotel's marcom manager, warmly greets us. Annie is delightful and I am happy she is joining us for dinner. The first impression upon entering the main dining room is the beautiful, fluffy white tree in the middle of the mostly white room with striking navy blue walls. The design gives the mansion some freshness and expresses a blending of a heritage building with modern inspiration. Which is a direct reflection of Penang itself being a UNESCO world heritage site, which also focuses on new trends and modern culture.
We sit down and Hong Meng is at our side immediately, and we are ensured he will seamlessly take us through the entire meal. I don't normally talk about my personal issues on The Yum List but for this one, I feel it is worth mentioning. I have some food allergies and it can be a real pain-in-the-you-know-what for the staff and the kitchen. Annie has some as well (completely different from mine – so even more of a challenge). Chef Yeoh and Hong Meng have their hands full with the three of us. Monica gets a regular menu (she gleefully can eat everything) while Annie and I have special modifications. On top of all this, there's a wine pairing which is also adjusted for each of our needs. Happy Days!
To Begin
First, we are served fresh-out-of-the-oven bread (multi-grain and sourdough) with charcoal yuzu butter to indulge in while our Canapé of Chutoro Tart | Plum Tomato | Nagaimo is being served. The Chutoro Tart (Chutoro yuba) is a tofu skin tart with beautiful toro marinated with ponzu, very umami, very fresh, with seaweed leaf tobiko on top. Our spoonful of plum tomato with balsamic basil coulis is beautiful and refreshing. The Nagaimo with wasabi is a small piece of art with Japanese yam, wasabi crust, and wasabi mayo. It's crisp and has great consistency with a nice wasabi punch.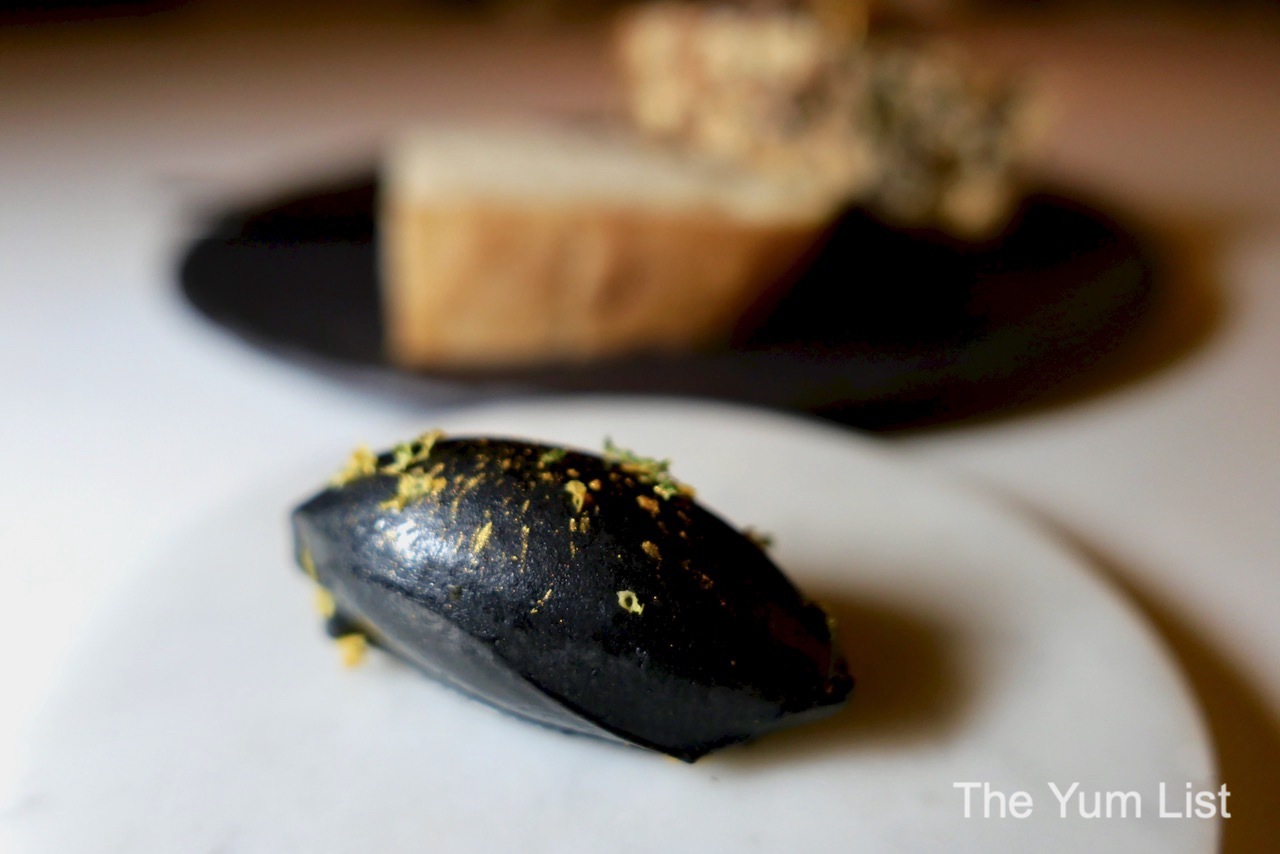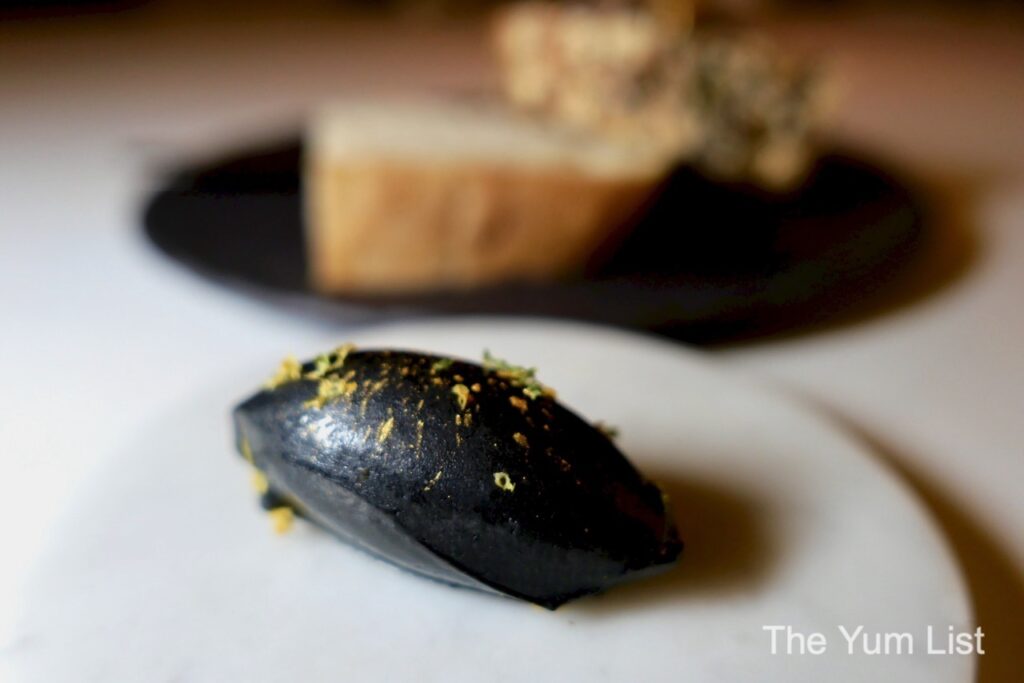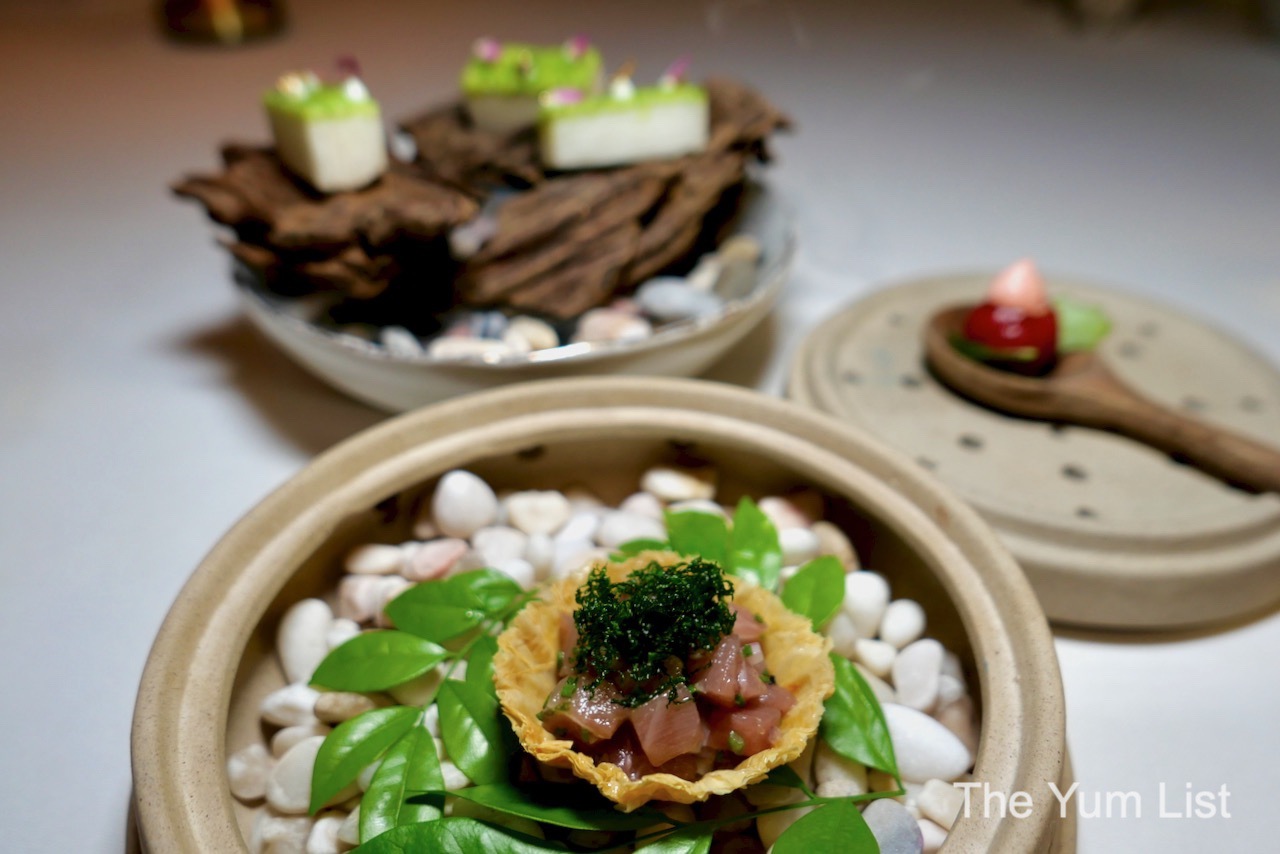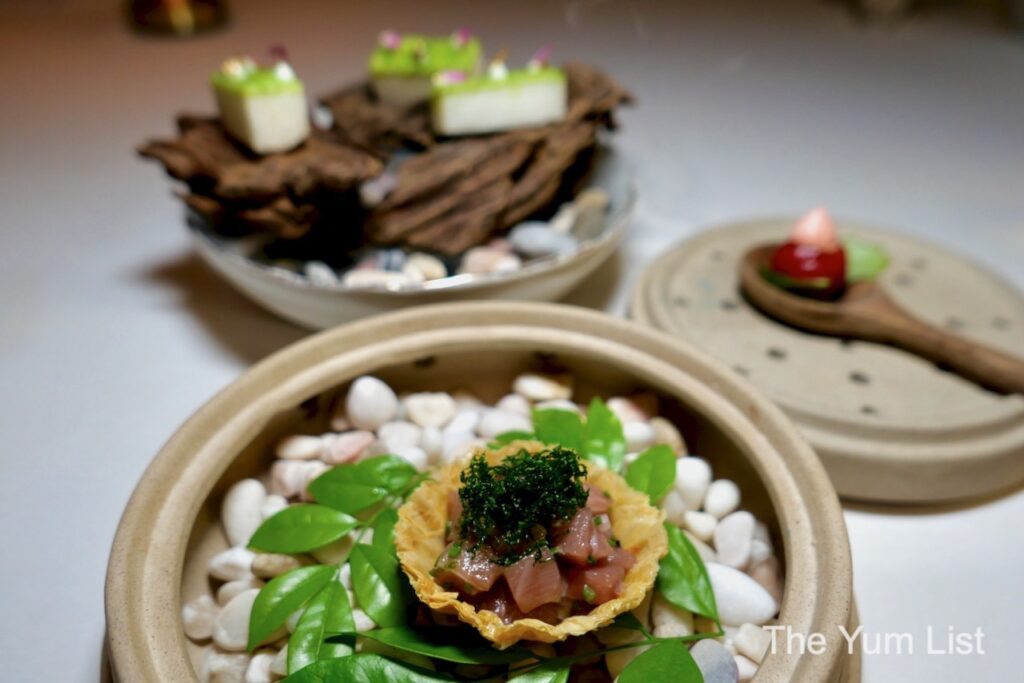 Bubbly
Hong Meng serves us Andreola `Dirupo' Prosecco Extra Dry Valdobbiadene, Veneto, Italy, NV (RM257) which is going great with the amuse and I must mention the lovely stemware, Spiegelau (it does make a difference).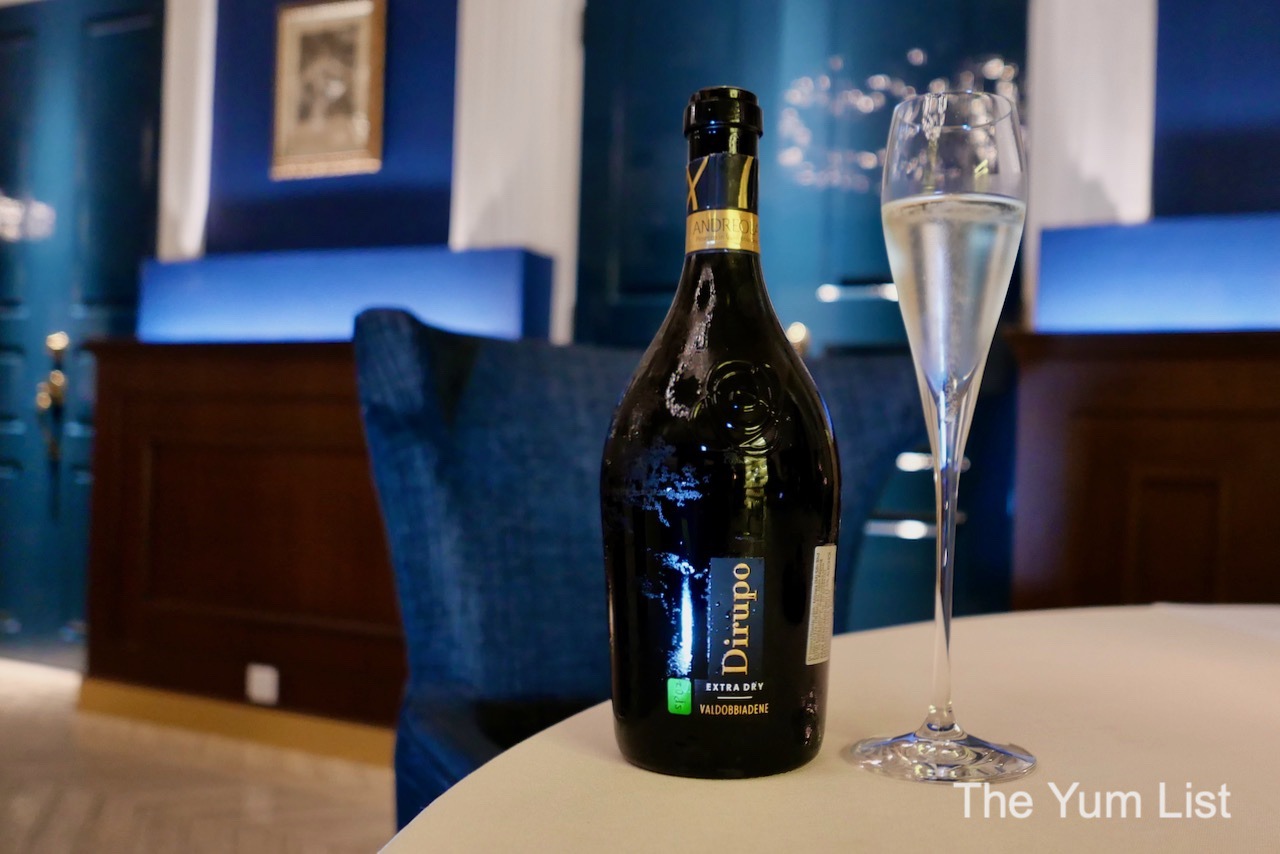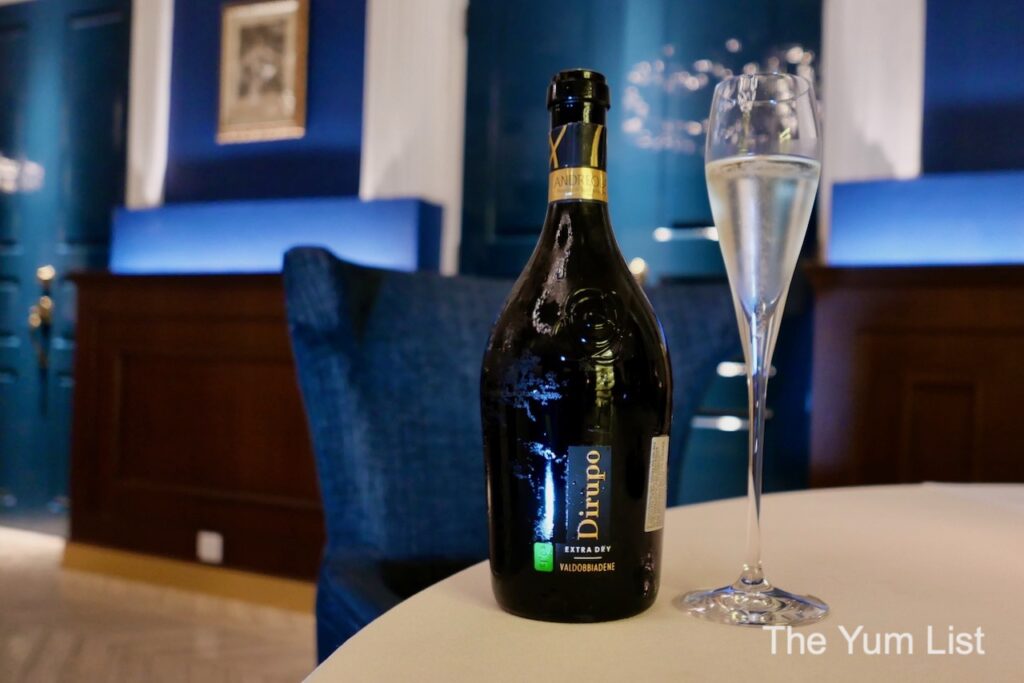 Consommé
Next, we move on to the Abalone Forest Mushroom Consommé with Jerusalem Artichoke and Truffle Cream. I will admit here that this dish has three of my least favourite things; mushrooms, truffle, and abalone (don't judge me) so I'm a bit worried as I go in for the first bite. To my overwhelmingly happy surprise, I love this 'soup'. The forest mushroom consommé seems like beef broth and I enquire if there's beef stock inside and no, it's only mushrooms. The abalone is in small delicate pieces and I realize I've been eating (or not eating) abalone all wrong, the truffle cream with mushroom powder and sunchoke (Jerusalem artichoke) is to die for. Usually, truffle (unless in Piedmont) is an over-extracted oil and kills the flavours of everything else. However, here the truffle is perfect and I want to pick up the bowl and drink the rest of it. I do refrain, and utilize my spoon to lap up every last drop.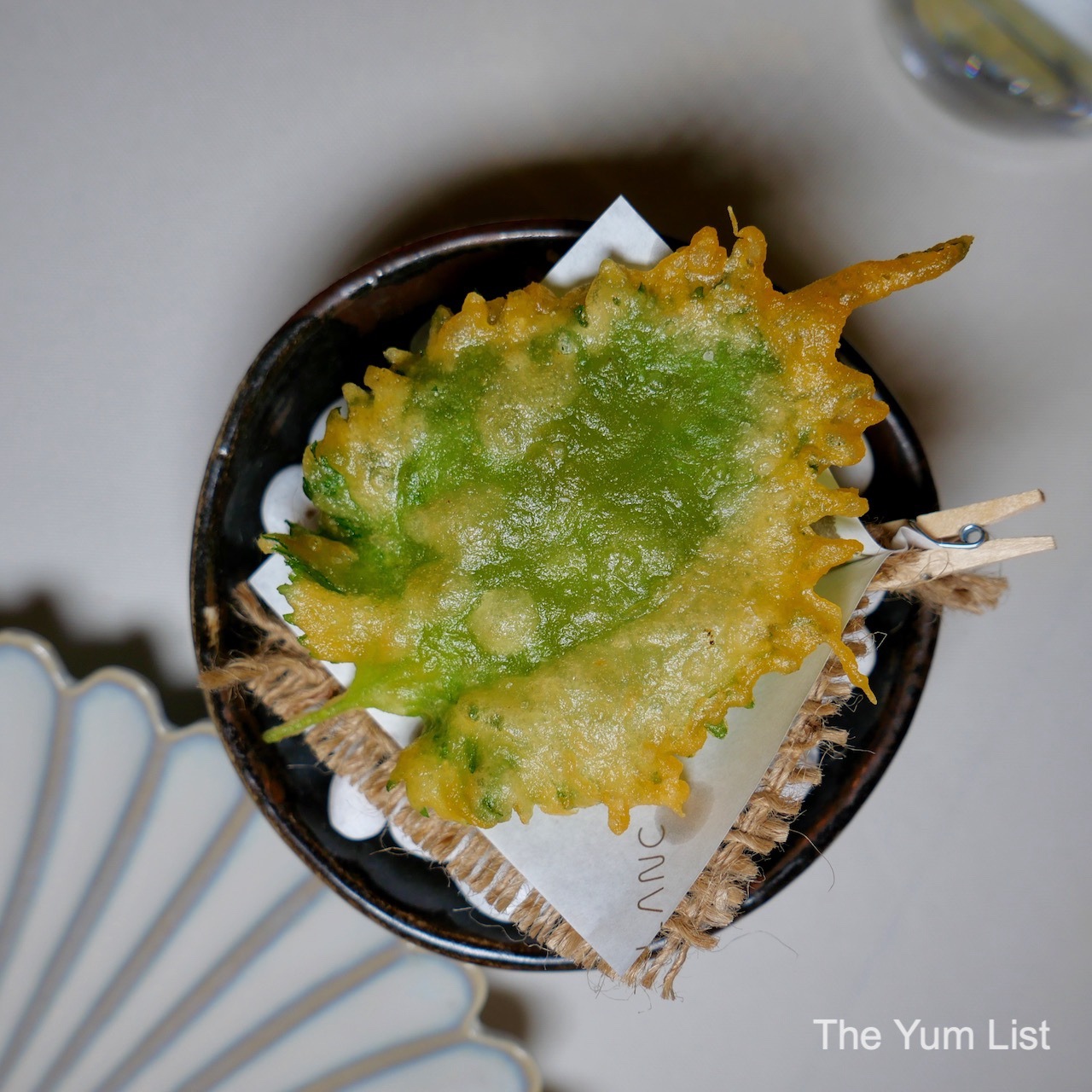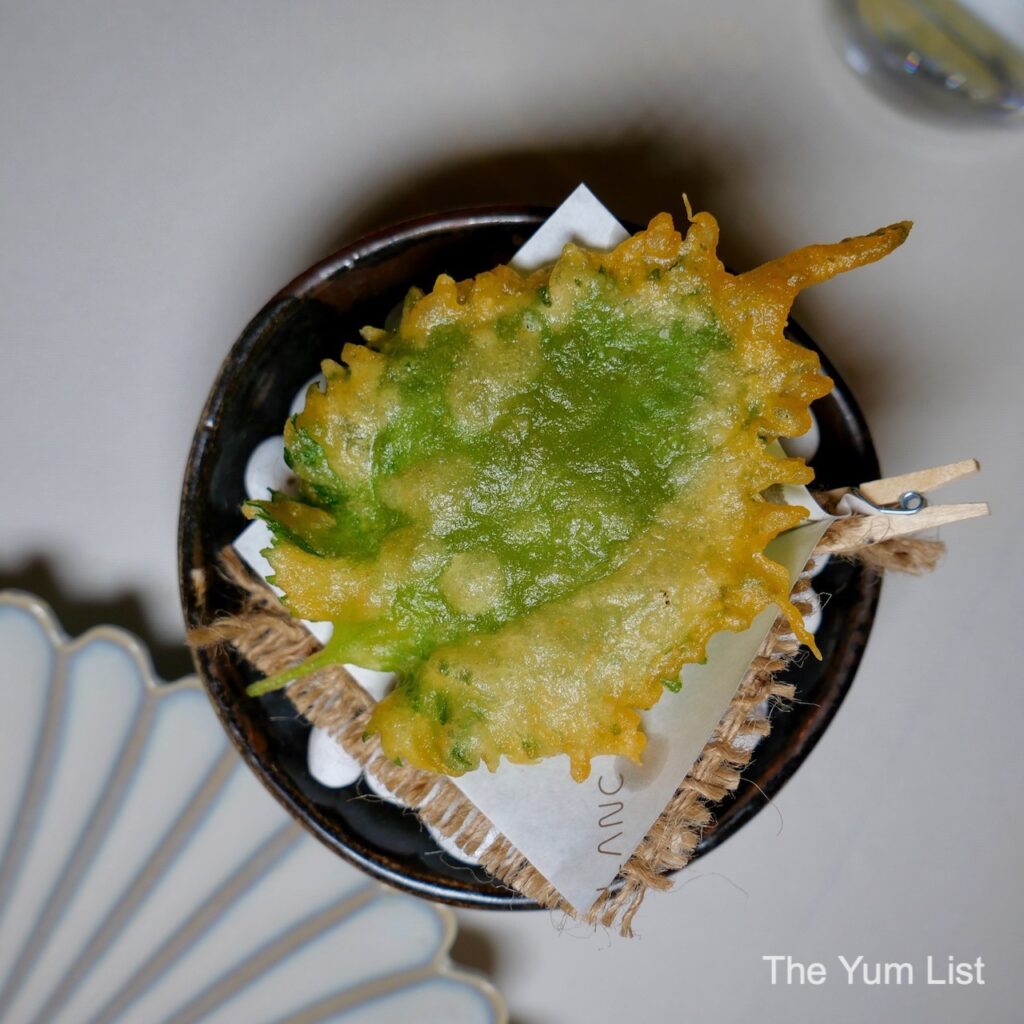 Fine Dining Penang – Crab
Italian Stergion Caviar, Mud Crab, Shisho, Smoked Cream Espuma has a fabulous presentation. On top rests the Japanese shisho leaf tempura and we nibble along the edges and enjoy the savoury foam before we get to the precious crabmeat. I want to be more refined in my description as this has been created with culinary craftsmanship but yummy is what's on my mind. While delighting over our crab and caviar a very enjoyable Chateau de Dracy by Albert Bichot, Bourgogne Rouge, France 2018 (RM198) is served. I highly recommend trying this wine (it's delicious and the value is great).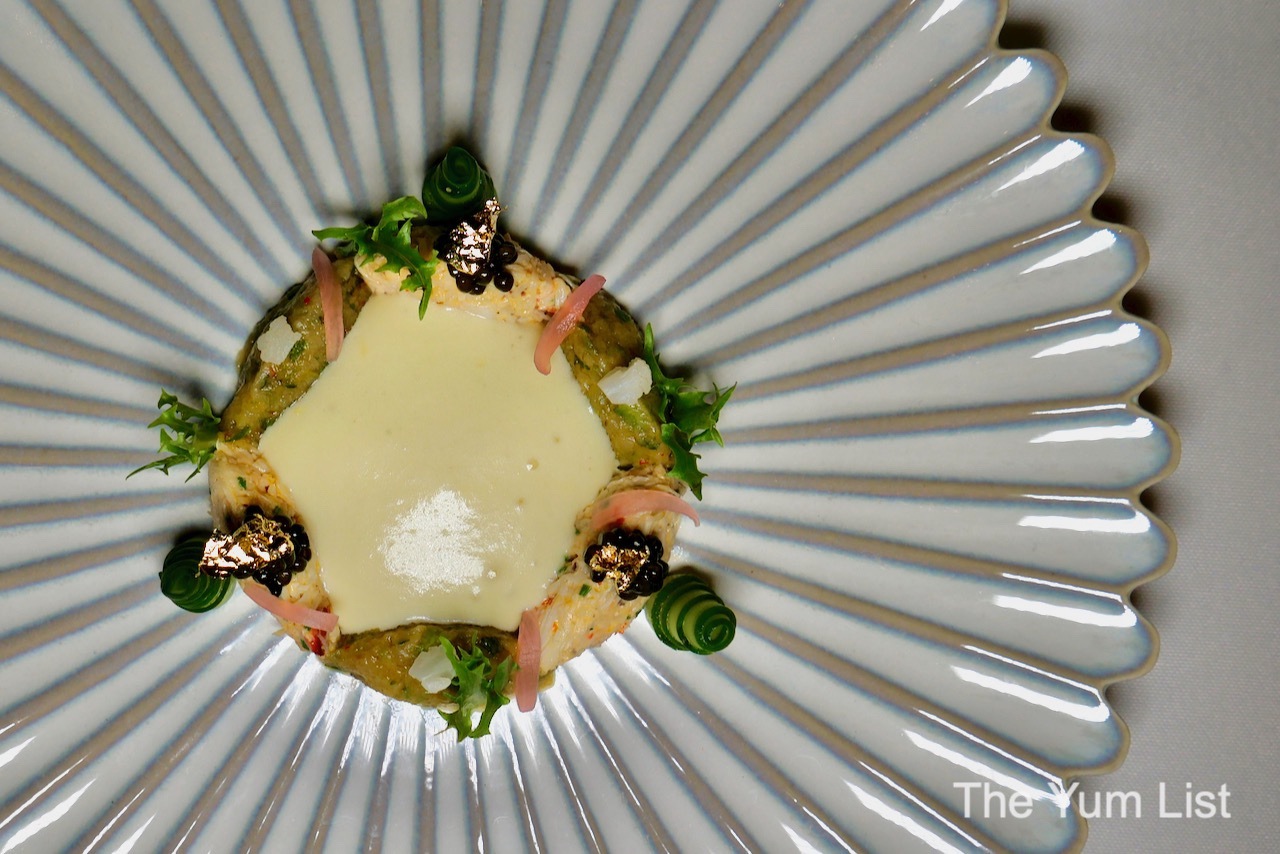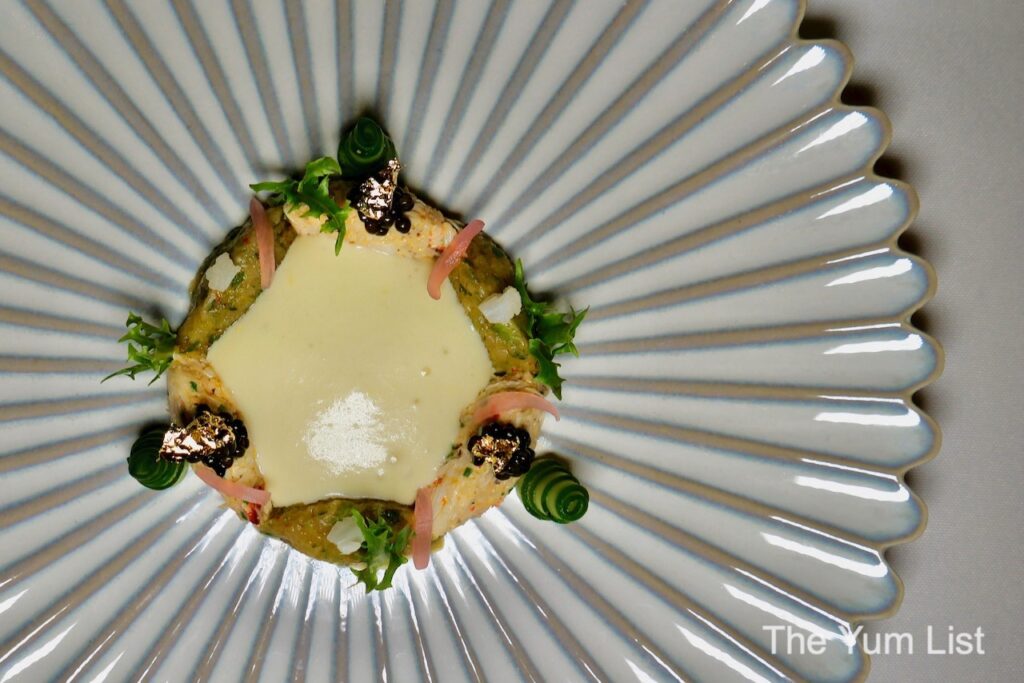 Lobster
I'm feeling like the crab dish is going to be a hard act to follow but the Maine Lobster, Green Legumes, Ku Chai Flower, Saffron Crustaceans is ready for the challenge. Big pieces of delicious fresh lobster meat mingle with delicate green legumes and tiny white ku chai flowers. The spicy tuile or latticework on top is a design piece almost too pretty to eat (we manage of course). The saffron, crustacean foam to the side brings a hint of the Mediterranean Sea to the dish.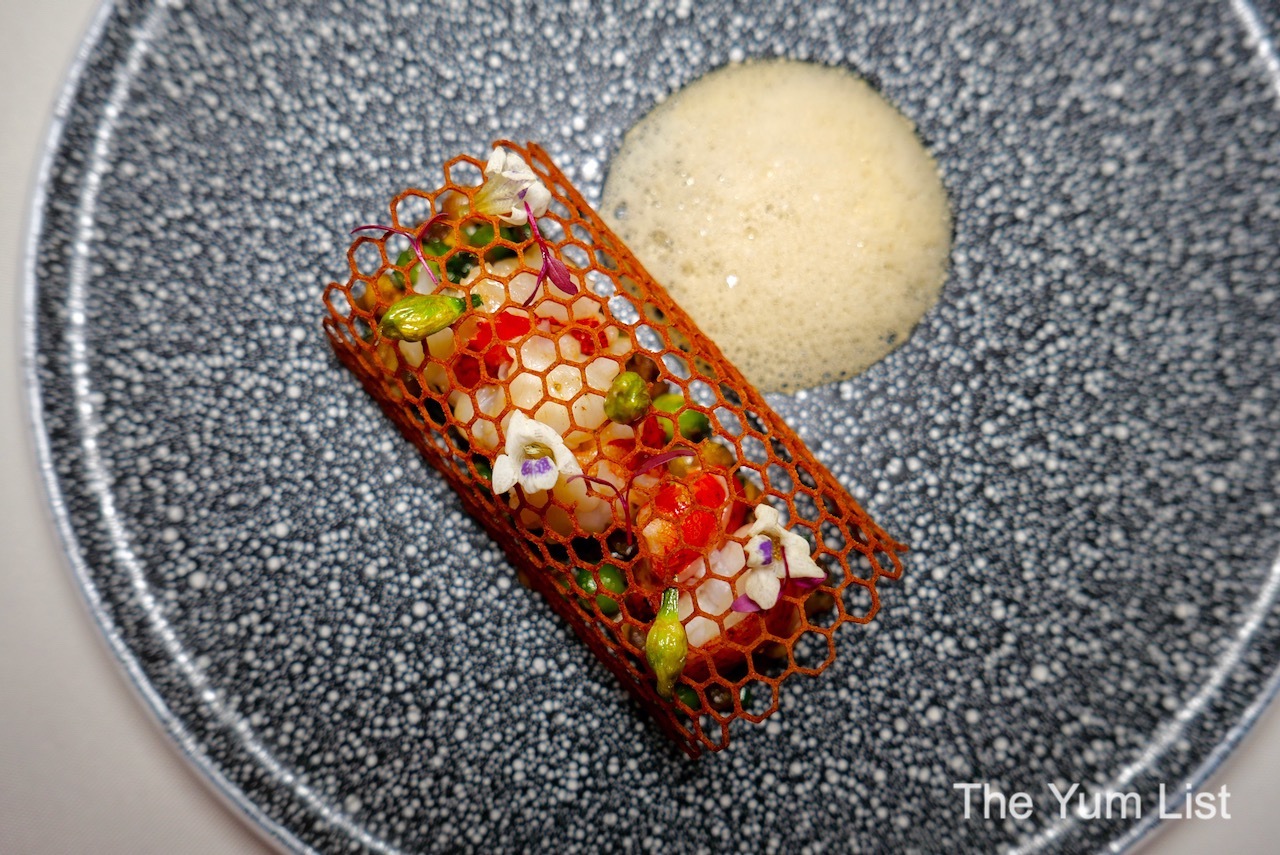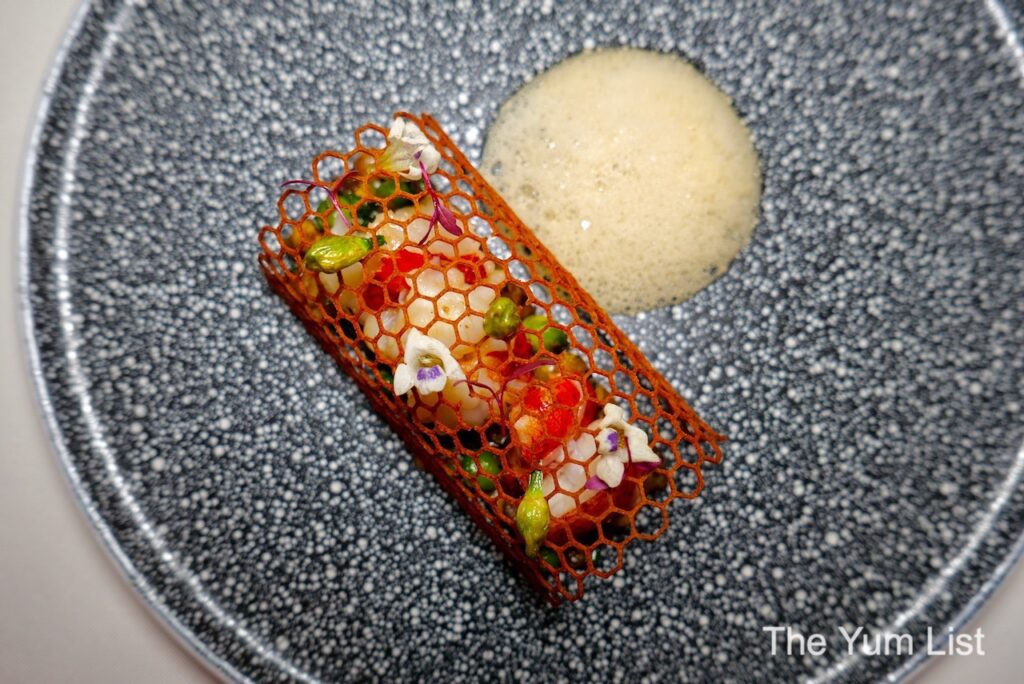 Palate Stimulator
Normally you will have a palate cleanser at some point in a degustation. This time we get a palate stimulator – something unique to me and absolutely memorable. Onion Tea, yes I said Onion Tea. The tea is delicious like a milky sweet dessert. The sweetness comes from the 10 kilos of onions used for every one litre of tea. They are caramelized and fermented for three days then added to a Chinese tea with lemon zest and served with onion espuma and onion ash. It's served in a beautiful Chinese teapot with matching cups. They tell us this is to prepare our palate for the main course, what it's doing is preparing me to come back here again for dinner just for this tea!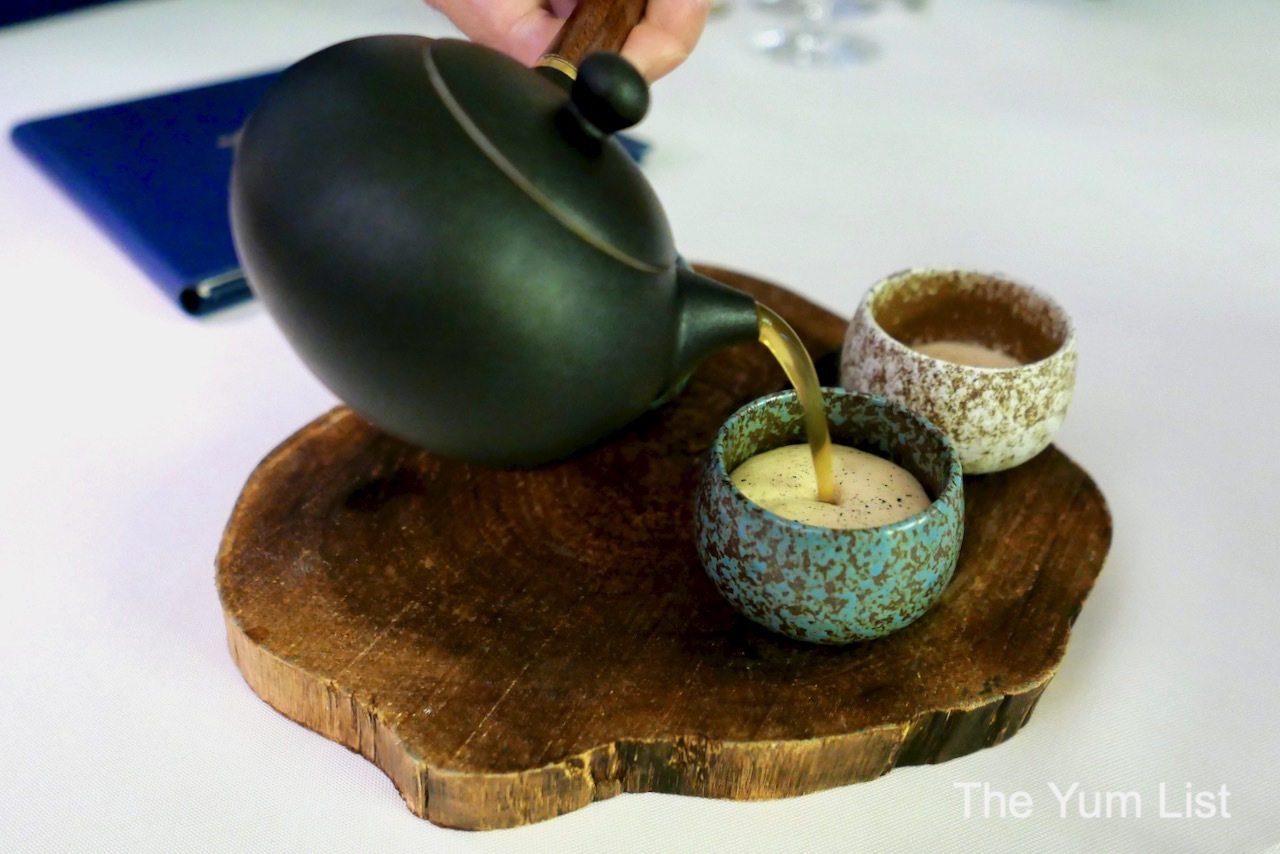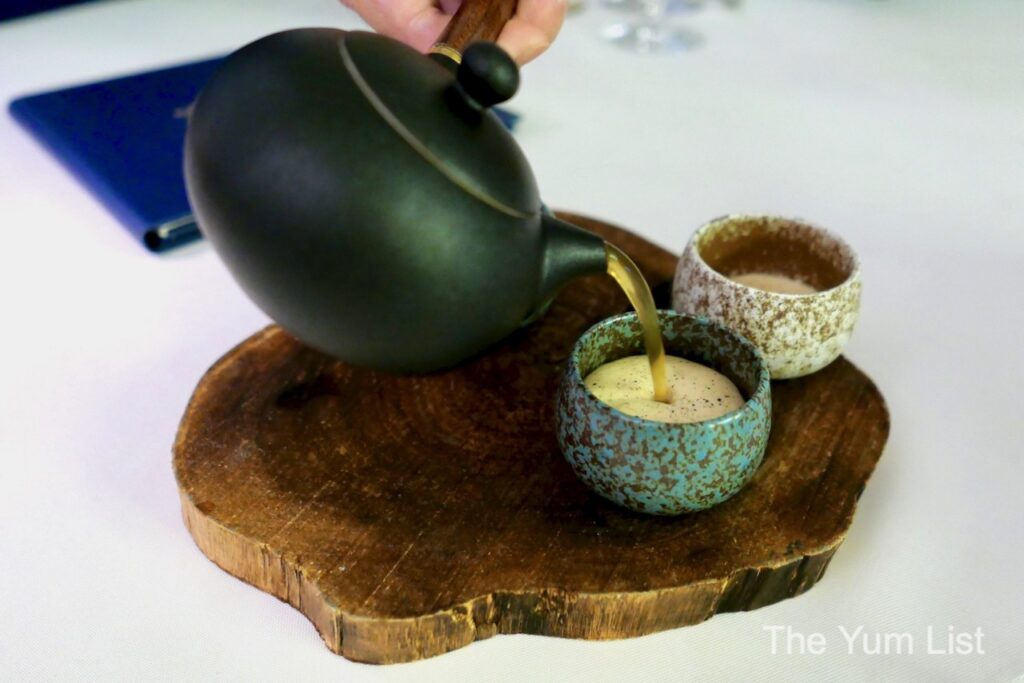 Iberico Pork
Here we are definitely prepared for the main course of Iberico Pork, Black Garlic, Crispy Tendon, Nasu Eggplant. Monica shouts out, "Oh the famous black garlic," and I'm wondering what I've been missing out on. Iberico pork and crispy tendon are juicy and bursting with flavour. The nasu eggplant (Japanese eggplant with miso) adds a nice Asian touch to the traditional European style of pork shoulder. Finally, I get to experience the black garlic which has been done in the rice cooker for more than a month to turn black and ferment. It is a highlight of the dish.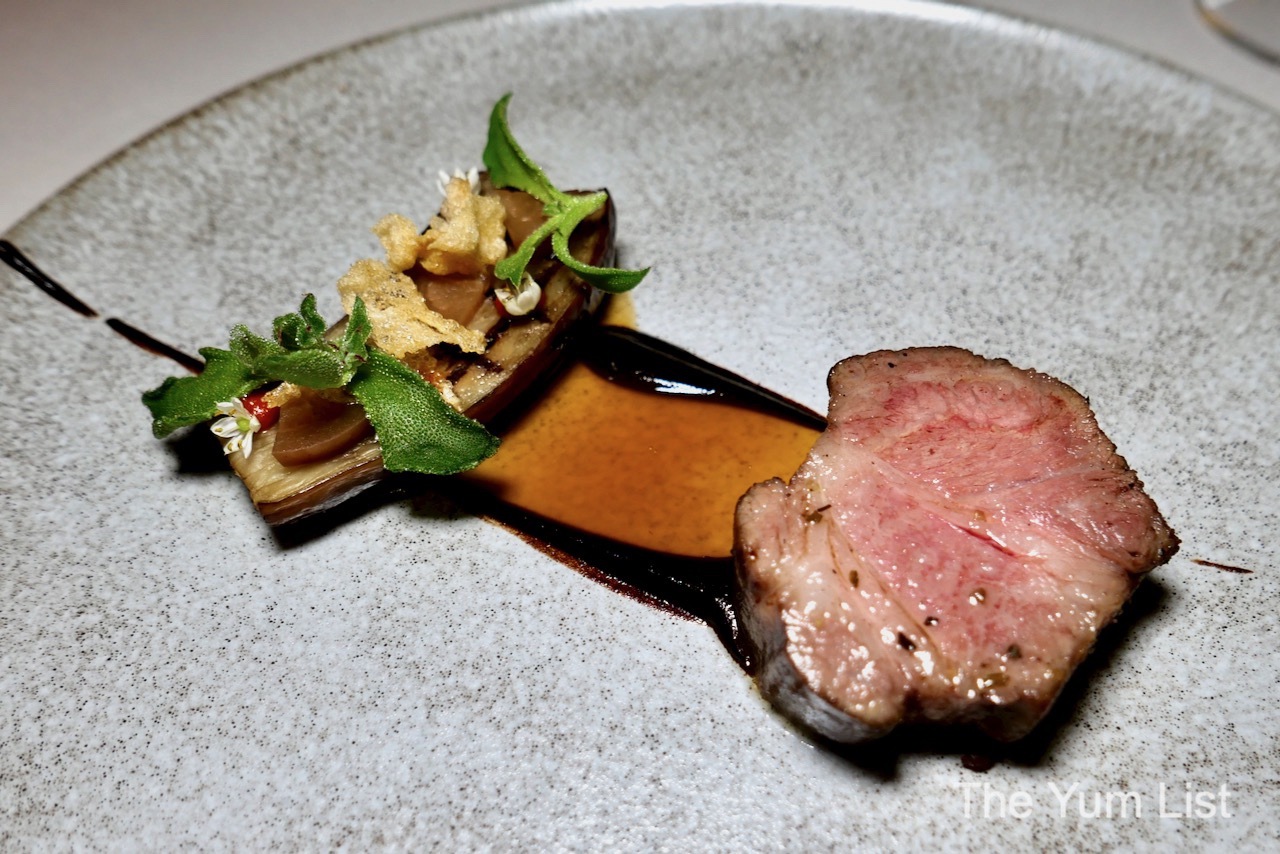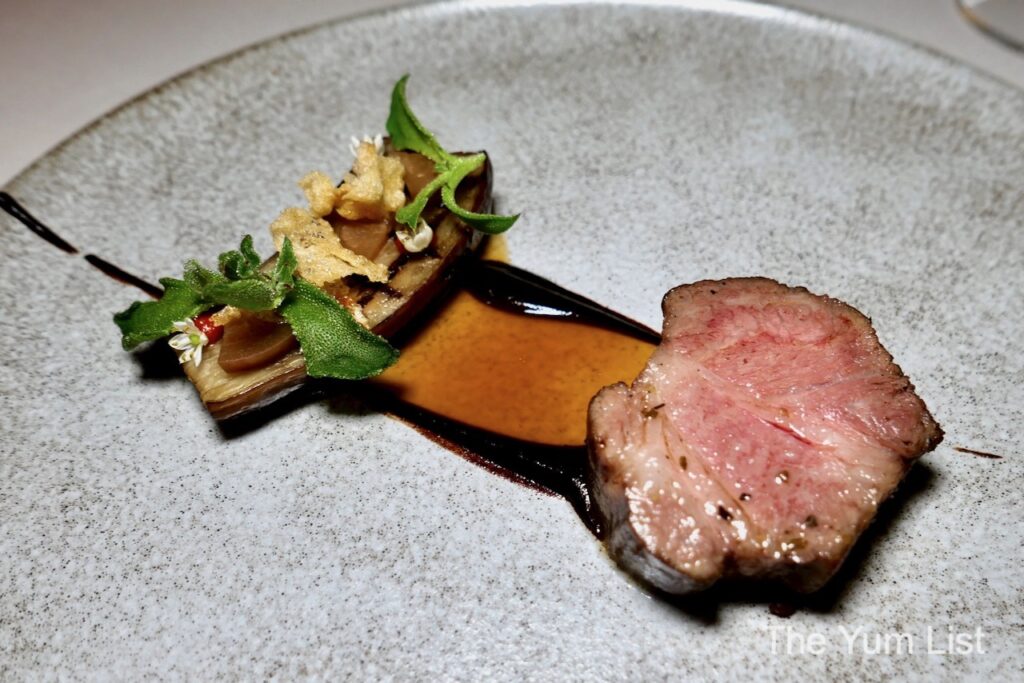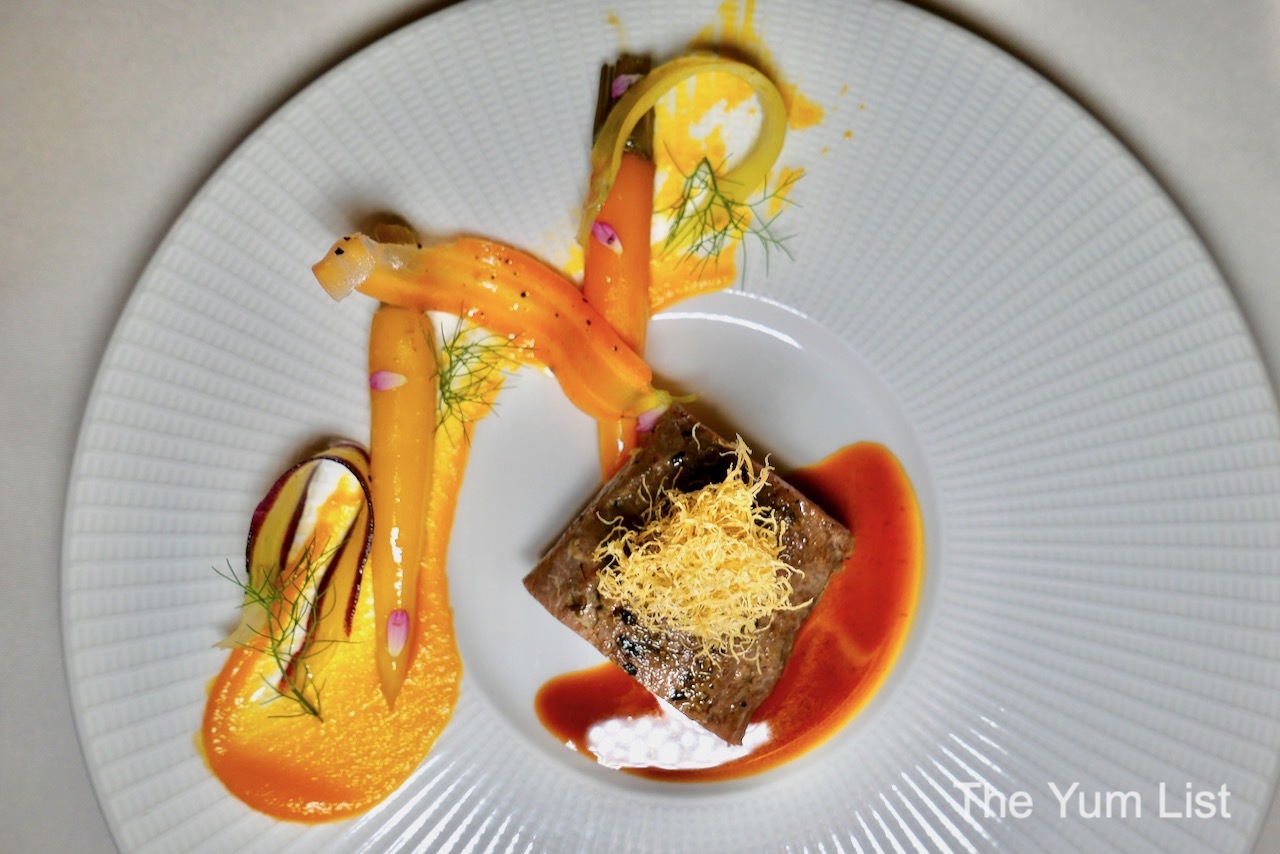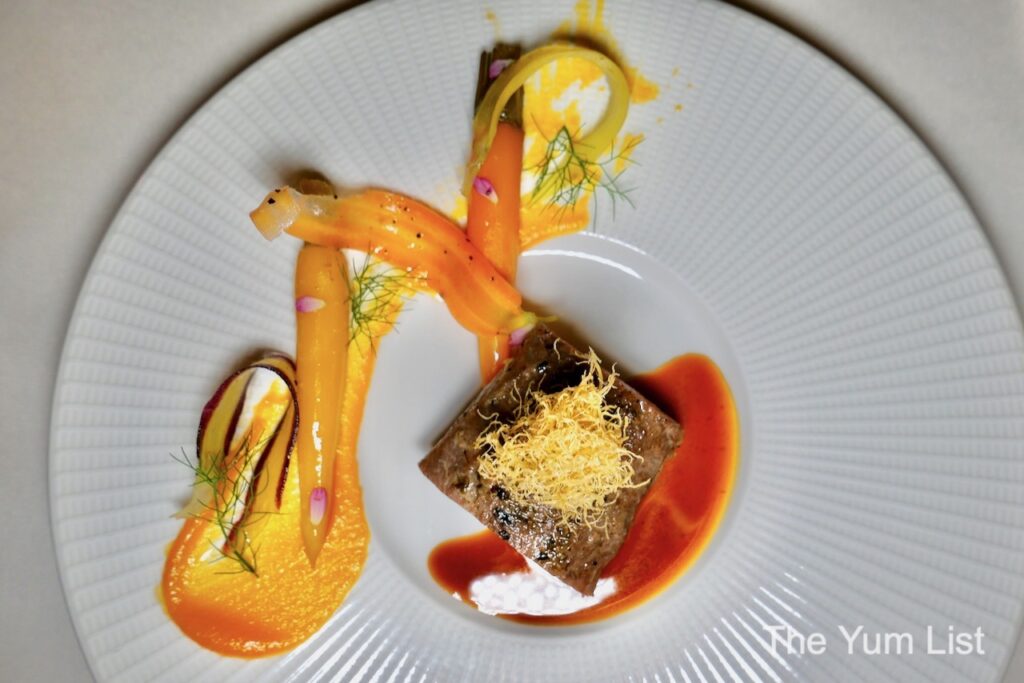 Tempranillo
Hong Meng returns with another fine sampling of wine this time its Altos, Rioja, Spain, 2017, which goes great with the Iberico pork. The pork shoulder is a very generous serving, I'm starting to slow down now and I have a peek at the menu, I see we have three more "courses" to go!
As has become custom in a degustation menu we are served a pre-dessert before dessert followed by petit fours – essentially three desserts! I'm not a sweet tooth kind of girl but I must say I was not disappointed at all that my task required me to eat so many sweets. First of all the desserts are so balanced and not overly sweet at all, they are beautiful and a pleasure to enjoy. The team at Blanc will leave no sweet tooth unsatisfied.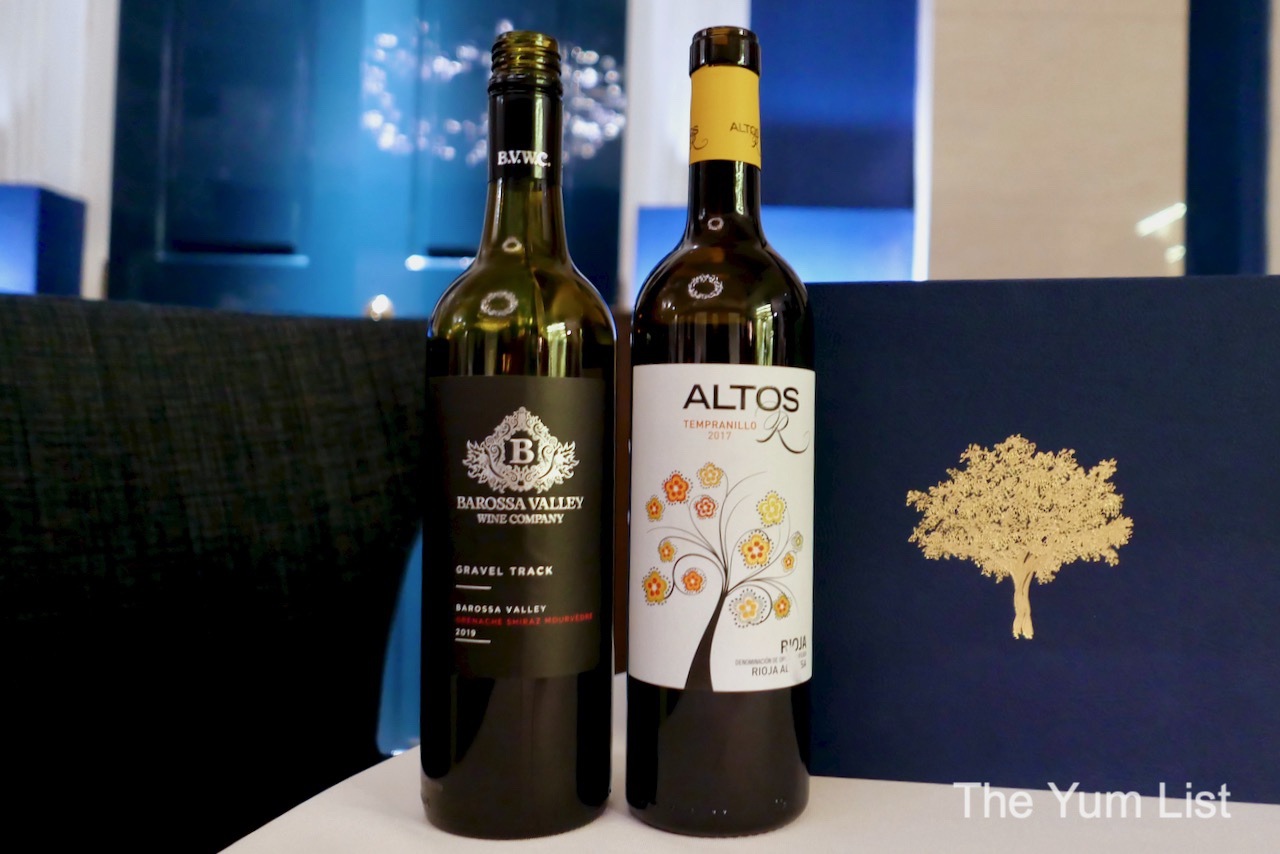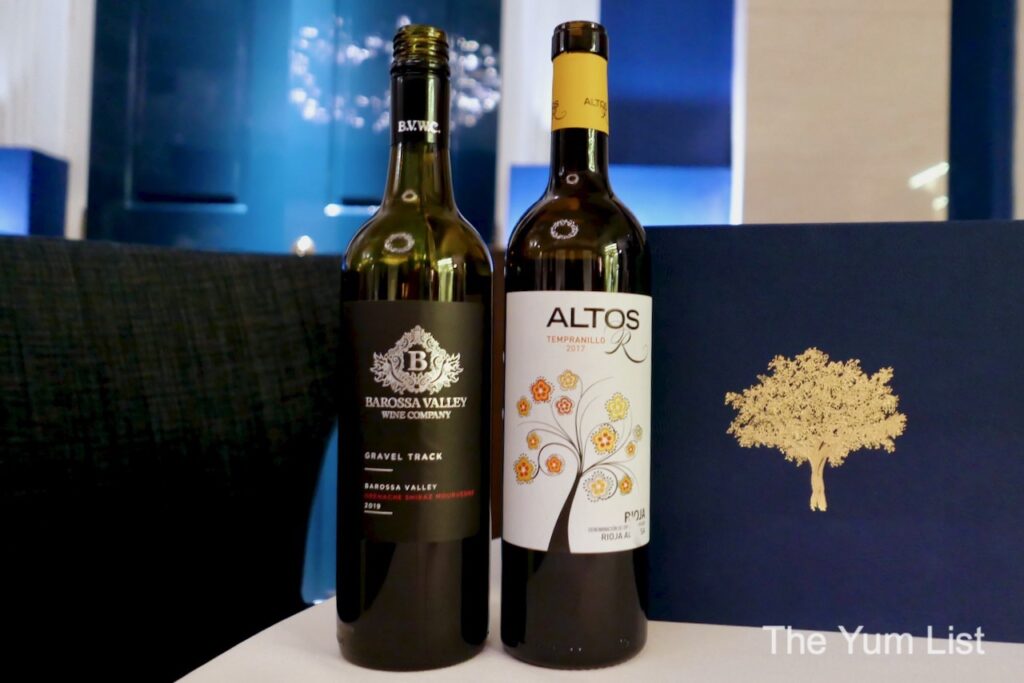 Fine Dining Penang – Dessert at Blanc
Pre-dessert is an Apple Terrine with Calamansi, Mascarpone Nitro, and Rosemary Ice cream. It's feeling more savoury than sweet and I love it. The apple's acidity and the creaminess of the mascarpone are perfect.
The main dessert is Pearl of the Orient, composed of gula Melaka ice cream, pandan (in a firm delicious pudding), adzuki bean (Japanese red bean paste). This is a fancy spin on local Penang cendol, which is one of the most famous desserts in Penang made of coconut milk, green rice flour noodles, shaved ice, red beans, and coconut sugar.
Now I am wondering how I can possibly manage another bite in my mouth. The Sweet Ending petit fours (that change every night) arrive at the table with Citrus Madelaine | Earl Grey Cremeux | Lemon Cheese. They are perfectly executed and Intsa-worthy. I work my way through them one by one certain I won't make it to the end. The next minute I look down and the plate has been cleaned. Absolutely delicious little bites of perfection. I now understand why they were served, to create a memory to hold onto after an amazing meal.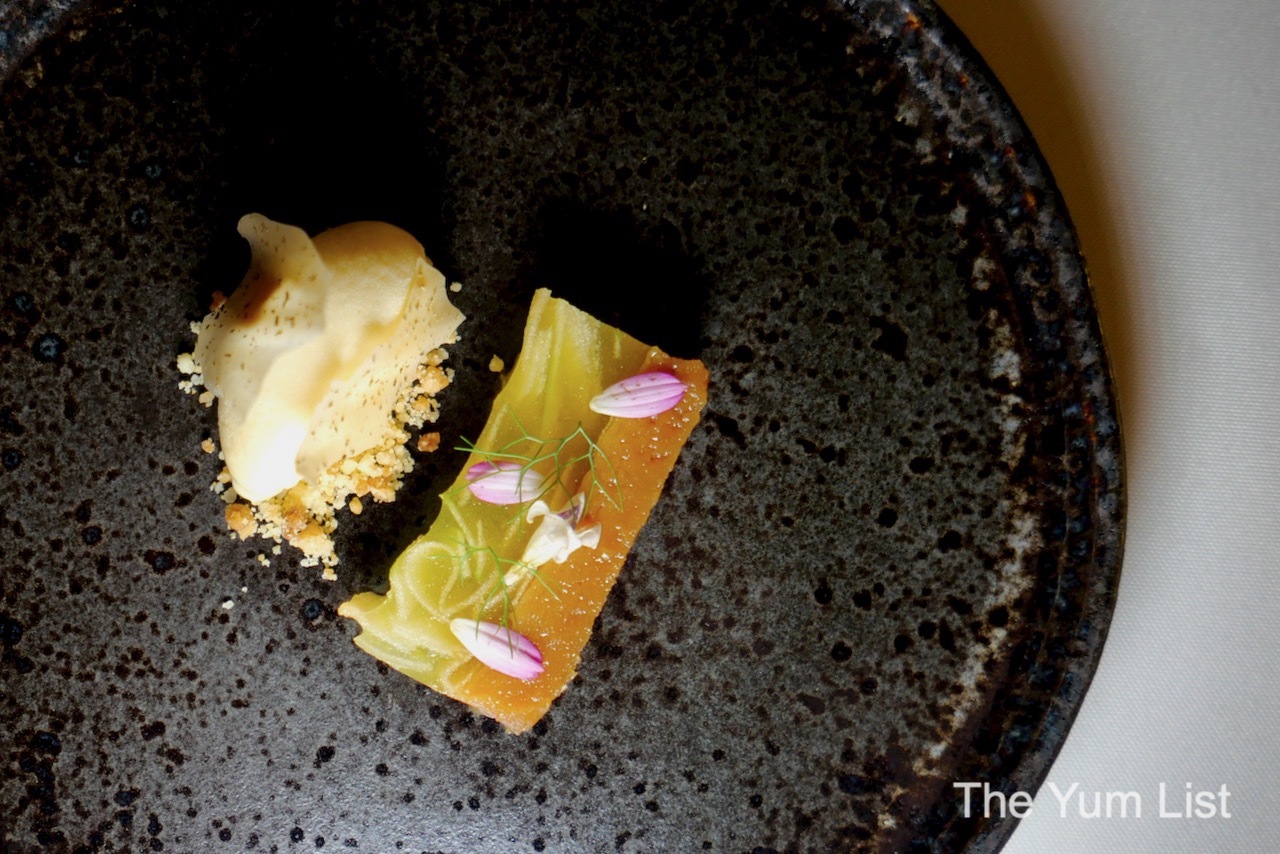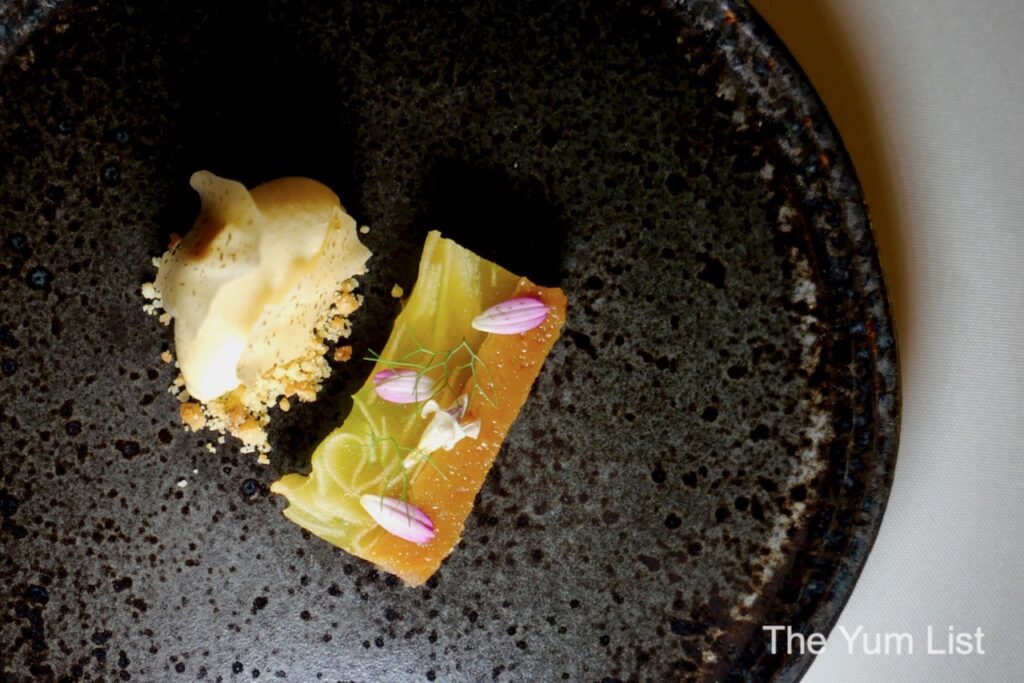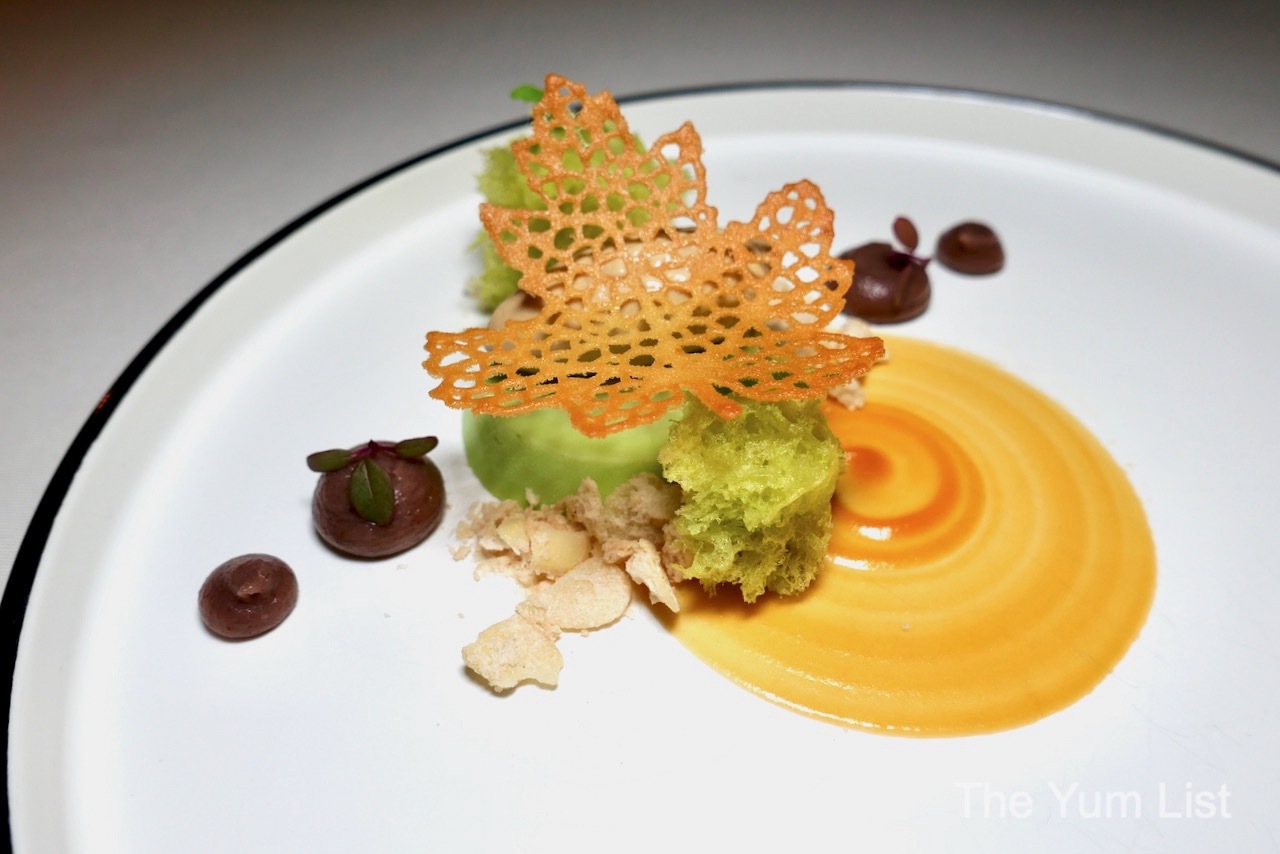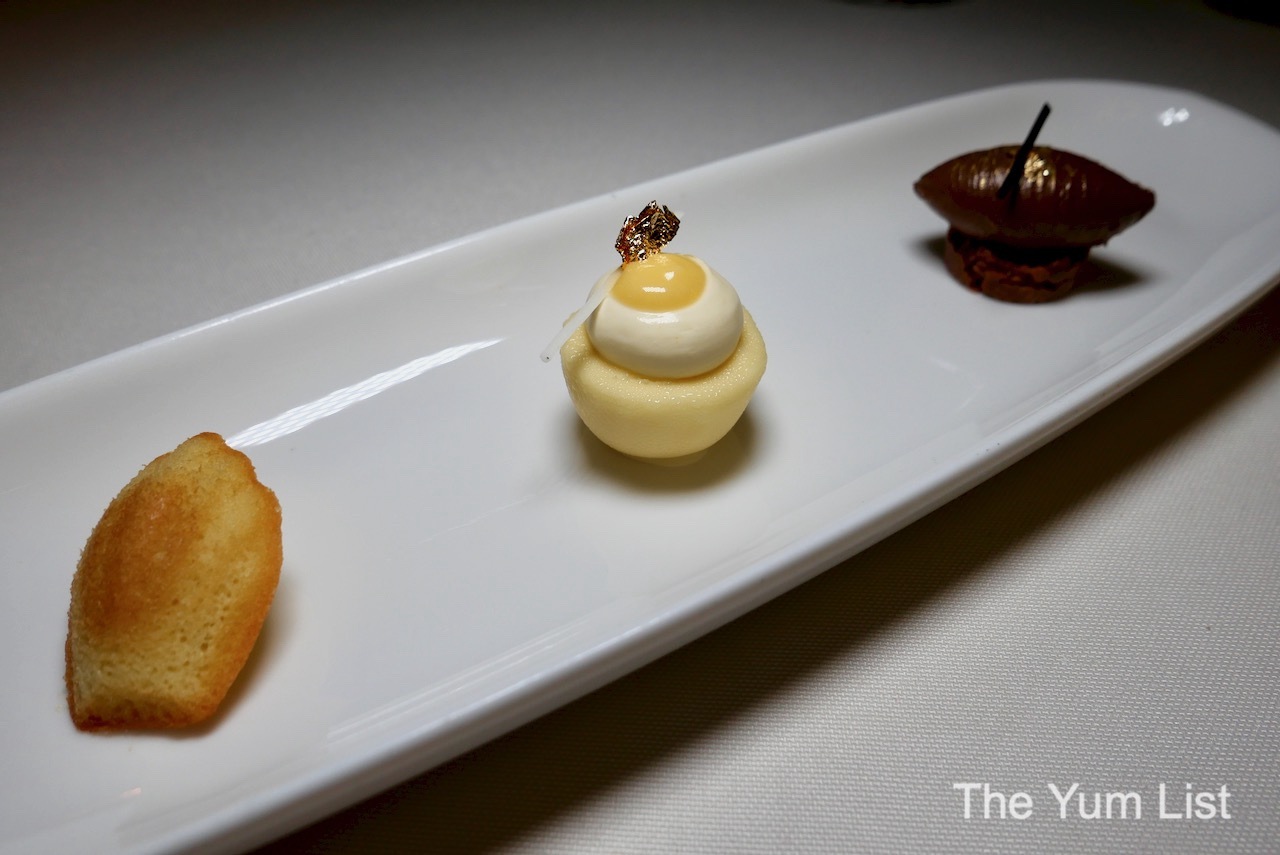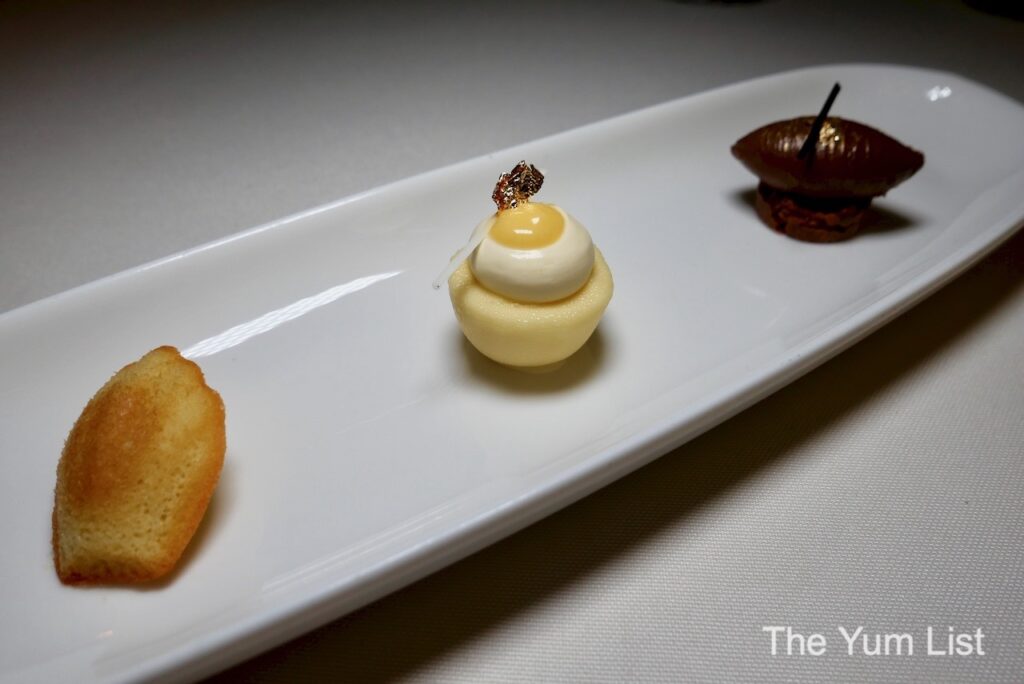 Fine Dining Penang – Chef Yeoh at Blanc
Chef Yeoh comes out for a chat while we are eating the petit fours. I am immediately surprised at how young he is. He's definitely a talented and dedicated chef. My next pleasant surprise is that the pastry chef is his wife! I love the husband-and-wife team and their passion shines through on the plate. The restaurant business truly is a labour of love. 
It's been an incredible fine dining experience at Blanc. The setting, food, wine and warm hospitality were spot on. On my next trip to Penang, you will find me at the swim-up bar at Macalister Mansion a few hours before I return for the degustation at Blanc again.
Reasons to visit Blanc: Impeccable fine dining experience in Penang, warm and friendly staff, great quality food made with love, awesome desserts, a nice wine list with some great value wines, hip ambience, all in one spot (hotel, cocktail bar, pool, fine dining).
Note: menus are seasonal. I've included the below for illustrative purposes to show why Blanc is truly a fine dining experience in Penang. With advance notice Chef Yeoh and team make all guests feel included by catering to varying dietrary needs. No doubt, this is a lot of additional work for such a fine menu, but it demonstrates a truly elevated experience for the fine dining scene in Penang.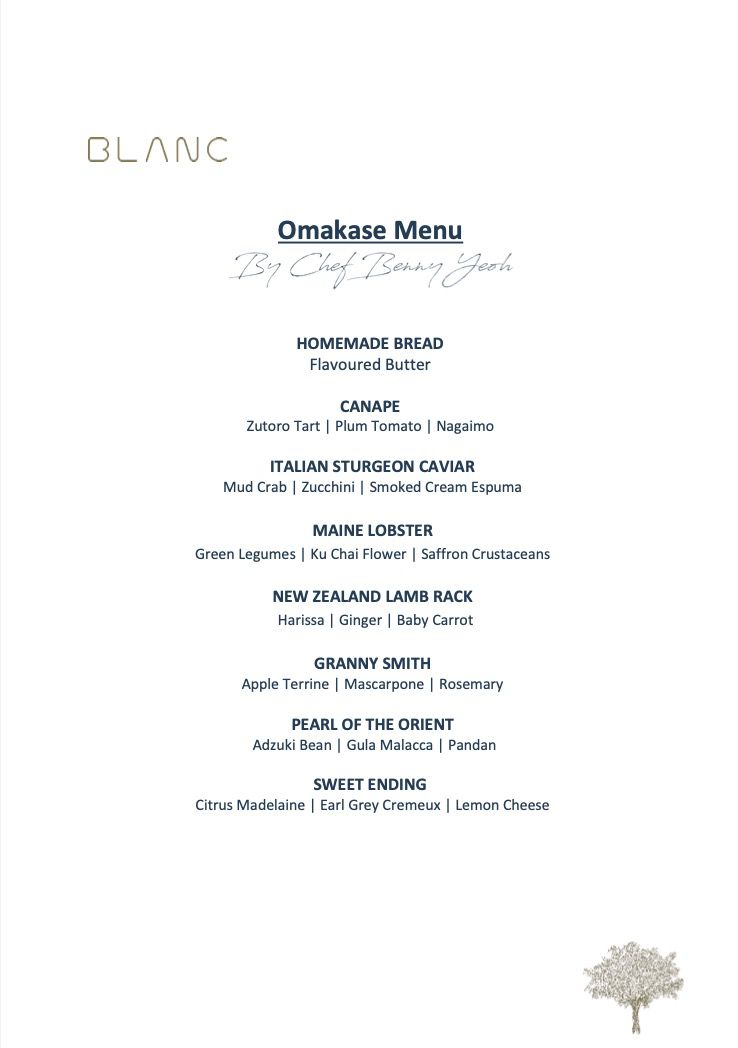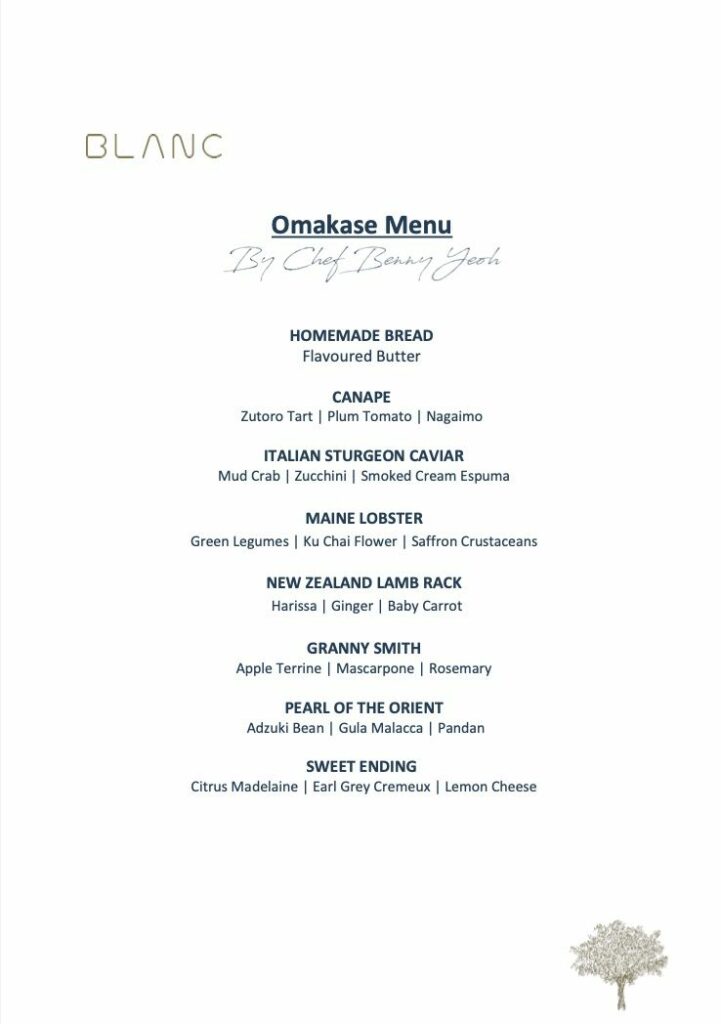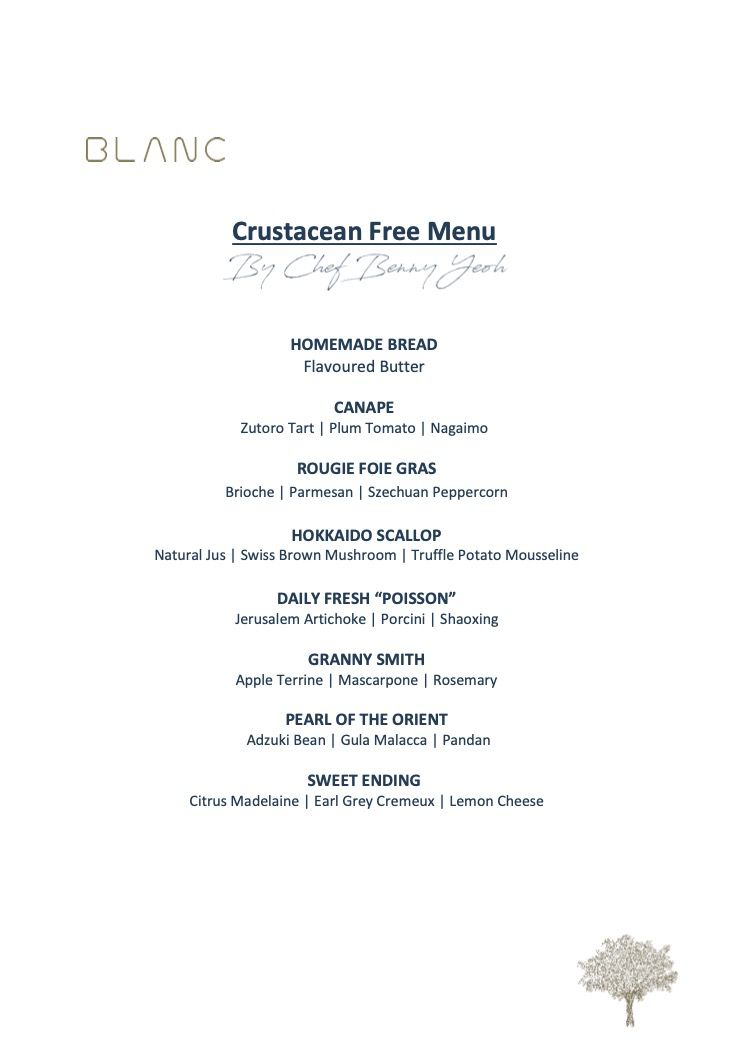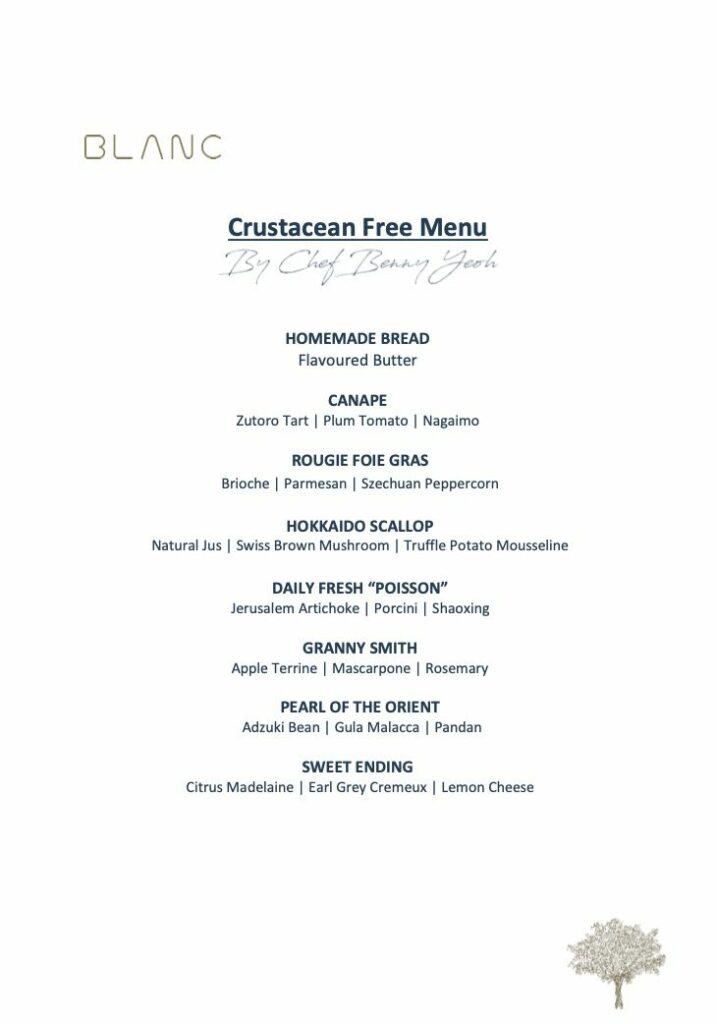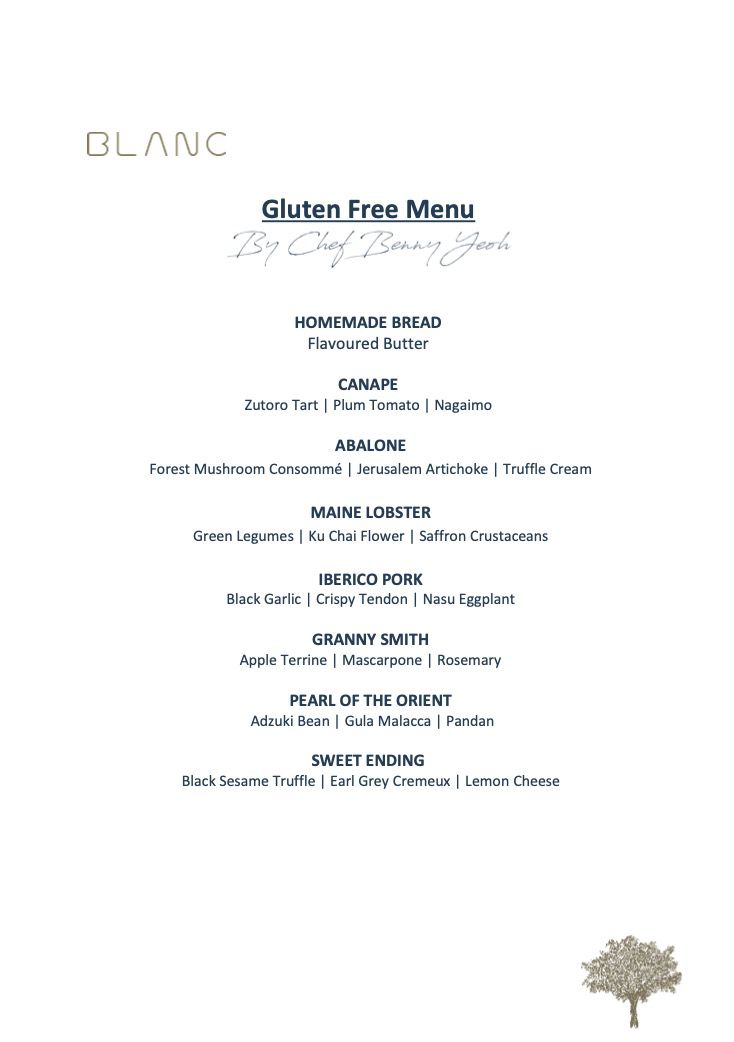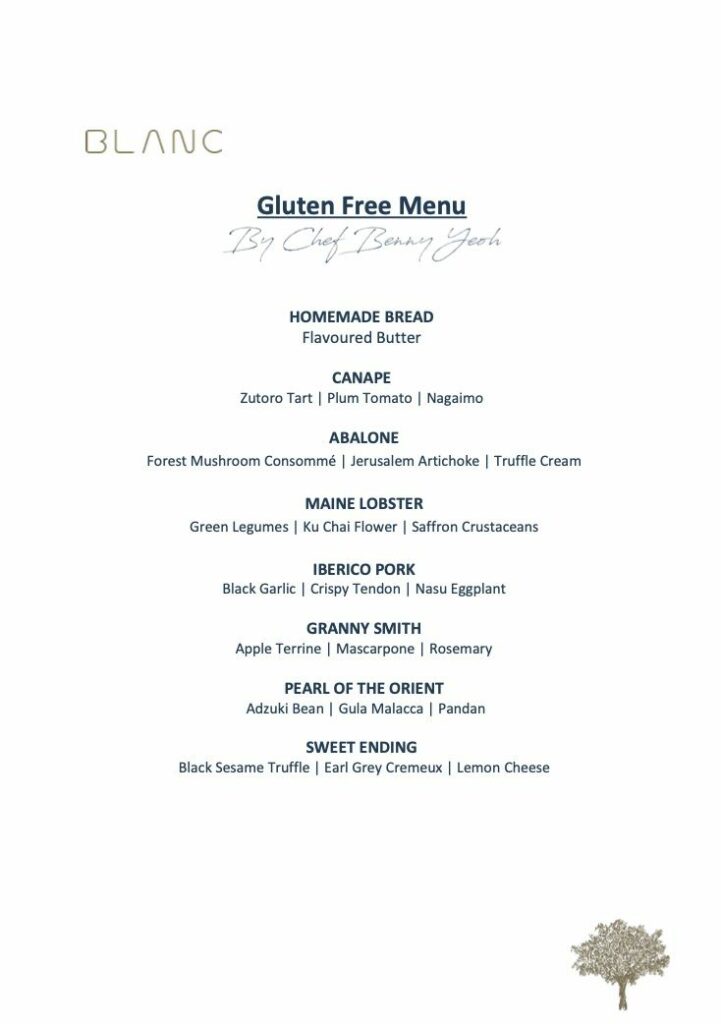 Fine Dining Penang – Blanc
Macalister Mansion
228, Jalan Macalister, 10400 George Town,
Pulau Pinang, Malaysia
+604 228 3888
https://restaurantblanc.com.my/Menu
Blanc Hours of Operation
Tuesday – Sunday
7:00 PM – 11:00 PM
(Last orders for kitchen at 9:30 PM
*Monday Closed (*Unless it's a public holiday then they will open on Monday and close on Tuesday.)
Find more recommendations for travel to Penang here and stay up to date with the latest gourmet happenings around Malaysia here and here.