Shangri-La Tanjung Aru
Words: Claire Matheson
Photos: Monica Tindall
Offering true resort-style vacations, Shangri-La Tanjung Aru in Kota Kinabalu is a utopian paradise on earth, with so much on offer to pack your days with. You'll wake up on your last day of holiday with the realisation you never left the grounds. And you won't have any regrets in doing so.
Some resorts may profess to be all-inclusive. Yet there are moments when you crave something and are left wanting. The Shangri-La Tanjung Aru takes that expectation bar and sends it skyward. They not only provide everything your heart desires but everything your heart didn't even know it could dream of. Your only issue will be fitting it all in! Indeed, getting up off that sunlounger, cabana, balcony sunbed or super luxe king bed to do everything on your checklist will be the biggest challenge.
However, the biggest drawcard of Shangri-La Tanjung Aru is not the sea, island and mountain views spanning the horizon, the verdant manicured tropical gardens extending in every direction, the numerous restaurants, facilities, bars, pools or even the Chi Spa, Star Marina, or Horizon Lounge. No. The real superstars are the staff. With a staff made up mainly of people from the area, their attention to detail and level of hospitality will make you feel accepted, welcomed, and truly taken care of.
During our stay, we encounter many Shangri-La Tanjung Aru staff who have been with the company for many years if not decades. They love their jobs, and they love working for Shangri-La, indicating a level of loyalty that is inspiring. Hearing how well Shangri-La have looked after their staff during the exceptionally hard times of the pandemic is an even greater reason to stay and support a brand with a strong ethos of care.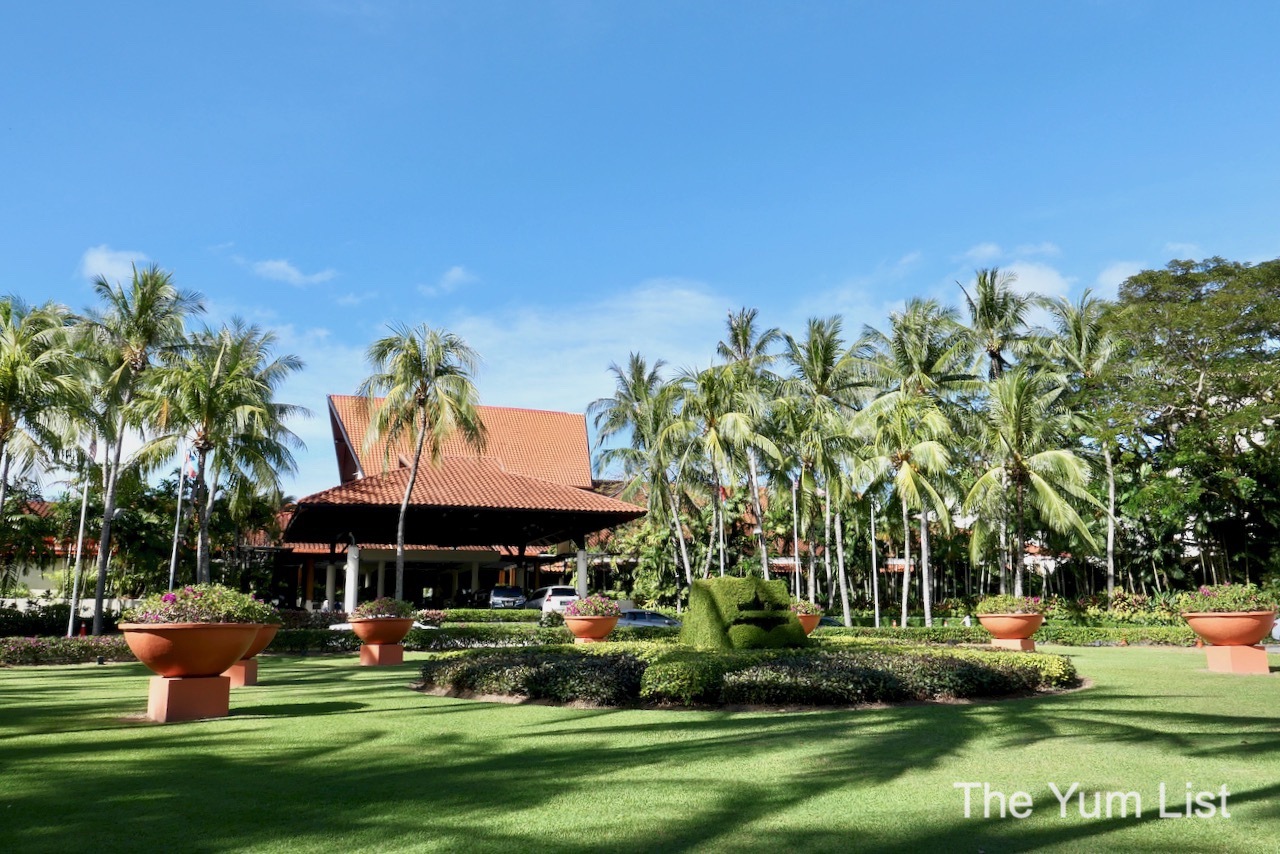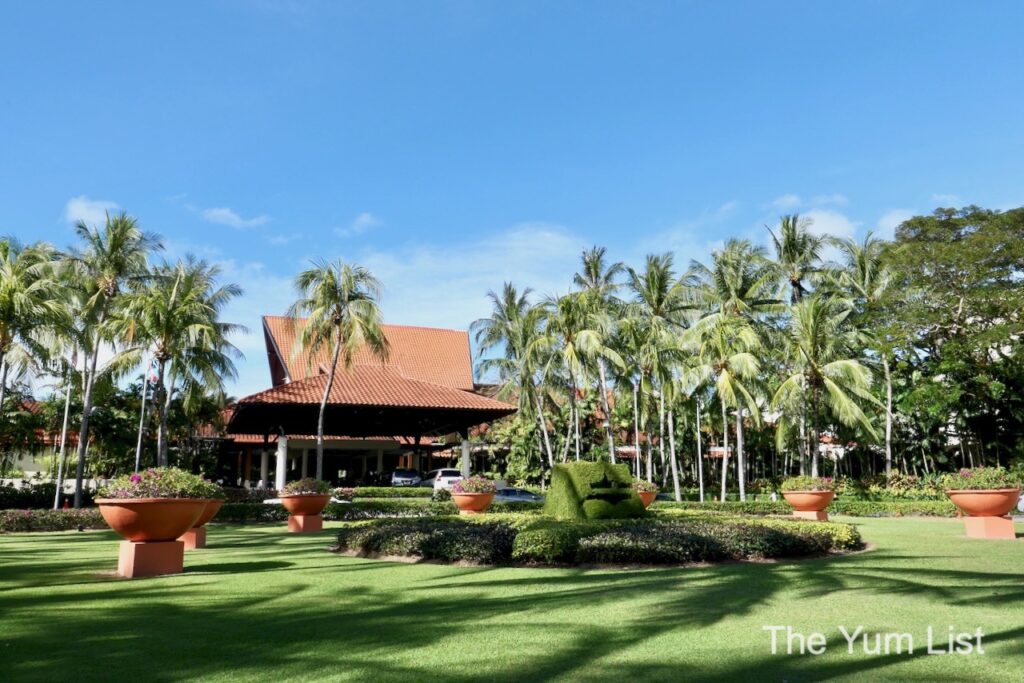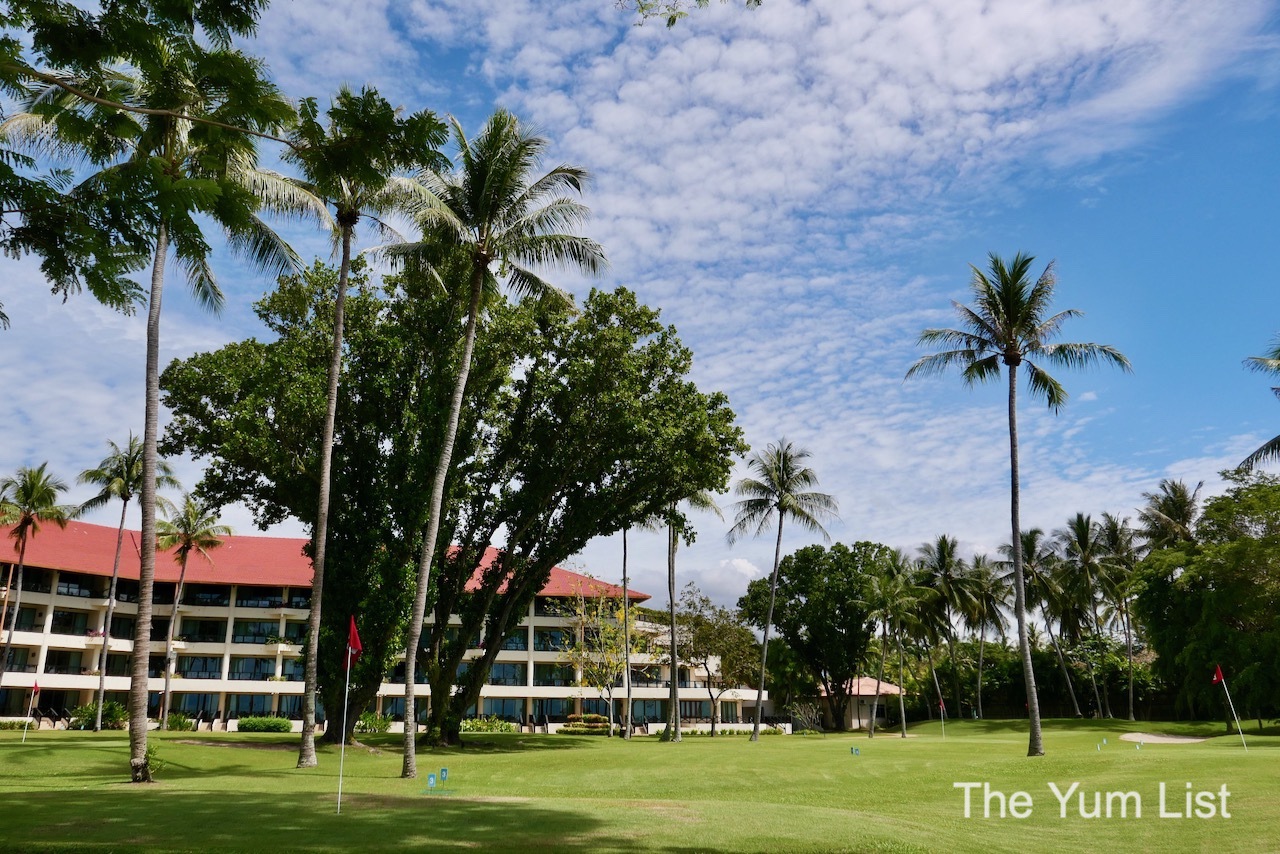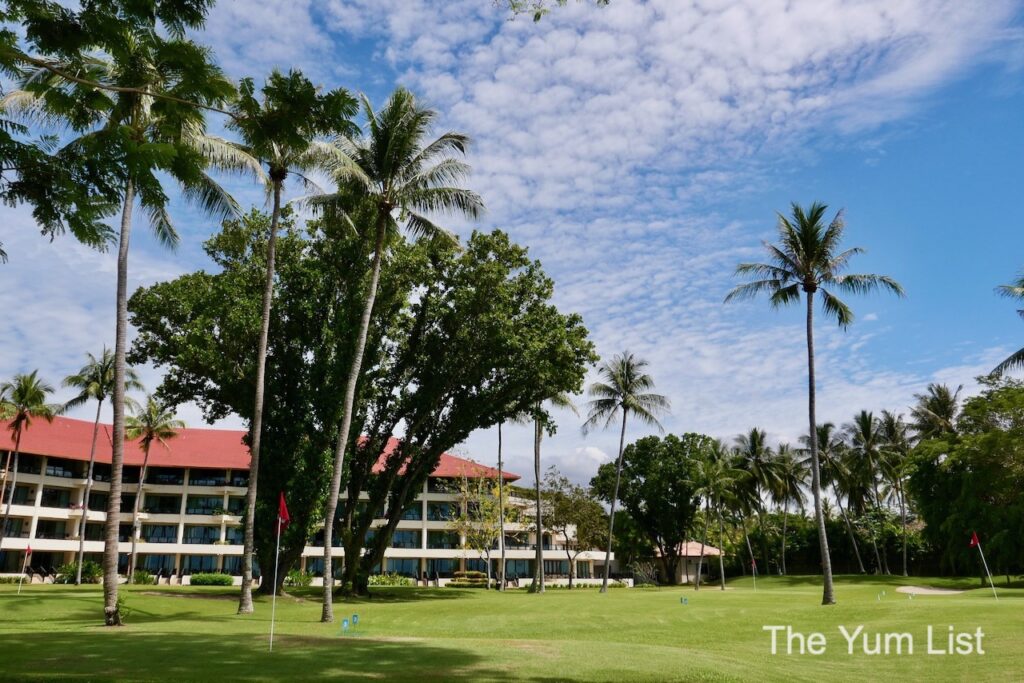 Shangri-La Tanjung Aru – The Room
Claudina from the Shangri-La Tanjung Aru team takes us up to our room, opening our door to a spacious lounge with sweeping views of the ocean and islands beyond. We are staying in a Junior Suite in the Tanjung Wing of the resort, similar to the suite the Duke and Duchess of Cambridge stayed in during their stay. The only difference is that we are located on the top floor, at the quiet far end overlooking the putting greens. Kate and Wills should be so lucky! From our vantage, the ocean spans 180 degrees, offering perfect sunrise and sunset viewing. The mountain ranges behind Kota Kinabalu make up the remaining 90 degrees of continuing views.
A chilled bottle of French Nicolas Feuillatte Brut Champagne is ready and waiting for us. Two rainbow-woven tudung saji's reveal a bursting fruit bowl, and an ornate coral reef sculpture made entirely from gold-dusted chocolate, on a bed of blue sugar crystals, with an assortment of macaroons, hand-made chocolates, and marzipan clownfish.
We are shocked at just how large our suite actually is, realising that past the powder room, lies the dining room, with a large circular dining table, seating for four, and a second four-seater lounge. There is a coffee station with Nespresso capsules and multiple large glass bottles of water, a refreshing change from tiny plastic bottles which you run out of too quickly. Drawers are stocked with plates, cutlery, tea making facilities, and a range of glassware. Bright colourful tropical flowers are placed throughout, and there are plenty of well-lit mirrors, opening the space further.
Claudina, takes us through the bedroom, revealing a light-filled room with a luscious king-sized bed, plenty of storage space, a writing desk with a comfortable armchair, and tasteful artwork throughout. But we don't notice any of this initially, we're too busy staring, a gasp, at the utterly enormous sun deck extending from our balcony and wrapping around the end of the building. Multiple loungers and a daybed beckon, with enough room for an entire football team to sunbathe in full sun, or lounge in complete shade under the broadly extended awnings. Is this all really just for us? Completely fabulous!
We already thought the suite was over-the-top extra, but we are rendered utterly speechless when we see the cavernous, marble-clad bathroom. Steps lead up to an extra-wide and deep jacuzzi bathtub. The shower is so large they have added a seat in case you get tired walking from one end to the other. Multiple sinks are perfectly lit with enough natural-hued side lighting to make a YouTube beauty guru jealous.
Now for a checklist of the most important things: the bed is utterly sumptuous. Crisp white linens, a supportive mattress topper and a range of feather pillows ensure the best night's sleep. The shower has incredible pressure with a variety of jet options, with immediate hot water response. The jacuzzi can be filled in under five minutes, allowing for spontaneous romantic or self-care moments. There are two bathrobes for each guest to choose from: an ultra-fluffy, cosy, indulgent one, and a chic Japanese printed kimono in a light, breathable cotton. Or, as I like to call them: a day robe and a night robe. One for every occasion! Lastly, the toiletries are by L'Occitane – Jasmin and Bergamot, and include all the usual assortments, plus many more additional extras you didn't realise you needed, including bath salts and a loofah for those jacuzzi pamper sessions.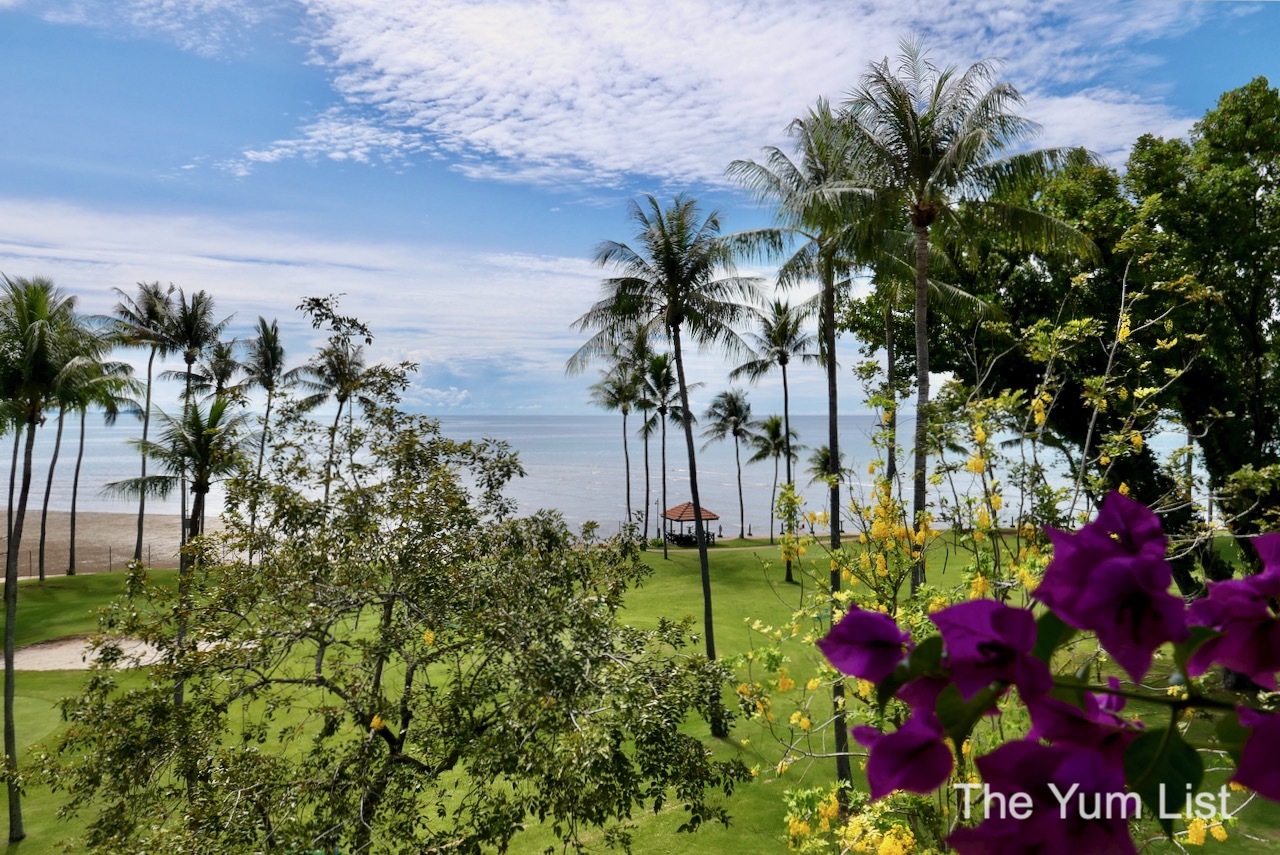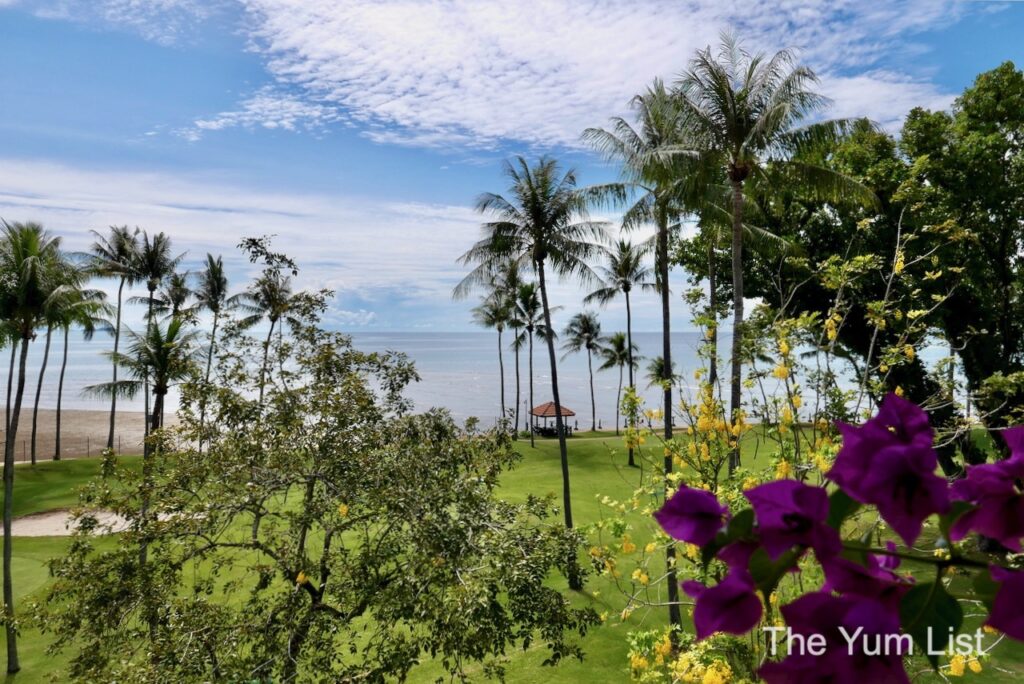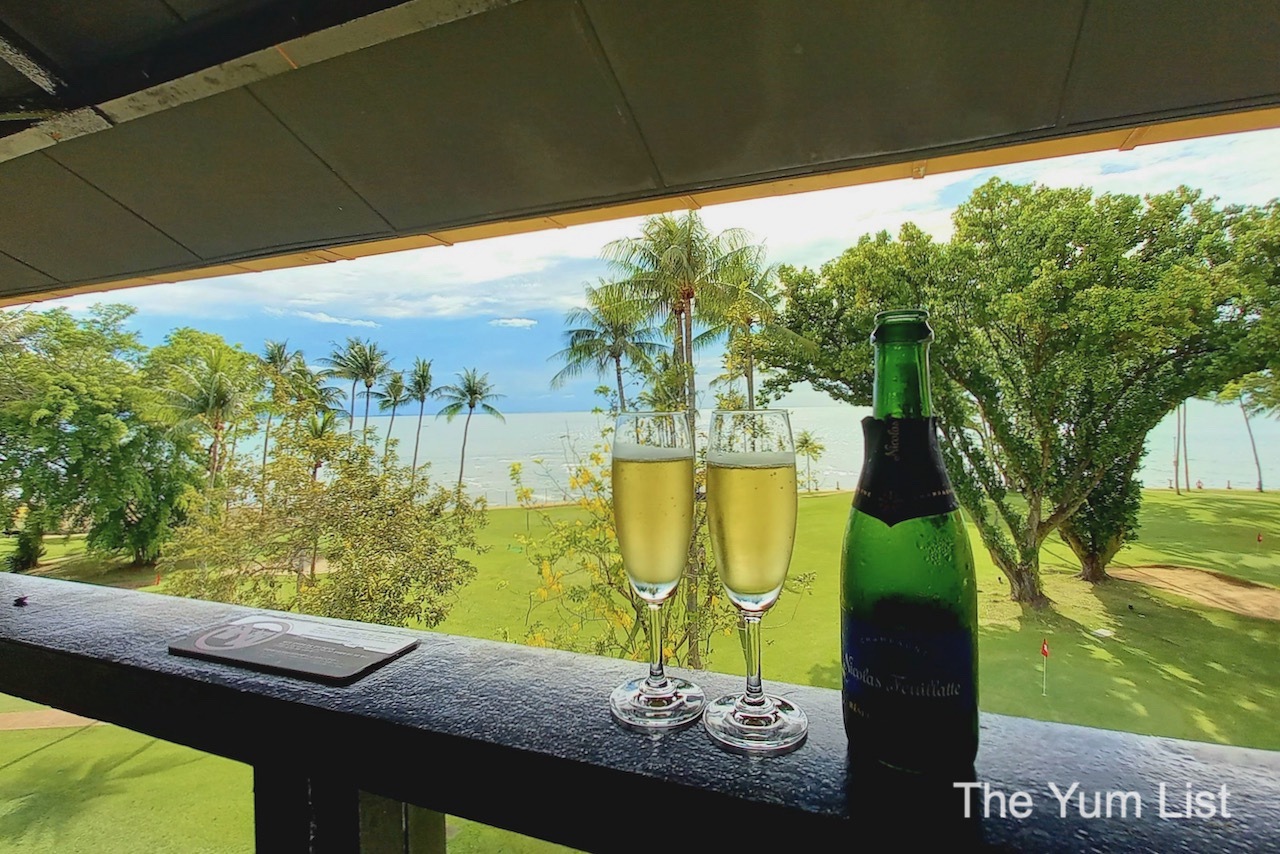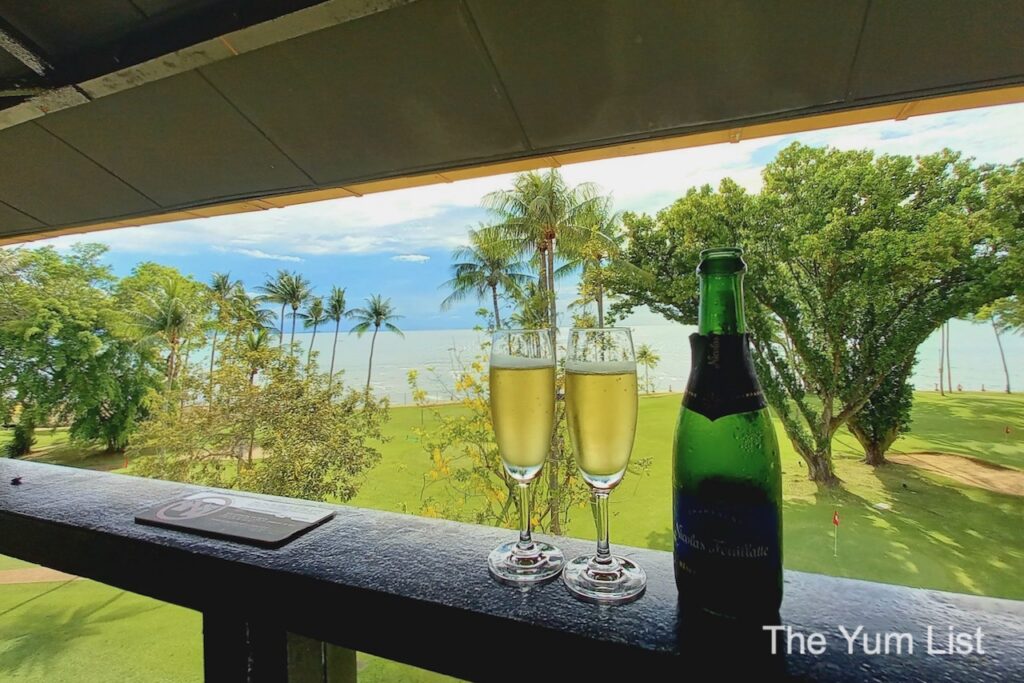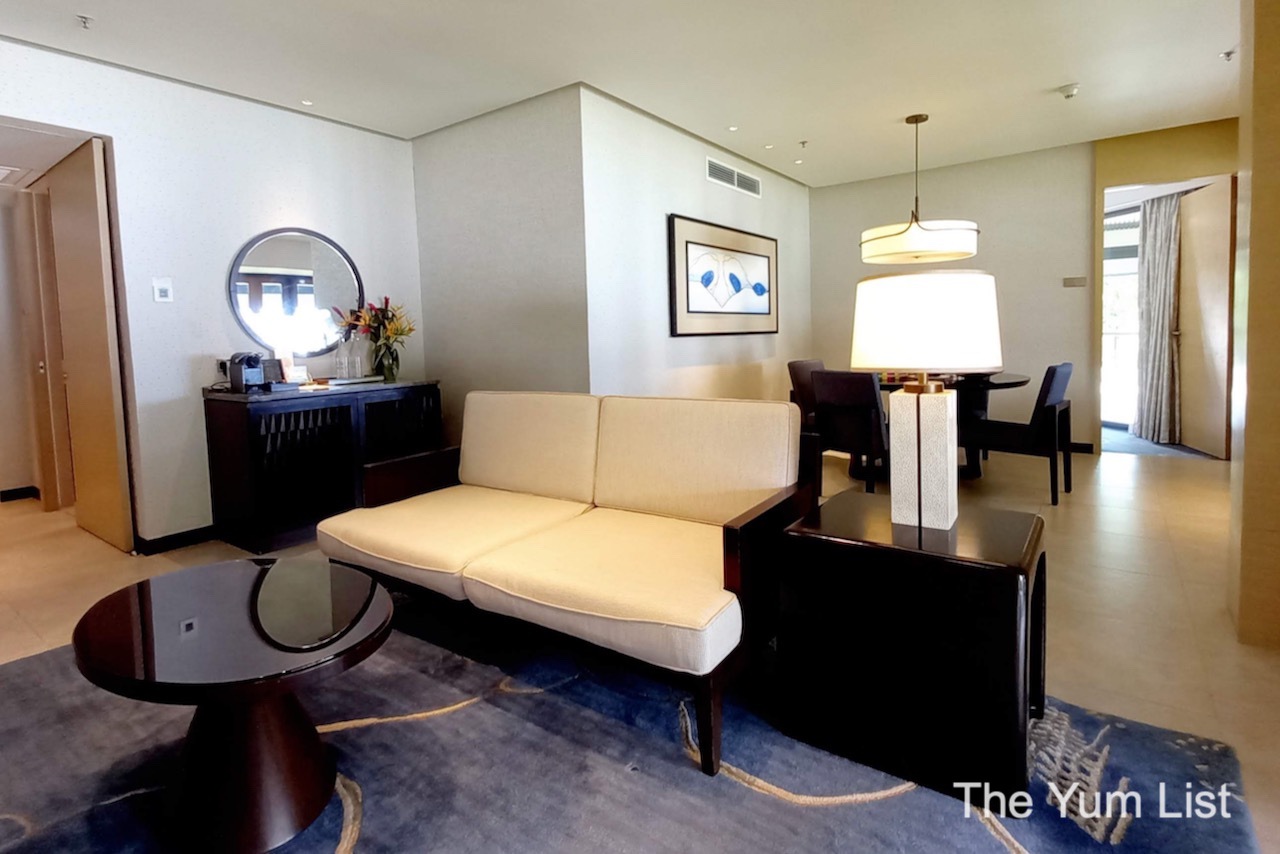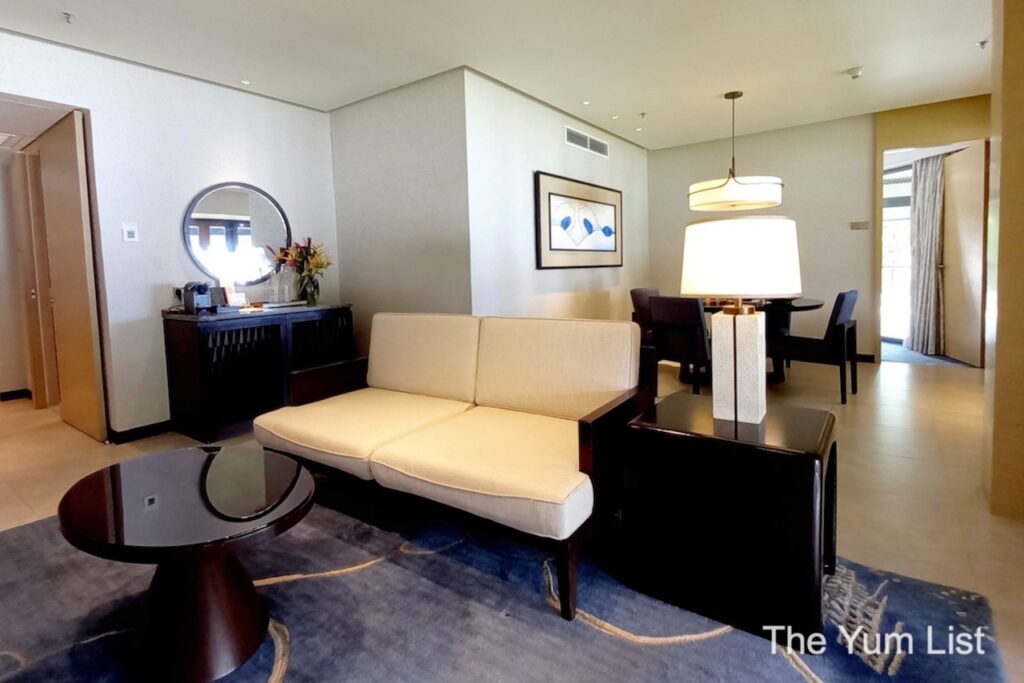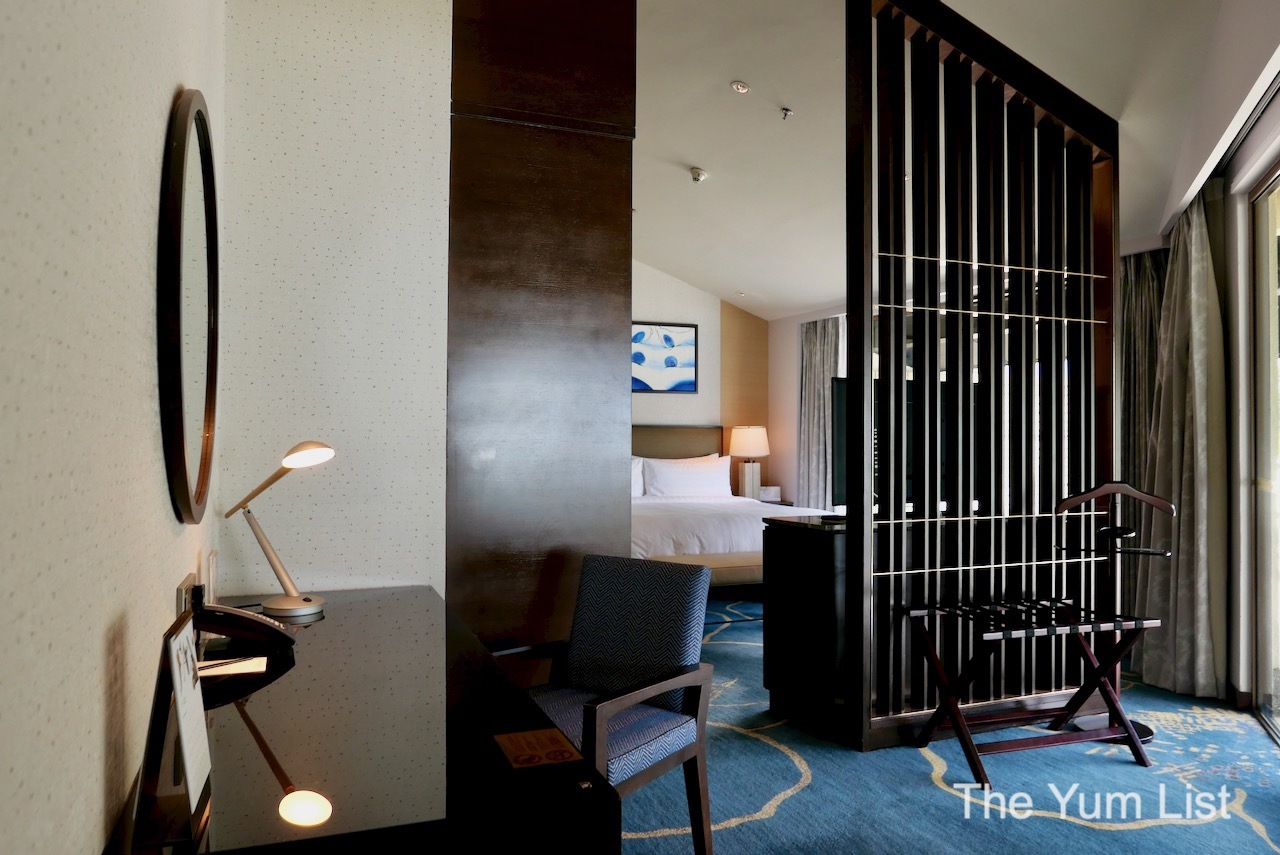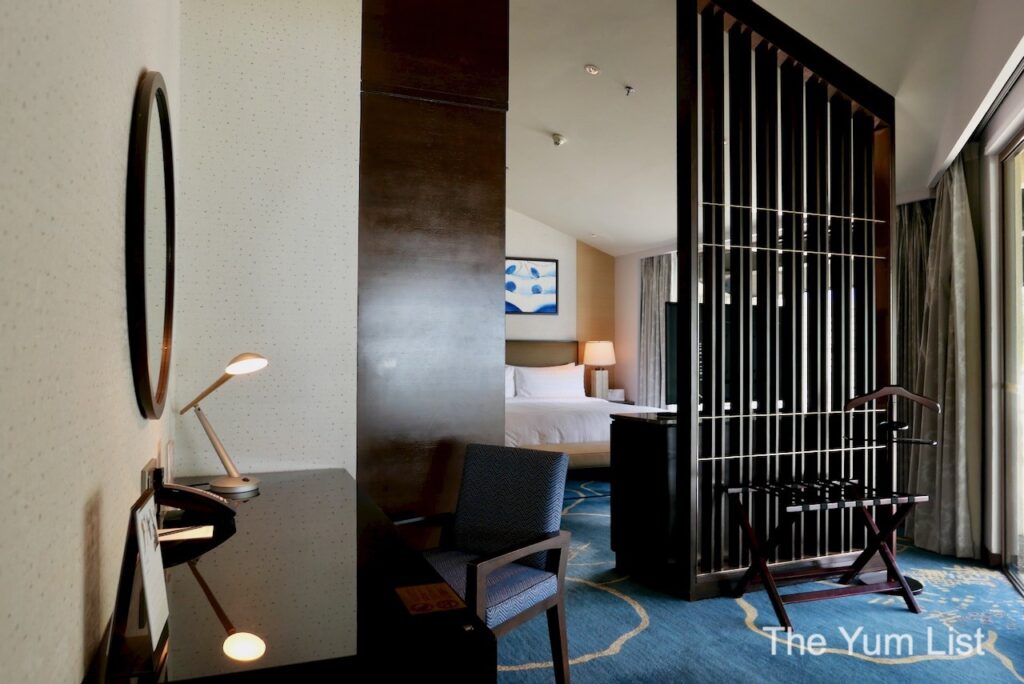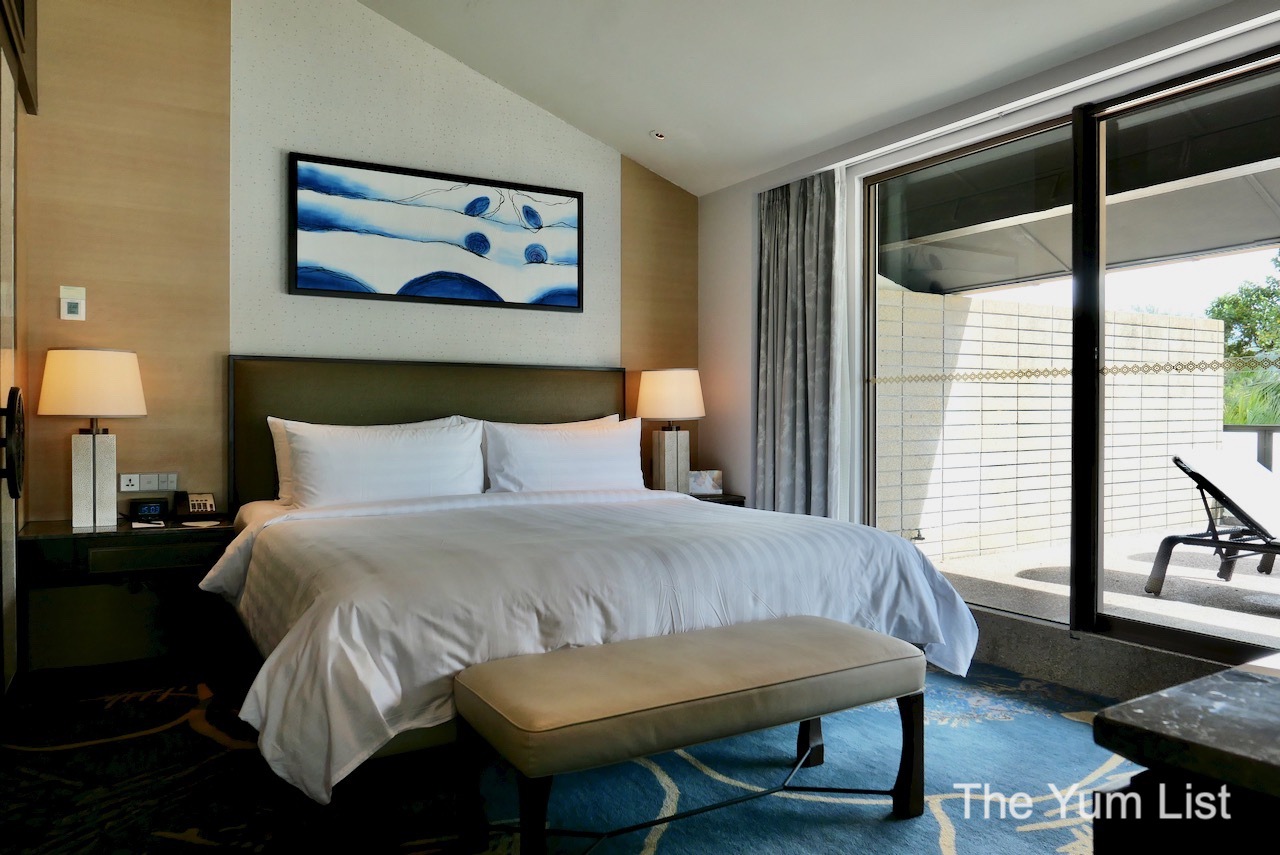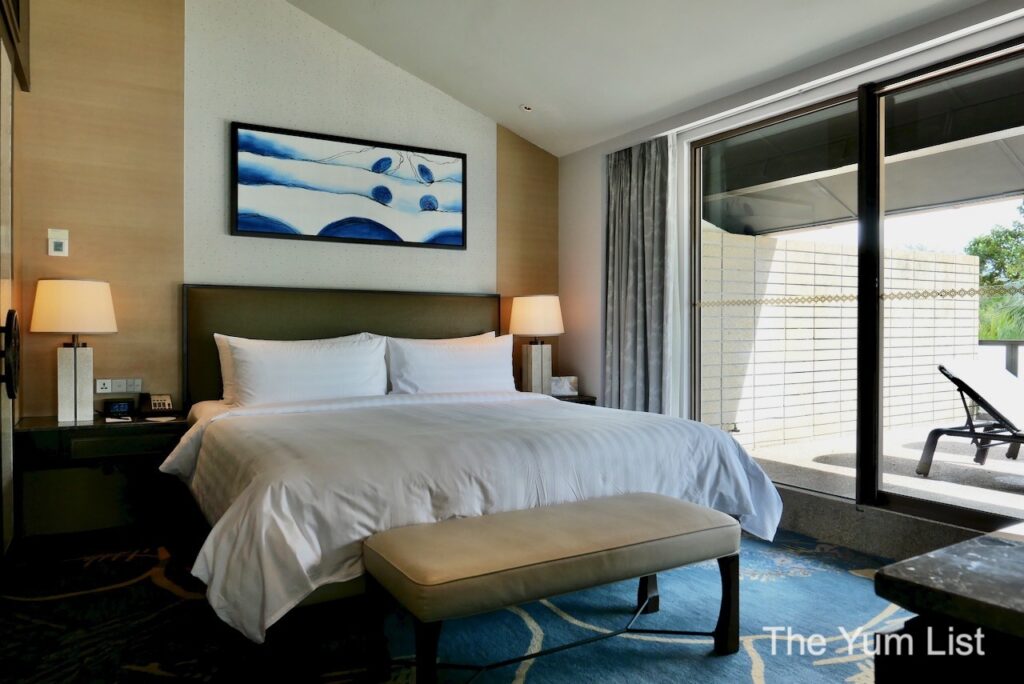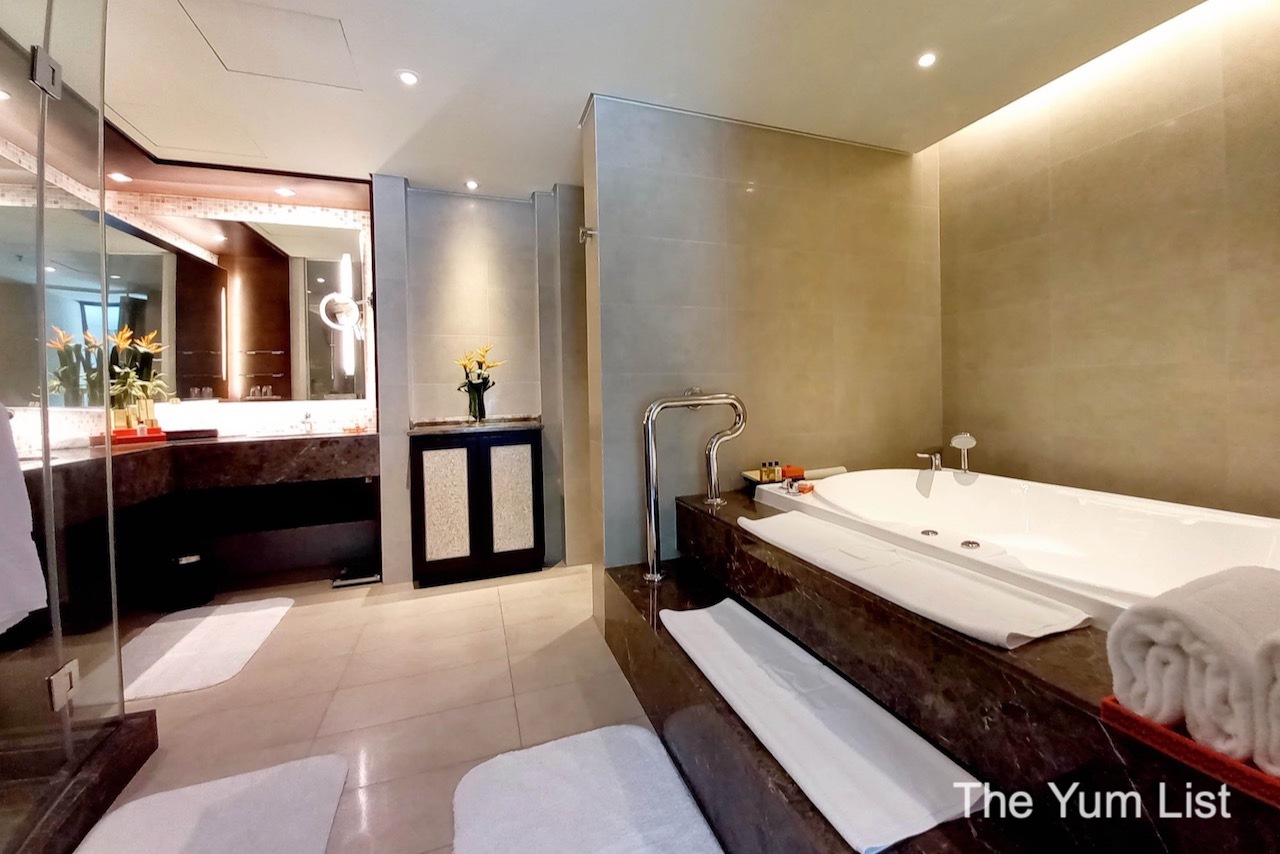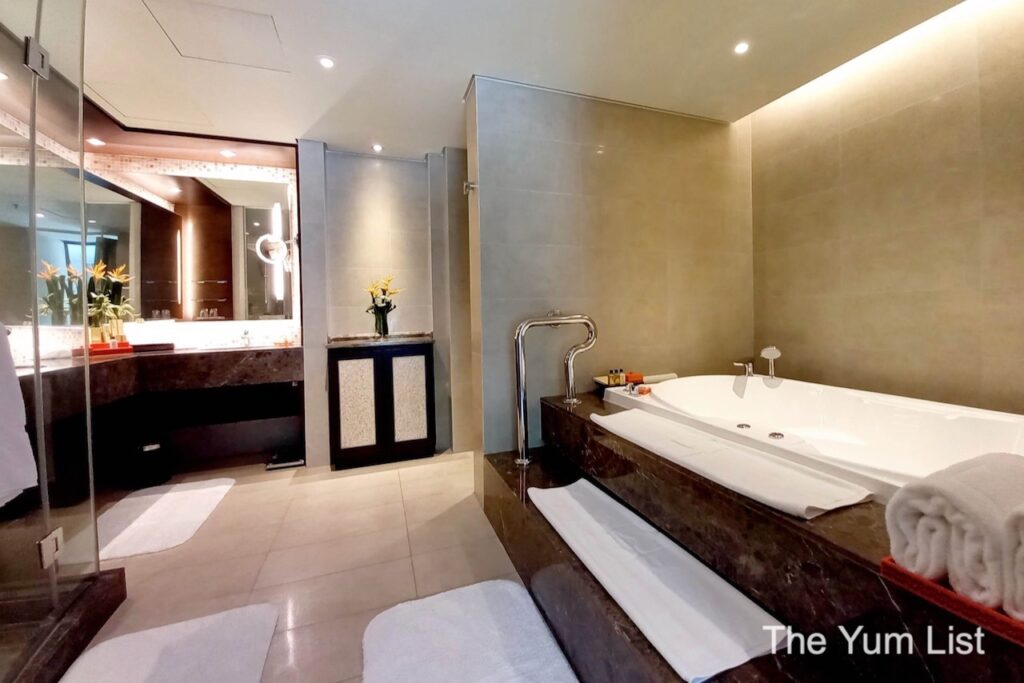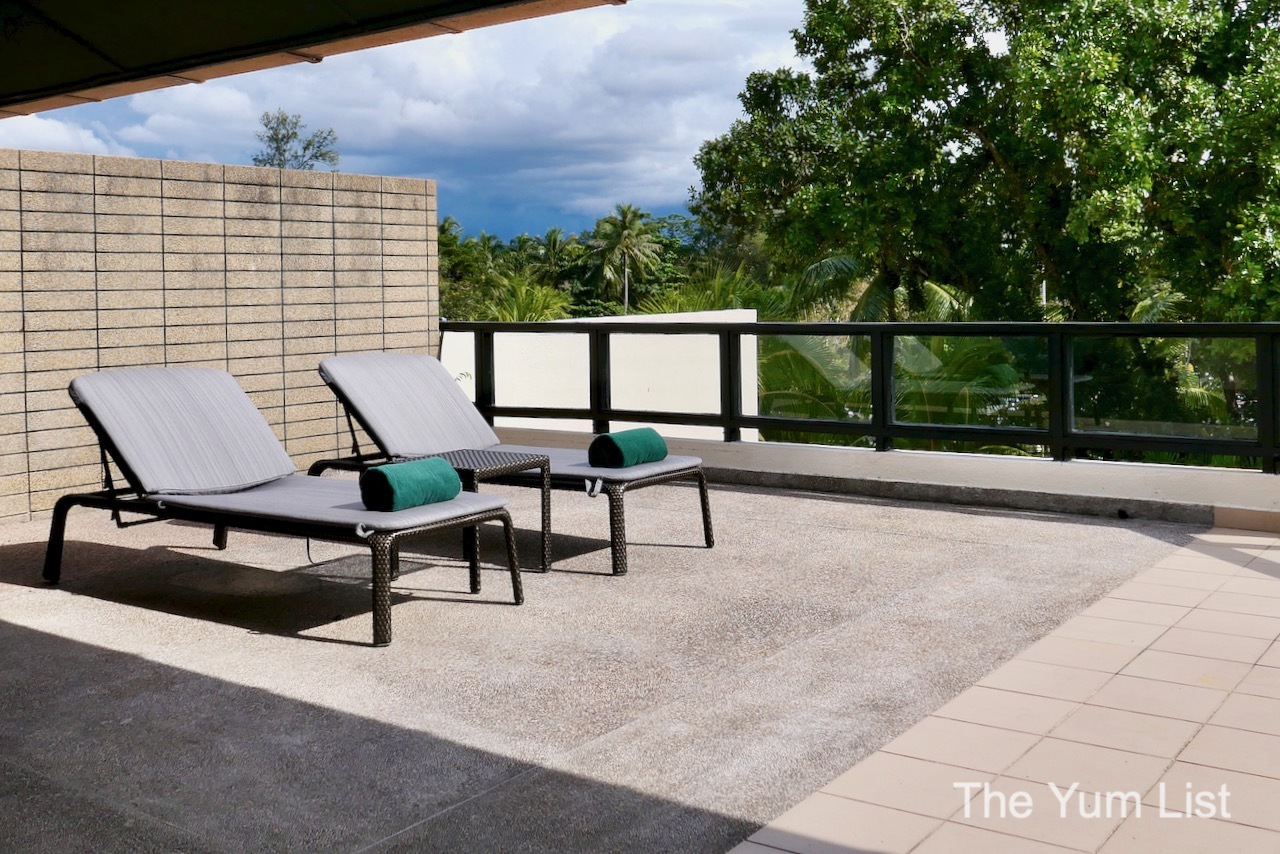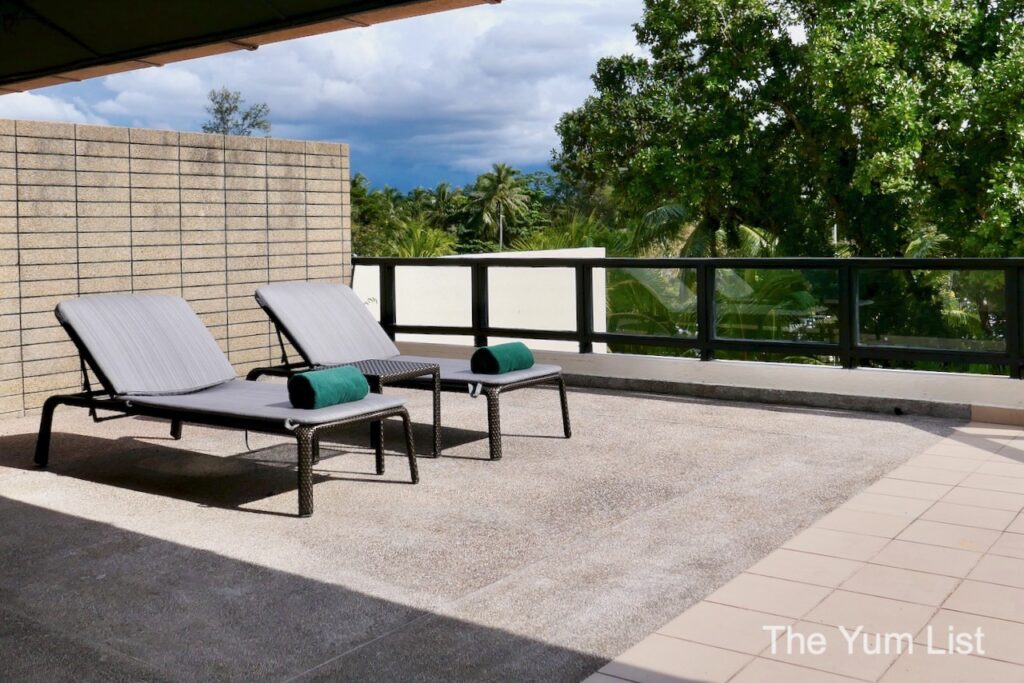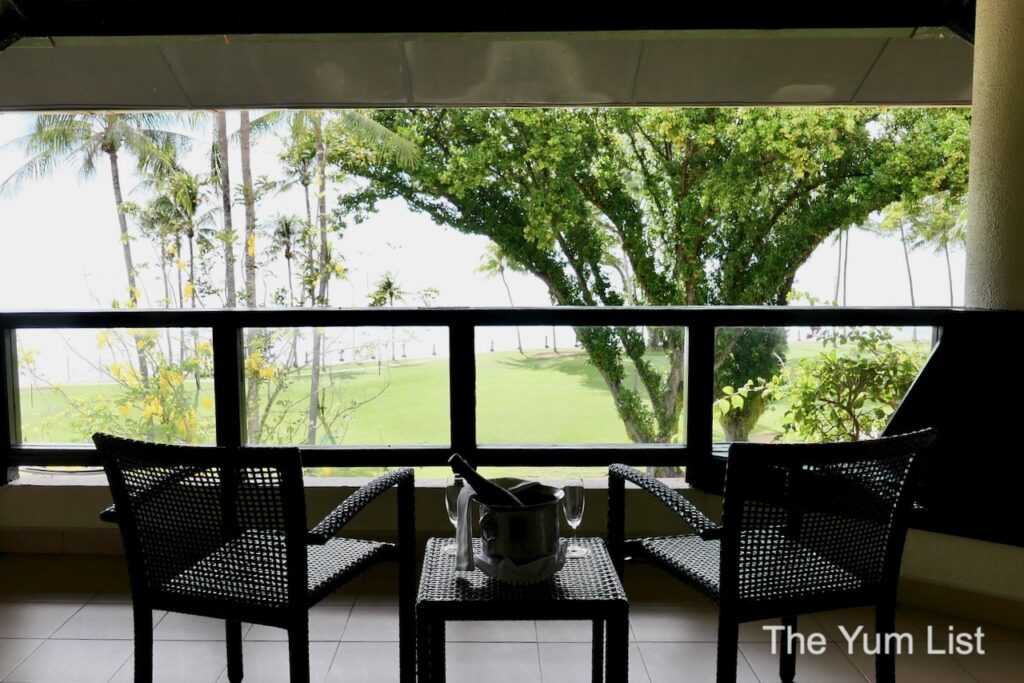 Facilities and Grounds to make you want for nothing
A walk around the 25-acre grounds highlights enough manicured pathways to sustain even the most dedicated of runners. We make a note to ourselves, to compensate for the abundance of overeating we know we are about to embark on. The health club alone is worth booking a stay at the Shangri-La Tanjung Aru. I would gladly pay a 12-month membership fee for the like back home. Rows upon rows of gleaming cardio machines are provided to work every muscle. Treadmills and ellipticals with full interactive displays make up the first rows, added to by an entire fleet of spin bikes, rowing machines and weight machines of all types. The back wall houses soft mats with a full range of hand weights, kettlebells, medicine balls, a fully stocked bench press set, battling ropes, TRX suspension trainers, boxing bags, and enough modern equipment to facilitate a complete cross-training session. The star of the room is an entire row of beautifully maintained pilates reformers. Yes, really! You don't need an additional expensive pilates studio membership here. What's more, the Health Club bathrooms are big enough to live in, with numerous showers, properly lit make-up stations, jacuzzis, and multiple saunas.
The ground staff have outdone themselves, with flowering bushes and shrubs perfectly tended. Biodiversity attracts a huge variety of birds and wildlife. A stroll through the boundless gardens takes us past a couple playing tennis, a grinning group of guys using the football nets, next to which a volleyball net lies waiting for midday sun lovers. At one end of the grounds, a younger duo practised their putting on the undulating 9 hole mini-golf course replete with manicured putting greens and sand bunkers. At the other end (a full 10-15 minute walk away), divers, fishers, and water sports lovers are coming back into the pier at the end of the day, and the Star Marina staff are busily cleaning and organising equipment for tomorrow's day trips.
Looking out over the numerous pools at Shangri-La Tanjung Aru, I'm not sure if I've actually stumbled into a water park by mistake. The splash playground has a tipping water bucket, Water Wars water balloon catapults, and three decent-sized waterslides, each of varying lengths and speeds. Three large pools offer different swimming conditions for young children, families, and there is an infinity pool reserved for adults. This one is particularly deep, with no floaties allowed, giving childfree guests the best views of Mount Kinabalu from the infinity edge. I note the numerous manned lifesaver towers keeping watch over each pool for peace of mind. Understandably, I spot some parents having a quiet snooze on lounge chairs, taking a moment to relax properly with the knowledge their little ones are safe.
Cabanas big enough to fit entire extended families are also equipped with dining tables, ceiling fans, rattan sofas and lounges. If you are here with a group, these are perfect for those wanting to spend the day poolside and beachside. In the centre of the water park Shangri-La Tanjung Aru's very own Cool Box Ice Creamery sits in pride of place, serving waffle cone delights, sundaes and milkshakes. Take your pick from the dizzying array of sugary toppings arranged in ginormous glass canisters.
To break up the pool time, two bocce/pétanque sandpits are perfectly situated between Splash Park, the Sunset Bar, and Coco-Joe's Bar and Grill. We are introduced to snook ball, a giant pool table built into the ground, with coloured stripes and solids soccer balls. Though, I feel like I need a beer, or colourful drink of some sort in my hand to play these properly! There is also a well equipped and maintained table tennis set which seems to be constantly in use.
Hundreds of loungers, each with prime views are arranged around the pools and throughout the grounds. There is no need to get up early and reserve the perfect spot. Even when the resort is operating at capacity, there are plenty of prime locations available. Whatever your preference: full sun, umbrella provided shade, with or without sand underfoot, on the lawn with natural shade provided by giant moss-covered trees, take your pick! Your only problem will be making a decision. Or you could commit to a day of musical chair lounge swapping to give them all a go.
For the romantics, there are hundreds of sweet spots to capture the perfect picture. From the white gazebo with ultimate sunrise and sunset views to the Sunset Bar bunny pads, to the infinity pool overlooking Mount Kinabalu, to the beach swing set, to the Splash zone water bucket, everywhere is Instagrammable. I dare any couples not to think 'I wish we got married here', or better yet, 'let's get married here!' as they walk around the gardens.
For the kids (and parents!) the Cool Zone offers a range of fun activities each and every hour, for children aged 5-8, and 9-12, including fish feeding, coconut bowling, treasure hunting, and arts and crafts. The schedule changes daily with new activities constantly on offer. There is also air hockey, a pool and a classic Nintendo gaming system. For the budding marine biologists, the Clownfish Education Centre is a small on-site aquarium for guests to learn about different species on the local reefs and see them up close. Boredom doesn't exist at Shangri-Lar Tanjung Aru.
The Lobby Lounge is nothing short of spectacular, a homage to Borneo. Breathtakingly lofty wooden ceilings are held up by thick timber beams. The dark timber polished floor is accented by plush armchairs in natural hewed herringbone and muted elegant rugs. Floor-to-ceiling sliding wooden windows welcome the sound of the ocean into the space, granting unobstructed views of the grounds. Windmilling rattan chandeliers add texture and imposing pillars hold up backlit copper inlays which mimic Bornean carvings. It is an impressive celebration of local culture and traditions, designed to slow your pace, send your eyes skyward, and leave you open-mouthed.
It is clear the grounds have been meticulously thought out to accommodate all tastes, occasions, and types of guests, from families to singles, couples, and groups.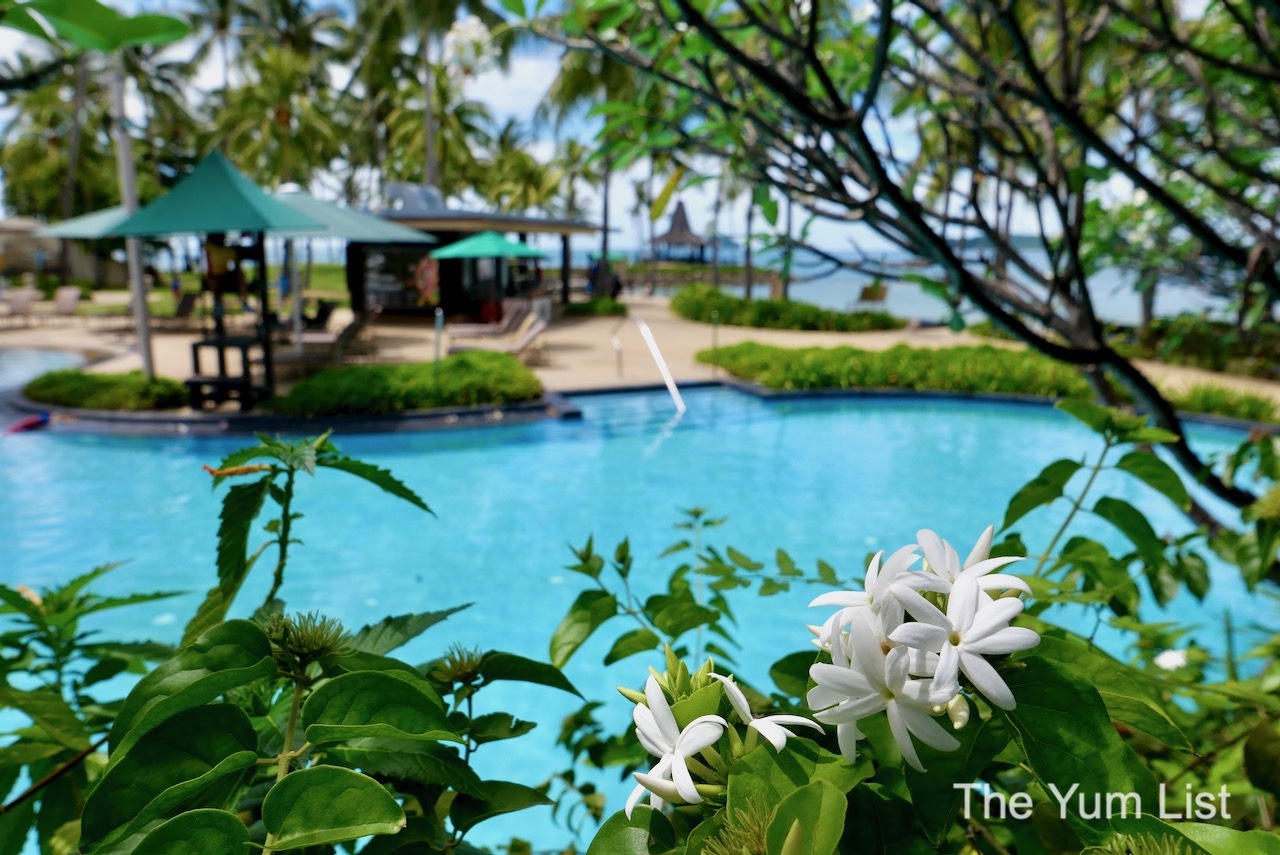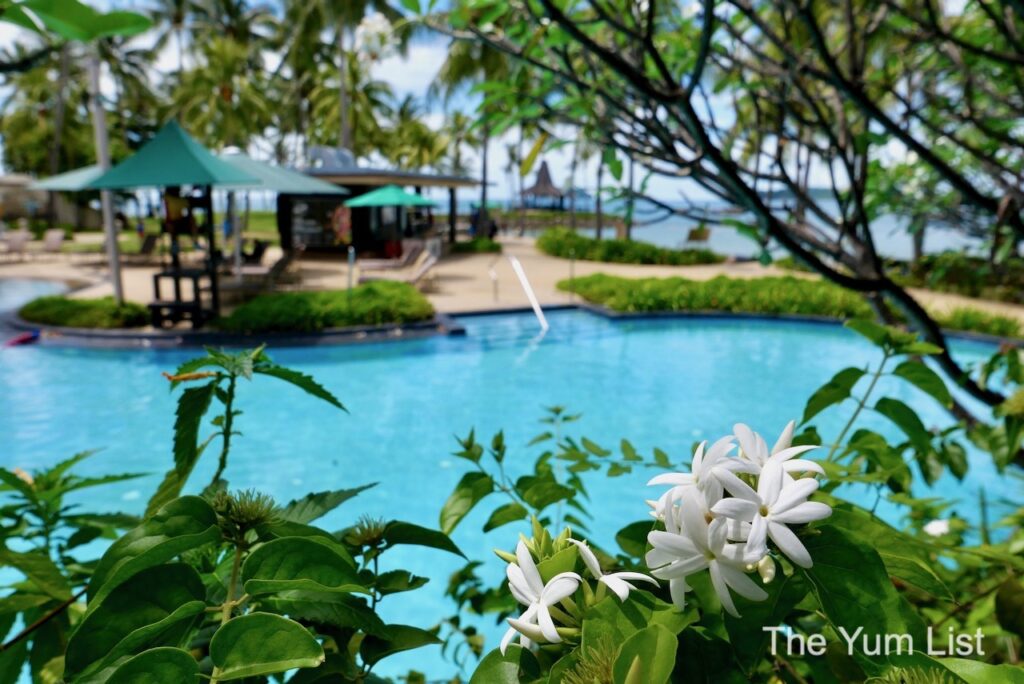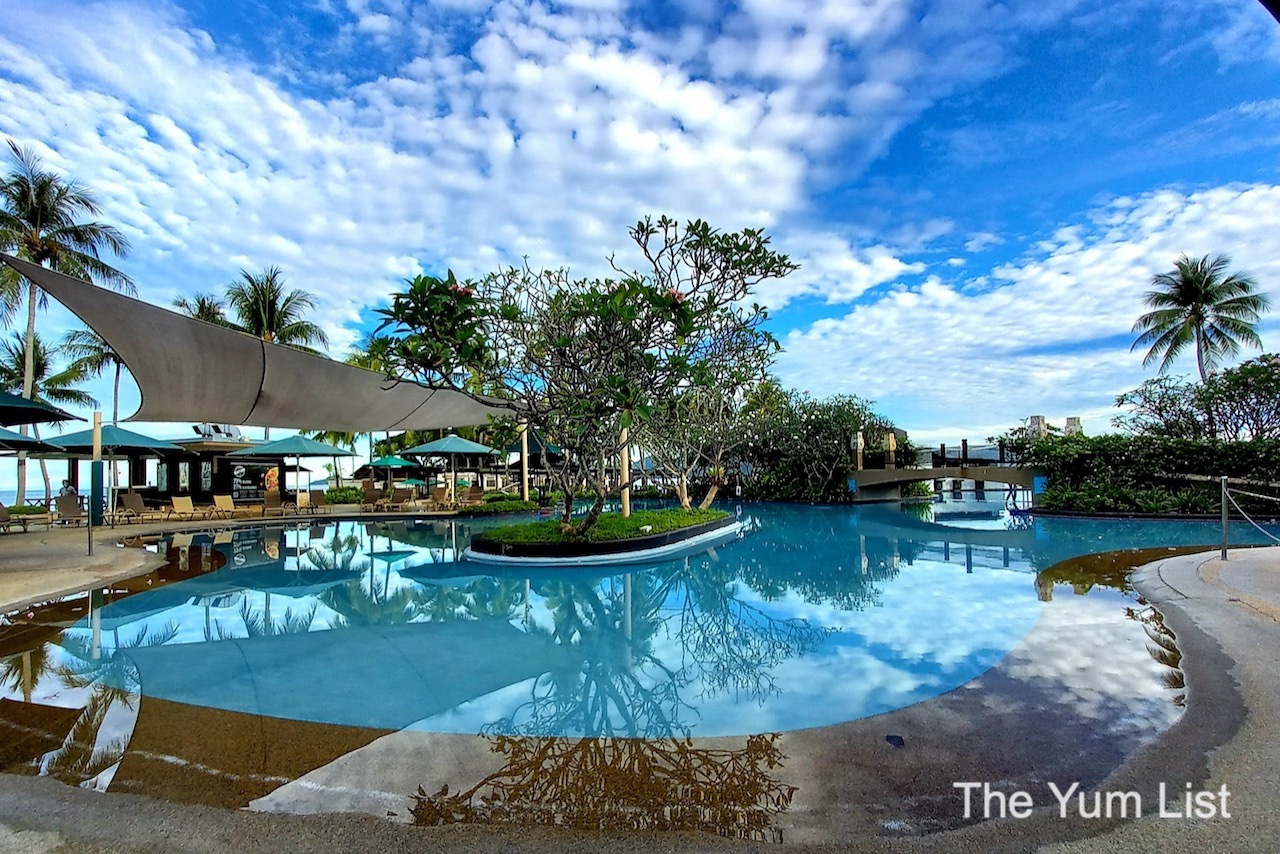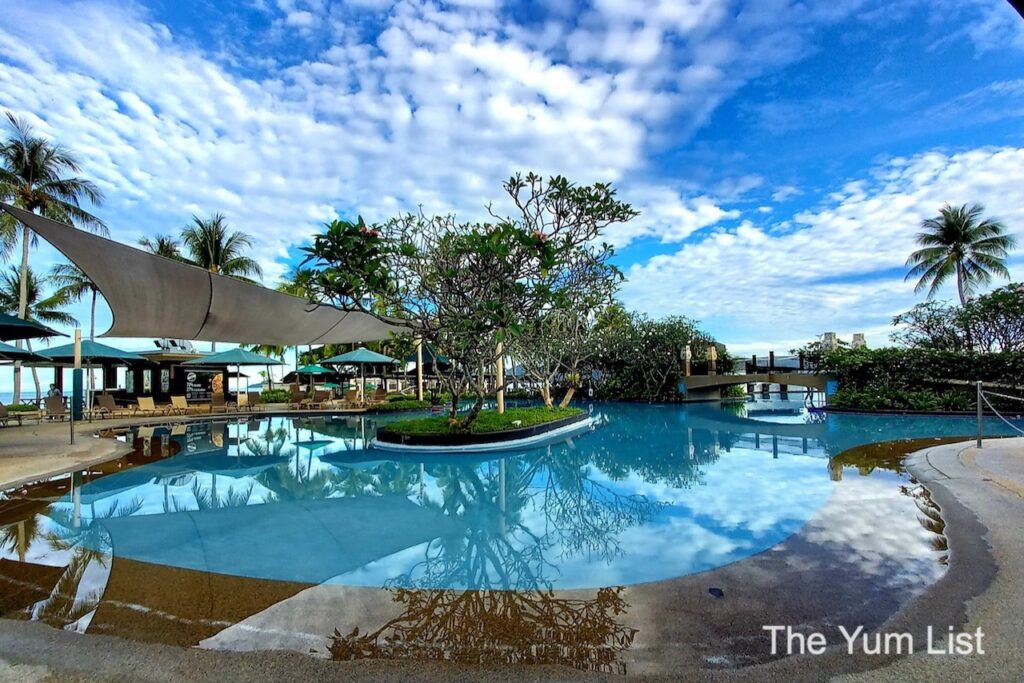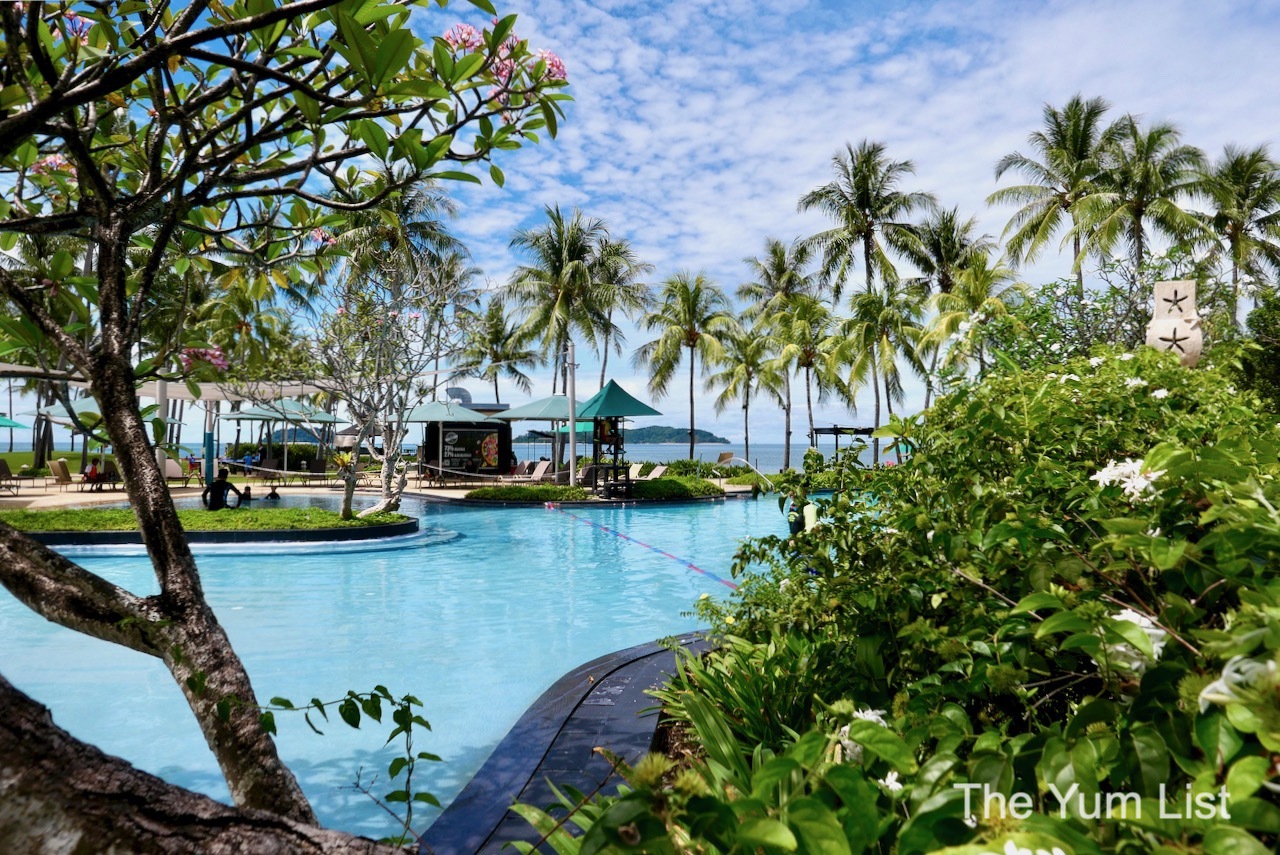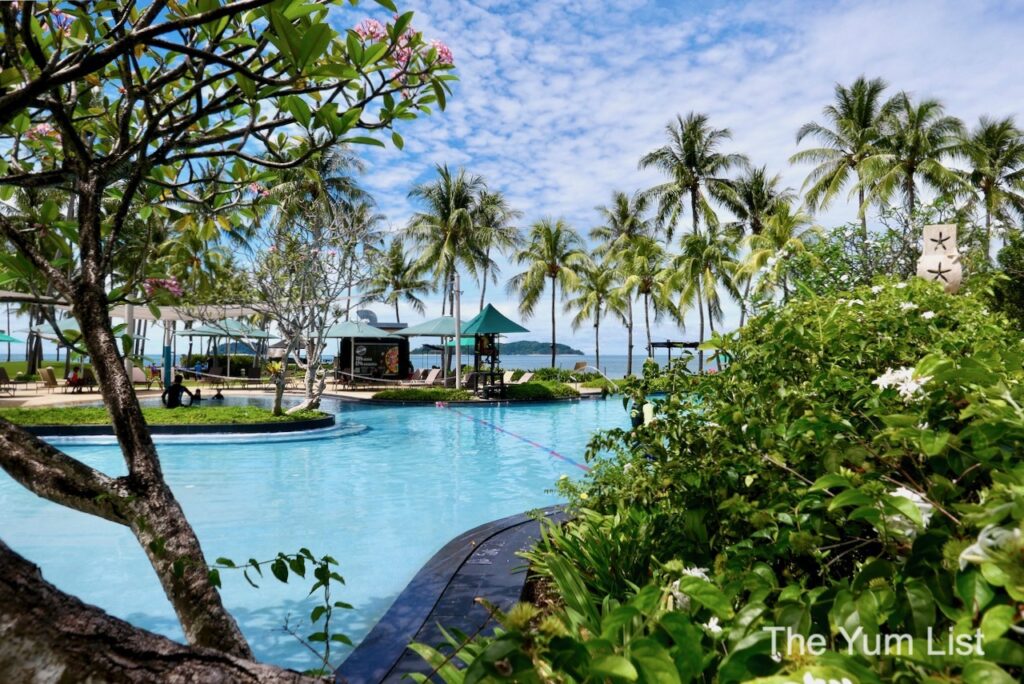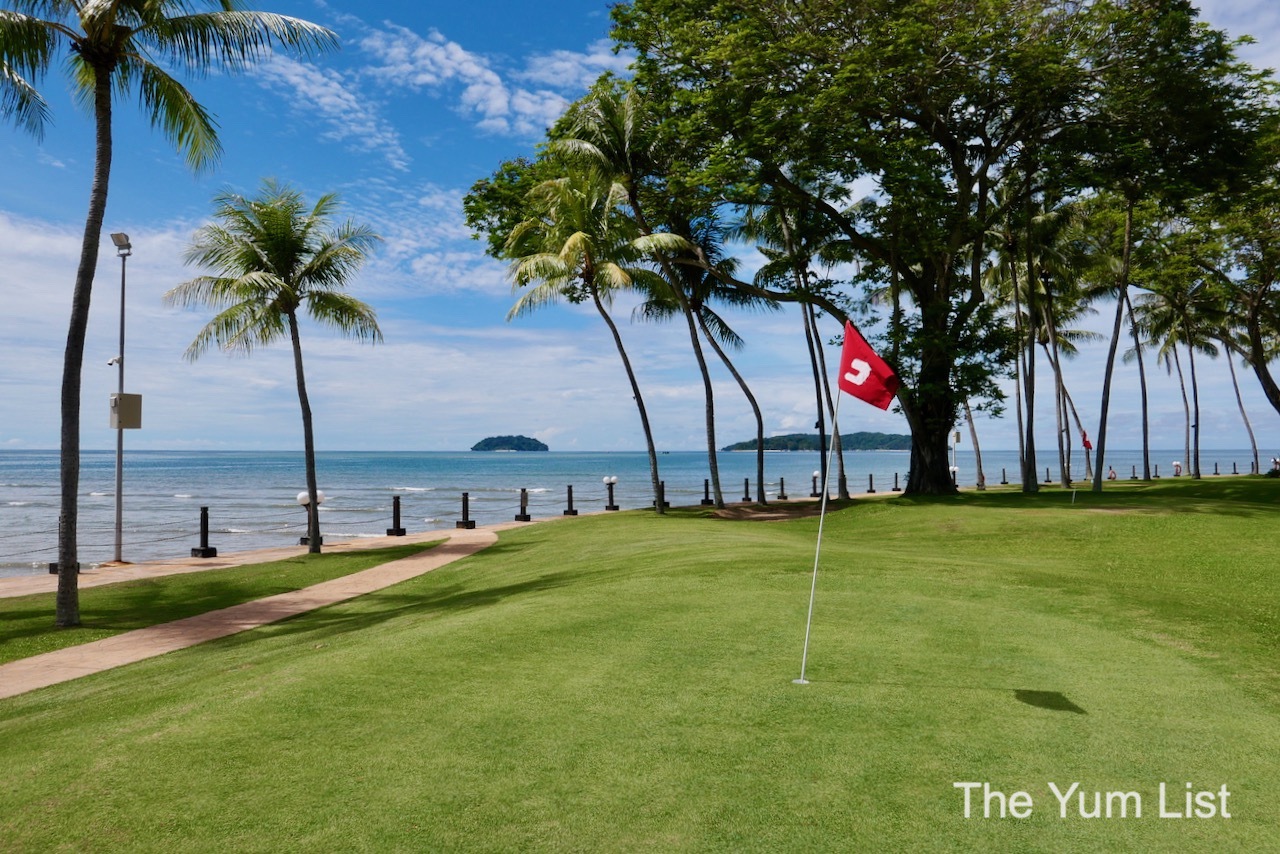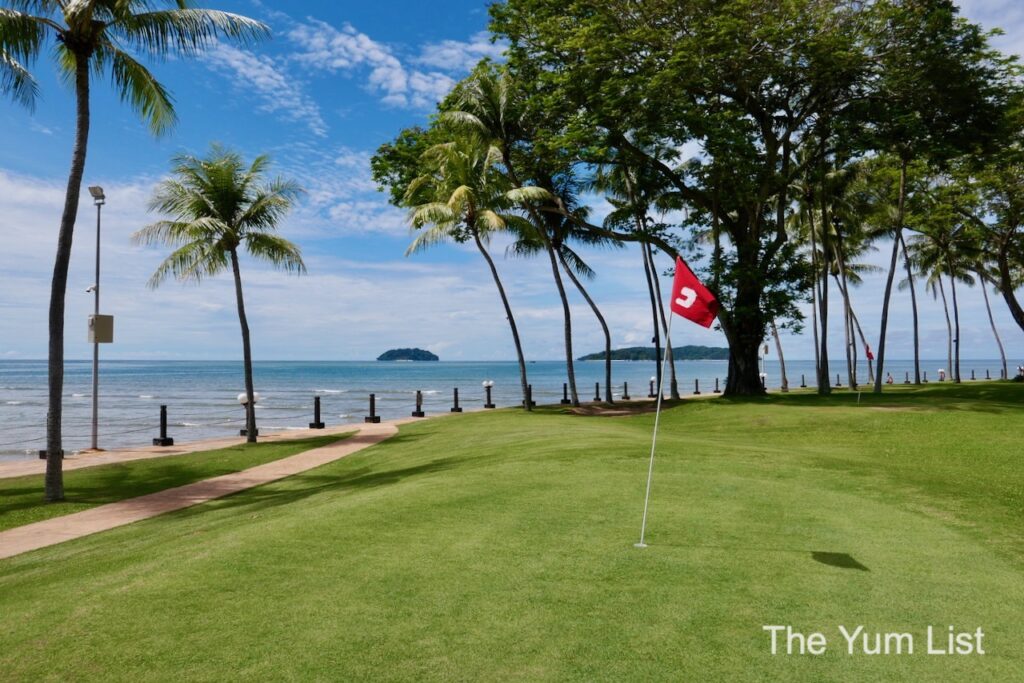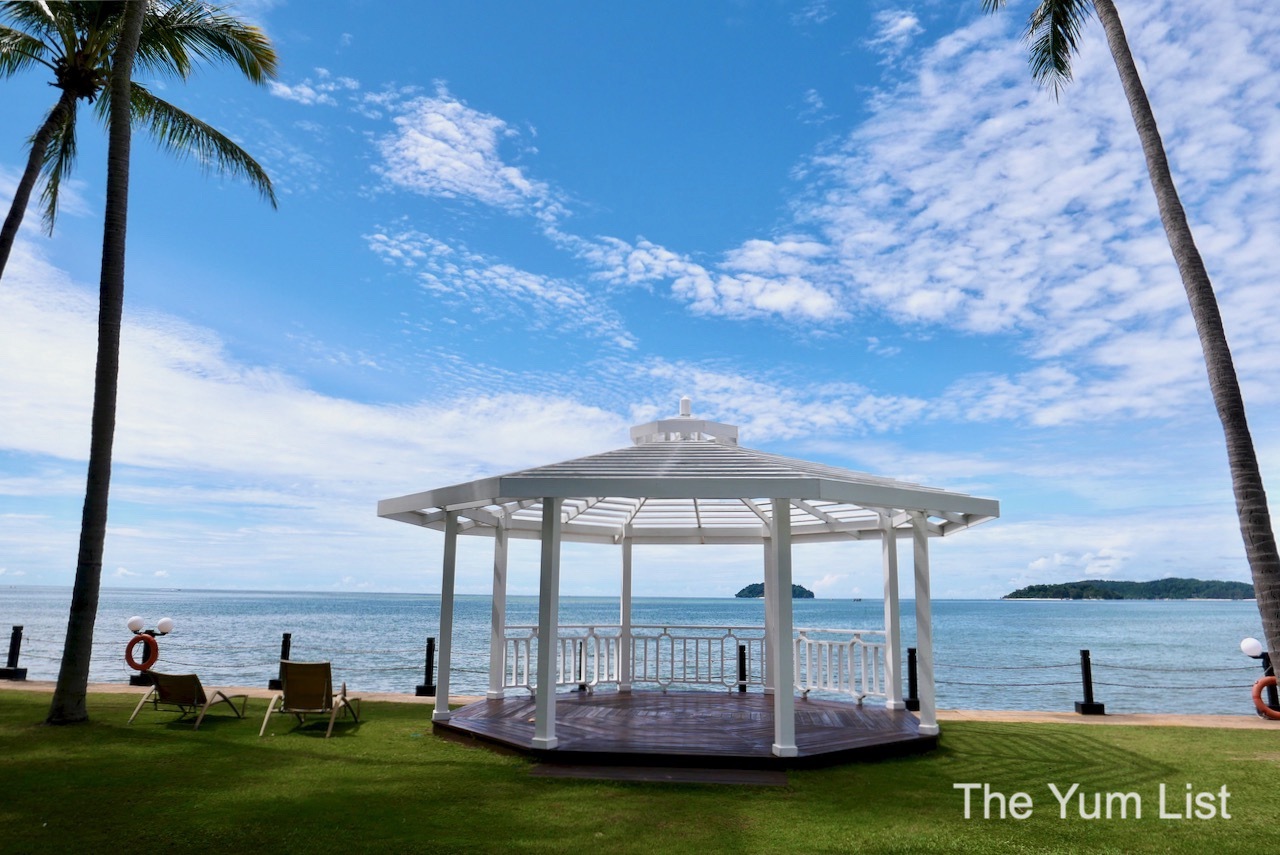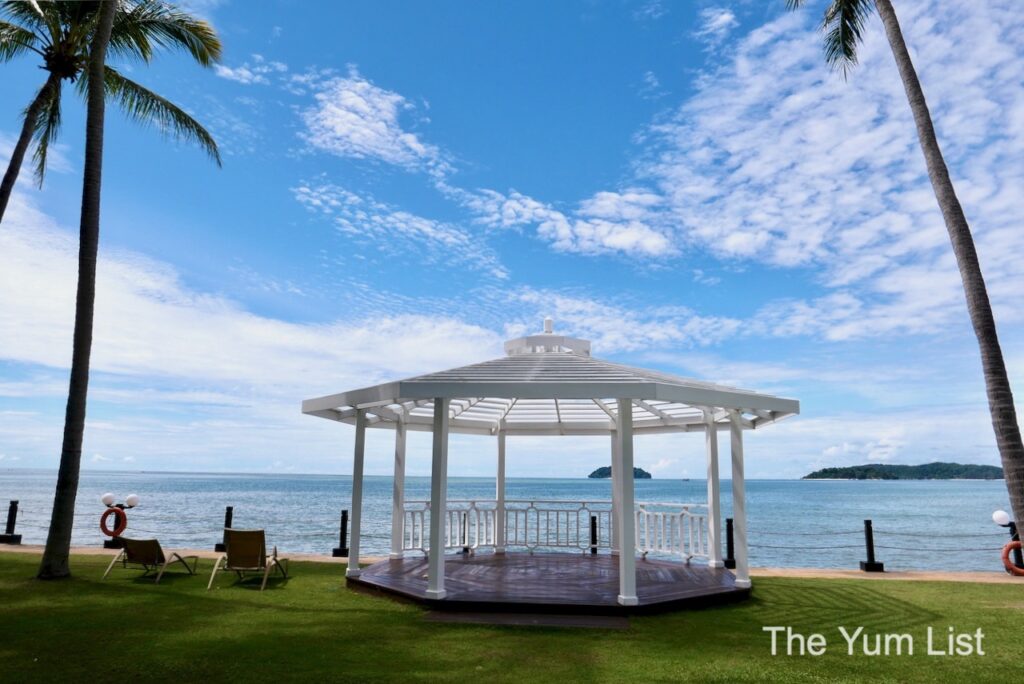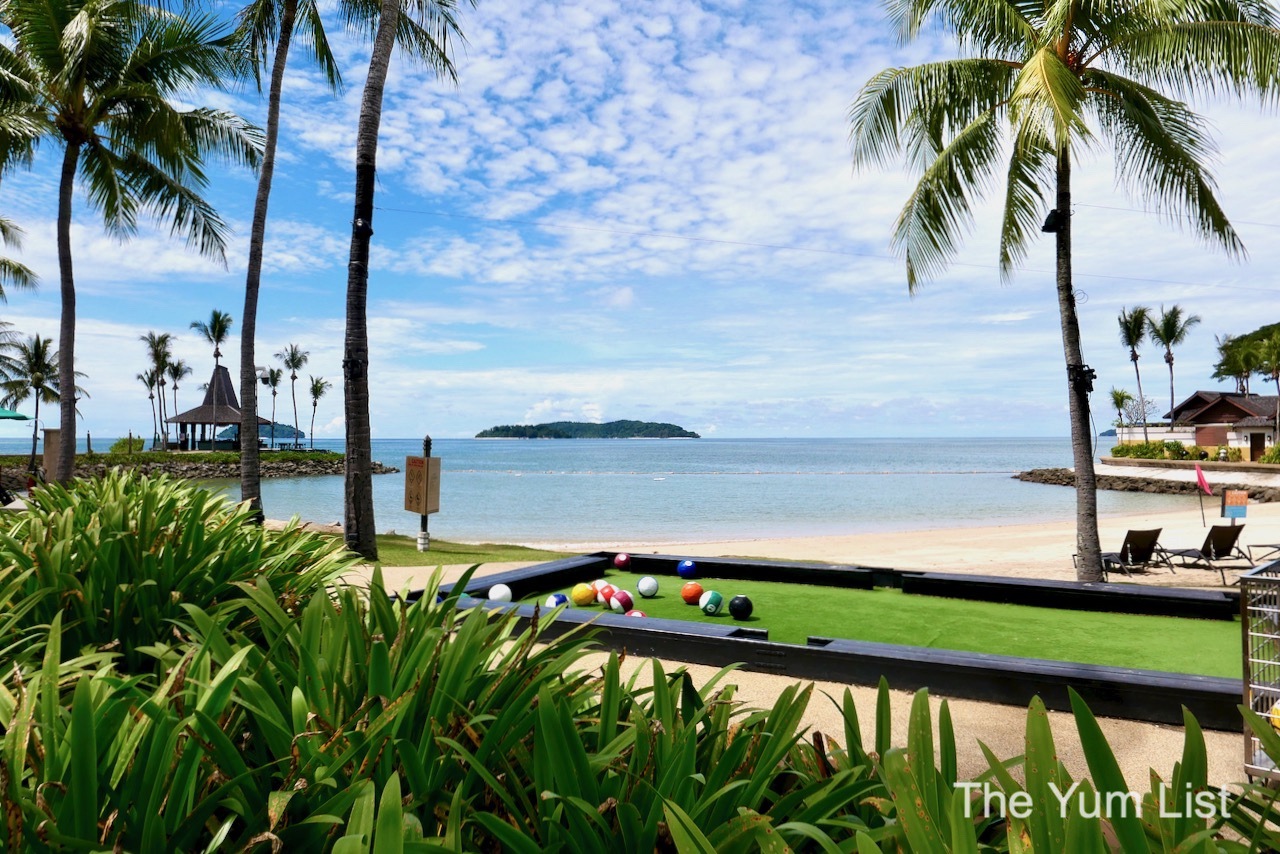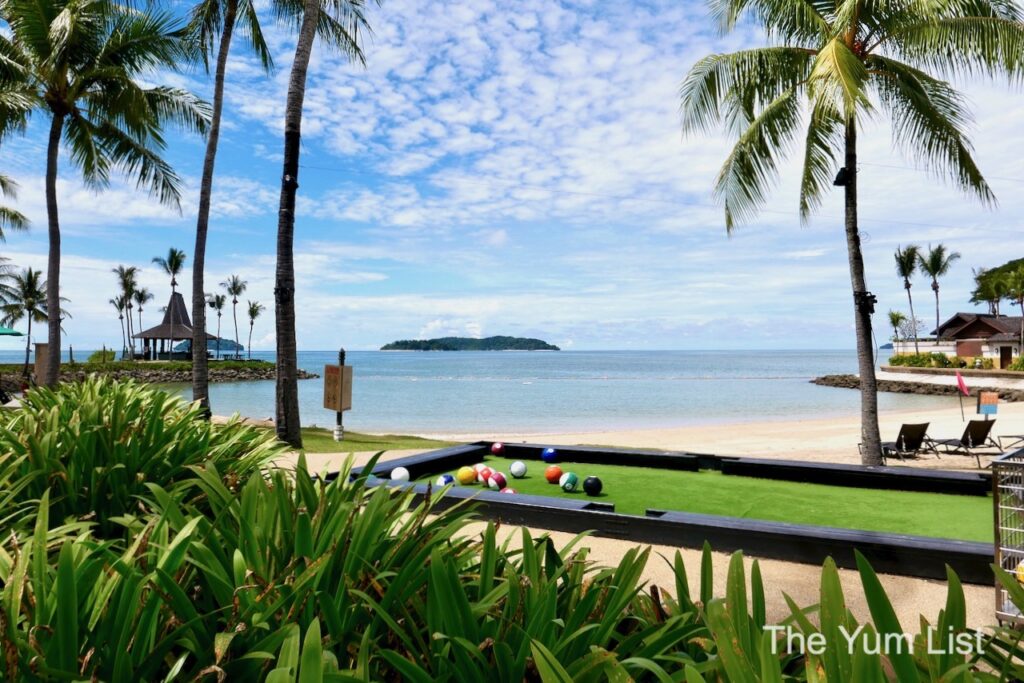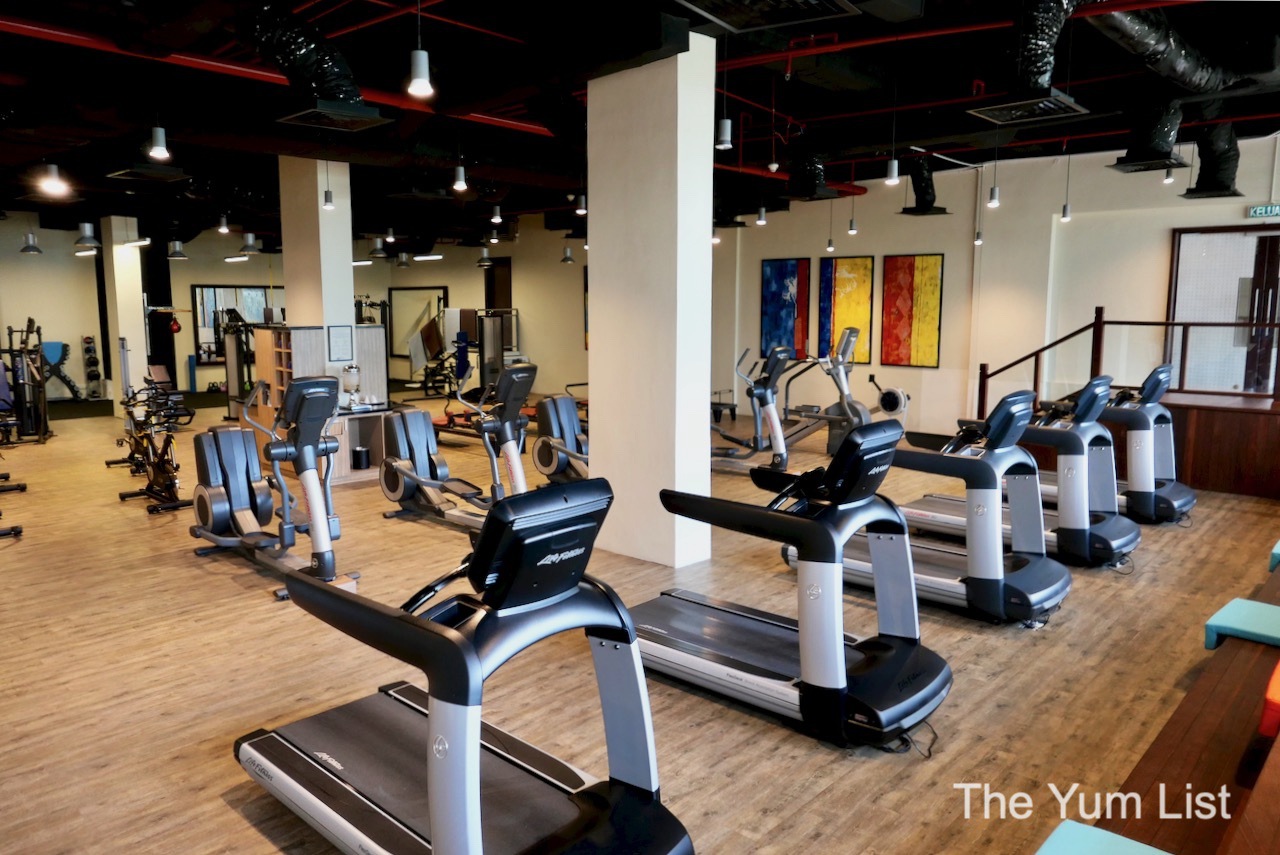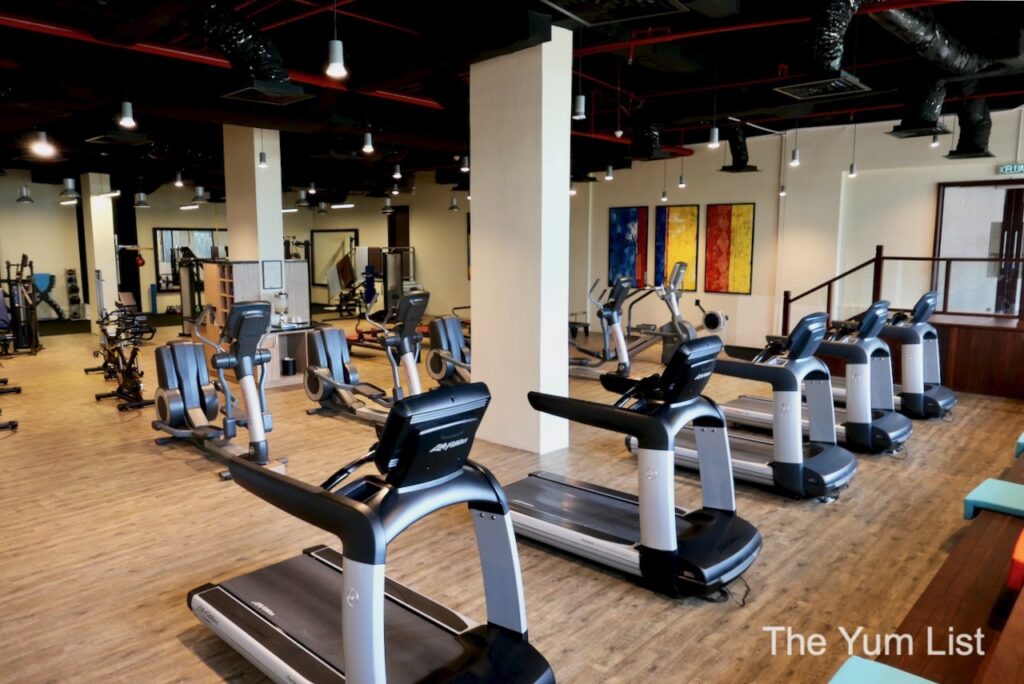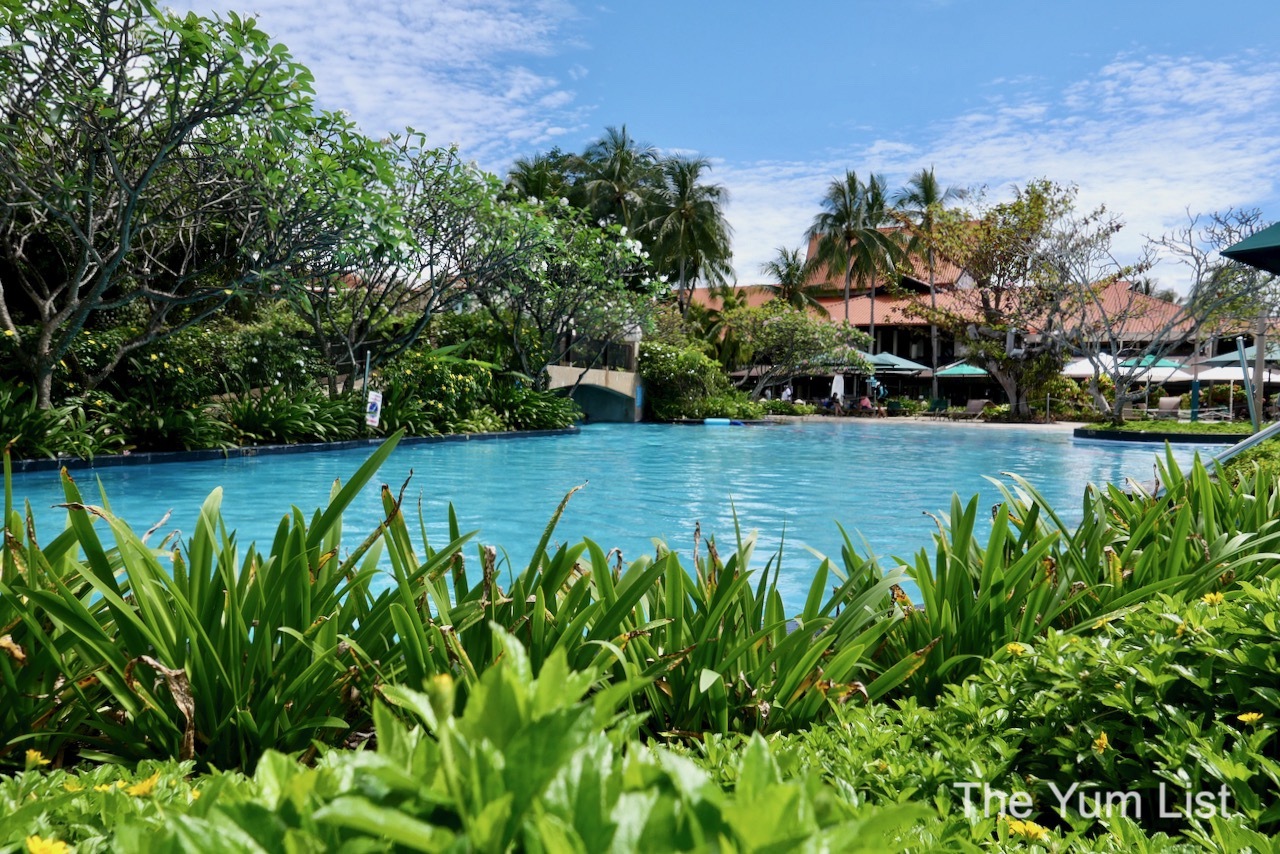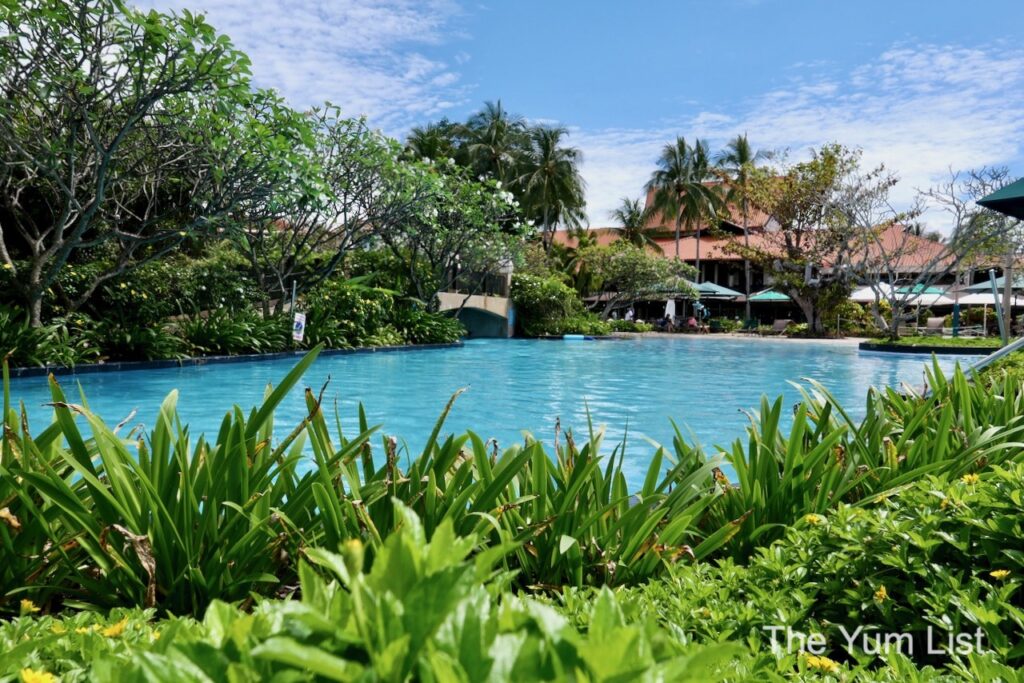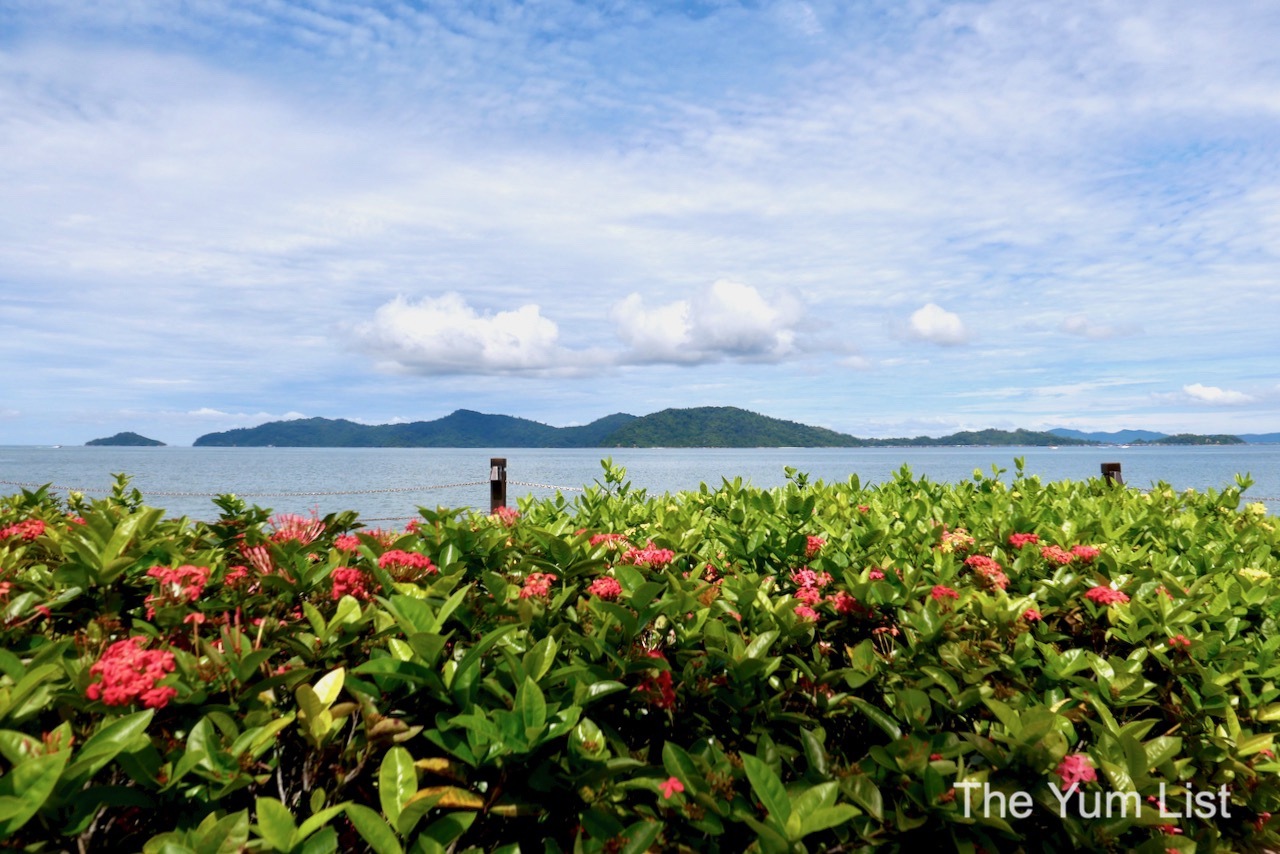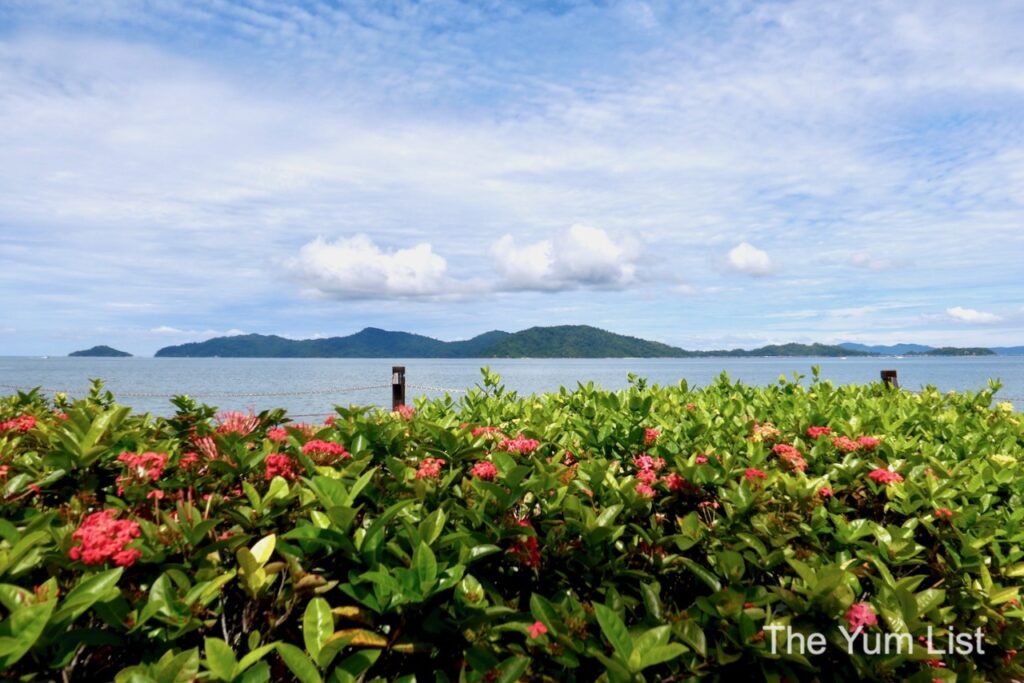 Sunset Cocktails at Shangri-La Tanjung Aru, Kota Kinabalu
Hanif greets us at the Sunset Bar for evening cocktails. He is already expecting us and chats openly with us about tonight's sunset prospects, and his personal recommendations from the menu. Charming and affable, nothing is too much trouble. We learn over the coming days that Hanif's specialty is anticipating guests' needs. This may be why he has been with Shangri-La Tanjung Aru for multiple decades.
We try the signature Sabah Sling. Unlike its Singapore counterpart, this one pairs gin with local rice wine, lime and lemongrass. Perfectly refreshing, it is fragrant rather than overly sweet. The Daiquiri is a generous serving and a great choice for those who like their cocktails with a little bit of sting (RM38 each). Hanif brings out a Sunset Hook (RM80), with four fat skewers of prawns, lamb, chicken and beef barbequed at the charcoal grill to the side of the Sunset Bar island. The smell of the chargrill wafts through the tables. If only our photographs had a scratch and sniff component! Finding our glasses empty far too quickly, we follow up with two whole coconuts (RM18 each) and some Captain Morgan Spiced Rum (RM36), the vanilla and caramel from the rum highlighting the fresh coconut.
In an effort to chase the ultimate sunset photo, we return the next evening to watch the golden glowing orb dip below the horizon, trailing liquid lava across the water. For Malaysian mainlanders, the trip to Sabah is worth it for the sunsets alone. The second night Hanif reserves us a Bunny Pad for their prime sunset viewing position, and we lounge back, the water lapping a mere metre from our feet, with a glass of Prosecco (RM38) and the House White (RM25) before heading off to dinner. This is the life!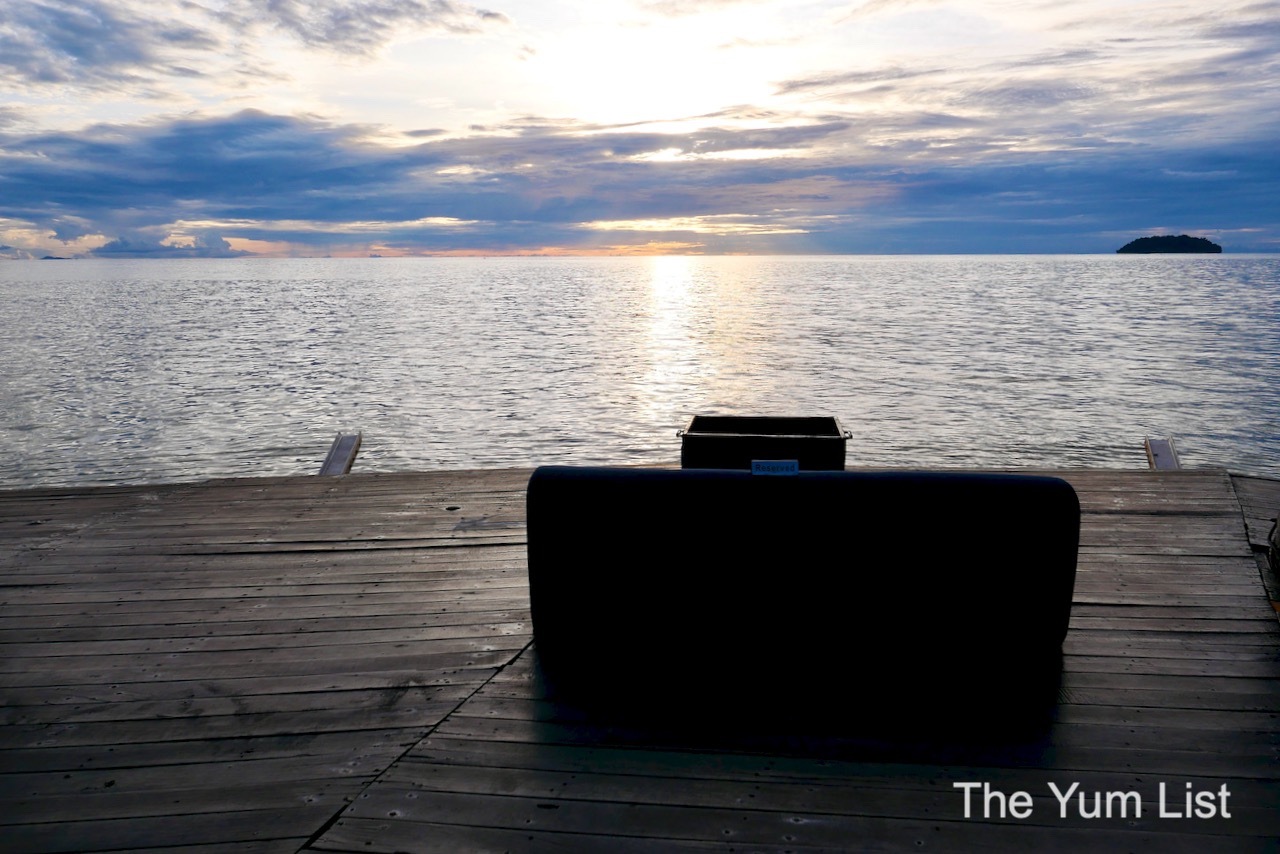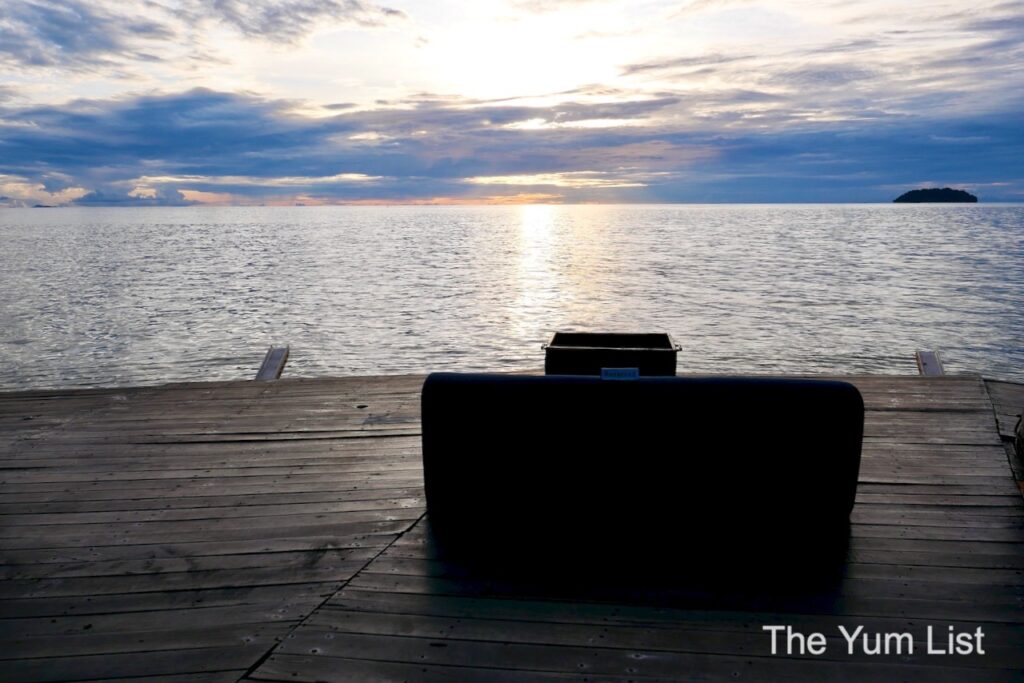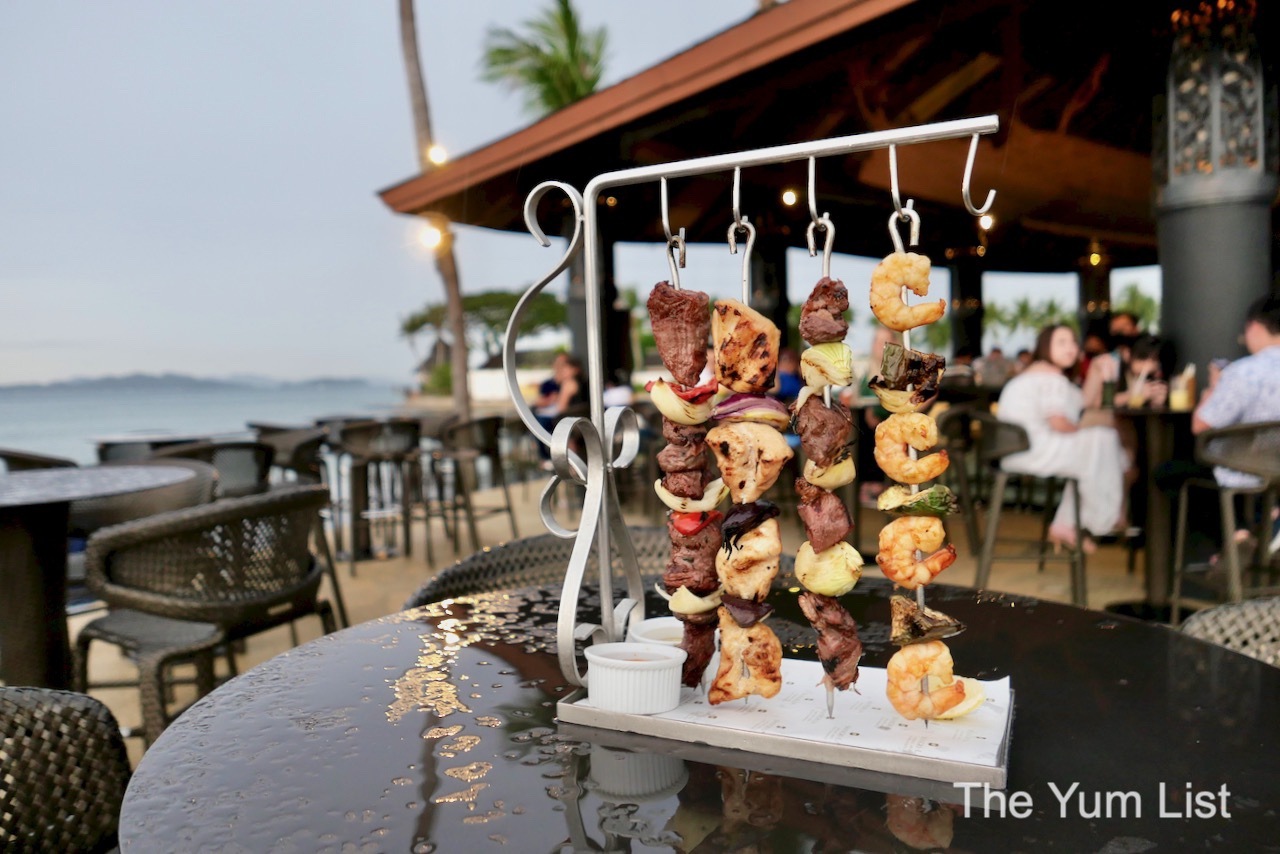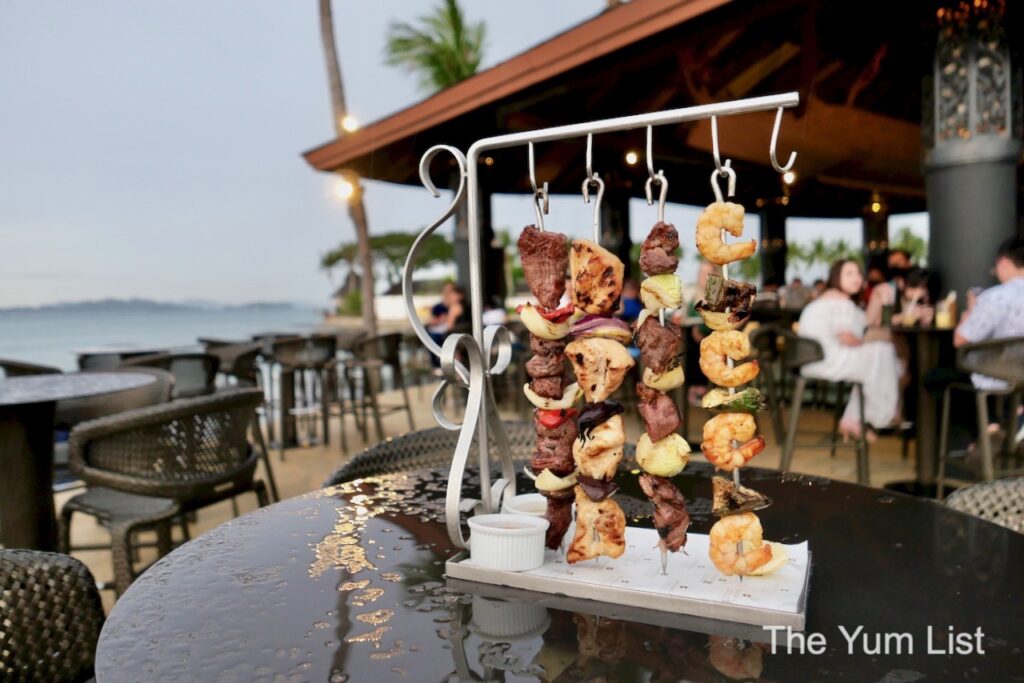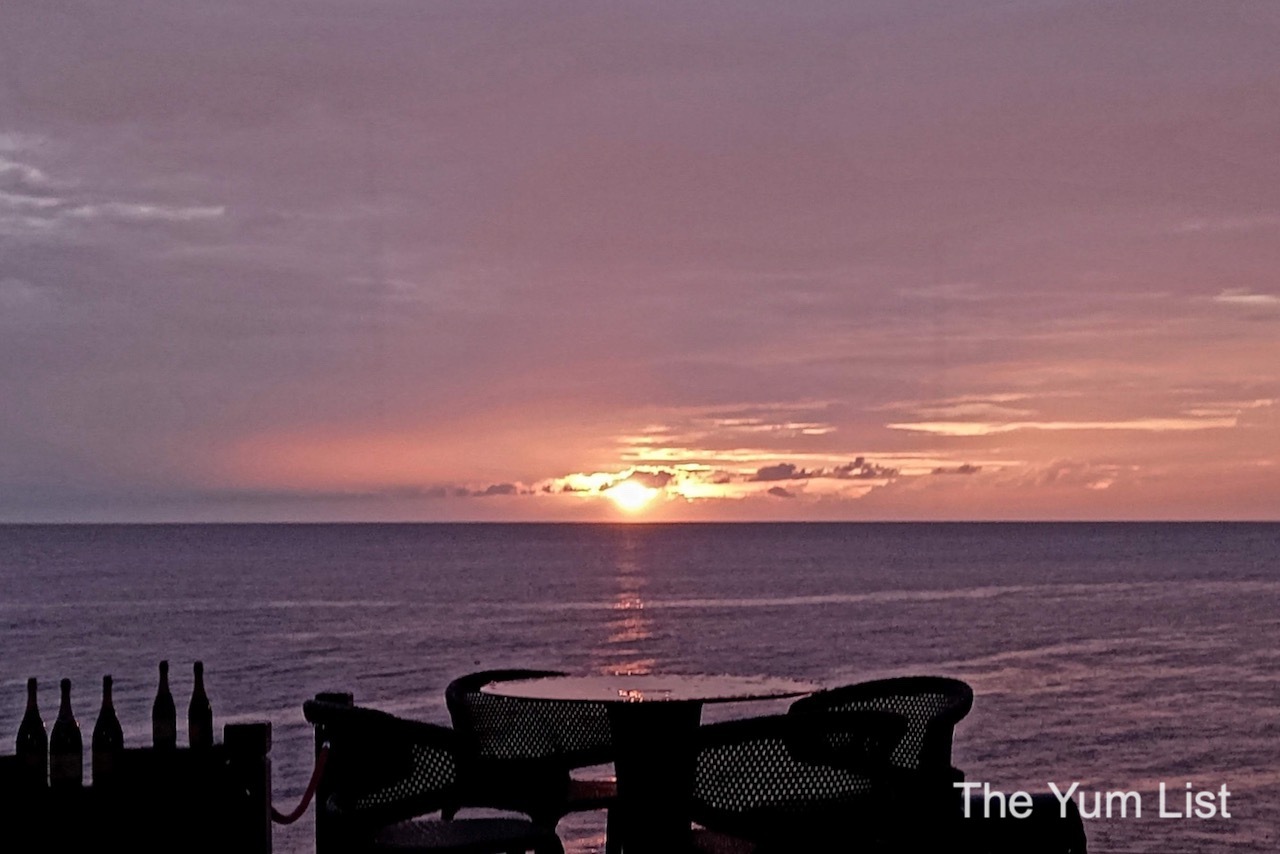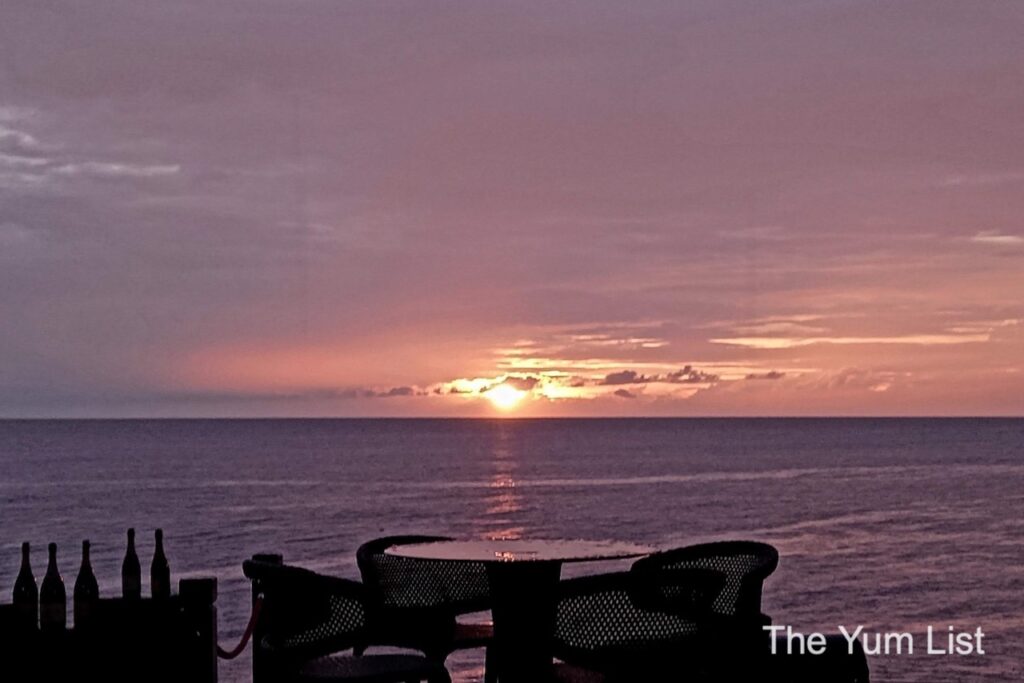 In-Room Dining Service Shangri-La Tanjung Aru
A gentle bell alerts us to waiter Arcelinus who wheels in a beautifully laden trolley. Arcelinus tells us he has been with Shangri-La for over 30 years, a testament to how the company values its staff. He sets up on our exorbitantly large balcony, extending hidden table leaves to convert into a white linen service, complete with roses and ambient lighting. Freshly made sourdough and wholegrain bread rolls are still warm in their basket, while delightful miniature finger sandwiches cut into adorable hearts disguise layers of high-quality ham and cheddar.
Tonight we are feasting with an accompanying bottle of El Plano Spanish Tempranillo, a smooth, fruit-forward red with rich dark cherry, and mild tobacco and spice notes. It is a well-chosen companion to the surf and turf main course. Slow-cooked via sous vide, the garlic tiger prawn sits atop a bed of potato puree, stalks of asparagus, king oyster mushrooms, oven-roasted cherry tomatoes and a pan-seared lemon wedge. However, the hero of the plate is a generous slab of beef tenderloin, cooked medium-rare. A peppery aux jus is served on the side so you can dip and pour as much or as little as you'd like.
For dessert, we are treated to a rich dark chocolate dome dusted with gold which dramatically melts and dissolves under the heat of a white chocolate pouring sauce. The treasure inside is revealed to be a chocolate souffle with vanilla ice cream. It is so decadent, we can only manage one between the two of us.
Sunrise Breakfast at the Sunset Bar
For early risers, the Sunset Bar offers an incredible breakfast experience with the best views in the resort to watch the sun come up. We are again spoiled by Hanif and chef Zeb. The former has prepared a gorgeous table setting for us, with a brimming vase of pink and cream roses, fresh espresso coffee, a plate of tropical fruits artfully arranged in the shape of sails, and a basket of still-warm mixed pastries.
We ask Zeb to surprise us, and he does just that, cooking up a prime cut of juicy medium-rare steak on the outdoor charcoal grill. It must weigh at least 200g. He rounds out the plate with two eggs cooked sunny side, grilled king oyster mushrooms, crisp asparagus and a serve of pan-fried potatoes, cherry tomatoes, onions and halal bacon. Just as well we have a full day of snorkelling and swimming planned at Pulau Manukan, otherwise, we'll be leaving Shangri-La a few kilograms heavier.
Chatting with Hanif, we discover that many couples decided on the Sunrise Breakfast to welcome in the New Year, opting to greet 2022's first sunrise here in style at the Sunset Bar. Is this breakfast worth foregoing midnight fireworks and partying for an early morning wake up? Yes! Without a doubt!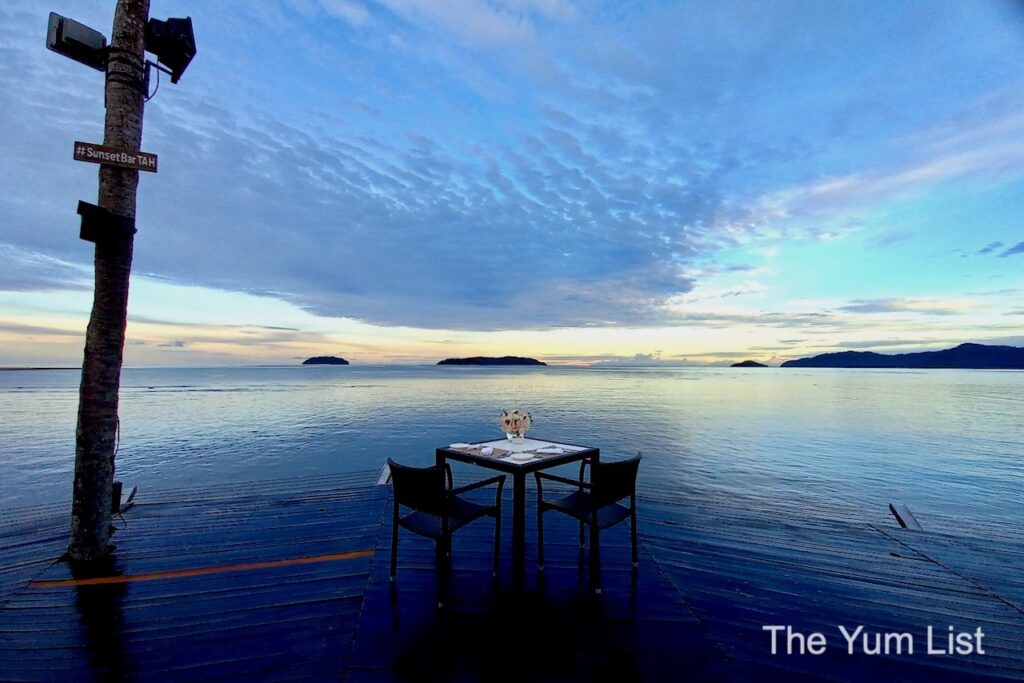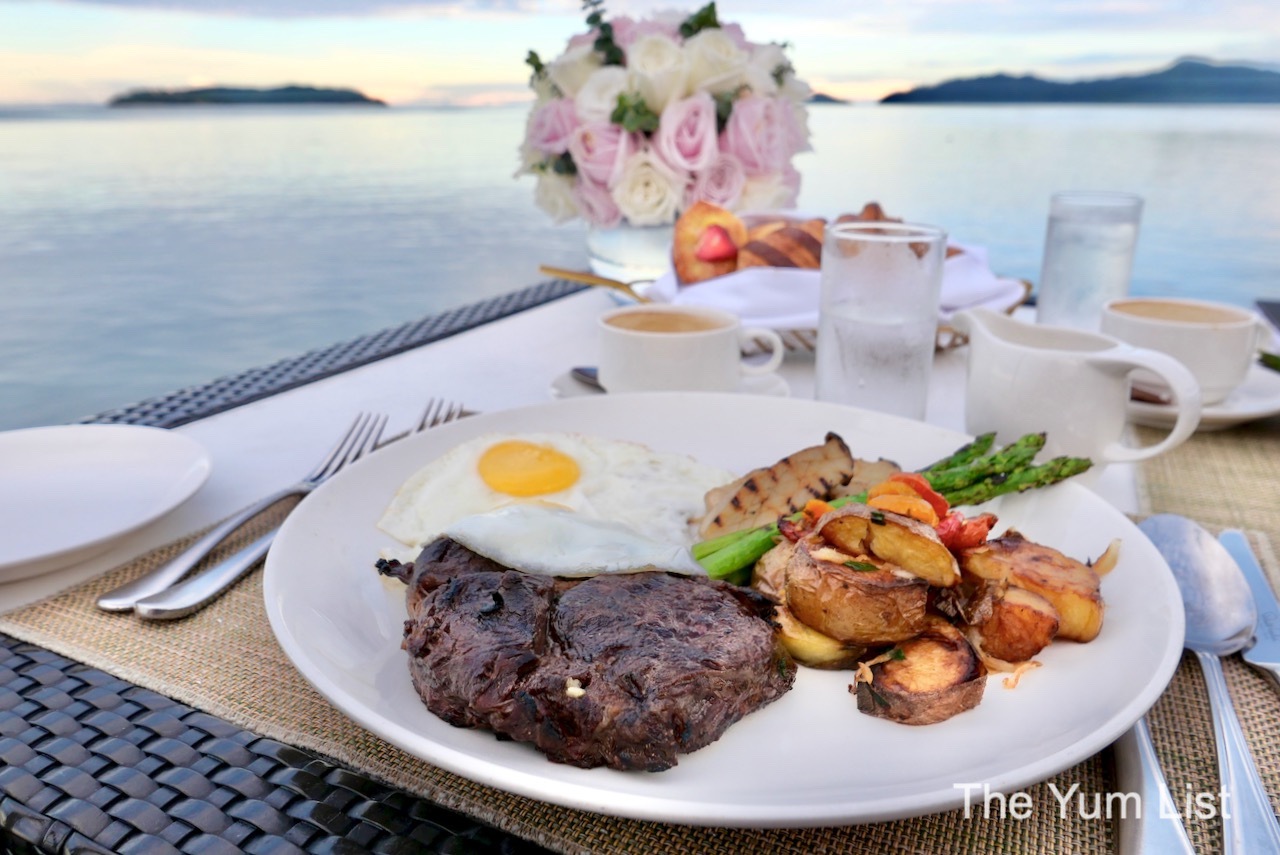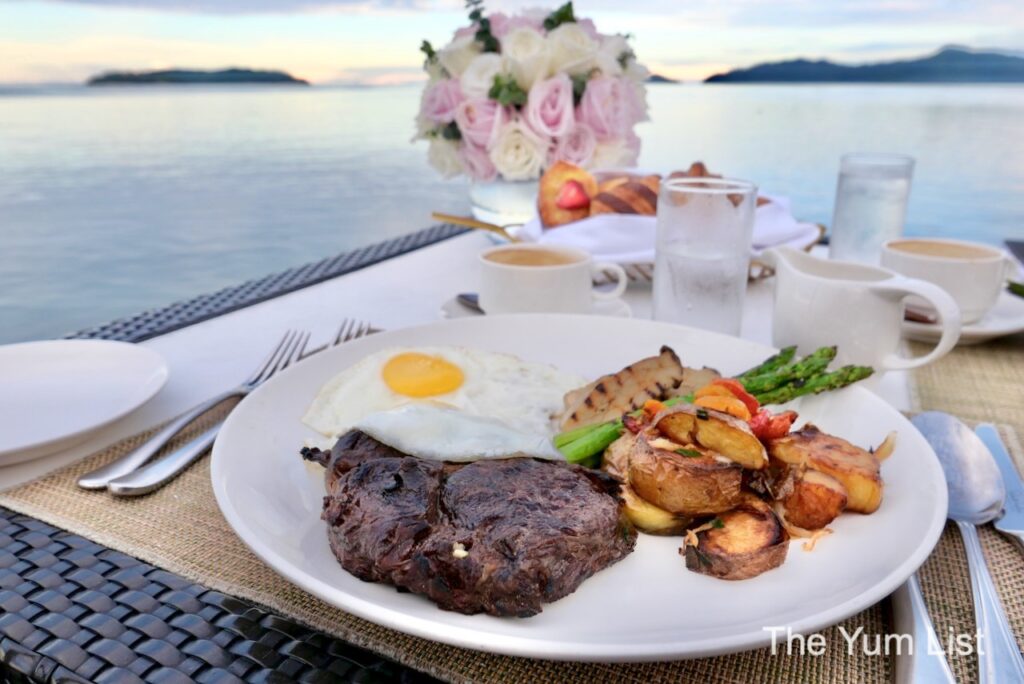 Snorkelling at Tunku Abdul Rahman Park
Shangri-La's Star Marina is their gateway to the marine park islands dotted around the Kota Kinabalu coastline. Their in-house team provide a range of water sports, fishing and diving to suit all tastes and abilities. A short boat trip to Pulau Manukan in Tunku Abdul Rahman Park, and we're amongst the coral. Shangri-La's top-quality Sea Pro snorkel sets allow us to peacefully meander through healthy schools of brightly coloured fish, spotting electric neon wafting anemones, peek-a-boo clownfish, rainbow parrotfish, and even a stealthy reef shark cruising by.
It's the wet season, so visibility isn't as strong (the best time to come is April to October). However, there is still plenty to see, and we are blessed with sunny blue skies and calm water. There is an abundance of different coral species around the eastern tip of the island and on the southeastern side. Park activities such as parasailing, underwater walking, and banana boating are all heavily discounted during the offseason so are an added incentive to visit over the festive period. Bring some cash with you for the national park access fee, additional activities, and for snacks and drinks if needed.
Shangri-La Tanjung Aru guests can request a picnic lunch for the day, and we're provided with lush gourmet sandwiches packed with deli meats, soft cheeses and salads, fresh fruit, Schweppes ginger ale, and a generous slice of cheesecake or chocolate brownie to increase our sugar levels after a full morning of snorkelling. There are plenty of shaded picnic tables, or you can stretch out on the soft sand. Clean toilets and showers are available.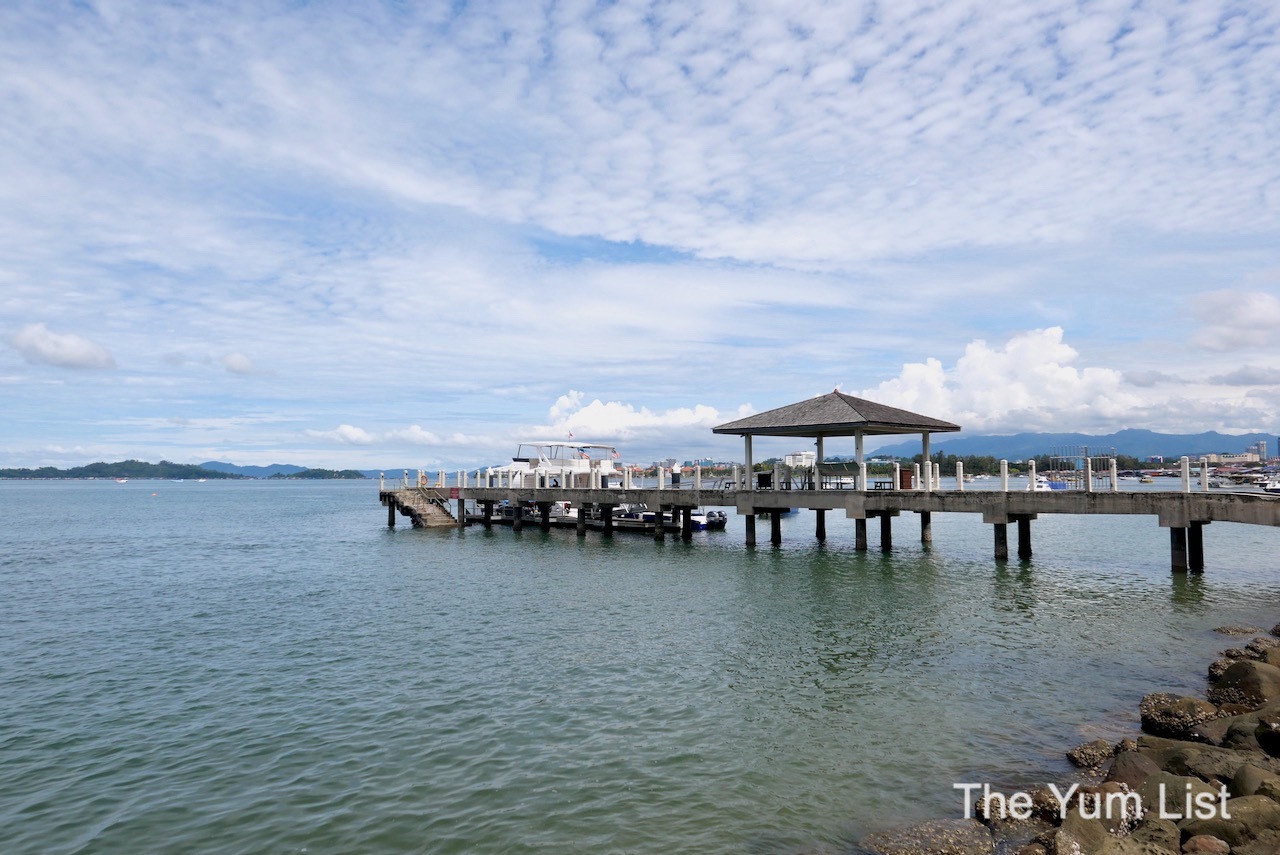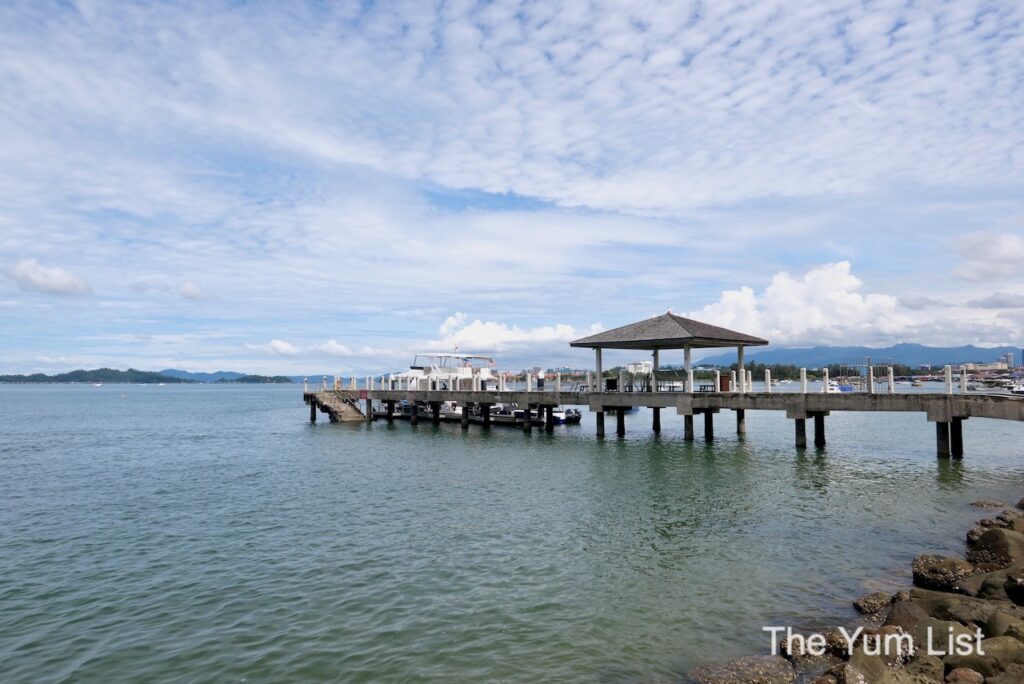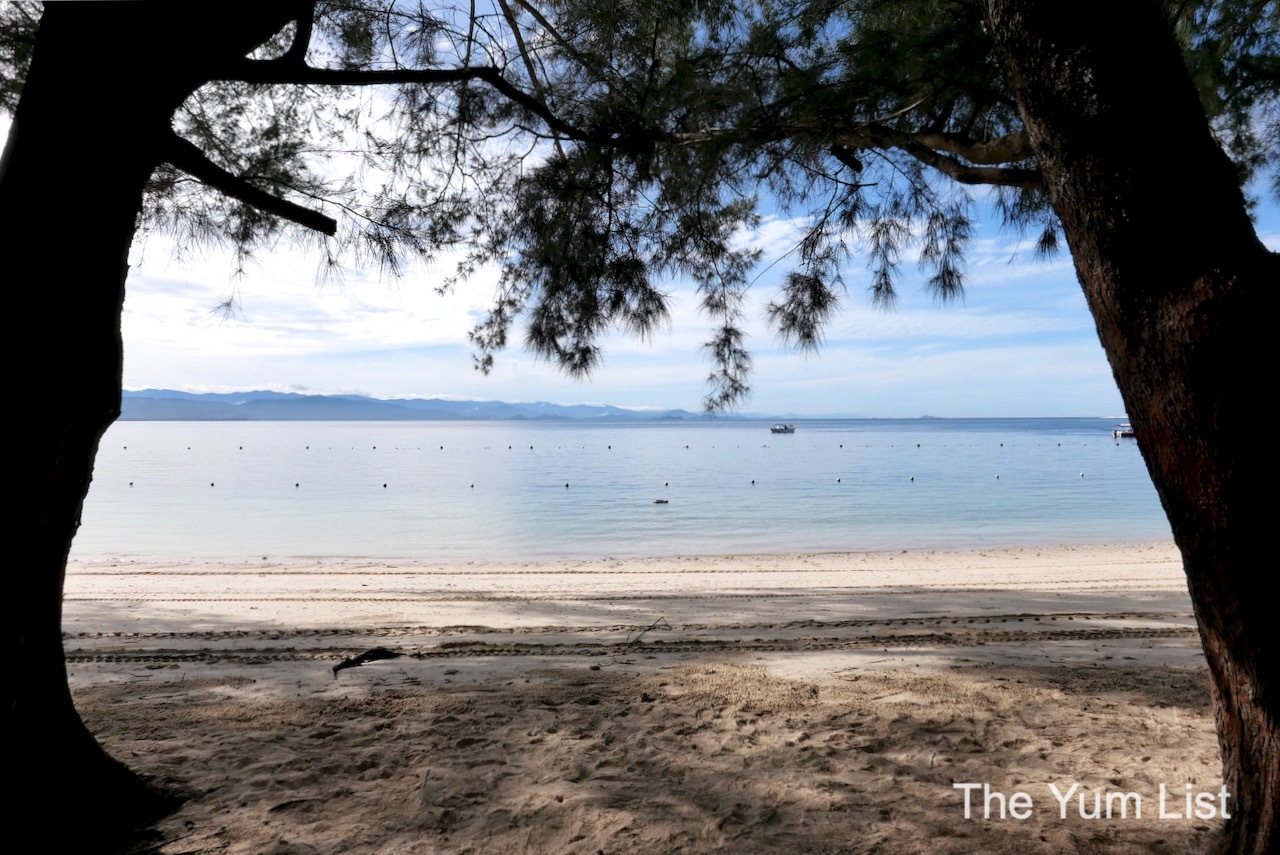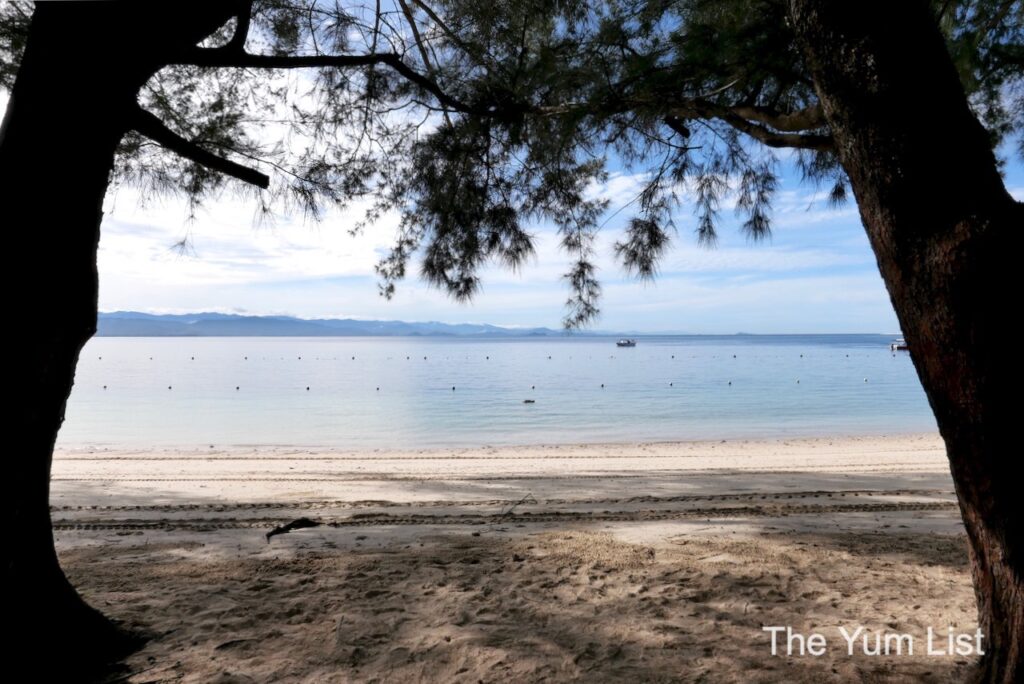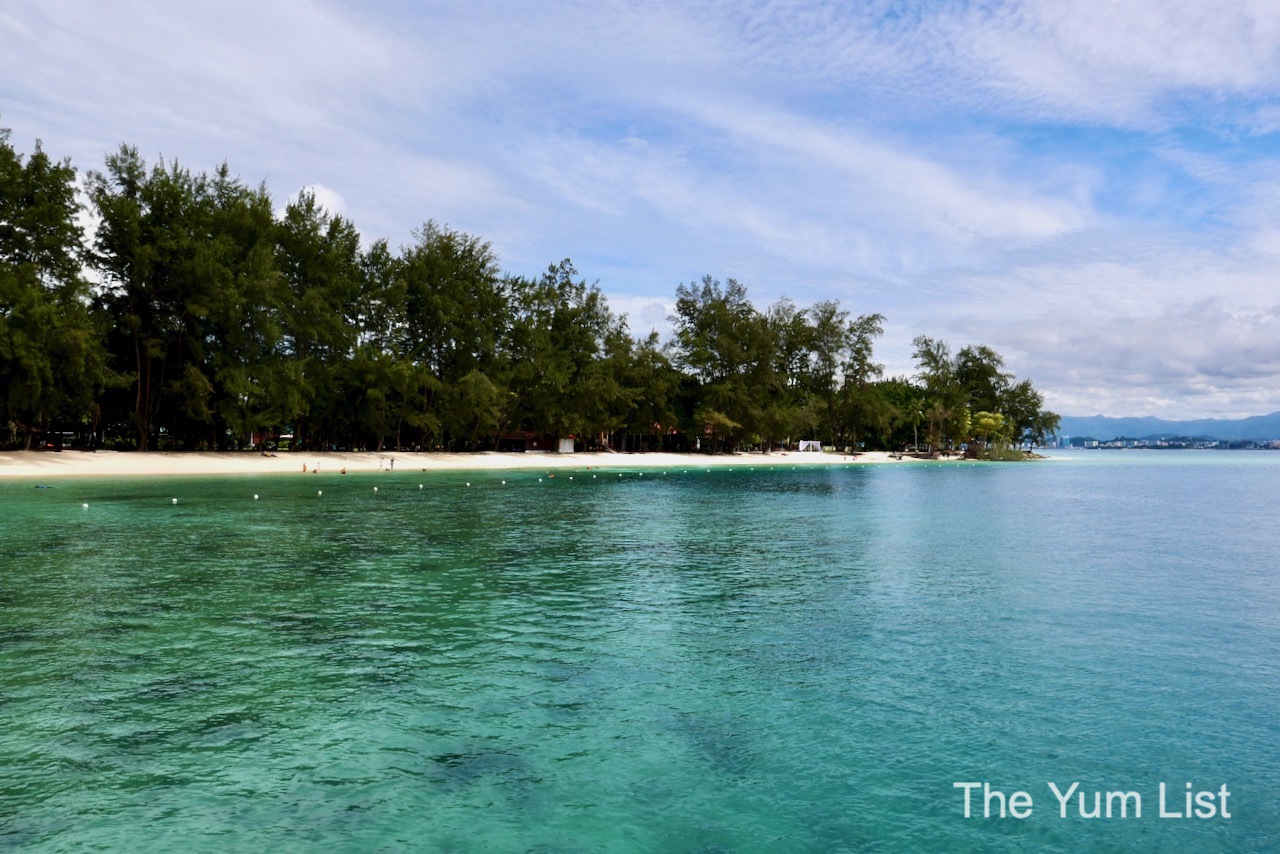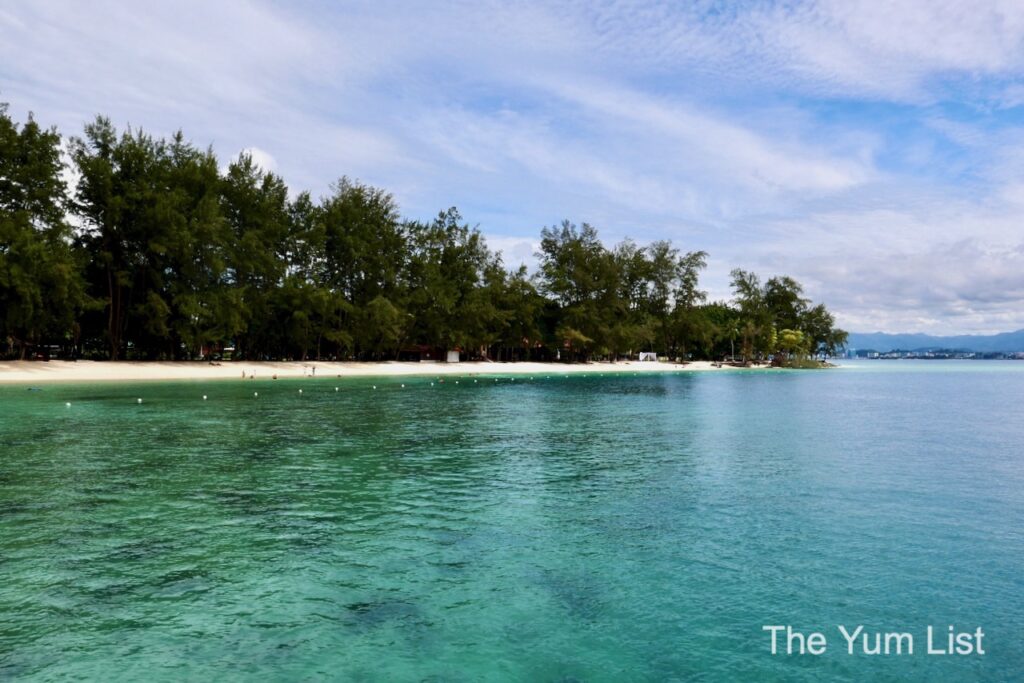 Horizon Lounge – Shangri-La Tanjung Aru
The aptly named Horizon Lounge offers incredible 180-degree views of the ocean, nearby islands, and pools and gardens. Charming giggles from kids having a riot of a time in the splash park can be heard in the background, without overwhelming you with noise. Inside and outside, the decor is elegant. Luxurious finishes are balanced with a tropical island feel. Rattans, cane, and deep forest greens are accentuated throughout, and giant heliconia inspired artworks reach towards the traditional Malay vaulted ceilings. Deep, inviting sofas outside provide a relaxed, coastal feel. Staff are quickly on hand to take your order, following SOPs to minimise shared touchpoints.
We visit for afternoon coffees and cakes and then return later for evening drinks on the terrace. Attentive staff offer refills when our glasses of crisp white wine are getting low. A three-tiered stack of nibbles is brought out, with savoury sandwiches, mini charcoal burgers and rice paper rolls on the top tier, deep-fried noodle wrapped prawns and fish cakes on the second tier, and an assortment of sweet mouthfuls, tarts and puddings on the bottom tier. For a quieter spot with impeccable service, this is an excellent choice for sunset viewing.
The next morning we are back for a la carte breakfast of espresso coffee, fresh juice and fruit, and order a mix of Western and local breakfast dishes. We order poached eggs, and oatmeal topped with toasted granola. We take the opportunity of good WiFi access for a brief moment to catch up on some emails in the secluded quiet of the Lounge. We notice some nearby parents sharing a quiet moment together while their kids are fully occupied in the attached kids playroom.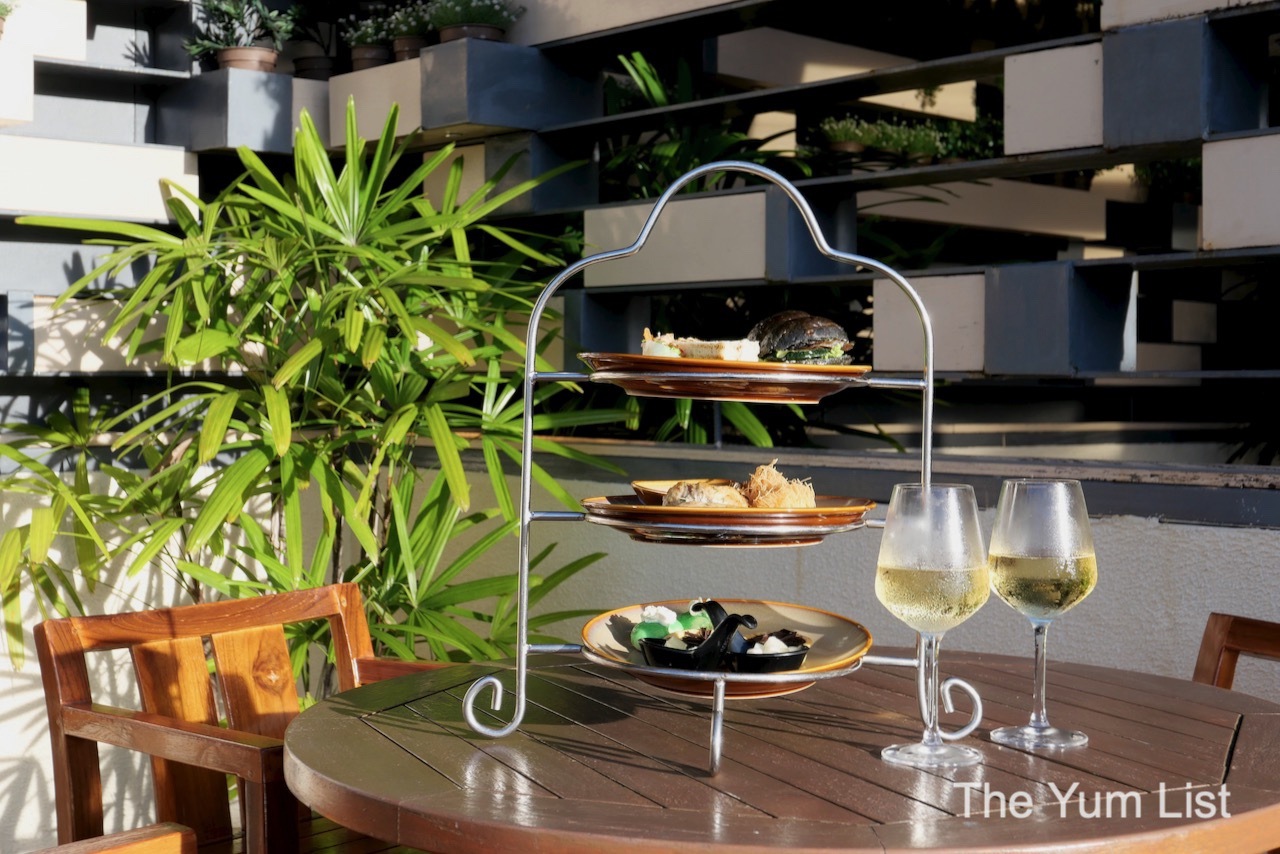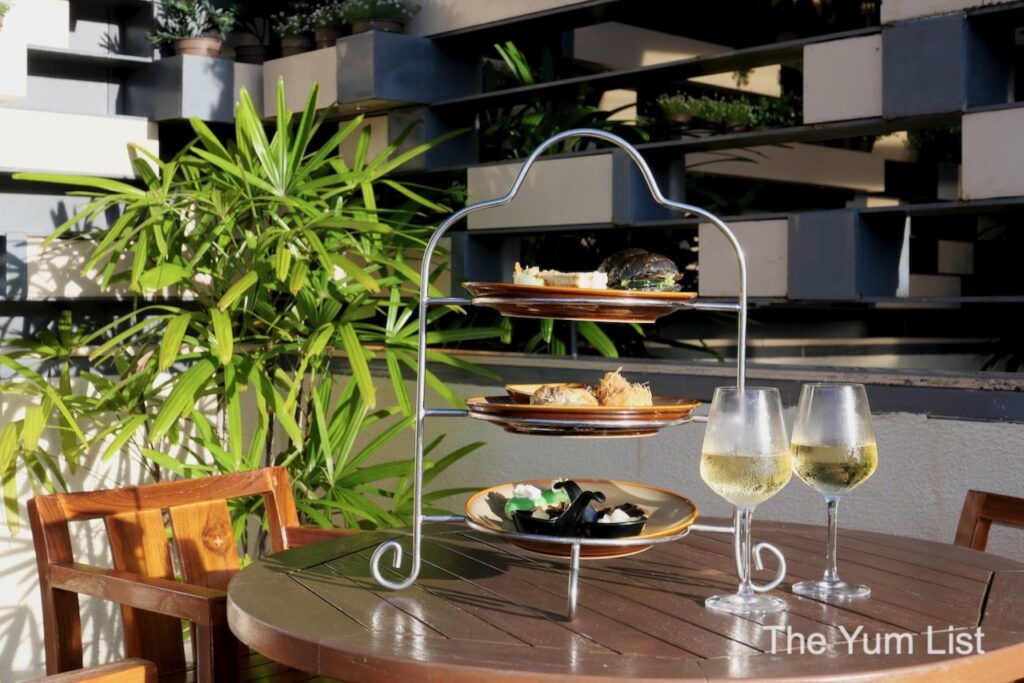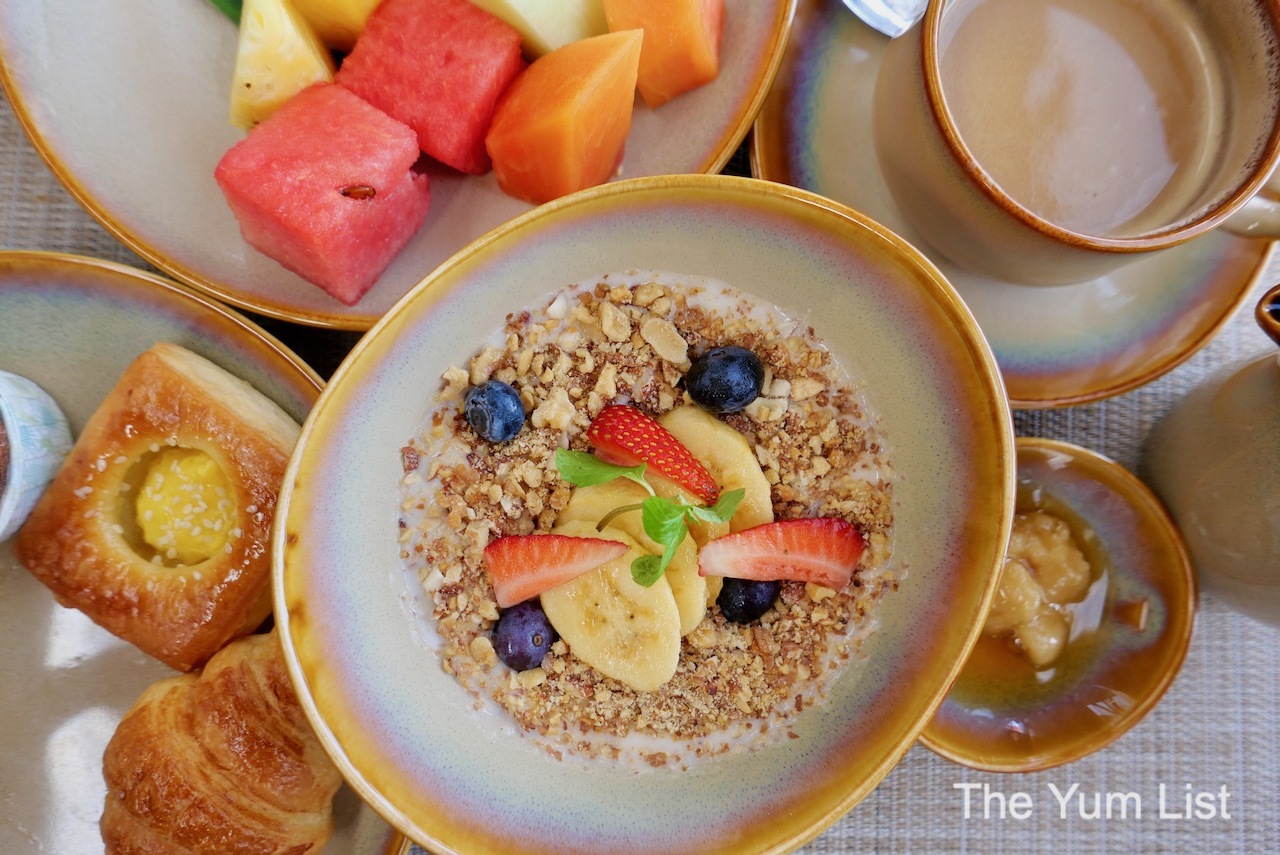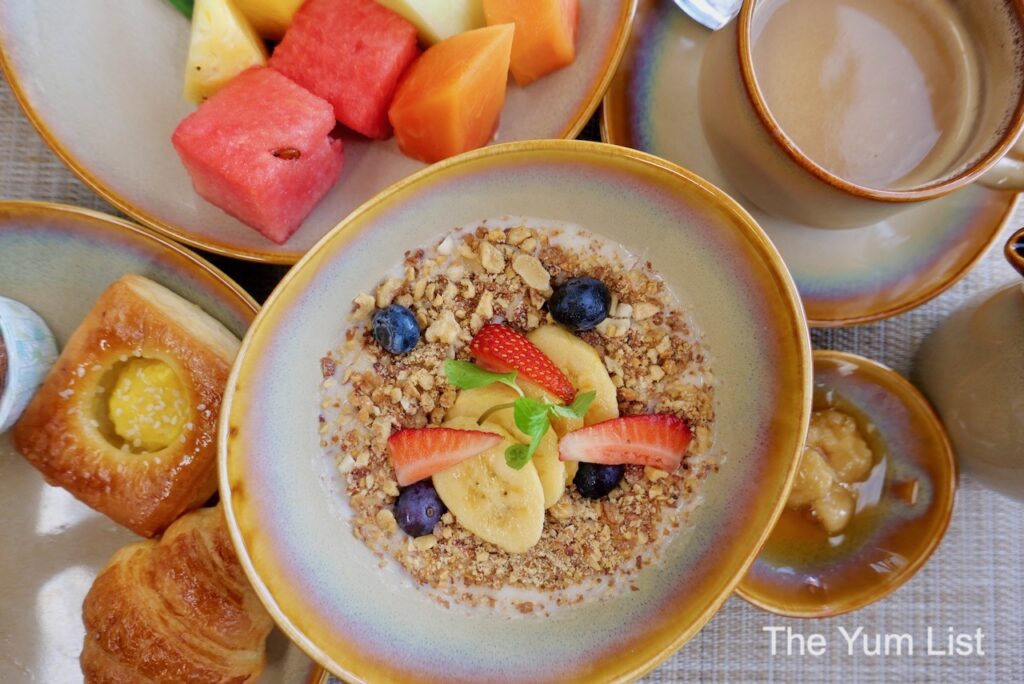 Chi – The Spa at Shangri-La
After a busy morning working out in the Health Club, breakfast at the Horizon Lounge, and a pool swim in the adults' infinity pool, we feel we deserve some self-care at the Chi Spa.
Greeted by a pleasant herbal tea, we marvel at the grounds. Situated on its own little island extending from the Shangri-La Tanjung Aru beach, the Chi Spa is arranged in a circle of private villas amongst the most spectacular gardens. Huge, lush rain trees tower overhead, draping epiphytes from their branches. Jasmine, agapanthus, ginger, frangipanis and too many other flowering shrubs to name line the pathways. We are taken through to a private villa for a joint massage. Each villa has its own koi pond and outdoor bathtub, and you have exclusive access during your session.
We opt for a 60-minute Relaxing Aroma massage treatment, with light to medium pressure in the Swedish style. We each choose our aromatherapy oils, I opt for the ginger and mandarin for warmth, while Monica selects the vanilla and sandalwood for calming. Each of us marvels at the incredible dexterity and pressure of our fantastic massage therapists. We leave feeling utterly serene and relaxed, with each muscle knot or point of stress in our bodies having been expertly massaged out. Absolute heaven!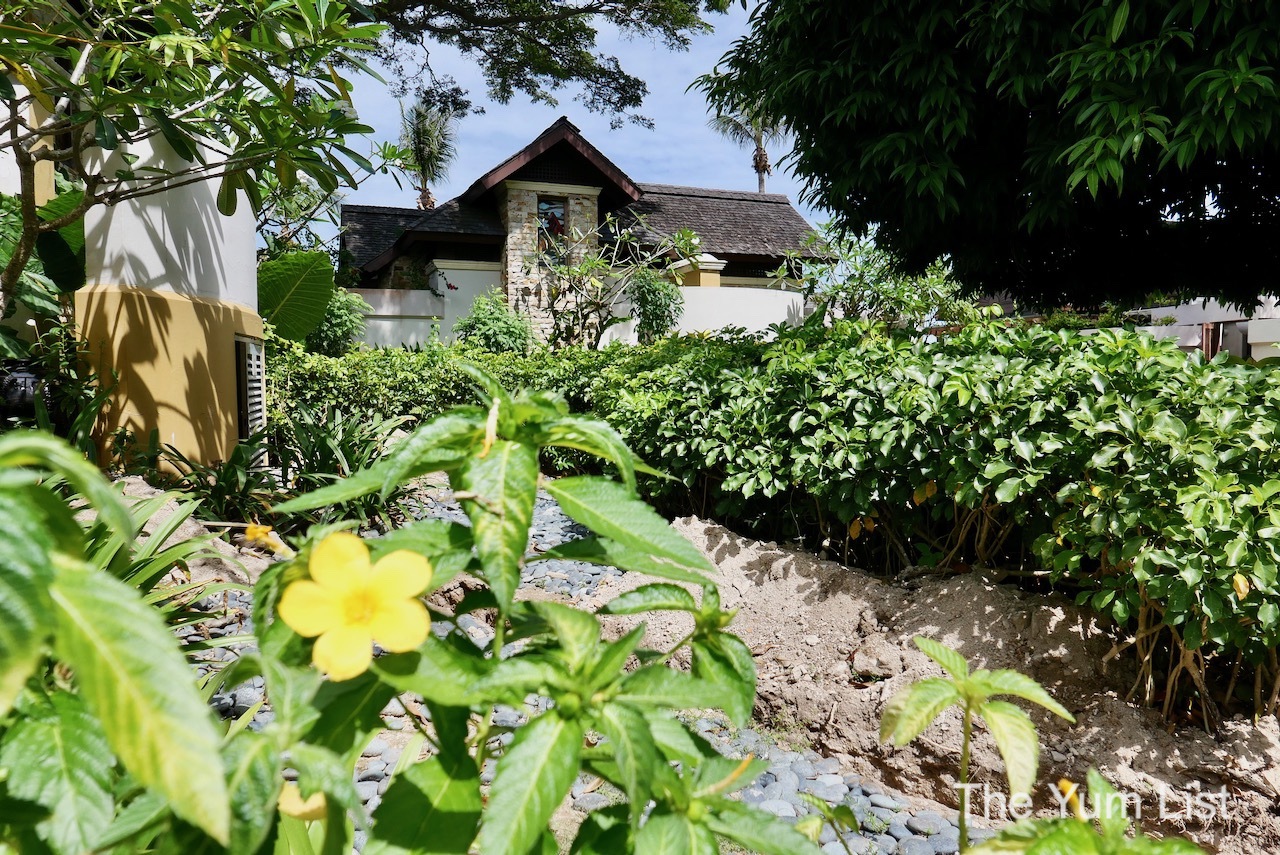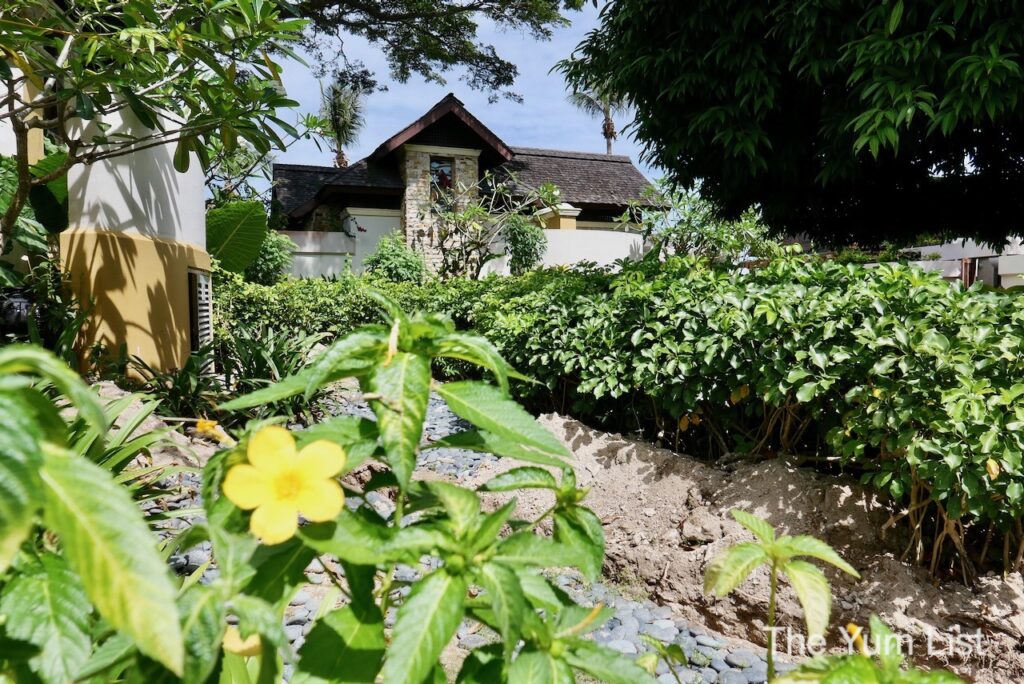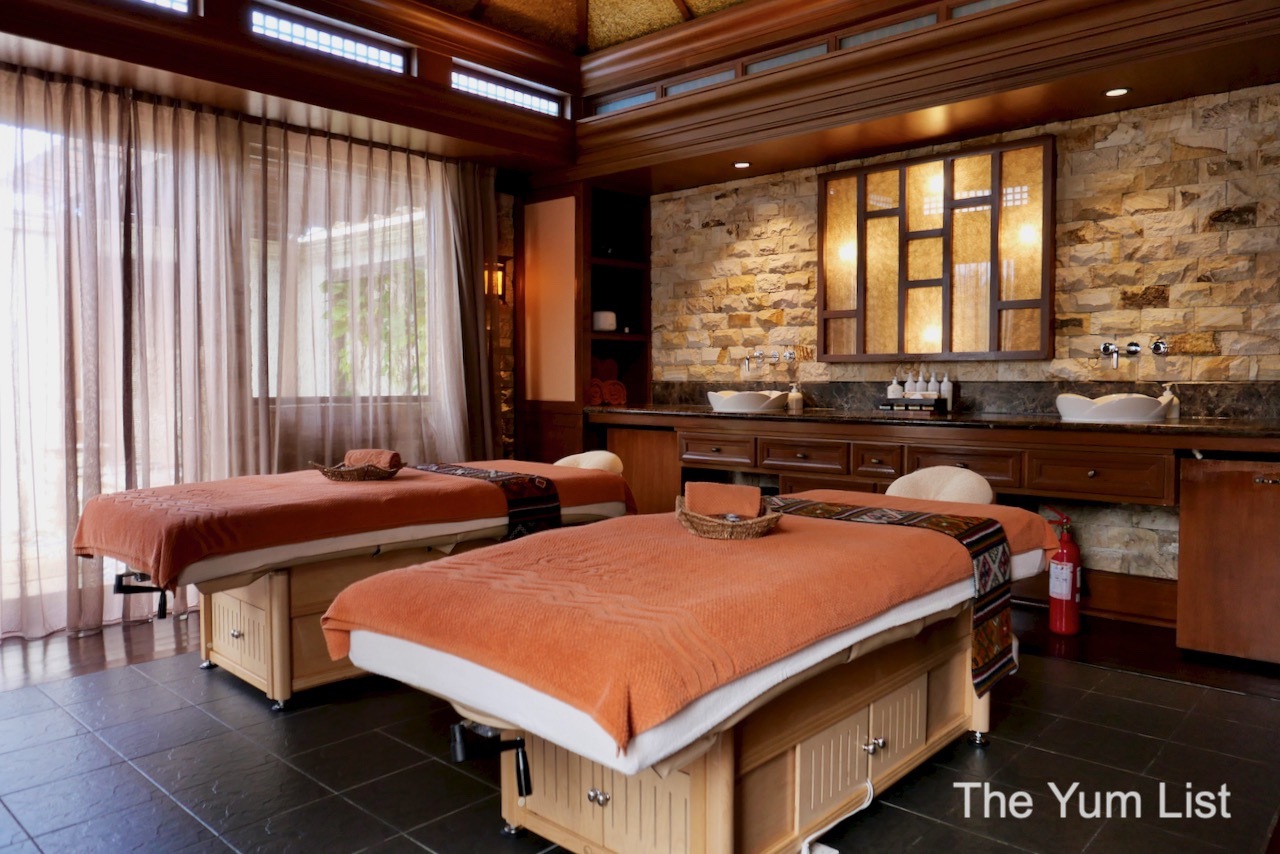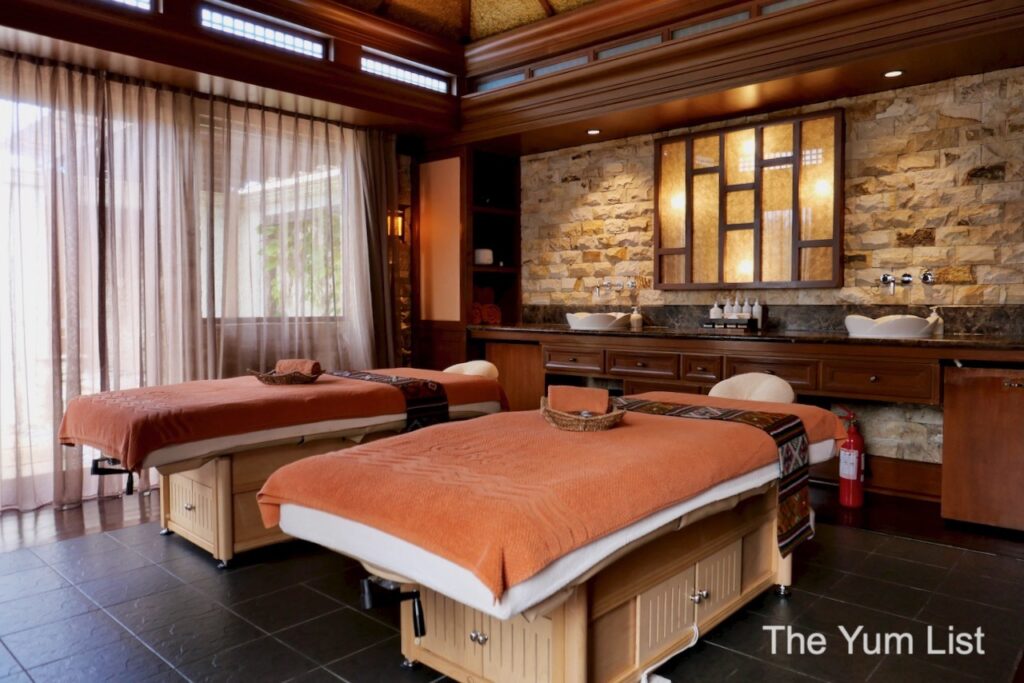 Lunch at Shang Palace Shangri-La Tanjung Aru
A halal Chinese restaurant specialising in seafood, the Shang Palace offers fantastic views of the grounds and ocean. They offer an all you can eat dim sum brunch on Saturdays, Sundays and public holidays, but their daily menu will also have you coming back multiple times throughout your stay.
Claudina is joining us for lunch today and she orders a range of her personal preferences from the menu. Condiments of pickled cucumber and papaya are served first, with boiled peanuts, fresh ginger and chilli sauce, and are continually topped up during our meal. Plates start arriving, and we dine on fried cod with crisp ginger shreds, deep-fried prawns in a salted egg yolk and chilli batter, and bean curd and mushrooms in a dark soy sauce with greens. Colourful mixed stir-fried seasonal vegetables are served in a garlic sauce, with crunchy snow peas, bright capsicums and petite lily bulbs. Ingredients are fresh, wholesome and packed with flavour.
The dim sum are fresh and made to order. We select a range of chicken and prawn dumplings, plump and bursting with juices and broths. Halal siew mai are no less flavourful for the lack of pork, prepared with high-quality chicken. Fish dumplings in orange casings are folded like origami and almost too pretty to eat. Almost! The crispy fried yams are a specialty, and they become a standout favourite of ours.
Even though we have no space left, the desserts are just too tempting. We try a super chilled mango sago with vanilla ice cream, full of intense, pulped sweet mango flesh, as well as a mango pudding, similar in consistency to a panna cotta. Both are refreshing and naturally sweet. A healthier option for a sweet tooth.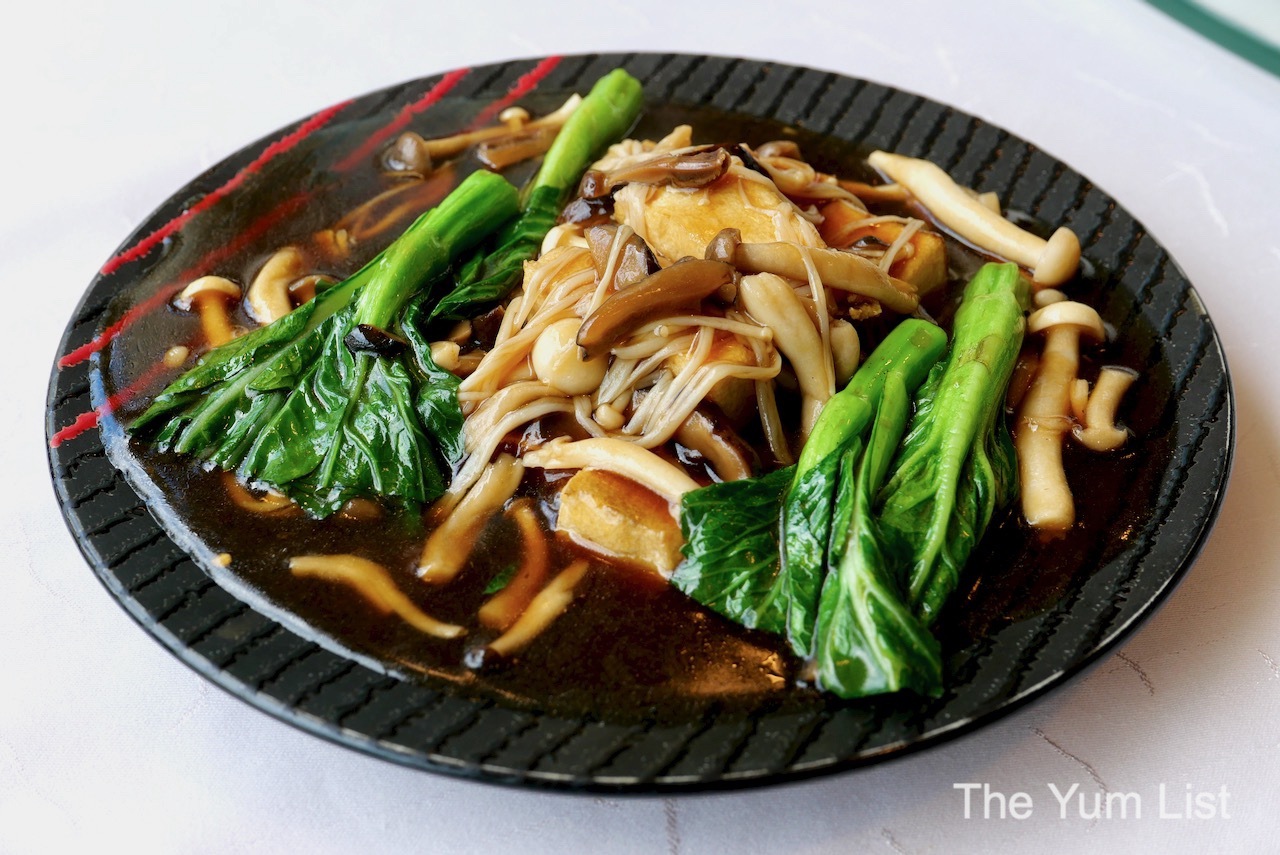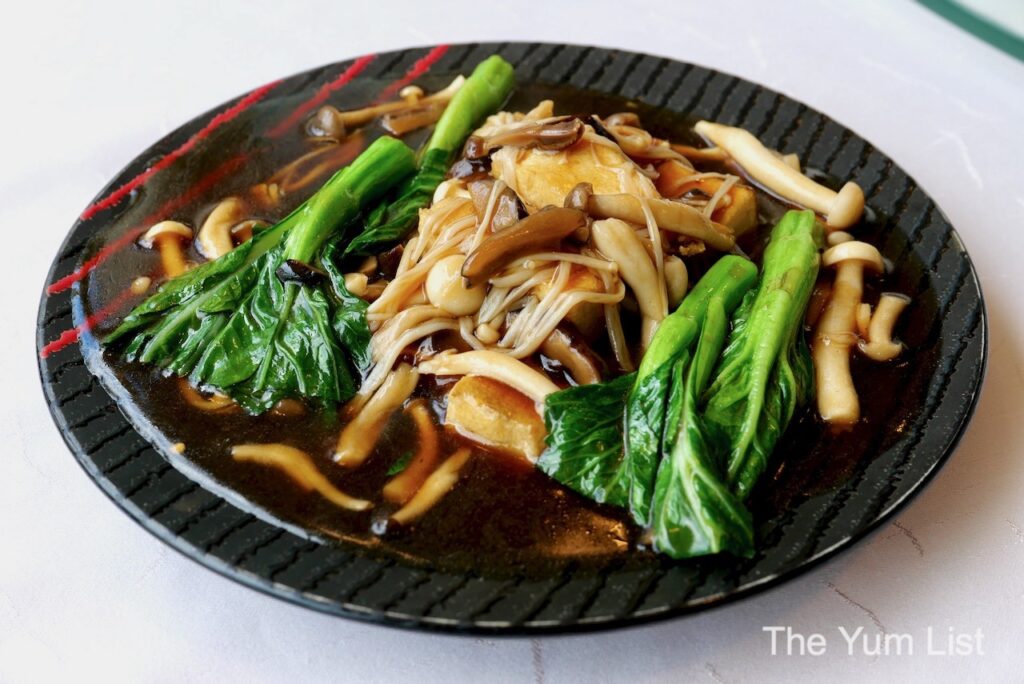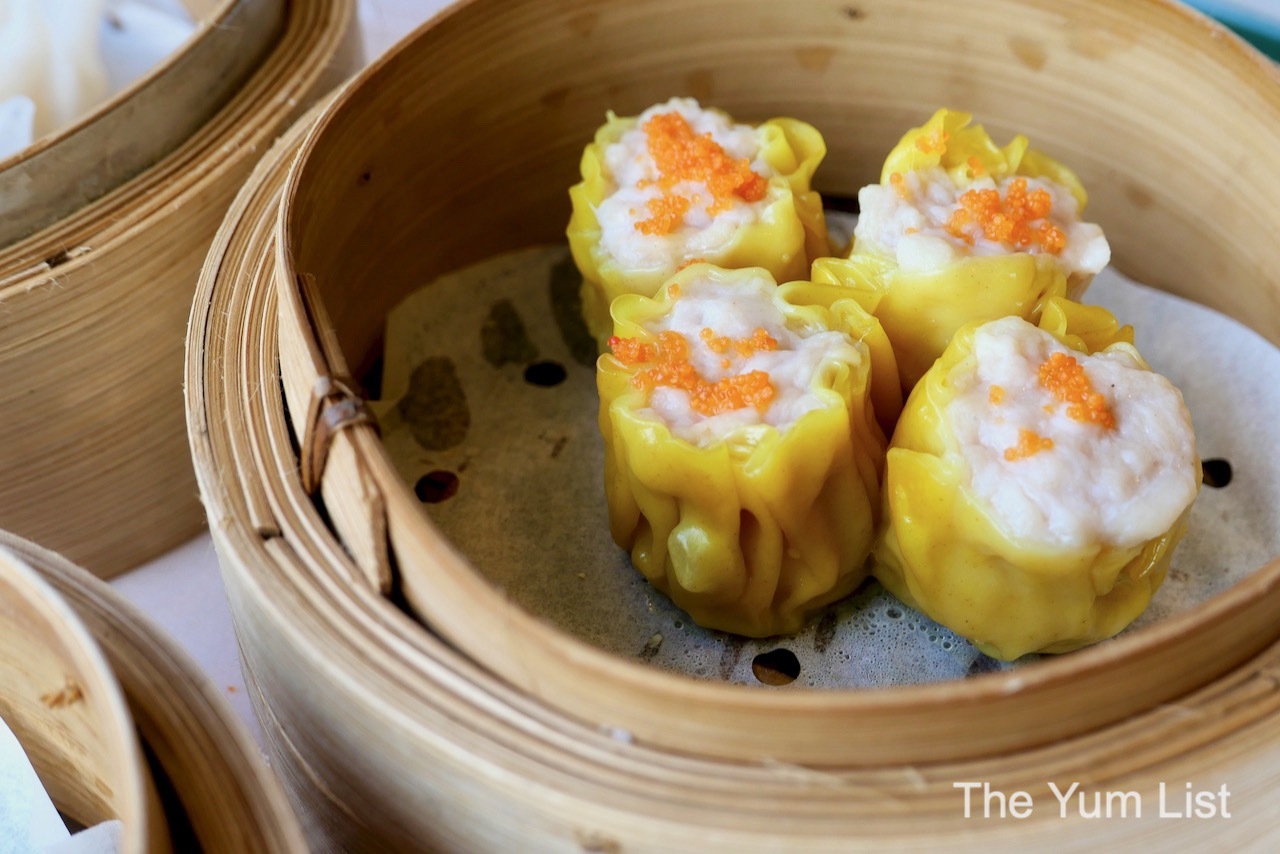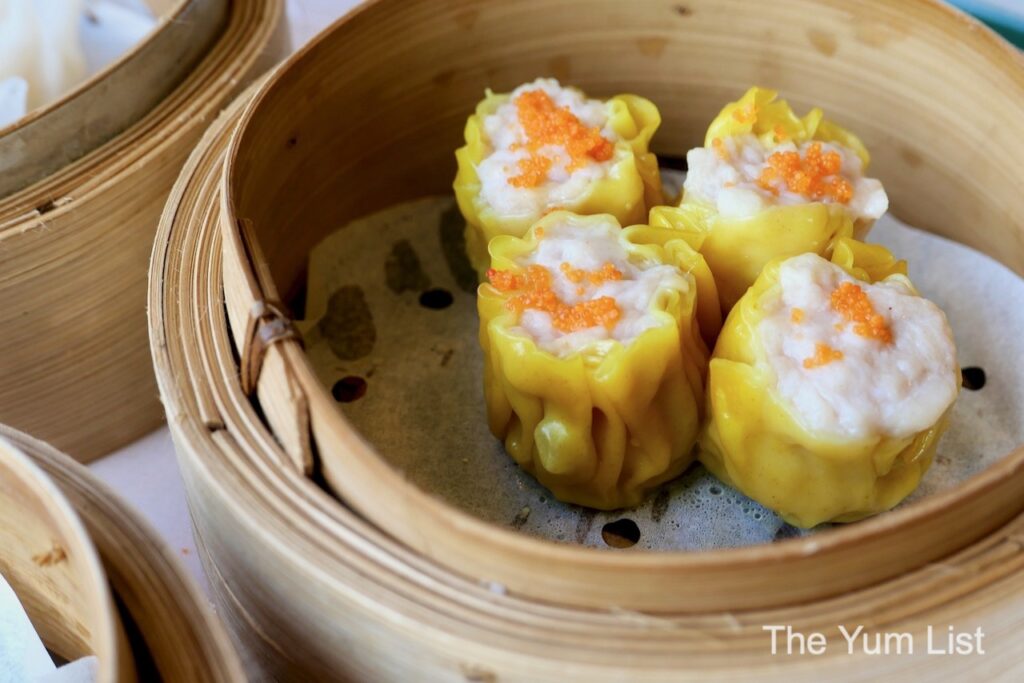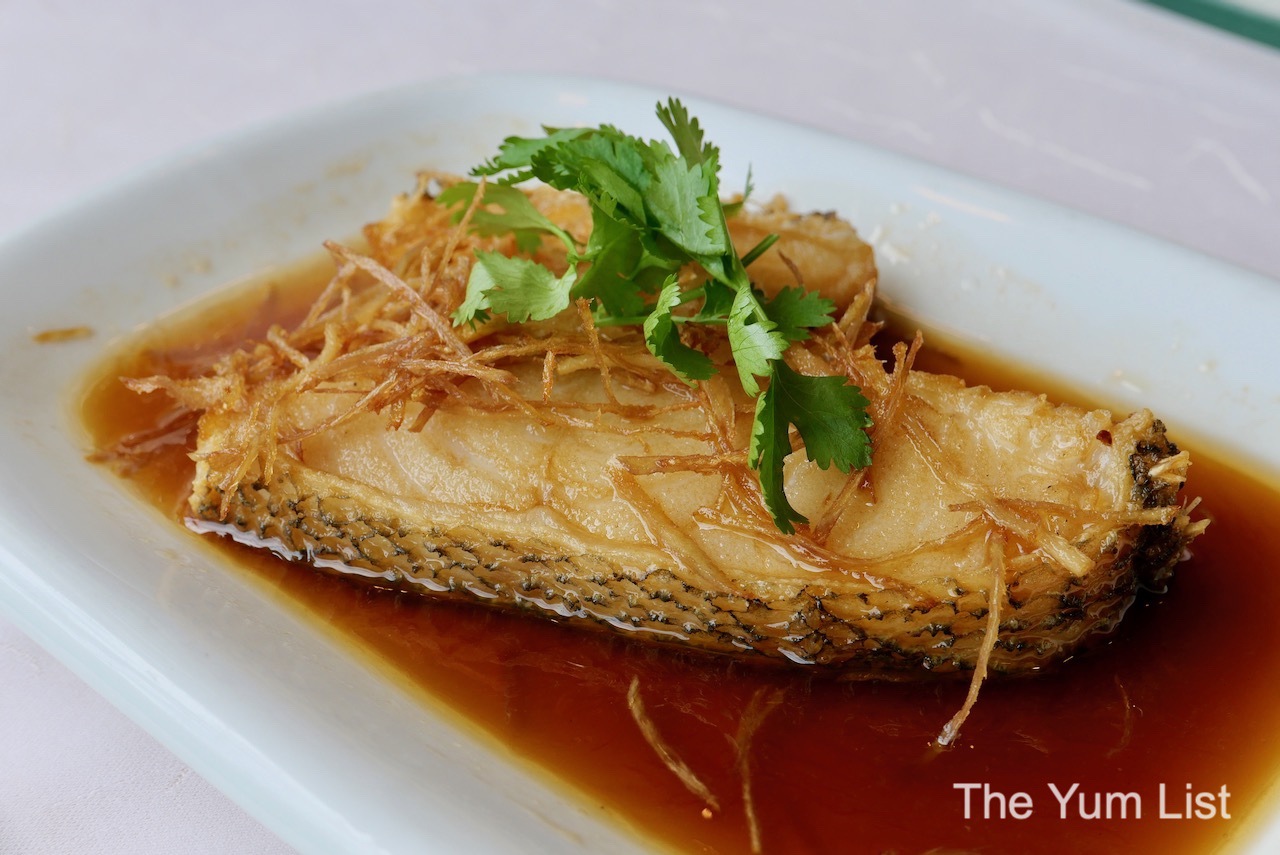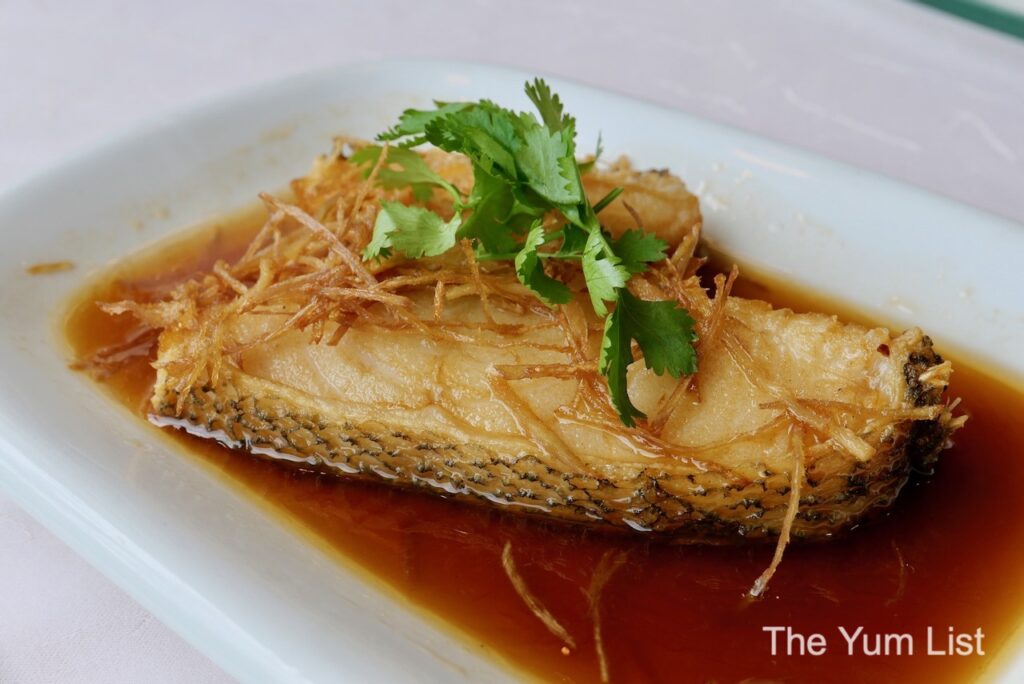 Reasons to visit Shangri-La Tanjung Aru
Shangri-La Tanjung Aru is truly a resort you will never want to leave. Everything is provided in house, and there are so many activities, facilities, experiences and dining opportunities on offer, you will find it hard to come up with a reason to leave the site during your stay. Even though we jammed an incredible amount into each day of our stay, we still left with feelings of FOMO, regretting that there were simply not enough hours in each day to tick off everything on our wish list.
Every single room in the resort has fantastic views. The entire Tanjung Wing has sweeping ocean views, with buildings designed so that no room is a bad room. The Kinabalu Wing also provides incredible ocean views for most rooms but also provides a range of rooms with epic mountain views. Perfect for sunrises, and watching afternoon storm clouds building over Mount Kinabalu.
Shangri-La Tanjung Aru offers excellent early-bird discounts, with Lovers Retreat and Family Retreat packages available. They are incredibly good value and are packed full of activities, meals and extras.
The spacious landscaped gardens are spectacular, rivalling even the best sea views, drawing you outside from the moment the sun rises. Environmental sustainability and mindfulness are key Shangri-La values, from the back of house water bottling plant to reduce plastic waste, to the work with local wildlife preservation groups. Bird spotters will enjoy looking up the numerous species that can be seen directly from your balcony.
For us, we will come back for the staff alone. Each and every staff member has taken the time to stop and chat with us, making us feel like part of the Shangri-La family. Even when asking a team member for directions (it's easy to get lost!) they take the time to escort us, checking in on our day's highlights, and gently sharing their own recommendations. We notice it's not just us. Couples, families and other travellers around us experience the same genuine care and warmth. Each and every guest is treated like royalty.
For a resort named after a mystical utopian paradise, we think the Shangri-La Tanjung Aru lives up to its fictional namesake.
Shangri-La Tanjung Aru
No. 20, Jalan Aru, Tanjung Aru
88100 Kota Kinabalu, Sabah, Malaysia
+6088 327 888
www.facebook.com/ShangrilaTAH
#shangrilatah
Find more travel recommendations for Sabah here and stay up to date with the latest gourmet happenings around Malaysia here and here.