HIFU Facial KL
Monica Tindall
High-Intensity Focused Ultrasound or HIFU is a non-invasive facial treatment used for anti-aging. With refined technology making the procedure faster and less painful, it's recently seen a significant increase in popularity. I try the HIFU Facelift treatment at Dr Chong Clinic Premium in Bangsar and share here with you how it works, the process, post-care, and results.
What is HIFU?
HIFU stands for High-Intensity Focused Ultrasound.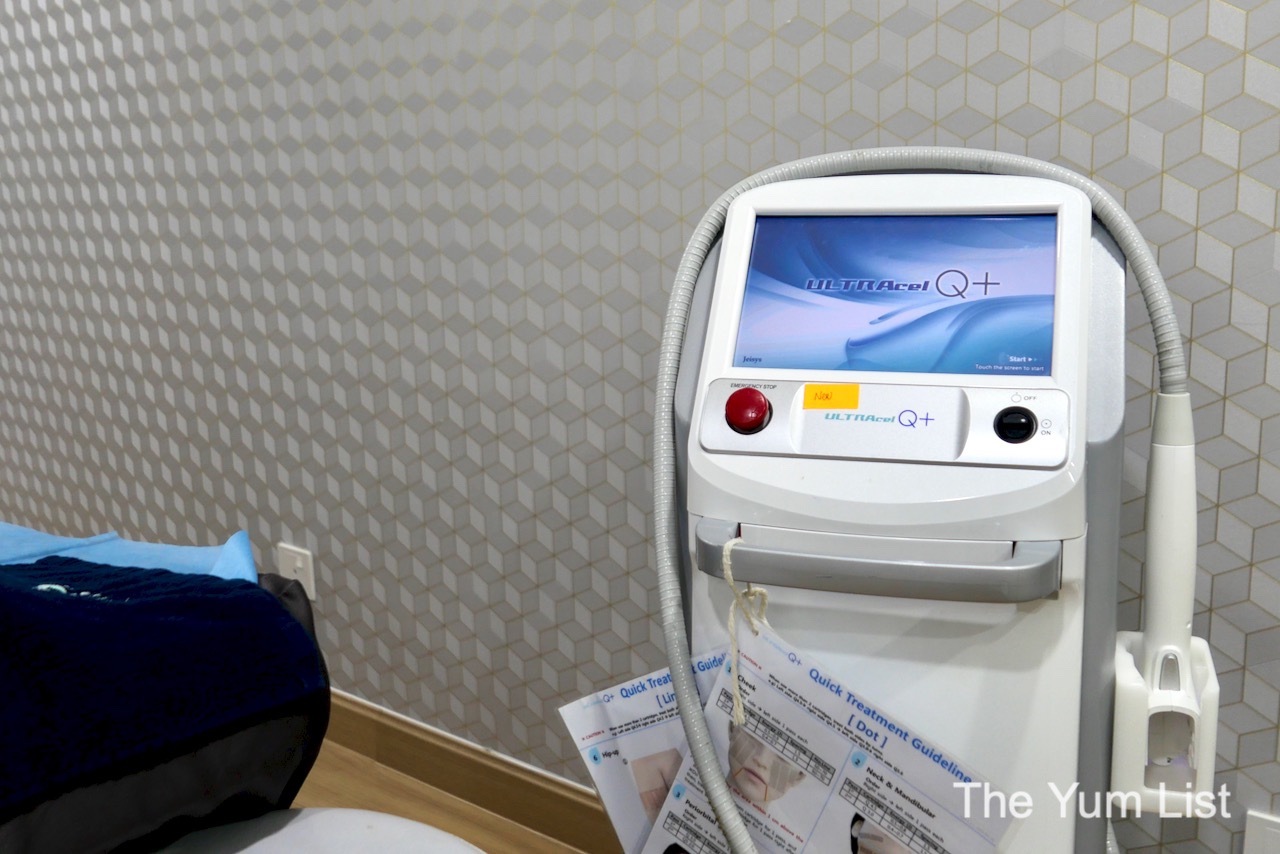 How does a HIFU facial work?
HIFU works by creating heat at various depths below the skin. It damages targeted skin cells stimulating the body to produce collagen in an attempt to repair itself. Collagen gives structure and elasticity, which are both important in maintaining a youthful appearance.
What does it do?
The body's response is said to tighten the skin, reduce the appearance of fine lines, give a slight lift to the brow and also reduce the appearance of jowls.
Who is suitable for a HIFU facial?
HIFU facials work best on skin that has mild to moderate signs of aging, and generally those over the age of 30. It is not suitable for anyone with severe acne, a high degree of loose skin or any lesions in the treatment area.
Procedure at Dr Chong Clinic Premium Bangsar
An initial appointment with a doctor at Dr Chong Clinic Premium Bangsar is necessary before any treatment plan commences. The doctor listens to your concerns, assesses your skin and makes recommendations. If you together decide that the HIFU facial is for you, a further appointment will be made for the procedure. If you've done your research ahead of time and are pretty sure this is what you want, I recommend reserving a time at the same time you make your appointment for the consultation. This way, the procedure can be done straight after the consultation.
Patients are taken to a private room where their face is cleansed. 'Before' photos are taken from different angles and numbing cream is applied. You are left alone on the treatment bed for about 30 minutes while waiting for the cream to do its job. Lights are dimmed and you're covered with a blanket, making nodding off a high possibility.
Next, the numbing cream is removed and the doctor gets to work with the HIFU facial. Four distinct nozzles allow for varying depths of heat. Doctor Dana walks me through each step as we go. She starts at a lower setting and gradually increases intensity keeping in good communication and well-informed of my comfort levels along the way.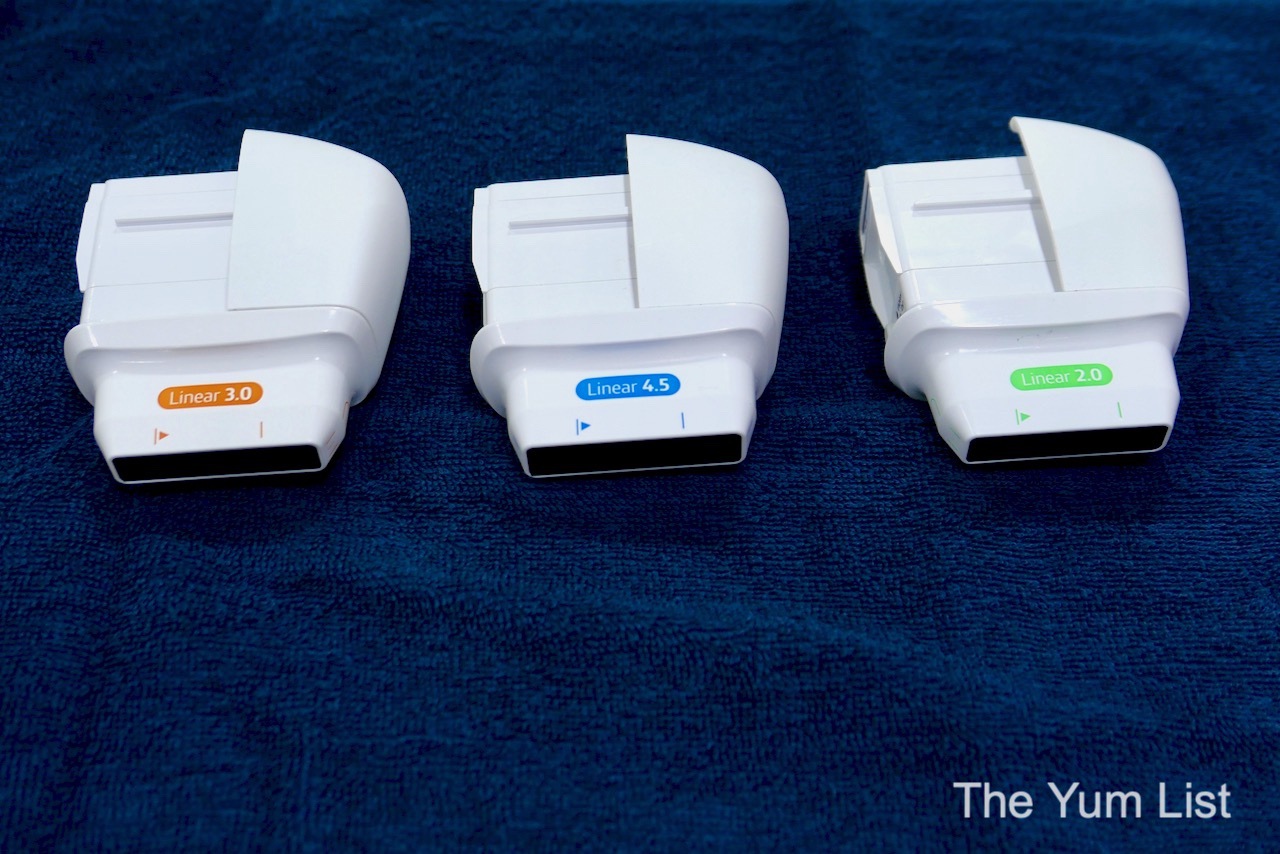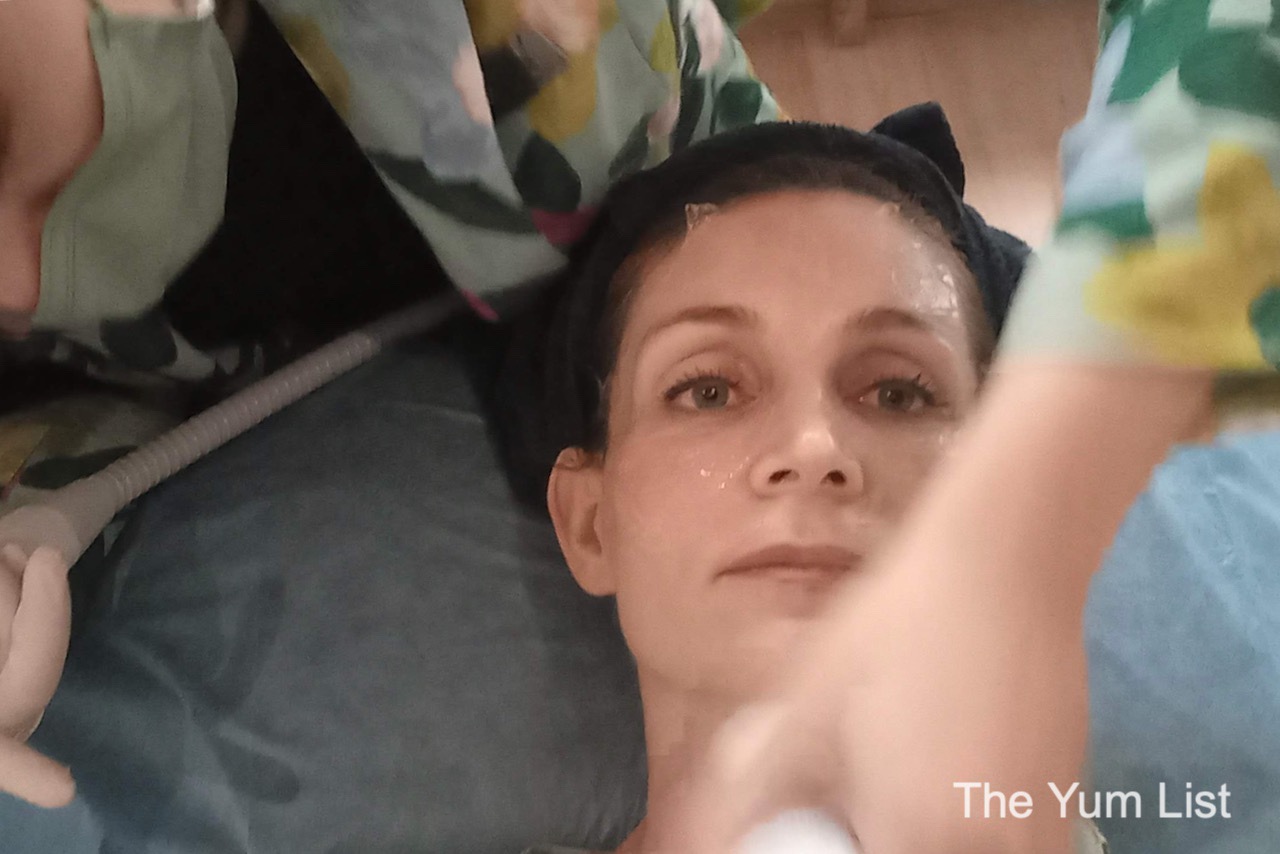 Does a HIFU facial hurt?
In short, yes, HIFU facials do hurt. Numbing cream is absolutely necessary. The cream assists in reducing the pain but there are noticeable short bursts of what feels like extreme heat. I find the area around the eyes the least painful while the forehead is the most uncomfortable. However, the procedure is relatively fast. Clenched fists and a few whimpers later and the session is complete. As Doctor Dana is so in tune with my reaction, there is never a moment when I feel I can't go on. As intensity becomes too much in one area, she quickly moves to another, giving that region a break before returning to finish.
How long does it take?
I have the area around my eyes, my forehead and under my chin worked on. I would say the entire session is complete in about 20 minutes.
Downtime and Post-care
Immediately following the session, I have a light pink flush. However, by the time I've gathered my belongings and returned to reception my colour has returned to normal. There is basically no downtime following a HIFU facial and the only post-care is to avoid too much heat or any products that might irritate the skin for a few days.
HIFU Facial Results
It's said to take anywhere from three to six months to see the results of a HIFU facial. It's less than a month since I had the treatment. Check back in June and I'll post a before and after photo so you can check on progress.
Are HIFU facials safe?
Of course, results are important but so too is the long-term safety of the procedure. Medical News Today, a respected platform that reports peer-reviewed medical research in an easy-to-understand manner, concludes that to date all evidence suggests that HIFU facials are safe. The limited studies available also show it is effective in firming sagging skin, smoothing wrinkles and improving skin texture.
How long do the results last?
The results of a HIFU facial are said to last for about one year.
How much does a HIFU facial cost in Malaysia?
At Dr Chong Clinic Premium in Bangsar, the first trial of HIFU Facelift treatment costs RM 1800. Dr Chong Clinic is an LCP certified aesthetic clinic registered with the Ministry of Health Malaysia.
Reasons to try the HIFU facial: a fast and non-invasive procedure for reducing the signs of aging; a small amount of discomfort during the procedure; no downtime.
📍 Dr Chong Clinic (Kepong)
03-6179 3157 / 018-473 8818⁠
37G, Jalan Metro Perdana Barat 1, Taman Usahawan Kepong, 52100 Kuala Lumpur⁠
📍 Dr Chong Clinic Premium (Bangsar)
03-2202 2158 / 018-251 8808
40 & 42, Jalan Telawi, Bangsar Baru, 59100 Kuala Lumpur⁠
📍 Dr Chong Clinic (TTDI)
03-7733 6002 / 011-2728 8188
14 & 16, Jalan Wan Kadir, Taman Tun Dr Ismail, 60000 Kuala Lumpur
📍 Dr Chong Clinic (Cheras)
03-2704 7507 / 011-2822 8188
V02-01-02, Lingkaran SV, Sunway Velocity, 55100 Cheras, Kuala Lumpur
📍 Dr Chong Clinic (Seremban)
06-775 2503 / 011-2132 8188
No. 20G Jalan S2 B18, Biz Avenue Seremban 2, 70300 Negeri Sembilan.
📍 Dr Chong Clinic (Shah Alam)
03-5524 3083 / 018-471 0988⁠
F-G-33, Jalan Ikhtisas 14/1, Vista Alam, Seksyen 14, 40000 Shah Alam, Selangor⁠
📍 Dr Chong Clinic (Johor Bahru)
07-559 6110 / 011-5636 6110⁠
49, Jalan NB2 2/2, Taman Nusa Bestari 2, 79150 Iskandar Puteri, Johor Bahru
Find more on the spa and beauty scene in Malaysia here, and the latest happenings around Malaysia here and here.