Seven Terraces Penang
Monica Tindall
Grace, beauty and majestic charm make the first entry to Seven Terraces a powerfully emotional one. Overwhelmed by the classic grandeur of such pristinely restored history, senses are filled with a soft elegance and romance of a bygone era.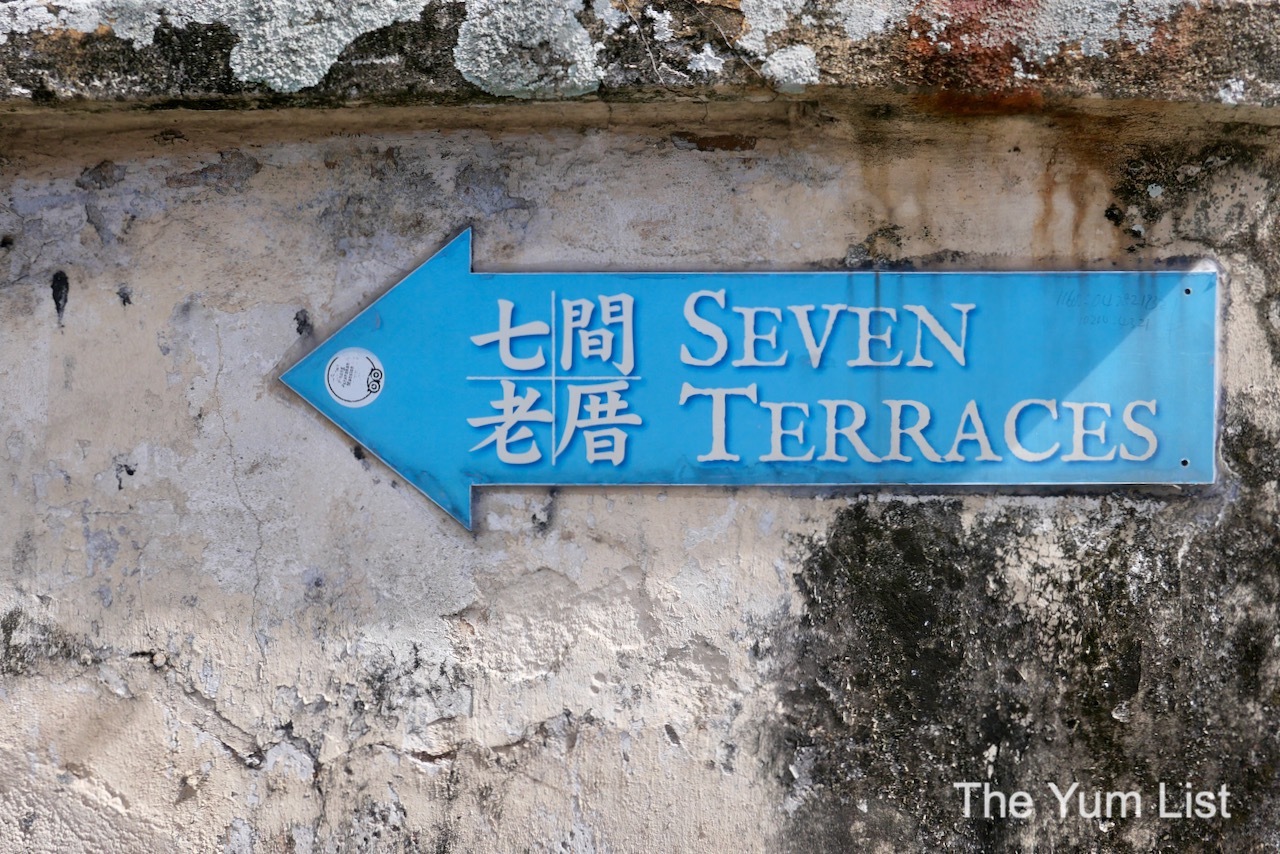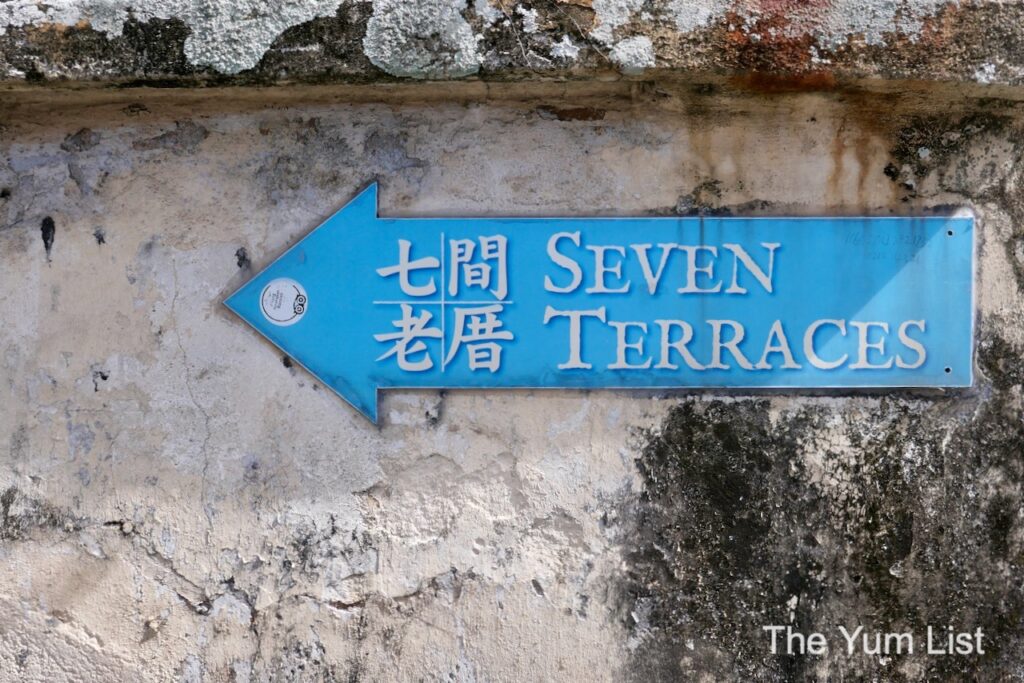 Seven Terraces Penang
Under George Town Heritage & Hotels (GTHH), Seven Terraces is their premium property. The row of seven 19th Century Anglo Chinese terraces was converted into 18 luxury suites by award-winning hotelier Christopher Ong and former partner Karl Steinberg. This is the sixth building Chris has saved in Penang (and another in Sri Lanka). They captured both the character and comfort we crave as visitors – an artful sense of place with modern conveniences. The group's mission is to make "each guest feel welcome and at ease whilst promoting the heritage and culture of Penang." "Nailed it," I'd say.
Arrival is warm. I feel as though the staff have known me for years; I'm a family member being welcomed into a home. My bags are taken from me and I'm escorted to the room. The property is majestic. I admire the lofty ceilings, double story atrium courtyard and grand spiral staircase. Rows and rows of doors are eye-catching in their repetition, and a contemporary sculpture communicates a fond appreciation of art in this space. Hand-picked antiques, ornate wooden furniture with mother of pearl embellishments and, Peranakan floor tiles serve to further inspire feelings of time travel to fairy-tale ideals of the past.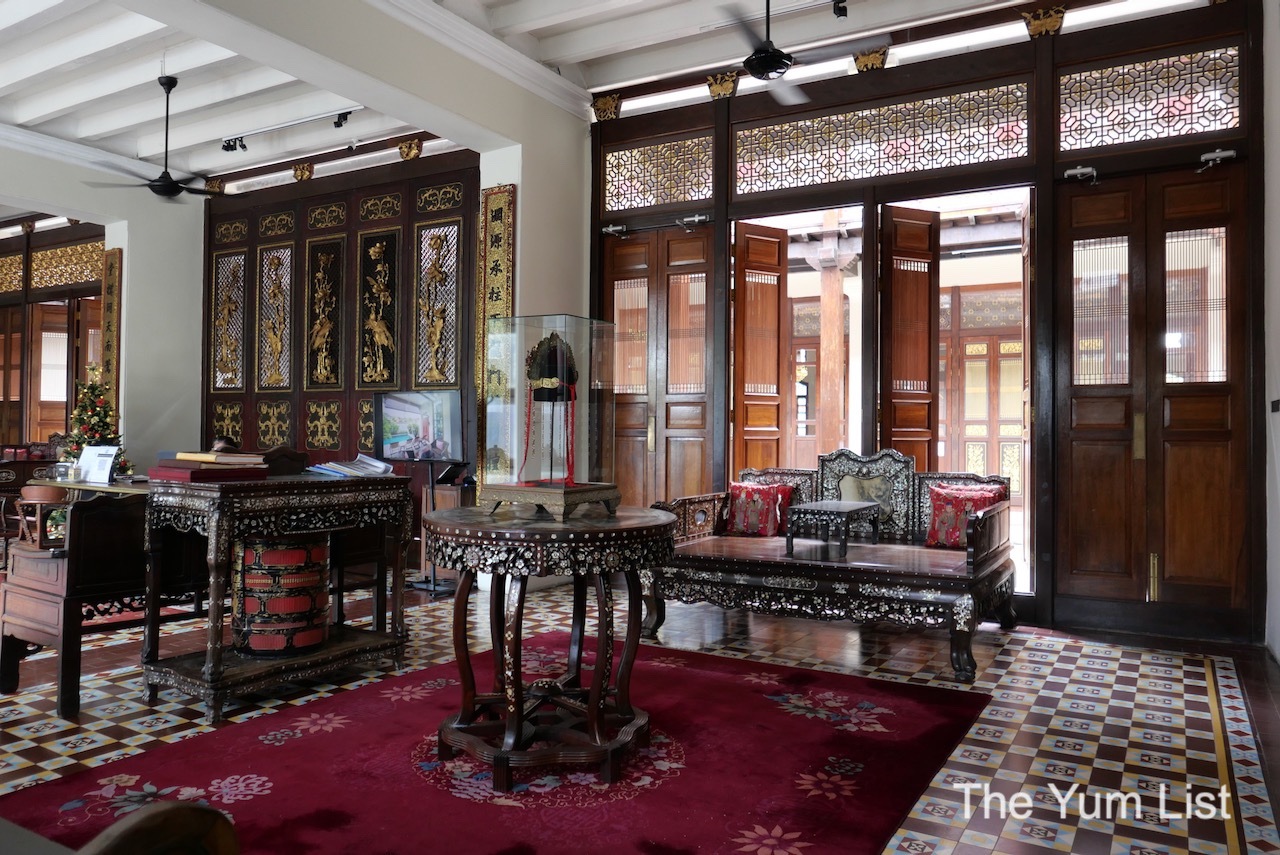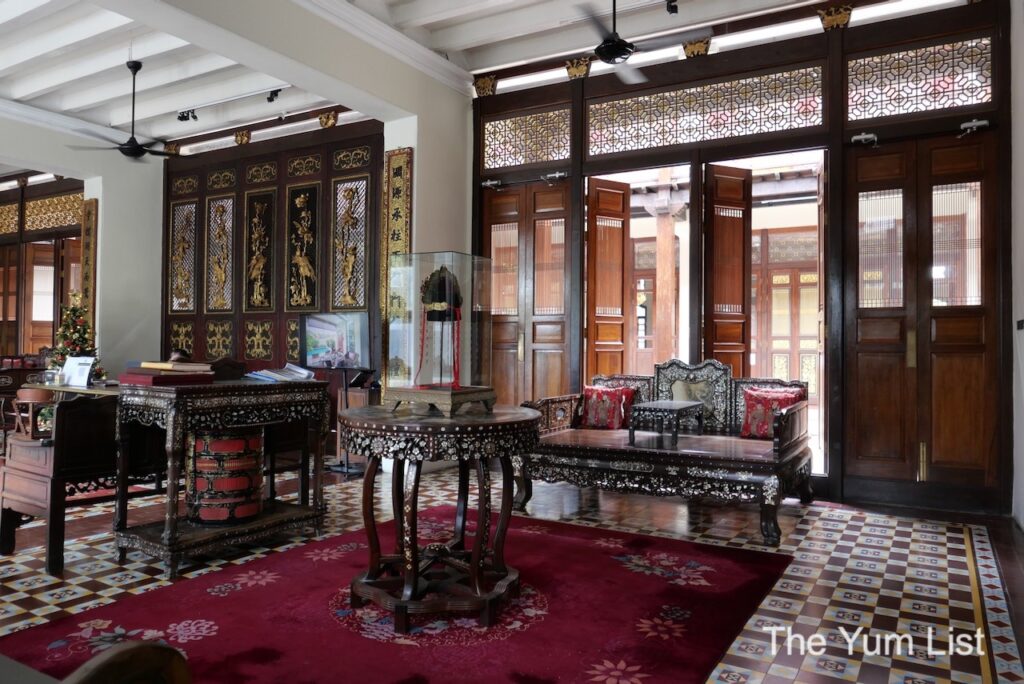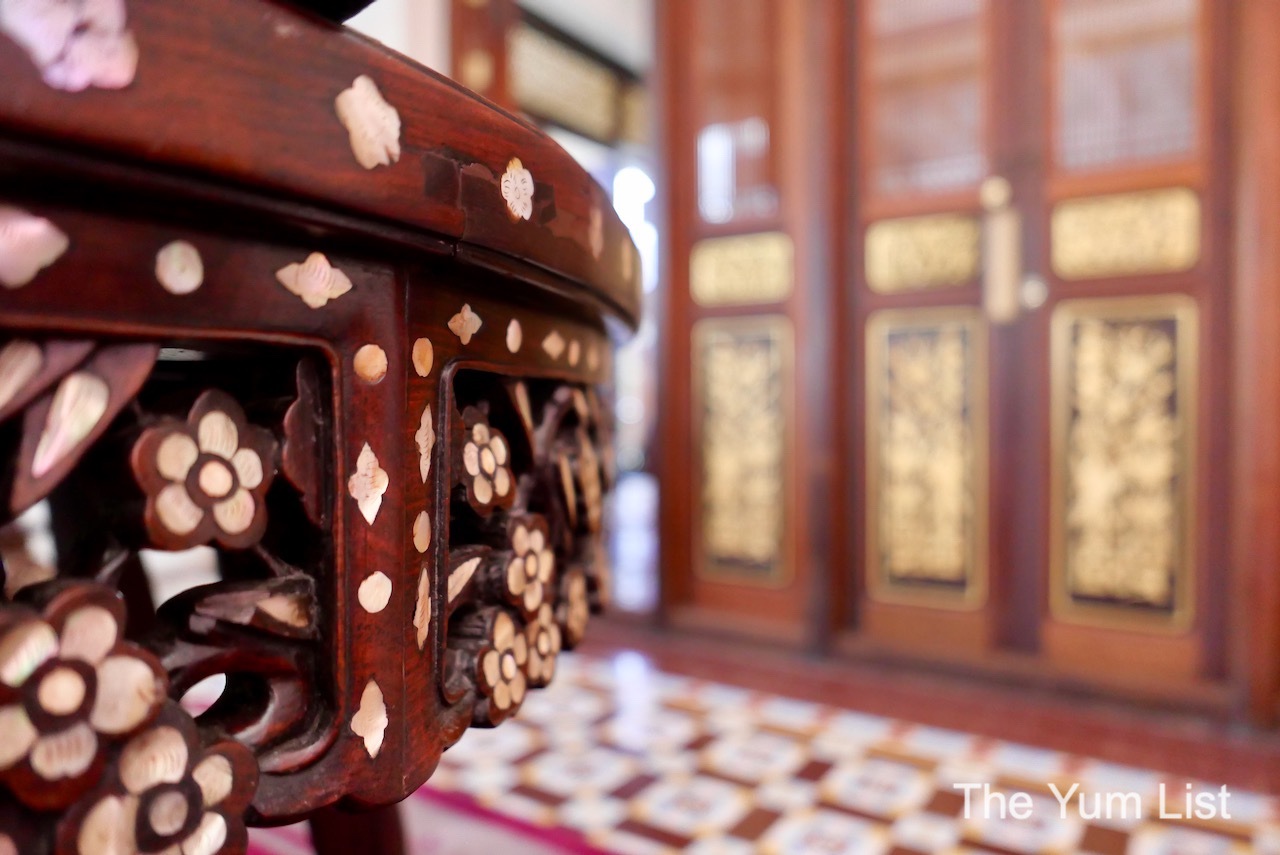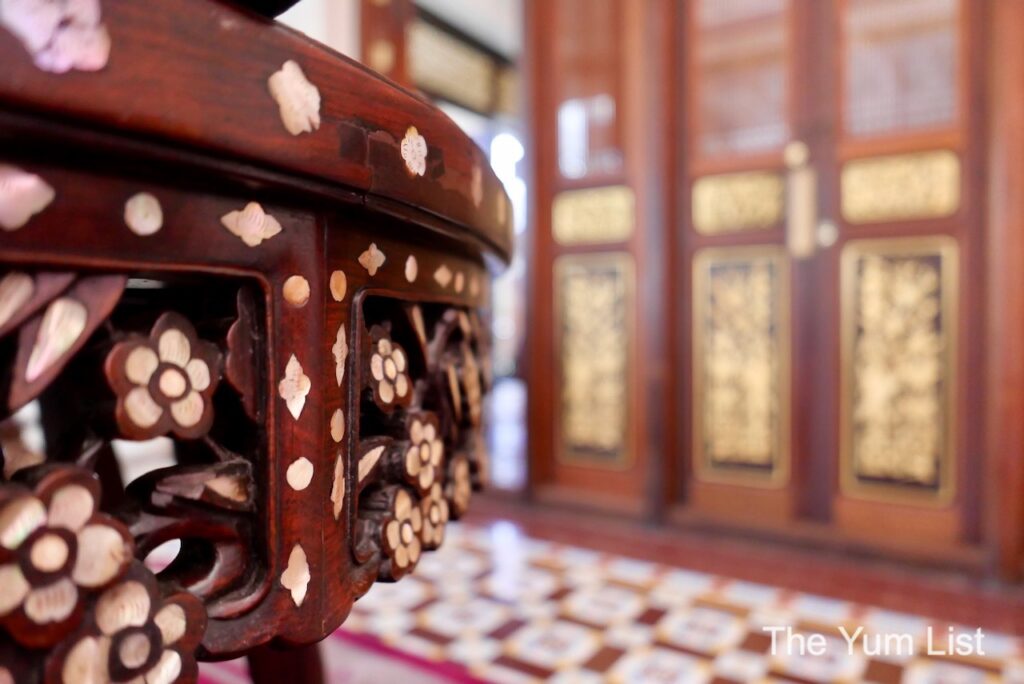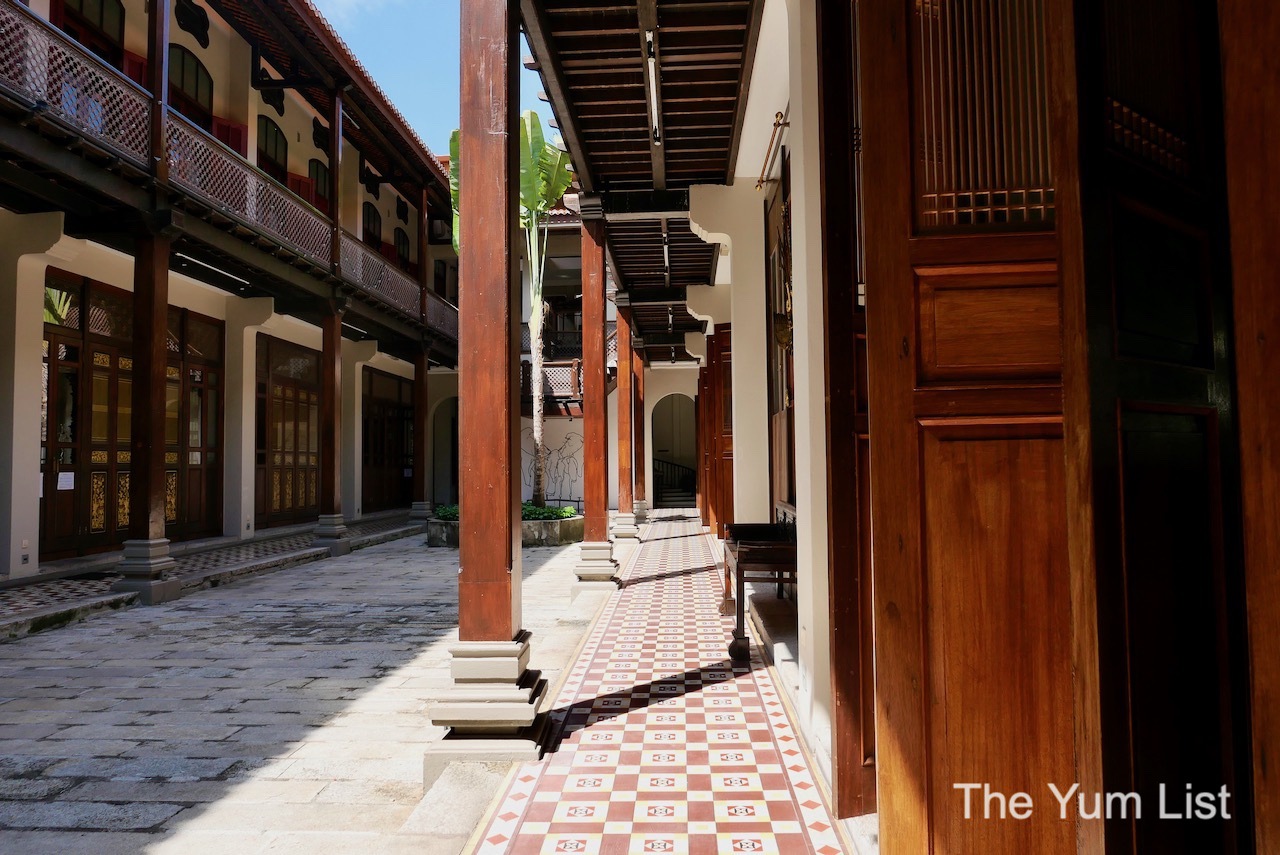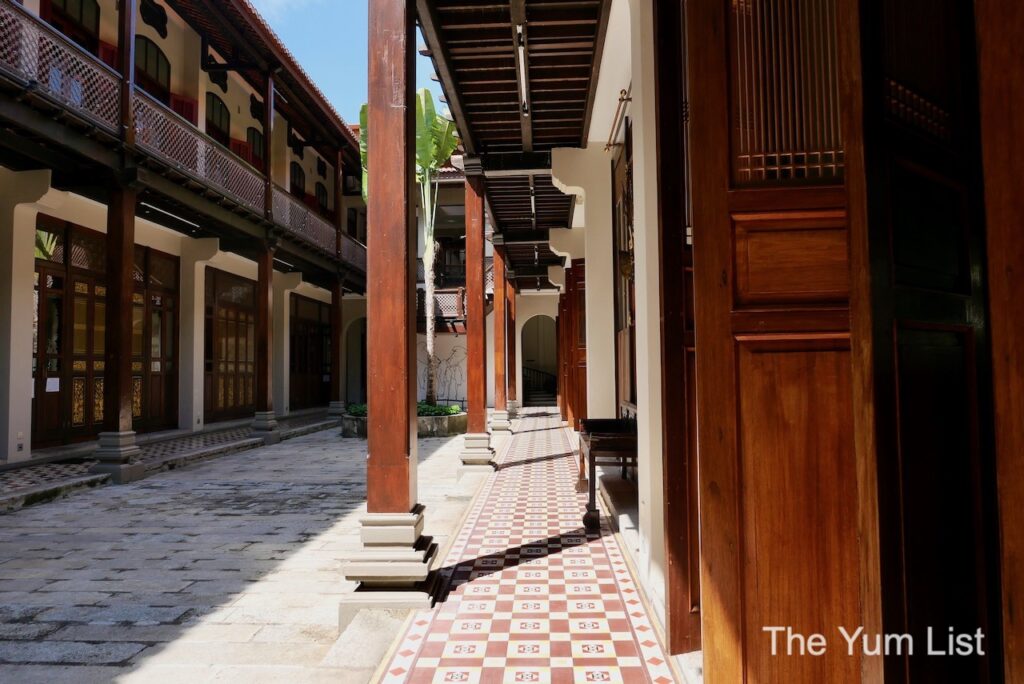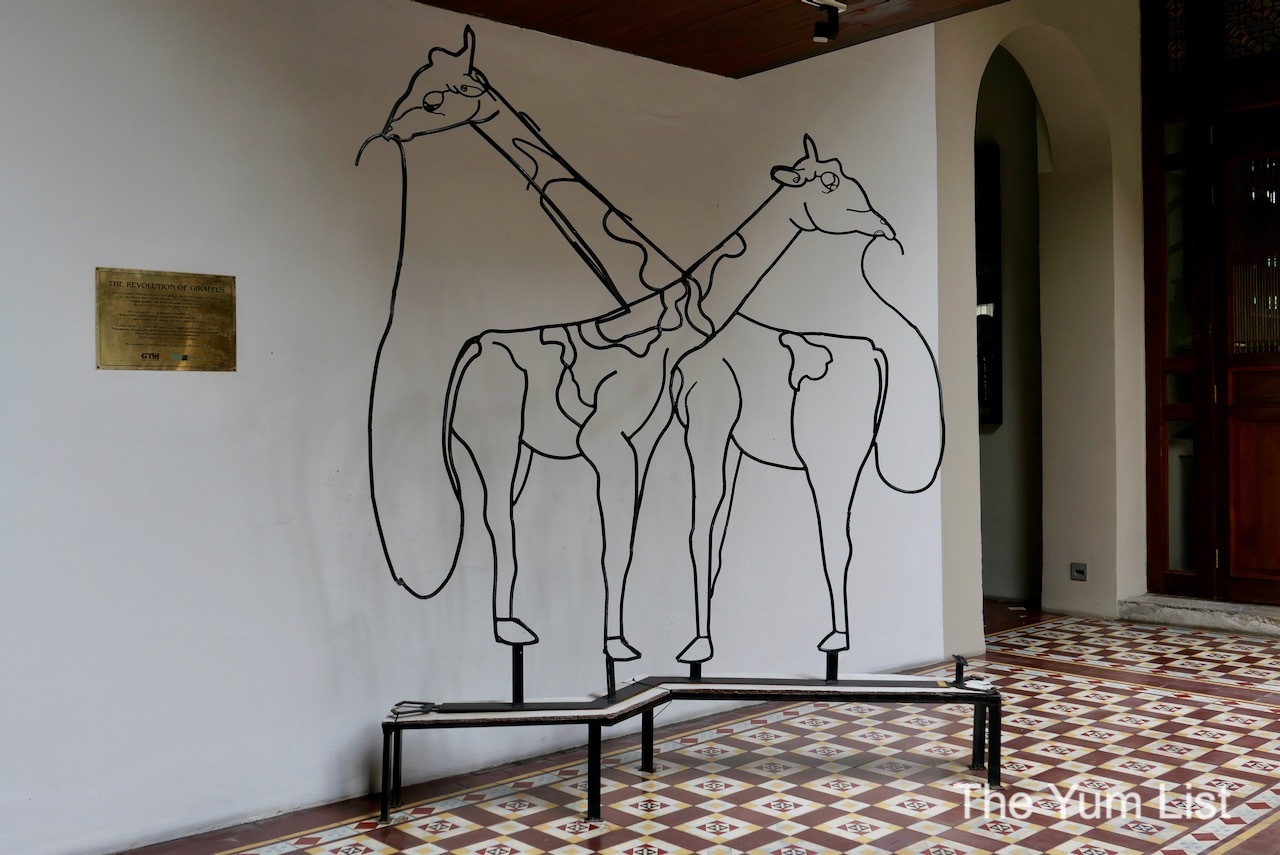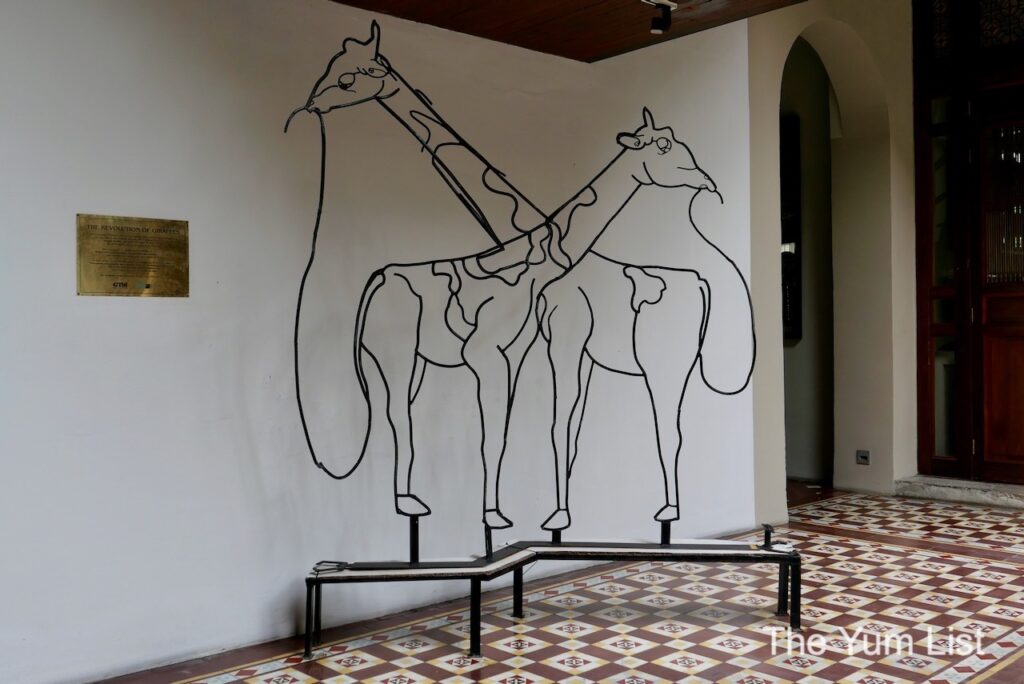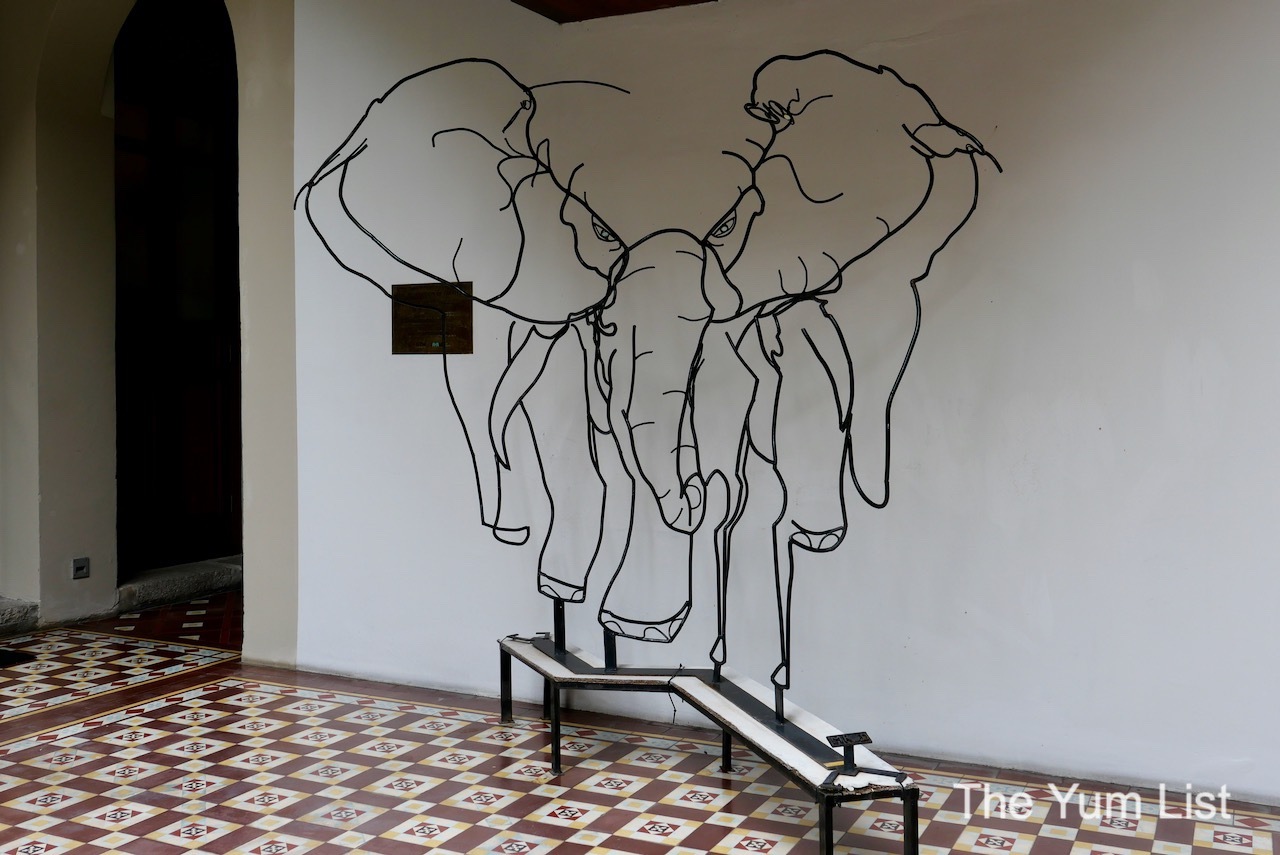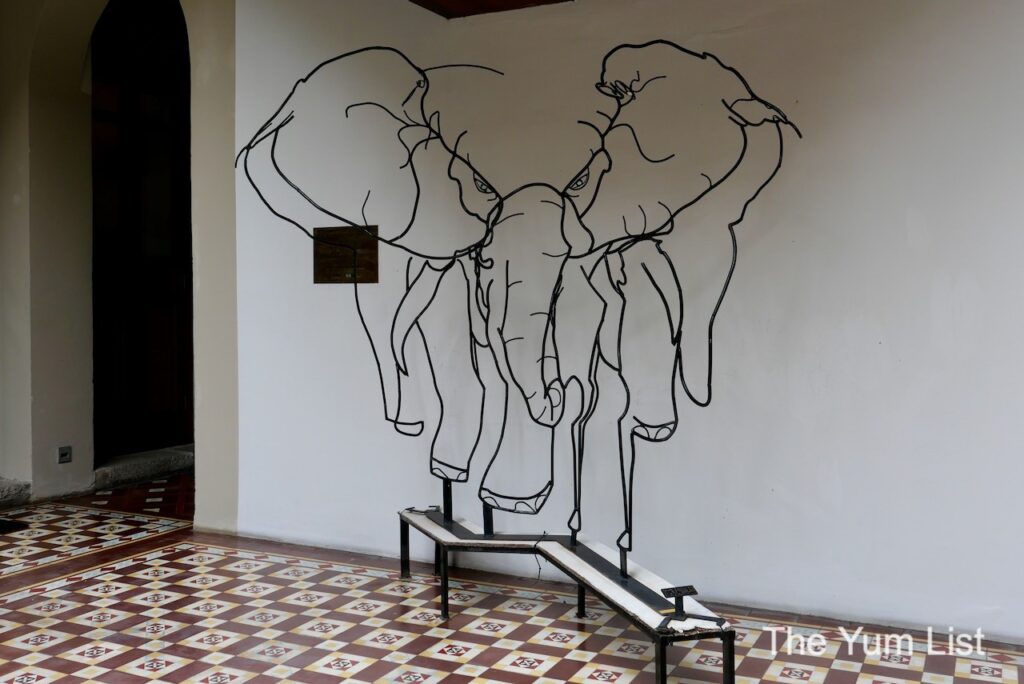 Terraced Duplex Suites
Two apartments are available for families (4-5 pax), the Stuart and the Argus, along with several Terraced Duplex Suites. Half of the suites have the main bedroom upstairs (Argus) with an additional toilet and outdoor shower (no stumbling downstairs for a midnight twinkle). These also sport a private deck with views of the Georgian Church and school next door. The remainder has the bedroom downstairs with a sitting area upstairs. Shuttered windows open to views of historic Stewart Lane and the restored Kuan Yin Temple. Either way, their 80 sqm expanse makes for a spacious living area.
In our Argus suite, a four-poster bed carved in a dark wooden Chinese frame is the bedroom centrepiece upstairs. There's no TV here, just air-conditioning and access to the balcony, toilet and outdoor shower. In pleasant weather, it's lovely to leave the doors open and let the natural ventilation cool the room.
Downstairs there's much to admire and I find myself sinking deep into a large red armchair to take it all in. I lean back and feel embraced by its softness, like snuggling into grandma's lap when you're a toddler. In this room, there are carefully chosen pieces of antique furniture, an espresso machine, giant telly, books on local heritage and culture, and a safe and mini-fridge enclosed in the wardrobe.
Panelled teak screens separate the open-plan bathroom from the living room. Also generously sized, the washroom is decked with a marble basin, rain shower and mosaic-tiled floor. Bath products are in refillable containers reducing the environmental impact but also adding a touch of class that disposable plastic packaging cannot achieve.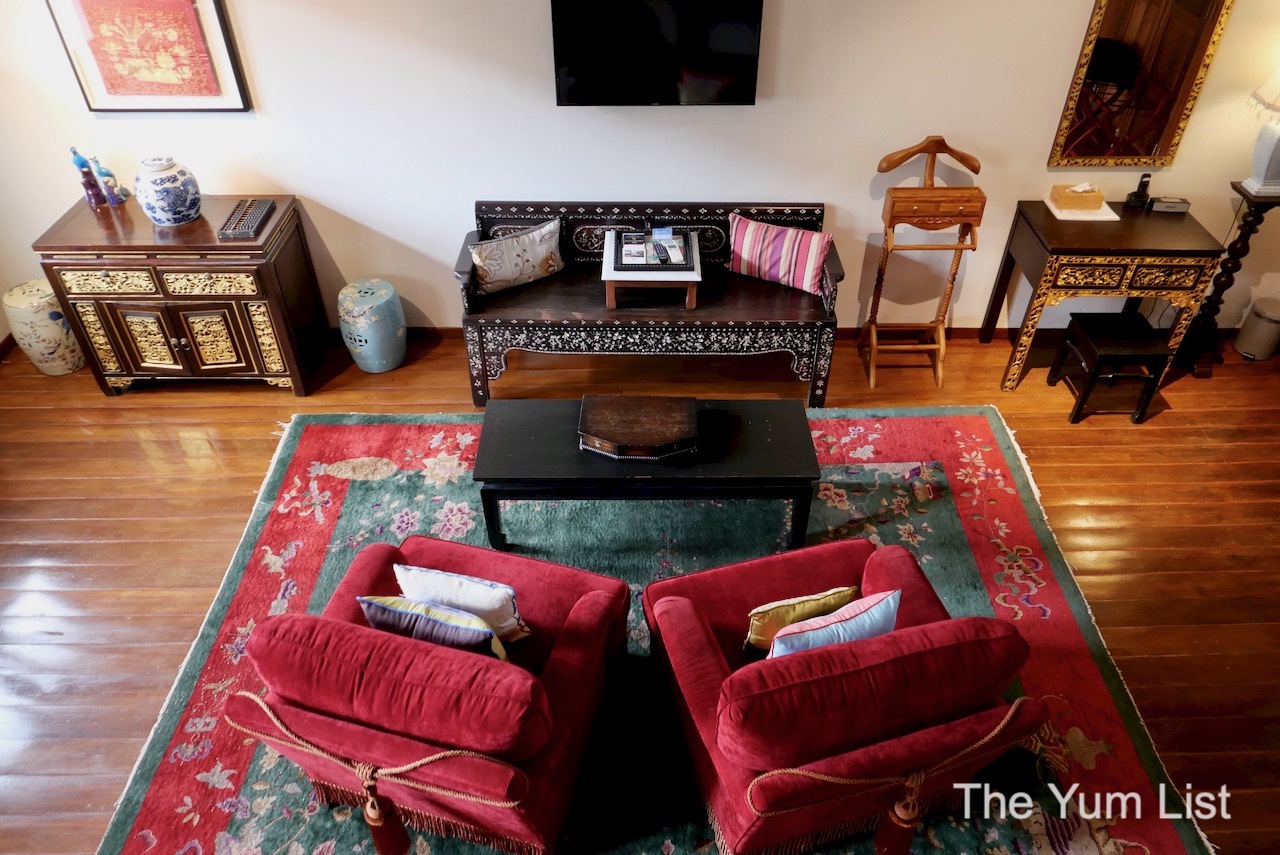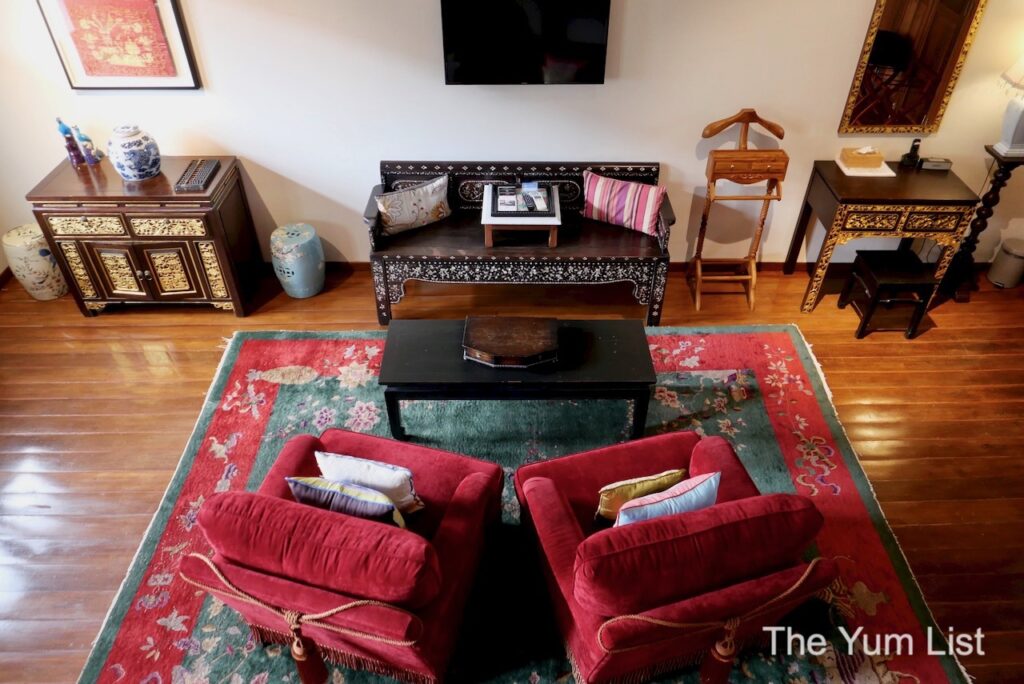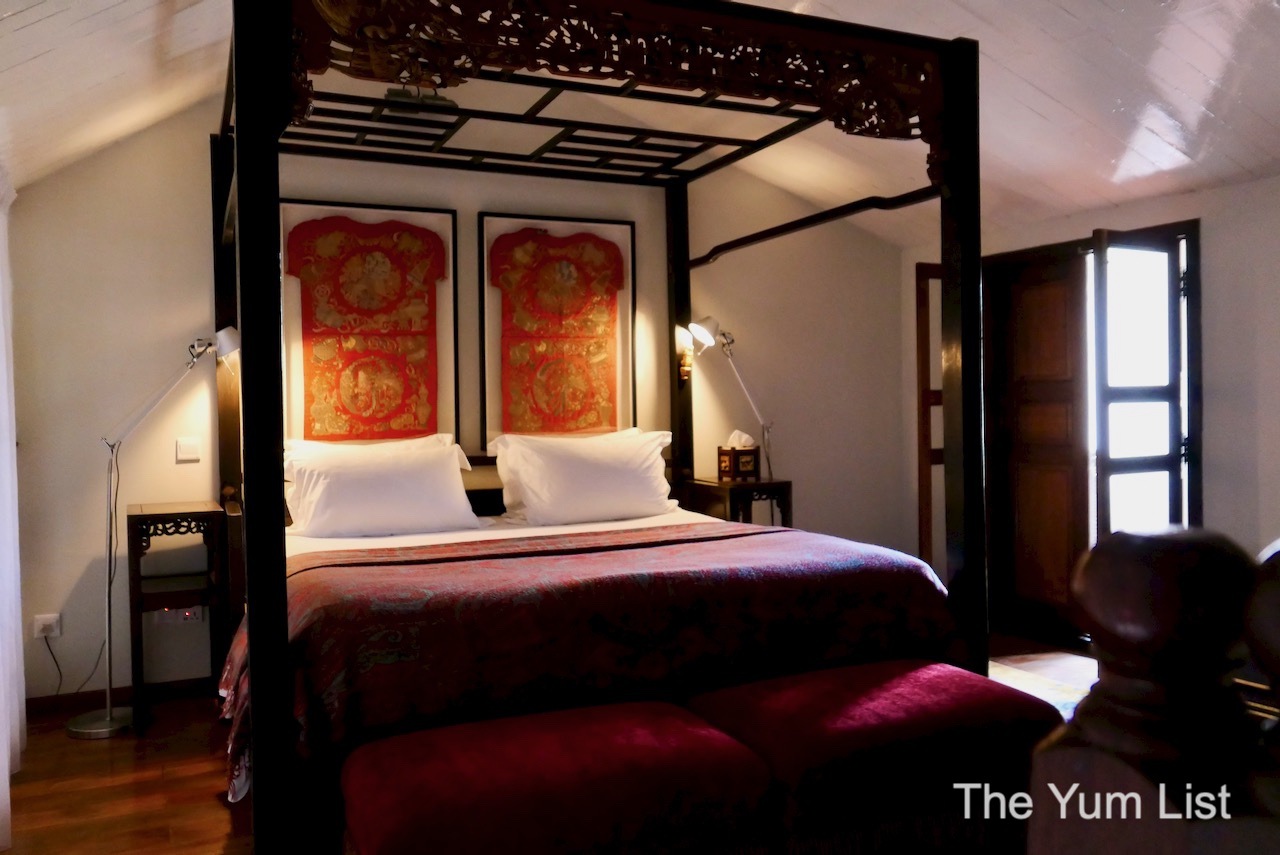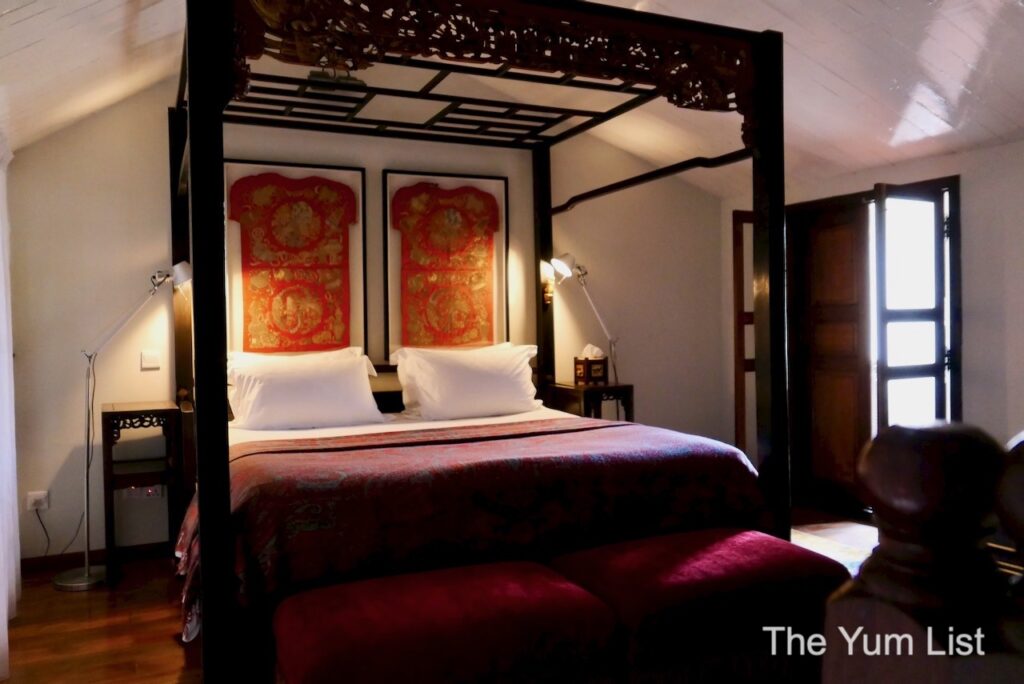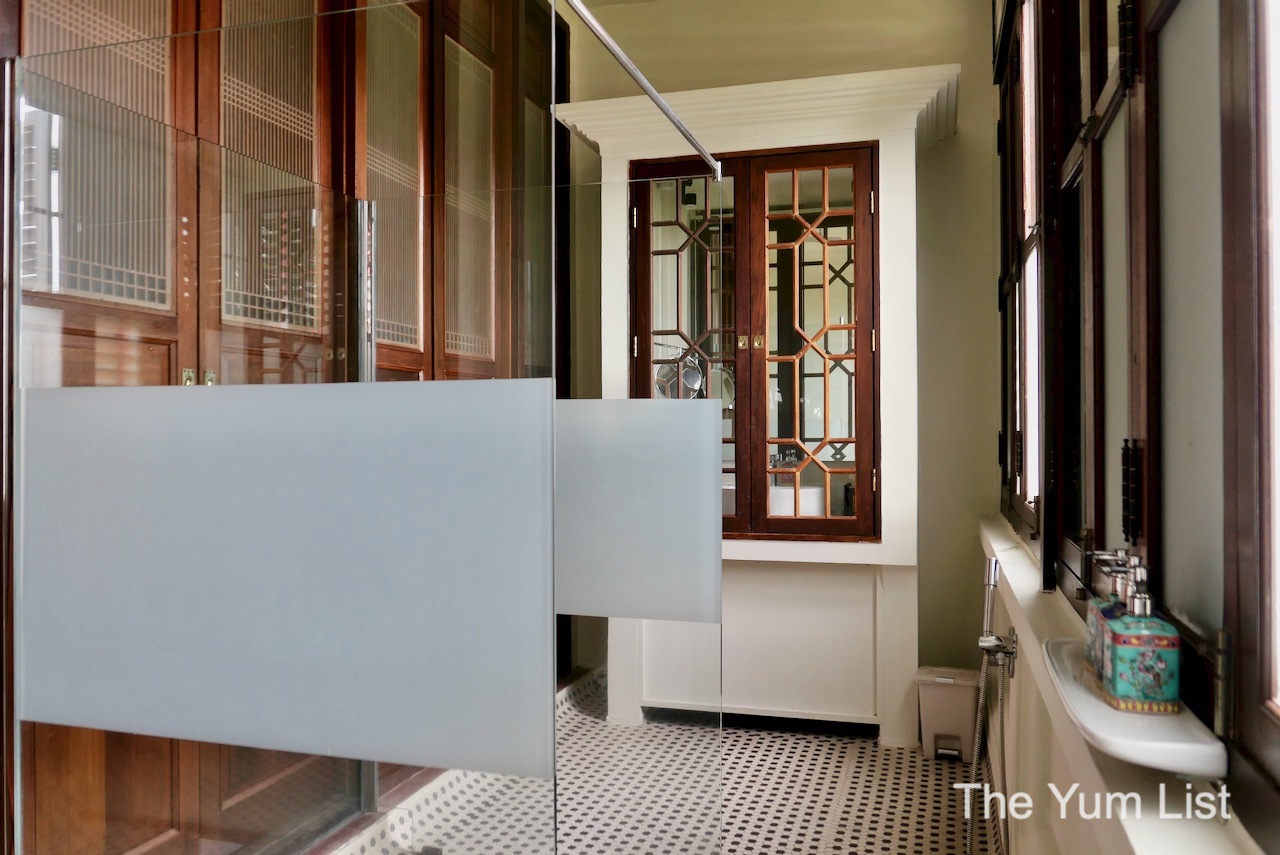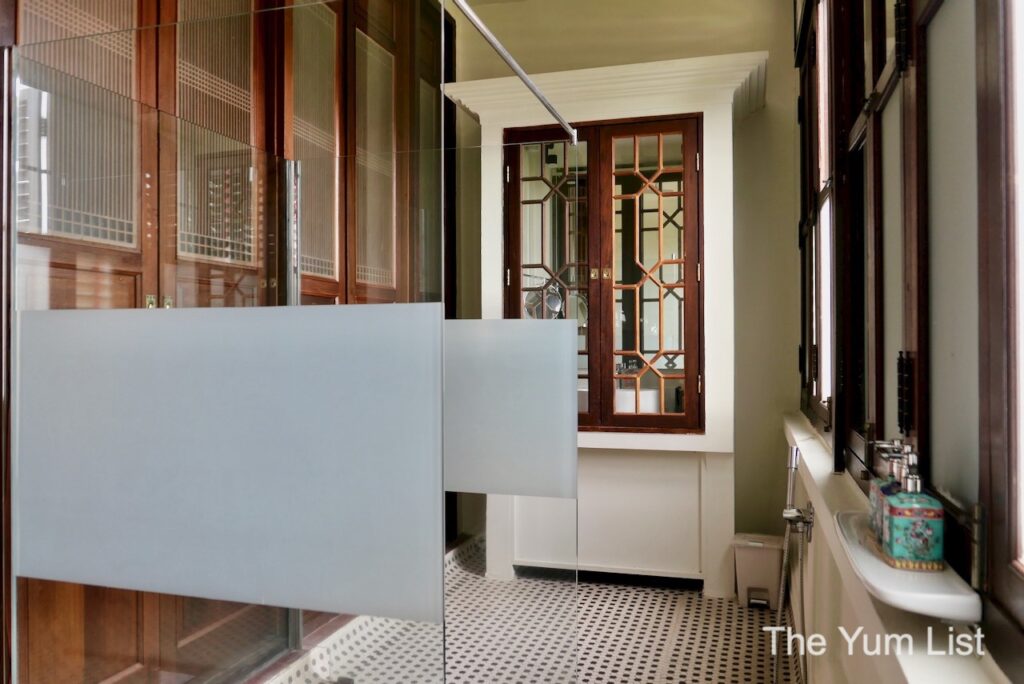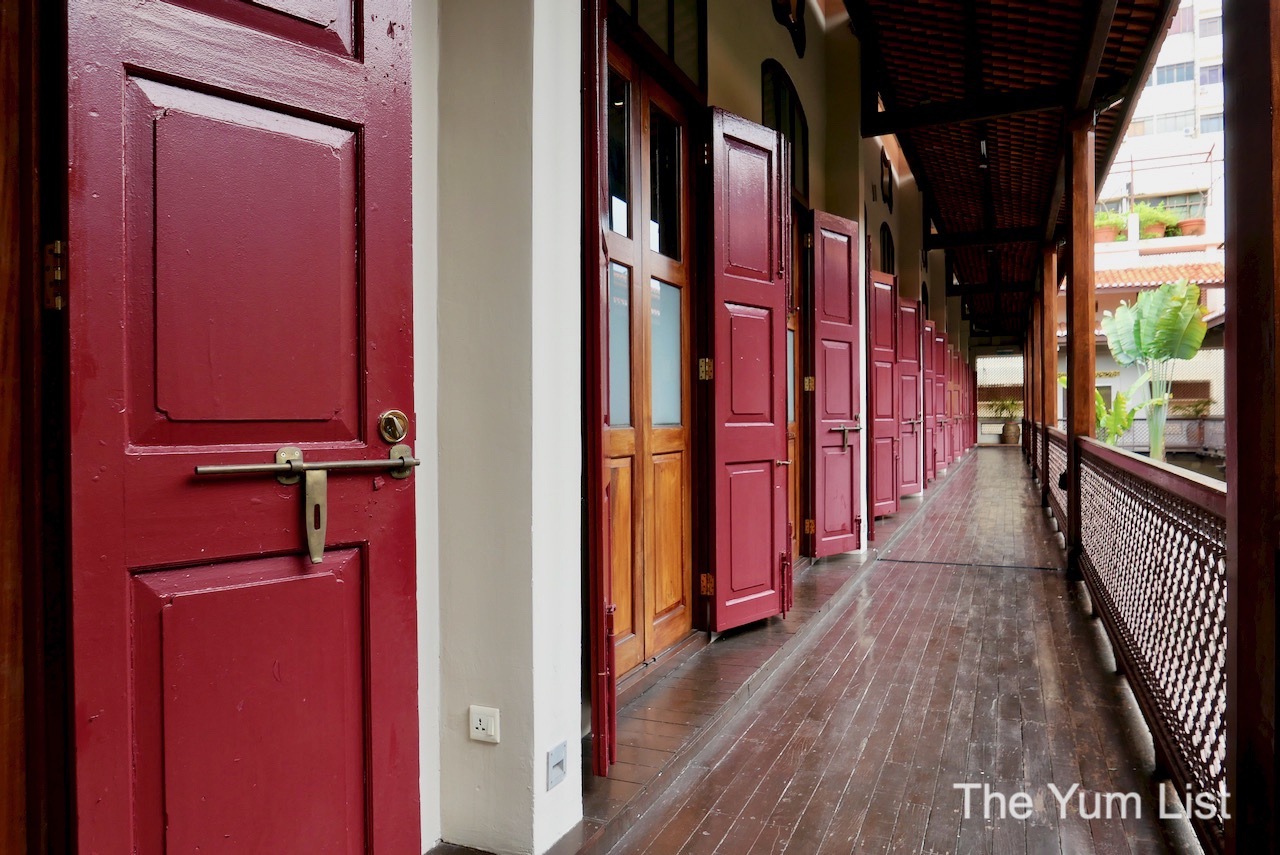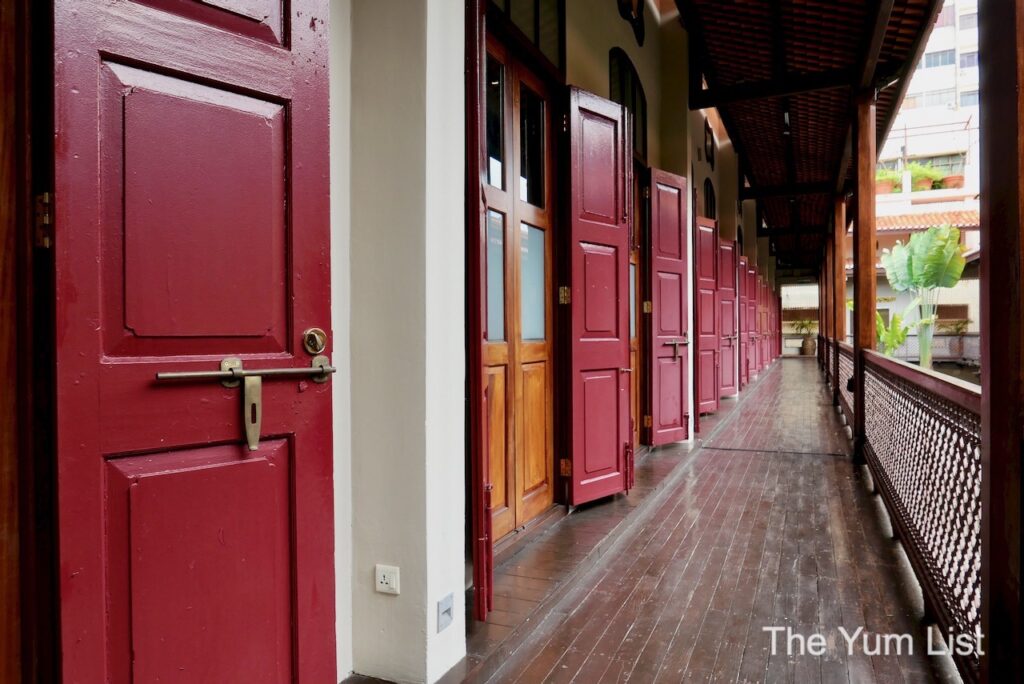 Facilities
While I adore the charm of boutique hotels, I often feel I'm sacrificing facilities for character. Faced with the choice of a larger less intimate environment with a gym and pool, or losing out on these in order to gain a more local personalised experience, the former often wins out. However, Seven Terraces, offers the best of both worlds with a pool long enough for laps and a lovely area for lazing by it adjacent. What's more, with technology and the staff's local knowledge, just about anything not immediately available at the hotel can be arranged with a phone call.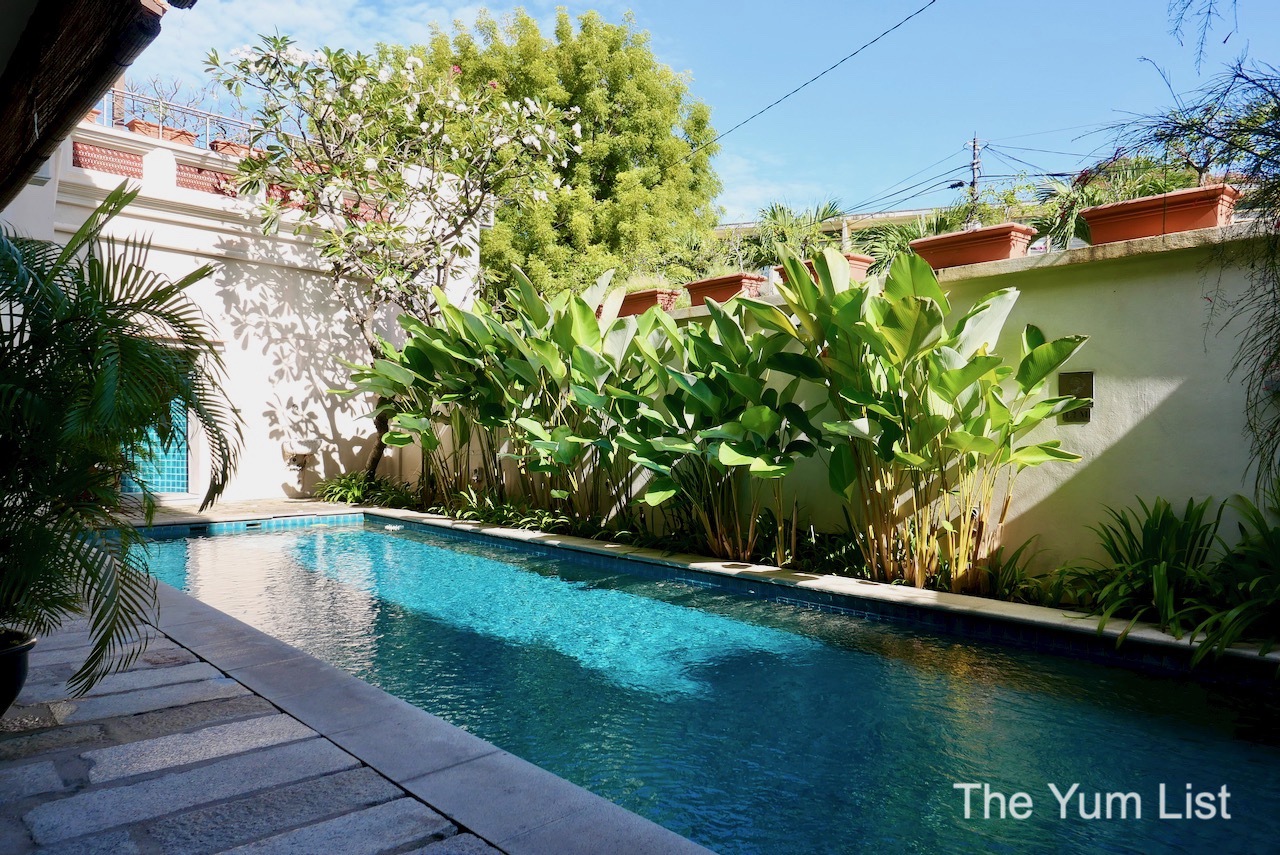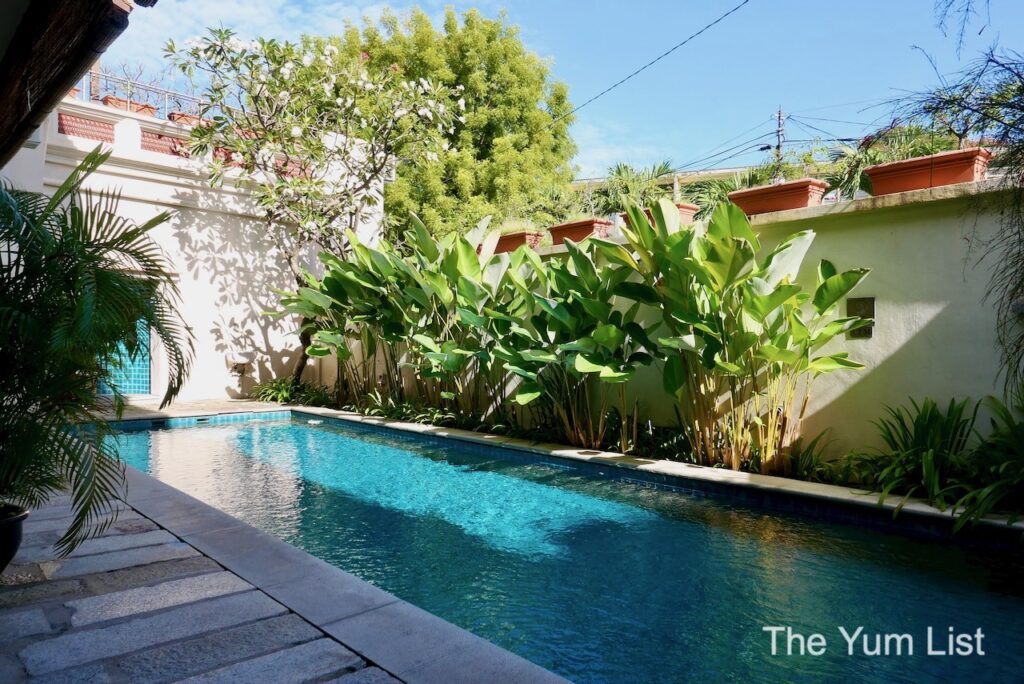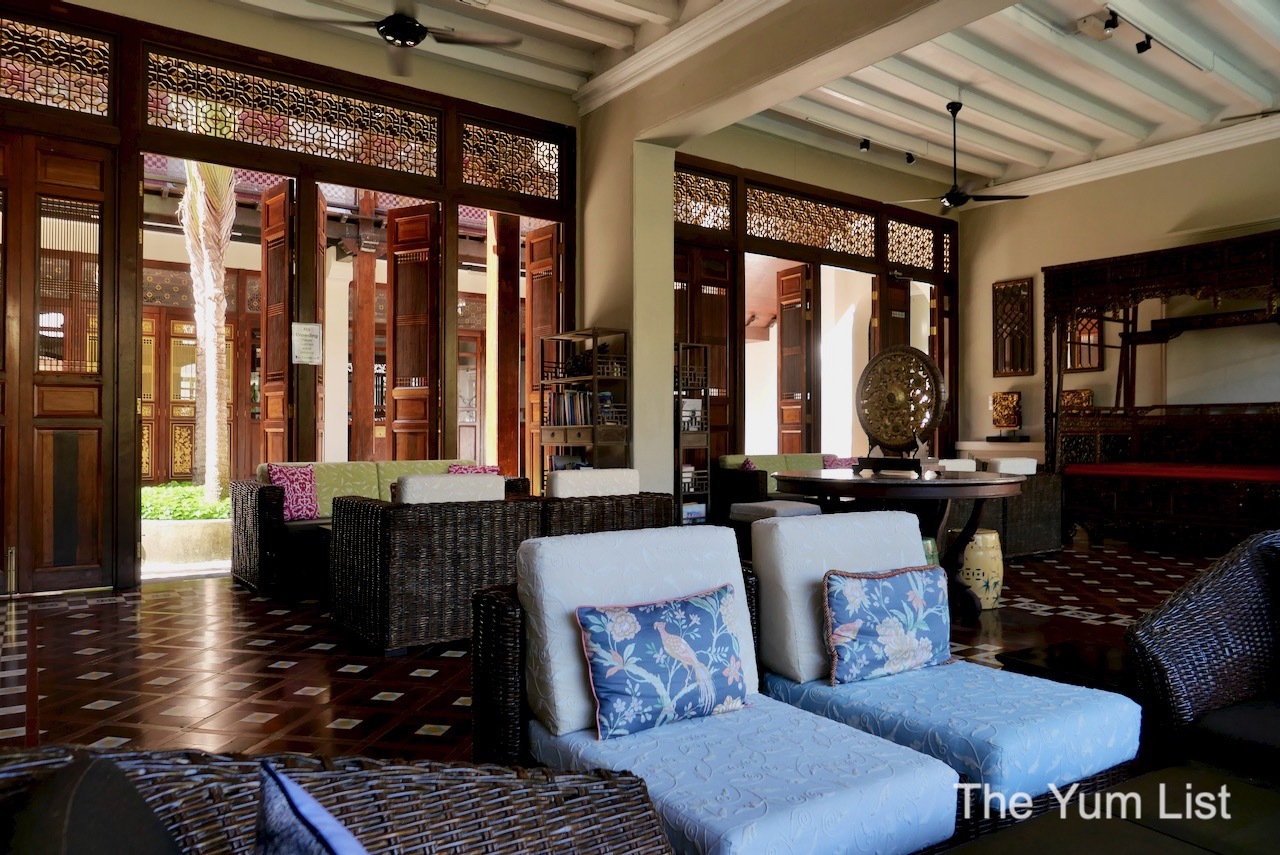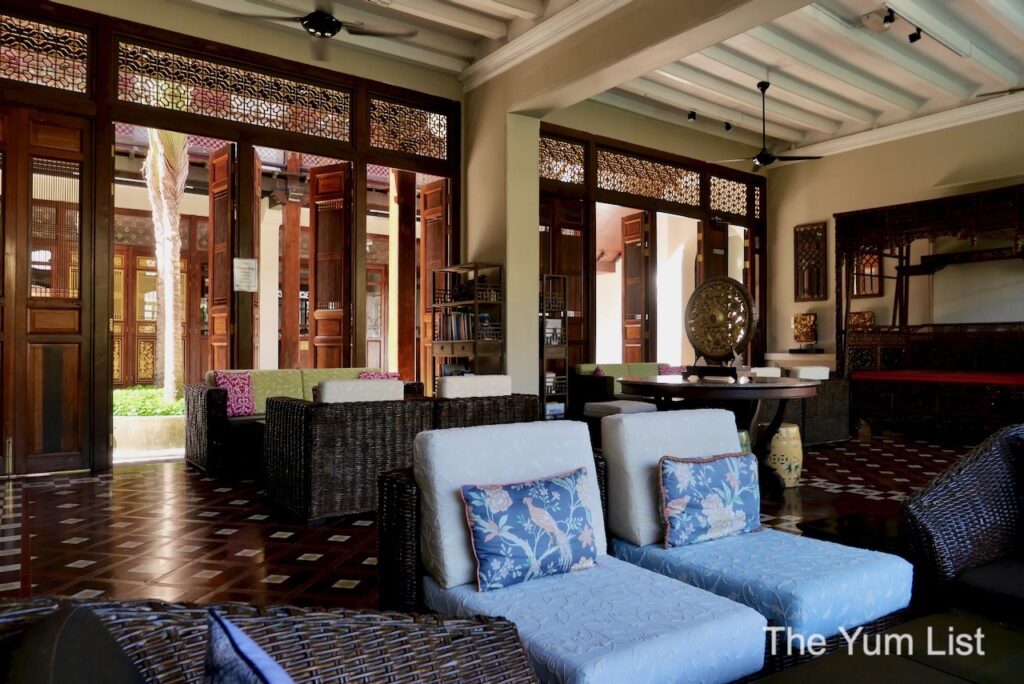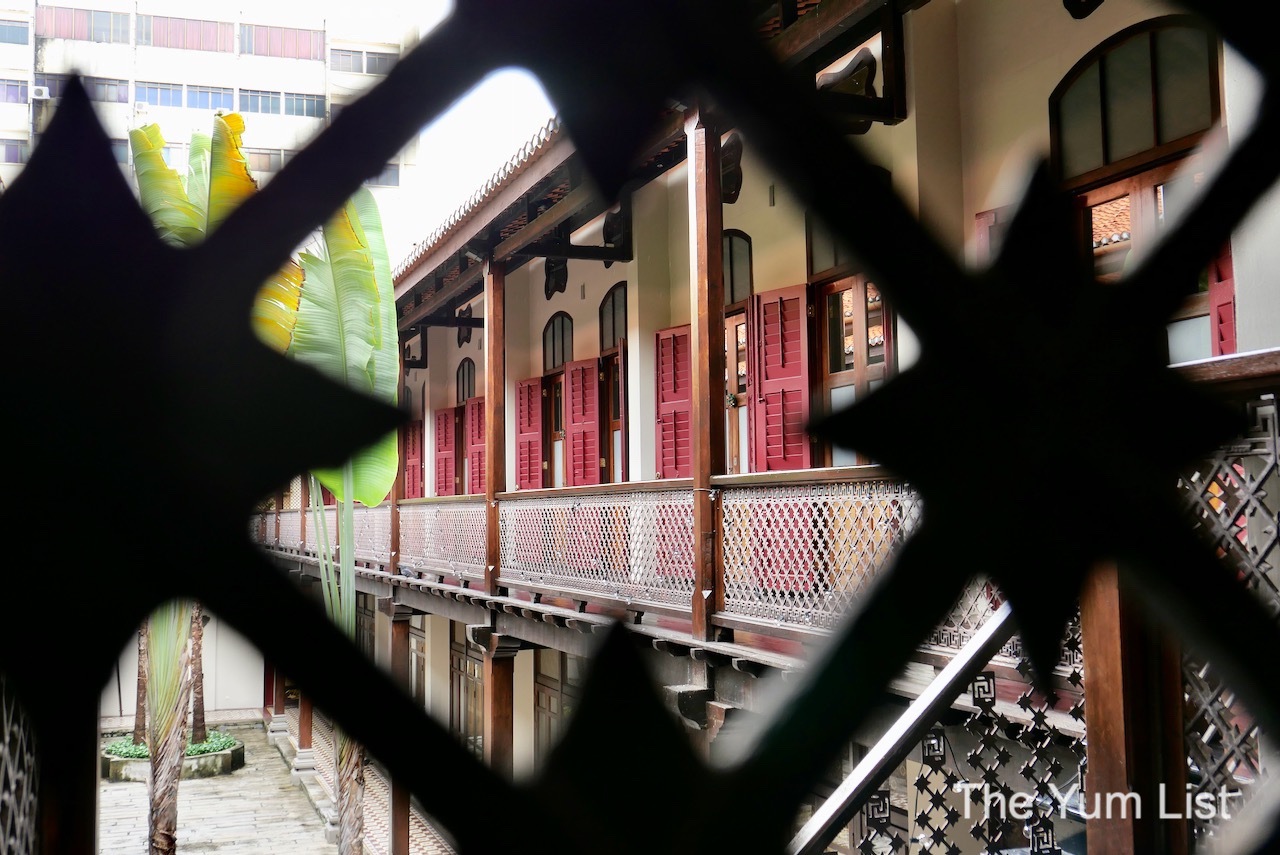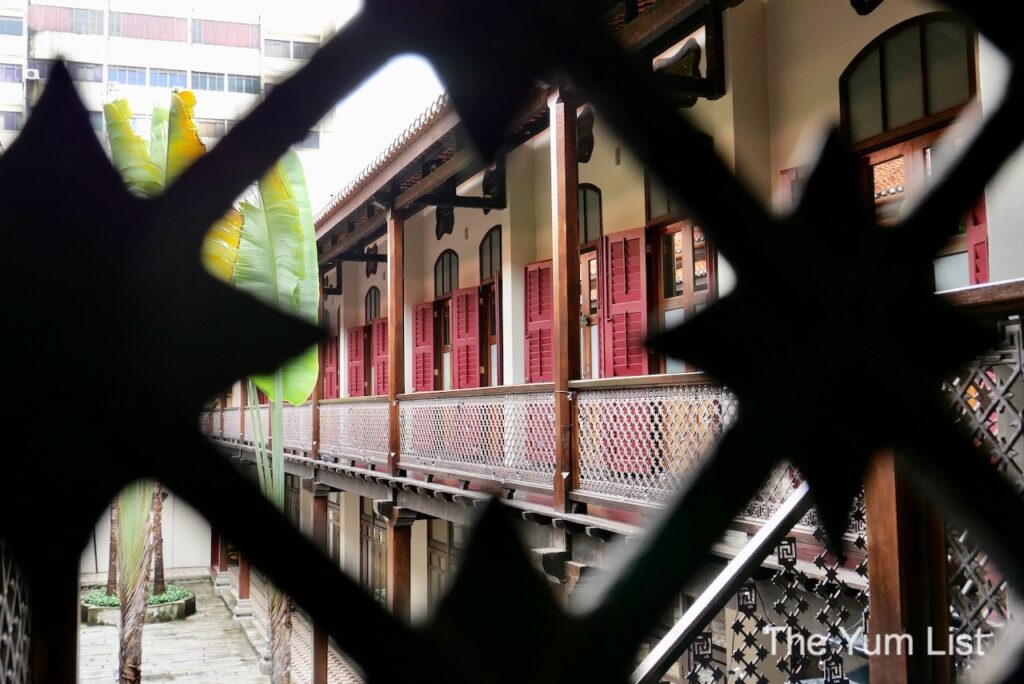 Seven Terraces Penang – Breakfast
In a larger hotel, you might skip breakfast in favour of hitting the local food scene. The environment is so pleasant though at Seven Terraces that we are thrilled to begin the day here. It's served a little later than most, between 8:30 and 10:30 am, in an open-walled dining room next to the lobby. Pleasantly cooled by ceiling fans and enlivened with tunes from years gone by, it's an ideal setting to formulate the day's game plan. A set menu includes juice, fruit and coffee or tea to support your choice of main. We keep things simple with eggs and sourdough, in light of our planned local eating adventures ahead.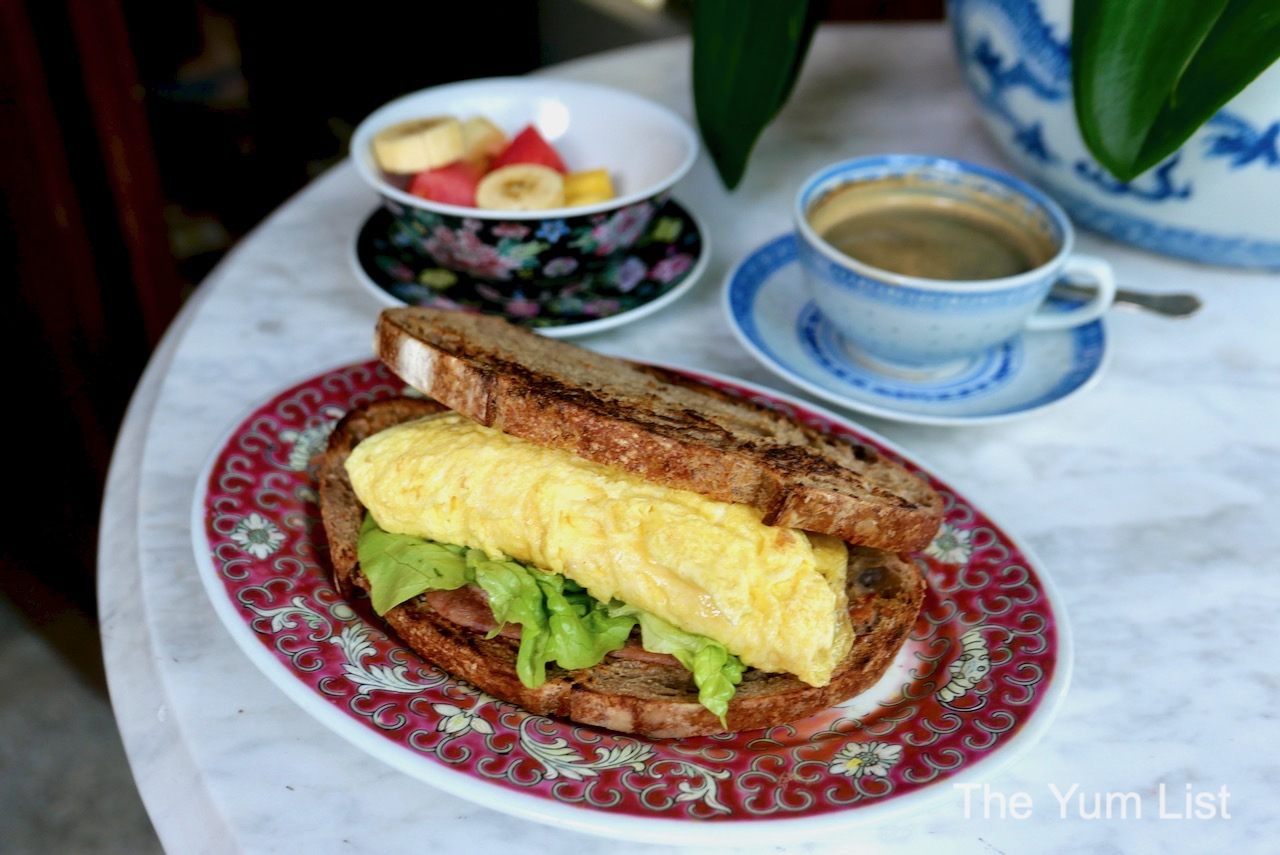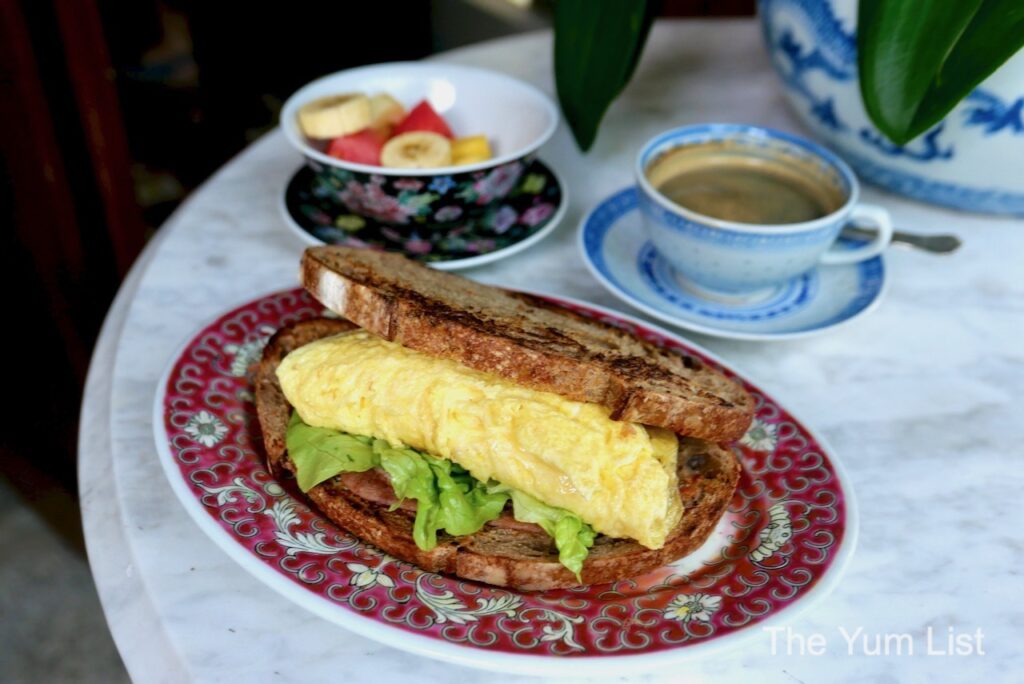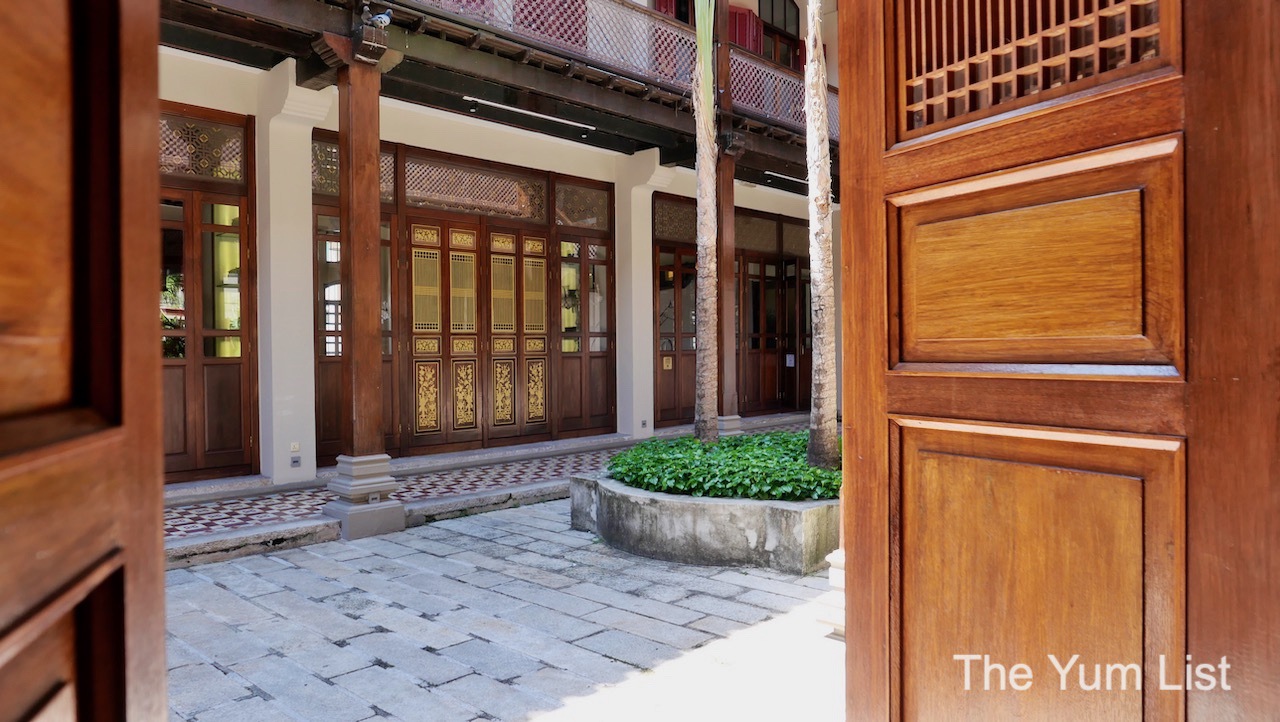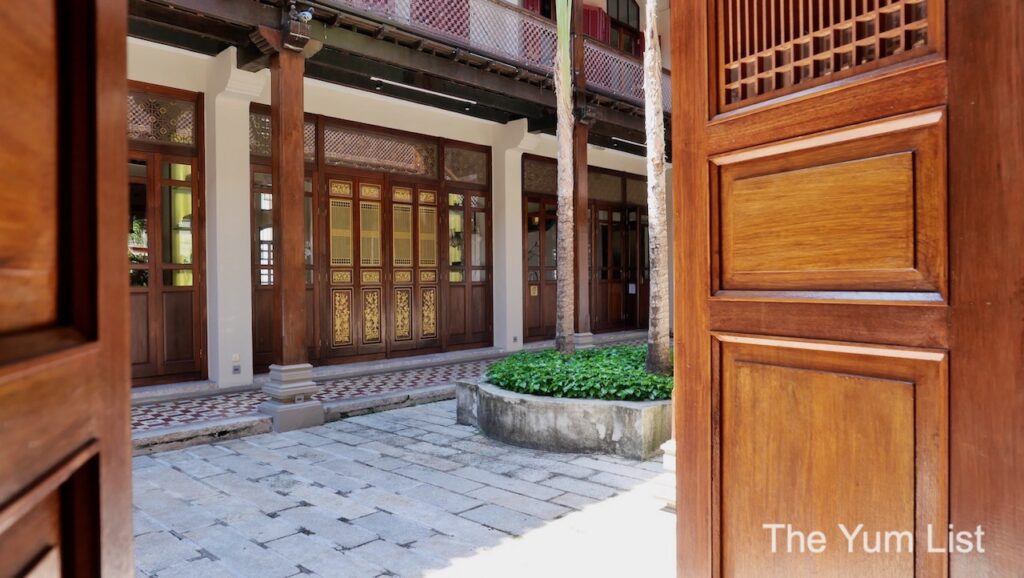 Kebaya Dining Room
Also on-site is the beautiful Kebaya restaurant. We don't have a chance to dine here this round but the setting is absolutely delightful and the kitchen is known for its elevated Peranakan cuisine. There's also a small bar which is perfect for pre or post-dinner drinks.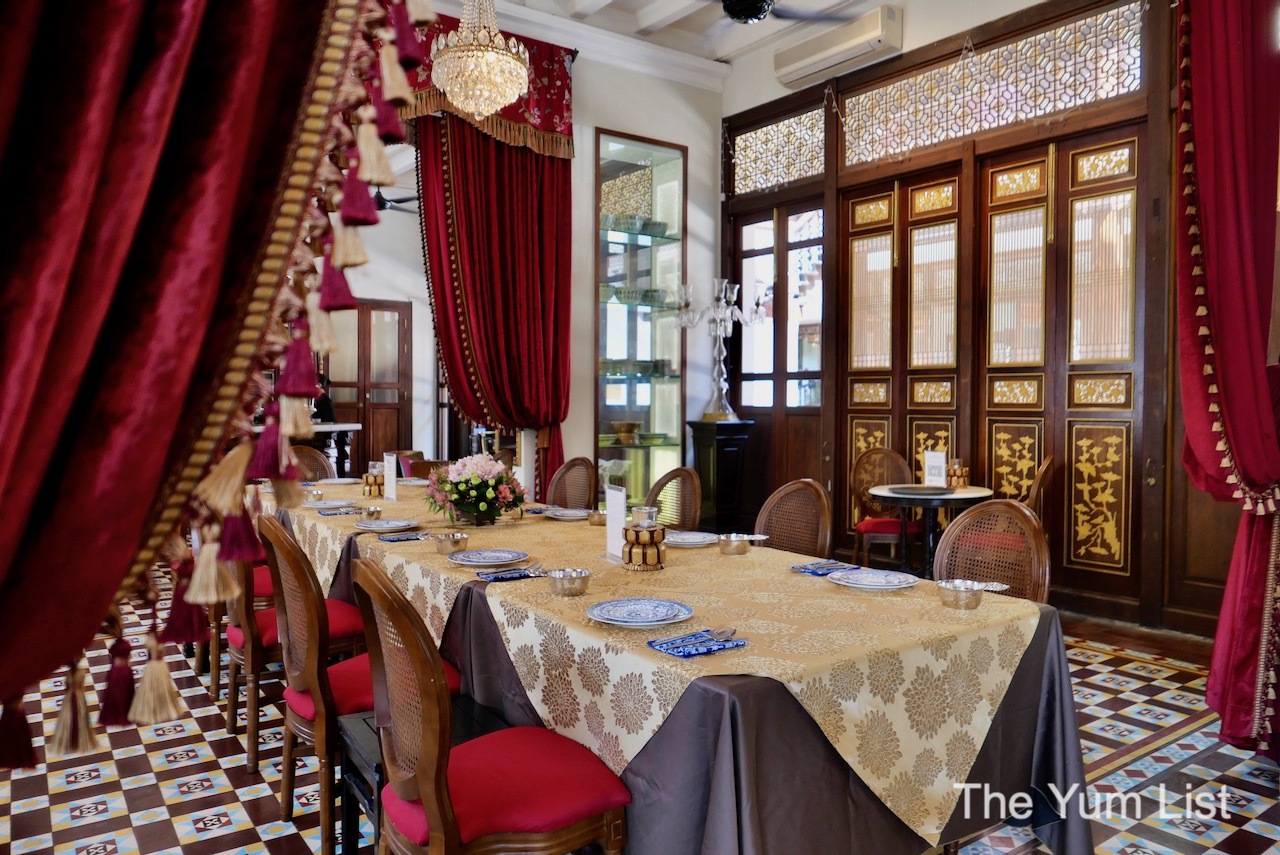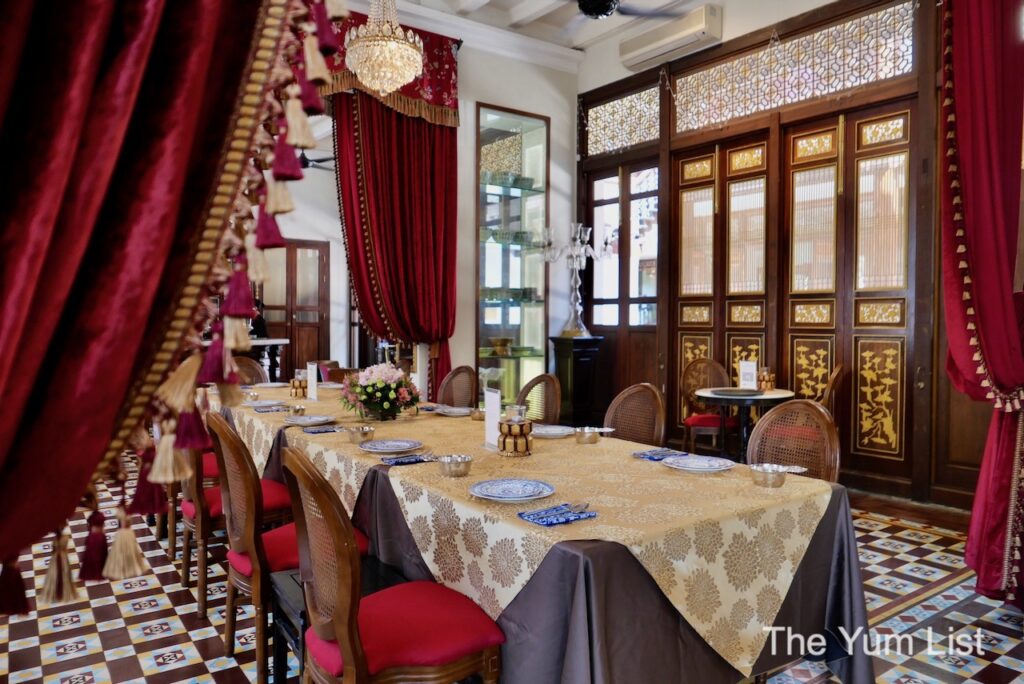 Seven Terraces is a vision of the past with contemporary comforts. Coupled with home-style service, a stay in this boutique heritage hotel is a pleasantly memorable experience.
Reasons to stay at Seven Terraces: beautiful heritage property meticulously restored; excellent location in the heart of George Town's World UNESCO Heritage Site; pool; exceptional service.
Seven Terraces Penang
Stewart Lane, 10200 Georgetown
Penang, Malaysia
https://www.georgetownheritage.com/
+6 04 261 8888
* This hotel is not suitable for families with children under the age of five.
Find out more about travel to Penang here and stay up to date with the latest gourmet happenings around Malaysia here and here.