Malaysian Restaurant Langkawi – The Gulai House
Words: Alison Christ
Photos: Monica Tindall
It's our first night at The Datai in Langkawi, Monica and I are happy to be staying for three glorious nights in a beautiful rainforest villa. The property is truly something special, and there are many places to choose from to satisfy our insatiable hunger for good food and great dining experiences. This weekend seems to be popular with many of our friends as we keep bumping into people we know from KL. Two of our great friends and Yum List fans want to join us for dinner at The Gulai House, and we are happy to have them. After a Champagne picnic on the pristine white sandy beach (the Andaman is crystal clear today), we are ready to head to dinner. The Gulai House is alfresco dining, and it's nice to be able to relax and dress in a comfortable beach manor rather than have to get all-fancy. The buggy comes to pick us up from the villa – we still have Champagne to finish, and the driver lets us take our glasses on the ride. We are being treated like VIPs here with every aspect.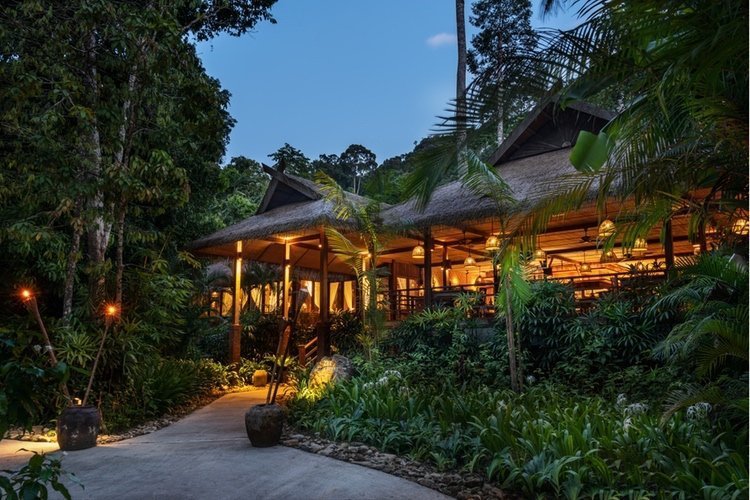 Malaysian Restaurant Langkawi – The Gulai House
It's my first time at The Gulai House, which offers authentic Malaysian cuisine amidst traditional architecture. I immediately love all the hardwood and wide-open space with long tables that can fit groups of diners or smaller, more intimate places for the four of us. We are receiving a lovely breeze coming off the sea through the rainforest and a pleasing smell from the flora around us.
The Gulai House Wine List
We sit down, and our first priority is,… can you guess? Wine, of course. I am handed a serious leather-bound wine list that I envision would be a list that the Kings and Queens in the Lord of the Rings would have used. It's a couple of inches thick and has hundreds of wines to choose from. The wine list is one of 1,244 restaurants in the world to be awarded the second-tier award by Wine Spectator. The award was created to offer special recognition to restaurants that clearly exceed the award's requirements. These lists display either vintage depth with vertical offerings of several top producers from major regions, or excellent breadth spread over several wine-growing regions. These wine lists typically offer 450 or more selections, along with superior presentation.
Being a sommelier myself, I should be diving headfirst into this list, but there is something about The Datai that is making me feel like just sitting back and really, truly enjoying the space around me. Since the food is filled with spices, the easiest decision is to go with a Riesling, and the list won't disappoint on the Riesling front. We start with the Wittmann Westhofener Troken, Rheinhessen, Germany, 2018 (RM 170), which the Datai import themselves and is quite lovely. We quickly finish the bottle then switch to a single vineyard by Dr Bürklin –Wolf Wachenheimer Trocken, Riesling, Pfalz, Germany 2017 (RM 250). All the ladies at the table tonight prefer drier wines, but I should mention any of the off-dry or sweeter Rieslings would work great with food here. If you also find yourself wanting to do less decision-making when you visit, then you should ask for Zul, the property's Assistant Food and Beverage Manager, who is an awesome mixologist and sommelier. He's lovely to speak with, very knowledgeable about wine and makes fantastic cocktails (see yesterday's article for more on those!).
The Datai is a huge property. It makes sense to note (as is stated at the bottom of the wine list) that the wines are kept at The Dining Room cellar and may require 15-20 minutes to be delivered to The Gulai House. The wine cellar is pretty cool and worth a visit if you get a chance. Sometimes size matters, and sometimes glasses matter. It's really a personal preference. At The Gulai House, they use a universal wine glass, which is something like a Bordeaux glass. Since the restaurant is open-air, they sometimes have breakage due to strong winds. Therefore, the universal glass is offered for all wines. If you prefer a more specific or delicate glass for your wine, they do have a high range of lovely Zwiesel 1872 wine glasses in The Dining Room, so you can make a request. Keep in mind the glasses are on the other side of the property near the cellar, so they may take some time. Here at The Datai, there is no stress allowed so just sit back and relax, maybe order a cocktail first.
Chef Nazrie
Now that we have our wine under control, we can move on to the reason why we are here. Chef Nazrie is about to take us on a whirlwind journey through Malaysia's history and culture. Chef says his cooking inspiration comes from growing up in a house led by talented female cooks; his mother and younger sisters. It was a tradition that everyone would come together to prepare and cook as a family. As he became more involved in the preparation, he started to gain interest in the various methods of cooking. He learned that each locality of Malaysia has its own signature dishes and style of cooking, he began visiting local villages to learn from them directly, and a chef was born.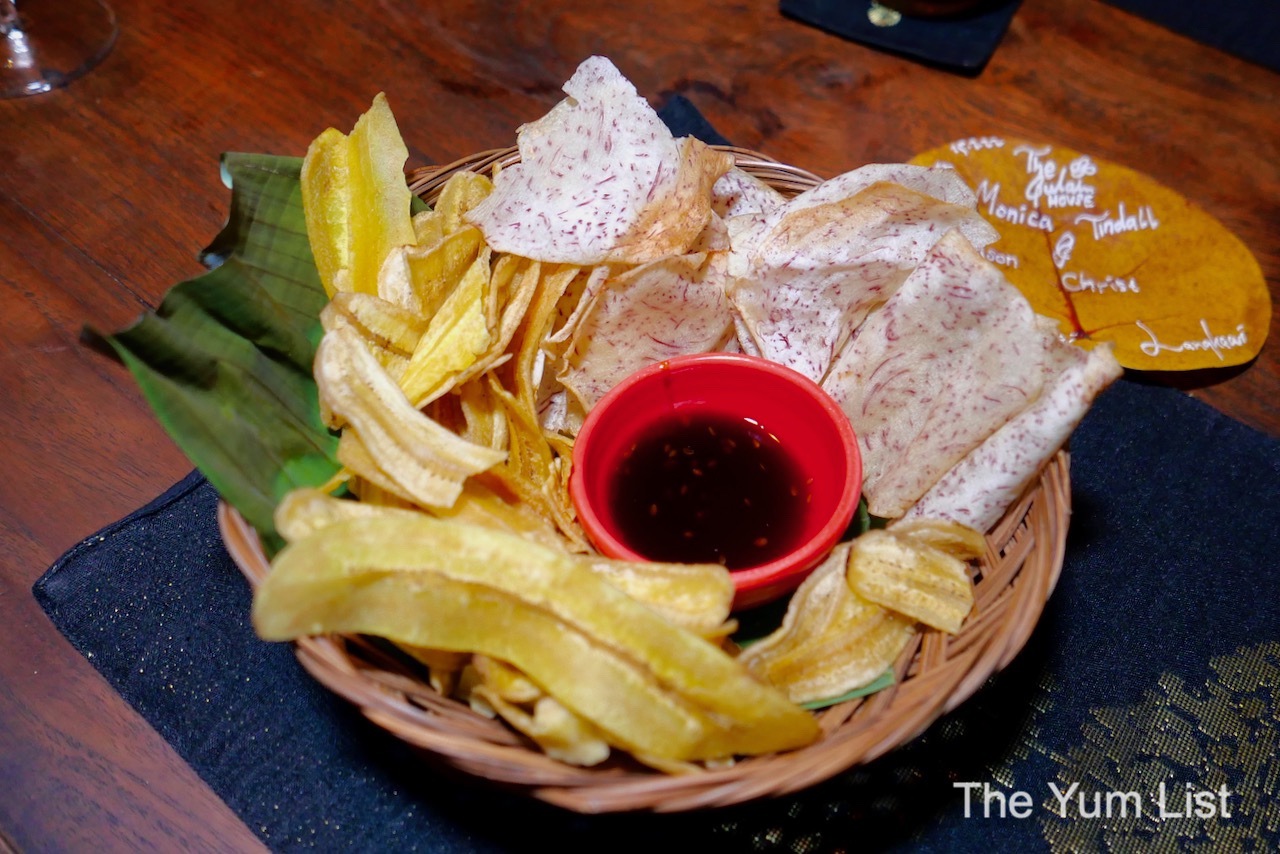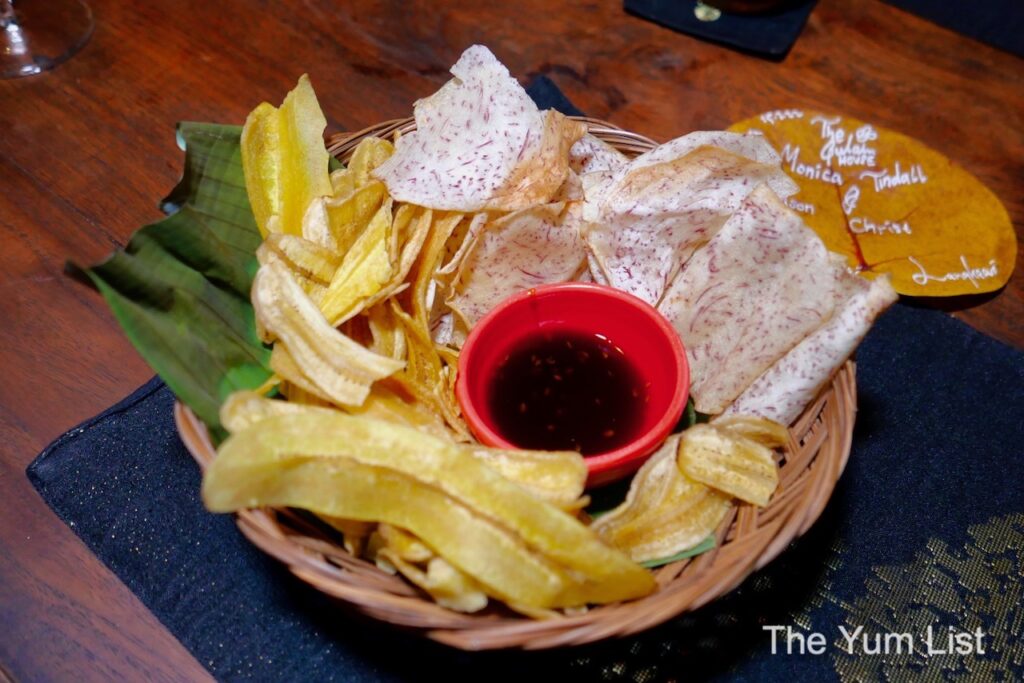 The Gulai House Menu
The menu comprises many traditional Malay and Indian dishes; it's challenging to decide, as I want one of everything! We must narrow it down. It's like a feeding frenzy as I yell out the things I want to try. Monica adds in a few, and Bianca and Renee are busy picking their favourites. I appreciate the way the menu speaks to us. Its ingredients are visible, and everything sounds mouth-watering. I also love the special coding after each dish telling us if the dish contains nuts, if it's dairy or gluten-free, or vegan or vegetarian. I tend to be a creature of habit when it comes to the dishes I love, so I order some classics. Of course, Paneer, Rendang, and Garlic Naan make the list.
We order both versions of paneer for the table because I don't want to share my paneer. The Chana Paneer (RM 48), pressed cottage cheese with chickpeas, capsicum, cucumber, tomato, and onions, comes first. Next is Paneer Makani (RM 50), Indian cottage cheese simmered in a creamy tomato, cashew nuts, and onion sauce. It's difficult to decide which one we like better. Chef tells us his secret ingredients involve apple cider vinegar and cooking the cashews in ghee.
We are in the tropics, so a soup might seem strange, but the menu offers five soups so someone must know better than I do. We try the Ayam Kampung Daun Teh (RM 55) with free-range chicken broth, tea leaves, and spices, which has a great combination of fresh-out-of-the-garden herbs and flavour.
The menu has a great selection of vegetarian options, so we try two of them. Bendi Asam Cabai Tumbuk (RM 40) sees sautéed ladyfingers with chilli, onions, shrimp paste and tamarind. Whenever I eat out with Renee and ladyfingers are on the menu, she will order them. She votes this high on her list of all-time best okra experiences. I'm more of a potato and cauliflower girl, so the Aloo Gobi (RM 43) potato with cauliflower tossed in onions and tomato masala is checking all the right boxes for me.
We ordered Nasi Beras Perang (RM 30), healthy brown rice to ensure we didn't waste a drop of sauce (preparation time is 15 minutes so be sure to order early). I would have ordered two had I realized how good it would be. Other rice options can come out quickly, like the Putih (RM 18) or Biryani (RM 45) if you're impatient.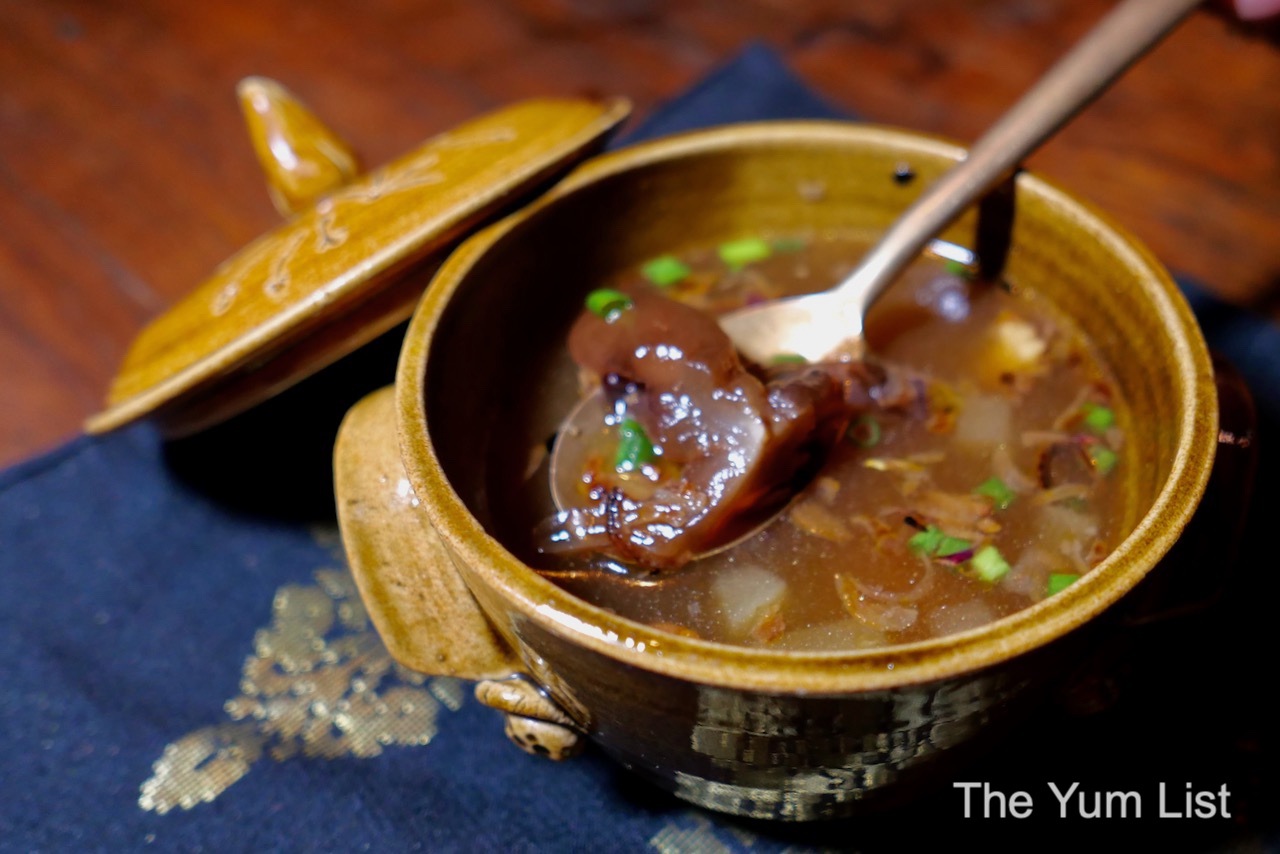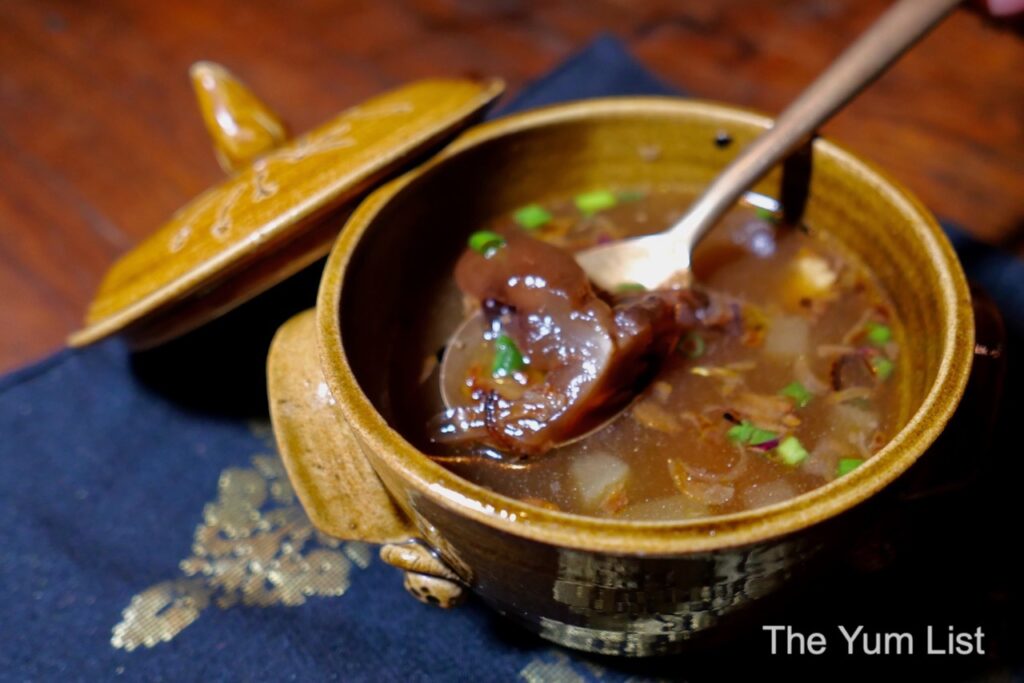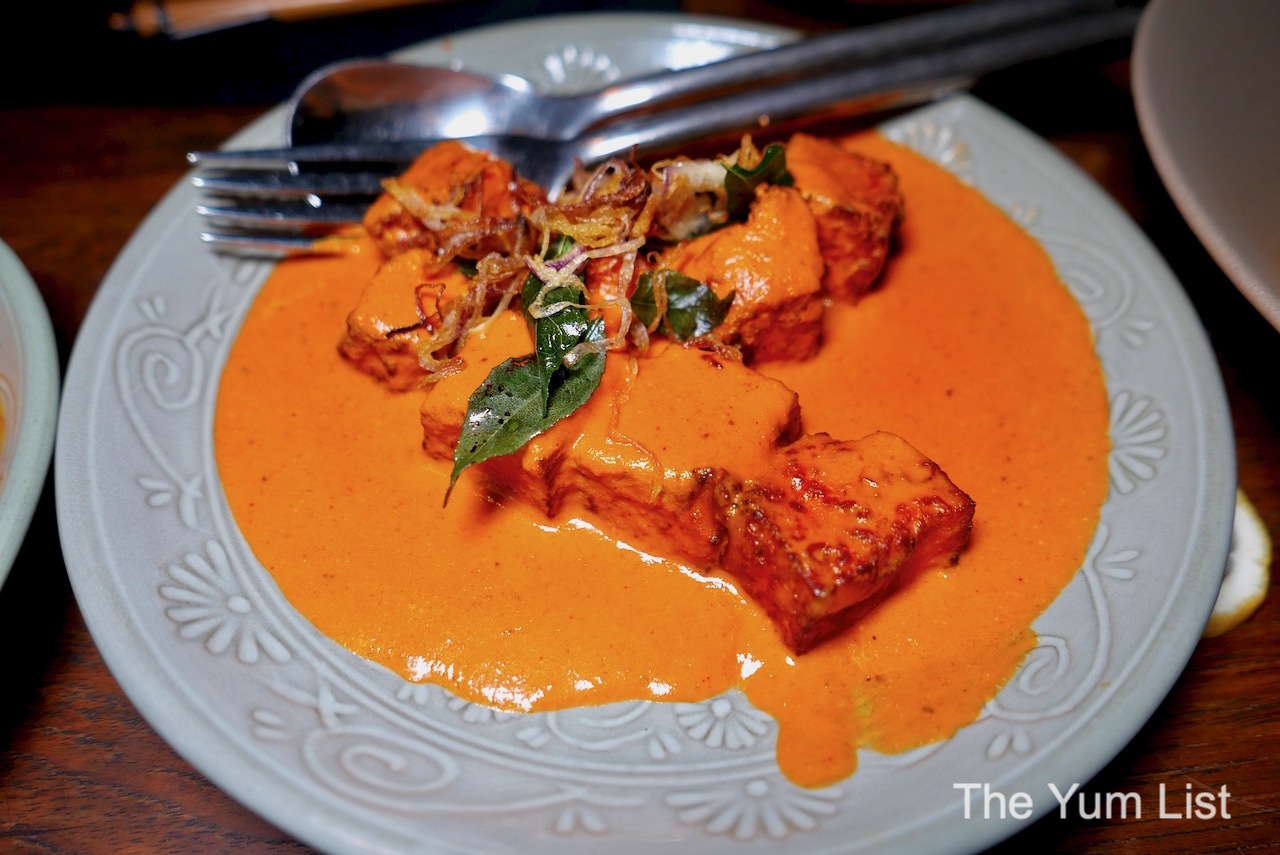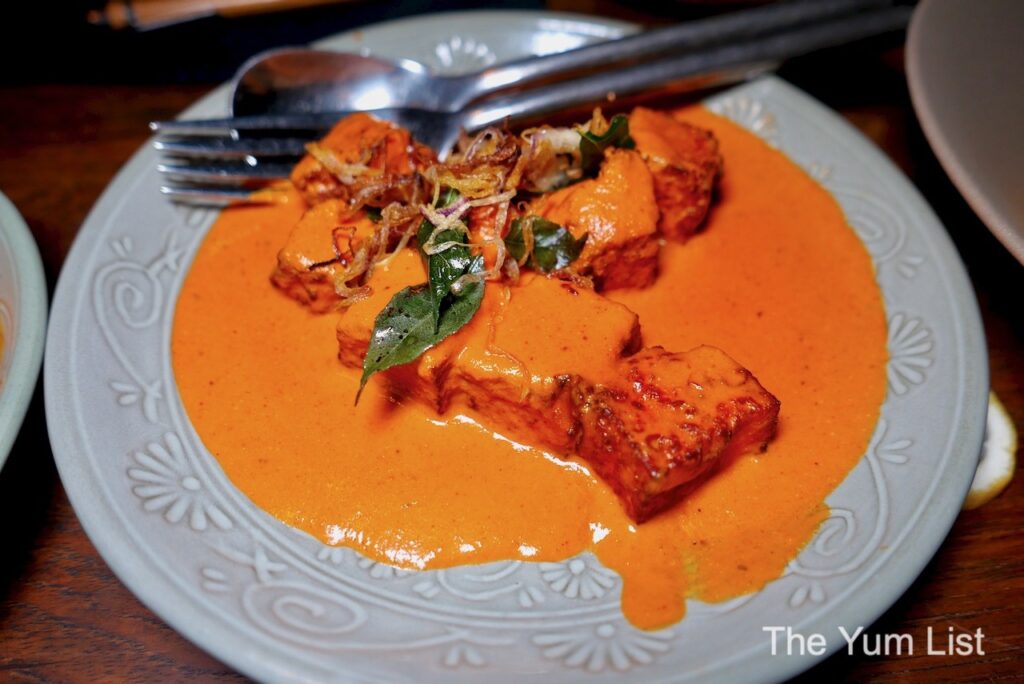 Main Course – Malaysian Restaurant Langkawi
For the main course (we may have overdone it –or not?), we try the Asam Pedas Jenahak Bunga Kantan (RM 125), a very fresh local red snapper simmered in a tangy chilli and tamarind gravy with ginger flower. It's as delicious as it sounds. Chef tells us later asam padas is sour and spicy and is a Malacca and Johor favourite. The seafood section offers a great array of fish from the local Andaman Sea.
From the Ayam & Daging / Poultry & Meat selection, we go for the Kari Ayam Kampung Keledek (RM 85), slow-cooked free-range chicken curry with coconut cream, fresh turmeric root and sweet potato. Again here, the chef utilized local ingredients, including kampung free-range chickens and spices from the garden.
No Malay or Indian meal will be complete without roti. We go for the Naan Tandoori Flat Bread with the garlic (you can choose plain, cheese, or garlic). The naan is a crowd-pleaser, perfectly spiced with garlic, a crispy bottom with an excellent chew. While some of us are lapping up all the sauces with the naan, I am cleaning out the rice bowl with the remaining curry from the Kari Ayam and the Aloo Gobi.
Apparently, the show hasn't even begun, as we are now presented with what might be considered the house specialty. Signature Rendang Tulang Rusuk (RM 190) with slow-braised dried wagyu beef short rib cooked over a slow fire with fresh coconut milk, chilli, turmeric root, and lemongrass. Rendang done with many cuts of beef can be tasty, but with wagyu short ribs – oh my! Chef Nazrie uses Australian wagyu short rib, which is cooked for over eight hours and served on the bone, adding a more intense flavour to one of Malaysia's most beloved dishes.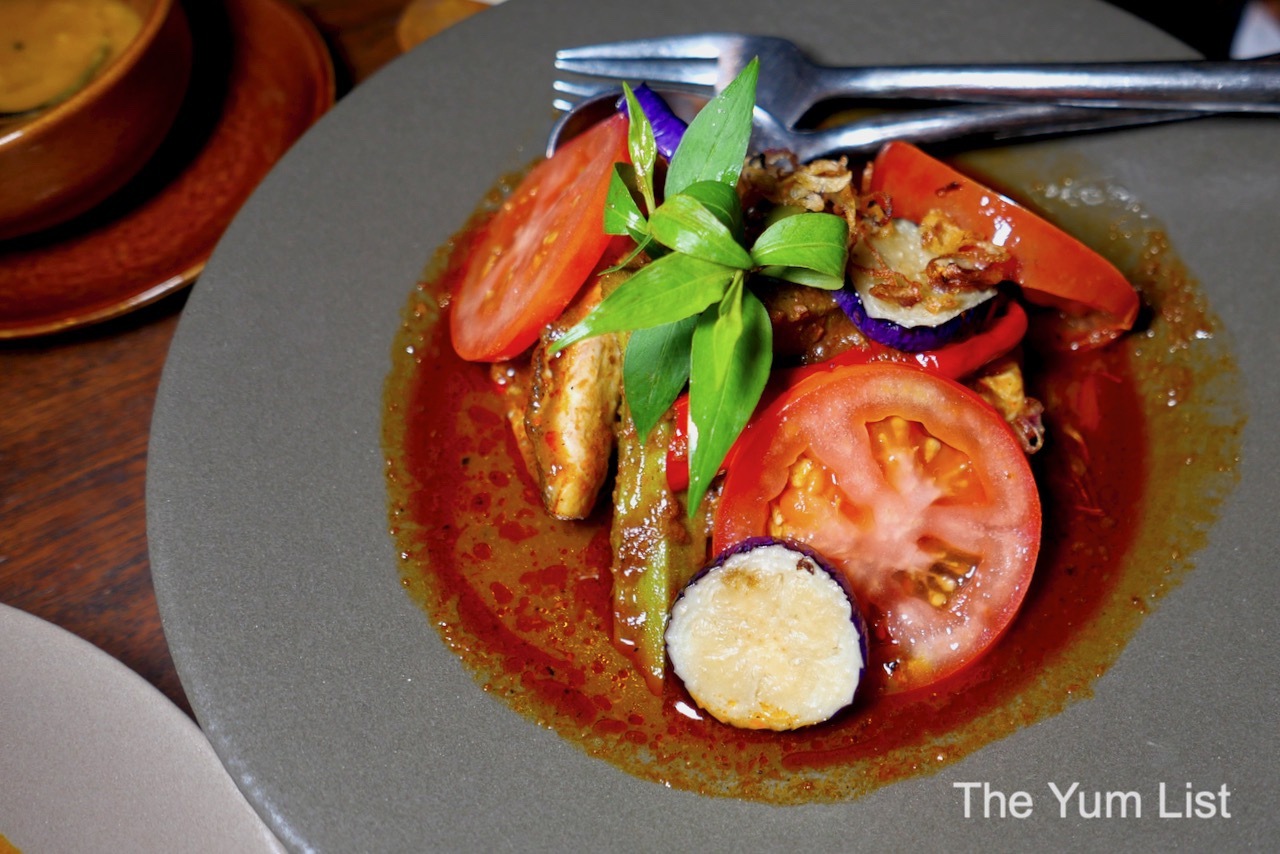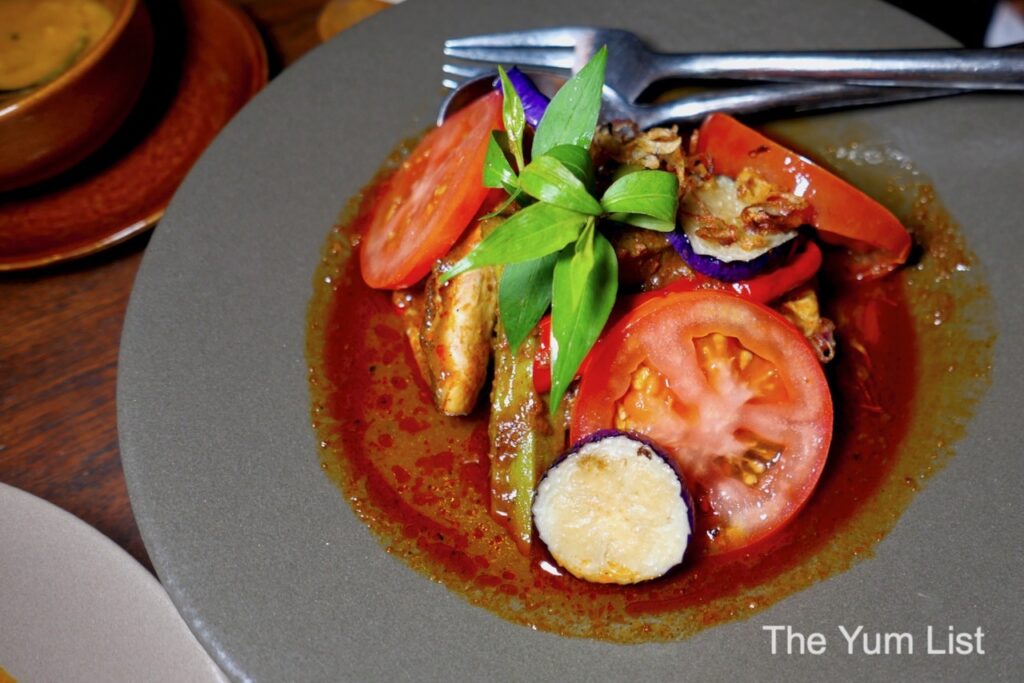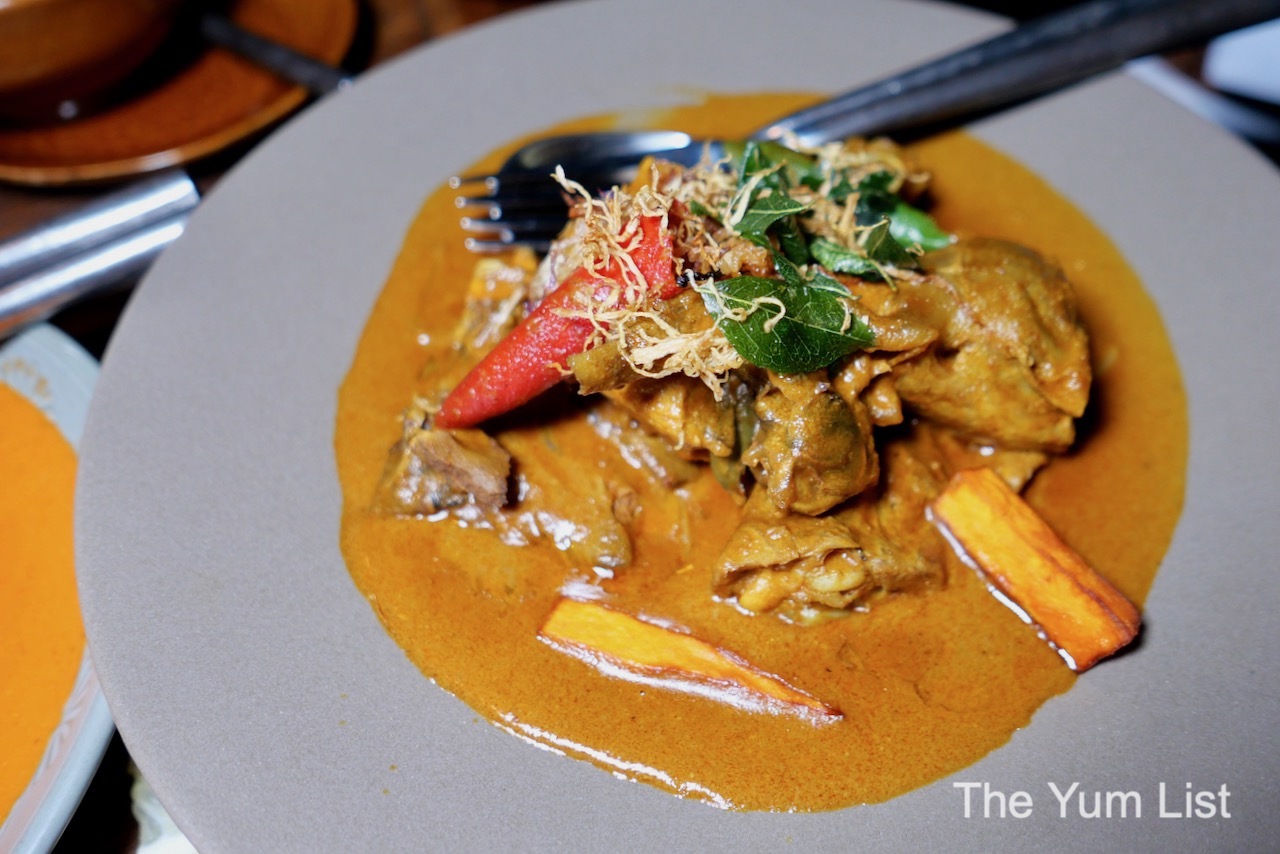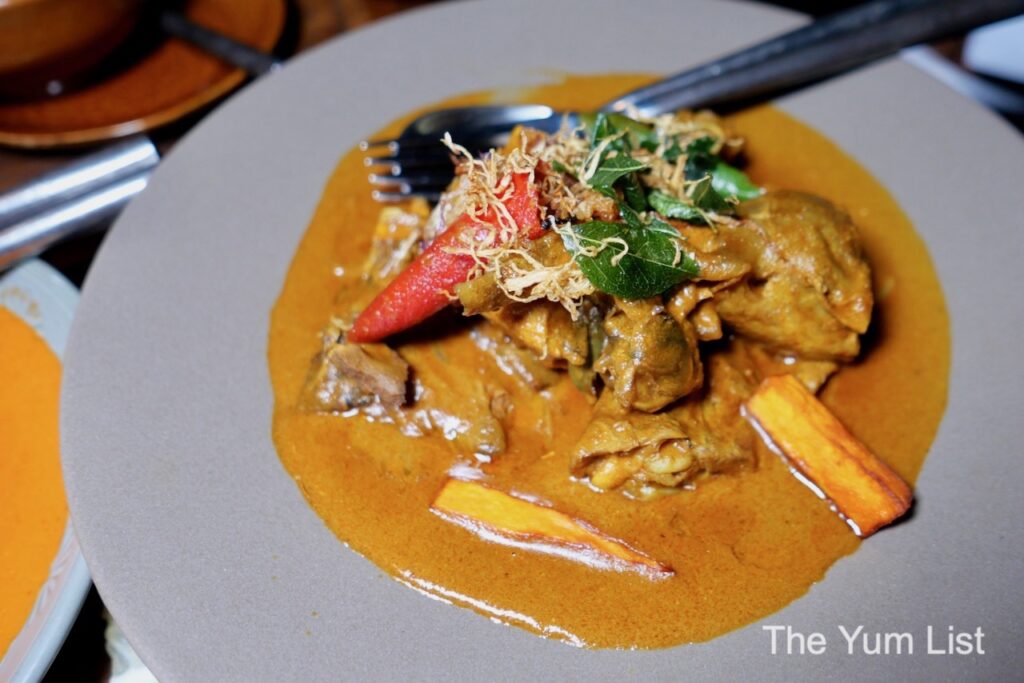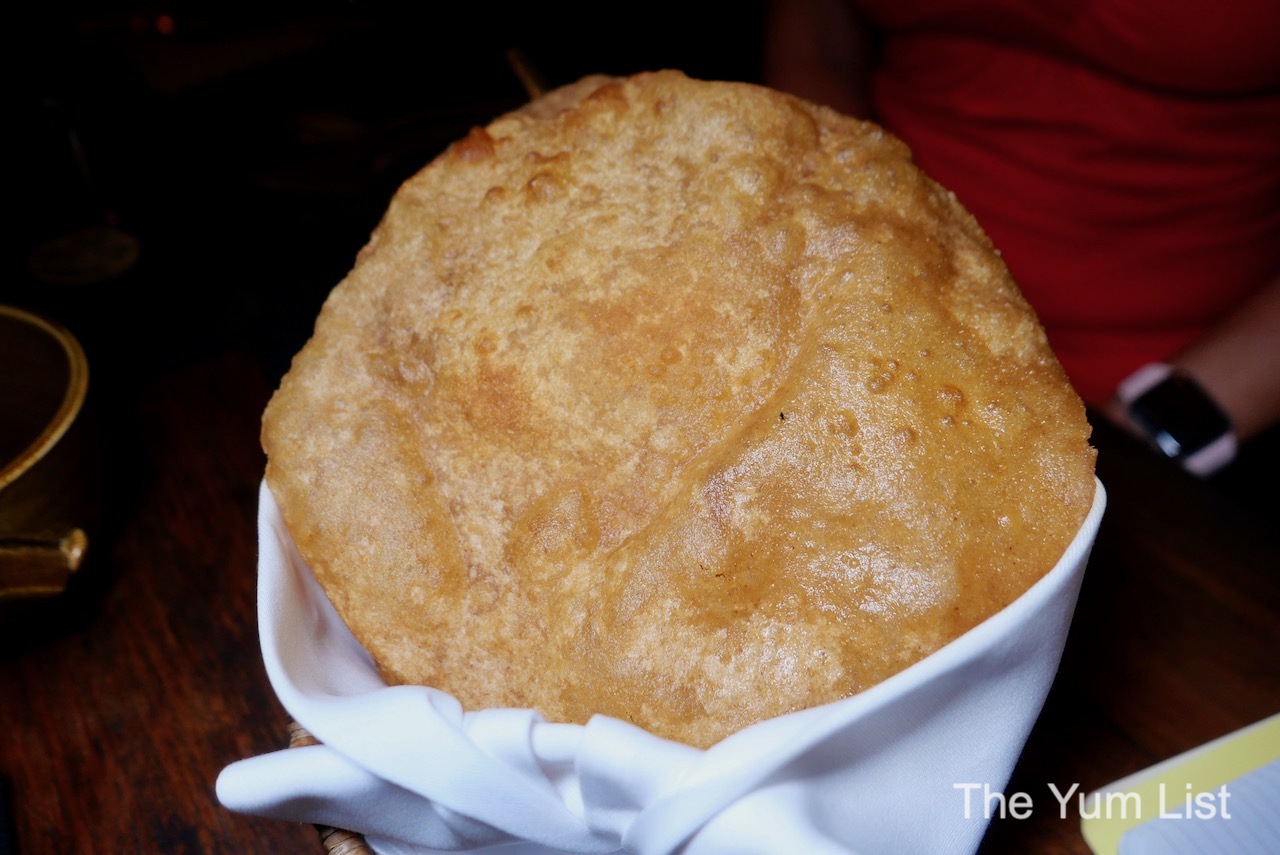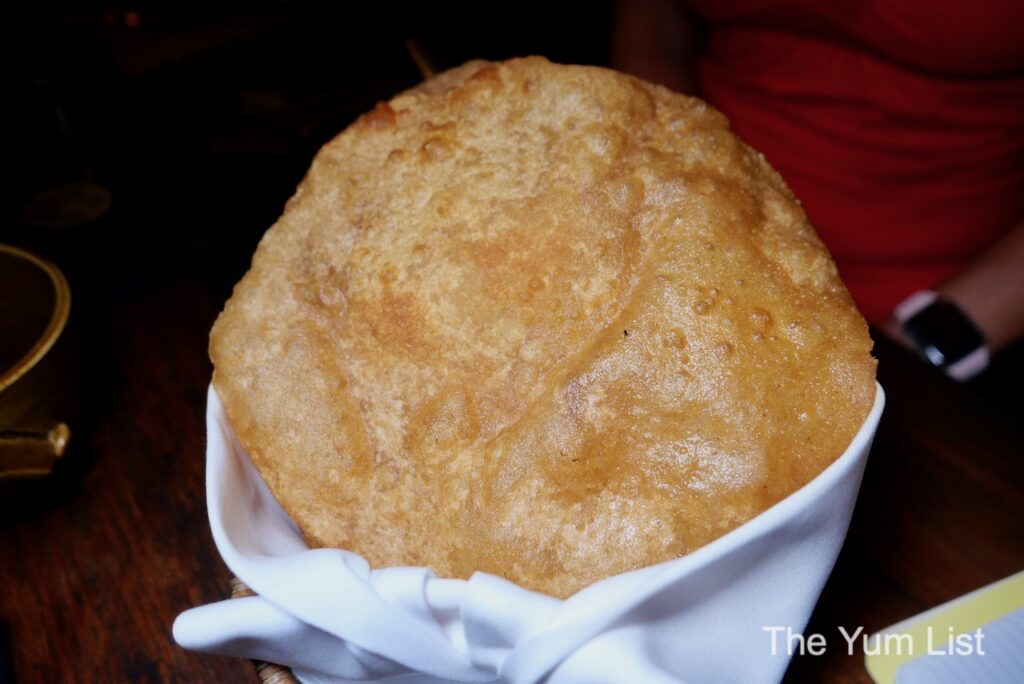 For When We Return to this Malaysian Restaurant in Langkawi
At this moment, we look over to see two more friends dining from KL; Simon and Rachel (Rachel is also a top-notch chef). We nosily inquire as to what they are eating. Of course, the Rendang, which Simon says, has clearly been slow-cooked for hours, the tender meat, pulling apart with his fork, the spice blend balanced, with the right amount of heat, yum! Rachel tells us about one dish we didn't try (next time I will), Pisang Muda Lemak Tumis Darat (RM 45). It's a young banana cooked with coconut milk, chilli, dried shrimps, lemongrass and onions. Rachel says the dish is intriguing. An unusual choice of ingredient executed very well. The bananas are charcoal grilled with the skin on, then sliced in half and put into a richly spiced coconut curry. The texture resembled that of a potato or starch. Super nice.
Dessert Menu – The Gulai House
I'm a bit envious of the banana but decide I'm happy to save something for my next visit to The Gulai House. Chef comes out for a quick visit and recommends we have dessert. The four of us say, "Oh no, we can't possibly fit another thing." Chef insists we try his house-made ice creams and sorbets. We all agree in unison (Bianca especially is a sucker for ice cream). I usually don't have a sweet tooth, but I'm sure glad he made us try these. The Black Glutinous Rice and Coconut Milk Ice Cream (RM 35) is to die for and has these chewy bits of rice that add an awesome texture. We also try the fresh Calamansi-Nutmeg Sorbet (RM 25). It's so flavourful we feel the limes have just been picked off their tree.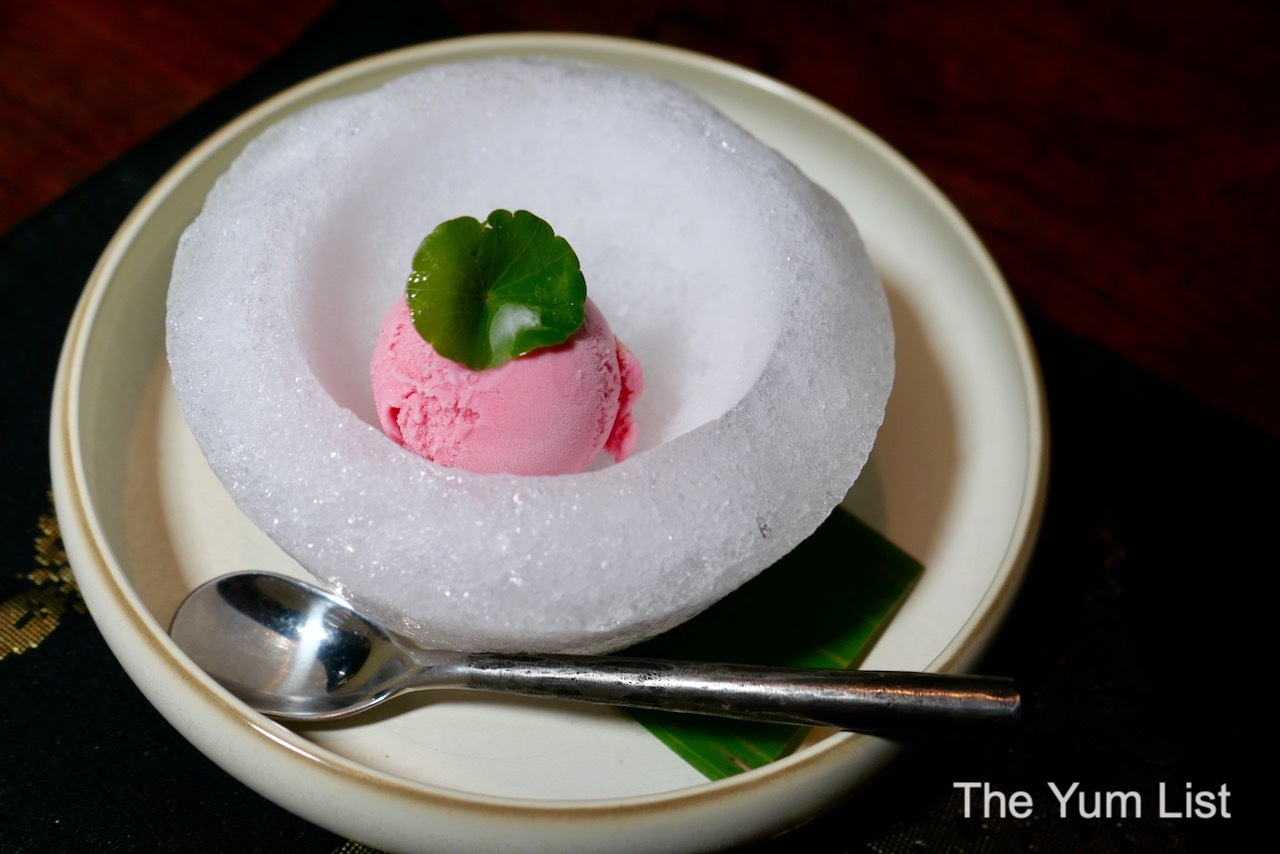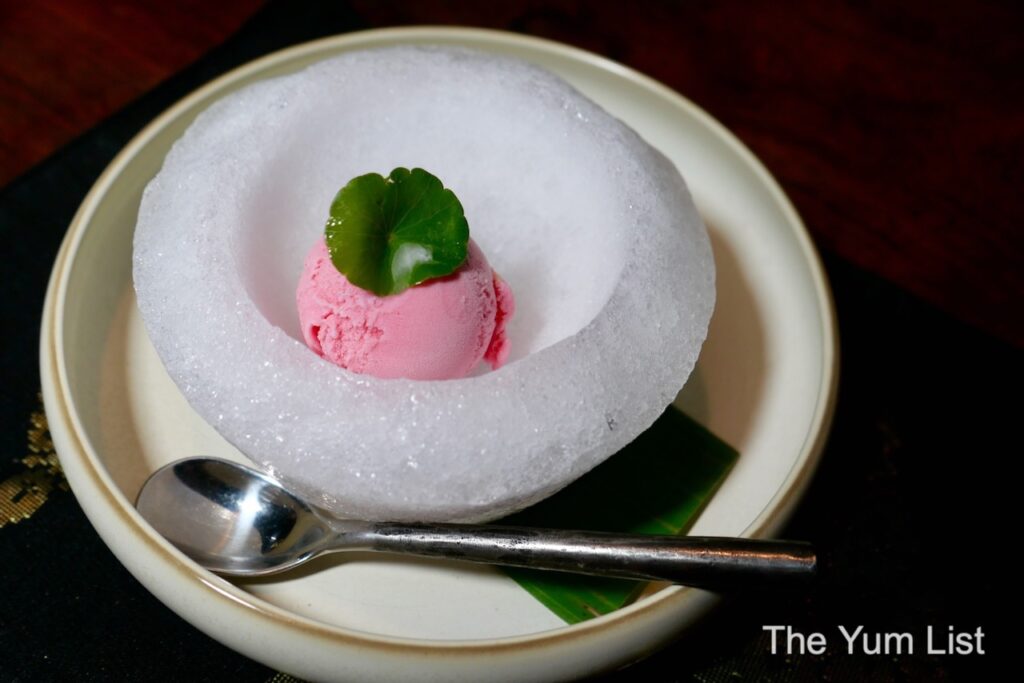 Well, our dinner is finished, and it's time to go. Lucky for us, we are staying at The Datai, so we don't have to go home. We still have time to head back to the bar for some after-dinner libations. I'll be sure to tell you about those the next time.
Reasons to visit The Gulai House, a Malaysian restaurant in Langkawi: beautiful jungle-house setting, a showcase of a rich cross-section of Malaysian culinary tradition, Short-Rib Rendang, Garlic Naan, Paneer, order the Malay dishes and you can't go wrong, huge wine list and ingredients freshly harvested from their own permaculture garden.
The Gulai House – Malaysian Restaurant Langkawi
The Datai Langkawi
Jalan Teluk Datai, 07000 Pulau Langkawi
Kedah Darul Aman, Malaysia
+60 4 9500 500
[email protected]
Hours of Operation
Daily from 6:20 pm
Find more gourmet recommendations for travel to Langkawi here and stay up-to-date with the latest gourmet and travel recommendations here and here.