The Datai Signature Cocktails
Words: Alison Christ
Photos: Monica Tindall
After another glorious day volleying from the Beach Club pool to the crystal clear Andaman Sea and back again, Monica and I are delighted to stroll through the beautiful butterfly garden that leads up to the Lobby Lounge to experience The Datai Signature Cocktail selection. These new cocktails are inspired by the bounty of nature surrounding the property; they tell us the cocktails will evoke hints of nostalgia with flavours reminding us of childhood memories.
As we climb the stairs to the lounge, we are blessed with a visit from a family of langur monkeys. One of the world's rarest species of monkeys, they are very special and less naughty than the macaques that steal bananas off your table. They are black with white rings around their eyes and mouths. Most remarkable (and something Monica and I have been on the lookout for all weekend) is the adorable orange babies. It's not 100% certain the reason for their colour, but most scientists speculate that the orange helps mom keep track of her toddler. Eventually, they grow up and turn black like adults. They are leaf-eating vegetarians, and The Datai has a special trellis with their favourite greens growing, so they will come for a visit around dusk.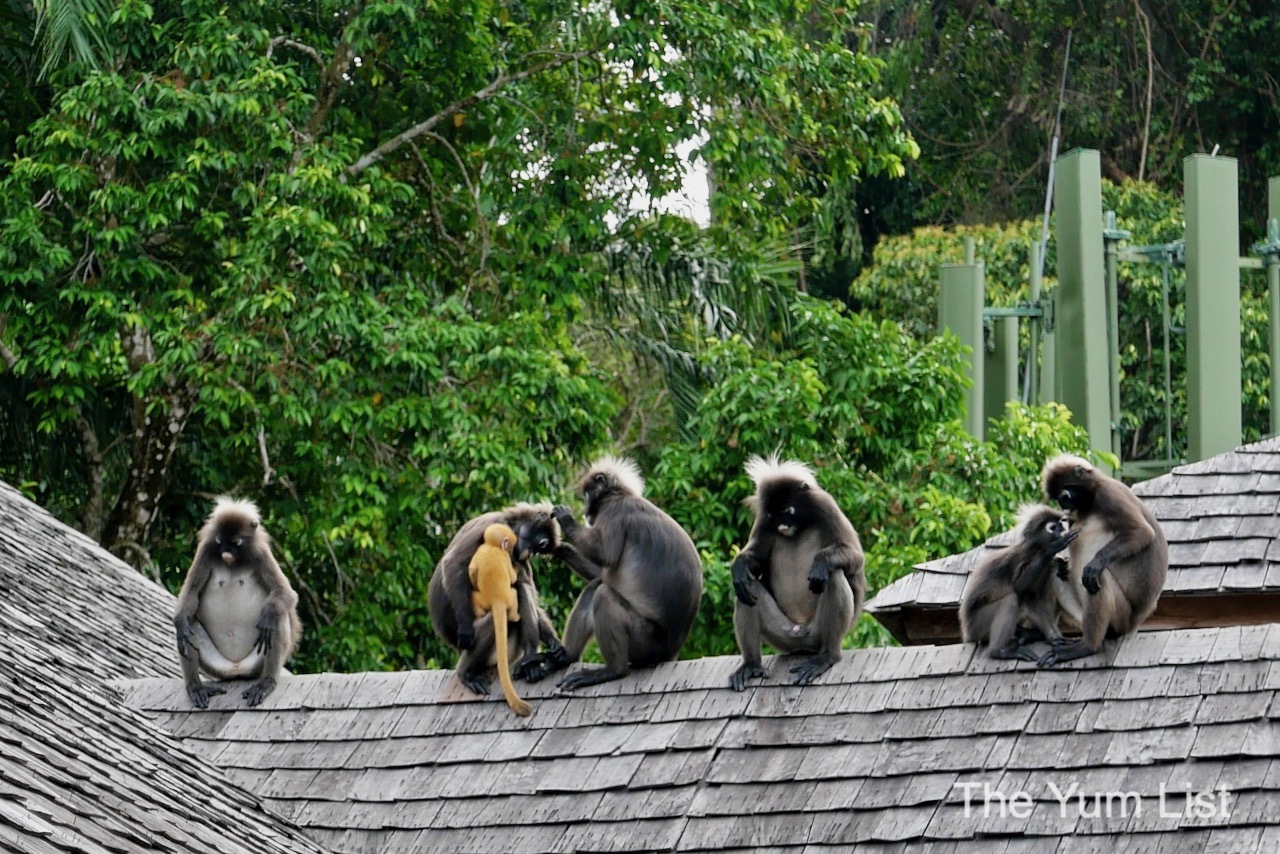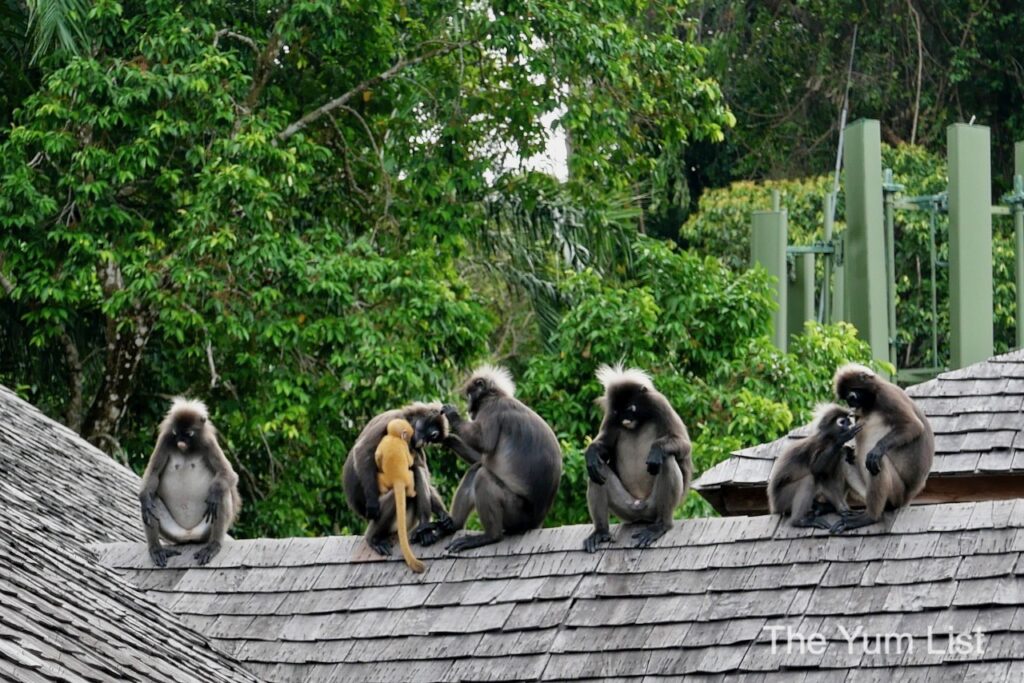 If you're a nature lover like we are, it might take you some time to get to your seat at the lounge bar. After some quality time spent with the langur family, we are overtaken by the beauty of the lily pads in the central pond of the lobby. The big beautiful flowers, the array of frogs, stingless bees, and dragonflies are enough to keep us in awe for an hour. We pull ourselves away from Mother Nature's wonders to focus on the mission ahead of us…meet with Zul, The Datai Assistant Food and Beverage Manager, who is an awesome mixologist and sommelier. We are about to go on a liquid journey through the garden to experience the freshly grown local ingredients of herbs and flowers.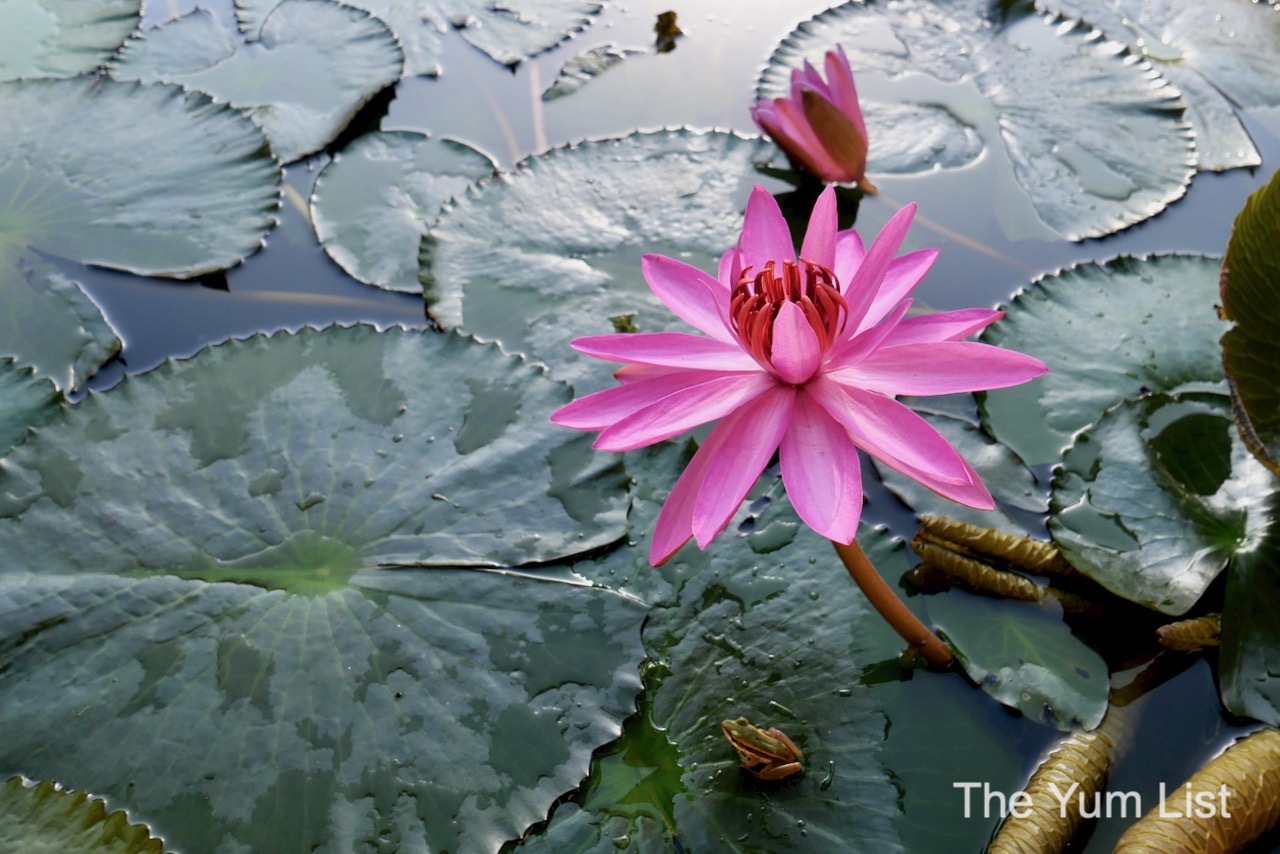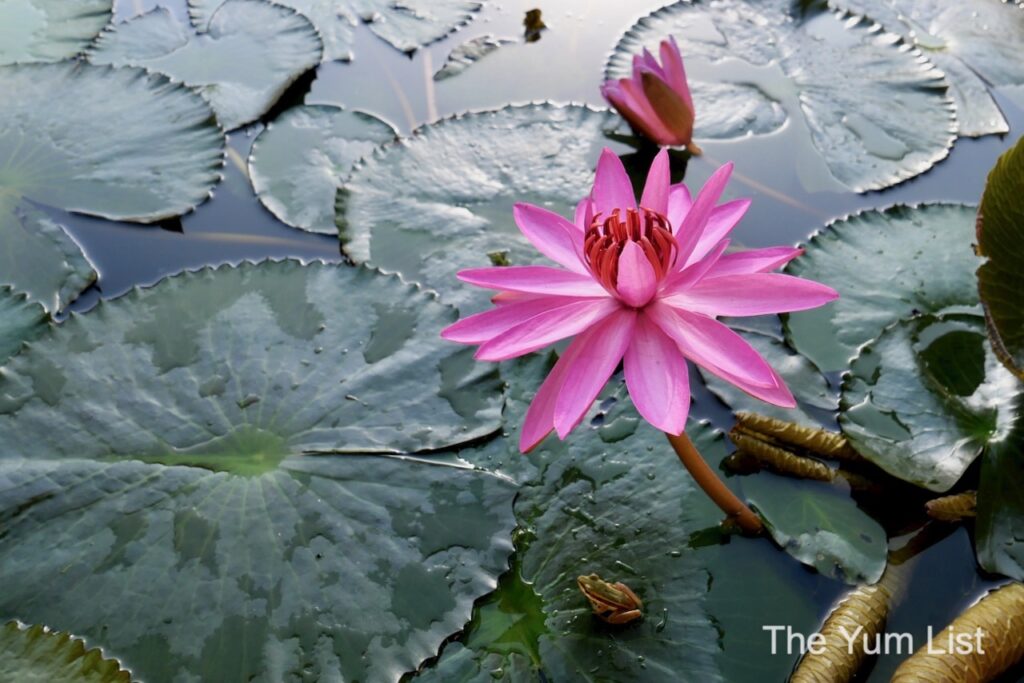 The Datai Signature Cocktails
Zul tells us the artistry of these recipes lies in their freshly grown local ingredients, house-made aromatic bitters, premium liqueurs, and their practice of placing ingredients in sous vide (French for under vacuum). Most of us are familiar with the method of sous vide for cooking food slow and low in a water bath here we will experience the benefits cocktails can receive from utilizing the method. The process achieves precise, consistent flavour infusions and textures beyond the ability of other traditional infusion techniques.
The five new cocktails we are about to experience not only focus on the local flora but the locality of different regions of Malaysia. Zul has worked with the bar staff intensely, and several members of the team have created their own cocktail inspired by their hometown. In crafting the new drinks, the teams' priority is to promote sustainable and local ingredients while embracing childhood memories and showing respect to nature.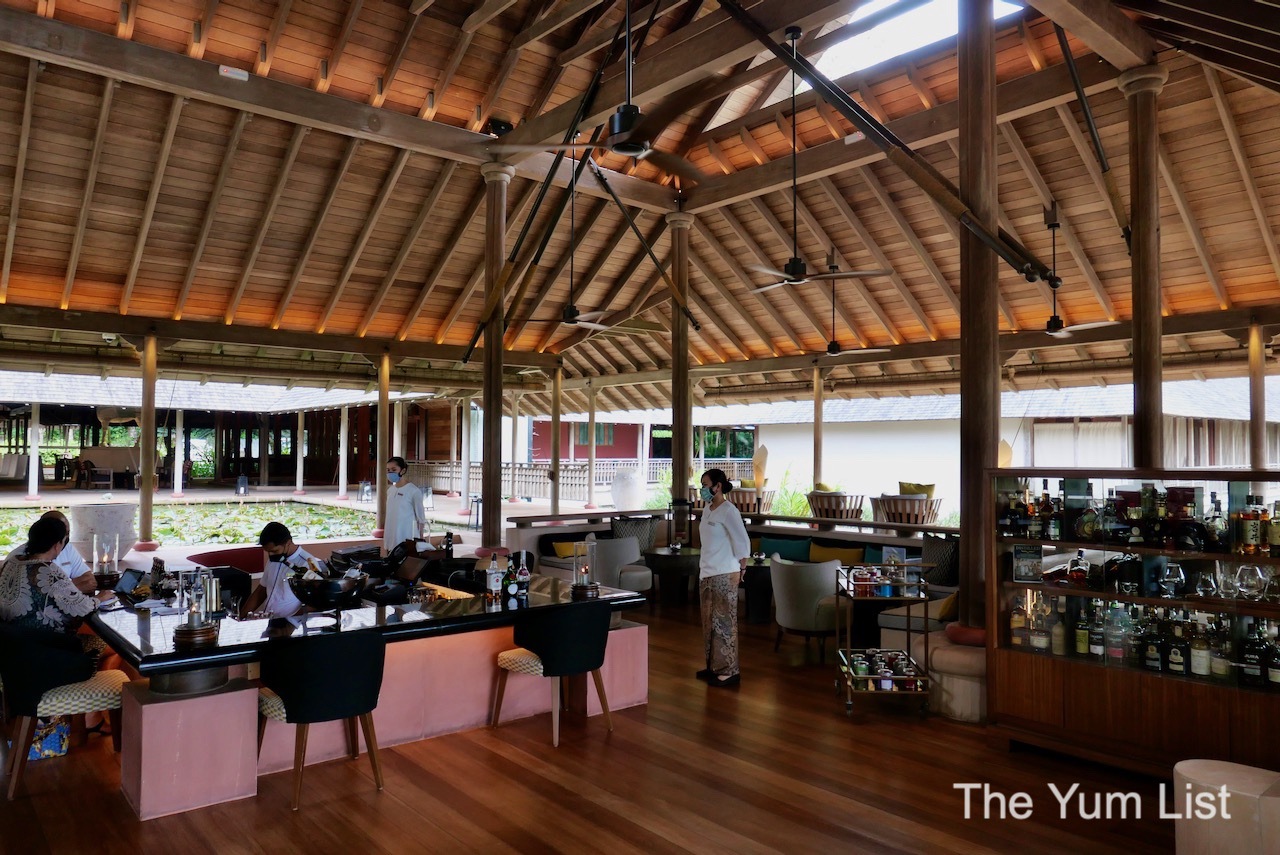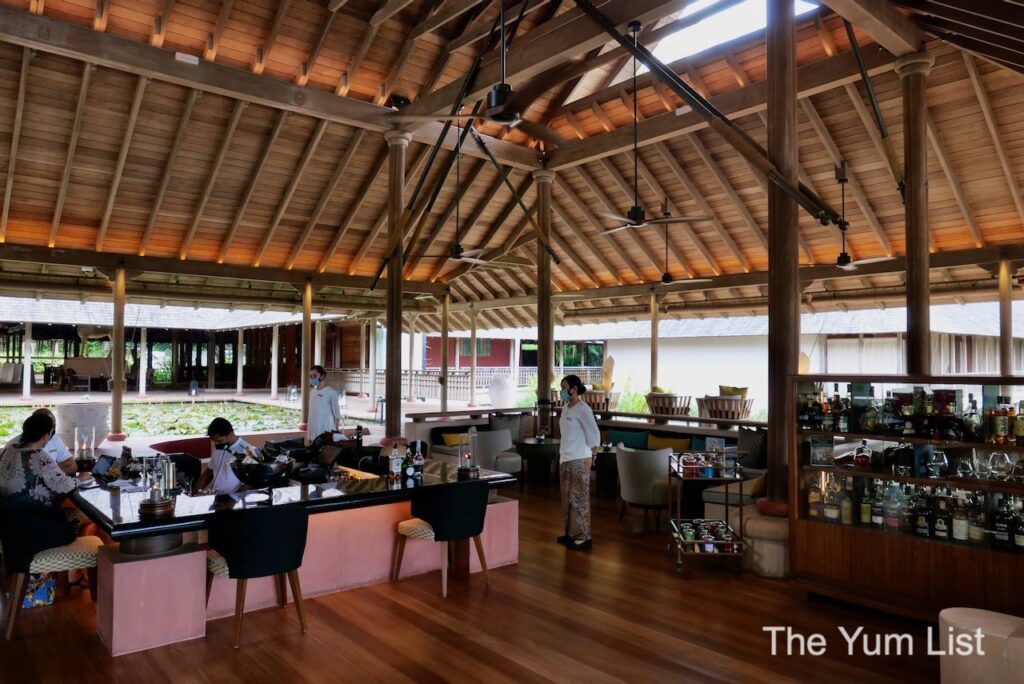 Jambu Ayaq
Monica and I sit down at the bar with Zul, and we are excited to taste their new creations. At the helm is rising star – Bar Captain Alimi. The first cocktail Alimi prepares for us is the Jambu Ayaq (RM 70) created by team member Megat. The key ingredient here is jambu air, which has many local names; watery rose apple, water apple, or bell fruit. The delicious, tasty, and also somewhat mushy on the inside fruits are bell-shaped, green, white, pink, or even red in colour, and mostly seedless. The fruits are nice with a mildly sweet taste. For this drink, they forage only the leaf of the jambu air, which is growing on the property year-round. Sous vide jambu air leaf, juniper berries, The Datai Gin, elderflower, cider, and white asamboi are the ingredients here. I love this; the palate is viscous and creamy with umami, salinity, and vibrant acidity.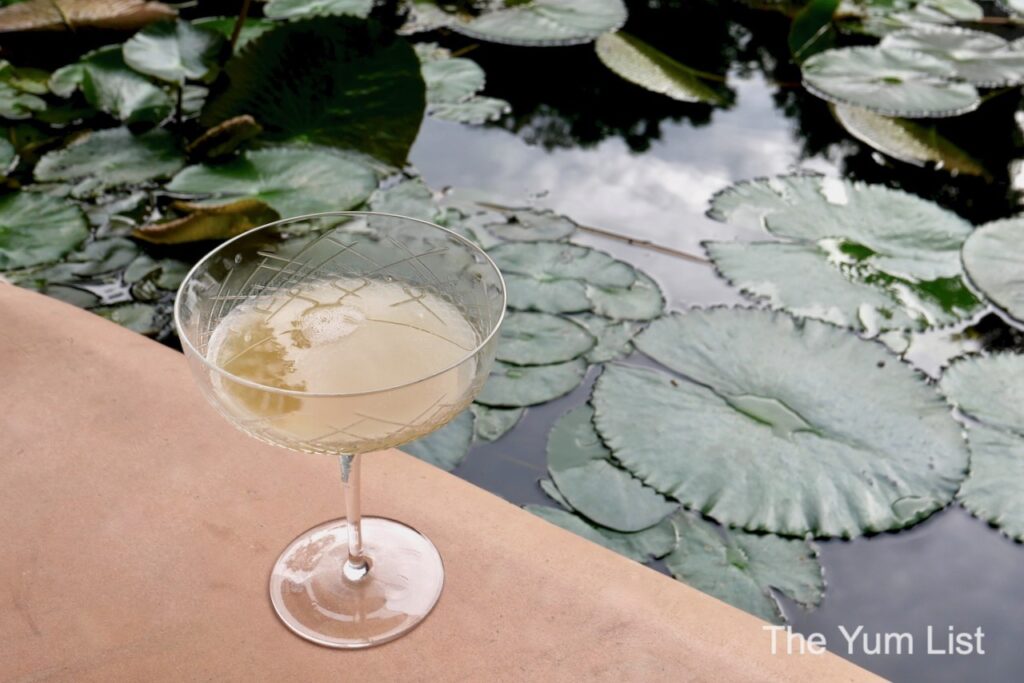 Kesom Boi
Next up is the Kesom Boi (RM 70), a gourmet liquid inspired by laksa Utara and created by Fadhlan. Laksa is a traditional dish, and this version is popular in Kedah or the north of Malaysia as the word Utara insinuates. Limau kasturi (a local orange) and asamboi (sour plum) create childhood nostalgia among many Malaysians. The process calls for sous vide pandan, daun kesom, limau kasturi, juniper, asamboi, and The Datai Gin for two hours at 50 degrees. The kesom leaf, fondly referred to as laksa leaves and also called Vietnamese cilantro, phak phai, hot mint, and Cambodian mint, is a herb whose leaves are used all over Southeast Asia and can be easily found in tropical forests and, of course, also in The Datai permaculture garden. The presentation is great as the glass rests in a bed of ice, keeping it nice and fresh, although we like this one as much as the first, and it doesn't stick around for very long. Zul says the Kesom Boi should stimulate our appetites by inviting us to have dinner. I have to agree. The flavour is well-balanced, warming, herbaceous, with a sweet and savoury complexity.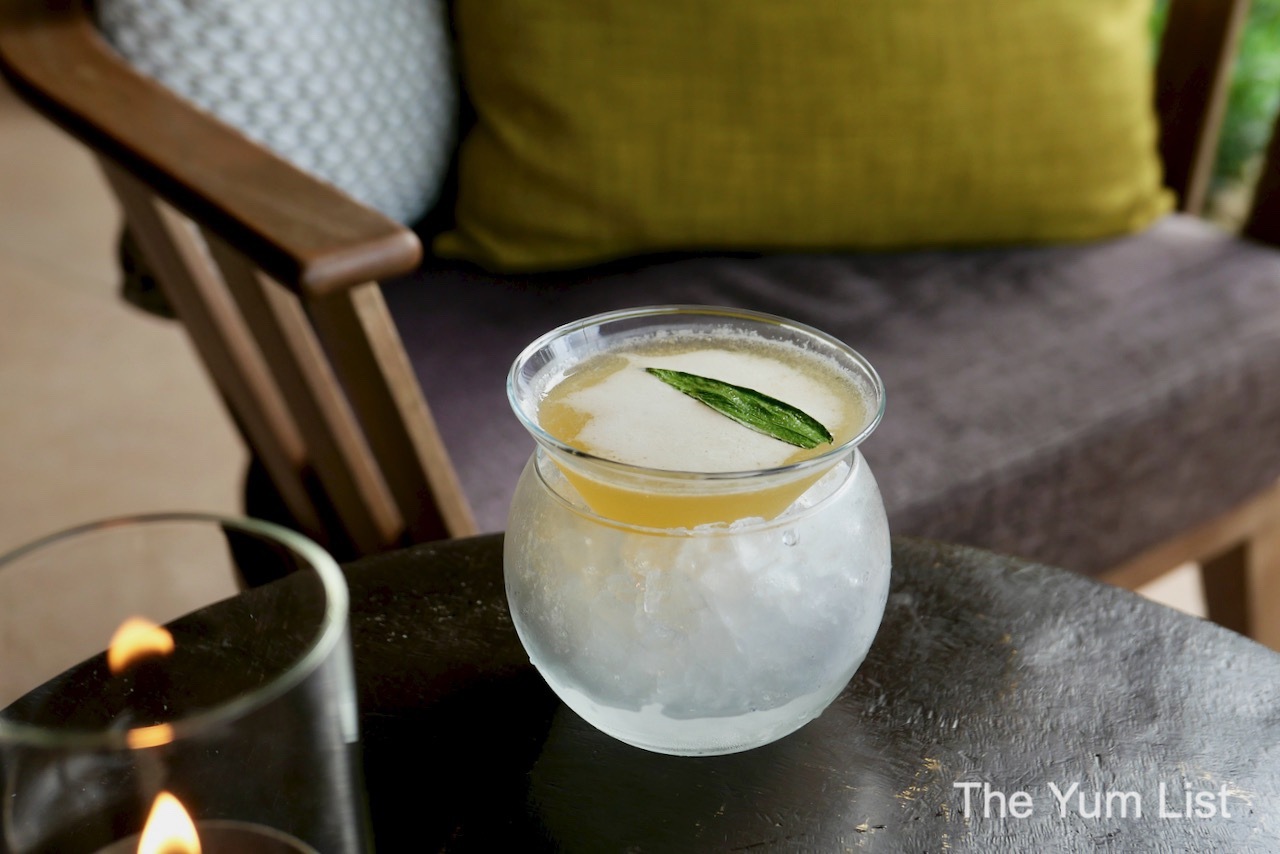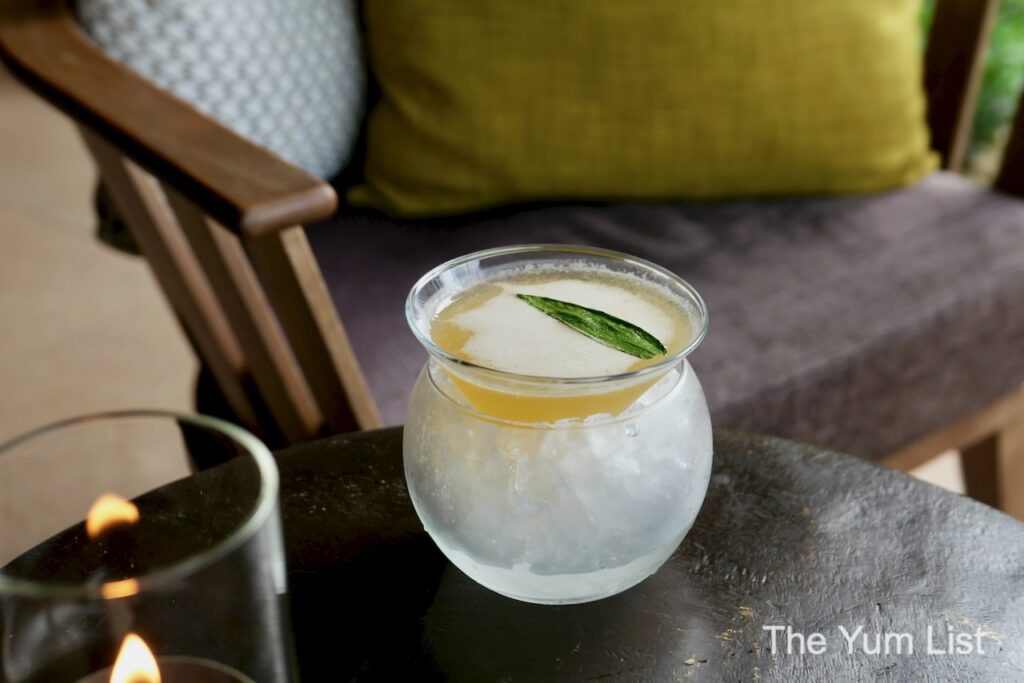 Pu'er – The Datai Signature Cocktails
Cocktail number three, created by the man himself Zul, is the Pu'er (RM 70). Zul says this is a twist from the classic cocktail, Old Fashioned. Pu'er or pu-erh is a rare and expensive variety of fermented tea traditionally produced in Yunnan Province. It's very popular with the Chinese in Malaysia. The tea improves with age like a fine wine, and many Pu'er can retain their freshness for up to 80 years! Pu'er tea has a deep, rich flavour that many consider earthy or mushroomy and is what whisky drinkers look for. The Pu'er is comprised of sous vide pu'er, goji berries, single malt whisky, and brown sugar with bitters, topped off with ginger ale and garnished with the superfood goji berry and a hint of Pu'er leaf. The result is a masculine, robust, smoky, earthy, smooth cocktail.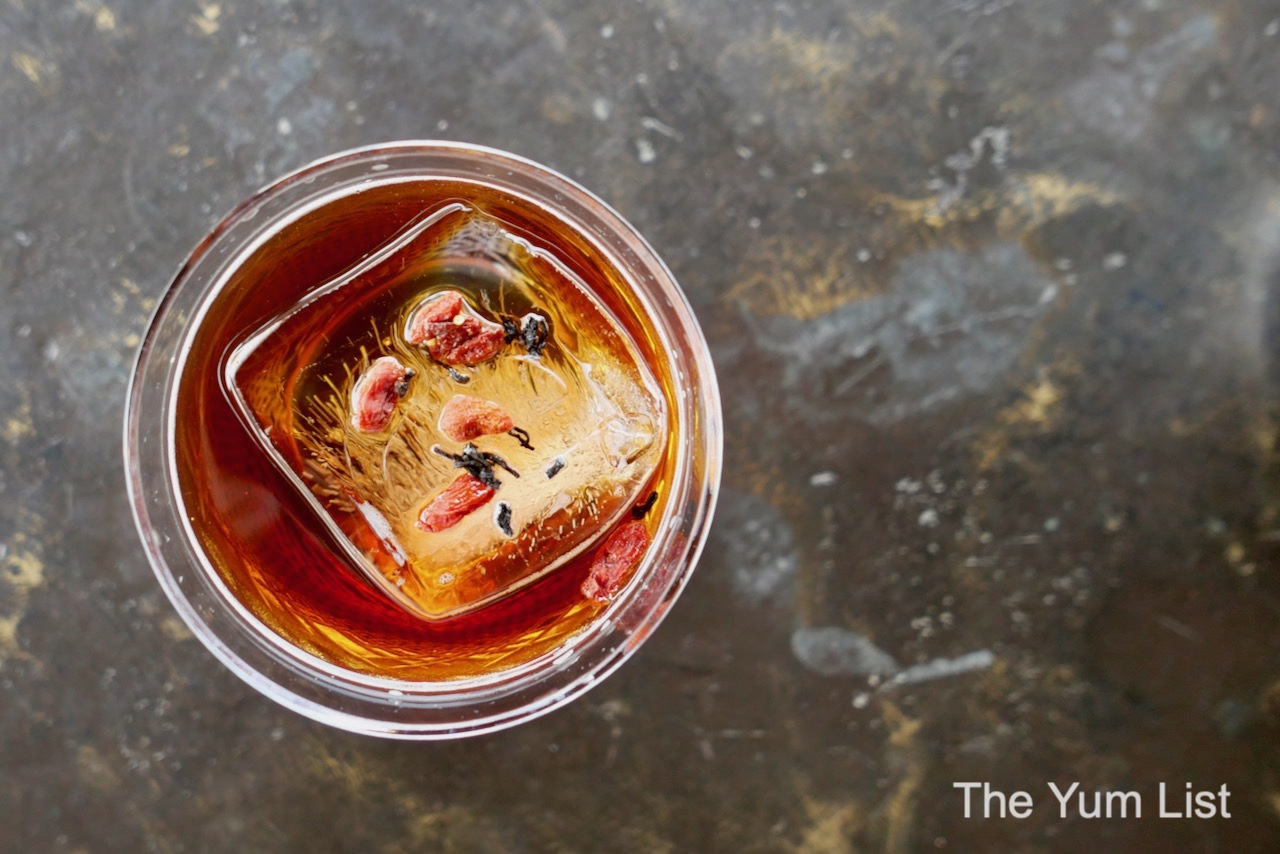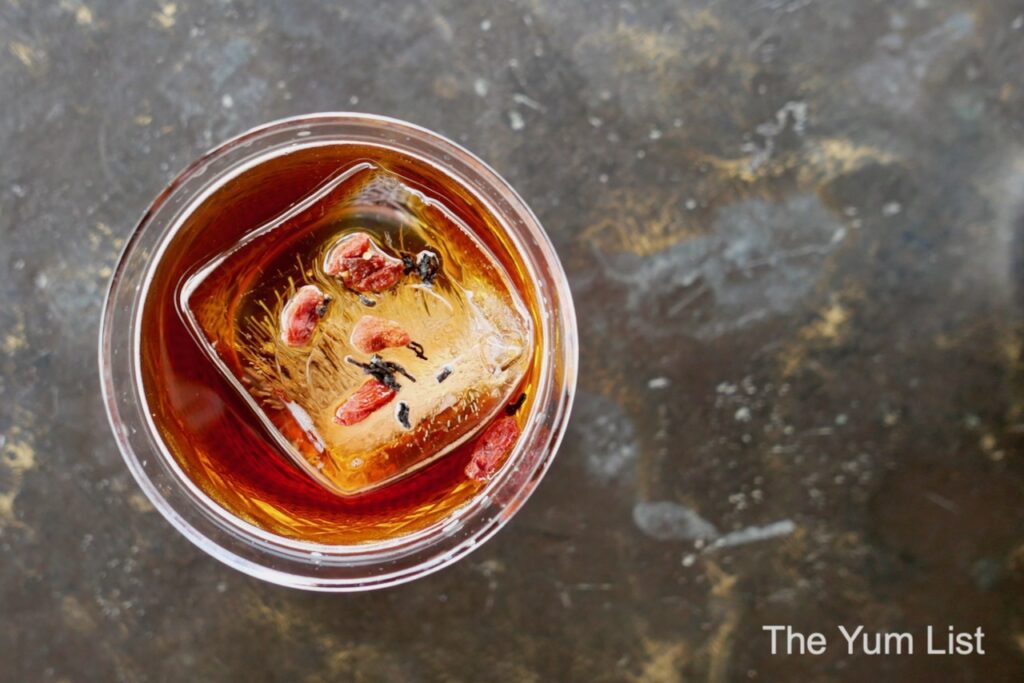 Surfing Neroli
The cocktails are progressing nicely from easy to drink to more hearty. The Surfing Neroli (RM 70) created by Alimi is next in order. Alimi tells us his inspiration is a twist from the classic aperitif cocktail, Negroni. The Negroni is a very popular cocktail, but most will say difficult to drink at the beach. Alimi created a version that can be enjoyed during sunny hot days at The Datai. A smoked, slightly fizzy, thirst quencher that is both sophisticated and carefree.
Alimi uses sous vide orange peel, hickory torched wood chip, Antica vermouth, Campari, and The Datai Gin for four hours at 60 degrees. The final drink has a dash of orange bitters and is topped with tonic, aiding in its refreshingness. If you know Monica, then you know the Negroni is her go-to cocktail of choice. She loves this version and says even non-negroni drinkers will enjoy it.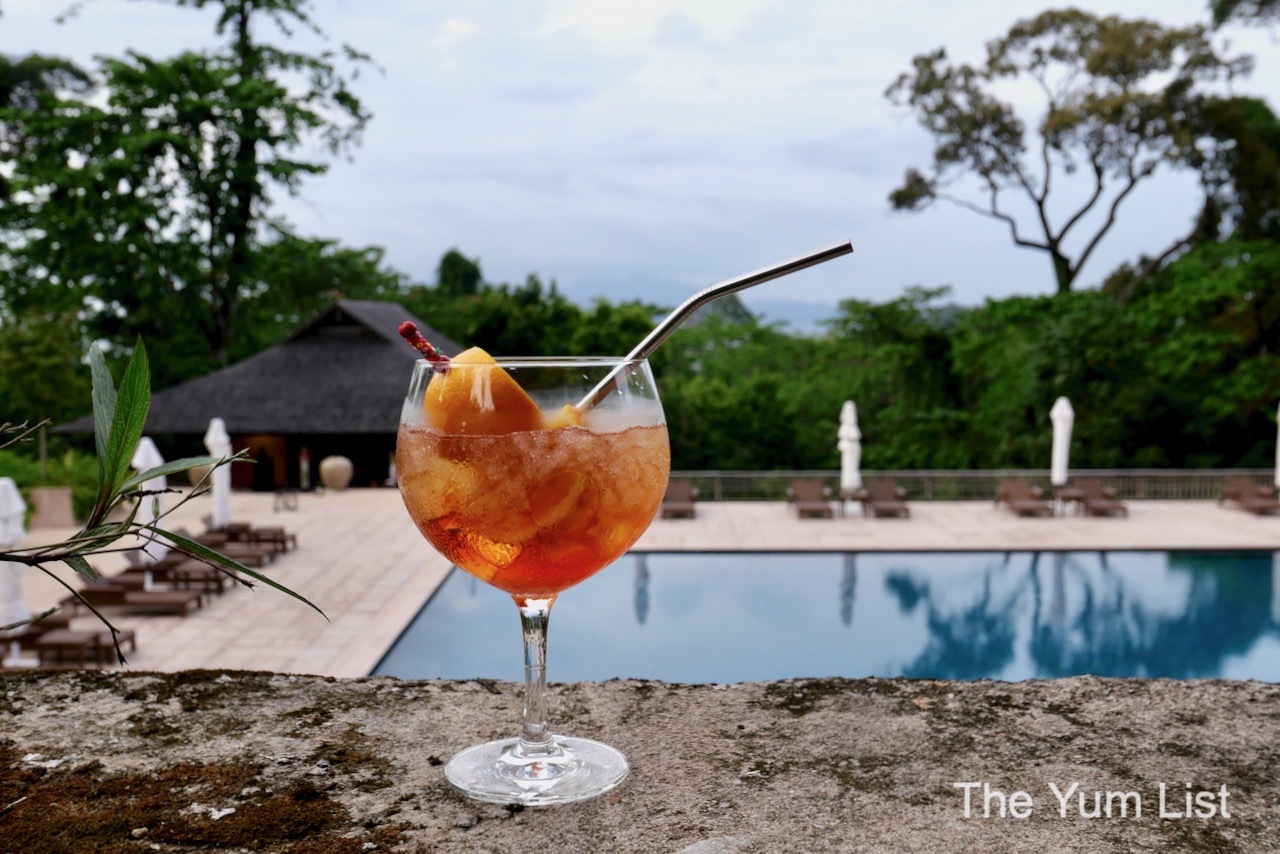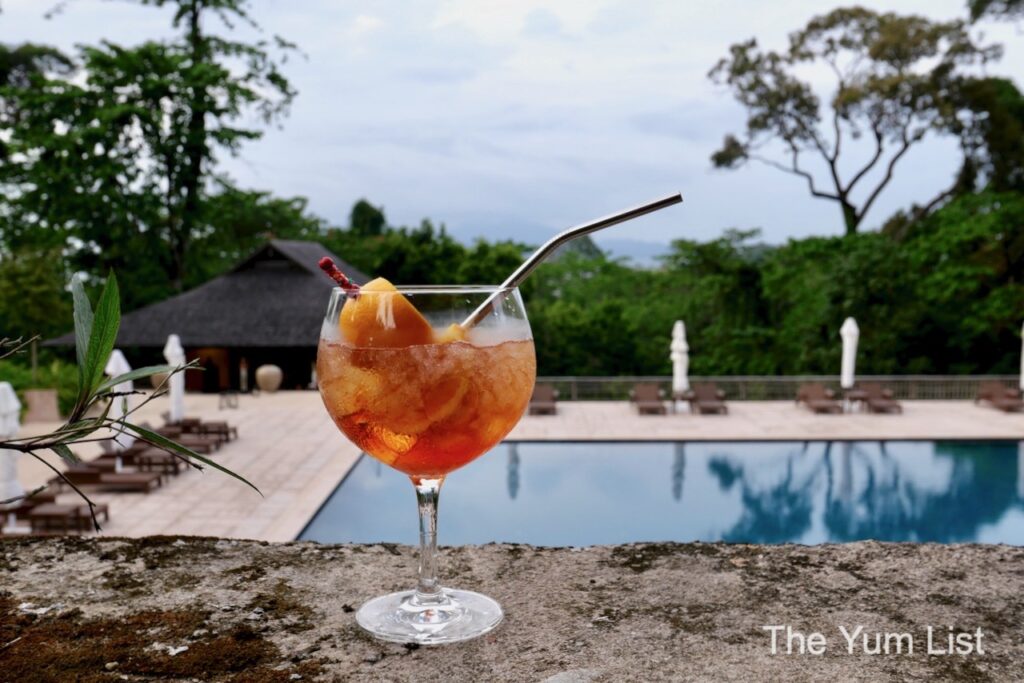 Kopi Kampung – The Datai Signature Cocktails
Our final cocktail arrives, and we are happy to hear it has coffee inside; we can definitely use a pick-me-up after four cocktails. Kopi Kampung (RM 70) was also crafted by Alimi, who says he created this drink to re-introduce a neglected local coffee that most Malaysians had lived with since childhood (way before Starbucks was established in Malaysia) known as "Kopi O Kaw." He has made a homemade version of Kahlúa using kopi cap gantang, star anise, cardamom, orange peel, caramelized brown sugar, and dark rum. The drink is topped off with tonic adding a bit of refreshment. The final product is full of aromatics with a bittersweet complexity.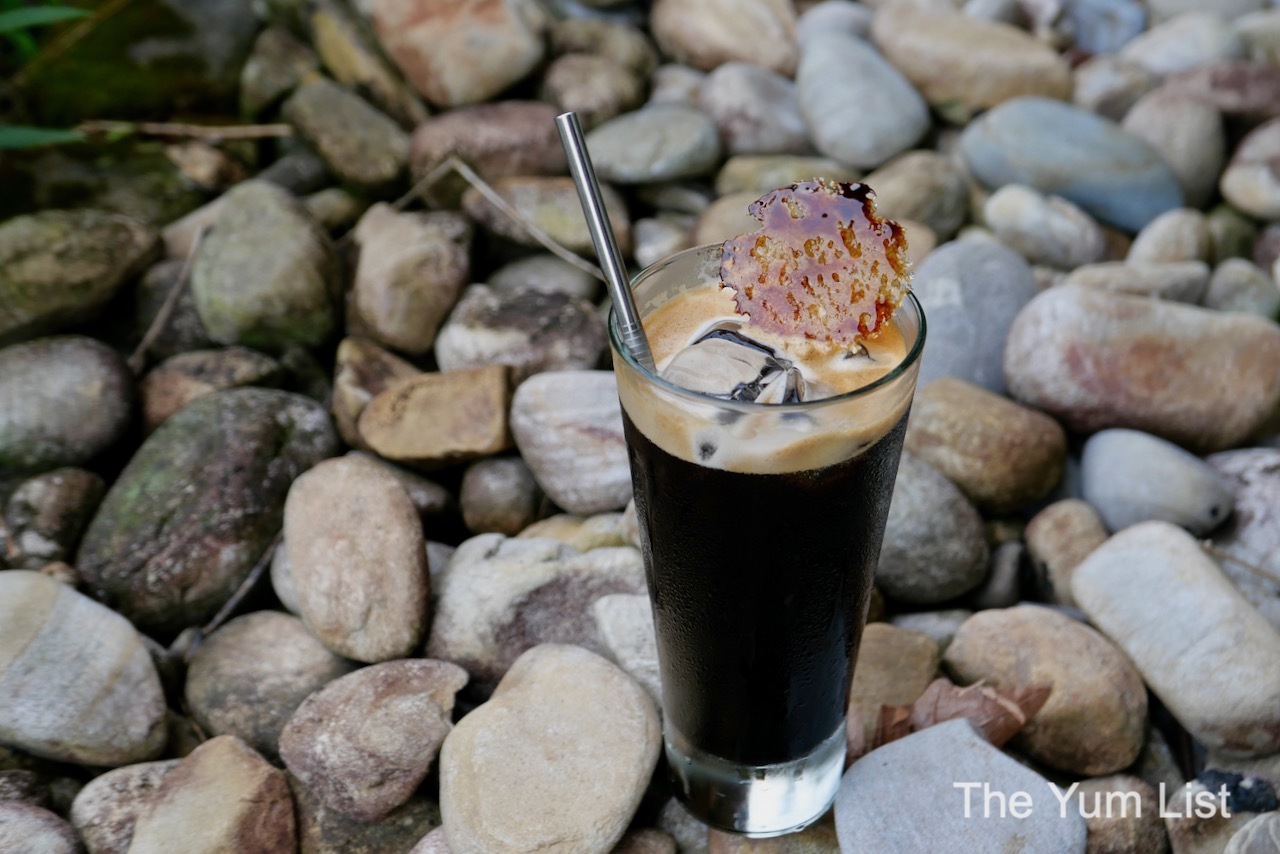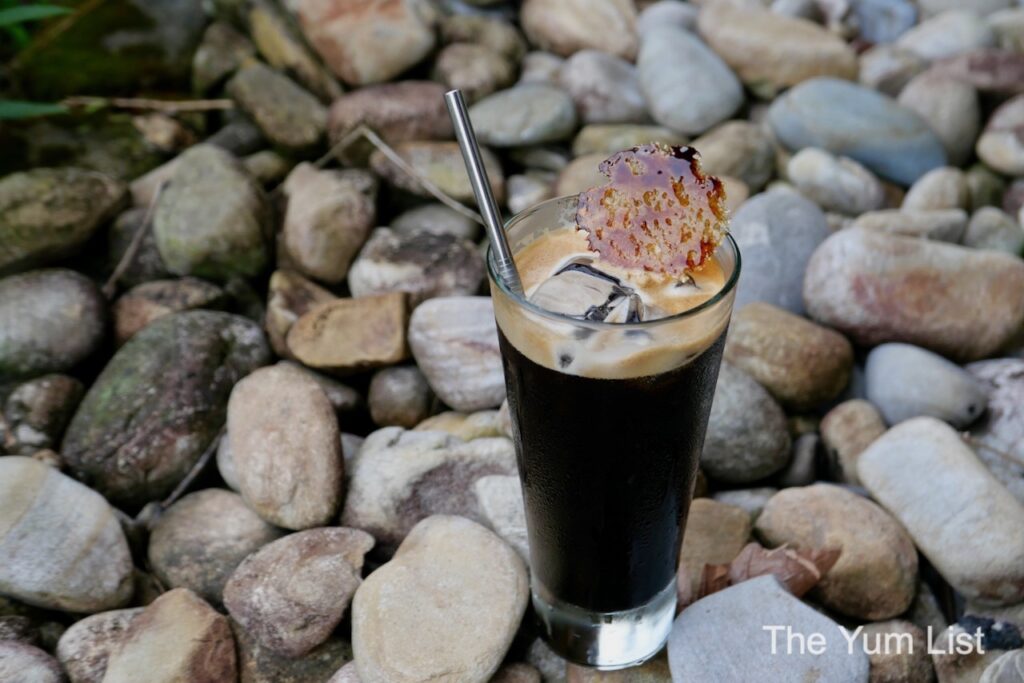 The Datai Gin
As you may have noticed, many of the drinks include The Datai Dry Gin a gin created especially for them using a selection of botanicals including Italian juniper berries, the peel of sweet orange, grapefruit, and coriander, a small number of inflorescences of wormwood and gentian root, while cinnamon and nutmeg enrich it with pleasant spice. This entire blend is harmonized by the Florentine orris root (from an iris). This all sounds delicious, and Monica and I must try a G&T. Zul offers it with a splash of Fentimans Connoisseurs Tonic with green bell pepper. It's my first time having green bell pepper in a G&T, it works great, and we love it. Definitely give it a try next time you visit The Lobby Bar at The Datai.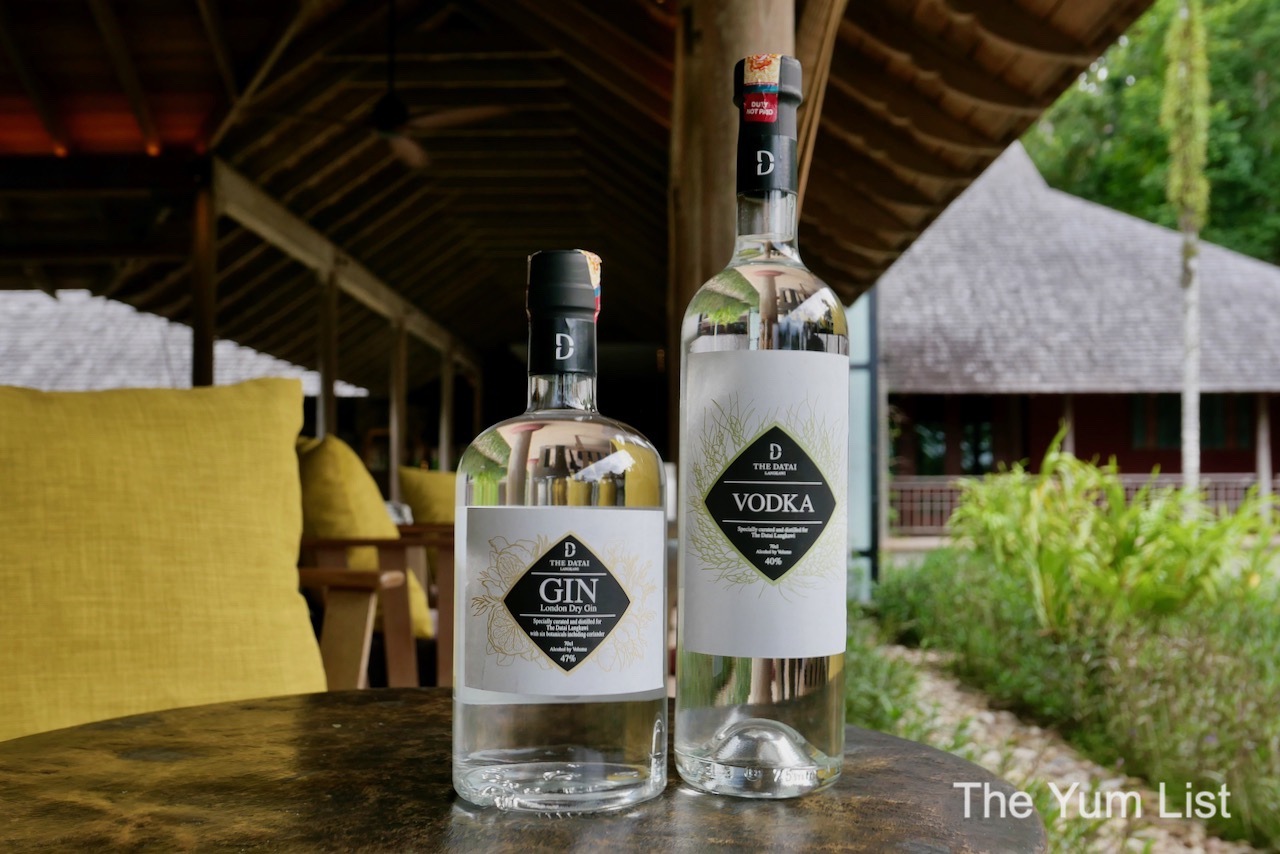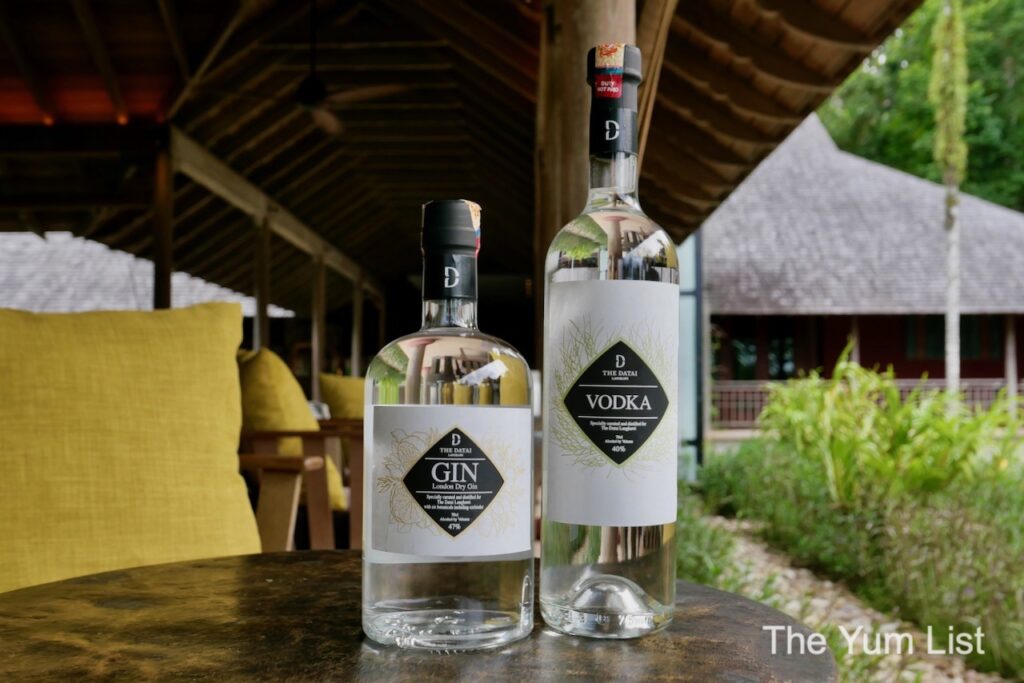 The Datai Signature Cocktails
I highly recommend trying one or all of The Datai Signature Cocktails. They were created with love and fond memories of growing up in Malaysia. Each cocktail tells a story and is unique and inspiring. The finished products are superb. Monica and I sip down the last of our G&T, bid farewell to Zul and Alimi, and head off to a very special Chef Series Dinner at The Beach Club. See you there.
Reasons to visit The Lobby Lounge: A beautiful setting surrounded by nature and wildlife, sustainable ingredients, a nostalgic journey through childhood memories, absolutely delicious The Datai Signature Cocktails, 5-star service. 
The Lobby Lounge at The Datai
Jalan Teluk Datai, 07000 Pulau Langkawi
Kedah Darul Aman, Malaysia
+60 4 9500 500
[email protected]
The Lobby Lounge Hours of Operation
9:00 AM – 01:00 AM
Last order at 00:30
Find more recommendations for travel to Langkawi here and stay up to date with the latest gourmet happenings in Malaysia here and here.