Omakase – Sushi Azabu
Words: Alison Christ
Photos: Monica Tindall
Renowned Michelin-starred Sushi Azabu in New York City is the 'parent' of Sushi Azabu at Isetan The Japan Store in Lot 10, Kuala Lumpur. The culinary team led by Chef Masaki Arakawa takes pride in a menu that offers many of Japan's time-honoured specialties, prepared with only the freshest ingredients available. Seafood is flown directly from the coasts of Japan four times a week to ensure the utmost quality. Sushi Azabu's specialty is omakase, where diners leave creative liberty to their chefs for an exceptional meal. The seating surrounds the chefs so guests may marvel at their culinary skills and strike up fascinating conversations.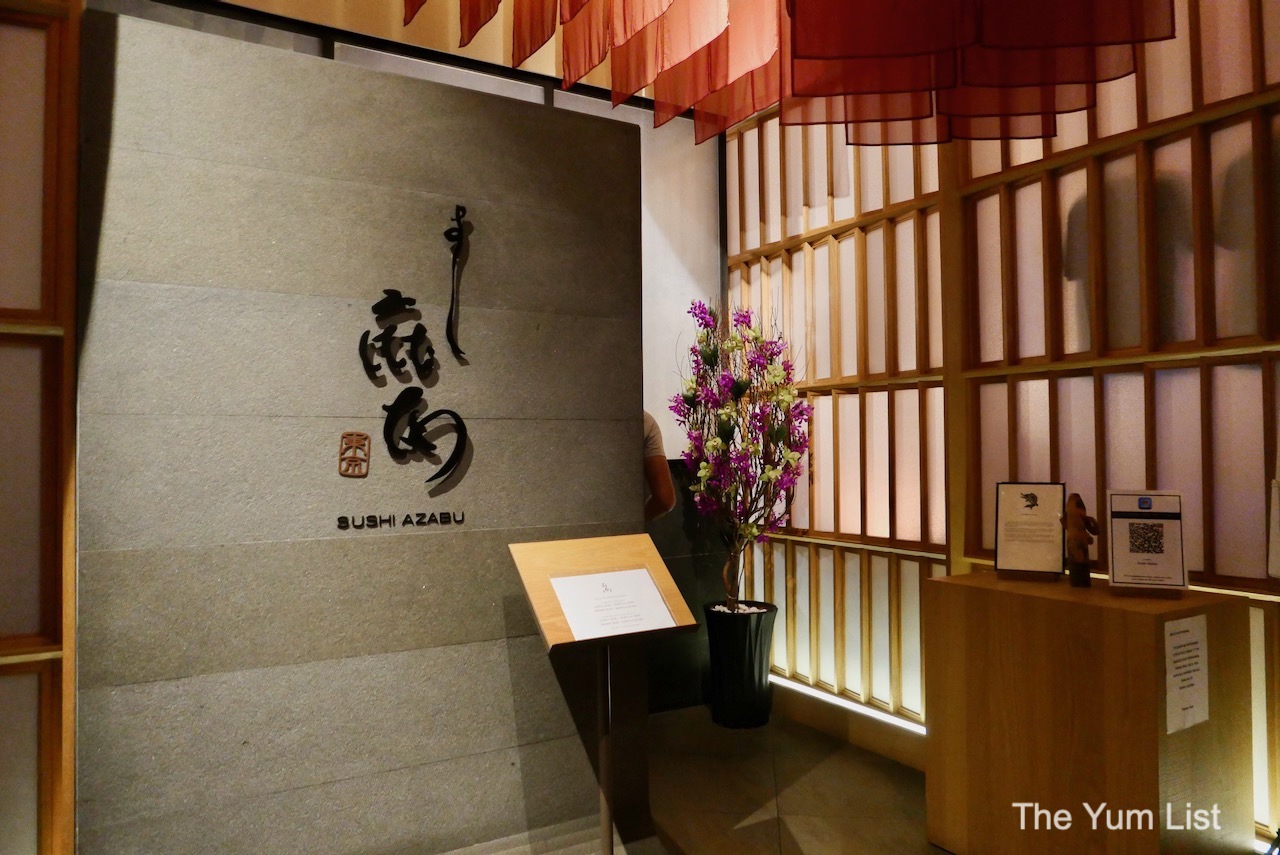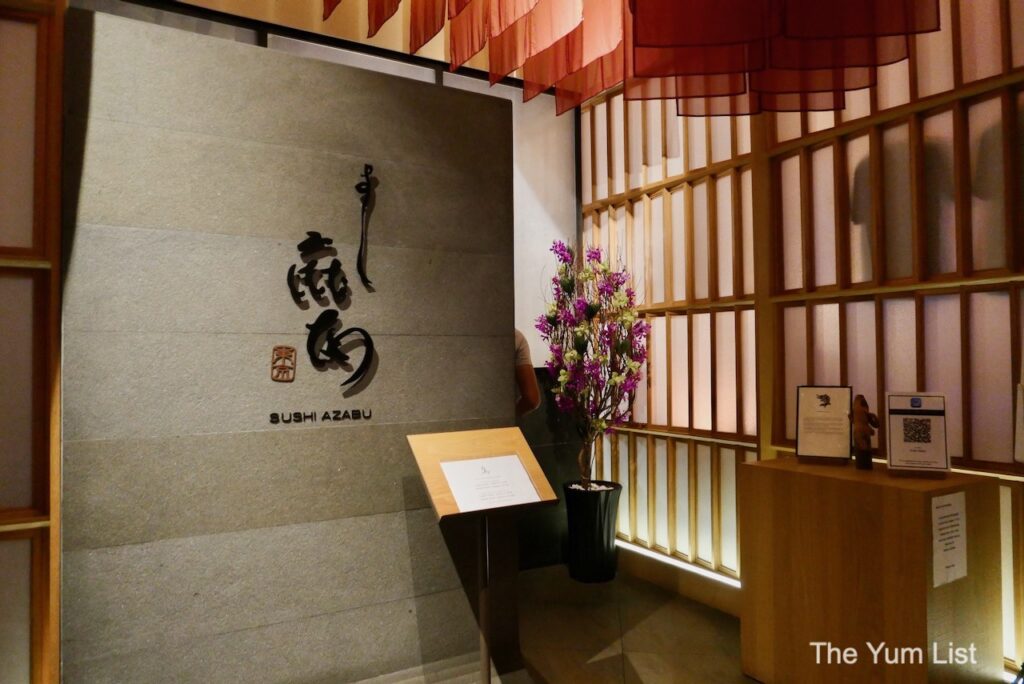 Omakase at Sushi Azabu
We journey up to the fourth floor of Isetan in Lot 10 and walk inside, where I feel like we have been teleported to Tokyo. We are greeted by a genuinely happy to see us team and are handed a cold refreshing super umami iced green tea, perfect for helping us cool down from the perpetual KL heatwave outside. Our Omakase menu tonight is created by the group of experts, including Executive Chef Masaki Arakawa, who moved to KL five years ago to open the restaurants and has been with us ever since. Head Chef Haruka Hokune is the first female sushi chef I have ever met. Alongside Haruka is Wai, a Malaysian with incredible knowledge of Japanese ingredients. The Omakase is RM 490 (there are three prices suited to different budgets), and you can add the sake pairing for RM 135 for four glasses.
The Appetizer
Our first plate arrives and is beautifully presented with delicate flowers adorning the top. Five individual servings of Grouper Fish with Kaiware Radish, Fire Fry Squid with Miso Vinegar, Japanese Omelette with Crab and Seaweed, Cherry Prawn and Syungiku (chrysanthemum leaf) and Japanese Amera Tomato are carefully arranged on the dish. Wai explains in which order we are to eat each dish and says that everything on the plate is edible, including the flowers. Everything is delicious and fresh. They call this plate The Appetizer, which most certainly is appetizing. A server comes over to fill our green tea, and Monica and I say in unison, "Can we have sake, please." Laughter ensues all around as Chef Haruka explains that we are about to be served a curated sake pairing. Yes, please! The first sake is Gikyo Haruka Junmai, listed on the menu as fresh sake made with Yamada-Nishiki rice from the special A-rated old Tojo area of Hyogo Prefecture. This sake is light and easy, recommended for the beginner sake drinker.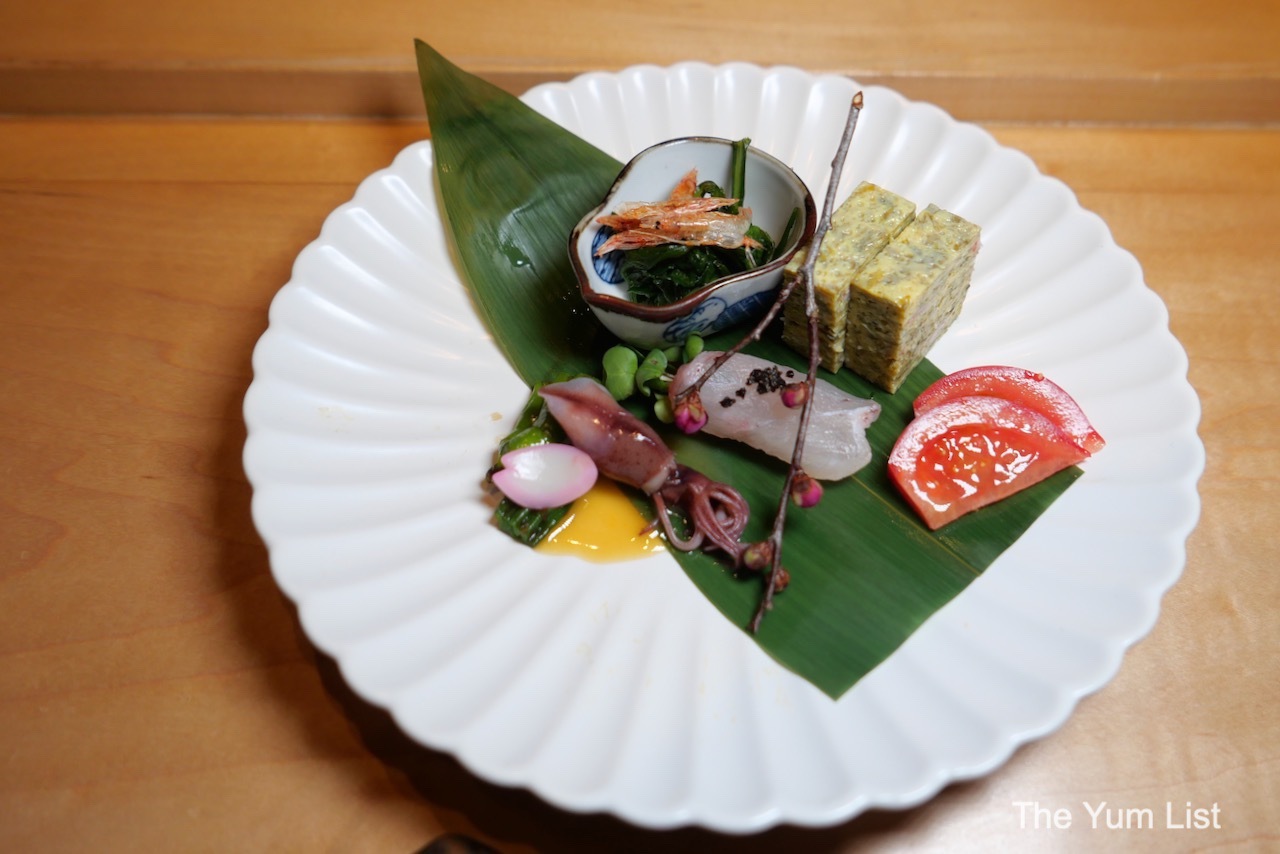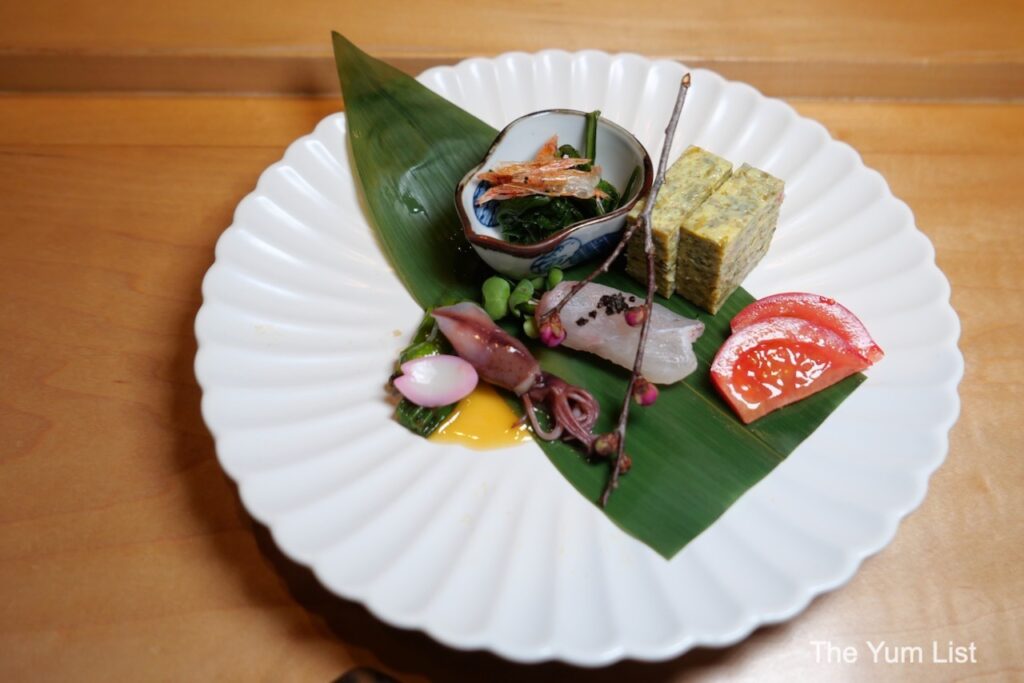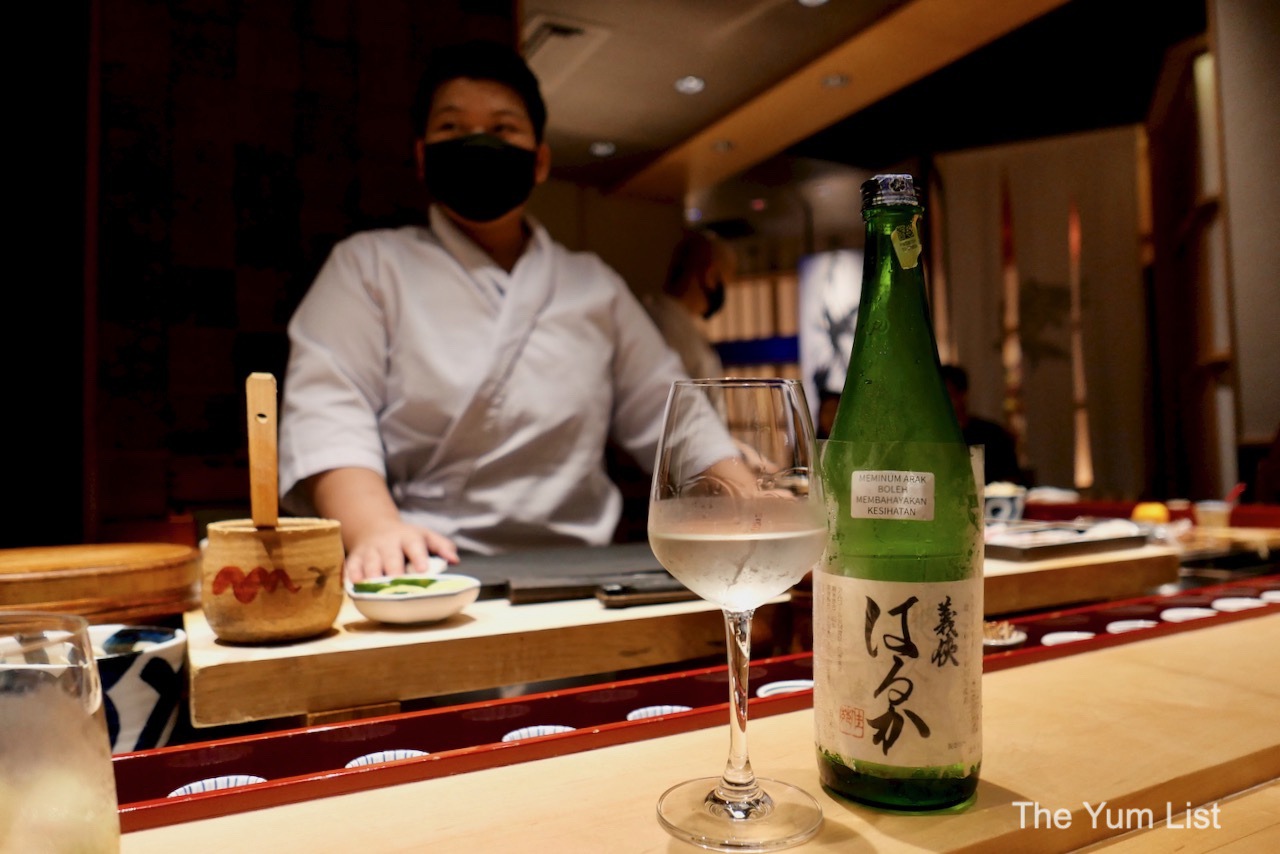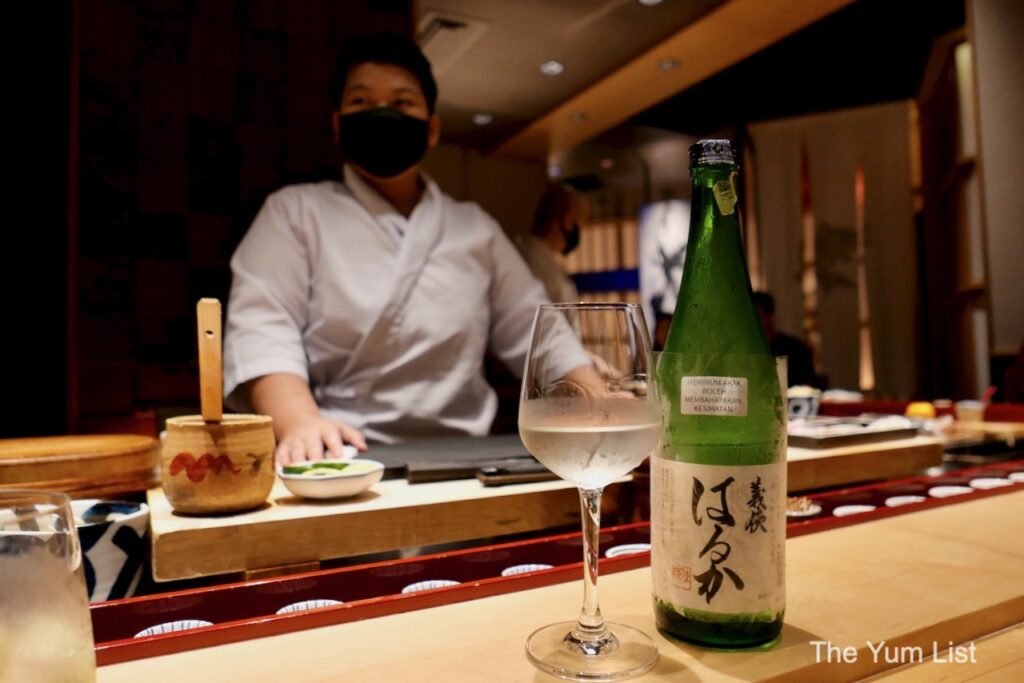 Chawanmushi
Next, we have Chawanmushi, which translated means cup – steam. This is a custard of subtle and harmonious flavours adorned with a Japanese pepper leaf. There's bamboo shoot, symbolizing the spring, a bit of ginkgo nut, and egg custard to warm up our stomachs for the Omakase ahead. Chawanmushi is yummy and creamy, like an unsweetened dessert with a touch of smoke from a small piece of fish that's inside, very satisfying.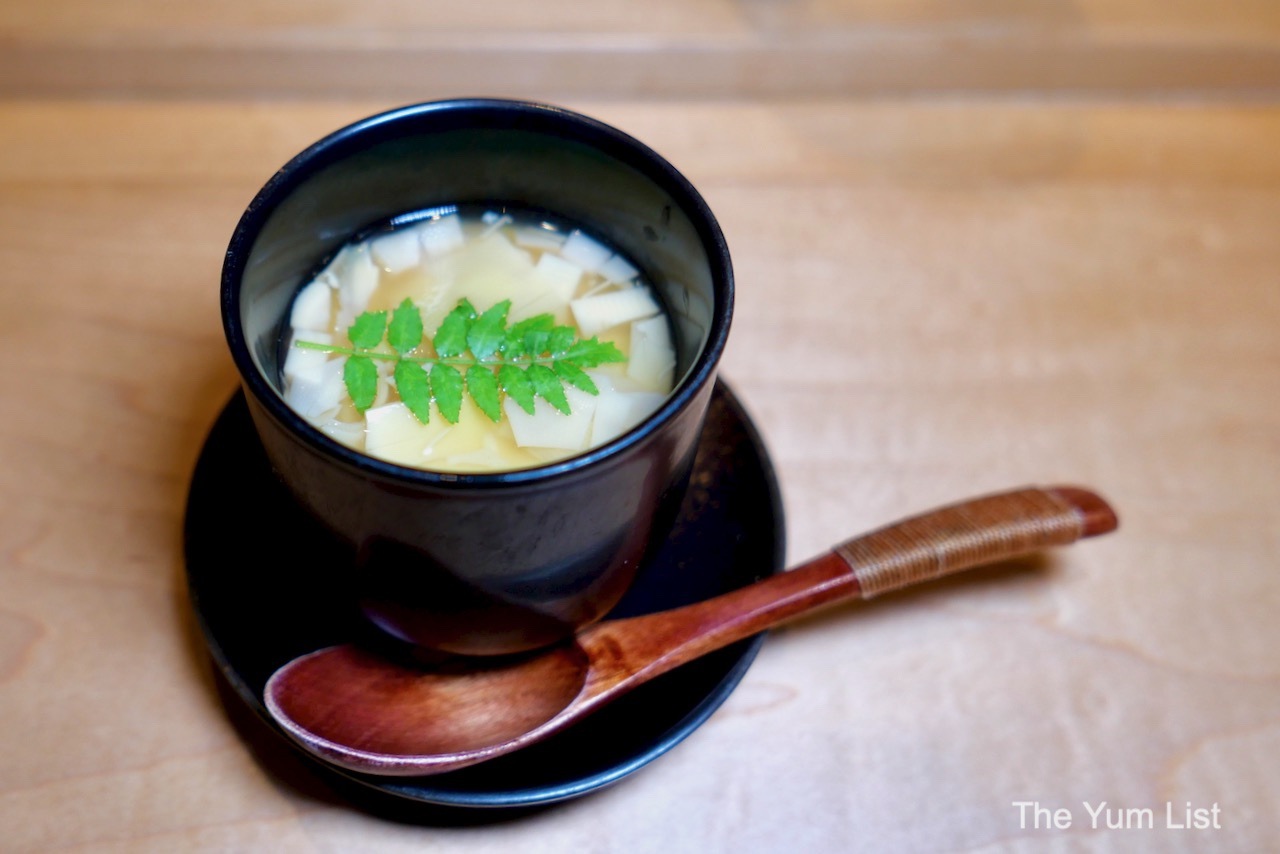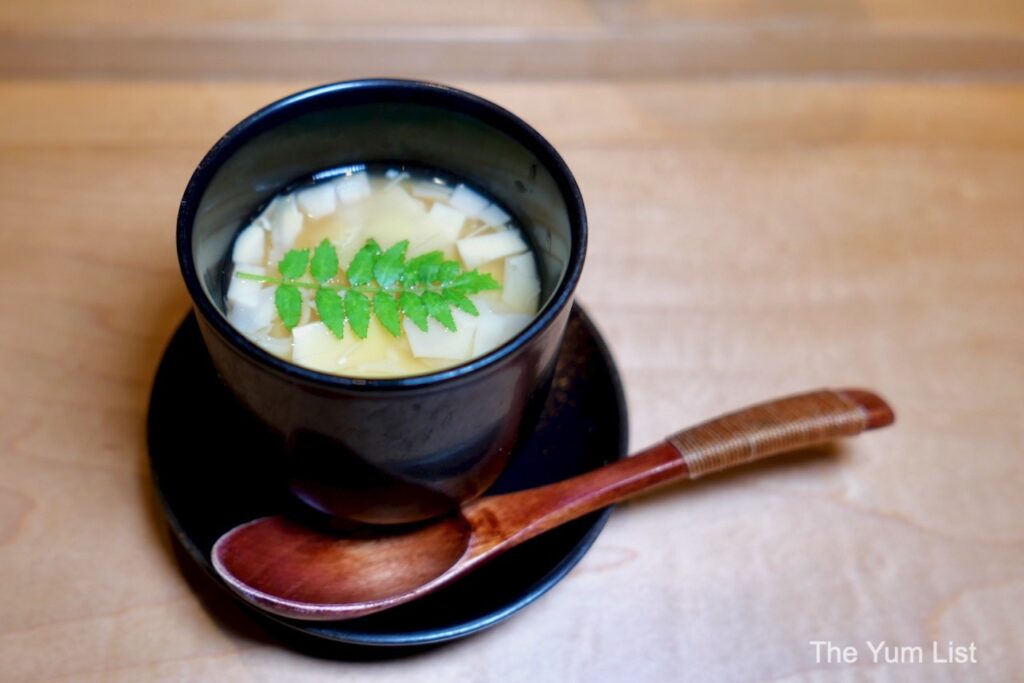 Sake Snacks
In between each course, we are served what the team calls sake snacks! Sake snacks are not for the faint of heart. You must be an experimental eater (I am not entirely experimental but willing). I'm committed to trying everything. Chef Wai says, "Never try, never know." We want to know, of course, that's why we are here. So, let's go… sake snack number one is Bonito Intestine called Shuto. The bonito is salt fermented and very interesting, something animal-like. I'm thinking like a delicate pate. This dish has been documented as being served with sake from the early 1700s. Ancient folklore says if you drink sake with shuto you will quickly run out of sake. Well, we have proven this not to be a myth; Monica and I are both out of sake. Our very gracious and knowledgeable server Shah is by our side before we can blink an eye.
Modern Senkin Muku Sake is being poured into our glasses. If you can't read Japanese (or some Chinese), then you're most likely not going to have a clue as to what's in a bottle of sake. Luckily, we have the awesome staff of Azabu to guide us. More and more these days you see a little touch of modern communication happening somewhere on the back label of sake. Senkin tells us that the harmony of rice and water is key to success. They only use the same subterranean water in the rice field as they do to brew the sake. Shah tells us this sake is made specifically to go with sashimi. I am happy to hear that sashimi is on the way.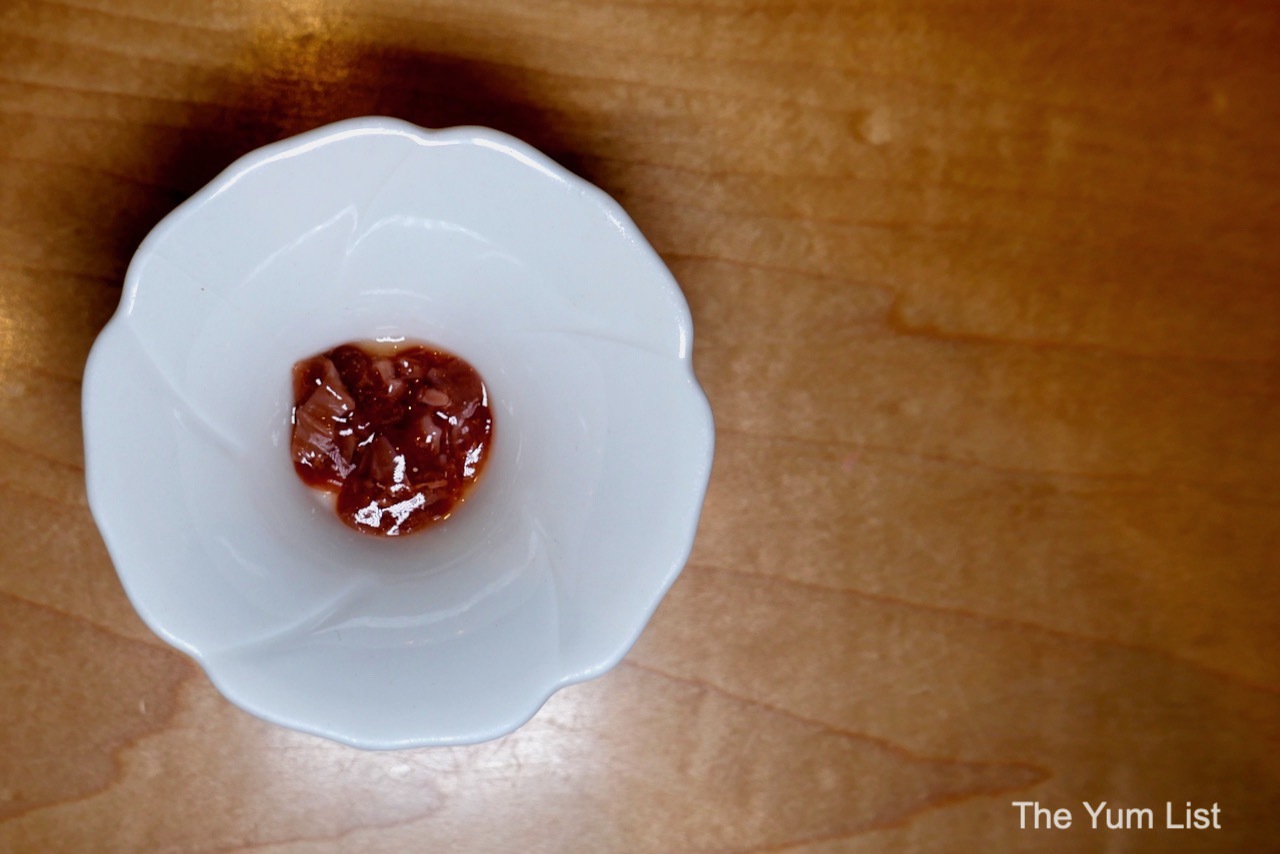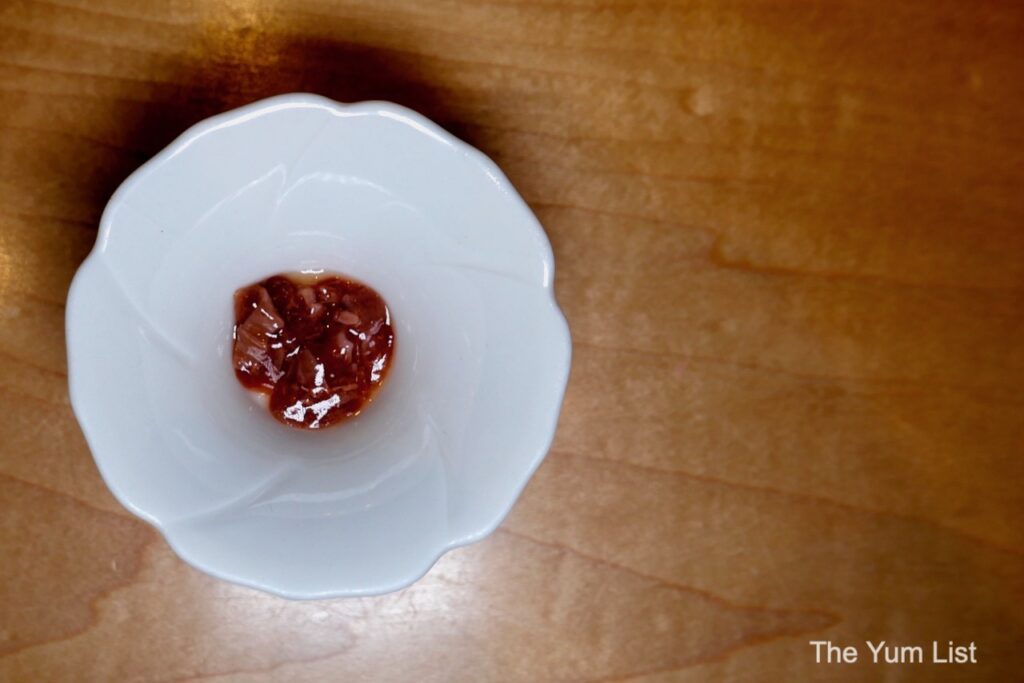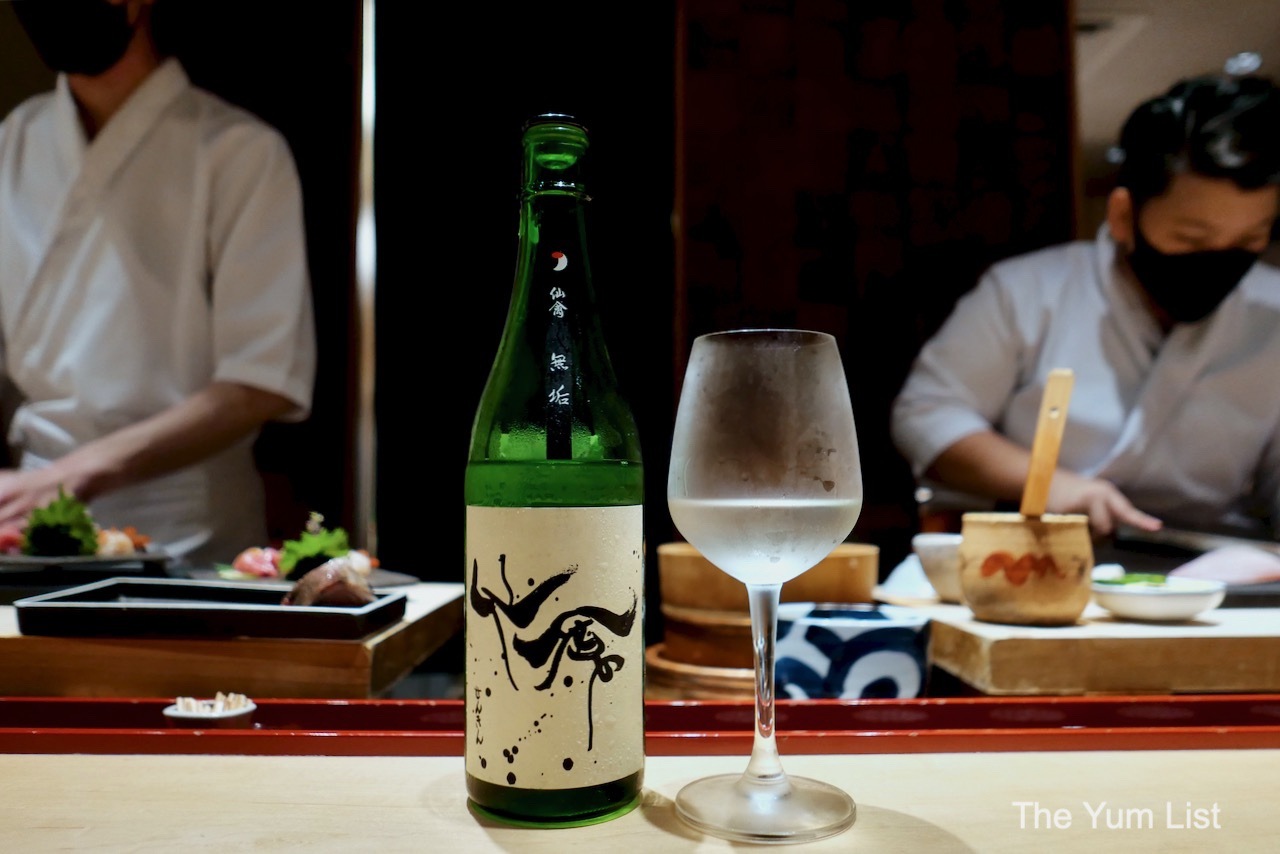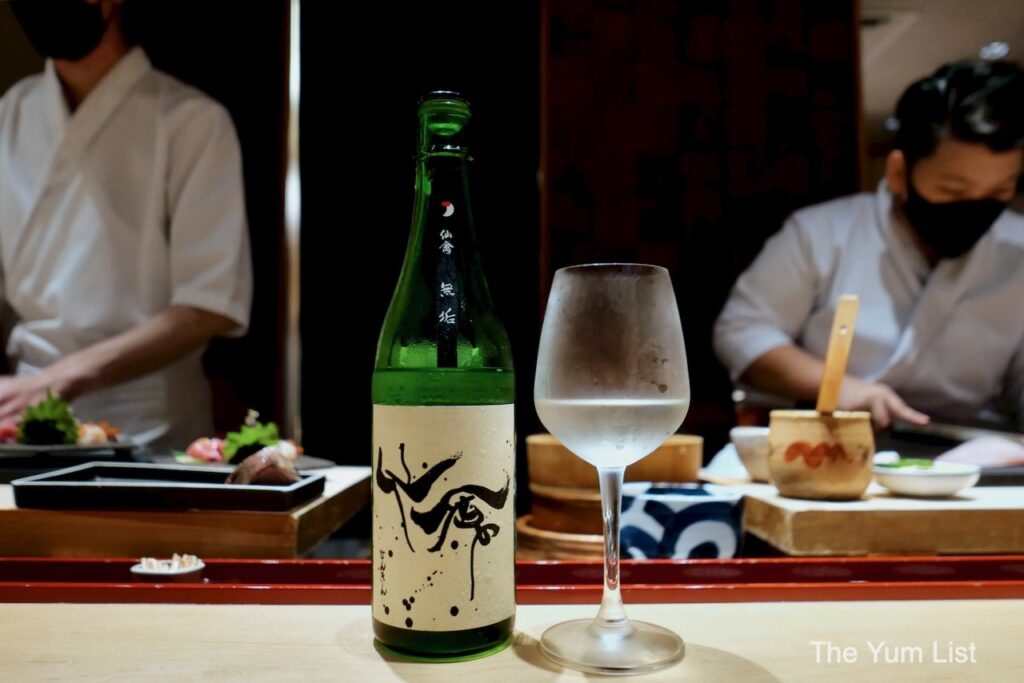 Sashimi
Directly in front of us, our chefs on stage are carefully preparing each piece of raw fish for our sashimi course. They place a heavy black stone down, which has been filled with delicacies, including a prawn called Botan – Ebi (flower – stream). The flesh is silky and sweet. Sea Bream from the small island Ishigaki is a premium delicate fish we enjoy by wrapping the shisho leaf around it. Ark shell or Akagai is a bivalve or mollusc with a clam-like texture and full ocean flavour. Rich, oily Saba Mackerel is served with sweet vinegar. Last but not least, there's a gorgeous piece of Medium Fatty Tuna. The plate has tiny, pretty purple flowers, and we are instructed to put some in our soy sauce to add a floral note. The wasabi and the soy are both of the highest Japanese standards. We try a little fish on its own first before we add the wasabi or soy. The Senkin Muku is drinking well and compliments the sashimi perfectly.
Next, we are served a vintage 2020 Junmai Daiginjo `Sauvage' Sake brewed by Kuheiji. This 'Savage' is thick, viscous, has a smell of sugarcane and an umami mushroom flavour. The story of Kuheiji is pretty cool. The owner is the 15th generation to run the brewery. He has spent time in France (hence the French Savage on the label) and even bought a small vineyard in Burgundy where he is now making wine. He also cultivates rice there to make French Rice Sake. I'd love to try that someday.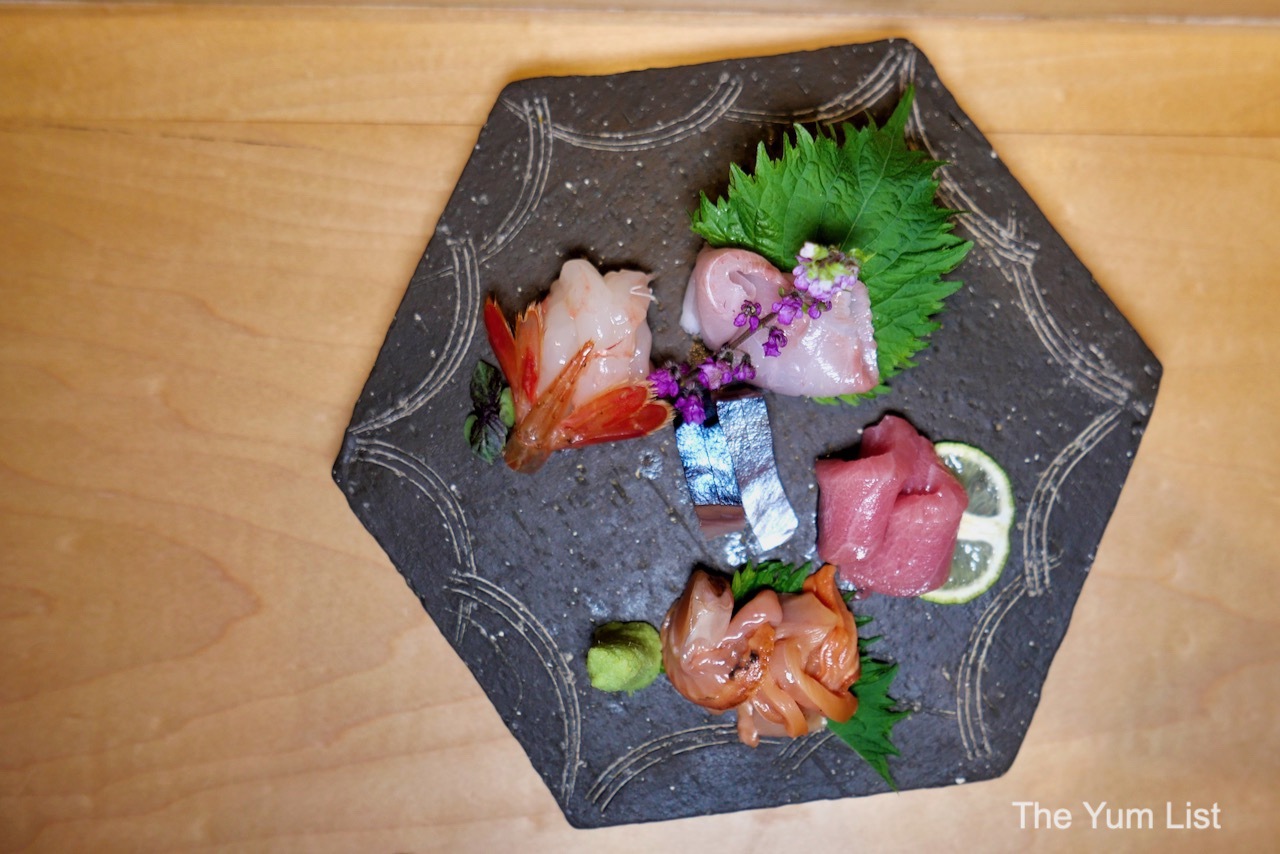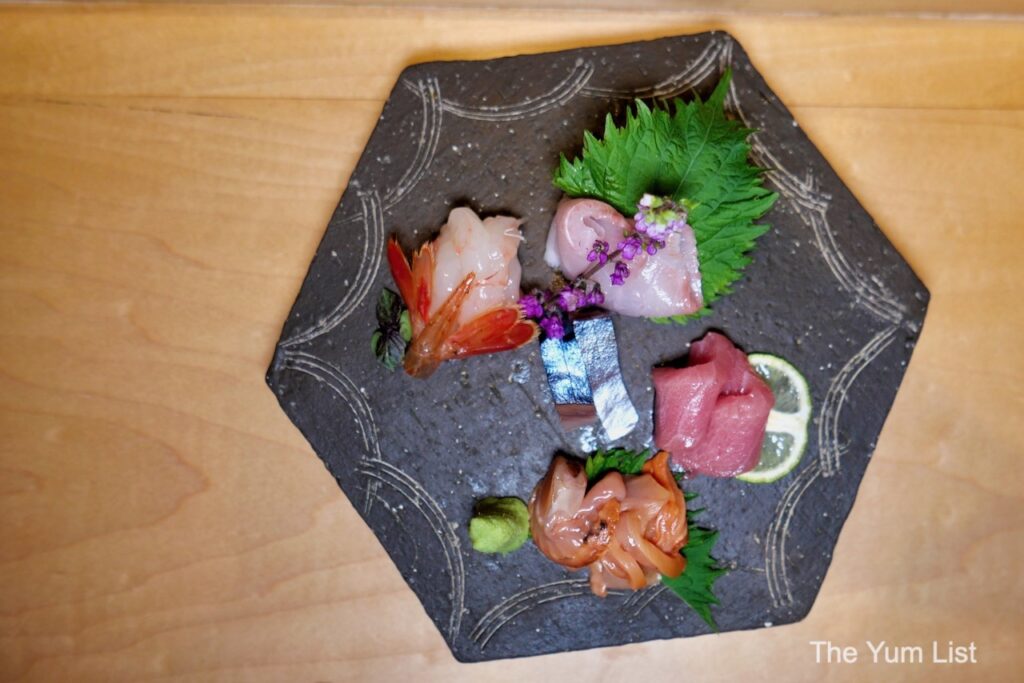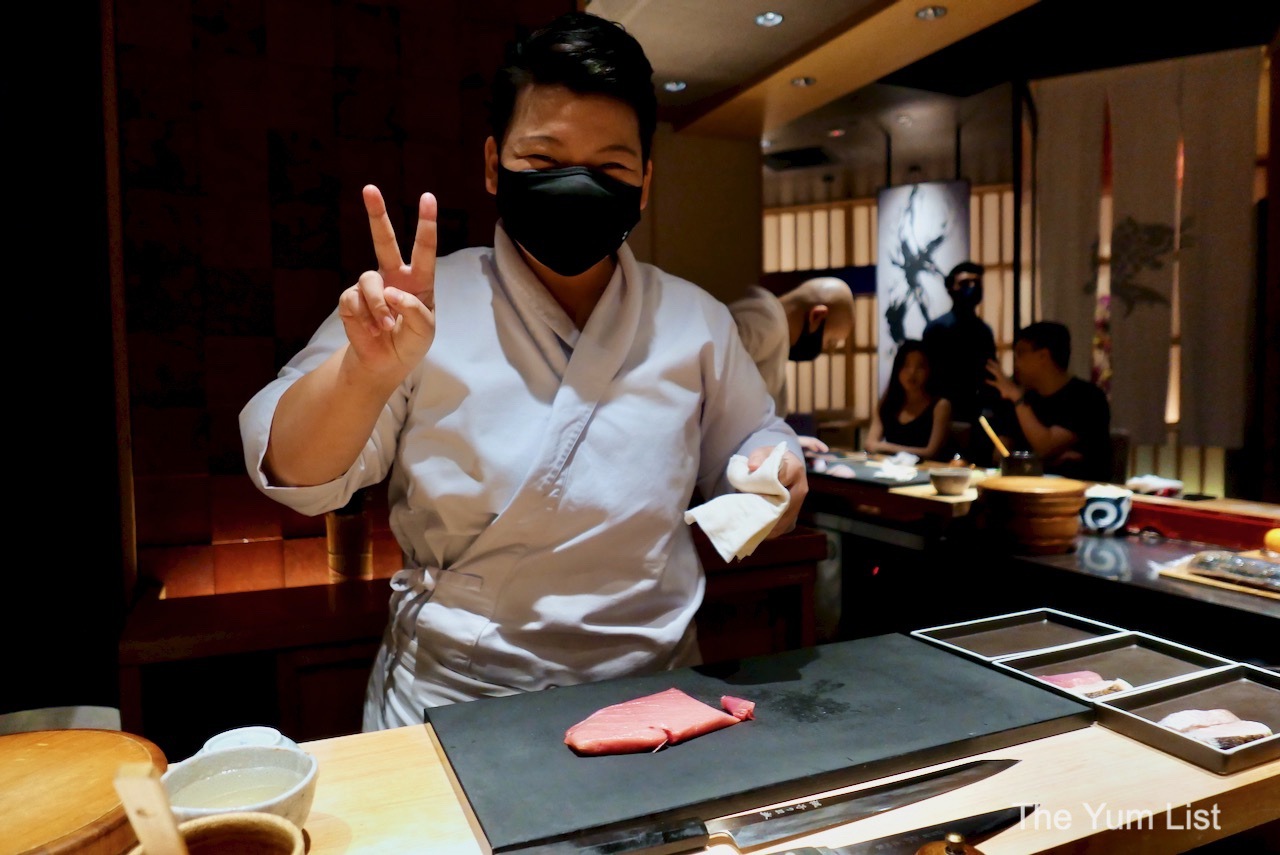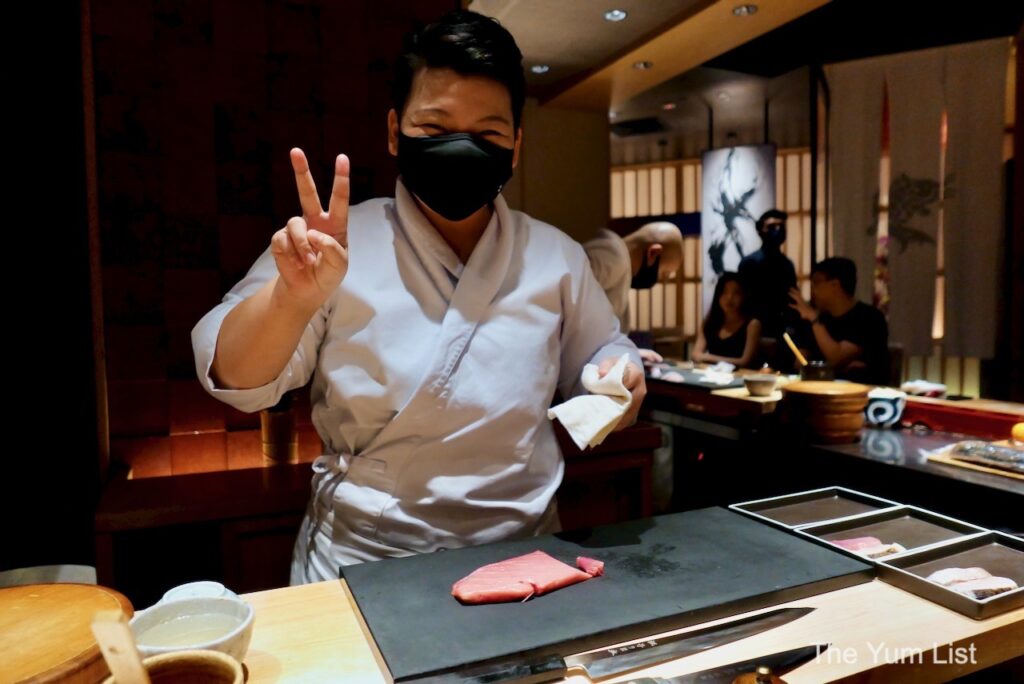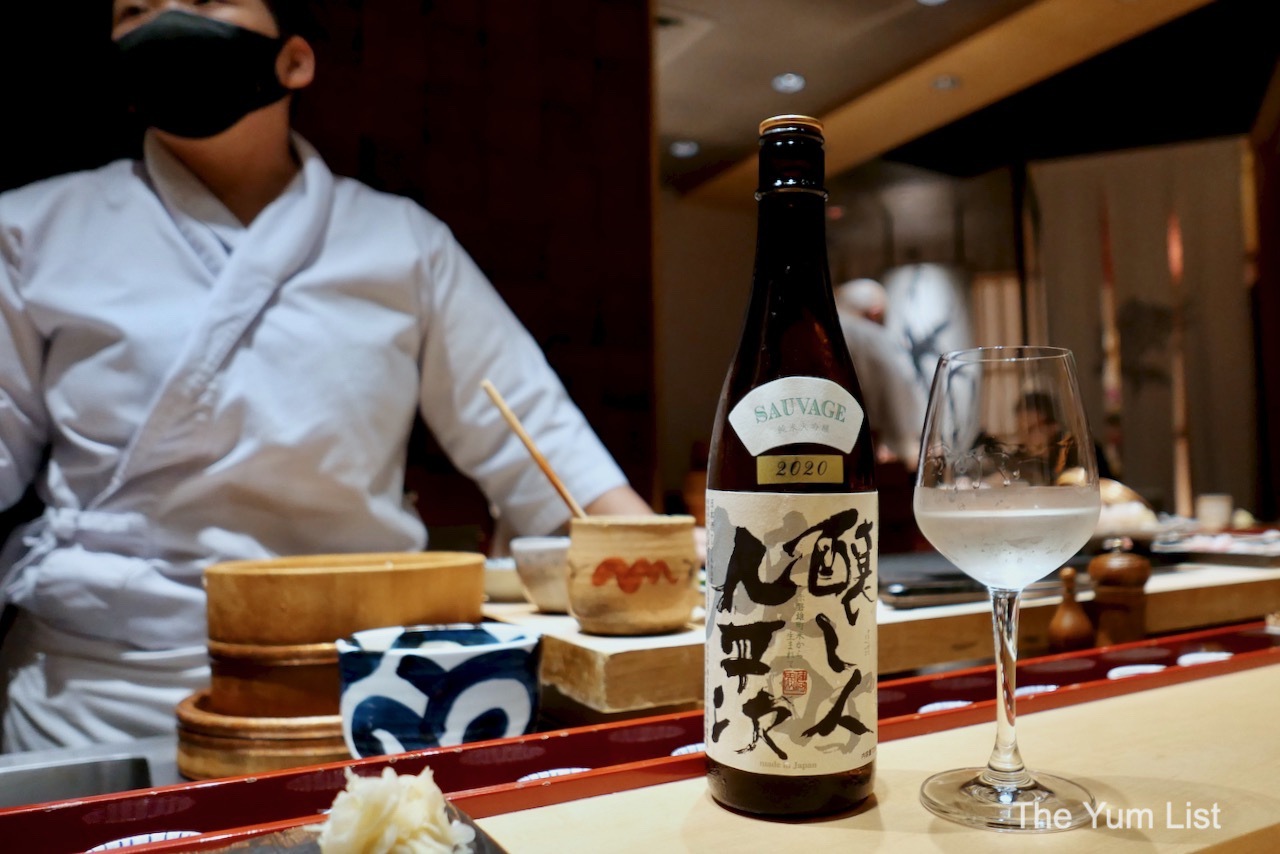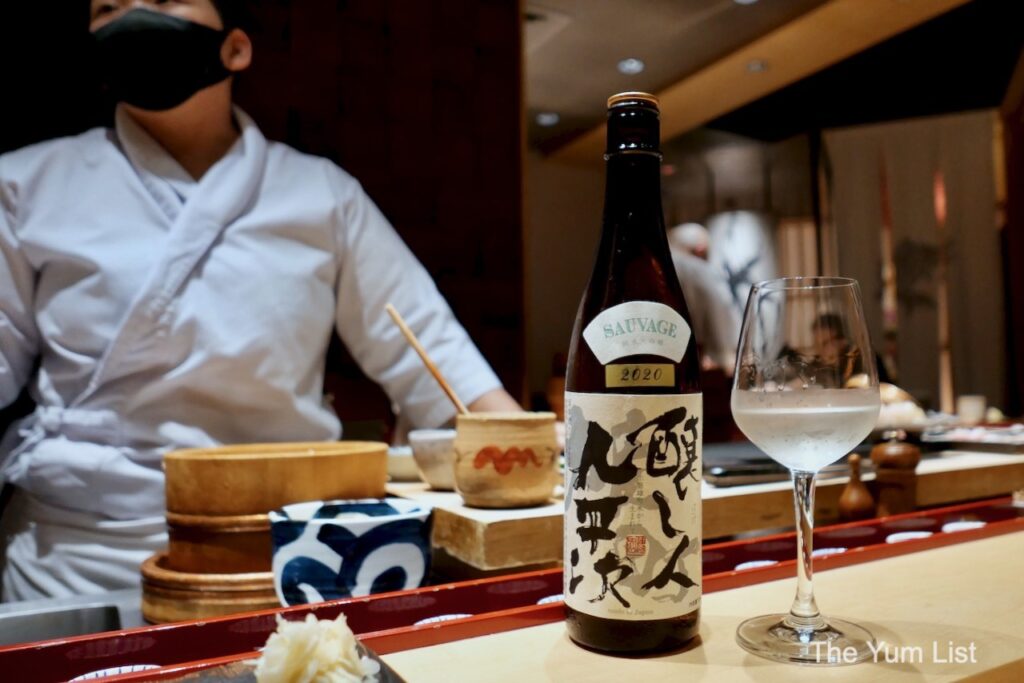 Tachiuo – Grilled Belt Fish
Next, we have a generous piece of Tachiuo – Grilled Belt Fish – with a fresh slice of lemon to squeeze and a ball of minced radish. Tachiuo can be found throughout Japan's waters and can grow up to three metres long. The meat is fleshy and delicate; the turnip offers an earthiness to the dish. Alongside it, in a small round bowl, comes Nuta Ae, Japanese spring onion with ark shell, squid, and sweet miso. It's the same mollusc we tried raw earlier, and now it's cooked in light miso. The Sauvage sake continues working like a charm.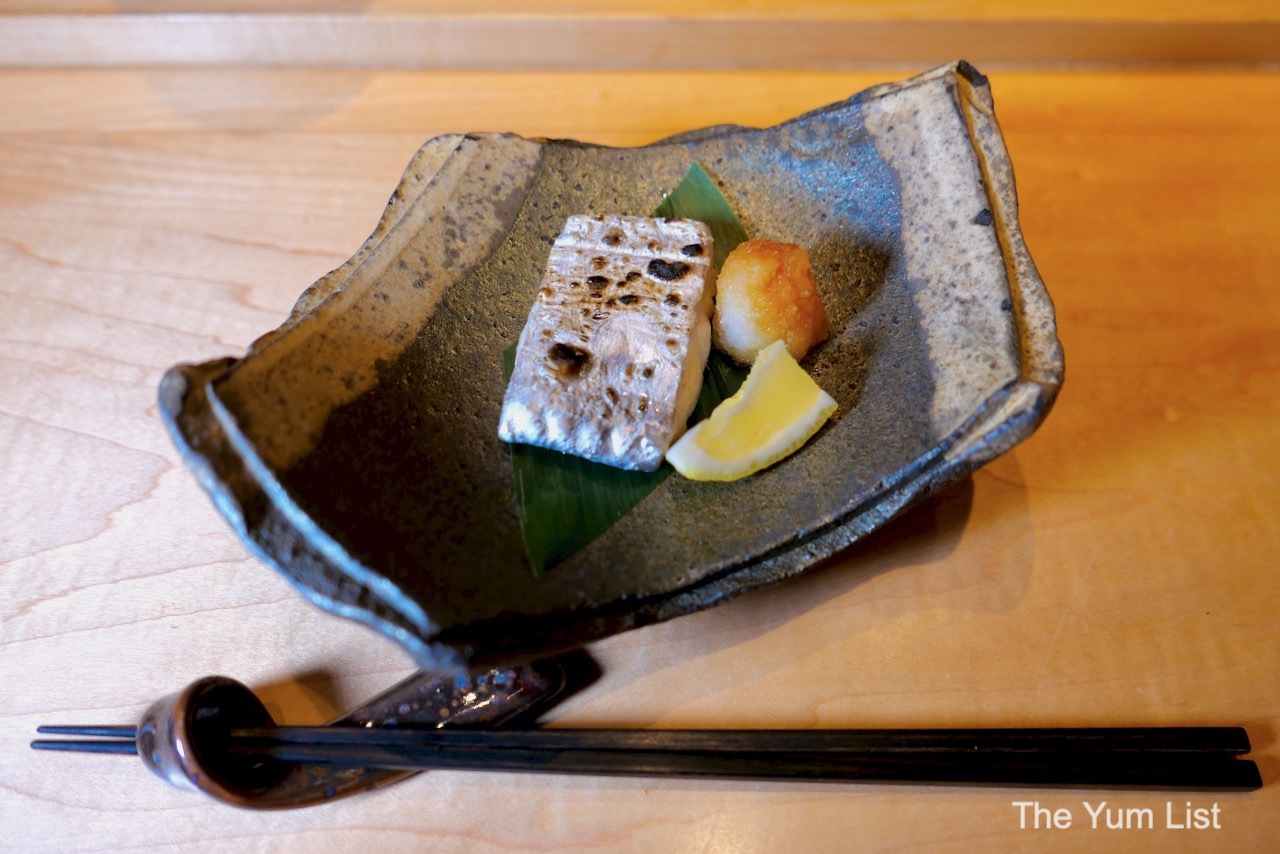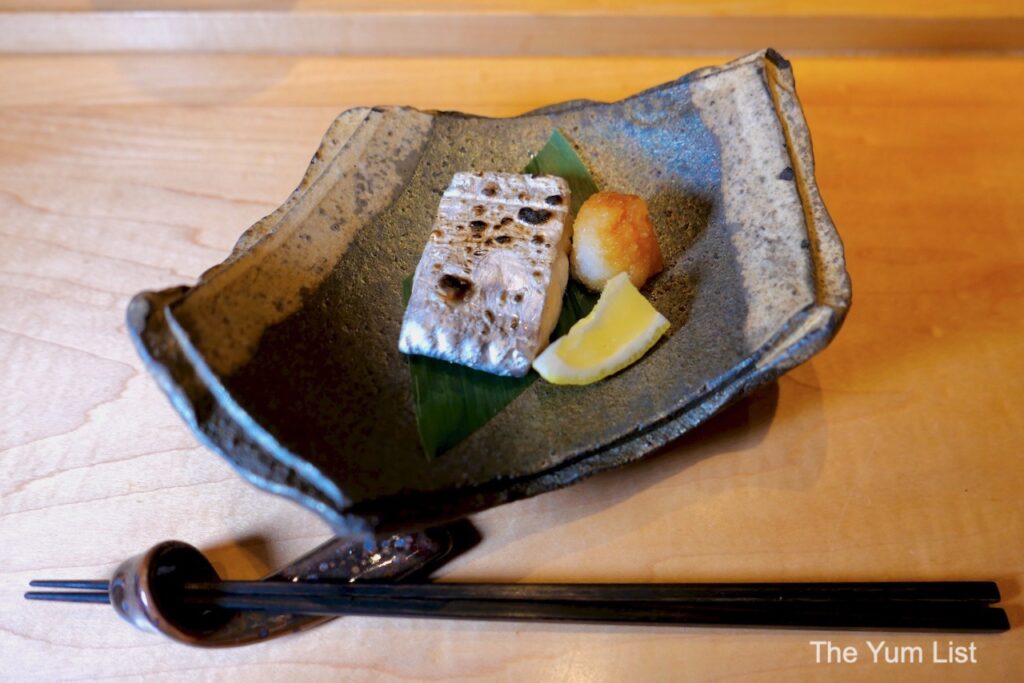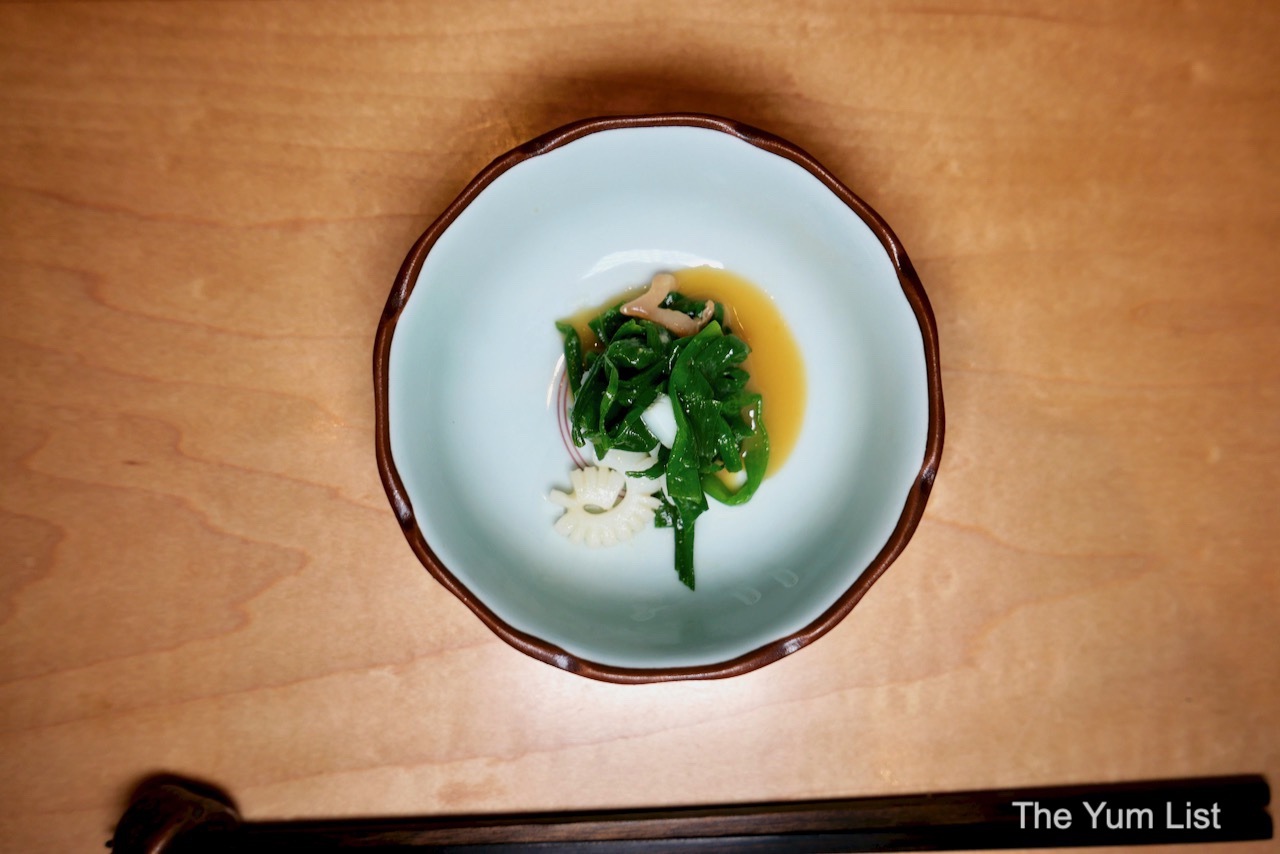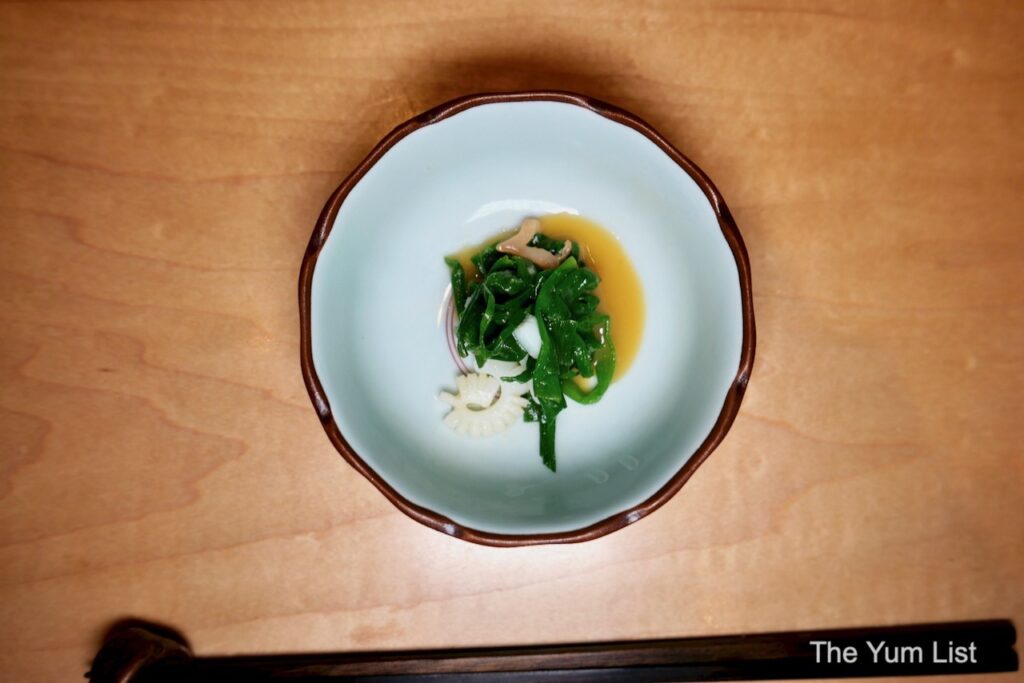 More Sake Snacks
Now they tell us we have another sake snack – fermented Japanese barley with sweet miso and wasabi. It's impossible to describe. Monica says she never tasted anything like it, and I feel like Christmas meets wasabi. We wash it down with more sake, and as lore predicted, quickly we are out of sake. Fear not, Shah is on the way with our next pairing. For the amazing exploration of the raw fish, we are about to be delighted with, we are offered sake made especially for Sushi Azabu, which is easy to drink and has a nice toasted rice flavour. To find out the story behind the Azabu original sake, you will have to come and inquire for yourself.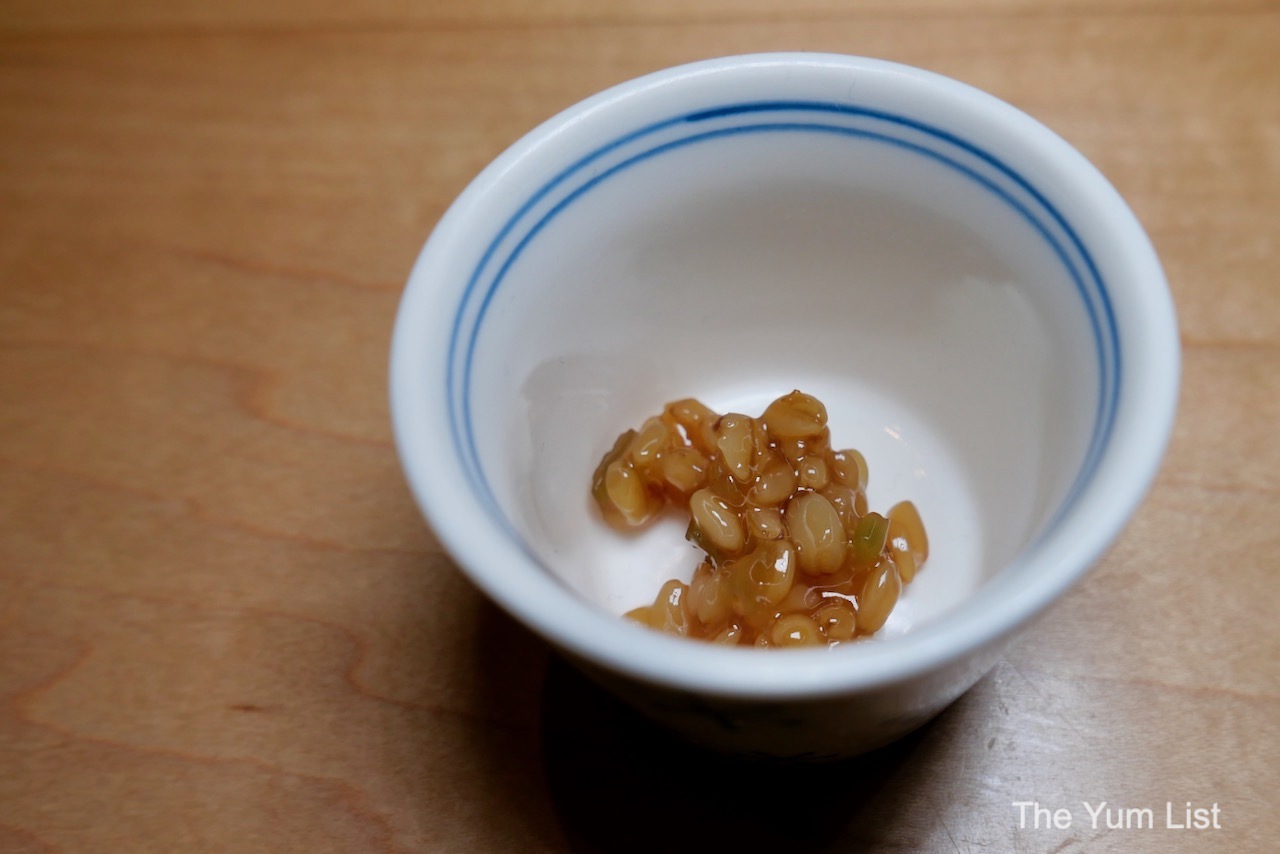 Omakase – Sushi
We are about to enjoy seven, yes seven, servings of nigiri – the sushi-style where the fish is placed over perfectly cooked Japanese rice. Nigiri comes from the word nigirizushi, which translates to "hand-pressed sushi." This is my favourite way to eat raw fish. The chef places it on the plate in front of us, and we get to eat it with our fingers! I love the little wet napkin that comes along to keep your fingers neat. Monica is busy taking photos, and we remind each other about the 10-second rule. You must put the fish in your mouth within 10 seconds of being served. All the Instagrammers out there should be considerate of this!
First is Kohada or Gizzard Shad with Japanese seaweed on top. Apparently, this cut of fish done sushi style is very difficult, and some people judge the skills of the chef by their talent around the Kohada. The presentation is exquisite. Thin strips are cut lengthwise downward and filled with a tiny, perfectly shaped strip of seaweed. What a pleasure to look at and even more to eat. The nigiri continues with Shimaaji (striped jack), Akamutsu (rosy sea bass), Otoro (fatty tuna), Akami (lean bluefin tuna), Sawara (Spanish mackerel) with yuzu pepper, Iwashi (Japanese sardine), Hotate (Hokkaido scallop) with yuzu and sea salt, Japanese spring onions, and ginger. About halfway through the nigiri, we are gifted with another sushi snack – Japanese Sea Cucumber Marine with sweet vinegar. I cannot tell a lie, sea cucumber is not my favourite, but I give it a shot. One bite, big sip of sake, done, thank god for sake. Speaking of sake Chef Haruka now tells us she wants us to try something special, sake aged in wood!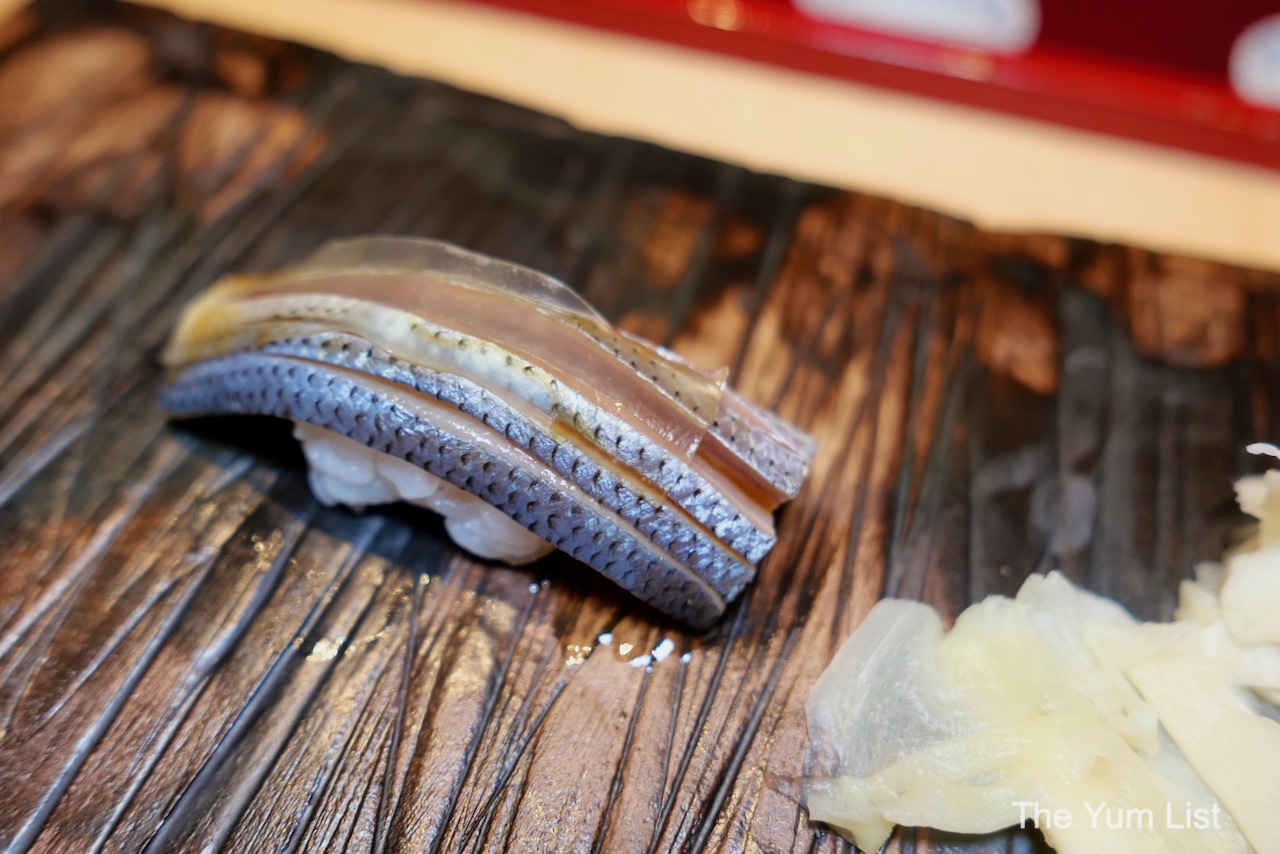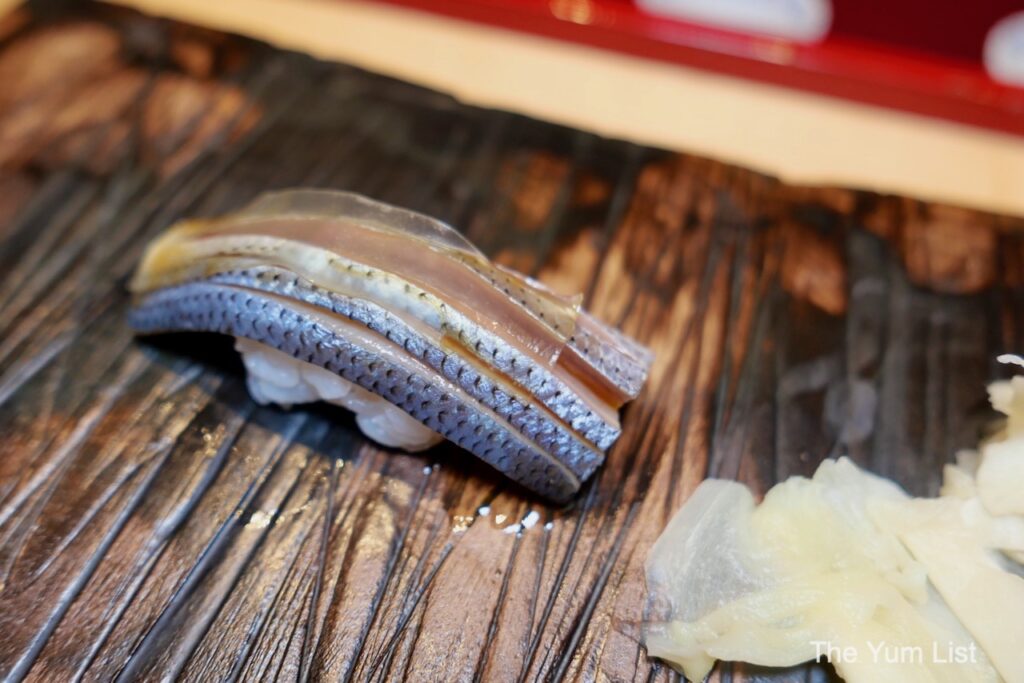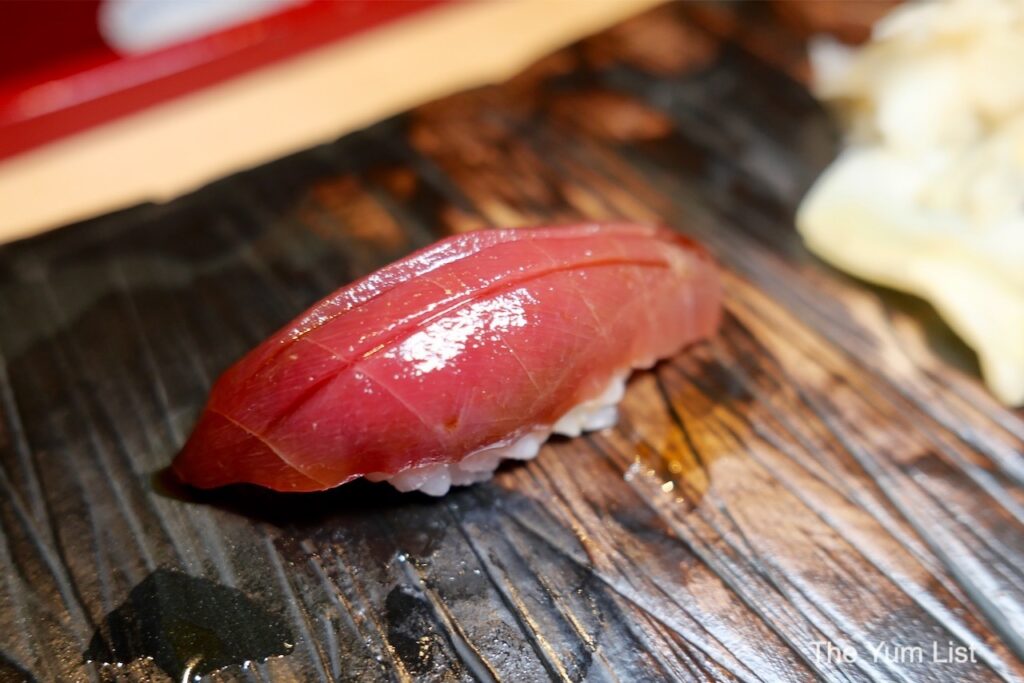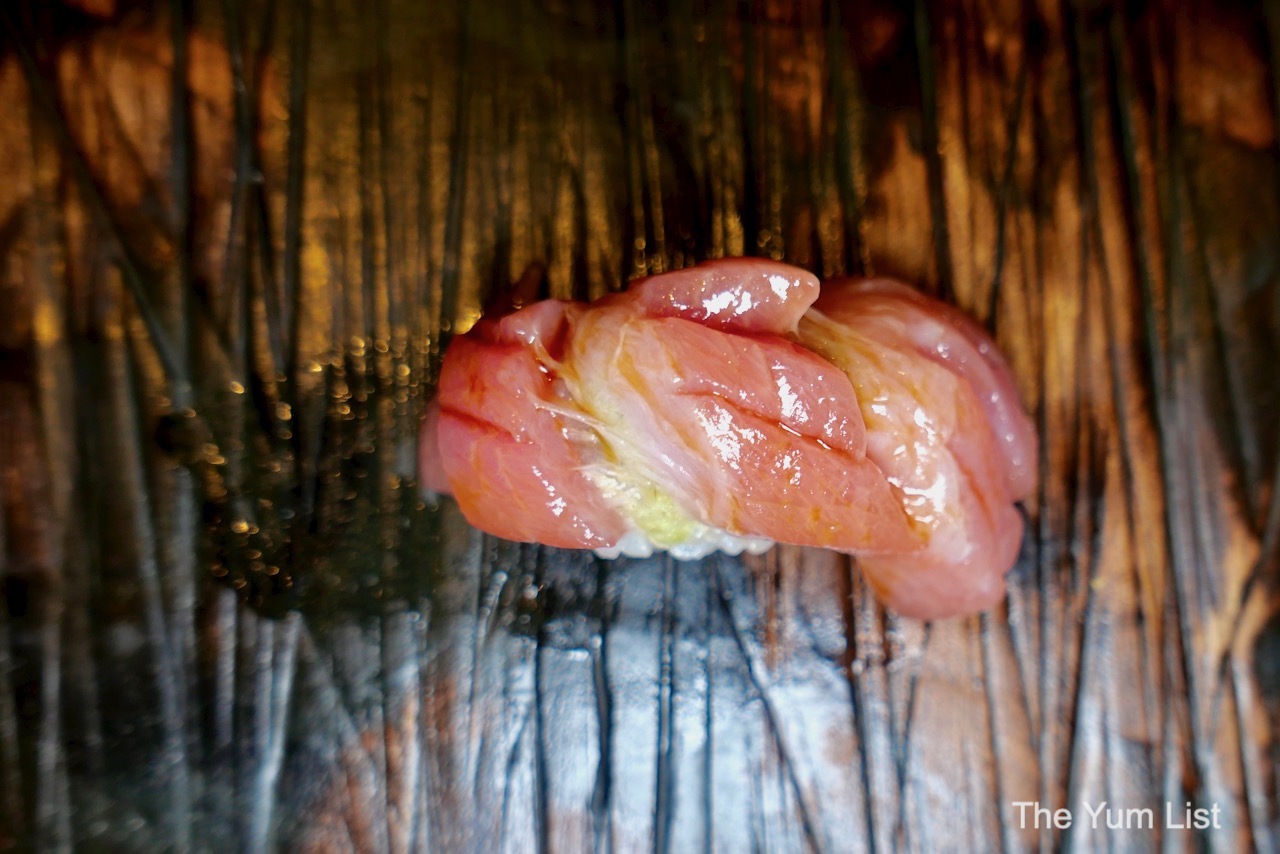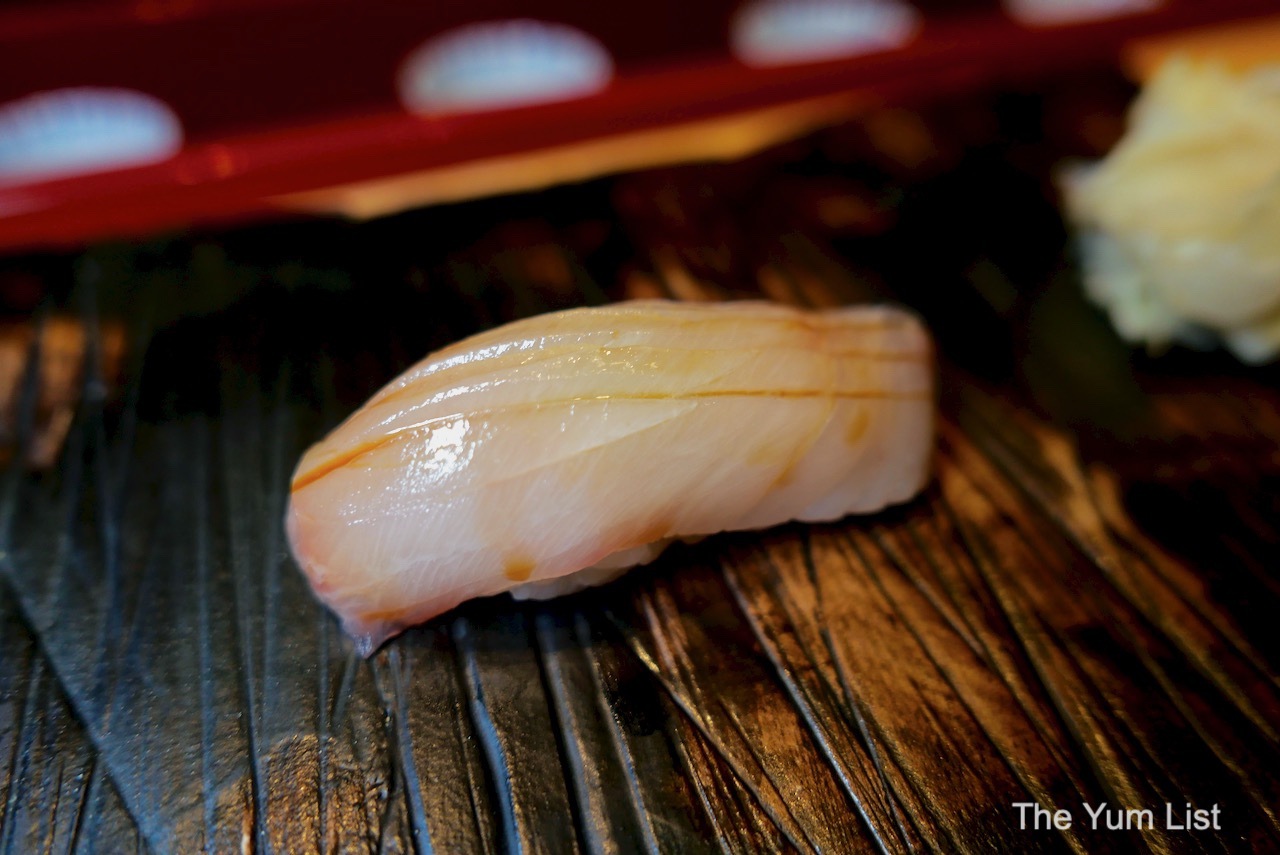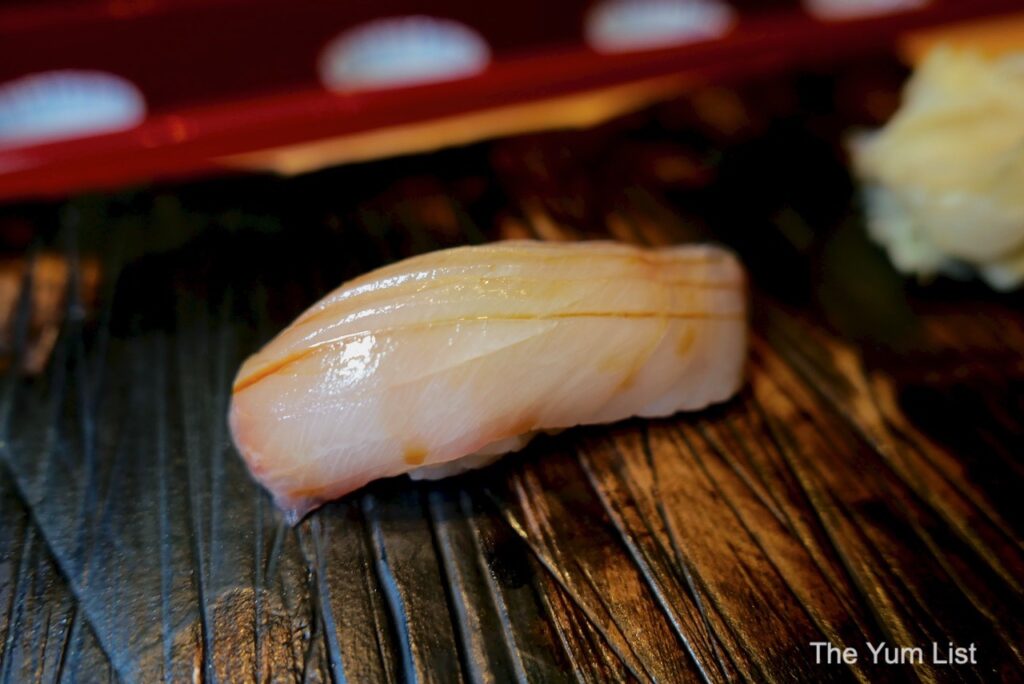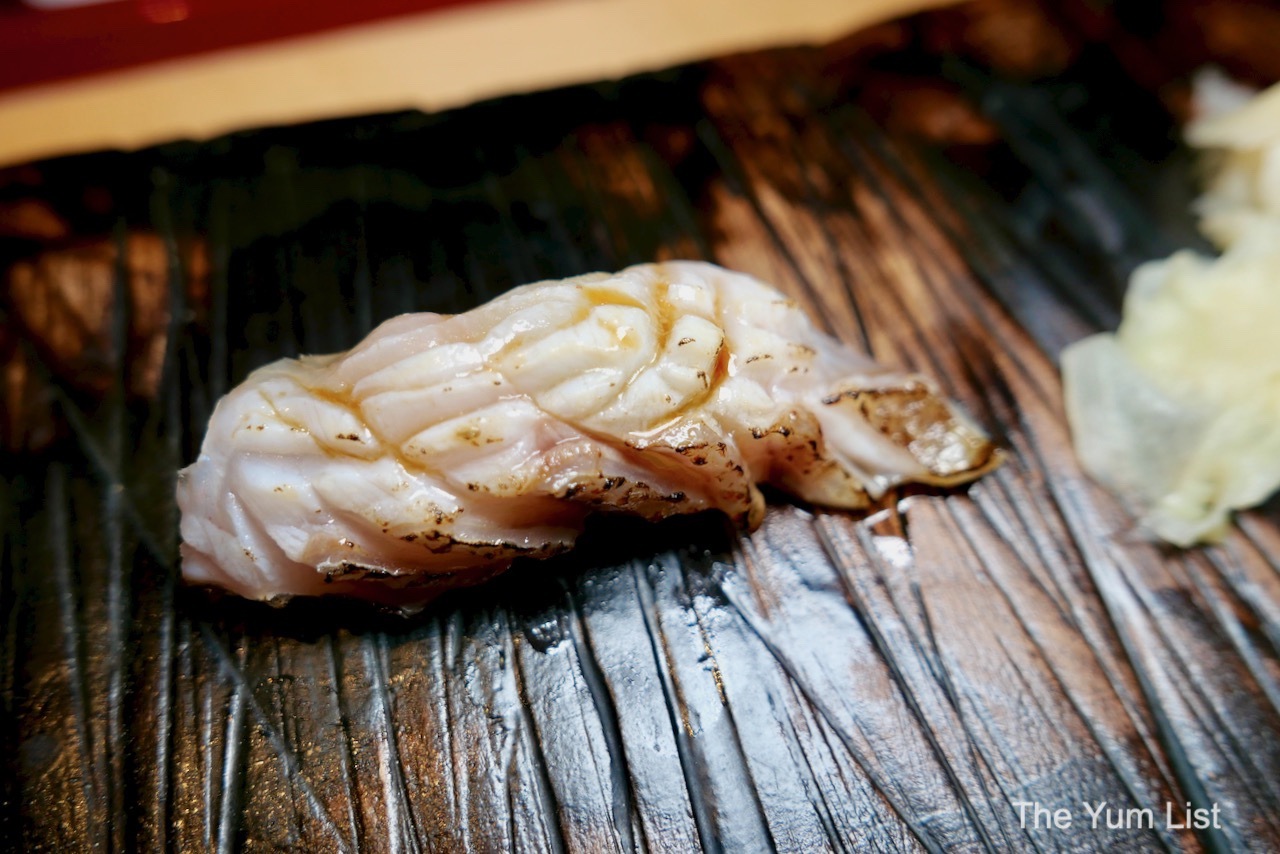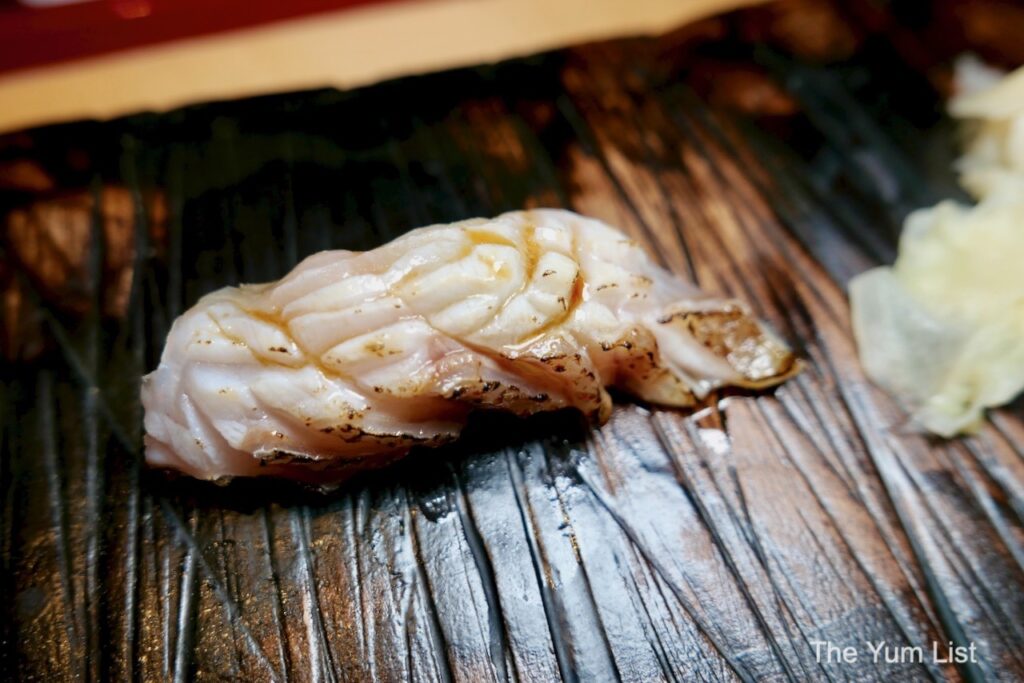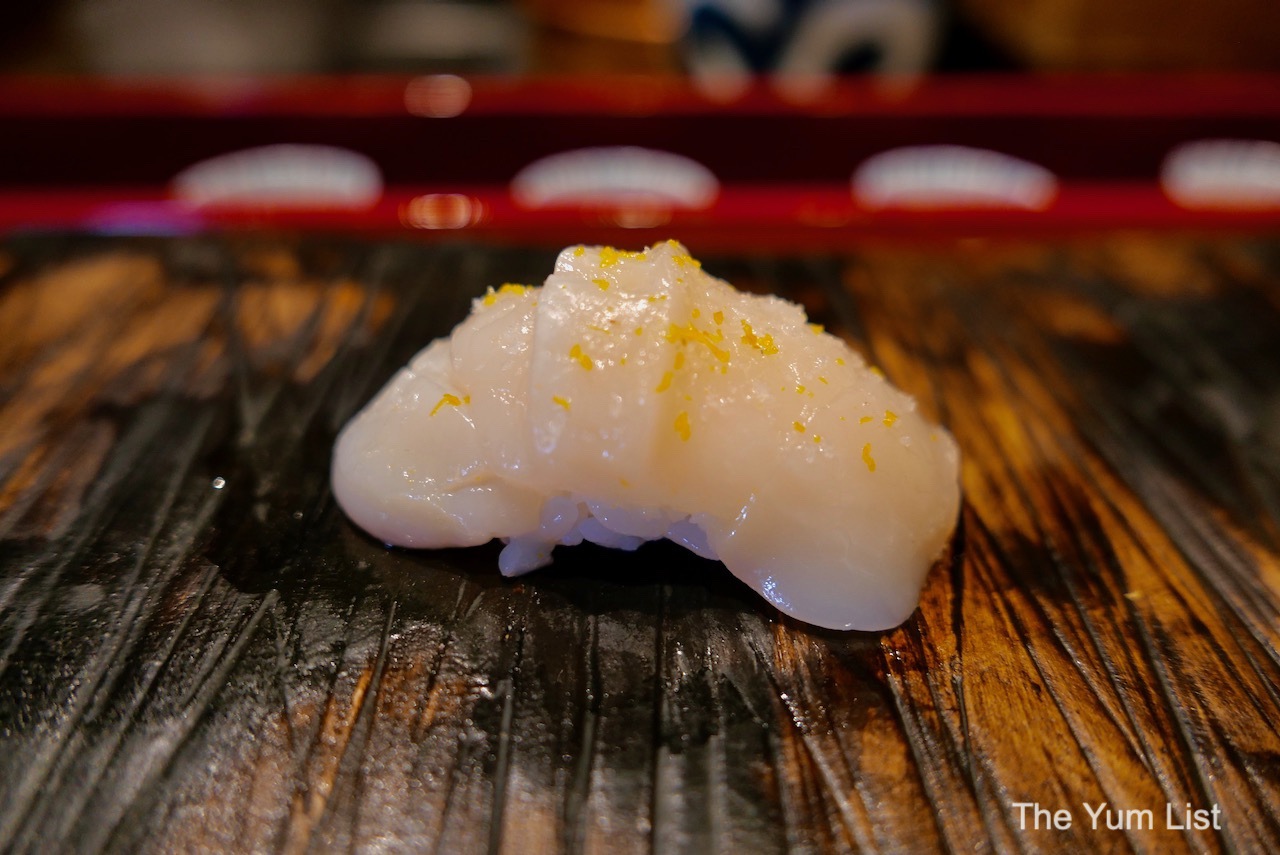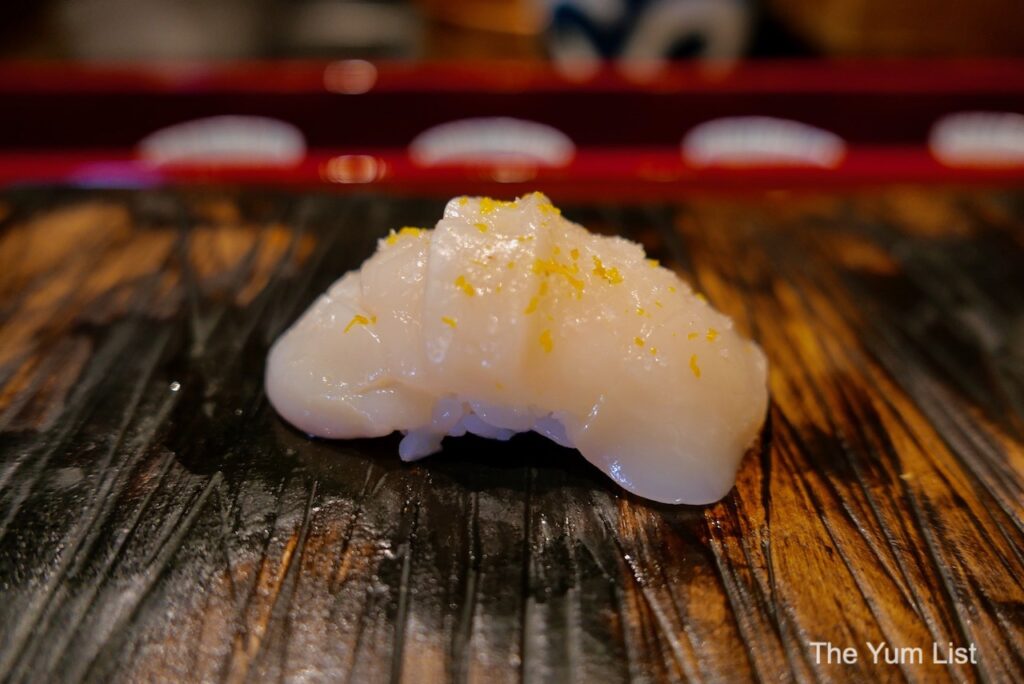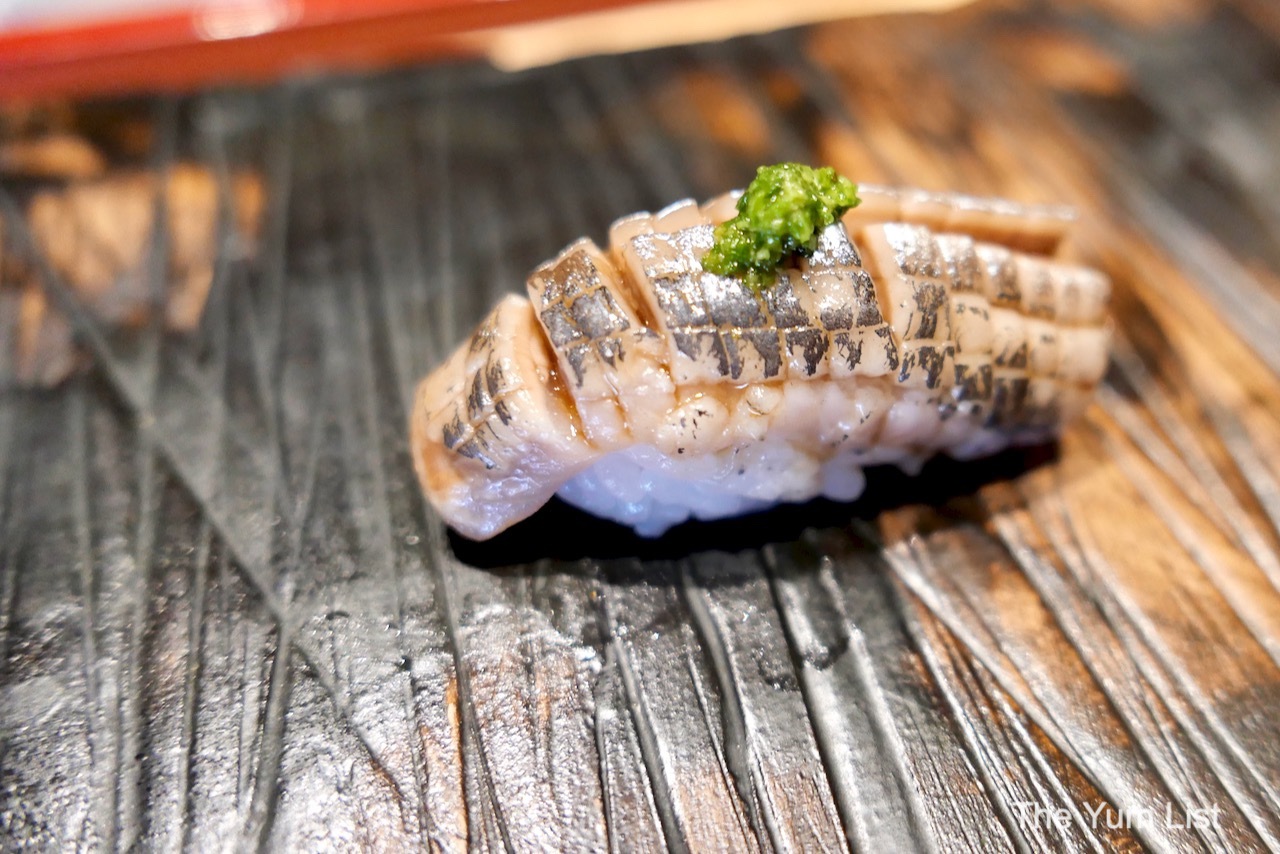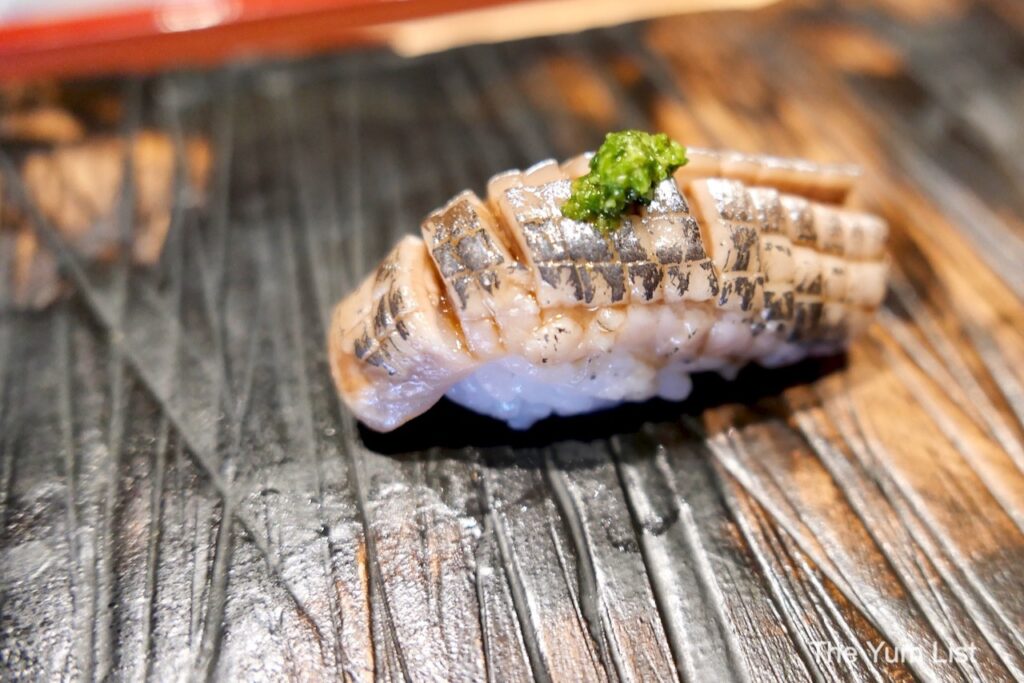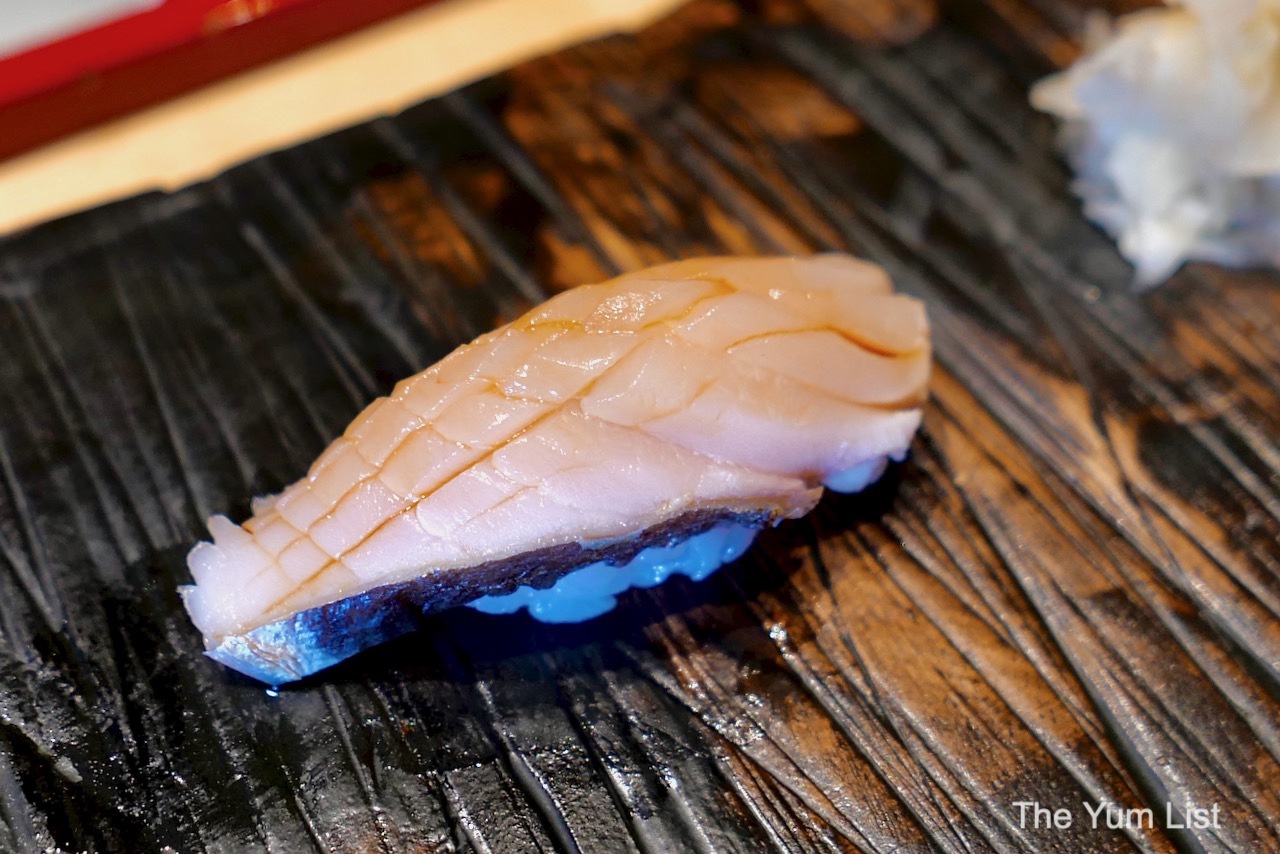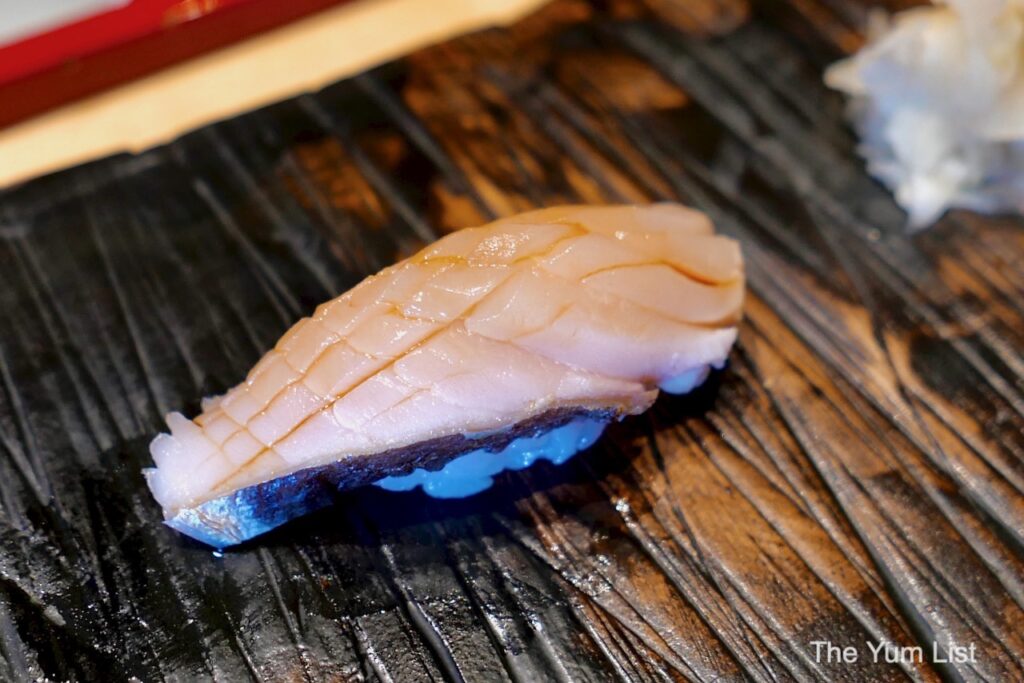 Aged Sake
The golden-orange colour Seishu Taketsuru, Junmai Ginjo Nama Hatsushibori is a series made by Kimotozukuri where wooden casks are used as opposed to tanks. The brewery is also a whisky producer. They say the purpose of using the wooden cask is to seek a rich and deep taste and to make food delicious. It's working! The sake has a touch of oxidation, smoke, and a hint of dark chocolate. Pondering about the amazing nigiri, which is our favourite? It's hard to say. The very special seabass is torched to make the fatty oils come out. Sardine is so tiny in life but so full of complexity in our mouths. Monica said oooohhhh, as she swallows down the slip jack, the hand caught bluefin (the most sustainable way to catch these guys) is a delectable lean cut. The mackerel with yuzu has a touch of spice that we love. The toro, oh the toro, Monica and I just chew and smile as pleasurable moans escape from our throats. The Hokkaido scallop with yuzu zest is to die for. We get a little fresh grated yuzu on top. I don't know why, but this is the first time seeing an actual yuzu, which looks like a wrinkly orange. They pack a ton of flavour and zest.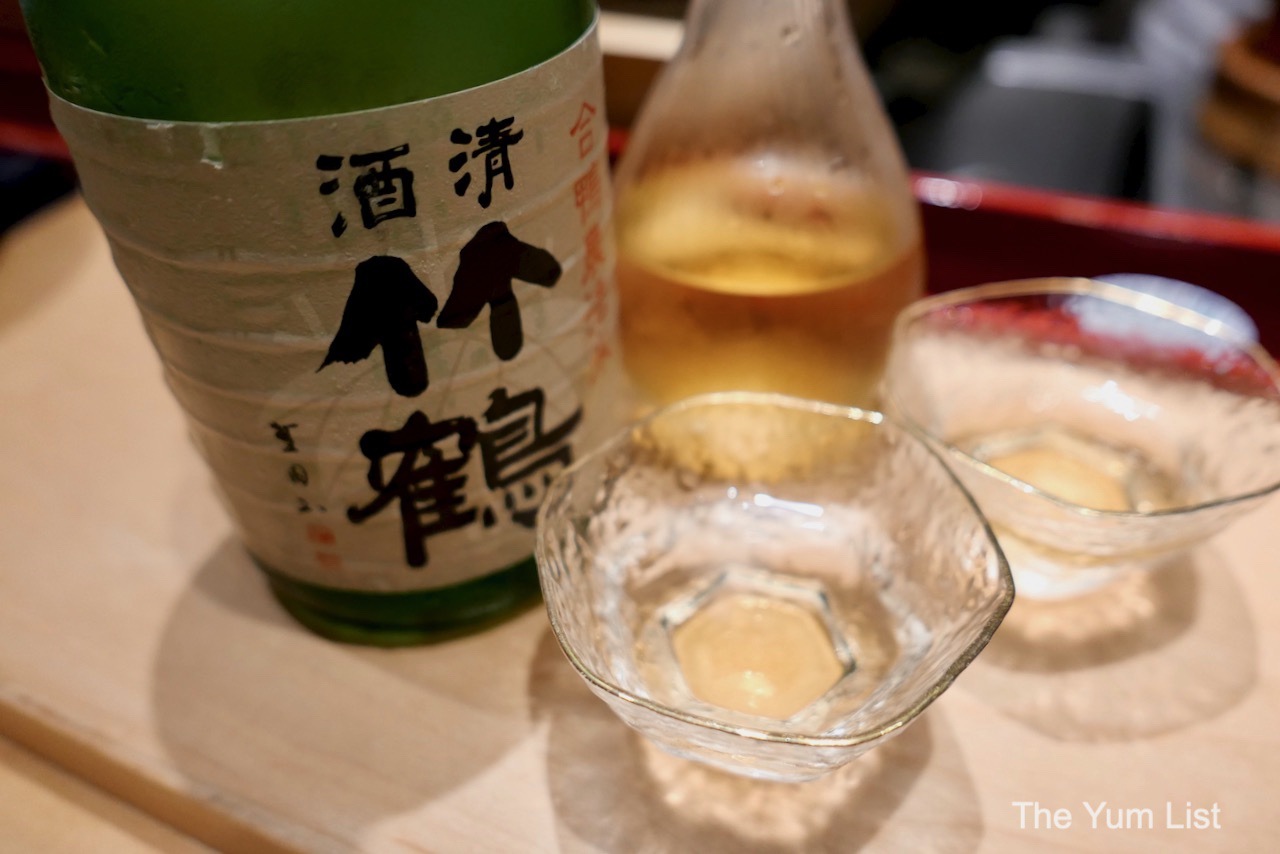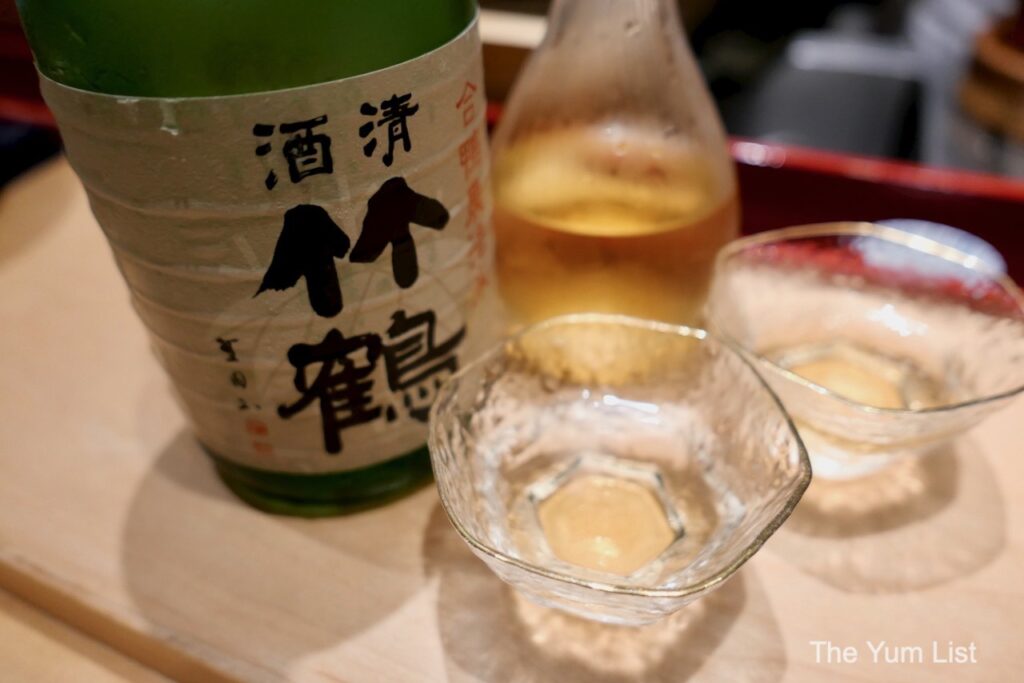 Monkfish Liver
We have another sushi snack of Monkfish Liver with Ponzu Sauce (rice wine, rice vinegar, bonito fish flakes, and citrus) and a touch of fresh horseradish. This is even better than foie gras. Strangely I feel like we need a baguette to spread it on, but of course, it's gone in an instant as we savour every bite.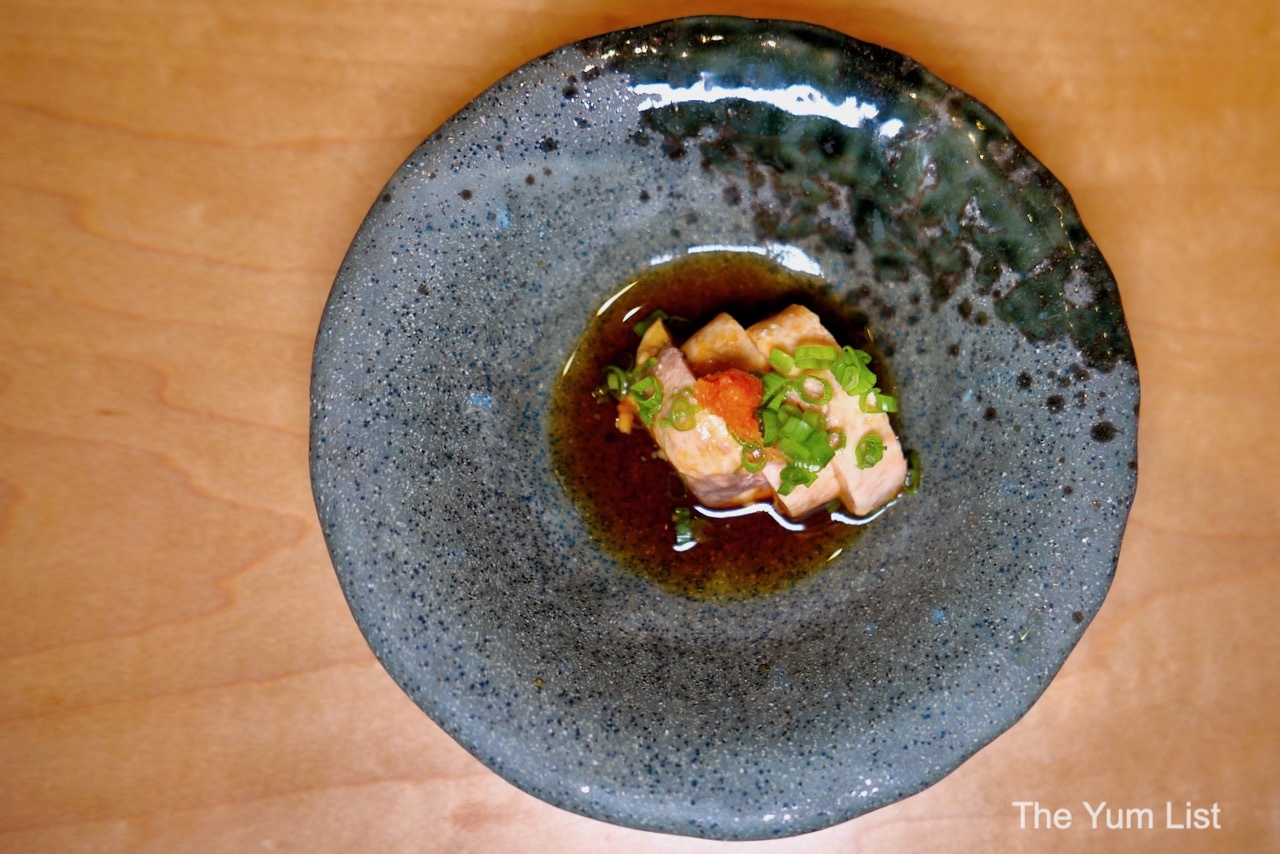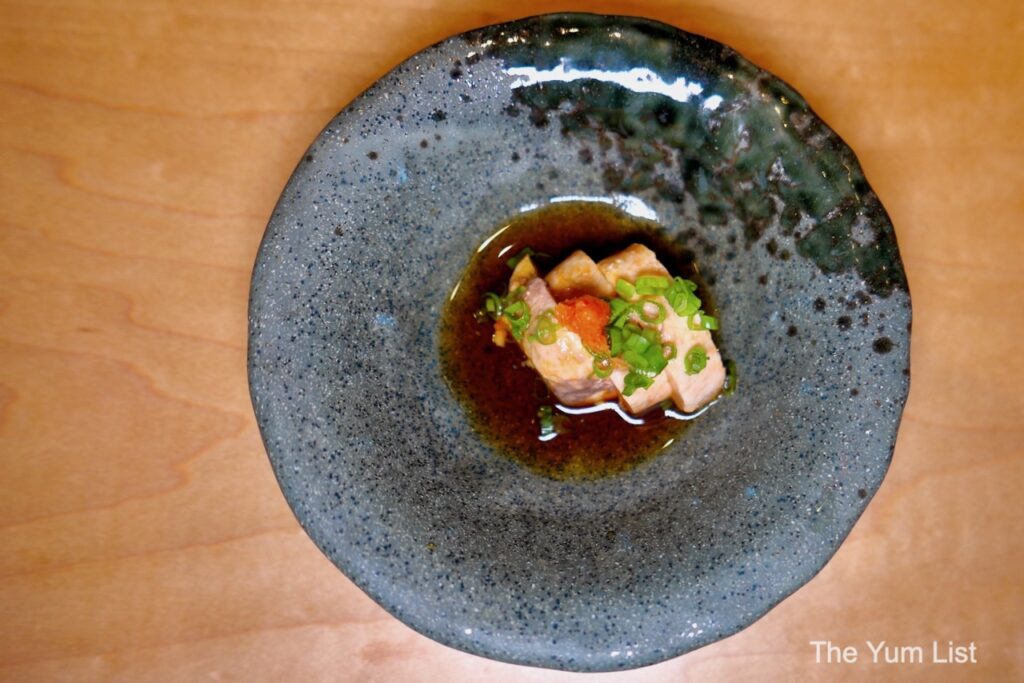 Sea Urchin – Omakase
Now we see Haruka preparing a lot of Sea Urchin for our omakase. We ask her to take easy on the uni course; we don't like to waste food. Trying to be polite without insult is key for us and not easy (as we both don't love uni, it's definitely an acquired delicacy). Chef insists we try two different Ensui Uni – Sea Urchins to see how unique they can be, even coming from the same waters. Okay, if you insist. The first one is delicate, creamy, and enjoyable. Its counterpart is for the uni fanatics out there. The pure taste of the ocean is the best way to describe it. Ensui uni is a method of preserving sea urchins in saltwater. The saltwater is prepared according to the salinity of the sea area where they are harvested.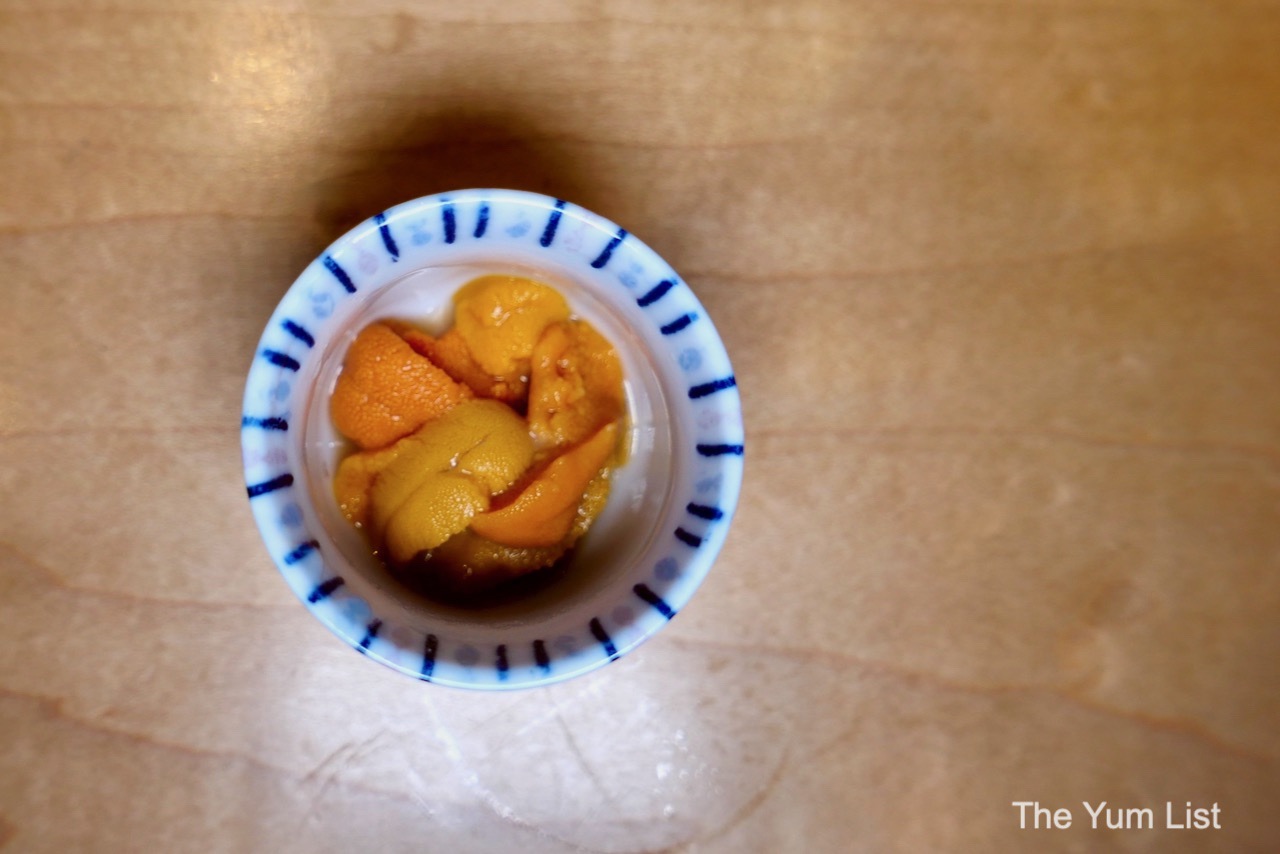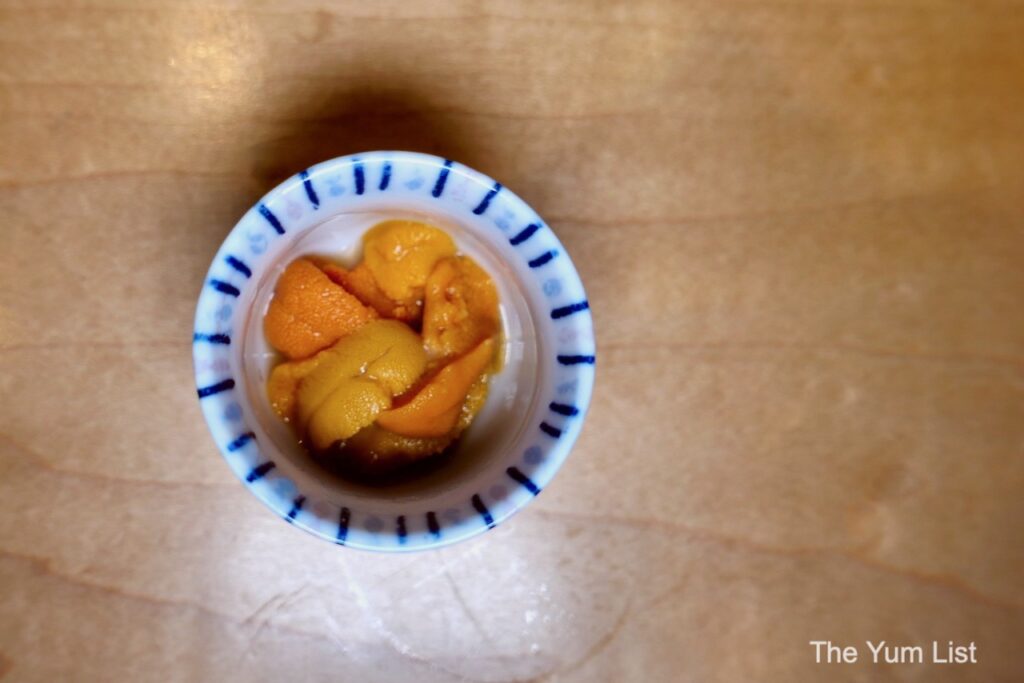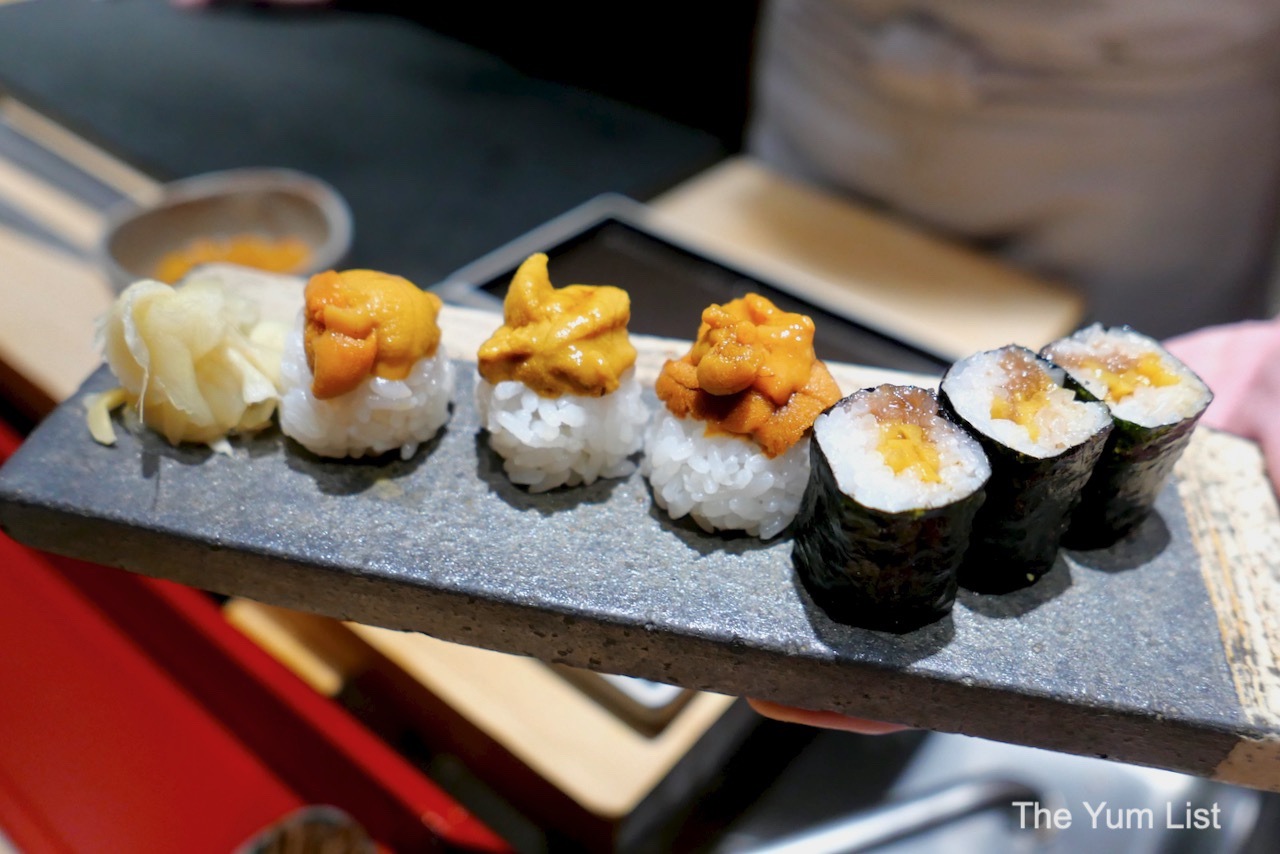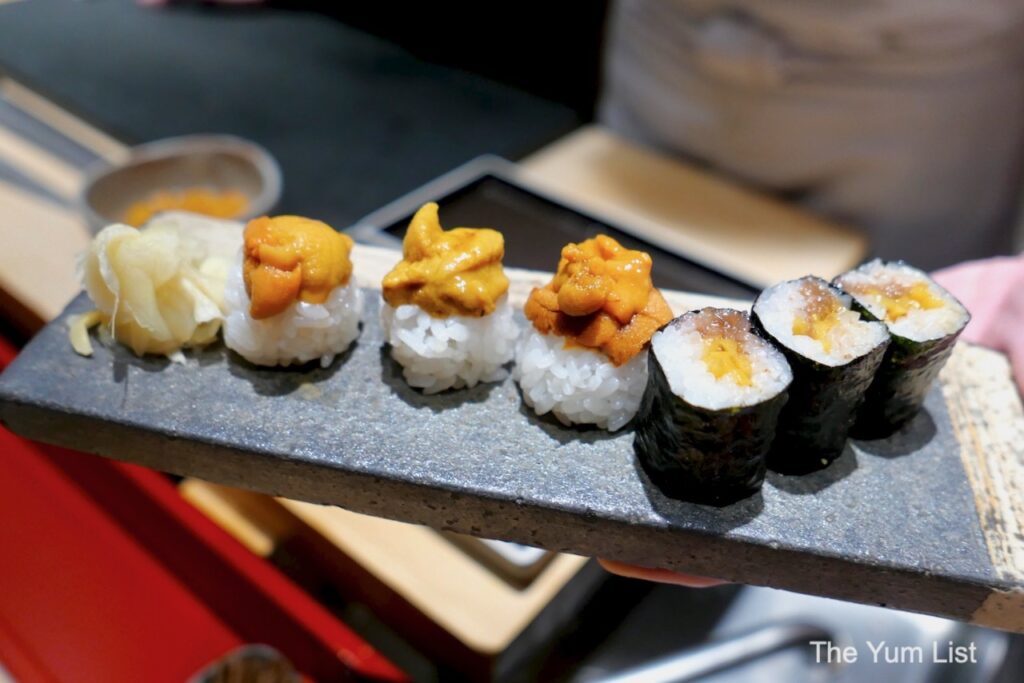 Sushi Roll
Rolling right along, literally by this point. We are both in a blissful, thoroughly pleasurable state of mind and body. Chef Haruka hands us a beautiful Sushi Roll with Chopped Tuna and Japanese Yellow Radish. Surprisingly I still have room for this fresh and crisp finale roll. I now have remnants of three different sakes in front of me, and I am enjoying sips of each with my last three pieces of roll.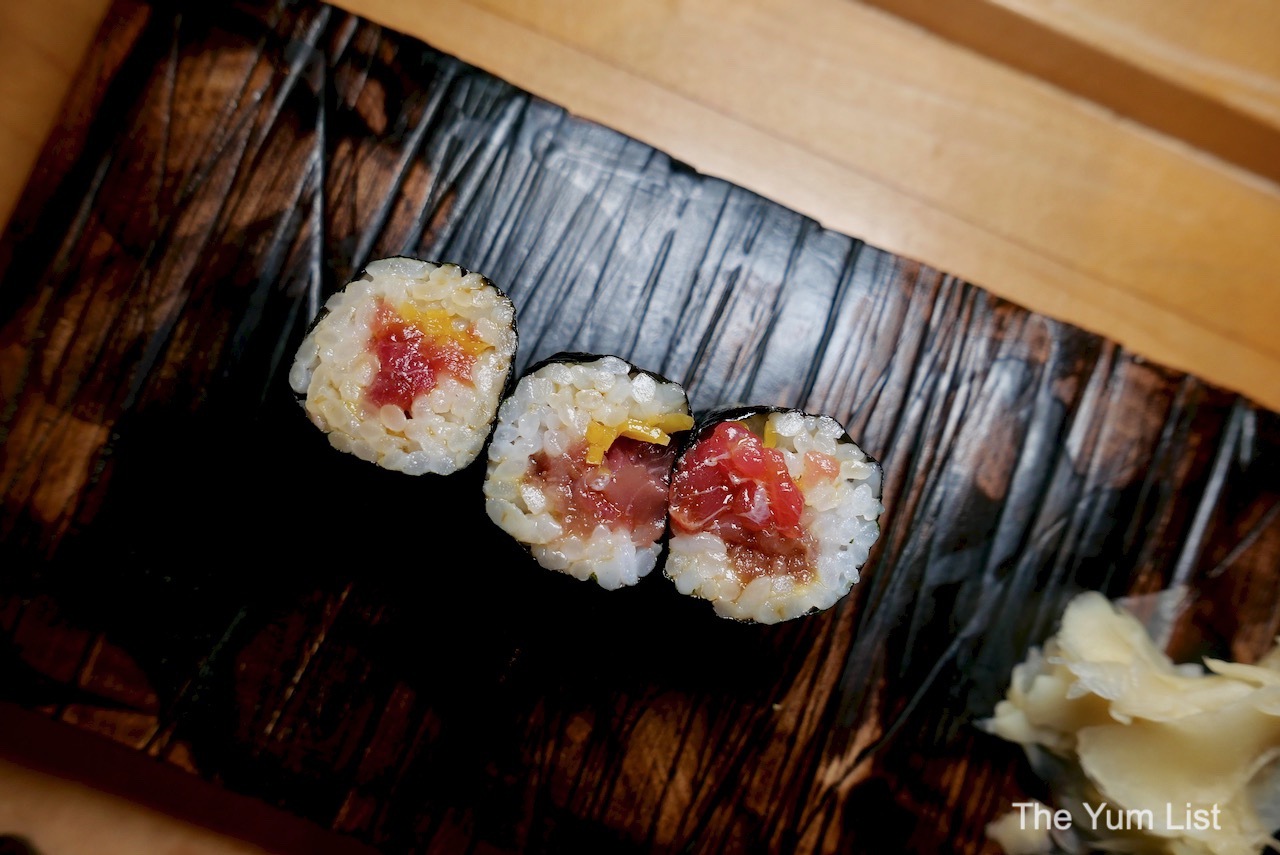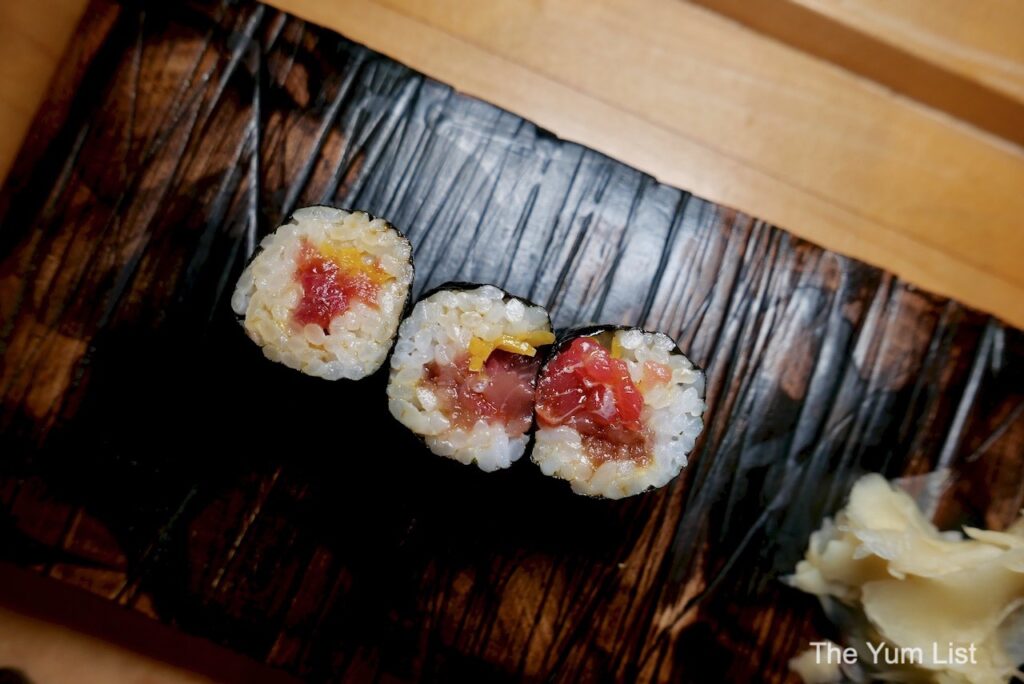 Omakase – To Conclude
As is the Japanese tradition, miso soup is served at the end of the meal as it aids in digestion and generally feels good. This version has a bright red prawn waiting for us and is very satisfying. Thankfully dessert is refined and restrained with Melon from Shizuoka and the three kinds of Strawberries from Nara Park. They remind me of heirloom tomatoes of different colours red, pink, and green, the perfect dessert.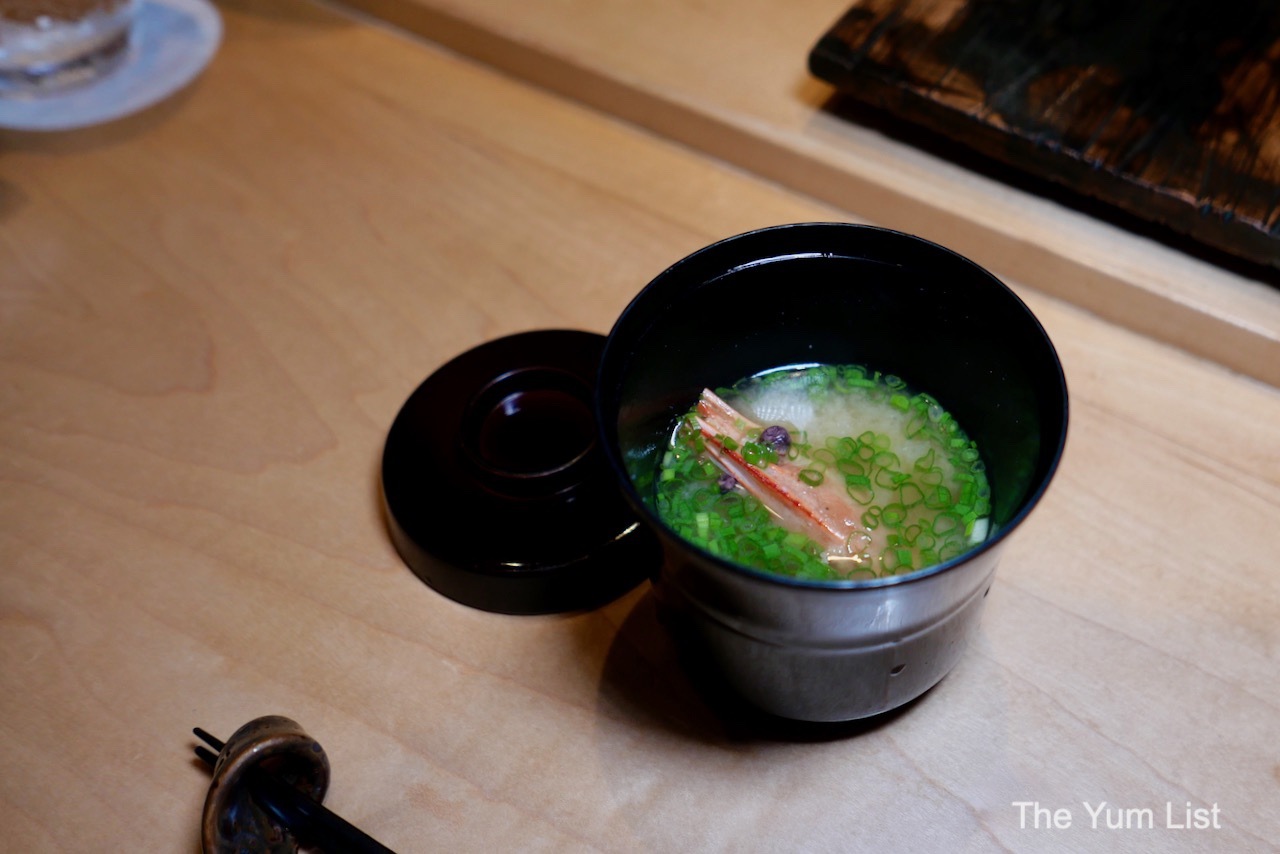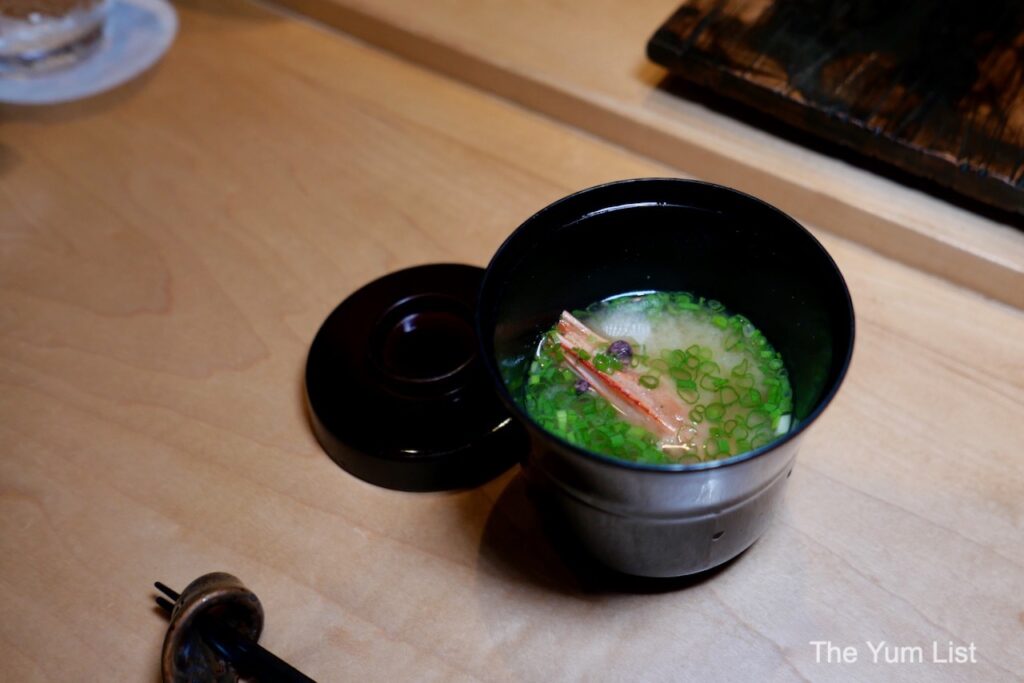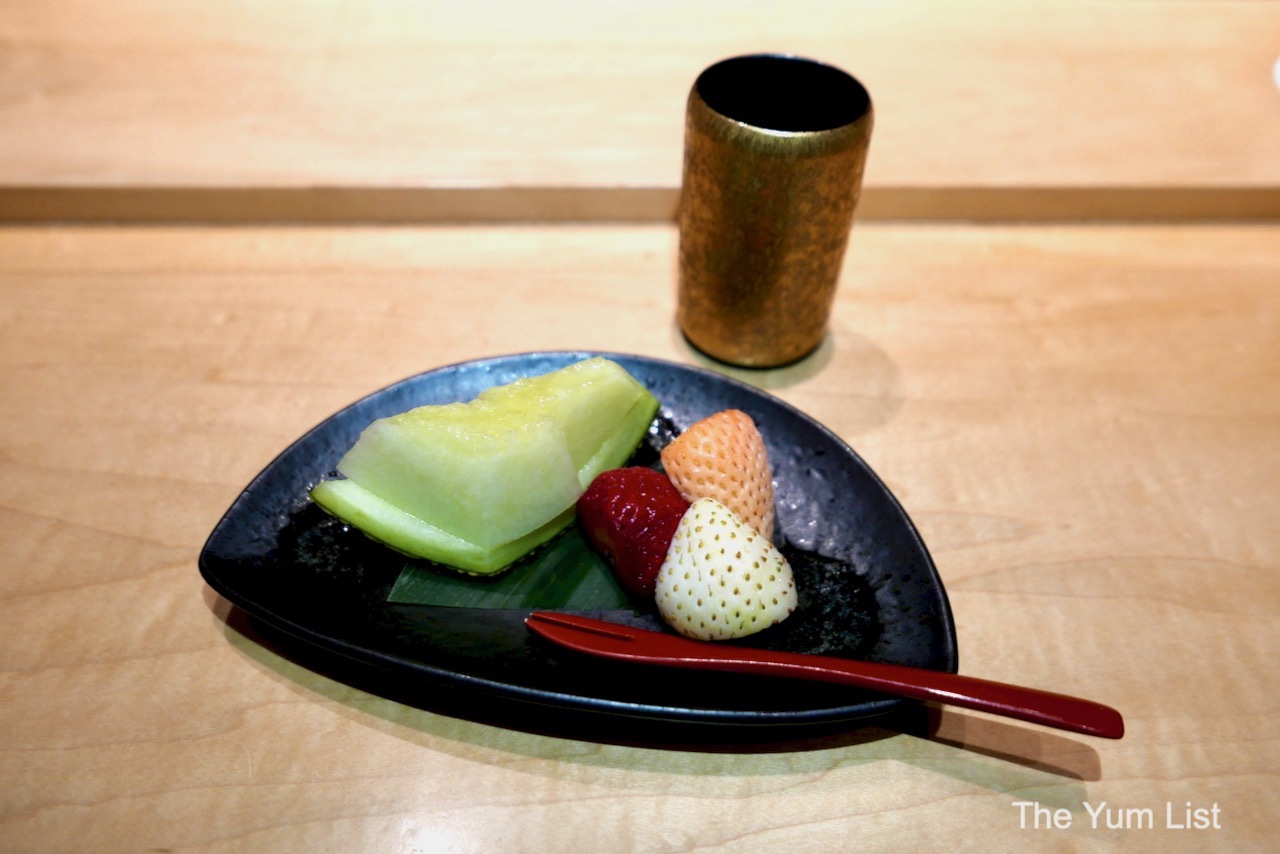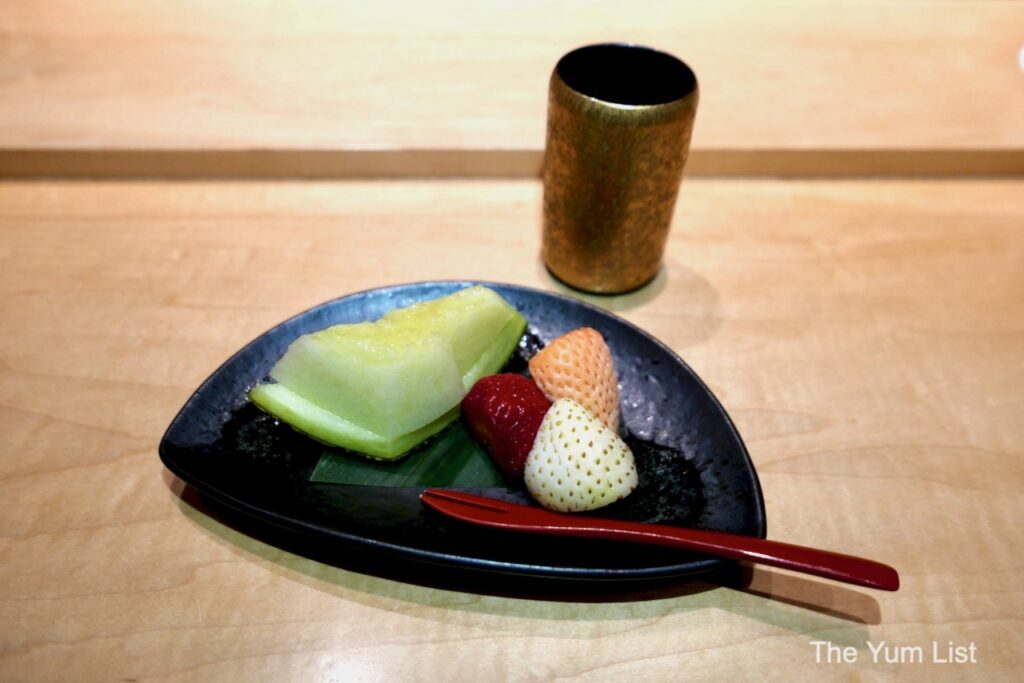 It's time to leave. We don't want to go, but the show must go on. The second seating is already trickling in. This was more them a meal or even an experience. It was truly a heartfelt performance from the entire staff. Everyone is so talented and passionate about what they do. I highly recommend the Omakase at Sushi Azabu. Try and request a seat at the counter close to Chef Haruka.
Reasons to try Sushi Azabu's Omakase: Immaculate culinary skills, exciting ingredients, fresh fish to die for, attention to detail, knowledgeable staff, great Tokyo vibes, extensive sake selection.
Omakase at Sushi Azabu
4th Floor, Lot 10, Isetan The Japan Store
50 Jalan Sultan Ismail, Kuala Lumpur, 50250, Malaysia
+ 60 3-2119 2624
Hours of Operation
Sunday – Thursday
Lunch 12:00 -15:00
Dinner 18:00 – 22:00
Friday & Saturday & Eve of Public Holiday
Lunch 12:00 -15:00
Dinner 18:00 – 23:00
Find more Japanese restaurants in KL here, and stay up-to-date with the latest gourmet and travel recommendations for Malaysia here and here.