Italian Restaurant Langkawi – The Terrace
Monica Tindall
It's rare for resort restaurants to attract a crowd outside of their in-house guests. The Terrace, the Italian restaurant in The Danna Langkawi, though, breaks the standard by creating an inviting space with high-quality food that's reasonably priced. This pleases hotel guests but is also drawing a crowd of outside visitors. Our visit coincides with the arrival of The Danna's new executive chef, Giuliano Berta, a long-time friend and internationally renowned chef.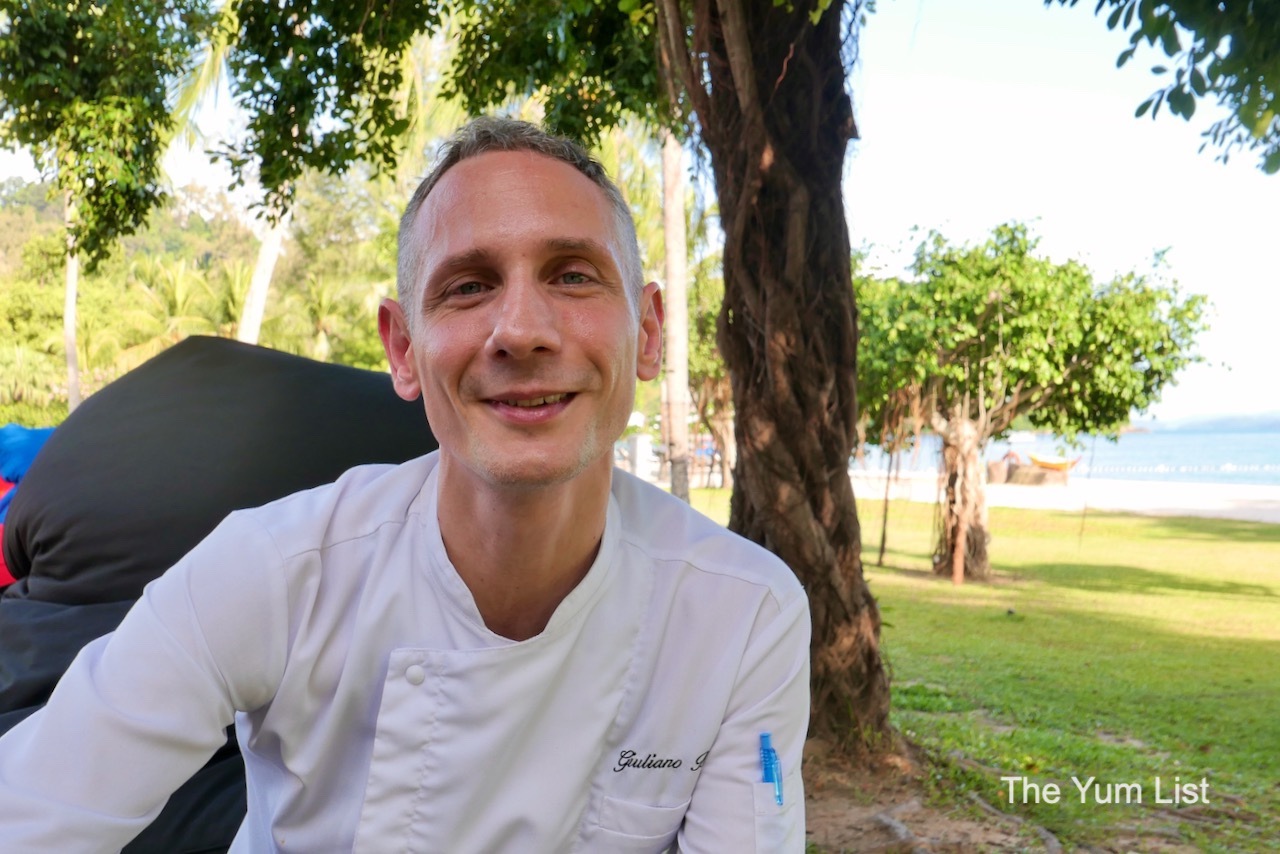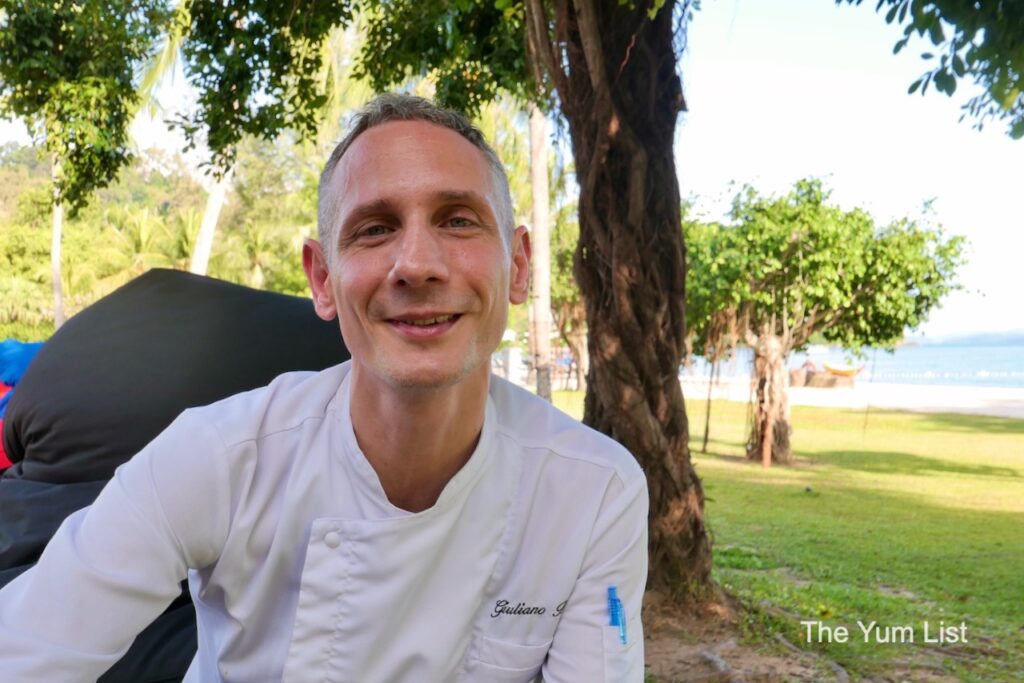 Chef Giuliano has a wealth of experience in some incredible international kitchens. You'd never guess at first impression as he's so down to earth, friendly and humble. Start to quiz him on technique, cuisine or ingredients, and you'll quickly discover a depth of knowledge that is evident in not only every dish but the composition of the menu in its entirety.
Italian Restaurant Langkawi – The Terrace
Berta's versatile style matches the indoor-outdoor setting of The Terrace. Guests can sit alfresco, semi-alfresco or in air-conditioned comfort. There's also a new concept, The Deck, a beach bar that extends onto the lawn with views of the shore (look out for their menu launching in May). Lapping up these haze-free days, we're all about enjoying nature, so it's the outdoor terrace that best suits us. As the evening draws, we notice more diners indoors.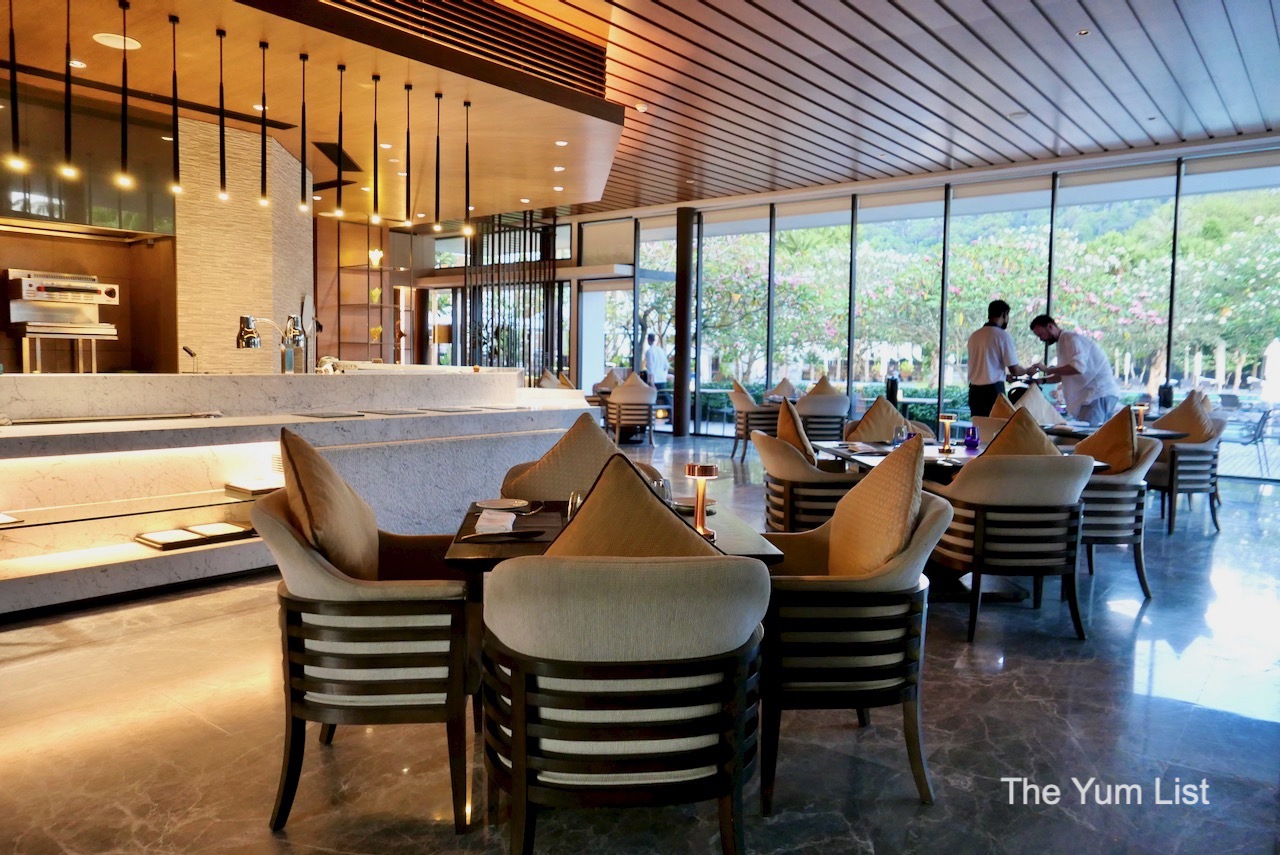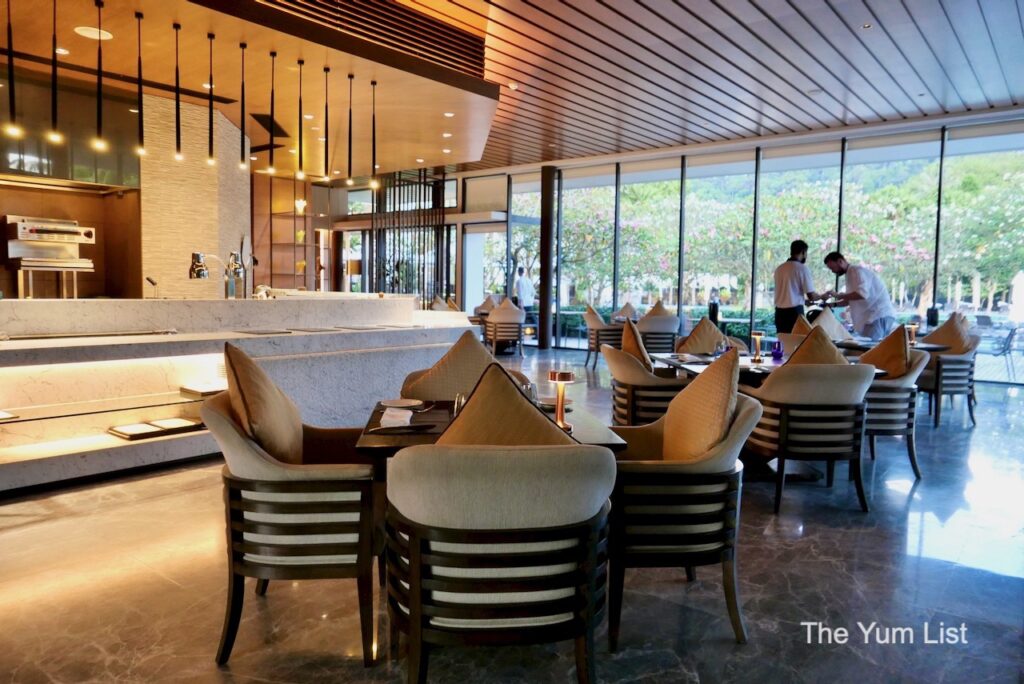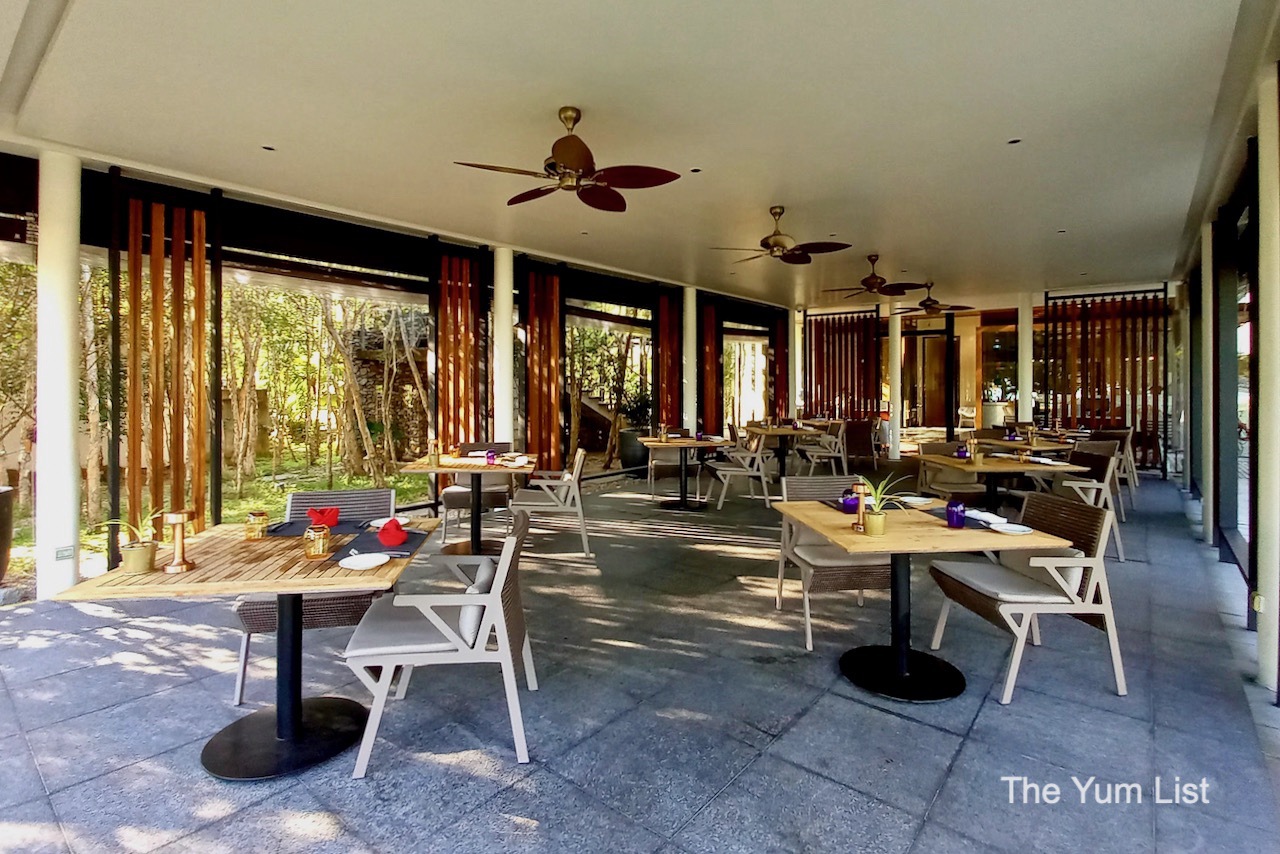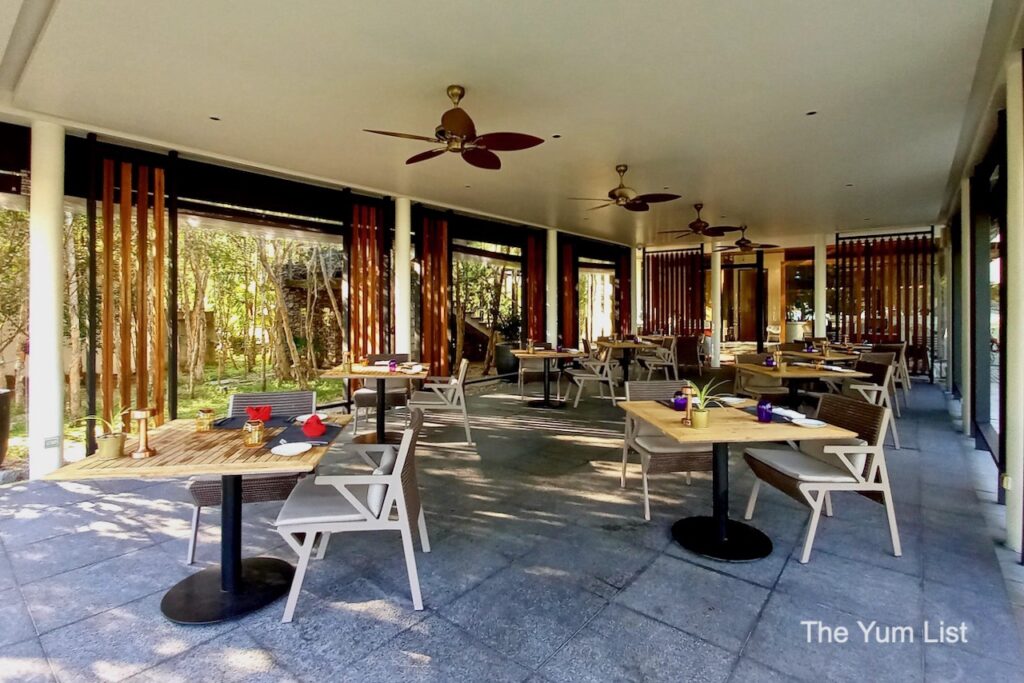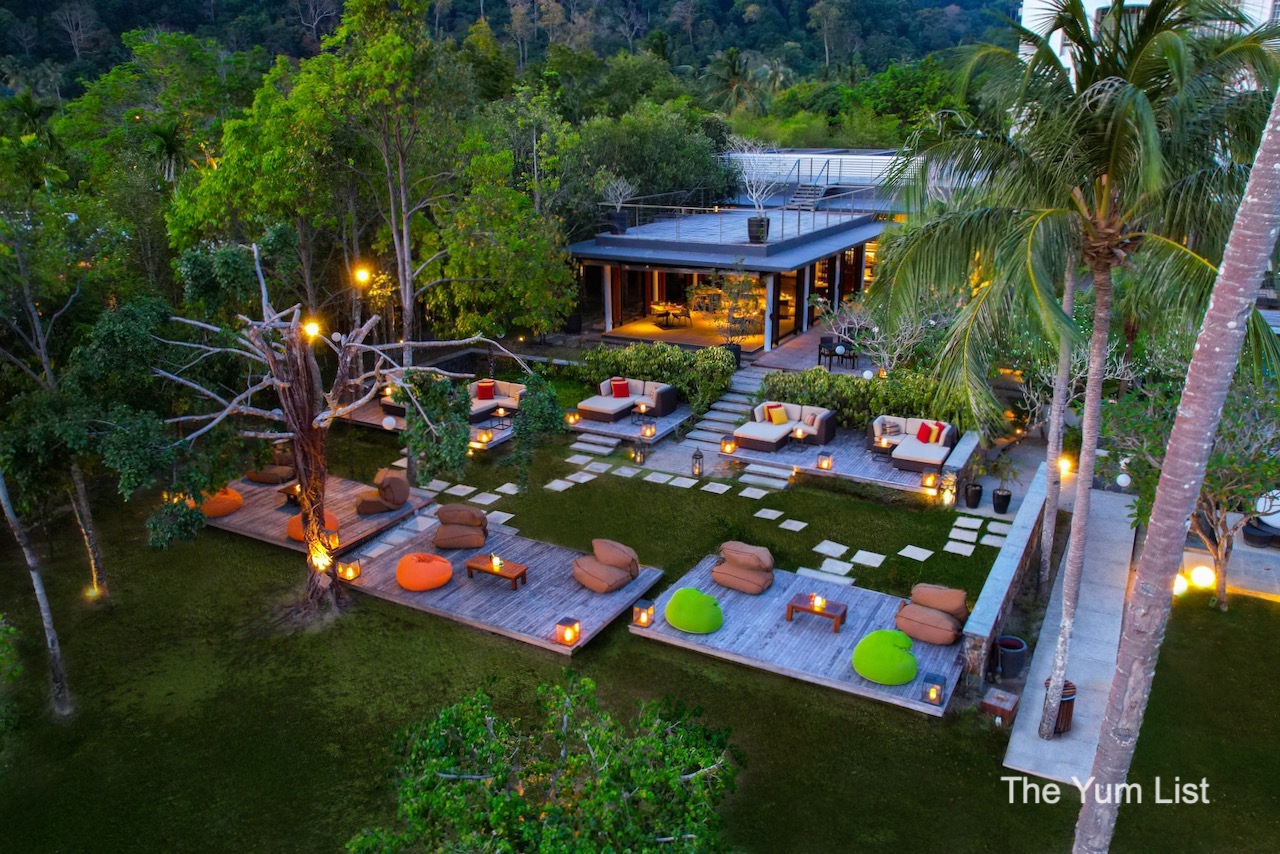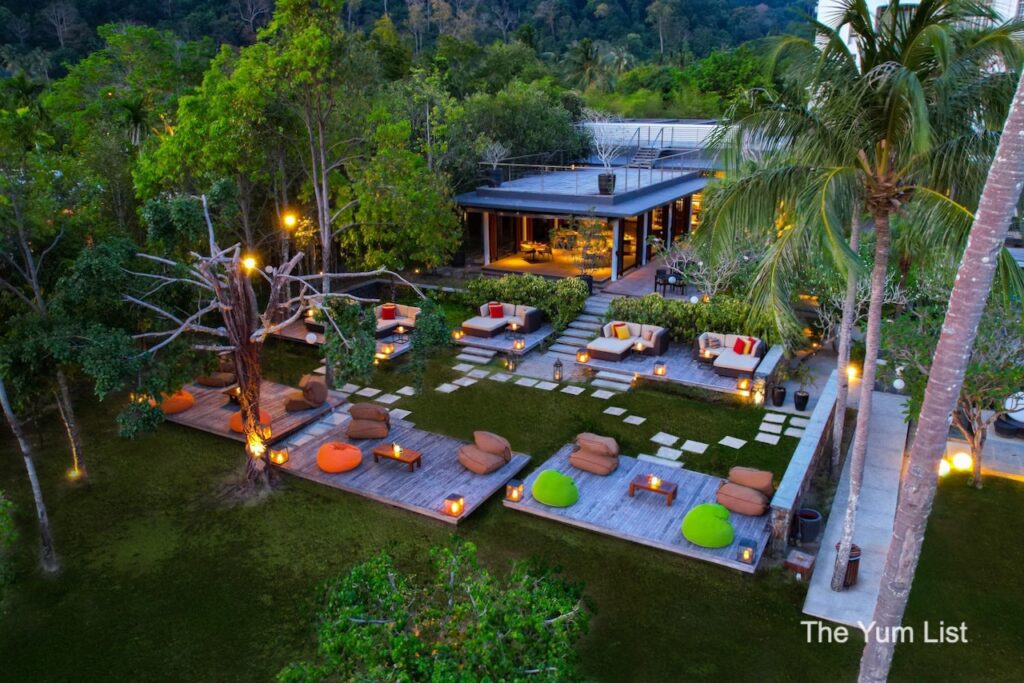 Cocktails
Andy, The Terrace's bartender, greets us with enticing news – he is ready to make us whatever we desire, a classic or an invention, something just right for our tastebuds. Hubby says he wants something with rum, and I'm feeling like I need to cool down. He returns with a Frozen Strawberry Daiquiri (RM 38) for me and a Tropical Itch (RM 38) for hubby. Mine is, as you might imagine, a tower of red, icy and refreshing. Its mate comes as a choose-your-own-adventure mix. The principal glass holds rum, orange liqueur, pineapple and orange juice with a lemon wedge garnish. A shot of melon liqueur sits on the side for pouring to taste. Hubby upends the entire shot, turning the canary yellow mix to luminescent green.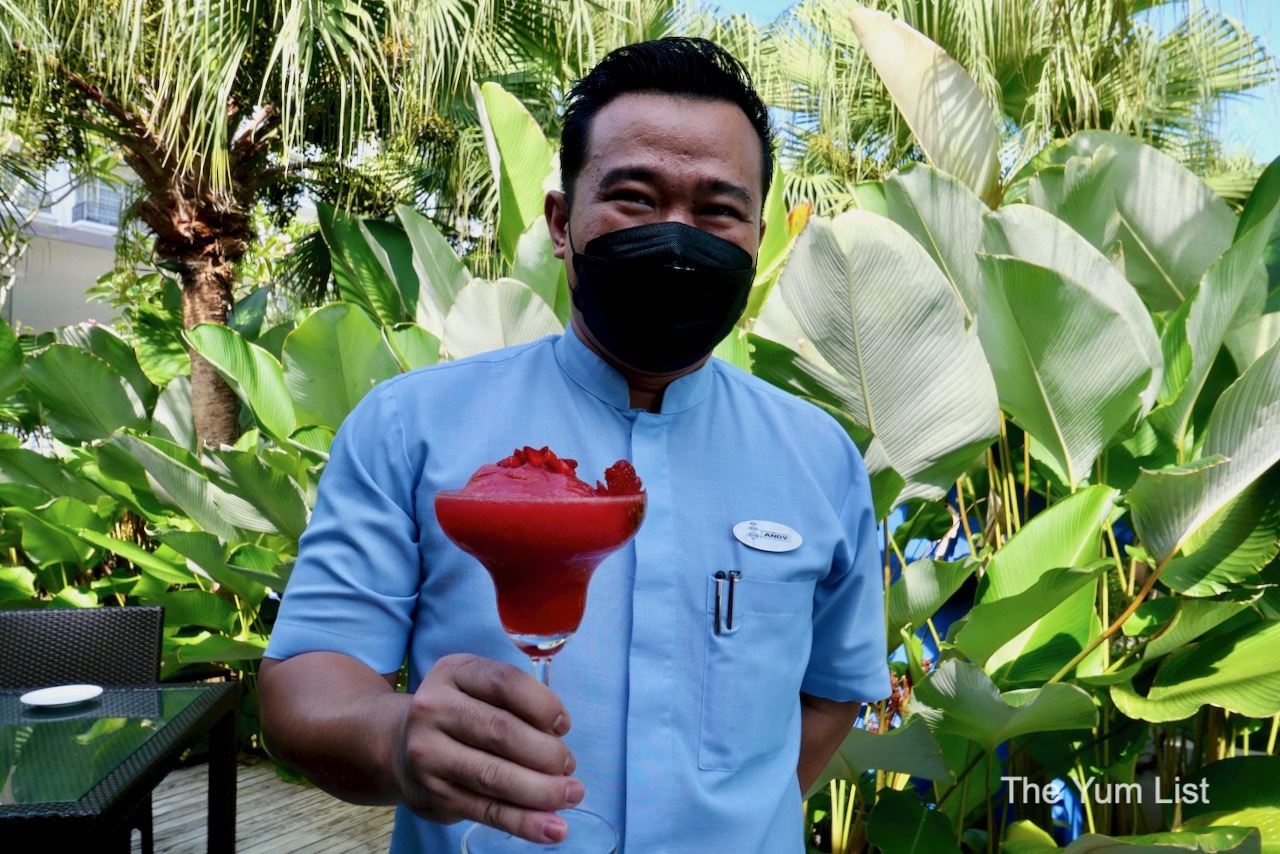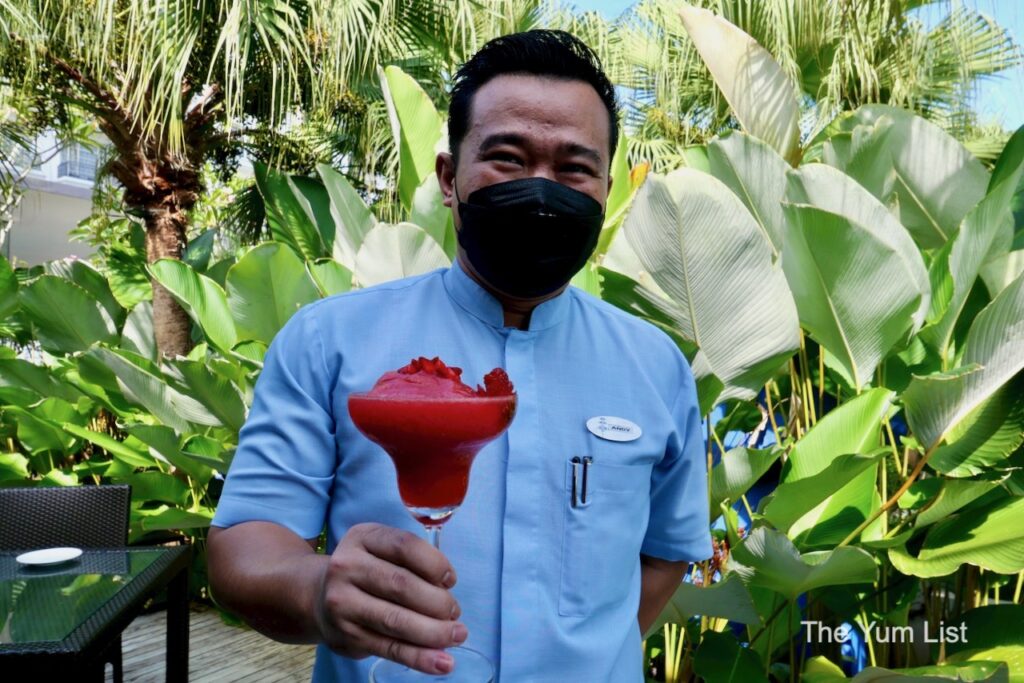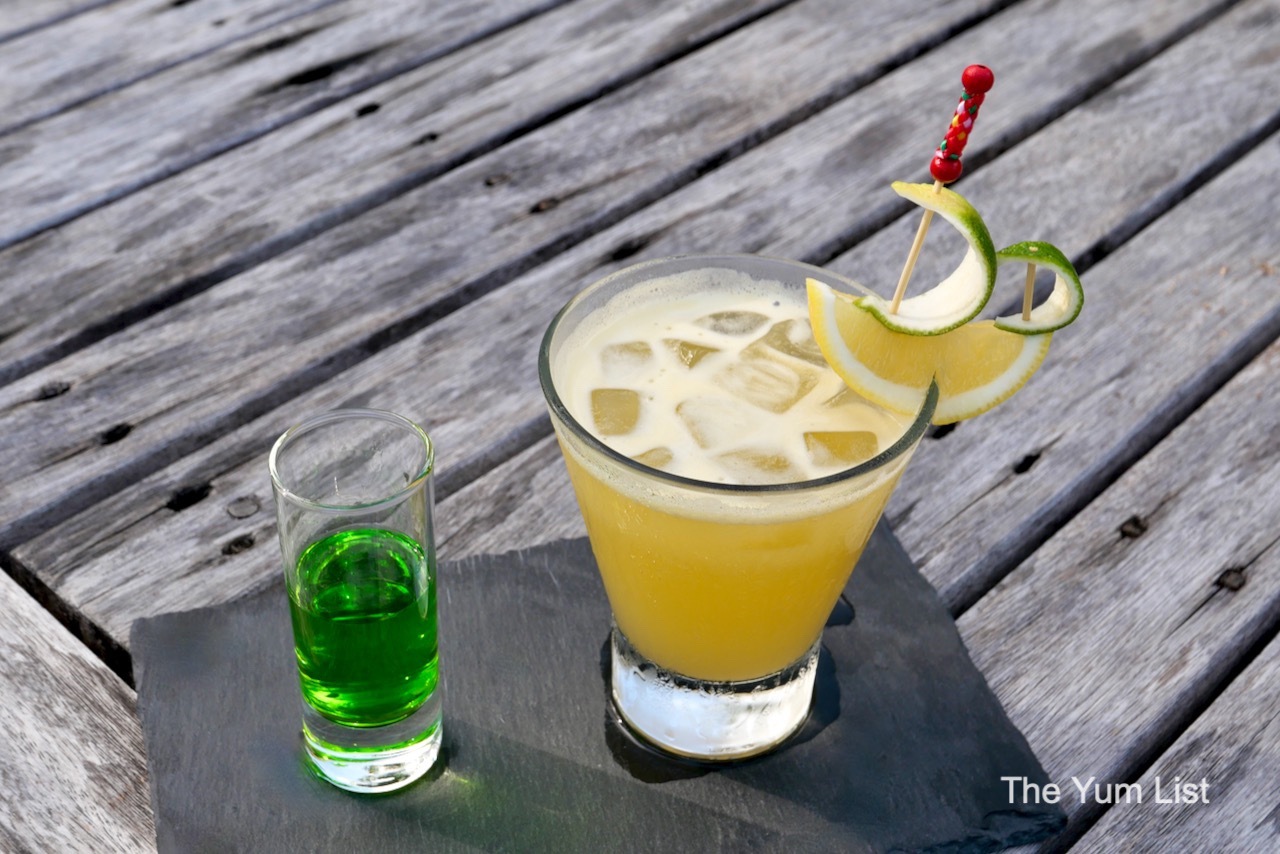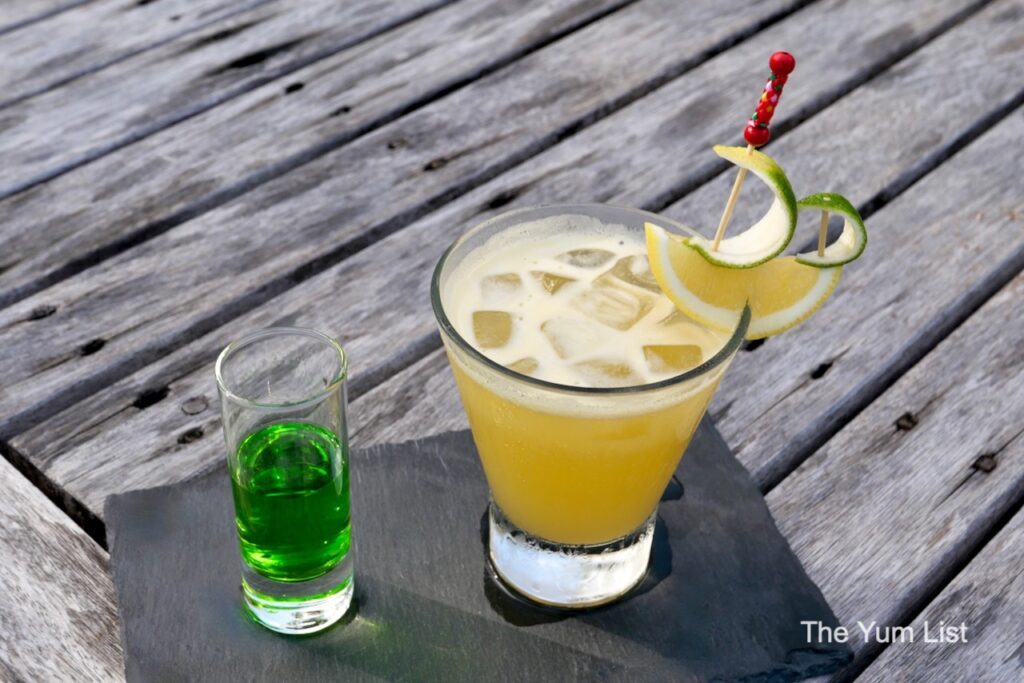 As we're enjoying the first sips of our cocktails, marinated cherry tomato focaccia with olive oil and balsamic is delivered. It comes as a spongey full round on a wooden board. Be warned. It's addictive and a challenge to stop at just one slice.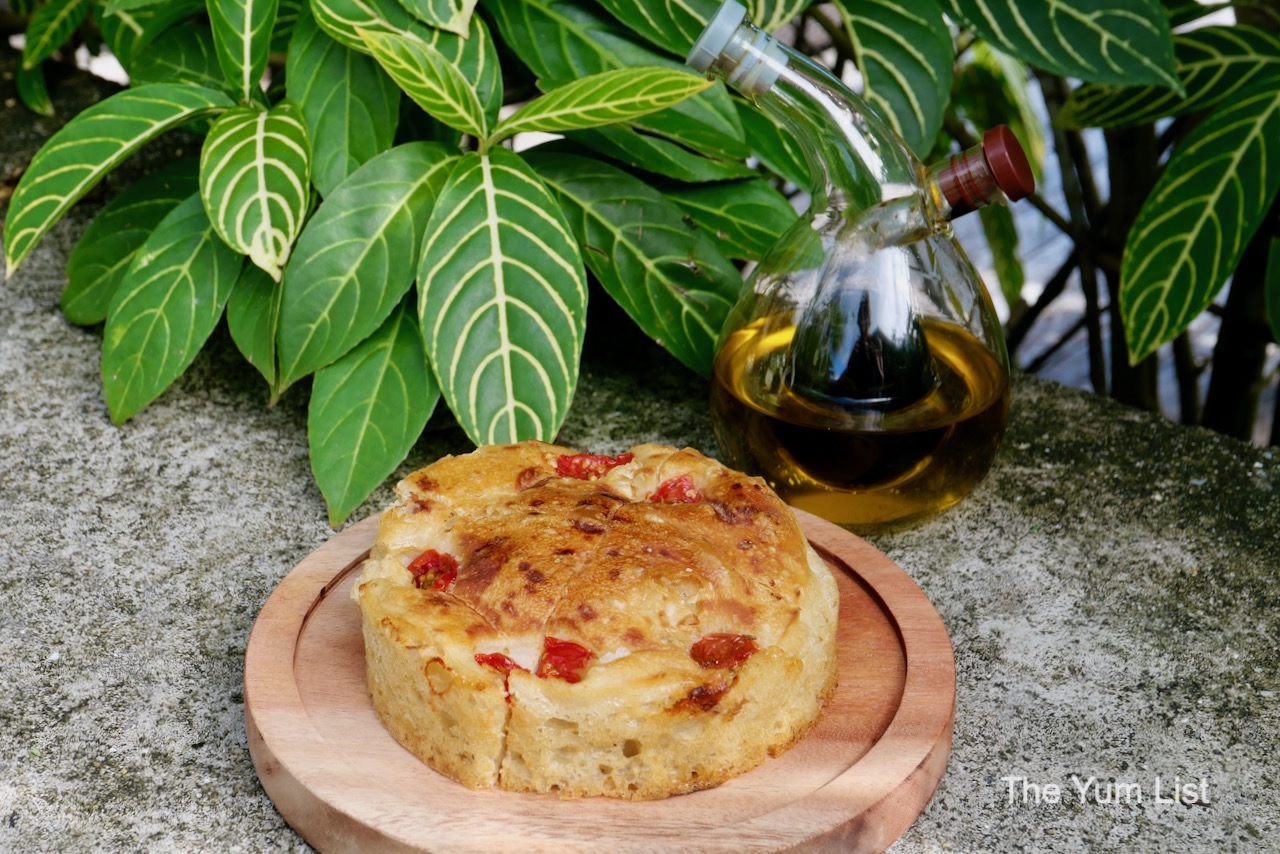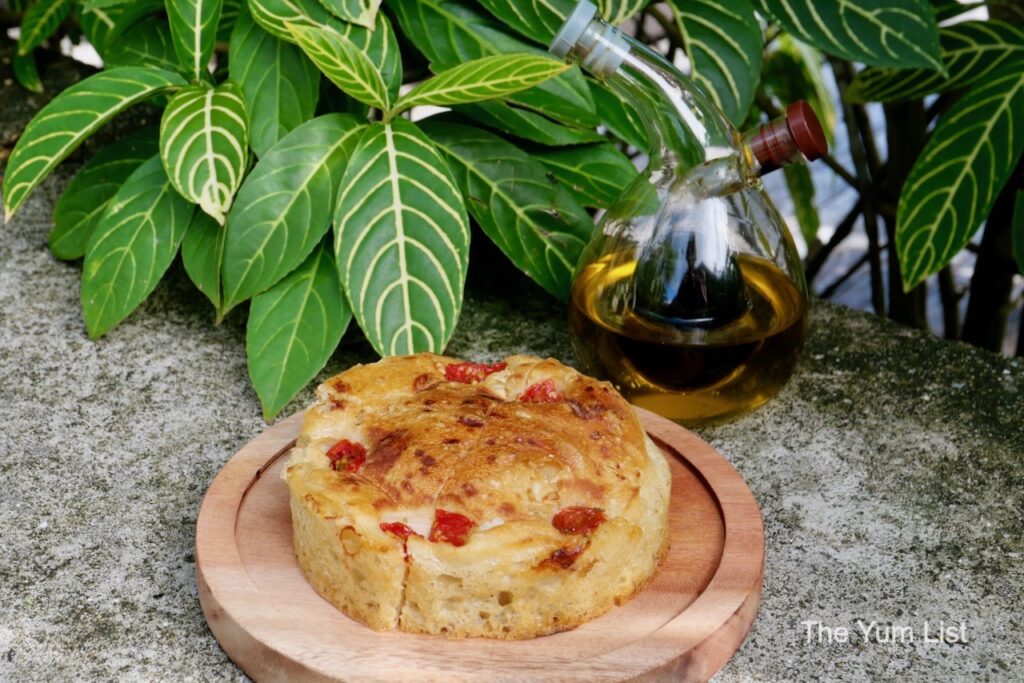 Italian Restaurant Langkawi – Antipasto
Our antipasto at The Terrace is absolutely fantastic. Anguria (RM 36 Gluten-free & Vegan) features deep red slices of smoked watermelon carpaccio. If you hadn't read the menu, you might never guess the actual main ingredient. The melon has the texture of superbly tender flesh. Olives, dried olive powder, capers, tomato, avocado and a lemon dressing elevate the deliciousness even more.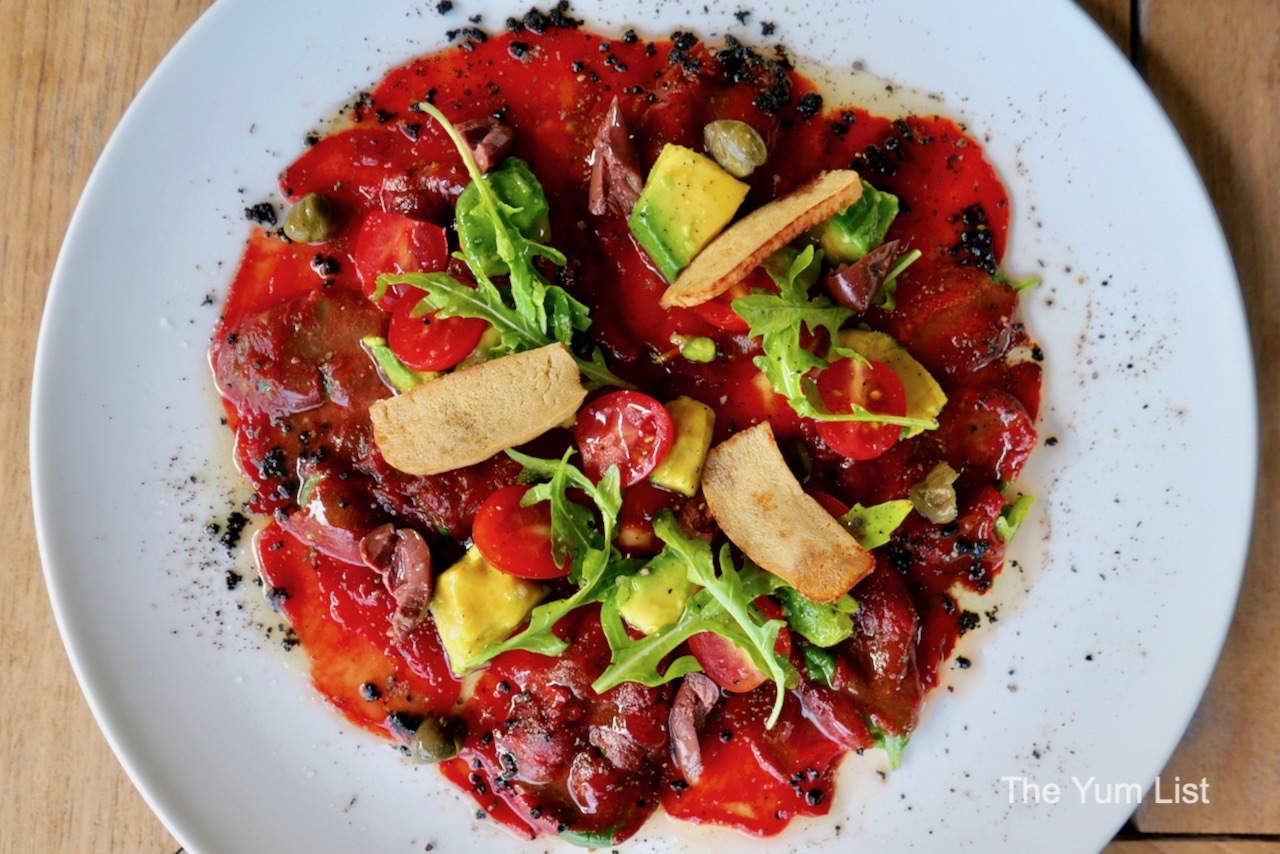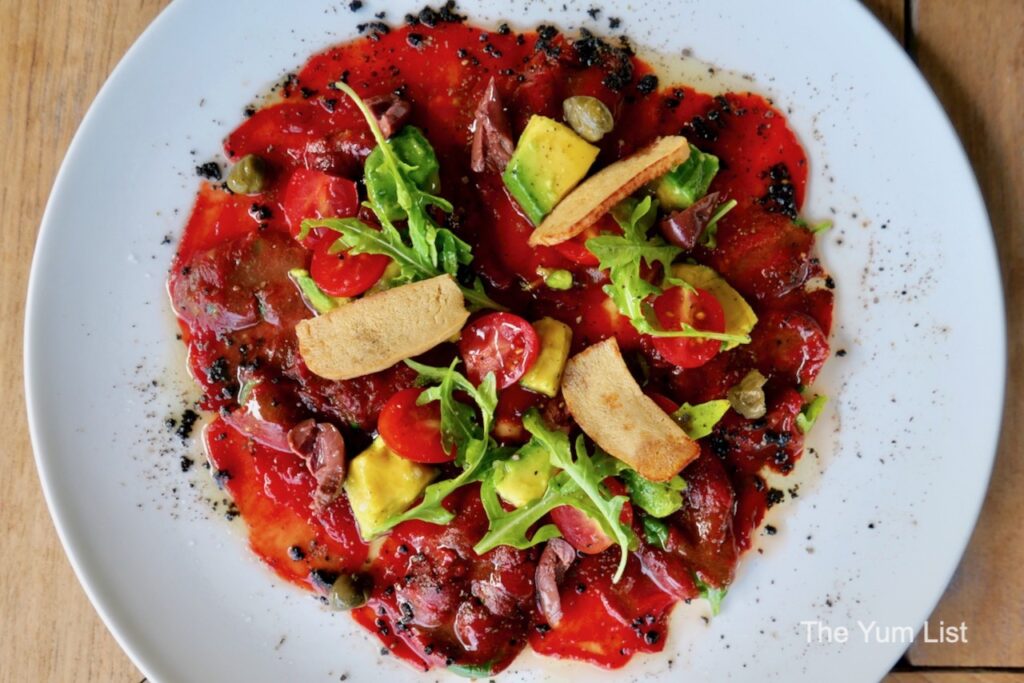 Homemade Pasta
Anguria is a hard dish to follow, but the Tortelloni Verdi (RM 58) holds its own. These house-made pasta dumplings are plump with ricotta and spinach – truly fat. I'm impressed by the garden freshness bursting from every bite. Brown sage butter with a hint of nutmeg and a ricotta cheese mousse (shored up with parmesan and cream) ring the plate. Roasted hazelnuts and shaved parmesan offer texture across the top. Order this!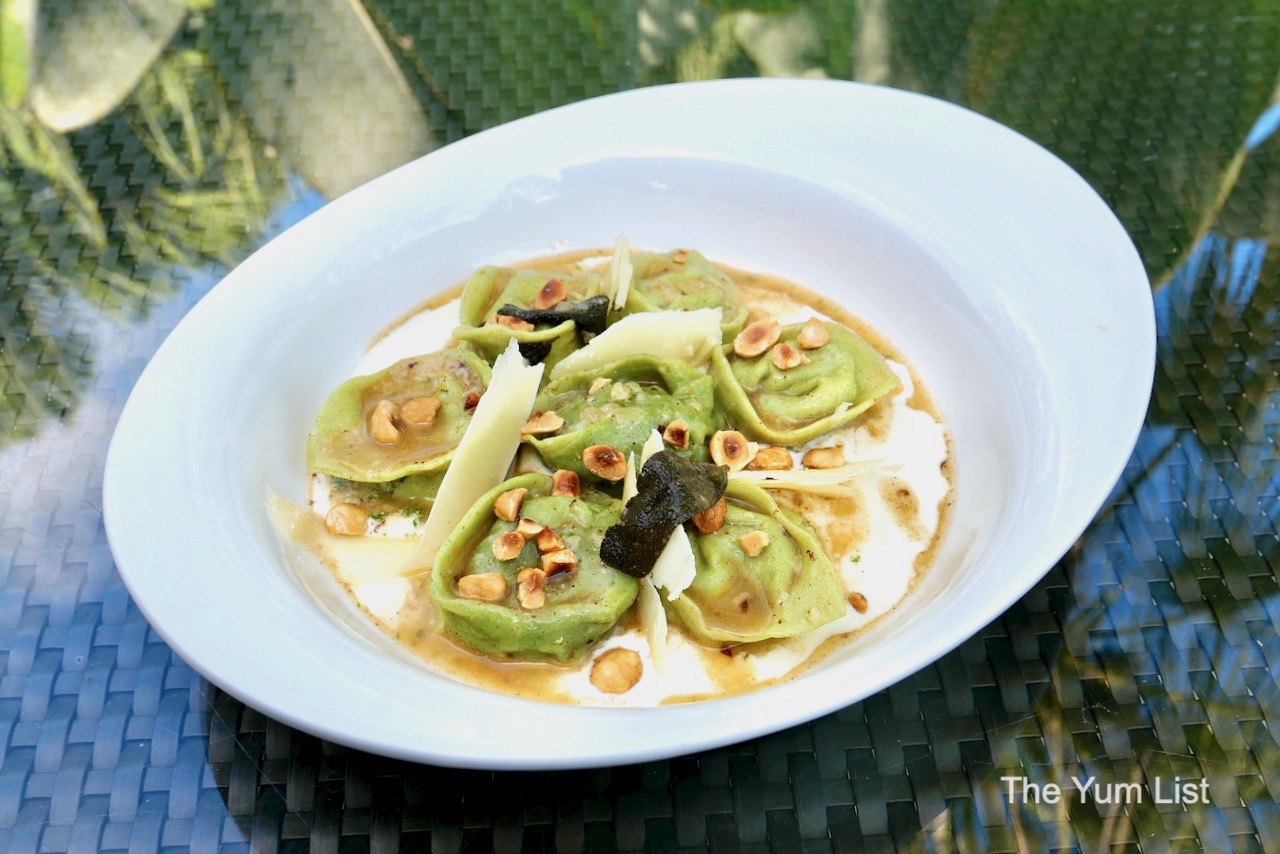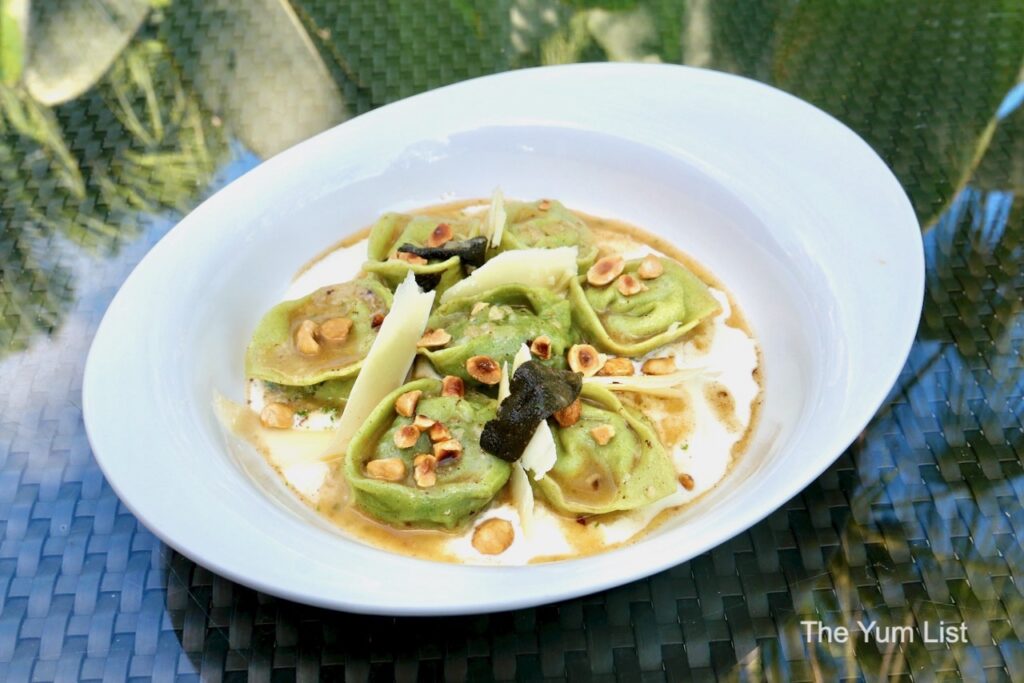 Cavatelli al Ragu d'Agnello (RM 75) is another fresh pasta made in house. This time, it's egg-free cavatelli (often fresh pasta is made with egg) with lamb ragout, kale and pumpkin. Slow down to eat this recipe and appreciate that every single piece was hand-rolled. It's such a satisfying plate. I could stop right here and be perfectly satisfied. What a tremendous start. I'm almost afraid to continue with such high standards already being set.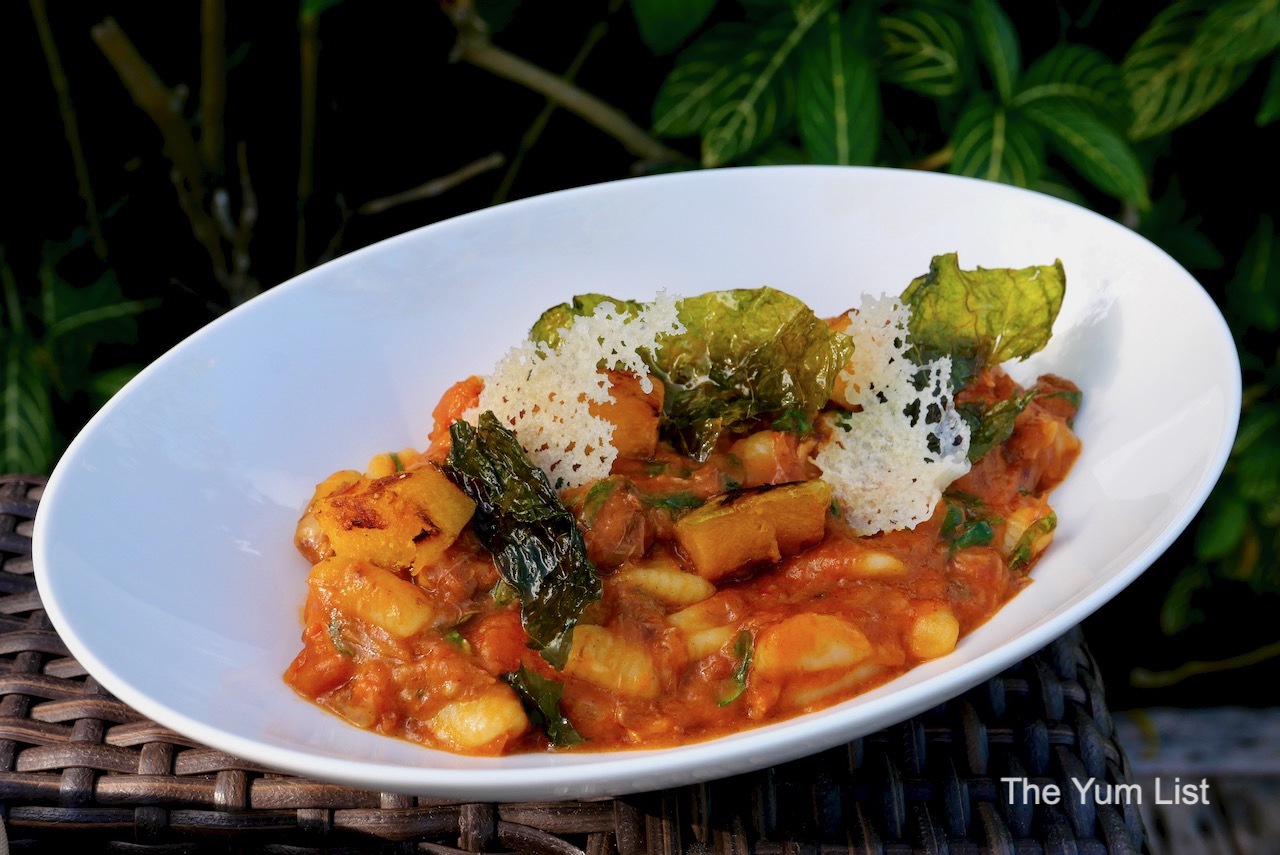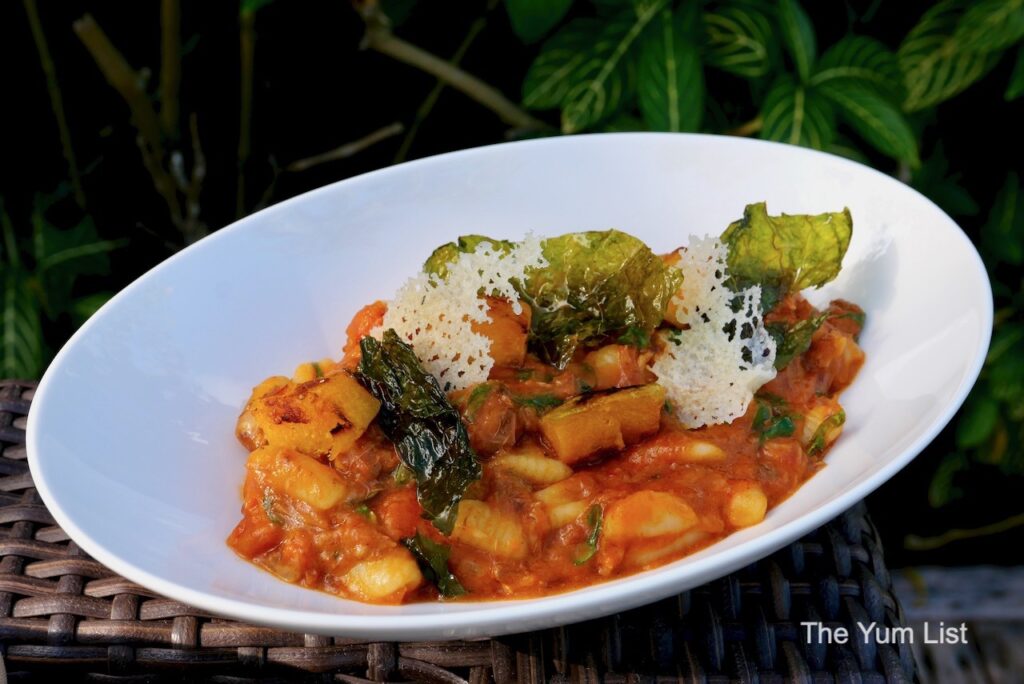 Our cocktails have done us well with our light start, but as we move into some meatier dishes, we shift to a glass of Gustave Lorentz, Alsace, Pinot Noir 2016 (RM 46). The Terrace has 10 wines by the glass, which is much appreciated by those of us who like to pair our food with wine and adapt to best work with each course. Cranberries and raspberries meet the nose in this red, followed by a medium-light body. The flavours are confirmed in the mouth, and light tannins and medium-plus acidity take us through to a moderate conclusion.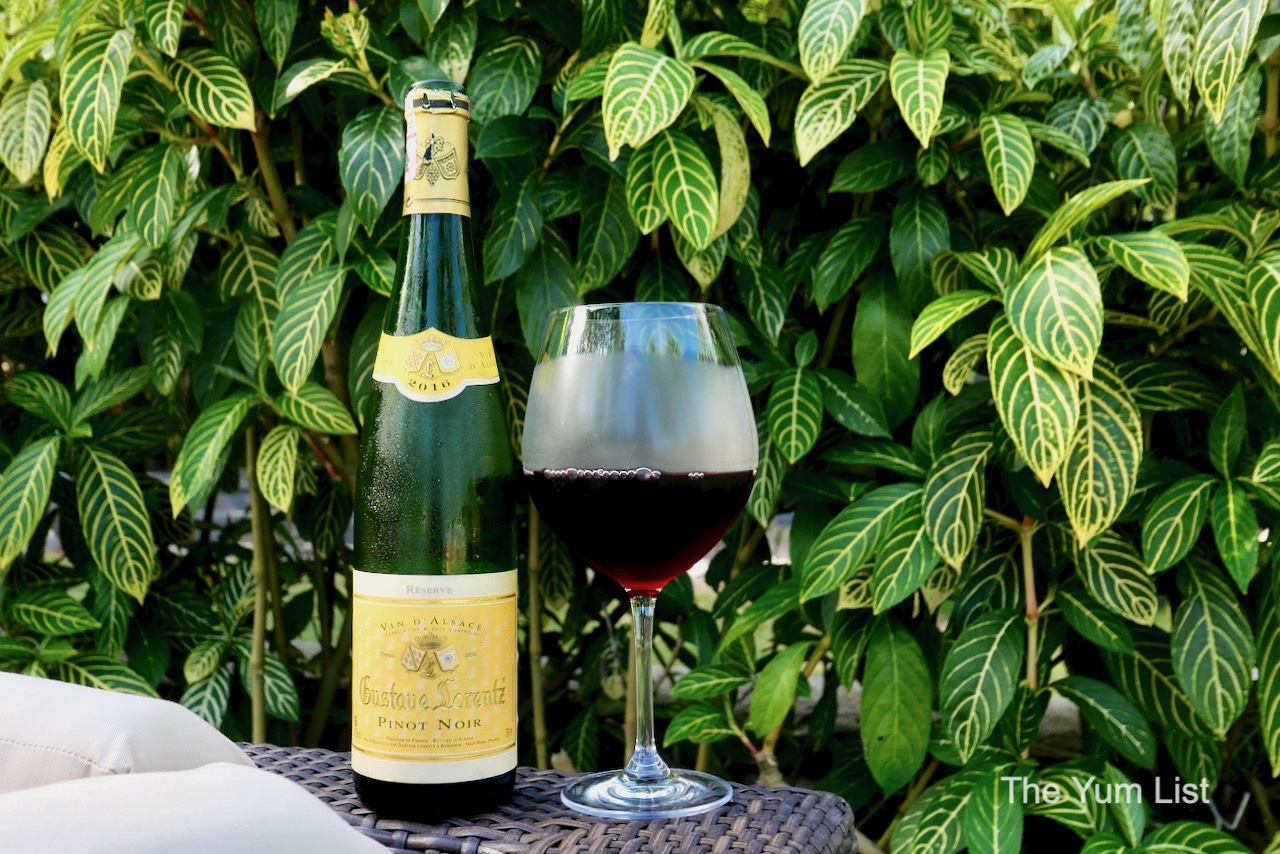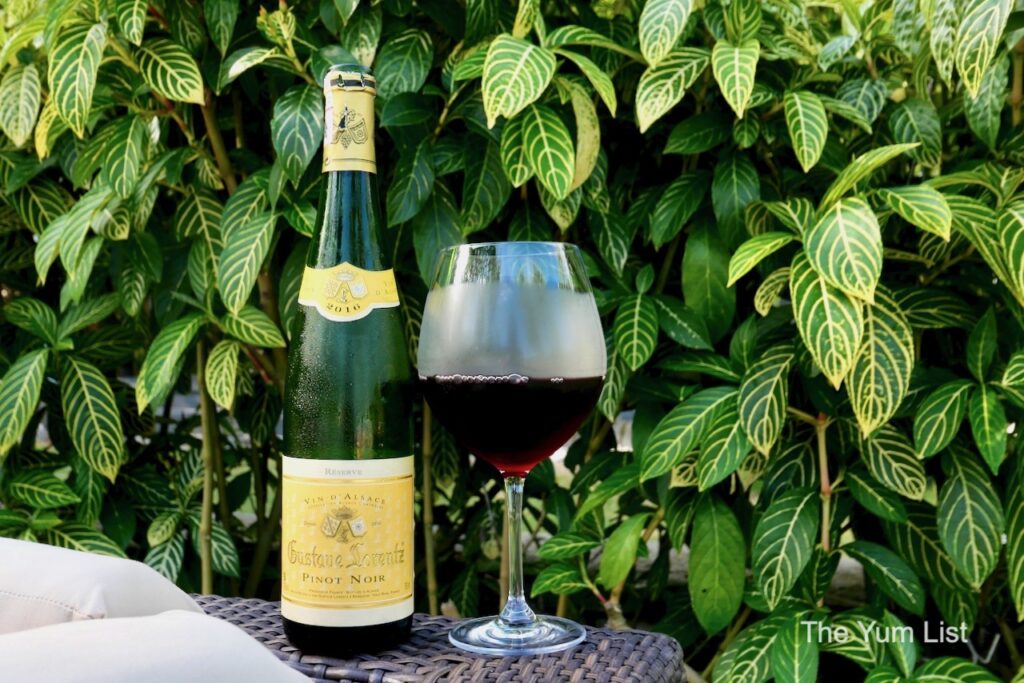 Mains
The first of our mains is a locally caught sea bass, Filetto di Branzino (RM 88). The fillet is cooked until the skin is golden and crisp. Surrounded by a rich tomato broth packed with clams and topped with just-cooked broccoli and sauteed baby potatoes, you could order this dish and need nothing else. Protein and veg, are nicely balanced on a single plate.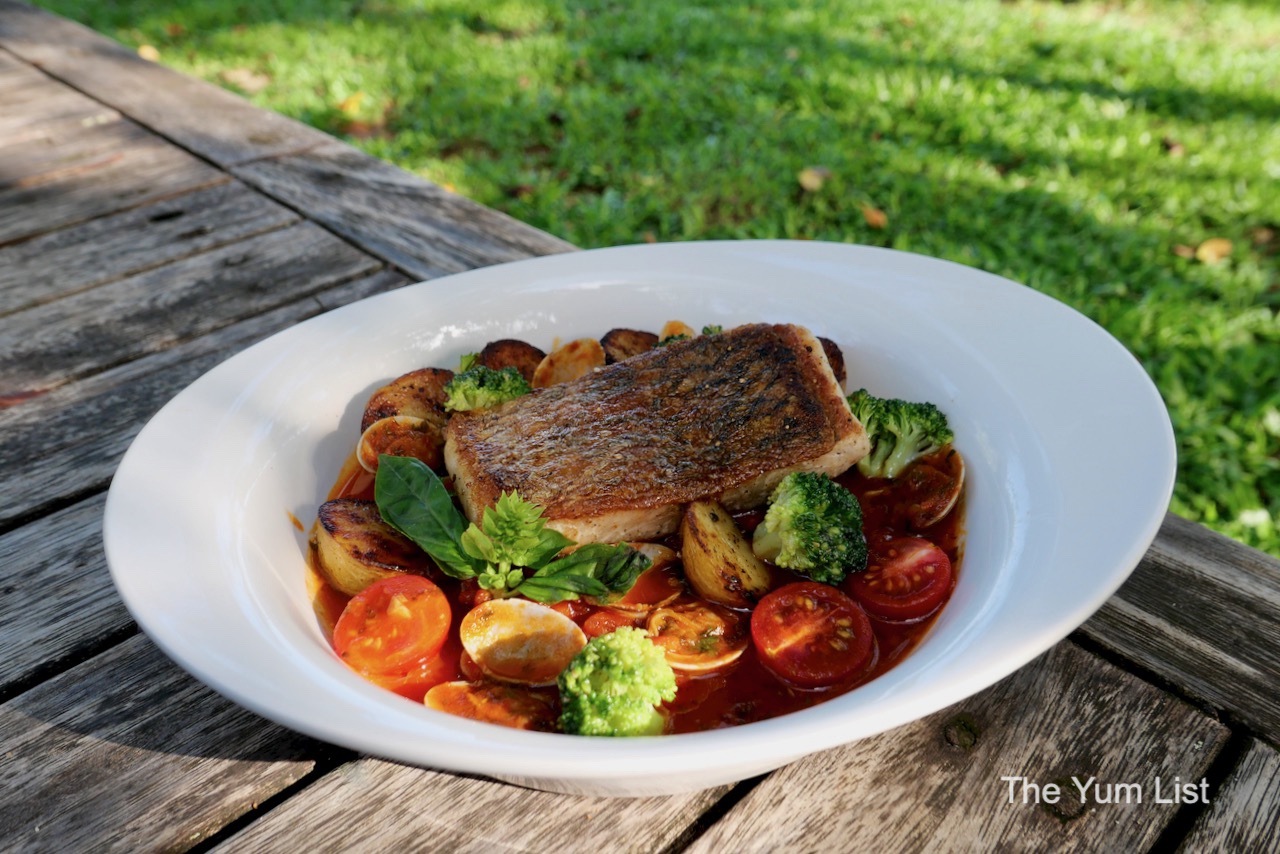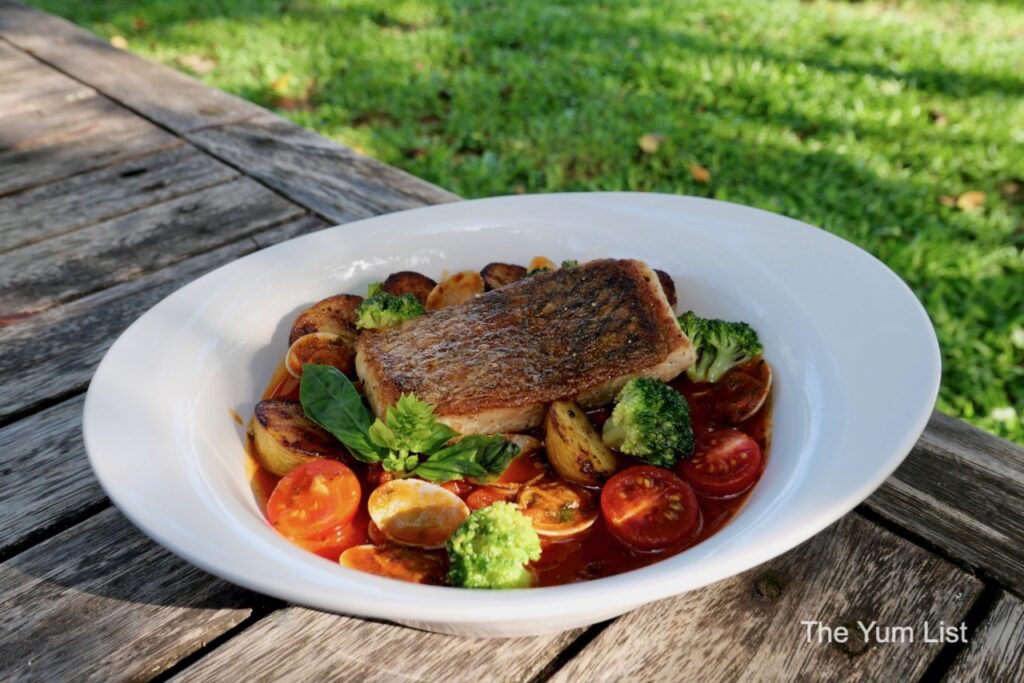 The lightness of our current red and richness of the tomato sauce mean the pinot noir is quite okay also with this plate. However, we look for something a little bolder with more structure for the lamb. In general, if lamb is just grilled or roasted, we might go for a shiraz. If it's saucier, a merlot might do better. The subsequent preparation is in between – grilled with the lamb jus drizzled across the top. Jass, the restaurant's captain, solves our problem with two words, "try both." I congratulate him on his genius solution. We have options – there are four reds by the glass, so we plump for both shiraz and merlot.
Robert Oatley Signature Series, McLaren Valley, Shiraz 2017 (RM 48) offers berries and spice on the nose with supple tannins and light oak in the finish. The Villa Maria Private Bin Hawkes Bay, Merlot Cabernet Sauvignon 2016 (RM 52) supplies darker, ripe fruits in the bouquet with more structure on the palate. You really could go either or and be content with the match.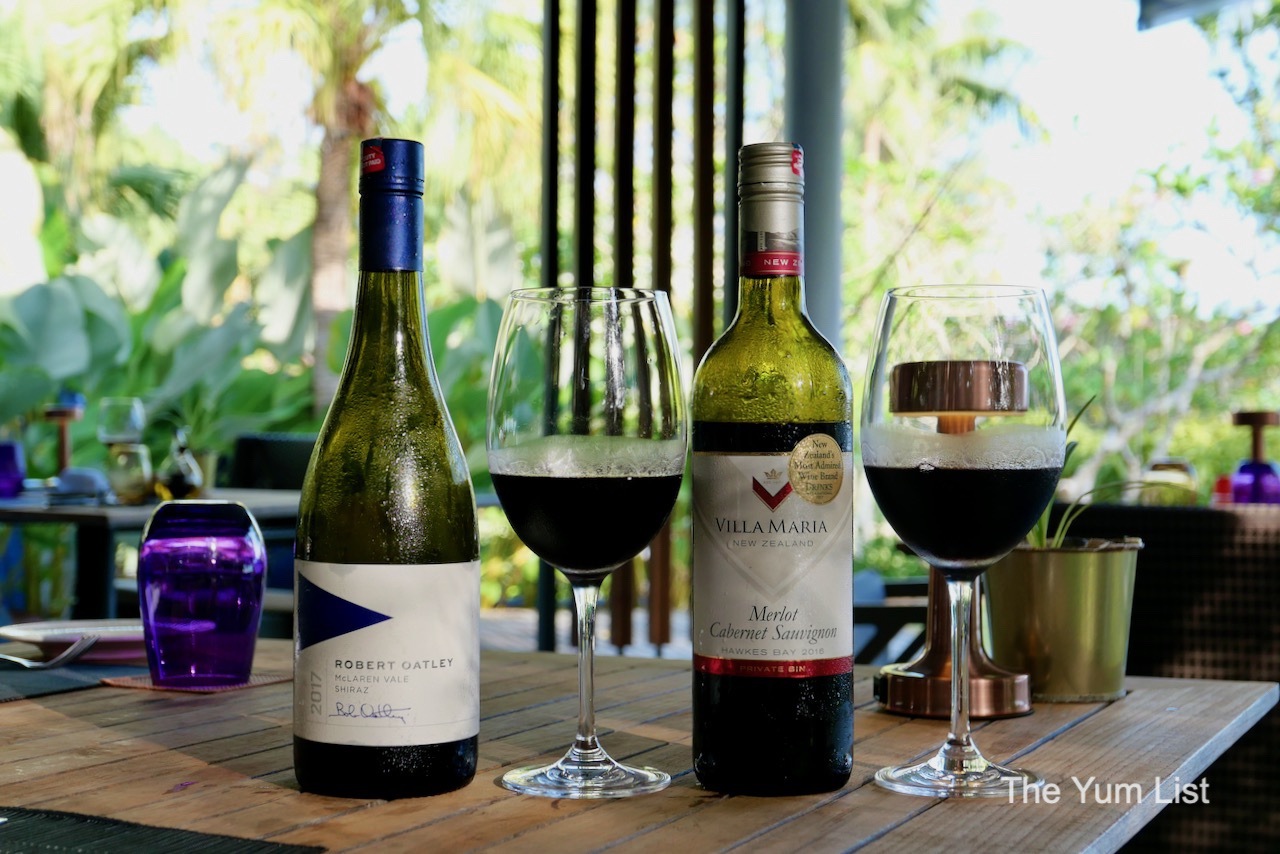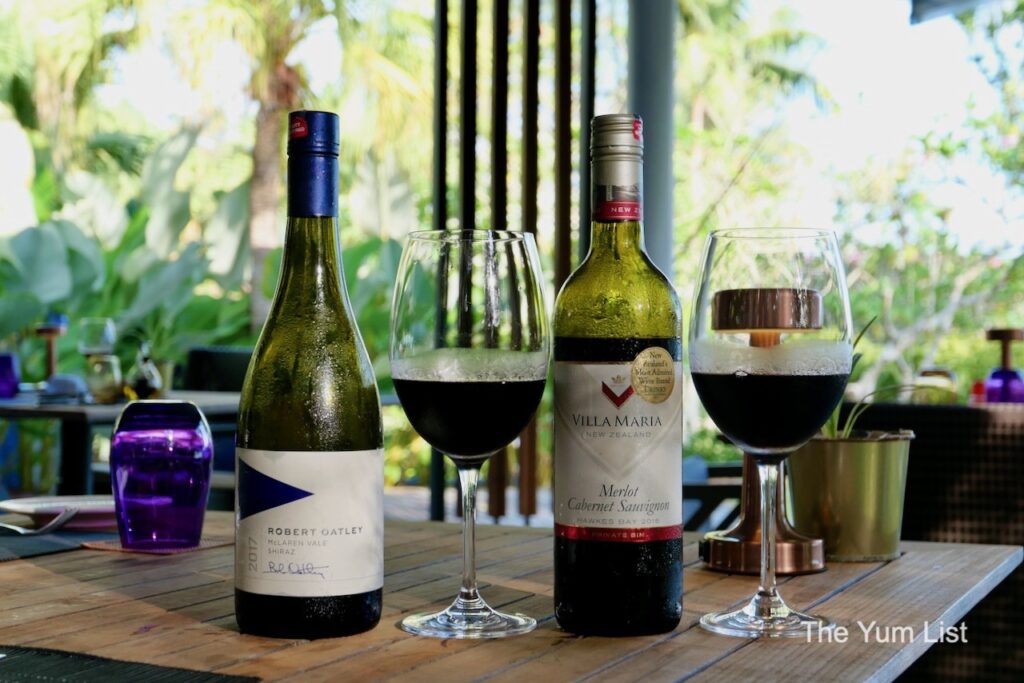 Surely, we can't get this far in the meal and have every dish a hit? Culaccia di Agnello (RM 95) only fortifies our adoration for chef Giuliano Berta. He has grilled the marinated lamb rump to perfection. It's tasty and tender, and there is the flavour of real meat in every bite (not gamey, meaty). Roasted root vegetables (parsnips, carrots and purple sweet potato) are lightly caramelised around the edges giving a delicious sweetness. There's a mound of sauteed spinach in the middle, and herb oil (similar to chimichurri – garlic, parsley, a touch of vinegar) is dotted around the edges. Excellent.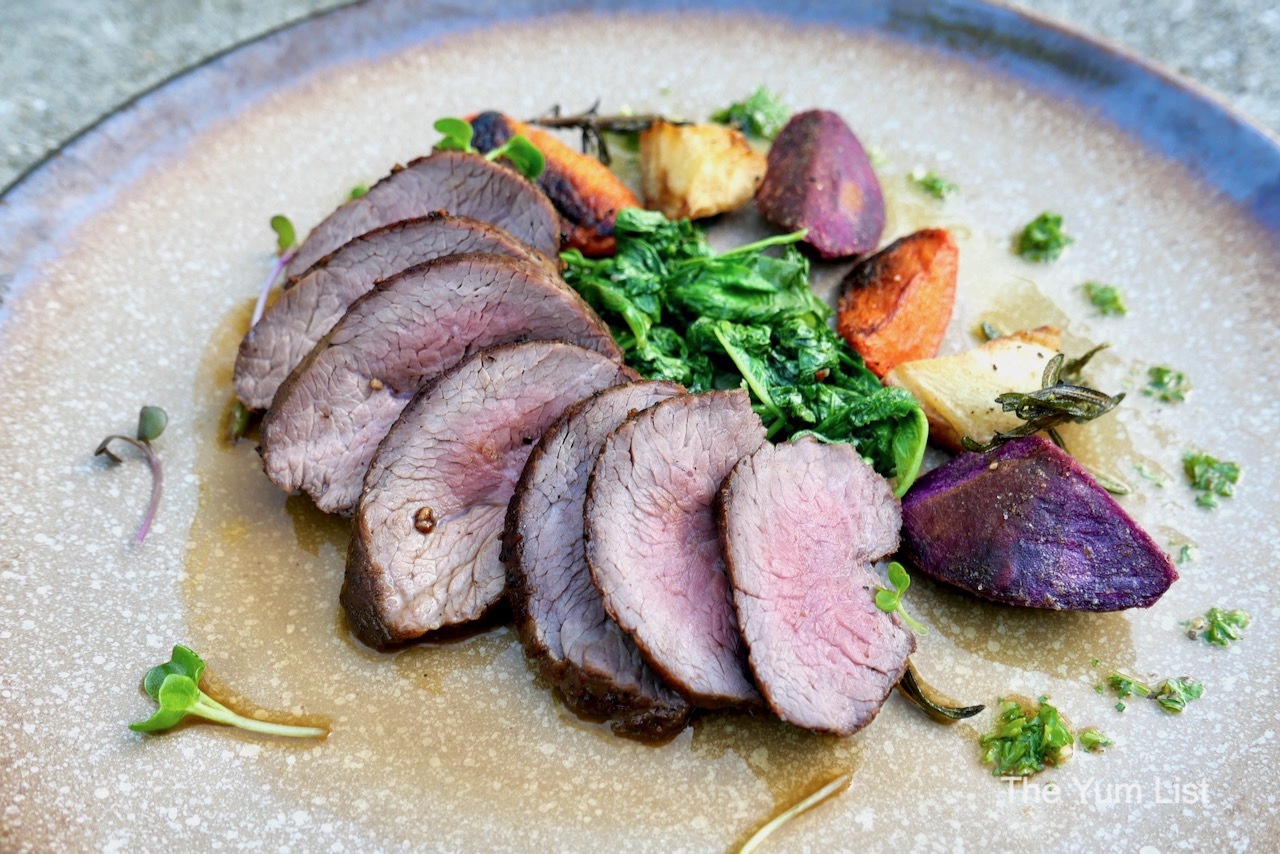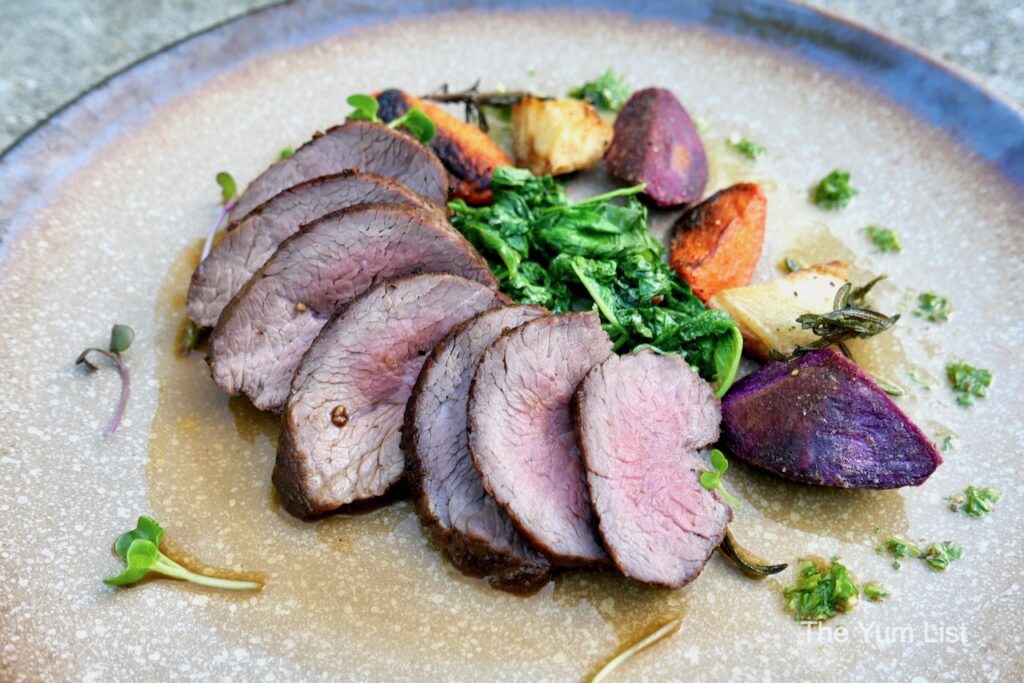 Italian Restaurant Langkawi – Dessert
I don't have a sweet tooth, but it seems incomplete to end an article without dessert (where is Rich when I need him?). The Il Limone (RM 38) comes highly recommended both for its eye-catching presentation and its fresh profile. This lemon-shaped dessert is a white chocolate shell filled with lemon marmalade and yuzu mousse. It has quite a tart ending, which I really enjoy. Hubby prefers the white chocolate shell on its own.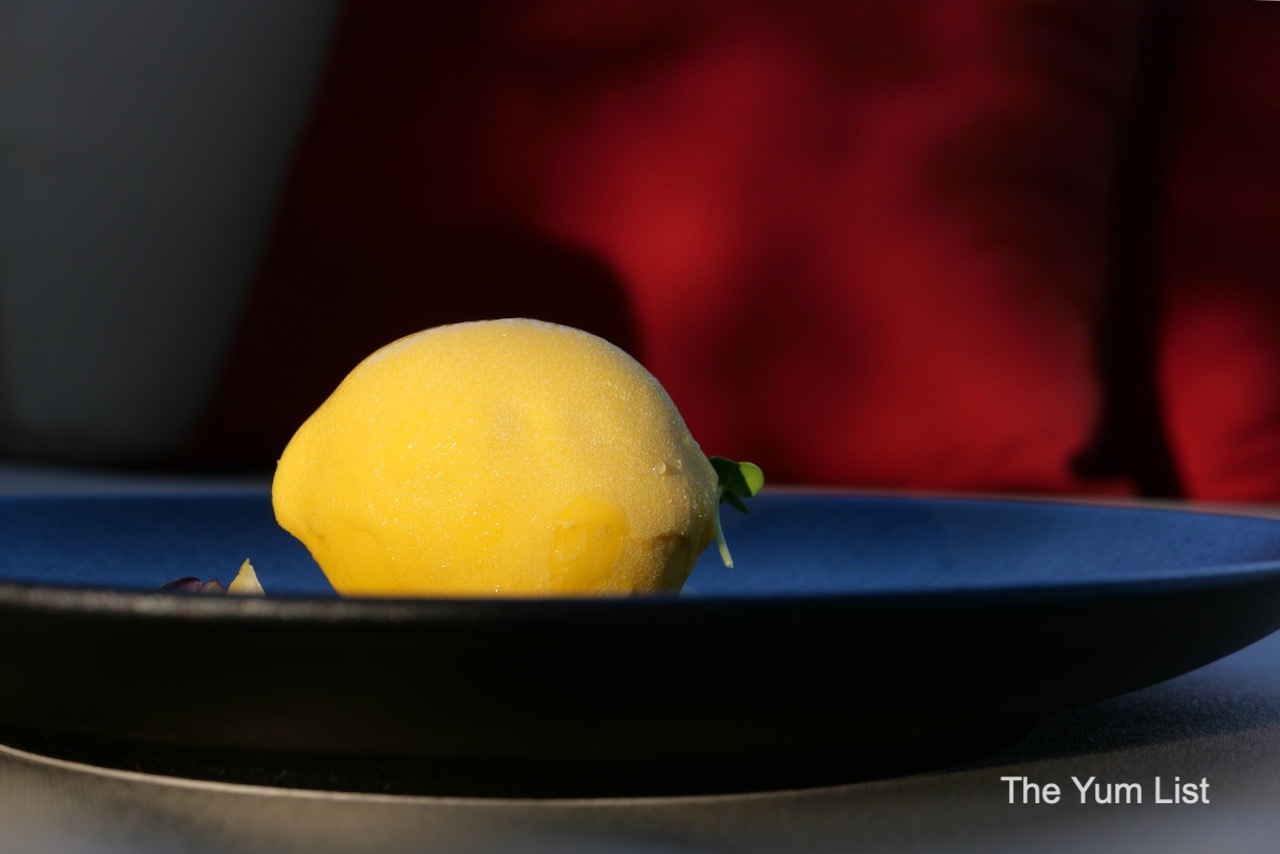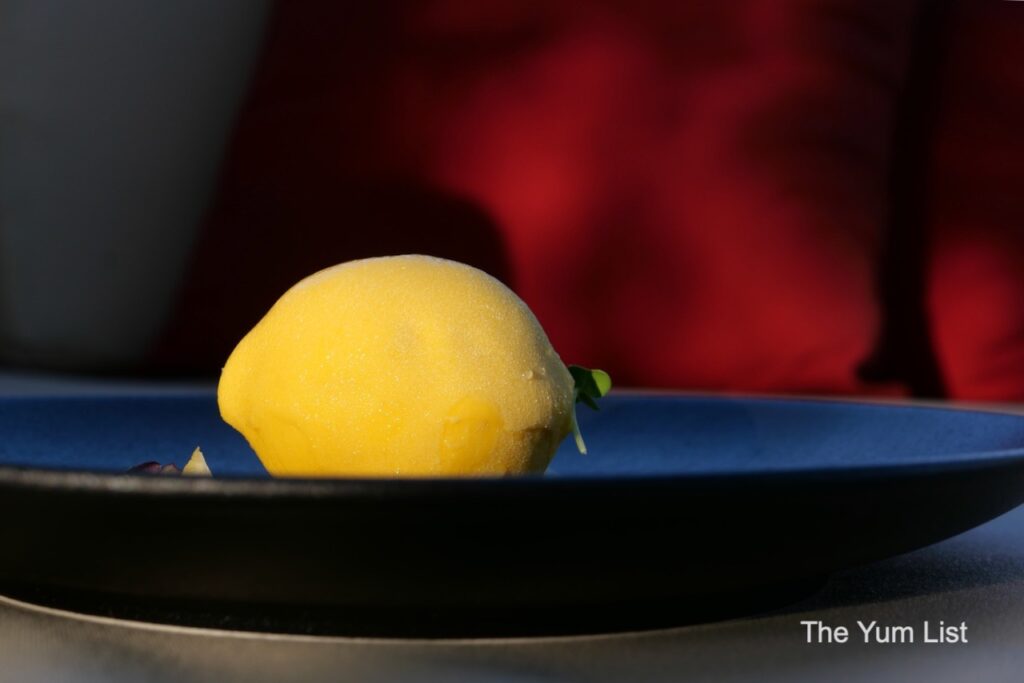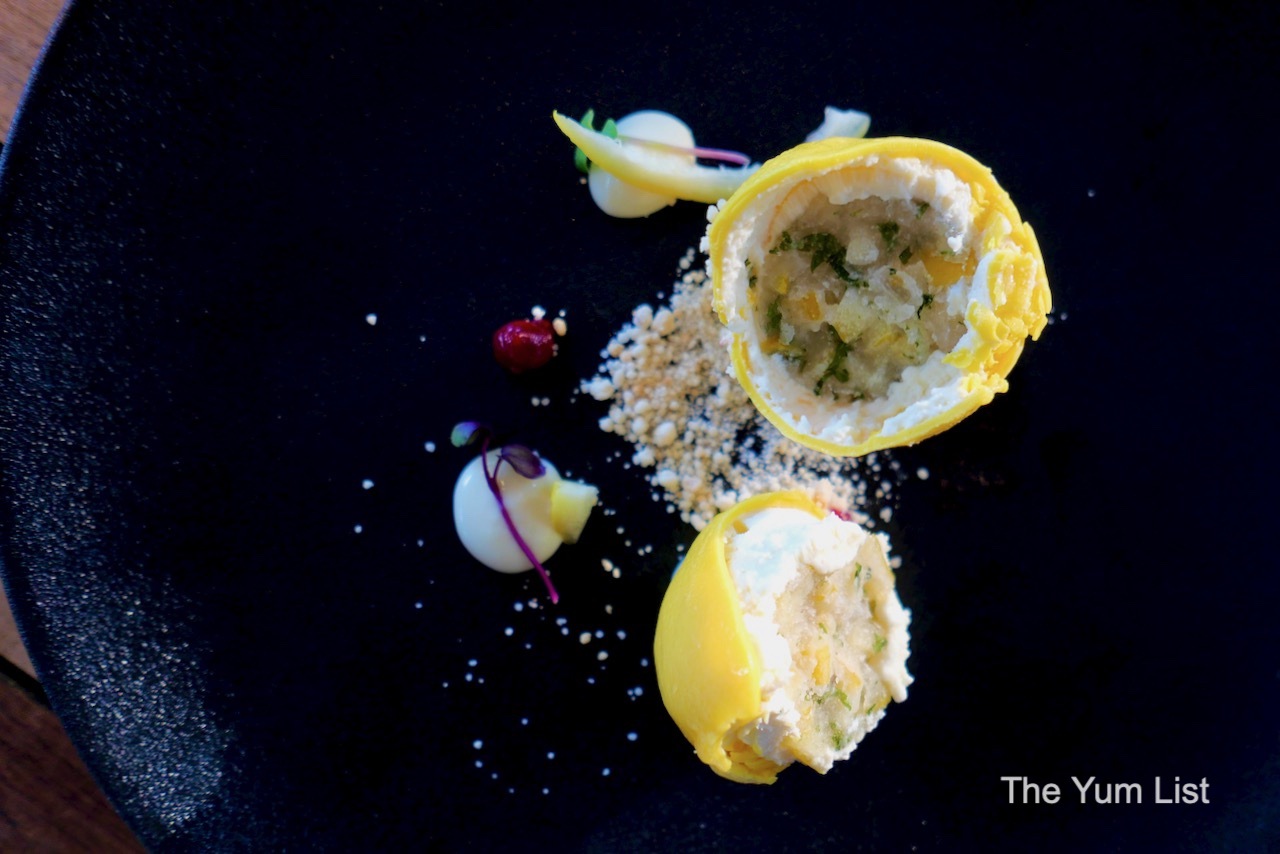 Italian Restaurant Langkawi – The Terrace
Whether you're staying at The Danna or visiting Langkawi and staying elsewhere, The Terrace Italian restaurant, is worth putting on your to-dine list. The setting is versatile, and the cuisine competes with any well-reputed city restaurant. With chef Giuliano Berta at the helm supported by a warm and friendly team, guests have much to look forward to.
Reasons to visit The Terrace, an Italian Restaurant in Langkawi: lovely setting with both alfresco and indoor environments, superb Italian cuisine reasonably priced for the quality of execution and ingredients.
The Terrace, Italian Restaurant Langkawi
The Danna, Telaga Harbour Park Pantai Kok
07000 Langkawi, Malaysia
+6 04 959 3288
[email protected]
www.thedanna.com
Find more recommendations for travel to Langkawi here and stay up to date with the latest gourmet happenings in Malaysia here and here.