MO Bar – Cellar Series
Words: Claire Matheson
Photos: Monica Tindall
With fine wine free flows and decadent nibbles in hedonistic surrounds, the MO Bar at the Mandarin Oriental, Kuala Lumpur may just be KL's best kept secret happy hour location. And the price? Reasonable enough for you to think they must have made a grievous error. We very nearly wanted to keep this one all to ourselves.  
MO Bar – Cellar Series Evening
As we begin to leave the safety and comfort of our homes and re-emerge, blinking, into the post-pandemic light, there is a conflict many of us face. On the one hand, there is the unadulterated joy of being out in the world again. We want to revel in it. We want to explore and adventure, delighting in all the senses. We want to socialise, to be physically present. We want to share our lives with others. On the other hand, there are inherent stresses when returning to offices and workplaces. No longer are we able to hide behind muted zoom calls with obfuscated backdrops while sitting through tedious meetings. We must make it to the end of each day, professionally attired from head to toe, exhausted, and more than a little bewildered.
Now, more than ever, unwinding with after-work drinks is what we spend the day looking forward to. Now, more than ever, happy hour is essential! The MO Bar at the Mandarin Oriental, Kuala Lumpur is a haven for those searching for escapism from the trials of the day. Here, you can 'un-wine' from your stressors and triggers.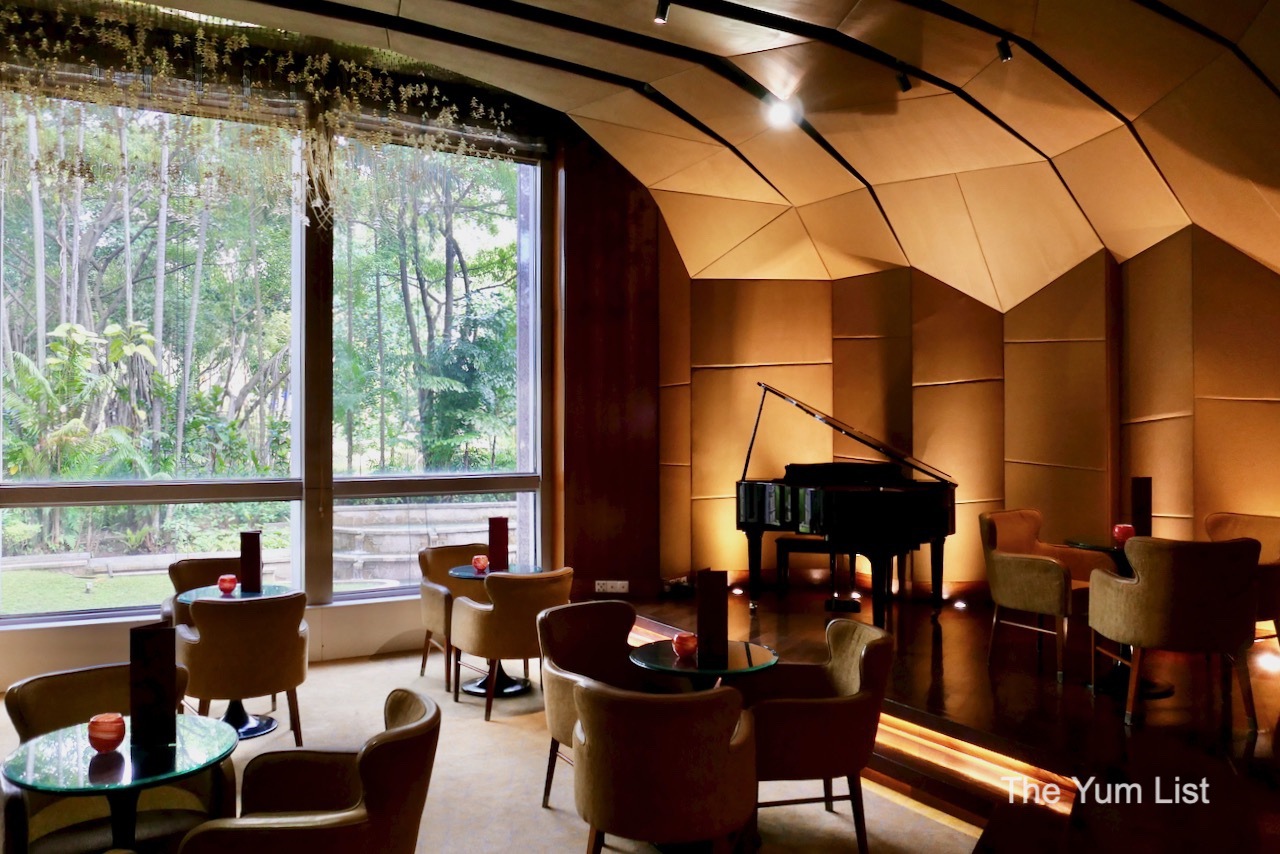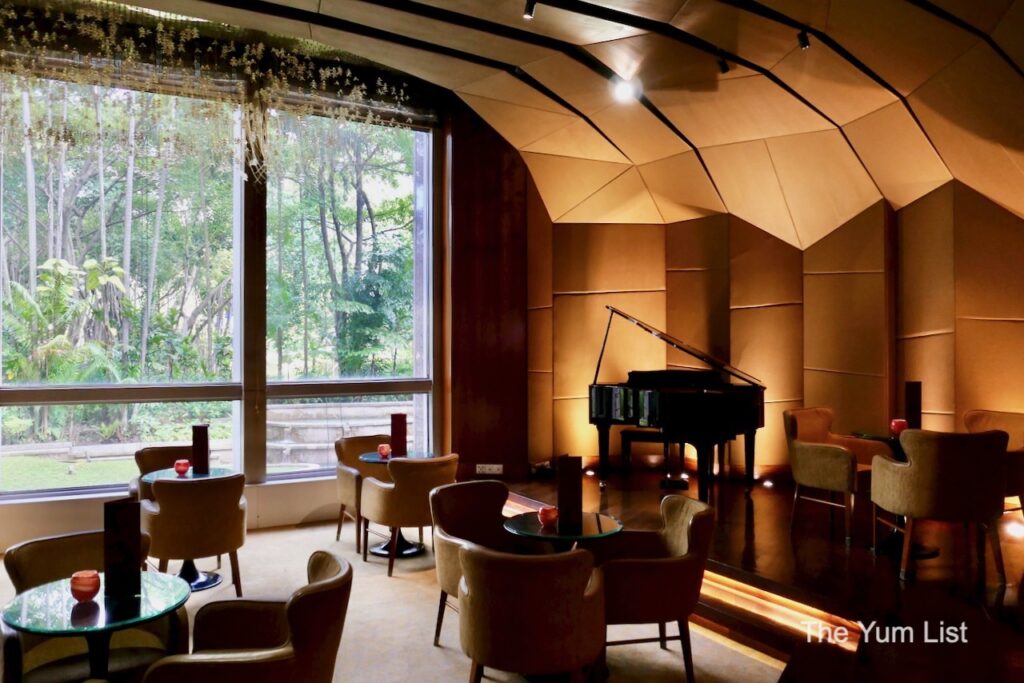 MO Bar, Kuala Lumpur
Like stepping into a private box at the opera, the MO Bar gives a sensation of opulent seclusion. Away from prying eyes. Away from the crowds. Away from the madness of our Monday to Friday toil. Yet, with all the pleasures and fineries the world has to offer. Here is a secret relatively unknown to the masses – and one worth knowing.
As you enter the MO Bar, the room widens and descends into an amphitheatre-like cavern. Overhead, sculptural padding weaves a geometric artwork across the space, dampening sound, so every conversation is a private one. Whatever tea you need to spill will remain discretely concealed.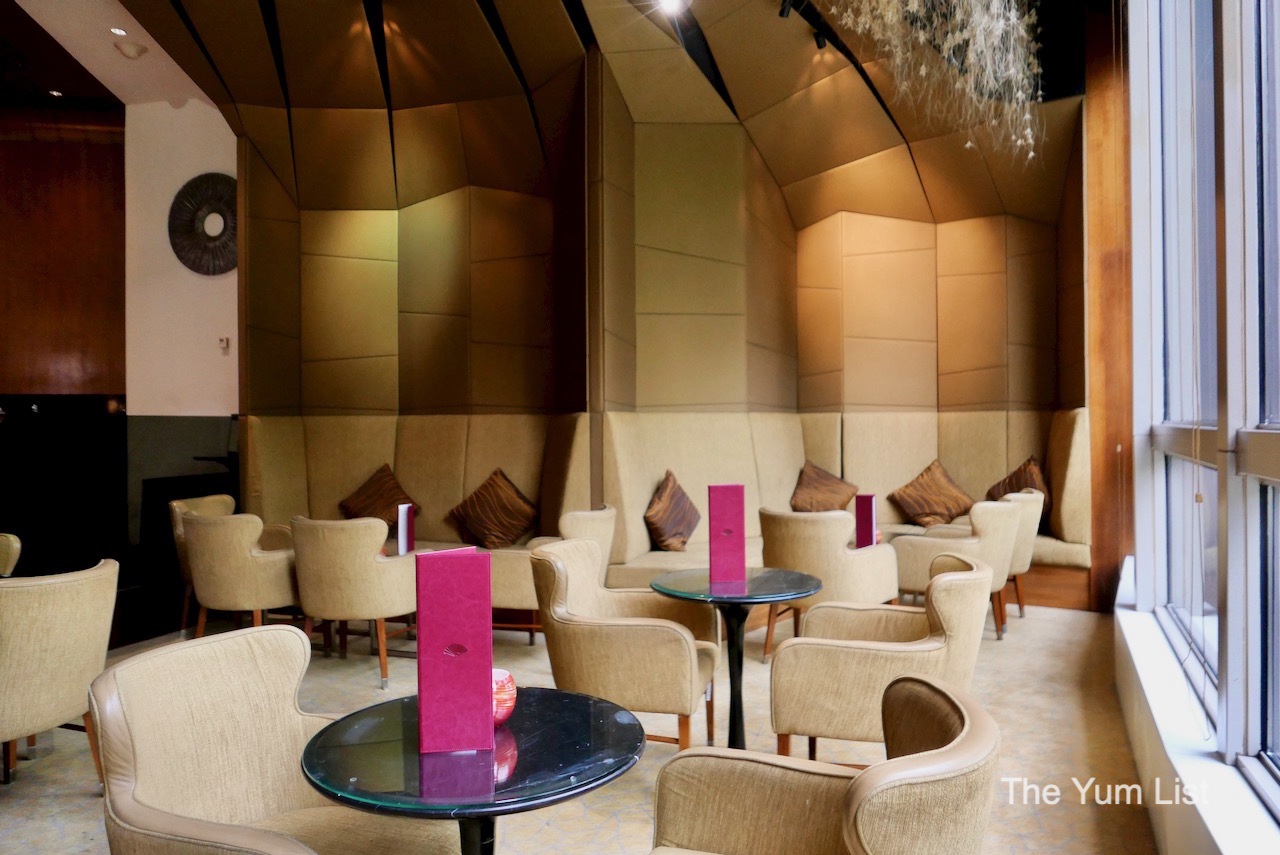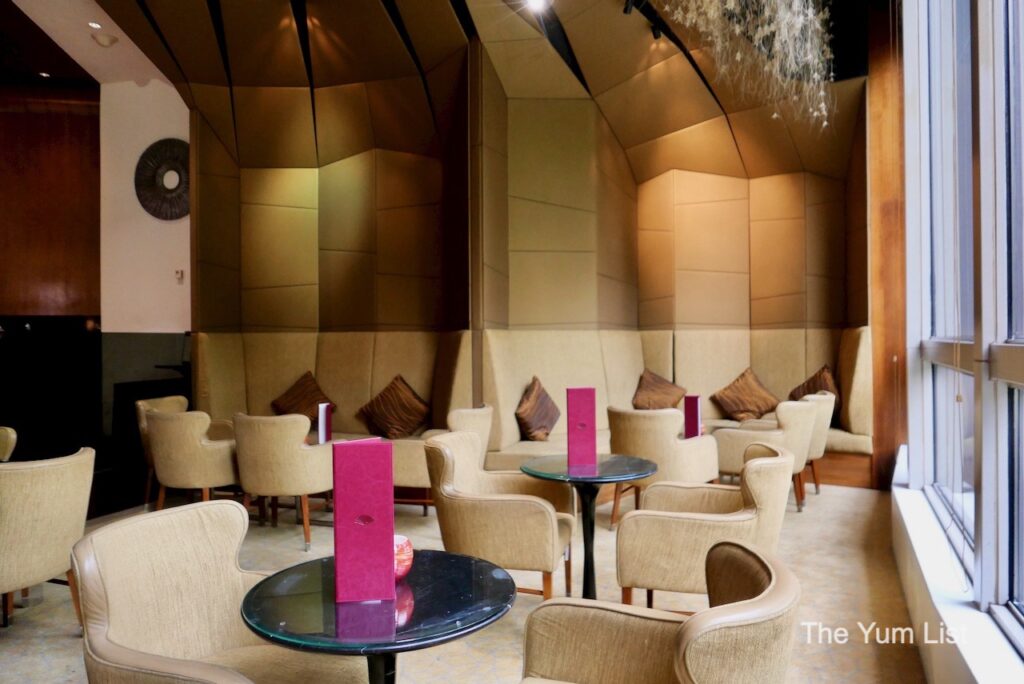 Intimate Location for Happy Hour
To the right, on an elevated platform, a glossy grand piano heralds a background of sophisticated orchestration for the more musically inclined. Perching on the opulent, black and tan, thick-cut marble bar, we spy hard to find premium spirit and liqueur labels, echoed behind us with backlit wine cellaring stretching around angles and lines in the walls. Yet, despite the treasures in this cavern of delights, one cannot help but draw breath at the sight of the window. A floor to ceiling wall of glass is a stage curtain looking out onto the lush gardens of KLCC Park. A green screen, it shelters MO Bar's patrons from the joggers and sightseers beyond. It is as close to outside a la carte dining in the meticulously groomed gardens as one can get but in the luxury of air-conditioned comfort.
Seating throughout the space is comfortable and decadent. Deep armchairs and high-backed bench seating in neutral hues allow you to recline as your eyes follow the sight lines up, up, and up, to the hanging glass vine installation framing the park vista. Each delicate crystalline leaf and flower mirror the natural beauty of the gardens outside. It is a spectacular artisanal reproduction of the curtain creeper, softly catching glimmers of light from the spotlights before sending them dancing around the room.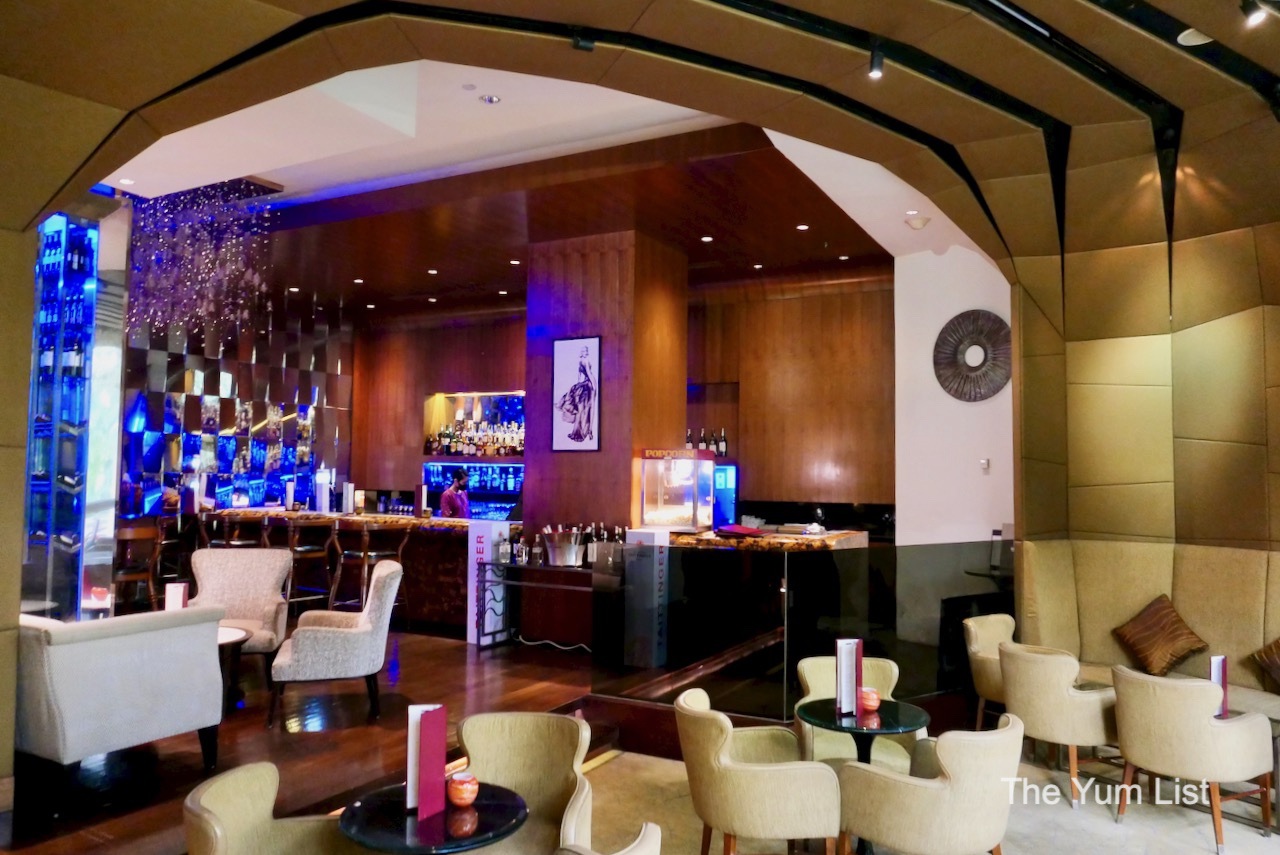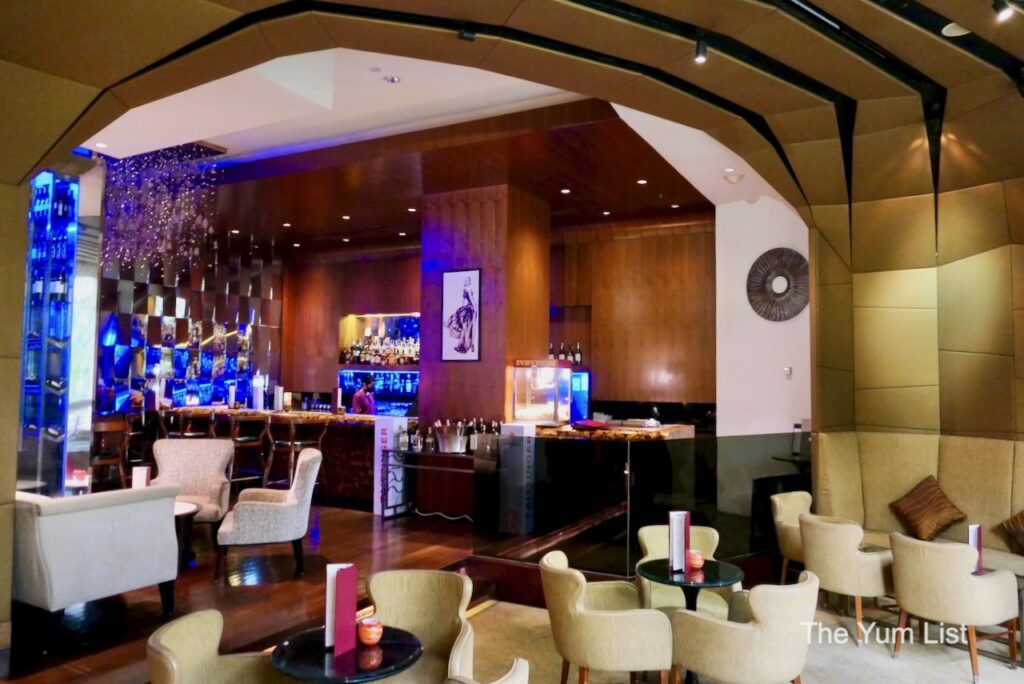 Best Happy Hours in KL?
Tonight we are embarking on a free-flow wine journey under the guidance of MO Bar Assistant Manager Zendi. Between the hours of 5pm and 8pm, Wednesday to Sunday, the Cellar Series offers unlimited glasses of their quality wine selection for RM138+. The surprising price will mean you won't feel guilty about ordering a plate (or three) of MO Bar's snacks. These are not your normal house pours but a curated list of considerable length of varietals and regions from celebrated vintners. Quite a number of names on the list will raise an eyebrow or two, followed by a gentle nod of appreciation.
In between glasses, Zendi generously refills our little buckets of popcorn made fresh at the bar. Ever so slightly sweet and salty all at once, their flavour is not overwhelming or sickly sweet but devilishly moorish and gratifyingly crisp. We chat with newly appointed Director of Marketing and Communications Nigel Gan, Olivia Tan and Foo Mei Shawn from the Mandarin Oriental Communications team. Their passion and love for Mandarin Oriental's vision are apparent and genuinely felt. Happy staff are just another reason to drop by after work. However, the pride the team here take in producing excellent food, and beverage service remains the dominant drawcard.
Cellar Series Evening
White Wine
We begin with a 2019 Corte Giara Pinot Grigio Delle Denominazione Di Origine Controllata (D.O.C.) from Venezie, Italy. Sunny straw yellow in colour, notes of pear and green vegetation give way to a delicate, dry medium body with wildflower tones. Whole grape fermentation techniques create a clean and unblemished flavour, leaving you with a silken, buttery aftertaste and a waft of smoke. Aged four months in stainless steel, with two months of bottle ageing, this drop is refined drinking, no cellaring required.
The Pinot Grigio is best served with fish and seafood, giving us an excuse to partake of the Fritto Misto Alla Veneziana (RM50). Prawns and calamari are perfectly cooked, springy to the touch, and lightly fried in a fluffy batter. The fruits of the sea come with two dipping sauces – tangy citrus mustard, and a Napolitana style tomato and basil, with a hint of chilli.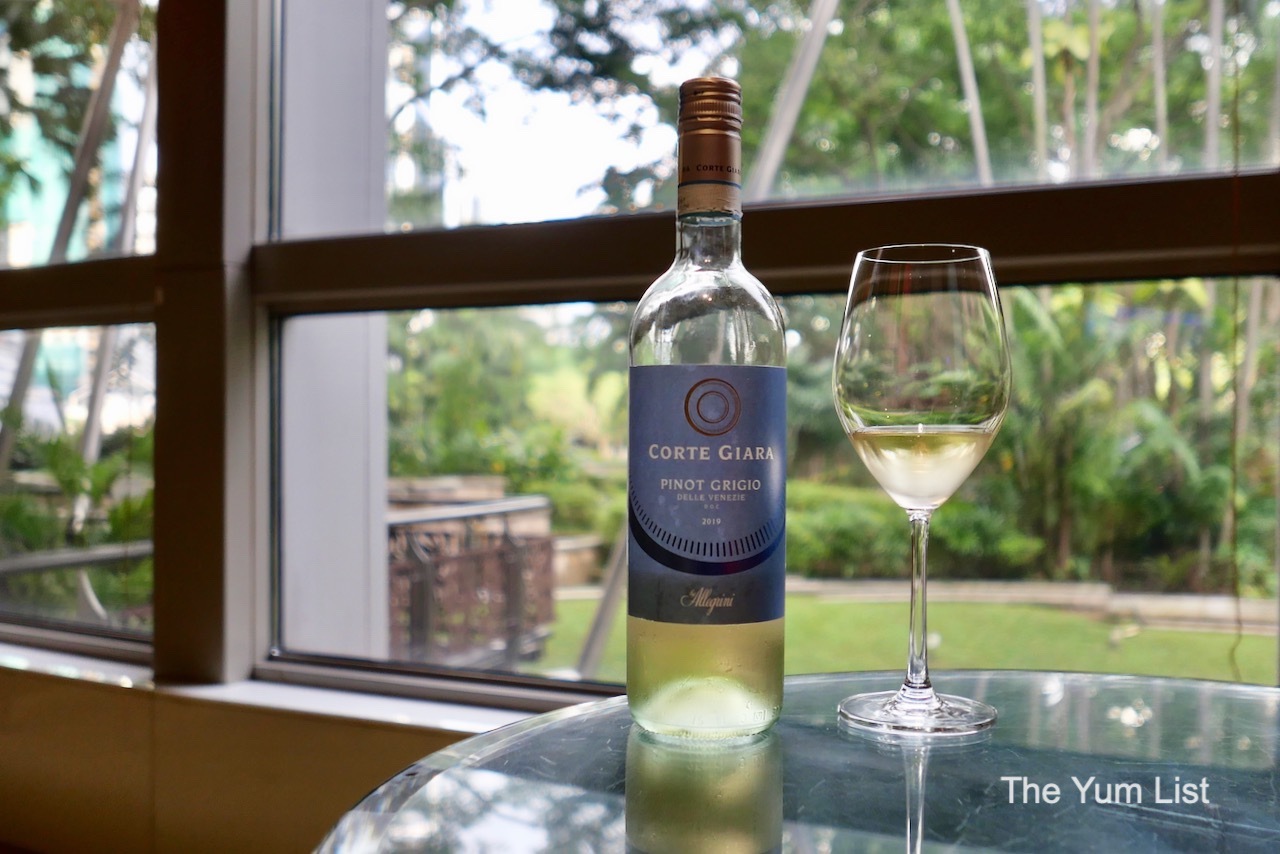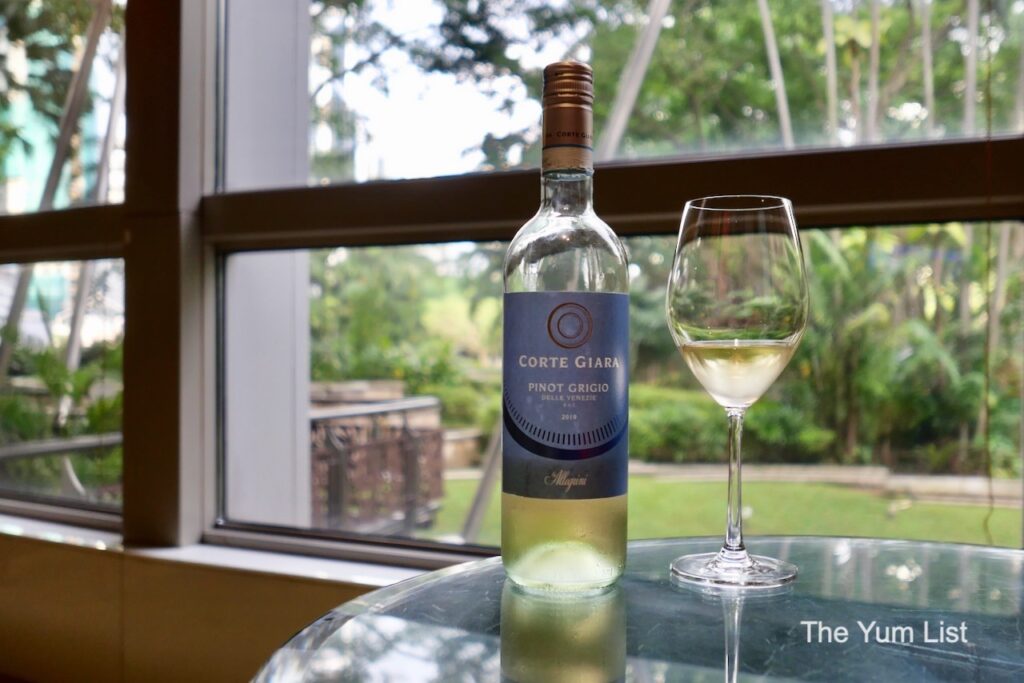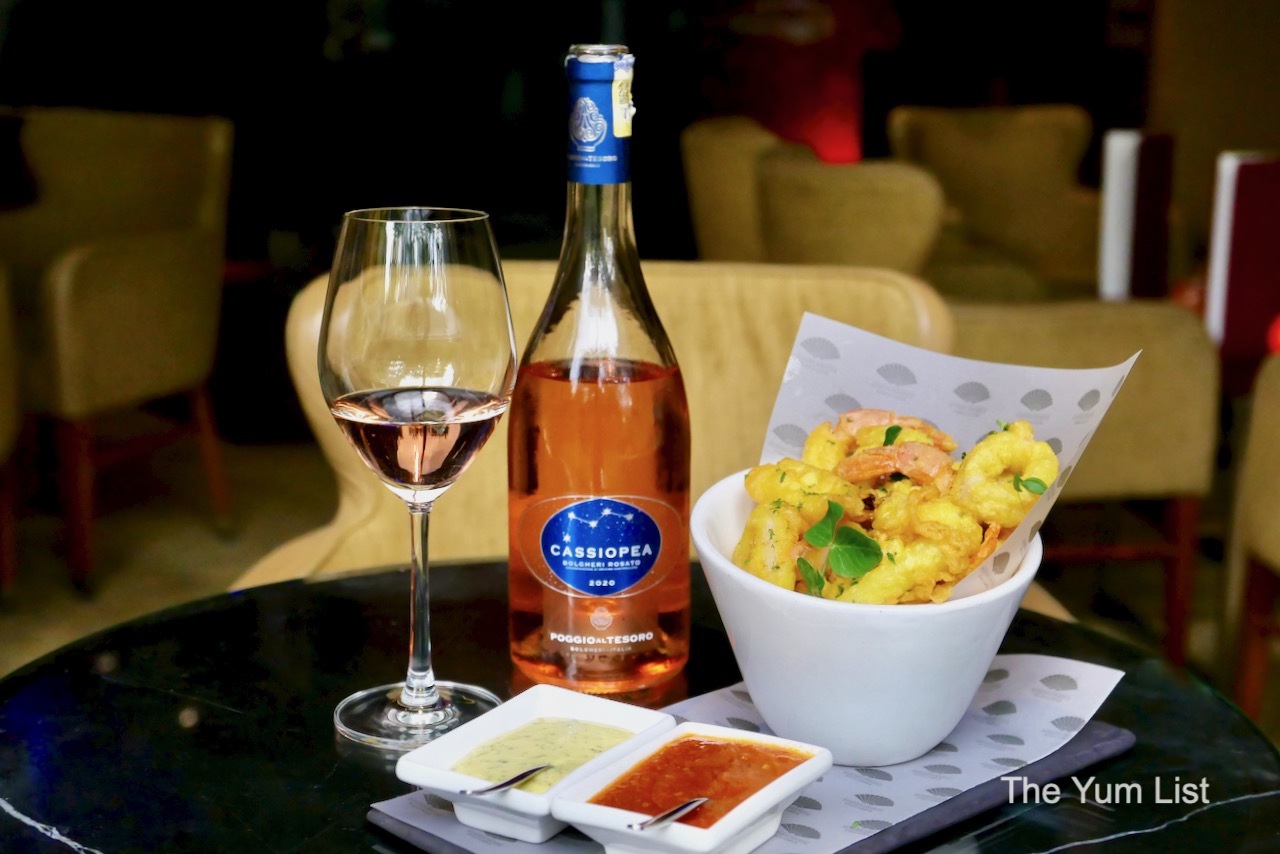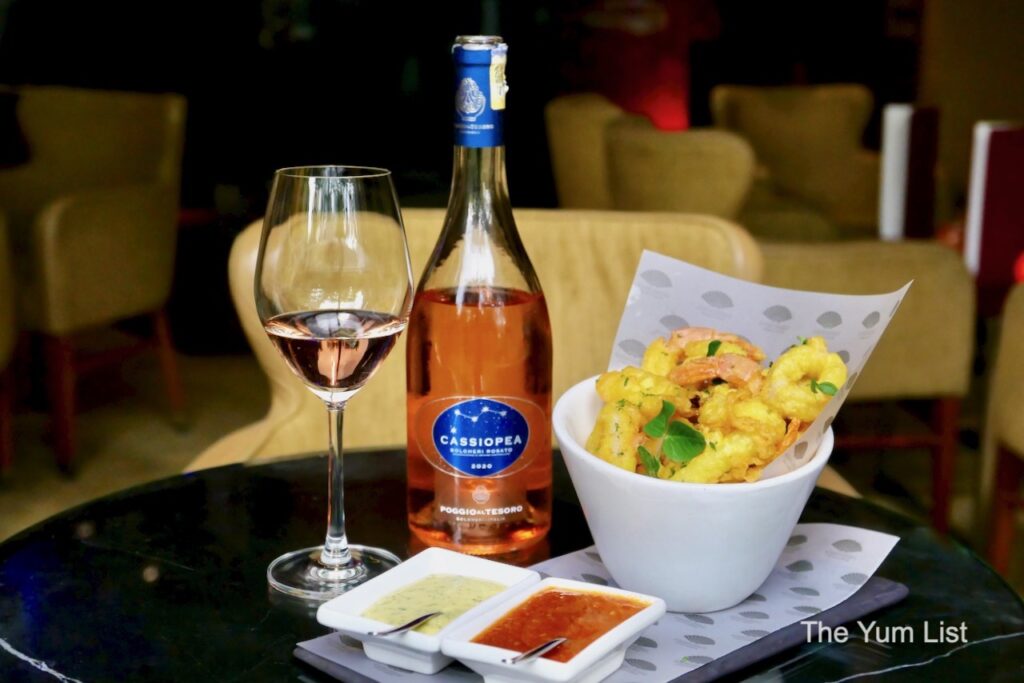 Rose Wine
Although the MO Bar menu has many whites on offer, we have our eye on some of their richer fare, so we move on to the 2020 Cassiopea Bolgheri Rosato (Rosé) from Poggio Al Tesoro. Also an Italian D.O.C., this one originates in Livorno, Tuscany. Put simply, it is one of the best rosés I've had. Salmon-pink in colour, your olfactory senses are greeted by a welcoming harmony of peaches, summer berries, roses and grapefruit. Blended from 70% Cabernet Franc and 30% Merlot grapes, this lively glass is crisp yet soft, complex yet unpretentious. Final notes of citrus round out the ultimate accompaniment to bruschetta.
Rainbow heirloom cherry tomato halves sit nestled alongside dollops of creme fraiche, a salted anchovy fillet, and delicate microgreen garnishes on a toasted sliver of baguette. La Bruschetta (RM40) is a fresh and lively morsel of pure Italy. With the quintessentially Italian bruschetta, the Cassiopea takes on new levels of acidity and minerality when taken alongside the naturally sweet tomatoes, salty anchovies, and tart creme fraiche.
Before moving on to the reds, we sit and savour our glasses while the sun begins its descent over the sprawling KLCC Park. Mozzarella Caprese (RM40) is an Italian celebration of summer, a season we permanently enjoy here in Malaysia. Served on bite-sized skewers, whiskey buffalo mozzarella is speared between whole fresh basil leaves, juicy halved cherry tomatoes, and drizzles of basil infused olive oil. Even sequestered here in MO Bar's air-conditioned sanctuary, the Caprese salad is a refreshing interlude from the imagined heat outside.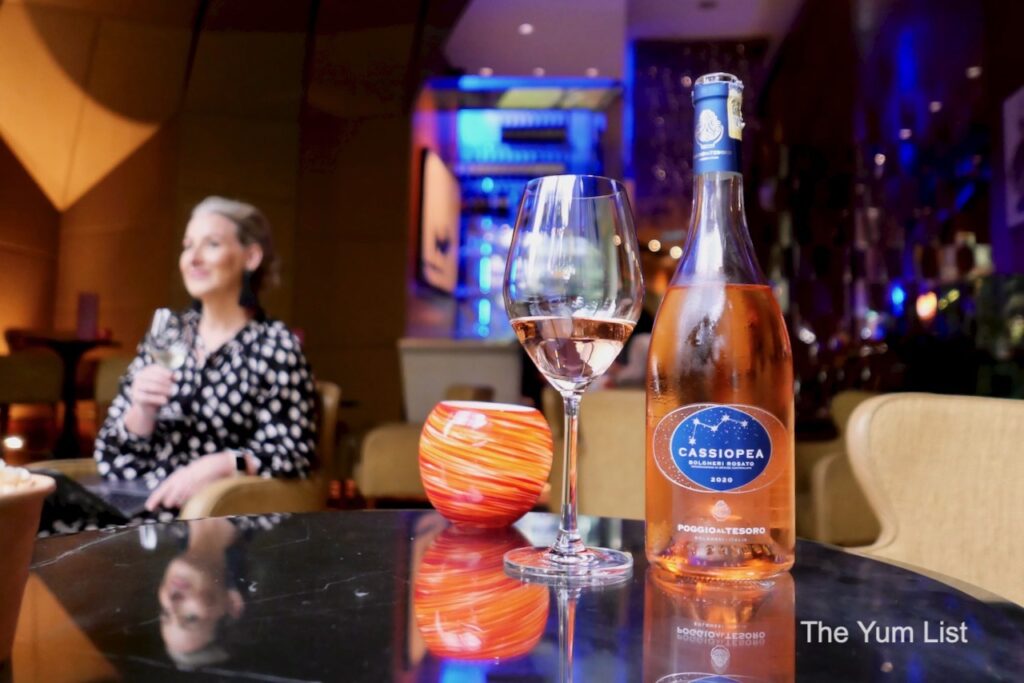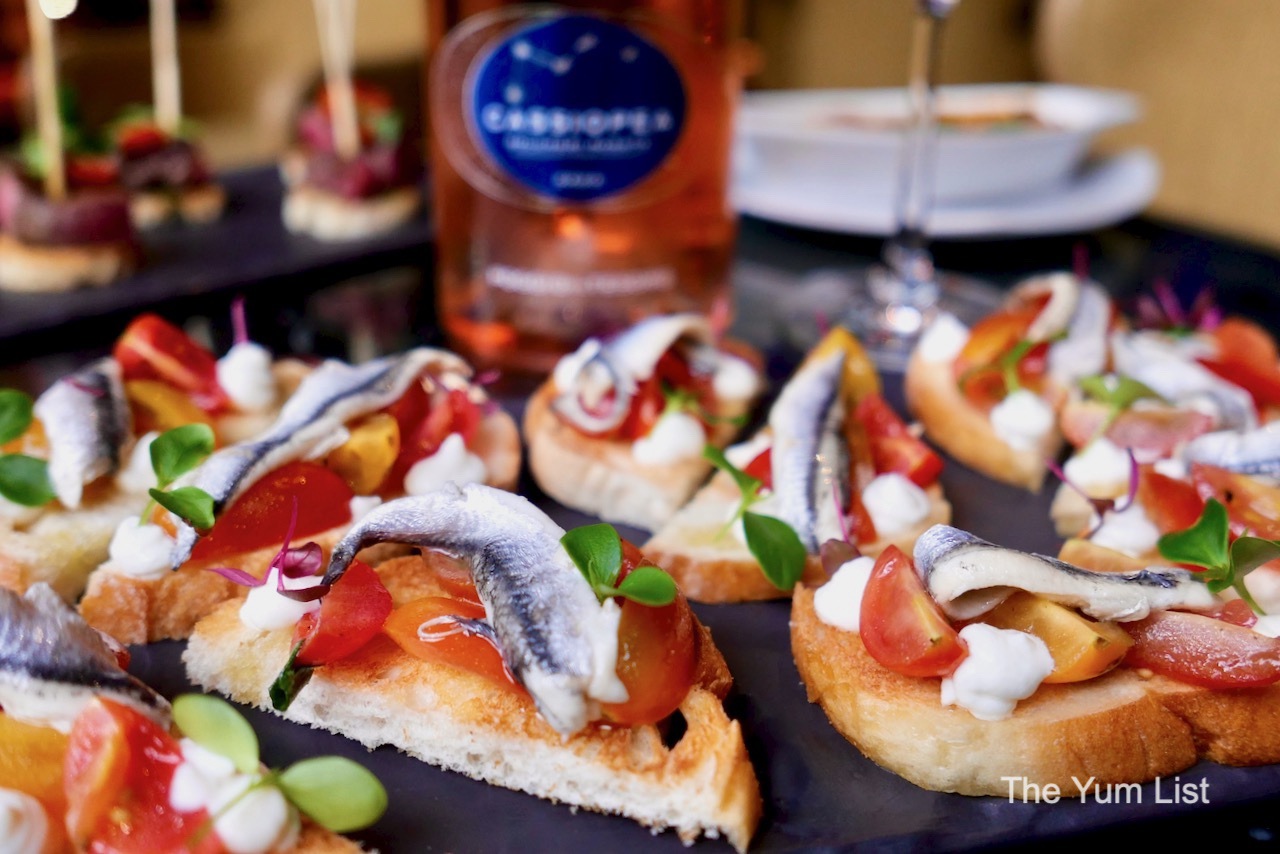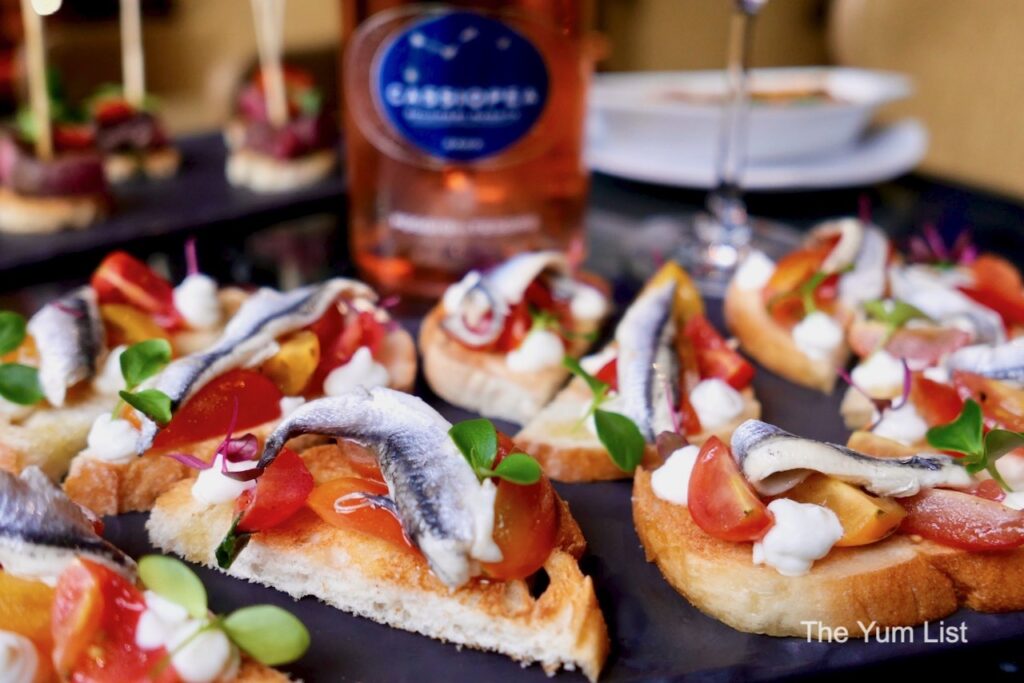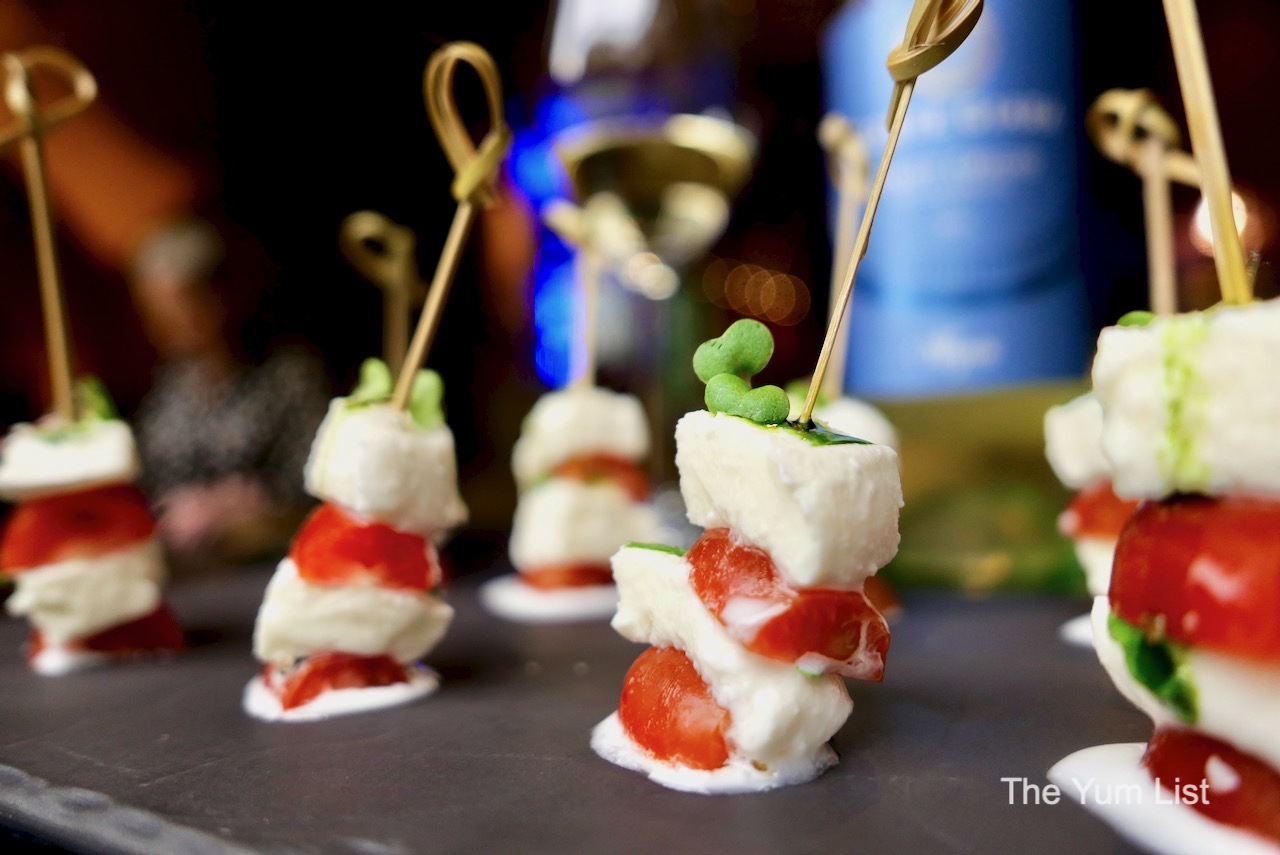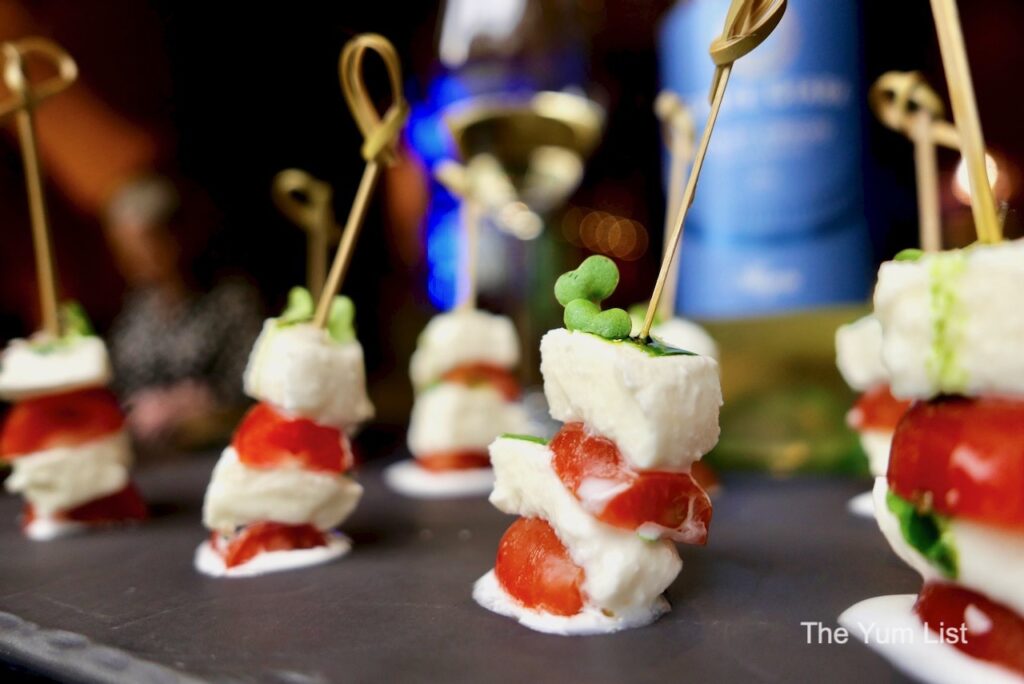 Red Wine at MO Bar
Our first red of the evening is the 2018 Chateau Lamothe Vincent Reserve Bordeaux Merlot Cabernet Franc. Winner of the 2019 Médaille D'Or Paris, dark cherries, earthy blackberries, ripe plums, and blackcurrants are elegantly balanced with thick tannins and hints of liquorice. We take large mouthfuls and swirl it around our tongues before swallowing. With each hit, the complexity deepens. Embodying the fruity, velvety Bordeaux style, the Château Lamothe-Vincent is a smaller producer of note, with diverse terroirs across their 90-hectare vineyard.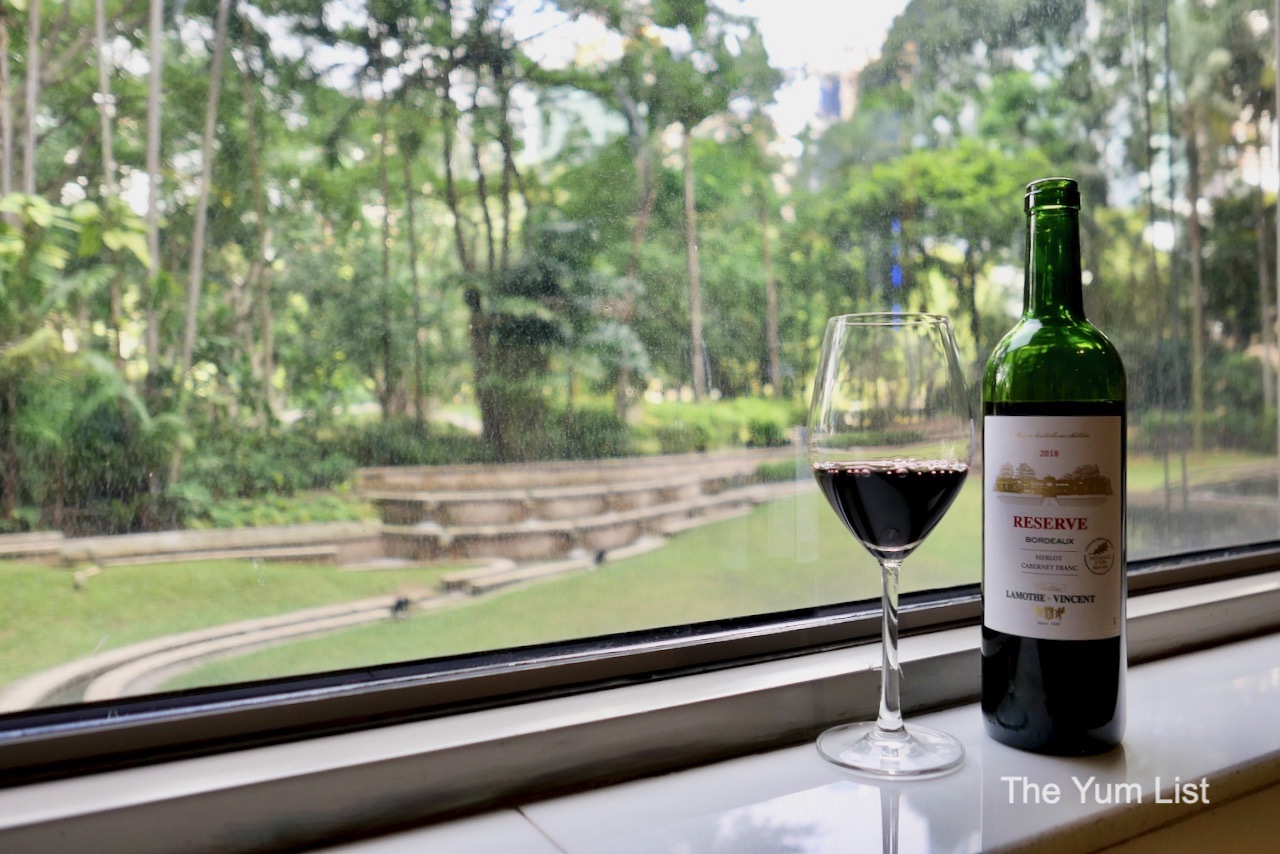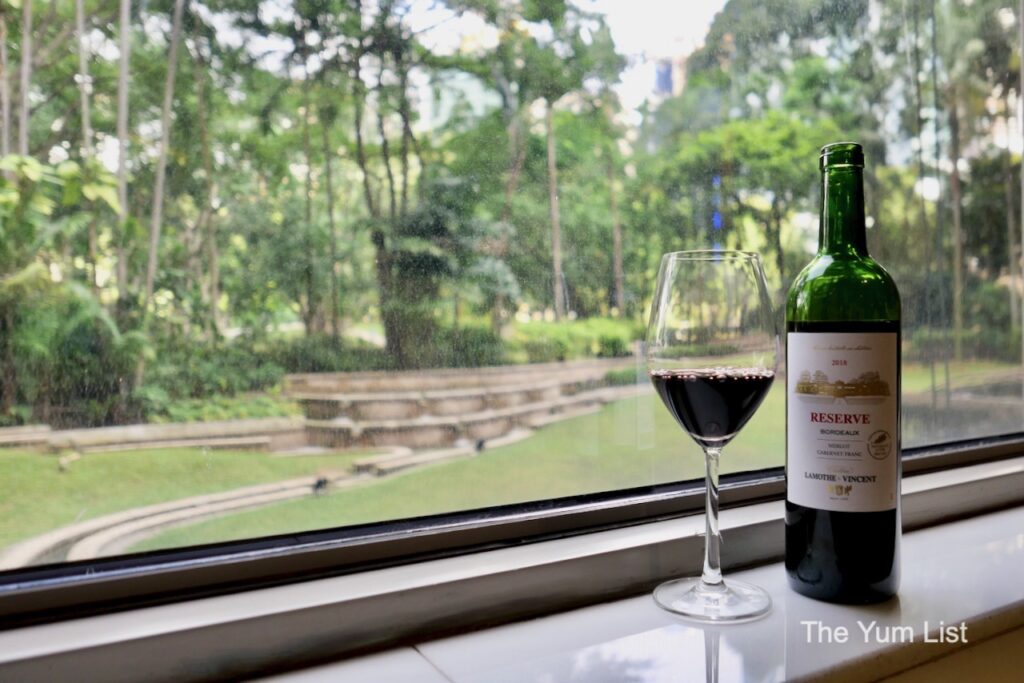 Pinot Noir
Traversing continents in a single evening, we skip across the oceans from Europe to New Zealand to sip a 2018 Pinot Noir from the Saint Clair Family Estate in Marlborough. Clearer in colouring, this red's subtlety unveils blackberries, blueberries and boysenberries, with elements of toasted wood, fresh coffee, dark chocolate and cinnamon. Scoring an impressive 95 points from the Decanter World Wine Awards, this is an all-round winning performer for most savoury dishes.
Warm, earthy bite-sized balls of cheesy risotto rice, lightly breaded and fried; the Mini Truffle Arancini (RM40) are the best way to eat truffles – in small, rich mouthfuls. Buttery, oaky and nutty, these morsels of starchy, creamy rice embolden the root and wood notes in the Merlot and the Pinot Noir. A perfect pairing. While the citrus mustard sauce is delicious, we dip our arancini balls in the remainder of the Napoli dipping sauce from the Fritto Misto, the ripe tomatoes complementing the dark fruits in our glasses.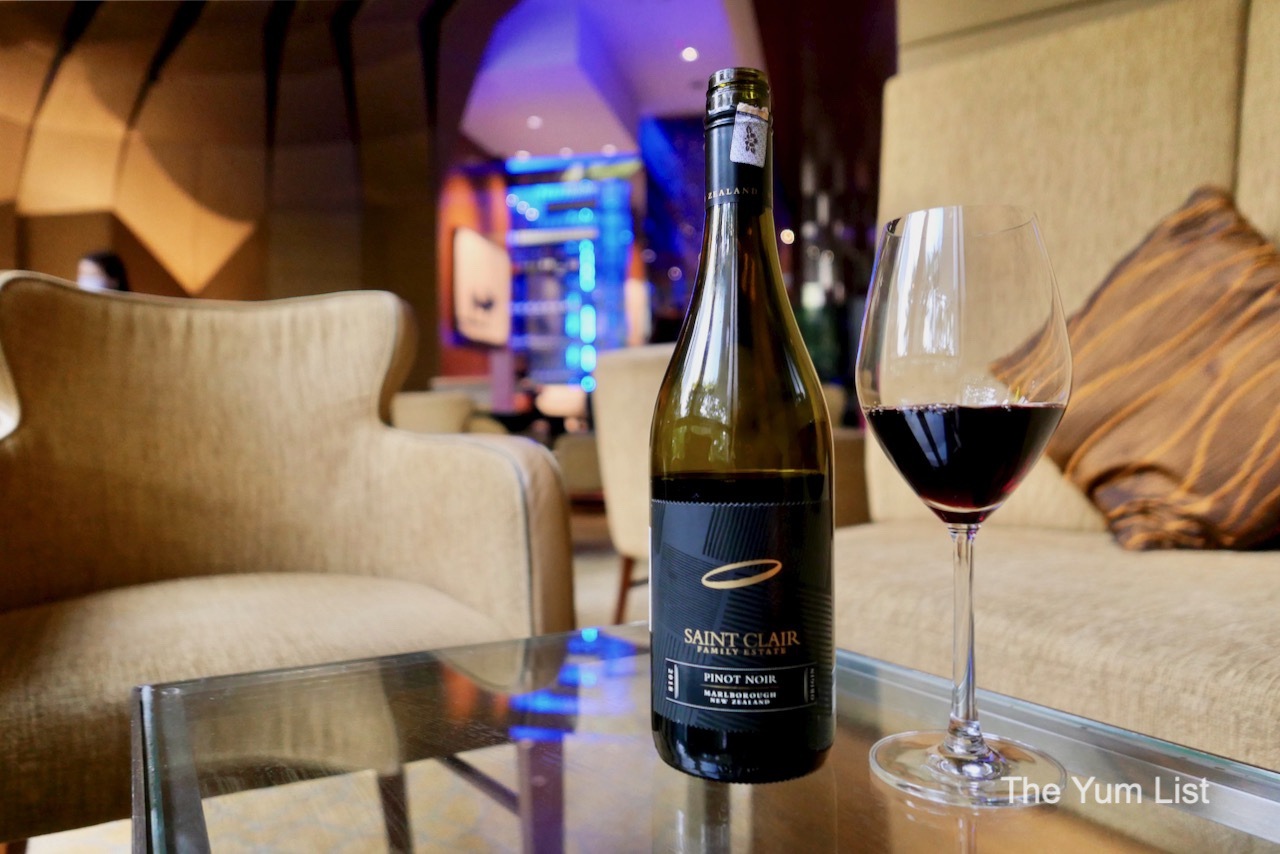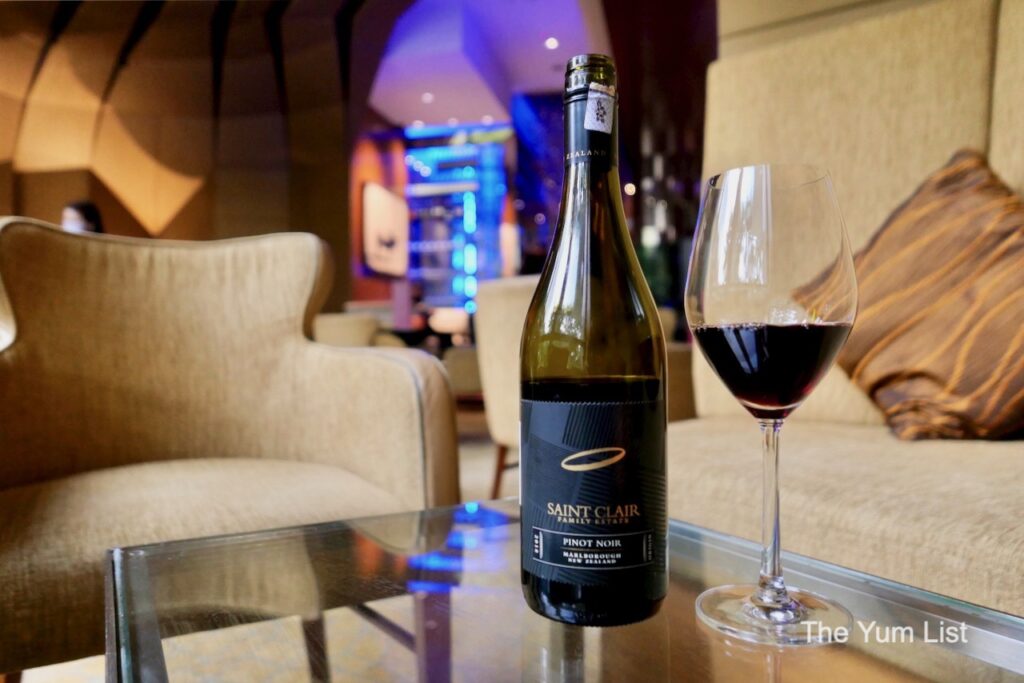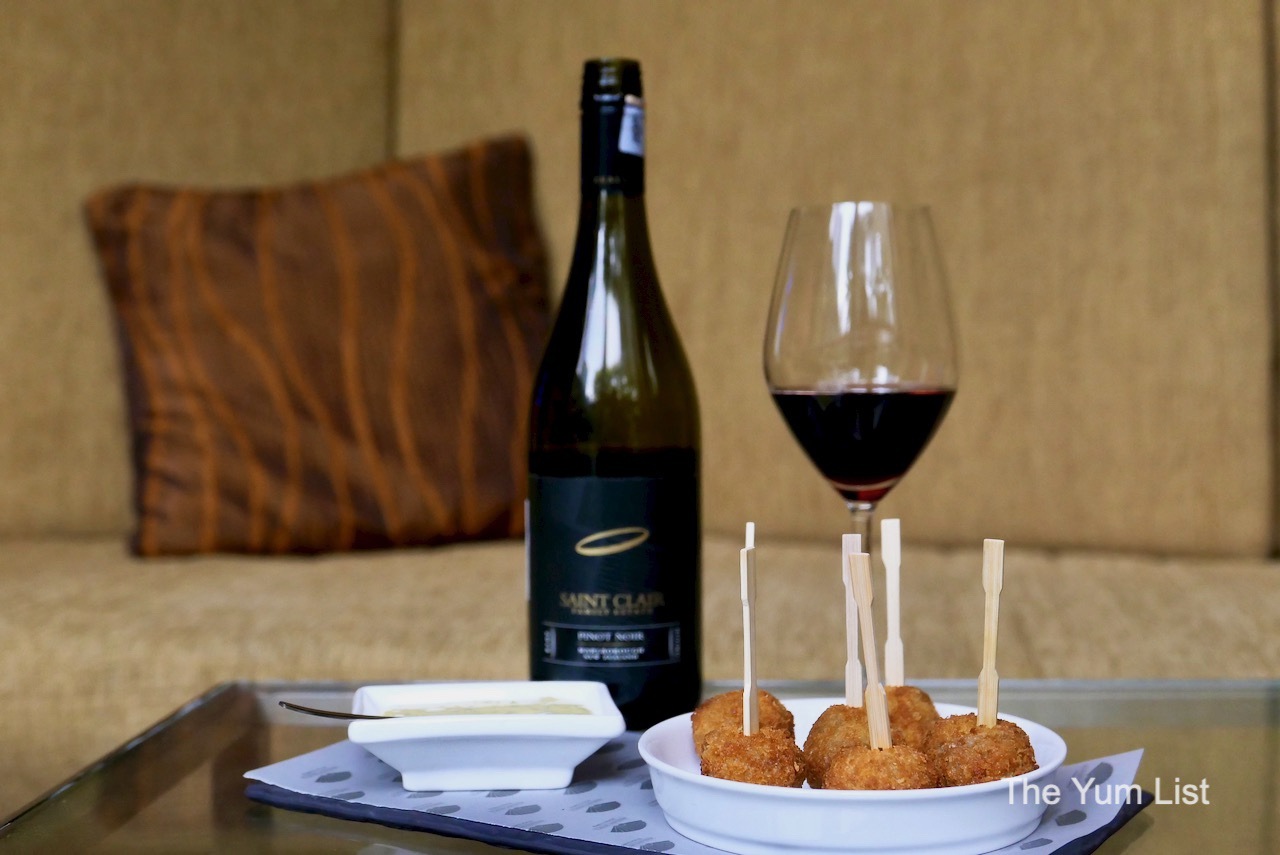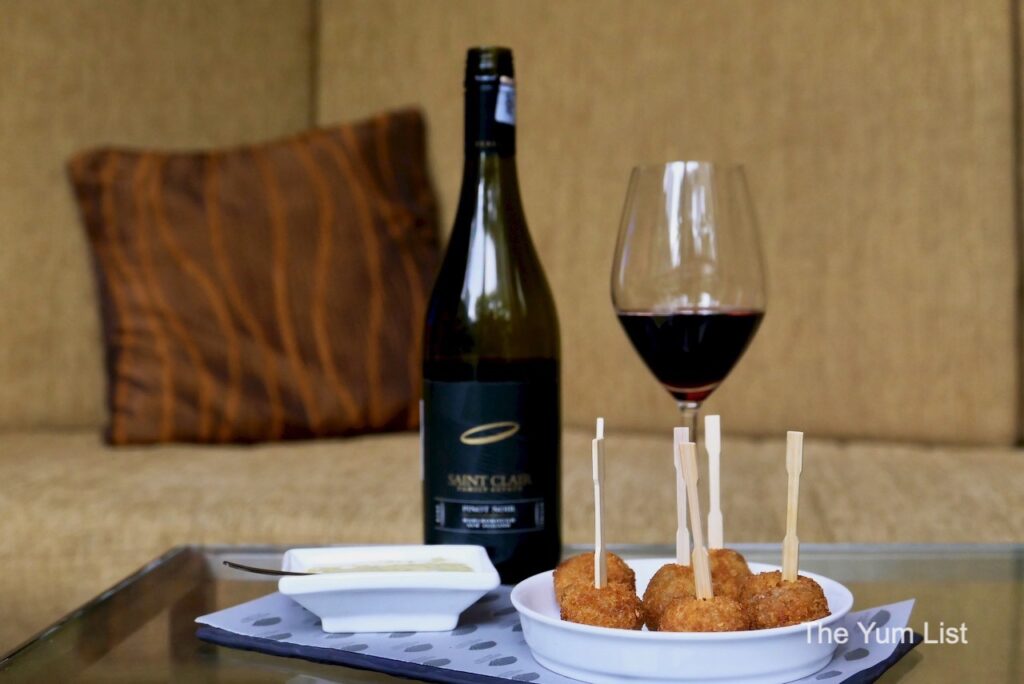 Cabernet Sauvignon
Continuing with our ocean crossings, we journey to Chile in South America to partake of the 2018 Ventisquero Grey Glacier Cabernet Sauvignon from the Valle Del Maipo Trinidad Vineyard. Aged for 18 months in French Oak, this wine comes from single block vineyards, creating a pure, powerful flavour. Dark cherry and plum fruits are balanced with tobacco and tannins for a luscious palate. Prevalent spices are almost akin to fortified wine, introducing heat that rises in the back of the throat. This bottle is best paired with red meats and stews. A Wagyu Lasagne sounds like an outstanding choice.
The Mini Lasagne Di Manzo Wagyu (RM70) is authentically served without bechamel sauce. The rich wagyu beef ragu is layered between homemade pasta sheets with oregano and basil. A light grating of parmesan on top provides all the dairy needed without diluting the decadent beef and tomatoes. Even though we only intend to eat a fraction, wanting to save room to sample other MO Bar delicacies, we can't help ourselves. The oven-baked serving is quickly reduced to an empty dish.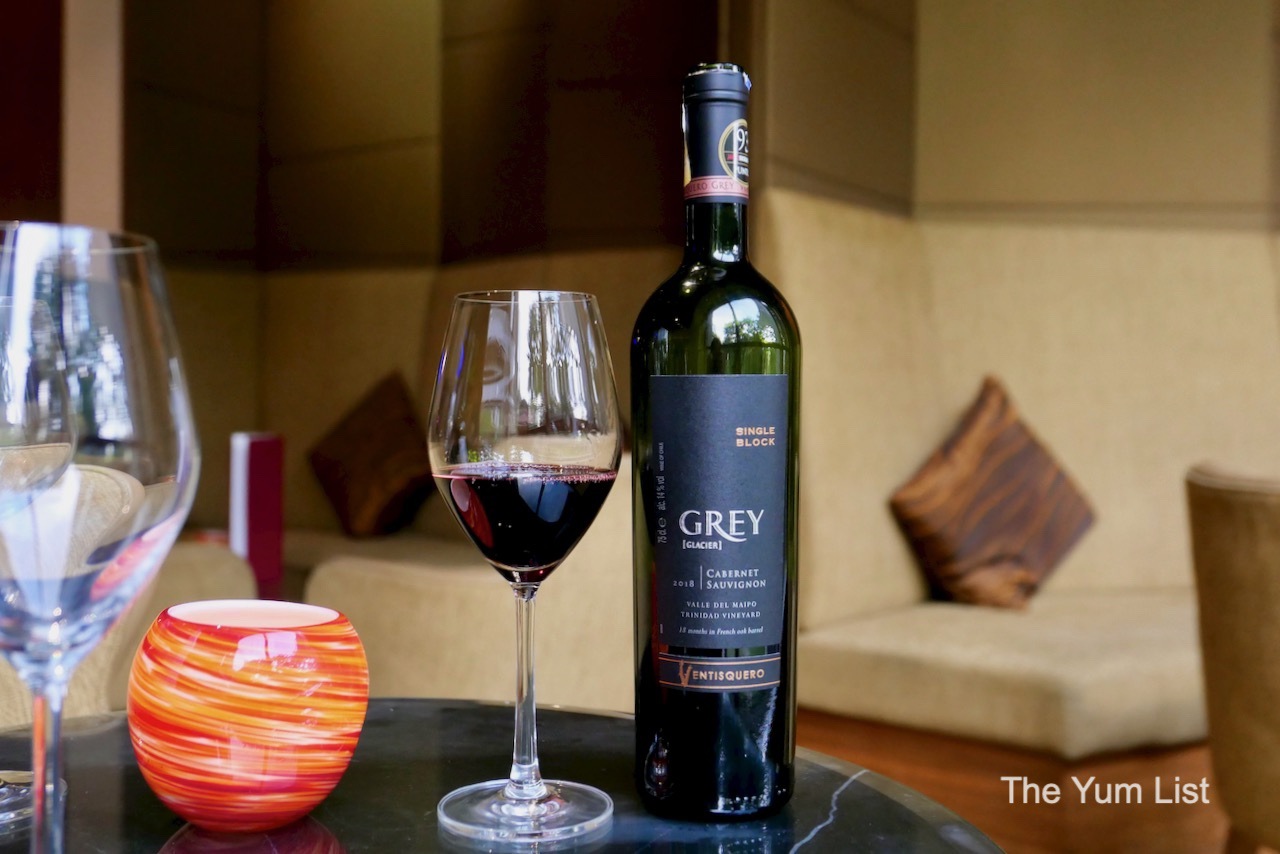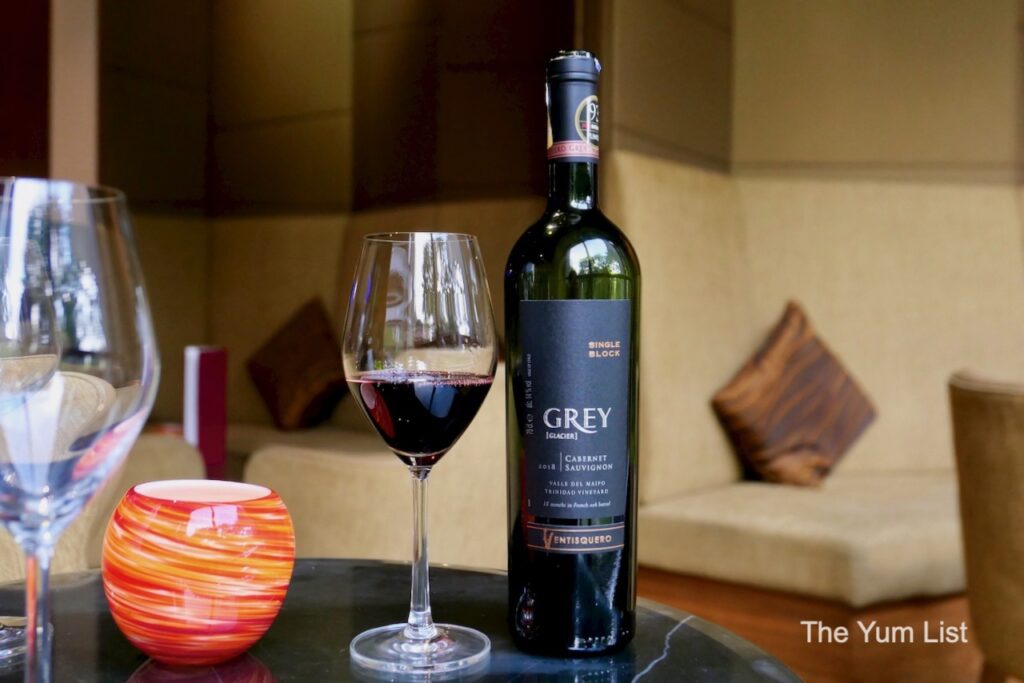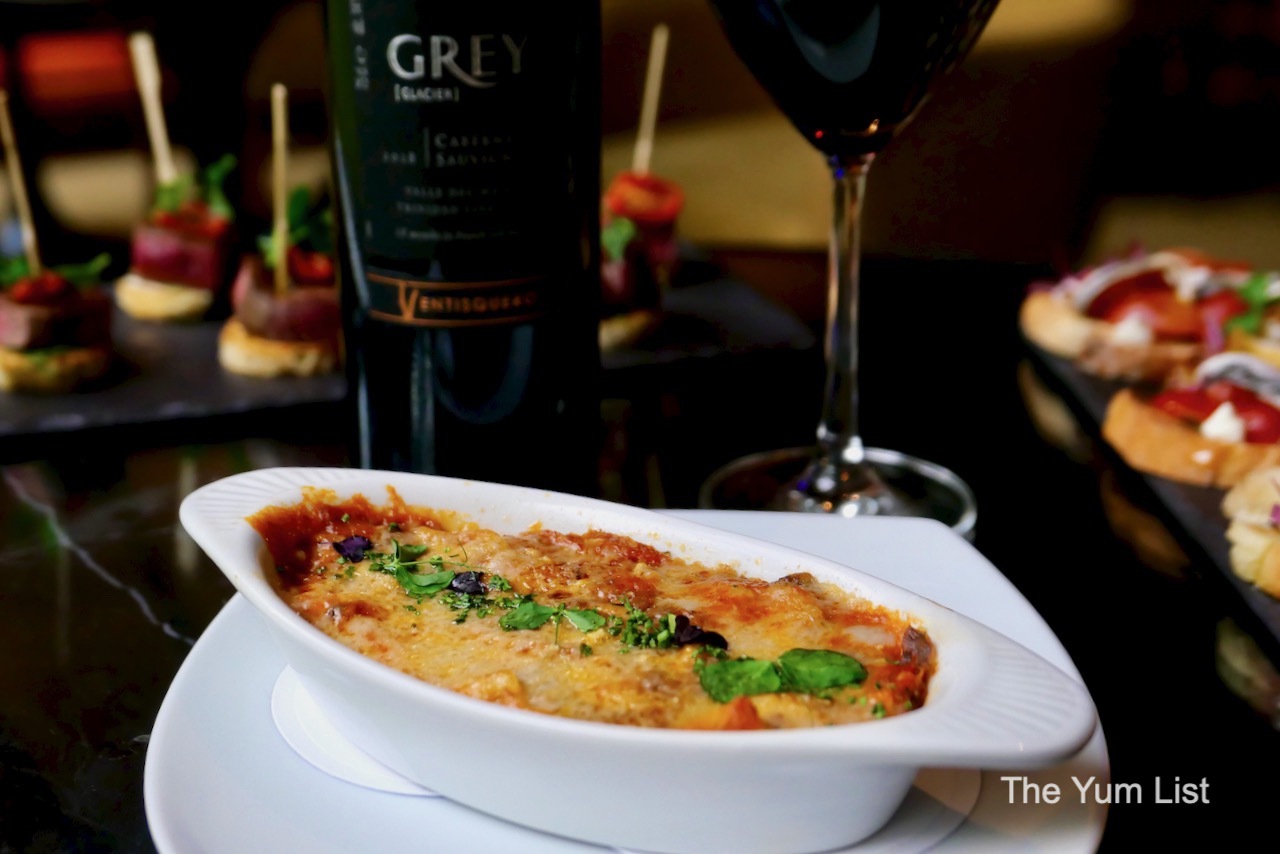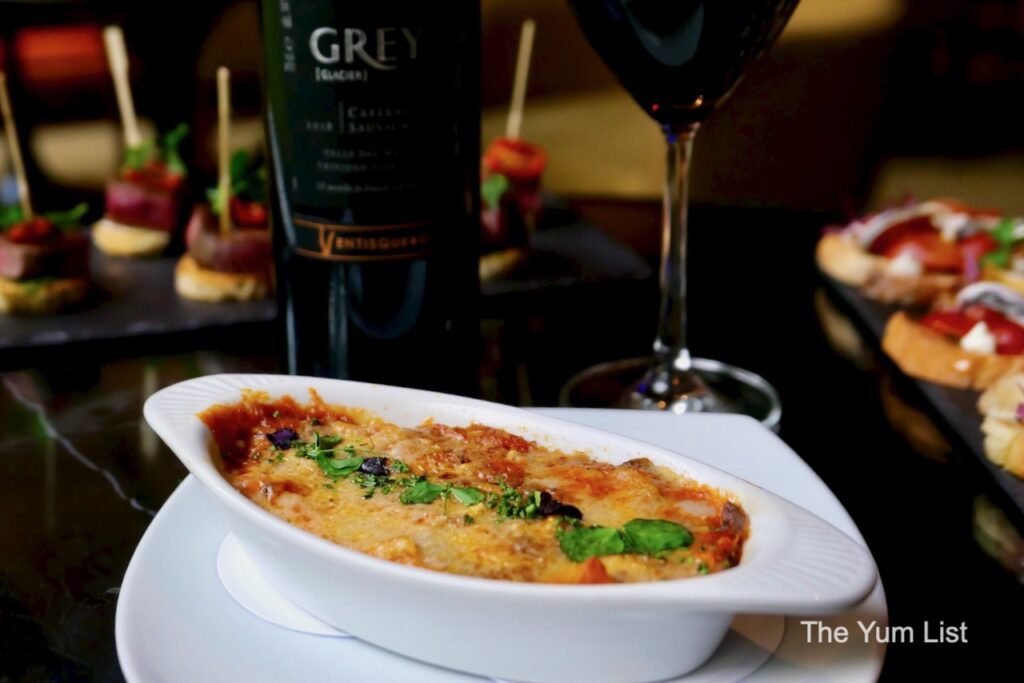 Malbec
Guilt be damned, we allow our glasses to be filled with the 2017 Los Haroldos Reserva Malbec from Mendoza, Argentina. Originally from Italy, the Falasco family has created a small production winery of great note in Uco Valley, Argentina for over 80 years, producing some of the finest wines from South America. This full-bodied Reserve Malbec is made from three high altitude vineyards, carrying notes of dark cherries, blackberries, thick tannins, brambles and milk chocolate. The recipient of a Gold Medal from the Decanter World Wine Awards, it has been called one of the world's most 'under the radar' fine wines. Riding a crest of intense flavour, this is another drop worth savouring in the mouth.
To accompany the many reds we have now imbibed, our tasting journey tonight reaches its crescendo with the Cubetto Di Filetto (RM88). Thick cut cubes of luscious fillet steak arrive on a pesto glazed, salty sourdough base, with semi sun-dried cherry tomato and microgreen garnish. The beef is unadorned, needing no additional flavouring. Its faint marbling culminates in a sumptuous, melt-in-the-mouth experience.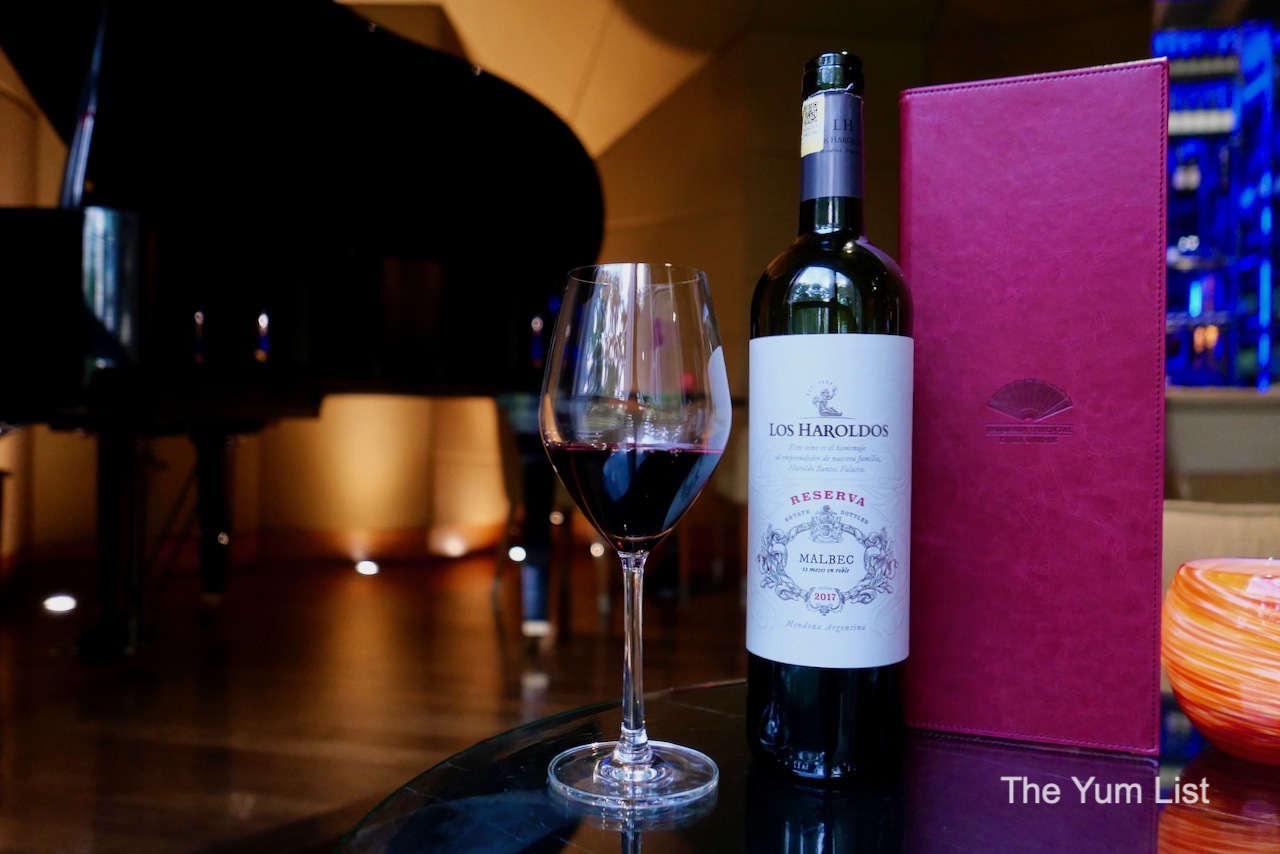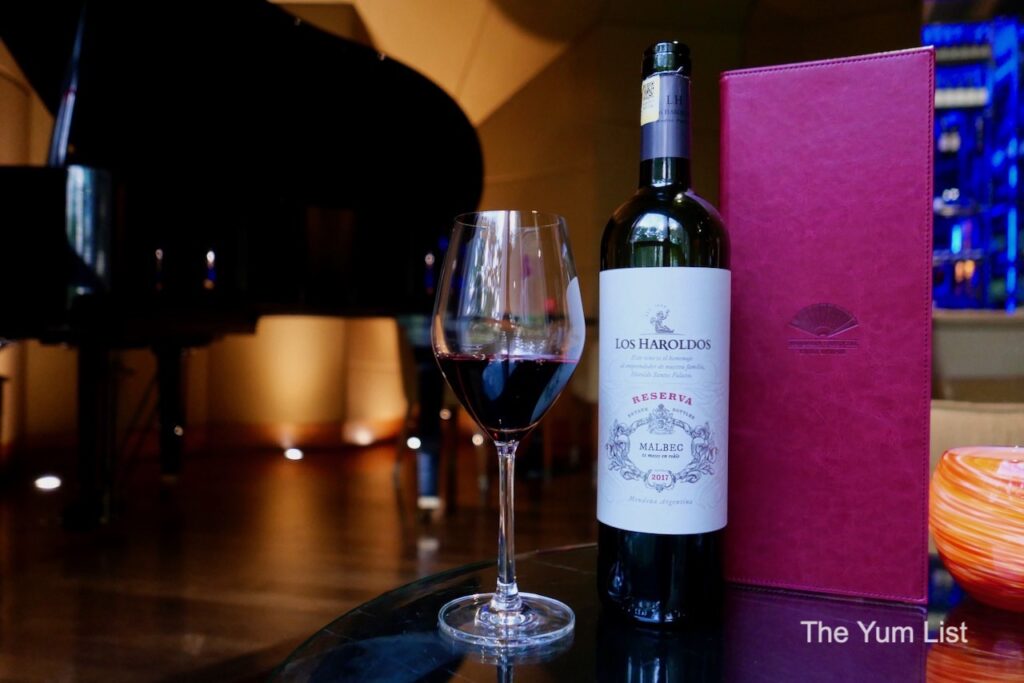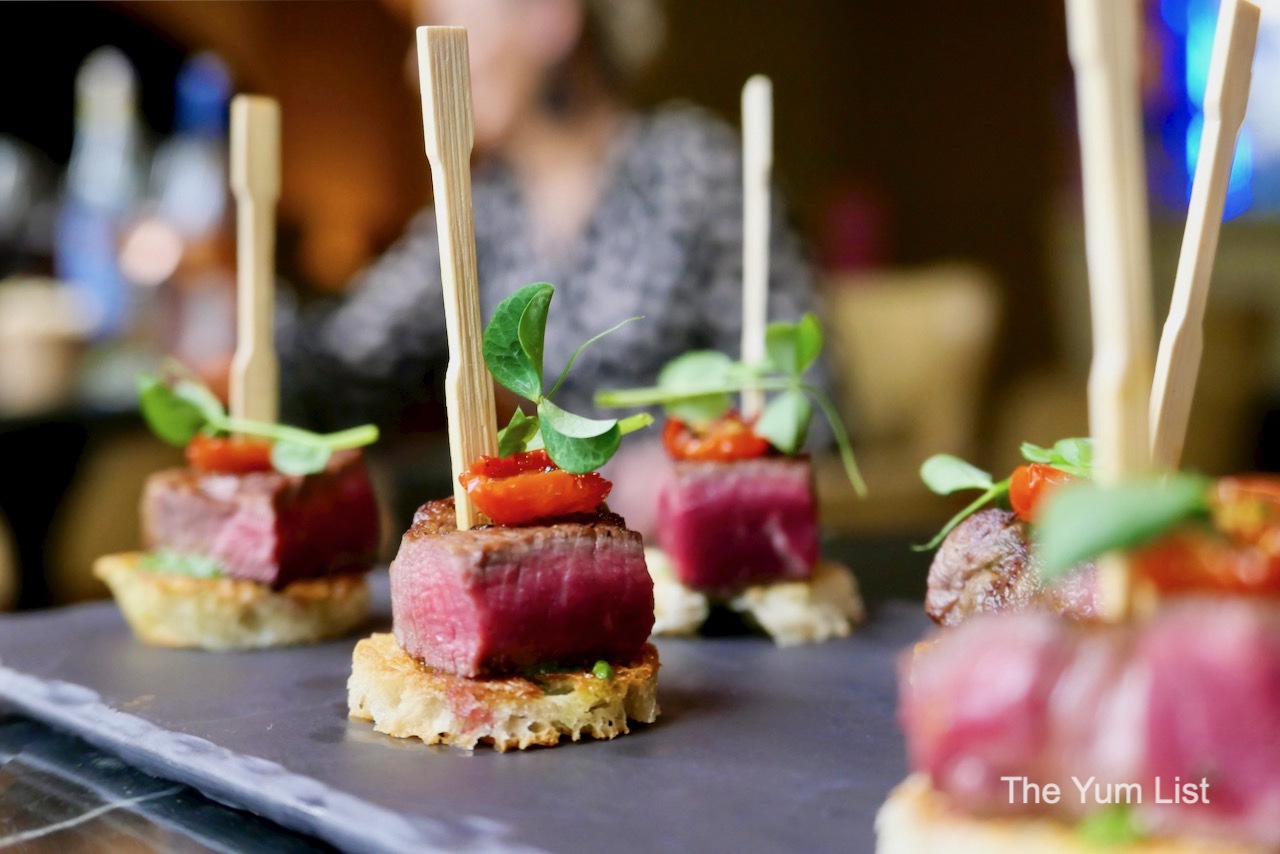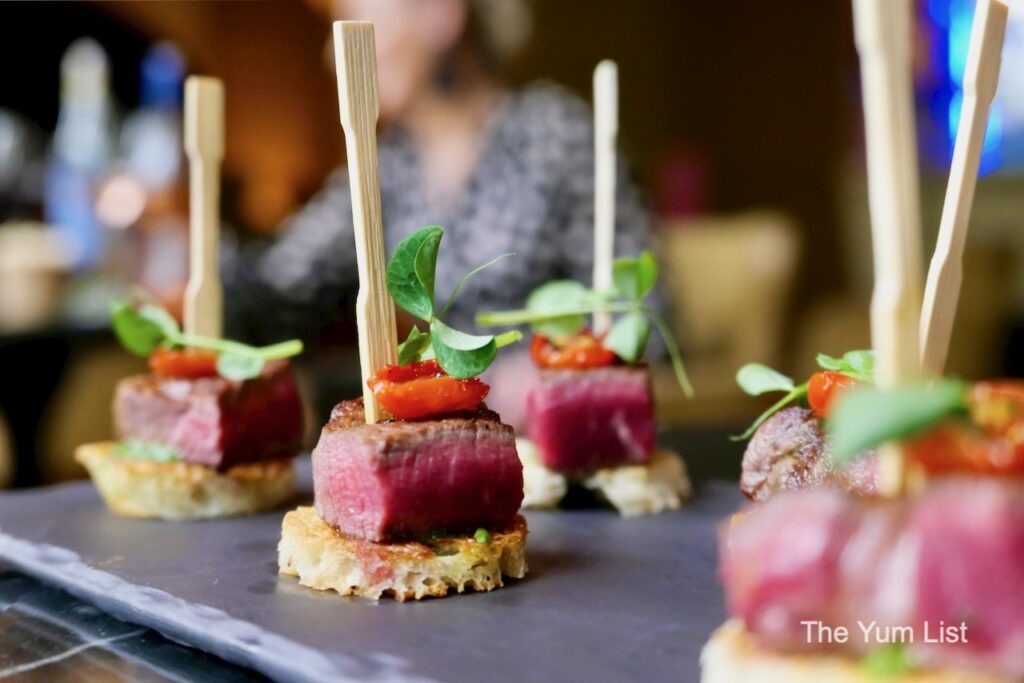 Shiraz
Our final wine of the evening is perhaps the most highly awarded, winning no fewer than nine gold medals across the US, China, New Zealand and Australia. Awarded solely on merit, levelling the playing field between old and new world vintners, this is a bottle worth hunting down. The 2019 Dandelion Vineyards Lionheart Shiraz from South Australia's Barossa region is made from heirloom, hundred-year-old vines in some of the oldest soils on the planet. Dandelions dot the vineyards as a natural weed suppressor, and the Lionheart takes great pains to retain their infiltration in the tasting notes. Grapes are gently crushed and open fermented with hand plunging before being basket pressed and aged 18 months in French Oak. The result is an elevation of ripe berries and brambles with a complex profile of spices – cinnamon, nutmeg, pepper and moments of dark chocolate.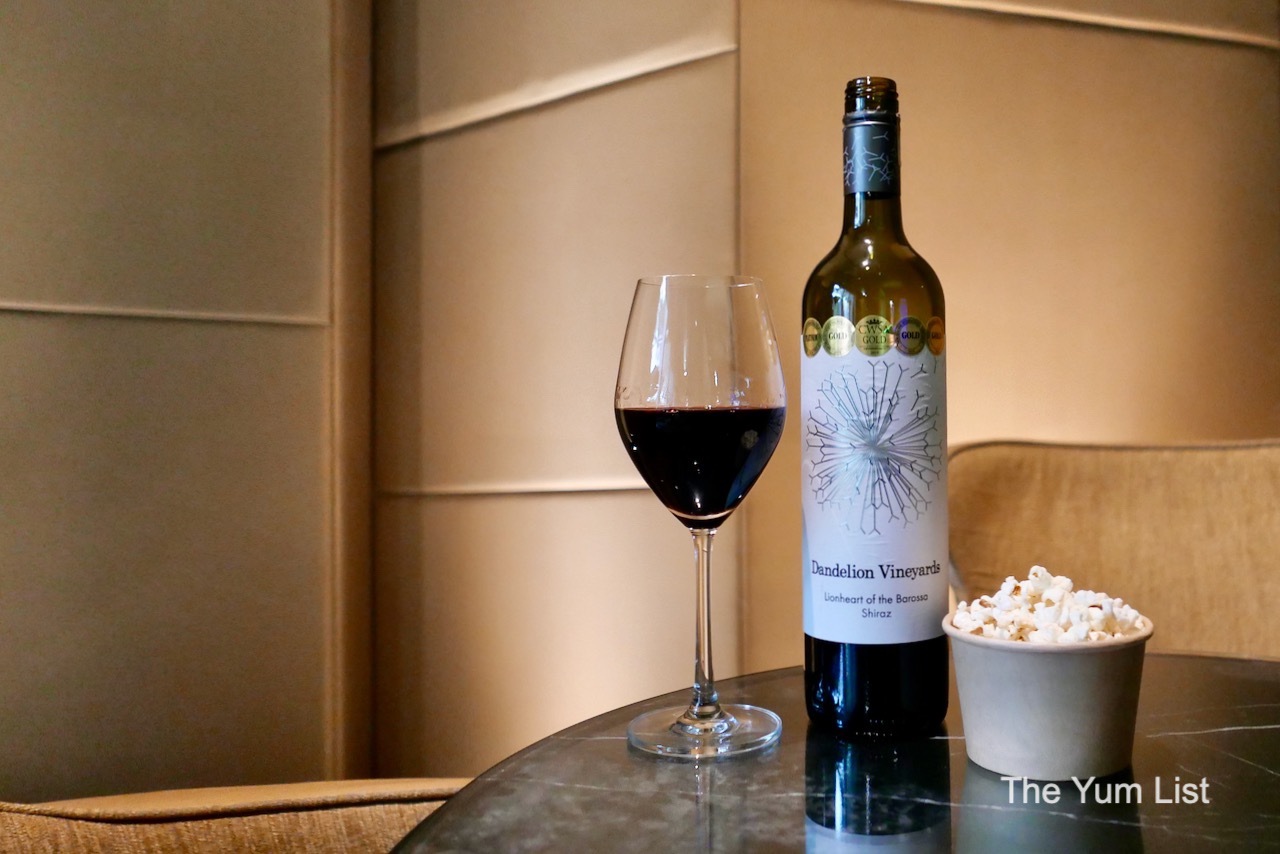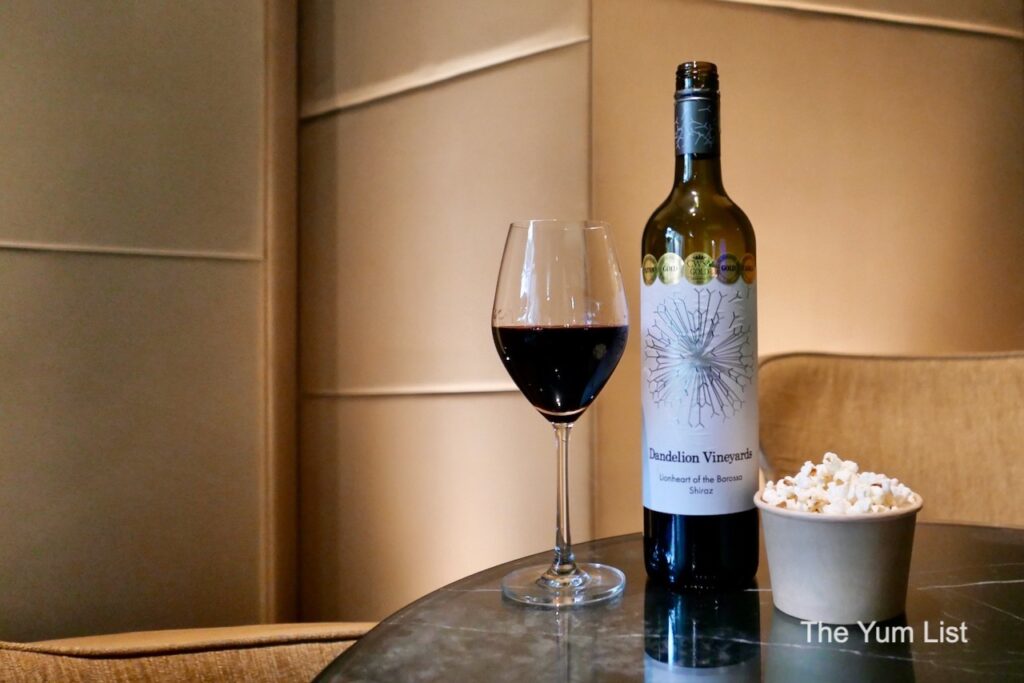 One Plus One Spirits at MO Bar
If wine doesn't tickle your fancy, MO Bar also has a One Plus One offer for RM45+ for certain spirits, also running from 5pm until 8pm Wednesday to Sunday.
MO Bar Kuala Lumpur
The MO Bar's Cellar Series Evening is throwing the full power and might of the Mandarin Oriental name behind it as it vies for the title of KL's best kept after work secret. In our opinion, it is triumphant. For less than you would pay to purchase a bottle from this range, at the MO Bar, you can drink the entire bottle, and then some. The impressive global menu is only matched by the equally impressive food on offer. Generous servings of high-quality produce will transport you to Italy and beyond as you unwind from your post-pandemic aggravations. We only ask that you don't tell too many people. With limited seating in this secluded haven of pleasure, let's keep this marvellous secret just between us.
Reasons to visit MO Bar KL: an intimate space for meeting with friends; one of the best happy hour deals in KL.
MO Bar
Mandarin Oriental, Kuala Lumpur
Kuala Lumpur City Centre
50088 Kuala Lumpur, Malaysia
+6 03 2380 8888
+6 03 2179 8818
[email protected]
www.mandarinoriental.com
Find more KL bar recommendations here, and stay up-to-date on the latest gourmet and travel happenings around Malaysia here and here.