Restaurants and Bars Desaru Coast – The Westin
Monica Tindall
If visiting Desaru Coast, restaurants and bars are pretty much limited to what's available in hotels. However, that's not a problem when you have several five-star resorts in the area. The Westin Desaru Coast alone has five food and beverage outlets covering local and international cuisine, light bites and full-course menus, as well as refreshments ranging from healthy juice blends to exciting tropical cocktails.
Seasonal Tastes
Most mornings at The Westin Desaru Coast begin in Seasonal Tastes with a breakfast buffet. There's an expansive selection of local and international cuisine. My morning desires are quite simple – eggs or oats, fresh fruit and coffee. All are easily satisfied here. I especially appreciate the healthy range of local fruit coming from a farm just five kilometres down the road, as well as an assortment of nuts, seeds, Bircher muesli, healthy smoothies and chia seed puddings.
With the bakery's oven in the middle of the dining area, the smell of freshly baked goodies in the mornings is irresistible. While I see plates piled high with pastries such as croissants and Danishes, mine holds thick slices of rye sourdough. There's a whole station dedicated to the local love of kaya toast, complete with a charcoal grill for getting just the right char on the bread. I borrow some of the homemade kaya for my sourdough – delicious.
Later in the day, you'll find an ala carte menu at Seasonal Tastes with both western and local recipes. Again, my preferences gravitate towards plant-forward, healthy selections, and I find the Westin's Wellness section just right for me. I think healthy meals and salads are perfect for beach holidays. I enjoy the Avocado and Mesclun Salad (RM 30, half) with toasted sunflower seeds and lemon vinaigrette. Also, the Labneh, Roasted Grapes, Walnuts and Honey (RM 25, half). Both are fresh and light – great warm-weather options.
One of the highlights of this menu is that you can order half or full portions. I appreciate the smaller options making it possible to try more things without wasting. Later, at dinner, I discover it's similar for wine by the glass – you can opt for a 150 ml or 250 ml pour. Love that!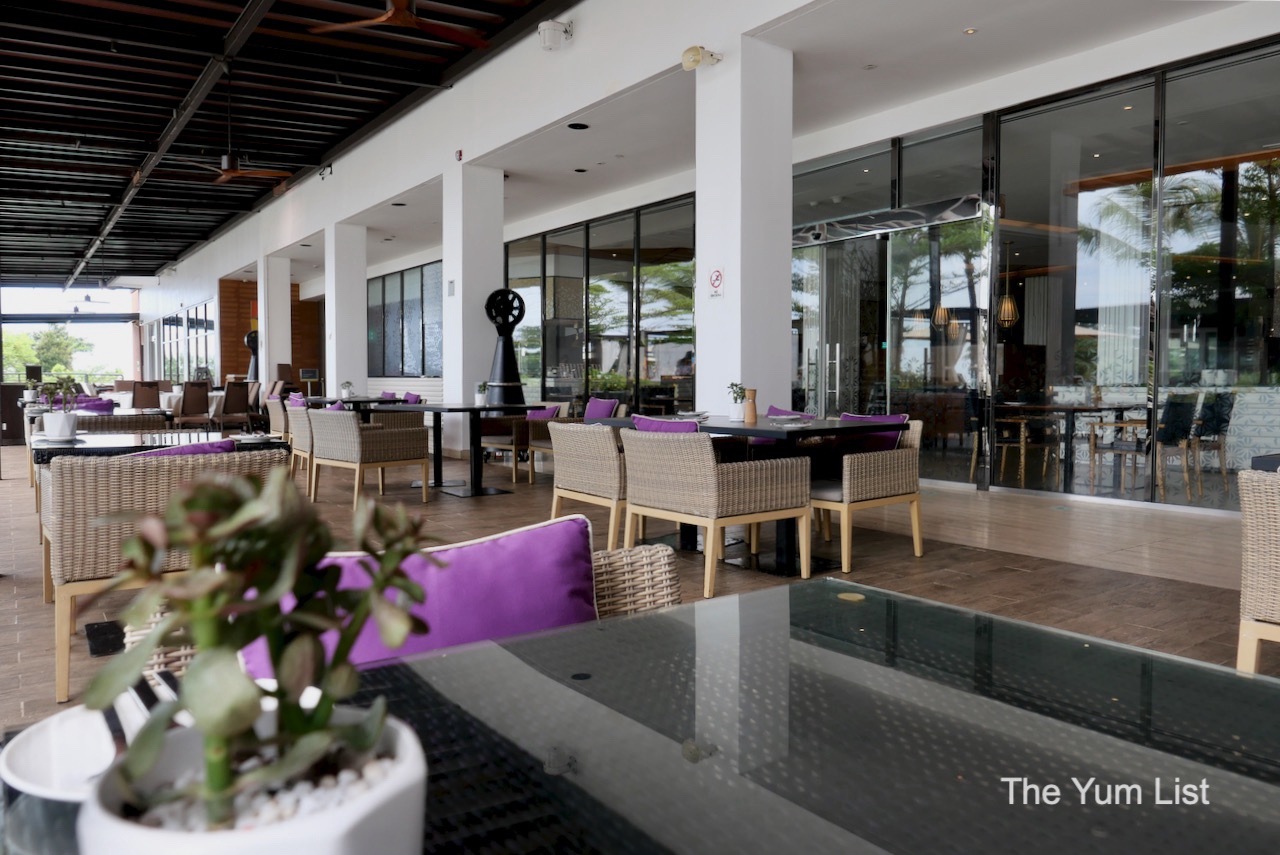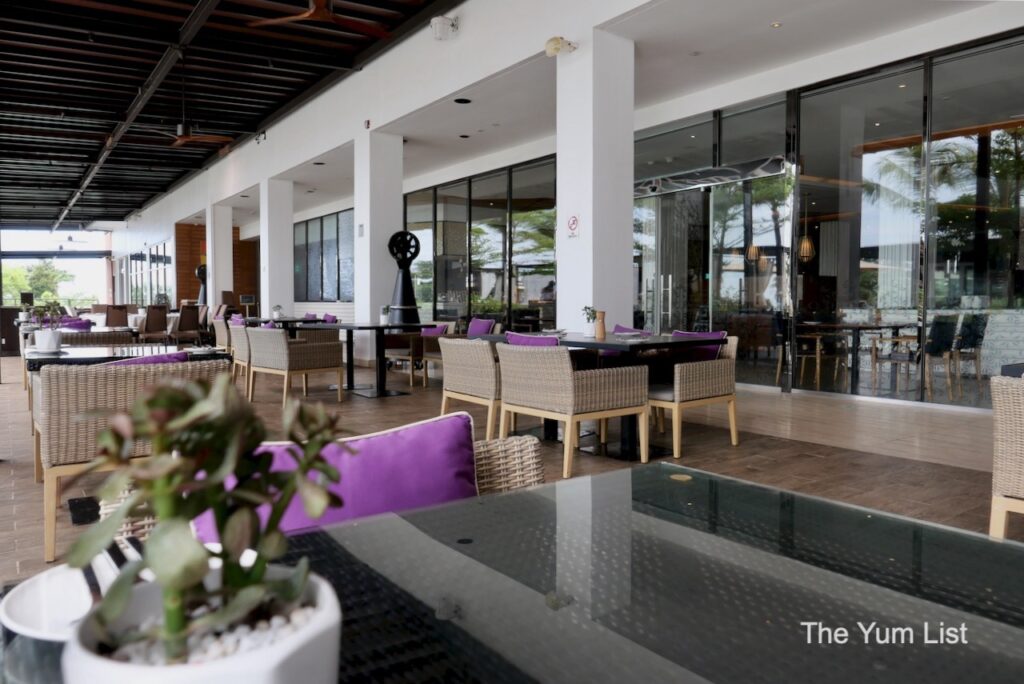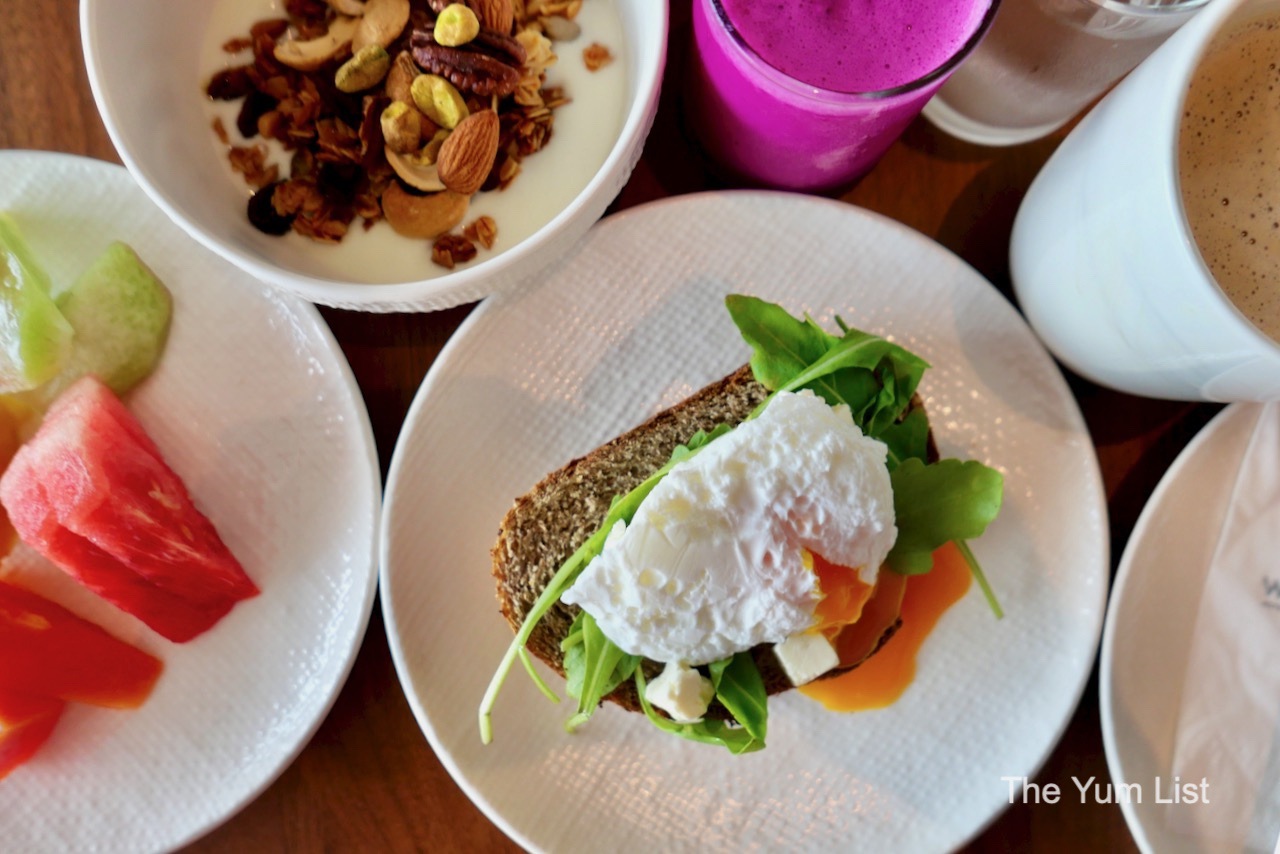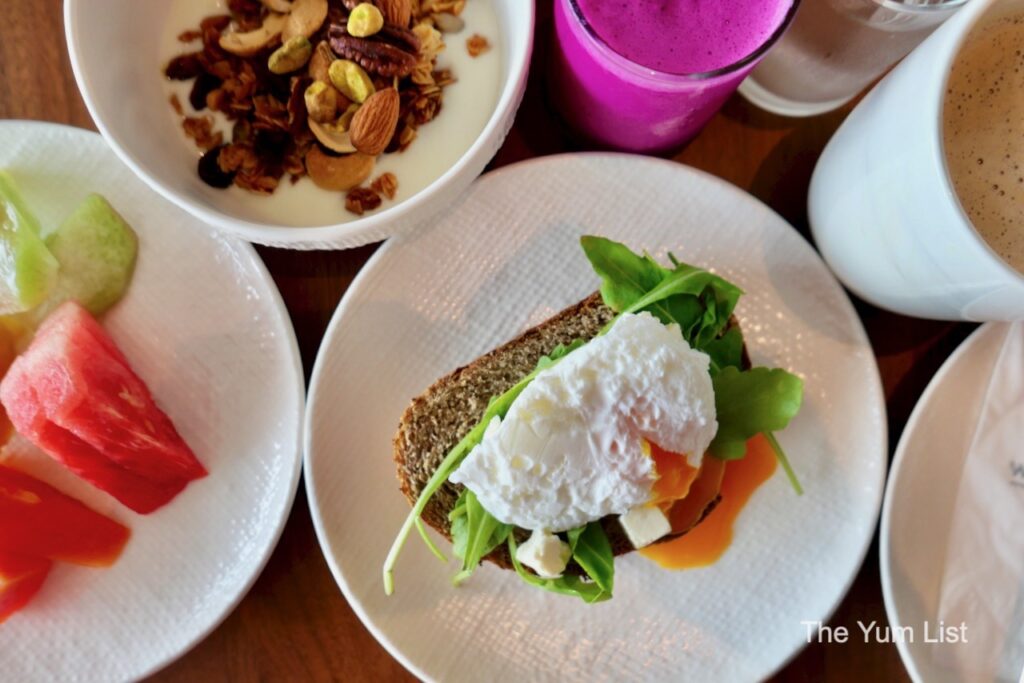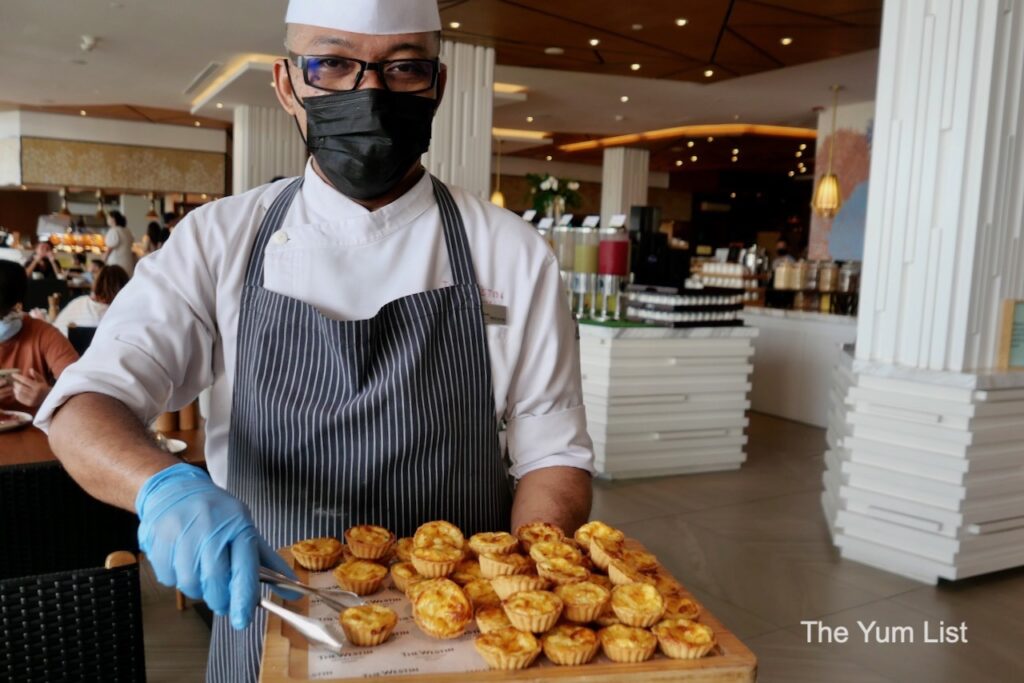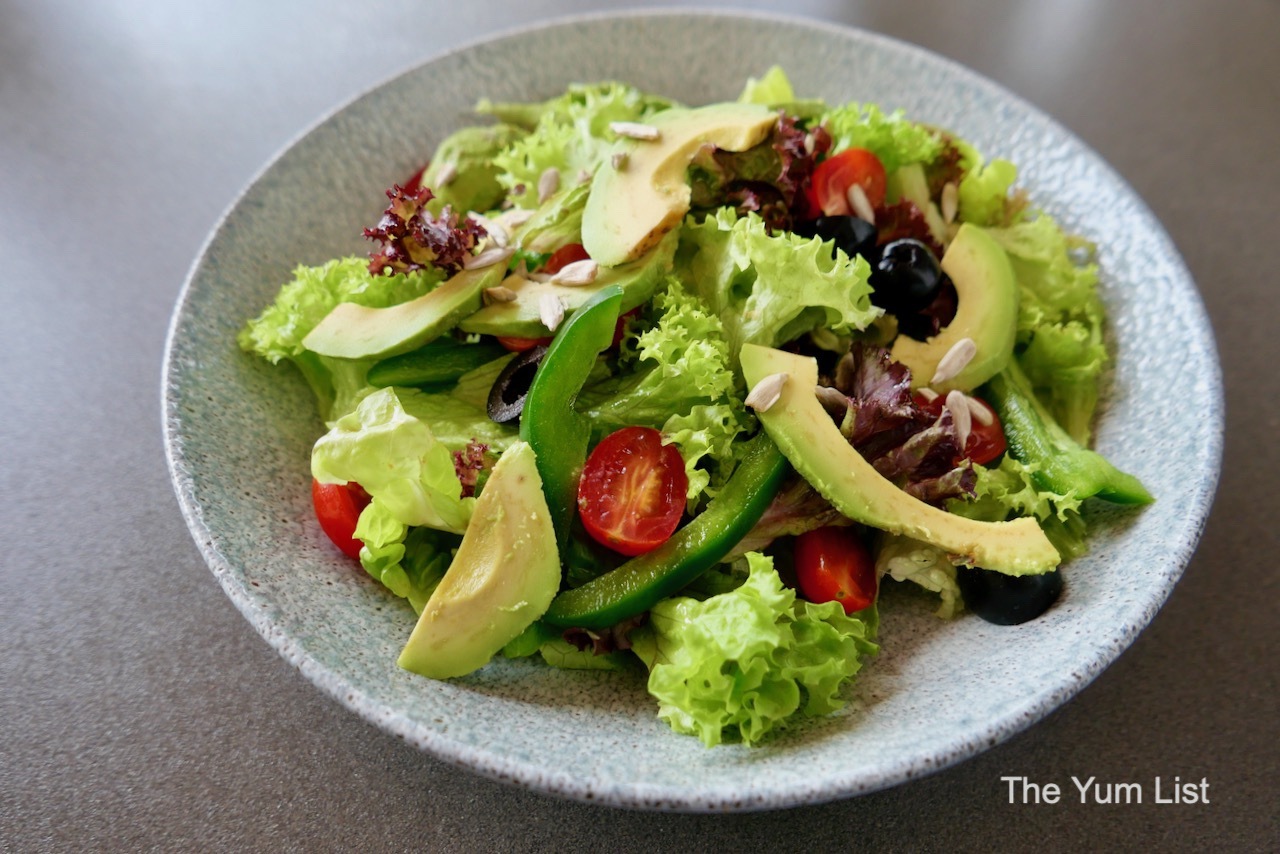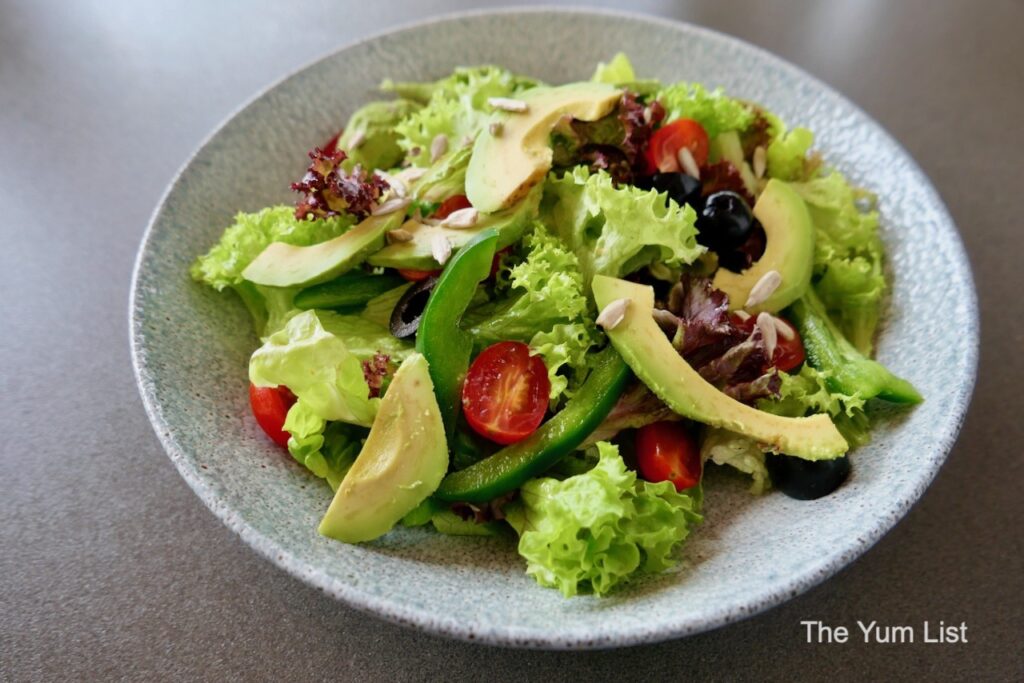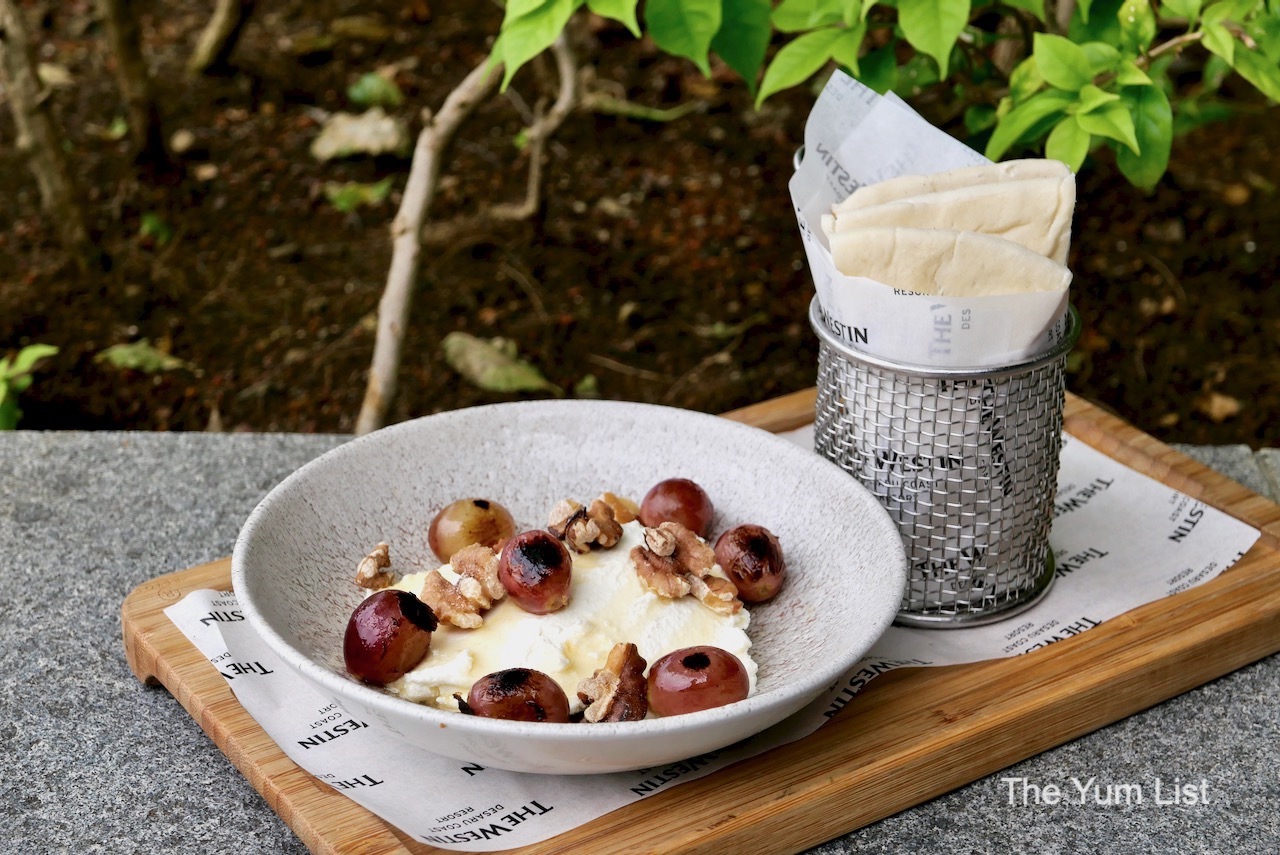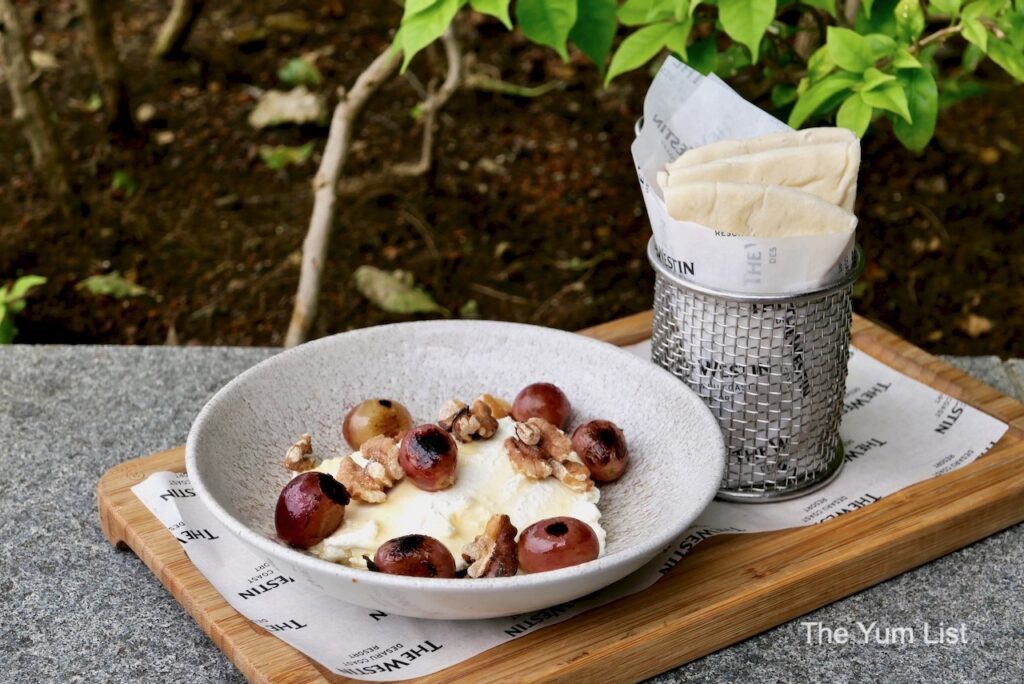 Seasonal Tastes Operating Hours
Daily: 6:30 am – 11 pm
Dress Code: casual
MIX Lounge
MIX Lounge is just to the side of The Westin Desaru Coast's reception lobby, affording it the benefits of a breezeway from the entrance to the sea. This is a great place to connect with friends over a coffee or afternoon tea. They have a lovely fresh set served between 3 and 5 pm daily, priced at RM 75+ that includes a pot of JING tea. It's just the right size for sharing without fear of waste – quite the opposite of the KL trend of too much food and a hefty price tag to match.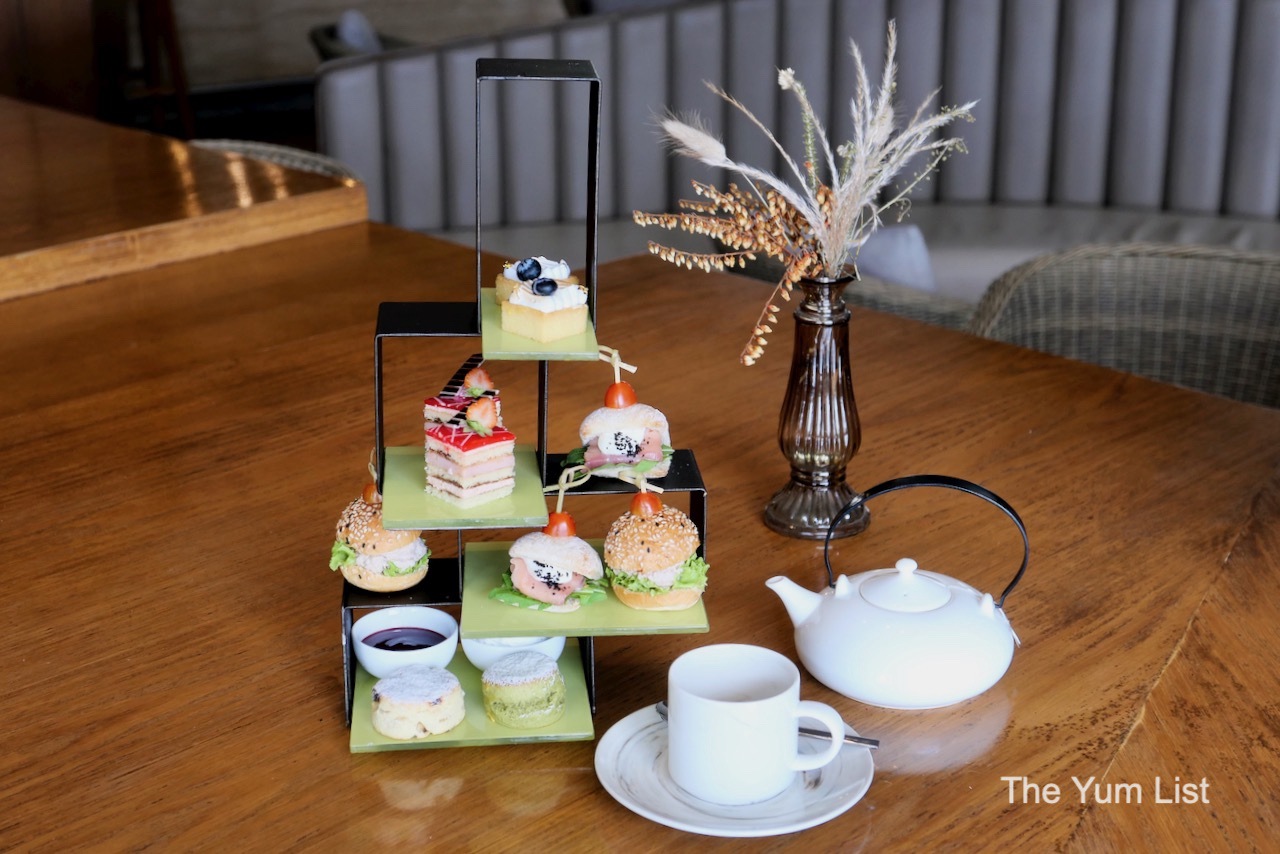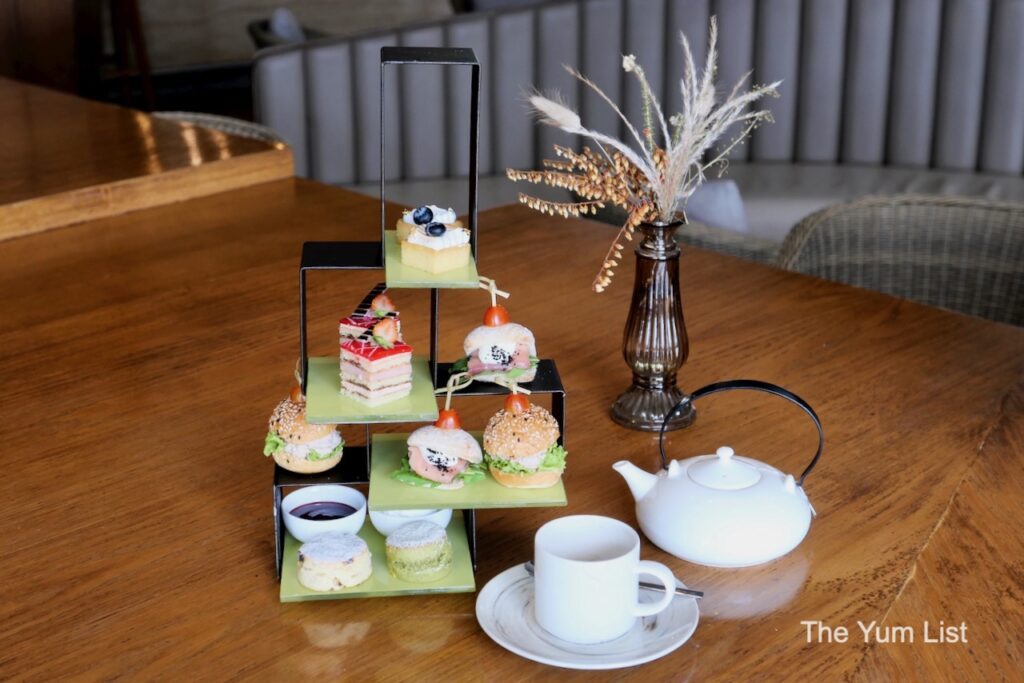 MIX Lounge Opening Hours
Tuesday to Sunday: 11 am – 8 pm
Monday: closed
Dress code: casual
Beach Bar
Poolside dining at Seasonal Tastes is certainly an acceptable way to spend lunch. However, the closer we can get to having our toes in the sand, the better. As such, we spend quite a bit of time at the Beach Bar. The outlet has dedicated lounges and umbrellas for hotel guests and a sunchair service. With a wave of the hand, we have something to sip and nibble on.
I love a one-page menu, and Beach Bar delivers, offering enough variety to please a crowd but not so much to question their ability to do it all well. From the bar bites, a Tasting Platter (RM 33) of three bao catches my eye. I'm quick to pick the crispy tempeh with onion sambal. Waiter Eddy recommends the crispy prawn with Asian barbecue sauce, and grilled chicken with kimchi slaw fills the last bun.
Left to my own ordering, I will happily eat veggies at every meal. The Vegetable Poke Bowl (RM 30) suits me nicely. It's a generous bowl of mixed greens, quinoa, cucumber, cherry tomatoes, mango, sliced seaweed, corn, chopped peppers, pumpkin seeds and kimchi in a sesame dressing. I also nourish myself with the Green Garden Salad (RM 25), a generous bowl of mixed leaves, cherry tomatoes, peppers, onion rings and olives dressed in a French vinaigrette. Toasted Pita and Three Dip Bowl (RM 40) is an easy sharing plate with a trio of dips that change daily (today it's mango, tomato and apple jam) and fat, soft pita triangles. These are great with a Fresh Coconut (RM 20).
Of course, there is much more to the menu than my healthy picks. I hear the Malaysian Satay is excellent, and hubby sings high praise for The Desaru Burger (RM 55). It's a grilled, tender, moist, house-made patty of Angus beef. Backed up with cheddar cheese, smoked beef bacon, tomato, onion, lettuce, and gherkins, it works well together on a house-made sesame bun. I agree. It's a winning combo.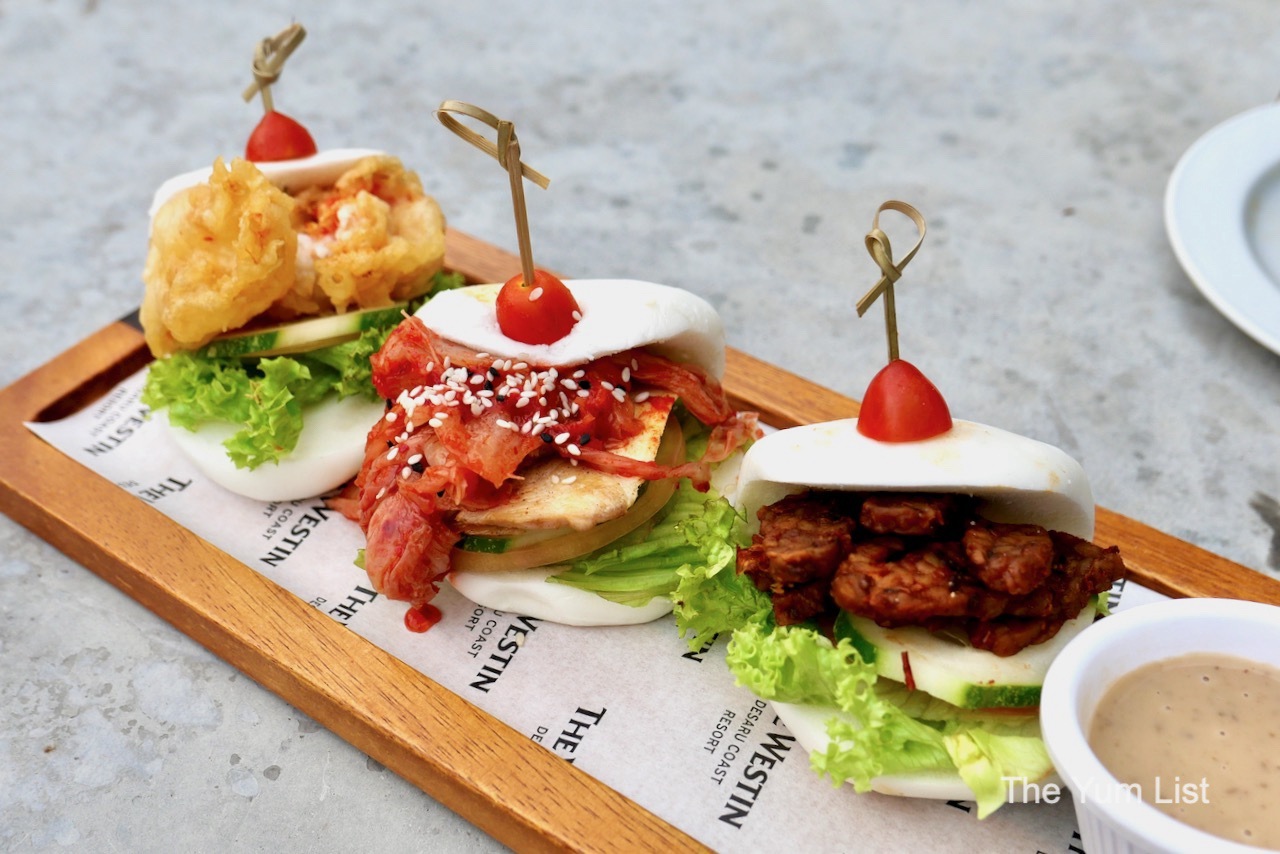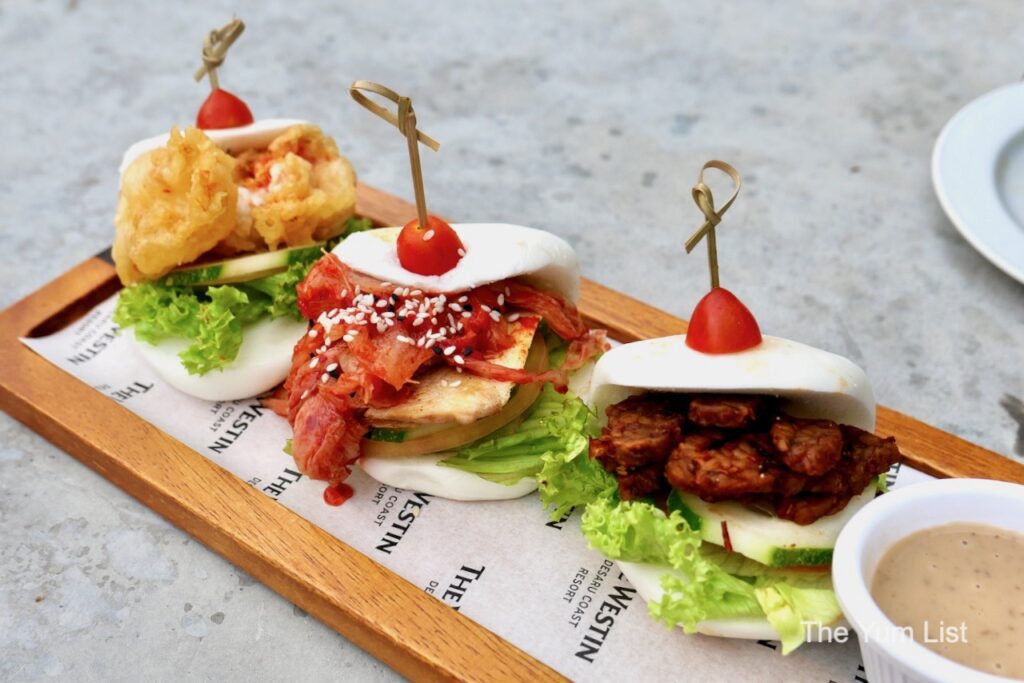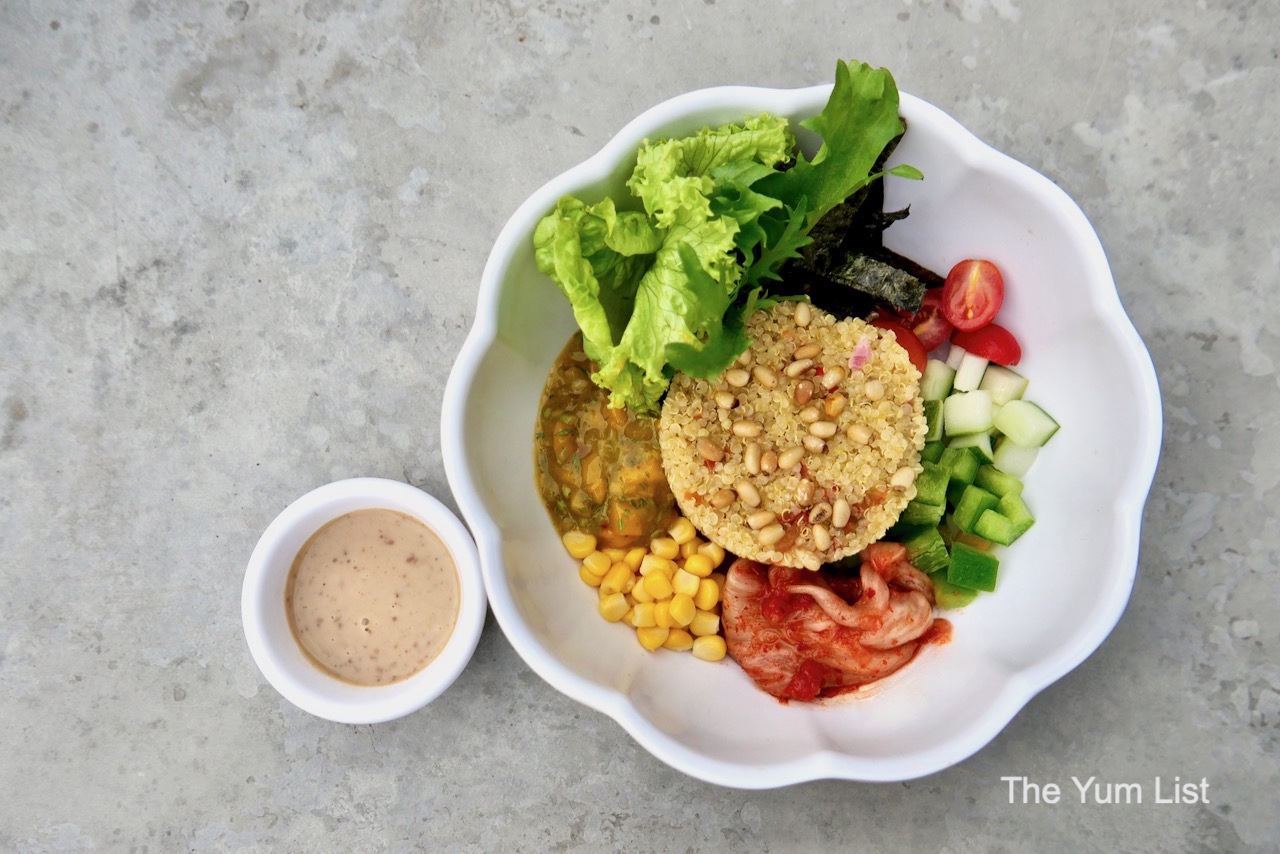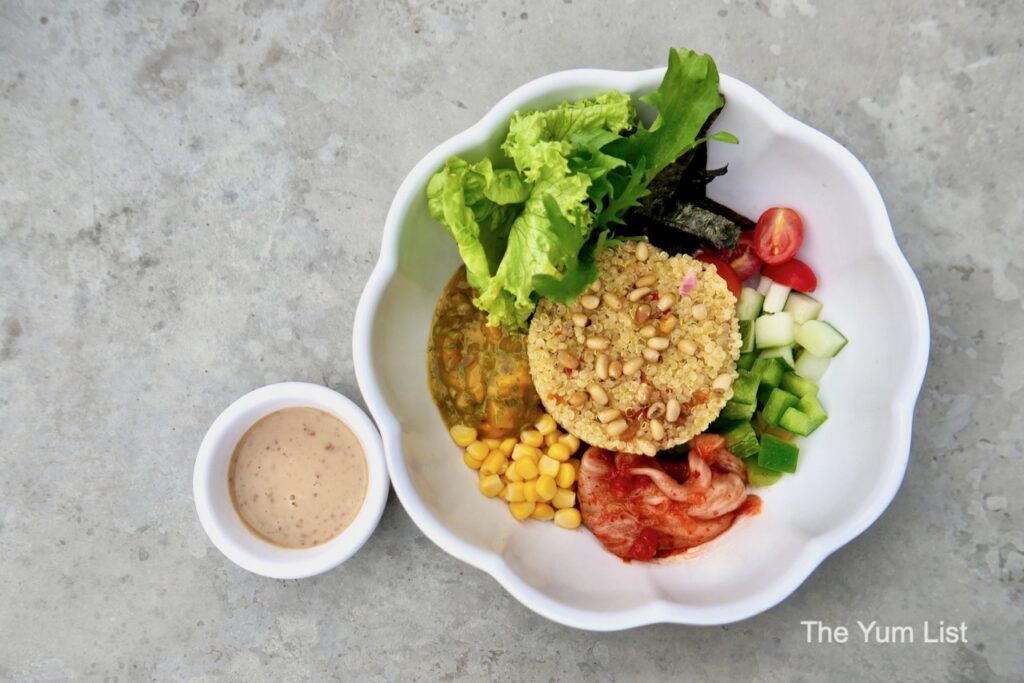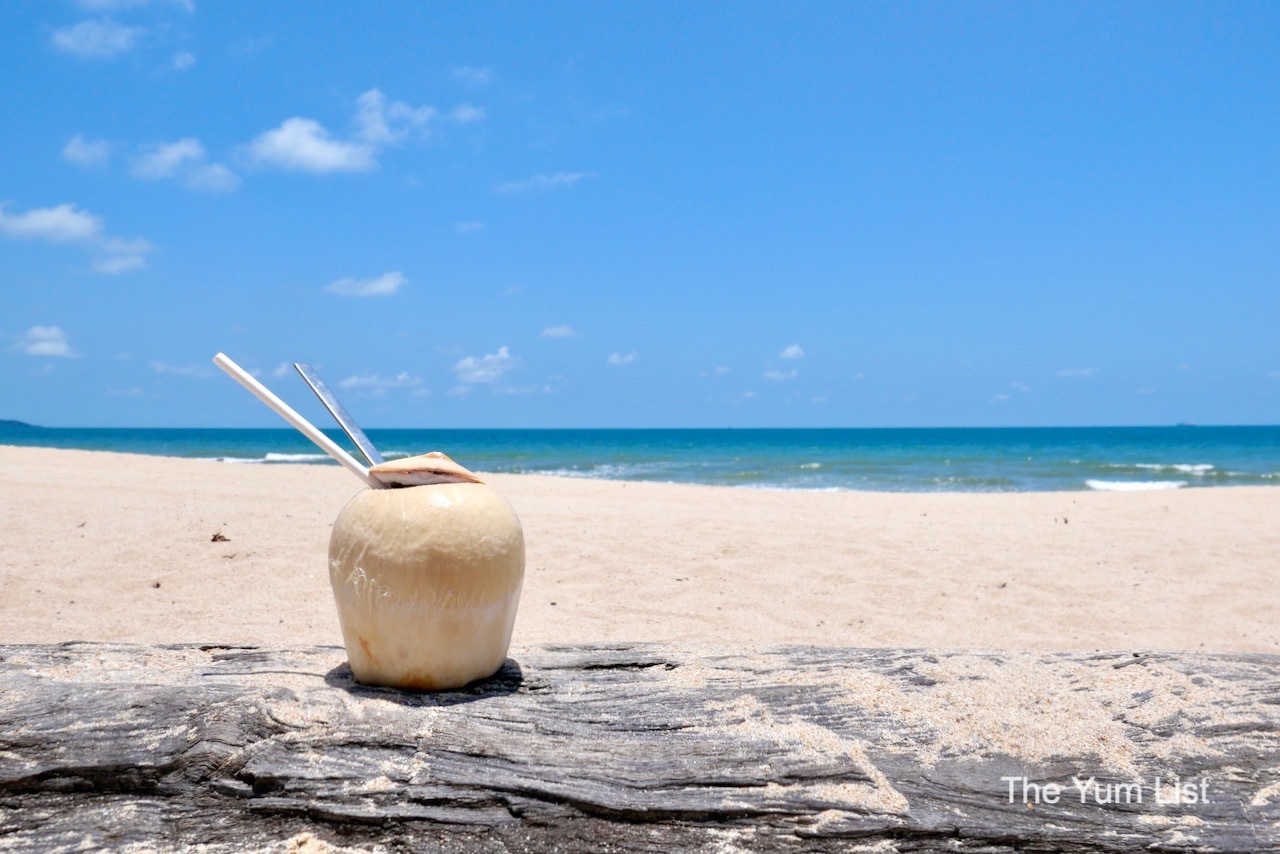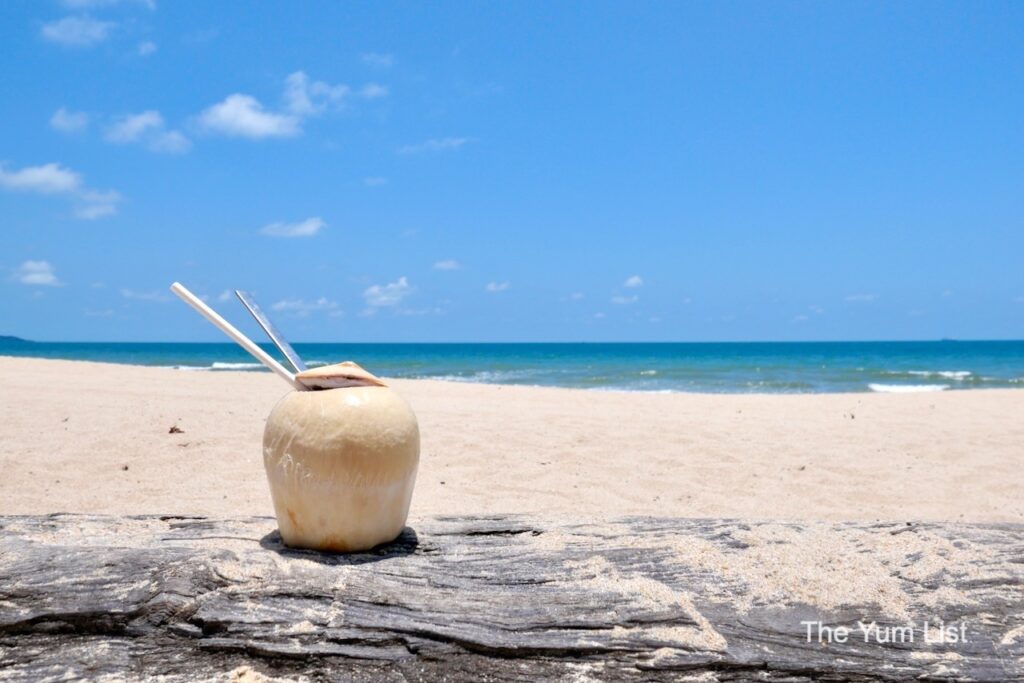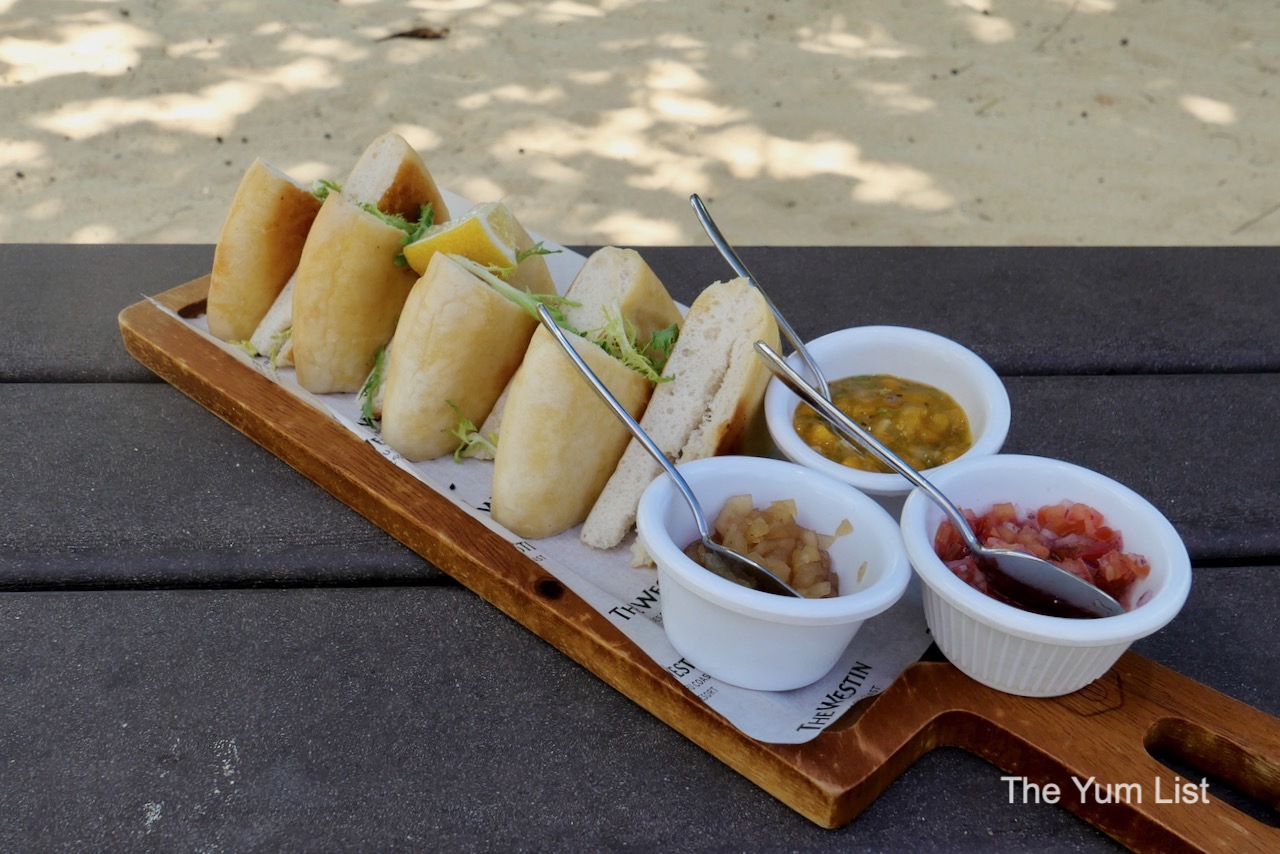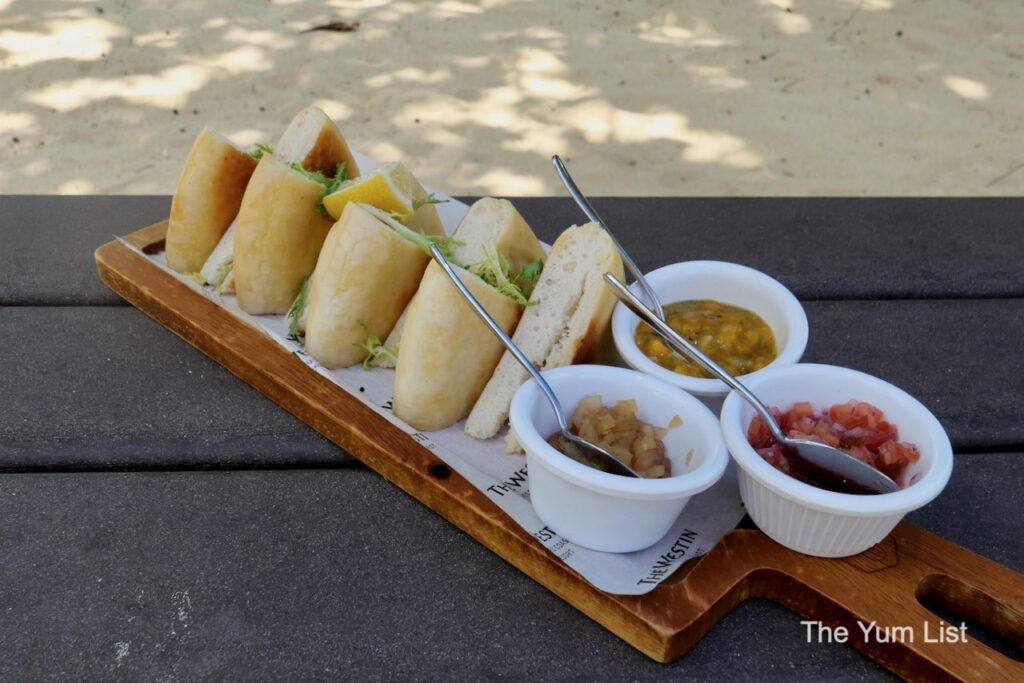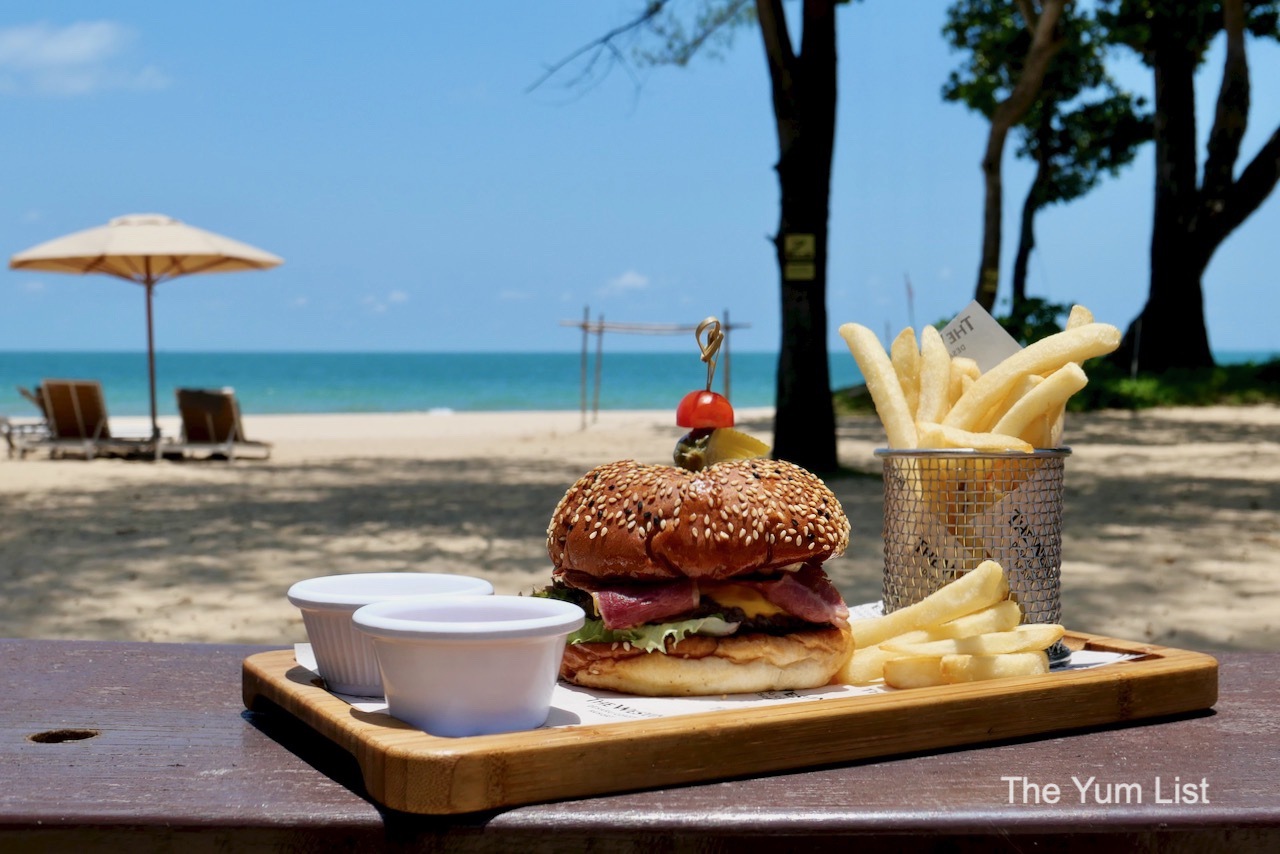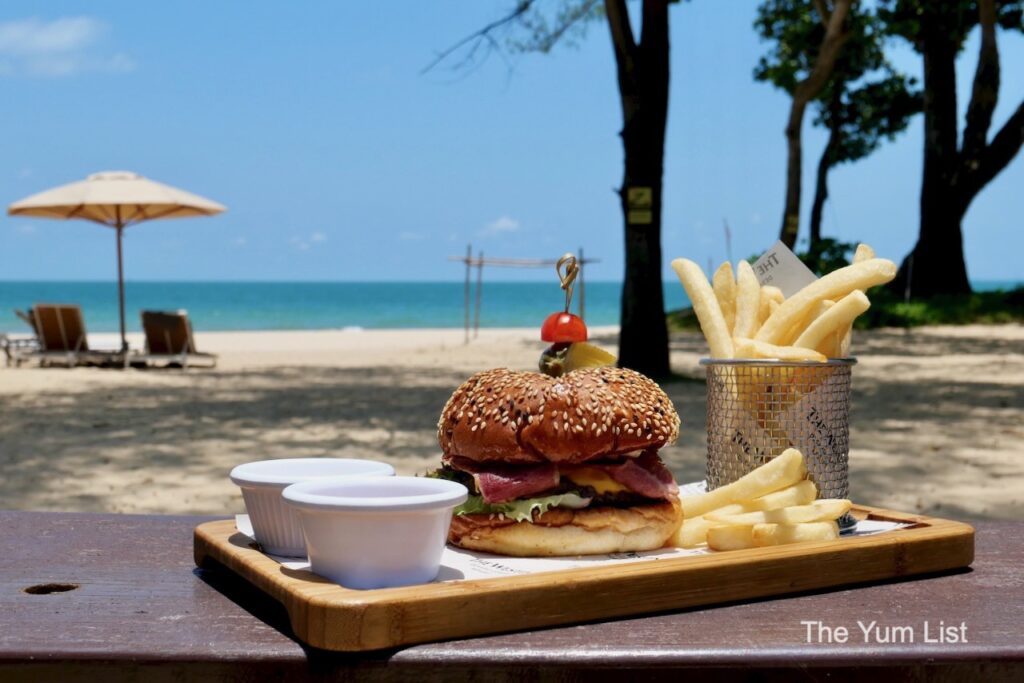 Clink, Sip, Repeat at Beach Bar
Happy Hours run from 5-7 pm daily at the Beach Bar with nicely priced cocktails, house pouring wine and draught beer. I settle right in with a Margarita (RM 23) and later move to one of their signatures, a Royal Colada (RM 39). The Margarita is a standard rendition of the classic with Cointreau, tequila, freshly squeezed lime and a rim of salt. The latter is also the textbook recipe with rum, coconut cream and pineapple juice. The juice comes straight out of the pineapple that it is served in. It certainly makes for a fun presentation.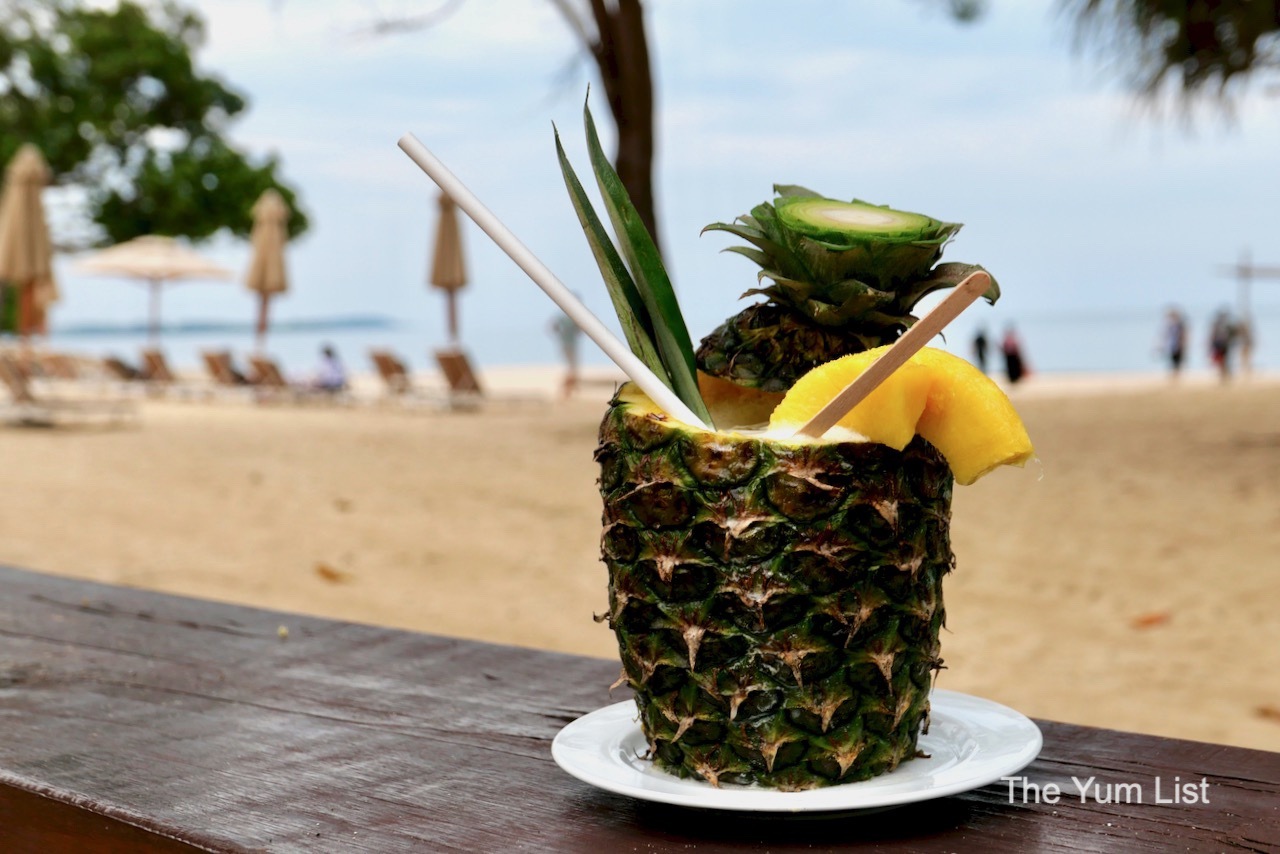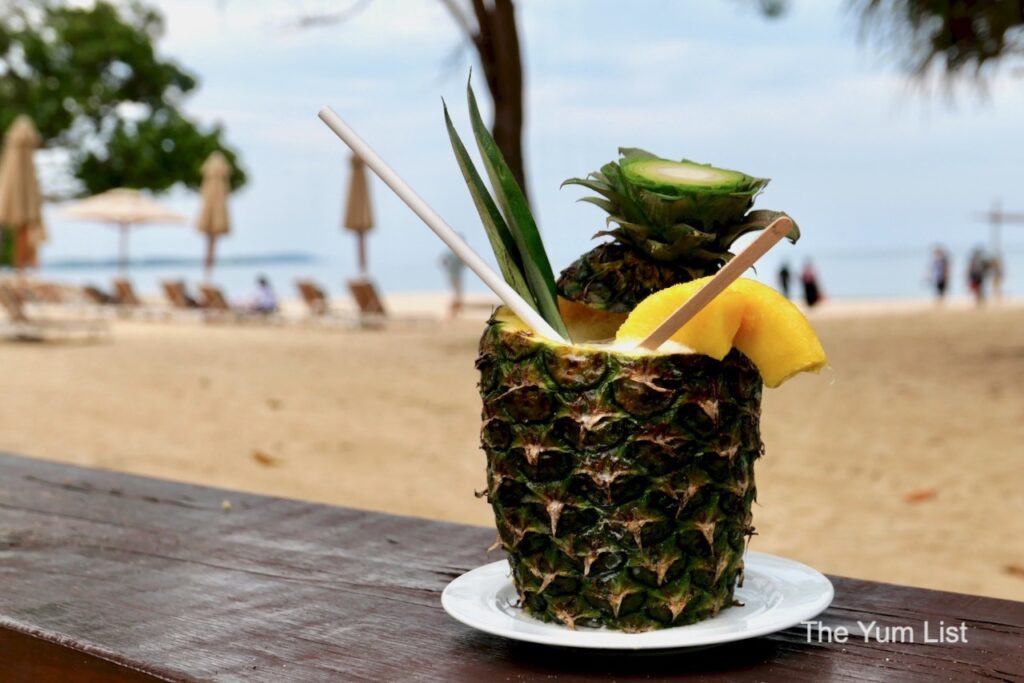 Beach Bar Opening Hours
Wednesday to Monday: 11 am – 11 pm
Tuesday: closed
Splash – Restaurants and Bars Desaru Coast
I don't order from Splash, The Westin Desaru Coast's pool bar, during my stay but I do take a quick look at the menu. It's filled with the classics of burgers, fries, light bites and cocktails – plentiful waterside nibbling.
Dress Code: Casual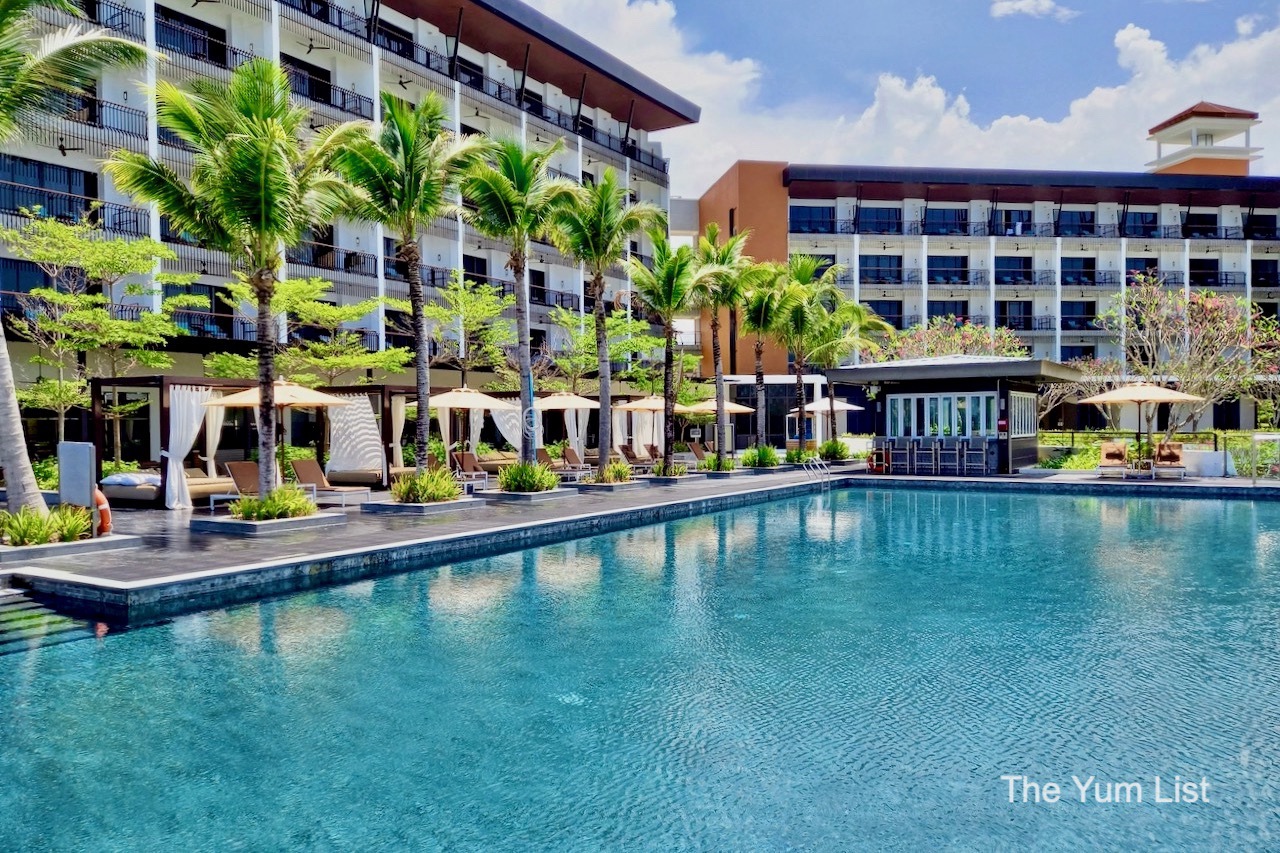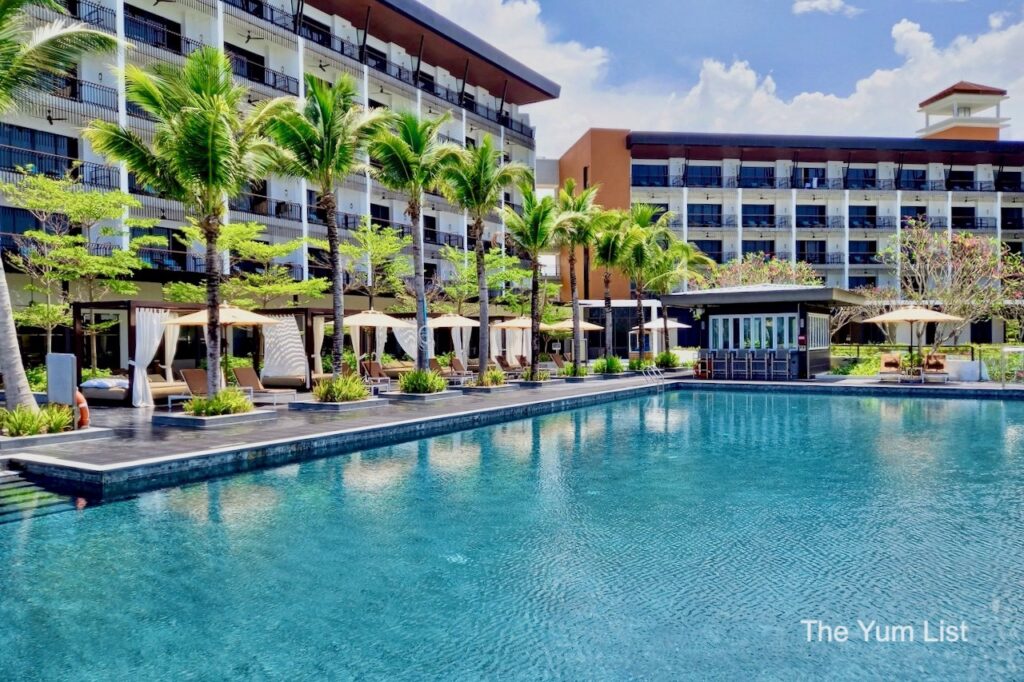 Prego – Restaurants and Bars Desaru Coast
Perhaps the best known of The Westin Desaru Coast's restaurants and bars is their Italian outlet Prego. It's an easy place to grab a casual pizza and is equally enjoyable for a full-course meal with wine.
We start our dinner the Italian way with an aperitif and classic, Negroni (RM 38). Bartender Ayul is happy to switch out the Beefeater gin for Tanqueray and makes the standard with Campari and Martini Rosso over ice. It's great with Prego's basket of house-made country bread, focaccia and breadsticks dunked in a sun-dried tomato dip or olive oil and balsamic. My dining date says it's warm, wholesome and a sexy beginning.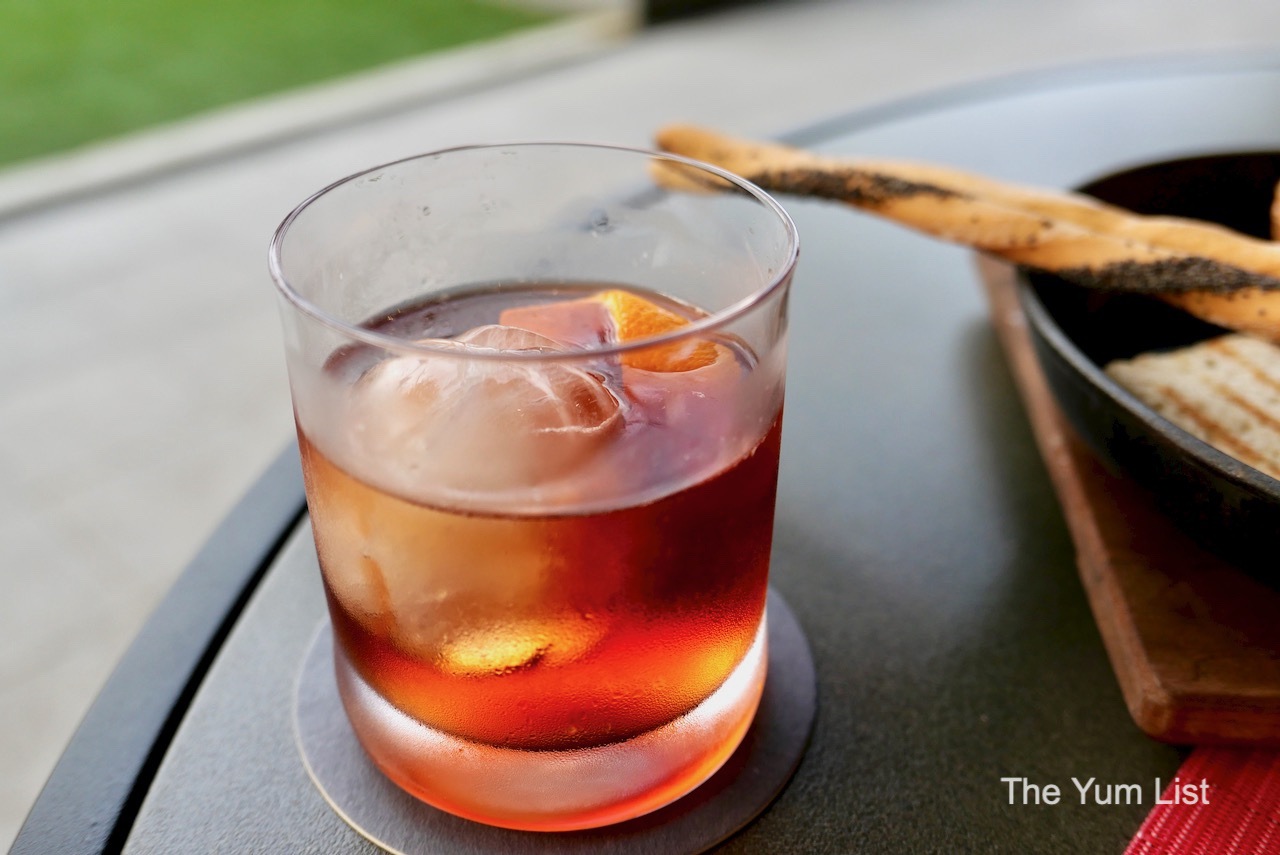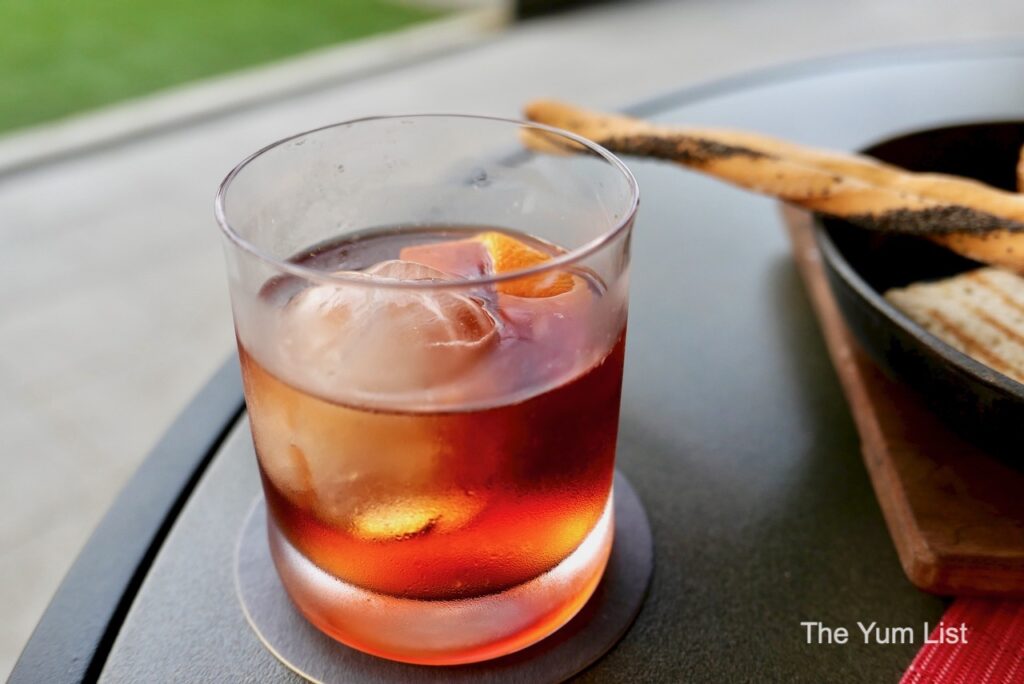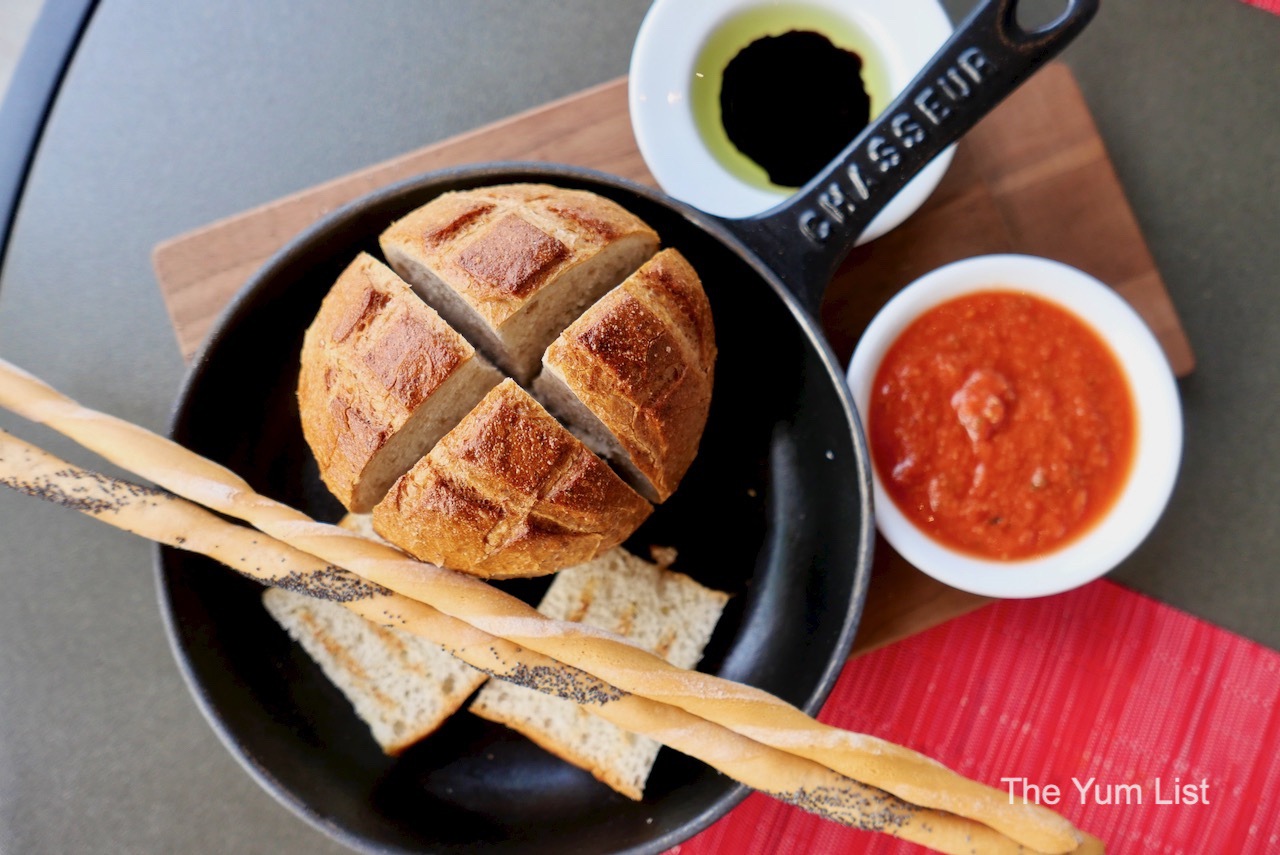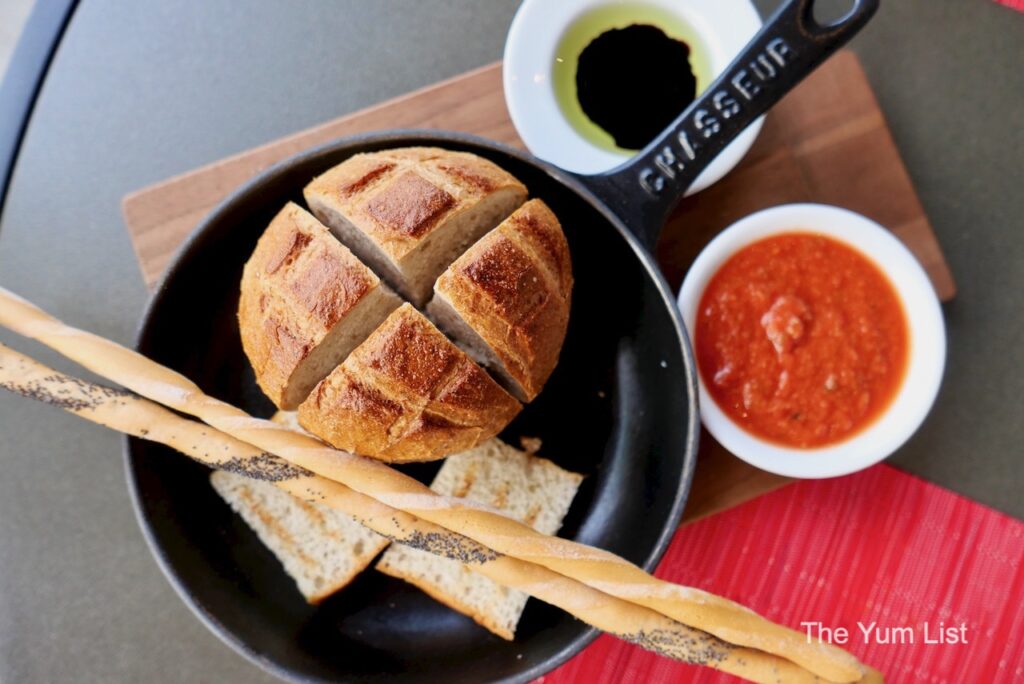 Iwan and Alias graciously take turns bringing out and explaining our dishes, and we soon learn that our menu is a stellar list of all-time favourites.
Our cold appetizer, Funghi Gratinati, Caprine e Erbetta Cipollina (RM 55), is rustically and attractively presented on a bed of verdant rocket and halved cherry tomatoes. Two large portobello mushrooms are filled with goat's cheese, chives and crusted with a fine crown of bread crumbs. Reduced balsamic is drizzled across everything, gifting a sweetness and acidity that beautifully complements the earthy mushrooms and creamy cheese.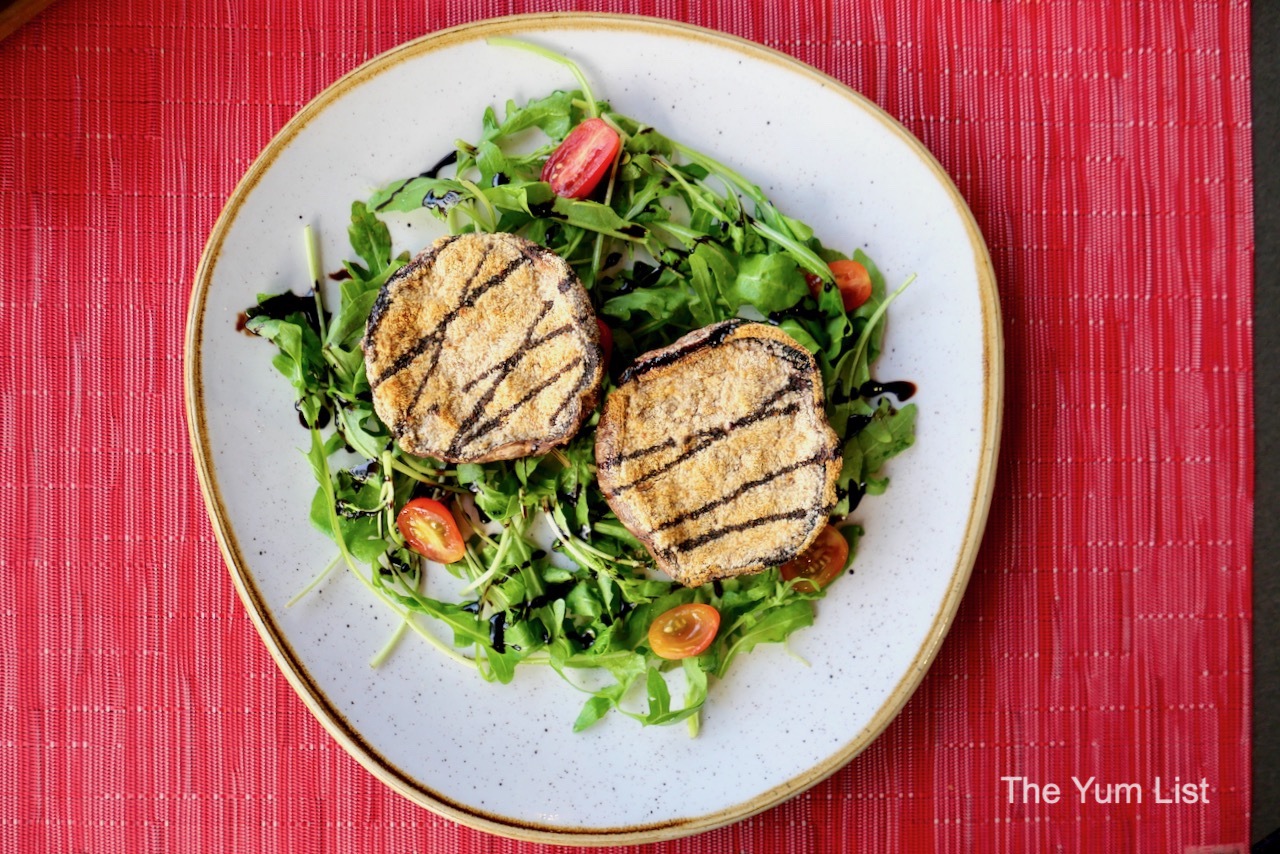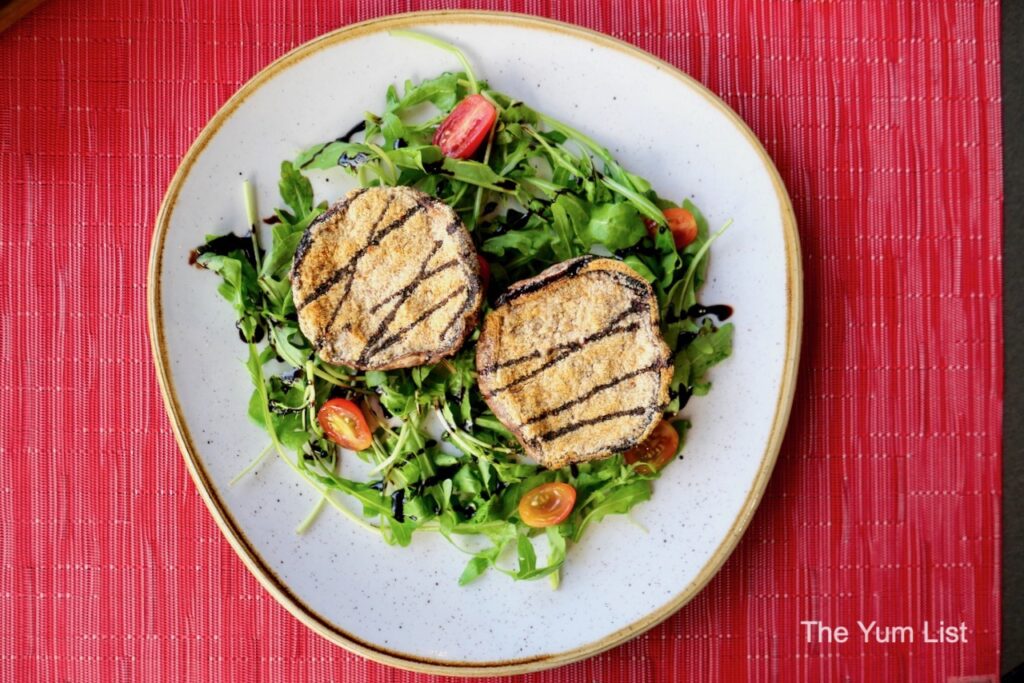 I pair this with a crisp, dry glass of Riesling, Famille Hugel Classic from Alsace, France (RM 71). It expresses stone fruit, is lightly herbaceous and has a lovely thread of minerality in the finish. Working fantastically well with my goat's cheese starter, it also carries over nicely to our fish main later.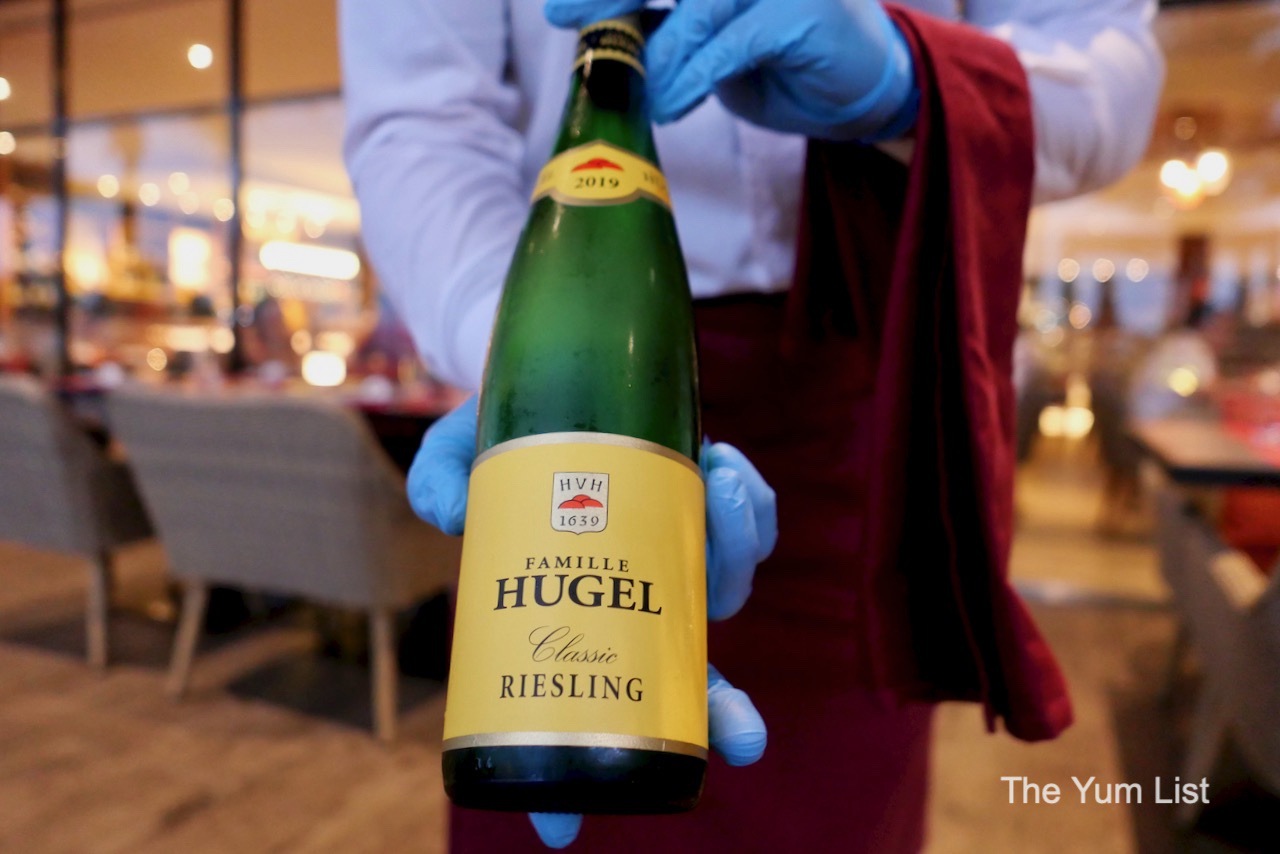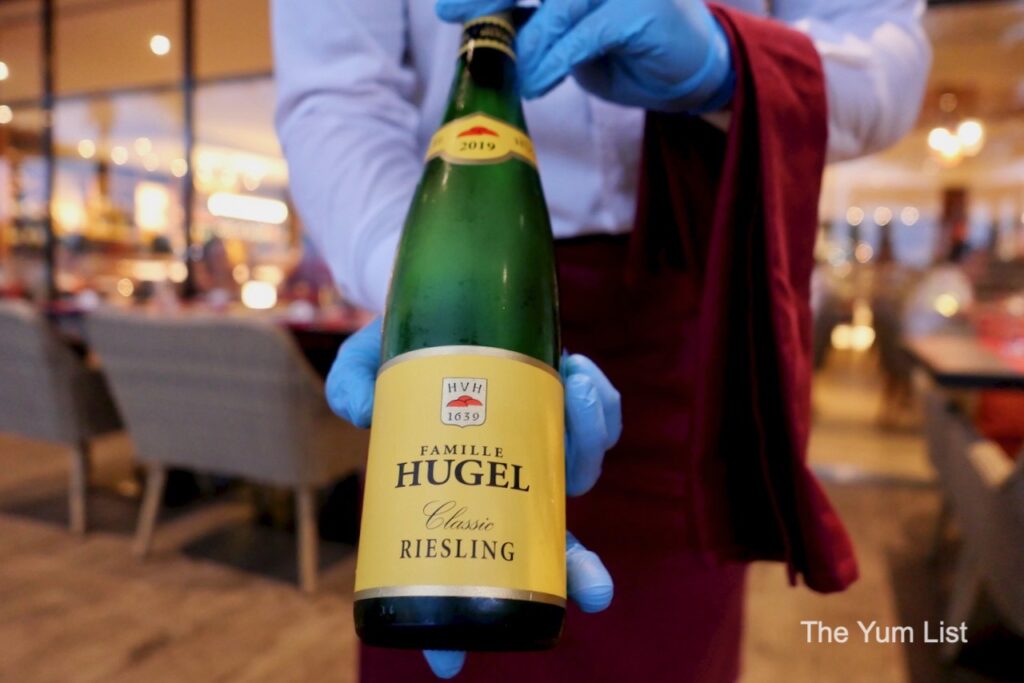 From the pasta pickings, Spaghetti Carbonara (RM 70) is a beloved recipe at Prego prepared table-side in a giant Castelmagno wheel. Streaky beef slices replace the traditional pancetta, but it's still a tasty rendition with egg yolk and pecorino cheese.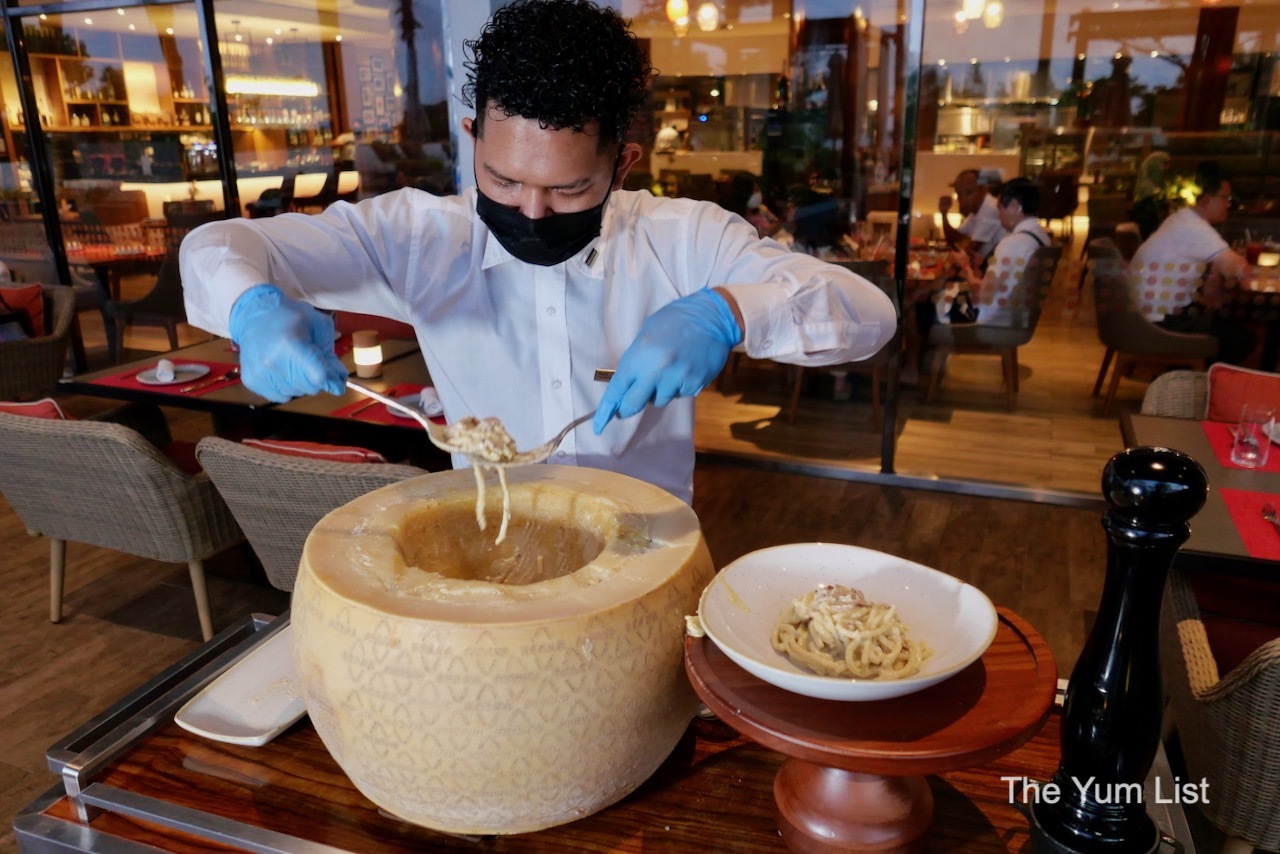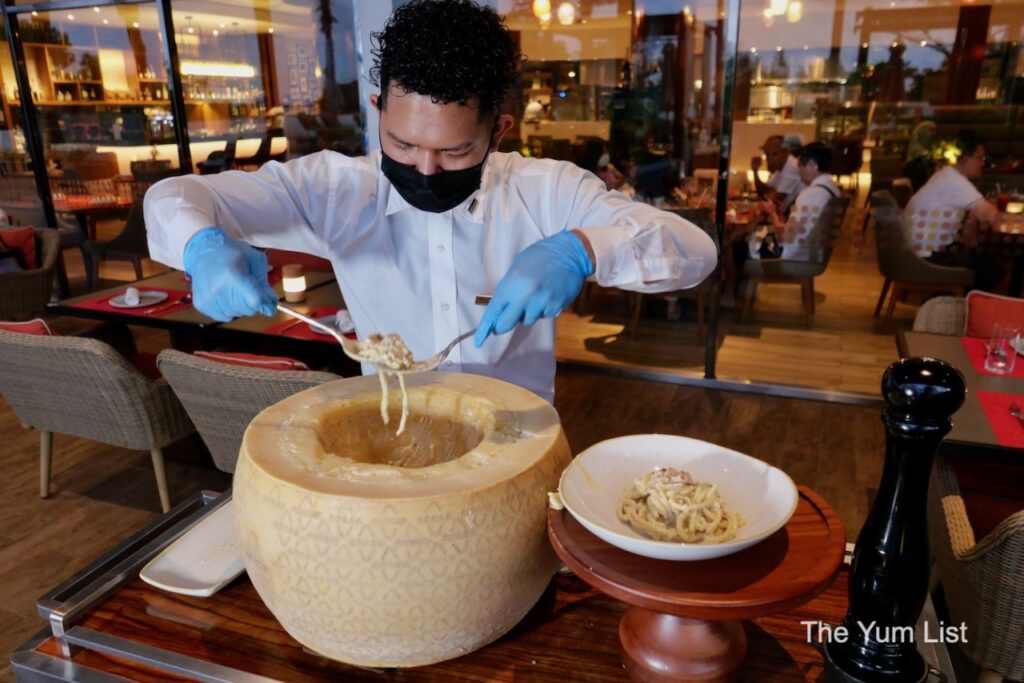 Ayul returns with the main dish. This time it's not a tray holding a negroni but a whole trolly holding the salt-crusted seabass – Branzino in Crosta di Sale (RM 95). He sets to work with a wooden mallet, hammering the crust until it crumbles, returning to the grains of salt it once was. Once revealed, he debones and deskins the fish. On the side, there are steamed new potatoes and fennel in a lemon butter sauce. Yum!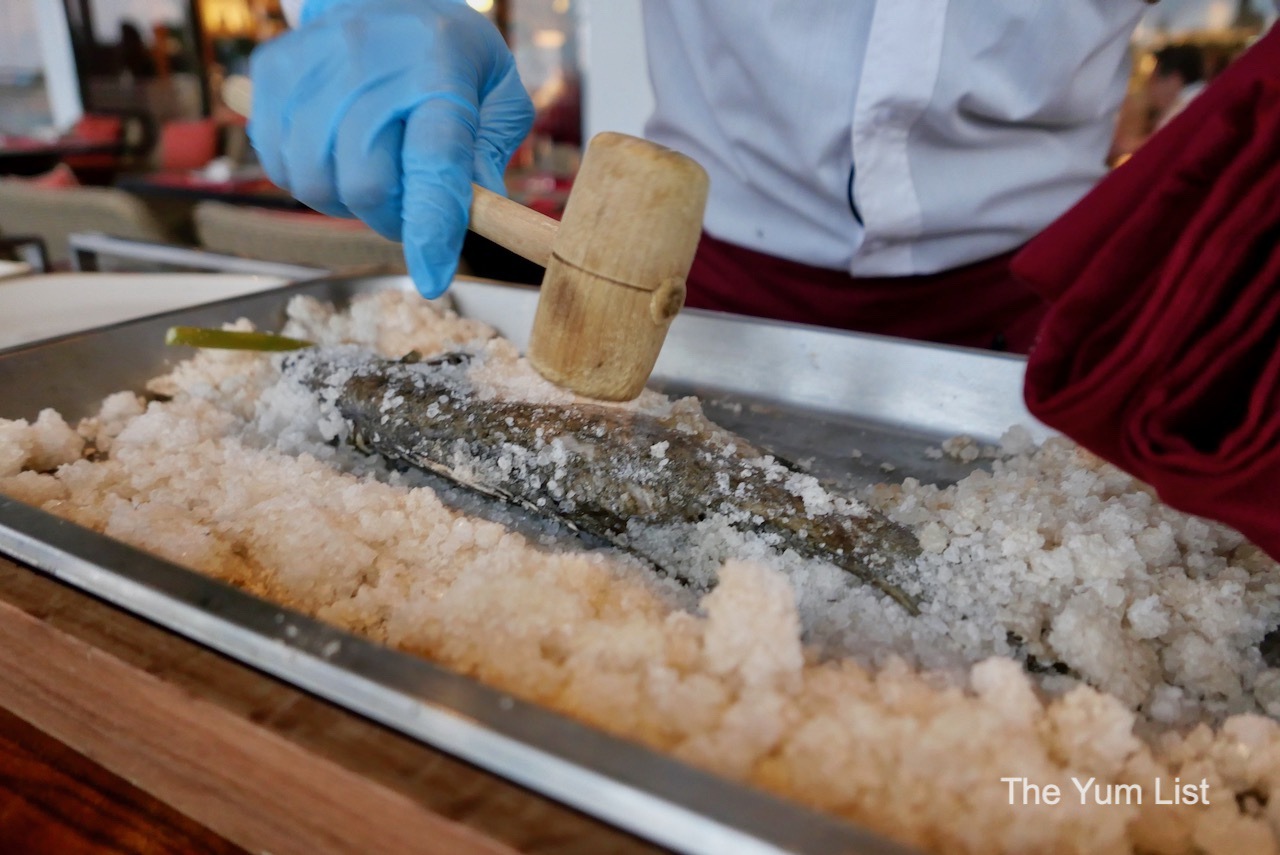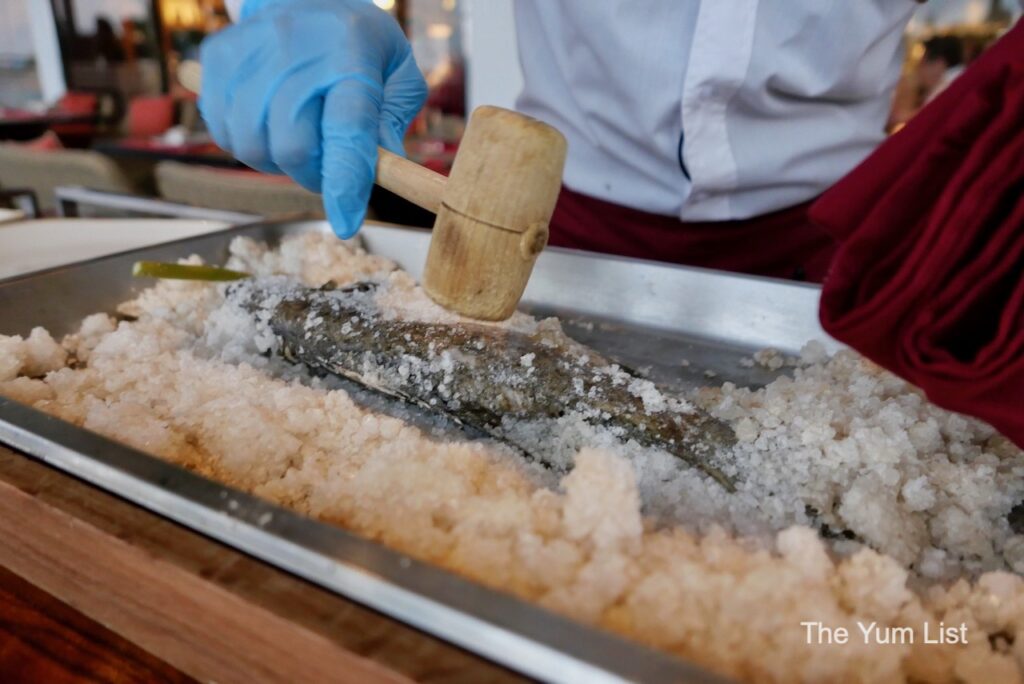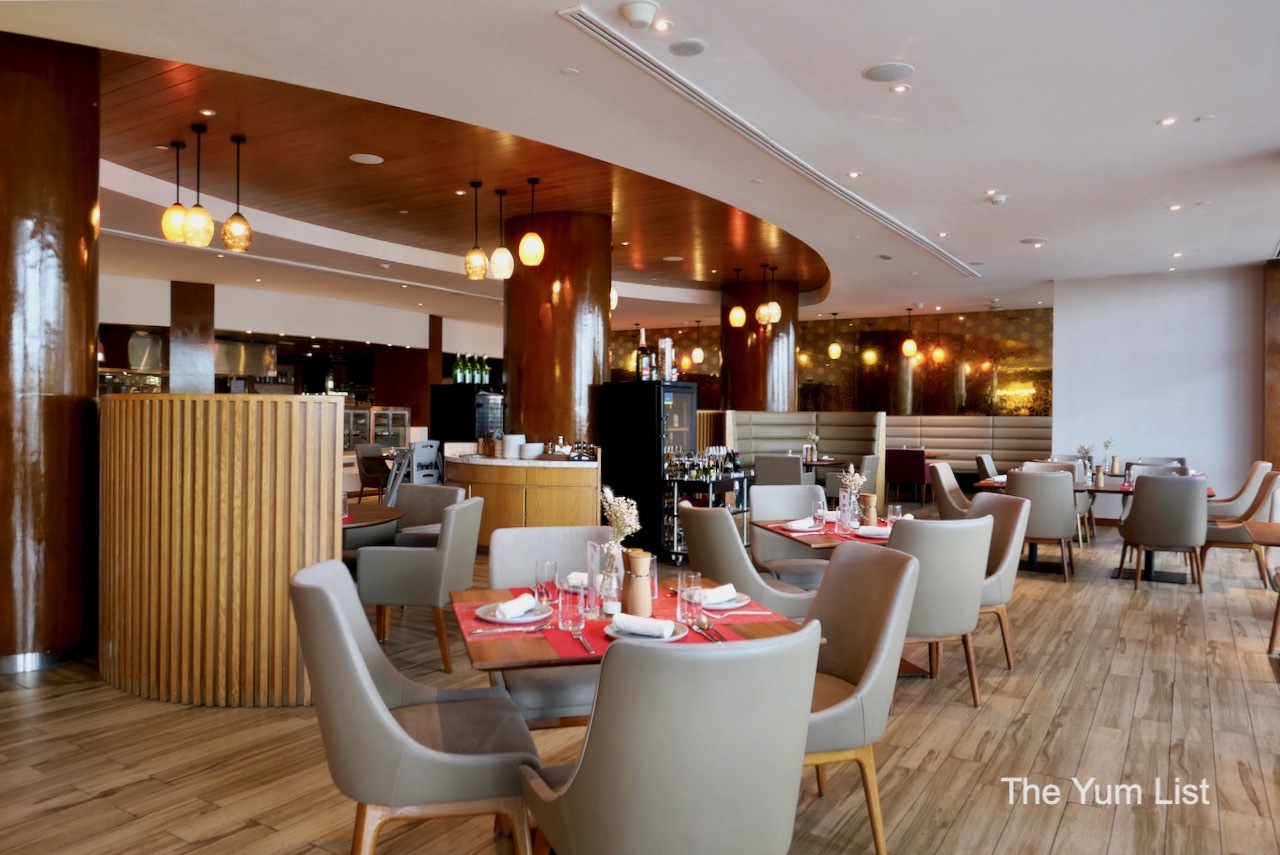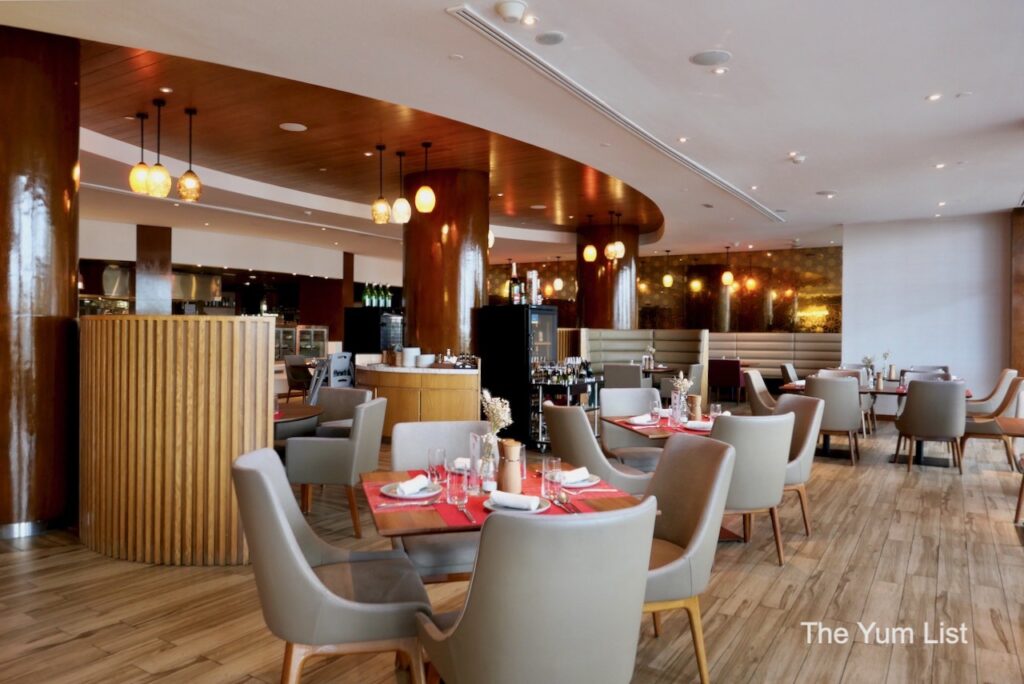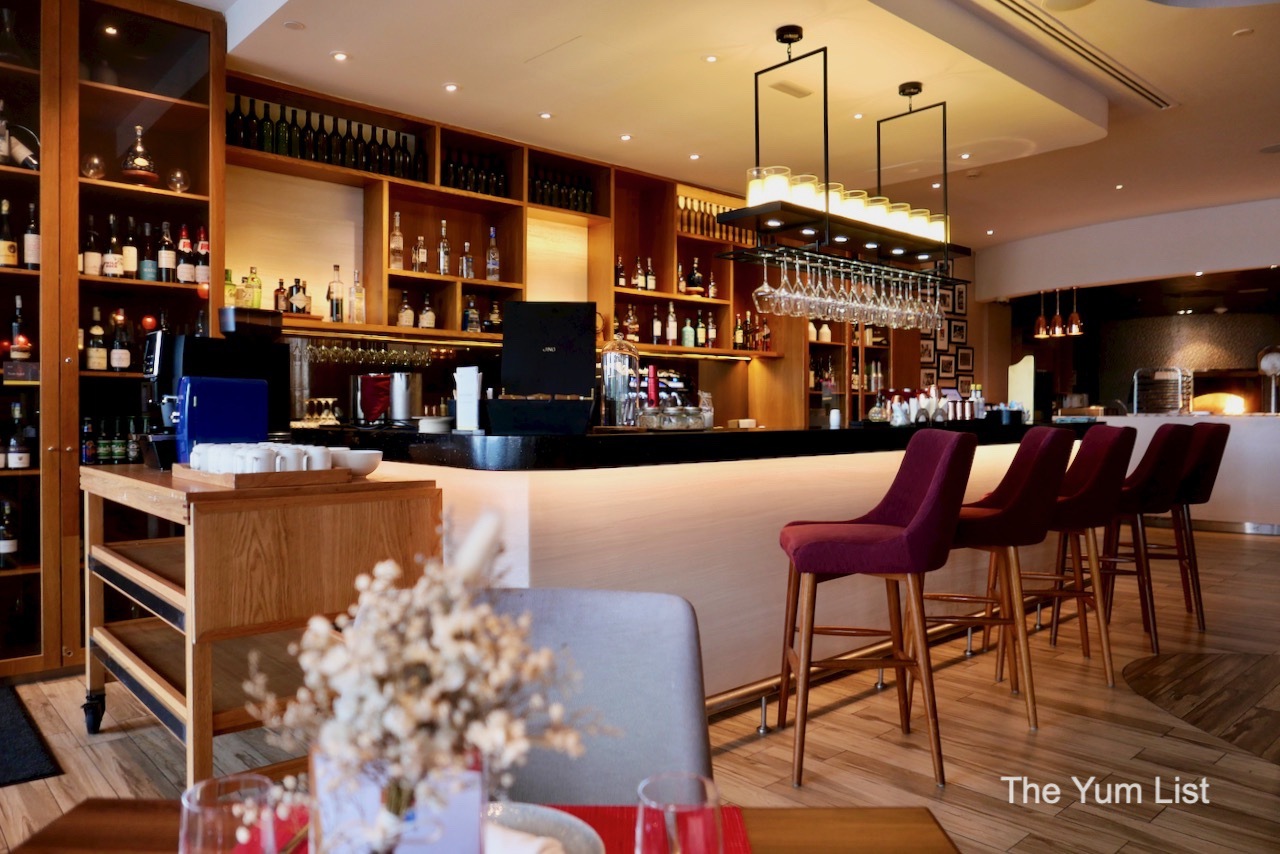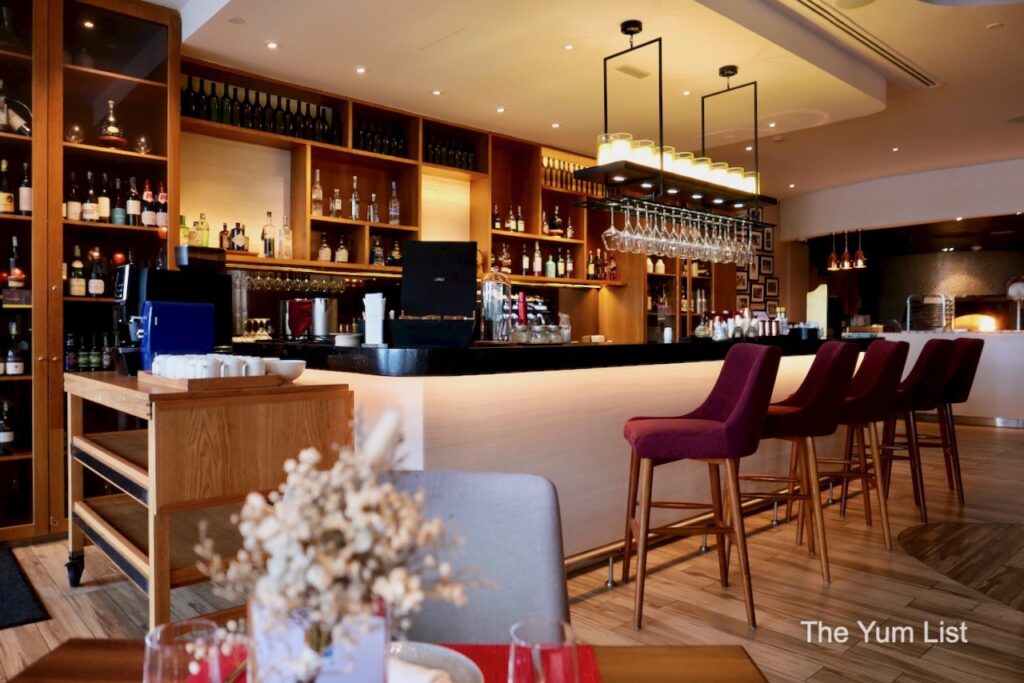 Prego Opening Hours
Tuesday to Sunday: 6 pm – 11 pm
Monday: Closed
Dress Code: smart casual
The Desaru Coast Conference Centre
Besides the five restaurants and bars at The Westin Desaru Coast, the hotel also offers various festive menus. This year's Hari Raya themed dinners will be held in The Desaru Coast Conference Centre. The Gandingan Citarasa Air Tangan Cef Adu Dinner Buffet runs from April 3rd until May 2nd and features recipes from one of Johor's most beloved chefs, Adu (who owns Adu Sugar in KL). It's priced at RM 148 per person and will be served in The Desaru Coast Conference Centre, allowing for plenty of space for safe physically distancing. Furthermore, there's a room and meal package that includes a night's stay, breakfast and a buffet dinner for two. Check it out here.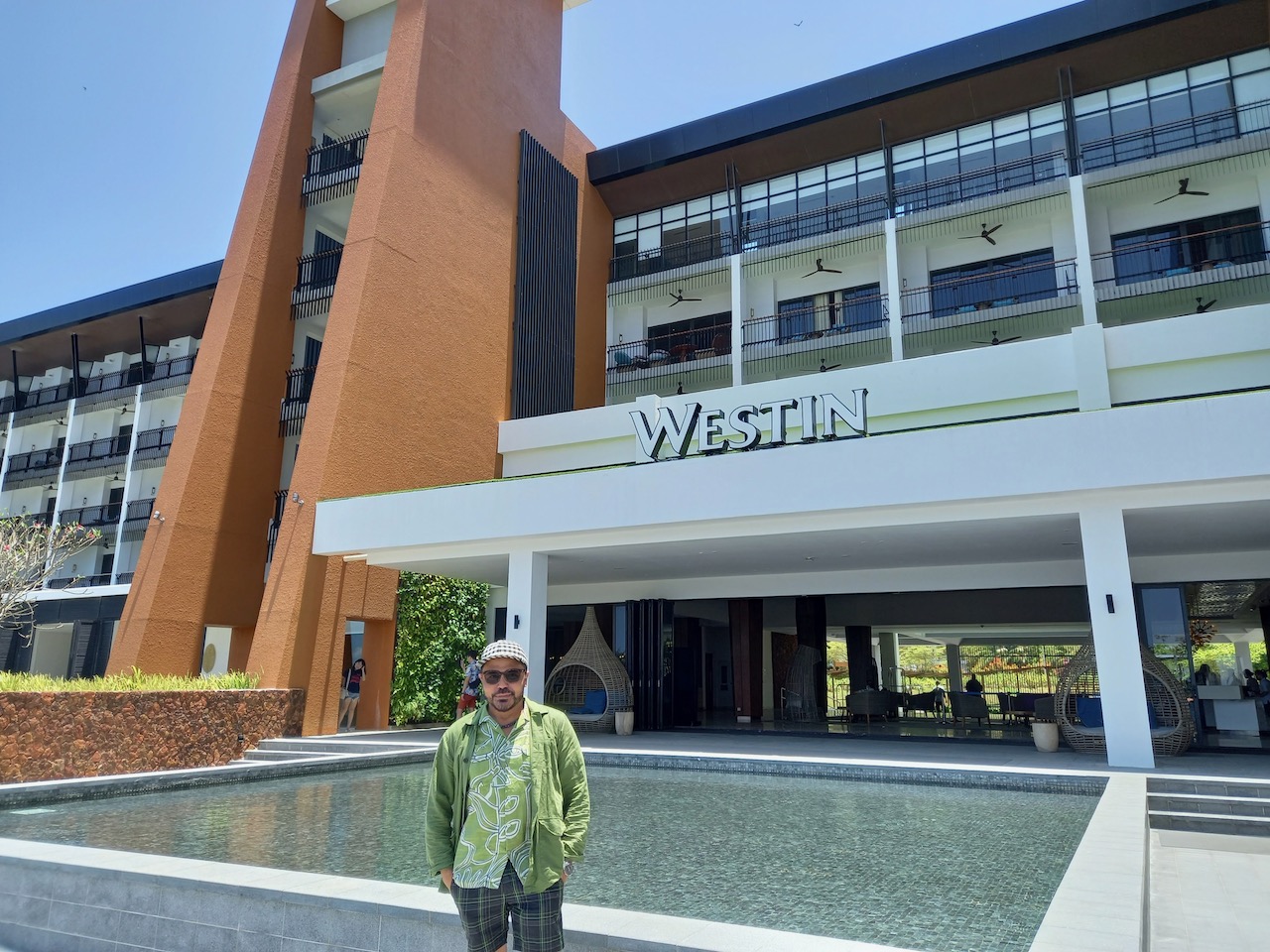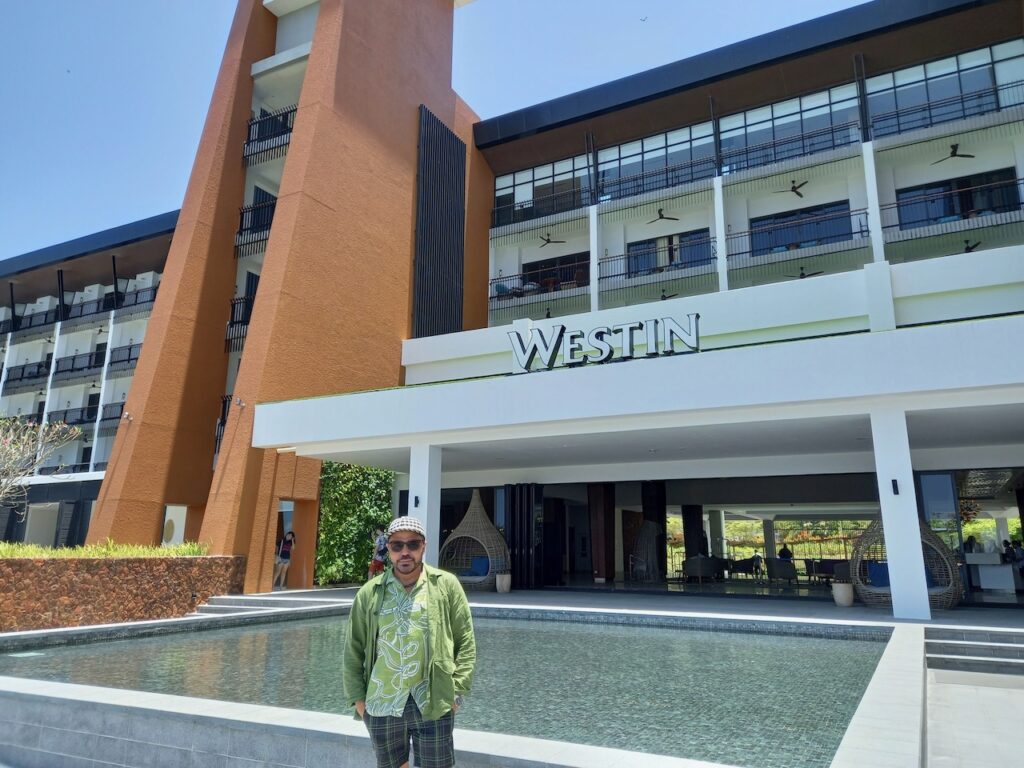 Reasons to try the restaurants and bars at The Westin Desaru Coast: great settings on the beach or overlooking the sea; fresh, wholesome ingredients with produce sourced locally wherever possible; appreciate the Wellness menu; must try the Desaru Burger at Beach Bar and the goat's cheese-stuffed mushrooms at Prego.
The Westin Desaru Coast
Jalan Pantai 3, Desaru Coast
81930 Bandar Penawar, Johor, Malaysia
+607-838 3333
Find more recommendations for Desaru Coast here and stay up-to-date with the latest gourmet and travel recommendations for Malaysia here and here.