Gai by Darren Chin, TTDI
Words: Han Sen Hau
Photos: Rich Callahan
The beginning of this review starts with its end, where I excitedly attempted to dissect leftover morsels from Gai with my very own chef de cuisine, my mother. The mystery and marvel that is Darren Chin's cooking left us both being painstakingly cautious with each bite, for the task of committing every burst of flavour to memory was a tantalising trial with almost no room for error. We were playing a familiar game marked with audible gasps, the occasional frown, and lots of sniffing. Even the most unassuming packet of mixed vegetables left us both in awe over its aroma and freshness.
Why did it taste so good?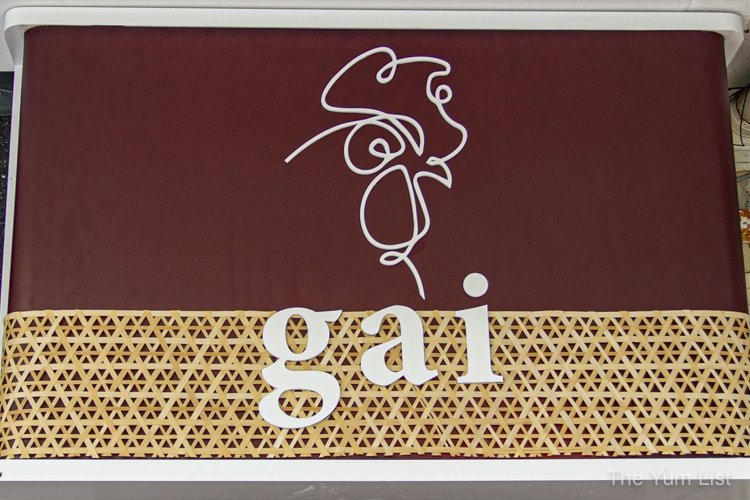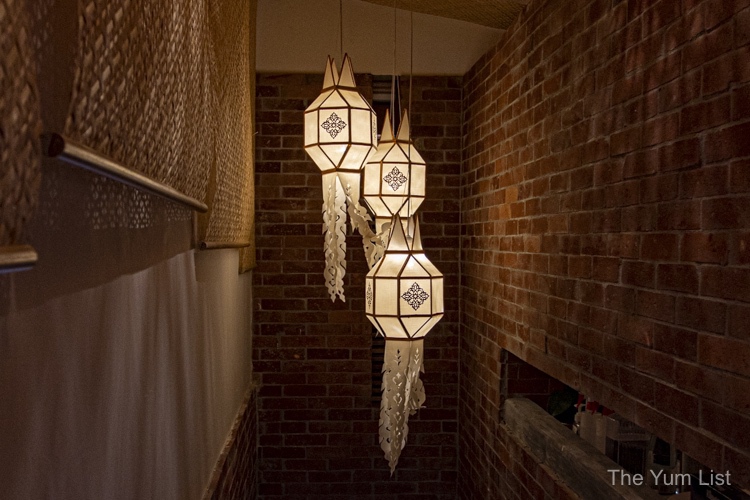 Not Another Thai Restaurant
As Malaysians, we love our Thai food. It would probably be more accurate to say it's hard to escape from it. We're never too far away from a standard pad thai or the ubiquitous pineapple fried rice as an easy fix whenever the craving hits. So, when a leading figure in the local culinary industry decides to open a Thai restaurant, we have to ask ourselves why.
What's so special about this one? How is it any different from the myriad of Thai establishments around town? His wife's Thai, so is this some sort of homage to her cultural roots or a symbolic gesture of their union? The quick answer to that last one was a very swift "no" from Darren, who immediately shut down any notion that Gai was birthed frivolously from such romanticised ideals.
The decision was strategic. It is a diversification of the Darren Chin brand. The immediate family simply happened to be a convenient starting point for the expansion. Nana, Darren's wife, runs the show, and her influence can be sampled from every dish. Even the in-laws, Nana's parents, Mama Nuanta and Papa Suwit, have enriched Gai's menu to present a very nuanced interpretation of Northern Thai cuisine. This experience is as unique as the family recipes developed and inherited in every household.
Gai isn't just a formulaic response to what already exists in the market. It does not seek to replicate what's already incredibly familiar or comfortable to us. Rather, it teaches the public to appreciate subtlety, to slow down with every mouthful, and to discern the finer aspects of Northern Thai, or even more specifically, Lan Na cuisine.
Above all, Gai is Darren's way of empowering Nana to take complete control of her own restaurant even if it is still operating under a Darren Chin banner, though the implications of that are but a guarantee of quality food, exceptional service, and an impressive price tag. A firm believer that the best experiences can only come through collaborative effort, Darren insists that Nana and her parents are the essence to Gai's individuality, while he merely assists in translating their familiar reality into an extraordinary one for guests.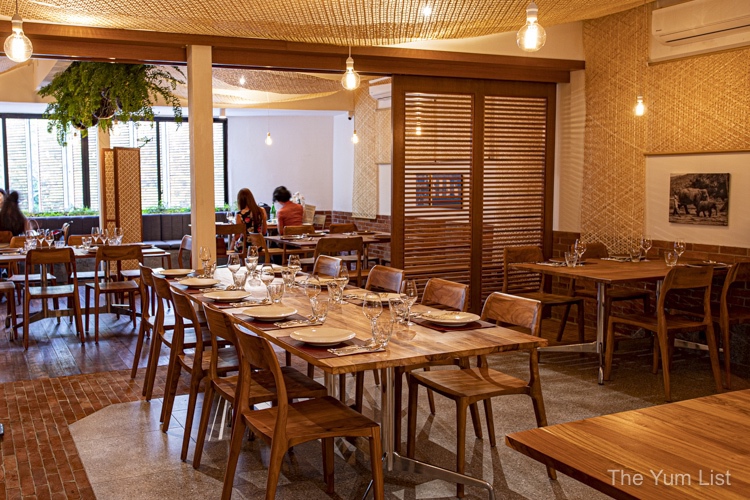 Making The Familiar Unfamiliar
Thai cuisine is, to put it bluntly, inexpensive. Most people wouldn't dream of paying a premium for a fluffy Thai omelette or an explosive tom yum, which is why you cannot set foot into Gai thinking that it'll just be another run-of-the-mill Thai restaurant lest you'll be wincing at their menu. You're paying for a Darren Chin experience, which means Chiang Mai can invade your palate without you ever needing to book a flight there. The number of guests still dining at Gai as we commenced our review way past the lunch rush is also a testament that luxury can be synonymous with Thai fare and remain a hit.
Another divergence from the norm lies in Gai's wine list, which has been carefully curated to pair well with many of the spicy offerings. After a rendezvous at Gai, it suddenly seems strange how we've survived so long without savouring yellow curry with a glass of Chablis or Riesling. Our dry spell ended with three house pours: (i) the crisp Bel Star Cuvée Rosé, Italy (RM85/glass; RM355/bottle) that was a sparkling aperitif, (ii) the 2019 Domaine Andre Lorentz Gewurztraminer Grand Cru, France (RM65/glass; RM300/bottle) that proved to be a necessary sweet antithesis to the prickly spices, and (iii) the medium-bodied 2019 Schubert Pinot Noir, New Zealand (RM60/glass; RM265/bottle) that complemented heavier mains.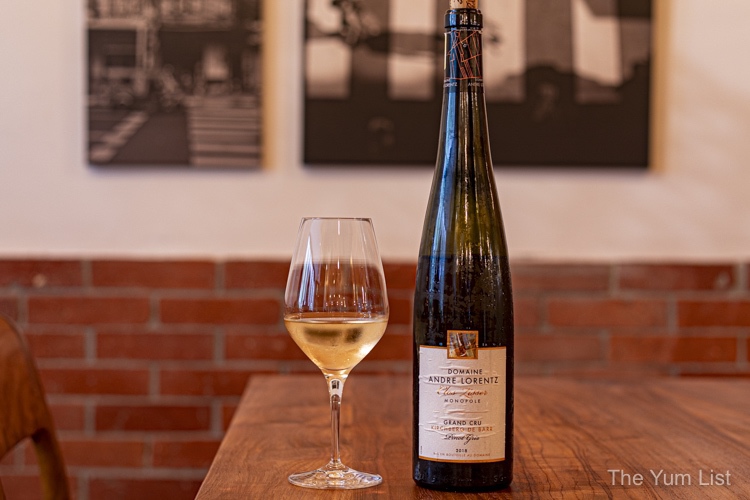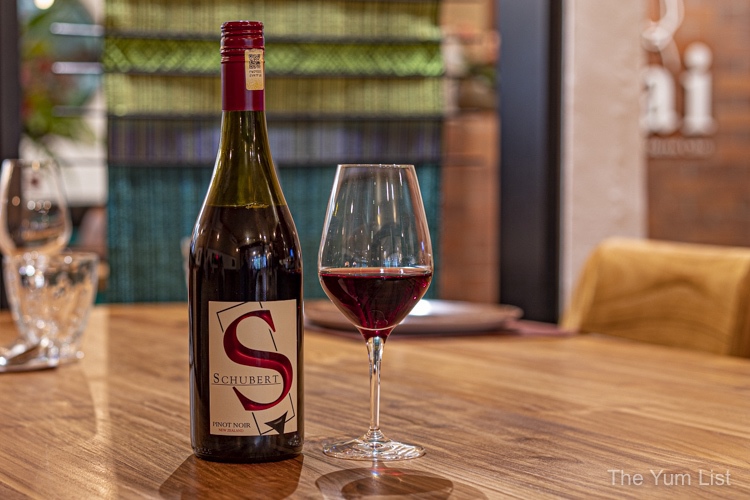 Gai by Darren Chin Menu
The extravagance continues with the meals, beginning with the Thai-Style Fresh Oysters (RM30/pc), which were so large individually it was almost impossible to eat them gracefully. I probably looked like a chipmunk shoving peanuts larger than its face into its cheeks. However, what made the oysters exceptional were neither their size nor their freshness, but the toppings. "Hoy Naang Rom Sot" is the key phrase to remember here, for it refers to the combination of fried shallots, sliced garlic, verdant "krathin" leaves (of the Leucaena plant), nam jim sauce and sweet chilli paste on top of the plump oysters that makes your eyes go back into your head. These are but simple ingredients that work fantastically with one another to create a potent starter.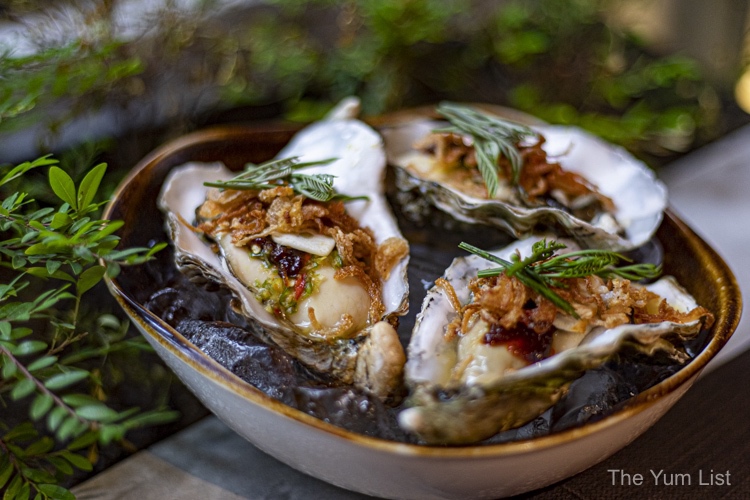 Speaking of potent combinations, "The Larb" (RM45) is a traditional meat salad that's a must for those who enjoy their vegetables to be marginally incendiary. There's a good reason why this comes with thick cucumber cuts and sticky rice, for its heat should not be underestimated. Spice lovers would adore The Larb's distinctive savoury profile, though we would recommend having it with a coconut drink between bites with a box of tissues nearby.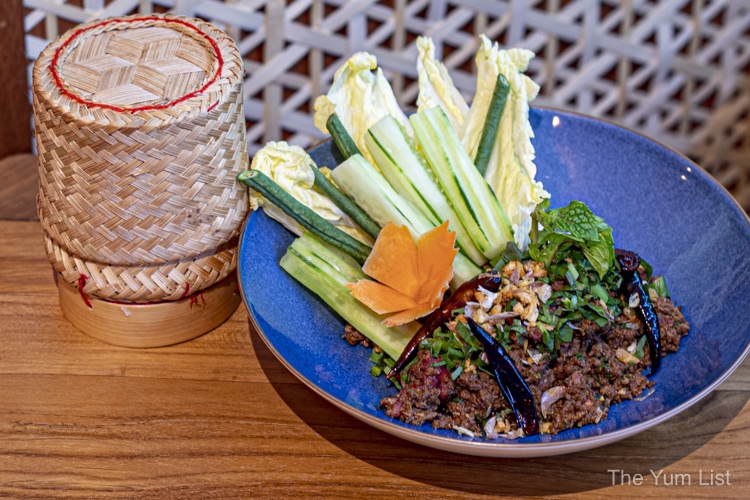 Should The Larb prove to be too much of a challenge, you can opt for the more familiar Gai's Southern-Style Yellow Curry (RM88), which is more merciful to the tongue. The crab meat in this looks deceptively like chunks of poultry, and the curry is exceedingly addictive when drizzled on rice. It would be a sin to waste a single drop, so I would be perfectly content lapping this up with two servings of rice. If you're still keen on going down the familiar path, then you can pair this with a plate of Seasonal Mix Vegetables (RM38) that goes great with anything as a side with its chunky vegetables and smoky mushrooms.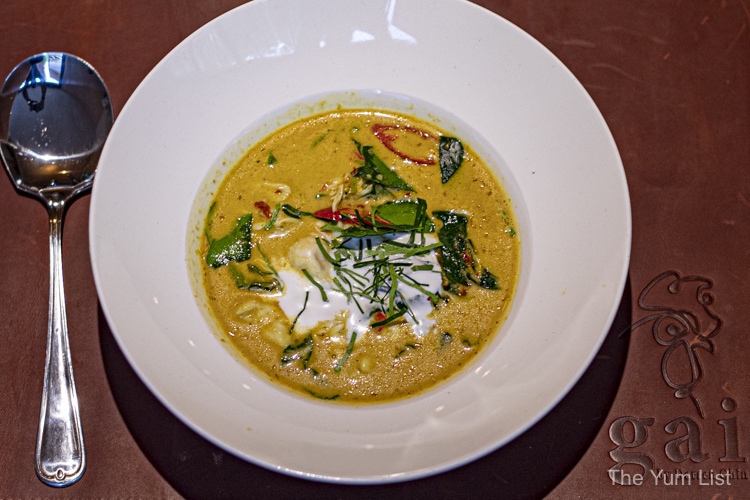 On the other hand, Nirvana is within reach when you order up Jay Fai's Crab Omelette (RM150), an unbelievably rich creation that is only available when Darren himself is making it in the kitchen. Inspired by its original namesake, this crab omelette is Darren's pièce de résistance and, quite possibly, a once-in-a-lifetime experience. The only thing stopping you from mowing down 15 of these is your high blood pressure. With a fluffy and crunchy, eggy batter wrapped around a fresh and fleshy crustacean, you would wish each mouthful could last a lifetime.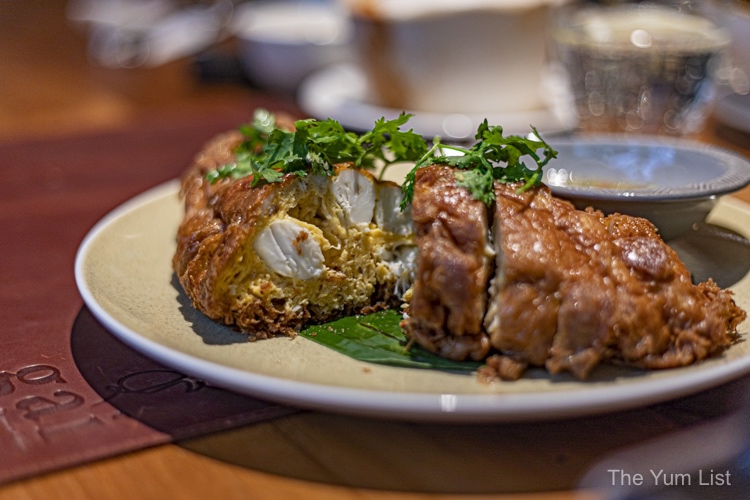 The other tour de force is the breathtaking Lady Boss Nana Signature Tom Yum Seafood that's available as Basic (RM188), which comes with jumbo Hokkaido scallops and fresh prawns, or Ala Royale (RM450), which has an Australian Rock Lobster tossed into the broth. This eye-watering and mouthwatering concoction will leave you slack-jawed upon its arrival and sniffling with joy as you scoop up obscene chunks of seafood into your bowl. It doesn't even matter if you accidentally stab yourself with a lobster pincer; the pain is worth it. Albeit seemingly exorbitant, the true mark of a good tom yum lies in its broth, and Gai nails this. Notwithstanding the extraordinary seafood, the broth is a perfect balance of sweet, sour, savoury, and umami, unlike many others I've had which left me choking for air and flushed to the roots of my hair.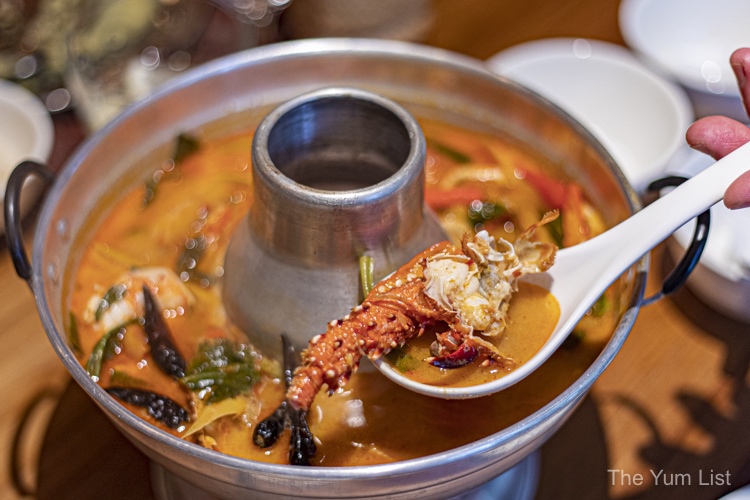 The final main we indulged in was Papa Suwit's Slow-grilled Free-range Chicken (RM58 for 1/2 bird), which should be the gold standard for finger-licking-good experiences. It felt glorious to tear the meat apart with our own fingers, even when this dish demands the use of cutlery with the addition of basmati rice. The accompanying dip for this adds a highly desirable smoky depth to the meat. However, if you can't tell from our response above already, the poultry is already great on its own.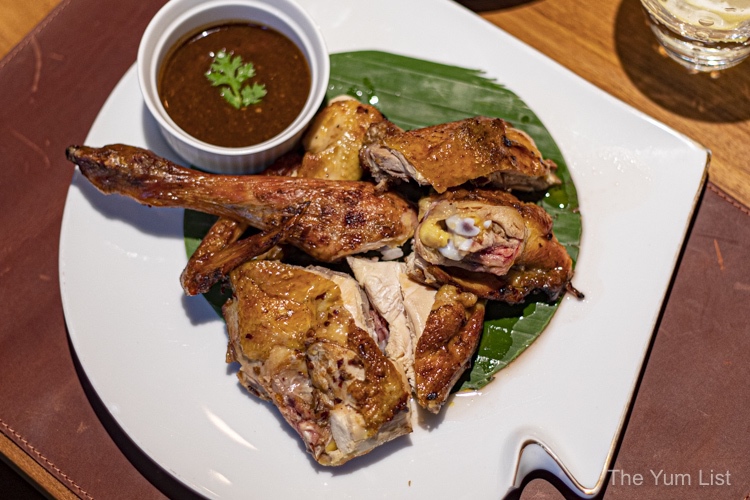 Gai by Darren Chin – Dessert
As for desserts, we ended on a high note with the Mango Sticky Rice (RM25) and Fresh Coconut Jellies (RM18). Personally, I don't usually order the former despite it being a staple last course, mainly because the sticky rice would make me feel bloated after a heavy meal, and there's always a risk of the mangoes being sour. Fortunately, this is Gai, and there was none of either. No lumps of clumpy sticky rice glued to your teeth as these just break apart so smoothly in the mouth. As for the two-layered coconut jellies, they were a refreshing last-last course that I would happily return for more because they were more fruit than treacly gelatin.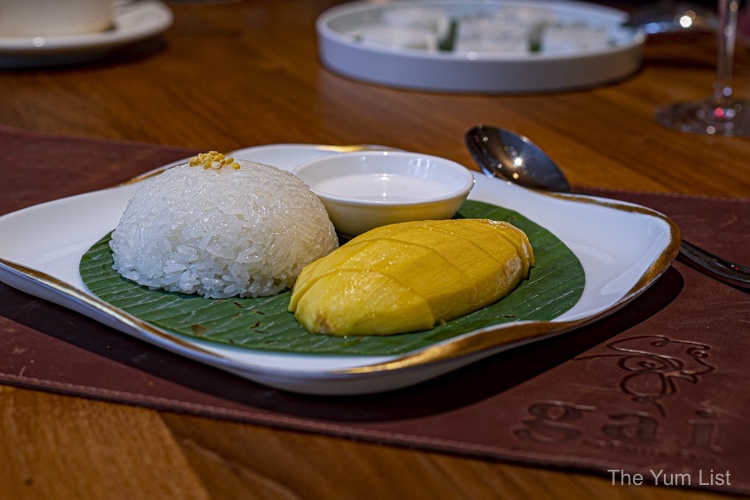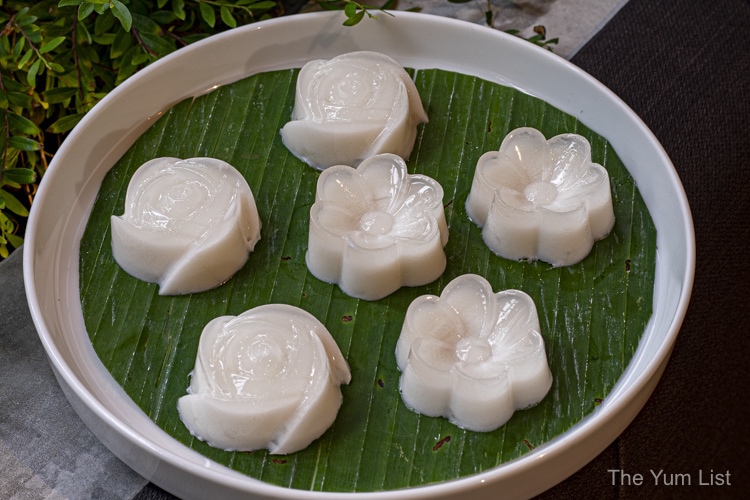 Gai Is Family
We end where we began. At home, in the kitchen, where a mother and son bond over their shared love for food and their obsession to identify ingredients through sheer gustatory memory. The fancy way of describing this process would be attempted reverse engineering; the simpler version is that two individuals, with their preconceived notions and combined wealth of gluttonous episodes, have no clue what makes the food from Gai so captivating, as if its secrets are tantalisingly out of reach.
Alas, therein lies the fun in an unsolved mystery. What matters is the shared experience and the promise that we'll return for more. After all, Gai is family. It is your family. And it is as a family that we embark on that most joyous of activity together, to dine with pleasure.
Reasons to visit Gai by Darren Chin: While we would return for almost everything we tried, Jay Fai's Crab Omelette and Lady Boss Nana Signature Tom Yum Seafood deserve special mention; we've barely scratched the wine list during our visit, so it would be interesting to pair the others we've seen with specific mains in future visits; calling the dishes "authentic" would be a severe understatement; casual and relaxed atmosphere; bragging rights for having dined at a Darren Chin restaurant.
Gai by Darren Chin (above Bref by Darren Chin)
No. 26A, Lorong Datuk Sulaiman 1,
Taman Tun Dr Ismail,
60000 Kuala Lumpur, Malaysia
+6 03 7732 4406 / +6 012 381 2991
http://www.gai-kl.com
Gai Opening Hours
Tuesday – Sunday 12:00pm – 4:00pm (Lunch); 6:00pm – 11:00pm (Dinner)
Reservations are encouraged.
Find more restaurants in TTDI here and stay up-to-date with the latest gourmet and travel recommendations for Malaysia here and here.