TenRyu Omakase
Words: Maggie Casey
Photos: Monica Tindall
If you are, like us, an avid "foodie" in Kuala Lumpur, you have likely noticed the omakase trend sweeping the food scene in the city. Omakase is a Japanese style of dining where the open kitchen concept invites dinners to observe the chef as they create delicate courses for the dinner. The signature is, of course, that the chef selects the menu for you. Then, all the diner has to do is sit back and enjoy the ride.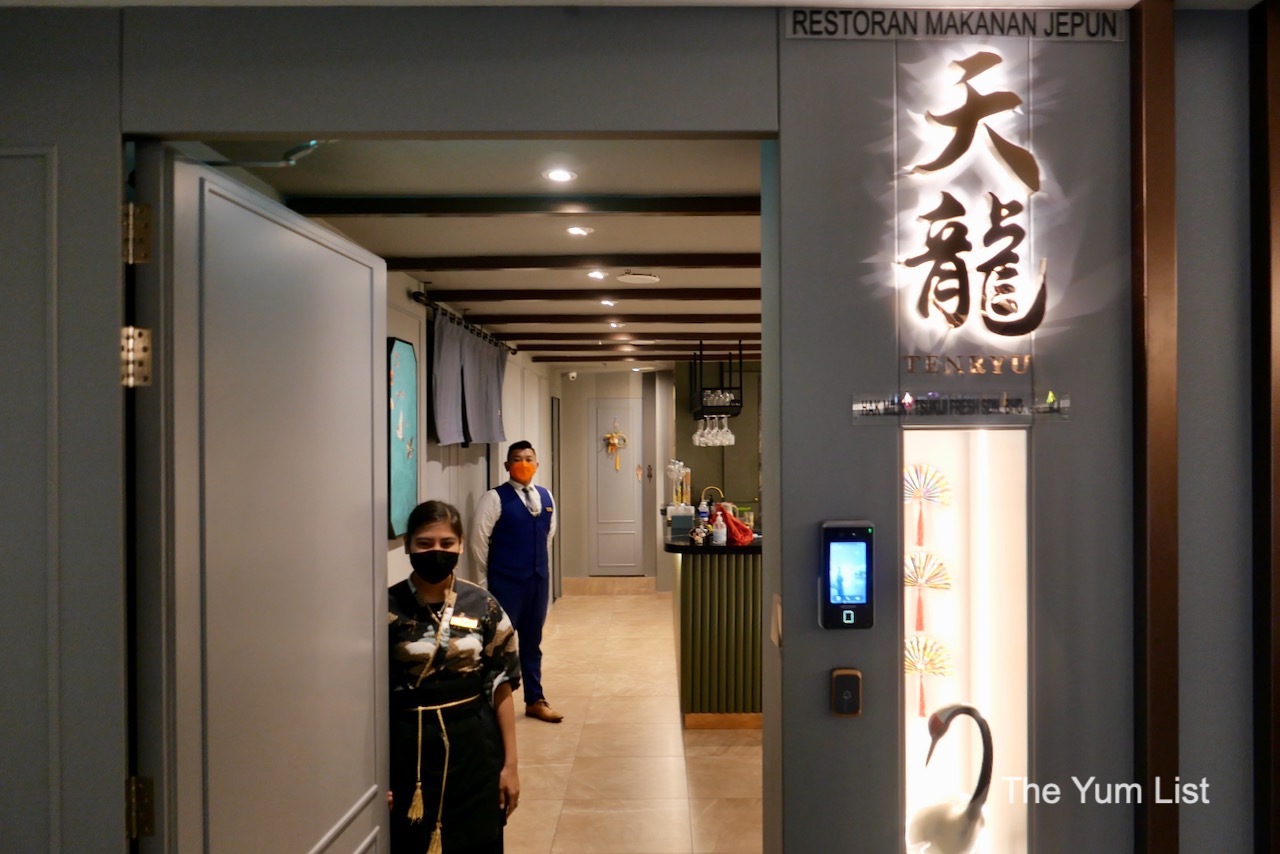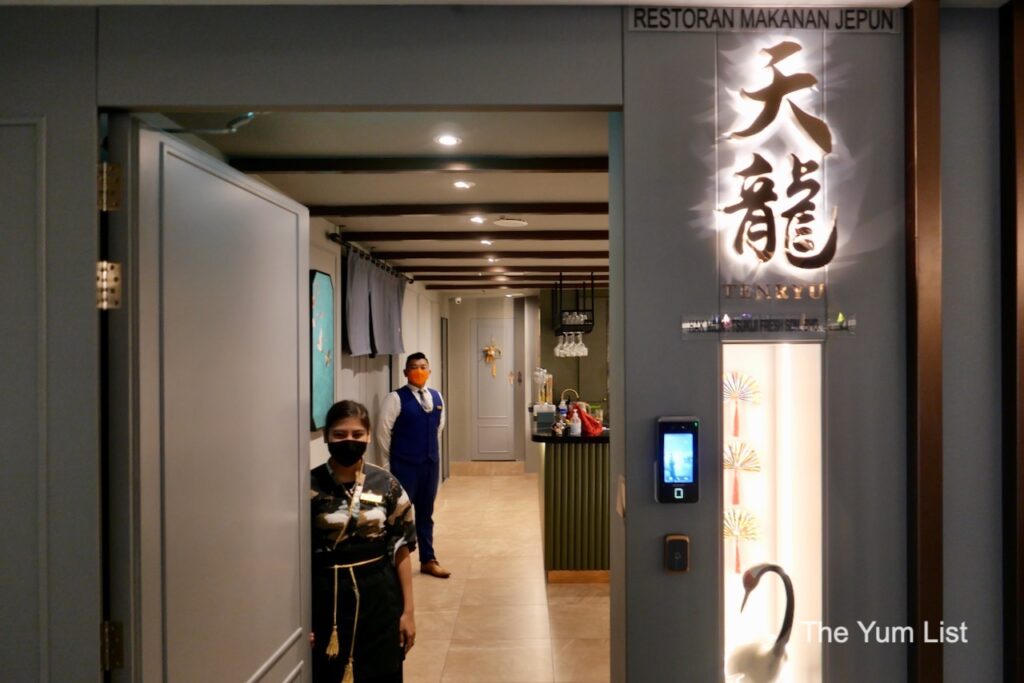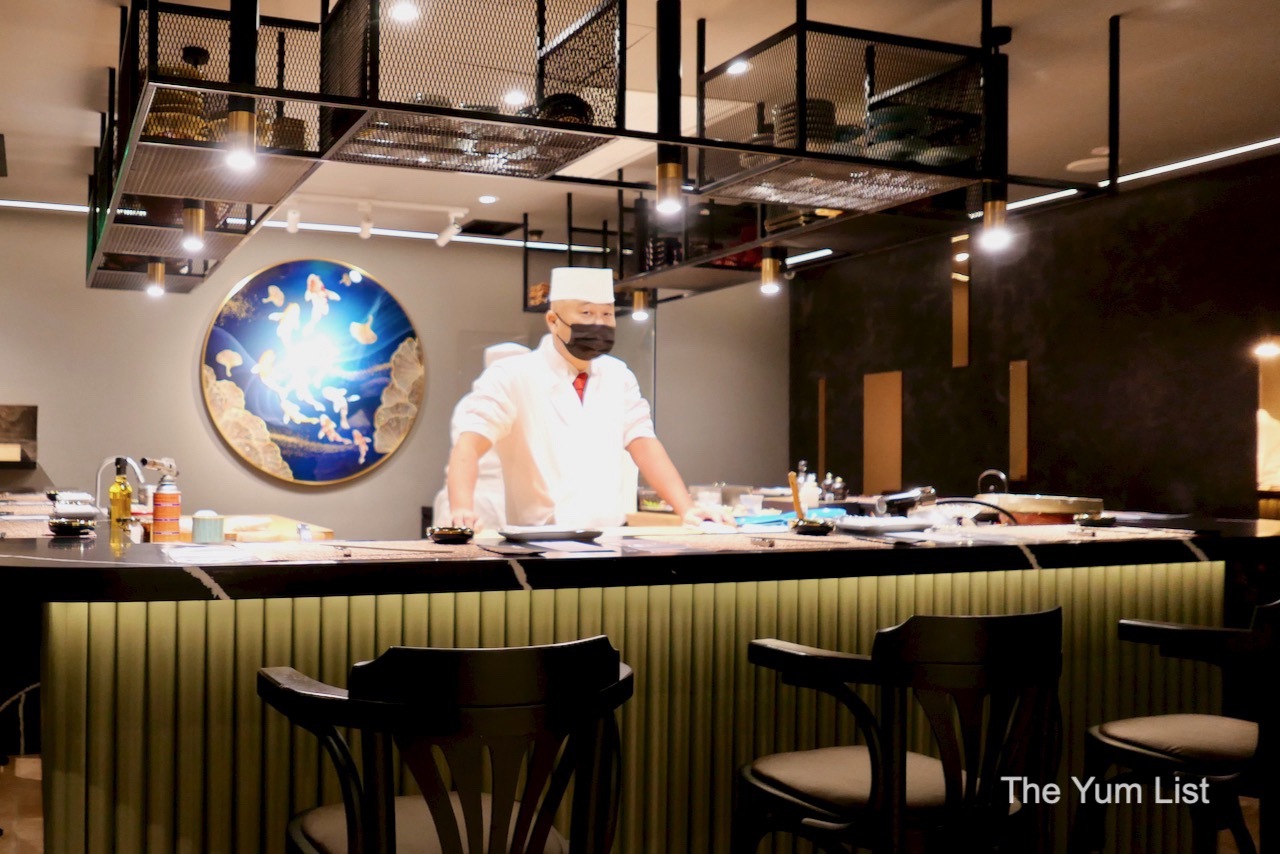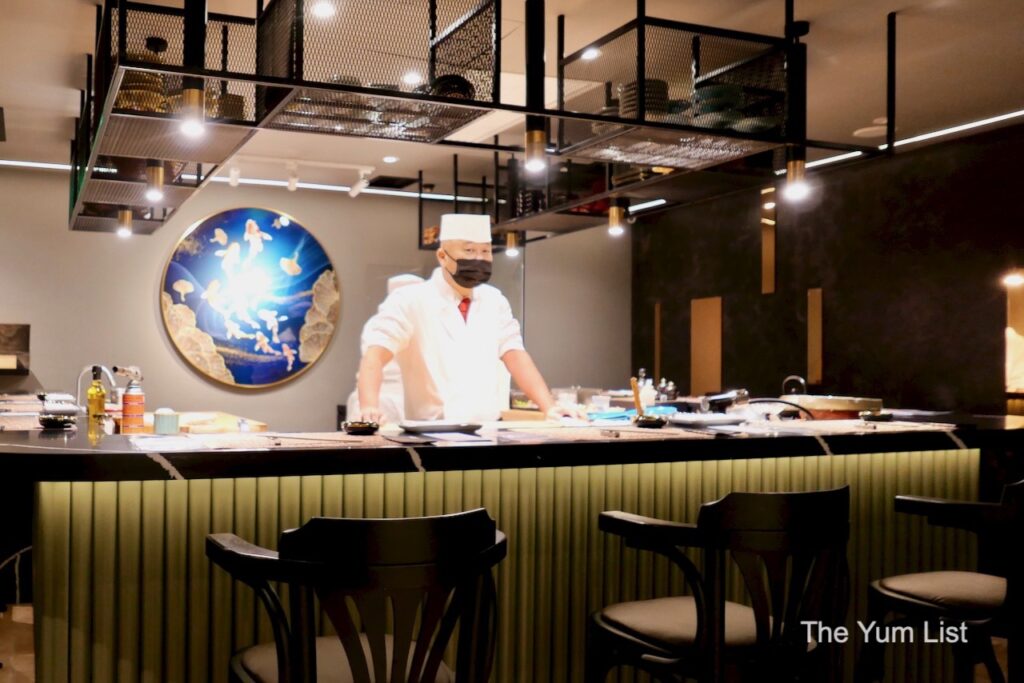 TenRyu Omakase Kuala Lumpur
KL's new omakase restaurant is all of that but with a unique twist; it features "Kappo" style omakase. "Kappo" style means "to cut, boil, stew and fry" and is traditionally understood to be a more casual style of omakase. However, do not be fooled by the term "causal" in the definition. TenRyu is fine dining and elegance through and through. The "casual" instead comes from the banter and warmth diners can expect from the man at the helm of this inventive new restaurant, master chef Otomo Shinsuke. The intimate and classy dining room sits approximately 12 people, allowing for a personal dining experience with this esteemed chef who has been perfecting his craft for over 30 years. TenRyu is located in KL's downtown core, in Wisma Lima Foo Yang.
Chef Otomo Shinsuke is from Shizuoka, Japan, and his approach to TenRyu is to bring authentic, fresh and exquisite Japanese cuisine to Kuala Lumpur. He inspects each fish personally and uses a special technique to clean and drain the blood from the fish himself, ensuring that the fish stays as fresh as possible. The menu is constantly evolving to align with seasonal availability in Japan, ensuring that the food is exceptional and different no matter when you visit TenRyu.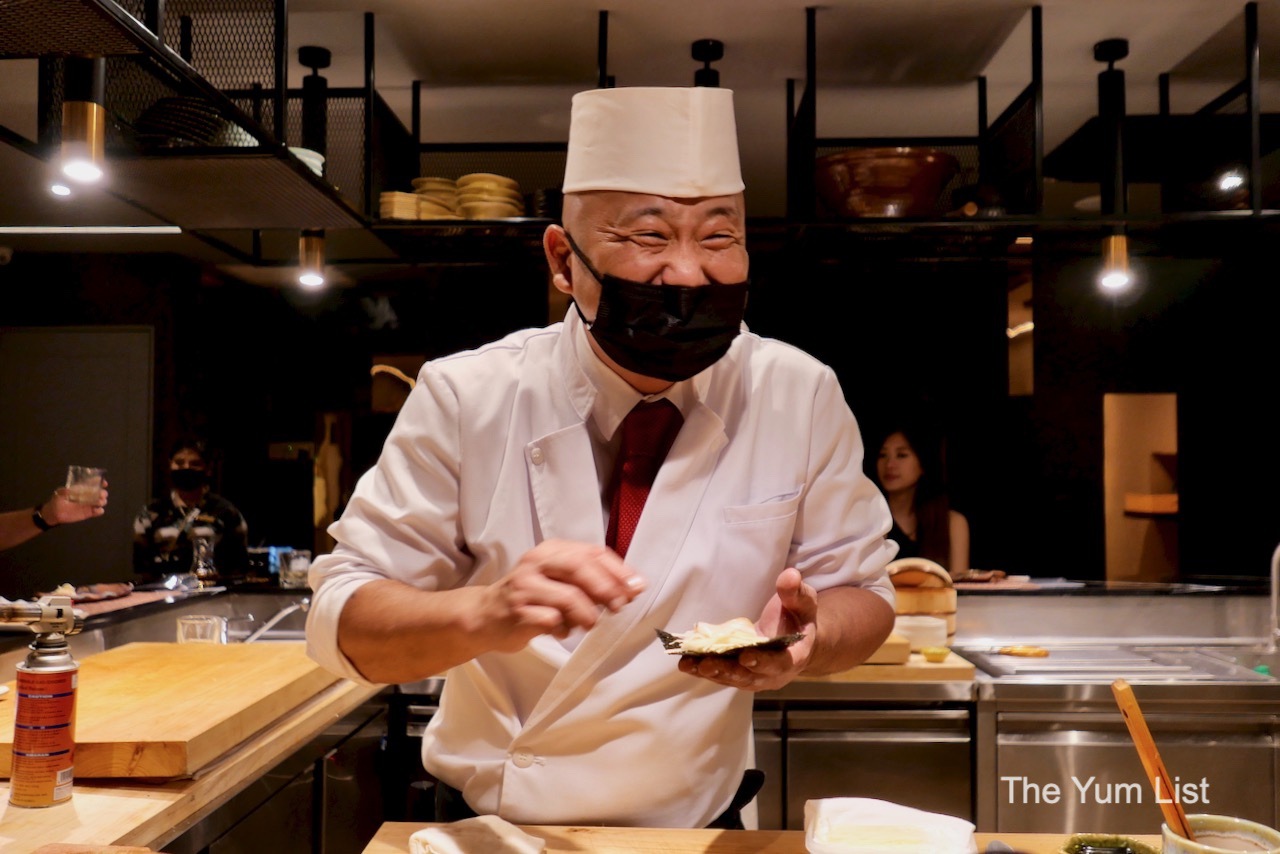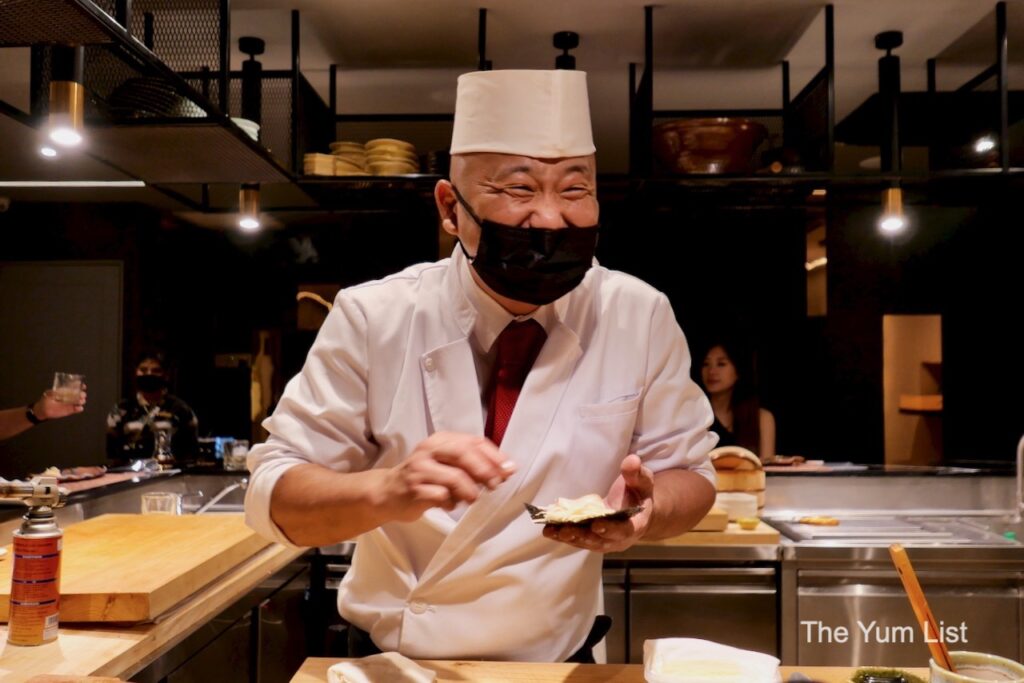 Menu
We were treated to TenRyu's Tsuki menu (RM 798). The courses consisted of appetizers, sashimi, yakimono grill, deep-fried, hot dish, a special menu option, lemon, sushi, soup and dessert. The result is a ten-course feast that was perfectly paced and thoughtfully created, leaving us relaxed, charmed and stuffed.
Of course, another element that helped me relax into the dining experience was the sake. We tried the Masumi Junmai Kaya. My favourite part was the selection of beautiful, colourful, and unique sake glasses that each guest got to pick for themselves. The touch of whimsy was a lovely addition, as was the impeccable service that ensured our glass was never empty.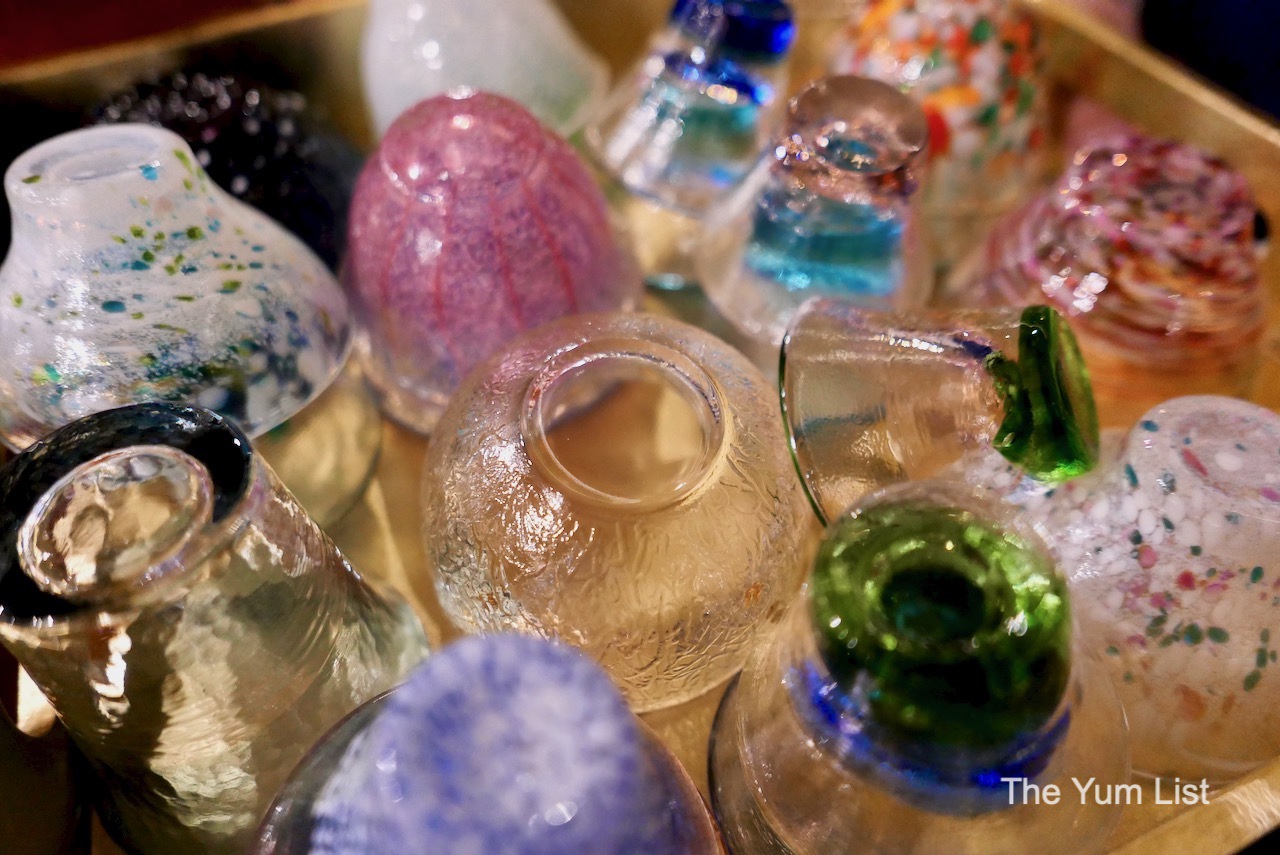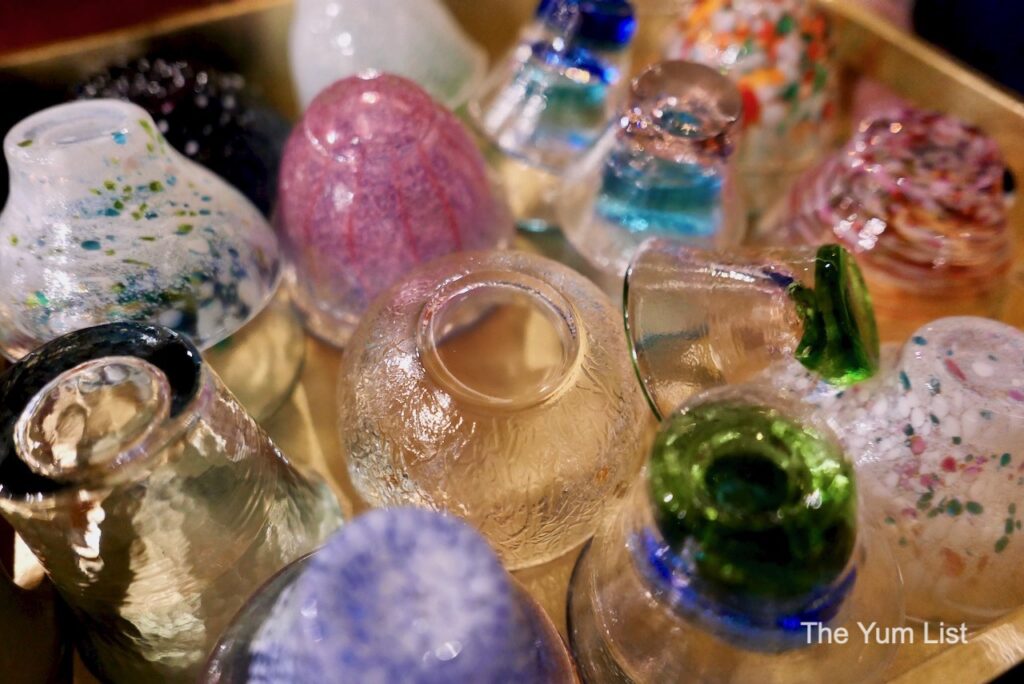 Up first were the appetizers, which consisted of smoky and tender octopus and sea snail from Hokkaido, Japan, and smoked tuna that paired wasabi cheese and topped with caviar. The attention to detail in both plating and flavours set the bar high for what was to come.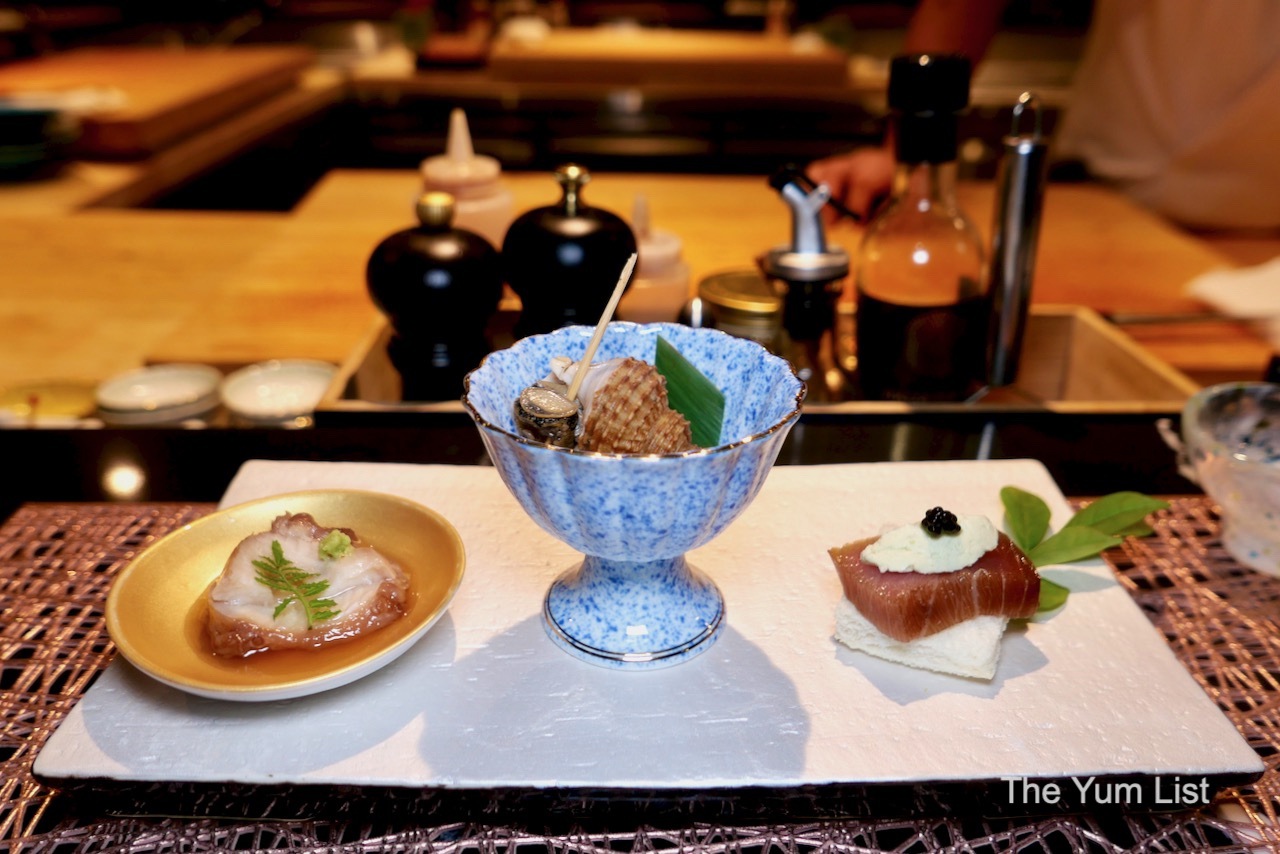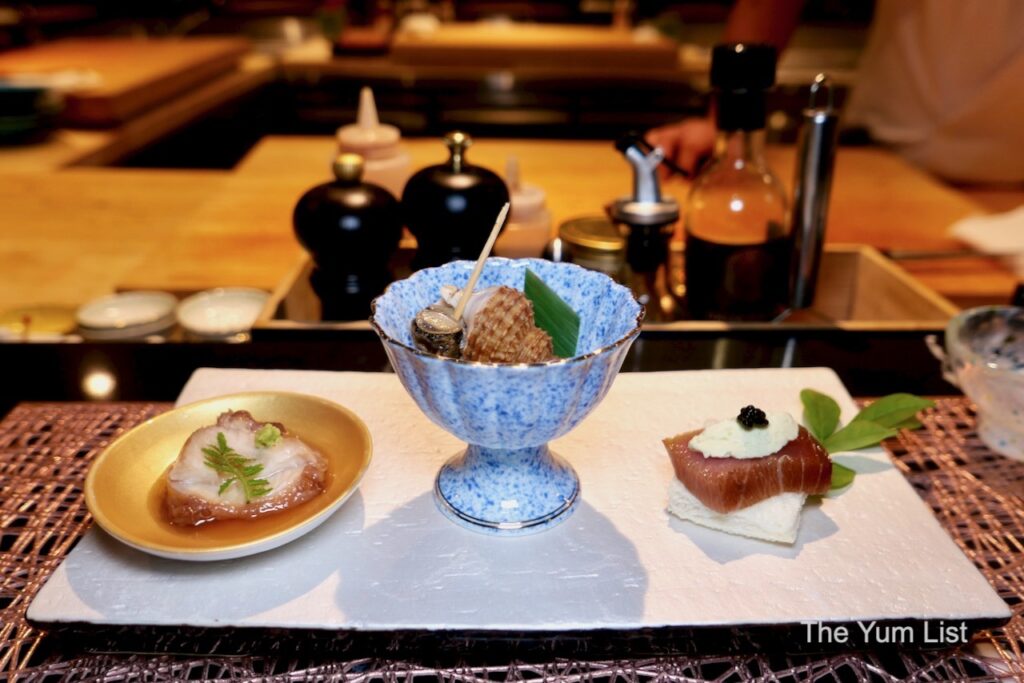 The following few dishes spoke to the chef's commitment to only the best ingredients. The yellowtail kingfish, also known as hiramasa, was complemented with a Japanese white onion sauce and topped with delicately shredded radish. The buttery texture of the fish combined with the smooth sauce made for a light and flavourful bite. The hamachi complemented the more fragrant sardine with miso paste, ginger flour and a specialty vinegar from Aomori, Japan. In a continuing crescendo, the most decadent dish was the squid and caviar that sat in a salty and creamy egg yolk sauce.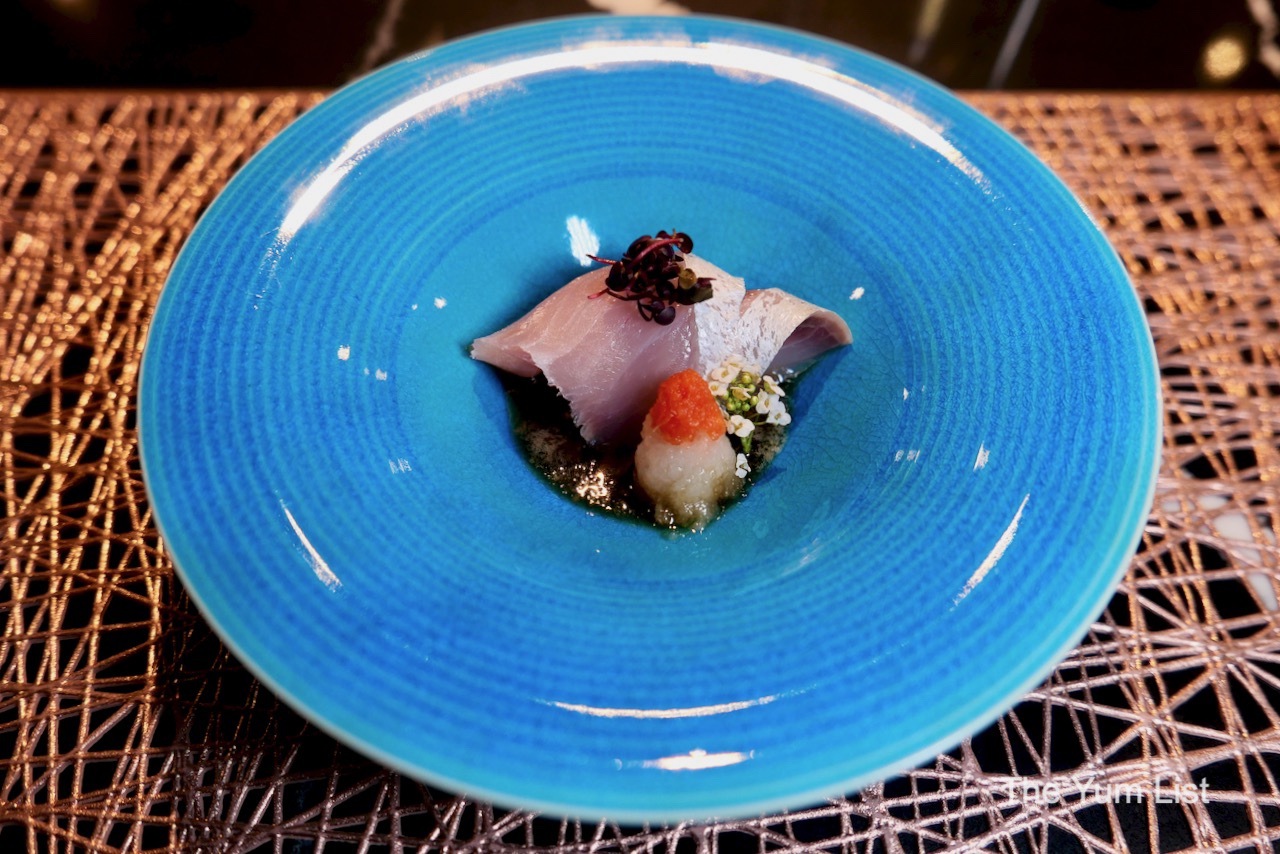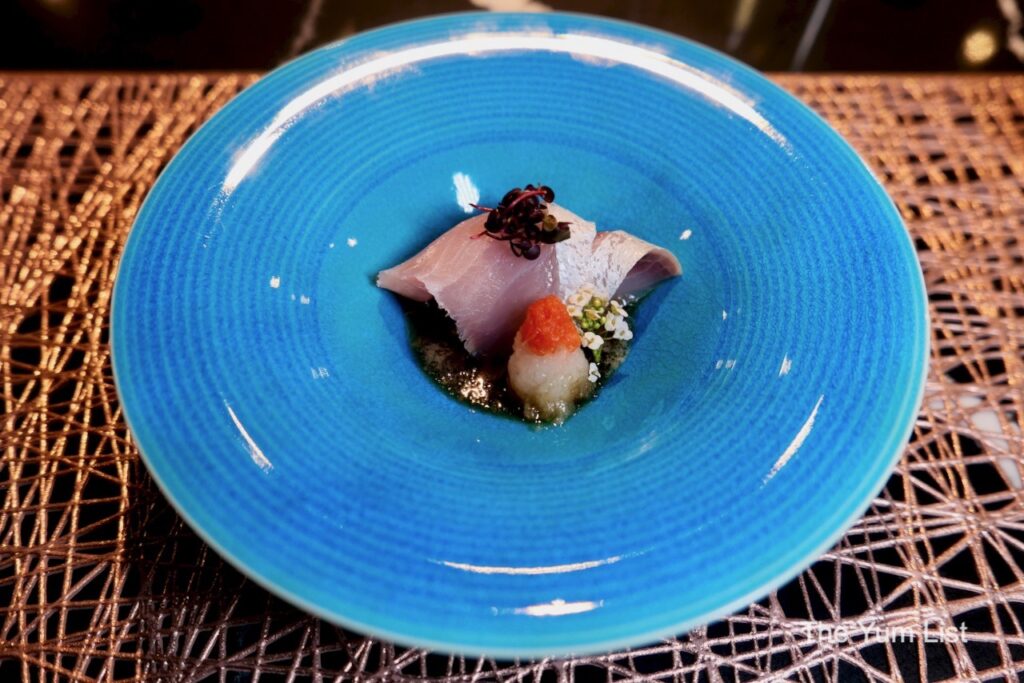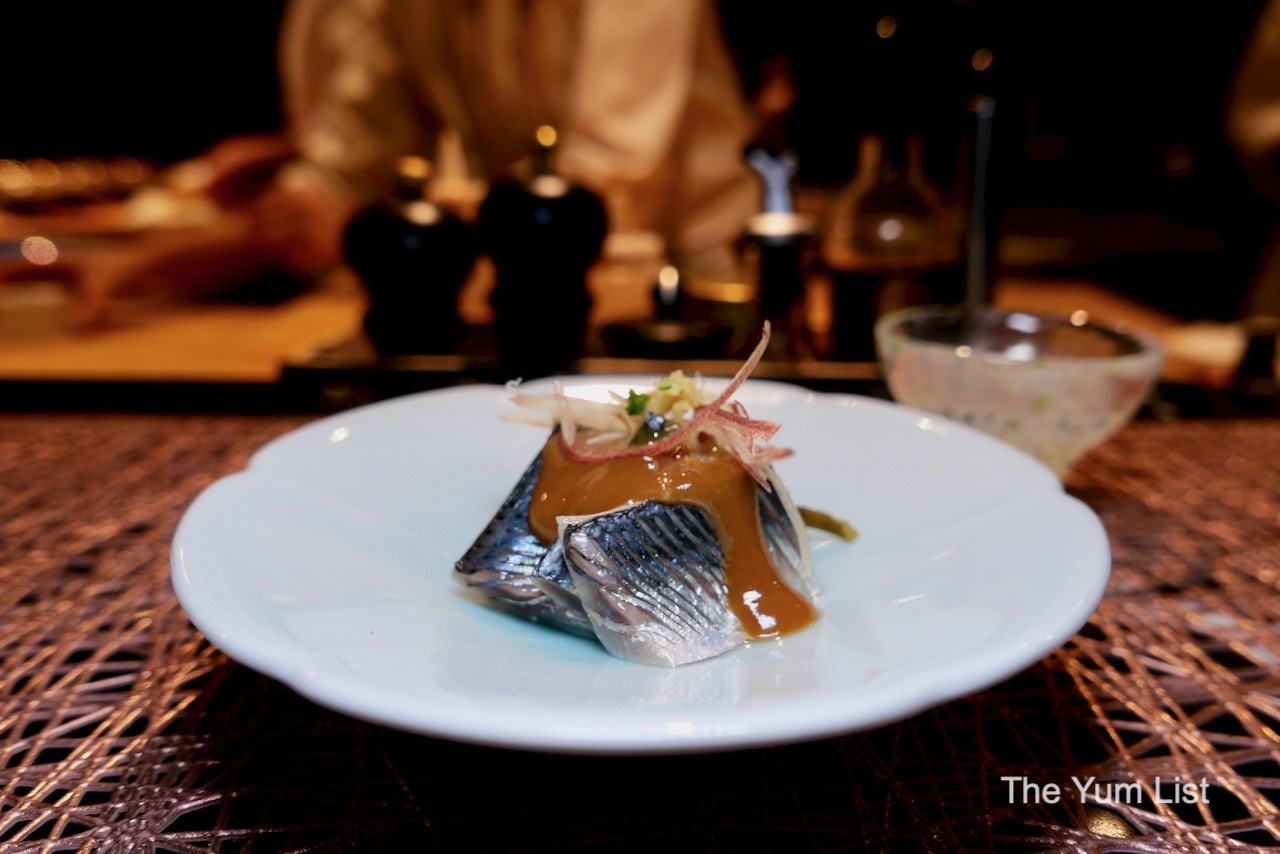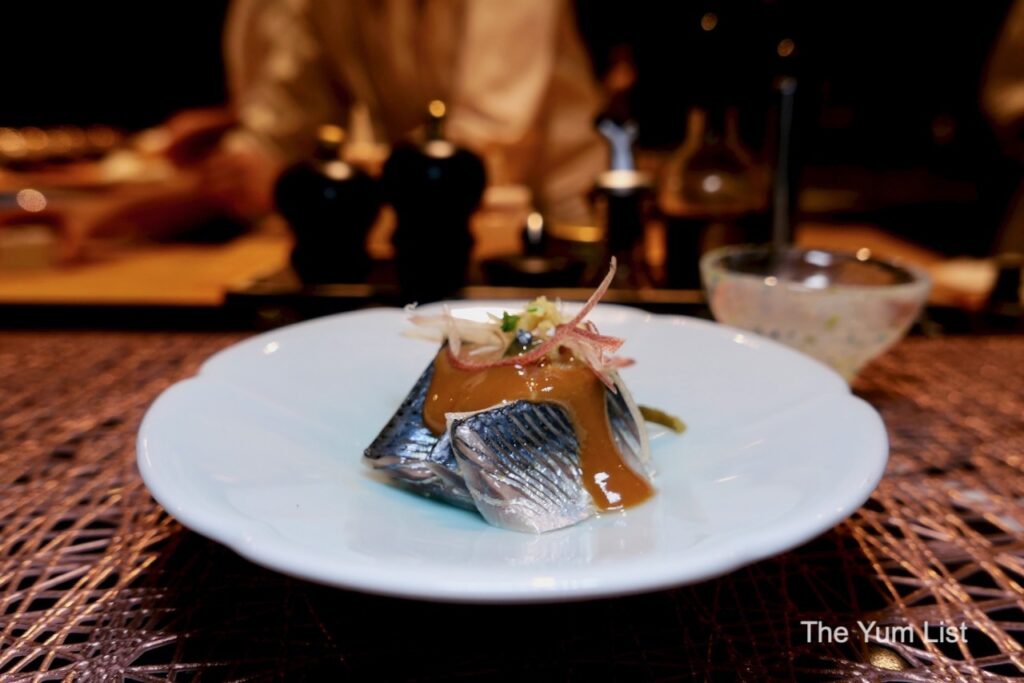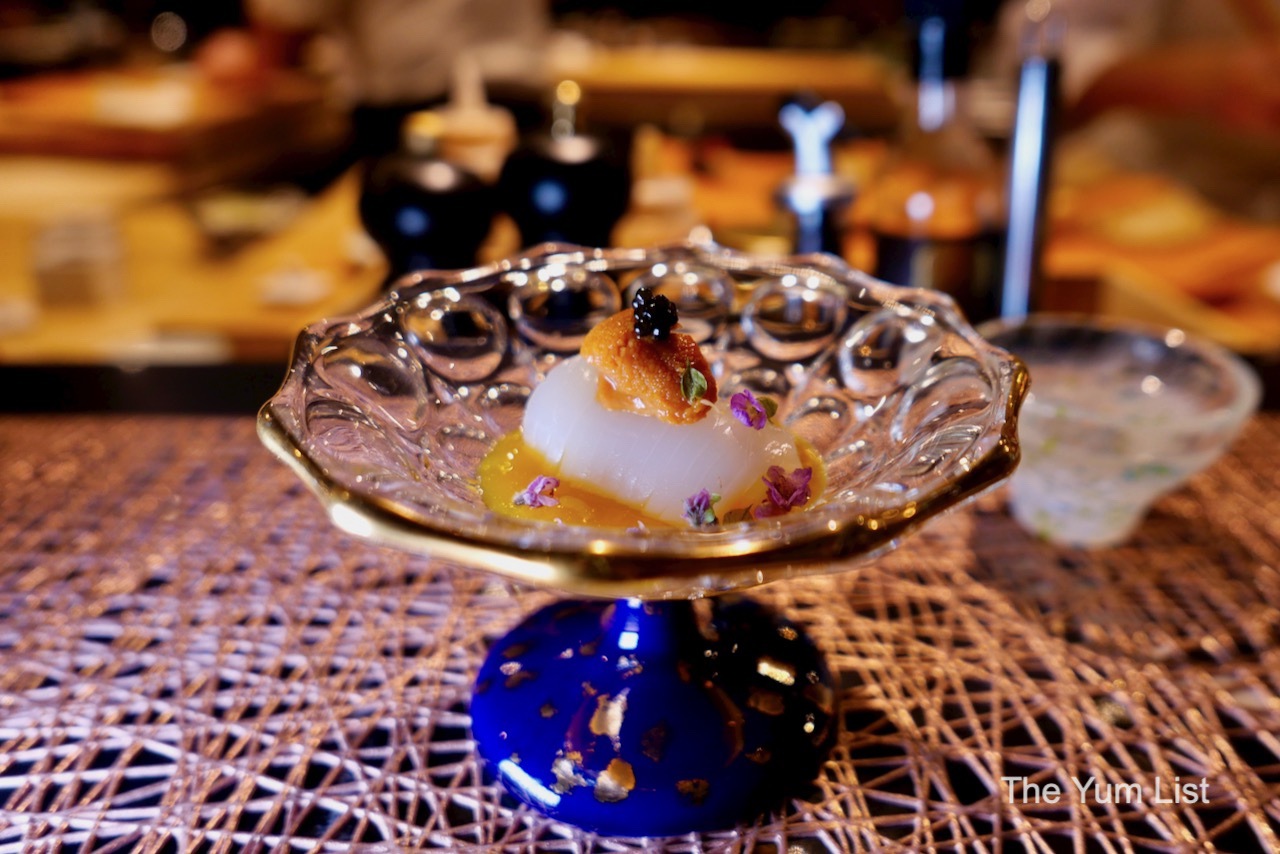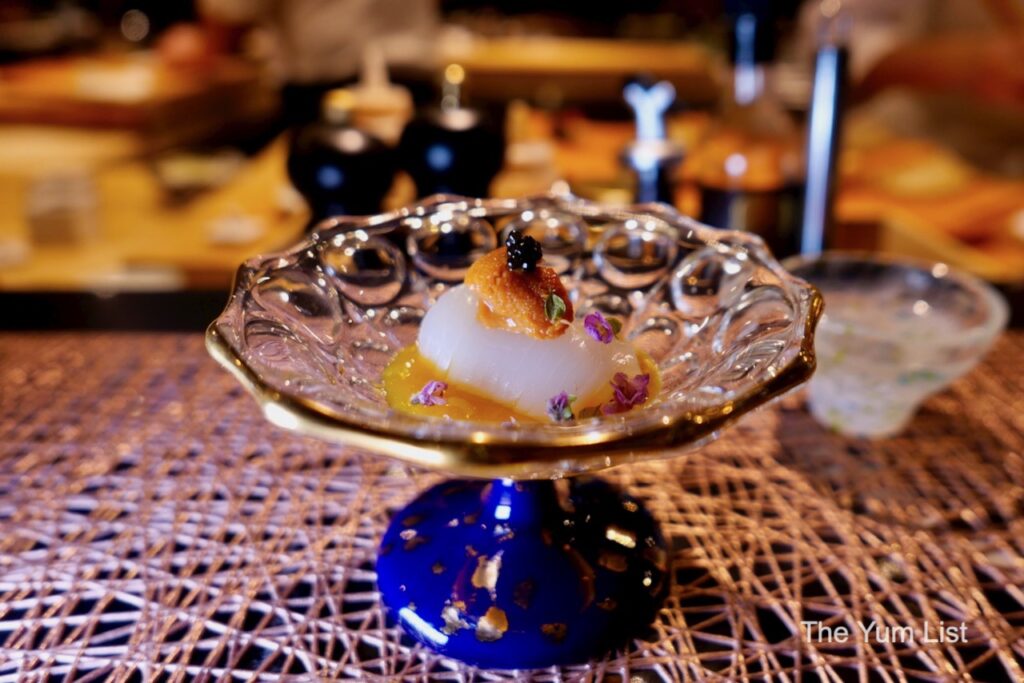 As we chatted with the chef and marvelled at his (and his team's) precision, the delicacies continued. The grilled course, or "Yakimono" in Japanese, was a delicately sliced Kuromutsu (Japanese bluefish) topped with black truffle. The truffle flavour was subtle and added a depth in flavour while still letting the fish speak for itself. This dish (one of my personal highlights) had a side of creamy Japanese street potatoes, marinated lotus, and a crunchy wasabi leaf.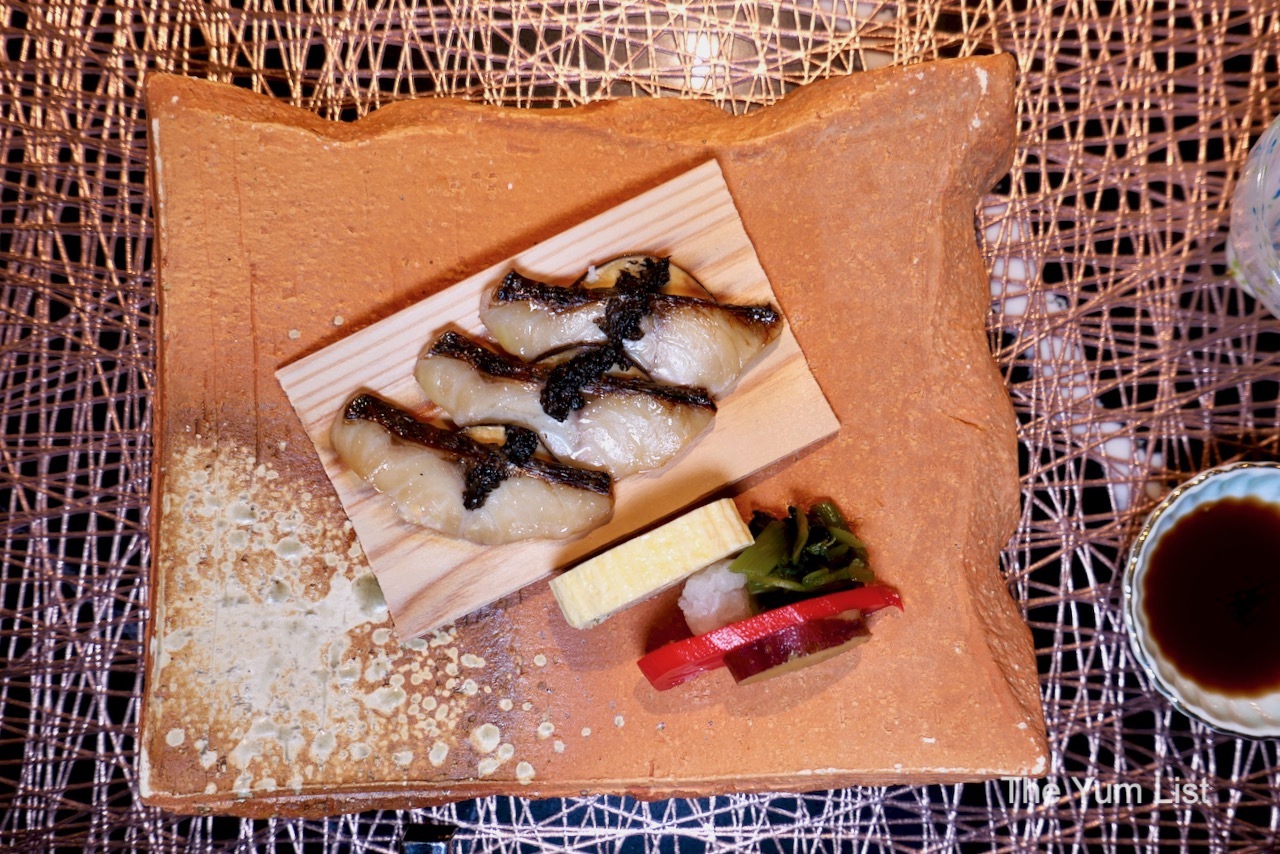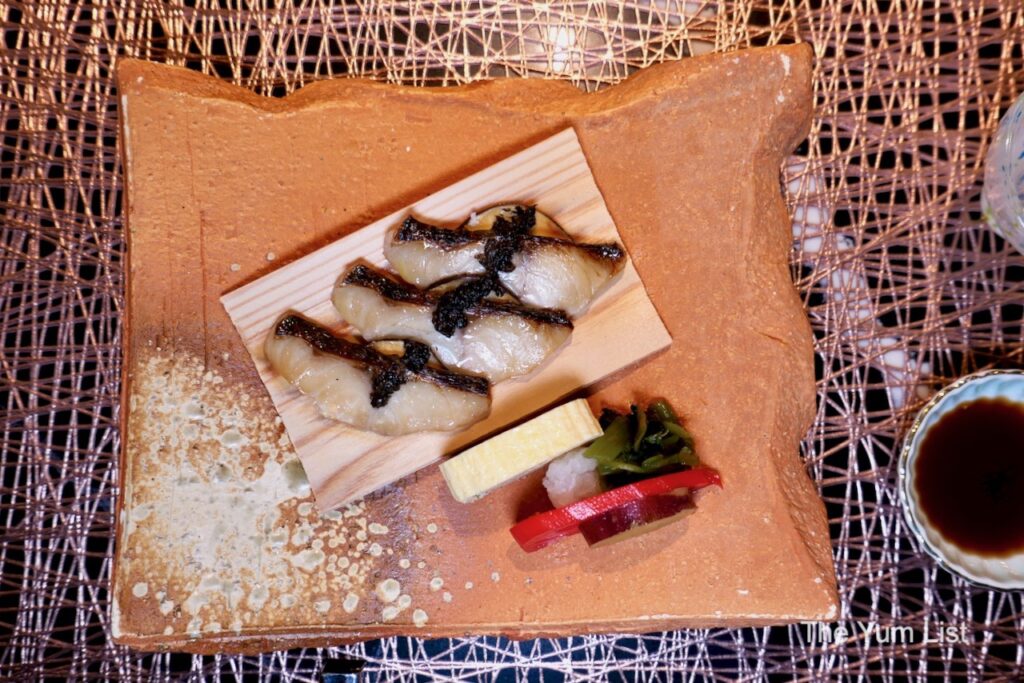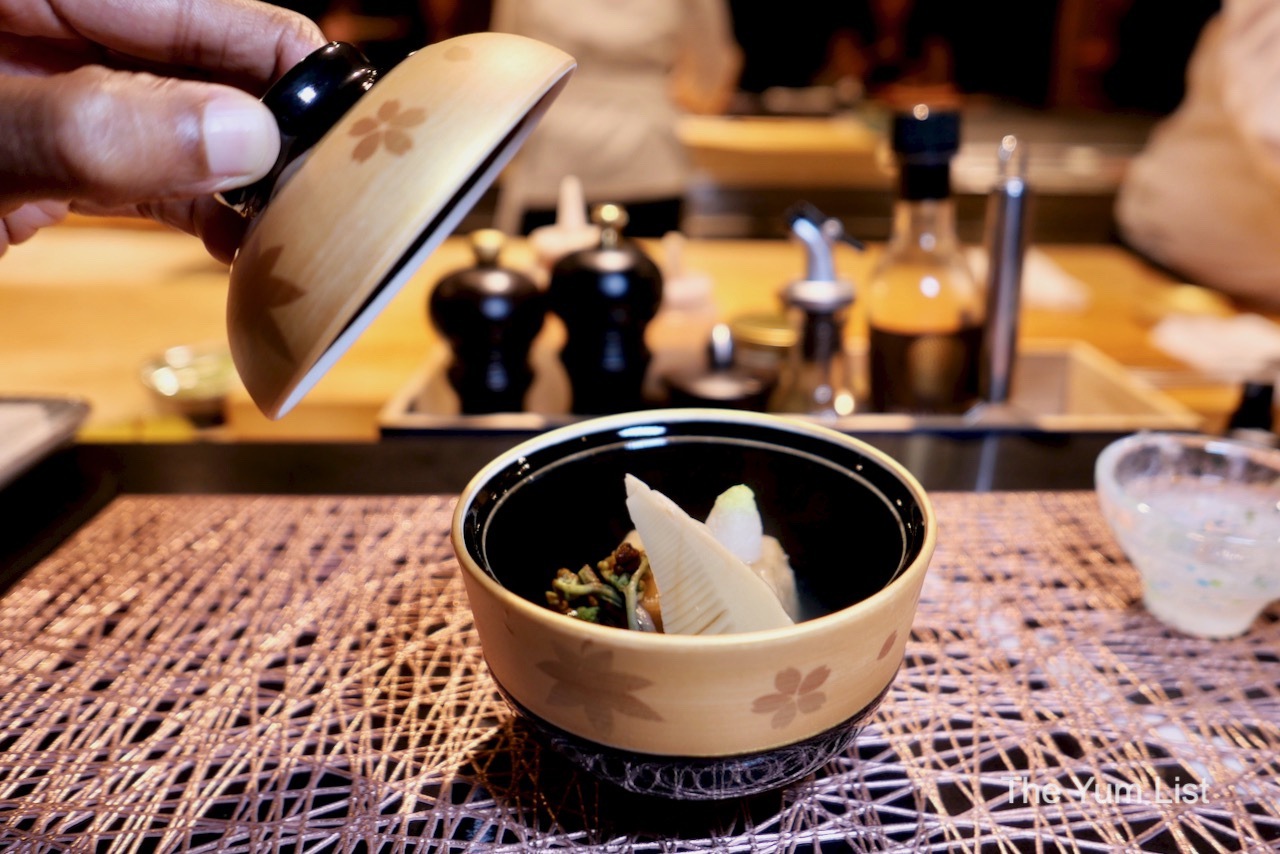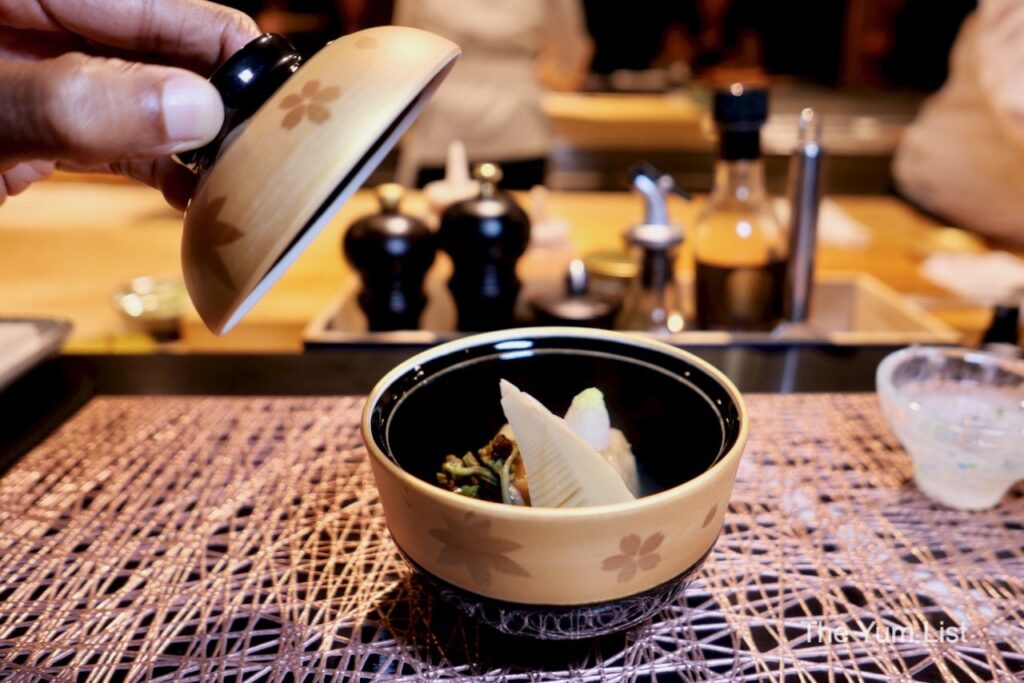 The tempura (fried right in front of you!) was a himekodai fish topped with plum sauce, green tea salt, and broad bean. It was crispy, hot and quite literally melted in my mouth. It was the perfect palate cleanser before one of the several show stoppers of the evening: the special menu item. Chef Shinsuke treated us to an open-faced scampi with uni sauce. As we dug into our scampi and pulled out the delicious morsels of meat, the ohba leaves (a Japanese herb similar to basil) added a freshness to an otherwise rich and decadent course.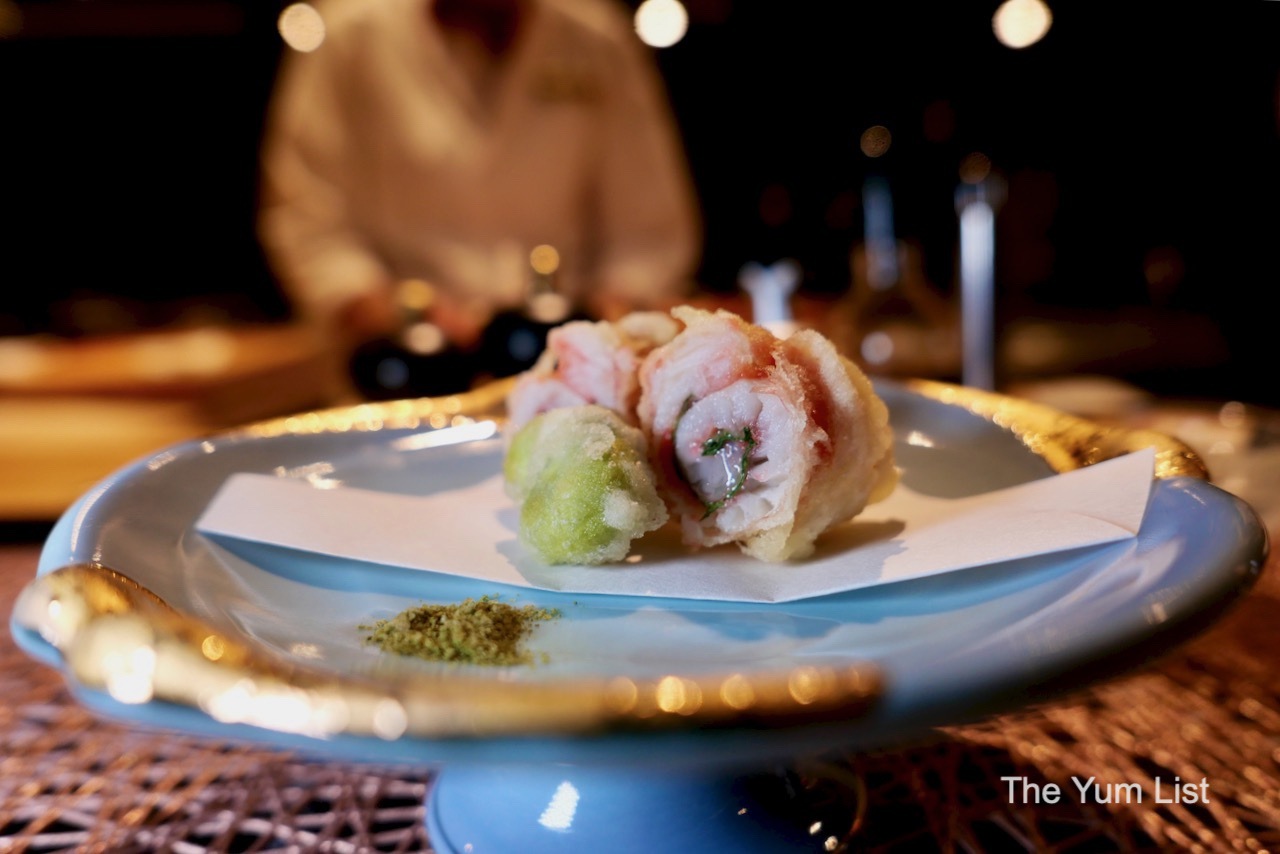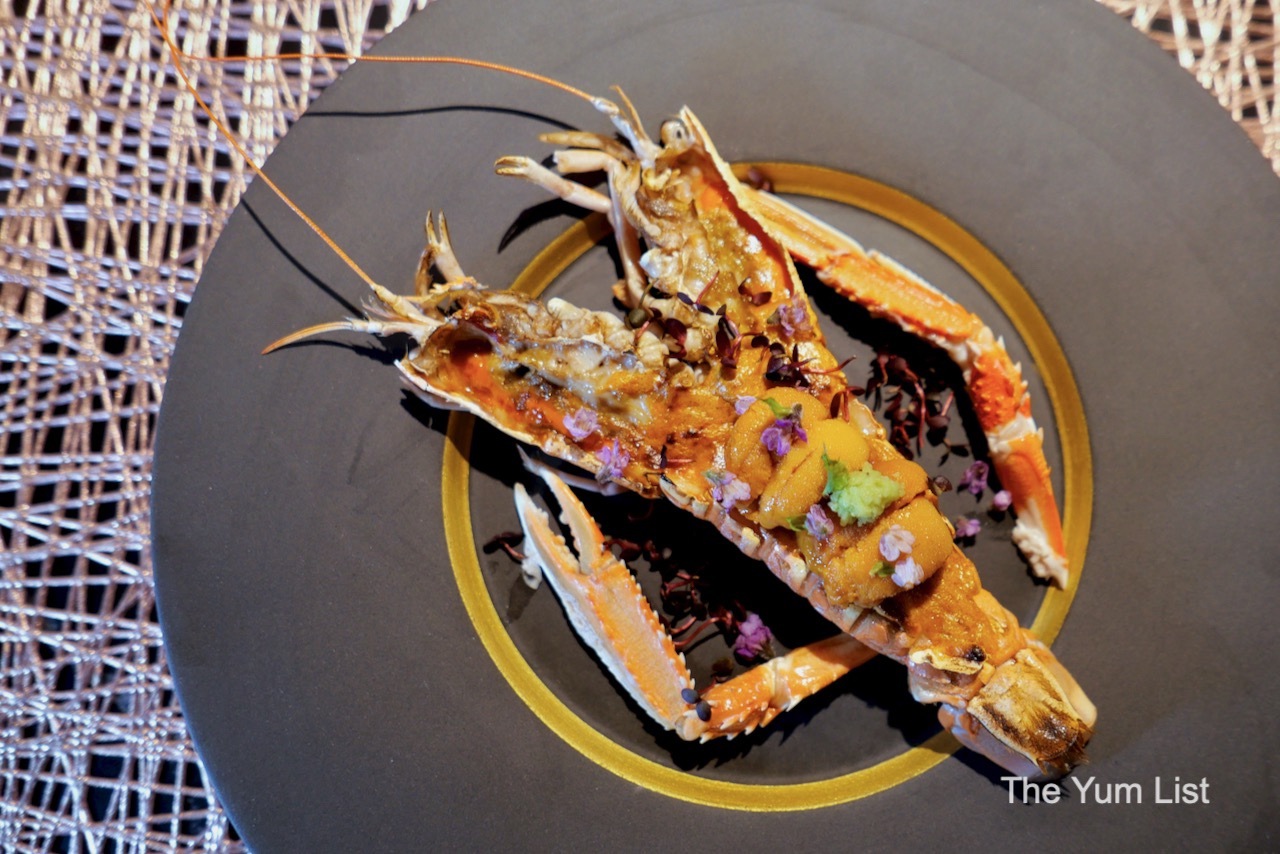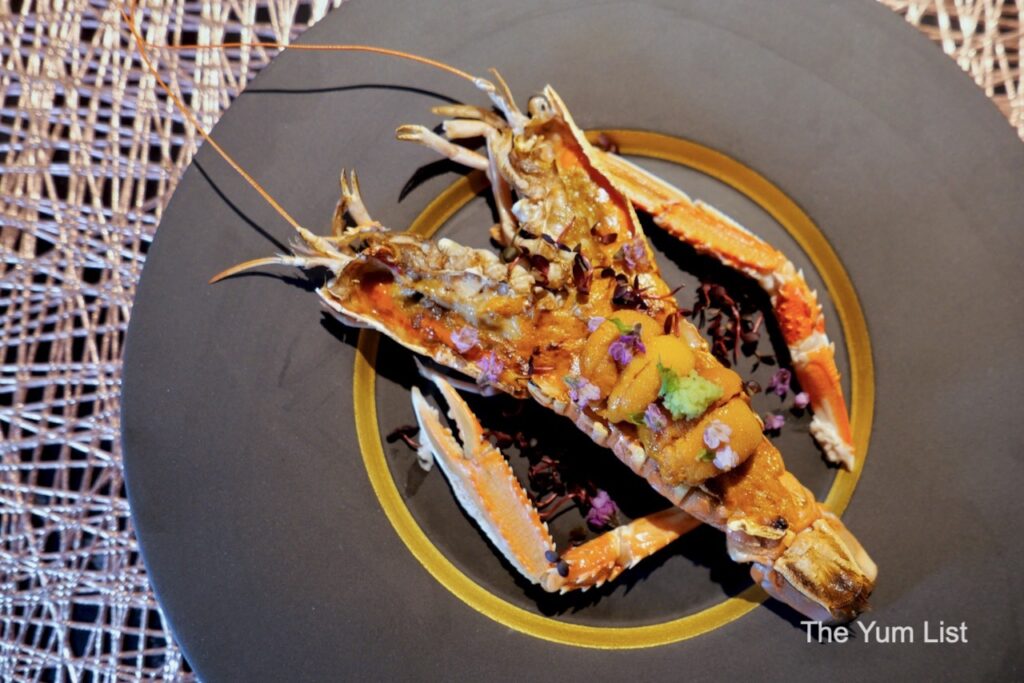 Of course, no omakase is complete without the sushi course, and as we watched Chef Shinsuke handcraft each piece in front of us, I felt I was almost in a trance. As Monica aptly described, "watching him is like watching both a dance and a magician all at once." Each item is crafted with care and flair. We were served six different types of sushi that included ingredients like wild sea bass, red cornet fish, golden eye snapper, and isaki (aka "chicken grunt") fish. A highlight was the dry-aged otoro. The cut was from the belly of the fish and topped with pickled wasabi. I am not sure I have ever eaten a fish so tender. It evaporated in my mouth.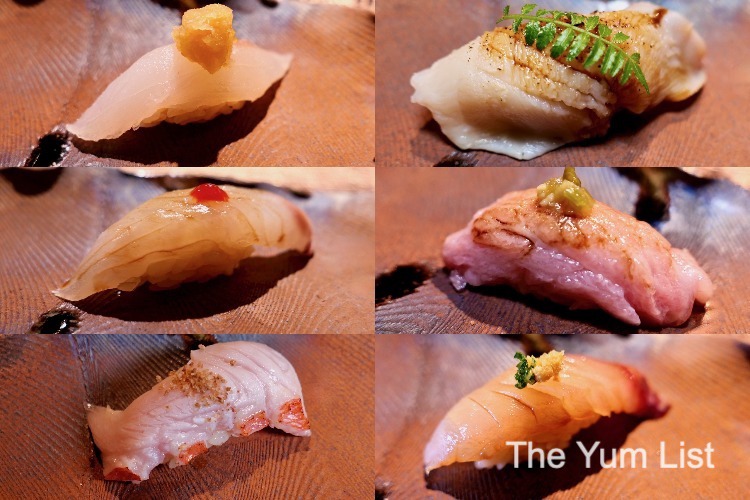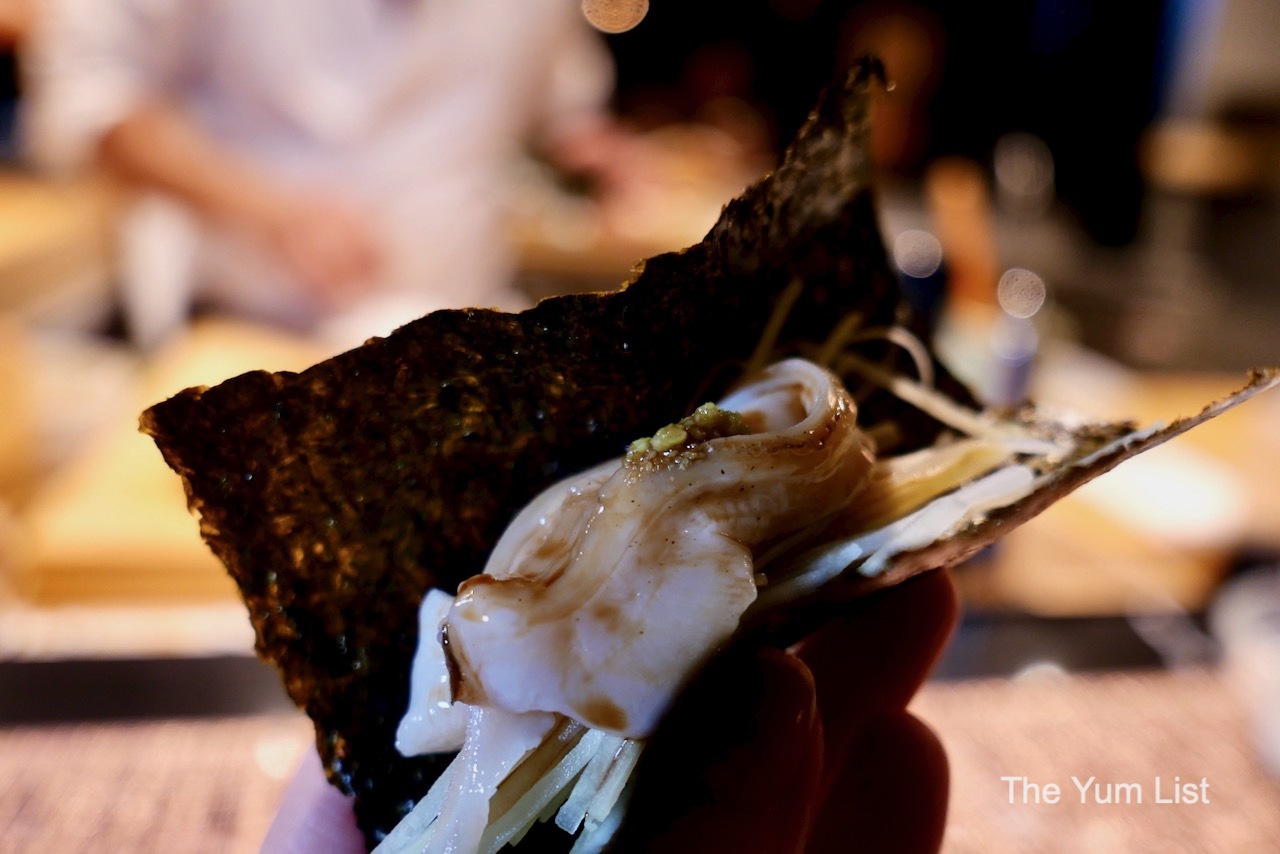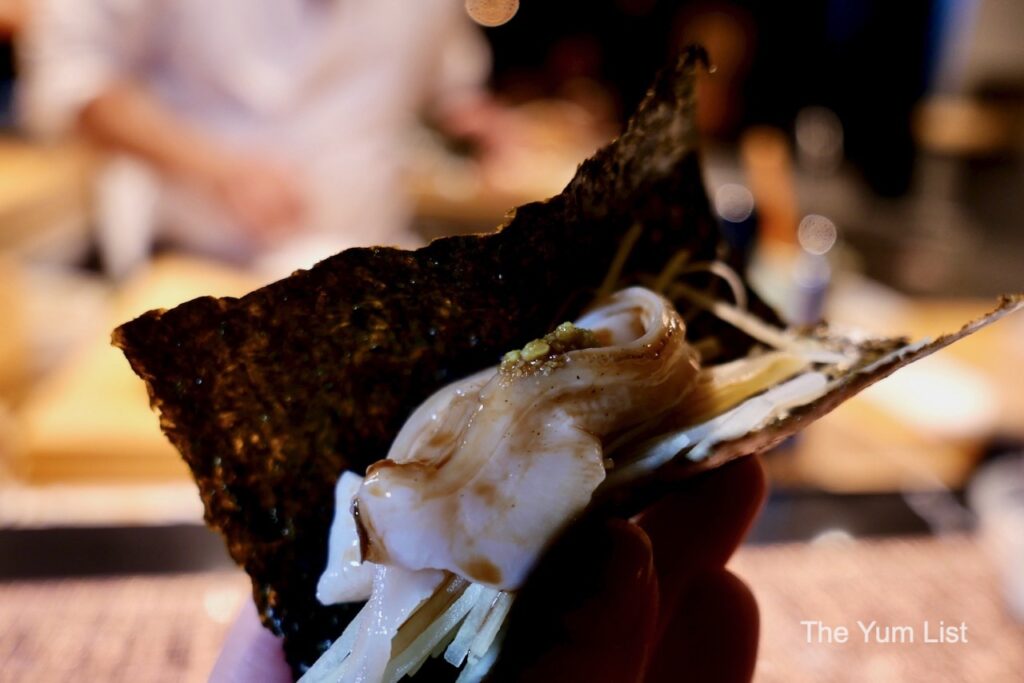 To round out the savoury portion of the meal was the soup course. Chef Shinsuke ladled the bonito broth into a beautiful bowl with remarkable care. The star of the soup was the barracuda which was baked into an egg cake and coupled with Japanese eggplant and mizuna.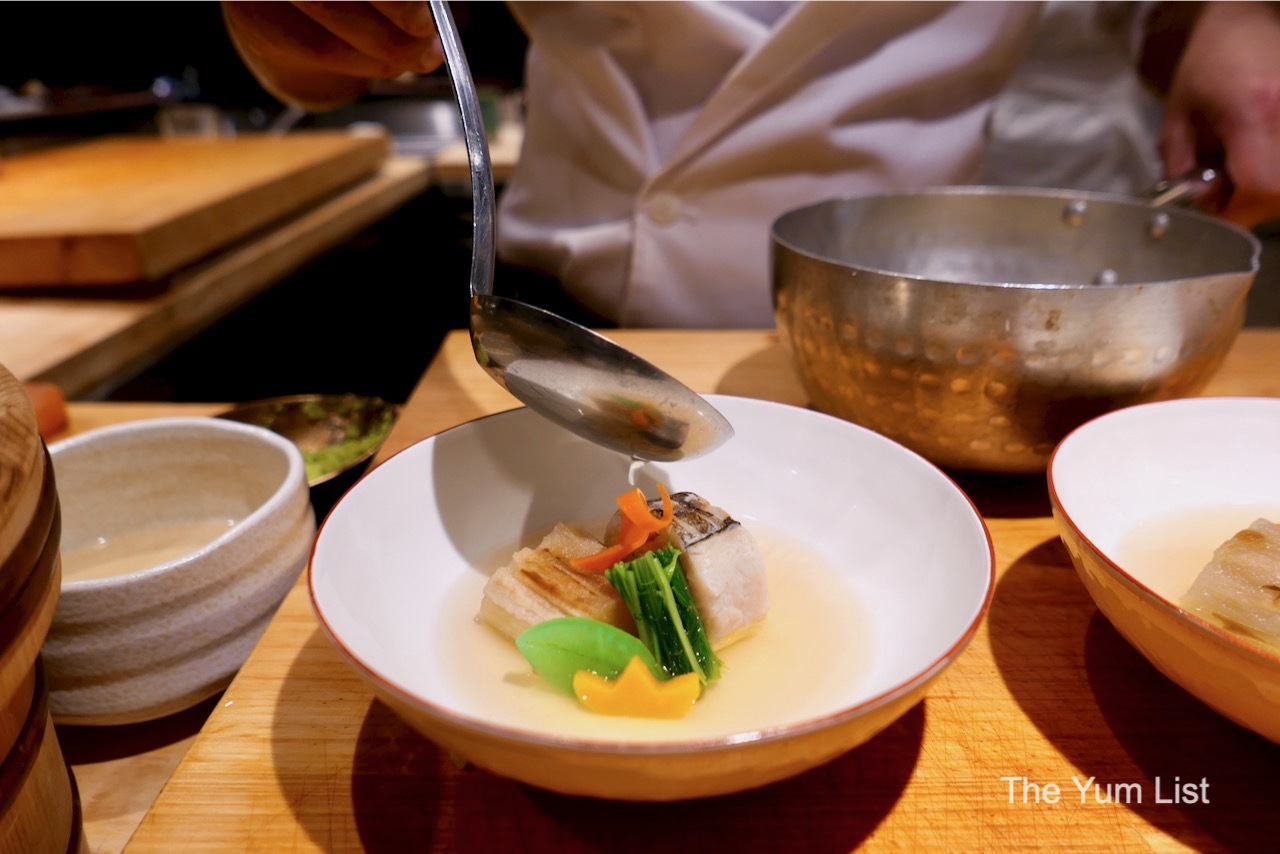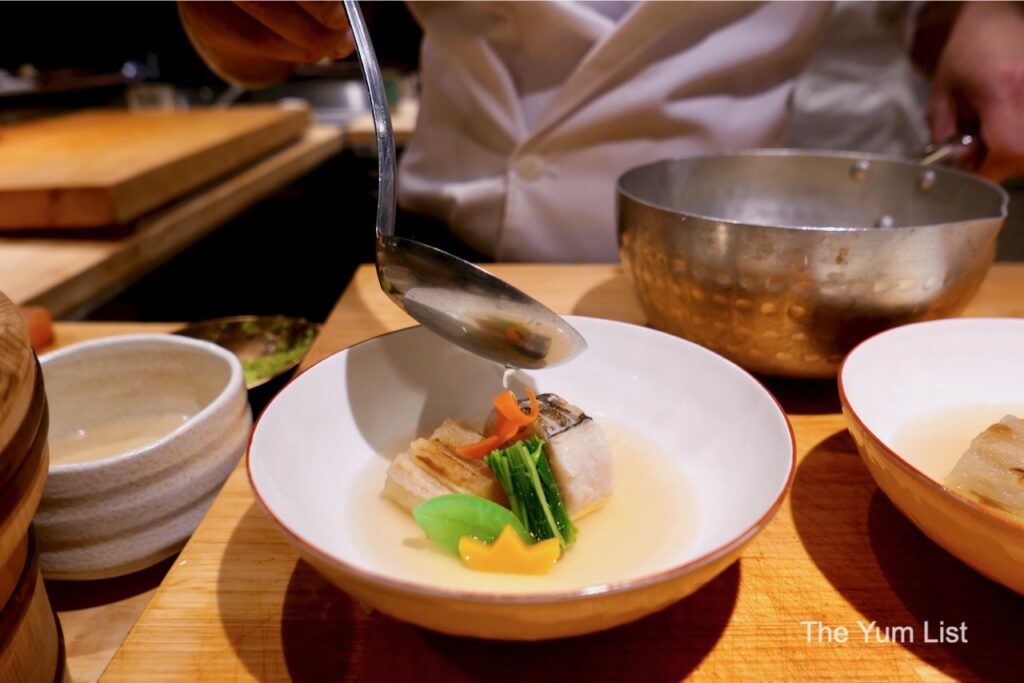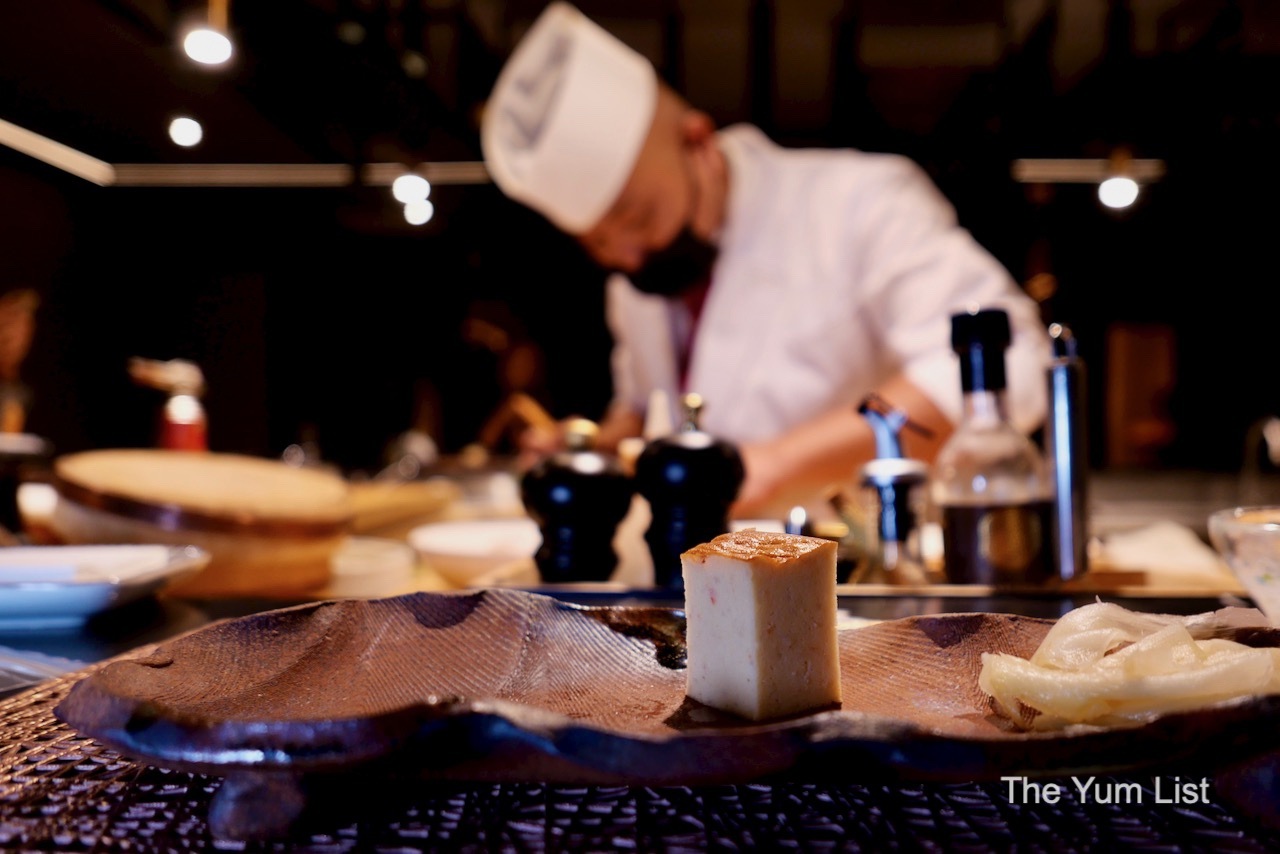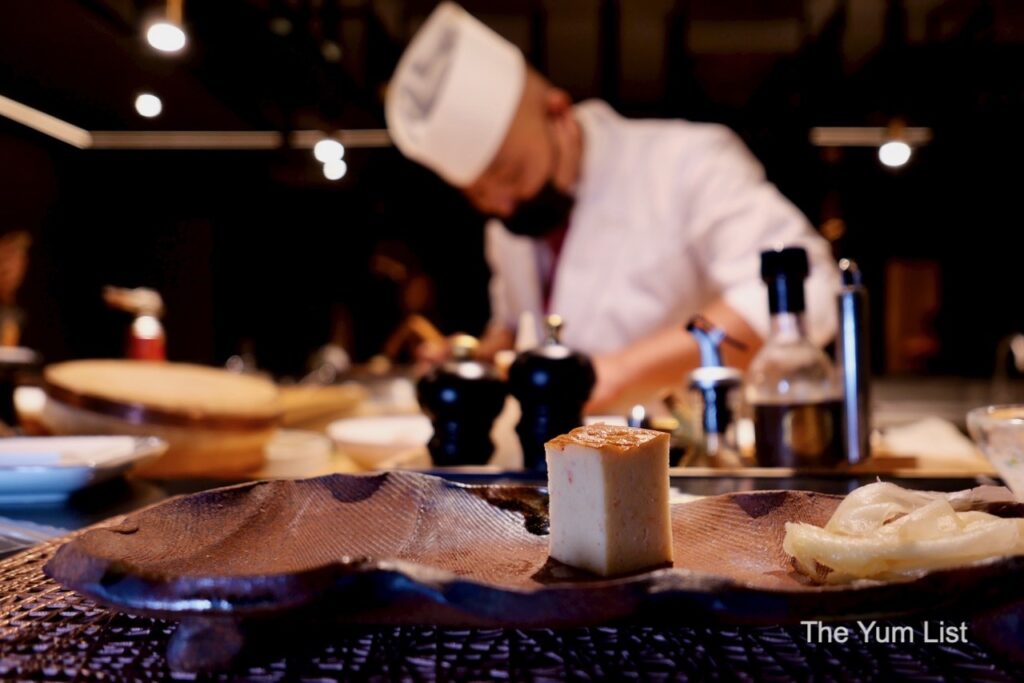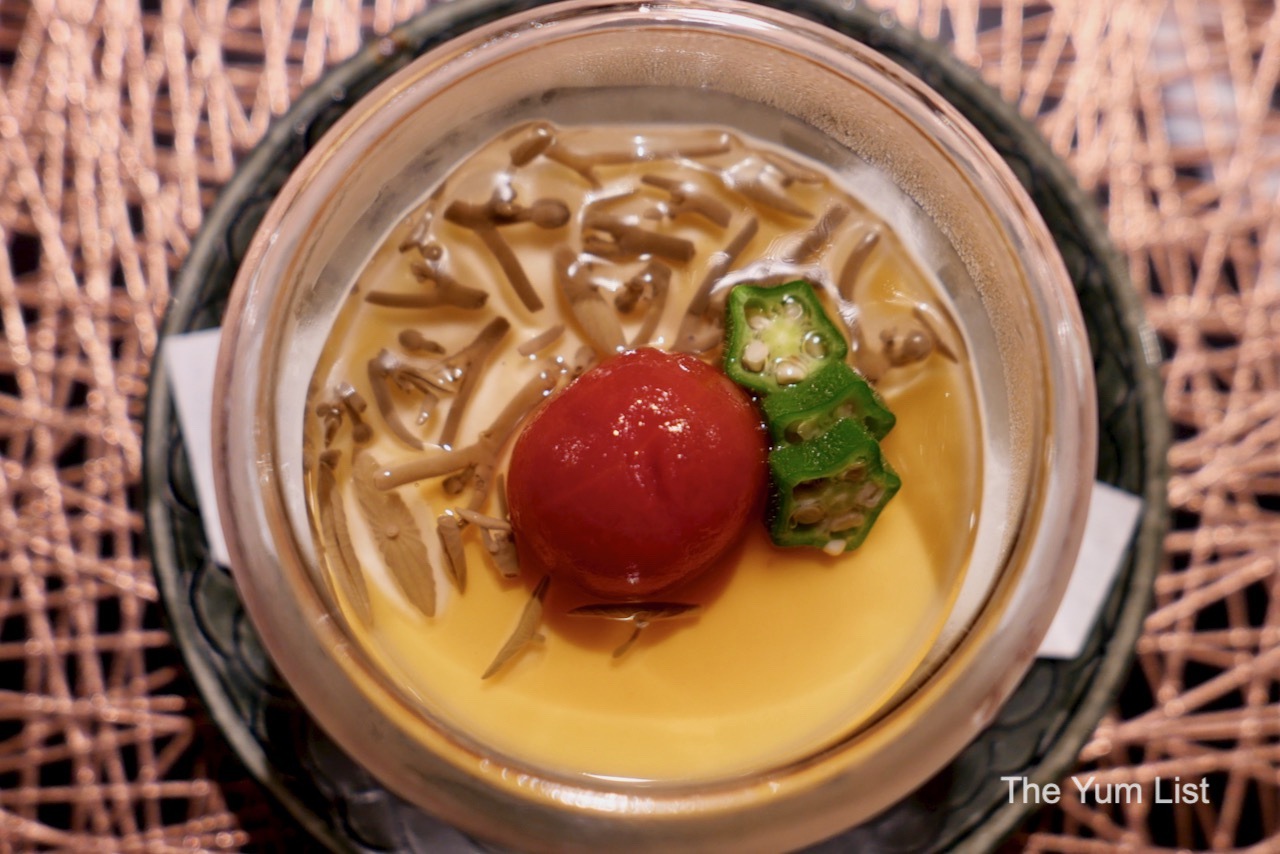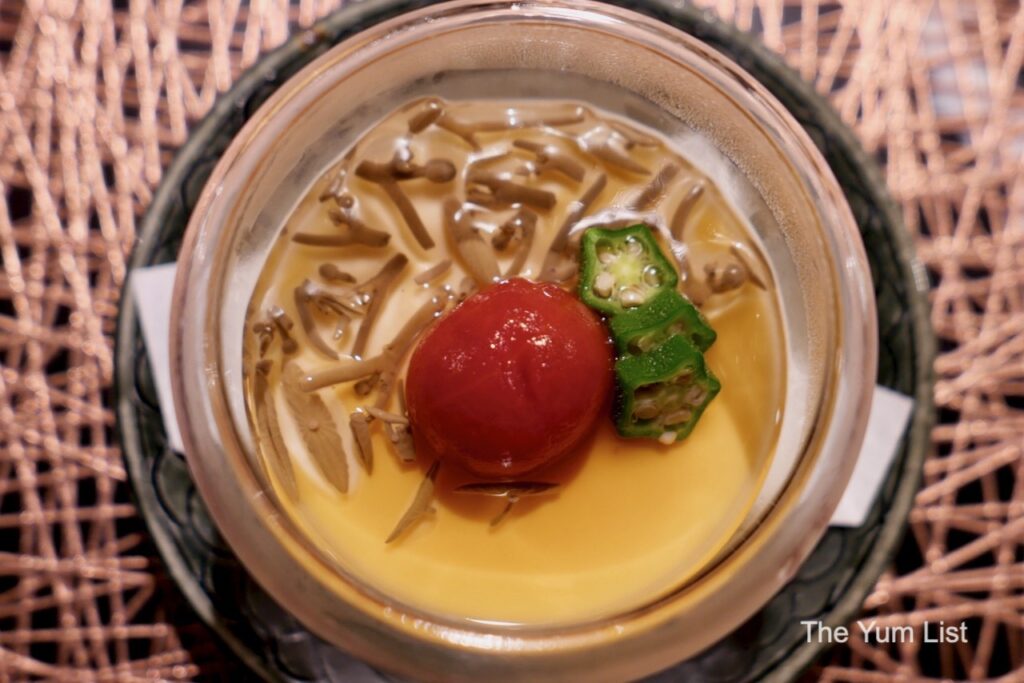 Dessert
Finally, just as I was exclaiming to Monica that "I do not have a sweet tooth," my eye caught the desserts being plated. In direct contrast to my previous dessert statement, I let out a squeal of excitement over the beautiful mochi and melon dish that was being created. Mochi is one of my favourite desserts, and to get to sample Chef Shinsuke's creation, was honestly a highlight of my culinary life. The mochi was mugwort flavoured and filled with a white bean paste. It was soft, chewy and delightfully sweet. It tasted like what I imagined sleeping on clouds felt like when I was a little girl. The mochi was served with a generous slice of Japanese crown melon – one of the world's most expensive types of melon. We were then treated to a specialty crown melon sherbet that Chef Shinsuke had made that morning to top off our journey. Light and delicate, the only sugar added was a bit of fresh honey; otherwise, the sweetness of the melon carried the dessert.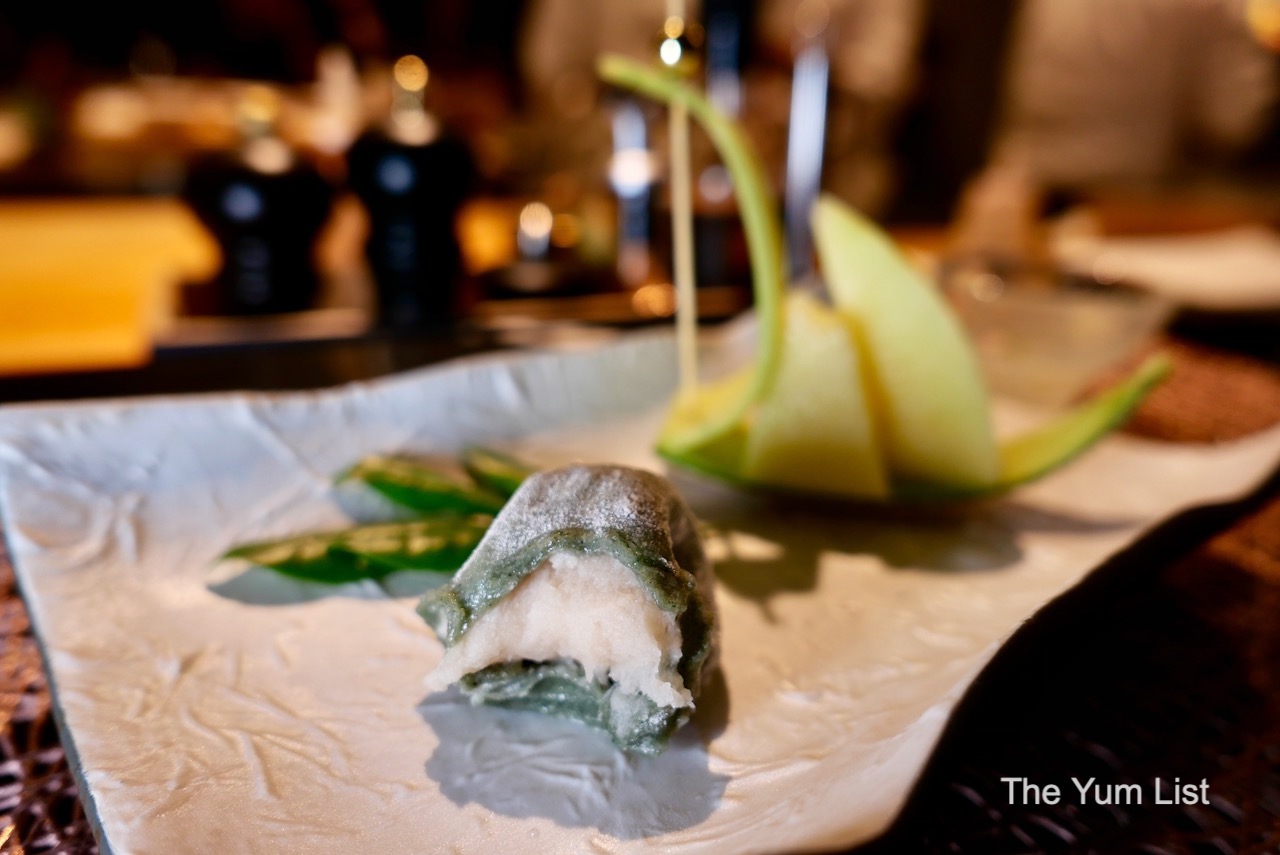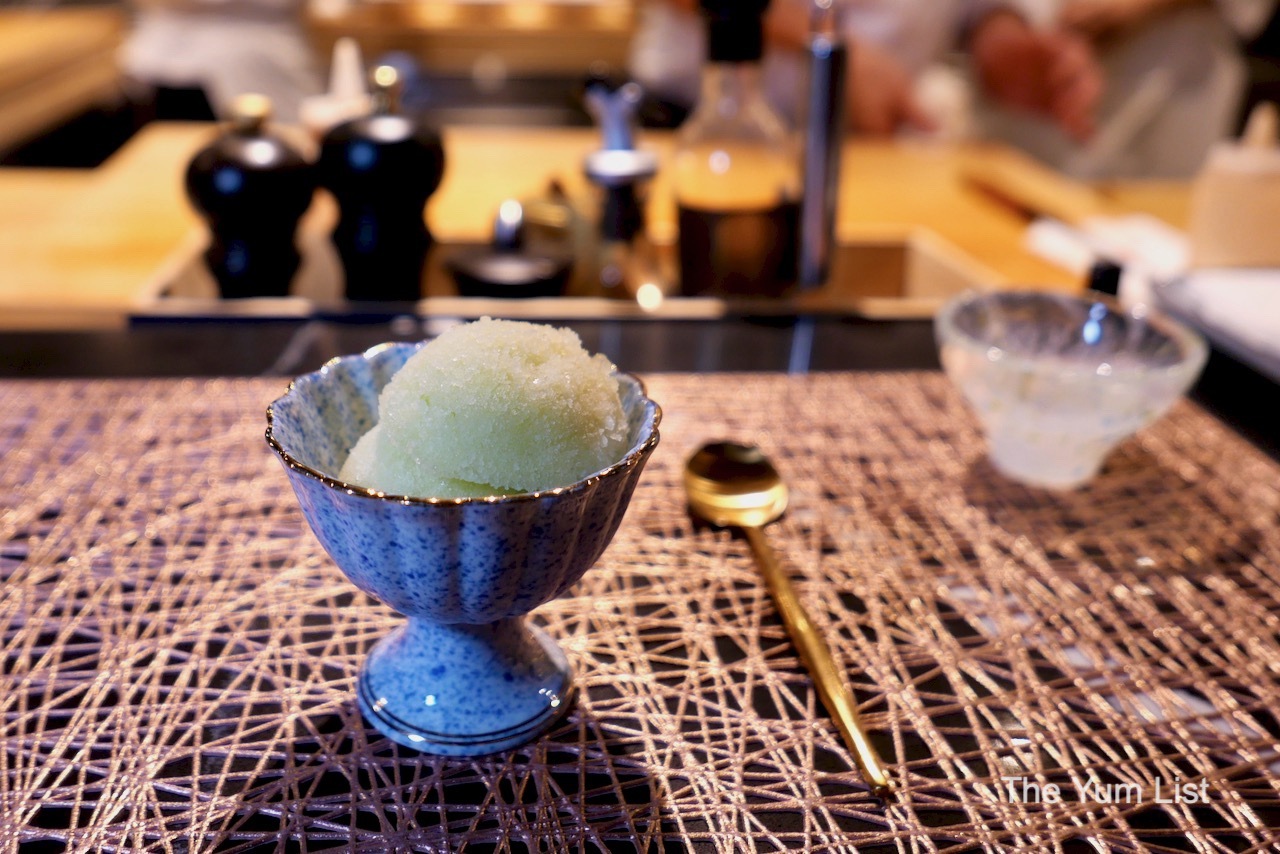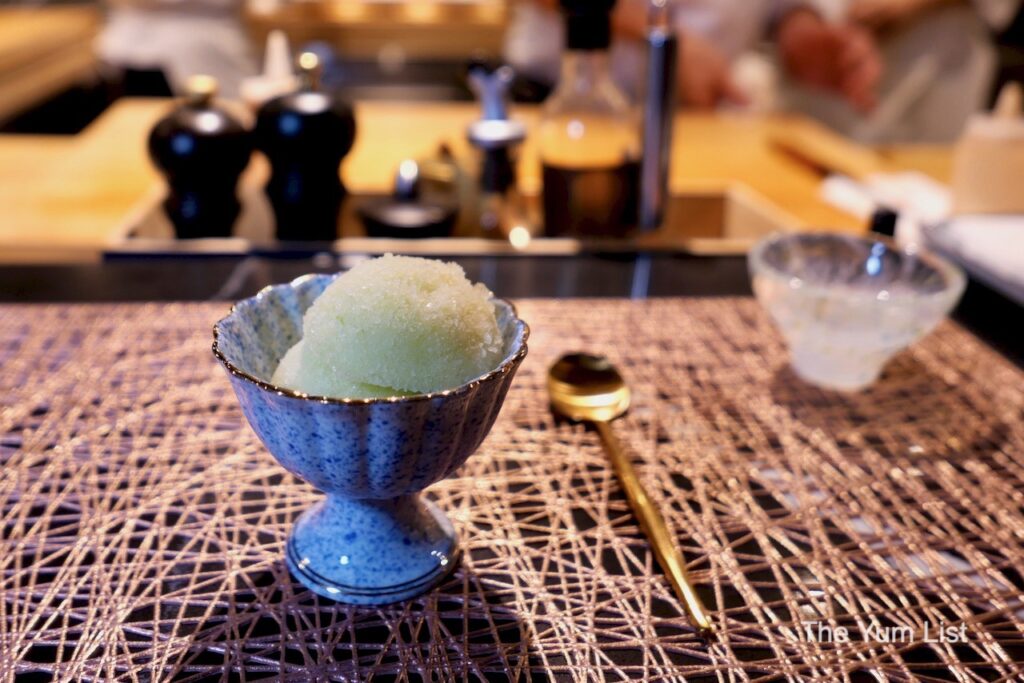 TenRyu Omakase Review
TenRyu is a welcome addition to KL's omakase scene. An elegant establishment serving some of the sea's most famous delicacies honours their expensive ingredients without being pretentious. Dinner at TenRyu is better described as a culinary adventure and a shining testament to an experienced, talented, and passionate chef.
Reasons to visit TenRyu: A beautiful and charming Japanese restaurant in the heart of KL's bustling city centre, with exceptional ingredients fresh from Japan. The "Kappo" style of TenRyu adds a little twist to the typical omakase experience.
TenRyu
Lot.101 & 119 (1st Floor)
Wisma Lim Foo Yong, No. 86, Jalan Raja Chulan,
50200 Kuala Lumpur, Malaysia
+6 018-396 1888
Please call ahead for reservations.
TenRyu Opening Hours
Monday to Saturday: 11:30 am – 2pm & 6 pm – 11 pm
Closed Sunday
Find more Japanese restaurants in KL here, and stay up-to-date with the latest gourmet and travel recommendations for Malaysia here and here.