Vegetarian Menu Nobu Kuala Lumpur
Words: Kitty Robertson
Photos: Monica Tindall
The team at Nobu Kuala Lumpur is well known for their innovative Japanese cuisine with Peruvian sparkle but did you know they also offer a fantastic vegetarian menu? Well, they do! Mon and I recently tried it, and we think many of their plant-forward recipes are just as delicious as some of their signature meaty counterparts.
Nobu Cocktail
As always, we started with a cocktail. This month's (May) cocktail (RM 77), 3 Quila, is actually a tequila-based trio of delights. The first, a mezcal with passionfruit, lime, agave and egg-white, was a frothy, sour glass of happiness with a salty tang. Don Julio, jalapeño salt, dehydrated lime and grape juice was the offering for number two. It was a savoury little number with a lovely pink hue and just a slight piquancy. Finally, a mango drink with a base of pandan and herbs, yuzu, shisho leaf and tequila, a thicker shot, finished off the threesome. Beautifully presented in a triptych, each glass was served with its own garnish on a funky board – an alcoholic version of an amuse-bouche, if you will.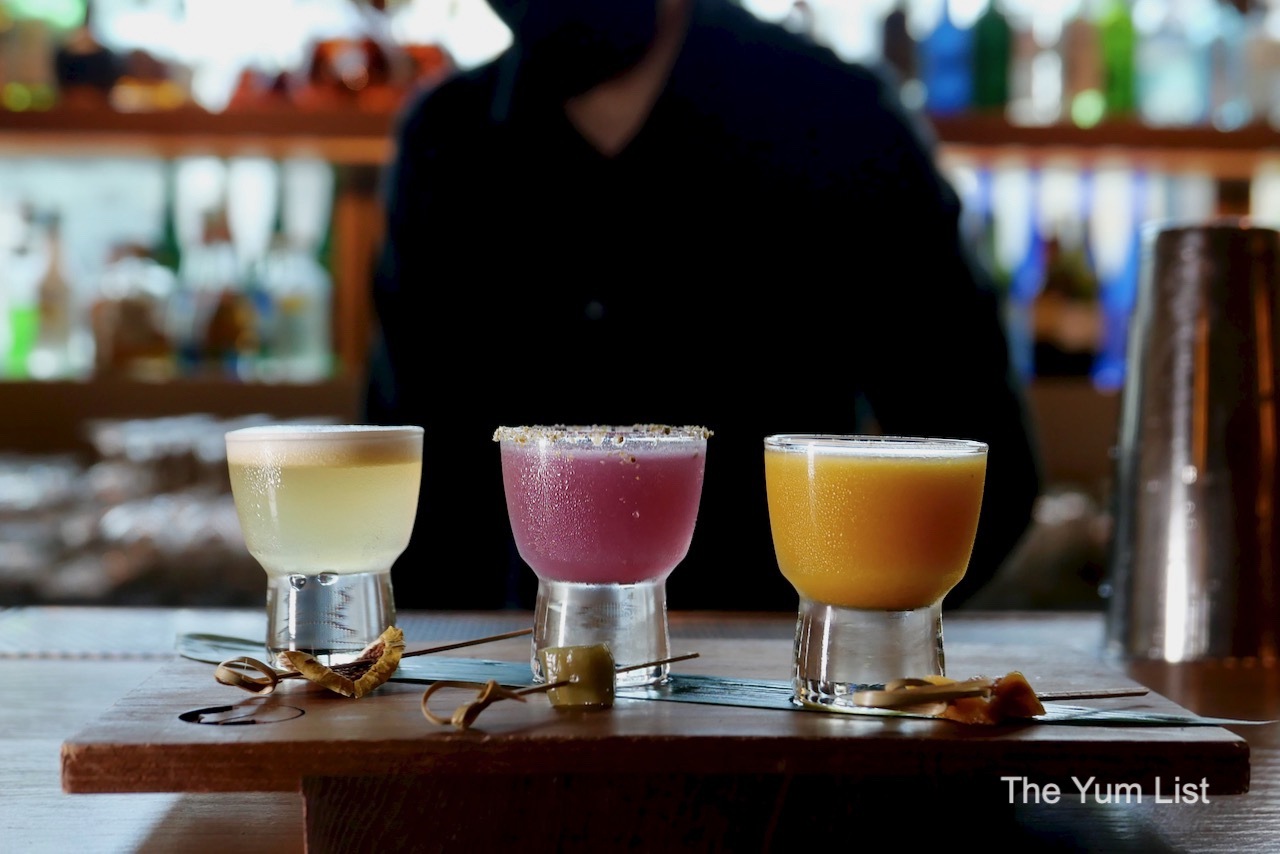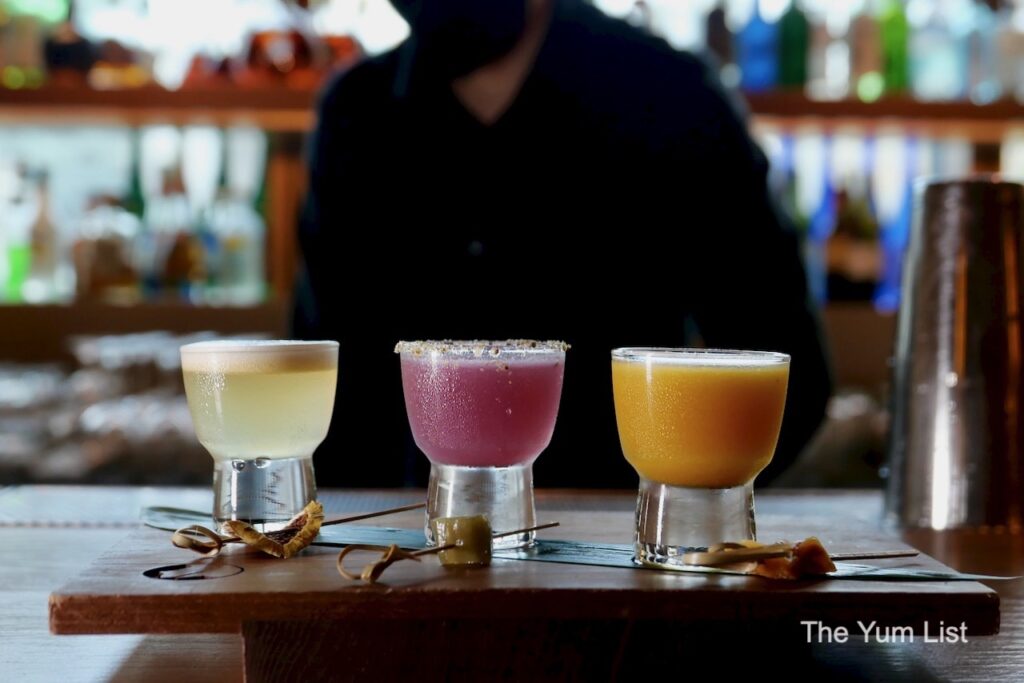 Vegetarian Menu Nobu Kuala Lumpur
Cold Dishes
We embarked on our food journey with a Vegetable Hand-roll (RM 18). The nori cone was filled with sesame miso dressing, cucumber, butter lettuce, shiso, avocado, julienne carrots and kaiware (sprouted daikon radish). Presented in a ceramic dish, we picked it up by hand. A burst of bright, fresh flavours was tempered with the depth of the miso and seaweed to create a lovely, balanced dish.
Our next raw dish was a Tomato Salad (RM 65 – usually served with bonito flakes but they can be removed to make a vegetarian dish) with Matsuhisa dressing, shaved konbu, chives and frisee lettuce. Served on a bed of dried konbu, it combined a lovely sweet and sour plate of colour. Tomato salads are one of my favourite things, and this one did not disappoint.
Zucchini Tataki (RM 40), inspired by tuna tataki (meaning "lightly seared"), came with a delicious ponzu sauce, microgreens, and garlic chips served on fresh pickled daikon radish. There was a terrific smokiness to the mushroom and earthiness from the truffle, with umami that would satisfy any carnivore. This was probably my most-loved dish of everything, although there were some strong contenders.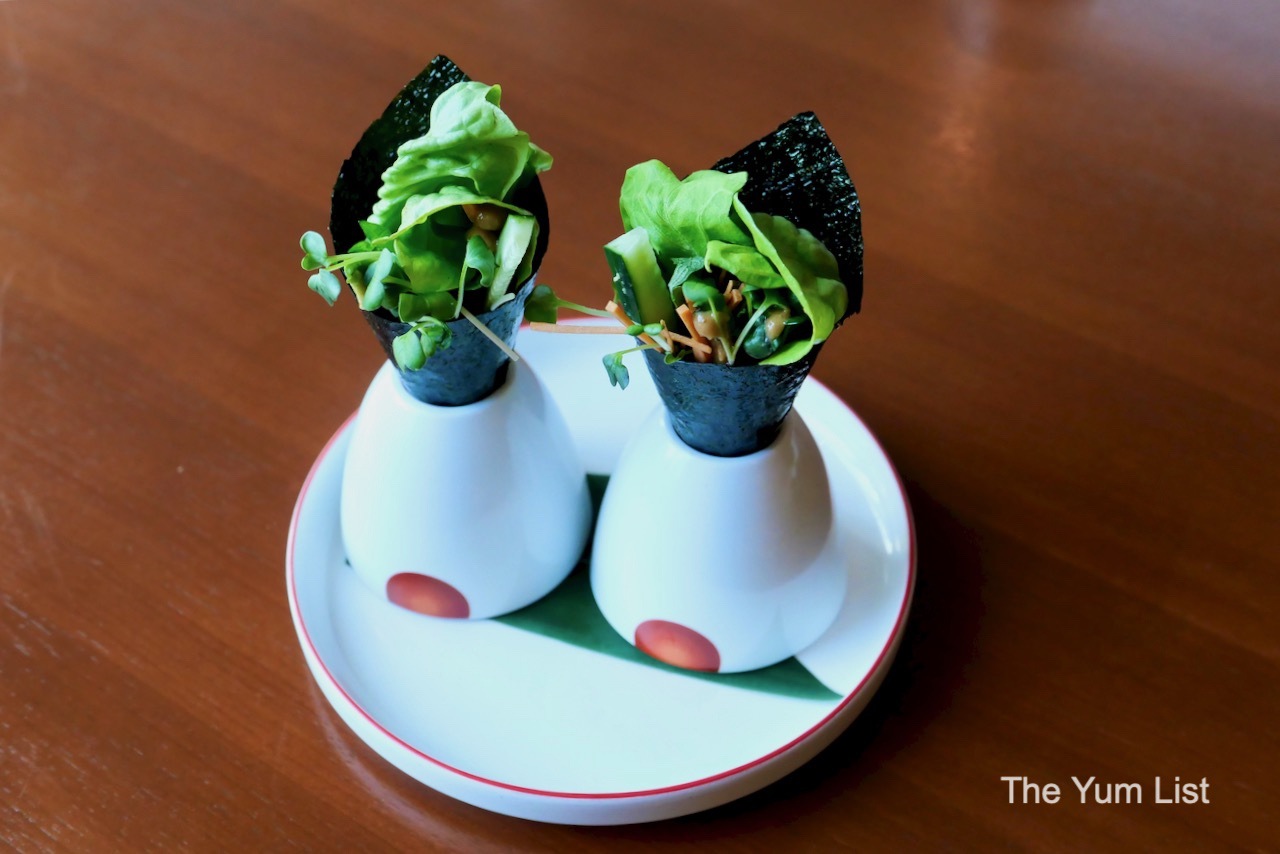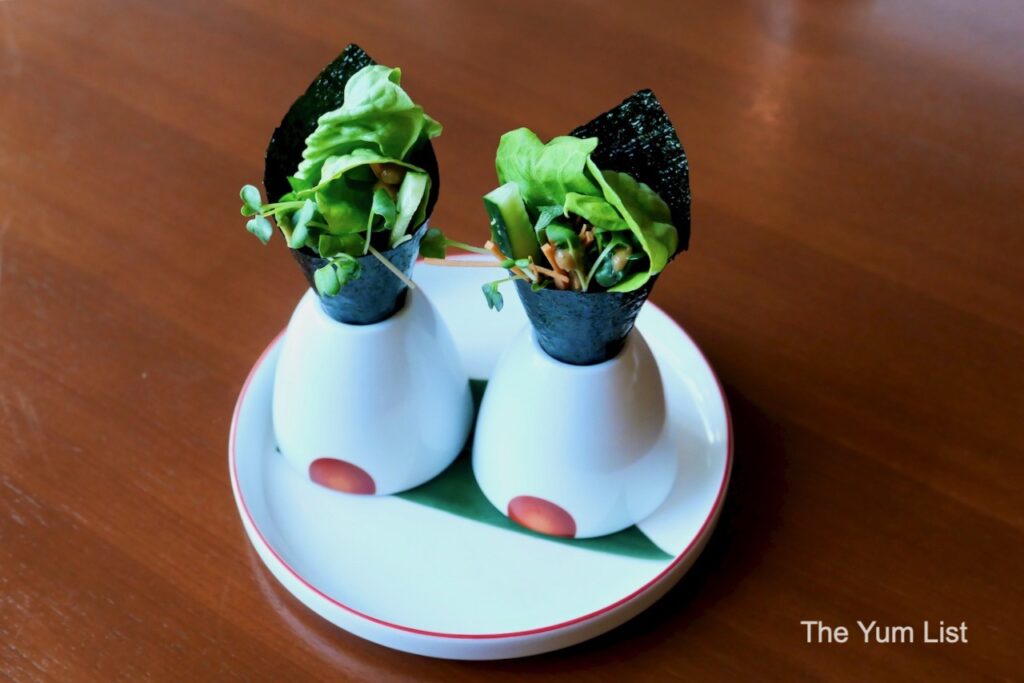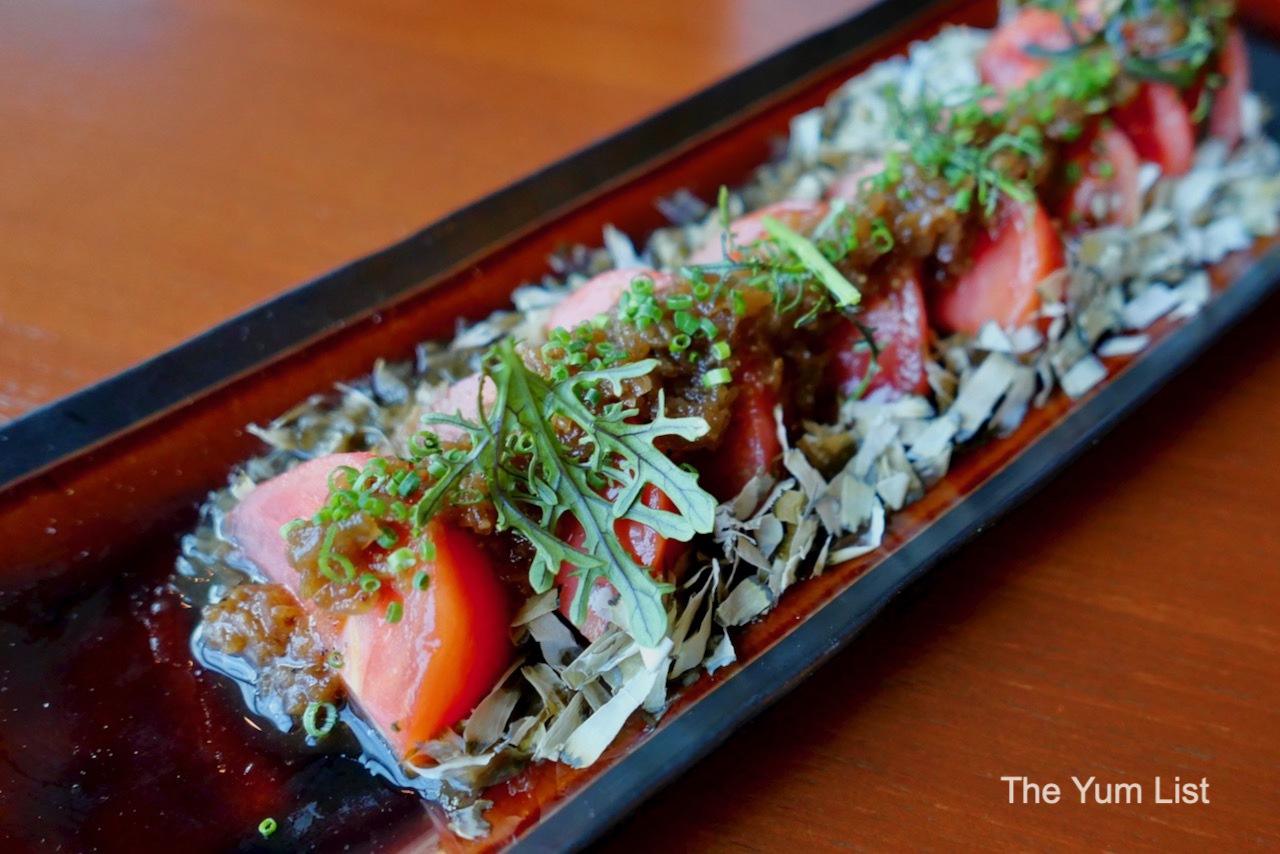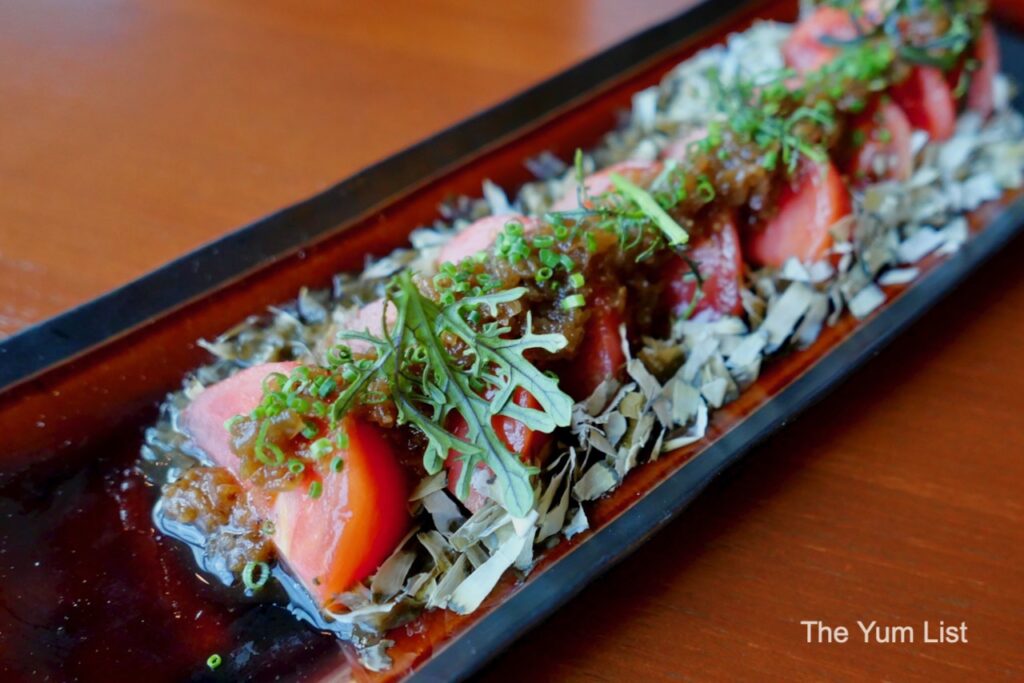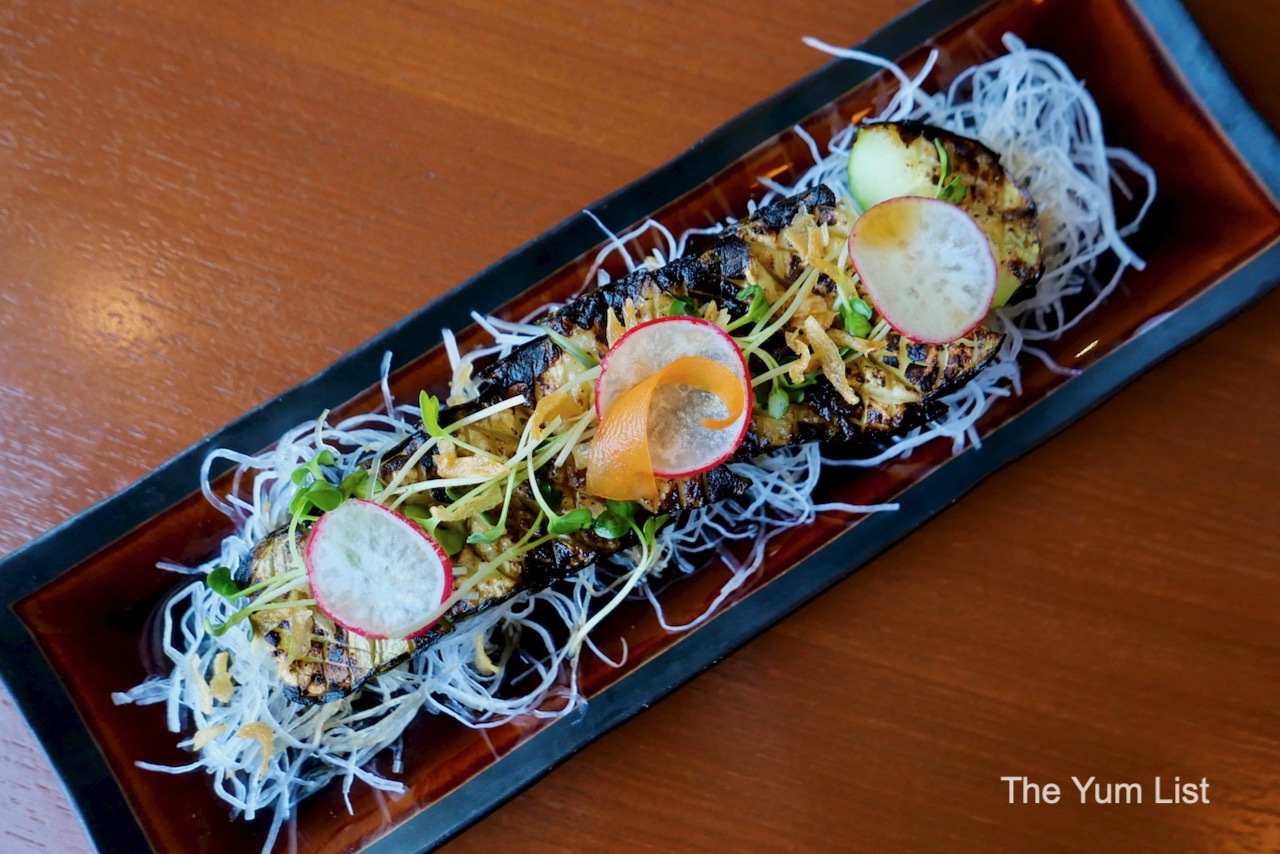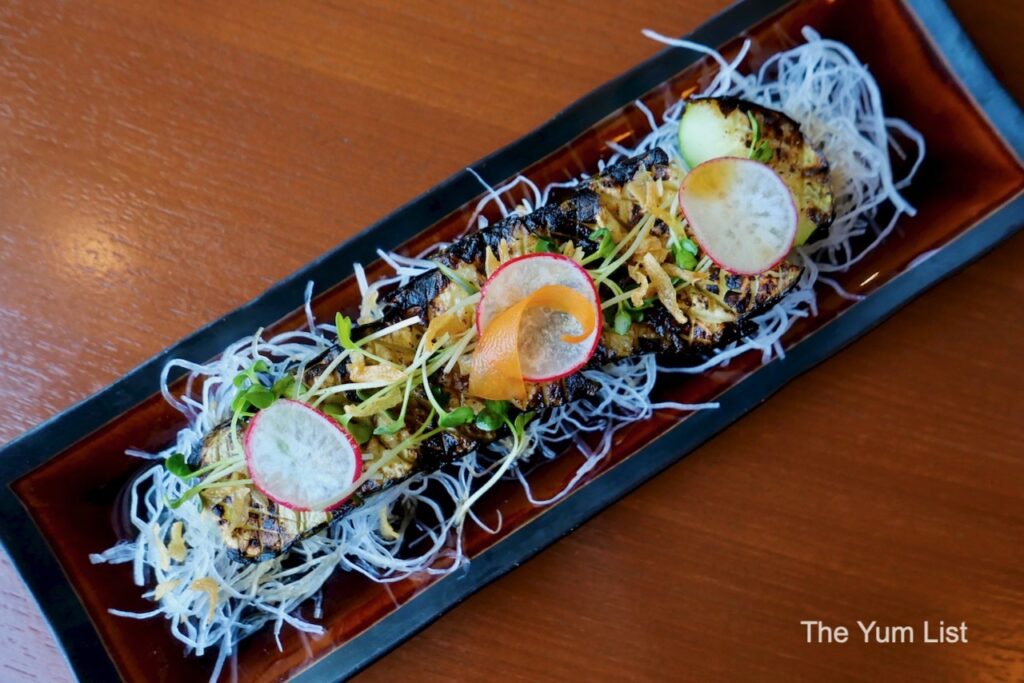 Hot Vegetarian Menu Nobu KL
Vegetarian Three-Way (we had tasting portions, prices listed are for full portions) was a tapas-sized dish of three little plates. The first, mixed Baked Mushrooms (seasonal) with Tosazu (bonito-infused can be changed to ponzu for a veg version) Truffle Sauce (RM 85), on top of a hoba (magnolia) leaf and garnished with chilli threads, had a slight smokiness. This, combined with a sour pickle, made for a wonderful pairing. Once again, no Nobu trip would be complete without me slurping the juices from the bowl, which was the order of the day in this case. The second, Nasu Miso (RM 30), flash-fried aubergine broiled with sweet miso paste, a side of dried apricot and ginger root, is a take on Nobu's famous miso cod. This was Mon's favourite, and she declared that everyone, even non-veggie lovers, should try it. If ever asked what food I don't like, cucumber and cauliflower are immediately named. However, the Oven-baked Cauliflower (RM 45), the last of the trio, might just change that opinion. The jalapeno dressing garnished with diced onion and jalapeño, coriander, ito togarashi and chilli thread may well have changed my mind. The sauce had a fantastic acidity making an all-around belter of a dish.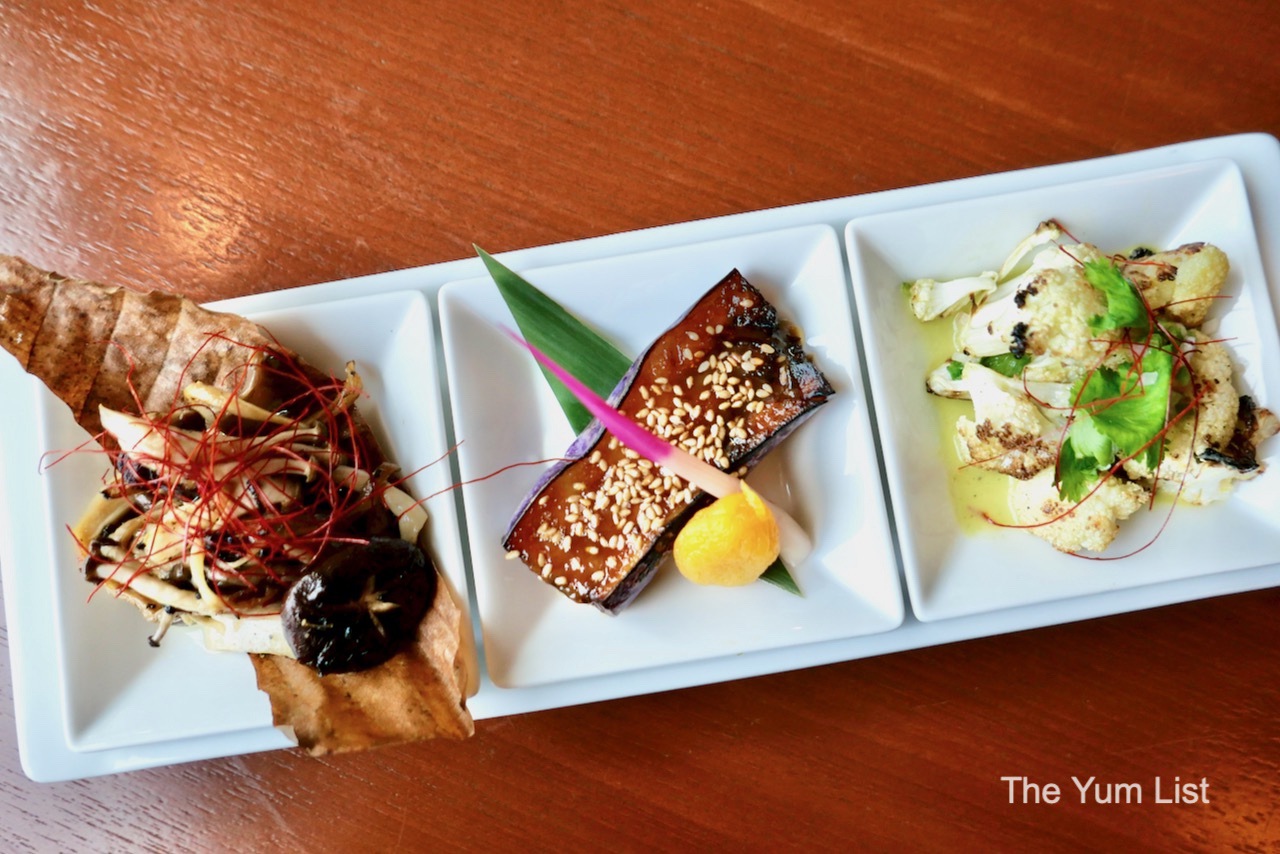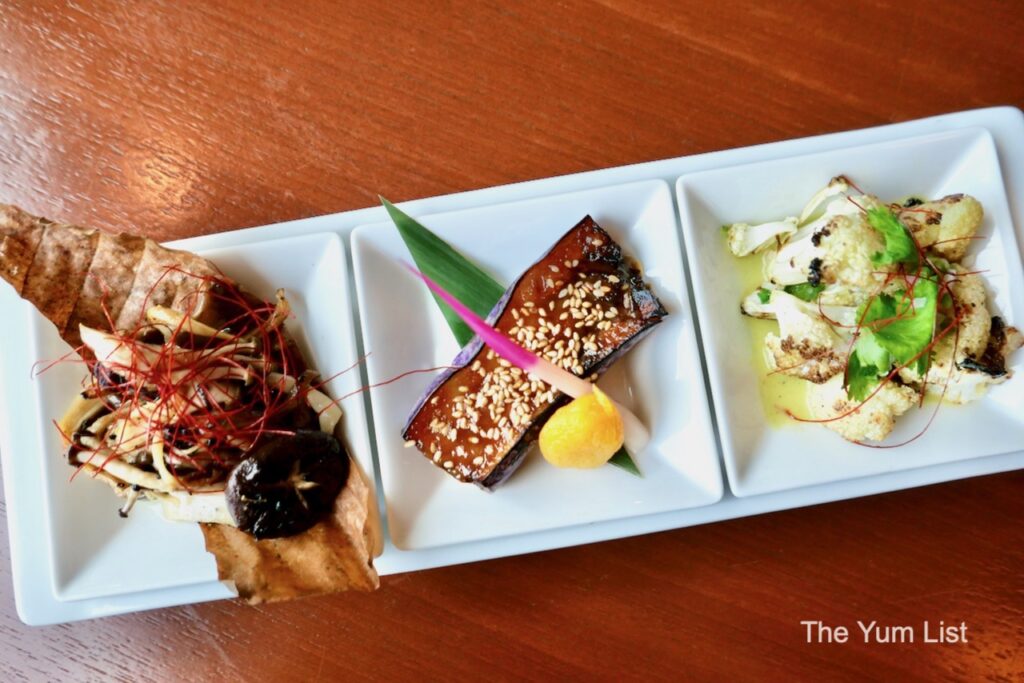 Vegetarian Sushi Kuala Lumpur
The team at Nobu prove that vegetables can be just as exciting as animal proteins in their sushi combo. A sushi roll with shisho leaf and homemade ume boshi (plum puree) was fresh and flavoursome. Japanese pea sprouts and enoki mushroom roll had a lovely mouth-feel. Eggplant with sweet yuzo miso sauce, an heirloom tomato salad with ponzu sauce, and sushi rice with onion finished off the vegetarian sushi platter. This last plate replicated one of the signature sushi cup servings of Nobu, where a bowl of sushi rice is topped with sashimi.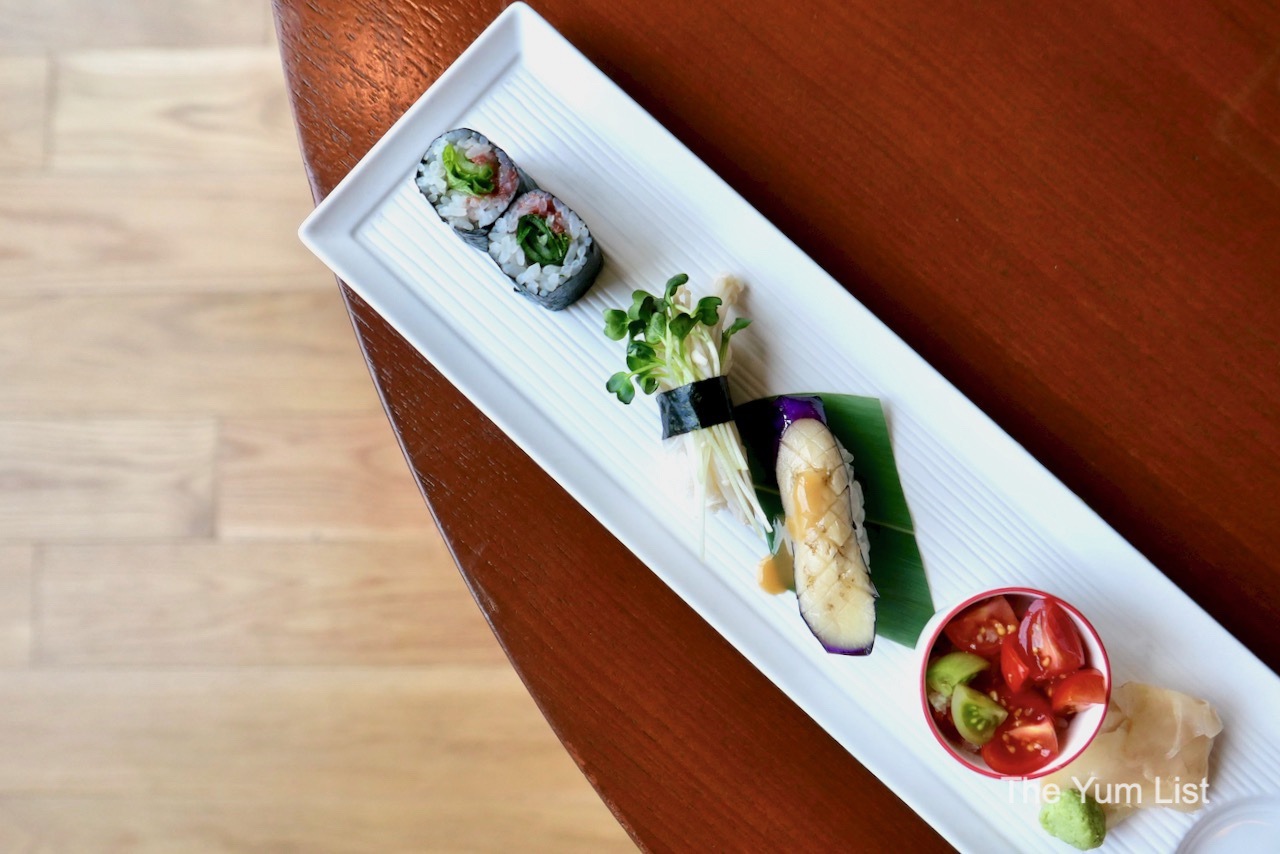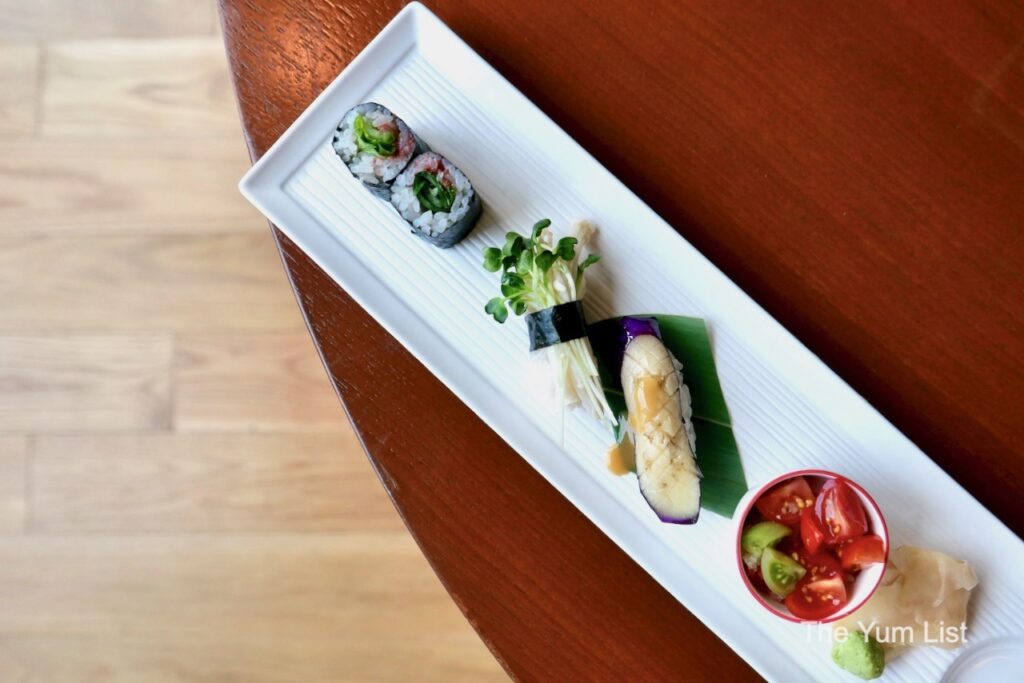 Vegetarian Menu Nobu Kuala Lumpur
The main meal on this vegetarian menu at Nobu Kuala Lumpur was a generous Tofu Steak served with Anticucho Sauce (RM 50). The Peruvian sauce is a rich, thick complement, perfect for soaking into the otherwise bland taste of tofu. Thoughtfully, the tofu was pressed, ridding it of excess water to ensure crispiness when grilled. Paprika proffered a smoky hint to complement the creamy tofu. Whilst Mon's favourite was the miso eggplant, I enjoyed the unctuous depth of umami, which completed the velvety tofu.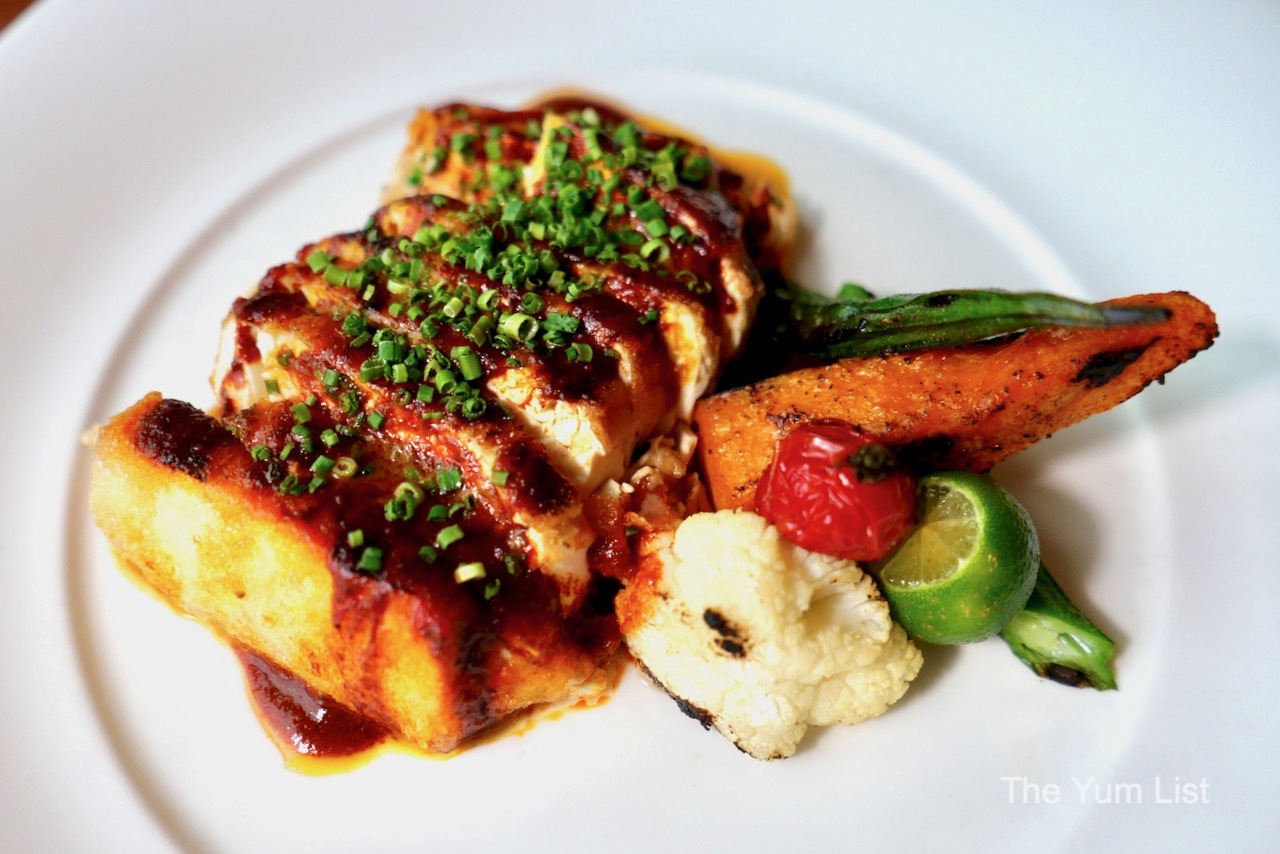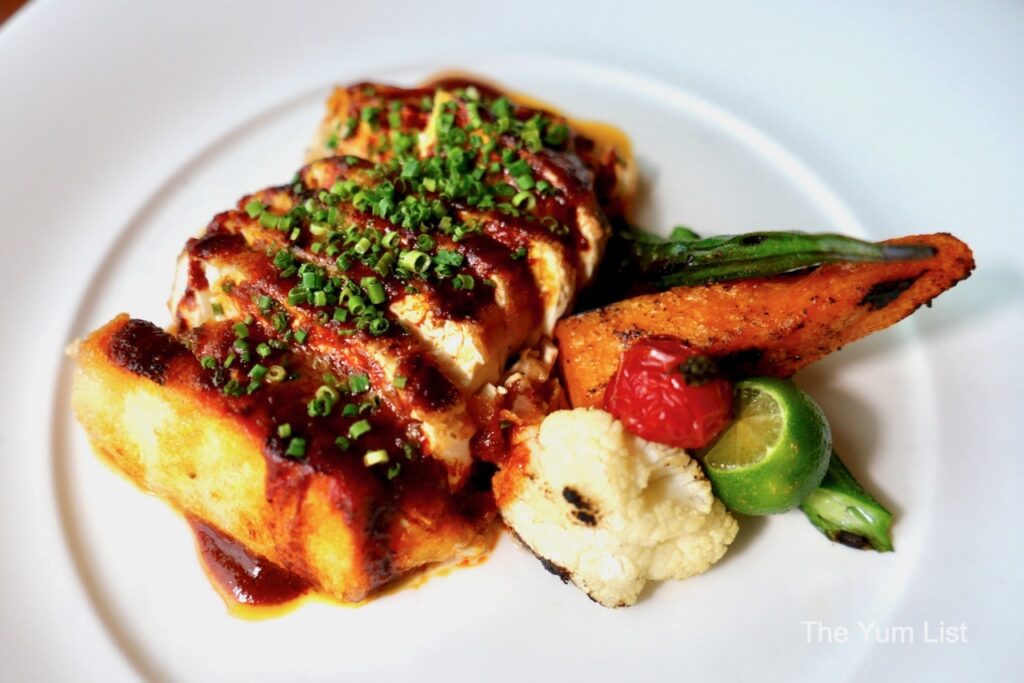 Nobu Desserts
In five years of living in SEA, I had not yet tried mochi, despite every second cat I know of sporting the same name. The triplet of Mochi (RM 45) sweets was a combination of mango, black sesame and green tea, boasting a chewy outside with a refreshing sorbet middle. Mango was incredibly fresh and warm. The green tea had its unique, clearly identifiable bitter, nutty finish, and the black sesame was a tasty complement with earthy elements.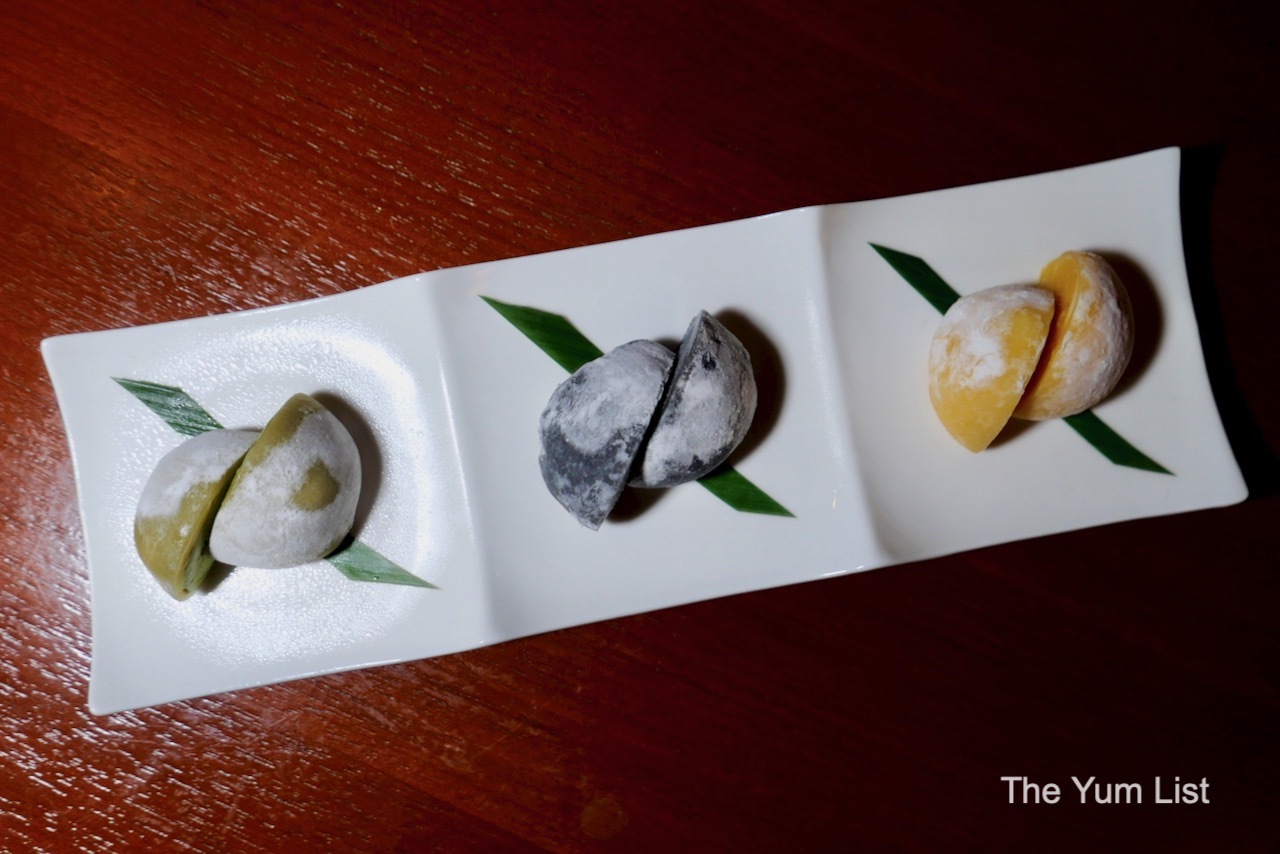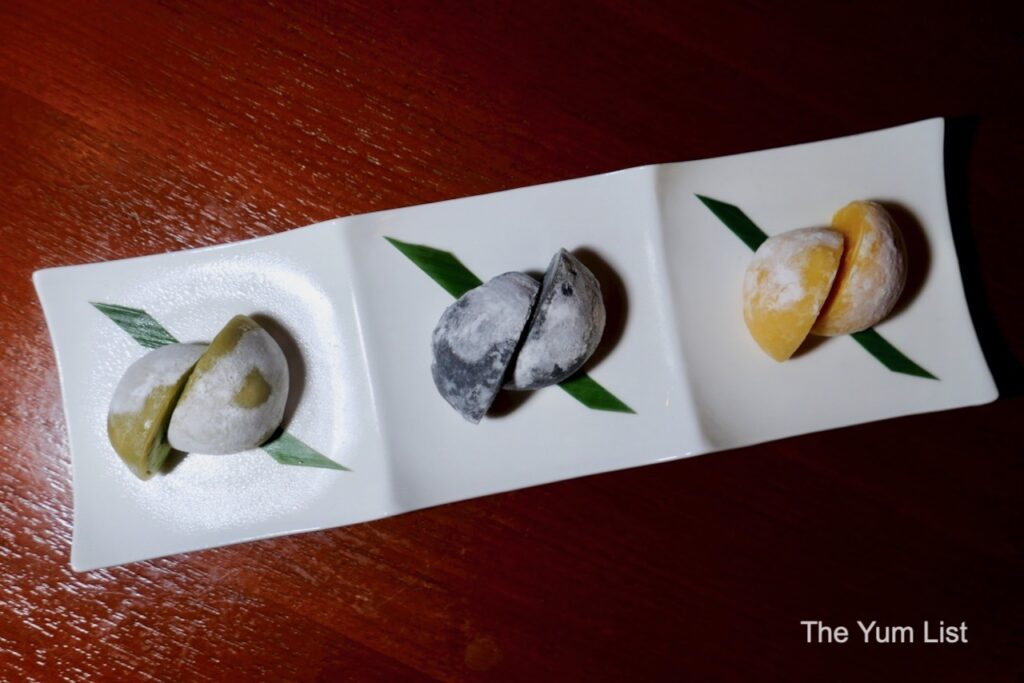 We concluded the feast with a scrumptious Green Tea Shaved Ice (RM 35) with vanilla ice cream, soy milk, green tea tuille and green tea syrup. The slightly tannic sensation of the green tea married well with the cool ice to create the perfect end to a fantastic meal.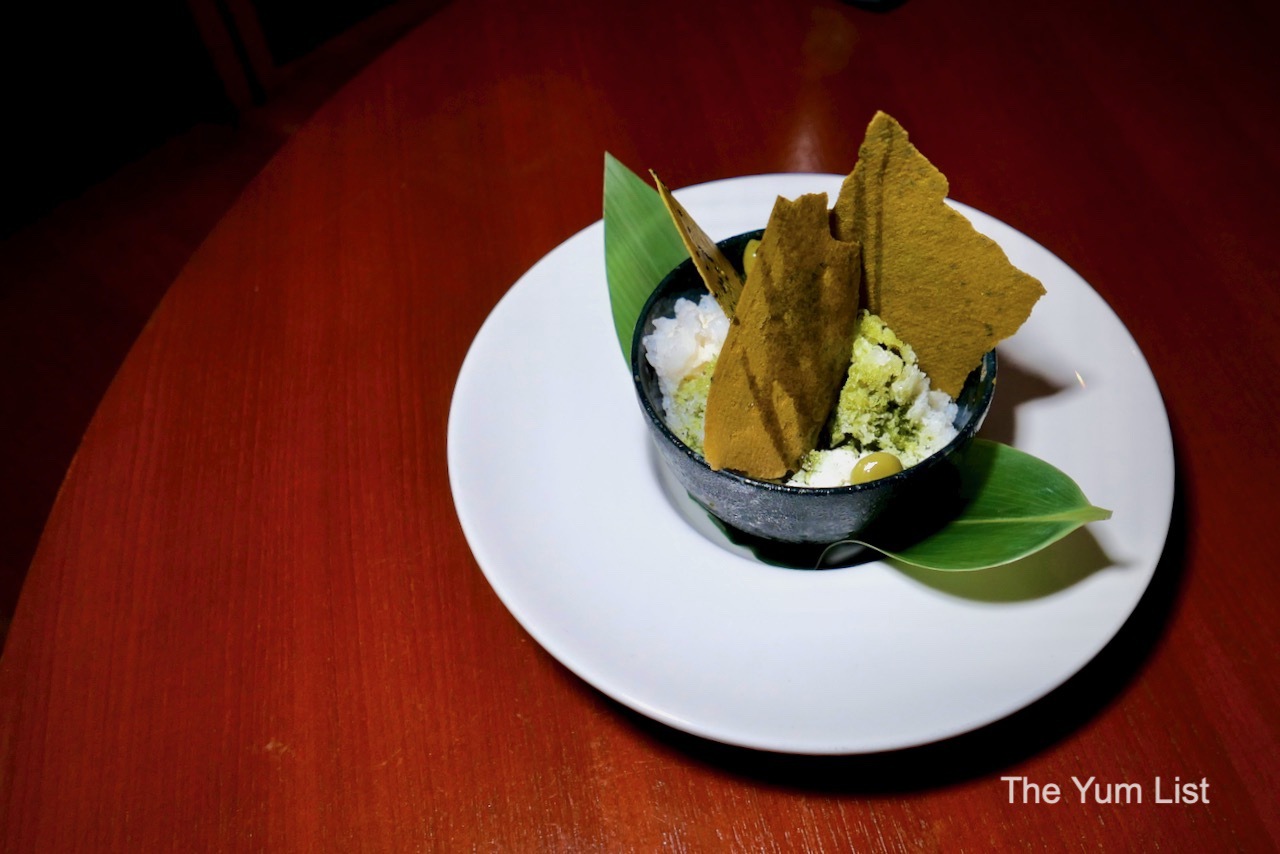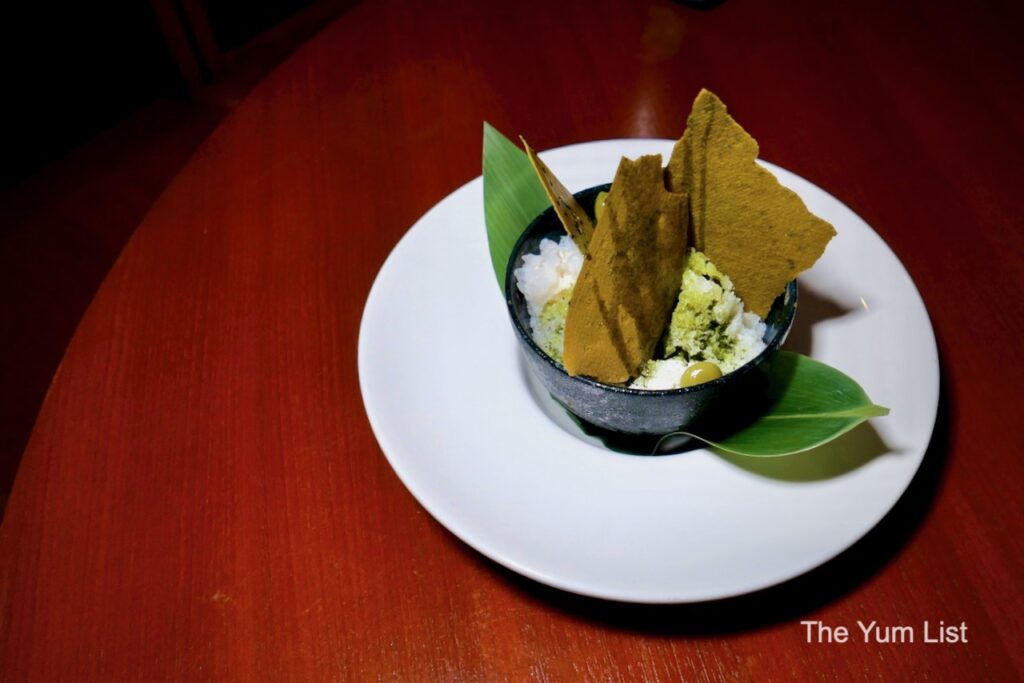 Vegetarian Menu at Nobu Kuala Lumpur
While Nobu Kuala Lumpur may not be on the radar for many for its vegetarian menu, it is well-deserving of some attention. The restaurant's exceptional sauces, service and beverage pairing match just as equally well with the plant world as they do the animal kingdom. Vegetarians should give it a try, but meat-eaters would also do well to swap out one of their usuals with a plant-based recipe. Nobu might surprise you, and you just might surprise yourself.
Reasons to try the vegetarian menu at Nobu Kuala Lumpur: great monthly cocktails; fantastic views of KLCC; to-die-for sauces; highly enticing vegetarian options; must try to miso eggplant.
Nobu Kuala Lumpur
L4A-05, Level 4A Shoppes at Four Seasons Place KL
No.145, Jalan Ampang, 50450 Kuala Lumpur, Malaysia
+603 2380 0028 or WhatsApp +6019 389 5085
Nobu Kuala Lumpur Opening Hours
Dinner: 6.00pm – 10.30pm (Daily)
Lunch: 11.45am – 2.00pm (Monday – Friday)
High Tea: 1.00pm – 4.00pm (Saturday – Sunday)
More vegetarian and vegan food in KL here and stay up-to-date with the latest gourmet and travel recommendations for Malaysia here and here.