Urban Daybreak Bangsar
Words: Rebecca Cannon
Photos: Rich Callahan
"Are you going to Urban Daybreak? OH MY GOD," screamed my friend at our workplace in an echoey corridor "sorry," she added in sheepish tones, "but that place is the best brunch café. I'm so jealous." And so, my high expectations of Urban Daybreak in Bangsar began before I even caught sight of the café, which is tucked on the rim of the well-known Bangsar shopping area, with its catering but non-intrusive staff.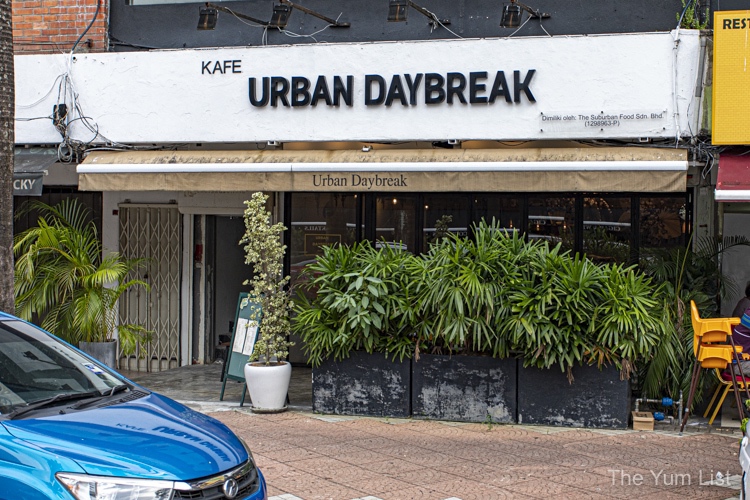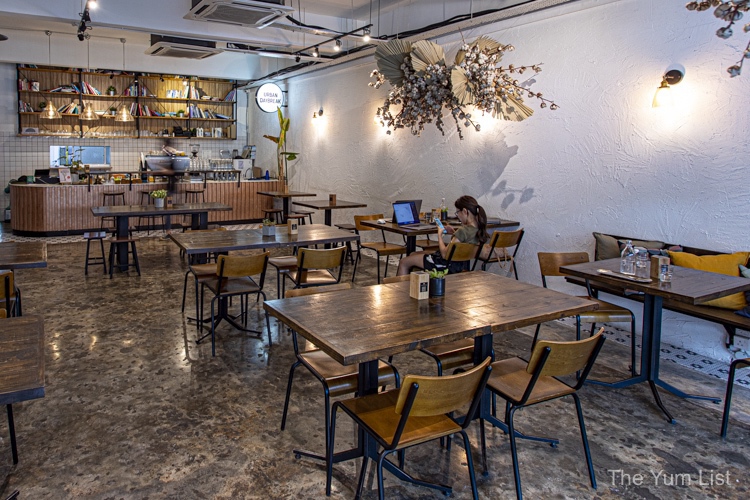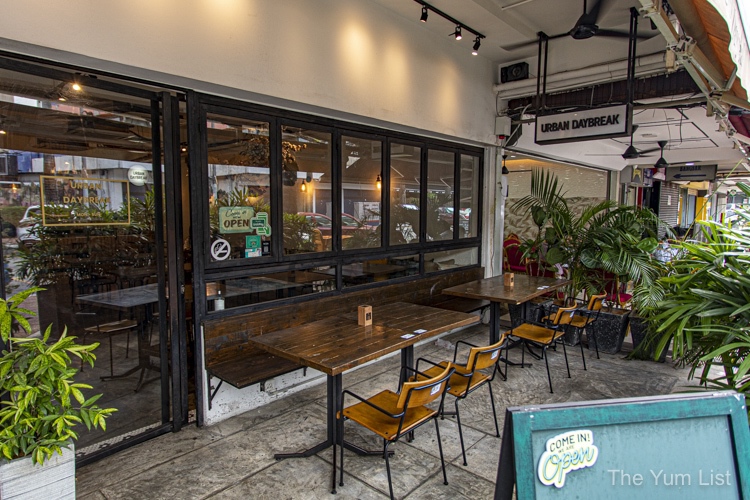 Drinks Menu Urban Daybreak
Urban Daybreak has all your day drink options covered, regardless of whether you want dairy-free or are a caffeine or sugar addict. As a diverse group, we ended up sampling; Latte (RM12), Organic Chocolate (RM15), House Kombucha (RM15), the Best Drink Ever (RM15), and Green Machine (RM15). All milk-based drinks can be made with oat milk instead (+RM3.50). The Latte and the Best Drink Ever (its actual name, I have no bias, I swear) are made from Peruvian and Brazilian coffee beans roasted locally. Due to this blend, the coffee is nicely balanced and not so sour. The Best Drink Ever is sweetened with vanilla syrup which softens the coffee and makes it sweet enough for me, the non-coffee drinker, to enjoy. I was soaking up the hot chocolate served in its pastel pink teacup with rich, frothy milk. Of the healthy drinks, the Green Machine tastes extremely green, with lots of celery and hints of apple, cucumber, and spinach with a citrus kick at the end.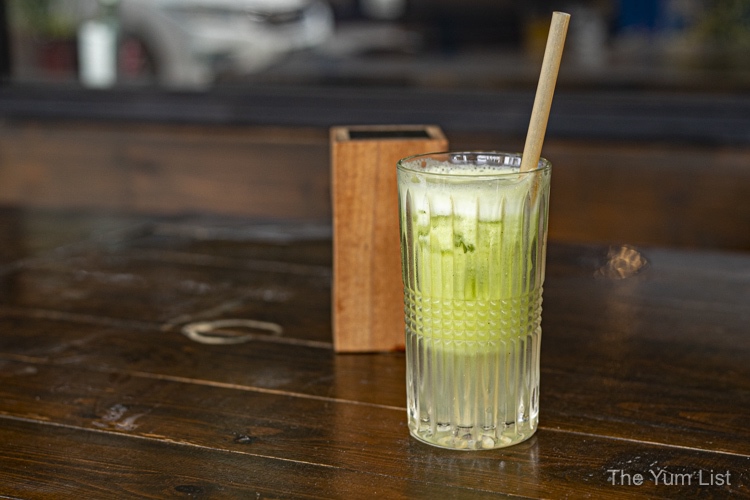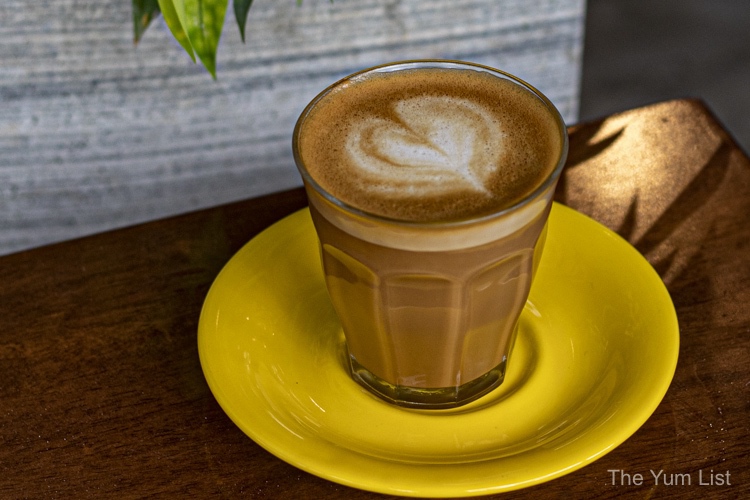 Urban Daybreak Food Menu
Pork Options
My friend mentioned at the start of the story is a strict vegetarian, so I knew that Urban Daybreak must have a lot of plant-forward options. I was surprised to learn they also cater to omnivores, including pork eaters. For example, streaky, crispy bacon was used in Scrambled Trouble (RM24). This dish was a tasty combination of fluffy beaten eggs with bacon, feta, and shallots mixed through and served on white sourdough bread. Also for the pork lovers is the Dan Dan Mien (RM33), which is not 'Spag Bog' but is Chinese noodles with a sweet meaty-tomato sauce packed with vegetables and sprinkled with chilli flakes.
Vegetarian Dishes
Can any person walk past Smashed Avocado (RM25)? As an Australian, I can't, and Urban's Daybreak didn't disappoint. The avocado is well smashed and seasoned with a dash of lemon and a beetroot smear as part of the plating-up process. You can use it to sweeten further and freshen if you like. The bread is sourdough, what you want first thing in the morning, or anytime you're craving bread (as opposed to when you're craving pancakes). A poached egg on top with a few cherry tomatoes completed the dish. We need to talk about the poached eggs, which also feature in Wild on Shrooms (RM30). Not only are they a perfect egg shape, with a runny yolk, but they are neither vinegary nor cold. Sometimes you don't realise what little things you've been missing until they appear in front of you. In the Wild on Shrooms as well as a poached egg, a variety of cooked buttered mushrooms form the nest on which the perfect poached egg is laid on the bread.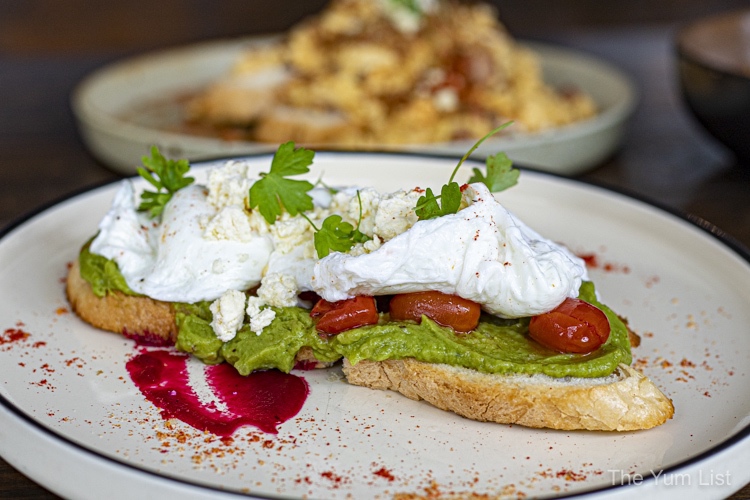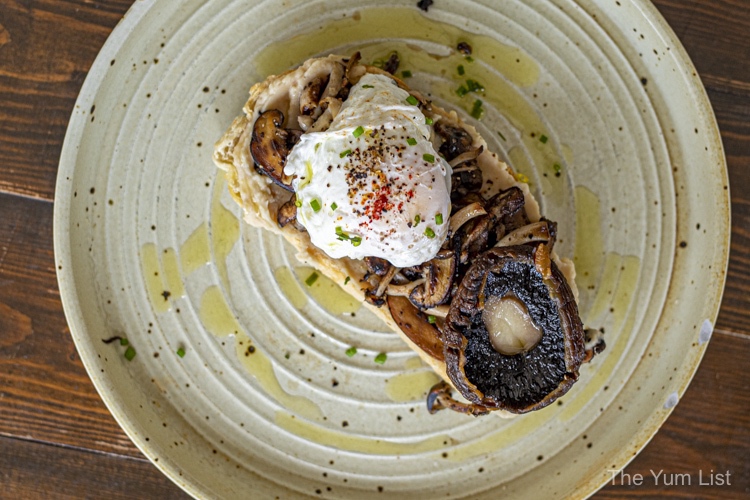 Vegan
For those interested in vegan or a light lunchtime salad option, the Cauliflower and Arugula Bowl (RM28) will probably call to you with its siren song. This dish does not hide its ingredients. It's mostly roasted hunks of cauliflower, golden and soft from their time in the oven and arugula. Faro beans and some chimichurri and aioli sauce are mixed in for flavour and moisture. Try this dish to fall in love with your veggies again.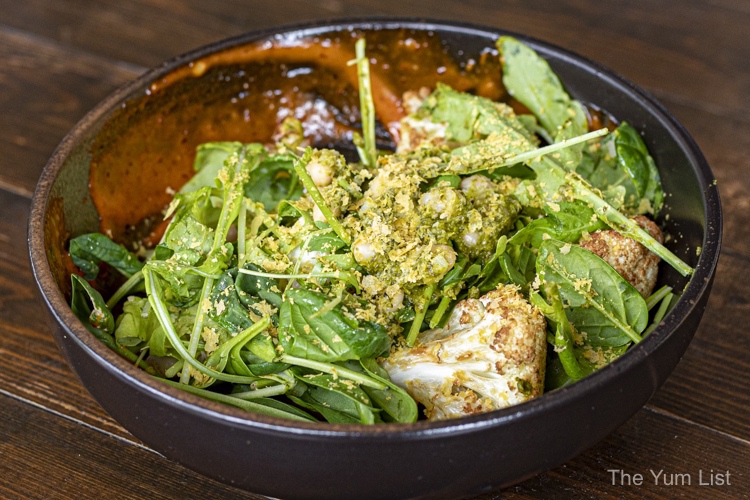 Dessert
Speaking of craving pancakes, sometimes you want to eat dessert for breakfast, and sometimes you choose to eat this breakfast in the afternoon. Either way, Urban Daybreak doesn't judge and has the pan ready to go for you.
The Pancake Stacks (RM25) are both freshly and expertly made, a thin crispy skin coating soft, warm goodness. They're complete with crunchy and sweet peanut praline and some biscuit pieces moistened and further sweetened with berry coulis. Despite these ingredients and descriptions of mine, it wasn't so sweet that I couldn't eat it first thing in the morning. I'm not calling it a salad, just a well-rounded pancake concoction. Urban Daybreak's best dessert seller is their Apple Crumble (RM 26), with a twist. The traditional crumble is reduced and on the bottom, with the extra space occupied by peanut butter praline, the same mouth-watering sweetness of the pancake stacks. The apple is cut into identical geometric slices that are slowly baked, giving them the cooked apple taste with a crunch to them. It's served with vanilla ice cream on top. Eat quickly before it all melts!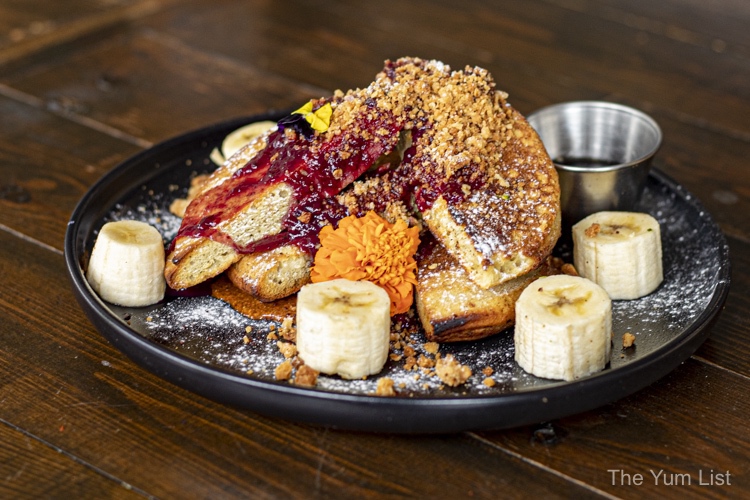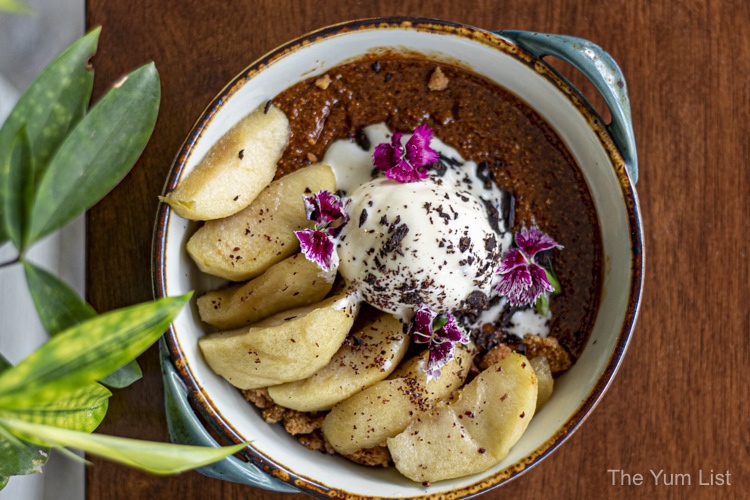 Urban Daybreak Bangsar Review
Urban Daybreak is the owner Jeremy's second café, following the success of his first of the same name in Penang. His purpose for catering to all with a variety of wholesome options has once again been reached. As its name suggests, Urban Daybreak welcomes you from the break of dawn, sheltering you from the hustle of the city as you charge up for the rest of the day ahead.
Reasons to visit Urban Daybreak: lazy brunch before spending time exploring Bangsar; quick morning drink as you head to work; coffee and dessert.
Urban Daybreak
11, Jalan Telawi 5, Bangsar
59100, Kuala Lumpur, Malaysia
+6 03 2303 0172
Urban Daybreak Bangsar Opening Hours
Daily from 7:30 am until 5:30 pm
Find more of our favourite cafes in Kuala Lumpur here and stay up-to-date with the latest gourmet and travel recommendations for the country here and here.