The Social Table – Saturday Brunch KL
Words: Matt Brown
Photos: Rich Callahan
Known for being the hotel brand that disrupts travel and luxury with its trademark irreverence and humour, it comes as no surprise that Kuala Lumpur's W hotel is embarking on a new disruption for that staple of upscale hotels – the brunch. We all know it's possible to find around town numerous buffets exploding with options for guests to enjoy over a few hours on a Sunday. However, the newly launched Social Table experience at Flock gives us all time to recover and enjoy our weekends more by taking place on the first Saturday of every month. As the mantra of the W states: Detox. Retox. Repeat.
Saturday Brunch KL
The Flock space is a modern, energetic and vibrant eating venue at the W, where it's basically impossible not to have a good time. Executive Chef Haznizam Hamzah and Head of Flock, Chef Suhalmi Md Tasir are master craftsmen of Pan-Asian cuisine. Their talents will combine with a guest chef every month to offer a changing array of dishes and tastes for guests to enjoy. For this launch of The Social Table, the guest was their W neighbour from Willow, Chef Lroy Lim.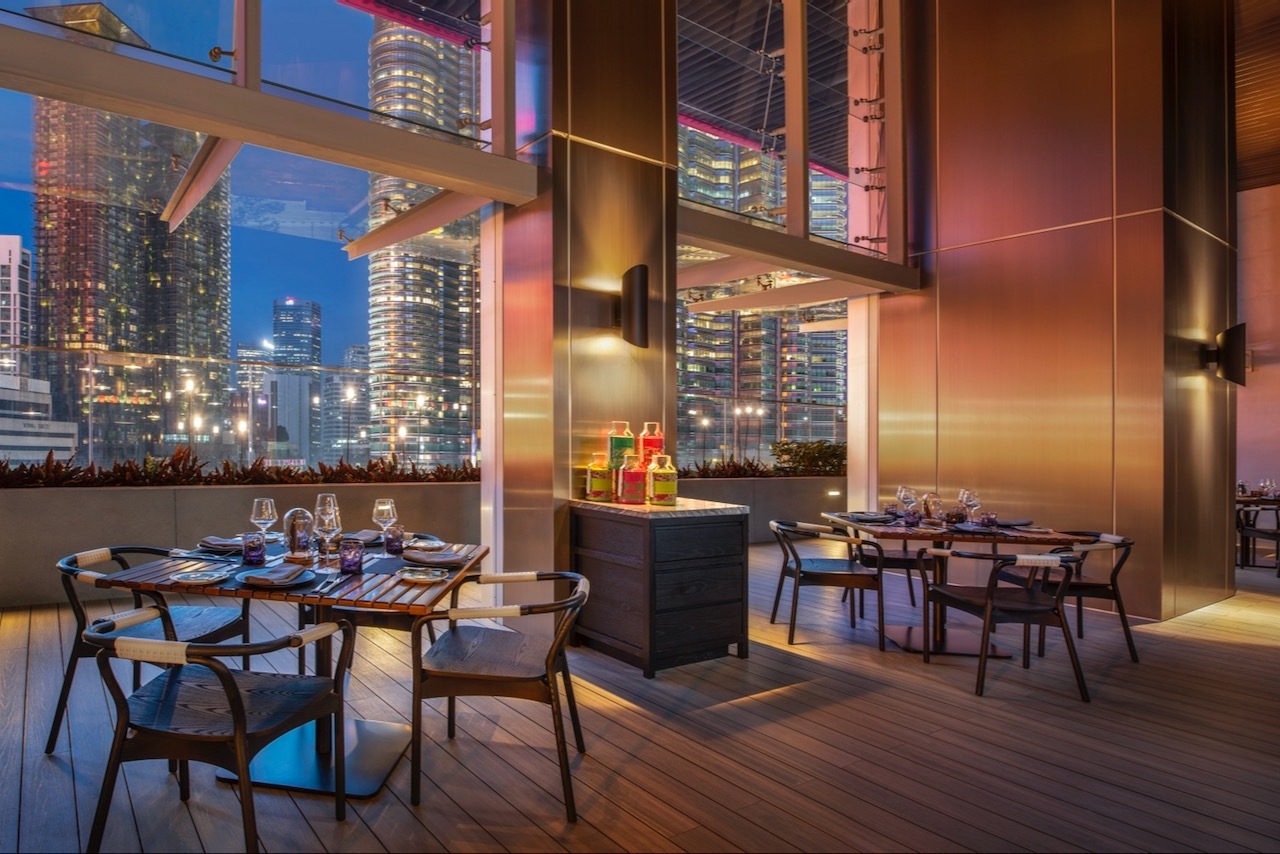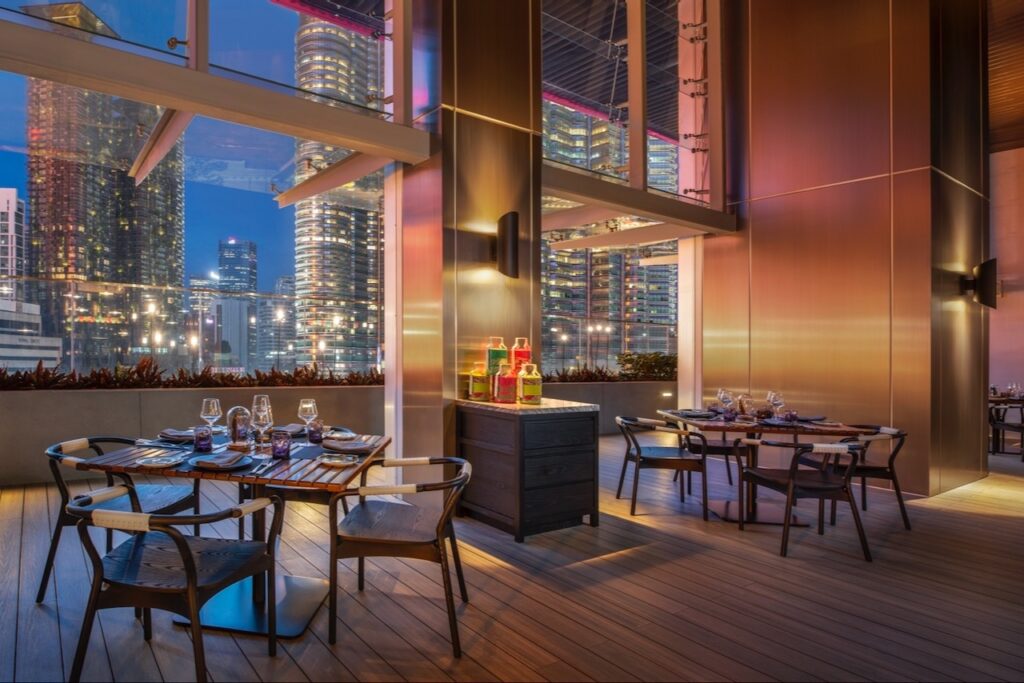 The Social Table Concept
We've all been to hotel brunches that edge closer to circus territory rather than maintain a refined and elegant aspect to them. Everyone launching themselves at the seafood! Plates heaving under the weight of food that will only be nibbled at! Harried staff trying to keep up with the endless demands! Those memories are instantly forgotten at The Social Table, where the W's signature service and energy are a perfect match for the experience on offer.
Director of F&B at W Kuala Lumpur, Maxime Pfister, is excited by the opportunity to offer patrons a rotating selection of fine foods, where the guest chef creates their favourites, and these are ordered a la carte, combined with a literal smorgasbord of incredible pastries, sushi, seafood and desserts in the traditional buffet style.
Combine this semi-buffet concept with the fact that W Kuala Lumpur prides itself on supporting local producers and makers, and the glow around this new event only gets brighter. All the vegetables are sourced locally, some even growing before your eyes in the accessible fridges, where the greens are set up by BoomGrow Farms, and you can pick some leaves for your own dish. Other cold climate heirloom veggies come from Weeds & More, which is based in Cameron Highlands. The F&B team are always looking for more ways to support local and improve the sustainability of their supply chains.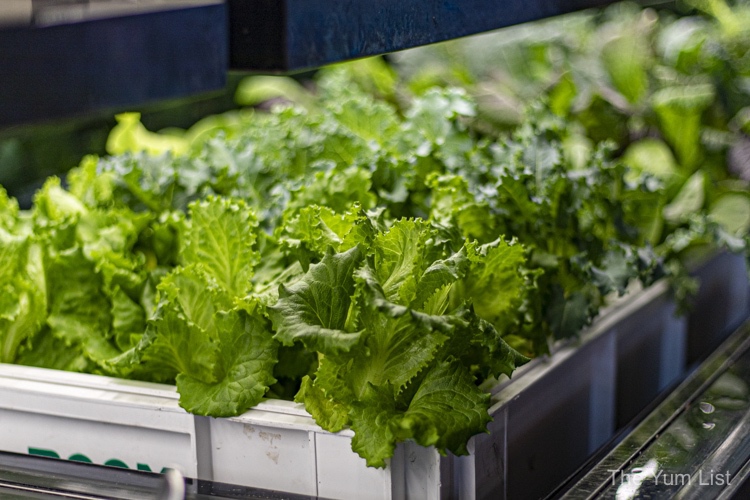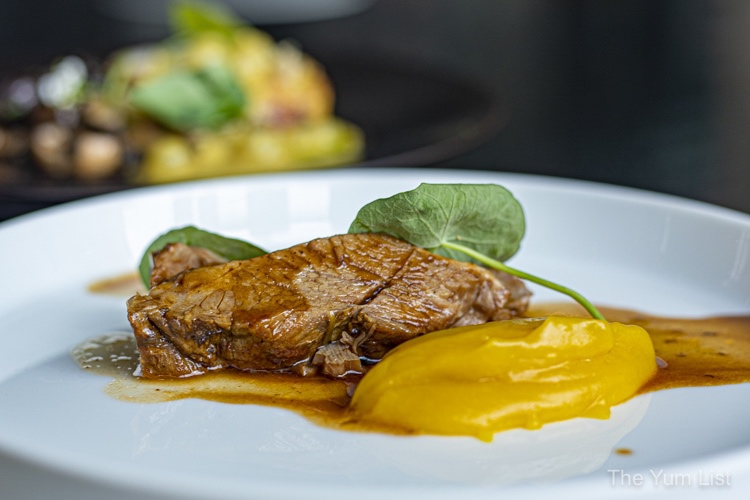 Prices are reasonable for the exquisite offerings and setting: the package including free-flow alcohol is RM328 nett per person, while the non-alcoholic option is RM198 nett per person.
The Social Table Chef's Menu
Well. Where do I begin? It is by no means a stretch to state that there is something for everyone on the menu here. Make that 'menus'. You will be given two glorious reads when you are seated – one features the Chef's Favourites options, which are the items you can order to be made by the talents present for that month. The other is the mouth-watering list of options available at the buffet. The genius here is being able to order your a la carte items and then, while you wait, setting off on a journey of delicious collection at the buffet.
Our offerings from Chef Suhalmi included Tiger Prawn with betel leaf, kaffir lime and ikura (salmon roe), which was so fresh and tasty. Charred Eggplant with spinach hummus, avocado and kerukub rice was a fantastically (non-) meaty dish with warm and smoky flavours. Free-range Chicken, mushroom, pearl sago and muscovado turmeric gravy was a great combination of flavours and textures.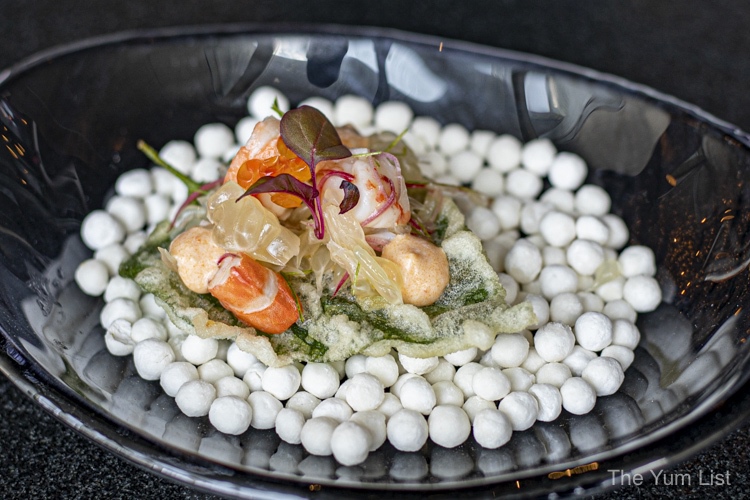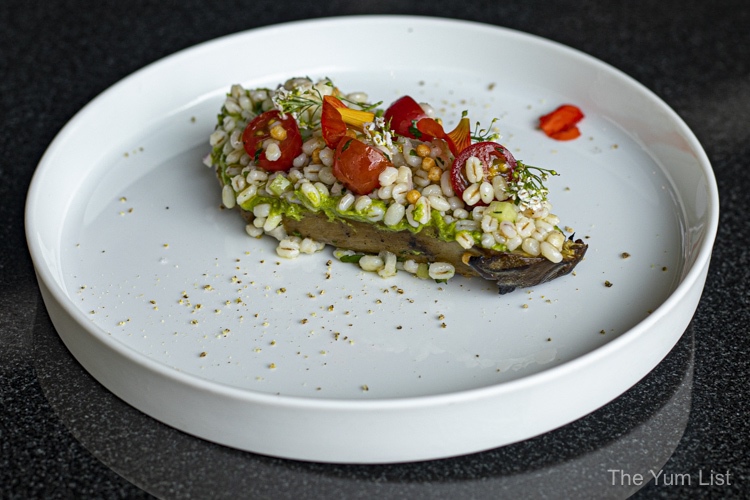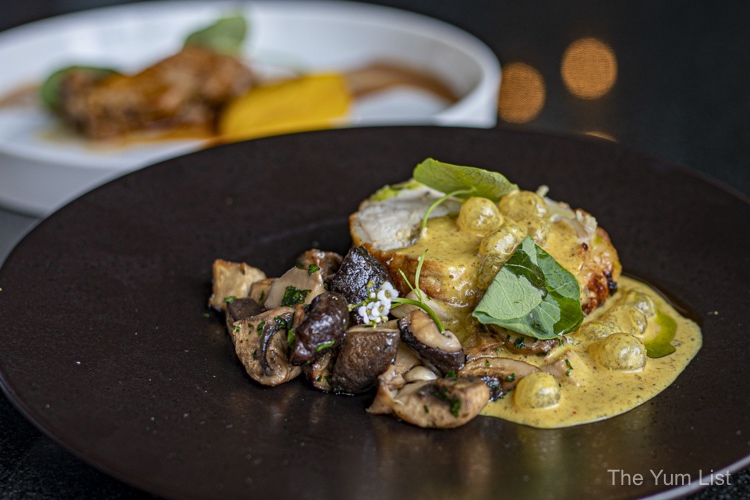 Chef Lroy Lim created a Cod, miso, dashi and lotus root dish that used the tastiest caramelised miso I have ever experienced. He also presented a beautiful Amela Tomato, stuffed with mascarpone and garnished with cucumber and dill for a vegetarian palate sensation. The Hamachi slices on top of a buttermilk, chives and dill sauce, covered with small cubes of pear, were a subtle and effective combination for the wines on offer.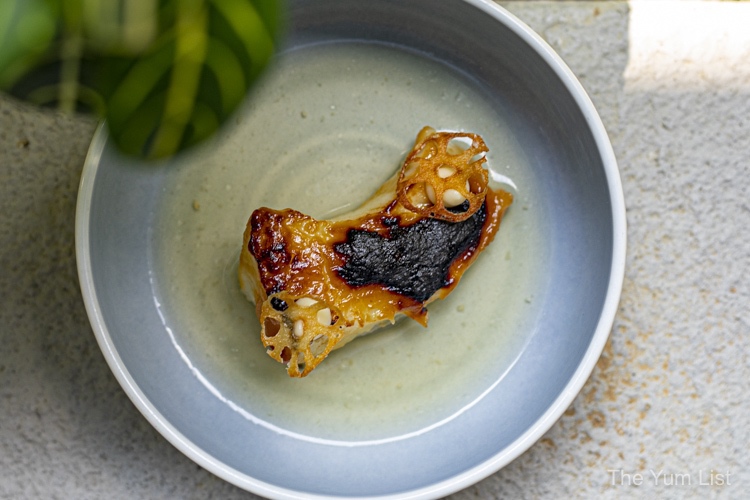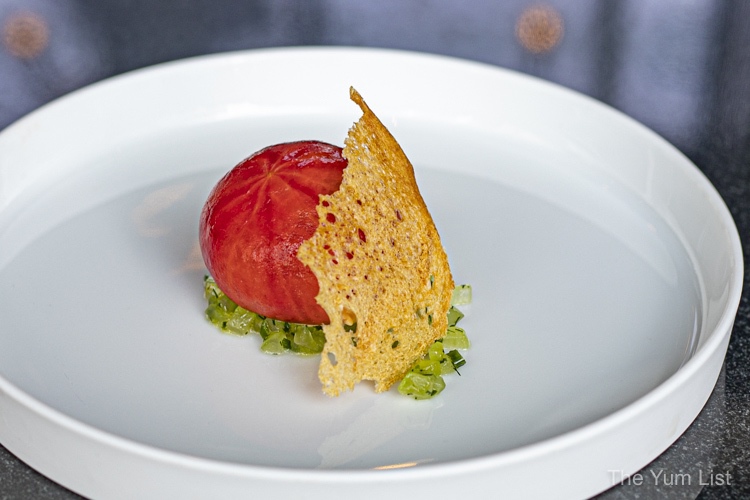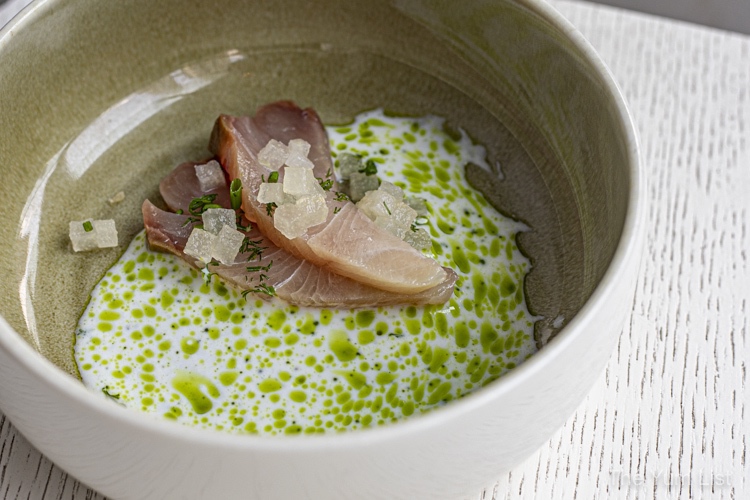 Saturday Brunch KL – Buffet Menu
While you await the delivery of your special chef dishes, you won't be able to resist the enticement of items listed on the buffet menu. Broken up into different categories, there once again will not be a fussy eater whose needs aren't met across the spectrum of food available. The chilled seafood display features Alaskan Snow Crab, Hokkaido Scallops, Tiger Prawns, freshly shucked imported Oysters and Green Mussels. There are a variety of Hummus dips – Beetroot, Pumpkin and Spinach – as well as a whole Marinated section, where White Anchovies, Feta Cheese, Roasted Carrots and Peppers are all available with yoghurts and sauces.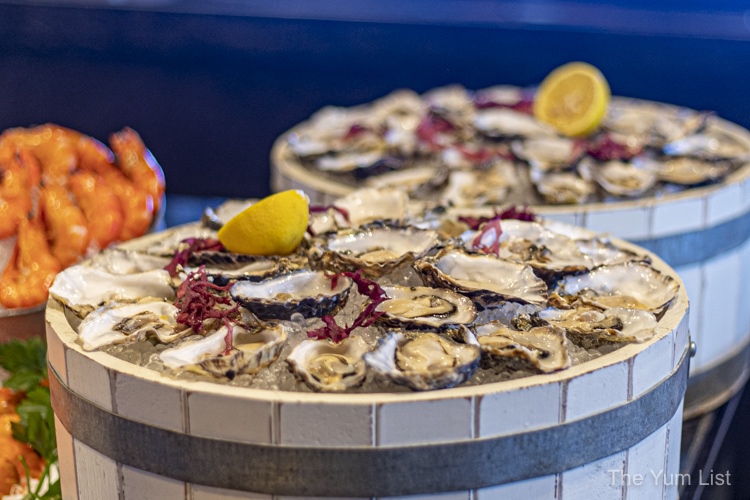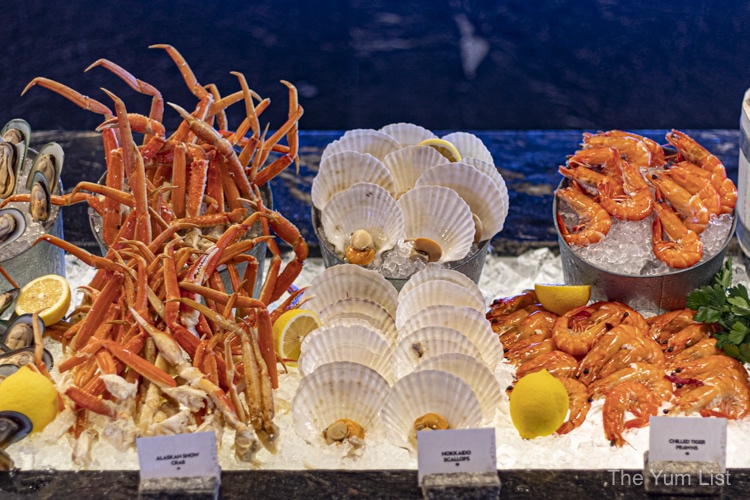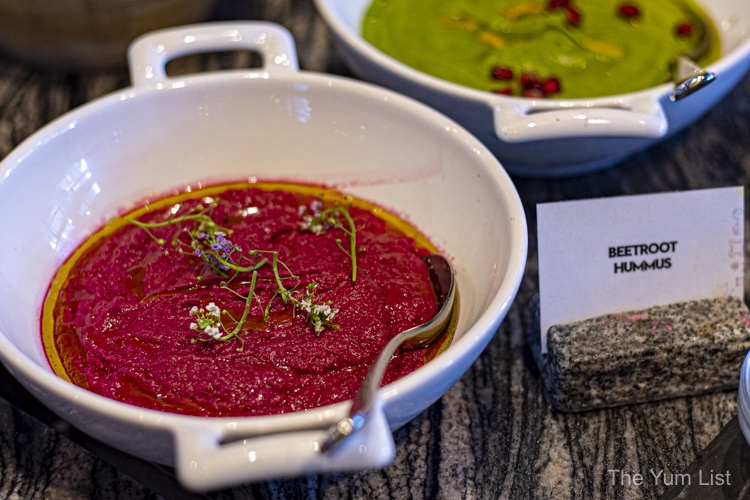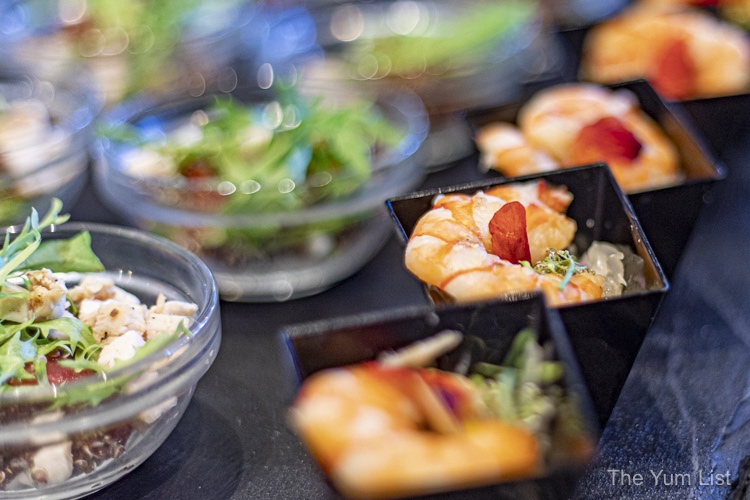 The Sushi and Sashimi Station is a feast for the eyes before you even sample the offerings – Lamb Satay and Korean Beef Maki Rolls, Chicken Rendang Onigiri, Salmon Taco and Vegetable Taco Sushi. The sashimi is finely sliced salmon, tuna and kingfish, all complemented by fresh wasabi and pickled ginger.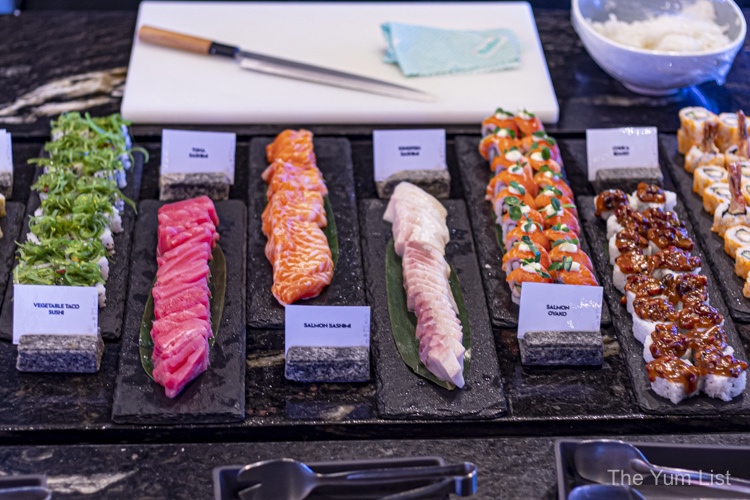 From the hardworking ovens at Flock come pizzas, baguettes and sourdough bread – an ideal companion for the Chickpea, Kale and Cumin soup available. The Mushroom Loaded Chicken Pie and Heirloom Tomato Galette with ricotta and olive were particular standouts in this section of the buffet.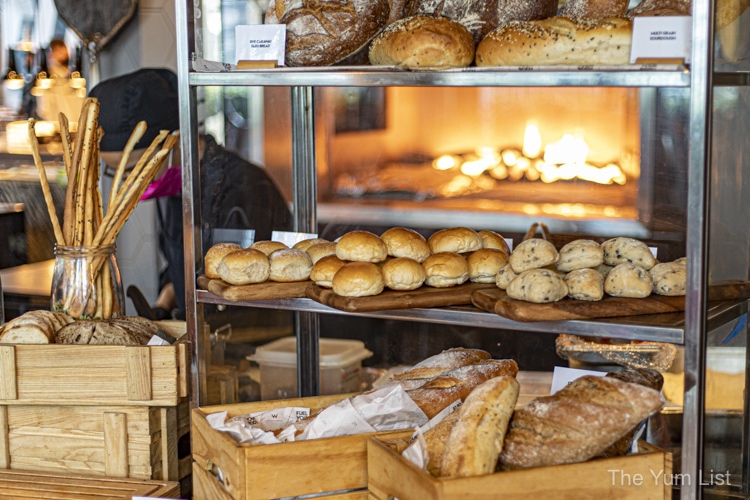 If you would prefer to use your Rye Caraway Seed or Cranberry Walnut bread for something more sophisticated as you sip on wine or cocktail, the cheeses available will do the trick. Brie, Blue, Edam, Manchego, Gruyere are waiting with fresh figs, grapes and flavorful Lavosh to cater to your savoury palette.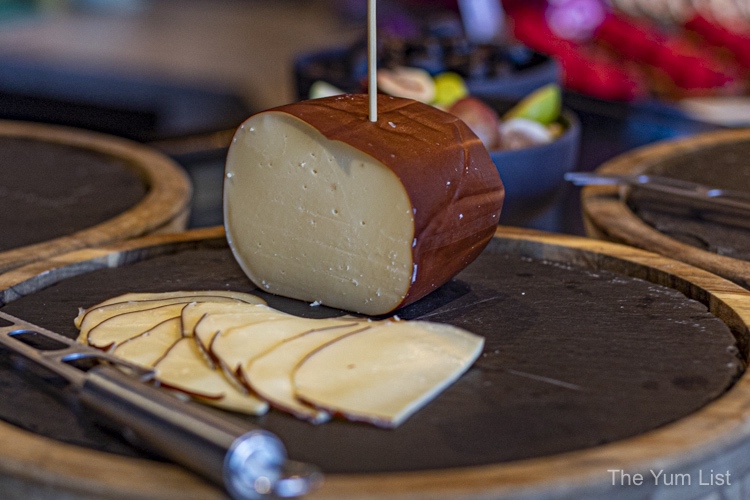 I could write another thousand words on the dessert display, but unlike my experience on the day, I shall attempt to exercise some restraint. Chocolate Bonbons in flavours such as Pineapple Coconut, Pandan Kaya and Teh Tarik are handcrafted by The Chocolate Concierge. The is a Chocolate Fountain with assorted sweet condiments and W Candy Island. Sarawak Pineapple Cheesecake, Red Dragon Fruit Roll and Blueberry Tartlets are but a small sample of the incredible rainbow of sweet treats on offer. Prefer something cooler for dessert? Stop at the Gelato Tricycle for flavours like Kelantan Chocolate and Mango Ginger Flower Sorbet.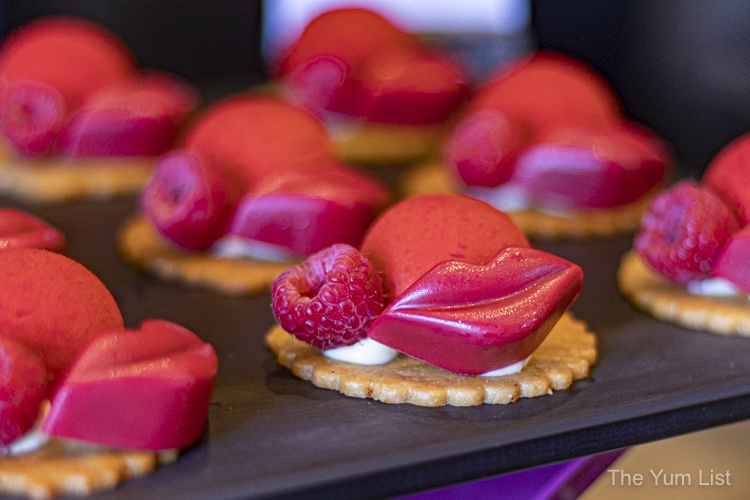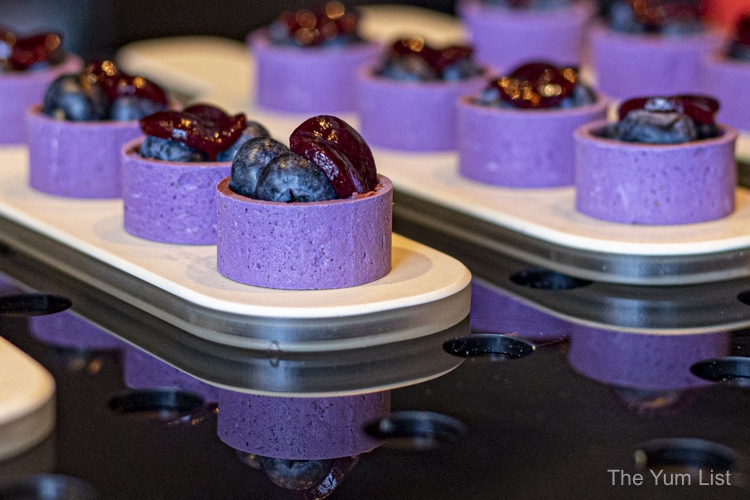 The Social Table Drinks Menu
In the exciting and fun environment of a semi-buffet brunch, what two words could add more to the experience than 'Free' and 'Flow'? Keep yourself hydrated with Pete's Pure wines from Australia, a French Rosè, or Dutch and Austrian beers.
You can go all out in fancyland with a Lillet and Tonic, Margarita or Spanish Gin and Tonic. There's also an Espresso Martini for those who prefer – a-hem – coffee at brunch.
If you aren't wanting alcohol with your meal, a couple of tasty 0% ABV options are available, as well as some refreshing Wild Kombucha blends that are exclusive to W – Grapefruit and White Pepper, and Tropical mango and Coconut (additional cost but one of Mon's favourites).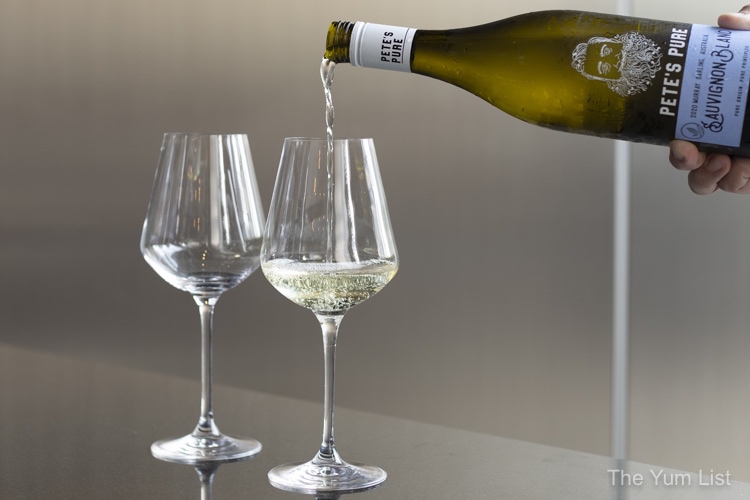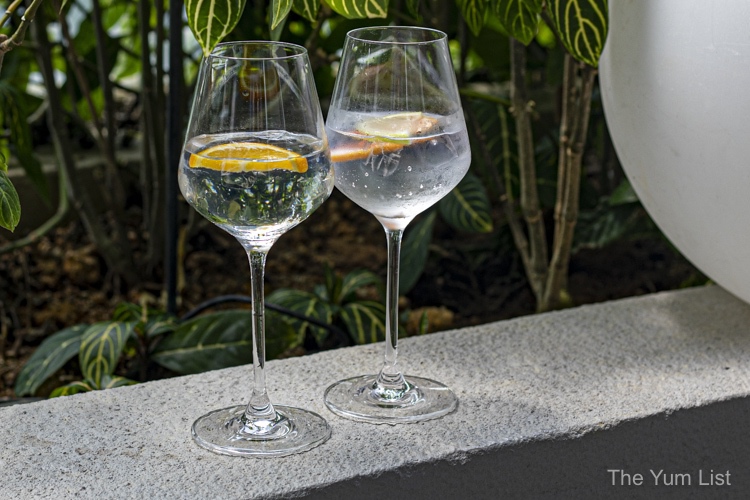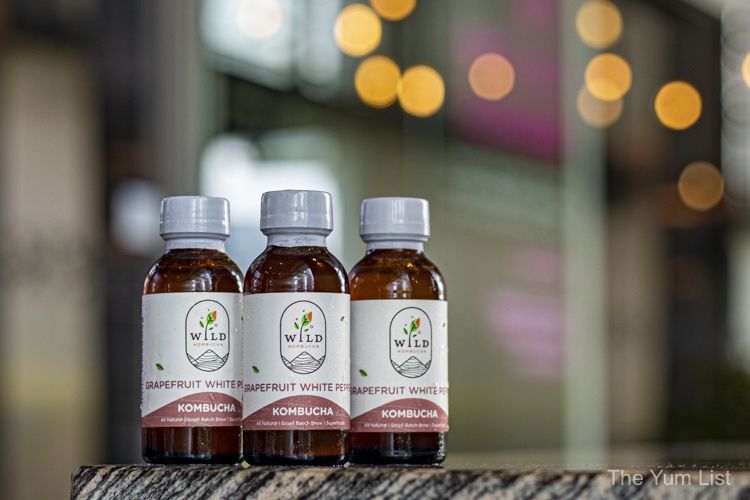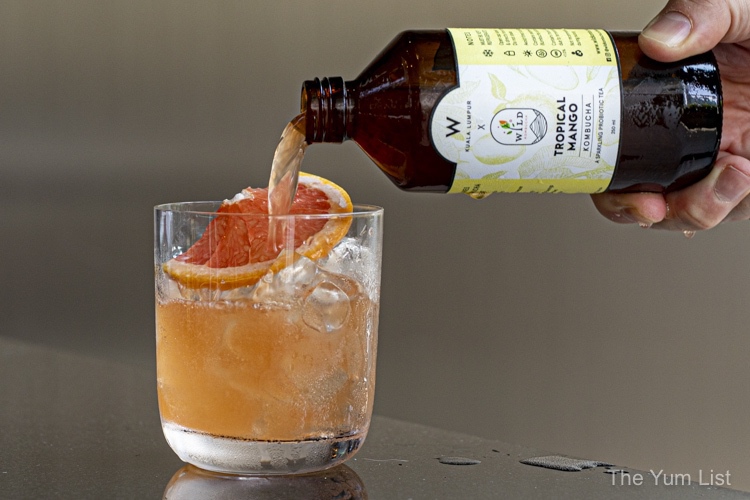 Reasons to visit The Social Table – Saturday Brunch in KL at Flock: What an experience! This concept takes the fun and frivolity of brunch to a whole new level – plus, you now have Sunday to sleep it all off! The service is typical W hotel; attentive, friendly and energetic. The music from the DJ and guest musicians adds to the party element, and the food and drinks are perfectly portioned and truly delicious. It will be hard not to reserve a regular table, just to experience what the new guest chef has to offer – but who would blame you? Book with your party now and get in on what will surely become a go-to event in Kuala Lumpur every month.
The Social Table at Flock
Saturday Brunch KL, W Kuala Lumpur
121, Jalan Ampang
50450 Kuala Lumpur, Malaysia
+6 012-347 9088
The Social Table – Saturday Brunch KL at W Kuala Lumpur
1st Saturday of the month
12 pm – 3 pm
The next event is June 4th, with Executive Chef Mattia Salussoglia from The Ritz-Carlton, Langkawi.
Find more brunch options in KL here and stay up-to-date with the latest gourmet and travel recommendations for Malaysia here and here.