Monica Tindall
We've dined a number of times at Flock, W Kuala Lumpur. Serving modern Australian cuisine with a focus on sourcing ingredients sustainably from local artisans, it's a win-win for this green Aussie gal. Previously we've enjoyed a late lunch and absolutely relished in their Sunday brunch. This weekend, during a staycation at the hotel, we get to check out the brekkie menu and also dinner. This post focuses on an evening meal. Catch the brekkie highlights in an upcoming post on the hotel.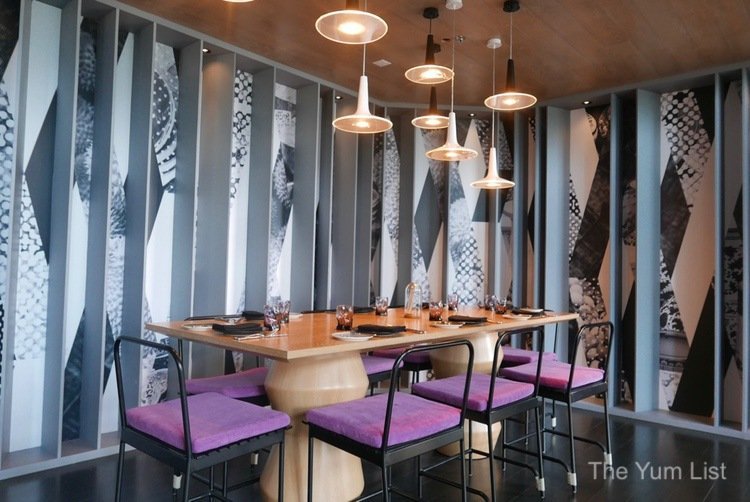 Dinner at Flock
As we're browsing the menu, we're sipping on a crisp glass of Ruffino Lumino, Pinot Grigio from Venezia Giulia I.G.T. Italy (RM60 per glass). It's an easy quaffing wine but also well-suited to our seafood starters that are on their way.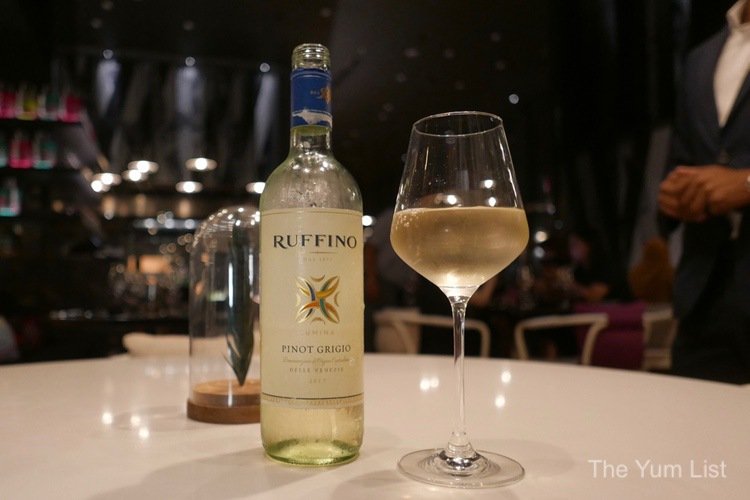 Orders decided, the "bread" course arrives. Dukkah, sambal, extra virgin olive oil and pickled white fungus with goji berries make unique dipping for the loaf of sourdough that also comes distinctively presented in a tiffin tin. It has the mark of Executive Chef Richard Millar – contemporary in presentation and style but founded in quality ingredients and a real feel for local.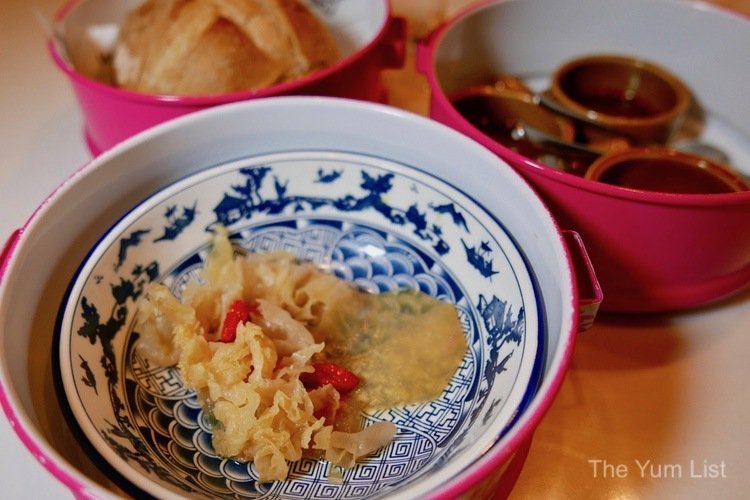 Raw – Smoked – Cured
New Style Sea Scallop Sashimi (RM52) is fanned around a black plate and garnished with micro greens and spring onions. There's a drizzling of hot sesame oil, ponzu pearls, ginger and garlic chips that enhance the freshness and soft texture of the shellfish. To be cliché, it's melt-in-the-mouth and the little bobbles of yuzu are petite bursts of pleasure.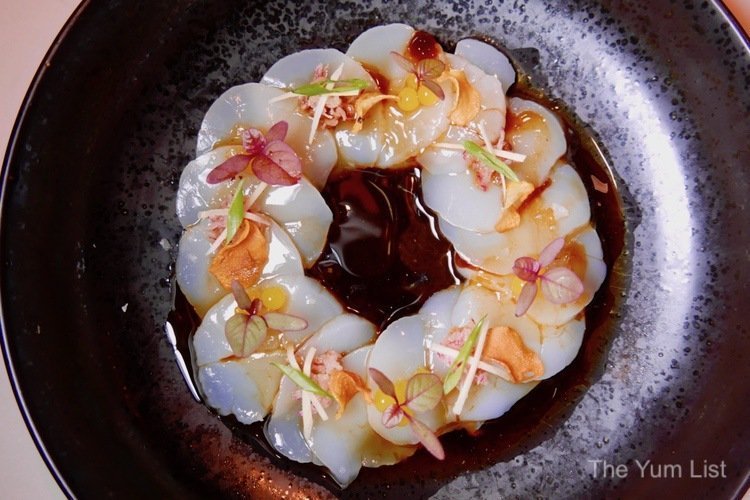 We want to try everything (!) so our waiter is kind enough to suggest that he could "talk to the chef," and ask for the Wild Mushroom Pau (RM38, 4 pieces) to be a half order. With a truffle centre, scallion and sesame centre, however, they are sooooo good and chef knows better than to leave us with only two. Resembling big forest mushrooms, these buns have more filling than flour! As hubby bites in, mumbled "mmms" and "aaahs" of gratification confirm their deliciousness.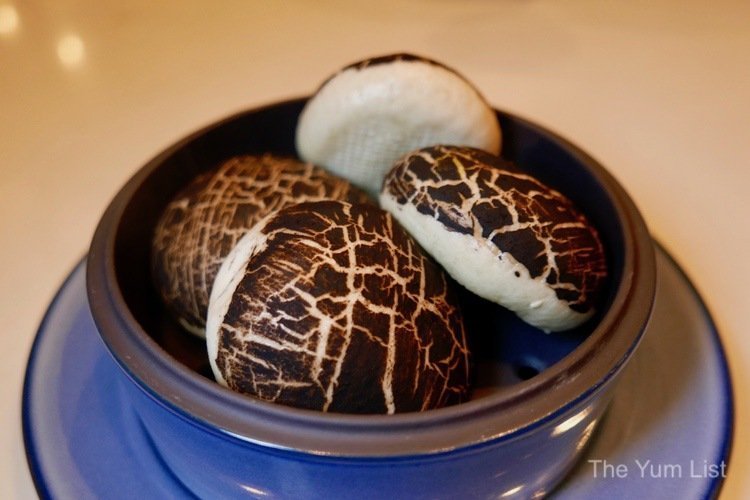 Soup
With my first spoon of the Shellfish & Coconut Broth (RM52) I am in heaven. It's the combination of creamy coconut and acidic lime that causes me to spoon back in again and again. I would be happy simply slurping on the broth but it's also brimming with prawns, mussels and fish, making it highly satisfying.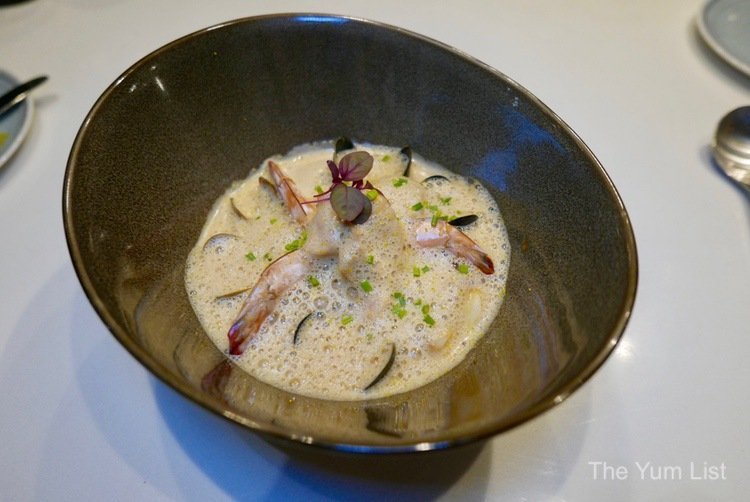 Hot Volcanic Stone Menu at FLock
The most popular section of the menu is the Hot Volcanic Stone. Different types of meat are served raw with customers encouraged to cook them to their liking on the steaming hot grill. I'd rather take photos than cook, so my sweet waiter, Hanis, obliges in taking control of the tongs. The pieces of Lamb Loin (RM58) are succulent, thinly sliced and come off the stone wonderfully tender and tasty. They need no supping up but the spicy red miso dip on the side is worthy of at least a drop.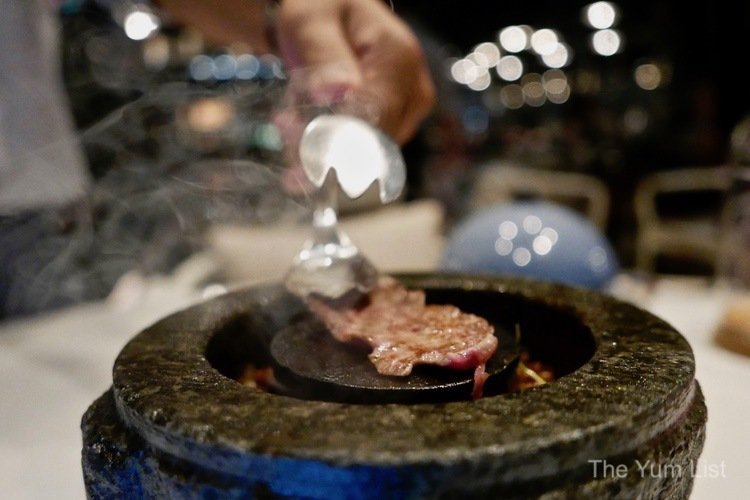 Flock – Free Range Happy Feet
With Flock's open kitchens, I spy the Oven Roasted Whole Spring Chicken (RM82) flaming on the grill before it's served. The glass-walled barbecue allows a peek (and a drool) into the kitchen only enhancing appetites. When it arrives at our table it's sided with caramelized shucked sweet corn, vine tomatoes and roasted garlic. The chicken is stuffed with carrots, onion, leek and potatoes (organic seasonal vegetables) and accompanied by a porcini sauce. Truffle butter, a touch of black pepper and salt season the bird: the flavours are Sunday-roast-with-the-family comforting but clearly-a-master-chef-has-prepared-this-dish in quality. Honey & Lemon Thyme Organic Heirloom Carrots (RM25) and Stir-fried Kale, Wild Greens, Garlic Soy, Sesame (RM30) provide a veggie feel-good balance. Although, at first glance, it's a simple roast, it's a preparation that will make you reevaluate your own proficiency in the kitchen.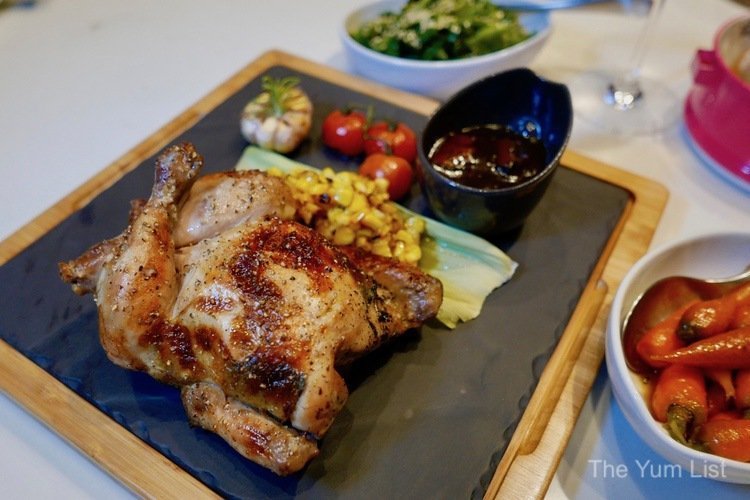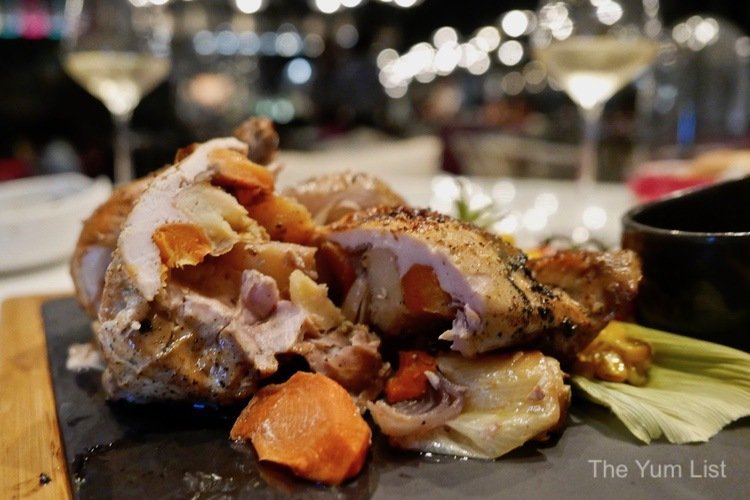 Dessert at Flock
I like the Flaming Asian Bombe (RM38) before I even try it as it's filled with a zesty, citrusy, acidic profile of ingredients that I'm sure will rock my dragon boat. Italian lime meringue, yuzu-matcha, liquorice gelato and ginger-pineapple compote are flamed with Grand Marnier after delivery and it only takes a few quick spoonfuls for this one to disappear.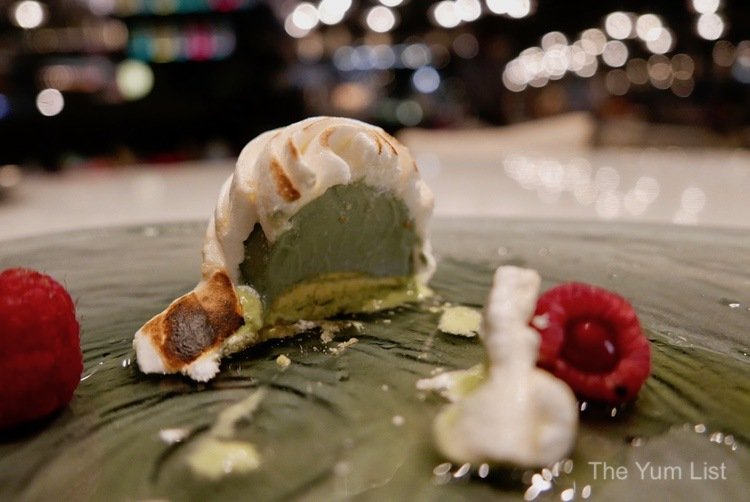 Leaning back and looking content, hubby makes his final statement, "Everything was eaten," as a firm endorsement of the meal.
Reasons to visit Flock: superb ingredients, sourced from local artisans where possible, treated with respect; this round we loved the scallop ceviche, shellfish soup… actually, it's too hard to pick just a few, they truly were all expertly prepared – choose the ingredients you love and you can't go wrong;
Flock Opening Hours
Breakfast: 6:30am – 10:30am
Lunch: 12 noon – 2:30 pm
Dinner: 6:00 pm – 10:30 pm