Pixies KL – Private Dining, Kuala Lumpur
Words: Han Sen Hau
Photos: Monica Tindall
Bustling speakeasies hidden behind fire exits, third-wave cafes tucked away in abandoned buildings, and restaurants that can only be accessed with the appropriate passcode… The art of concealment has long been de rigueur for many F&B enterprises in Kuala Lumpur. While it can take on many forms, the fact that many of them openly reveal their locations can feel somewhat paradoxical. A hidden bar isn't really a hidden bar when you know exactly which door to knock on.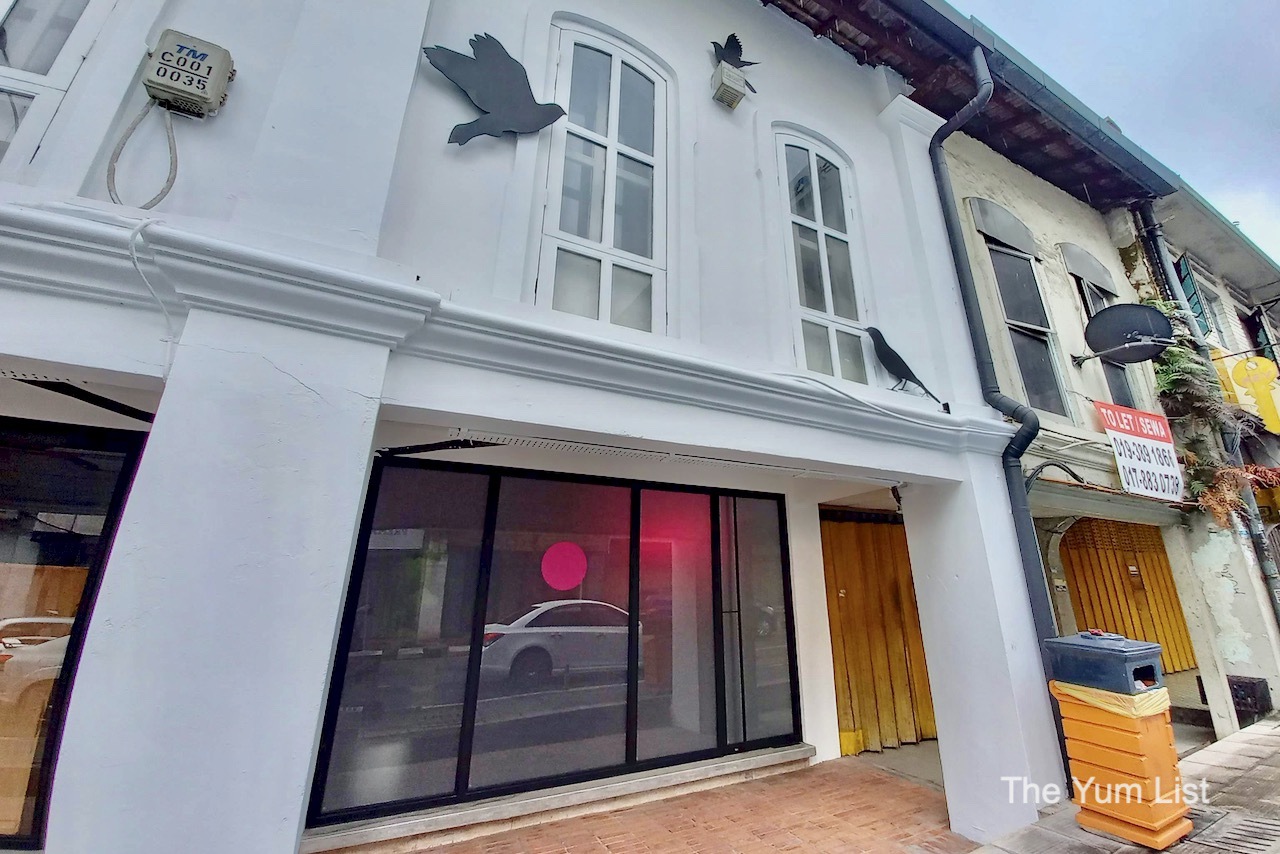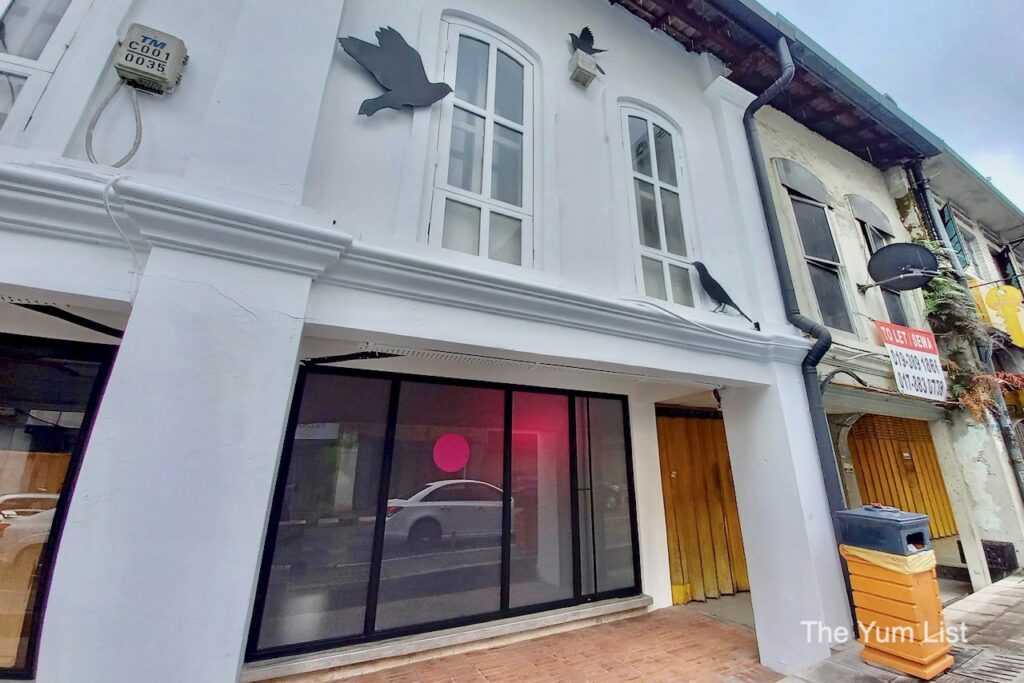 This is why Joeri Timmermans probably came up with the radical idea to not reveal the location of his newest gem, Pixies, across any and all platforms, be it through a social media post, location tag, or feature article. Yes, this might be the first time we would not be divulging an establishment's location for a review. The experience can either be frustrating or fun, and we can tell you this is very likely an ingenious device invented by Joeri to attract only those who are fuelled by the latter emotion. You wouldn't even know you've walked past it unless you know what to look for, so in the true spirit of a treasure hunt, we hope the pictures you'll see here serve as hints to its location. You have our word that the bounty is worth it.
The only shortcut to this odyssey is by making a reservation via their Instagram page (@pixies_kl), which is also the only way you're able to land a seat at the table. Once that's done, you will be emailed the location on the day of your visit, and you can even opt to be chauffeured right to its front door in a limo, which is incredibly appealing as there aren't many available parking lots in that part of town. While the entire journey described thus far might paint Pixies as exclusive and elitist, the dining experience and accompanying price tag immediately shatter that impression.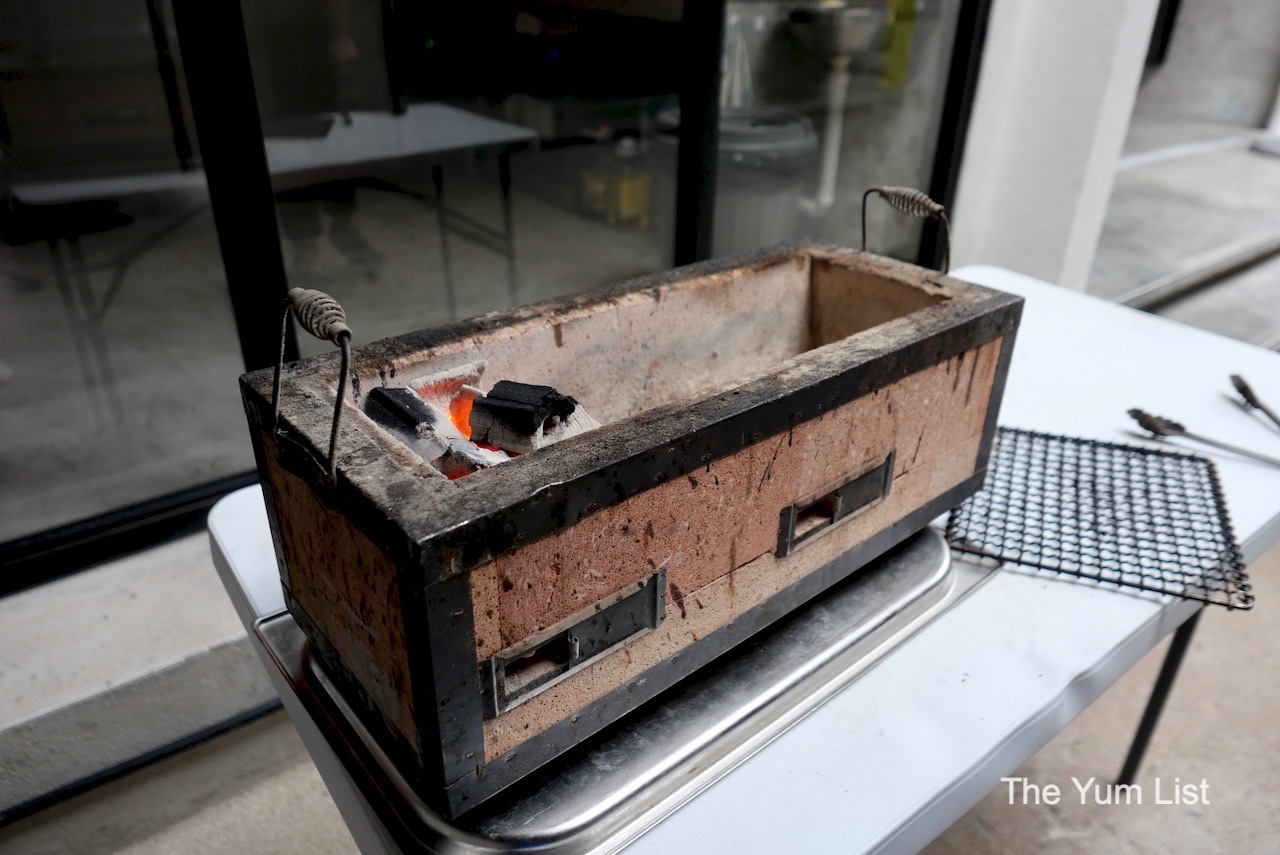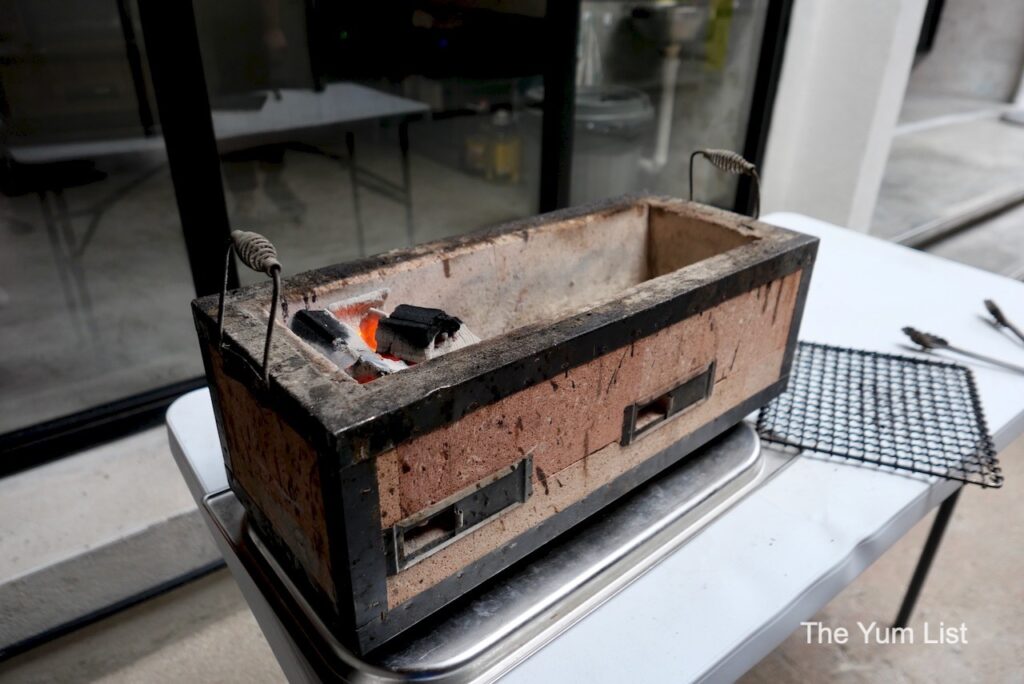 Big Things in Small Spaces
Walking into Pixies KL feels like entering a friend's loft for the first time. The scene is industrial chic, with lo-fi gangster rap music bouncing off the cement walls and complementing the tattoos on Joeri's arms. The entire space is small and intimate, being able to host 12 to 18 patrons at a time along a single sharing table. This makes Pixies the ideal place for a small party, though they're perfectly fine hosting solo diners as well. More impressively, you have Joeri himself in the kitchen making you a 6-course dinner with just an induction cooker, a small barbecue pit, and his dexterous fingers for only RM488 nett per pax, with each course accompanied by a drink (it is RM388 nett without the beverage pairing).
This is, quite frankly, a steal.
And it changes very frequently, so you can bet no two visits will ever be the same because Joeri would probably be bored with the previous menu by the time you come back. A vegetarian menu can be arranged, though advance notice will be required for specialised diets. As we sipped our Negronis (RM45), we also learnt that the place was named after his daughter, which informs us that Pixies is a very personal passion project for Joeri. Ever ready to rattle the F&B scene by dissecting the usual template for a great dining experience, Joeri challenges the norm with his unbelievably spartan setup while still delivering a five-star experience from start to finish.
As per his vision, most of the items covered below would probably phase out when you do visit Pixies because that's just how Joeri rolls, which brings to question if the review might seem a little redundant. We'd argue otherwise, as the menu we've sampled is a brilliant showcase of what Joeri is capable of and that each individual experience at Pixies would be a truly unique one. In other words, you visit Pixies to be pleasantly surprised, not to be complacent with familiar comforts.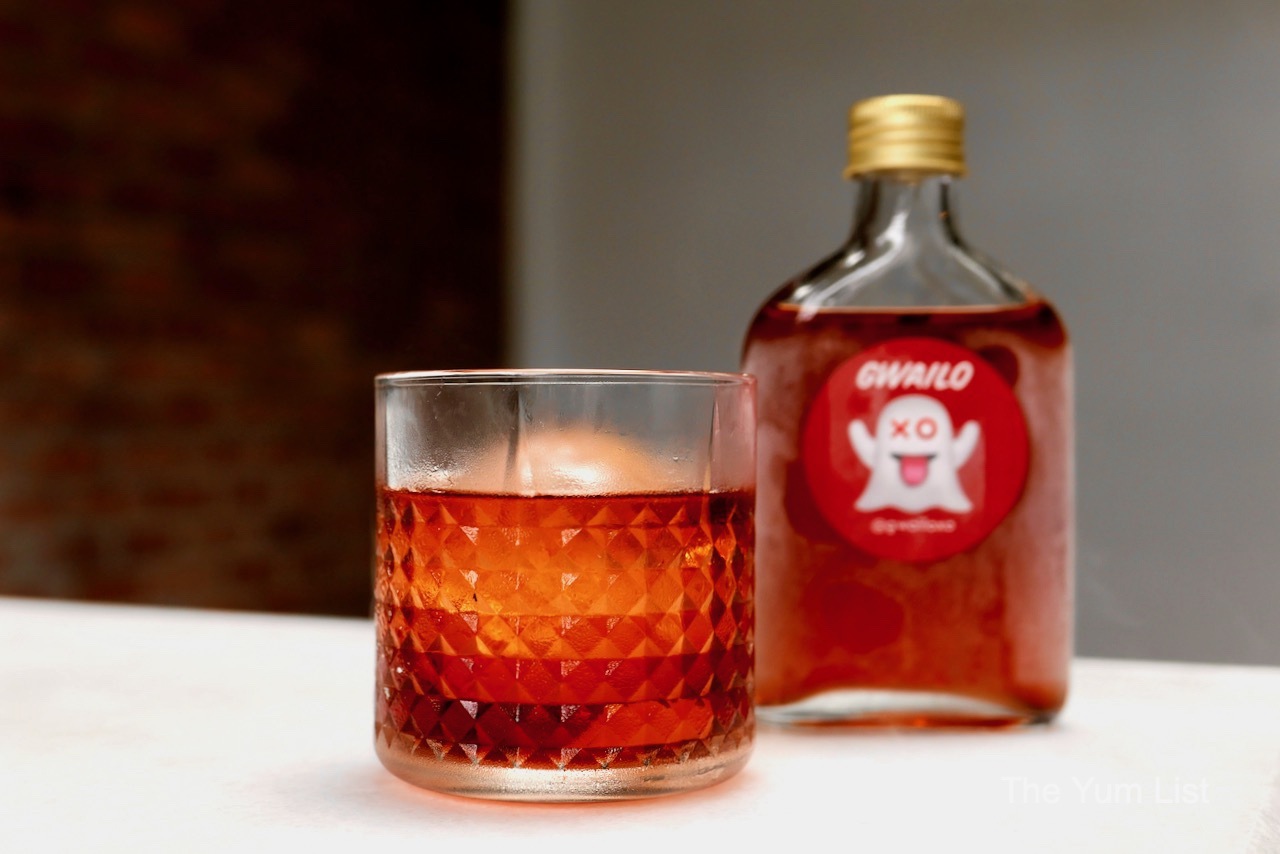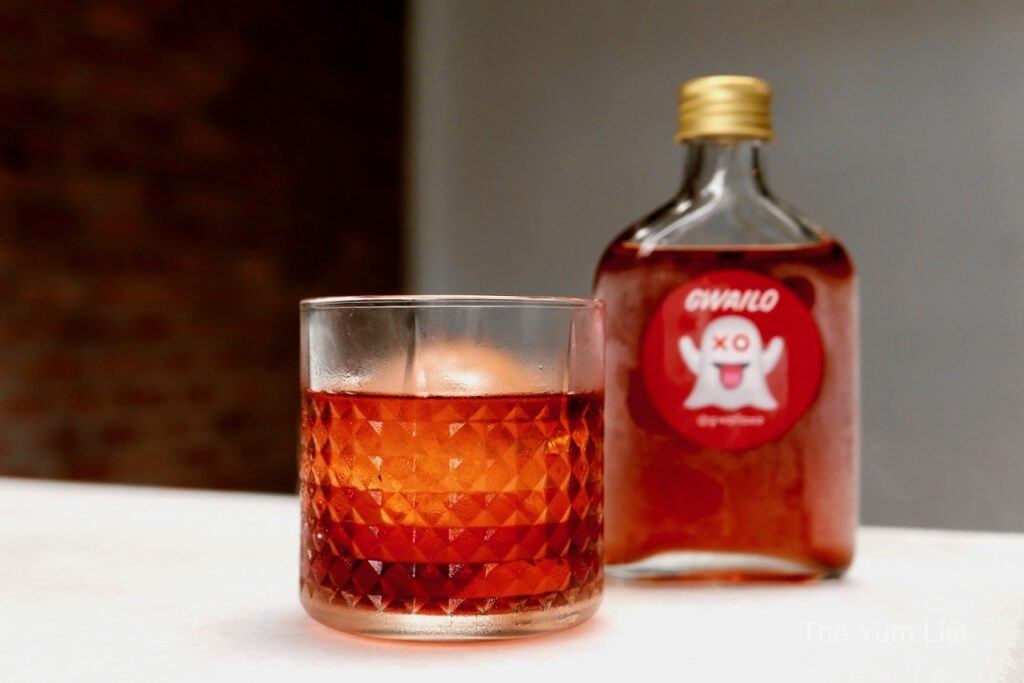 First Course – Potato / Caviar / Tuna / Pickled Ume
Joeri's playfulness is immediately apparent in the first course, where tuna cubes are crowned with sorrel and confit potatoes are blanketed with caviar. A cloudy Shichiken Yamanokasumi Sparkling Sake is served with these, and the nigori-zake's sweetness cuts right through the appetisers' distinctively umami palate, so you get a nice reset when you transition from one to the other.
Don't be fooled by the minimalist tuna cubes, as Joeri has sneakily hidden pickled ume amidst all that sorrel, which jolts the senses and keeps you entertained as you chew on the muscly tuna. The confit potatoes are equally delightful with their crunch and aroma, having been fried on beef fat and thus making this a miniature surf-and-turf with the caviar on top of it.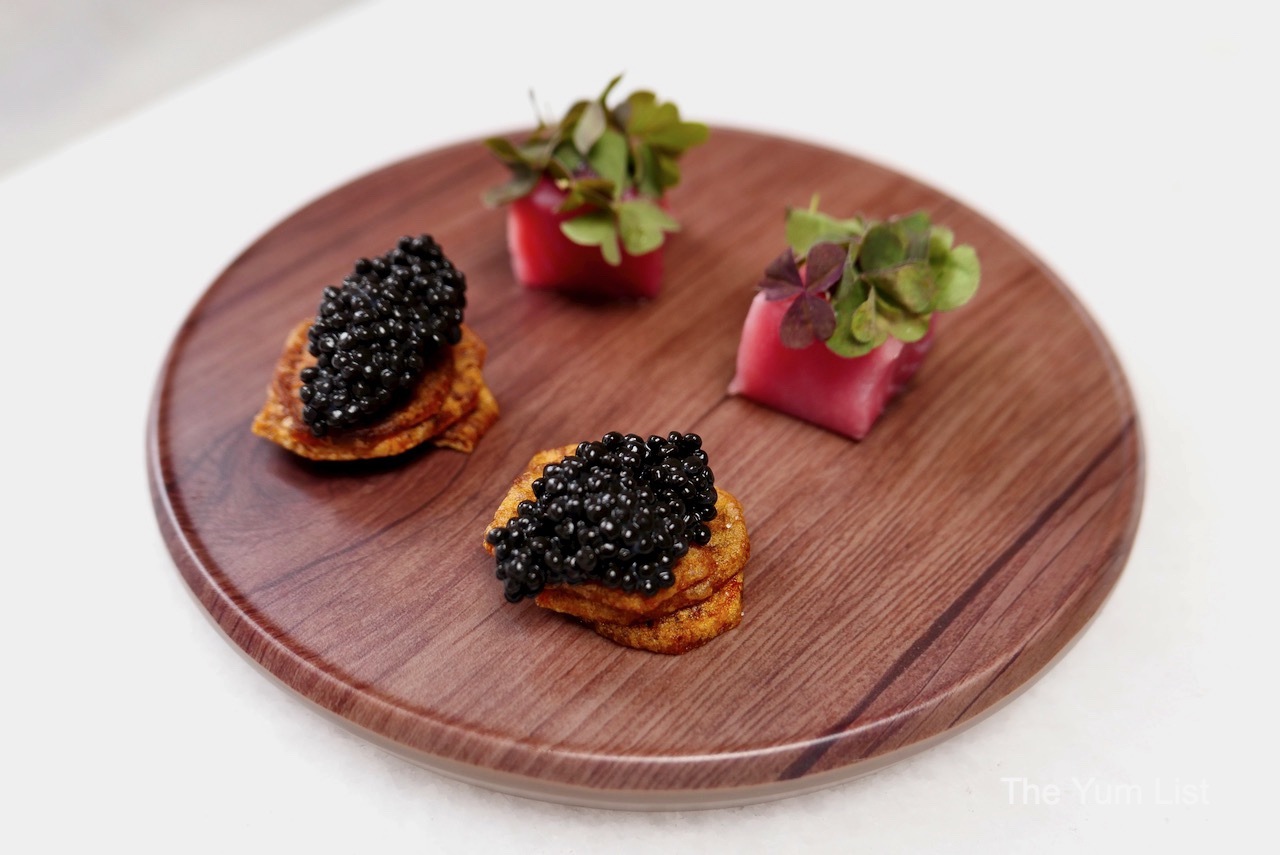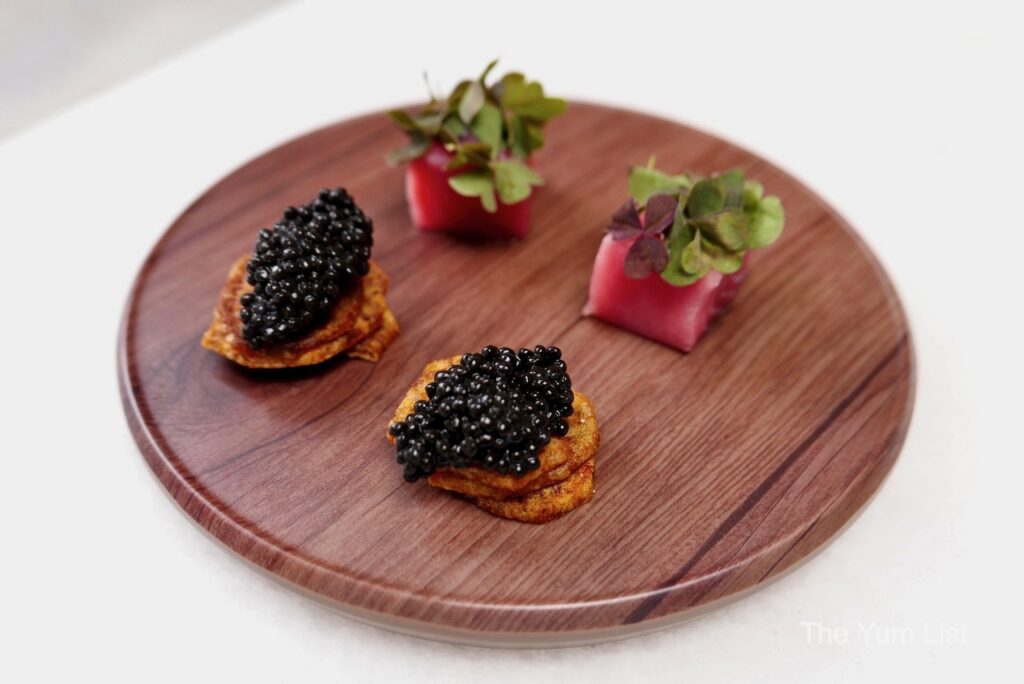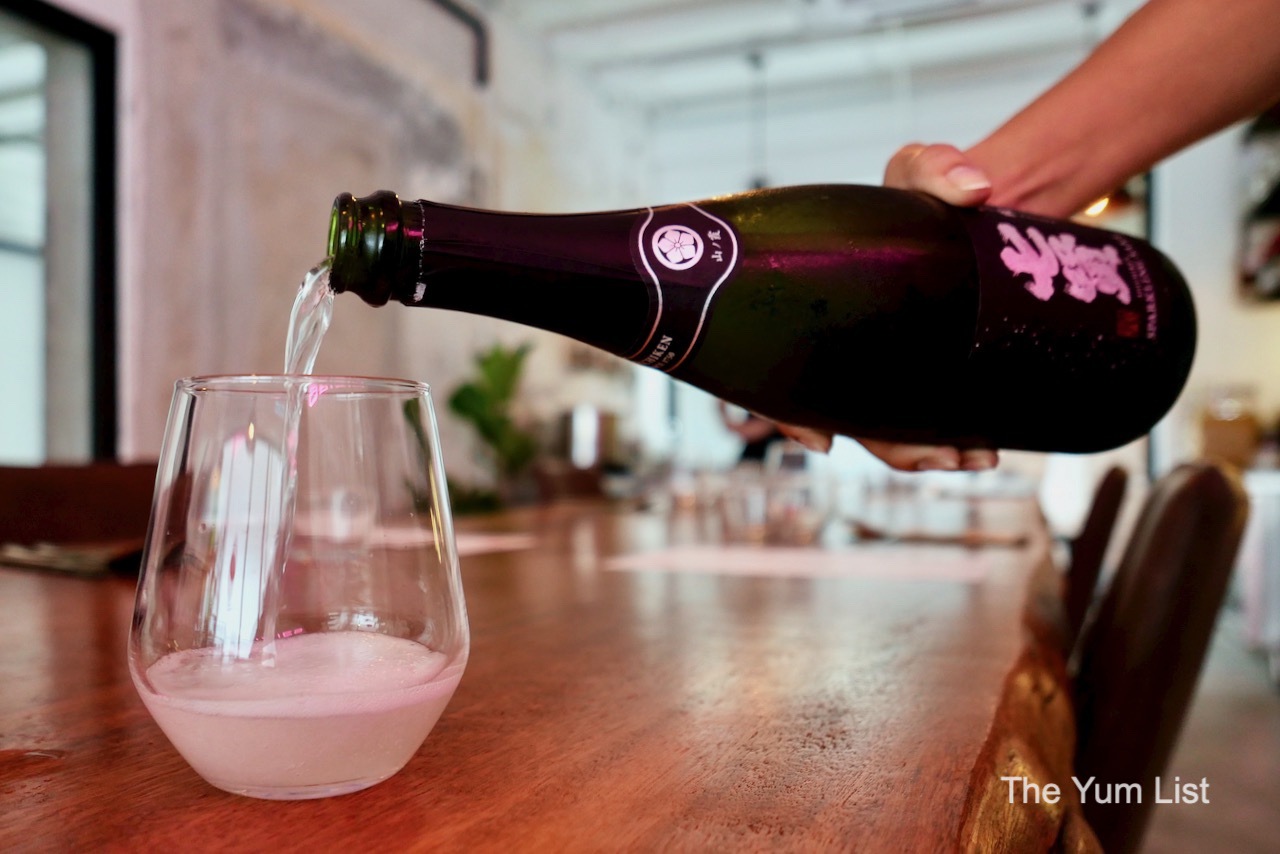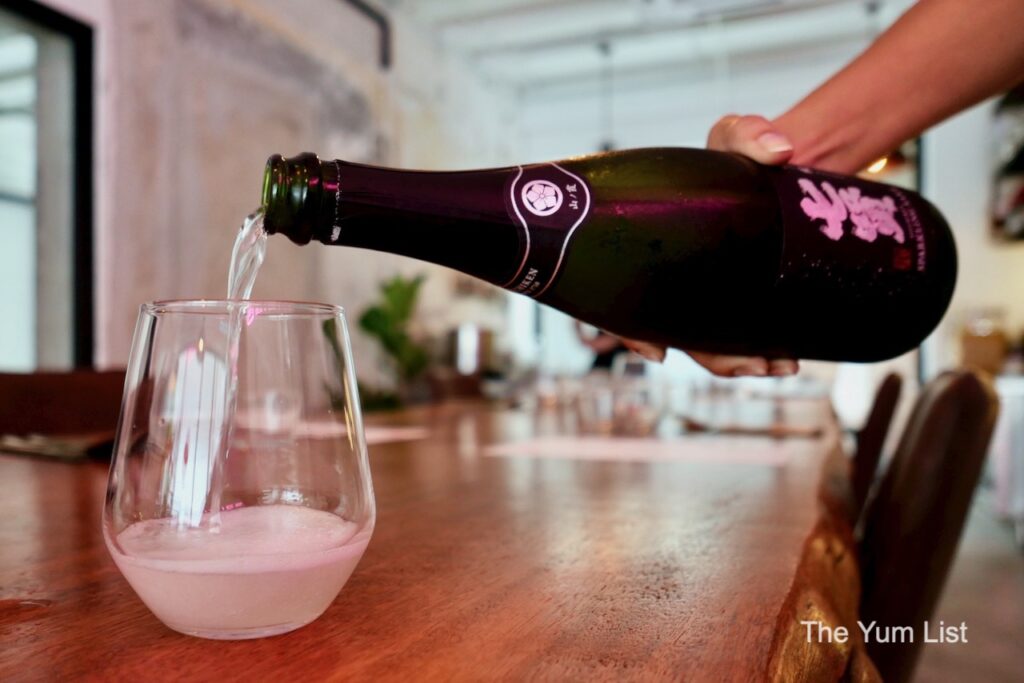 Second Course – Burattina / Ketumpang Air / Shellfish Oil
We eased into the second dish with a decadent Burattina cheese soaking up a moat of intensely fragrant shellfish oil. We're happy to see the local Ketumpang Air (a type of betel that's also known as the Crab Claw herb) getting the screen time it deserves atop the cheese, providing a verdant contrast to the shellfish oil and a much-needed chewiness to the creamy cheese.
It's interesting to note how Joeri came about this dish too, as he started out with the shellfish oil, not the cheese, and tinkered with other ingredients that would go well with the oil, including the pairing with locally brewed Chill Bill Red Ale. The maroon brew is the fourth element that grounds all the flavours on the plate and underscores the Burattina's flavours with its subtler profile and smooth finish.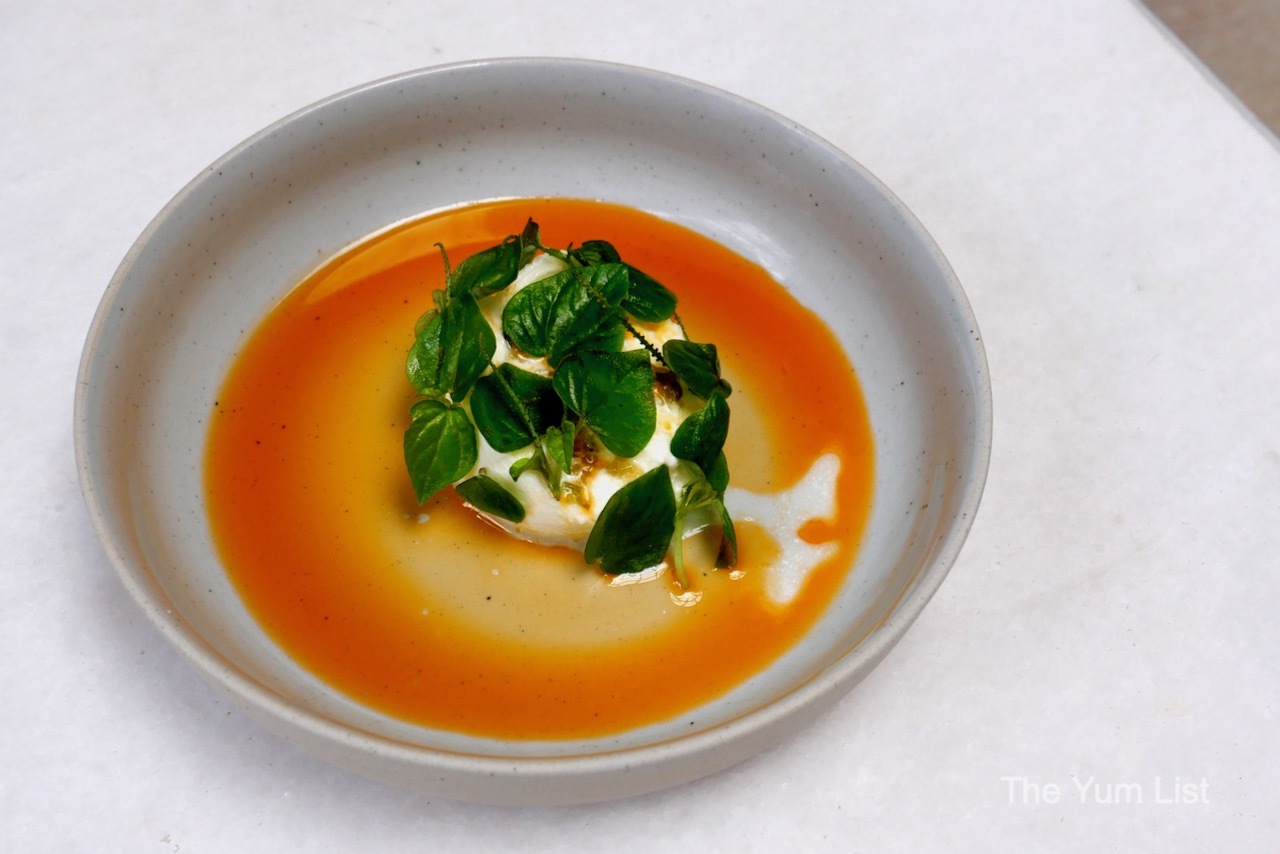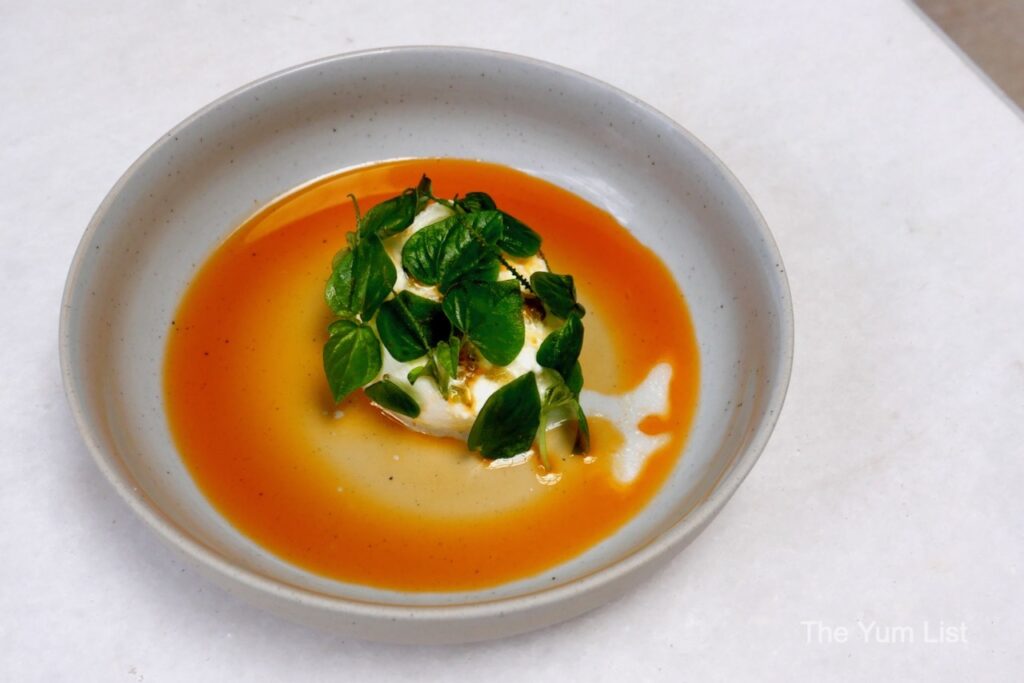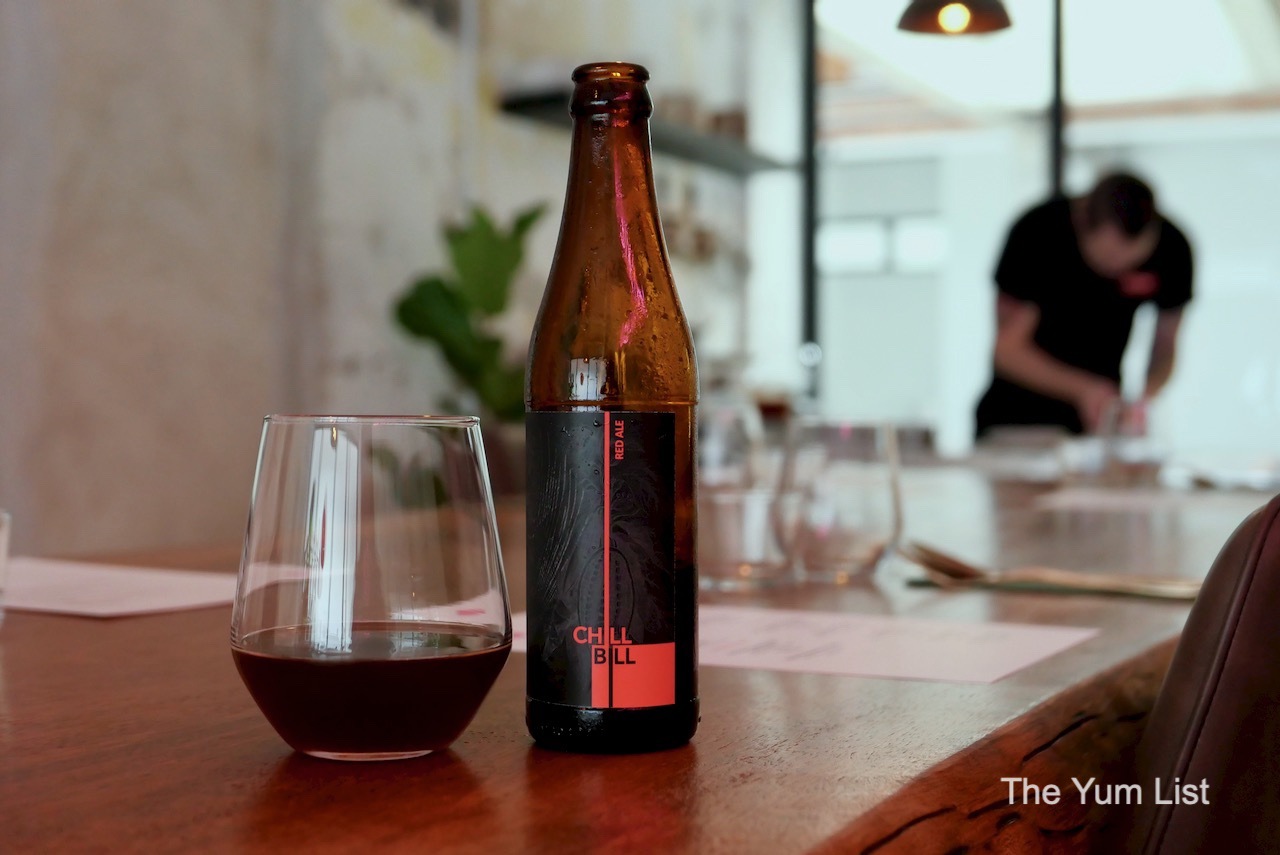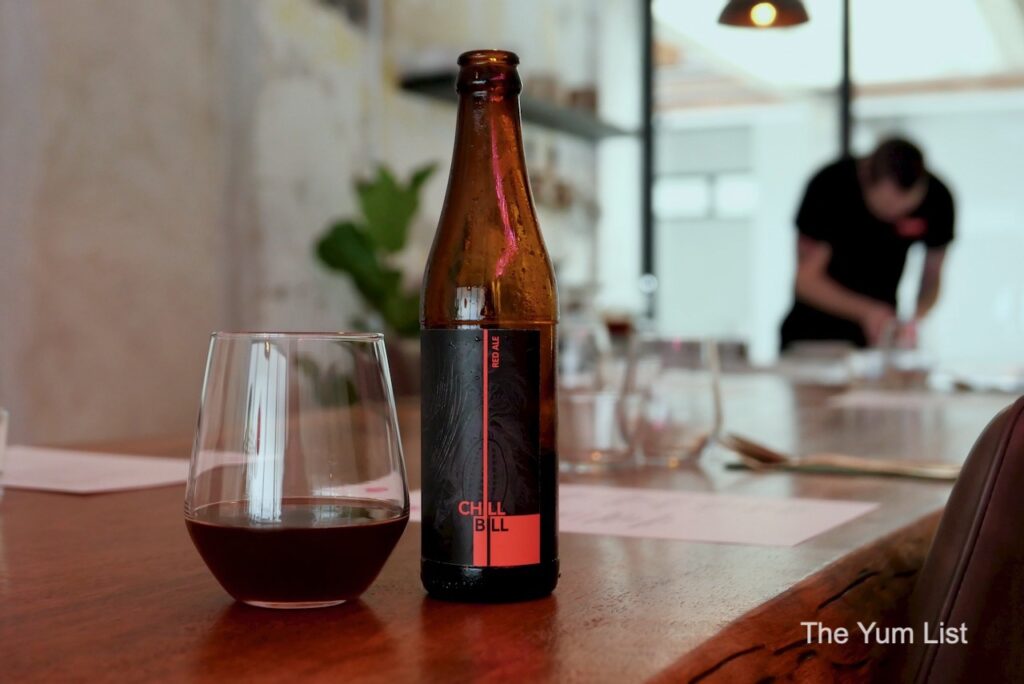 Third Course – Prawn / Green Sauce / Japanese Mustard – Pixies KL
Dish number three retains much of Joeri's signature playful minimalism that we've seen so far with a river prawn swimming in a delectable green sauce made from parsley, coriander, mint, and lemon. Paired with it is an exceptionally clean and clear Chitosetsuru Tanrei, a Junmai from Hokkaido. Its origins make plain that the sake goes really well with seafood, as each sip cleanses and purifies the palate before the next bite.
We love how Joeri chose to serve this with the crustacean's head still intact, providing comic relief when the edible torso buried in edible mizuna flowers seems so small compared to the oversized head. Having been grilled outside, the meat is tantalising smoky with a really solid bite to it. As much as we love the green sauce, a little of it goes a long way, especially if you want to savour the prawn's natural flavours, though we happily lapped away at the sauce by itself while waiting for the next course.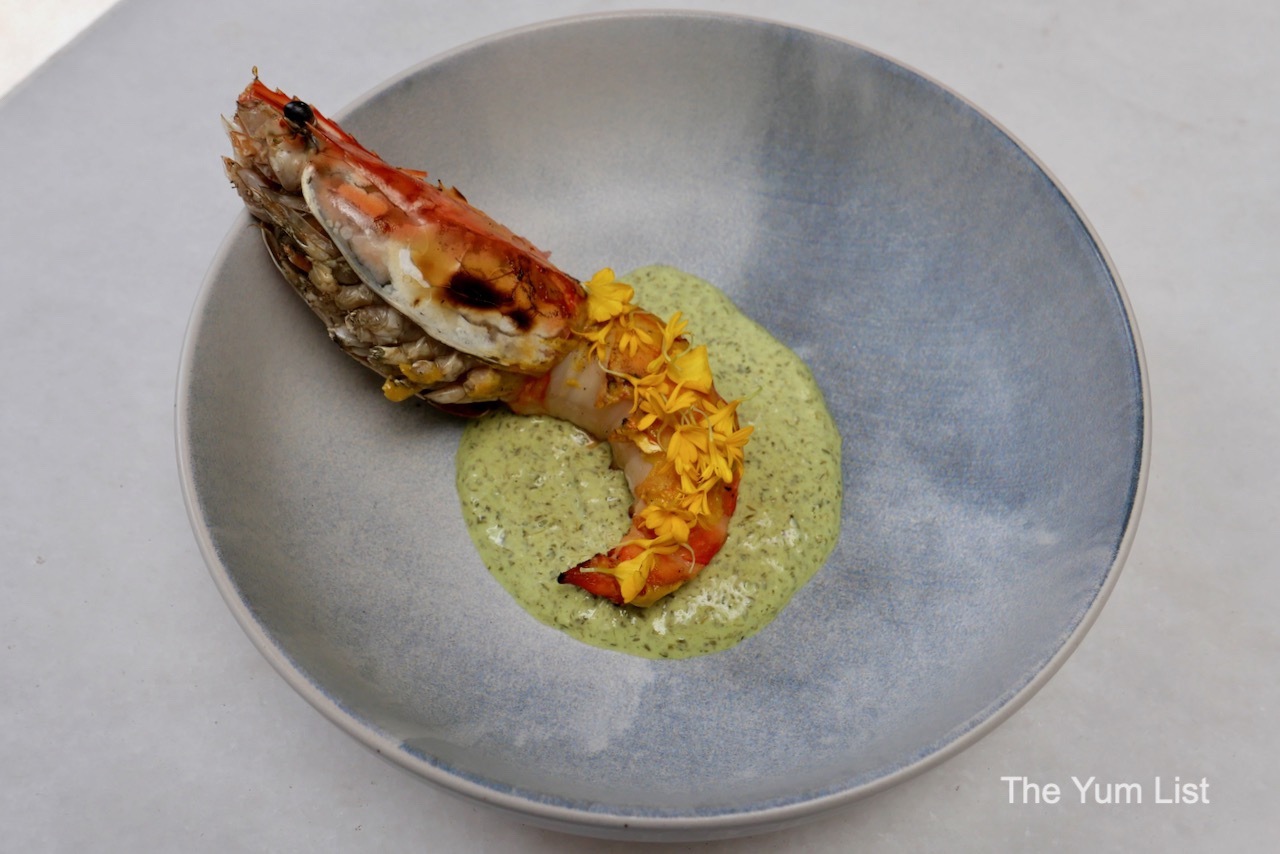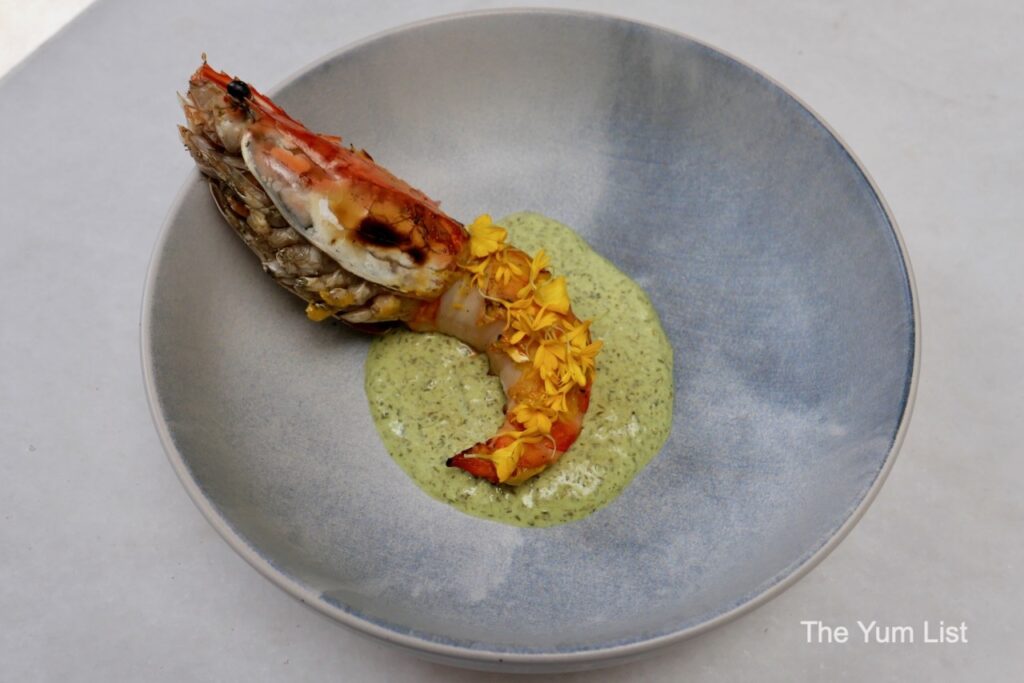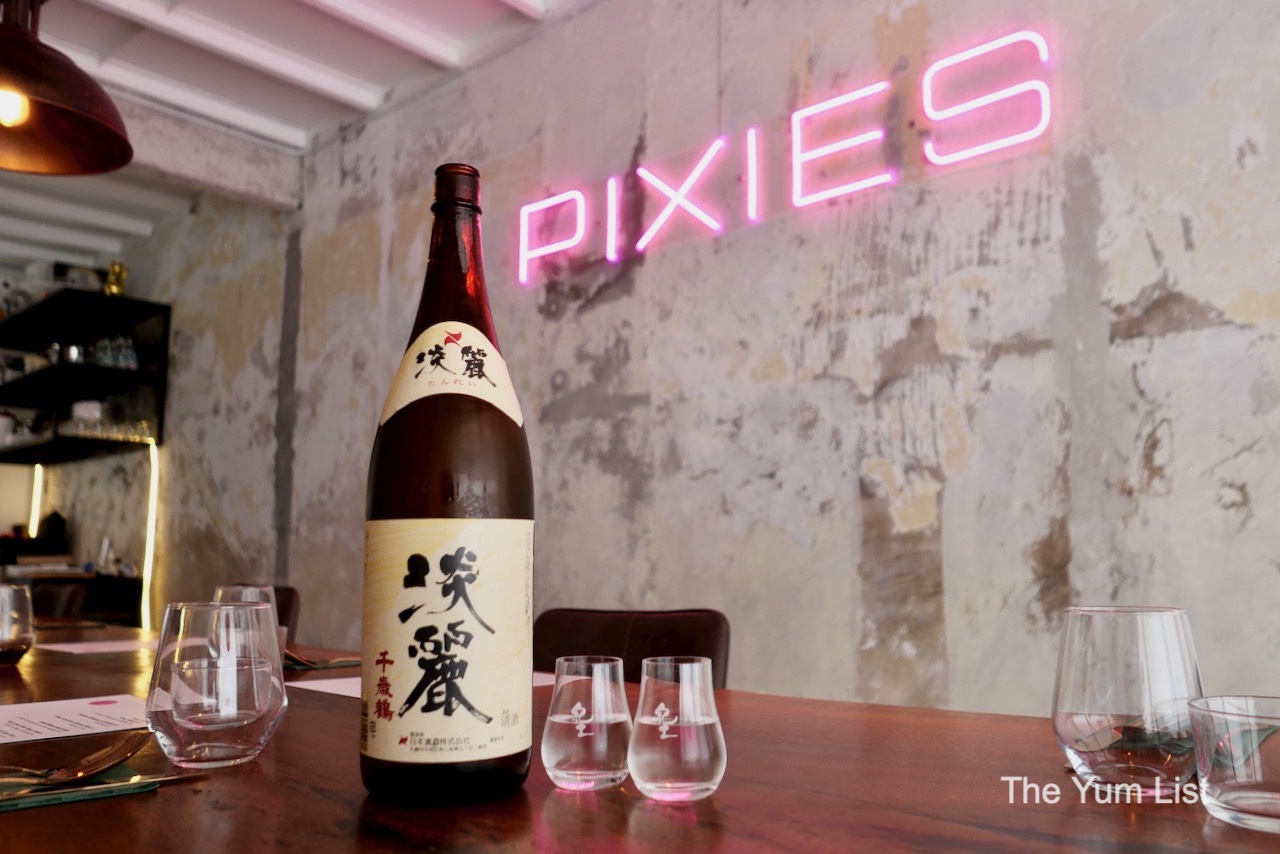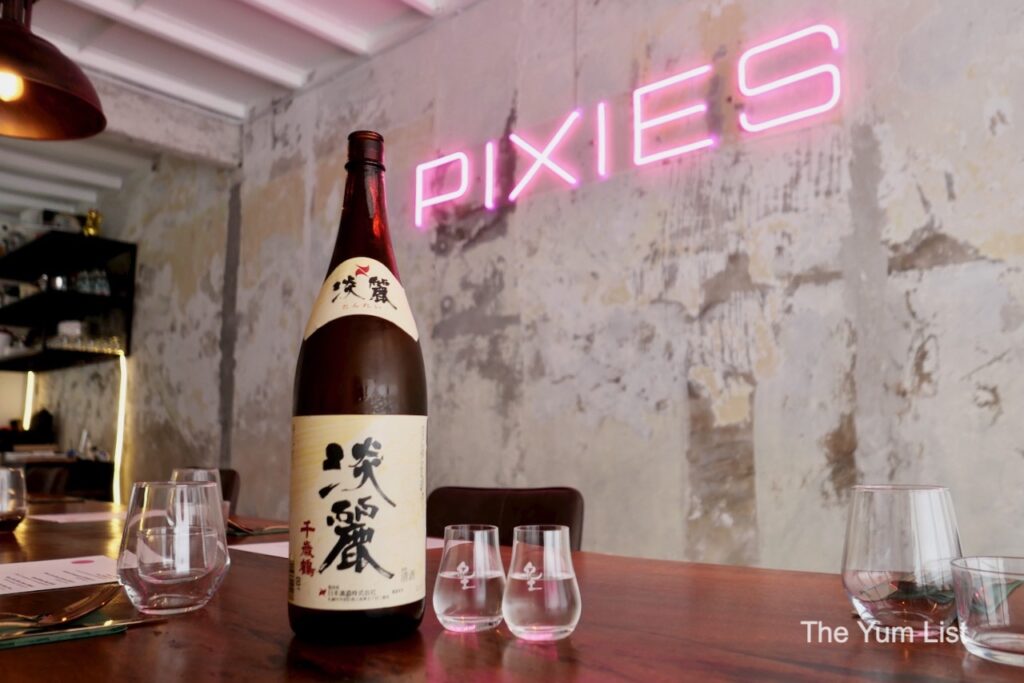 Fourth Course – Ravioli / Ricotta / Black Truffle
East meets West in the next course, where ravioli, ricotta cheese, and black truffle take front and centre. Dubbed the "Gwailo Wantan", the rich earthy flavours are further intensified with Joeri's very own dashi poured over it. Made from burnt onion, kombu, and shiitake mushrooms, the dashi is a celebration of umami that surprisingly complements the European ingredients.
The Gwailo Wantan is paired with an exclusive Chateau Fabre Gasparets, Le Cabin Viognier 2019, an amber-coloured orange wine that hits the palate with a lot of fruity and citrusy notes. Only 2,000 bottles of this vintage exist, and Joeri managed to secure bottle number 515 to pair with his ravioli. The bottle's high acidity meets its match in the umami flavours, and it's hard to imagine any other whites or oranges that could deliver as well as the Viognier once you've had it. A nod to Joeri's unparalleled matchmaking process.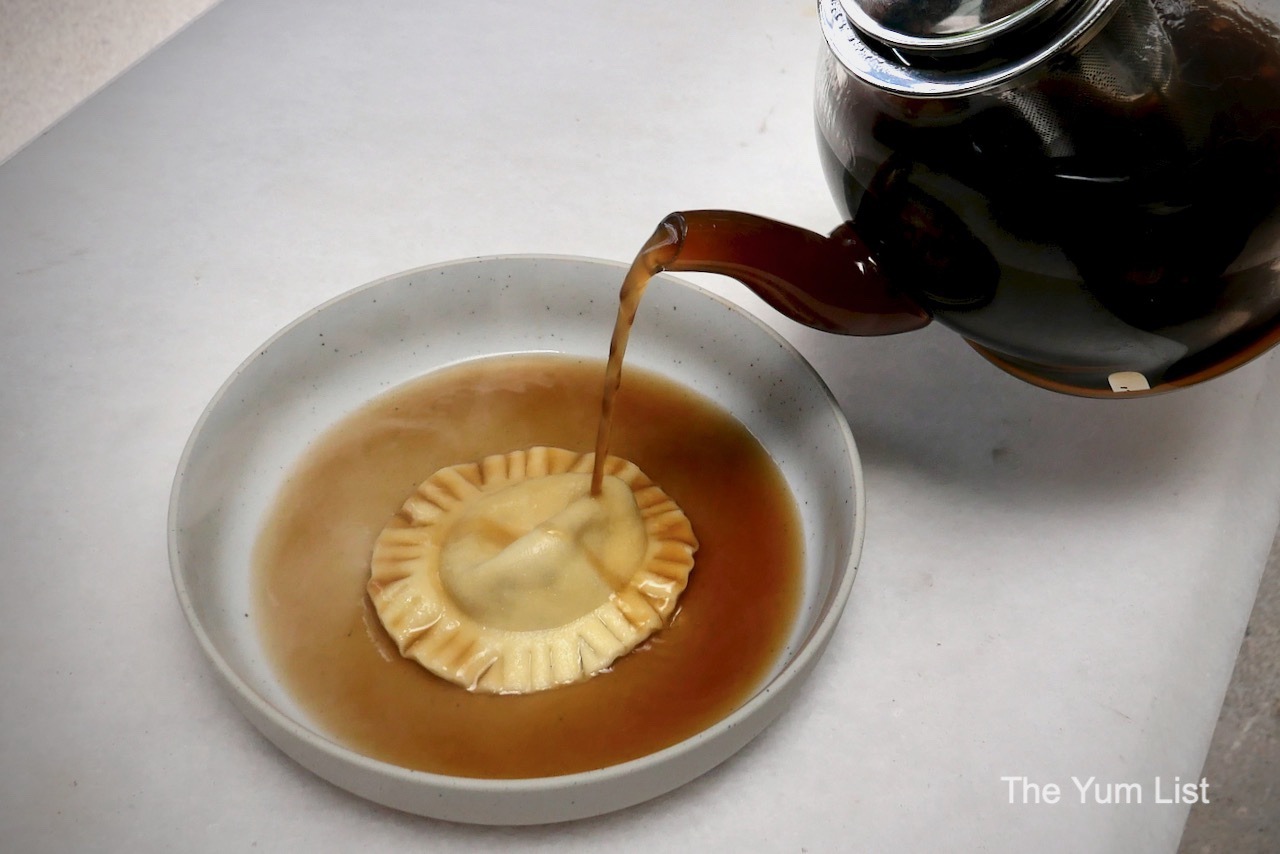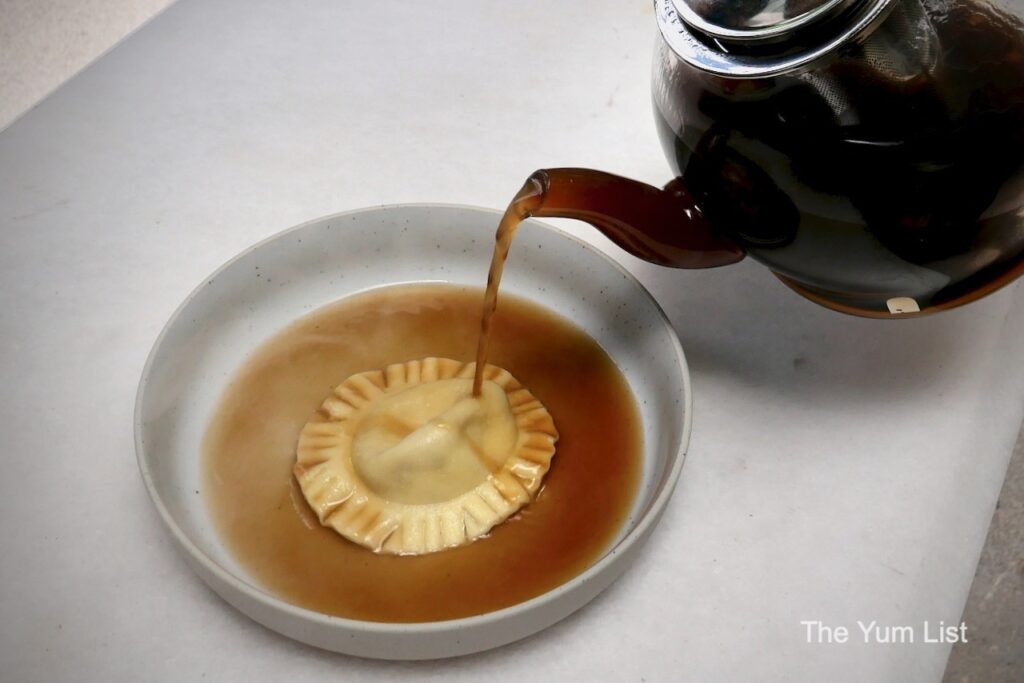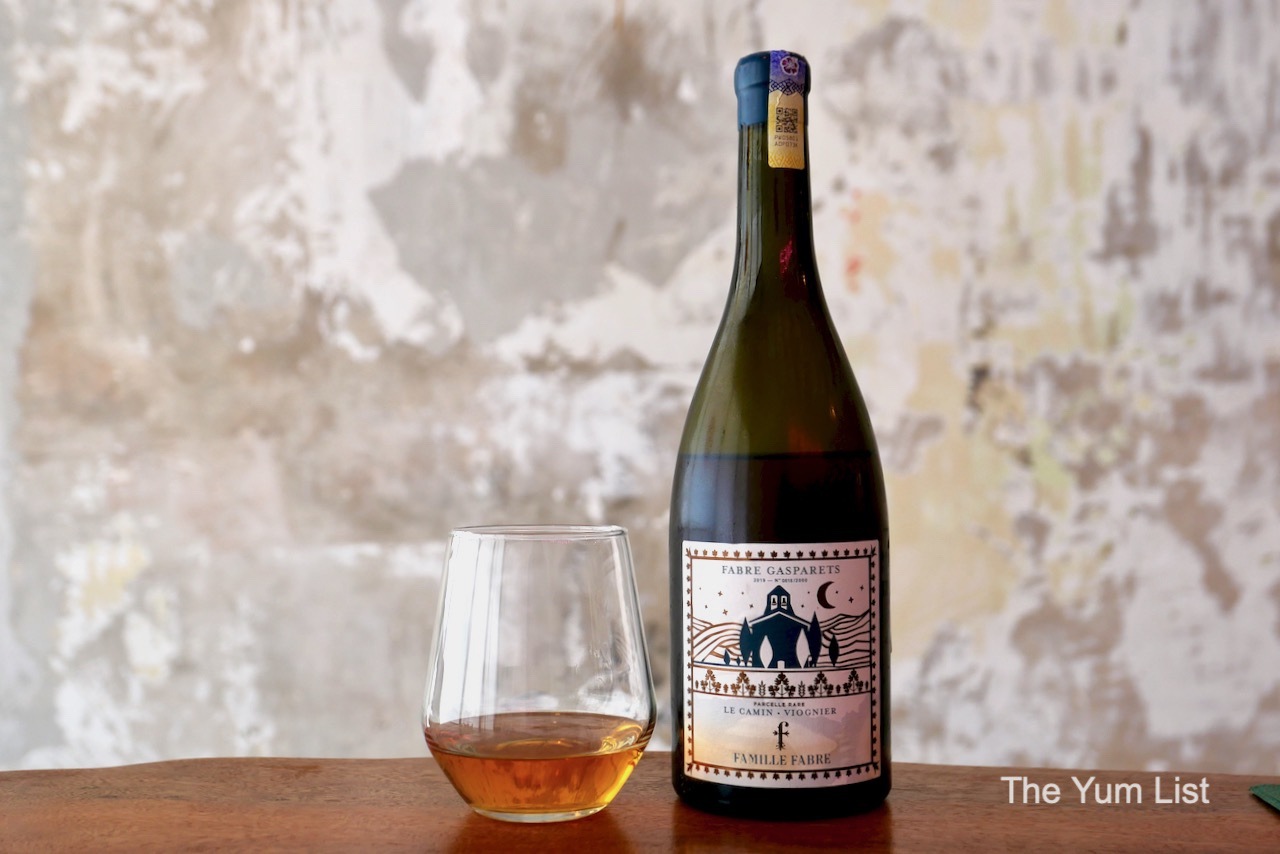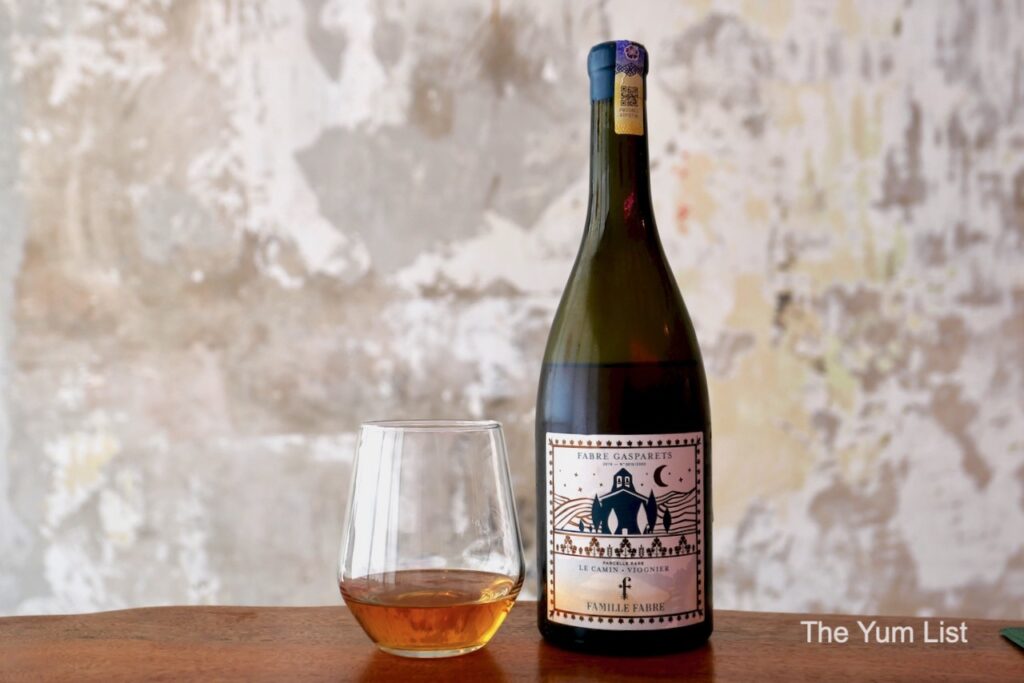 Fifth Course – Wagyu / Burnt Onion / Tamari / Shiitake
You can't call your restaurant Australian if it doesn't feature beef, and thus we are presented with a juicy cut of Australian Sher Wagyu as the final main of the day. Served with burnt onion purée and lightly adorned with savoury shiitake and piquant Ulam raja, the unseasoned grilled beef is juicy to the bite. Paired with an appropriate Moulin de Gassac, Pinot Noir 2019, the meat's flavours are allowed to shine against a backdrop of fruity notes.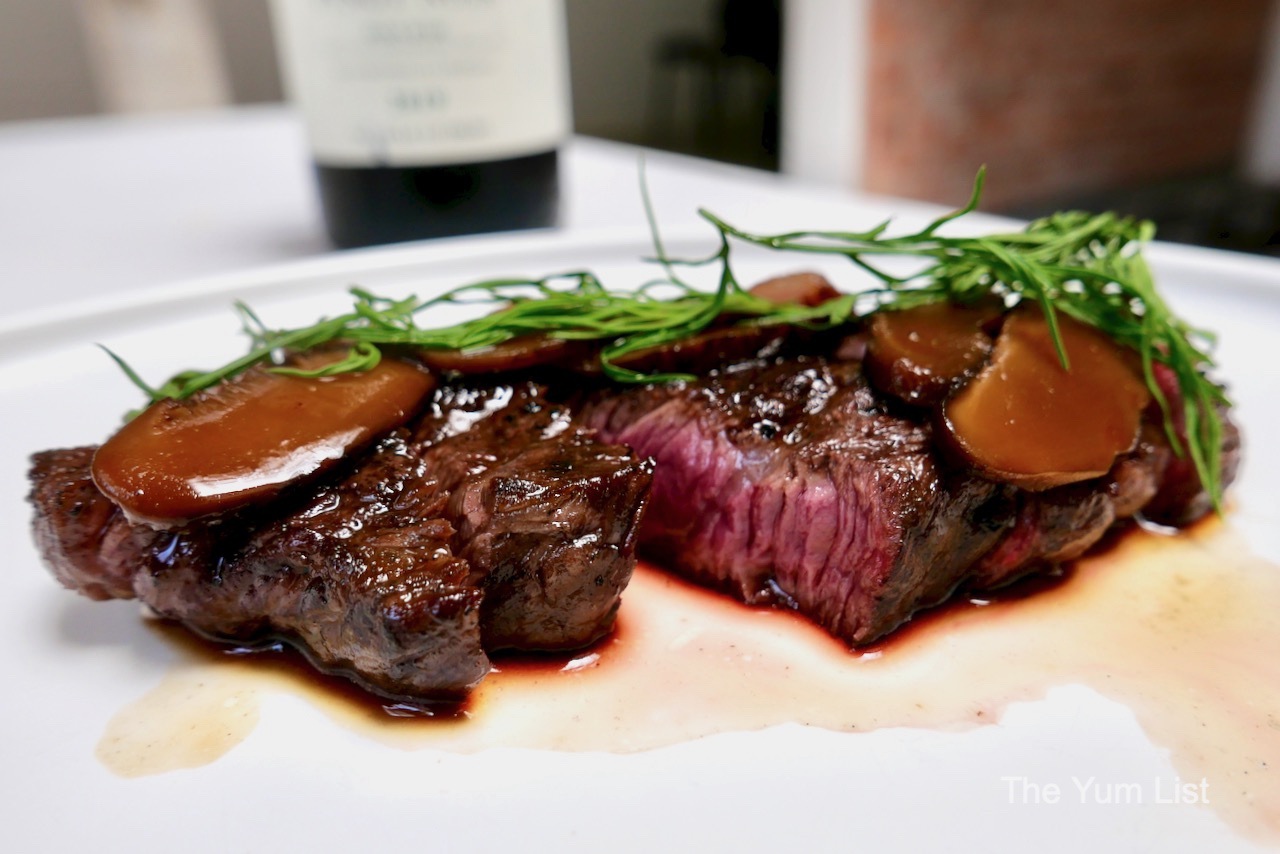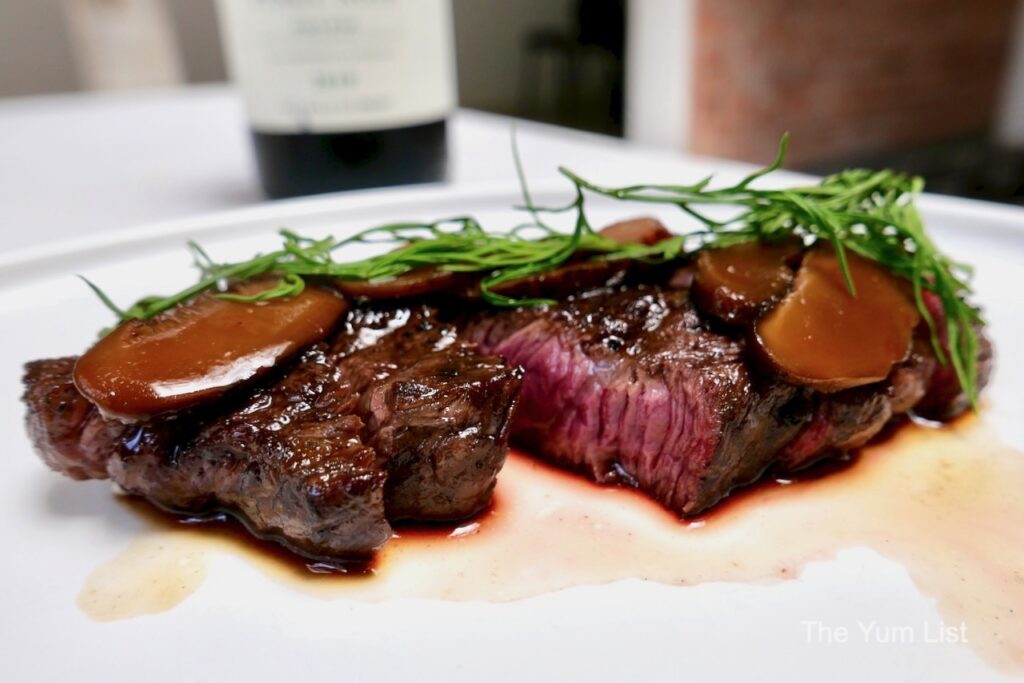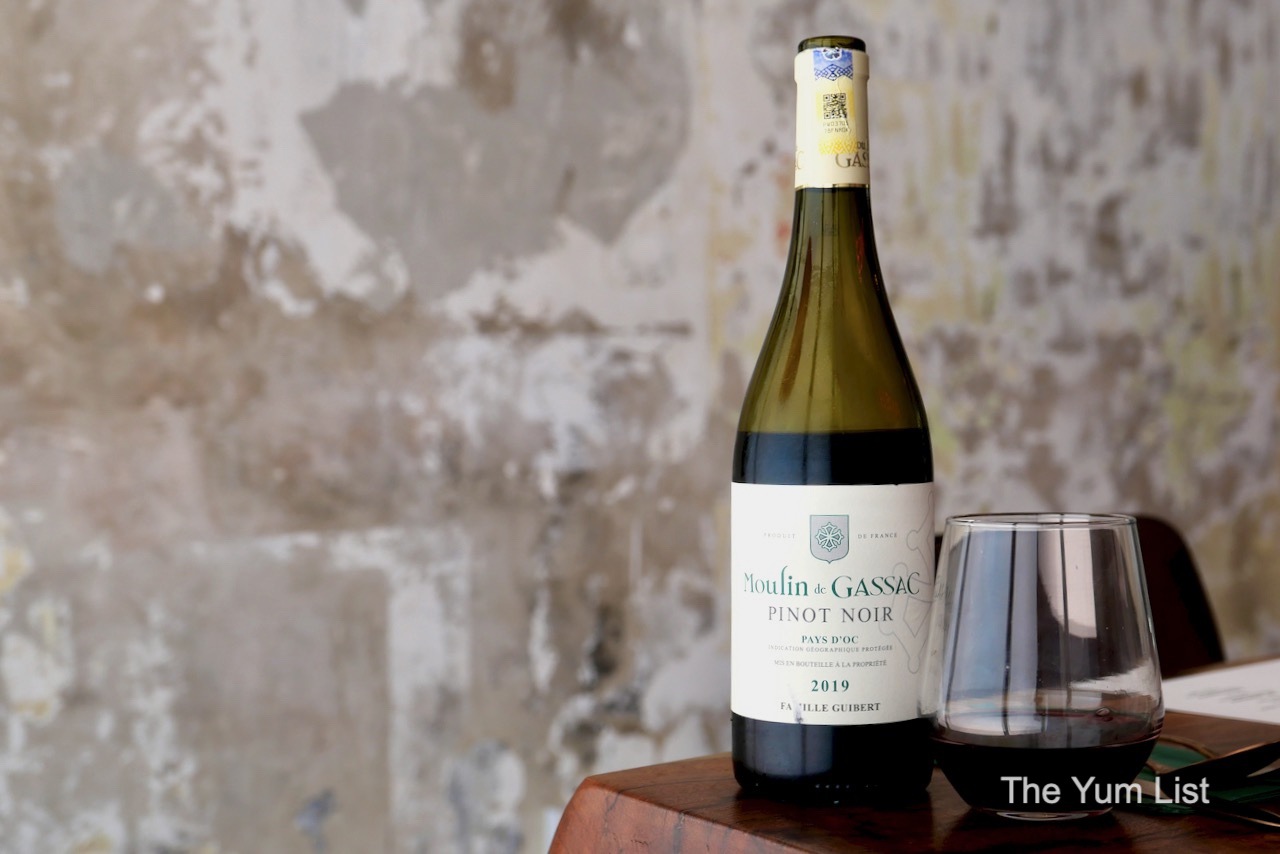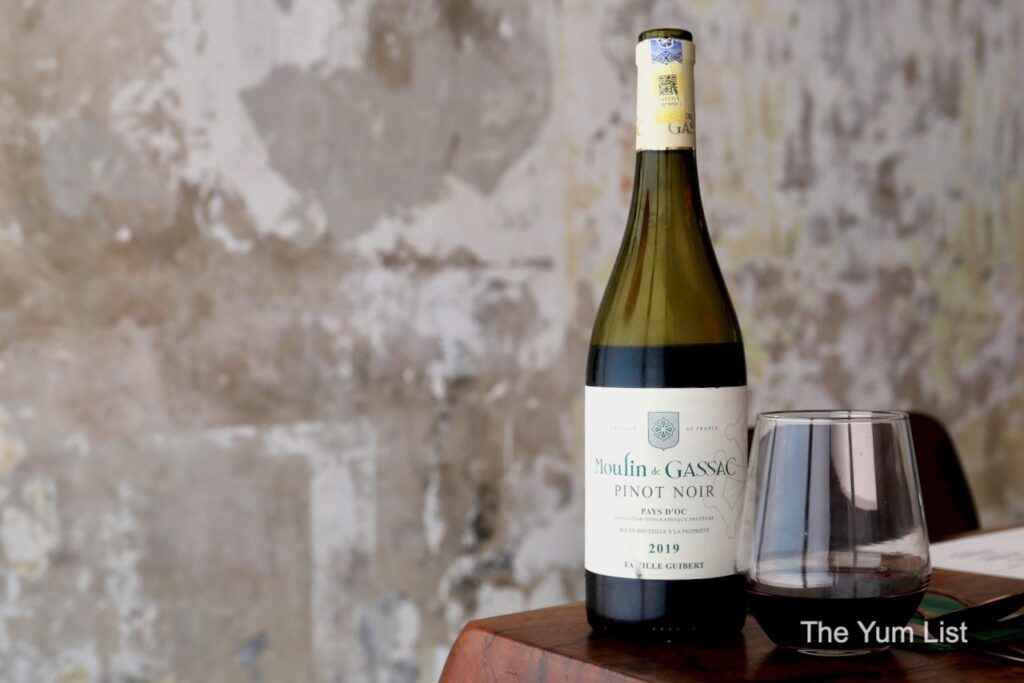 Dessert – Chayote Granita / Jackfruit / Pumpkin / Ginger Flower
Last but not least, we have a colourful bowl of entropy consisting of chayote granita, jackfruit purée and coconut cream, pumpkin seeds, and grated ginger flower. The sweet course is refreshing in every sense of the word as it diverges from the conventional, marked by the absence of chocolate or anything with hazelnuts, which seems to be pervasive everywhere else. While everything has been impressive thus far, dessert ranks high in our books and we would be sad to see it being switched out for something else; then again, this is the trade-off you get at Pixies.
An equally refreshing bottle of Tsuru ume Yuzu is paired with the granita, and we adore this as a conclusion to our time at Pixies. Often, we leave a review feeling two sizes larger and with a languorous, post-meal haziness that summons the instant need for a siesta. The lemony Junmai Ginjyo completely erases that lethargic impulse, and you leave feeling charged even after you've demolished all courses, which would be great for the drive home or if you intend to go for another round of drinks elsewhere.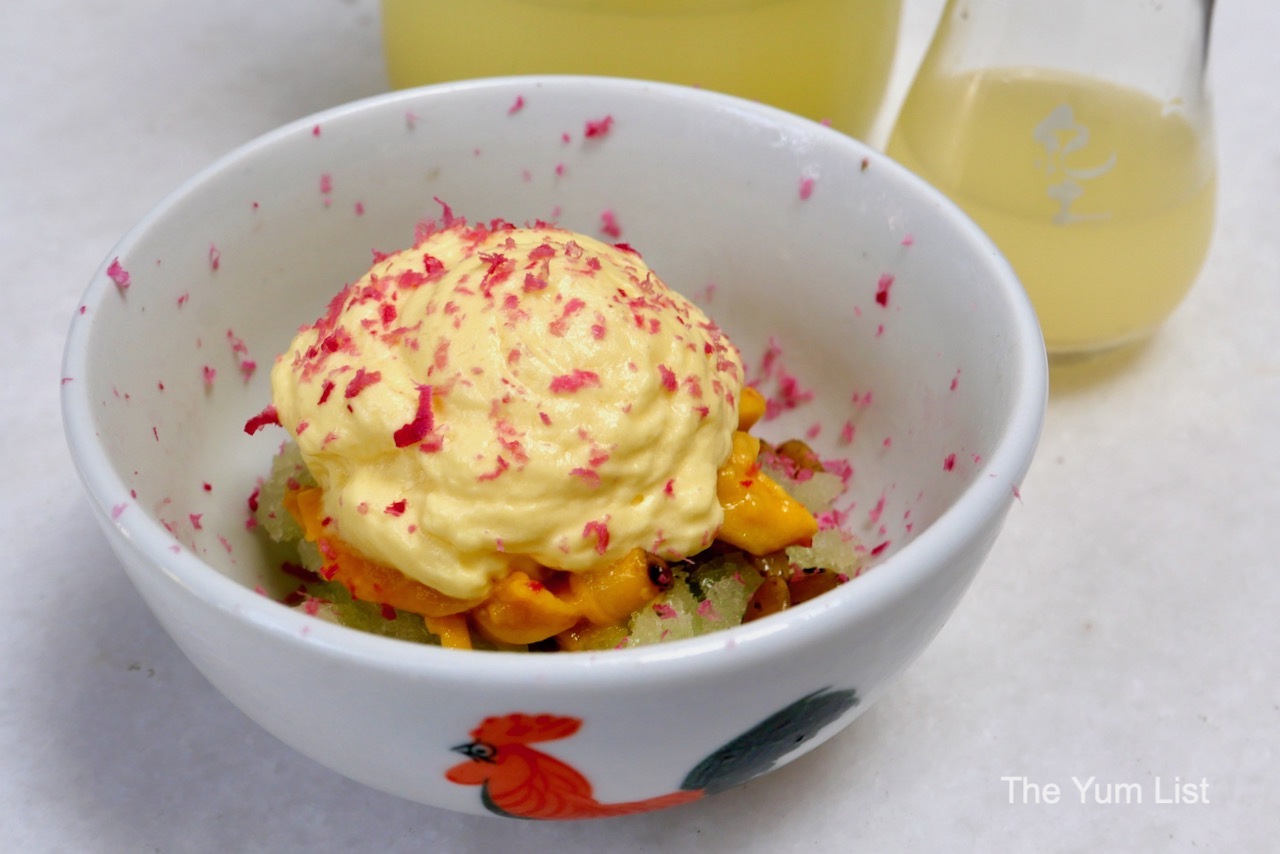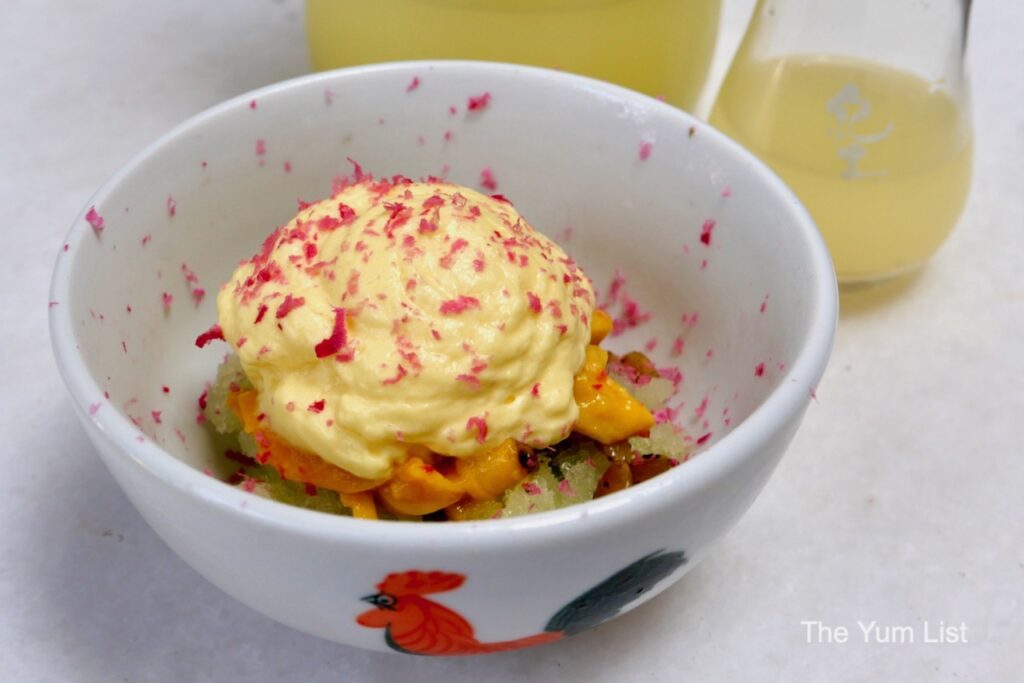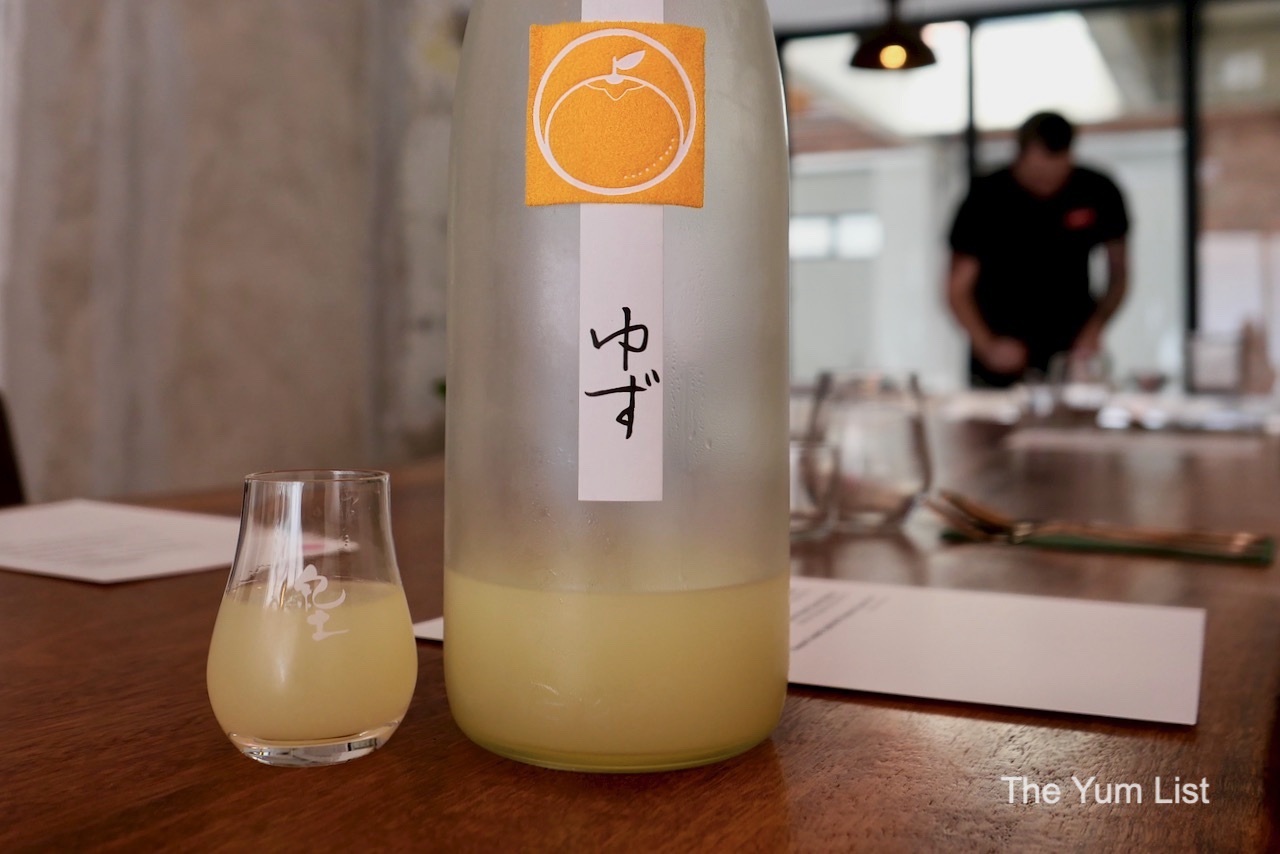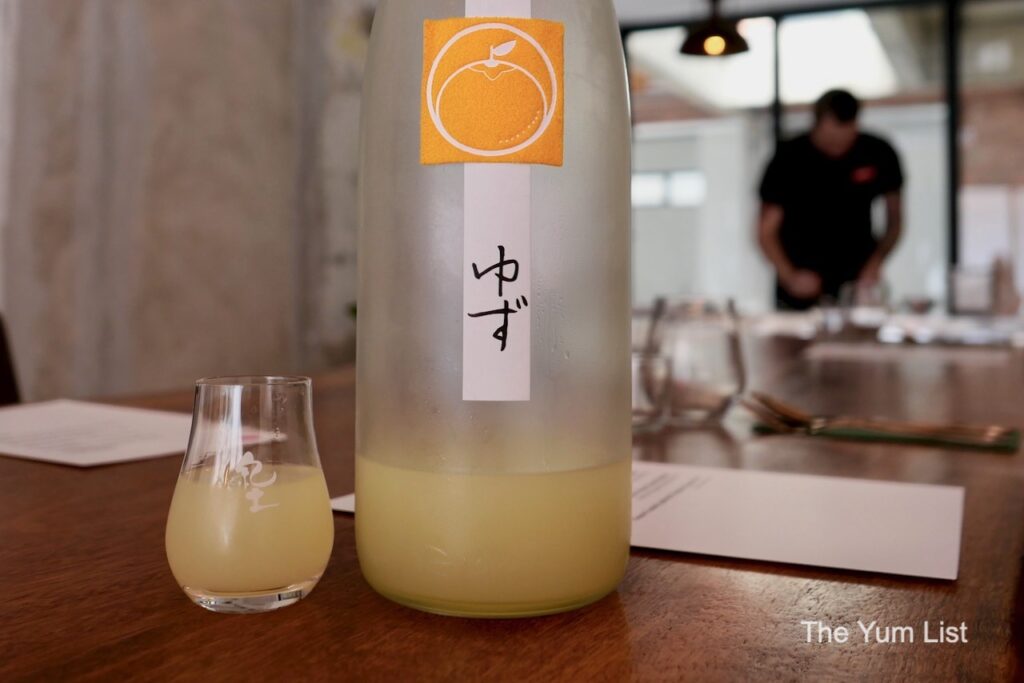 Pixies KL – Final Thoughts
When you're dining at Pixies KL, you're paying for an intimate dive into the mind of Joeri Timmermans. With a penchant for surprises and a rebellious attitude against entrenched culinary traditions, Joeri is dead set on challenging your ideas on how luxury can be served on a plate. Pixies breaks the mould with its unusual yet intriguing premise, and with the hungry masses once again able to roam the streets in search of the new and exotic, you can be certain its name would be whispered in every corner and earmarked on everyone's go-to list.
Reasons to visit Pixies KL: Constantly changing menu with beverage pairing at a jaw-dropping price that's merciful to your bank account; a relaxed setting that's a perfect place for parties, though equally great for zoning out solo to a 6-course meal; while the menu is described as contemporary Australian with Japanese influences, we love the fact that local ingredients and brews get to shine here too; a great place for a reset when life begins to feel a little routine.
Pixies KL – Private Dining Kuala Lumpur
Keep an eye out for a pink dot the next time you explore "kaki limas" around historic Kuala Lumpur…
Reservations via DMs on Instagram: @pixies_kl *Deposit required.
Pixies KL Opening Hours
Thursday – Sundays: 7:00 pm onwards
Mondays – Wednesdays: Private bookings only
Find more restaurants for special occasions here, and stay up-to-date on KL's food and beverage scene here and here.