Eat and Cook 2022
Words: Claire Matheson
Photos: Monica Tindall
Named 2022's One To Watch in Asia's 50 Best Restaurant list, an omakase experience at Eat and Cook serves up storytelling on an epic scale. With a dedicated chef to personally walk you through each and every plate, you'll be forgiven for channelling your main character energy. From their ingredients and sourcing to their methodology, heritage, and their meticulous process of innovation, at Eat and Cook, the dishes may be the hero of the tale, but you are the protagonist. And this is your legendary quest for the holy grail of fine dining.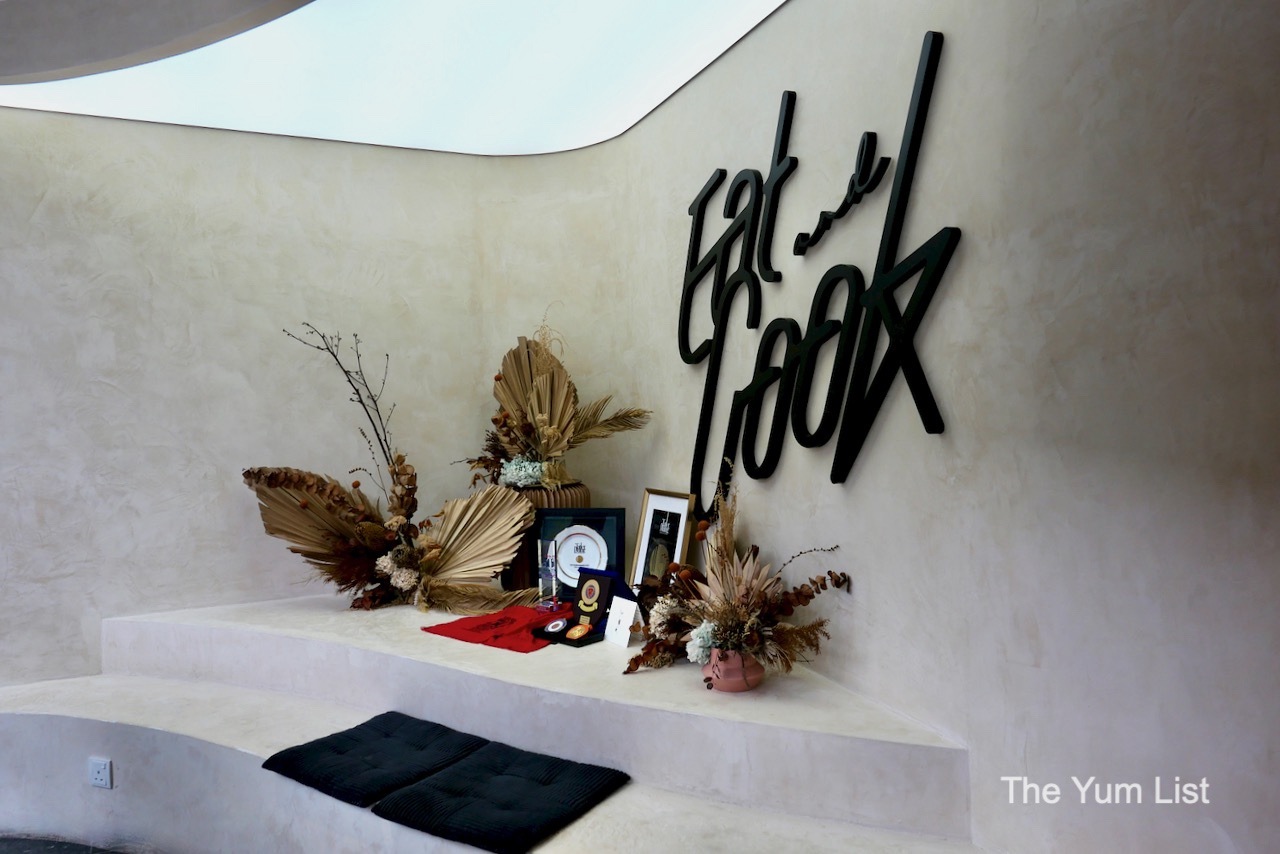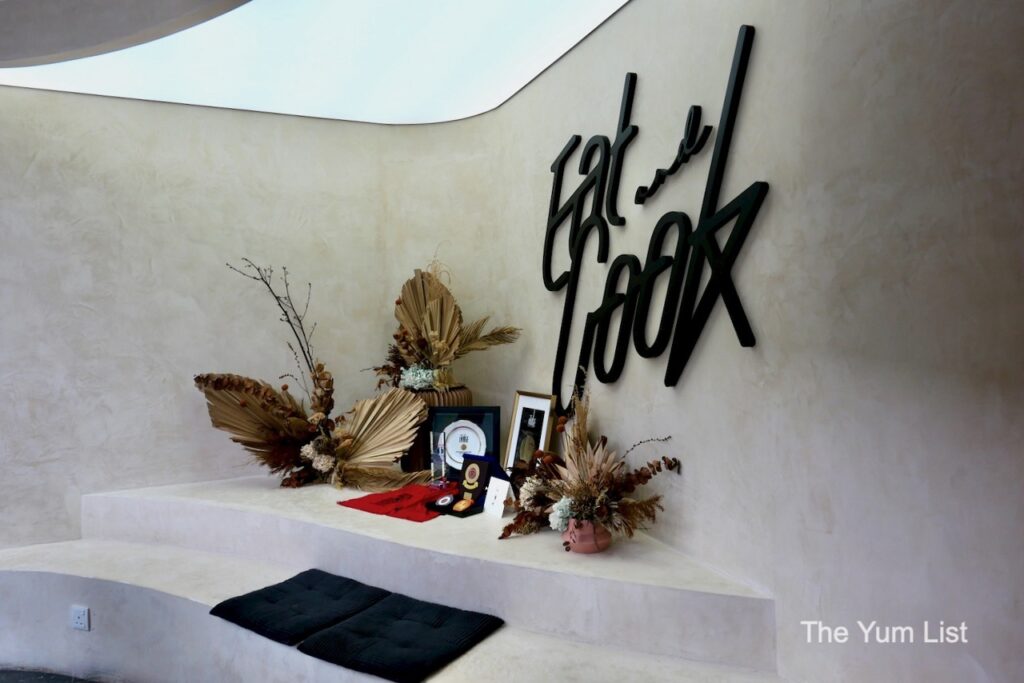 Eat and Cook 2022
At the centre of Eat and Cook's philosophy is a romantic story of speculation. What if fine dining in Kuala Lumpur could celebrate the complexities of Malaysia's true cultural identity? What if this wondrous land's ingredients, flavours, and cooking traditions could be cultivated and honoured rather than passed over for colonialist favouritism? What if science, art, innovation and food could be combined to create an ode to Malaysia's rainforests, its islands, mountains, oceans, and most importantly, its people? And what if the future of Malaysian cuisine depends on meaningful sustainability? Not just an unattainable myth, but a set of clear aims for zero wastage, local sourcing, support for Malaysian producers and businesses, and a minimal footprint.
What if all these things worked together to tell a larger story? One so breathtaking in scope and imagination that the creators at Eat and Cook really is worthy of the accolade of Asia's best One To Watch?
When Joseph Campbell wrote The Hero With a Thousand Faces, it is unlikely he had a foray into food in mind. But much like the 21 stages of the hero's journey, tonight we will be heeding the call to adventure; traversing into the unknown and undiscovered with no less than 17 courses on the Trio Journey, plus a palate cleanser, mignardise, and five-course wine pairing including digestif, taking us to a grand total of no less than 24 plot points in tonight's narrative. Running until September 4th and priced at RM 420 ++, the Eat and Cook Trio Journey menu also comes with a four-glass wine pairing at RM320, five glasses for RM340 or six glasses for RM360. The menu is multilayered, taking chefs Lee Zhexi and Soh Yongzhi more than three months to create. No wonder you must wait a month or more to book a place at the table and begin your Eat and Cook quest.
As you take your seat in this moodily lit cavern of wonders, you must place your trust solely in the hands of your guides. Zhexi and Yongzhi will be our mentors tonight on this epic undertaking. The Eat and Cook team are a cornucopia of young, driven artists and storytellers, pushing the boundaries of invention and speculation. Their wielded magic weaves together the history and future of Malaysia. Designed to represent all three elements of Malaysia's peoples, the menu encapsulates the three food sources: earth, land and sea, and is built around the three main meals – breakfast, lunch and dinner. The aesthetically pleasing rule of three provides balance and cohesion as we cross the threshold into a world of transcendent gastronomic beauty.
Set to a smooth, sulky jazz soundtrack, Eat and Cook guests can choose to be seated either at The Table, seating between four and six people, or at The Stage, where you become the central character, the action unfurling around you. Each place setting is spotlit from above so that you may view the structural marvels placed in front of you from every angle. The minimalistic signage from the street front adds to the air of mystery. As the black marble stage comes to life in a controlled and meticulous bustle of quiet activity, the servers, sommeliers, and chefs all revolve around you. You become the main character in a fantasy world of delights.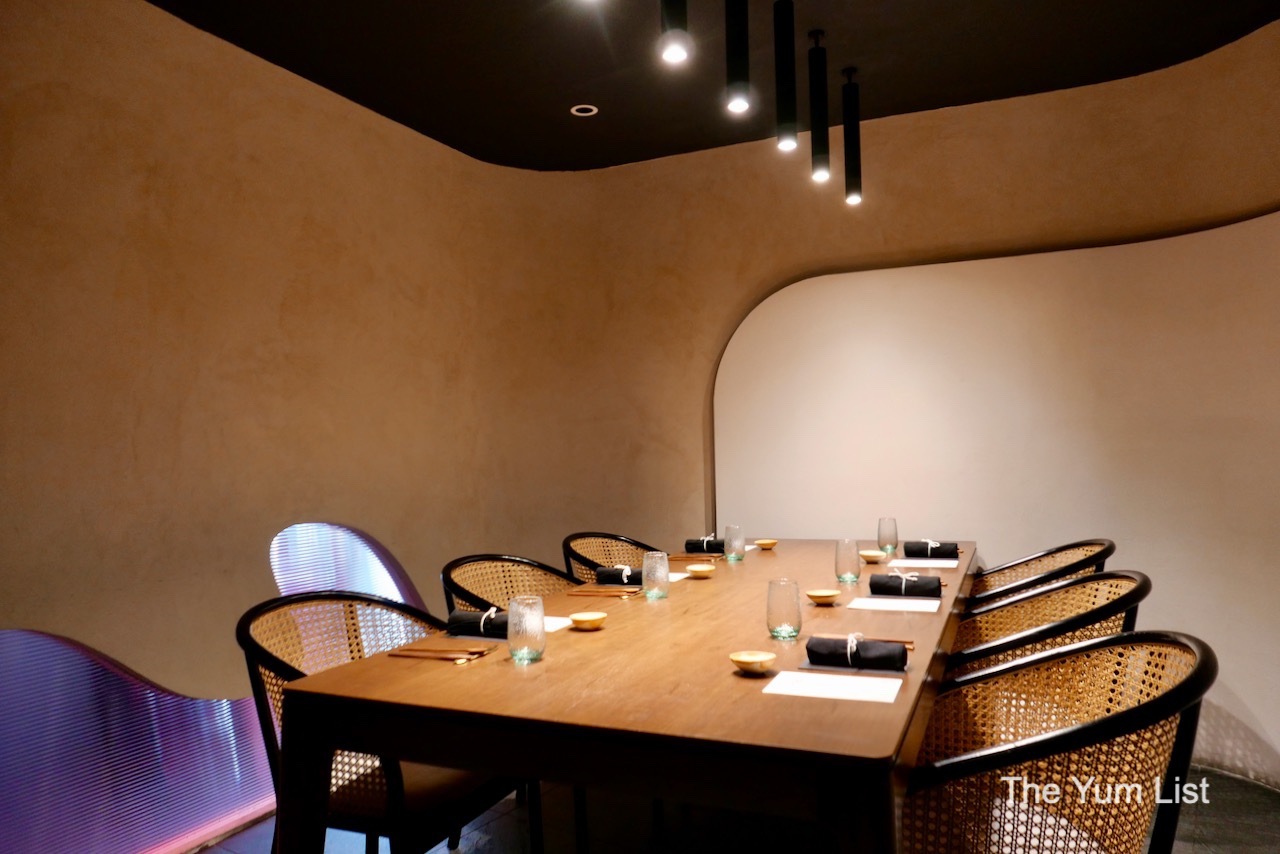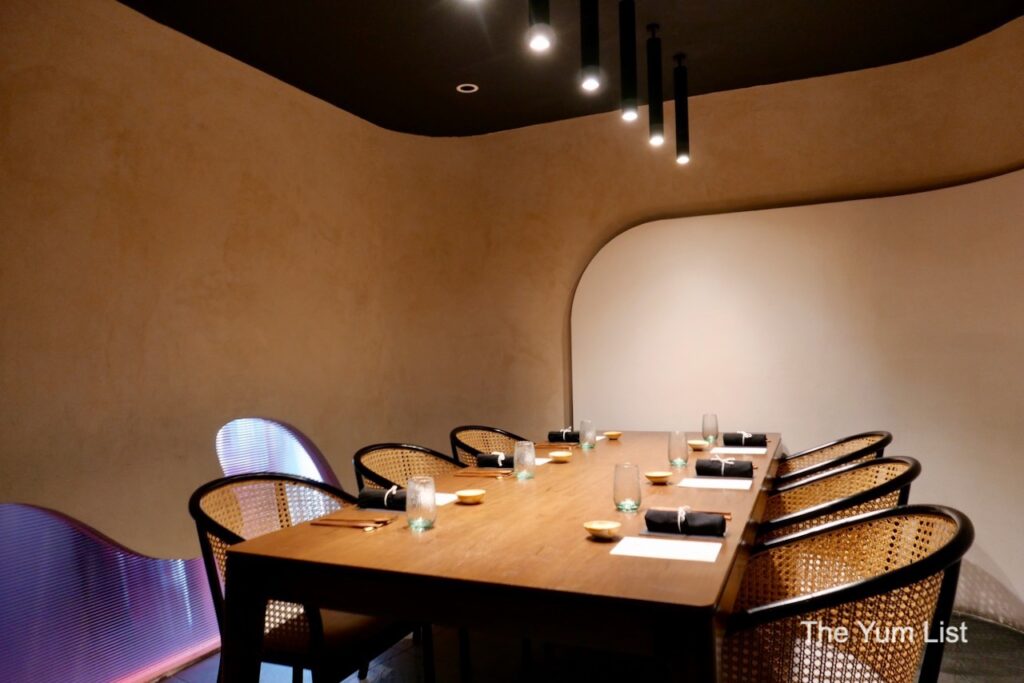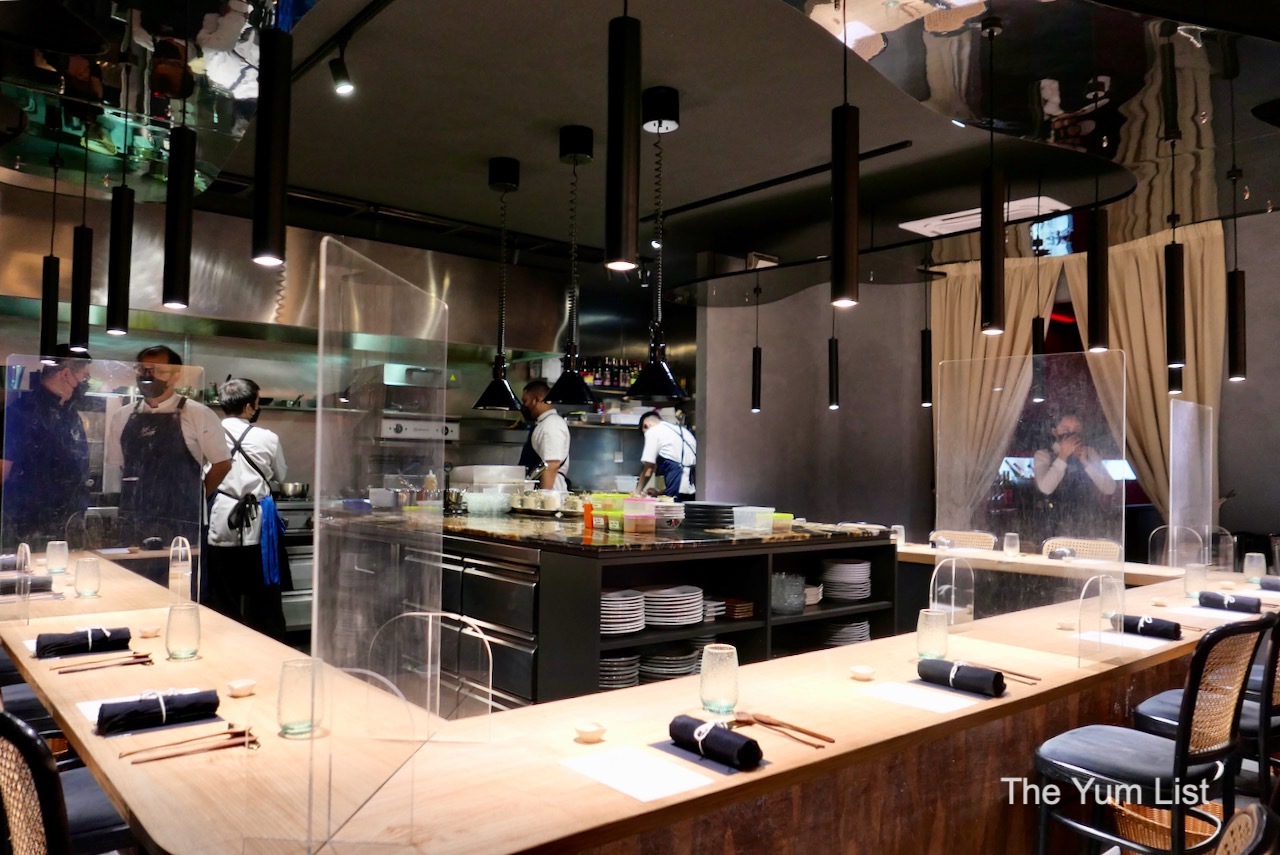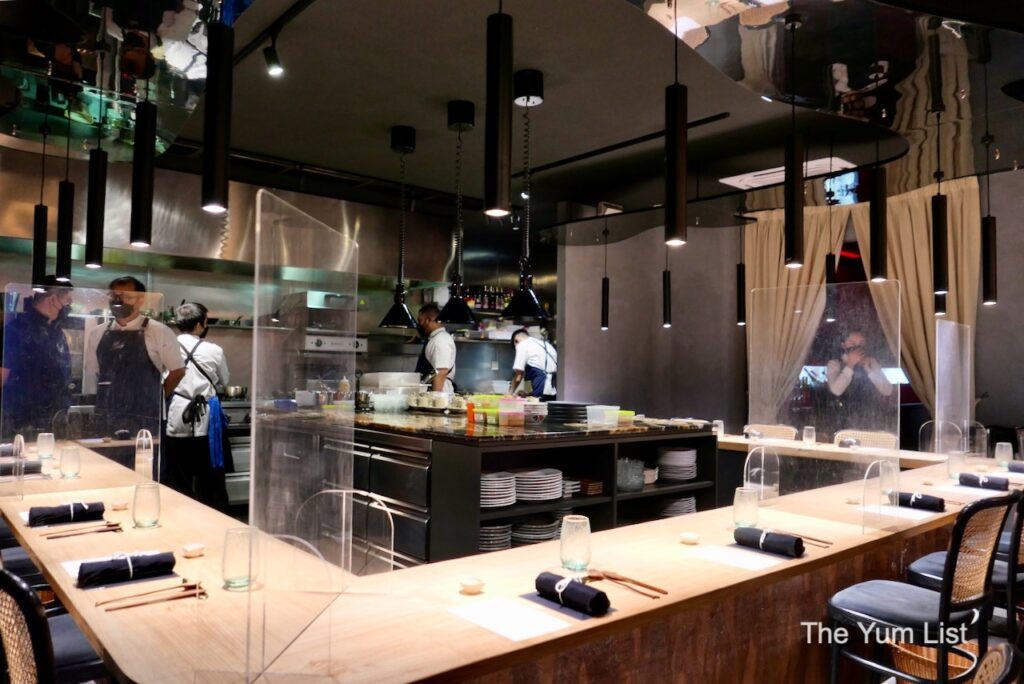 Our Story Begins – Eat and Cook 2022
We begin with a not-so-traditional Chinese Malay Kopitiam breakfast of egg and kaya toast. The recognisable green patterned crockery is where the familiarity ends. In your coffee mug, resting on a bed of smoked hay is a soft-boiled egg encased in a deep-fried crispy outer, ready to burst at the seams with the pierce of your knife. The batter is savoury, tasting of buttered toast. Beside it, a small egg cup contains an upper espuma of soy sauce and white pepper. Frothy, smooth, thick and umami, it hides the treasure beneath. Digging deep with your spoon, you will uncover a rich duck egg yolk enlivened with intense kaya coconut creaminess. Like all the dishes on Eat and Cook's menu, there is just the right amount for you to sample each flavour and component separately and then take them together in different combinations.
Our first wine for the evening is the 2018 Mongris Collio Pinot Grigio by Marco Felluga. Acidic with pear and green apple, there is a base of intense minerality. The delightful sharpness rounds out to a savoury, slightly bitter finish. A wondrous departure from a usually sweet starter wine, the pinot grigio uplifts the soy and duck egg, allowing you to take note of hidden messages within the kaya creaminess. The pairing is well selected.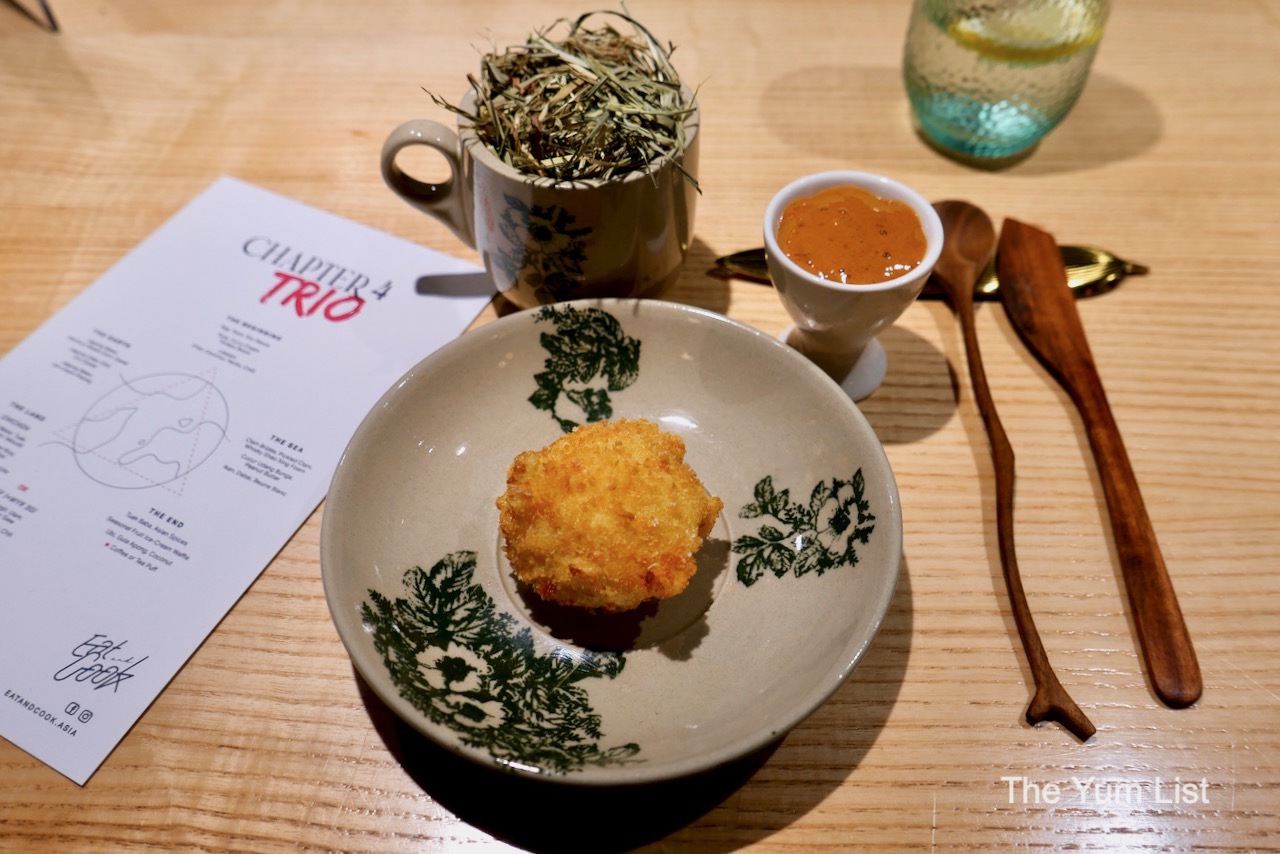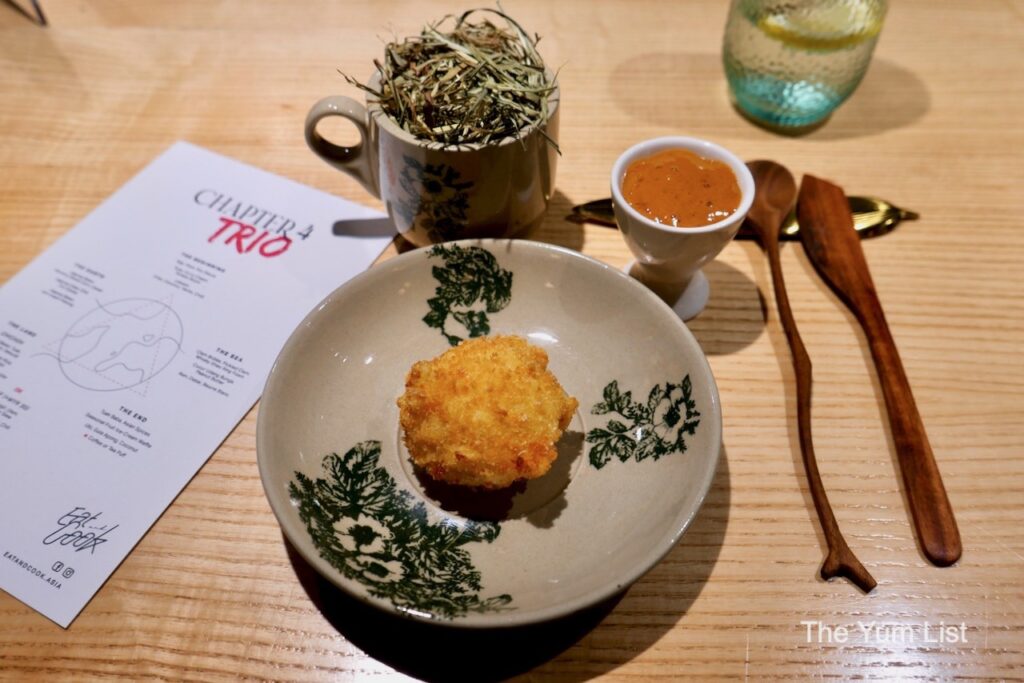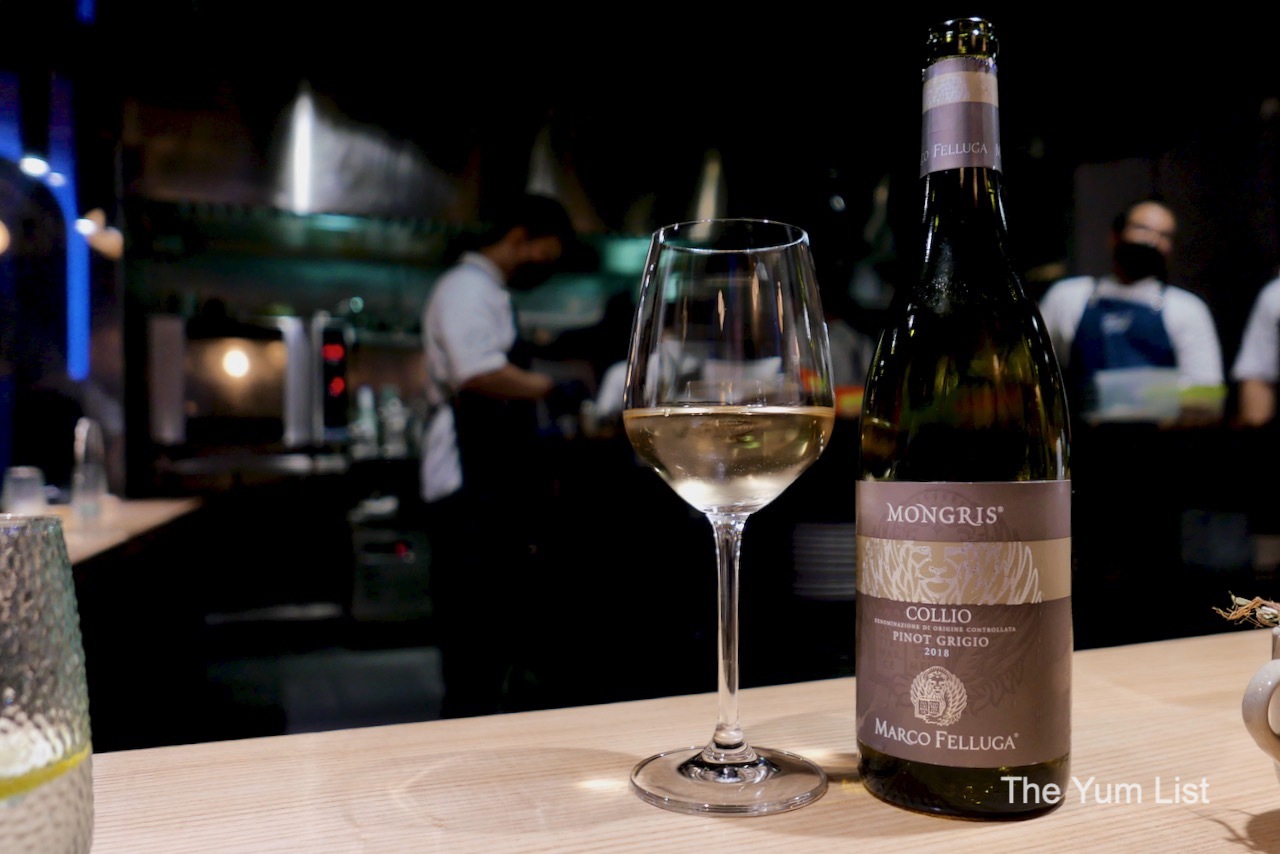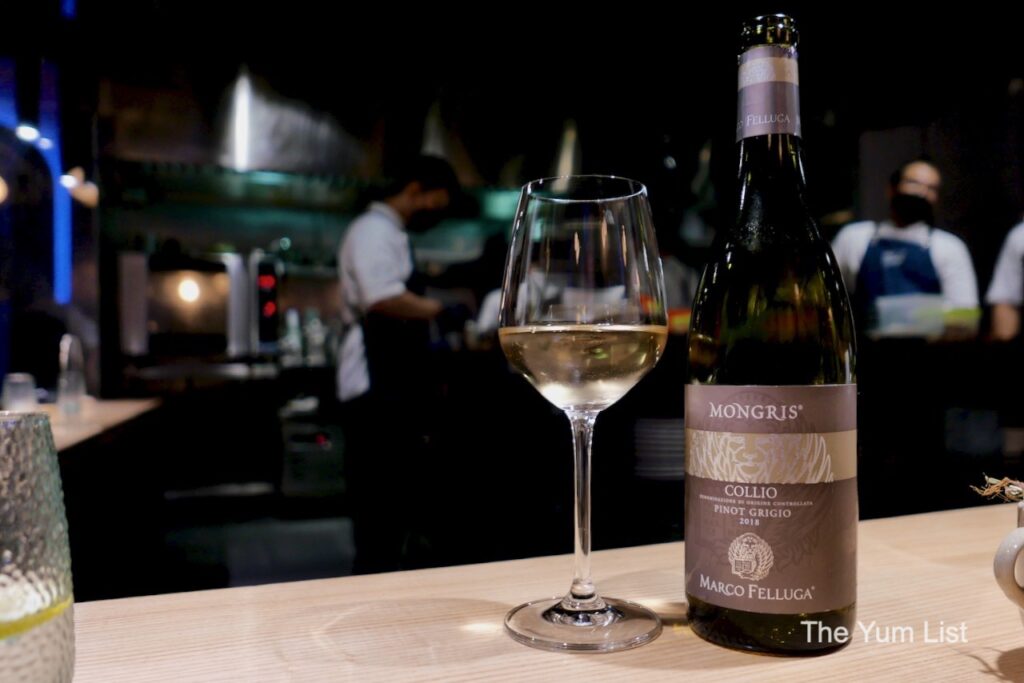 We move from a traditional Malaysian breakfast to a traditional Malaysian lunch, with banana leaf-inspired Tuna, Curry Cream and Tomato Boom. Here, tomato tartar is made from Sabah-sourced yellowfin tuna. Sourcing is dependent upon seasonal availability, so at times tuna from the Philippine Sea or Indonesian waters will be used, with the aim to stay as local as possible. An accompanying paste contains mustard seeds combined with slow-cooked jungle eggplant from Sarawak. Longer cooking times release heightened sourness. Three accompaniments are spooned alongside the serving. Puffed rice granules are infused with deep-fried curry leaf and kaffir lime leaf, and a vibrant vegetable curry sauce has been thickened with santan – coconut milk and cream. Cherry tomatoes from the Cameron Highlands, pickled in vinegar, sugar, water and cumin seeds, are placed at the top and bottom of your plate to cleanse the palate before and afterwards.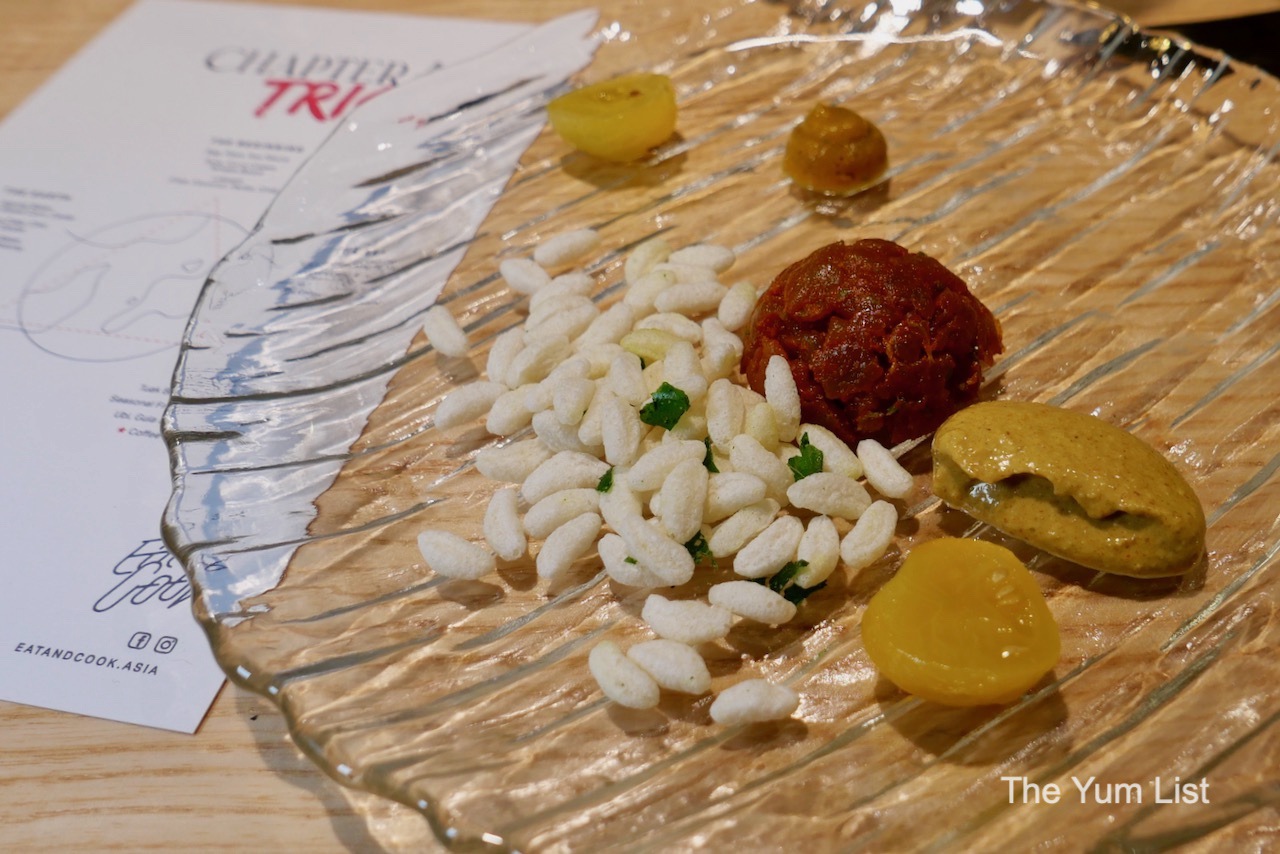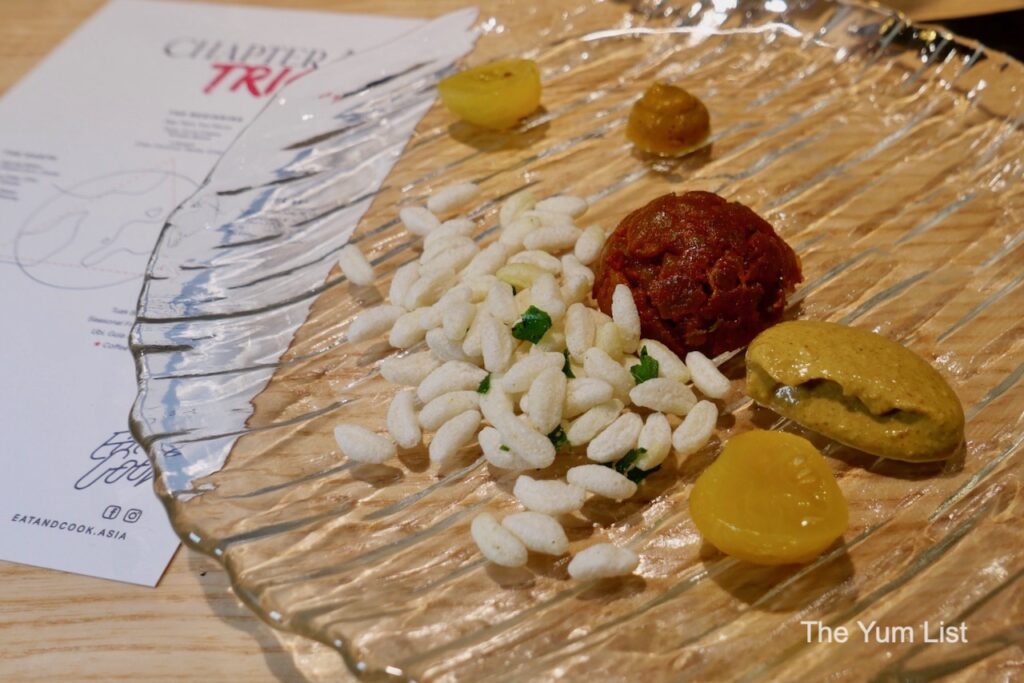 With our taste buds now fully awakened, we proceed onto a Laksam. Hailing from Kelantan, this dish has a similar flavour profile to their northern Thai neighbours. Zhexi and Yongzhi have replaced the typical noodles with a cooled ceviche and clear jelly cubes distilled from kesum leaf and a tuna bone broth. The outer bowl rim is decorated with a rainbow of green cucumber slices, raw long beans, bean sprouts, chilli salt, fish floss and powder, as well as slivers of torched ginger. A silken, creamy, warm fish broth is spooned over the top, creating a misting aroma of freshly caught fish, lemongrass, kaffir lime and chilli. The cool and the warm juxtapose in the mouth; a swirling mix of comfort and heady Thai herbal elements.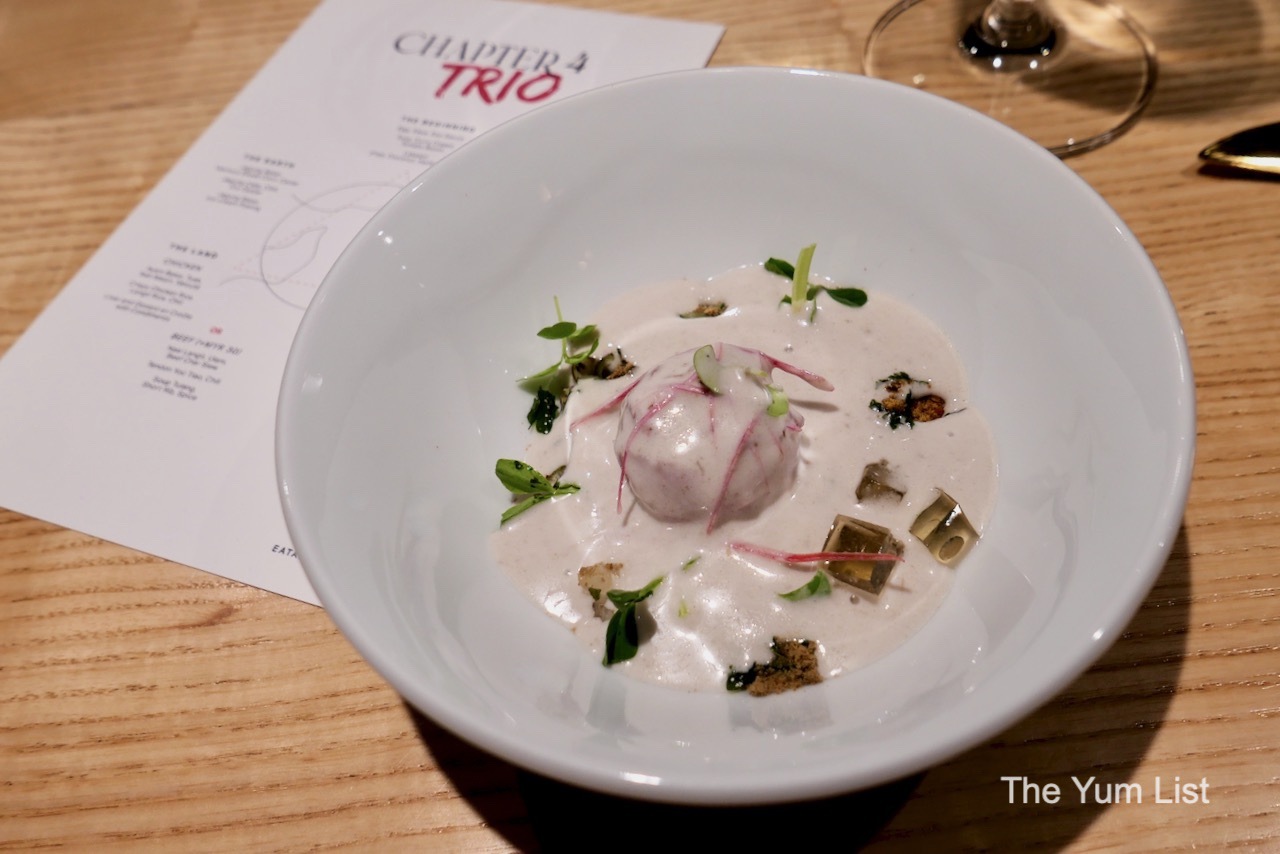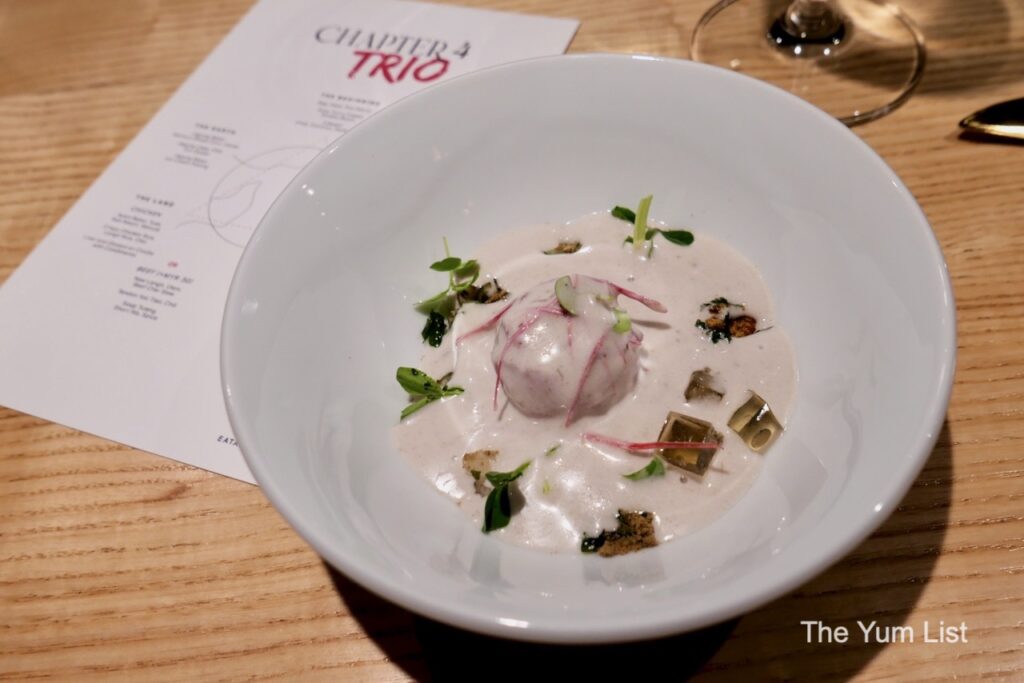 As our dishes journey into the realm of sweetness, so too does our wine. The 2018 Domaine Saint Remy Gewurztraminer Vieles Vignes is a hay-coloured, full-bodied glass enlivened with spices and honey. Heady and vibrant, with an unapologetic oak tinge, this character will capture your full attention. Taking on its perspective, we are prepared for our next chapters featuring sweet corn and elements from the earth.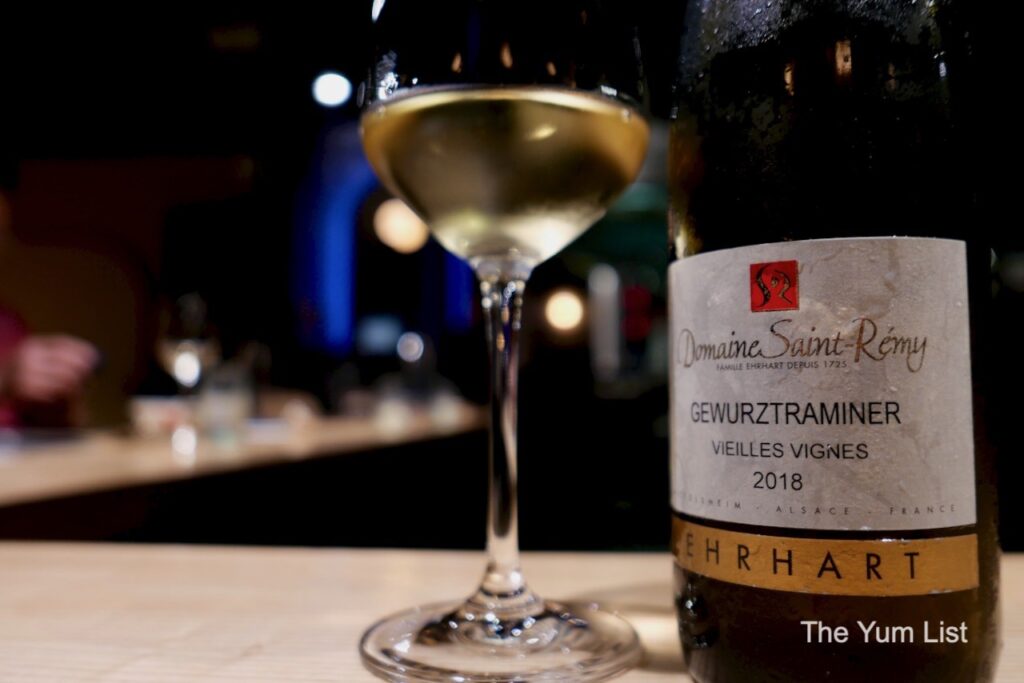 The Earth – Eat and Cook 2022
Transitioning to a focus on the earth, our food journey takes a rest stop at a Malaysian night market so that we may partake of a restructured Jagung Bakar. Juvenile corn cobs come directly from the Cameron Highlands, grown in a chemical-free compost system. Drizzled with a milky-sweet condensed milk and sweet corn sauce, the cob is topped with a dotted line of herring roe which pops between the teeth. Salty-sweet, the umami flavour of the roe takes the corn to poetic heights.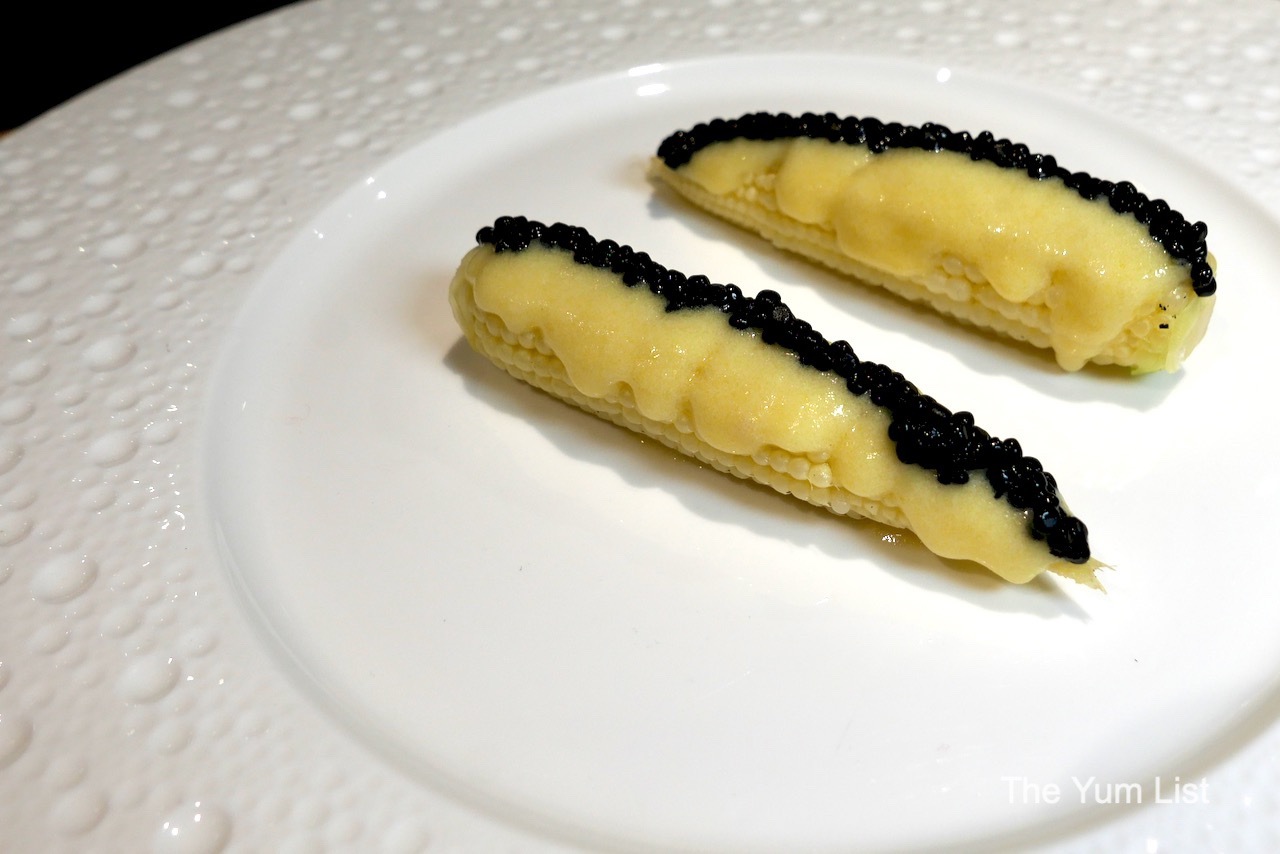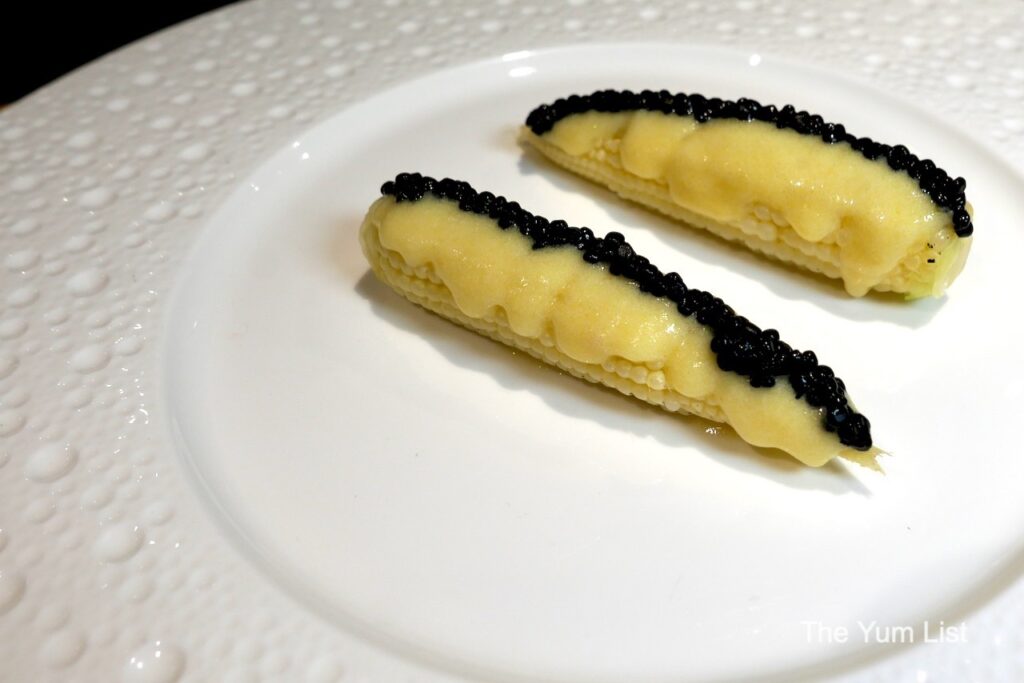 A red corn polenta Jagung cake is our next dish, its monochromatic yet brilliant colour is offset by a young green corn leaf. This time sourced from nearby Serdang in Selangor, the red corn used throughout this dish is again grown using a chemical-free composting system, accentuating the unabridged flavour. Topped with blood-red pearls of corn, on a glaze of fermented bean with chilli, and tendrils of husk corn hair, there is a surprising ingredient we are about to discover. The salty flavour bomb of dried oyster flakes halts us in our tracks. While the distinct oyster taste is unexpected, it is a beautiful match with the naturally sweet red corn. This dish is an explosion of textures, the grainy polenta and dissolving oyster flakes playfully tantalising against the crisp corn beads.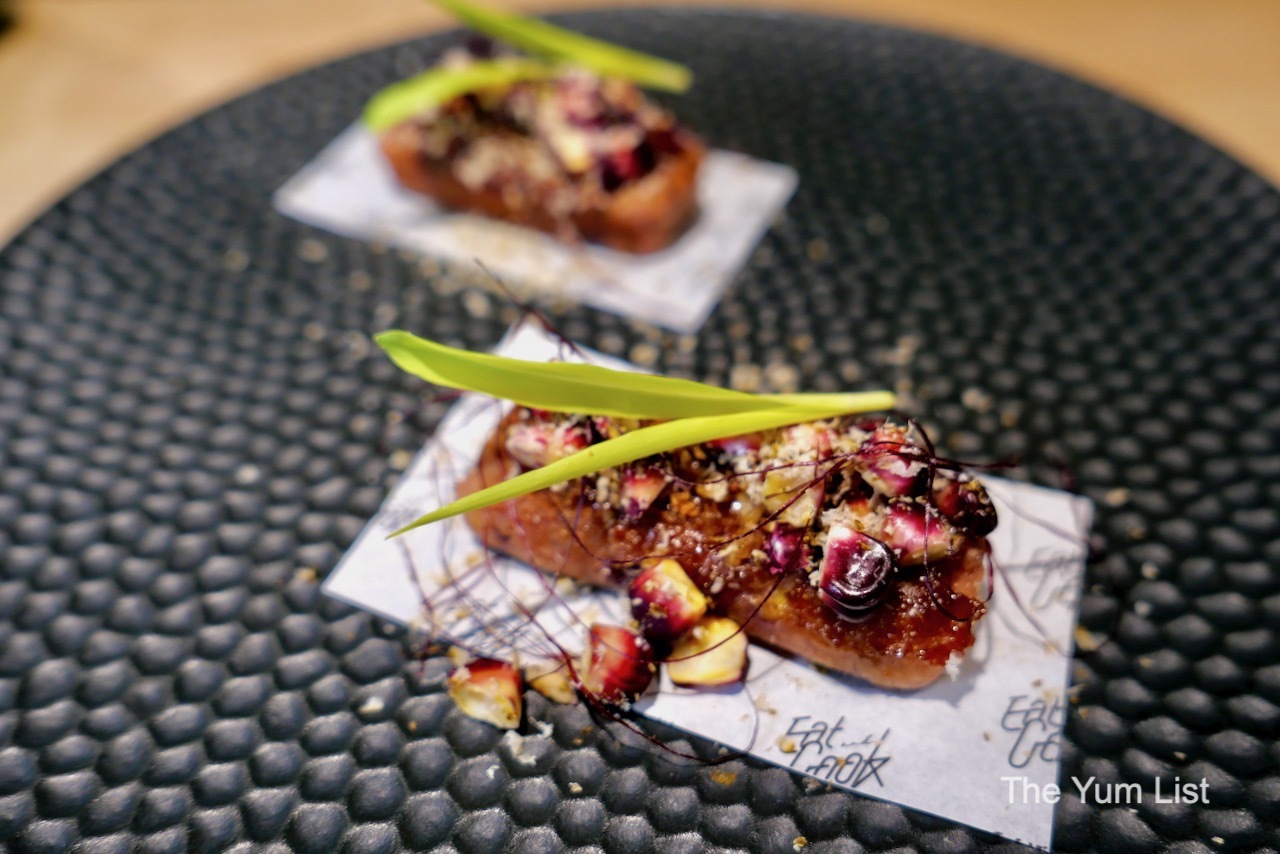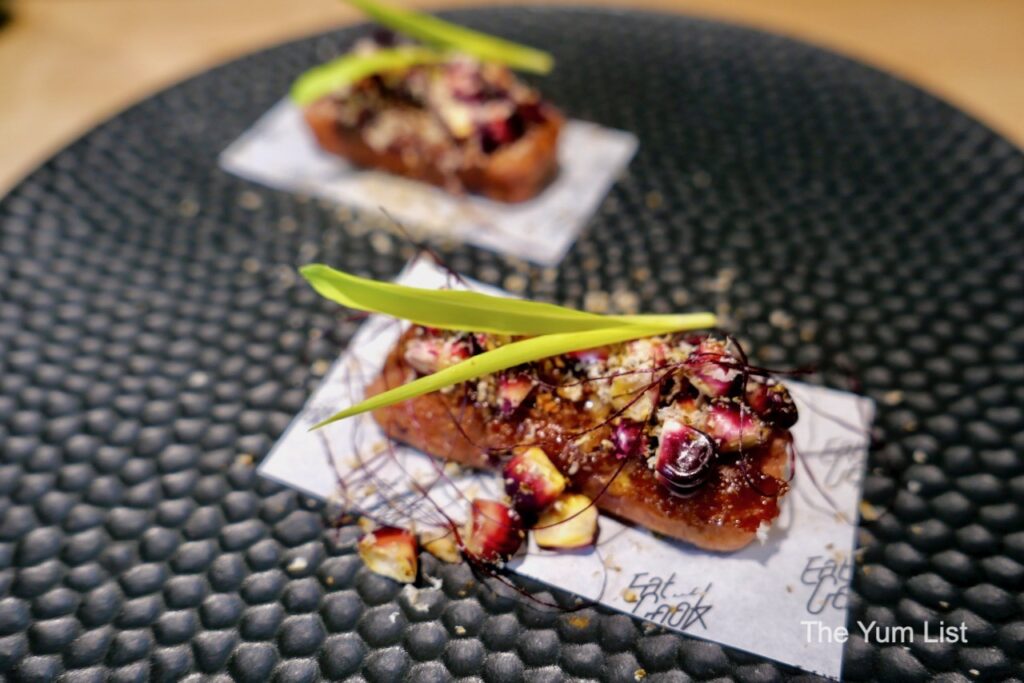 Rounding out our trio of corn inspirations is a Jagung Bakar Ice-cream Potong. Toasted and hay-smoked corn is purified into a coconut base, creating a thick crystalline ice cream. The spiralling concoction is served on a bed of cornflake cereal, topped with creamed corn and tendrils of corn hair, fried to the point of caramelisation. Breakfast and dessert at the same time, the dish is incredibly complex, with hay smoke, corn and coconut cream and caramelised toffee-like corn hair all competing for the role of muse to your protagonist. However, it is the battle between crunchy cereal and smooth ice cream that diverts and holds your attention. We take mouthfuls of the Gewürztraminer in between spoonfuls, the smoke and oaky notes mingling to counter any overt sweetness.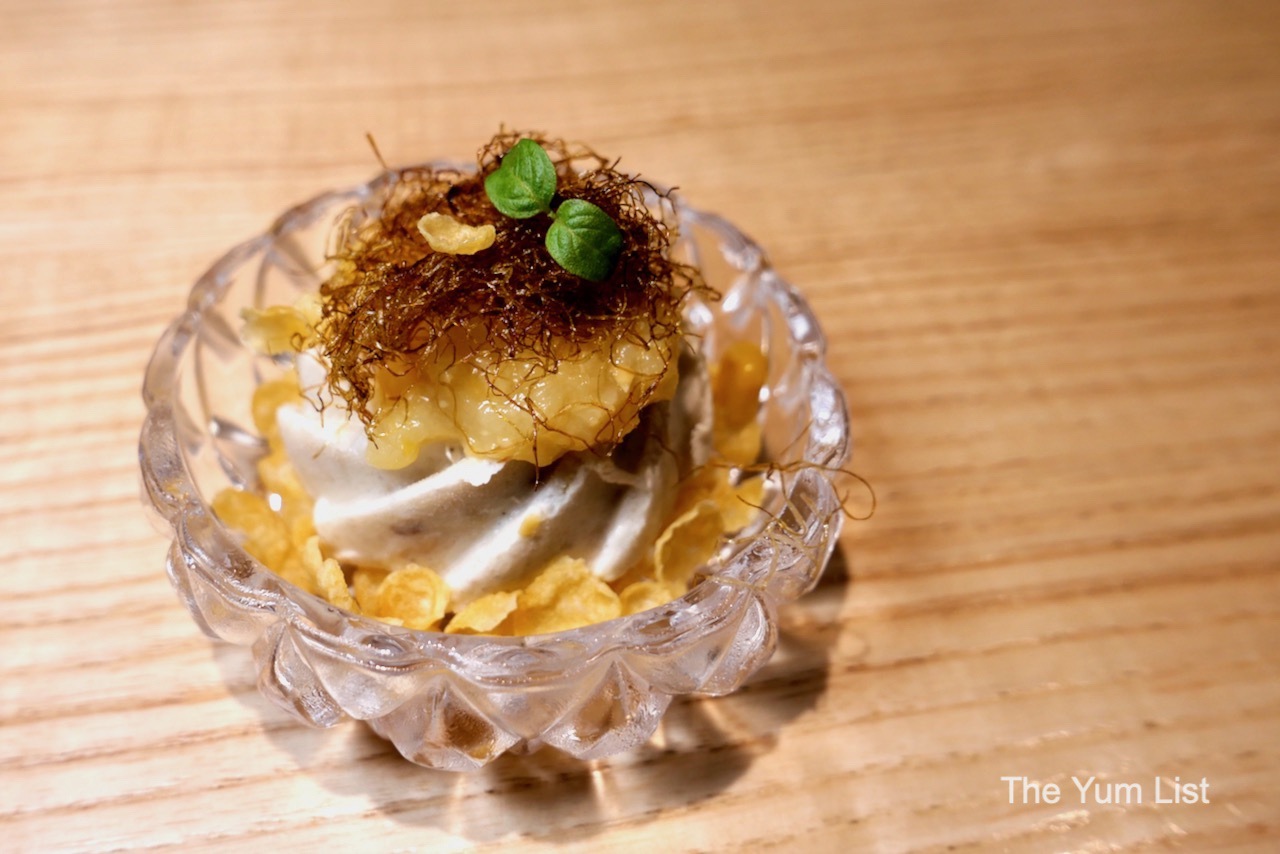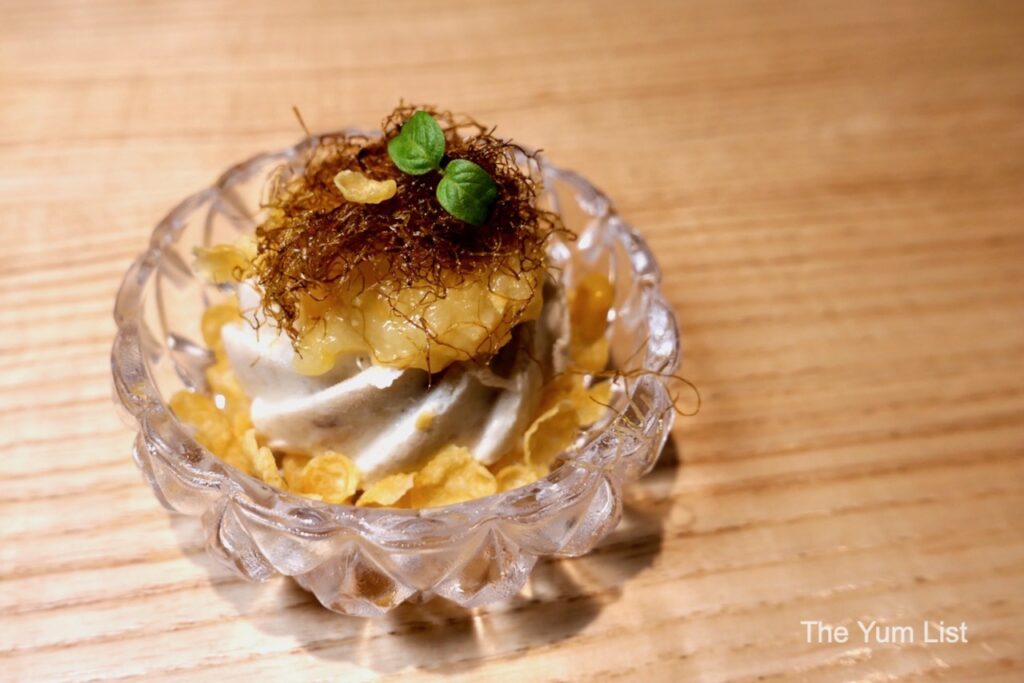 The Sea
We answer the call to return to the sea with a hero dish served in a polished, shell-like bowl spewing dry ice vapours, a hidden mystery lying beneath. As the mist clears, two scoops of sea foam are revealed, sitting in clam shells on a bed of smooth river rocks. Inside each shell is a clam brûlée. Yongzhi explains the clam meat is cooked with ginger and garlic, blended and strained and then steam baked and blow-torched into a brûlée. A foam of Whisky Shao Xing aged rice wine from China dances and sways on top, with a micro greens, garnish from the miniature herb garden at the front of the restaurant. To enjoy, you must pick up the shell and pitch the entire contents into your mouth in one or two bites. A little more challenging than the average, slippery oyster, but the rewards are undeniable. The creme beneath the rice wine seafoam is distilled with clam meat intensity.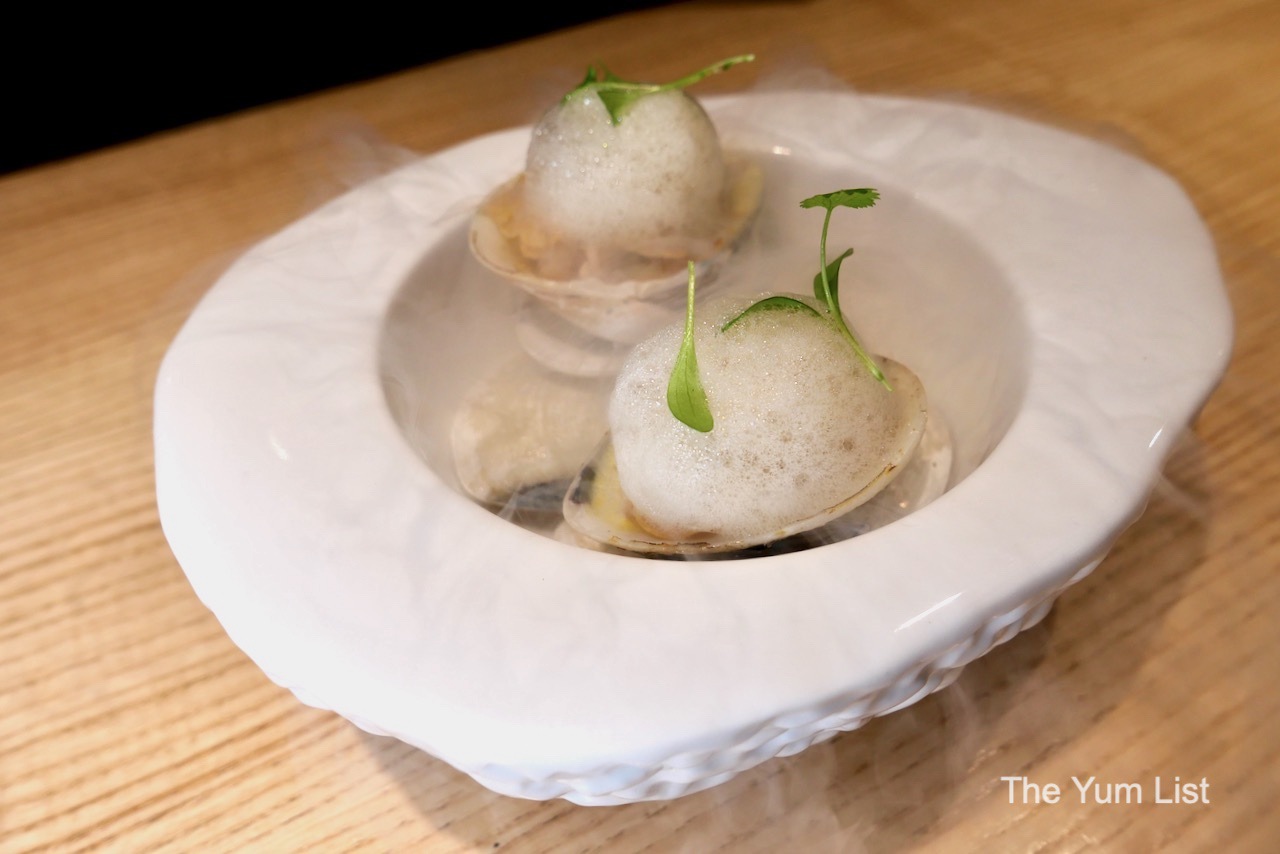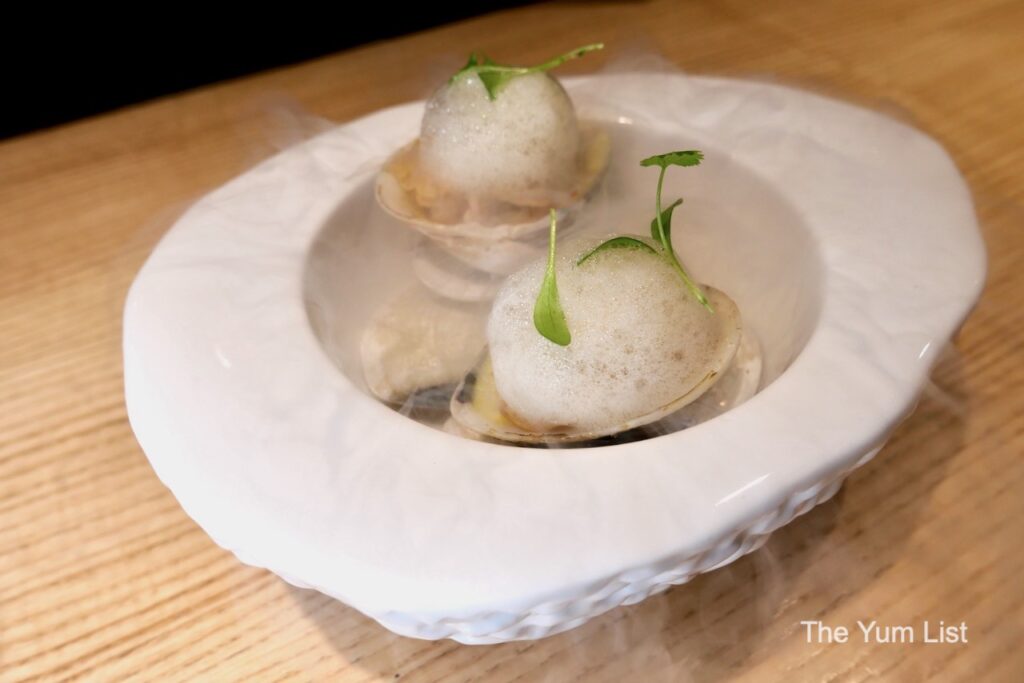 Switching directions we move onto a lively 2015 Italian Il Pumo San Marzano Sauvignon-Malvasia. From the Indicazione Geografica Protetta (IGP) of Salento, this is a creamy mix of tropical fruits, with papaya, custardy jackfruit and a splash of fresh greenery, melded in a buttery smoothness. Made from a blend of Malvasia Bianca and Sauvignon Blanc grapes, this is the consummate supporting character for bounties of seafood or frutti di mare.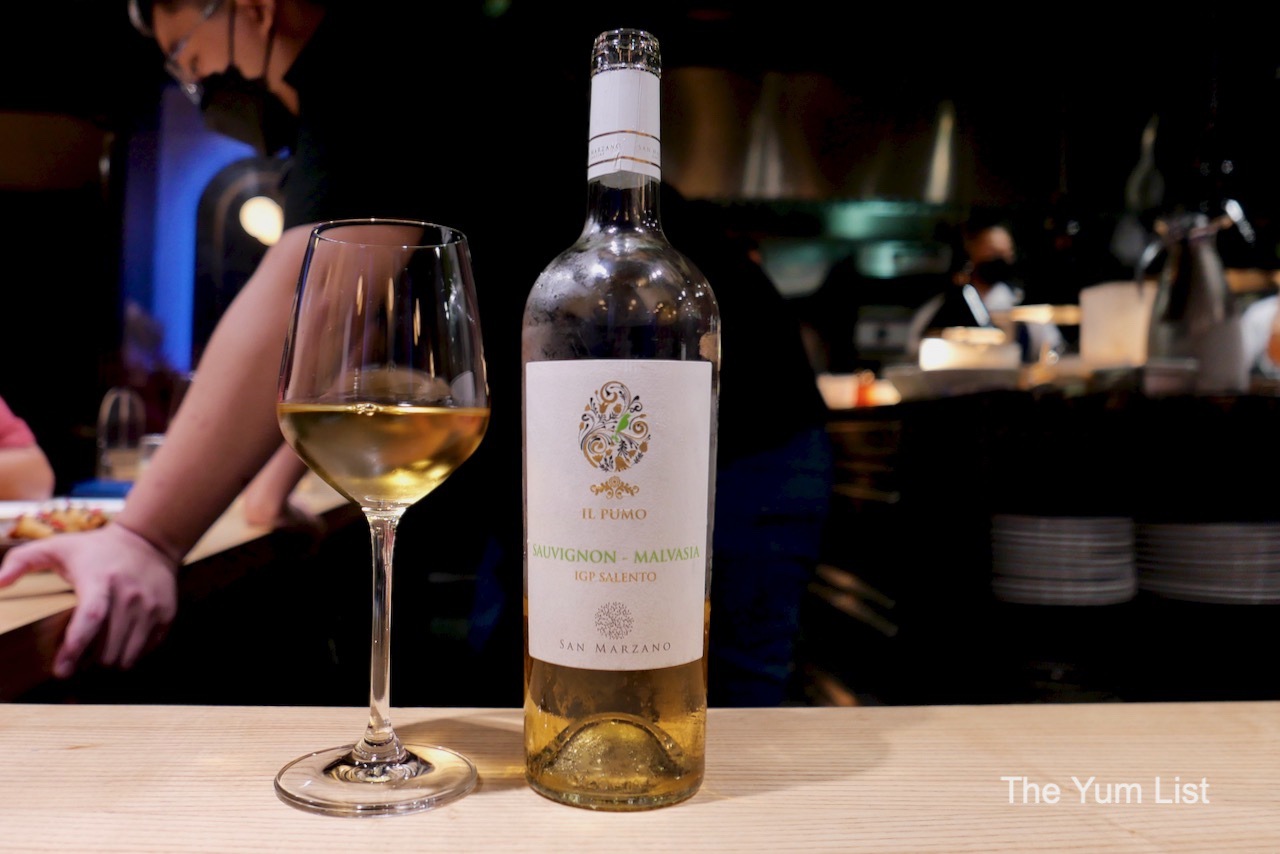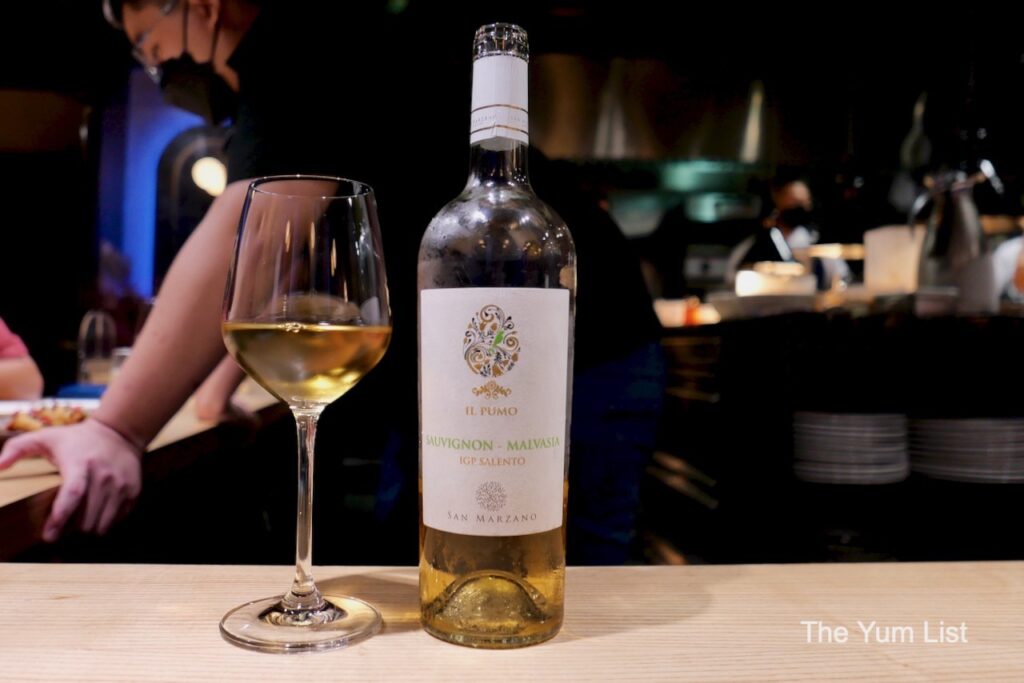 Squaring off against a more fantastical beast, our next plate serves warrior prawn-head helmets, deep-fried and topped with Eat and Cook's secret peanut butter, alongside their fallen bodies. Fat and tender, they are encased in wrappings of a sumptuous batter. The Cucur Udang Bunga prawn fritters are pillowy soft, topped with pops of pink and coral flower petals, on a crunchy, fresh salad of shredded jicama, beansprouts, chives and chilli. But Chefs Zhexi and Yongzhi have a secret weapon. Using a reduction of prawn shells cooked with turmeric leaves and powder, blended together with their unique blend of kuah kacang peanut sauce, they have created a thick, dark and powerful peanut butter, intensified with the essence of prawn. Small dollops of this elixir are dropped down the prawn fritter spine, each one imparting a concentration of super powers.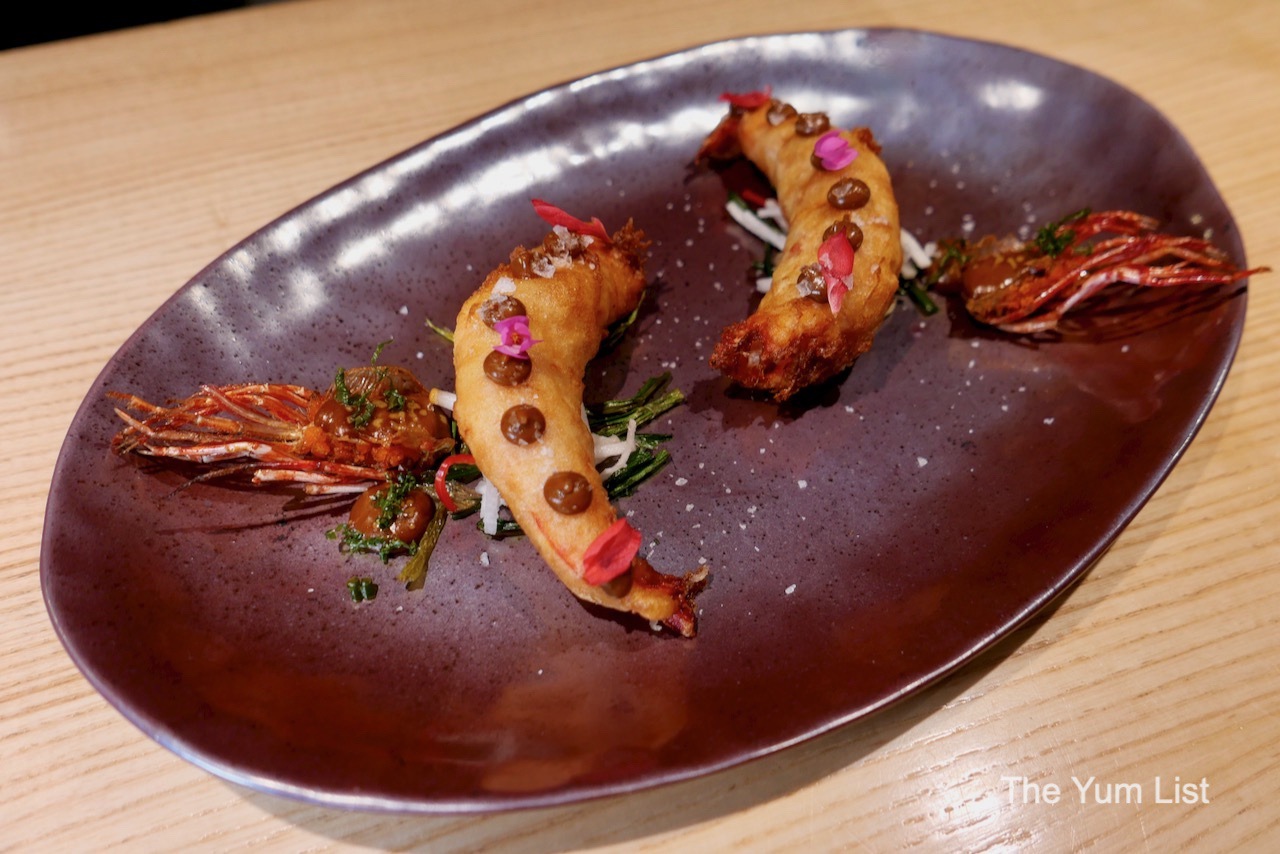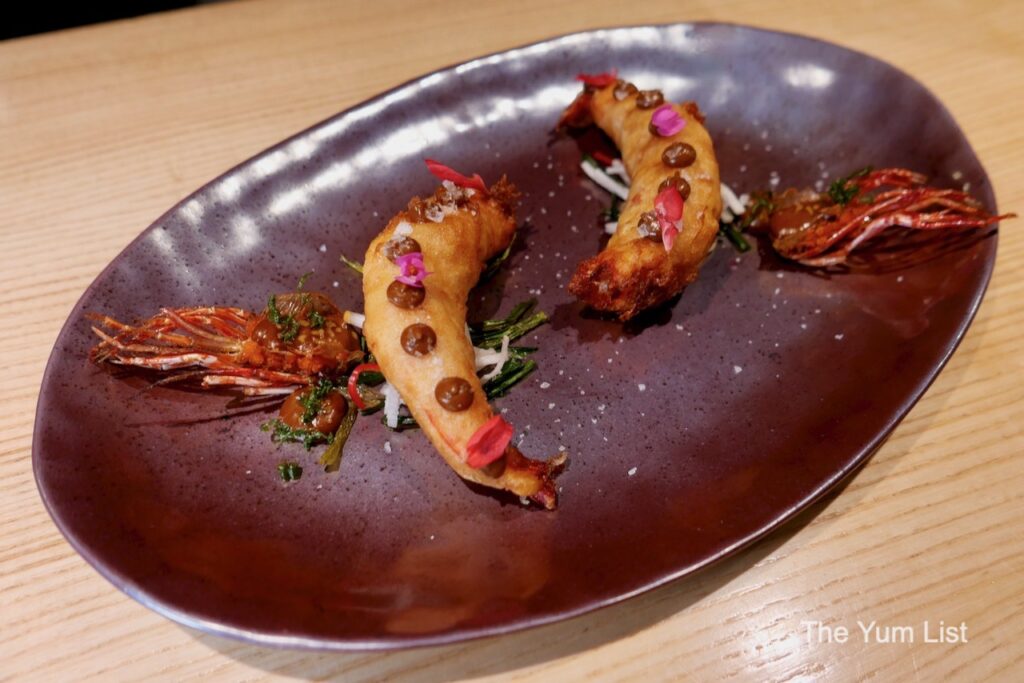 Our last seafood dish hails from Sabah. A micro fillet of sole fish, perfectly sized to deliver a punch of flavour amidst our ongoing, epic quest, has been cooked in a beurre blanc and served in a carrot, celery and shallot sauce. Alongside is a Sarawak dabai, equal to Europe's most highly-sought white truffles or Saudi Arabia's Ajwa dates. Like many Malaysian gastronomic treasures, the Bornean dabai's incredible worth is highly prized by those in the know, though it remains hidden from the world's luxury food marketing gurus, who are yet to realise its worth. It is a treasure worth hunting. Using similar cooking methods to olive preparation, Eat and Cook marinate the dabai in balsamic vinegar, soy sauce and hula Melaka, creating a piquant and delectable morsel that is at once both oily and creamy. Topped with a flakey, deep-fried anchovy chip, salty enough to purse even the most seasoned lips, the dish is once again best taken both separately to appreciate the individual components, as well as all at once to relish the mastery of the composition.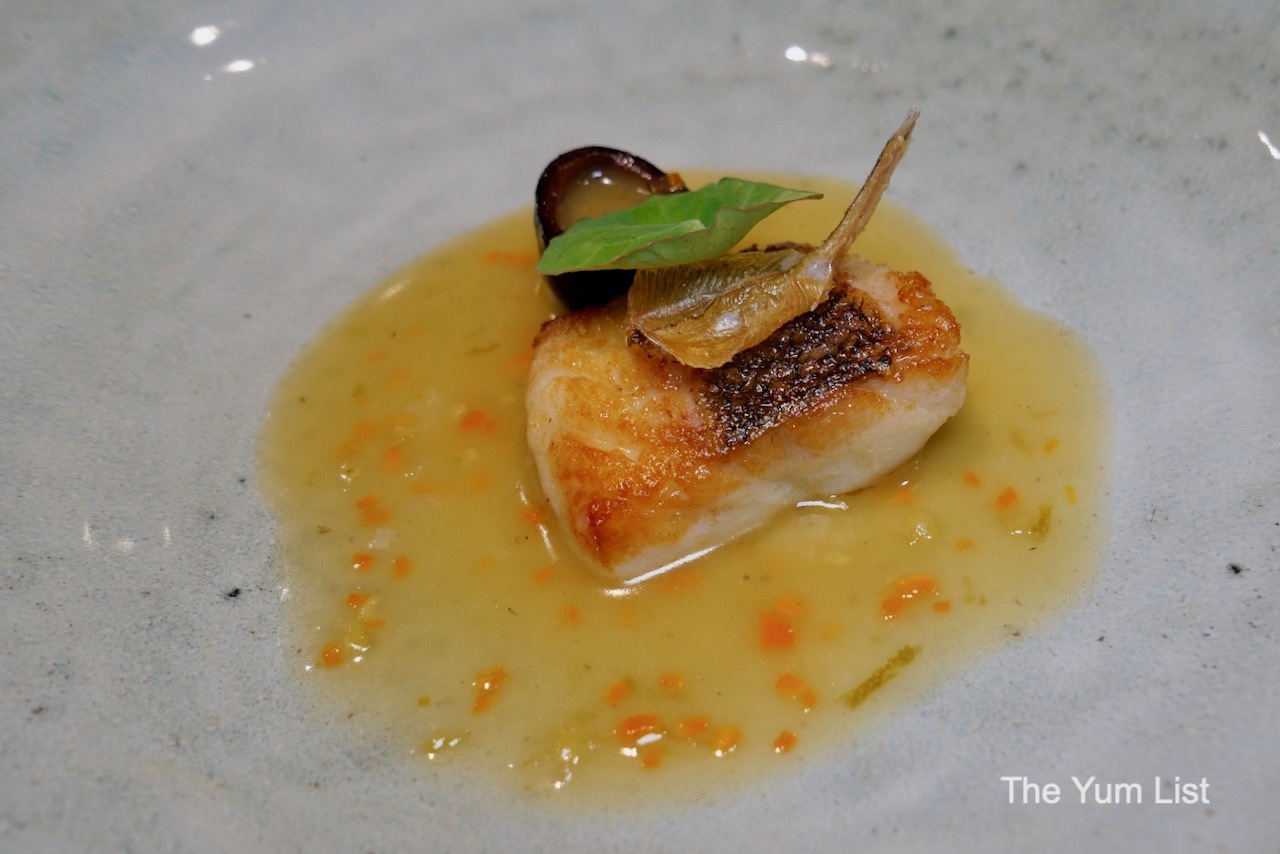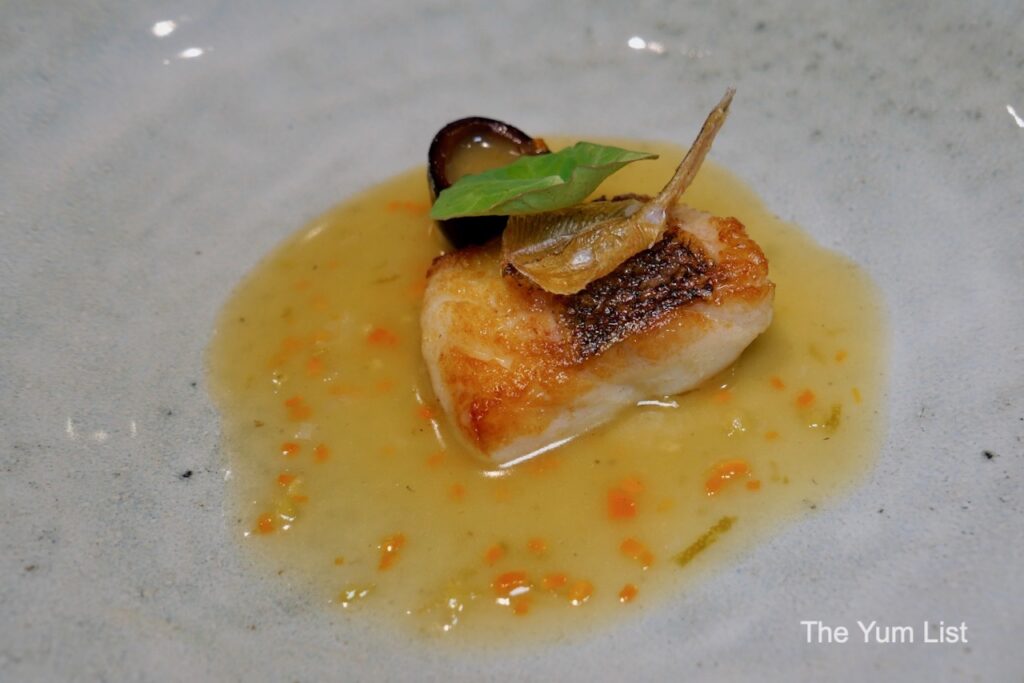 To cleanse our palates before the main meals, we are given a tea and calamansi popsicle. Served with a juicy lime wedge for added zing, this ode to Malaysian childhood is another nod to kopitiam culture.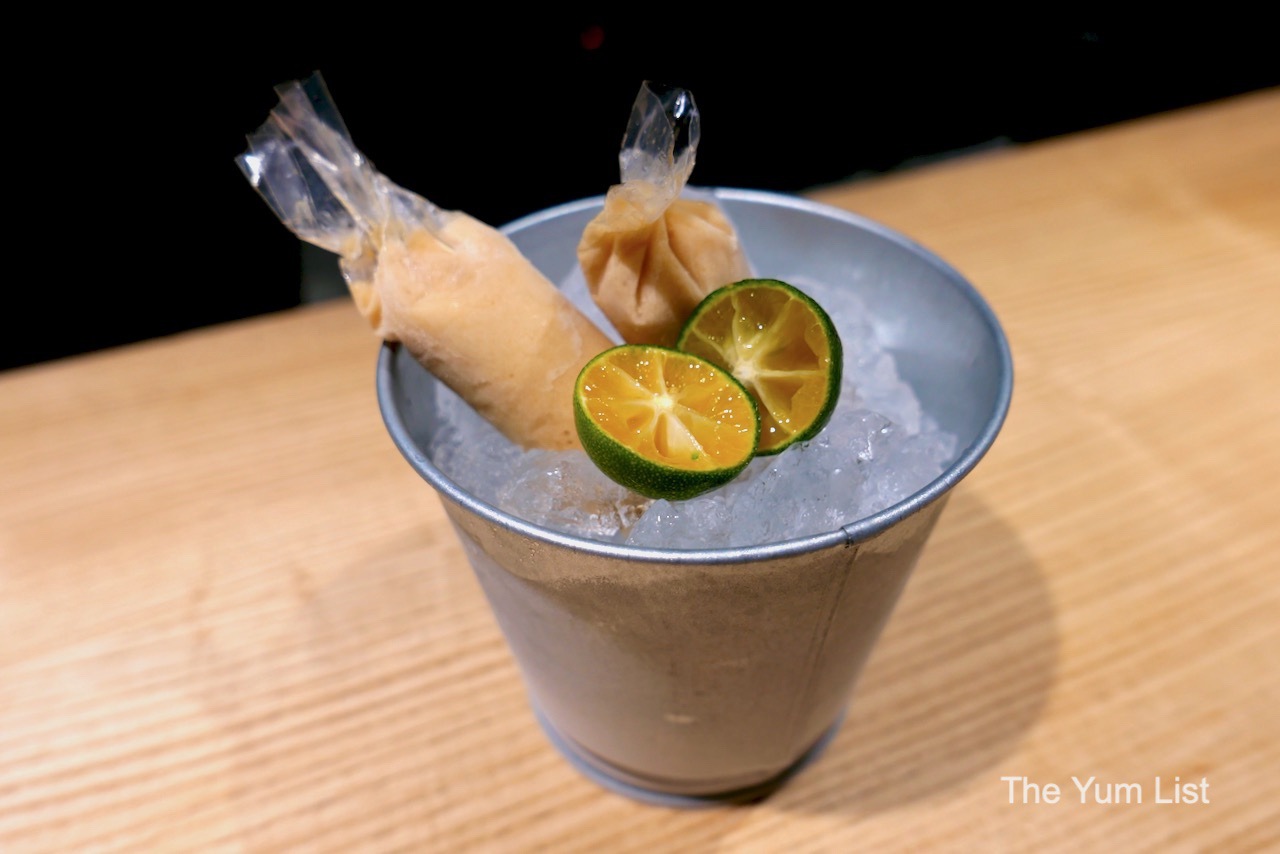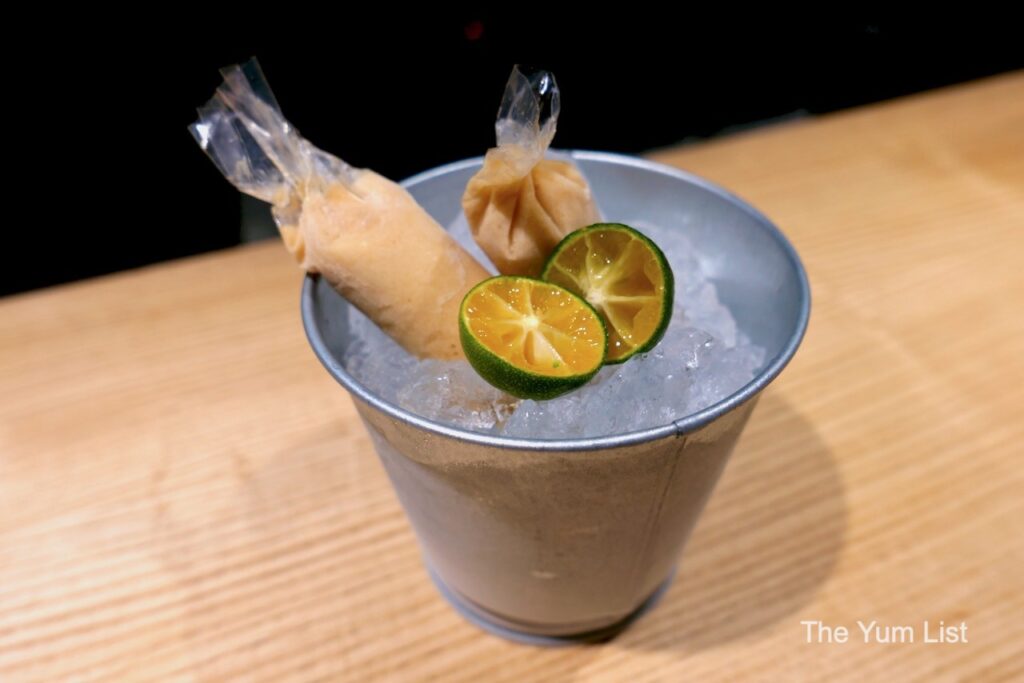 As we foray into Eat and Cook's narrational climax, we have the choice of either chicken or beef courses for the next three dishes. Not wanting to miss out on any part of the adventure, we choose one of each between us, opting to share so that we may taste a little of everything Eat and Cook has to offer.
The Land
Chicken Options
Hailing from Penang, black chicken is typically used for soups but Eat and Cook marinate their Ayam Bakar in tuak for two days prior to grilling, softening and infusing the flesh with Sarawak's famous fermented rice grain. A long, thin leg extends gracefully from a lean yet incredibly flavoursome rump. Underneath the charcoal skin, the flesh is creamy and pale, with a more authentic, rich taste, unadulterated by unnecessary fat. This must be how our grandparents enjoyed chicken, without the modern hormone fattening to dull the senses. The velouté sauce is blended from other parts of the bird, is slow-cooked and allowed to achieve hero status. It is topped with grated salted fish – ikan masin, also from Sarawak, for a robust effect.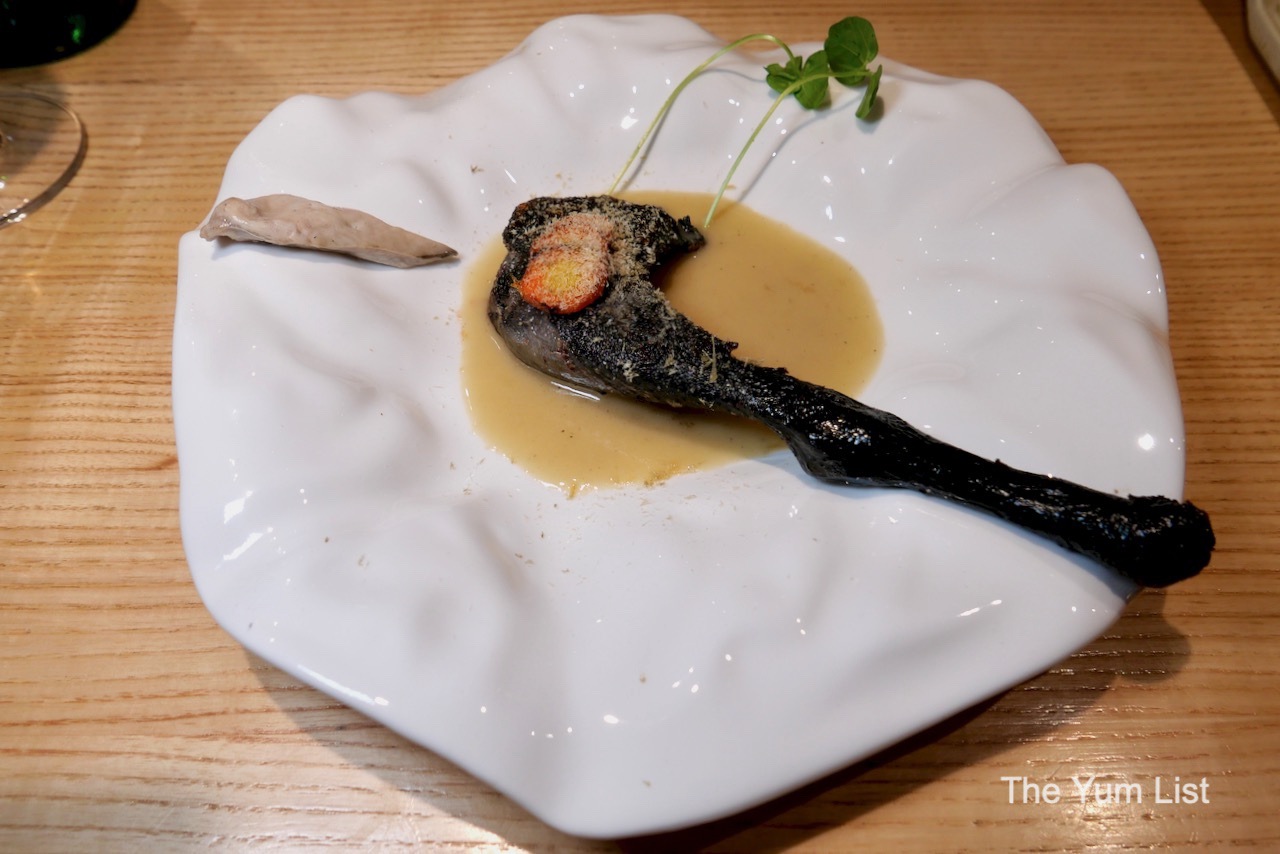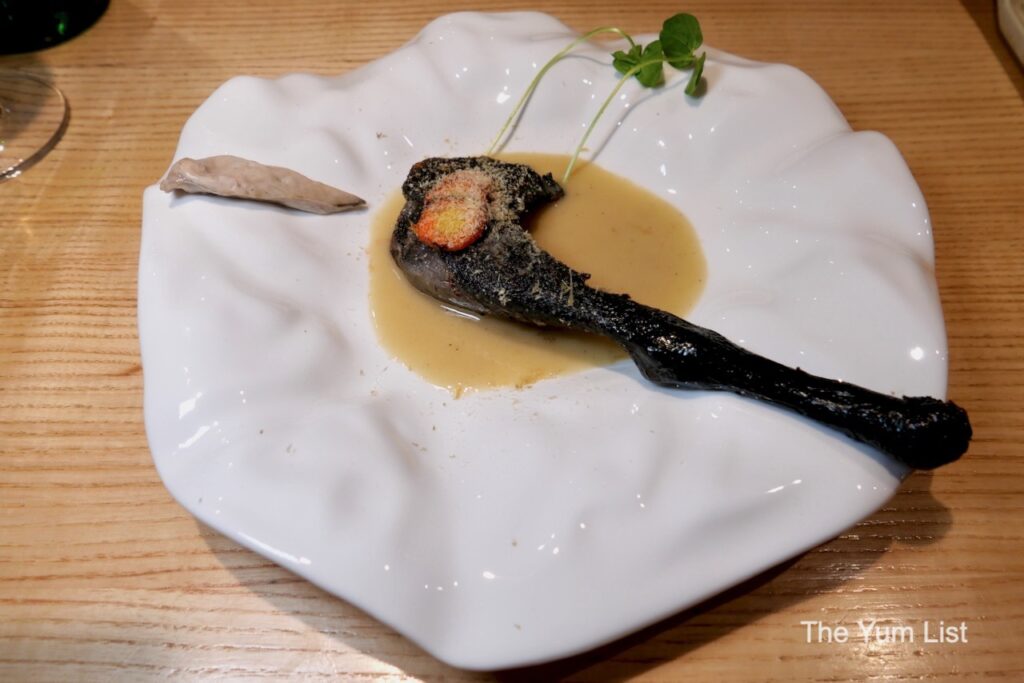 Made from shiraz and muscat grapes in the Roussillon village of the Provence-Alpes-Côte d'Azur region in southeastern France, the 2019 Le Trouble Fait is an organic blend with notes of mandarin orange, passionfruit, and citrus. The biodynamic method, using minimal sulphur, produces a slight cloudiness, hinting at the sophistication within. Enticingly easy to drink, the double label is a playful hint that you will soon be seeing double should you sip as willingly as you'd like. After all, every main character must fall for a trap from time to time.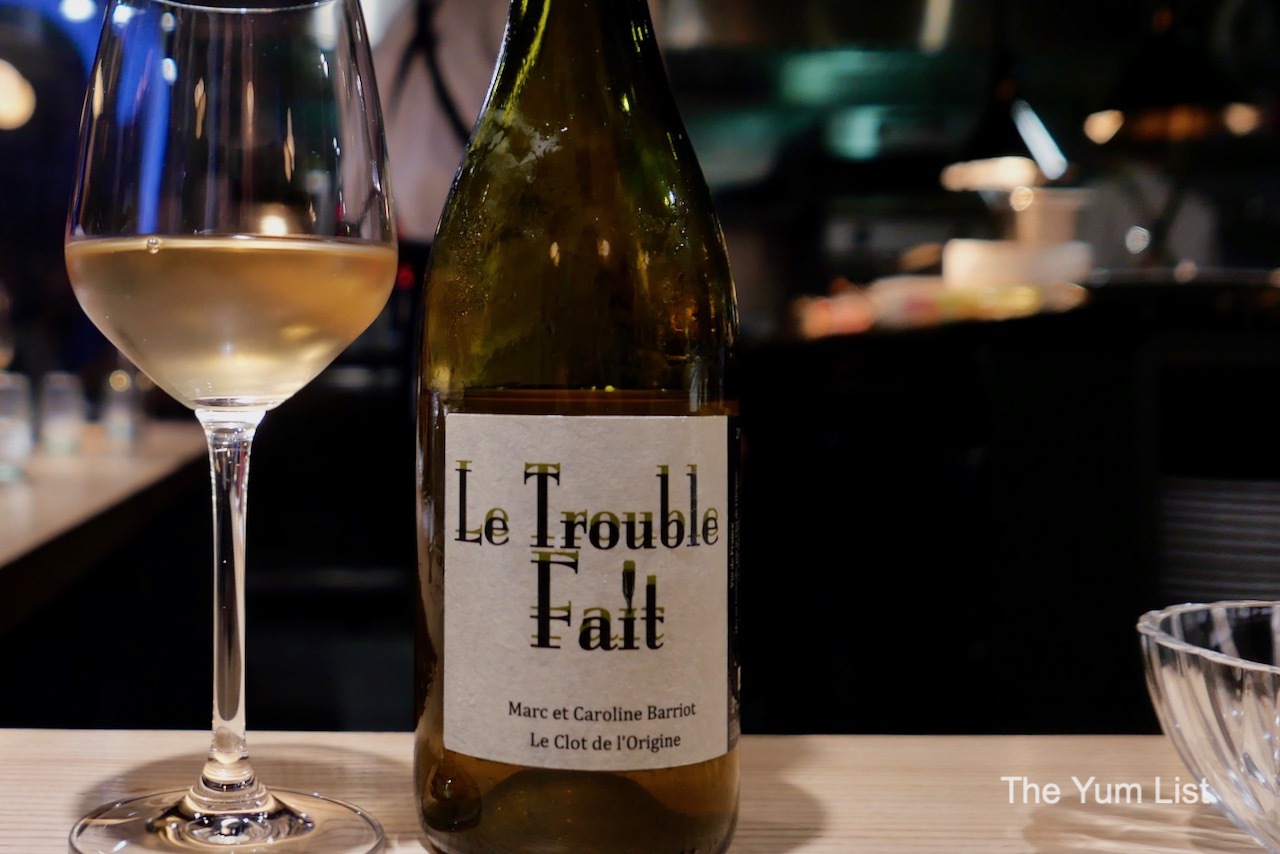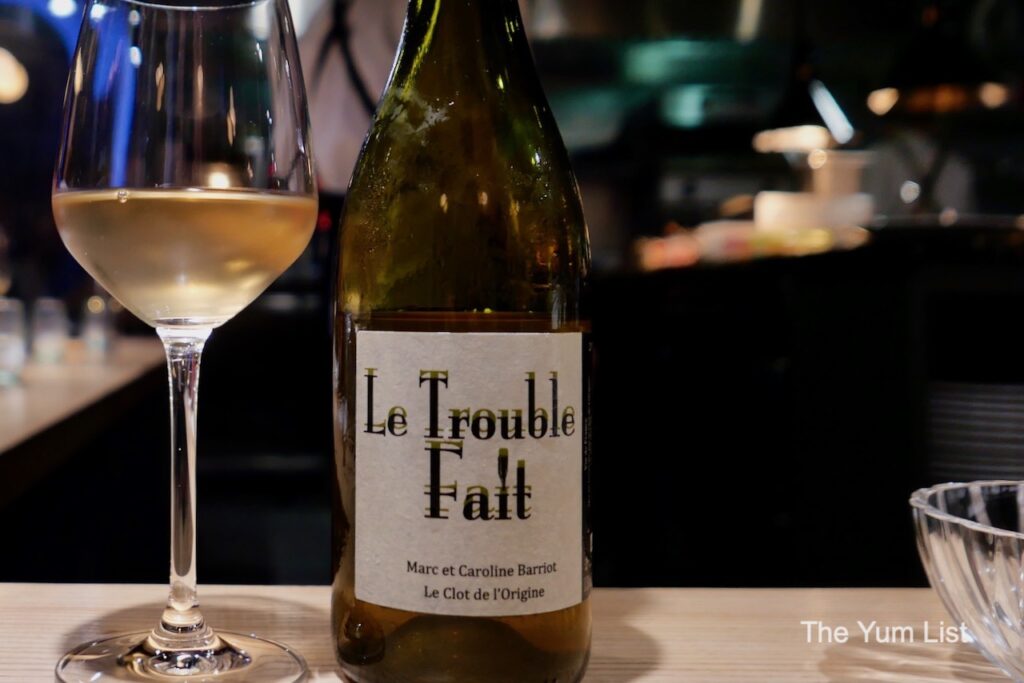 Reimagined to surprise even the most ardent Hainanese chicken rice fans, Eat and Cook's Crispy Chicken Rice masquerades as a chicken wing. Here the wings from the same Penang black chicken used in the previous dish are hollowed out, their skins stuffed with heavily spiced red langit rice cooked in butter and lemongrass. As thin as nori, the chicken skin is crispy and brittle, flaking apart with each bite. A fermented chilli aioli dipping sauce provides additional heat for those who prefer a little added challenge.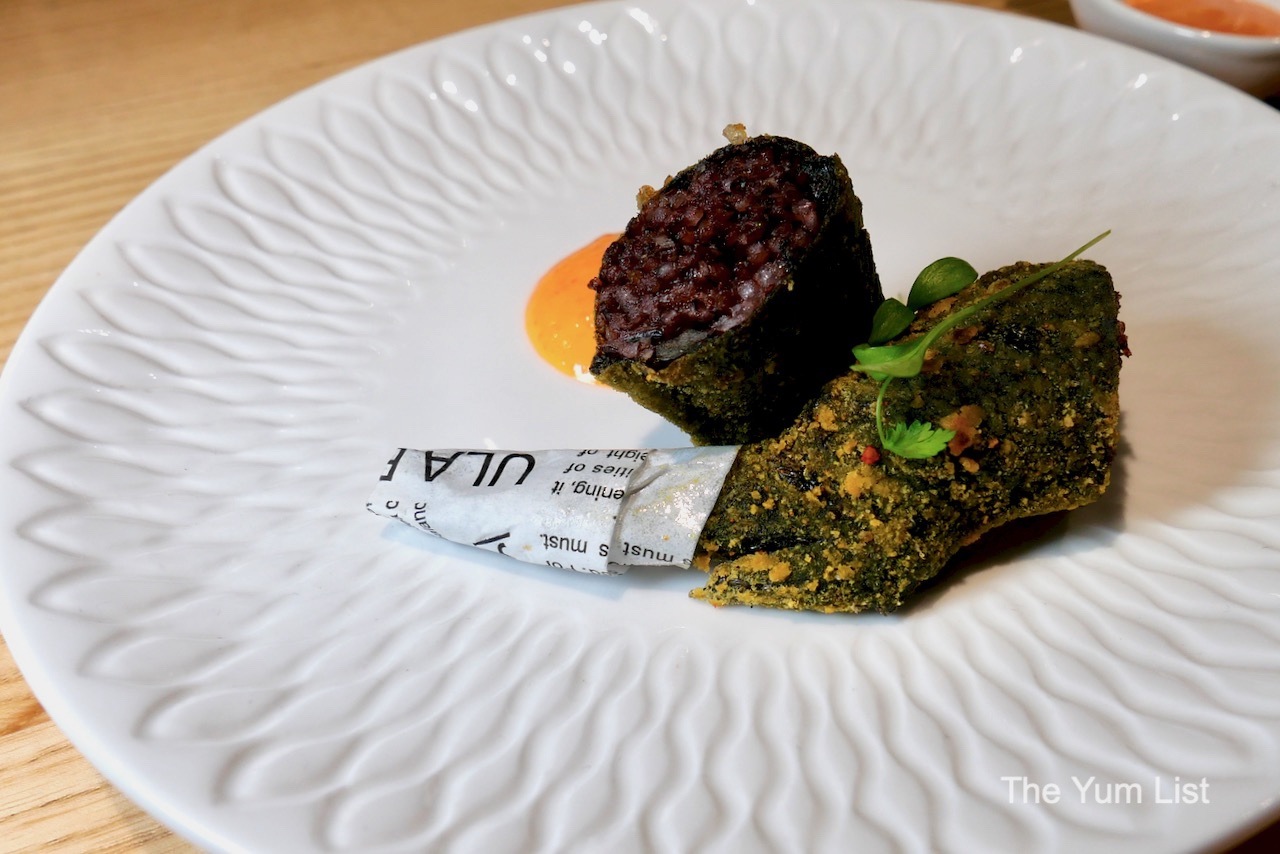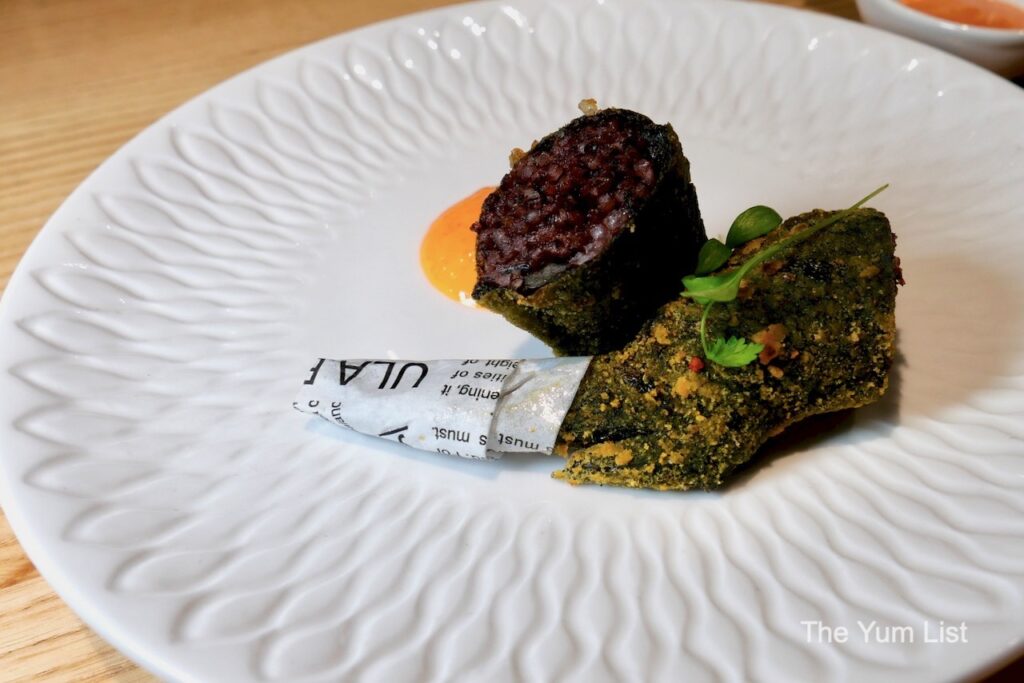 The final chicken dish is a revolutionary take on a siew pau with something of a French twist – the Liver and Gizzard en Croûte with Condiments. In keeping with Eat and Cook's aim to be waste-free, no part of the chicken is disposed of when it can be used to create gastronomic perfection. Similar to a rustic French pate, the chicken liver and gizzards are combined within a buttery, egg-glazed pastry. The delicately pincered edges catch any extra juices as they fight their way free of the parcel, giving an added edge to the caramelisation. Four condiments are spread across the plate: whole grain mustard, pickled shallots, baby gherkin and a parsley leaf cremolazta ground with mint leaf, green chilli and other verdant herbs. The cremolazta alone is one of the best things we have put in our mouths this evening.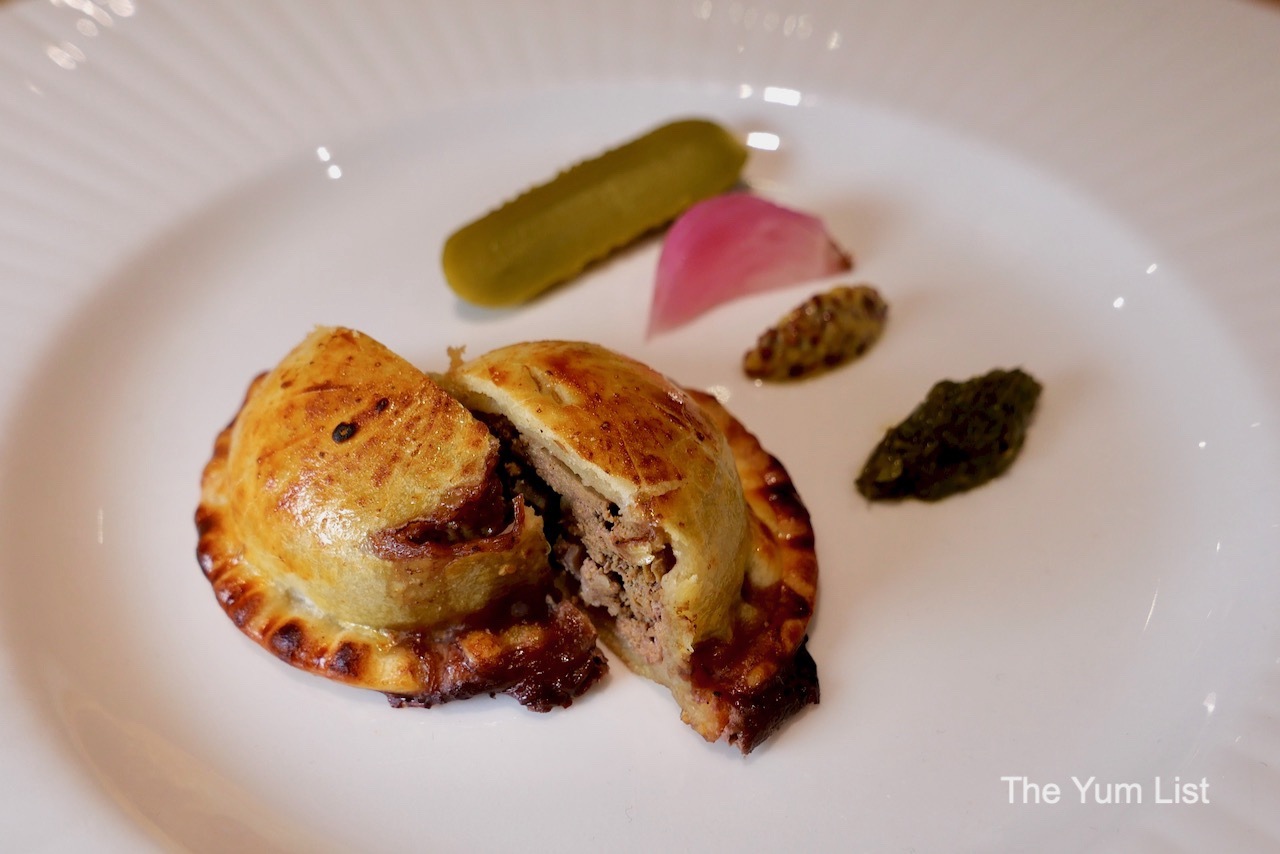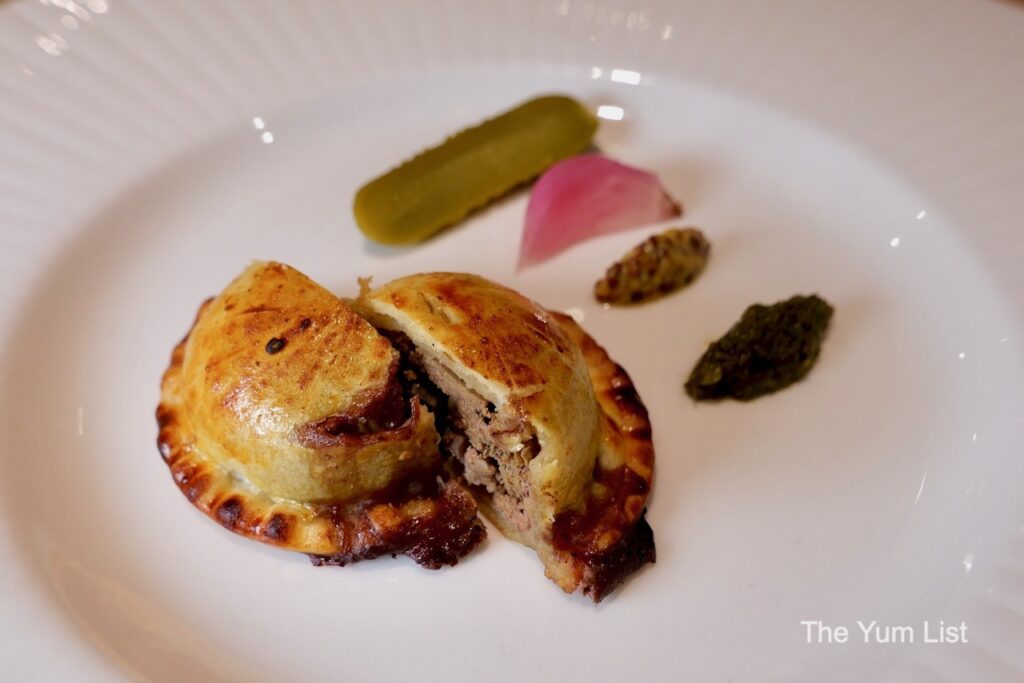 Beef Options (+RM30 add-on)
The main beef dish revolves around a 72-hour slow-cooked wagyu karubi, sous vide at a low 56.5 degrees with a beef broth and turmeric spices, coated in a sticky-sweet char siew glaze. The caramelised barbeque flavours of the char siew are embedded within the satiating ribbons of marbling, melting and dissolving with layers of richness. An accompanying bowl contains nasi langit with shallots, fermented beans, coriander seed, some palm sugar and smoked garlic floss. The beef comes with a side of spiced jam, a small dollop packed with such intensity and complexity of flavours, the smallest smear whispers of lemongrass, ginger torch flower and ulam. If Eat and Cook bottled and sold this jam alone, I would buy it by the box, and eat it daily with slivers of pungent cheese and a bold red.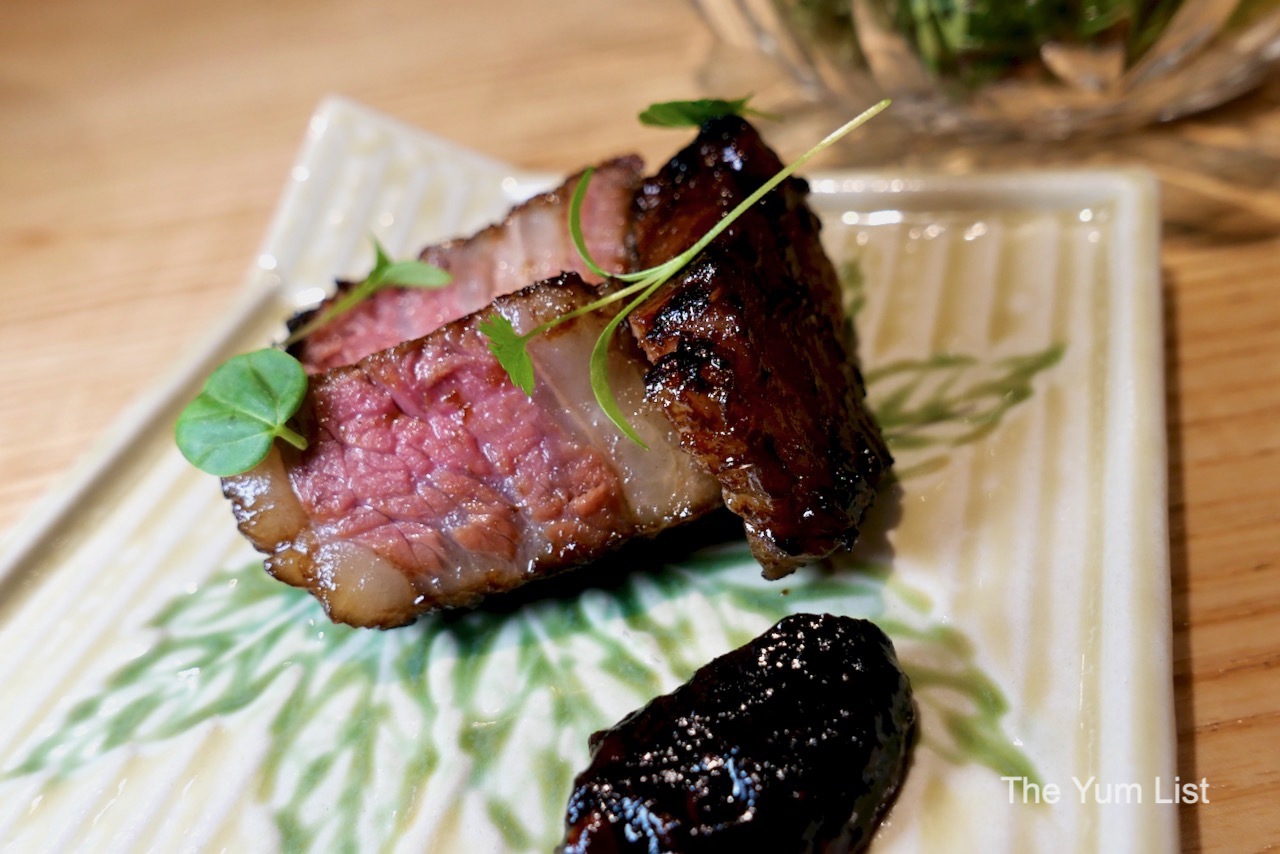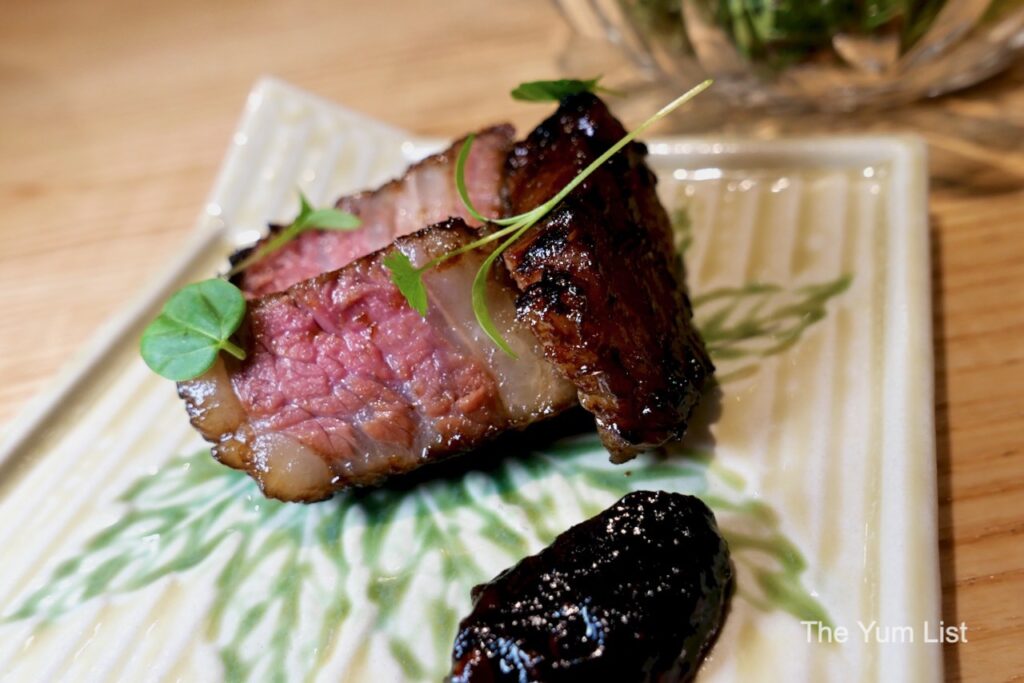 Ruby in colour, our next wine is a deep red, best paired with beef. The 2018 Luzon Colección Monastrell from the Jumilla denominaciôn de origen in Spain throws notes of blackcurrants, blackberries and plums, with smoke-topped oak. Dry and bold with mouthwatering tannins, this treasure holds additional secrets of earthy tobacco, leather, pepper, vanilla and a touch of dried fruit. A beautiful all-rounder, it has a quiet, nuanced power.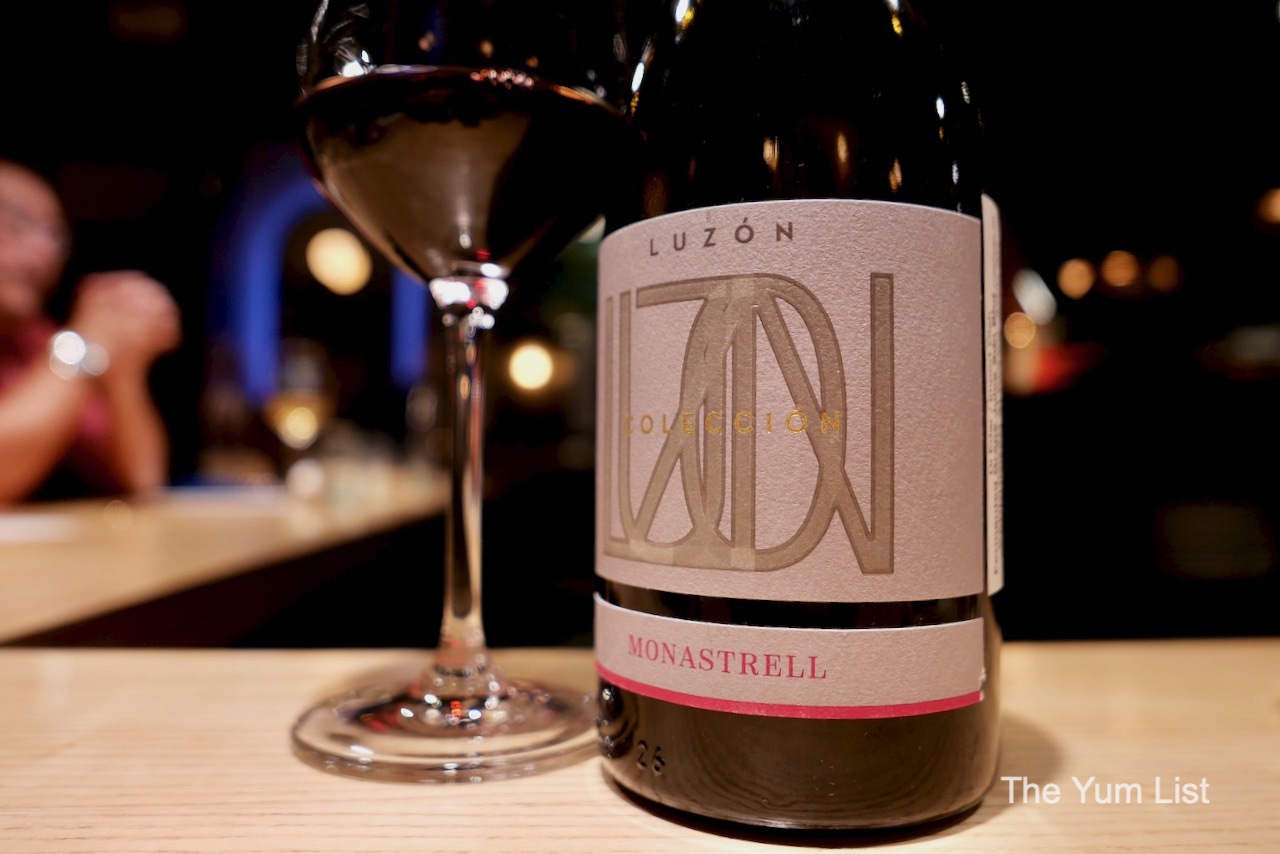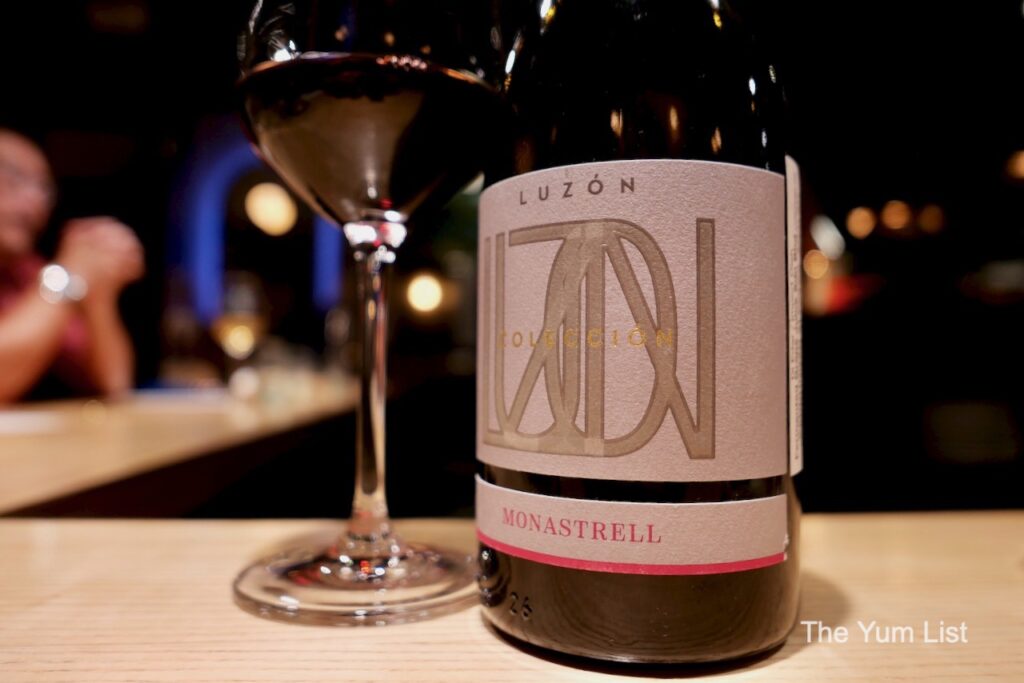 Melding savoury and sweet together, Yoú Tiao is filled with braised beef tendon, prepared over six to eight hours to achieve a smooth, gelatinous consistency. This distinctive take on a Chinese Malaysian comfort food is topped with sprinkles of a unique spice blend containing chilli and salt and paired with a chilli aioli dipping sauce.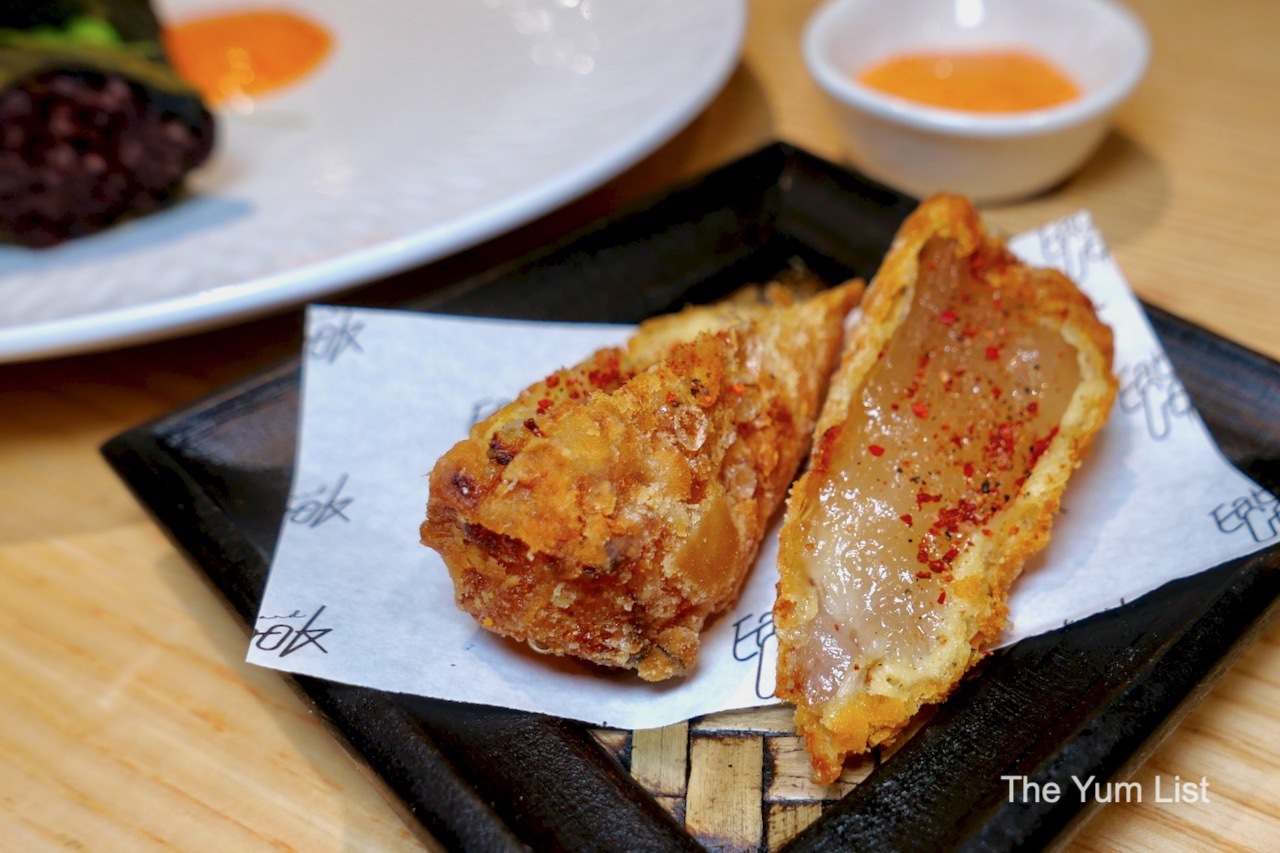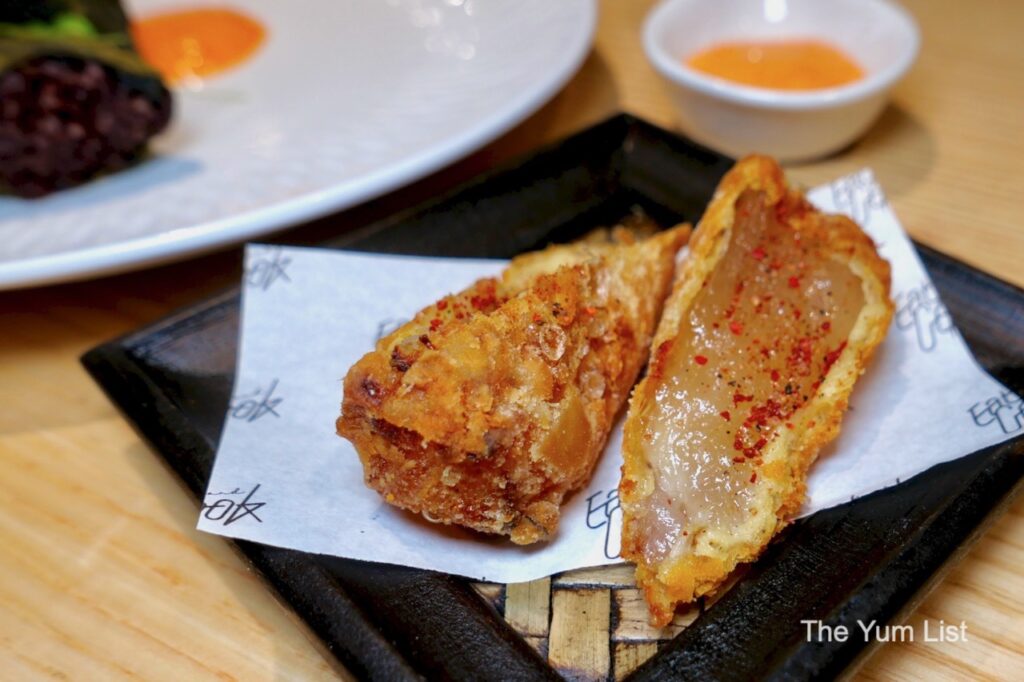 Our final main dish is served in two bowls. In a small, hand-painted ceramic bowl, a clear beef bone broth of Soup Tulang carries hints of curramon seeds, cumin seeds, coriander seeds and cinnamon. Next to it, in a hand-carved wooden bowl, a splayed beef rib bone yields two tartlets rendered in miniature. Each crisp casing contains a portion of beef shank stew, with whole grain mustard, celery leaf, and a reduction of the soup, topped with house kombucha-infused sour cream. Intended for you to take the soup and morsel together, there are so many wondrous flavours to chronicle in each mouthful, combining layers of herbs, a potent reduction of beef and an elevated tangy cream.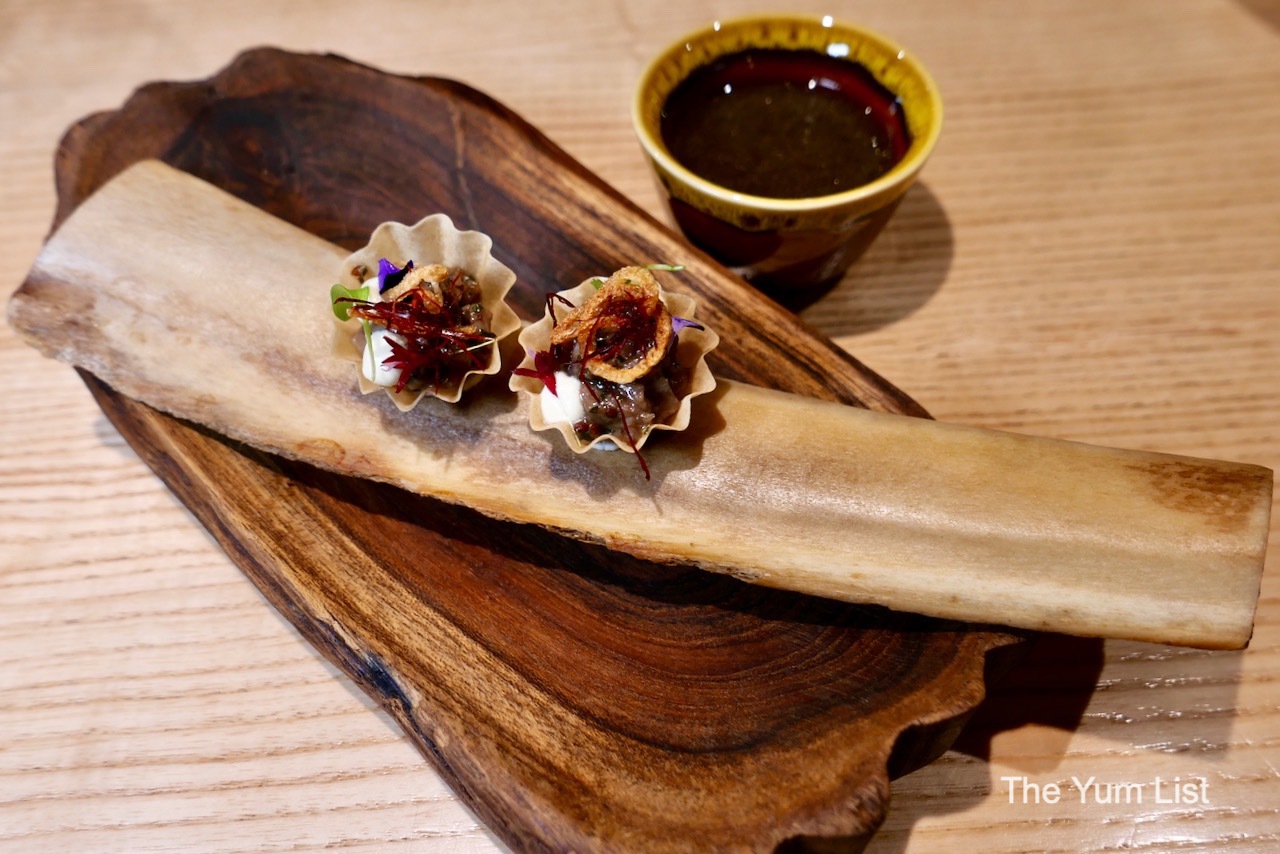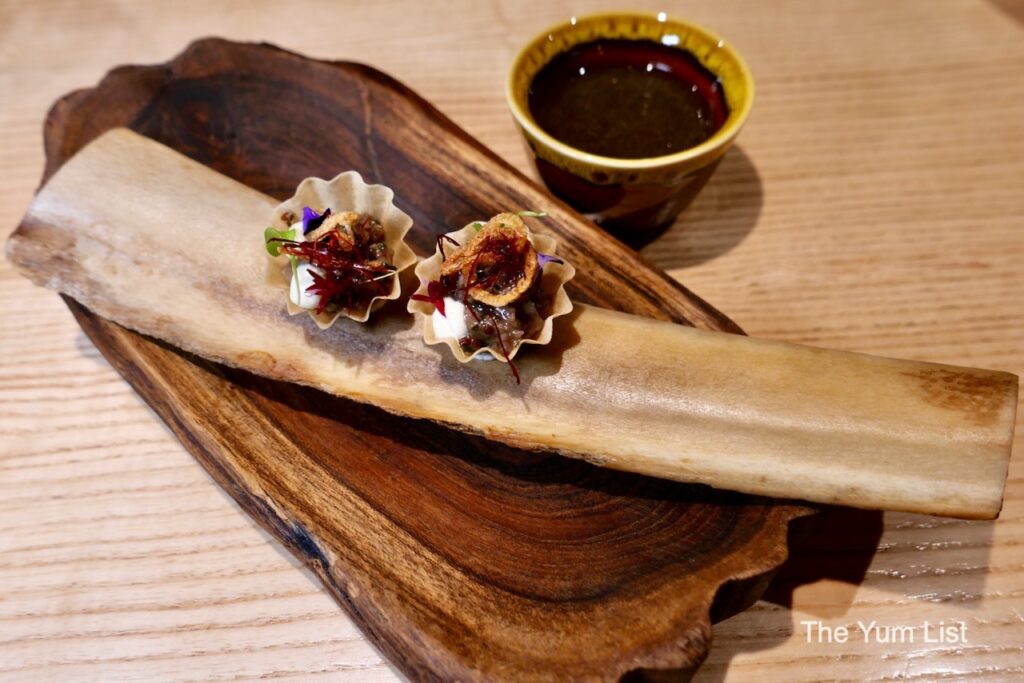 The End
We approach the final stretch of the evening's heroic feats with the first dessert. Taking the form of a Tuak Baba, a play on a traditional French rum baba, Eat and Cook's version comes with a brioche bun thickly soaked in its own little bath of Sarawak rice wine, the tuak seeping from every pore. Toasty and warming, it carries a cap of spiced cream with dimensions of deep-fried curry leaf, curramon, black pepper and cumin seeds – in homage to Indian Malaysia. Each bite fills you with heat, carrying a punch capable of knocking an unsuspecting villain off their feet.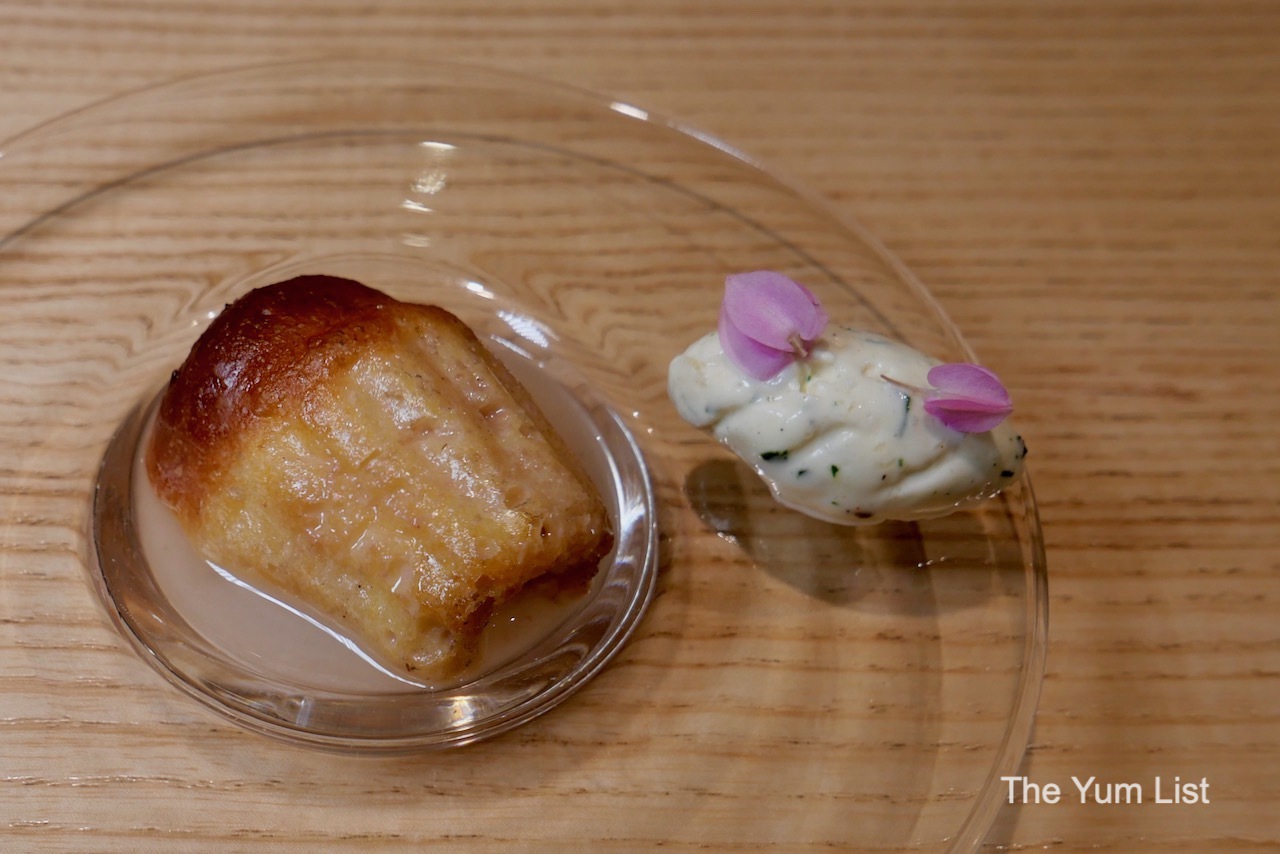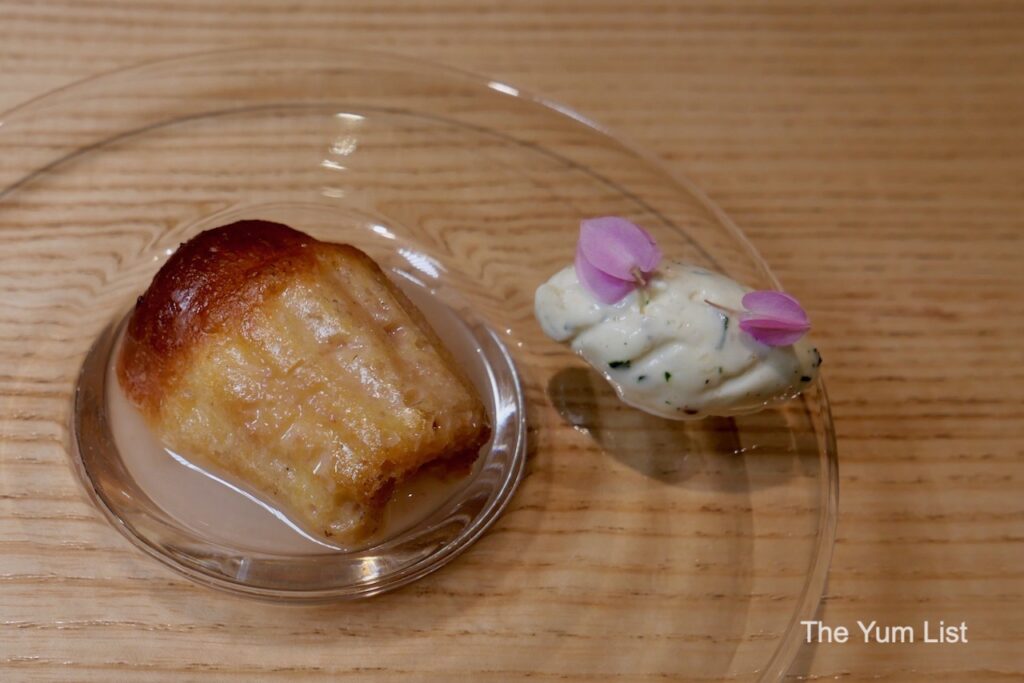 Our epic journey must be celebrated with lustrous rewards, and tonight's Seasonal Fruit Ice-Cream Waffles are an idolic celebration of Kedah's super sweet mango, Harum Mamis. Only available for a few months of the year, no added sugar is needed here. Yongzhi speaks about the preparation process, where the seed and skin are cooked down along with the flesh to make the mango ice cream. Nothing is wasted, particularly considering these parts of the fruit are some of the most nutrient-rich and flavour-packed. Crested with a bulbous balloon of pure mango puree to sauce your sandwich as you wish, the delicate waffle remains crunchy throughout.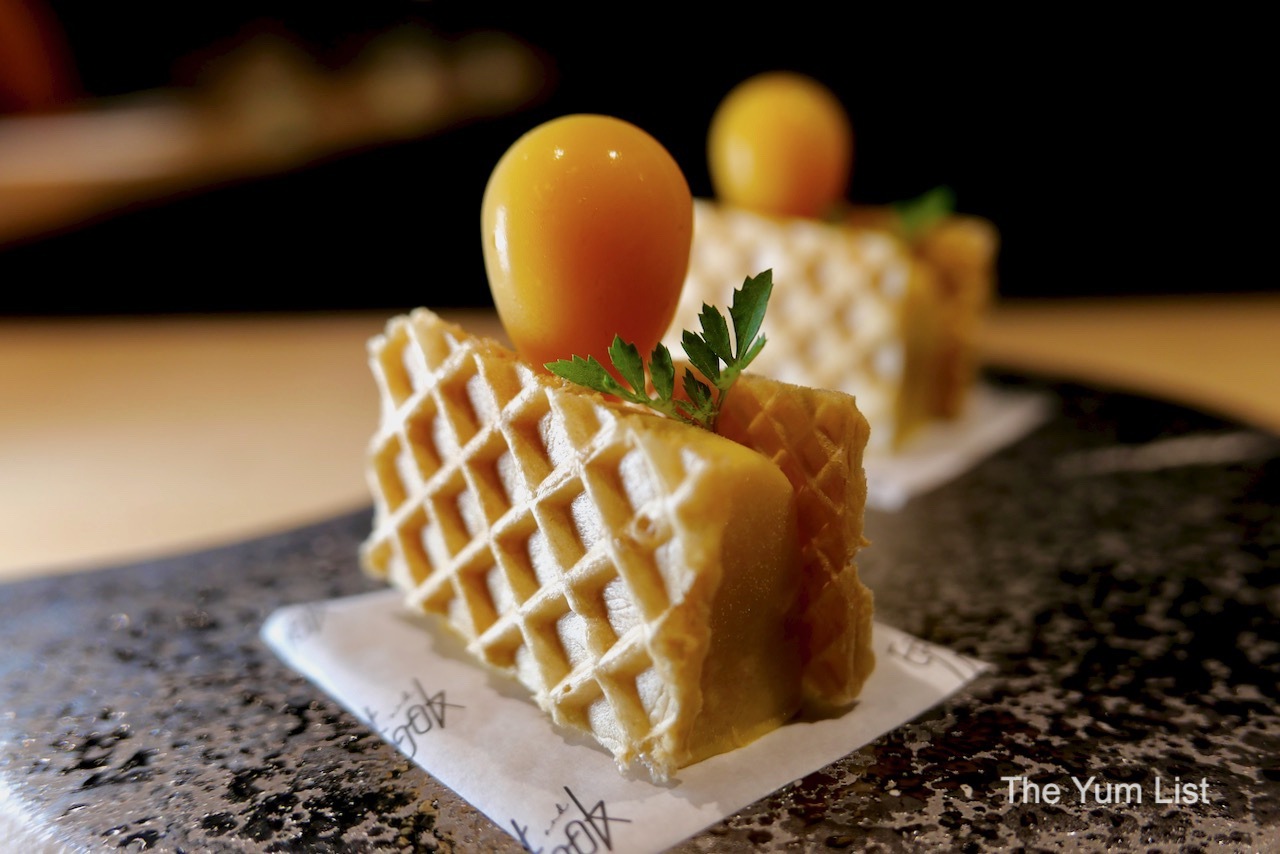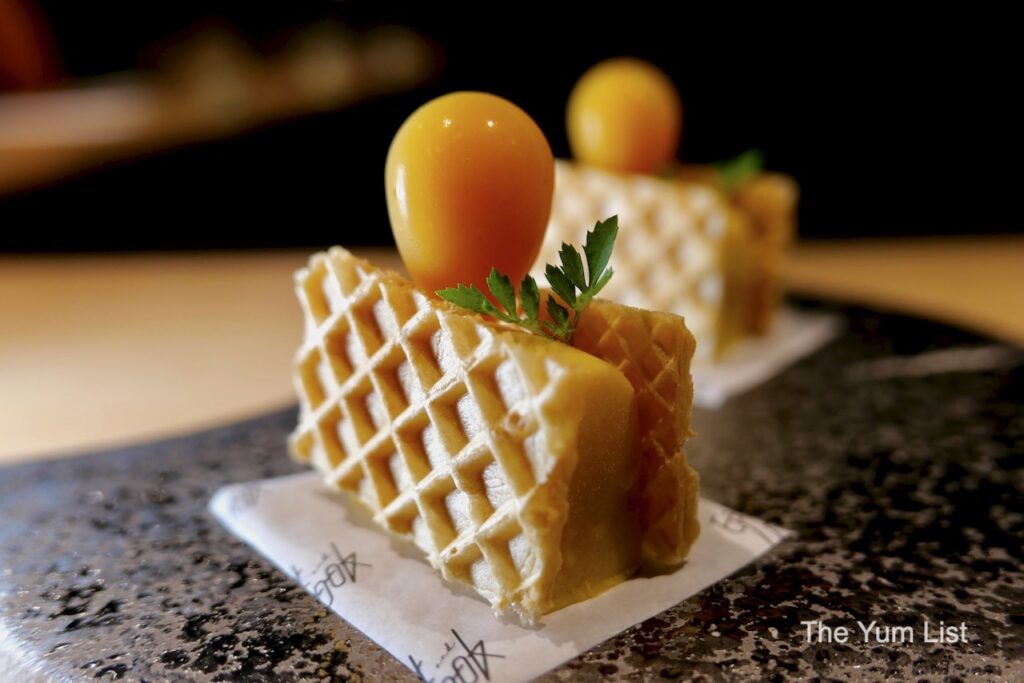 Playfully countering the coolness of ice cream, our last wine will stoke a fire in your belly. The Delord Napoléon Bas-Armagnac has a superb 95 point rating from Wine Enthusiast. Perfumed with cocoa, spices and raisins, it carries a rich, honeyed aftertaste of nougat, almond and black pepper. A cousin to cognac, this Armagnac is attentively distilled from a small selection of vines from Delord's Bas vineyards. Sultry smokiness melds with the sweetness of the harum mamis mangoes, spreading its tingling, intoxicating warmth through your limbs.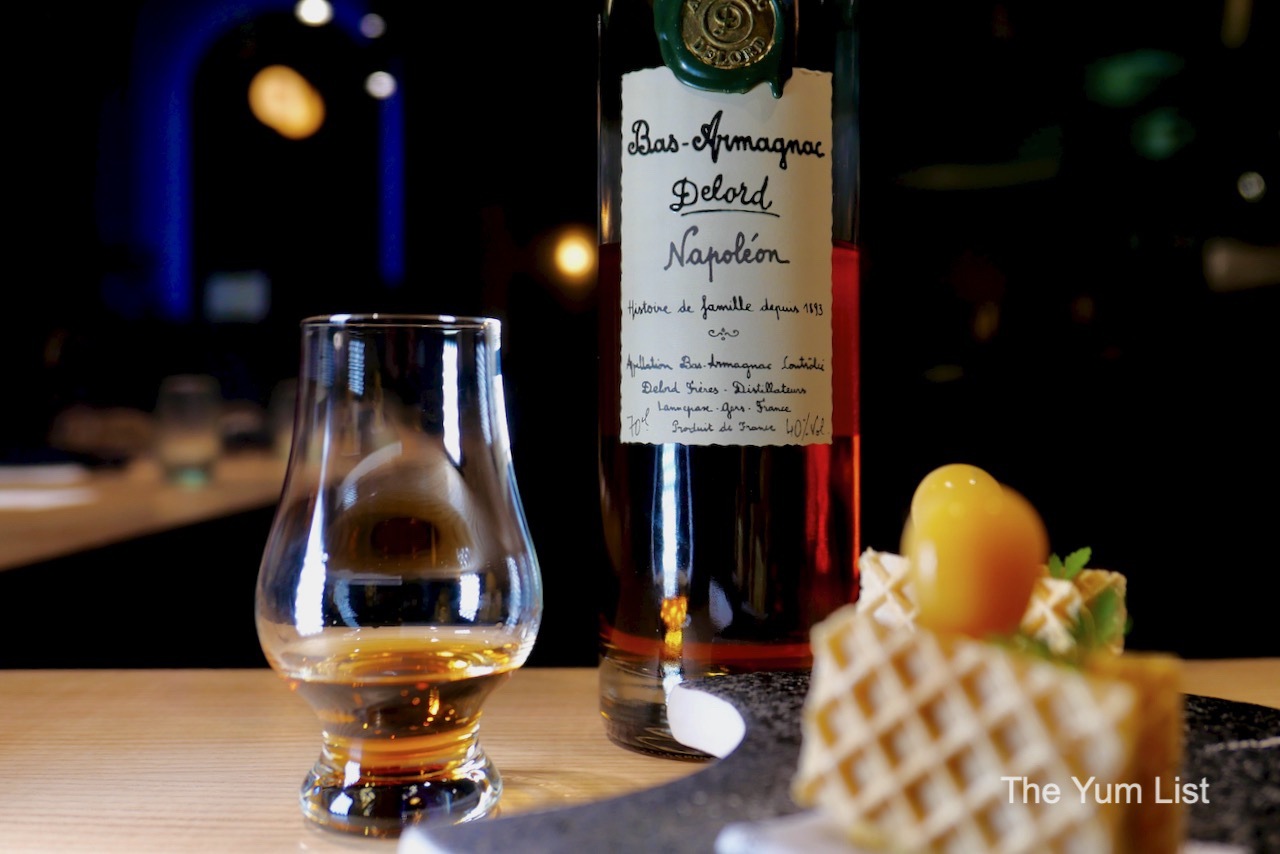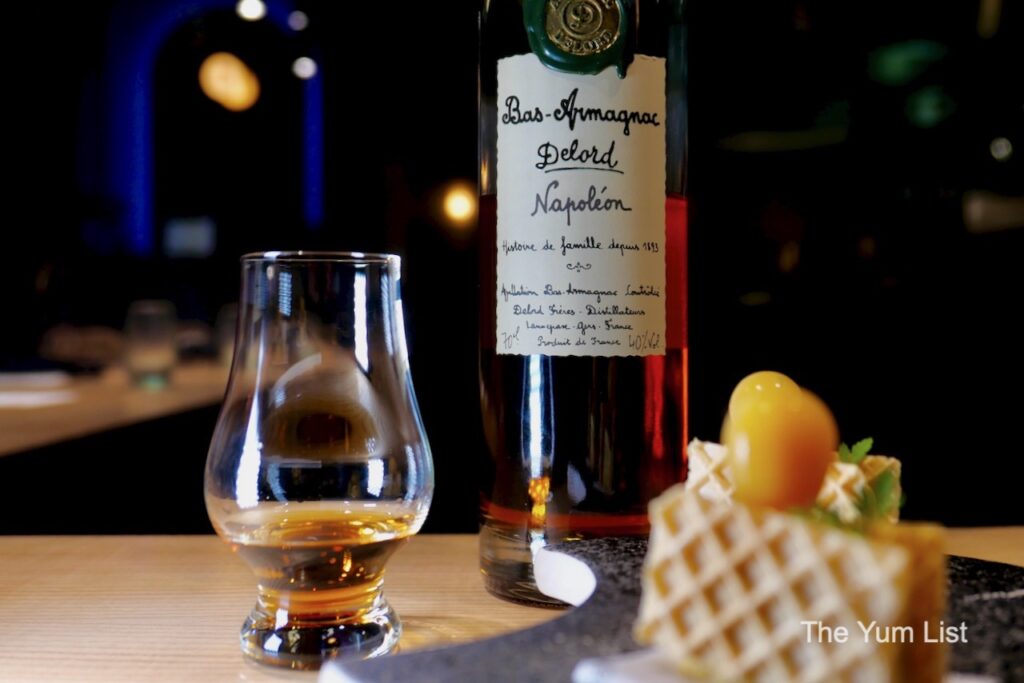 A spongey, springy, sugar-fermented steamed cake forms the base of our final dessert. Pan-seared Ubi is braised and cooked with coconut milk and Sarawak gula apong for three to six hours before it is blended into a puree. This dish is a flashback to Zhexi's childhood memories, finishing in a kueh-like texture with gooey gula apong sauce, and covered with toasted coconut sprinkles and a splash of edible flowers.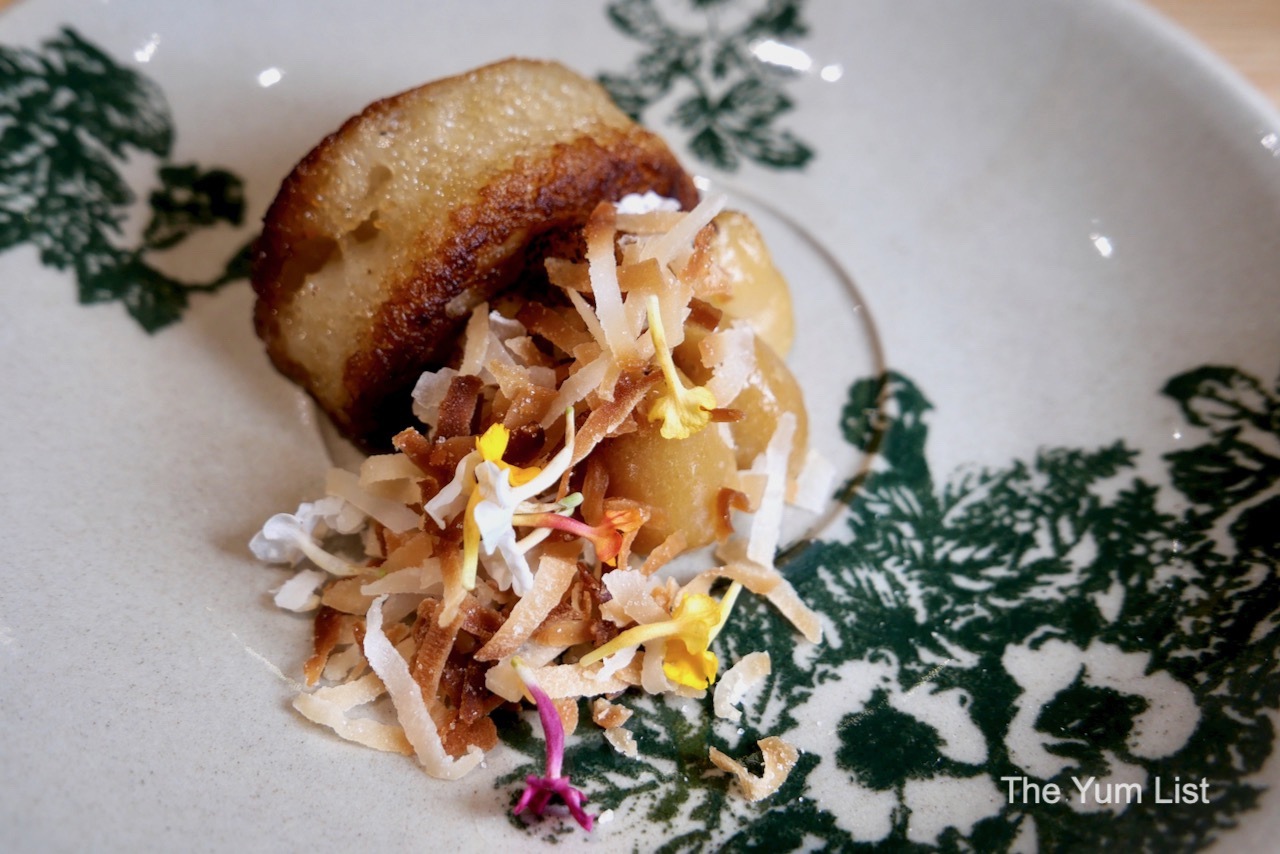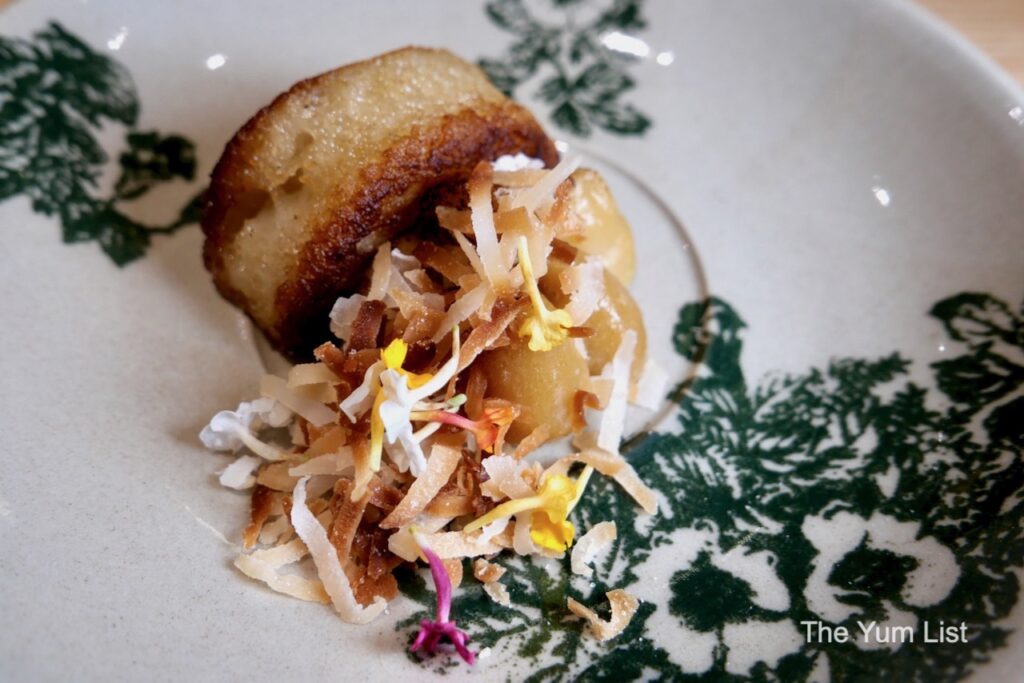 Mignardise
Our 17 courses completed, Zhexi presents us with a wooden box affixed with a clasp. Inside lies our mignardise, our final mythical jewel. Our journey tonight began with a nod to Malaysia's kopitiams, and this is where it will conclude. Cheese puffs infused with locally sourced tea or coffee from Zhexi's hometown of Teluk Intang are a satiating final curtain. The ice cream filling these ornate puffs evokes the texture and taste of cheesecake, steeped with the quality aroma of tea leaves or a freshly-brewed coffee pour. A delicious crowning moment to herald the end of the evening.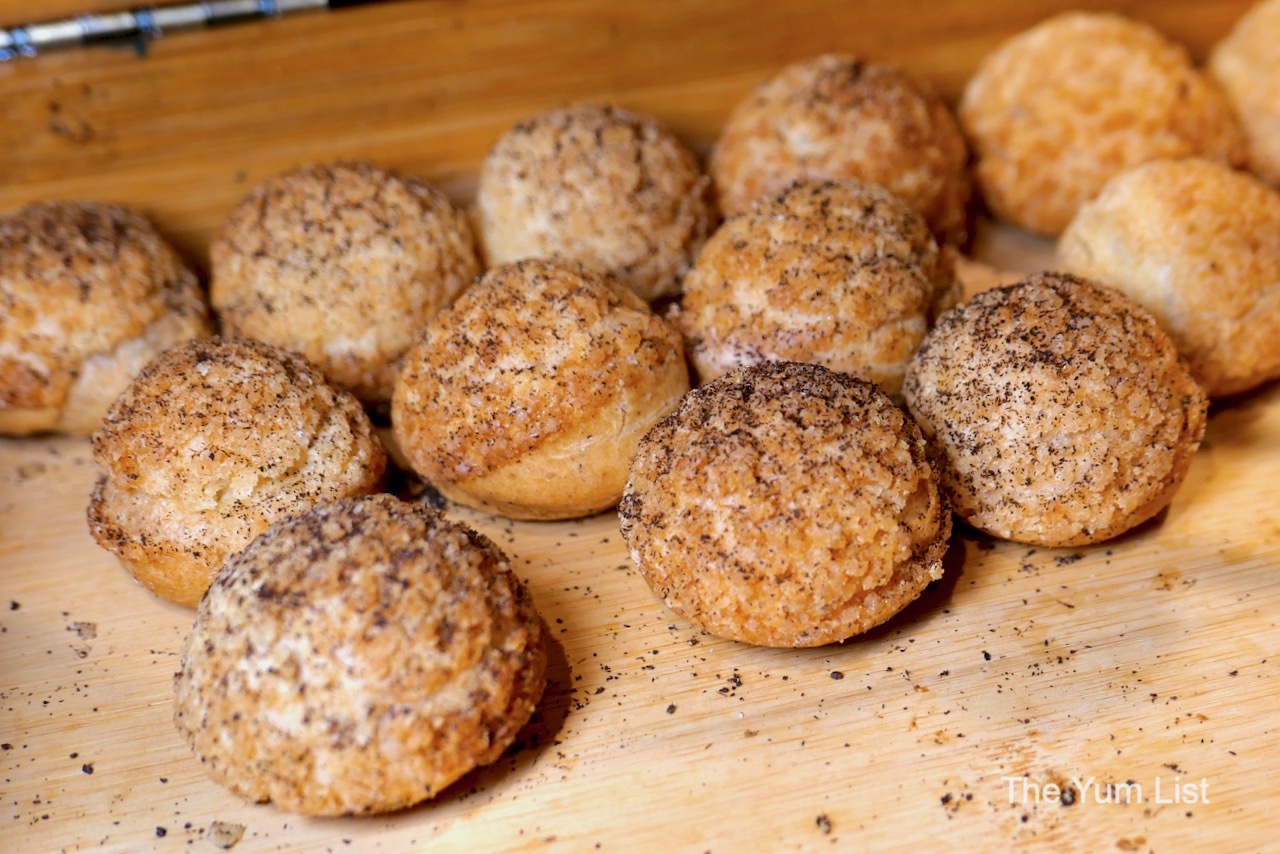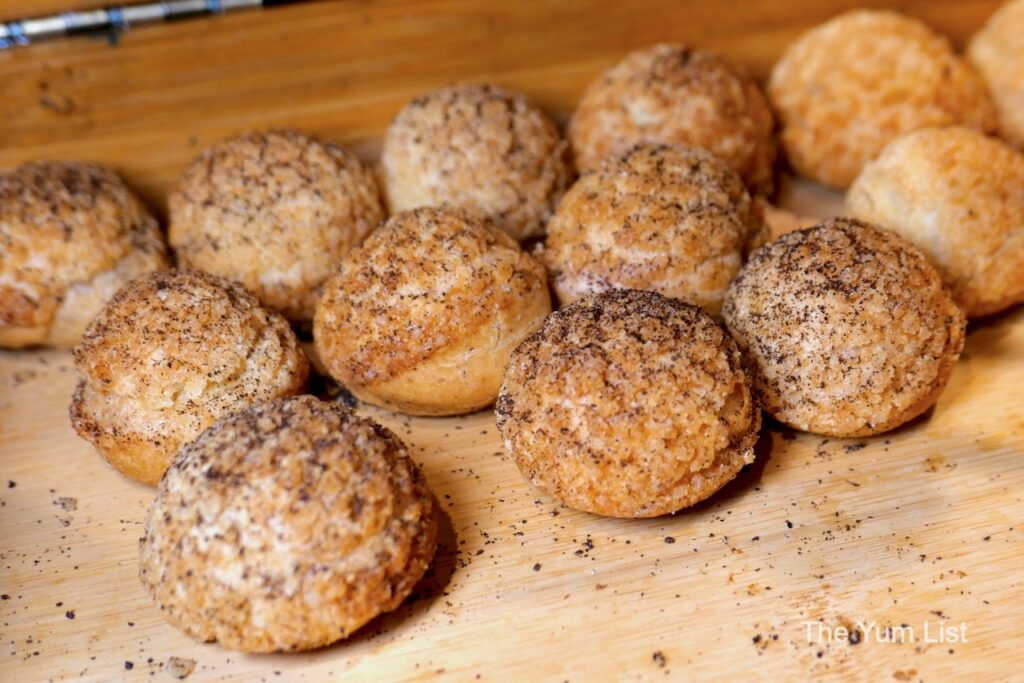 Digestif
If you are not yet ready to embark on your homeward journey, the team at Eat and Cook have converted their small entryway into a petite digestif bar, serving glasses of amber and clear elixirs that will fill any last pockets of adventurous longing with halcyon contentment.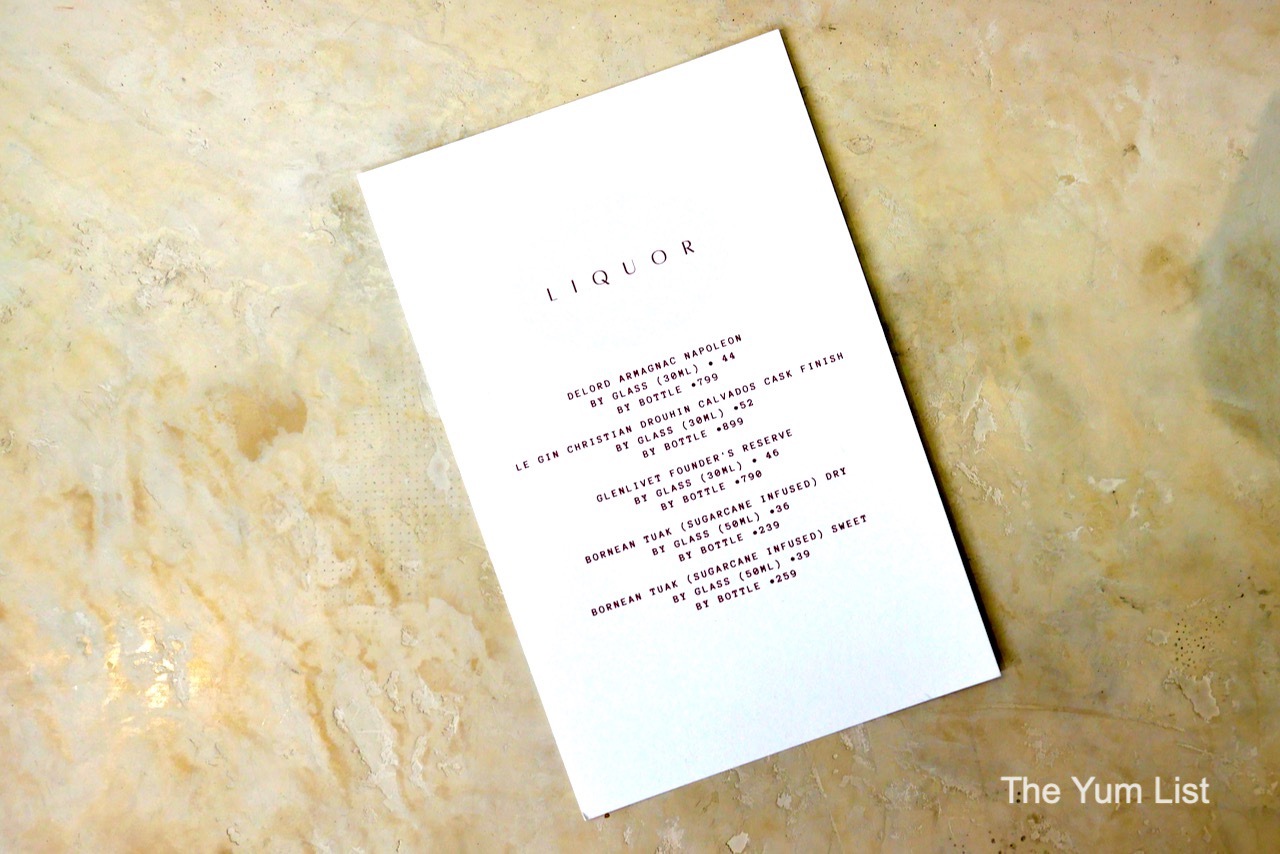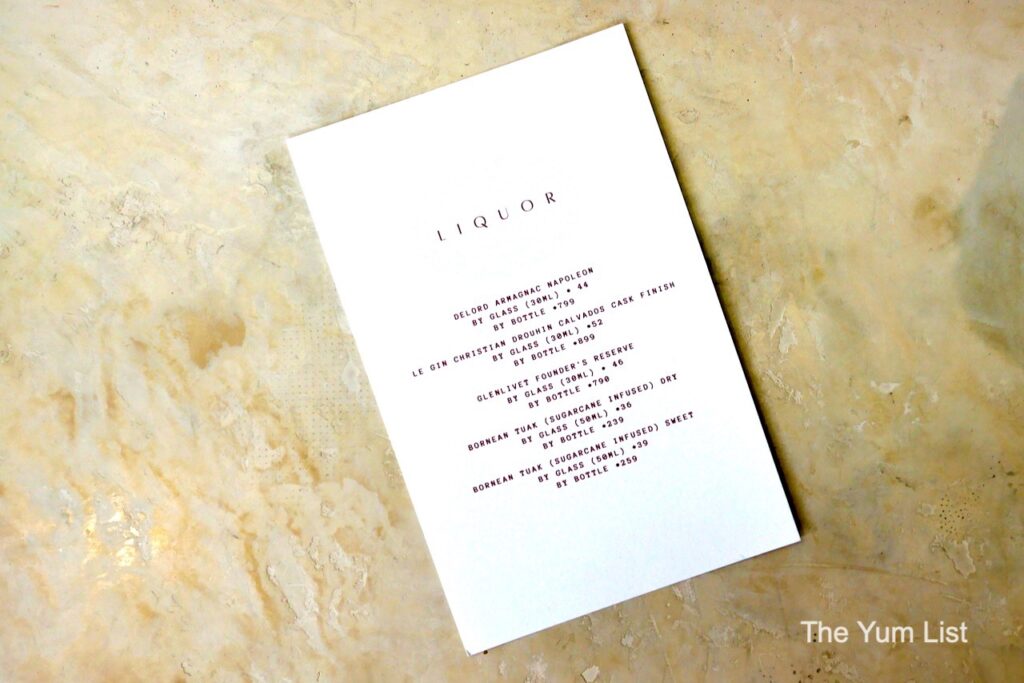 When we ask Zhexi and Yongzhi about winning the title of Asia's 50 Best Restaurants One To Watch 2022, they both become visibly emotional. Their humility is genuine. Opening a fine dining restaurant during a pandemic, surviving and thriving during one of the greatest challenges the global restaurant scene has ever weathered, and going on to win accolades they could never have dreamt of – their skill, foresight, and passion is unquestionable. There is no greater trial of tests to be faced. Yet the team at Eat and Cook will continue to push themselves up insurmountable paths because their belief in what they are doing is pure. At the heart of their success lies patience. It is this patience that has allowed them to unravel each layer of possibility. It is patience that will allow them to continue to tell their incredible stories, using the unparalleled beauty and wonder of Malaysia as their backdrop. And it is evident in every bite.
A journey through worlds at Eat and Cook is like no other fine dining experience in Malaysia. A feat of fantasy, imagination and perseverance against all odds, it is indeed a hero's journey. There is only one question left to ask. Are you ready to answer the call to adventure?
Reasons to visit Eat and Cook 2022: Every step of this hero's journey is a breathtaking display of chef mastery. All 17 dishes are worthy of heaped praise. The dishes we caught ourselves thinking of many days later included the Jagung Cake with Chilli and Dry Oyster, the Clam Brûlée, the Cucur Udang Bunga with Peanut Butter, the Soup Tulang with Short Rib and Spices, the Tuak Baba, and the Seasonal Fruit Ice-Cream Waffles. Every wine on Eat and Cook's list is one you should seek out and taste.
Eat and Cook
H6-1, Pusat Perdagangan Bandar Bukit Jalil
Persiaran Bukit Jalil, 57000 Kuala Lumpur, Malaysia
+6 03 9765 6898
https://eatandcook.asia/
To guide you on your path, Eat and Cook sends guests a thoughtful message and video detailing how to locate them and where to park. There are two seatings per evening, one at 5:30pm and another at 8:30pm. Guests need to be punctual as the experience takes a certain amount of time. Latecomers risk missing out, so set out early if you anticipate traffic.
Eat and Cook 2022 Opening Hours
Monday: Closed
Tuesday to Sunday: 5:30 – 11 pm
Find more restaurants for special occasions here, and stay up-to-date on KL's food and beverage scene here and here.