Silvio Carta, Sardinia
Monica Tindall
The heart of Oristano, Sardinia, is home to a living legend. Silvio Carta, 93 years old, and founder of the company of the same name, resides here. To this day, Mr Carta continues to tend to the grounds and hone his original vision of upholding the time-honoured tradition of the production of Vernaccia di Oristano. Now, though, there is much more. Silvio Carta is not only a name beholden for Vernaccia but also for championing local liqueurs and spirits, and of special note, gin.
Sardinia is recognised for many reasons – food, wine, culture, history and extraordinary natural beauty. It's also one of the few countries in the Blue Zone, having one of the longest-living populations on earth. Inspired by Silvio Carta, we hope to gain some insight into the secret behind this longevity and vitality. (And, also taste and understand the fruits of his many years of labour and loyalty.)
Silvio Carta Sardinia
Silvio Carta (DOB: 1929) established the company in the early 1950s. His founding mission was simple: devotion to Vernaccia di Oristano, the most historical of local wine productions.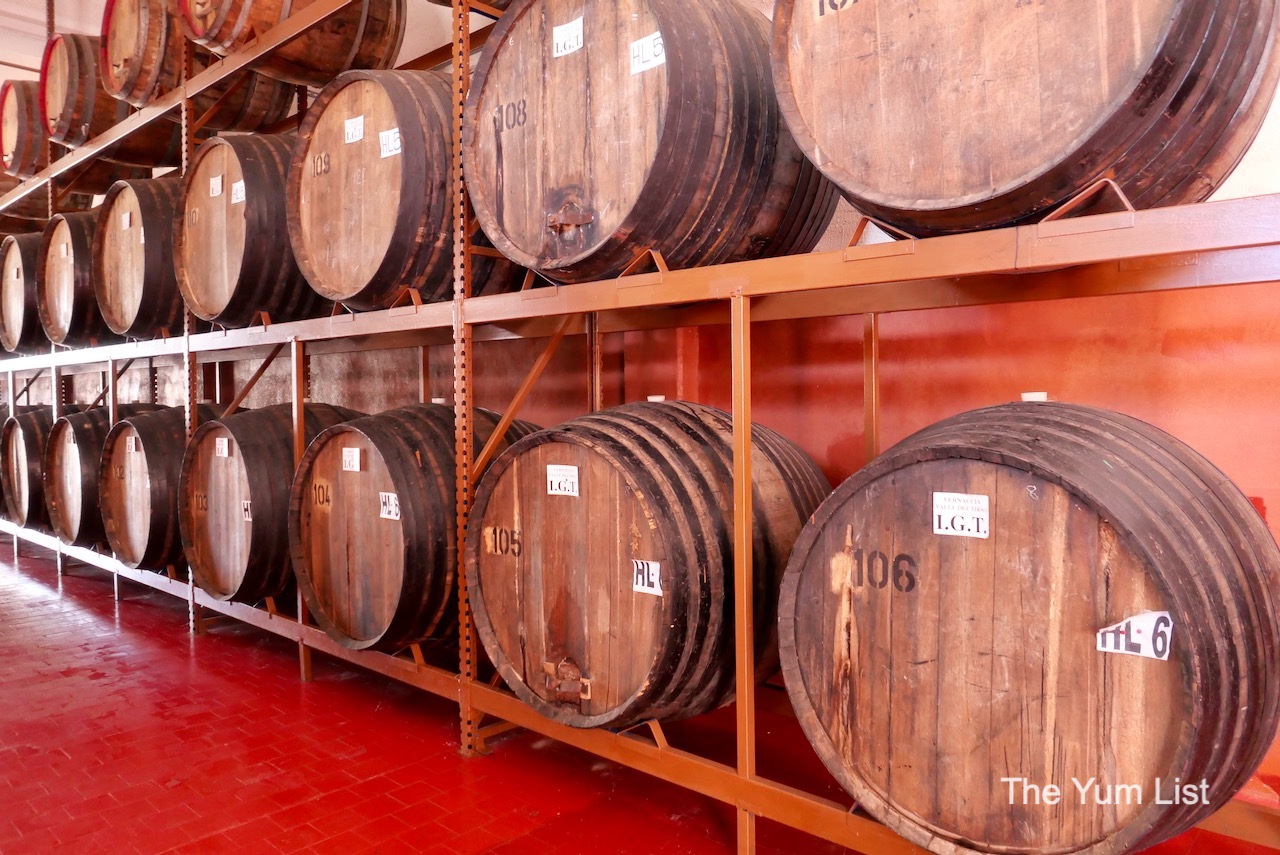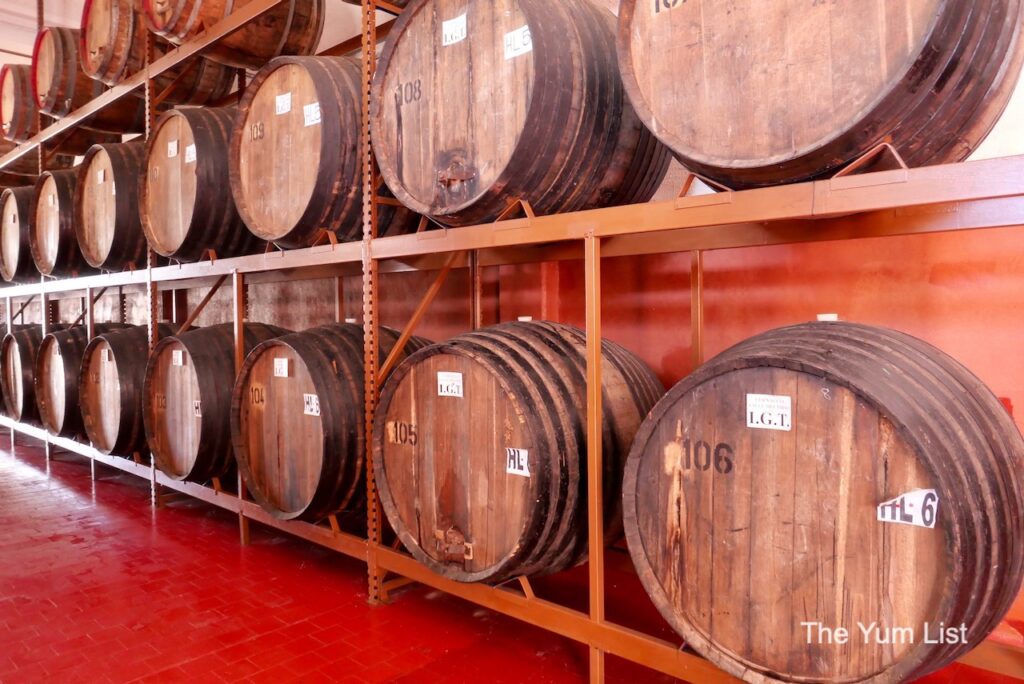 Vernaccia di Oristano
Made in sweet, dry and fortified styles, many liken Vernaccia di Oristano to sherry. Both are long-resting in barrels and given their distinctive taste, colour, nutty aroma and layers of complexity through oxidation. Each barrel is not entirely filled, leaving plenty of space for oxygen at the top, which encourages a layer of flor yeast on the surface. However, that's where the similarities end.
Vernaccia di Oristano is aged in chestnut rather than oak. At Silvio Carta, the wine is not blended (like the solera method for sherry); what goes in comes out. Unfortified styles have a minimum alcohol level of 15%. At the same time, fortified Vernaccia di Oristano must contain at least 18% alcohol by volume. Additionally, it was the first wine from Sardinia to be awarded DOC status in 1971.
Besides being synonymous with Oristano, Sardinia (even my Italian chef friends in Kuala Lumpur have requested a taste to be brought back), there are wives tales proclaiming its advantages. Rumour has it that ample consumption is responsible for lowered cases of malaria in Sardinia. But, could it also play a role in the population's longevity? Elio Carta, son of Silvio, says that a little consumption every day is surely one of the secrets.
This versatile wine can be well-chilled and served as an aperitif. It also goes as easily with dessert as it does with oysters or salted fish roe and bread. Floral and herbal notes tend to dominate younger vintages, while aged styles become more complex, lending the nose more nuttiness, dried fruit and spice. Around Oristano restaurants, we find Silvio Carta's Vernaccia di Oristano paired with a variety of dishes. In fact, it's such a natural pairing for bottarga (dried mullet roe) and local sweets that the partnerships are synonymous and listed as such on menus.
Our tasting sees vintages from the past 50 years, including a very special 1968 Vernaccia di Oristano. Because of increased air in the barrel, every year, around eight to 12% is lost to the heavens. That's significantly higher than the usual two to four per cent angel's share. To keep Vernaccia for half a century is a bold move, and we are humbled to savour such a vintage. Imagine, 60 000 litres were first barrelled in 1968. When they bottled it in 2018, only 3 000 litres remained.
Also of note is Silvio Carta's Vernaccia di Oristano, Vendemmia Riserva 2004, which won best wine in Italy in 2018 scoring 97/100 points. And another worth mentioning is Elio Carta's 2002 dedication to his wife, Per Te, which we taste straight from the barrel. Nino and Alberto, grandsons, tell that each harvest is cared for to capture the diversity of the year. Nature is not uniform. You can taste the year, the weather, and the climate in each vintage.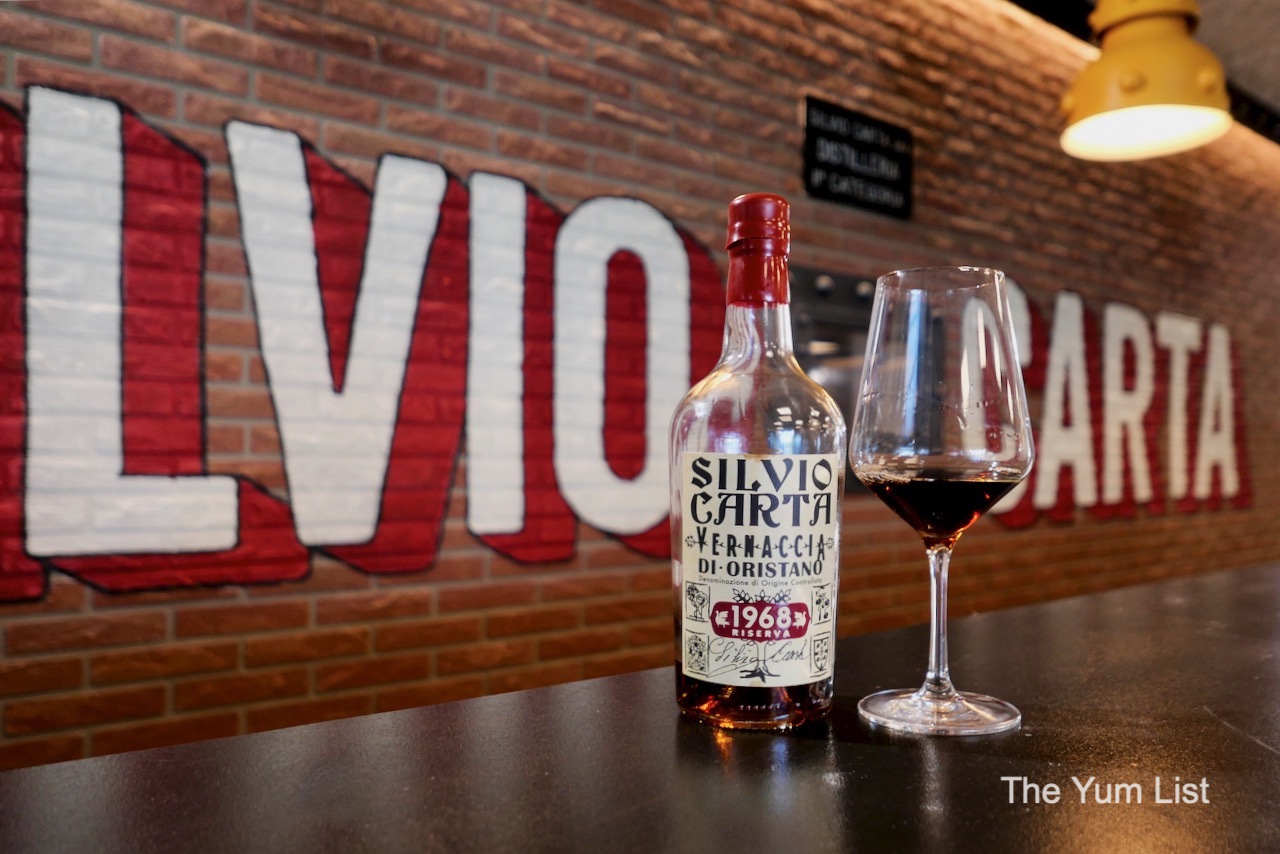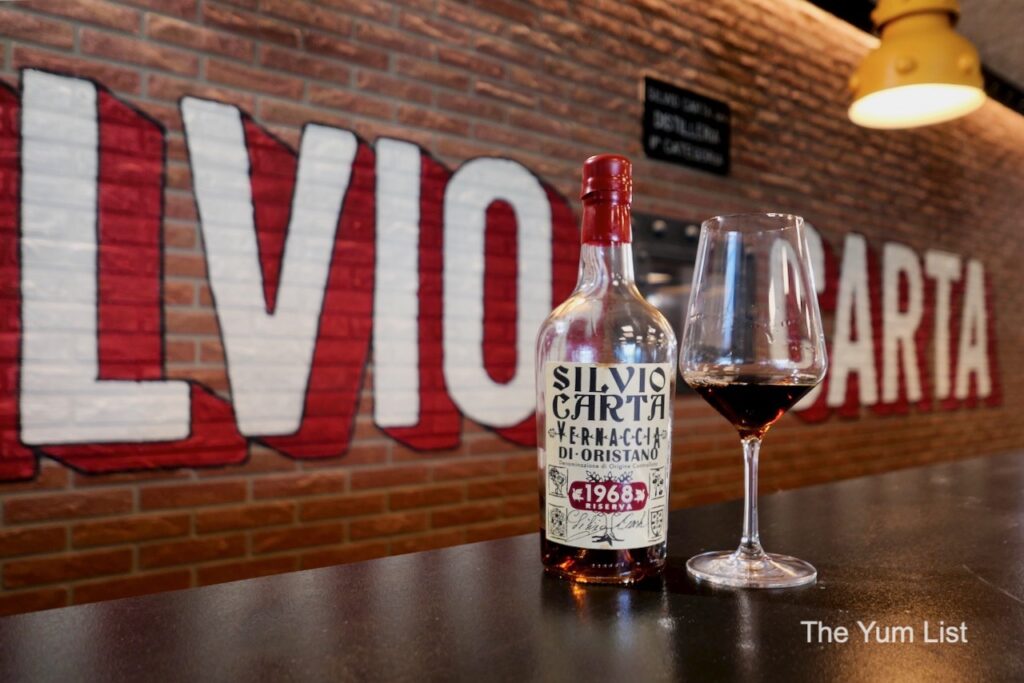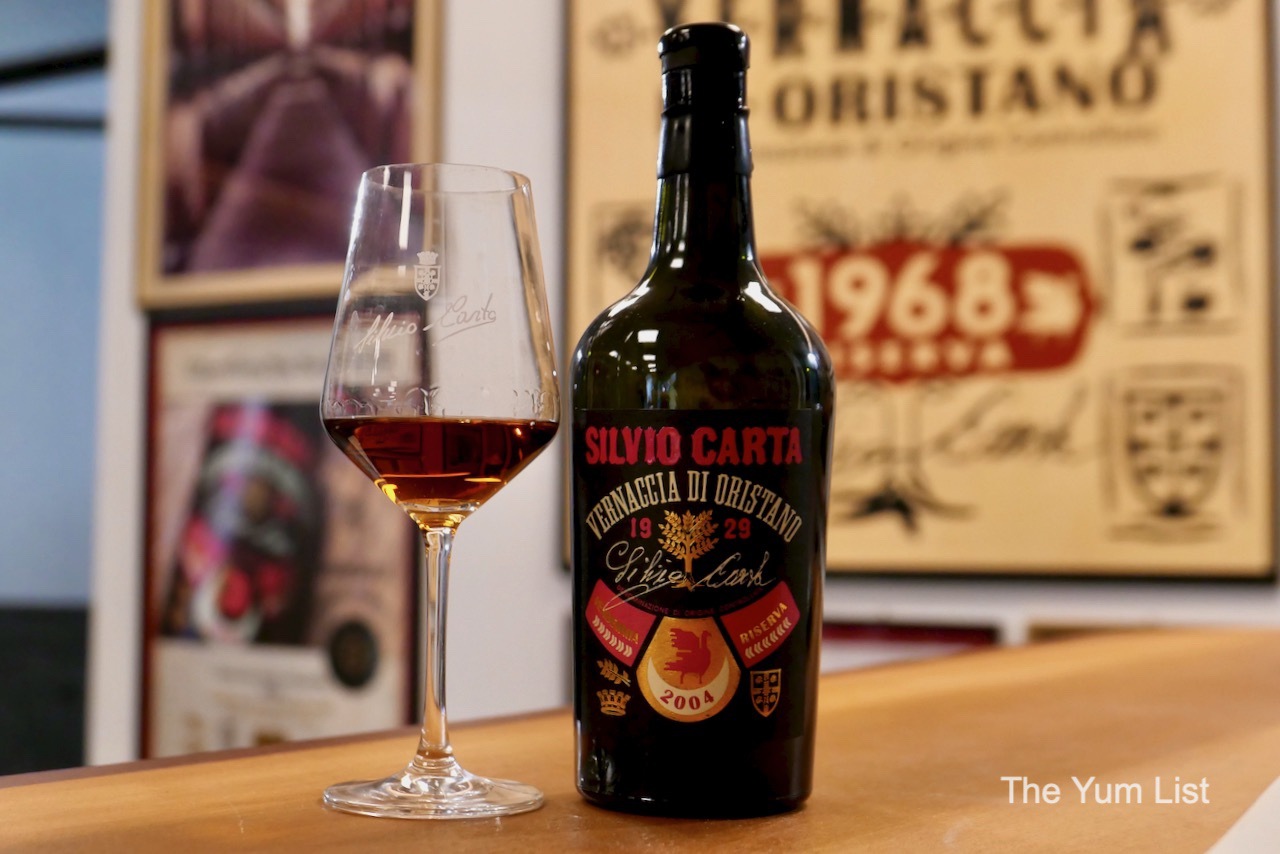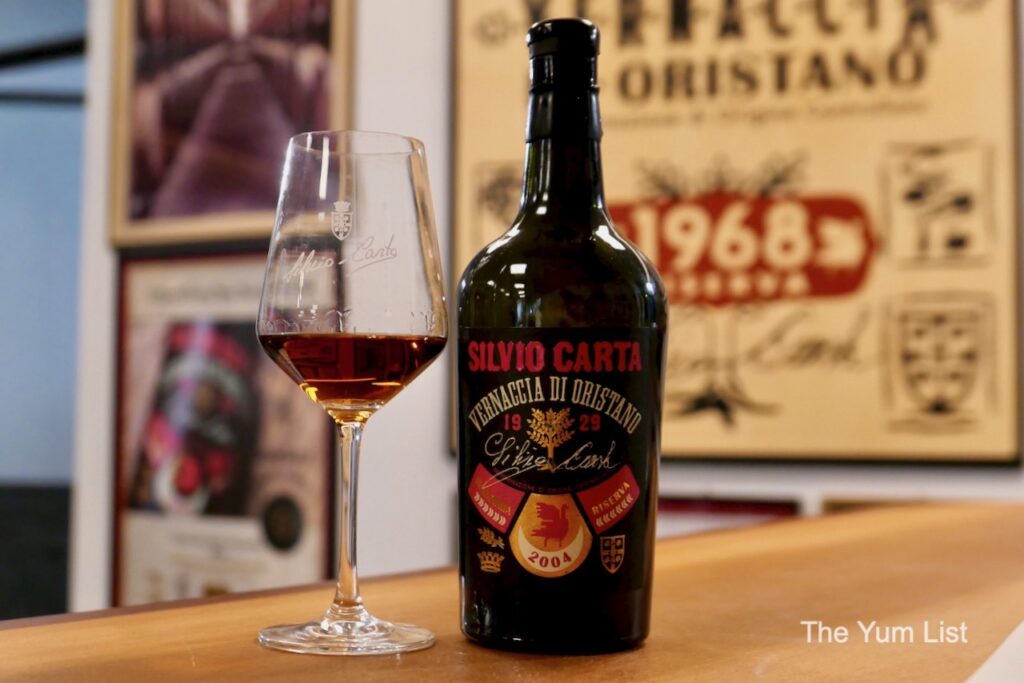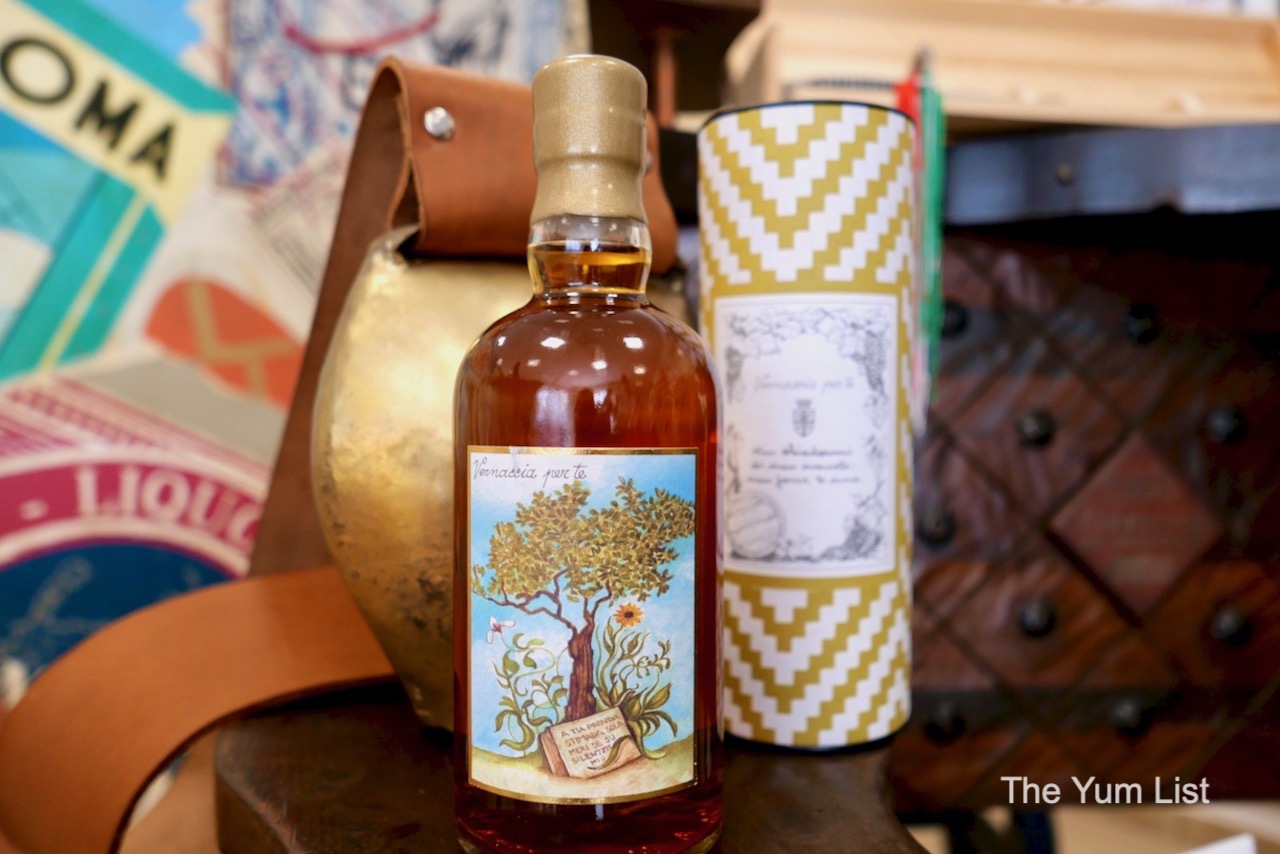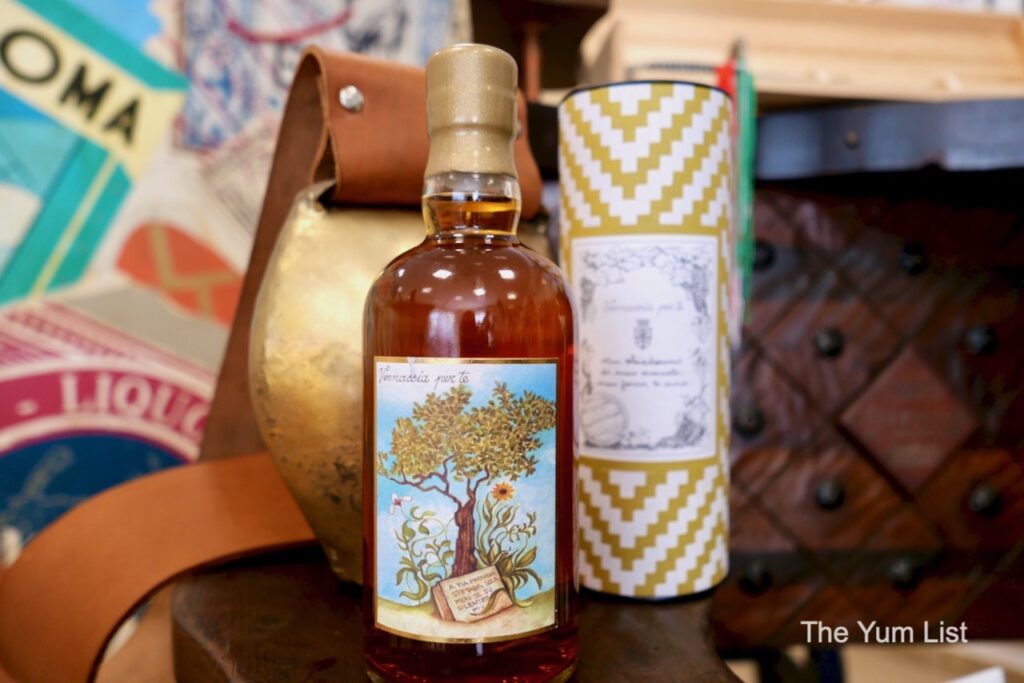 Silvio Carta – Sardinian Wines, Liqueurs & Spirits
For 60 years, Silvio Carta has continued to nurture and advance this wine. However, joined by his son Elio (head since 1972) and four grandchildren, they have spread their knowledge and passion also to the production of other wines, spirits and local liqueurs. The Silvio Carta company is now celebrated for a variety of wines made from indigenous grapes as well as the innovative production of Mirto 'riserva,' London Dry Gin, Vermouth and more! (I can't wait to fashion some of their products together to make a Negroni.)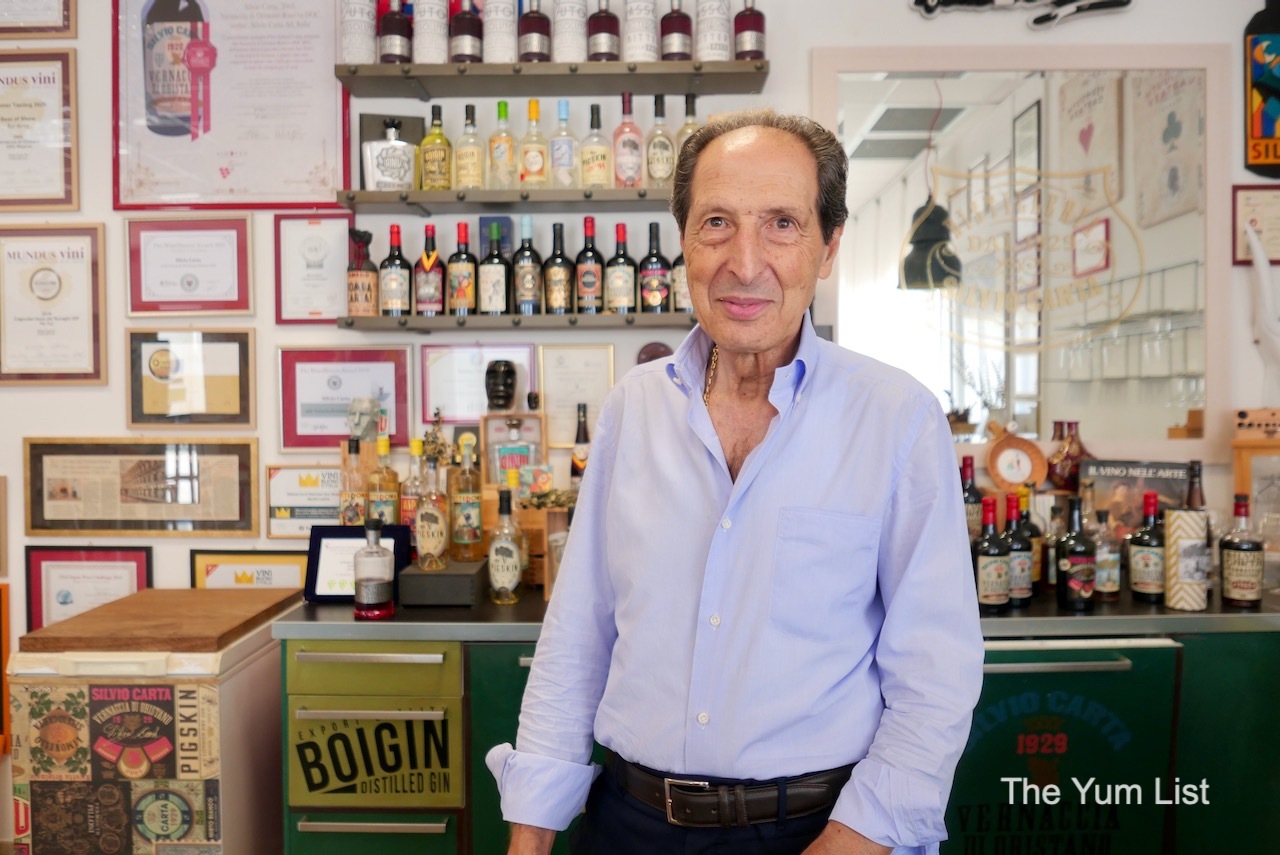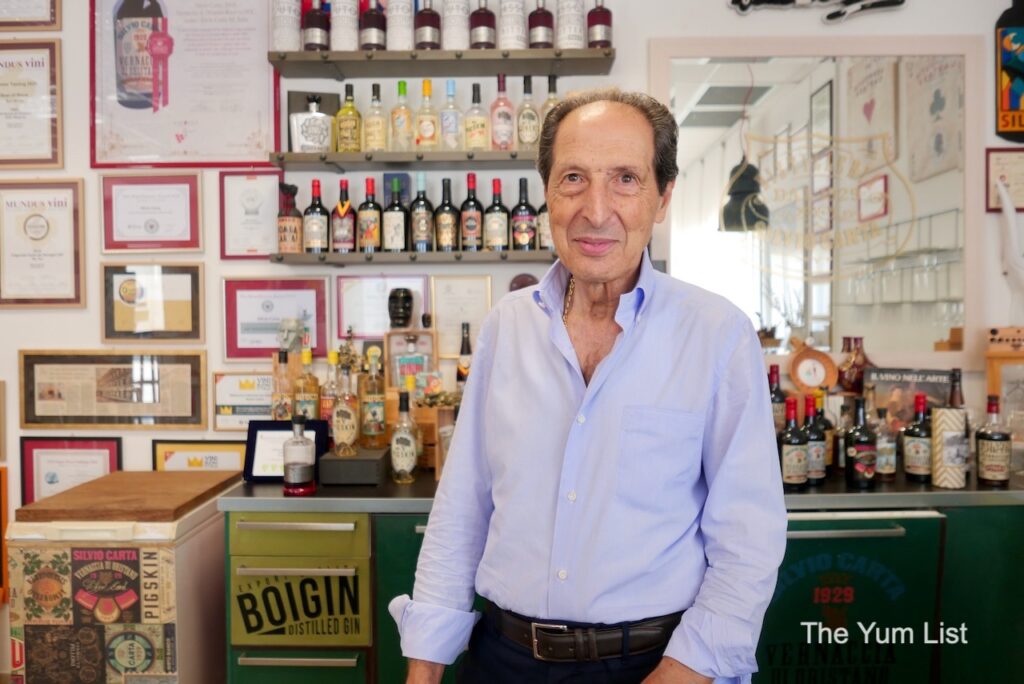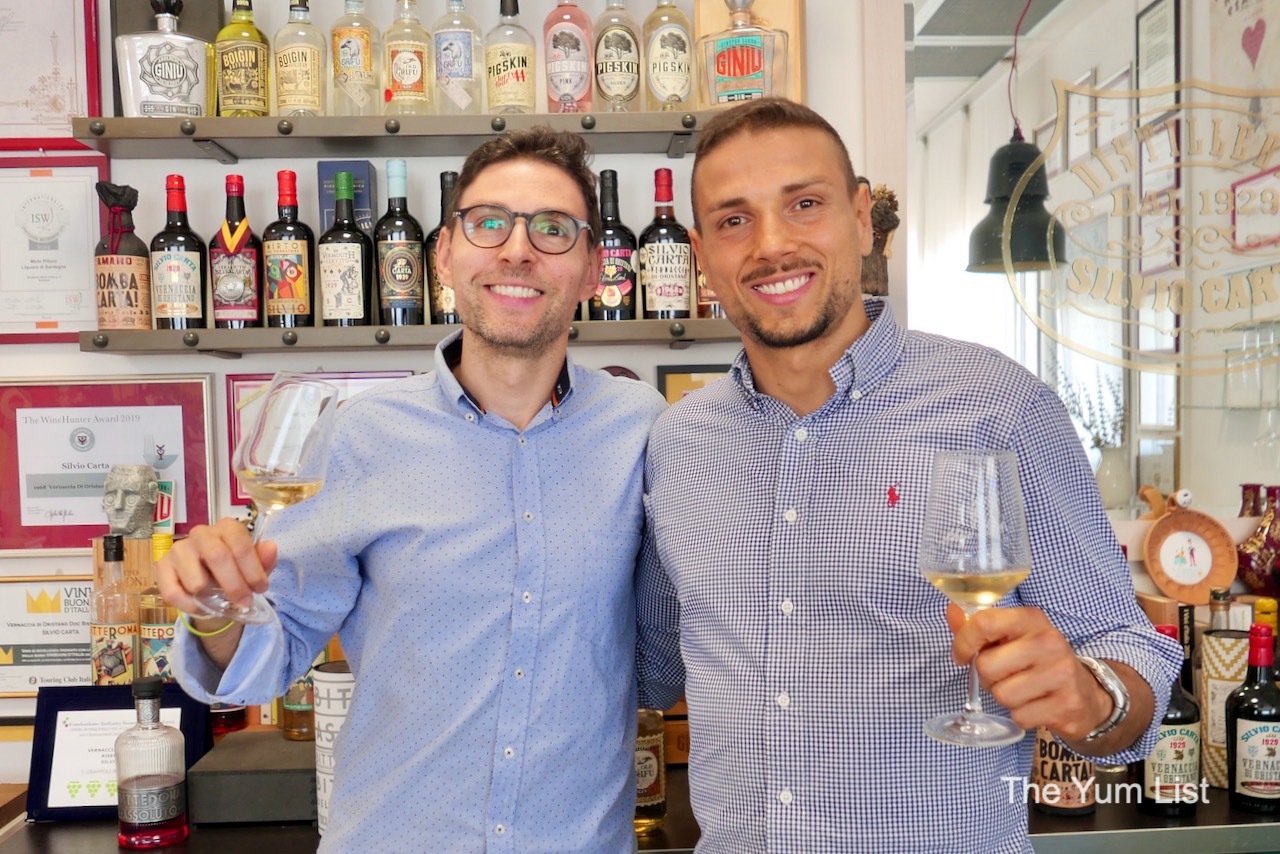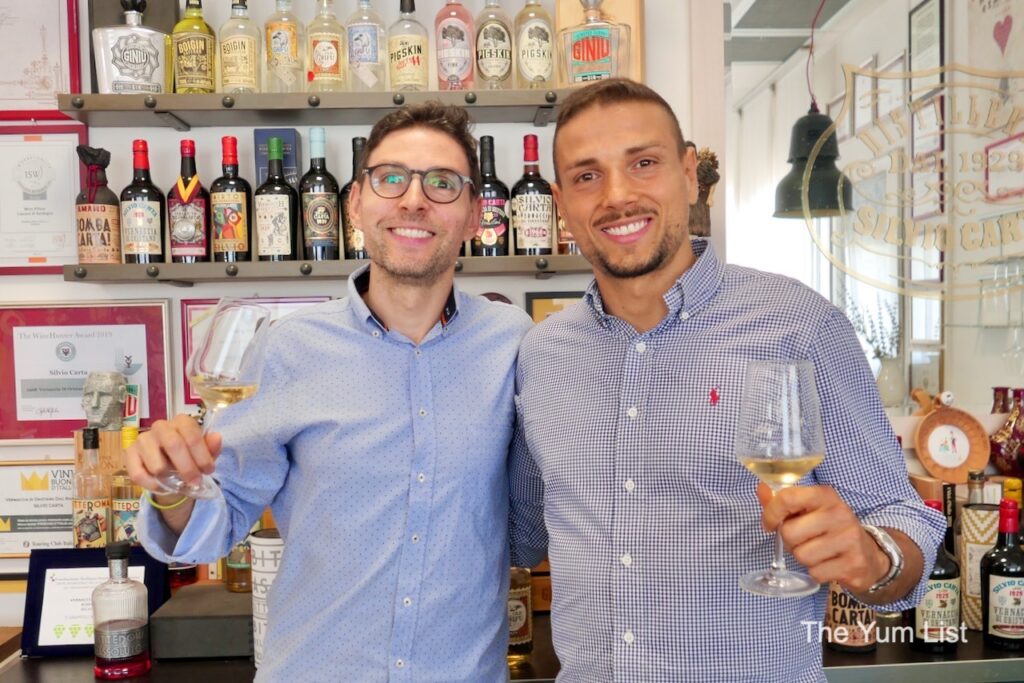 Sardinian Wines
Silvio Carta wines made from Vermentino, Cannonau, Monica (yes, there's a grape holding my name, how appropriate!) and Cagnulari grapes have all garnered multiple awards. We sip Silvio Carta's Vermentino with several dishes by the sea and find it adaptable – drinkable on its own just as much with food. We do save it for food, though. There are so many fantastic aperitif-style beverages in Silvio Carta's portfolio that we need to be wise with consumption.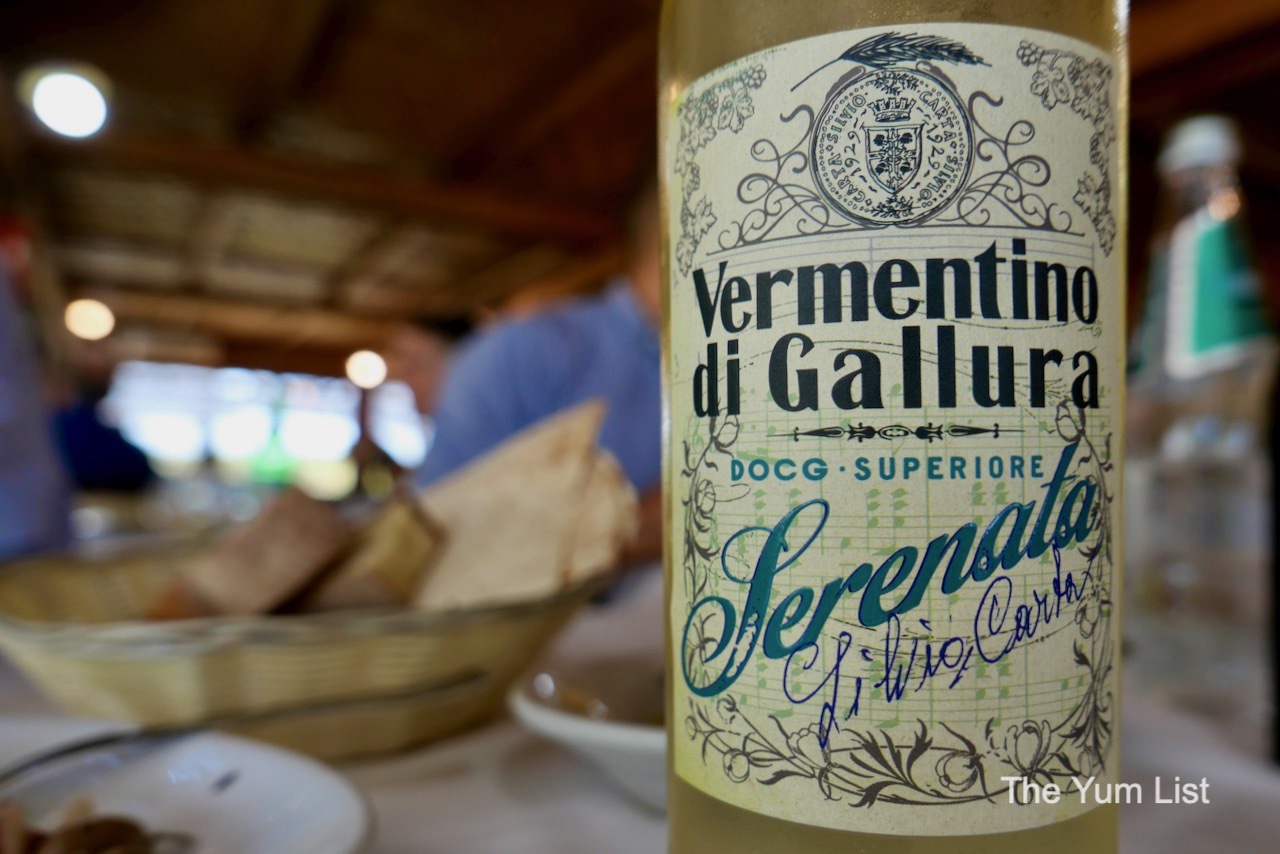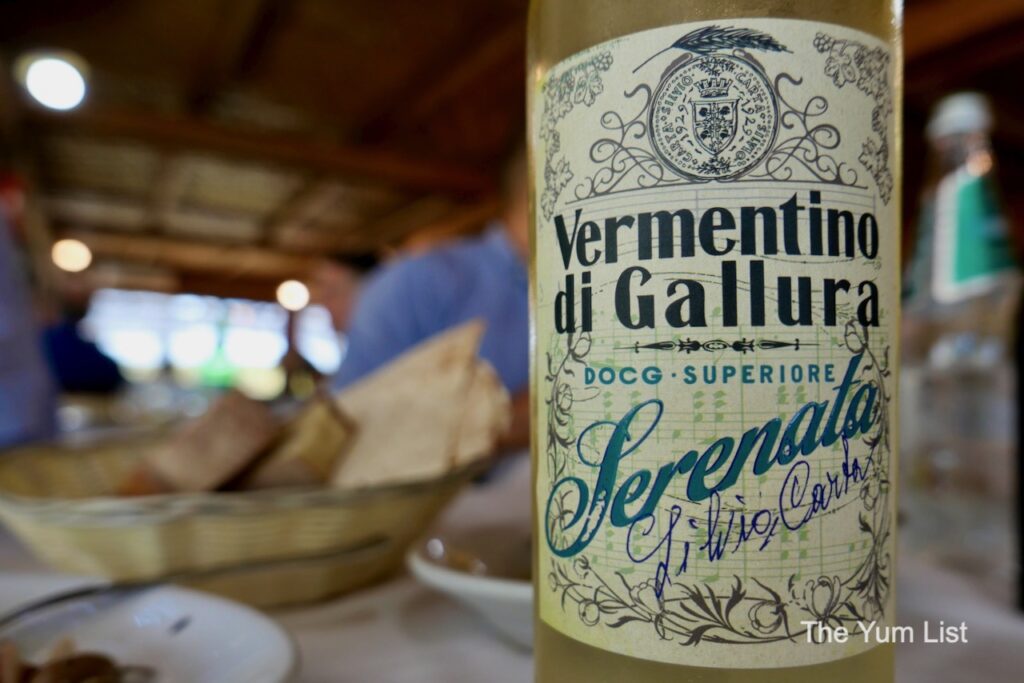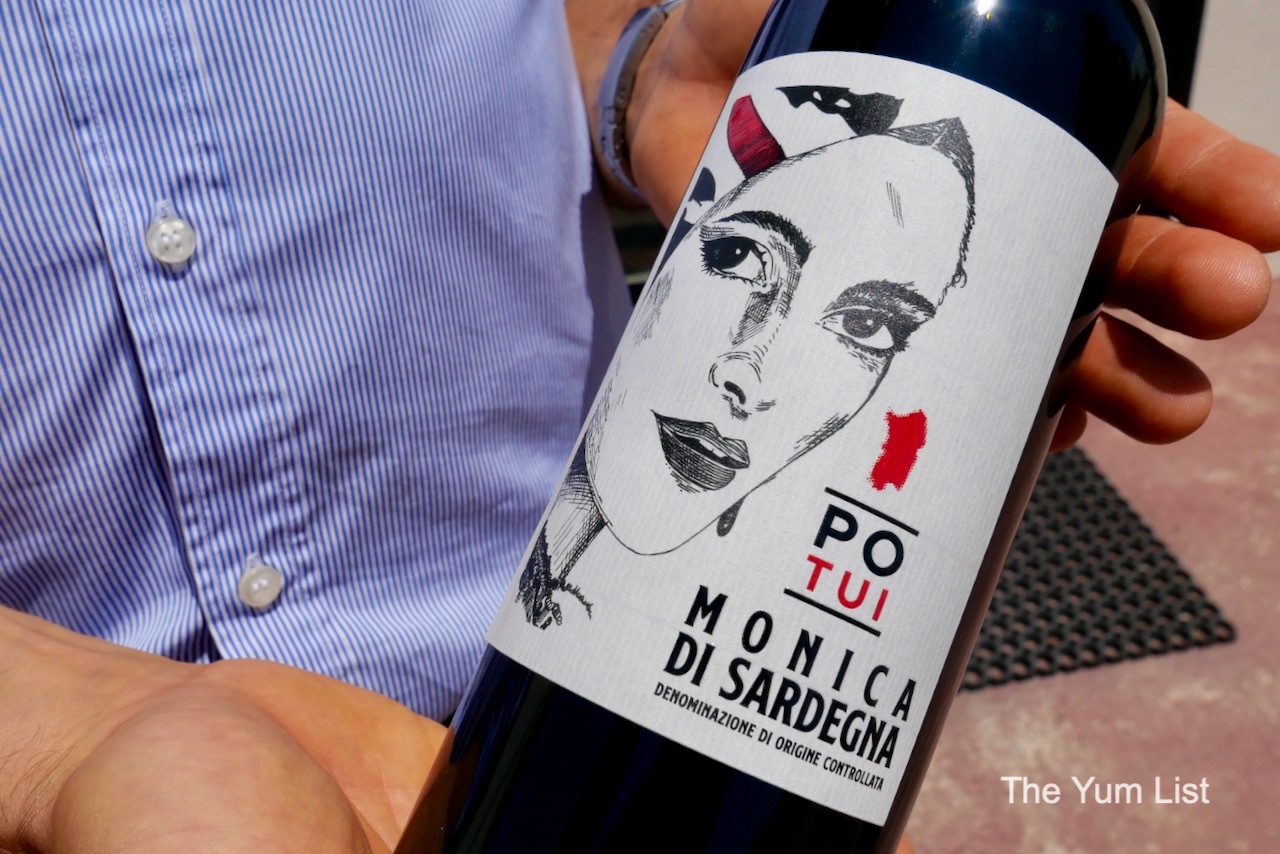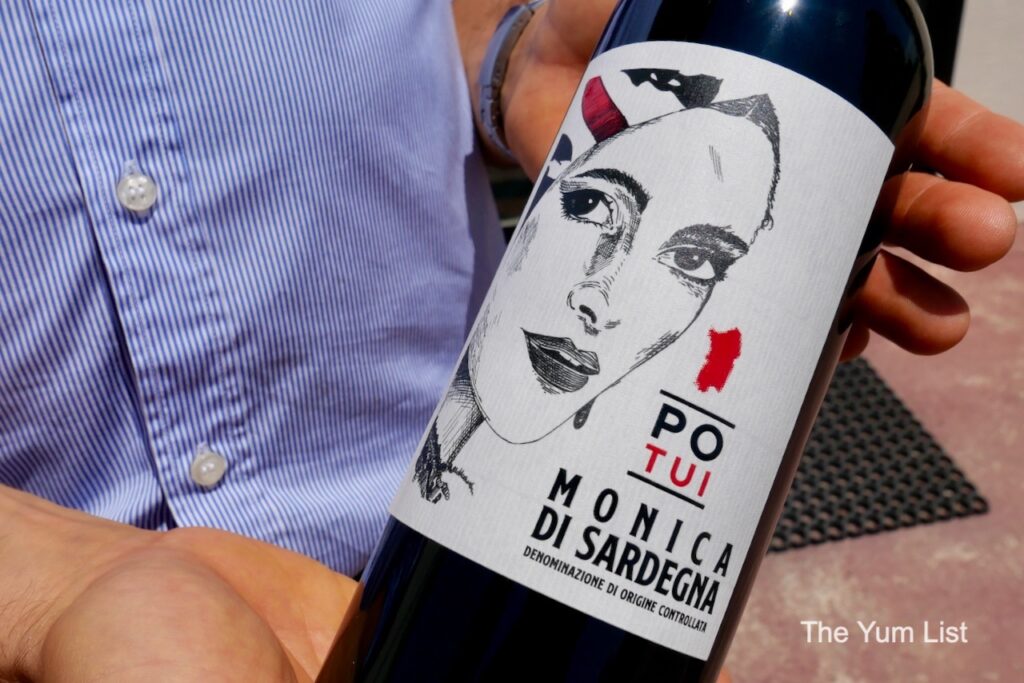 Liqueurs
Surely gourmets across the globe are acquainted with limoncello, the sour-sweet lemon digestive best-known hailing from Sorrento and Amalfi. Silvio Carta makes their own superbly creamy version (thanks to the essential oils from the whole fruit), Limonello, as well as Liqu and Elicriso. Each is made with local, natural ingredients, nothing artificial, and in every sip, we taste the abundance of the Mediterranean. However, it's Mirto, a myrtle liqueur, that's most associated with Sardinia.
Mirto has a long legacy on the island, and the Silvio Carta family enriches it with the trials and tribulations of history. During the savage winter of 1939, the abundant fruit of the myrtle saved the people of Baratili San Pietro from hunger. To further conserve the berries, Elio's grandmother stored a handful in a cup of Vernaccia spirit, and the historic recipe was born. Using twice as much fruit as other recipes, the beverage is viscous and smooth. First, sweetness enters the palate, and mild tannins take it through to the finish. Of the many we've tried on this trip, it is indeed the smoothest.
But wait, there's more! Little known to the outside world, Mirto can also be made in a white style using the leaves instead of the berries. It sports the same viscosity as the red, coating the mouth with soft balsamic notes. Delightful. Both, as with all of Silvio Carta's liqueurs, are best served well-chilled. It's recommended to keep the bottles in the freezer, waiting until the exterior is frosted over for the ideal temperature.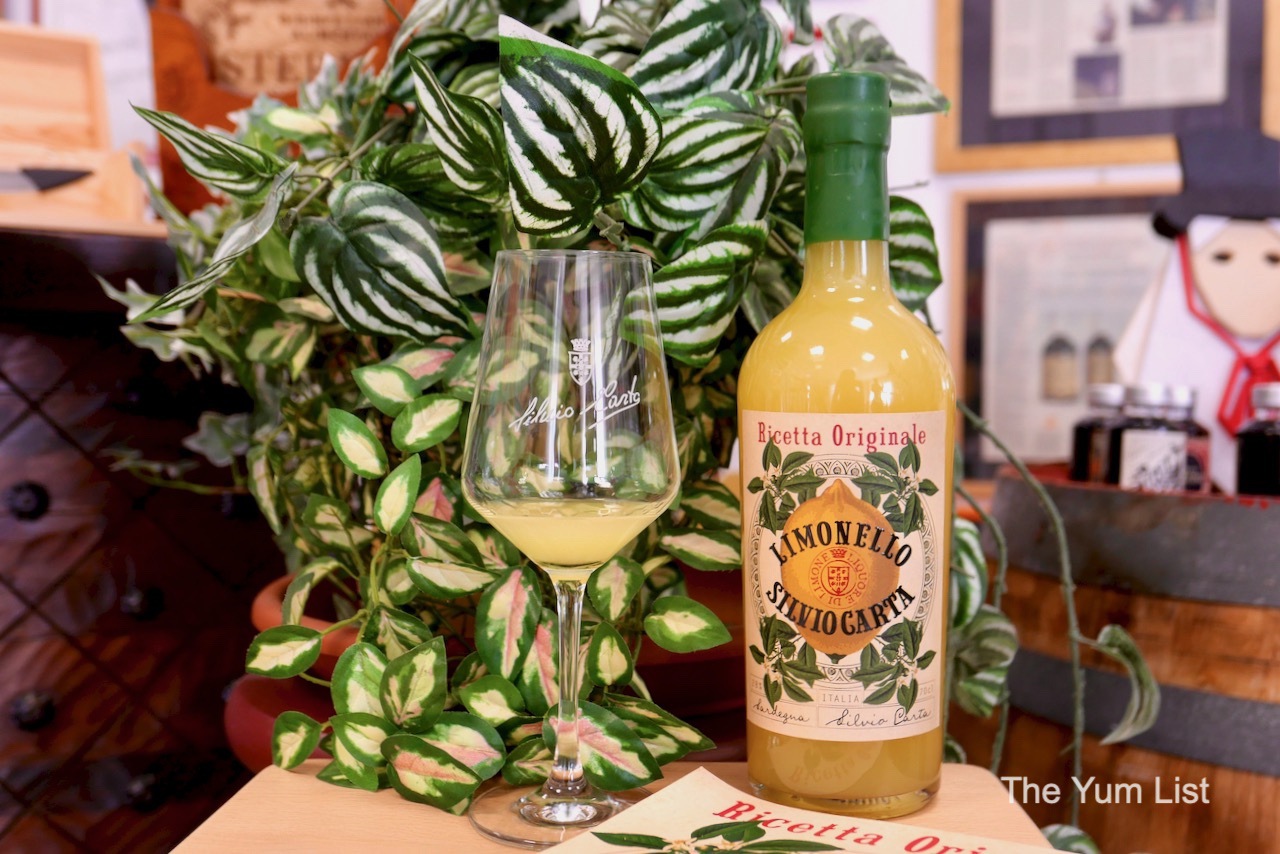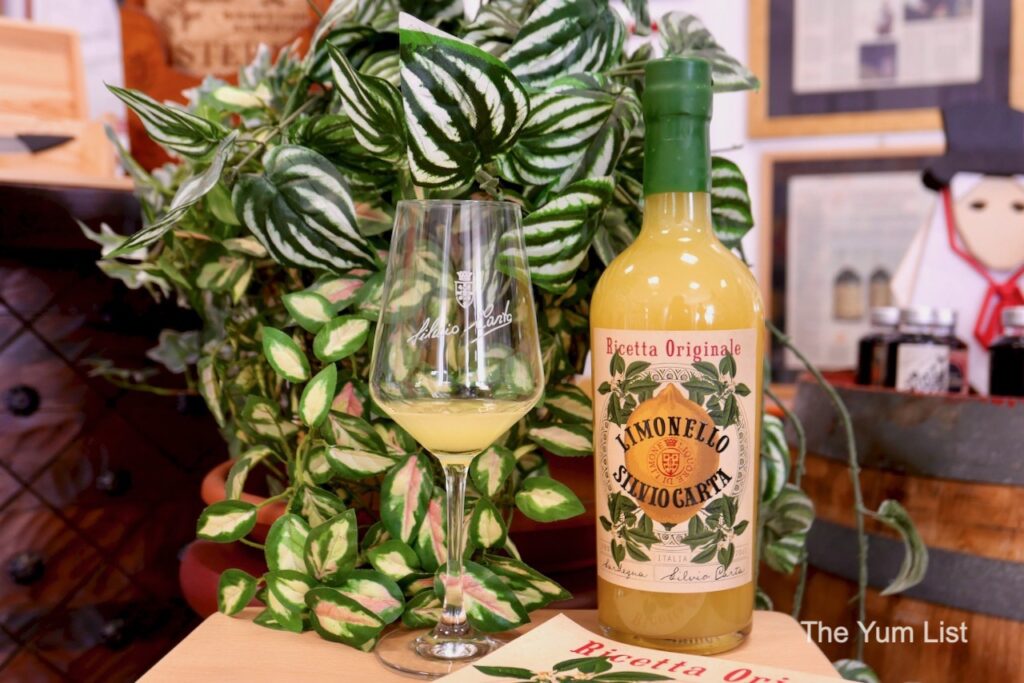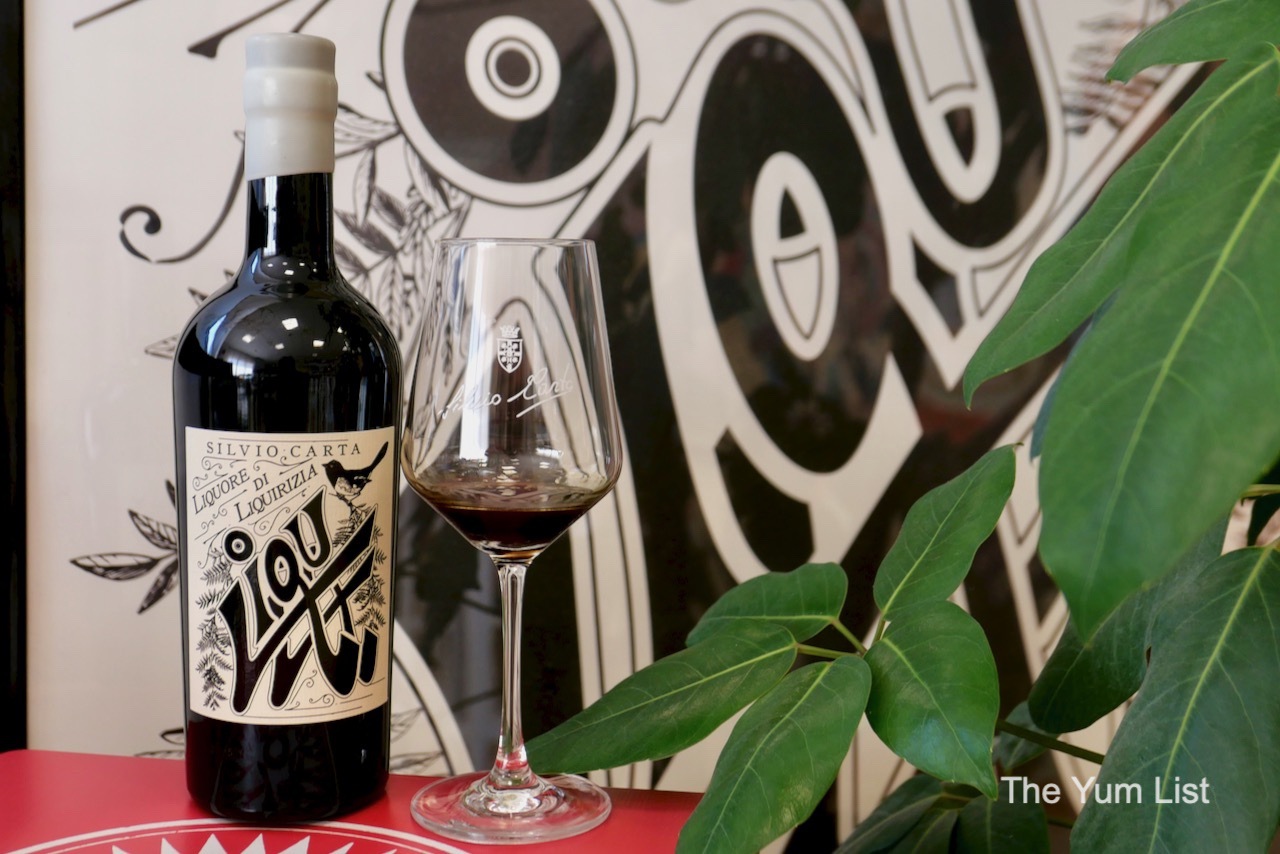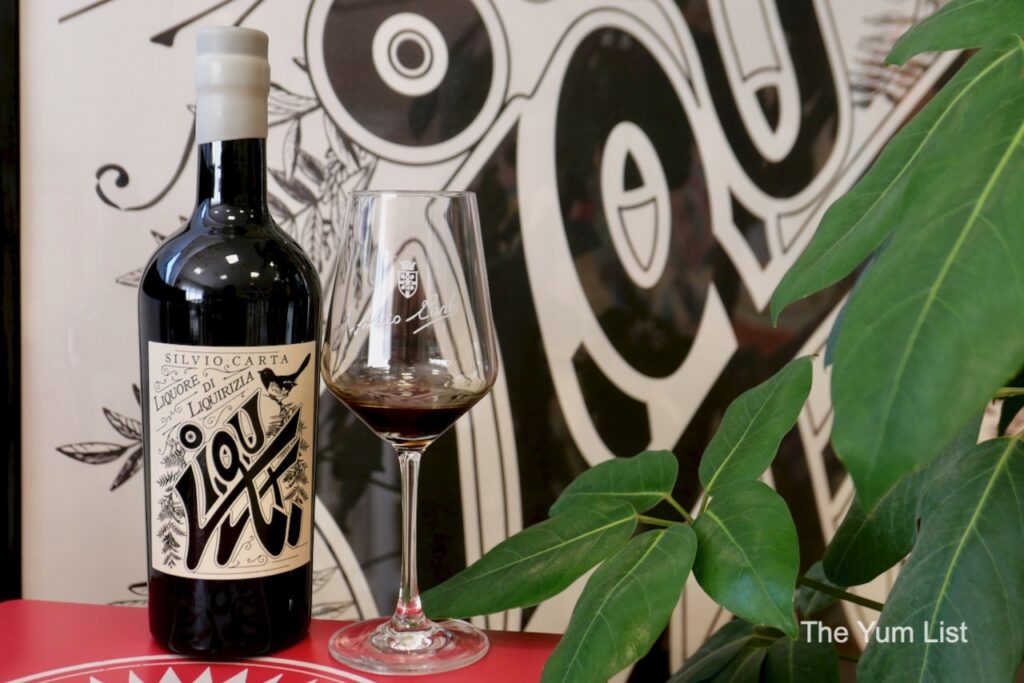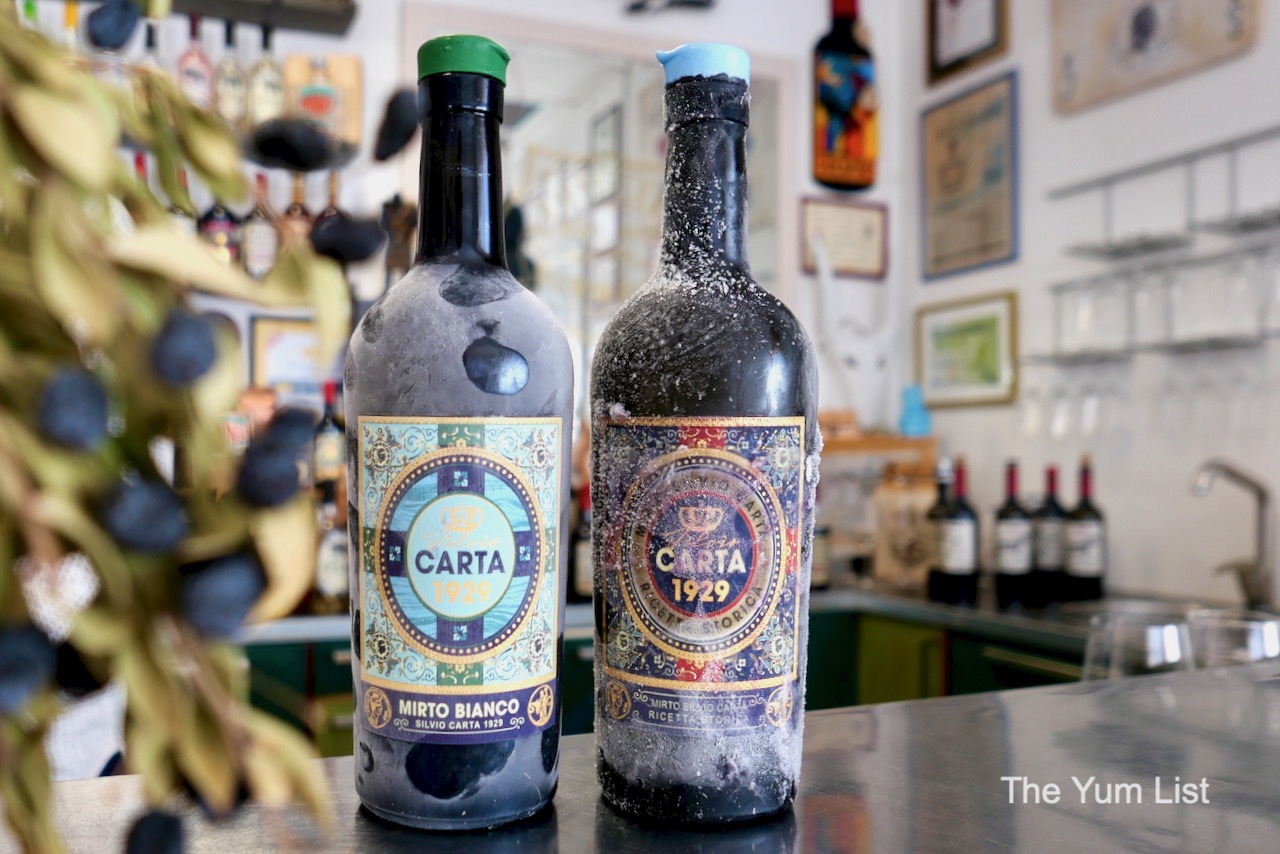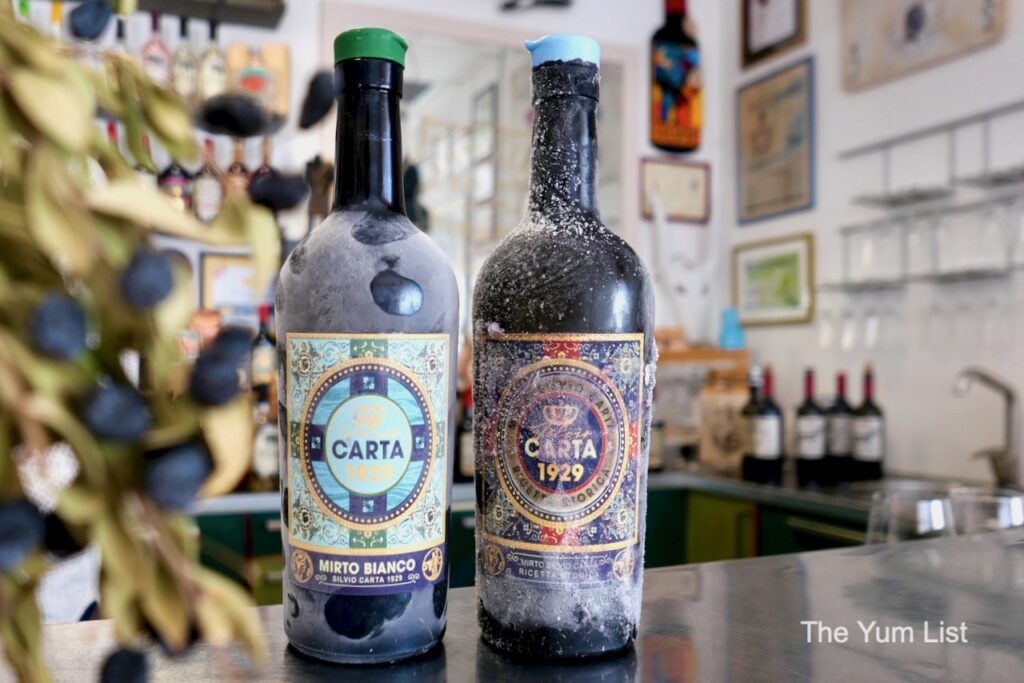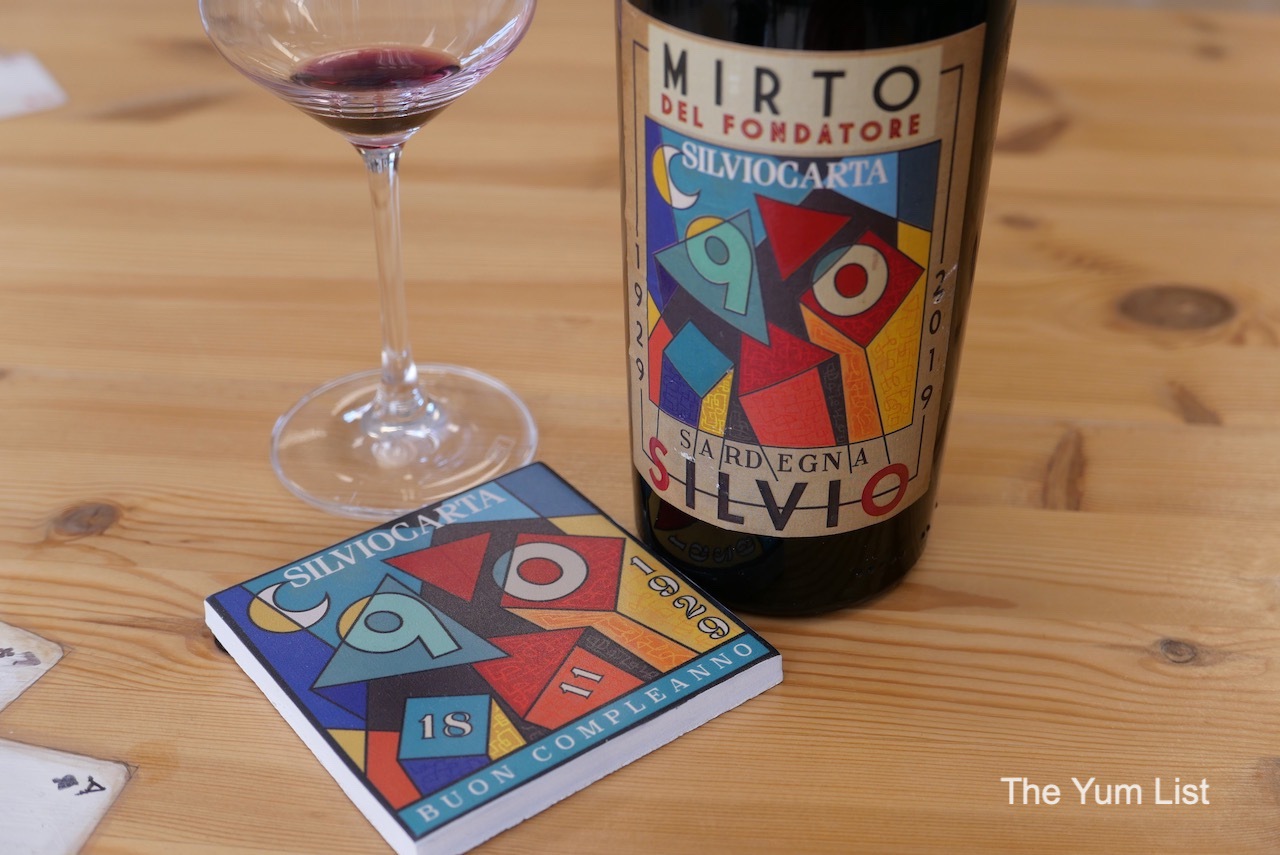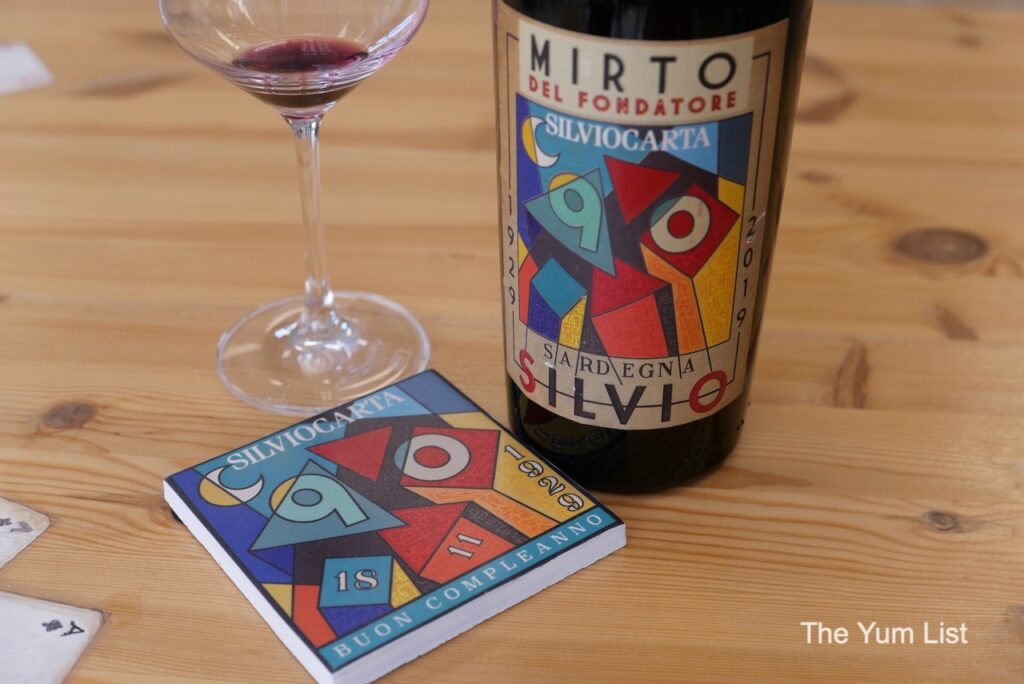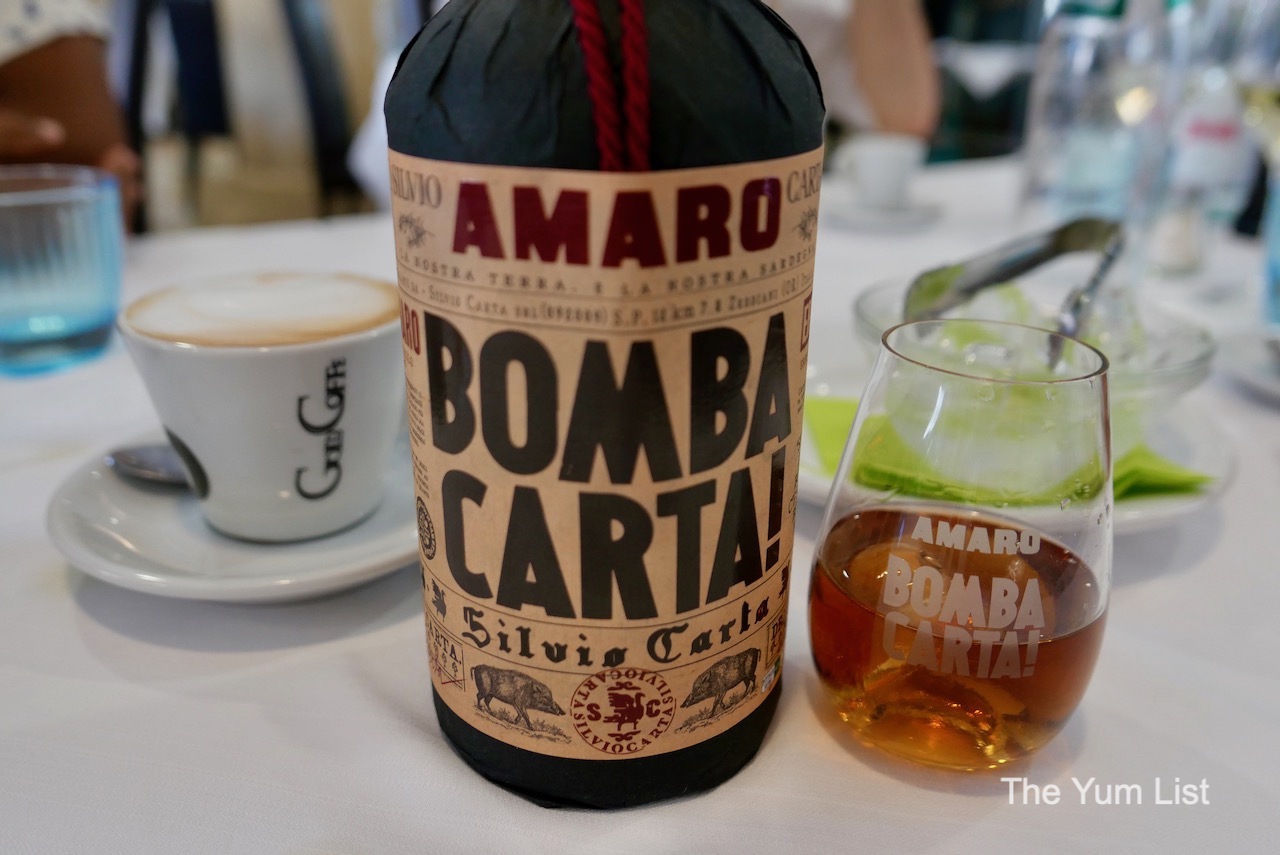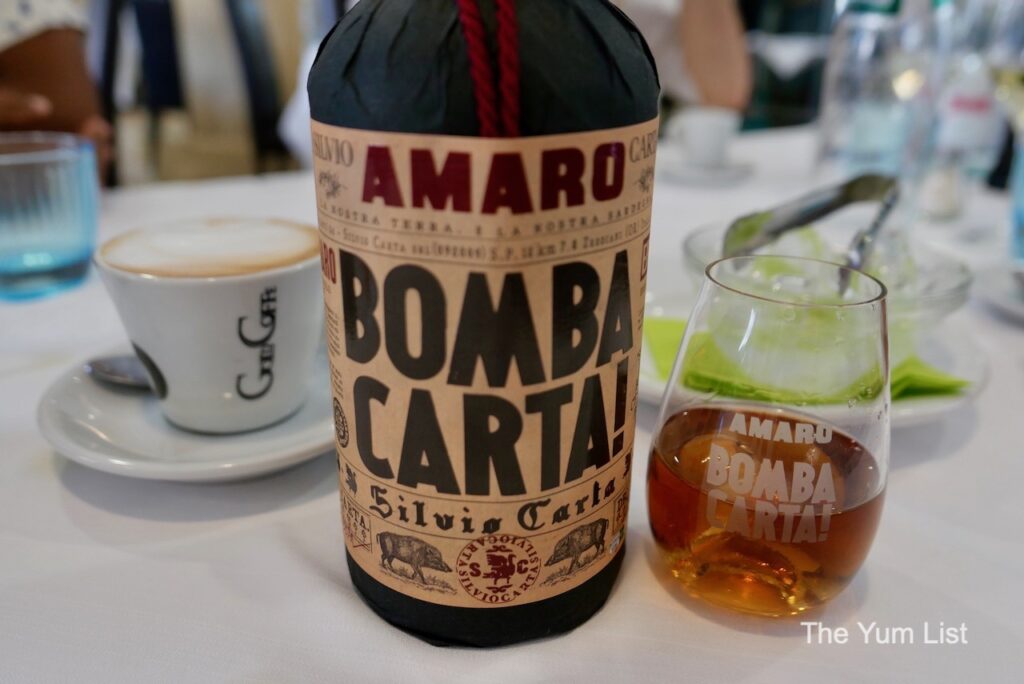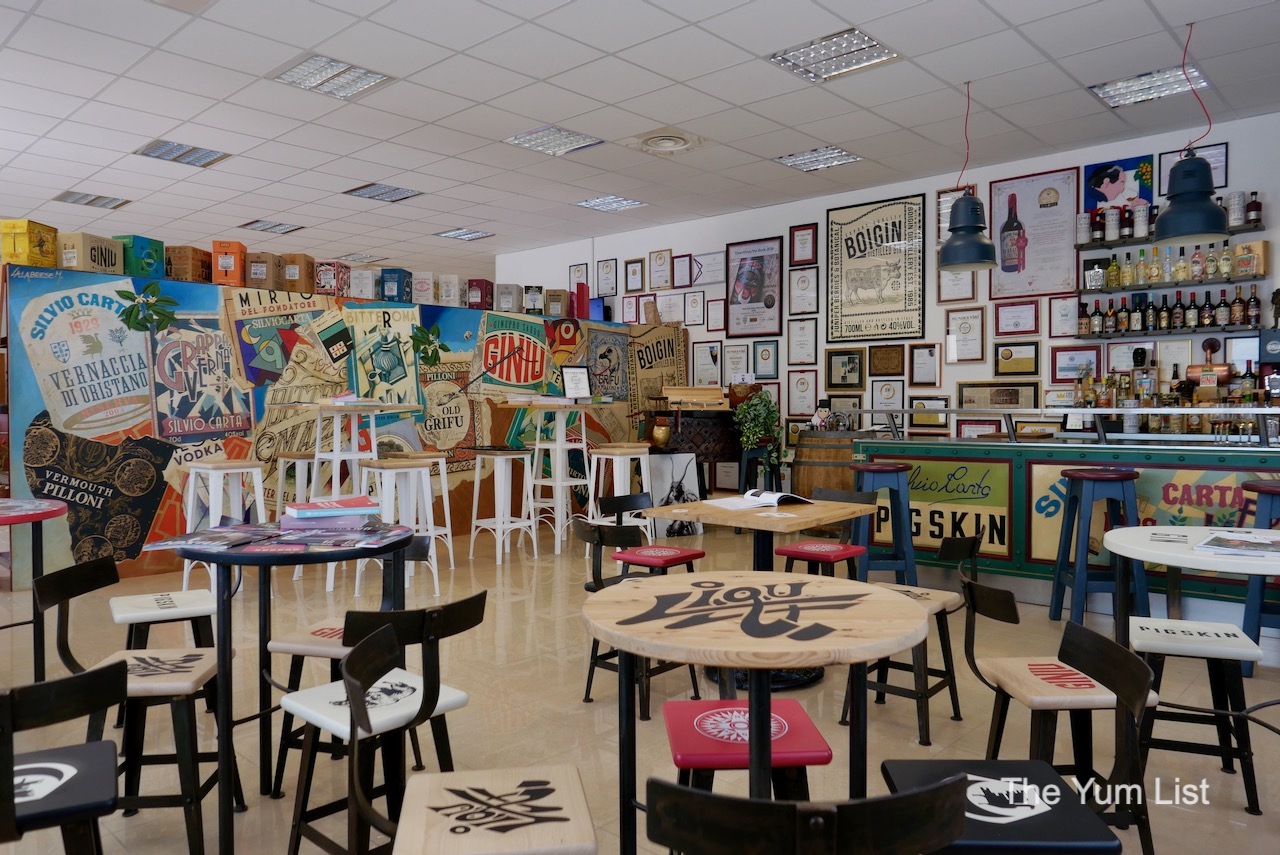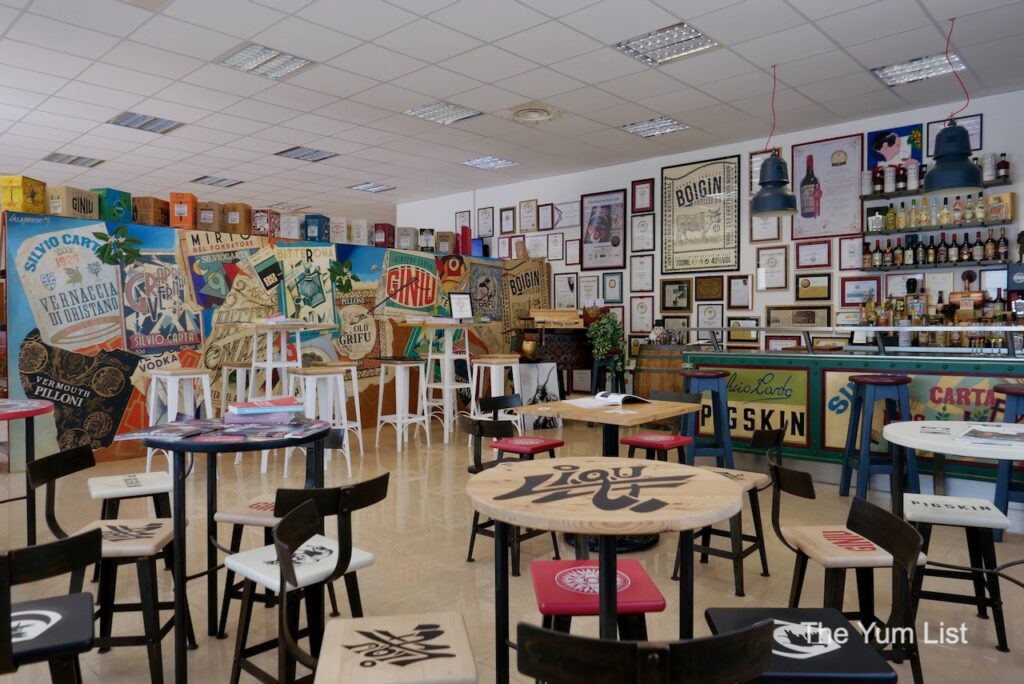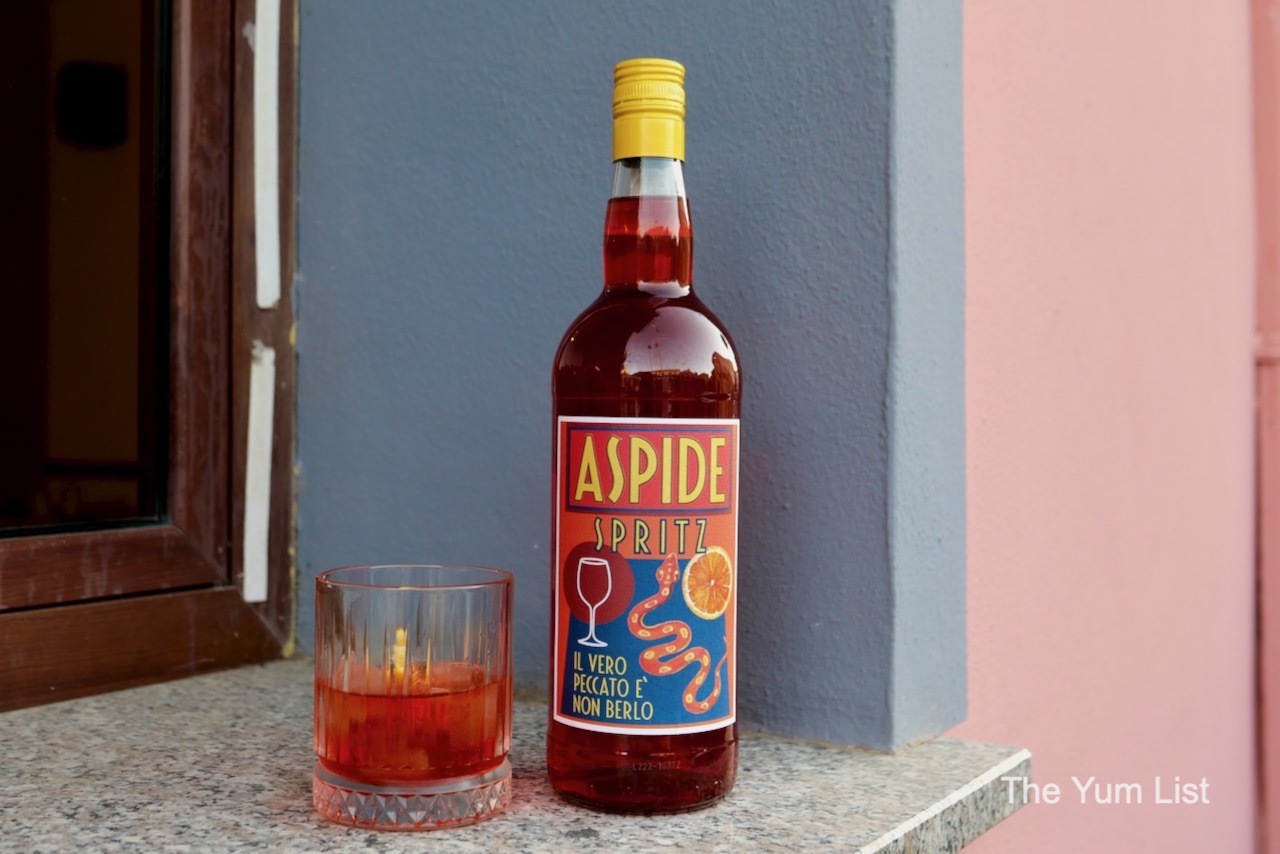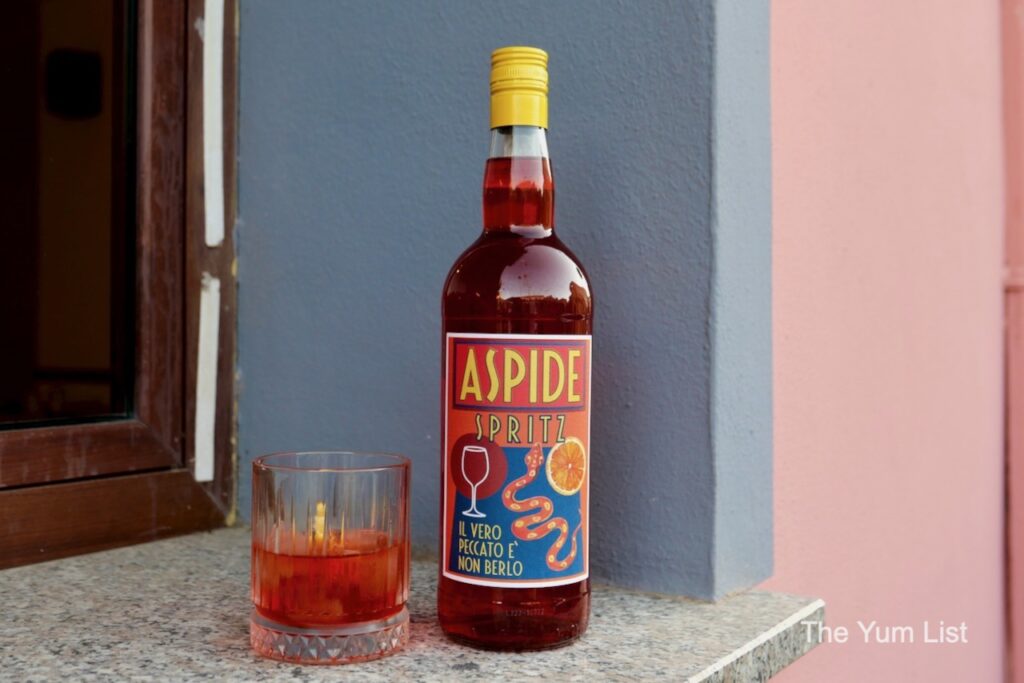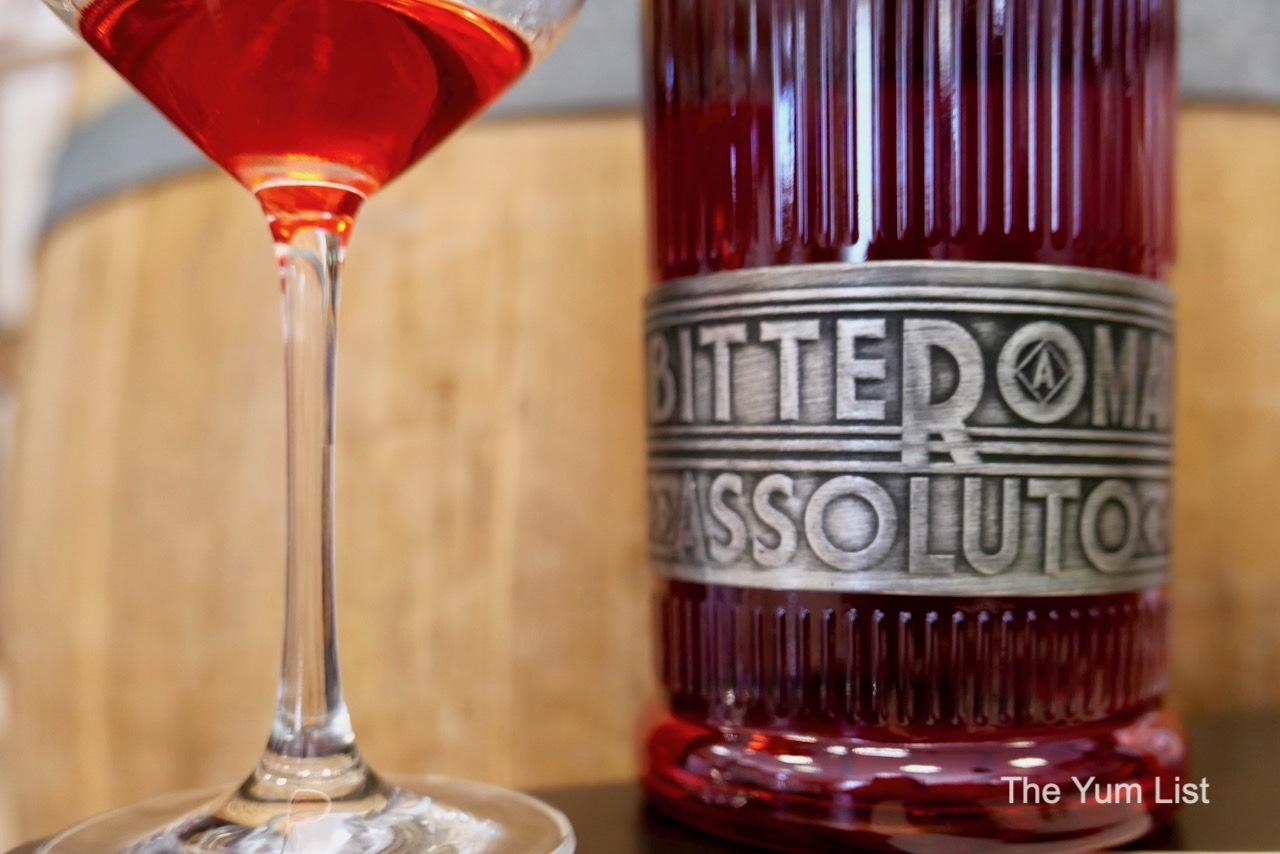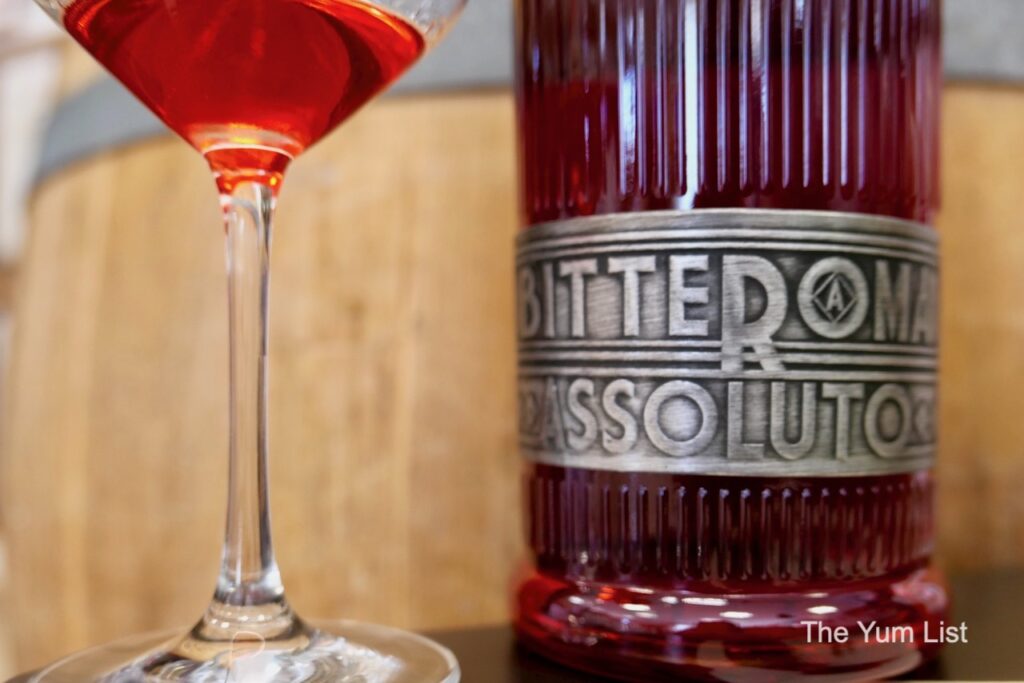 Silvio Carta Spirits
There's nothing like the forbidden to arouse curious minds, and that is exactly how gin production began in Sardinia. Following the second world war, fierce distillation was launched, most of it smuggled. Despite the law, locals brewed everything they could. In the region of Oristano, that meant Vernaccia and juniper. "The filu 'e ferru was produced from the distillation of the pomaces, l'abbardenti from the wine," and the "juniper spirit was called giniu, from the Sardinian 'giniperu' (juniper plant)."
Smuggling ended in the 1960s, and demand dwindled. It wasn't until 1981 that the team at Silvio Carta took a risk and reawakened distillation. It was a bet that paid off; for now, the company is given credit for rebirthing the industry on the island. They produce the world's only brandy of Vernaccia and a collection of gin – Giniu, Pigskin, Boigin, Grifu – to excite any juniper lover.
Perhaps the only gin in the world to use 100% juniper, and no other botanicals, the Giniu is something special. With access to fresh berries, juniper is picked and in the vat on the very same day as harvest. Thanks to the freshness of the core ingredient, the gin is superbly clean and pure. It's ideally sipped neat or on ice to truly appreciate its uniqueness. Even more special is the Giniu 517. Again it's 100% juniper, but for this gin, the berries are picked from a small plot in the mountains. Often covered in snow, the berries have to be uncovered for collection. 
Once you've established your tasting foundations with the Giniu, Silvio Carta has a complete range of gin to excite. Again, all are enhanced with Mediterranean botanicals growing on the family's land, ensuring only the freshest reach the vat. Of note are several labels aged in small chestnut barrels as well as Boigin Saffron, suggested as an alternative to wine as a meat pairing.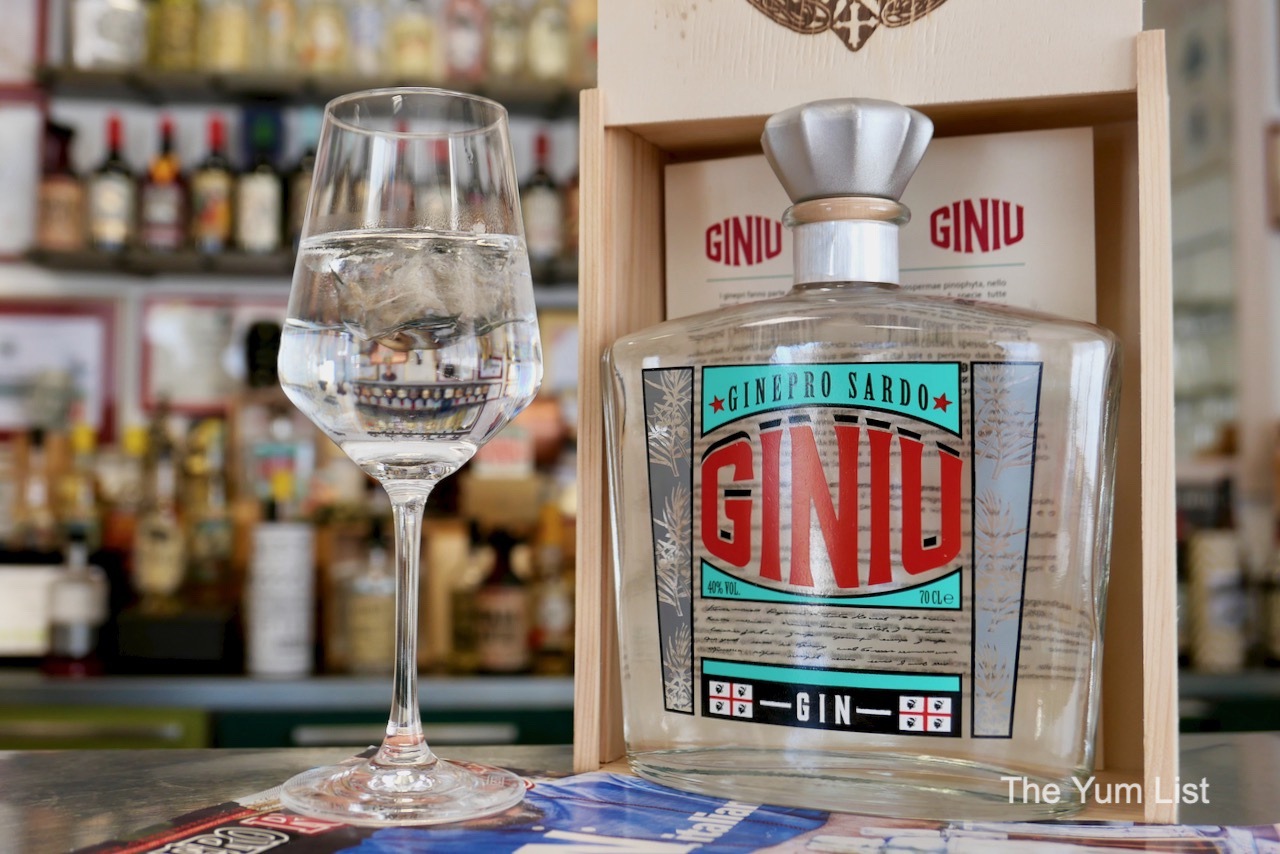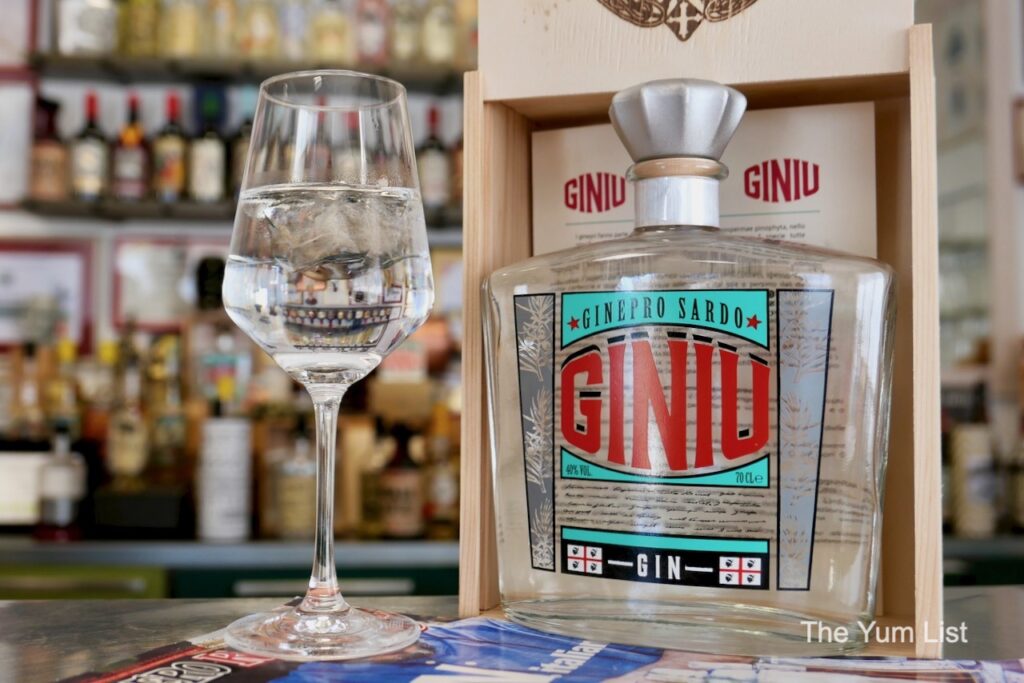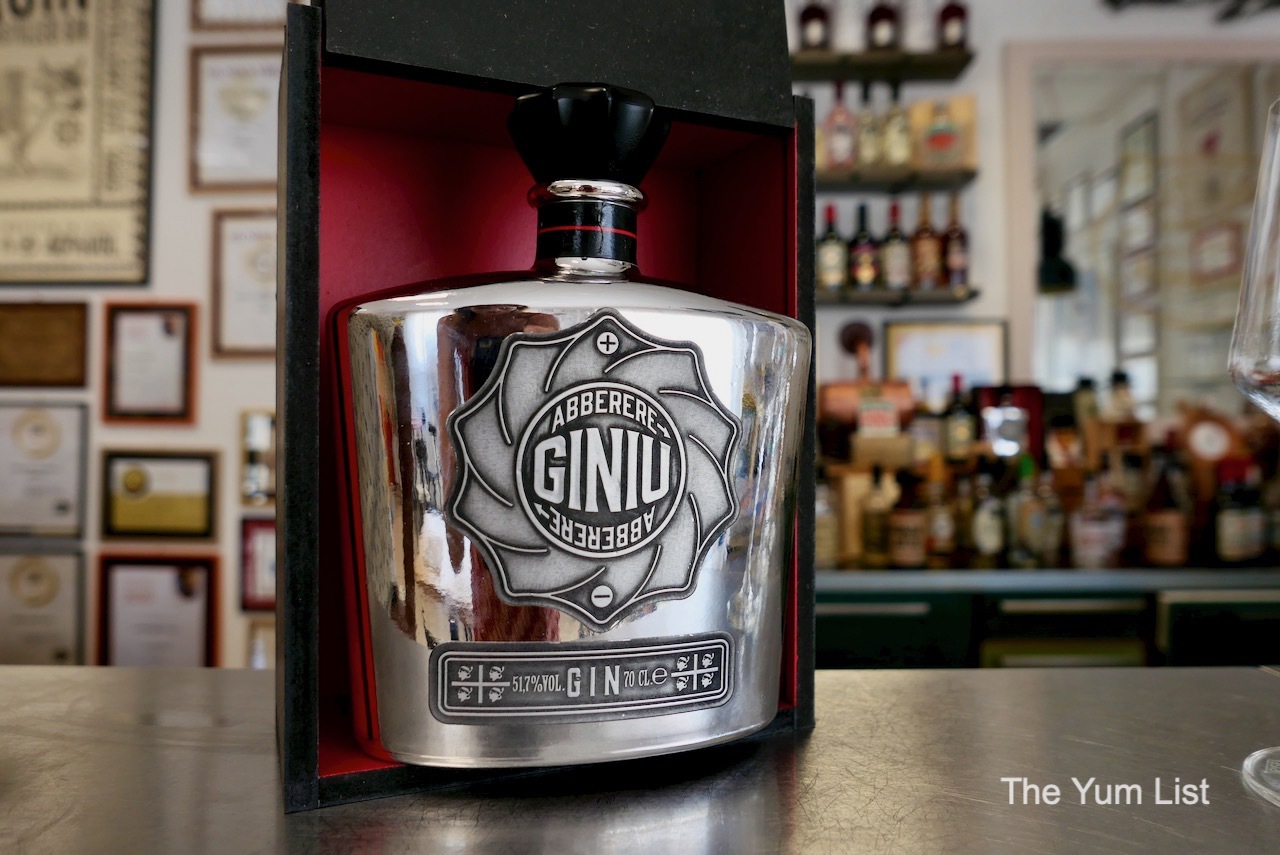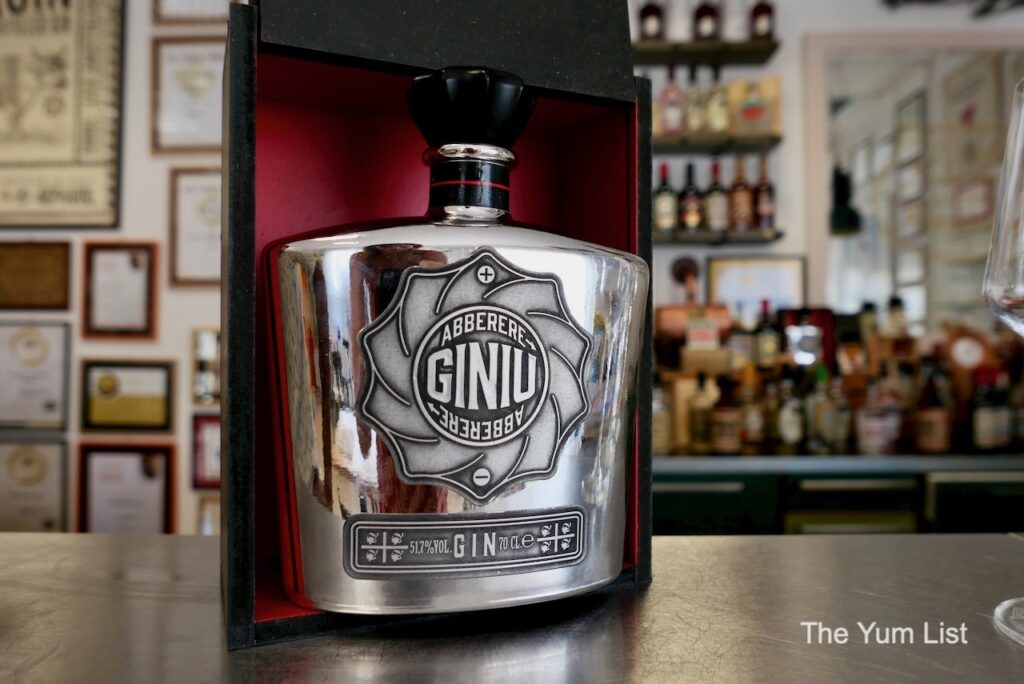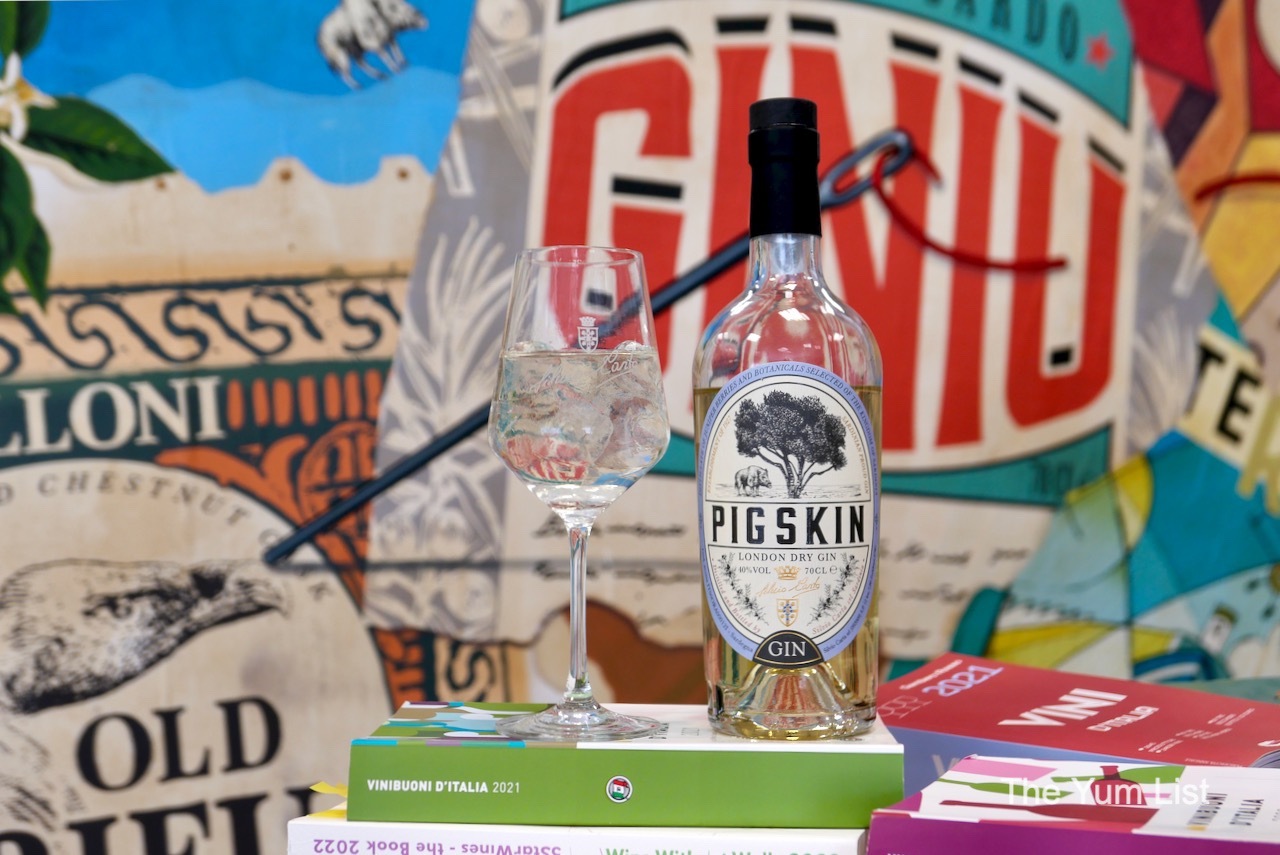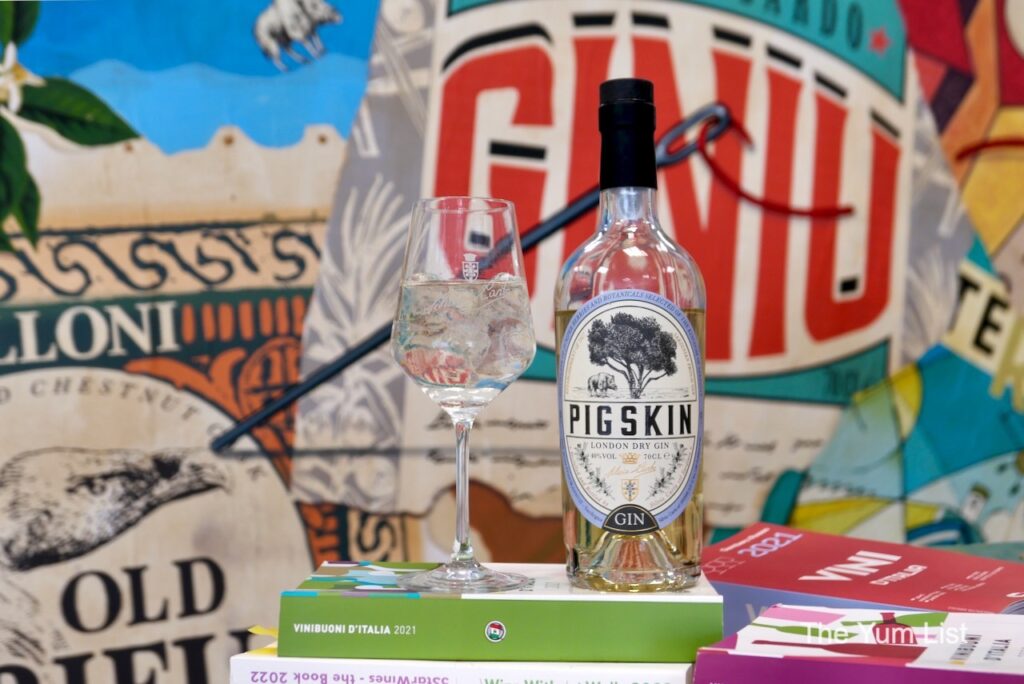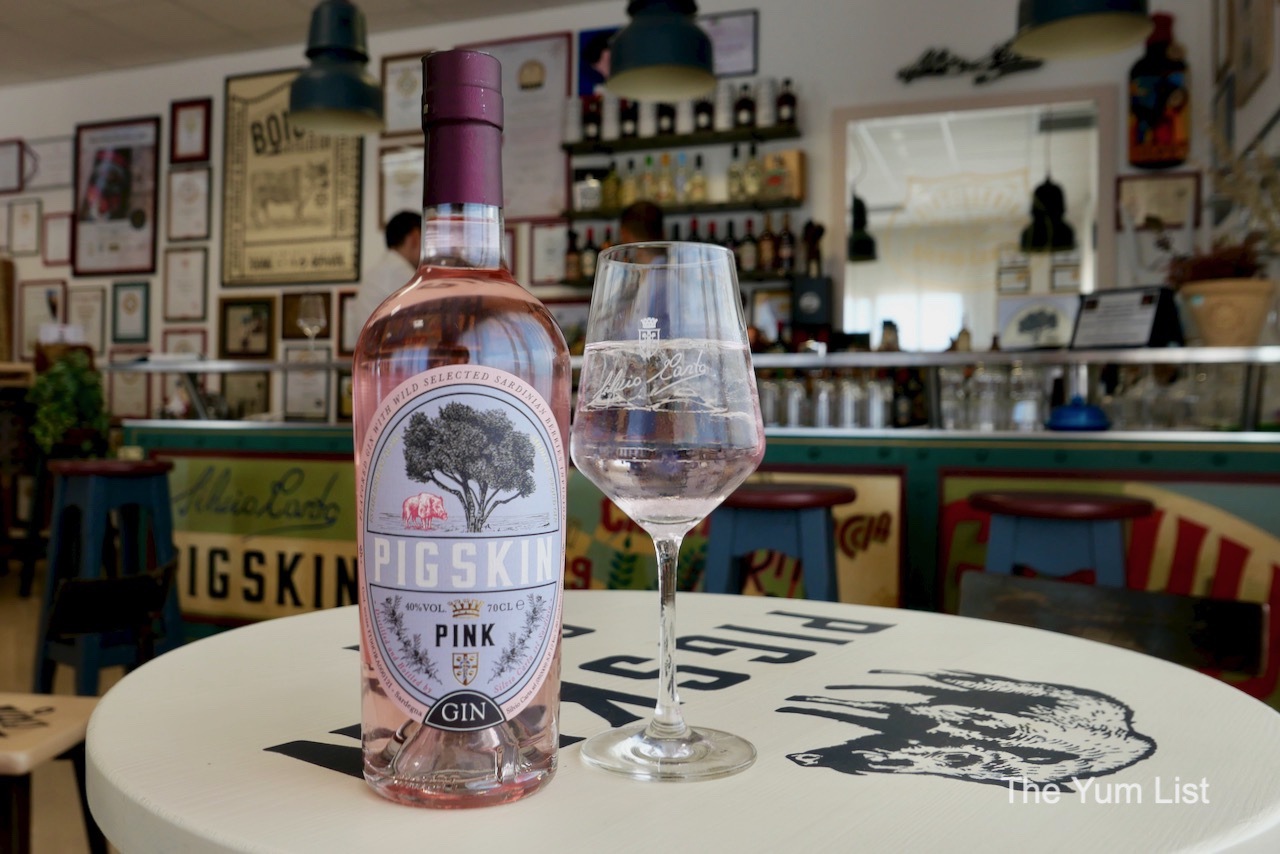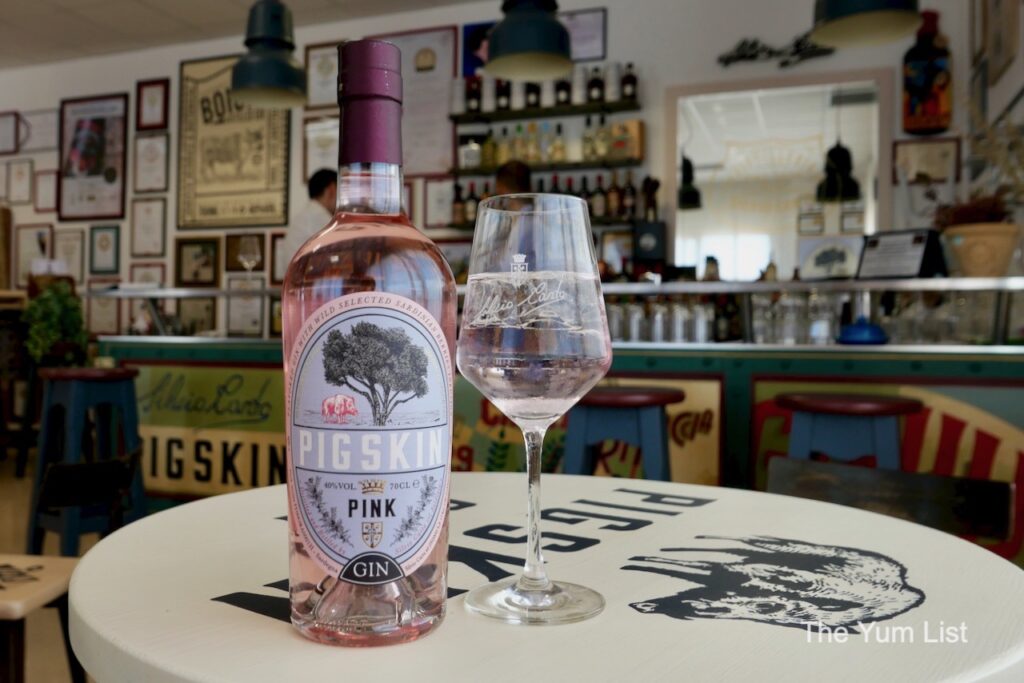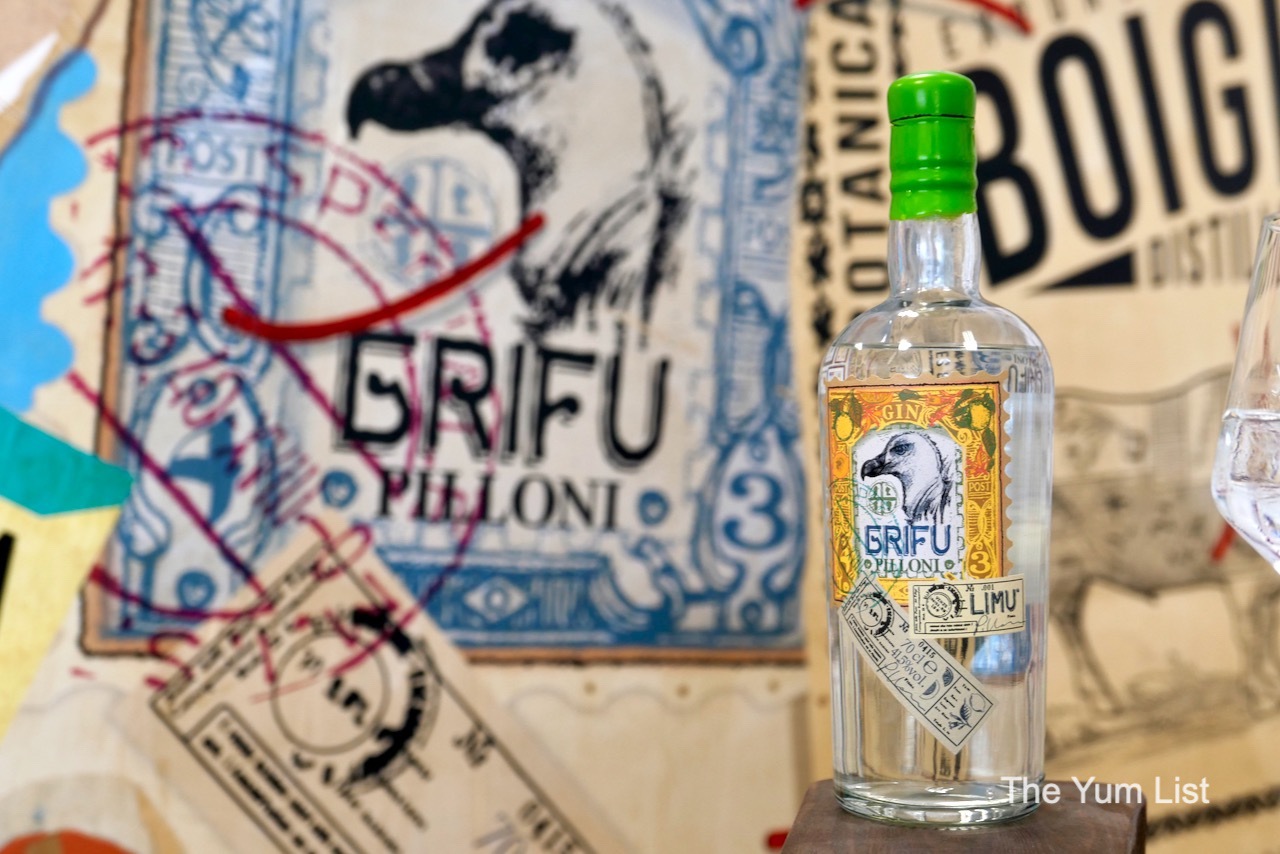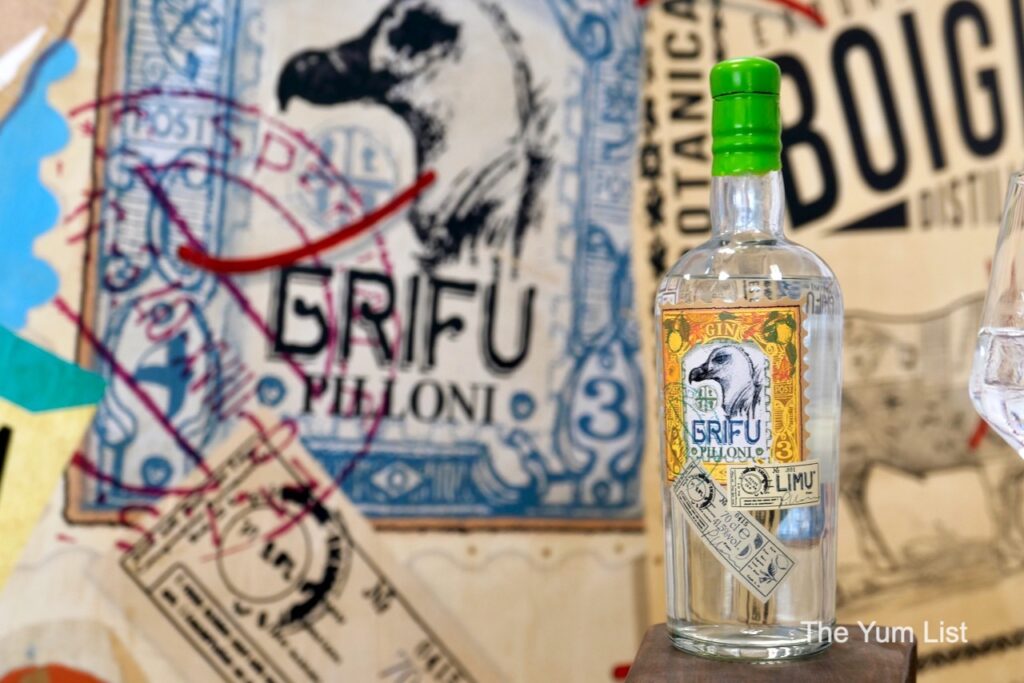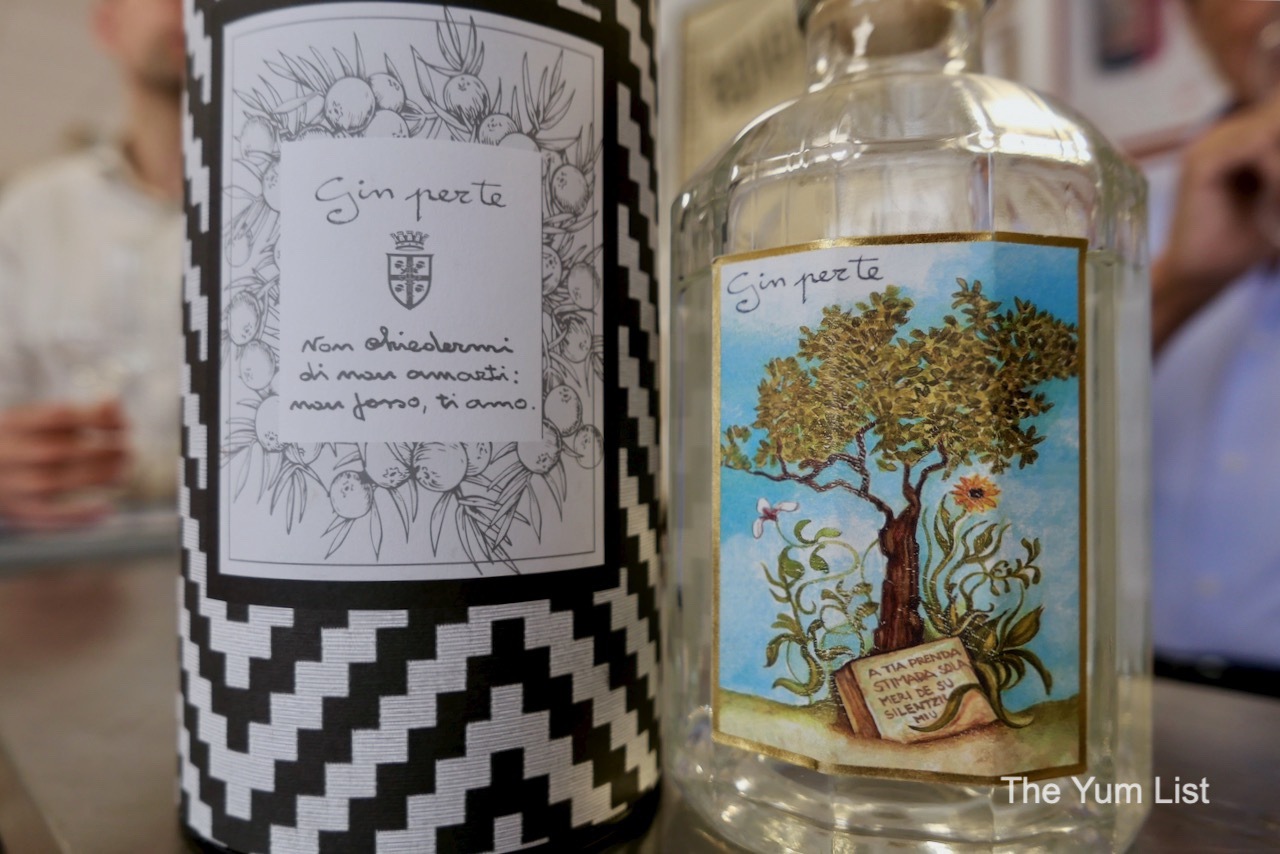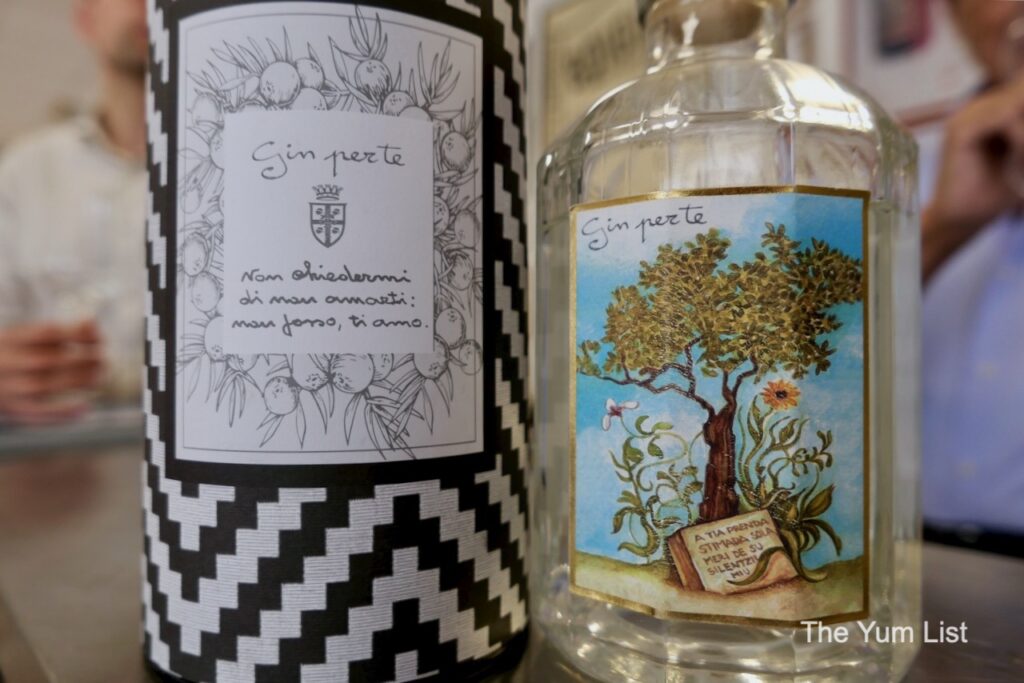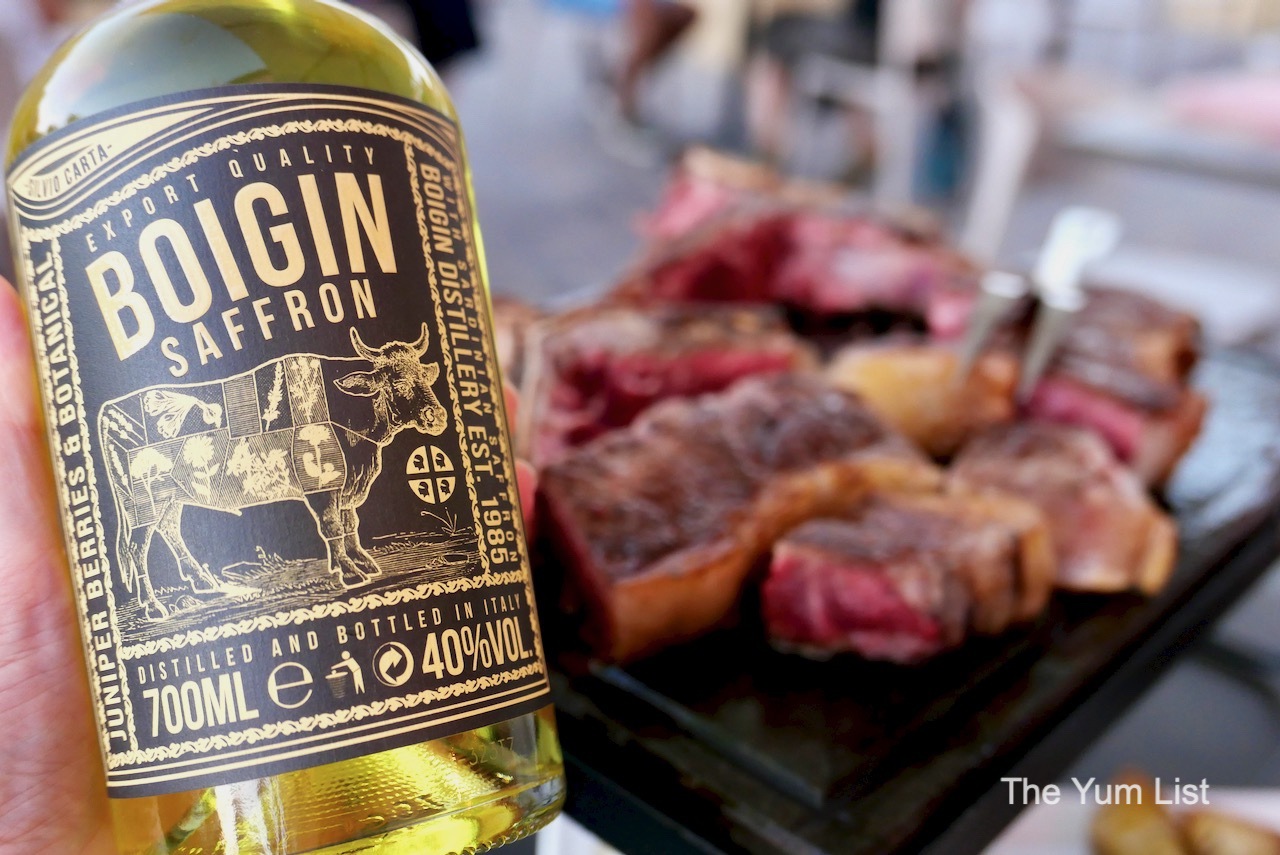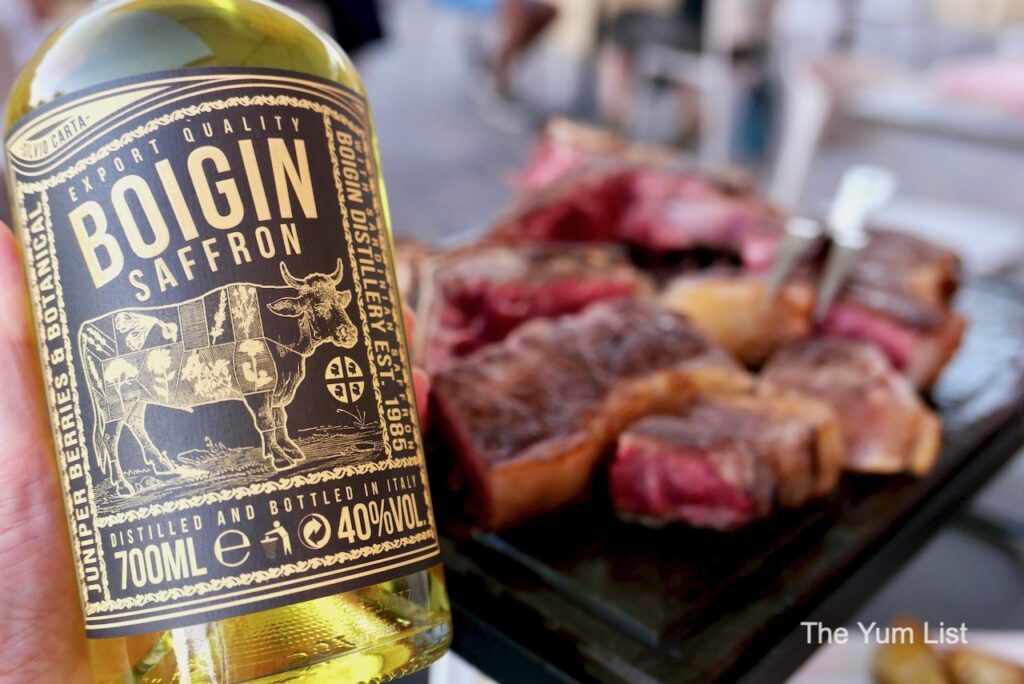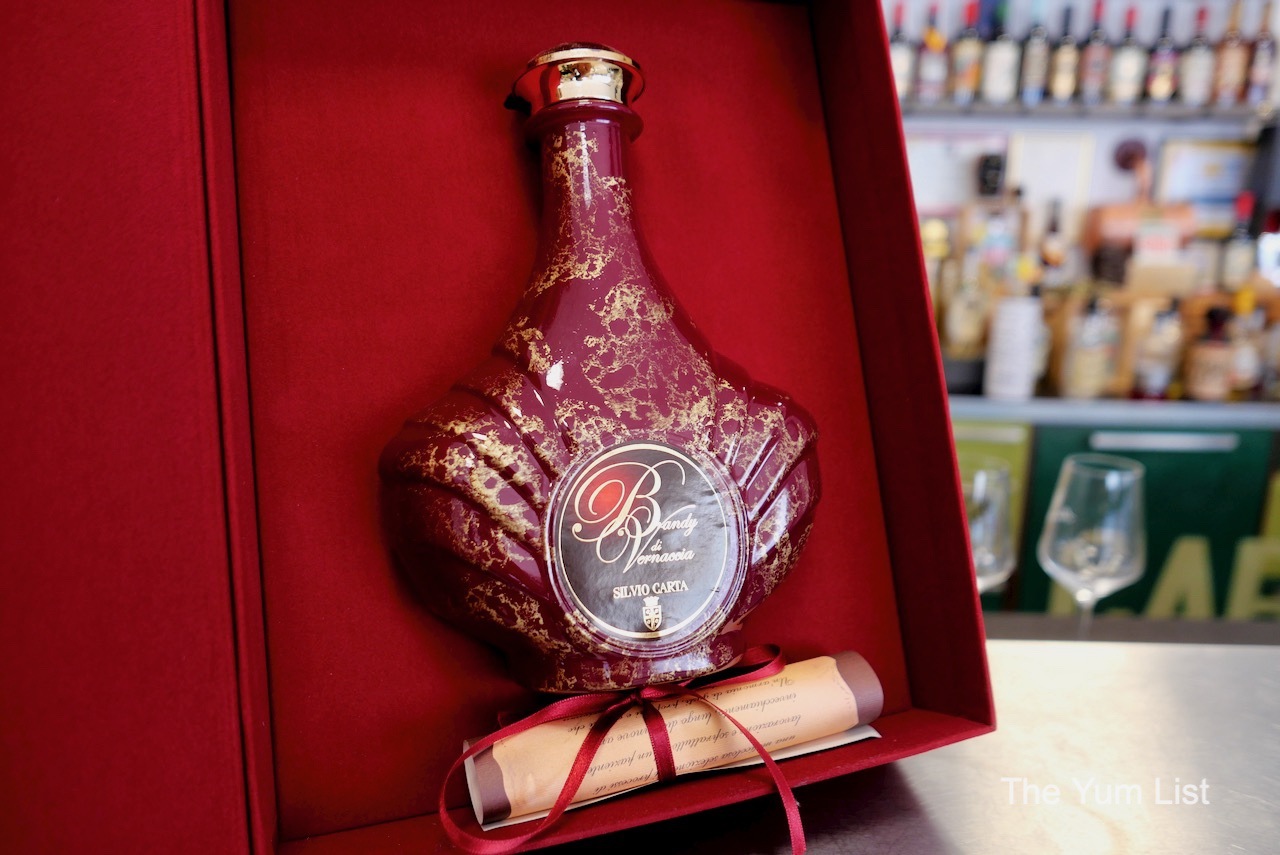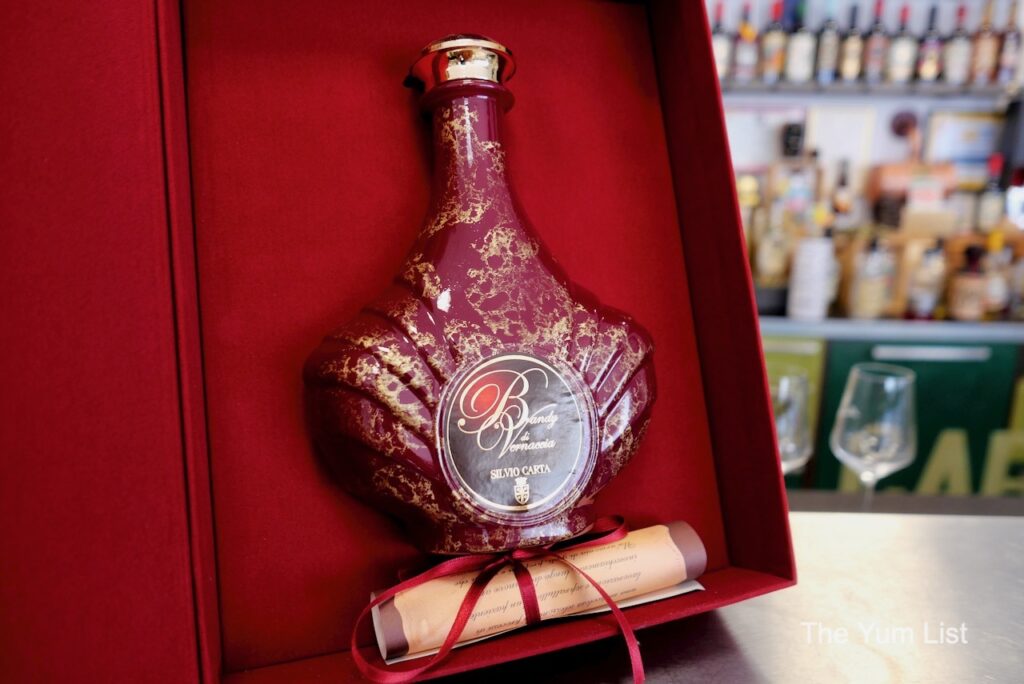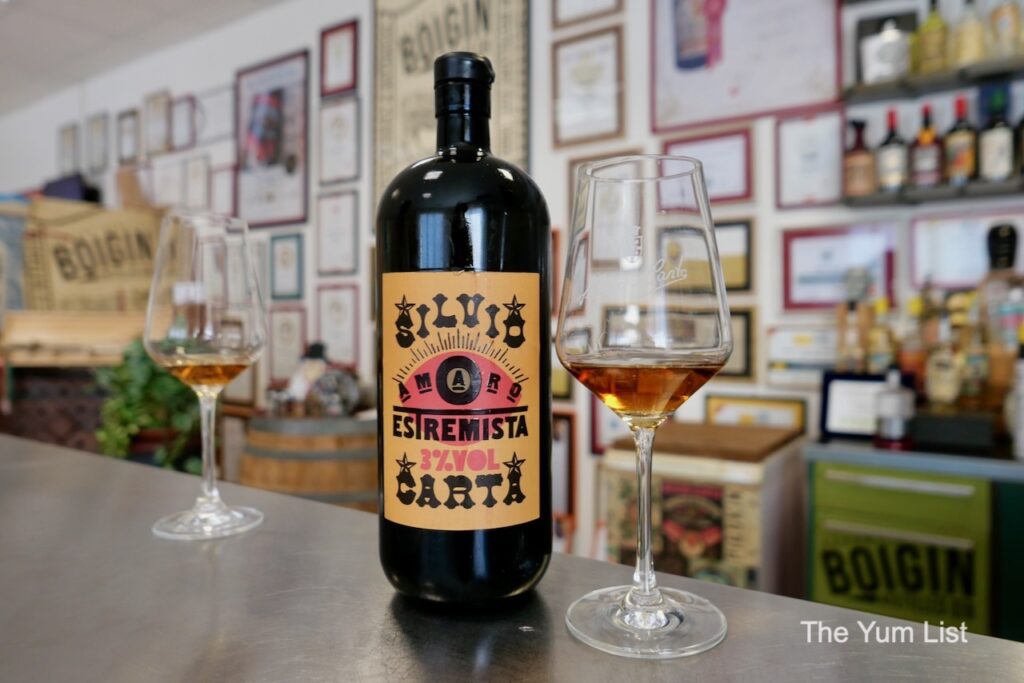 The Perfect Negroni
Back to my plans for the perfect Negroni… Gin, Campari and Vermouth. Foundation laid with Giniu, Silvio Carta has their own delicious sweet vermouth and bitter aperitif to replace Campari. In such a cocktail with no mixers, the purity of ingredients shines. Silvio Carta's Negroni is smoother, rounder, more natural and elegantly fills the mouth. Once sipped, it's going to be hard to drink a negroni any other way.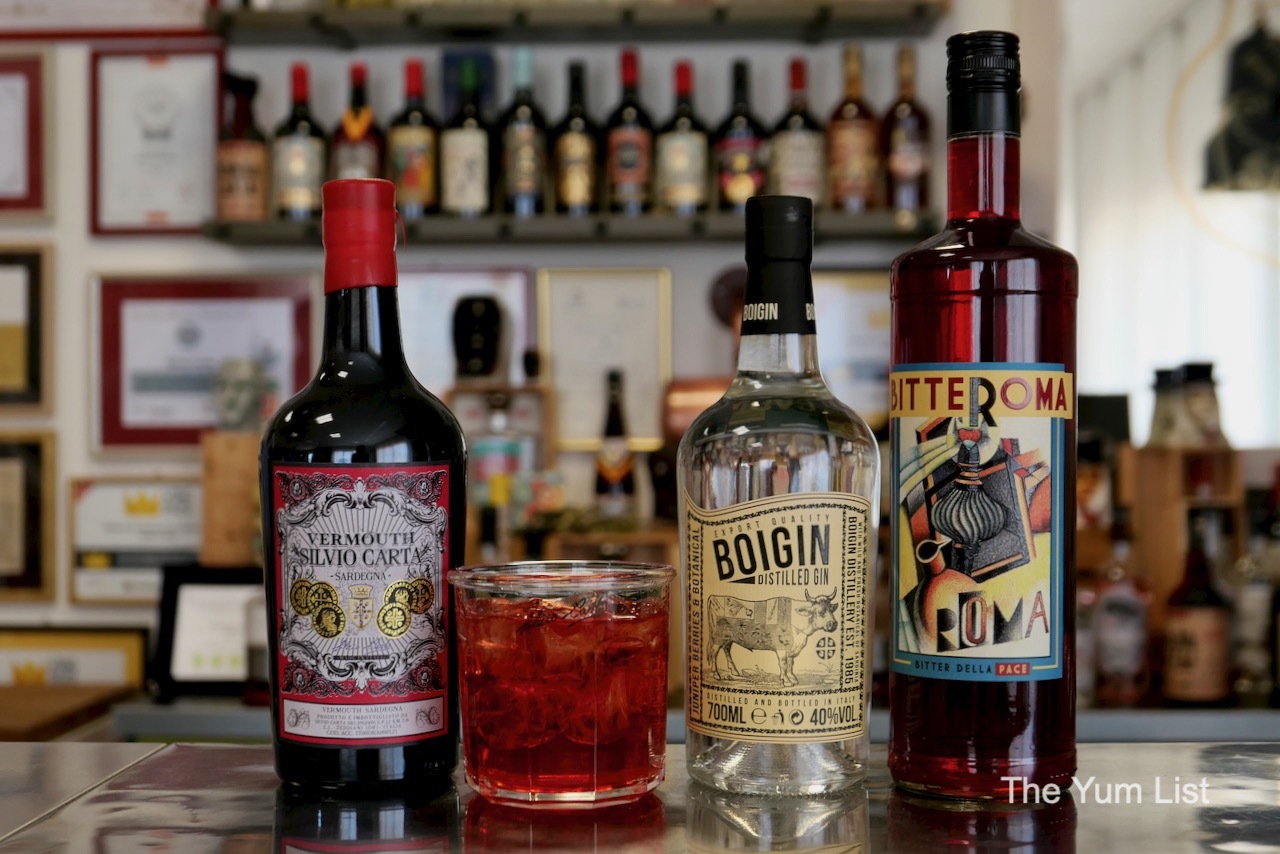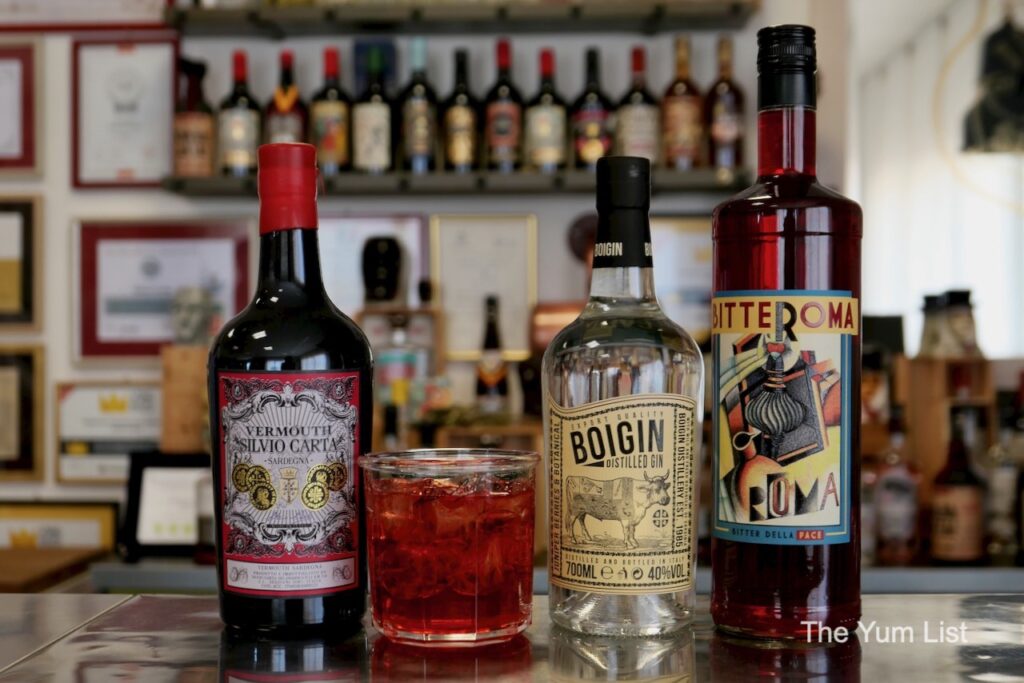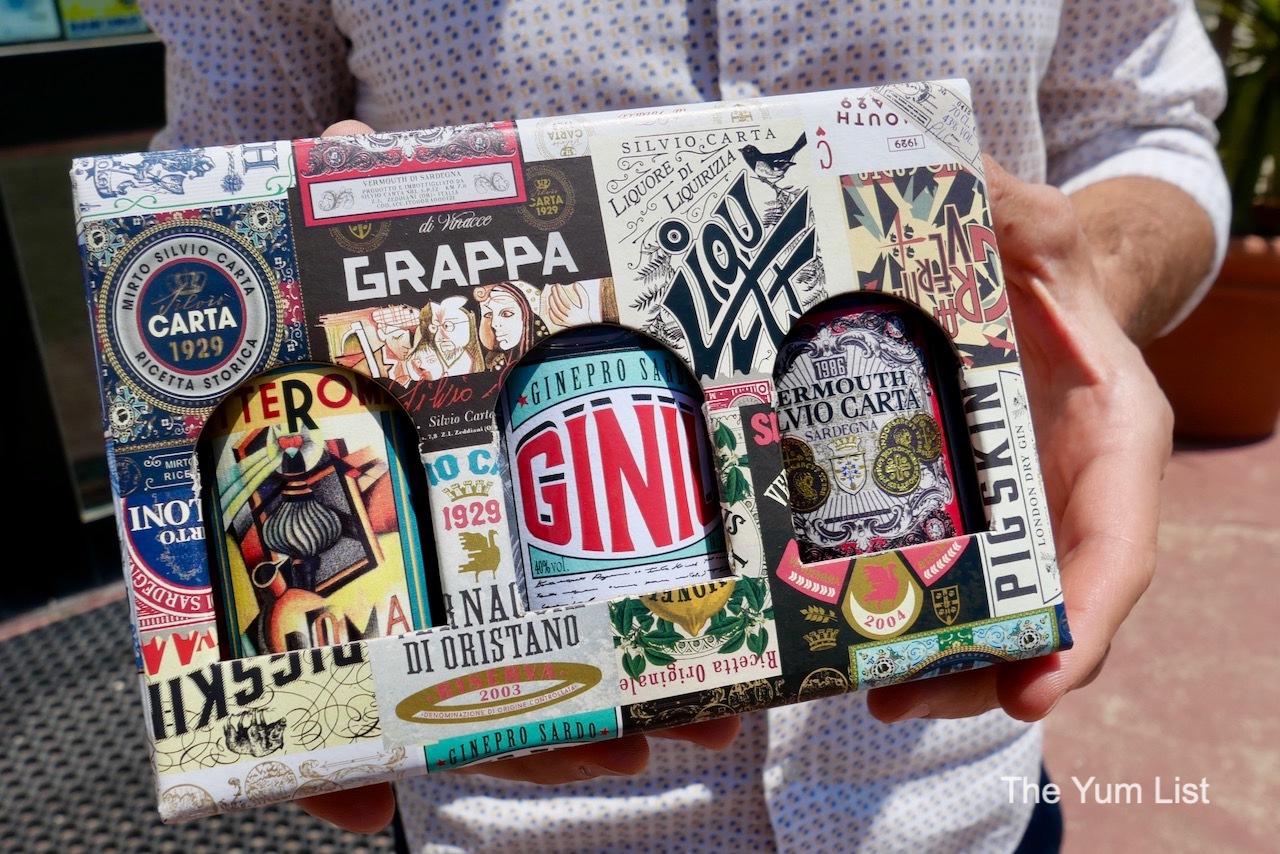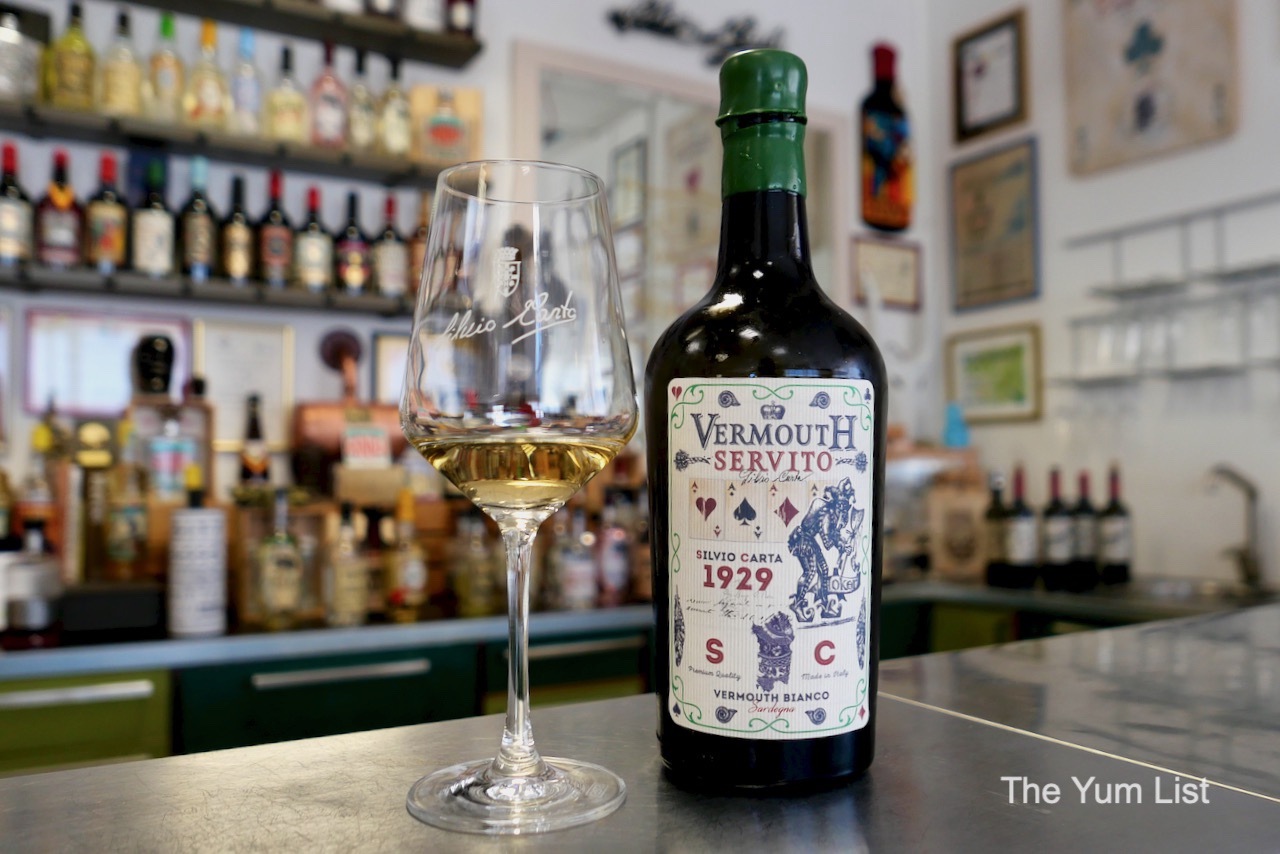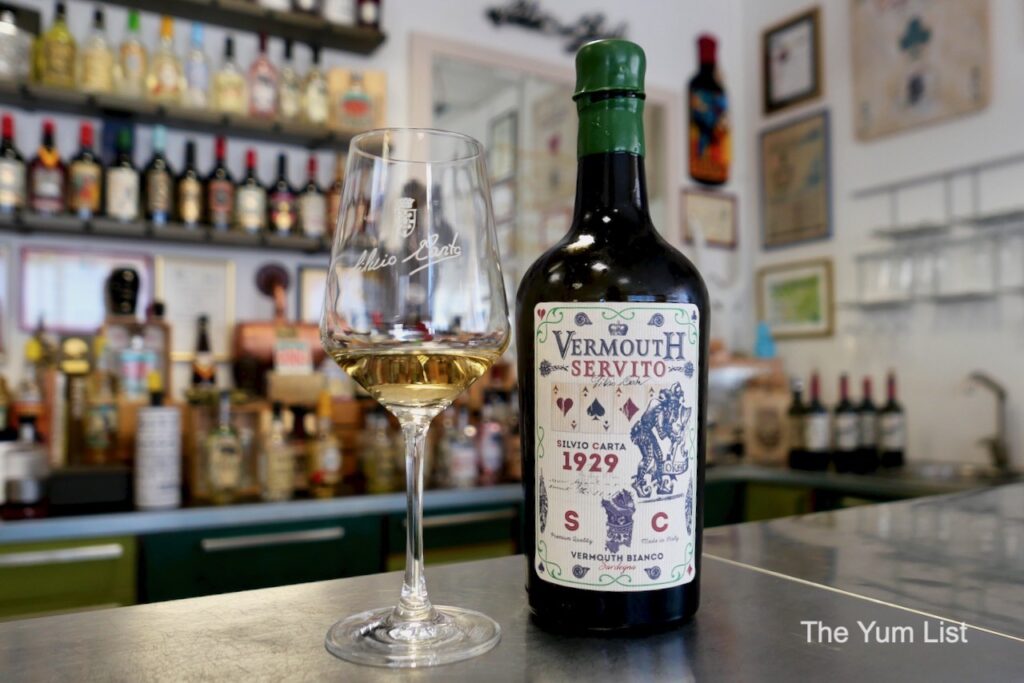 Silvio Carta
So, what is the secret to a long, fulfilling life? Elio Carta says to take things easy, don't stress instead problem solve, and enjoy a little sip of Silvio Carta daily. We're ready to take his recommendations. How about you?
Reasons to drink Silvio Carta: products made on 100% natural ingredients sourced from their own Mediterranean fields; a third-generation company still run by the grandfather, son and grandchildren; Vernaccia di Oristano is something special; must-try Silvio Carta's Giniu, Mirto and their recipe for a kick-ass negroni.
Silvio Carta
SP12, km 7.800, 09070 Zeddiani,
Oristano, Italy
www.silviocarta.it
+39 0783 410314
[email protected]
Dionysus Asia distributes an exclusive portfolio of Silvio Carta products in Malaysia. You can find them online at www.crackabottle.com and at some of the country's most respected restaurants such as Topshelf, Natalina Kitchen, Nero Nero, Pomo d' Oro, Ciao Ristorante and The RuMa hotel.
You can also browse the product in person at the following wine stores in Malaysia:
The Wine Poetry
No. 50, Ground Floor, Jalan 27/70A
Desa Sri Hartamas, 50480 Kuala Lumpur.
Justwine KL
18A, Lorong Rahim Kajai 14,
Taman Tun Dr Ismail, 60000 Kuala Lumpur
Justwine Ipoh
No.7&7A, D'Festivo Square, 1G,
Jalan Medan Ipoh 1, Medan Ipoh Bestari
Find more tips for the best travel experiences in Italy here and stay up-to-date with our latest gourmet travel finds here and here.