Thalassa Sea & Spa
Monica Tindall
I've just discovered the wonders of the thermal springs spas of Italy, so I am primed to learn about the Thalassa Sea & Spa at Pullman Timi Ama Sardegna and their marine treatments.
Designed to stimulate the senses, seawater treatments at Thalassa Sea & Spa are a delight for both body and mind. Already at peace in this pristine natural environment, a complete, professionally-designed menu and outstanding facilities only enhance the experience. At the heart of the hotel, Thalassa Sea & Spa offers a quiet respite from the coastline's excitement.
Thalassa Sea & Spa Programs
Making choosing easy, Thalassa Sea & Spa groups treatments into five categories based on desired outcomes:
Energy: I want to move and recharge my batteries
Detox: I want to regulate my weight and find my balance
Serenity: I want to relax and find myself
Radiance: I want to glow and reveal my beauty inside and out
Recuperate: I want to preserve my health and sleep better
Choose Your Rhythm
Further assisting guests select activities just right for themselves, the hotel provides a bracelet representing your chosen program. This makes it easier to identify sports, food and drinks in tune with your goals. Many repeat guests sign up for an entire week of spa treatments. They sure know how to live, right!?
Slow: Before or after my treatments, I have a lot of time to discover the region, enjoy my family, do nothing or try a new sporting activity
Balanced: I want to perfectly balance my treatments and activities of my choice
Strong: I want to take advantage of every instance with the expert support and personalised service for my wellness
Facilities
The seawater pool is the centrepiece of Thalassa Sea & Spa. Heated to 34°C, it feels like a warm embrace on a cool night. The salted water enhances the skin's absorption of essential trace elements resulting in total relaxation. It's a place of peace and tranquillity where guests can move around in the whirlpool with targeted jets, water fountains and micro bubble seats.
The pool is magnificent, but the supplementary amenities are worth a visit all on their own. Natasha, our Thalassa Sea & Spa guide, recommends starting by recharging in the salt room (halotherapy). A fine salt mist disinfects the room and is said to be excellent for any niggling respiratory problems. Then spend around 15 minutes in the sauna. It's sweltering! My unaccustomed body can only take a few minutes (something to work up to, I guess). Then soak in the humidity of the steam room. All worked up hot and sweaty, this is now the ideal moment to shock the senses with an ice bath! (Okay, if the Austrians can do it, so can I. Brrr!) Next, take a walk through the aromatherapy showers and take some time to recuperate in the emotion room (a sensory room filled with soft sounds and giant peaceful images).
Guests can buy two hours in the Sensory Wellness Area for 38 EUR.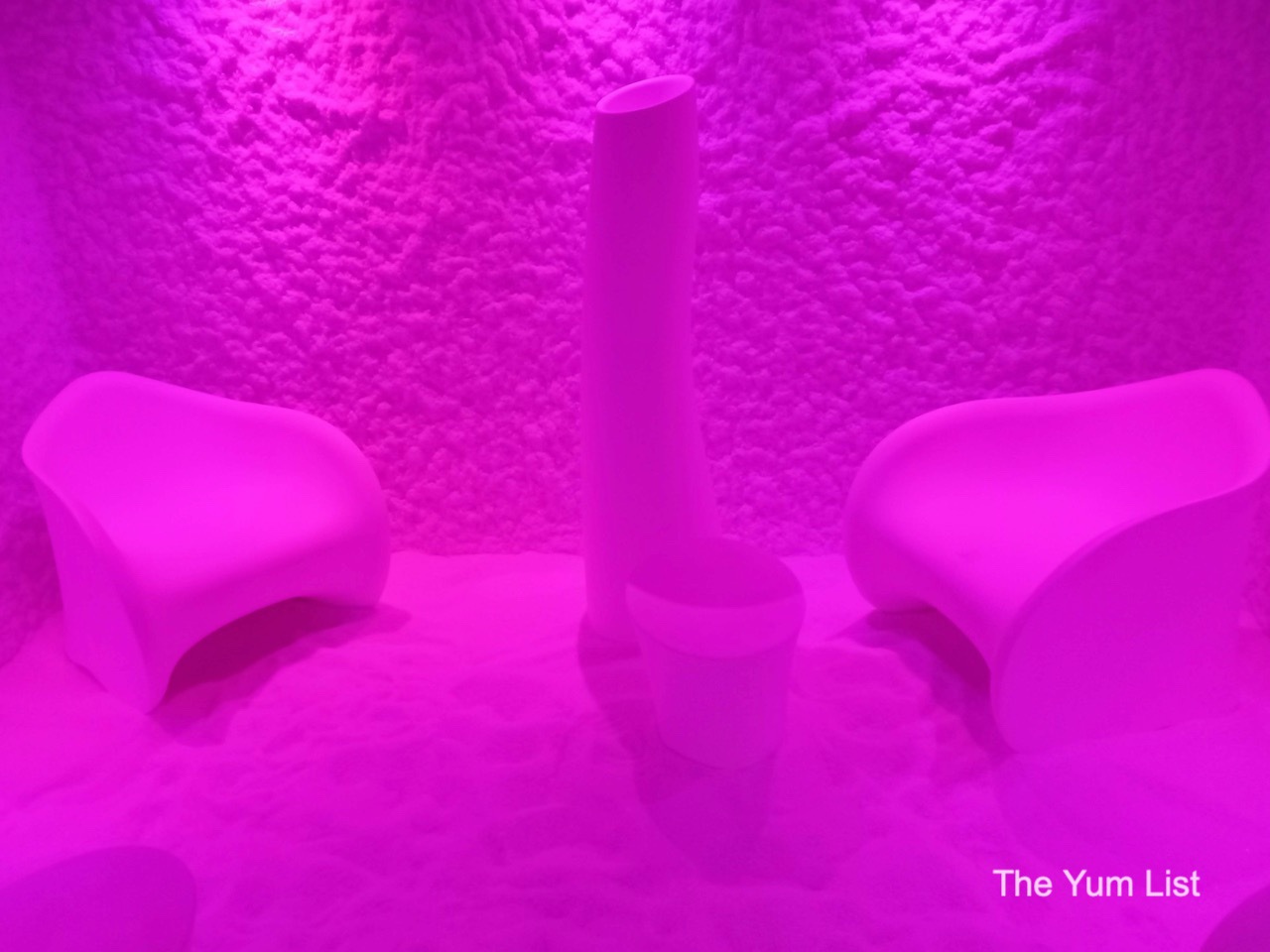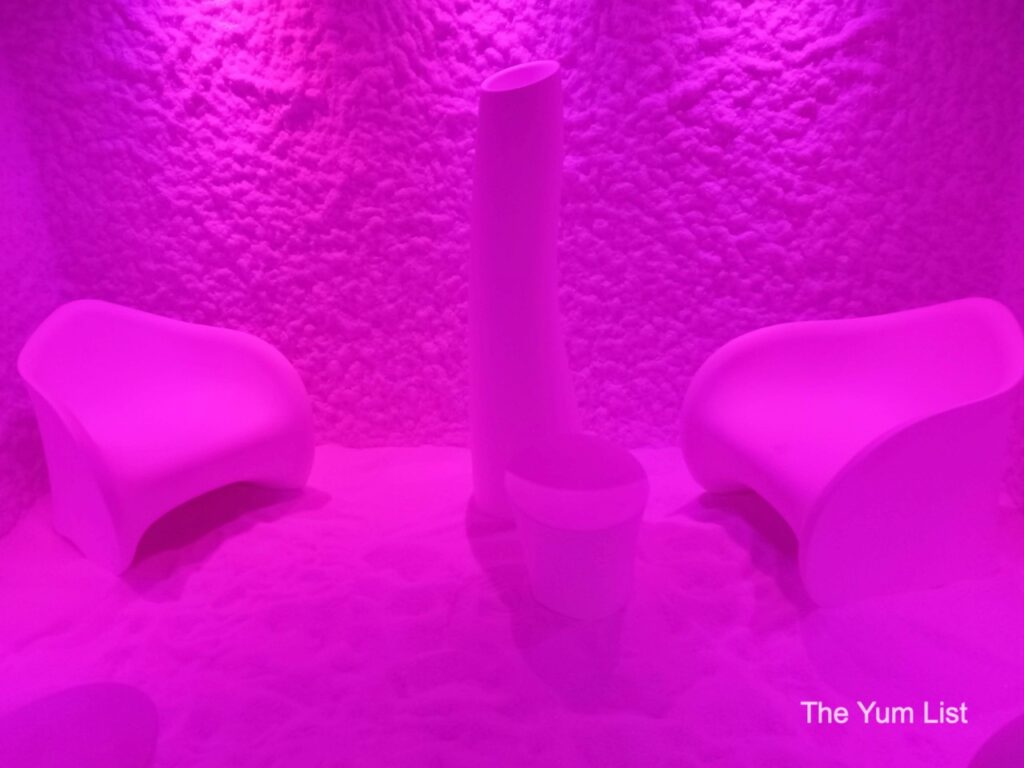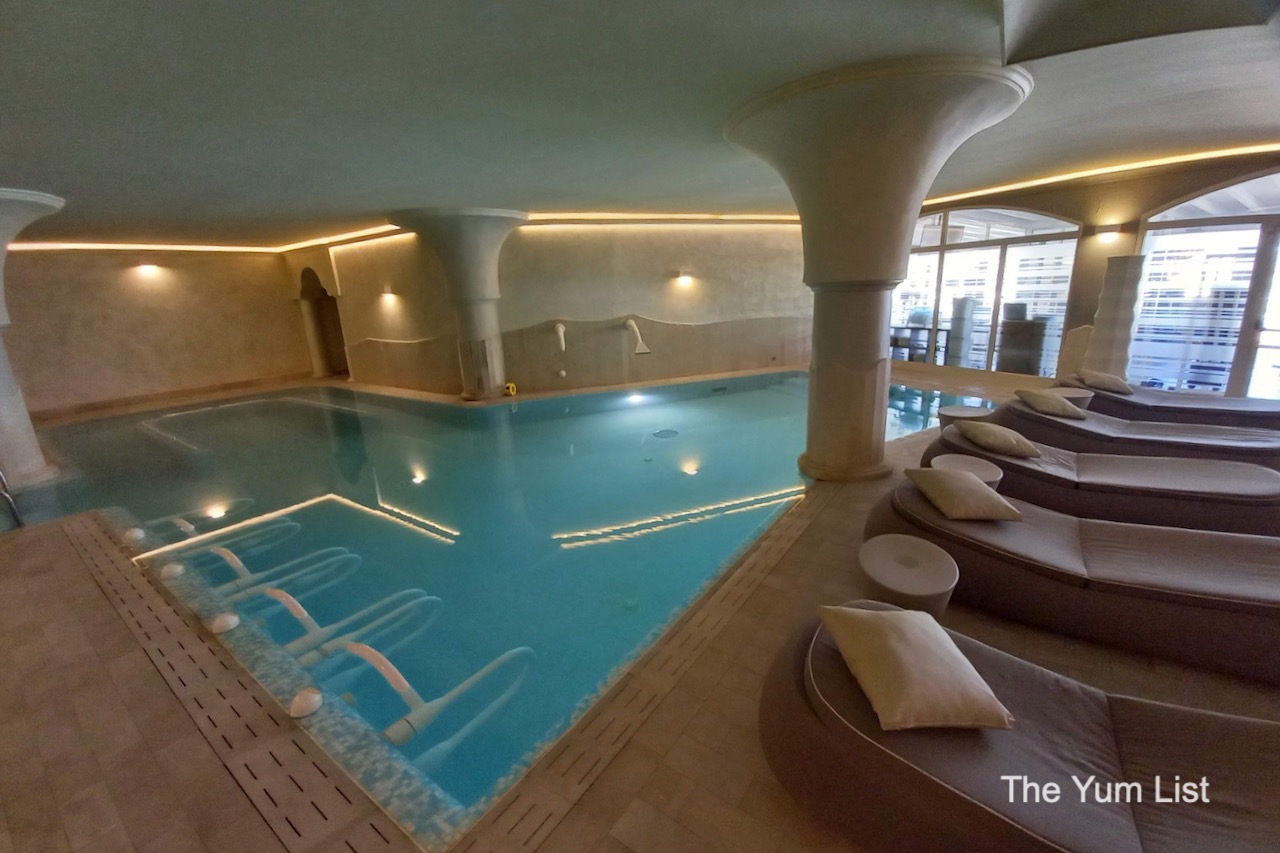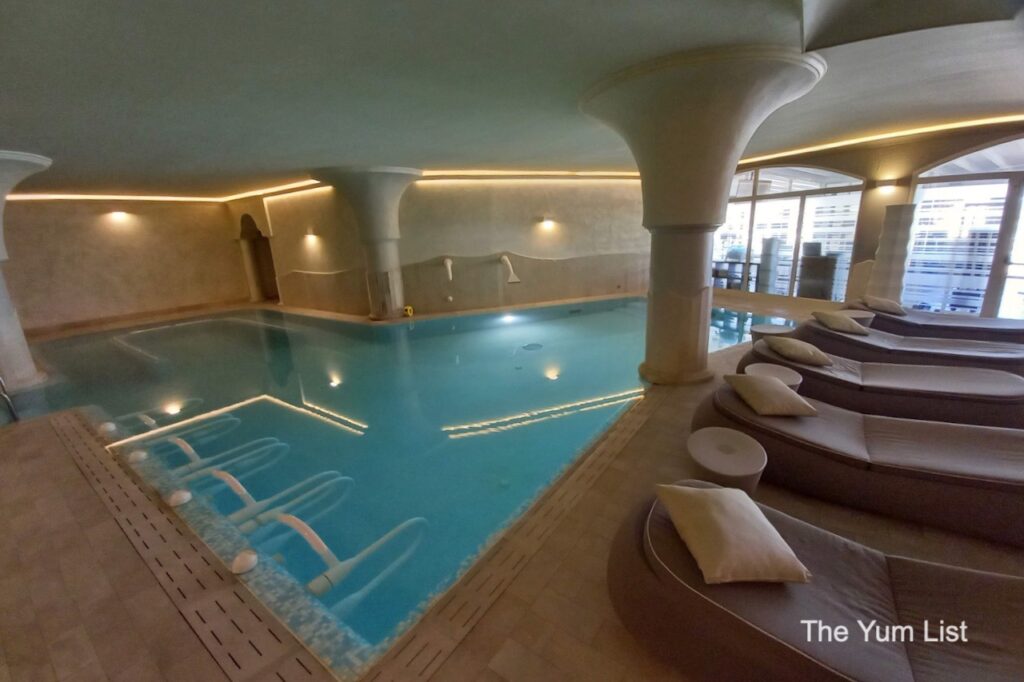 Thalassa Sea & Spa Treatment Menu
As you might expect from the lead-up, Thalassa Sea & Spa's menu is comprehensive. There are seawater spa treatments, algotherapy and a diverse range of massages including Ayurvedic, Thai, lymphatic drainage, hot stone massage, plantar reflexology and many more. Additionally, find beauty treatments for the face and body, cryotherapy by CryoJet and massages on a quartz sand-bath table by Gharieni™. Moreover, cosmetic products are of the utmost quality, with Cinq Mondes, Fitomediterranea and Thalassa Sea & Skin all in use.
I try six treatments, some I'm familiar with and some completely new to me. The sea salt body scrub and Zen massage are pretty much as you might imagine. The first is a good exfoliation from shoulder to toe, and the second is a gentle, relaxing massage. Both the Remineralising Algotherapy Wrap and Hibiscus Wrap were surprisingly comfortable. The algae wrap is performed atop a warmed water bed, ensuring there is not a moment of chilly stickiness, and for the latter, I was covered in the warm mask and wrapped in a towel, so I was toasty throughout.
The most interesting sessions I experienced were two of Thalassa Sea & Spa's signatures: the Hydromassage Seawater Bath and Vichy Shower. Immersed in a warm tub of salt water, the therapist used a hand-held powerful jet hose to give my tight muscles a good pounding. It was so relaxing to feel weightless in warm saltwater as each body part received the jet. Lastly, the rain shower saw me first lying supine and then prone under a long system of rain showers. At first, I felt a little uncomfortable, but by a few minutes in, I'd let go of my inhibitions and imagined I was lying on the roof in a summer storm, the warm drops repeatedly washing away my worries.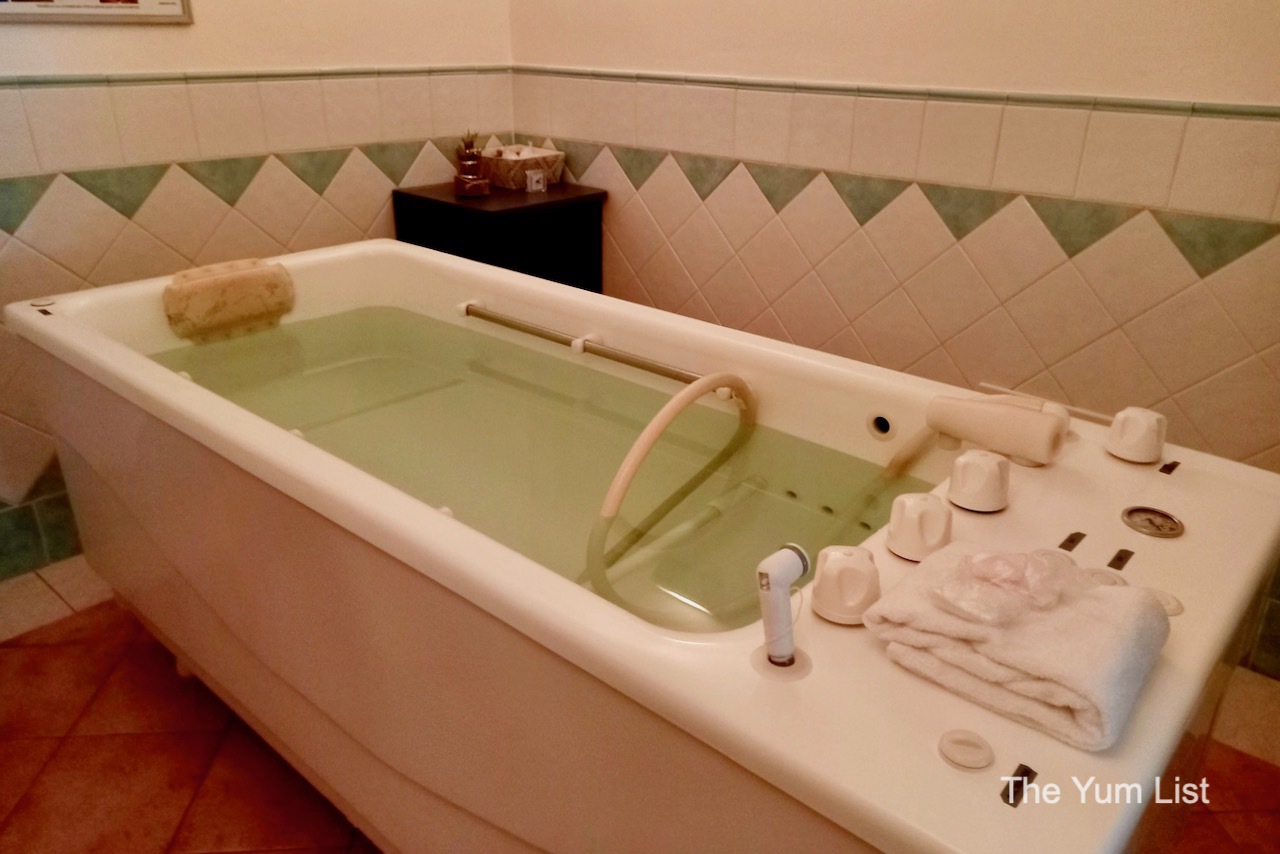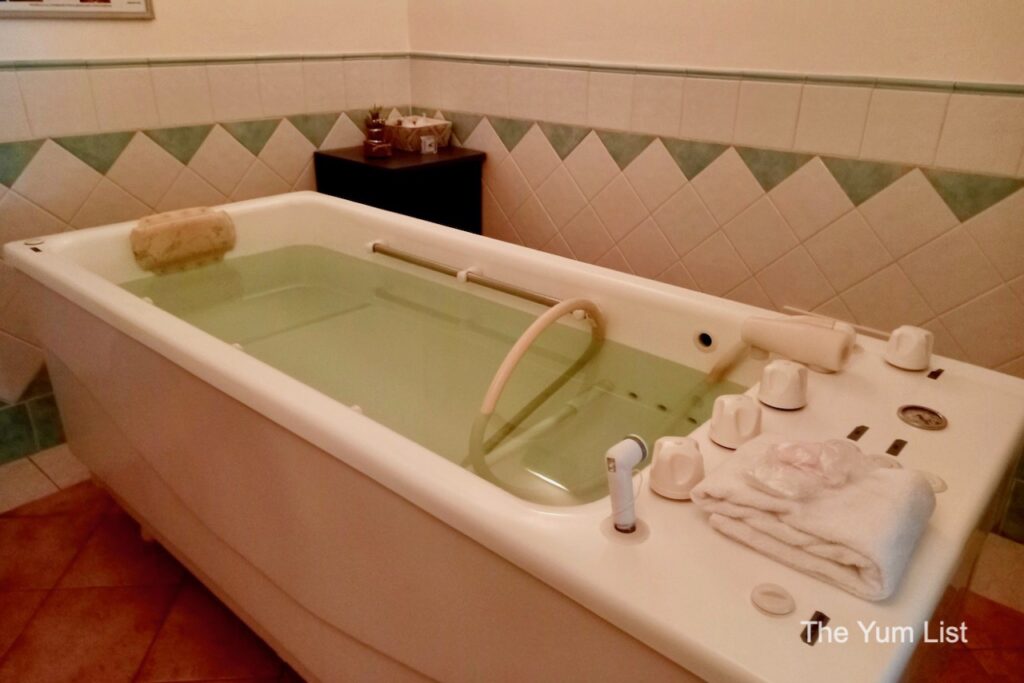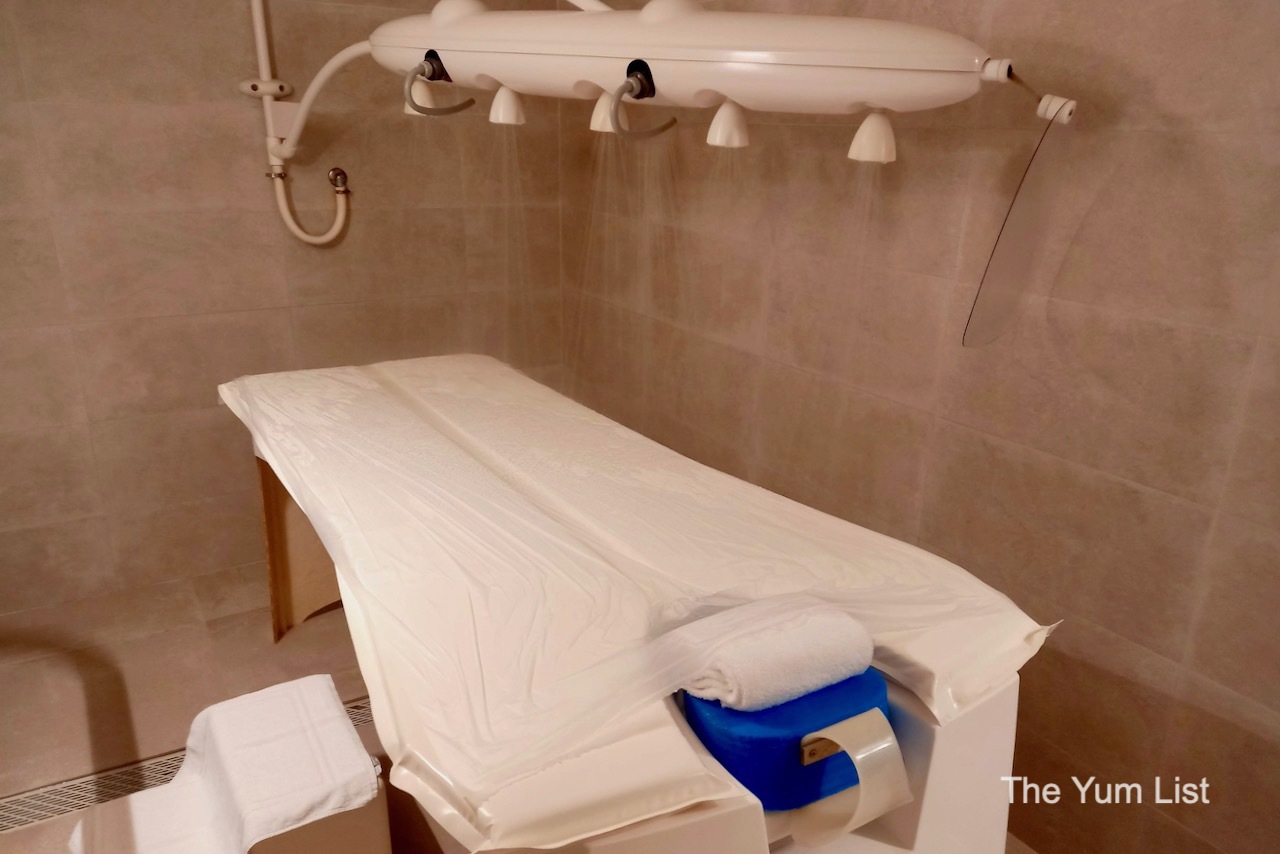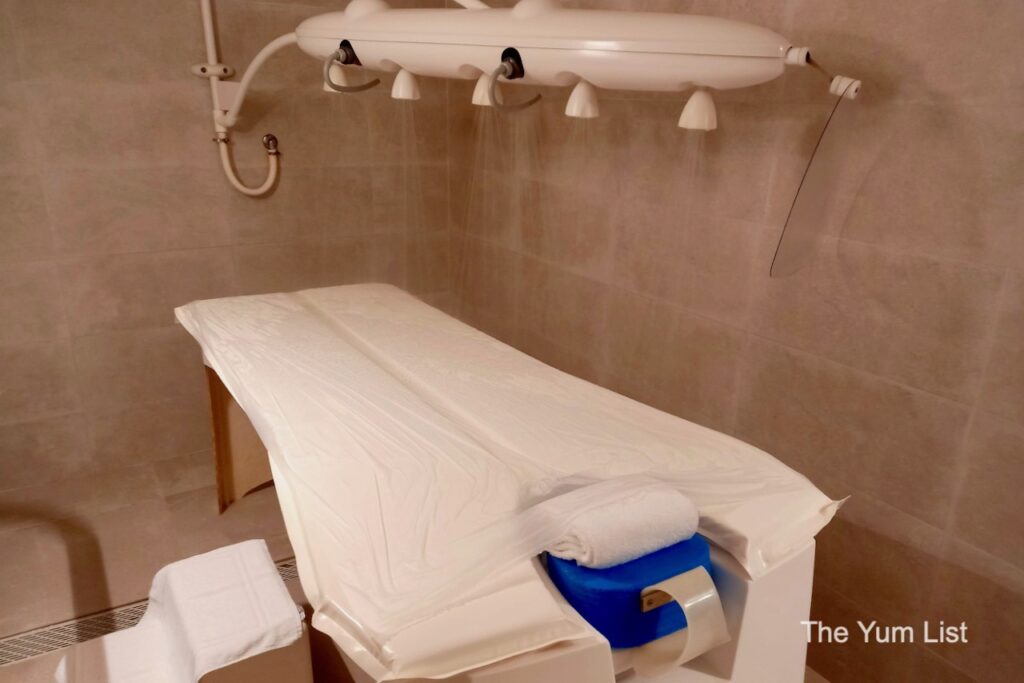 Marine water is healing, I'm sure and combined with time to focus on myself, forgetting the outside world for several hours was marvellous. I look forward to doing as the French do and signing up for an entire week of therapy.
Reasons to visit Thalassa Sea & Spa: extensive facilities and a comprehensive menu based on the benefits of the sea; professional, highly-trained therapists; an absolute dedication to self and wellness; must experience at least once the Sensory Wellness Area.
Thalassa Sea & Spa
Pullman Timi Ama Sardegna
Viale dei Ginepri, 3,
09049 Villasimius SU, Italy
+39 070 79791
[email protected]
https://www.pullman-timiama-sardegna.com/en/
Thalassa Sea & Spa Opening Hours
Monday to Saturday: 11:30 am to 7:30 pm
Find more on the international spa and beauty scene here, more tips for the best travel experiences in Italy here and stay up-to-date with the latest luxury and gourmet travel recommendations here and here.