The Cave, The Edge Bali
Monica Tindall
You'd be forgiven for thinking that The Cave at The Edge Bali was a tourist trap. After all, such an extraordinary location, 25 thousand years old, six and a half metres below ground filled with warmly illuminated stalagmites and stalactites, is undoubtedly a drawcard in itself. Add to that limited seating for only 22, and you already have an exclusive environment that many guests yearn for. However, with Chef Ryan Clift at the helm (of Asia's 50 Best Tippling Club fame), you'd be greatly mistaken.
This is a restaurant that takes both location and food and beverage seriously. The Cave is luxuriously furnished with intimate tables, cushy chairs, and a floor speckled with star lights. The open kitchen and bar are part of the floor plan, all essential components to the overall experience. In between culinary courses are visual projections on the ceiling and walls of the cave of moving images designed around the theme of the Creation of the Universe. They're less than a minute each – not overdone, an appropriate enhancement to the session.
As mentioned, Chef Ryan Clift helms the kitchen by curating seven-course menus that frequently change, making the restaurant not only suitable for tourists but repeat visits. Malaysian-born, Chef Tay Chan Yong, heads the crew on-site. Having spent six years in the Tippling Club, Chan is more than prepared for this challenge.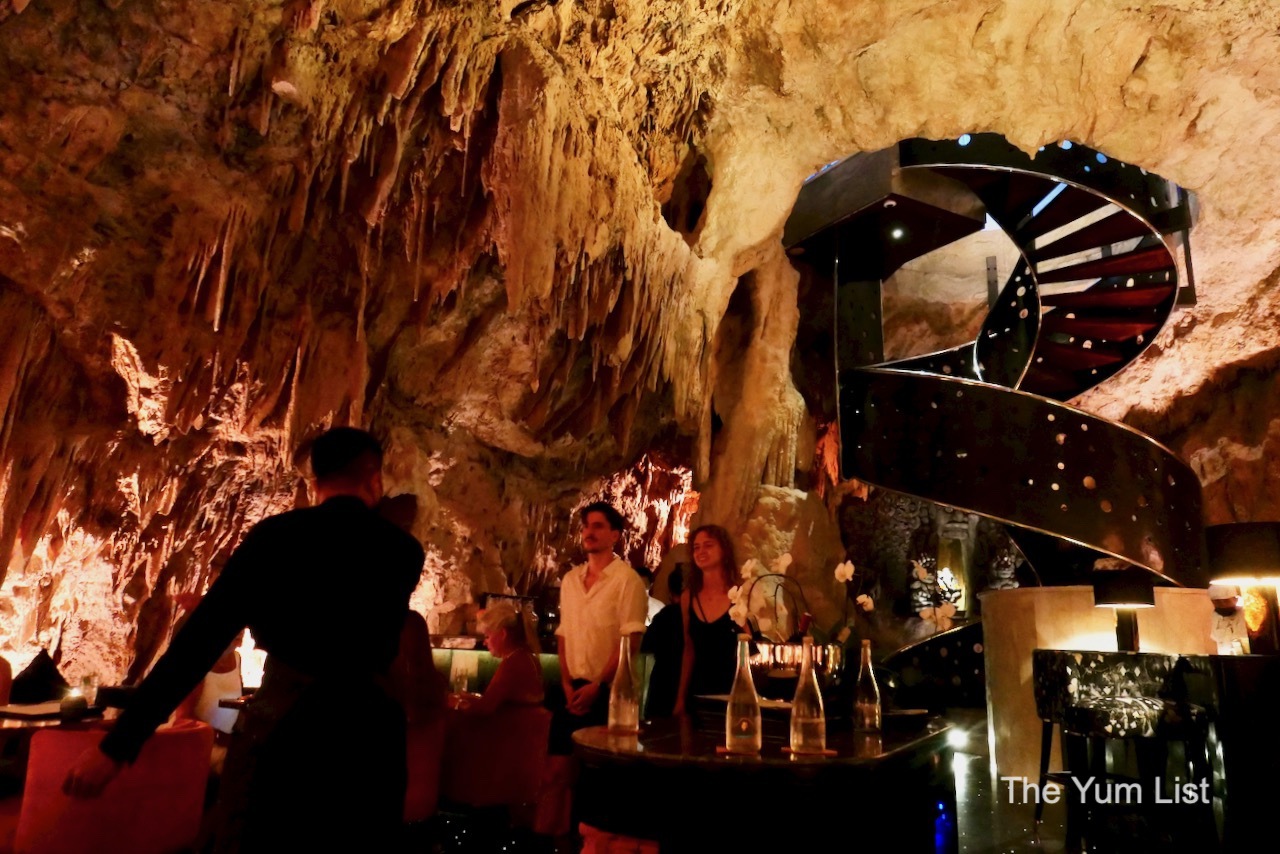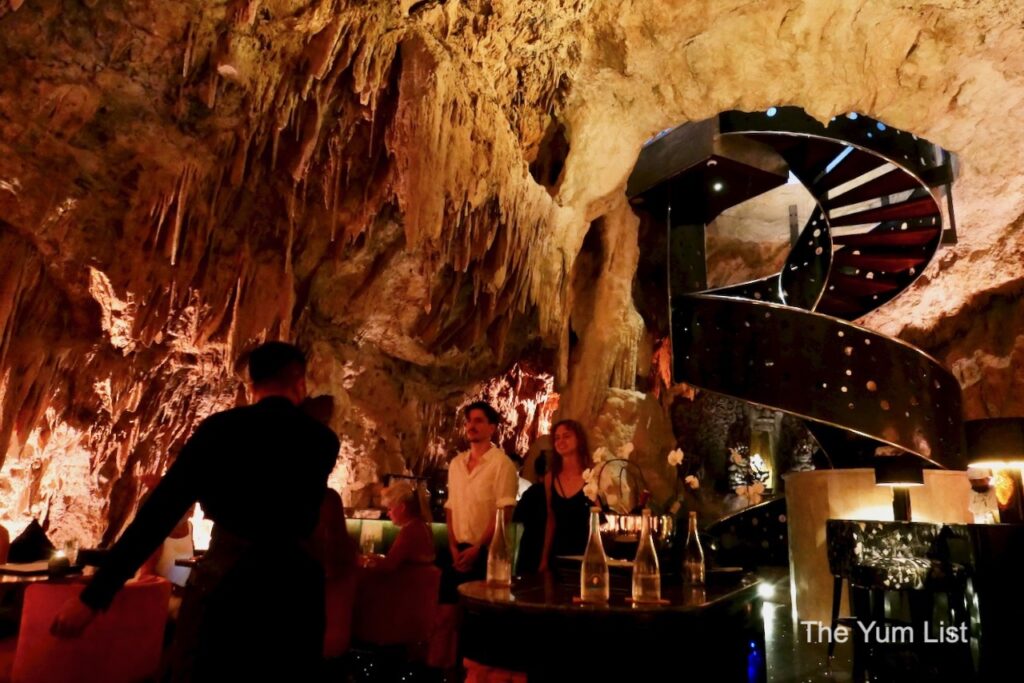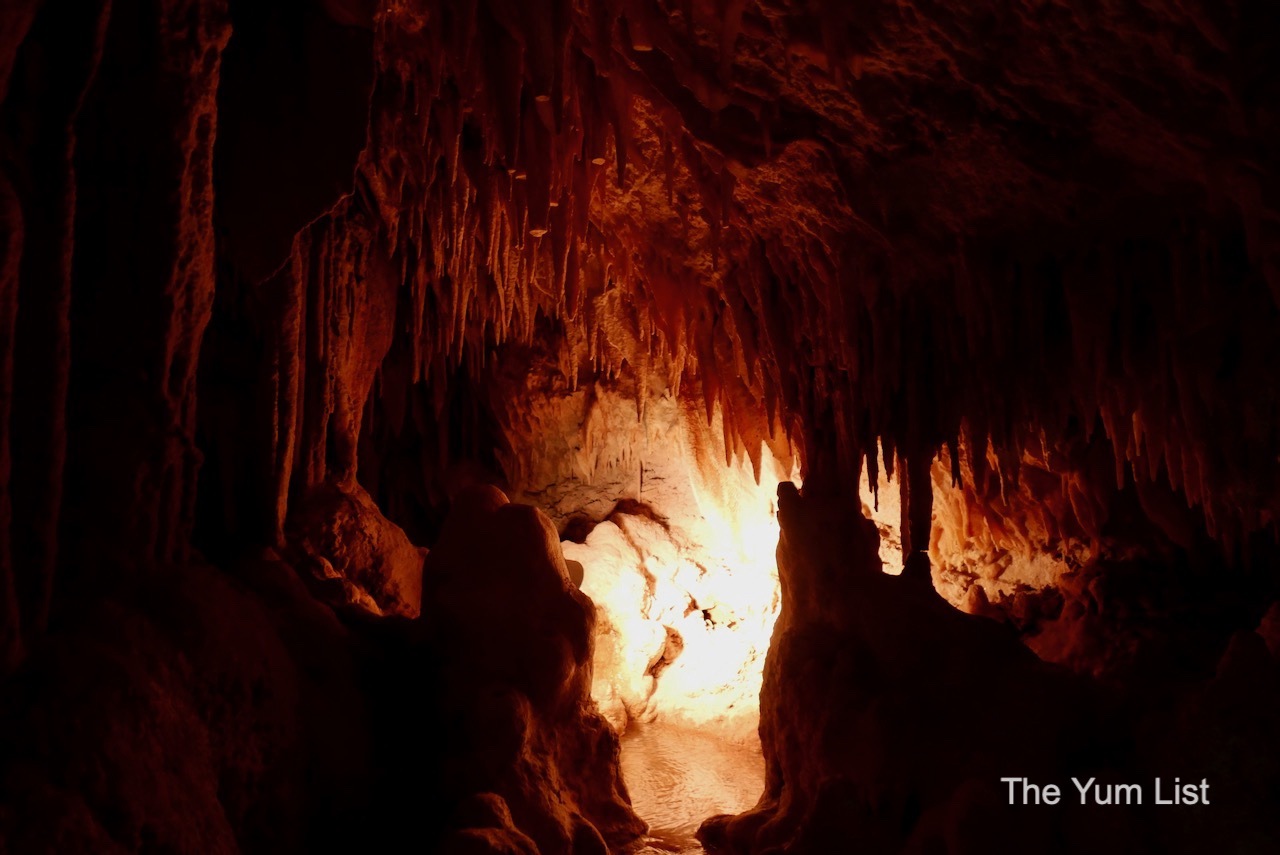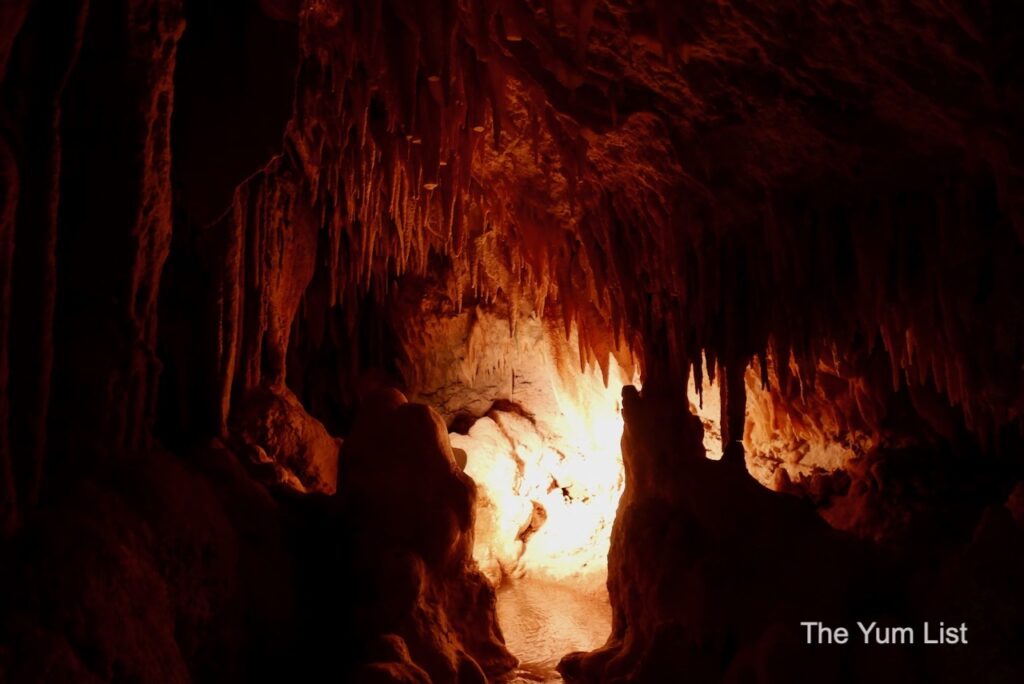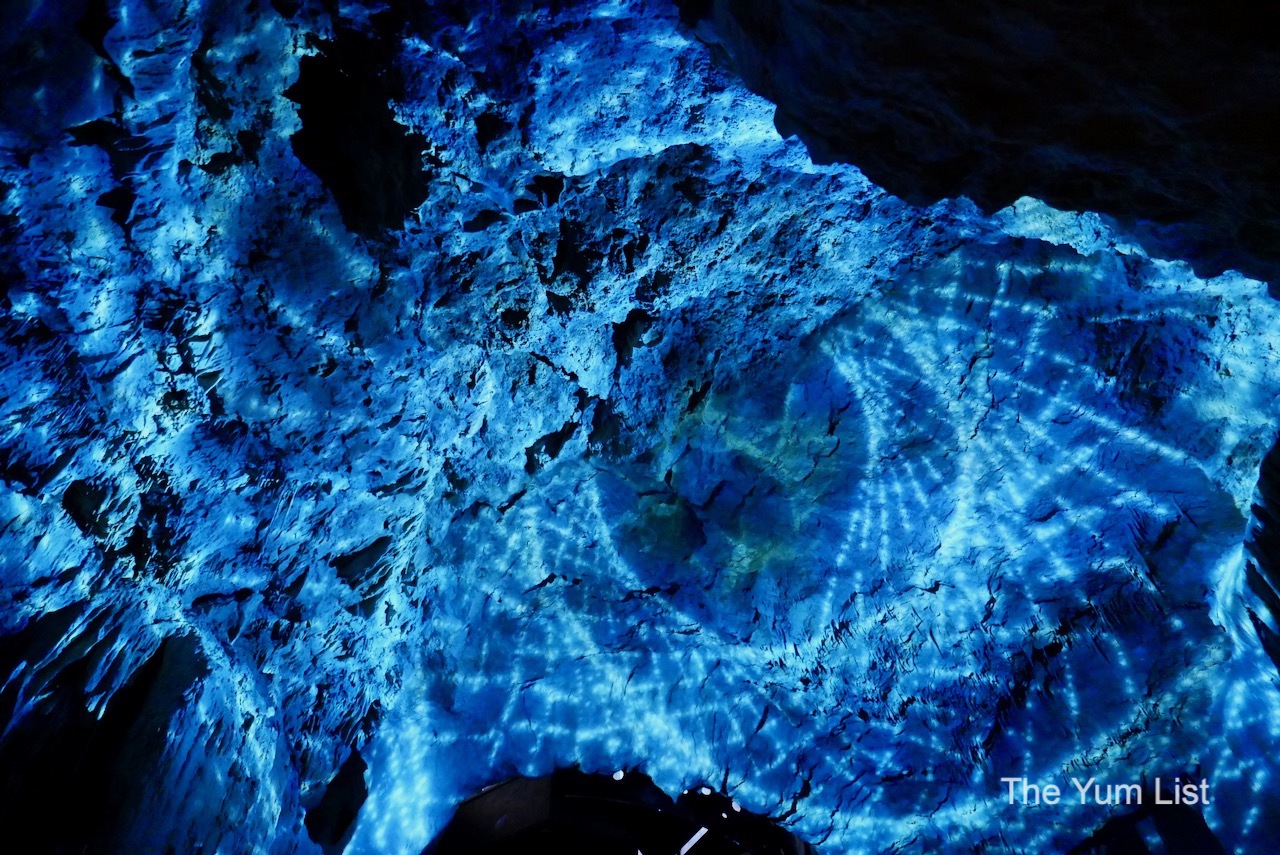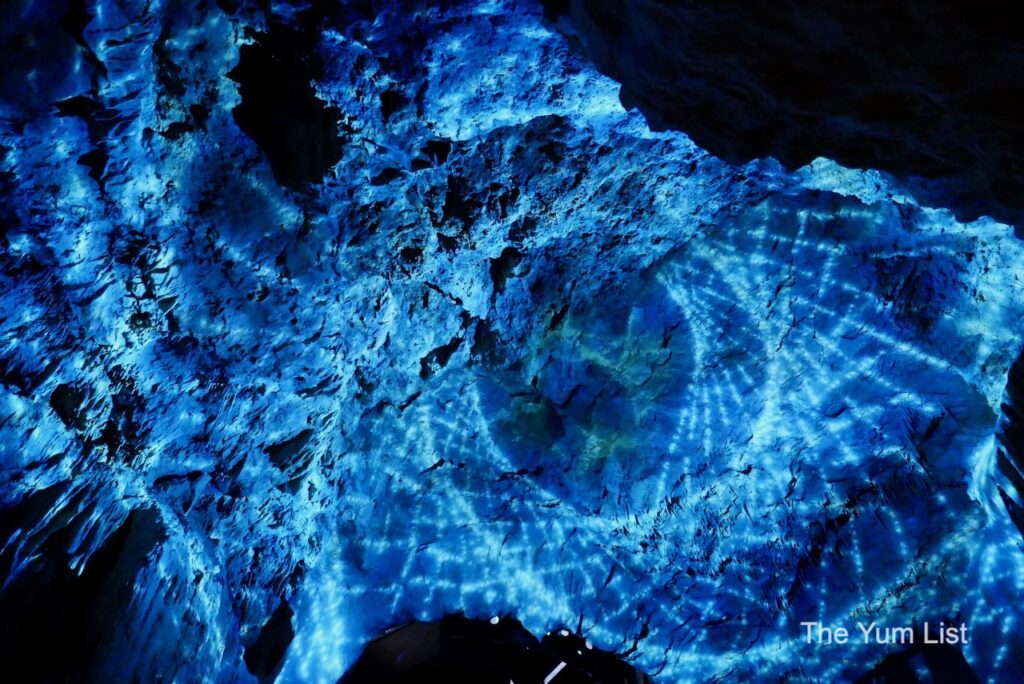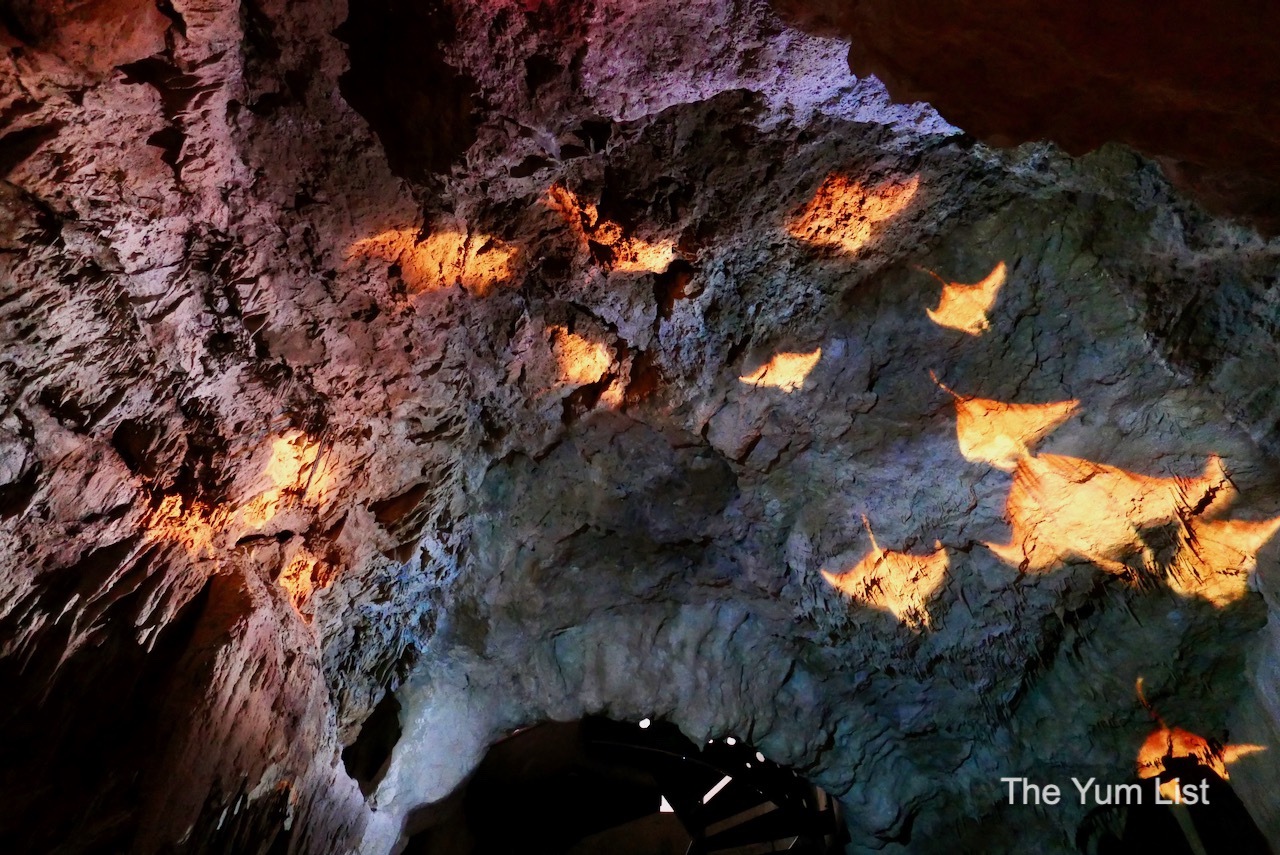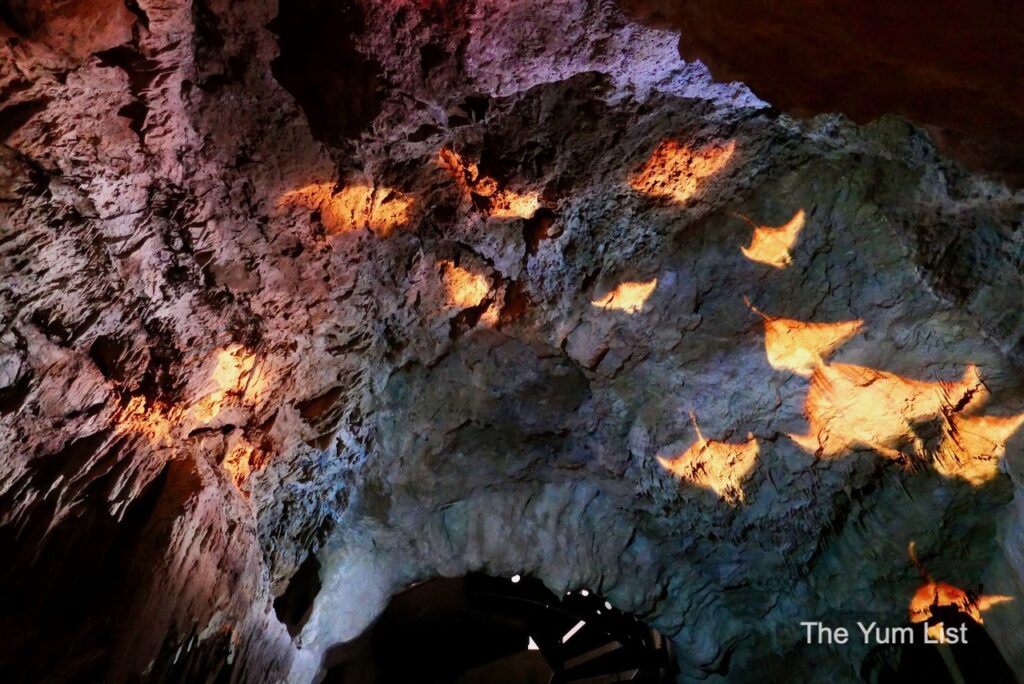 The Cave Bali Menu
The Cave offers a seven-course animal protein menu alongside a vegetarian menu of the same length. Both can be served with or without beverage pairing. Given the nature of the experience, dietary preferences are not generally catered to. If you give the team advance notice, they may curate something for you, but it's not a big part of their philosophy.
I try the vegetarian menu with wine pairing.
Seven-Course Degustation at The Cave Bali
To whet appetites, guests are served a welcome cocktail. The mix of pear, Cognac, rum and clarified milk topped with soda is refreshing and fills every corner of the mouth. As I have the wine pairing, it's followed by a glass of Bruno Paillard Champagne, France. Bubbly is always a good beginning, and the fine bubbles and bright palate of this sparkling make it an excellent aperitif.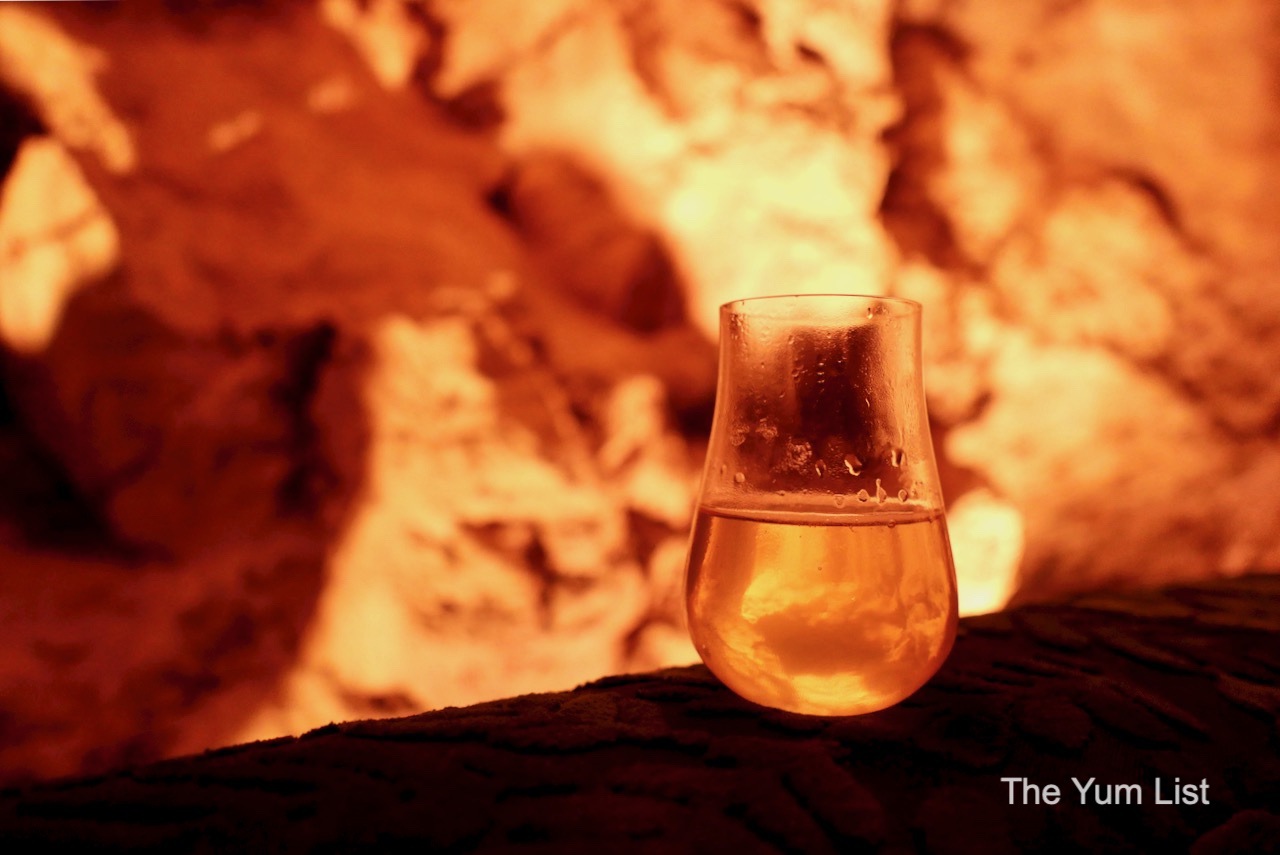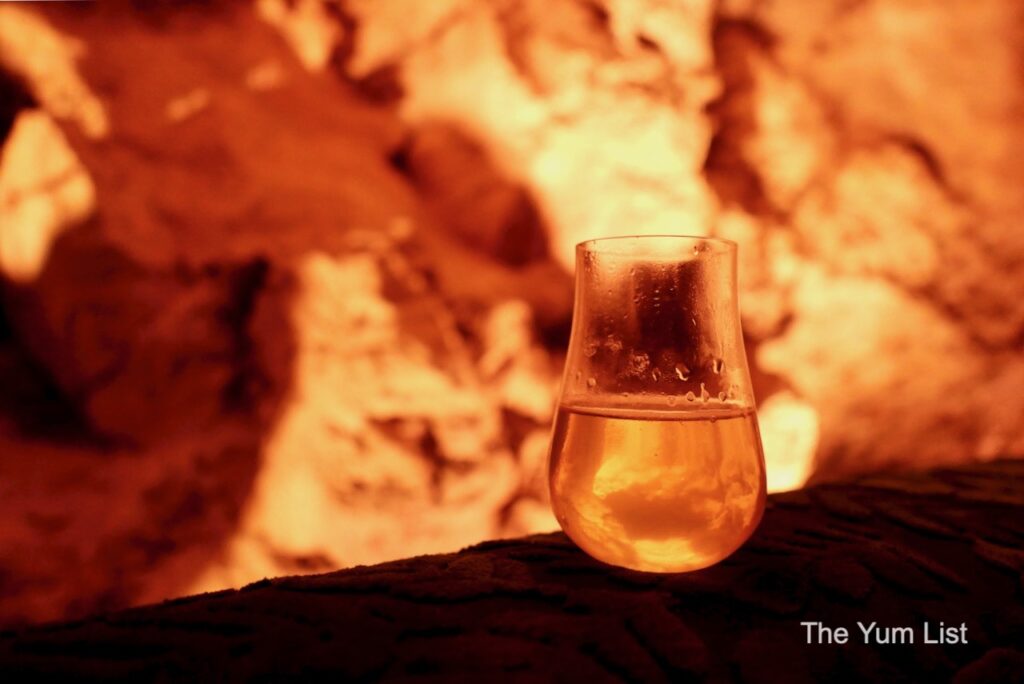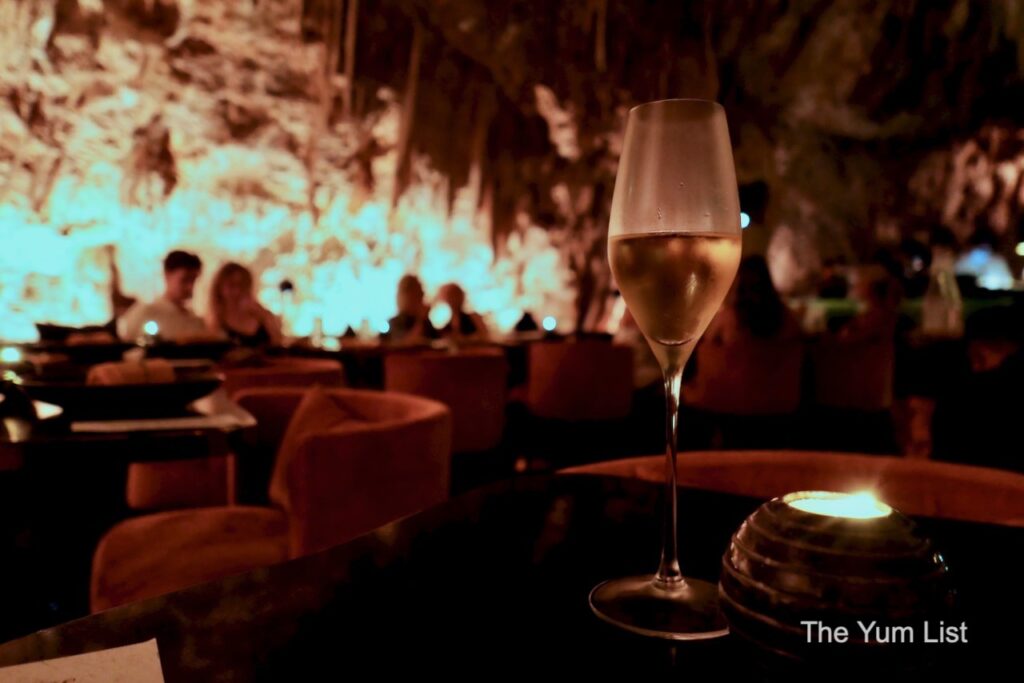 Savoury Doughnut
Courses are delivered by chefs and waiters explaining rapid-fire each recipe before leaving you to the immersive experience. The first, a savoury doughnut, is an umami bomb. Mushroom puree, pickled mushroom and a truffle veil are made to be eaten in one bite to enjoy the mini-explosion. It's warm and comforting with the addictively dense doughnut dough, giving the opportunity for more than a couple of chews.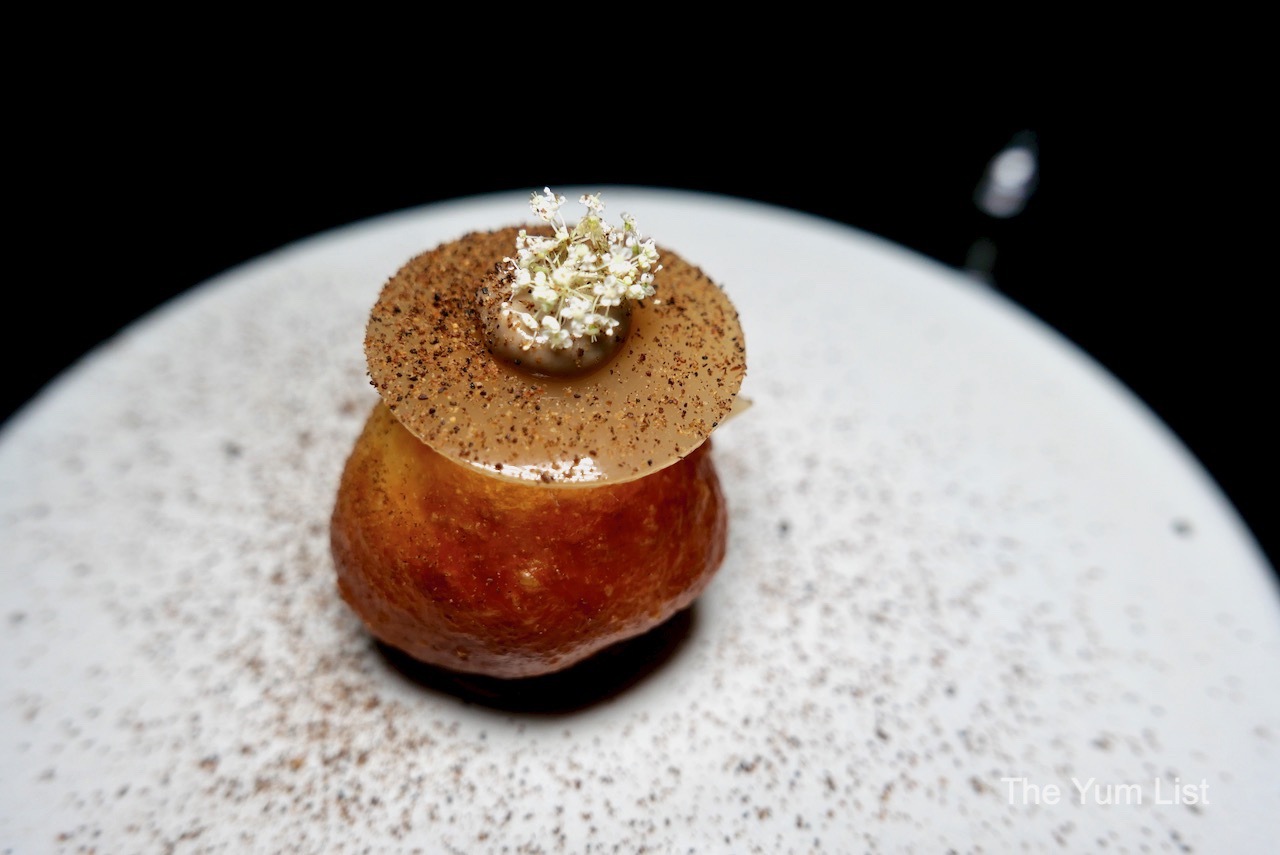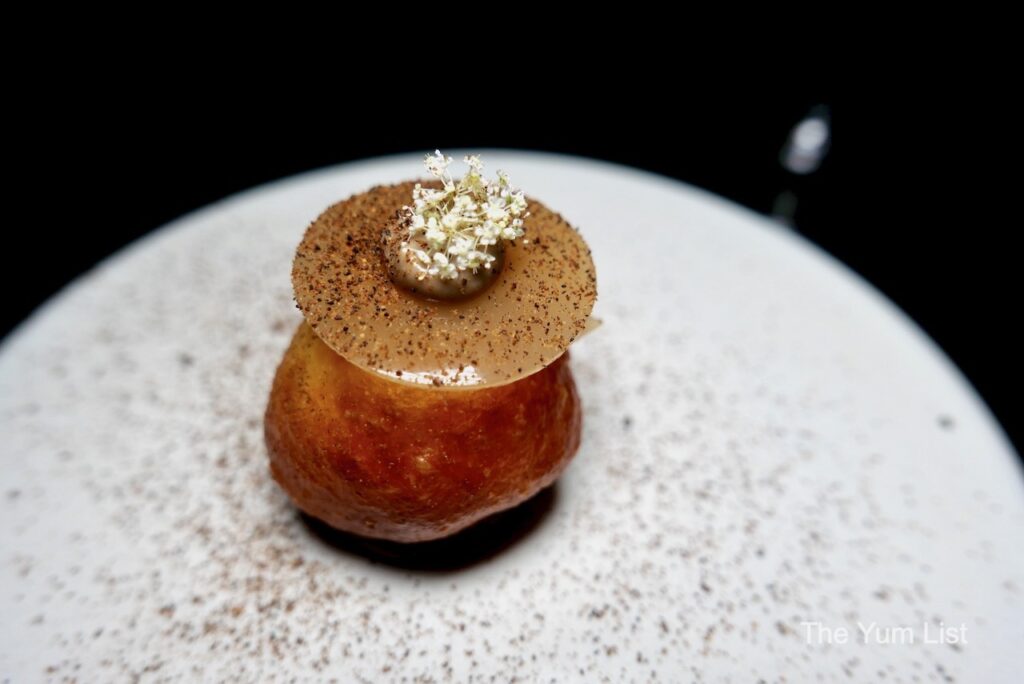 Nori Cracker
The next two plates are delivered simultaneously with instructions to eat the taller tower first. The nori cracker is dotted with pickled shimeji, avocado, radish, sesame caviar and yuzu gel. There's a light and unexpected bitterness in the finish. This is counterbalanced by the sweetness of the carrot tartar.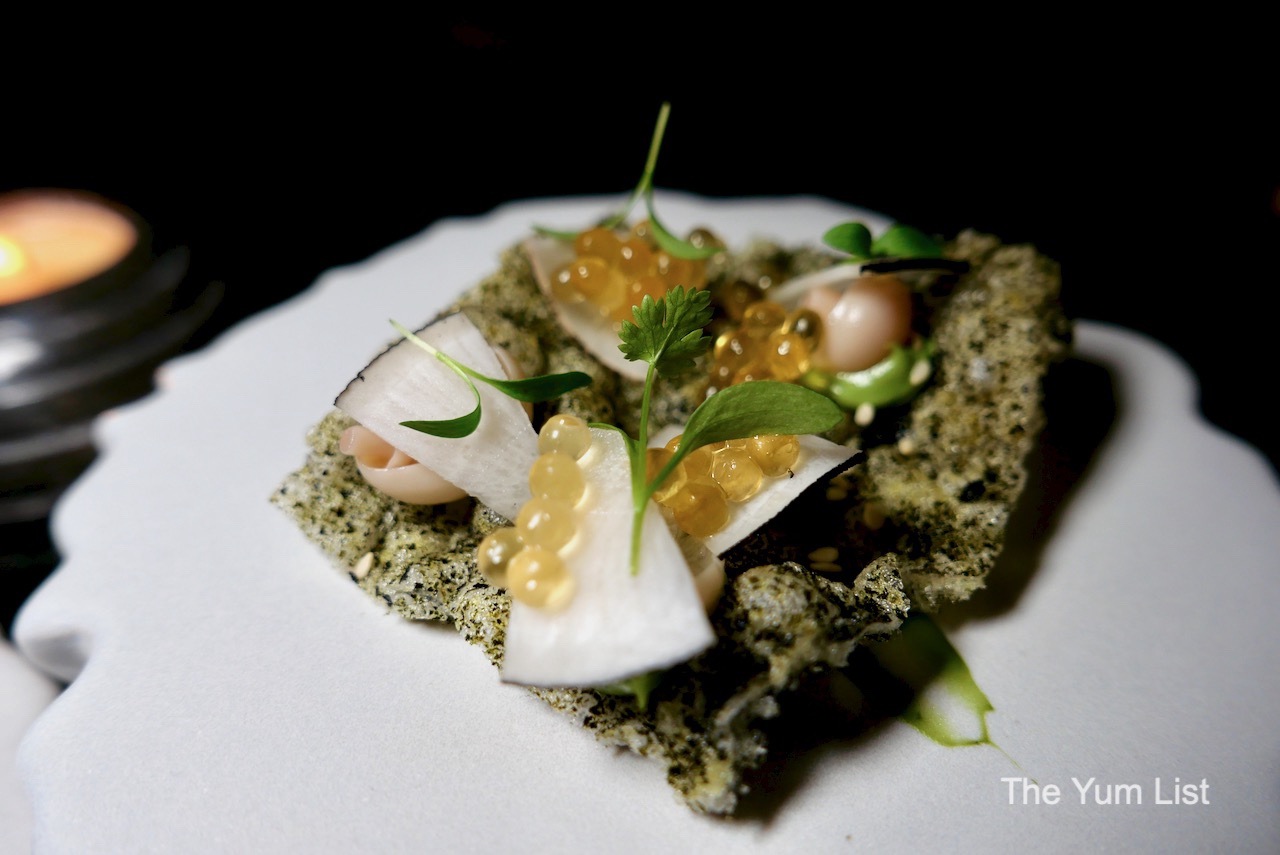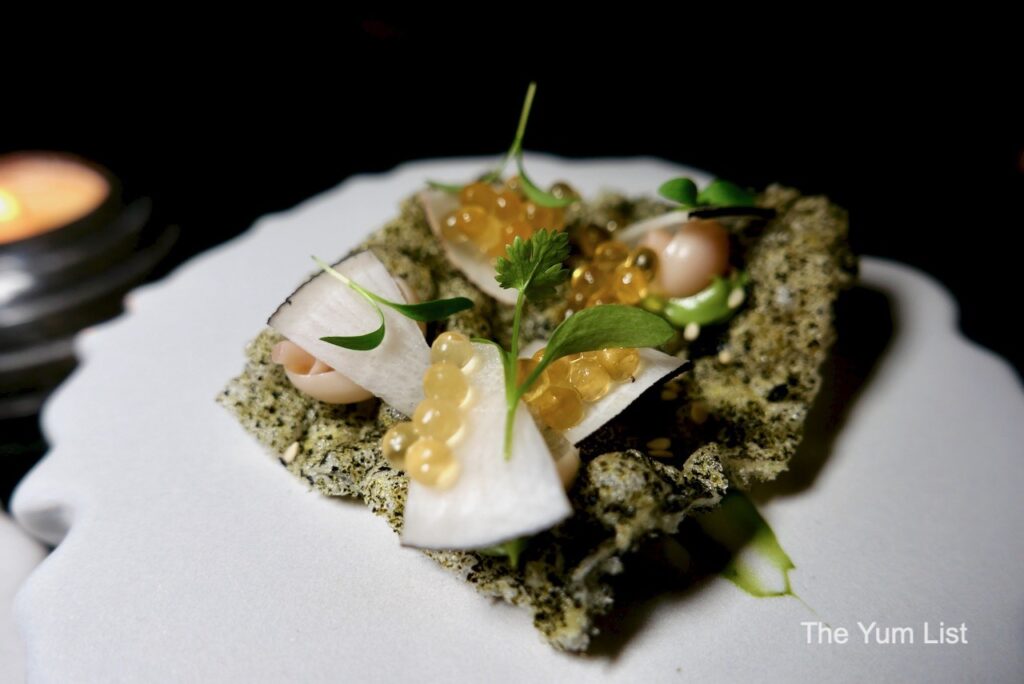 Carrot Tartar
Based on the classic preparation of beef tartar, the carrot has been fermented, dehydrated and rehydrated – carrot on carrot on carrot – furnishing a fabulous meaty texture. The black carbon pastry is a distinct contrast to the orange carrot and offers some earthy smokey notes on top of the visual pleasure. Pickled shallots and hazelnuts finish it off.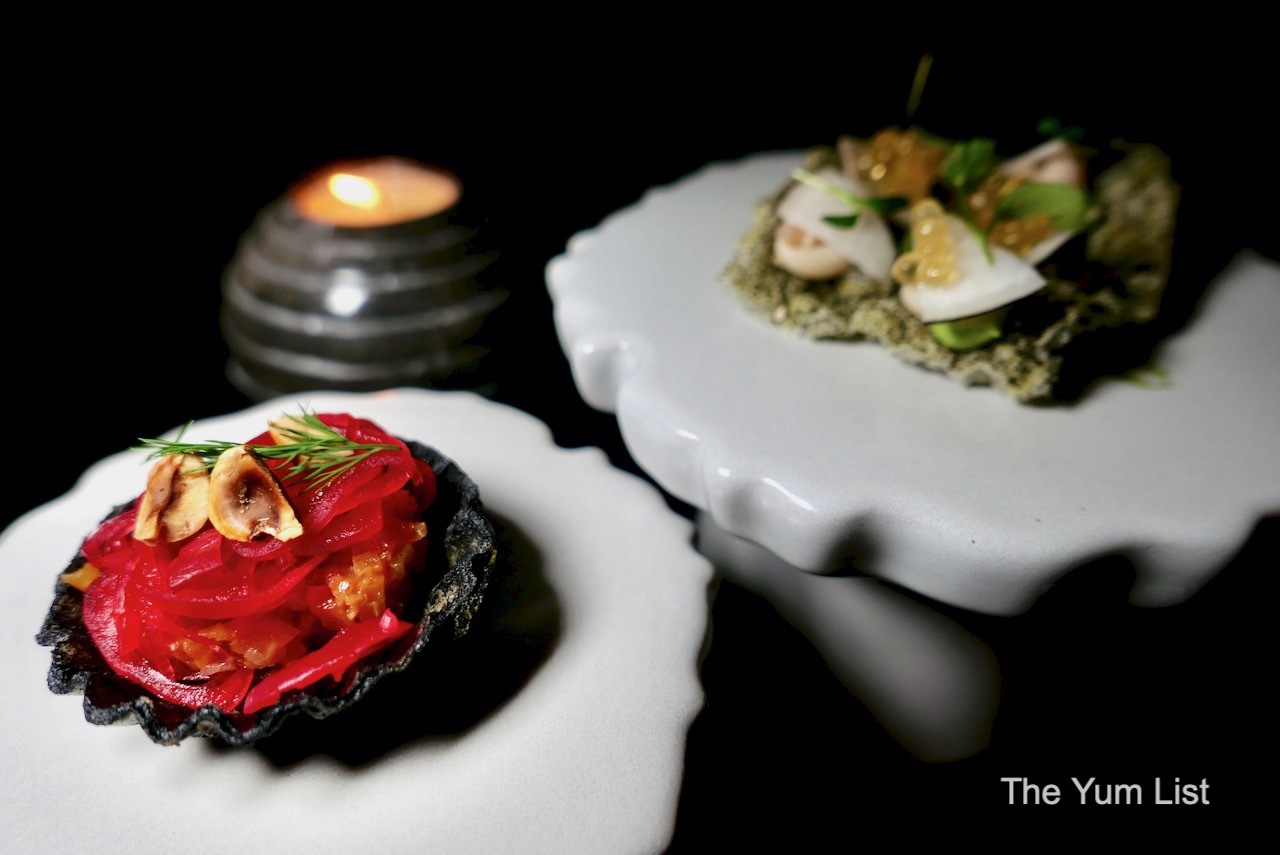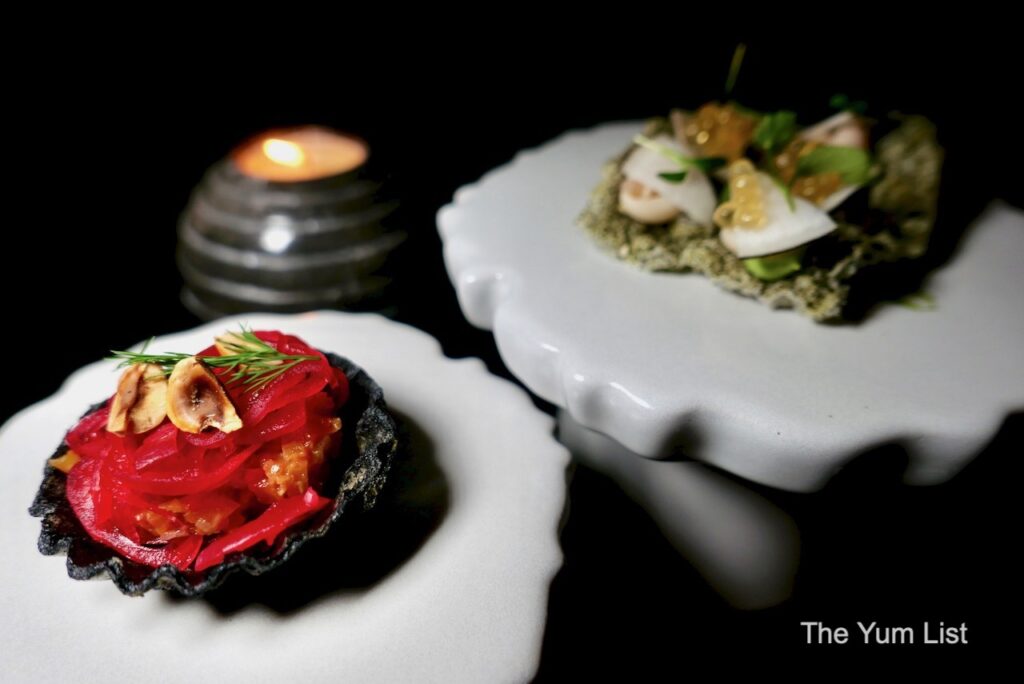 Tomato Water
One of Chef Ryan's signatures is found in the ensuing course. Tomato water has been set as jelly and topped with teeny heirloom tomatoes, micro basil and a drop of wasabi. Let it sit in the mouth and slowly dissolve to ready the palate for an increase in intensity in the upcoming dishes.
Wolf Blass Gold Label Chardonnay from Adelaide, Australia, partners this section. It's a standard expression of the grape, nicely balanced and full in the mouth with acidity tempered by a small percentage aged in French oak.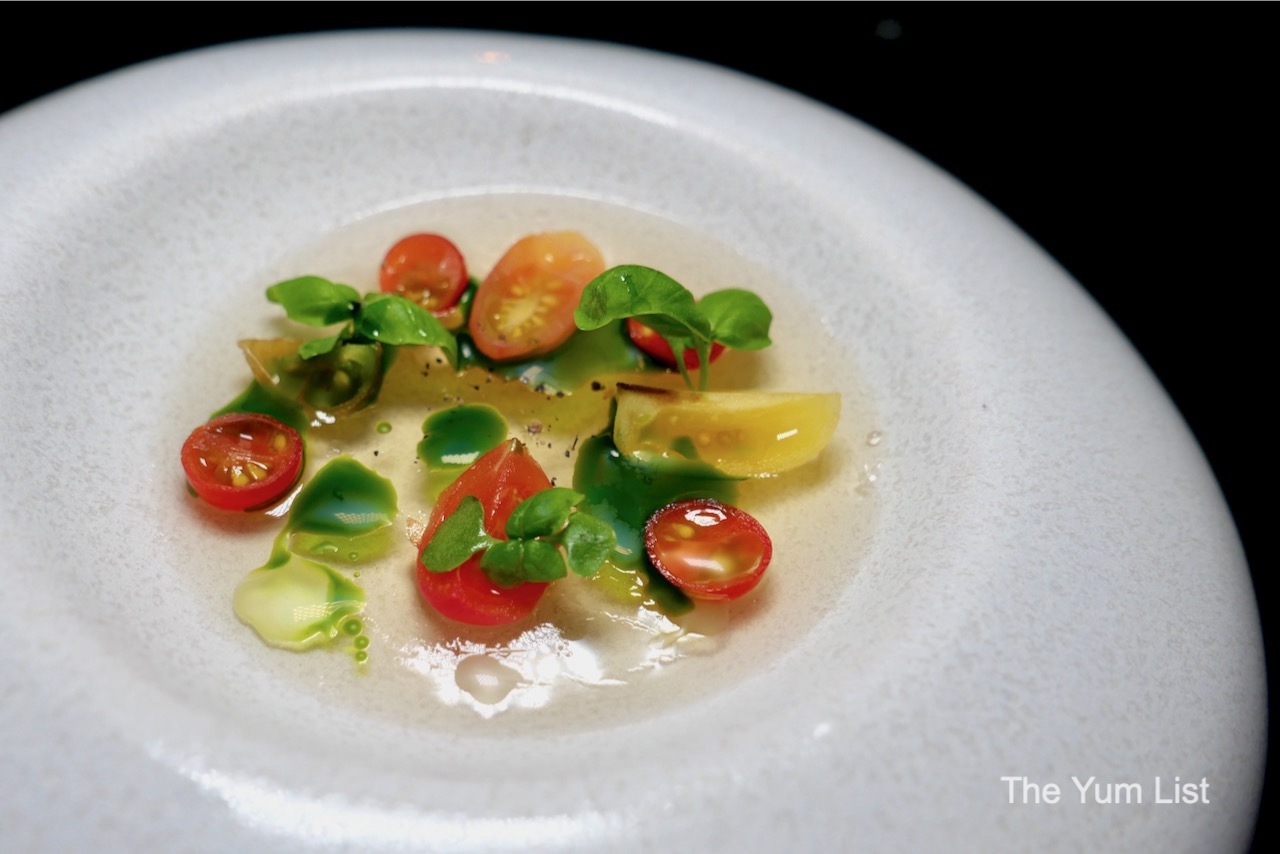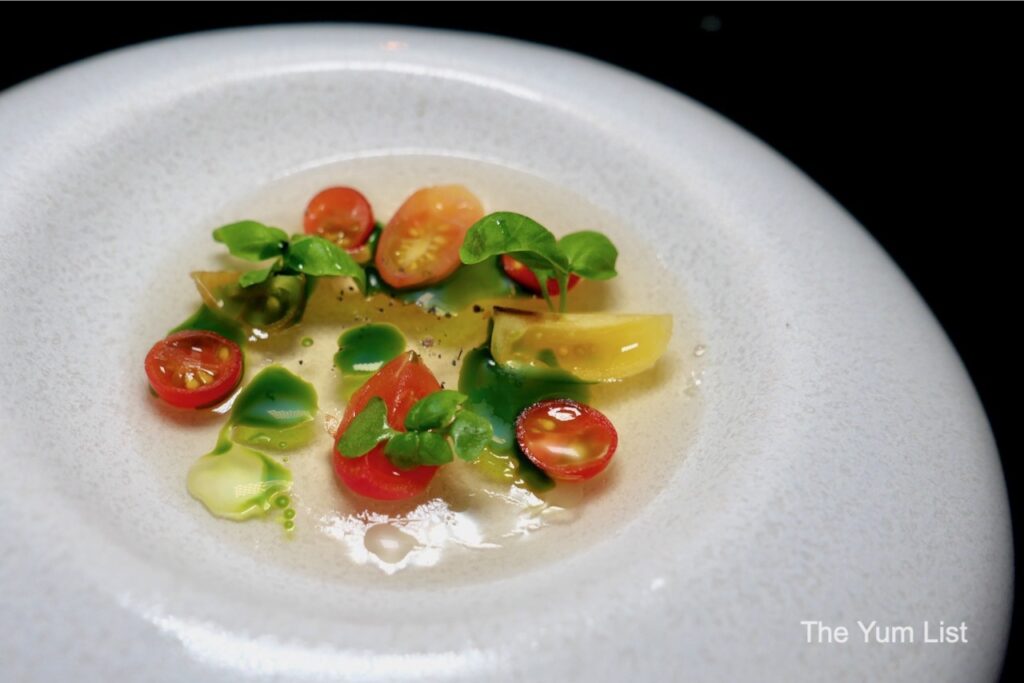 Parsley Root
A green blanket dotted with star flowers covers shaved veggies in a rustic white bowl. The chef pours over a thick, creamy vichyssoise tableside and shares that the green is extracted chlorophyll. The veggies below the warmth are fresh crunchy bites breaking up the smoothness and temperature of the soup. Much like a nori wrap, the paper-thin green layer folds and disappears in the mouth.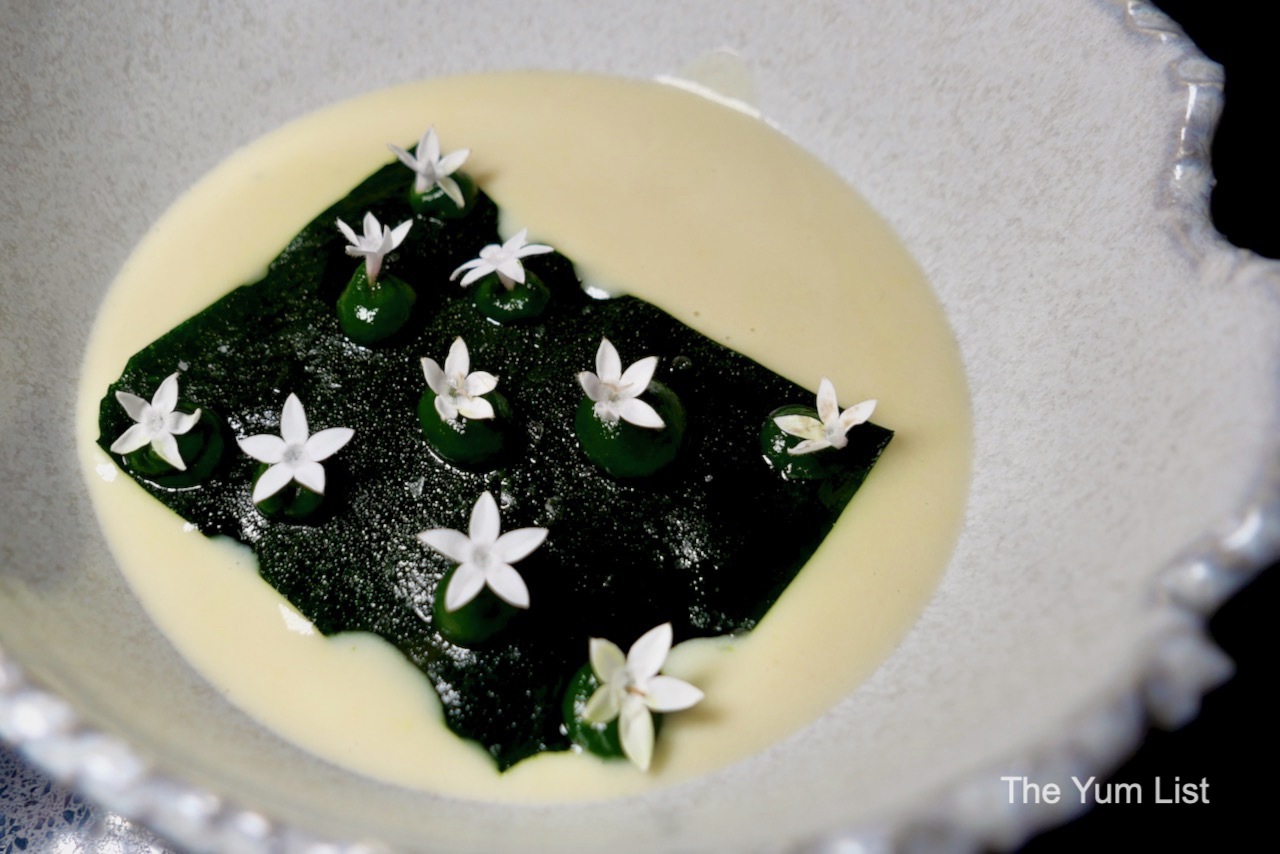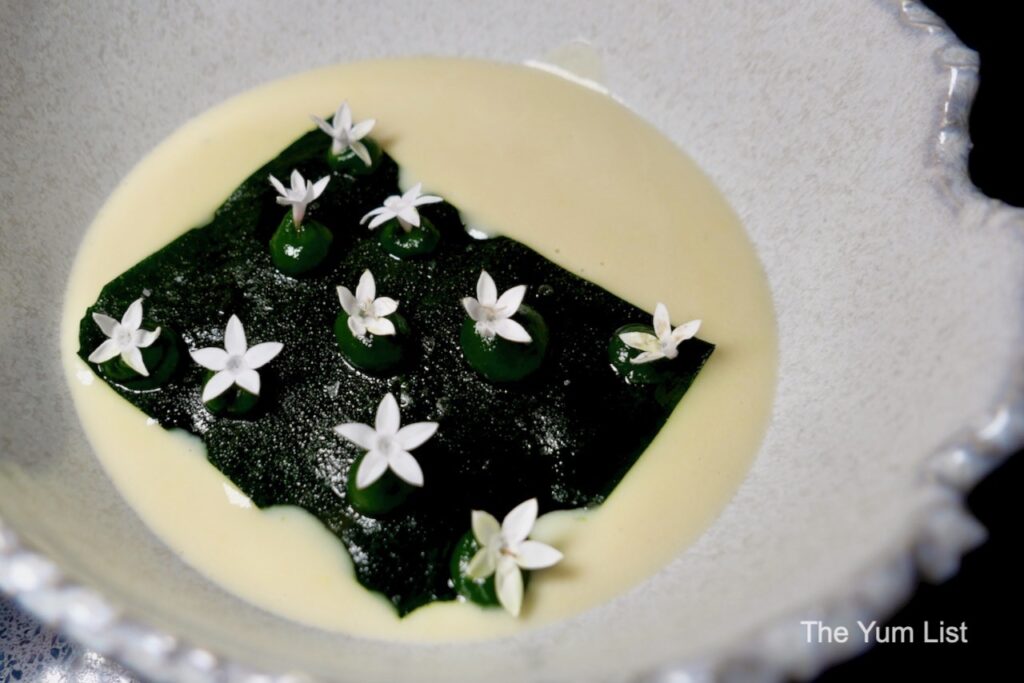 Whipped Burrata
The whipped burrata could easily be mistaken for dessert. The sheets of 8-spice pastry blanketed with whipped cheese and yoghurt are topped with fresh, dried, jellied and caramelised strawberries. Its savoury profile with a hint of sweetness and acidity from the fruit mates well with the accompanying Stars Cocktail. The combo of Cognac, sweet vermouth, apricot liqueur, sherry, and Angostura bitters fills the mouth with the sweet, dried fruit flavours you might have been expecting from the plate.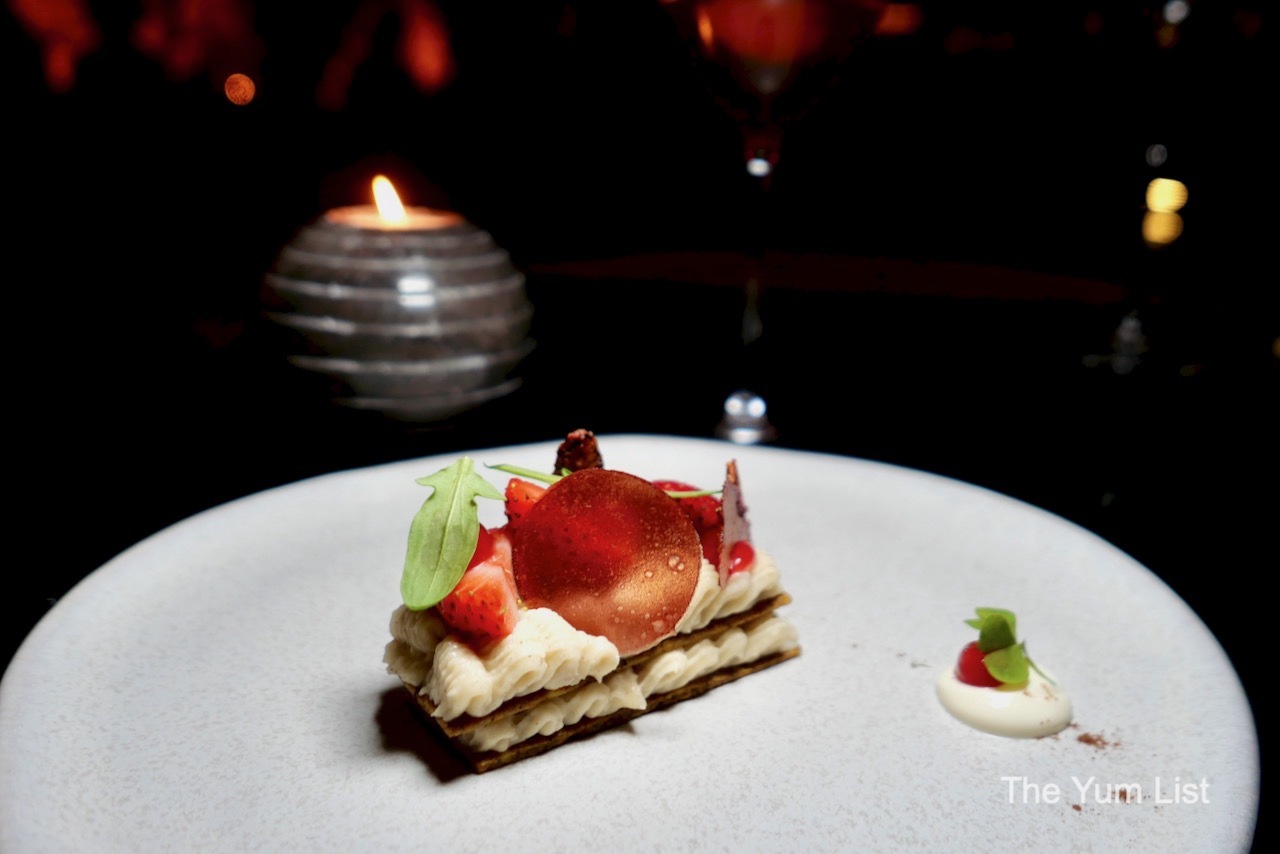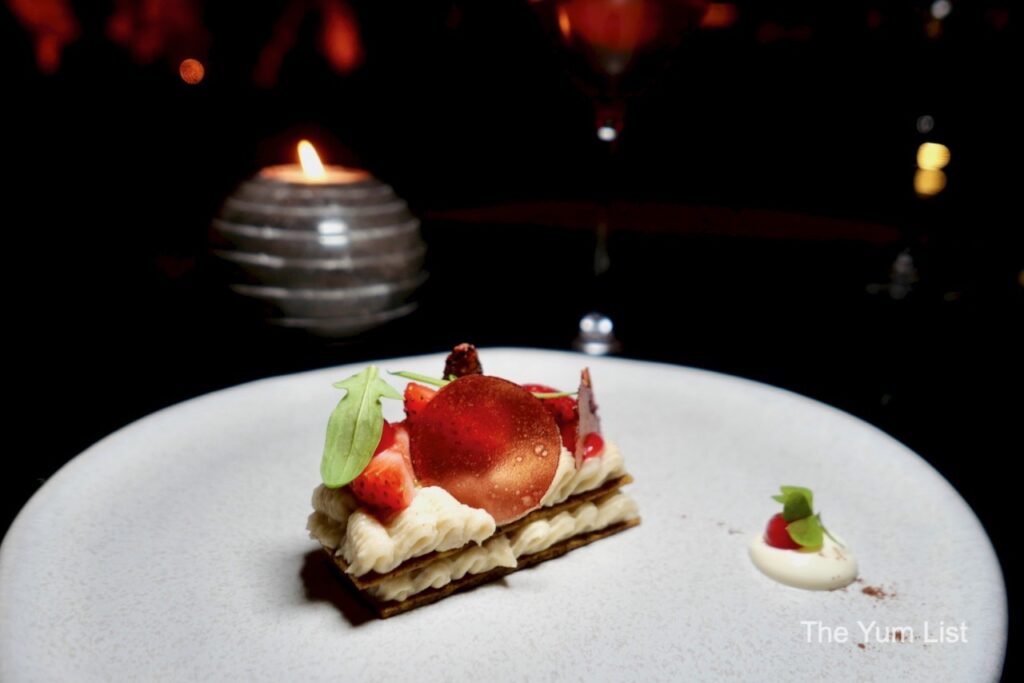 The Cave – Brake
The Brake, a 15-minute intermission, is well timed for a bathroom break or to edit your Insta reel. As guests are now fully entwined in The Cave encounter, it allows time to chat with your table (or newfound friends at a neighbouring seat) about the experience or take more selfies, as you please.
Charred Cauliflower
We return to the menu with charred cauliflower with black garlic, shiitake dashi and kale. The nasturtium garnish and sesame seeds further contribute to the earthiness of this recipe. I find it rather unilateral in profile. However, the young pinot noir wine mate, Babich Reserve Pinot Noir from Marlborough, New Zealand, adds a dimension of fruitiness. Its youth brings berries, cherries and violets, brightening the palate and balancing the earthy undertones of the cauli and broth.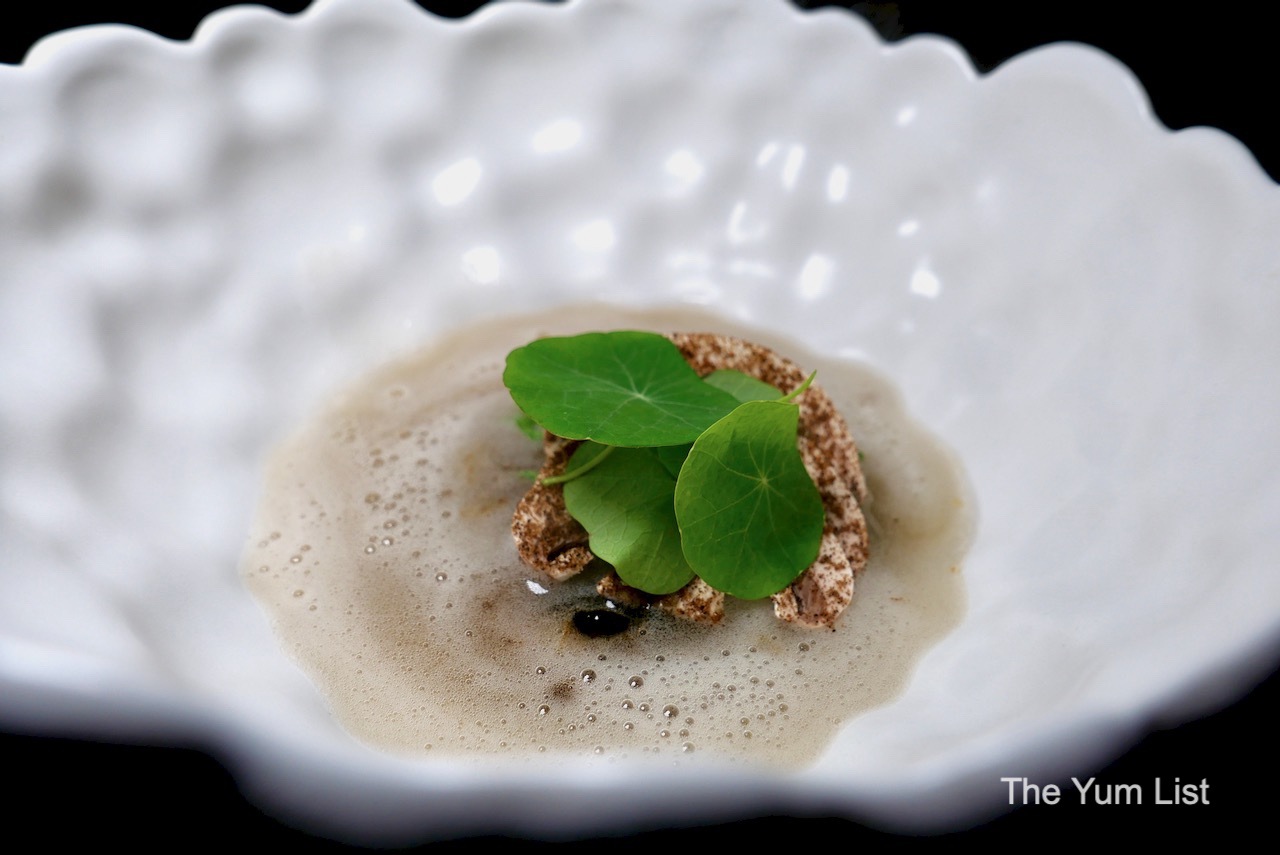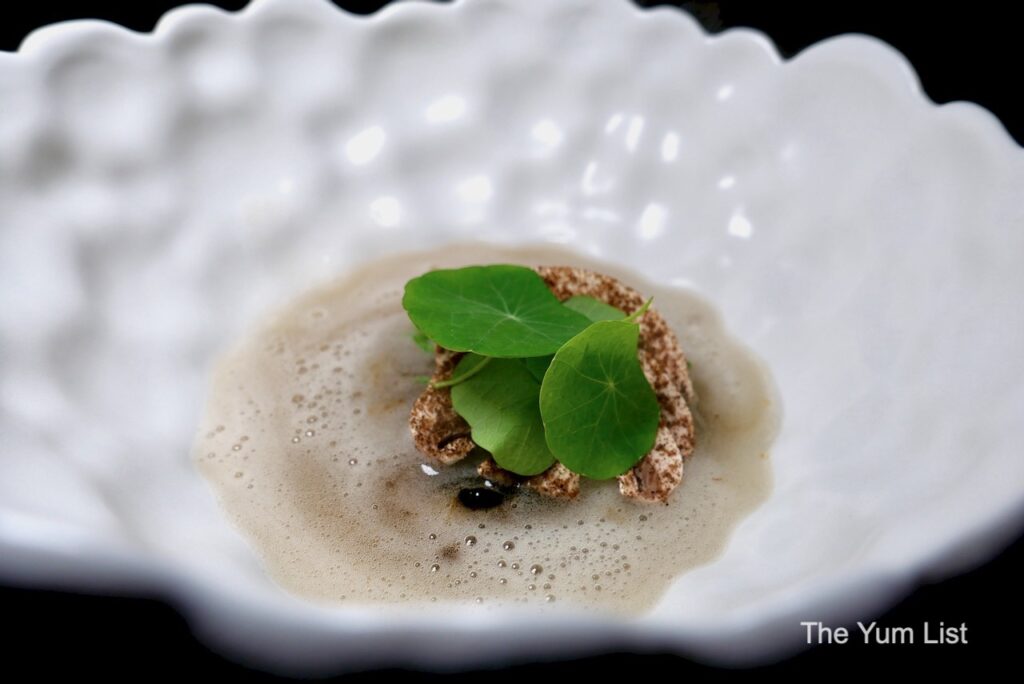 Risotto
The savoury portion of the menu at The Cave culminates with risotto. Here, creamy rice is harmonised with a watercress emulsion, Parmesan, pickled daikon, herbs, smoked baby red radish and fresh watercress. Potato tuile pressed with parsley leaves inside every strip is gorgeous. Translucent in nature, I would love to shoot them in natural daylight to better showcase these miniature pieces of art. Once again, I find the wine pairing an excellent elevation of the course. Clos Des Menuts Grand Cru from St Emilion, France, is the most serious of the wines in today's pairings. It's powerful, full-bodied and offers elegant tannins. A lovely bouquet of dark red fruits and spice from oak give way to a balanced, sophisticated palate with a persistent finish. So close to the previous pinot noir, I reserve some of this for later and happily conclude the menu with the final drops.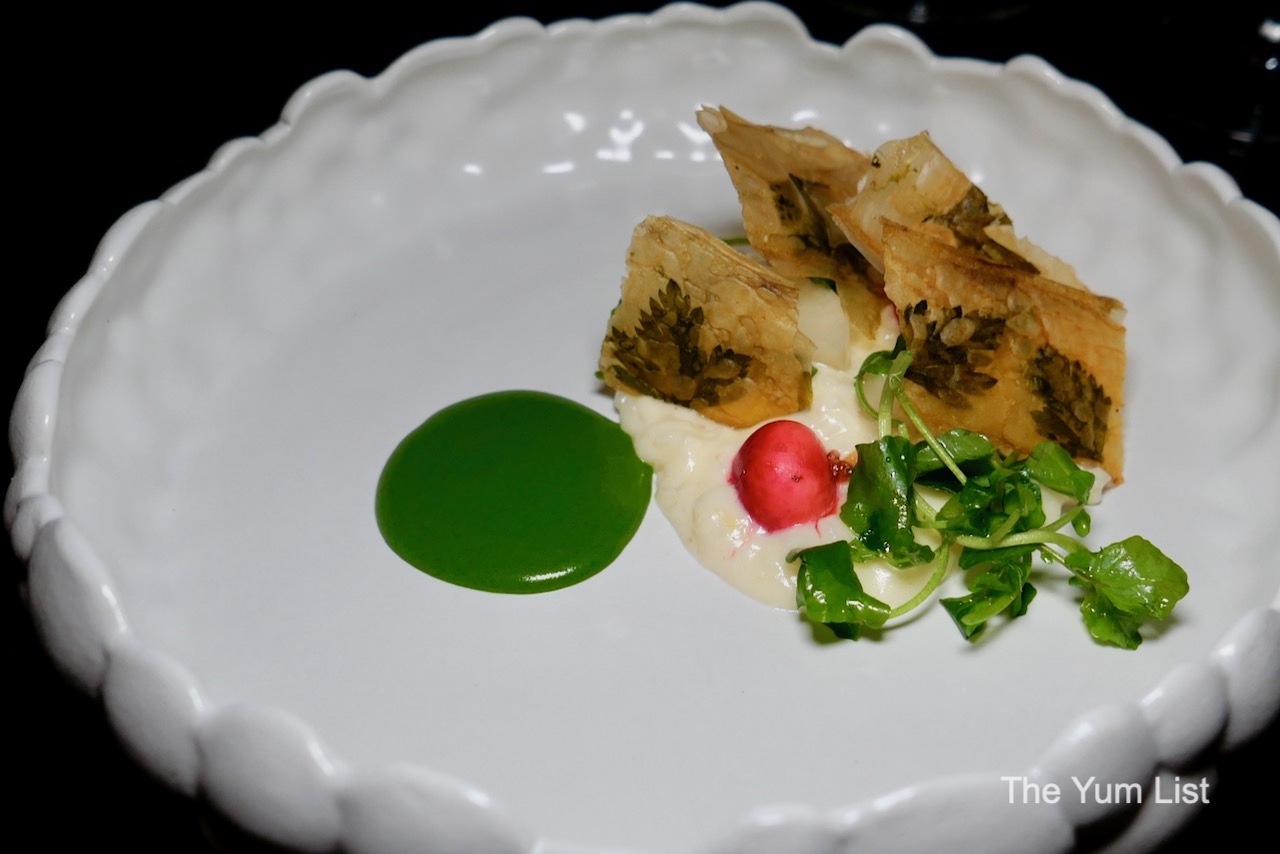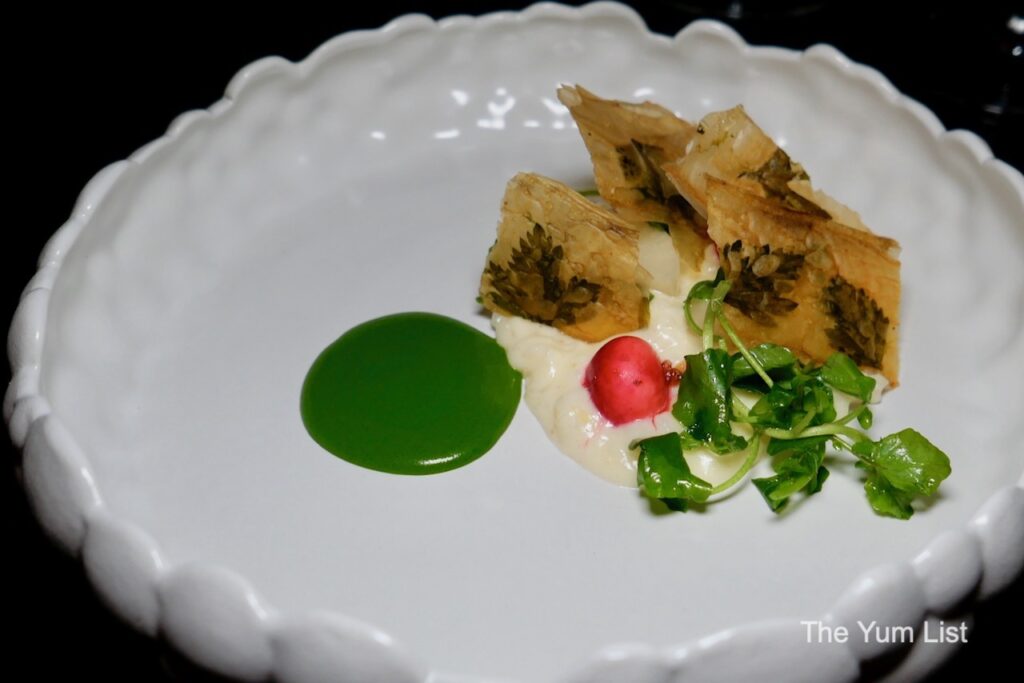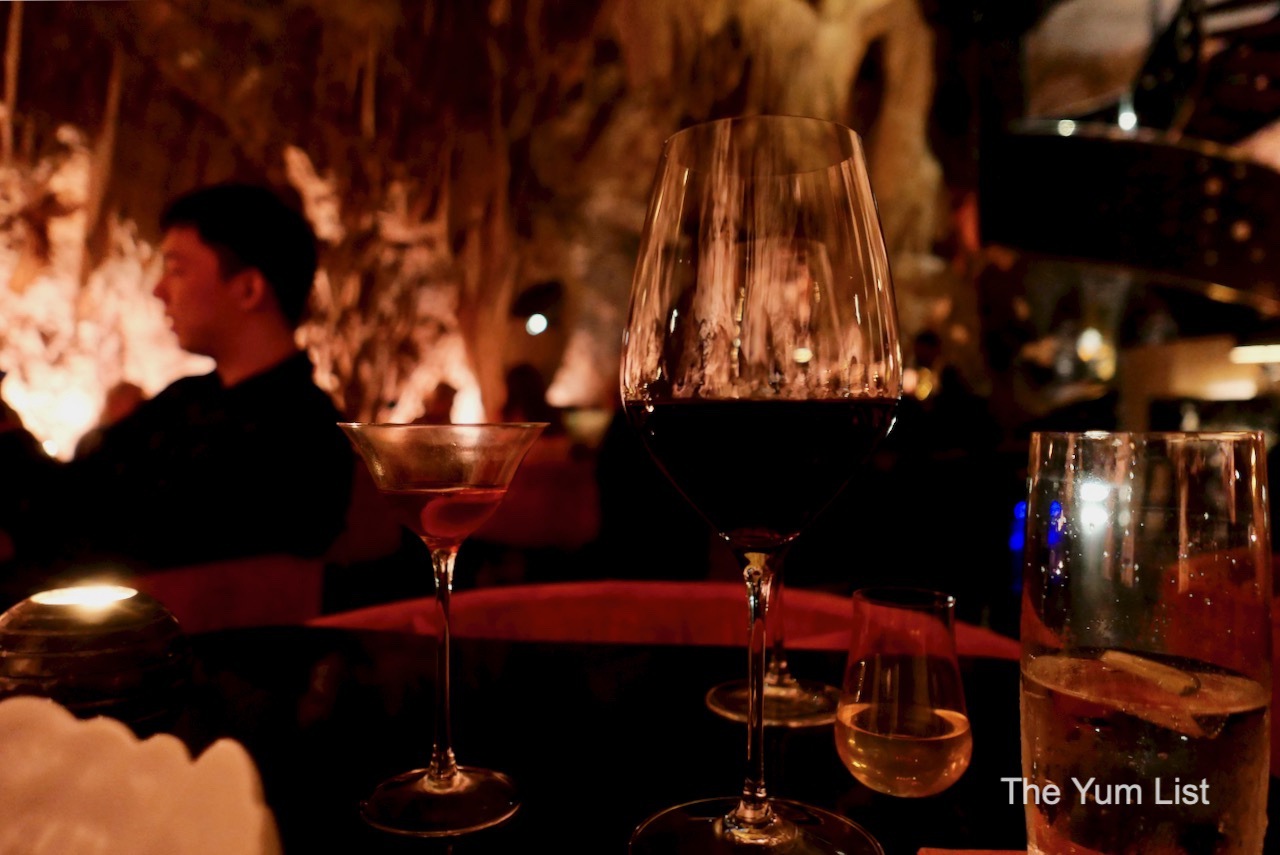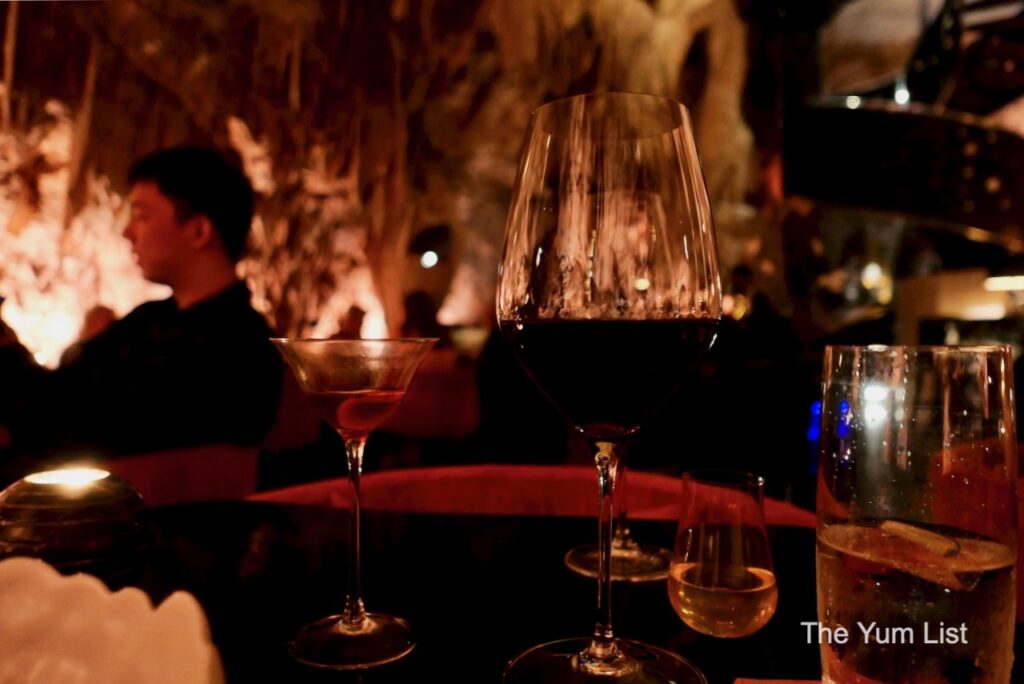 Cocktail Fruit
Yes, cocktail fruit, not fruit cocktail; this recipe is a sumptuous palate cleanser. It's a crescent of honeydew melon that has been pressed with a Japanese Slipper cocktail. Chef says he wants you to eat your cocktail this round instead of drinking it. Dots of cherry gel finish off the rim, adding colour interest but also a complimentary summer fruitiness.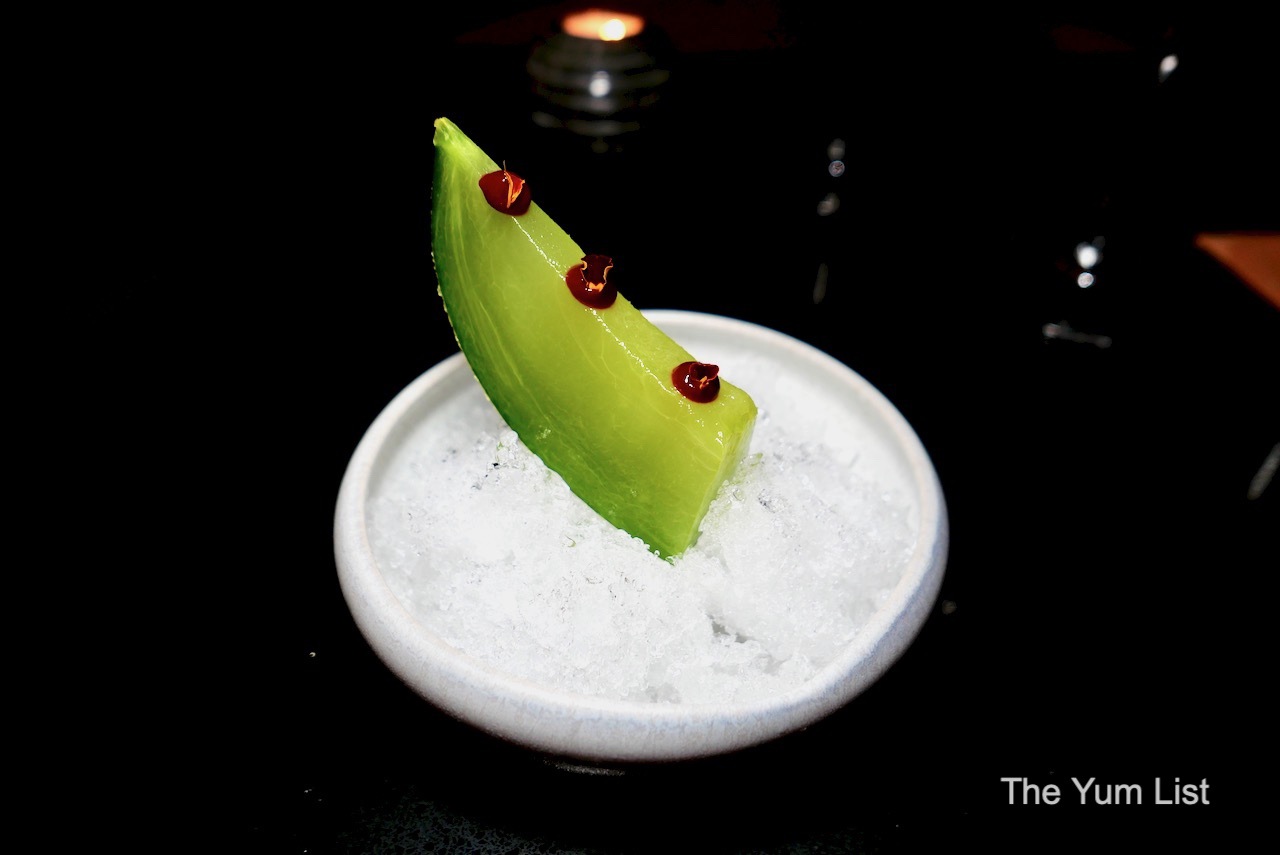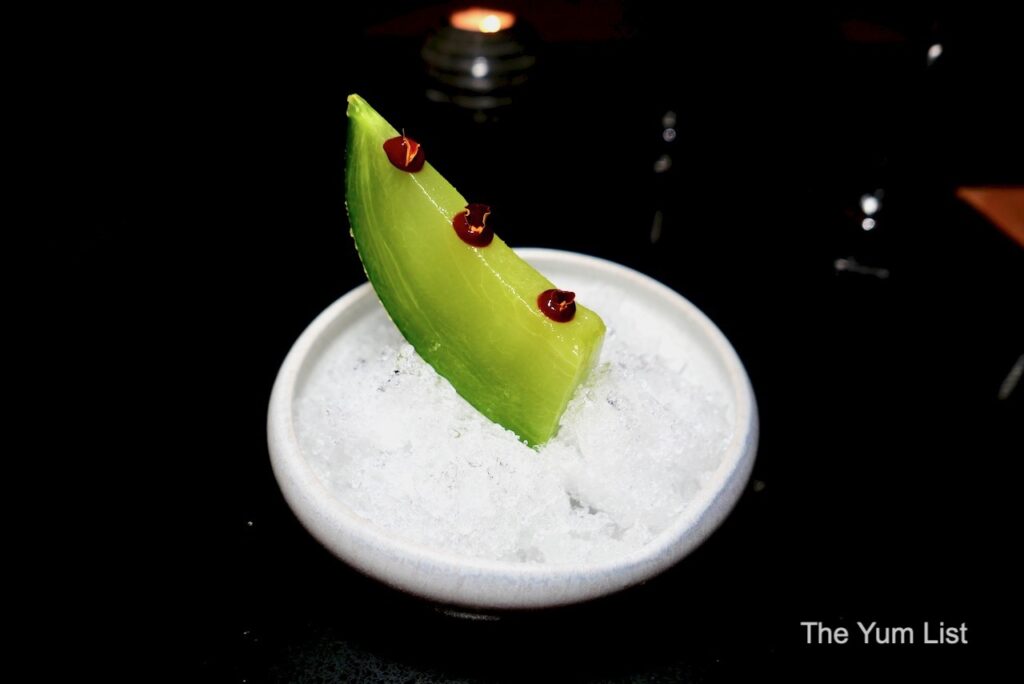 Bounty Paradiso
People of a certain age often mention Bounty as their all-time favourite chocolate bar. And, if you're in that group (even if you're not), you are going to fall in love with the Bounty Paradiso. It's a grown-up version, much lighter and with way more class. Coconut sorbet fills wafer-thin milk chocolate balls. They're lined up in a trio between a chocolate crisp, based with coconut cream, ringed by yuzu and citrus balm, and topped with coconut meringue and mint leaves. It seems a shame to knock it down as instructed, considering the effort that must have gone into this creation. However, sacrifices must be made. Crash, crack, splatter!
The Hawaiian Sour, made with rum, pineapple, egg white, light coconut cream and simple syrup, is refreshingly tangy. It ensures you stay awake rather than thinking of a nap at the end of the meal.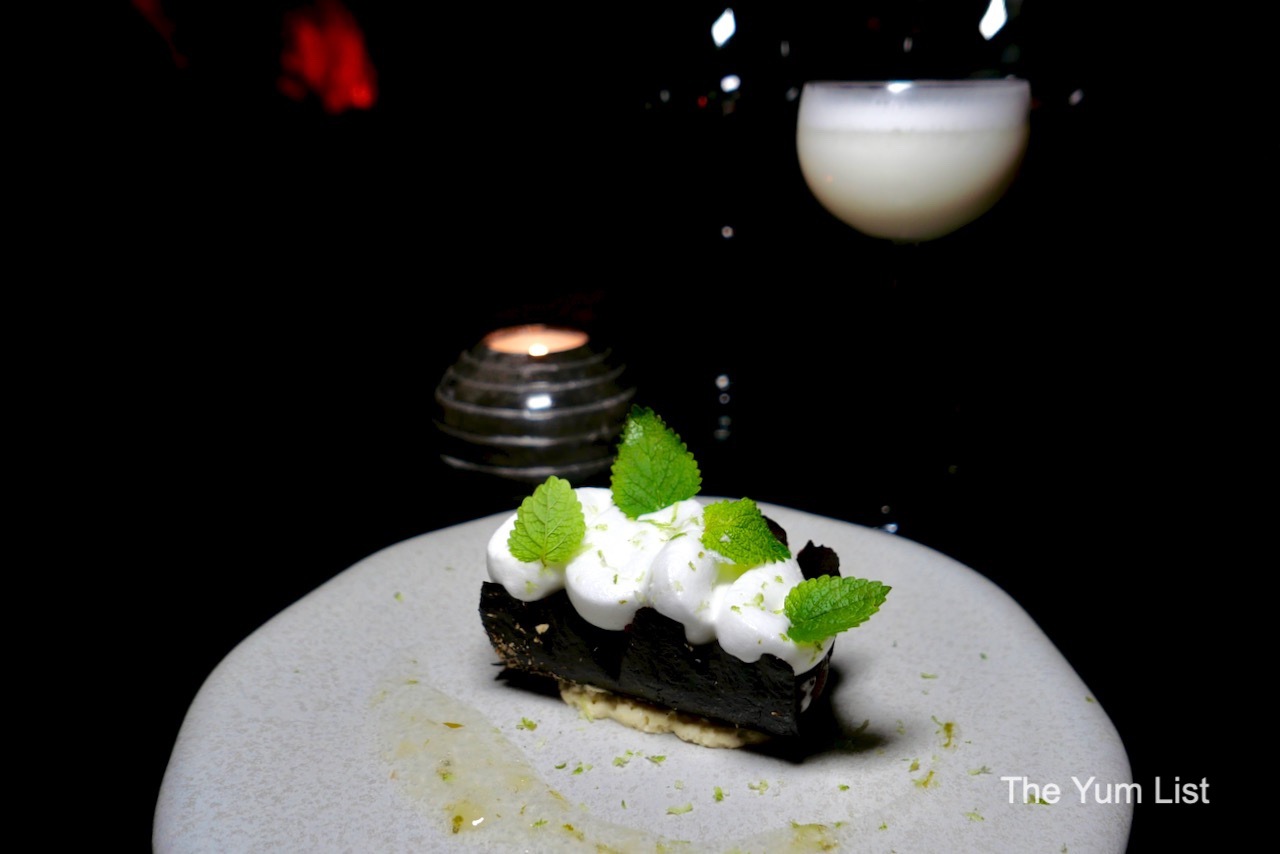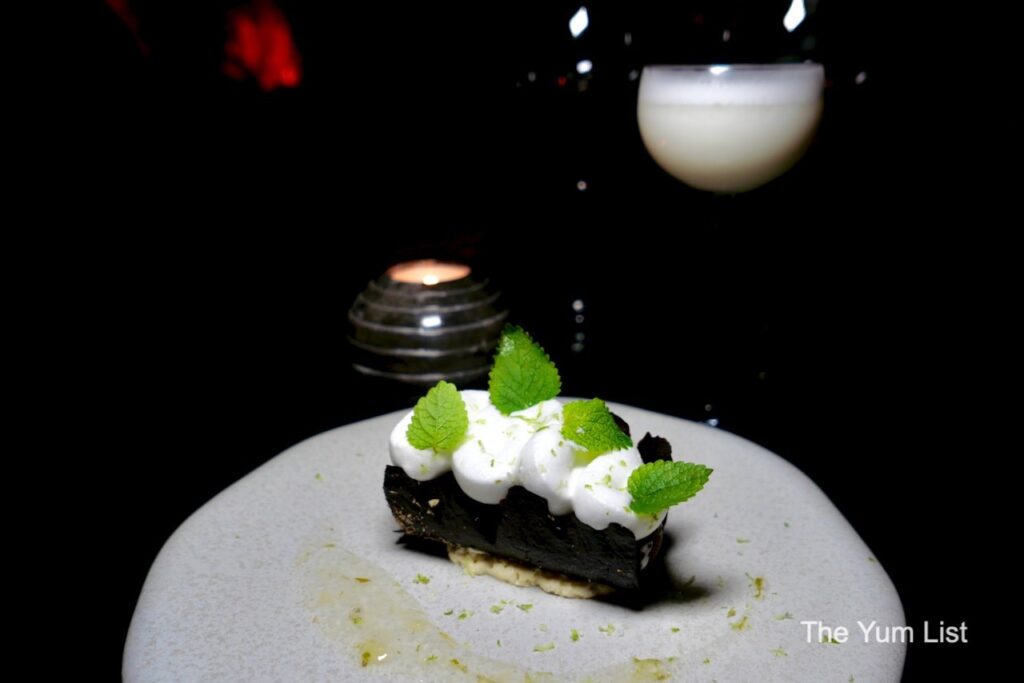 Sweet Treats at The Cave
Really, after such a menu at The Cave, not a thing more is needed. Exceeding expectations, though, is what this team do. Three fun-size sweet treats – passionfruit jube, chocolate banana tart topped with banana Chantilly cream, and white chocolate peppermint candy in an edible wrapper like the popular Chinese White Rabbit candy are irresistible bites even when your appetite is completely satiated.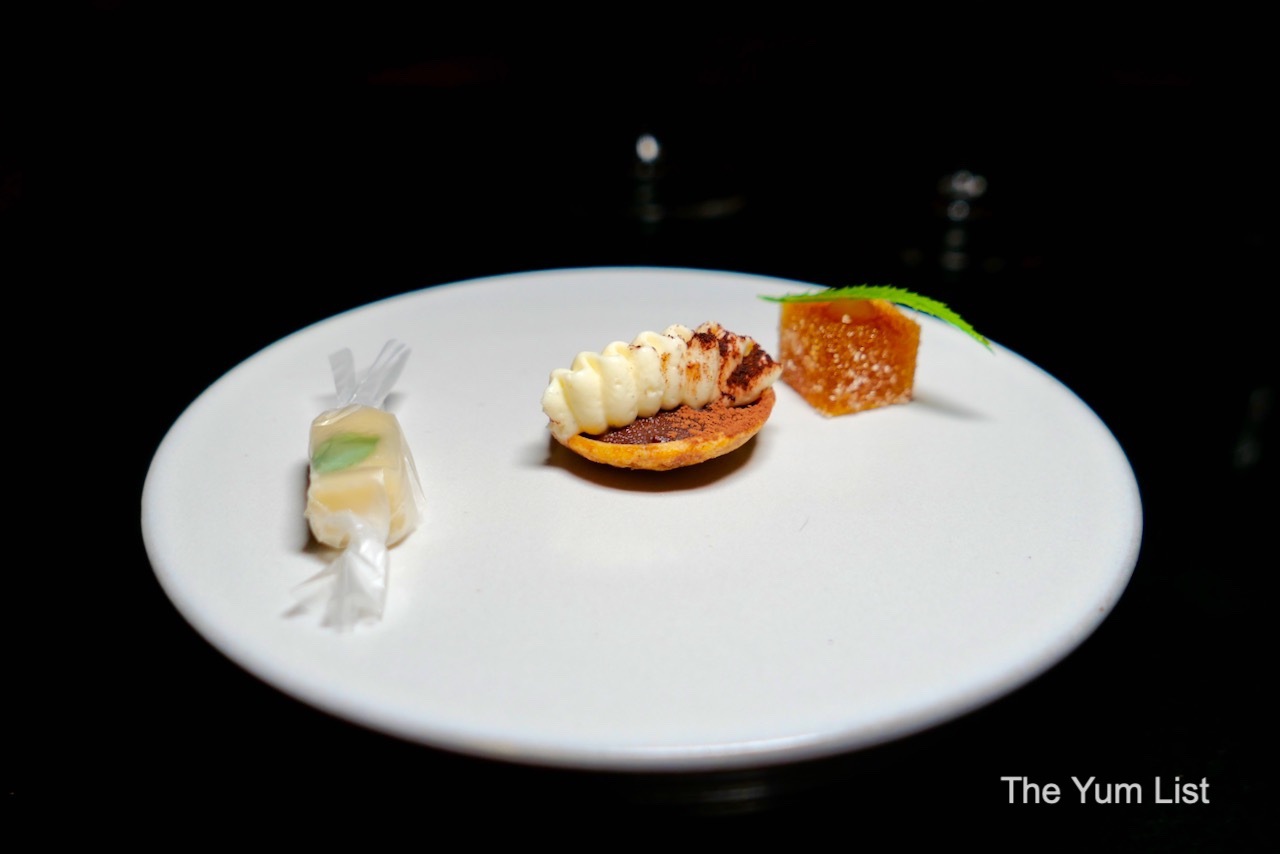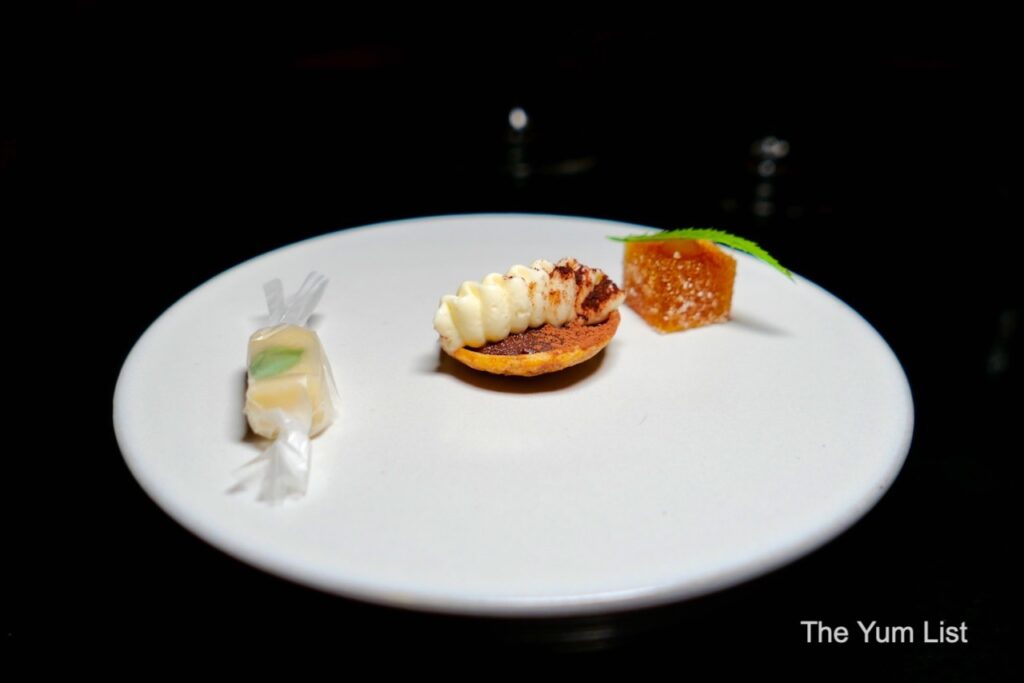 The Cave @ The Edge, The Details
Allow about three hours for the experience at The Cave. It's advised to arrive 30 minutes before your reservation to check in. A buggy takes you from reception to The Cave and only serves a few guests at a time. I spent around 15 minutes in the lounge, a pleasant wait, in line to be registered and collected. The session is well-timed, with seven projections in between the seven courses. If you arrive late, you'll miss the show! With 31 steps, it's not wheelchair accessible. It's a fancy spot – dress nice and leave the little ones at home. Lastly, do book well in advance. With only 22 seats, a unique setting, and a menu designed by a culinary master, The Cave is in high demand.
Reasons to visit The Cave @ The Edge, Bali: a unique dining experience in a cave with extraordinary food to match; a thoughtful vegetarian menu; good beverage pairing.
The Cave @ The Edge
Jalan Pura Goa Lempeh
Banjar Dinas Kangin, Bali
+62 361 847 0700
[email protected]
The Cave @ The Edge Opening Hours
Monday & Tuesday: 5:30 pm & 9 pm
Wednesday to Sunday: 12:30 pm, 5:30 pm & 9 pm
Find more travel recommendations for Bali here and stay up-to-date with our latest gourmet travel finds here and here.