Adiwana Warnakali Nusa Penida
Monica Tindall
The adventure to Adiwana Warnakali Nusa Penida begins with a 45-minute boat ride from Sanur, Bali. The crowded port is filled with tourists excited about a trip across the ocean to the nearby tropical paradise of Nusa Penida. There's no jetty. Guests take off their shoes and wade in ankle-deep water to reach the boat. Staff skillfully load luggage, passing them overhead and onto the deck. All aboard, the holiday has begun!
Forty-five minutes later, we're on the other side of the drink. The low tide keeps the boat from the dock, but this time, small boats come to ferry guests across the final strip instead of wading in the water. Boatmen use long bamboo poles to navigate around the coral. Even here, in the busiest part of the shore, the water is crystal clear, and we can see all the way to the bottom.
Wayan collects me from the pier. He's softly spoken and dressed in traditional Balinese attire: a white shirt and batik sarong. In minutes, he has my bag in the comfortable, air-conditioned van, and we set off for the boutique hotel, Adiwana Warnakali Nusa Penida. The roads are tiny on the island, with one lane in many parts. We climb the hill and then weave through a jungle-lined path avoiding roosters and motorbikes along the way.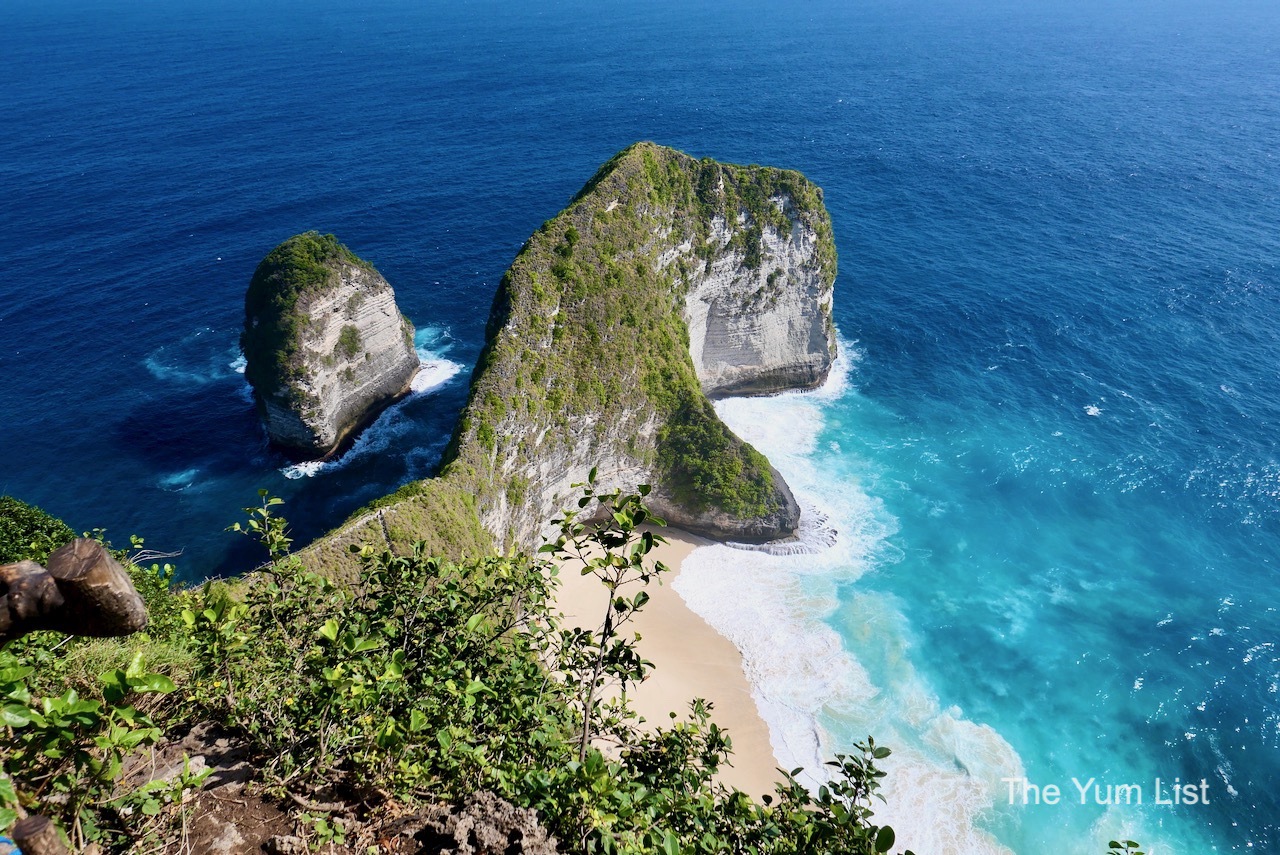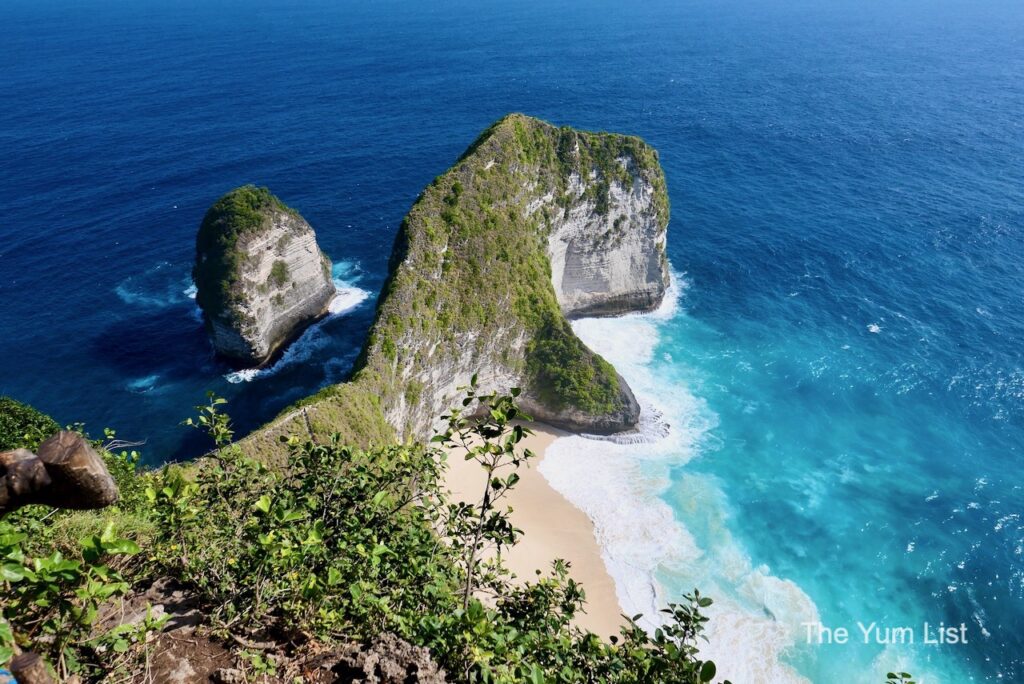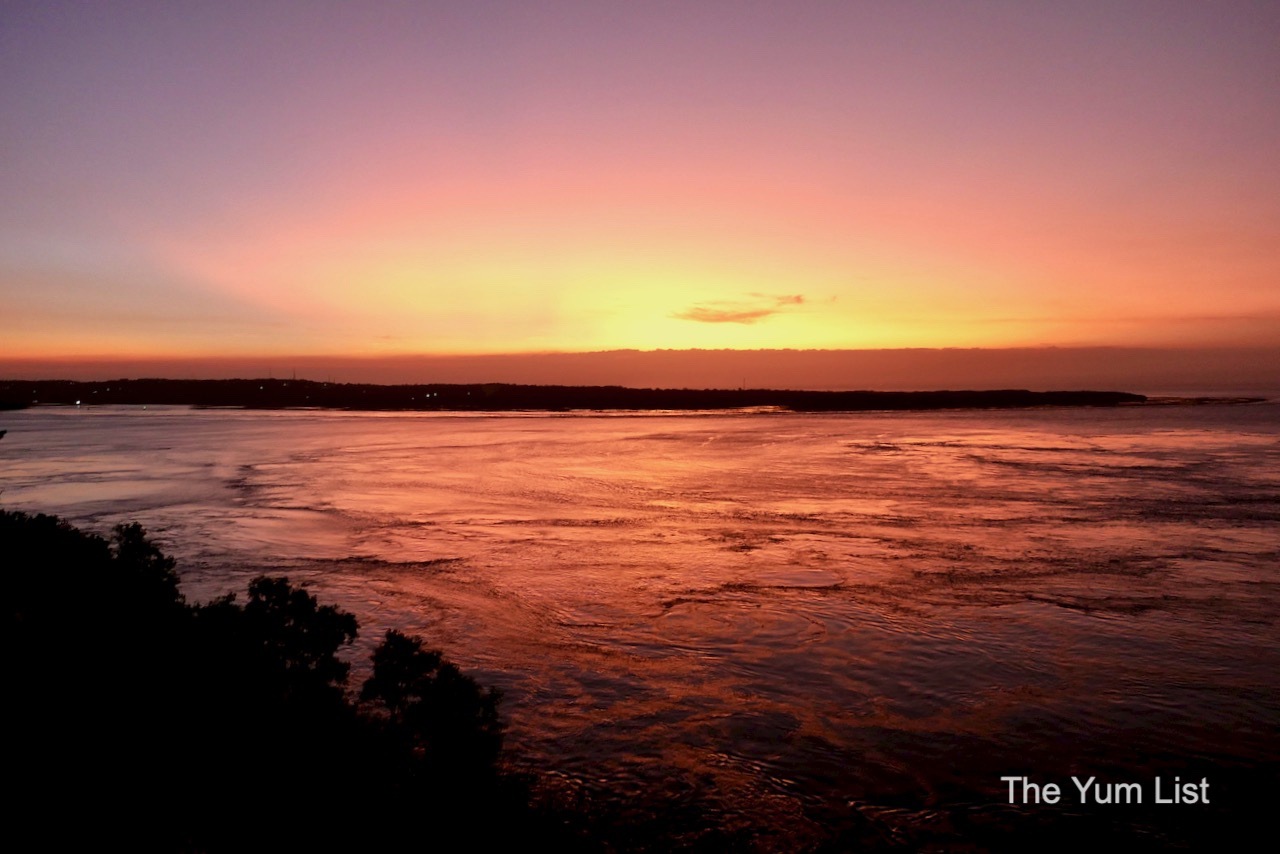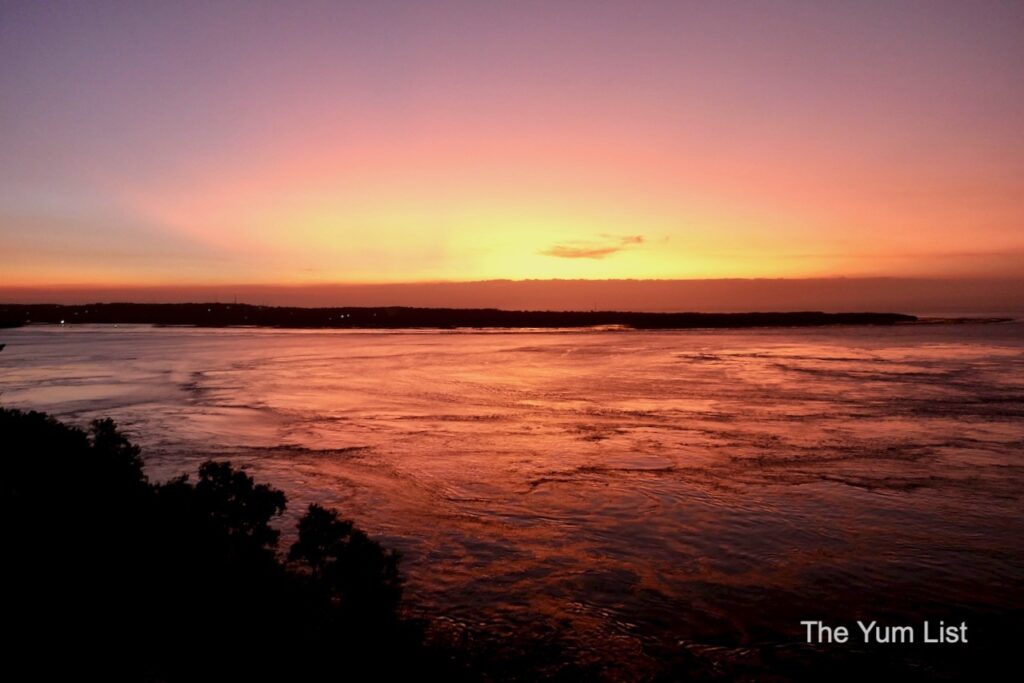 Adiwana Warnakali Nusa Penida
As we approach Adiwana Warnakali Nusa Penida, I catch glimpses of the sea, but it's not until we reach the lobby that I fully appreciate the boutique hotel's magnificent location. Built down the side of a cliff, there's nothing but blue sea below and Mount Agung (Bali's highest peak) as a backdrop.
Rooms, the restaurant, reception and pool are all designed to capture the impressive seascape. White boats contrast the deep blue of the sea, and there's frequent activity giving the eye something to follow. Some of the most beautiful sunsets are captured here, with the sky turning 30 shades of gold at dusk.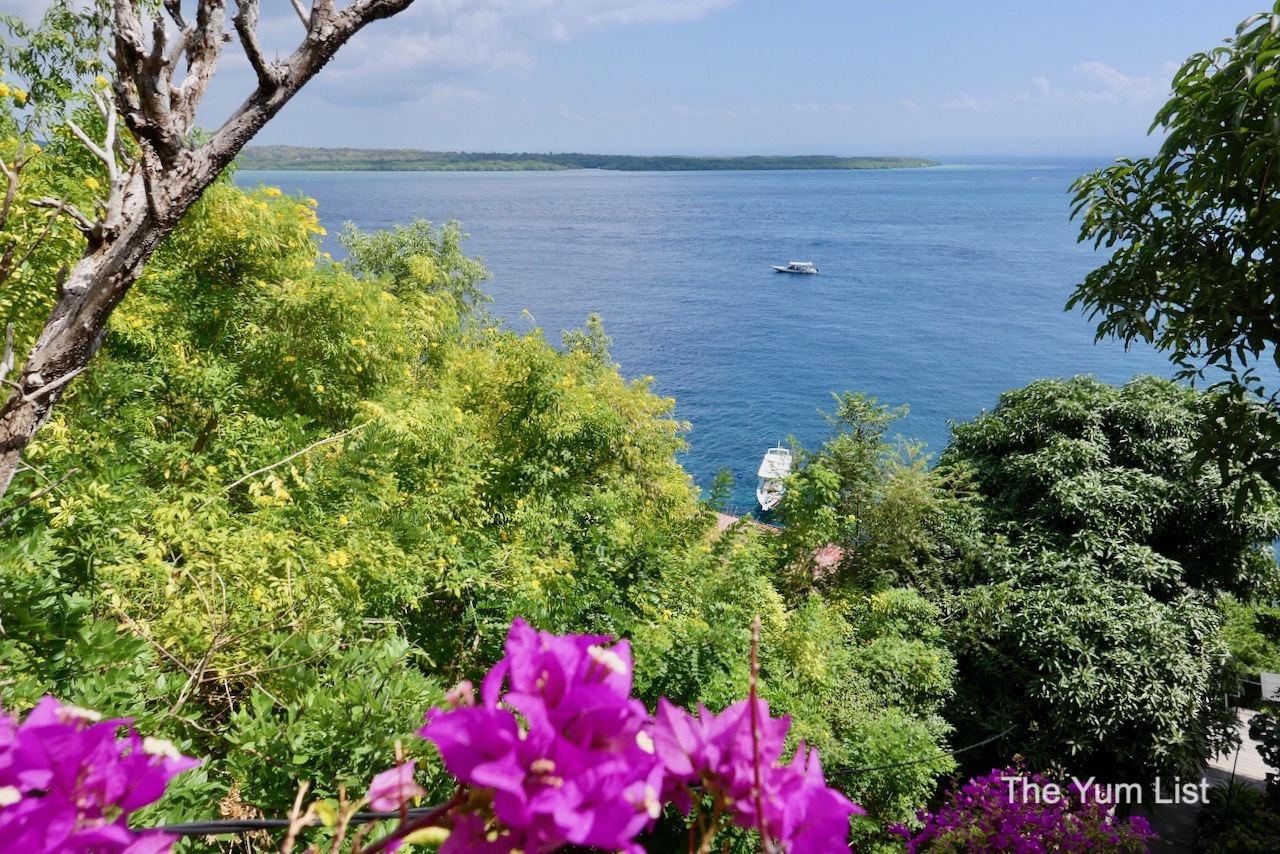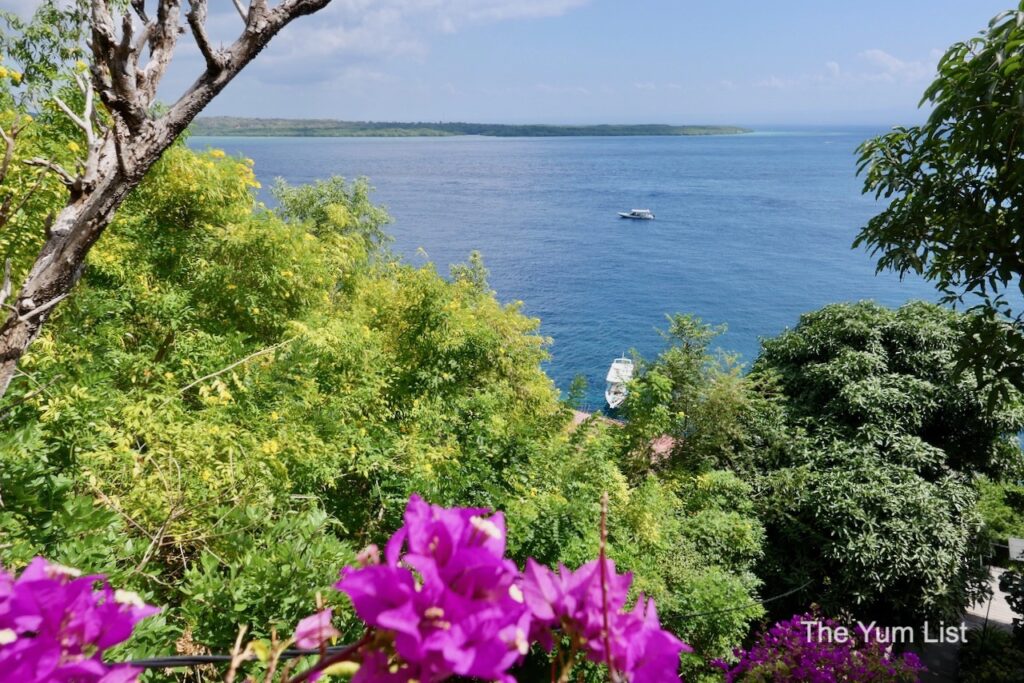 Ocean View Suite
My Ocean View Suite is extensive, with the balcony nearly offering as much space as the indoors. Shaded by a sail and bordered by frangipani and bougainvillea, you could spend hours here without the desire to move anywhere else. Furthermore, there's a rack for drying clothes, and with the sun hitting the deck, they're guaranteed to dry quickly.
The room is spacious, with clean, uncluttered lines. A palette of white and blue with painted oars as artwork matches the maritime feel flawlessly. Wooden furniture with leather finishings and aquamarine cushions gift a designer feel. The bed is incredibly comfortable, with a thick bed topper providing support and softness simultaneously.
The bathroom is equally sizeable, with a separate toilet, shower, basin and closet. Both rain and handheld shower heads are provided, and all bath products are kept in refillable pumps (yay for reducing single-use plastic). Water is also supplied in refillable glass bottles – a much appreciated and luxurious element of the resort.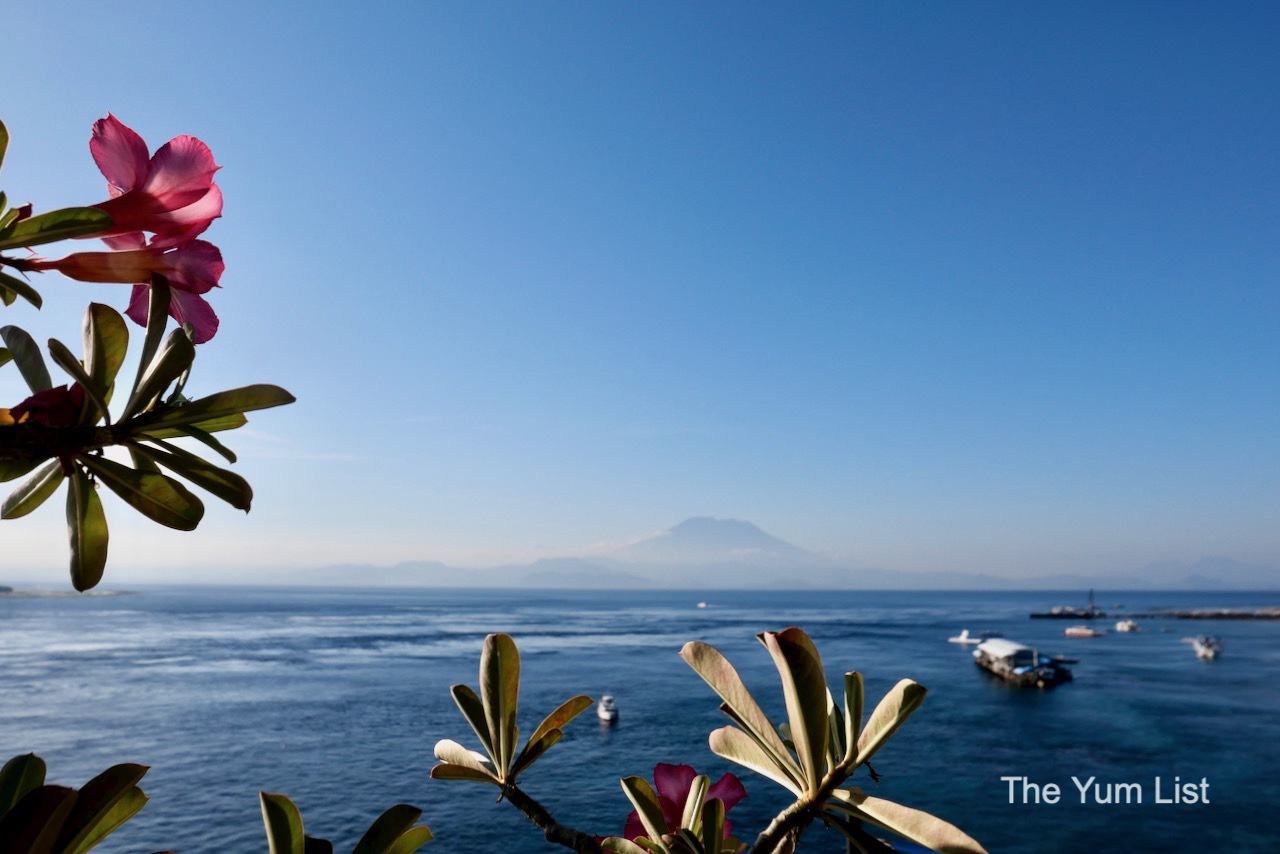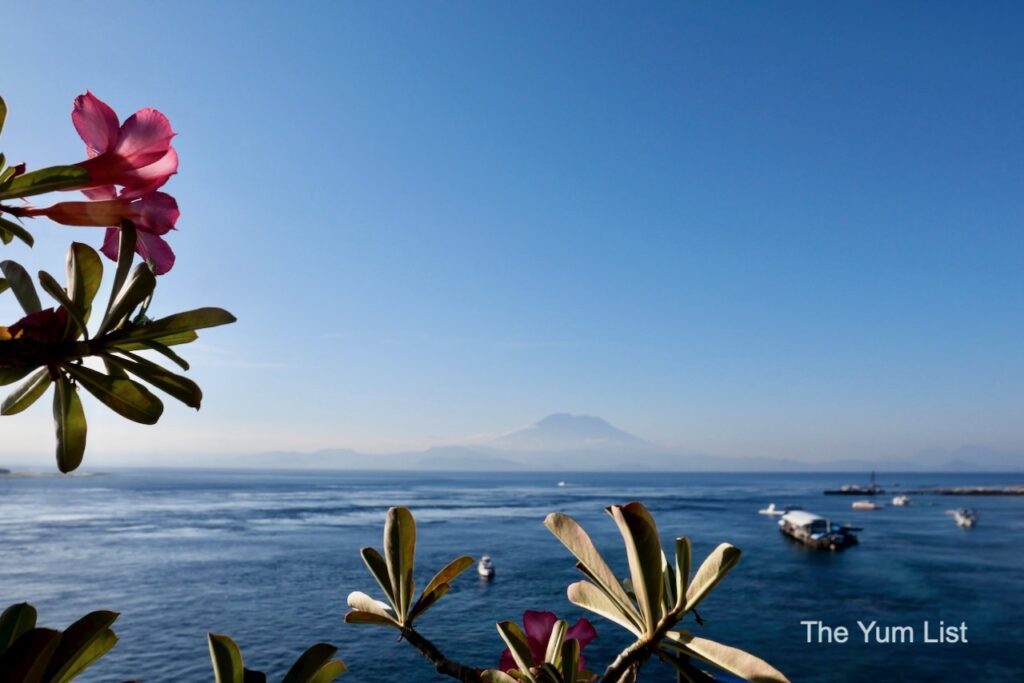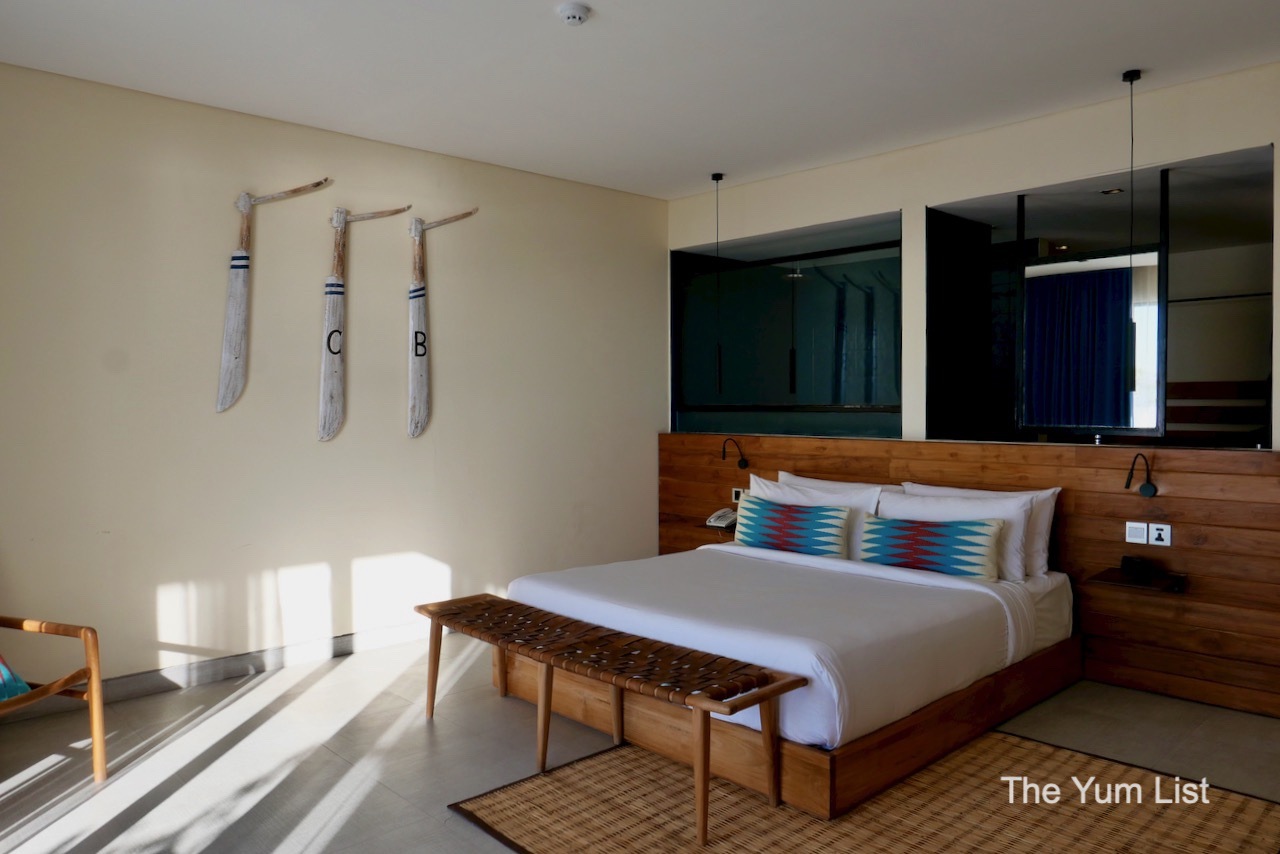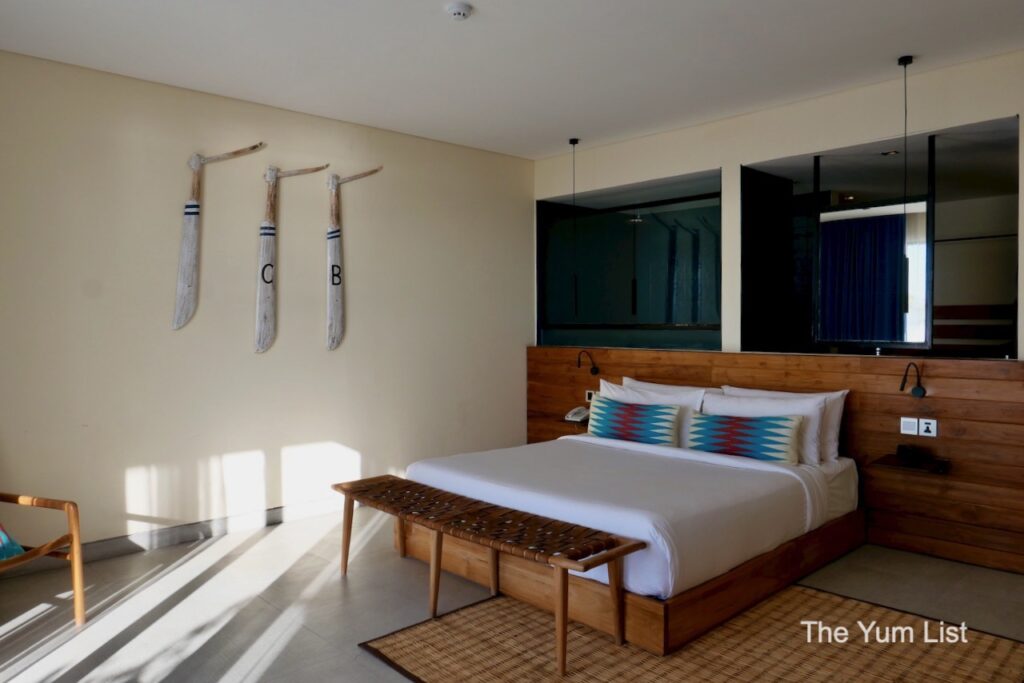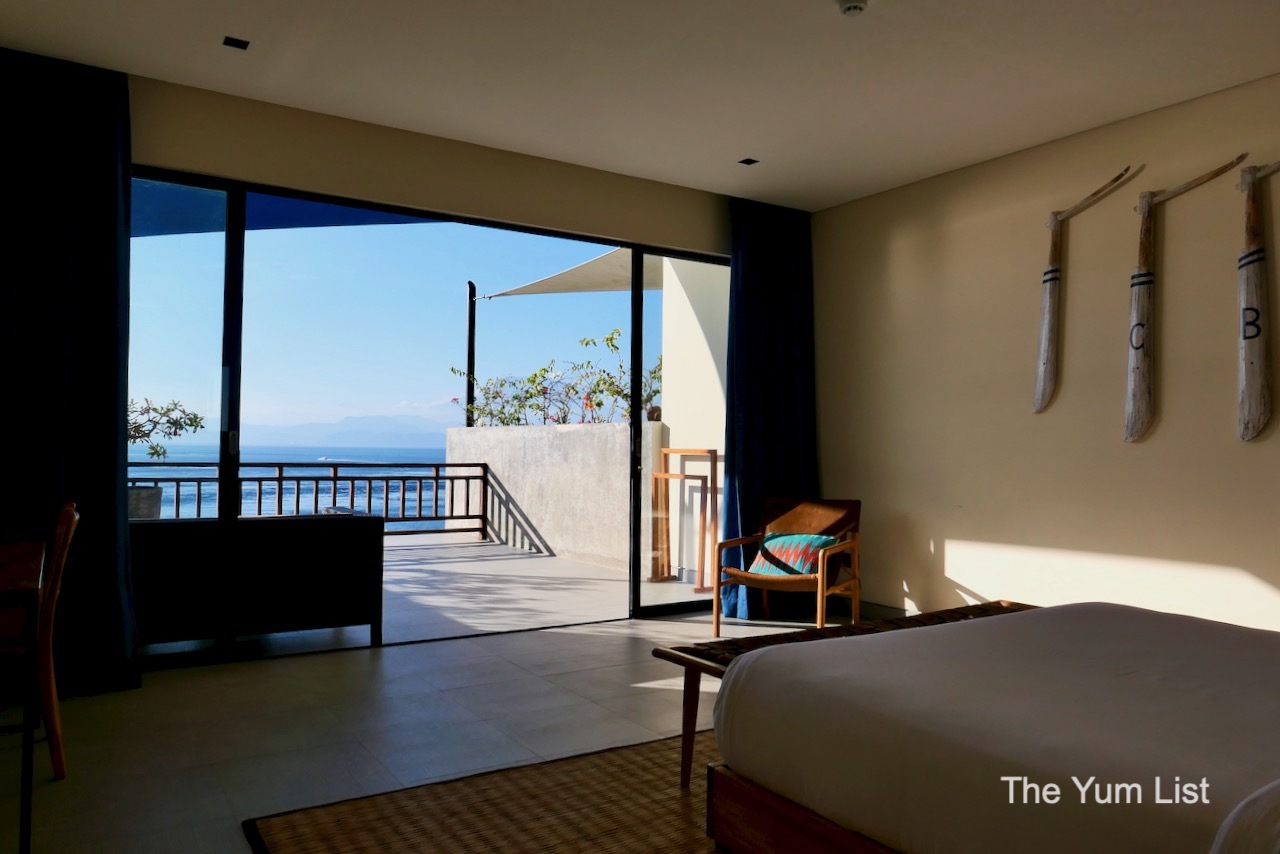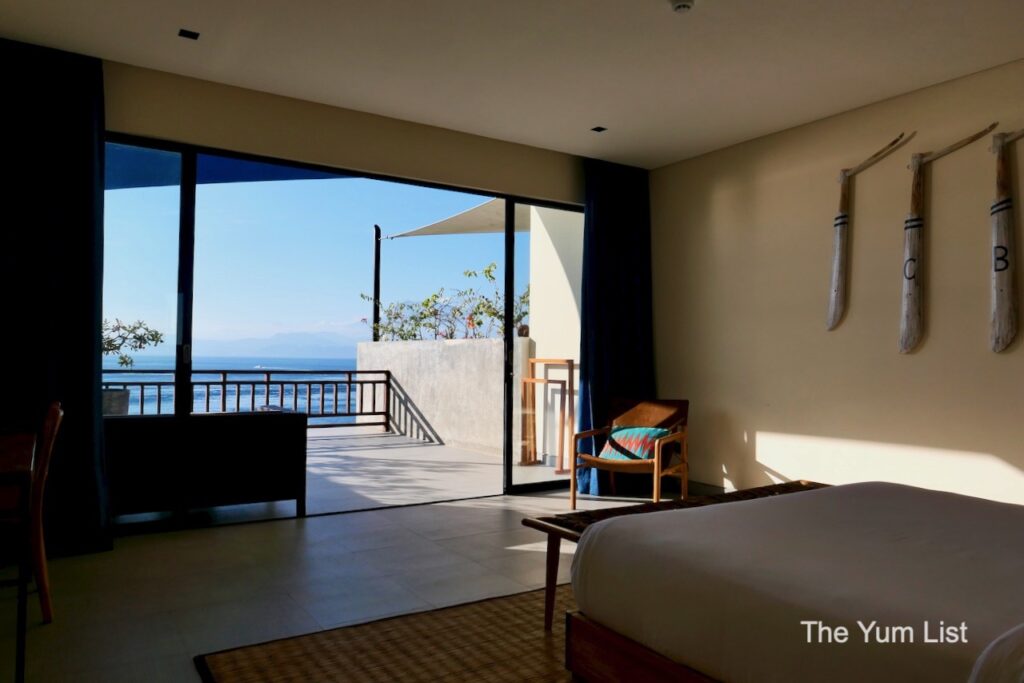 Warnakali Restaurant
Warnakali is the on-site restaurant, again benefitting from those breathtaking views. Sunset here is nothing short of amazing. The change from day to night is something special. Enjoy a drink or a meal here; be sure to arrive before the sun goes down to appreciate its magic fully. 
Breakfast comes with most room packages offering a simple selection of local and western hot dishes made-to-order supported by Balinese coffee or tea, juice, fruit and pastries. There are several vegetarian and vegan options on the menu too.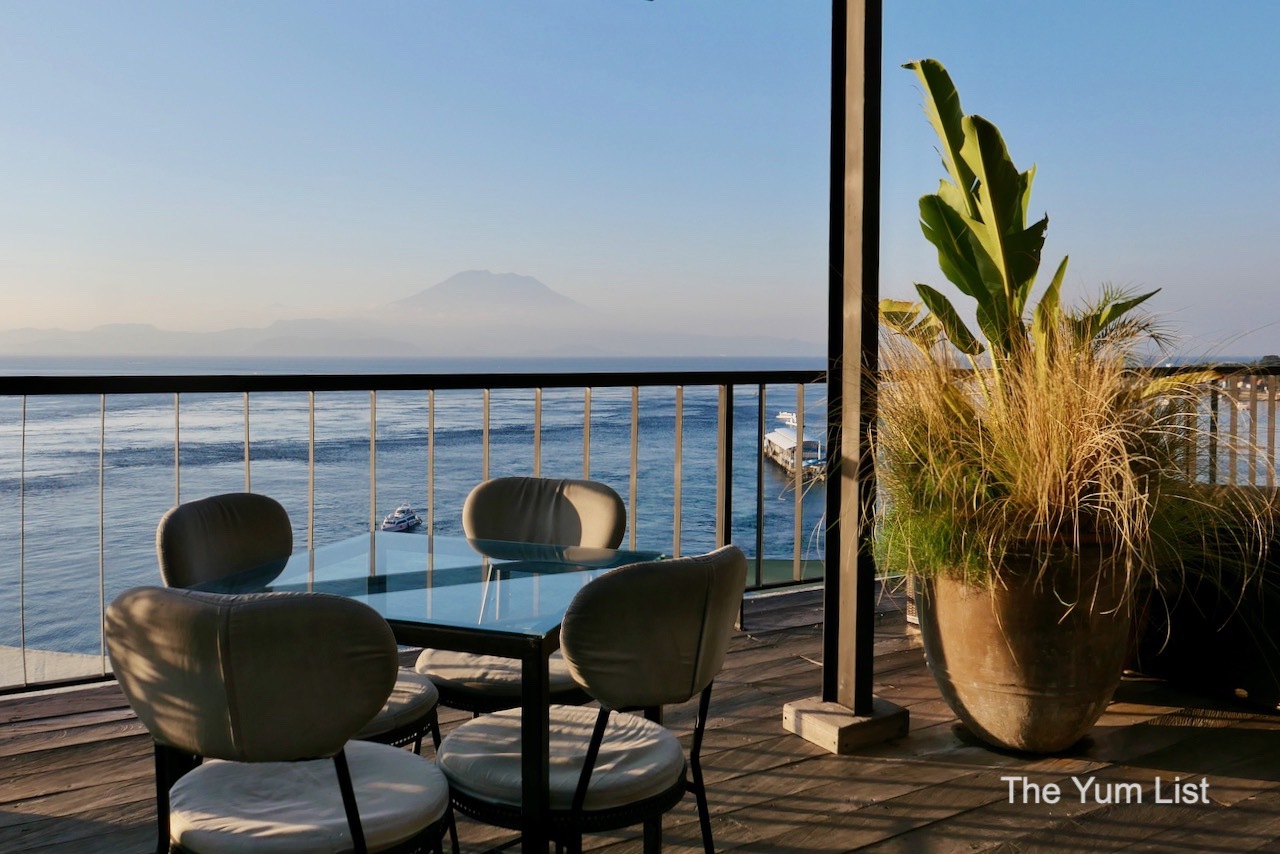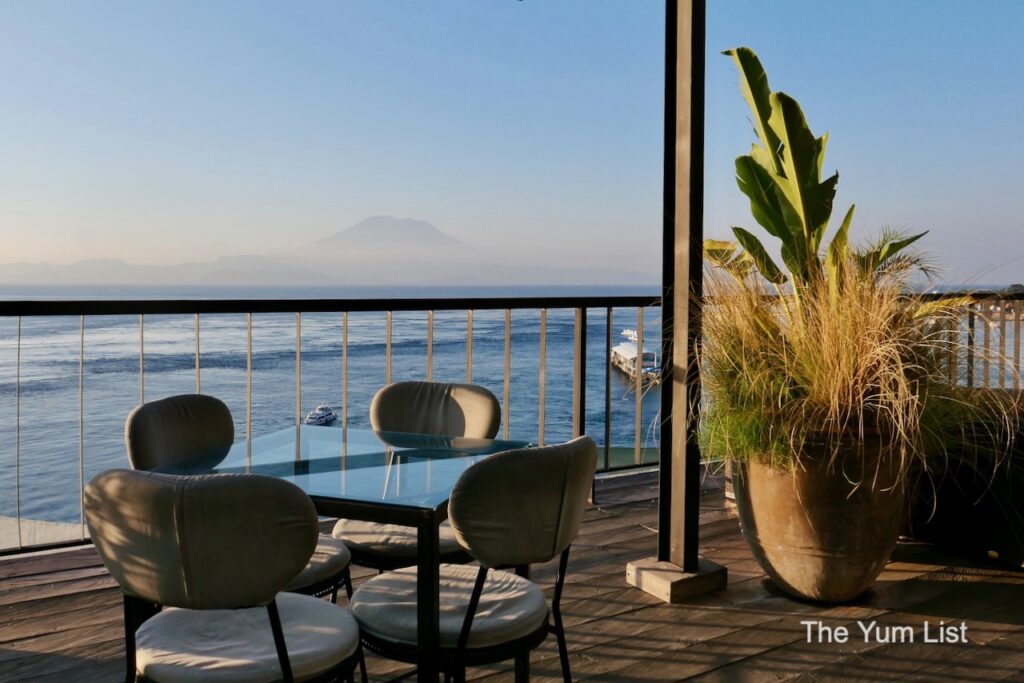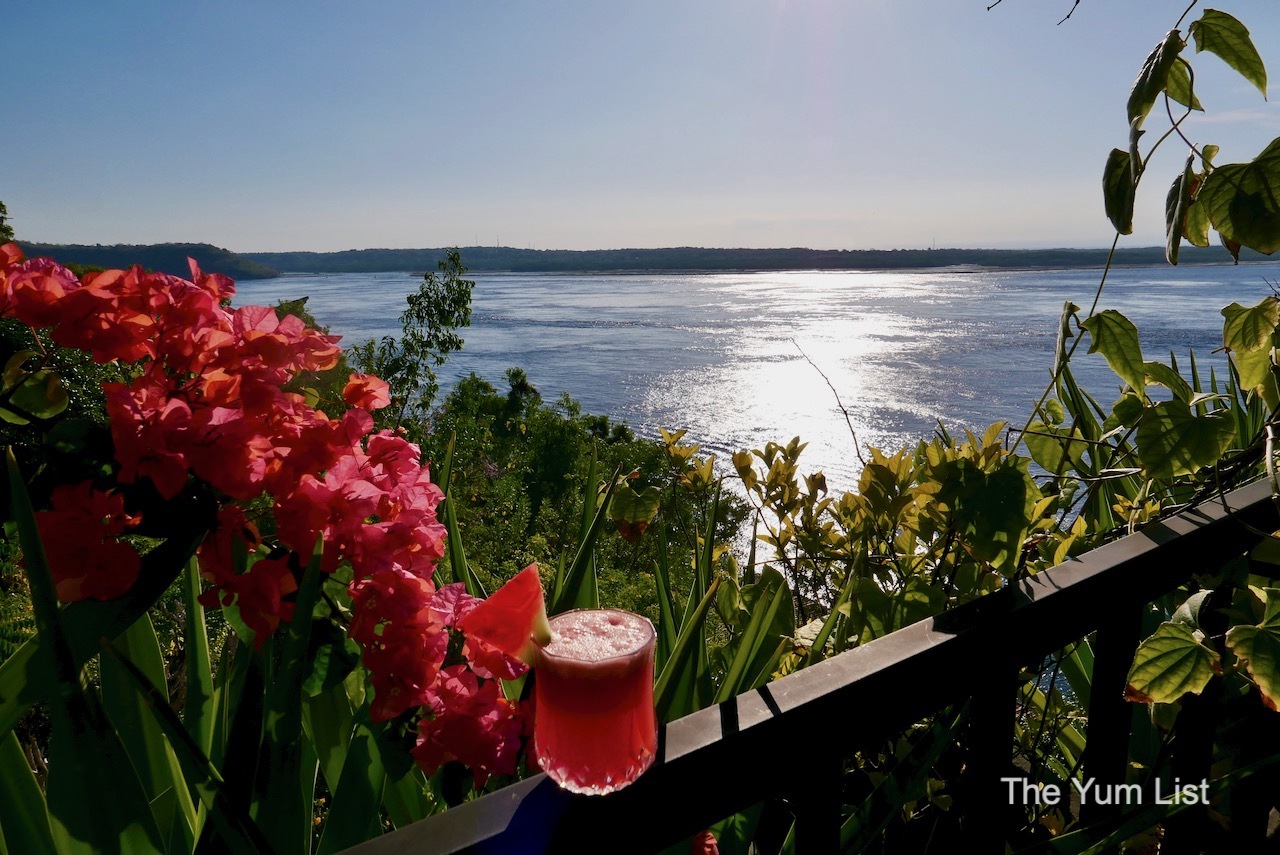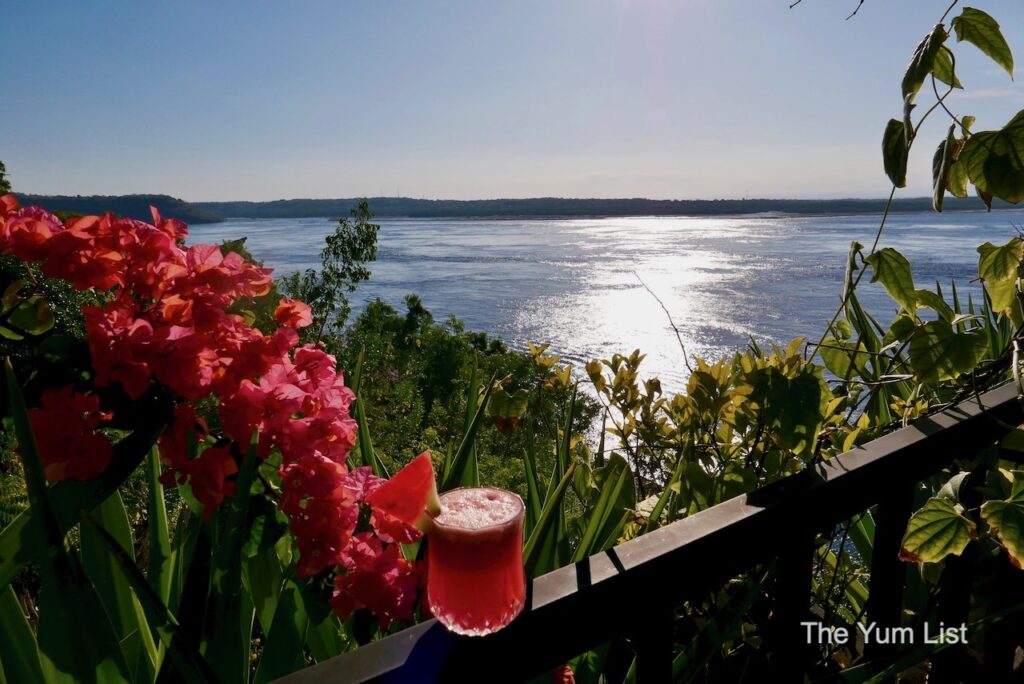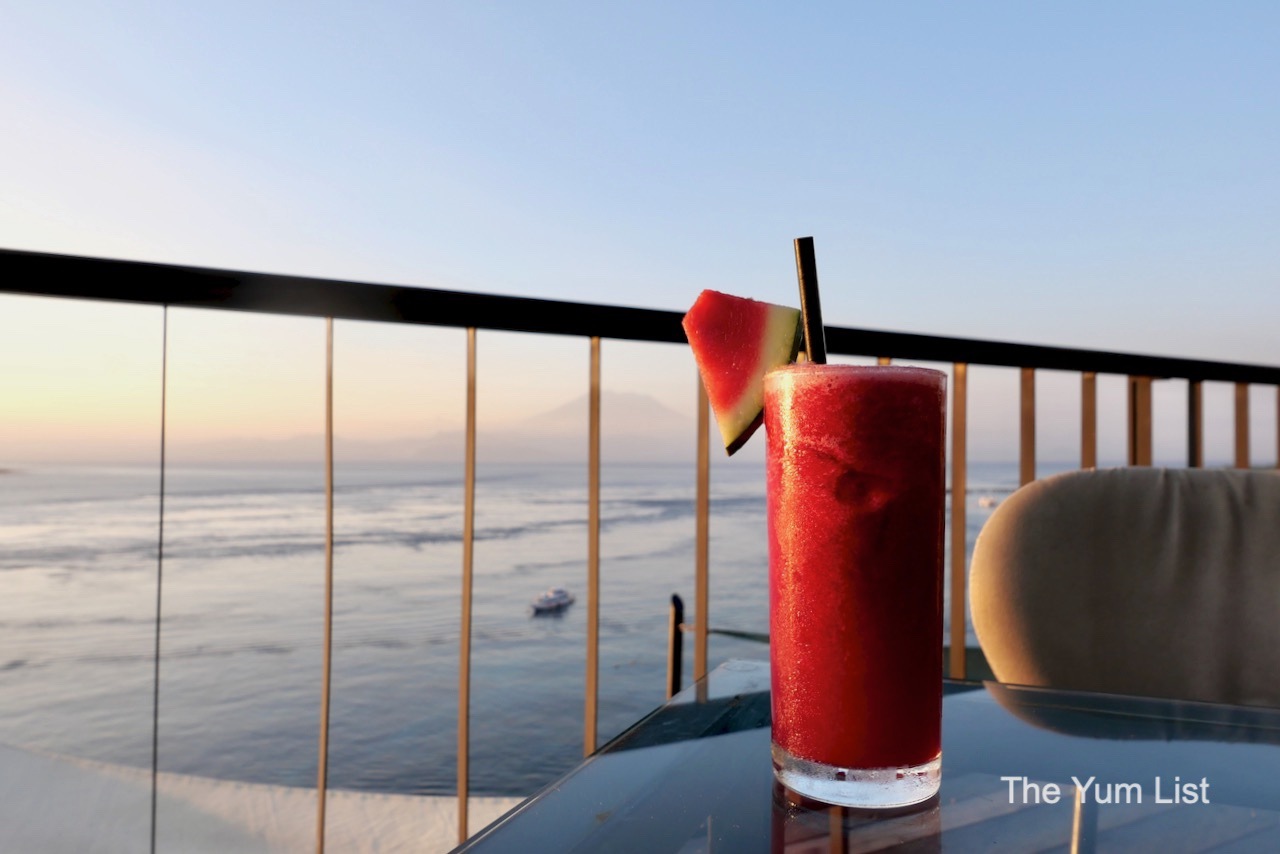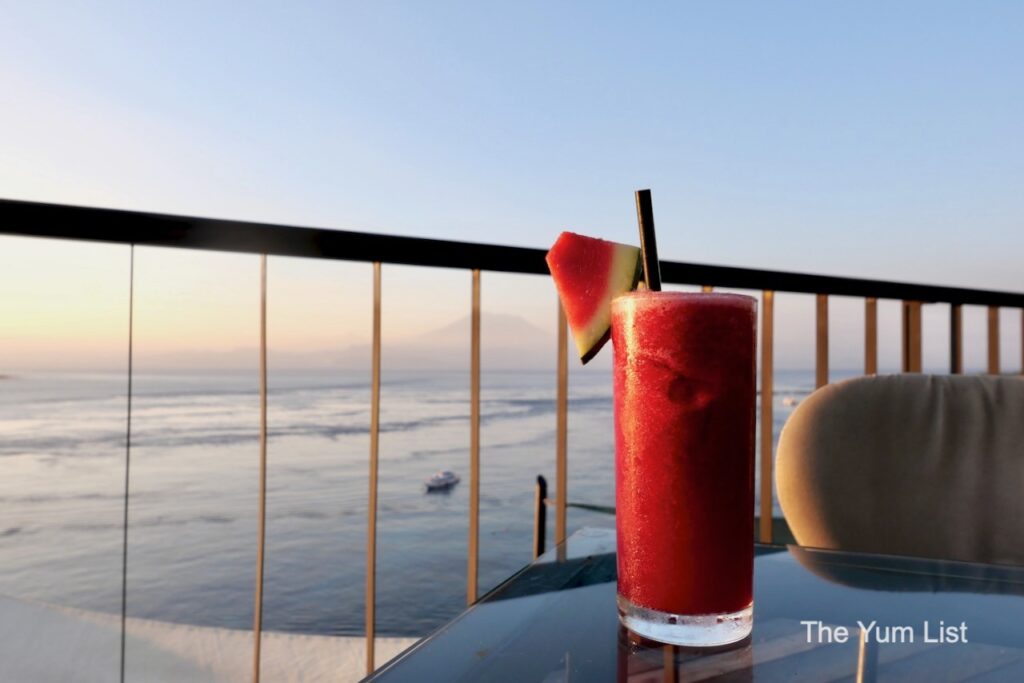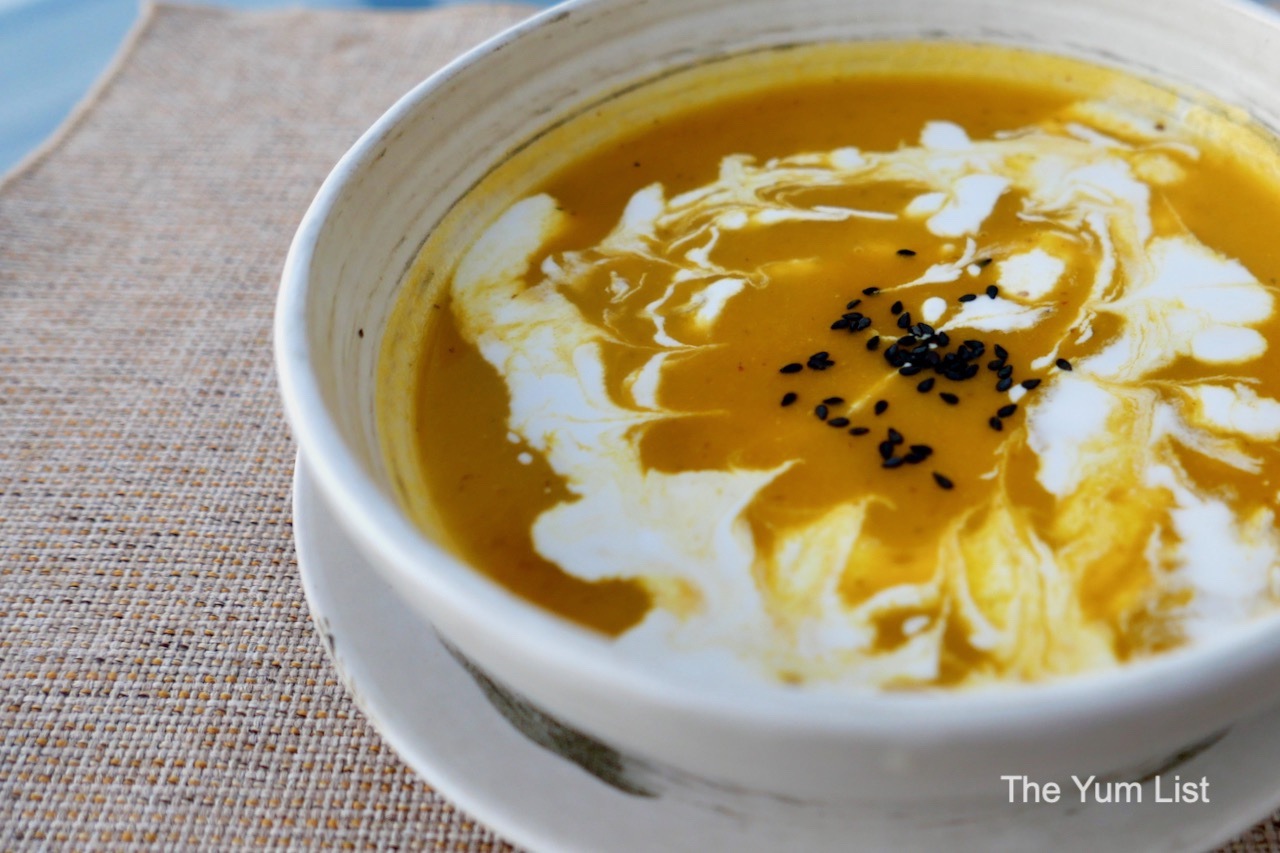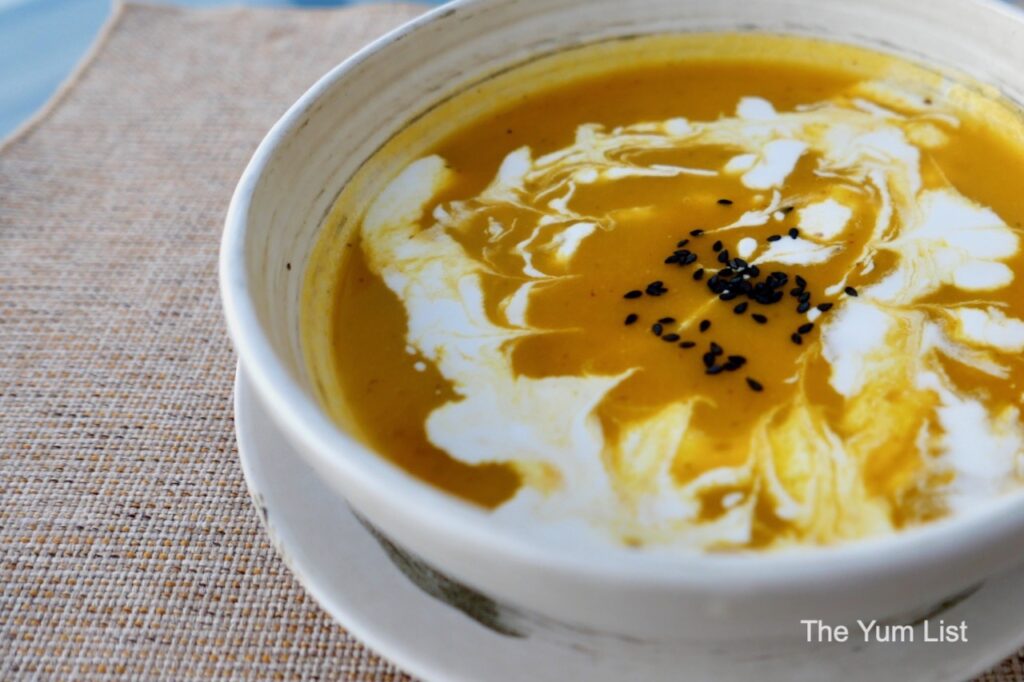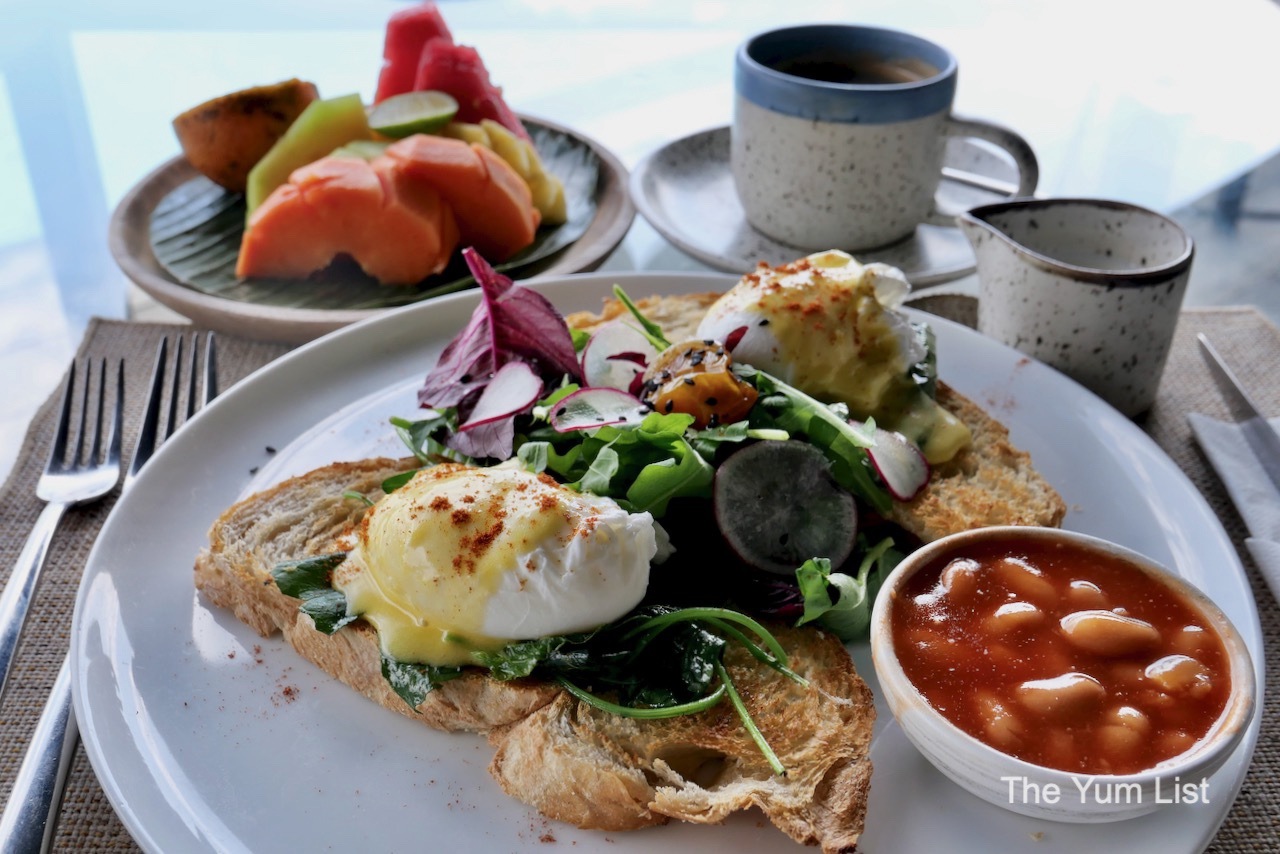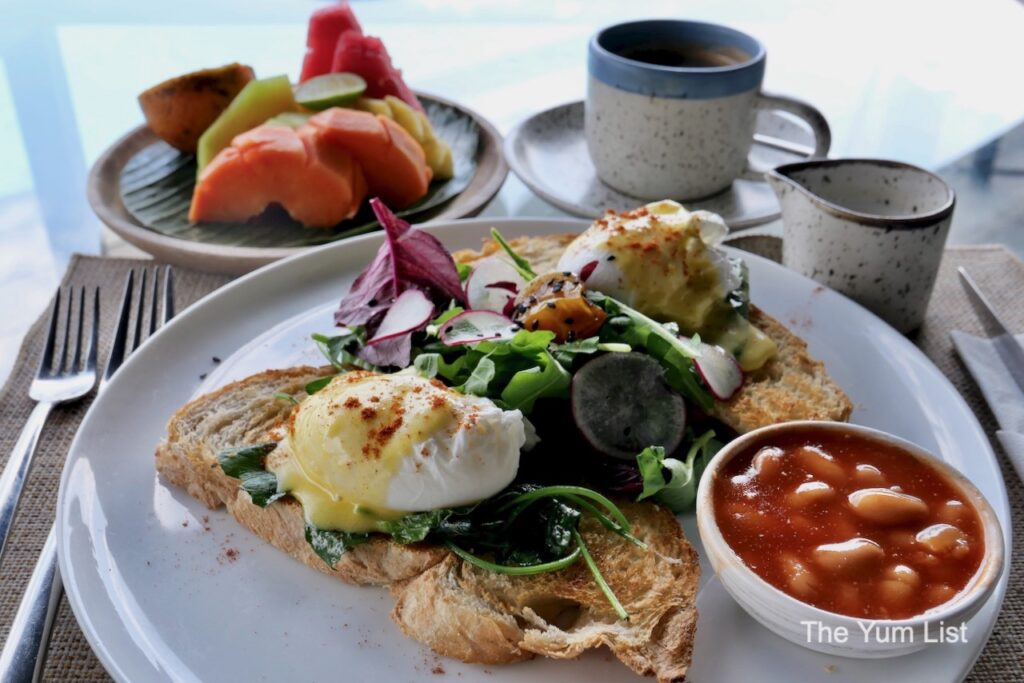 Facilities
The long pool on the hotel deck offers a place to do laps or lounge as you please. The daybeds and recliners poolside are popular spots for reading and sunning. Of course, Warnakali Restaurant offers poolside service with an all-day-dining menu and beverage list to keep you satiated. 
Additionally, Tejas Spa, a multiple-award-winning brand by Adiwana, is at your call. After a day of exploration, or as a break on a hot afternoon, skilled therapists offer massage, facials and body treatments curated to assist guests in relaxing and feeling the Balinese spirit.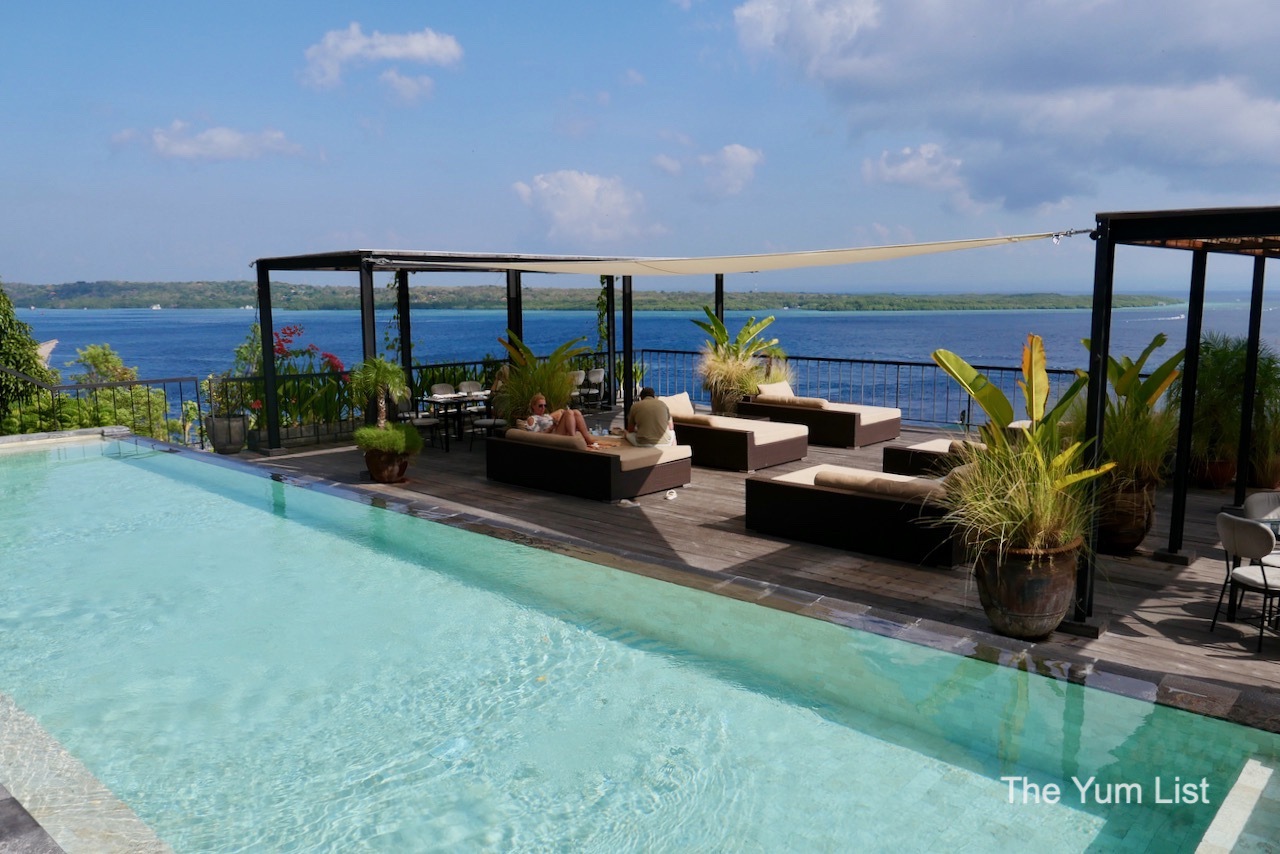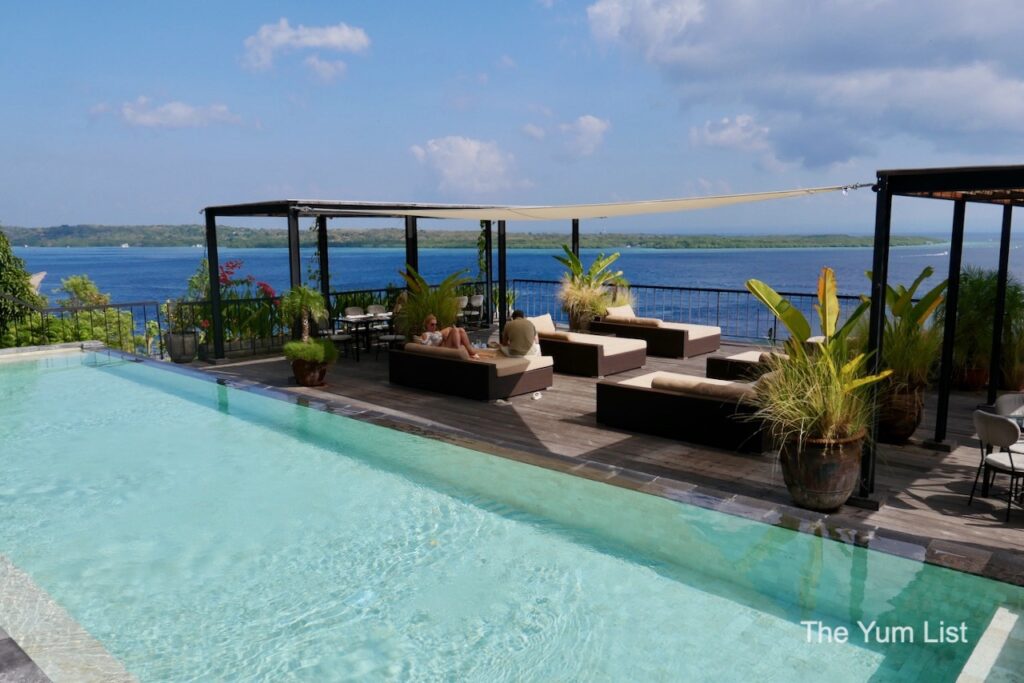 Activities
While it might be tempting to stay put in Adiwana Warnakali Nusa Penida, there's much to see and do on the island. The Warnakali Dive Center offers PADI courses and a Scuba Diving Safari. The team can also arrange snorkelling expeditions and island tours. The island tour is a must, especially for first-time visitors. It takes you to key points such a Crystal Bay, Angel's Billabong, Broken Beach and the striking (and possibly most-Instagrammed place on the island, Kelingking Beach.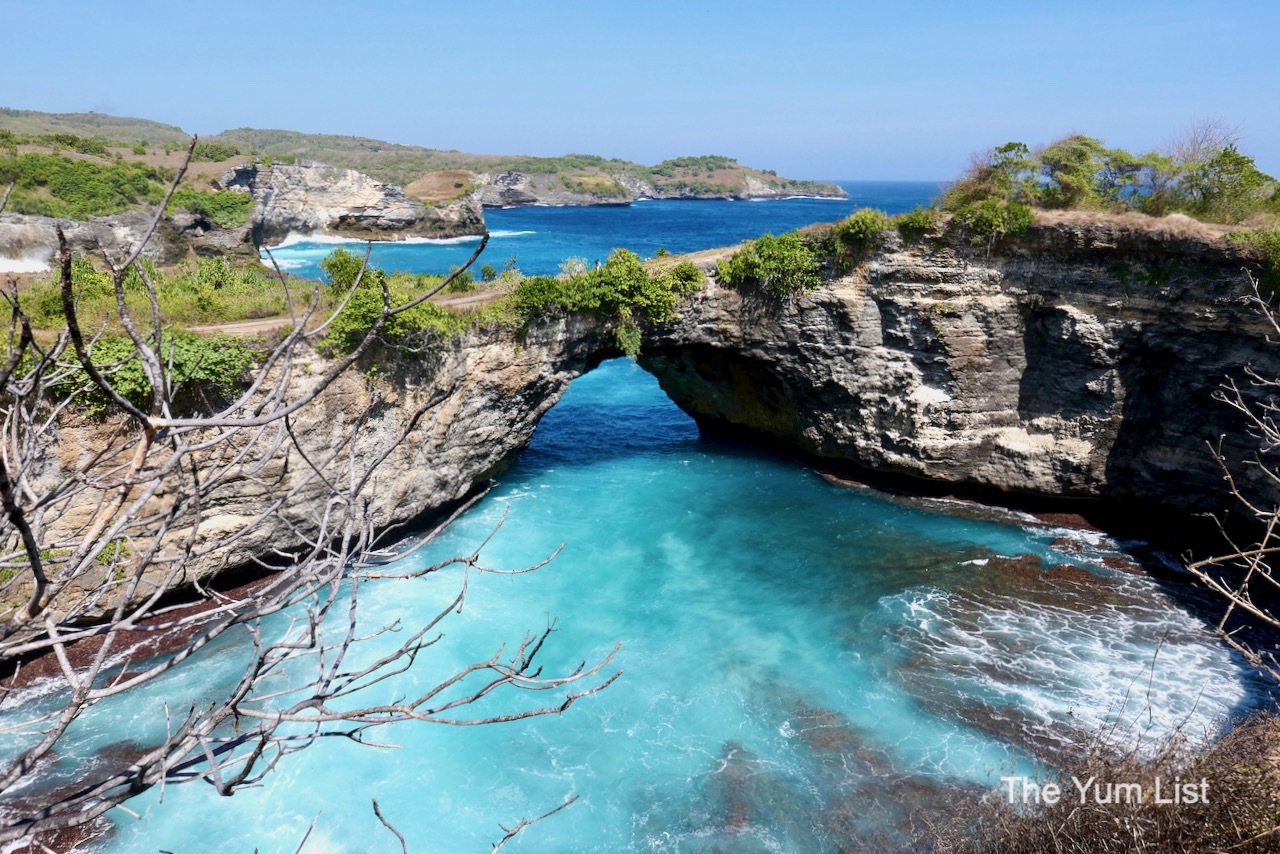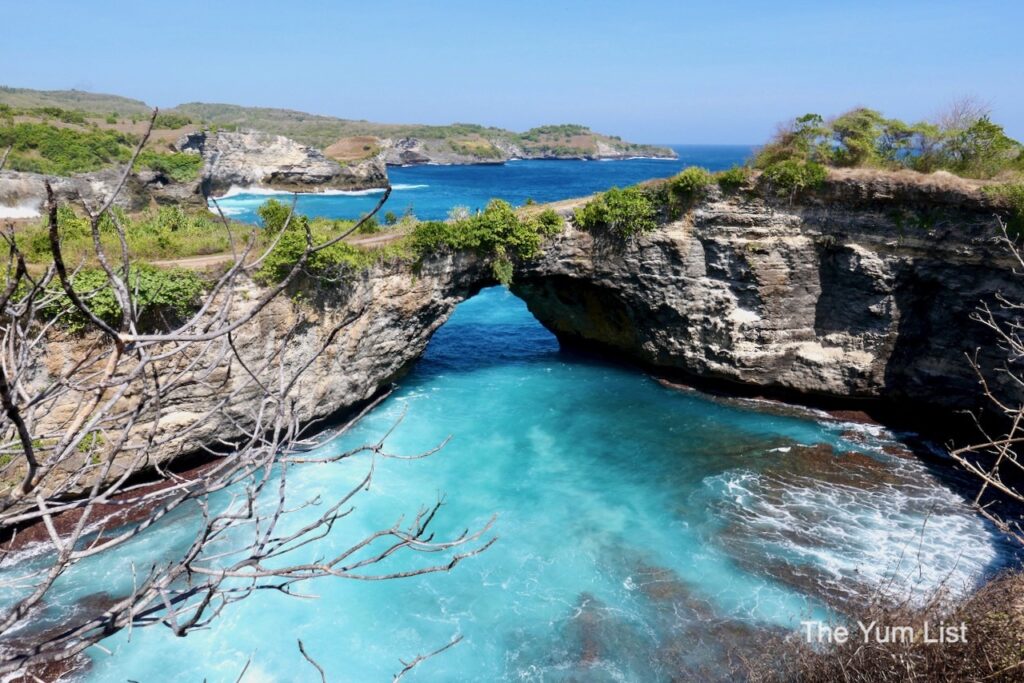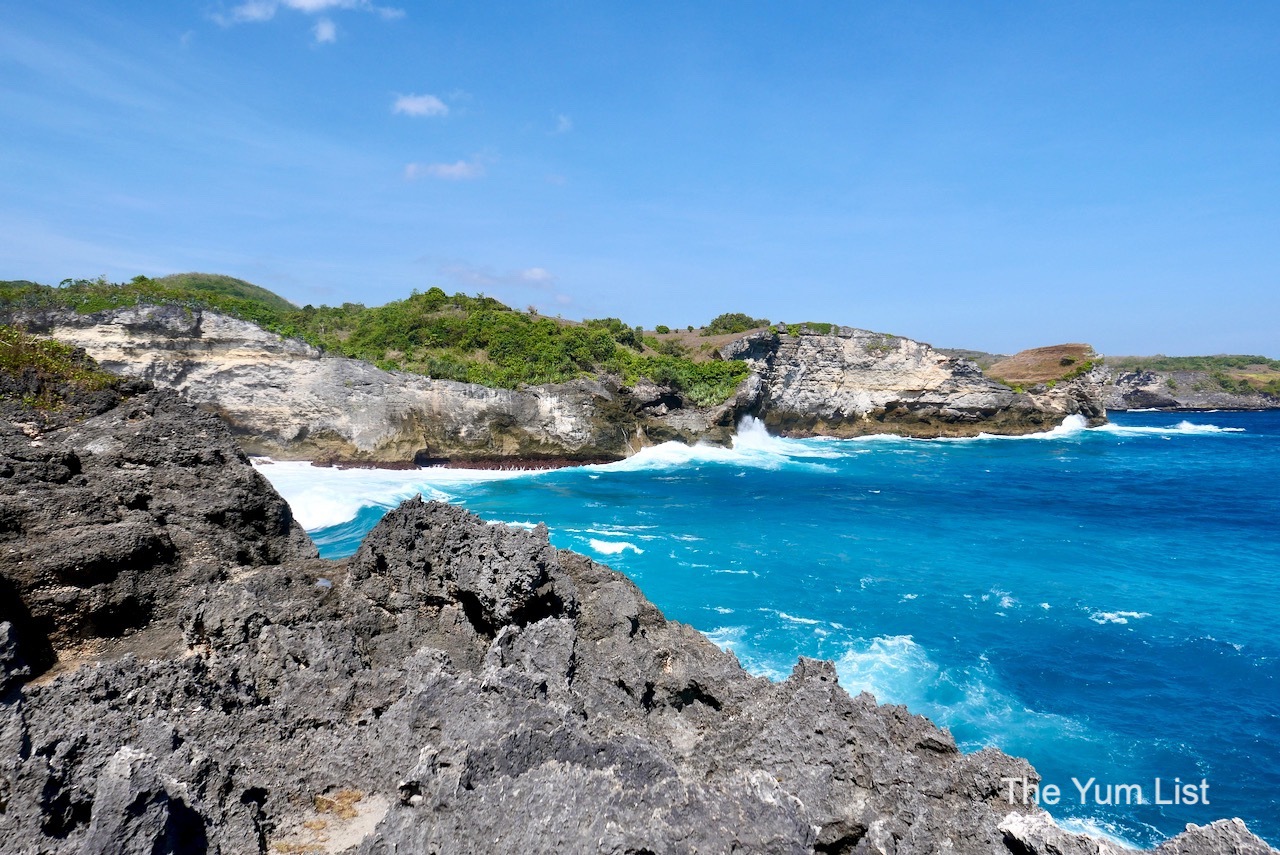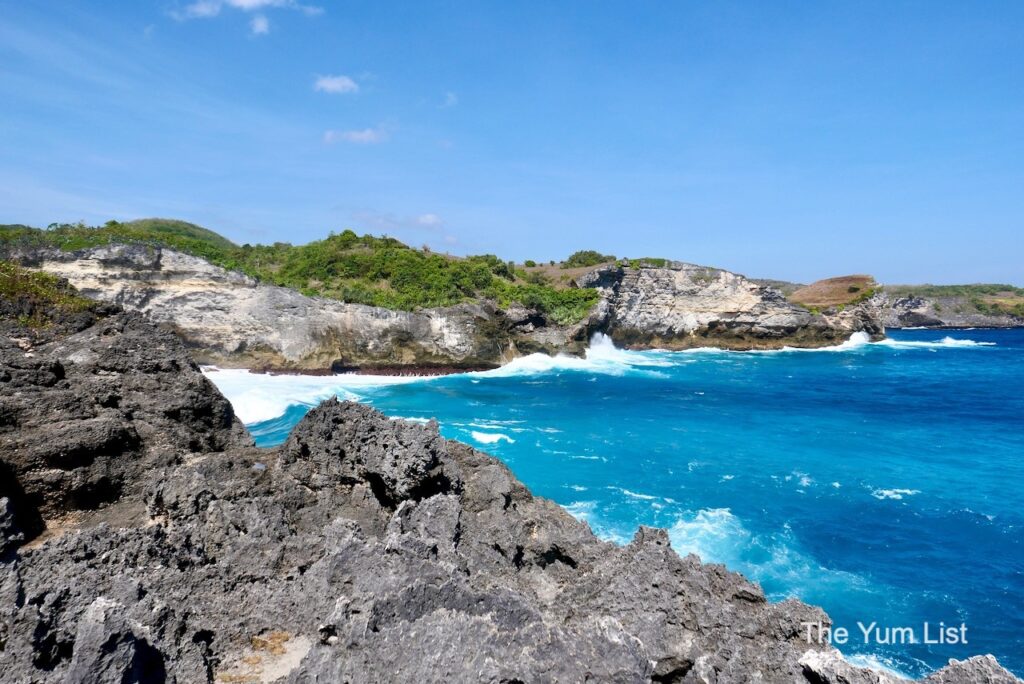 Adiwana Warnakali Nusa Penida Review
Adiwana Warnakali Nusa Penida is a beautiful resort with spectacular, uninterrupted views of the sea and Bali island. It's an absolute luxury to have those vistas from every angle of the hotel and even more so to get down amongst them on a tour of the island or with scuba, swimming or snorkelling activities. The island has much to offer for nature lovers and is a comfortable base from which to explore it all.
Reasons to stay at Adiwana Warnakali Nusa Penida: incredible views; a perfect place to watch the sun go down; even if you're not staying at the resort, you can visit for a drink or a meal at Warnakali restaurant; great for couples, adventure seekers or even solo travellers just wanting a sea-filled getaway.
Adiwana Warnakali Nusa Penida
Sakti, Nusa Penida,
Kabupaten Klungkung, Bali 80771
+62 361 620 7000
[email protected]
Find more travel recommendations for Bali here and stay up-to-date with our latest gourmet travel finds here and here.