Apéritif Restaurant & Bar
Monica Tindall
The beautiful site of Viceroy Bali in the lush terraces of Ubud is home to one of the island's most respected fine-dining locations, Apéritif Restaurant & Bar. Inspired by a glamorous 1920s dining hall, the restaurant stands out from the common open-walled, locally influenced designs of the state's top gourmet locations. However, it would be a mistake to anticipate a menu straight out of the encyclopaedia of European classics. The menu here is evolved and progressive, honouring western cooking techniques and plating while applauding Indonesian flavours and ingredients. It's a refreshing fine-dining experience, one that has renewed my hope for the scene.
The last time I visited Chef Nic Vanderbeeken was in Cascades Restaurant in the Viceroy Bali, a stunningly luxurious boutique hotel. We had an exceptional experience here and heard whispers of plans to open an independent kitchen, a dedicated space to share his craft. I'm excited to return and see that fantasy become reality in Apéritif Restaurant & Bar.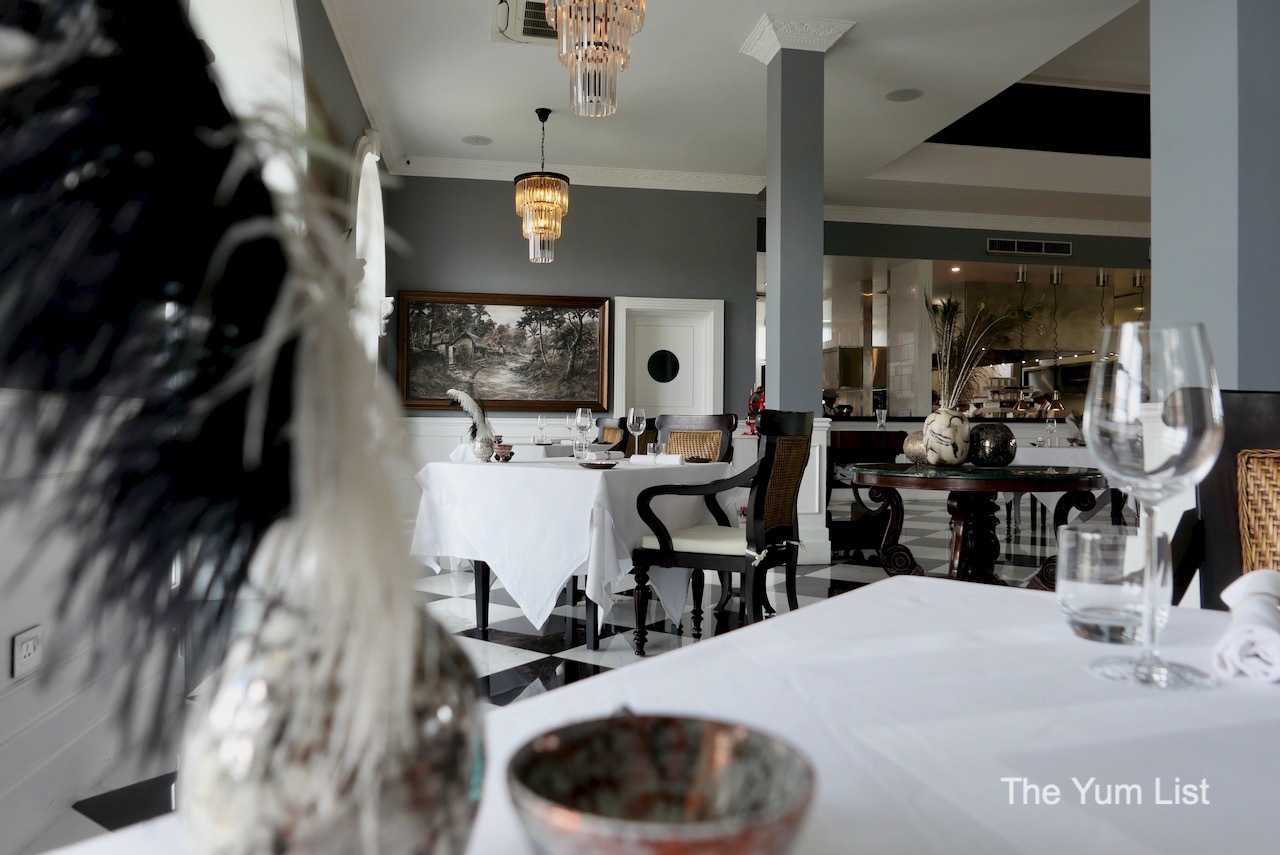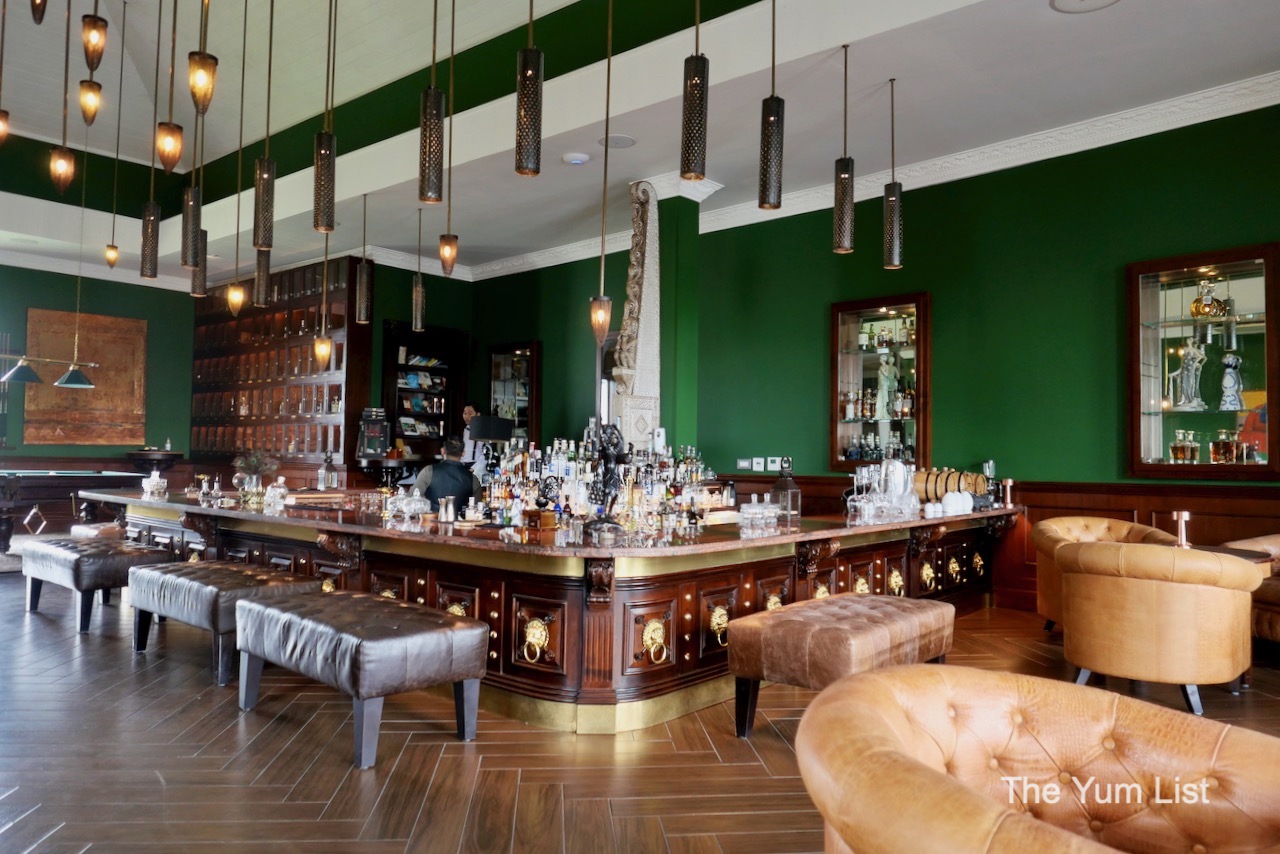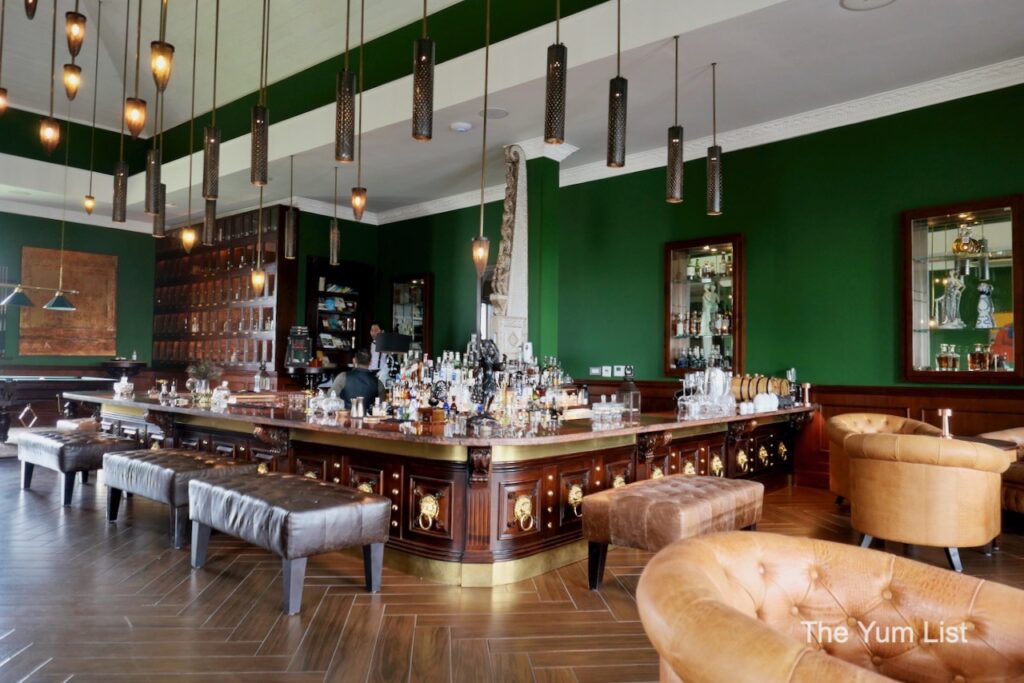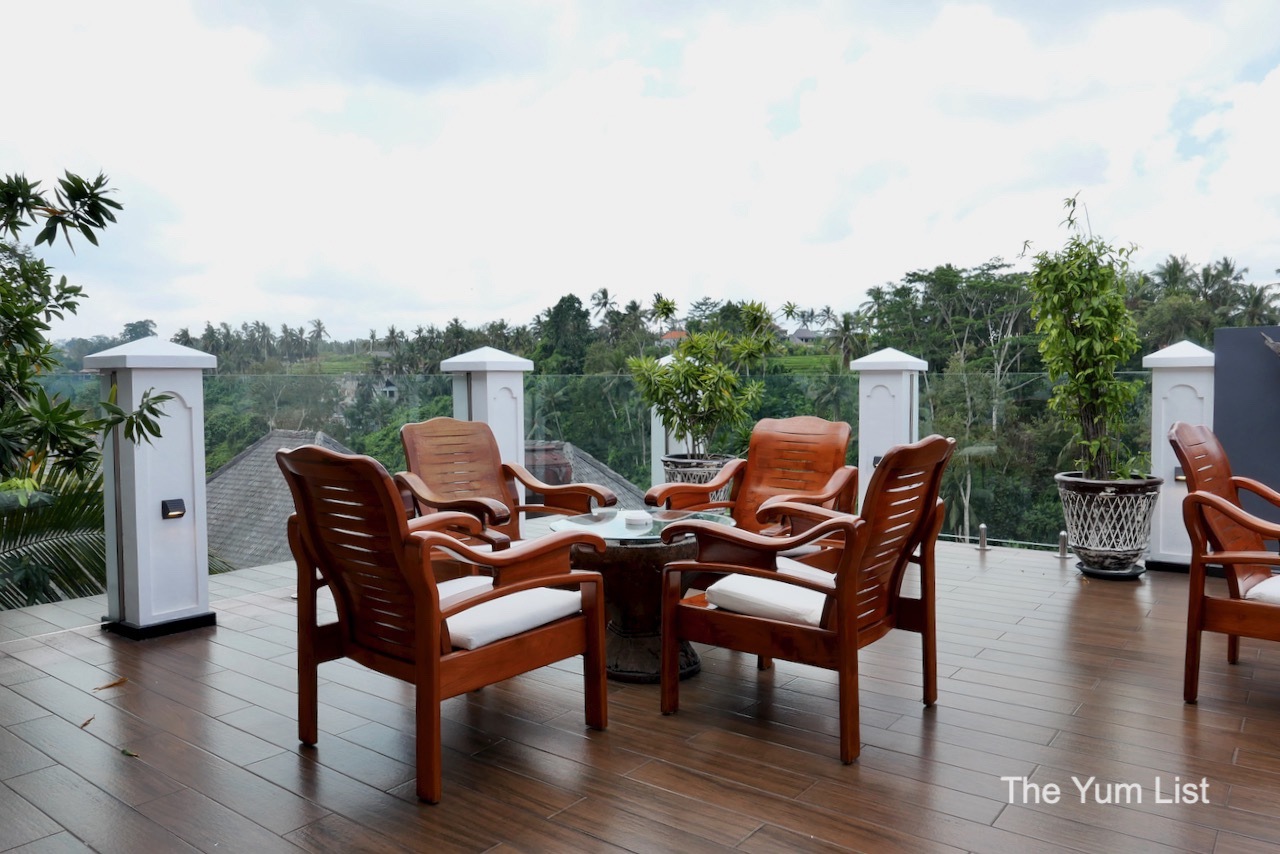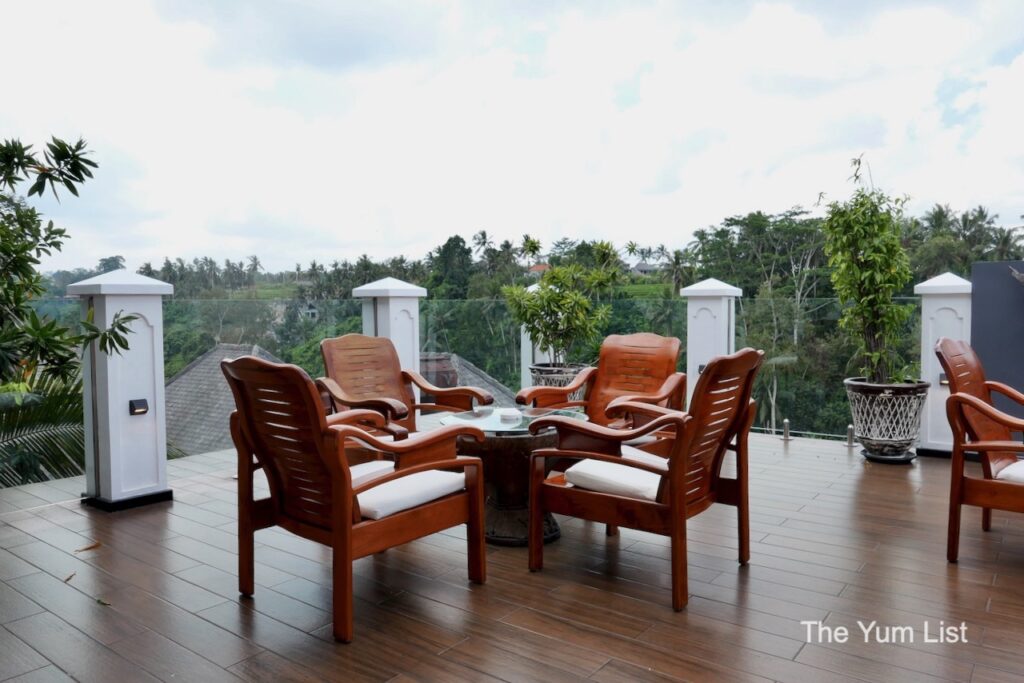 Apéritif Restaurant & Bar
Family-owned and operated, the Viceroy team worked hand in hand with Nic to design a magnificent restaurant and bar. As a chef, it must be the ultimate dream to design your own kitchen with significant funds behind you. With separate pastry and savoury kitchens, a common pass, induction cooktops, and air conditioning streamed directly over each workstation; this is surely a venue many up-and-coming chefs and old hats alike would be eager to work in. Add to that an executive chef with an incredible reputation for meticulous attention to detail and a top-notch palate, and you have a winning combo. Chef Nic is joined by a super star team of local talent, pastry chef Dayu Chintya and an awesome crew of kitchen staff, servers and ace bar team.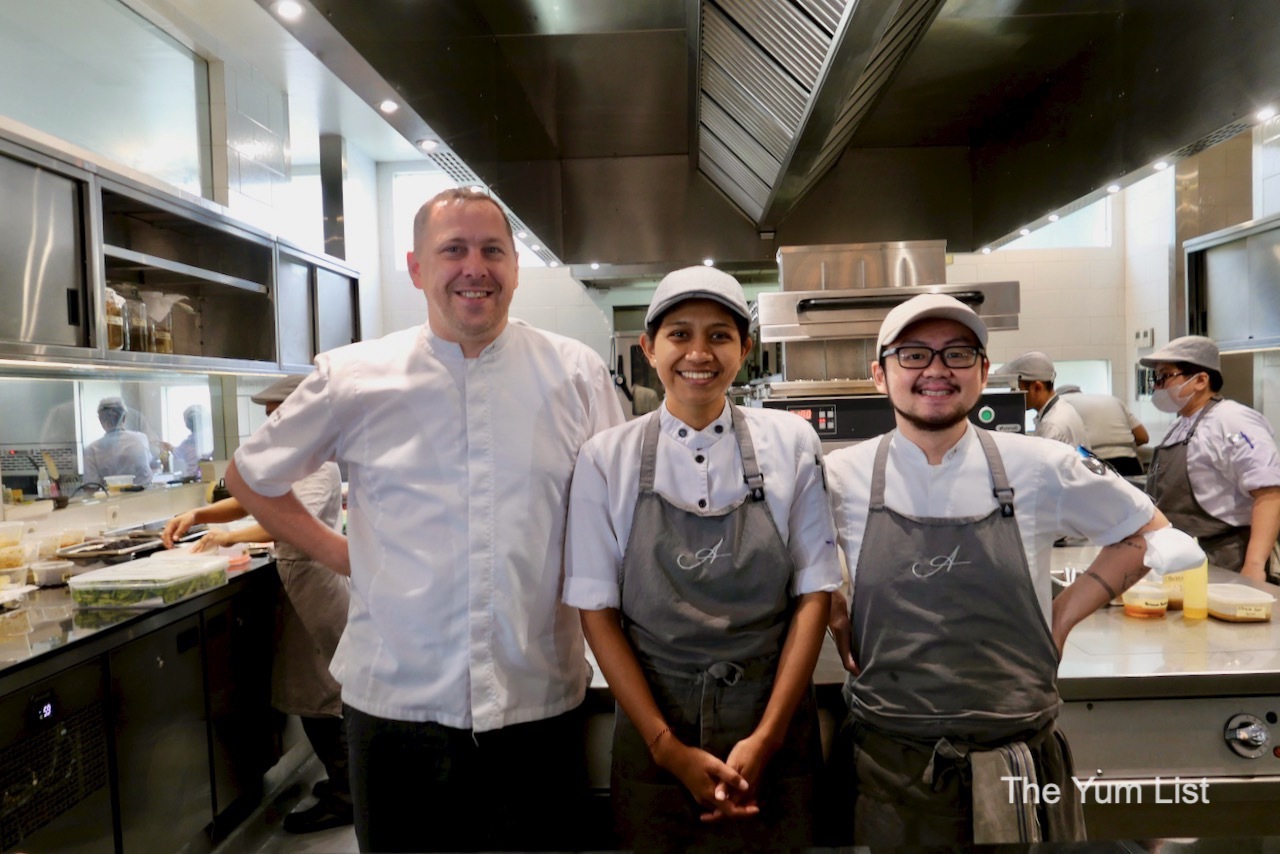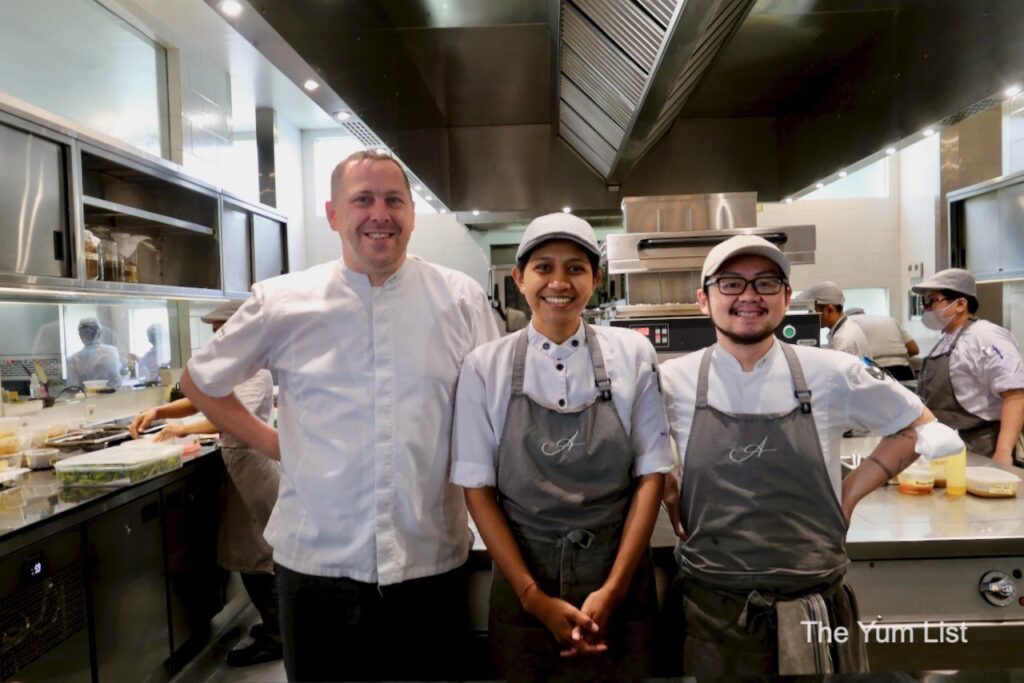 The Art of Apéritif
The best way to begin a meal at Apéritif Restaurant & Bar is with… an aperitif! It's not just my opinion, but pretty much a sacred ritual across all of Europe. An essential pre-dining routine, the art of apéritif is as much a social event as it is an appetite opener. Head mixologist Panji Wisrawan, or "the man behind the bar" or "on the trolley," wants to share this tradition with guests. He joins tables before the meal with his drinks cart and a menu of three cocktails and two mockritifs.
Panji mixes a twist on my favourite cocktail, the Nightshade Negroni. The king of pre-dinner drinks offers a unique aroma and stimulates the palate. Panji's recipe uses local East Indies Gin. He replaces vermouth with Cocchi Rosa Apertivo and keeps the original Campari. Giving depth to the cocktail and making it their own, Espolon Reposado Tequila and Nusantara Cold Brew (a local coffee liqueur) are added. It's infused with tamarillo, which actually gives the name to the drink – tamarillo is part of the nightshade family. The leftover tamarillo is made into pâte de fruit, part of Apéritif's sustainability philosophy, and used as an edible garnish. It sounds complicated, but the flavours all work well together. It's a terrific entrance and matched with a handsome collection of canapés.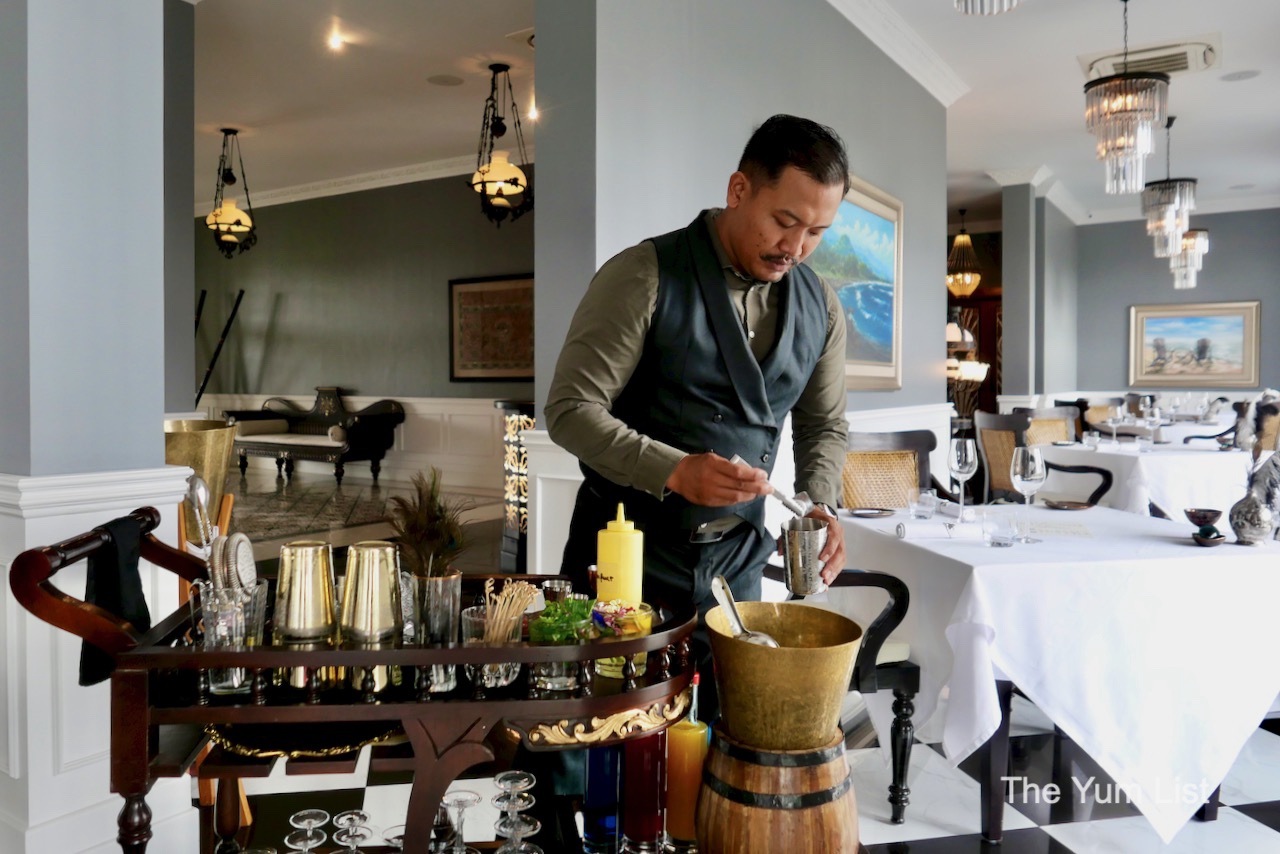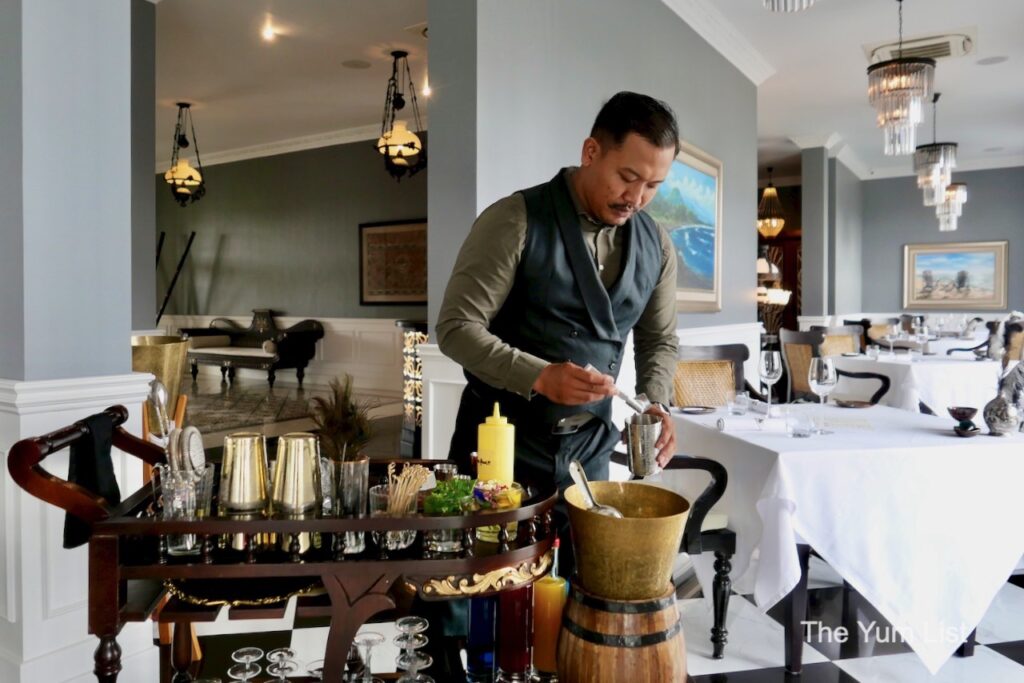 Intan takes over from Panji, delivering the goodies and kindly explaining each one: coconut charcoal puff stuffed with smoked mackerel cream; Martino, a classic Belgian beef filling inside a cone of filo pastry with black garlic and pickled cucumber; a charcoal pastry tartlet with squid salad and yoghurt; and lastly, fish tartare mixed with yuzu kosho between a beautiful potato waffle in the shape of a maple leaf.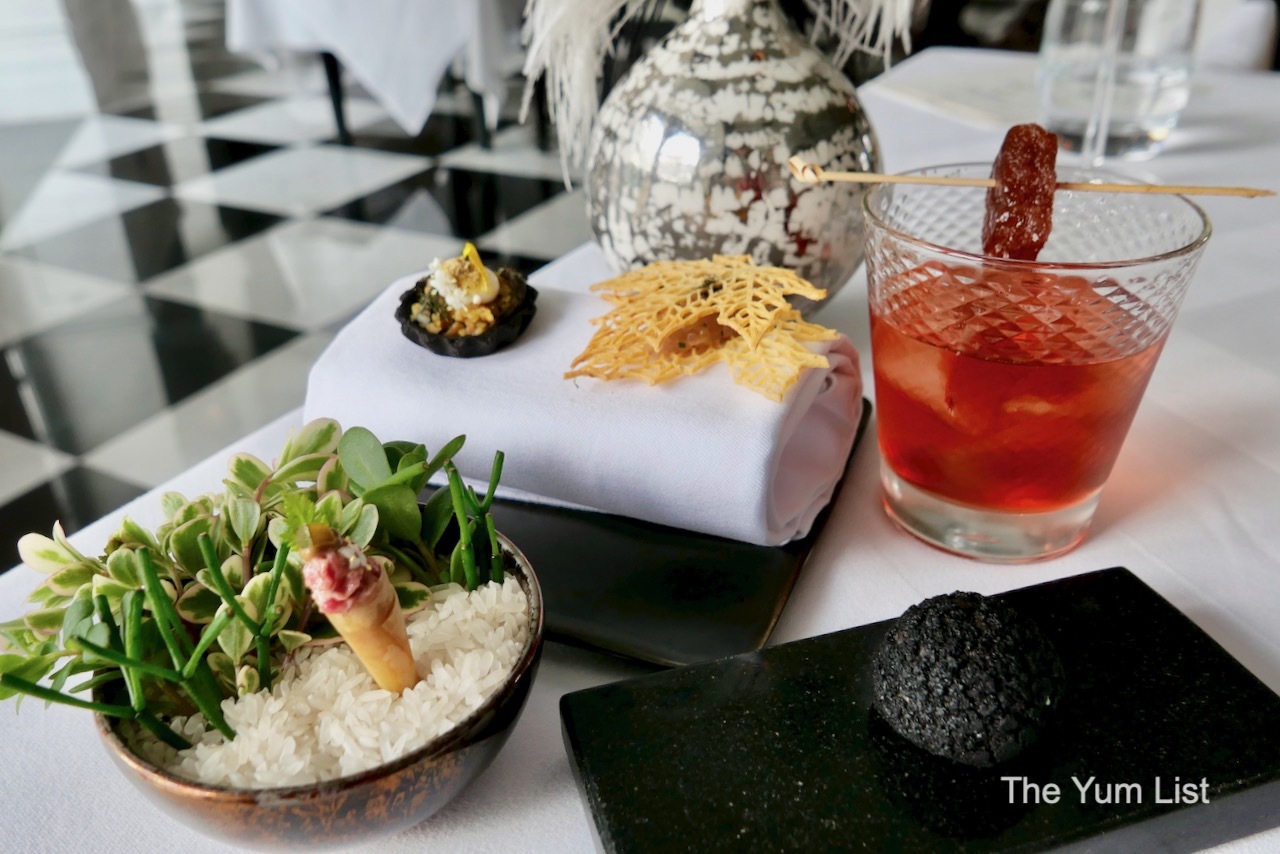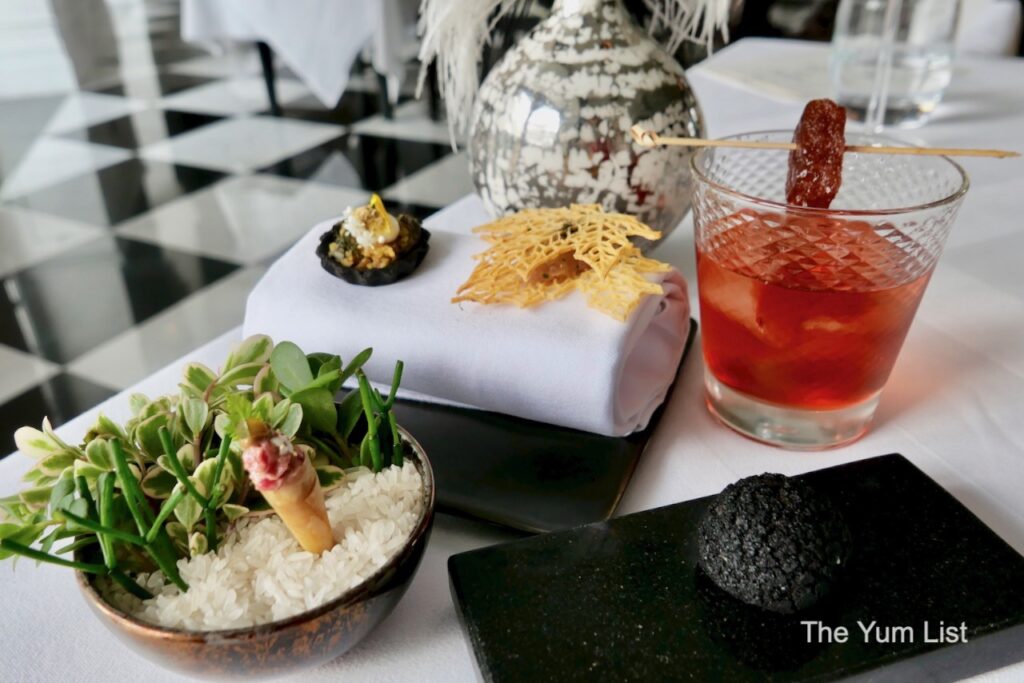 Degustation Menus Apéritif Restaurant & Bar
Degustation menus range from five to seven courses, including vegan and vegetarian options with the possibility to ritz up the meal even further with add-ons such as lobster, caviar, wagyu and a cheese plate. The five-course (but really, it's closer to nine courses with the snacks, cheese, petit fours and more) lunch degustation starts at IDR 1,050,000++, and prices head up from there. I try several dishes, signatures and new creations. I've included a couple of examples below. Still, you can view their full offerings on their website (of course, depending on the availability of ingredients, menus could vary.) Allow a few hours here; you will want to soak up the atmosphere, service and all of the little extras. It's also nice to change locations for different parts of the meal. For example, you might take the apéritif on the outdoor patio and perhaps the petit fours and coffee at the bar. What's more, I highly recommend the wine pairing. The selection is flawless.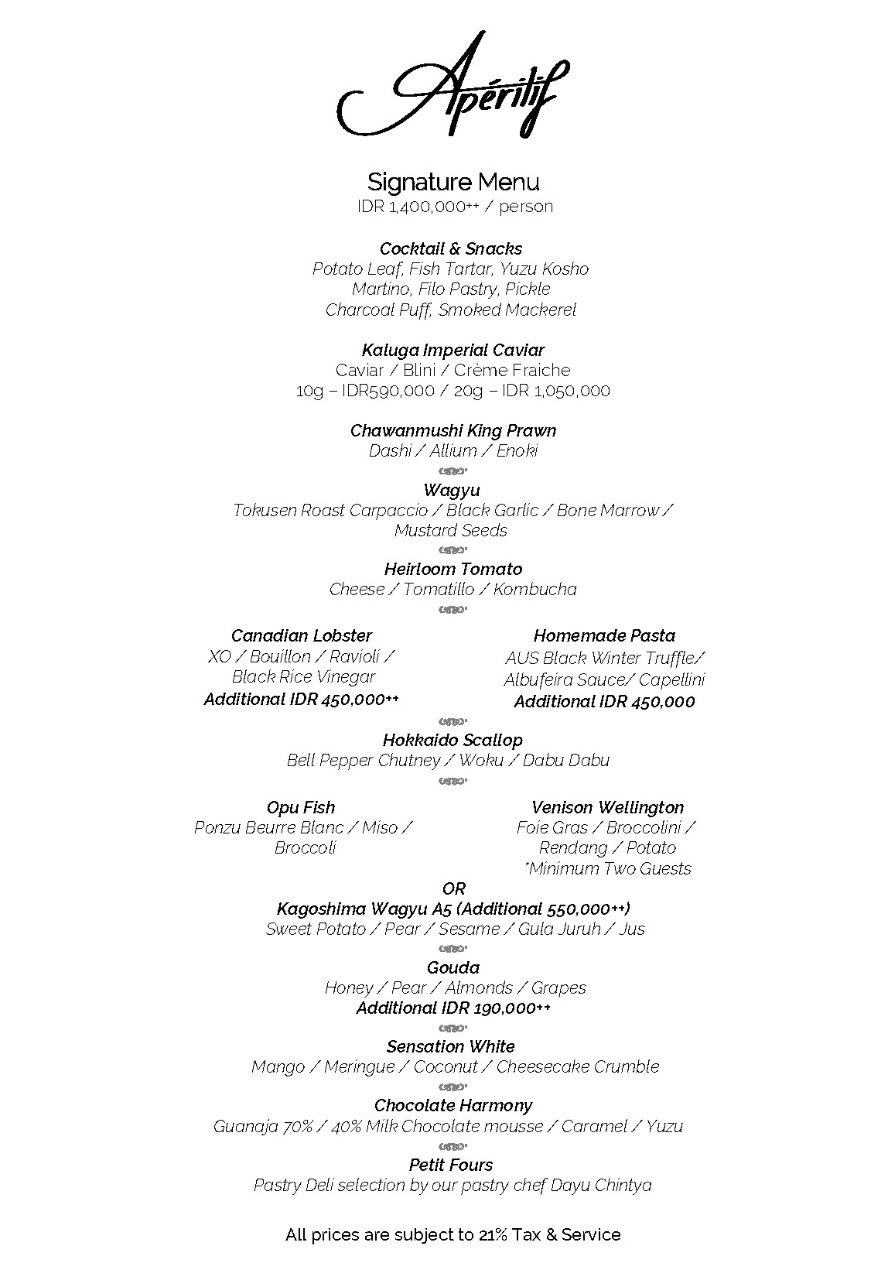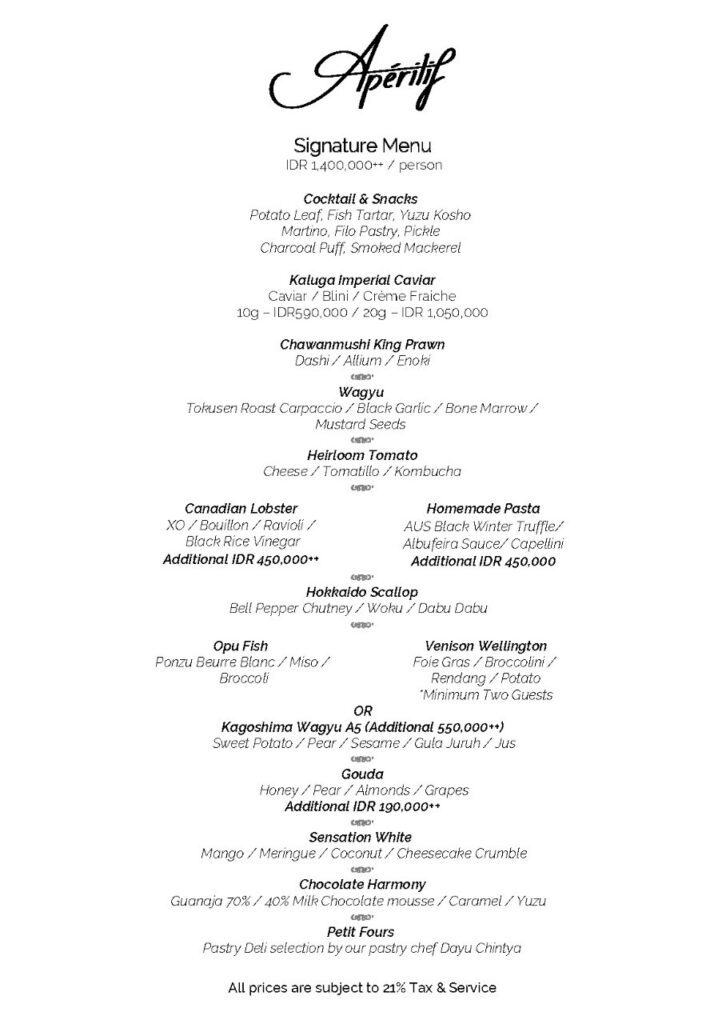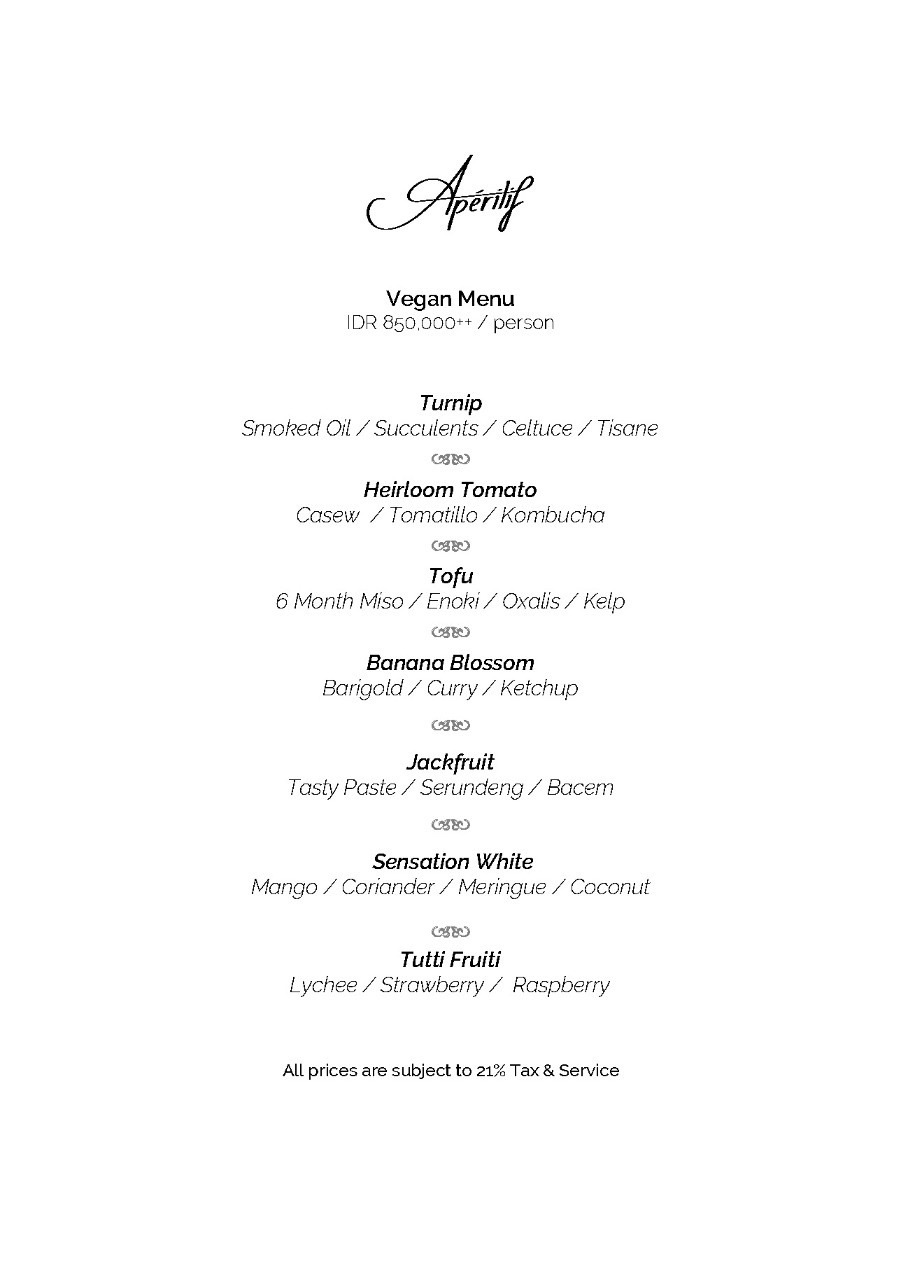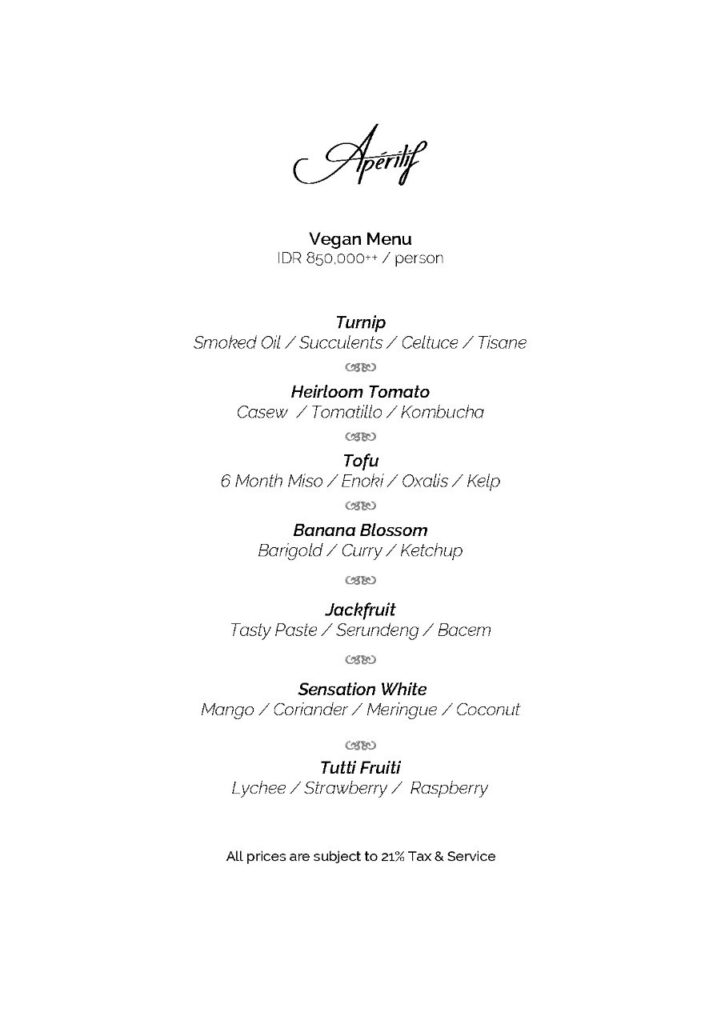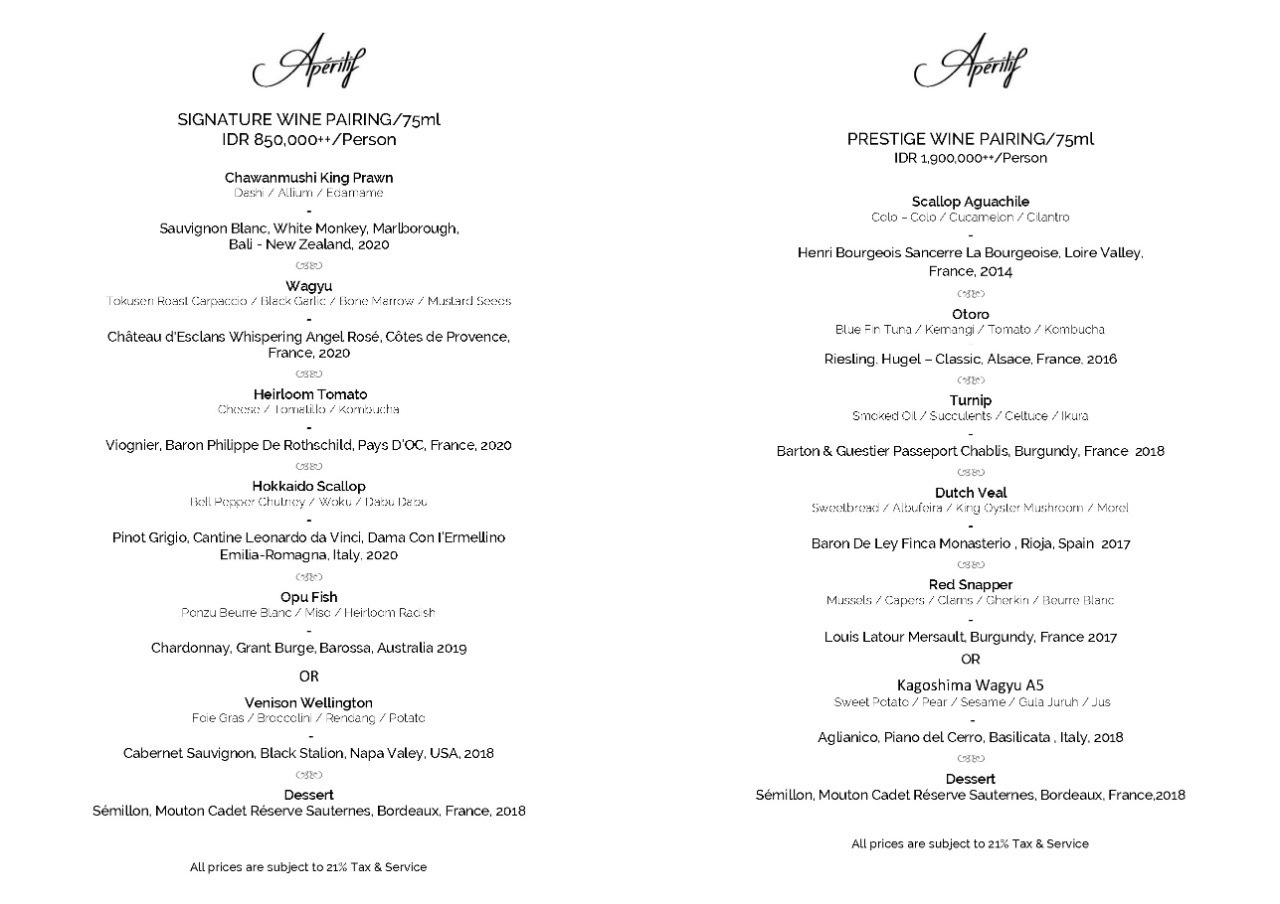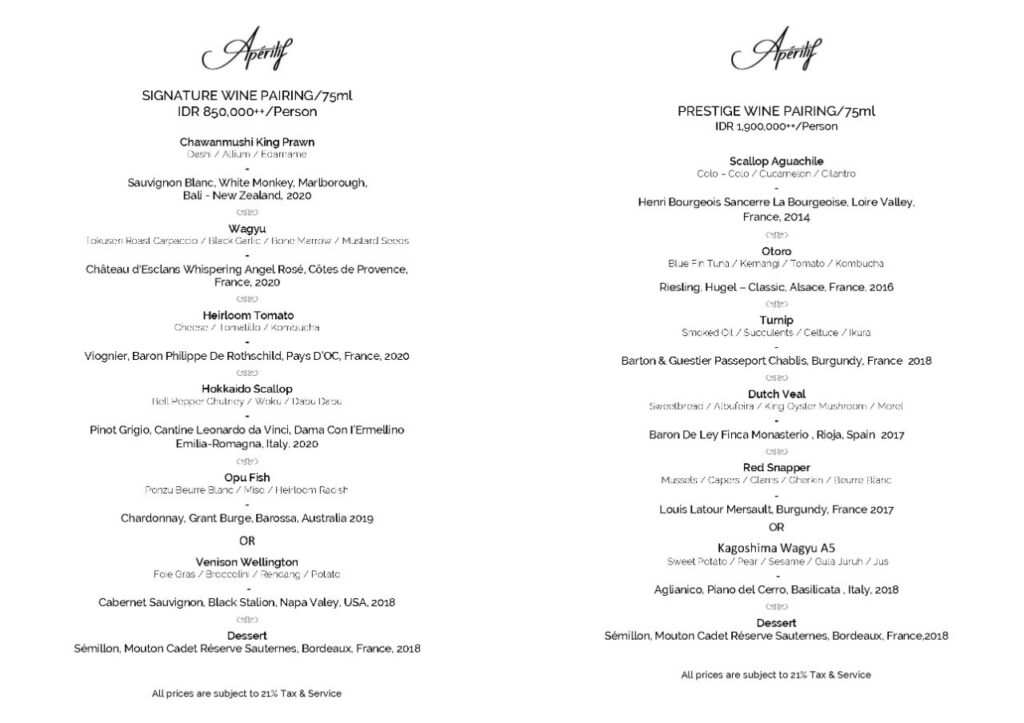 Scallop Aguachile
For my first course, patient waiter Bayu explains the dish and pours over the aguachile sauce upon delivery. With inspiration from Mexico and a delightful play on local ingredients, the Scallop Aguachile sets the stage. Plating is spot on in a bowl of white pebbles with succulent décor. The bite is extraordinarily tender, and the citrus finish is highly enticing. I think the secret is the bilimbing buluh, a mini starfruit that adds a bright, tangy element. However, the supporting roles of grilled cucamelon, and colo colo (local seasoning of chilli, tomatoes, shallots, citrus juice and a touch of sugar) cannot be denied their part. The aguachile is made with cucumber, pear and cilantro oil. It's similar to leche de tigre (the marination used for ceviche), except the scallop is literally tossed in chilli water and served straight away.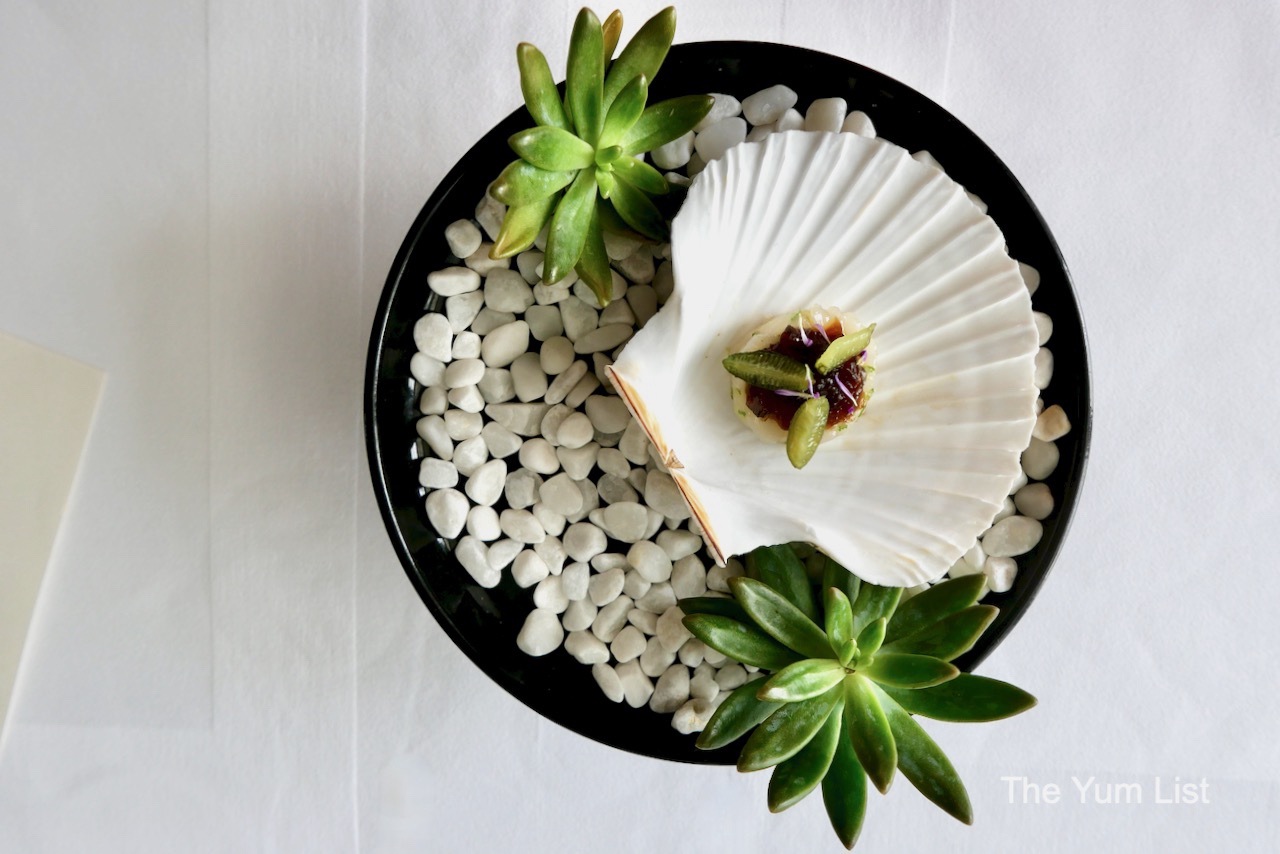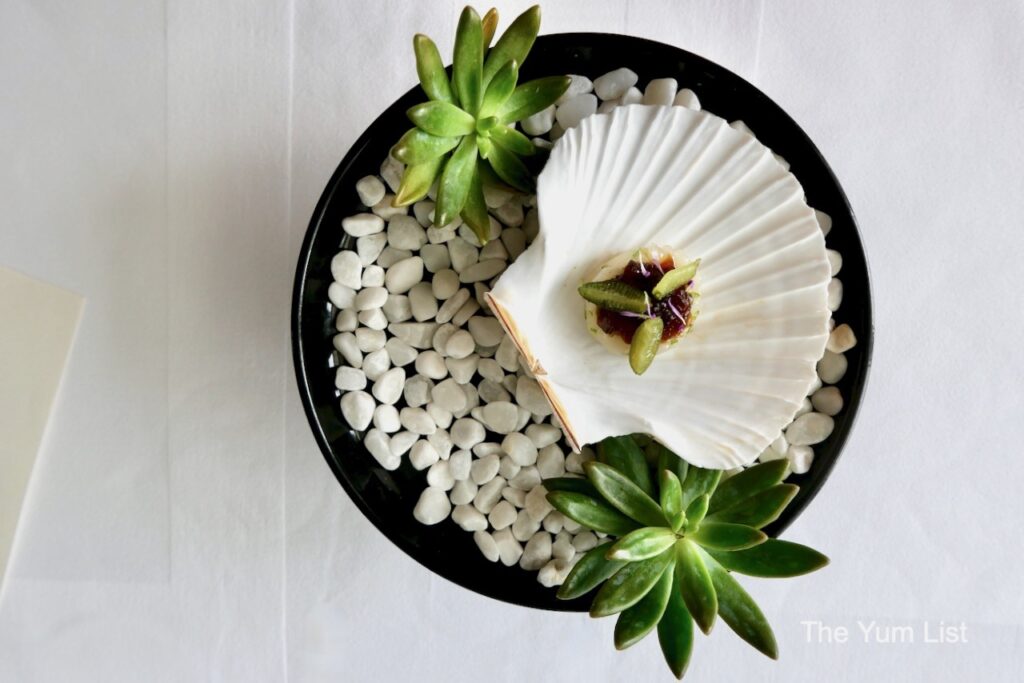 Henri Bourgeois Sancerre La Bourgeoise, Loire Valley, France, 2014
The scallop is impeccably matched with the wonderfully aromatic Henri Bourgeois Sancerre La Bourgeoise from Loire Valley, France, 2014. Enticing aromas of green apple, stone and grassy herbs are followed by a fresh, medium-bodied palate with citrus that perfectly mirrors the tartness of the mini starfruit in the scallop.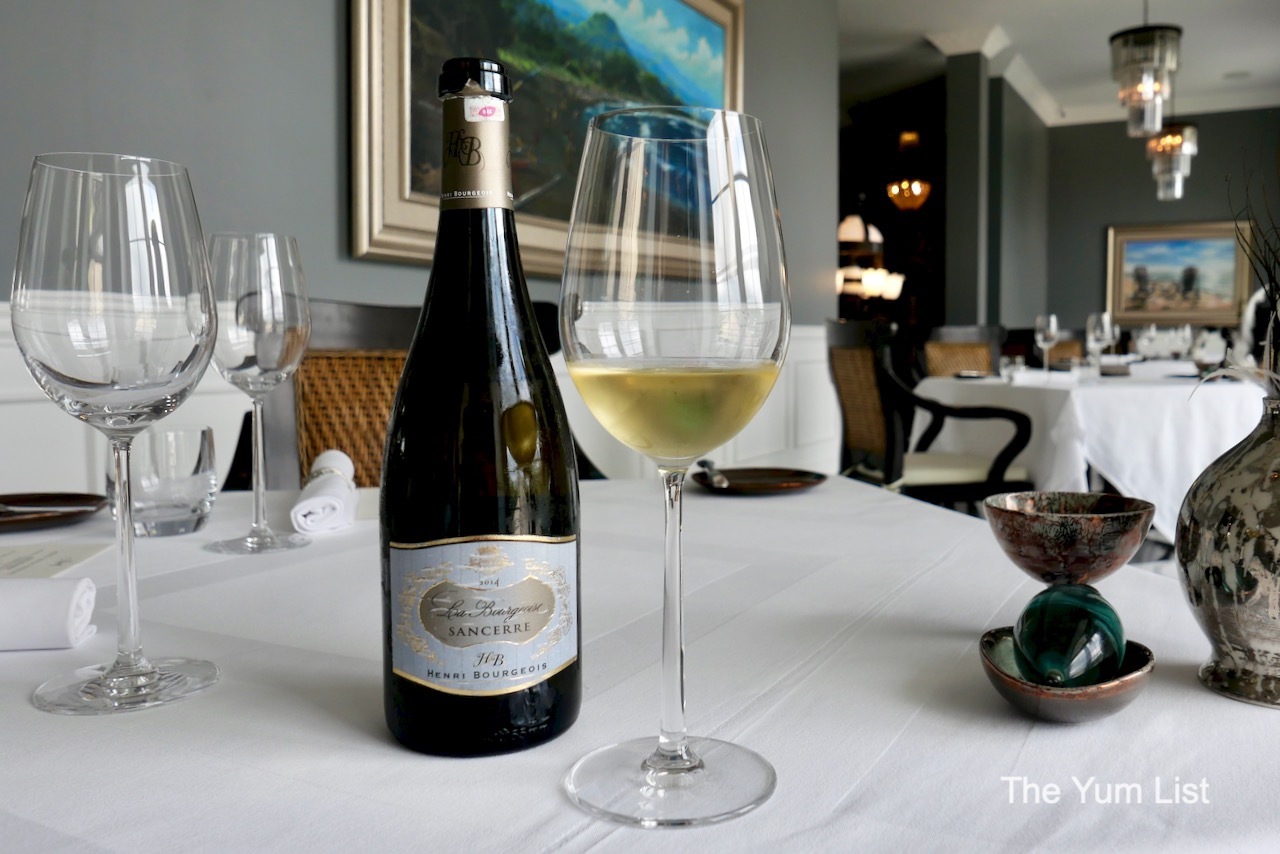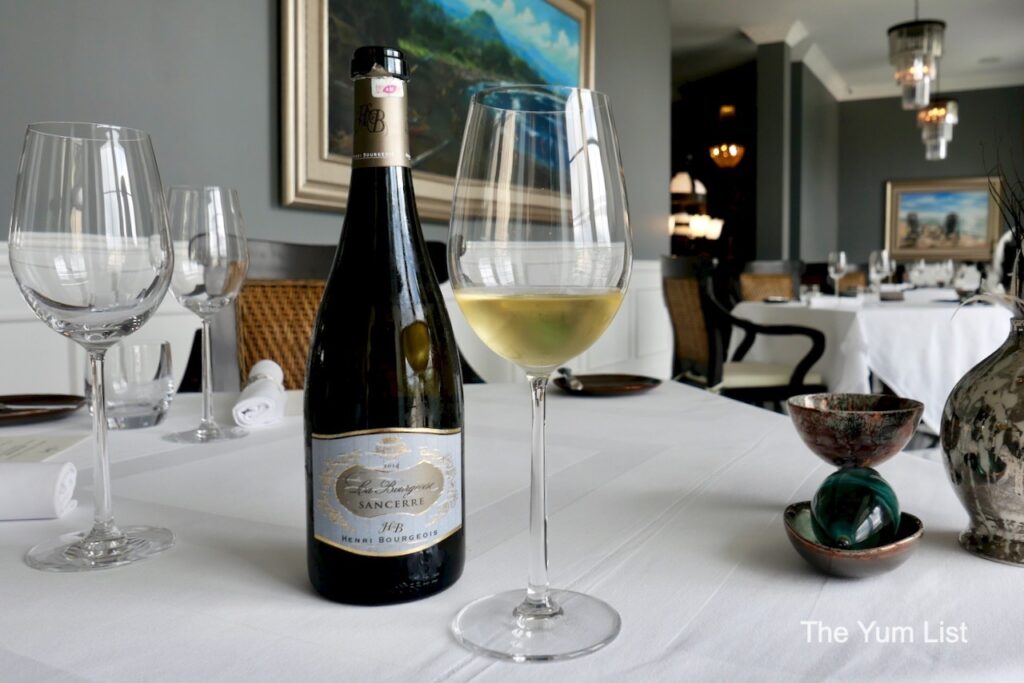 Bread Trolley – Apéritif Restaurant & Bar
Not only is there a drinks trolley, but also a bread trolley! Intan wheels around loaves of black olive focaccia, sourdough and black rice bread with a choice of butter – truffle, sourdough and salty. She slices and plates to your liking. Give me another glass of wine, and I could happily stop right here.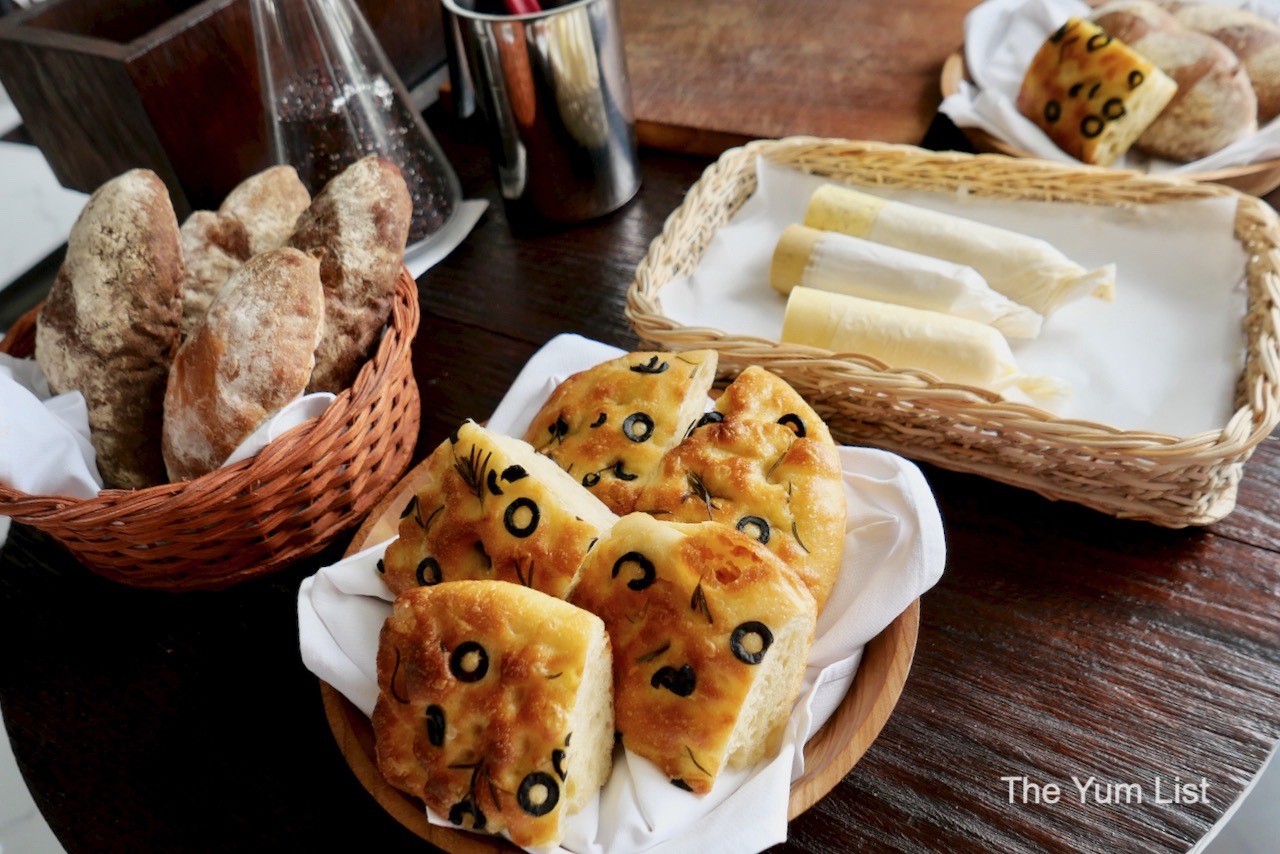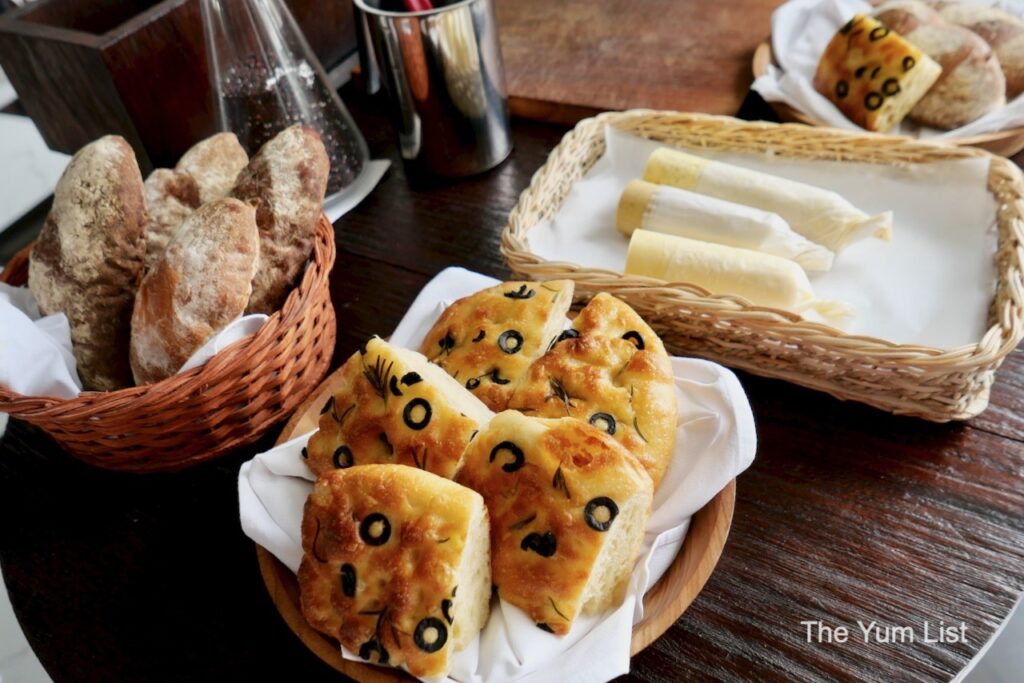 Chawanmushi King Prawn
Next, the Chawanmushi King Prawn, with its Japanese origins, is wonderfully warm, comforting and luxurious all at the same time. The egg custard is silky, and the tender and crunchy edamame and chives break up the texture. However, it's the dashi broth that is addictive. I re-scoop until every last drop is emptied.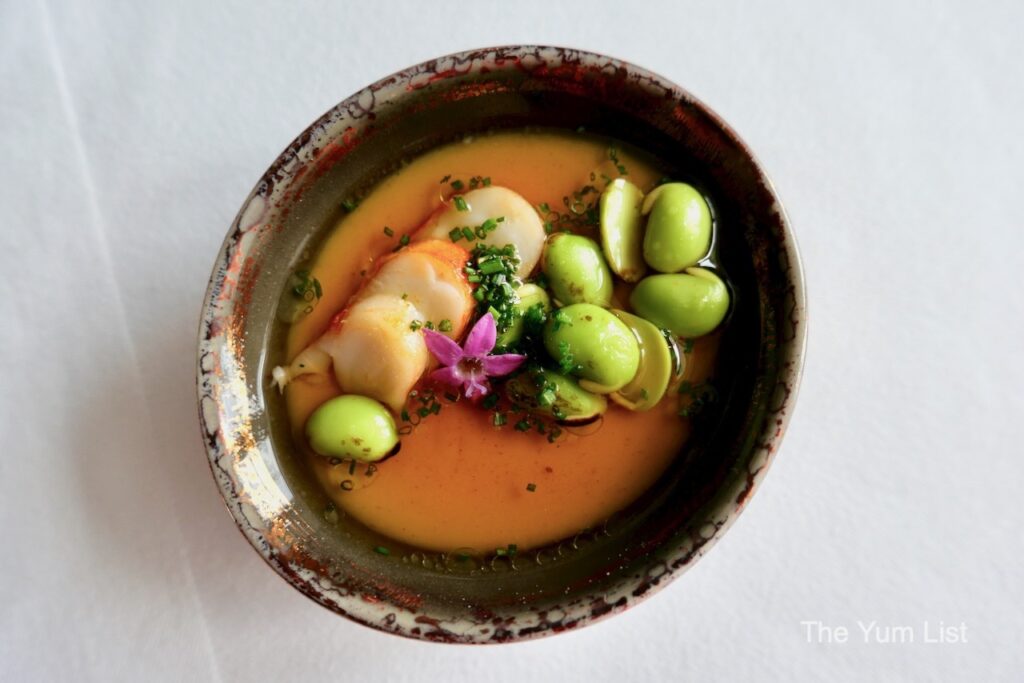 Otoro – Apéritif Restaurant & Bar
It's hard to believe that otoro could be made better. I'm a firm believer in using quality ingredients and not messing with them too much. However, when you have an artist in the kitchen, the sky is the limit. Chef Nic certainly takes the tuna belly to new heights by lightly marinating it in soy sauce, basing it with a tomato salad, topping it with yuzu gel and partnering it with a terrific kombucha kemangi (lemon basil) sorbet. Just wow.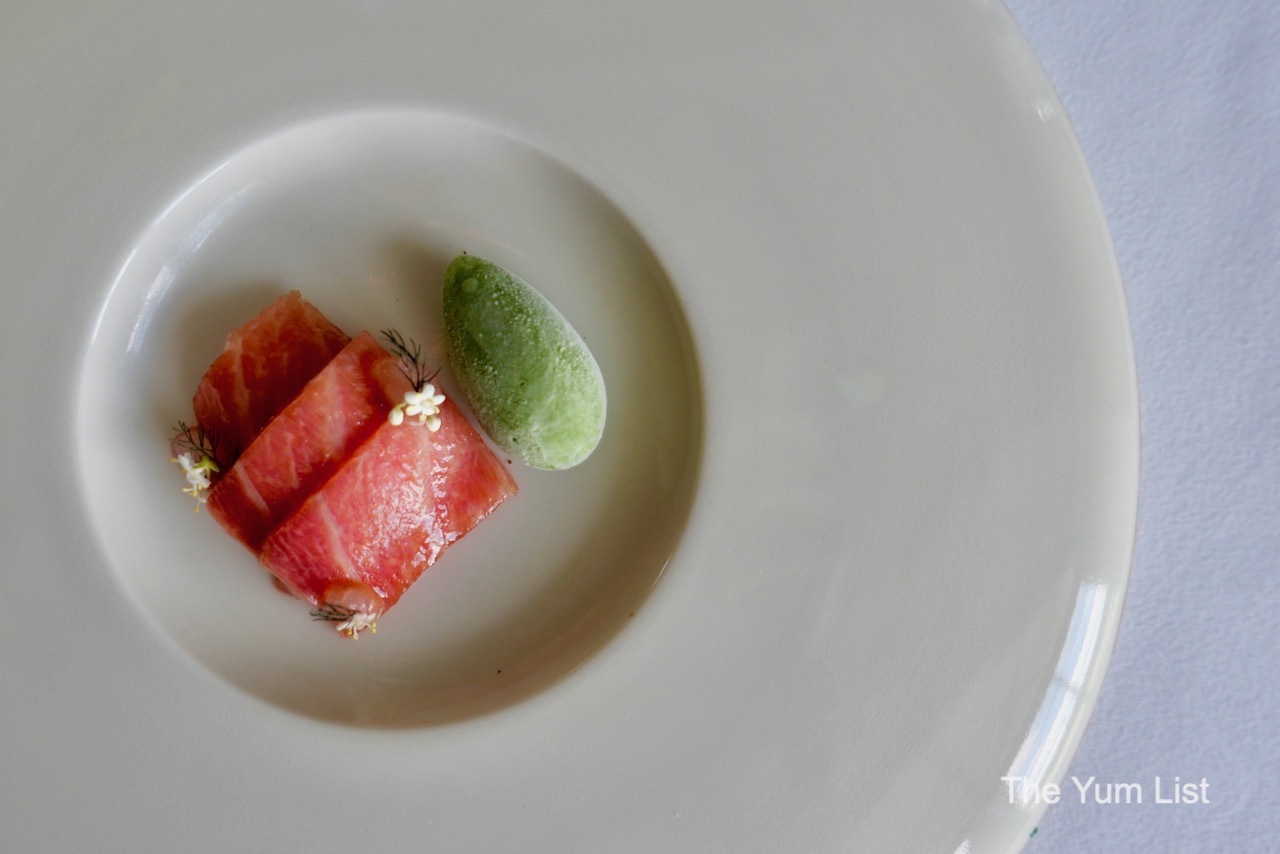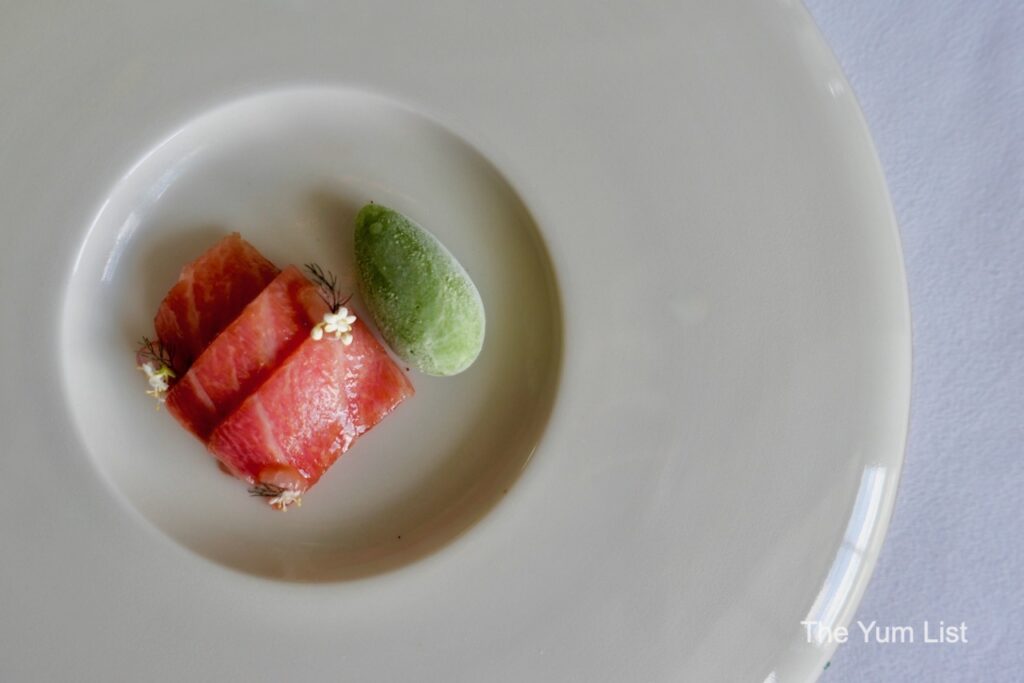 Riesling, Hugel – Classic, Alsace, France, 2016
The 2016 Hugel & Fils, Riesling – Classic, Alsace, France, 2016 is a classic for good reason. The dry wine breathes juicy pear and calamansi, with a crisp palate and whisper of minerality in the finish. It's a model match with fresh seafood.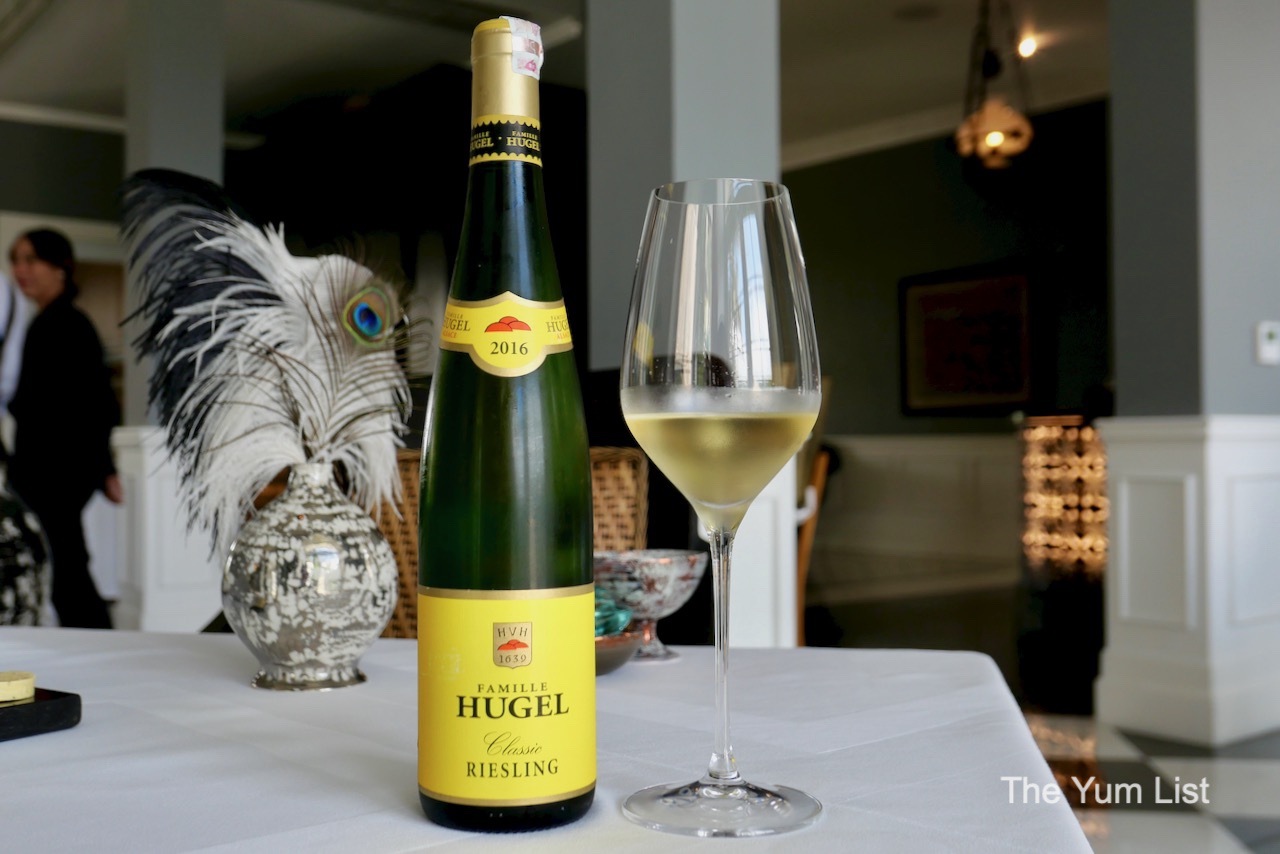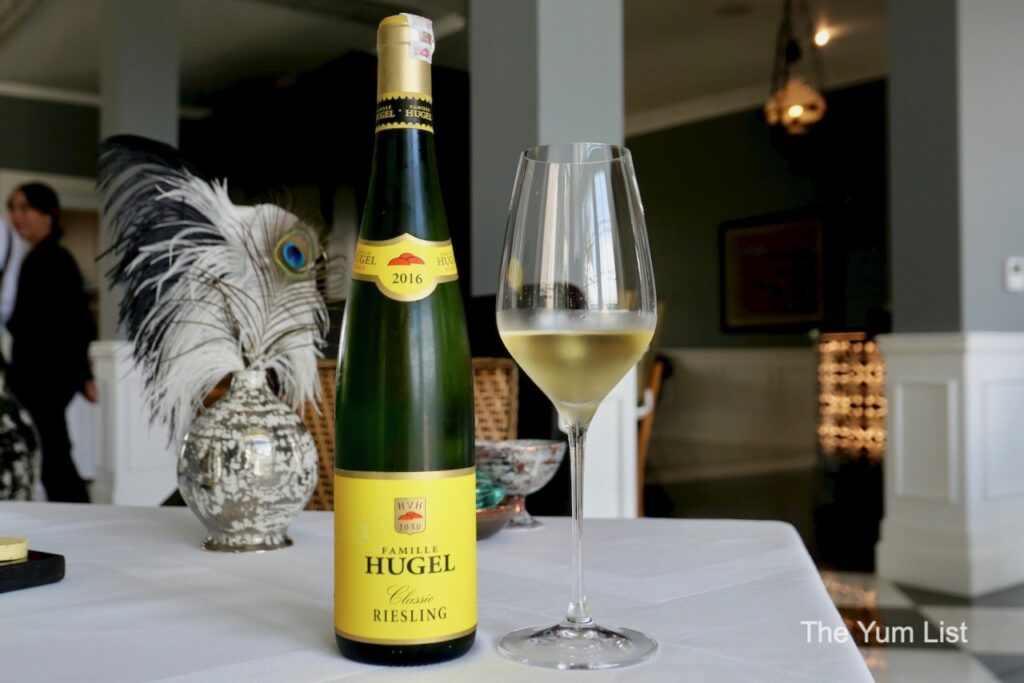 Wagyu – Apéritif Restaurant & Bar
The Tokusen Wagyu looks like a robust summer flower with its roasted carpaccio-style thin strips twirled in a roll. Black garlic emulsion, bone marrow, mustard seeds and a wagyu fat vinaigrette elevate the flavours with acidity, lightening the meat's richness.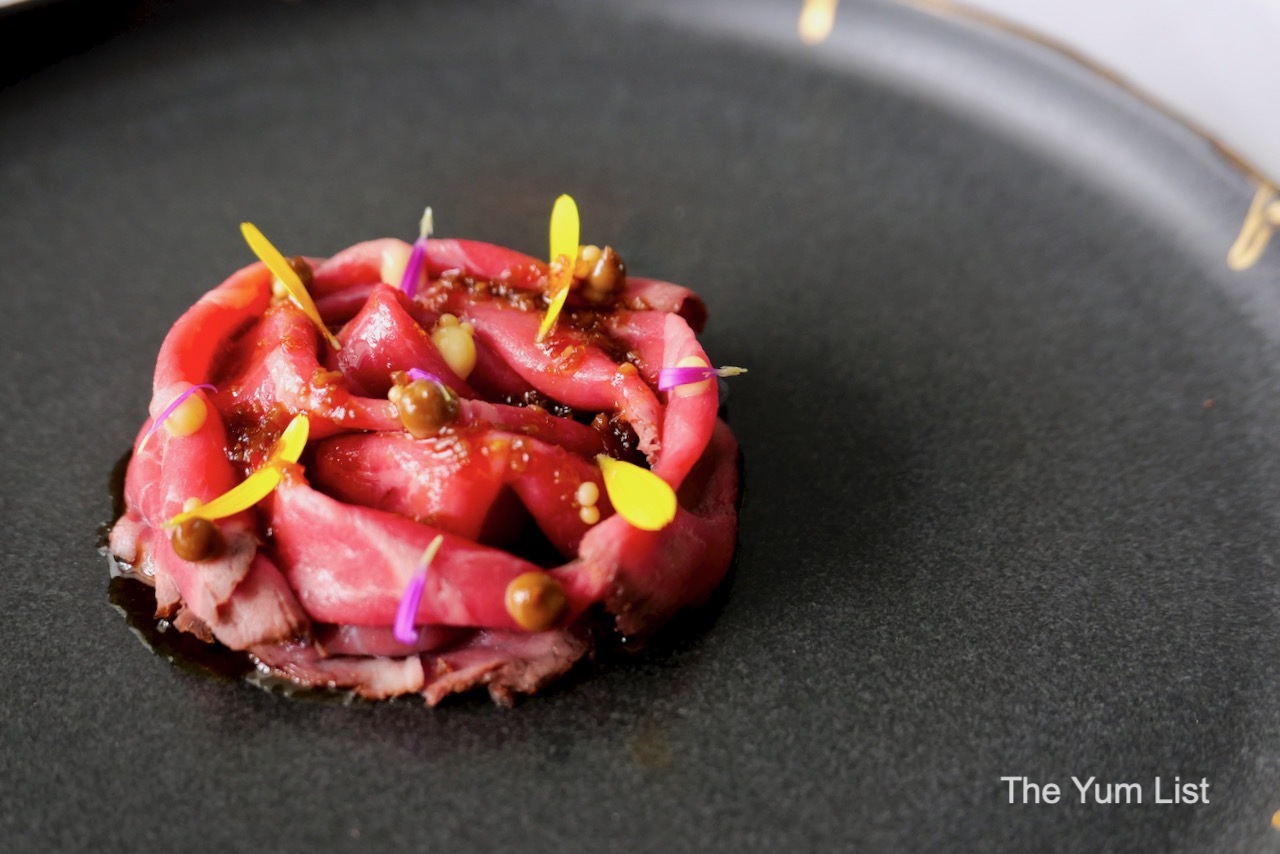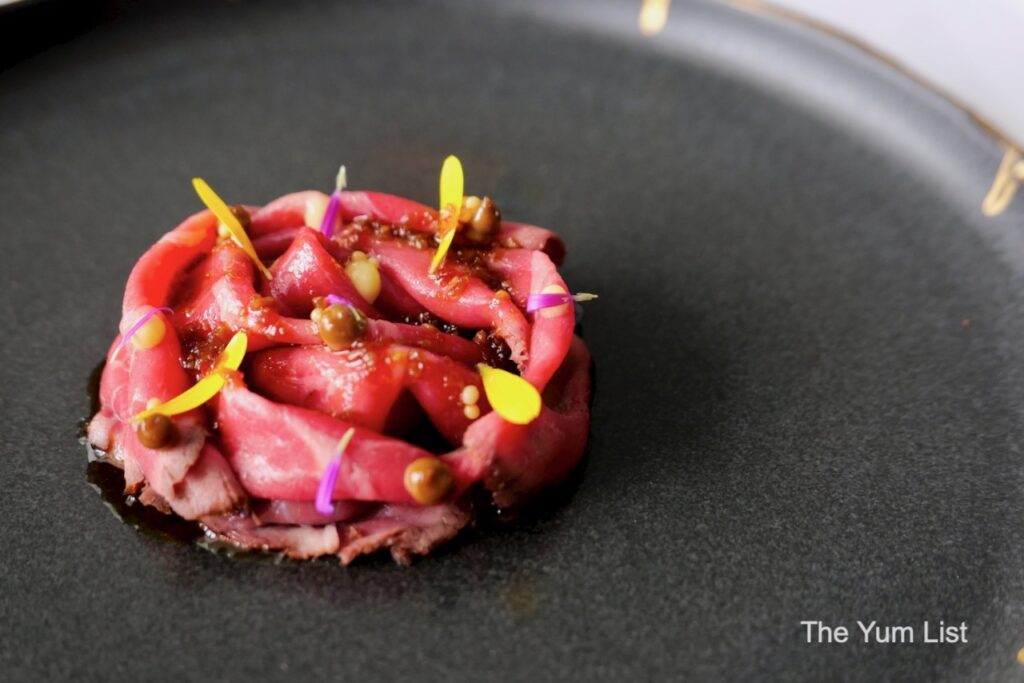 Heirloom Tomato
Chef Nic's signature dish looks light and refreshing. Still, it's surprisingly intense and, despite its appearance, supplies a mouthful of rich tomato. The goat cheese mousse base is mixed with tomato powder, topped with green tomatillo, kombucha sorbet, and potato leaf tuile, and finished with clear tomato sauce.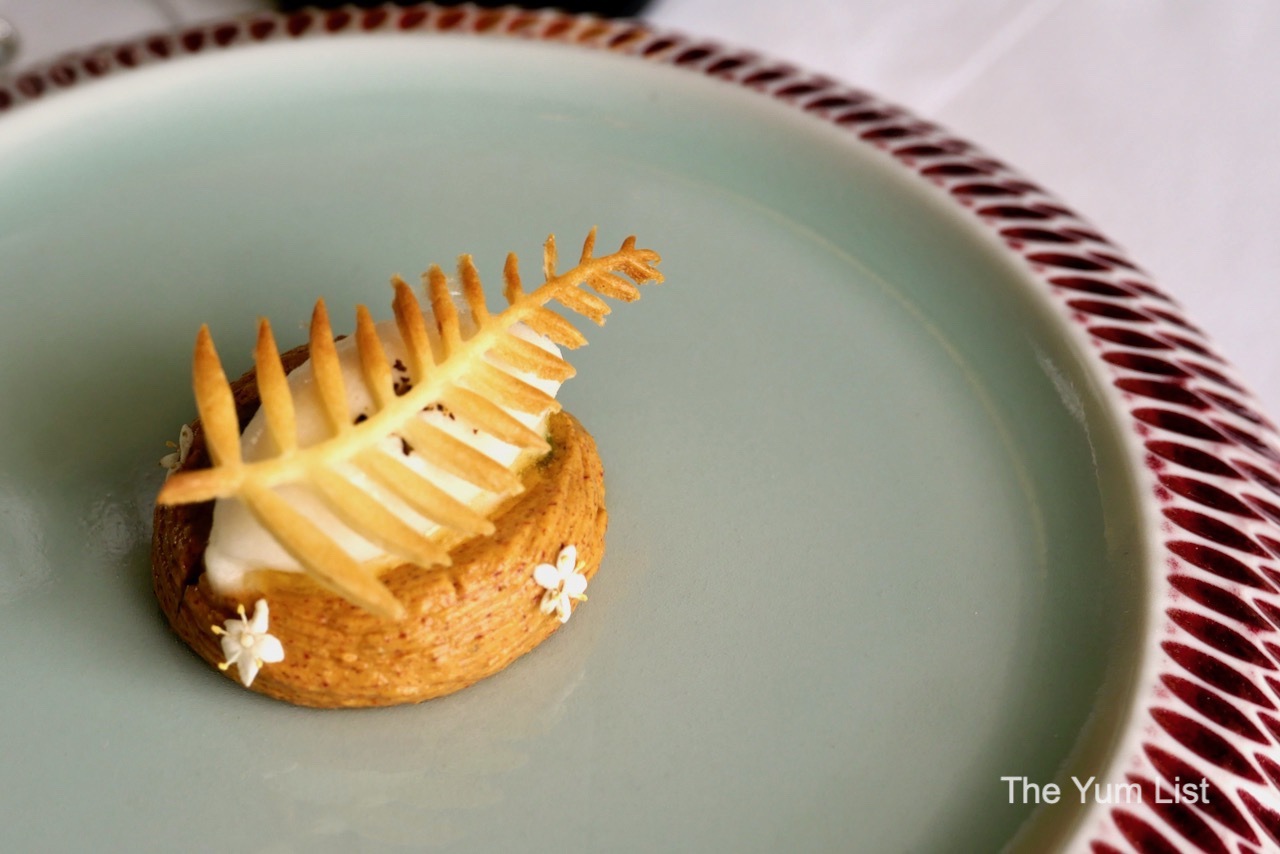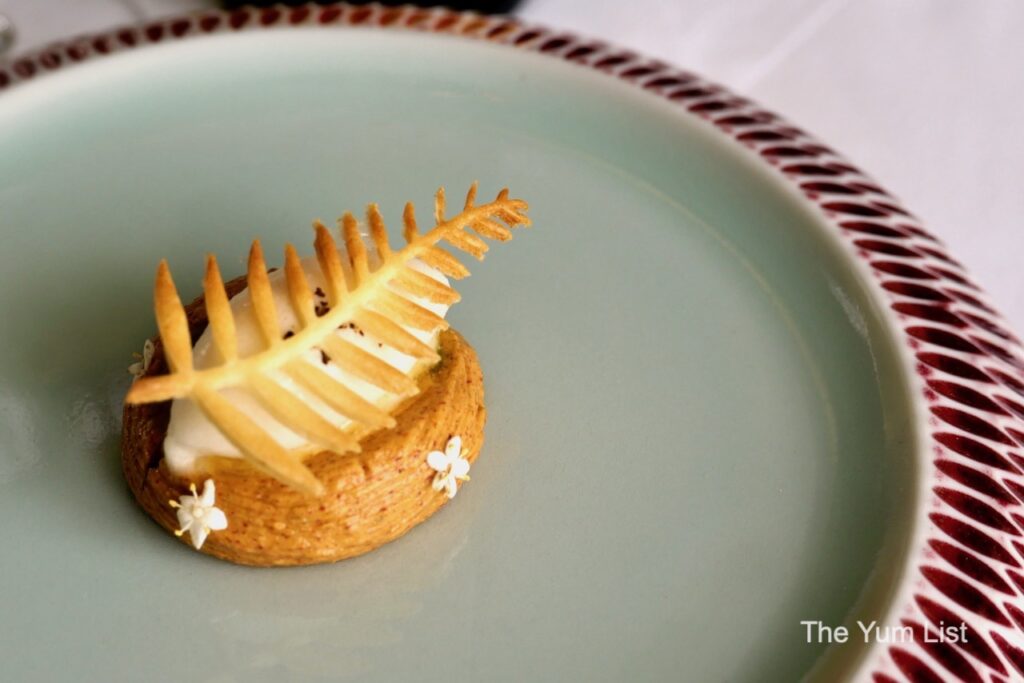 Baron Philippe de Rothschild, Viognier, Pays d'Oc, 2020
The wine pairing, Baron Philippe de Rothschild, Viognier, Pays d'Oc, 2020, also increases in intensity. The full-bodied wine offers ripe fruit, especially apricot on the nose. It leads into an elegant, round palate with lingering fruit and herbal notes.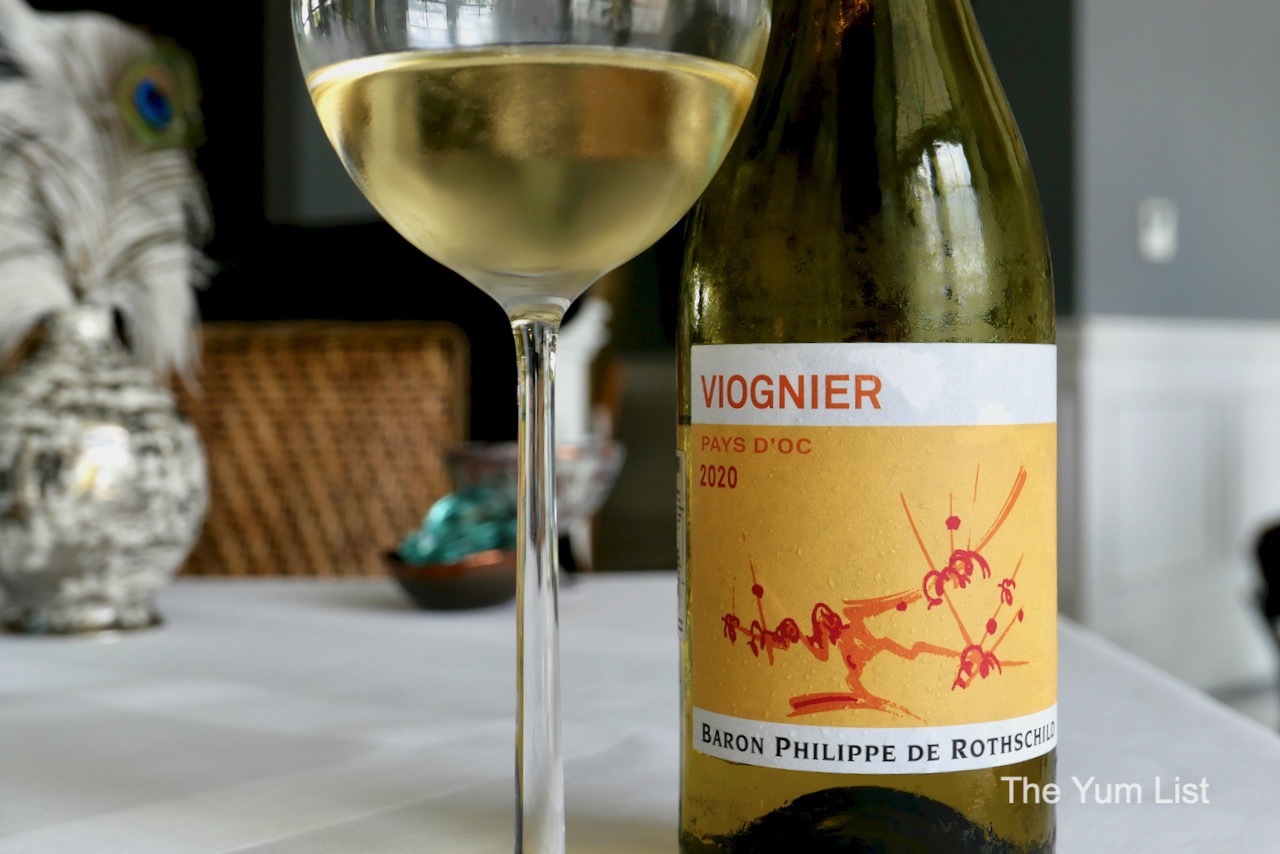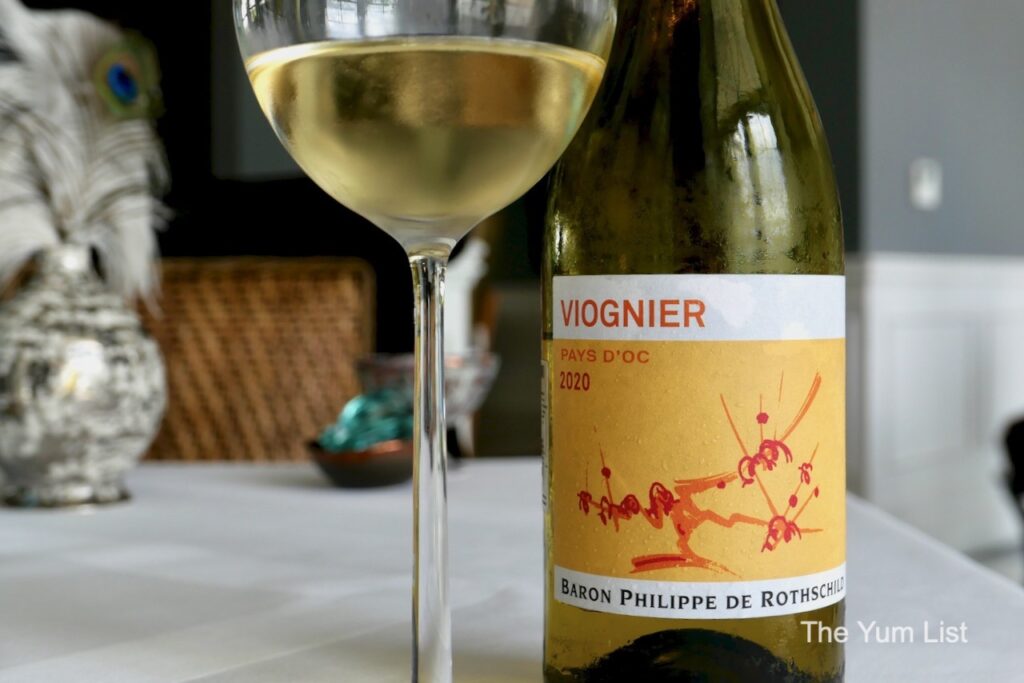 Canadian Lobster
The Canadian Lobster is a supplemental dish on the menu, included for an additional IDR 450k++. The delicate presentation sees tender chunks of lobster tail and claws covered by a sheet of ravioli dotted with micro greens, petals and flowers. The XO bouillon and black rice vinegar elements magnify the fresh, luxurious flavour of the crustacean. This is precisely how quality lobster should be done.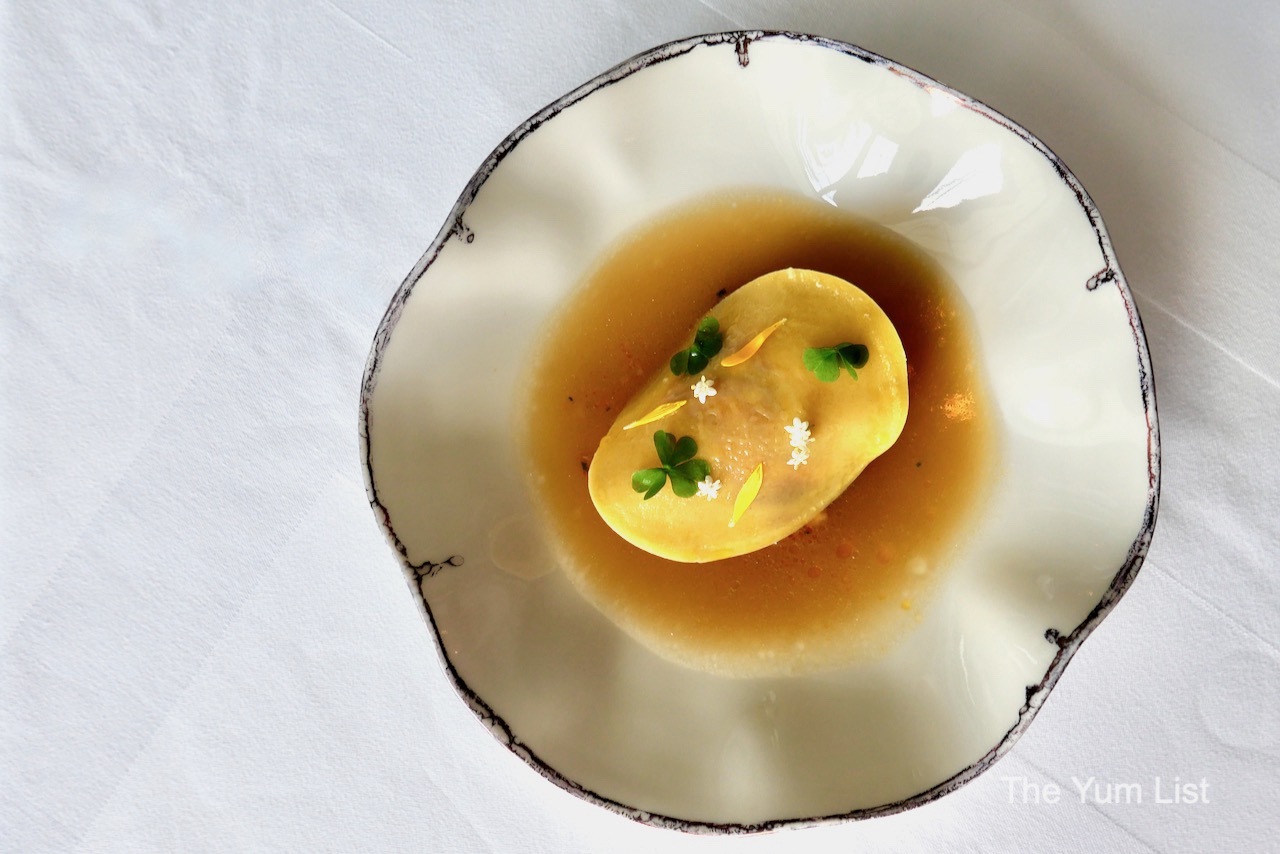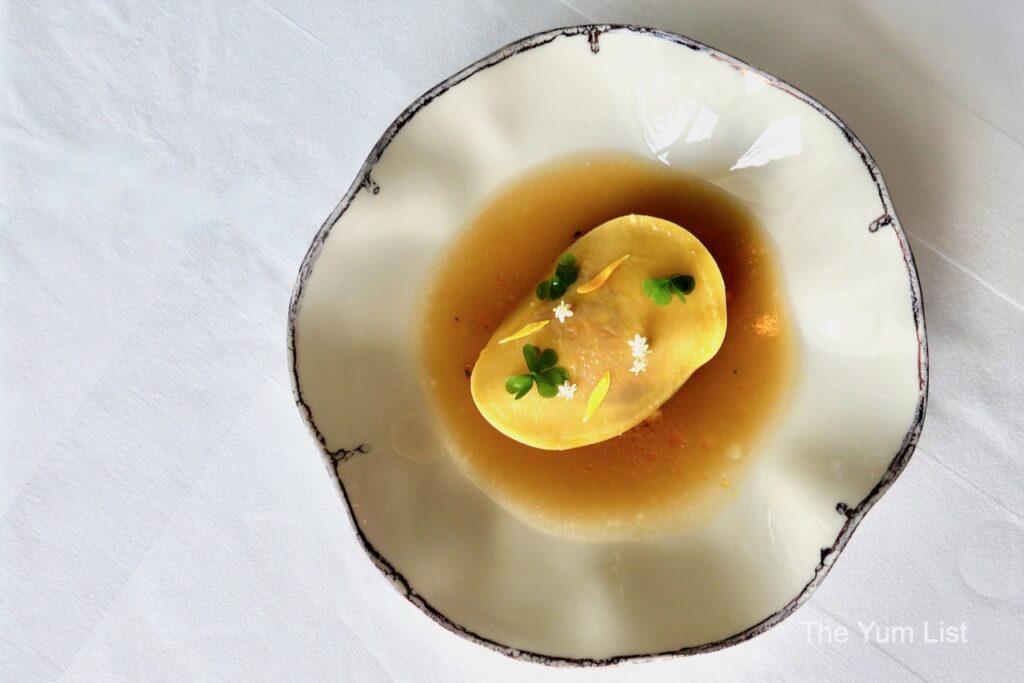 Hokkaido Scallop
Oh my, just when I think the meal cannot get any better, it does! The seared Hokkaido Scallop is incredibly succulent, so much so that it's hard to avoid the cliché, melt-in-the-mouth because this is a prime example. Bell pepper chutney and dabu-dabu (spicy condiment from Manado with chillies, shallots, tomatoes, sugar, salt and calamansi) sit underneath the mollusc. It's embraced by woku soup, lightly foamed and crowned with shredded, fried herbs. Woku is a Manado-style dish made with turmeric, ginger, chillies, onions and kaffir lime leaves. The combination is habit-forming.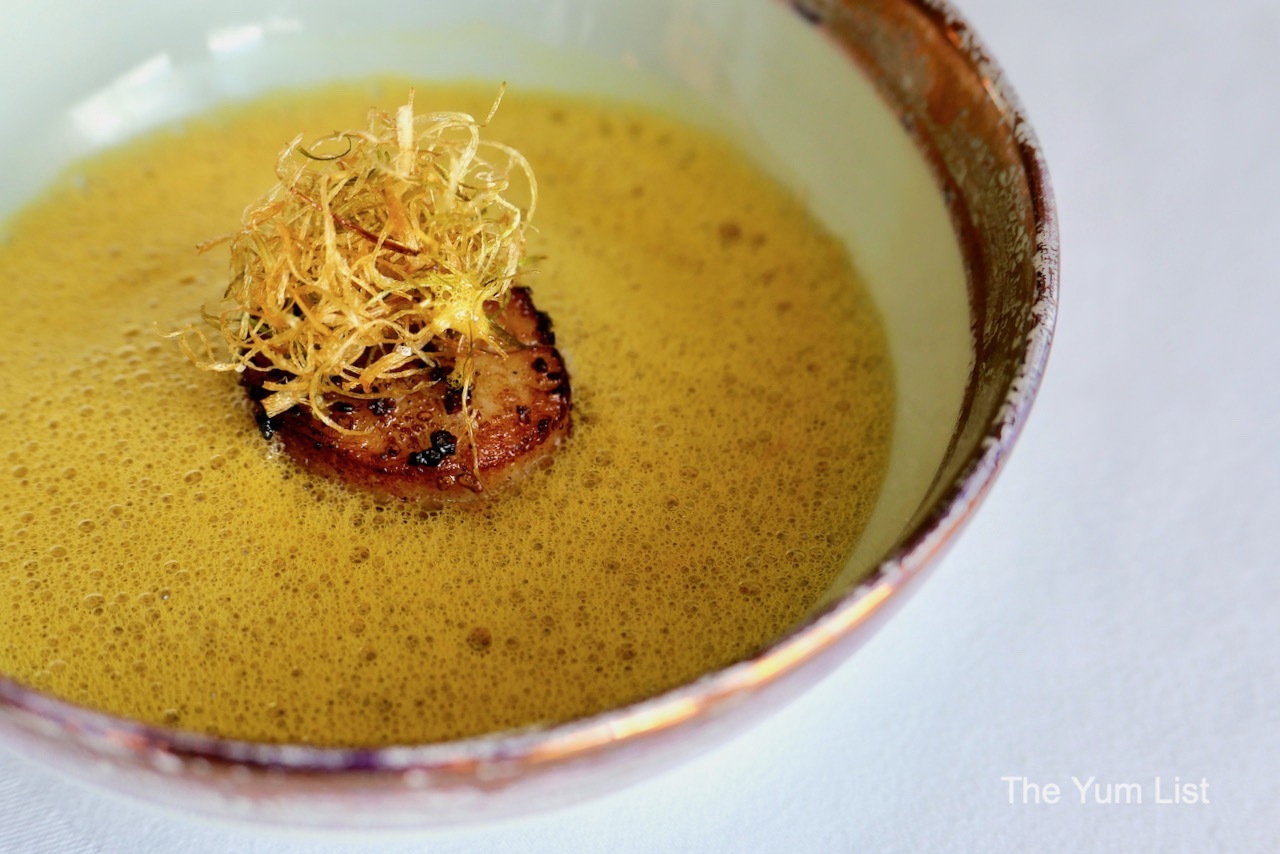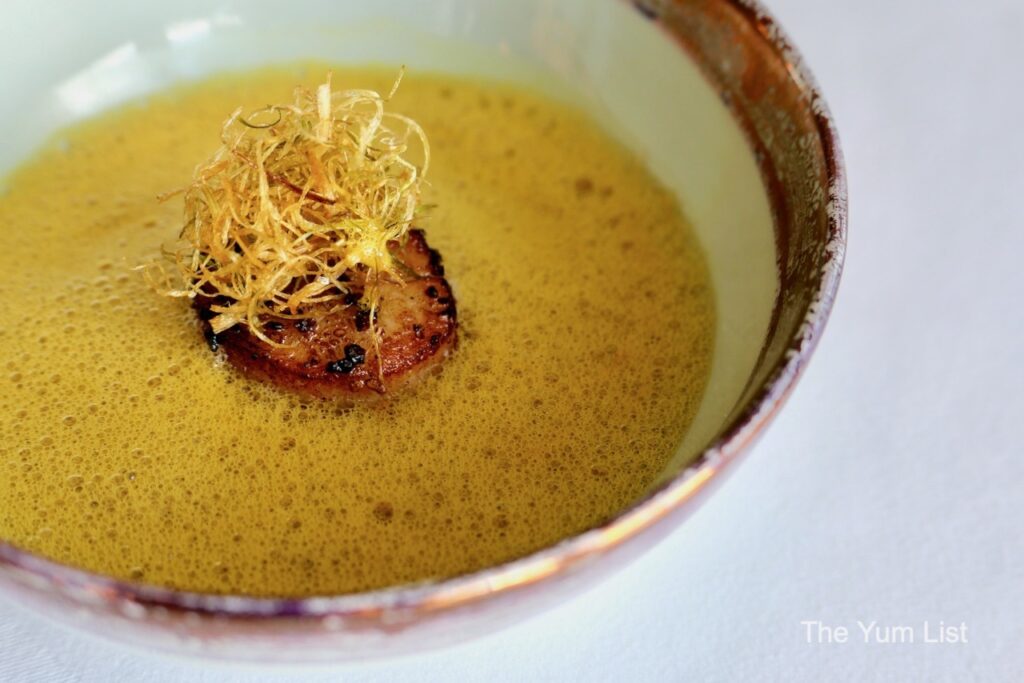 Pinot Grigio, Cantine Leonardo da Vinci, Dama Con l'Ermellino, Emilia-Romagna, Italy 2020
The award-winning and 97-point earner, Pinot Grigio, Cantine Leonardo da Vinci, Dama Con l'Ermellino, Emilia-Romagna, Italy 2020, is a copybook match for scallops. However, its fruity and floral nose and freshness on the palate are also an adept consort for the local spice in the seasoning. Fantastic.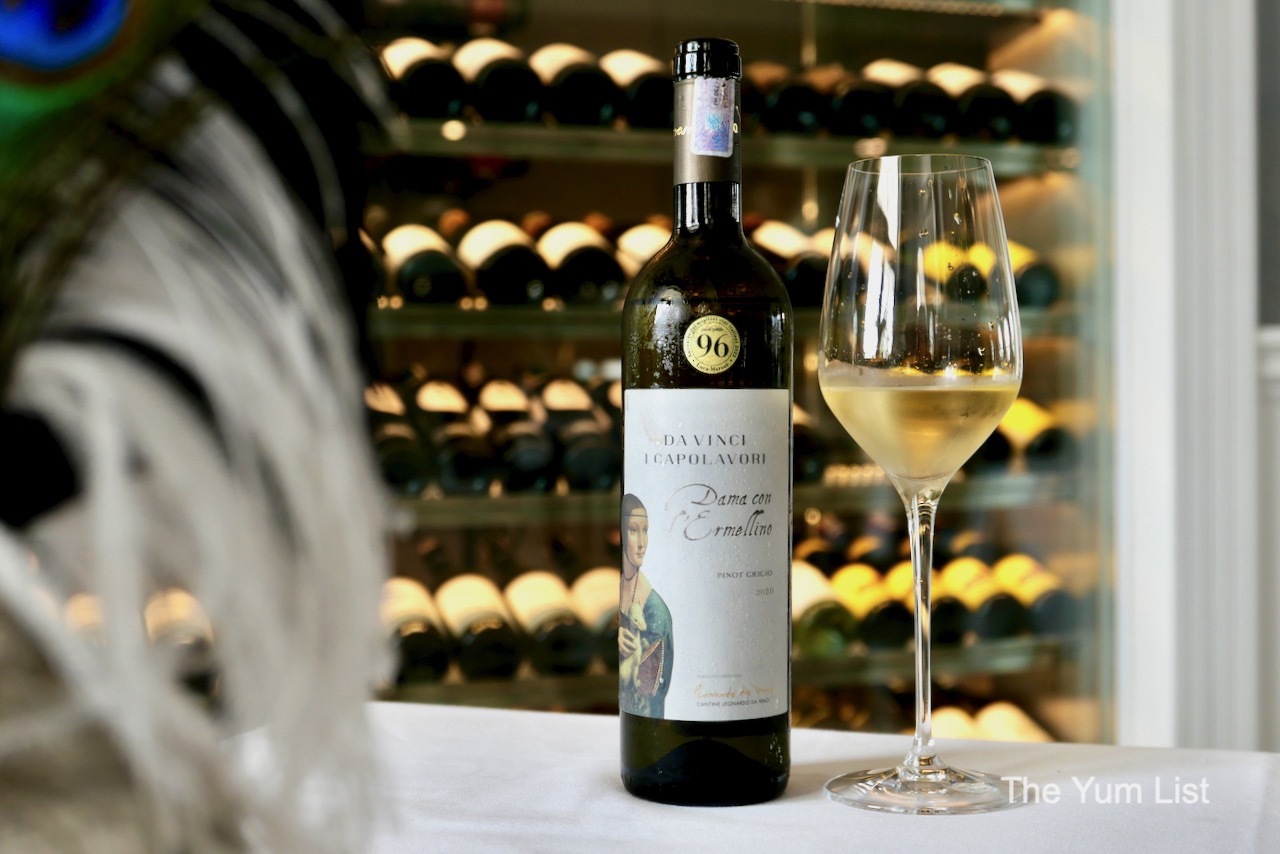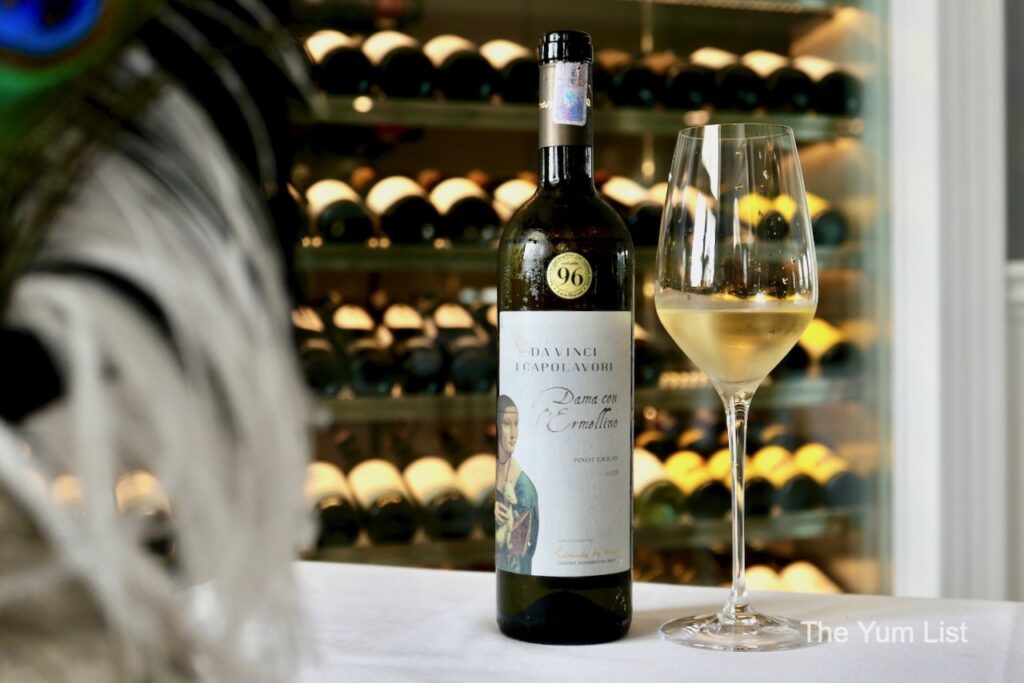 Dutch Veal – Apéritif Restaurant & Bar
I can't say I've ever had such delicious sweetbread. I often turn away from "the parts" more due to cultural perception than taste or philosophy (I'm an advocate of zero-waste, nose-to-tail eating). However, chef Nic and the team have poached and then seared the sweetbread (thymus gland), making it extremely palatable with a crispy top and tender middle. Albufera sauce with foie gras, king oyster and morel mushrooms play chaperones.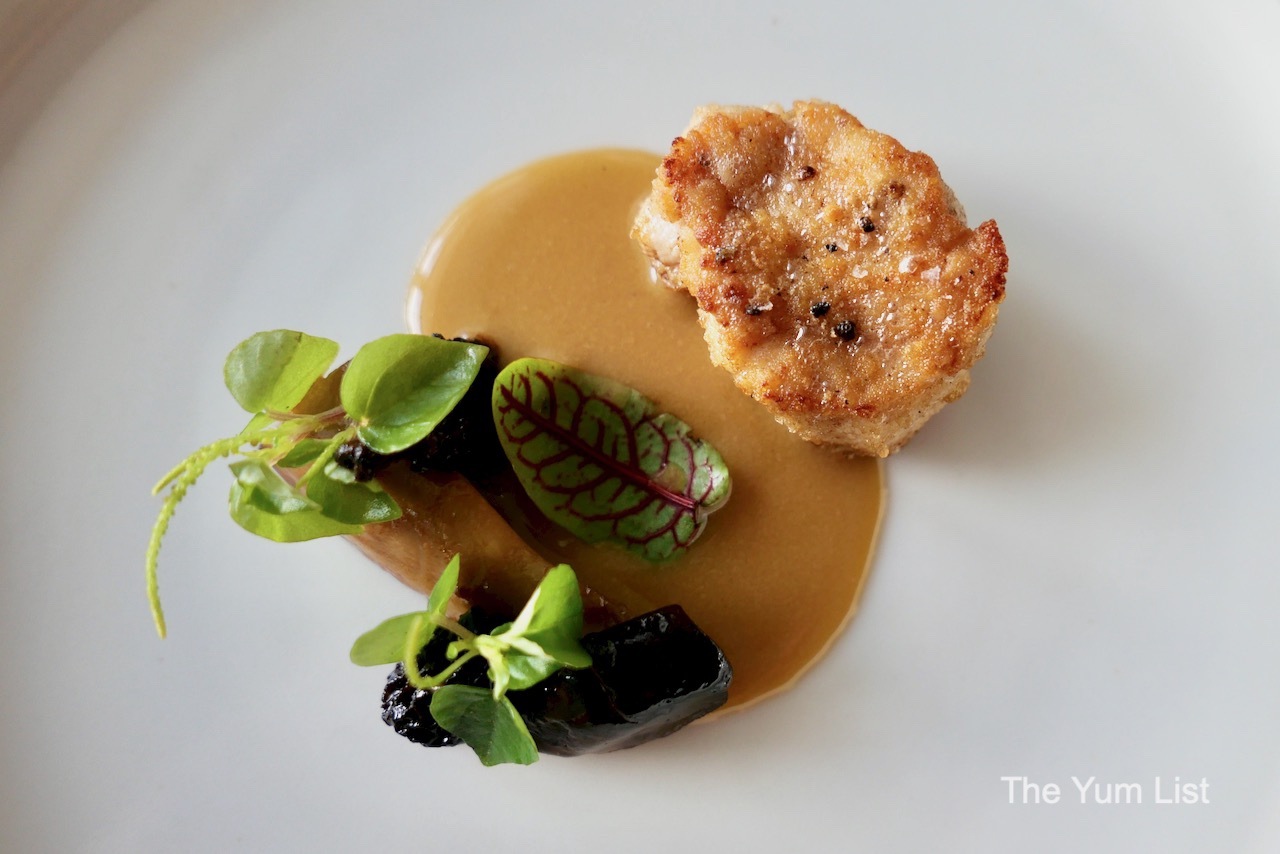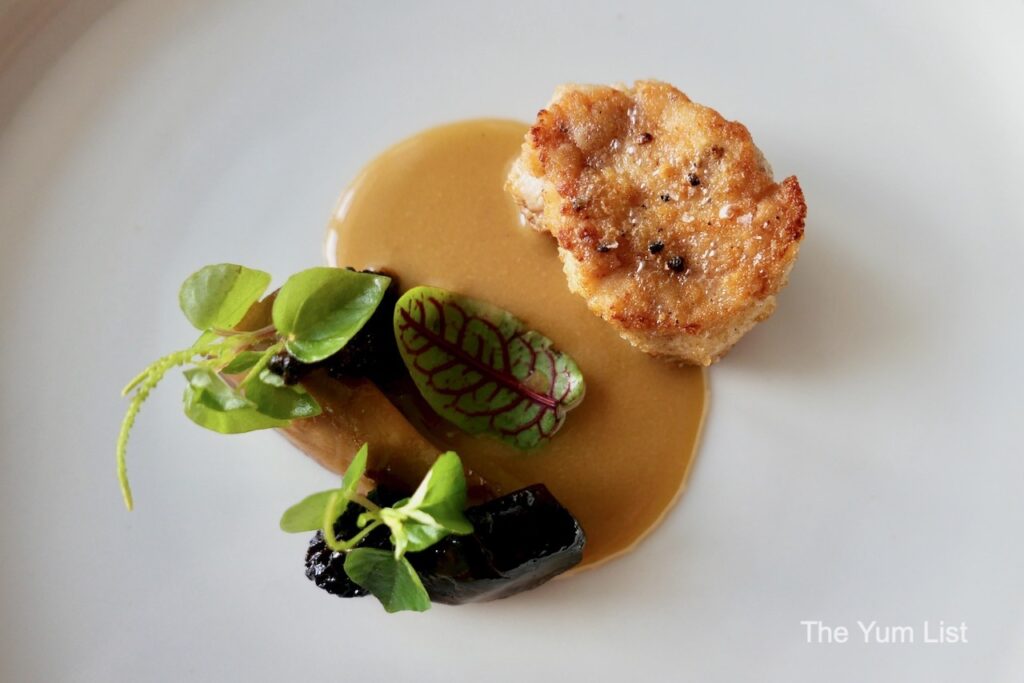 Venison Wellington
The crescendo of my meal at Apéritif Restaurant & Bar is with Chef Nic's signature Venison Wellington. It has been on the menu since day one. Such a crowd favourite, returning guests look for it again and again. If you've been paying attention, you can already guess that this is not going to be a standard rendition of a classic. Venison offers a firmer, smoother finish than beef, with more of an earthy taste than traditional beef. A centre of foie gras is added to replace the fattiness, and a reduced and strained rendang sauce (made with the venison giving an added gamey complexity) with a hint of coconut complements the recipe tying in that elegant thread of local that is present across the menu. If you ate the broccolini and potato puree on their own, they too would receive a bounty of flattering remarks. However, it's hard to get noticed next to the Venison Wellington.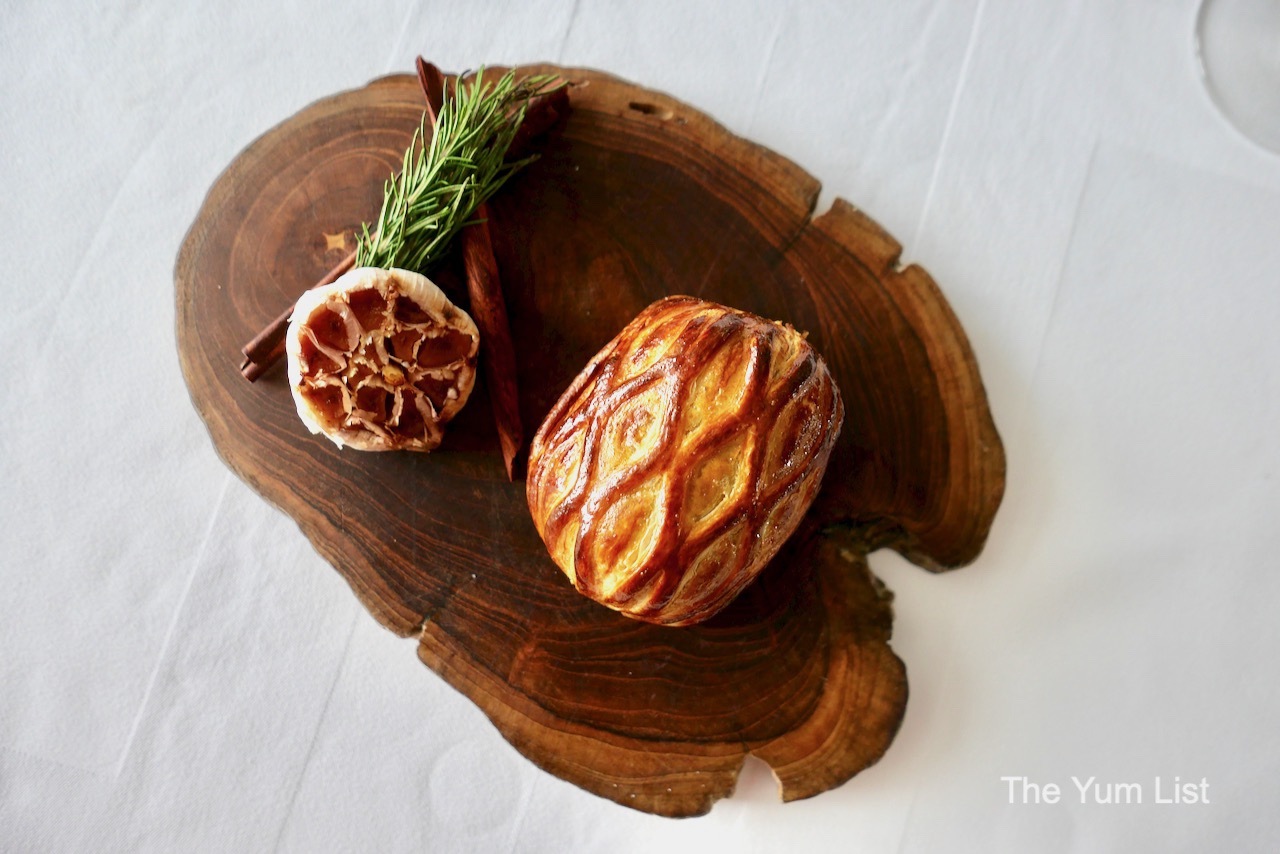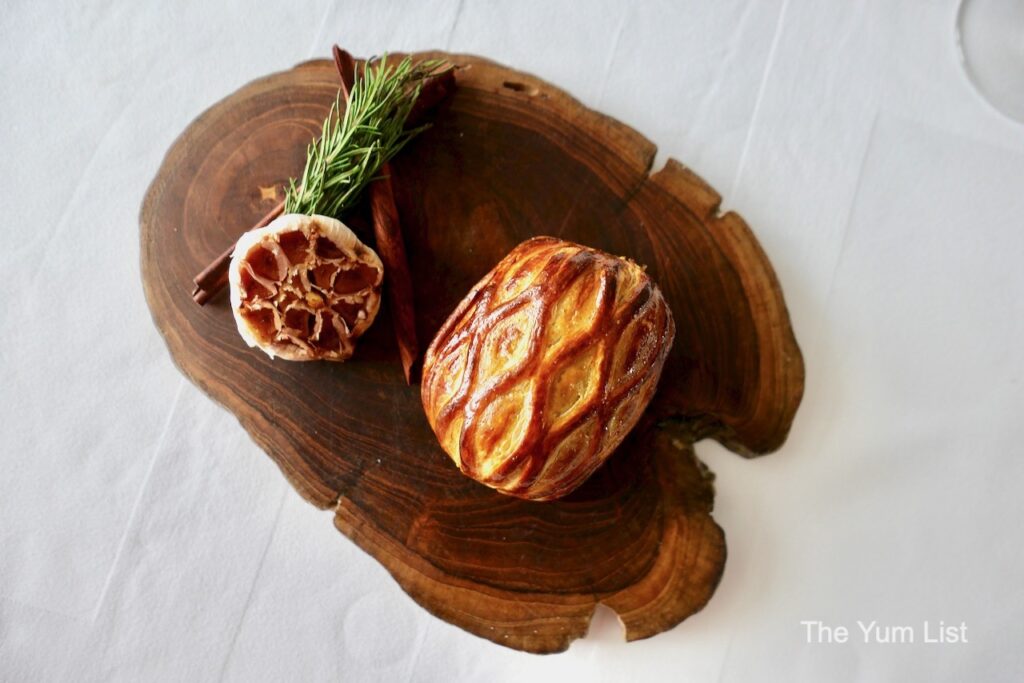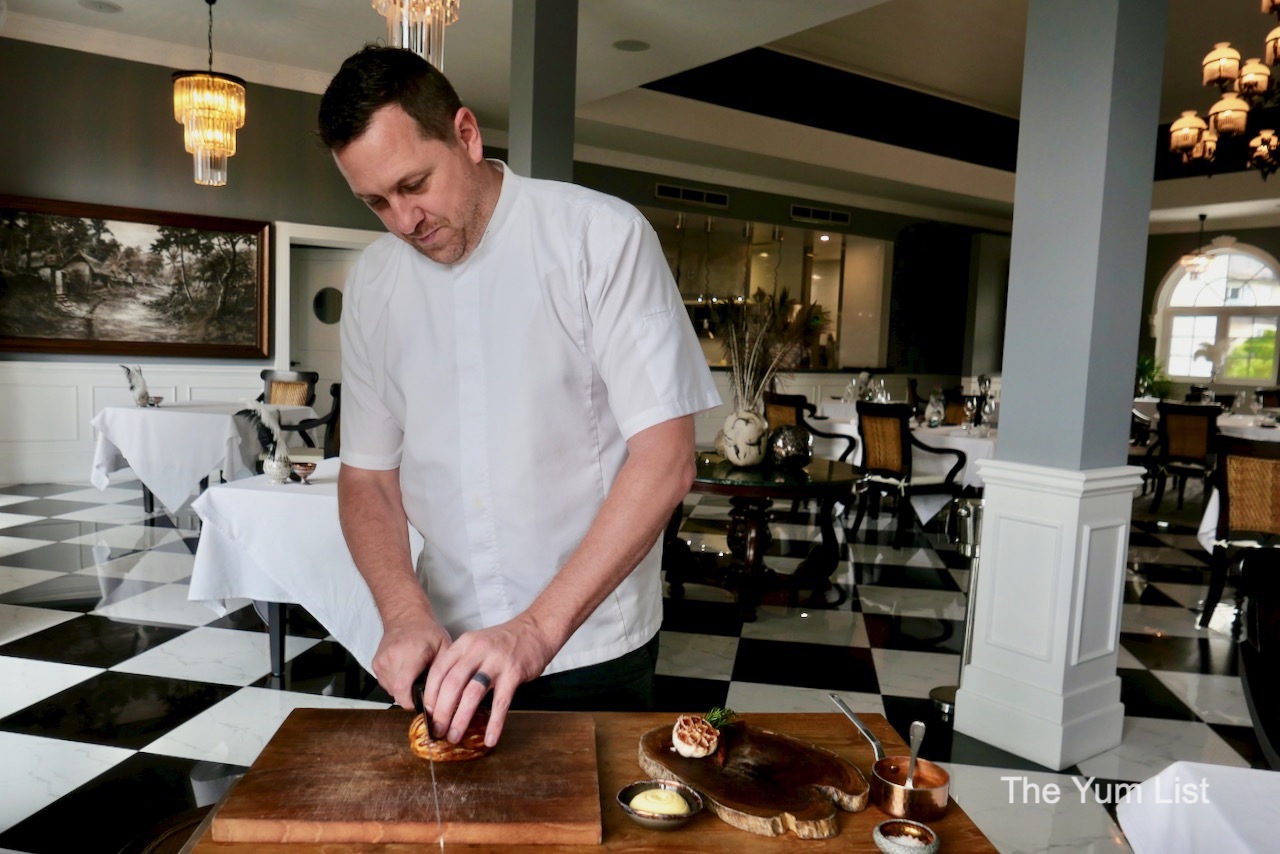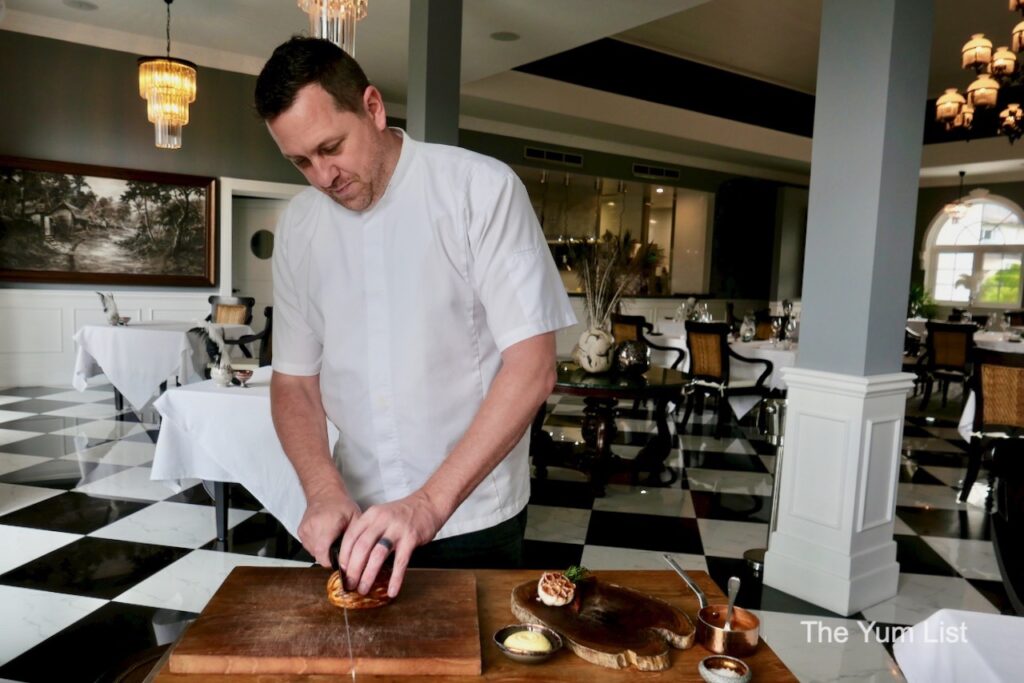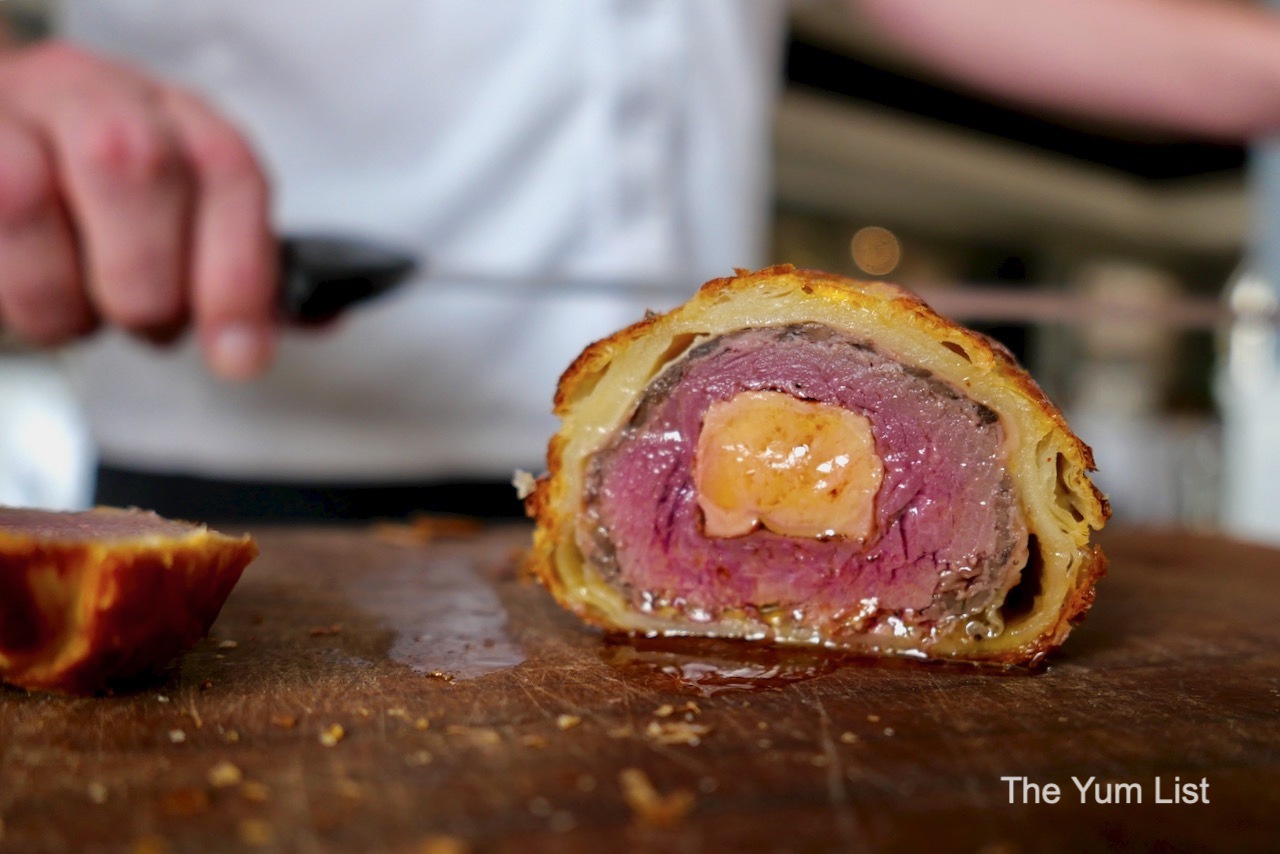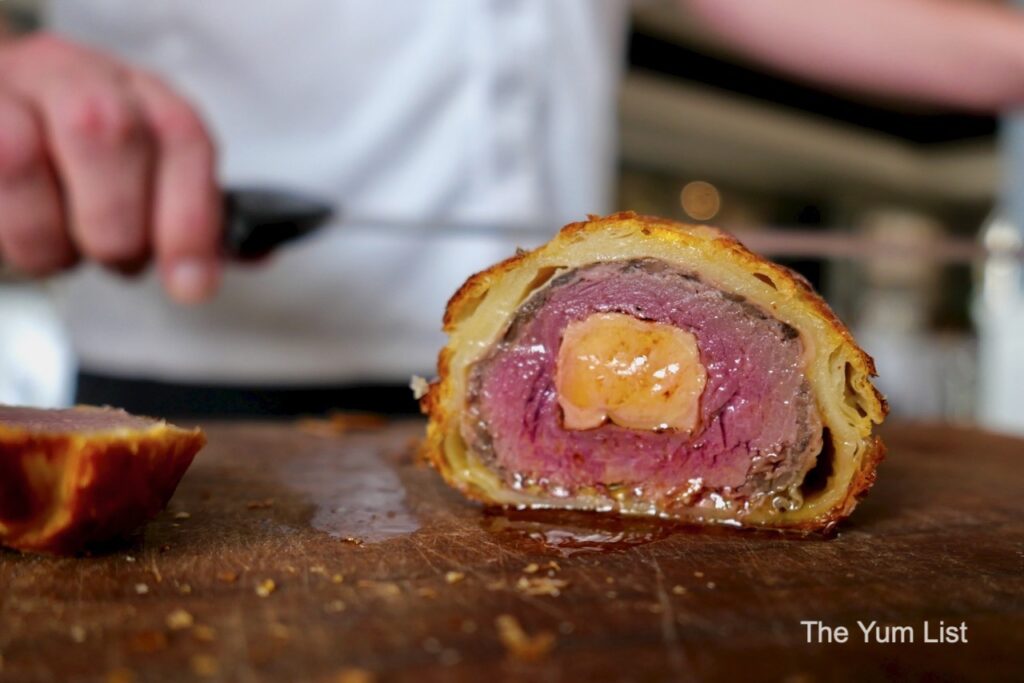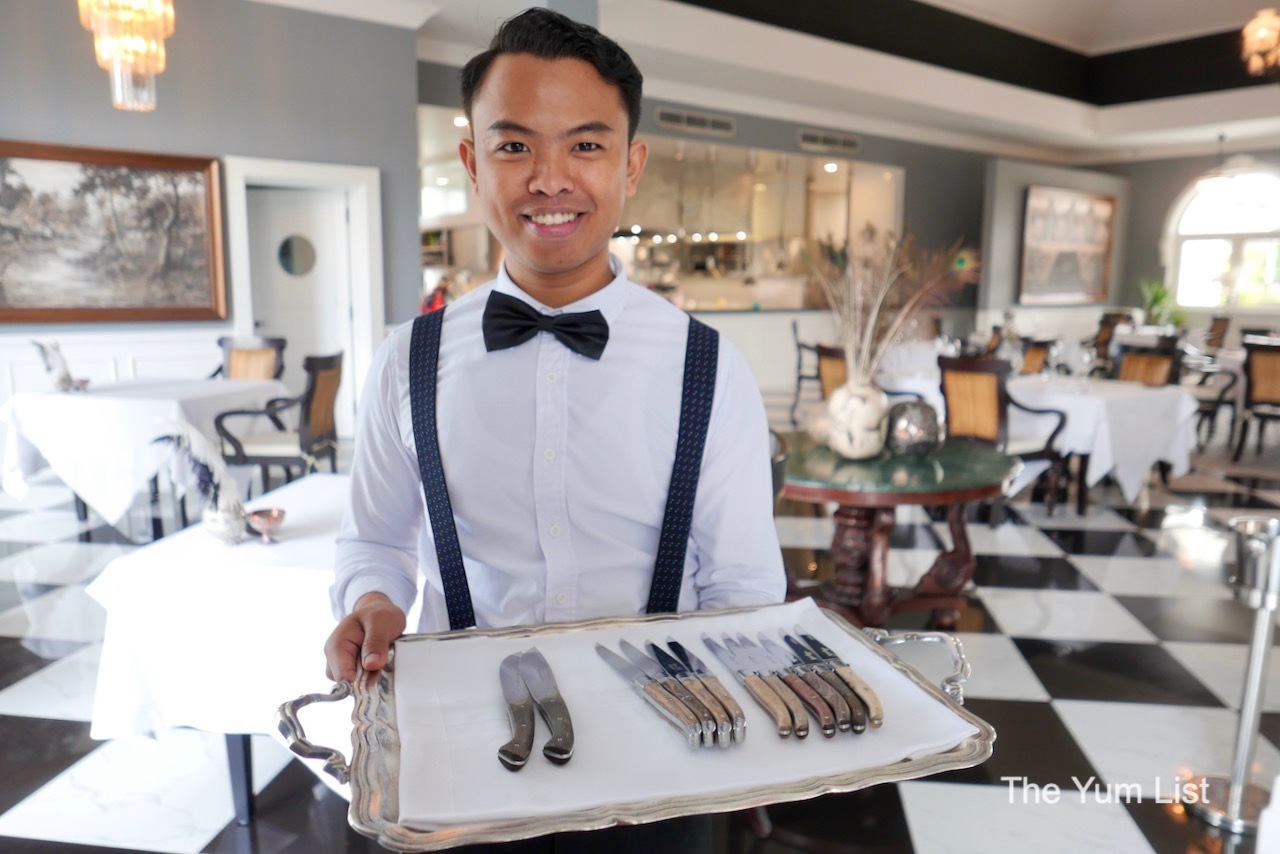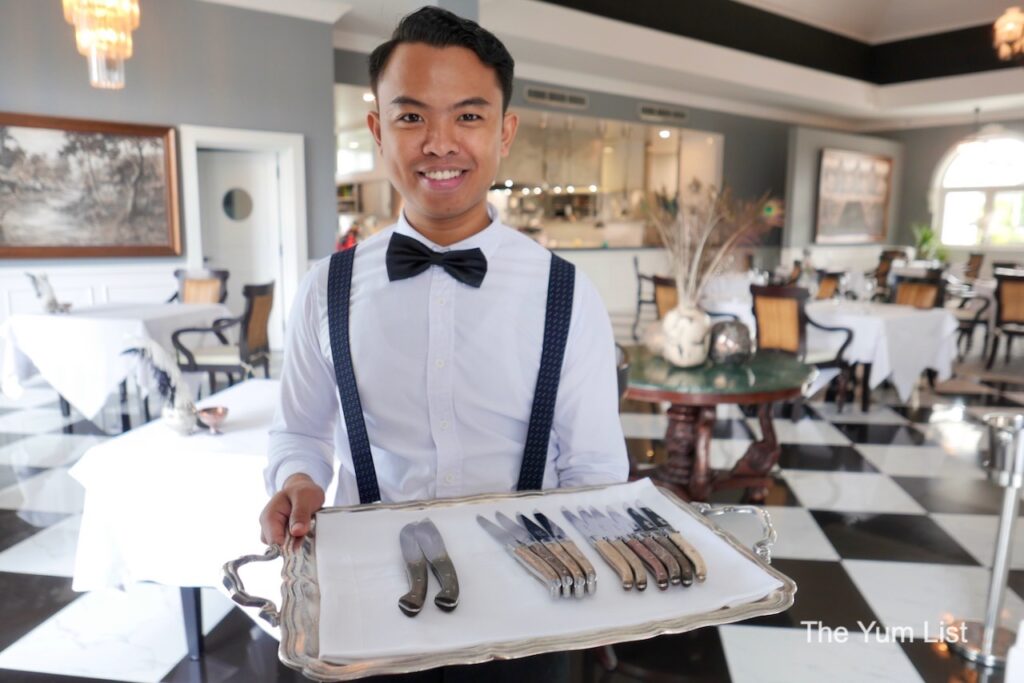 2018, Cabernet Sauvignon, Black Stallion, Napa Valley, USA
The 2018 Cabernet Sauvignon, Black Stallion, takes us to Napa Valley, USA, for the wine pairing. I'm keen to try more wines from the States, as I have a limited repertoire. This one is rich and fruit-forward with blackcurrants, some spice, nuts and lavender on the nose. Integrated oak, a medium-to-full body, smooth tannins, more fruit in the mouth, and a moderate finish couple well with the venison.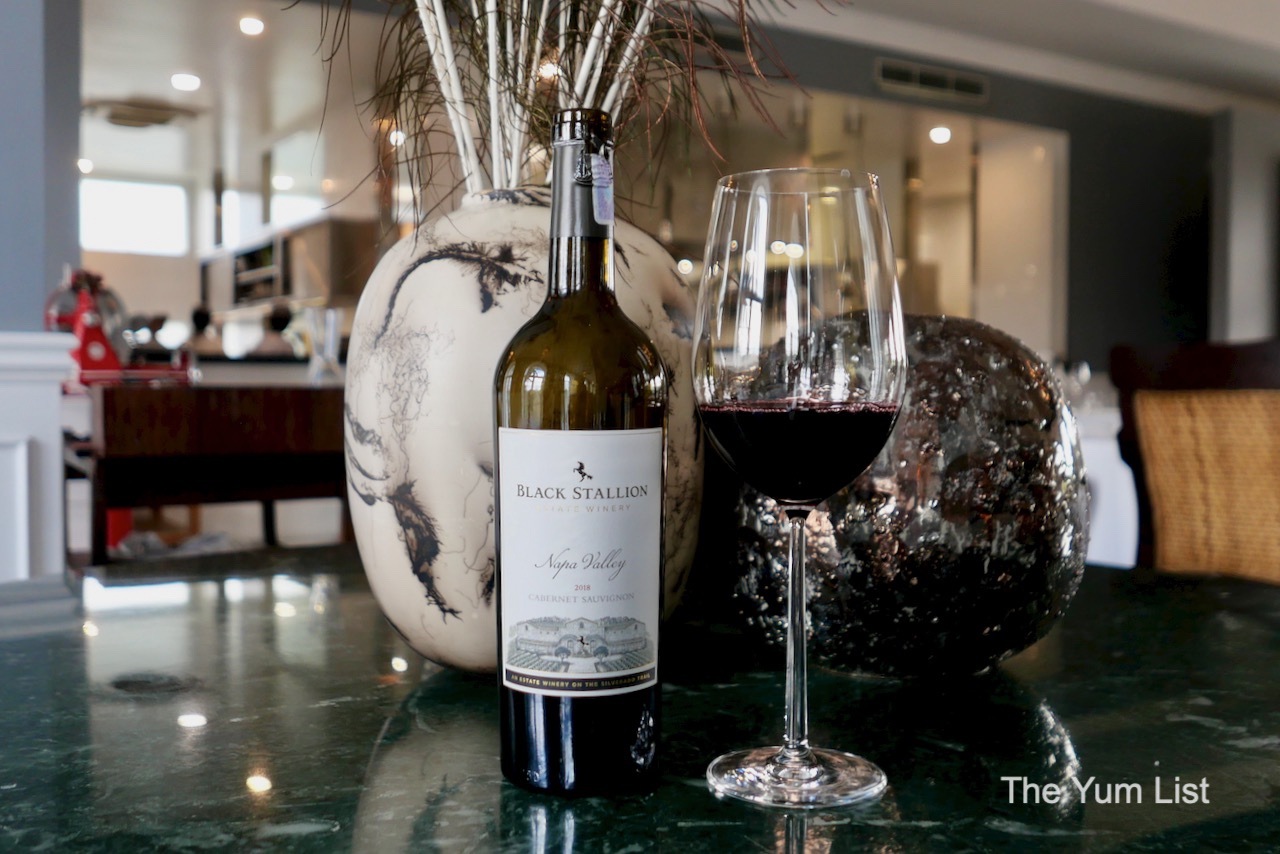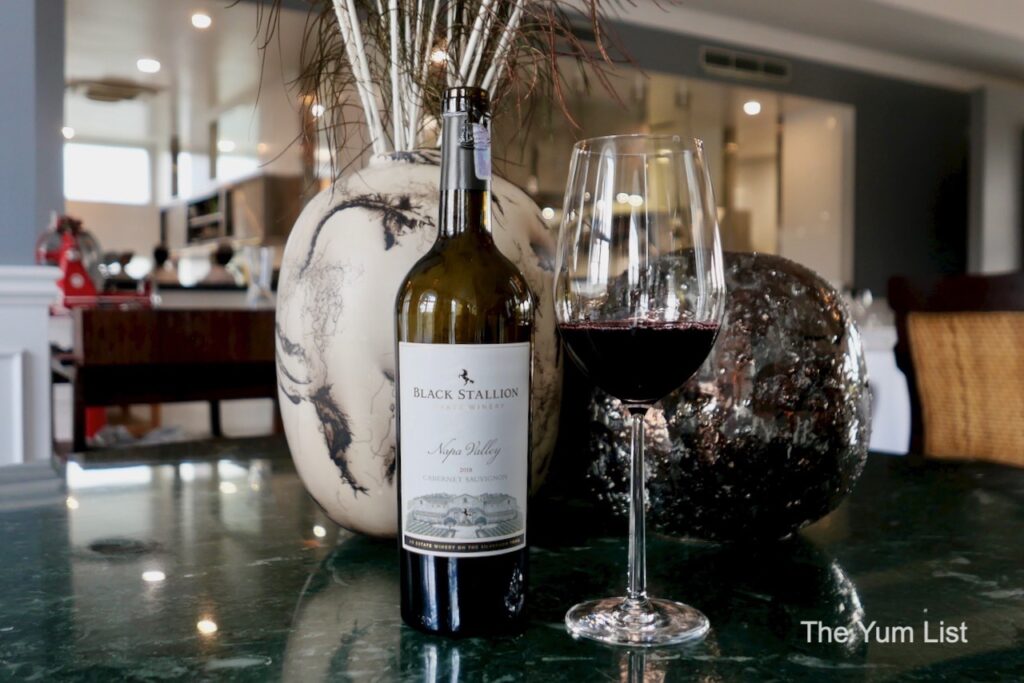 Palate Cleanser – Apéritif Restaurant & Bar
Looking like a mini taco, semprong tuile (a thin, sweet Asian egg batter) holds a stimulating guava sorbet and fresh shredded fruit. It's meant to be eaten in a single bite to cleanse the palate before the three following sweets arrive.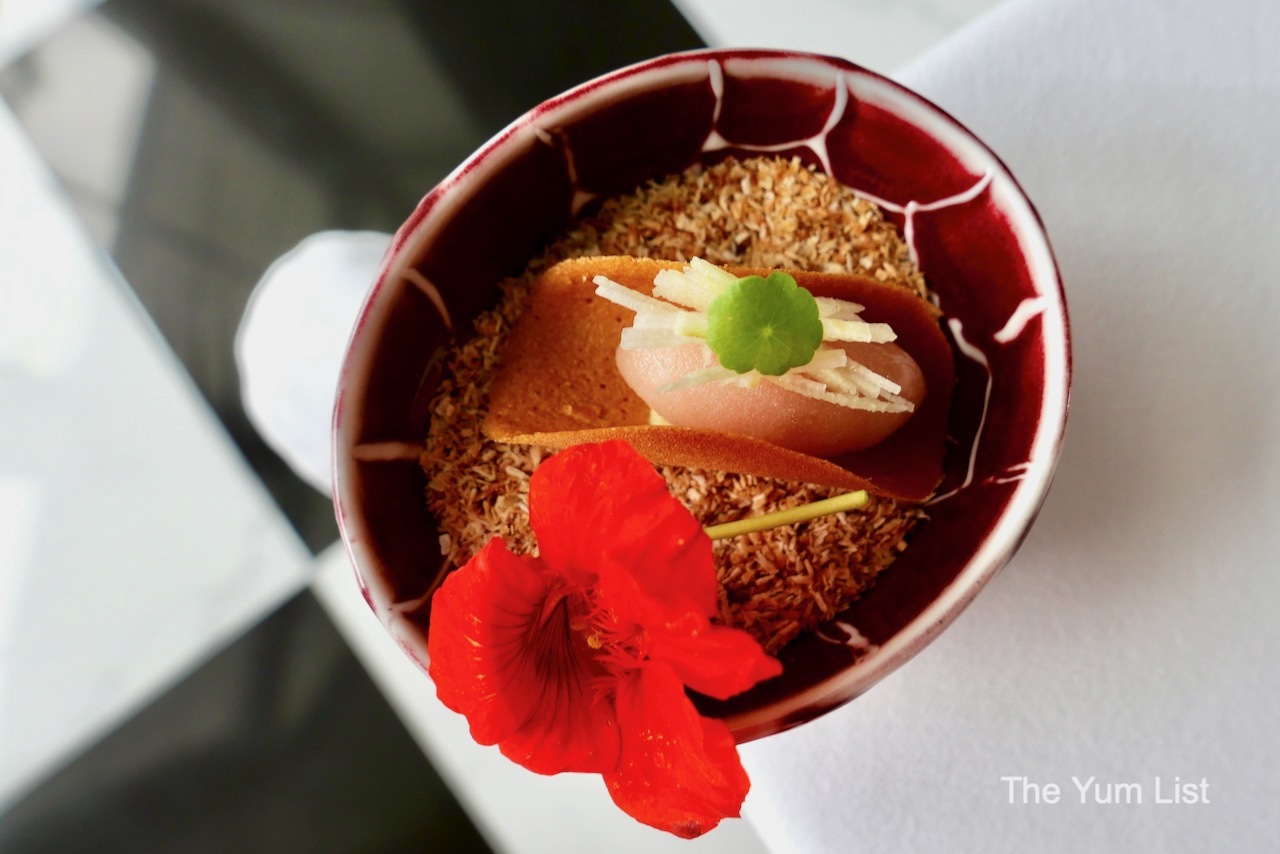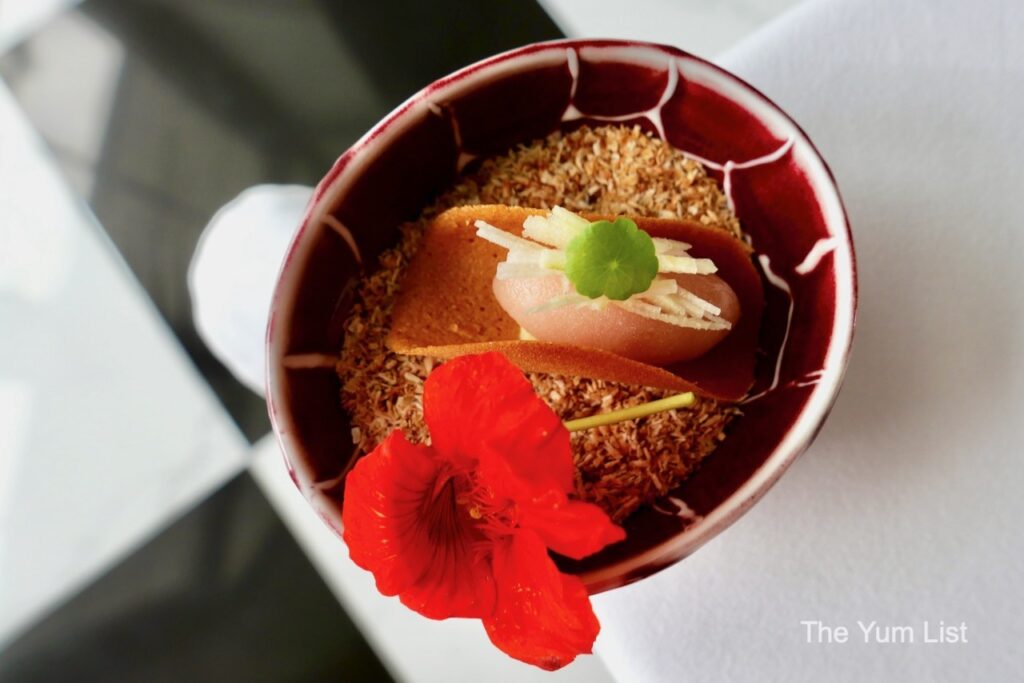 Sensation White
Like winter, the Sensation is white on white on white. The base of mango and coriander coulis hides underneath a coconut emulsion and crispy meringue. It's sided with coconut sorbet and cheesecake crumble. For a non-dessert lover, this is superb. I love coconut and mango, and here the natural character of both comes through. It's not sickly sweet but rather celebrates the ingredients' true identity.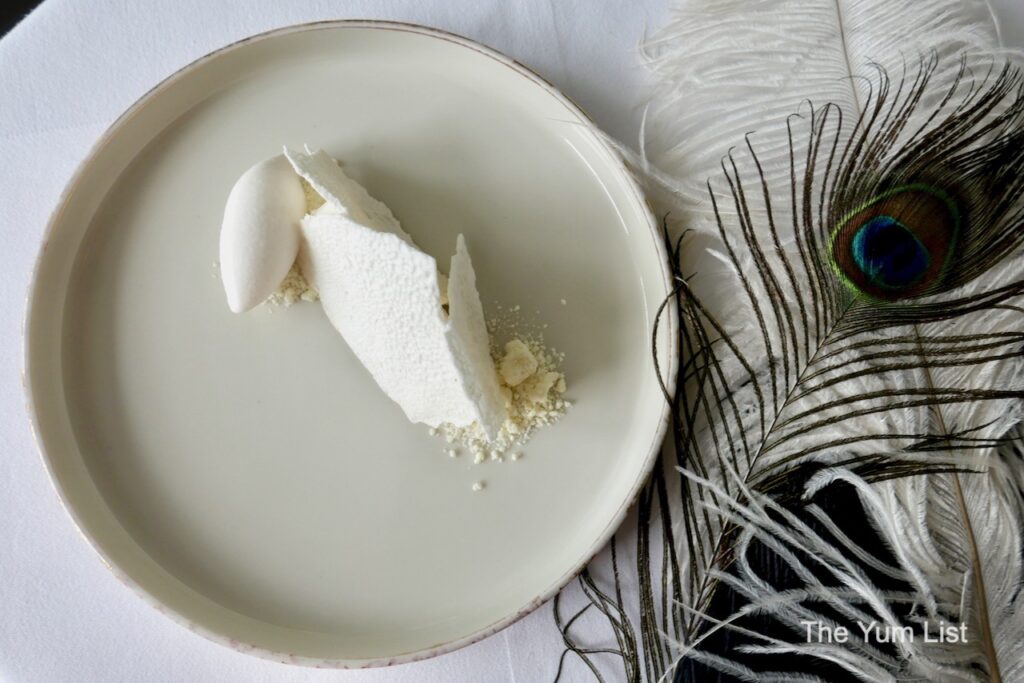 2018, Semillon, Mouton Cadet Reserve Sauternes, Bordeaux, France
Providing a sweet collaborator for the desserts, the 2018 Semillon, Mouton Cadet Reserve Sauternes from Bordeaux, France, is a classic representation of the style. It's dazzling golden yellow in the glass, with stonefruit on the nose and a mouth-filling palate. Its sweetness is nicely balanced with a zippy conclusion.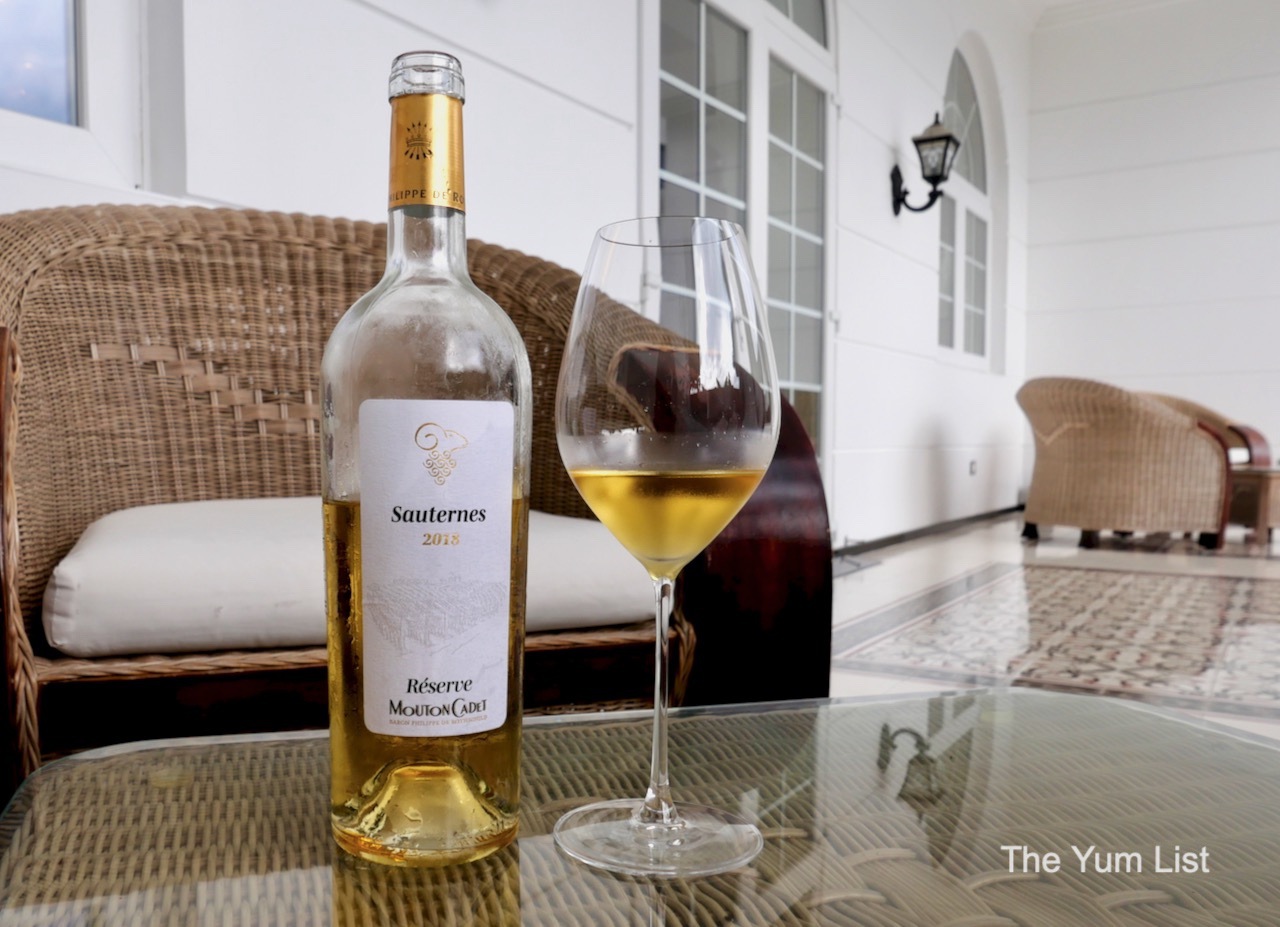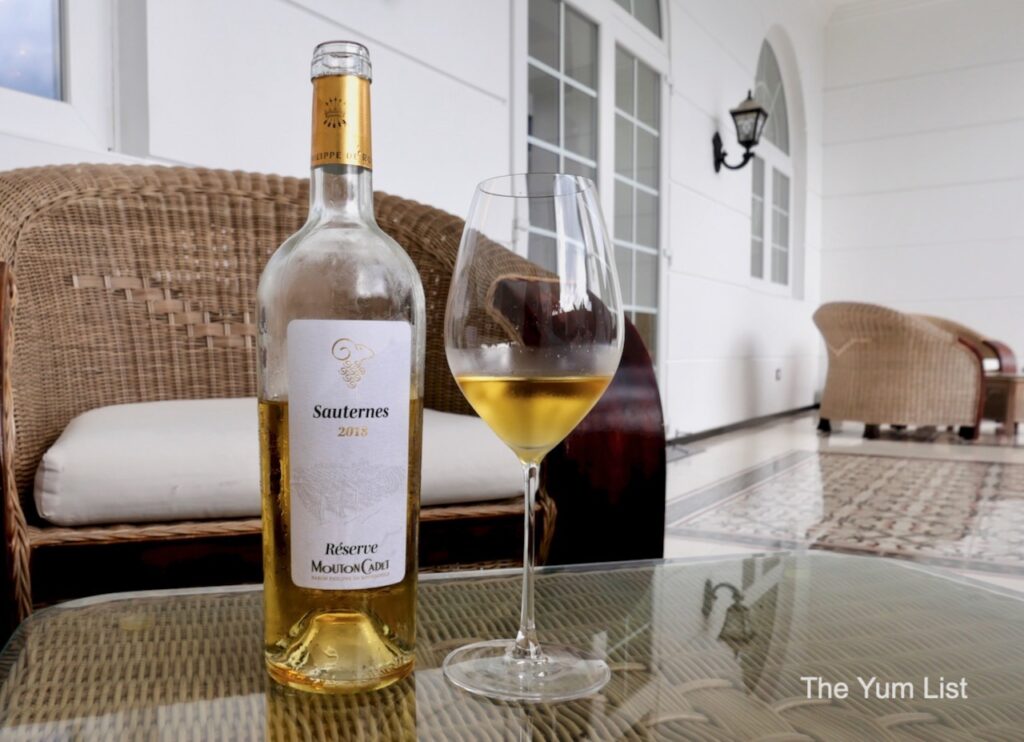 Chocolate Harmony
Chocolate Harmony is a flawless semi-sphere of mousse (Guanaja 70% & 30% Milk Chocolate), glossy on the top and ordained with an edible golden crown. Salted caramel and yuzu gel add further intricacies. It's bound to satisfy those deep yearnings for a chocolate finish.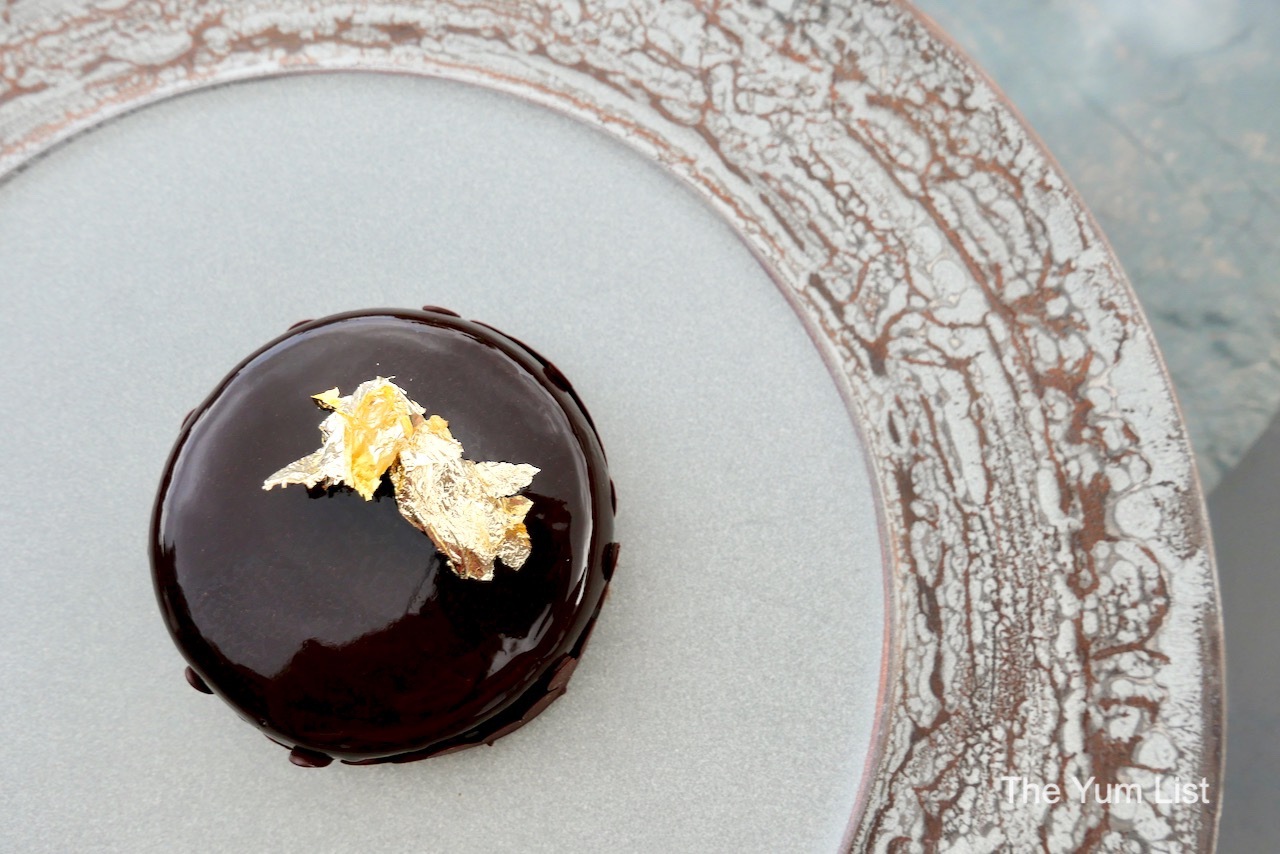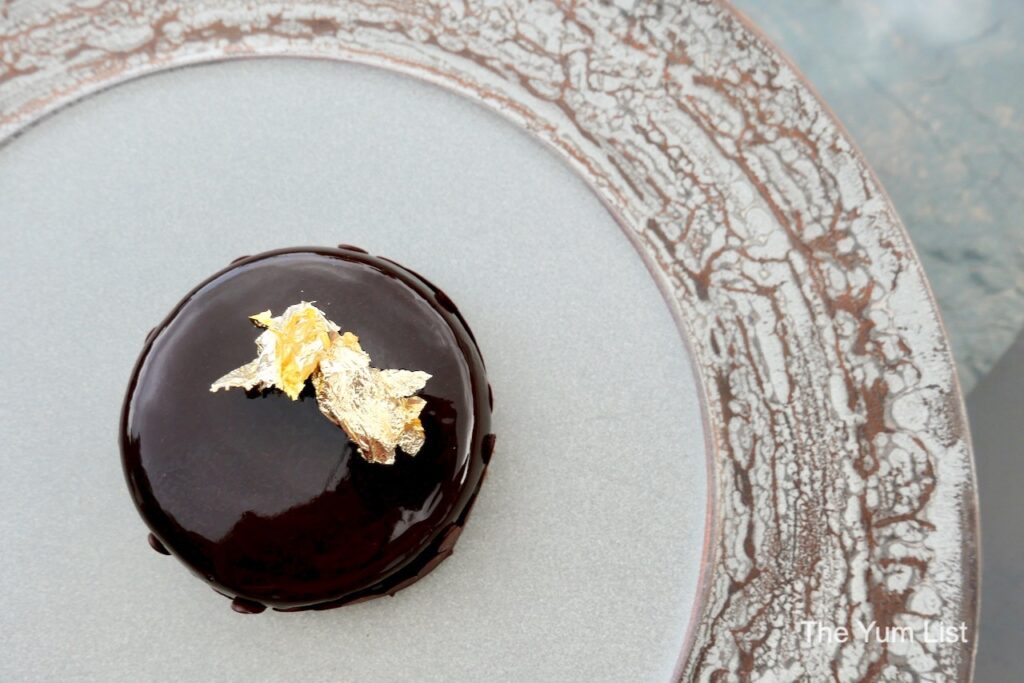 Petit Fours – Apéritif Restaurant & Bar
I move to the outdoor patio for the grand finale, another trolley (!), this time holding a serious line-up of petite fours and a "sweet, simple thing" from the bar. Pastry chef Dayu Chintya ensures that no one leaves forgetting desserts. In all honesty, this could be an entire afternoon tea or dessert selection in itself. It's a prime example of fine-dining at its best, exceeding expectations. The trolley holds snickers with caramel chocolate and cashew nuts; a pineapple tart; cashew praline; cookies with vanilla cream; piña colada – pineapple with chocolate rolled in coconut; a sour, sweet lemon praline; a s'more with chocolate mousse, Graham cracker and meringue; a passion lolly – passionfruit with meringue; and lastly a decadent, incredibly rich and smooth chocolate cigar. Oh my!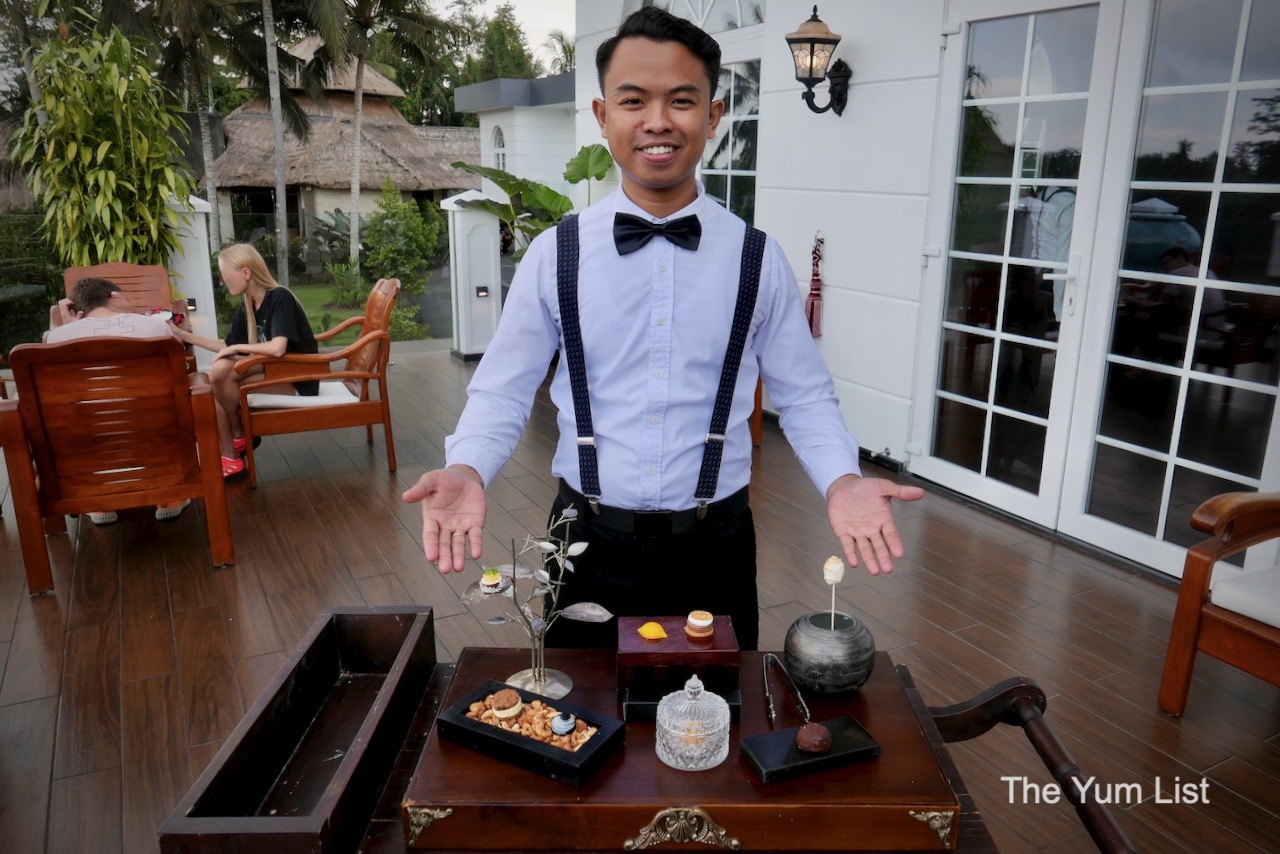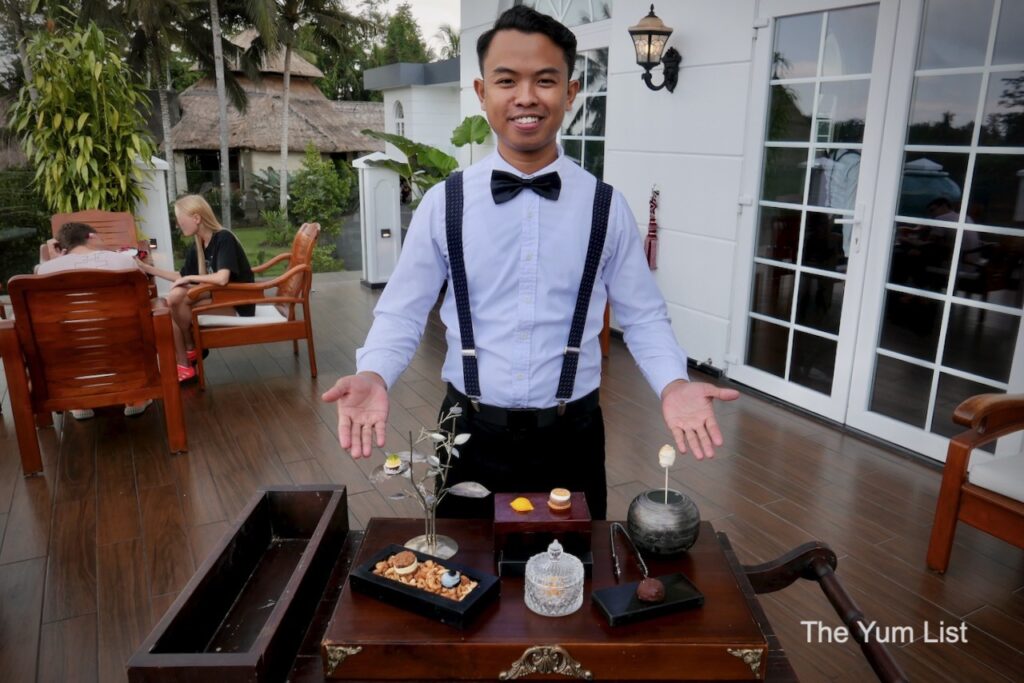 Pandan Eggnog
The "sweet, simple thing" from the bar is Pandan Eggnog made with roasted cashews, coconut milk, pandan syrup, nutmeg, cinnamon and ginger. It's a delicious end to a phenomenal meal.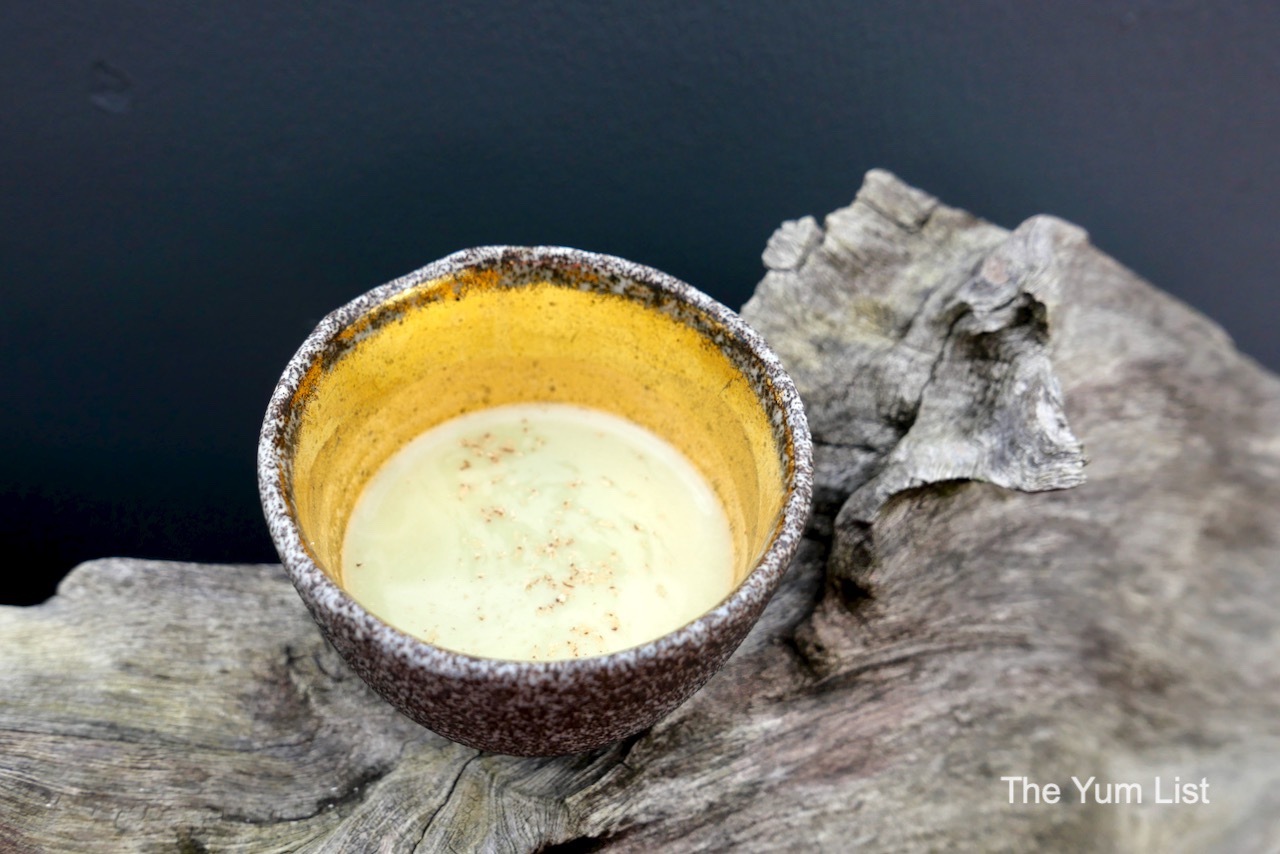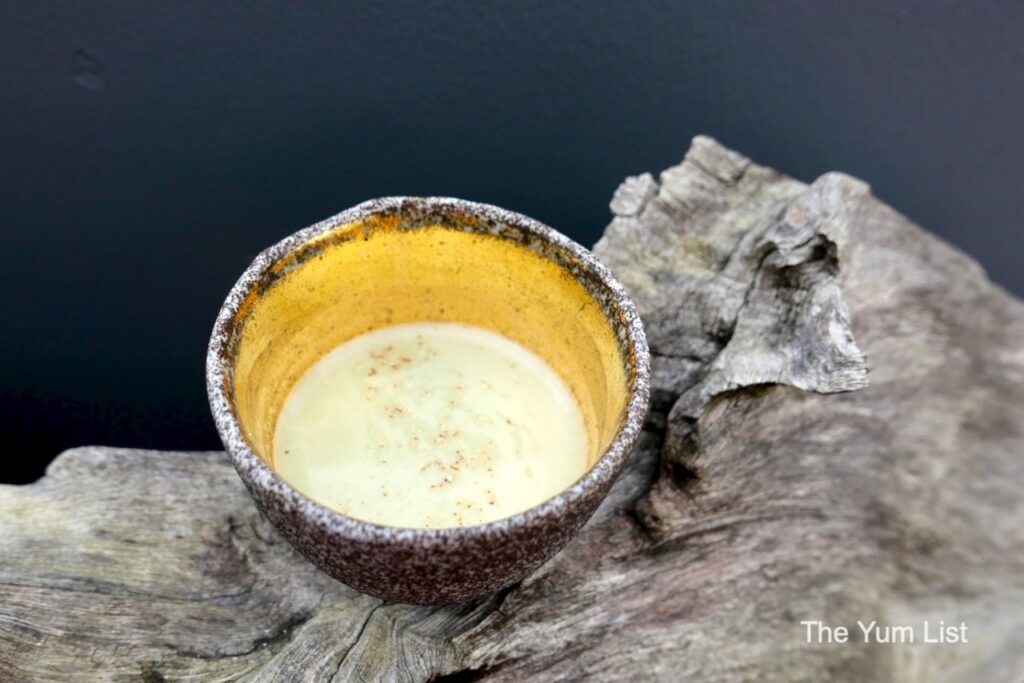 Reasons to visit Apéritif Restaurant & Bar: exceptional fine-dining from location to service to menu to beverage pairing; creative and meticulously prepared international recipes with local flavours; wonderful service; excellent wine pairing; an experience exceeding all expectations.
Apéritif Restaurant & Bar
Jl. Lanyahan, Br, Nagi, Ubud, Bali
+62 361 908 2777
aperitif.com
Apéritif Restaurant & Bar Opening Hours
Daily: 12 – 2 pm & 6- 9 pm
Find more gourmet travel recommendations for Bali here and stay up-to-date with our latest gourmet travel finds here and here.