Kubu at Mandapa, Ubud
Monica Tindall
Kubu offers an exceptional dining experience in pristine nature cushioned by the ultimate comforts of hospitality by Mandapa, a Ritz-Carlton Reserve. The breathtaking location is combined with a thoughtfully curated menu, guaranteed to make gourmets taken by the flavours of big-name ingredients – think foie gras, truffles, caviar – swoon.
Kubu at Mandapa, Ubud
Located by the Ayung River, guests have three options for seating; a covered bamboo pavilion, an open deck or private dining bamboo huts – kubu. Balinese farmers store their rice in kubu, and it's these bamboo huts that are the inspiration for the design of the restaurant.
The restaurant is set in unadulterated nature at its best. A wall of lush jungle forms the backdrop for the flowing river, and greenery rolls down from the tables to the water. Sunset is around 6:15 pm, so I recommend arriving a little earlier to appreciate its beauty. As soon as the light fades, the view disappears entirely. However, the ever-present sound of the river flowing is a constant reminder of its presence, as is the cool draft coming from it.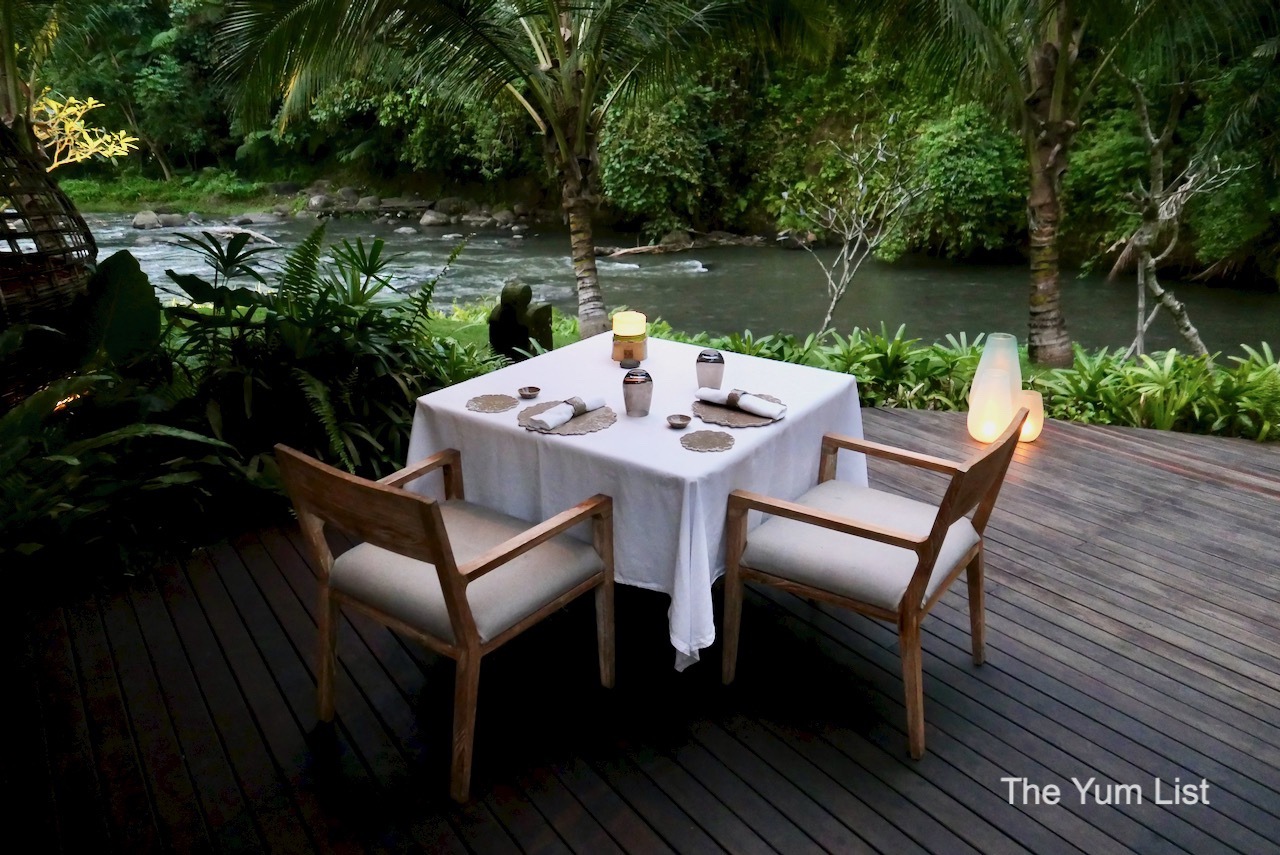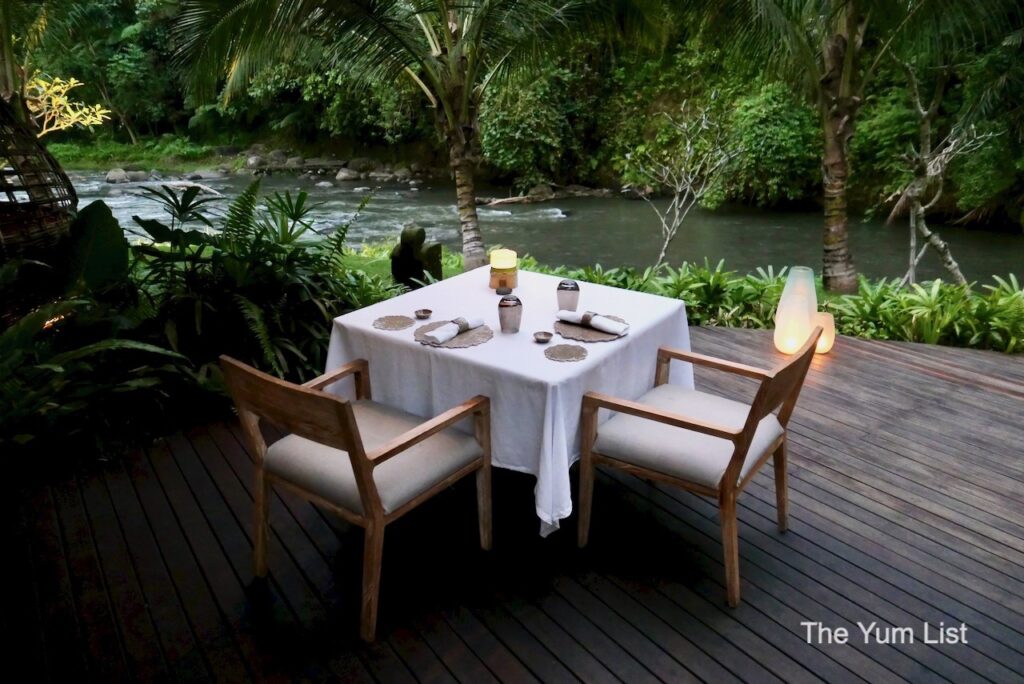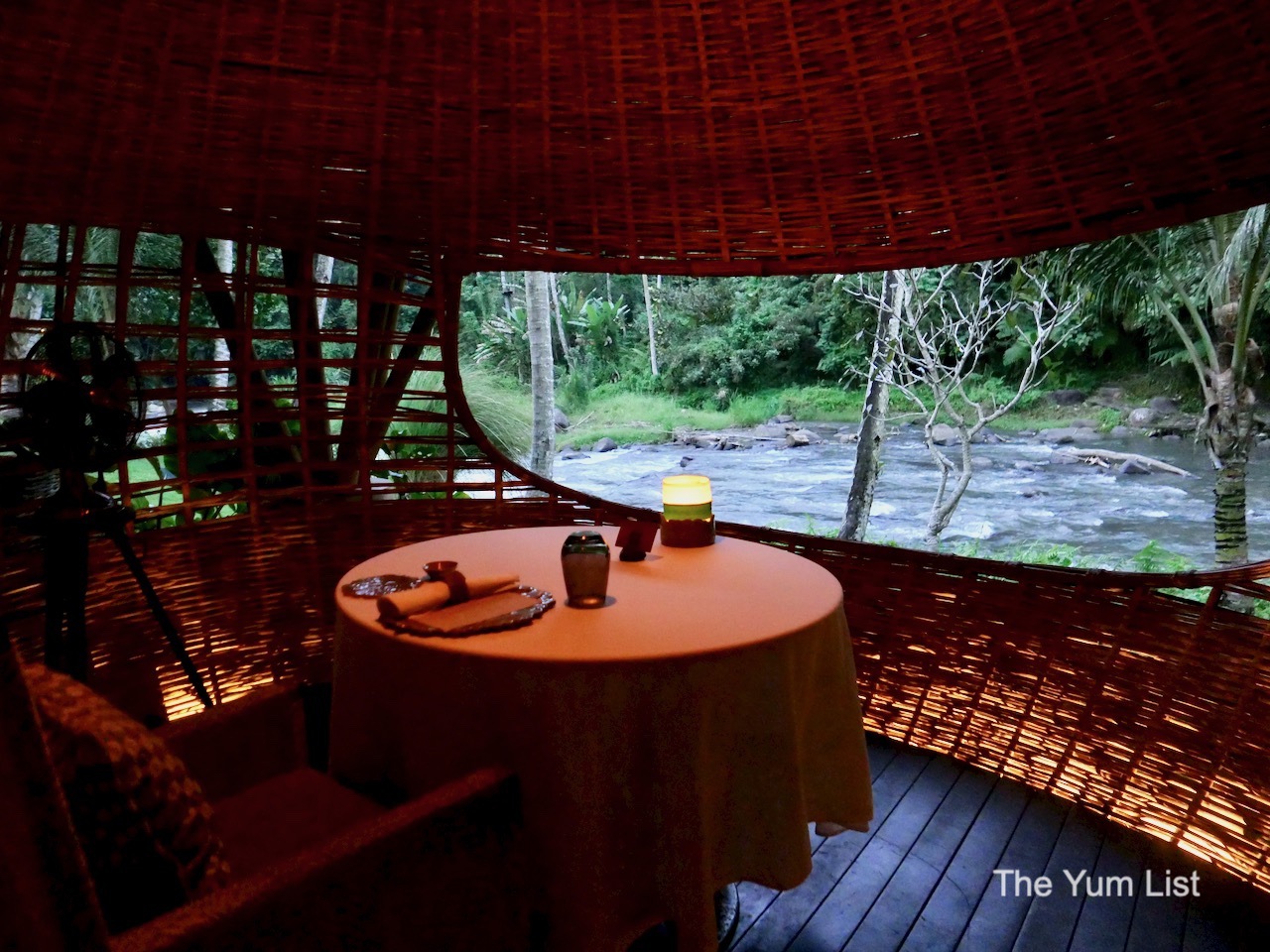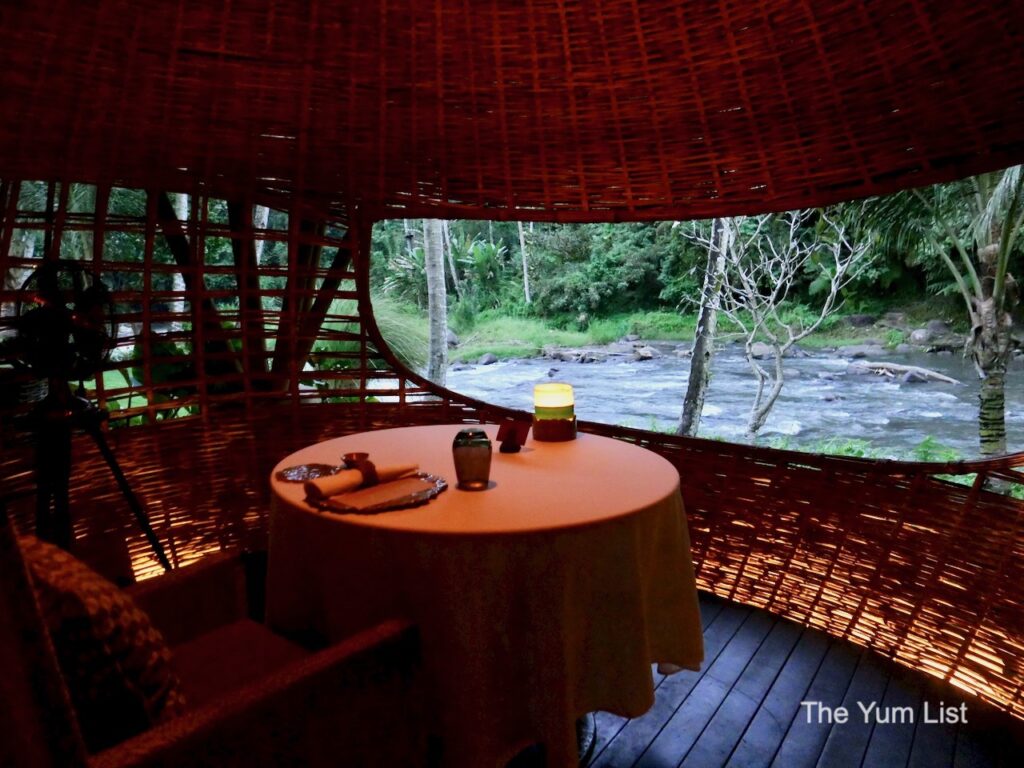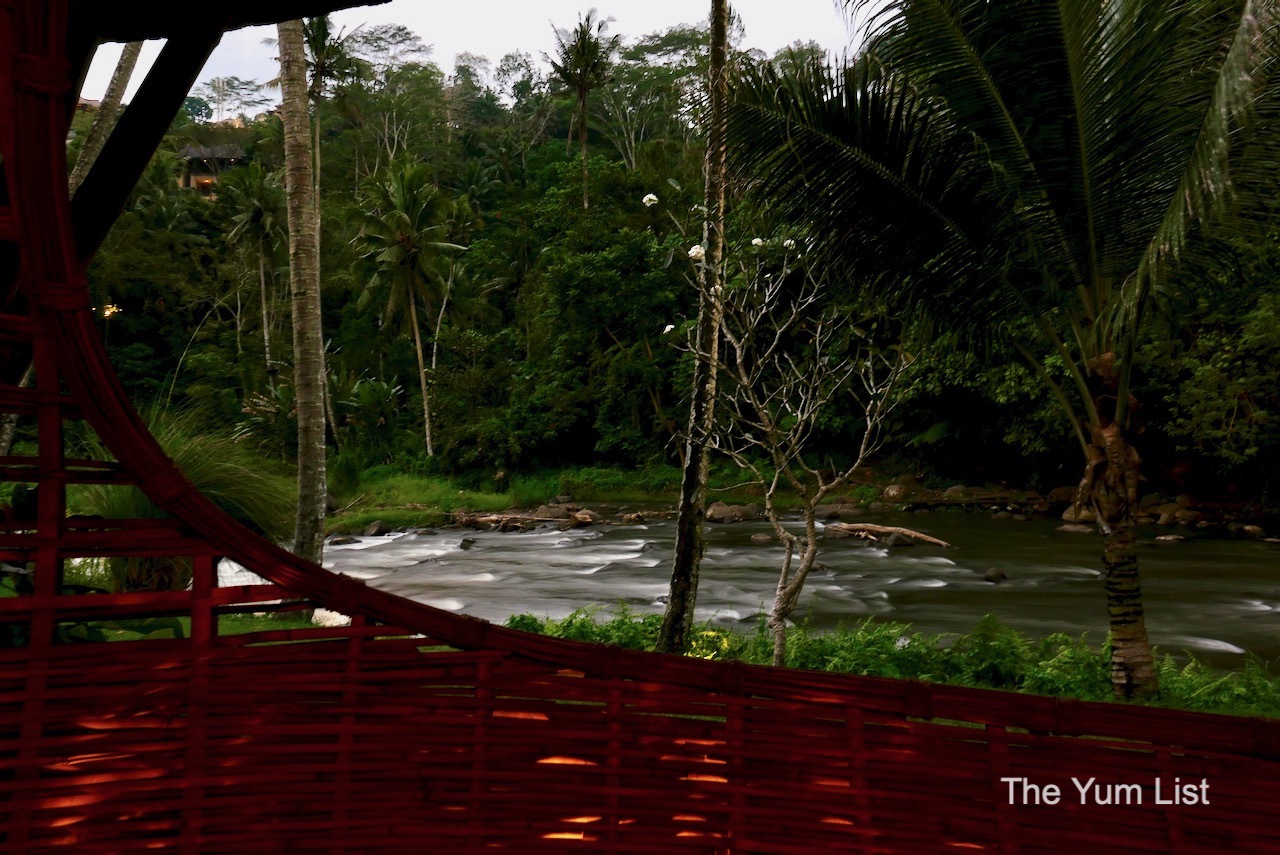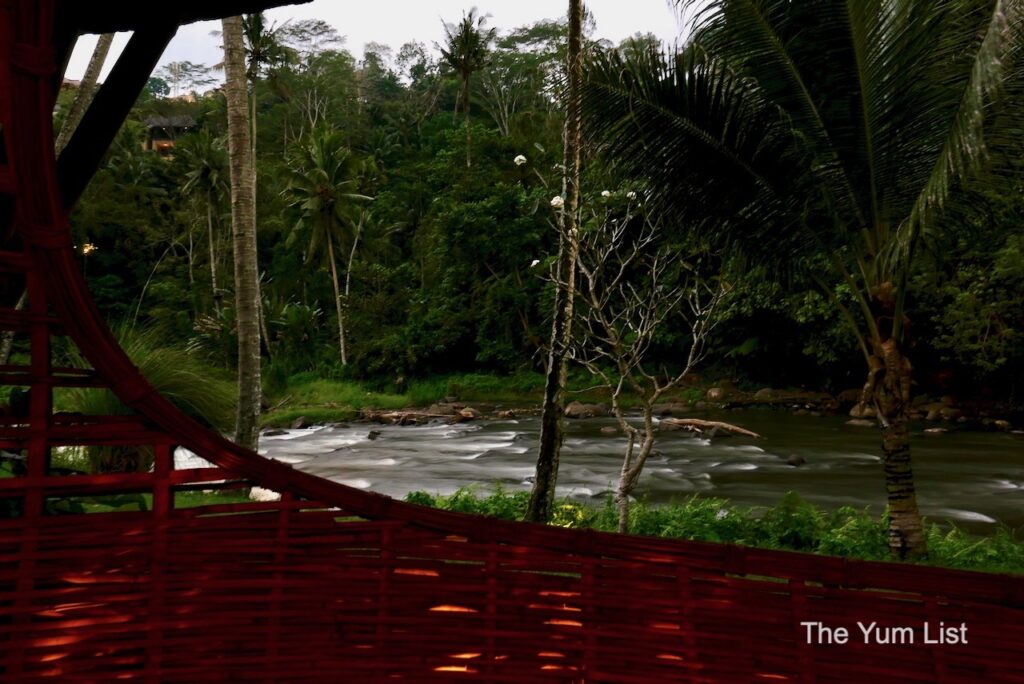 Degustation Menu – Kubu at Mandapa
Degustation and ala carte menus (including vegetarian choices) are both options at Kubu at Mandapa. I dine on The Essential Degustation (IDR 990k++ per person), a six-course menu with bread, amuse bouche and petit fours.
Château d'Esclans, 'The Palm by Whispering Angel' Rosé, Provence, France (IDR 320k++) makes a great entrance. Made to the same standards as its famous sister, Whispering Angel, it speaks of summer. Watermelon and berries lead to a thread of minerality and a crisp and elegant finish. It's delicious, making a solid aperitif but it also pairs well with the initial courses of the meal.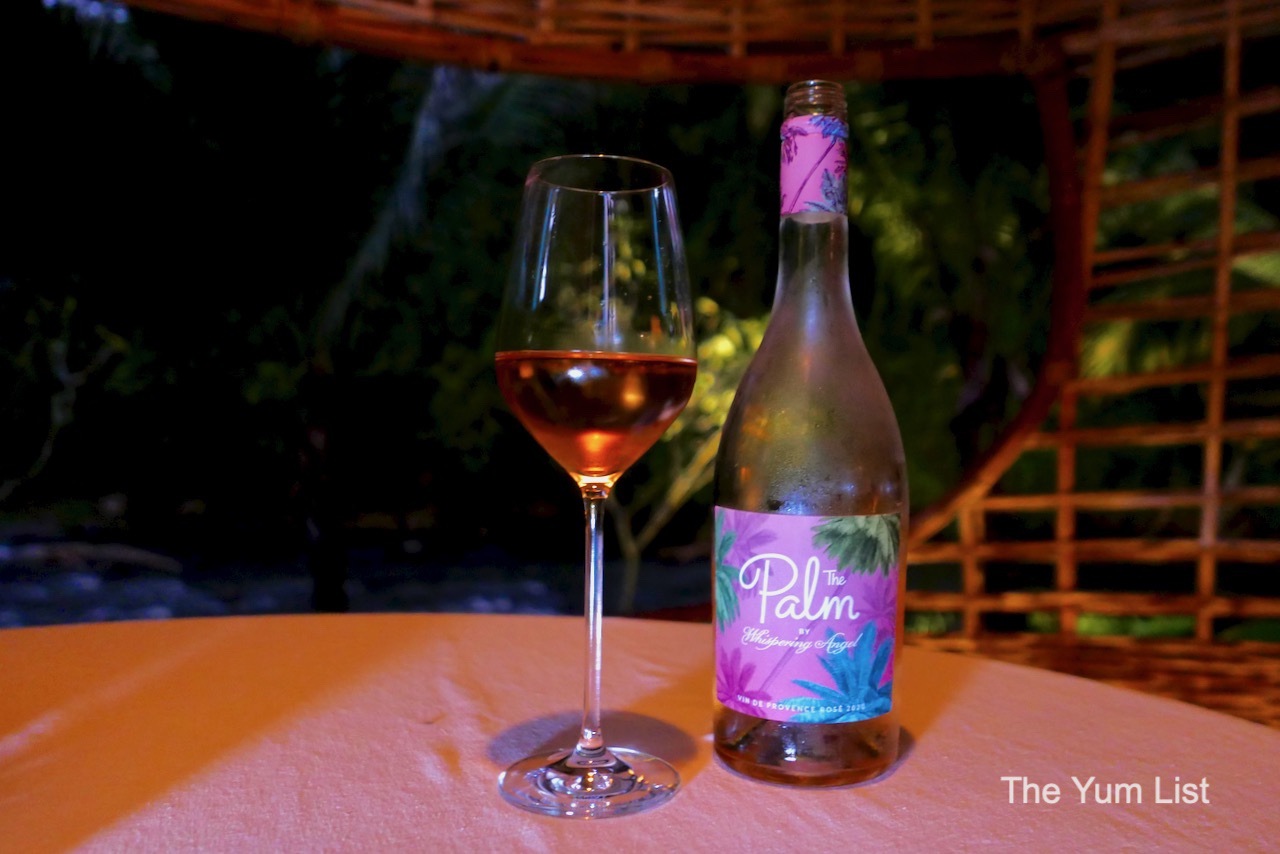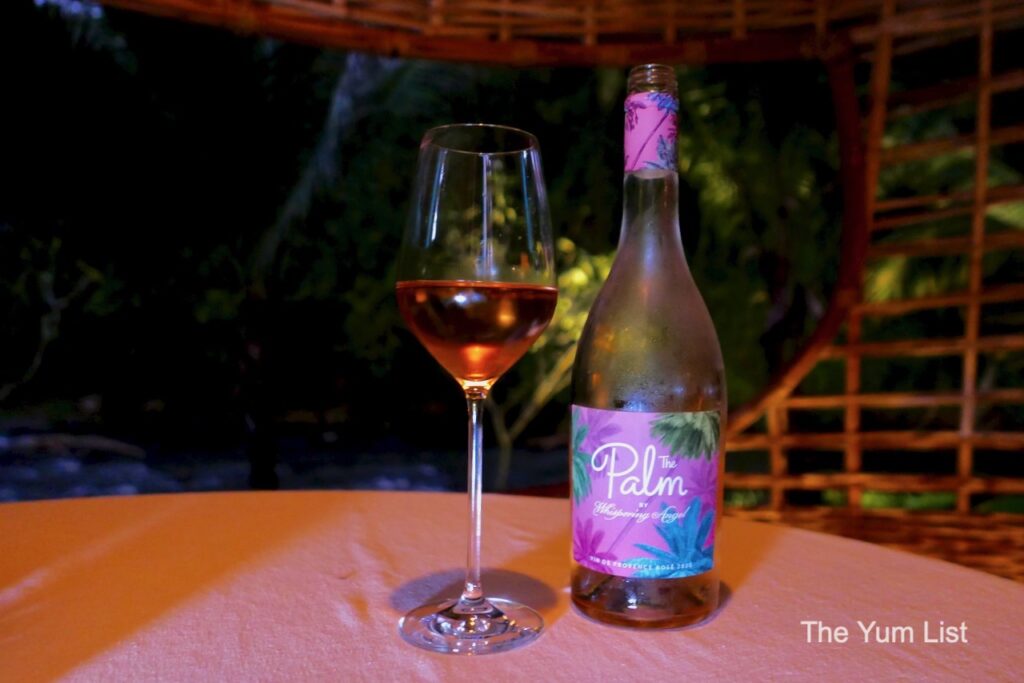 Selection of Bread
The first to arrive is a basket of warm bread – grissini, rosemary lavash, garlic bread, tomato ciabatta and a wholemeal slice. It's partnered with extra virgin olive oil poured directly from a golden bottle. Even though I don't catch the label, it's immediately apparent that the oil is high-quality, with fresh grass and greenness at the beginning and a distinct astringent conclusion in the back of the throat.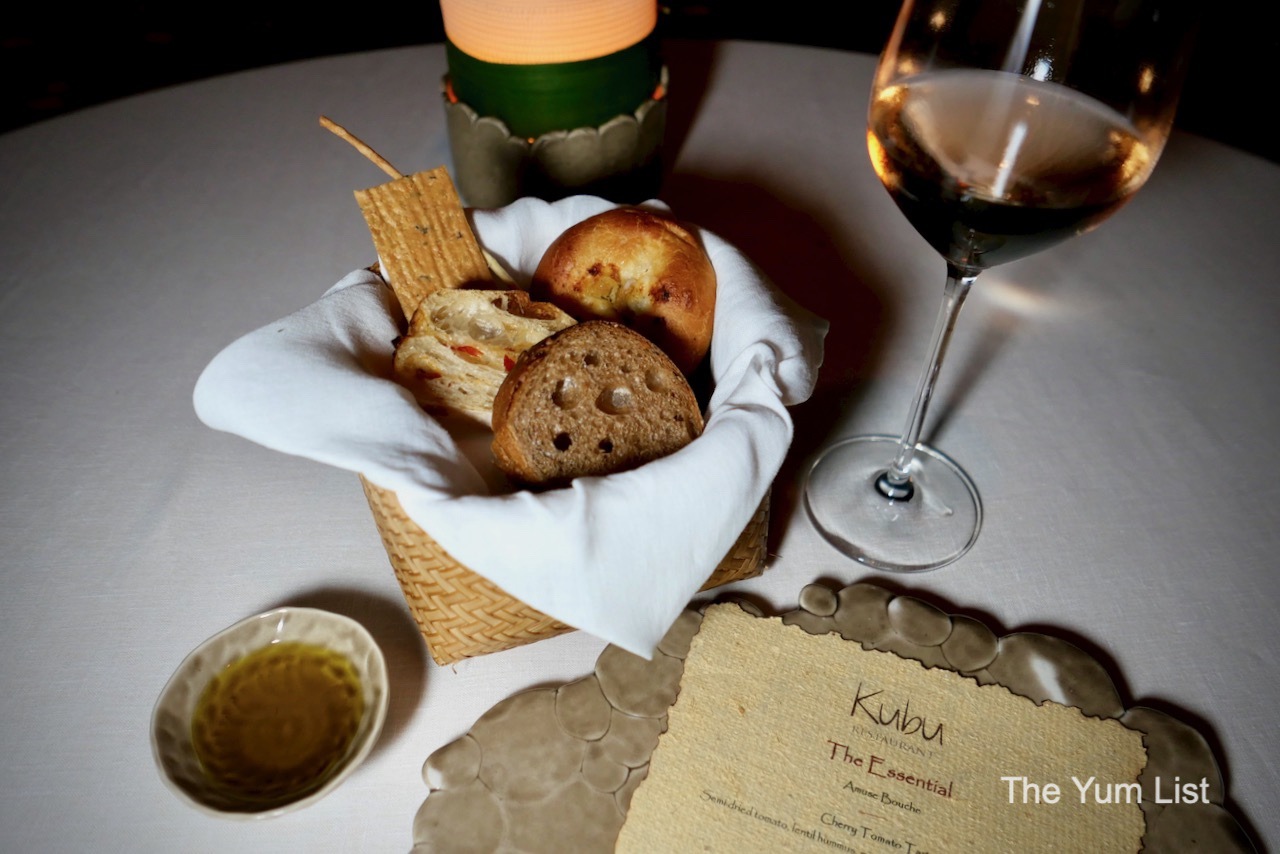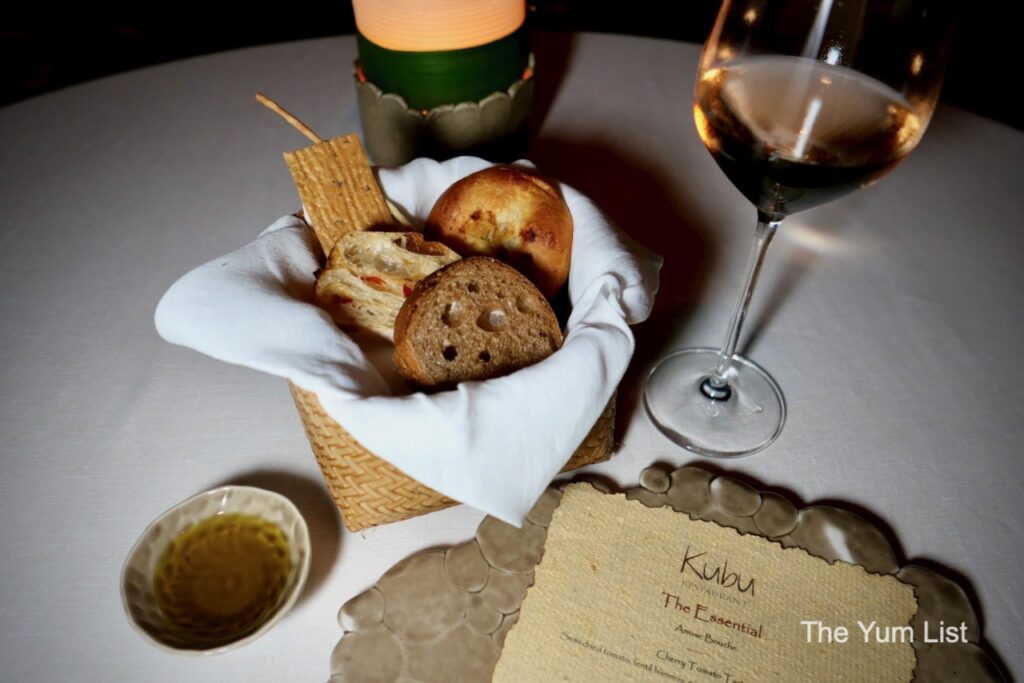 Amuse Bouche – Kubu at Mandapa
A trio of snacks sets the stage for The Essential degustation menu. Mushroom royale with shimeji and prawn reminds me of chawanmushi with its custard-like texture. Micro herbs provide a touch of bitterness breaking up the earthy base, while the fragment of prawn furnishes something to chew. Next, salmon tartar comes on top of a nori cracker with caviar and avocado puree. A bed of smooth, white pebbles acts as the plate making the dark seaweed stand out. Its soft and creamy middle is complemented by the cracker's crunch with a hint of saltiness from the sea. Lastly, cheese fondue between almond sablé with fresh orange pieces balances the first and second snack, making the mouth water. We're ready to begin.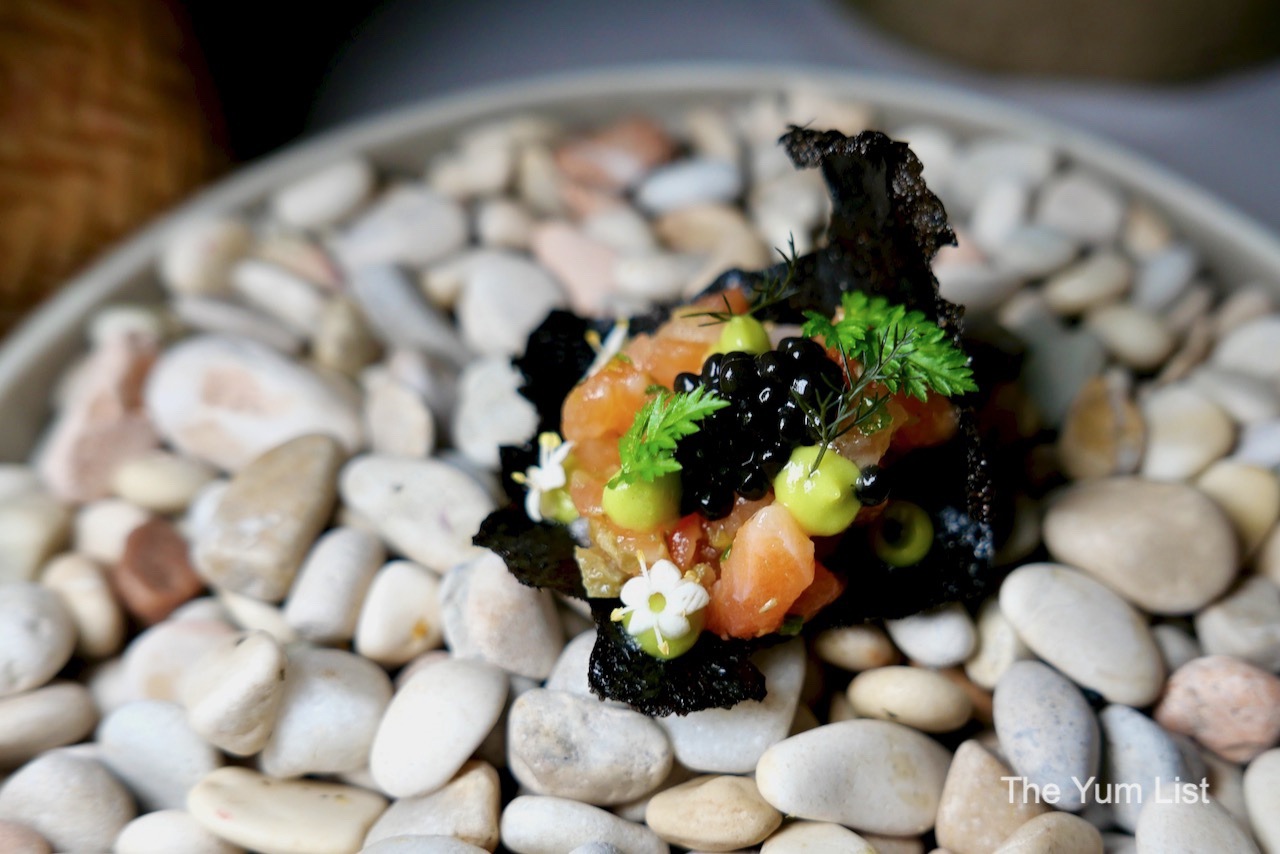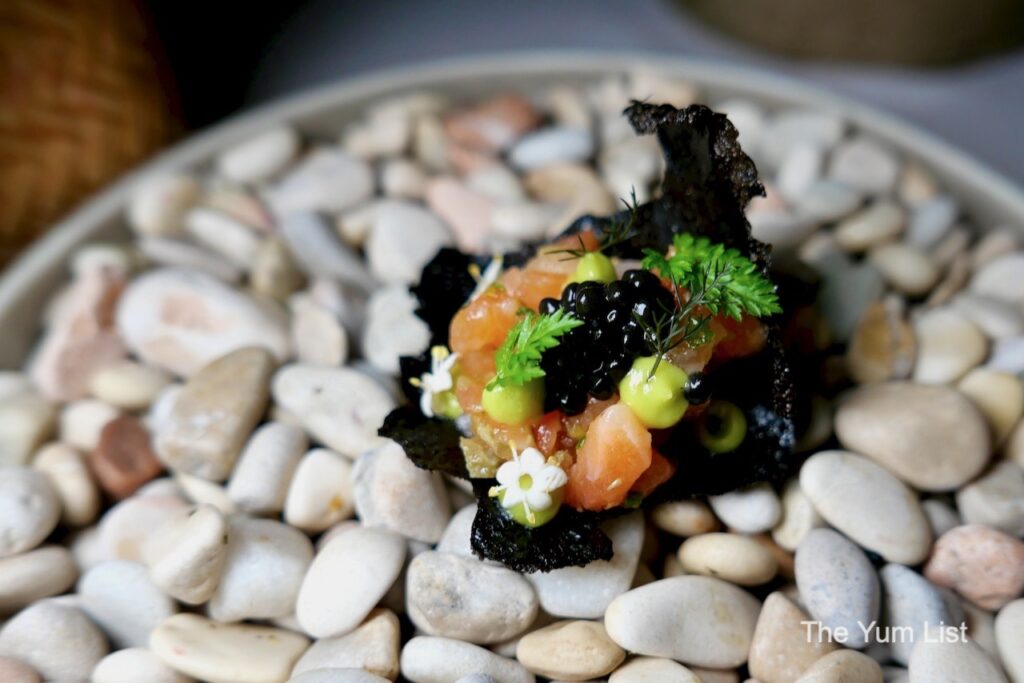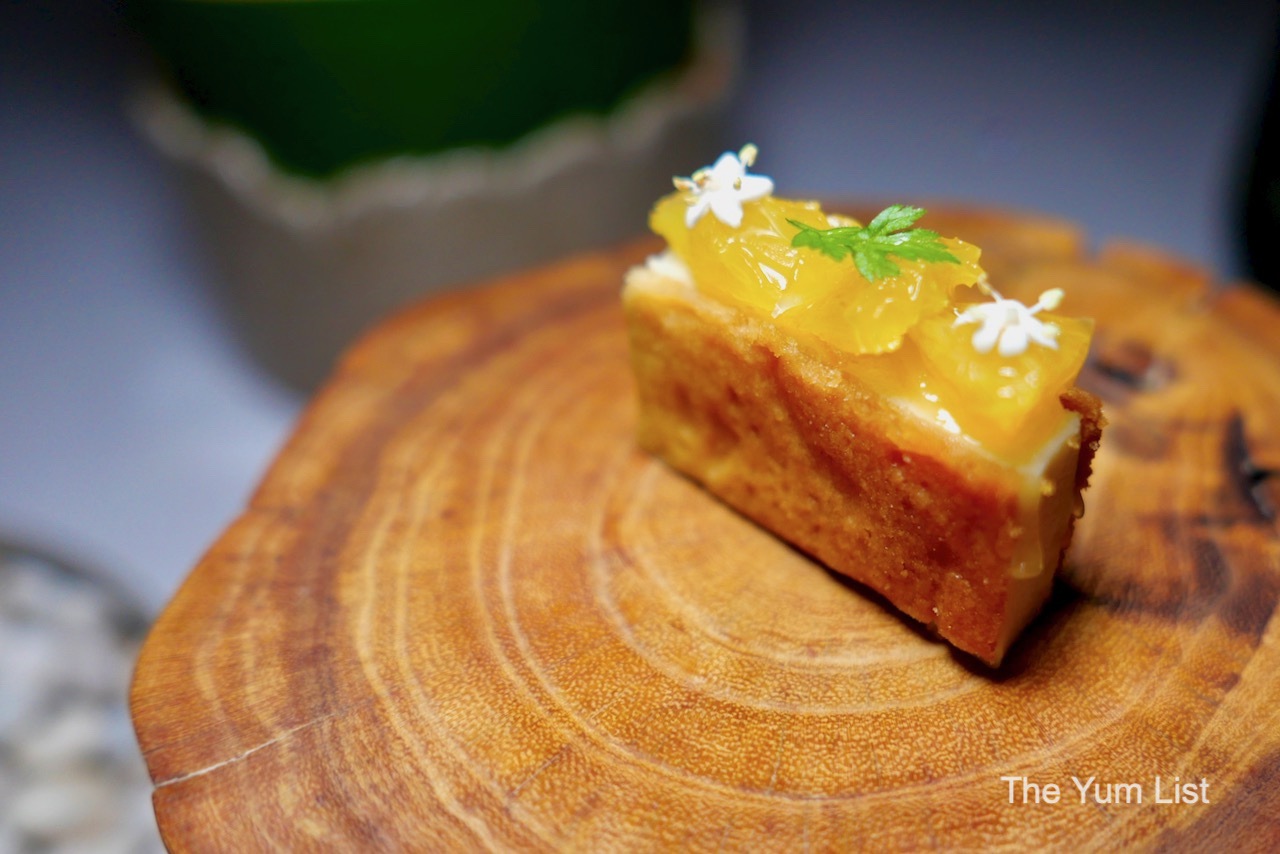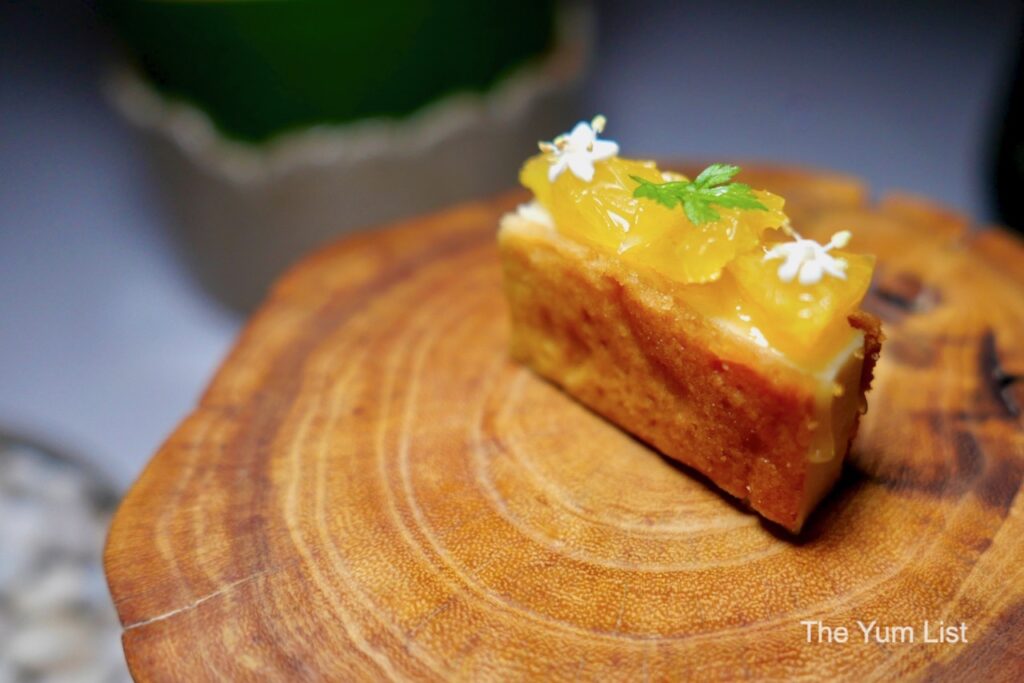 Cherry Tomato Tart
The cherry tomato tart looks like a spring wind has blown in, speckling the surface with baby flowers, petals and leaves. The intense sweetness of the tomatoes takes centre stage in this dish, with tomato sorbet, lentil hummus and mint coriander chutney playing supporting roles.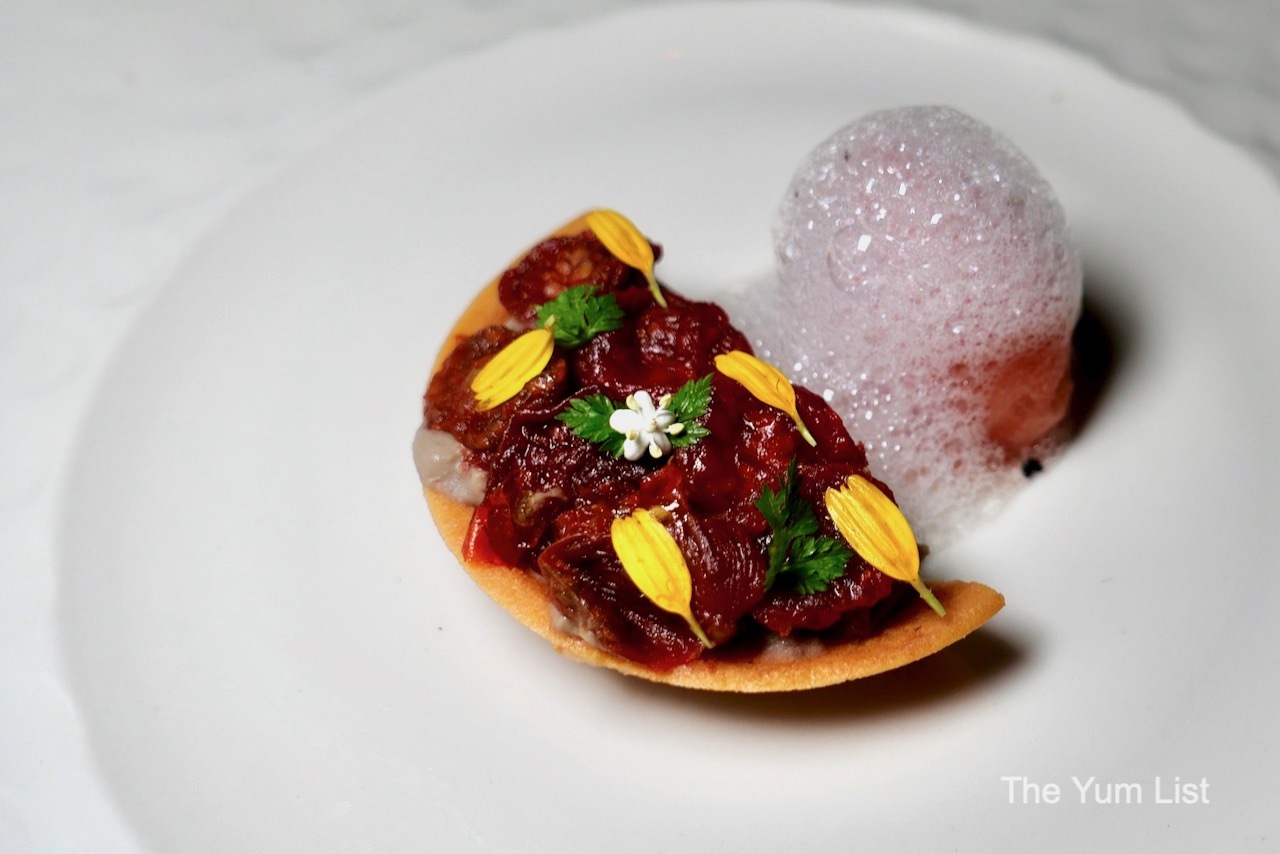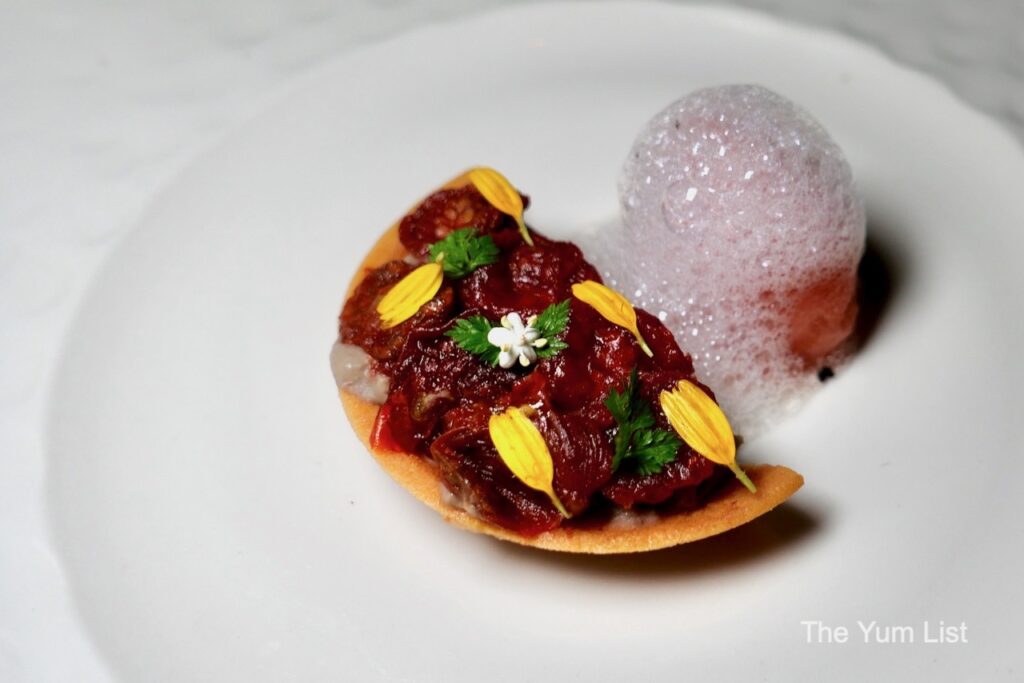 Butterfish Crudo
Locally caught fat slices of butterfish have been arranged across the plate in the following course. Sour cream and apple and cucumber salsa provide a bed for the succulent white pieces of flesh. A black dob of Avruga caviar breaks the white on top of the fish with celery and radish shaved so finely they almost blend in. Dots of avocado puree add a little creaminess on the side and a splash of colour.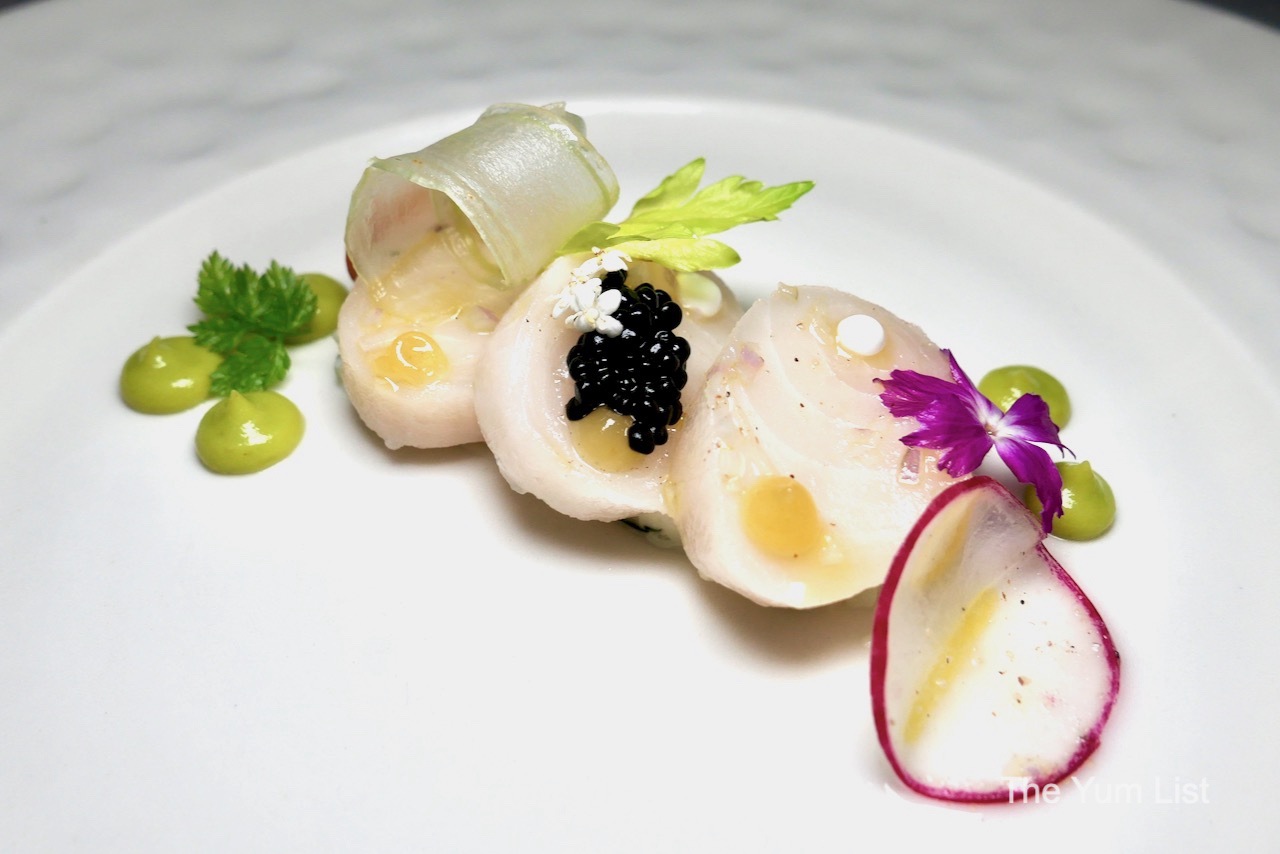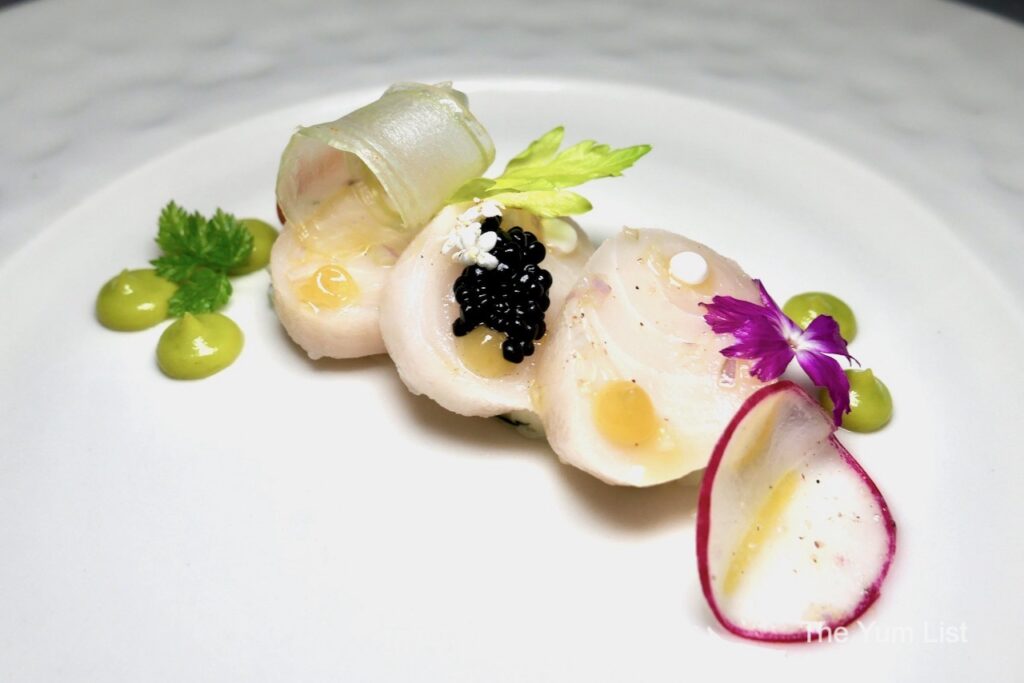 Chicken Breast – Kubu at Mandapa
The chicken breast is perhaps the prettiest dish on the menu, a complex composition of flavours and textures. The breast is layered with a sheet of foie gras, prune and chicken fricassee and sided with a beautiful web of tuile with apricot and prune puree holding it in place. They're old-school flavours, reminding me of grandma. I guess it's the prunes. It's dying for a glass of wine as a final finishing touch.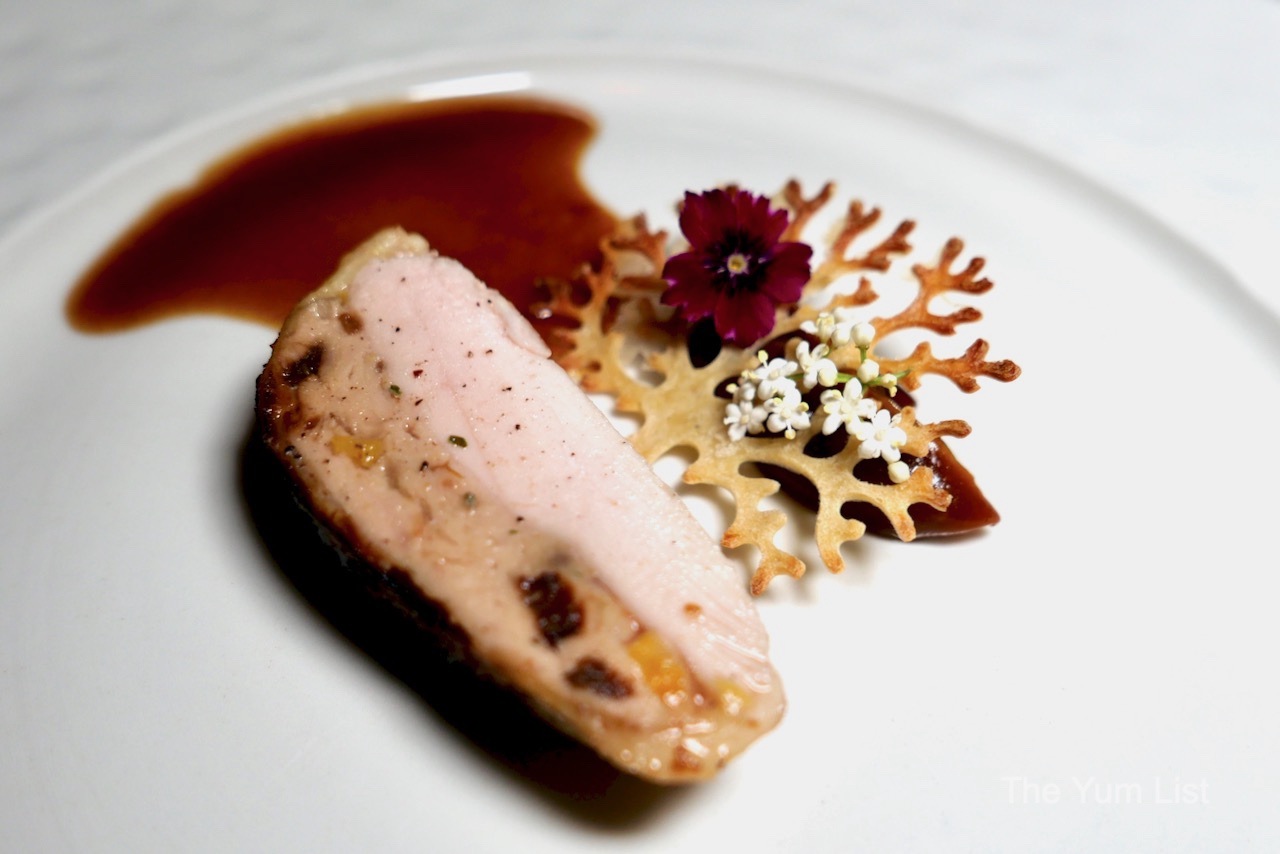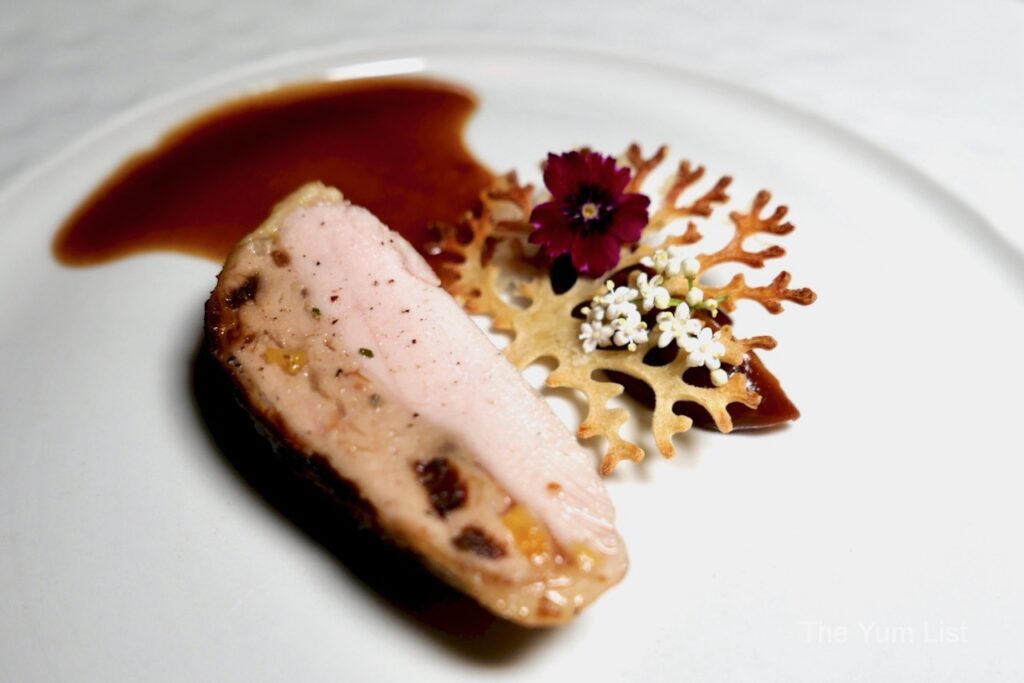 Beef Wellington
The chef recommends the best doneness for the beef Wellington as medium-rare. I'm not one to argue with the chef, so the beef arrives as a beautiful shade of deep pink beneath its puff pastry blanket. The Black Angus tenderloin is layered with foie gras, mushroom ragout and spinach, with a red wine jus poured on after delivery. The red-centred quarter-sphere is partnered with a delicate artwork of shaved mushrooms arranged as if a flower in full bloom. Don't be completely distracted, though, or you'll miss the creamy truffle potatoes on the side; they almost disappear into the white tablecloth but are worth the hunt.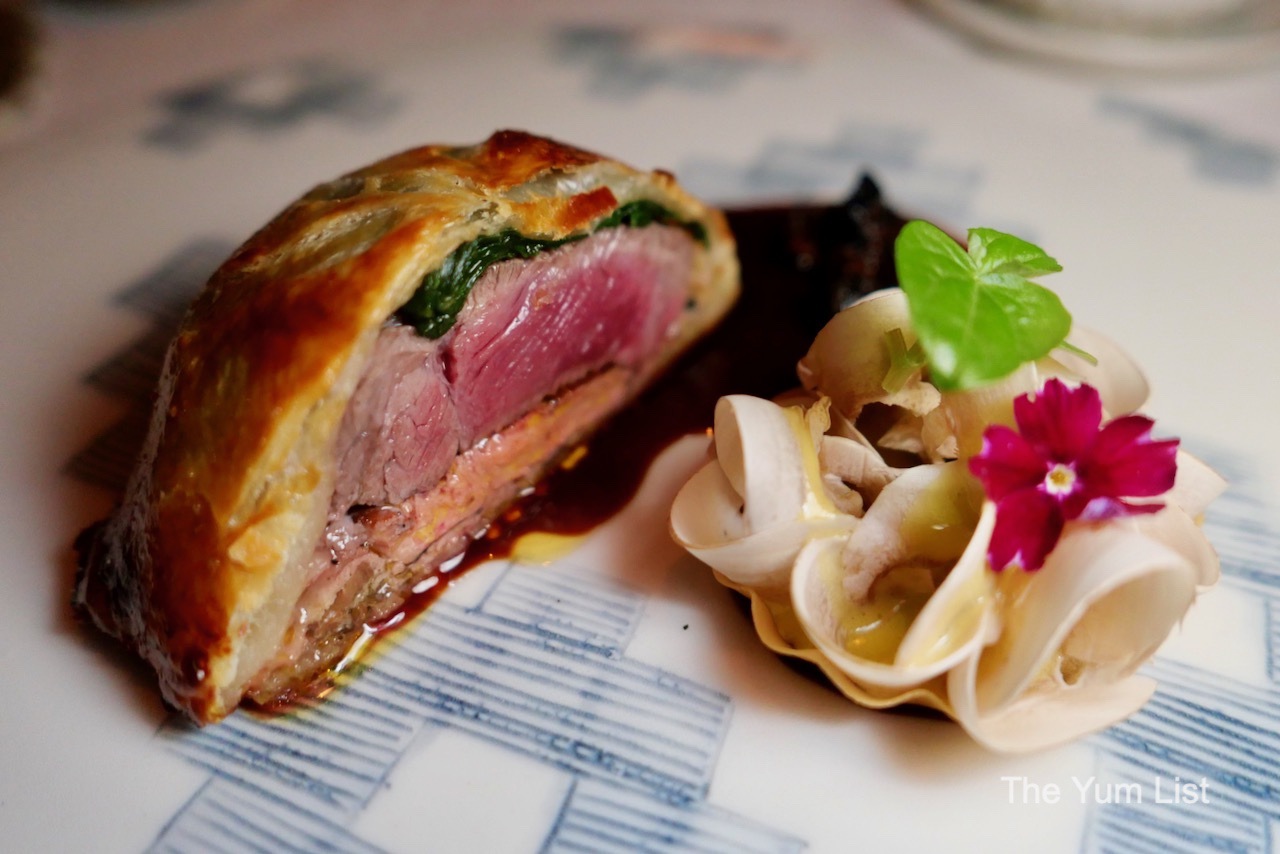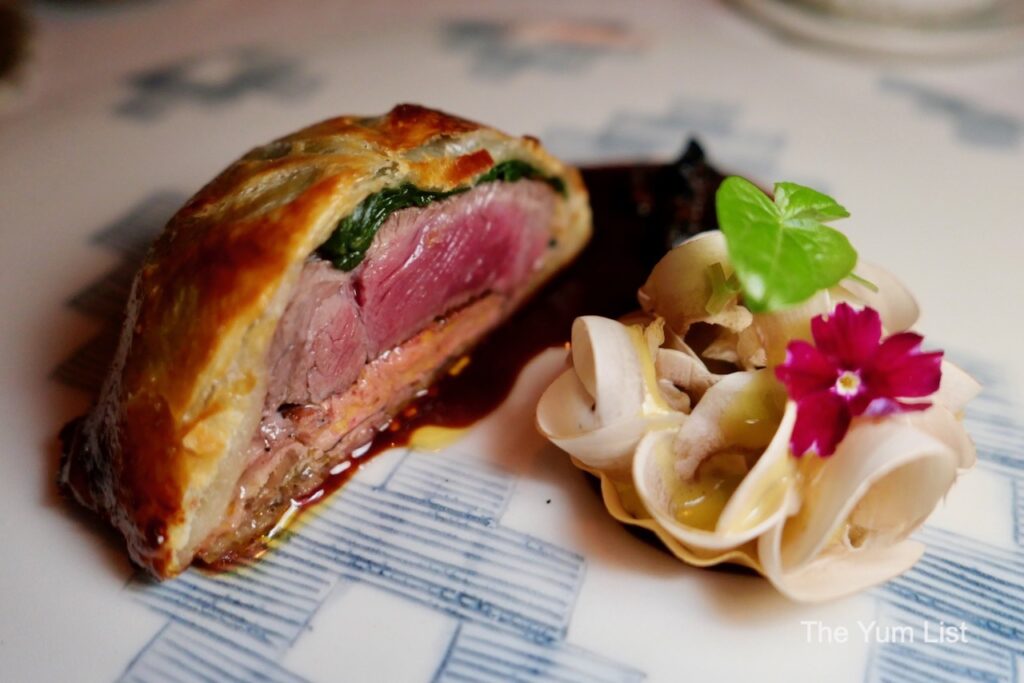 Berry Frappe
Pickled strawberries, pomelo and basil with coconut milk act as an exciting intermission between the savoury plates and dessert.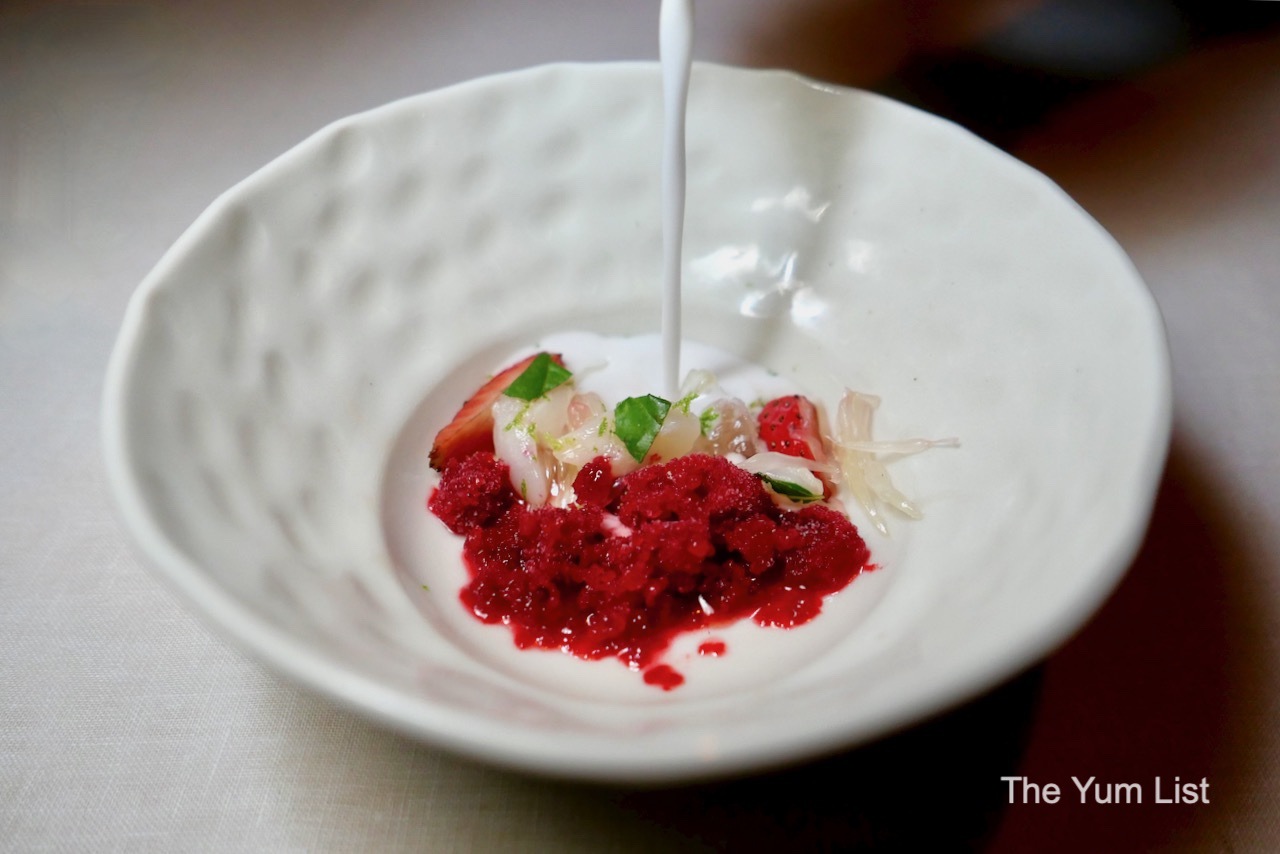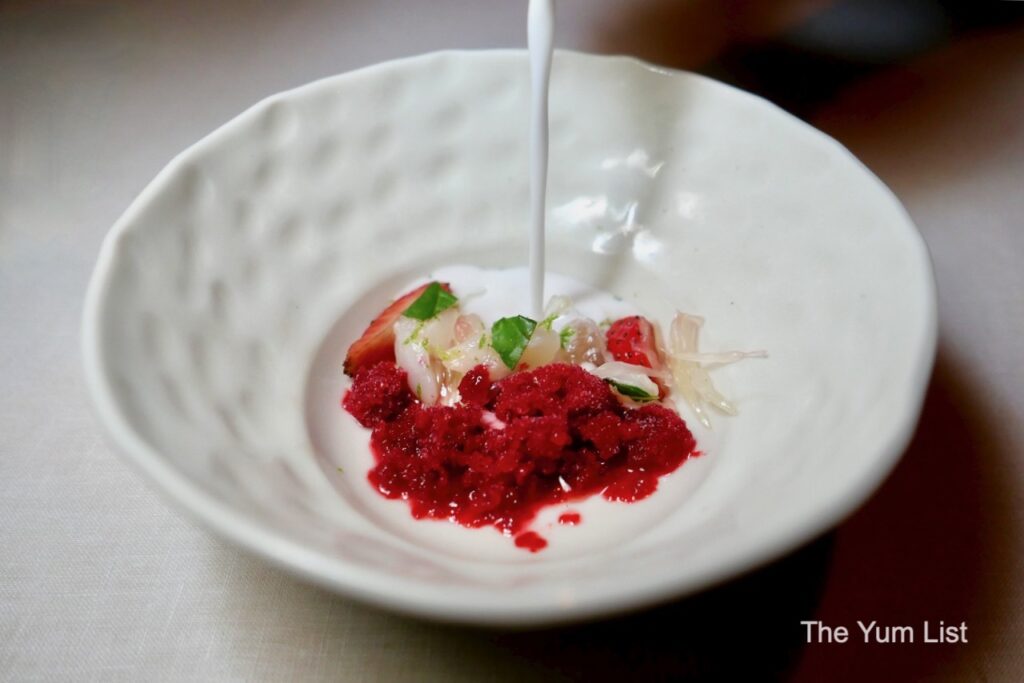 Texture of Chocolate
Chocolate lovers are bound to be enamoured with the Texture of Chocolate. It's a familiar dessert done the world over, yet still, each chef manages to make their own version unique. Kubu's is meticulously executed with chocolate mousse, hazelnut chocolate dacquoise and chocolate caramel. Raspberry sorbet and a faintly-flavoured rum coulis lift the richness of the recipe.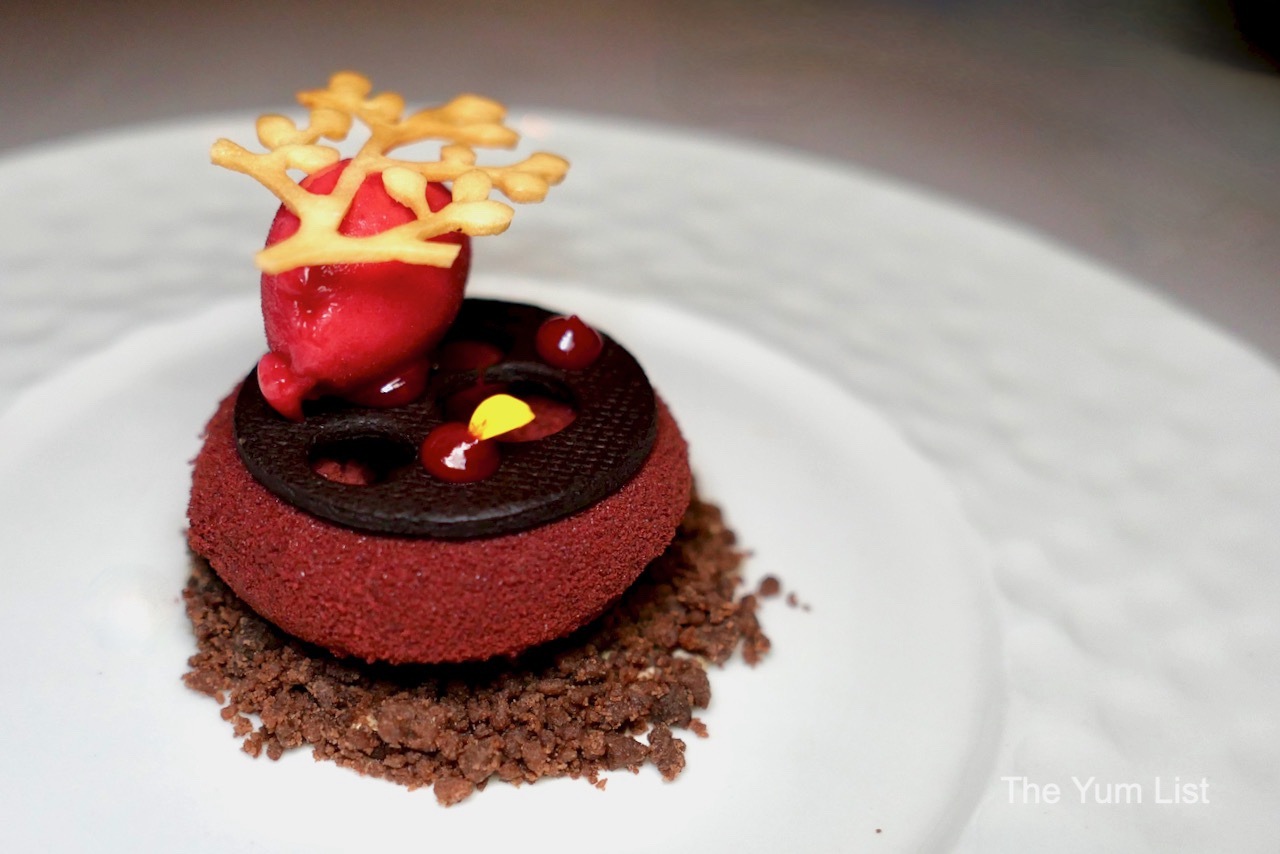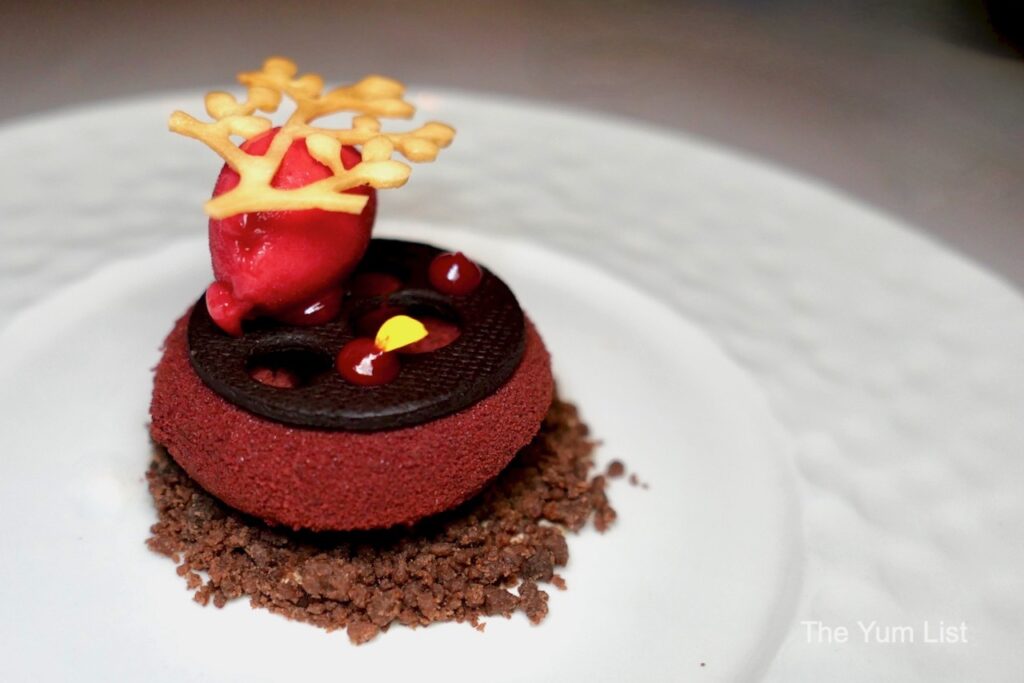 Petit Fours
The meal comes to a close with a selection of petit fours served on a log – cranberry madeleine, lychee marshmallow, mango pâte de fruit and dark chocolate truffle. If you're counting calories, skip the first three and head straight for the decadent, creamy, crunchy chocolate truffle. It's heaven in a single bite.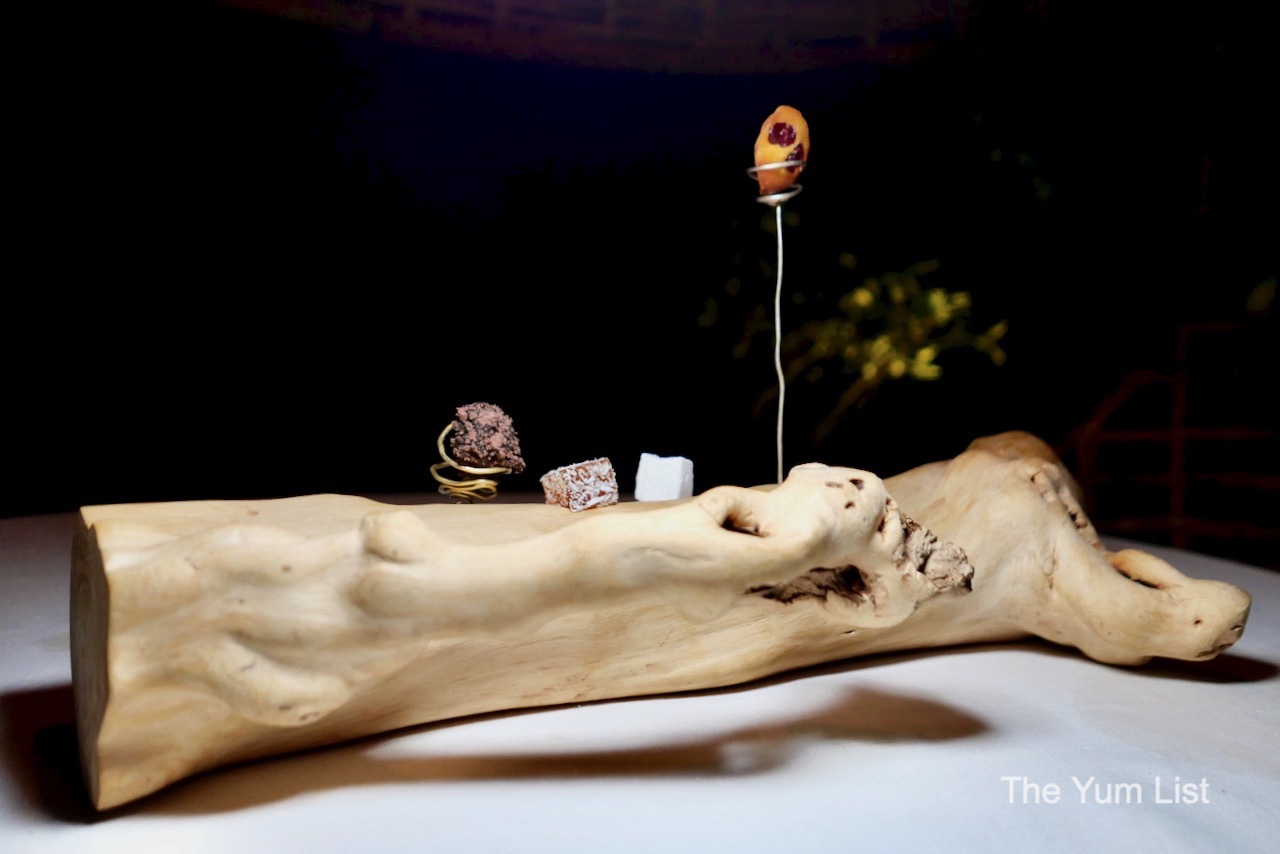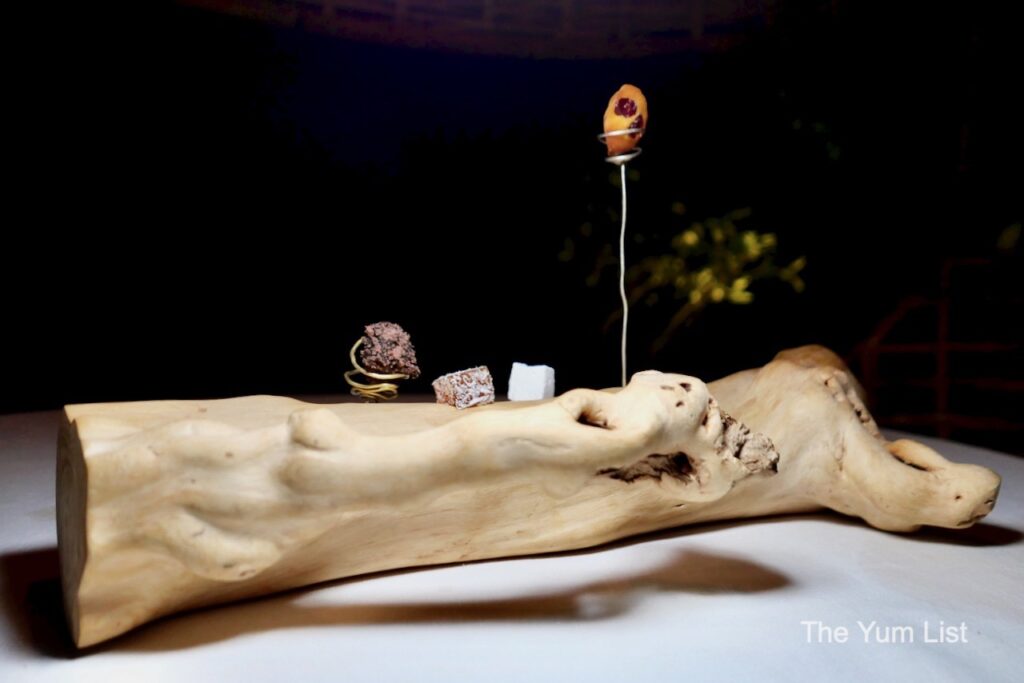 Kubu at Mandapa Review
The beautiful setting of Kubu at Mandapa is accompanied by a comforting, European-inspired meal using premium ingredients. It's a safe bet for a big resort. Although the restaurant only opens for dinner, it's worth arriving a little earlier to take in the spectacular views.
Reasons to visit Kubu at Mandapa: stunning, unique setting; well-executed menu of European-Mediterranean inspired recipes made with premium ingredients; wonderfully gracious and helpful staff – a special thanks to my driver, Dimas, a fellow foodie, who gave me some fab restaurant recommendations.
Kubu at Mandapa
Mandapa, a Ritz-Carlton Reserve
Jalan Kedewatan, Banjar Kedewatan, Ubud, Gianyar
Bali, Ubud, 80571 Indonesia
+62 361 4792777
www.ritzcarlton.com/en/hotels/indonesia/mandapa/dining/kubu
Kubu at Mandapa Opening Hours
Daily 6 pm – 10 pm
Find more gourmet travel recommendations for Bali here and stay up-to-date with our latest gourmet travel finds here and here.