Delamotte Champagne Brunch KL
Words: Matt Brown
Photos: Monica Tindall
If you need an elegant way to spend a weekend morning, the brunch menu at Chateau Dionne will fulfil your needs on every level. Attentive staff, refined surroundings, fine French dining, exquisite flavours and the option to include free-flow Champagne Delamotte with your meal ensure that your time will be well-spent.
You can situate yourself on the well-lit deck for a view of the sycamore trees that line the street or set yourself up inside, amongst an eye-catching art collection; as with everything about Chateau Dionne, the beauty is in the finer details. Executive Chef Andy Choy has spent the last two years establishing the restaurant as a refined yet welcoming destination for "classic French dining with a contemporary local balance", and it is evident in every plate on the menu.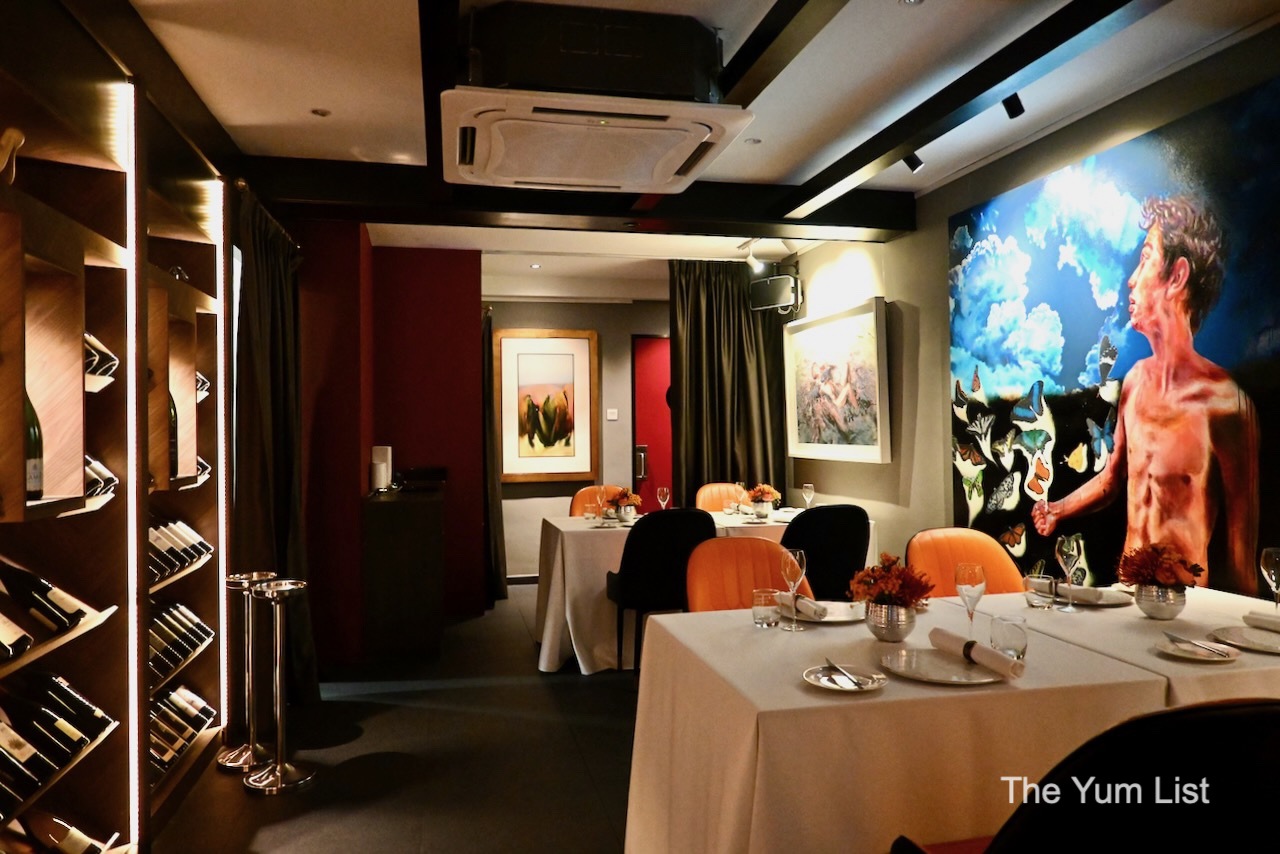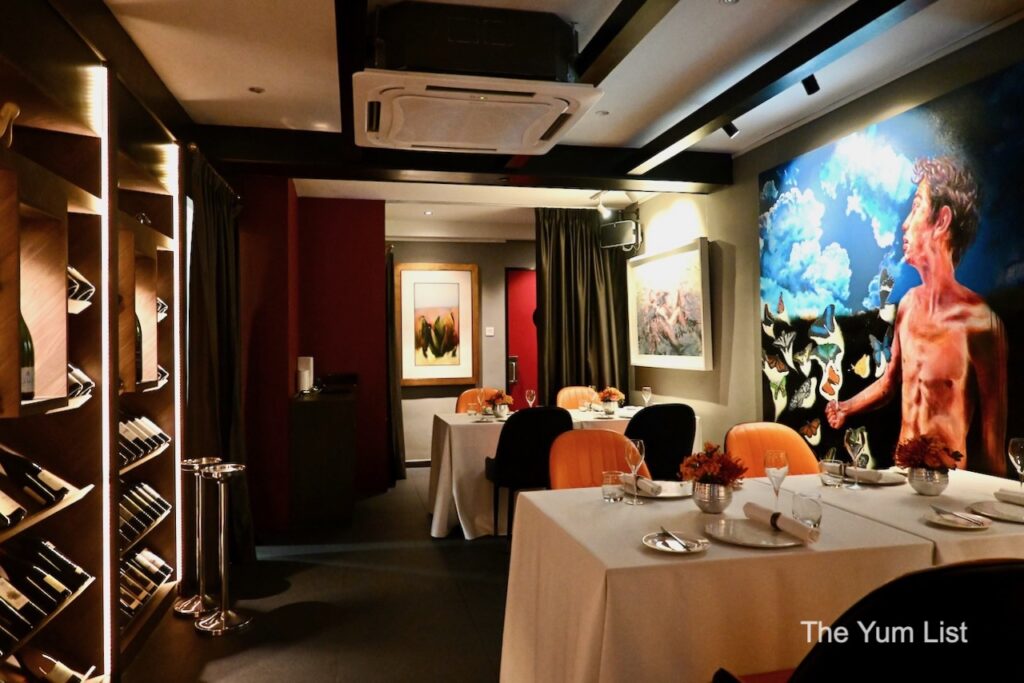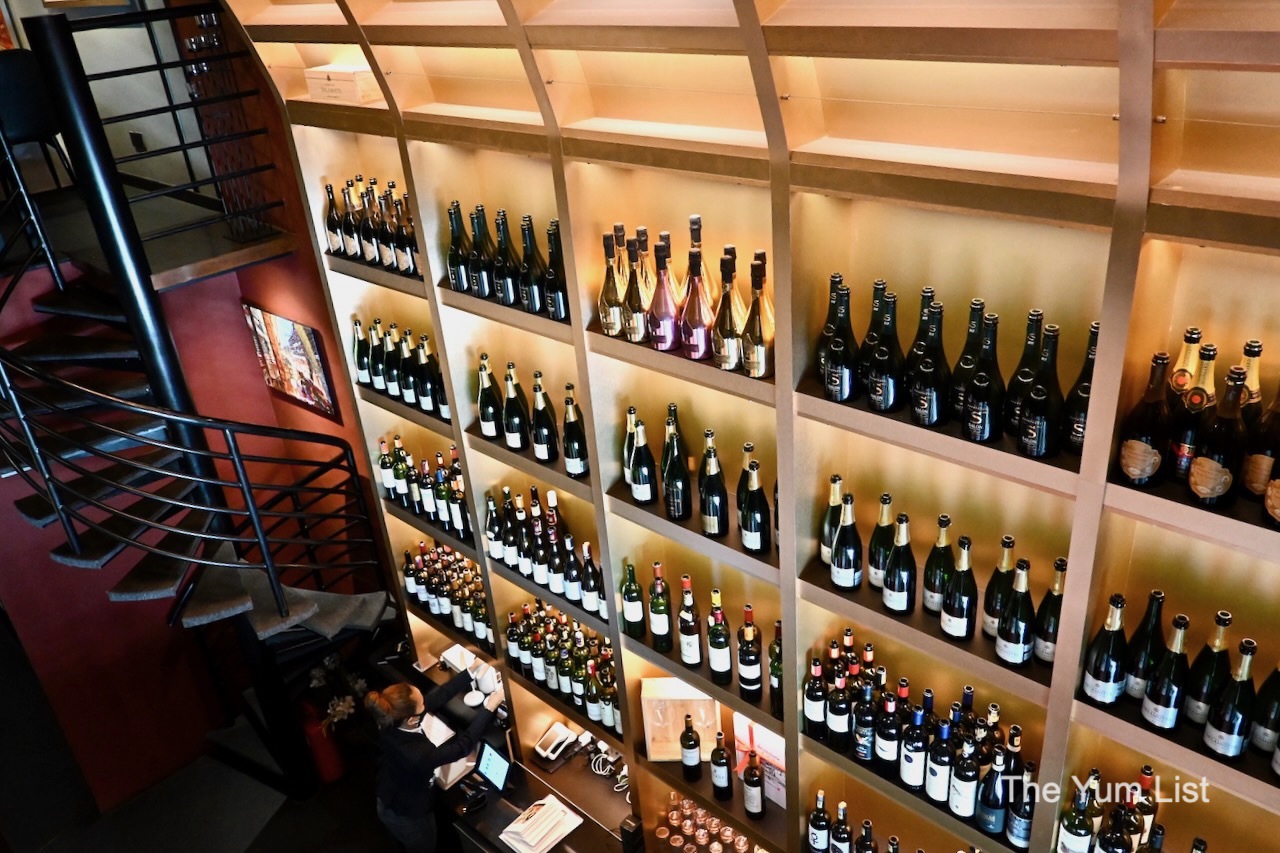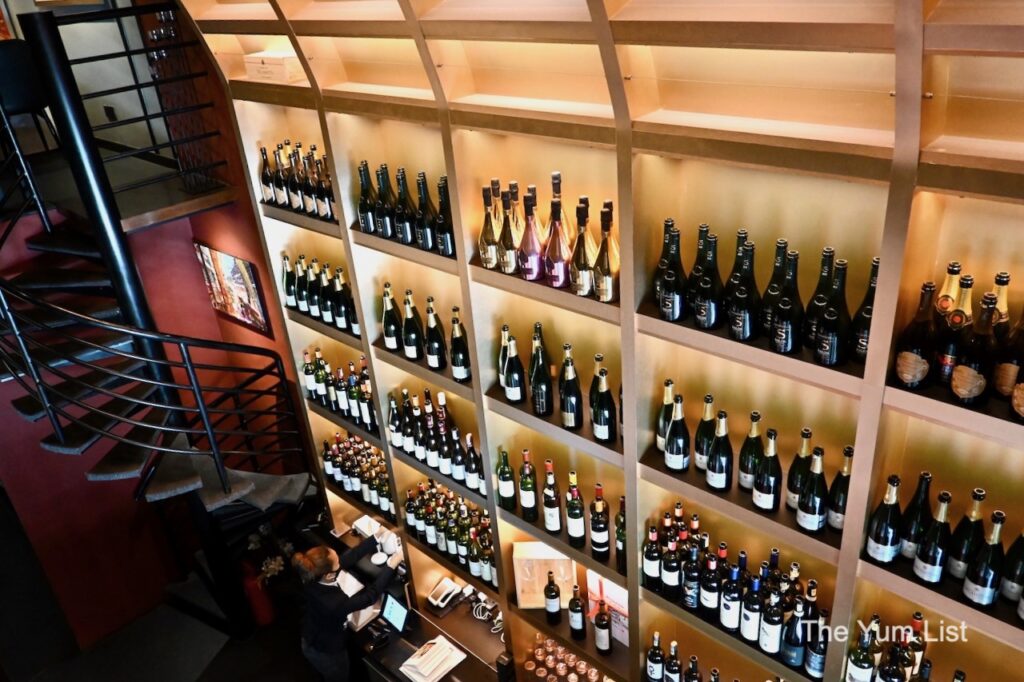 Delamotte Champagne Brunch KL – Bread and Canapés
Freshly baked French baguette slices and mini croissants taste as good as they look, having been baked on the premises and coming with a generous serving of truffle butter. After the first bite of croissant and butter, I just wrote down the phrase 'insanely good' in my notes and continued to underline it as the meal progressed.
Seasonal Canapés were a pair of delightful flavour explosions in tiny packages. The first featured pie-tee-encased edamame beans sitting on a light nori cream. The cream rivals the truffle butter for satisfying flavour and left us wanting so much more. The second piece on the plate was a tomato tart with caviar, a sweet and salty combination in perfect balance.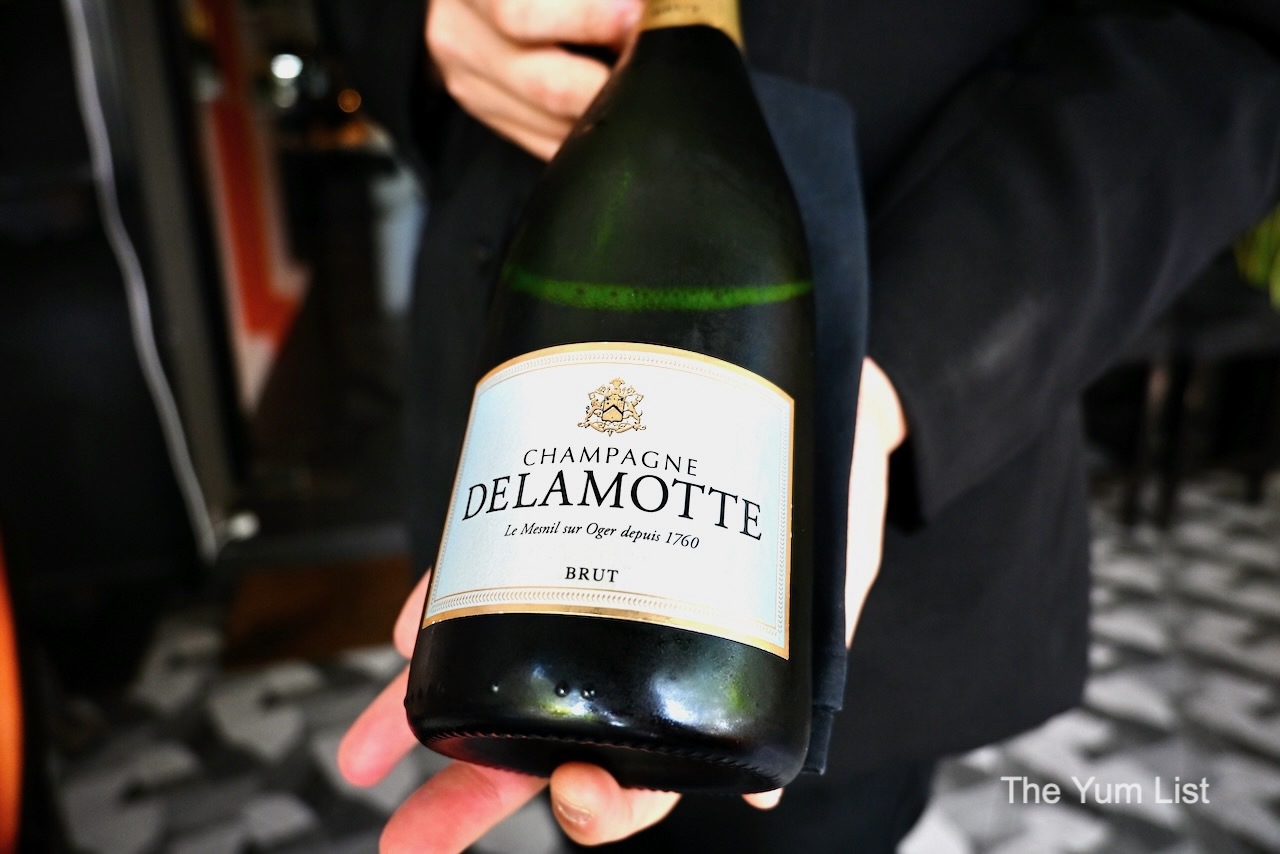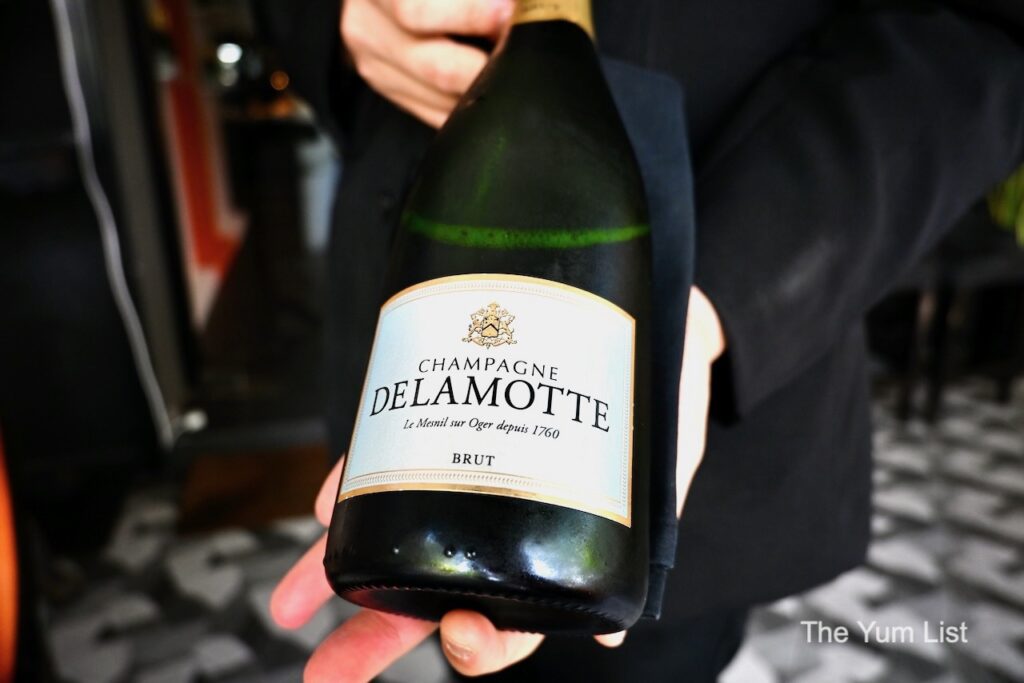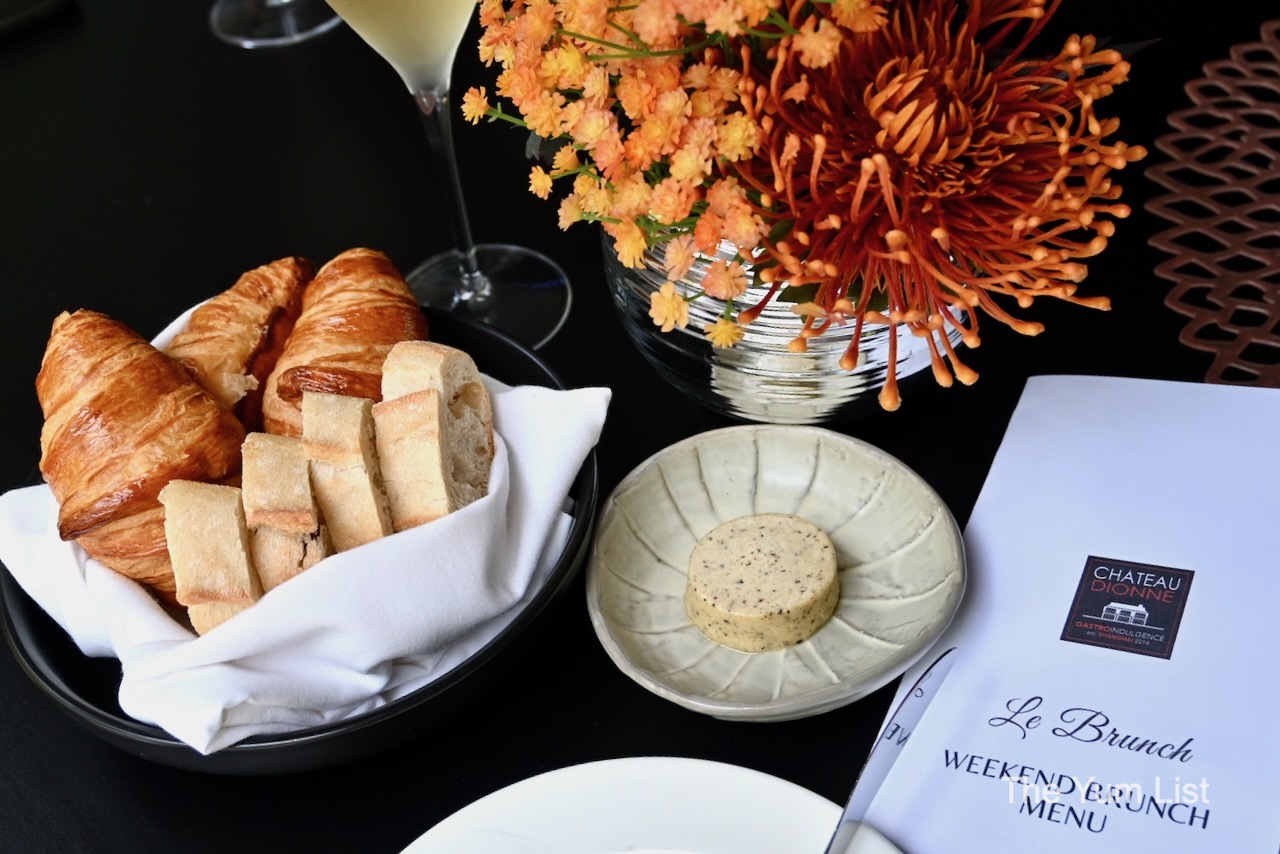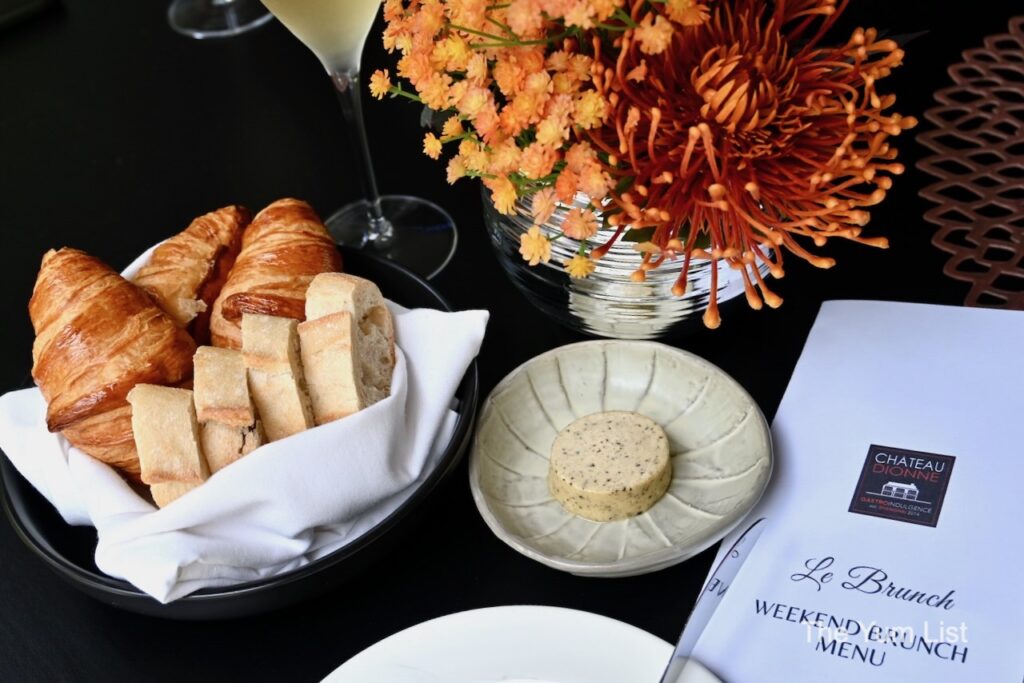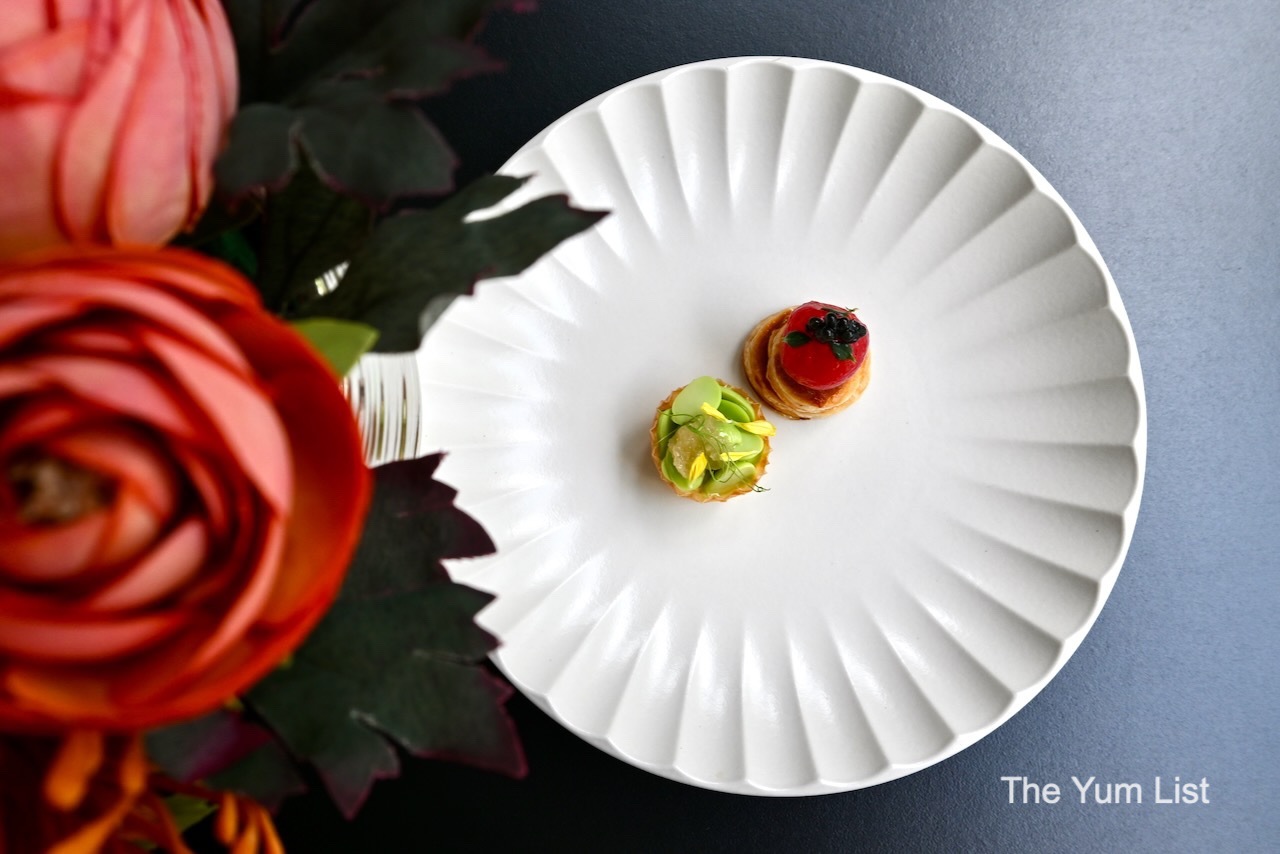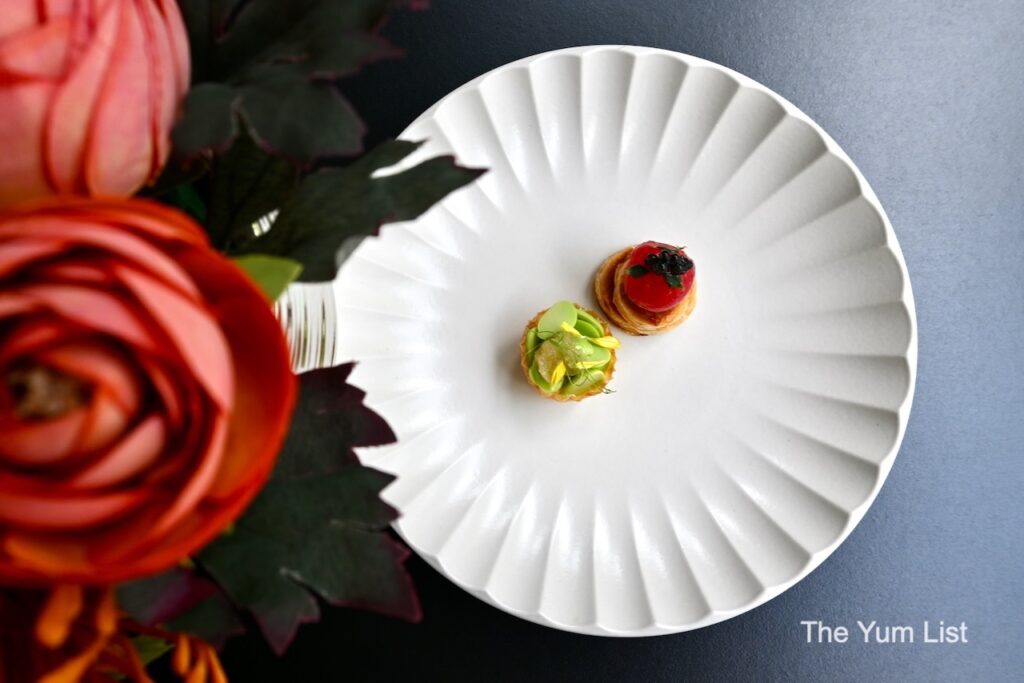 Oeufs
The egg course features a free-range, sous vide egg that has been poached at 63 degrees. This method allows the yolk to slightly thicken but remain runny while the egg whites are barely set. Another line was drawn under my note from the bread and butter course after sampling this dish. Served with a sweetcorn espuma (foam) and piperade, which is a mix of onions, peppers and tomatoes, every spoonful was a rich and enjoyable taste.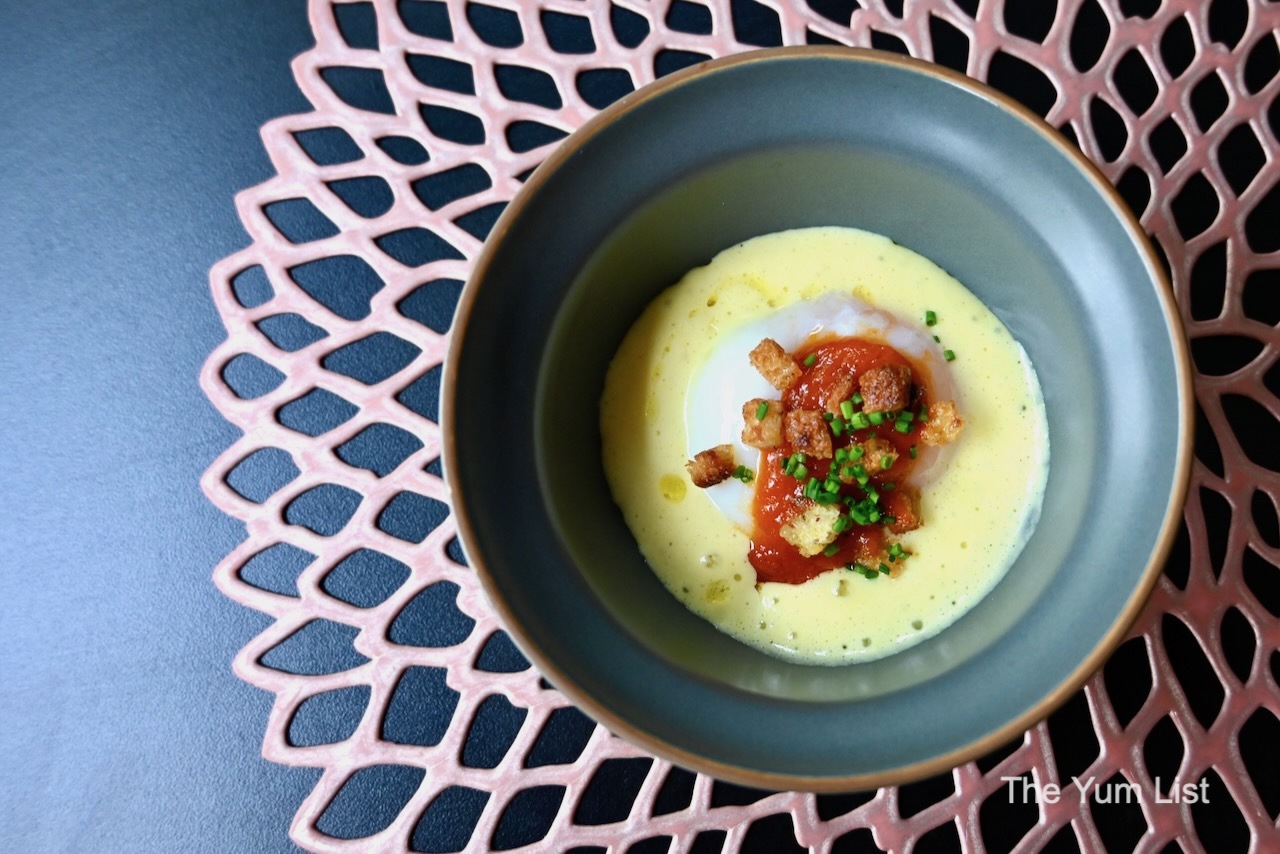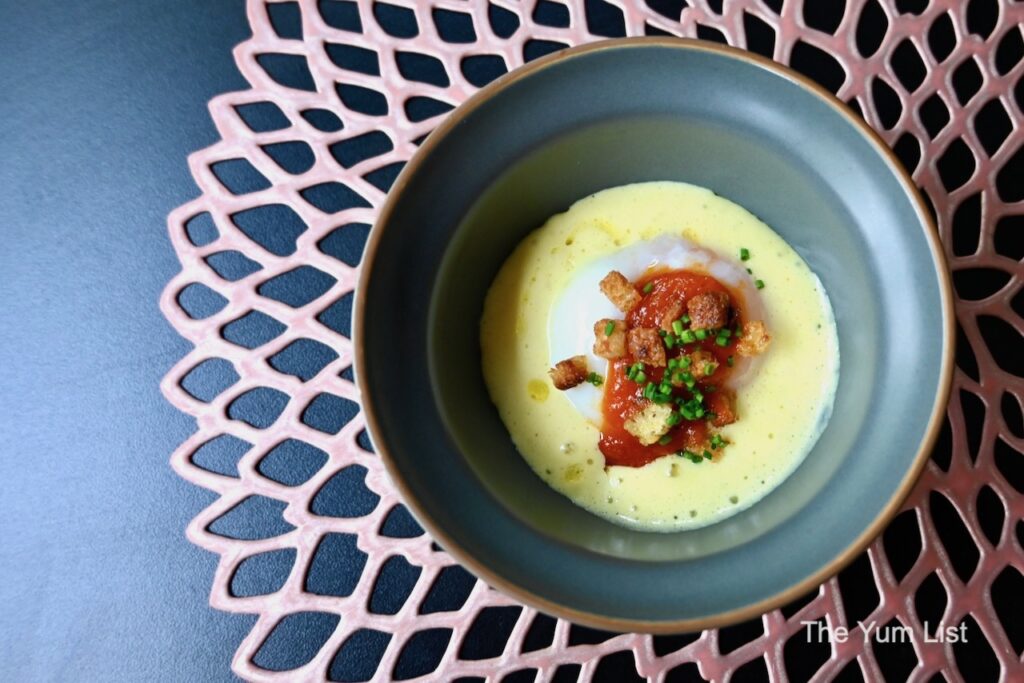 Champagne Delamotte Brunch at Chateau Dionne KL
In an article about exquisite combinations, it would be remiss of me to not mention the fine pairing between Chateau Dionne and one of France's most respected vineyards, Delamotte. Since 1760 the House has cultivated pleasure for all by producing four wines that pride themselves on consistency, freshness and character. As one of the five oldest champagne houses in France, Delamotte has obviously mastered its art, and the extensive cellar at Chateau Dionne is proud to serve its delicious Champagne Delamotte Brut. The Weekend Brunch benefits from the Brut being offered free-flow for an additional charge, and I would highly recommend including it with your meal as the lightness of the Champagne complemented and elevated the flavours of each course.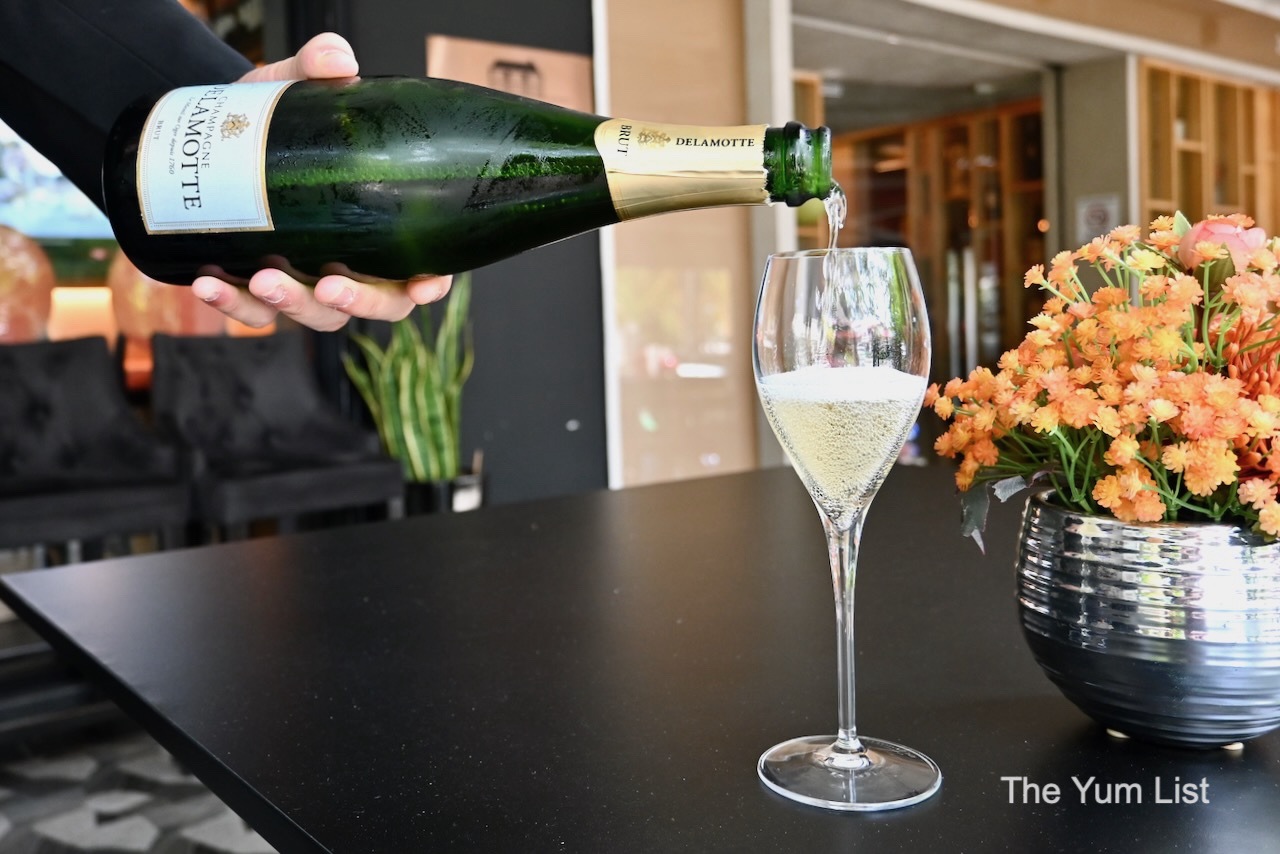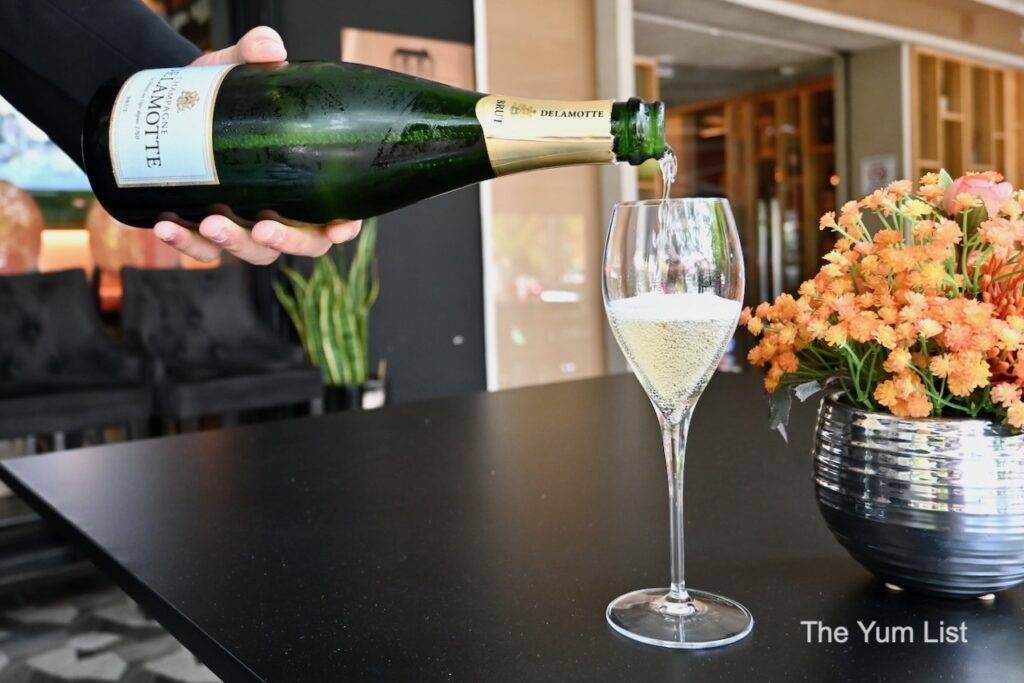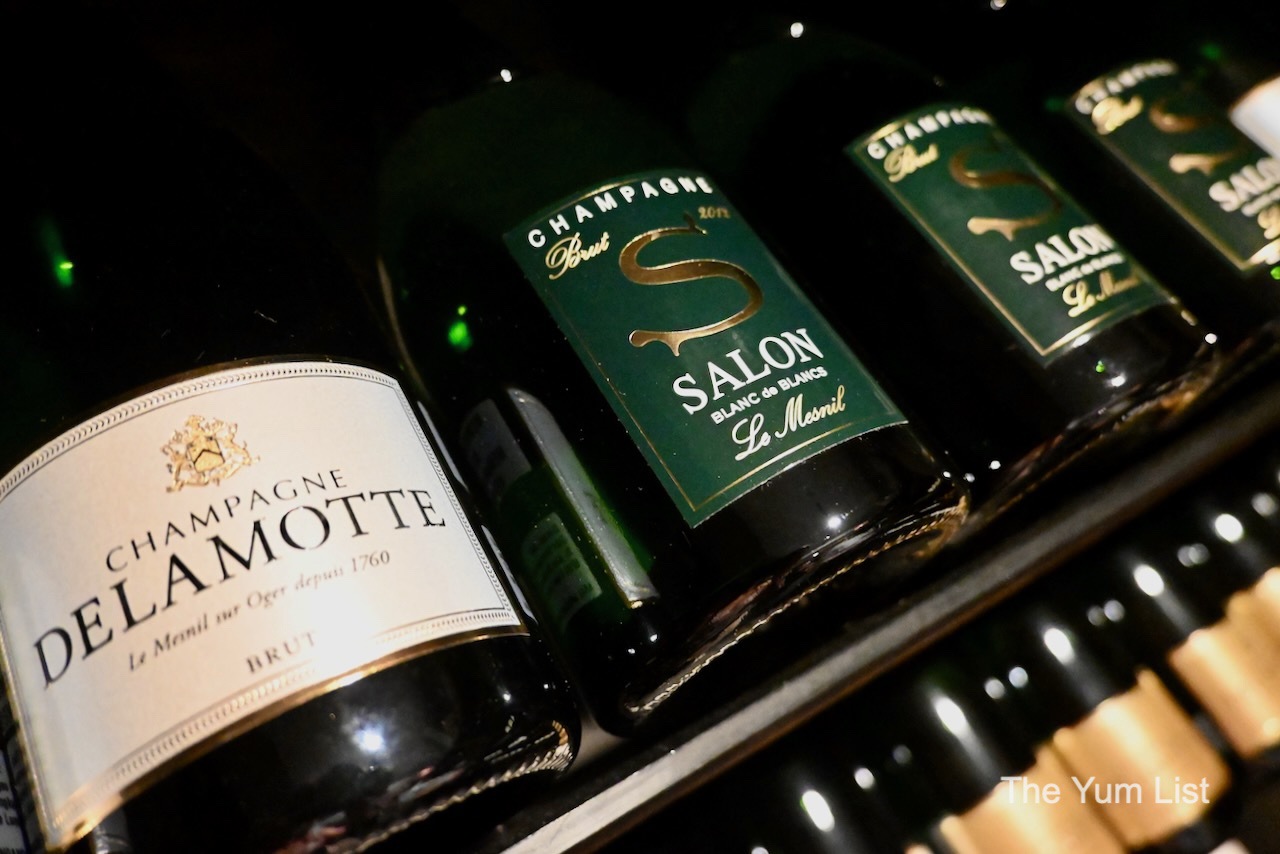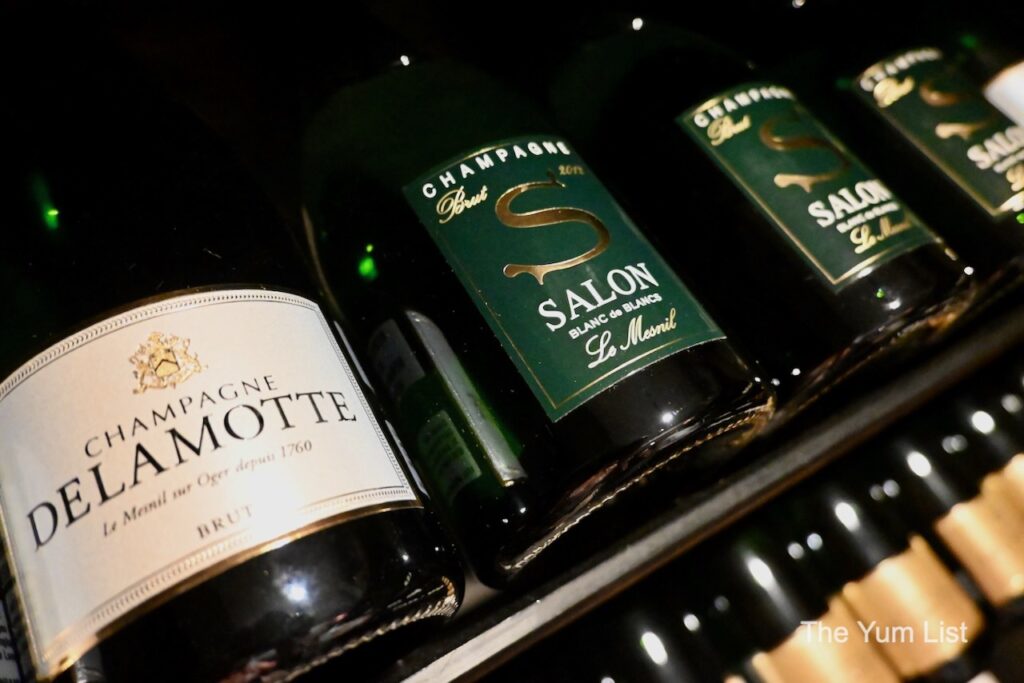 Starter Course
Now that the palette has been awakened with bread, butter, canapés and eggs, the menu begins with gusto. A terrine of Rougie Foie Gras and Unagi Eel is a buttery blend of saltiness with a hint of sweetness, served with brioche and Fig Chutney.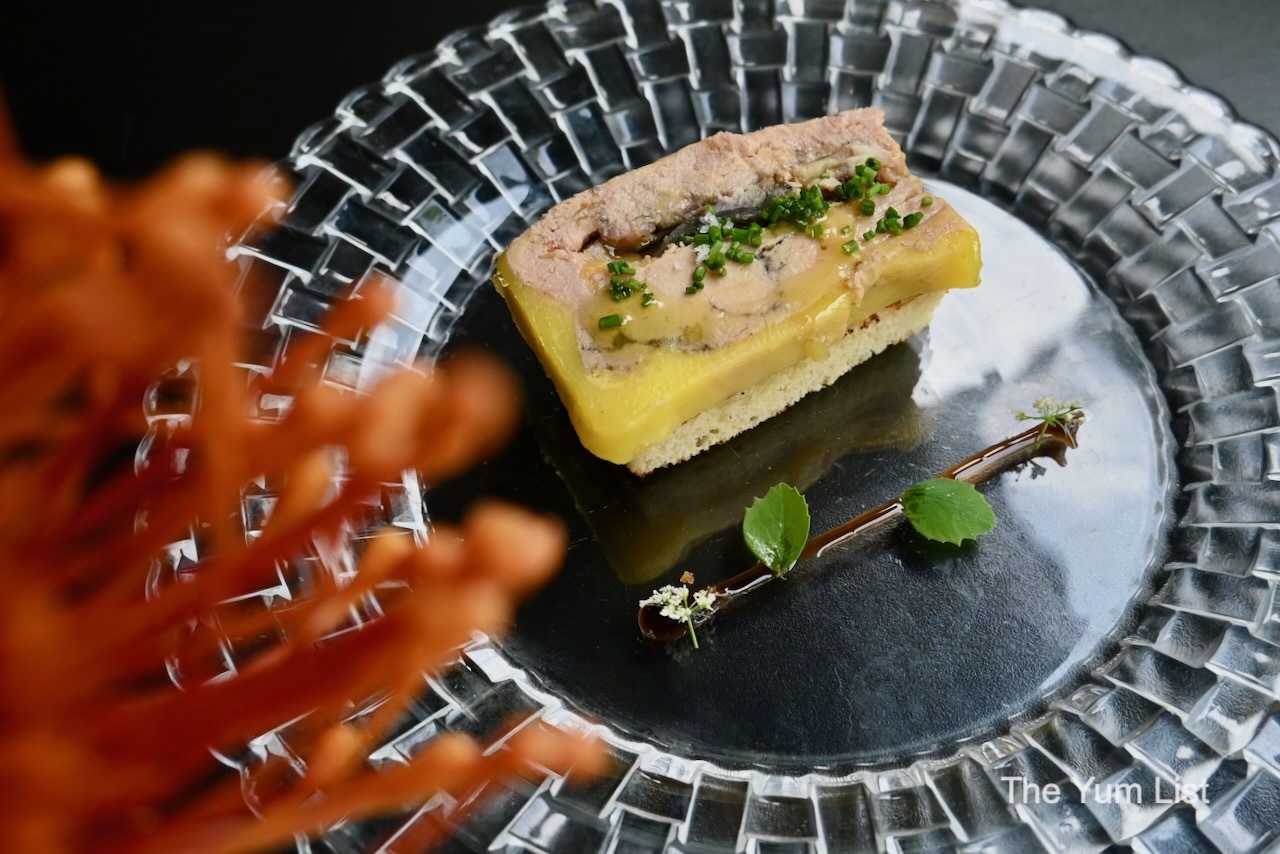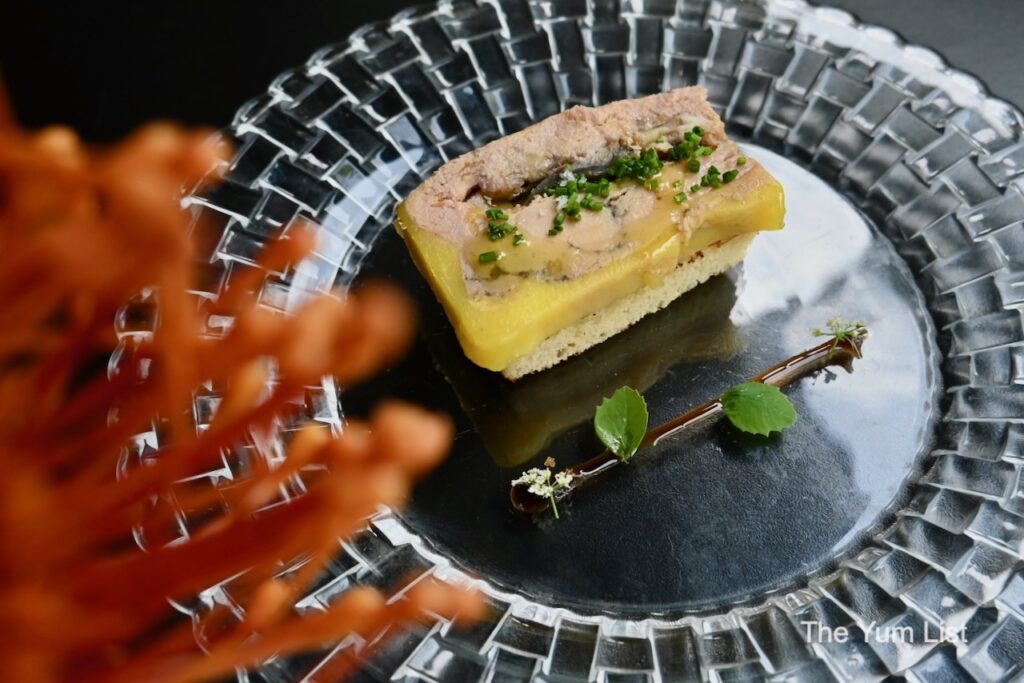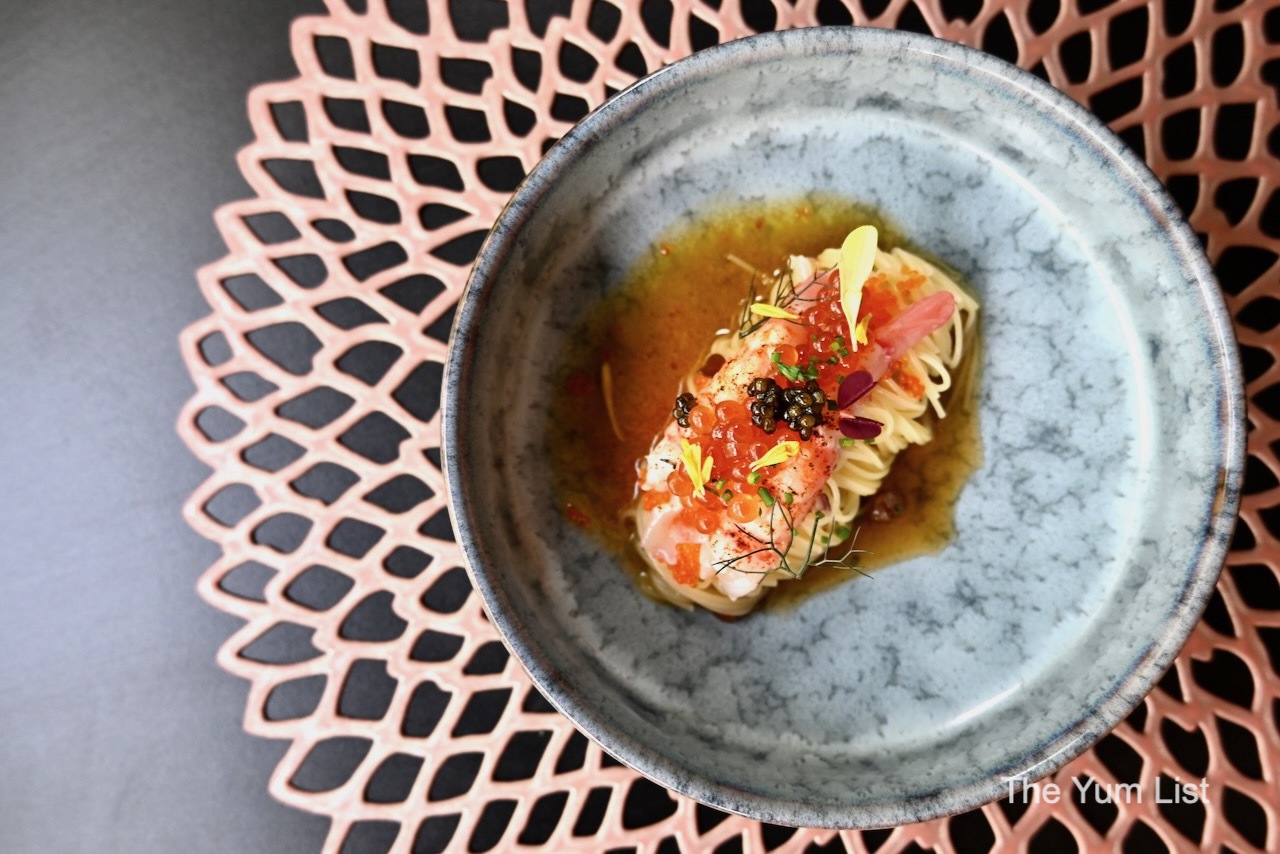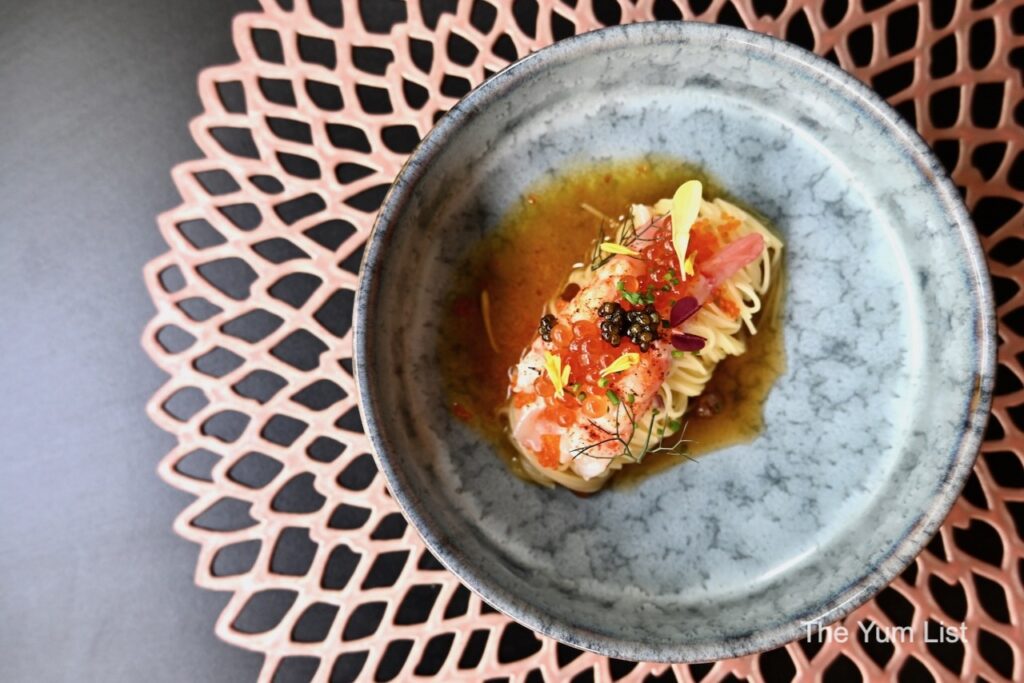 Mid Course
Having never been lucky enough to visit Chateau Dionne before, I was alerted that their soufflés are a creation to behold. In almost two years of operation, the kitchen has produced literally thousands of sweet and savoury soufflés – they do keep count – and it is not hard to see why these are the restaurant's signature dish.
Soufflé au Fromage combines gruyère and parmesan cheese in such a light and fluffy dish my mouth actually fell open when my spoon pierced the slightly crisp top. The expertise of Chef Andy is on full display with the puffed creations brought to the table – the flavours are surprisingly subtle, considering the ingredients. Don't be surprised when you suddenly look down and realise you've eaten the entire thing (just tell yourself it was mostly air, then have some more Champagne). The soufflé is served with a crunchy apple and pecan side salad.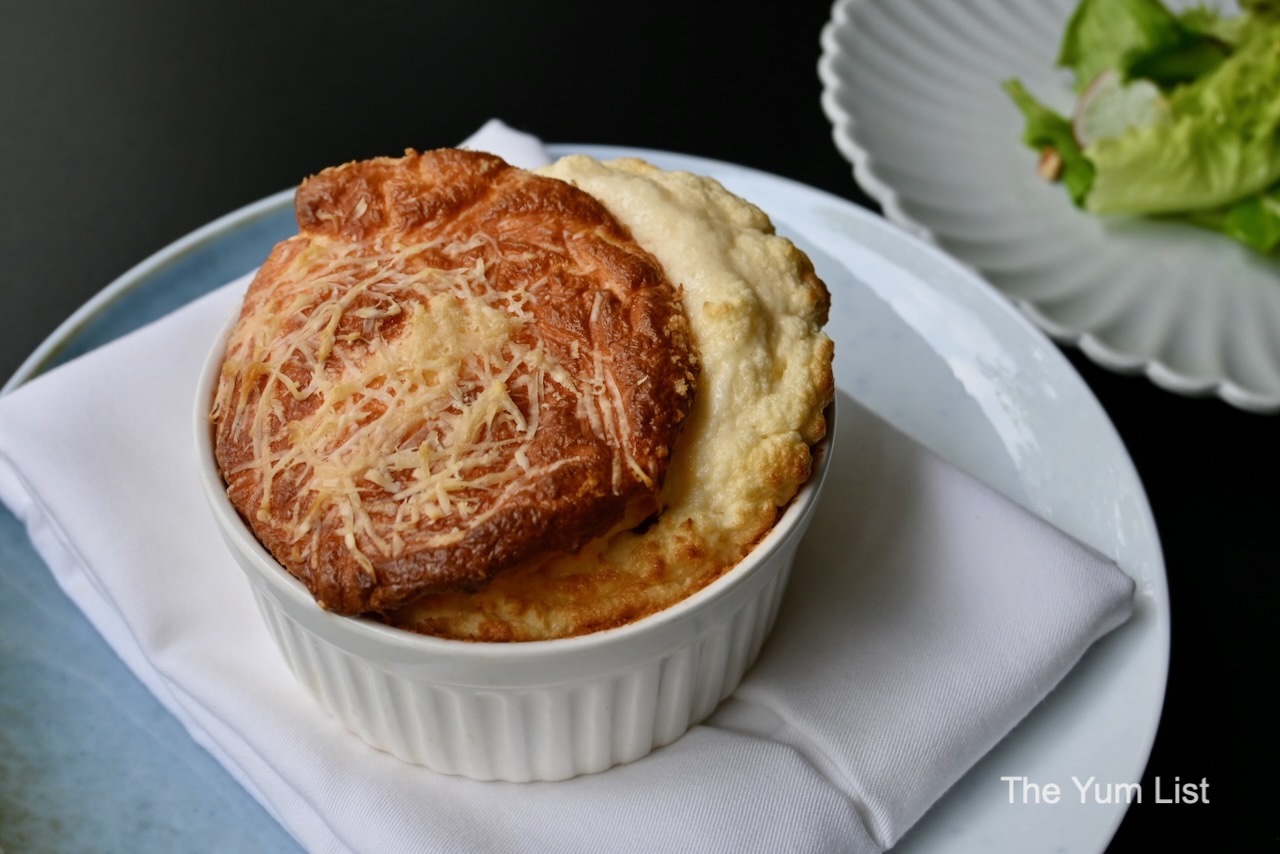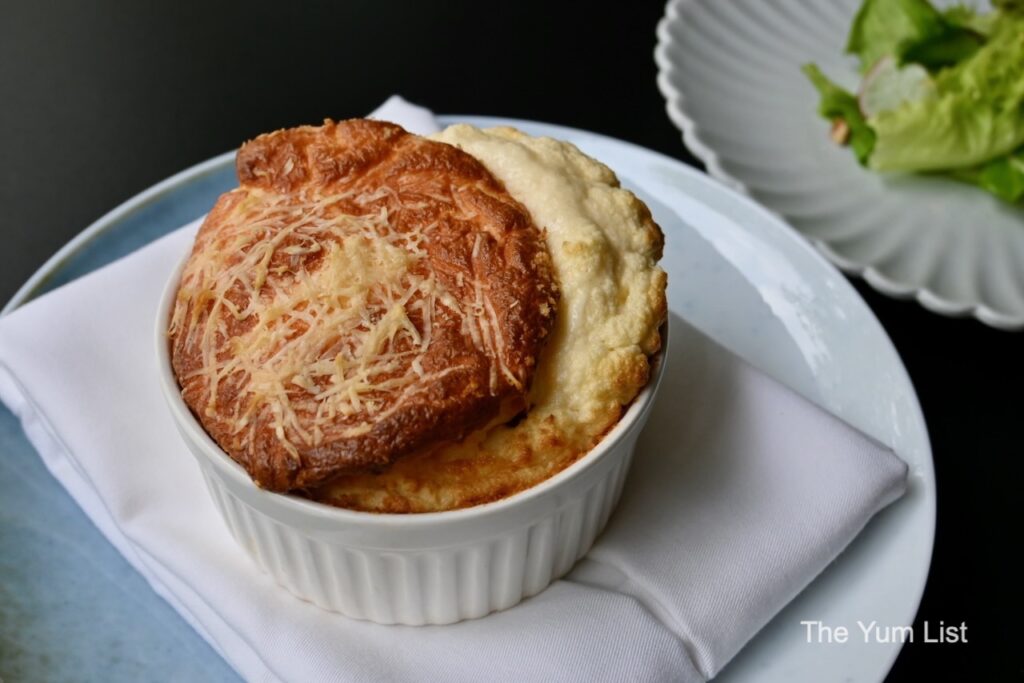 Main Course Selection
There are four selections from which to choose your main course. The Daube de Bœuf is a stewed beef cheek served with ribboned carrots and German Spatzle pasta. The meat is incredibly tender, and the beer-based pasta adds the perfect amount of carbohydrates to the plate for soaking up the braising jus.
The Truite selection is a sophisticated plate of Rainbow Trout, broccolini, ikura caviar and an inspired interpretation of the classic French butter sauce, the sake beurre blanc. This is a light and fresh dish where, as with everything at Chateau Dionne, all of the elements are finely tuned and deliver an impressive impact.
For an additional supplement, the other two options on the Main Course menu are available. We sampled the incredible Carabineros, featuring the world's most expensive prawn from Spain, served with linguine and a pure tomato sauce with the sought-after prawn butter mixed in. The flavours from this dish were phenomenal and all the more impressive, considering the simplicity of the ingredients. A Japanese Wagyu and Truffle option is also available to add on.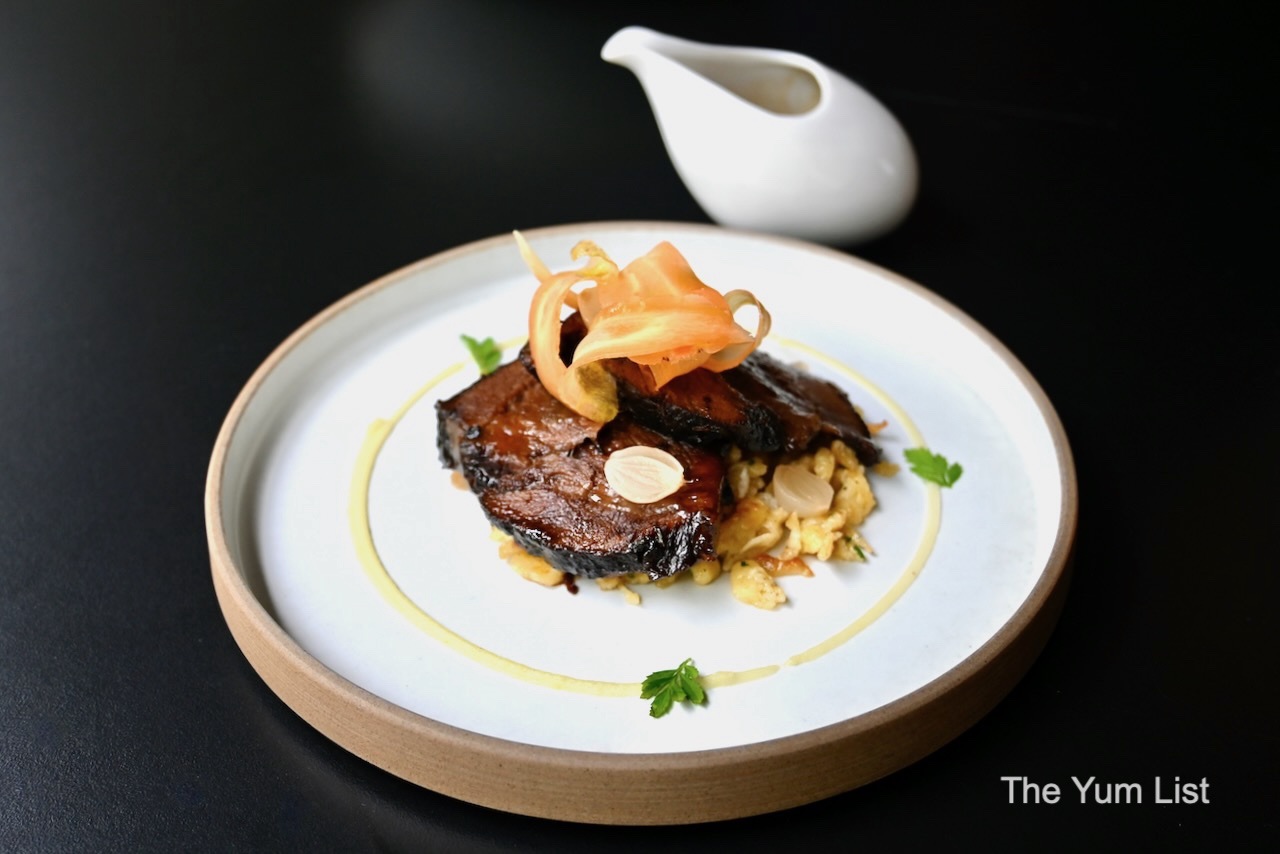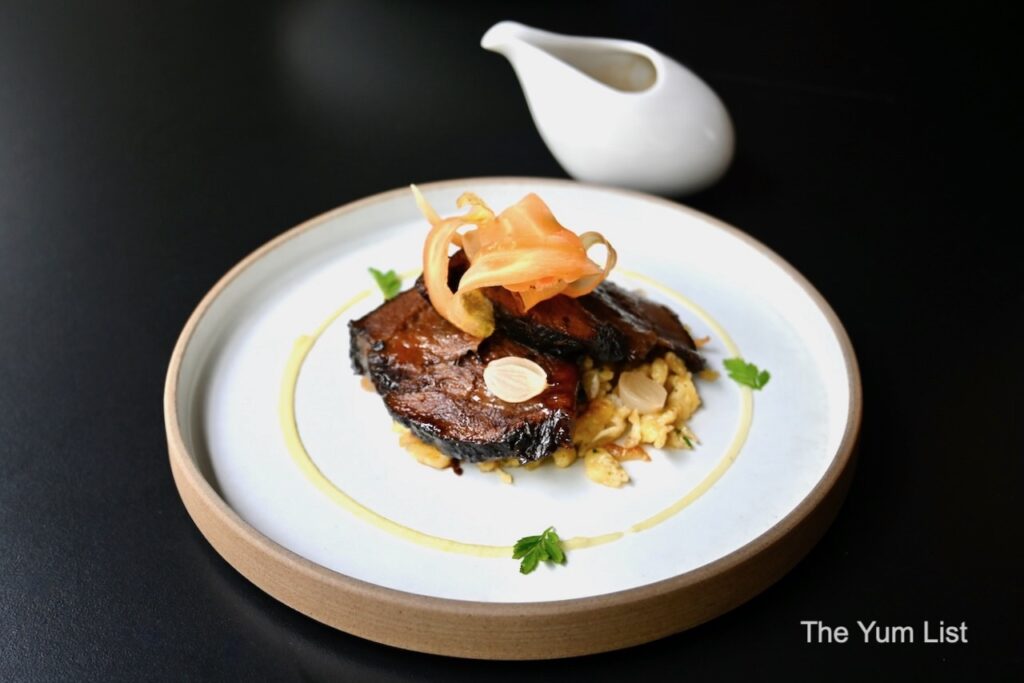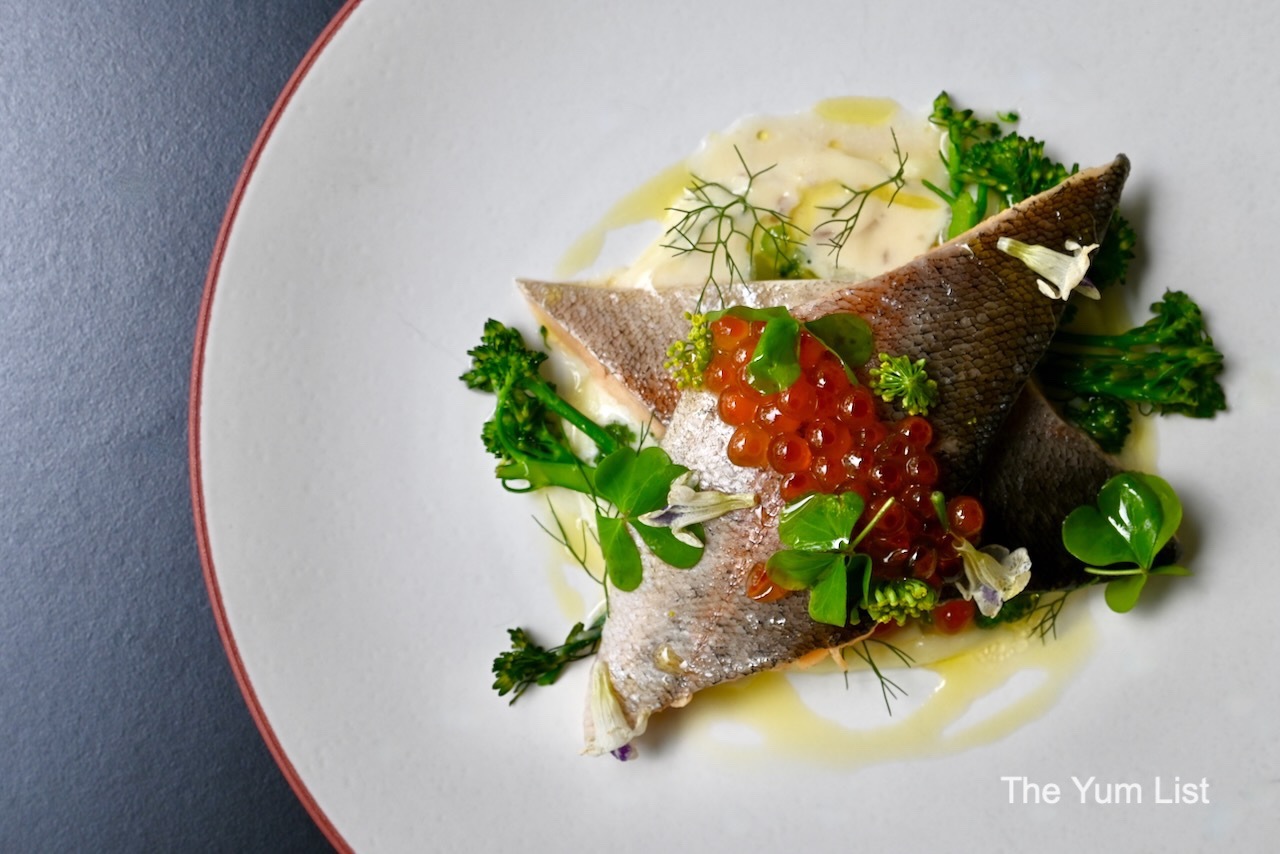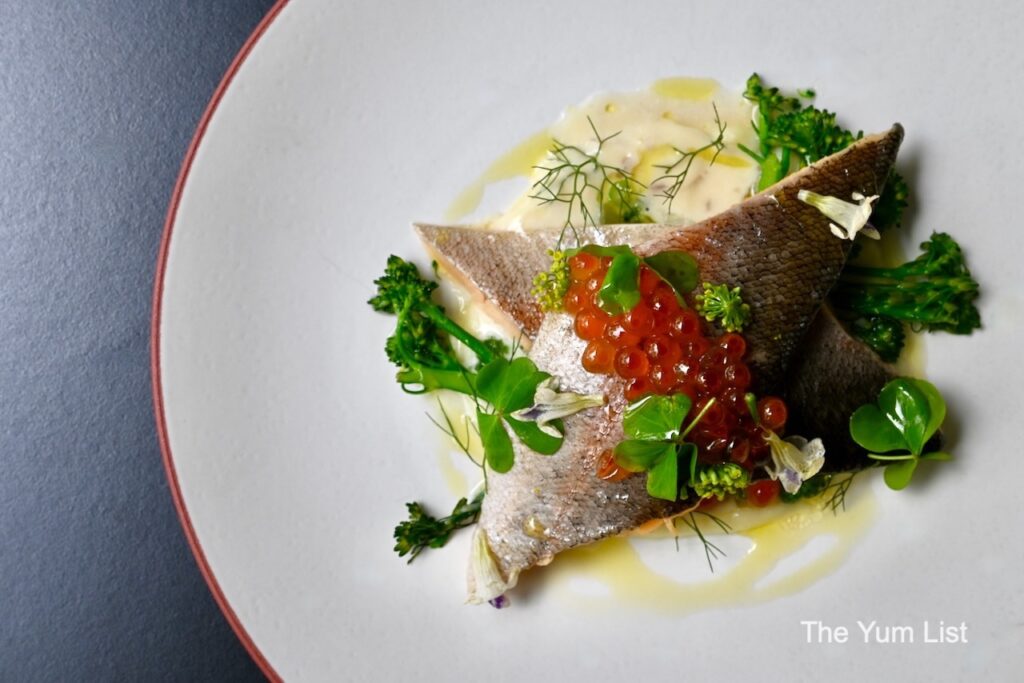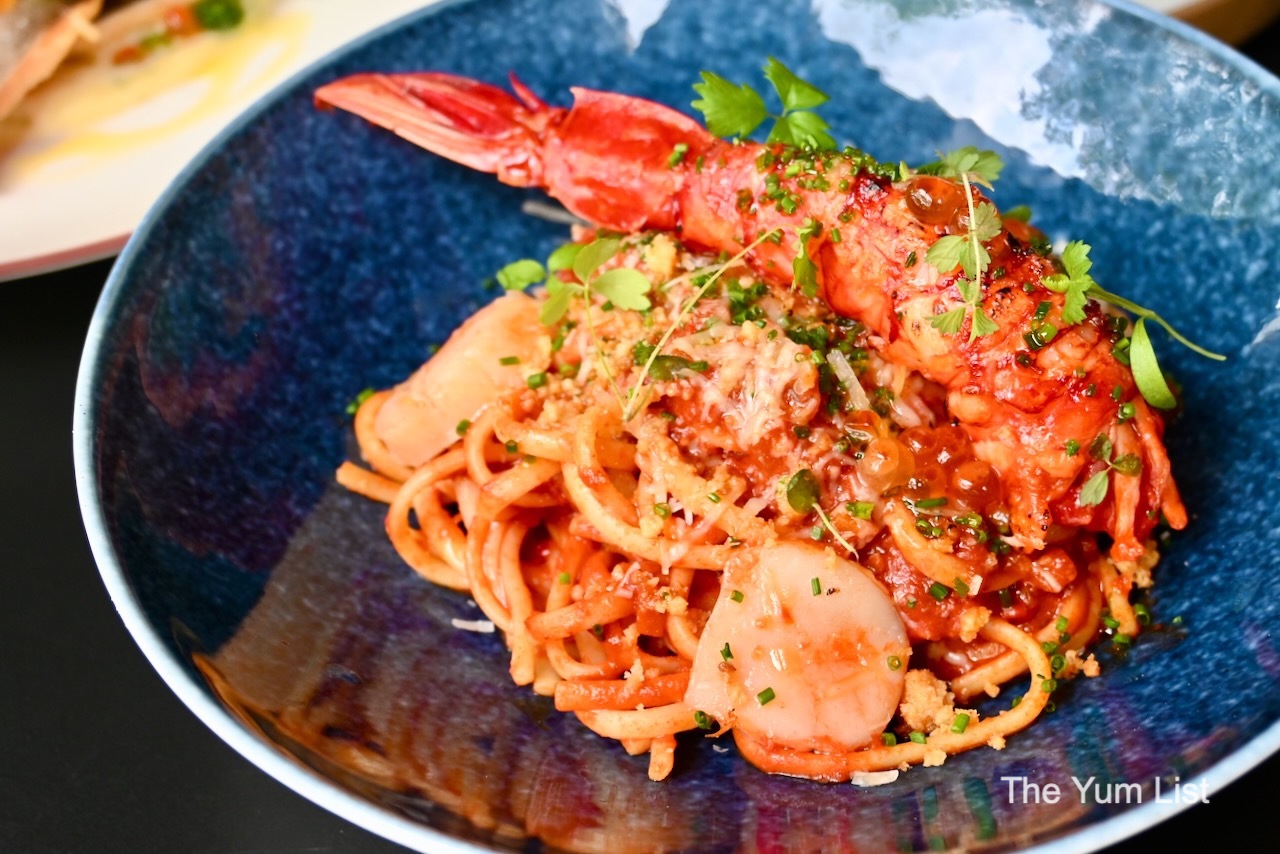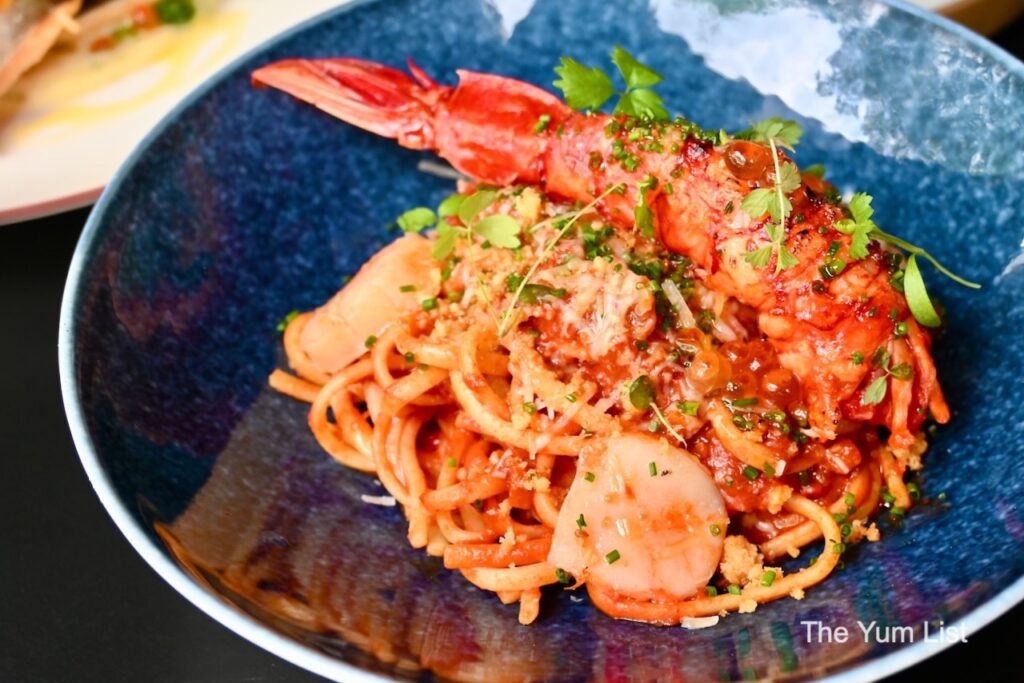 Desserts
At this point in the experience, I was so delightfully full and happy that I would have ended the brunch without any need for another delicious dish. Fortunately, the desserts that complete the degustation are thoughtfully designed to cap off an incredible meal with quality over quantity, so with a deep breath (and another glass of Champagne), I soldiered on – for The Yum List!
There is a sweet or savoury choice for dessert. The Plateau de Fromage serves sourdough bread from neighbouring Smith bakery with a selection of French cheeses, dried fruits and walnuts, as well as honeycomb produced by BubbaBee Farms. Old sweet tooth here found the cheeses to be an excellent way to end the meal.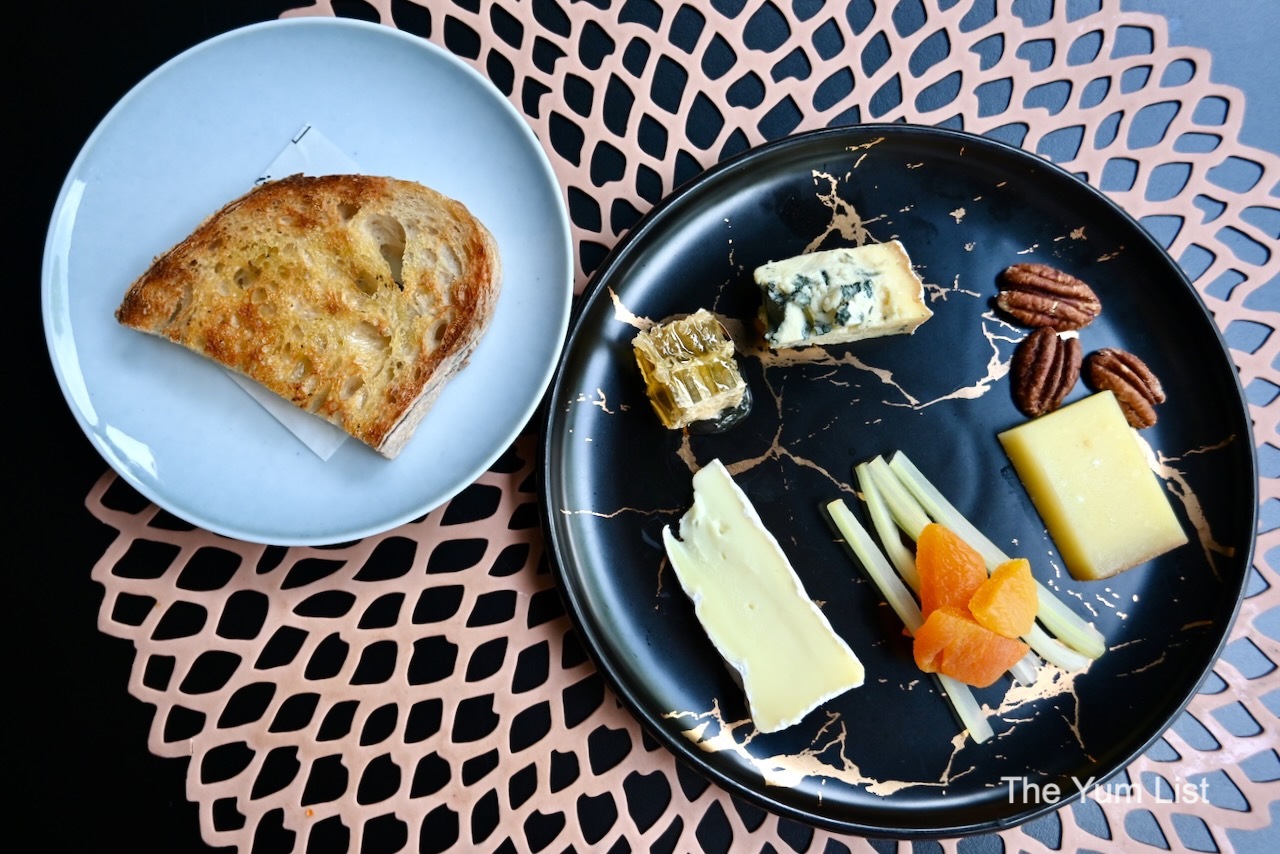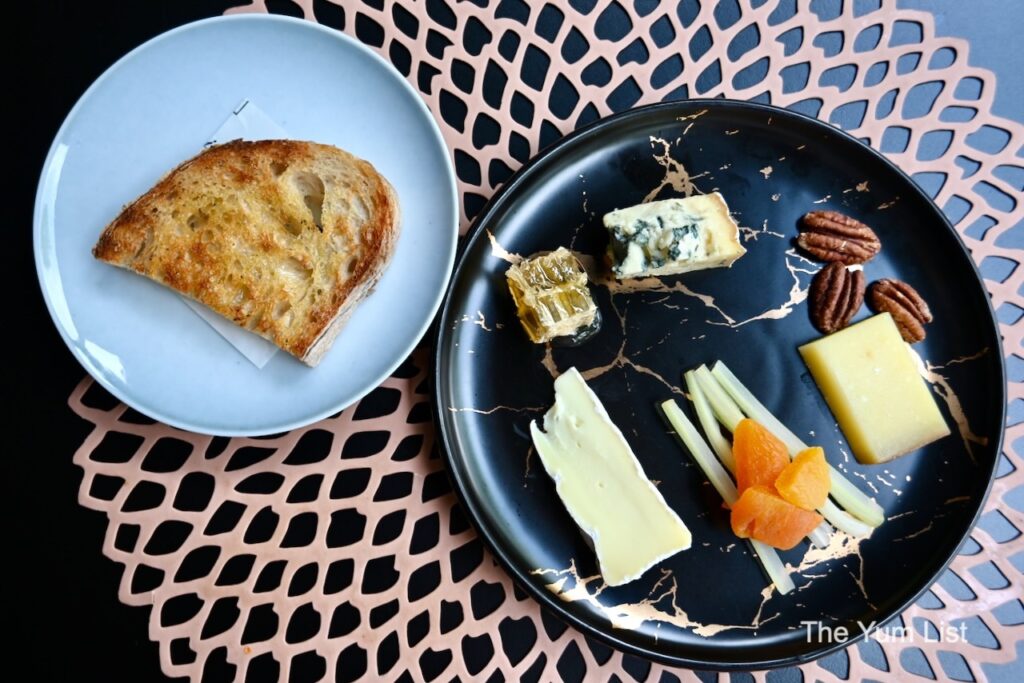 Coco is a gorgeous, spherical, sweet creation that comes as a combination of chocolate, blueberry and coconut with flowers and cream. Of course, I couldn't help myself and had to try that as well; the chocolate was rich yet light, and this would be an equally enjoyable way to conclude the meal.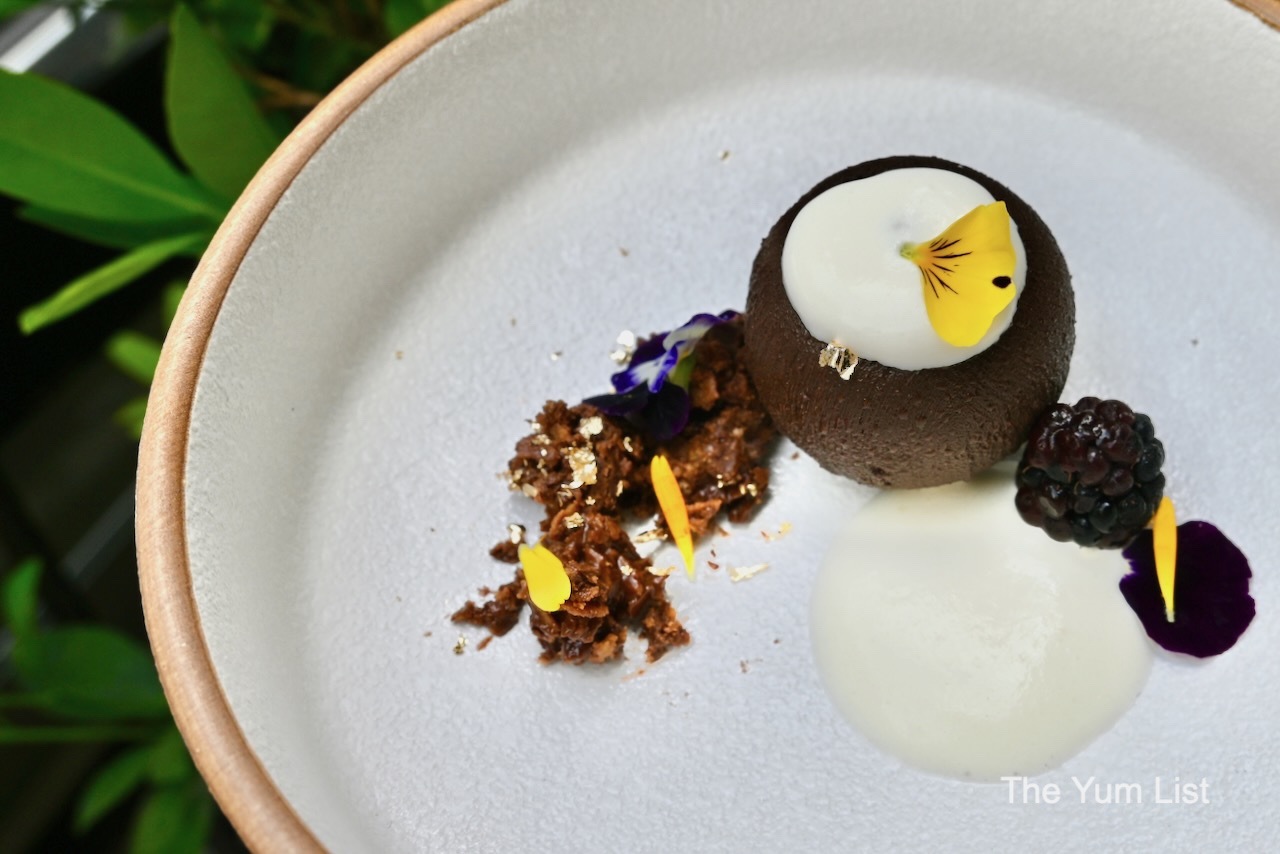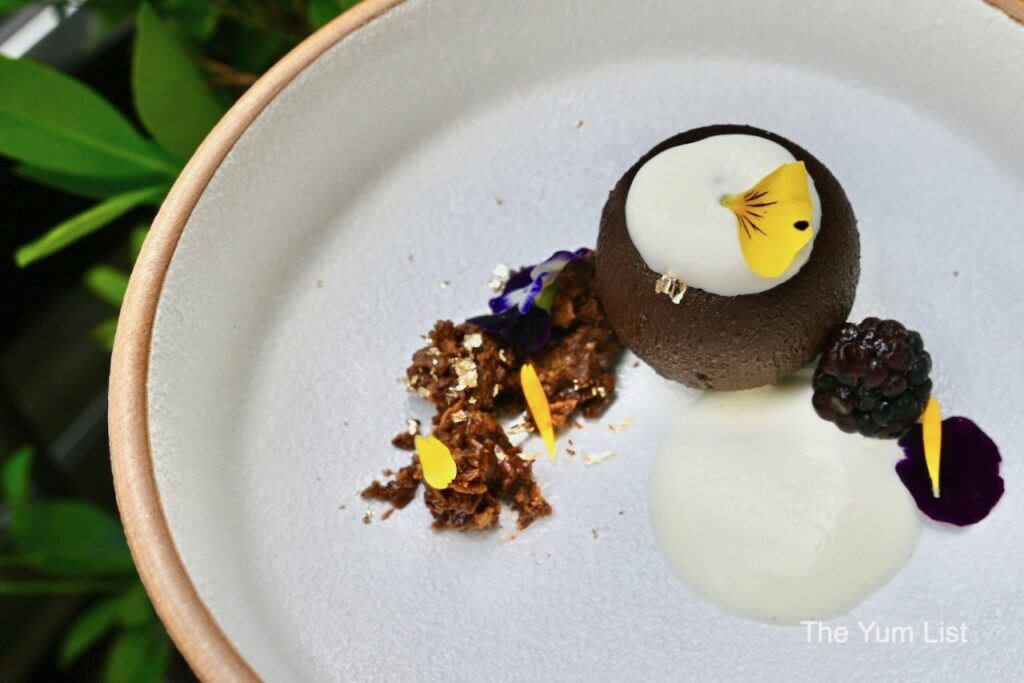 Petits Fours were the final offering brought to the very full table. They were another aspect of Chateau Dionne about which I had been enthusiastically informed. The Cannelés are apparently almost as famous as the soufflés. After one bite, I would have to agree with their impressive reputation. Cannelés are little scalloped cakes with a crisp, caramelised coating and a slightly chewy, soft, custardy centre. These were phenomenal. The small chocolate truffle beside the cannelé was just as special, and both were the perfect way to end this fine French eating experience.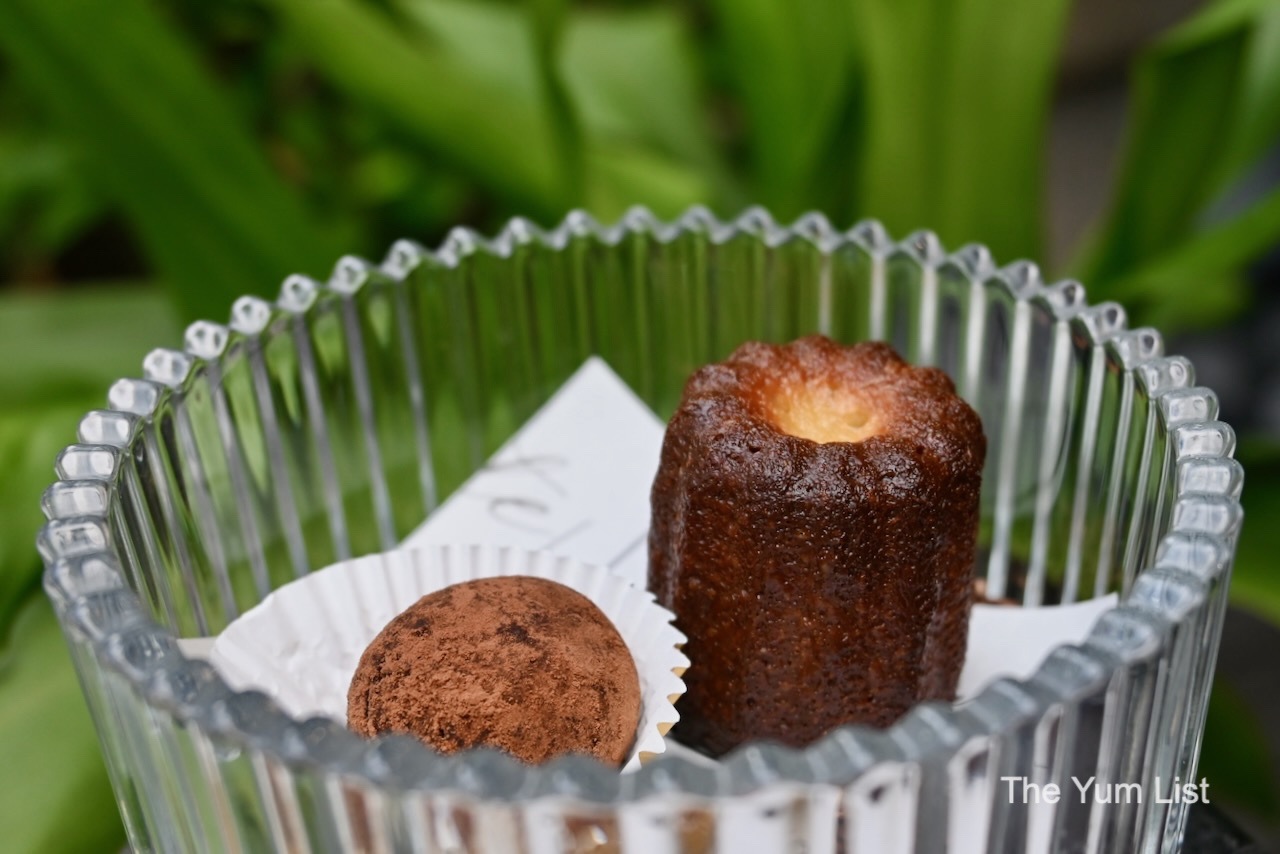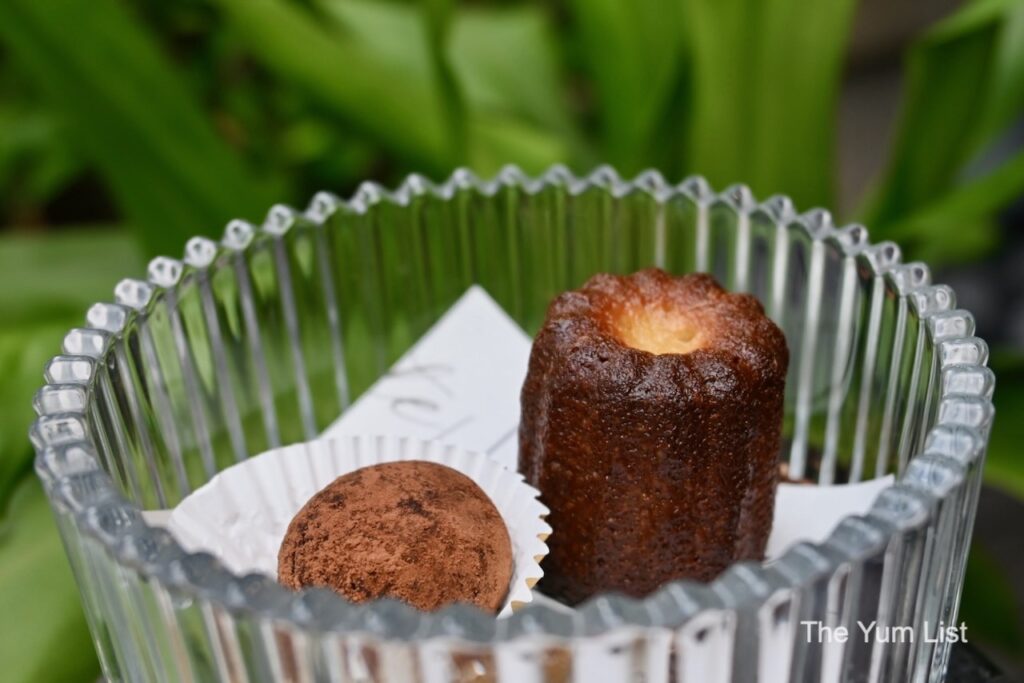 Delamotte Champagne Brunch KL Pricing
The menu without the champagne option is RM268++ per person. Include the free-flow Champagne Delamotte and add another RM360++, which is incredibly reasonable considering that a single glass of the Brut is RM168++. The free flow is available between 12pm – 3pm on both Saturday and Sunday. There are supplements that can be included to tailor the menu to your specific tastes; see your knowledgeable waiter for more information regarding the menu.
Reasons to visit Chateau Dionne KL: the Delamotte Champagne Brunch! From beginning to end, this is a sophisticated and highly enjoyable experience. It's available on Saturdays (as well as Sundays), which makes the idea of free-flow Champagne so much more manageable! The ingredients are all treated with reverence, and every dish is memorable and delicious. Matt was gobsmacked by the initial butter offering, and things only went up and up from there. Monica loved her soufflé reunion. Both were more than happy to raise a glass as often as they could to the Champagne Delamotte.
Delamotte Champagne Brunch KL at Chateau Dionne
24, Jalan Medan Setia 2
Bukit Damansara, 50490 Kuala Lumpur
Phone: +603 2011 2333
www.dionnewine.com.my
Delamotte Champagne Brunch KL Hours
Saturdays & Sundays 12 – 3 pm
Find more French restaurants in Kuala Lumpur here and stay up to date with the latest food and beverage happenings in KL here and here.