Bubbly Brunch Mosaic, MOHKL
Words: Claire Matheson
Photos: Rich Callanan
As the glory days of free-flow brunches return, Mosaic at Mandarin Oriental, Kuala Lumpur, is serving up a dizzying number of choices, with possibly the largest seafood buffet and dessert buffet on offer, all with endless French Taittinger Brut Reserve Champagne. They also deliver one of the city's tastiest Sunday roasts. Vying for the title of Kuala Lumpur's largest boozy brunch, Mosaic at Mandarin Oriental is a return to the heyday of Kuala Lumpur's exorbitantly excessive Buffets.
In 2020, as Covid spikes shut down restaurants and hotels with hasty abandon, we heard murmurings of horror amongst food lovers: would this spell the death of the buffet? SOPs quickly clamped down and no longer were guests allowed to pick and choose to fill their plates as they wished. It seemed as though this beloved cultural icon, particularly revered in South East Asia, may have suffered a fatal wound it could not recover from. A cornerstone of our cultural identity, are you even Malaysian if you don't buffet?
Within the last year, we have begun to see some mild-mannered forms of the Buffet return. In late 2021, early 2022, masked and gloved servers shielded their quarry behind plexiglass screens as guests meekly pointed to a little bit from this dish and that. There was some choice, but limitations in spacing rules meant limitations in dishes. It's hard to gleefully bask in judgement-free indulgence when someone else is in charge of your portion sizes. Frankly, I'd prefer no one outside of my closest friends witness just how many desserts I can eat in one sitting if the opportunity presents itself! Especially when there are so many beautiful delicacies to taste and try.
The team at Mandarin Oriental, Kuala Lumpur, are big believers in having your cake and eating it too, and once buffets were safe for reintroduction, Mosaic took it as a personal challenge to see how over the top they could make theirs. After our shared period of forced abstinence, Mosaic is one of the greatest dining displays of magnificence and eminence in pursuit of sustenance. An experience of decadence and opulence. Let the feasting commence!
Bubbly Brunch – Mosaic, MOHKL
Doors into Mosaic open sharply at 12:30pm. Though, eager guests have lined up much earlier. They eagerly flood the space in a wave of suits, gauzy fabrics, polished up-dos, and well-heeled diners. This is an event to dress up for. A celebration of glamour and glitz. Priced at RM208 NET for unlimited brunch and an additional RM288 NET for free-flow addition, you will not have to fear value for money. The Taittinger Brut Reserve Champagne that comes with the free flow bubbles option has a refined and classic palate, with vanilla, lively fruits and a touch of sweetness to balance out the dry maturity. Once again, Mandarin Oriental, Kuala Lumpur, is living up to its reputation for generous and high-quality wine deals.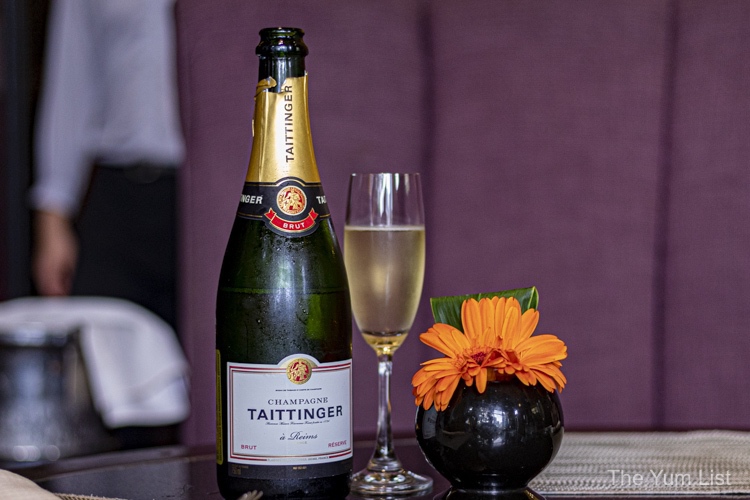 Champagne Brunch KL
Before we're even fully seated, attentive servers bring us our first bottle of Taittinger French Champagne. With a pop and a fizz, our flutes are filled, and with a quick toast and a 'Hurrah for Buffets!' we're off to explore the stations; the counters upon counters groaning with decadent delights. There is such a huge variety on offer – each station practically constitutes a full buffet in and of itself. For the first round, we decide to divide and conquer; each table member assigned to a station, to pick a selection for all to share and enjoy.
Returning with plates piled high, we settle into the lush velvet curved bench banquettes to survey our haul, looking out over the spectacular vista of KLCC Park while we sip on our bubbly and begin our tasting extravaganza. Mosaic's decor is almost as decadent as their food, with beautiful Southeast Asian-themed artworks, exquisite handmade lace and carved screen displays, backlit marble counters, inlaid ceilings, and antique chandeliers throughout. The space feels like you've stepped straight into the era of the La Belle Époque, where the most celebrated creative minds were spawned. Beauty begets beauty, and Mandarin Oriental's aesthetic charms are reflected in their exquisite food.
You came for the seafood, didn't you?
The seafood buffet is generously heaped high, with servers consistently replenishing the ice beds to keep up with demand. Each shell or exoskeleton is waiting to be cracked open and sucked dry. At one end sits a sumptuous display of rows upon rows of fanned scallop shells, their lacy bevelled edges beholding their fat juicy treasures. The females wear a halo of blushing orange zeaxanthin, and the males are enshrouded in gleaming white.
Plump orange poached king prawns lie nestled in rows, their helmets hiding transcendent juices for those brave enough to revere the best part. Blue mussels and clams with black pepper are arrayed in overflowing bowls, each shell nursing fat little morsels of briny bliss. Elongated flower crab legs stick up from their ice bed, like flags heralding an army of deliciousness, waving you over with their temptation, while slipper lobsters lay in heart-shaped motifs, speaking to their romantic idolisation as an appetiser for other delights. Mosaic staff have thought of every possible sauce and condiment, with bottles of Tabasco, lemon and lime wedges, seafood cocktail sauce, horseradish cream and pineapple chilli sauce serving all preferences.
Yet it is the poached yabbies that draw us back more than once. Hard to find at seafood buffets, their darkly vibrant shells and adorable pincer claws yield a wallop of freshwater flavour. We pick them clean as we sip our freshly refilled flutes of Taittinger Champagne, using husks of warm, fresh bread to mop up the extra juices. How utterly decadent.
At the cold station, lashings of vibrant smoked salmon are accompanied by chives, sour cream, capers and pearl onions, while a Norwegian favourite: salmon gravlax cured with sugar, salt and numerous herbs, is a wondrous side dish to extend your seafood extravagance. If the dizzying array of shellfish on ice is not enough to satisfy, then head to the sushi counter for more chilled seafood choices, where you are greeted by lines of sashimi and maki, with fine cuts of tuna, salmon and halibut. There is a chef's selection of sushi available, and you can pick from all the usual accompaniments, as well as Japanese pickled cucumber, san aai, and even some Korean kimchi.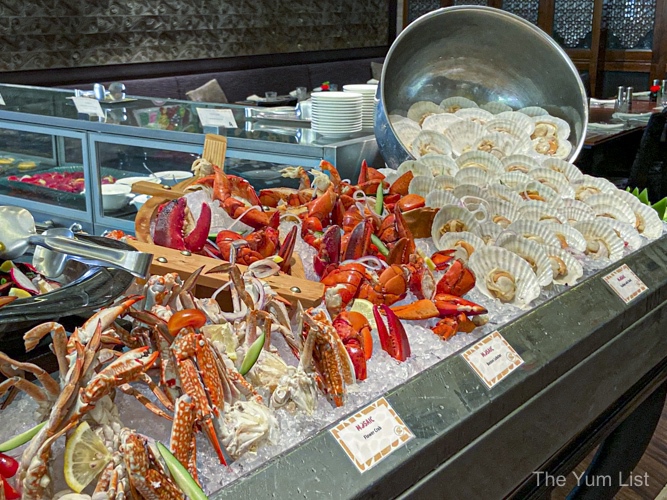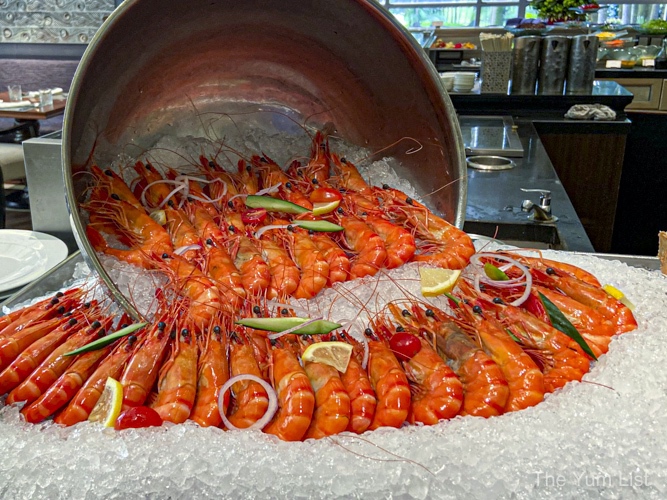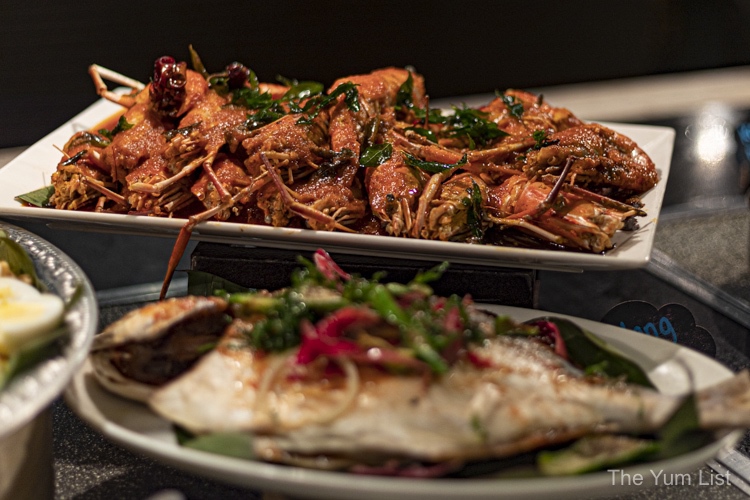 Salads & Starters
We continue to sip our Taittinger between plates, so beginning round two with a cheese platter sounds on brand. Grabbing a plate, we load it full of soft cheeses, including brie, blue vein and goats chevre, as well as some hard cheeses: a gruyere and a gouda, before adding in pecans, pistachios, dried apricots, figs, grapes and some crackers. In true French style, we also pick up some freshly made rustic bread to balance the palate and settle into our comfortable banquette bench to nosh away.
Next, we select some appetising Middle Eastern dips, glass bowls of freshly made pumpkin moutabel, hummus and babaganoush, each with a hollowed centre of olive oil, seeds, and extra herbs, perfect for scooping with a variety of warm, air-filled pita bread.
For the healthy opportunists, there is a make-your-own Caesar salad station, complete with a literal tower of toppings, including peeled prawns, crunchy beef bacon, parmesan cheese, various crouton options, and sun-dried tomatoes. Another salad station has both make-your-own components and chef-prepared selections. Pick from crispy prawn with grilled pineapple salad topped with avocado cream, green bean salad with feta, Tomato and oregano dressing, a Moroccan spiced chickpea salad, a tuna salad with generous chunks of herb crusted tuna steak slices, and a steak salad with roasted vegetable salsa. Each dish is freshly made, with generous heapings of high-quality ingredients.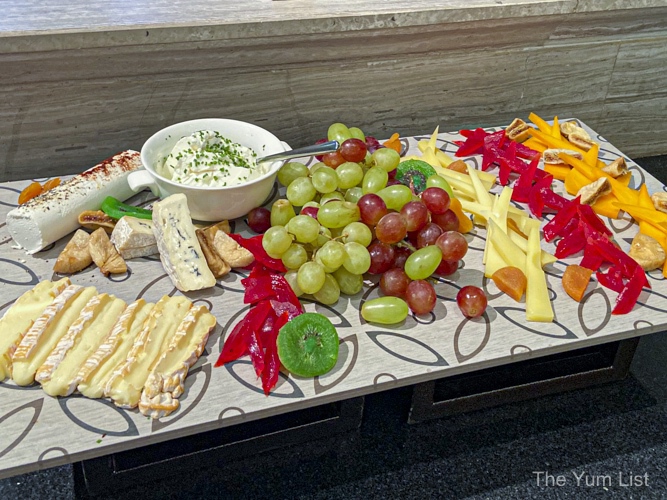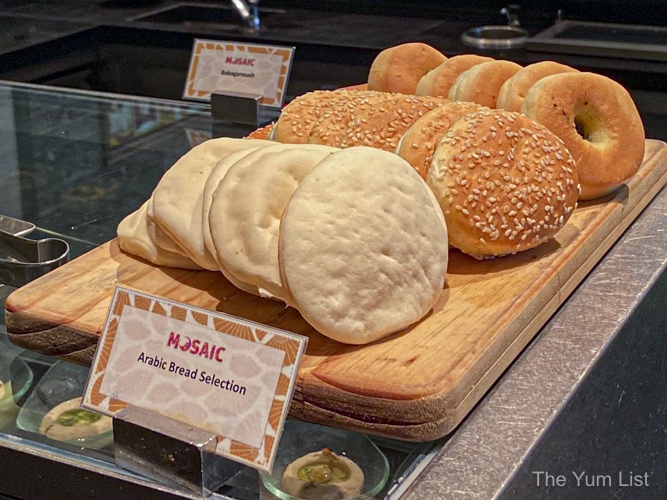 Soup
Today's soups are mushroom, and a hot and sour prawn soup. Each can be accompanied by some of the freshly baked, still-warm bread rolls and sliced bread on offer. All tastes are catered to, whether you prefer sourdoughs, farmer's loaves, seeded, or just crunchy and soft white bread. Mosaic even has its own lok-lok station, with numerous fresh meats and seafoods prepared on skewers for you to dip and cook to your own personal taste and satisfaction.
Pasta – Bubbly Brunch KL
Even with the decadent surroundings on display, sometimes all you are craving is comfort food. Mosaic has a dedicated station for just such moments. Pasta can be made to order, and while the menu offers alfredo, carbonara, bolognese, pomodoro and aglio-olio, you can also ask chefs to prepare your bowl just how you like it, with numerous halal meat toppings, vegetables and condiments.
Bubbly Brunch KL – Fried
If, like some of Mosaic's guests, you are staying at the Mandarin Oriental, Kuala Lumpur, and are coming into the buffet to refuel after a particularly big night, then you may be hankering for something from the fried section. Here, you can find everything from fried mussels, prawns and fish fingers, to fried mushrooms, onion rings, and calamari, all prepared in Mosaic's house-made batter: light, fluffy and extremely crunchy. And, of course, there are well-seasoned potato wedges and perfectly golden French fries. Do French fries go with Taittinger Champagne? We think they do! Top up your plate with some lemon wedges and some of their many dipping sauces, including chipotle, ranch, tartar and chilli.
Sunday Roast with all the Trimmings
Like Versaille's Hall of Mirrors, the length of Mosaic's dining hall draws you on, towards the far end, the sense of exploration and discovery building as you near the most alluring of the stations. Here, you can find Western-style roasts to rival even the most groaning of Thanksgiving tables or the more celebrated of London's centuries-old Sunday dining establishments.
We start with the trimmings: creamy, smooth sweet mashed potato, roasted pumpkin with handfuls of roasted almonds and bundles of thyme sprigs, lamb sausages stuffed to bursting, and baked stuffed Idaho potatoes filled with fluffy, cheesy, mashed potato and cured meat chunks (halal, so nobody misses out). Sauteed vegetables of cauliflower, carrot, zucchini and mushrooms glisten in a butter sauce and heaped bowls of lemon wedges, gelatinous mint sauce, Pommery mustard and dijon mustard help to round out your plate.
In central pride of place, rising above the other dishes, are the roasts. Sumptuous and juicy, there is a whole leg of lamb, a gargantuan whole chicken, and beef cheeks piled high. Nestled around them are roasted potatoes, carrots, turnips, garlic cloves and onions, spilling open like flowers, topped with masses of thyme, rosemary and oregano.
However, the star dish responsible for the lengthy lineup is an impressive, decked-out Beef wellington. Wrapped in a buttery, flaky, lattice pastry, roasted to a rich golden brown, the meat is delicately cooked to retain the juices. Encased in an earthy herb rub to protect against moisture loss, this is one roast you will not want to douse in mushroom or black pepper sauce; instead, revelling in all its roasted goodness.
Spoiling their guests for choice, Mosaic has not stopped there. Deep dishes of grilled squid, ginger oysters and grilled lamb chops provide more options, while a whole salt-baked seabass flakes off the bone, its crunchy salt coating the perfect way to drum up your thirst so you can sip on more Taittinger Champagne. No need to ask for a refill, your glass has already been topped up. If by some miracle, you are still not sated, Steak sandwiches the size of your fist are served on fresh baguettes with tomato, lettuce and an enthusiastic squiggle of mustard.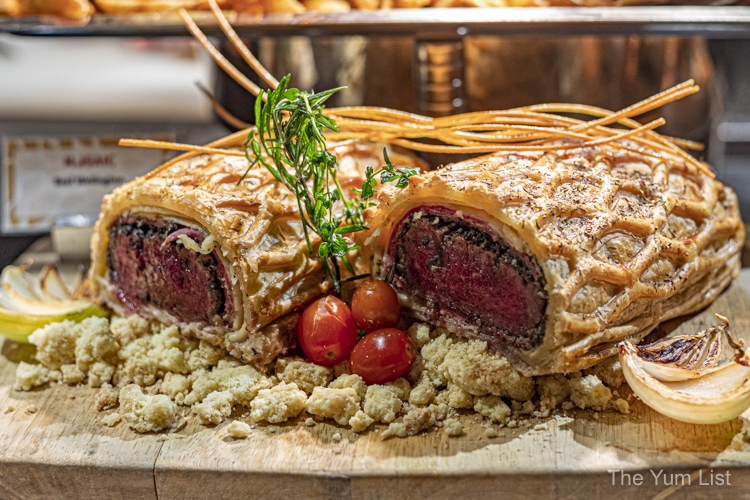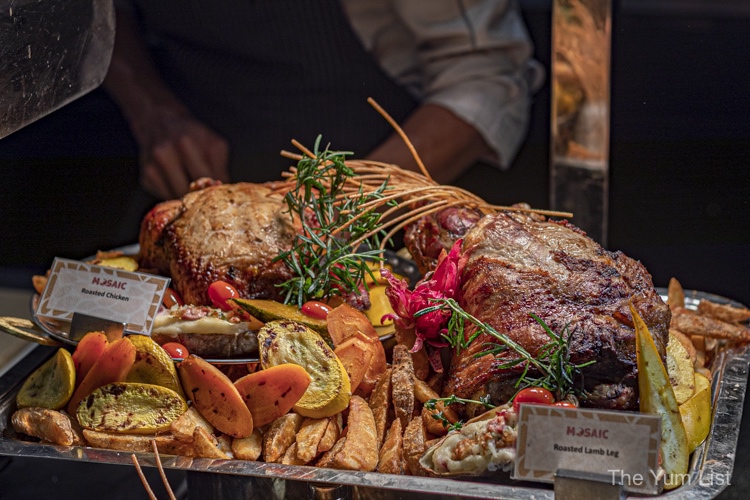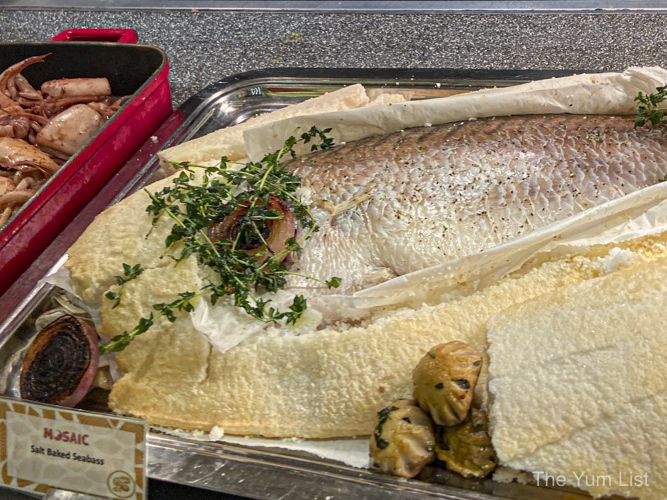 A Celebration of Malaysia
No buffet brunch in Kuala Lumpur would be complete without a strong representation of local flavours. There are two counters covered in silver and copper serving dishes, and the heady aromatic spices waft invitingly throughout the space. At the first counter, we find an ikan masak tempoyak, with whole chunks of fresh white fish. An ayam kalio delivers a creamy variation to rendang, while some fried cabbage delivers a satay peanut crunch. In the back row there is a coconut creamed perut masak lemak, and a dark, thickly sauced kambing masak hitam. A fragrant curry in the front is a masak lemak siput sedut. Digging beneath the surface uncovers generous amounts of large spiralled snail shells. Rounding out the curries is a rich, thick, and powerful oxtail ekor lembu masak asam pedas with a tomato and chilli base.
Because none of us have had enough seafood yet, we serve up some of the whole baked ikan bakar topped with okra, while the udang galah madu are sweet, salty, spicy prawns coated in a vibrant orange curry. Towards the end of the counter, a weighty chunk of mutton sits proudly atop an enormous bowl of biryani daging. Lastly, stacked chicken and beef satay skewers come with all the accoutrements: chunks of cucumber, red onion and compressed rice cubes, with an over-large tureen of peanut sauce.
The curries and cuts of meat on offer at Mosaic are not your day-to-day mamak fare. In the style of Mandarin Oriental, Kuala Lumpur, the dishes are beautifully curated, slow-cooked, and packed with rich flavours to excess. At the next counter, Indian Malaysian dishes are bright and colourful, with many vegetarian options on offer. There is both a navarathna pulao, topped with a rainbow of capsicums and cashews, while a dum pukht biryani is heavy on the saffron and again topped with roughly cut fresh herbs and more cashews. There are too many curries to sample in one session, including a creamy bhindi masala, a deeply red stuffed brinjal sagal, and a light and fragrant vegetable navaranthna korma, packed with plant based goodness.
At the carnivorous end is a light and silky murgh awathi kurma, a coconut meen moilee with healthy chunks of fish steaks, a lamb shank garam masala which halts passersby with it's comforting fragrance, and both prawn and chicken tandoori in tints of burnt orange. To pair are a number of poppadom options, in addition to garlic and cilantro, and tutti fruity flavoured naan bread. Silver bowls of chunky tomato chutneys and red and green roasted chillis provide a final hit of flavour.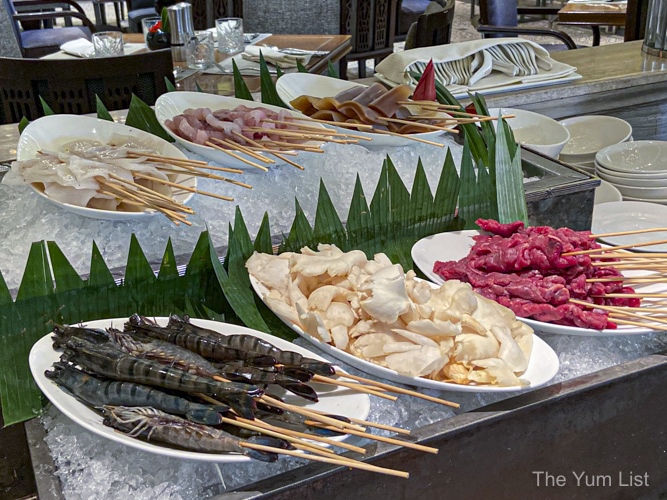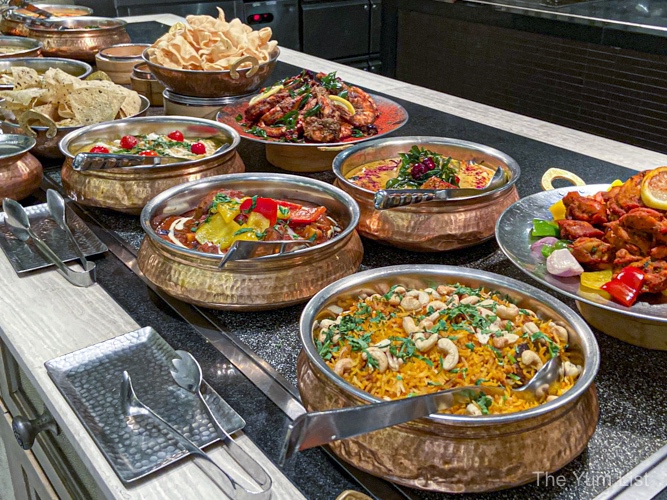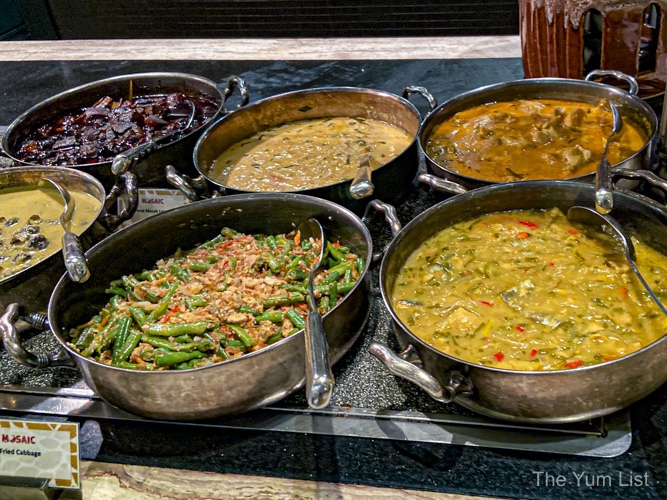 The Prettiest Petit Fours in All Malaysia
At Mosaic, the desserts sit centre stage. In the very centre of the dining hall, the towering floral arrangement draws the eye to a 360-degree, multi-tiered dessert display. Each tier beholds a dazzling collection of bite-sized sweet morsels. There are so many to choose from; you could eat your entire meal just from the dessert section and still not come close to trying everything.
Today Mosaic has two hot desserts: a sticky date pudding and a bread and butter pudding. If you like the sensation of hot puddings mixing with cold ice cream, Mosaic delivers with vanilla, chocolate mint chip, and raspberry cream cheese ice creams. There are vanilla, caramel and chocolate sauces to choose from next to bowls, upon bowls, upon more bowls of toppings: peanut M&Ms, candied citrus peel and mixed dried fruit, toasted muesli with fruits and seeds, 100s and 1000s sprinkles, chocolate sprinkles, chocolate chips, mini chocolate or caramel balls, and a rainbow assortment of sugared jelly candies. There are even a handful of ais kacang jelly toppings to round out your indulgence.
Around the central display, there are assorted Malaysian kuih with various layered and sweet rice combinations, but most importantly: kuih dadar. The fluffy pandan coconut pancakes are filled with crumbly gula and coconut. Walking around the tiers, we find mini créme brulee, passionfruit panna cotta, and pandan panna cotta. On the top tier are fresh, flaky croissants and Danishes, miniature chocolate muffins, custard twist pastries, and sweet buns.
Moving on to the cakes, the frangipane opalys white chocolate and berry tart is dense, moist and absolutely divine; you can taste the luxury in every bite. Next to it, a burnt cheesecake is decorated with glazed strawberries and a chocolate nest, and a moulded raspberry pistachio cake exudes sugary beads of sweetness topped with fresh berries. A second cheesecake is dotted with blueberries, with a buttery biscuit base and decorative sugared lemon curls. But it is the Japanese mango cake which we find to be sublime. Light, refreshing and similar in texture to mousse, with lashings of fresh mango on top; even when we are full to bursting, we finish every last mouthful.
Only a third of the way around the pillar, we move on to see tiers of kek lapis Sarawak in dark velveteen purple hues, vibrant reds and teal greens. It's almost too pretty to eat. Almost. Berry and melon mochi are pillowy soft and bursting with delightful fruity pastes. Minute flourless dark chocolate caprese cakes are just the right size to deliver their intense punch of flavour, with a swirl of milk chocolate chantilly icing to even out their depth and darkness.
A three-tiered milk chocolate fountain is irresistibly alluring. A small line forms for people to dip their mini-skewers of brownies, fruit, and poffertjes into the liquid chocolate waterfall. Petit four-sized chocolate and vanilla cupcakes and cheesecake crescents come with beautiful, bright flecked squares of handmade chocolates, with fresh berries and flakes of edible gold. Further, around the central tower, sticky date cupcakes and pandan kaya cupcakes are equally adorned. The carrot cake is too beautiful to walk past, each one crowned with an orange-dusted creamy cheesecake sphere. Even Marie Antoinette would be spoiled for choice picking from these.
Finally, six tiers of Mandarin Oriental's own handmade chocolates and pralines come in an assemblage of shapes, each with an artistic splatter of vibrant green and gold-coloured chocolate. There are even dark and light chocolate-covered cake pops. Assorted macarons come in five different colours and flavours, each a surprise reveal, perfect for finishing the last sips of our Taittinger champagne. Well, until it is once again refilled by the attentive servers.
If you're not a sweet tooth but are still craving something to end your meal with, the fresh fruit counter offers cut pineapple, guava, fresh coconut flesh, papaya, mango, honeydew melon, watermelon, as well as mandarins and longans. For some extra depth and texture, drizzle your choices with fig jam and scatter some crushed nuts on top.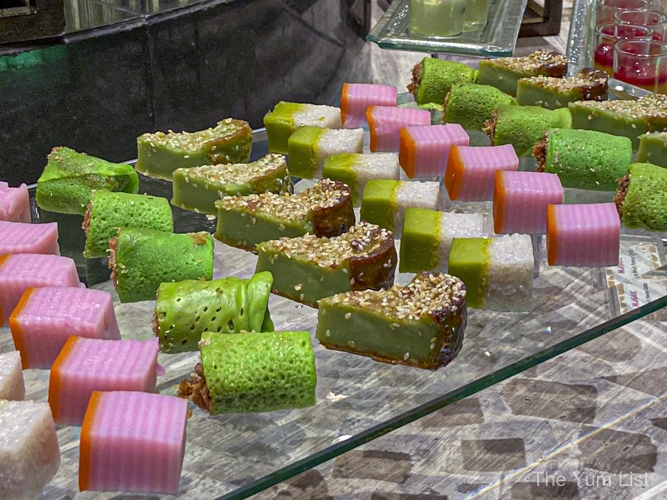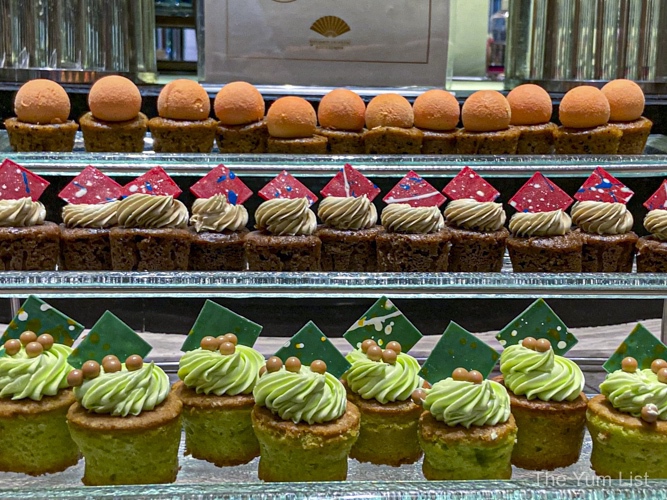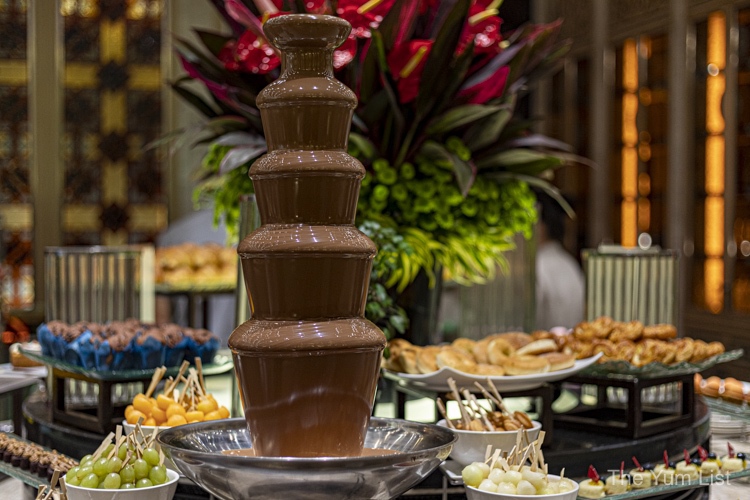 Do you still have room in your stomach?
As we recline and chat, watching the Sunday joggers run laps around the park or families meet at the fountain to take photos, we slowly digest our mammoth meal and wonder if there's any room left to sneak in one more prawn, one more pastry, or one more macaroon. There is definitely room for one more glass of bubbles! Before we can ask, the Taittinger is already flowing into our flutes. Once again, Mandarin Oriental's attentive staff have anticipated our every desire.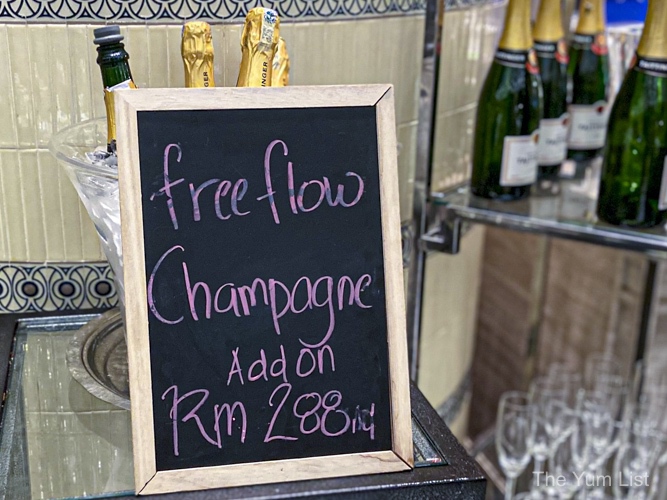 Bubbly Brunch – Mosaic KL
Sharing notes, we realise that between us, despite our very best efforts, we have only managed to taste a small portion of what Mosaic's Champagne buffet has to offer. Each of us would need to come back every Sunday for many months before we had tried it all.
We surmise that Mandarin Oriental's bubbly brunch is a hot contender for the best-value free-flow brunch in Kuala Lumpur, and its buffet stations are perhaps the most extensive.
Reasons to try Bubbly Brunch at Mosaic KL: The seafood, dessert and roast buffets are spectacular. Our favourite plates were stacked high with cheeses, lobster, yabbies, beef wellington, cakes and too many petit fours to count. The always wonderful Mandarin Orienta, Kuala Lumpur,l staff are a treat to be around, and who can resist a good view when dining. Taittinger Brut Reserve Champagne from Reims elevates the free-flow option – this is not just any bubbles, it's a dry, crisp French! Enjoy.
Mandarin Oriental, Kuala Lumpur
Kuala Lumpur City Centre
50088 Kuala Lumpur, Malaysia
+6 03 2380 8888
+6 03 2179 8818
[email protected]
www.mandarinoriental.com
Find more brunch options in KL here and stay up-to-date with the latest gourmet and travel recommendations for Malaysia here and here.