Champagne Delamotte
Words: Alison Christ
Photos: Monica Tindall & Supplied by The Chamber Starhill
Champagne is probably my favourite beverage. In good times and bad Champagne makes everything better. I am thrilled to be a guest at The Sparkling Afternoon with Champagne Delamotte, where we will explore the world of Delamotte with Grégoire Piochon, the Brand Ambassador of Champagne Delamotte and Champagne Salon. This special event takes place at The Chamber Starhill in Kuala Lumpur. It's my first time visiting this space. The Chamber is a connoisseur's paradise where you can find over 1000 labels of wine spanning the globe, whiskies, cognacs, cigars and much more. I'd venture to say if you're looking for a special bottle, you'll find it at The Chamber. The staff is educated and offers curated tastings and events. There are also private rooms where you can let your imagination run wild.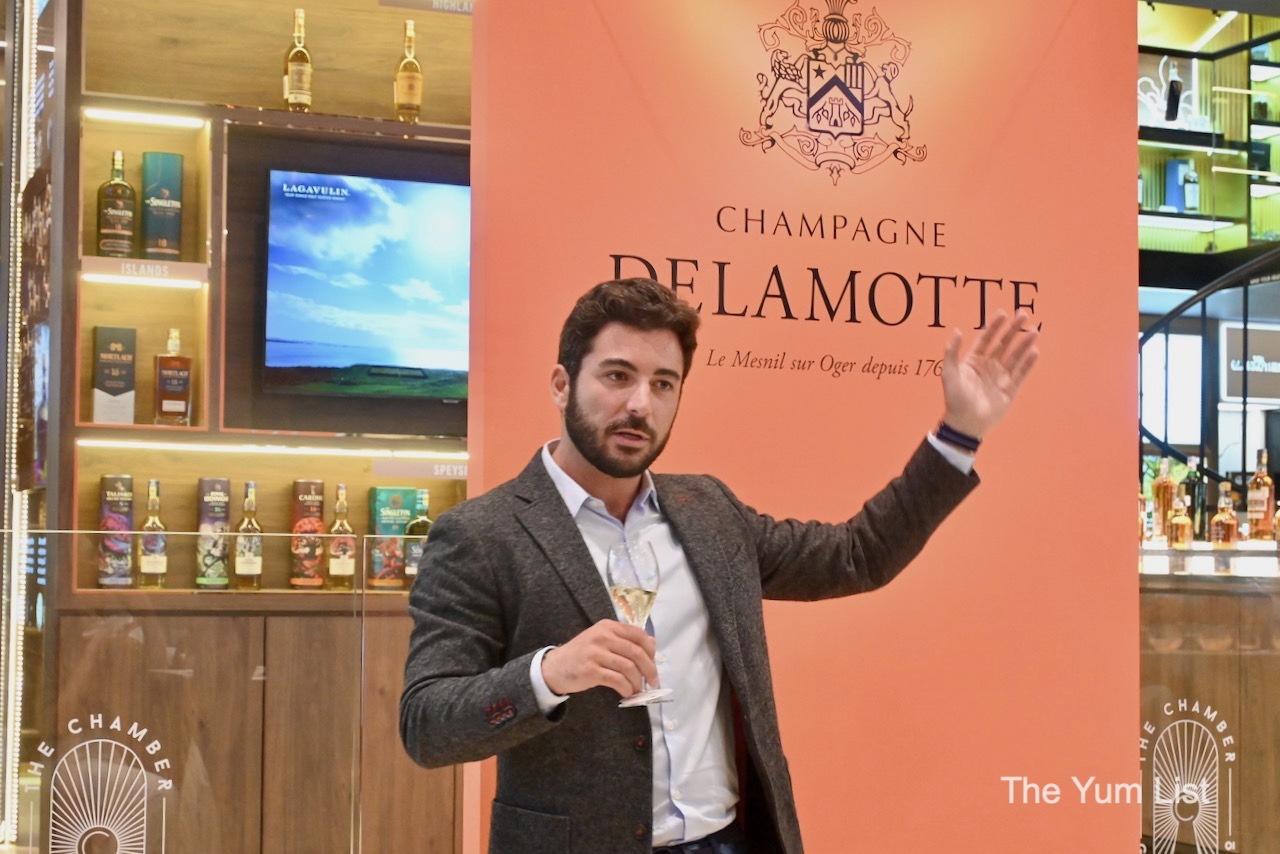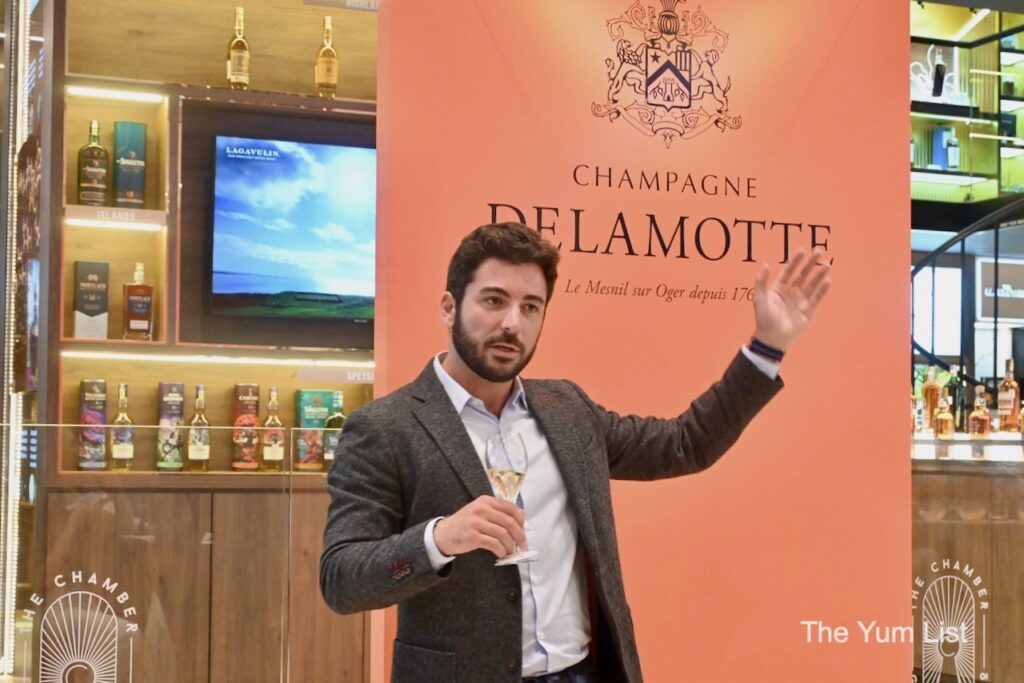 We begin this Champagne experience with Champagne Delamotte Brut. Grégoire Piochon begins by telling us the Delamotte story, founded in 1760 in Le Mesnil-sur-Oger, a grand cru village located in la Côte des Blancs, Champagne Delamotte works this enchanting terroir to grow chardonnay, the only white grape variety used to make champagne. He says great Champagne is, first and foremost, great wine. This is the challenge that drives Champagne Delamotte and its sister house, Champagne Salon, to share the same ambition; delivering all wine connoisseurs around the world the purest expression of Grand Cru Chardonnay of Champagne. Well-reputed among sommeliers and wine enthusiasts, their bubbles are known for their consistency, delicacy and exceptional character. For over 260 years, they have been crafting only four different Delamotte cuvées, a small range that gives amateurs and experts alike a clear understanding of the art of Champagne. The winery believes that Champagne is a universal language that anybody can learn.
With a delicious glass in hand, Piochon continues to explain the Champagne Delamotte Brut, which is a blend of Chardonnay, Pinot Noir, and a touch of Pinot Meunier. A light dosage is added to Delamotte Brut after thirty-six months' maturation on the lees. The bubbles, fresh and fine, make a great aperitif. Delamotte boasts this is Champagne to make you smile. I am defiantly smiling! Next, we are served a plate with four amuse, and we are introduced to the very first Malaysia Culinary Influencer of Champagne Delamotte, Chef Satoshi Uehara – Executive Chef of Ushi. We are to enjoy a delightful gastronomic pairing created by Chef Satoshi, who is a master of beef. Chef tells us he has curated a menu harmonizing Wagyu beef, Japanese cuisine and Champagne Delamotte. His goal is to help Malaysians redefine the wine and dine scene in KL. Exploring the exceptional character of Delamotte to increase awareness of the remarkable Champagne.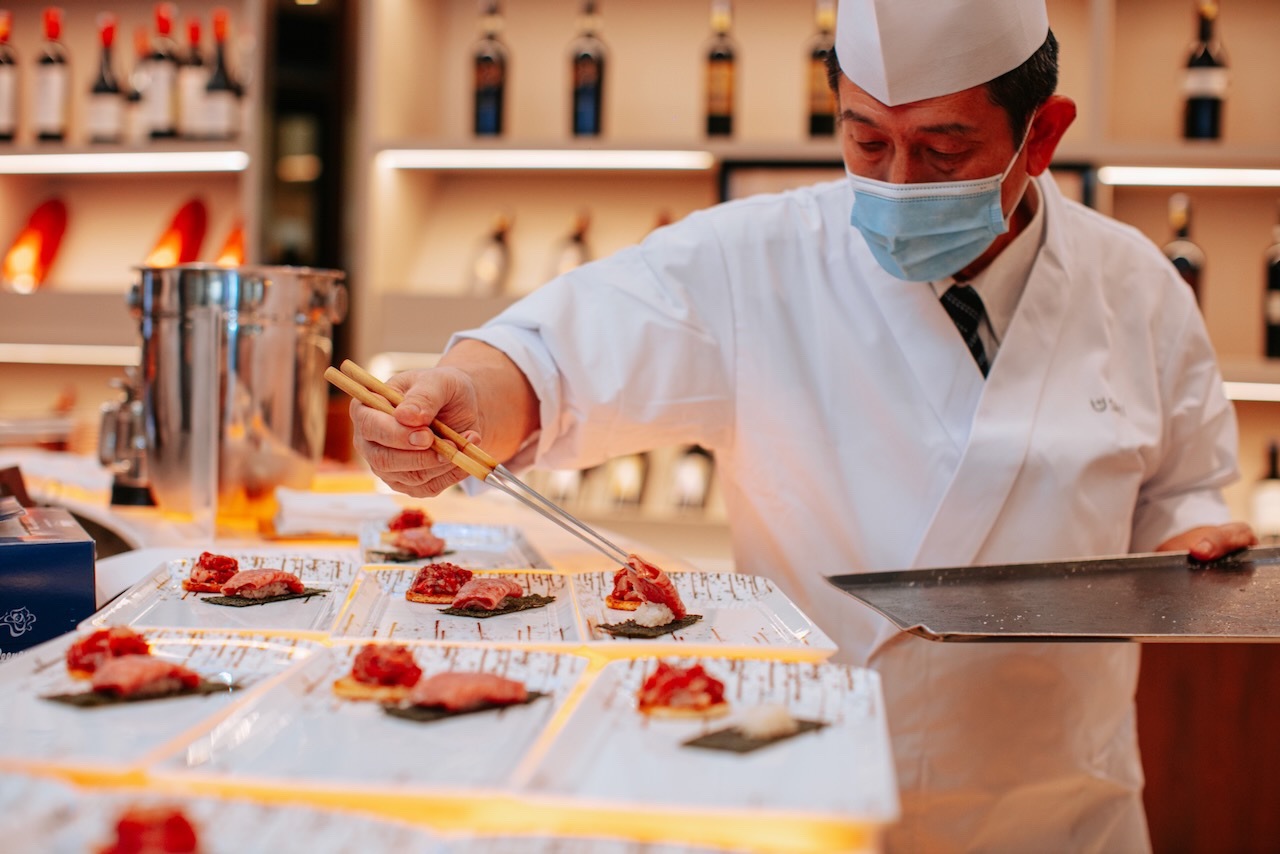 Our degustation menu begins with Ozaki Beef Sushi with sesame and soy sauce, seaweed and sea urchin paired with the Brut, and it's delicate and delicious. Next, we are spoiled with Champagne Delamotte Blanc de Blancs NV, which is 'the White of Whites' and 100% Grand Cru Chardonnay. Piochon tells us this is a mineral champagne, with a chalky sensation achieved by the addition of 10 % reserve wine. The finesse and elegance of this cuvee is excellently paired with Ozaki Beef Shabu-Shabu with Curry Sauce, which offers our palate a unique, stimulating affect.
Champagne Delamotte Blanc de Blancs Vintage 2014 is paired with Ozaki Beef Tartare with Scallop, an interesting combination that works well with the 2014. This vintage has spent a remarkable 7 years on the lees and is only made in the best of years. The wine is yummy today and can be cellared for 20 years or longer. This Blanc de Blancs blends grapes from each of the grand crus, the only Champagne to do so. Each village has its own characteristics; Le Mesnil-sur-Oger offers acidity, purity and chalky minerality. Avize creates balance and structure. Oger adds warmth, body and generosity. Cramant lends a smoky minerality. Chouilly robustness and length, and finally, Oiry adds acidity and roundness. The blending of these crus creates a supremely elegant wine with phenomenal ageing potential!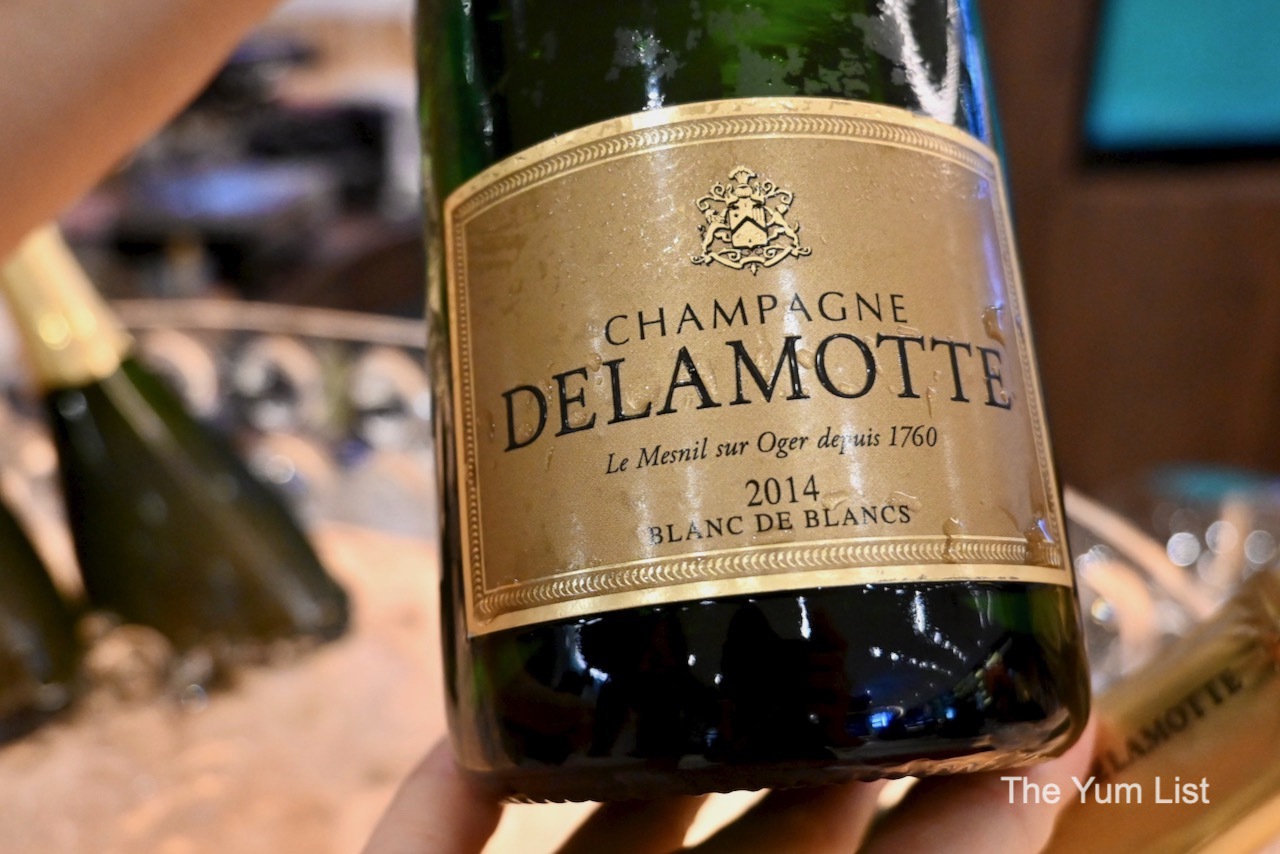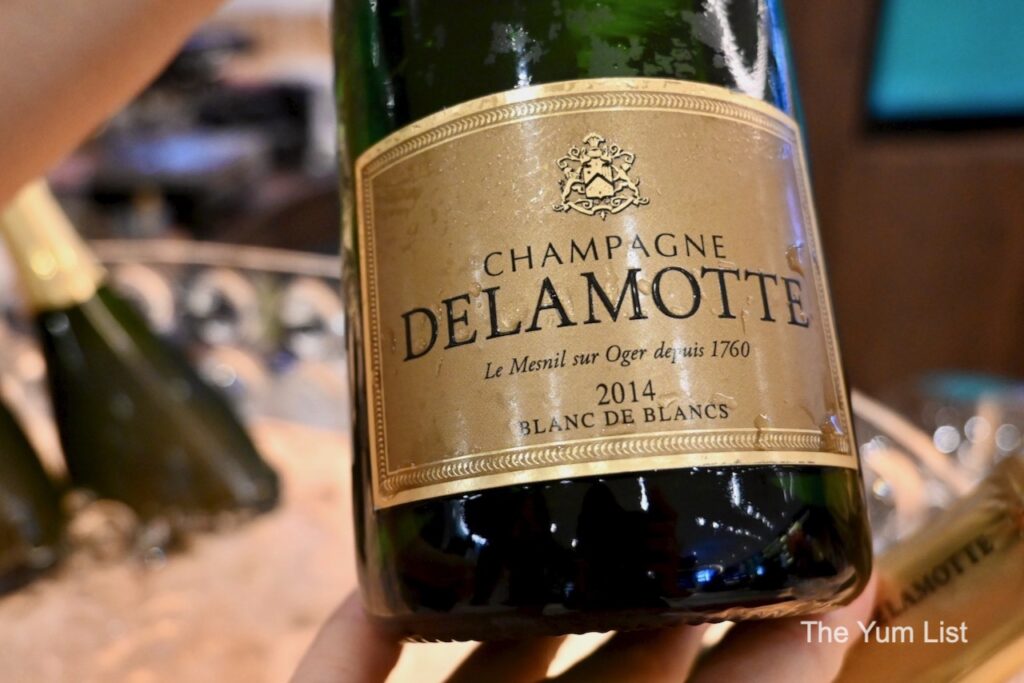 Well, here we are at our last but not least Champagne, the Rosé. Suddenly the Beatles are running through my head. Let me take you down cause I'm going to… Strawberry Fields. Only 15,000 bottles of this beauty are made a year. Champagne Delamotte Rosé is mostly Chardonnay with Pinot Noir. The wine is made using the Saignée method, which literally translates to "bleeding," This process involves allowing the must to undergo skin contact with the Pinot Noir. We dive into the Rosé and polish off the last of Chef Satoshi's fabulous bites with the Stewed Ozaki Beef with Ozaki-Gyu Nikomi Potato.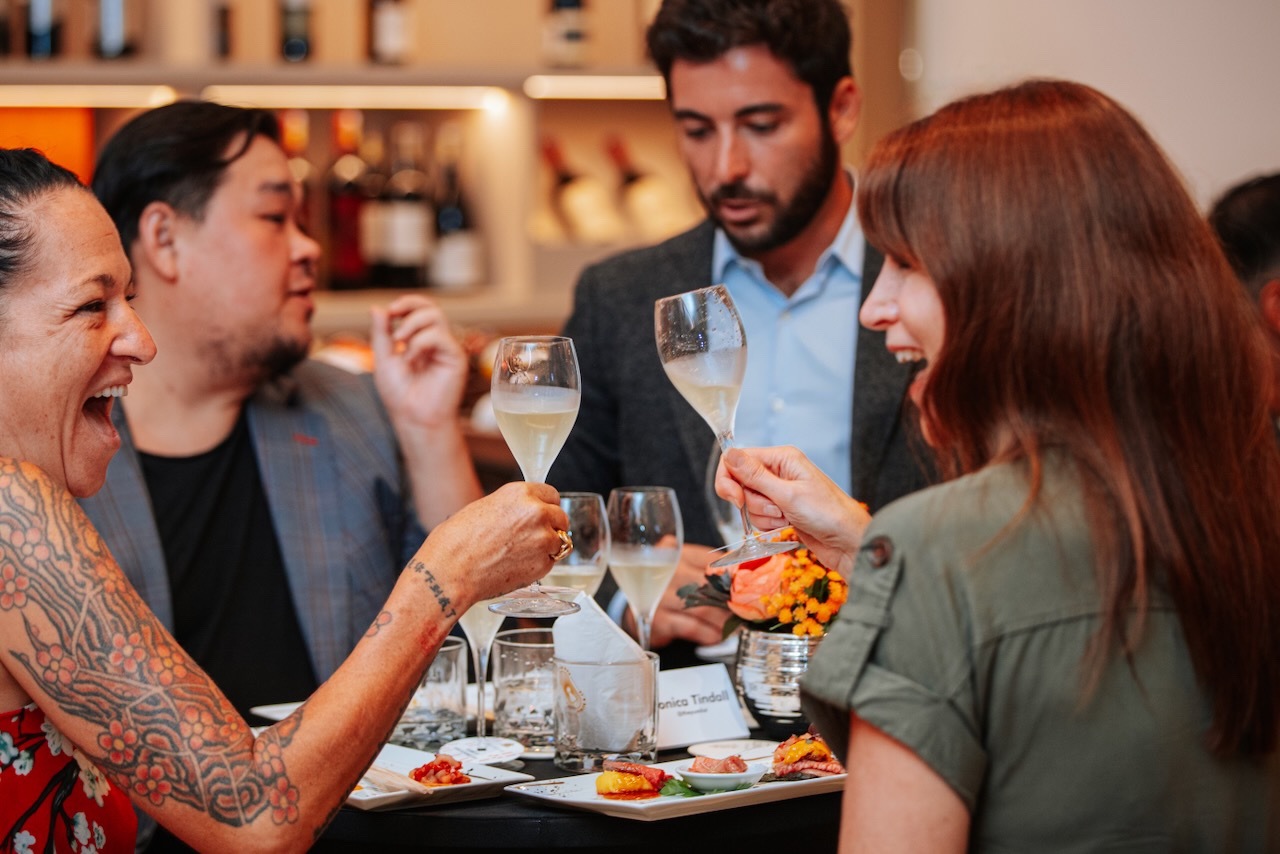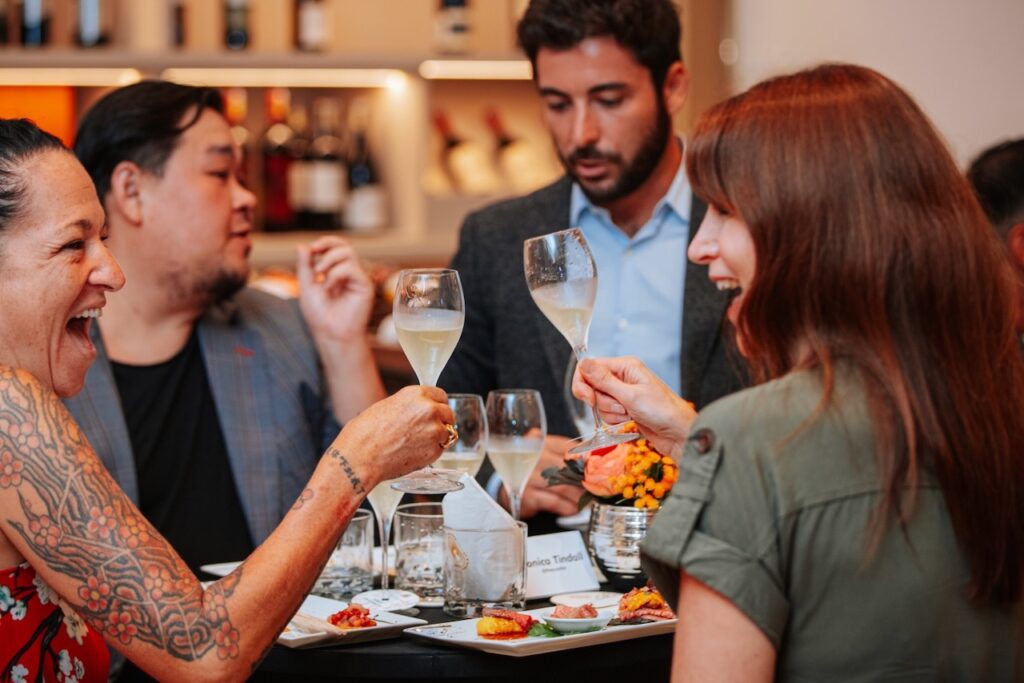 Sadly we didn't get to try any Salon as Malaysia only received 48 bottles this year. Still, if you want your very own bottle of Salon, you can purchase six bottles of Delamotte Vintage or Delamotte Rose or a mixture of these to have access. If you're in a position to do so, I highly recommend it. You can stop by The Chamber or contact Daijin Beverage Importers. Daijin specializes in fine Champagne, Wines, Spirits and Sake.
Reasons to drink Champagne Delamotte: four absolutely delicious cuvees, buy six Delamotte and get a Salon allocation, Champagne… who needs a reason?
www.champagne-delamotte.com
www.dajin.com.my
www.thechamber.my
Champagne Delamotte @ The Chamber Starhill
UG26-28 Starhill Gallery, Indulge, 181, Jln Bukit Bintang
55100 Kuala Lumpur, Malaysia
Find more on Malaysia's wine scene here and stay up-to-date with the latest gourmet and travel recommendations for Malaysia here and here.