Monica Tindall
The new year in Kuala Lumpur has seen a fantastic start for wine lovers. Firstly, the world-renowned Baron Philippe de Rothschild SA hosted a dinner featuring nine wines including three rare vintages of the coveted First Growth Château Mouton Rothschild, and now the exclusive Champagne house, Salon, comes to the city with two Champagne paired dinners hosted by Didier Depond, the president of Champagne Salon and Champagne Delamotte himself!
I'm here for the first of the dinners at The Brasserie, St Regis Kuala Lumpur. Oozing with contemporary French sophistication, The Brasserie's warm lighting, shiny surfaces and polished timber flooring pledge a model location for a prestigious Champagne dinner. The St Regis Kuala Lumpur is the flagship for Maison Salon and Maison Delamotte and as such has the exclusive privilege of featuring special rare vintages such as Salon 1997.
Champagne Salon
Our host, Didier Depond, informs us of the impressive history of the house of Salon. Located in Le Mesnil-sur-Oger in the Côte des Blancs, the winery produces a single Champagne. Grapes are sourced from a one-hectare "garden" and from 19 other tiny lots in the area. Considered to be the quintessential blanc de Blancs, only years producing the most premium of grapes will be made into Salon Champagne. In fact, in the past century, only 40 vintages have been declared, averaging a production rate of only three per decade. It is today one of the most sought-after Champagnes in the world.
Champagne Delamotte
Partnering with one of the most exclusive Champagnes in the world is one of the oldest, Delamotte. Founded in 1760 it is one of only five houses located in Le Mesnil-sur-Oger. Producing non-vintage Brut, Blanc de Blancs and Rose, the guiding principles are based on an insistence on quality. This approach gained the founders acknowledgement in the Encyclopedia of Physiocrats recognising land as the source of all wealth and carries on today with the annual production of 750 000 bottles and the continued pursuit of excellence.
The Brasserie, St Regis Kuala Lumpur's Salon & Delamotte Champagne Paired Dinner
Amuse-Bouche & Delamotte Blanc de Blancs Non-Vintage
I can't imagine a better pairing for the Delamotte Blanc de Blancs Non-Vintage than the chef's selection of mi-cuit salmon, cucumber and watercress. The wine offers fruit and minerality in its bouquet and continues with elegance and a crisp acidity. The Champagne would stand all on its own but too makes a perfect complement to its seafood mate. Its liveliness facilitates conversation and soon the once lowered voices of guests increase in enthusiasm and the evening rolls deliciously forward.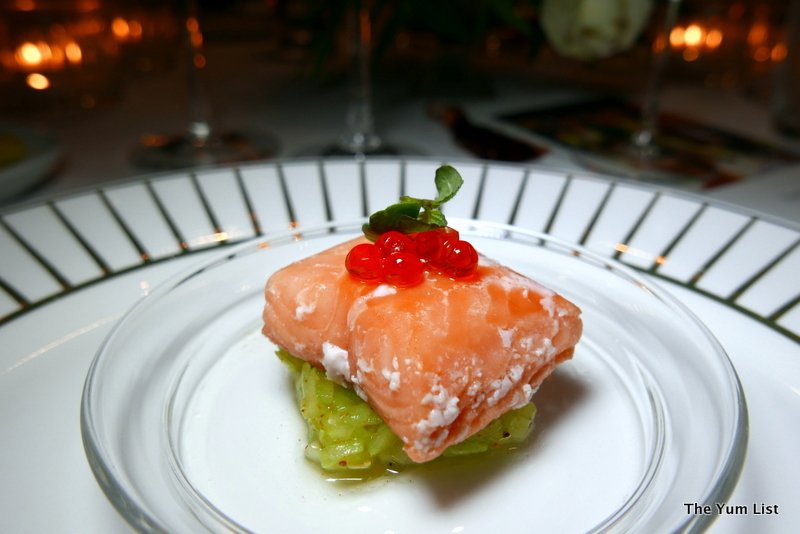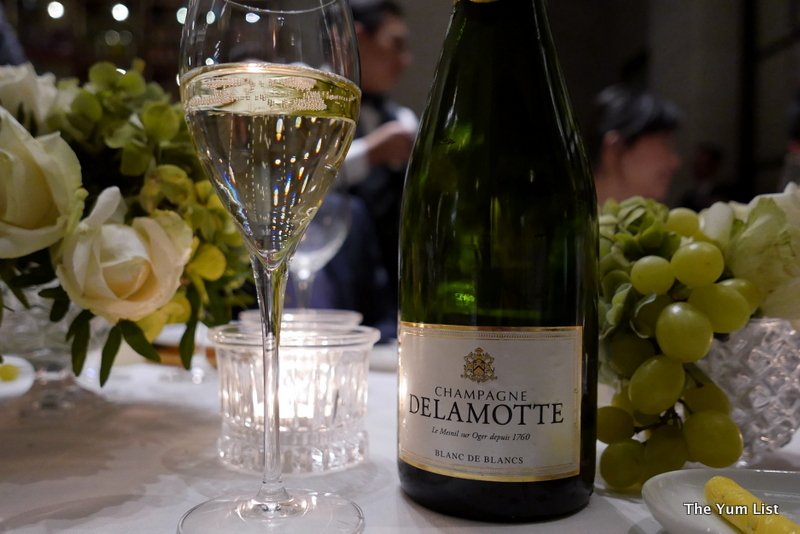 First Course & Delamotte Blanc de Blancs 2002
Veal sweetbread with morels mushrooms and tourte sauce Périgourdine accompanies the second Champagne, Delamotte Blanc de Blancs 2002. Developing in complexity this wine offers fine bubbles and clear minerality. It has both grace and depth alongside aromas of new spring blossoms, green apple and perhaps a swish of toasted brioche. It's soft and creamy yet refreshing, supplying the sweet-tartness of stone fruit in the mouth and persisting through to a considerable ending. Superb.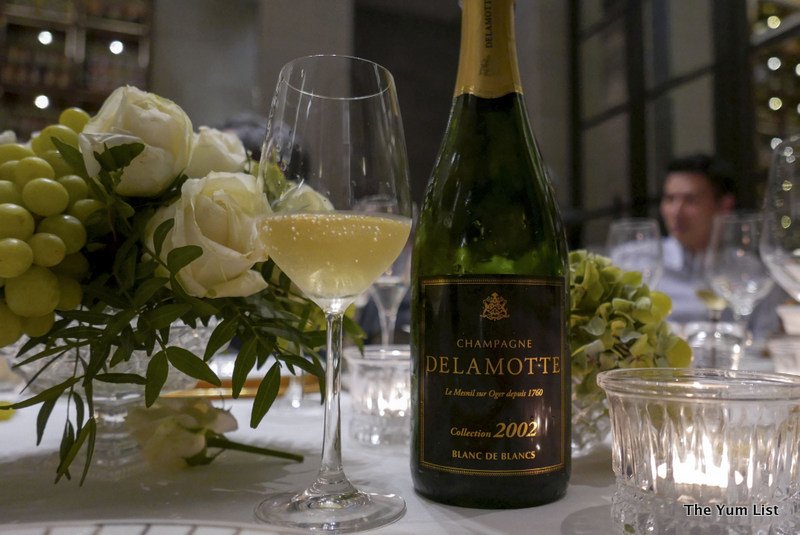 Second Course & Salon Le Mesnil 2006
Succulent pan-seared scallops with caramelized cauliflower puree, shallots, pickles and kumquats matches what we've all been waiting for, the Salon Le Mesnil 2006. Exquisitely fine bubbles rise in the glass bringing aromas of winter turning to spring to the nose with fresh lemon notes intermingling with those of floral wattle. The Champagne fills the mouth rounding out to every corner of the palate presenting multiple layers with every sip. Whispers of minerals and an attractive creaminess carry us through to an intense yet graceful conclusion. Wow! Despite only being half-way through the meal I'm completely satisfied, happy to sit quietly and hold this moment of pleasure.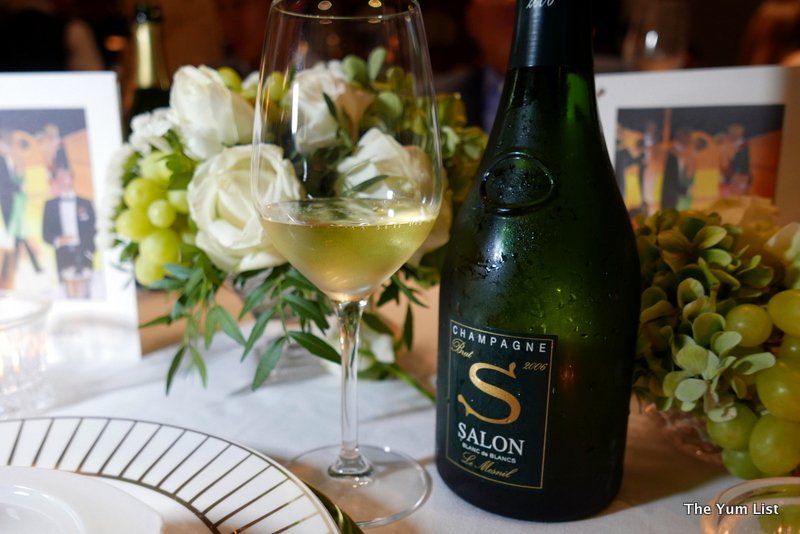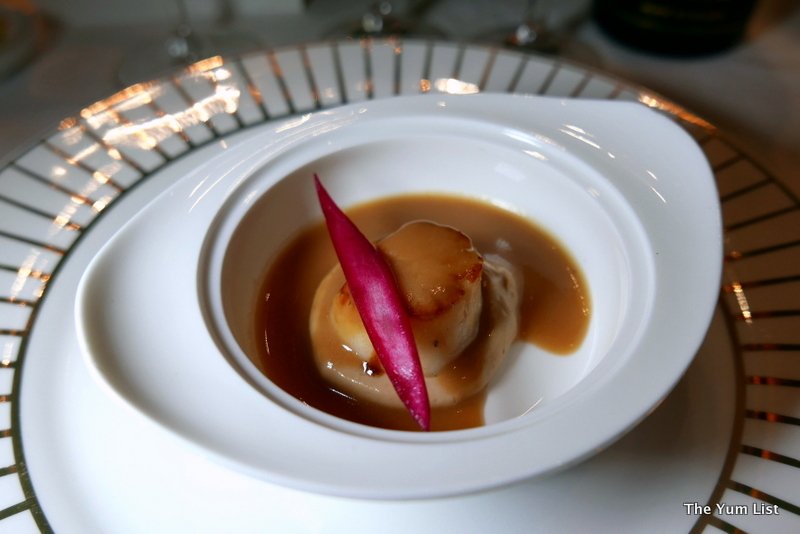 Third Course & Tiano & Nareno Malbec 2010 Magnum
The third course brings spring chicken blanquette vegetables with white truffle and albufera sauce paired with the Tiano & Nareno Malbec 2010 Magnum. The choice of solely bottling in magnum comes from the viewpoint of wine professionals around the world that magnums are the most suitable for ageing and storing fine wines. To be honest, my initial impression of the 2010 was nothing wow-worthy. Frankly, it simply smelled of ripe fruit and lacked depth in the palate. Fine things are worth waiting for, however, and given time to sit in the glass the aromas opened up to multiple layers of dark fruits with whispers of vanilla and toffee and continued with floral notes. It gained strength also in the mouth flourishing in body and complexity and rounding out with soft, smooth tannins. Patience is a virtue.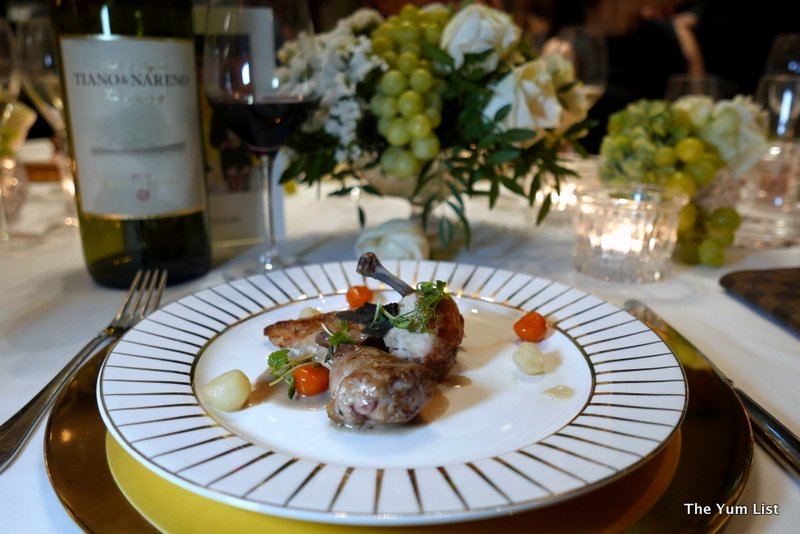 Dessert & Delamotte Rose NV
Finishing off, we find poached peaches with Champagne emulsion and pink Champagne sorbet partnered with the Delamotte Rose NV. The soft shade of pink comes from mostly pinot noir grapes with some chardonnay. A wild berry bouquet precedes fine bubbles and elegance in the mouth. It has done a fine job with dessert this evening but my mind is drifting off to afternoons in the garden with girlfriends – sipping, nibbling, chatting. I might have to take a bottle to-go.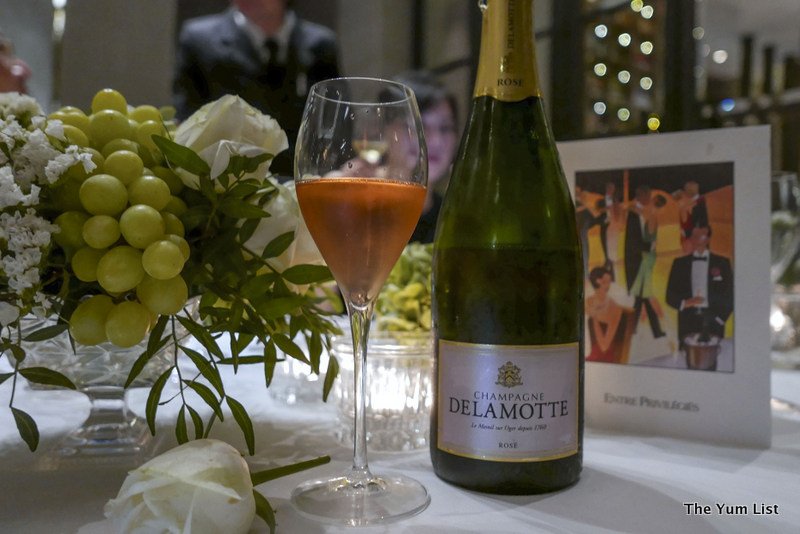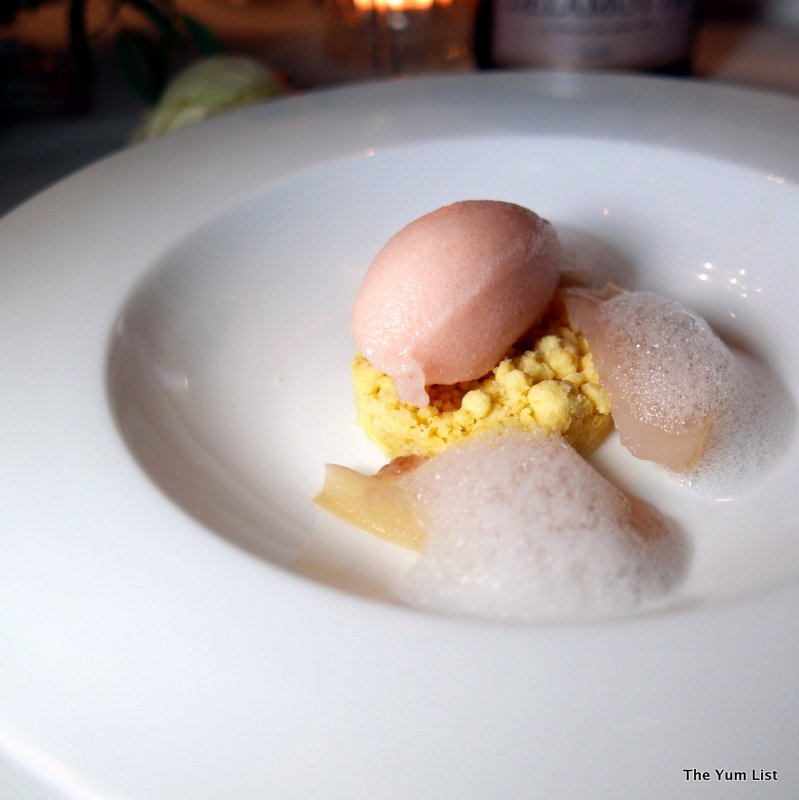 This five-course Salon & Delamotte Champagne paired dinner is available at The Brasserie, St Regis Kuala Lumpur from RM788++. Contact [email protected] or +6 03 2727 6666 for reservations.
Salon and Delamotte Champagnes are available for purchase exclusively through Dajin Beverages ranging in price from RM350+ for the Delamotte Blanc de Blanc Non-Vintage up to RM3100+ for the Salon le Mesnil 1997. Contact them at +6 03 2717 1817 for purchases.
To stay up to date on more gourmet events in Kuala Lumpur, or even to host your own, check out the newly launched Diine Out website. Designed as a platform to assist the food and beverage industry in promoting their events and enabling people to purchase tickets with the click of a button Diine Out aims to seek out memorable dining experiences that, "transform a regular meal into an interesting event sure to leave you smiling into the night."
www.salondelamotte.com
diineout.com
www.stregiskualalumpur.com