The Ganga Café Bangsar – Only the Good Stuff
Words: Monica Tindall
Photos: Rich Callahan
Only the Good Stuff – the team at The Ganga Café Bangsar has stood by this motto for nearly a decade! The humble Indian vegetarian restaurant will celebrate ten years of service this year. Omitting artificial colouring, MSG and eggs and having an extensive list of gluten-free and vegan options, the café has developed a loyal following. From humble beginnings in a quiet Bangsar neighbourhood, the kitchen has expanded to three outlets bringing happiness to diners in Sea Park and Mont Kiara.
Founders, Meeta and Prabodh, have a simple goal; to create a "happy food-eating place." We say, "mission accomplished!" We meet with Meeta over lunch in the original Bangsar digs and witness the same enthusiasm we encountered upon our first meeting. Her nurturing nature has led Meeta to create recipes that are not only vegetarian but a comprehensive range of vegan and gluten-free options, too. She wants everyone to feel included and cares for those with food intolerances by making just as delicious alternatives. Just look at the chapati list! We count at least six different varieties, including wheat flour and six-grain, as well as gluten-free sorghum, millet, chickpea and maize.
Furthermore, and quite incredible, given the passage of time and the recent rise in the cost of goods, prices have not increased. Instead, we even find some items selling for a few ringgit less on the latest menu. Going against the crowd who is increasing prices, she has instead reduced margins: it'd be hard to find a better value meal for this quality of food anywhere in town.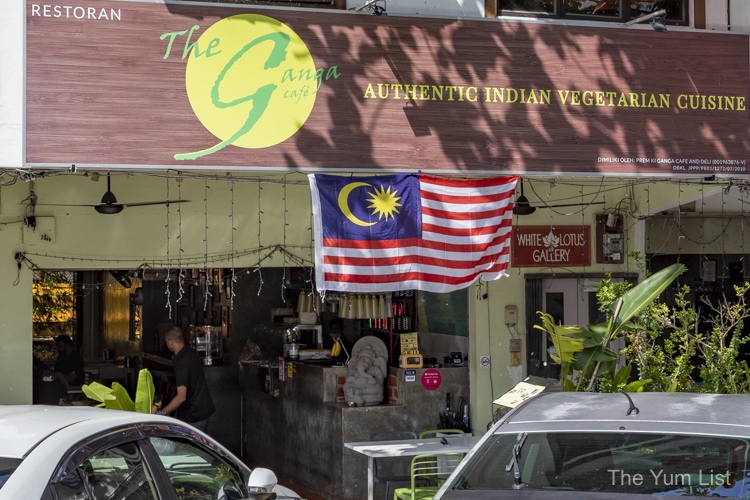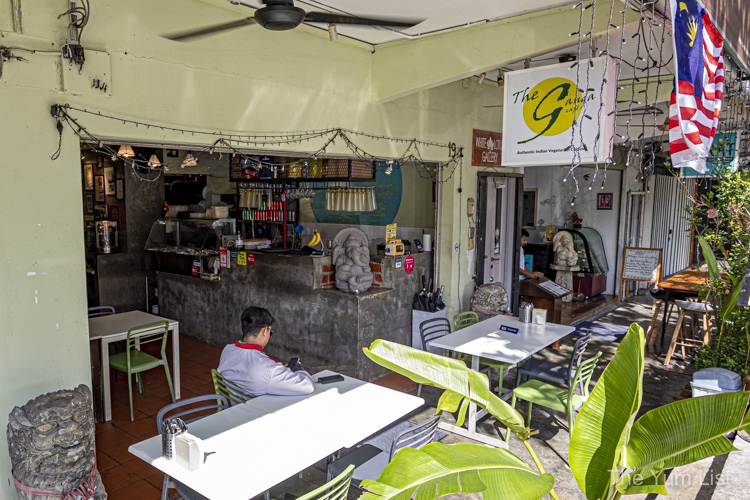 The Ganga Café Bangsar Menu
Earth Juices
The Ganga Café's menu is comprehensive, but a good place to begin is with their house-made Earth Juices (RM 12.90). All are blended fresh on the spot and offer an exciting range of flavours. The Pranic Juice is one of their best-sellers and is associated with healing. It's deep green, a blend of lemon, lime, mint, cumin, ginger, pepper and honey. The Nucleus Cooler is just as refreshing but with a thicker, smoother texture thanks to psyllium husk, basil seeds, lemon, lime, kiwi and soda water.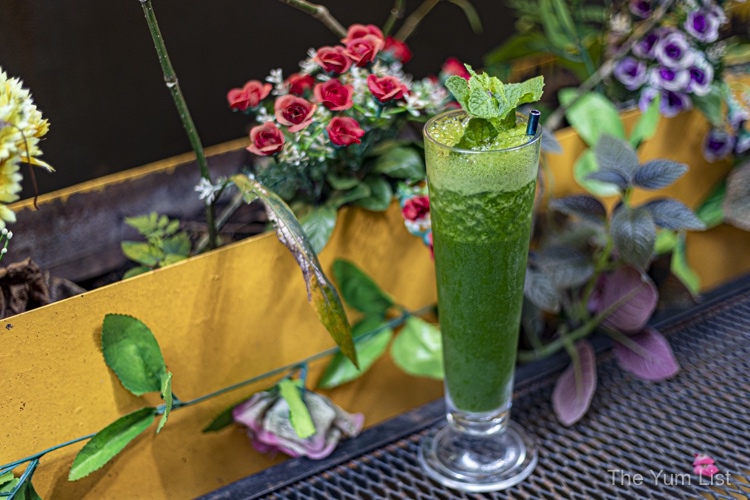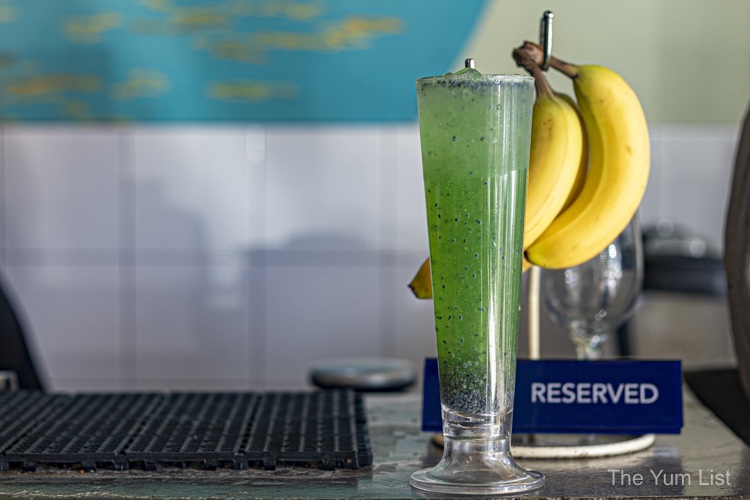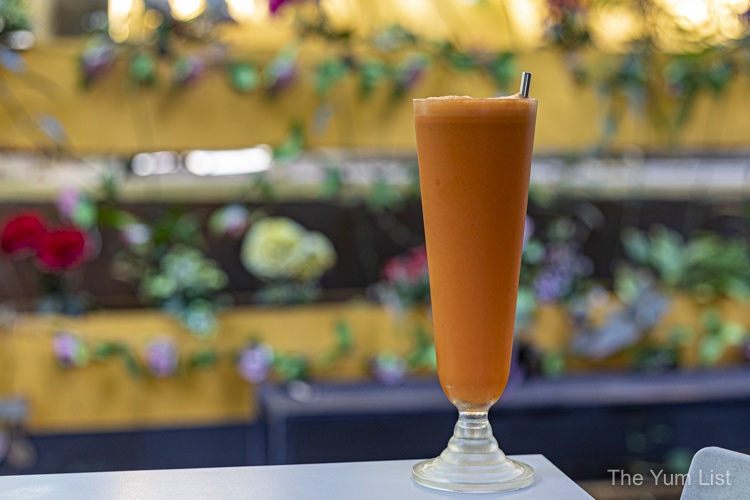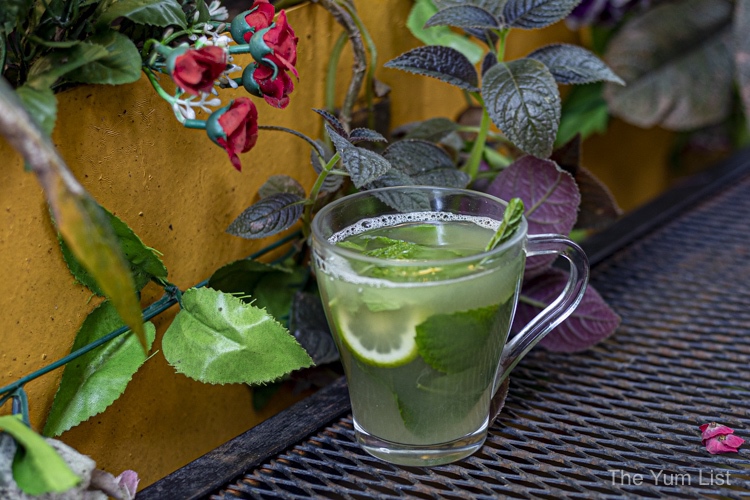 The Snacks
Our first snack is so delicious and new to us that it disappears in seconds. Sporting a paper-thin crust and soft, loaded middle, the Hara Bhara Kebab (RM 12) makes excellent finger food to share (or not). The patties are made of cottage cheese cooked with chilli, onions, capsicums and spices.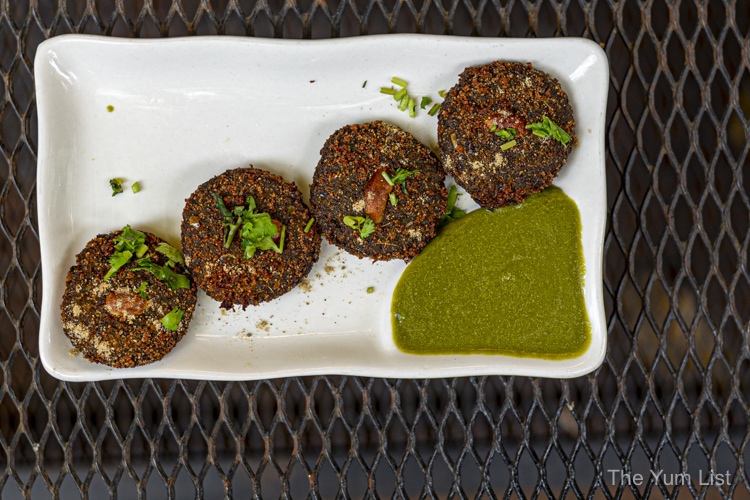 Chaat – The Ganga Café Bangsar
Vegan and gluten-free, Meeta's Special Chaat (RM 14) is the owner's twist on classic street food. Chickpeas are in a sweet and sour liquid of homemade chutneys (Rich's description: a sweet and tangy yumminess that you could bathe in). Crisp hand-made noodles made with chickpea flour add a change in texture and addictive crunch.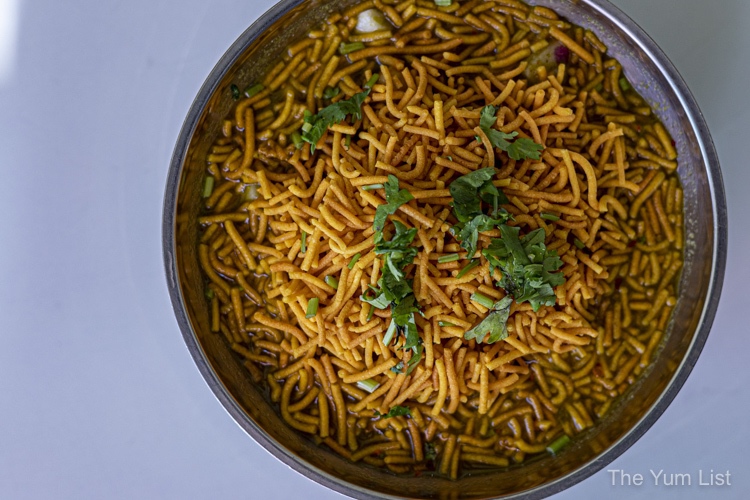 The Rest of the Crowd
The next two dishes are well suited to one (or more) of the many flatbreads on the menu. Baingan Ka Bhartha (GF, V, RM 19) warms my heart with its slow, deep heat that seems to skip my tongue and go straight to my chest. This mashed eggplant dish is cooked in tomato and aromatic spices. The natural sweetness comes from the tomato gravy.
The Methi Malar Matar (RM 18), a cream-based gravy, has a distinctive taste with fenugreek sauce and green peas. Both the dried leaves and seeds of fenugreek are used, bulking up the dish both in texture and flavour.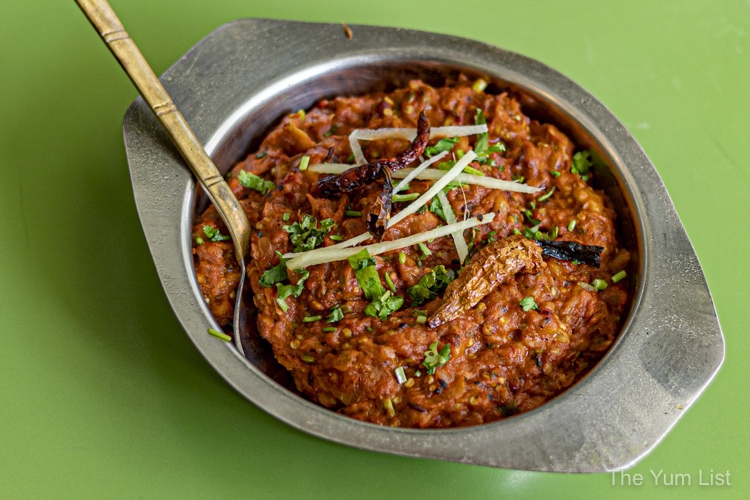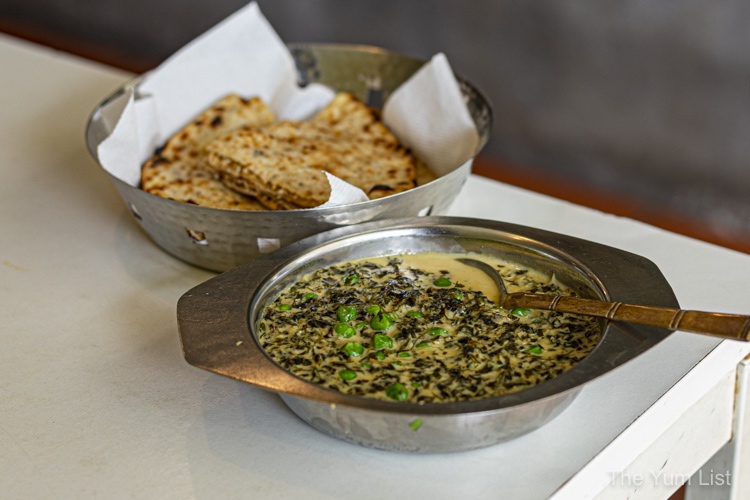 To Go Along-s (TGAs)
You can't go wrong with any of the types of bread at The Ganga Café Bangsar. As mentioned earlier, Meeta has gone to all lengths to ensure there are vegan and gluten-free options for everyone. 
The Kasmiri Naan (RM 12) is an elegant rendition with sesame seeds, crushed almonds, pistachios, cashew nuts and just a few sultanas providing a gentle thread of sweetness. The Gobi Paratha (cauliflower, RM 12), with a yoghurt sauce, is dense and filling. For light eaters, it might even do as a meal on its own. As with many dishes at The Ganga Café, it can also be made vegan with onion curry on the side instead of yoghurt. Lastly, Beetroot Tosai (RM 5.90), made on rice and lentil flour and coloured with beetroot, is a gorgeous picture. It comes with dahl, coconut and mustard seed chutney, and spicy tomato chutney. Both vegan and gluten-free, it's a win on all accounts.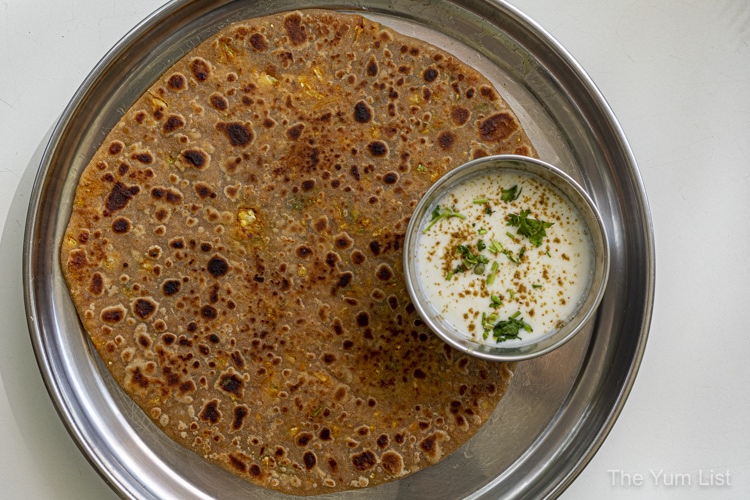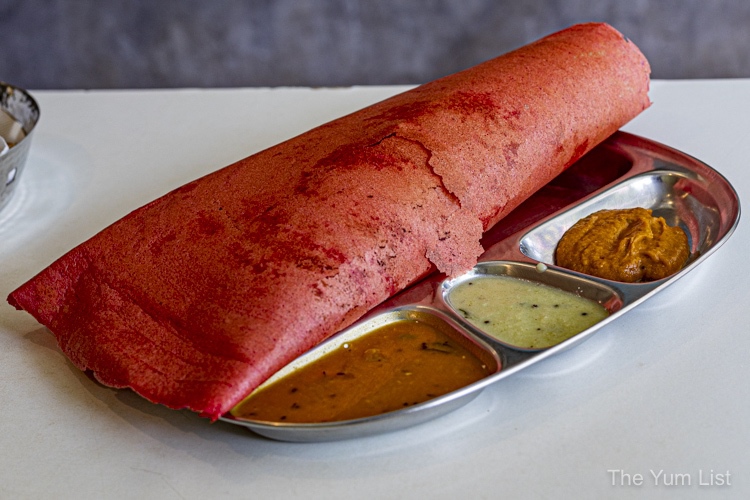 The Standalones
Just introduced to the new menu, the Paneer Sizzler (RM45) is an exciting tray of fragrant pulau rice (lovely long grains) with a colourful array of mixed veggies (broccoli, French beans, carrots, and baby corn). Strips of homemade fried chilli paneer are the highlight, and potato wedges and malai kofta (cottage cheese, cream and potato rolled and pan-fried, giving it a nice golden edge) side it. The sweet and sour chilli sauce supplies an Indo-Chinese style, detouring somewhat from the Indian spice in the rest of the menu. The veggies are nice and firm. The cheese and rice are wonderful, and the big plate could easily be shared between two (or possibly three small eaters).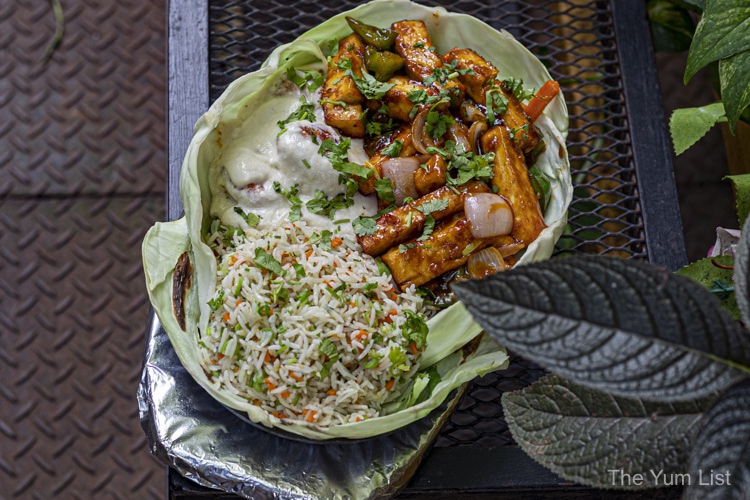 The Ganga Café Bangsar – Sweets
Unlike the rest of the menu at The Ganga Café Bangsar, the sweets are unapologetically "unhealthy. Full of sugar," says Meeta. However, you deserve a sweet treat after such a healthy meal, right? They take a lot of work – hours to boil down the ingredients to the right texture and flavour infusions.
Patissa (RM 3.80) is an aromatic gluten-free treat made with layers of chickpea flour topped with almonds. The Coconut Candy (RM 15) is super sweet and coconutty and reminds us all of childhood with its popping shade of green. Lastly, Coconut Ladoo (RM 3.50) is composed of fresh coconut and organic palm sugar. They're aromatic with cinnamon, bay leaves and whole spices. It' 's unusual to find them made with palm sugar, but the inclusion makes the flavours more profound and more complex.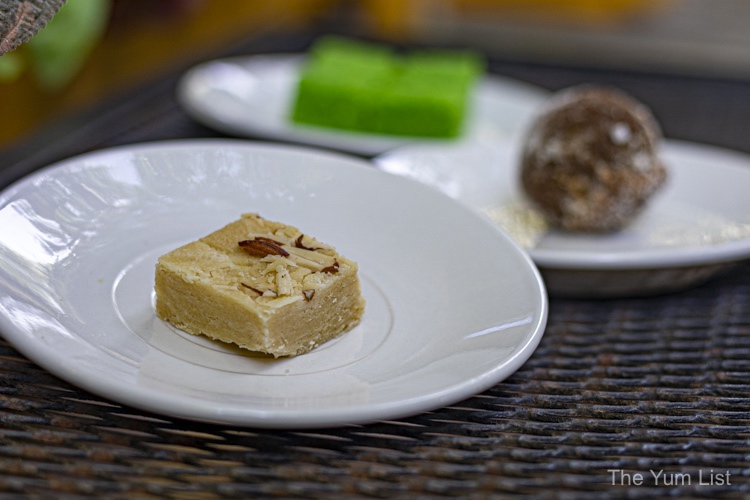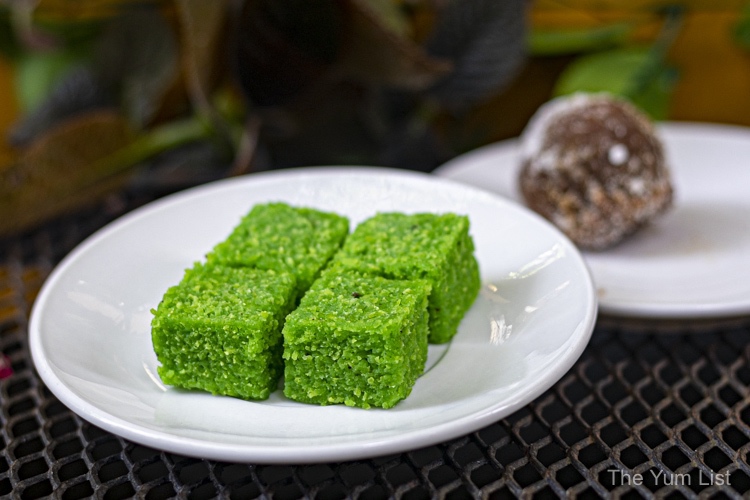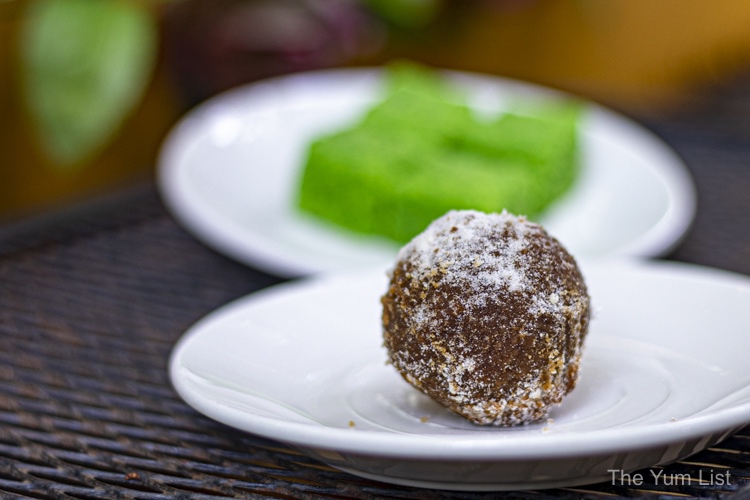 Whether you take a small bite and declare your meal done or relish all three, the sweets make a fantastic conclusion to a delicious meal.
Reasons to visit The Ganga Café Bangsar: lots of vegan and gluten-free options; food made with heart; must try the Pranic Juice; Meeta's Special Chaat and flatbread, flatbread, flatbread.
The Ganga Café, Bangsar
19, Lorong Kurau, Bangsar
+603-2284 2119
www.facebook.com/thegangacafe
The Ganga Café Bangsar Opening Hours
Weekdays: 10:30am – 10:00pm Weekends: 9.00am – 10.00pm
Closed Tuesdays
More vegetarian and vegan food in KL here and stay up-to-date with the latest gourmet and travel recommendations for Malaysia here and here.