Marini's on 57 Restaurant
Words: Monica Tindall
Photos: Rich Callahan
Celebrating a decade on top (literally) of the city, the team at Marini's on 57 Restaurant delivers the Founder's Menu. The degustation takes guests on a historical journey, honouring chefs from the past ten years and their most popular recipes in a 10-course line-up. History is reimagined 267m above sea level with close-up views of the Petronas Twin Towers and a nod to founder Cavaliere Modesto Marini, responsible for bringing the vision of the world-class event space to life.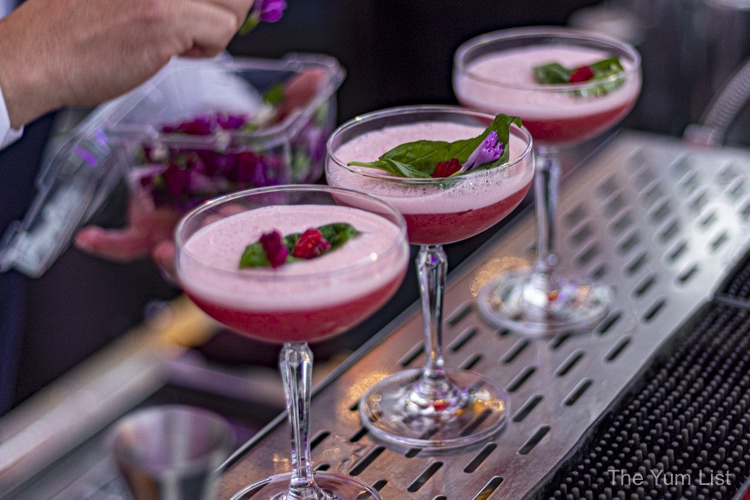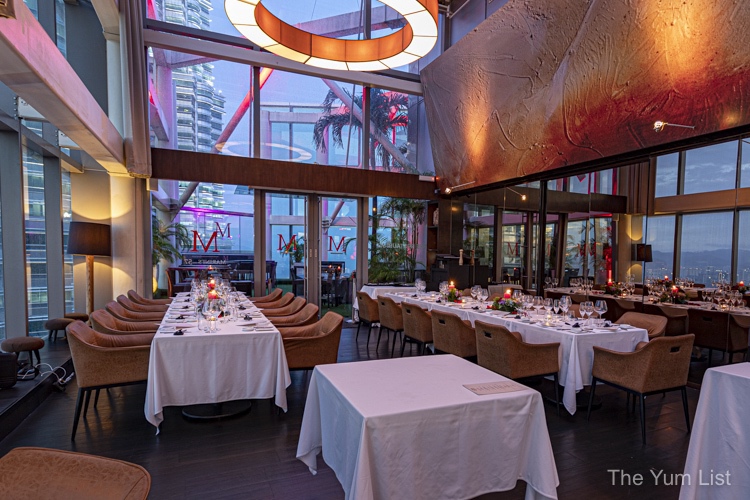 The Founder's Menu
Marini's on 57 Restaurant – Sfizi
Once we've quenched our thirst with cocktails at the bar and prised our eyes away from the impressive views, we can pay attention to our first course, Fegato Grasso. A petite plate holds the pan-seared foie gras atop a round piece of brioche. Complemented by pistachio and fig jam, its arrival is dominated by sweetness, with the creamy, earthy foie gras coming to fruition at the end.
Bubbles are the standard under such celebratory occasions, and our glasses are filled (and refilled) with the lovely R. Renaudin "L'Espiègle" Premier Cru Blanc de Blanc Brut 2006 (RM1280 ++, Magnum). This Champagne, made on 100% Chardonnay from the village of Pierry, offers a fine mousse, complex aromas and fresh fruity notes. It works well as an aperitif and continues to serve harmoniously with our appetisers.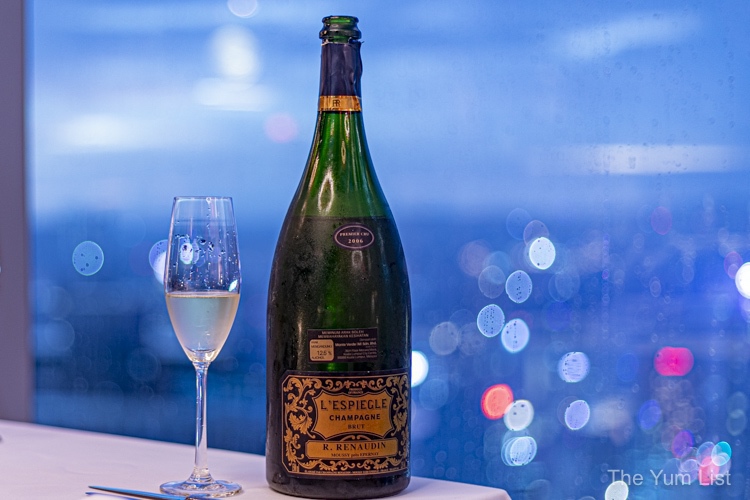 Starter
The starter comes as a duo – Uova and Insalata Di Feta. The first features scrambled eggs with Parmigiano foam inside a hollowed-out egg; gently spoon in and scoop it out. The salad looks like a fancy spring plot over a base of shaved black truffle feta cream with a garden of veggies "sprouting" from the foundation. It's quite salty and has a whole lot of cheese, so none of us non-Italians can finish the generous portion.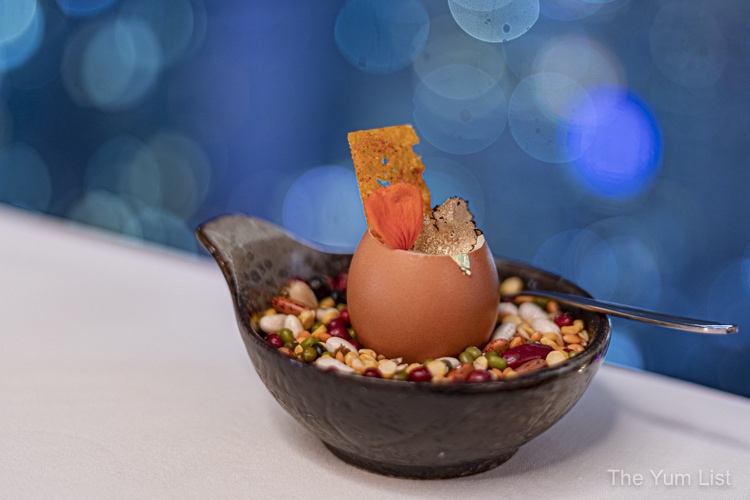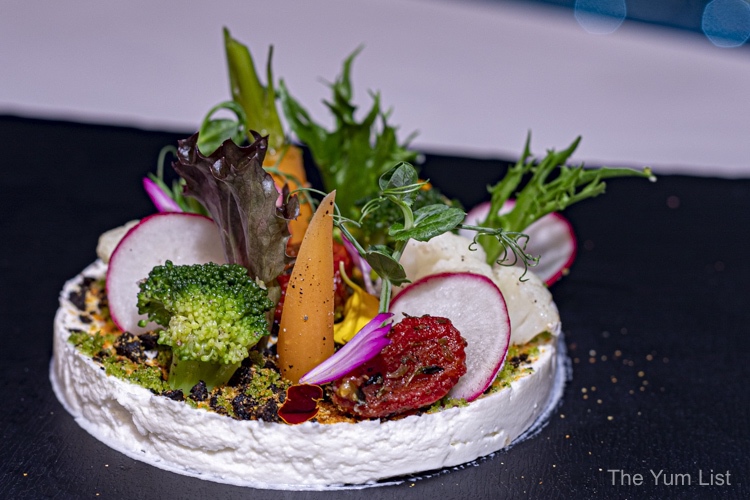 Cappesante
In the following course, a perfectly seared Hokkaido scallop sits on porcini mushroom sauce. It's tender to the bite, and a vibrant cap of salmon roe furnishes not only colour but a little explosion of liquid from the beads too. Edible flowers and micro leaves provide further adornment. It's fantastic with Champagne. The fine bubbles spread the earthiness all over the palate.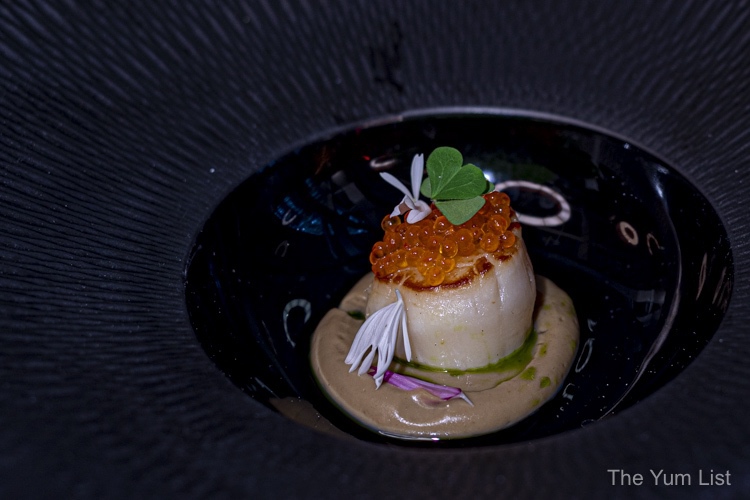 Carpaccio Marinato
Served in the corner of a grand white rectangular plate, the cured wagyu beef is superbly tender. Thinly shaved, it folds like a sheet beneath shimeji mushrooms, dots of ricotta cream and cherry tomato confit. It takes the intensity of the dish up a notch and transitions comfortably to the following rich cream.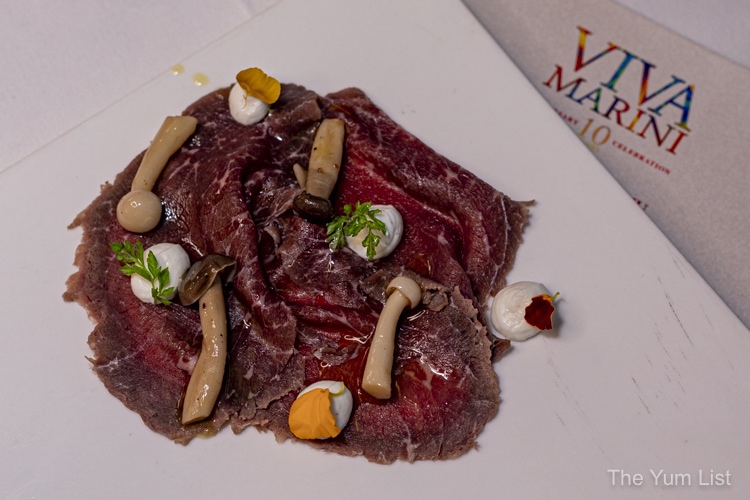 Soup – Marini's on 57 Restaurant
Zuppa Di Cavolfiore, cream of cauliflower, is finished with an artistic swirl of kale oil and bridged with a long slender focaccia Parmigiano crouton. Edible flowers are dotted across the bridge but soon get dunked below as the crisp bread adds a great crunch to the soup.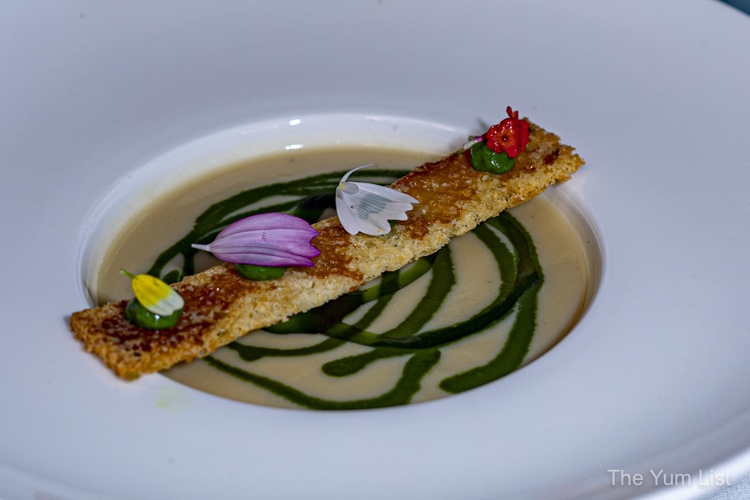 Pasta
The Founder's Menu comes with a choice of two types of pasta, Tagliatelle Al Tartufo or Cappellini All'astice. The former, and the one I highly recommend, is the house-made tagliatelle with 36 egg yolks! It's rich and tender and al dente, coated in a butter sage sauce and topped with Parmesan foam and black truffle. The latter is for lovers of seafood and fine pasta strings. The angel hair pasta is given texture with pieces of lobster tail and freshness with tomato sauce and basil.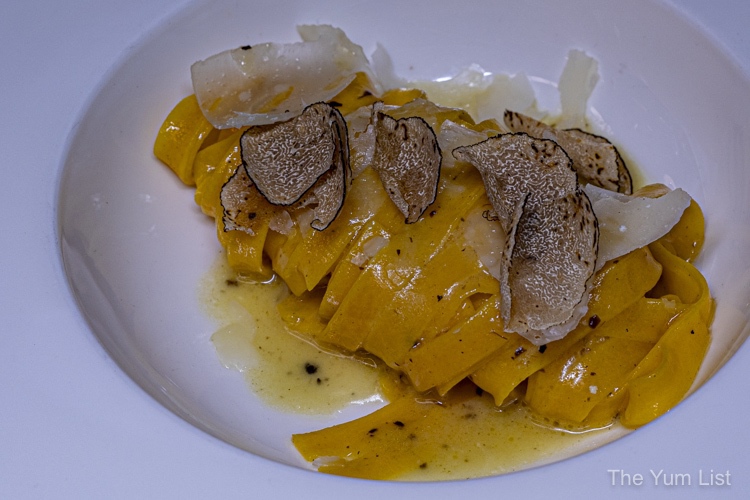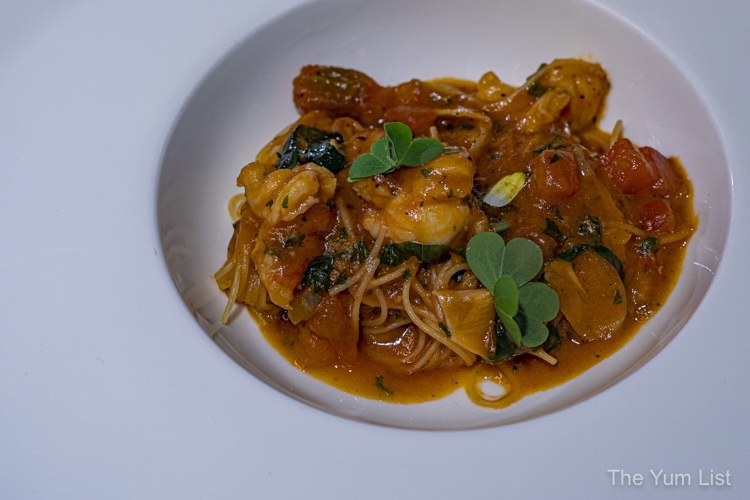 With the lobster pasta, we switch to a glass of Sportoletti Villa Fidelia Bianco (RM 288++, bottle). This white is a blend of Grechetto 50% and Chardonnay 50% coming from the cool climate of Umbria. The acidic edge is rounded out with a touch of malolactic fermentation and four months of aging in French oak. Citrus and a light nuttiness are evidenced on the nose following through with good density and an even fresh finish.
Mains – Marini's on 57 Restaurant
Guests enjoy not one but two mains, with both fish and beef making the headlines. Merluzzo, the seared cod fish, is not an easy ingredient to get right. It easily becomes slimy if not prepared under ideal conditions, yet there's none of that here with head chef Alberto Sancassani at the helm. The silky chunk of flesh is snow-white in hue and contrasted with a vibrant saffron caviar sauce.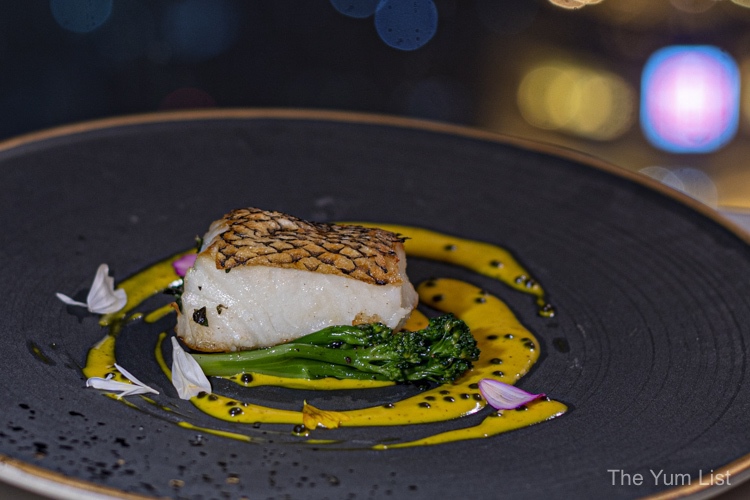 The fish is good, but it's the Japanese Wagyu Sirloin Marble 5 that has diners oohing and aahing. It's a cliché melt-in-the-mouth cut that barely requires a chew. The buttery fattiness fills the mouth, and I think the two small rounds are just the right portion, yet other diners sigh that they could easily devour another plate.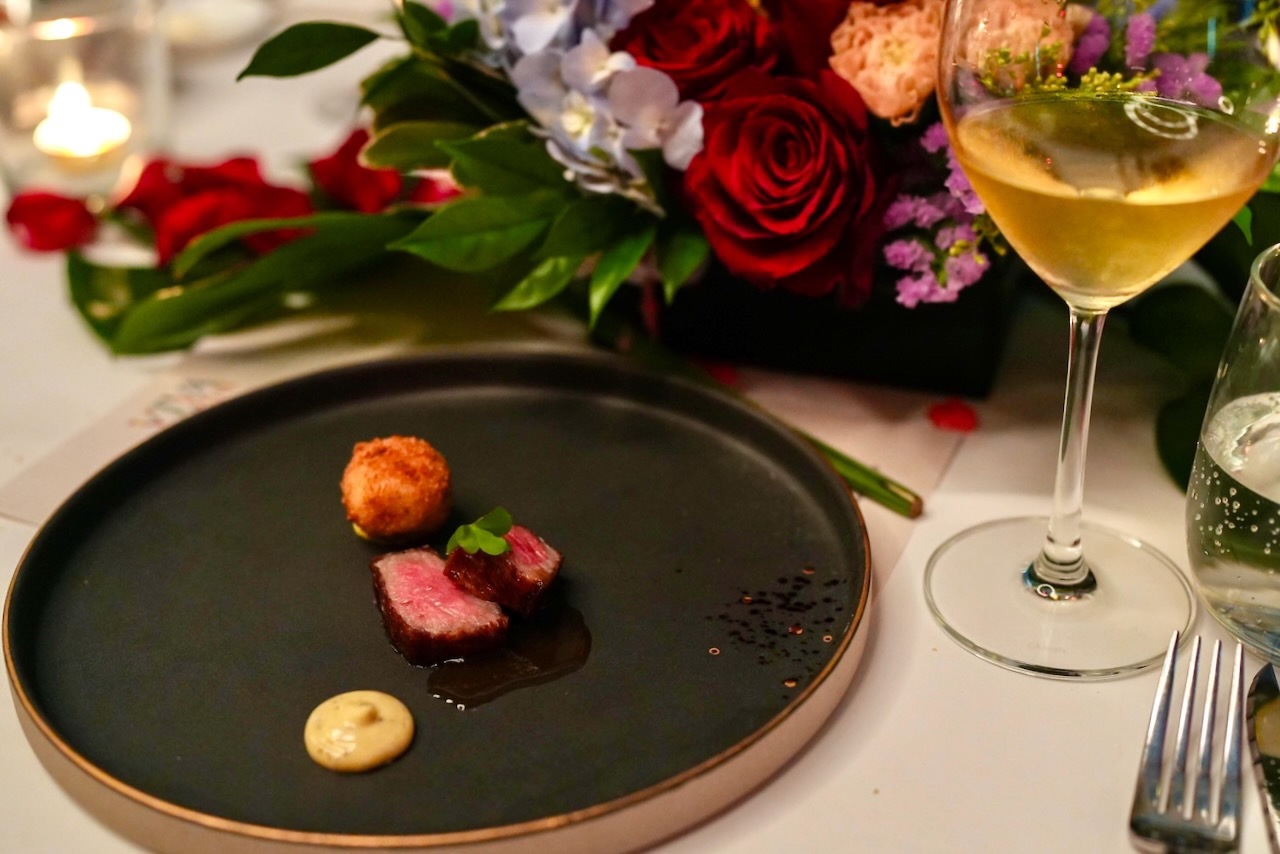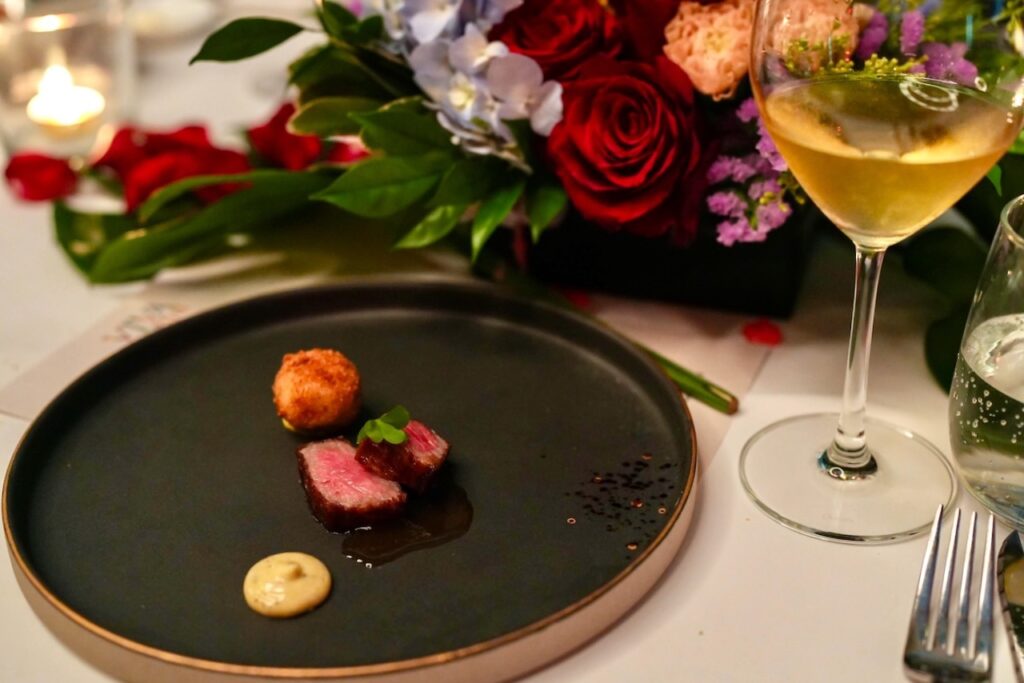 Coming from the same winery as the earlier white, the Sportoletti Villa Fidelia Rosso (RM 1288++, Magnum) is a blend of Merlot, Cabernet Sauvignon and Cabernet Franc. It's deep red in the glass with berries, tobacco and spice aromas. Its elegance and silky tannins lead to a long conclusion, an ideal mate for the fatty wagyu.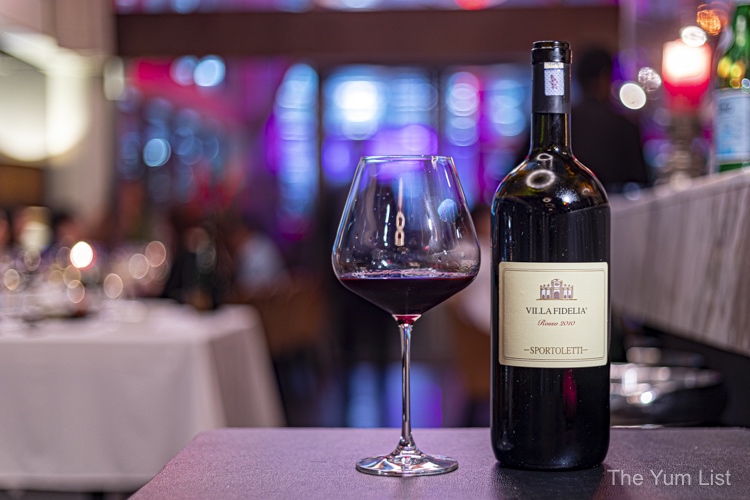 Pre Dessert
The pre-dessert prepares guests for the main dessert in more ways than one. Not only is it a fresh, fruity, tangy change from the savouries, but there's a QR code printed on white chocolate on top linking to the ingredients in this dish and telling of what's to come. Neon colours swirl through hard sugar in unicorn-rainbow style, reflecting the Viva Marini theme celebrating a decade of service. Yoghurt gelato, lime granita, almond sponge infused with citrus zest and drops of tropical fruit cremeux and Cointreau gel is a flawless palate cleanser for some, but the ideal ending for non-sweet tooths such as myself.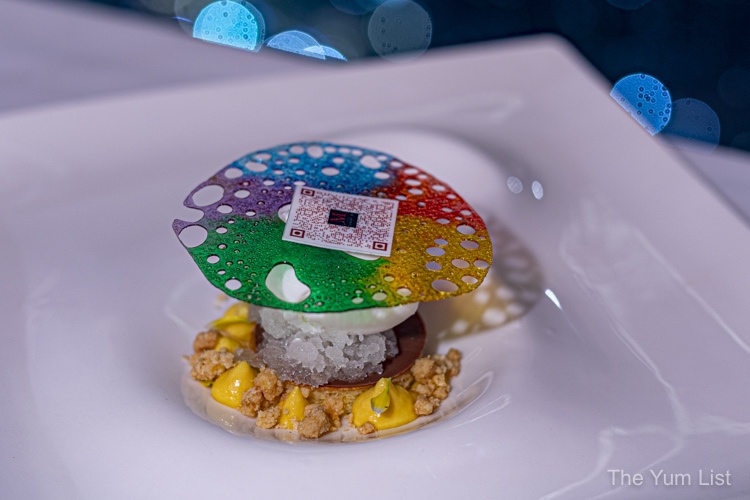 Dessert
Marini's on 57 Restaurant Founder's Menu culminates with Dolci Viva Marini's. Their signature Truffle Tiramisu is composed of truffle-infused ladyfingers, and mascarpone cheese rolled in a ball caged in a chocolate sphere – just waiting to be set free. A technicolour array of powders – carrot, mint, berry and black goji are not solely bling but add a mild taste change to the tiramisu depending on which way you roll.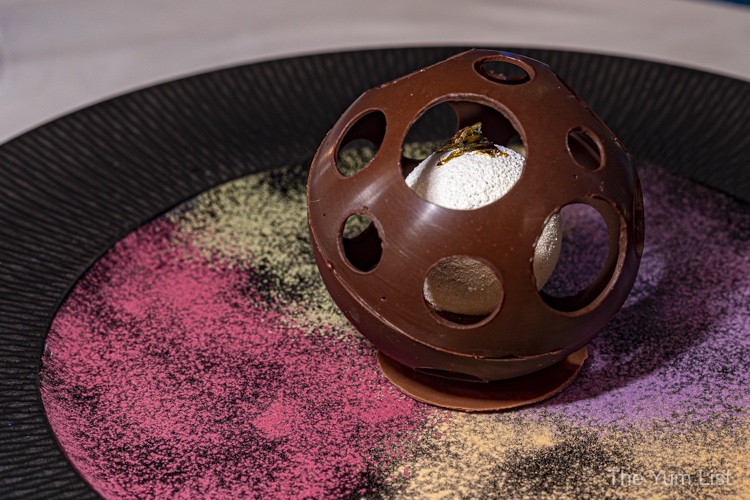 Marini's on 57 Restaurant Founder's Menu is priced at RM1010++ per person.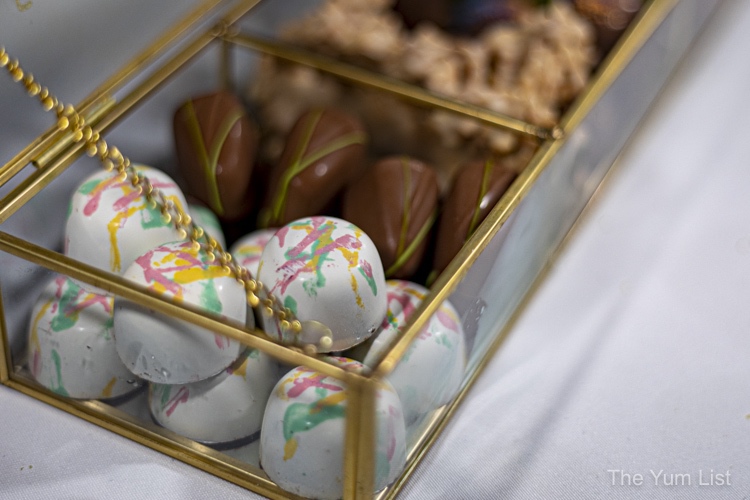 Reasons to visit Marini's on 57 Restaurant: spectacular views from the top of the city; gracious service; unique glass-box setting; celebrate a decade of gourmet excellence with the Founder's Menu.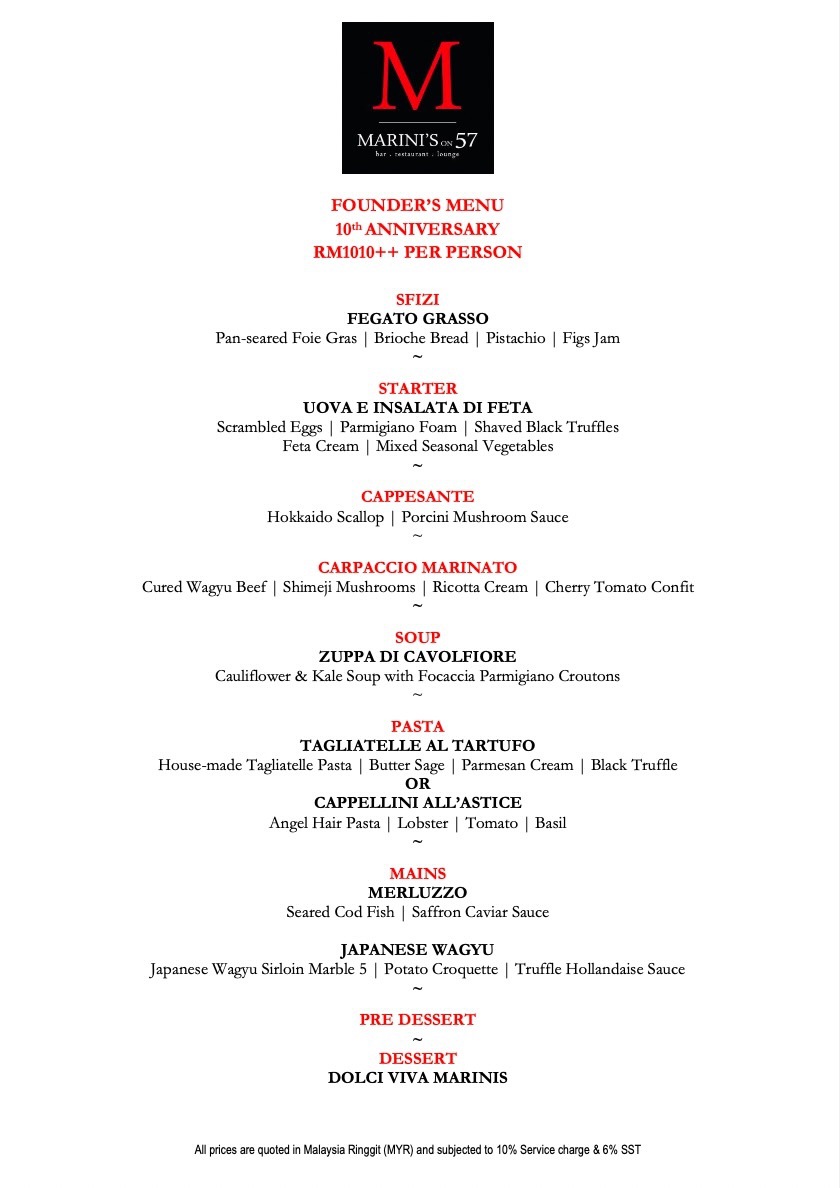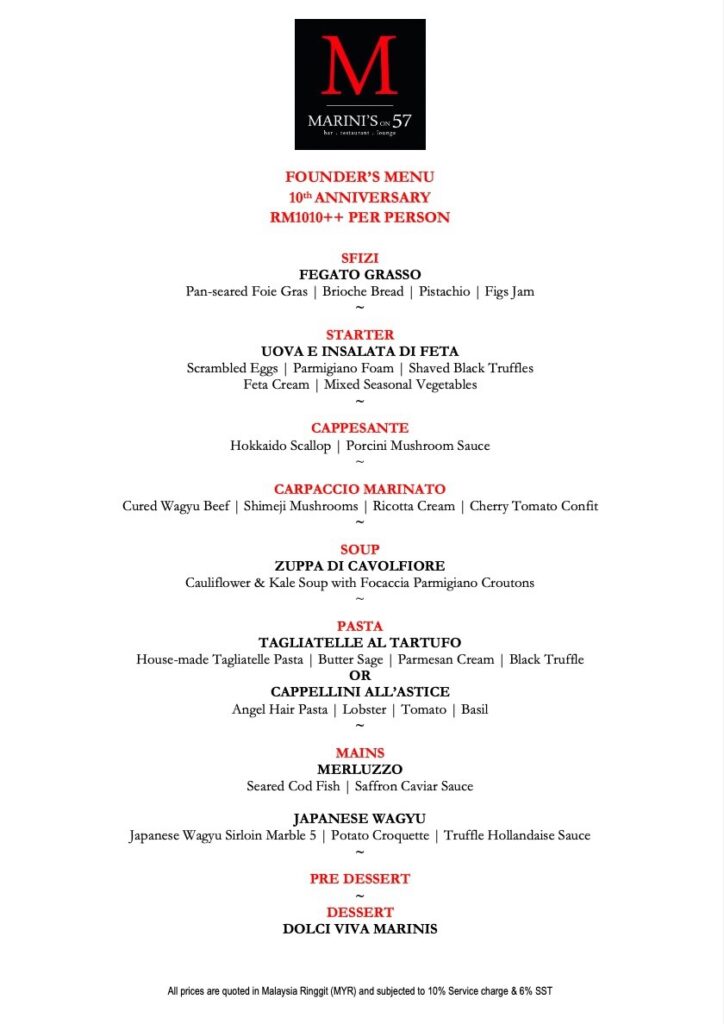 Marini's on 57 Restaurant
Level 57, Menara 3 Petronas, Persiaran KLCC
50088 Kuala Lumpur, Malaysia
www.marinis57.com
[email protected]
+603 2386 6030
Marini's on 57 Restaurant Opening Times
Daily from 7 pm
Find more restaurants for special occasions here, and stay up-to-date on KL's food and beverage scene here and here.