Omni Hair Treatment
Monica Tindall
After what seems like far too long, I'm back at Eka Roots seeing what they can do for my unruly frizz. Having thin hair that is probably not treated the most tenderly, I constantly suffer from wispy, weak hair that is full of flyaways. Unless I have it blown professionally, I generally find it challenging to maintain myself.
Eka Roots Hair Salon Bangsar
Esther, the salon manager, studies my hair with some "mmms" and "I sees" and declares she knows exactly what I need – an Omni Hair Treatment. It's the latest product in the hair salon, and she says she has seen it work wonders to create smooth, silky and shiny hair. Furthermore, it's time-efficient and cost-effective.
Omni Hair Treatment
The Omni Hair Treatment claims to repair "hair fibre from the inside out." While it doesn't profess to be organic, it is made without sulphates and parabens, making it suitable for sensitive skin. It's composed of amino acids, keratin and collagen, found in many products on the market. The difference, though, is the use of Graphene Technology that facilitates the more profound penetration of these key ingredients. In the application process, a hair iron helps to activate the protein molecules and create "soft protective layers that prevent nutrient loss."
The amino acids in the Omni Hair Treatment are sourced from nature, such as silkworm cocoons, milk, wheat, soy, and rice. Apparently, our body needs 20 different types of them, and they've all been loaded into the one formula. No doubt you've heard of collagen before, as it's widely used in a host of anti-aging products. A major protein in our bodies, this component is also the answer to strong and supple hair. Lastly, keratin gives structure and strength. It's often lost in chemical salon services, so this therapy is an excellent complement.
Process
At Eka Roots, first, the hair is double-washed at the basin with a good head massage part of the experience. Then back in the salon chair, the product is applied, much the way a colour is, part by part, with what looks like a mini paintbrush. Next, the hair is lightly straightened with an iron. It's then back to the basin to wet (not rinse) the head and return to the chair again. The last product is sprayed on, and the hair is blow-dried until it's all smooth. I'm surprised by the speed at which Nikkie (my stylist today) completes the session. It whittles away steps often found in treatments that take hours to complete, giving results in the shortest time possible.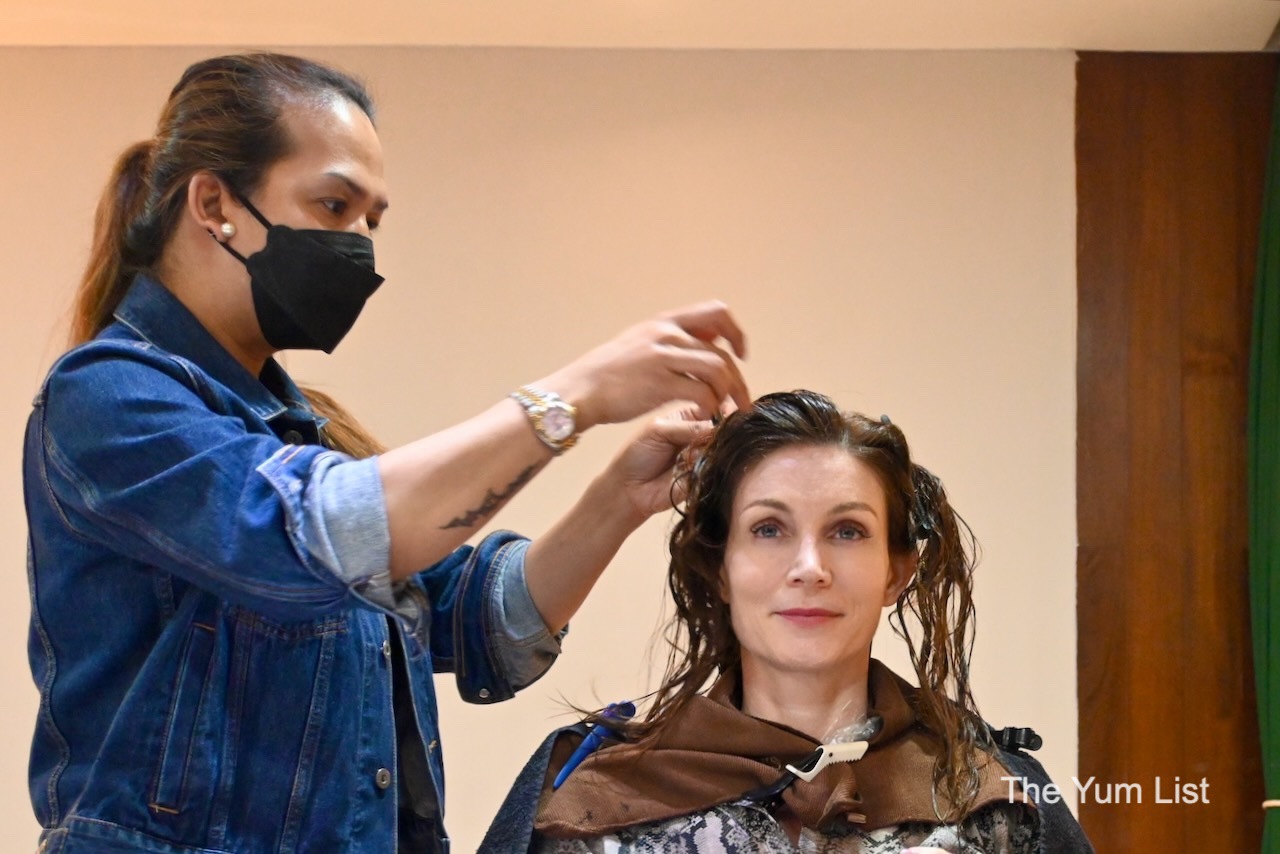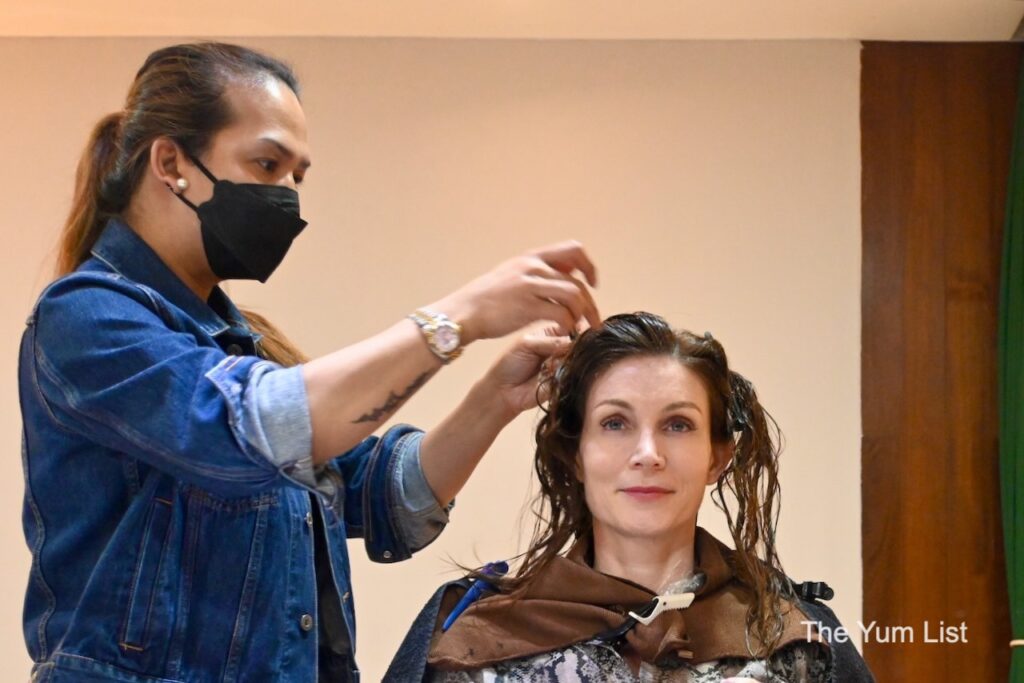 How long does the Omni Hair Treatment take?
Depending on the length of your hair, you should allow between one and two hours to complete the session.
After Care
Unlike many hair treatments, there is no wait time to wash your hair. You can exercise (get sweaty) and wash your hair immediately. Of course, the brand recommends you use their shampoo and after-care products, but generally, I find many shampoos that are paraben and sulphate-free to be suitable. You can purchase the essence to extend the life of the treatment, which is a spray that should be followed by a heat styling such as a blow dry, curling iron or straightener as the heat activates the ingredients.
Omni Hair Treatment Price
The Omni Hair Treatment at Eka Roots hair salon in Bangsar starts at RM 180 for short hair and goes up to RM 280 for extra-long hair.
Omni Hair Treatment Results
The Omni Hair Treatment left my hair smooth and soft. It's not a straightening therapy, so don't expect that level of sleekness, but it does look natural and has reduced frizz. It is also much more affordable than complete hair straightening. The scent is soft and very pleasant. It's something I'd repeat for sure.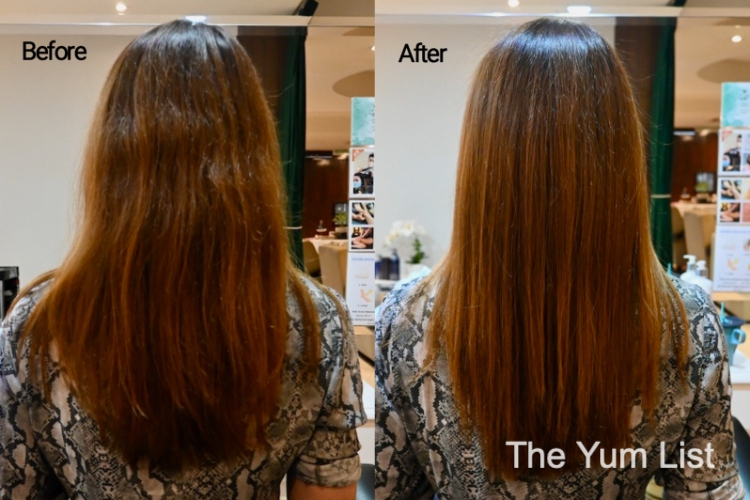 Reasons to try the Omni Hair Treatment at Eka Roots: affordable therapy to smooth the hair; relatively fast service; no special after-care required; the lovely bungalow location at Eka Roots with private rooms.
Omni Hair Treatment at Eka Roots
123 Jalan Maarof, Bangsar
59000 Kuala Lumpur, Malaysia
www.facebook.com/ekaroots
+6 03 2856 0775
Eka Roots Opening Hours
Monday to Saturday: 9 am – 7:30 pm
Find more on the spa and beauty scene in Malaysia here, and the latest happenings around Malaysia here and here.