The Take-over Series
Monica Tindall
Mandarin Grill, Kuala Lumpur, has a whole line-up of unique culinary events planned for local gourmets in The Take-over Series. In the collaborations, famed guest chefs from around the globe occupy the kitchen for several days, preparing a menu for diners fortunate enough to secure a seat. Most recently, Mandarin Grill presented Denis Lucchi of the Michelin-starred restaurant Buona Terra, where we were lucky to join.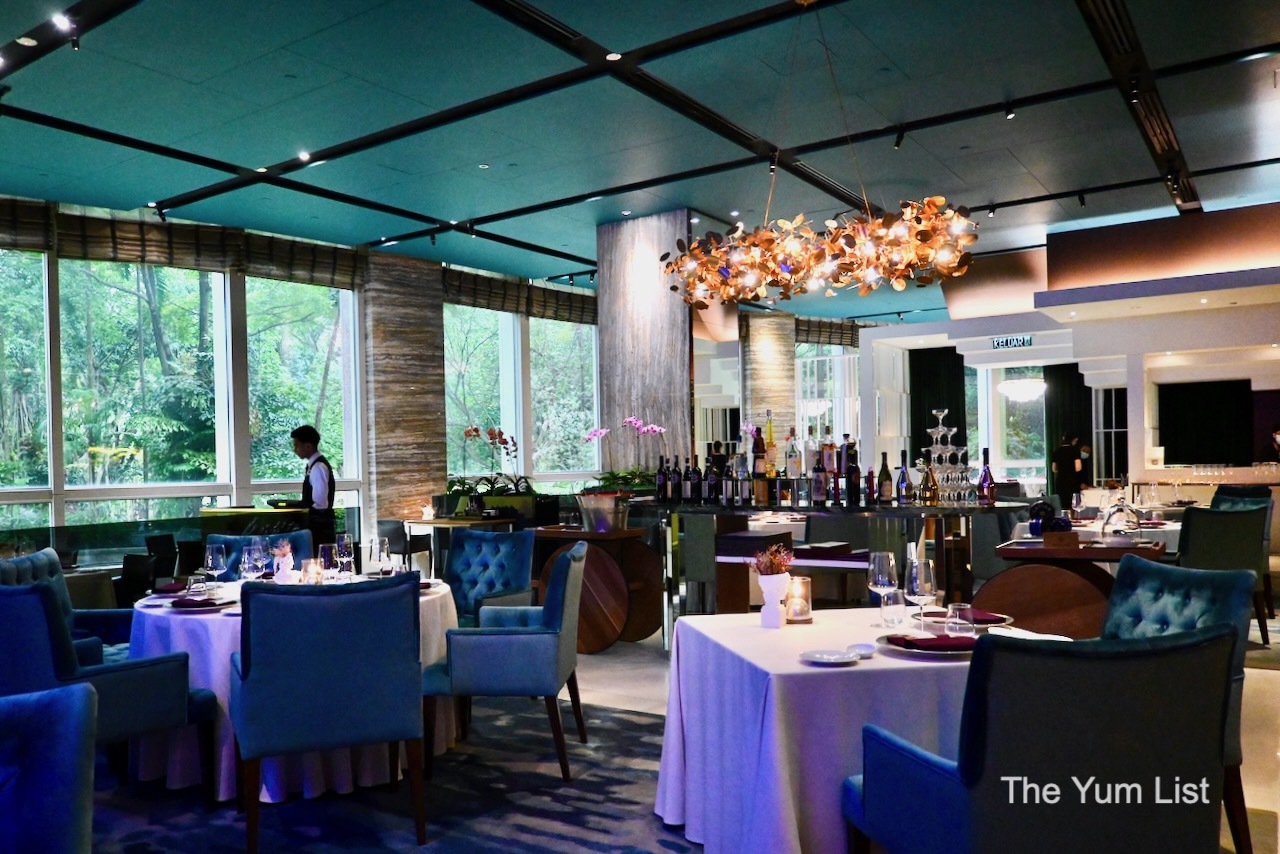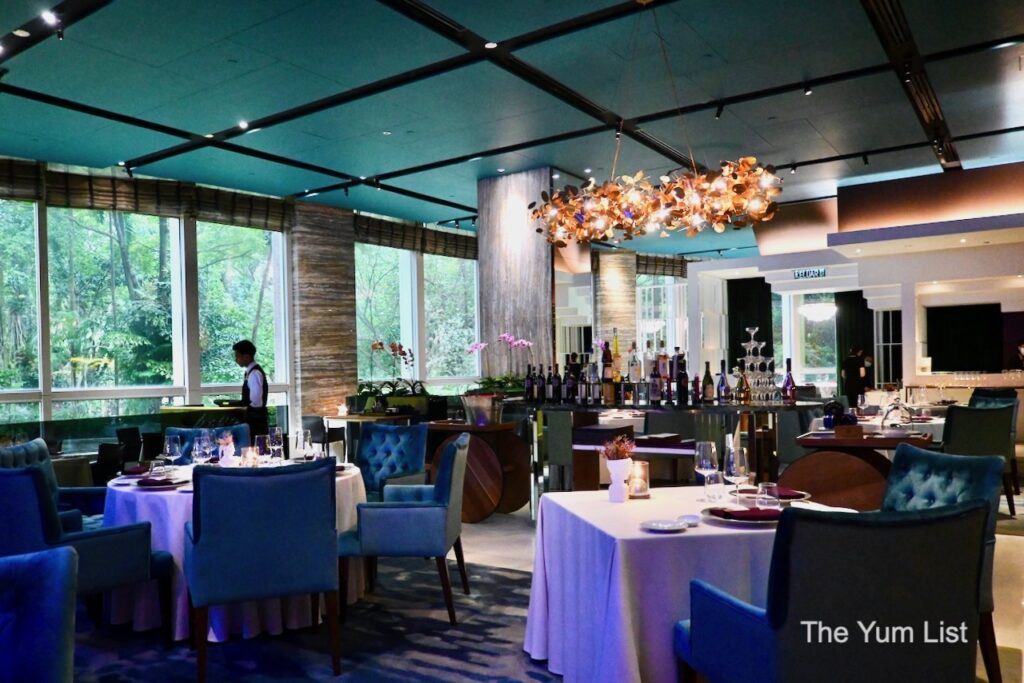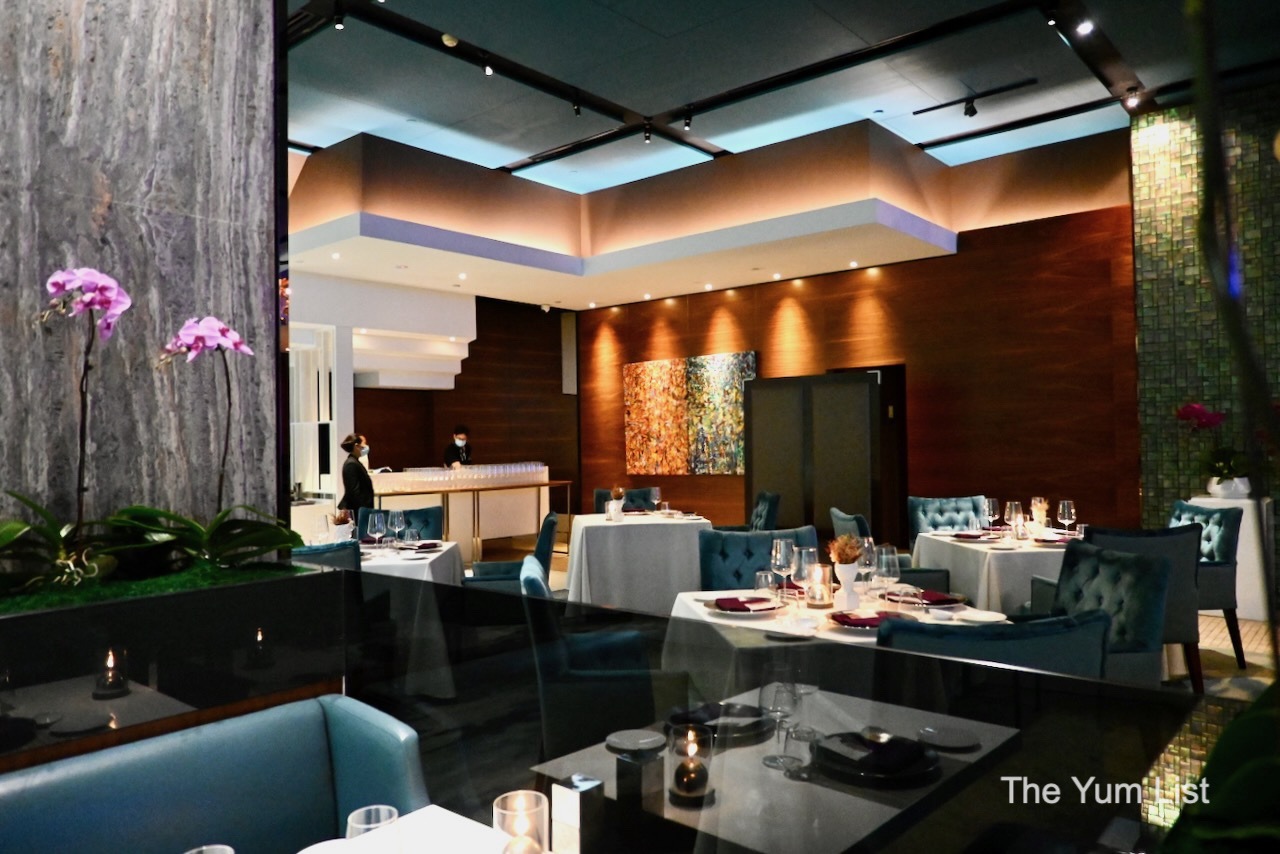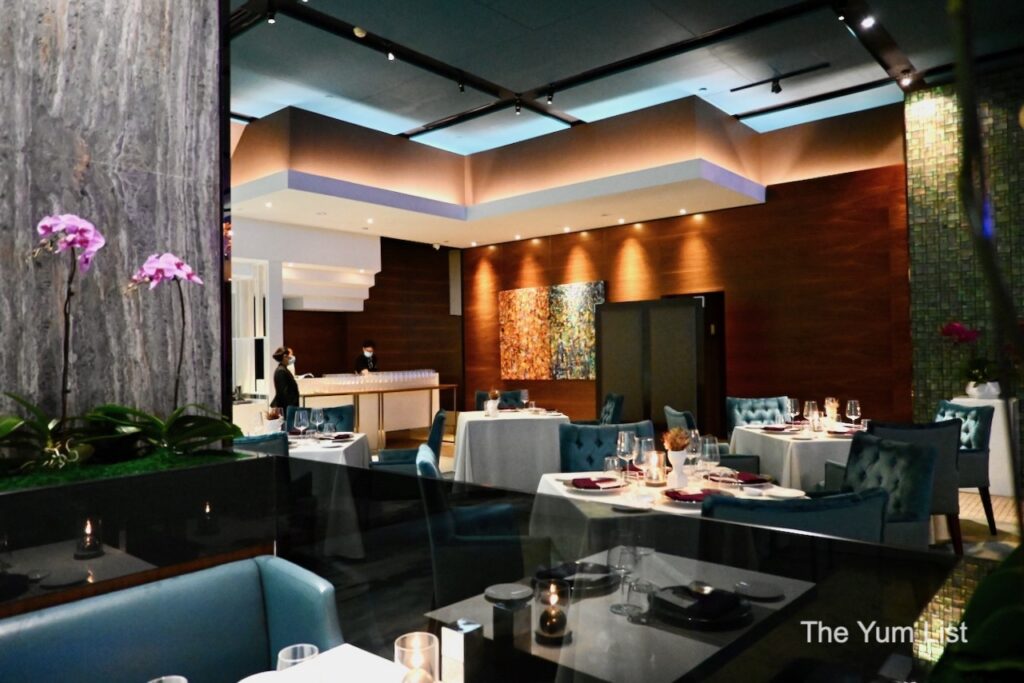 The Take-over Series, Mandarin Grill x Denis Lucchi
Chef Denis Lucchi's Degustazione Dinner Menu (RM 688++) in The Take-over Series at Mandarin Grill featured eight courses alongside bread, an amuse bouche, and petit fours. The wine pairing was optional and generous in portion for an additional RM 180++.
Benvenuto Dello Chef
Imaginations were inspired from the start with a trifecta of bites. A Tomato Tart was fresh with finely shaved celery and mint. The dark Squid Ink Pie Tee offered intriguing textures with burrata and artichoke jelly held in the fine pastry case. And lastly, Just Tomato, came with a "handle with care" tag. What looked deceptively like a string of tomatoes on a vine were actually spheres of a mixture of tomato, capsicum, olive oil, garlic, vinegar, salt and sugar that were released in liquid form in the mouth with the breaking of the shell. The fine-moussed Terredirai Prosecco Millesimato Valdobbiadene Brut D.O.C.G was an excellent companion, both cleaning the palate with its tiny bubbles and opening the appetite for more.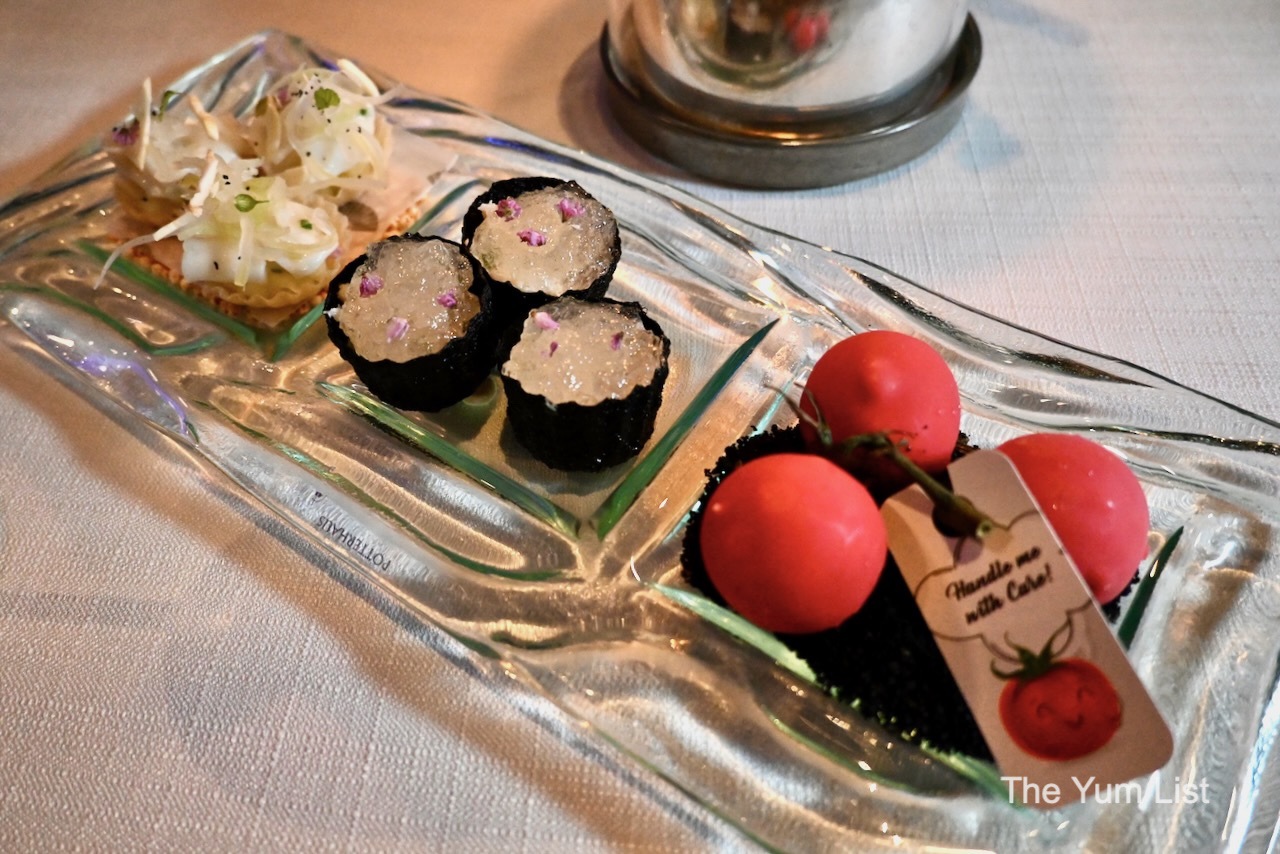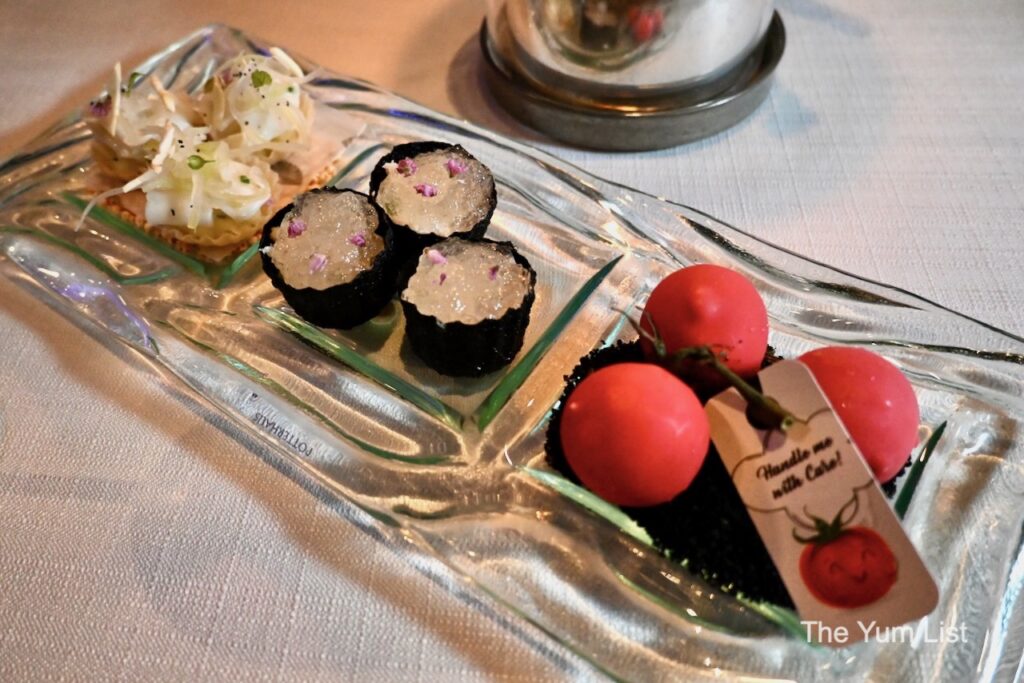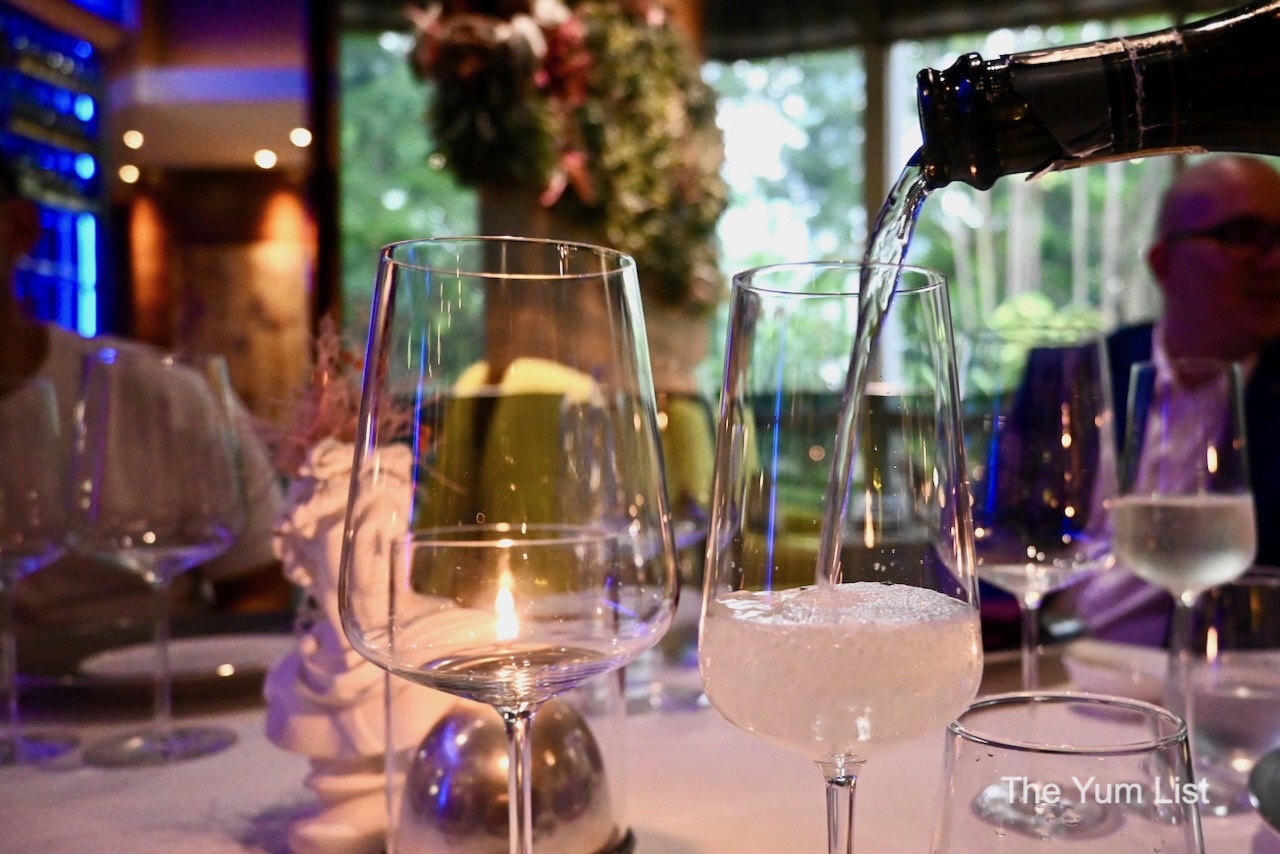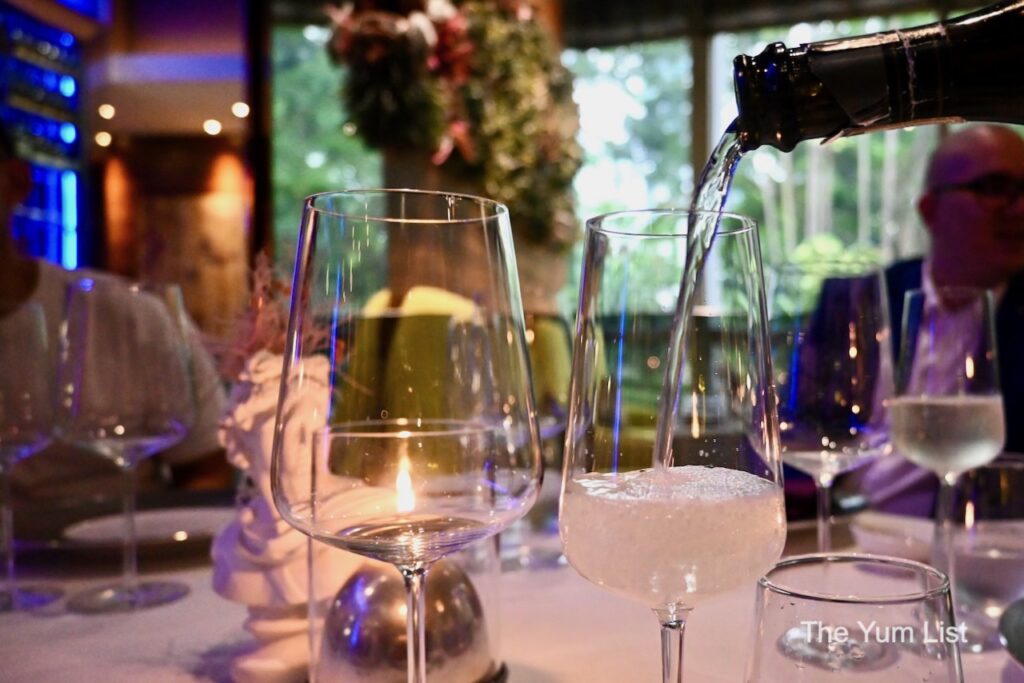 Carpaccio Di Ricciola
Easing us into the menu, Chef Lucchi made his first appearance. In a swirl of dry-ice mist, he topped off the yellowtail carpaccio with horseradish and yuzu snow. The tender fish was complemented with citrus and sea asparagus and brightened with verdant pegaga leaves. The last drops of our prosecco were a lovely match.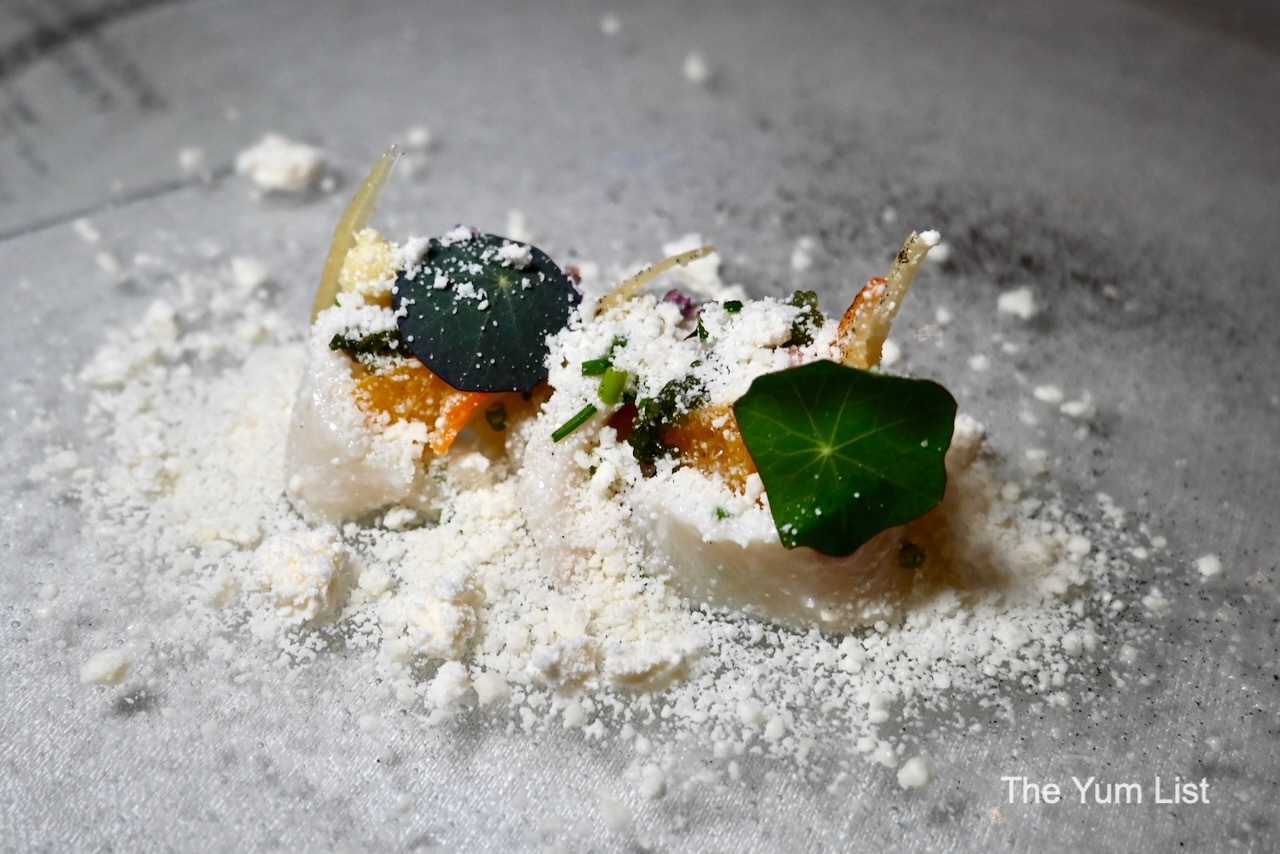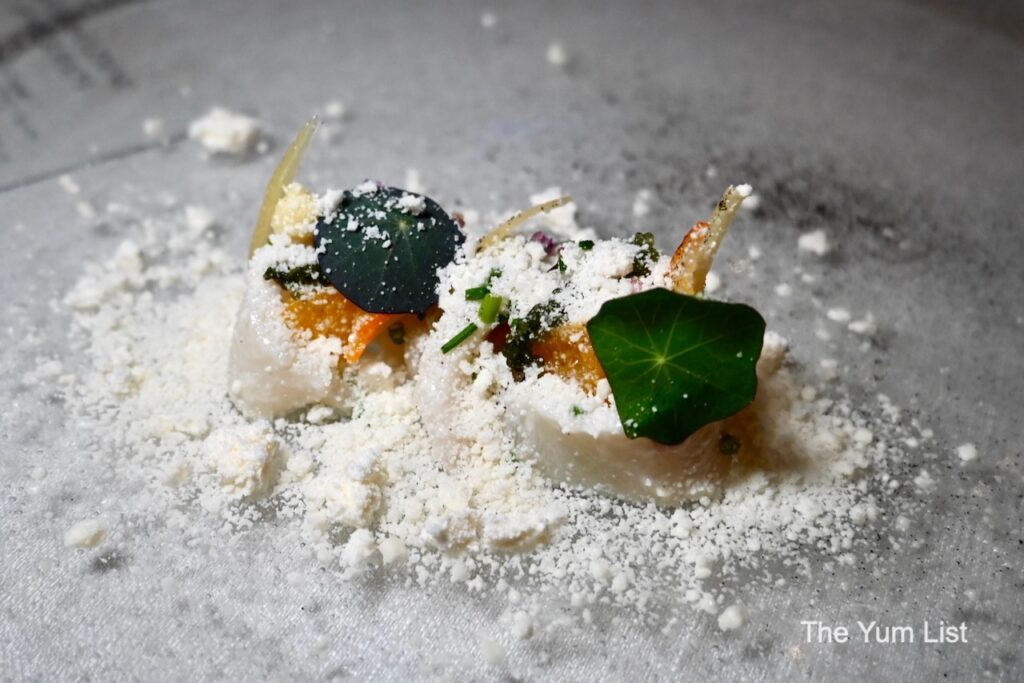 Rombo (Turbot)
Next, the turbot was firm and evenly textured. Layered with scampi, this added further spring to the bite. A thin cover of spinach broke up the white palette, and tangy capers and lemon elevated the flavours. In a curious presentation, transparent dill gel with balsamic vinegar and sugar dotted the plate around a striking snake of thinly sliced yellow and green zucchini. All were crowned with a sprinkling of bottarga flakes and micro flowers. This was an expert, gradual increase in intensity, subtle but definite.
The wine mate, Villa Sparina Gavi Del Comune Di Gavi D.O.C.G made with the Cortese grape, has consistently scored over 90 points by wine critics. Its bright yellow hue matched aromas of pineapple and peach and sported loads of flavour. It's round with a thread of minerality and a refreshing finish.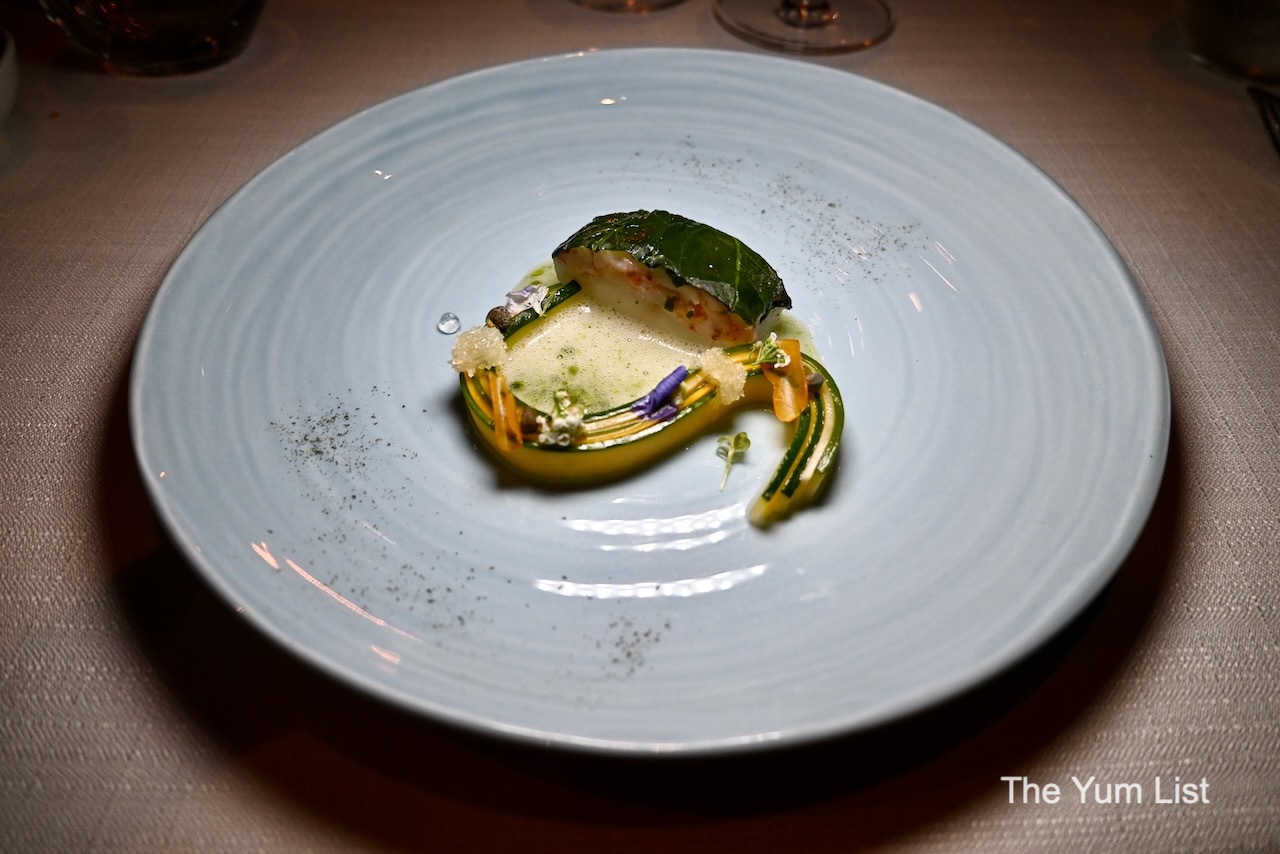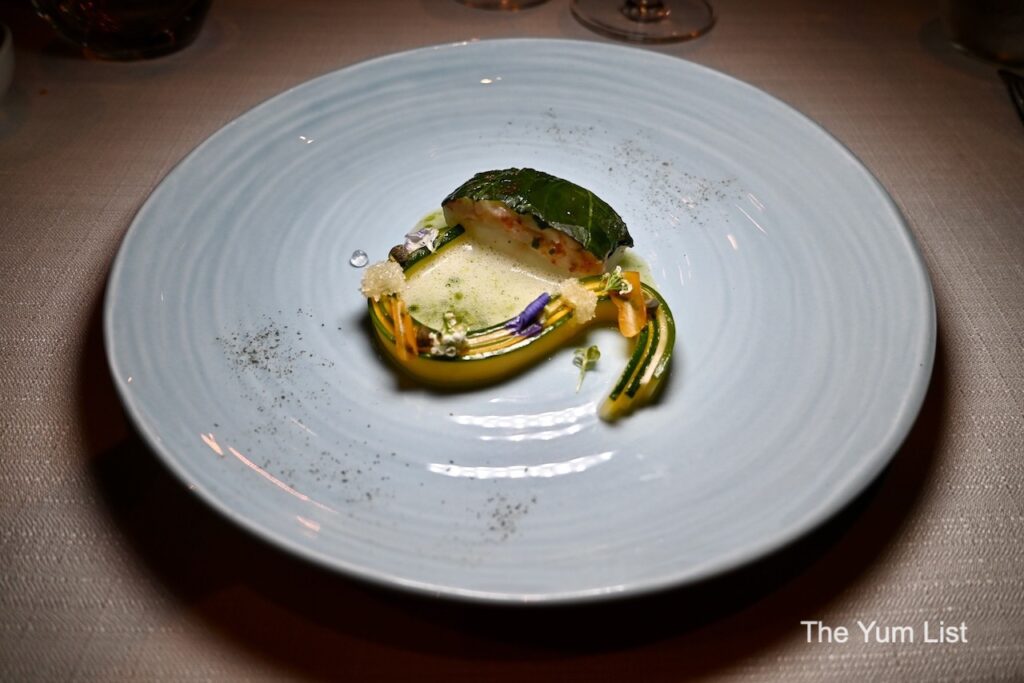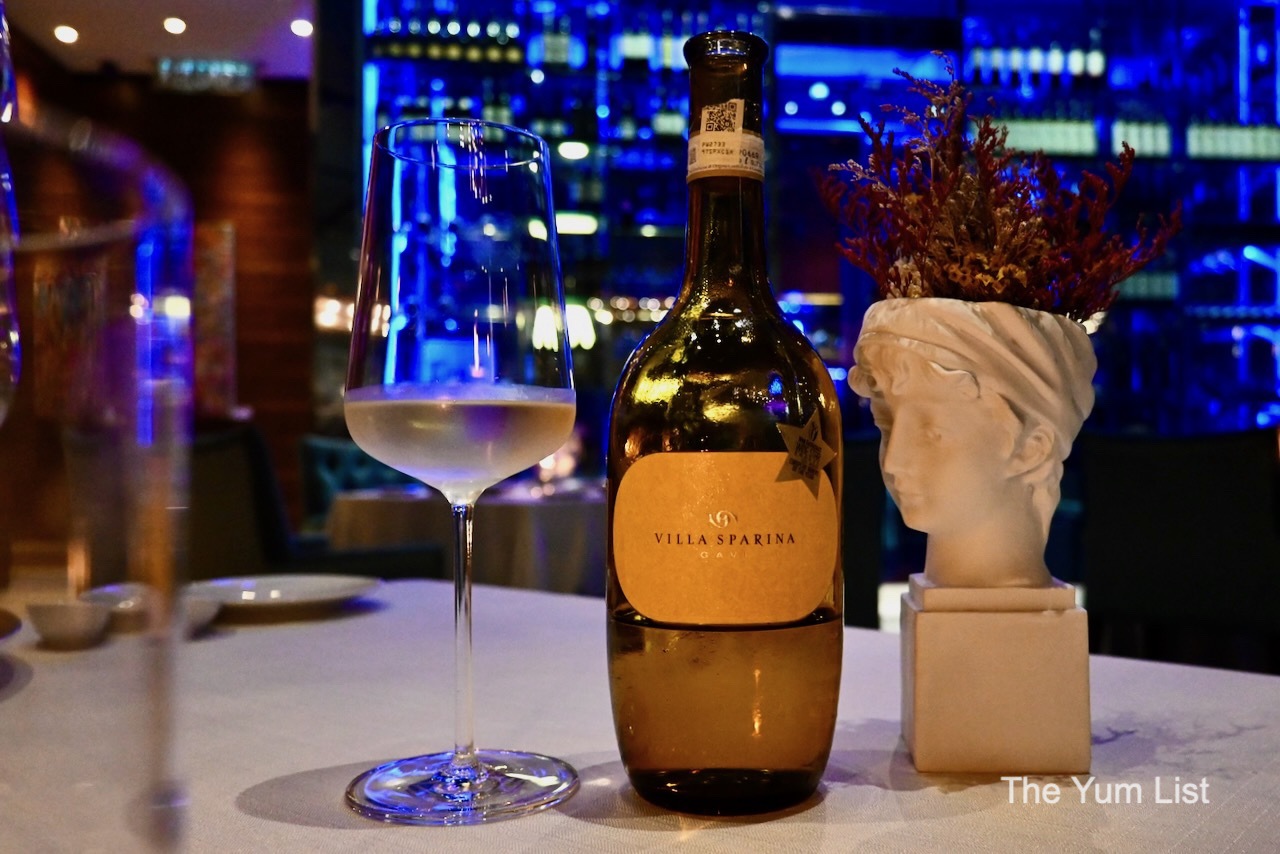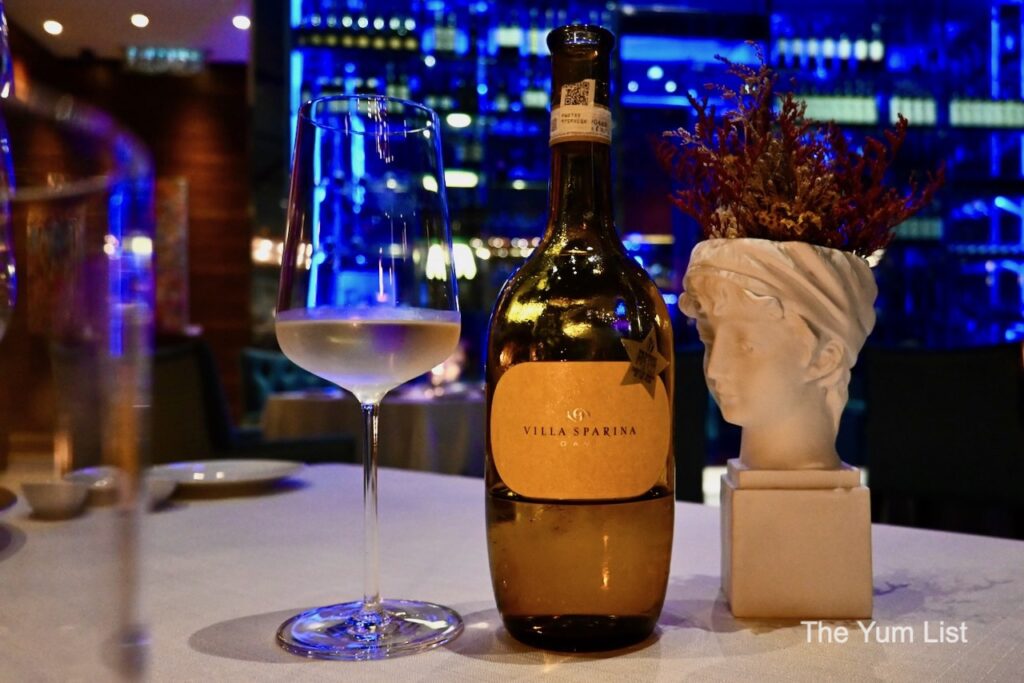 Cannolicchi
I am a sucker for pasta when it's done well, and Chef Lucchi's cannolicchi linguine was perfectly al dente. Watercress and zucchini oil evenly coated the pasta strings gifting a green hue. The combination of shaved bottarga, baby squid and bamboo clam jus sounds as though it could be dangerously overpowering. However, the profile was elegant, and I didn't leave a drop. (Thanks go to Aman, our patient server, who provided hand modelling services and answered our details questions about the meal.)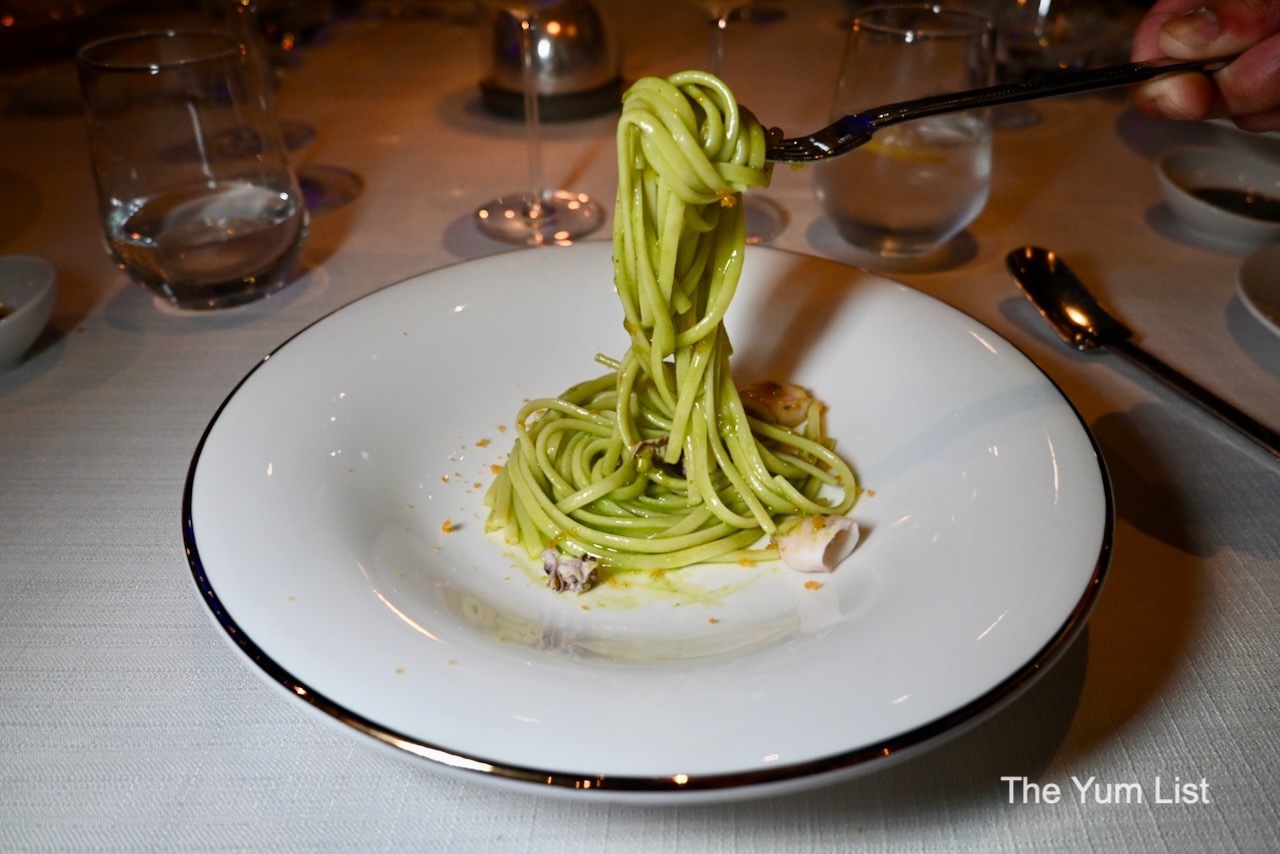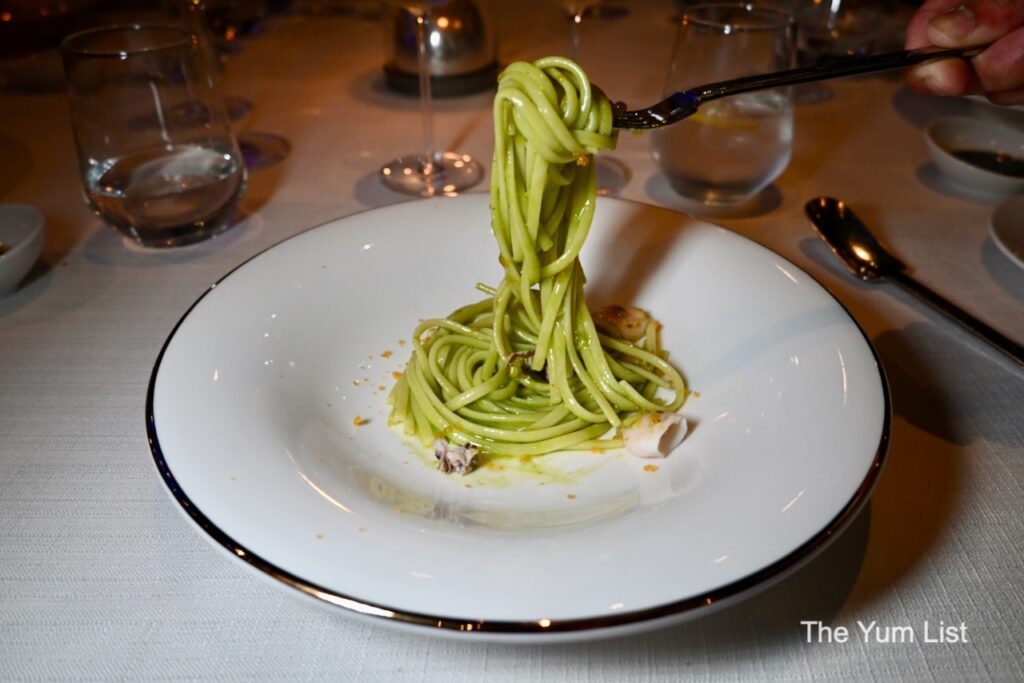 Ravioli – The Take-over Series
This was surely my lucky night as the menu included not one but two pasta recipes. Once more, the intensity was gradually increased with oxtail ravioli. The fine parcels were packed with the flavourful stew while Jerusalem artichoke cream and pickled onion broke up the richness. It was just the right portion leaving me satisfied but not carb heavy.
I was already a fan of the Roero Arneis grape from Vietti winery and so held great optimism when the Vietti Barbera D'Alba Tre Vigne D.O.C., a red, was presented. Made on 100% Barbera, the wine is a deep ruby shade with a bouquet of cherries and vanilla. There's a great balance of acidity and tannins, making it a wonderful food wine. It was superb with the rich oxtail.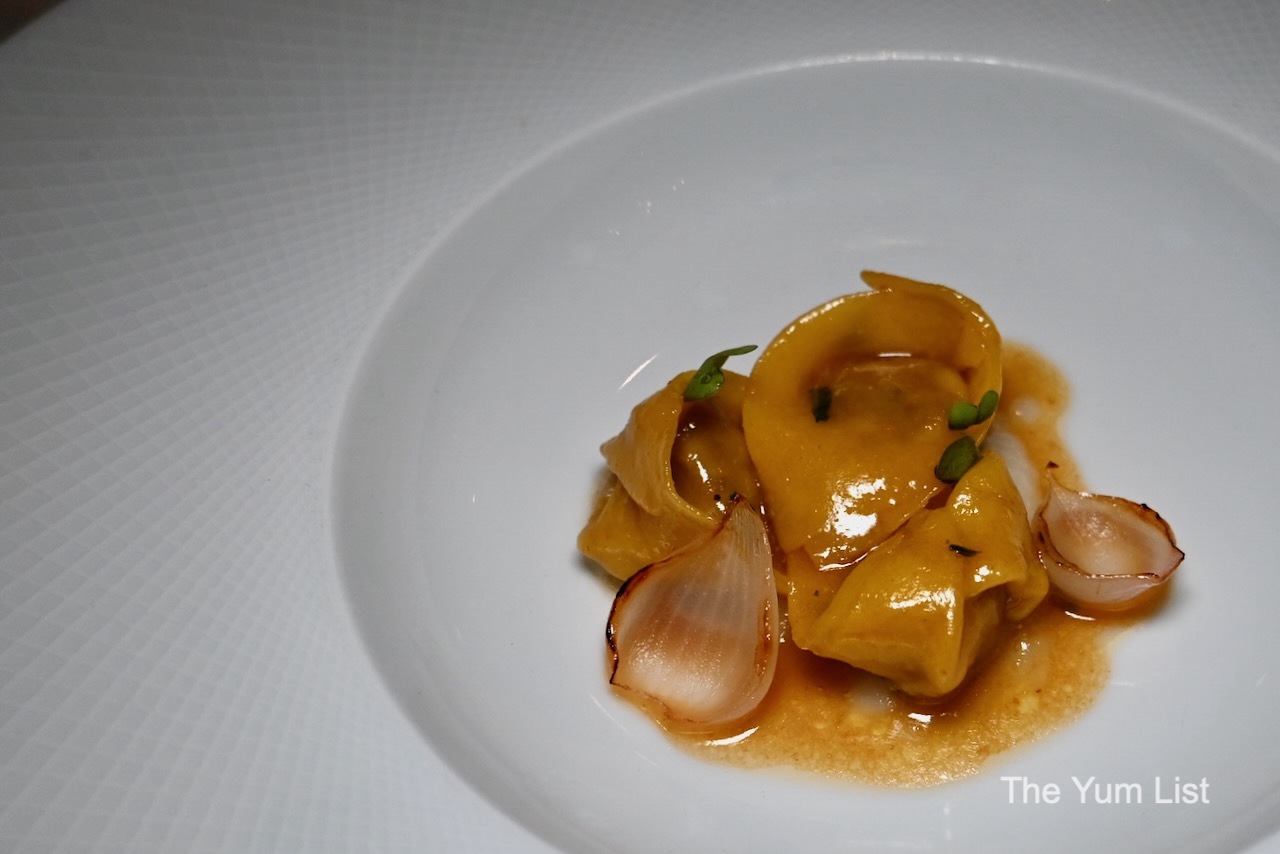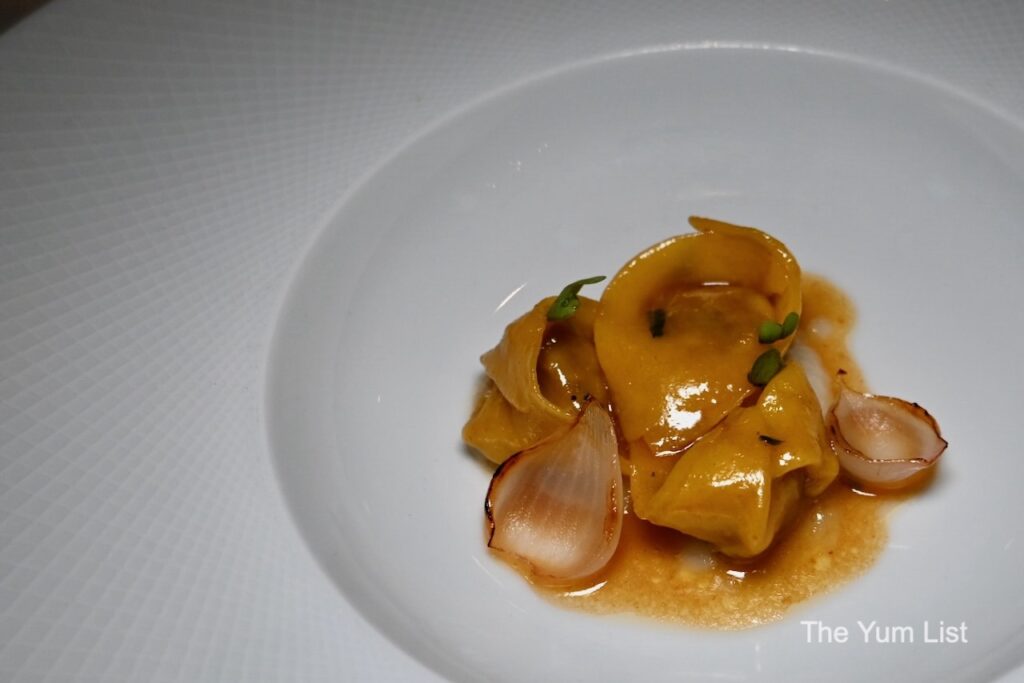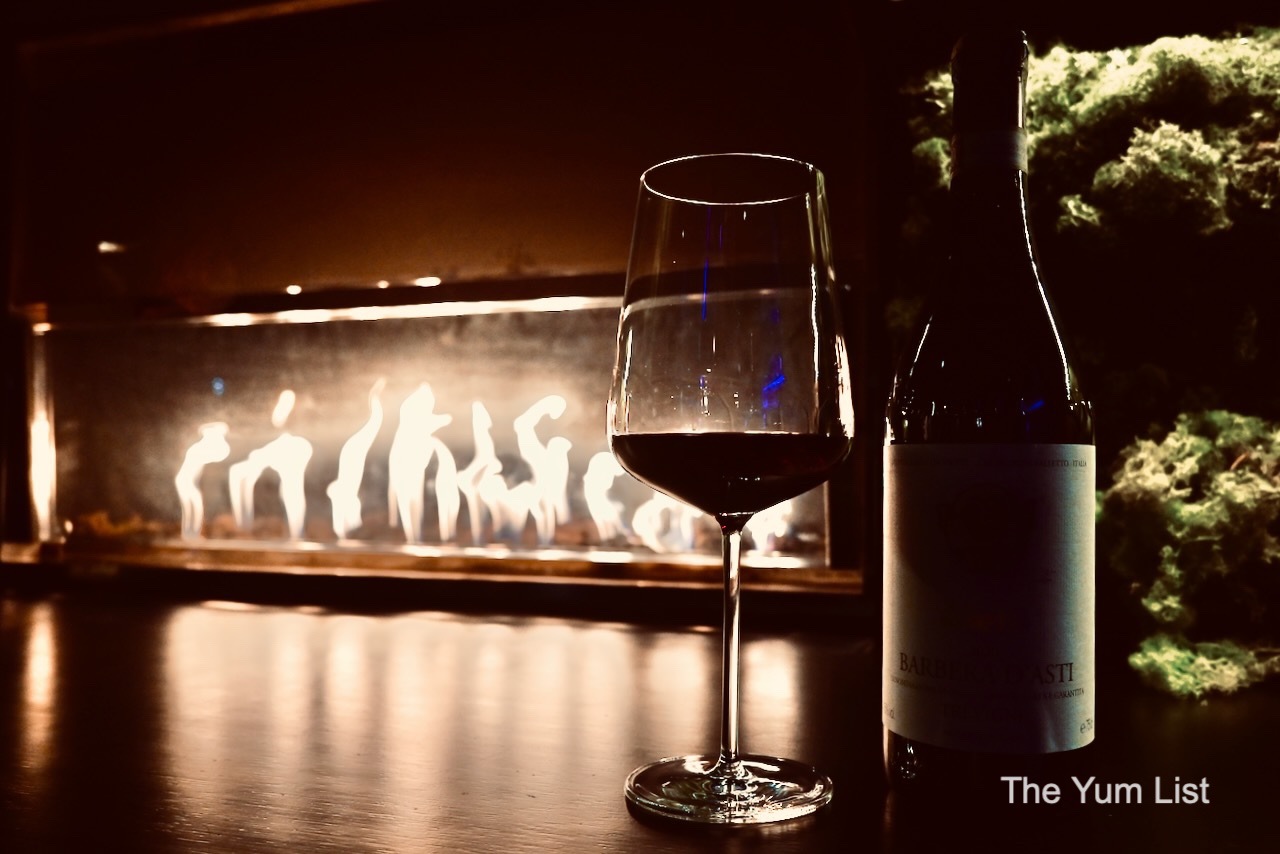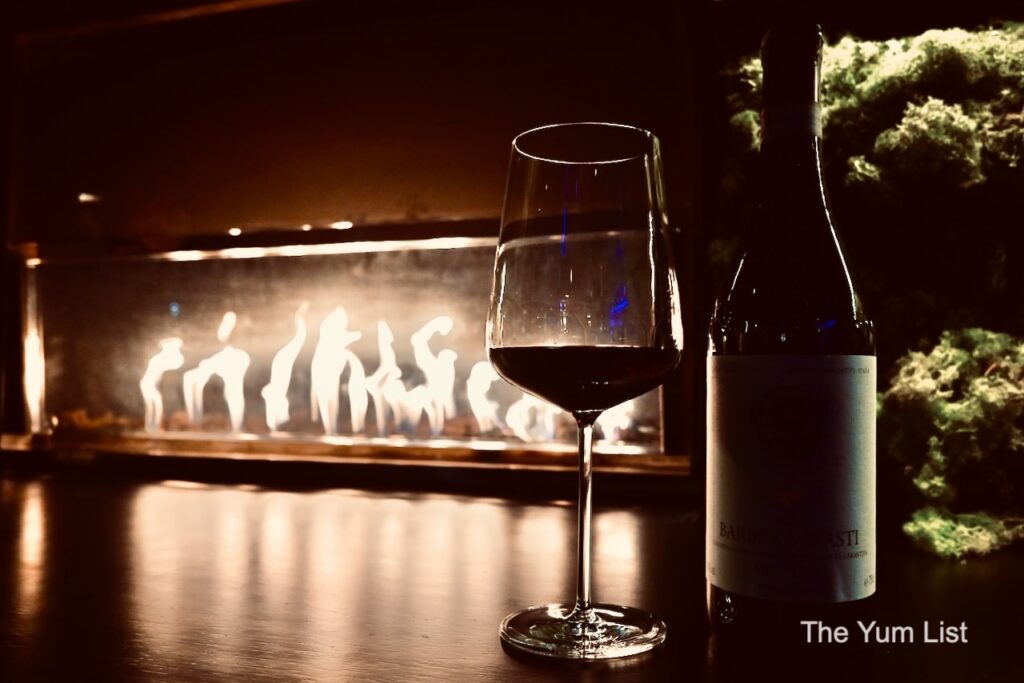 Anatra (Duck)
Aged duck breast followed the pasta. In Chef Lucchi's rendition, endives, black garlic, salsify and coffee powder complement the tasty, tender meat. The chef's skill in curating a degustation menu is again proved with this dish in the increment of flavours and textures.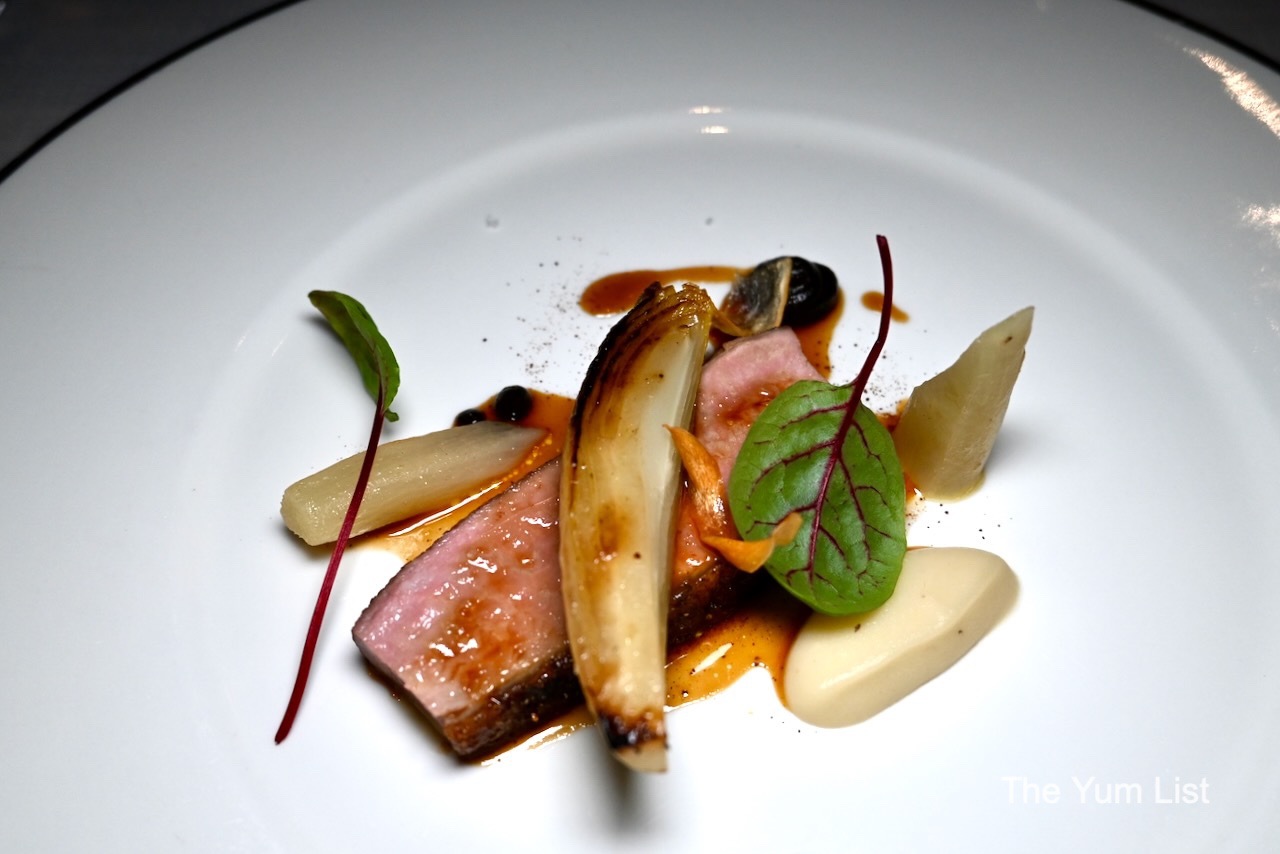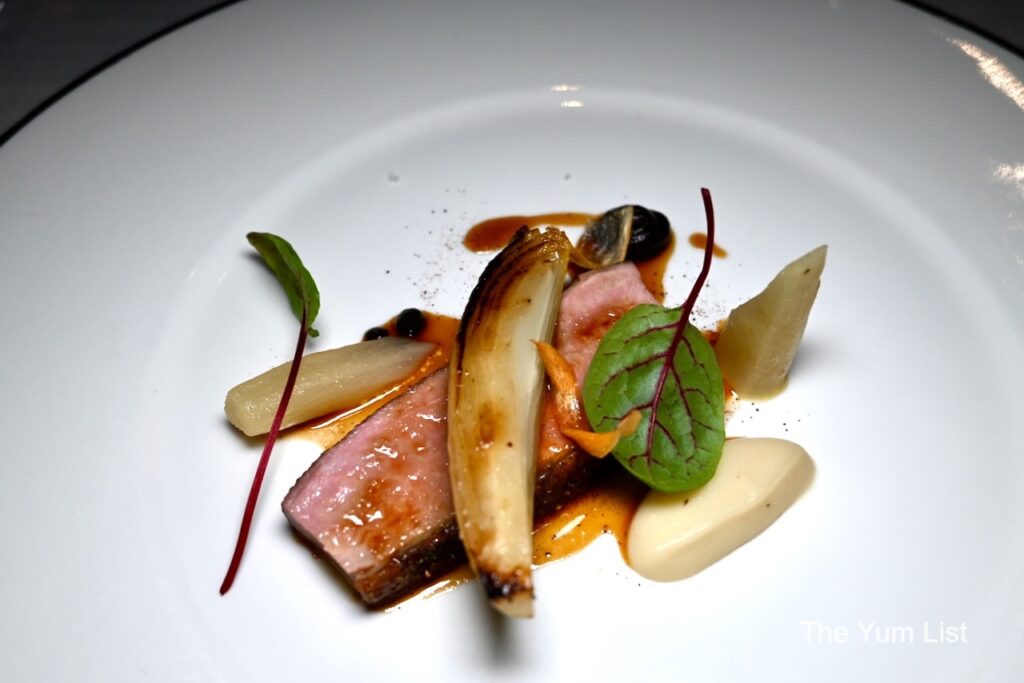 Controfiletto Di Manzo
Arriving at the climax, the Australian Sher Wagyu Black Label B.M.S 7-8 Sirloin disappeared from plates within seconds. Fatty and mouth-filling, the steak was sided with parsnips, spring onions and mustard. Lucente Delle Vite I.G.T from Tuscany served as an excellent partner. Wild berries with a touch of tobacco and spice weave through the bouquet, while the palate is juicy with elegant tannins and a lingering conclusion.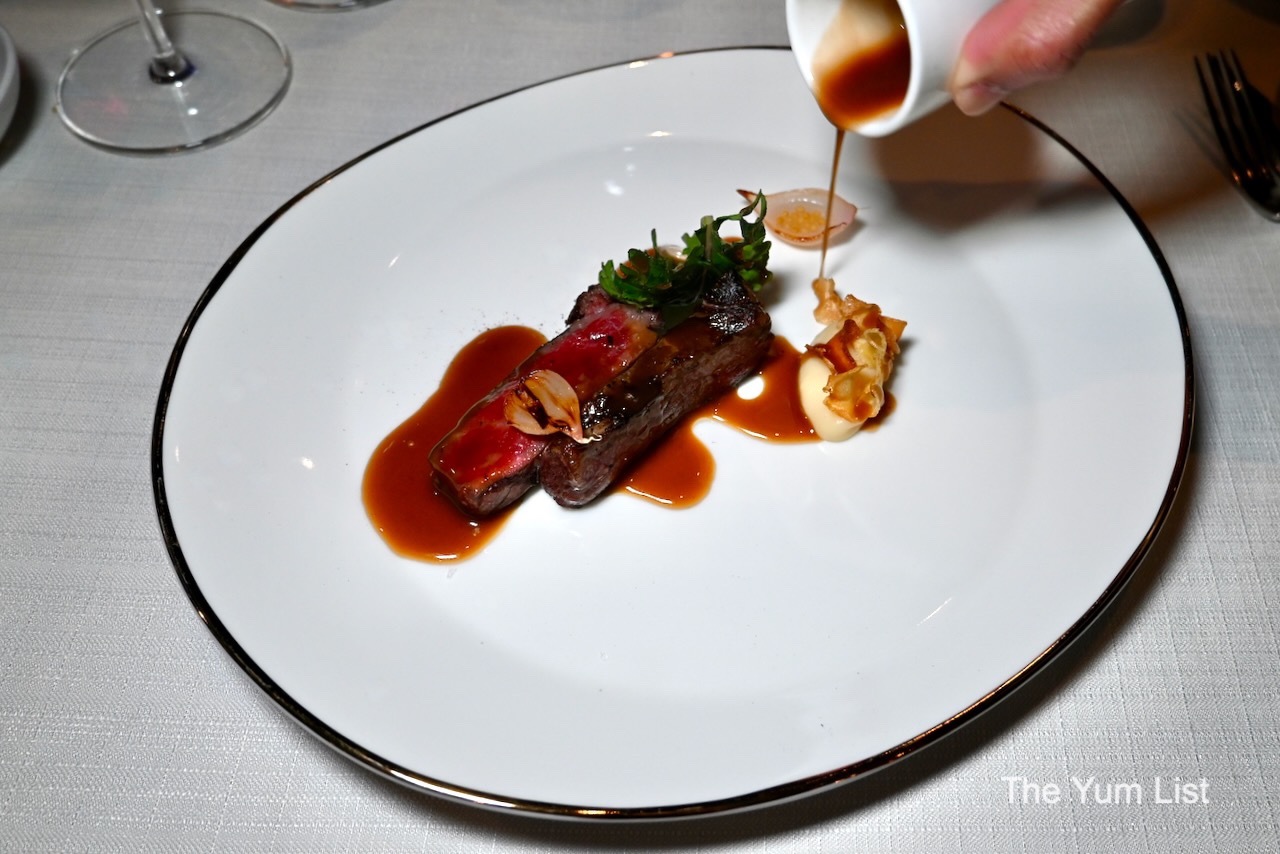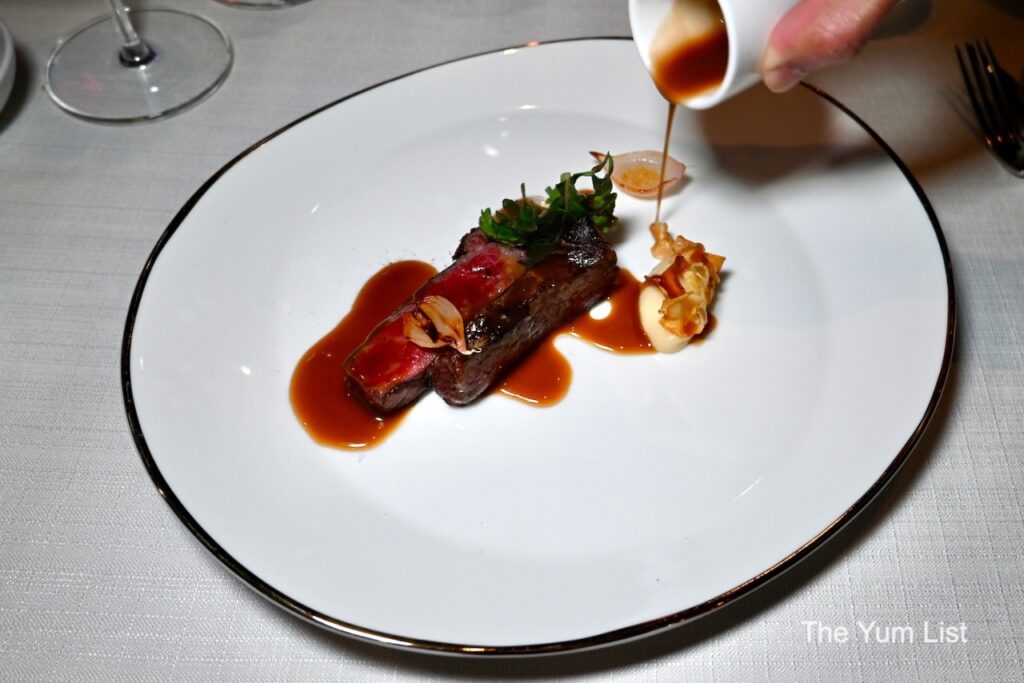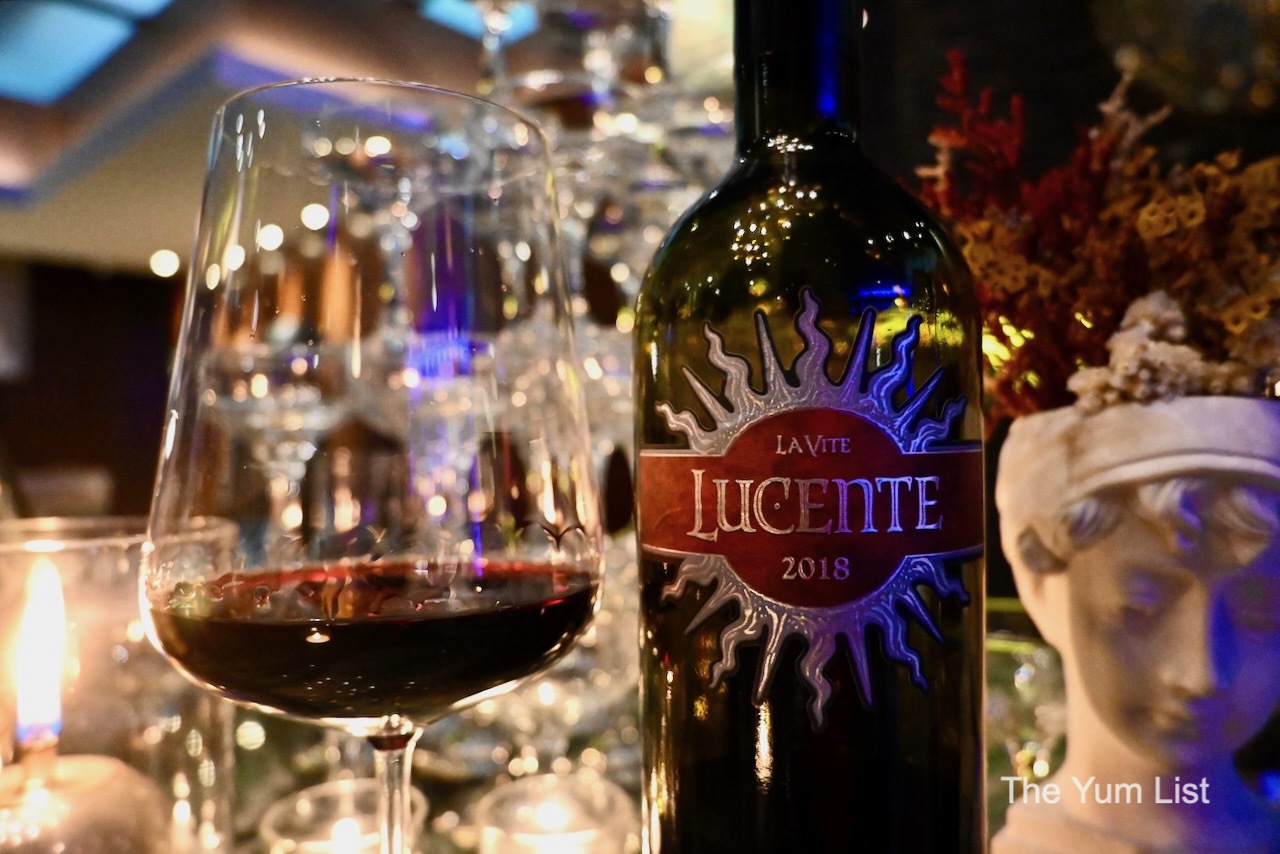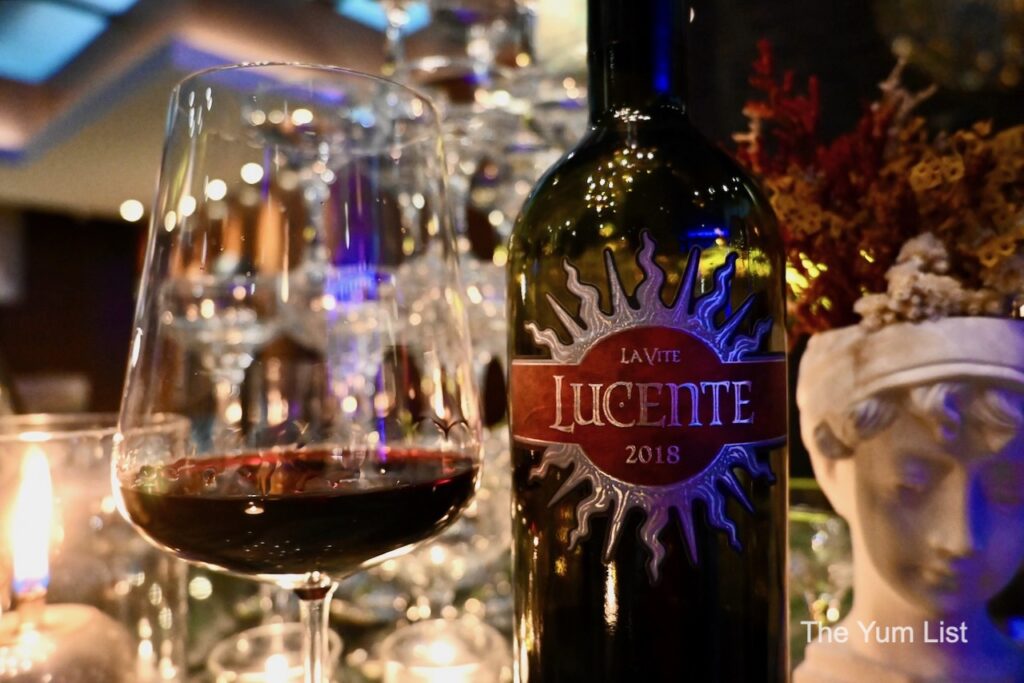 Pesca E Mandorla
The peach palate cleanser arrived, encouraging us to take a second wind and energizing us for the completion of the journey. Tastes of European summers prevailed with stone fruits, almonds and shaved lime zest on top. A glass of Paola Saracco Moscato D'Asti D.O.C.G took us through the rest of the meal. Light and sweet, this was a winner with my dining companions. However, I gladly sipped the last drops of my red, finding enough sweetness in the desserts to not need anymore.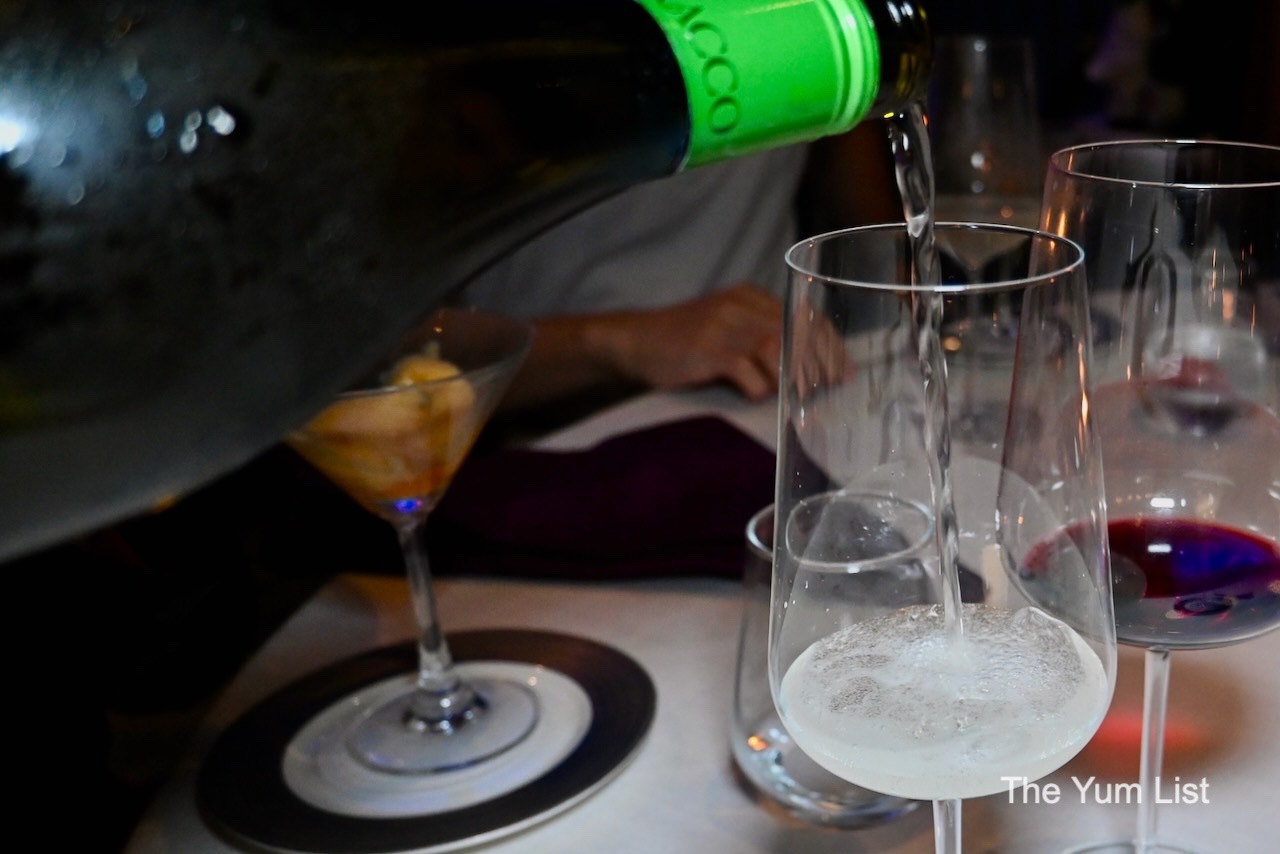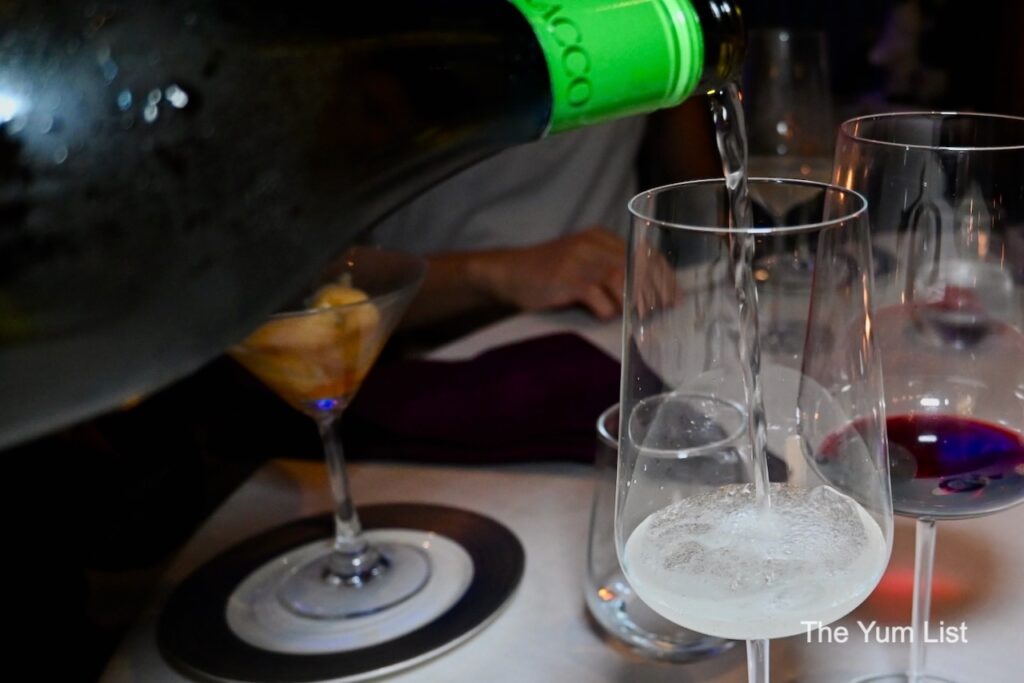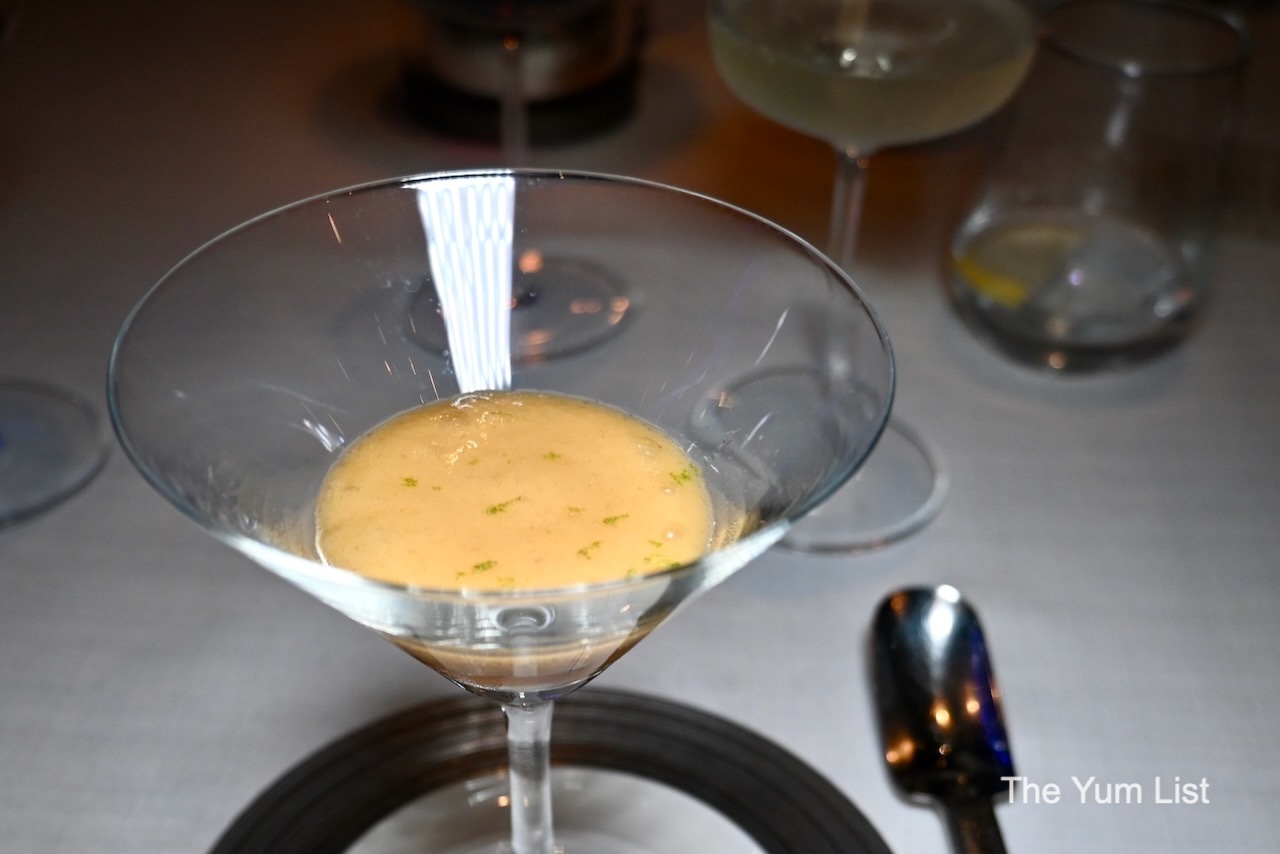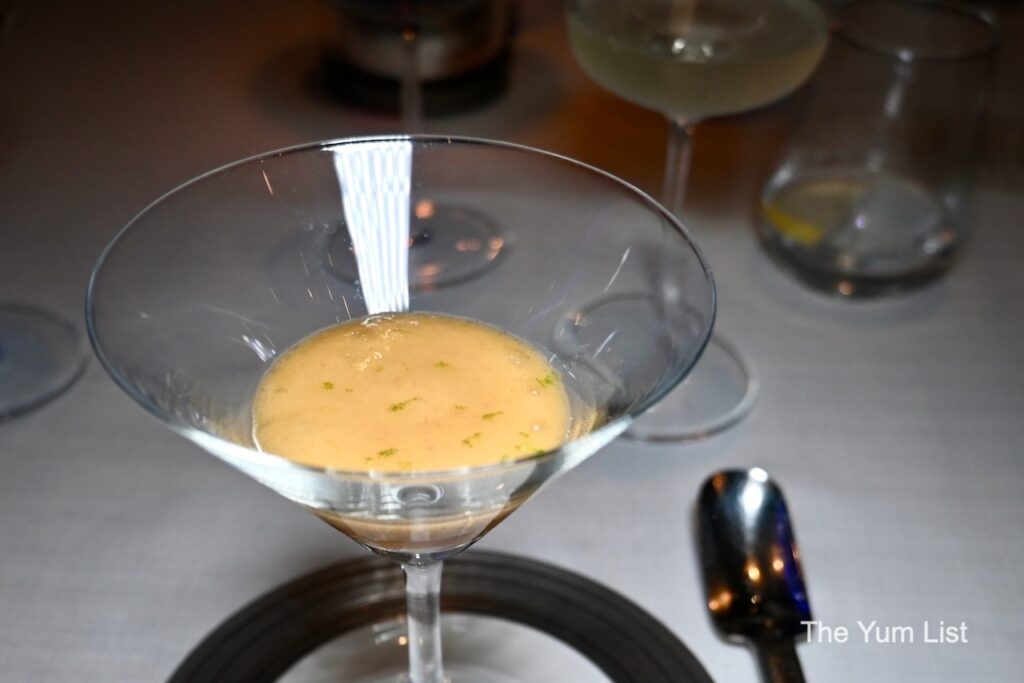 The Take-over Series – Mela (Apple)
Mela, or apple, was a perfect half sphere covering apple and sable with warm vanilla flavours and crunchy hazelnuts on top. I'm not a dessert person, but this was just the right size to offer a sweet conclusion minus a sugar surge.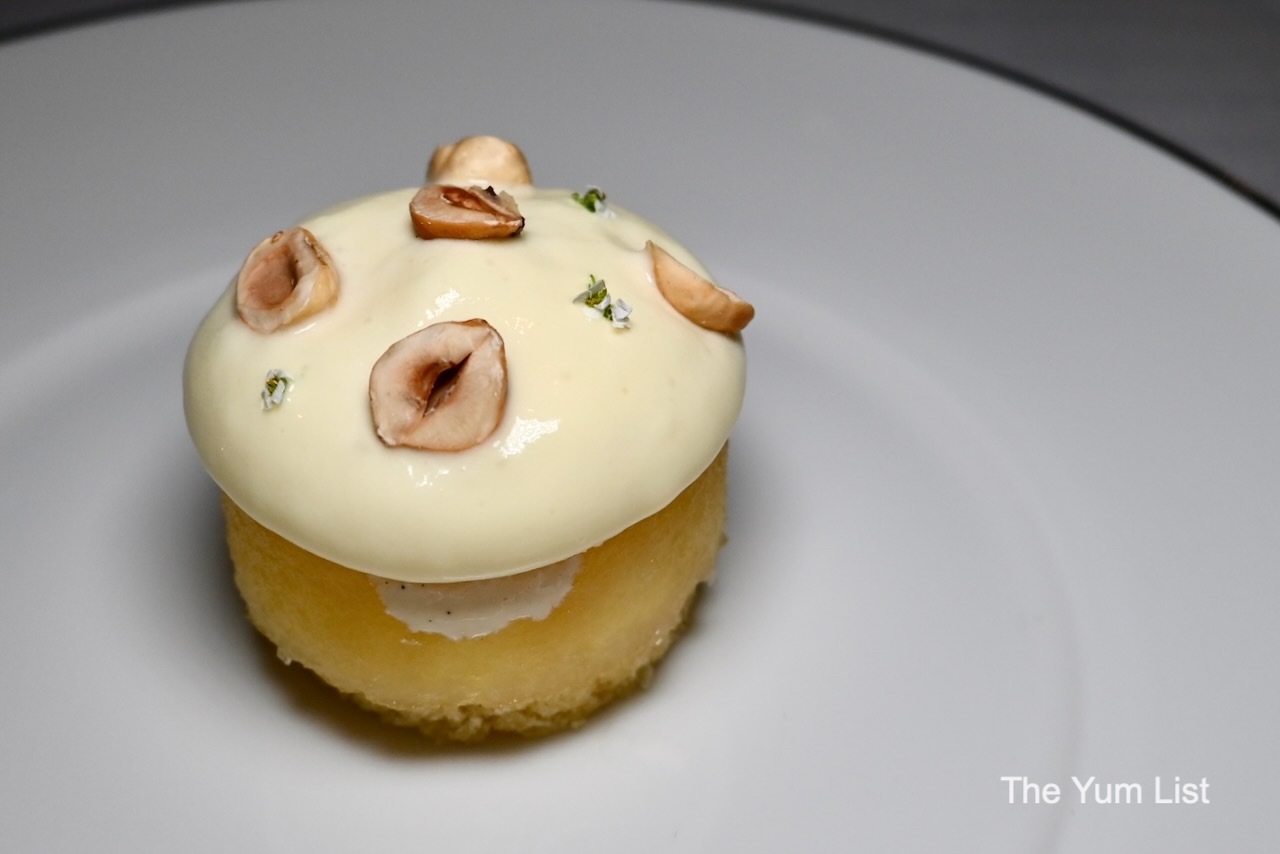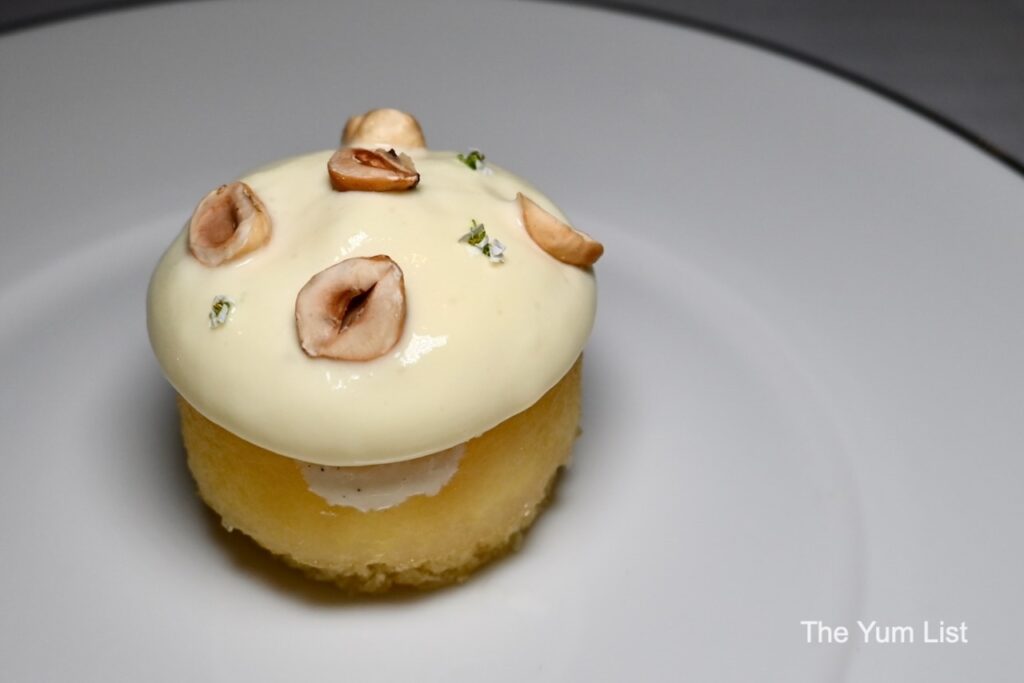 The Take-over Series – Petit Four 
For those who can't get enough sugar, the petit fours of apricot jelly, Sicilian cannolo and baci di dama (lady's kiss) ensured everyone was satisfied.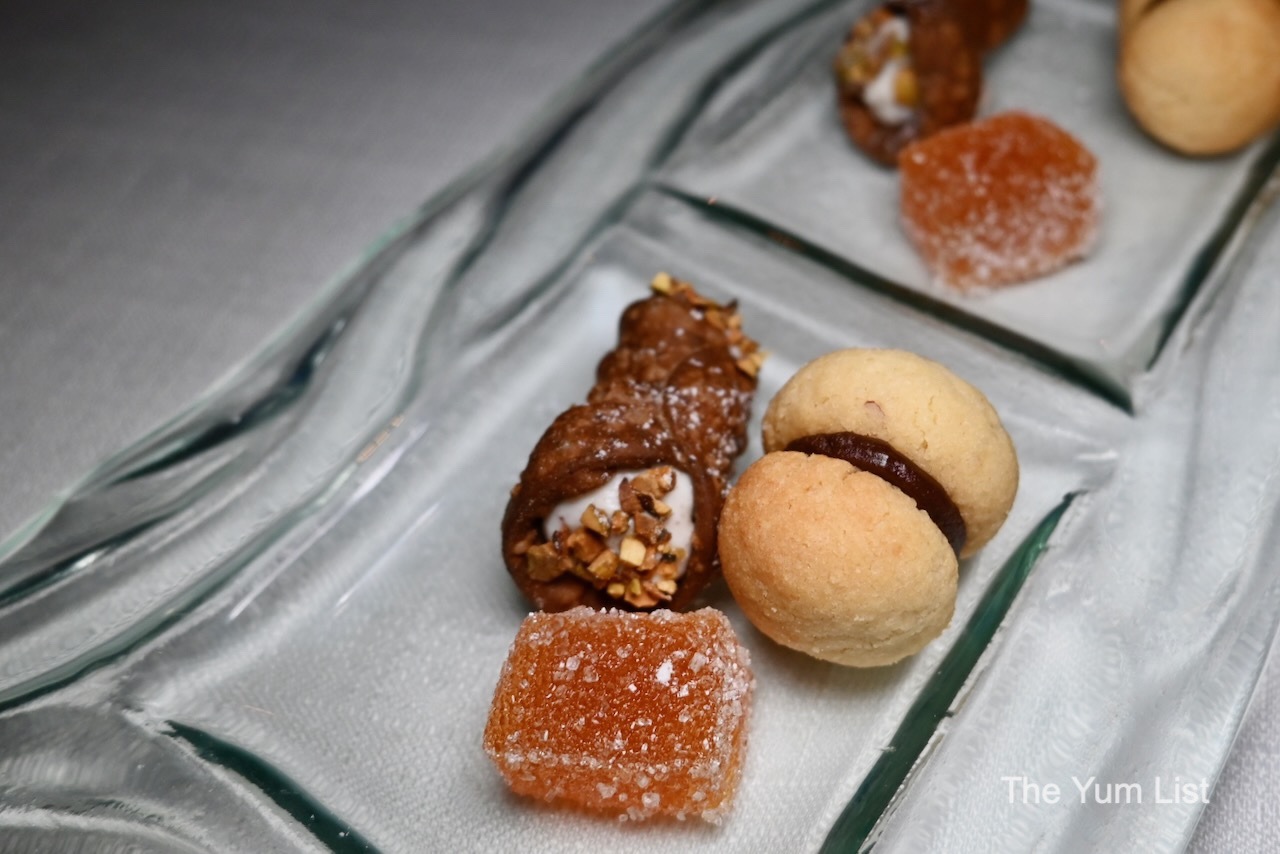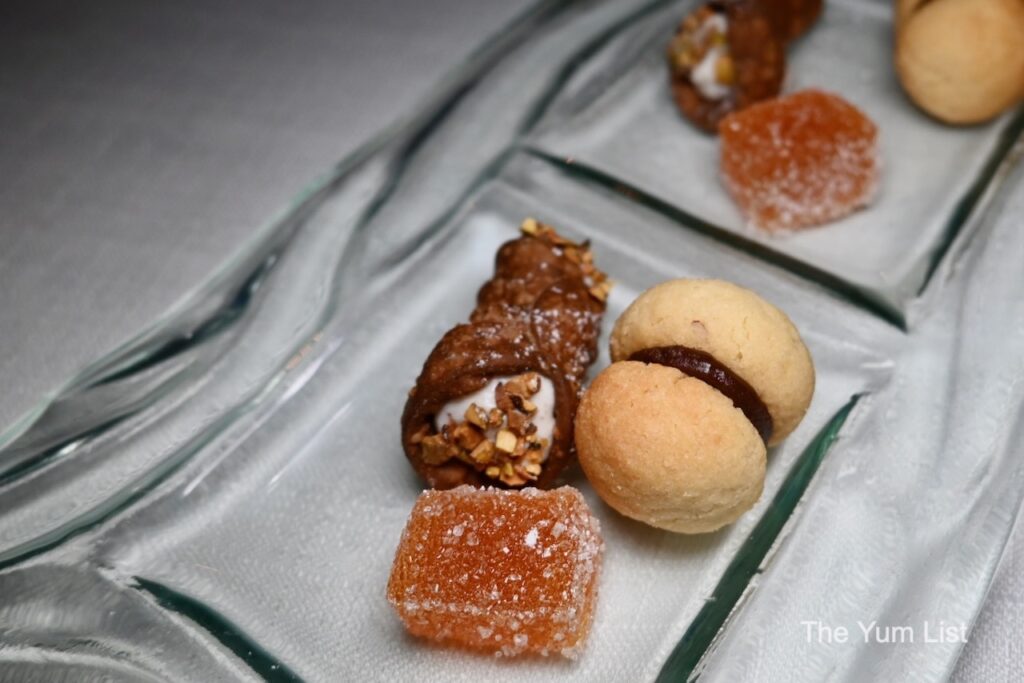 Reasons to sign up for The Take-over Series at Mandarin Grill: internationally renowned chefs in your own backyard (no need to travel); the lovely setting and gracious service provided by the Mandarin Grill.
The Take-over Series at Mandarin Grill
Italian Restaurant at Mandarin Oriental, Kuala Lumpur
Kuala Lumpur City Centre, 50088 Kuala Lumpur, Malaysia
+6 03-2330 8798
[email protected]
www.facebook.com/MOHKL
Mandarin Grill Opening Hours
Closed Monday & Tuesday
Wednesday to Sunday – Lunch: 12 – 2 pm & Dinner 6 pm – 10 pm
Stay up to date with the latest food and beverage happenings in KL here and here.