Bonito Fish Bar
Words: Kirsten Durward
Photos: Monica Tindall
Tucked away in the winding streets of Umalas is one of Bali's coolest places to hang out, eat and drink: Bonito Fish Bar. It is a little tricky to find, but oh so worth it. We found that both Grab and Google Maps misdirected us, so we're giving you our locator tips to ensure you don't miss out. Before Nails and The Canggu, directly opposite Whole Foods on Jalan Bumbak Dauh, look out for the gold sign below a taupe spiral staircase, and you can't go wrong.
On our drive to Bonito, we pass a sign that makes us smile: 'A bad day in Bali is better than a good day anywhere else.' Luckily it is a good day in Bali as we are lunching at Bonito. Welcomed at the stylish outlet by Ayu (meaning beautiful), the smiling hostess, we are soon oohing and aahing over Bali's first fish and seafood delicatessen. Freshly cut filets and shellfish are beautifully displayed for selection.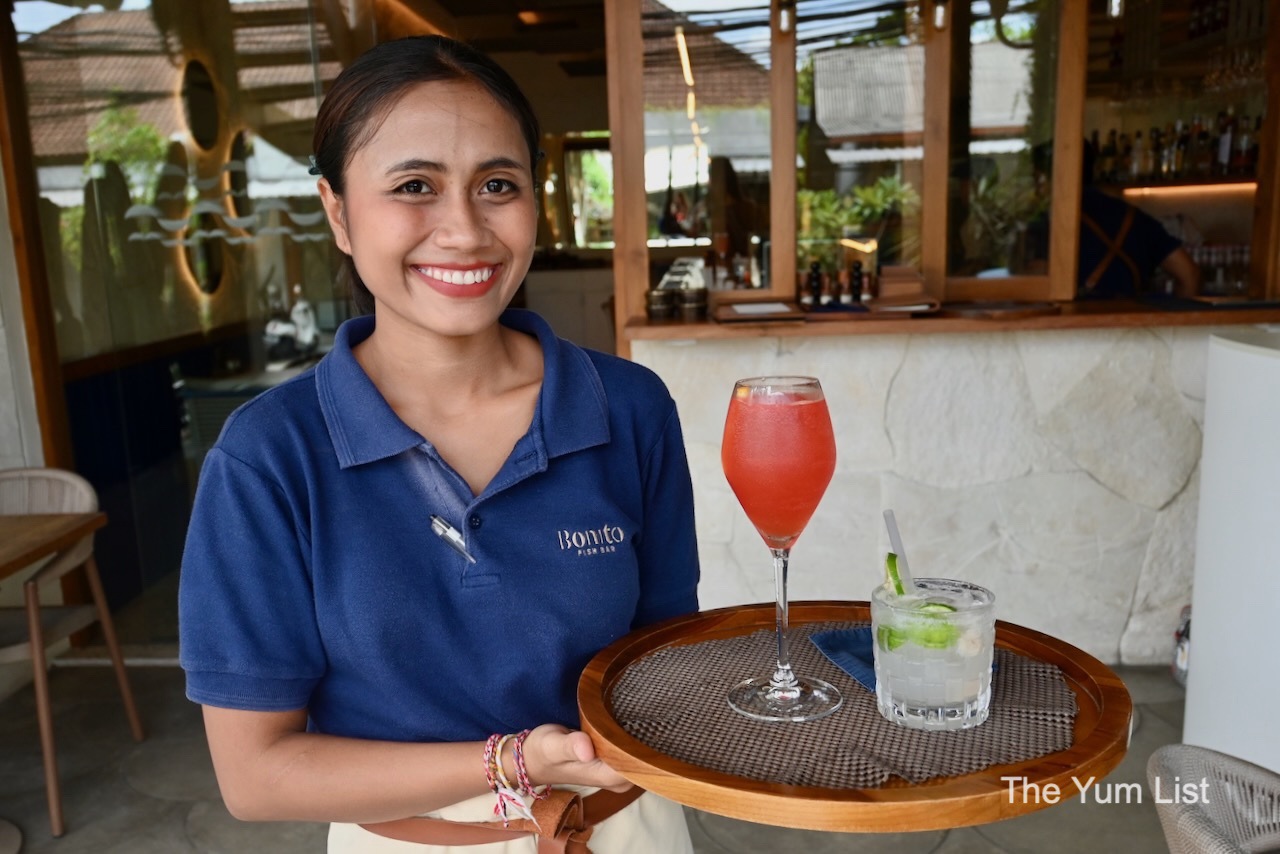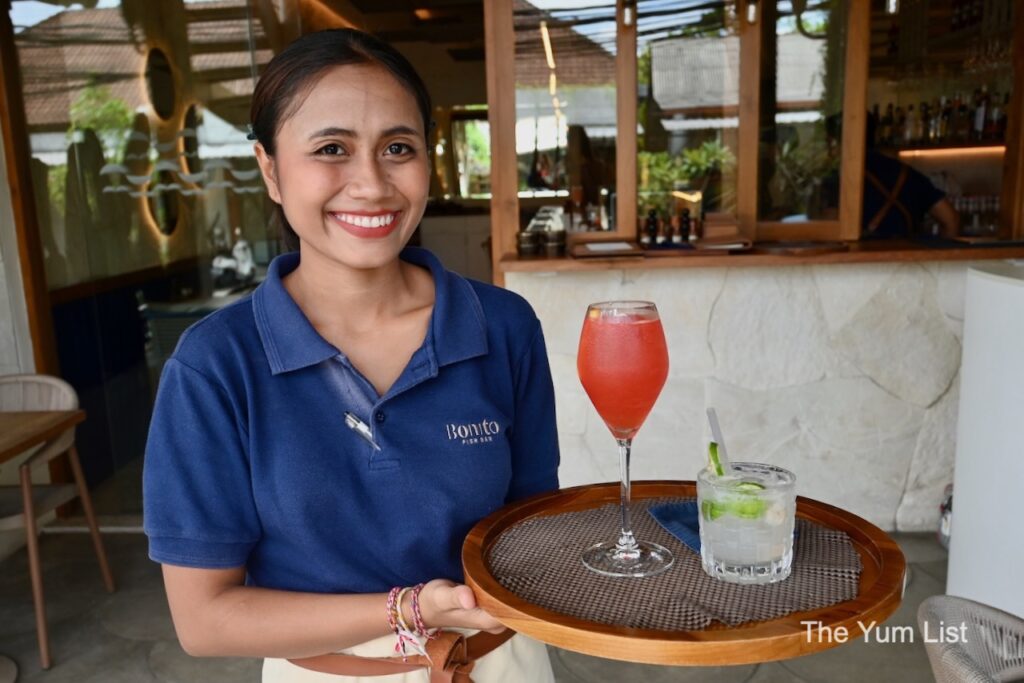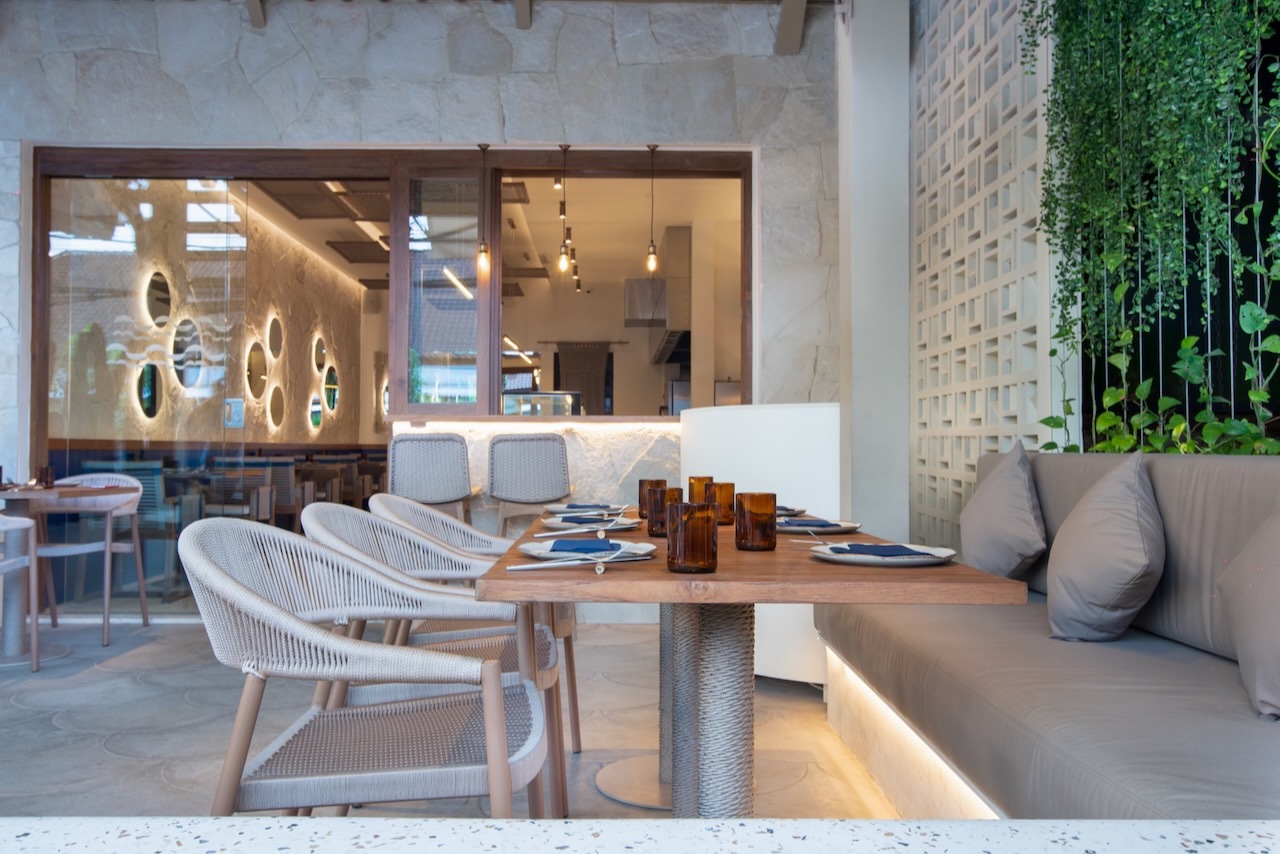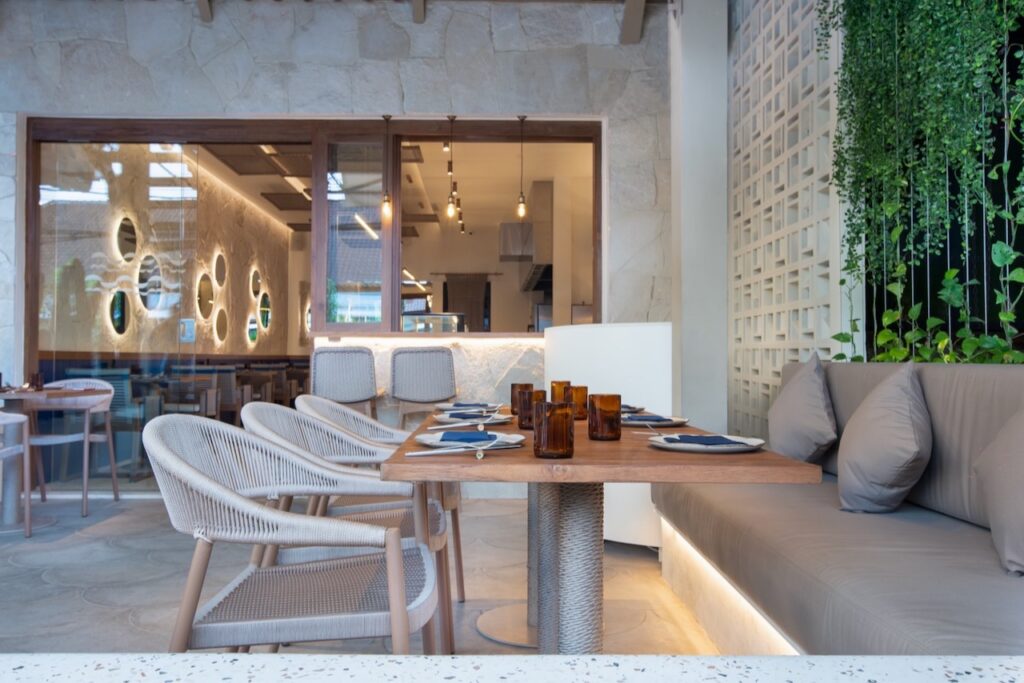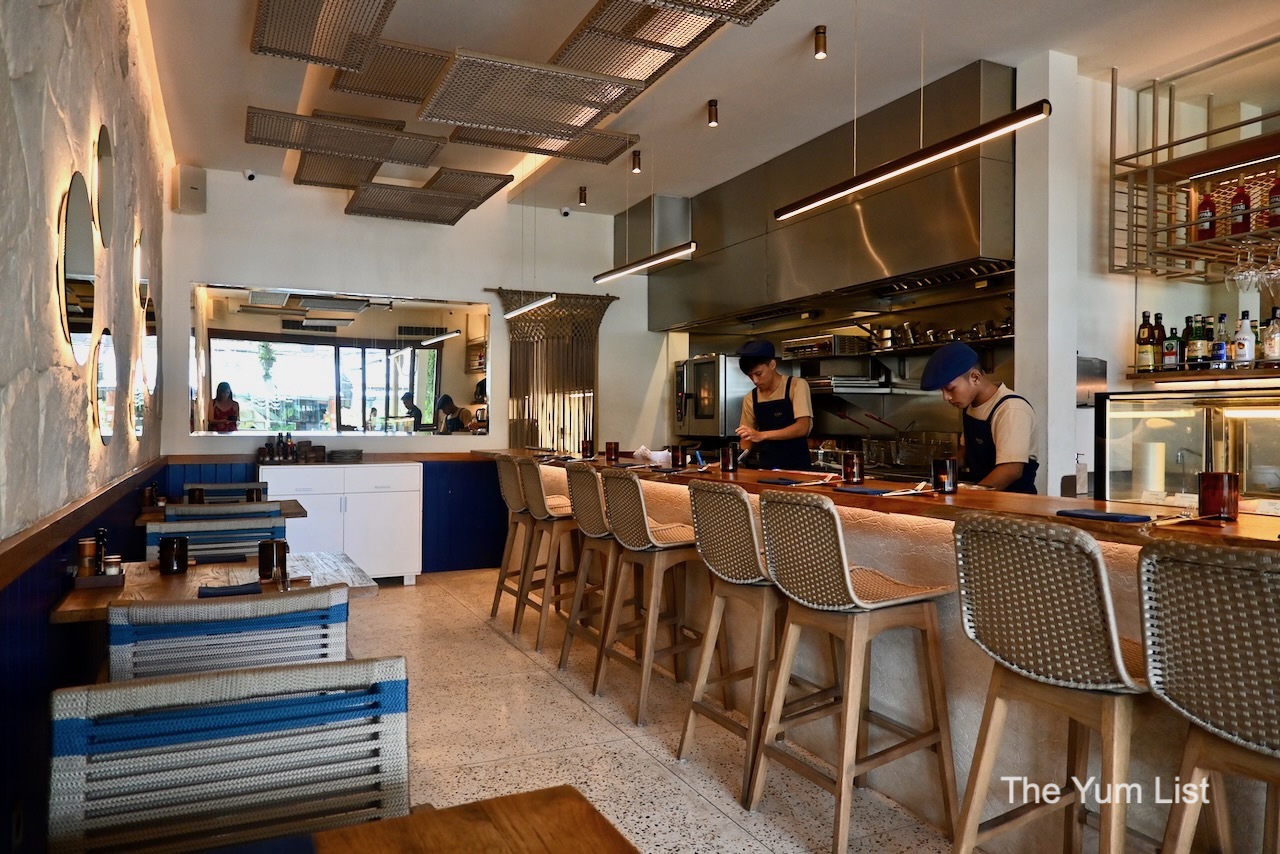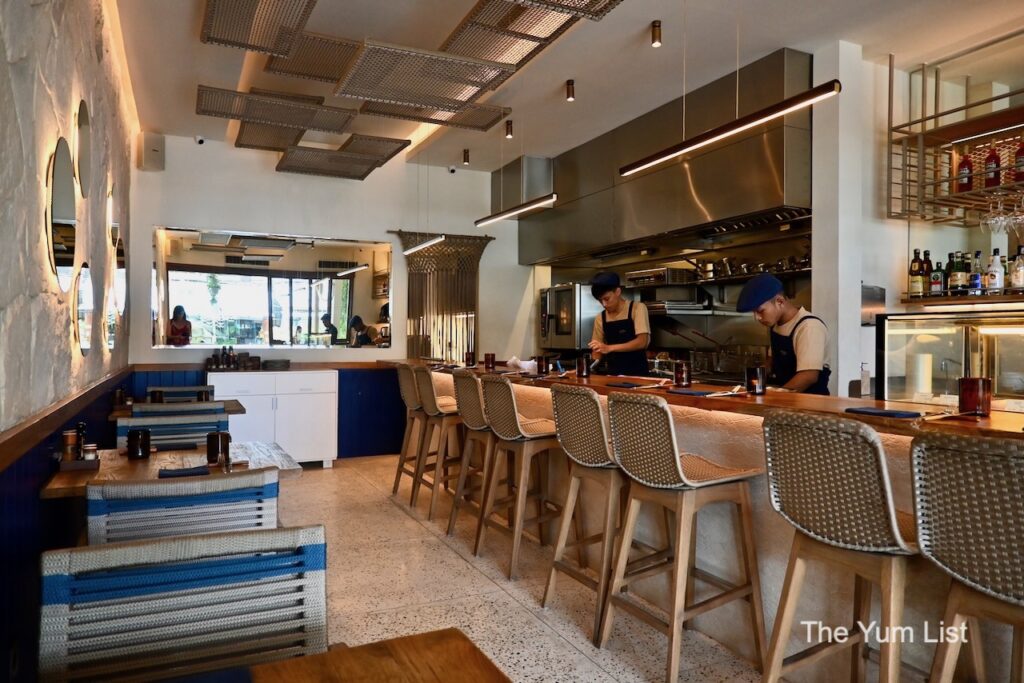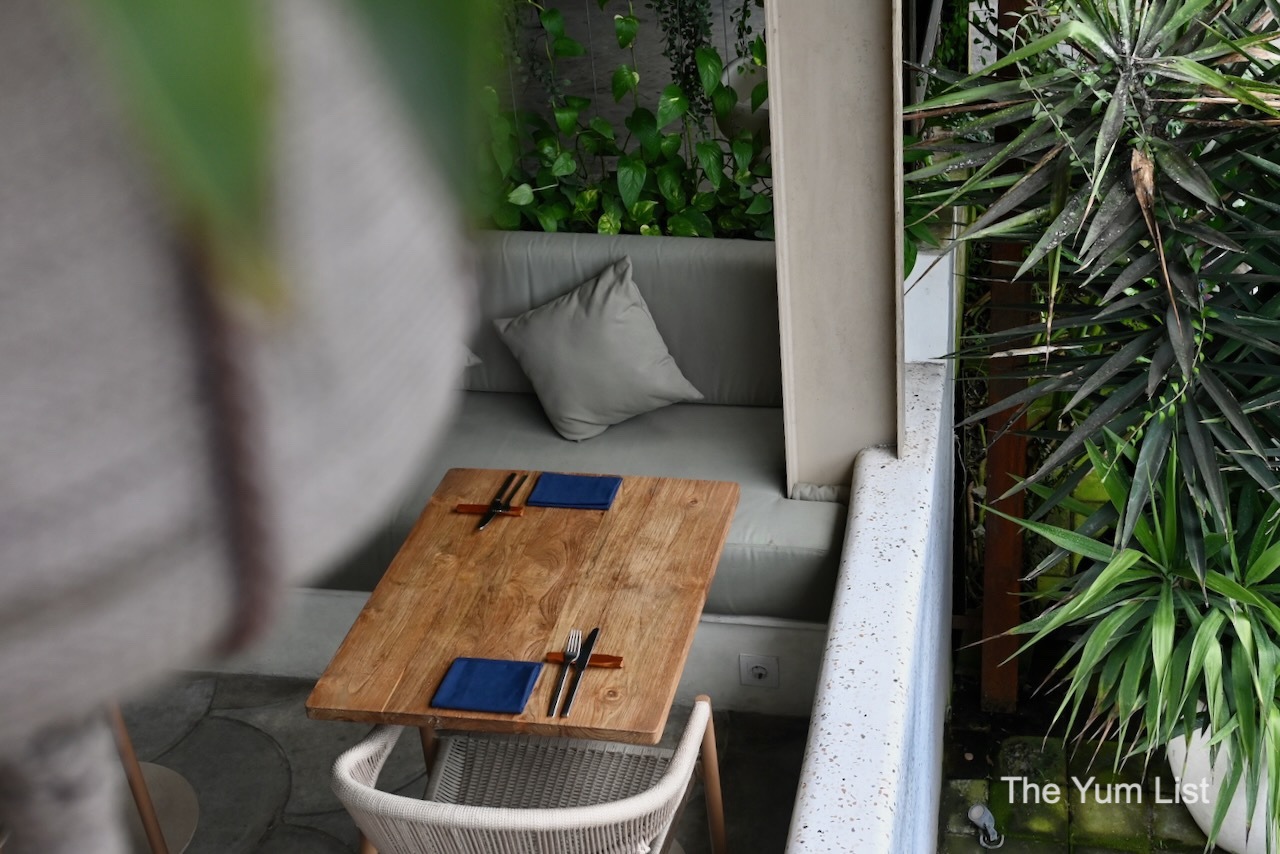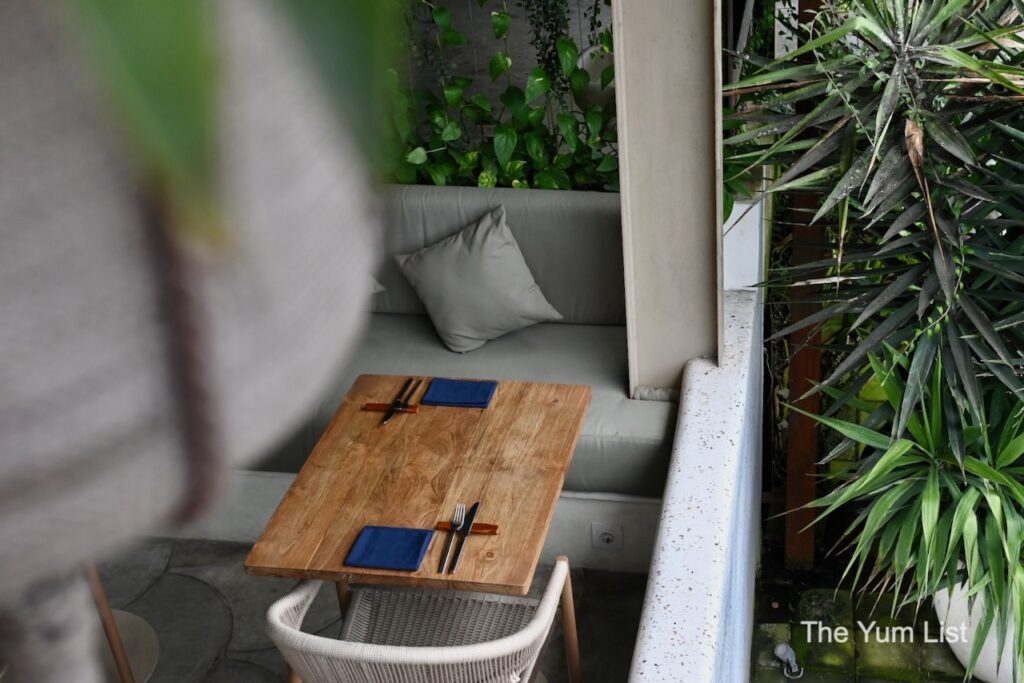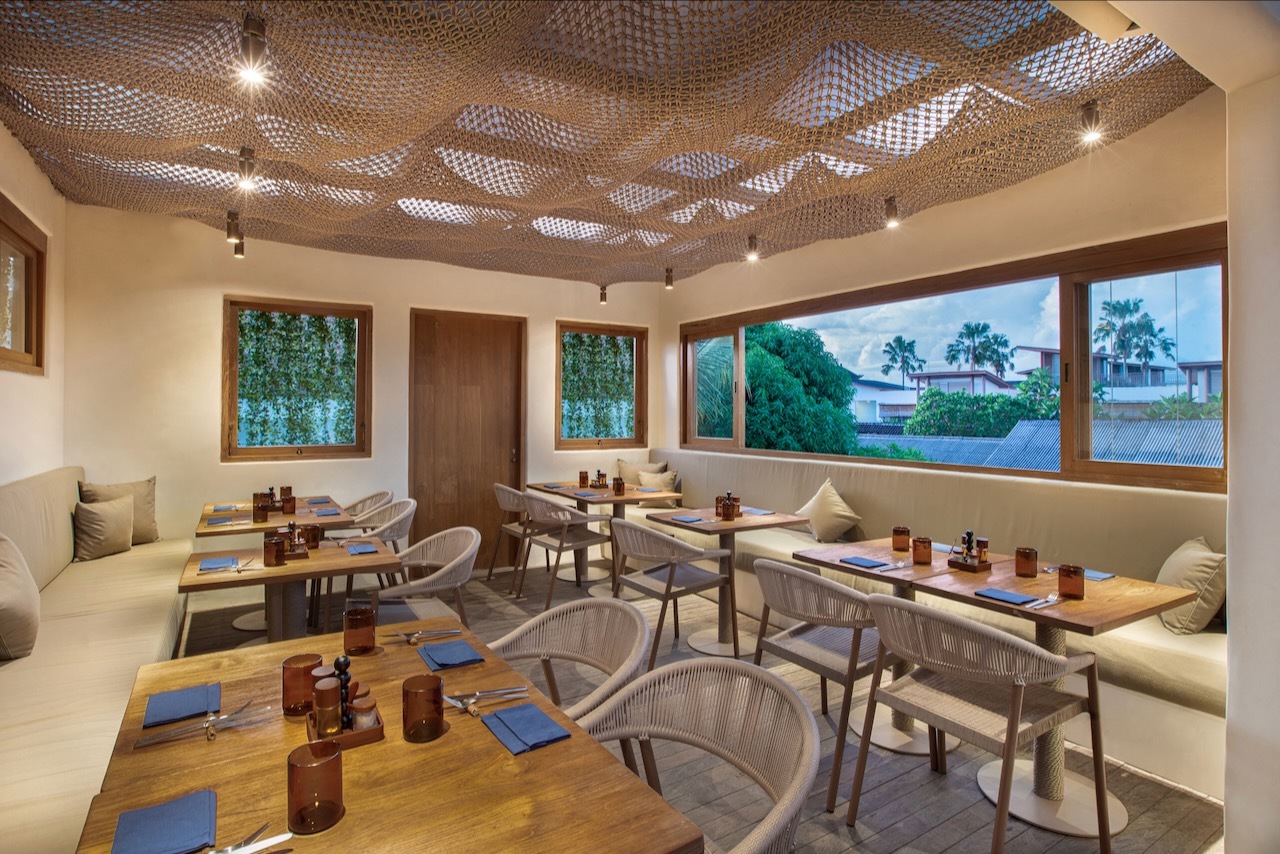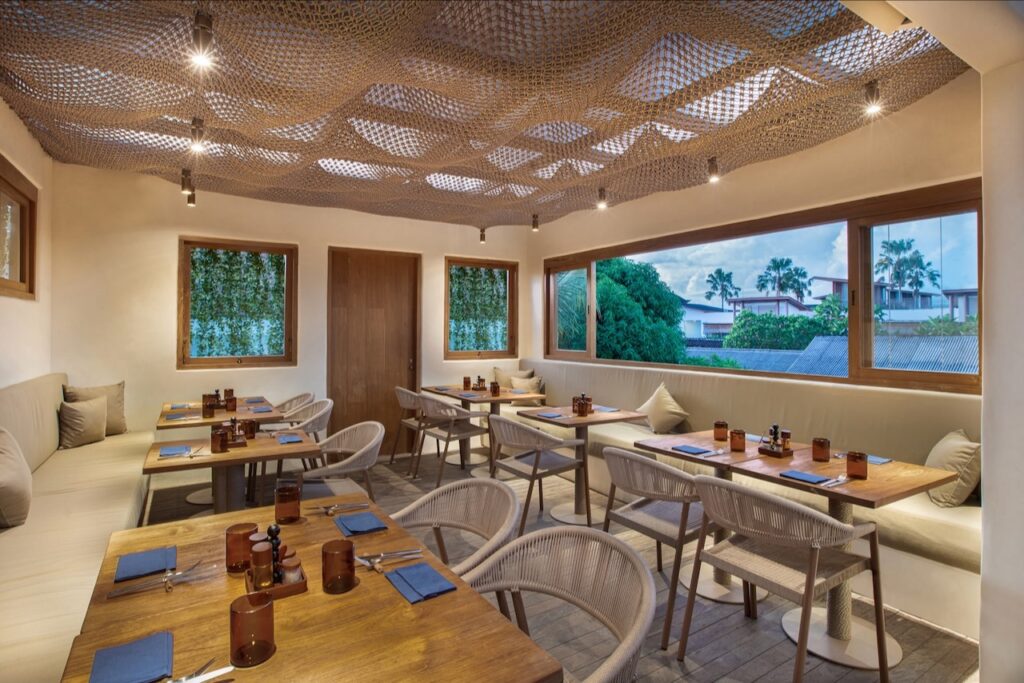 Bonito Fish Bar
For those in the know, Bonito Fish Bar is the sister restaurant to MAURI, by chef owner Maurizio Bombini. The team have created a contemporary fresh, and informal social dining space inspired by the founder's Puglian roots. With sandy tones and natural woven textures, we could almost be beachside, not roadside. Pops of blue on the interior walls, staff shirts and napkins invoke the idea of the ocean. Layered semi-circles on the floor and stairwell echo fish scales, while gentle waves are subtly etched on the sliding doors and glassware.
The promise is a casual dining destination for people to hang out enjoying great seafood, exquisite wines and good conversation in a friendly atmosphere. So, let's see if Bonito Fish Bar delivers on that promise.
Bonito Cocktails
We are off to a good start with Agus, the joyful bartender, who does a lovely job with our opening cocktails. His energetic shaking produces light and flavourful blends.
The Mangosteen Caipiroska (128 K IDR ++) features zingy lime and gentle mangosteen with added bubbles for a light, bright, and easy brunchy cocktail. We love it. The Bonito Spritz (120 K IDR ++) sees passionfruit and elderflower blend perfectly with the select aperitivo adding a fruity twist to the classic. Smoother and more resonant than the original Aperol Spritz, many newbies to the classic should find this a pleasurable introduction.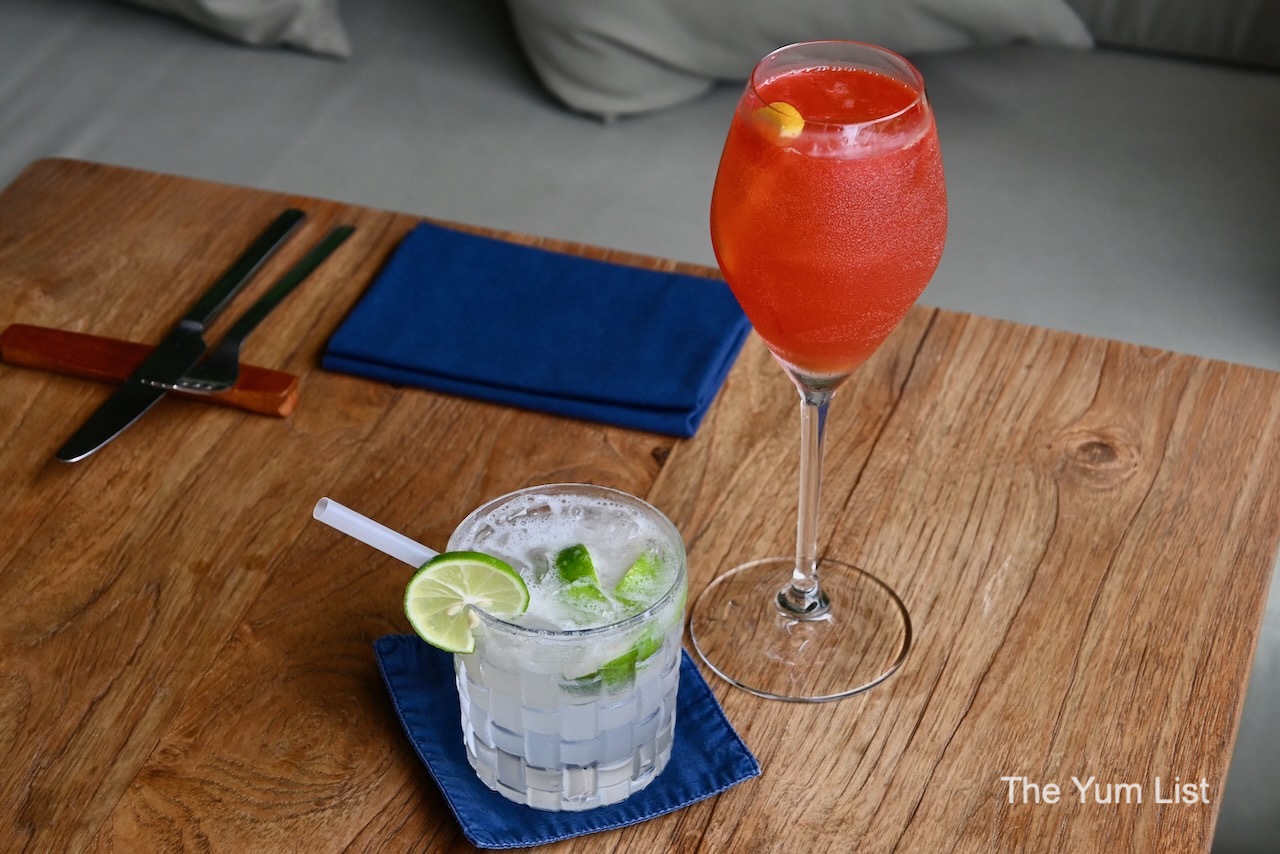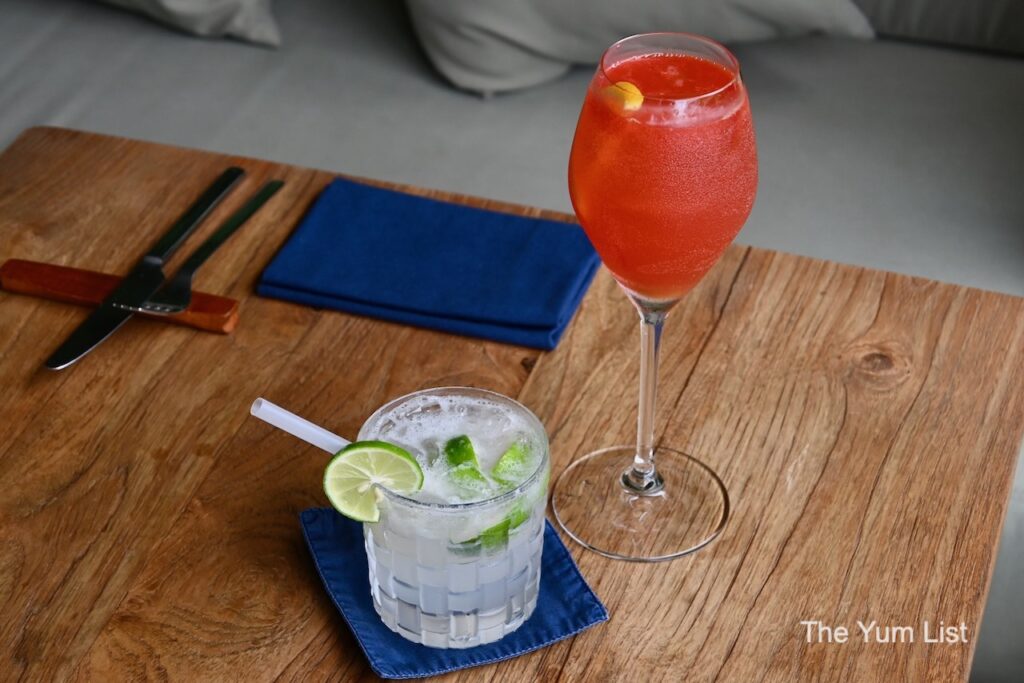 A Taste of Bonito
We keep lunch simple with the chef-selected menu: A Taste of Bonito, which is chosen to showcase the best of Bonito's a la carte menu. Shared between two people, it is just right for our lunch visit. There is an optional choice of wine and cocktail pairings, and as we had already tasted cocktails, we liked the look of the wine.
The opening glass is a Fantinel Prosecco Spumante DOC Friuli-Venezia Giulia, Italy. It's moussey, light and extra dry with spring flower aromas. The yellow apple and slight grapefruit overtone are an excellent match for our starter series, as the precise acidity and vivacious bubbles cleanse the palate after every bite.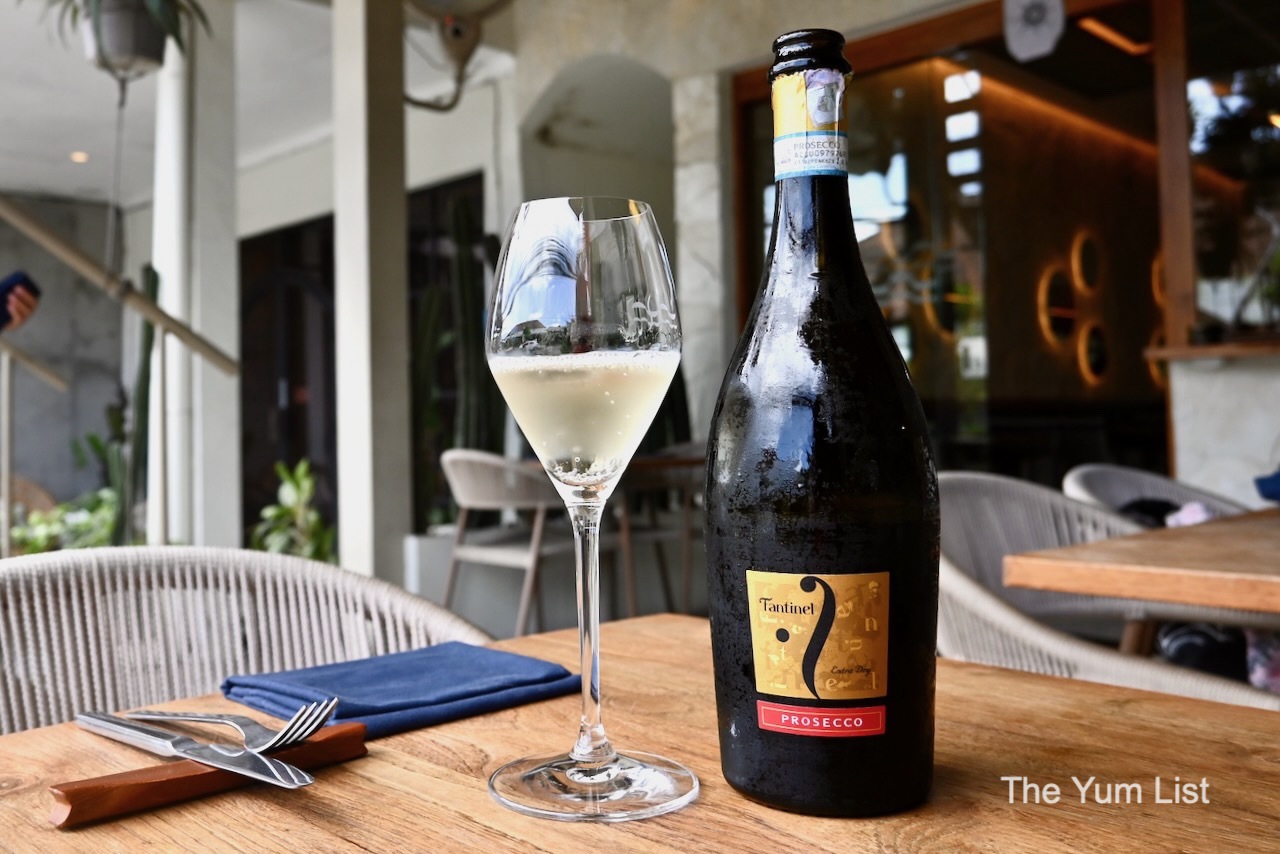 Bonito Fish Bar Appetisers
Prawns Bruschetta is our amuse-bouche with succulent confit prawns in a light cocktail dressing and finely scattered chives on a crunchy base. It's lightly seasoned and teases the palate.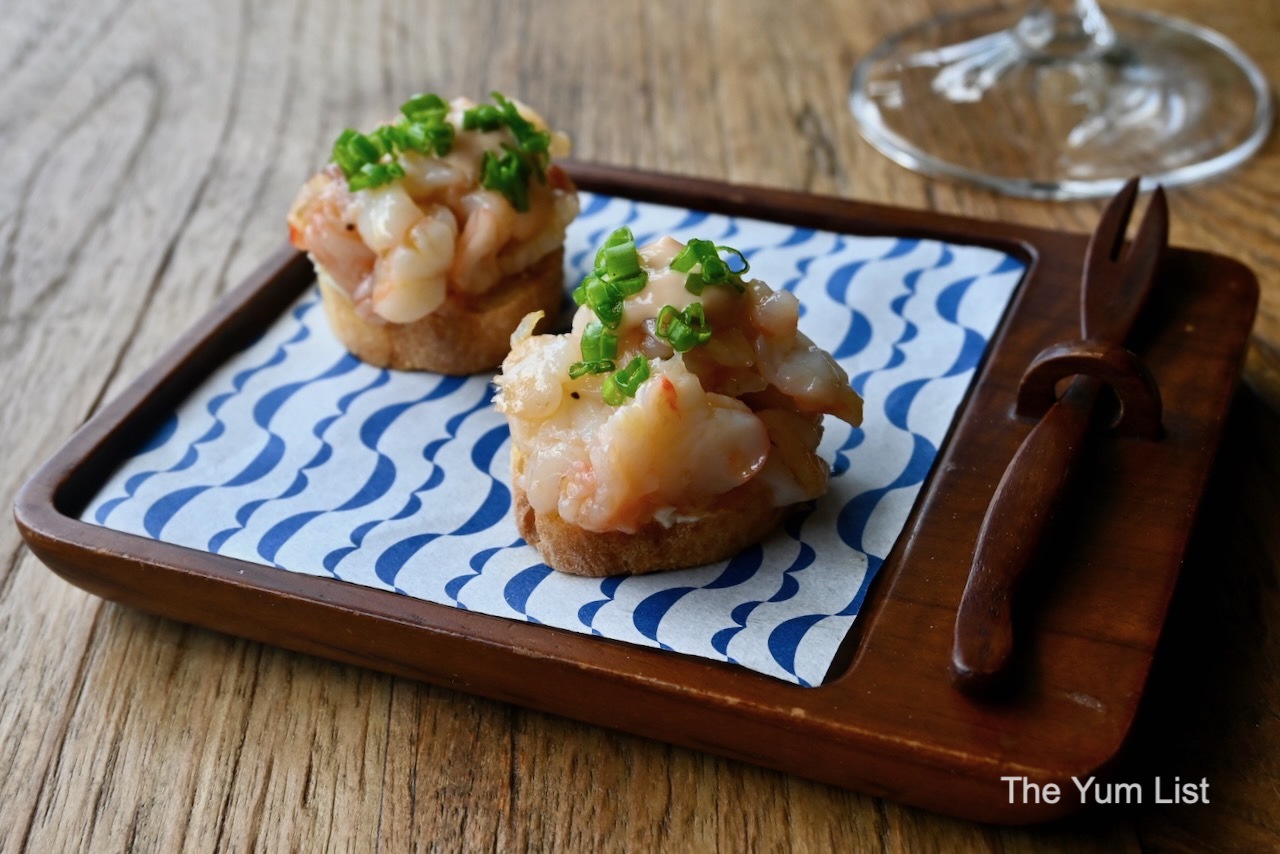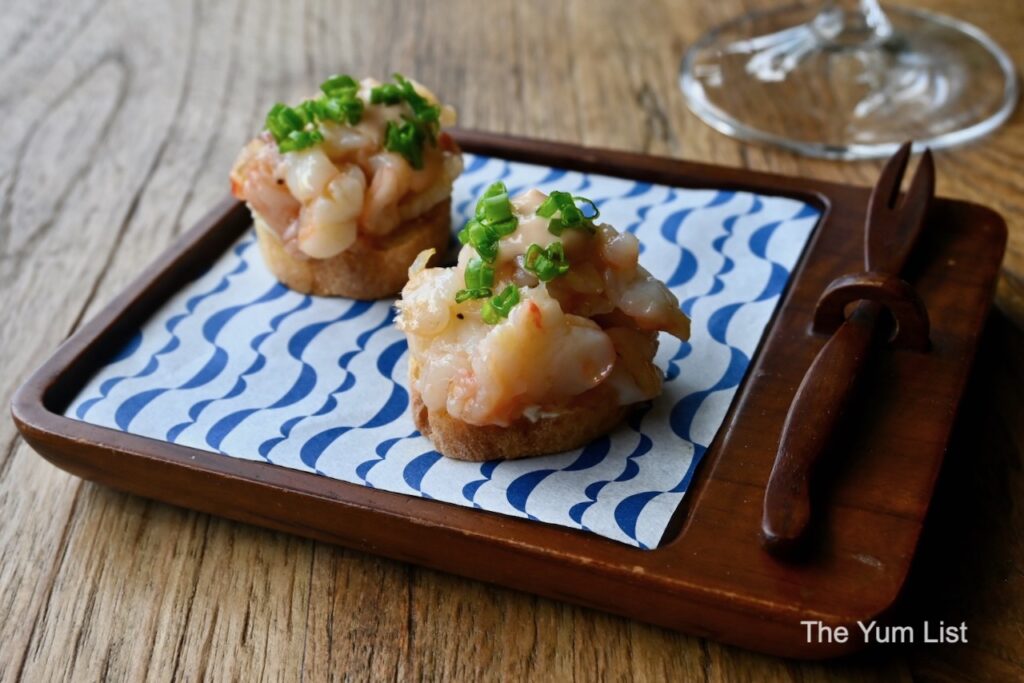 Tuna Tartare
Yellowfin Tuna with salsa tonnata, pleases our tongues with its savoury, salty Mediterranean character. Fennel adds a whimsical note, rounding out the bolder pops of olive, caper and radish.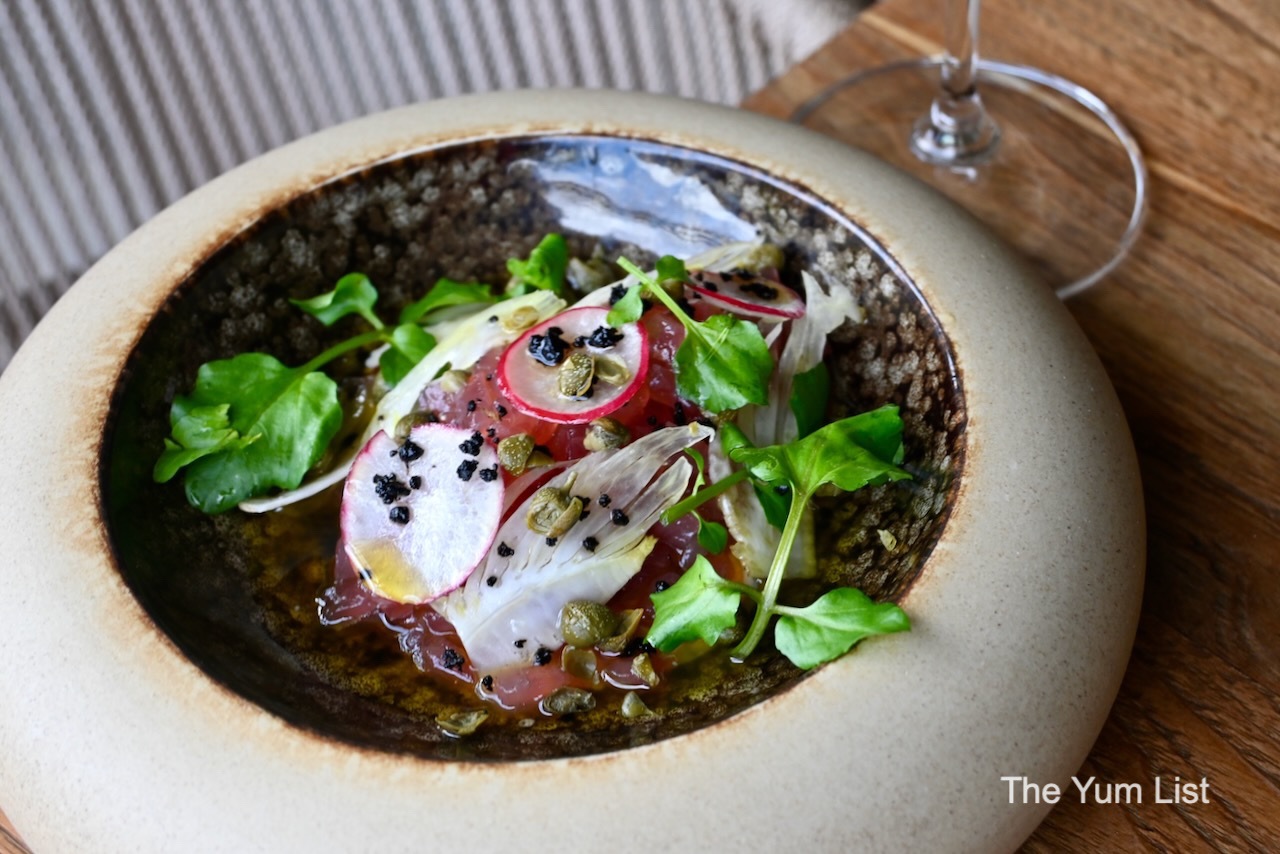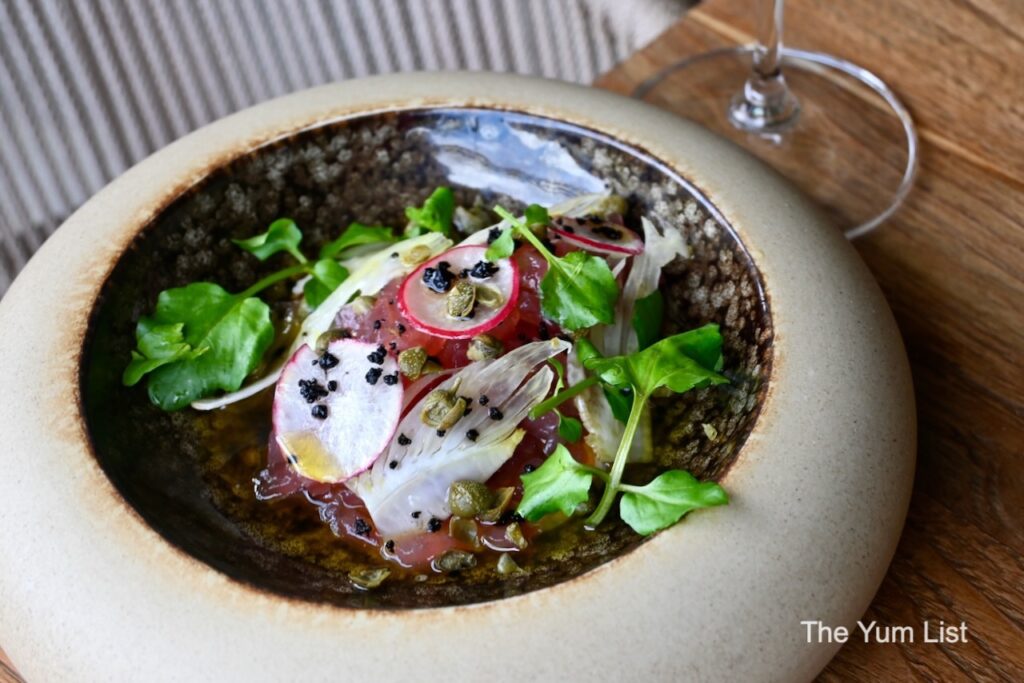 Barramundi Ceviche
Barramundi Ceviche with sweet potato, lime, red onion chilli, coriander and grilled corn offers a true expression of the Peruvian dish marinated in leche de tigre (the classic tiger's milk mix). A hint of bitterness is balanced with tropical sweet and citrussy notes, chilli zing and a fresh lift with the coriander.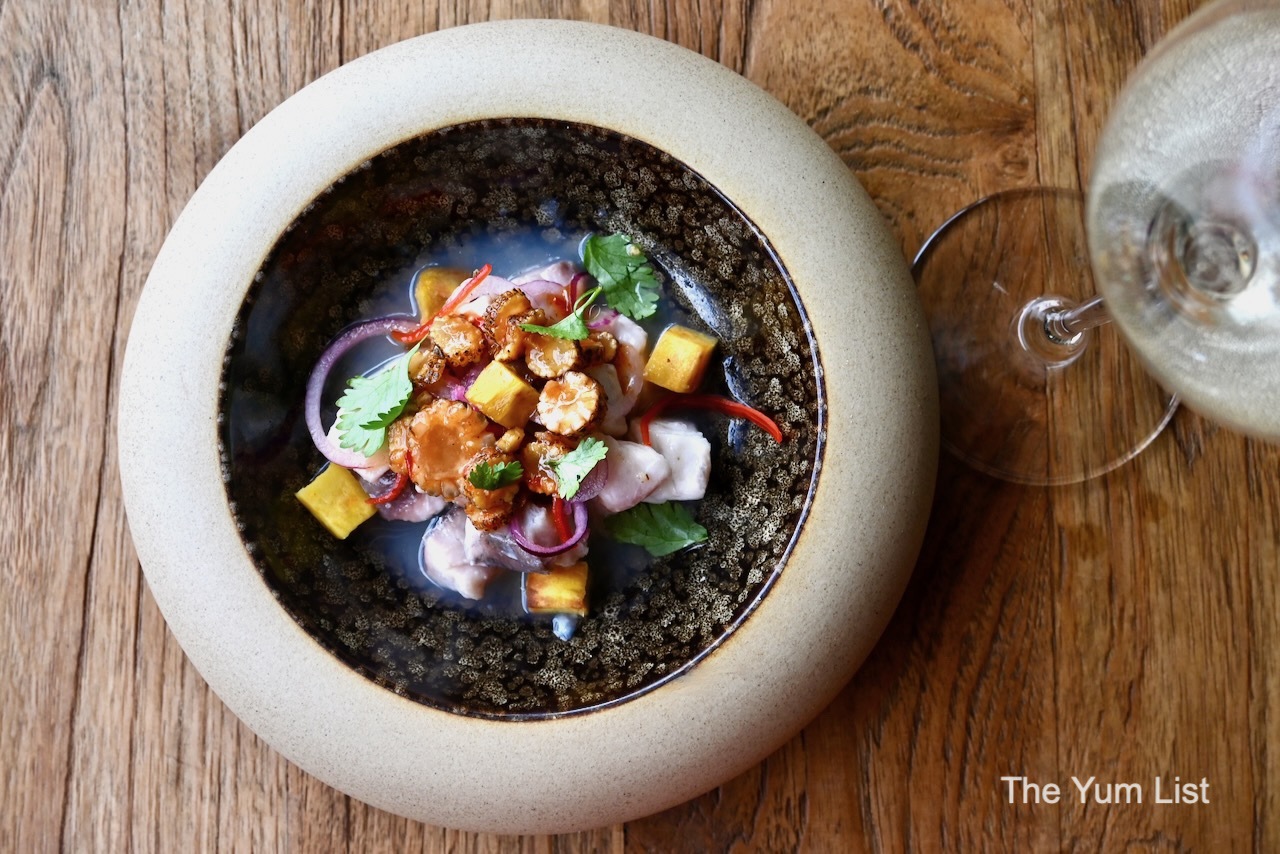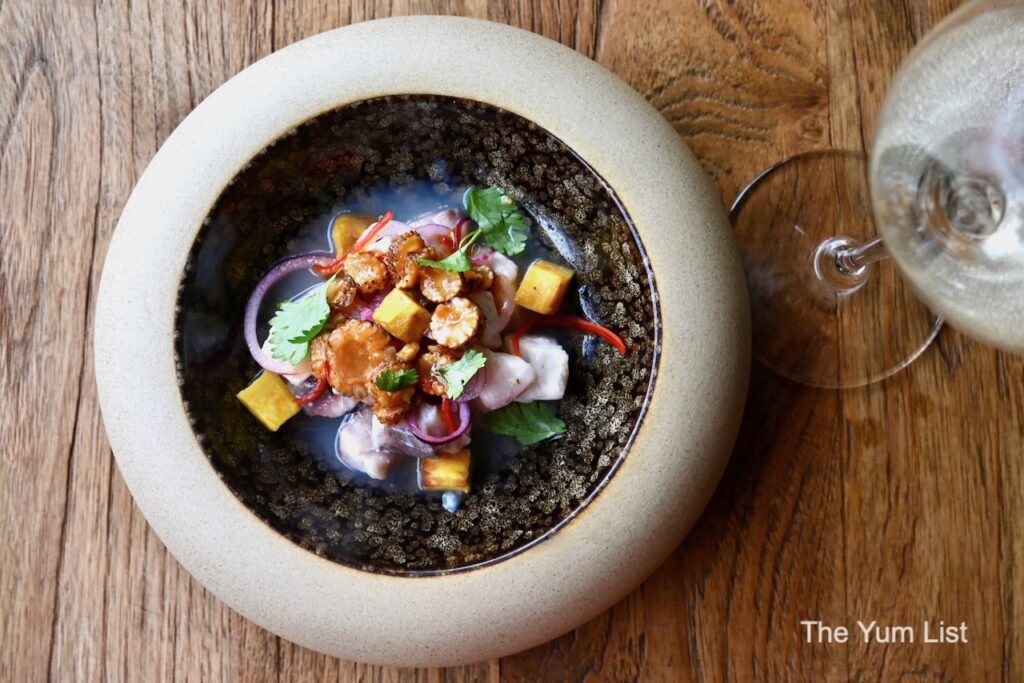 Zuppa di Mare
Manila clams vie with prawns, calamari, and barramundi in a resonant cherry tomato-infused fish broth, Zuppa di Mare. The broth brings a rich and salty sense of the sea. The bread selection is delightful with squid ink onion bread, sourdough and Cuban crackers! While the crackers are an original addition, it's the squid ink onion bread that wins the Yum from us.
The Zuppa di Mare is paired with the Ōhau Woven Stone, Single Vineyard Sauvignon Blanc 2019 from the Kapiti Coast of New Zealand. Familiar notes of lime, minerals, gooseberry, stone fruit and green apple mellow out with the fishy broth.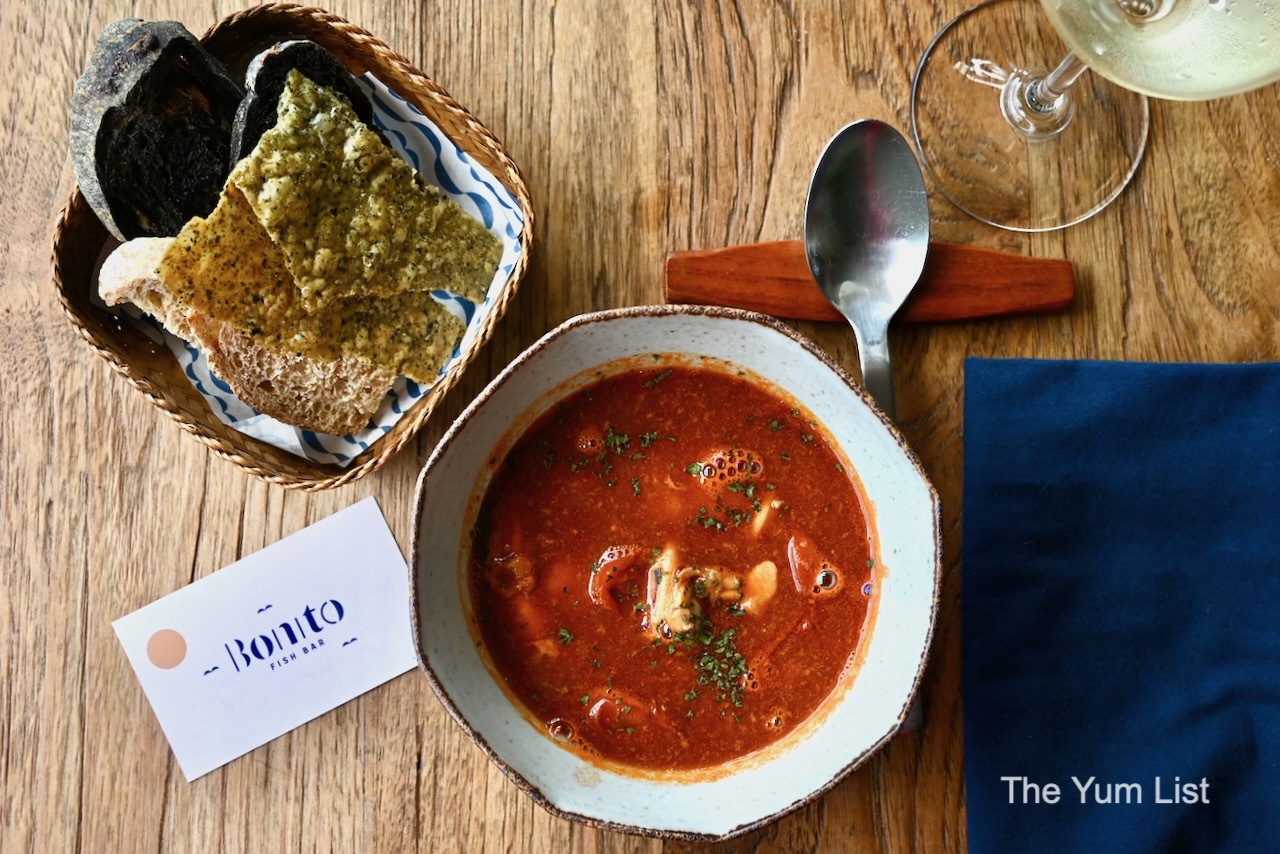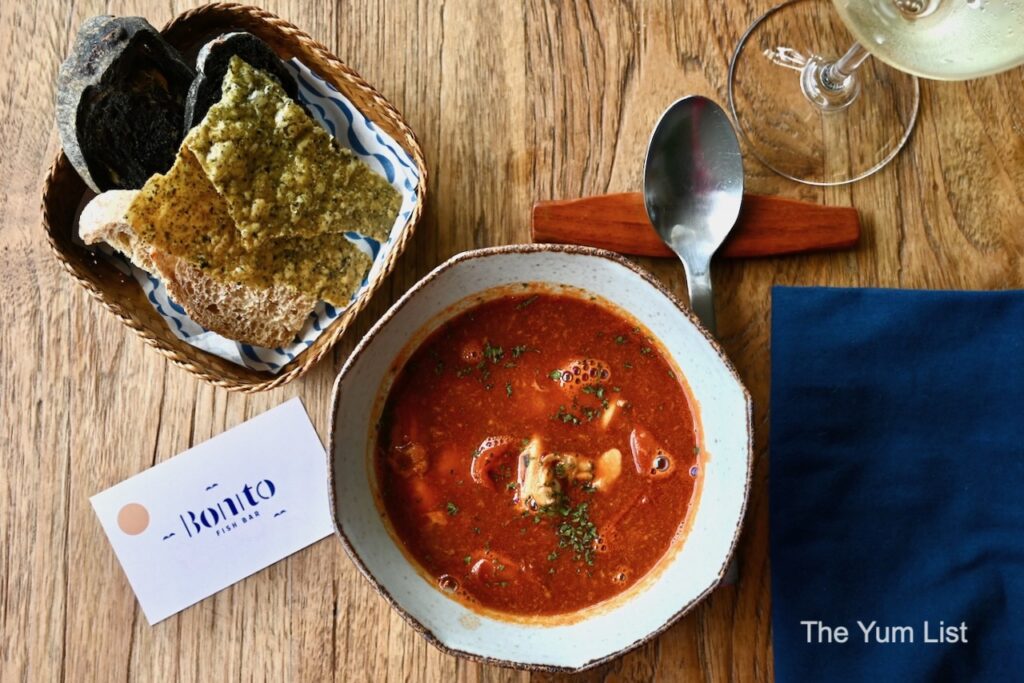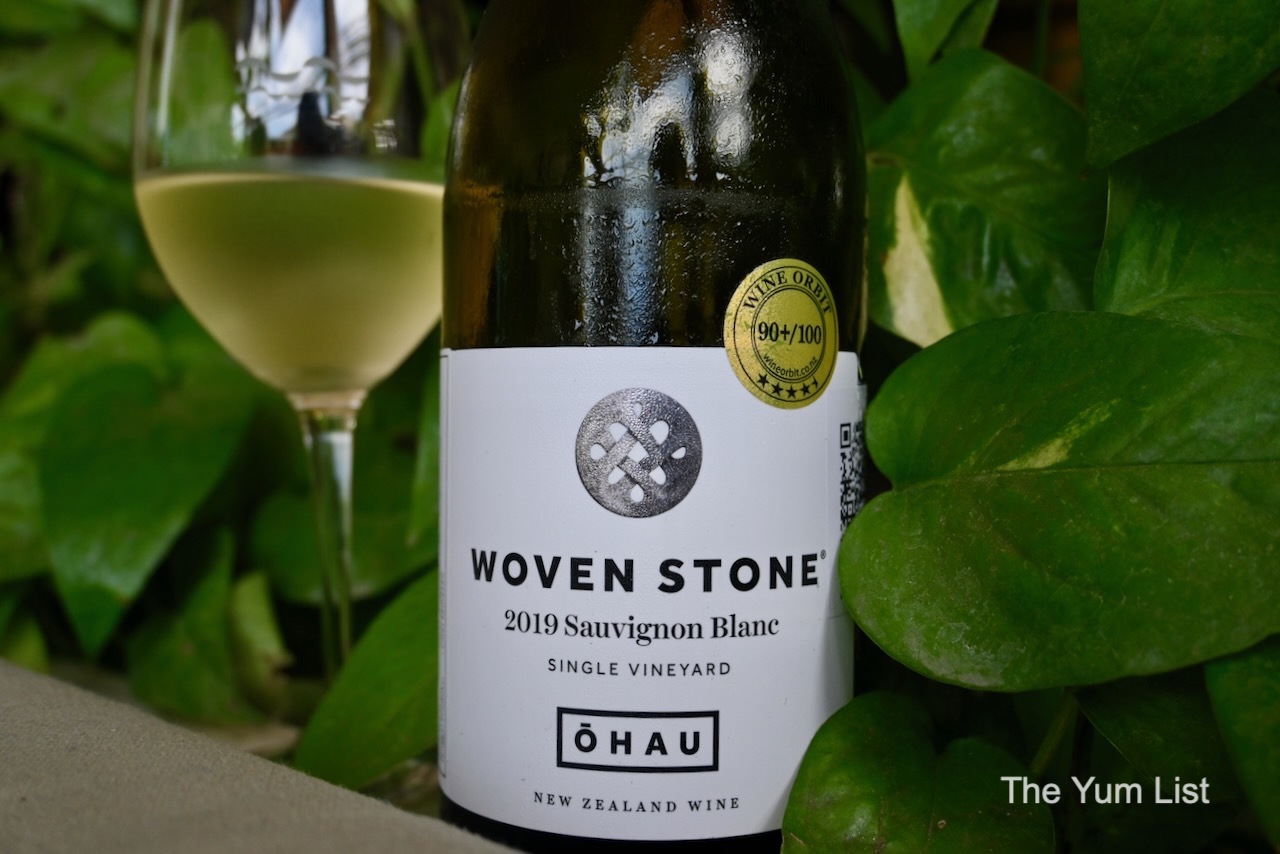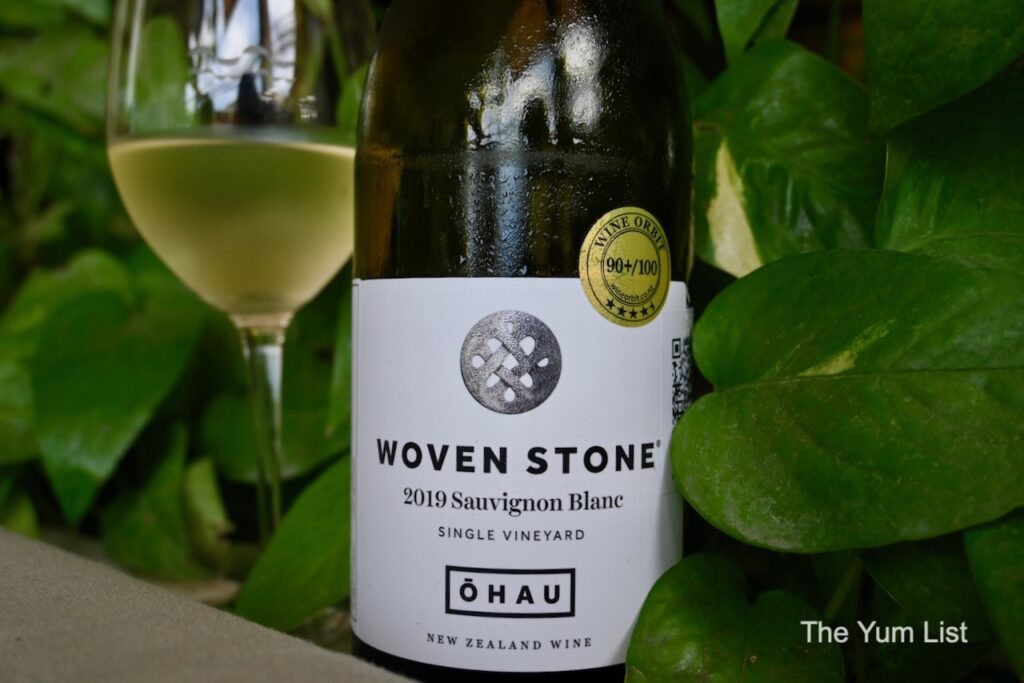 Bonito Fish Bar – Fried Prawns
Four pieces of Jimbaran crunchy Fried Prawns with dipping sauce are served in a casual cone. They're a good bar snack with a glass of wine or beer if you are not in the mood for a full meal.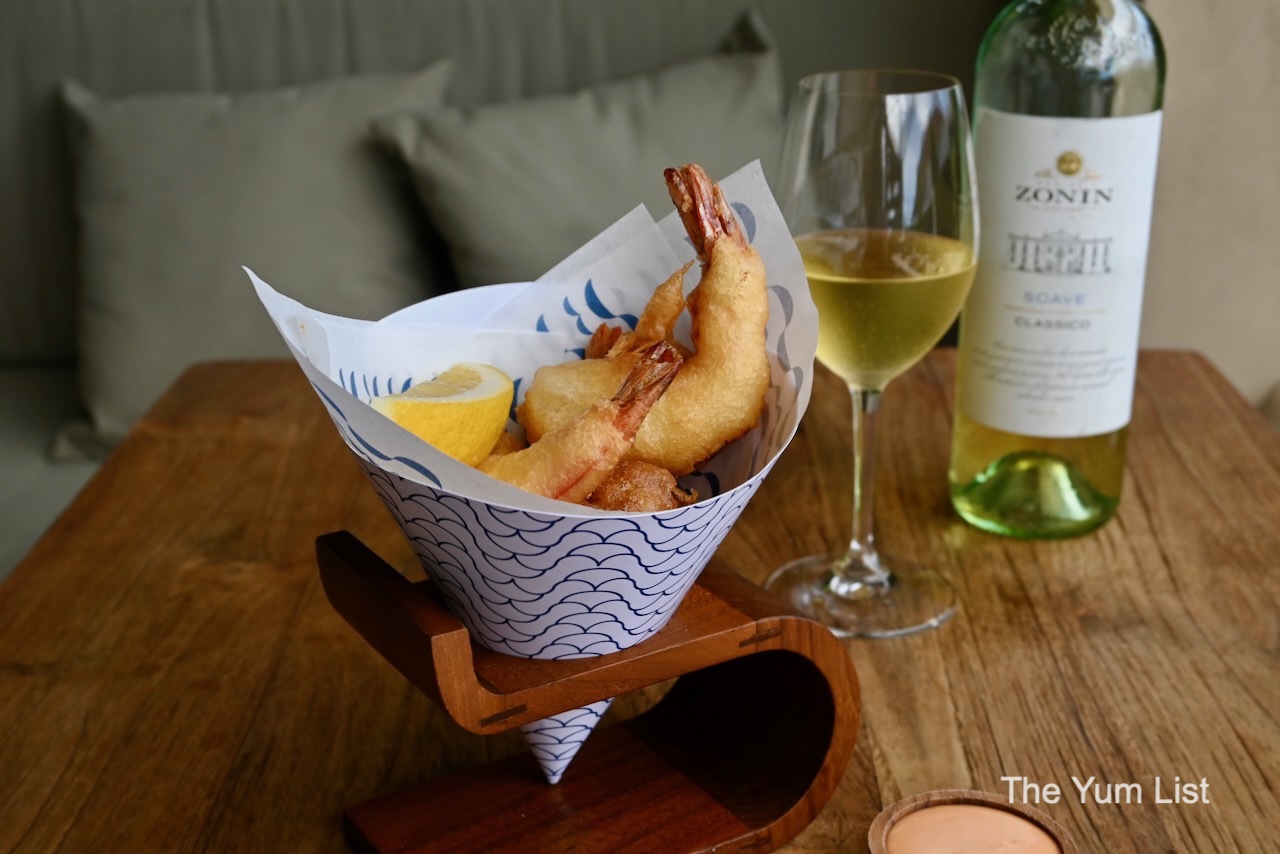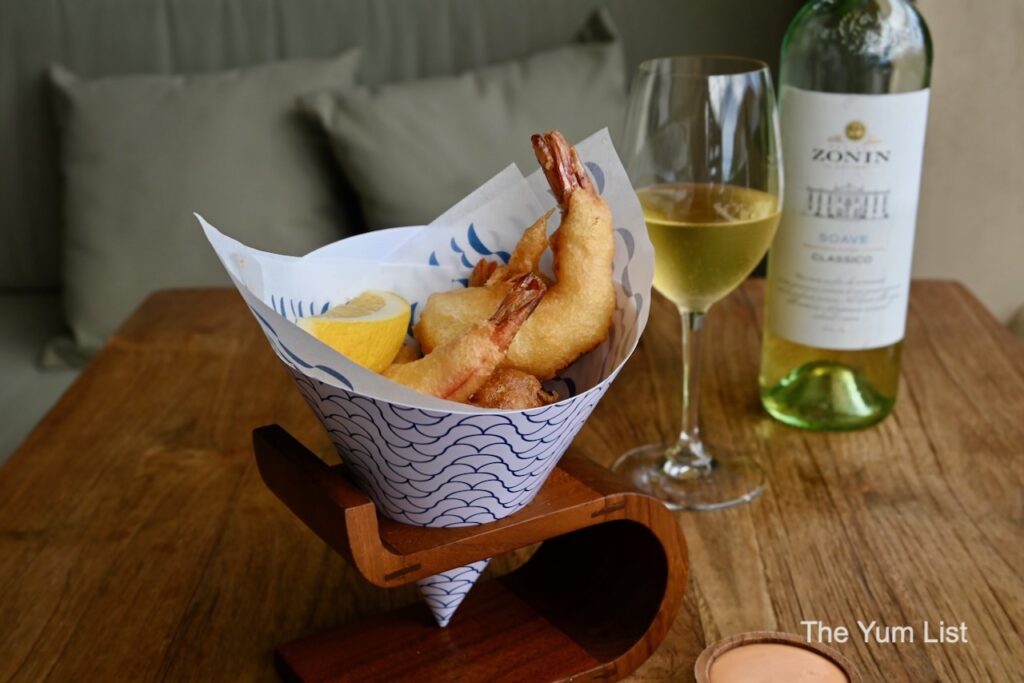 Barramundi Fillet
The Barramundi Fillet is mellow with a very light buttery taste. The style suits me because I prefer simple and clean fish, no fancy sauces. Asparagus is garden fresh, while tomato salsa and Kalamata olive slithers add a Mediterranean touch,
The accompanying Zonin Soave 2018 Classico from Gambardella, Italy, has a straw-yellow intensity and a crisp acidity that cuts well with the buttery fish.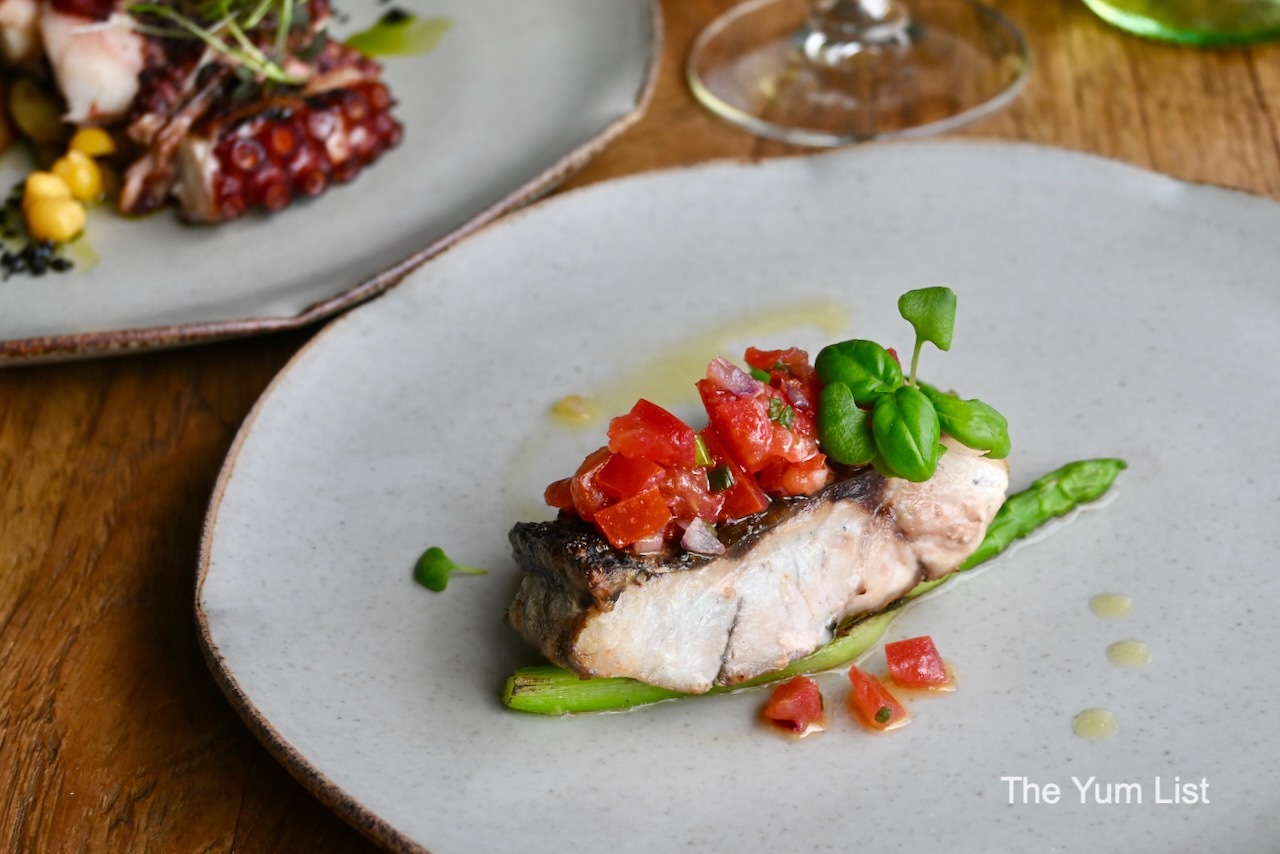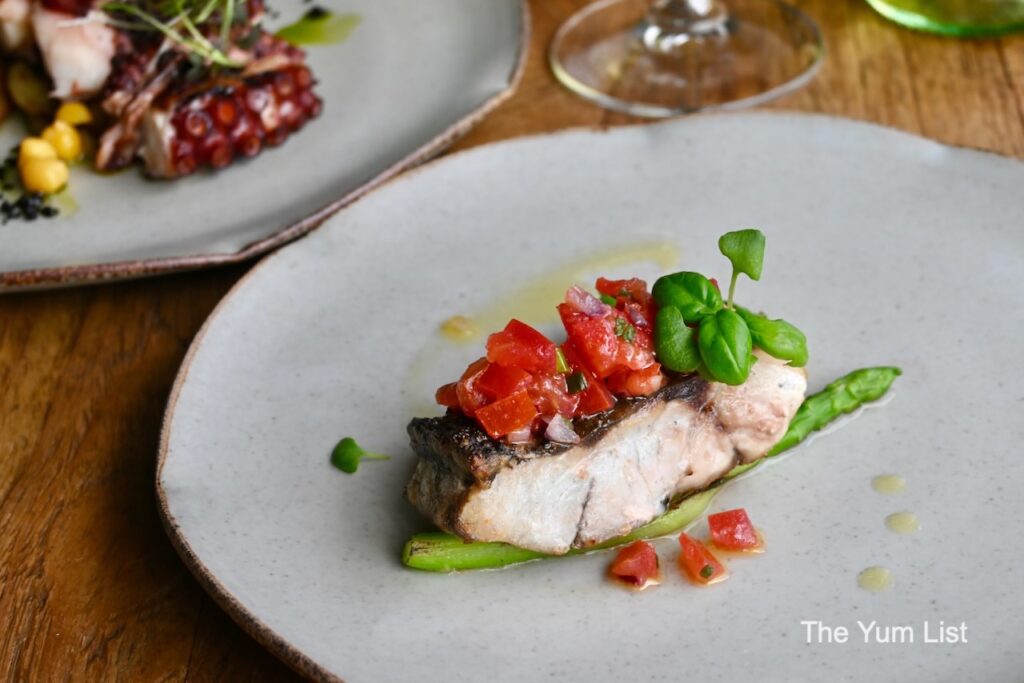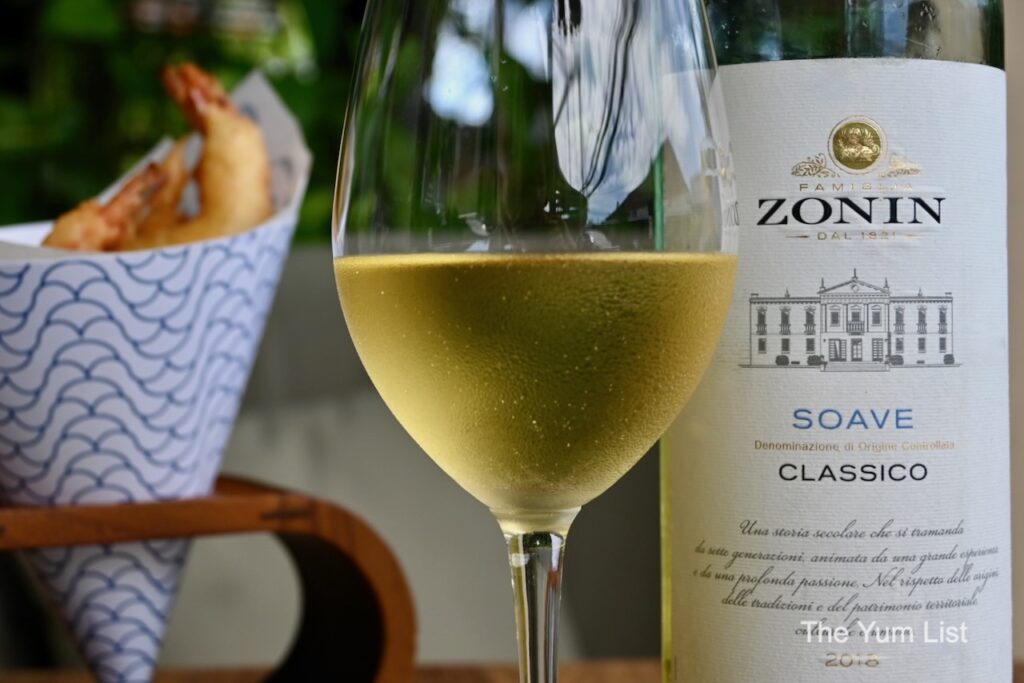 Roasted Octopus
Sticky, firm tentacles of fresh ocean Roasted Octopus are accompanied by an intriguing aubergine puree and a tumble of black olives with chickpeas in a balsamic vinaigrette.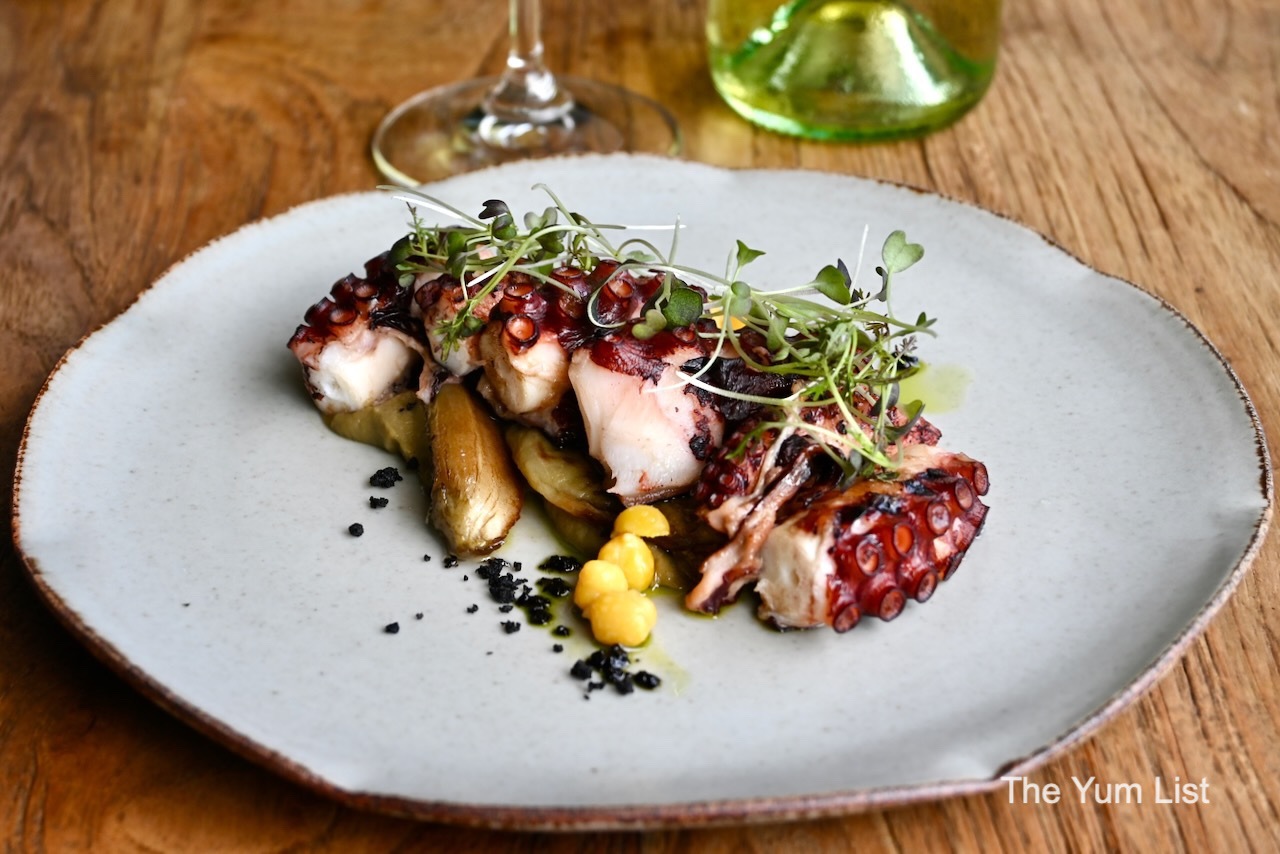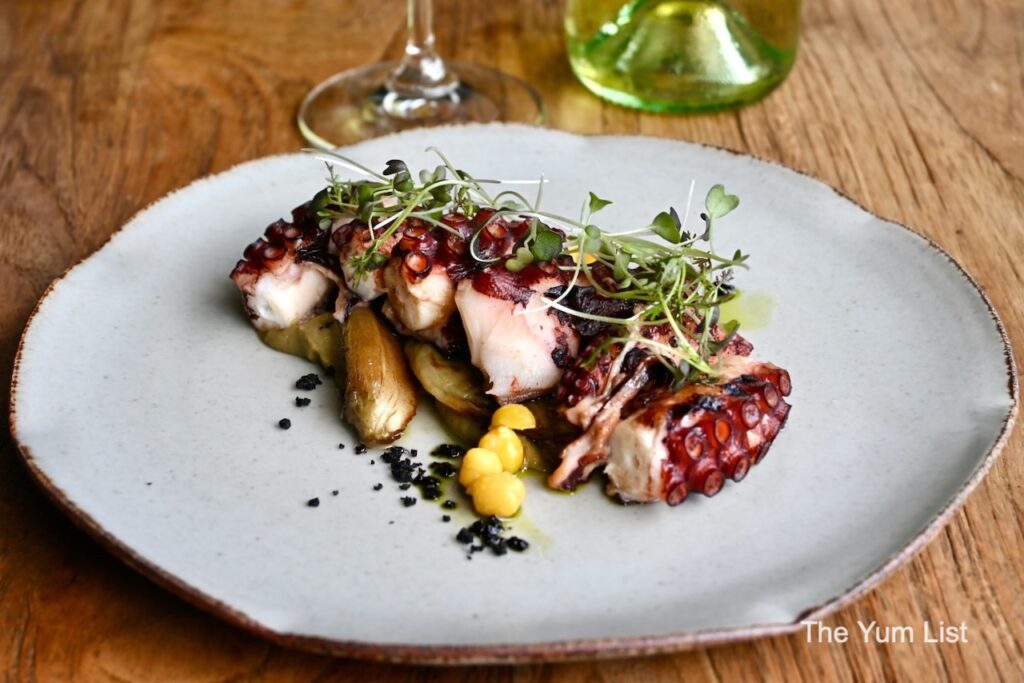 Passionfruit Sorbet
The Passionfruit Sorbet is a lovely and refreshing spoonful. It sings across the tongue. There's only one problem – not enough of it!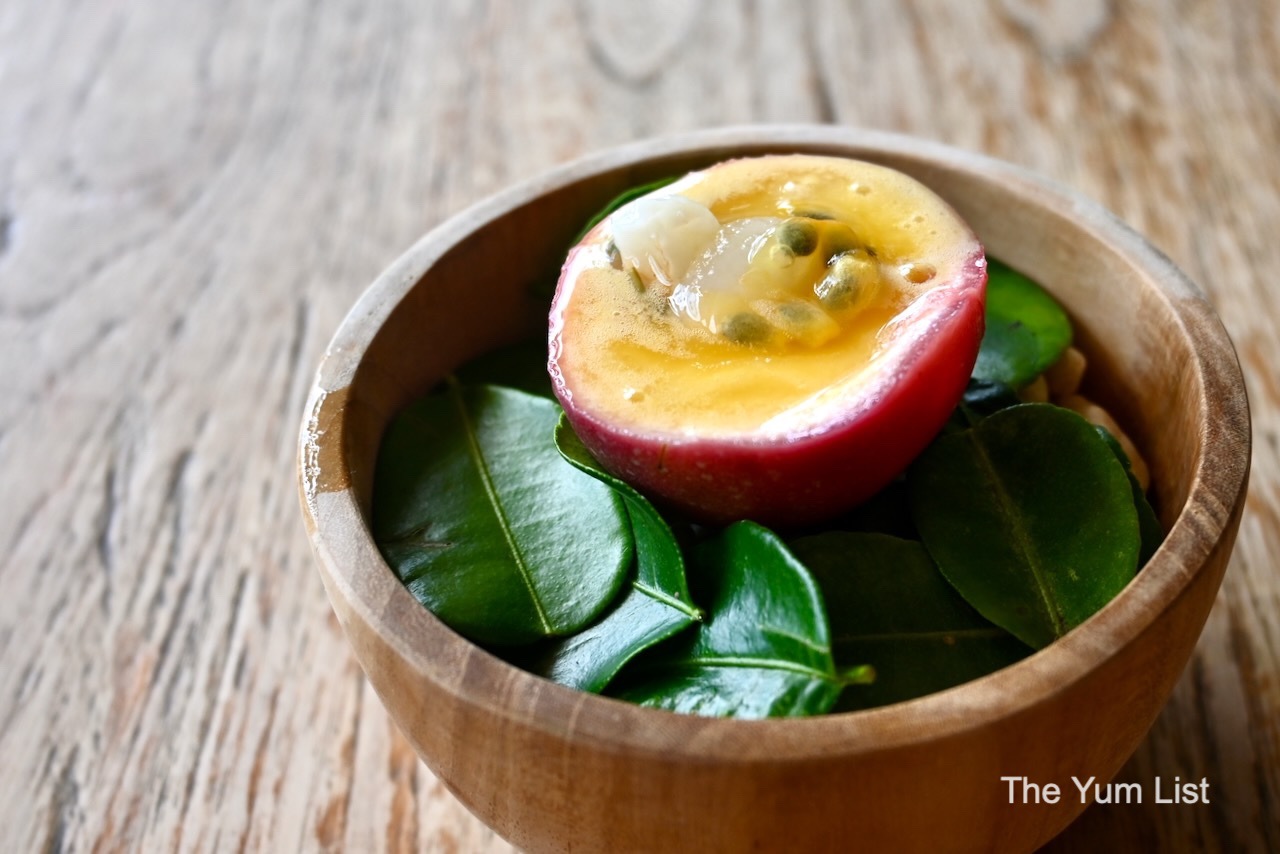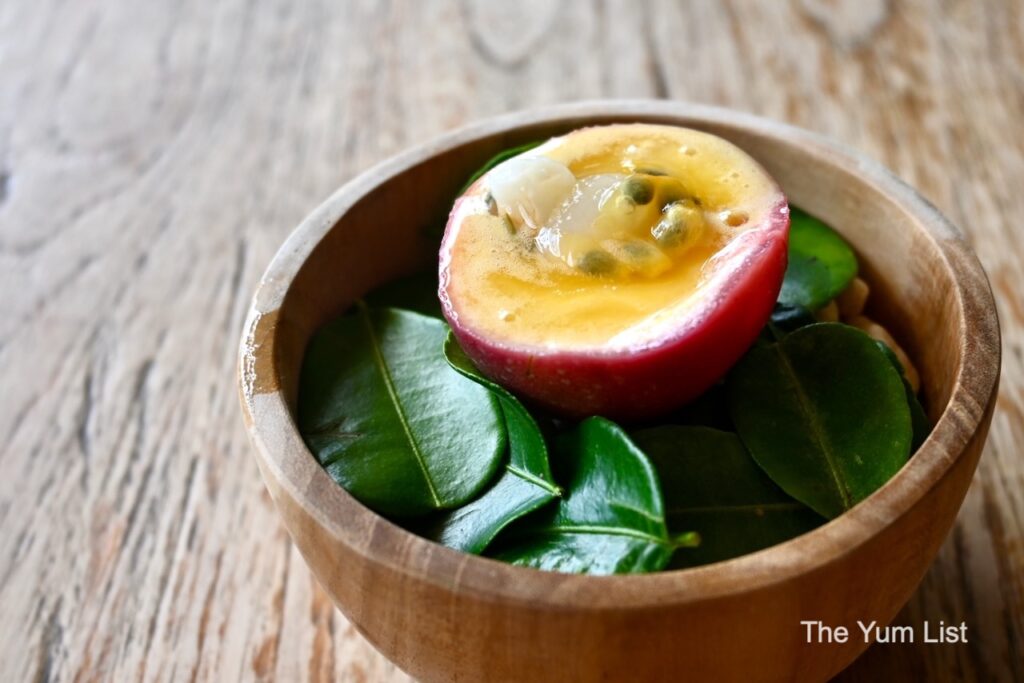 Toffee, Banana, Peanut Yoghurt Cheesecake
I have to admit, I've grown out of my dessert obsession, but the lightly deconstructed presentation in the cute jar of the Toffee, Banana, Peanut Yoghurt Cheesecake tickles my tastebuds. Spooning in, I expect it to be sweet, but somehow, the creamy yoghurt, the crunchy peanut brittle, and the thick caramel sauce combine to be more-ish. It's a cracking dessert that's not too heavy on top of a full meal.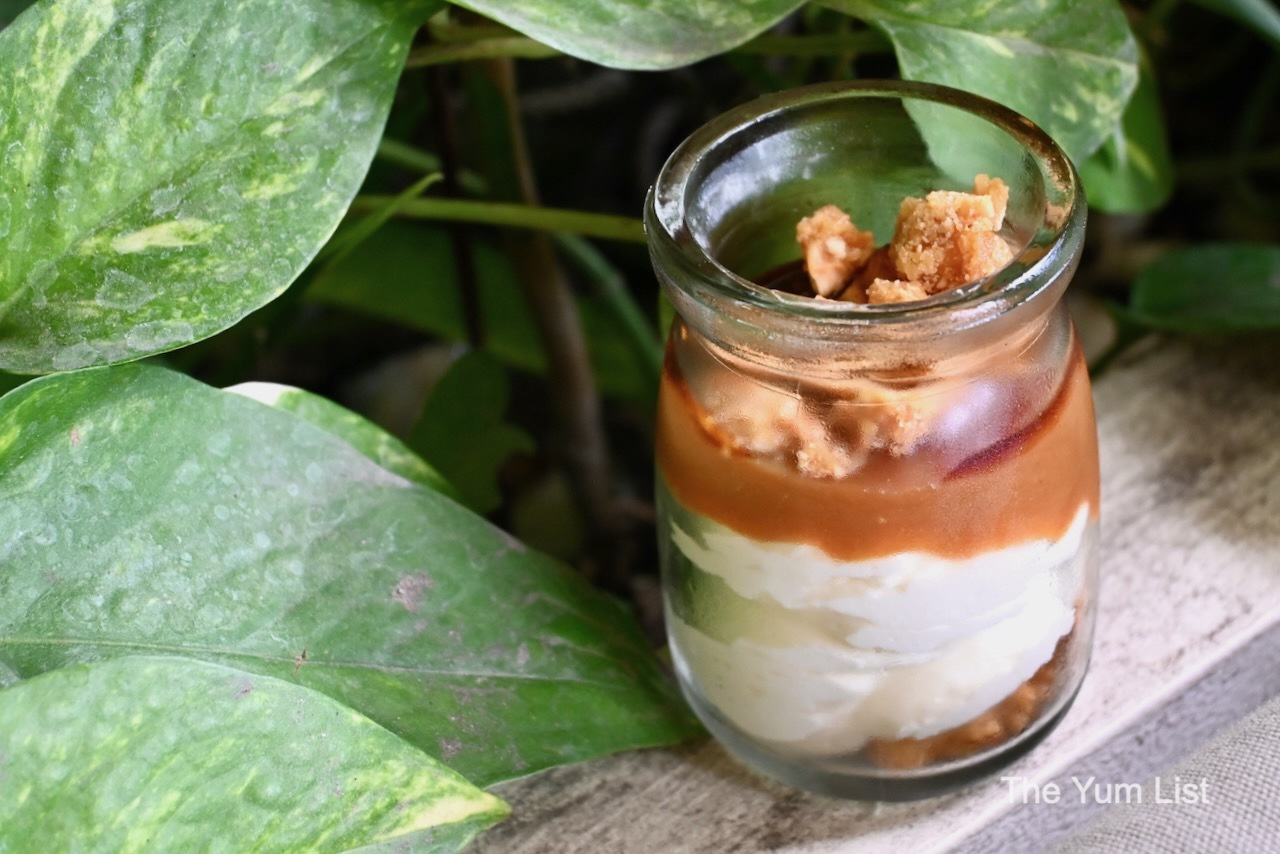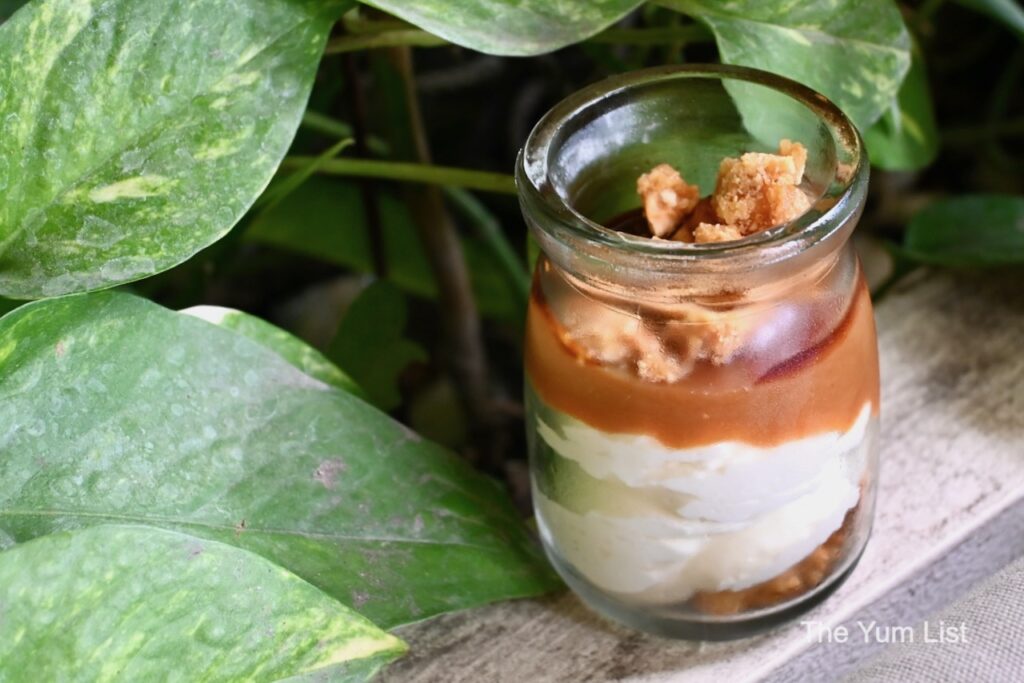 Homemade Italian Digestive
The meal concludes with a house-made Balinese Five-spice Digestive. All the spices are there, but the aniseed is at the forefront. We recommend eating the dessert and sipping this separately, holding the last sips over a conversation that could delightfully carry on for as long as the flavours linger.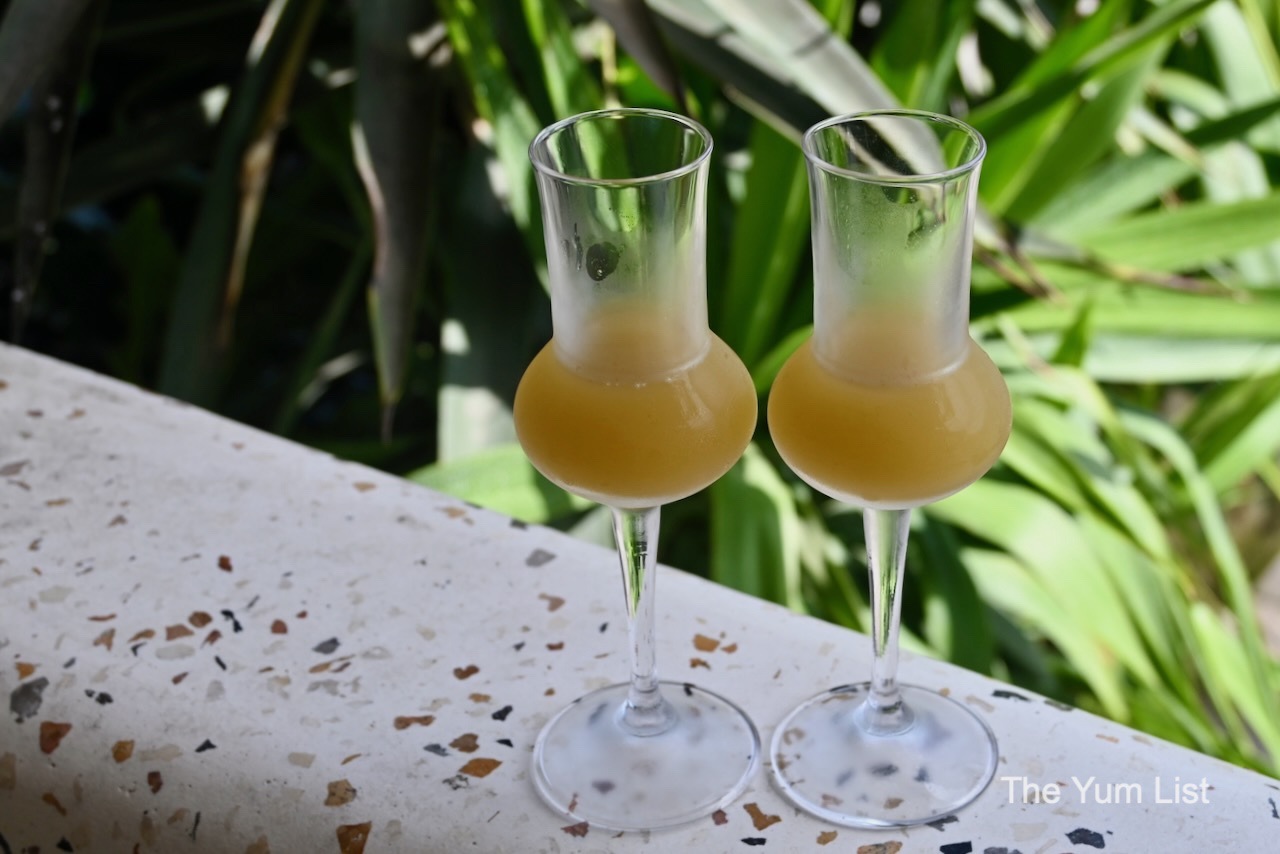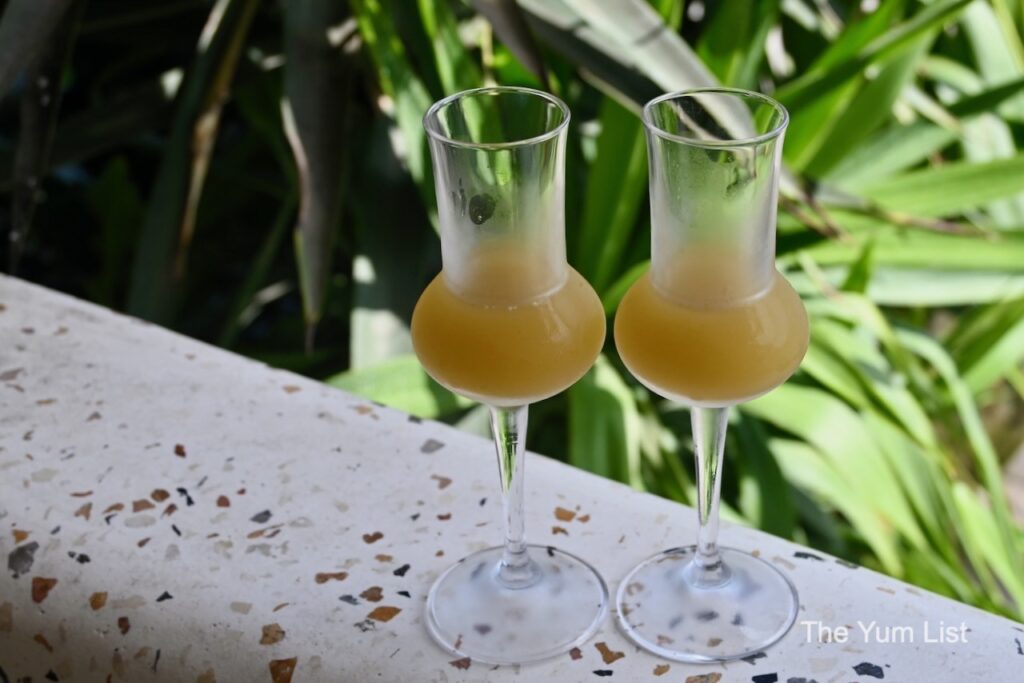 The Bonito Tasting menu is IDR 380K ++ per person with a minimum of two people. Additional wine pairing will set you back IDR 300K ++ per person, or include cocktail pairing for IDR 280 ++ per person.
Taste of Bonito is served all day, and there's also a Discovery Tasting menu served exclusively in the evening. There are plenty of mouth-watering imaginative plates waiting to be tasted at Bonito, such as local oysters from Lombok and signature sea urchins. Still, we are told on our next visit that the Bonito Rosetta is an absolute must-have. This Italian sandwich made with a natural no-yeast bread fermentation, offered with a choice of tuna and stracciatella cheese, poached lobster or crispy octopus, is by far the most popular dish on the menu.
Bonito Fish Bar Review
Bonito Fish Bar serves diners fresh fish and seafood that is 80% sustainably caught from the outer ocean regions in the Indonesian archipelago. We appreciated the selection we tasted today and particularly rated the raw fish dishes high. We are amazed by the quality for the price and consider the wine pairing menu as one of the best value in Bali. A feature of note for me is the short but beautifully curated wine list, featuring accessible but high-quality wines by the bottle and by the glass. Seven choices of wine by the glass and also a sake option for those who prefer Japanese style with their fish-eating experience. Superb.
Co-founder Maurizio wants to encourage guests to linger at Bonito, and savour the great food, drinks and service. We'd love to stay but can linger no longer as it is time to hit the road again in search of more Yum experiences.
Reasons to visit Bonito Fish Bar: Fresh, fresh fish and seafood. Exceptional value for the quality. Unique cocktails. Range of wine by the glass.
Bonito Fish Bar
Jl. Bumbak Dauh No. 5
Umulas, Badung, Bali 80361
+62 811 3811 888
[email protected]
Bonito-fishbar.com
Bonito Fish Bar Opening Hours
12:00 – 23:00
Bonito Fish Bar Dress Code
Casual
Find more travel recommendations for Bali here and stay up-to-date with our latest gourmet travel finds here and here.