Wine Bar & Restaurant Desa Sri Hartamas – Copaa
Words: Jacob Weber
Photos: Rich Callahan
It says a lot about Jon Chew's boundless energy and passion for his new venture that we're back here to sample a new menu only five months after he first opened.
The first edition of the menu at Copaa Desa Sri Hartamas was all about fusion cuisine, classic Asian comfort food served with a contemporary twist (and some extremely fine wine). And it all worked very well, indeed. So the first question we have for Jon, after the typically warm welcome and enthusiastic wine pouring, is – if it wasn't broken, why fix it?
"Fusion has a lifespan; wine is timeless," replies Jon, with a knowing nod – adding 'philosopher' to his ever-expanding repertoire (Jon was a fitness coach before becoming a restaurateur and a very fine self-taught chef indeed).
And who can argue with that?
Creating fusion food is a constant struggle; innovation is hard work. And Jon certainly isn't afraid of hard work – but he was wary of straying too far from his purpose and his passion by repeatedly coming up with new combinations to stay relevant. Copaa deserves a distinct and permanent identity.
So, Jon, Chef Bob and their team are focusing on what they do best: elevating local ingredients and pairing them with delicious, exclusive wines that you won't find elsewhere. And as far as combinations go, it's a winner. We don't want any new ones, thanks.
The philosophy remains the same; Jon wants to create a convivial atmosphere, somewhere to sit with friends, family and potential business partners alike, to enjoy small nibbles or large plates (or, we suggest, both), and of course, to enjoy an upmarket wine experience at supermarket prices.
As with the first edition, a lot of imagination goes into each and every one of his dishes. Naturally, a few firm favourites and staple, simple ingredients have made the cut for the new menu – and it's time to dig in, glass of wine in hand, to see what's in store for the second version.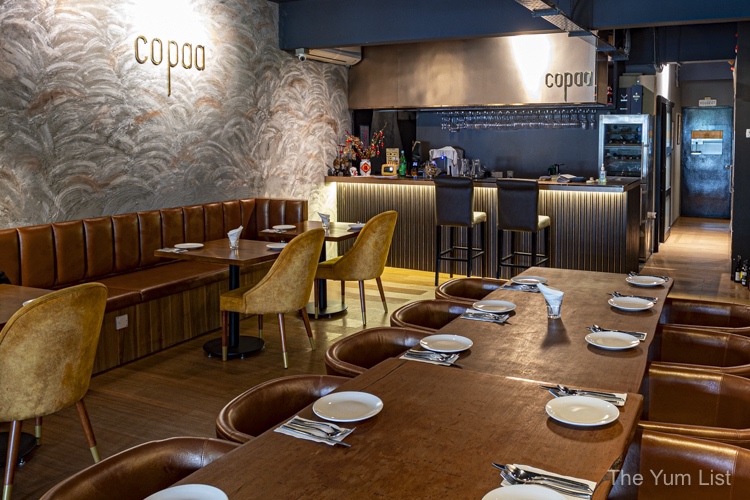 Small Plates Menu
In the spirit of prosperity, we start with Jon's take on a Yee Sang (RM 168 – Chinese New Year menu only). We instantly spot pucuk paku (fern fronds), one of the humble stars of the original show, and an unfamiliar – although not unwelcome – face in this dish. With this version, Jon maintains a little touch of the fusion approach; it's served Malaysian-style, like a nasi kukus, with the constituent ingredients piled in perfect little separate mounds, ready to be vigorously mixed together. And boy, does it combine well. It's delightfully fresh and crispy and tangy, thanks to clever and creative ingredients such as bunga kantan (torched ginger), mandarin slices, pomegranate and pomelo, osmanthus flower with Jon's own lychee and plum sauce. There are even coconut and almond flakes instead of the typical crushed peanuts. Many yee sangs are too sweet and sickly; this is simply delicious.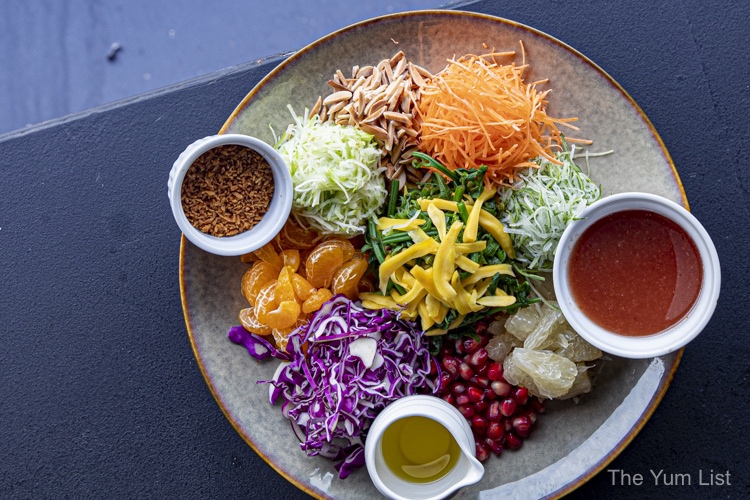 Next up is the Zucchini Flower (RM18). Imagine a mellow, comforting jalapeno popper, and you're almost there – this is a savoury, moreish nibble, stuffed with mozzarella and deep-fried tempura-style with homemade teriyaki sauce.
Earthy (RM30) is a small plate with lots going on, and it's all beautifully balanced. Portobello mushroom, kacang botol, ulam raja, jeruk cucumber and roasted almond are complemented with a fermented prawn sour cream for a subtle umami flavour.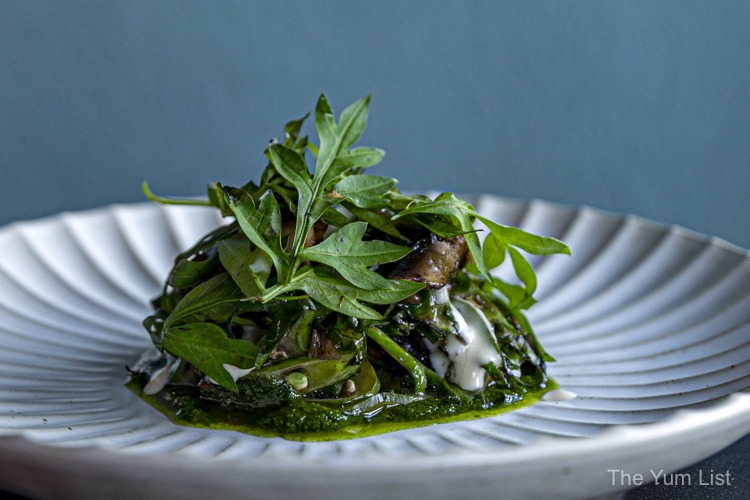 The Cold Somen (RM38) – the sequel to the excellent Cold Ramen on the first menu – is highly recommended. Well, everything is highly recommended, but this still stands out. Silky smooth noodles are swimming in a super refreshing yuzu and ponzu broth, which gives a tangy bite to the soft, chewy somen.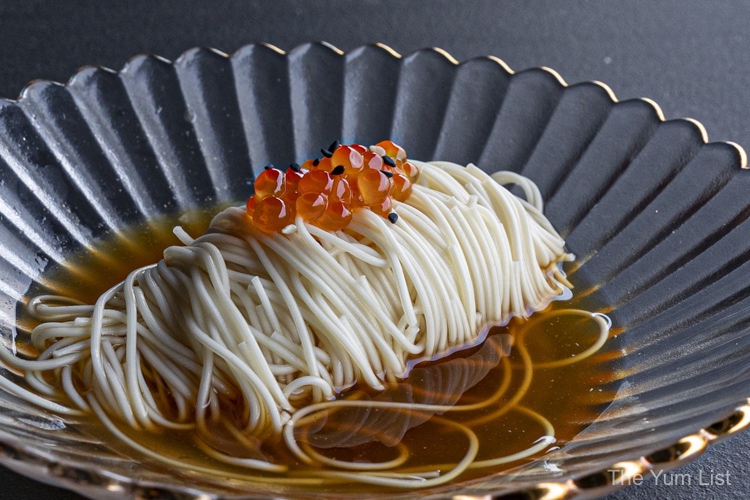 White Pearl Corn (RM25) is a prime example of Copaa turning simple ingredients into premium dishes. Cameron Highland white-pearl corn is sweet and juicy enough to eat without any cooking – but we're still grateful that Jon has grilled his and added truffle butter and parmesan cheese to really elevate it. Don't be surprised if you demolish it in seconds. It's seriously addictive, and we seriously recommend it.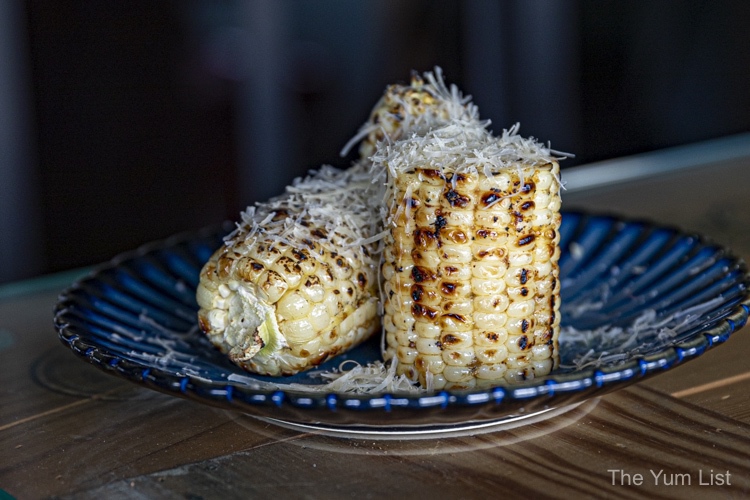 The Scallop (RM50) is served with a generous sauce, cooked with coconut milk and kunyit oil, with kaffir lime which adds a little acidity to cut through the fattiness of the sauce. Ikura complements everything very nicely. It goes well with the rosé – more on that below.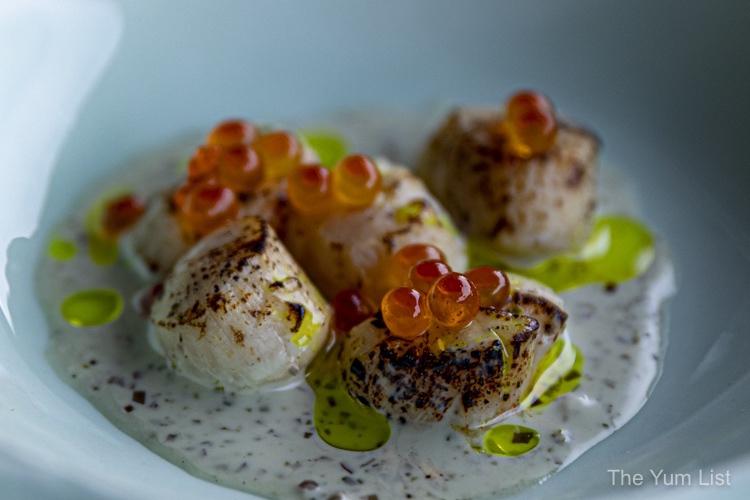 Starters complete – although we're honestly already satisfied – we move onto the main courses.
Wine Bar & Restaurant Desa Sri Hartamas – Large Plates Menu
Well, I thought I was satisfied – and then the Steak (RM138) arrives, and I suddenly have room for much more. It's cooked to melt-in-the-mouth perfection, with a couple of ingenious local touches: 'ulamchurri' (ulam raja, made chimichurri-style) and kacang botol, which I can't imagine has been served with steak anywhere, ever. (Shame, because it works.)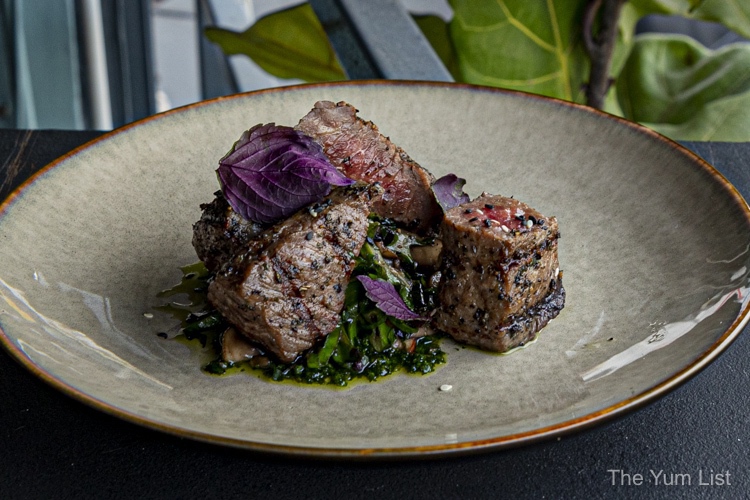 The Taiping Aged Duck Breast (RM88) is rich and tender with a crispy, fatty crust. I silently contemplate how I can smuggle the hoisin duck jus home and eventually, reluctantly, decide against pouring it into my pockets. The potato fondant is an excellent supporting act.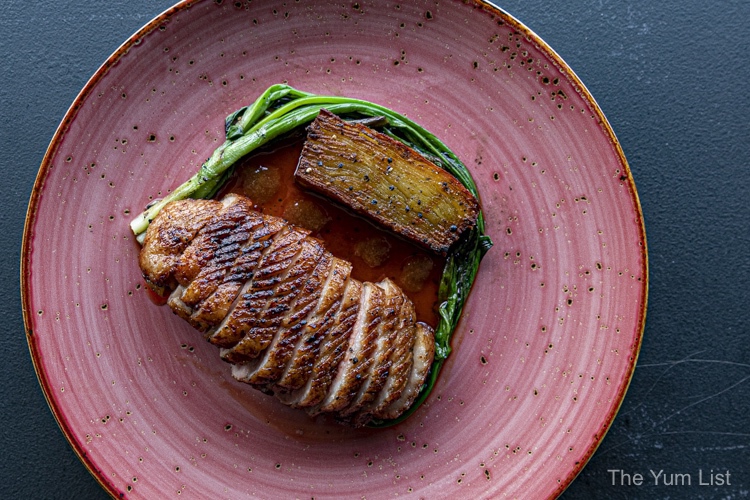 The Copaa Fried Rice (RM30) is described as a fusion fried rice – perhaps as a homage to the original menu. It's comforting, filling and intriguing; the secret is the duck egg, with kimchi to neutralise the gaminess.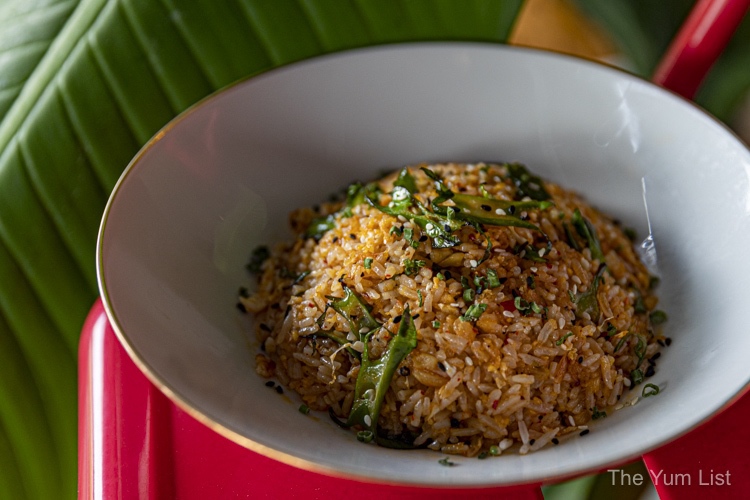 Rather than dessert, we steer back to the small plates menu to try one of Jon's (and now our) favourites: the Pumpkin Chips (RM20). They're the perfect texture, the right balance of crunchiness and softness and chewiness, and served with an incredible aioli. These are dangerously addictive, too – but it's pumpkin, so it's healthy, right? Well, they are deep-fried – but the 'pumpkin' comes first, so let's focus on that.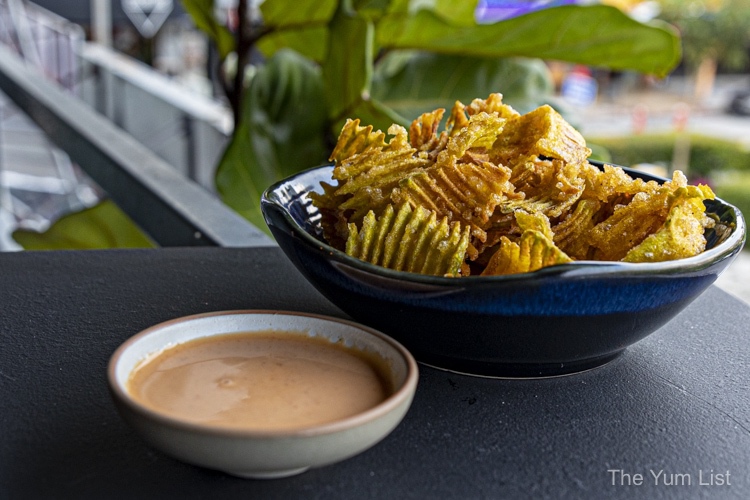 Wine Bar & Restaurant Desa Sri Hartamas – Copaa Wine List
True to form, Jon has the perfect wines to pair with both small and large plates. We start off with a Château Puech-Haut Argali Rosé (RM 192), a lovely dry wine with strawberry, watermelon and peach on the palate. It lifts the lighter dishes, like the corn and the scallops and the somen, very nicely.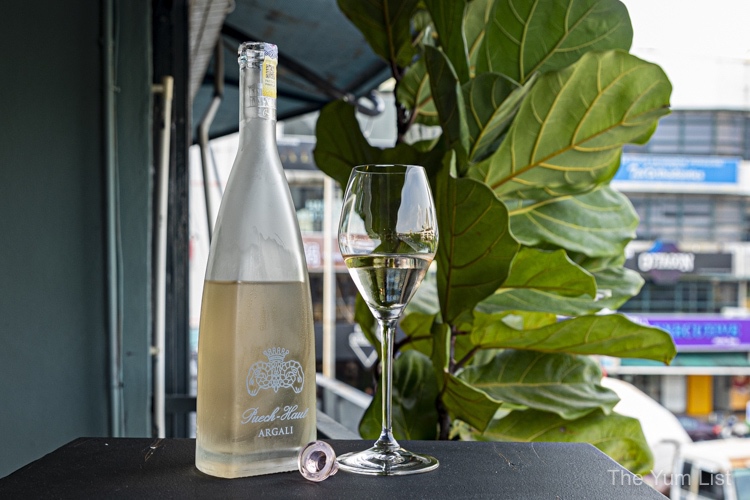 For the meatier main course, Jon brings out a Hubert de Boüard Merlot (RM 186). It's bold and juicy – complementing the beef especially well – with lots of notes of red and black fruits like cherry, plum and raspberry.
We finish with a flourish, savouring a 2012 Domaine de Baron'Arques Limoux (RM 320). It's an elegant blend with complex notes of rose, blackberry, plum and vanilla. It's well-defined and balanced with more fruit revealed on the palate along with coffee and dark chocolate notes. Fine tannins and a pleasantly fresh mid-palate lead to a succulent lengthy finish. I'm quite sure this is now one of my favourite wines of all time. After my second glass, I'm almost certain.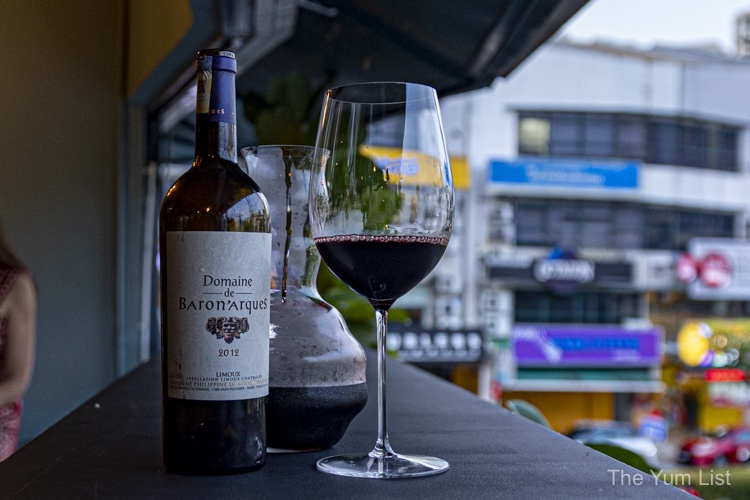 Tempted as I am to order one more portion of Pumpkin Chips (and then, perhaps, another glass of red to wash them down, please) – now, we are truly satisfied, and it's time to head home, already wondering what Jon might have in store next time.
Reasons to visit Copaa, wine bar in Desa Sri Hartamas: unique dishes which expertly combine quality ingredients with simple, local fare; value-for-money wine menu with thoughtful pairings; attentive and knowledgeable service from the owner; welcoming atmosphere for an enjoyable evening;
Copaa Hartamas – Wine Bar & Restaurant
No 38-1, Jalan 24/70A, Desa Sri Hartamas,
50480 Kuala Lumpur, Malaysia
+60 17-272 8971
Copaa KL Opening Hours
Monday-Saturday: 5 pm –1 am
Sunday: Closed
Stay up-to-date on KL's food and beverage scene here and here.