Belly & The Chef Dining, Taman Bukit Indah
Words: Han Sen Hau
Photos: Rich Callahan
Taman Bukit Indah isn't exactly a location you would think of first when looking for a culinary adventure, though the street in which you may find Belly & The Chef Dining is aptly named Jalan Selera (or "Appetite Street"). For the past year, the restaurant has been garnering a name for itself for its luxe French dining concept and construction chic aesthetic, attracting a steady stream of customers beyond its residential commune through its social media strongholds.
Its slate grey veneer, accented neon lighting, and occasional tropical foliage dominate the galleries of numerous influencers who have visited the place, which also goes to show that the restaurant's key demographic are primarily those who intend to look good while they eat well. No surprise there as the aforementioned features make wonderful backdrops to the colourful assortment of food served at Belly & The Chef Dining, though a pork-free menu and a pet-friendly location work wonders to improve the restaurant's palatability among a wider audience.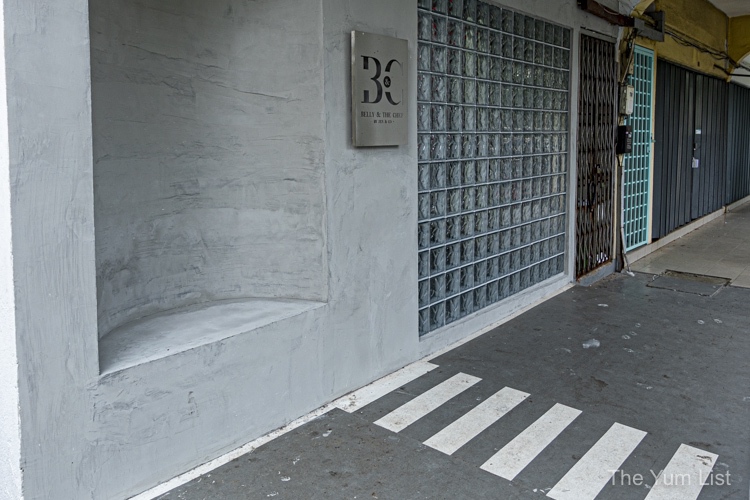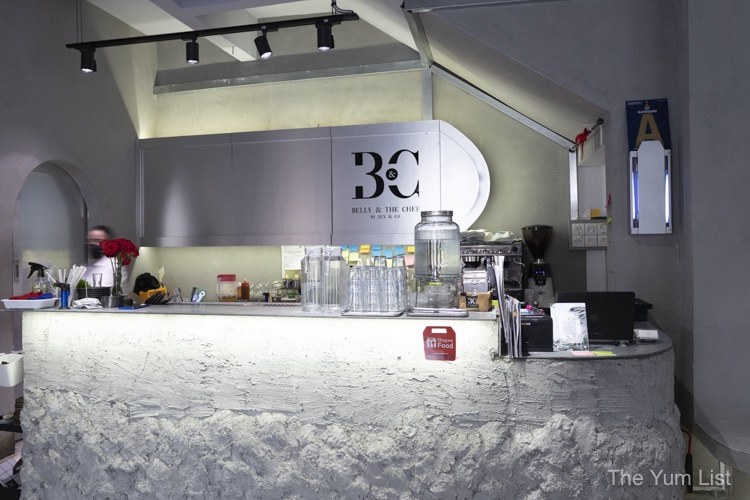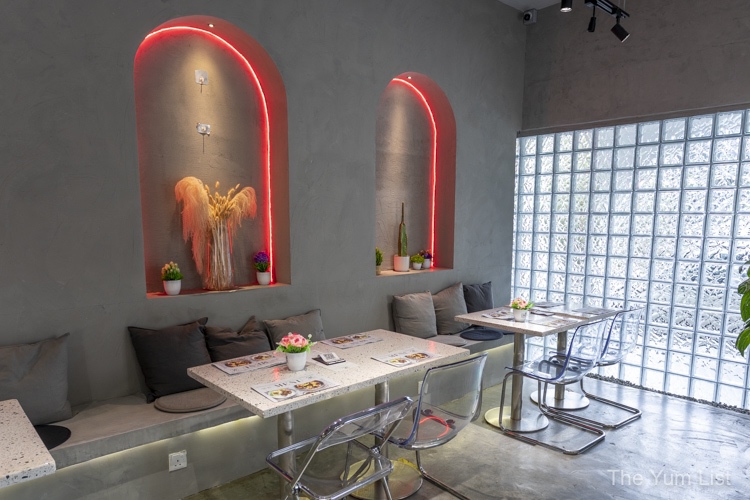 Belly & The Chef Dining
For the time being, the restaurant sports a private pet-friendly and smoking area that comfortably seats five away from the main dining area, and we've been told that even large dog breeds like huskies have been welcomed to dine with their human owners. This private outdoor area has a separate entrance at the back allowing for easy access, though we're fairly certain this decision was implemented to reduce the chances of diners squealing over a good boy instead of the pretty plating.
We mentioned "for the time being" as Alex, the floor manager, has teased further improvements to the physical space in upcoming months from the time of our review, so avid followers and fans should keep a lookout on their social media platforms for exciting announcements in that direction.
Sharing Plates
We kicked off our review with an impressively crunchy and chewy Bread of the Day (RM18) served with olive tapenade and truffle butter. The sourdough was a recipe we would happily steal for our own ovens and the condiments elevated its overall flavour, especially the olive tapenade. Come to think of it, why aren't restaurants selling their successful condiments by the jar? Knowing how the local aunties work their way around a meal, it would be a shame to not market a little delicious something via the extensive auntie grapevine to sell the bigger establishment.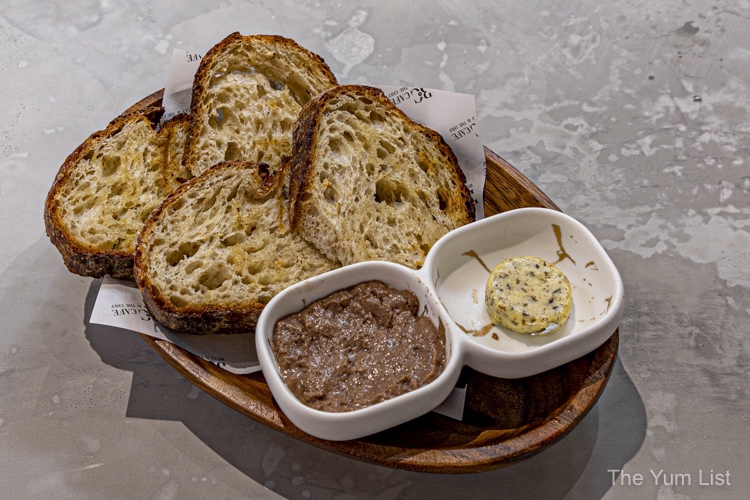 Anyway, next up is the simply named Cauliflower (RM28), featuring multiple white florets and sliced turnip resting atop a pool of hummus and truffle aioli sprinkled with parmesan cheese. The contrast between the gentle flavours of the cauliflower and the richer sauce at the bottom make this a guilt-free indulgence, though it would be interesting to see if they could spice this up by enriching the texture and mouthfeel of the dish's namesake vegetable for an even more satisfying palate.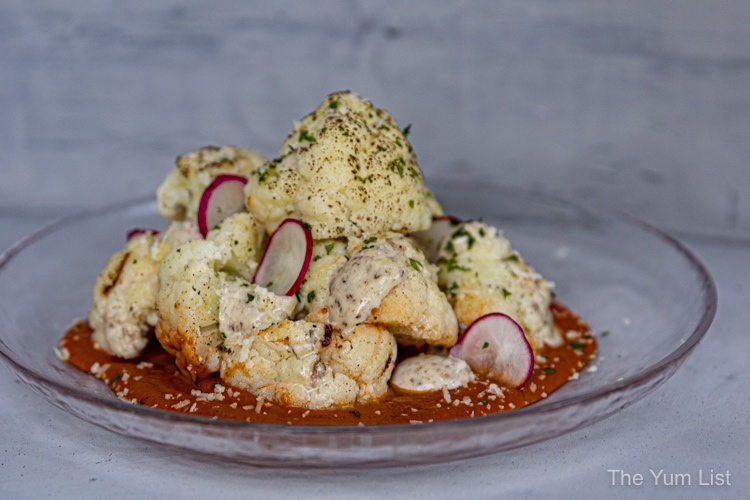 Risotto
Serving as the intermission between appetisers and mains is the golden-hued Pumpkin Risotto (RM42), a hearty offering exploding with generous amounts of Hokkaido scallops, roasted pumpkin chunks, and chicken pepperoni. The crunchy parmesan chips and piquant rockets tossed into the mix cuts through the overall creamy profile of the risotto, but the star of the show remains the juicy scallops that erupt with a distinct freshness at every bite.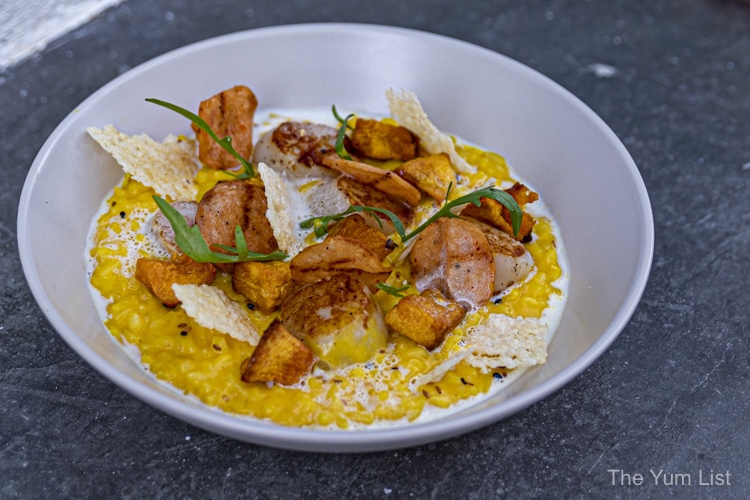 Mains
The crème de la crème of the evening was the hefty Beef Wellington at 400gm (seasonal price; RM350 at time of review), which is only available with an advance notice of 24 hours. The ruby Australian Angus Tenderloin was beautifully wrapped in puff pastry and sliced in half to flaunt its rouge.
Assuming you didn't starve yourself prior to the meal, the Beef Wellington could easily serve two, and is accompanied by the shiniest and sweetest cherry tomatoes, asparagus spears, melt-in-your-mouth mashed potatoes, and roasted garlic. While this was served with beef gravy, the combination of meat, pastry, a spoonful of mash and a single clove of garlic made for a better mouthfeel which sent our eyes rolling back into our skulls.
While it would be difficult to top the previous act, the Free-range Local Spring Chicken (RM38) was a lighter meat alternative that tantalised with its flavourful marinade and tender flesh. Paired with the same mashed potatoes for the Beef Wellington and a lettuce core sprinkled with beef bacon bits, the chicken thigh appealed as an easy default that kept our stomachs growling with anticipation.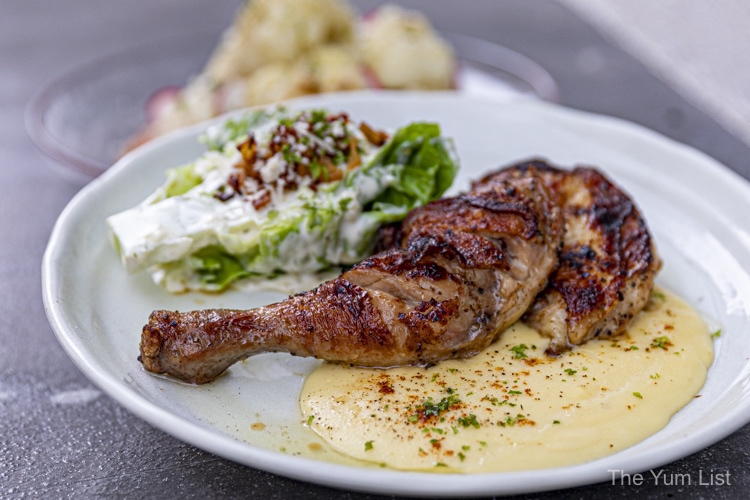 The final Line-caught Seabass (RM45) also did not disappoint with its crispy skin and juicy bite. The fish swam in a unique blend of tom yam, prawn paste, and potato foam, which gave the dish a dynamism also present in the earlier Cauliflower. Despite the ingredients, the sauce was not spicy and their inclusion only tickled the nose, serving to provide a fragrant supplement to an otherwise straightforward catch-of-the-day.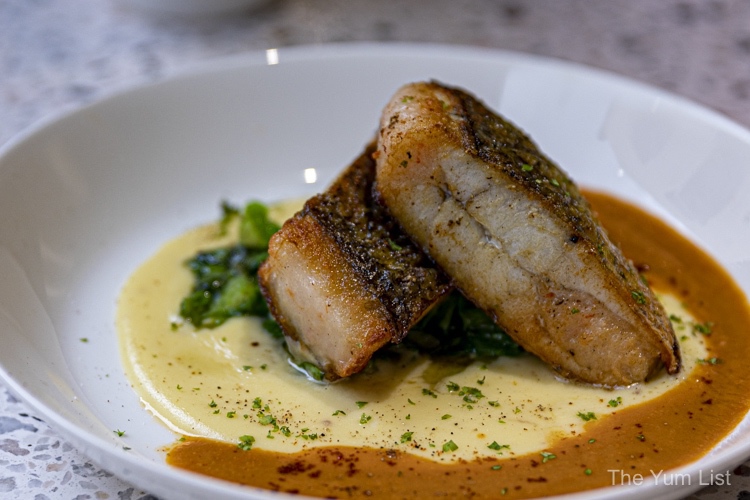 Dessert
Glancing over the restaurant's menu, it's clear that their forte rests with their diverse entrées and savoury mains. Desserts are currently limited to a selection of cakes, and we appeased our sweet tooth with a slice of LE Brownie (RM22.90), which was more similar to a rich chocolate cake betraying its name. The walnuts embedded in this chunk of cocoa rewarded diners with a more riveting palate and neutralised much of the cake's sweetness with its nuttiness.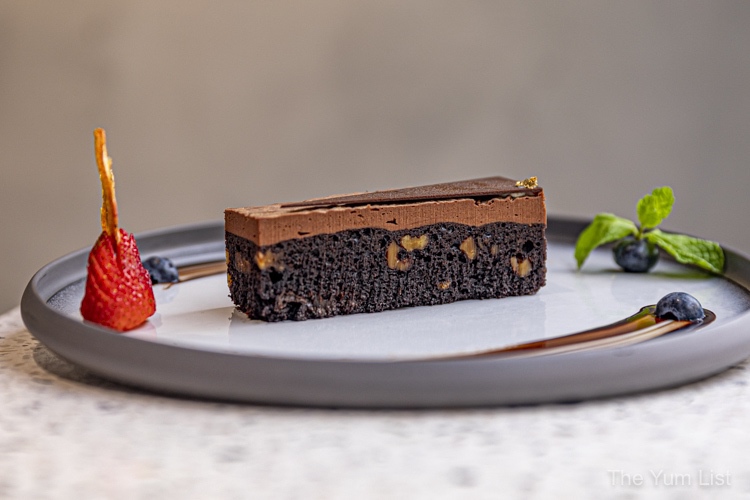 Drinks Menu – Belly & The Chef Dining
Four different types of thirst quenchers accompanied our meals, with the first being a very drinkable Immune Star (RM15), which was a straightforward yet effective cold pressed combo of carrots, apples, and oranges in a bottle.
The alcohol-free Yuzu Mojito (RM15) was also a very refreshing concoction of Japanese yuzu, mint, lemon, lime, and soda water, though it could probably do without the excess of salt lining the glass rim.
The Classice Chocolate (RM12) was an antithesis to the previous two beverages with its richer, darker, and creamier profile, and we imagine this to shine on its own or with desserts.
Alas, the most intriguing option of the quartet we sampled has got to be the Red Jasmine (RM15), which paired the intense fragrance of the flower with the sweetness of berries. The rosemary garnish also heightens the senses with each sip, and the drink competes with the Yuzu Mojito as an optimal palate cleanser between meals.
We should note that alcohol is served by the bottle at Belly and The Chef, and patrons are able to enjoy a decent selection of reasonably priced reds and whites off their menu. Alternatively, you can opt to bring your own bottle at a RM30 corkage for wine and RM50 for hard liquor.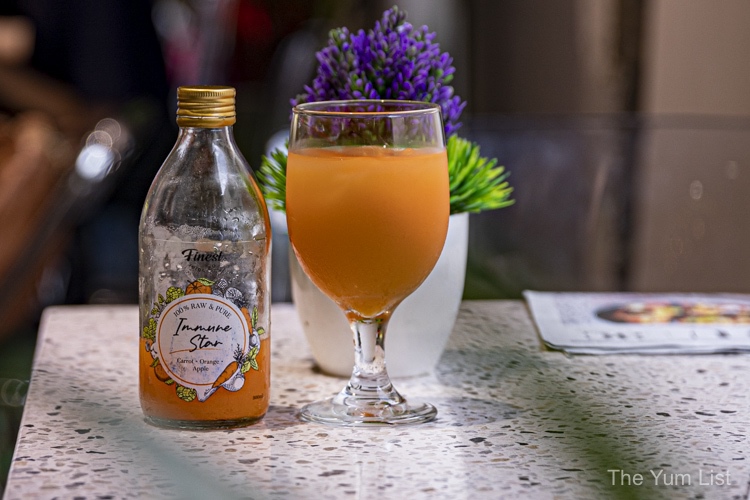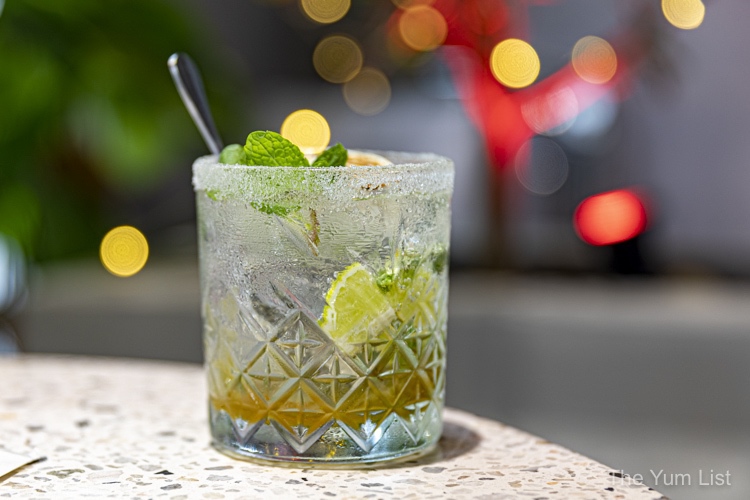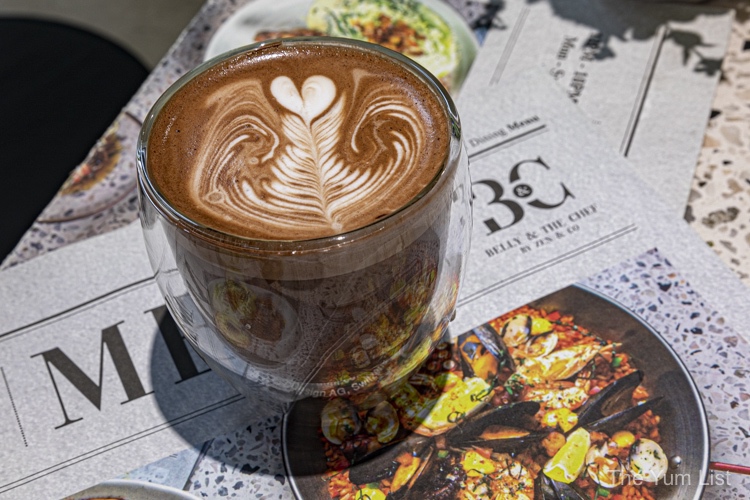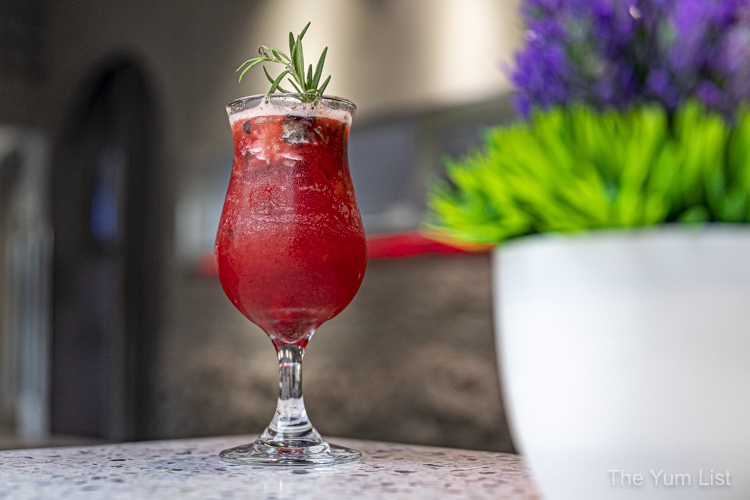 Final Thoughts on Belly & The Chef Dining
Belly & The Chef is but a multifaceted tale that spans several chapters spread across Taman Bukit Indah, Cheras, and Petaling Jaya. We are happy to have been introduced to their debut outlet, Belly & The Chef Dining, and are intrigued enough to explore more of what the brand offers at its sister locations should the opportunity arise. Their popularity is a testament to their continued success and as a result of that, reservations are always highly recommended before visiting due to how fast seats fill up during peak dining hours.
A big thank you to Alex for spending some time with The Yum List and also a shoutout to waiter Jian Zhe who attended to us during our time at Belly & The Chef.
P.S. Does anyone else keeps hearing Elton John's "Benny and the Jets" when they read Belly & The Chef? No? Just us? Fine.
Reasons to visit Belly & The Chef Dining: Comfortable and chic locale with a comprehensive menu off the beaten path (parking is tricky business at the area though, so it is advisable to hitch a taxi here); great place to compare Beef Wellingtons (if you're into that sort of thing considering the sudden rise in popularity of this dish); reasonably-priced, quality meals; pet-friendly restaurant!
Belly & The Chef Dining
18, Jalan Selera 1,
Taman Bukit Indah,
58200 Kuala Lumpur
+6018-223 3820
https://zen-co.eber.co/p/bellyandthecafedining
IG: @bellyandthechefdining
Belly & The Chef Dining Opening Hours
12:00 pm – 10:00 pm (Monday – Sunday)
Last Call: 9:00 pm ~ 9:15 pm
Find more cafes in Kuala Lumpur here and stay up-to-date on the latest happenings in KL's food and beverage scene here and here.