Kintsugi KL – Japanese Restaurant
Words: Claire Matheson
Photos: Rich Callahan
At Kintsugi KL, the traditions of a Japanese kaiseki meal are rendered with golden touches, bringing new life to this venerable meal. A UNESCO recognised ritual, kaiseki is steeped in history, the formalised ceremonial elements present with subtle highlights of modernity. Kintsugi pushes the boundaries of the kaiseki culinary artform, sculpting new aesthetics, with meticulous attention to detail and a philosophy of the old made new again. Chef Jeff Okada Ramsey, known in Malaysia for his restaurants Japas and Babe, and Michelin-starred Tapas Molecular Bar in Tokyo, honours the rituals of his Japanese heritage.
The latest collaboration between Ramsey and Clearwater Group inspires a sense of calm. Designed by renowned architect Sim Boon Yang, everything is done purposely and methodically, with deeper meanings to all aspects of service and aesthetic. Snaking across the floor like earthquake fault lines, cracked seams in the concrete are filled in with gold lacquer. The centuries-old practice of Kintsugi uses gold to join and repair broken ceramics and items of sentimental value. The art form is a "Japanese value in finding beauty in imperfection" says Chef Ramsey. The concept is reflected in all aspects of Kintsugi's menu. Chef Ramsey and his team produce each dish in the multi-course meal using methods that outwardly appear almost ritualistically meditative, paying homage to the seasonal availability of quality ingredients on the plate. Dynamic seasonality is also thematically represented on the plate.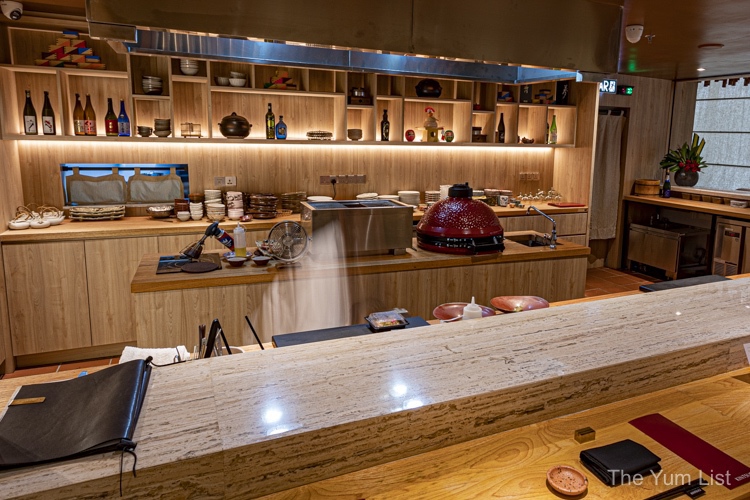 Kintsugi KL
Elegant and warm, the space is minimalistic, combining light and medium-toned woods. The use of texture is artful. Neutral stucco walls give a sense of the earth, their rocky surfaces echoed in the similarly neutral pebbled fabrics of the cushioned seating. The total capacity of the space is for a maximum of forty people, with three private rooms seating between four and eight guests. On each table, small earthen vases hold sprays of miniature white flowers. The tables are darker walnut with a mid-century modernist flair, quietly inlaid with seams of gold to match the Kintsugi seams on the floor. The earthy elements are cosy, hygge inducing.
On the ceiling, white sculptural waves of ginkgo leaves curve and weave in natural layered formations. The gingko leaf is a motif throughout Kintsugi. Representing hope and longevity, six trees survived close to the centre of the Hiroshima atomic bomb blast in 1945. Their resilience under pressure is uncannily present in the Kintsugi team of chefs and front of house staff, as well as their decor and menus. Chef Ramsey's Japanese mother was born the same year as the blast. The use of gingko leaves honours her, and her influence in Chef Ramsey's love of the craft of cooking. During our meal he speaks warmly of his tangible memories of walking over fallen gingko nuts amongst a carpet of golden leaves as a child. The nostalgia of this symbolic tree speaks to Ramsey's own philosophies of the thoughtful renewal of traditions.
Walking through a karesansui-style entrance with grey stepping stones on a fine white gravel, we enter the kaiseki counter space. Seating for twelve is arranged along two counters, looking directly into the open kitchen. Hollow tubes of bronze cascade from the ceiling in a metallic waterfall of organ pipes. Unlike most metallic manmade structures, their beauty lies in the imperfect form of their unevenness. Monochromatic shades of wood of differing depths and textures feature in the space, offset against a pale tiled marble bar with horizontal striations. The elegantly understated theme draws eyes toward the food. In the kitchen, a central island holds a coal grill and an ochre red Kamado Joe ceramic grill and smoker. Tall Precision brand glass fronted dry agers stand to the side. Their rigorously specific six degree temperature houses a number of cuts of high-grade, premium Japanese fish. For enthusiasts who have visited Japanese fish markets, you will recognise the value contained in these dry agers is on par with most fine dining wine cellars.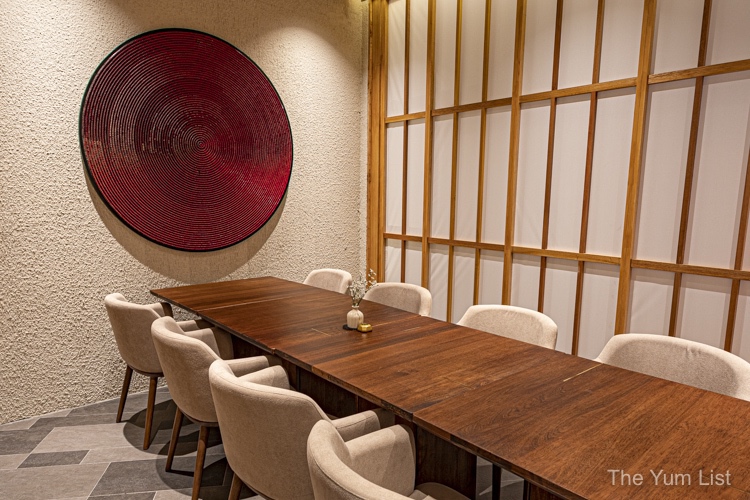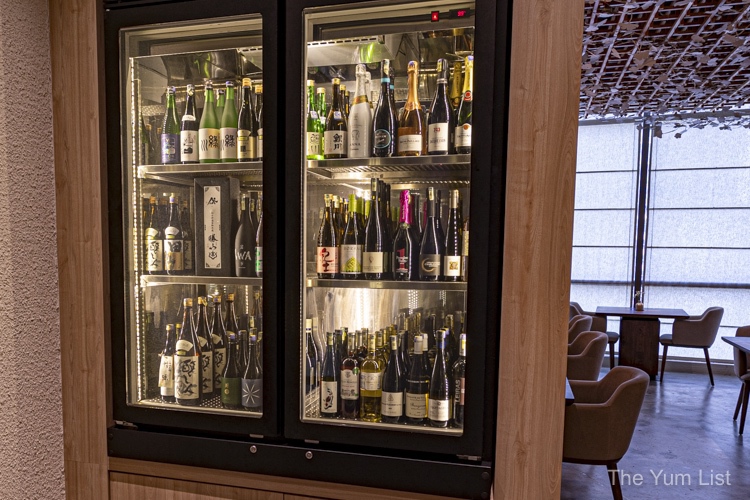 Japanese Restaurant – The Gardens Mall
Chef Jeff Ramsey will be directly preparing and serving our meal today. Staged in traditional steps, he colours within the lines when drawing on the guiding principles of a kaiseki experience, while using unexpected hues. Trained by Chef Masayoshi Kazato, the official Sushi Ambassador of Japan, along with renowned Spanish Chef Jose Andres, Chef Ramsey led the kitchen at Michelin-starred Tapas Molecular Bar at Mandarin Oriental, Tokyo. He was handpicked by internationally acclaimed super Chef Hide Yamamoto for the Executive Chef role. In 2022, Chef Ramsey also became the winning challenger on Iron Chef Thailand. His innovation in creating a portrait of this Japanese ritual is simultaneously recognisable and avant-garde. He is joined in the kitchen by sushi chefs Roniiee san, a local Chinese Malaysian, and Yuko san. Both of them have immaculate skin, and joke that their skincare routine is made up primarily of fish collagen from their sushi preparation. Throughout our meal, Ramsey, Roniiee and Yuko warmly joke and laugh with us, taking up the opportunity for puns wherever they can find them. Their humility and approachability is unhindered by their incredible successes.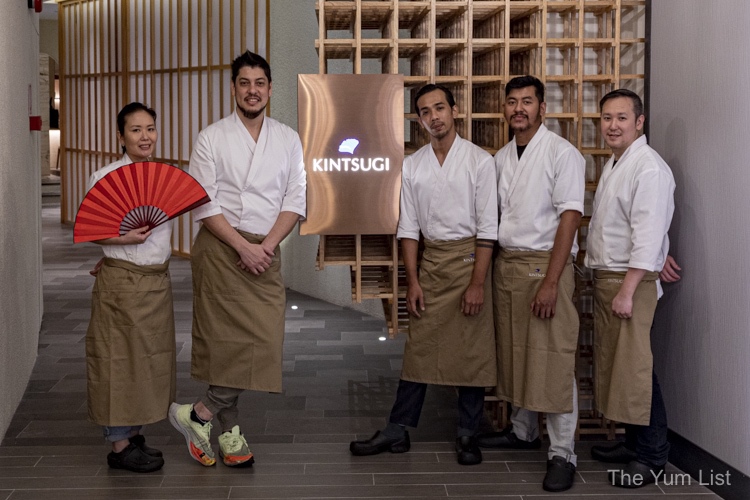 Sakizuke
Usually reserved for dinner patrons, Chef Ramsey pours us each a glass of Doburoku (unrefined sake). Used for temple offerings and ceremonies associated with the harvest, doburoku is made by Shinto monks using a process where koji bacteria and steamed rice are added more quickly to the shubo yeast. This gives the yeast less time to multiply, halting the fermentation process early due to the sugars present in the rice. The result is a cloudy sake, lower in alcohol. It thickly coats the palate with a residual sweetness, tasting of apricots. Authentic doburoku is difficult to get outside of Japan – a hunted treasure for sake enthusiasts.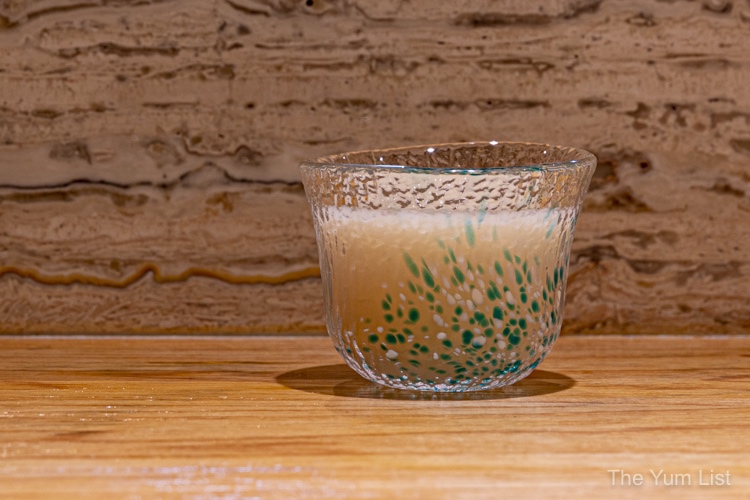 Hassun
Our meal begins with a seasonal delicacy. Our hand-painted plates cradle soy and salmon braised ankimo, or monkfish liver. Rubbed with salt and rinsed with sake before steaming, the liver has an ultra-smooth pate-like finish. The braising liquid becomes a collagen rich jelly, coupled with cherries and smoked, pickled daikon radish. The play on texture is as much evidence in the dishes as it is in the decor.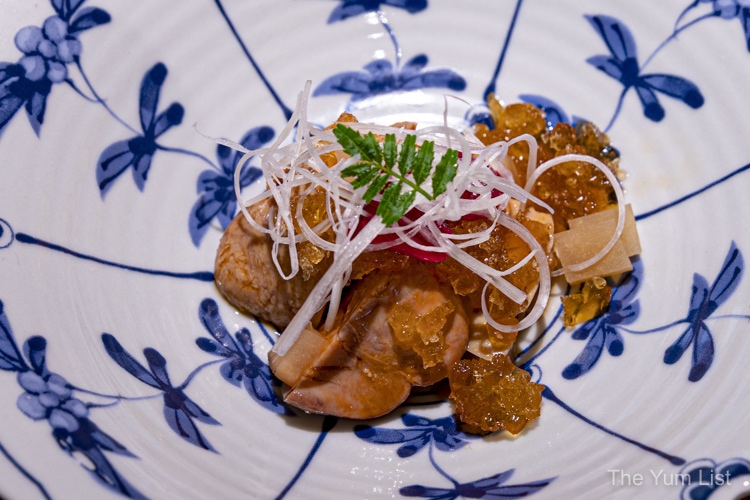 Next is an appetiser-sized sampler representing one of Japan's seasons. A parade of prepared fish and seafood is aligned centrally down a green springtime leaf, punctuated with sprays of micro-greens and pops of flower petal colours. We ask if there is a preferred order to eat each of the mouthfuls, and with a knowing smile it is revealed that the order in which guests choose to eat the nine components of the dish tells much about their personality and future. 
Nanohana karashi ae uses the flowering tops of kai-lan (gai-lan or rapeseed) with a mustard marinade for an intense, juicy, and powerful mustard hit. Miso-marinated king mackerel has been evenly seared. Its meaty tissue feels full in the mouth; the preparation captures and maintains the essence of its freshness. A thick slice of octopus tentacle is simmered in hojita tea, topped with a touch of wasabi for green heat. Different from other Japanese green teas, the hojita is roasted in a porcelain pot over charcoal to prevent oxidation and eliminate bitterness. Lighter in colour, its sweet smokiness is imbued in the octopus. Stalks of butterbur topped with bonito shavings are bitter rather than sweet, their earthen umami flavour practically pickled in an enigmatic marinade. The hardened bonito is shaved directly onto the plate, using a tool that looks like a carpenter's plane. Down to the finest detail, each ingredient is prepared on site, ensuring the highest quality and ultimate freshness.
Braised with further bonito flakes, crunchy takenoko bamboo shoots have a texture like celery, preparing the palate for textural changes between the other components. Fresh, seasonal wakame seaweed has an incredible, playfully springy texture. Insistently bouncy, it delightfully gives some resistance when chewed. A small morsel of Japanese Spanish mackerel (sawara) is marinated in a sweet, smoky miso in the portion of sawara saikyo yaki. Packed with flavour, it is the most arresting across the array. Unifying ingredients of mustard and miso are also present in the firefly squid. The depth of umami layers counters the smooth oceanic quality of the tiny, curling tendrils of the squid, while the head is stuffed with a cephalopod concentration. Approaching the stem of the leaf, bright orange pearls of soy marinated ikura lie in a bed of intensely bitter and sharp daikon radish hair. Somewhat larger, the sweet fish roe is slightly more developed than most, giving a more robust tang and a more emphatic pop.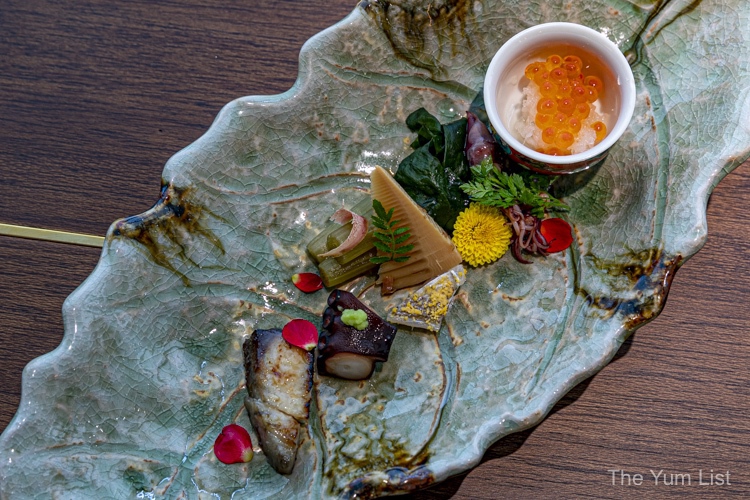 Kintsugi KL – Mukozuke
No kaiseki is complete without Mukozuke, or a platter of seasonal premium sashimi. Chef Ramsey speaks openly about the ageing processes included in Kintsugi's kitchen. Dry ageing deepens and intensifies the flavour of the fish, while also removing the 'fishy' smell through the removal of excess moisture. The bigger, the fattier the fish, the better it reacts. Some salmon and tuna can be aged for up to two weeks, while white, flakier fish can be difficult to age past five days. When working with some of Japan's most sought after and exorbitantly priced fish, the use of a dry-ager adds an additional level of distinction. 
On our plate today, we are enjoying bluefin tuna from Nagasaki in Western Japan. Filleted in thick steak cuts, the flesh is supple and strong. With a higher fat content than other tunas, there is an intensity in flavour that is surprising. We also have an aged sawara from the Kochi prefecture. It melts in the mouth, smoother, softer, flaking apart. Fresh wasabi cleanses the palate before we take on the full sensation of the sashimi style botan ebi, or jumbo sized sweet prawns. The final portion of seafood in the sashimi platter is karasumi, much like Italian bottarga. Named for it's similar appearance to Chinese ink sticks, mullet roe is cured and sliced into miniature steaks. It's texture is almost sticky, though without adherence. The Mukozuke selection is rounded out with spicy red water pepper, curls of dried watermelon radish, and white tendrils of daikon radish, along with a stalk of perilla shiso leaves.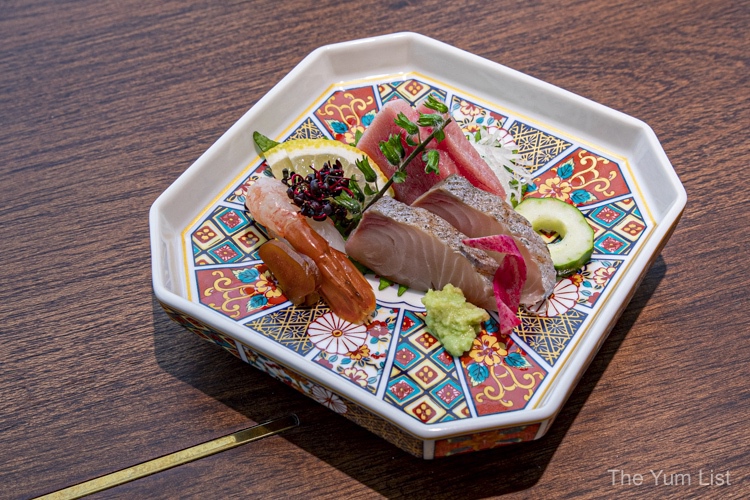 Mushimono
The next step is the Mushimono, or steamed dish. The team has prepared a bowl of kegani (horsehair crab) and truffle chawanmushi, served in an intricately painted cup with a lid to capture the heat. The silken, savoury egg of the chawanmushi is covered in a layer of clear, thickened broth, infused with truffle. It fills the mouth with flavour, yet is like eating a cloud – dispersing as something wholly liquid while still solid in the mouth, holding it's custardy shape until the moment it disperses. Beautifully crafted, finely frilled shavings of truffle hang suspended in the custard and broth, not quite floating to the top or sinking to the bottom. They stay in stasis, perfectly in equilibrium. The kegani is inexplicable, drawn to the front of the palate before melding into the background.
Yakimono
Japanese amberjack, or yellowtail buri is the central star of our next dish, as we move onto a representation of winter through Yakimono. Grilled over heat, the thick cut of premium high-grade buri has a faint vinegar-like taste, with a sweet soy moment. The dish has both hot and cold elements: the grilled buri is accompanied by a daikon radish snow, dressed with a transparent soy sauce so as not to disrupt the pure white colour. The iciness of the powdered snow counters the heat of the daikon, dissolving instantly on the tongue and leaving a waft of chilled air with each breath. The dish is garnished with hair-like curls of dried seaweed shavings, as well as the petals of the perilla flower.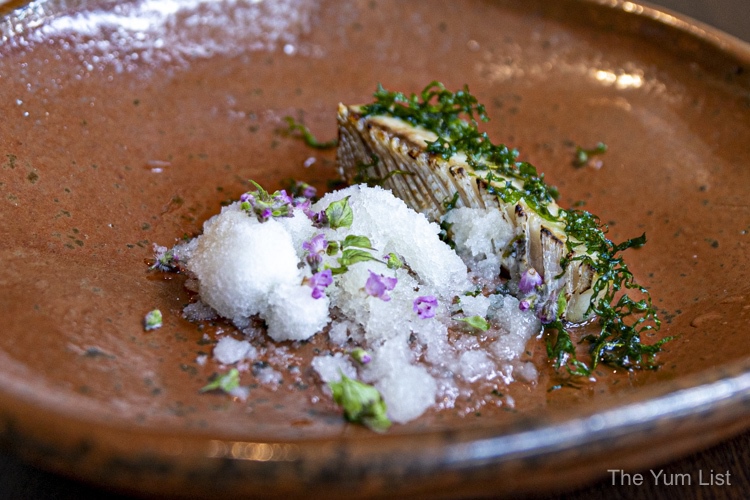 Kintsugi KL – Sushi
Bringing out a highly lacquered serving platter, it's time for the sushi preparation. Each mouthful is reflected on the mirror-like shine of the high gloss dish. Front of house supervisor, Dash, produces hand-cleaning cloths, and indicates the best method to clean fingertips between sushi dishes, in order to rid any residue. The practice preserves the flavours of the next piece of sushi. Previously an air steward with Malaysian Airlines, Dash's gentle instruction and close attention to detail evoke a sense of first-class service.
We begin with aori eka, or Japanese bigfin reef squid, topped with yuzu zest, a touch of lemon juice, and Bario salt from the Bornean highlands. It's best to upend the sushi before placing it in the mouth, with fish to tongue. This way, we taste the featured flavours first, and finish with the light sweetness of the rice. Two types of ginger are served in small bowls, one thinly sliced, and one using the whole tuber, adding heat where desired.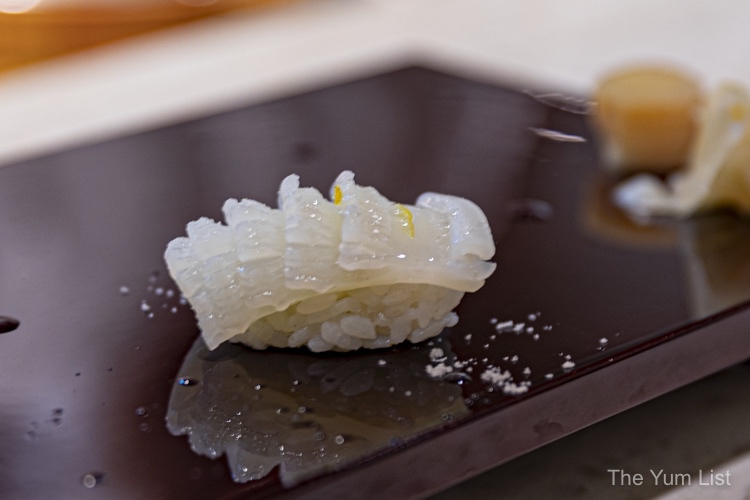 Aji horse mackerel is next, cured with Kintsugi's house soy sauce, and served with spring onion. This portion almost looks like Kintsugi's namesake itself, its back split down the middle, splashed with glints of silver skin, it appears as a seam of metal. The addition of spring onion brings faint heat against the slightly cooler temperature of the rice.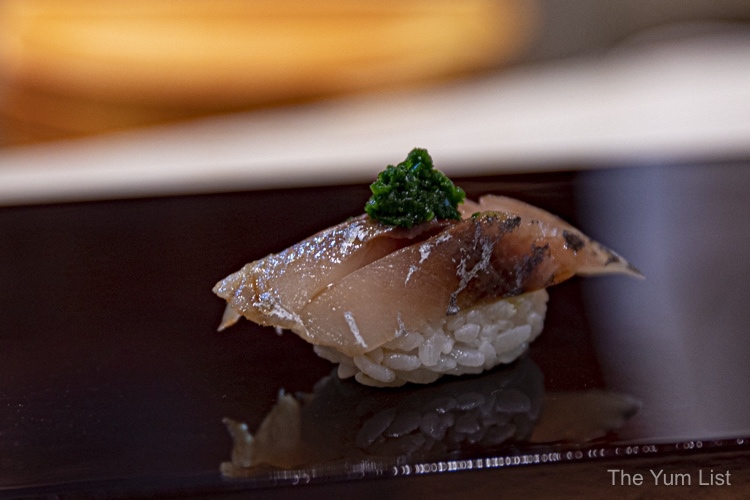 The third piece is blackthroat seaperch, or akamutsu. The fish is like eating a ribbon of silken fat, pure in flavour. Unlike indulging in unhealthy high-fat red meats, fish such as akamutsu is rich with omega-3 fatty acids, crucial for brain development. Linked to reduced risk for many diseases, these healthy fats can potentially lower the risk of stroke and heart attack. Health benefits aside, it is sublimely delicious. It's topped with grated radish and red cabbage juice. Using a pair of foot long metal chopsticks, Chef precisely guides droplets of lime juice onto the purple garnish, and we watch as it morphs from a lilac purple to a magenta pink.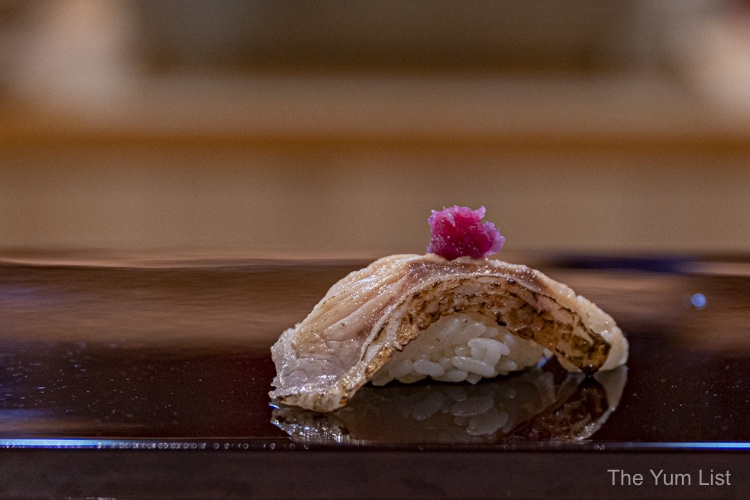 Soup
We break between sushi rounds to enjoy a prawn head and nameko mushroom miso soup. The prawn head sits proudly in the middle, surrounded by little umbrella-shaped nameko mushrooms floating in a cloudy miso paste soup. The mild butterscotch mushrooms give a nutty, fruity lift to the concentrated prawn taste.
Malaysian Flag Sushi
Carrying on with the theme of prawns, Chef Ramsey explains he has dubbed our next sushi portion the Malaysian Flag. The red and white stripes of a fresh prawn are splayed on top of its cuboid of rice. Hidden inside, the natural blue seam of the prawn represents the combined colours of the flag. More secrets are yet revealed in this piece. The thick bodied outer prawn covers an inner puree of undiluted grilled prawn, its incredible richness and depth a distillation of unadulterated prawn flavour.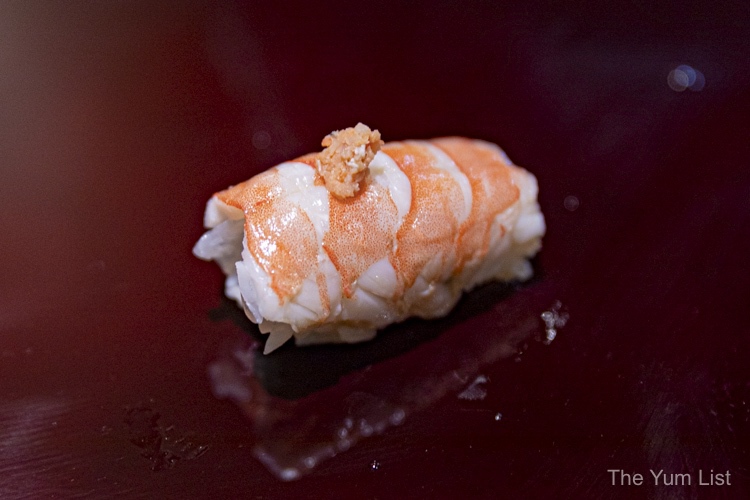 The final of our five sushi portions requires some audience participation. Holding our hands out, a round nori sheet is placed in our palms. Layering on rice and wasabi, it's then topped with four tongues of vibrant orange bafun uni, or sea urchin. Creamy and with a delicate texture, it has a just perceptible bitter brininess.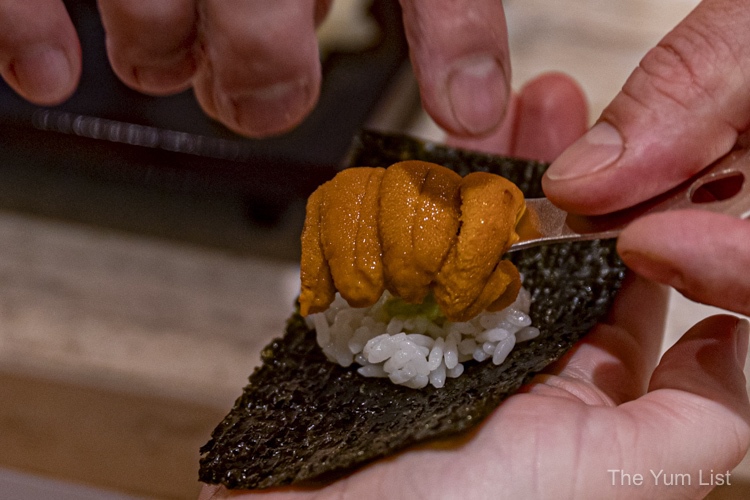 Mizumono
Japanese Dorayaki pancakes make up the first Mizumono dessert plate. Served in a woven basket with the dark, shiny green outer skin preserved, the pancakes lie on a bed of fresh pine needles and the faint scent of fir balsam makes itself quietly known. It is the scent of late Autumn, early Winter. Sandwiched between the ultra-fine, crisp casing is a red bean paste inner. Satiny smooth and naturally sweet, the paste is also somewhat savoury, redolent of finishing a meal with a fine cheese platter.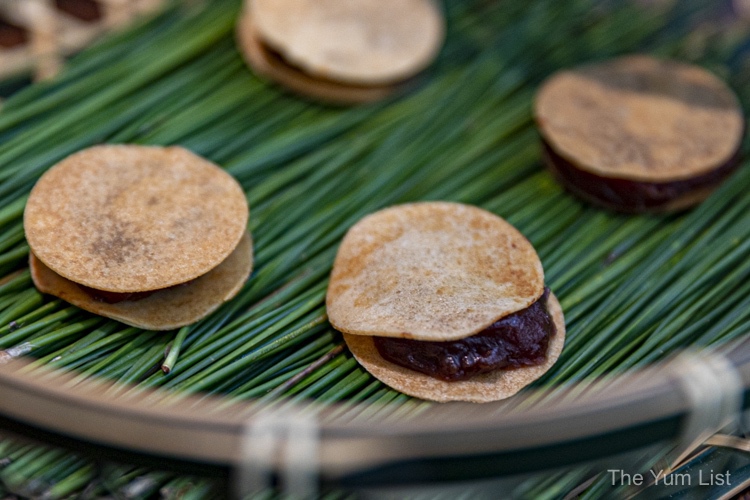 Grown in winter rather than in summer, Japan's tochiotome strawberries are juicy and plump, with a balance of sweet and sour. In the Japanese Strawberry and Milk, a large, whole tochiotome strawberry is quartered and stood on its end, supported with a finely diced strawberry puree. Perched on top is a delicate shard of sugar crystal, representing the glasshouses the strawberries are grown in. On a bed of almond crumble is a scoop of vanilla ice cream, and a crisp powdered sugar snowflake biscuit, reminding me of Japan's powdery ski fields. The base of this winter wonderland dish is a milk mochi glaze sauce, thick and tacky with a sweet, condensed milk flavour.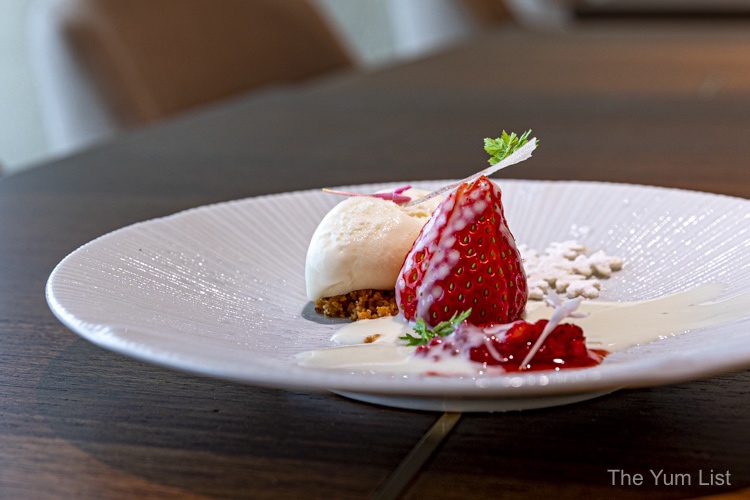 Kintsugi KL Review
Kintsugi is now open for lunch and dinner on the third floor of Isetan, in the Gardens Mall. Typically a lunch meal lasts 45 mins to an hour, yet it feels like a slow, well-paced interjection in your day. If you would prefer to savour each moment and take your time, the dinner seating provides a more extensive rendering of modern traditionality. The rituals of a kaiseki ceremony at Kintsugi will have you present for each moment, transporting you through the Japanese seasons. In all aspects of your experience, the elegance of wabi-sabi is present – a centuries-old Japanese philosophy of embracing the beauty of imperfection. Like the art of Kintsugi, a dining experience with Chef Jeff Okada Ramsey is a porcelain sculpture of culinary experience, seamed in gold. The wealth lies in the artistry and refinement required to make the ancient new again.
Reasons to visit Kintsugi KL: beautifully designed interior, premium ingredients and a world-class experience.
Kintsugi KL – Japanese Restaurant
The Table, Isetan, The Gardens Mall
3F, Lingkaran Syed Putra, Mid Valley City
59200 Kuala Lumpur, Malaysia
+6010 381 1330
@kintsugi.kl
Kintsugi Kuala Lumpur Opening Hours
Tuesday to Sunday: 12 pm – 3 pm & 6 pm – 11 pm
Find more Japanese restaurants in KL here, and stay up-to-date with the latest gourmet and travel recommendations for Malaysia here and here.