Fire and Slice KL
Words: Jacob Weber
Photos: Monica Tindall
If you're at Tiffin at The Yard, you have to go to Fire & Slice.
If you're not at Tiffin at The Yard, you still have to go to Fire & Slice.
Kuala Lumpur's first farm-to-table pizzeria celebrates the sustainable use of quality local ingredients backed by a serious international pedigree. The four owners – Shawn Koh, Shane Law, Chiew Yow Sin, and Goh Ki Hong (GK) – have 60 years of culinary experience between them at no less than Pizzeria Mozza (now Osteria Mozza) at Marina Bay Sands in Singapore.
So, dough'nt doubt them. (Sorry, not sorry.)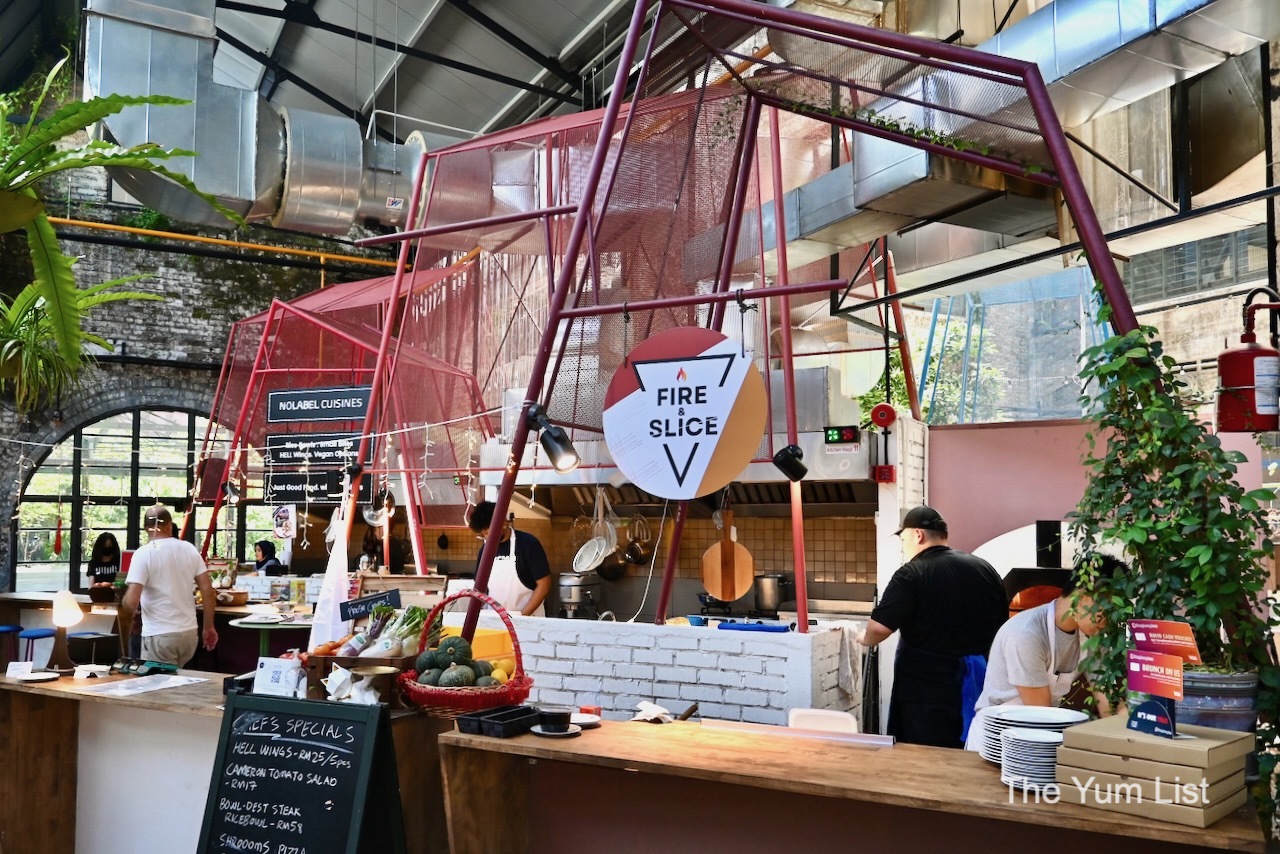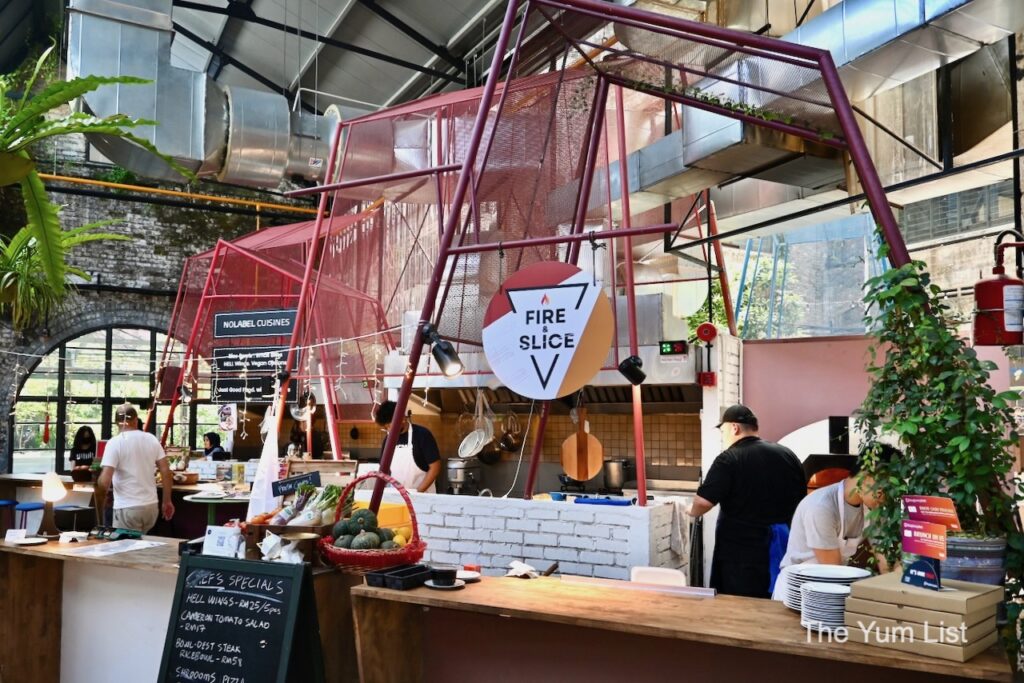 Fire and Slice KL
The vast majority of their ingredients come from two farms – one in Cameron Highlands and an urban farm in Shah Alam – that are just as invested in Fire & Slice's success as the founders. Shawn and the team's mission to reduce food wastage means, for example, that they'll purposefully pick the "ugly" tomatoes, which the big supermarkets have no interest in, to make their homemade Momo-Doro sauce. It's a beautiful blend of oddly-sized Momotaro and Pomodoro tomatoes. You can tell just how proud they are to use these so-called B and C-grade fruits. (Remember: knowledge is knowing a tomato is a fruit; wisdom is not putting it in a fruit salad).
Some Momotaro tomatoes are sitting in a wicker basket on the counter – it's quite a sweet little rustic touch, actually – and Shawn brings some over for us to try. They're delicious. I must confess, I tend to prefer my tomatoes cooked and/or processed, but these are sweet and ripe and full of flavour. I even have another. Clearly, the grading system is purely for aesthetics.
GK is the dough master, and you can tell he's passionate about this project because making this dough is a serious labour of love. The team wanted to create their own variety – as local as possible, of course – and after many experiments with many combinations, landed on their current blend of Japanese and local flour. They use an authentic Italian-American dough-making technique, and after it's hand-stretched and shaped, it rests for 12 hours to ferment.
Even the oven is locally-made, and the half-gas-half-wood burner uses certified sustainable mangrove wood from Taiping. Everything about Fire & Slice's cooking is committed to the cause of championing local produce, suppliers, and resources – and we love it.
Speaking of cooking, it's time to start eating. Owner-chef Shawn created the menu, which puts a quirky Asian spin on traditional pizza classics, and he's just as excited as we are to begin.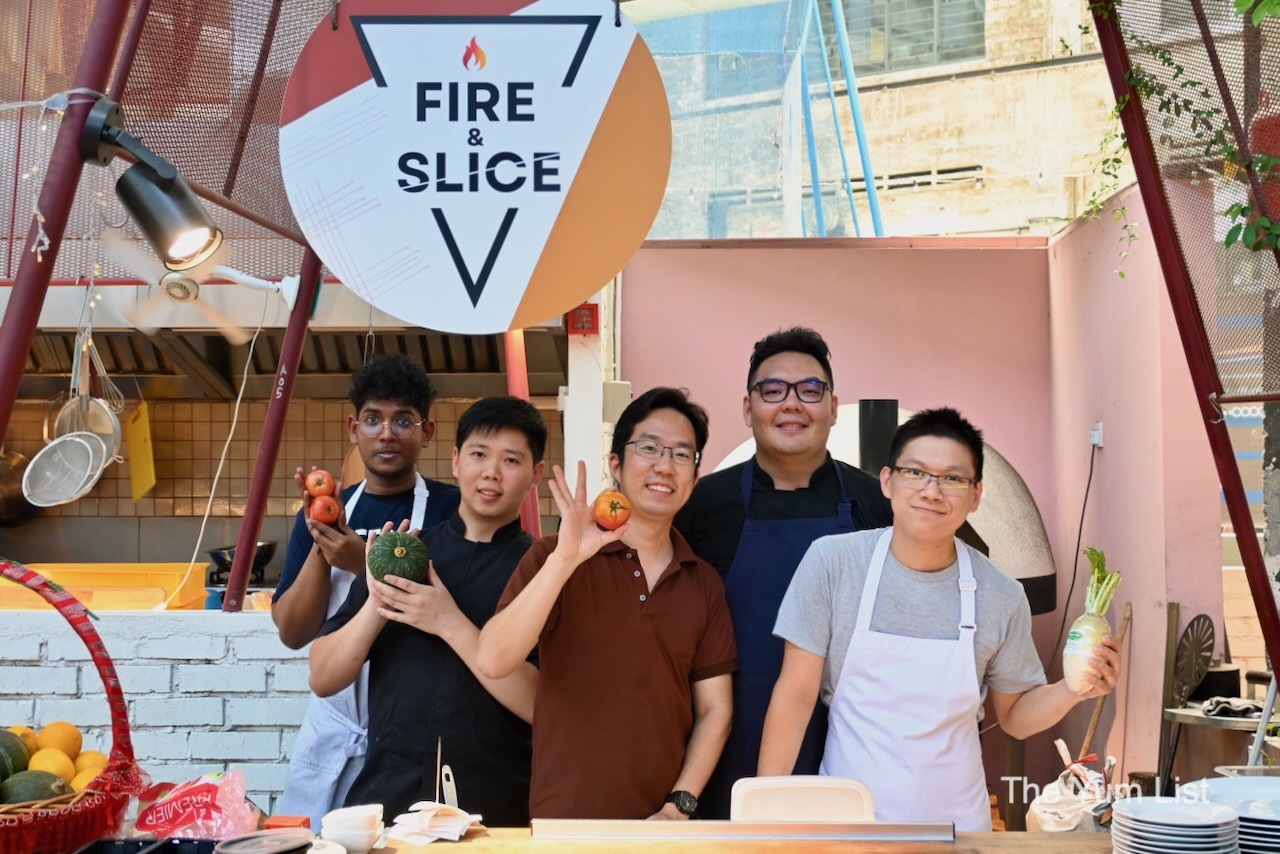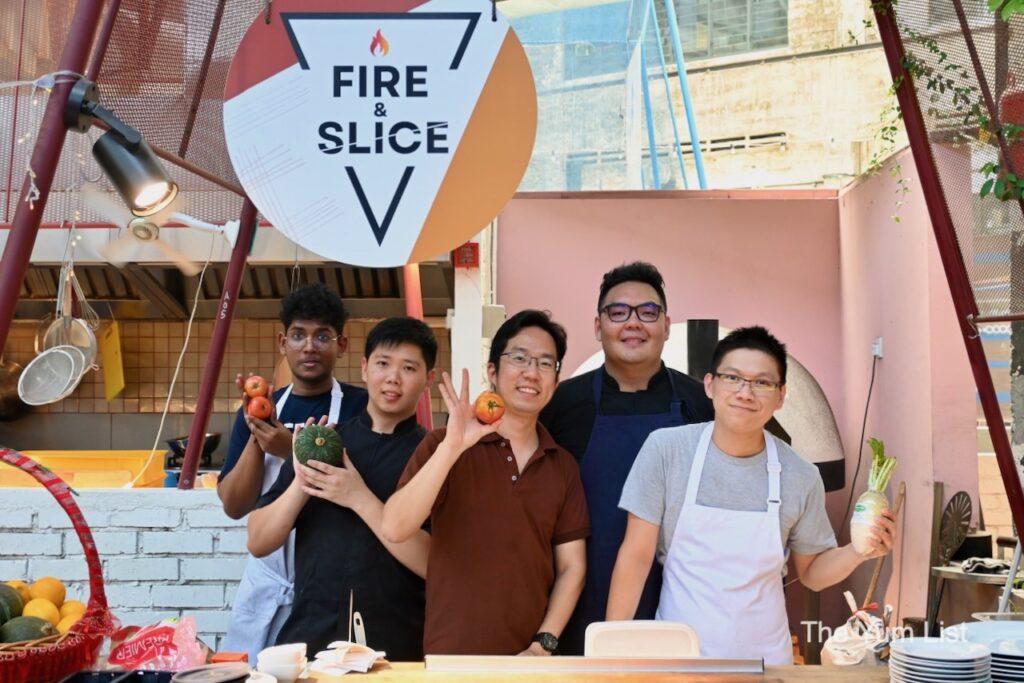 Creative Pizza Combinations
We decide on a balance of tomato- and cream-based pizzas, all four of which come from the 'Signature' menu.
To start with, Fire & Slice's spin on the most famous pizza of them all: the Margherita. Their version, the Margherita v2.023 (RM32), takes the classic ingredients and elevates them with local and imported varieties such as Thai basil pesto, the excellent Momo-Doro sauce, and lemon basil from the Cameron Highlands farm.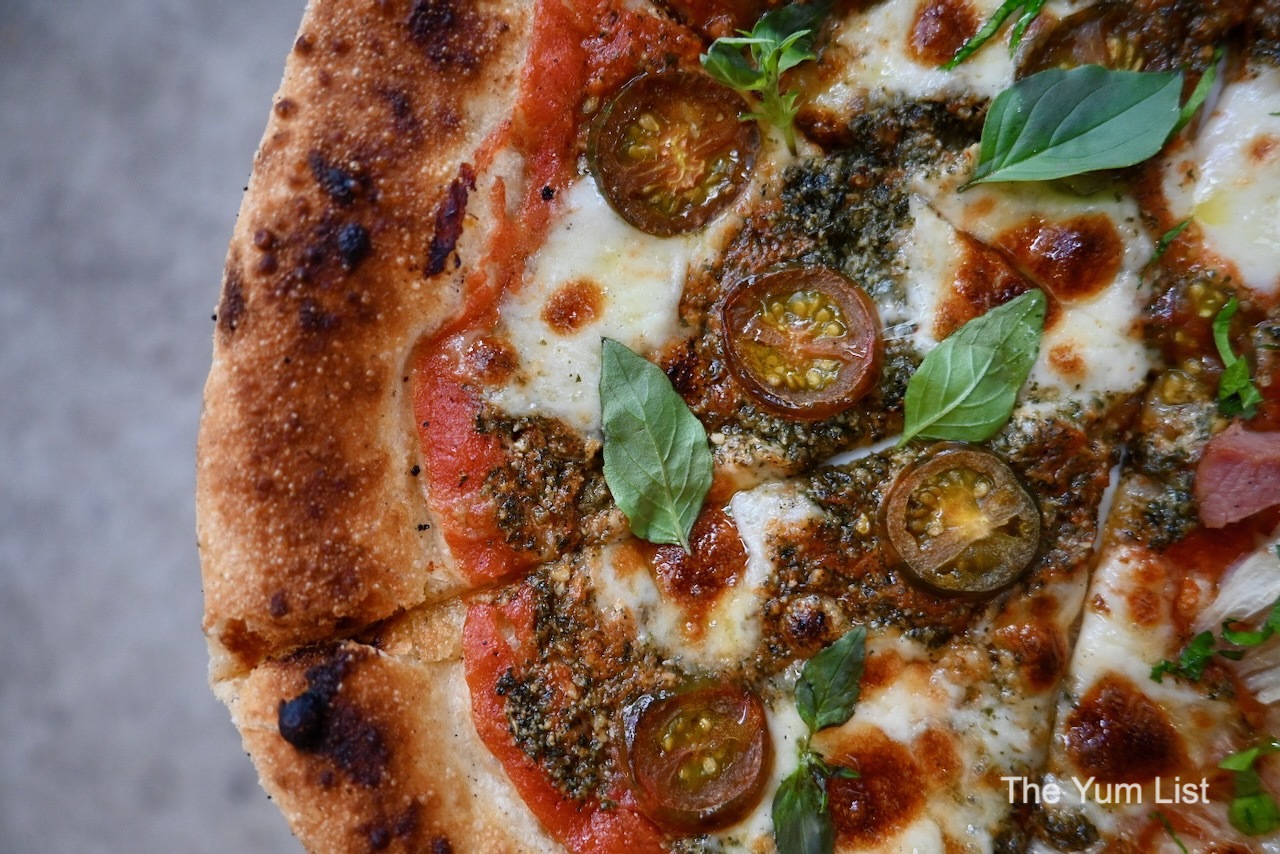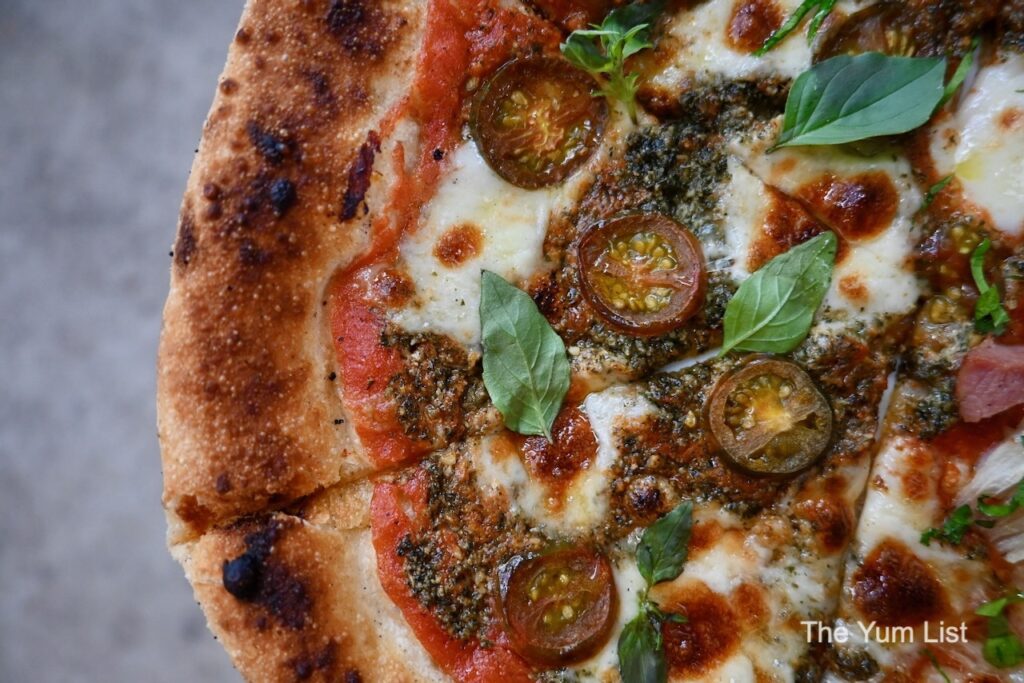 Next, the Langkawi (RM45), a local homage to the often-controversial Hawaiian variety. (For the record, I'm a huge fan of Hawaiian pizza. The tart sweetness from the pineapple is a perfect complement to the saltiness of the tomato sauce. But these days, people would rather argue about it on Twitter than ever actually taste the damn thing …)
Anyway, I'm an even bigger fan of Fire & Slice's version. Smoked duck from Ipoh replaces the usual ham, which is a lovely touch, and the seasonal pineapple topping is infused with bunga kantan.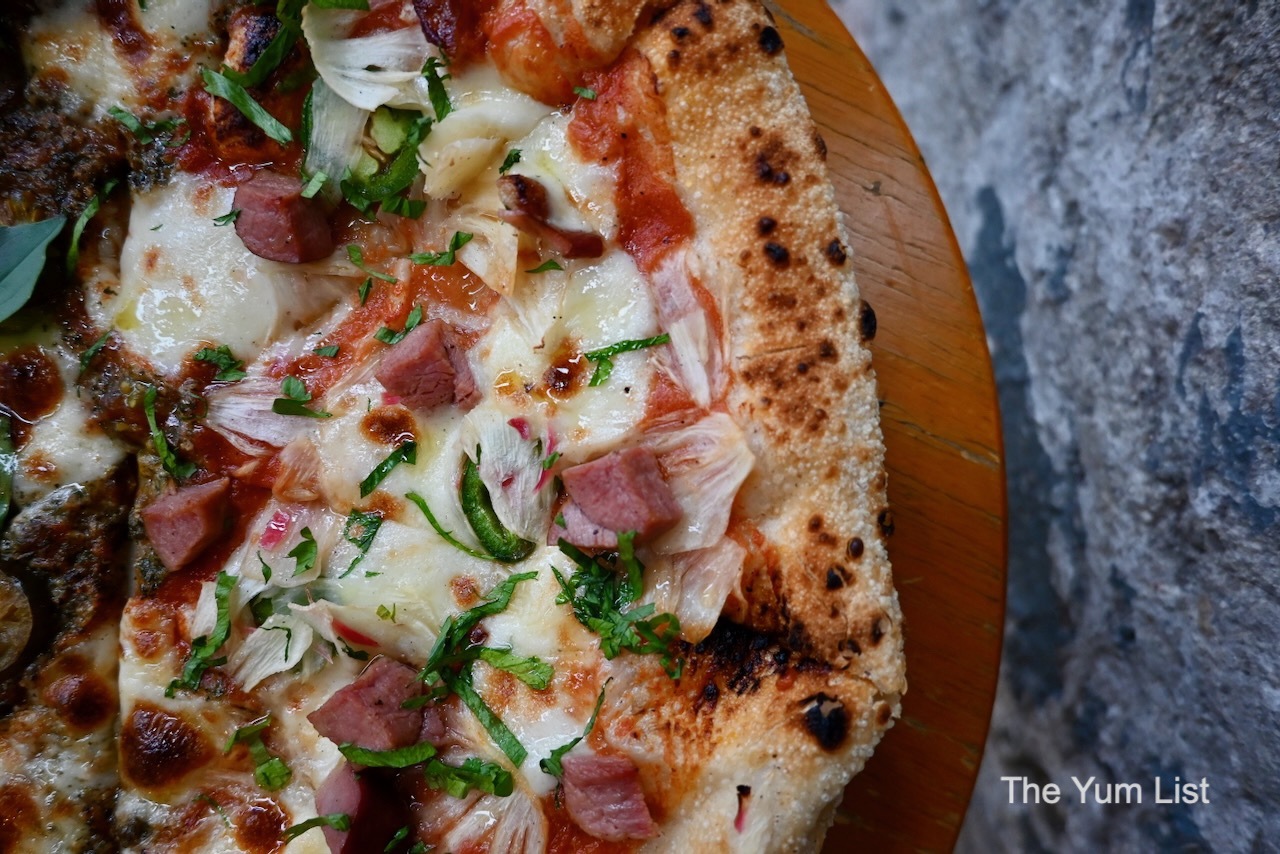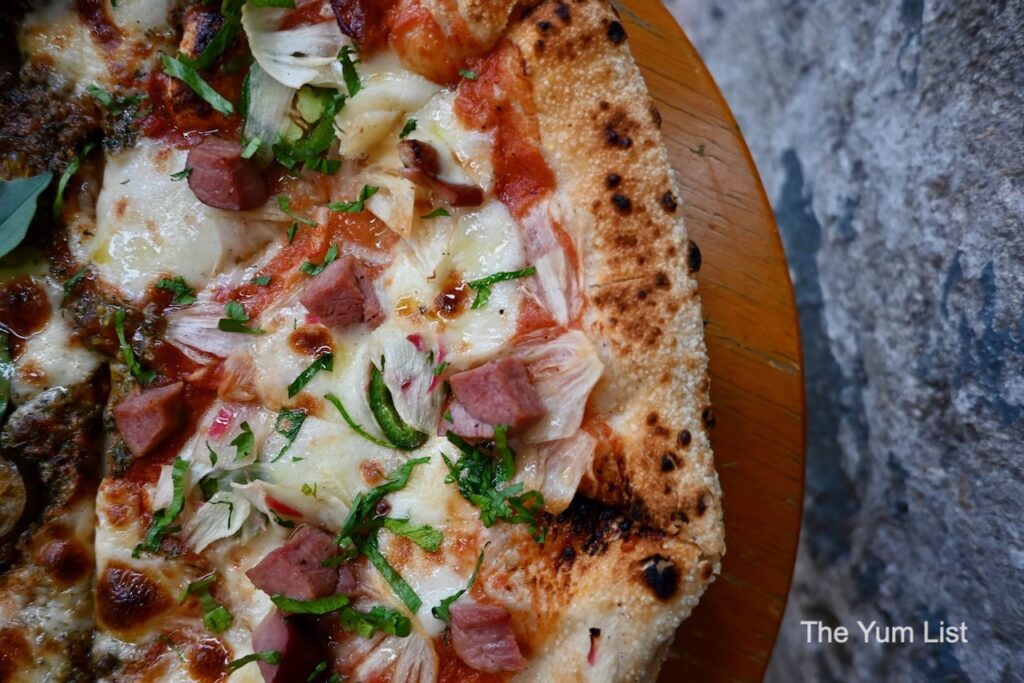 Next up, the cream-based pizzas. The Baby Kai Lan (RM38) has a gorgeous rich garlic cream base that really comes through in every bite, helped along by the beautiful bagna cauda sauce, which is made with premium Mui Heong salted fish instead of the usual anchovies. The chicken is marinated in fennel from the farm for a little extra flavour, and angel hair chilli adds a bit of warmth to the top of the bite.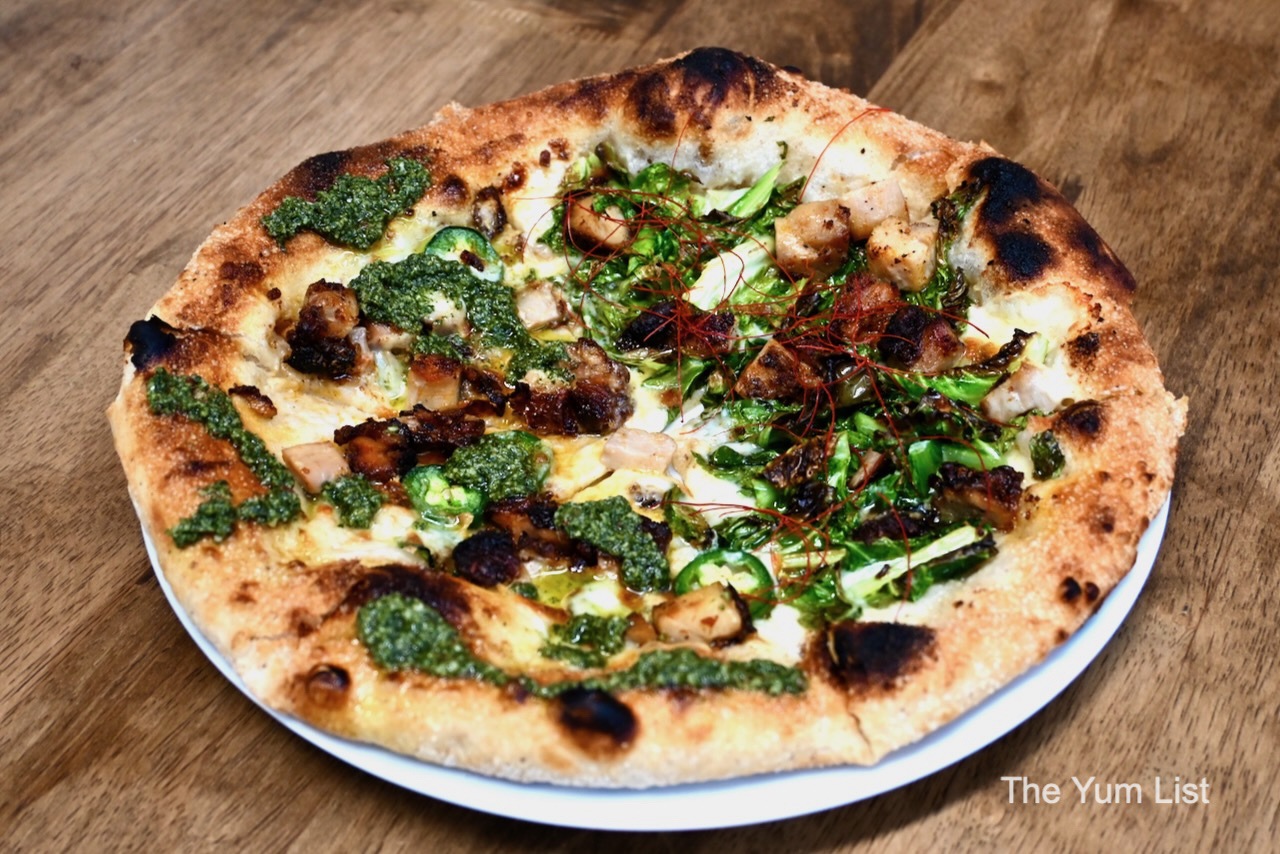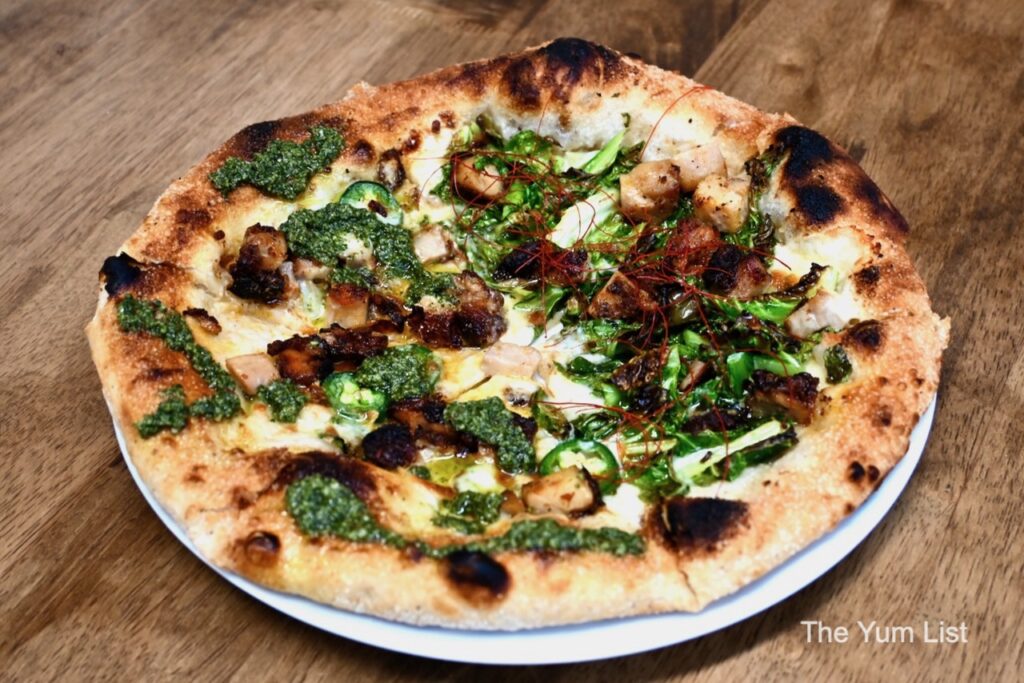 Fennel-marinated chicken also features on the Laksa Pesto Chicken Pizza (RM38), where local laksa leaf, Vietnamese coriander, and a hint of fish sauce make their mark on the signature pesto, which is wonderful. The jalapeños give it a nice kick, leaving a lingering heat in the mouth.
One of the many interesting touches about Fire & Slice's pizzas is the use of excess oil – which is very deliberate. In the same way that you might dip your bread into balsamic vinegar and olive oil at an Italian restaurant, these guys want you to use your crust to mop up any leftover oil once you've finished your slice. Of course, we are only too happy to oblige.
Sides
For a final flourish, Shawn brings out a spicy side dish: the "Hell Wings" (RM38), so-called because of the fiery hot sauce which graces these tender chicken wings. Naturally, their recipe is their own creation; a Chinese-Cajun-style marinade with chilli oil. The wings are marinated in sugar and salt for about an hour, and then given the same treatment with the tastebud-scorching sauce. Make sure you have plenty of napkins.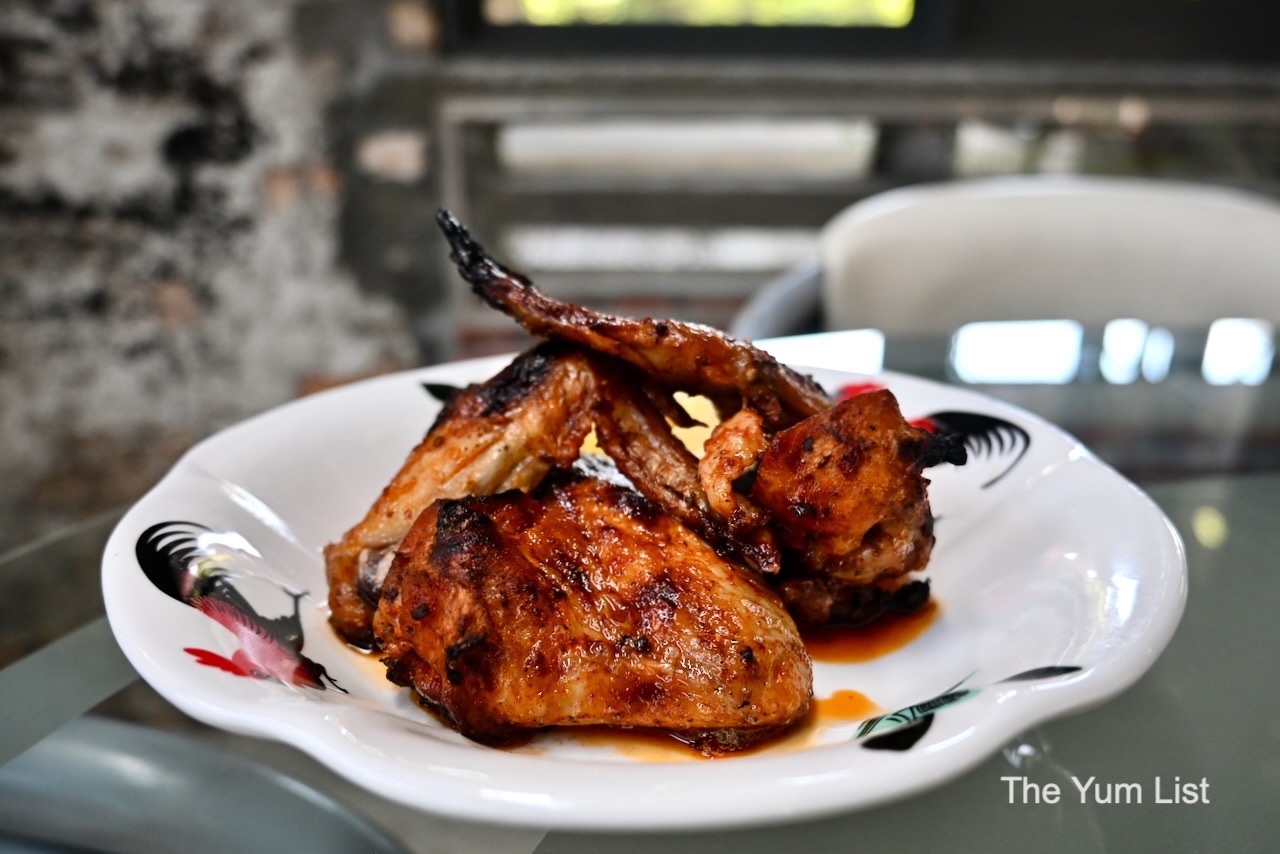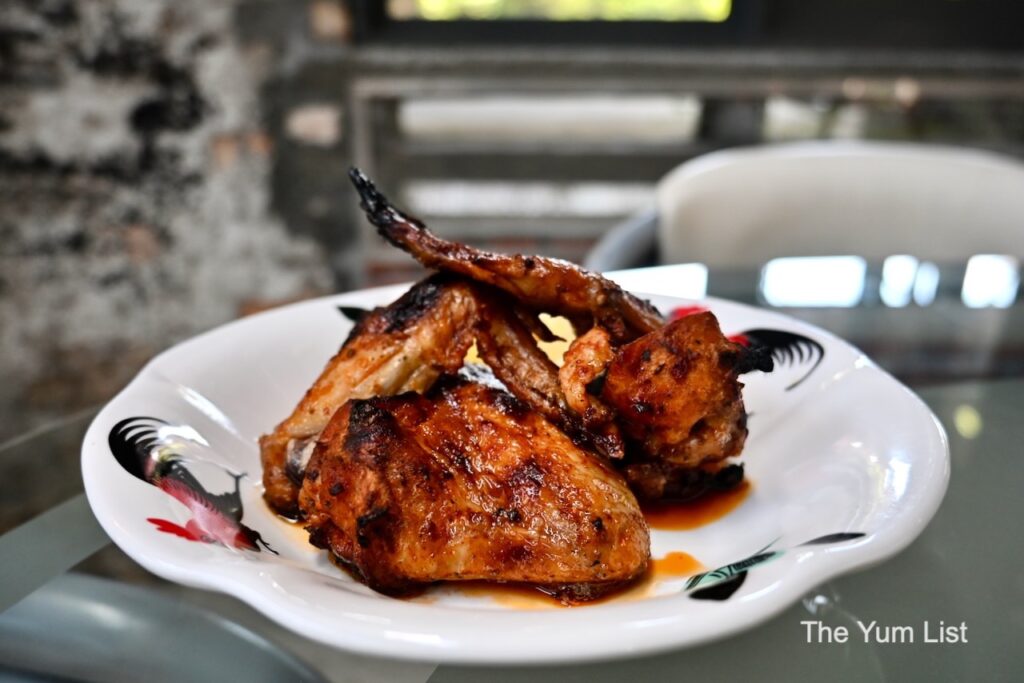 Fire & Slice KL Review
Pizza is always a feel-good food. But when it's this locally, ethically and responsibly sourced, with so much obvious passion and vision behind it – it really feels like something special. There's no unnecessary novelty behind any of these recipes or their approach to cooking them either; a lot of high-class culinary expertise goes into cultivating the ingredients and cooking these pizzas. It may not typically be considered a fusion food, but that's exactly what Fire & Slice have pulled off – with remarkable success.
Reasons to visit Fire and Slice KL: incredible handmade pizza with fresh, local and sustainable ingredients; unique and creative flavour combinations with generous toppings; great energy and a warm welcome from the chefs/owners.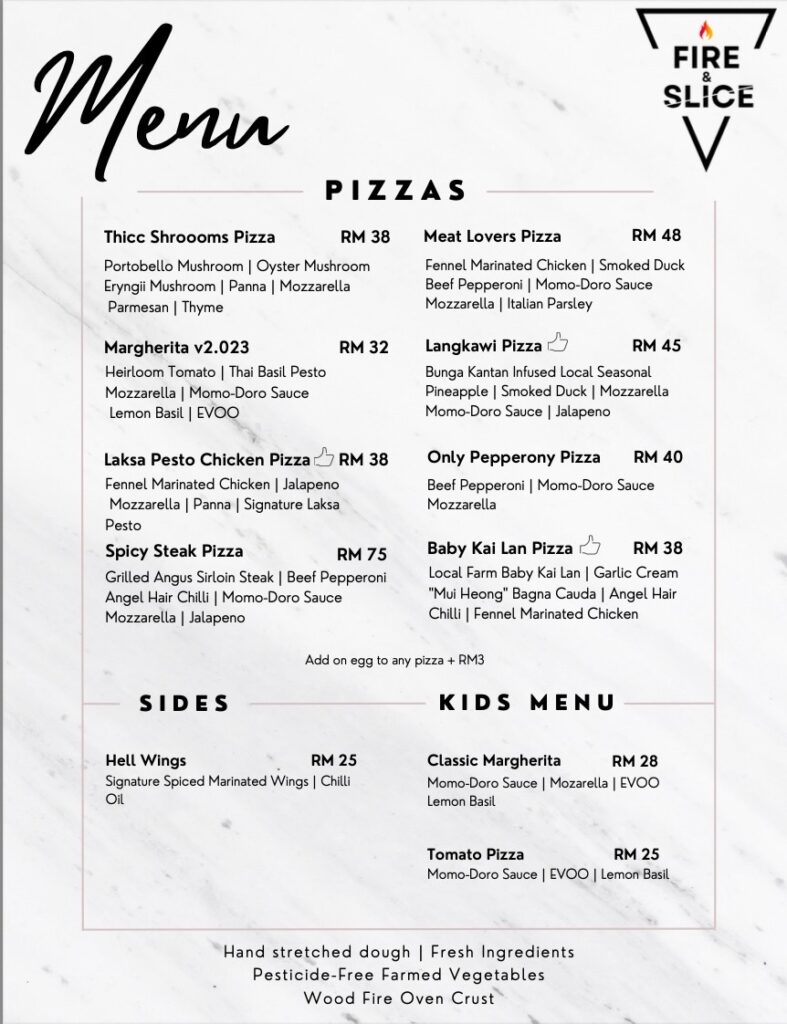 Fire and Slice KL
Tiffin at the Yard
PT189-PT183-PT185 Jalan Strachan,
Off Jalan Ipoh, Sentul, 51100 Kuala Lumpur
@fireandslice.kl
Fire and Slice KL Opening Hours
Thursdays and Fridays – 5pm-10pm
Weekends – 10am-10pm
Monday-Wednesday – Closed
Find more pizza restaurants in KL here and stay up-to-date on the latest happenings in KL's food and beverage scene here and here.