Delicato Wine
Words: Han Sen Hau
Photos: Rich Callahan
Our story begins with an unexpected triumph amidst a frolicsome and inebriated crowd when our very own Monica Tindall was announced to be in the running for Best Dressed Woman during Delicato Family Wine's debut in Malaysia. In true Monica fashion, not only did she refuse to be paraded around like the token Australian among a rambunctious audience (especially when almost everyone has emptied their glasses for the twelfth time), she insisted that all the ladies who have been called up unawares be unanimously declared as equal winners and to have the bounty divided justly among them.
Always the rebel we can look up to.
Also, I have pictures of that moment if anyone's interested.
But I digress. The focus of that glorious evening was the vernissage of one of America's fastest-growing wine companies in Malaysia, Delicato Family Wines. With a history that spans all the way back to Prohibition-era America, Delicato Family Wines has since grown to become one of the country's largest wine exporters, with a global foothold in over 60 markets like Canada, Germany, and China. Its legendary growth is matched only by the equally legendary personalities behind their many labels, most notably the man who gave us The Godfather series, Francis Ford Coppola.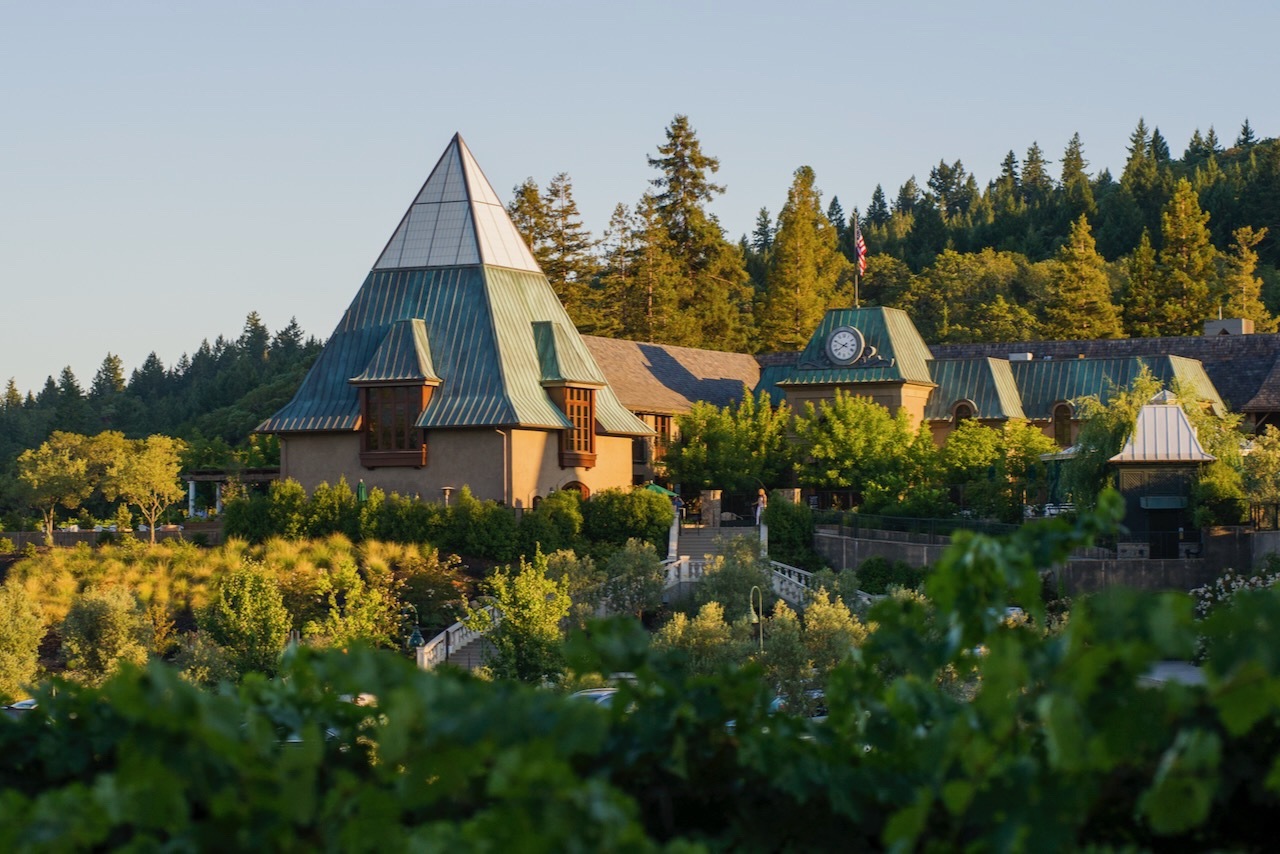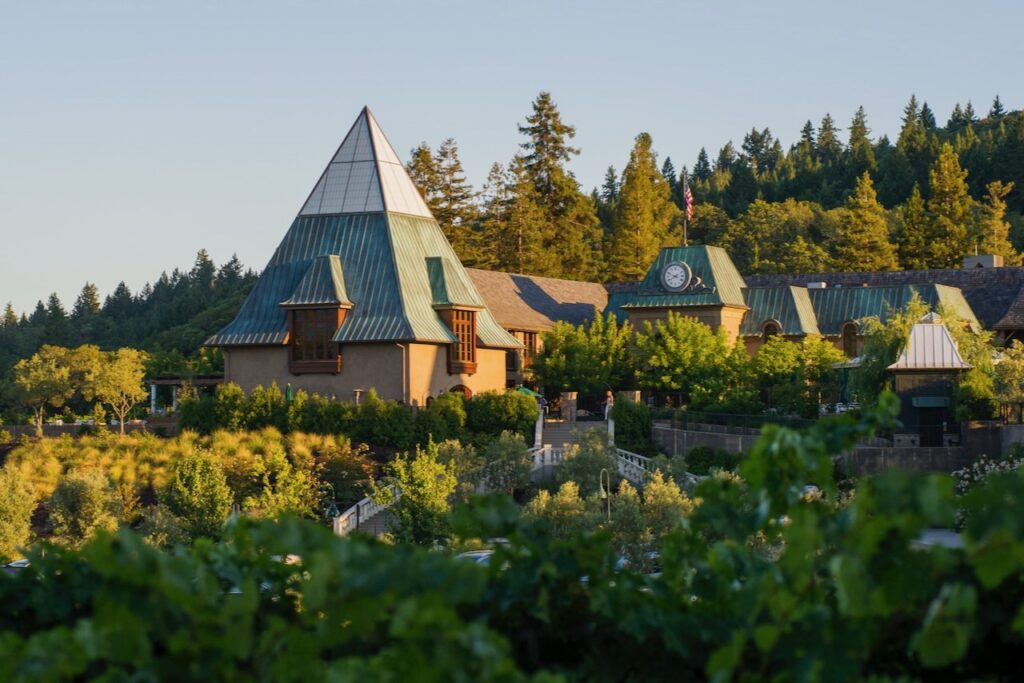 Local wine distributor, Dionysus Asia, is clearly a fan, as General Manager Edmond Quah was seen beaming from cheek-to-cheek while introducing the beautiful bottles displayed at OOMPH PJ, the venue for the evening. His admiration for the director-turned-vintner was obvious when you consider how, of the twelve bottles that were featured at OOMPH, nine of them bore the Coppola name. None can dispute the ingenuity of the move, however, on both Delicato and Dionysus' part, as the Coppola brand would serve as an effective gateway label to wine enthusiasts in Malaysia. It's a familiar name that commands respect, admiration, and in the words of Don Corleone, an offer that we simply cannot refuse.
Present to introduce Delicato Family Wines was the company's Asia Regional Manager, Simone Margheri, who made sure no one could forget the taste of their 1924 and Diamond Collection labels. We were also fortunate to have a taste of the company's Director's Cut label, produced by The Family Coppola as well though part of Delicato's more luxurious Transcendent Wine portfolio. Despite their impeccable packaging and bearing, all of the wine bottles featured are sold at a comfortable price, which makes them excellent choices to default on when you need something quick for dinner or as a gift shared among friends.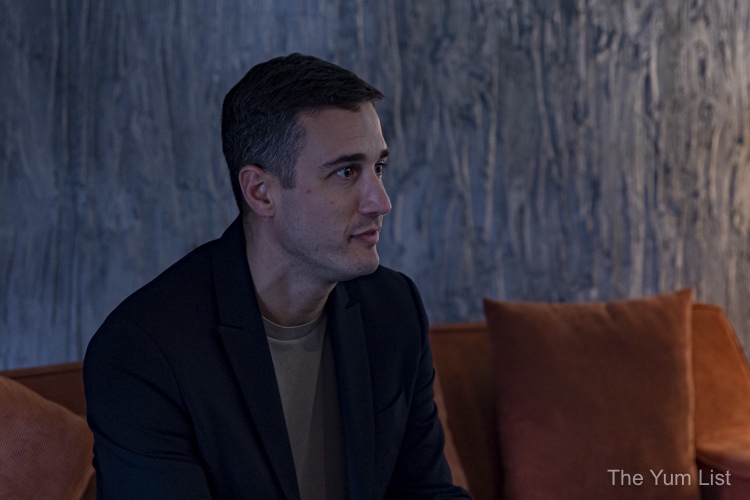 Three labels, twelve bottles, and barely two hours to down them all. We were there for a mission, so let's get down to it. It should be noted that we didn't sample the wines according to their labels; rather, we imbibed them in the order of their intensity, as recommended by the sommelier.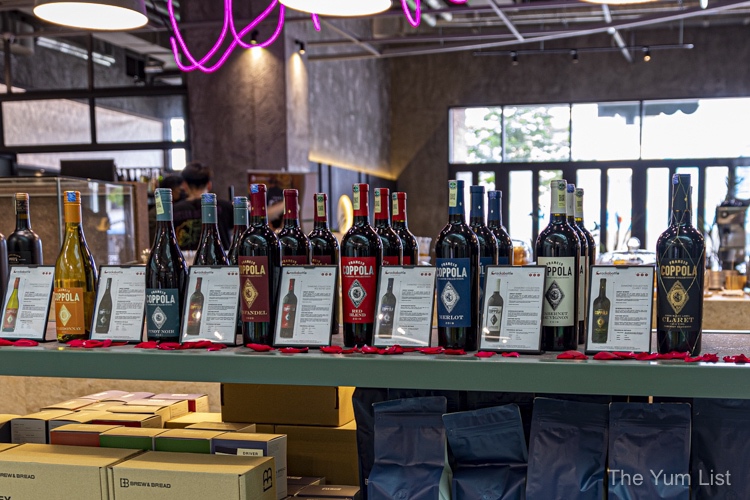 Delicato Wine Malaysia
Coppola Diamond Collection Chardonnay 2021
We started off nice and easy with a Coppola Diamond Collection Chardonnay 2021, a crisp and clear white that eases in with a subdued profile and glides off the tongue, though with prominent notes of Granny Smith perforating the palate and invigorating the nose. A great introduction to the Diamond Collection, though not definitive of its range, as we will showcase later.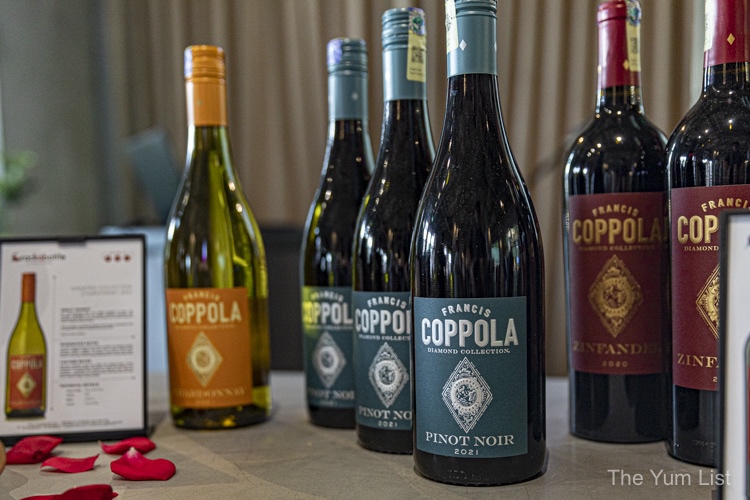 1924 Scotch Barrel Aged Chardonnay 2019
The second out of two whites offered that evening was the 1924 Scotch Barrel Aged Chardonnay 2019, which flaunted an intoxicating smokiness that's reminiscent of cigars with a sweet toffee aftertaste that makes you want to suck your tongue. This was a bottle that lived up to its description, exceeded my expectations for Chardonnay, and one that I would have happily kept for my own personal collection, even though I tend to value reds more.
Having the wine aged in scotch barrels ultimately bestowed it with a bolder, and occasionally confectionary, flavour (especially with the ridiculously crunchy and savoury ko ebi appetiser by OOMPH) that sets it apart from the previous offering of the Diamond Collection, though this by no means implies that the latter is superior to the former. I could imagine downing the Coppola Chardonnay on its own, chilled, on a hot day, while reserving its 1924 cousin for a heavyset dinner as different facets of the bottle seem to shine when paired with intensely flavourful Asian fare (I wasn't kidding when I singled out the ko ebi earlier).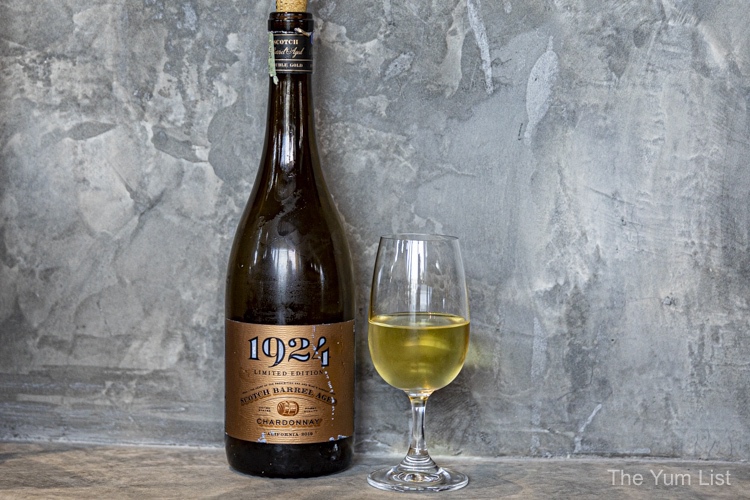 Coppola Diamond Collection Pinot Noir 2021
We dive back into the Coppola Diamond Collection for our first red of the evening, a florid Pinot Noir that's easy on the tongue. It entices with flourishes of strawberries and raspberries at its entry, while its slow fermentation in stainless steel leaves it with a pervasive minerality as the wine travels back.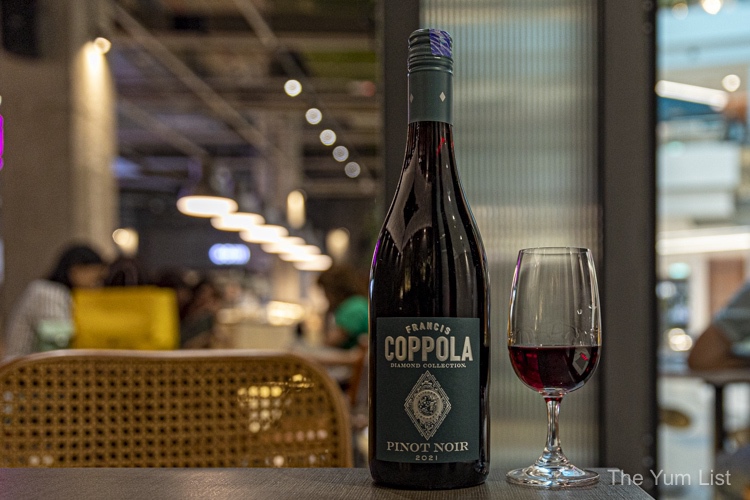 Coppola Diamond Collection Zinfandel 2020
On the other hand, the Diamond Collection's Zinfandel was a robust offering with more pronounced hues of black plums and cherries that stick to the tongue, bringing the wine's fruitiness and acidity to the forefront. Although not a familiar grape varietal that would roll off a local's lips, the Zinfandel was a bottle to remember for its intensely rich, tart flavours that somehow… made me wonder if I could have it for breakfast with toast.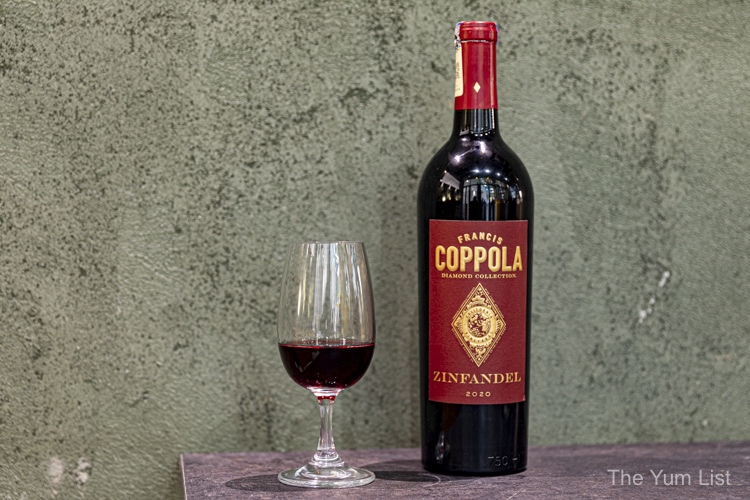 Coppola Diamond Collection Red Blend 2019
I love the description received for the Diamond Collection's Red Blend, which went along the lines of "We just threw in different grapes that we thought would taste good and presto!" Made from an exotic blend of Petit Verdot, Cabernet Sauvignon, Alicante Bouschet, Petit Sirah, and other complementary red varieties, this bottle of red sizzles with its beautiful balance of invigorating acidity and gripping tannins. Its floral and spicy aroma worked amazingly well with the salted egg lotus root crisps that we had on the table, and its flavours held their ground even against the wave of salted egg sauce coating the insides of our mouths.
By the way, most of the food pairings here weren't intentional, though as you'll read on, we discovered many happy accidents. Through sheer serendipity, some of these bottles enjoyed truly blissful marriages with the distinctively Asian fare whipped up by the kitchen at OOMPH, which can only work in the brand's favour since the pairing possibilities are not limited to an exclusively Western palate.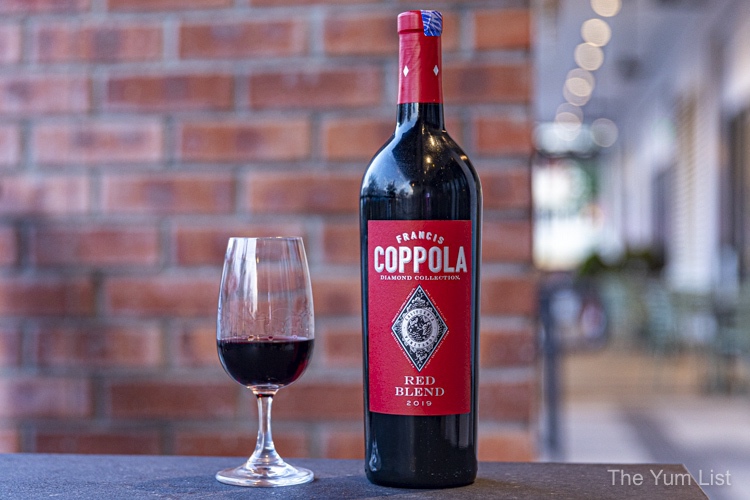 Coppola Diamond Collection Merlot 2019
Full disclosure: my favourite red varietal has always been a Merlot, so I was definitely primed to fall in love with the velvety and spicy Diamond Collection Merlot. This would be a bottle I would have to myself as I sink into a plush armchair, partially illuminated by the crackling fire-licking birch logs, having the occasional sip as I read Homer to Chopin playing off the gramophone.
This was my sixth glass in under 45 minutes, so just let me indulge in this fantasy.
I like Merlots for their complex floral fragrance that just tickles the nose with a pinch of spice. The entry is usually subtly sweet, reminding me of effervescent vanilla notes before it introduces a sustained, fruity, jam-like profile that rests on the tongue. Its exit is usually marked by a dryness on the sides of the tongue that summons the need for another sip. These are all qualities I received from the Diamond Collection Merlot.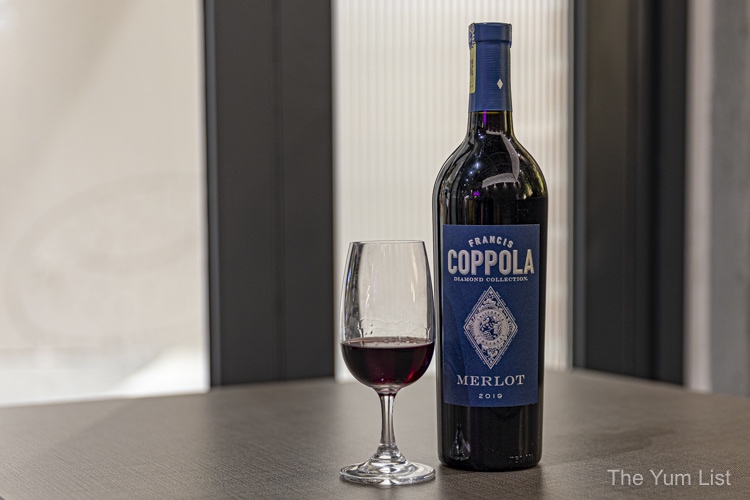 Coppola Diamond Collection Cabernet Sauvignon 2019
The Diamond Collection Cabernet Sauvignon was just sweet as pie. Literally. This bottle was one of the more caramel-y Cabernet Sauvignons that I have explored, with a velvety texture and a lasting, fruity finish with none of the—if you'll excuse my language—"damp cloth" bouquet that I normally whiff off a glass of this varietal. Perhaps it's the Petit Verdot and Segalin thrown into the blend that neutralised the disagreeable aroma I normally associate with Cabernet Sauvignon, but this bottle was great and pleasurable in my books.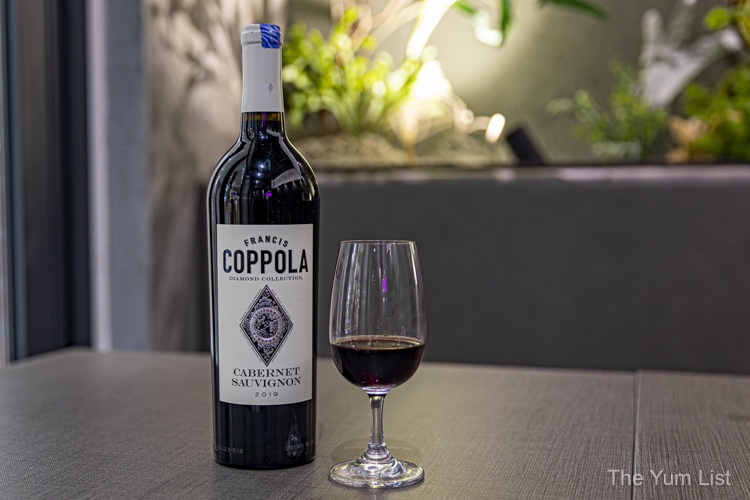 Coppola Diamond Collection Black Label Claret 2020
The final red of the Diamond Collection was the bottle that launched the entire portfolio, the Black Label Claret. The sanguine, full-bodied red has a similar, though deeper profile, to the preceding Cabernet Sauvignon. It's notably more acidic as well and has a pleasurable finish that just prevents you from downing the bottle in one go, demanding that you savour and retain each sip for just a little while longer.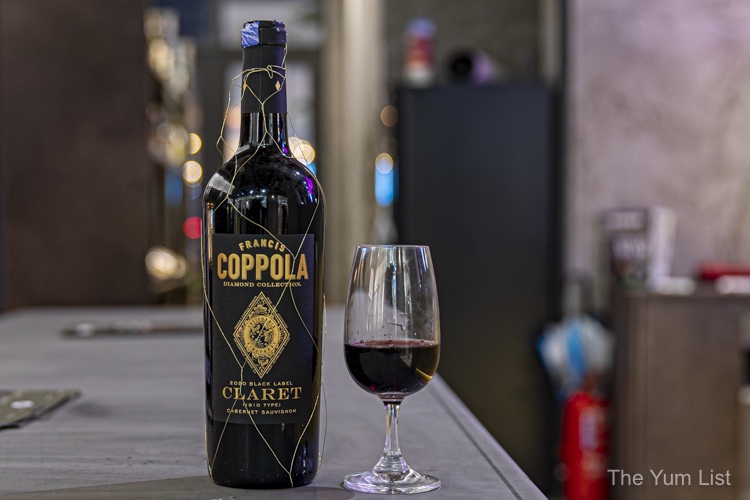 Director's Cut Alexander Valley Cabernet Sauvignon 2019
By the time we were poured our third glass of Cabernet Sauvignon back-to-back, I was beginning to wonder if I had become a Cab Sauv convert. Again, a reminder that we were all drinking wines of increasing intensity as the night grew longer, so we would be running out of superlatives to describe how bolder and richer each subsequent bottle came to be by the end of this article, though the Director's Cut Alexander Valley Cabernet Sauvignon 2019 would be forever remembered for its heady bouquet. I could smell this one for days, trying to figure out its intensely satisfying fragrance, which complemented its complex flavours.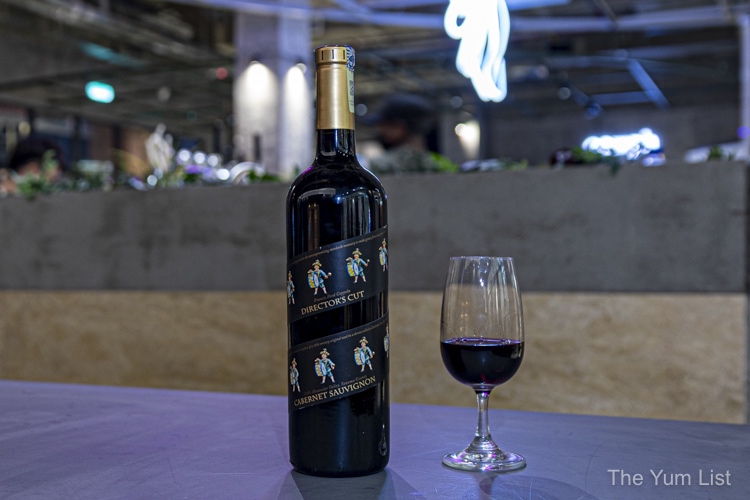 1924 Bourbon Barrel Aged Double Black Cabernet Sauvignon 2021
Arguably one of my favourite bottles for the night was the 1924 Bourbon Barrel Aged Double Black Cabernet Sauvignon, which took me by complete surprise due to its sweetness. The final Cab Sauv of the evening had the appeal of fortified wine like port, a slight creaminess that reminded me of Irish liqueur, and a wonderfully toasty aroma that evoked the image of maple syrup and pancakes, possibly topped with fresh cherries and a scoop of vanilla ice cream. That defining sweetness becomes more intense when the wine is paired with savoury food, like the nasi goreng kampung with a copious amount of fried anchovies that I weirdly enjoyed it with. Yes, it's a bizarre pairing at first glance (who would think of wine and anchovies?!), but the food was selected even before we saw the wine bottles, so this was not a mistake, just a happy little accident, like a Bob Ross painting.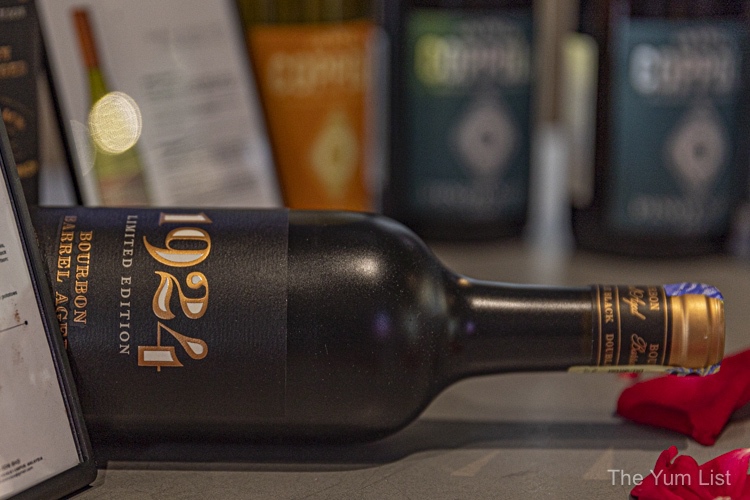 1924 Double Black Red Wine Blend 2020
The last bottle of 1924 was also the final red blend, and judging from its Lodi origins, it's safe to say Zinfandel was probably used in its production along with a healthy dose of Cabernet Sauvignon as it bore a strong resemblance to the earlier Director's Cut Alexander Valley Cabernet Sauvignon.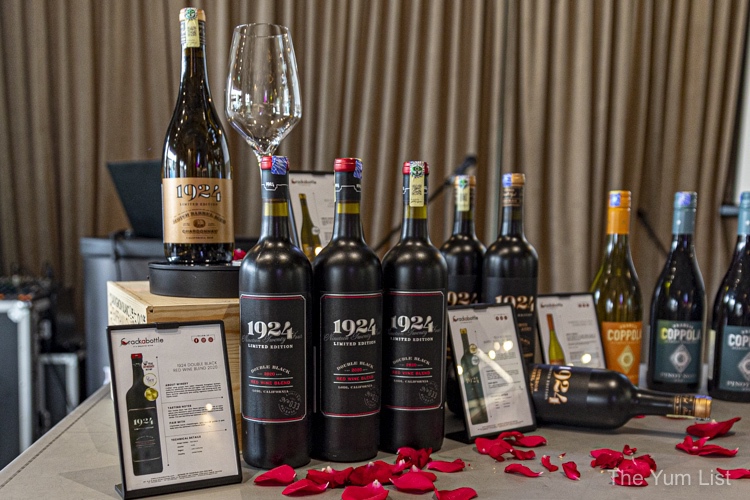 Director's Cut Dry Creek Valley Zinfandel
Finally, we ended with the luscious Director's Cut Dry Creek Valley Zinfandel that's bursting with sweet figs and baking spices. I could've sworn its bouquet reminded me of a scented candle called Cardamom Nut Muffin, and I'm dying to try this with a pecan pie for its very… autumnal appeal, which kind of made sense since the wine had a jammy zest to it and also an aroma that screamed "pie season".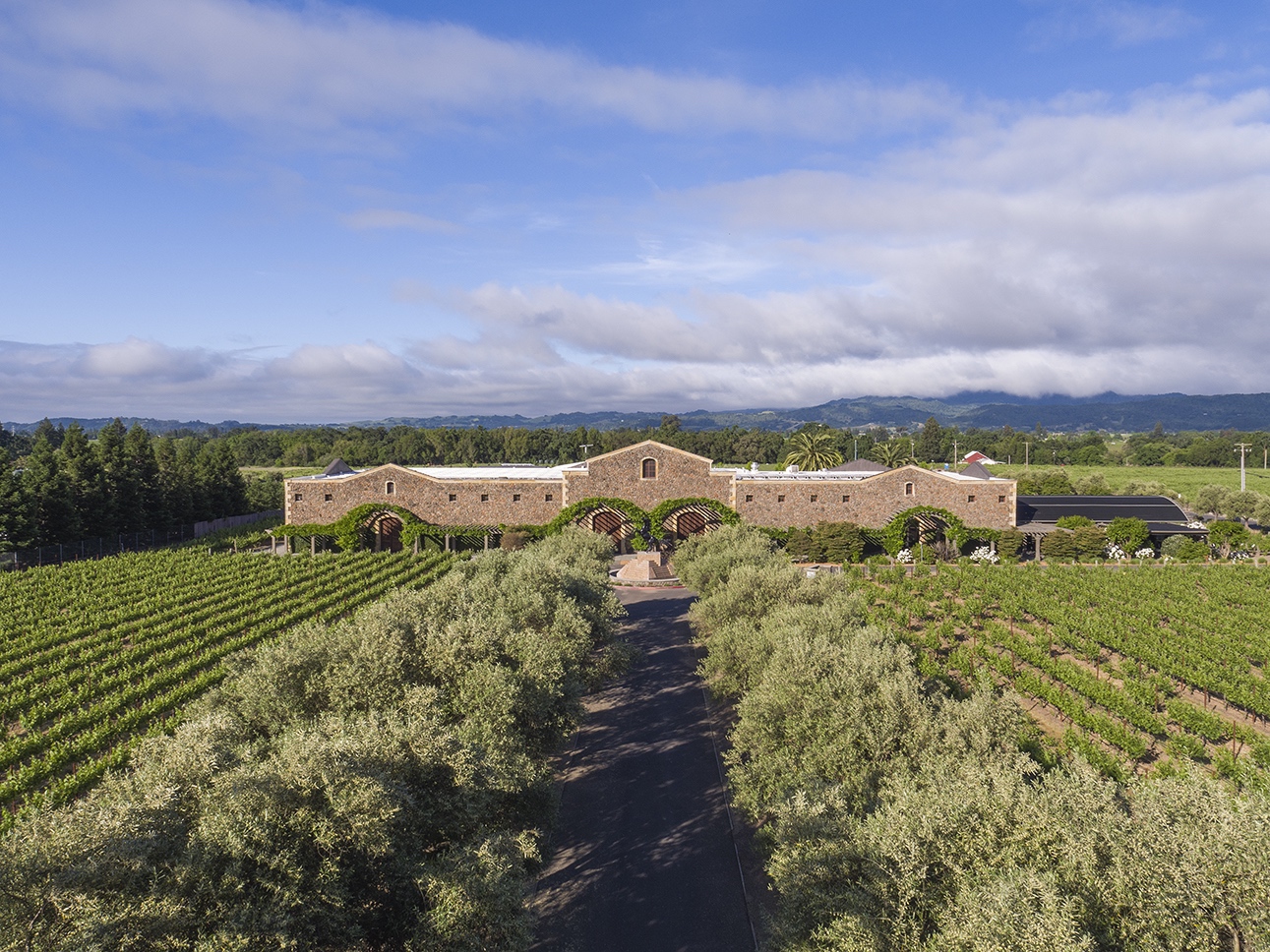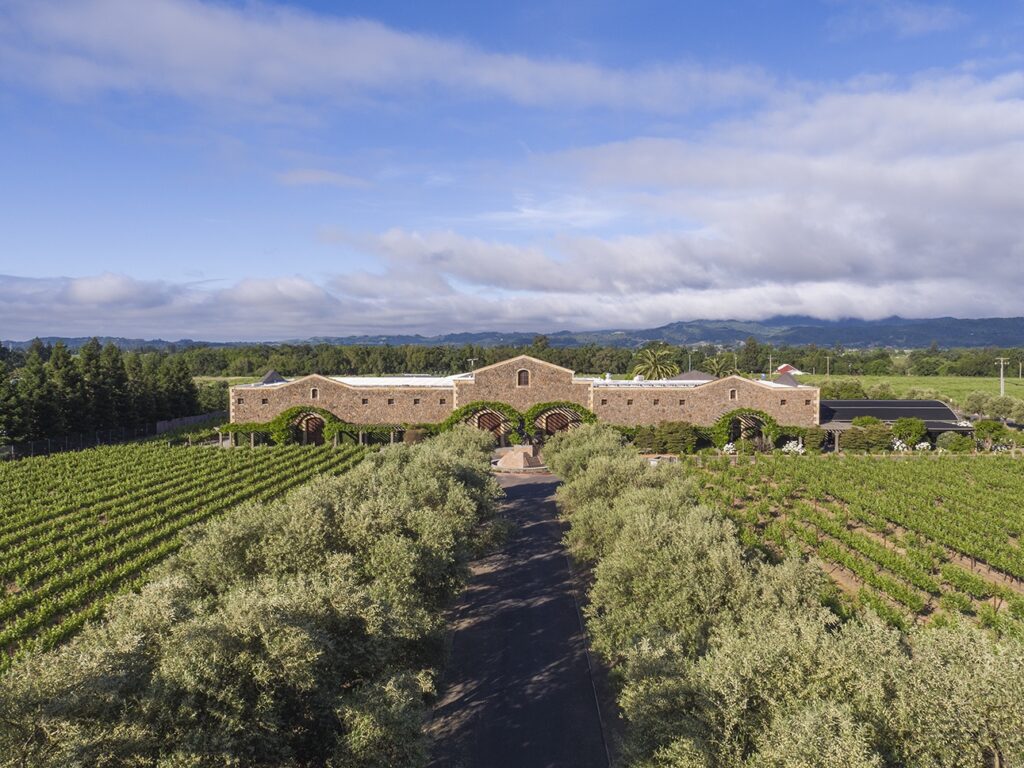 Final Thoughts
This was probably one of the more challenging articles I have had to write in a while due to the overwhelming amount of wine I had to appraise in a short amount of time. Honestly, I have no idea how winemakers do it on a daily basis as they attempt to tease out minute differences between their vintages, but if this experience with Delicato is anything to go by, I have only respect for the people in the business with an acute sense of taste and astute flavour memory.
More crucially, this wine dinner merely offered a keyhole view of Delicato's impressively varied portfolio, and we're keen to explore more of the labels they've acquired to better understand the company's rapid growth and aspirations as a top 10 U.S. wine supplier. The wine we've been fortunate enough to sample were, at best, a preview of a larger ensemble, and we wonder if a full-scale Delicato assault of the market across different price segments hinges on the performance of the premiering duodecet.
Only time will tell.
Many thanks to the team at Dionysus Asia and Simone for having The Yum List over, and also to OOMPH at Megah Rise Mall for hosting us.
Find more on the wine scene in Kuala Lumpur here and stay up-to-date on the latest happenings in KL's food and beverage scene here and here.