Et Cetera Restaurant 
Words: Jason Anom
Photos: Rich Callahan
Tucked away in a quiet corner of Aurora Place, Et Cetera Restaurant whisks you away to a unique dining experience where playfulness with ingredients and cooking styles is a constant theme. 
Past the giant plants at the entrance and the big glass door, you are transported to a world of energetic experimentation. For a place that opened in November 2022 without much fanfare, it attracts quite a steady following, much to co-founders Sue Yung Sean and Neo Shun Zheng's pleasant surprise.
Inside, the clean lines are interjected with the odd curve, giving the space an effortless elegance in this 'lab' where culinary boundaries are pushed. And pushed those boundaries are, as co-founder Chef Neo, who previously opened Restart by Slow in Kota Damansara, likes to emphasize. Et Cetera's philosophy is to experiment with different tastes and textures, to see what works, and to see what delicious surprises result. Here, Chef Neo combines his passion for good food, culinary experimentation, and experiences to create ever-interesting dishes.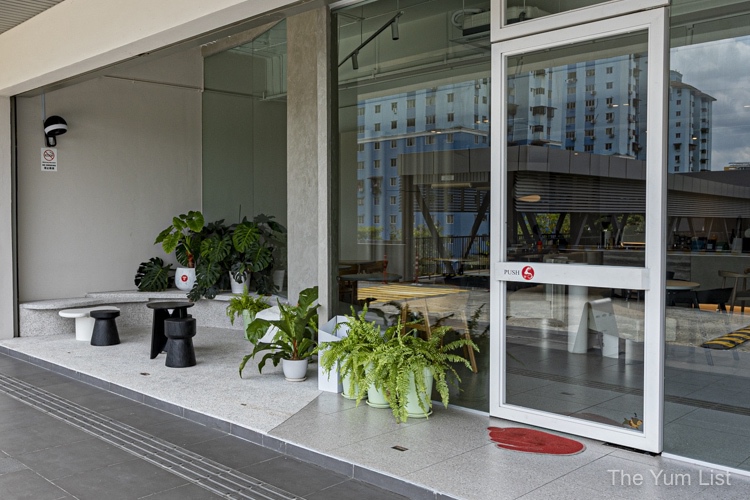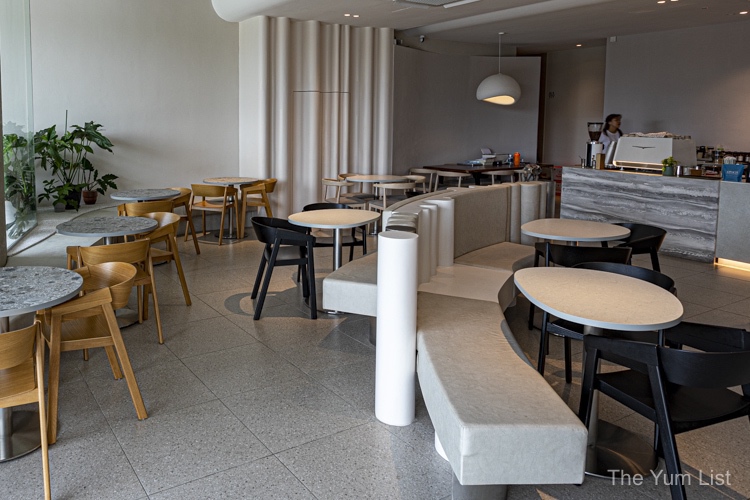 Wine List
The wine list, which includes a few natural wine options, evolves based on recommendations from their supplier and what works with their dishes. As of our visit, it consists primarily of New World wines from Australia, Argentina, and South Africa, ranging from RM110 for a bottle of house pour red or white to RM289 for their limited, curated wines. An added plus: they have carafes if a glass is not enough, but a bottle is a bit much.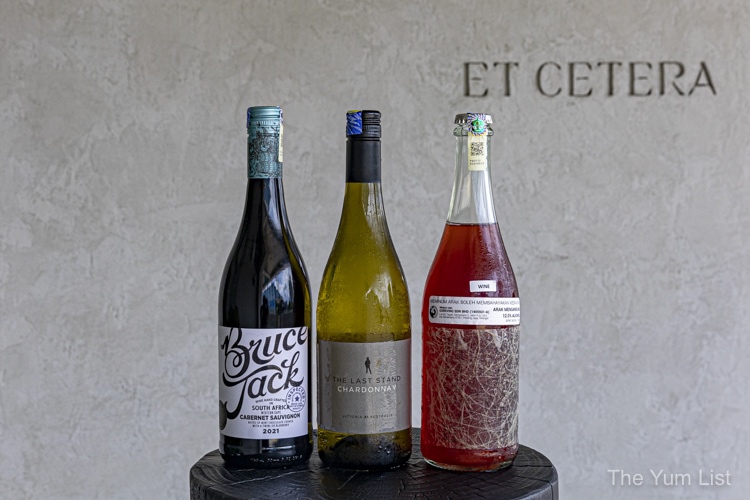 Et Cetera Restaurant Menu
True to their culinary philosophy, Et Cetera's selection of dishes is playful with their cooking styles, ingredients, and flavours. Fresh pasta is made in-house daily, and specials are available monthly depending on the availability of ingredients. Produce is sourced as close as possible to ensure only the freshest is served.
Amuse Bouche
We started with an Amuse Bouche consisting of Grilled Mala Duck, Mango Turmeric Prawns, and Tiger Prawn Carpaccio. The duck is a beautifully smoked breast that retains a tender and moist texture, finely balanced by the house-made Mala chilli. It sounds spicy but has a delicate kick that does not overpower. The prawns in their cute pastry case belie the rich flavour of this Indian-inspired dish. These single bites feel at once refreshing and tangy, tempting us to one more bite. The carpaccio, with a light char of the prawn, captures a prawn-bisque flavour with a creamy depth. The mizuna microgreens add a green freshness to it, and it pairs very well with the house white wine on offer, The Last Stand, Chardonnay.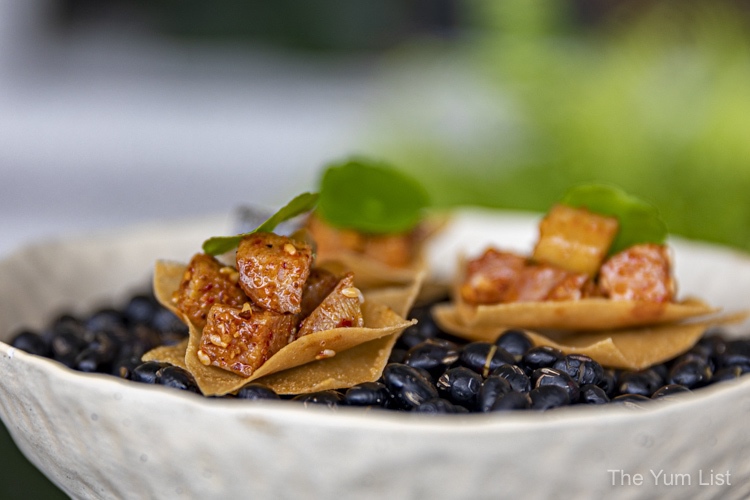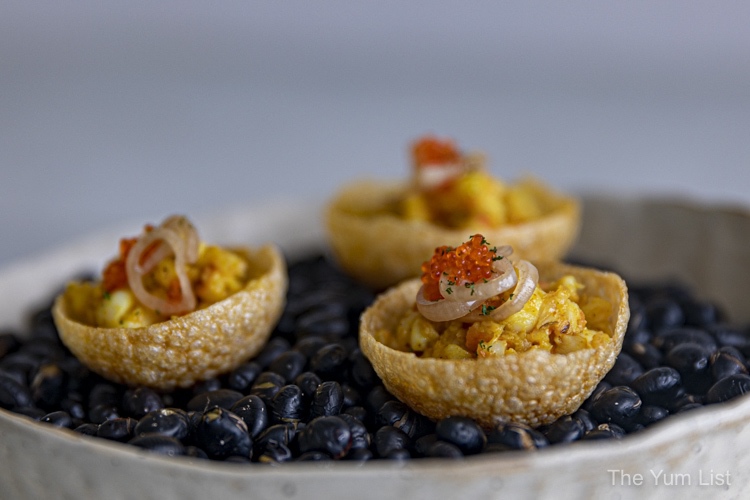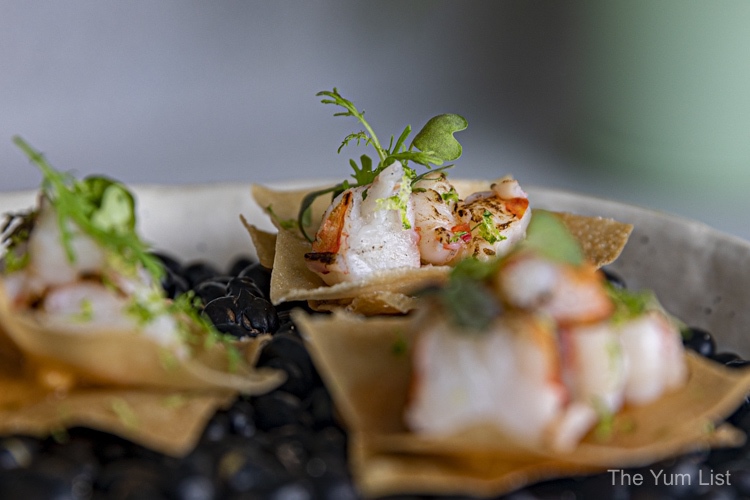 To Start
The Grilled Oyster Mushroom (RM24) is at once a beautifully plated and surprisingly meaty starter – with soft textures and a hint of wild garlic, the beautiful glaze glistens on the chunks of mushroom. This is a must-order.
The naturally neutral taste of the veg in the Charred Cauliflower Florets (RM25) absorbs the umami flavour of the bell pepper-based puree, perfectly balanced against the natural sweetness of the peppers. Both the mushrooms and the cauliflowers could satisfy vegetarians and meat lovers alike.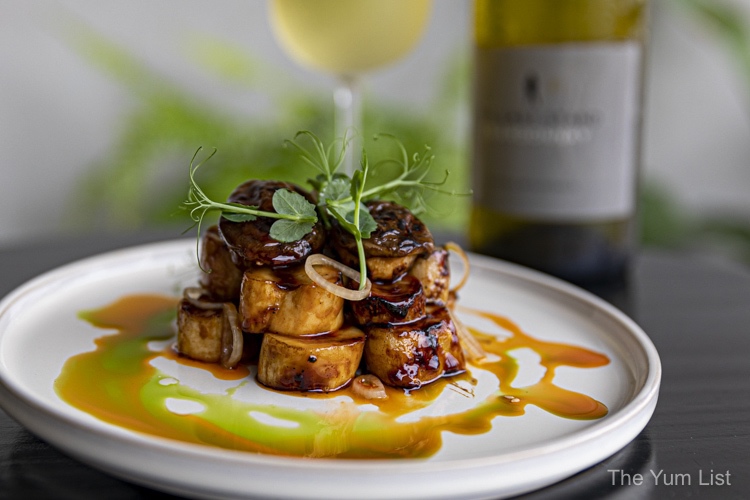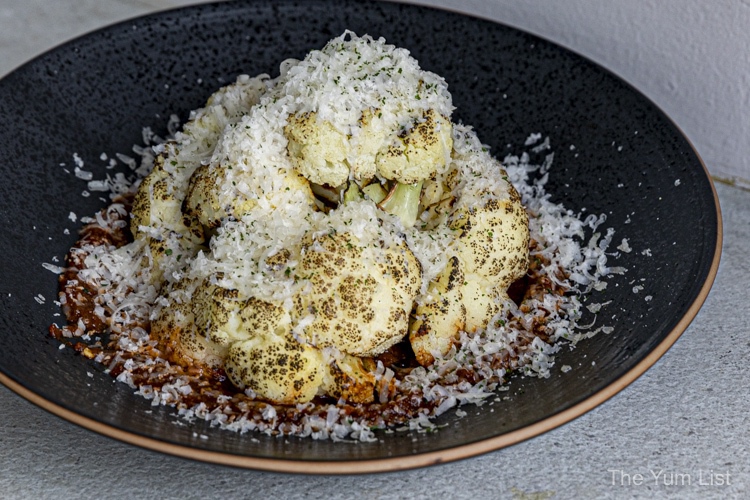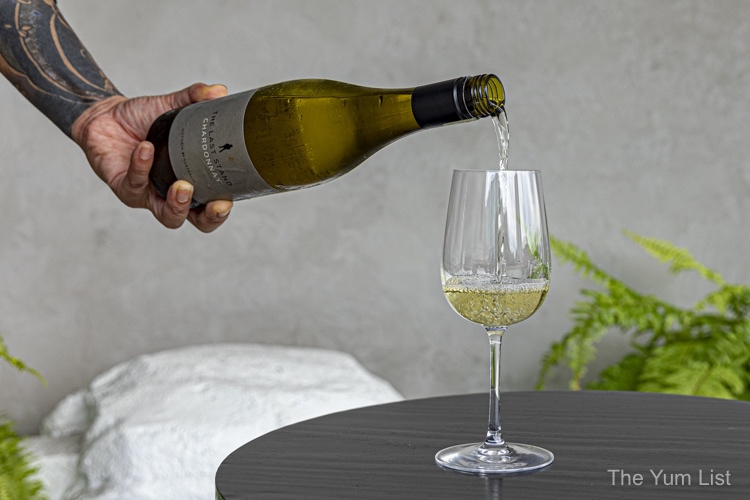 For Sharing
Sitting on a bed of kailan amidst butter sauce is the Miso Sea Bream (RM33). A generous dollop of butter sauce emphasises the fish's crispy skin and soft texture with each bite.
With the bird Ipoh-sourced and dry-aged in-house, the Dry-aged Duck (RM90) is perfectly tender and easily falls off with a fork if somehow you are short of a knife. The beautiful, buttery texture pairs excellently with a glass of their Bruce Jack Cabernet Sauvignon.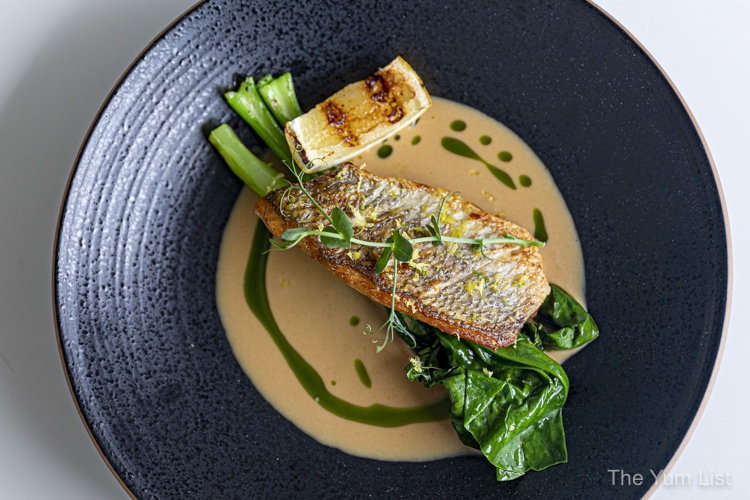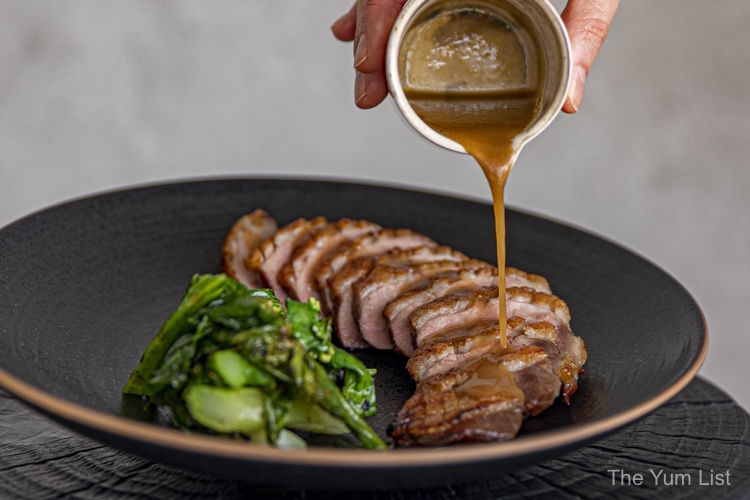 Mains
The Riches of the Seas (RM65) is essentially a prawn extravaganza, with a rich prawn bisque reduction and succulent river prawns adorning the plate. The house-made tagliolini eagerly soaks up the balanced flavours, creating a harmonious culinary experience with every mouthful.
Presented with finesse, the Caccio e Peperoni (RM37) showcases generously sized, freshly made pappardelle that luxuriates in a beef pepperoni butter sauce. The robust bits of pepperoni provide a satisfying texture, perfectly complemented by a sprinkle of cracked pepper.
The Orange Duck Taglioni (RM42) features a crispy duck leg that not only entices the eyes with its alluring presentation but also delights the taste buds. The tender duck confit, effortlessly falling off the bone, harmonizes beautifully with the crispy skin and absorbs the flavours of the orange reduction, resulting in a moist and citrus-infused pasta that is as visually stunning as it is palate-pleasing.
Imagine a Chinese-style steamed fish reimagined with a béarnaise sauce and topped with crispy garlic. That is the off-menu Ginger Fish (price depending on the season). Enhanced with a soy glaze infused with hints of coriander and mizuna, this well-balanced dish offers an explosion of complementary flavours.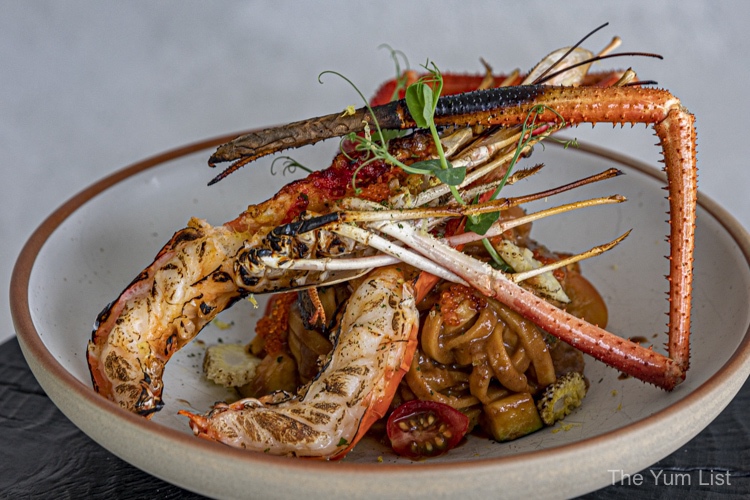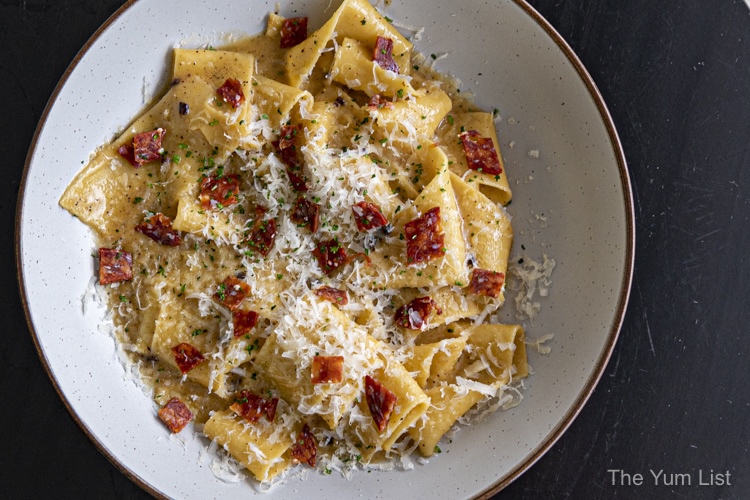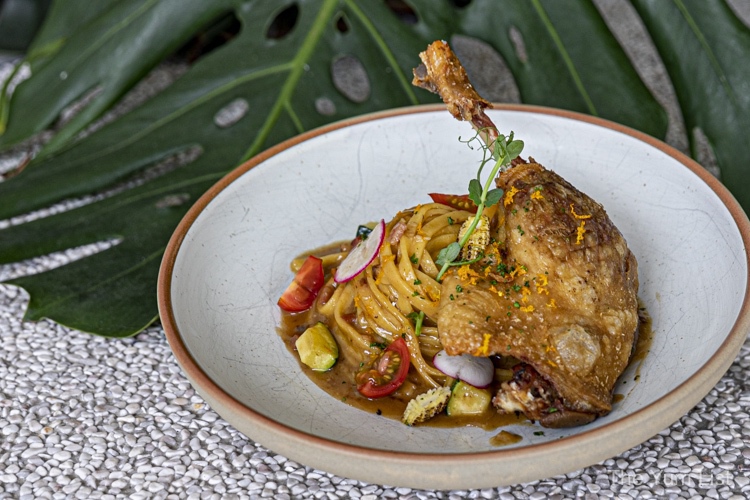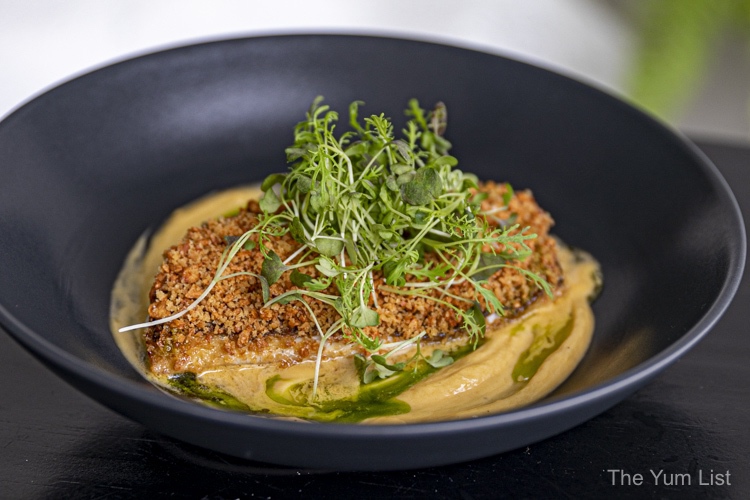 To End
Et Cetera's Tiramisu (RM25) takes a unique approach to the traditional dessert. Rather than deconstructed or cup-served versions, this assembled tiramisu proudly displays its layers of espresso-dipped sponge fingers, generous dollops of mascarpone cheese, and a dusting of chocolate powder on top. It serves as a perfect finale to our culinary adventure—a true temptation for dessert connoisseurs. Admit it, there is always room for dessert, and when this masterpiece graces your table, one bite is simply not enough.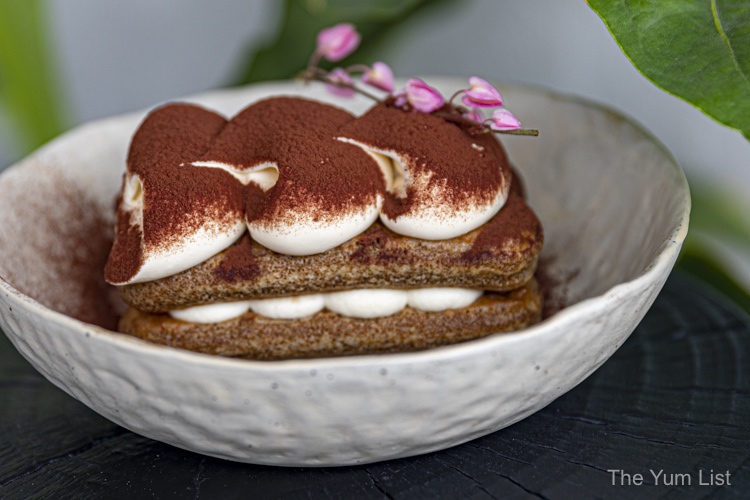 Et Cetera Restaurant Review
The star of the show at this minimalist-designed restaurant is undeniably the food. Fearlessly experimenting with flavours and styles, Et Cetera's menu beckons to be shared and experienced communally. However, resist the urge to linger too long taking photographs—the natural lighting provides the perfect illumination for Instagrammable dishes that will make your followers salivate. Instead, be here, be selfish. Dig in!
Reasons to visit Et Cetera Restaurant: Whether it's a relaxed dinner date, a leisurely brunch with family and friends, or anything in between, the casual ambience and East-West fusion menu make Et Cetera an ideal choice. Grilled Oyster Mushrooms should be on every order!
Et Cetera Restaurant
B-1-12, Aurora Place, Plaza Bukit Jalil 1,
Persiaran Jalil 1, Bandar Bukit Jalil,
57000 Kuala Lumpur, Malaysia
@etcet.kl
Note: when using Grab to get here, Et Cetera Café & Restaurant may not pop up. Key in "Seasons Spatula – Aurora Place", and the restaurant is right next door.
Et Cetera Restaurant Opening Hours
Monday, Tuesday & Thursday: 12 pm – 6 pm
Friday, Saturday & Sunday: 12 pm – 10 pm
Check out other contemporary restaurants in KL here and stay up to date with the latest food and beverage happenings in KL here and here.