Malay Restaurant Bangsar
Words: Matt Brown
Photos: Rich Callahan
It has been a couple of years since The Yum List last visited the glorious ADU Sugar, a Malay restaurant located upstairs in the Lucky Garden area of Bangsar. I wasn't a part of TYL back then, so this was my first time, and it became obvious very early on why Monica and Rich had raved about this place from the moment I signed on for a visit.
For those unfamiliar, the name comes from Chef/Designer/All Round Empresario, Adu Amran Hassan, as well as his father's nickname. I don't want to spoil any of the amazing storytelling that can take place when you visit, so just be sure to ask why his Dad was named so sweetly. Adu designs and cooks the menu, sources the ingredients, paints the art on the walls, collects the eclectic items that furnish the space and is an all-roundall-round Mr Incredible.
ADU Sugar has carved out a niche for itself as THE place in KL to bring people who may not be especially familiar with Malaysian cuisine. With dish after dish,, I learned something new and tasted something incredible, all in an atmosphere that feels like your friend who owns an art gallery has decided to start serving mouth-watering food.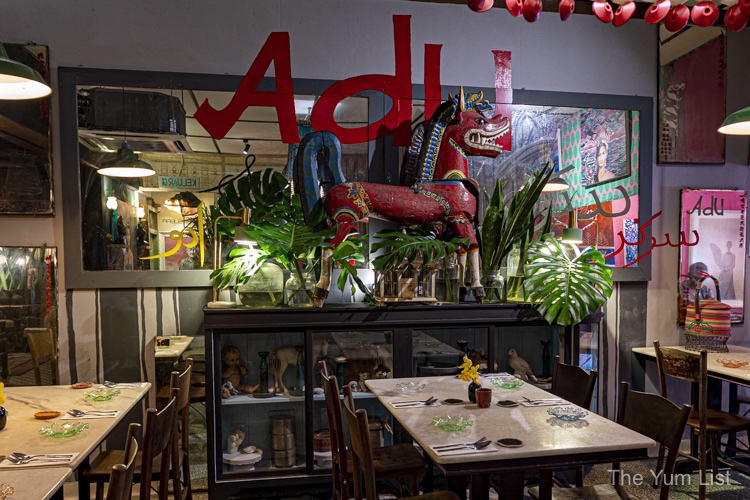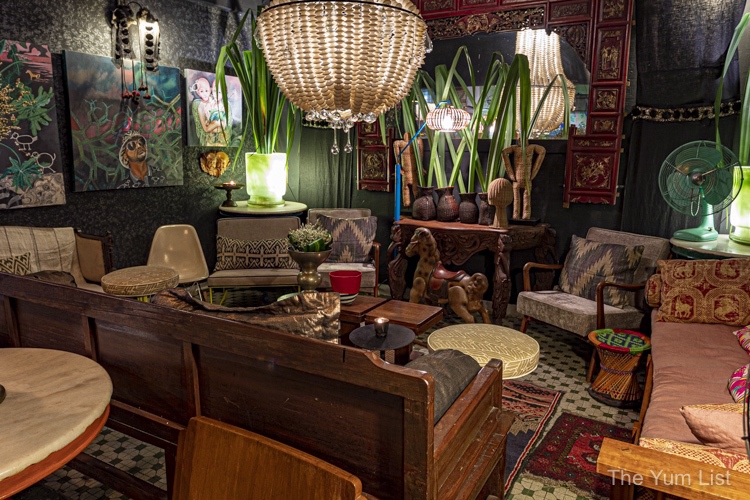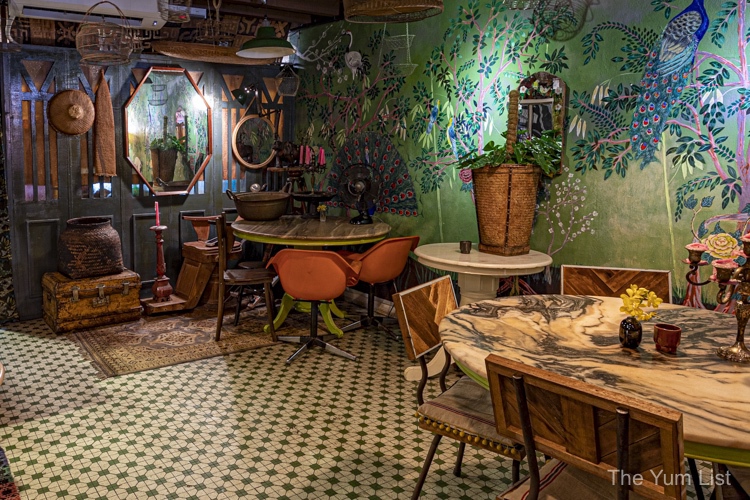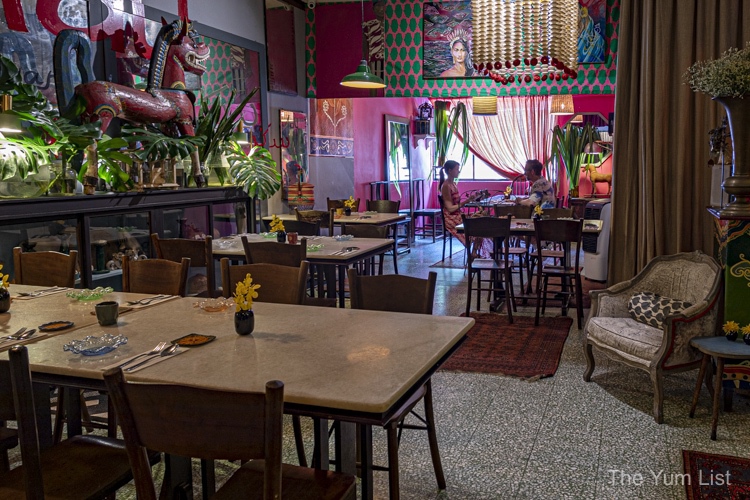 Malay Restaurant Bangsar Menu
Rice Dishes
Adu has kept many favourites in the updated menu, as well as added some new items that showcase local flavours and techniques. Returning soon is a classic from years ago, the Red Rice Nasi Salad. This is a beautiful, aromatic and fresh heaping of local herbs and spices, with some added crunch from deep-fried enoki mushrooms.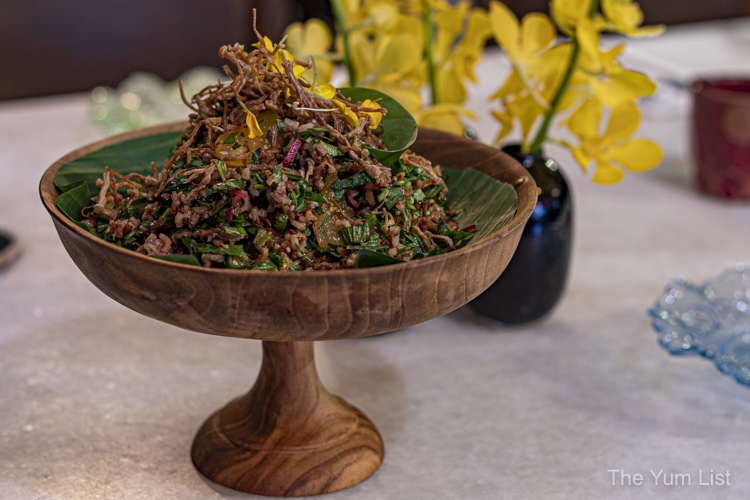 Other rice dishes on offer all taste delicious by themselves, as well as provide appetising accompaniments to saucier menu items. The Asian Herb Pesto (RM8.99) is a super tasty mix of many of the herbs from the Nasi Salad and can easily be a stand-alone dish without any need for sauces or gravies. The Coconut Blue Rice (RM7.99) is just as satisfying, coloured using butterfly pea flower and representing the tastes of the North and East Coasts of Malaysia. Even the Steamed Rice (RM5.99) is just right and indicative of the care taken and special touches given to every dish that comes out of Adu's kitchen.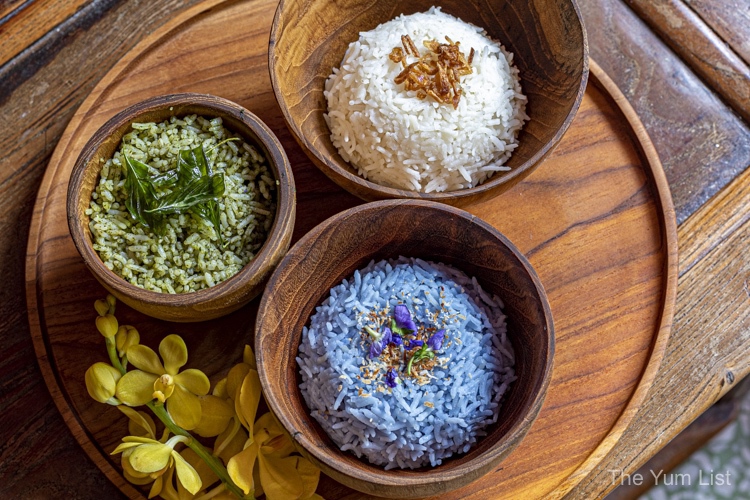 Main Dishes
A vegan Pasembur (RM32.99) provides a wonderful mix of textures in a creamy sauce with Chinese chive pakora, green apples, tofu, tempeh, potatoes, melinjo crackers and a homemade peanut sauce. I am not vegan or vegetarian but I'm never opposed to trying either style of dish (and given my non-Yum List habit of regular fried chicken consumption, I could really do with more veggies in my life). I discovered during this visit that Adu knows how to make a hearty, full-flavoured dish without any need for meat, cheese, or egg, and I would highly recommend all you omnivores out there to sample as many menu items as you can to expand your horizons in the most delicious ways possible.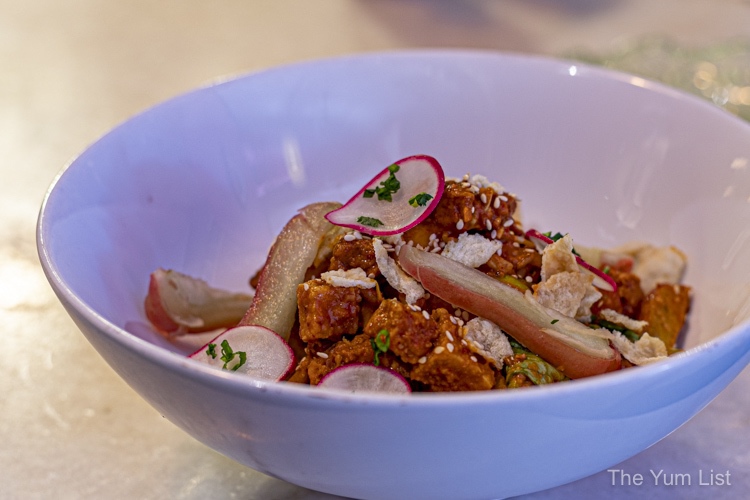 The Young Jackfruit Rendang (RM29.99) is also vegan, and utilises the jackfruit before it gets too ripe, and the flavour can sometimes become a bit too much. Here it is cooked in coconut milk, kerisik (dried and shredded coconut), and a Malay herbs mix until completely tender and practically begging to be consumed with some of the tasty rice dishes.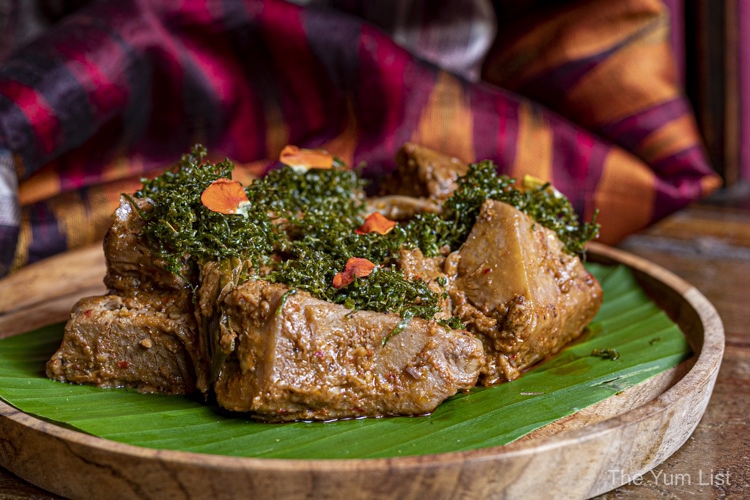 Chef Adu's imagination and skill come to the fore with the Cassava Asam Pedas (RM29.99), a vegan take on the traditional West Sumatra sour and spicy fish stew. The fish has been replaced with the sweet potato-like root vegetable, which has been cooked until wonderfully tender, with a chewiness that compares to soft toffee. This dish had me coming back for more helpings a couple of times and the fact that it's drenched in the sauce means more of those rice dishes can be ordered.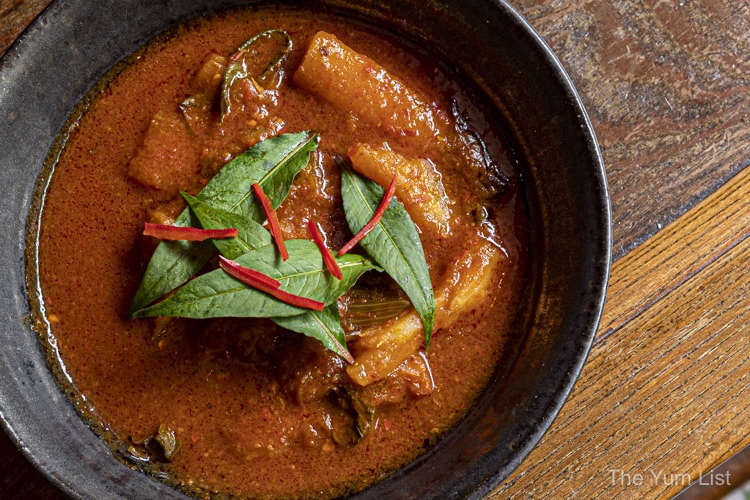 What might be my new favourite salad was served next – Pucuk Paku Urap (RM31.99). The lightly blanched jungle fern tips are tossed with sambal kelapa and pine nuts and I don't think a single leaf was left when the three of us were done with it.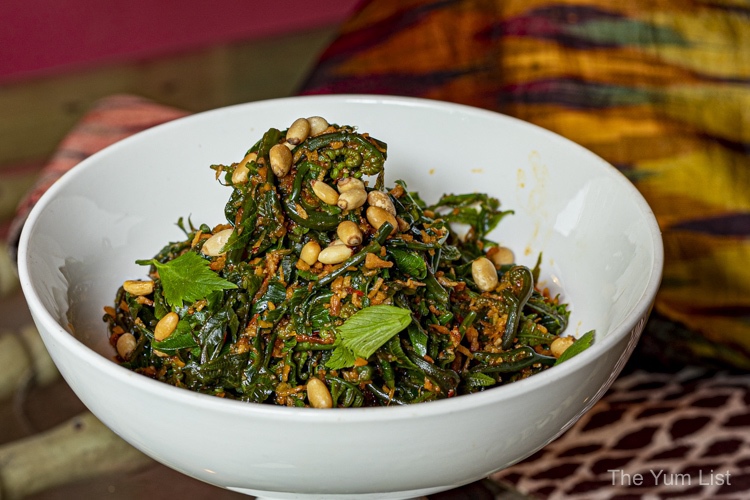 The final dish and Special of the Day was the only meat dish we had – Butter Prawns. Just when I thought that Chef Adu's talents lay in what he could create with vegetables, these were the lightest and creamiest prawns I've had in ages, simply prepared with garlic, chilli, butter and sweet basil. They will be a permanent feature on the new menu and it's not hard to see why.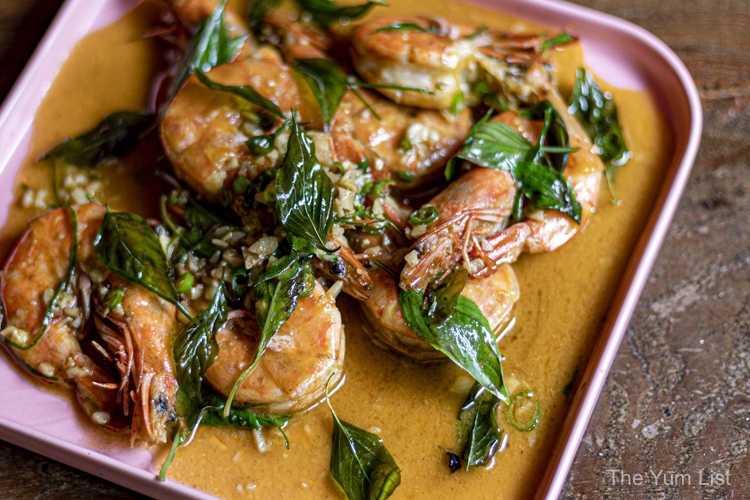 It should be noted that the kitchen takes the vegetarian and vegan beliefs of its diners incredibly seriously and uses separate cooking utensils for vegan and non-vegan dishes to ensure their integrity. There's also a lack of 'Asian Vegetarian Wiggle Room', where often a supposed dish suitable for non-meat eaters has been flavoured with shrimp paste or squid/fish/oyster sauce. Here, vegan means vegan.
Drinks Menu
ADU Sugar does not serve alcohol, but you can bring a bottle yourself for a corkage fee of RM40. We sampled three of their house-made juice Coolers, and all were just the thing to go with all of the flavours from the meal. The Lime Juice, Lemonade (both RM18.99) and Calamansi Asam Boi (RM19.99) were all instantly refreshing and ideal for afternoon lunch hydration.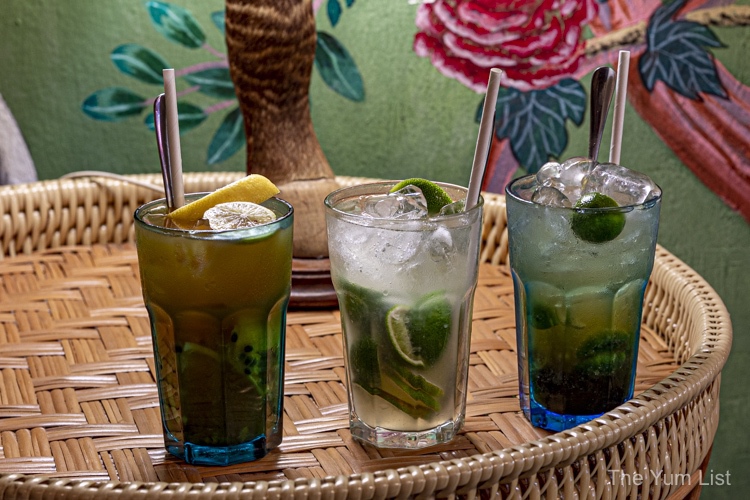 Desserts
For something comforting and warm to end your meal, the Bubur Pulut Hitam (RM13.99) is a black glutinous rice porridge with a light sweetness to it and is once again a fabulous vegan option.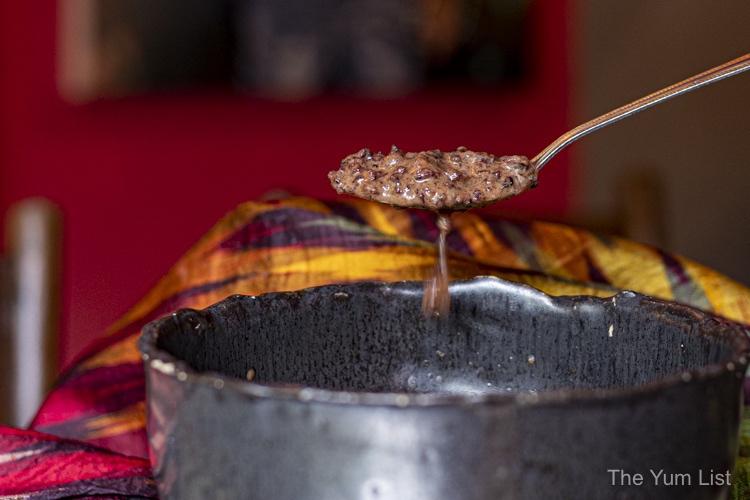 Soon to be a fixture on the new menu, the Grilled Pineapple is miso and palm sugar glazed, served with yoghurt and mango ice cream. This was all kinds of lovely and a great dish for sharing with everyone.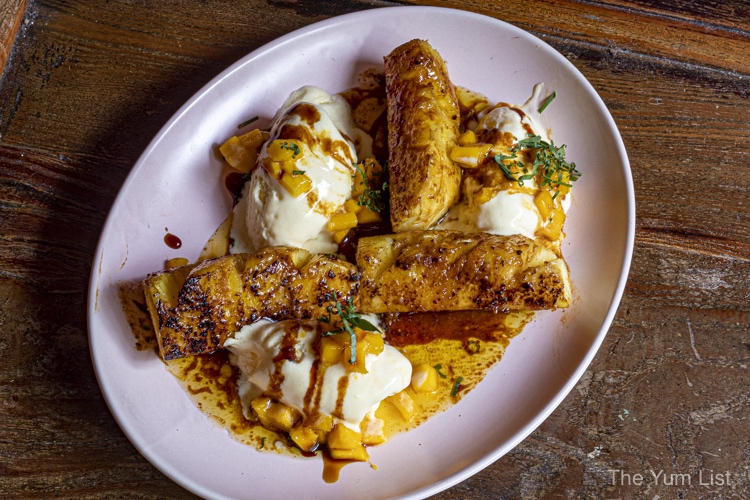 Malay Restaurant Bangsar Review
Hopefully, when you visit ADU Sugar, you get a chance to meet the man himself and experience some of the joy that he exudes. Adu's passion for local flavours, inspired by his hometown in Johor, as well as his determination to elevate and revere the history that surrounds so many of the dishes, is a pleasure to behold. He has previously been a dancer, painter and creative wunderkind who found his passion for cooking when organising dinners for friends. The moment you enter ADU Sugar, you feel like you've made a new – and highly talented – friend. The restaurant is a valuable member of the Malaysian food scene and is rightly at the top of many people's lists when they want to show off the best this country has to offer on a plate. Pull up your own chairs and enjoy yourself thoroughly; you won't be disappointed.
Reasons to visit ADU Sugar: a Malay restaurant in Bangsar serving wonderfully fresh and tasty recipes; loads of vegan options; charming setting; an excellent place to take visitors; warm and friendly hosts.
ADU Sugar – Malay Restaurant Bangsar
10A First Floor, Lorong Ara Kiri 2
Bangsar 59100 Kuala Lumpur, Malaysia
+6 03 2201 1441
Instagram @adu_sugar
ADU Sugar Opening Hours
Tuesday – Sunday: 12 pm – 4 pm then 6 pm – 10 pm
Closed Mondays
Find more restaurants in Bangsar here and stay up-to-date with the latest gourmet and travel recommendations for Malaysia here and here.