Ling Long – The Five KL
Words: Claire Matheson
Photos: Monica Tindall
Combining French and Chinese epicurean inspiration, Ling Long is an unexpected coupling of haute cuisines, yielding incredible results. With a shared love for complex sauces, layered textures, rich poultry and quality seafood, the two complementary personalities of fine dining have more in common than you would expect.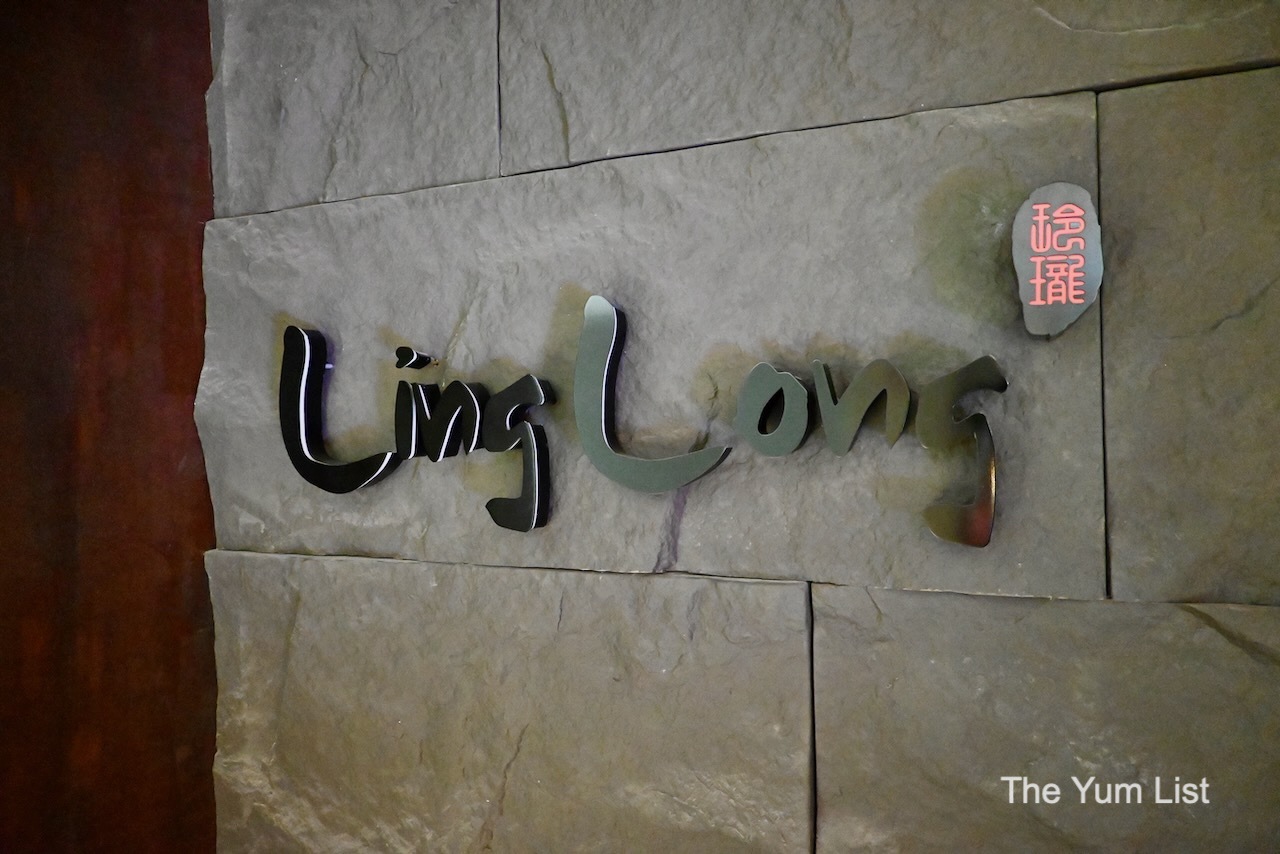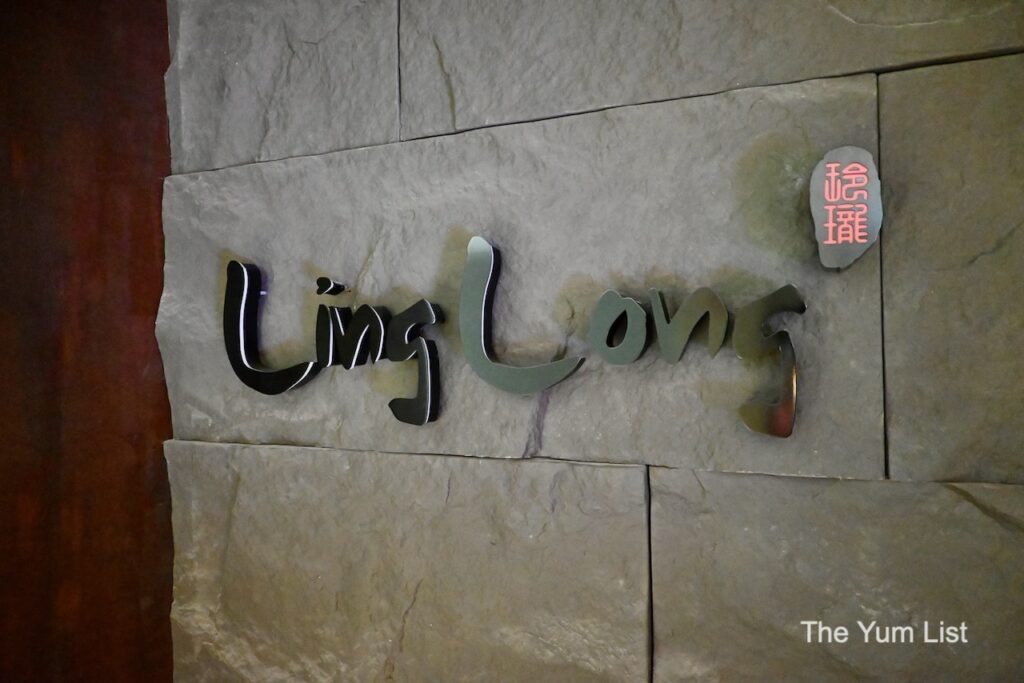 Ling Long KL – The Five
Located at The Five in Damansara Heights, Ling Long's physical space is a study of how interior design can work in partnership with architectural elements. The brutalist squared concrete exterior is softened with warm wood tones, rough-cut textural stone backdrops, and mid-century furniture. Intimately seated, Ling Long can host up to 28 in a sitting, including five seats at the chef's counter, where you can witness the craftsmanship of Chef Lucas Lam and his team first-hand.
The clever use of expansive windows and glass brick walls, framed by flowing cream drapes, blur the line between outside courtyard garden beds, merging into an interior rainforest garden. The feel is of modernist geometry blended with natural features, an oasis of clean lines, class and taste. I half imagine turning around to see Don Draper's Mad Men gathered around the next table, thinking up their latest ad campaign slogans in the mod, sleek environ. They would definitely approve of the beers on offer.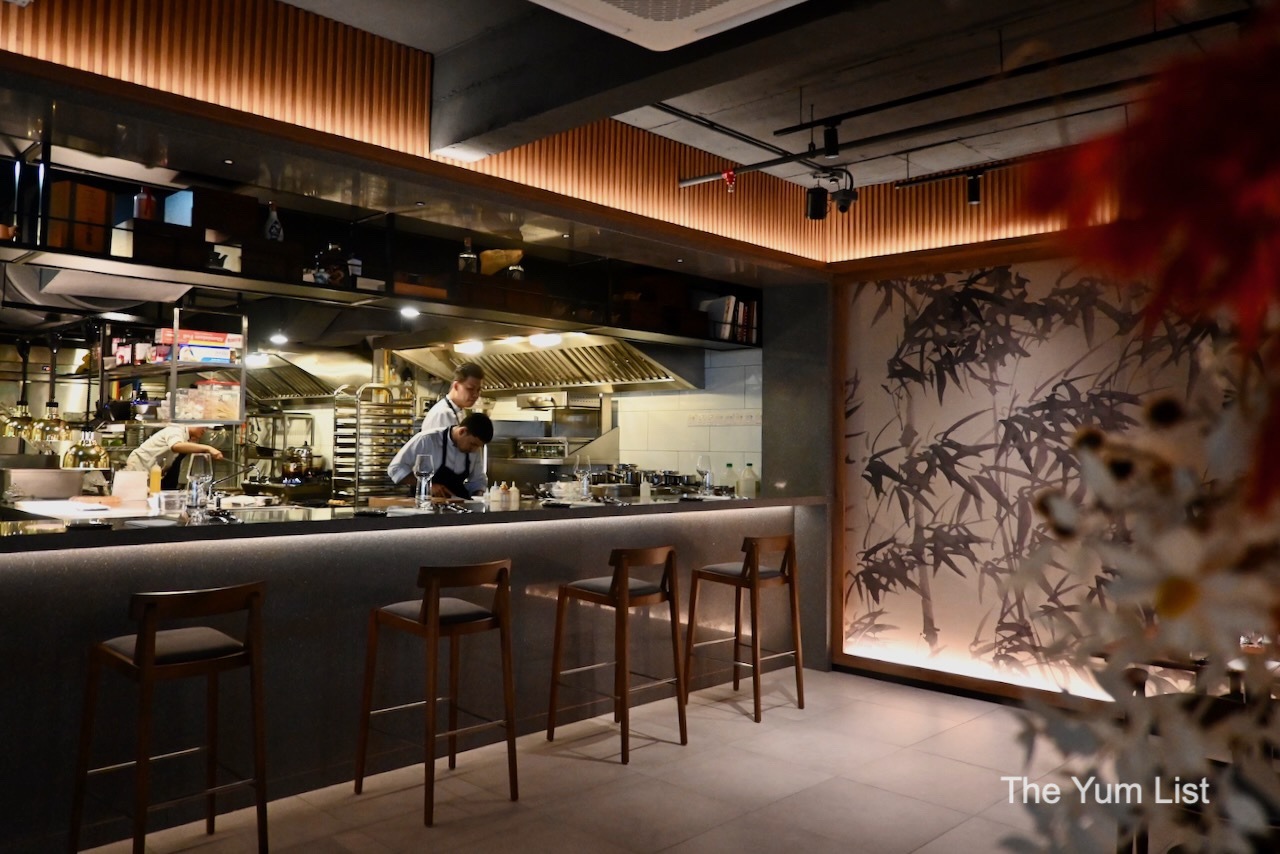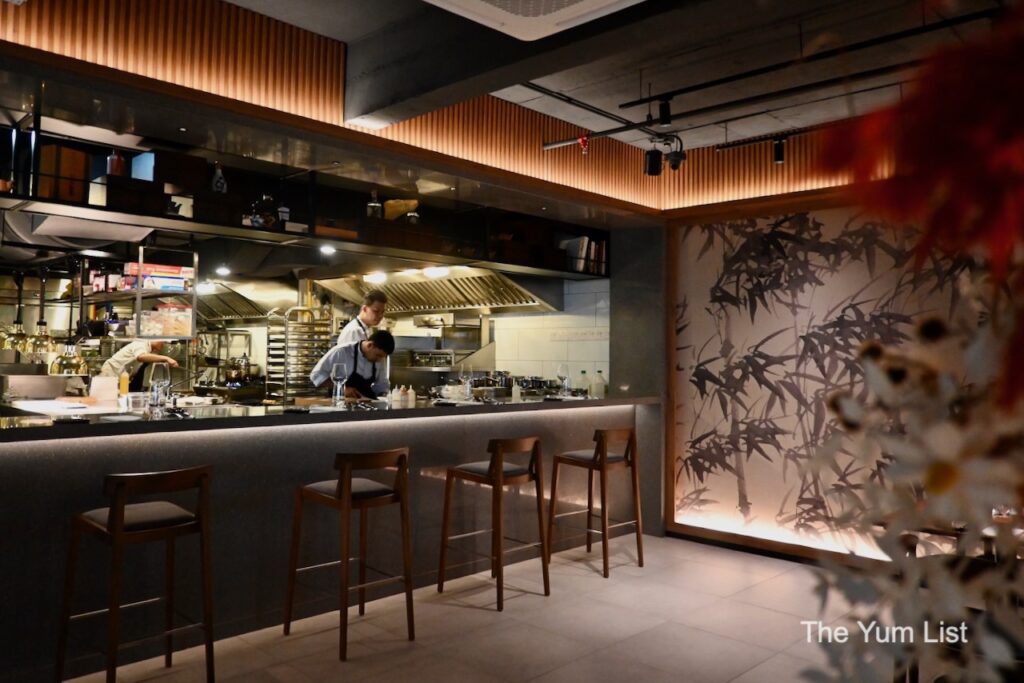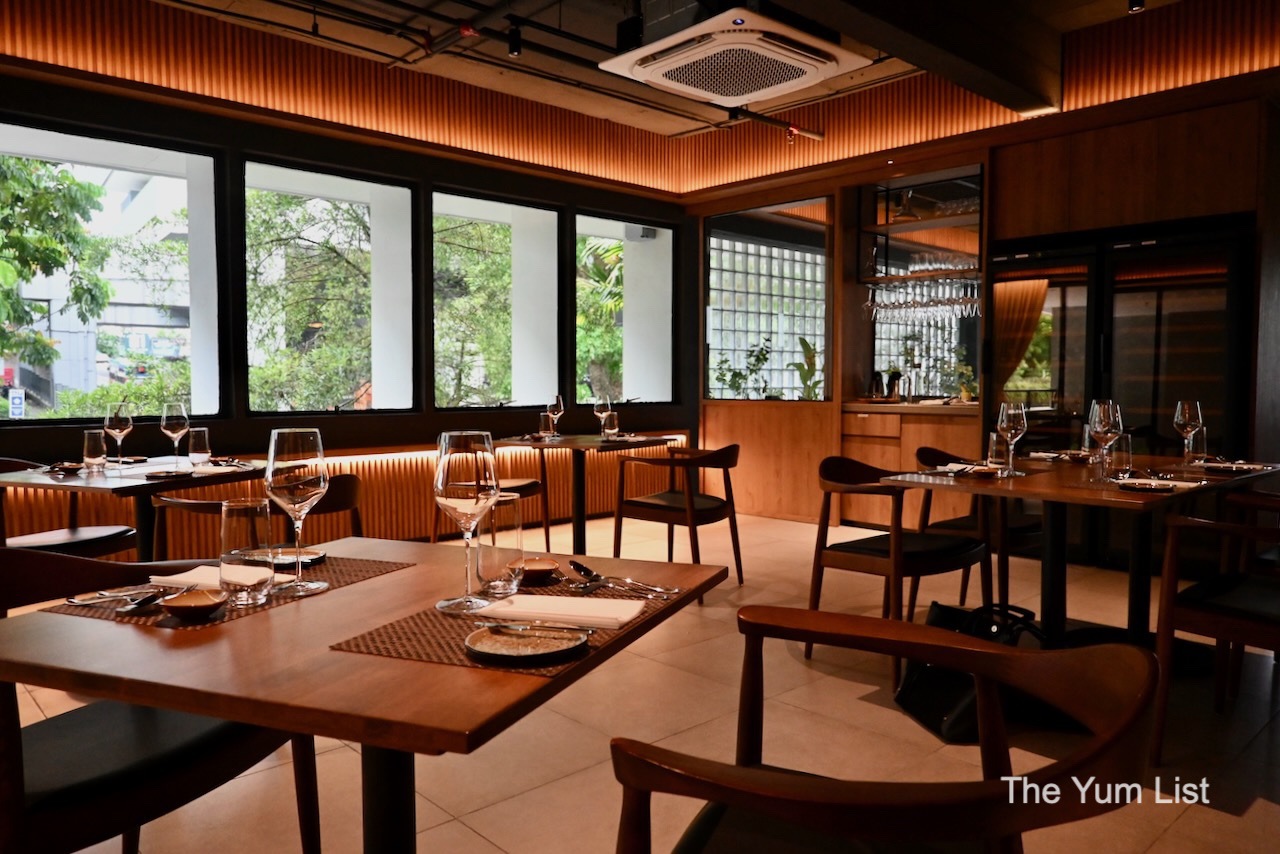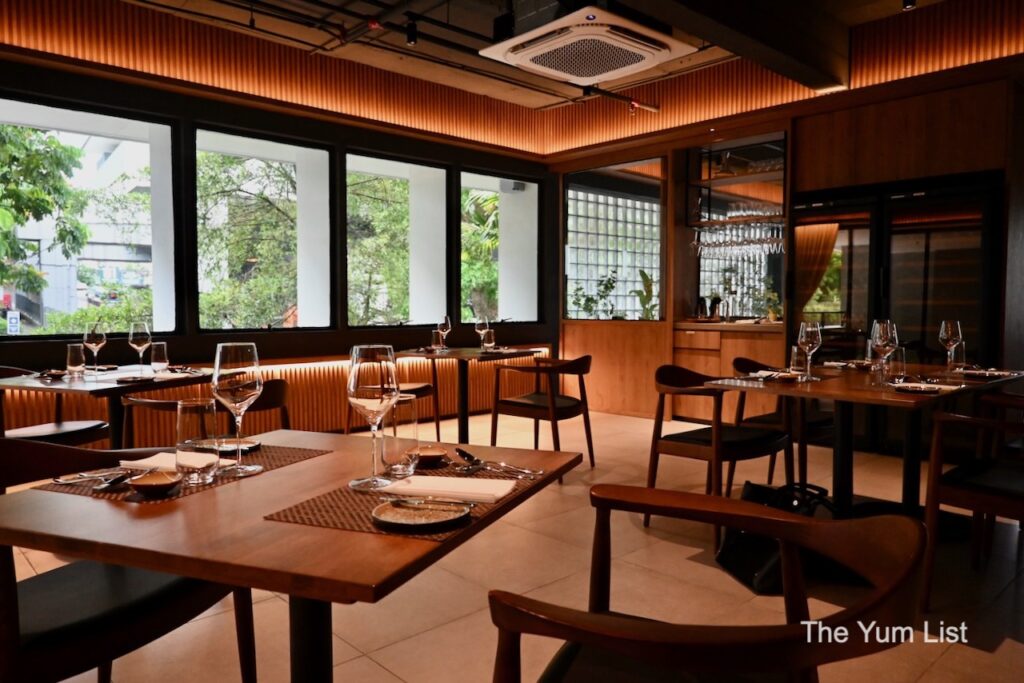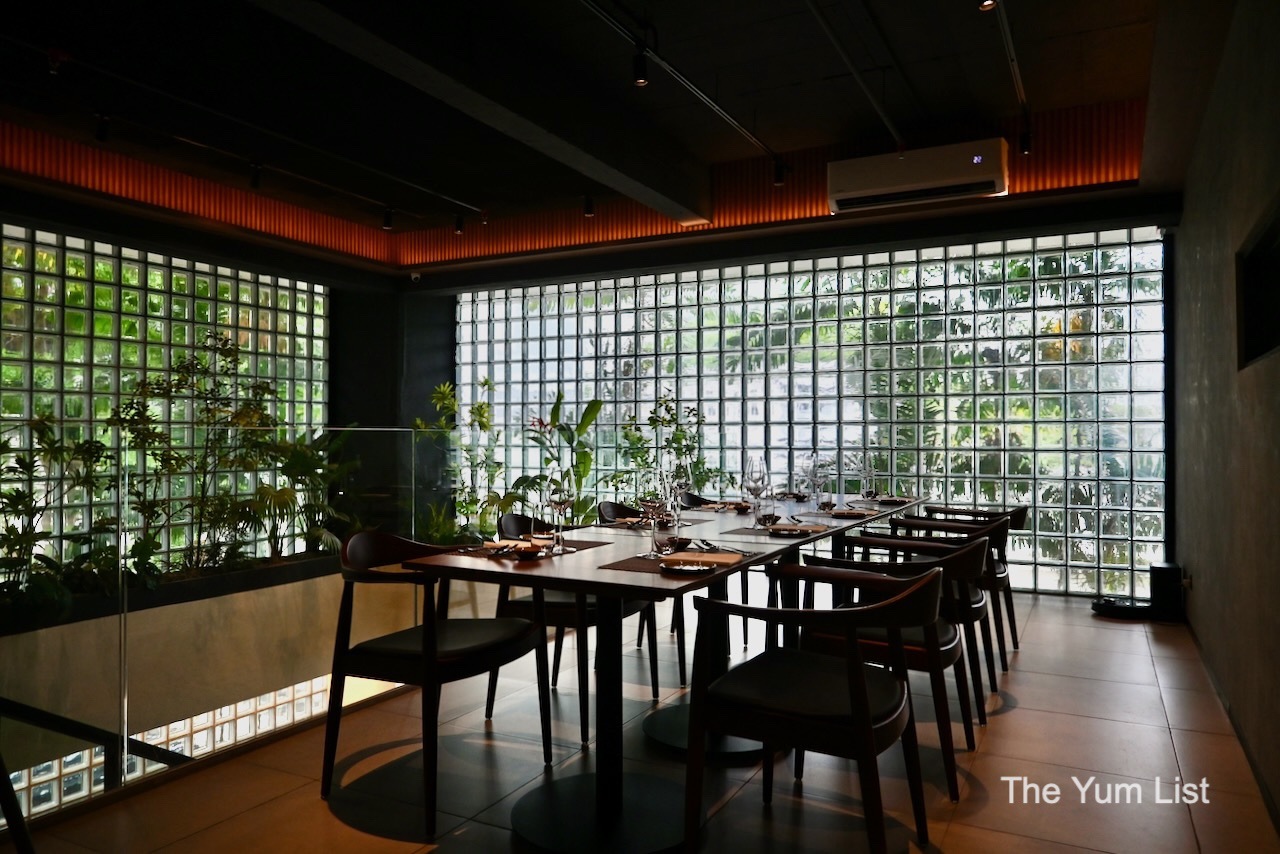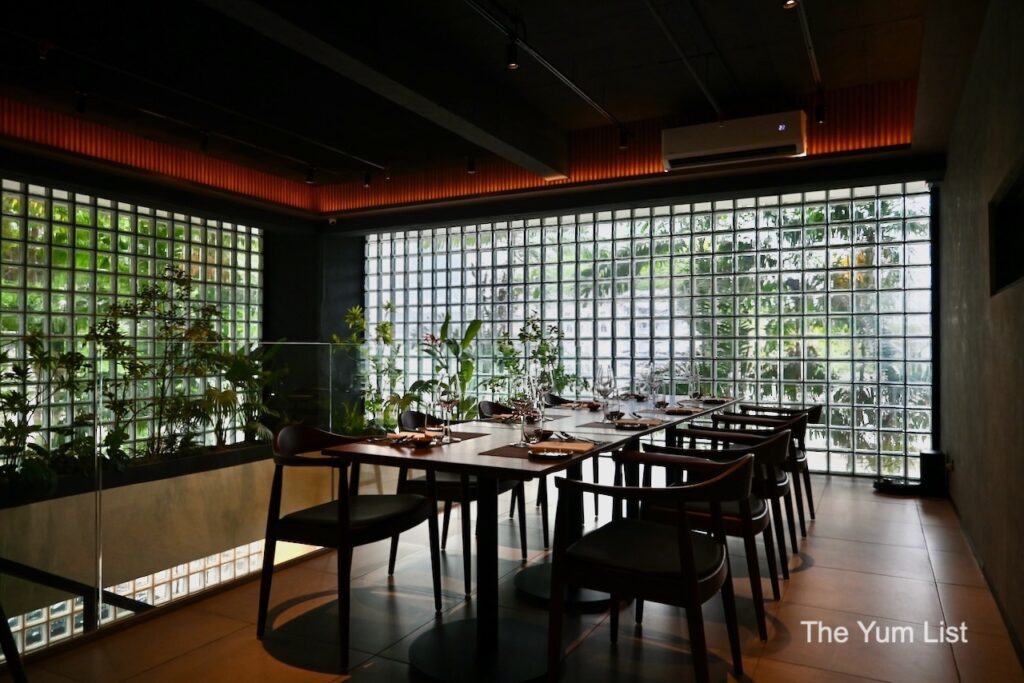 Ling Long Drinks Menu
Restaurant Manager Ezen Teoh brings us bottles of Spanish Estrella Galicia Beer (RM30 each) and Japanese Kizakura Kyoto Ale (RM45 each). Coming from a luxury hotel background with the Marriott group, Izen's service is quietly attentive and unobtrusive. We are also served sparkling water, made in-house using Ling Long's Swedish Nordaq system, in keeping with their sustainable philosophy of waste reduction. 
Monica tries the Kizakura Kyoto White Yuzu, brewed with the same pure water Kizakura uses in their sake fermentation process. The faint notes of citrus yuzu and coriander do not detract from the traditional Belgium style, separating it from many of the newer craft beers on the market. I try the gluten-free Estrella Galicia and am shocked at the bright, clean finish, balanced with light hops, that does not sacrifice the malty taste. A fan of gluten-free beers, the Estrella Galicia achieves a perfect drinkable golden beer taste without any lingering heaviness.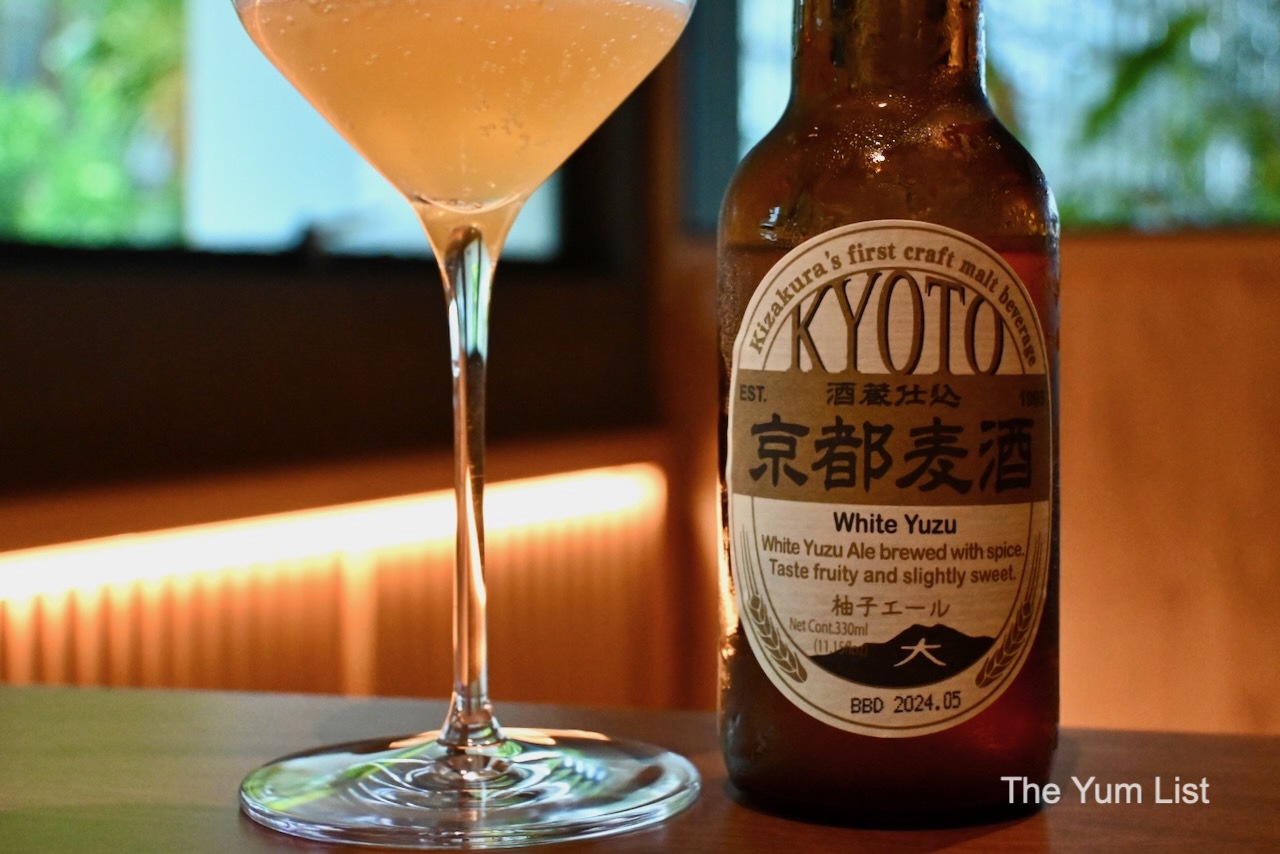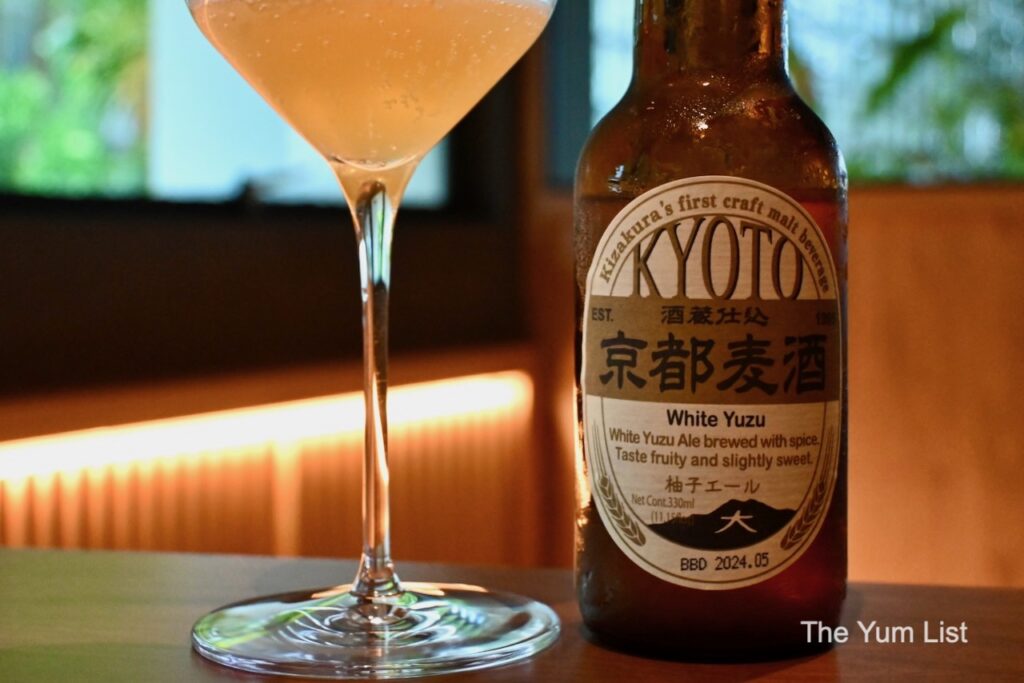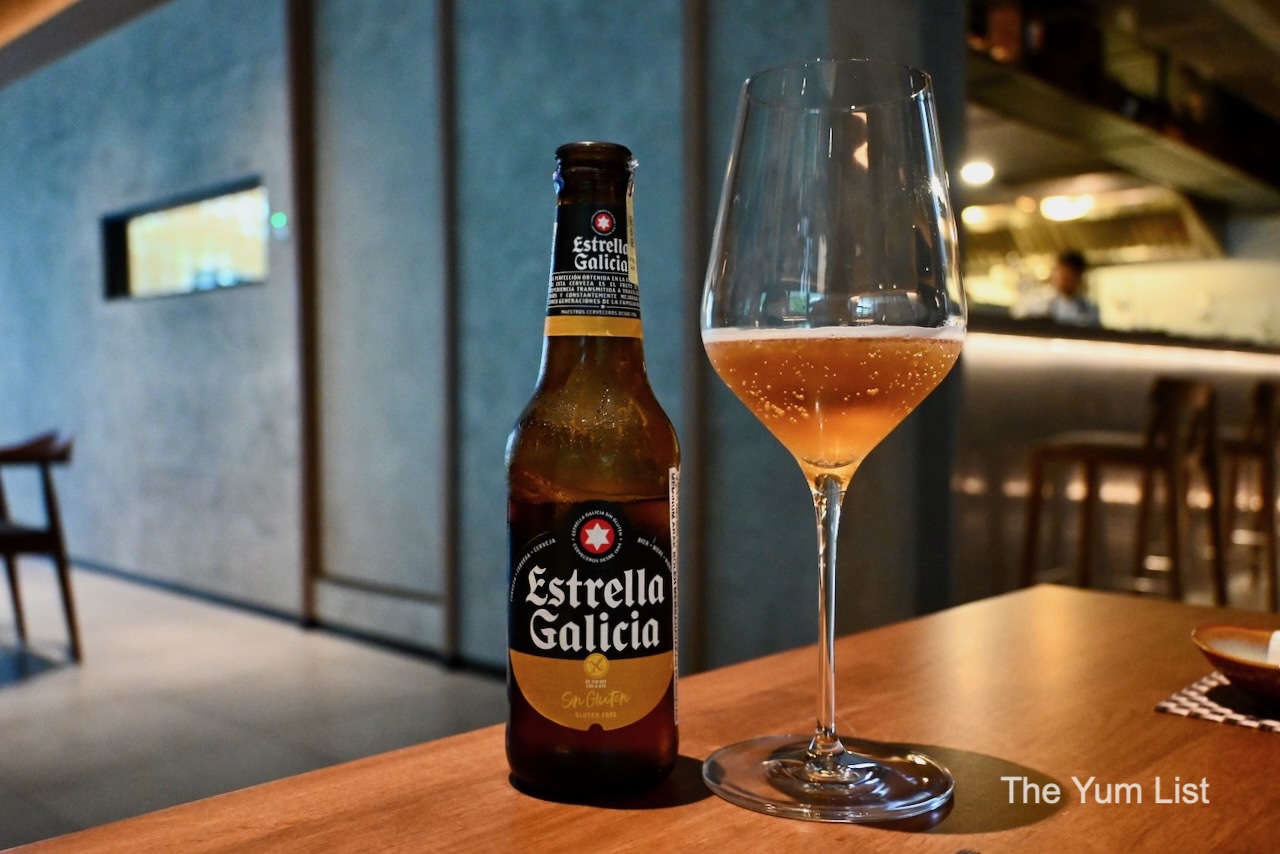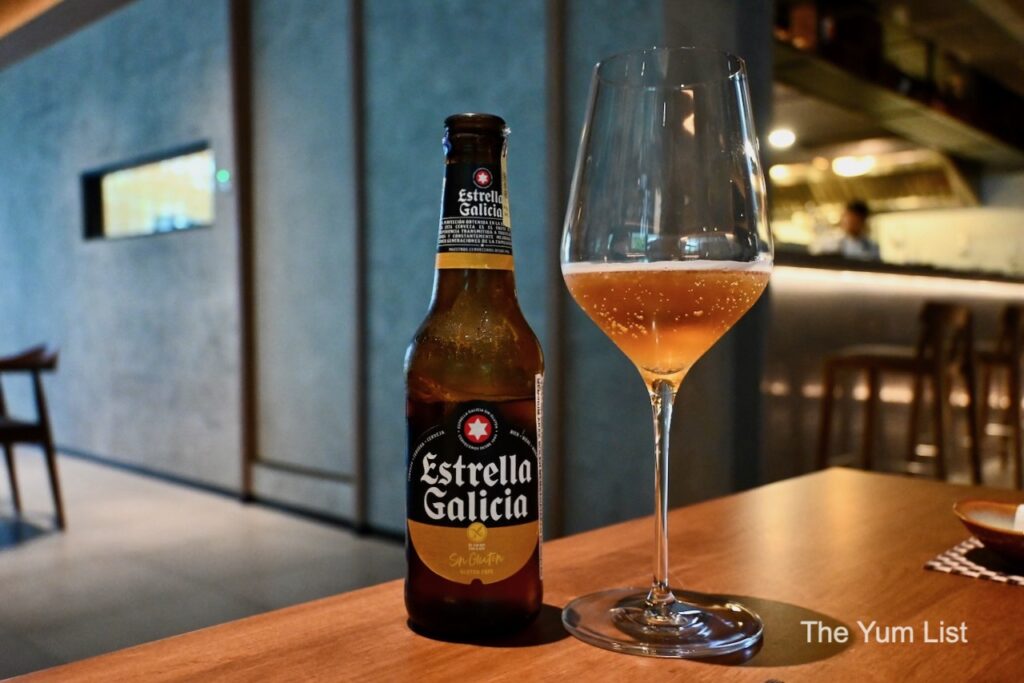 Ling Long Menu
Chef Lucas Lam introduces himself at the beginning of our meal and explains tonight's menu. Having worked in kitchens in notable Singapore and Penang restaurants, Chef Lucas was also part of the opening team at Kuala Lumpur's acclaimed Akar Dining, where he realised his passion for research and development. His style is innovative and flexible, while he uses the traditions of technique with mastery, he is not afraid of testing boundaries. Included in his team is Pastry Chef Yew, who previously worked with both Marriott and Shangri-La brands, both known for their baked specialties. Rather than Ling Long's current five-course menu, tonight we will be embarking on an eight-course menu with additional amuse bouche, palate-cleanser and mignardises.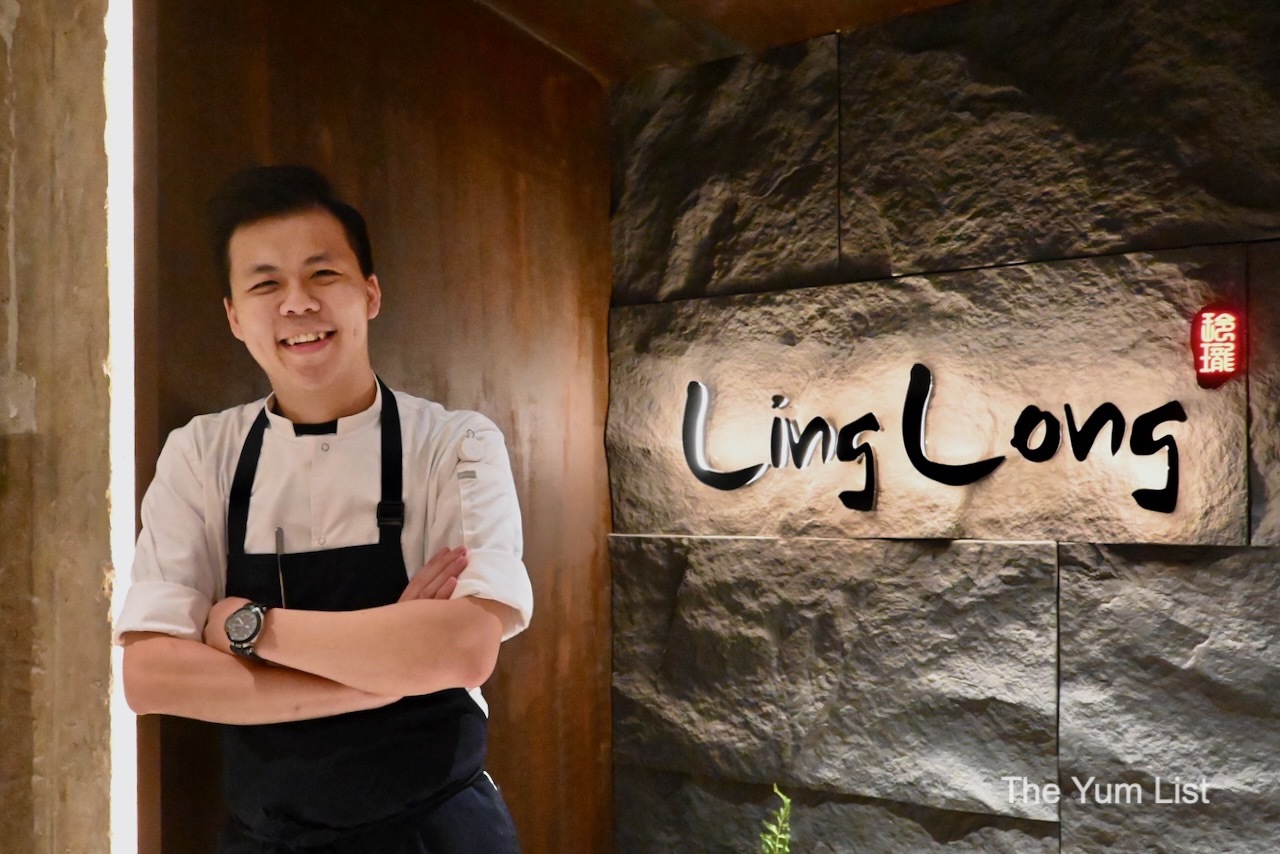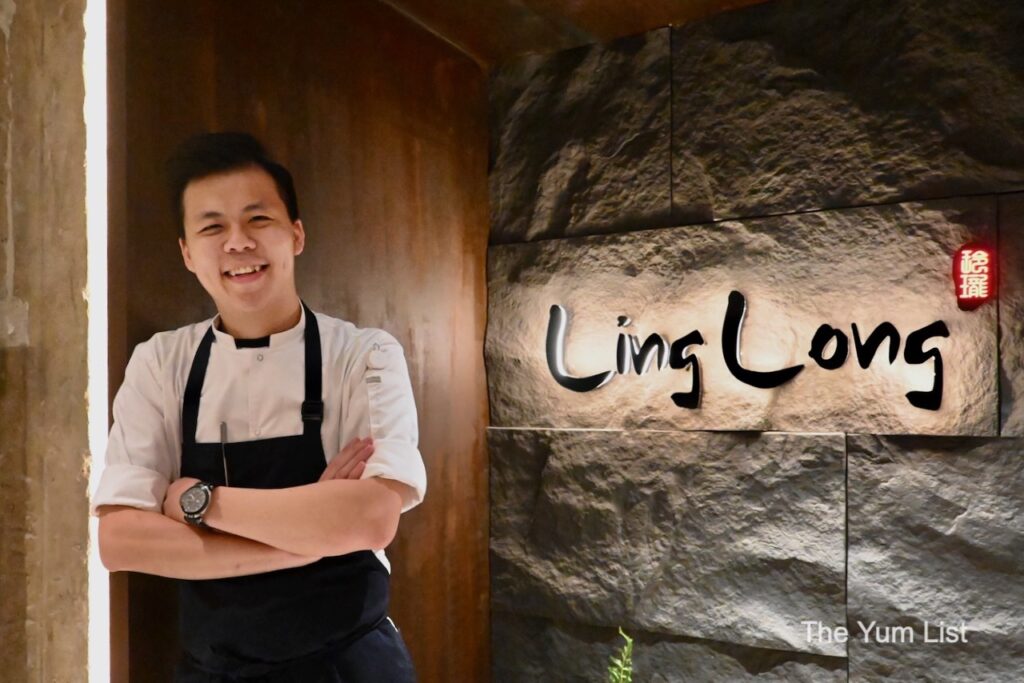 Amuse Bouche
Preparing the palate for the meal to come, the amuse bouche also serves to showcase a chef's style and talent. Chef Lucas begins our evening with not one but four show-stopping hits. The first amuse bouche is a house-made duck meat bakkwa, with petit pois puree piped in the shape of miniature leaves, topped with minute white edible elderberry flower petals. The green pea is verdant and fresh in the mouth, pairing well with the salty sweetness of the duck jerky.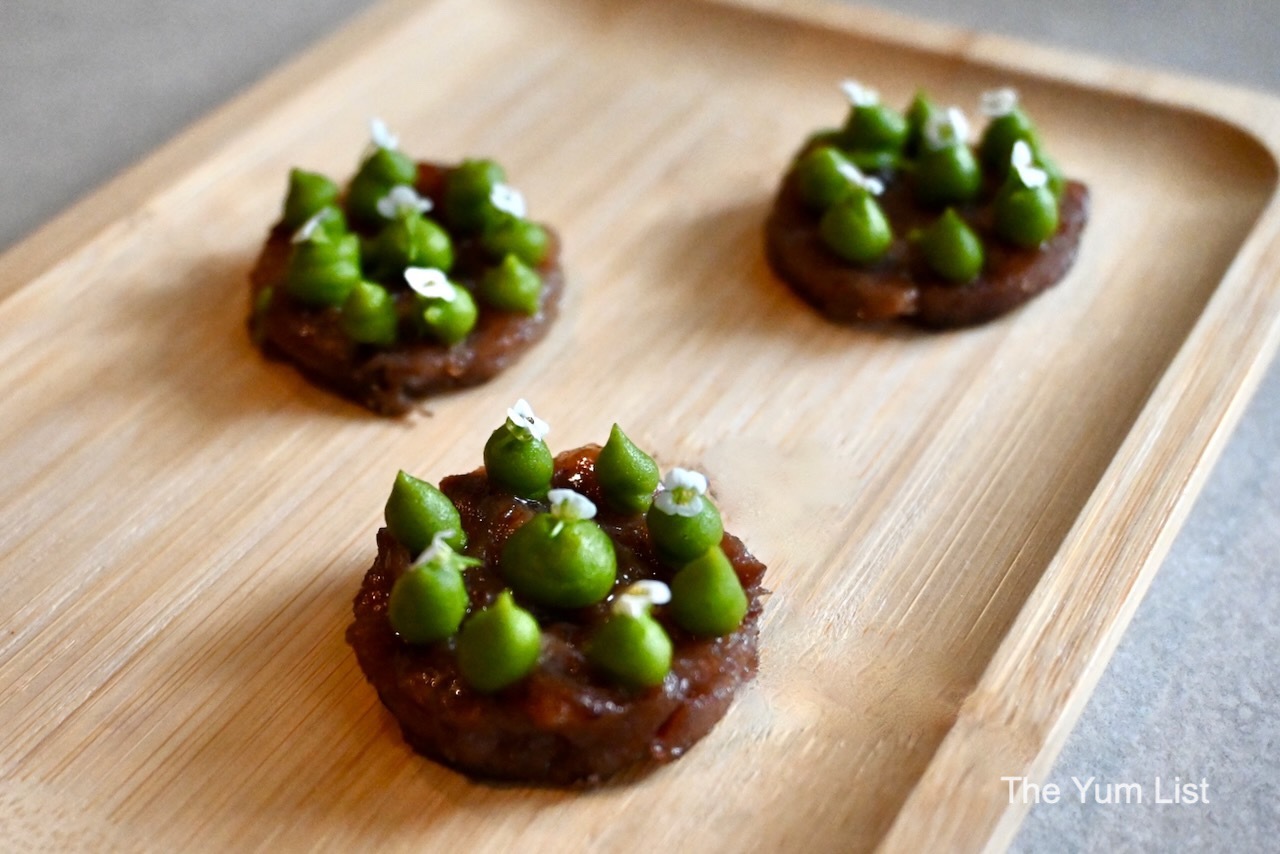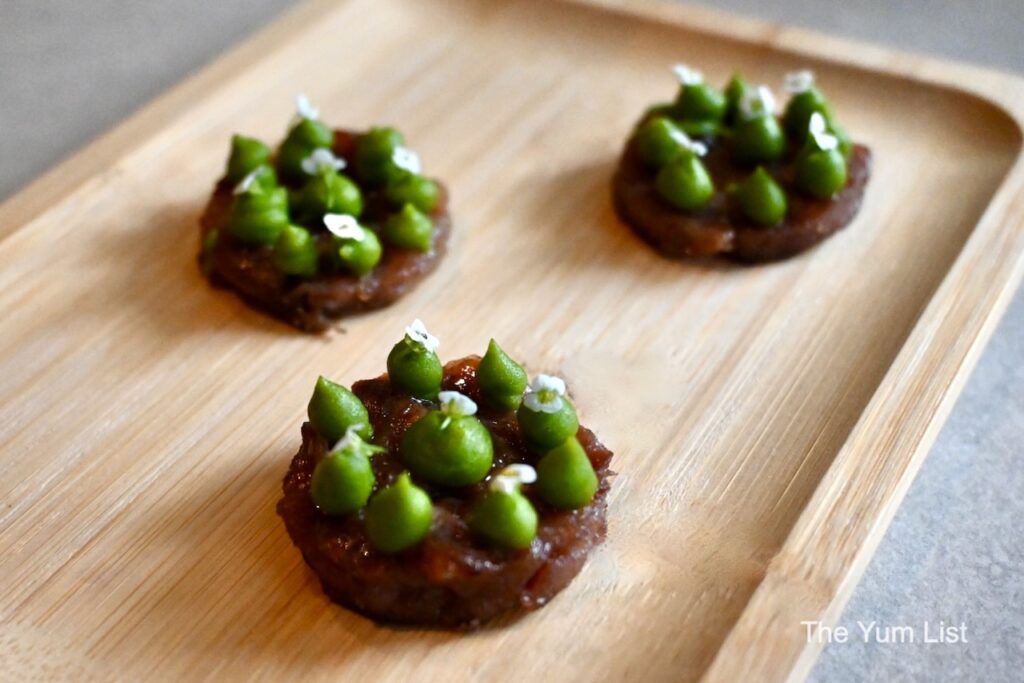 Marinated in sesame oil, cubes of hamachi come in a paper-thin pastry case, with beads of soy gel and cucumber so finely diced, it looks as though it was prepared by a Beatrix Potter woodland creature. The yellow tail carries a rich, salty, umami flavour while also maintaining a light silken texture, juxtaposed against the crisp pastry.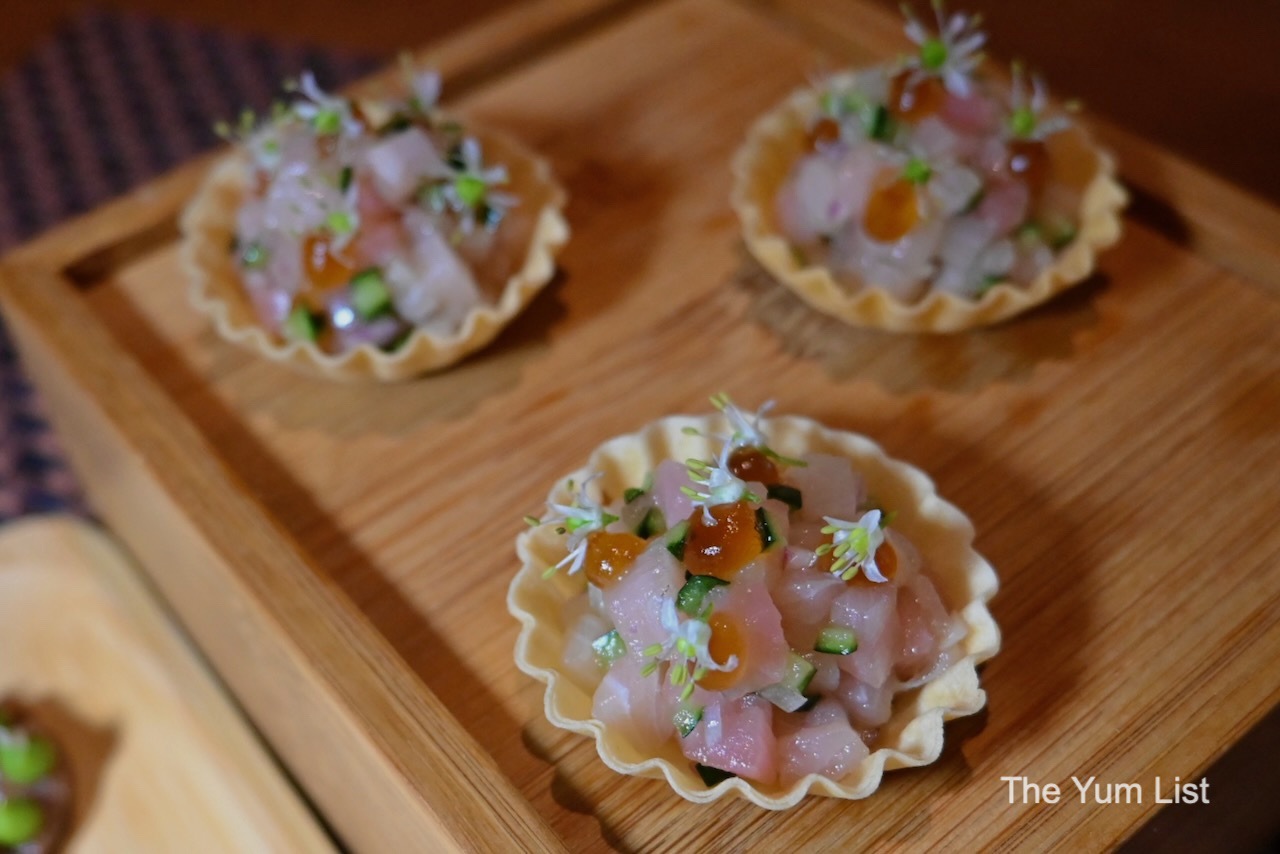 The third of the amuse bouches is a salted egg beignet, its perfectly spherical shape lightly crumbed and fried until golden brown, topped with bottarga shavings. Biting into the crusted shell reveals a gooey, custardy salted egg centre, which oozes through the mouth in self-saucing perfection.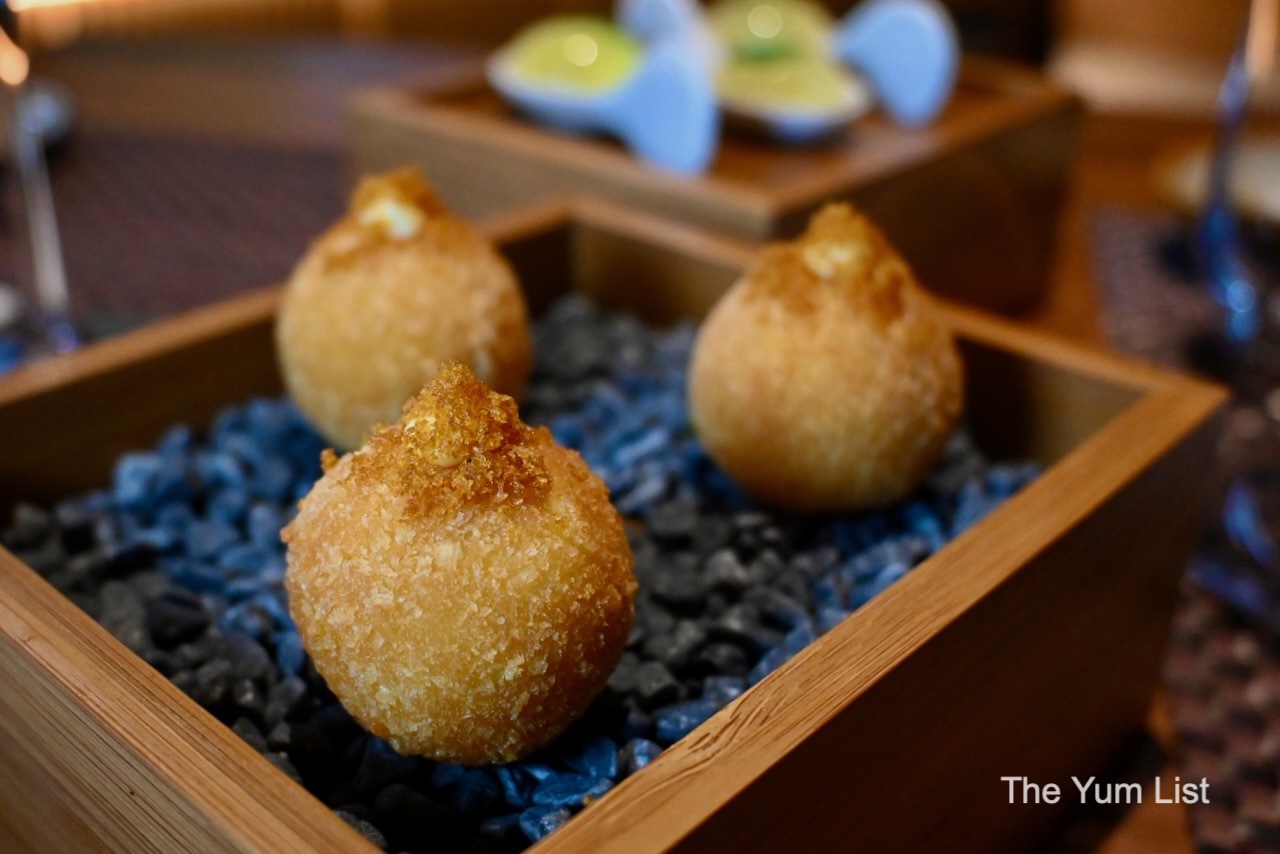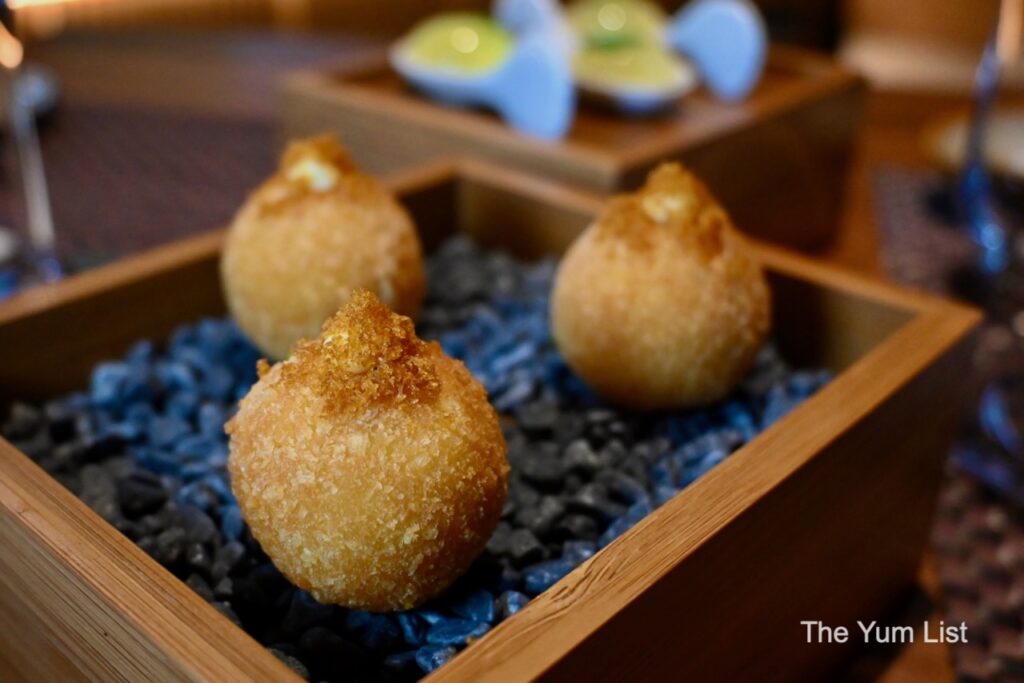 The last bite-sized morsel is an osmanthus gel sphere, which wobbles delightfully on its serving spoon. Like the beignet, it also bursts in the mouth, releasing a small wave of cooling, sweet, aromatic liquid. Each of Chef Lucas' creations are perfect miniatures. The delicate mouthfuls look like they are made of ceramic, painted and glazed for display in a doll's house. Who doesn't love a degustation experience in miniature form?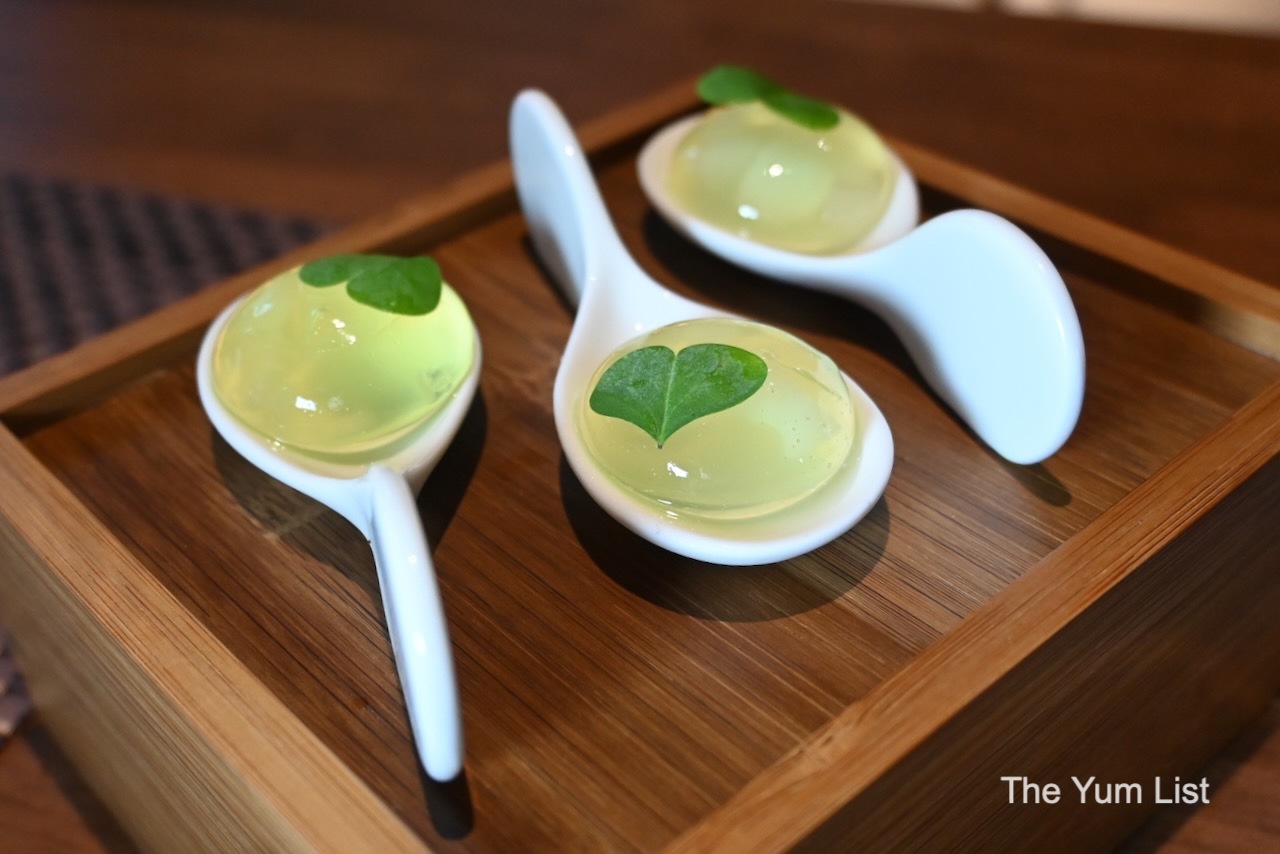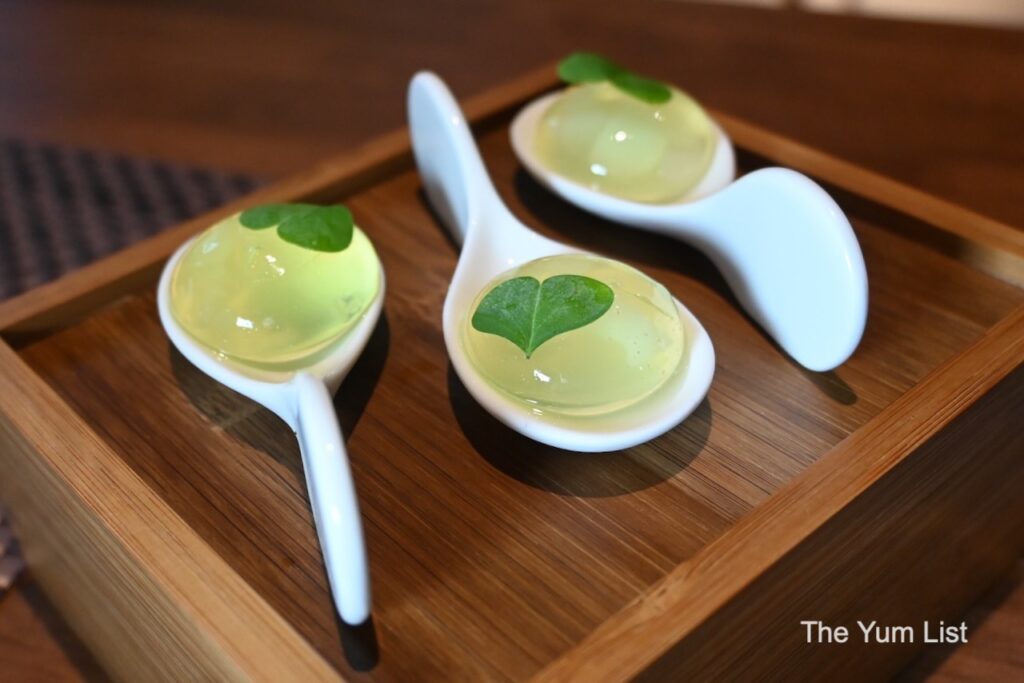 Bread
Our taste buds now tickled, we are brought some of Pastry Chef Yu's fresh-baked sourdough focaccia. Crusty and soft with a slight bitterness, the oil-moistened focaccia is accented with a chicken fat-enriched butter with pink peppercorns.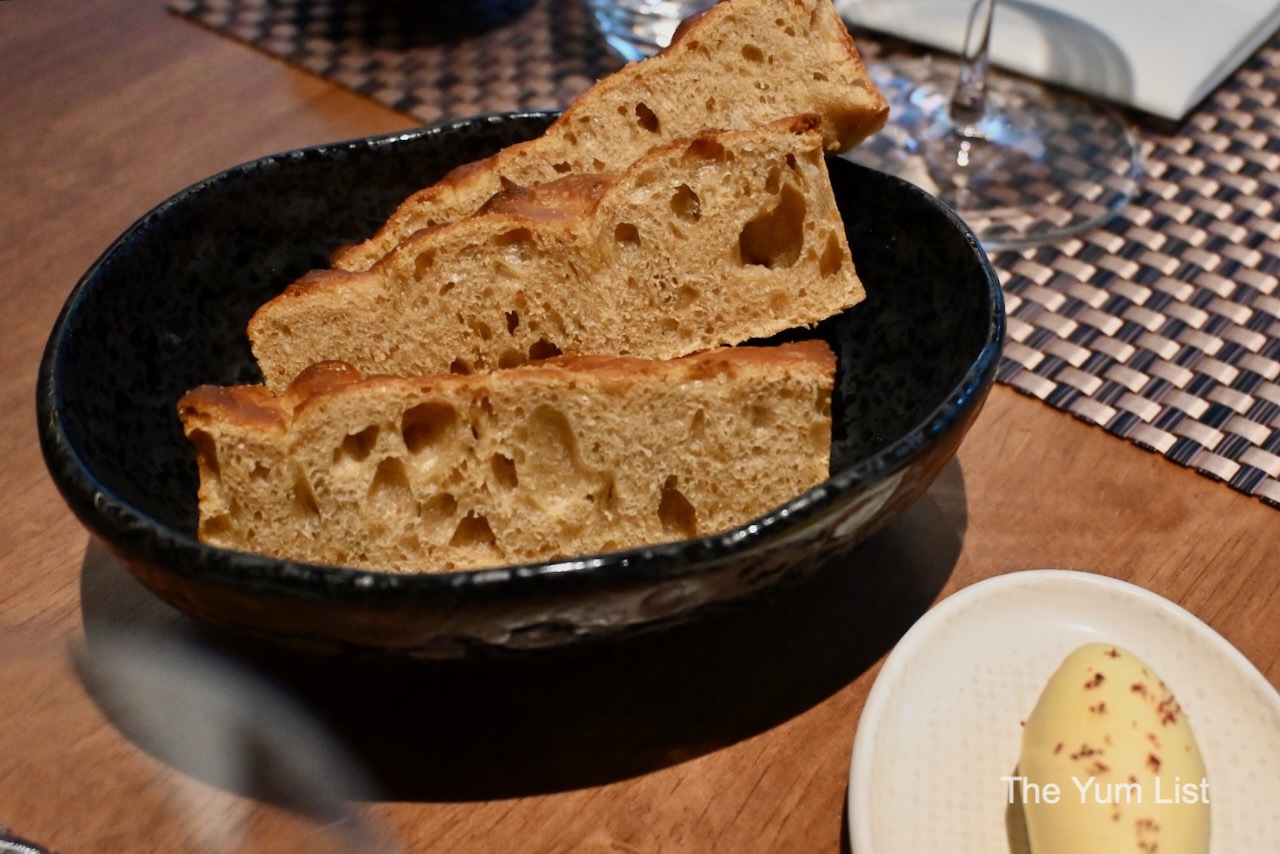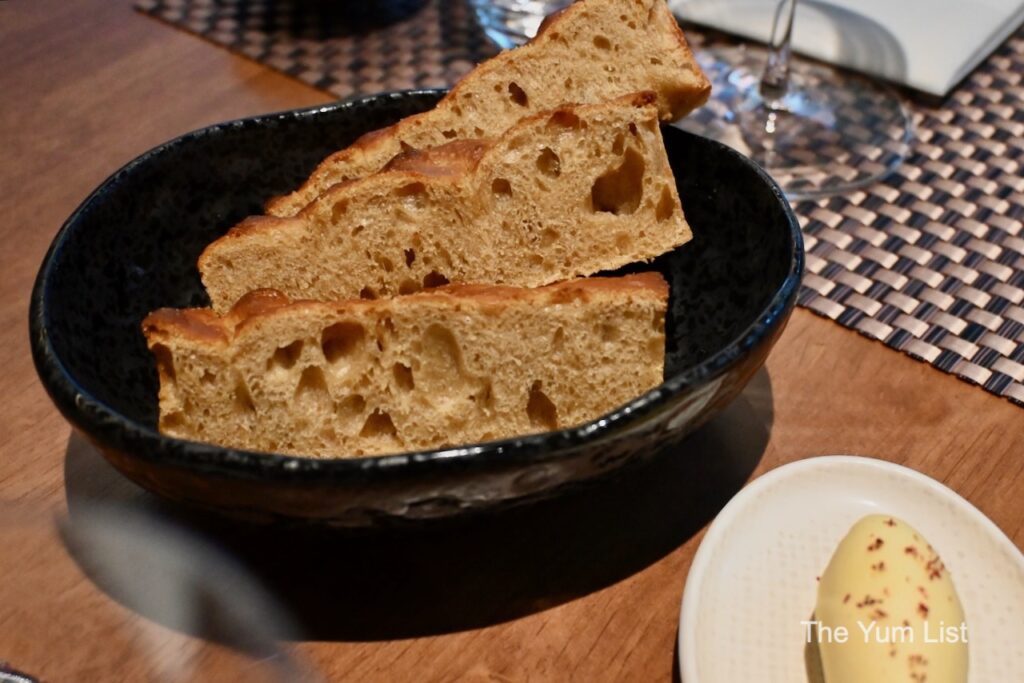 Botan Ebi Prawn
A ceviche of sweet and creamy Botan Ebi Prawn is marinated in Ling Long's own house-made prawn oil with fermented bean curd, providing an intensely creamy yet meaty bisque. Topped with black sturgeon caviar from Italy, cured cucumber, pickled shallots and crispy, fried nine-hole lotus, it is adorned with curled and inviting purple cosmos flower petals.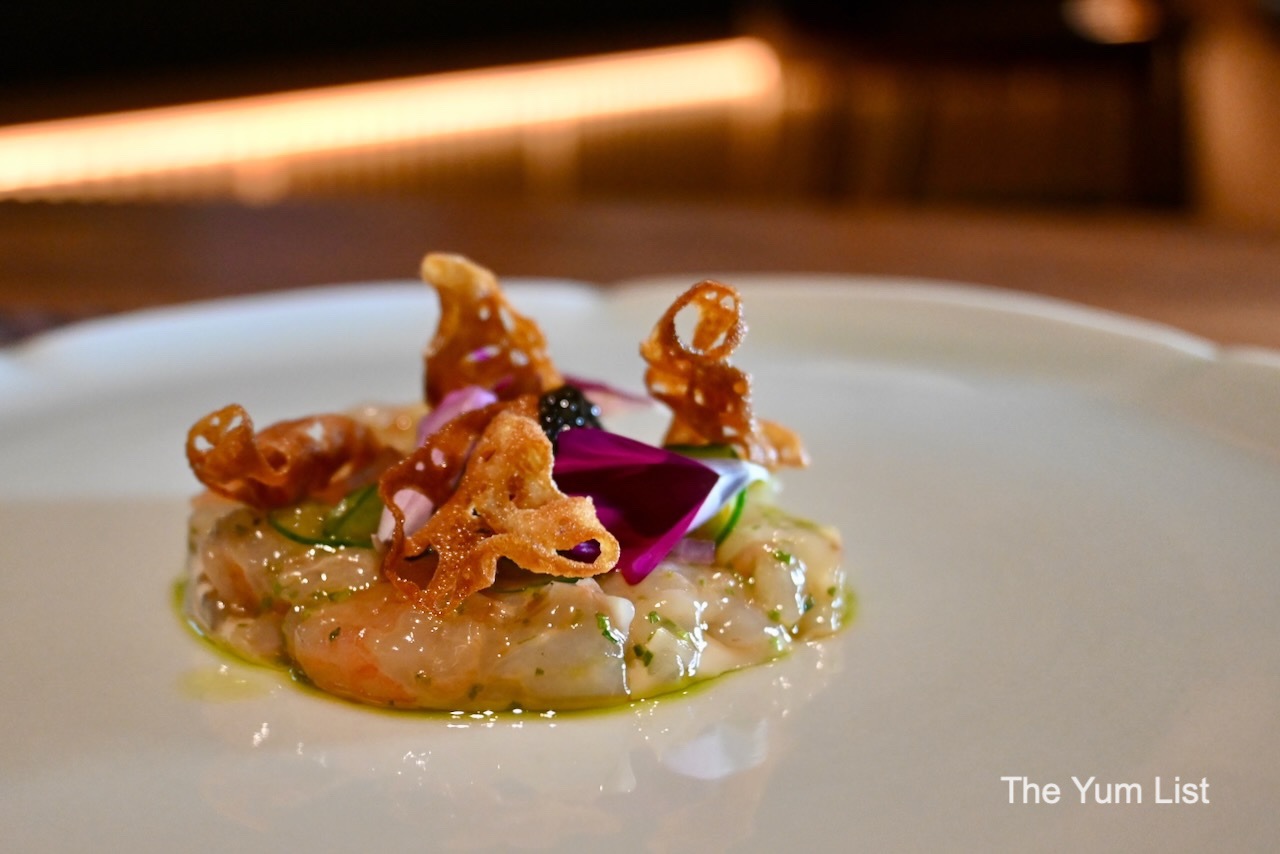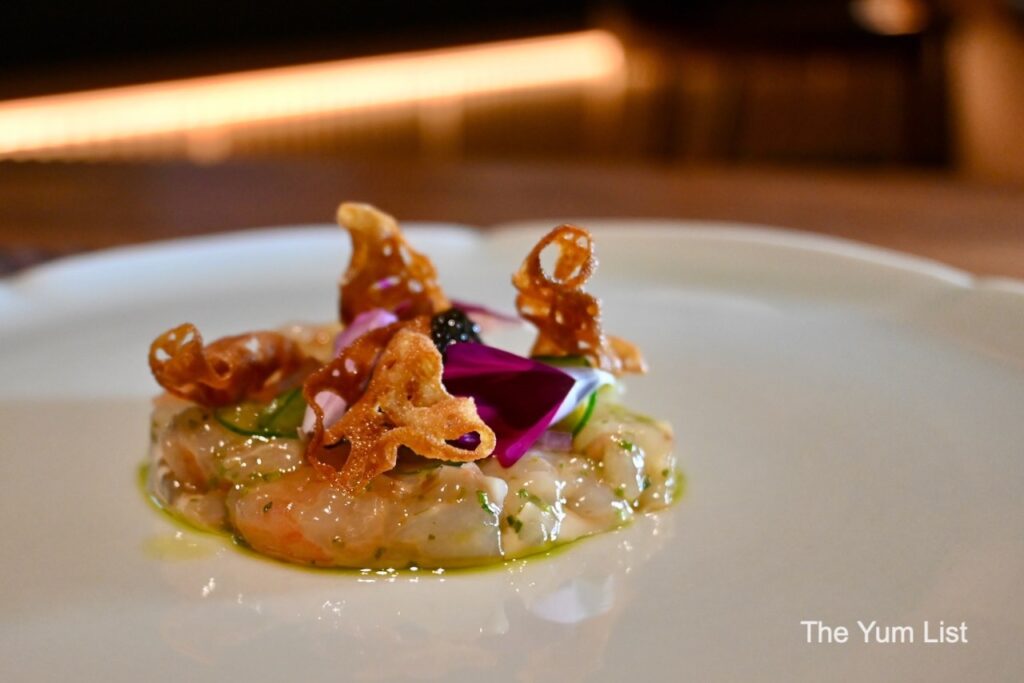 Egg Royale
Served in a delicate glass tea cup bowl, complete with a gold accented lid, the Egg Royale is made with chicken jus, topped with local clams and deep-fried scallops, or conpoy, as well as deep-fried yellow bean. Ling Long's take on the iconic Chinese steamed egg or Japanese chawanmushi; the silken, custardy texture is beautifully offset with salted clams and scallops, giving a delicate fish flavour.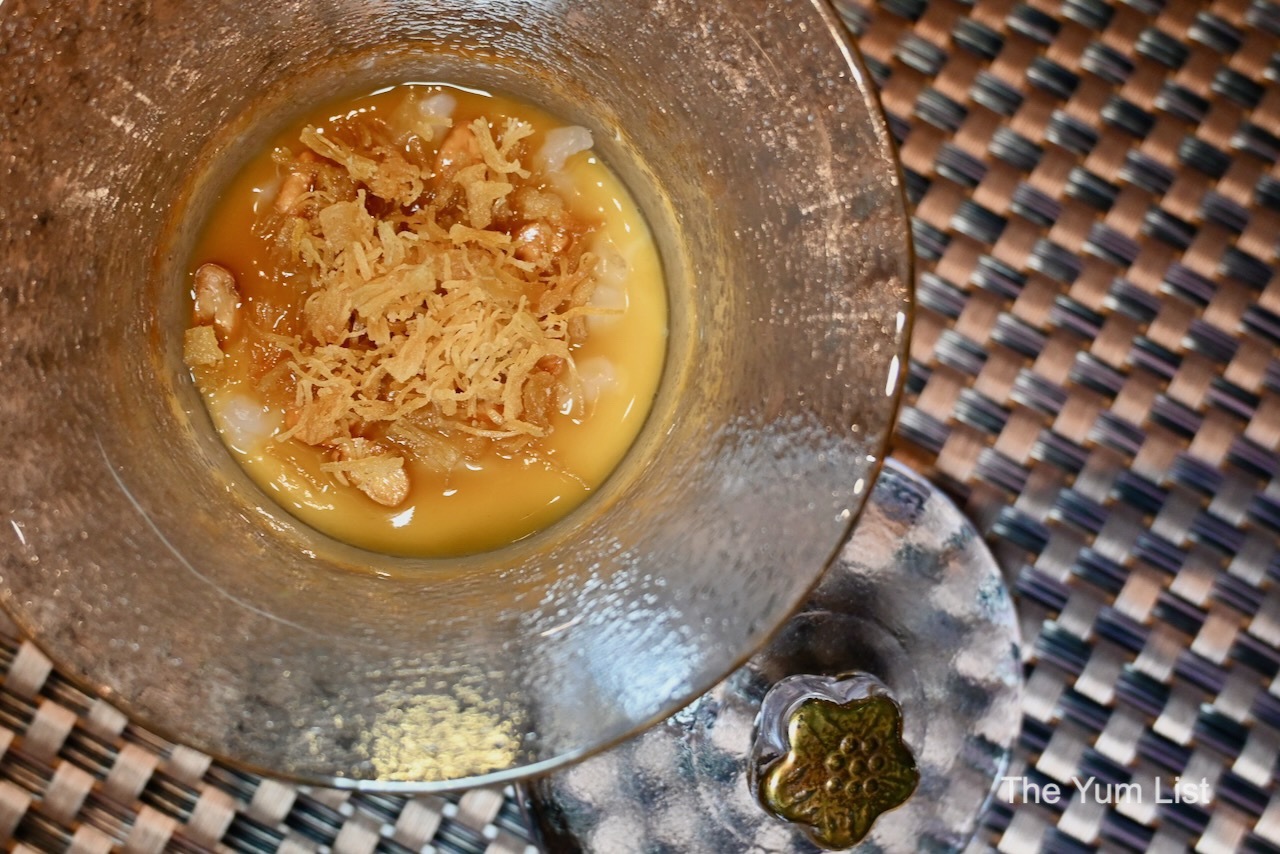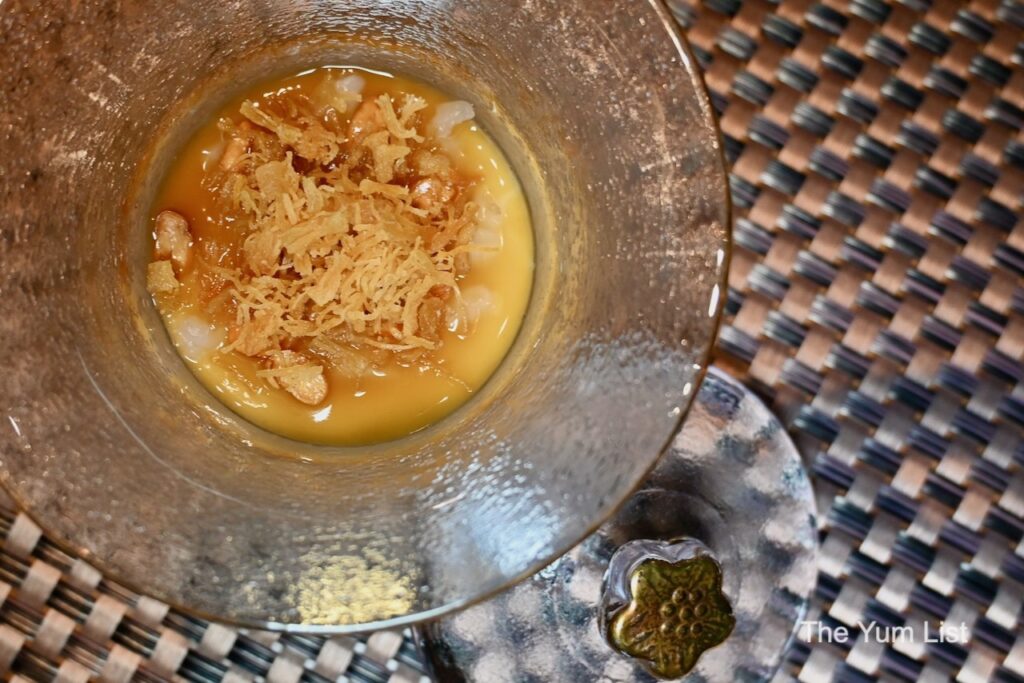 Uni
One of the most complex, balanced and visually spectacular dishes on tonight's menu, small, plump tongues of Uni are presented atop radiating flower petals of cured and pickled celtuce. Inside each flower petal, Chef Lucas has alternated three sauces – a sweet tomato broth with basil oil, a puree of concentrated uni flavour, and an essence of dried Buddha's hand – known for its medicinal qualities and nutmeg-like taste. Chef Lucas brings out his whole, dried Buddha's hand to show us, obtained from one of his secret sources, talking us through its properties and health benefits. Its high-gloss deep blackness could be mistaken for either a prehistoric dinosaur egg or ultra-rare petrified gem. We love to see prized Asian ingredients given their due in fine dining. The dish comes together in a medley of surprises, sweetness from the tomato and basil, umami and slight sourness from the pickled celtuce, herbal headiness from the Buddha's hand, and a balance of textures: smooth, soft, crunchy,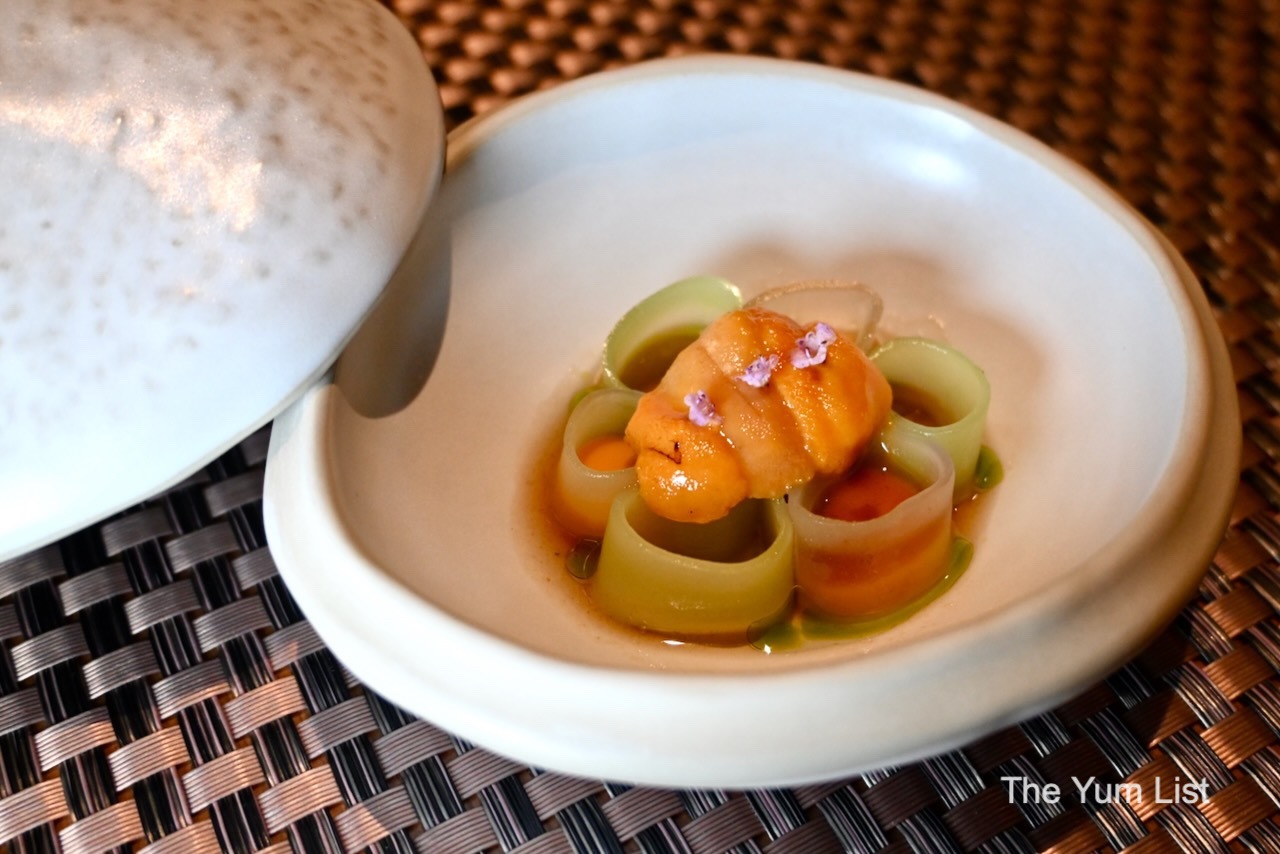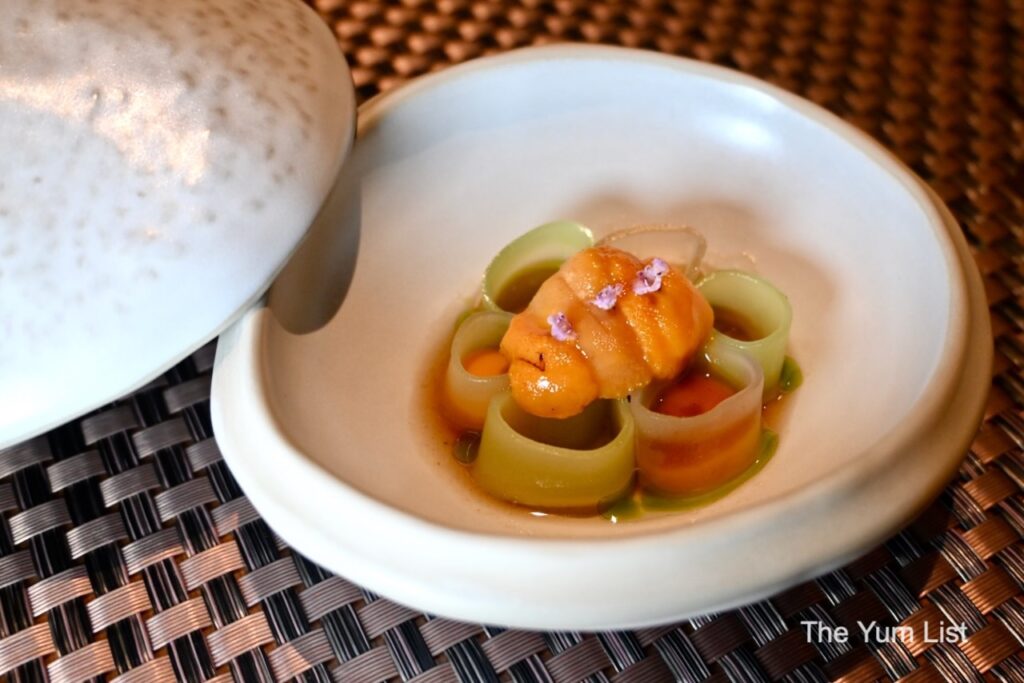 Hokkaido Scallop
Sitting proudly in a sea foam of salted mackerel emulsion, the Hokkaido Scallop is cut open to show off its pinked glassine insides. Chef Lucas' technique results in a texture, unlike any other scallops we've tried. Truer to their natural form, these have the firmness of a high-quality steak, lacking in any slipperiness that usually accompanies a rare medium preparation. Nestled between the lobes of scallop, a mouthful of chicken confit is accented with a Chinese kale puree and fine ribbons of fried Chinese kale, providing the palette with deeper, earthy layers.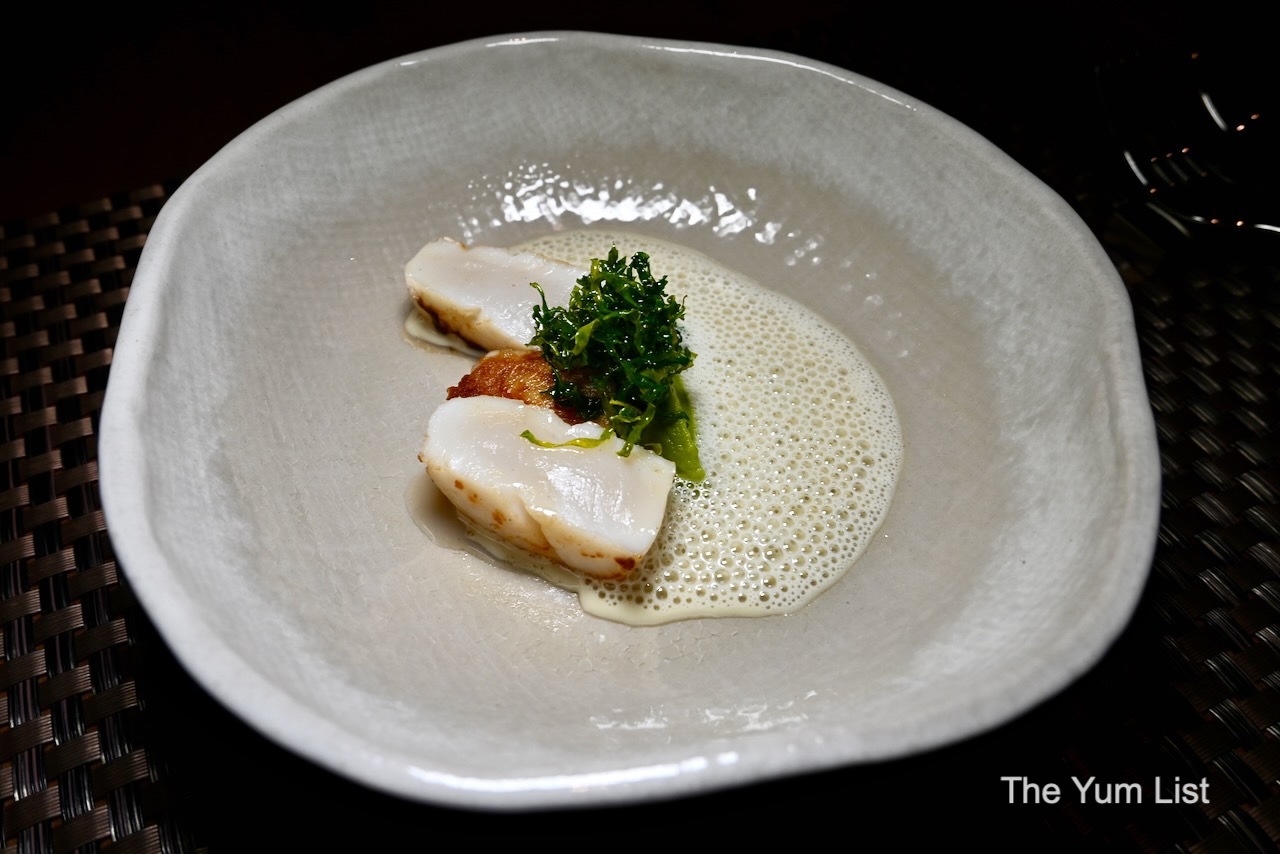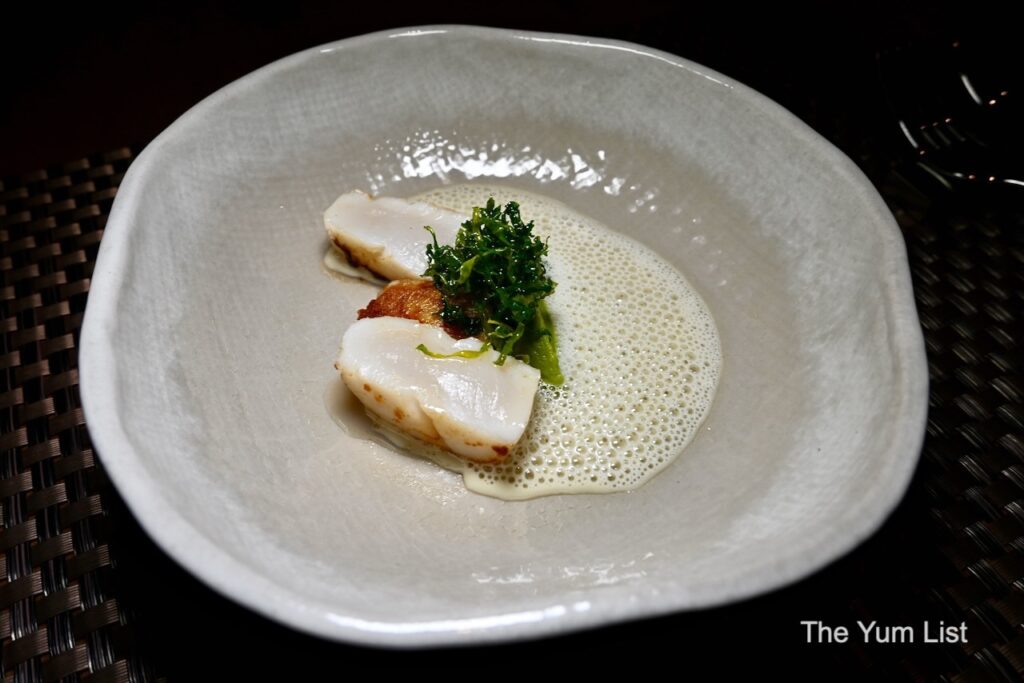 Cuttlefish
Masquerading as hand-made noodles, thin strips of light, springy Cuttlefish give the texture of al dente pasta, surrounded by a pool of 'Lacheamel' chowder – or Chef Lam's Lala clam and spinach-infused bechamel. Topped with barely-grilled nagaimo yam, crunchy ginger floss and cosmos flower petals, Izen informs us, "You must mix it together before eating. A mouthful with everything taken at once is best." Reluctant to destroy the visual artwork on our plates, we take his advice and are not disappointed. As with all of Lucas' masterpieces, this dish achieves a complex equilibrium between vastly different flavours and textures, connecting the Asian and European continents through gastronomy.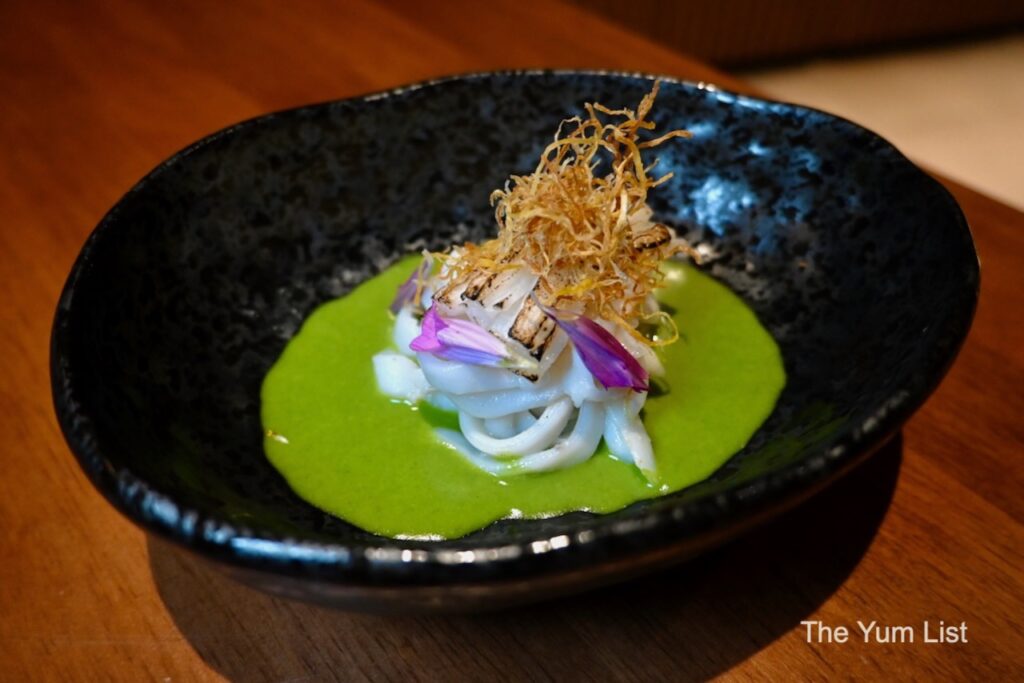 Duo of Foie Gras
The Duo of Foie Gras is perhaps the most playful course on Ling Long's menu. Executed in the style and form of siu bao and egg tarts, the foie gras is creatively invoked. Often described as having a meaty, buttery taste, the talents of Chef Yew's buttery pastry skills are the ideal accompaniment for foie gras. Inside the outer layers of golden, flaky pastry, the pork-free char siu sauce is incorporated with the rich, salty-sweetness of the meaty foie gras. In the egg tart, the fatty duck liver lends an earthy, silken umami to the sweet custard filling, further enhanced with a crust of shaved foie gras floss.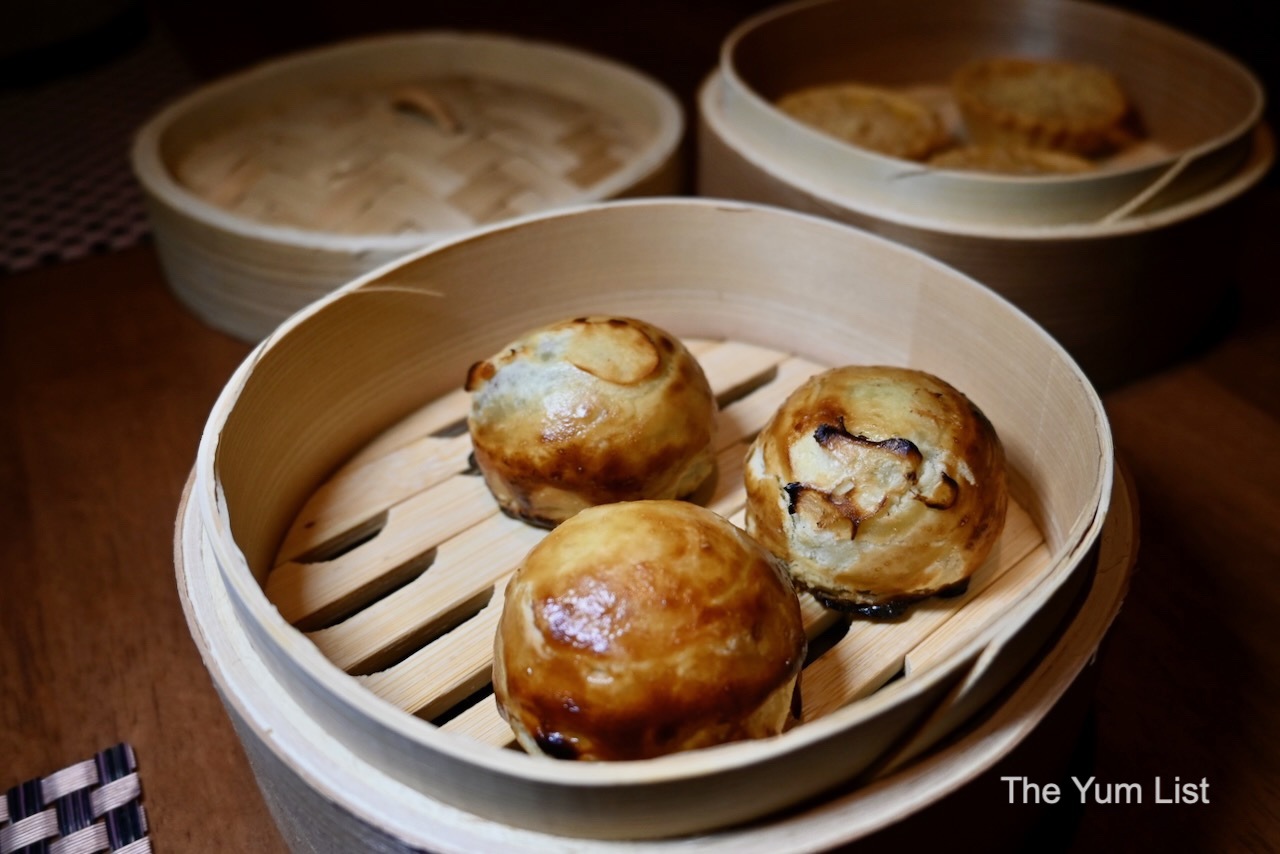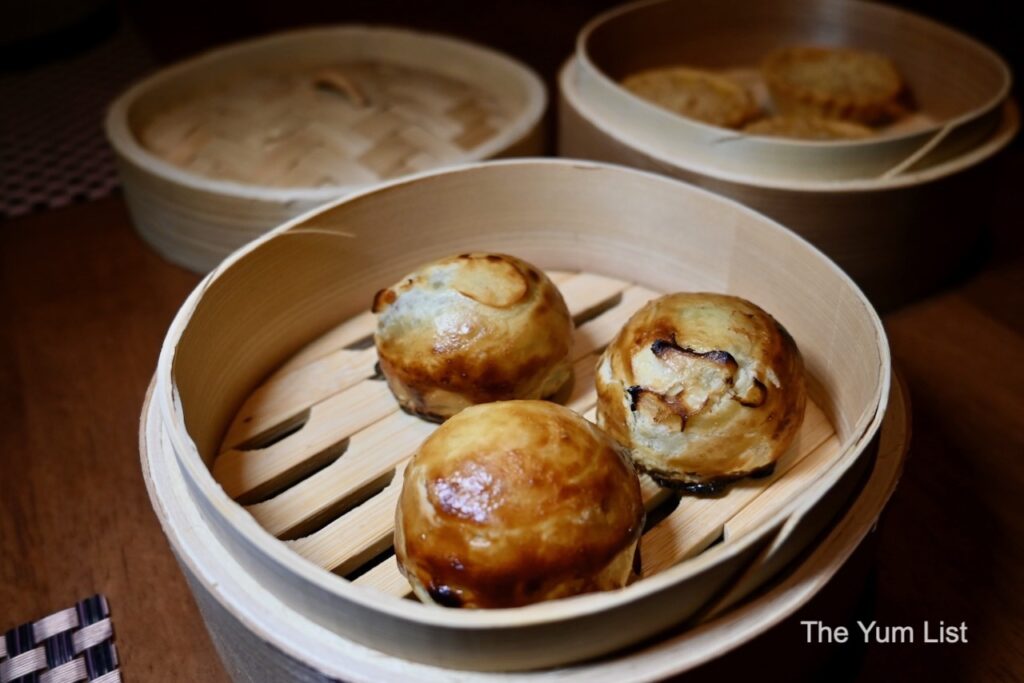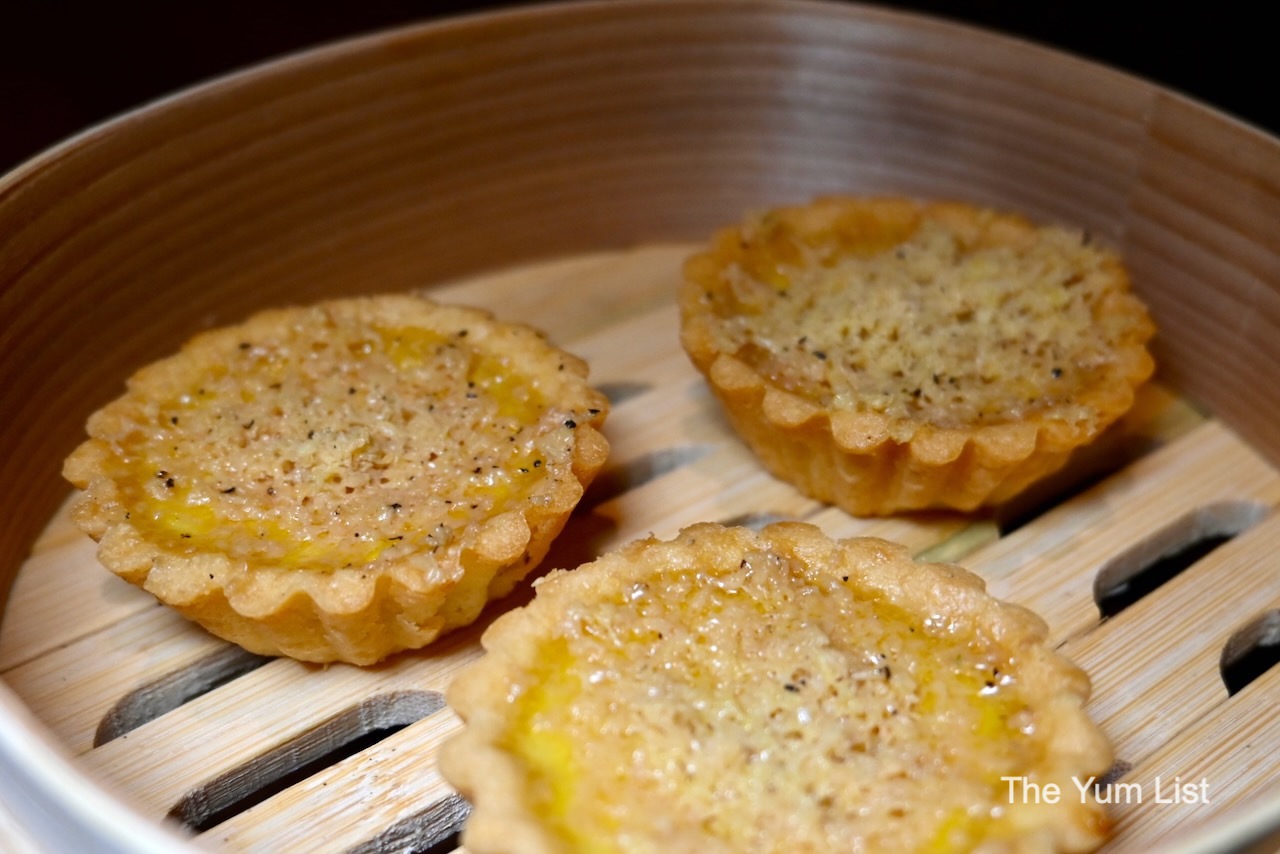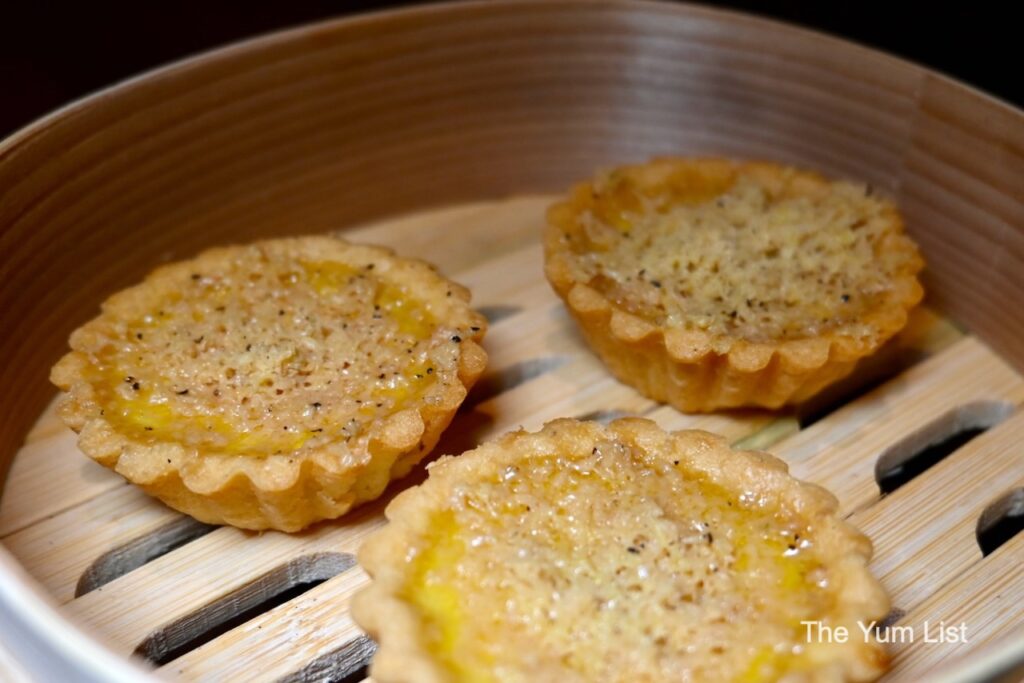 Aged Duck – Ling Long
Revered in both French and Chinese cuisines, Chef Lucas draws on both nations' traditional techniques when preparing his Aged Duck. His creation celebrates both the robust flavour of the meat as well as the crackle of heavily basted skin. Bringing the finished bird to the table to share his process, his excitement is palpable and endearing. You can tell he's having fun, and he is right in thinking his creation is something truly special. Using a French breed raised in Penang, the dark, glossy skin succumbs to the knife with a satisfying crunch. Despite its crisp Chinese basted outer, the meat within is a deep rouge. An orange and carrot puree evokes feelings of both duck à l'orange and plum sauce, while mustard greens are disguised as asparagus. A sophisticated French duck pepper jus and burnt orange confit round out the plate.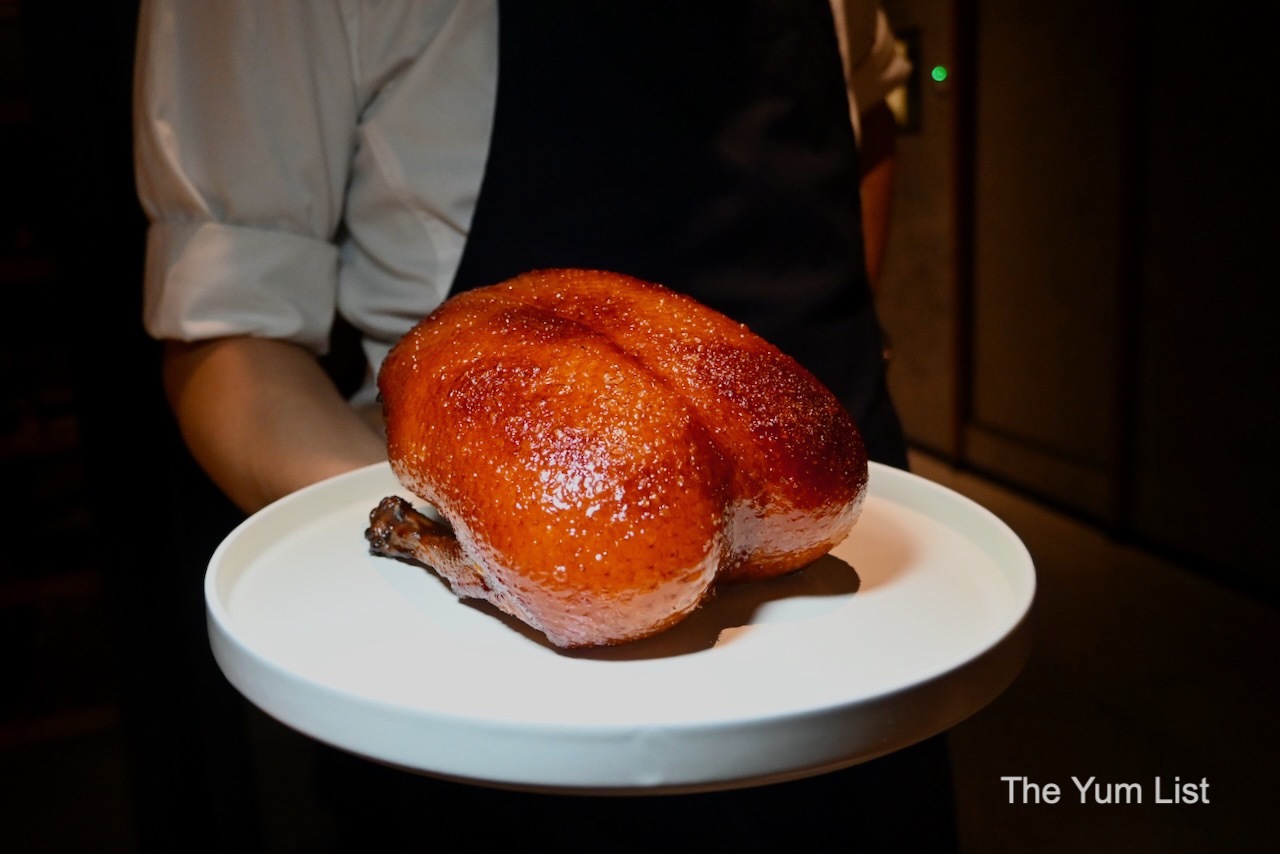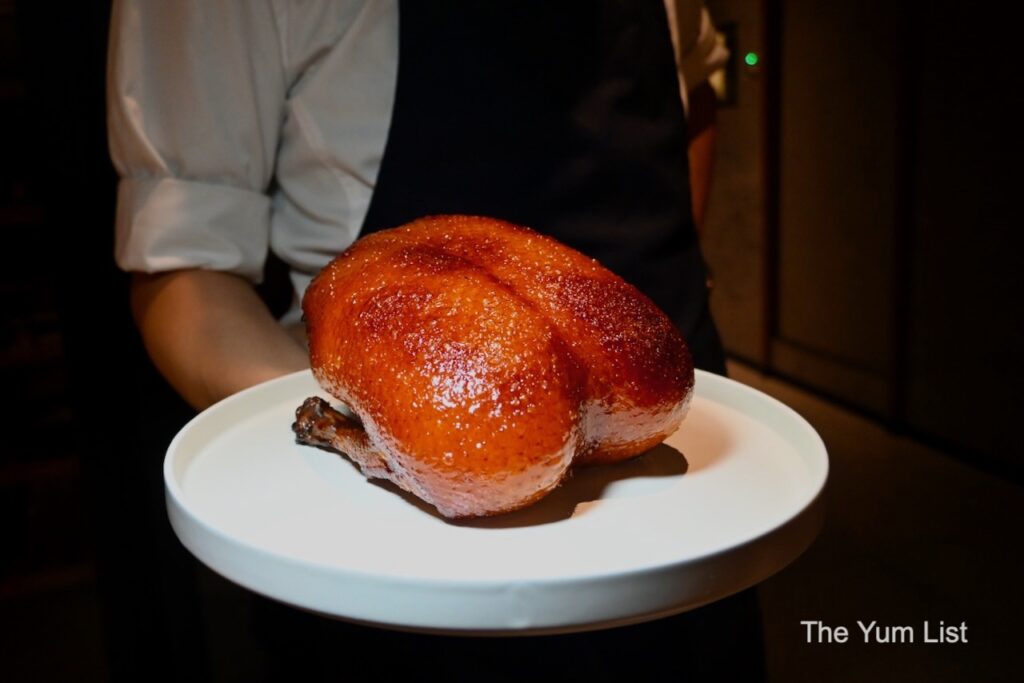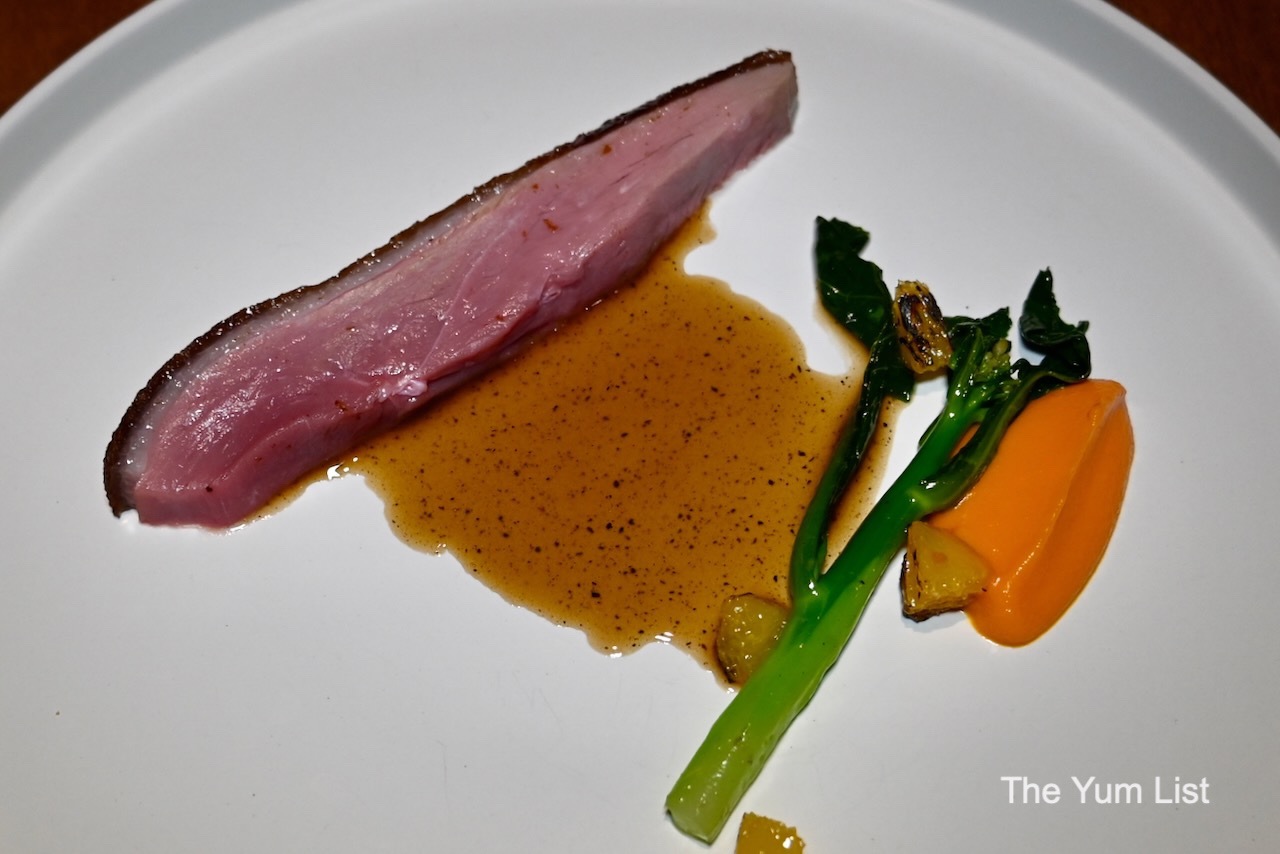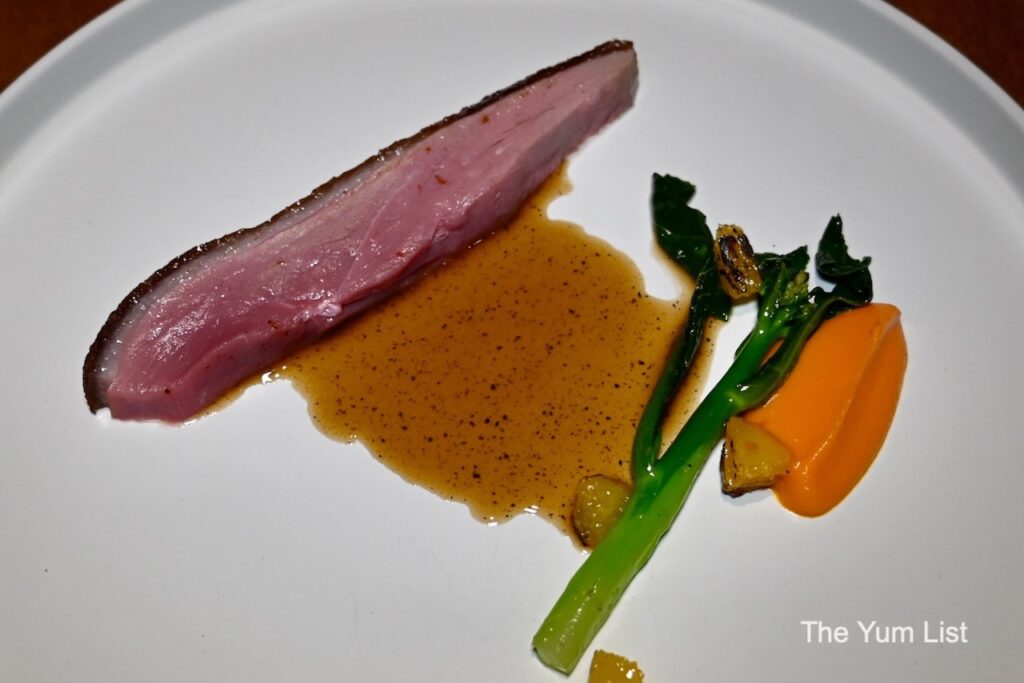 Avant
To cleanse the palate after so many strong, rich flavours, we enjoy a bowl of coconut granite topped with shaved coconut and grapefruit jelly cubes. One of the most underrated desserts, I personally prefer a granite to most ice creams. The naturally sweetened ice crystals are the ultimate refresher with no added sugar or sweetener needed. A quintessentially Mediterranean treat, here, sweet coconut is countered with the slight sourness from the grapefruit jelly, with a touch of coconut flesh at the end for richness.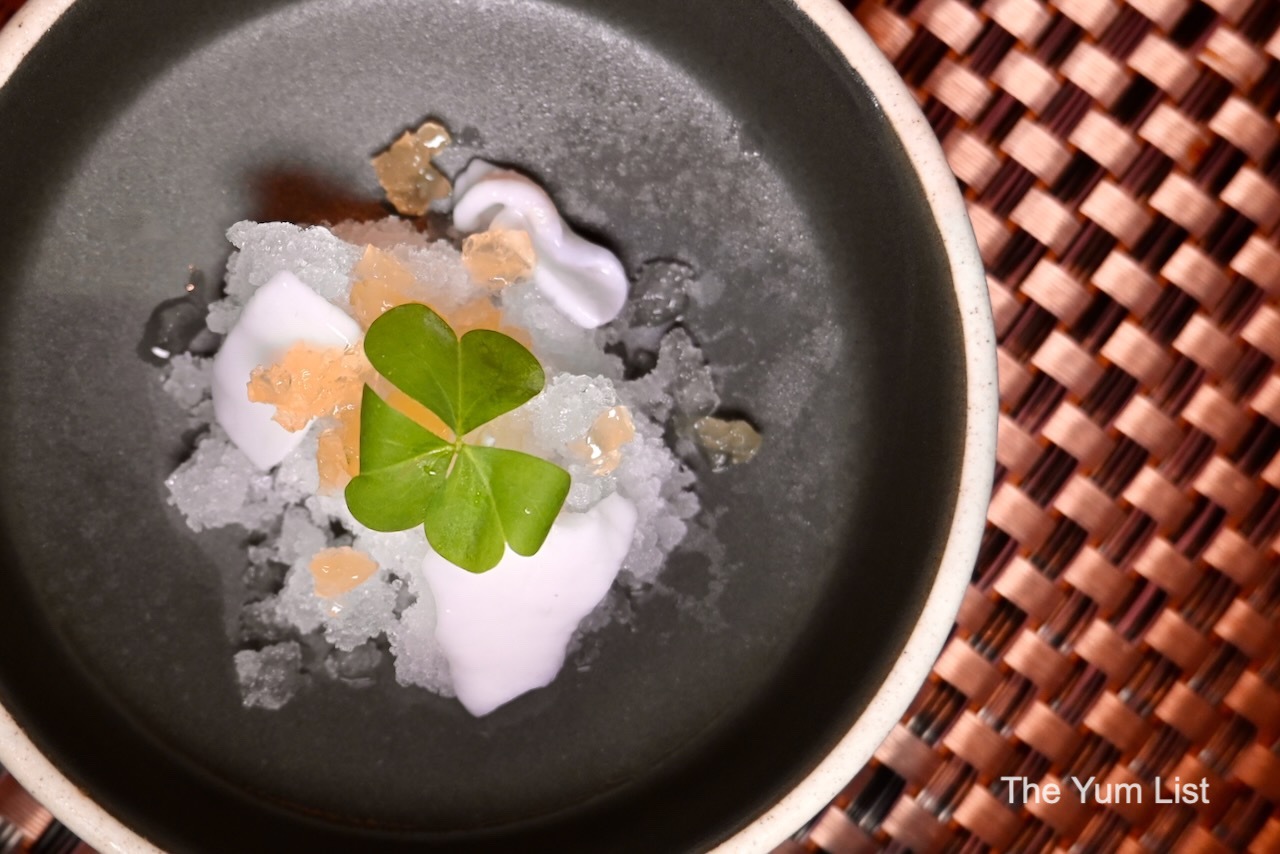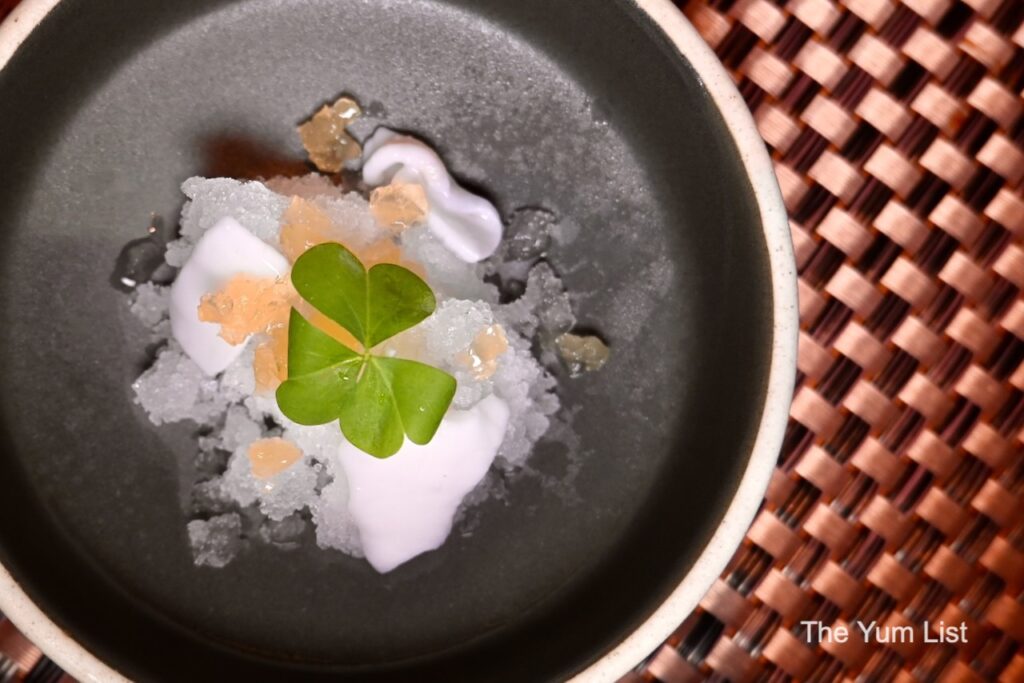 Bird's Nest
This evening we are partaking of one of the greatest delicacies in Chinese cuisine – Bird's Nest. Packed with collagen, it's a facial and hair treatment in dessert form. Locally sourced from Sarawak, Ling Long's variation is served with Gao Liang ice cream, almond foam, and Japanese ginkgo nut, as well as caramelised almonds and slivers of a kaffir lime meringue. Over half of the 62% alcohol content of the Chinese Gaoliang sorghum spirit is burnt off in the cooking process. Yet, plenty remains, infusing the ice cream with a boozy, nutty flavour reminiscent of a French brandied cream. The glassy bird's nest noodles are velvety soft against the satisfying crunch of the almond praline.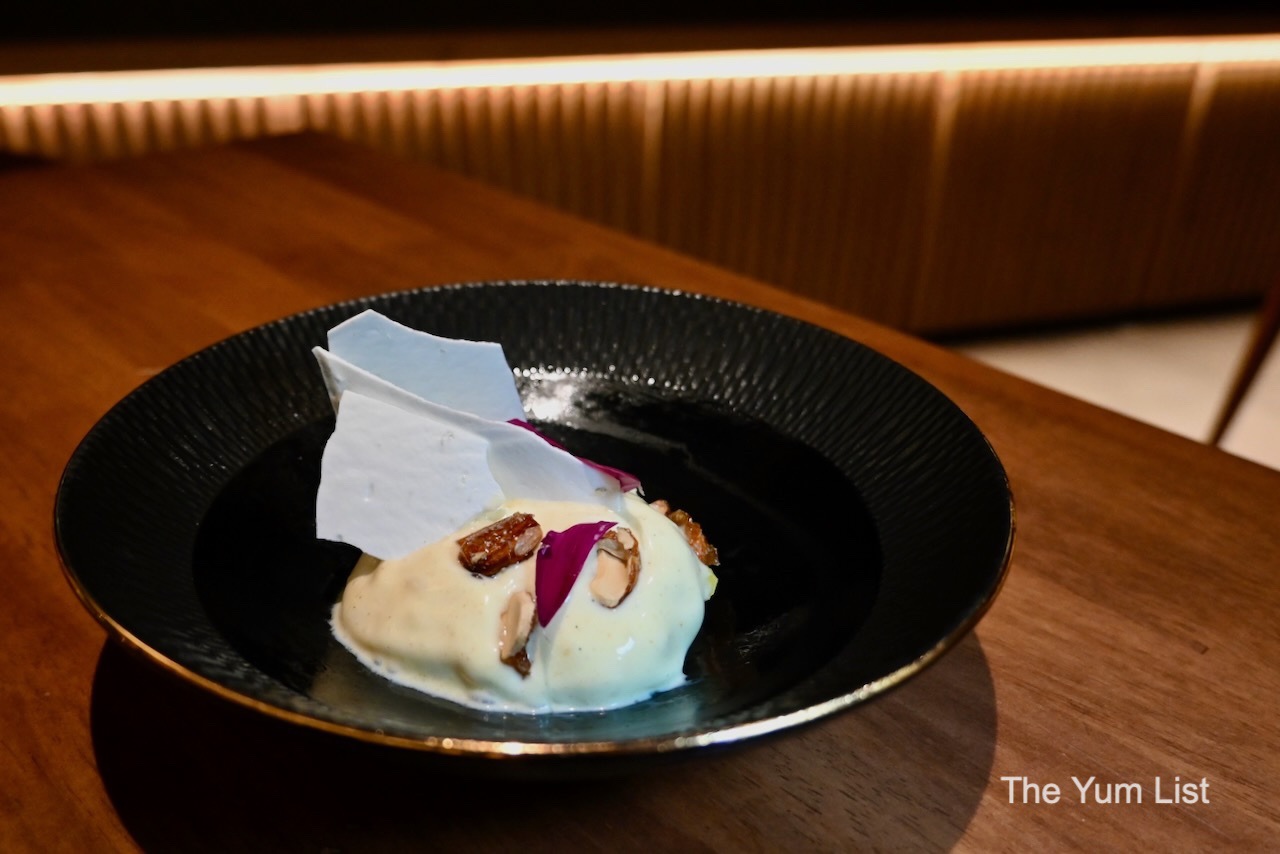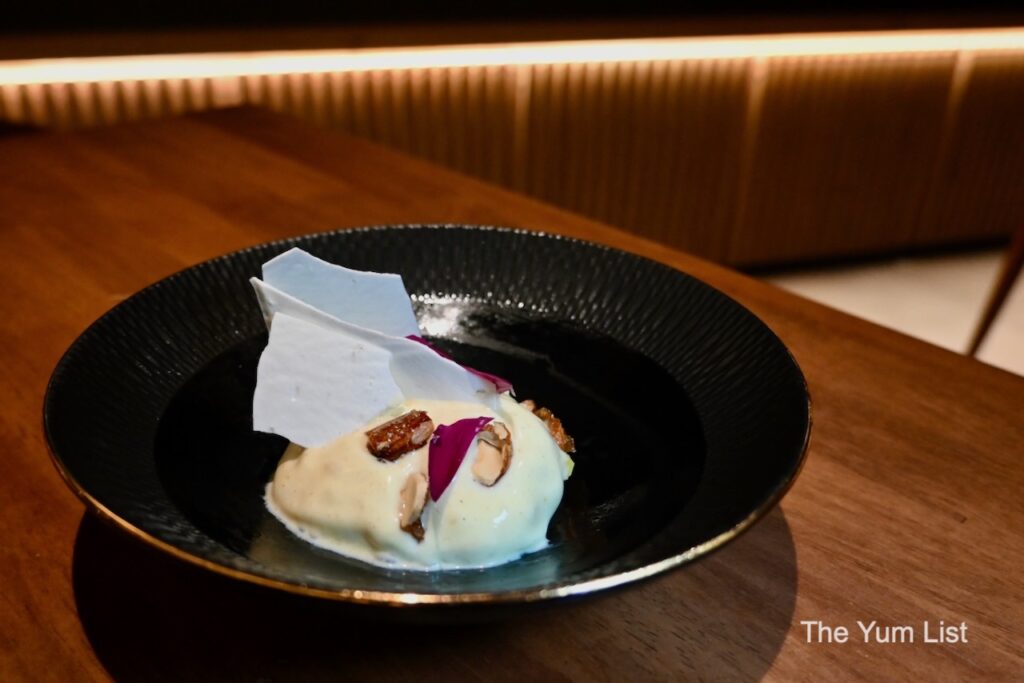 Flower Tea
Rather than ending our meal with a European coffee, a pot of Chinese floral tea aids digestion. We watch the flower petals unfurl and bloom as the tea steeps, producing a lush botanical aroma.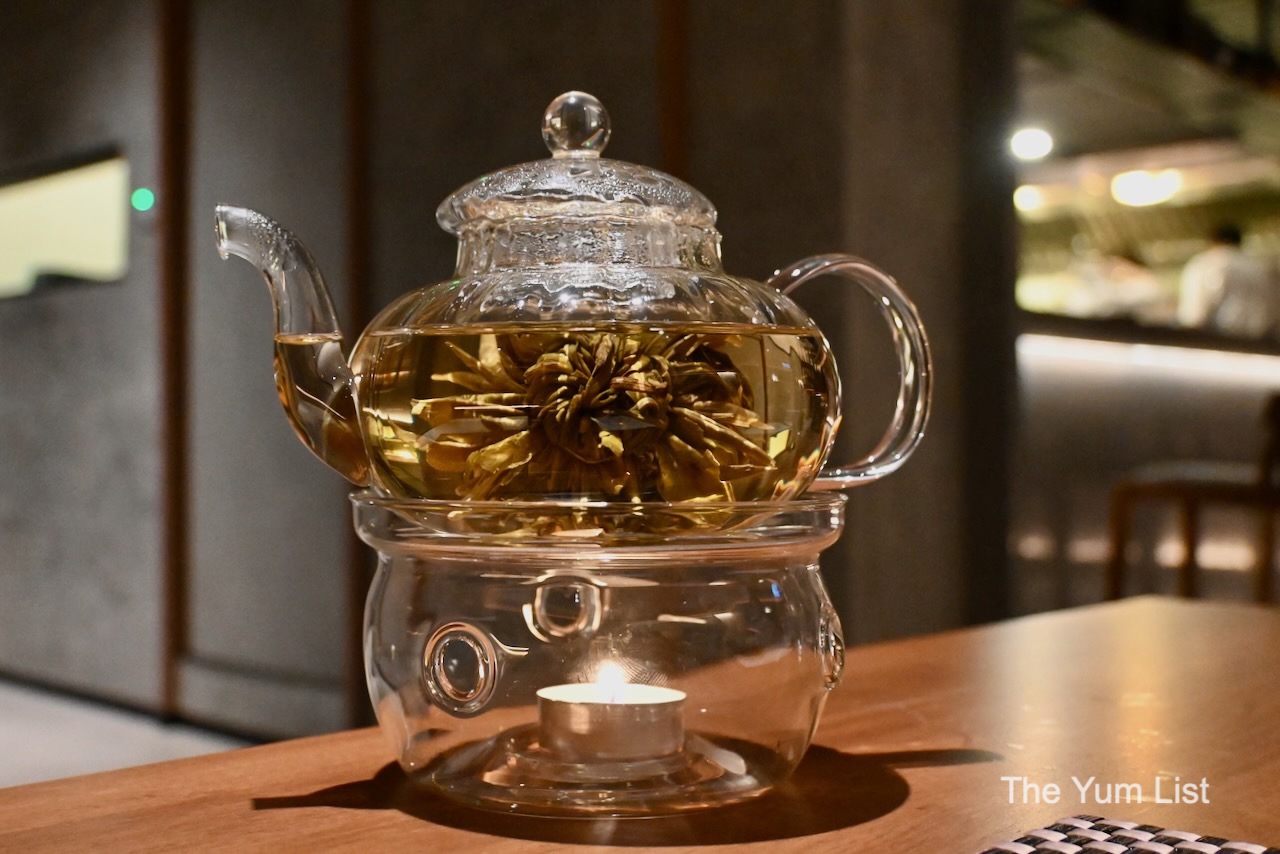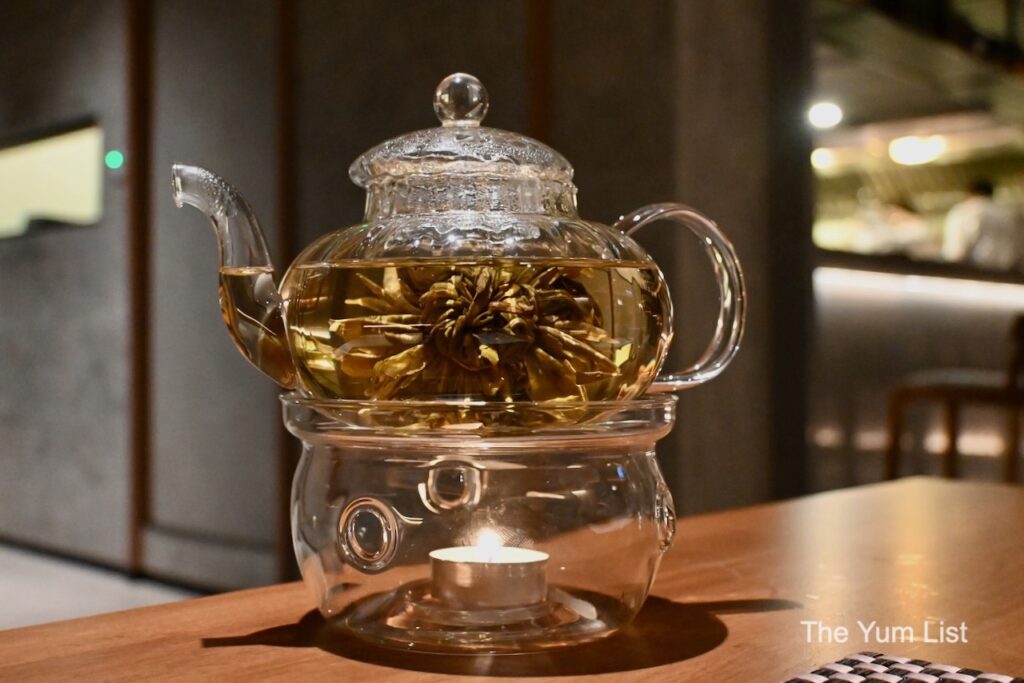 Ling Long – Mignardise
As a bookend to end the meal in the manner we started it, a round of Mignardise are brought out. Stemming from the French word for graceful or cute, like an amuse bouche, mignardise at the end of a multi-course meal is intended as a chance for a Chef to show off a little; in delicate, bite-sized, confectionary elegance. Once more, Izen instructs us on the best order to eat these finger-sized artworks to better enjoy the flavours present. Starting with a dainty French sable biscuit base, topped with coconut glazed pineapple, our first bite melds French styling with Malaysian tropical dessert staples.
Accenting our Chinese Flower Tea, pale macaroons hold the intense flavour of pine wood smoked lapsang souchong tea, originating from Hokkien. Minute pieces of sweet orange peel offer a hint of further surprise in the shockingly flavourful smoked tea meringue. A final bite is a fig pate de fruit, tying in the French themes with cheese platter-style leanings. A staple favourite at the end of French menus, the natural honeyed and floral tones of the fig are brought out with pearls of rose essence and minute elderberry petals.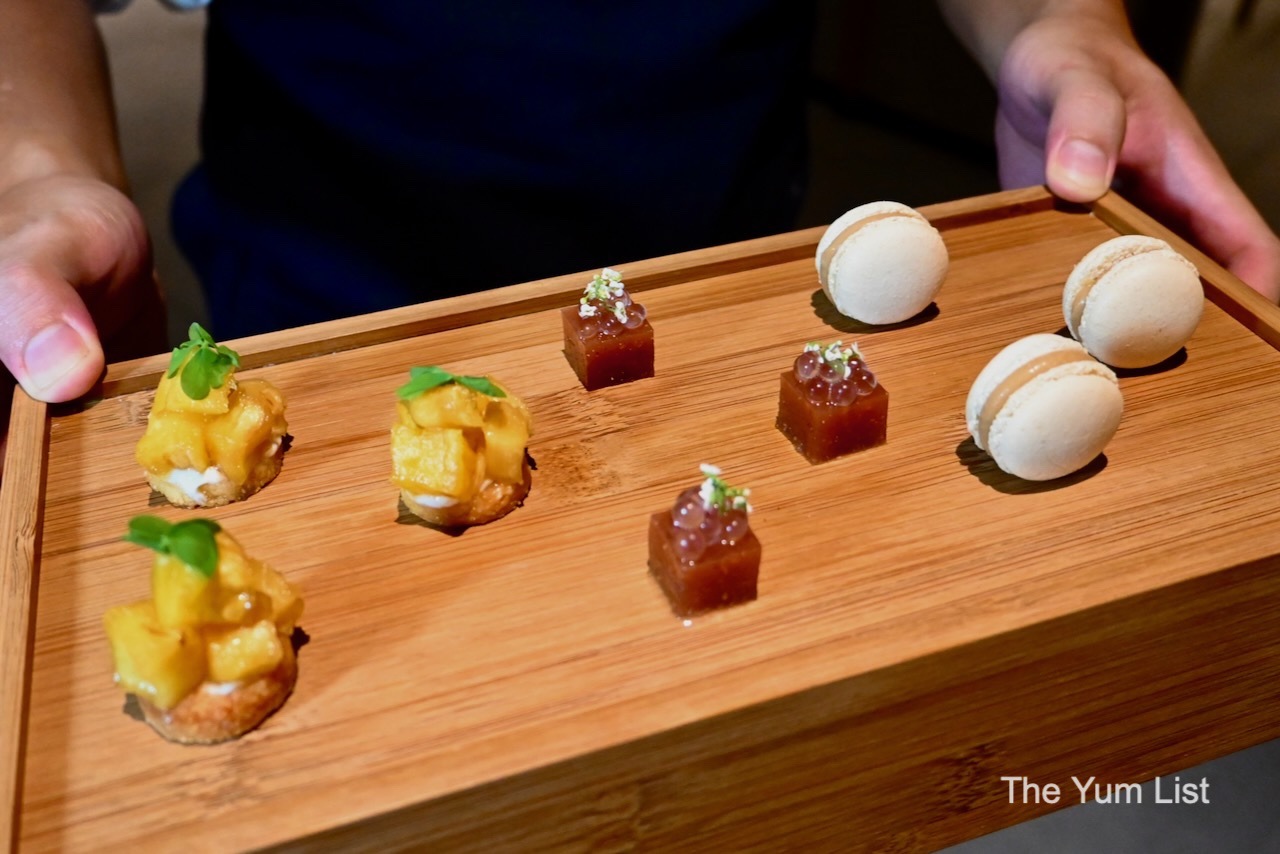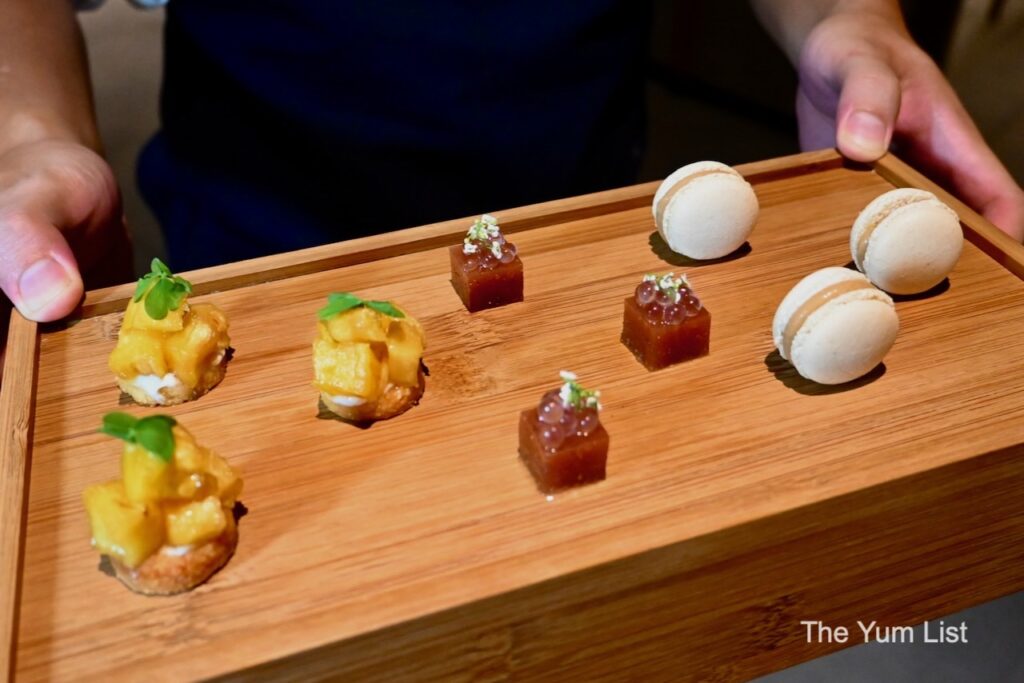 Sustainability in the Kitchen
Following our meal, Chef Lucas speaks with us about sustainability in the kitchen and his use of locally-sourced ingredients. While some of his more rare ingredients require importation from overseas, "I actually go to the local wet markets for most of our produce." he reveals, telling us about some of his favourite vendors around KL who he loyally supports. It is one thing to have exceptional culinary skills when working with globally-sourced world-class ingredients. It is another thing altogether to be able to create this level of haute cuisine from ingredients many of us can access ourselves. The sentiment of Malaysia's homegrown high-quality ingredients is one we've seen echoed across the fine dining sphere in the last few years. The flavour and the artwork of the skill involved are breathtaking.
Ling Long Degustation Price
It is this reason that allows Ling Long to price their incredible degustation journey at RM698 per head, despite the talent of Lucas and his team being an experience worth far more. Make sure you book ahead, as tables will be in high demand once word gets out. Offering both gluten-free and vegetarian options with advance notice, Ling Long's set course menu is pork-free. Drinks menus are currently beer and non-alcoholic choices only, though you can bring a bottle of wine or spirits with you when dining for an additional corkage fee.
Reasons to visit Ling Long KL: Every dish on Ling Long's menu shows exceptional innovation; the rounds of amuse bouche alone justify you booking a table. The plates we were talking about many days later included the Uni, Duo of Foie Gras, Aged Duck and the Bird's Nest Dessert.
Ling Long – French-Chinese Restaurant KL
Block E, L2-04, The Five@KPD,
Jalan Dungun, Bukit Damansara,
50490 Kuala Lumpur, Malaysia
+60 10-556 8912
[email protected]
Ling Long Operating Hours
Tuesday – Sunday: 6 pm – 11 pm
(9 pm last seating)
Closed on Mondays
Find more restaurants for special occasions in KL here, more restaurants at The Five here, and stay up-to-date with the latest gourmet and travel recommendations for Malaysia here and here.