Peaches and Cream KL – Ampang
Words: Theresa Hogan Leahy
Photos: Rich Callahan
Peaches and Cream offers an all-day dining menu of Pan-European cuisine in one of the prettiest settings you'll find in Kuala Lumpur. Breakfast and brunch, lunch, afternoon tea and dinner are supported by a comprehensive drink list, including quality coffee, tea, juices and smoothies, and a well-chosen and presented wine and cocktail list. I, as an Irish European, was thrilled to have the opportunity to taste a Knickerbocker Glory in Kuala Lumpur, but more on that later …
You can find Peaches and Cream on the first floor of The Grange @ Ampwalk, conveniently situated opposite the well-established Hock Choon supermarket on Jalan Ampang. A pedestrian bridge connects both sides of the road, and parking is available underground or via a reasonably-priced valet service (flat fee of RM 10).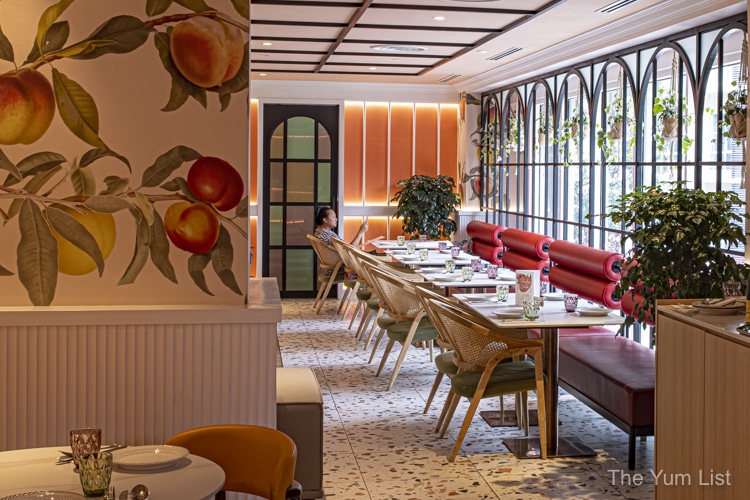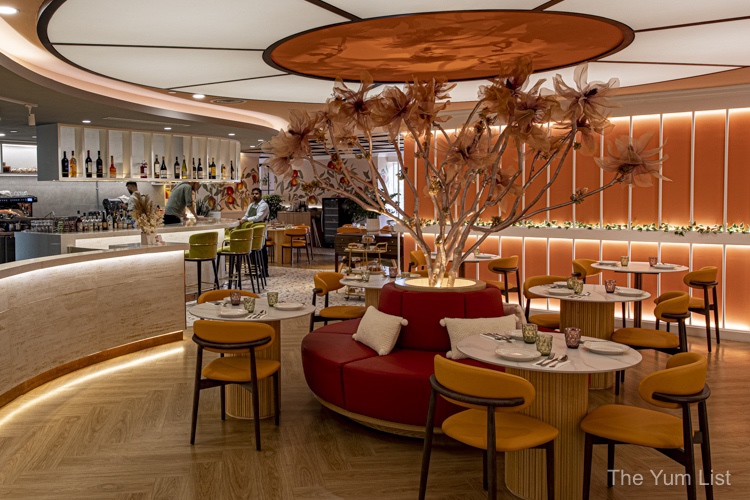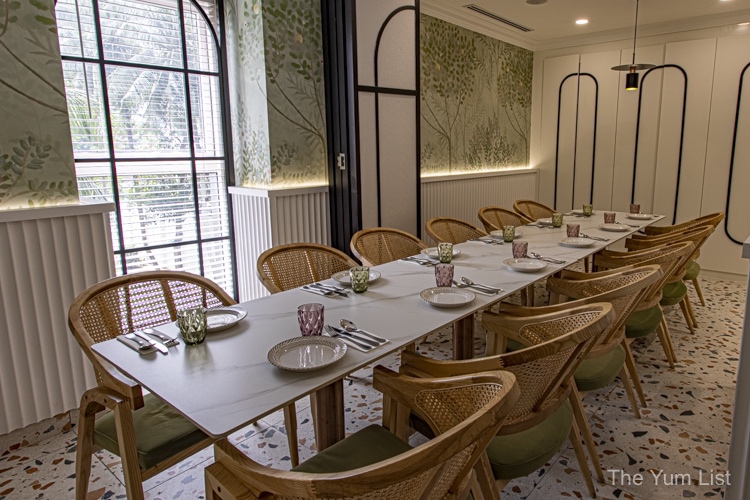 Chef Victor Yap
Peaches and Cream KL is the brainchild of the talented owner, Victor Yap, a chef with a stellar reputation. Some readers may recognize his name from his previous establishments, such as Tray Cafe in Sri Hartamas (sadly, now closed) and Fittie Sense in Bangsar. Chef Victor is renowned for his extraordinary desserts, and the dessert trolley at Peaches and Cream is a reason in itself to visit, even before you explore the other fabulous offerings.
Victor's background in engineering kept him in London for a decade, where he developed a deep affection for European cuisine. London is a melting pot of culinary traditions, and Victor also took the opportunity to explore the diverse cuisines of France, Italy, and Spain, enriching his experience of Pan-European food. We are fortunate that he brought this wealth of knowledge back to KL.
Peaches and Cream KL – Ampwalk
Despite being able to seat 100 guests, Peaches and Cream exudes the ambience of a cozy brasserie in the South of France. The warm-coloured peach tree murals and bright lighting create an airy, al fresco-like atmosphere. There are various seating arrangements, including a private event room. Upon arrival, we were greeted by attentive and knowledgeable staff who obviously take pride in guiding guests through the meticulously crafted menu.
Brunch Menu
My fellow diners had arrived directly from work and were famished. We eagerly started with the "best brunch offerings" on the menu. We sampled the Omelette Arnold Bennett (RM48) and Eggs Royale (RM38). The Omelette Arnold Bennett, created by a London Savoy Hotel chef in 1929 for the novelist Arnold Bennett, featured smoked halibut, gruyère, and cheddar in a béchamel sauce. If I had the opportunity to indulge in this delectable omelette every morning, I might pen 34 novels, just like Arnold Bennett did. The Eggs Royale were equally delicious, with Norwegian salmon replacing the ham in Eggs Benedict. Did you know that it was Mrs. LeGrand Benedict who, in 1860, had this egg dish named after her? She had grown bored with her usual breakfast, and the restaurant chef created the ubiquitous egg dish in her honour. But with smoked salmon, it is even nicer, Mrs. Benedict!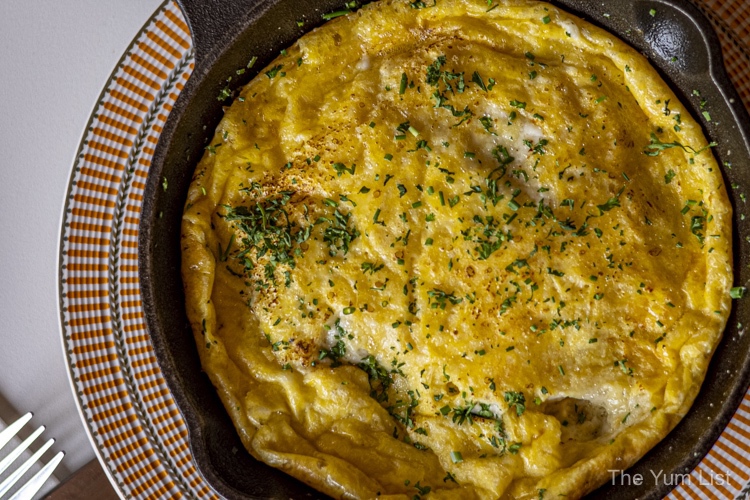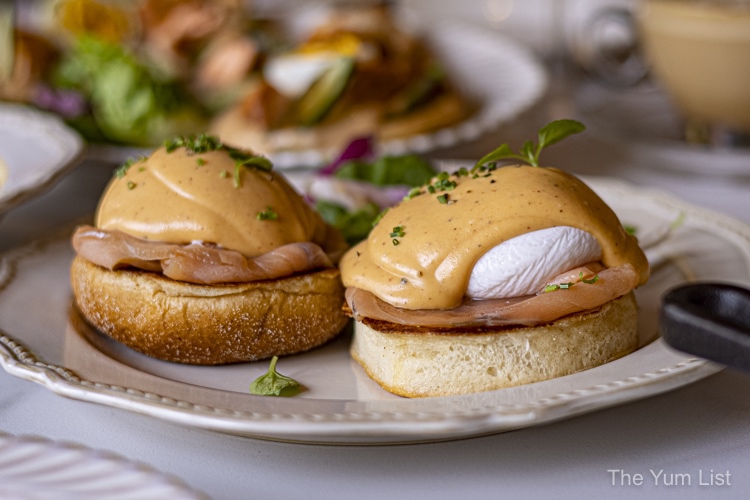 More All-day Brunch Dishes
Brunch at Peaches and Cream isn't solely about eggs; we also savoured Prawn and Salmon Tartine (RM46) and Carrot and Coriander Soup (RM24). Surprisingly, I had never encountered a homemade "Marie Rose" sauce until I tasted the one adorning the prawn and salmon tartine. Victor, please consider bottling this delectable sauce; we all need it in our pantries. We also indulged in the carrot and coriander soup, and we unanimously agreed that it was scrumptious, especially with the added texture of chopped hazelnuts.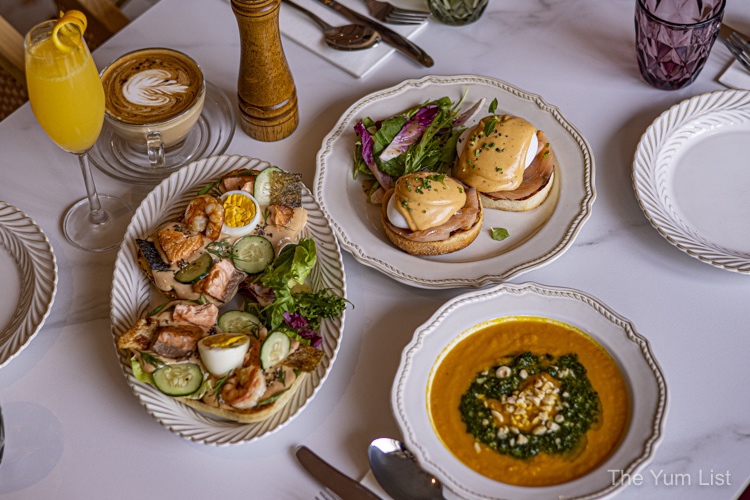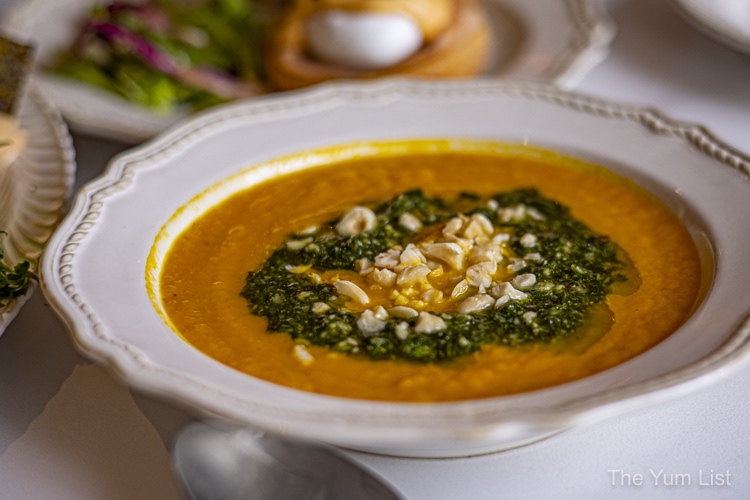 Peaches and Cream KL – The Bubbles
But what's brunch without some bubbly? The ladies enjoyed a glass of the delightful sparkling Terre Di Rai Spumante Prosecco DOCG, NV, Italy, and a Mimosa (RM54/Glass), the perfect accompaniments for our brunch. We also sipped coffee from locally roasted Arabica beans by "Hot Shots" in Publika. Victor has relied on these roasters for over a decade and has never been disappointed with their quality, nor were we.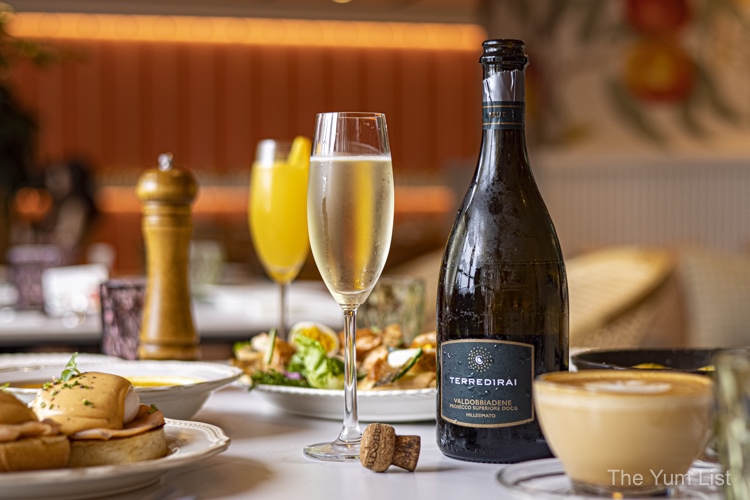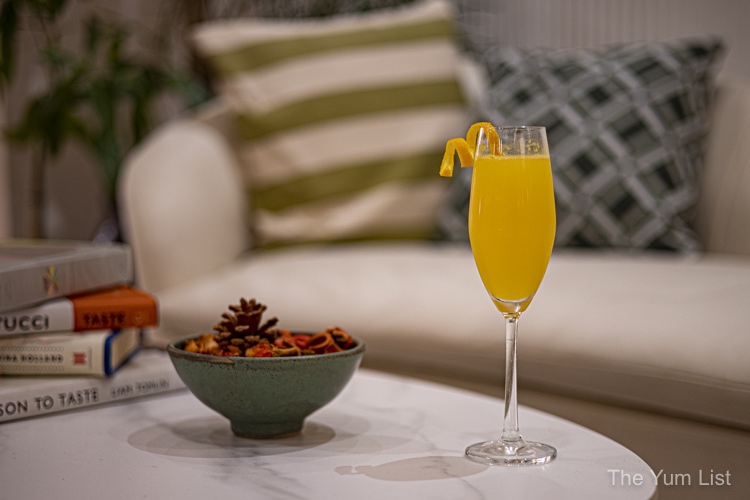 Small & Bigger Plates
After a fabulous start, we chose a selection of the restaurant's best-selling Small and Larger Plates. This delightful spread included Prawns Al Cremat (RM36) with chilli, anchovy, garlic, and lemon aioli. It's a popular dish along the Spanish Andalusian coast, and it's easy to understand why, given its perfect blend of garlic and spice.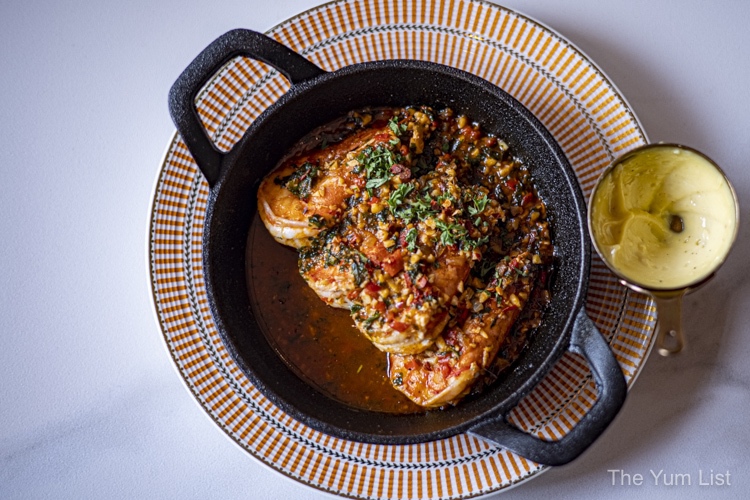 My personal favourite was the Truffle Mushroom and Lentil Fricassée (RM43). The Puy lentils provided a delightful crunch to the softness of the forest mushrooms and truffle cream. The addition of a poached egg, which pairs excellently with the umami flavour of the truffles, elevated this dish to another level. Truffles, for me, evoke memories of damp summer forests, and I can never resist them when they grace a menu.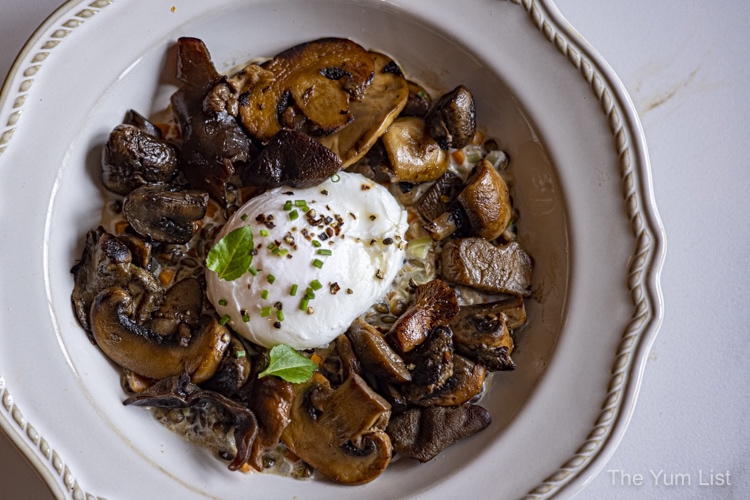 Monica's preference was the Orange and Mint Chicken Leg (RM48), a Spanish dish featuring roasted chicken smothered in orange sauce and pomegranate. Did you know that the pomegranate was Queen Catherine of Aragon's coat of arms? She was a Spanish Queen and first wife of the Tudor King Henry VIII. He promptly removed all her crests once he married Anne Boleyn in 1533. So, it's fitting that the pomegranate be included in this Spanish dish.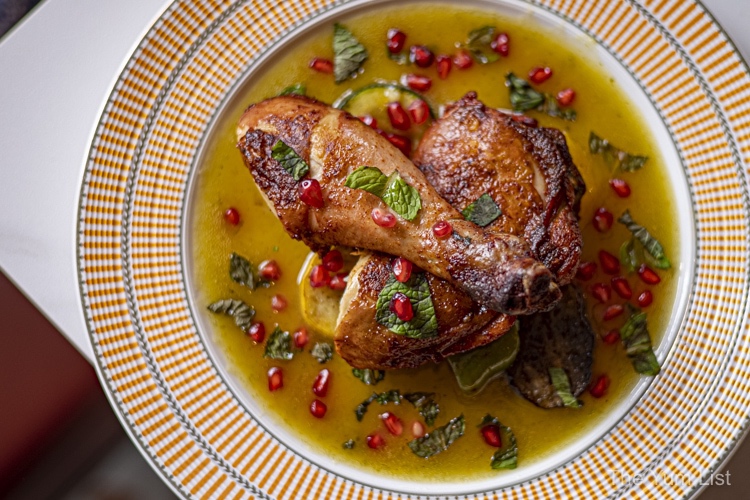 Our culinary journey also included a Lancashire Lamb Hotpot (RM65), an iconic dish that, surprisingly, none of the four Yum Listers had ever tried. This ultimate comfort food boasts a unique characteristic: the topping consists of sliced Lyonnaise potatoes. I can imagine relishing this particular hotpot during one of the 232 rainy days in Ireland, and it would definitely hit the spot on a rainy afternoon in KL.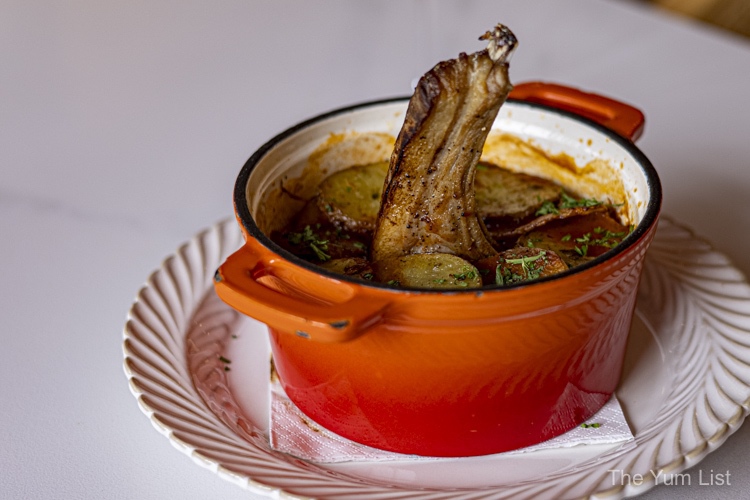 Peaches and Cream KL Wine List
We indulged in some well-paired wines to complement this diverse array of dishes. We started with a white Domaine Paul Mas Chardonnay-Viognier 2021, France (RM34/Glass) (RM92/Carafe), a refreshing blend of Chardonnay and Viognier grapes. It perfectly accompanied our fish, chicken, lemon, and cream dishes.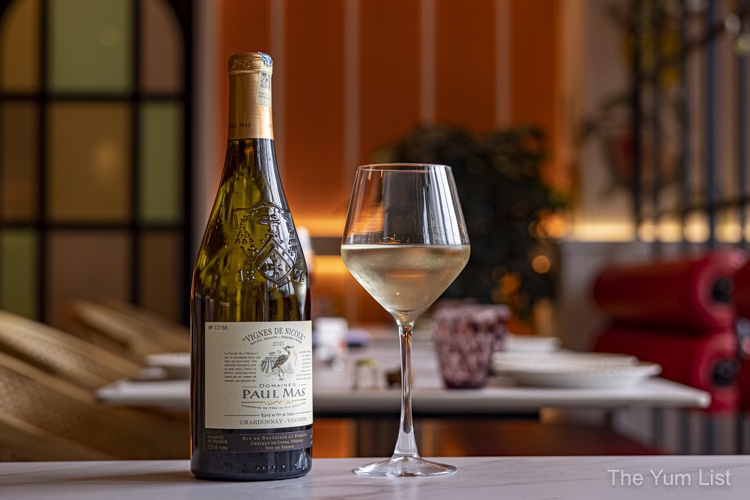 Next, we sampled a Rosé, a Spanish Bodegas Baigorri Rosado 2021 (RM36/Glass) (RM98/Carafe), crafted from Viura, Tempranillo, and Garnacha grapes and grown in northern Spain's Rioja region. It offered delightful notes of mandarins, strawberries, and an orange blossom perfume.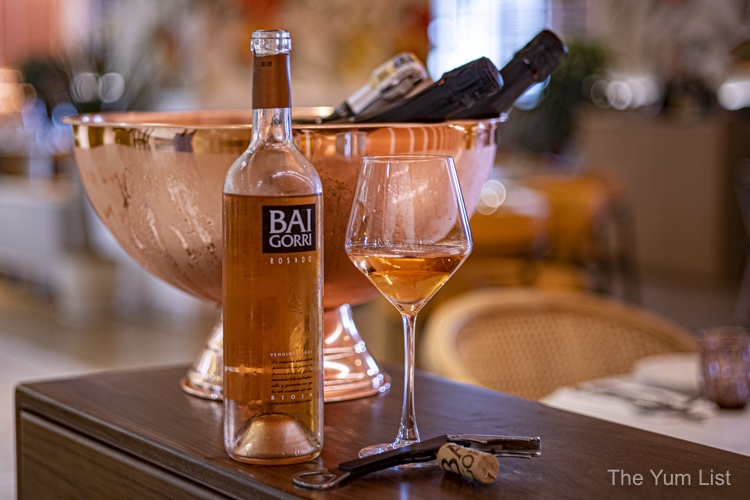 Our red wine choice, Altos De Rioja Crianza 2019 (RM34/Glass) (RM92/Carafe), also from Rioja, was exclusively made from Tempranillo grapes grown at an elevation of 700 meters above sea level—the highest vines in all of Rioja. Its fruity, full-bodied flavour was the perfect complement to our hearty hotpot.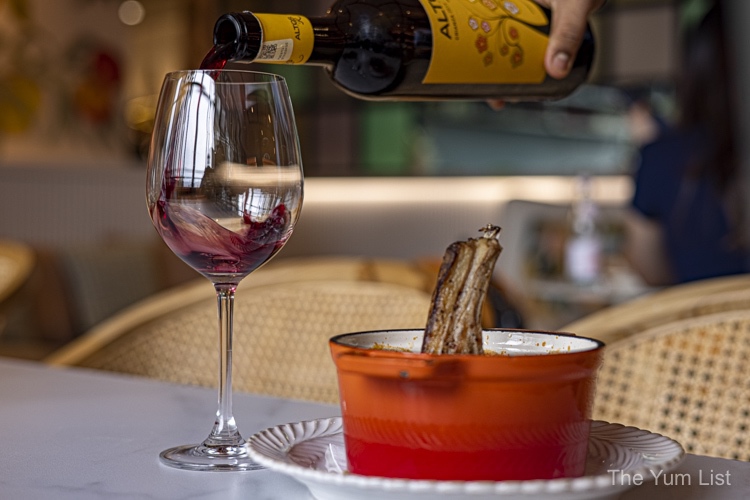 Before you assume I'm a wine expert, I must clarify that I gleaned the above information from the Peaches and Cream menu. They've ingeniously designed their drink menu with an inner page titled "Sip and Wine Your Way Through Europe." Here, you'll find maps of wine-producing countries, information about where each wine is produced, and tasting notes. It's a brilliant idea, as the world of wine can often feel like a maze of terms and acronyms for many of us.
Showstoppers to Share
Showstoppers to share are served daily from 6 pm. These dishes are designed for three to four guests and include options like Whole Roast Wild Sea Bass (RM115), Roast Chicken Potentina (RM86), Côte de Bœuf (RM388), Spanish Lobster Rice (RM388), and the quintessential Spanish Paella (RM235). Note that the Lobster and Paella require a 24-hour pre-order. On this occasion, we opted for the Linguine Alla Scoglio (RM168). Having lived in Malaysia for seven years, I'm well aware of the local fondness for seafood, and this fresh seafood pasta with tomato and chilli didn't disappoint. It was perfectly cooked and brimming with mussels, prawns, squid, scallops, and clams, all nestled in a plate of delicately spiced pasta. This nod to Malaysia's love of spice in the heart of a European restaurant was a delightful touch.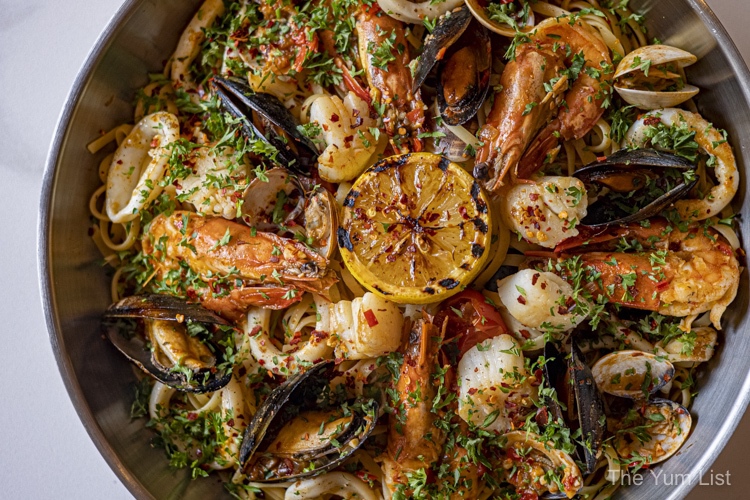 A Mobile Dessert Trolley
Margarita, Monica, Richard, and I faced the dilemma of selecting European desserts, cakes, and bakes from the very easily accessible dessert trolley. Chef Victor is already renowned for his expertise in all things sweet, and our choices did not disappoint. We savoured the Peach Trifle (RM 24), Victoria Sponge (RM 20), Mocha – Mìsu, which was a Tiramisu without the alcohol (RM 22), and a Knickerbocker Glory (RM 28). These desserts featured high-quality ingredients such as Pamplie butter from France, specially prepared for pâtissiers, Avonmore cream from Ireland, and clotted cream from Devon, UK. The trifle, with Spanish white peaches, offered the perfect blend of sweetness and texture alongside homemade raspberry coulis. The Victoria Sponge cake was light and fluffy, with the creamy taste of French butter shining through. The Mocha – Mìsu was abundant in chocolatey richness.
However, the true standout for me was the Knickerbocker Glory, a nostalgic delight that transported me back to my childhood when I would plead with my parents to buy me one. This exquisite sundae featured in-house vanilla ice cream, peach and thyme sorbet, peach jelly, raspberry coulis, crème Chantilly, and toasted almonds. The Knickerbocker Glory is actually named after a hotel in Manhattan famed for its European style and American hospitality, so of course, this dessert is stupendous and the stuff of childhood legends. Rest assured that Peaches and Cream caters to everyone with a delightful array of gluten and dairy-free options.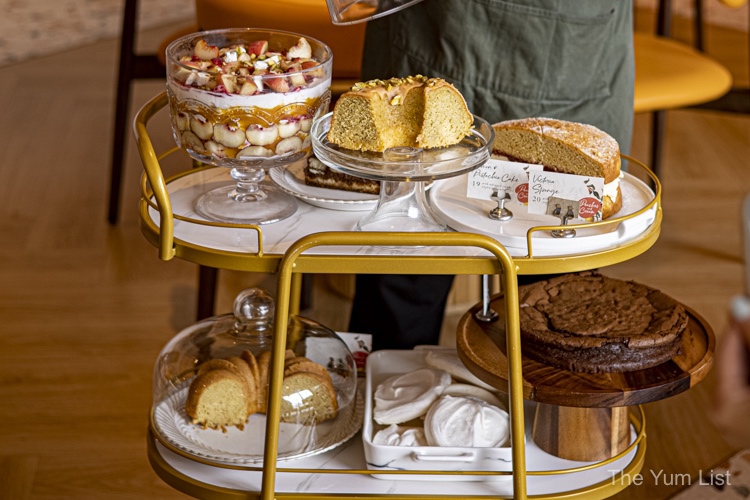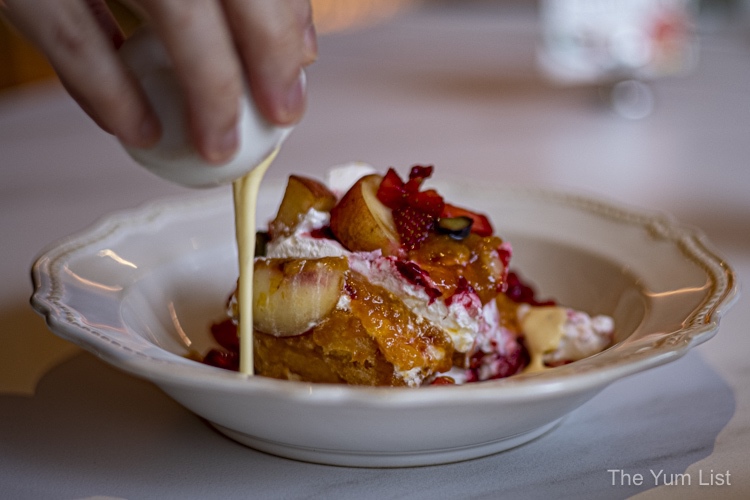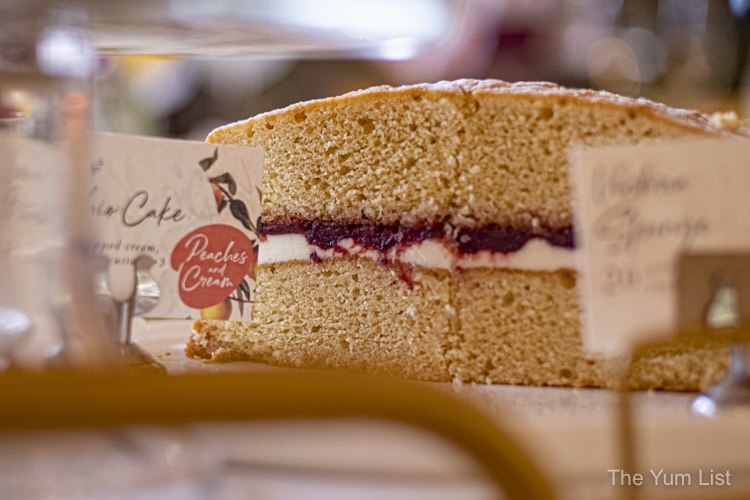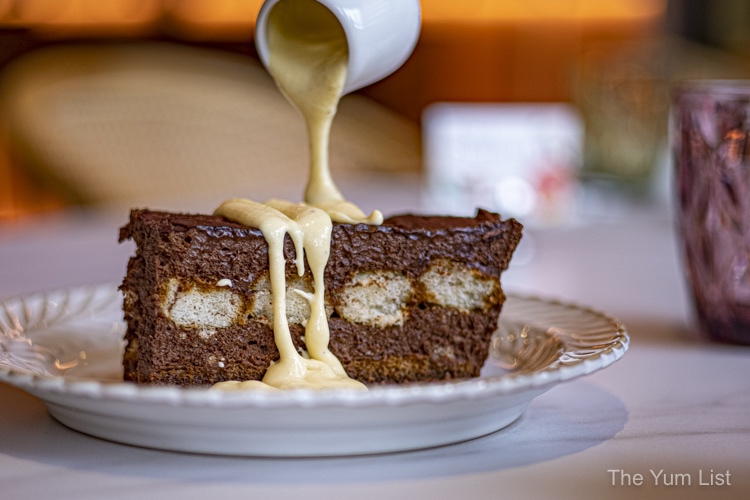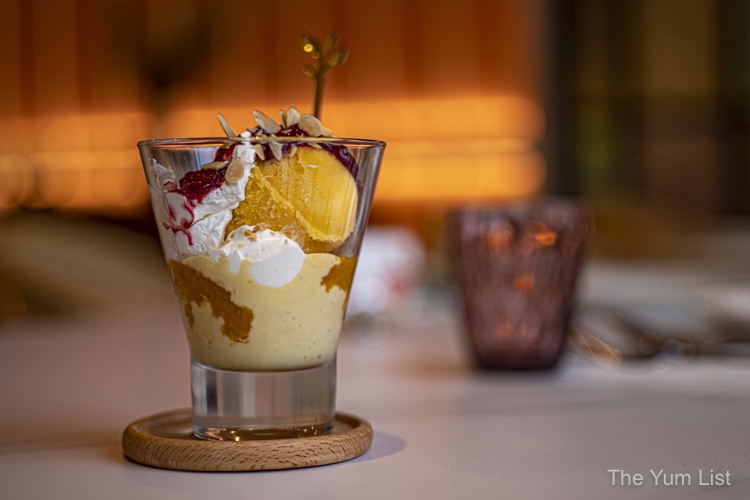 It's Cocktail Hour!
As our afternoon transitioned into cocktail hour, we felt compelled to explore the classic cocktails on offer. We savoured a Peach Bellini (RM55) and a Negroni (RM48) from Italy. From France, we indulged in a tangy Gimlet made from gin, lime juice, and sugar (RM42) and a Sangria featuring Spanish red wine, peach purée, and fruit (RM38). Each of these cocktails was expertly balanced and highly enjoyable. Peaches and Cream aims to be inclusive, offering non-alcoholic versions of all their classic cocktails. This isn't merely a matter of removing the alcohol; the restaurant has gone the extra mile to replicate the authentic taste of the cocktails minus the booze.
The restaurant also boasts a wide selection of gins and tonics. Each gin was served as a double measure with your choice of Fever-Tree tonics, my favourite tonic brand. The garnishes play a crucial role, with the English Sipsmith Gin (RM48) paired with lime and cucumber. At the same time, the French Citadelle Gin (RM42) was complemented by lemon and tarragon.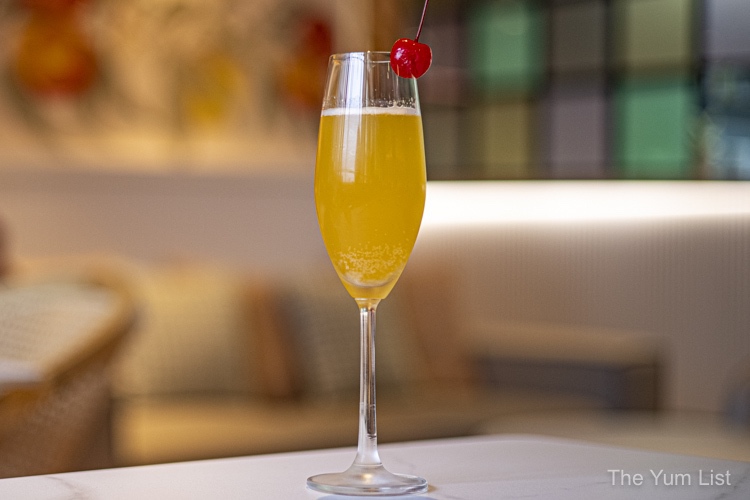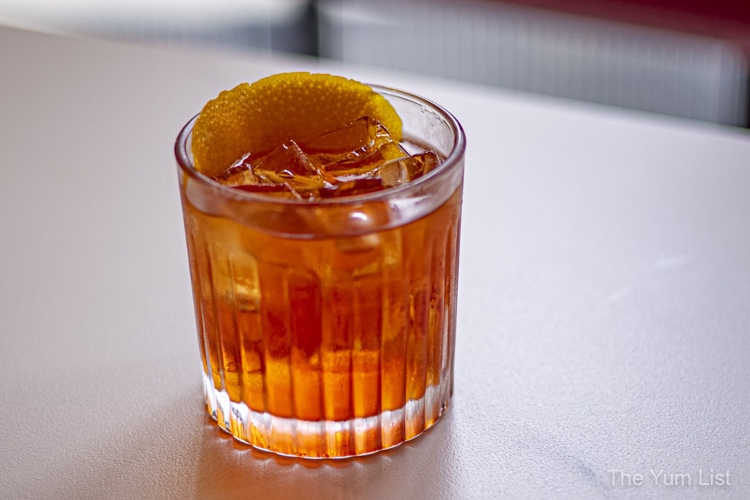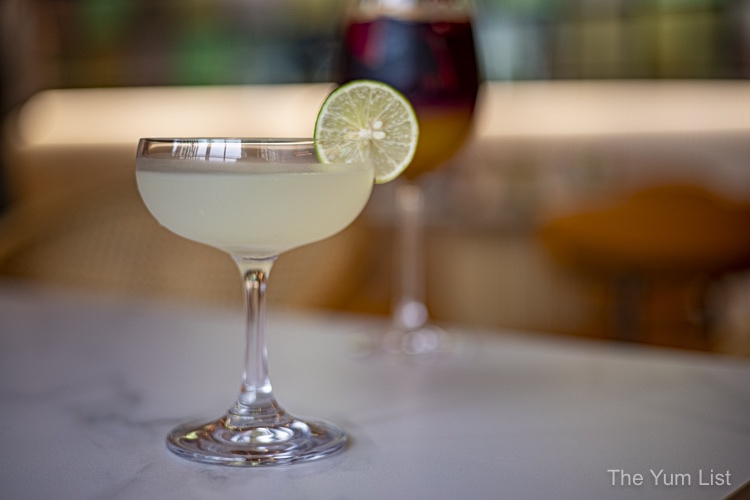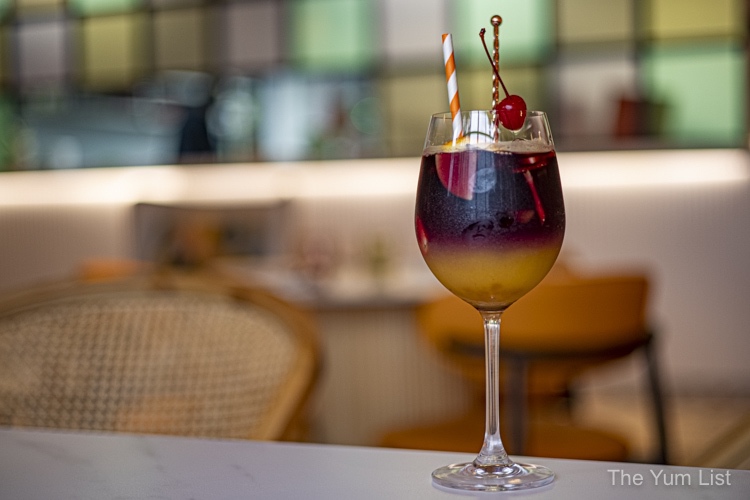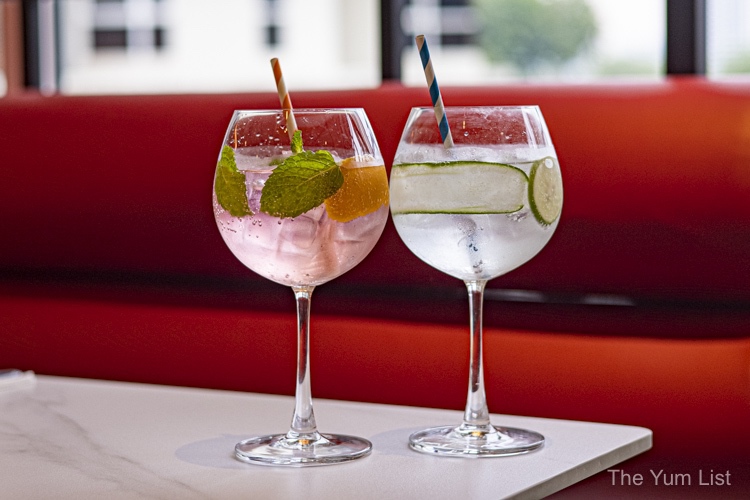 Peaches and Cream KL Review
Peaches and Cream KL is owned and operated by someone with a profound love for food. Victor Yap is committed to sharing his European culinary experiences with us all, ensuring we don't miss out on a single aspect. He has created a remarkable dining experience encompassing bountiful brunches, delectable dinners, consummate cocktails and a wonderful wine list.
Reasons to visit Peaches and Cream KL: convenient location in Ampwalk with plentiful parking; we're delighted to have this level of dining with an excellent wine and cocktail list elevating the experience; the prettiest of settings; great ambience for brunch or afternoon tea with the girls, a value-for-money family lunch, or romantic date night; and don't forget that fabulous dessert trolley.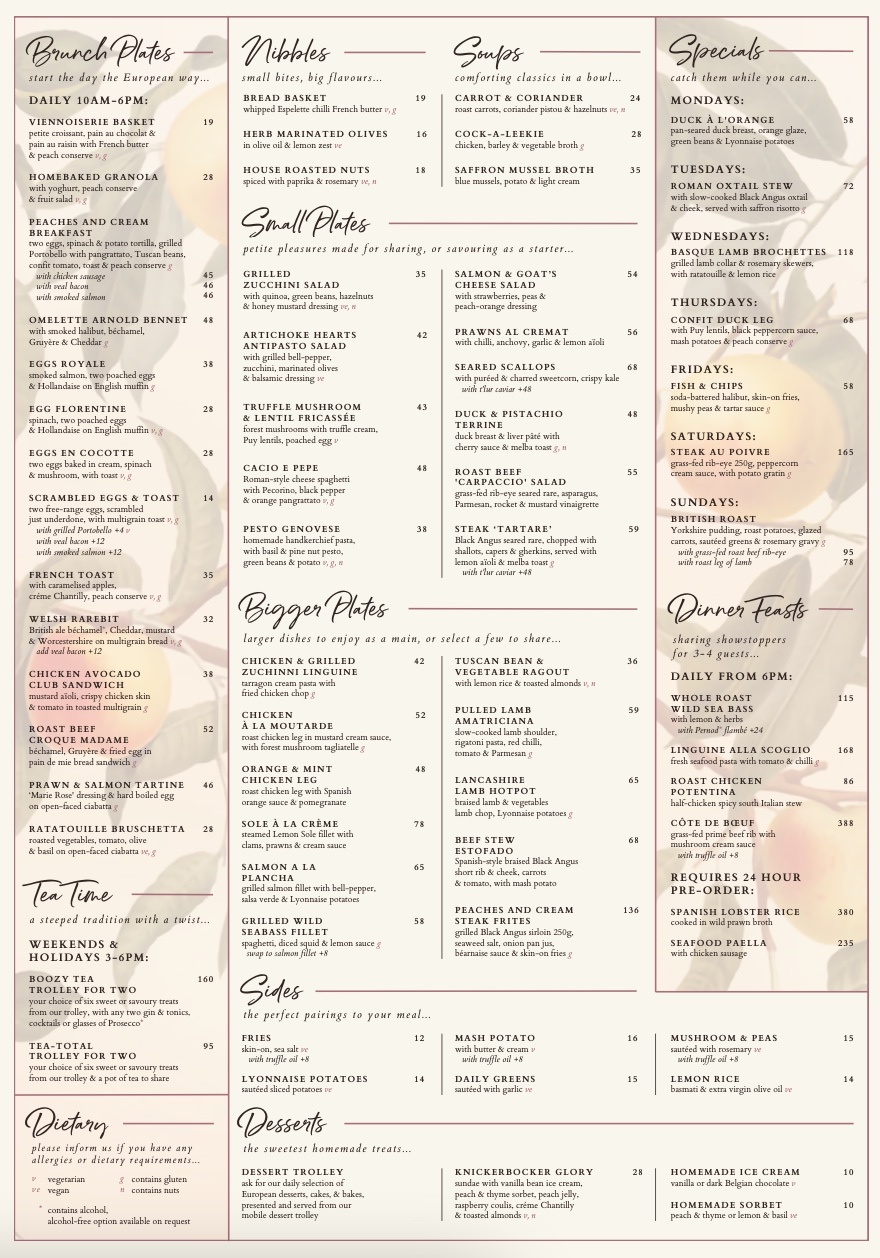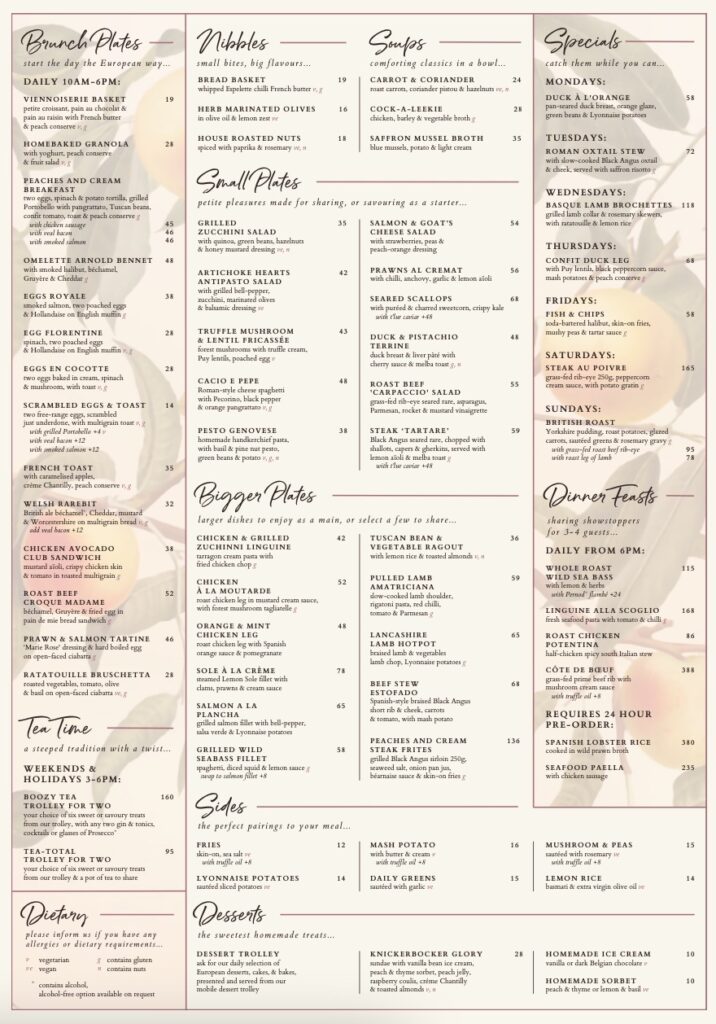 Peaches and Cream KL
Lot L1.08 & L1.09, Level First Floor, The Grange @ Ampwalk
218, Jalan Ampang, 50450 Kuala Lumpur, Malaysia
+6 03 4815 9408
www.peachesandcream.my
Peaches and Cream KL Opening Hours
Daily: 10 am – 10 pm
Find more eateries in Ampang here and stay updated with the latest gourmet happenings around Malaysia here and here.