Bodhi Terrace – Anantara Chiang Mai
Words: Monica Tindall
Photos: Han Sen Hau
Situated alongside the picturesque Mae Ping River in Chiang Mai, Bodhi Terrace offers a unique dining experience that marries contemporary elegance with ancient charm. Named after the two magnificent 300-year-old Bodhi trees that grace its deck, this restaurant welcomes not only in-house guests but also residents and city visitors.
Bodhi Terrace showcases the rich tapestry of Southeast Asian flavours with a menu including regional delights influenced by Malay zest, Hokkien flair, Burmese richness, and local Chiang Mai specialties. This riverside kitchen invites you to savour the essence of Thailand's diverse culinary heritage.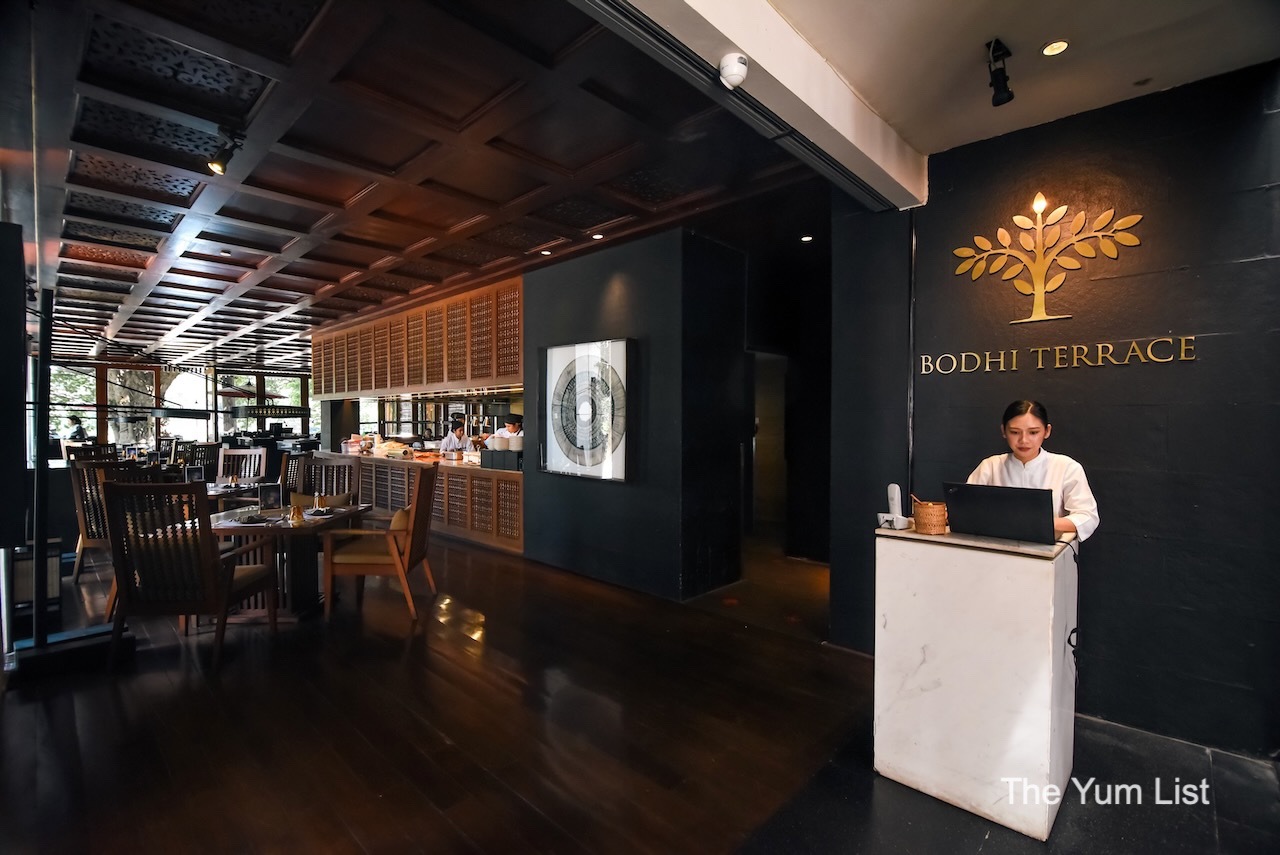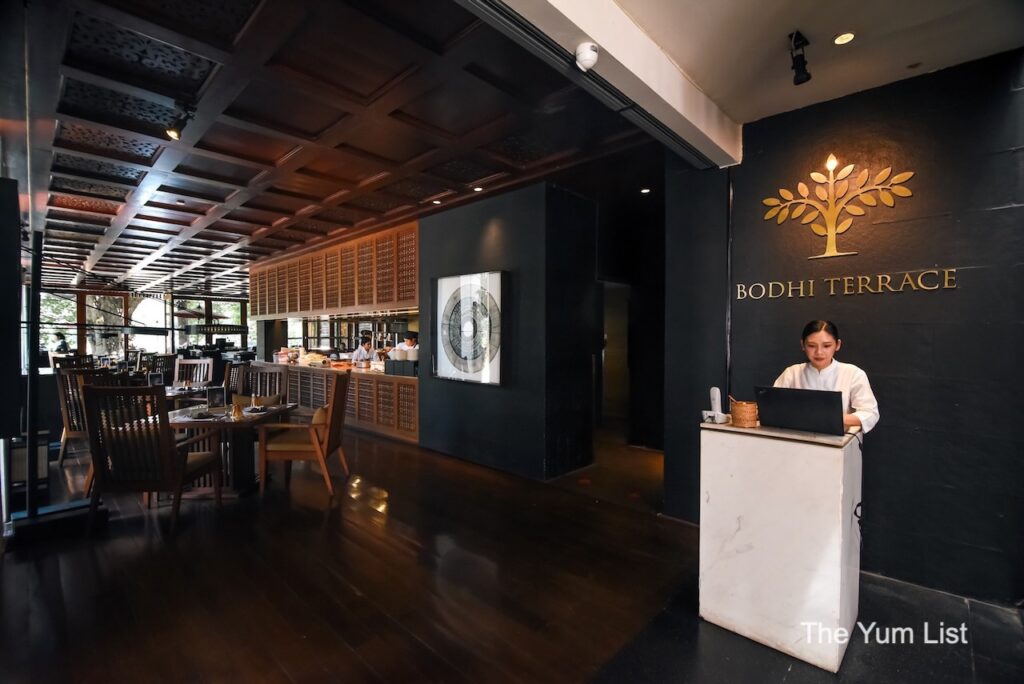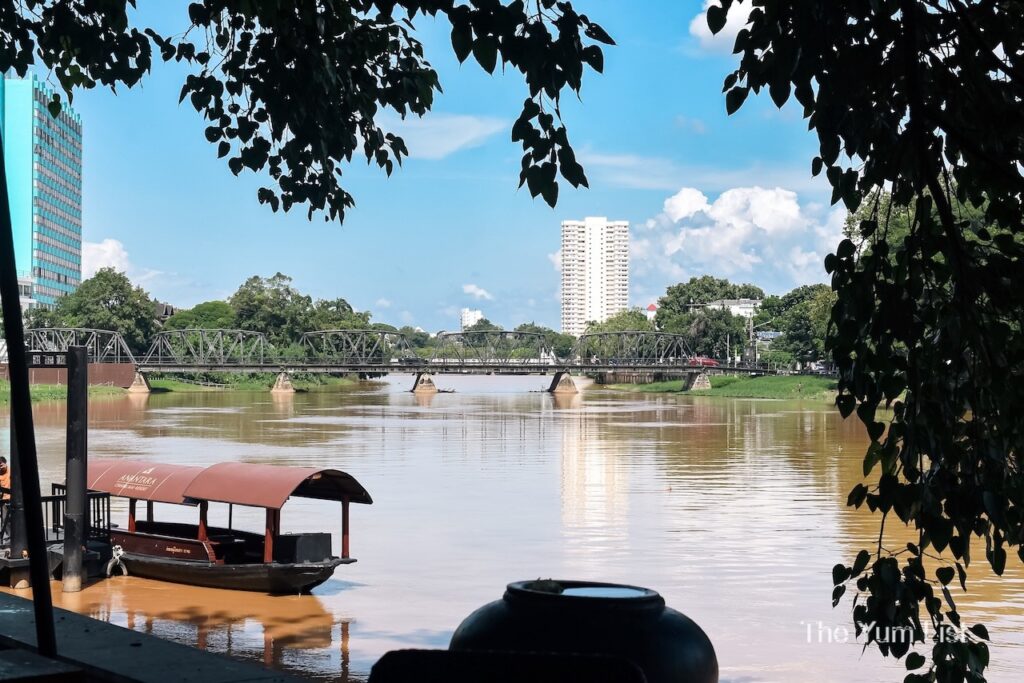 Signature Cocktails
Vacation, alfresco dining and water views beg for a cocktail, don't you agree? Well, the team at Bodhi Terrace shakes up some signatures, and we're particularly curious about The Leaf Series finding their flavour in local ingredients. Tequila, tropical sunset tea, cranberry juice, orange liqueur and red wine salt make up Precision (THB 350), while Whisper (THB 350) is a base of vodka combined with green tea, simple syrup, passion juice, lemongrass and beer foam served in a tall glass. Both are cool and refreshing, but alternatively, a Fresh Coconut (THB 210) is hard to beat as a booze-free choice.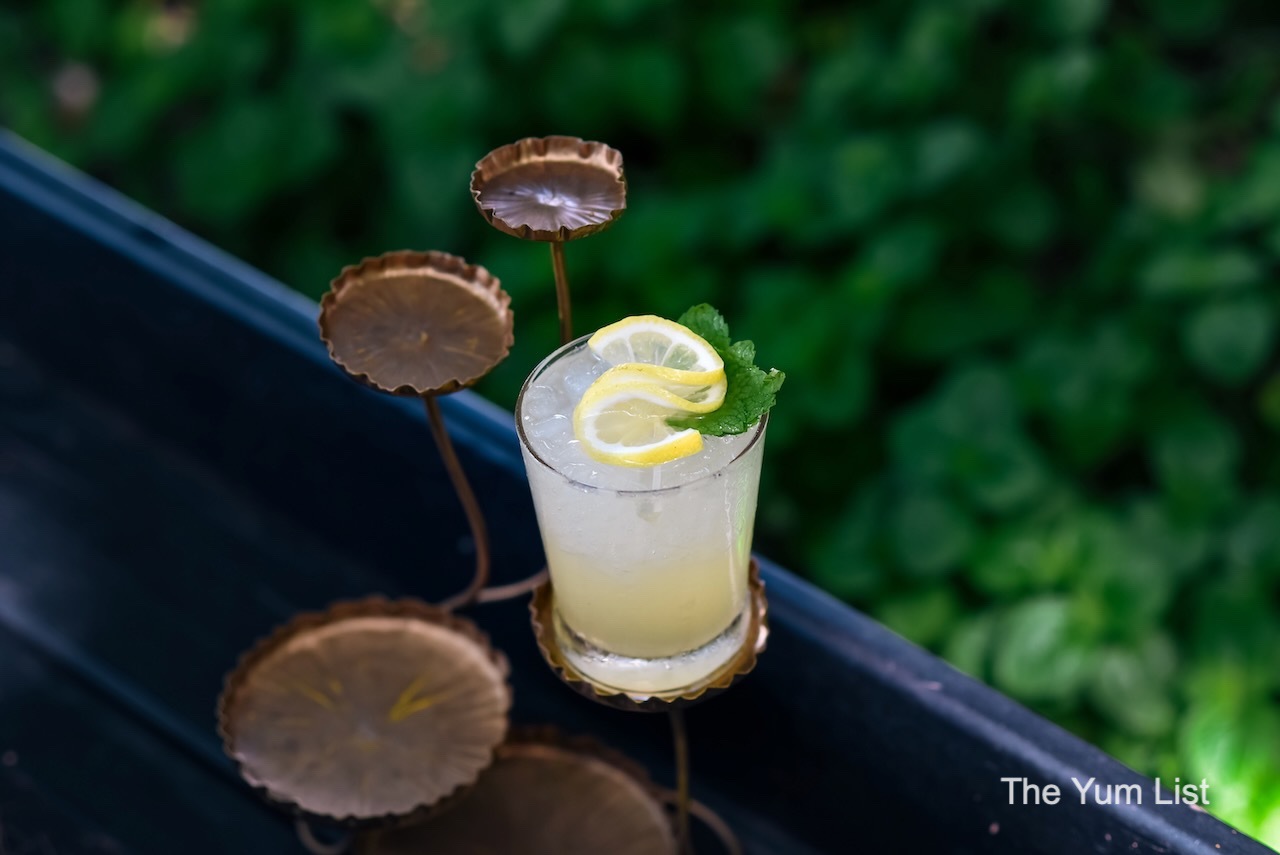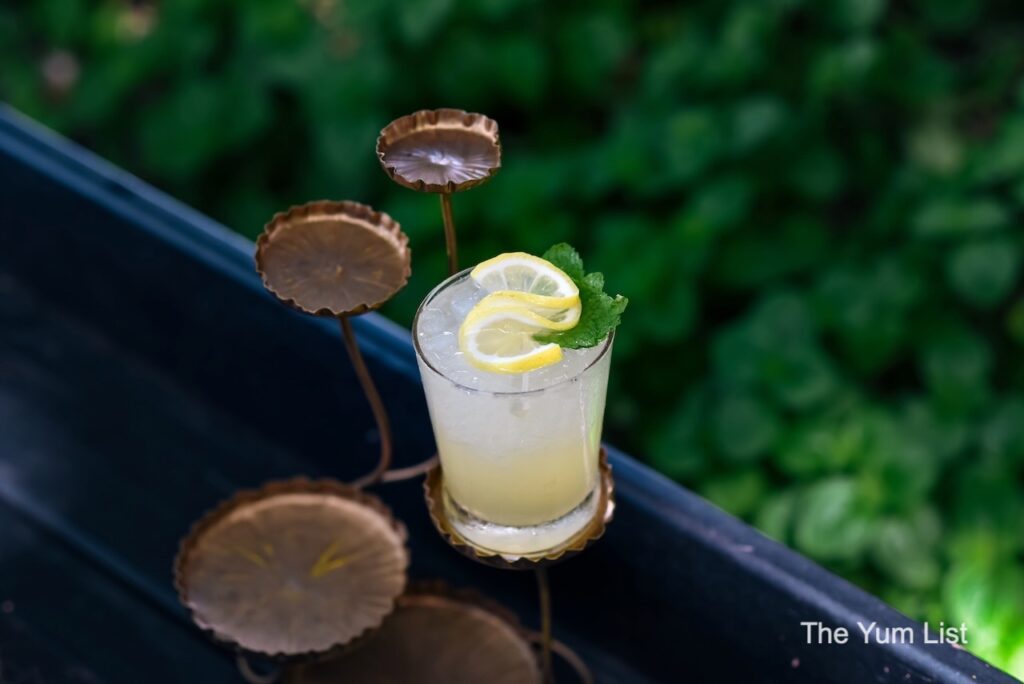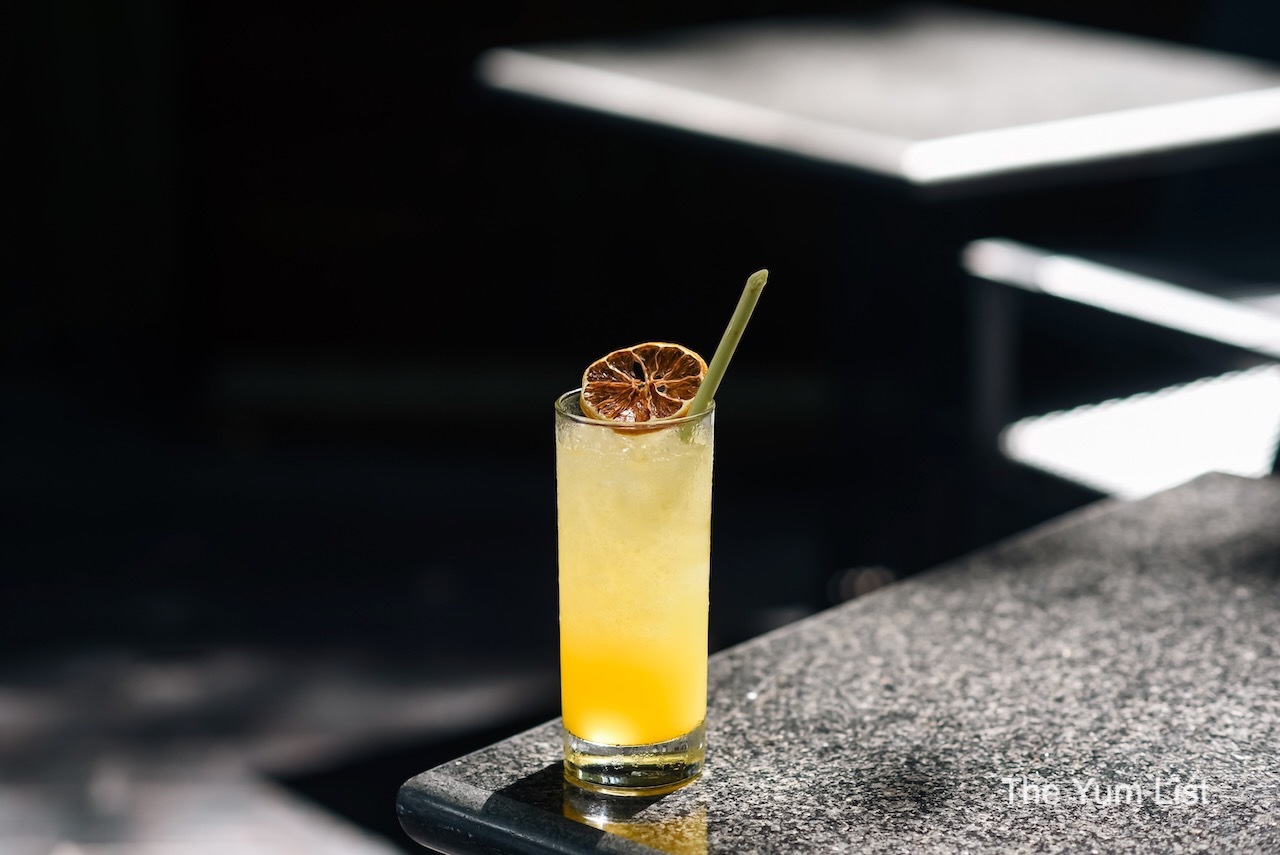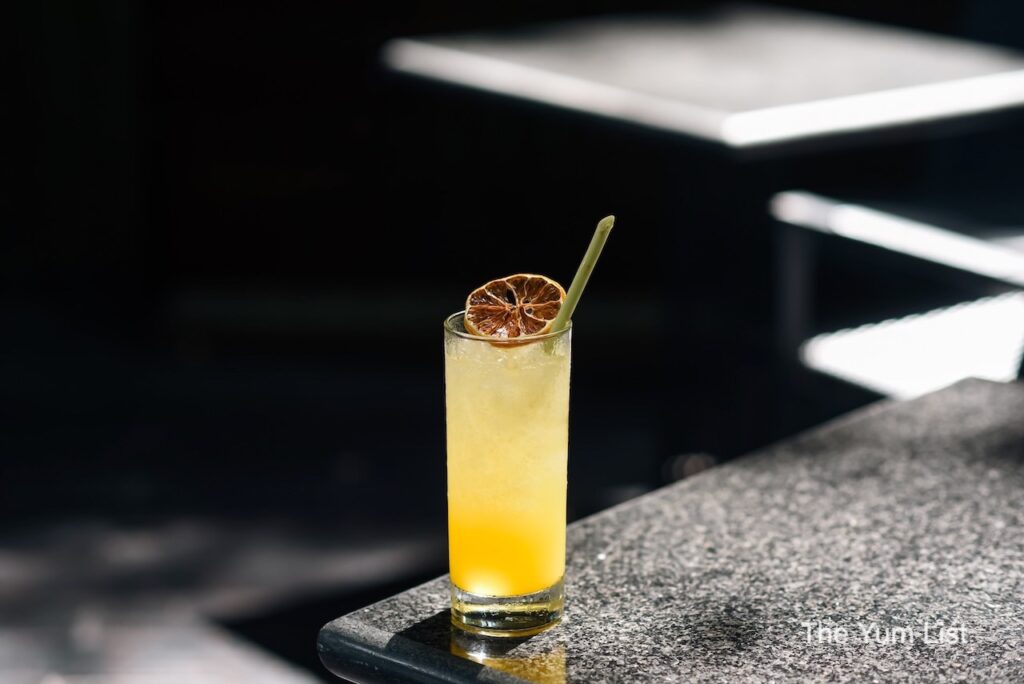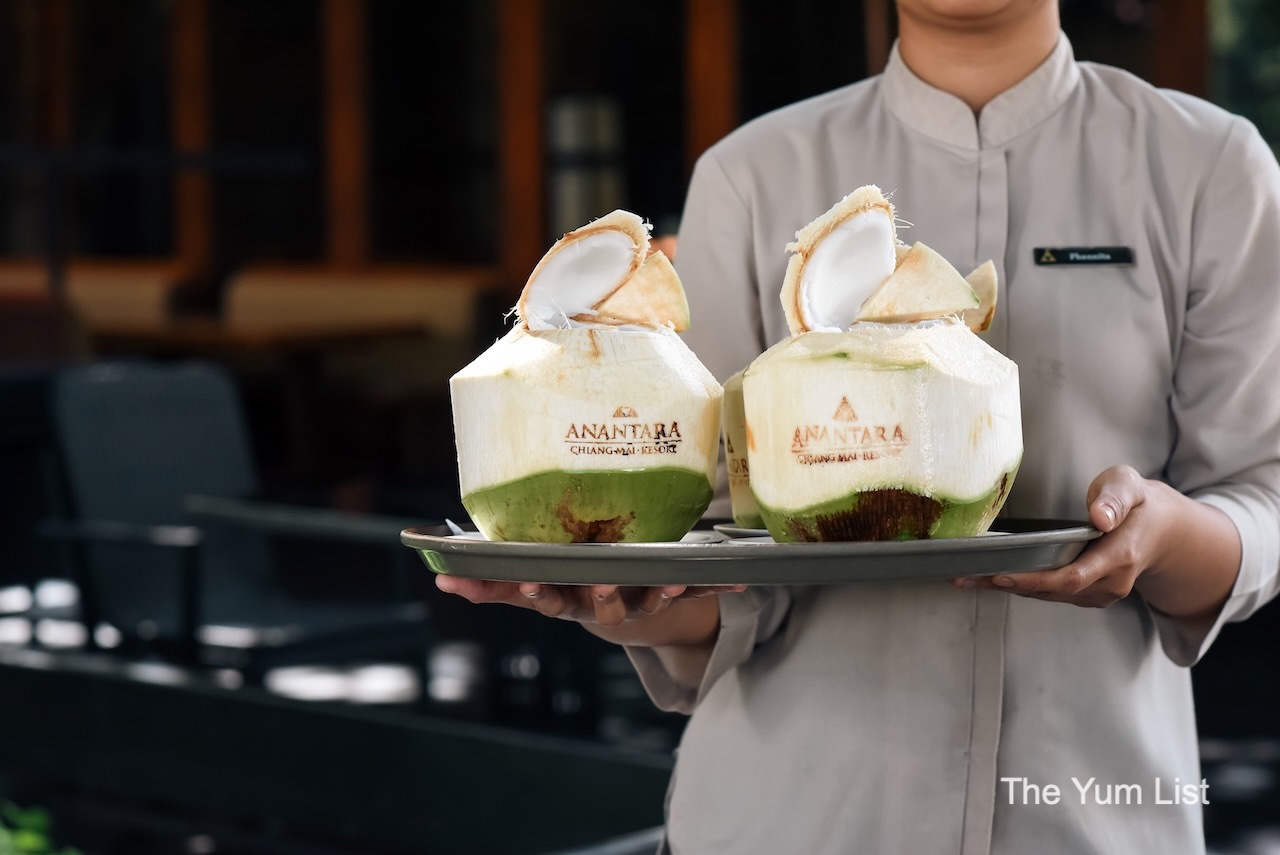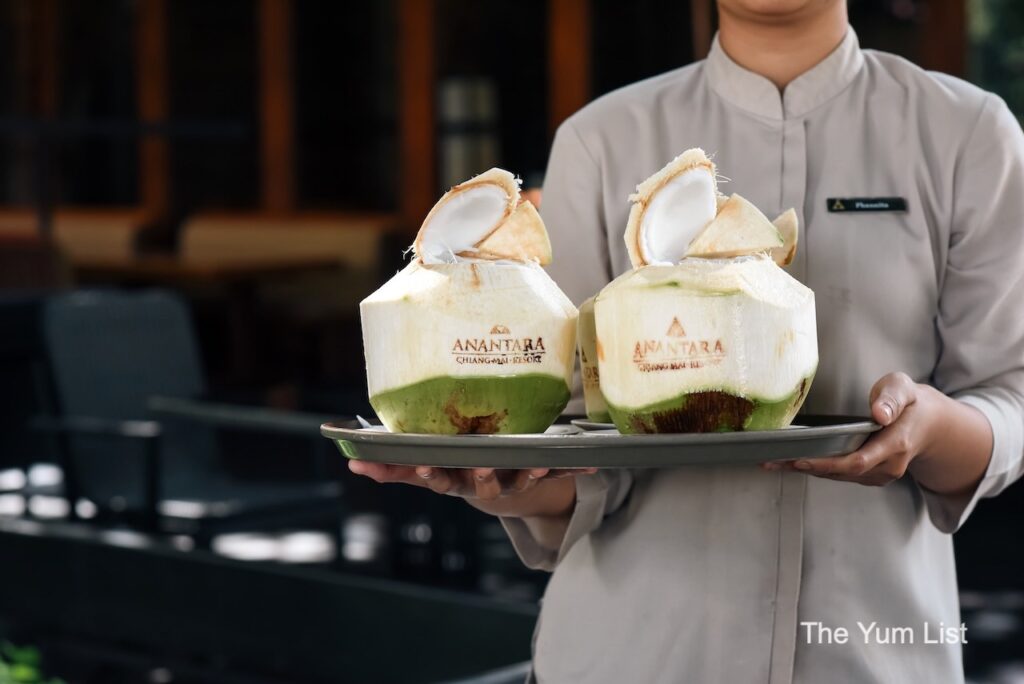 Bodhi Terrace Food Menu
Snacks
Guests are treated to a complimentary pre-meal snack of Miang Kham. The Thai delicacy is presented on a four-tiered tower, elegantly holding small bowls of each component – betel leaves, chopped chilli, lime, ginger, shallots, roasted coconut, peanuts, and a vegan palm sugar and galangal sauce. To consume, put a betel leaf on your plate, then the ingredients. Lastly, add the sauce, fold over the leaf and pop it all in your mouth in one bite. It's the perfect amuse bouche, tickling all of the tastebuds, readying them for the meal to come.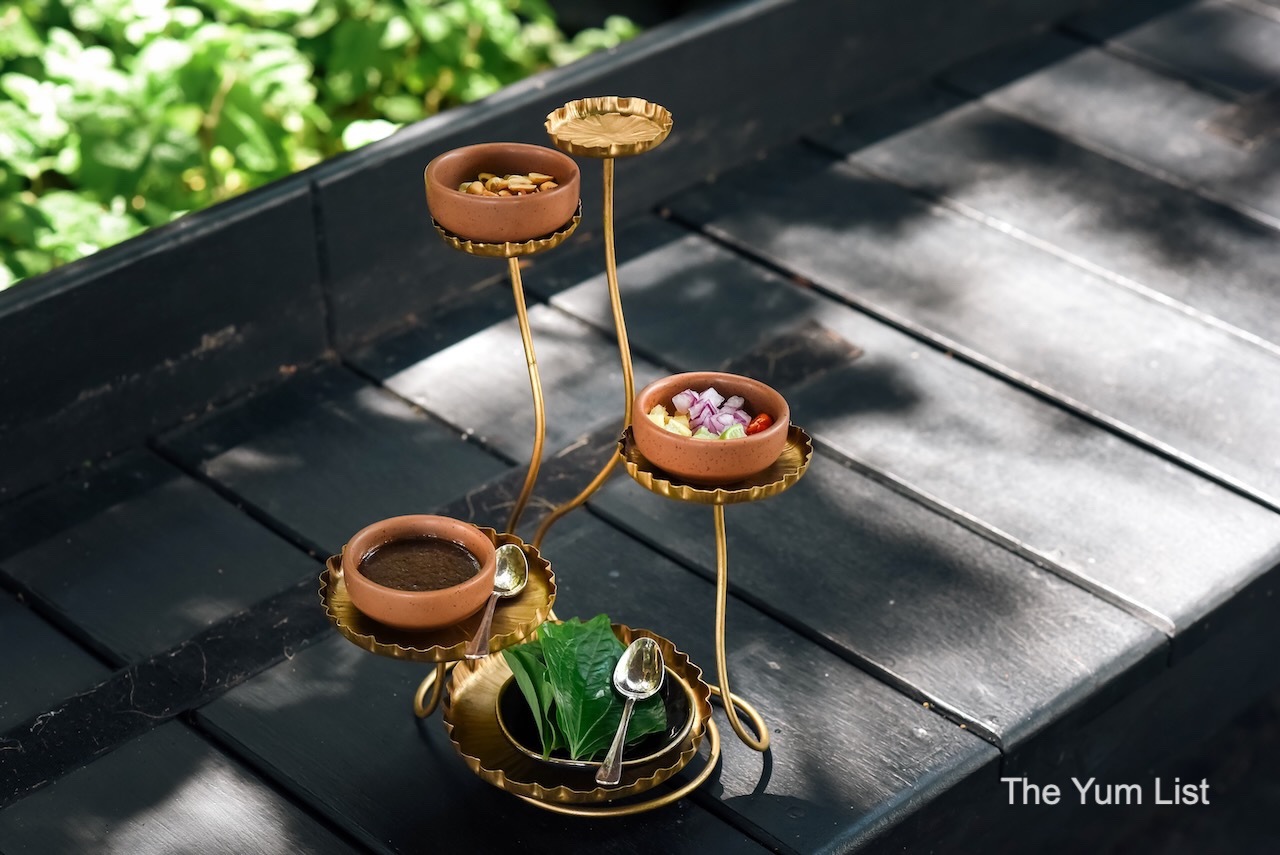 Appetisers
Yum Som-O Goong Yang (THB 550) translates to pomelo salad with grilled Ping River prawn. However, given the mighty prawn dominating the plate, the headline should read in reverse: Monster Prawn Takes Over Most of the Plate, leaving only a tiny corner for the salad. The citrus in the salad is broken into almost individual juice sacs, giving it a certain elegance swirled with coconut milk, dried shrimp and chilli. We love it!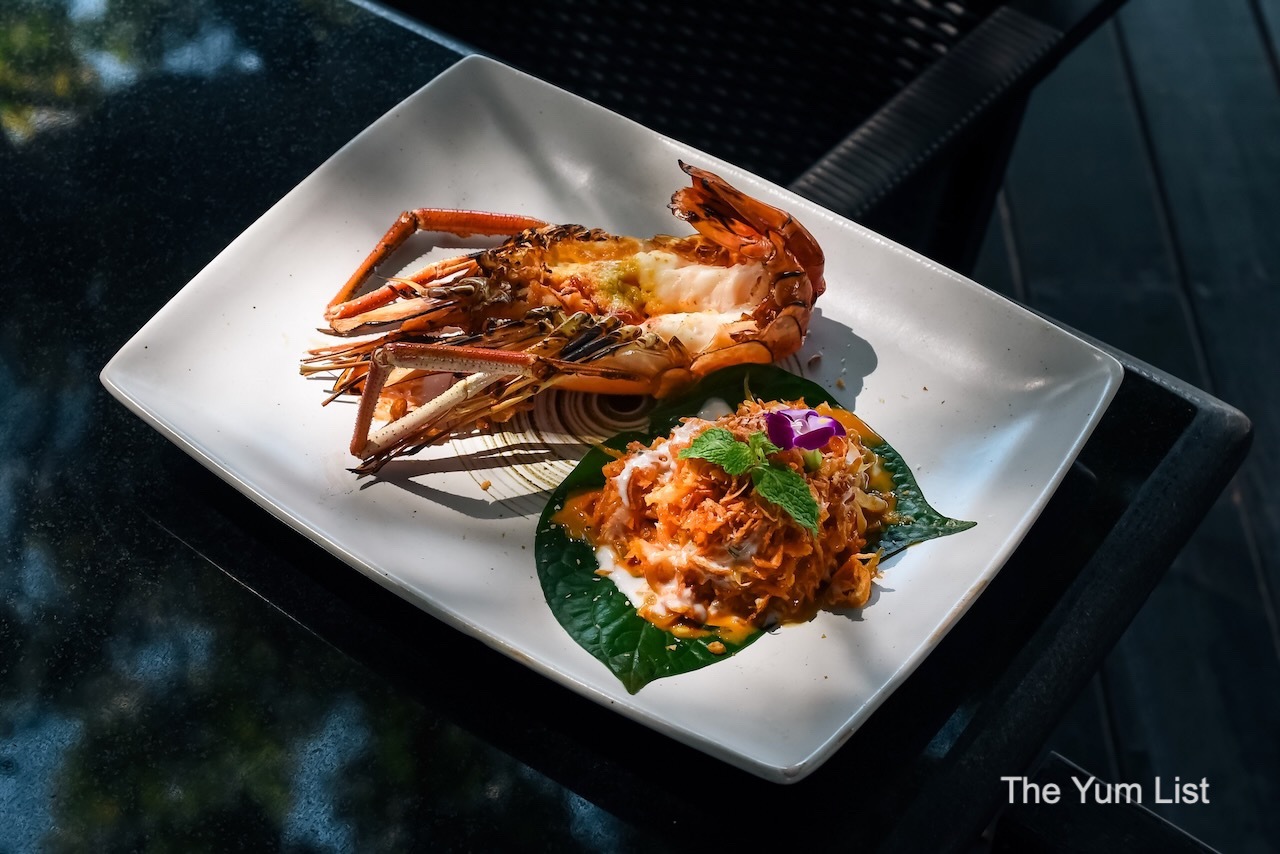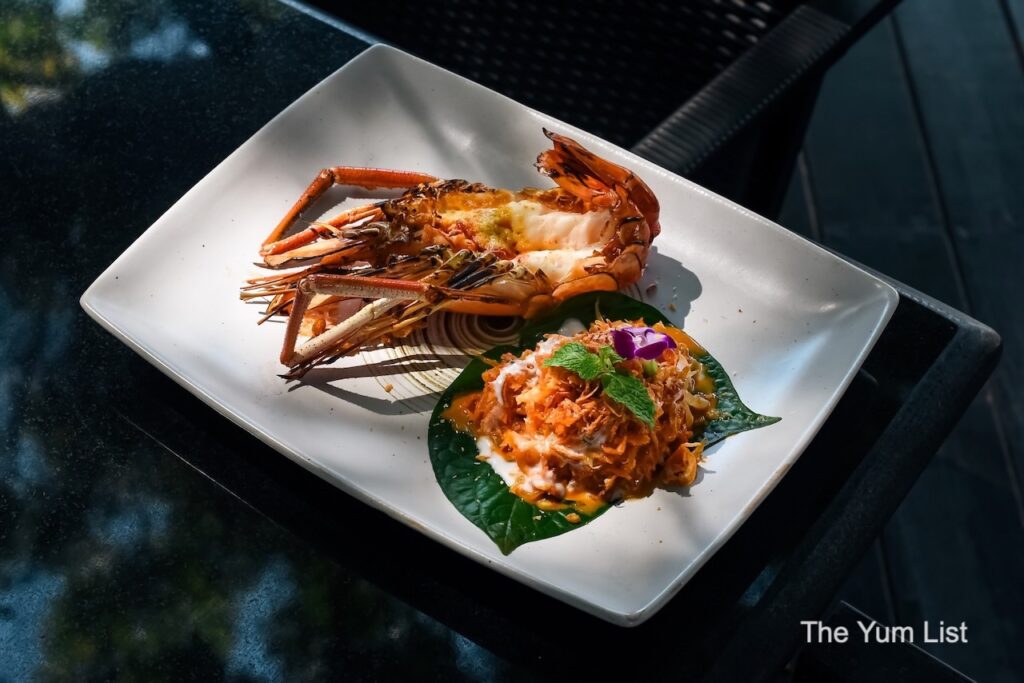 In one of the prettiest rice dishes around, Khao Yum Pak Tai (THB 390) showcases roasted coconut, dried shrimps, lemongrass, bean sprouts, green mango, dried chilli, long beans and lime leaves plated separately around the mound of blue butterfly pea jasmine rice. The service staff prepare it tableside by tossing the ingredients together in a bowl, mixing in the shrimp paste sauce, and then plating it with a prawn on top. It's both good-looking and good-tasting.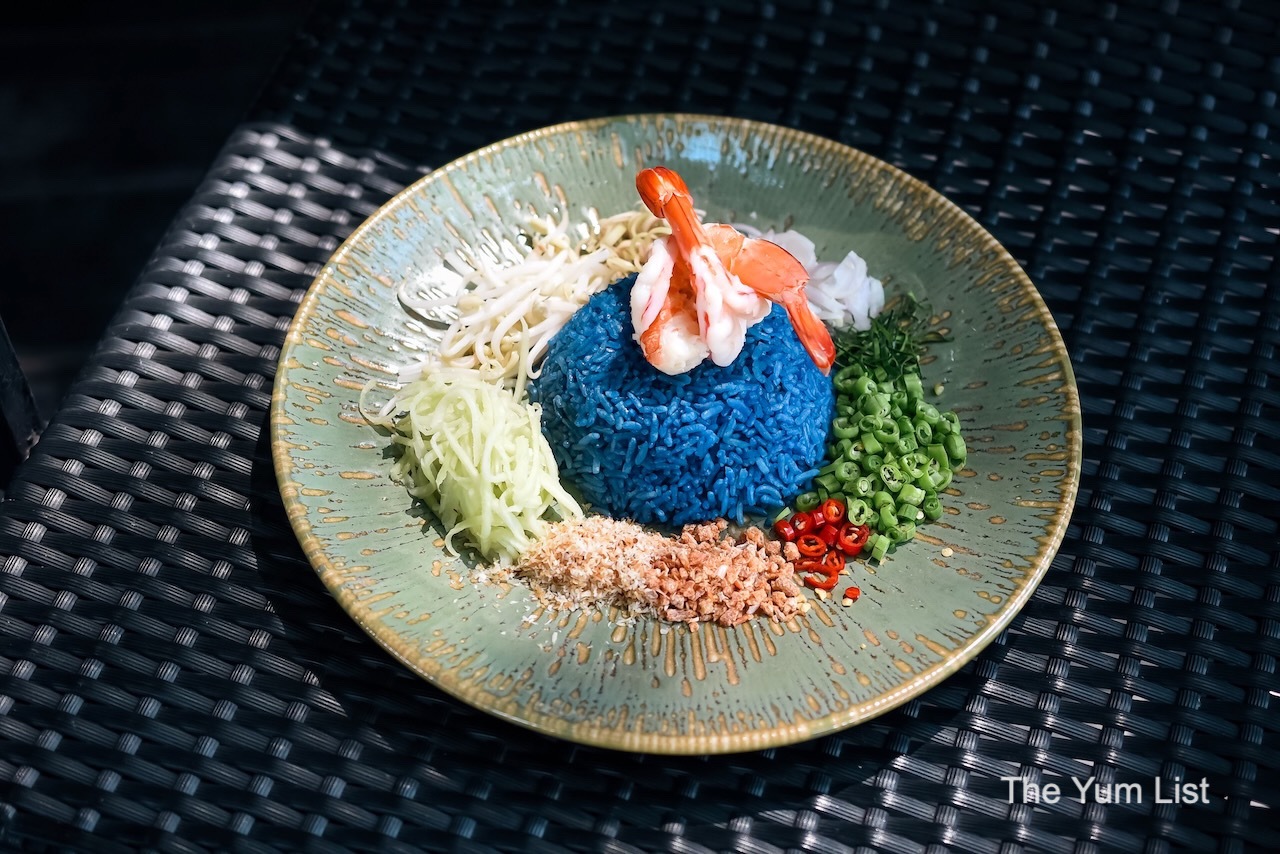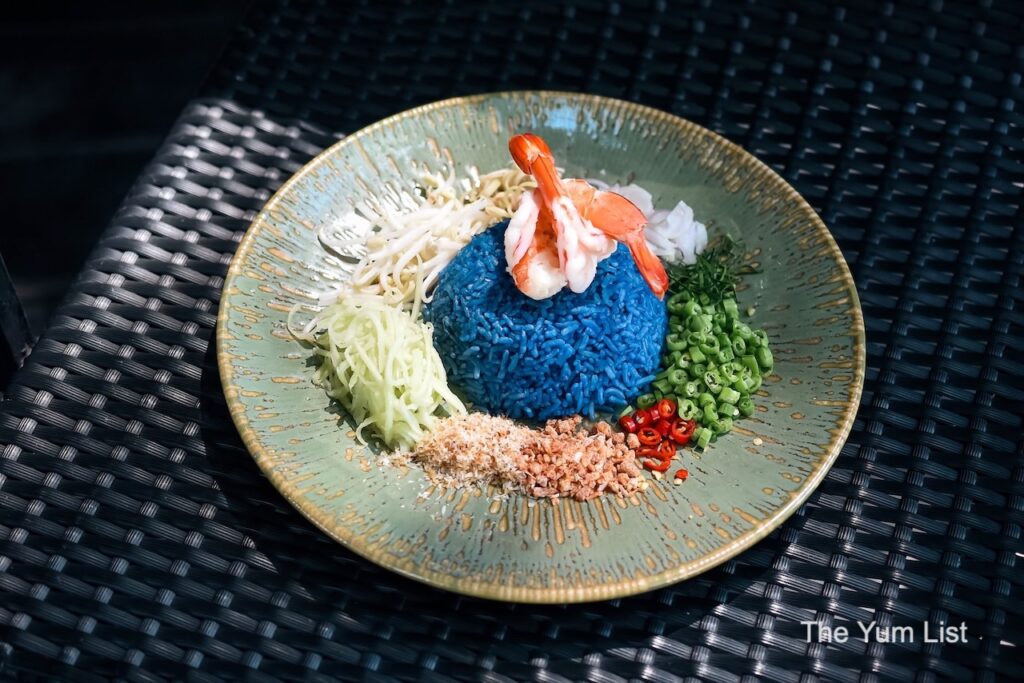 The Royal Project is something we hear about repeatedly on this visit. It's a Thai initiative launched in the 1970s to help impoverished farmers in the northern part of the country find alternative livelihoods to poppy cultivation. The project has been a resounding success, and today, Royal Project produce is some of the most sought-after in Thailand. The Pad Hed Krong Karn Luang (THB 260) is one such example of the delicious produce where a mix of mushrooms is wok-fried, making a hearty side or veggie main.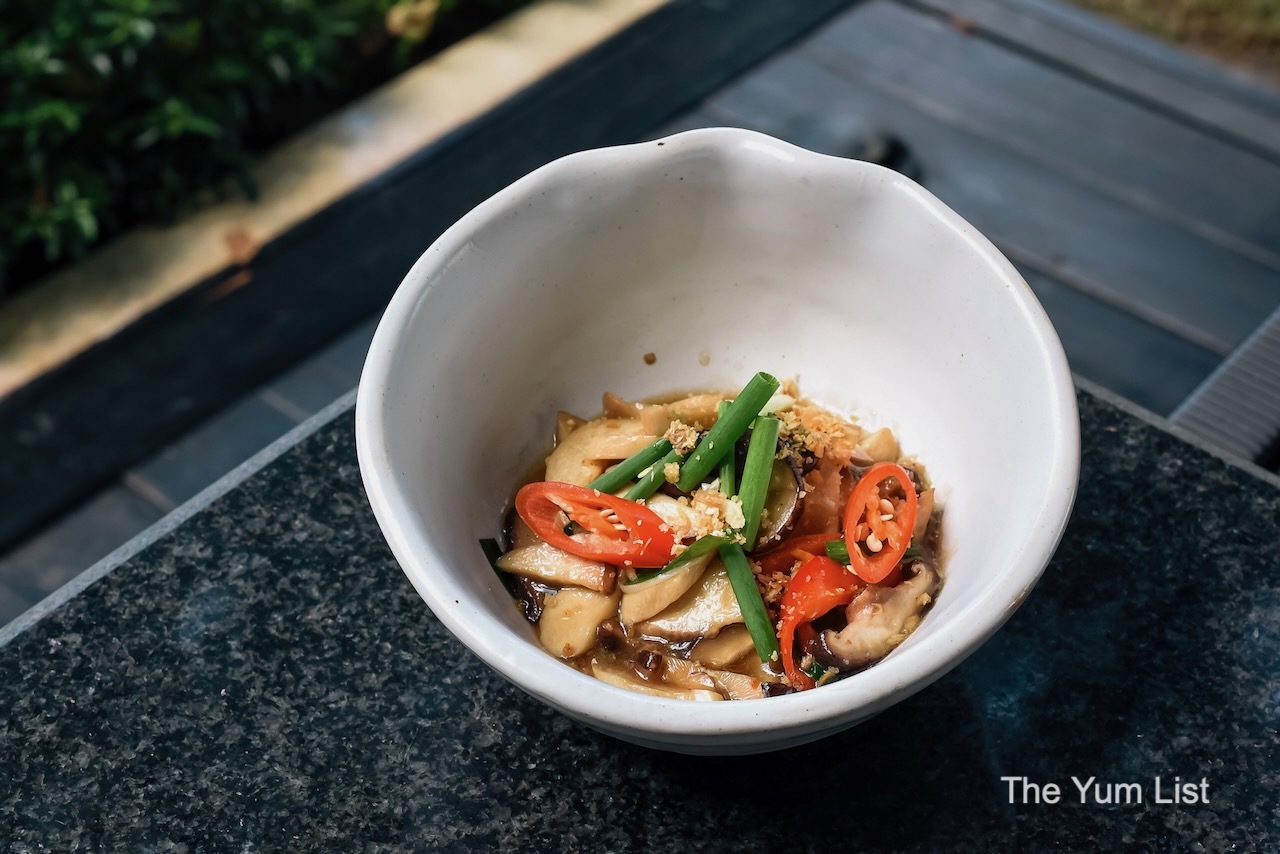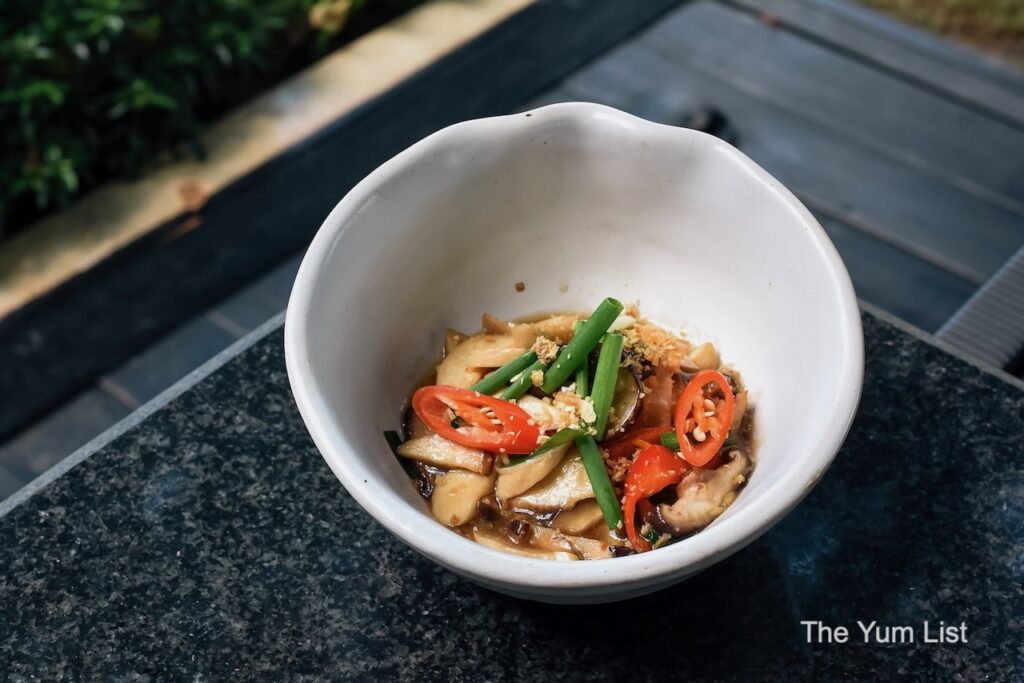 Mains
Bodhi Terrace regularly features seasonal produce on their menu, and we're fortunate that Phuket Lobster (THB 2900 ++) is in season. Guests can request their preferred style, but the chef's recommendation is grilled to appreciate the natural flavours. The flesh is sweet and meaty, great on its own, but even better with a spoon of sweet chilli or sour green chilli sauce scooped over.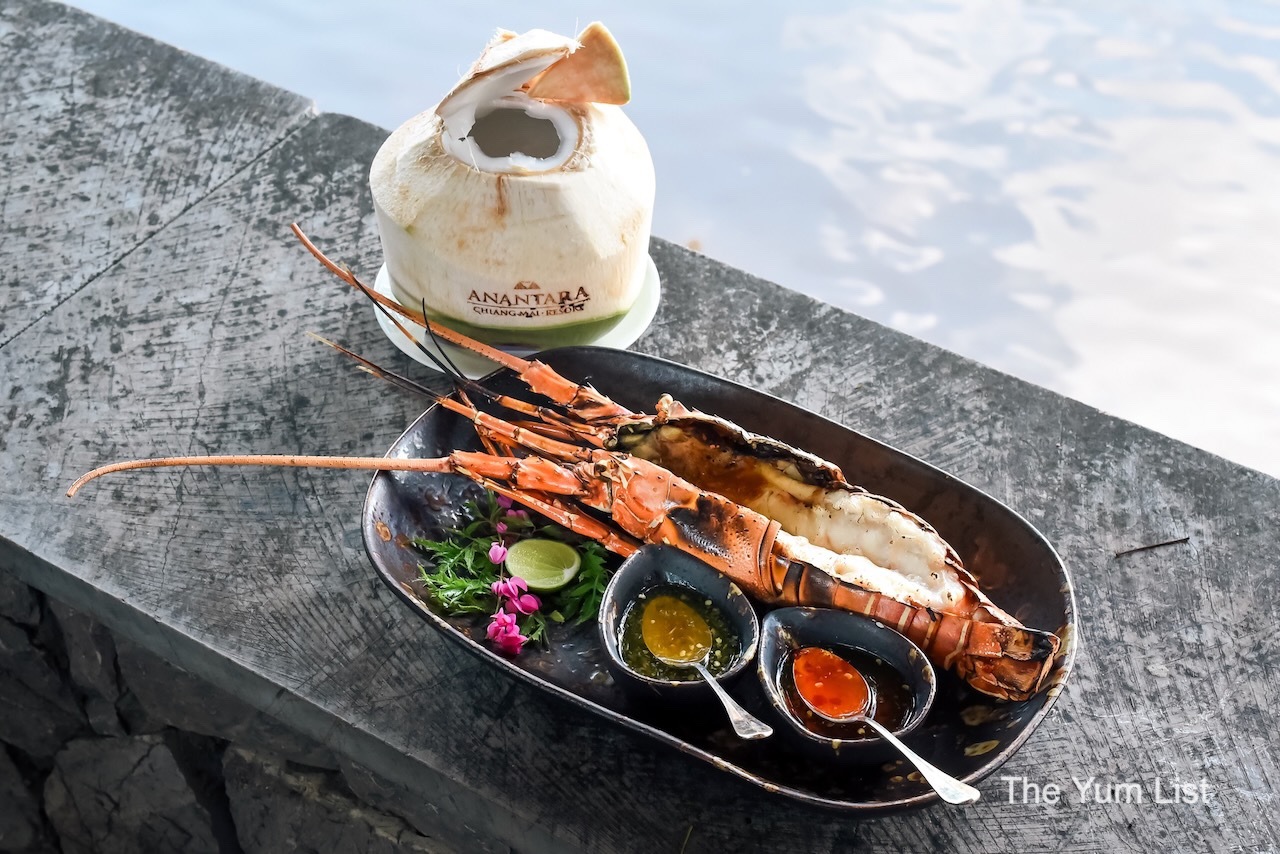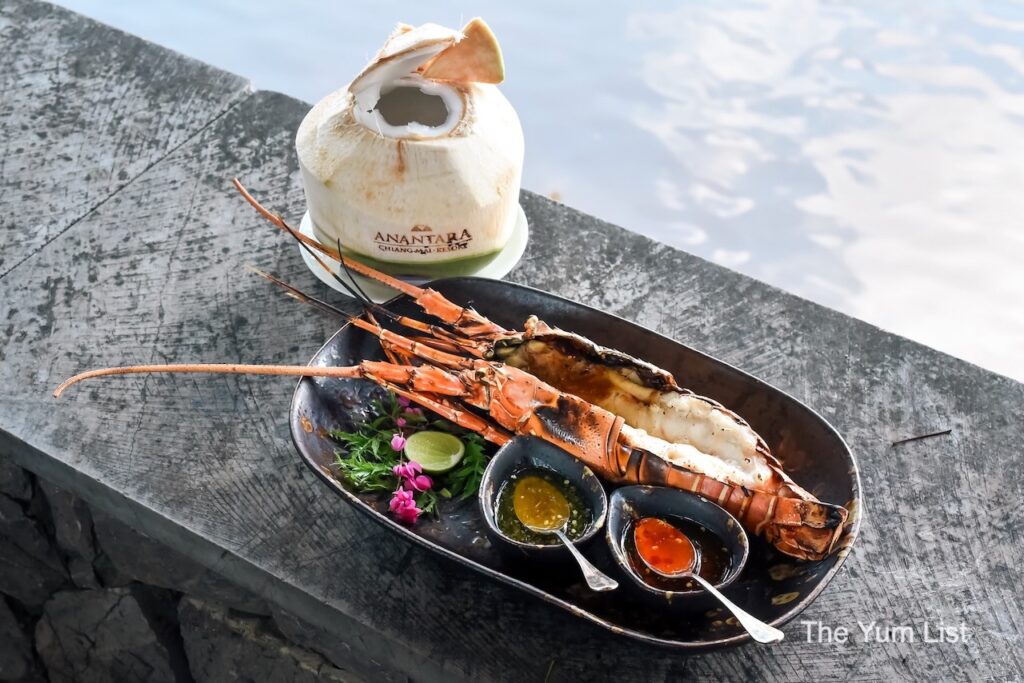 The last of our mains is Neua Wagye Pad Sauce Piset (THB 680), wagyu beef stir-fried with king oyster mushrooms, red and green peppers, celery and dragon fruit balls. The tender beef complements the chewy mushrooms, crunchy peppers, crisp celery, and juicy dragon fruit balls. The piset sauce adds a touch of sweetness and spice, bringing all the flavours together.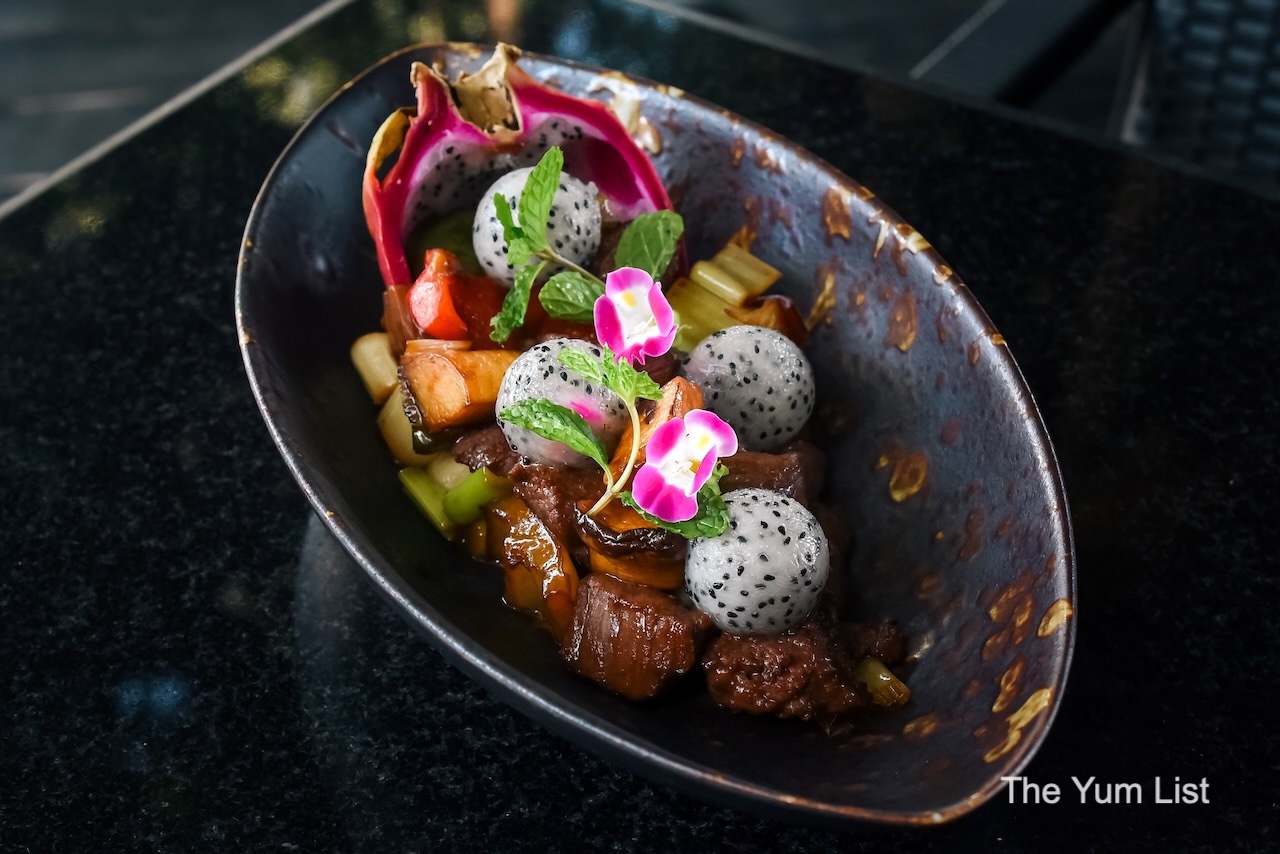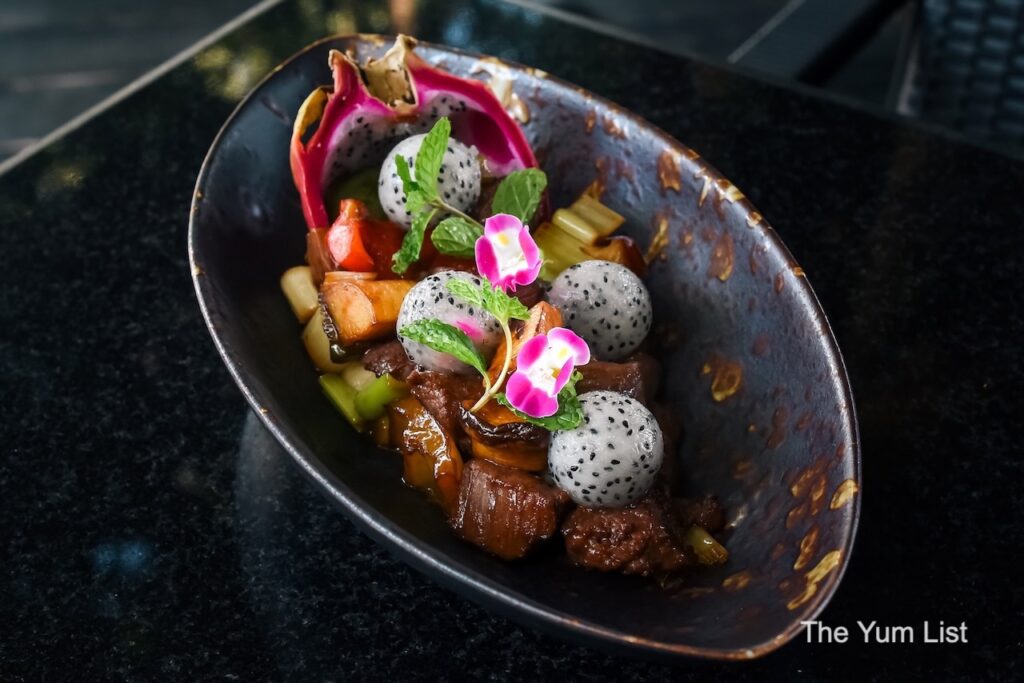 Dessert
Picture-worthy, Bodhi Terrace's signature dessert is the Sakoo Phatthalung (THB 290). It's a gorgeous plating with a thin tuile made with coconut delicately balanced between a pond of organic sago pudding from Phatthalung with longan and coconut, and a scoop of coconut ice cream. Delicate pink flowers and a sprinkling of gold powder accent the white top. Mmm.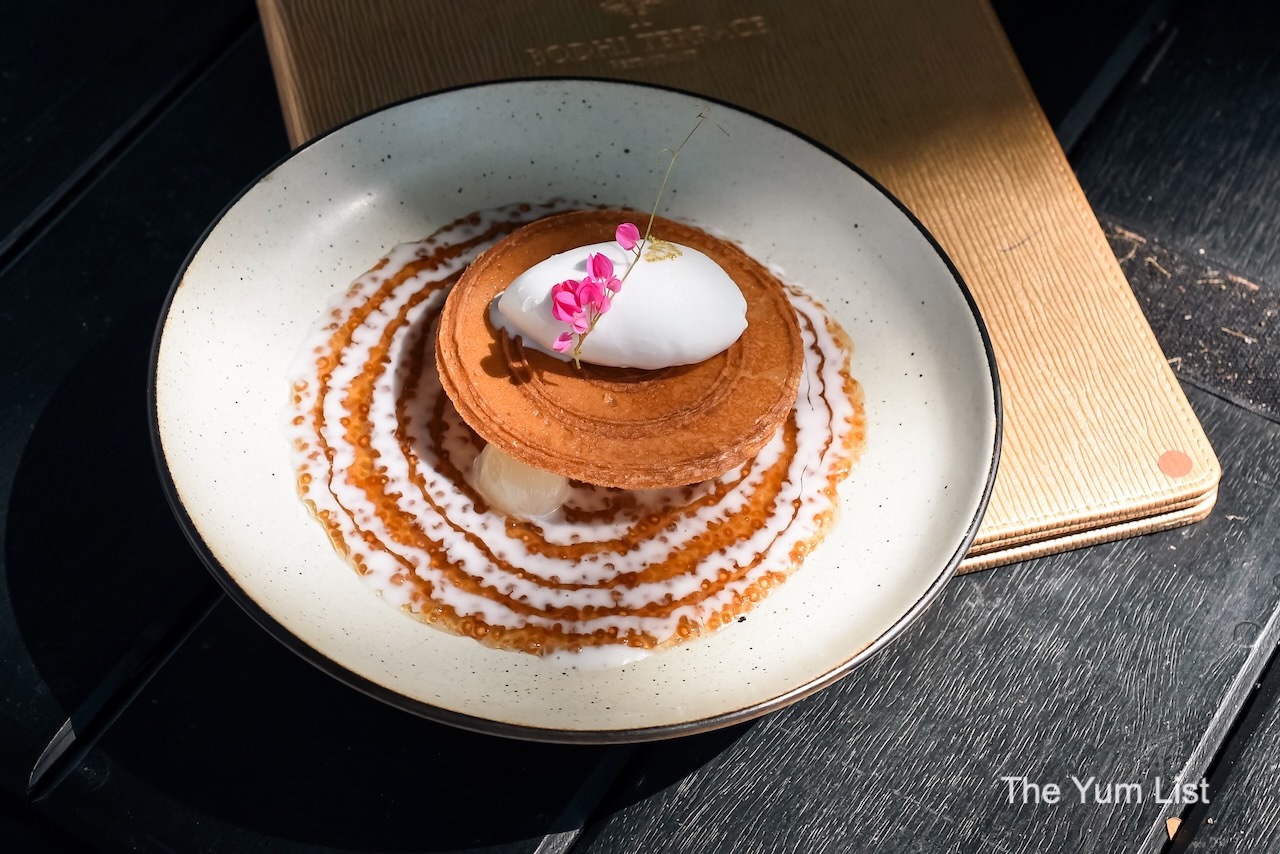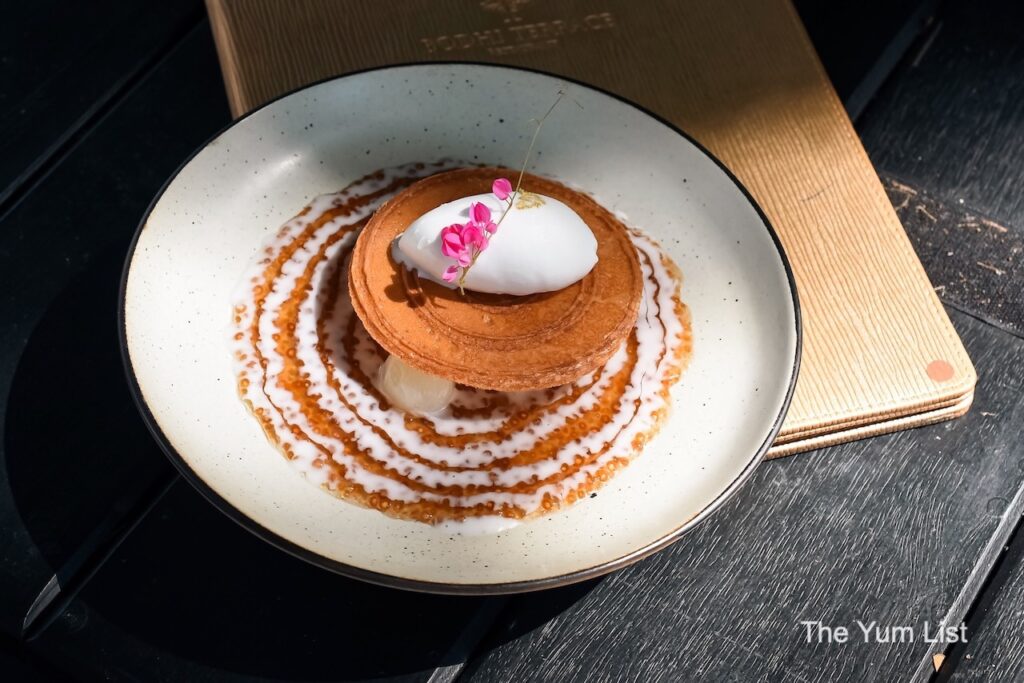 For a more straightforward conclusion, there's a range of Sorbet (THB 140) and Gelato (THB 140) flavours made in collaboration with a local Italian ice cream maker. We're especially fond of the tamarind and the Thai tea.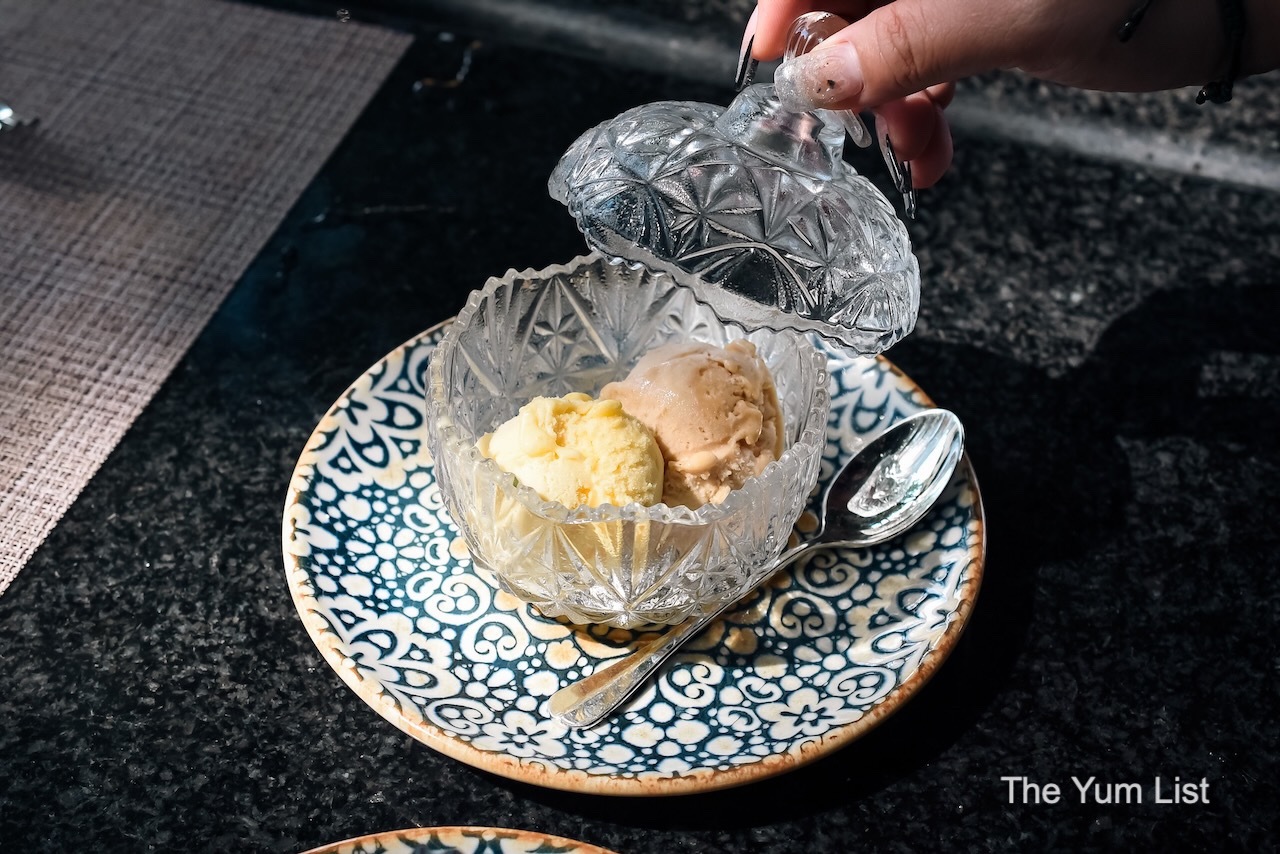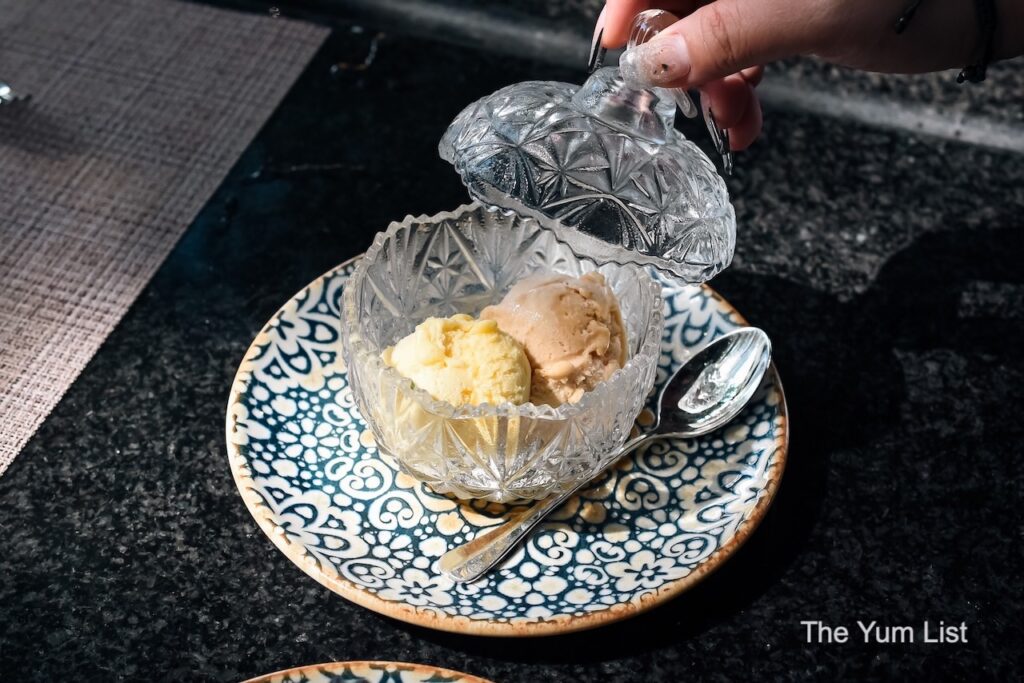 Brit Bar
It's such a glorious moment; we don't want it to end, so move to the Brit Bar to linger a little longer over post-lunch coffee. Formerly the British Consulate, you can guess how the bar got its name.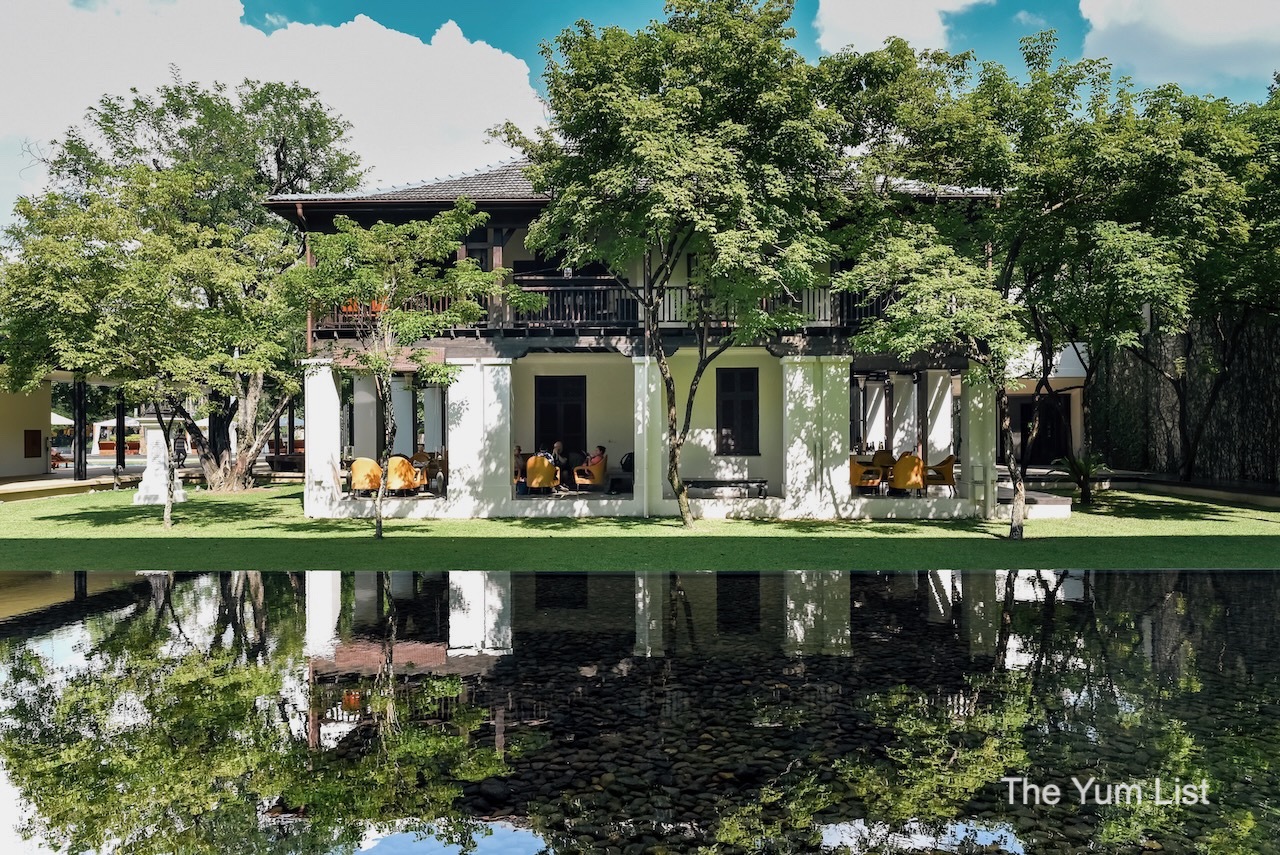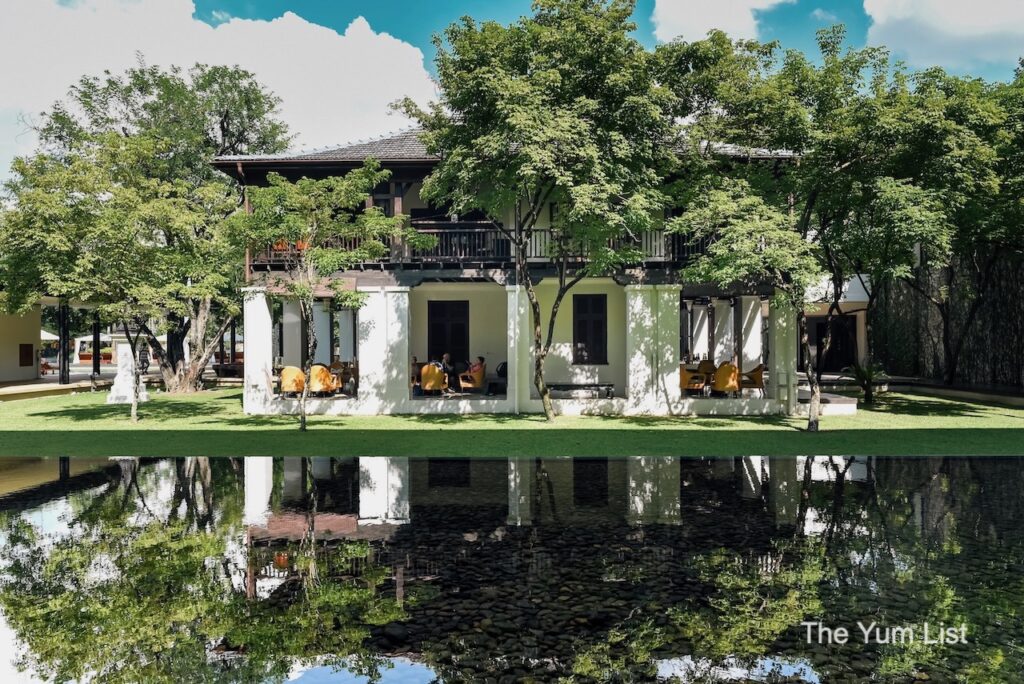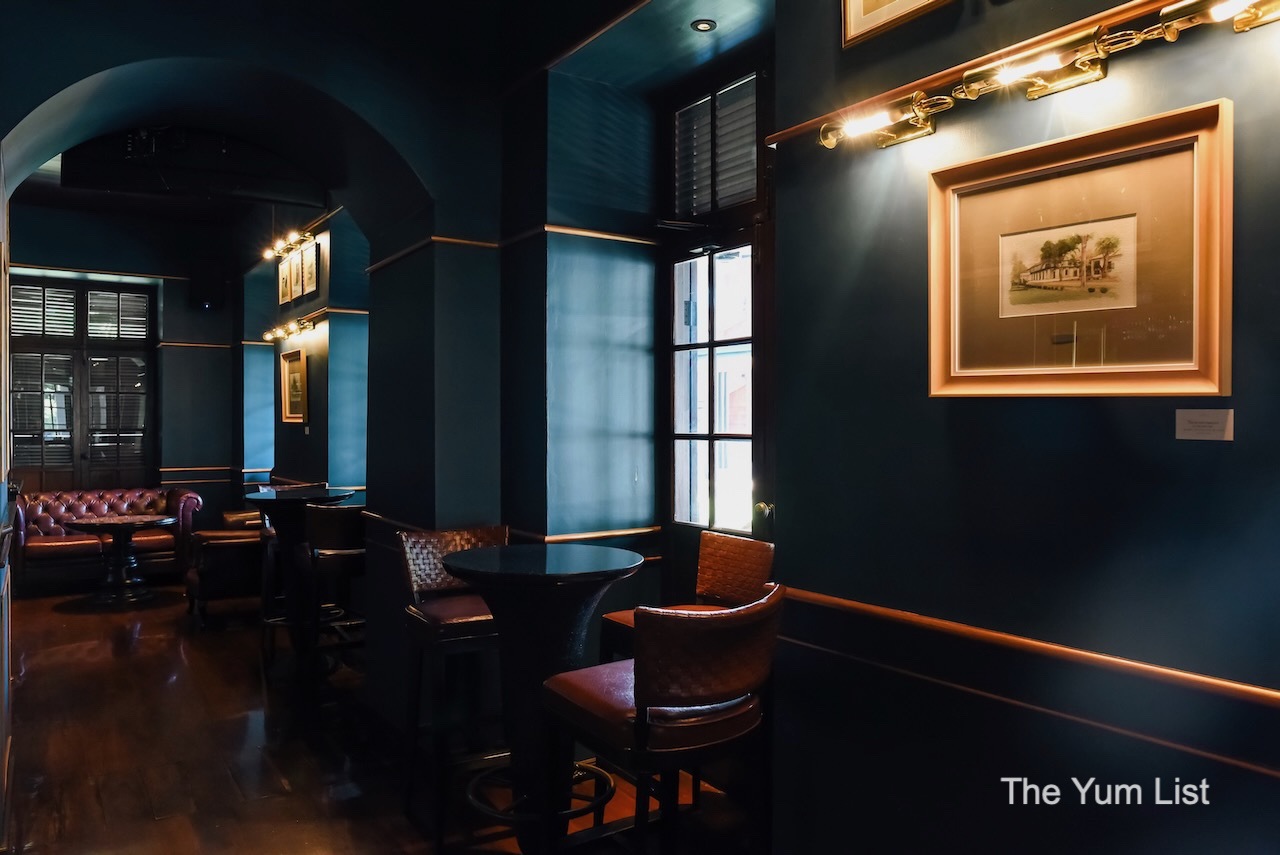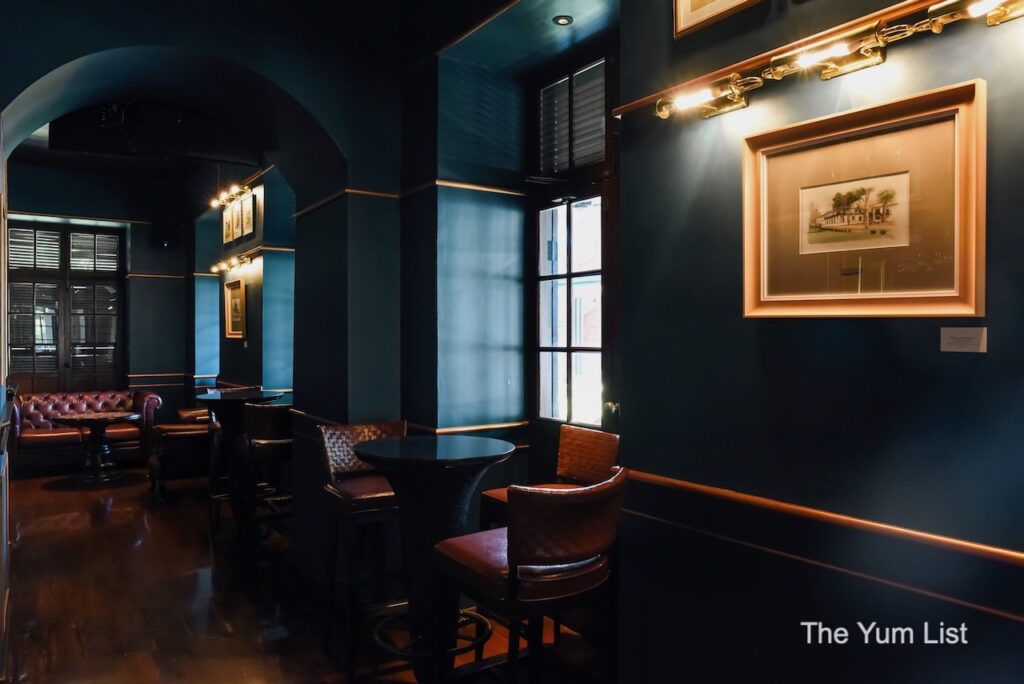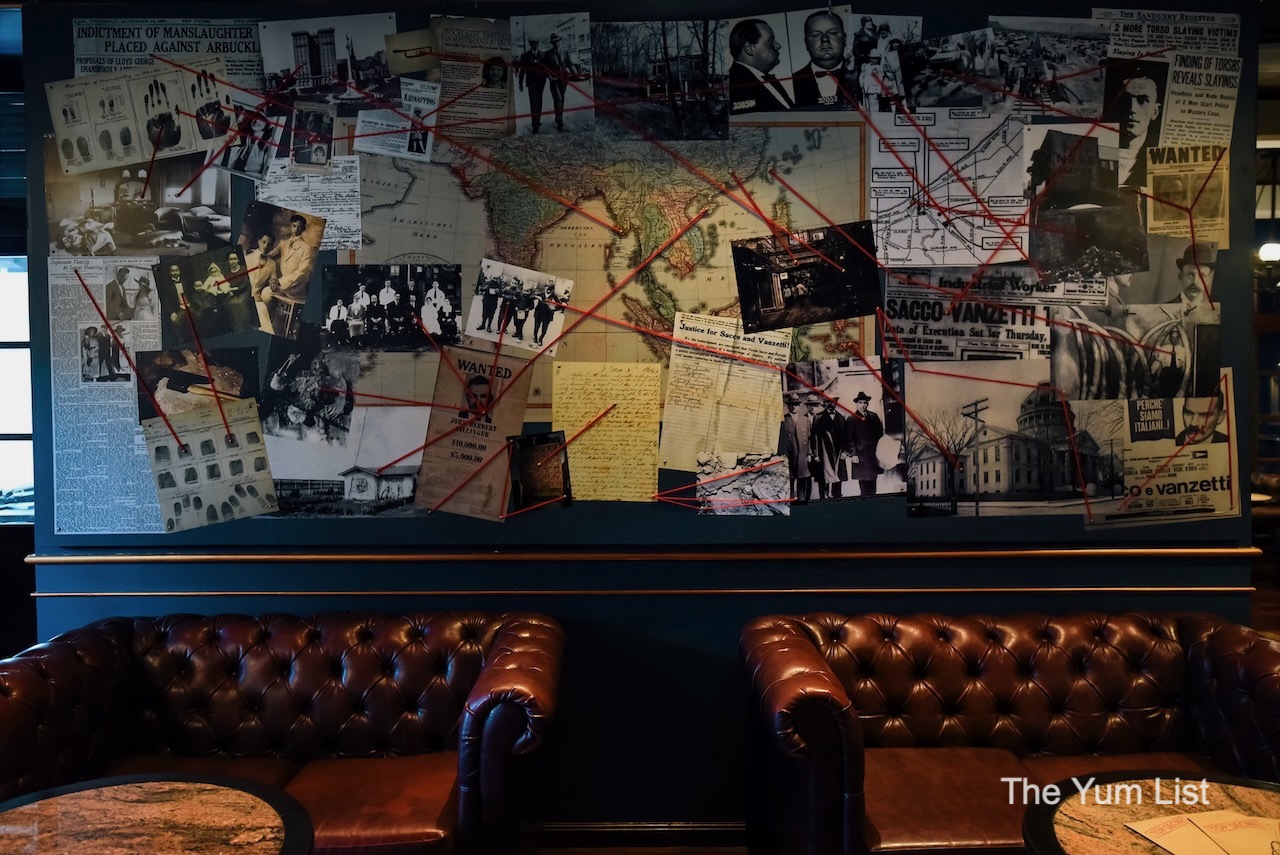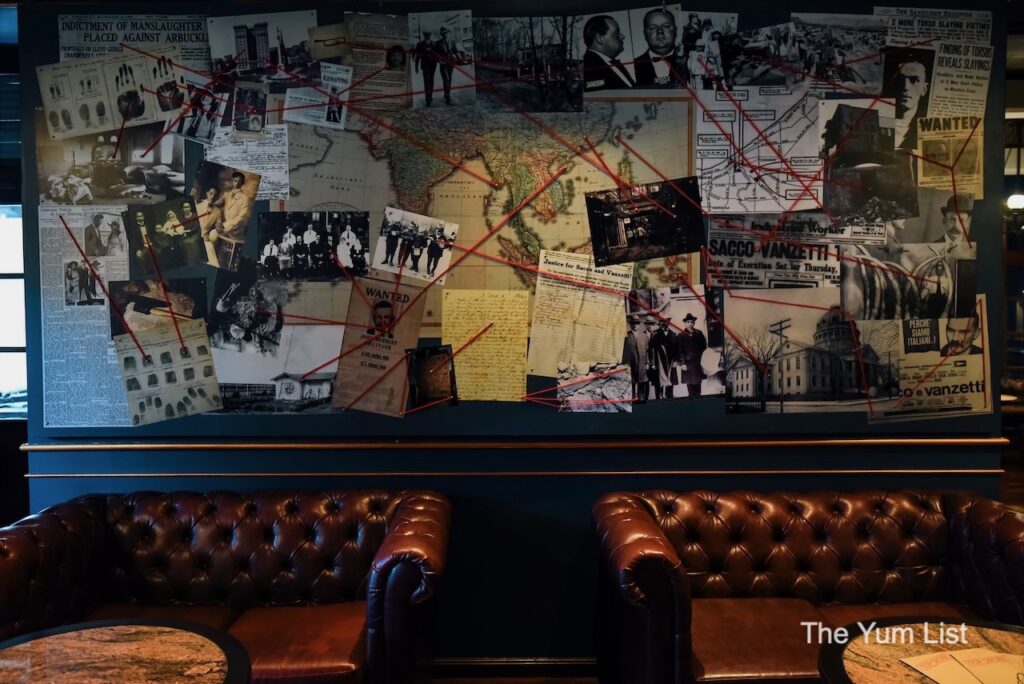 The "Top Secret" beverage menu is delivered in a sealed packet stamped with The Service 1921 and the Royal Secret Intelligence Service. While Han Sen orders a Cappuccino (THB 190++), I can't resist the intrigue of a cheekily named cocktail and opt for the Duchess of Chiangmai (THB 370). It's vodka infused with Chiang Mai Arabica and Robusta beans, so technically classifies as coffee, right? It's strengthened and sweetened with Kahlua, orange liqueur and Angostura Bitters. Han Sen's coffee comes in a huge bowl cup, similar to the French breakfast style. My cocktail is good and strong, nicely balanced with bitterness and sweetness and provides a solid caffeine kick alongside the booze.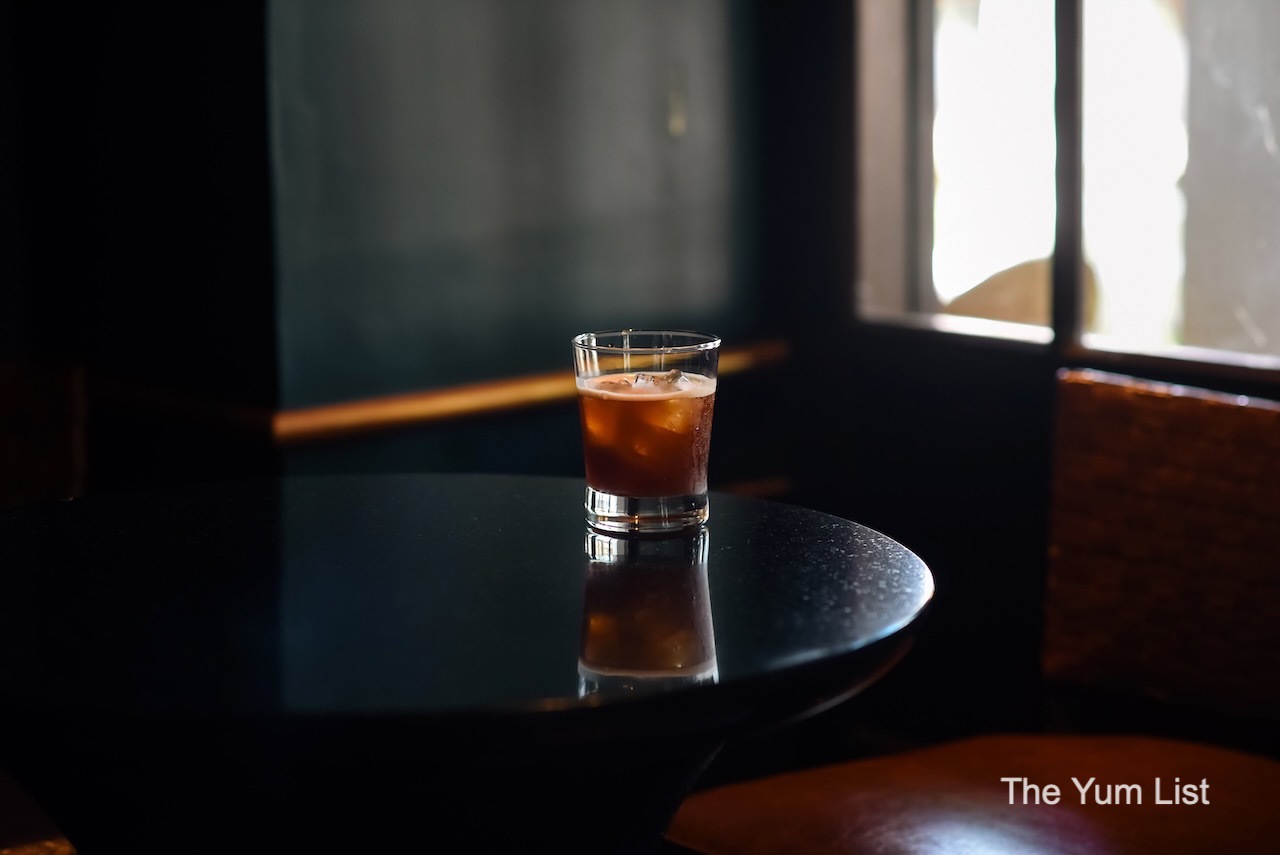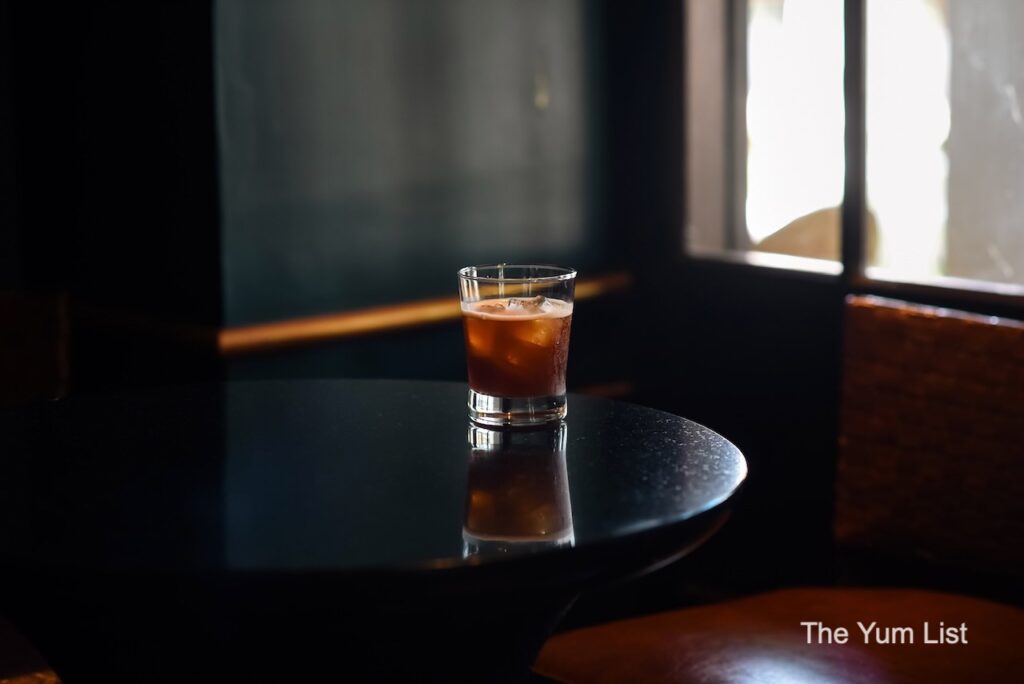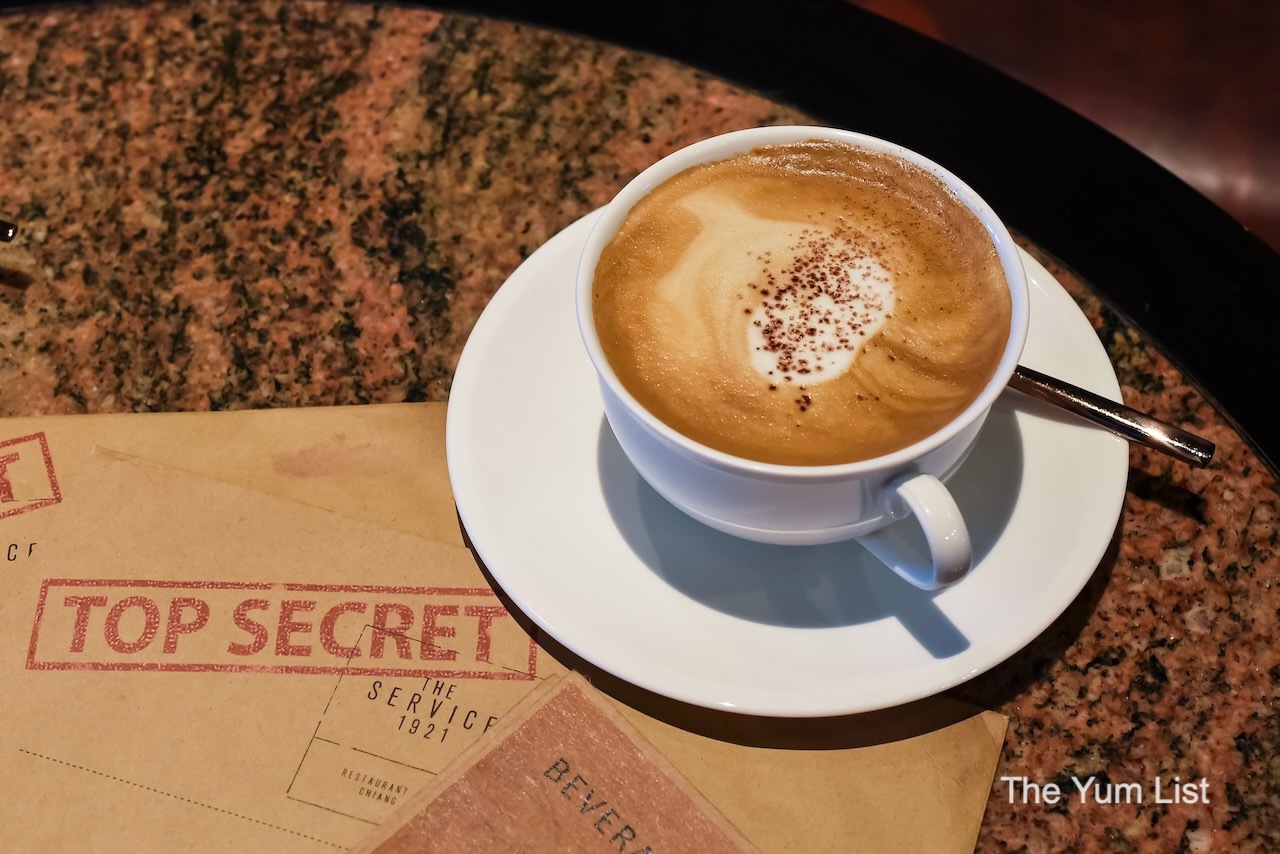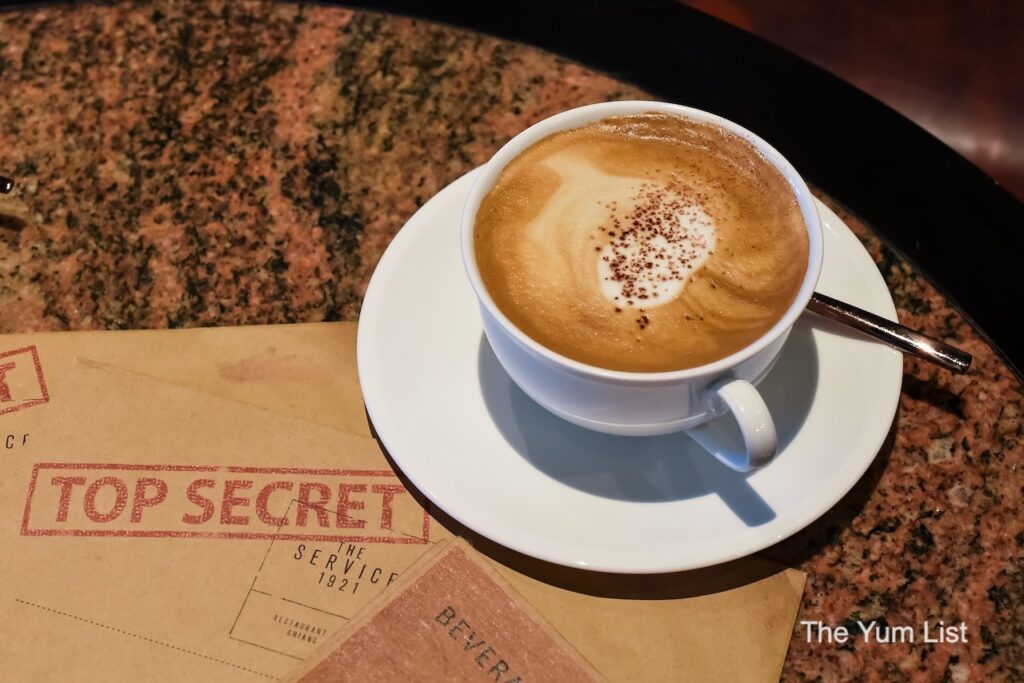 Reasons to visit Bodhi Terrace, Anantara Chiang Mai: lovely riverside terrace with views of boats gently gliding down the river; fresh, bright and delicious Thai cuisine; we especially enjoyed the miang kham, the lobster and the pomelo salad; pre or post-meal drinks in the Brit Bar.
Bodhi Terrace, Anantara Chiang Mai
123 Charoen Prathet Rd, Changklan, Muang
Chiang Mai 50100, Thailand
+66 53 253 333
[email protected]
https://www.anantara.com/en/chiang-mai
Bodhi Terrace Opening Hours
Breakfast: 6.30 am – 10.30 am
Lunch: 12.00 noon – 2.30 pm
Dinner: 5.30 pm – 10.00 pm
Brit Bar Opening Hours
Daily: 12 pm – 10 pm
Happy Hours are served from 5:30 to 7:30 pm on Bubbles Rooftop Bar (in inclement weather it moves to Brit Bar), with prices starting at THB199++ per drink (cocktails, wine and beer)
Find more recommendations for luxury travel in Thailand here and stay up-to-date with our latest gourmet travel finds here and here.